Posted on Sunday, January 1st, 2023
Posted on Monday, January 2nd, 2023
Posted on Tuesday, January 3rd, 2023
Posted on Wednesday, January 4th, 2023
Posted on Thursday, January 5th, 2023
Posted on Friday, January 6th, 2023
Posted on Saturday, January 7th, 2023
Posted on Sunday, January 8th, 2023
Posted on Tuesday, January 10th, 2023
Posted on Wednesday, January 11th, 2023
Posted on Thursday, January 12th, 2023
Posted on Friday, January 13th, 2023
Posted on Saturday, January 14th, 2023
Posted on Sunday, January 15th, 2023
Posted on Monday, January 16th, 2023
Posted on Tuesday, January 17th, 2023
Posted on Wednesday, January 18th, 2023
Posted on Thursday, January 19th, 2023
Posted on Friday, January 20th, 2023
Posted on Saturday, January 21st, 2023
Posted on Sunday, January 22nd, 2023
Posted on Monday, January 23rd, 2023
Posted on Tuesday, January 24th, 2023
Posted on Wednesday, January 25th, 2023
Posted on Thursday, January 26th, 2023
Posted on Friday, January 27th, 2023
Posted on Saturday, January 28th, 2023
Posted on Sunday, January 29th, 2023
Posted on Monday, January 30th, 2023
Posted on Tuesday, January 31st, 2023
Posted on Wednesday, February 1st, 2023
Posted on Thursday, February 2nd, 2023
Posted on Friday, February 3rd, 2023
Posted on Saturday, February 4th, 2023
Posted on Sunday, February 5th, 2023
Posted on Monday, February 6th, 2023
Posted on Tuesday, February 7th, 2023
Posted on Wednesday, February 8th, 2023
Posted on Thursday, February 9th, 2023
Posted on Friday, February 10th, 2023
Posted on Saturday, February 11th, 2023
Posted on Sunday, February 12th, 2023
Posted on Monday, February 13th, 2023
Posted on Tuesday, February 14th, 2023
Posted on Wednesday, February 15th, 2023
Posted on Thursday, February 16th, 2023
Posted on Friday, February 17th, 2023
Posted on Saturday, February 18th, 2023
Posted on Sunday, February 19th, 2023
Posted on Monday, February 20th, 2023
Posted on Tuesday, February 21st, 2023
Posted on Wednesday, February 22nd, 2023
Posted on Thursday, February 23rd, 2023
Posted on Friday, February 24th, 2023
Posted on Saturday, February 25th, 2023
Posted on Sunday, February 26th, 2023
Posted on Monday, February 27th, 2023
Posted on Tuesday, February 28th, 2023
Posted on Wednesday, March 1st, 2023
Posted on Thursday, March 2nd, 2023
Posted on Friday, March 3rd, 2023
Posted on Saturday, March 11th, 2023
Posted on Sunday, March 12th, 2023
Posted on Monday, March 13th, 2023
Posted on Tuesday, March 14th, 2023
Posted on Wednesday, March 15th, 2023
Posted on Thursday, March 16th, 2023
Posted on Friday, March 17th, 2023
Posted on Saturday, March 18th, 2023
Posted on Sunday, March 19th, 2023
Posted on Monday, March 20th, 2023
Posted on Tuesday, March 21st, 2023
Posted on Wednesday, March 22nd, 2023
Posted on Thursday, March 23rd, 2023
Posted on Friday, March 24th, 2023
Posted on Saturday, March 25th, 2023
Posted on Sunday, March 26th, 2023
Posted on Monday, March 27th, 2023
Posted on Tuesday, March 28th, 2023
Posted on Wednesday, March 29th, 2023
Posted on Thursday, March 30th, 2023
Posted on Friday, March 31st, 2023
Posted on Saturday, April 1st, 2023
Posted on Sunday, April 2nd, 2023
Posted on Monday, April 3rd, 2023
Posted on Tuesday, April 4th, 2023
Posted on Wednesday, April 5th, 2023
Posted on Thursday, April 6th, 2023
Posted on Friday, April 7th, 2023
Posted on Saturday, April 8th, 2023
Posted on Sunday, April 9th, 2023
Posted on Monday, April 10th, 2023
Posted on Tuesday, April 11th, 2023
Posted on Wednesday, April 12th, 2023
Posted on Thursday, April 13th, 2023
Posted on Friday, April 14th, 2023
Posted on Saturday, April 15th, 2023
Posted on Sunday, April 16th, 2023
Posted on Monday, April 17th, 2023
Posted on Tuesday, April 18th, 2023
Posted on Wednesday, April 19th, 2023
Posted on Thursday, April 20th, 2023
Posted on Friday, April 21st, 2023
Posted on Saturday, April 22nd, 2023
Posted on Sunday, April 23rd, 2023
Posted on Monday, April 24th, 2023
Posted on Tuesday, April 25th, 2023
Posted on Wednesday, April 26th, 2023
Posted on Thursday, April 27th, 2023
Posted on Friday, April 28th, 2023
Posted on Saturday, April 29th, 2023
Posted on Sunday, April 30th, 2023
Posted on Monday, May 1st, 2023
Posted on Tuesday, May 2nd, 2023
Posted on Wednesday, May 3rd, 2023
Posted on Thursday, May 4th, 2023
Posted on Friday, May 5th, 2023
Posted on Saturday, May 6th, 2023
Posted on Sunday, May 7th, 2023
Posted on Monday, May 8th, 2023
Posted on Tuesday, May 9th, 2023
Posted on Wednesday, May 10th, 2023
Posted on Thursday, May 11th, 2023
Posted on Friday, May 12th, 2023
Posted on Saturday, May 13th, 2023
Posted on Sunday, May 14th, 2023
Posted on Monday, May 15th, 2023
Posted on Tuesday, May 16th, 2023
Posted on Wednesday, May 24th, 2023
Posted on Thursday, May 25th, 2023
Posted on Friday, May 26th, 2023
Posted on Saturday, May 27th, 2023
Posted on Sunday, May 28th, 2023
Posted on Monday, May 29th, 2023
Posted on Tuesday, May 30th, 2023
Posted on Wednesday, May 31st, 2023
Posted on Thursday, June 1st, 2023
Of all the crap that inundates us at the beginning of Pride Month, this amazing retrospective on how the song I'm Coming Out... errr... came out... by the incredible Nile Rodgers himself...
Now I guess we brace for the legions of Christo-facists inserting themselves into LGBTQ+ spaces to tell them that they don't belong along with all the other horrible things they say because they have nothing better to do than persecute people whose lives HAVE ABSOLUTELY NOTHING TO DO WITH THEM.
Oh well. Something additional to take pride in I guess, because you must be doing something right to get them so pressed over something that HAS ABSOLUTELY NOTHING TO DO WITH THEM.
Posted on Friday, June 2nd, 2023

I was a massively huge fan of The Smiths from the moment I walked into a Tower Records store in Spring 1984.*
It was the year of my graduation and I was quickly approaching a time when I really needed to figure out what I was going to do with my life. College wasn't really a possibility because there was no way I could afford it. The job market in my area was awful thanks to Reaganomics driving wages lower and lower. I was disillusioned with the politics of the day and life in general. I was despondent about the future. It was, after all, George Orwell's year of doom. It was 1984.
And The Smiths were making music about all of it.
It was as if Morrissey was crooning each track just for me, all while being accompanied by Johnny Marr's bouncy guitar riffs. The Smiths was picking up the social sensibilities of the Punk Movement I had loved, then packaged it for the masses.
I was gutted when The Smiths broke up in 1987. Four albums and done? It really didn't seem fair. Johnny Marr teamed up with Barnard Sumner to form the band Electronic in 1988 and started releasing music the next year (and we got three albums out of the collaboration, all of which were great).
As for Morrissey? He went on to release four amazing albumns... Viva Hate, Kill Uncle, Your Arsenal, and Vauxhall and I... followed by scads more that just didn't hit for me. By 1995 I was done buying his new music, but replayed his old stuff often.
A regret was never managing to see The Smiths in concert.
After a cancelation and a reschedule I couldn't attend, I thought that a Morrissey concert wasn't in the cards, but finally flew to see him in Tampa in 2014. The concert was darn good, but wouldn't have been a Morrissey concert without some drama. He thought the crowd wasn't into it, so he cut his set short and bailed. Which, I ain't going to lie, actually made it feel more special.
Over the years Morrissey has become more and more unhinged, and I can't relate to him at all. I wouldn't want to. Then this morning I read this article about it, and found out I'm not the only one.
About the only joy I get out of anything past his old music is him being skewered on The Simpsons like this...
And definitely this imitator named "Quilloughby" which is actually the best Morrissey non-song in decades...
The fact that Quilloughby is voiced by Benedict Cumberbatch is just the icing on the cake.
And on that note, I guess I'll be listening to The Smiths for the rest of the day.
* I want to say it was the Bellevue location, but it could have been the Seattle Center location because I don't know if Bellevue was open at the time. Back in the day I would bounce between both stores looking for those precious British import maxi-singles from Depeche Mode and The Thompson Twins. The Bellevue location was my favorite because they seemed to get more of what I was looking for. I was reminded of this when I saw a video of the old Tower Records Bellevue being torn down...
Oh how I loved Tower Records back in the day. Shopping for music on a computer just can't compare to walking down those jam-packed aisles of albums and discovering some magical release that you didn't even know existed. I really miss that, and am sad that younger generations are missing out on what a cool experience it is.
Posted on Saturday, June 3rd, 2023

The time of year has come where the cats spend half their day out in the catio. It's warm, there's awesome smells and sights... and far more interesting than it is inside. Many times I come home from work and see them out there sleeping.
Jenny sometimes doesn't even hear the dinner alarm...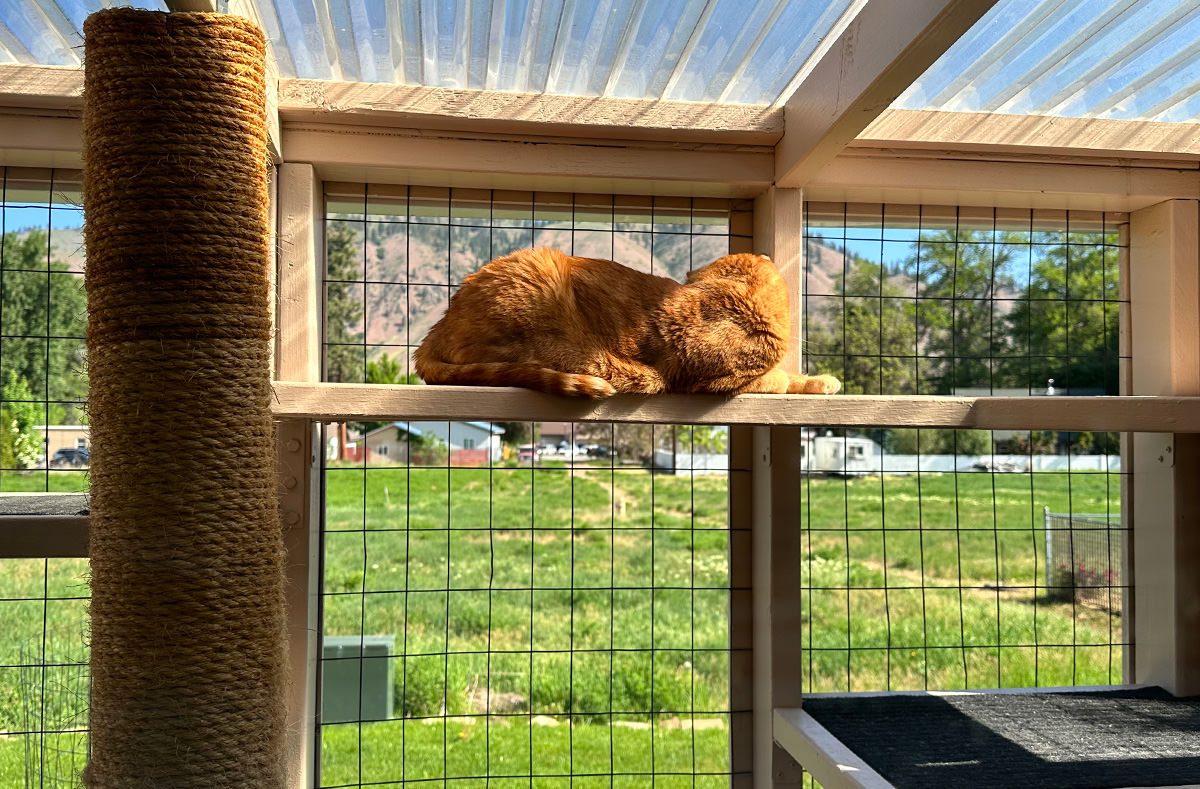 When they are inside they get restless and have taken to attacking each other at random. Here's Jake about to pounce while I'm saying "No. Nooooooo."...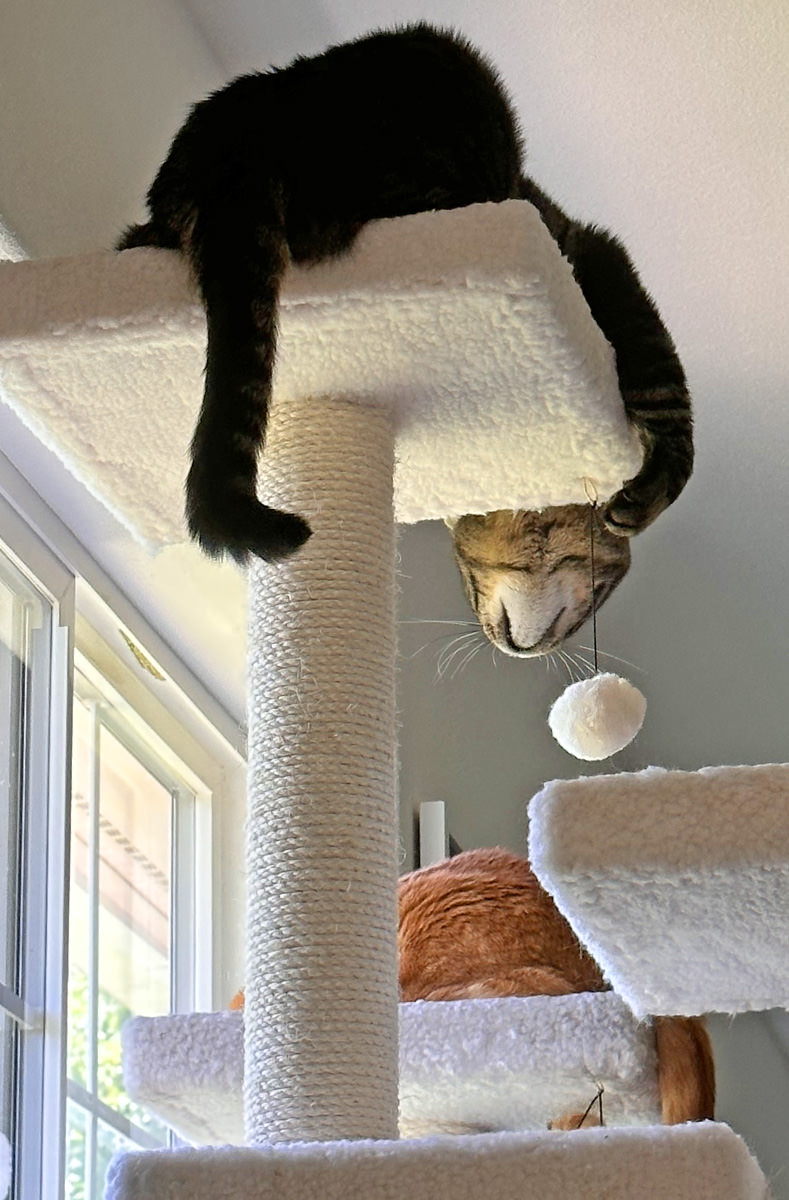 Fortunately, it's just something to do and not their normal...
On Friday when I got home I had a raging headache. I took some pills then fell asleep on the couch. When I woke up I had a nap buddy...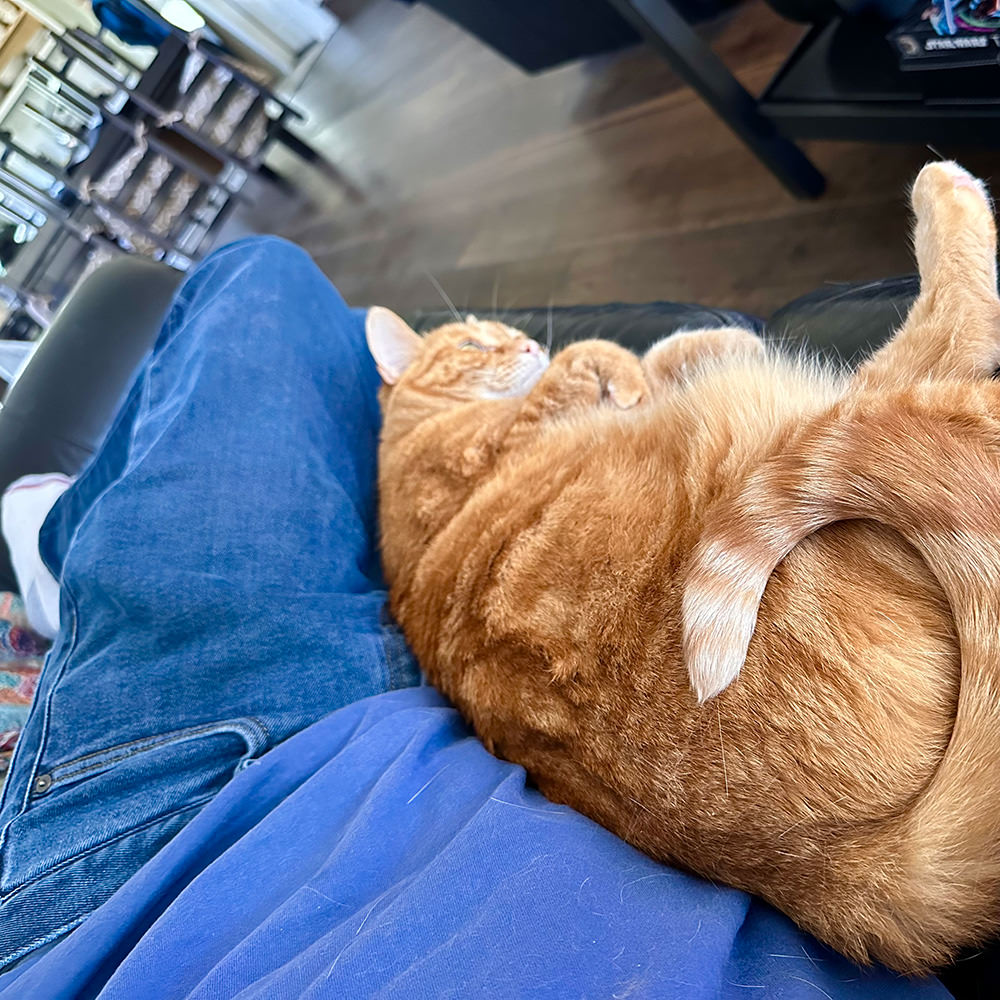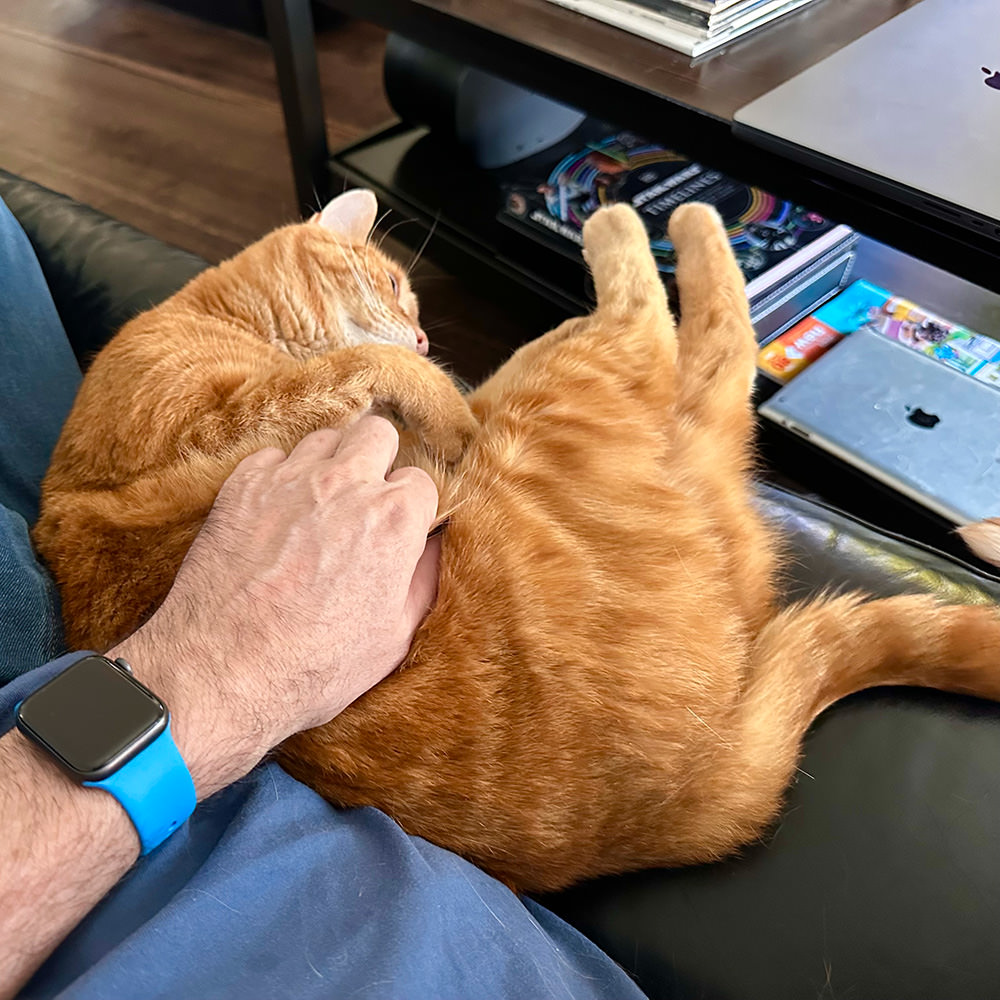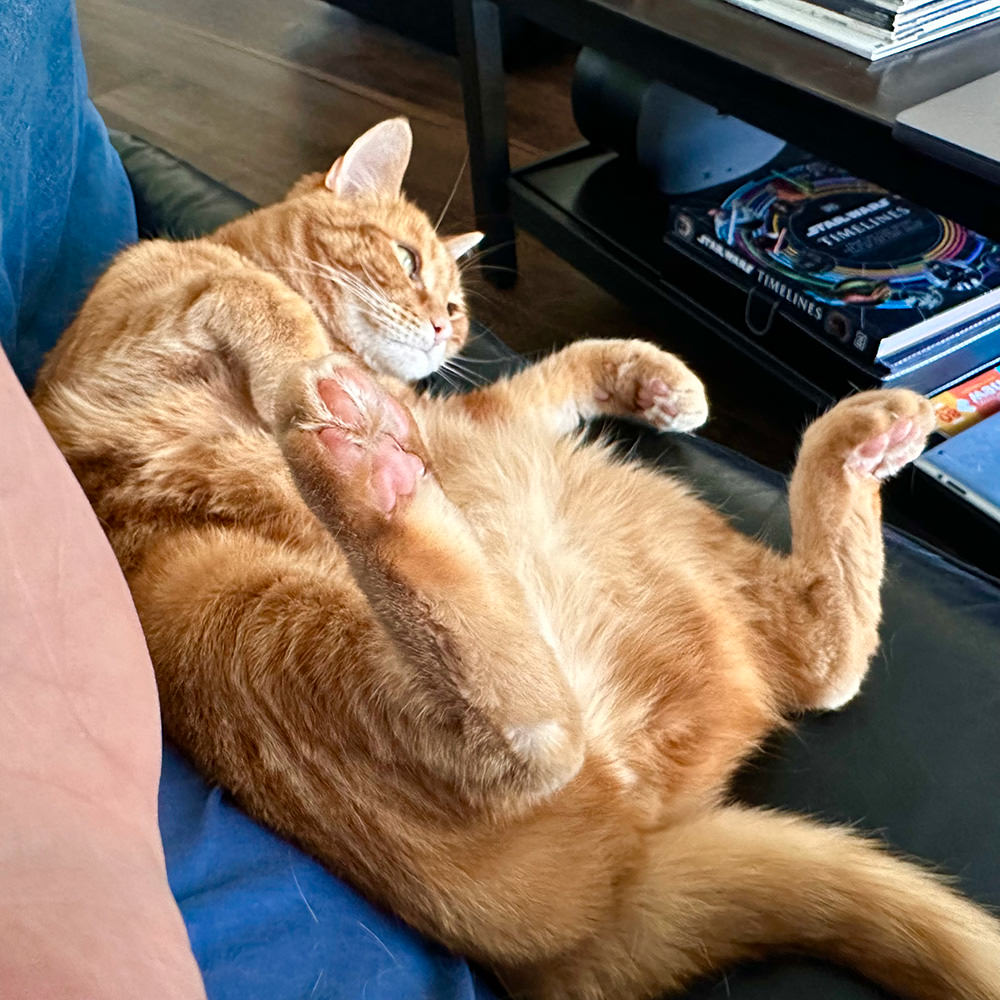 Meanwhile Jake is asking if you have accepted Bast as you personal Lord and Savior...
I don't have the heart to tell him that this is actually Zen Buddha Cat.
Posted on Sunday, June 4th, 2023

The heat is on... not just because it's getting ridiculously hot here, but because an all new Bullet Sunday starts... now...

• Ghosts! The practice of "ghost kitchens"... which creates fake restaurants in order to cash in on food delivery services like Über Eats and Grubhub. Sometimes it's existing restaurants fronting for a second (or third or fourth) completely different restaurant. Sometimes it's a bulk restaurant kitchen that fulfills dozens of "restaurants" on food apps. I kinda fell into a rabbit hole on the topic, and found that Eddy Burback has the best video on the topic...
Actually, Eddy has the best video on a lot of topics. Like Late Night Television...
Subscribe to his YouTube channel here. He has quite a few videos. But boy would I like him to post more often.

• It's Not News... It's Bullshit! I love reading reviews which trash my favorite shows. CNN (which I have never cared for as a network and I now actively loathe) had an online review of the incredible Mrs. Davis which has the reviewer essentially saying "I'm too fucking stupid to appreciate the show, therefore it's bad!" And I laughed and laughed and laughed, because that's CNN in a nutshell...
The review ends like this..."To paraphrase 'A Chorus Line,' though, 'different' is nice, but it isn't necessarily better, or enough to justify an eight-hour commitment. And while the show should have a small cadre of fans – probably tilted toward TV critics and English-lit professors – wedding its sly auteur sensibility to broader appeal is a creative Holy Grail, ultimately, that "Mrs. Davis" doesn't locate." Yes, this masterful show that's more original (and more bonkers) than anything I've seen in decades since the first season of Twin Peaks, will only appeal to TV critics and English-lit professors. But since the CNN critic is a "reviewer of the people" and not at all "too smart" like some elitist English-lit professor or other TV critics, he can safely say that he's just too stupid to appreciate Mrs. Davis. What a joke (something that ALSO describes CNN in a nutshell). It's okay to not like something. It's a critic's job to TELL you when they don't like something. But to insult others for liking it because they're too smart? Go fuck yourself you useless hack.

• Ninja Exposed! The game Fruit Ninja is an app that many, many, many people have played. But the story of where it came from is actually pretty interesting...
I love behind the scenes stuff like this (as you know). And could watch these all day.

• Doctors? Is there ANYTHING that "Doctor" Phil touches which hasn't turned to shit?
Curse Oprah to hell for unleashing this asshole on the world.

• DARMOK!! I love Language Jones, and this is one of his best videos yet...
If you love languages, be sure to subscribe to his channel after watching.

• Hatemongering for Fun and Profit! Politicians passing laws to harm people SOLELY to score political points with their "base" can go fuck themselves. They don't even know what the laws they pass are doing. They don't care. All they know is that legislating for hate gets them re-elected...
God. Just eat shit and die, asshole.

• Someone You Love! Sarah Silverman is hit or miss with me. But her new special is hilarious. I've been dying from the start...

And that's all the bullets I can stomach for tonight. See You Next Sunday.
Posted on Monday, June 5th, 2023

Another year, another Apple World Wide Developer Conference. Guess we're doing this...
• TIM! Every time I see Tim Cook, I wish he was more of an asshole. He's just so nice. But somebody in his position really needs to be at least a little bit of an asshole so that broken shit GETS THE FUCK FIXED! See: Steve Jobs.
• MacBook Air 15-Inch! This looks like an amazing computer for the price. Capable. Powerful. Beautiful (especially that dark blue one). I need a MacBook Pro for the work I do... but, if I didn't, this would be my laptop of choice.
• Mac Studio! The Mac Studio M1 Ultra I hsve at work is the best Mac I've ever used. It's nice that they are committed to keeping it moving forward. The performance jump of the M2 Ultra is nice, but not big enough to make me jealous.
• Mac Pro! After it was announced, people were freaking out over the $7,000 price tag. Yeah, this Mac isn't for you. It's for people who need the raw power and PCI expansion it has. And, if these same people took two seconds to compare it to the old Mac Pro... you're getting a far, far more powerful machine for way less. Because the old Intel-based Mac Pro was insanely expensive. I saw an article which had the headline Maxed-out Apple Silicon Mac Pro costs 1/4 what a maxed Intel one did. And so... yeah... for people who need this, it's actually quite the bargain.
• iOS 17! I'm not going to run through all the features since there are plenty of sites happy to do this... but I will make a few comments here. ONE) The Live Voicemail is so nice because I don't EVER want to pick up. Now I can see if it's actually necessary for me to do so (the live message typing out about the family of raccoons in the basement while Craig is talking is hilarious). TWO) I don't give a fuck about the new Messages features... I JUST WANT IT FUCKING FIXED! HOLY FUCKING SHIT!* THREE) The Check-In feature is nice. So many times it would be nice that somebody I'm meeting can see what's happening as I make my way to them. FOUR) Okay, the Live Stickers are unnecessary, but awesome. FIVE) Yeah, AirDrop... right... DON'T ADD FEATURES, JUST FIX THE SHIT THAT'S BROKEN FIRST! I can't use AirDrop between my phone and my work Mac... or my MacBook Pro and my work Mac. I have even gone so far as to start over from scratch, but no joy. WHY?!?? FUCK!!! SIX) Oh joy. Apple will FINALLY STOP FUCKING AUTOCORRECTING WHEN I SAY "FUCK!!" So damn annoying. Your fucking phone shouldn't be gatekeeping how you express yourself and fuck Apple for screwing us over for so long. Craig being "so ducking cute" about it is rage-inducing.
• iPad OS 17! I really need to use my iPad more. I absolutely love the way it works, but my go-to device it my MacBook Pro. It's just easier to bounce in and out of work. ONE) Wallpapers and widgets are great, but Craig is going to be in hot water with the flat earthed crowd by showing a GLOBE EARTH (As an aside: there are very, very few people who can get away with saying "that's cool." Craig Federighi is one of them. He is cool). TWO) PDFs are a great thing, but a mess to deal with. Looking at the great advancements the iPad is getting to deal with them feels like this is how they should have been used all along. Very nice.
• macOS Sonoma! It seems weird to me that macOS just isn't advancing as it should. Where is the next revolution in desktop computing? The (needed) return of widgets, game mode, and this other shit are nice and all, but this is getting ridiculous. File handling? Sharing? FIXING THE FUCKING PILE OF SHIT KNOWN AS "APPLE MAIL"? Why are we still waiting? ONE) I wonder how many people can actually appreciate what a coup it is to have Hideo Kojima appear at your event? "Legendary" is completely underselling him. TWO) Video Conferencing is a huge part of my life. These new features while "fun" are actually kind of important to communication (especially when you are communicating in a language that's not native to either you or them). THREE) Passkeys are nice (anything which moves away from typing passwords is very nice), but they have so far to go yet. They don't work some of the time, and it's frustrating how many times I am repeatedly having to enter my account info over and over. FIX YOUR SHIT, APPLE!! FOUR) These new Profiles in Safari are a game changer for people who work while off work. Separating my work and private life are important, and every little bit helps.
• METAL CRAIG (audio and home)! I was sincerely hoping for an update to AirPods Pro with a price drop. No such luck. Though the adaptive audio is pretty darn cool. ONE) AirPlay in Hotels would have been fantastic... when I was traveling (assuming it worked in the hotels I frequent), but now? Meh. TWO) Jesus. TV OS is still isn't addressing what a steaming pile of shit that navigation is to deal with? I fucking hate having to slowly scroll through shitloads of media because there's no alphabet jump menu available... LIKE EVERYBODY ELSE HAS BEEN USING FOREVER! WHAT THE FUCK?!?
• WatchOS! I have an Apple Watch Series 6. And watched with disinterest as Apple has plodded through Series 7 and Series 8. ONE) Who the fuck selected this shitty, SHITTY "Rhythm is Our Business" song to intro this section? TWO) The widgets and other improvements are nice and all, but this is not going to revolutionize how I use my watch. THREE) I want that Snoopy watch face... but would rather have this kind of cool interactivity with Mickey Mouse.
• Apple Vision Pro! And heeeeere it is. The main event. ONE) All the AR/VR headsets to date have been shit (remember "Google Glass?"). Apple, being Apple, seems to have come up with something far more compelling. If it truly does work as advertised, this is a massive game changer. TWO) The interface is brilliantly realized. They reeeeeally put the time in to make sure that it's intuitive and easy. Once you get used to it, I have no doubt it will be as intuitive as any other device we're wed to. The depth and shadows must have been really tough to nail down. THREE) The minimal gestures required to interact with Vision Pro actually works better than the science fiction projected. Nice. FOUR) Look, these will never not look weird when worn, but I appreciate that Apple is doing to make it as less weird as possible. FIVE) Being able to bring your Mac into your AR/VR "world" is pretty amazing... but feels like it would be headache-inducing. Maybe once you get used to it, things would seem second-nature, but I wonder what the learning curve is to get there. SIX) WAIT A SECOND... people on FaceTime calls appear on tiles to you, but what do you look like to them? SEVEN) OKAY, THAT PANORAMA MODE IS FRICKIN' AMAZING! EIGHT) Boy, porn filmed in 3D, then displayed on Vision Pro in spatial video is going to be the real game changer experience! NINE) Now, see, this is what I'm really excited about. Having a 100-foot movie screen in your living room with no distractions! Sweet! And how many times have I dreamed about sitting on a plane and not having to experience being on a plane! TEN) Boy... gaming was really light in this presentation. Given how that's the cornerstone to so many of these things, that's weird. ELEVEN) Bob Iger appearing here for Disney has me thinking about how hilariously ridiculous it would have been to have Bob Chapek doing this. But anyway... Disney producing content for Vision Pro is about as big an endorsement as you could hope for. And what they're presenting seems as good a reason to buy into VR/AR than anything. TWELVE) The design of this thing makes every other VR/AR headset look like it's positively ancient. The new Quest 3 just announced by Meta looks like absolute dog shit by comparison. Though it will likely be affordable. I probably won't even be able to afford the corrective lenses I'd need to buy to even use Vision Pro. THIRTEEN) These don't debut until next year and it will feature the M2 and not the M3 chip? Yikes. Big yikes. FOURTEEN) And that's what's so weird. The unit is not transparent. The thing it 1000% opaque. But it fakes it by displaying your eyes on the face of it that people are looking at. SO WEIRD. FIFTEEN) Ah, in answer to my earlier question, what people see when chatting to you is an avatar ("digital persona") that's computer-generated. This will either be good enough... or slip right down the uncanny valley and look scary-awful. Probably somewhere in-between? SIXTEEN) I'll bet Zuckerberg and Meta, who failed spectacularly with their "MetaVerse," is shitting their pants after wasting billions of dollars and getting nowhere even close to what Apple has done. SEVENTEEN) TouchID -> FaceID -> OpticID. EIGHTEEN) At least Apple put some thought into the privacy of these things. Which is smart. By allowing people to know where you're looking while looking at them, you've opened a huge can of worms. Apple neatly sidesteps this. NINETEEN) Given how much this thing is going to cost, Apple's smartly leaning into all the hardware it will replace. Smart. TWENTY) THREE THOUSAND FIVE HUNDRED DOLLARS?!?? BWAH HA HA HAAAAAA! Now, look, I get it. I know how it works. They have an absurd price tag to start, but eventually as they optimize manufacturing and such, the price falls. But starting THIS high is pretty disgusting. Who the fuck can afford to spend THREE THOUSAND FIVE HUNDRED DOLLARS on a VR/AR headset? Even one this good and feature-packed? Do I want one? Oh hell yeah. Will I buy one? WITH WHAT?!? Maybe if I can sell my organs or something. And yet, the allure of being able to escape from this shitty reality into something better does seem like it would be worth the fortune it casts to do so. I just wish it didn't have a big ol' cord dangling off of it for the battery... and the fact that you only get TWO MEASLY HOURS OF RUNTIME PER CHARGE? Wow. Hope you only take short flights!
And that's the end of WWDC 23. I've never felt so poor!
*Seriously. The fact that Messages regularly reports I have new messages when I don't (I'm guessing this is a flaw in syncing between devices) is absolutely infuriating. Quitting and restarting Messages doesn't fix it. YOU HAVE TO RESTART YOUR COMPUTER?!? WHAT THE FUCK?!??
Posted on Tuesday, June 6th, 2023

Remember back in the mid-2000's when I was having annual Blogiversary contests and creating cool Blogography swag for prizes and purchase?
Pepperidge Farms remembers.
And so do I every time I open my closet. That's because I kept a number of the T-shirts for myself. Most of them I wear only on special occasions because I'm down to my last shirt. But others? I wear to death. They don't look all that great now because the ink is flaking off, but the shirts themselves were quality and are still in good shape so I am happy to wear them anyway because they're darn comfortable.
There is one of my designs from 2006 that actually looks better the more it ages...
So cool. If I could have found a way to print like this when they were new, I would have absolutely done it!
Interesting to note that at the time I designed the shirt, Bad Monkey looked quite different...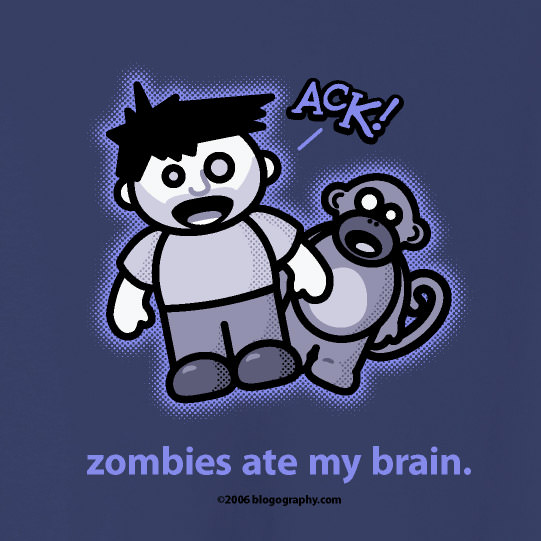 And that was when Lil' Dave still had "mitten hands" as well. In-Between when I designed the shirt for the contest and actually printed it, Bad Monkey had changed to his current, thinner version... and Lil' Dave has actual fingers.
Good times. Good times.
Something I need given that there's no new episode of Ted Lasso tomorrow.
Posted on Wednesday, June 7th, 2023

Today is the day that a new episode of Ted Lasso would be airing if Ted Lasso hadn't (presumably) ended. The show has been so transformative towards my love of television, that I thought I might reflect on it for a minute so I can get it out of my blogging habit.
The year is not even half over, but I'm fairly comfortable saying that the third (and final?) season of Ted Lasso will top my list (yet again) despite being a bit of a mess. But, maybe as time goes on, it will have to battle it out with Jury Duty, Mrs. Davis, and Poker Face for the top spot. I dunno. I'll probably have to watch through a couple more times to know for sure.
The first season of Ted Lasso is flawless. Each and every episode faithfully pushes through a "narrative of nice" without ever becoming cynical about it. That alone is a massive achievement, even though it strayed into being overly-sweet and saccharine more than a few times. Furthermore, we get a conclusion that works along with a nice lead-in to the next season, which probably wasn't guaranteed at the time they filmed it. Talk about a massive achievement!
To me, the second season was almost as good as the first (even though the first two episodes felt a bit unsteady). And yet... I've read many reviews panning it. There were some fans of the show that roundly hated what it became the second time around. And a lot of that had to do with their inability to invest in Beard After Hours (Episode 09), which interrupted the season at a bit of a crucial moment. Meanwhile I'm thinking "YES! IT INTERRUPTED THE SEASON... THAT WAS THE WHOLE POINT OF IT EXISTING!" and loved every minute of it. It was so very, very smart... both in purpose and execution. The previous episode had one of the most emotional moments of the entire series where Jamie's dad burst into the locker room and just wrecked his son. It was an abuse that was painful to watch. All the other players in the locker room were mortified and some looked away. It was unbearable. Jamie lost everything in that moment. But then, unexpectedly, Roy Kent approaches and... gives him a hug? And the moment just ruined me. Because as Roy approaches him, Jamie flinches just a bit. He was at his lowest point and was only expecting things to get worse. It was a masterful performance by Phil Dunster that took his character in an entirely new direction. It was the middle of a wide-reaching arc for Jamie that was concluded in the final episode in the best way possible...
In lesser hands, this scene could have been manipulative and awful. But the performances by Phil Dunsert, Brett Goldstein, and Kieran O'Brien (because, let's face it... the guy may have made you hate Jamie's dad, but his bigger accomplishment was being so awful that you felt sympathy for Jamie Tartt!). And that summed up the second season for me. Scenes that should have been a mess, but was elevated because the actors were too good to let them fail. And then we got Dr. Sharon Fieldstone, who ended up being the point upon which the entire season revolved, and Sarah Niles did not falter. How they managed to cast a character so perfectly (again!) is magic to me. If there was a fatal flaw, it happened at the end with Nate's betrayal. It was a wacky, inexplicable pivot out of nowhere and made no sense at all. I fail to see how somebody who was finally seen could ever betray Ted... especially over the trivial and nonsensical reasons that were provided. It was just so bizarre. It was as if the show worked overtime to create a villain where one just wasn't needed.
If the second season was messy but ultimately salvaged, the third was even messier and meandered into territory that couldn't be salvaged. Nate's entire redemption arc made zero sense. All the players hating him and then inexplicably wanting him back was idiotic. And they went way too far for him to ever be redeemable... even though they shoehorned it in anyway. I hated that. There was no redemption possible for Nate in such a short period of time, and having him return to Richmond first as kitman assistant... then as a frickin' coach?? WTF? But even worse was Keeley's breakup with Roy. Why? What purpose was it when the two of them together provided such wonderful material to draw from? And to add insult to injury, they wheeled in "Jack" so Keeley could have a same-sex relationship that went nowhere and ended so very badly. At least they left things with Jamie and Roy open-ended so they didn't also fall into the trope of having Keeley "needing a man to be complete" which would have been so much worse. These two major plots were nothing but distraction from moments that could have been spent in a much more productive way. But there were many great moments that overshadowed the bad. The setup to Ted leaving England was broadcast from miles away and didn't come out of nowhere... and it was delicately handled in a very real way. Colin coming out to his team was earned and not just slapped on his character. Rebecca finally finding somebody to share her life with had been treated as fate from the very beginning... so having the Dutch guy from earlier in the season pop up at the end so randomly was everything you'd hope for. Jamie, who had the most complete and satisfying character arc of anybody, had become a caring individual at peace with himself and others. We also got more Trent Crimm, who popped up at unexpected moments to provide insight or observation into what was happening in a way that was expertly woven into the story instead of being superfluous fluff. And then there were the many, many moments of brilliance that proved a show built around caring for others could actually work.
So, yeah, my favorite television series of all time. Without question. Nothing was ever going to live up to the incredible first season, and the following two really didn't. But they were a continuation of a story that I never wanted to end, and that was more than enough.
Here's hoping that we get a spin-off or three to fill the massive hole that has been vacated by Ted Lasso.
Posted on Thursday, June 8th, 2023

Buddhist precepts value life. All life. Which is why I catch spiders and take them outside. Why I don't eat meat. Why I care for stray animals and try to help alleviate animal suffering. And why I try to extend kindness to people, even when they may not seem to deserve it.
And let me tell you, sometimes it is very, very difficult to do so.
Pat Robertson died.
And he made it impossible for me to value his life.
I am not going to go all hyperbolic and say that he was "evil incarnate" or anything like that. There are others far more deserving of that label. But he sure preached evil and encouraged others to follow in the evil he preached. Which is why I am not sad that he's gone. The world is a better place without people like this encouraging raw hatred in the name of "Christianity"...
I've studied The Christian Bible more than most Christians ever will. I know this is fact because all too often I run across "Christians" who have no fucking clue what they are talking about. They parrot whatever they've been told to believe and recite passages they memorized... all while attempting to force it into whatever narrative they choose to ascribe to. They want to hate gay people, they pull passages and pervert them to hate on gay people. They want to hate women, they pull passages and pervert them to hate on women. They want to hate foreigners, they pull passages and pervert them to hate on foreigners. Whatever it is they hate, there's a passage somewhere that they point to in order to justify their evil. They neither know nor care about what meaning may be behind what they unleash on the world, and have zero interest in studying to find out if what they say actually means what they claim it does.
All while missing The Big Picture of what Christianity actually is.
I joined a "Bible Study Group for Non-Christians" in 2014. Every year we alternate between New and Old Testaments, trying to put their teachings into context so we can better understand the Christian Worldview and better relate to those who profess to live their lives according to Holy Scripture. Because we are not Christians, we study many different viewpoints from many different Biblical scholars and put a heavy emphasis on historical context. We are not interested in forcing The Bible to fit any narrative, we just want to understand the teachings (many of which are quite beautiful... sorry Bible-haters!).
As you might guess, the study group's goal of understanding Christians... especially modern-day Christians who use their Faith as a weapon... gets more and more difficult with each passing year.
Indeed, when we examine some of the things which are said "in the name of Christian love" we outright wonder if we're reading a different Bible than those who promote such rabid hatred against God's creation.
I mean, on some level I get it. The Bible is far from definitive, no matter how much people will claim otherwise. It's parable. It's allegory. It has meaning which is lost in translation. It is self-contradictory. It's a mish-mash of ideas and perspectives which add a frustrating level of obscurity. All of which contributes to why you cannot pick-and-choose passages and claim that they support your narrative. You instead have to look at The Big Picture of what the Bible stands for and the overall arc of what it's trying to say.
Which ain't easy.
On face value, The Bible is wide open to interpretation. This is why we have so many "factions" of Christianity. Different groups interpret Scripture in different ways. Different groups read in historical context in different ways. Different groups interpret the languages in different ways. And that's all well and good. I have zero problem if somebody wants to interpret The Bible in a way different from what I do. Where I absolutely do have a problem is when the teachings of The Bible are perverted far past any rational interpretation. I have an even bigger problem with people who want to rewrite Scripture to persecute people.
And this is something that Pat Robertson excelled at.
He tossed fundamental Biblical precepts right out the window, honed in on Scripture he could pervert to convince people to send him money or hate gay people or hate women or hate foreigners or hate whomever was on his radar that day. But what's truly shocking is that he claimed that God literally told him to do this. Now, I don't want to go down the whole road of what the Bible teaches us about false prophets, but the fact that anybody could follow his deranged ranting and think that it genuinely came from The Almighty and could in any way be supported by Scripture is just mind-blowing. I cannot for the life of me comprehend how somebody could listen to Pat Robertson then look at their Bible sitting on the nightstand and think "Oh yeah. Pat's right on the money with that one!"
And yet Pat Robertson managed to whip up a vast following.
It would be easy to say "Well, yeah. People want to hate things, and Pat Robertson's hate-filled preaching fell in line with what they want to believe is okay to hate, so they supported him." Except I don't really believe that. Many, many people who fell in with his bullshit were kind, decent, well-meaning people who were taught to hate. They were corrupted to be that way.
Because there's big money to be had in the Hate Game.
And Pat Robertson loved the money.
It bought him mansions. It bought him private jets. It bought him luxury. It brought him fame.
Which, if you've made an even cursory examination of The Bible, should be a huge red flag.
Irony can be so ironic sometimes.
But I digress.
Every time a disaster happened in areas that Pat considered "sinful" (New Orleans, for example) he was very quick to hop on it as "God's wrath again the gays" (or whomever was his current favorite group to hate). And yet when disaster fell upon those Pat considered pious persons, it wasn't God's wrath... it was grave misfortune caused by wicked people and we should pray for them (and send Pat money so he could pray for them, I guess... there seemed to be a fucking price tag attached to everything he did).
It was the boldest form of hypocrisy you'll find, and yet people ate that shit up.
And to me, this will forever be his legacy. Hate and Hypocrisy.
I stopped caring about Pat Robertson after he stopped appearing on The 700 Club or interviews preaching hate. I just didn't care. He was gone from public consciousness, and that was enough. I was not sitting at home every day "wishing for him to die" (or whatever it is I'll be accused of). So the fact that he's finally gone from this earth is neither here nor there. Though, if I'm being honest, I did crack open a beer for breakfast today. I don't consider that to be "celebrating Pat Robertson's death," because he simply didn't matter to me after he disappeared. But I did appreciate the milestone of yet another hateful old bigot being called home to whatever God he worshipped for Judgement.
Because given the horrific levels of hateful persecution Pat Robertson espoused which went against everything The Bible is supposed to stand for, he's no doubt burning in a hell of his own making for all eternity. At least one would certainly hope so. Few things would illustrate "poetic justice" better than Pat Robertson being treated in death the way he treated others in life.