Posted on December 9th, 2016

I wish I could say that my ambition showed itself today but, alas... I still had no desire to drive anywhere or fight the Christmas shopping crowd, so most of my day was spent catching up on sleep and working. An entire waste, I know, but this was never a vacation trip.
I did venture out for lunch and again for dinner though. So I guess that's something. For the walk back to my hotel I had my camera with me, which is always fun...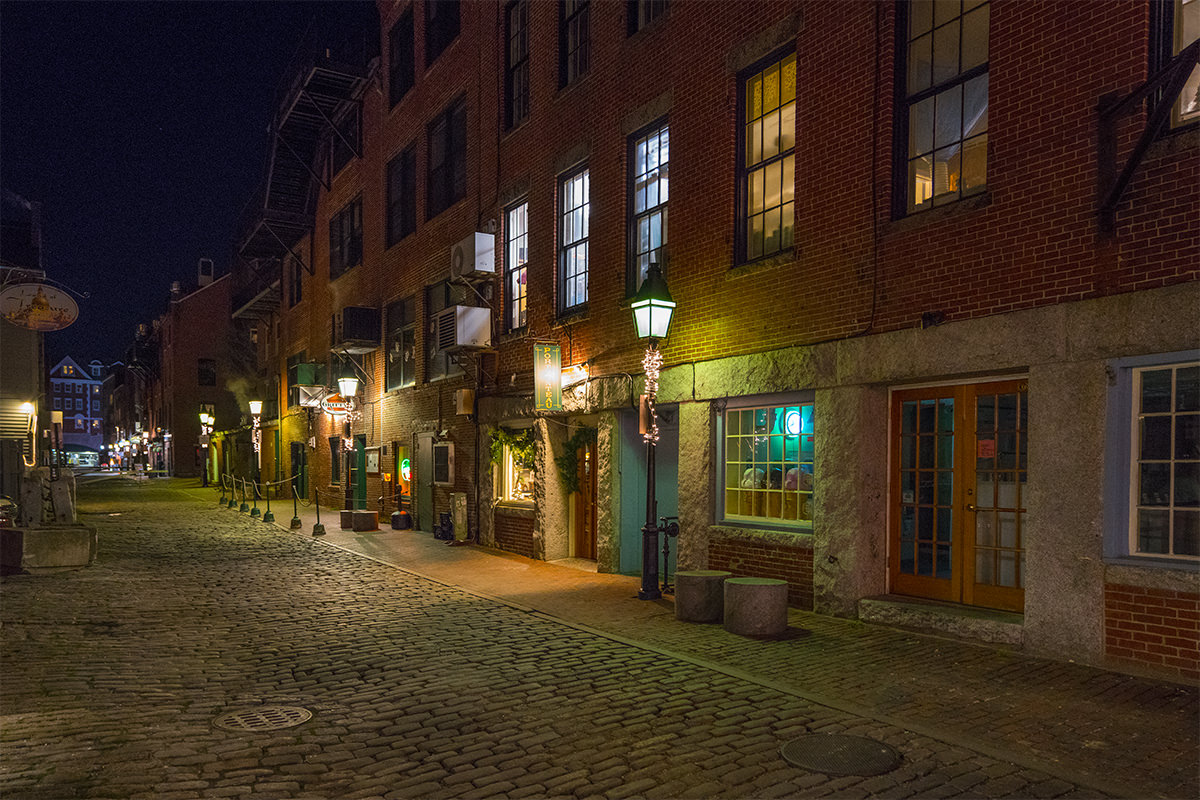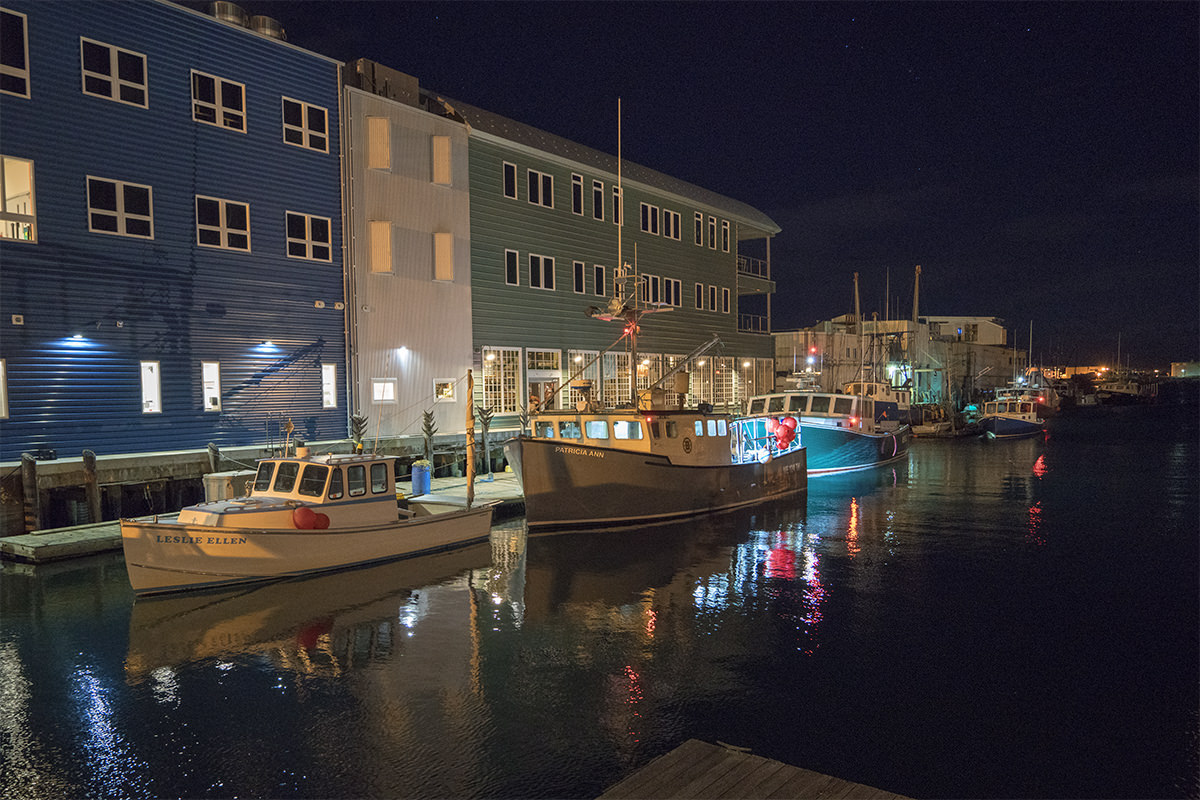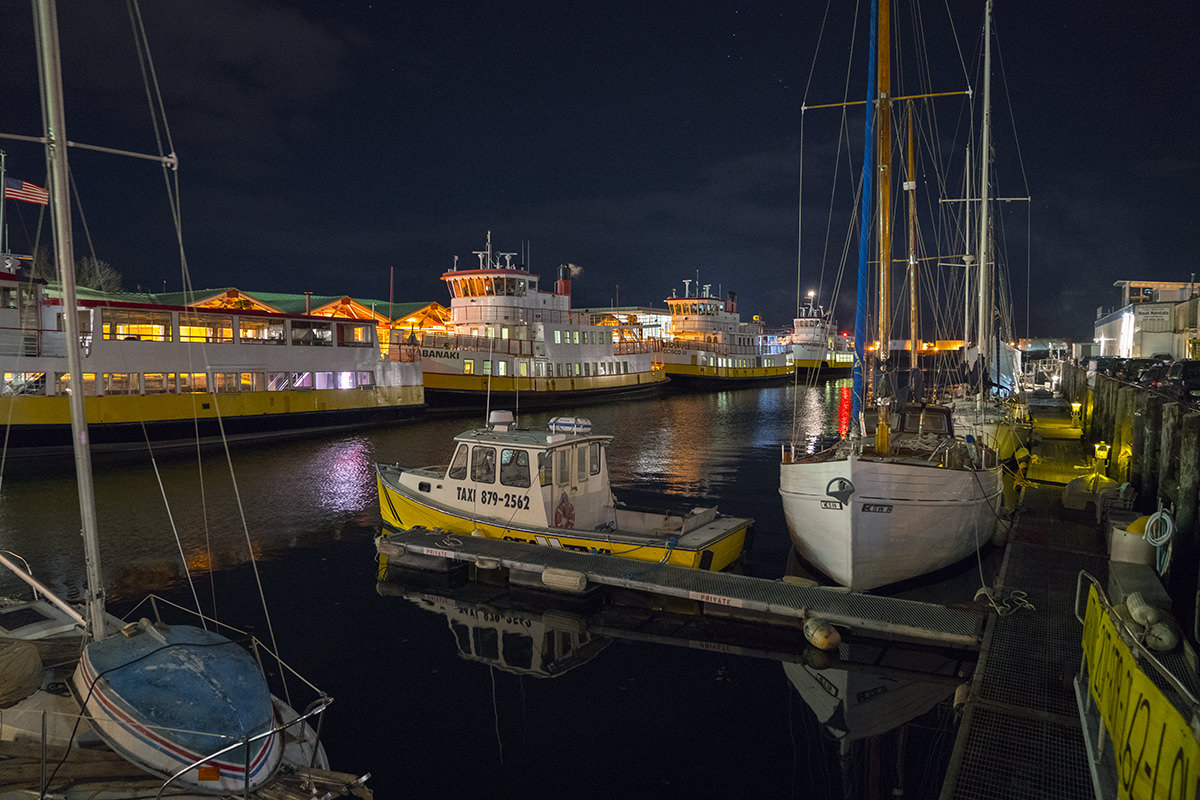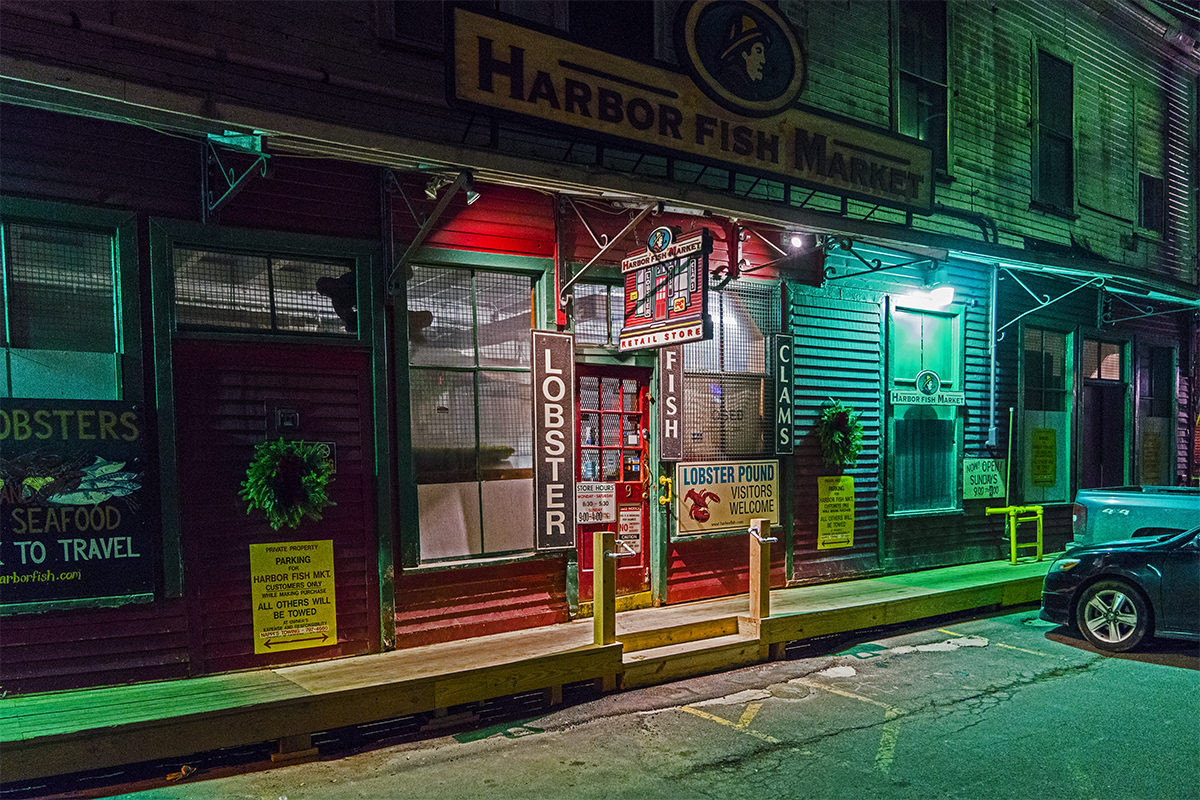 And now... I pack. For tomorrow I take the long journey home.
Posted on December 7th, 2016

How's Maine? Maine is cold.
I didn't have a car until noon, so I skipped breakfast at the hotel and decided to have pizza at Otto in downtown Portland. They make a Butternut Squash and Cranberry pie that is one of my favorite things. And it totally delivered...
While eating I got to watch a woman let her baby stab the wood table repeatedly with a fork. When she noticed me watching, she took the fork away.
Then gave the baby a knife to stab the table with.
I don't know that it was an improvement, but okay.
On my way back to my car I saw two pumpkins on the sidewalk, assumably waiting to be tossed in the trash...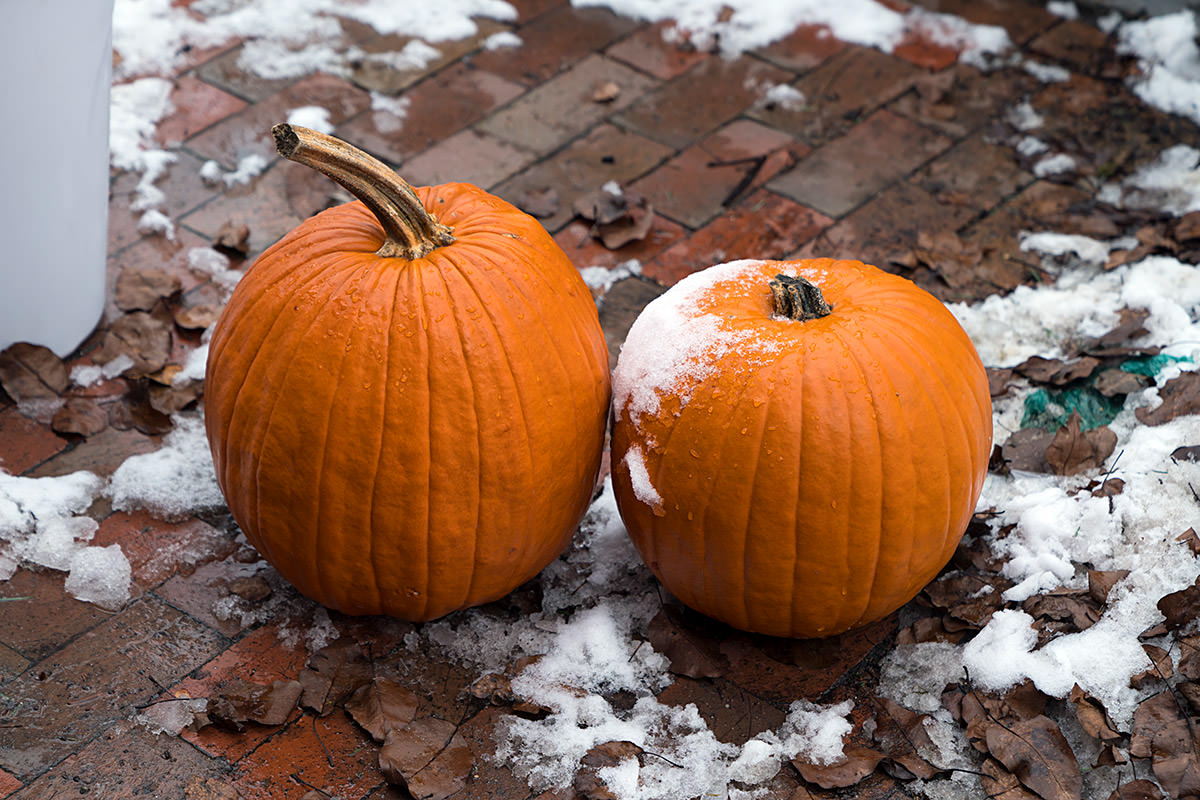 I guess the magic of pumpkin spice has passed. They look to be in great shape, so somebody should totally save them and make pie.
The hour trip north was boring, which is the best you can hope for when driving in Maine during winter. After checking into my hotel, I look out to see that the Androscoggin River has once again closed down for the season.
Here was my view from last year, around this time...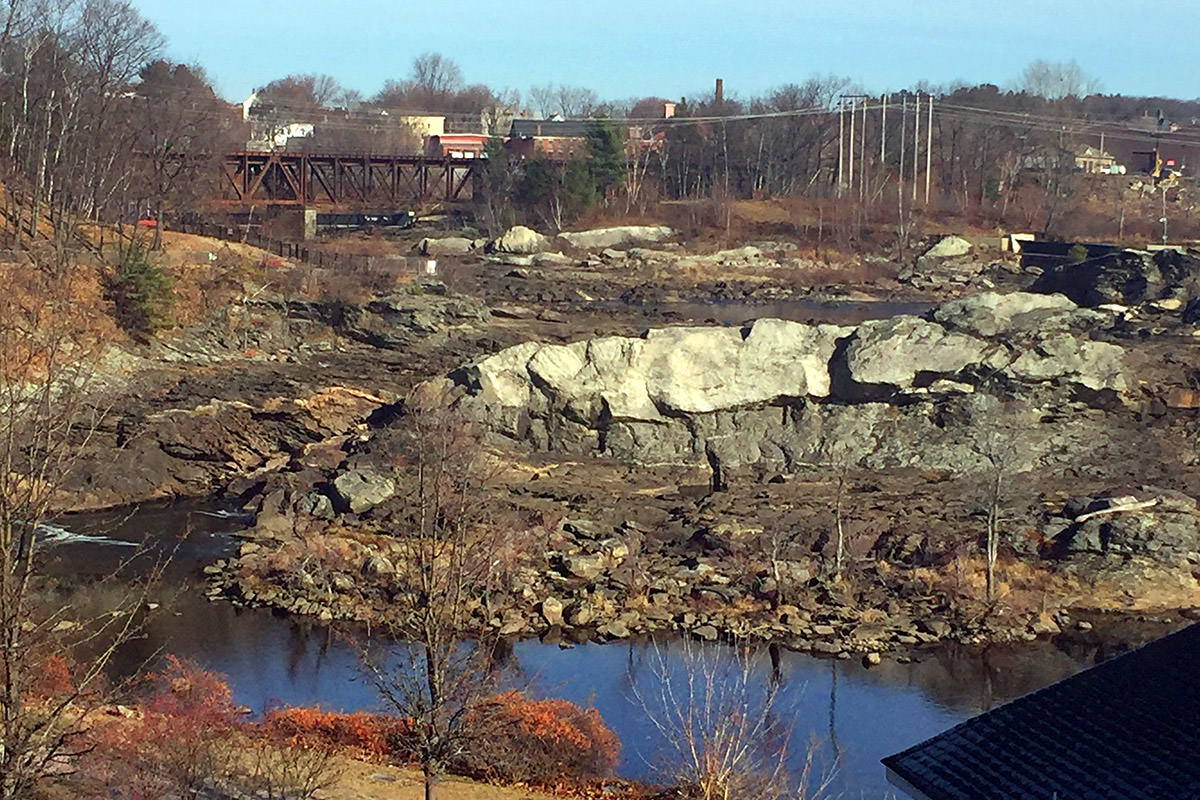 And here we are now...
Exciting, I know.
Since there's not much to do while I wait for my job to start, I've been getting some work done and catching up on Facebook. It was while looking through the latter that I ran across a video of Christmas tree shearing. It's fascinating to watch. Relaxing even. Very zen...
Depending on size, these guys can shape 2,000-2,500 trees per day! They don't say how many ninjas they could slash their way through. Oh well.
As exhausted as I am, I suppose I should take a nap before starting work at midnight.
Or search YouTube for more Christmas tree shearing videos.
One of those two things.
Posted on December 6th, 2016

Traveling for work is something that people who don't travel for work will never truly understand. It's not like going on vacation where you excitedly pack your bags and skip off the the airport looking forward to fun and adventure. It's more like a necessary evil that inconveniences your life as much as possible. A drudgery in repetition that you endure over and over and over until you're numb to the horrors that a life of travel dumps on you.
Something I had forgotten about. Probably because this past year I haven't been able to travel much, and had blocked it from memory.
And now I have cats.
Cats who can sense when I'm getting ready to leave, and decide that's the perfect time to go bonkers on me.
Knowing I had to get up this morning at 3:00am, I went to bed last night at 8:00. Usually the cats follow me up to my bedroom, pass out on me or the floor when I close my eyes, and that's the end of it. But not last night.
Earlier in the day Jenny had caught a bug out in the catio and brought it in the house. Not my favorite thing, but it makes her happy, so I resist my urge to go running up with a paper towel, put the bug out of its misery, and flush it down the toilet. She batted it around for five minutes or so, happy to have something new to do. At which point Jake came sauntering in the room and ate it.
Jenny did not take it well.
She cried because the bug was gone, then ran back out to the catio to catch another one...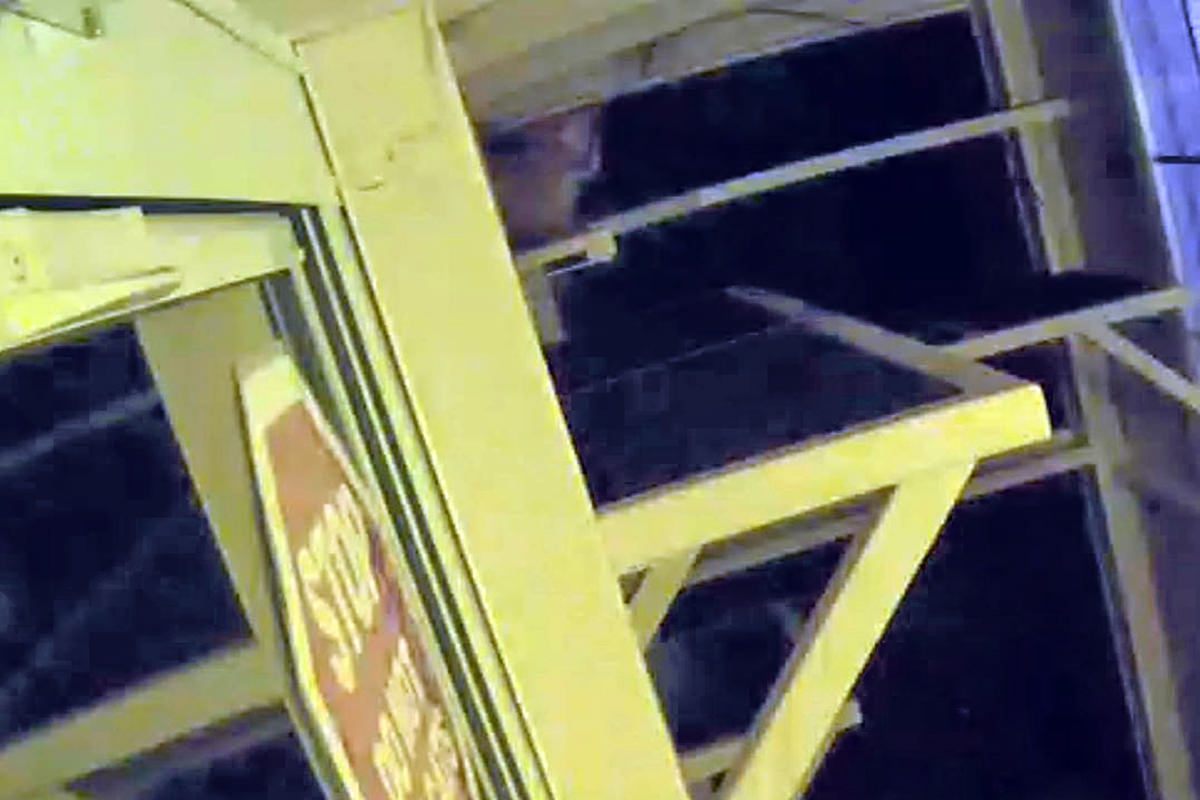 Alas, after over a half-hour of waiting, no bug came. So she decided to come in from the cold and cry about it. A lot. She cried as she laid on my lap to get warmed up. She cried as I got up to go to bed. She cried as we climbed the stairs. She cried as I crawled into bed. Then she sat next to me and cried as I turned off the lights to try and get some sleep...
After I didn't cough up another bug for her to torture, she wandered off. Jake decided to take her spot since she kindly warmed it up for him. Thinking all the problems in Cat World were solved, I closed my eyes.
For all of twenty minutes.
So there I am in bed dozing off at 8:30 when all of a sudden BOING! BOING! BOING! BOING! BOING! Jenny has discovered one of the few door-stops left in the house. Apparently she decided if she didn't have a bug to play with, this would do. Jake hears it and goes running to investigate. Now they are taking turns BOING! BOING! BOING! BOING! BOING!
I think I finally managed to fall asleep around 10:00.
Five hours later I'm getting ready to head to the airport. Snow had been falling, so the drive was a bit more treacherous than usual. But I make it with plenty of time to spare. Here is my view at 5:00am from my seat on the plane...
Exhilarating, is it not?
Once in Seattle, I have my morning Qdoba burrito and wait for my flight to Reagan National Airport in Washington DC. As we leave, I am thrilled to be parked next to the one plane I really want to fly on before I die... Alaska Air's Salmon Thirty Salmon!
The flight is okay, despite my ending up in a middle seat because I had to book with the plane mostly full.
While I have flown to Washington, D.C. many times, I have never changed planes there. Turns out that Reagan National Airport is just fine if that's your final destination. But a total pile of shit if it's not. In order to get from B Concourse to my next flight on C Concourse, I HAD TO EXIT SECURITY, WALK A MILE, THEN GO THROUGH A SECURITY CHECK ALL OVER AGAIN. Which is buckets full of stupid in a day and age when security procedures are such a major cluster-fuck. Come on, Reagan National, get your shit together.
And then... one additional plane-ride later... here I am in Portland, Maine.
Where it's cold.
And dark.
Which makes the fact that I am tired and hungry that much worse. But at least my luggage arrived this time. After getting to my hotel, I decide to eat at the restaurant there so I can have some fries and Maine blueberry pie before turning in. The waiter asks if I want my pie with my fries or after. I answer "Definitely after, thanks!"...
I'm guessing this is indicative of how the rest of my trip will go?
Posted on December 1st, 2015

Got out of work around 4am, which was nice. And pretty much on-time. A pleasant change from last time when things ran nearly a day late. I celebrated by sleeping in early, then catching up on work back home.
I decided to spend the night closer to the airport, and headed back to Portland. Partly because I'm familiar with the city and comfortable hanging out there... but mostly because amazing dessert was calling me from the Flatbread Company. In the Summer they have a Maine blueberry cobbler that's to die for. in the Winter it's usually apple cobbler, which is almost as good...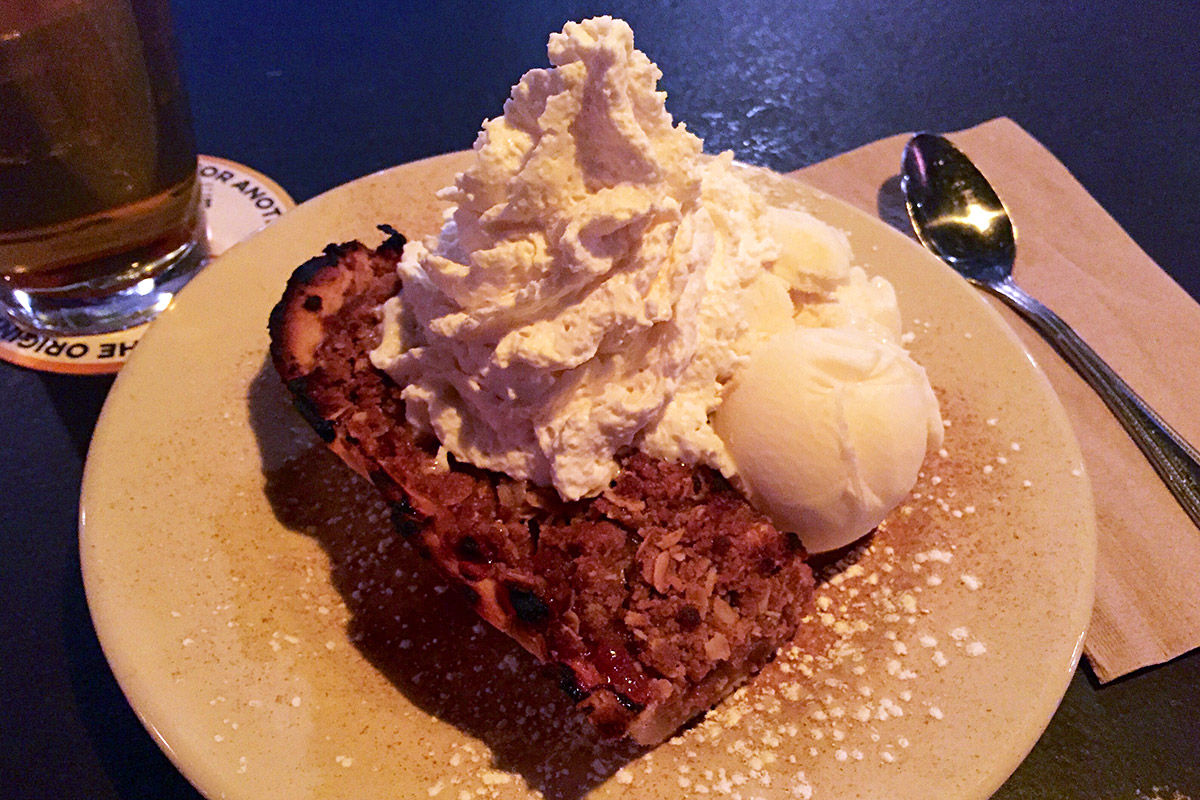 But I'm getting ahead of myself...
Noon. Check out of the Hilton Garden Inn Auburn Riverwatch. Which was a lot weirder than usual. Even though I was specifically told it wasn't. There I was loading the trunk of my rental car in the hotel parking lot when a big black pickup truck comes squealing up beside me. A guy leans out the passenger-side window and is waving a yellow piece of paper. "HEY! HEY! YOU WOULDN'T HAPPEN TO WANT A HOME THEATER AUDIO SYSTEM INSTALLED, WOULD YOU?!?" — "Uhhhh... not unless you want to drive 3000 miles to my house..." — "THIS ISN'T WEIRD... WE'RE HOME AUDIO INSTALLERS!" — "And you're looking for business in a hotel parking lot where people you find probably don't even live in the area?" — "No... we're looking in ALL the parking lots!" — "Um... okay?" — "THIS ISN'T WEIRD! WE'RE INSTALLERS!!!"
12:30pm. Drop by the Home Depot in Topsham to see if they have the towel loop I was shorted when my local Home Depot ran out. And they did! If my luggage goes missing again, at least I'll have something to pack home with me.
1:30pm. Check into my hotel and have housekeeping barge in on me while I'm answering emails. At least I had my pants on this time.
2:30pm. I still have tons of work to catch up on, so I can't really go out... but I'm too hungry to avoid eating. So off I go next door to Micucci's Italian Grocery where they have this amazing slabs of Sicilian pizza I love...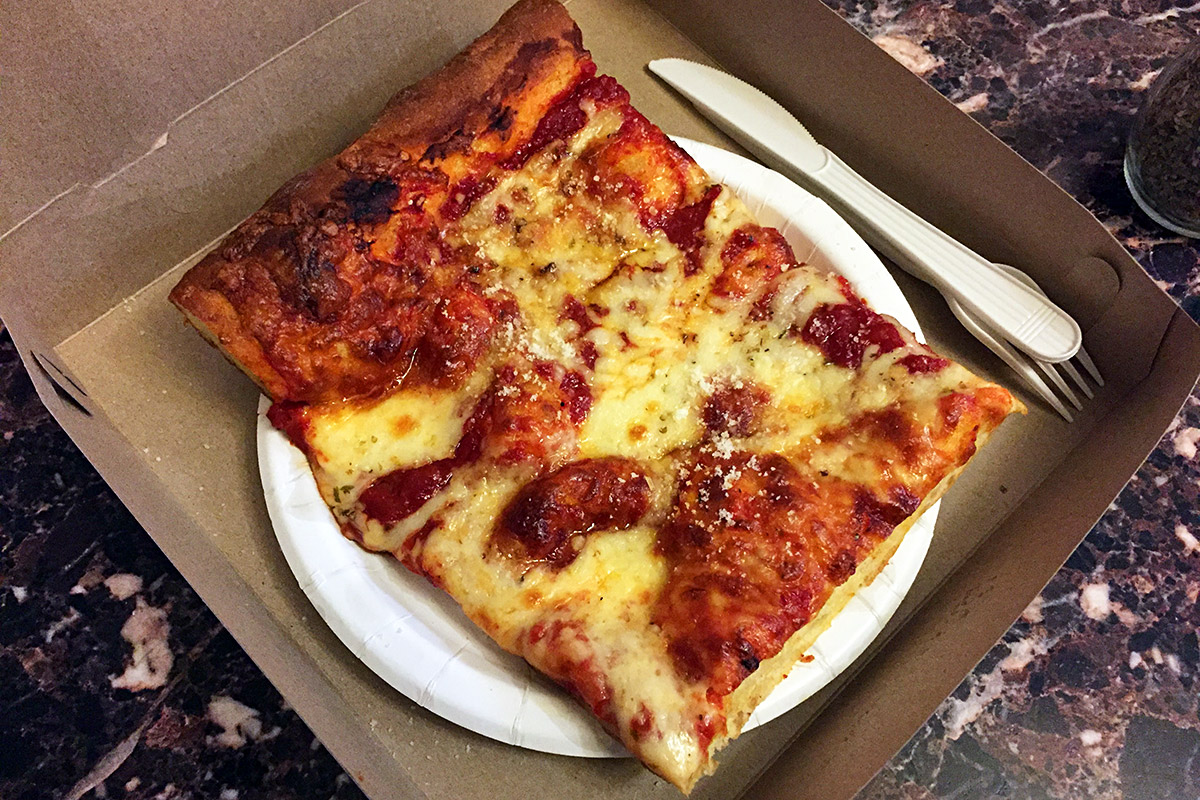 4:30pm. Still full from pizza, but hot apple crisp from Flatbread Company cannot be denied.
Midnight. My new lip balm is Maine blueberry flavored. As a result, the entire room smells like a blueberry muffin exploded. This made me hungry again, so I went to the hotel gift shop to see if they had a snack. I am now eating an entire tub of DIBS ice cream snacks at midnight because it's the only thing they had that sounded good. This is not going to bode well for a good night's sleep... but oh well. What else is new?
1:30am. I write this post then plan on surrendering to sweet slumber. Hopefully.

And... that was pretty much it. This probably sounds like I spent most of my day eating, but almost all of it was spent working.
Sadly, no time for pretty pictures like last time.
Posted on November 30th, 2015

Today my work took me to Auburn, Maine. A pleasant city that's about an hour north of Portland and one half of the "twin cities" of Auburn & Lewiston.
As I mentioned yesterday, my hotel of choice in the area is the Hilton Garden Inn Auburn Riverwatch. And the river in question being watched? The Androscoggin River, which divides Auburn and Lewiston.
Or so I would guess.
In the many times I've stayed at the Riverwatch, I've never had a room with a view of the river so I can actually watch it.
But this time I asked at the desk if they could hook me up. Since tourist season is dead, dead, dead this time of year, it wasn't a problem...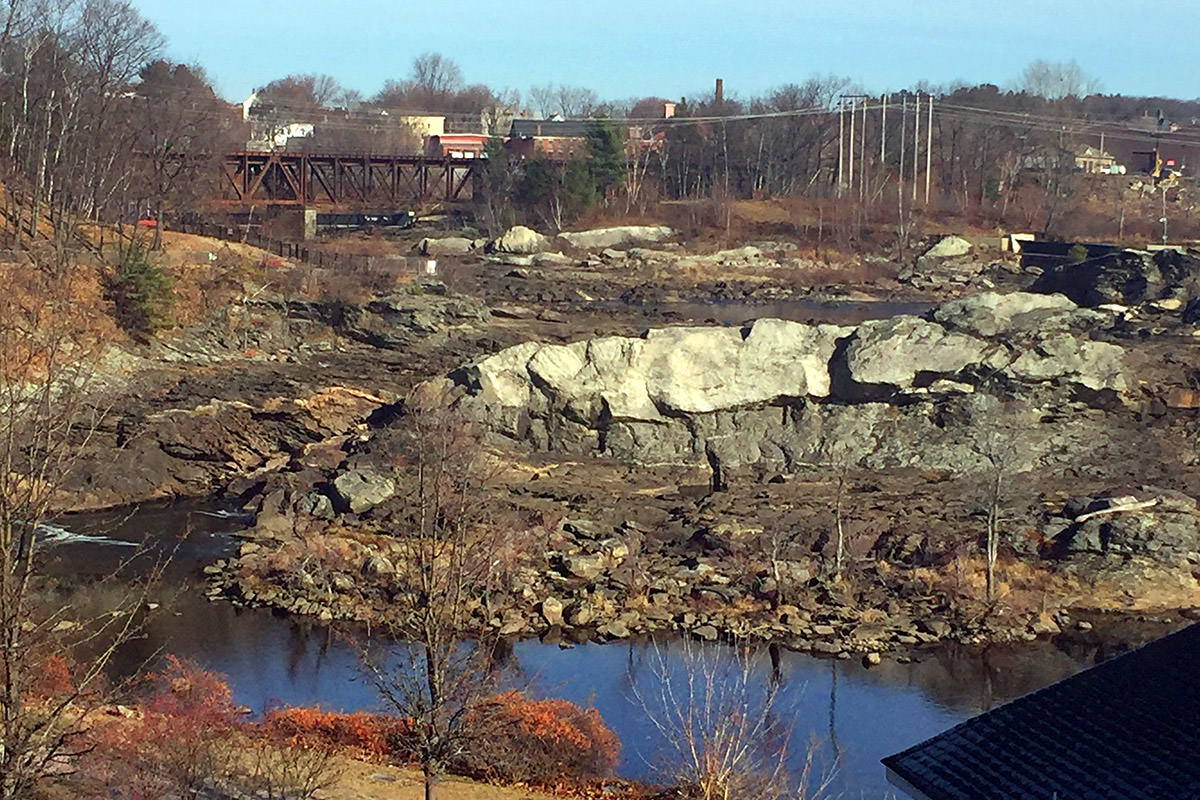 Huh.
Not quite the awesome view I was expecting.
I'm guessing that it's a lot more interesting in the Summer.
Anyway... work is a long, drawn out affair that will last well into tomorrow. Lucky for me, I was able to escape for a short dinner break. That isn't always possible, so it's kind of nice when it happens. Must be time for She Doesn't Like Guthries!
Guthries is probably my favorite place to eat in the region, and I have no idea how that's even possible. There is no kitchen. Just a couple panini presses and a small stove behind the bar... and yet they turn out these amazing meals. Their Sweet Potato Burrito is my favorite, but everything I've ever eaten here has been fresh and delicious. Magic?
As if that wasn't enough magic, United called and told me that they found my luggage. Unfortunately, since I have no idea where I'll be tomorrow, I can't tell them where to deliver it. Hopefully I'll be able to swing by the airport and pick it up myself... but I have an extra pair of underwear and socks if it turns out I can't.
My bag being found is a huge load off my mind because one of my favorite shirts in existence is inside. And it's not like I can just order another Jarrod Saltalamacchia Boston Red Sox T-shirt seeing as how he's no longer with the team.
And now... back to work.
Posted on November 29th, 2015

Get your travel on, because Bullet Sunday starts... now...

• United? My chosen airline, Alaska Air, can't get me to Portland, Maine. Usually, this is not a problem... I just fly into Boston and spend an hour-and-a-half driving up. But winters in New England can be unpredictably harsh, and I wanted to get as close as I could to my destination. Delta's total flying time was absurdly long and the cost insanely high. United was much more reasonable on both counts, so I decided to go that route... despite having no status with the airline. It was a huge mistake. I haven't been this miserable flying in a long time. And they lost my luggage.

• Seated. The only GOOD thing to happen this flight? There was an empty spot next door, so my OREOs had a seat all their own...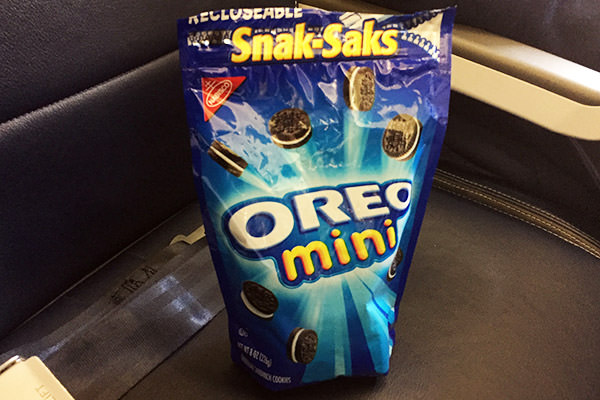 Better than getting crushed in a seat-back pocket, that's for sure.

• Rent. Still don't understand how rental car companies think that giving you any car other than the one you reserved is "an upgrade." It's not. If the car you receive is a completely different size, that's a DOWNgrade. And I don't care if you're not charging me for it... this is still not the car I was expecting.

• Hotel. My favorite lodging chain, hands-down, is W hotels. Amazing properties that are usually out of reach for my budget... but an amazing surprise when I can swing it. If I can't get into the W, I look for another Starwood property I like... Aloft hotels. They're sorta like a budget version of W, and always nice. Unfortunately, there aren't a lot of them around. Which means I'm usually compromising. My favorite compromises of the moment? Hilton Garden Inn and Hampton Inn. I've been pleasantly surprised by both chains, and started patronizing them faithfully after "regular" Hiltons took a massive price hike. Right now I'm in the Hilton Garden Inn Portland Jetport, and will be moving to another Garden Inn tomorrow when I reach Auburn. After that, I'm not sure where I'll be... but I am pretty sure of what hotel I'll be staying in. When you travel a lot, that kind of consistency is gold.

• Water. Okay... it's gold most of the time. Perhaps not tonight. The first thing I do after I've tossed my luggage in the shower is to remove my shoes (helpful hint: tossing your luggage on a bed is a potential bedbug hazard that's best avoided). Unfortunately, I didn't notice that the refrigerator was leaking a huge pool of water on the floor, and walked into it with my one pair of socks. Since I have no idea when I'll see my luggage, I'm now stuck with wet socks that have been streaked with brown goo. Good times. Good times.

• Lost. And since I don't have any idea when I'll be getting my bag, tomorrow morning I'll have to rearrange my schedule and head to... THE MALL... =shudder=. Fortunately The Maine Mall has an Eddie Bauer... the only place I seem to be able to consistently find Tall Sizes off the rack. Their clothes are constructed okay, but the styles they have seem to have taken a nose-dive in the past couple years. Hopefully I can find something I'm happy with, because I really don't need any more unhappiness coming my way this trip.

And... back to Maine... and sleep.
Posted on December 7th, 2014

The Plan was to fly out today since my work ended yesterday so I could have more time on my upcoming Hard Rock adventure. But to follow The Plan would cost four times the money than a hotel stay, so I'm instead flying out tomorrow morning. Early.
The rest of this entry should be prefaced with the understanding that cold Maine is cold. Very cold. Biting cold. Cold with a side of cold and a scoop of cold on top.
It's really f'in cold.
And it's Sunday in the off-season, so there's not much to do in Portland, Maine. Thus my incentive to go outside is not very high. So I didn't until the hotel kicked me out at noon. At which time I checked into my airport hotel, returned my rental car, then took a taxi back into the city because pizza and apple crumble was calling at Flatbread Company...
To say I love this restaurant is a gross understatement. The location is great. The atmosphere is great. The service is great. The beer selection is great. The food? Beyond great. Especially the desserts, which are worth a trip to Portland all by themselves.
Did I mention it's cold?
Yet I went wandering downtown anyway like the fool I am. Despite wearing a T-shirt, thermal henley, hoodie sweatshirt, and a coat, I was still freezing. But I wanted to get a shot of the fence with locks on it in daylight, so off I went...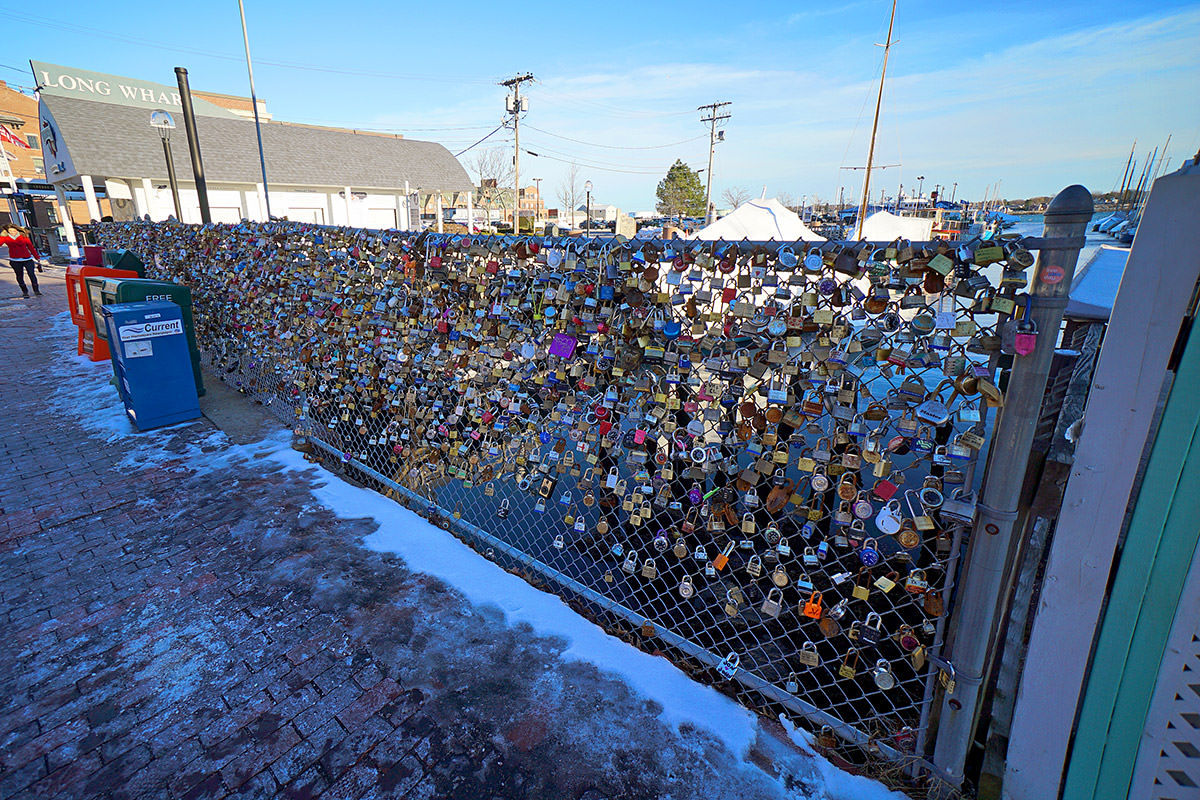 To profess their undying, never-ending love, a couple will write their names on a lock, attach it to the fence, then throw away the key. I have no idea if you come back with a bolt-cutter if things don't work out, but it's a nice idea.
I decided to explore somewhere new this time around, and left the Old Port area for downtown. That's when I saw... MAINE LOBSTERMAN!
Sculpted for the New York 1939 World's Fair, this piece has an interesting history (which you can read about here). At first I thought that the guy was giving first aid to a lobster with a hurt claw, but that's apparently not the case at all...
He's actually "pegging" the poor thing... which is to say he's shoving a wooden peg in the claw joint so it can't be opened (so he can't pinch anybody). This practice has mostly been abandoned, and now they just wrap a plastic band around the claw. Still a bit cruel, but I'm guessing it's not as painful to the lobster. At least until he gets boiled alive.
As I was walking, I saw a really cool painting on the side of a building that was meant to mimic a giant blueprint being laid over the structure...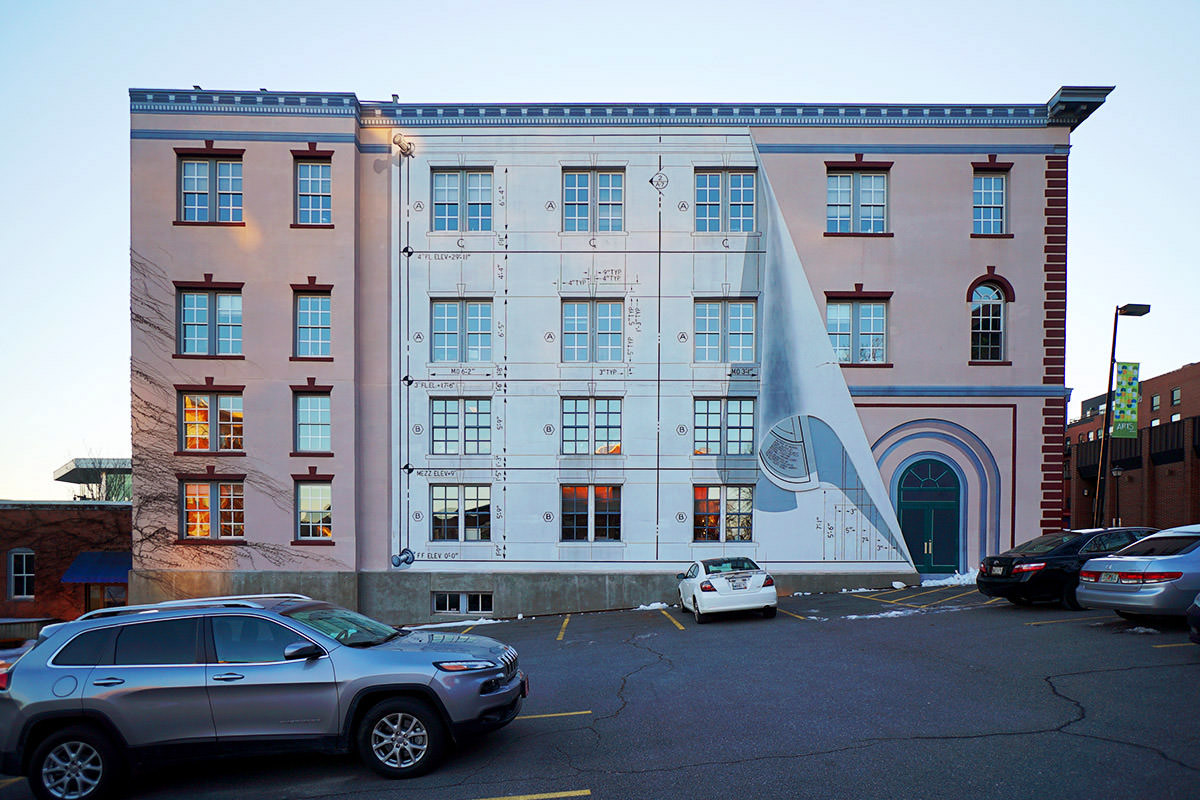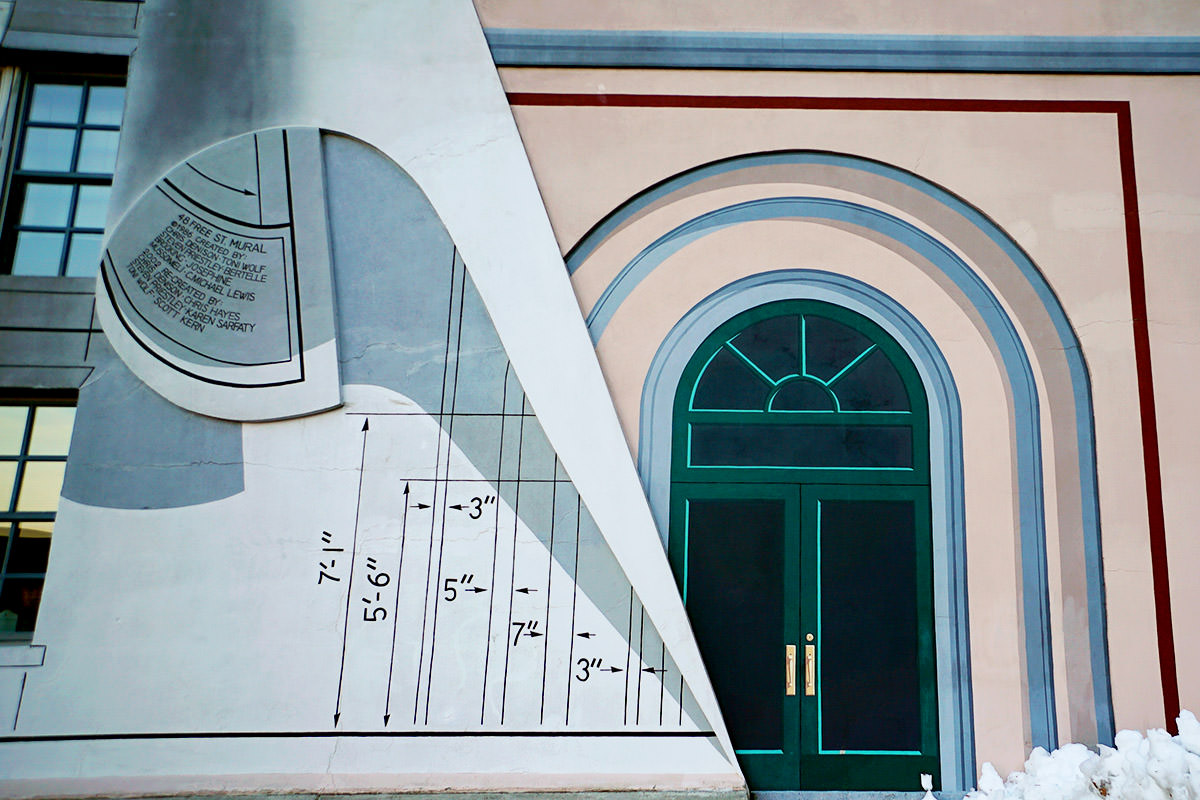 Just across the street is a giant postcard painting that's also pretty cool...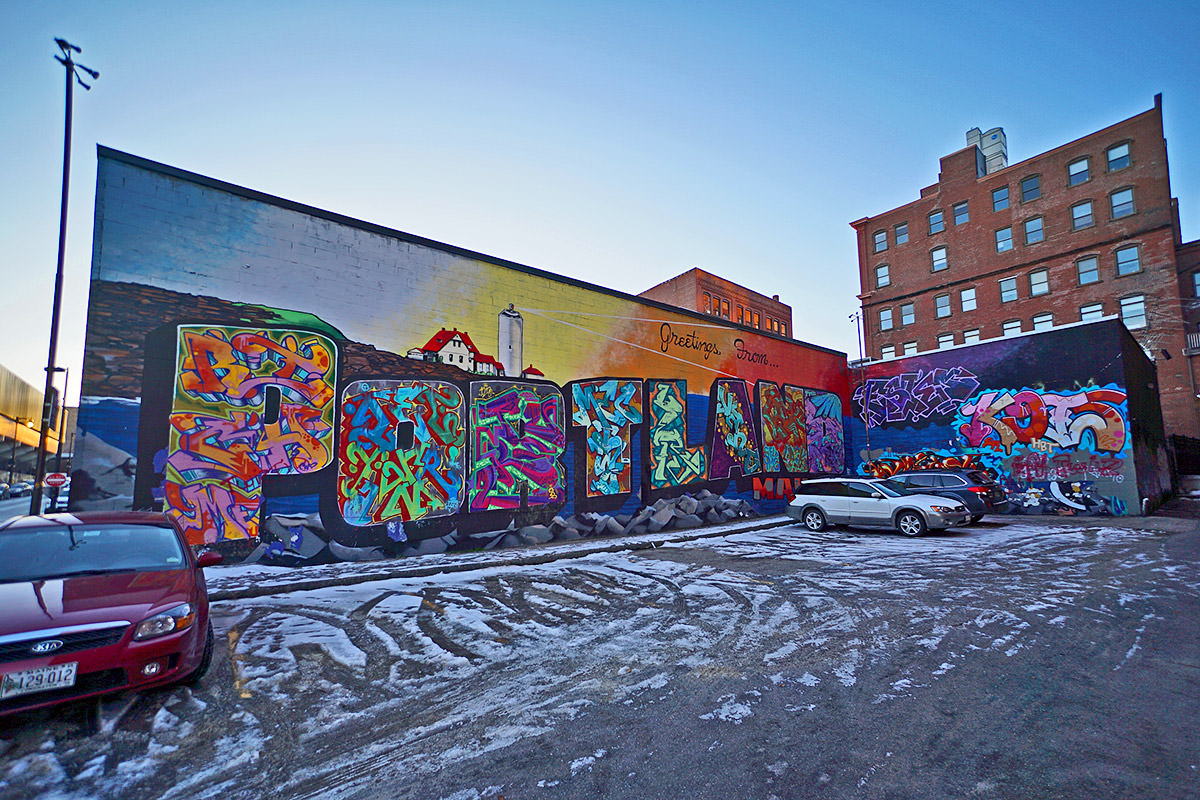 Click the above photo to embiggen it...
If you look closely, the "lighthouse" is actually a spray-can...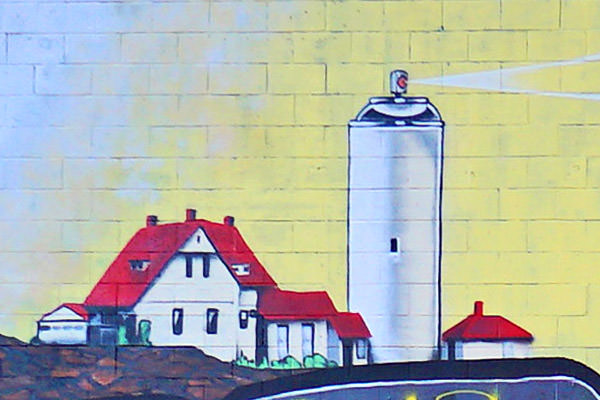 At this point I was so cold that I could barely move, so I called a taxi while taking a few last photos as the sun set...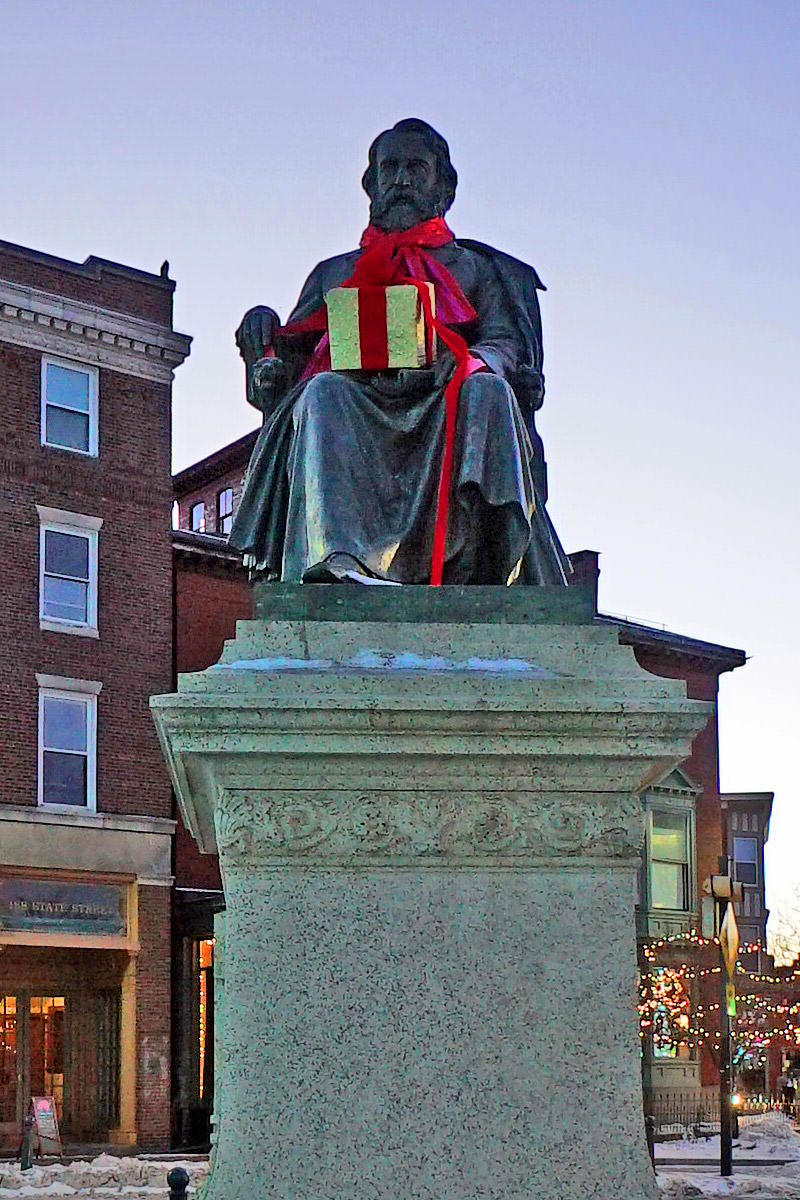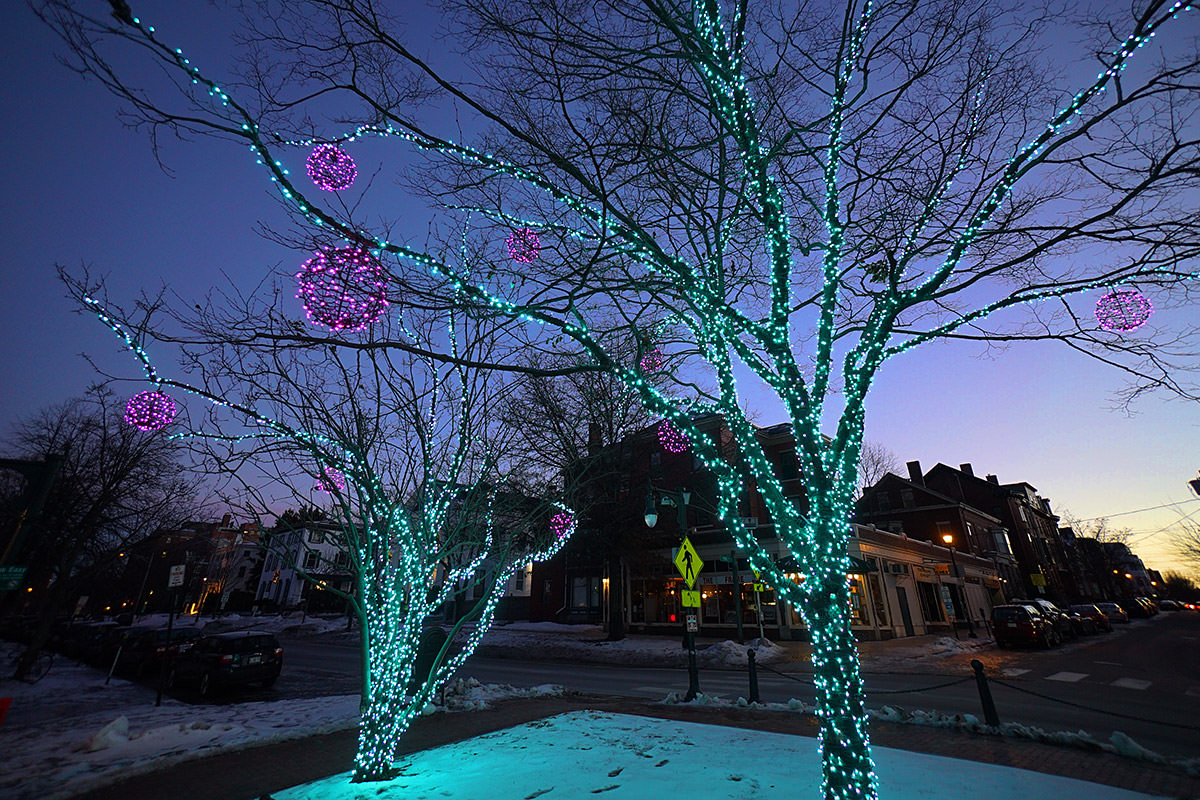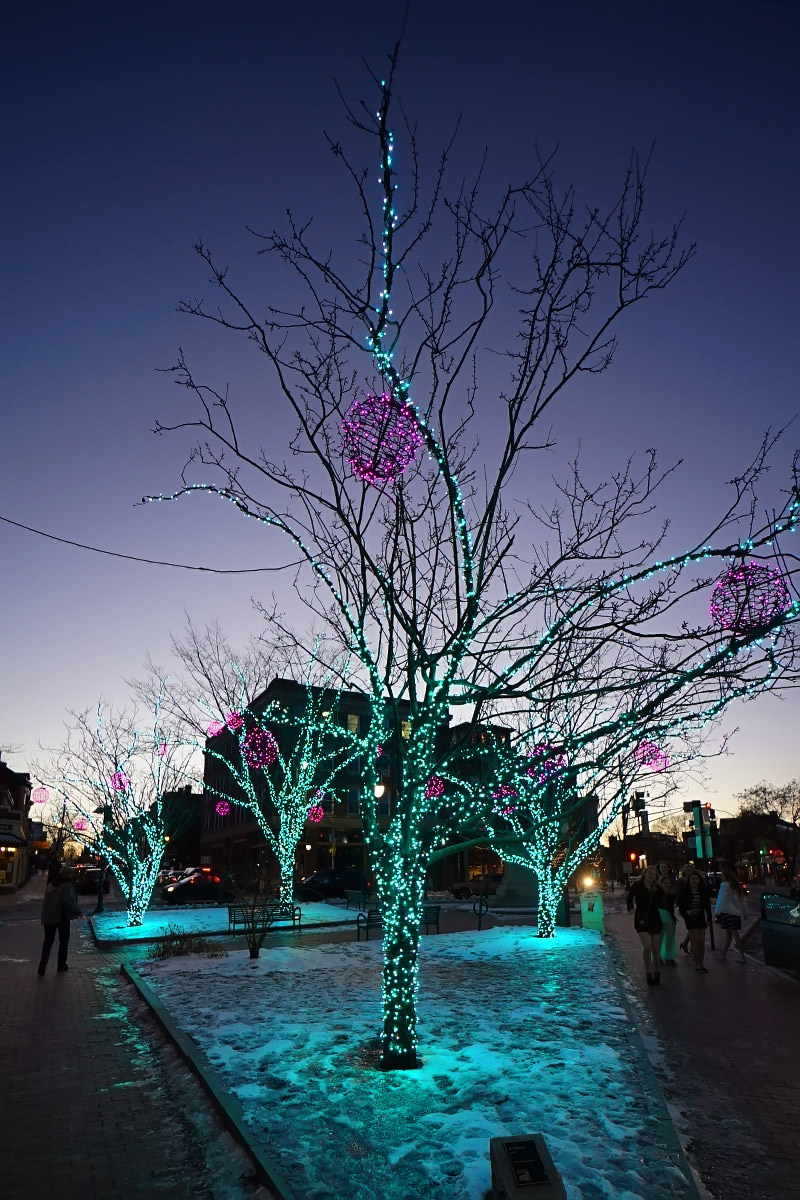 And that was that.
Back to my airport hotel room where I can (hopefully) get a few hours sleep before my early morning flight.