Posted on Friday, January 20th, 2023

I've been crapping on Apple a lot lately.
But not without reason.
Apple used to be the GOLD STANDARD in interface design. Everything was incredibly well-thought-out and intuitive. But now-a-days? Most everything they do is shit. And I simply don't understand why. Yes, Steve Jobs is gone, but surely there are people in Apple who give a crap about making sure that you can use their apps without wanting to beat the shit out of somebody?
But apparently not.
Because I was reminded about this when I was having to use the GUI abomination that is the AppleTV app (whether it's on a Mac, AppleTV, iPad, or iPhone). This app has been shit for ages. It was made even worse when Apple decided to prioritize AppleTV+ over absolutely everything... ramming their service down your throat like a fucking jackhammer. Even over content you purchased. Like when you search for the movie Ted...
But that's just the beginning with their idiotic search. Want to search your library? You can't just click on LIBRARY and search. If you do that, you'll end up searching within AppleTV+ and their media store content. Oh no. To search your library, you have to type into the SECOND smaller search box. And do you know how many times I forget to use the tiny box? ALL THE FUCKING TIME! And do you know why? The second smaller search box DOESN'T FUCKING EXIST UNTIL YOU CLICK ON A TINY FUCKING MAGNIFYING ICON THAT'S UNDER THE SEARCH BOX!!!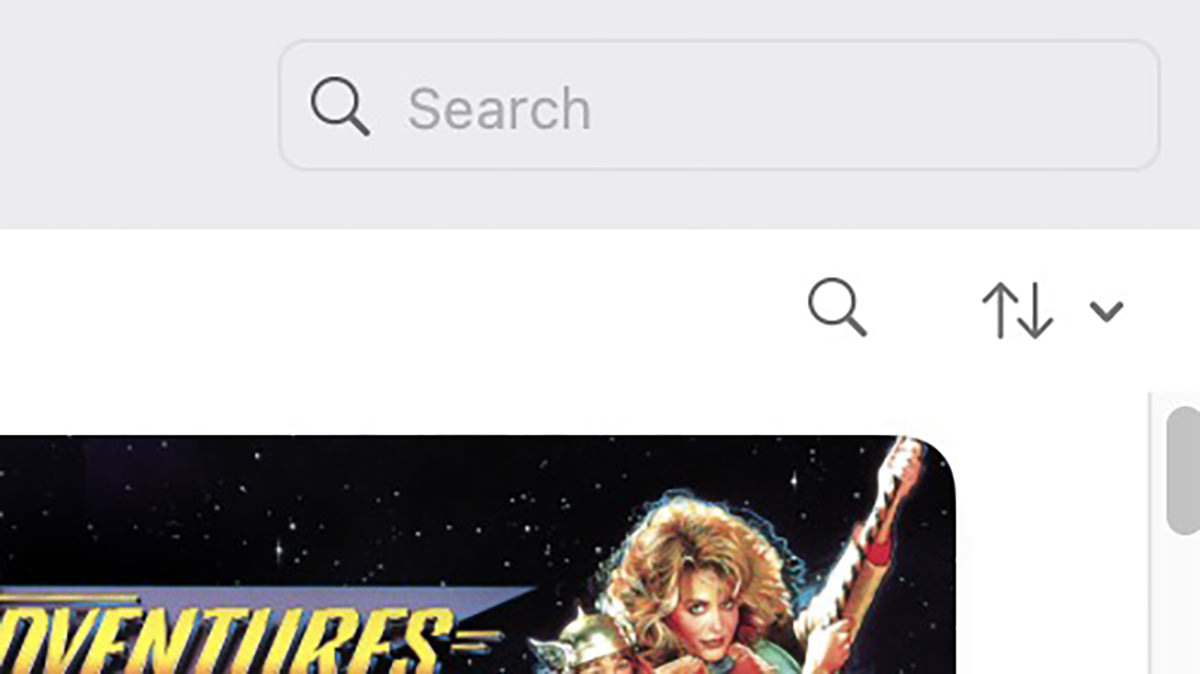 Only then does the search box even bother to appear...
Absolute fucking lunacy.
But wait! It gets worse! Let's say that you use the universal search box anyway to get to your movie because you forgot about the smaller search box. What happens then? As you see from the first screenshot above, you have no fucking clue where the movie is at. Is it on AppleTV+? Is it in the store? Do you have to buy it? Do you own it? Who the fuck knows?
You have to click through to see where in the hell it comes from. In this case, I own it... although it doesn't tell me I own it... I just have to infer that I own it because there's a "Play" button instead of a price tag...
But let's say you're on your AppleTV and don't want to type out the title to get to it since it's a huge pain in the ass? Well, then you get to scroll through your entire fucking catalog of titles! And since I own hundreds of them, that will take a while. Let's say that I want to watch the movie 4th Man Out. With Apple, it's scrolling and scrolling and scrolling and scrolling because Apple puts numbers after letters...
Here it is! Right after Zoolander...
Let's compare that to how Plex allows you to navigate. I use Plex to catalog all my ripped DVDs (which is a legal backup of my massive DVD library). Since I paid for 4th Man Out both digitally and on DVD, it's in both places. Although since Plex puts numbers in front of letters, I don't have to actually scroll anywhere. It's right there at the start...
Not really a fair contest. So let's try another. Zoolander. Another movie I bought on both DVD and digitally. With iTunes, I have to scroll through hundreds of titles to get to it. But look on the right hand side of the Plex interface. See those letters there? No scrolling needed. I just click on "Z" and there it is!
This is especially fantastic on the Plex app for AppleTV... which is far, far superior to what AppleTV itself actually offers.
How embarrassing.
HOW FUCKING EMBARRASSING FOR APPLE!
For the love of God, spend the tiniest fucking portion of your billions of dollars and DO SOMETHING!
Don't get me wrong... there's still a lot of companies who are even worse at this than Apple. But given where Apple started, this is nothing short of tragic.
And I have no idea what it's going to take to get Apple off their stupid asses to actually fix this crap.
Posted on Wednesday, February 1st, 2023

Gizmodo has a story on the ten projects that James Gunn is overseeing for the new DC Comics Universe of movies and shows.
Gizmodo has Creature Commandos listed as "Creative Commandos" which is hilarious. — All I can say that is if these projects were from anybody but James Gunn, I would be laughing my ass off. What's odd is that the new Superman and Batman films aren't coming out until 2025... which is later than I'd thought it would be, but still pretty ambitious. An entirely new universe debuts in just two years? Again... if it were anybody but James Gunn, I'd be laughing my ass off. My comments below...
Creative (s/b CREATURE!) Commandos (An animated HBO Max show) — It's like... what a bizarre choice. An entire series devoted to monster soldiers? Sounds like a Halloween special, but okay. Something tells me that this was in process before James Gunn took the big chair (with Peter Safran).
Waller (A live-action HBO Max show) — I really hope that Viola Davis is in this, because she's SUCH an amazing actor. UPDATE: Confirmed that it will indeed be Davis.
Superman: Legacy (Theatrical film) — I am confident that James Gunn will find a way to make Superman relevant while also interesting... something that Zack Snyder wasn't able to do AT ALL. I am a bit concerned that the whole "Gods & Monsters" arc for the New DCU will fall into the same trap that Snyder fell into, but it's James Gunn... so... yeah. Maybe.
Lanterns (A live-action HBO Max show) — The Green Lantern movie was a pile of shit so bad that I couldn't believe some of my favorite actors were involved. Terrible, terrible movie. A show might be a way to showcase the many interesting Green Lanterns from the comics, so it could be a very cool show to watch. UPDATE: Apparently this will be terrestrial-based, meaning that it's mostly Hal Jordan and John Stewart stories, so we'll see.
The Authority (Theatrical film) — Now this could be interesting! The comics started out SO good, and if they did a straight adaptation it could be fantastic... so long as it's an R-rated movie, because otherwise why bother?
Paradise Lost (A live-action HBO Max show) — Amazons, I guess. Could be something that pre-dates Wonder Woman to give her eventual debut good context. I hope that they don't fuck up the Greek gods like the (otherwise excellent) Wonder Woman movie did. They're saying it's their "Game of Thrones" so who knows?
The Brave and the Bold (Theatrical film) — Batman & Robin? In my early comic book days, The Brave and the Bold was alway Batman PLUS some other DC Hero (or villain!) teaming up. But still... I will be very interested to see what Gunn has in mind for Batman. Hopefully something more like the Nolan trilogy instead of the emo-goth bullshit we got from the last Batman movie! UPDATE: It's going to be the Damion Wayne version of Robin which is the best news possible. I hope that they make him a little nuts without taking him full-on psycho, because the majority of kids just don't have the acting chops to pull that off very well.
Booster Gold (A live-action HBO Max show) — A LONG time coming. Like... this should have been done a decade ago. I love the character, and hope that eventually the show transitions into the "Blue & Gold" show I've been dreaming of (Booster Gold and Blue Beetle as made amazing by Keith Giffen). Hopefully they get a writer with decent comedy chops to do this right.
Supergirl: Woman of Tomorrow (Theatrical film) — Poor Supergirl. The character herself is so interesting... as shown in the Animated DC shows... but her lone live-action movie was trash (despite having Faye Dunaway and Peter O'Toole!). I really, really hope that they hire a truly great FEMALE writer AND director to do this movie right. She deserves it. And there's plenty of great comics to be inspired from.
Swamp Thing (Theatrical film) — Lord. There are a lot of other DC characters I would have put in a film before Swampy. His good TV show was not so long ago (2019), and the idea of a complete film has already been done. Soooo many other movies would have been a better idea than this. I hope "Swamp Thing: The Movie" ends up worth stepping all over others that deserved it more.
I want a Legion of Super-Heroes live-action HBO Max show. I want a Black Canary & Green Arrow show. I want a REAL Justice League movie. I want a Deadman series. I really want a Zantana movie. Where's an Amethyst animated series at? And holy crap... how cool would an Adam Strange series be? Is Guy Gardner going to appear in Lanterns? Because a show for HIM would be great. So many possibilities!
I'm more confident in the DCU now than I was as we suffered through all the Zack Snyder crap, which makes me happy. Nobody wants successful DC movies than me (with the exception of the upcoming Shazam: Fury of the Gods and The Flash: Flashpoint, both of which star highly problematic actors that I really wish would just go away and take their bullshit with them.