Posted on May 1st, 2018
Oh look! The latest issue of Thrice Fiction magazine is out!
And you can read it online or grab a copy in PDF or eBook format absolutely FREE by visiting our website at ThriceFiction.com.
As always, it's got a great slate of writers and artists...
Including art by yours truly. And guess who is making his Thrice Fiction debut in our latest issue? IT'S JAKE! No... he didn't write a story... but I did use him in the artwork I created for a story by Meg Tuite!
Alas, all efforts in getting him to hold a Rolodex met in failure, so there's some Photoshop involved... but he's just as adorable as ever!
So what are you waiting for? Go check it out!
Posted on March 2nd, 2018

I remember how gutted I was when Jon Stewart left The Daily Show... thinking that nobody could ever take his place... swearing I'd dump the show. And then Trevor Noah came and he was a little rough but I saw how it might work out if he was given a chance. So everybody gave him a chance. And it ended up working because Trevor didn't even attempt to replace Jon Stewart... he just did his own thing within the format he was given. And now it's almost impossible for me to think of The Daily Show ever having been anybody's show but Trevor's, and I am glued to my TV every week night watching him dazzle with his charisma and brutally smart commentary on current events.
A while back I mentioned Trevor's audiobook, Born a Crime, which made me want to listen to it all over again.
And so I did. Seriously, even if you don't like Trevor, The Daily Show, or his politics, his story of growing up under Apartheid is unbelievably compelling. Highest possible recommendation...
As I said, you can sign up for Audible and get a free book credit so you can listen to his book for Free. Assuming you're not already a member. If you are a member, it's worth the credit. If neither of those are an option, check to see if your local library has audiobooks. Many of them do.
In the meanwhile, if you want to get a taste of what Born a Crime is about, check out this fantastic 90-minute interview that The Guardian which touches on a lot of the book's story...
&nbsp
Absolutely amazing how things worked out for him!
And he recently renewed his Comedy Central contract to host The Daily Show through 2022, so it's also amazing how things worked out for his fans too!
Posted on February 25th, 2018

Prepare yourself, because a Very Special BLACK PANTHER EDITION of Bullet Sunday starts... now...

• Art! One of the best things about Black Panther is the production design. A lot of what went into that is explored in yet another wonderful edition of Marvel Studio's Art of the Movie books, which somebody on YouTube was kind enough to thumb through...
There's very little of the book that's not fascinating... or gorgeous...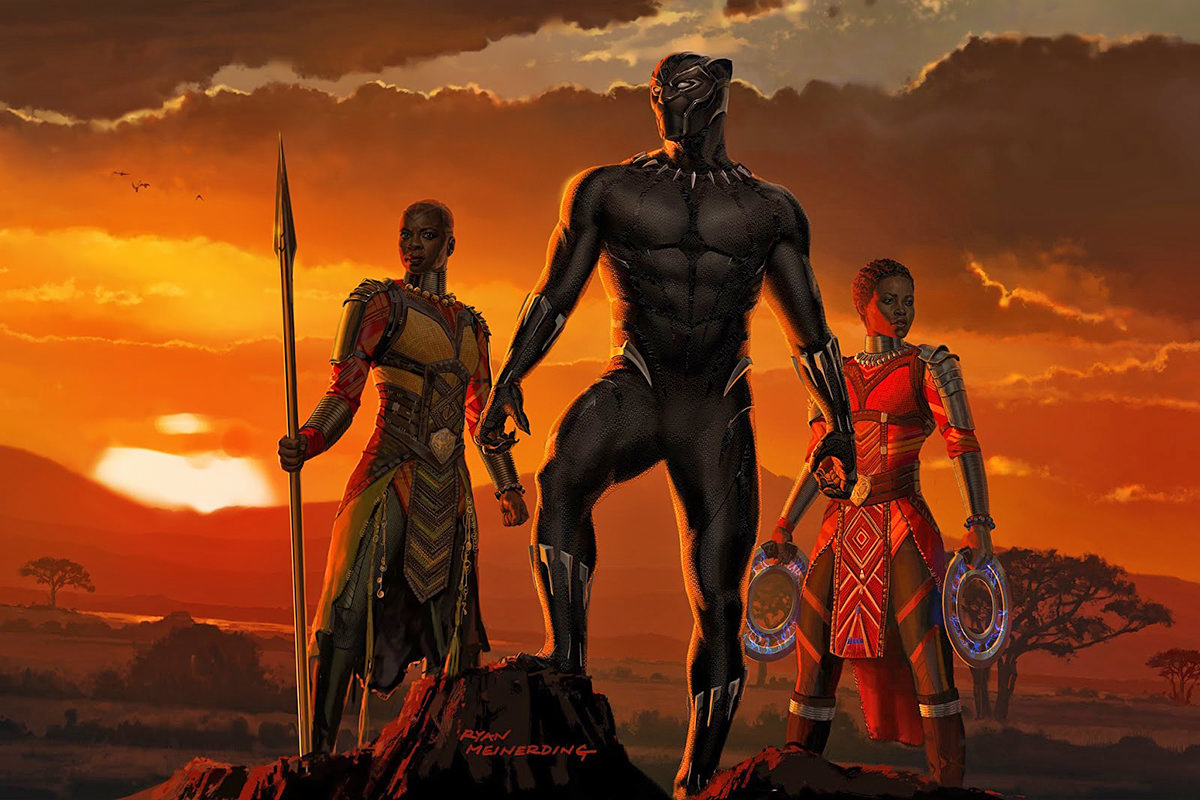 I own the entire series and love them. You can pick up the absolutely beautiful Black Panther edition from Amazon.

• Trevor! The detractors for Black Panther have been pretty stupid about it. I mean, if you don't like the movie, fine... to each their own. But the whole "This movie is racist because it's mostly Black people" is laughably stupid. My favorite commentary on this was by Trevor Noah from The Daily Show...
Speaking of Trevor Noah, if you haven't read or, better yet, listened to the audiobook of his Born a Crime, then it is absolutely worth your valuable time to do so. While interviewing Lupita Nyong'o for Black Panther, it was revealed that she will be producing and playing his mother in the movie adaptation...
Can't wait!

• Mother! Speaking of audiobooks, a momentary aside... I am just now finding out that Jenifer Lewis released a book last month called The Mother of Black Hollywood. Whether you know her as Ruby from Blackish or one of her many roles over nearly 30 years in Hollywood, it is so good...
Here is Jenifer Lewis being Jenifer Lewis... while plugging her book (and other things)...
If you want to be entertained for hours, search for "Jenifer Lewis" on YouTube and prepare yourself. This video is an hour of amazing...
I have only just started listening to the audiobook, but it is fantastic already. If you are a member of Audible, it's worth a credit. If you are not a member of Audible, you get a FREE credit when you sign up! Go do that and get this book!

• Comics! If you've seen the movie (and I'm assuming you have), there's a lot more to the story in the original comic books. Here's my four favorite series...
I would be remiss if I didn't add Jack Kirby's work on the Black Panther, which is also an important read.

• Wrong Panther! It'll be reiterated below, but I think it important to state it here: There is NO relation between the Black Panther of the comic books and the Black Panther Party. And yet... I've seen this pop up more times than I can count online.

• Panther Facts! Let's wrap up this Bullet Sunday with a list of interesting Black Panther bullets, courtesy of Kevin E. Ross, who has asked that people share it...
The Black Panther (real name: T'Challa) is the first mainstream black superhero ever. He was created by Marvel Comics and the team of Stan Lee and Jack Kirby, the same two responsible for heroes like Thor, the Fantastic Four, and Captain America.
Created in 1966 during the turbulent Civil Rights era, he is the first black superhero not created as an "token," a dependent, or a sidekick. This was considered extremely controversial for the time period. He predates Captain America's Falcon (1969) and Luke Cage (1971). He also preceded the revolutionary activist group the Black Panther Party by 3 months (he was introduced in July of 1966, and the Black Panther Party in October of 1966. They were not connected).
T'Challa (his real name), is also the ruler of a fictional African kingdom called Wakanda (population 6,000,000). Wakanda is considered one of the wealthiest nations on Earth as well as one of the most technologically-advanced. Imagine if Disney World's Tomorrowland and the Rainforest Cafe merged.
Wakanda's wealth is the result of a meteorite that crashed on to the continent 10,000 years ago. Composed of a rare alien material called Vibranium, the metal is sought by many in the world for its scientific applications and its military capabilities. It is only available in Wakanda, thus the country keeps itself closed and shielded from the outside world. Vibranium basically absorbs any energy directed towards it and holds it like a sponge. Imagine buildings that wouldn't crumble under the force of an earthquake, or soldiers protected against explosions from grenades and other explosive devices. Wakanda does export other commodities such as coal, diamonds, and technology, which contributes to its worth.
Wakanda has tons of vibranium in underground storage. One gram of vibranium is worth $10,000. That means Captain America's 12-pound shield, which is composed of the material, is worth just over $54 million dollars.
Being the monarch of the world's richest nation also makes you rich. T'Challa's net worth is $90.7 trillion dollars, which makes him richer than Batman's Bruce Wayne (9.2 billion) or fellow Marvel running mate Tony "Iron Man" Stark (12.4 billion). By a lot.
In the comics, the Black Panther is also one of the most well-respected men in the world. He is a combination of nobility (Thor), patriotism (Captain America), and superior intellect (Iron Man). He is also an Oxford graduate with a PhD in physics and is considered one of the top-5 minds on the planet.
The Black Panther is more than the special costume he wears. He is also a world-class athlete who was trained in martial arts, judo, wrestling (a popular Wakandan sport), and all forms of hand-to-hand combat. He also has enhanced healing properties, strength, speed, agility, and tracking senses. This is the result of ingesting a special heart-shaped herb that grows only around the site of the crashed vibranium meteorite. The radiation from the meteorite produces the plant which, once ingested, gives the recipient the aforementioned special abilities. Only those in the royal hierarchy and heirs to the panther mantle are eligible to use it. This means that the Black Panther has absolutely no problem going toe-to-toe with Captain America, who is considered the world's best hand-to-hand combatant and fighter.
Steeped deep in African tradition, Wakandans worship Bast, a female deity known also as the Panther God. The symbolic mythology here is also directly connected to ancient Egypt. She is revered as a protector and defender of the nation. This makes the Black Panther her agent outside the spirit realm, and thus more than a hero, but a true mythical figure. Imagine if the Pope wore a costume, had superhuman abilities, and defended the Vatican from its enemies both foreign and domestic.
Because of Bast, Wakandan women are highly-respected. The king's personal guard, the Dora Milaje, are an elite female fighting force. T'Challa's younger sister Shuri is a genius level intellect and considered one of the smartest women on the planet. Not only does she give the Black Panthers technologically-advanced suit & tech superior upgrades, but also other inventions to help further her country's technological dominance. While Tony Stark, who is considered one of the smartest men on the planet, graduated from MIT at age 17, he did not invent the Iron Man suit until age 42. By contrast, Shuri is only 16 years old.
In the comic books, the Black Panther was briefly married to Storm of the X-Men (remember Halle Berry?). Storm was from Wakanda's African neighbor Kenya (but grew up in Cairo, Egypt).

Until next week... WAKANDA FOREVER!
Tags:
Art
,
Black Panther
,
Books
,
Bullet Sunday
,
Comic Books
,
Marvel Studios
,
Movies
,
Television
,
The Daily Show
Categories:
Books
,
Bullet Sunday 2018
,
Movies 2018
,
Television 2018
—
Click To It:
Permalink
—
1 Comment: Click To Add Yours!
Posted on November 14th, 2017

With all the crazy shit that's going on in this country right now, I'm afraid to turn on my television, look at a newspaper, or even go online. I've been beaten down and just don't want to hear it any more.
The bad news is that bad news is unavoidable now.
And so I'm reading all the Tarzan books again, starting with the brilliant original, to take my mind of everything...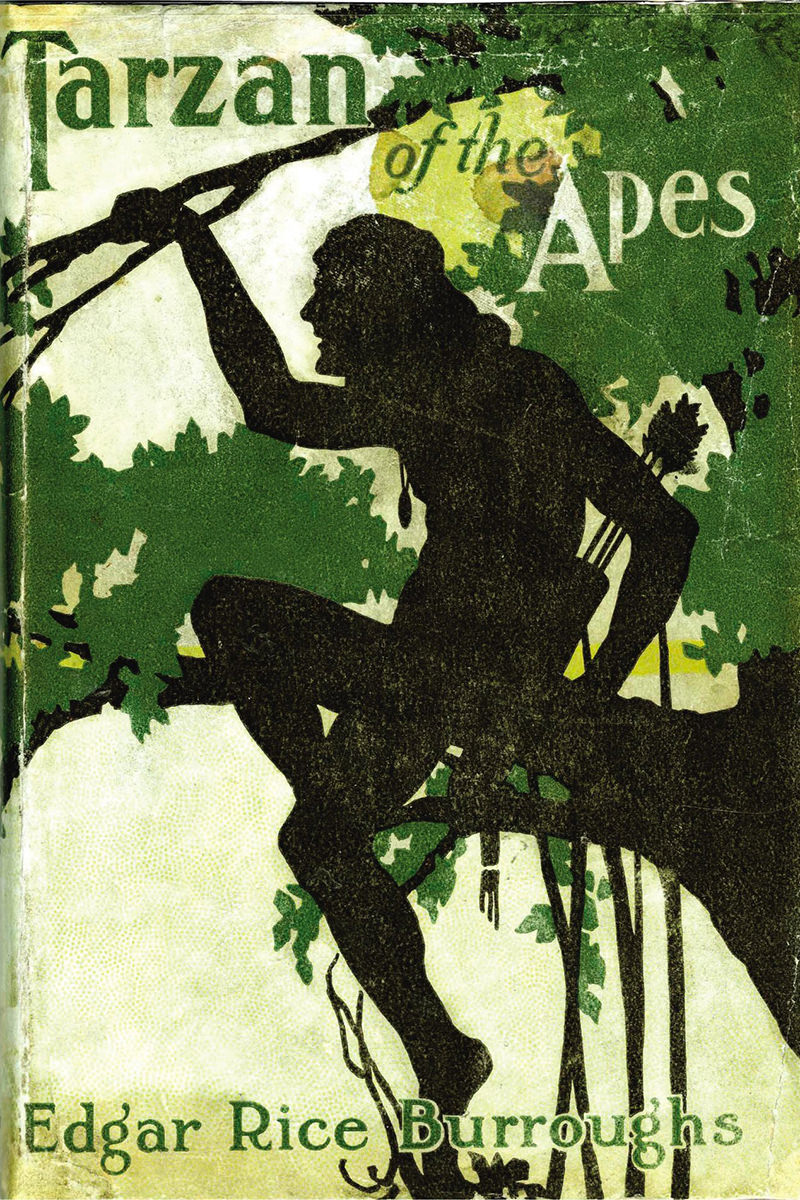 Yes, it's a bit dated... the thing was published in 1912 for heaven's sake... yet it's surprising just how well it holds up. Incredibly imaginative and engaging fiction that's very different than so many of the stupid "Tarzan" movies that were inspired by it. The Lord of the Jungle is far from the grunting ignoramus he so often gets portrayed as on the silver screen and television. He's smart, crafty, and can be oddly devious when the need arises.
Much like the apes who raised him.
If you've never read the original book that started it all, I highly recommend giving it a read. It's just the ticket for escaping these trying times.
Posted on September 27th, 2017
Hugh Hefner died today!
I can't say that I really know much about the pajama-wearing guy with the pipe who was always hip-deep in scantily-clad ladies... all I knew of him came from his guest appearances on TV shows and movies (like Beverly Hills Cop 2). I am, of course, very familiar with his work.
The first issue of Playboy I recall seeing had a butterfly lady on it. There was also an issue with a woman with flag on it. I look them up in a Google search and found that they are the July and August issues from 1976...
I don't think I actually looked at them in 1976... I would have been 10 years old then... they were probably old issues I saw when I was 12 or 13 maybe?
The first issue I personally owned was a birthday present from a friend... the March, 1980 issue with Bo Derek on the cover. I was only 14 at the time, so it was kept well-hidden...
I had the issue for many years, but it got badly water-damaged while in storage and had to be tossed out. A pity, because it was kept in great shape and was probably worth some money.
With the abundance of naked ladies on the internet, I was not a regular consumer of the magazine. Though I would buy an issue every once in a while if there was somebody I really wanted to see. I purchased several issues when Anna Nicole Smith appeared, because her pectorals were beautiful in a way that was unreal...
I also purchase some issues for the articles (YES, FOR THE ARTICLES!!!) because Playboy had some pretty great interviews. One of the most expensive issues I ever bought was the 1985 issue with a Steve Jobs interview.
And so...
Thank you Hugh Hefner! For a good part of my youth, you were doing The Lord's work!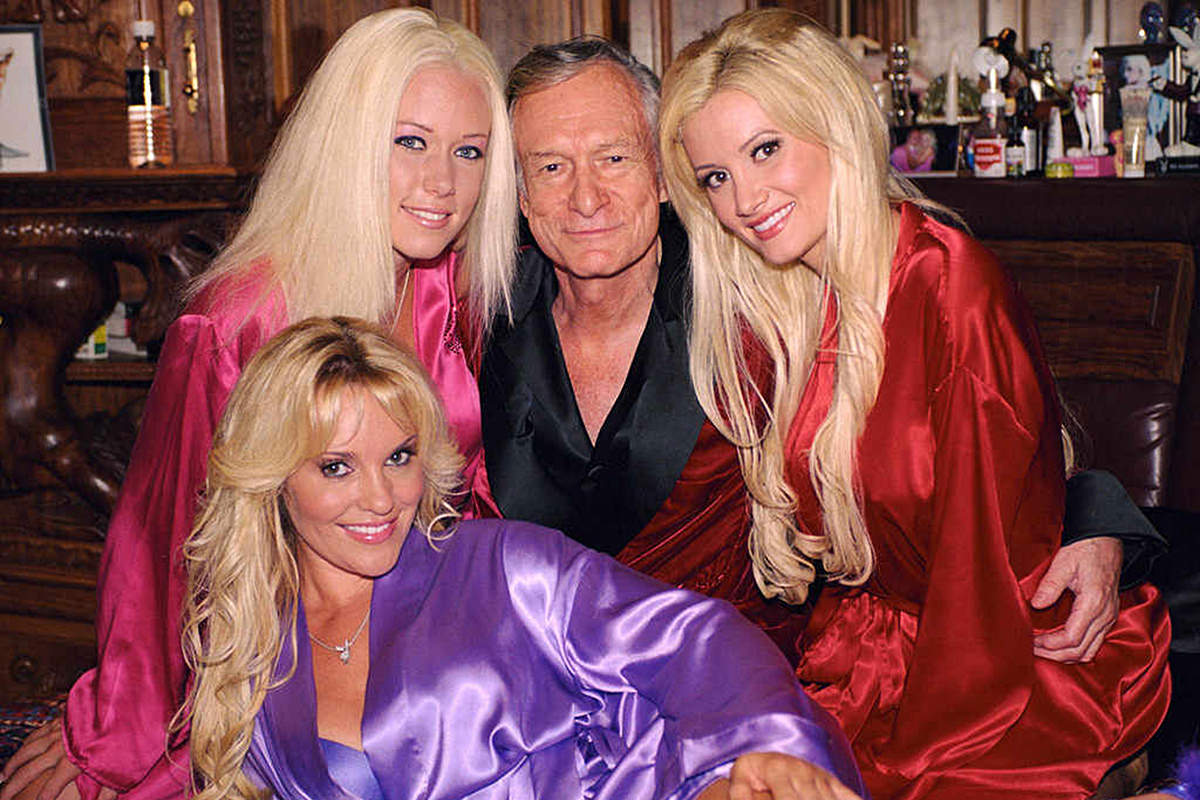 Photo by Elayne Lodge/Playboy
I'd wish you a great time in heaven, but if there's anybody who found heaven on earth, it's you.
Posted on September 3rd, 2017

Don't let smoke inhalation get you down, because an all new Bullet Sunday starts... now...

• FIRE! Once again it would seem that the Columbia Basin is on fire. This is the view I had on the drive over the mountains...

• Chase! My... My... My pants! Jake chases Jenny. Jenny chases Jake...
It's the circle of life up in my house.

• Tolerance! A short but bittersweet article that's worth a minute of your time: The Christians Making Atheists. The decline of Christianity in a nutshell. But, in reality, it could also hold true for other religions that attempt to hide their bigotry in the guise of religion.

• Fresh! This is what happens when you travel a lot and keep forgetting to pack deodorant...
That's a lot of money tied up in antiperspirant products!

• Thrice! Hey! Did I happen to mention that the latest issue of Thrice Fiction has been released, and you can read it online or download it for FREE?!? Well, you totally can! Just visit the Thrice Fiction website!
If you like fiction and like to read... it's worth the price of admission. Which is FREE!

• All That We Share! Nice to know that while this country is tearing itself apart that other countries are making an effort to keep it together...
Viva la Denmark!

Have a good Labor Day weekend, everybody.
Posted on June 29th, 2017

I am not much for nostalgia or wishing I could return to bygone days, but I do love me some history. Studying world history is a byproduct of my world religions studies, and it always surprises me just how much I don't know about what's gone on in the world.
Take, for instance, James Whitcomb Riley.
I ran across a book by the guy this morning... The Complete Works of James Whitcomb Riley, Volume VII. "Volume SEVEN?" I thought. How is it that a prolific author with seven volumes of works like this could be somebody I never heard of?
I kept digging and ultimately found out there were SIXTEEN TOTAL VOLUMES...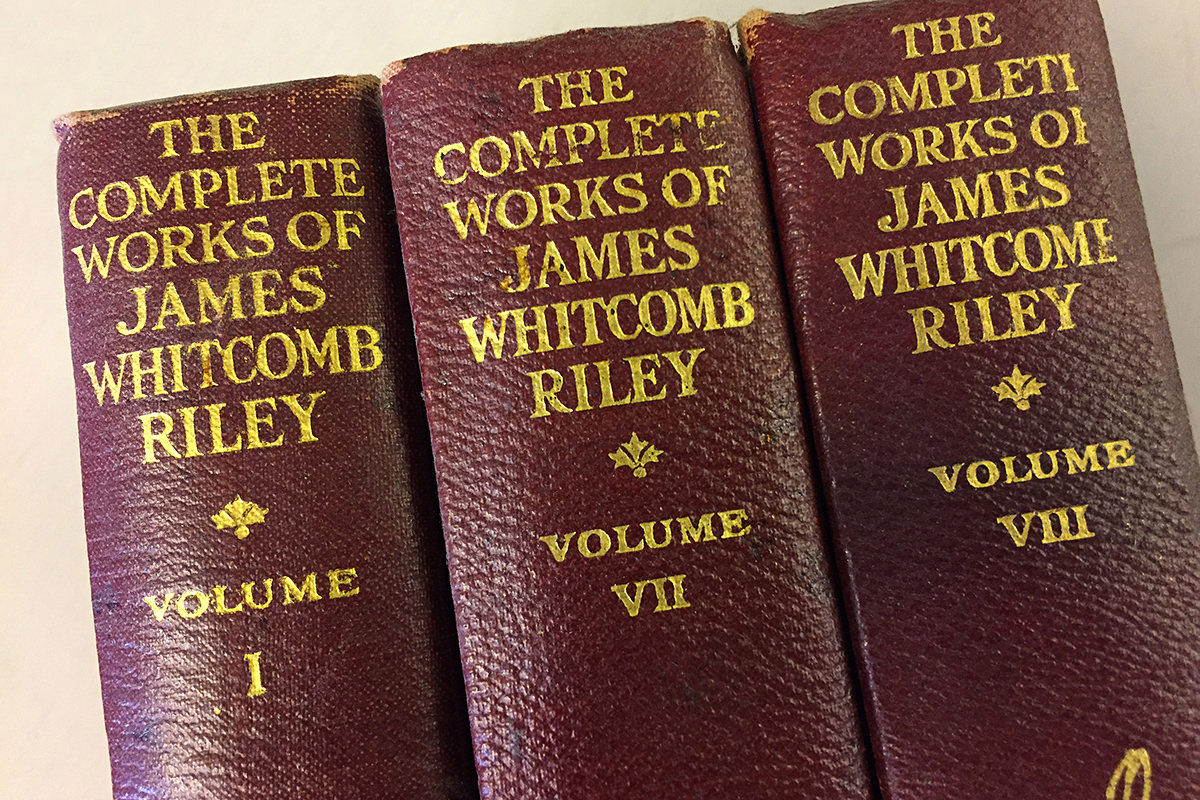 I opened one up, was terribly unimpressed with what I scanned, and decided I would not need to be reading any of his works. But I did note his name on my iPhone so that I could look him up when I got home.
Which is now.
Turns out, I do know of him. I just didn't know I knew.
Ever heard of The Duck Test? — "When I see a bird that walks like a duck and swims like a duck and quacks like a duck, I call that bird a duck."
TOTALLY THIS GUY!
Ever heard of Little Orphan Annie? It's based on a poem called Little Orphant Annie?
TOTALLY THIS GUY!
According to his Wikipedia page, James Whitcomb Riley was a literary giant back in the 1890's and remained hugely popular until his death in 1916. From Wikipedia:
Although Riley was wealthy from his books, he was able to triple his annual income by touring. He found the lure hard to resist and decided to return to the lecture circuit in 1892. He hired William C. Glass to assist Henry Eitel in managing his affairs. While Eitel handled the finances, Glass worked to organize his lecture tours. Glass worked closely with Riley's publishers to have his tours coincide with the release of new books, and ensured his tours were geographically varied enough to maintain his popularity in all regions of the nation. He was careful not to book busy schedules; Riley only performed four times a week and the tours were short, lasting only three months.
So, essentially, James Whitcomb Riley was a rock star before there were rock stars...
In 1895 Riley made his last tour, making stops in most of the major cities in the United States. Advertised as his final performances, there was incredible demand for tickets and Riley performed before his largest audiences during the tour. He and Sherley continued a show very similar to those that he and Nye had done. Riley often lamented the lack of change in the program, but found when he tried to introduce new material, or left out any of his most popular poems, the crowds would demand encores until he agreed to recite their favorites.
And what, pray-tell, qualifies as one of those favorites? Here ya go...
O the days gone by! O the days gone by!
The apples in the orchard, and the pathway through the rye;
The chirrup of the robin, and the whistle of the quail
As he piped across the meadows sweet as any nightingale;
When the bloom was on the clover, and the blue was in the sky,
And my happy heart brimmed over in the days gone by.
In the days gone by, when my naked feet were tripped
By the honey-suckle's tangles where the water-lilies dipped,
And the ripples of the river lipped the moss along the brink
Where the placid-eyed and lazy-footed cattle came to drink,
And the tilting snipe stood fearless of the truant's wayward cry
And the splashing of the swimmer, in the days gone by.
O the days gone by! O the days gone by!
The music of the laughing lip, the luster of the eye;
The childish faith in fairies, and Aladdin's magic ring—
The simple, soul-reposing, glad belief in everything,—
When life was like a story, holding neither sob nor sigh,
In the golden olden glory of the days gone by.
Well, he's no Walt Whitman, but okay.
I guess if they didn't have a Nintendo back then, this was as good as it got.