Posted on Sunday, January 1st, 2023

The first article I read in 2023 was this one: Bring back personal blogging. And it's interesting to me because every new year I debate whether or not I'm going to keep doing =waves arms= all this. The question has been especially wearing on me during the pandemic when I'm just not doing anything worth blogging about.
The article itself has some very good points though.
Social media, for all its popularity, simply doesn't have the community building that blogging did back in the day. I've made a lot of friends via blogging, and a handful of them are closer than many of my in-person friends. My guess is that this is because in-person friendships rely mostly on how often you see them, where blogging friendships rely mostly on how often you keep in contact with them. Even if you meet up with them in-person from time to time, your relationship goes beyond presence.
On April 18th, Blogography turns 20 years old.
Back in the day, I'd hold a week-long Blogiversary celebration with contests, new merchandise, and everything. Just look at this video from 2008 when the Grand Prize was me flying to wherever in the world the winner was so I could deliver prizes and have a party...
And so I did. I flew to St. Louis and had a great time!
I can't imagine doing anything like this now.
I mean, sure I still meet up with old-school bloggers from those early years. I met with one back in 2021, another in 2022, and will meet with another in March (proof positive that the article is right about the communities we built). But that's a far cry from all the "Dave Events" that used to happen... or even the larger gatherings like TequilaCon.
But it's this past community that still exists which makes blogging something I'm not quite ready to give up on yet.
So... here's to twenty years of blogging... and counting, I guess?
Wishing you and yours all the best in this New Year.
Posted on Thursday, January 5th, 2023

We've become so polarized as a society that love/hate is assumed. There's no room for subtlety or shades of gray.
As an example... after the passing of Barbara Walters I was asked about her and said I "...wasn't a fan." Which was somehow interpreted as me hating her. I then had to explain that I didn't hate her, didn't wish her dead, appreciated her being a trailblazer for women in journalism and inspired women to consider journalism, and also liked that she advocated for women's issues. And even though she had some good interviews, she also had some truly shitty interviews. Setting aside some of the idiotic softball questions she's asked people (the whole "...what kind of tree would you be" fiasco is just the beginning), her 2000 interview of Ricky Martin showed what a disgusting, abhorrent piece of shit she could be. So disgusting and abhorrent that she eventually had to publicly express regret for having done it.
And the list goes on and on.
You don't like something... you love it.
You don't dislike something... you hate it.
And there's no in-between.
But there should be. You should be able to dislike something or someone without being labeled a "hater." Getting back to Barbara Walters... I just didn't think enough about her to have that strong of an opinion. Hate? Really? I try not to hate anybody, but if I were to admit to hating anyone, Baba Wawa wouldn't even be on my radar. She wouldn't even occur to me in that context.
I mean, she did give us this absolute GOLD...
And this...
The old addage "If you can't say anything nice, don't say anything at all" has entirely new relevance today. It's not because you shouldn't talk shit about people... it's that if you even hint at anything negative, people will escallate it toward hatred very quickly.
And Lord only knows that we have more than enough hate in the world right now.
Posted on Friday, January 6th, 2023

This morning I woke up more exhausted than usual. I made a conscious decision to not put on my watch because I just wasn't in the mood to be snared by time constraints today. It's Friday. Whatever happens will happen.
Then, as I was attempting to navigate the ice minefield that was tossing my car around like a ping-pong ball, I saw that I was wearing my watch. And I was like... how did that happen? I have no recollection at all of putting it on.
It's such a habit that I apparently did it without thinking.
And it reminded me of a conversation I had with my "Bible Study for Non-Christians" group last month. We alternate studying the Old and New Testaments, and 2022 was an Old Testament year. We spent the first half of the year working our way through passages in The Twelve (books of twelve minor prophets of the Hebrew Bible). My favorite being The Book of Micah. It's a short book but, in my mind, an important one for a number of reasons. Including... oh yeah... a prophecy of the coming of Jesus from Bethlehem 700 years before He was born.
It also has a passage about how people descend into a daily evil out of habit, not conscious thought.
Like putting on a watch.
My head has been wrapped up in that all day, and I don't quite know how to let it go.
Posted on Thursday, January 12th, 2023

I have no idea how I haven't caught COVID yet.
Seriously.
Most everybody I know has had it at least once. But here I am... chugging along with negative after negative...
Maybe I'll finally succumb in Wave Seven. Or whatever.
Posted on Friday, January 13th, 2023

I don't know that I believe that Friday the 13th is bad luck... but this one sure has been a pile of crap.
Almost makes me wish that Apophis would hit Earth on April 13, 2029.
Current mood (here's a link in case TikTok is being a dick)...
Though this is probably more my speed...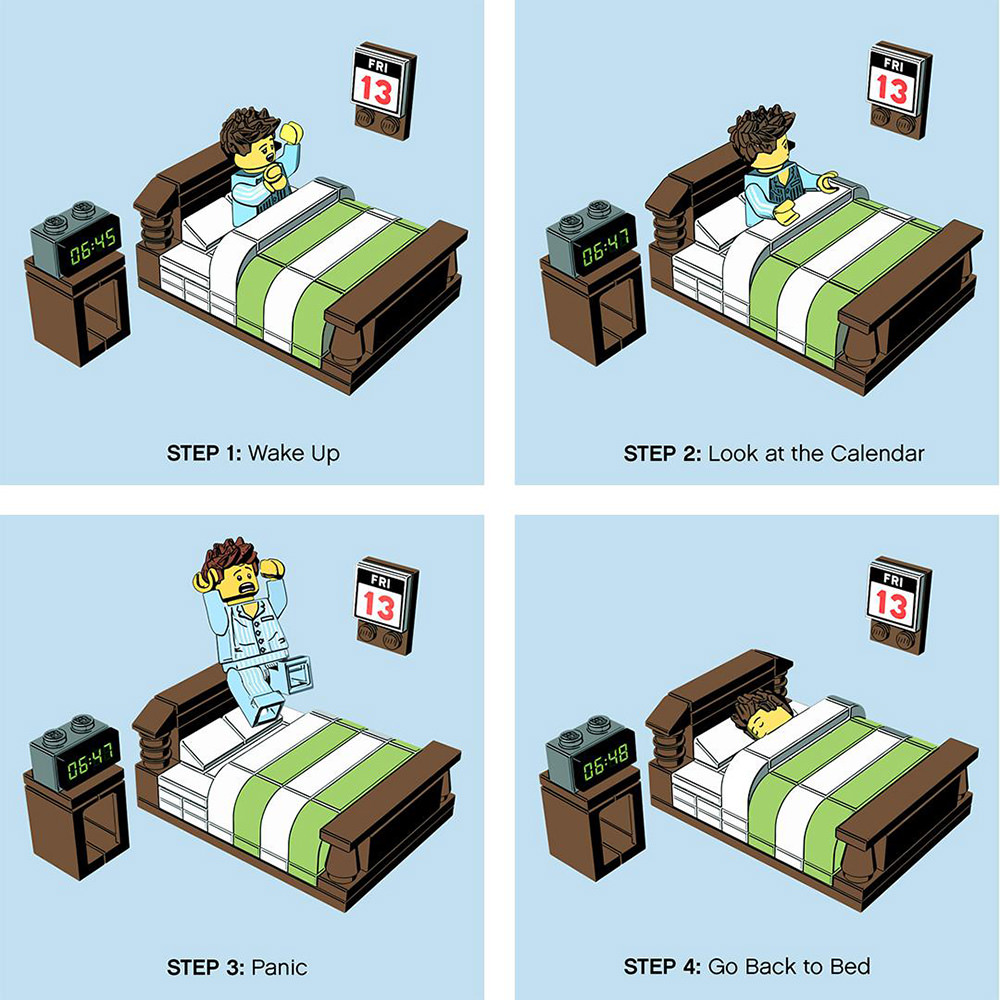 The good news is that there's a three-day-weekend coming up.
Posted on Monday, January 23rd, 2023

There are days that I take a look at the news coming down the pipe and I'm overwhelmed to the point of no longer being able to care. It's like... how much crap can we be expected to handle before our brains are going into complete meltdown? I don't really know. My brain is at capacity.
Not a great start to the week to be sure.
Posted on Wednesday, January 25th, 2023

For the past several months I have been receiving emails meant for another person from "Piedmont Health" in Georgia. Since some of the emails are notifying him of an appointment change and pre-appointment procedures, I was understandably concerned that he wasn't getting critical information regarding his health. And the emails are not generic... they are discussing his heart health specifically, which is most certainly a HIPAA violation.
I have sent dozens of message to every email address I can find at Piedmont... all ignored.
I have called several different departments in an effort to get this fixed... absolutely nobody give a shit.
I have contacted Georgia Department of Public Health and GDC Health Services... blown off and ignored.
After calling three times and emailing twice, I receive an email telling me that "my" appointment has been rescheduled...
I even found the Other-David on Facebook (I think) and tried messaging him. Nothing.
I tried fixing this situation yet again a couple weeks ago after getting emails with his health information, and FINALLY got ahold of somebody who said they would get the request to the right department. I was relieved that the situation would be resolved. At last.
The appointment was set for January 31st. Next Tuesday. So today I got even more emails asking for Other-David to set up a MyChart account... check in for his appointment... instructions for the appointment... all of it.
So much for the sadistic fucks at Piedmont fixing the email address of the guy in Georgia who is NOT ME.
I sure hope that Other-David gets a phone call, because I am DONE sending emails and calling and trying to resolve this error. Any email I get from Piedmont is now going directly to the garbage...
I cannot believe that these assholes have ignored me after MONTHS of wasting my time trying to get this resolved. I fucking hate this company. If I am ever in Georgia and need life-saving care, just let me die. I want nothing to do with these Piedmont pieces of shit ever again.
So best of luck, Other-David... if Piedmont treats your heart the way they treat your privacy and communication, you're fucked.
Posted on Thursday, January 26th, 2023

I have a high predisposition towards addiction. This could lead to serious trouble if I'm not careful, so I remain vigilant.
But sometimes I'm far from vigilant when the stakes are low. Take, for example, food. If I find something I like, I go back and buy loads of it. Right now my freezer is packed with a dozen Home Run Inn Cheese Pizzas and at least a dozen TaDah! Falafel Street Wraps. I'm terrified that my local stores will stop carrying them, so I buy loads of them whenever I see them in stores. I'm addicted and can't stop myself. Oh well. There are certainly worse things to be addicted to.
My latest addiction? STAGG Vegetarian Garden 4-Bean Chili...
On Monday I woke up craving it, but didn't have any crackers to go with. You can't eat chili without saltines, so I went to the store after work and bought some.
I've have had it every day for lunch and dinner since. The stuff is just spicy enough to be entertaining on my tastebuds. Any hotter and I wouldn't be able to taste the vegetables. Any less hot and it would be boring. It's just perfectly balanced, which is why I like it so much.
Tonight I'm opening my last can, which means I will have to pick up a dozen the next time I'm at the one store that has some in the valley.
The worst part to food addiction is not buying shitloads of something you love (despite the ridiculous price of food now)... it's what happens when you get tired of it.
If I get tired of eating my Home Run Inn Cheese Pizzas and TaDah! Falafel Street Wraps, that means half my freezer is filled up with something I'm not eating and I don't have room for my latest addiction. If I buy a dozen cans of chili and stop eating it, then I've got my cupboard filled up for nothing. Until I start eating it again, which might be a while.
Now, if you'll excuse me, it's time to heat up my dinner of you-know-what.
Posted on Friday, January 27th, 2023

Everybody likes to speculate about what they would do if they won the lottery and came into sudden wealth. The memes are on social media all the time. And the answers are usually something along the lines of "I'd quit my job and travel!" Or, if you really hate your job it's more like "I'd tell my boss to kiss my ass then buy a boat!"
Most times I read these replies and don't know how to answer because so many details are missing.
How much money are we talking about, after taxes? If it's a million dollars, here in Washington State you'd lose $250,000 of that (according to the Lottery Tax Calculator) leaving you $750,000. So... that's likely 10 to 20 years covered depending on how much you spend in a year. Or perhaps 5 years if you go really crazy. So... when you really think about it... quitting your job only works if it can carry you to retirement age. By the time I retire, retirement age will probably be 70 years old, so I could quit work if I spend only $50,000 a year. Totally doable, really. Though, to be honest, I'd probably still work for at least five years since Social Security is likely going to be in the toilet unless Congress stops being a bunch of dumbasses.
Where it gets interesting is if the lottery is more like 10 million dollars. That leaves me $7.5 million to play with after taxes. Even if Social Security collapses completely, if I live to be 80 years old I'd have $250,000 a year to spend! In which case... oh yeah... I ain't working another day in my life. Pay off my house. Travel a bit. Do some remodeling. Go crazy. Then it's just day after day of drawing and woodworking for me until I die.
If I win $100 million, I'm going to space.
I guess this means I should start buying lottery tickets?