Posted on March 27th, 2023

IKEA's furniture is a weird duck. The finish they use on all their classic "brown-black" furniture is not quite a paint... not quite a stain... it seems like a cross between both. There's enough pigment to even out the wood grain, but not enough to be completely opaque.
Pure stain turns out nice, but it doesn't match my other stuff.
So I decided to try paint. The first thing I did was try "Black Mocha" by Behr, which is supposed to be as close as you can get. It didn't seem to match at all. So I started looking all over the internet to see if anybody found something better. The most promising seemed to be this guy, who had a custom formulation matched at Sherwin-Williams. He posted the formula and everything...
I showed this to the guy at Sherwin-Williams and, sure enough, he mixed it right up.
When I applied it, the maroon component was making things look too "berry" to match. But as it dried it started getting closer. Still looks like it needs a touch of brown to be a little warmer, but you can't tell unless you really look at it, so I'm happy. Even if it is a bit too "solid" to ever truly match. Maybe in the future I'll try thinking it down and see if that makes any difference.
Or maybe I'll just repaint everything different colors and not worry about it.
Posted on March 2nd, 2023

When the new company was hired to inspect my HVAC, they guy immediately told me of all the problems which were wrong with my 26-year-old system. This came as quite a surprise, because the previous company always told me that my system was great for an older model. But the new guy had the receipts... he took photos of everything and told me that it wasn't a matter of "if" but "when." Everything could run for another two years. It could fail tomorrow.
The cost to fix it so it wasn't on the verge of failure? $1,200.
There was no way I was going to spend $1.200 on a band-aid, so decided to invest in a new system.
The options presented to me were Silver, Gold, and Platinum. The Platinum system was simply beyond my finances to pay for. The Silver and Gold were ultimately the same price once a rebate from the local utility district was considered (they pay you to install a heat pump system to save energy so they can then sell that energy at a bigger profit to businesses or other regions). So Gold it was.
It looks nice next to my new water heater. It also looks like money...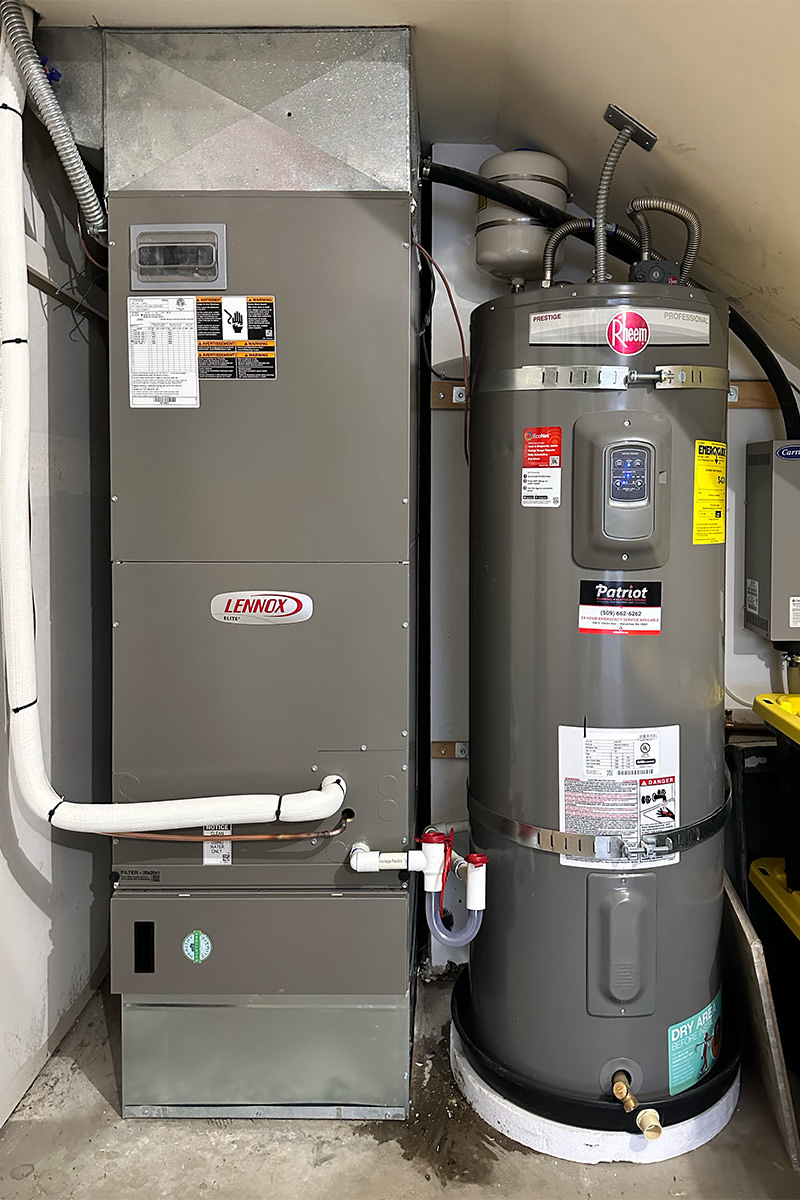 Fortunately I had been sinking money into an "emergency fund" for just such an occasion as replacing a water heater and HVAC system. Once the rebate is considered, I "only" had to come up with $650. Which will, in turn, come out of my tax refund.
Of course now I have no emergency fund left, so hopefully I won't have another emergency any time soon. Knock wood.
So there you have it.
Hot water. Hot air. And (eventually) cold air too.
Posted on February 16th, 2023

When I moved into my new place, all the furniture I had was old and busted and falling apart. But I didn't have money to invest in "good" furniture so I just loaded up at IKEA. Everything I have is from there.
When my cats were baby kittens, they were forever wanting to climb up to high places, but they were too small to hop up so their little claws were scraping up everything. I thought for sure that the IKEA would be temporary, but every time I turn around I have to fix something that's dying... water heaters... HVAC systems... electrical... it's never-ending.
So the kitty claw marks have remained.
Until I finally decided to see if I could refinish everything to get rid of them. Unfortunately, IKEA doesn't sell the paint, so I've been filling with wood putty and staining everything. It actually looks much nicer than it originally did when it was painted...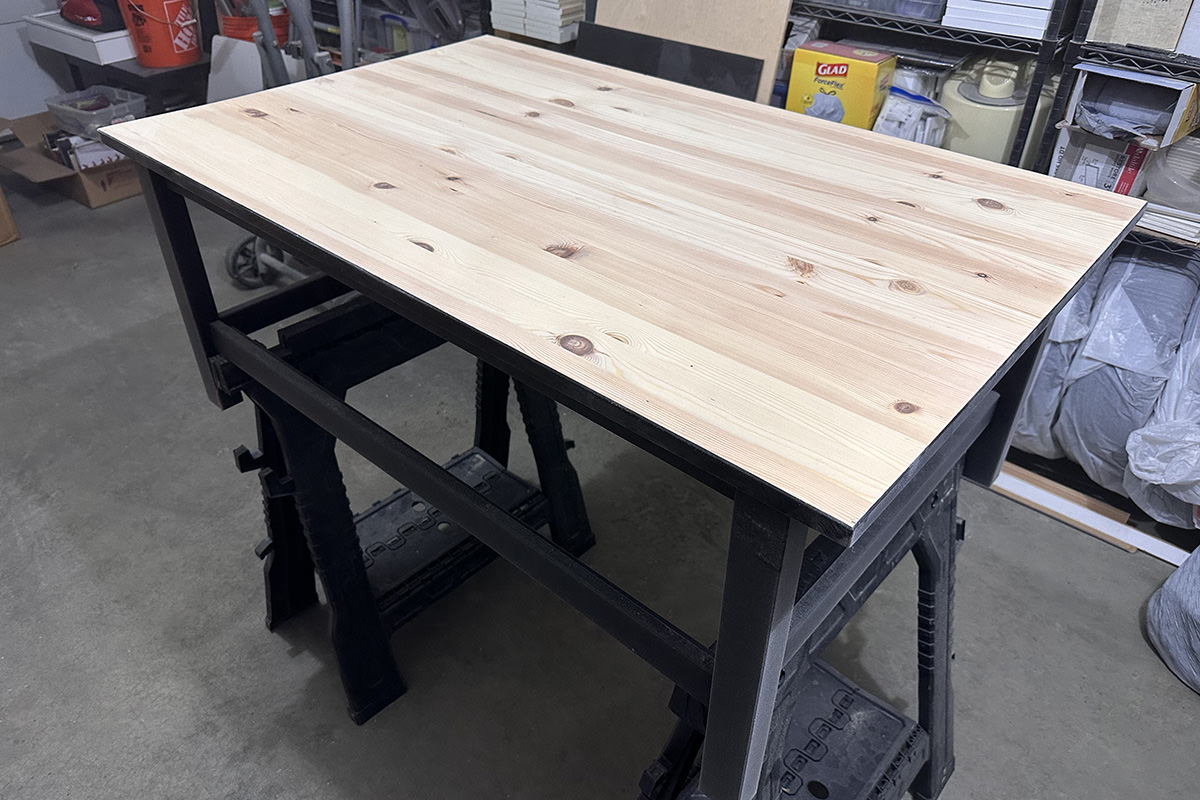 Fortunately I bought the stuff that was "real wood" instead of MDF that couldn't be stained.
And so... one down, four to go.
Posted on February 8th, 2023

My hot water heater* has been acting funny for a couple weeks. The pressure is low and it's not as hot as it was. So when the plumbers came to the condos yesterday I asked them about it. They ran water through the hot water line and it was fine. They were replacing hot water heaters and said that would likely solve my problem. How lucky am I?
There goes the vacation money I was saving up.
Not that I really get to go on vacations in this pandemic-infused haze we got going on.
Given that my hot water heater is 26 years old and well past its warranty, it was probably time to replace it. The thing was here when I moved in seven years ago, so I wasn't mad about it. Just disappointed...
Although I really shouldn't be disappointed, because the nightmare scenario is that it ruptured and my garage got flooded. I'm so paranoid about it that I installed a water sensor at the base that would ping my phone if it got wet. Then I went to Antarctica and realized that since I had no internet, my tank could have busted wide open and I wouldn't even know it.
The plumbers had three models in their truck and could install one immediately. Since I was already home working because Dropbox was down and I couldn't get to my files at the office, I told them to go for it.
The first model was pretty much the same as what I had. The more expensive one had a longer 10-year warranty and better hardware. The most expensive model had a 12-year warranty, built-in leak detection, an automated shut-off valve that triggers if a leak is detected, and there was an app to set a temperature schedule and notify you directly if there's a problem.
I think we all know which model I went for...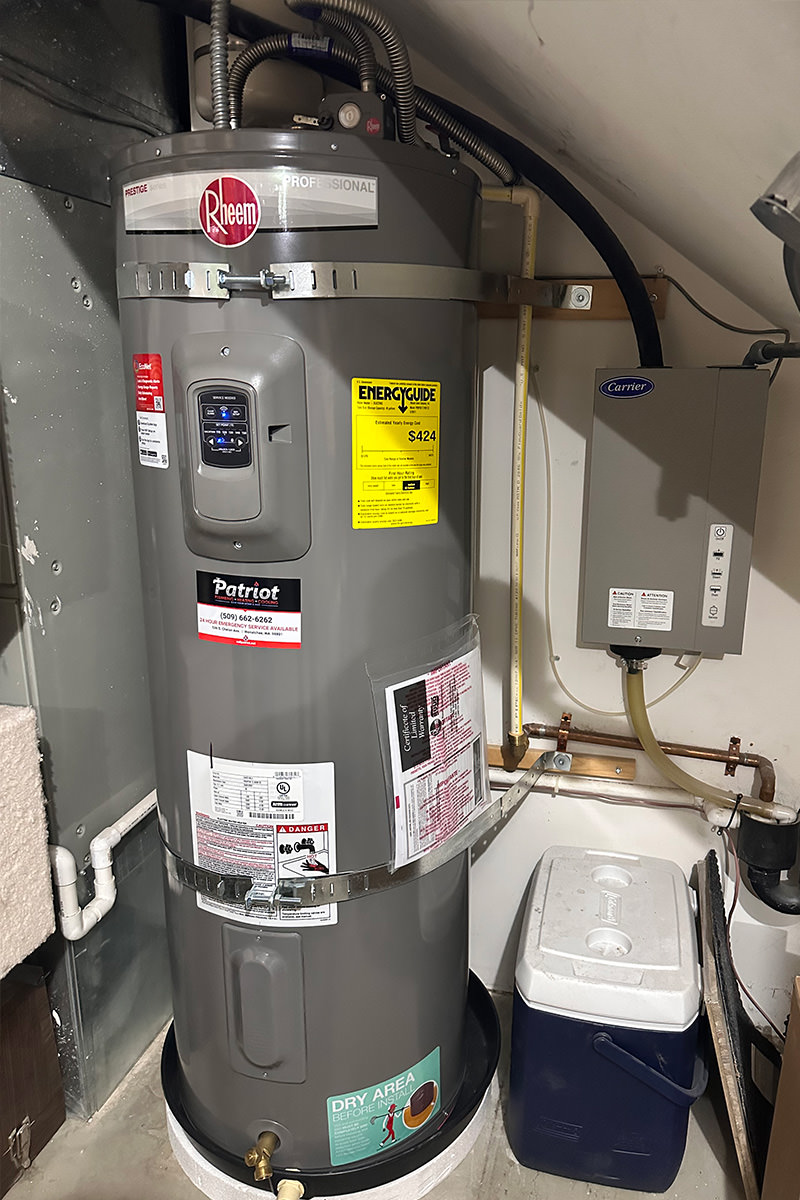 Some interesting things to note...
What I really wanted was hybrid water heater with a heat pump. The local utility district was offering a $900 rebate, and I liked the idea of having a cool garage in Summer. Unfortunately, it would have cost me thousands of dollars because the unit was too tall to fit under the stairwell, and all the plumbing and electrical would have to be move.
And speaking of height... note that my old hot water heater* is sitting on a little wooden box. The new one sits on the floor (on an insulation pad). They are both 50 gallon tanks. No idea why the new one is a foot taller... isn't technology supposed to get smaller? I can only guess that it's better insulated, because the Energy Guide has a lower annual cost even though the electricity cost they use to determine it was higher. It will be interesting to see if I save money on my power bill not.
Modern standards require all kinds of additional crap which drove the cost up by hundreds of dollars. The most expensive addition was an "overflow tank" (which is tucked up behind the tank in the corner there). Apparently it relieves some of the pressure off the main tank because of heat expansion. This prevents stress on your plumbing, which is something I am *very* interested in having. The last thing I want is to have to tear open my walls to fix a bunch of leaks.
The plumbers did a very nice job with the installation (they always do great work), but oh boy was this expensive. $2,600 for everything (the tank by itself is $800 at Home Depot!)... with cash discount! I really should have been a plumber, because they make serious bank.
The Rheem EcoNet app is pretty basic, but it does everything you need. And then some. Not only will it tell you if there's a water leak, but it will also tell you when you've run out of hot water. It also tracks energy usage and allows you to set a schedule so that you are not wasting energy heating water if you're not home. You can even turn the thing off remotely...
Interesting to note that I didn't realize how terrible my old hot water heater• had gotten until I got a new one. Water is hotter. Hot water arrives faster. And the pressure is just as strong as my cold water! Nice!
And so there you have it. I'm drowning in hot water now!
Even if I had to almost wipe out my vacation fun to get it.

*"Hot Water Heater" is a weird term. It's actually a COLD water heater. It turns cold water into hot. I know that technically they are just "water heaters," but that seems even weirder to me because everybody here says "hot water heater."
Posted on November 25th, 2022

For decades I've saved my money all year long so that I can shop Black Friday sales for all the stuff I need and want at a discounted price. Usually clothing.
That hasn't been the case this year.
In trying to get my home repaired, every cent I have has to go towards plumbers, electricians, and contractors and such. And they ain't cheap.
But it is nice not having a hole in my kitchen ceiling... even if other ceilings and walls are still torn up.
That's a story for another tax refund.
Posted on November 4th, 2022

After three years of not having a kitchen, I'm finally getting things put back together after my contractor got COVID, was in and out of the hospital, and eventually moved to Utah to live with his mom because he could no longer work.
The hole from the water leak in my ceiling has been repaired. The cabinet frames have been painted. And my tile has finally started going up on my walls...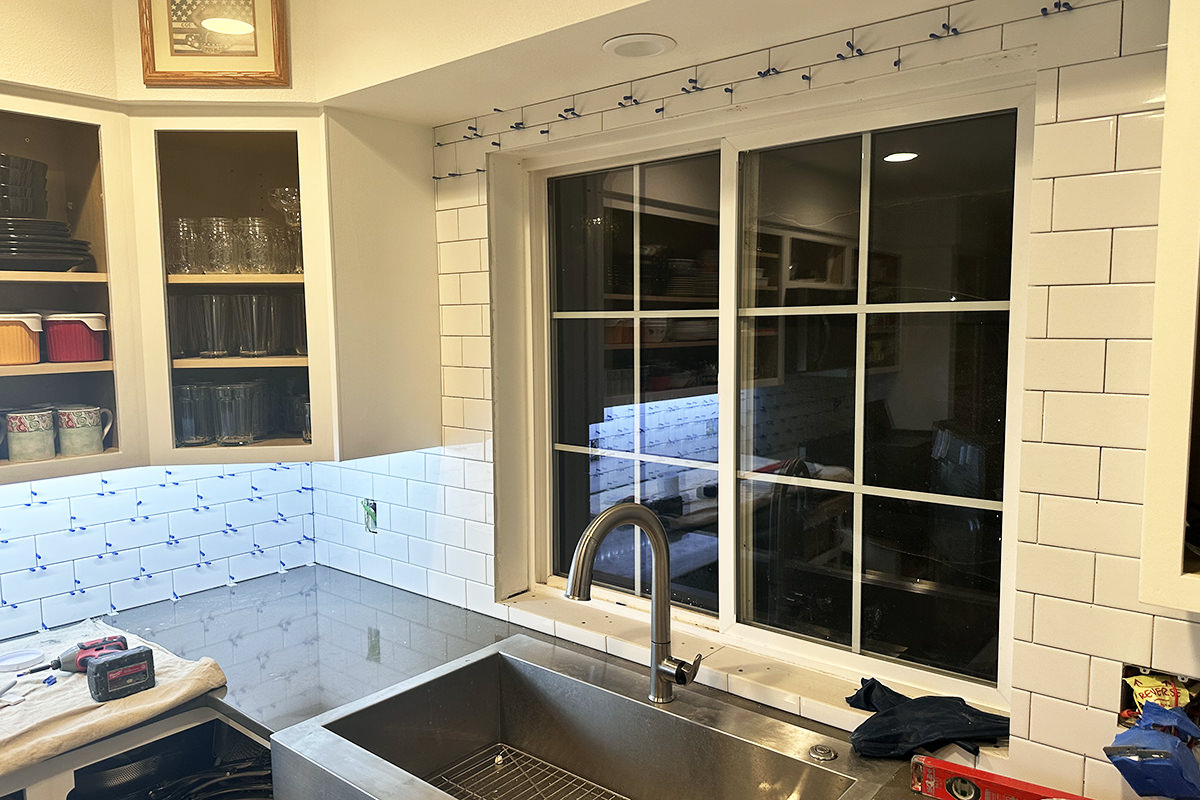 But it took a while to get to this point. Yesterday when the installer arrived, he took a level to my walls and explained the they were not even. They were wavy, so any tile installed on them would be wavy. Since the whole appeal of subway tile to me is the beautiful straight lines that form as it's making its way across your walls, this was a horrifying prospect.
And so... an additional $750 of materials and labor were required to pull off all the drywall, shim the studs so they were even, then install new drywall.
And it's also adding another day to the project.
But no matter. By Monday there will be another thing to check off the list. Then it's replacing all my cupboard doors and drawers. Then I have my kitchen back.
After three years.
And then there's the matter of the leak in my bathroom to get figured out.
Home ownership is a serious money pit.
Posted on October 31st, 2022

I like subway tile. It's simple, clean, and doesn't draw much attention to itself. Which is exactly what I want.
So when I bought my place and had it gutted for renovation, the very first thing I did was lock down the subway tile I was going to use. That way I could match all the paint to it. I wanted square tile for the bathrooms and 3×6 for the kitchen. And since I couldn't afford to do everything at once, I was sure to purchase a standard tile from a big box store instead of something unique. In this case, it was American Olean from Lowe's. I started with the bathrooms. Then, four years later I had the money saved to do the kitchen... but COVID... and so I am only getting to it now.
Bright and early Sunday morning I went to buy the tile.
Surprise, surprise... Lowe's no longer sells American Olean. They've switched absolutely everything to Satori Tile. The American Olean is only available via special order, which would be fine. Except of course it's out of stock. And of course they have no idea when... or if... they'll ever get it back again...
Well, shit.
The Satori subway tile that Lowe's had available is not the same creamy white of the American Olean which I color-matched all my paint to. It's cooler... grayer... and looks like crap next to the kitchen cabinet frames which I just had painted last week.
The next-closest thing is the subway tile at Home Depot... Daltile Bright White. It's not quite as creamy, but at least it's in the same color family. I have no clue if it will require me to repaint my kitchen cabinet frames yet, but it's the best option I have available considering the tile installer is coming this week.
It's become glaringly obvious that only people with loads of money can afford to renovate their home. You can't do it in stages because too much can go wrong. Like your tile gone missing. Or COVID. No, you really have to be wealthy enough to do it all at the same time to make sure that everything you planned can actually happen.
Posted on October 22nd, 2022

To say that this past week has been a trying time for my cats is a huge understatement. And they never let me forget it.
Fortunately, as of yesterday, they have the run of the house again... save for the downstairs guestroom, which has been used as storage for all the crap in my kitchen while it was being repaired and the cupboard frames repainted.
They are not happy about this.
They are not happy at all about this.
Jake squawks at the door on occasion, but it's Jenny who is beside herself with rage about the fact that there is a room denied her. She meows at the door. She comes and meows at me. She paces in front of the door for 10 minutes. Then she sits in front of it for ten minutes. Then she starts meowing again. She is NOT a happy camper.
Because she's not used to being denied anything.
Meanwhile upstairs...
I still haven't moved the second water fountain back to the kitchen. This morning there was a line. Jake waited patiently while Jenny tested the water...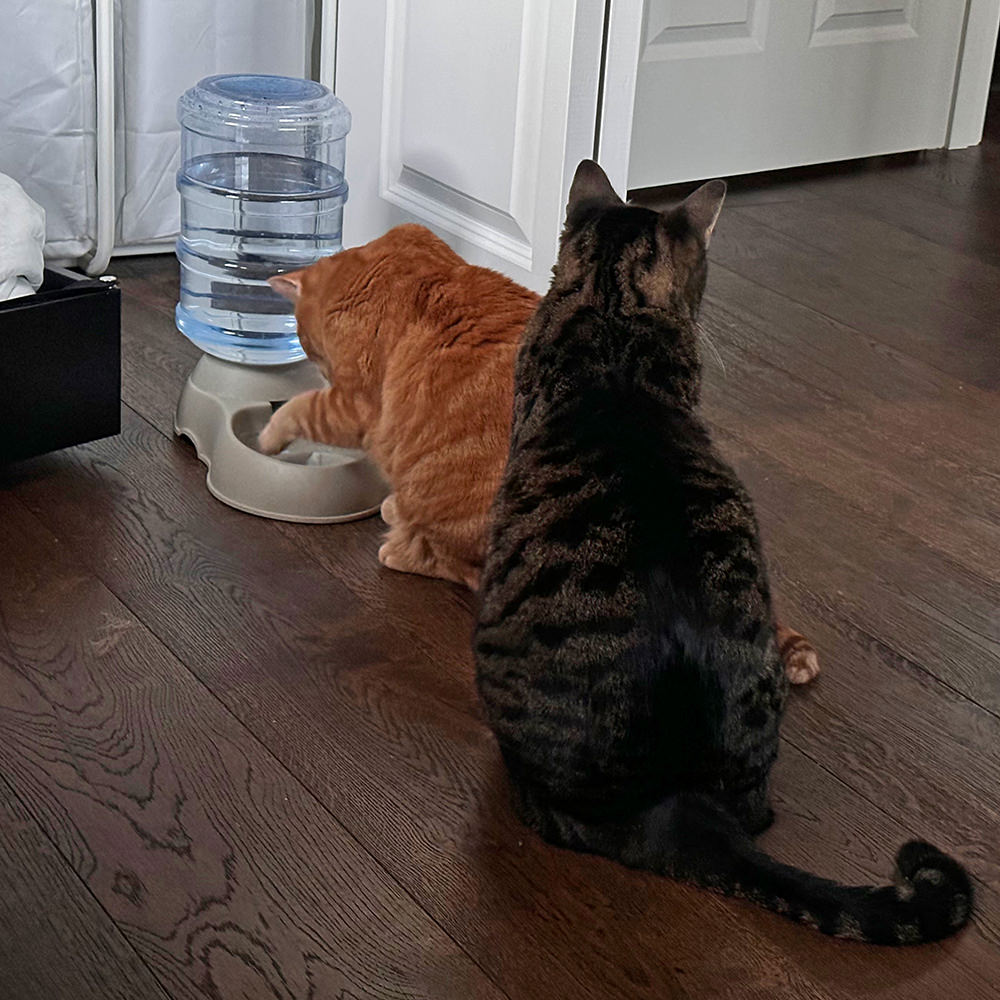 Examined the room...
And looked like she was going to puke in the bowl...
Then he finally couldn't sit through any more of this nonsense and crowded his way in after five minutes. Five minutes!
But, hey. Any time they're not trying to get in the guestroom is a good time!
Posted on October 21st, 2022

As I mentioned yesterday, my kitchen may be mostly complete (sans new cupboard doors and drawer facing), but I'm not out of the woods yet.
The leak in the bathroom, which I thought had been resolved, started leaking again as they were repairing the hole in the wall that got ripped open when repairing the leak the first time. This was, to be sure, a horrible development. Fortunately I have a bathroom upstairs, but the fact that my downstairs bathroom is still torn up means I am not yet done with this madness.
Not that this would be the end of it. There's plenty of other things that I need to work on (though none as urgent as a hole in the wall). And I suppose that as soon as the last to-do is checked off the list I'll have to start all over again. Home ownership is a never-ending money pit, so I'm counting on it.
The water leak could be something simple involving popping off a few tiles in the upstairs bathroom and repairing a pipe or fitting... or it could be something horribly complex, which would involve ripping out the entire upstairs shower and the ducts downstairs. Or anything in-between. Which means it will either be something that wipes out my savings to pay for in its entirety... or something which wipes out my savings to pay an insurance deductible.
The good news is that I won't have to worry about what I'm going to buy for clothes and toys on Black Friday this year!
Posted on October 20th, 2022

My cats have always just run and hid when people are over. I've tried really hard to slowly introduce them to people who are not me, but they won't have any of it. Any time somebody is over, they run and hide in the storage closet in my bedroom that's behind my clothes closet. Eventually I just propped the door open so Jake and Jenny could have a safe space whenever they wanted it.
On Monday I just left my bedroom door open. There's no need to close it because my cats will never come downstairs while the workers are here. Especially with all the noise they were making.
But what I didn't count on? Lunchbreaks.
When the workers went to lunch, Jake wandered downstairs. Then when the workers returned, he didn't run back upstairs... but instead ran out in the catio. Where he stayed the rest of the day until the workers left at 5:30 (I went out and put a litter box out there just in case).
After that, I just closed my bedroom door so they couldn't leave. I already had their auto-feeders and one of their Litter-Robots in there, so they were set. Except they stayed in the closet the entire time and only came out to eat and use the litter box when I'd sit in there with them.
I don't want them licking the primer off the cabinets... but they are going absolutely bonkers trapped in my bedroom. So I decided to build a kinda barricade to keep them out of the kitchen...
Let's see if you can figure out how long it took Jenny to figure out a way around it, shall we?
A) 5 minutes
B) 2 minutes
C) Literally seconds... you have a ladder for them to climb right over it, dumbass!
The answer is, of course,
C
. And yes, I am not smarter than my cats and a total dumbass. Jake followed immediately after his (much) smarter sister figured it out.
My second attempt was to wrap the ladder in plastic, which seemed to work great...
Last night I just moved and re-taped the dust barrier to keep them out, which worked fantastic...
Today was clean-up day as all the painting stuff was hauled away. My kitchen cupboard frames are painted! And they look great! Now I just need to have the backsplash tiled and save money to have my cupboard doors and drawers made.
And maybe my floors re-done.
Jake and Jenny have had the full run of the house since 2:00. And do you know where they are now? In my bedroom.
Even though I've moved their food and litter box back downstairs.
But what about the bathroom, you might be asking? You said that there was a big hole in the ceiling, so did that get fixed?
No. No it did not.
But we'll get to that disaster tomorrow. Right now I want to just be happy that I have my kitchen back after three years.