Posted on November 25th, 2022

For decades I've saved my money all year long so that I can shop Black Friday sales for all the stuff I need and want at a discounted price. Usually clothing.
That hasn't been the case this year.
In trying to get my home repaired, every cent I have has to go towards plumbers, electricians, and contractors and such. And they ain't cheap.
But it is nice not having a hole in my kitchen ceiling... even if other ceilings and walls are still torn up.
That's a story for another tax refund.
Posted on November 4th, 2022

After three years of not having a kitchen, I'm finally getting things put back together after my contractor got COVID, was in and out of the hospital, and eventually moved to Utah to live with his mom because he could no longer work.
The hole from the water leak in my ceiling has been repaired. The cabinet frames have been painted. And my tile has finally started going up on my walls...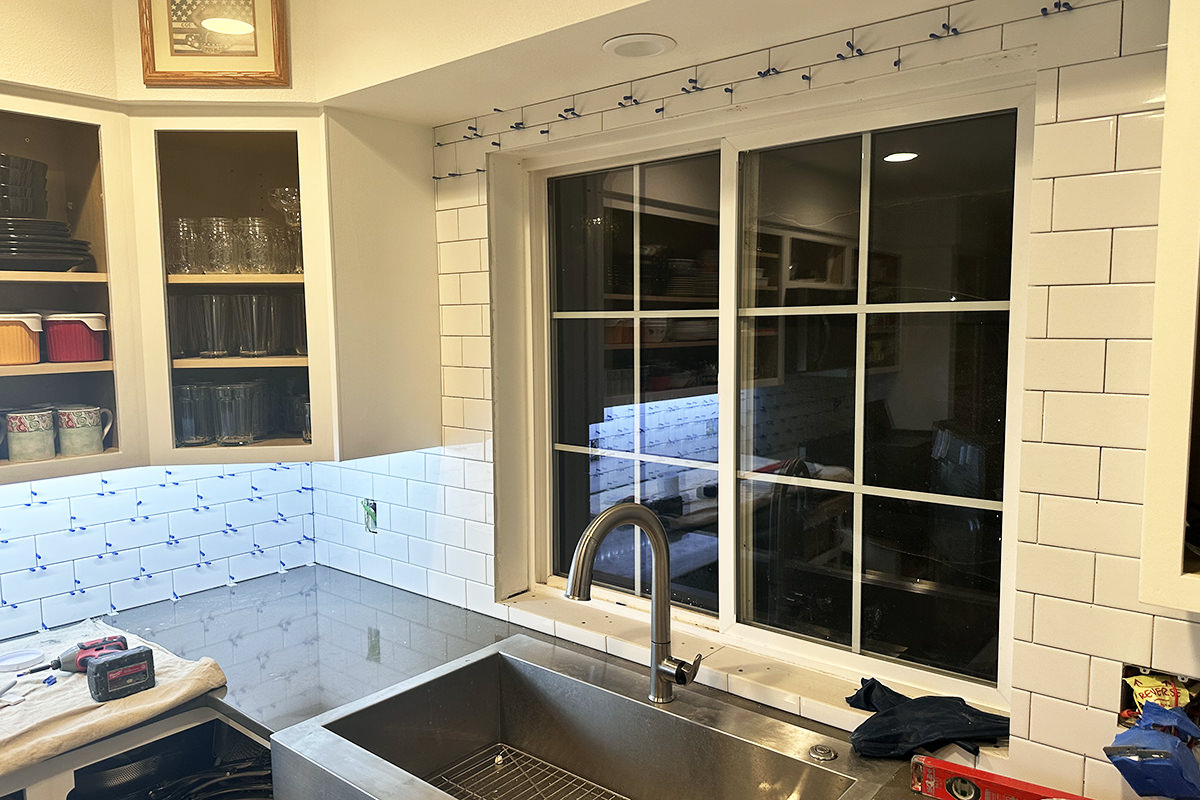 But it took a while to get to this point. Yesterday when the installer arrived, he took a level to my walls and explained the they were not even. They were wavy, so any tile installed on them would be wavy. Since the whole appeal of subway tile to me is the beautiful straight lines that form as it's making its way across your walls, this was a horrifying prospect.
And so... an additional $750 of materials and labor were required to pull off all the drywall, shim the studs so they were even, then install new drywall.
And it's also adding another day to the project.
But no matter. By Monday there will be another thing to check off the list. Then it's replacing all my cupboard doors and drawers. Then I have my kitchen back.
After three years.
And then there's the matter of the leak in my bathroom to get figured out.
Home ownership is a serious money pit.
Posted on October 31st, 2022

I like subway tile. It's simple, clean, and doesn't draw much attention to itself. Which is exactly what I want.
So when I bought my place and had it gutted for renovation, the very first thing I did was lock down the subway tile I was going to use. That way I could match all the paint to it. I wanted square tile for the bathrooms and 3×6 for the kitchen. And since I couldn't afford to do everything at once, I was sure to purchase a standard tile from a big box store instead of something unique. In this case, it was American Olean from Lowe's. I started with the bathrooms. Then, four years later I had the money saved to do the kitchen... but COVID... and so I am only getting to it now.
Bright and early Sunday morning I went to buy the tile.
Surprise, surprise... Lowe's no longer sells American Olean. They've switched absolutely everything to Satori Tile. The American Olean is only available via special order, which would be fine. Except of course it's out of stock. And of course they have no idea when... or if... they'll ever get it back again...
Well, shit.
The Satori subway tile that Lowe's had available is not the same creamy white of the American Olean which I color-matched all my paint to. It's cooler... grayer... and looks like crap next to the kitchen cabinet frames which I just had painted last week.
The next-closest thing is the subway tile at Home Depot... Daltile Bright White. It's not quite as creamy, but at least it's in the same color family. I have no clue if it will require me to repaint my kitchen cabinet frames yet, but it's the best option I have available considering the tile installer is coming this week.
It's become glaringly obvious that only people with loads of money can afford to renovate their home. You can't do it in stages because too much can go wrong. Like your tile gone missing. Or COVID. No, you really have to be wealthy enough to do it all at the same time to make sure that everything you planned can actually happen.
Posted on October 22nd, 2022

To say that this past week has been a trying time for my cats is a huge understatement. And they never let me forget it.
Fortunately, as of yesterday, they have the run of the house again... save for the downstairs guestroom, which has been used as storage for all the crap in my kitchen while it was being repaired and the cupboard frames repainted.
They are not happy about this.
They are not happy at all about this.
Jake squawks at the door on occasion, but it's Jenny who is beside herself with rage about the fact that there is a room denied her. She meows at the door. She comes and meows at me. She paces in front of the door for 10 minutes. Then she sits in front of it for ten minutes. Then she starts meowing again. She is NOT a happy camper.
Because she's not used to being denied anything.
Meanwhile upstairs...
I still haven't moved the second water fountain back to the kitchen. This morning there was a line. Jake waited patiently while Jenny tested the water...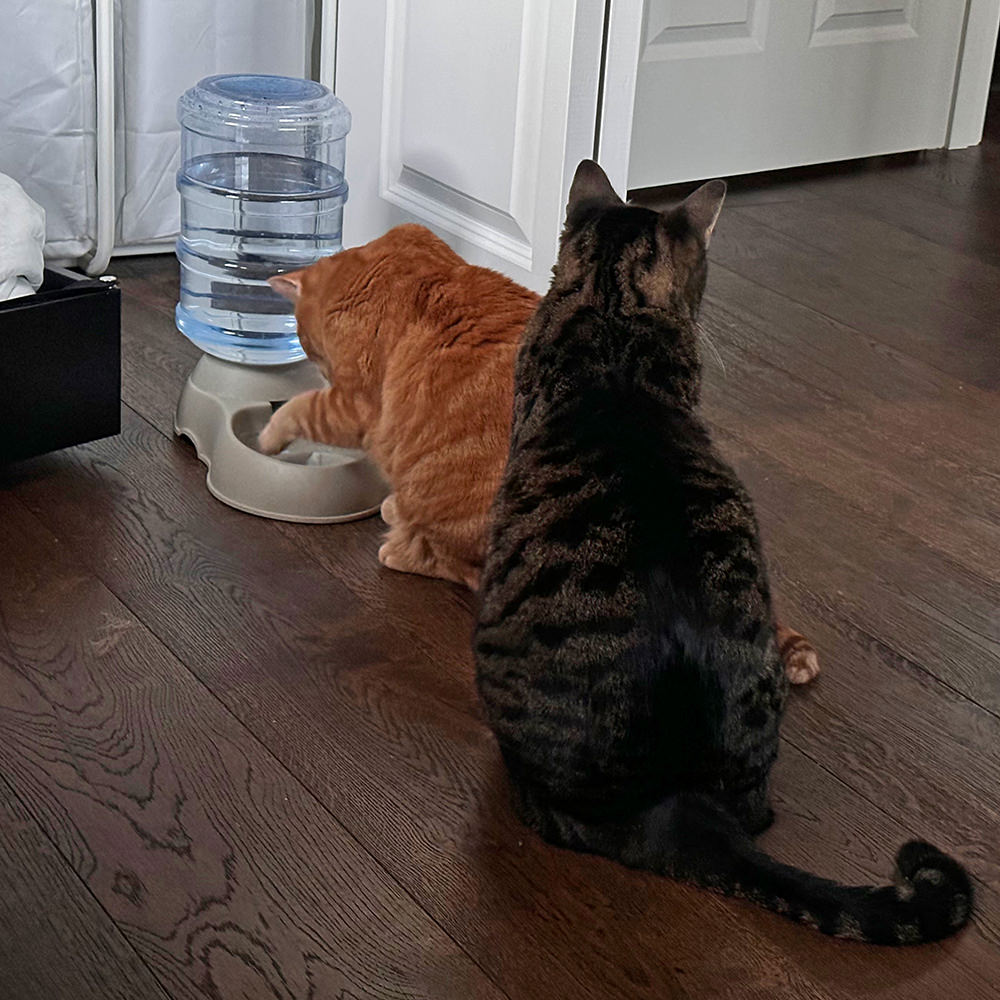 Examined the room...
And looked like she was going to puke in the bowl...
Then he finally couldn't sit through any more of this nonsense and crowded his way in after five minutes. Five minutes!
But, hey. Any time they're not trying to get in the guestroom is a good time!
Posted on October 21st, 2022

As I mentioned yesterday, my kitchen may be mostly complete (sans new cupboard doors and drawer facing), but I'm not out of the woods yet.
The leak in the bathroom, which I thought had been resolved, started leaking again as they were repairing the hole in the wall that got ripped open when repairing the leak the first time. This was, to be sure, a horrible development. Fortunately I have a bathroom upstairs, but the fact that my downstairs bathroom is still torn up means I am not yet done with this madness.
Not that this would be the end of it. There's plenty of other things that I need to work on (though none as urgent as a hole in the wall). And I suppose that as soon as the last to-do is checked off the list I'll have to start all over again. Home ownership is a never-ending money pit, so I'm counting on it.
The water leak could be something simple involving popping off a few tiles in the upstairs bathroom and repairing a pipe or fitting... or it could be something horribly complex, which would involve ripping out the entire upstairs shower and the ducts downstairs. Or anything in-between. Which means it will either be something that wipes out my savings to pay for in its entirety... or something which wipes out my savings to pay an insurance deductible.
The good news is that I won't have to worry about what I'm going to buy for clothes and toys on Black Friday this year!
Posted on October 20th, 2022

My cats have always just run and hid when people are over. I've tried really hard to slowly introduce them to people who are not me, but they won't have any of it. Any time somebody is over, they run and hide in the storage closet in my bedroom that's behind my clothes closet. Eventually I just propped the door open so Jake and Jenny could have a safe space whenever they wanted it.
On Monday I just left my bedroom door open. There's no need to close it because my cats will never come downstairs while the workers are here. Especially with all the noise they were making.
But what I didn't count on? Lunchbreaks.
When the workers went to lunch, Jake wandered downstairs. Then when the workers returned, he didn't run back upstairs... but instead ran out in the catio. Where he stayed the rest of the day until the workers left at 5:30 (I went out and put a litter box out there just in case).
After that, I just closed my bedroom door so they couldn't leave. I already had their auto-feeders and one of their Litter-Robots in there, so they were set. Except they stayed in the closet the entire time and only came out to eat and use the litter box when I'd sit in there with them.
I don't want them licking the primer off the cabinets... but they are going absolutely bonkers trapped in my bedroom. So I decided to build a kinda barricade to keep them out of the kitchen...
Let's see if you can figure out how long it took Jenny to figure out a way around it, shall we?
A) 5 minutes
B) 2 minutes
C) Literally seconds... you have a ladder for them to climb right over it, dumbass!
The answer is, of course,
C
. And yes, I am not smarter than my cats and a total dumbass. Jake followed immediately after his (much) smarter sister figured it out.
My second attempt was to wrap the ladder in plastic, which seemed to work great...
Last night I just moved and re-taped the dust barrier to keep them out, which worked fantastic...
Today was clean-up day as all the painting stuff was hauled away. My kitchen cupboard frames are painted! And they look great! Now I just need to have the backsplash tiled and save money to have my cupboard doors and drawers made.
And maybe my floors re-done.
Jake and Jenny have had the full run of the house since 2:00. And do you know where they are now? In my bedroom.
Even though I've moved their food and litter box back downstairs.
But what about the bathroom, you might be asking? You said that there was a big hole in the ceiling, so did that get fixed?
No. No it did not.
But we'll get to that disaster tomorrow. Right now I want to just be happy that I have my kitchen back after three years.
Posted on October 19th, 2022

Three years ago before my ceiling leaks, I was deep into a kitchen renovation. I ran out of money when I renovated the rest of my house after buying it, but managed to save my pennies for a couple years to get going at last.
Turns out that I should have put off a different room and had my kitchen done first, because I hated it I hated it I hated it.
All the wood was this weird putty color that had a grey wash over it. Which meant that it always looked dirty. As somebody who's a bit of a germaphobe (especially where I prepare my food), it bugged me every single day. How can I tell when there's dirt on something when everything always looks dirty?
But it wasn't just the material my cupboards and drawers were made up... it was the shape. There's this weird groove that goes around the center panel which collects dust... and it has these rounded corners on everything that I didn't like at all.
The plan was to repaint the cupboards then pay to have my doors and drawers rebuilt to be the shaker-style I love.
AND THEN PAINT EVERYTHING WHITE!
During the original renovation when I had all my walls painted white I went through a dozen shades until I found the white I wanted... a touch warm but not yellow. Plus a different white for the trim which was a bit more glossy but a visual match (it's weird, but going from eggshell to semi-gloss makes the color change!).
So when it came to my cupboards, I thought the color of white was already chosen. I'd just use the trim color. Done!
But then I painted a cupboard door to see how it looks.
And was mortified to find that painting a large surface looks entirely different than painting a thin strip of trim! So it was back to the drawing board. The wall color in semi-gloss didn't work. The white colors around my colors didn't work. And then... just as I was going to give up and pick a color that wasn't white, I mixed two of the whites I had sampled... and ended up with exactly the right shade. Proud of myself for my ingenuity, I took it to the paint store, explained what I had done to get the color I wanted, only to have the guy say "Oh yeah, that's Simply White."
Then yesterday and today they started spraying Simply White on all my cupboard frames...
After almost six years of dirty-looking cupboards, the kitchen of my dreams is starting to come together!
Posted on October 18th, 2022

It was never my ambition to become a homeowner. I thought I'd rent a small place and spend my money traveling the world. Then my mom got sick and it became necessary to have a home in our old neighborhood so that if she got out of the house there are people who know her and could guide her back to the house.
But then... something happened. I found out that my home gave me an endless number of projects for my budding woodworking hobby. And the more I worked on my house, the more I loved having it. So thanks for that, mom.
But it hasn't all been a bed of roses.
I had a ceiling leak in my guest bathroom.
Then I had a ceiling leak in my kitchen.
Apparently the plumbing in my place was not done all that well. But eventually I got it all resolved and decided to move forward with renovating my kitchen... and repair the two massive holes in my ceiling.
The furthest I got was hiring a contractor and having my countertops replaced then having my cupboards all torn apart.
The contractor I hired contracted COVID in April of 2020. Ended up hospitalized multiple times, then had to move away to live with relatives because they couldn't work anymore. I've been trying to hire contractors to complete the work for nearly three years. Four of them, to be exact. And all that time I've lived out of drawers stacked on my countertops.
Yesterday Contractor #6 actually showed up. I followed one of his trucks out of town one day, then checked my dashcam footage to get the number so I could call. Two weeks later and they started taping up my kitchen and bathroom.
It will be so nice to have a kitchen again.
Posted on September 1st, 2020

Yesterday I had to get up early-early in the morning for a quick work-trip to Spokane. Three hours drive for an hour's work followed by three hours drive home. That's a lot of time on the road, which is tough when you're not used to it.
It was exhausting, but I did stop by David's Pizza, so I could have some delicious company on the way back...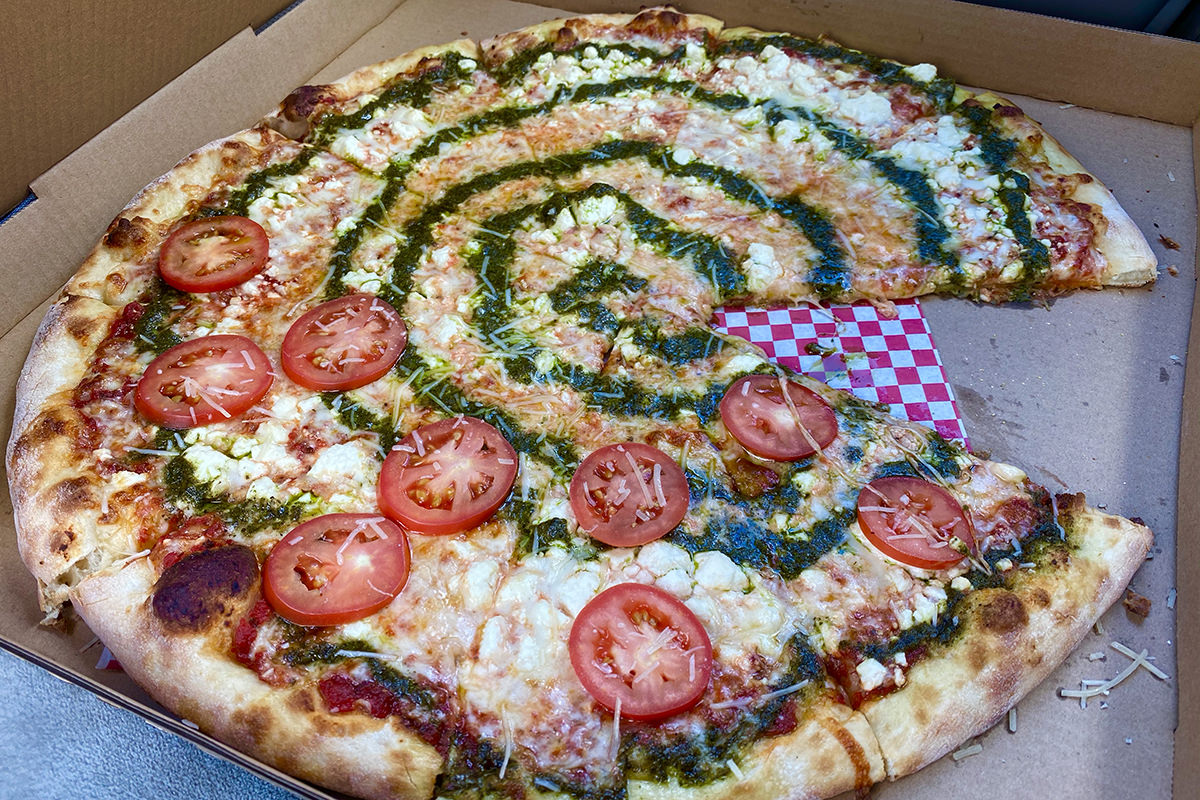 Just after picking up my pizza, I received a call from the plumber asking if they could come this afternoon instead of tomorrow morning. Thrilled at the prospect of having a kitchen sink with running water after three weeks of doing without, I agreed.
There are a lot of Do It Yourself projects I'm willing to tackle. Or at least attempt to tackle. Plumbing is not one of them. The potential for serious problems and even more serious damage just isn't worth the risk. I call a plumber for plumbing problems without hesitation, even though the cost is usually far more than I can afford to pay.
For installing my new sink, my new garbage disposal, and my new faucet, I had budgeted $1000. I figured it would more likely be around $800, but better to have more money saved than not enough.
The work order came out to $1400 after cash discount and some coupons I had found.
Guess I'm waiting a couple months before I get new cabinet doors and drawers.
Turns out that $1400, which expensive, was probably justified. It took the guy three hours to get my fancy hardware installed. I had installed support rails for the sink, but the hardware to secure it was not exactly easy. I had installed the new control box for the garbage disposal, but it required some wiring. And don't even get me started on the automated faucet! There are more lines and wires required to install it than I could have possibly have guessed. Just look at all this...
I'm going to buy some retaining clips so I can get everything pinned to the wall and looking nice.
The garbage disposal is quite a bit more powerful than the old one that came with my home. Surprisingly, it's considerably smaller and quieter as well. The thing kinda scares me, because it can rip through anything I dump into it in seconds.
My old disposal was controlled by a wall switch. But since my new touchless faucet requires always-on power, I had to get a control box and remote switch so that the disposal wouldn't be on 24/7. I put the button where the soap dispenser is supposed to go (I wouldn't have used it anyway, because it seems like it would get crudded up easily)...
It's not electronic... it's air-activated. The button has a small bellows inside which sends a burst of air to the control box which turns it on/off. It's far more responsive than I thought it would be! It's also safe for the cats to walk over when they are naughty and being on the counters where they're not supposed to be. You have to press fairly deep to activate...
The sink itself is a stainless steel apron-front Kohler drop-in model (meaning I didn't have to rebuild my cabinets... just leave a hole cut out for it). It's very well made (as it should be for the price!) and beautiful to look at. I let some water dry in it to see if it gets badly water-spotted, and it's not terrible. Certainly no worse than other stainless steel sinks I've had...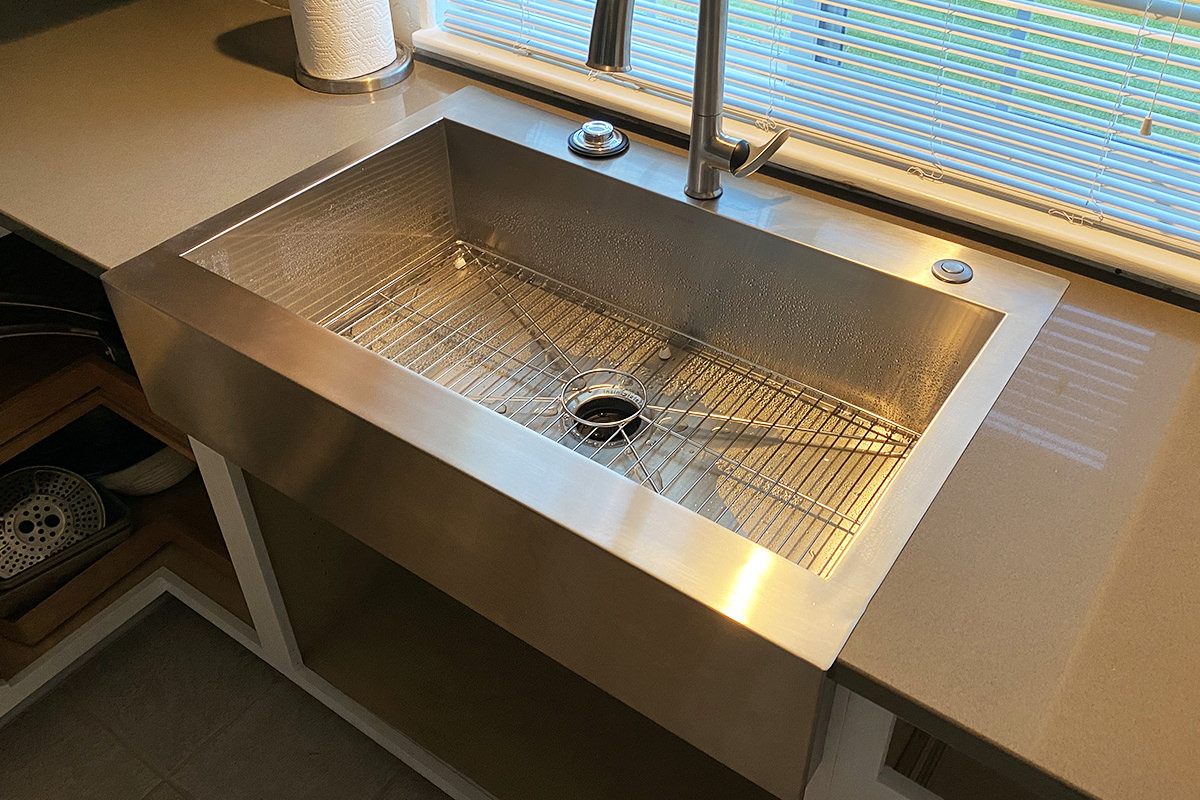 I totally love it. Goes with all my stainless steel appliances.
Now, about that faucet...
Originally I was getting a simple Delta faucet with a touchless sensor so I can turn the water off and on when my hands were goopy from cooking. But then a friend remarked that it was risky buying a different brand than my sink because then the finishes might not match. Enter the Kohler Sensate.
First of all, the sensor for turning off and on is up in the neck of the faucet. This is great because if my cats are up there (where they know they shouldn't be) then the odds of them being able to turn it on are slim. Also... if they do manage to turn it on, it will turn itself off after a while so I'm not wasting water...
The spout can detach and be used as a sprayer-wand, which is nice.
This faucet can integrate with Kohler Konnect so I can add Alexa voice commands at a later time if I want to. Then you can say stuff like "Alexa, dispense 2 quarts of water" and the faucet will totally do that. I didn't go to that expense because it seemed rare that I would actually need to do something like that. Maybe if I were making Kool-Aid or something? I dunno. It sure is a beautiful faucet!
And so now I just have to install my tile backsplash and finish my cabinets. Which sounds a lot easier than the work involved to actually do it, alas.
Posted on August 31st, 2020

I'll tell you what I want, what I really really want...
Concrete countertops.
I just love the industrial look of them. So the first thing I did when I finally got the money together to start working on my kitchen was to inquire about having them installed. What I was told was "Sure we can do that, but you might want to look into fake concrete manufactured stone. The fake stuff has a more consistent finish (not so blotchy), doesn't have to be sealed, is more resistant to scratches and staining, and could ultimately be cheaper. Furthermore, concrete may be a turn-off when it comes to re-sale value, as not everybody appreciates the look."
Well okay then.
I pulled four samples of "concrete" countertop material. One of them looked awful under my kitchen lights and was immediately eliminated. Since I couldn't afford to replace my kitchen floor tile, I eliminated another sample because it didn't go very well...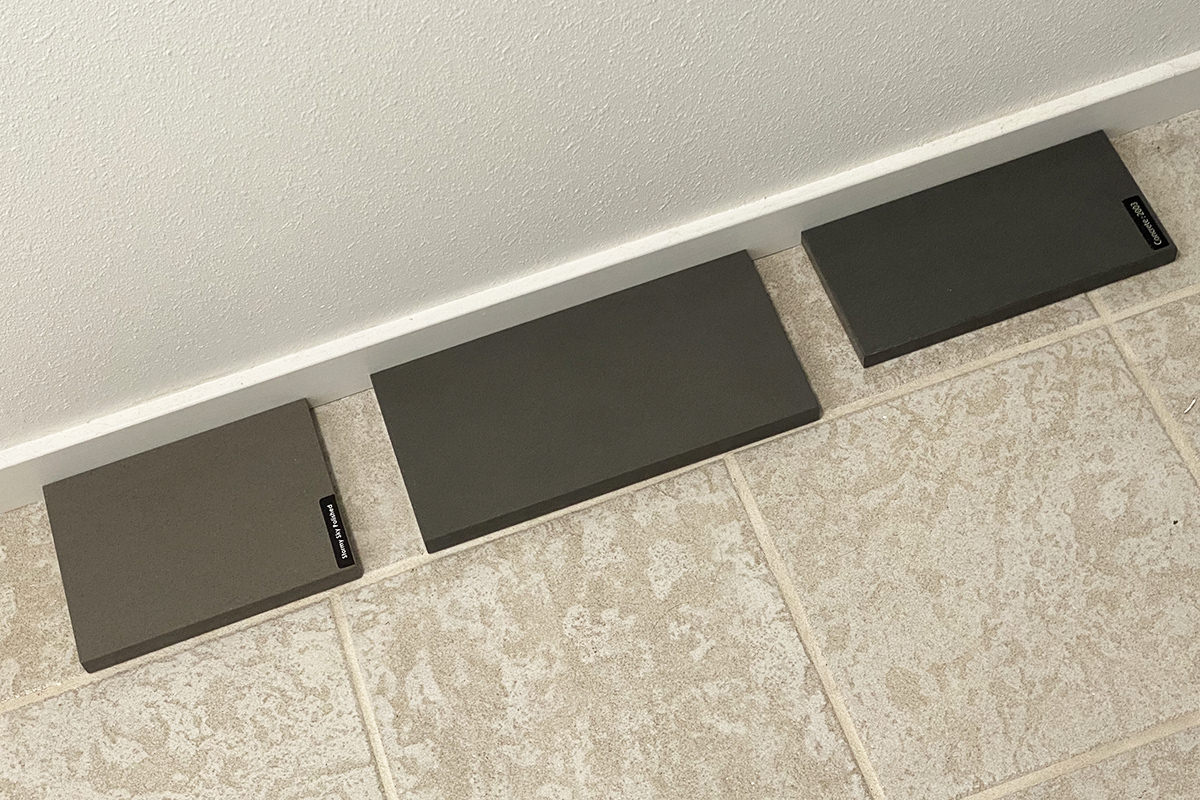 I liked the more "gray" color of "Concrete" because it seemed more authentically concrete-like to me... but the "Stormy Sky" had a hint of brown warmth that made it a better fit with my hardwood flooring (which you can kinda sorta see in this photo, but not really)...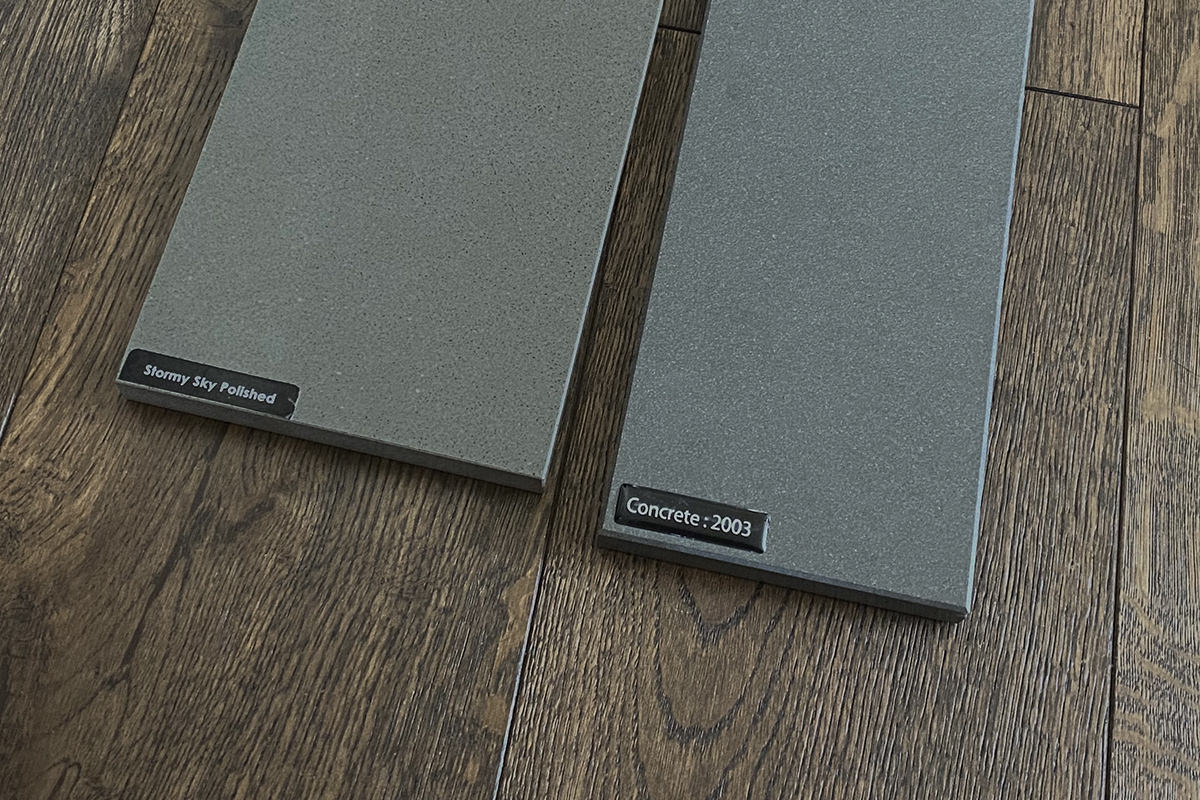 It ultimately seemed a better match all the way around as I looked at it under different light, so I ponied up the downpayment and had a slab ordered. They templated my kitchen on the 13th, then this past Friday they got installed...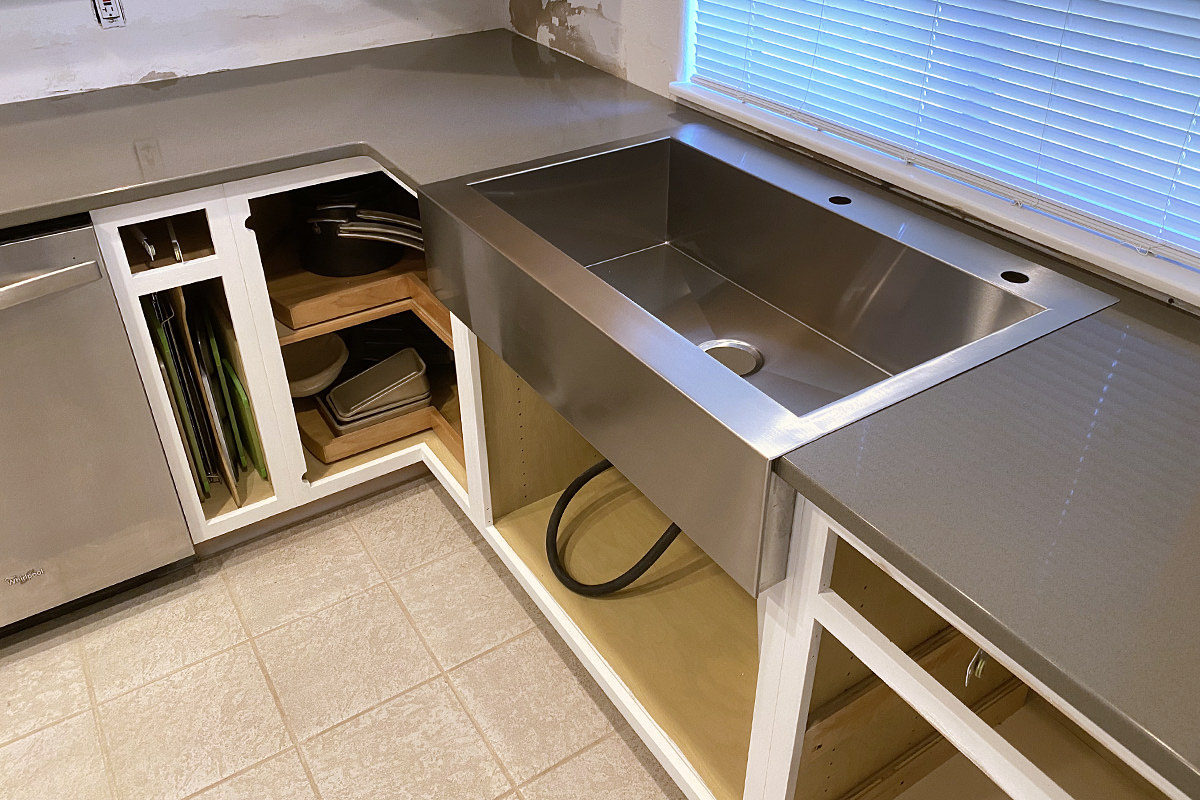 They are absolutely amazing-looking. They have the concrete "look" I wanted, but are more refined... and a better color match for everything else in my kitchen. Including my new stainless steel sink you can see there. But what I love most? They are perfectly smooth! I can easily disinfect them and feel comfortable kneading breads and preparing other foods directly on top. With my old, ugly laminate countertops, I wouldn't dare because they had a rough texture where germs can hide. Really excited to make cinnamon rolls and pizza crusts now that I have a large, sanitary surface I can work on!
And tomorrow my plumbing gets installed. After three weeks without running water or a kitchen sink, it's been a long time coming!