Posted on August 8th, 2023

Way back in early 2019, I hired a guy to re-landscape my yard. He came and took a look that Spring, then came up with a cost. I told him I didn't have that kind of money, but said I should have it saved up by the end of the year so we could start in the Spring of 2020.
Y'all know what happened in the Spring of 2020.
First my landscaping was postponed because of quarantine. Then it was postponed because my landscaper got COVID really bad and was hospitalized. Then it was postponed twice so he could recover. Then it was postponed permanently when he ended up having "Long COVID" and could no longer work. The poor guy ended up having to move out of the state so he could live with family that could take care of him.
I hired another contractor who ghosted me. Then another contractor who quoted the project without all the things I had asked for, then ghosted me when I asked why. I finally found a fourth contractor back in April who said he could fit me into his schedule late Summer.
AND TODAY WAS THE START DAY!
They're ripping out all the spider-infected shrubs that were never maintained and grew far too big. They ended up growing up against my house to create a spider super-highway and could no longer be re-shaped or trimmed. Unfortunately, they had to go...
I didn't feel bad about it until I drove home to get a sandwich and ended up following the truck that had the carcases of my poor spider-house shrubs in the back. SORRY, GUYS...
And now they can start rebuilding my yard with new plants that are easier to maintain, require less water, and won't explode to become spider-laden death-traps. That'll be nice.
Posted on July 25th, 2023

It's absolutely fascinating how easy it is to drop astounding amounts of money on things that you're already spent money on.
As an example... the paint sample from the new company mixing the paint for my new kitchen doors and drawers arrived and it's a bit less warm. My choices were to A) Ask them to try again and wait another week... B) Wait until the original paint company gets the parts for their machine at the end of August... or C) Repaint my cupboard frames the slightly cooler color. I decided on Option C because I didn't want to wait any longer, and it was more in the direction of my tile color anyway.
$80.00 blown in the blink of an eye so I can pay for new paint...
The end result looks good, so now I wait for the new paint to arrive sometime this week... wait for the pieces to be painted... then wait for the installers to fit me into their schedule.
After that?
Should be my front yard landscaping.
Followed by the re-do of the upstairs bathroom which had to be torn out.
Talk about spending money on something I've already spent money on. That's going to be a doozy ON TOP OF the money I paid to my shitty fucking contractor who fucked it up in the first place.
I seriously should have bought a tent and lived out in the woods or something.
Posted on July 17th, 2023

=sigh=
The last thing I'm going to do is complain about being a homeowner. First of all, I feel grateful that I even have a home. Second of all, the cost to rent an apartment in my parts is even higher than my mortgage payment. Like a lot higher.
But holy shit have I had my share of costs when it comes to my seven-year-old home purchase (A list of the absurd amount of repairs is here).
When I bought the place, I had a hugely expensive renovation to make it safer for my mother to inhabit with her dementia. From there it's been a non-stop parade of problems. The worst of which is my shitty upstairs shower leaking downstairs. And it ain't no old shower... it was installed just six years ago and was likely leaking since Day One (but I only found out about it four years ago as it worsened). I spent thousands of dollars just to get it diagnosed, and even then they're not 100% sure that it was a leak from the drain plumbing which is what they suspected. Which means they ended up having to rip it all out so I can start over...
The demo guys noted that the shower pan was made of something spongey... the likes of which they have never seen. So fuck my old contractor for that. And fuck my old plumber for doing a shitty job that's been leaking. And of course insurance is denying my claim, because they don't cover "slow leaks," only a "sudden catastrophic leak," which fucking sucks.
This time I'm not dicking around. I'm going to find a metal shower pan myself and hire the expensive plumbers I use for everything because they aren't incompetent.
This popped up in my social media this morning, and I felt it to my core...
This is very quickly becoming me. I don't dare ponder what could go wrong next, despite my already having fixed or redone the whole place by now. I think the best I can hope for is that I at least get to complete what's currently fucked before the next thing goes wrong.
Posted on June 28th, 2023

Oh what a glorious day!
The sun is out. All my clothes are washed. The kitchen has been cleaned. My groceries have been ordered. What more could I want?
OH YEAH! THE GIANT HOLE IN MY LIVING ROOM WALL HAS BEEN REPAIRED!!
So tell me honestly. Are two turbo-fans running on high speed enough to dissuade my cats from rubbing up against a freshly-painted wall... or am I coming home to two white cats where I originally had an orange one and a grey one?
Posted on June 27th, 2023

Home ownership... am I right?
Today I got the worst news possible... the upstairs shower, which has started leaking again (and it's worse than ever)... will have to be entirely torn out so they can replace everything the original plumber did. The pipes. The pan. Everything. Which means I will, of course end up having to re-tile and re-paint. Lord only knows how much that's going to cost.
Let's see what this brings us to in seven years of owning a home, shall we? And this is after the complete renovation I had already paid for when I bought the place...
Repair hardwood floors because the hugely expensive hardwood I bought was flawed.
Tear out wall strips that were buckling.
Rewire electrical once half my kitchen stopped working.
Fix the kitchen plumbing, which was so poorly done that the plumber thought it was a joke.
Tear out all the smart light switches because the company went under.
Rip out the guest bath due to leak from above shower (ONGOING!).
Rip out the guest bedroom changing area due to leak from above shower (ONGOING!).
Add electrical outlet to laundry room because it didn't have one(?!?).
Replace hot water heater.
Replace HVAC compressor and blower with heat pump and blower.
Rip out living room wall to access noisy HVAC return lines that were badly clamped to the studs so I could completely reinstall everything and add soundproofing (ONGOING!).
Rip out automated sprinkler lines to reposition since they added a service box that blocks them (STILL WAITING ON A CONTRACTOR).
I am positively terrified as to how much this all cost me. A big thank you to my original contractor, who is responsible for half this mess.
Good thing I'm not going on vacations any more. I couldn't afford it.
The good news is that the massive hole in my living room wall is very close to being fixed...
Later today they skim-coat to level everything out.. Then tomorrow morning they prime it. Then tomorrow afternoon they paint.
And how happy will I be that one of four ongoing projects (soon to be five) will be checked off my list?
Very.
Posted on June 20th, 2023

It is remarkable how time just keeps blazing by me. Tuesday is wrapping up, tomorrow is hump-day, and then it's a race to the weekend again.
Which would be great, except my weekends are also blazing past me.
The weekend before last I was sick.
This past weekend I worked from morning until night trying to get my home put back together.
I started with my guest bathroom, which had a leak that caused a bunch of damage. As they were putting the bathroom back together, it was found that the leak had not been resolved, so repairs had to be put on hold. I hired an expert who only confirmed that "Yep, you have a leak" but couldn't figure it out. Then, without notice, the leaking stopped. But instead of tearing out the upstairs bathroom and more walls to find out what happened... or seal up the walls and hope it didn't happen again... I decided to build an access hatch in the guest bathroom ceiling...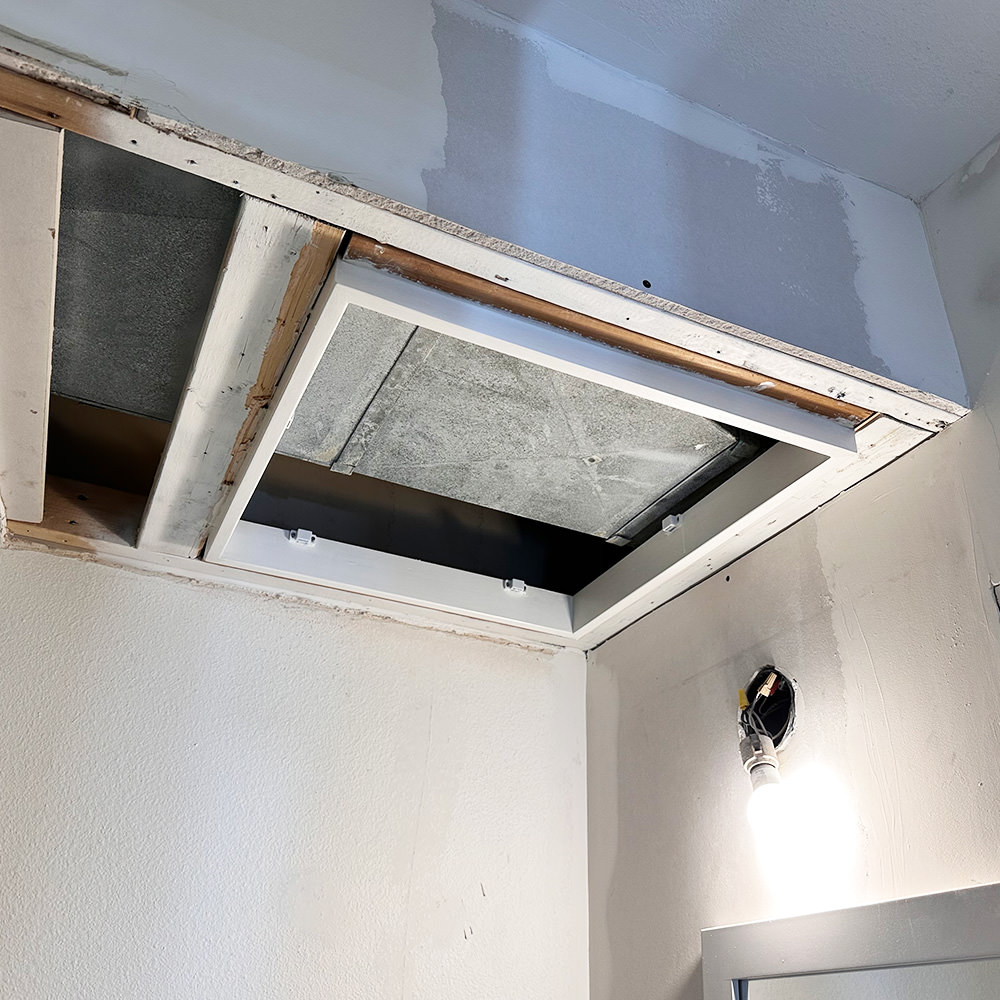 There's a panel I'm building which will magnetically attach inside the hatch. That way I can put some water leak sensors up there and be alerted to when/if something starts leaking again.
Then there's my new HVAC system. The heat pump outside has a return line to the blower which runs up my living room wall and over to the garage. For whatever reason, the line is noisy as hell. Sometimes when the heat pump is running, the noise gets so ridiculous that I have to turn up the television.
And so... I tore out the wall... installed mass-loaded vinyl panels... secured the line with vibration-dampening clamps... then installed some pricey sound-absorbing insulation on top of it all...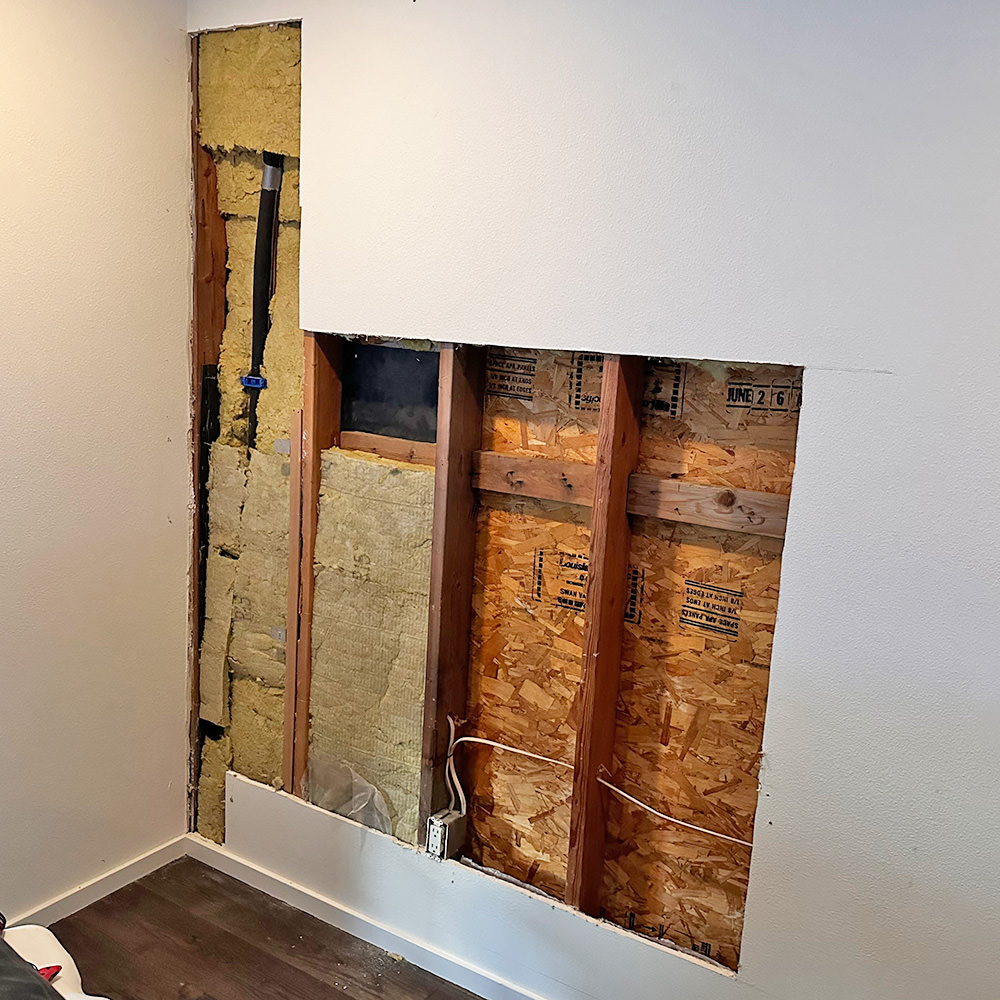 And that was that.
Now all I have to do is wait for my drywall guy to come in and put my walls back together... then wait for my kitchen doors and drawers to arrive... then I'm going to halt home improvement for a while, because I want to live in a home that's not torn apart for a bit.
At least I hope that can happen. Just my luck something else will go wrong the minute I've finished up the current disasters.
Posted on March 27th, 2023

IKEA's furniture is a weird duck. The finish they use on all their classic "brown-black" furniture is not quite a paint... not quite a stain... it seems like a cross between both. There's enough pigment to even out the wood grain, but not enough to be completely opaque.
Pure stain turns out nice, but it doesn't match my other stuff.
So I decided to try paint. The first thing I did was try "Black Mocha" by Behr, which is supposed to be as close as you can get. It didn't seem to match at all. So I started looking all over the internet to see if anybody found something better. The most promising seemed to be this guy, who had a custom formulation matched at Sherwin-Williams. He posted the formula and everything...
I showed this to the guy at Sherwin-Williams and, sure enough, he mixed it right up.
When I applied it, the maroon component was making things look too "berry" to match. But as it dried it started getting closer. Still looks like it needs a touch of brown to be a little warmer, but you can't tell unless you really look at it, so I'm happy. Even if it is a bit too "solid" to ever truly match. Maybe in the future I'll try thinking it down and see if that makes any difference.
Or maybe I'll just repaint everything different colors and not worry about it.
Posted on March 2nd, 2023

When the new company was hired to inspect my HVAC, they guy immediately told me of all the problems which were wrong with my 26-year-old system. This came as quite a surprise, because the previous company always told me that my system was great for an older model. But the new guy had the receipts... he took photos of everything and told me that it wasn't a matter of "if" but "when." Everything could run for another two years. It could fail tomorrow.
The cost to fix it so it wasn't on the verge of failure? $1,200.
There was no way I was going to spend $1.200 on a band-aid, so decided to invest in a new system.
The options presented to me were Silver, Gold, and Platinum. The Platinum system was simply beyond my finances to pay for. The Silver and Gold were ultimately the same price once a rebate from the local utility district was considered (they pay you to install a heat pump system to save energy so they can then sell that energy at a bigger profit to businesses or other regions). So Gold it was.
It looks nice next to my new water heater. It also looks like money...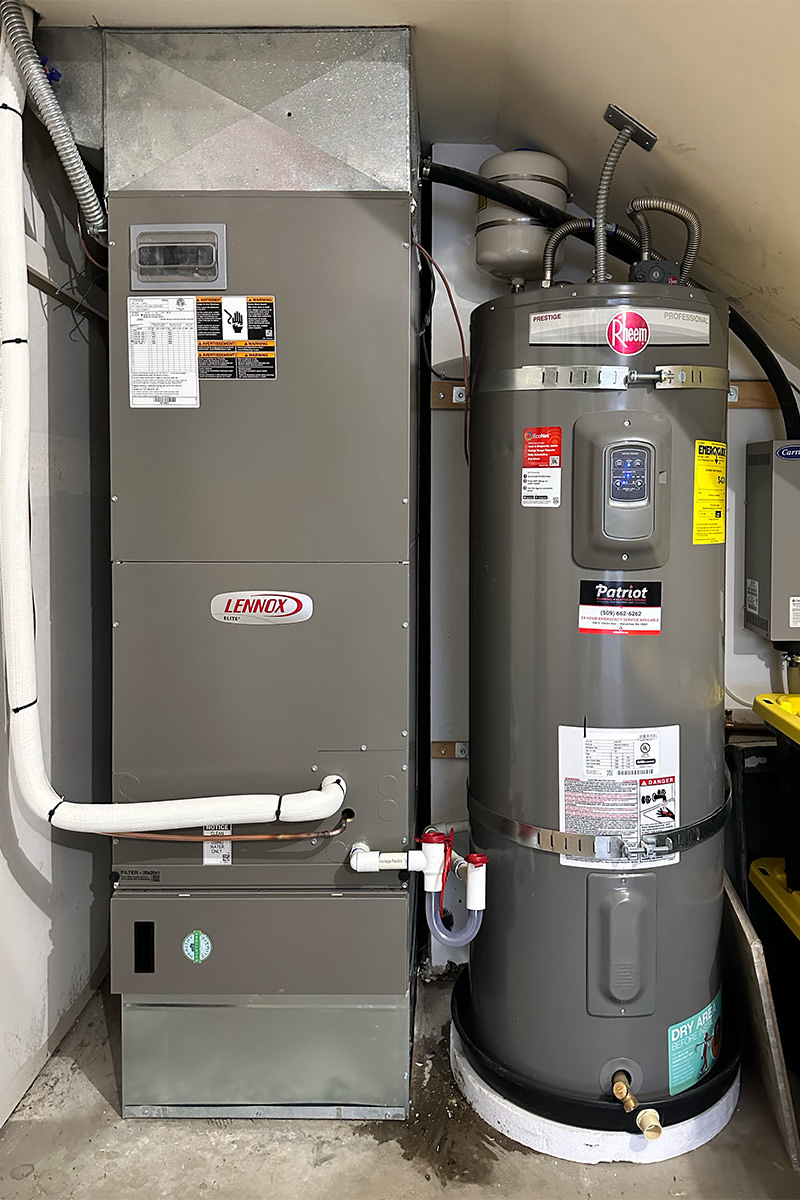 Fortunately I had been sinking money into an "emergency fund" for just such an occasion as replacing a water heater and HVAC system. Once the rebate is considered, I "only" had to come up with $650. Which will, in turn, come out of my tax refund.
Of course now I have no emergency fund left, so hopefully I won't have another emergency any time soon. Knock wood.
So there you have it.
Hot water. Hot air. And (eventually) cold air too.
Posted on February 16th, 2023

When I moved into my new place, all the furniture I had was old and busted and falling apart. But I didn't have money to invest in "good" furniture so I just loaded up at IKEA. Everything I have is from there.
When my cats were baby kittens, they were forever wanting to climb up to high places, but they were too small to hop up so their little claws were scraping up everything. I thought for sure that the IKEA would be temporary, but every time I turn around I have to fix something that's dying... water heaters... HVAC systems... electrical... it's never-ending.
So the kitty claw marks have remained.
Until I finally decided to see if I could refinish everything to get rid of them. Unfortunately, IKEA doesn't sell the paint, so I've been filling with wood putty and staining everything. It actually looks much nicer than it originally did when it was painted...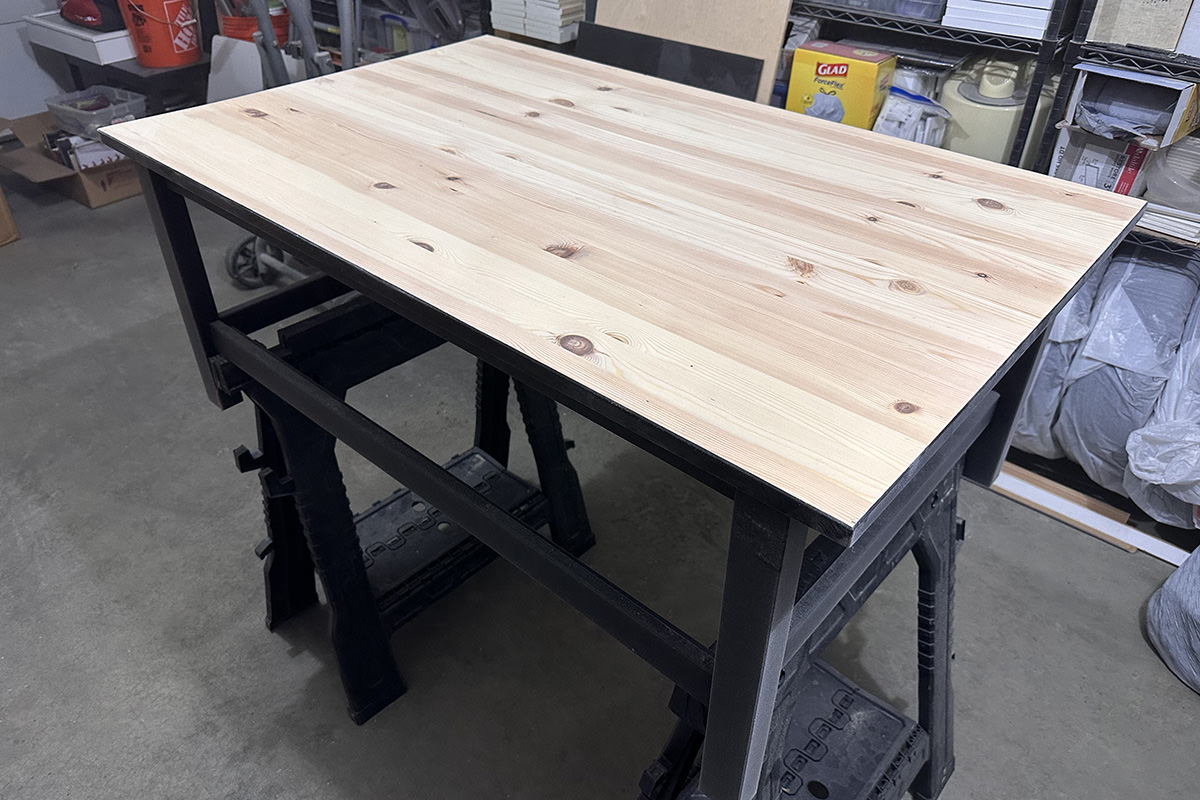 Fortunately I bought the stuff that was "real wood" instead of MDF that couldn't be stained.
And so... one down, four to go.
Posted on February 8th, 2023

My hot water heater* has been acting funny for a couple weeks. The pressure is low and it's not as hot as it was. So when the plumbers came to the condos yesterday I asked them about it. They ran water through the hot water line and it was fine. They were replacing hot water heaters and said that would likely solve my problem. How lucky am I?
There goes the vacation money I was saving up.
Not that I really get to go on vacations in this pandemic-infused haze we got going on.
Given that my hot water heater is 26 years old and well past its warranty, it was probably time to replace it. The thing was here when I moved in seven years ago, so I wasn't mad about it. Just disappointed...
Although I really shouldn't be disappointed, because the nightmare scenario is that it ruptured and my garage got flooded. I'm so paranoid about it that I installed a water sensor at the base that would ping my phone if it got wet. Then I went to Antarctica and realized that since I had no internet, my tank could have busted wide open and I wouldn't even know it.
The plumbers had three models in their truck and could install one immediately. Since I was already home working because Dropbox was down and I couldn't get to my files at the office, I told them to go for it.
The first model was pretty much the same as what I had. The more expensive one had a longer 10-year warranty and better hardware. The most expensive model had a 12-year warranty, built-in leak detection, an automated shut-off valve that triggers if a leak is detected, and there was an app to set a temperature schedule and notify you directly if there's a problem.
I think we all know which model I went for...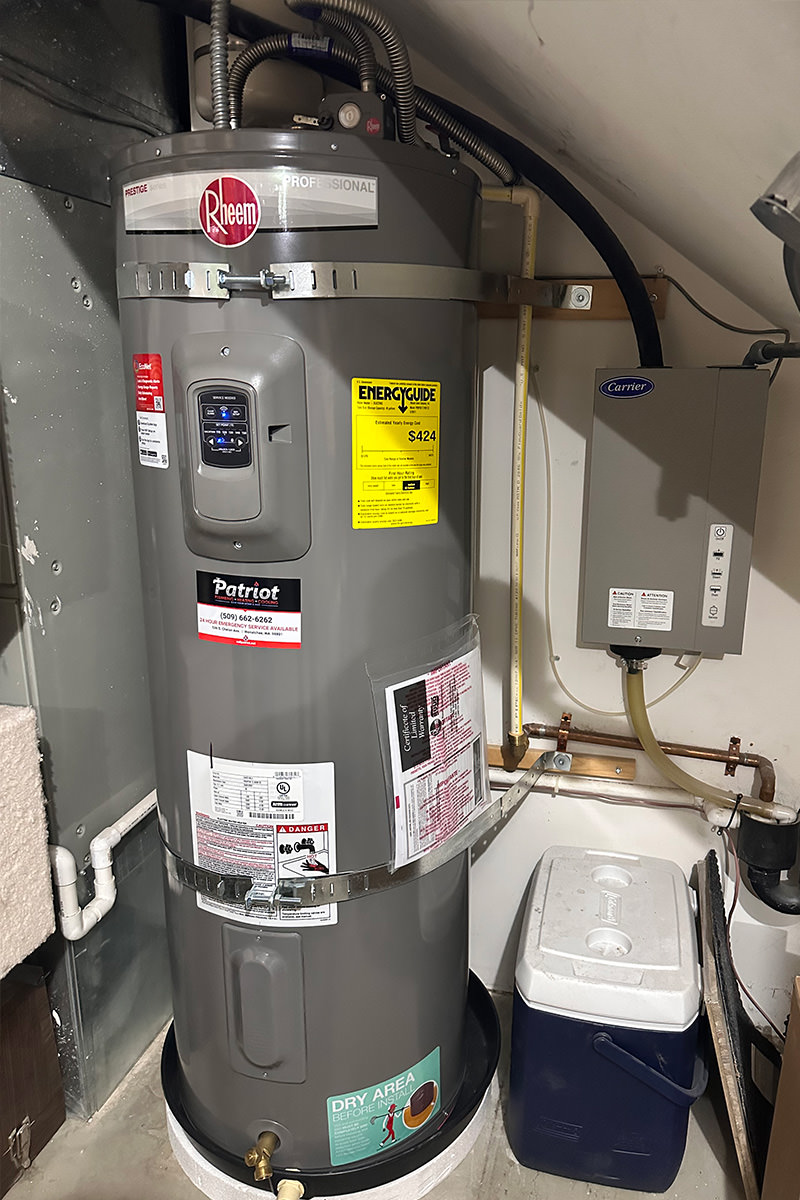 Some interesting things to note...
What I really wanted was hybrid water heater with a heat pump. The local utility district was offering a $900 rebate, and I liked the idea of having a cool garage in Summer. Unfortunately, it would have cost me thousands of dollars because the unit was too tall to fit under the stairwell, and all the plumbing and electrical would have to be move.
And speaking of height... note that my old hot water heater* is sitting on a little wooden box. The new one sits on the floor (on an insulation pad). They are both 50 gallon tanks. No idea why the new one is a foot taller... isn't technology supposed to get smaller? I can only guess that it's better insulated, because the Energy Guide has a lower annual cost even though the electricity cost they use to determine it was higher. It will be interesting to see if I save money on my power bill not.
Modern standards require all kinds of additional crap which drove the cost up by hundreds of dollars. The most expensive addition was an "overflow tank" (which is tucked up behind the tank in the corner there). Apparently it relieves some of the pressure off the main tank because of heat expansion. This prevents stress on your plumbing, which is something I am *very* interested in having. The last thing I want is to have to tear open my walls to fix a bunch of leaks.
The plumbers did a very nice job with the installation (they always do great work), but oh boy was this expensive. $2,600 for everything (the tank by itself is $800 at Home Depot!)... with cash discount! I really should have been a plumber, because they make serious bank.
The Rheem EcoNet app is pretty basic, but it does everything you need. And then some. Not only will it tell you if there's a water leak, but it will also tell you when you've run out of hot water. It also tracks energy usage and allows you to set a schedule so that you are not wasting energy heating water if you're not home. You can even turn the thing off remotely...
Interesting to note that I didn't realize how terrible my old hot water heater• had gotten until I got a new one. Water is hotter. Hot water arrives faster. And the pressure is just as strong as my cold water! Nice!
And so there you have it. I'm drowning in hot water now!
Even if I had to almost wipe out my vacation fun to get it.

*"Hot Water Heater" is a weird term. It's actually a COLD water heater. It turns cold water into hot. I know that technically they are just "water heaters," but that seems even weirder to me because everybody here says "hot water heater."