Posted on February 1st, 2018

This evening it snowed a little bit, but that quickly turned to rain and everything melted away.
It's the first day of February, and it's feeling very much like late March. Possibly even April. Which okay, I suppose... but we sure didn't get much winter this season. So now it's time to start worrying about drought for this coming Summer.
Turns out that if you live in my neck of the woods and want to build a snowman, your time is running out...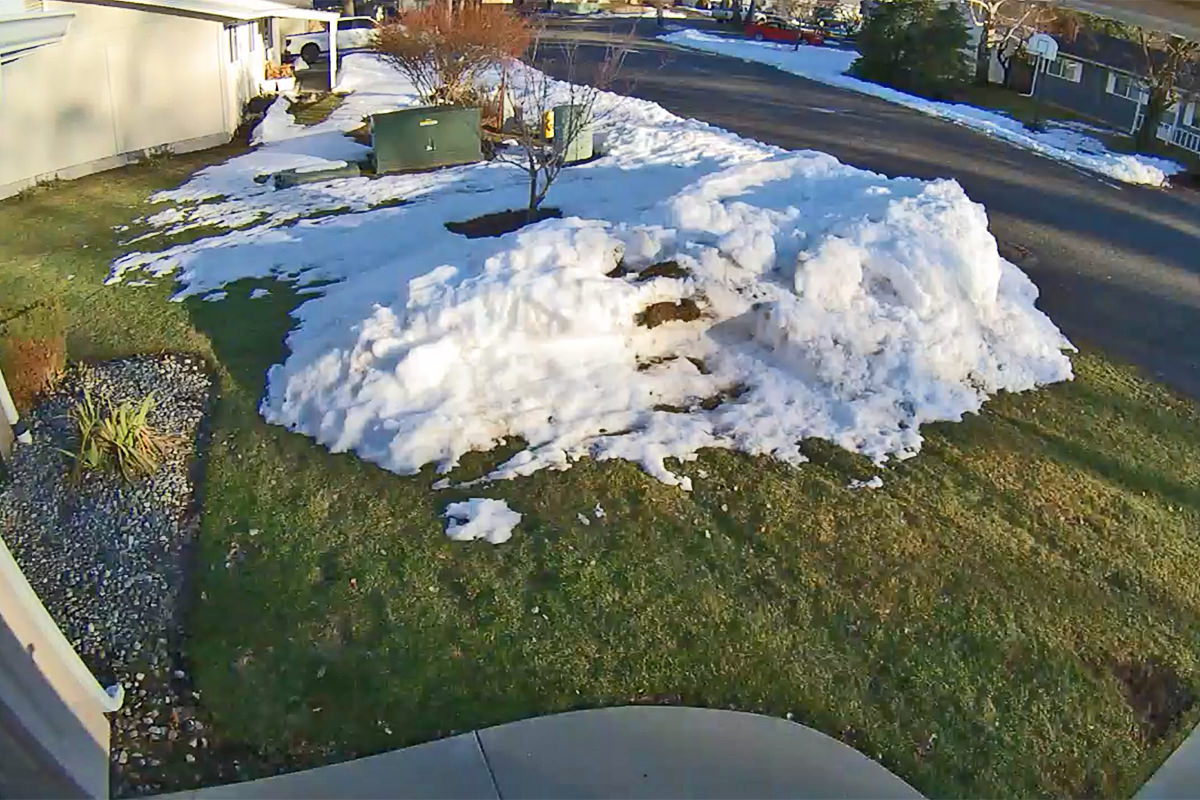 Note that the only reason my yard has this much snow on it is that Mr. Plow deposited everything from the driveways onto it (and took a chunk out of my lawn again).
Guess it's a good thing that my snowman-making days are behind me...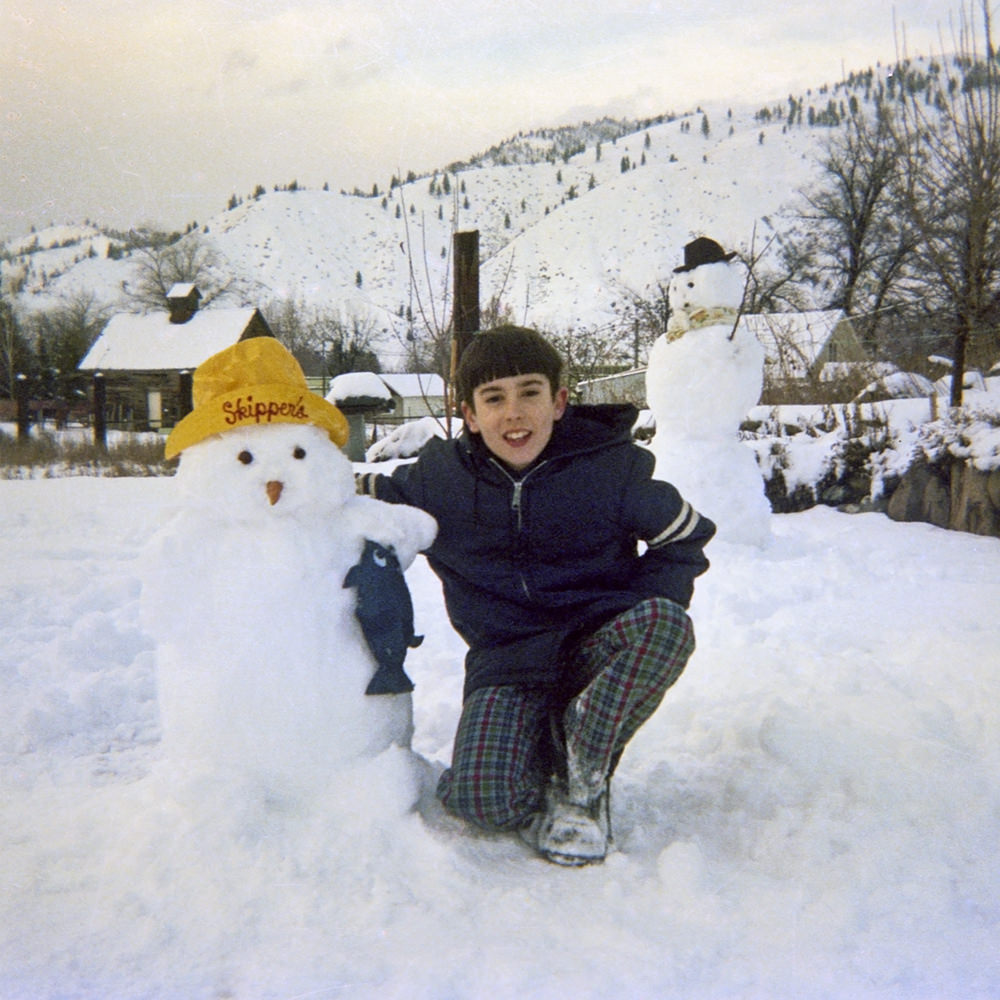 The good news to come out of all this? Pretty soon I'll be able to park my car outside and turn my garage into a wood shop again.
Posted on October 30th, 2017

It's been getting colder. I know this because the heat has been coming on from time to time. And last week I was mostly freezing from the minute I got out of bed... all the way to work... most of the day at work... all the way back home... then right up until I crawled under my electric blanket at night.
But yesterday and today?
Heatwave!
Well, not really, but it's been unseasonably warm out. My cats have been lapping it up... hanging out in the catio as if they know that the warm days are numbered. They are not always easy to spot out there, however...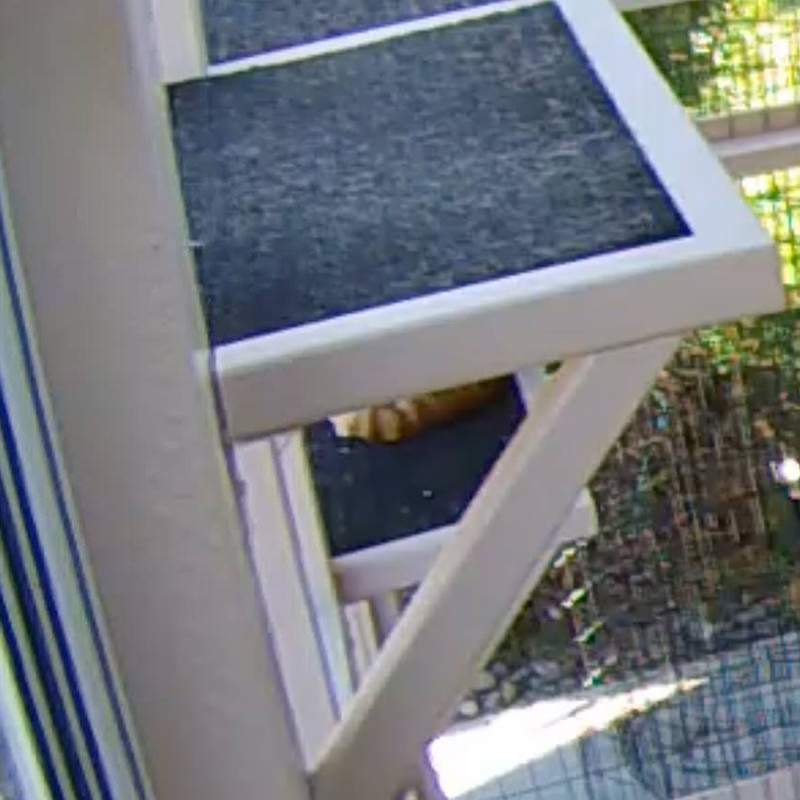 Enjoy it while it lasts... enjoy it while it lasts.
Posted on October 9th, 2017

Yesterday as I was driving over the mountains I noticed that the snow-line had lowered to an alarming degree.
Winter is indeed coming.
And soon...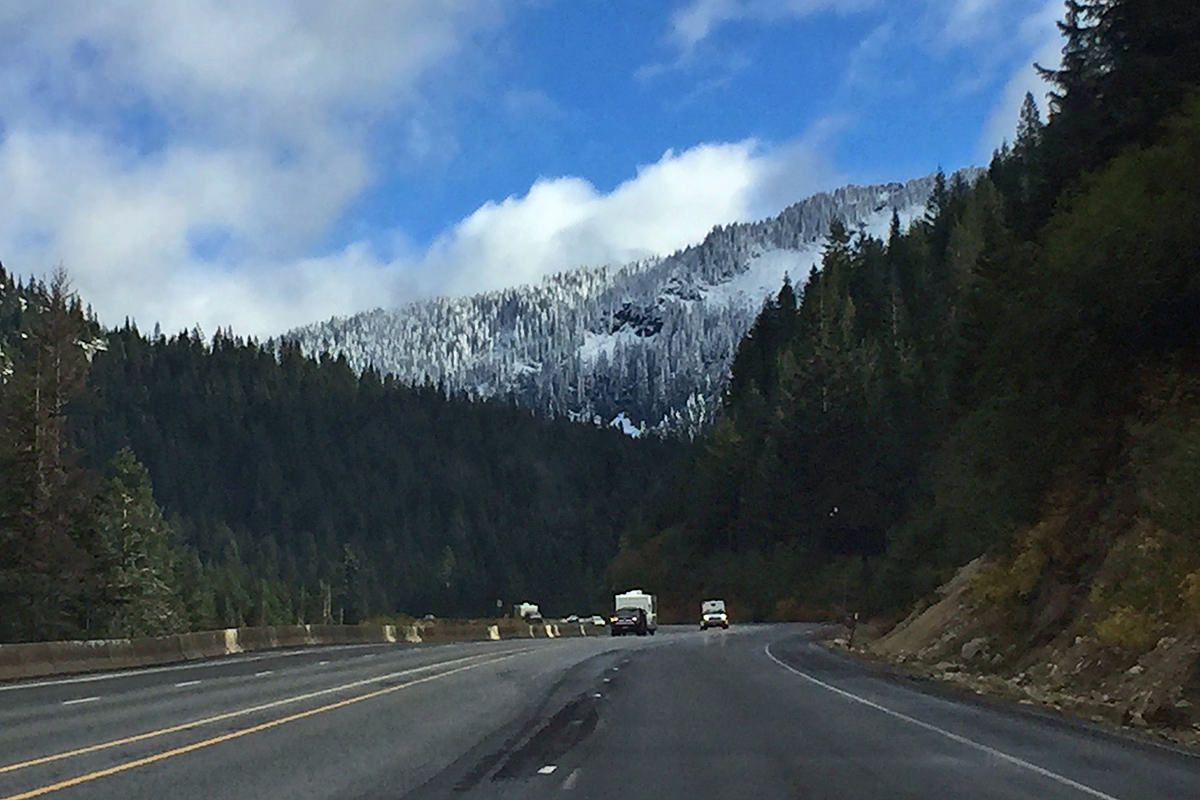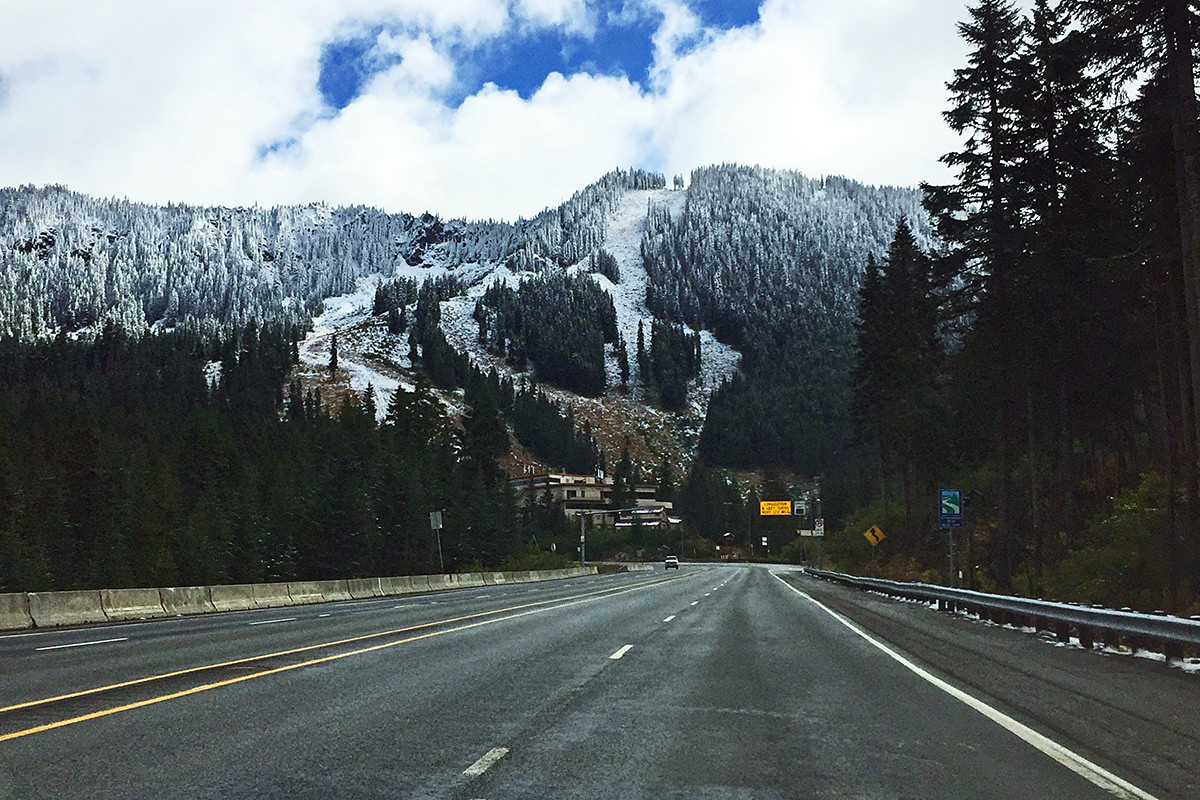 I guess I don't mind so much. But it would be nice if we could at least put off snow at my home until November rolls around.
Posted on December 4th, 2015

I got home in the nick of time.
The weather here is getting a bit crazy.
Kinda pretty though... if you can ignore the crummy road conditions. Looks better from the air though, which I found out as I was flying home yesterday morning...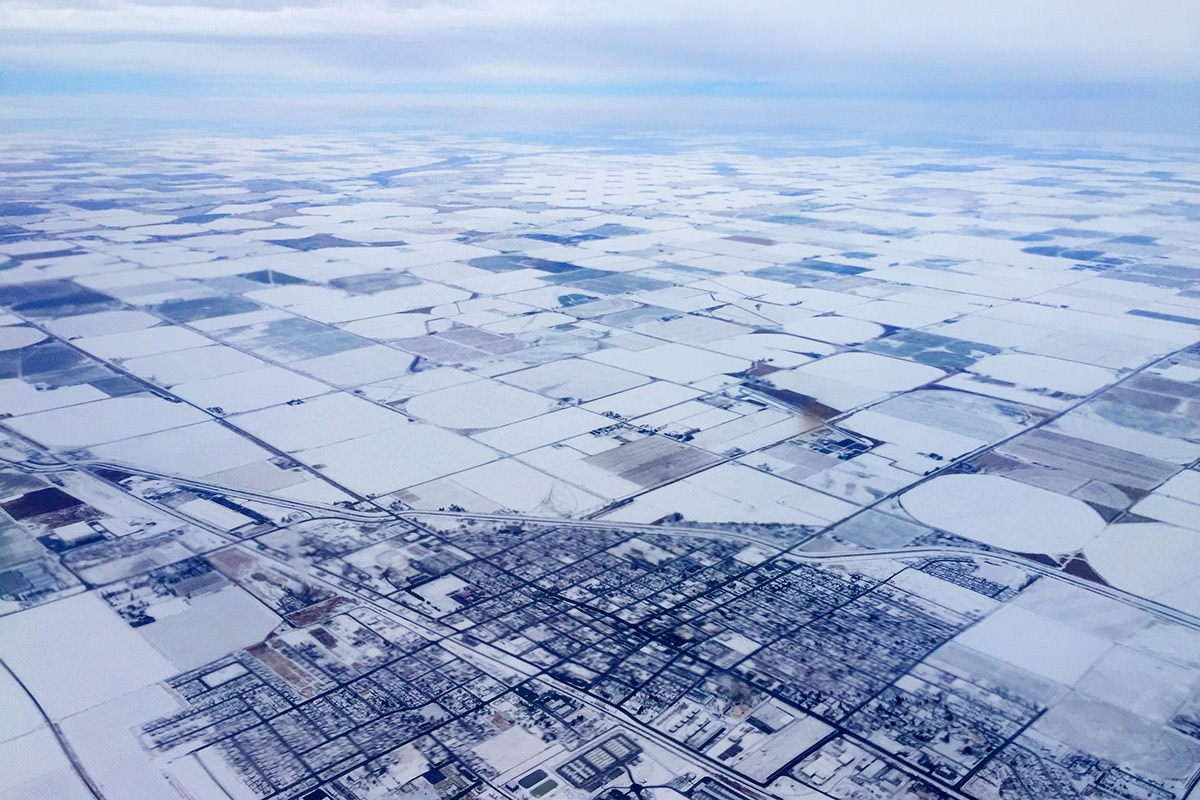 Happy Friday.
Posted on February 19th, 2015

Tomorrow I fly to San Diego for Jester's 40th birthday party.
The odd thing is that the weather in Southern California is going to be overcast, cool, and rainy... whereas here in Central Washington it's clear, warm, and sunny skies.
I am having to dig out my coat, which is something I haven't had to wear here for weeks.
I am also updating my 11-inch MacBook Air, which is the best travel companion ever. Small, fast, light... if only my electric mixer was this easy to travel with.
Posted on January 6th, 2014

As somebody who has been stuck because of weather many times, this so-called "Polar Vortex" that has descended on North America has me incredibly grateful that I'm not traveling right now.
And yet... when I try to recall horrible experiences I've had while being stuck traveling, it's not as easy as I thought it would be. Yeah, spending hours on end at an airport waiting for weather to clear is awful, but when it comes to serious travel delays... e.g. days... it's not so bad. I don't know if that's because I tend to make the best out of a bad situation or what, but I have only good memories of the times I've been stranded for extended periods.
I was once stuck in Germany for three days. It was a very expensive problem to have because hotels were pricy and difficult to come by... but I drank a lot of beer and spent time goofing around the local Christkindlmarkt (Christmas Outdoor Market) so I didn't mind at all.
I've also been stuck in Japan for three days because my work ran late and I couldn't find a flight home... but that was almost like a mini-vacation, because it was over a weekend and I had friends in the city to keep me occupied.
Domestically, I've been stuck overnight many, many times, and that's not so great. But the time I was stuck in New York for four days? Glorious! Two unplanned days in Orlando? Great! A half-week stuck in Chicago? So awesome.
Even my worst delay ever of nine days ended up being a lot of fun...
First I was stuck in Arkansas.
Then I was stuck in Minneapolis (fun times at Mall of America!).
Then I was stuck in Seattle (funner times spending an unplanned five-day Christmas vacation with my sister!).
By the time I finally got "un-stuck" I was a little depressed at the idea of having to go back home.
So maybe I shouldn't be quite so grateful that I'm not traveling after all. Maybe I'm missing out on an awesome adventure by being stuck at home instead of being stuck someplace interesting. Maybe serious weather delays are the best excuse ever for skipping out on life for just a little while.
Maybe.
Darn it.
Posted on November 12th, 2013

The weather here has reached a transitional phase between Fall and Winter. It's not cold enough to snow so you get this kind of dreary, cold drizzling rain that makes your days depressing and grey. Add that to the fact that it starts getting dark around 4:00, and it's not a happy time of year for me. Today was even more of a bummer than usual because there was a fire somewhere that filled the air with smoke.
Not a great start to my Tuesday.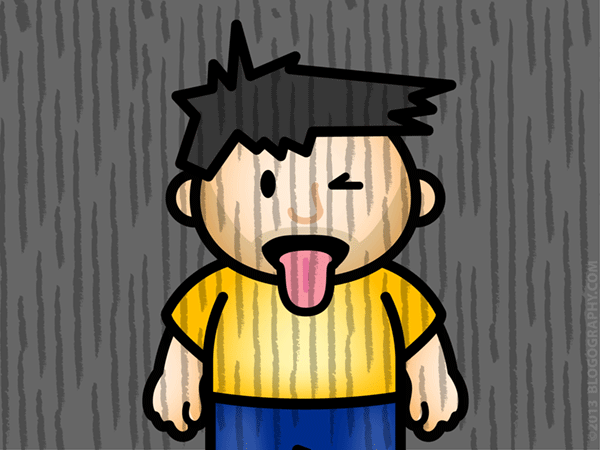 But don't worry. Things got much worse.