Posted on October 25th, 2020

The first snow of the season would cause lesser blogs to crumble, but not this blog... because an all new Bullet Sunday starts... now...

• Bridges! One of the things that boggles my mind when I travel is how old the world's architecture is. Notre Dame de Paris cathedral started construction in 1163, for example. The Colosseum in Rome was built in in the year 0070-something. And the Great Pyramid of Giza? Oh... that started in the year 2580 BC. How they were constructed is not really a mystery (despite people thinking the pyramids were built by aliens and shit) and it's no less fascinating than the structures themselves. Still, reading about how they were made is not the same as seeing it...
Makes me think of the amazing David Macaulay books, which were responsible for my escalating love of architecture as a kid. Some of them were animated by PBS, and boy wouldn't it be amazing to see more of that. In the meanwhile, we get an occasional video like this tossed our way.

• More! And so... Borders is dead. LONG LIVE BORDERS!
Thank heavens Johnny Harris is still making videos despite the rug being pulled out from under him when his series was canceled.

• Quibi-Free! It's kinda hilarious that absolutely everybody knew that crappy short-form streaming service, Quibi, would be a massive failure... except founder Jeffrey Katzenberg and CEO Meg Whitman. They had a shitty concept with shitty "shows" and it was inevitable that it wouldn't work (WE BELIEVE SHORT-FORM VIDEOS ARE THE FUTURE OF ENTERTAINMENT... HERE'S PART ONE OF SEVEN!). I thought it might take a year before they shut it down. It only took six months. Not a good day for the people and companies which invested ONE POINT SEVEN BILLION FUCKING DOLLARS! Wealth is wasted on the wealthy. Holy shit... just think of the shows we could have gotten for that kind of money. Blergh.

• Hallmark? Weird that the promos from Netflix's slate of cheesy romance movies are out-Hallmarking Hallmark. As shown in the movie Falling Inn Love and the trailer for Operation Christmas Drop, Netflix is serious about quality over quantity, which is the exact opposite of Hallmark. We got another darn fine looking cheesy trailer for another cheesy Christmas romance...
Yeah, I'll be tuning into that one too.

• Normalization! I've added my pronouns to all my social media crap because I am 100% onboard with anything that encourages somebody to be who they are and live their best life at zero cost to me...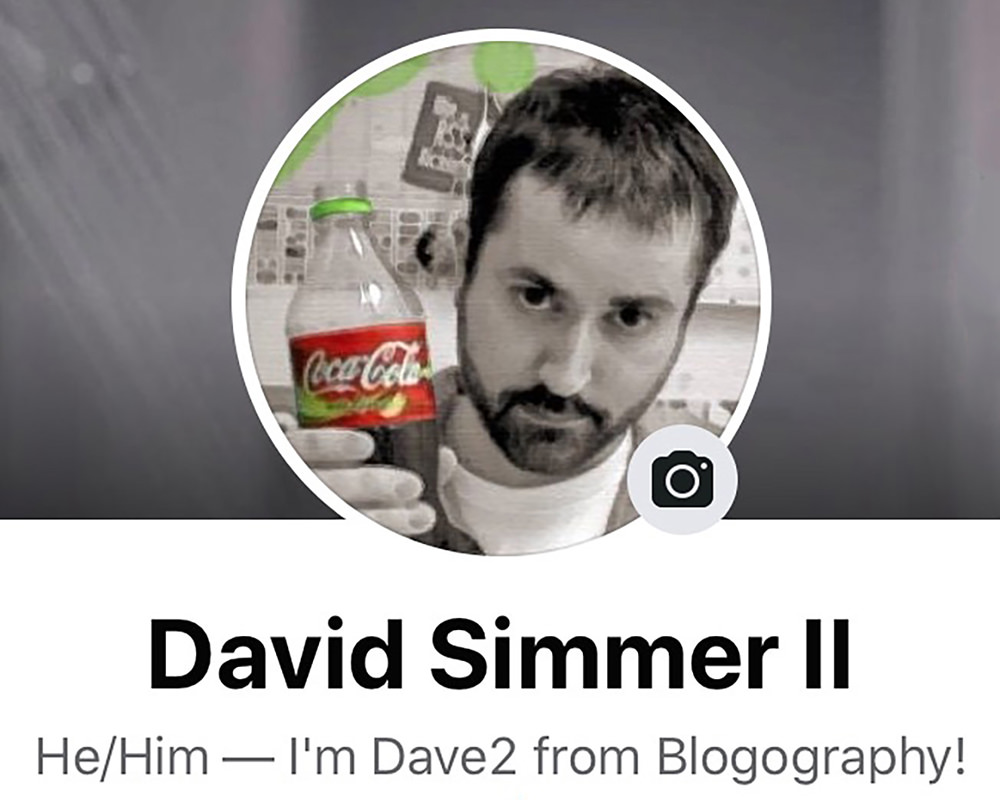 If you can remember their name, you can remember their pronouns. You don't have to agree with it. You don't even have to care. Because it has absolutely nothing to do with you. It's just common courtesy and common courtesy should be normalized. This should be our default.

• Bennu! After a little over four years, NASA's OSIRIS-REx (Origins, Spectral Interpretation, Resource Identification, Security, Regolith Explorer) finally made contact with the asteroid 101955 Bennu. It's mission is to grab a 2oz. sample of "asteroid stuff" off the asteroid...
Miraculously, OSIRIS-REx did too good a job. It ended up grabbing for more than anticipated. It sucked up so much that the sample collection door couldn't close and they are having to deal with that. But will this sample give us any insight into the origins of the universe? We won't know until OSIRIS-REx returns in three years. After that, we're not exactly done with 101955 Bennu. In its Wikipedia entry, we learn that the asteroid has a "cumulative 1-in-2,700 chance of impacting Earth between 2175 and 2199."

• Hole! Falling down a YouTube rabbit hole is not always a bad thing. I've grown tired of trying to hunt down new podcasts to listen to while I work, so I've been playing YouTube videos that I can listen to while I work. One such YouTube channel I've been obsessed over this past week is Lindsay Ellis. She's a writer who has an interesting viewpoint on a number of topics. I accidentally came across her while researching the term "Streisand Effect" and there was no turning back. My favorite videos are when she does deep dives on Disney. They're fantastic...
But don't stop there, she's got thoughts on a myriad of topics. This one completely surprised me...
Intrigued? You can find her YouTube Channel here.

I'd go out to play in the snow, but it has long since melted.
Posted on May 4th, 2018

The Gateway Arch in St. Louis is a stunning piece of architecture. Not just because of what you see on the outside (though the stainless steel exterior is beautiful) but also because of the incredible structural design on the inside. And underneath it (the foundation extends 60 feet beneath the ground). It's massive and impressive on many levels, and if you're ever in the area I highly recommend paying a visit.
It would be hard to me to top the beautiful blue skies from my previous visit, but I decided to go anyway because I just can't help myself. I could just look at the thing all day long...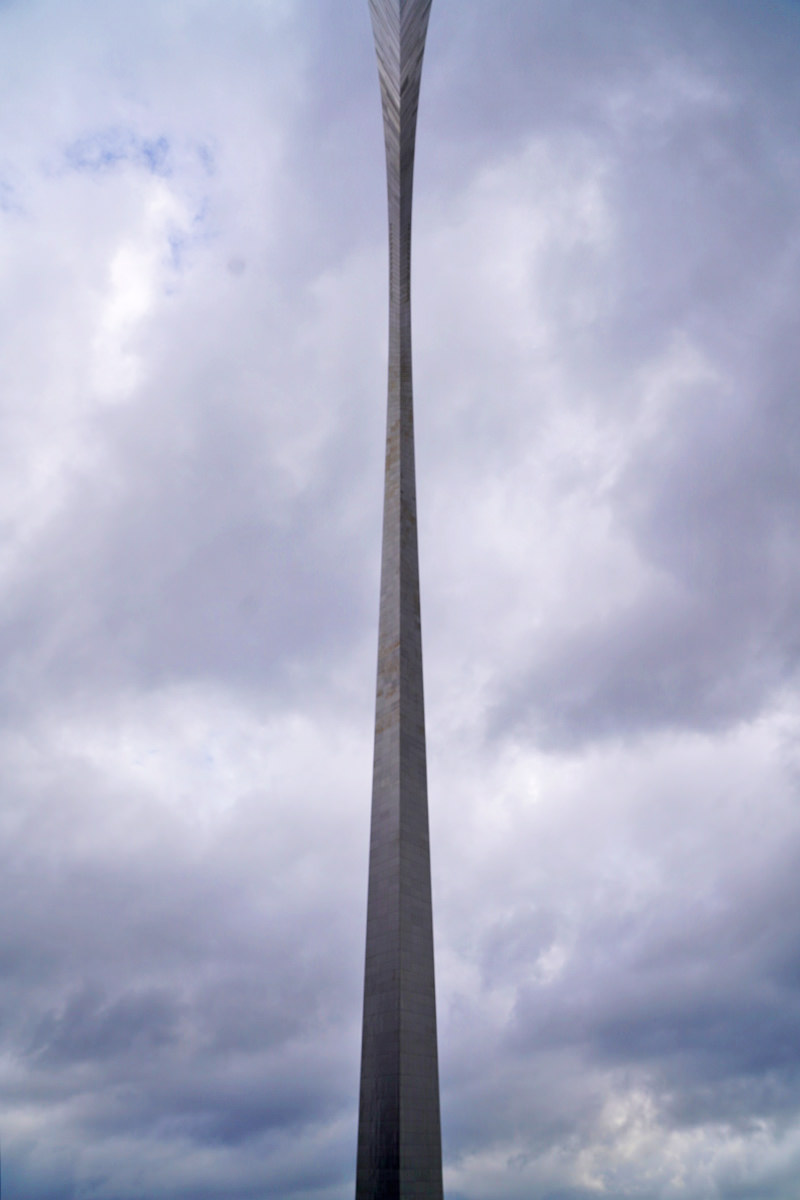 My favorite part of visiting The Arch is the tram/elevator system that takes people to the top...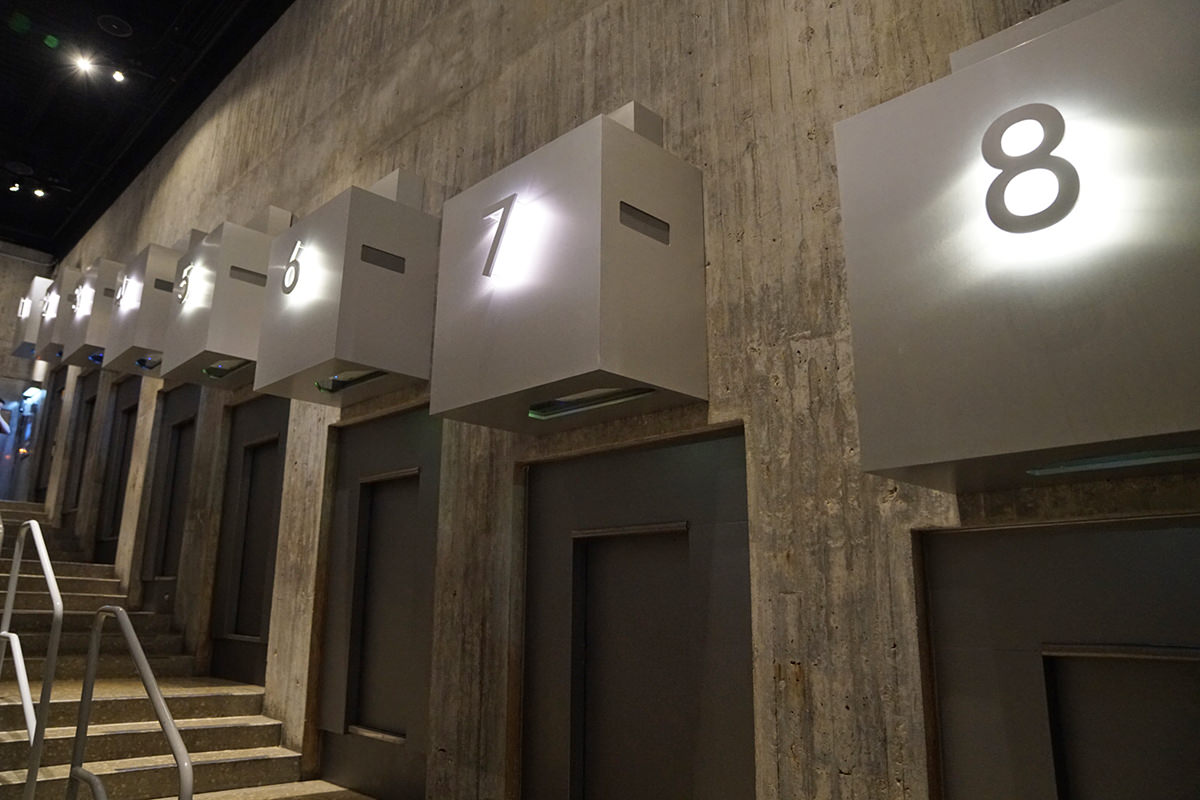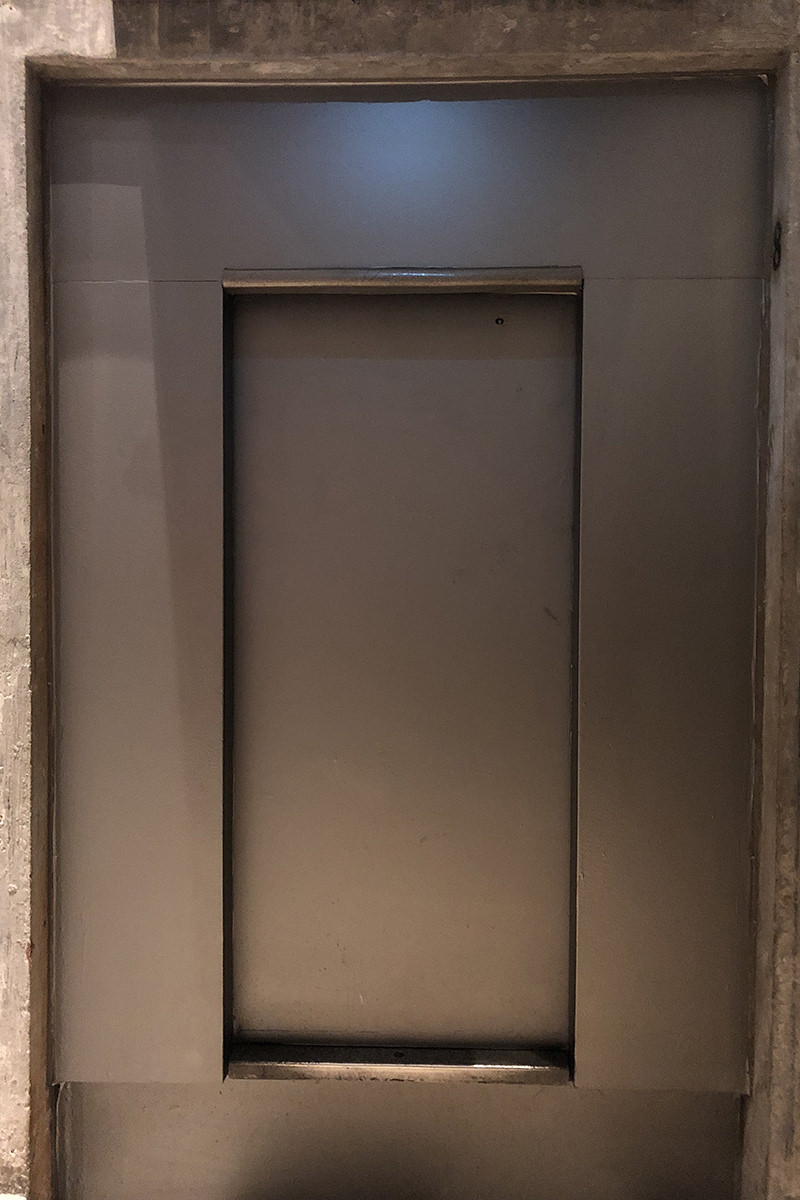 The cars are pretty tiny, which means you get to get real close to the people riding up with you...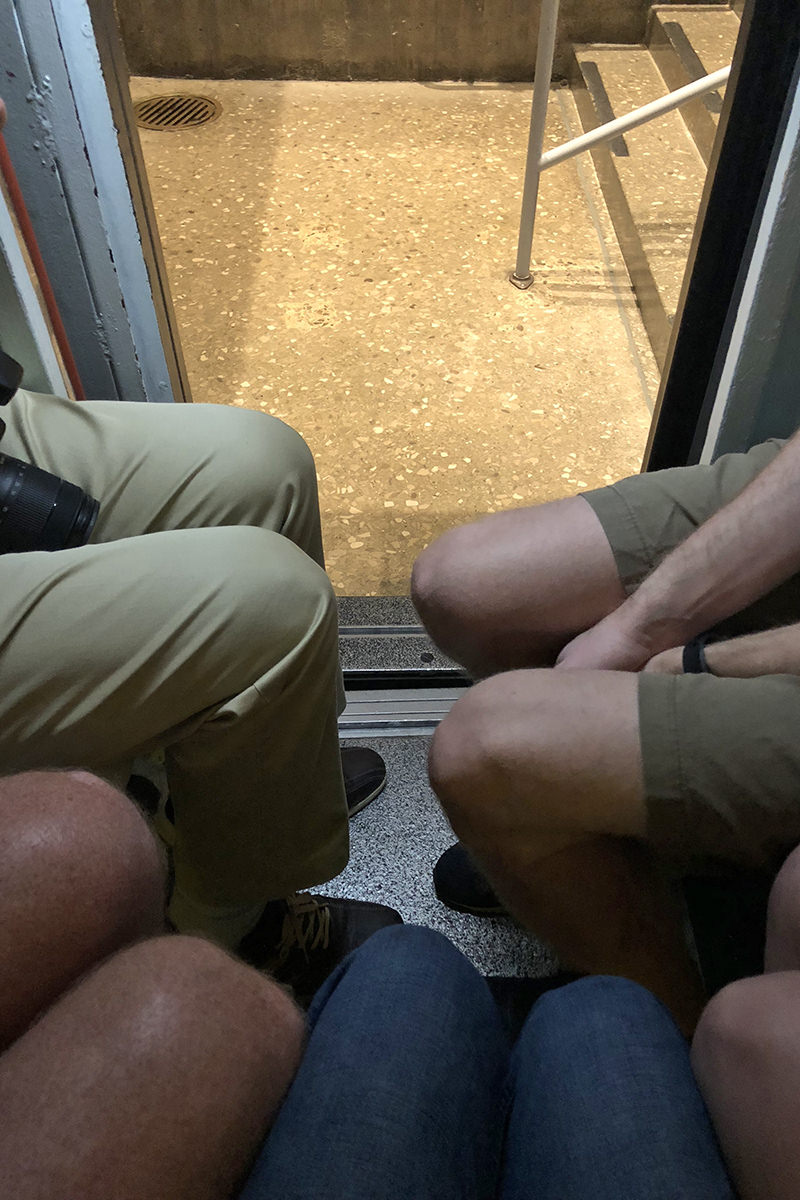 But it's all worth it once you get to the top...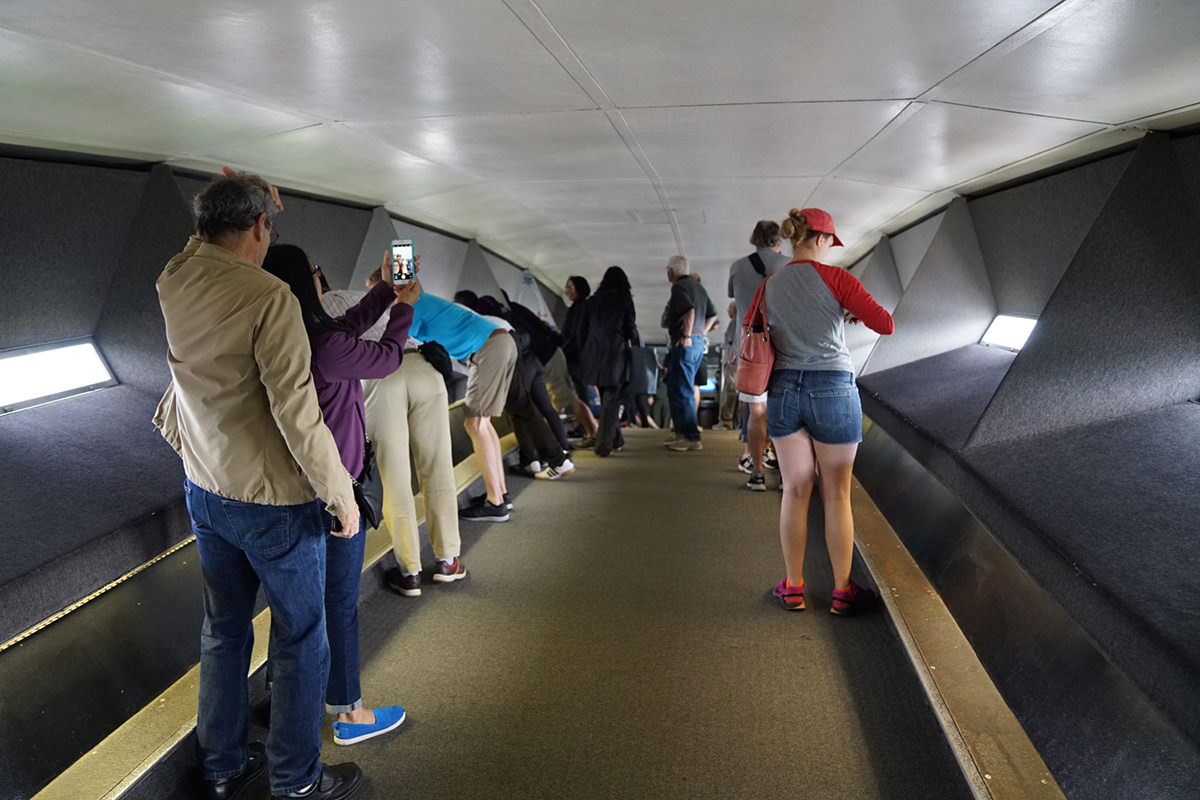 By the time I made it back down again the weather started clearing up (of course)...

The Old Courthouse across the street is too pretty to pass up, so I dropped in for a quick visit...

While they are remodeling the Gateway Arch Visitor Center, the Old Courthouse is the temporary ticket office. While you're there, you can get a close look at how the tram cars are constructed...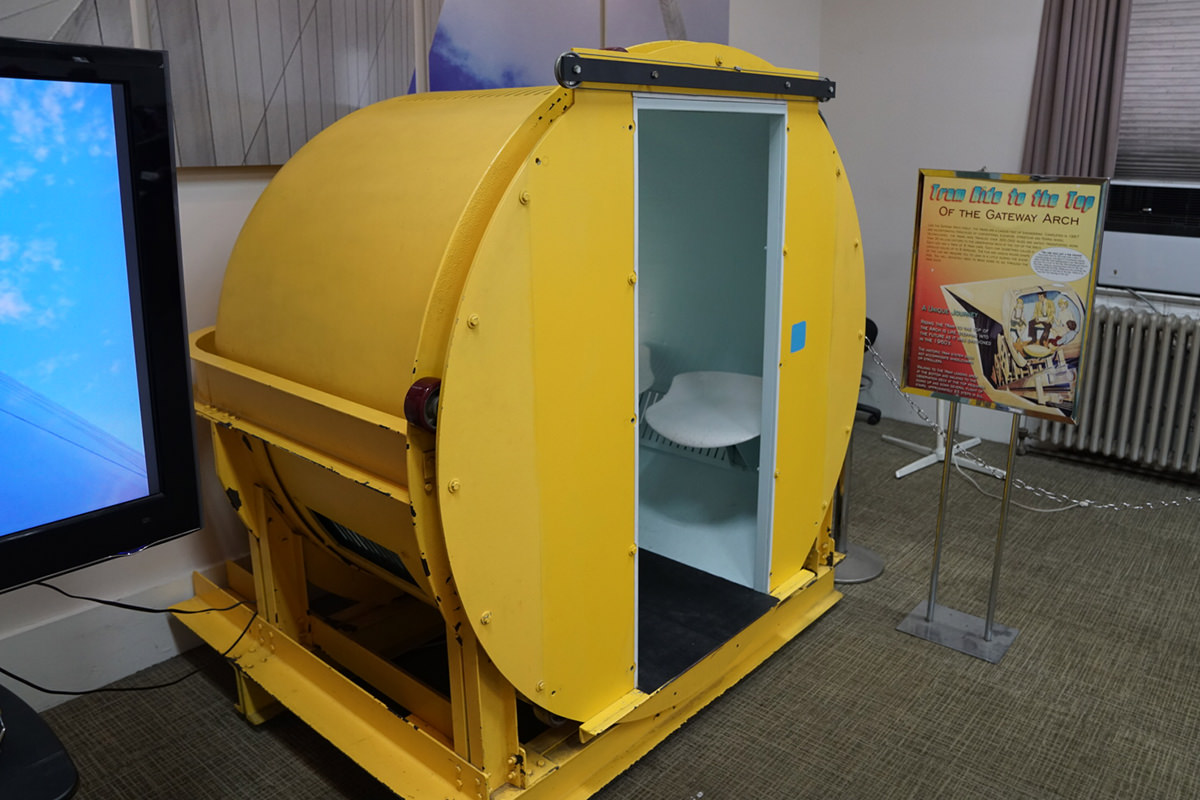 The system that transports the cars is pretty ingenious. The track starts out above the cars at the bottom... then transition to below the cars as you head up the legs. Eight cars are all chained together so that they can increase the number of people transported each go. The actual cars are suspended in an outer shell that allows the cars to rotate around as it travels, keeping the passengers upright.
And, just like that, my trip to St. Louis had come to an end. Time to head back to the airport to meet up with long-time blogging friend Coal Miner's Granddaughter for a road-trip to Jefferson City. But before we go? Time for T-Rav (which is "Toasted Ravioli," a St. Louis specialty, for those not in the know)...
See you in Jef-City...
An interesting aside here... did you know that China built their own "Gateway Arch," but made it into a full loop? They call it the "Ring of Life" and it is pretty obvious where the original inspiration came from...

Photo by В ЭТОЙ ЖИЗНИ
Pretty. But I'll take the original any day!
Posted on July 22nd, 2013

"Why in the hell are you going to Helsinki?"
I must have heard that (or a variation of that) at least a dozen times. Which is fine, I suppose, because it doesn't seem to be a big travel destination for Americans.
The honest answer is "Because I haven't been there before."
Or, more accurately, "Because I haven't been there before and they have a Hard Rock Cafe."
The interesting thing about my day was how shocking the weather was. In no way could it have been identified as "summer"... or even in the same ballpark as "summer." It was cold, windy, rainy, overcast, dark, and very much "Fall-like." Some people would find this horrible. I look at the weather back home where it's 100°F and I am totally loving it.
Since it was raining, I decided to wander around the more non-touristy areas and save the "big attractions" for tomorrow when the weather is supposed to improve. This allowed me to soak in the Finnish architecture, which is mind-bogglingly great. Especially the human column support designs, which are awesome...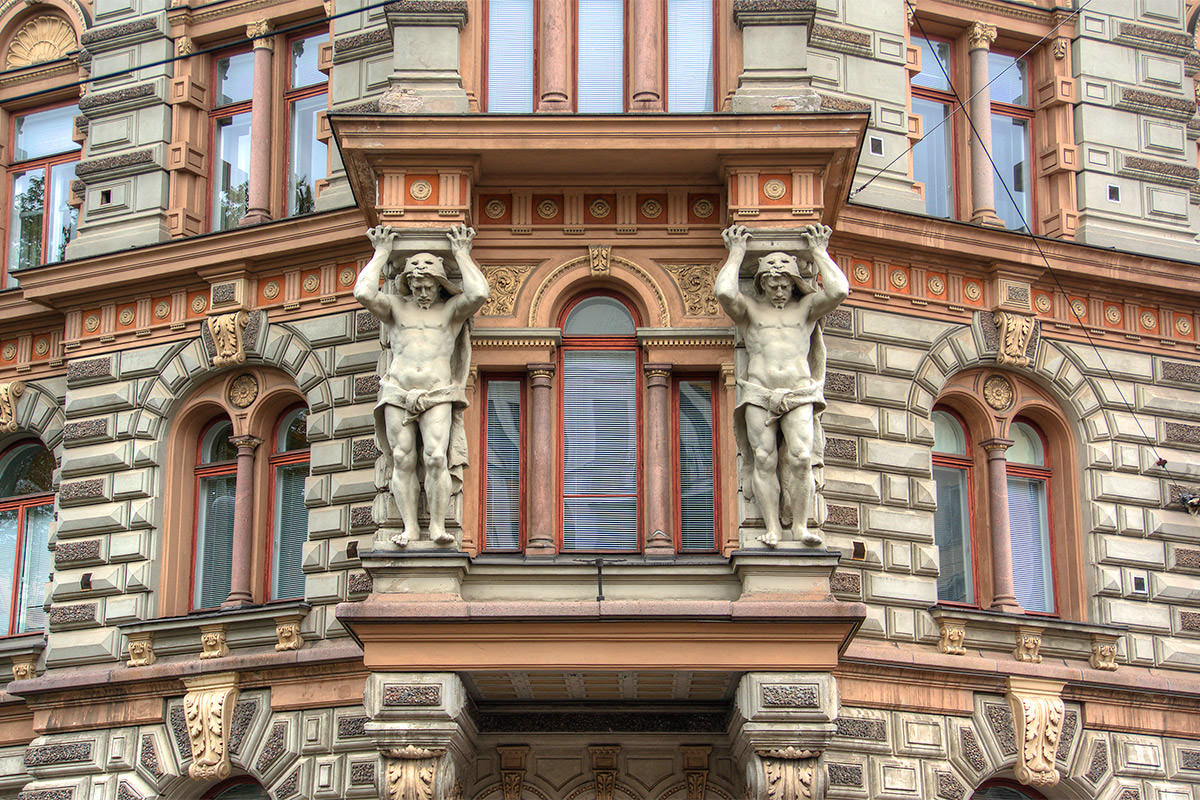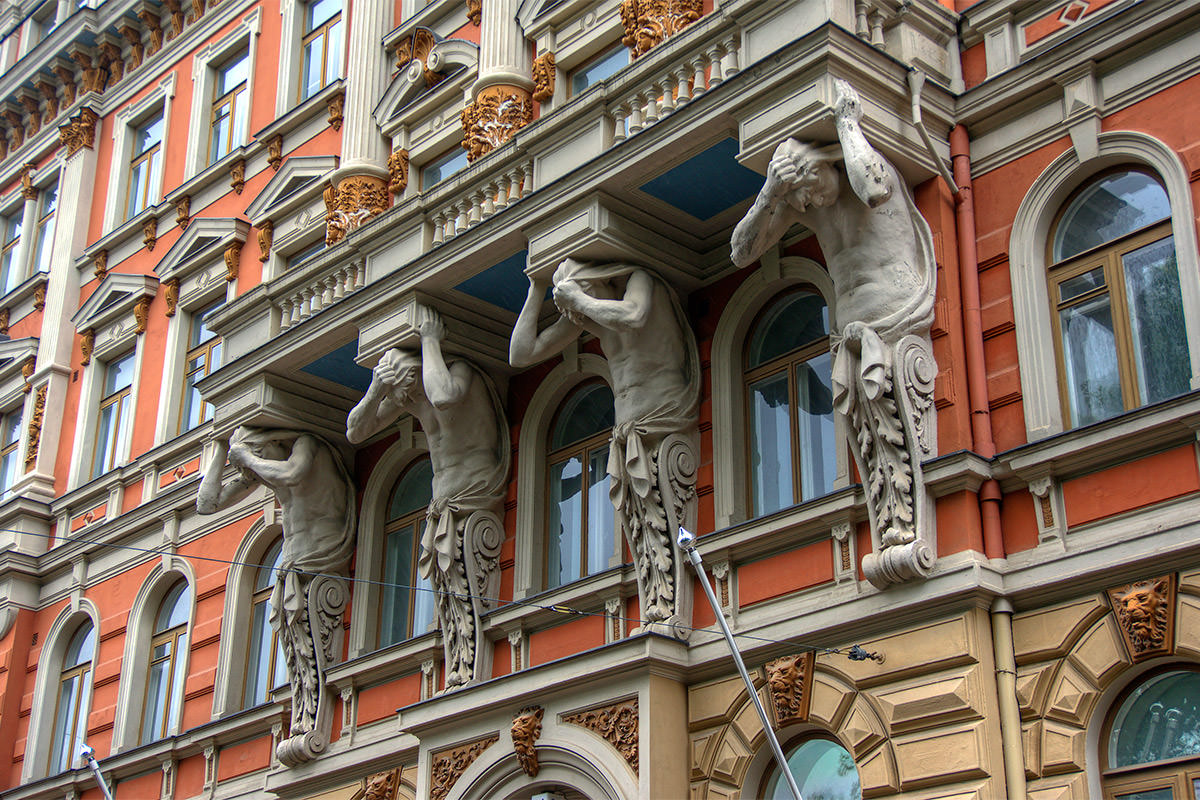 Trying to stay dry in the rain, I suppose...
Then it was off to St. Johns, which is a very nice church with an especially nice painting above the altar...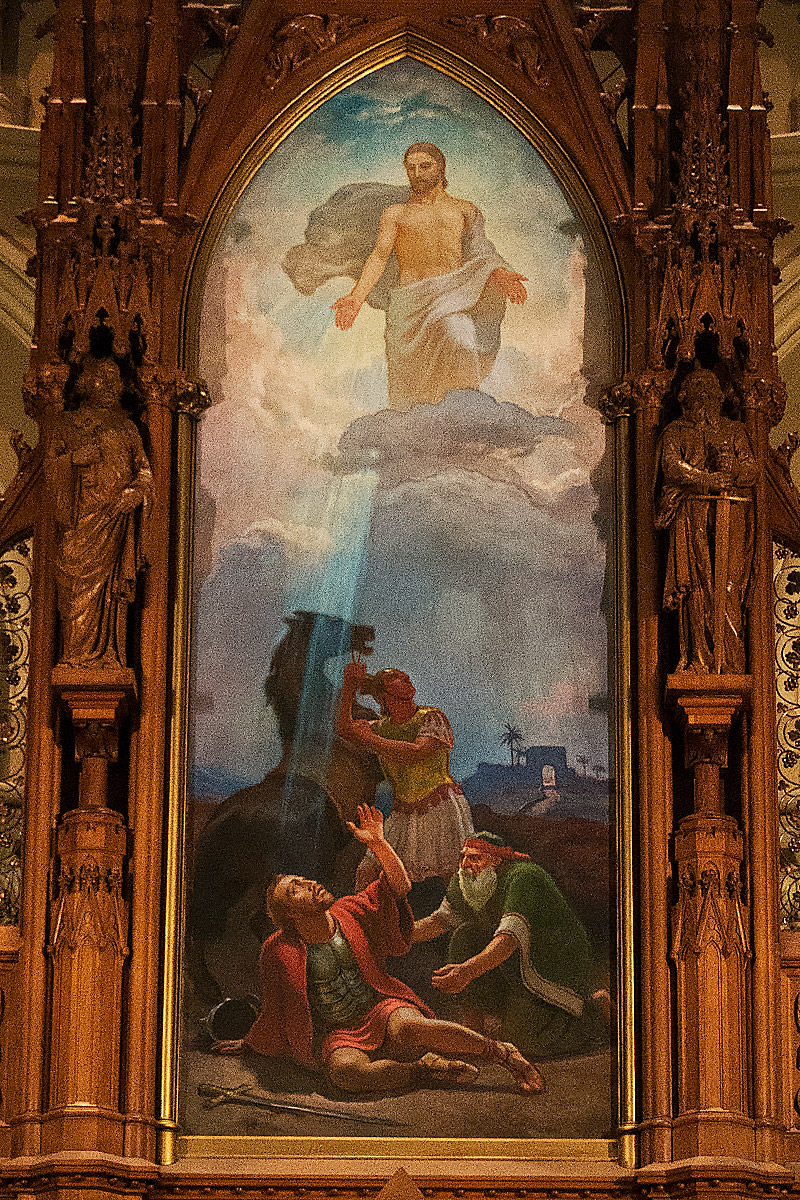 From there I headed down to the southern waterfront and then up to Observatory Hill, where there's a really cool statue called "Haaksirikkoiset" (Shipwrecked) by Robert Stigell...

I CAN SEE RUSSIA FROM MY BOAT! (St. Petersburg is 185 miles away)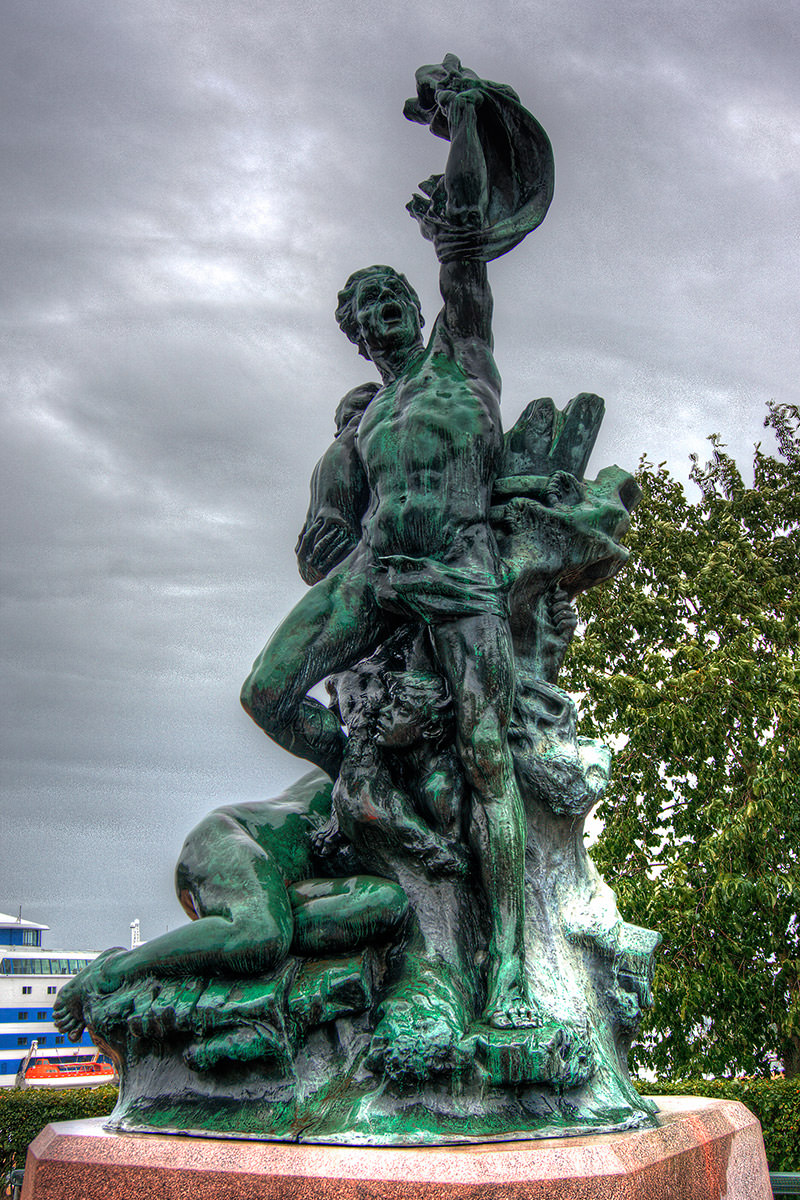 Restaurants are insanely expensive here. To save money, I decided to pick up a few groceries to make my own meals a few times. As I headed out, I noticed some cool old buildings across the street...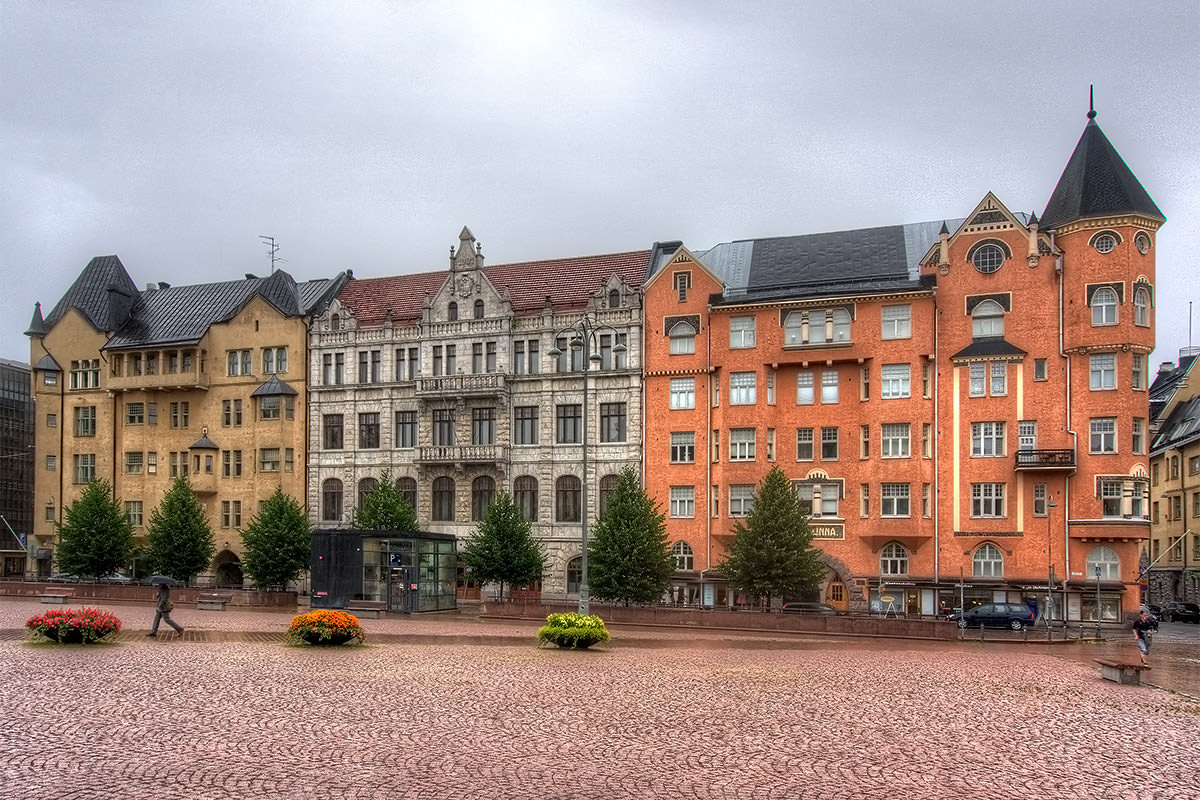 And, of course, there's the Hard Rock Cafe. It's in a mall of some kind, and is small but nice. Since it's a newer cafe, they've used the shitty "Hipster Lounge" design aesthetic, but they (wisely) took a step back and made sure to include a good selection of memorabilia, which is great.
One of those pieces of memorabilia is some hand-penned lyrics to an unfinished (and unused) Nirvana song. Much to my dismay, Kurt Cobain doesn't know the difference between "your" and "you're" which made me want to grab a red pen and scrawl a correction on it...
I ended up having a "Caribbean Black Bean Burger" because the Helsinki Hard Rock didn't have the usual "Veggie-Leggie" burger. The flavor was pretty good. The problem was that it had a marinated black bean patty and some kind of sauce on top, which made the burger a wet-hot mess. It was so slippery that it was impossible to keep in the bun. Which was a soggy bun, because the marinade had soaked into it. Making this the singular most stupid fucking "burger" I've ever attempted to eat. Which begs the question... when this was dreamed up, did they ever bother to fucking try one before putting it on the menu? Because there is no way this should be sold like this. The thing costs $23 (with fries!) and I was only to eat half of it because even attempting to eat it with a knife and fork proved futile. I don't expect amazing food at a Hard Rock, but I at least expect it to be edible. The "Caribbean Black Bean Burger" was a disgusting inedible mess.
Sometimes when traveling to foreign lands, people will ask me "Is it weird over there?" To which I always have the same response... "Not weird, just different. The USA is by far the weirdest place I've ever been. And I'm being completely honest. When it comes to seeing absolutely bizarre shit, nobody tops America (WE'RE NUMBER ONE! WE'RE NUMBER ONE!).
Which is not to say there aren't weird moments. But most of those come from finding American crap in the country you're visiting. And Helsinki has a lot of that. A prime example is some pillows advertising Lexington, Kentucky that I saw in a shop window. Which is not too weird until you see that they're advertising Lexington seafood at a restaurant that I don't think even exists. In particular, they're advertising Lexington crab... when Lexington isn't anywhere near the ocean... or any crabs. So, yeah... kinda weird...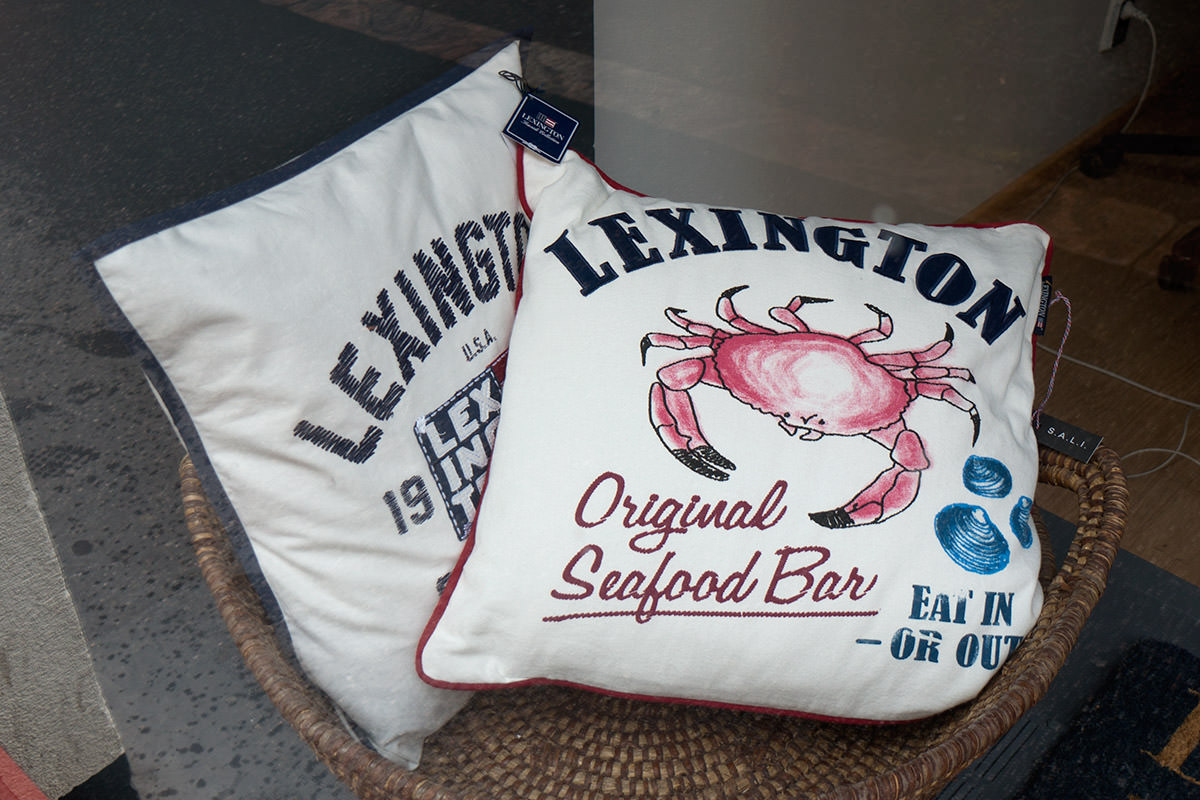 But the weirdest thing in Helsinki so far? Tex-Mex restaurants. I've seen quite a few, so I'm guessing that it must be a popular cuisine here...
Well that's not too weird, I suppose.
Until you look at a menu and see that they have a kind of "Tex-Mex Cajun Barbecue" fusion thing going on...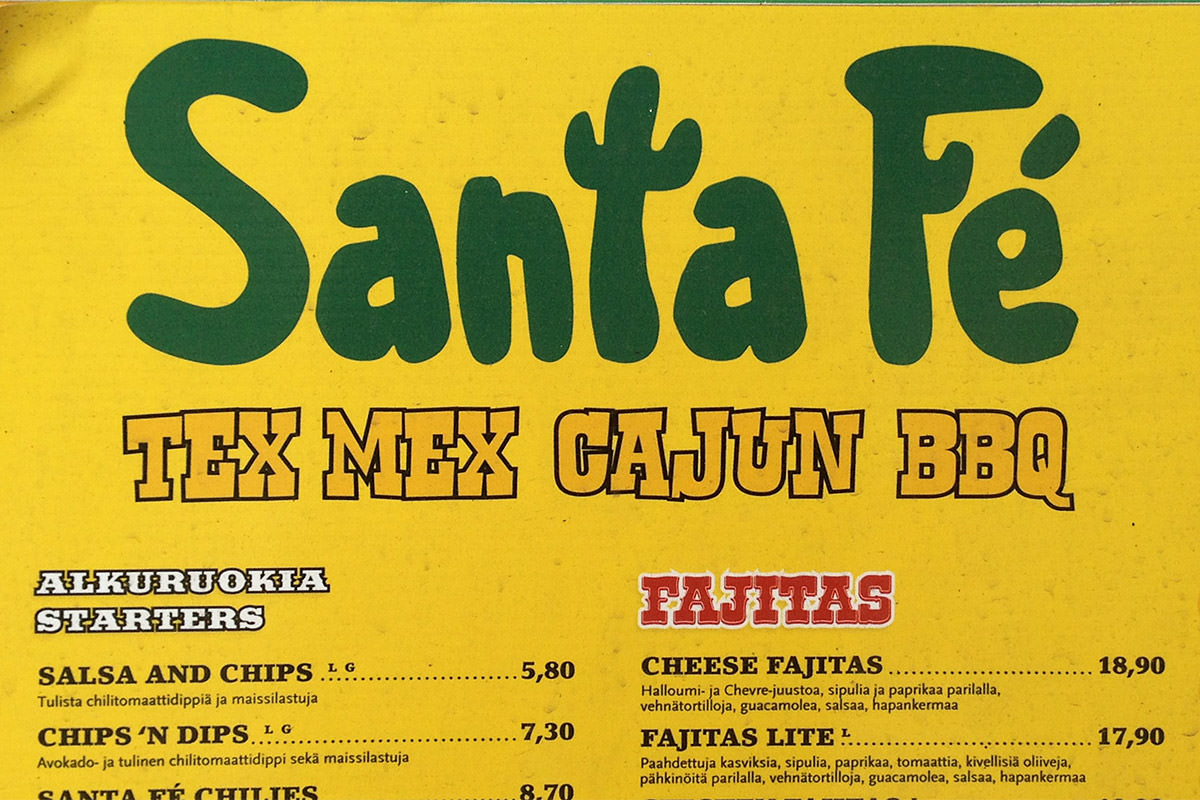 It's like somebody wanted to serve American cuisine at their restaurant and just said "Fuck it! I'm putting all their regional shit in there!" Which has me totally inspired to create a "Spanish Italian Greek" restaurant when I get back home.
And take a gander at the menu prices there... Cheese Fajitas are 18,90€ which comes out to $25 USD... FOR FRICKIN' CHEESE FAJITAS!! Salsa and Chips? That'll run you $7.70... which is made even more horrible when you consider that most US restaurants serve them to you for free so you have something to snack on while you wait for your food.
I'm almost afraid to try the salsa here. Odds are it's made with herring.
Anyway, it's just turned 2:00am, so I suppose I should try and get some sleep. Sightseeing is so much more interesting when you're eyes are actually open.
Posted on June 24th, 2010

I have plenty of great night shots of illuminated objects, but the first thing which came to mind when I saw today's word for the TWENTY/TWENTY meme is the Apple Store Fifth Avenue in New York City. It is beautiful in photographs, but positively captivating in person... a beacon of light and hope to Mac Whores (like me!) from around the world...


In other news, my internet has been horribly slow and choppy all night. At first I thought it was my internet connection because, let's face it, Charter Cable Internet pretty much sucks off-and-on... but investigating the problem led me to believe that it's my wireless network. When I first moved to the neighborhood, I was the only person with WiFi. Now there are eight of us broadcasting in the area. Manually choosing an empty channel, enabling "interference robustness," and restricting access by MAC address seems to have helped... but for who knows how long?