Posted on July 5th, 2022

How fucked up is our bought-and-paid-for government that one of the old white men running this shitshow can cause essential legislation to become "endangered" because so many members of the Senate are fucking owned by the big internet providers? Pretty fucked up... and yet here we are. Some old Democrat dude breaks a hip so an FCC nominee can't get confirmed... or whatever... and now net-neutrality (something that the majority of Americans agree is a good and necessary thing) may not be passed if it can't get done by mid-terms.
First of all... Fuck Joe Biden and the fucking Democrats for not getting this shit done immediately when he got into office. Just one of many, many things that they should have rammed through in 2020 (like codifying Roe v. Wade) that they decided to sit on and do fuck-all about because it can be used to get progressives running to the poles at elections. Fuck them sideways for putting their personal re-election campaigns above the American people. We're told to "support net-neutrality" and "protect a woman's right to choose" by voting for Democrats, then have absolutely fucking NOTHING to show for it on these issues (and many others).
I swear, the only thing that enrages me more than Republicans accepting cash to roll over on the American people so that wealthy people can continue to fuck us over... is the fucking Democrats who just sit by and let it happen when they have a chance to actually do something. Happened with President Obama. Happening again with fucking President Biden.
Everybody who knows me knows that I hate career politicians, hate our lobbyist-owned political "representatives," hate Democrats, really hate Republicans, and am sick to fucking death of the way that politics continues to erode our freedoms and put us even deeper into this bullshit. But I hold my nose and the polls and vote for the least-worst candidate anyways, hoping against hope that somebody actually does something... only to get disappointed every time.
And then people tell me I should be happy because "Well, at least they didn't make things worse!"
Fuck that. And fuck Joe Biden.
I'll be dead inside of 40 years, thank God. I just hope that I live long enough to see our failed two-party system go down in fucking flames when people trapped into voting for a nonstop parade of shitty politicians get sick of it all.
Assuming they ever do.
I am having more doubts about that every fucking day.
Some old guy in Vermont breaking a hip could be enough to skuttle net neutrality, so do you blame me?
Posted on October 15th, 2021

"Well, shit, I'm alive. The COVID booster didn't kill me. So I guess I have to go into to work."
Zero side-effects from the third Pfizer shot. Which worries me a little bit... how do I know that it did anything if there's no side-effects from my immune system getting charged up with COVID-fighting instructions? Though I didn't have side-effects the second time either (only the first, where I had a fever for three hours and soreness in my arm for three days).
In my county here in Central Washington, there's been 102 COVID deaths out of 10,912 total cases since tracking of the pandemic began. Right now they say that 638 people have tested positive in the first half of October. When I check the CDC site, it says that the eligible population here in my county is 73.6% vaccinated and 34 new people have been admitted into the hospital. If it's accurate, that's really good news. Given the number of anti-maskers out and about, I really expected us to be under 50% vaccinated. Some counties east of me in Idaho and Montana are 40-some-odd-percent, which is pretty scary. But not as scary as those counties sitting at 20% once you head over to the Dakotas. Holy shit. It's like a COVID incubater in some parts!
Which is how we end up with COVID variants like Delta, Beta, Gamma, Lambda, Mu, and the variants of those variants. It's all pretty crazy when you consider that the virus will only become more communicable and deadly as it changes to survive.
But that's nothing compared to the heinous level of idiocy coming out of the mouths of pieces of shit like Marjorie Taylor Greens, who is just the worst...
God she's awful. There's really no level to which this horrific excuse for a human being will stoop. I am disgusted to my core.
I'd say that I can't wait for her to get COVID, but you just know that she's been vaccinated. Pandering to her base with this hipocritical bullshit is how she stays in office.
Tags:
Assholes
,
Bat-Shit Insane
,
Bullshit
,
COVID Deniers
,
COVID-19
,
Fuck This Shit
,
Fucking Assholes
,
Fucking Scumbags
,
News
,
Pandemic
,
Pig-Fucking Assholes
,
Politics
,
Stupidity
,
Truly Stupid People
,
Vaccination
,
Worthless Pieces of Shit
Categories:
News – Politics 2021
—
Click To It:
Permalink
—
2 Comments: Click To Add Yours!
Posted on September 24th, 2021

I've stepped away from most of my political ranting here because it was consuming my life. Politics is so heinous in these United States of America that justice doesn't even fucking exist here. And people just don't care. Thus it's pointless to keep screaming into the void.
Everybody reading this blog knows that I have a healthy distrust of government, loathe 98% of our politicians, and detest the fact that wealthy & powerful people own this country and those we pay to represent us. It's why I advocate for term limits and breaking the stranglehold that lobbyists have over the oppressive load of shit that our government shackles us with.
And yet there are times...
This morning on Facebook somebody reposted this tweet from 2020:
This was referring to this article: Open-Access JSTOR Materials Accessible to the Public. The tweet was based on a minunderstand presented in the article (which has since been cleared up with a revision)... but the sentiment being presented is accurate.
Our government drove a brilliant and tireless political activist to suicide with a heinous campaign of overreach and lies.
As our government does.
Past precedent shows us that the government will always, always, always exterminate those they cannot control.
And we let them.
I first became aware of Aaron after his Infogami CMS was merged with Reddit, of which he is listed as a co-founder. But he didn't move to the forecfront of my thinking until his work in stopping the horrific government SOPA and PIPA laws. Aaron, along with others, got me to be a vocal opponent of this stupid shit, and removed any doubt that the poiticians making our laws don't give a single fuck about being educated about the legislation they advocate. They only do what their wealthy asshole owners tell them to do so the rich get richer at the expense of our citizens. And the only reason... THE ONLY REASON... that our government reversed course on SOPA and PIPA was because enough people got mobilized that their power and wealth were threatened.
And we can't have that, can we?
The U.S. Government: The Best Government You Can Buy!
And so now I am furious all over again... hence this blog post.
Aaron Swartz deserves to be remembered for the fucking hero he is. And of course it's equally important that we remember that our government of the money, by the money, for the money, shall not perish from the earth! We vote in people to keep it that way, after all. Hope you have a ton of money so you can take advantage of it.
If you want to know of Aaron's fascinating story, have I got a video for you. This documentary is essential viewing, so I'd get on that right away if I were you...
Rest in Peace, sir.
And thank you.
If you're in a video-watching mood, Johnny Harris has yet another incredible video that's worth your valuable time...
So it goes...
Posted on January 8th, 2021

I got up early this morning to get some work done before feeding the cats and running into Tourist Town to do some grocery shopping. Early morning shopping is the best shopping because the store is so empty. But also? My cupboards and refrigerator are low on staples, so I was excited about having food in the house again.
The other big draw for my grocery shopping today was a coupon I had which gives me $11 off a total of $110 or more. That's 10% off... on top of the other coupons I have. I love it when opportunities like this comes along, because it's the one time I allow myself to buy stuff that's not on sale. But you have to be careful. One penny under $110 and no discount for you. I kept careful track in my head and got to $120 (actual total $116.88), so way to go, me.
Along with a shiny new iPhone, I changed my service plan with AT&T. My new phone can do 5G, my service plan didn't have 5G, and even though I probably won't see 5G any time sooon where I live, I'd like it available when I travel (assuming I travel again). AT&T had a deal where I could get my two lines for $65 a line (with auto-pay and paperless billing enabled), and I'd actually be saving money in the long run over what I had, so sign me up...
Before (virtually) signing on the dotted line, I went over the details of what I would be charged very, very carefully with the phone rep. I wanted to be darn sure there weren't going to be any hidden fees above what I was already paying. After a very patient person went through everything with me... twice... I changed my plan to the new $65 per line.
My previous bill was a mess. I had no idea what was going on because AT&T jerks you around with pro-rated billing and activation fees and other stupid shit that I had no way of understanding. But then today my current bill with none of the extras arrives. And I looked it over very carefully. And, wouldn't you know it, only ONE of my lines was $65. The other was $75...

=sigh=
So I online-chat with AT&T and explain the problem. After pulling up my account, I'm told this:
I see that you have been charged for monthly service charge. That is why you got high in your bill.
I explain that my bill very clearly shows one of the lines was charged $75. Then I get this:
I see that you have been charged $65 for one account and $65 for another account. But this time they have added $8.33 for one account.
I then have to tell them that I am looking at my bill and it clearly shows one line is $75, so I don't know where they're seeing both are at $65. I don't care what the fees are showing, the amount per line I was quoted (and which is still showing on their website) is NOT being honored.
After a while of them "looking into it" I get this:
Yes you are right. Sorry for that. Let me go ahead a note to change that for you. So it will not reflect in your next billing cycle.
Look, I really want to give AT&T the benefit of doubt here, but I see this shit ALL THE TIME, so it's tough not to be cynical. I signed up for a new plan so I could get 5G at $65 a line (if I use auto-pay and paperless billing, which I do). but I'm charged $75 for one and $65 for the other. And the ENTIRE TIME I'm chatting with customer support, I think back to my grandmother and mother being easily confused by pages of bills that are designed to obscure how much YOU'RE ACTUALLY BEING BILLED FOR, and I know beyond any doubt that they would have just paid the overcharge month after month because they didn't know any better. And if they did call customer support, they undoubtedly would have believed the bullshit about "extra fees" and not pressed the issue any further.
This is rage inducing.
And I cannot help but ask... is AT&T doing this on purpose? Do they make their billing statements confusing and encourage auto-pay and paperless billing so they can rip you off and have less chance of being caught? I am seriously outraged right now. I'd dump these assholes in a second if other carriers were any better... but they're all the same, aren't they? So what good would it do?
If the Democrats in power want to make me happy after they're done sucking off the lobbyists lining up to pay them to betray US citizen interests... FIRST they can put us on permanent Daylight Saving Time so we're not dicking with the clocks twice a year. THEN they can pass an act which forces all these asshole companies to not hide all their charges when you sign up for shit. The price they advertise should be the price you pay... AND IT SHOULD INCLUDE ALL THE FUCKING FEES AND OTHER BULLSHIT THAT **NEVER** ALLOW YOU TO KNOW WHAT YOU'RE PAYING BEFORE YOU COMMIT TO A CONTRACT!
But you know what? AT&T probably shovels millions upon millions upon millions to politicians so they can just keep doing exactly what they're doing. Which means nothing is going to change any time soon. Our politicians won't do anything to threaten that sweet, sweet lobbyist payola now would they?
At least not in my State. Senator Patty Murray is OWNED by the medical lobby, and we all know how much they just LOVE to obscure costs in their billing. Major surgery results in pounds of never-ending bills that are intentionally confusing so you just shut up and pay. Which is exactly the kind of behavior our politicians crave... "I'll shut up just so long as you pay."
God bless America.
Posted on December 12th, 2019

On Friday I was walking through a parking lot to the mini-mart when a car came bombing around a corner and hit me. I was knocked down and my keys and iPhone went flying. They weren't driving terribly fast... but it was way too fast for a parking lot and totally fast enough to knock me off my feet.
The screen protector on my iPhone was shattered. But when I removed it the iPhone was in flawless condition. Since nothing was broken (including me) I told them to be more careful and slow down, then went on with my life.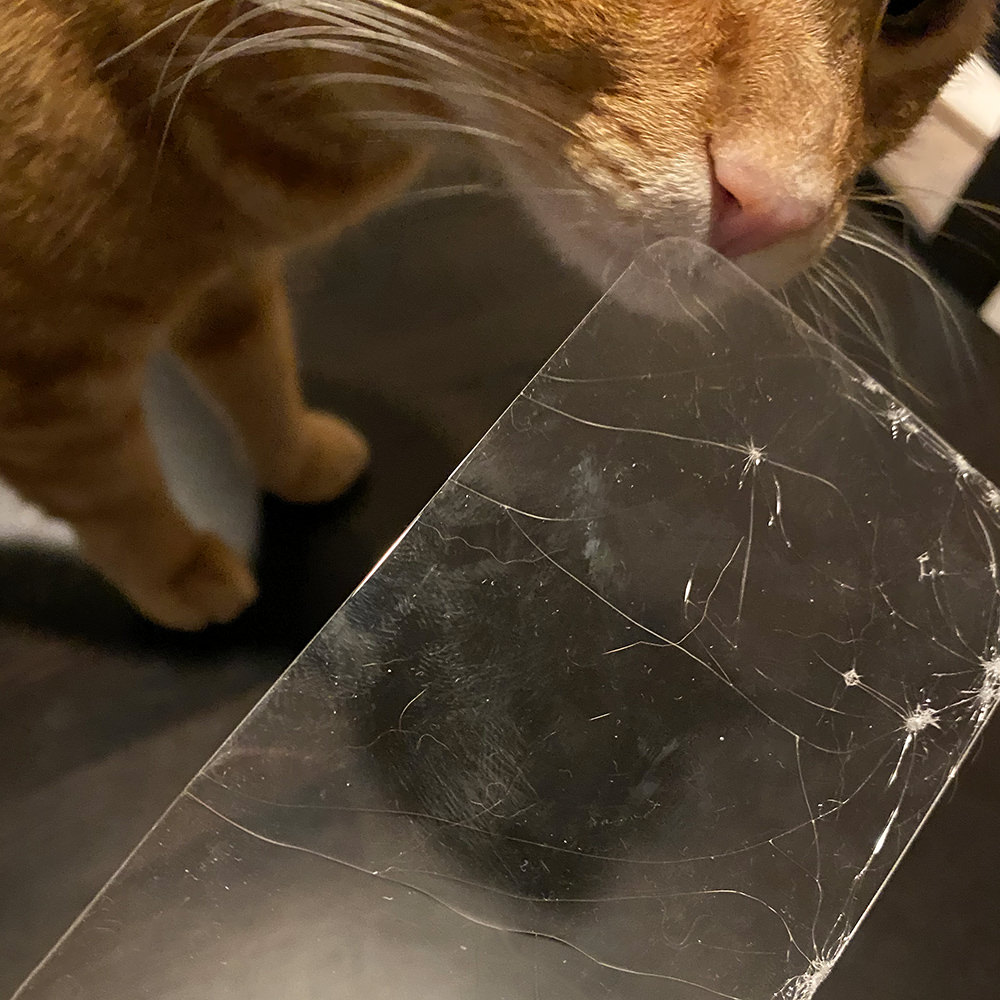 Alas, the next morning my iPhone display was "banding" (there were dark stripes going across the display). Later in the evening my display was getting progressively dark and when I woke up on Sunday it was completely black.
I am still traumatized from the heinous fucking treatment I had to endure courtesy of Apple "Support" when I attempted to make a claim on my AppleCare+ insurance plan... so it will be a while before I'm ready to blog about that bullshit. But I absolutely will. Suffice to say that Apple "Support" is made of 100% asshole, still, and the number of times I heard "There's nothing I can do!" from "support" leads was staggering. Which means either A) They are lying for whatever reason, or B) Apple management doesn't empower their leads with the power to do A-N-Y-T-H-I-N-G! Which is fucking insane. And sets up their entire "support" organization up for failure. Which may be the plan. I have no fucking clue.
Eventually I did FINALLY manage to get my phone replaced and it arrived today.
Setting up a replacement iPhone is blissfully effortless. You log in to iCloud and restore from a backup. BLAM! You're done.
Except... not so much.
After my email accounts transfered over, I had the same error THAT I HAD A YEAR AGO when I got a new phone. The same error THAT I HAD THREE MONTHS AGO when I got a new phone.
A message pops up which says "CANNOT VERIFY SERVER IDENTITY"...
You click "Details" and the pop-up disappears but nothing happens.
You click "Cancel" and the pop-up disappears but nothing happens.
Then the dialog box comes back over and over and over and over and over and over and over and over and over and over and over and over and over and over and over and over and over and over and over and over and over and over and over and over and over and over and over and over and over and over and over and over and over and over and over and over and over and over AND FUCKING OVER AGAIN! And it simply will not stop no matter what you do. Every five seconds it comes back.
When you search through Apple's knowledgebase, you'll see that this bug has been discussed SINCE TWO-THOUSAND-FUCKING-SIXTEEN! It's been around and been reported FOR THREE DAMN YEARS! And Apple won't do fucking shit to fix it. Your ONLY option is to delete your email account and start over. Which means that migrating your email accounts is essentially useless. How damn hard is it to have the "Details" button bring up a sheet where you can choose to "trust" the server?
I guess Apple has bigger fish to fry.
Like ensuring that their "support" team treats their customers like shit.
Posted on July 24th, 2019

I'm in the future! This post is for Wednesday but I'm writing it on Thursday because stuff happened.
My flight to Boston was great (thanks, Alaska Airlines!). My hotel at midnight was nice. My drive up to Maine was painless. My lunch was very good. My hotel is great as always. But work was pushed back several times over many hours, so I'm kinda in that limbo state that happens when you're sleep-deprived yet having to concentrate on the job.
Somewhere in all that, I needed a snack so I grabbed a bag of Mango Pineapple Mix. I love dried pineapple and mango, so it was an easy choice.
Except...
When I started chowing down, I noted that there was hardly any mango or pineapple taste to be found. As you chew it, it tastes more like peanut butter and raisins...
INGREDIENTS: PEANUTS, RAISINS, SUNFLOWER KERNELS, MANGO, PINEAPPLE, CASHEWS.
Well, shit.
Here in the USA, ingredients must be listed in order of volume. But they don't have to tell you the percentage of each ingredients. For my "Mango Pineapple Mix" my guess is that it's something like this...
PEANUTS: 50%
RAISINS: 23%
SUNFLOWER KERNELS: 18%
MANGO: 4%
PINEAPPLE: 3%
CASHEWS: 2%
So... not really a Mango Pineapple Mix after all. The ingredients might as well have read...
DISAPPOINTMENT: 100%
SATISFACTION: 0%
Mango, pineapple, and cashews are expensive, so they are used sparingly. Peanuts, raisins, and sunflower seeds are cheap, so they are used as filler. Which is fine, except in this case the filler is so overwhelming that you never really taste the ingredients that the mix was named after.
The product is a lie.
Which is nothing new. Companies lie to sell their crap all the time.
Just like politicians.
As the presidential race starts heating up, you quickly realize that all the threats and promises the candidates are making are just filler. Cheap lies they say so they can get elected. Promises, after all, cost nothing. If I were to break down the ingredients for a politician's motivations when running for office, it would probably go something like this...
MONEY: 150%
POWER: 130%
RE-ELECTION: 120%
FAME: 98%
ACTUAL FUCKING CONCERN FOR PEOPLE: 2%
Yes, I realize that all adds up to 500%, but you've seen how politicians operate... tell me that I'm wrong. And don't kid yourself, that 2% is very much dependent on whether having "concern" will jeopardize their bigger priorities.
The product is a lie.
Which is nothing new. Politicians lie to sell their crap all the time. Their "ingredients" might as well read...
DOING THE BIDDING OF THEIR LOBBYIST OVERLORDS EVEN IF THEY END UP FUCKING OVER THE PEOPLE THEY ARE SUPPOSED TO BE REPRESENTING: 100%
ACTUALLY DOING THE WORK TO IMPROVE THE LIVES OF THEIR CONSTITUENTS: 0%
Why American citizens don't give a shit about this obvious scam is beyond me. I see the headlines and marvel at the fact that people aren't rioting in the streets. Take this one, for example...
Trump said he wouldn't cut Medicaid, Social Security, and Medicare. His 2020 budget cuts all 3.
You work your entire life so that one day you can retire. Significant chunks of your paycheck are taken for Social Security, Medicaid, and Medicare, with the expectation that this money will come back to you so that you don't have to spend your "golden years" living in disease and poverty.
And yet here we are.
If you're one of the wealthy individuals benefitting from the money being stolen from working-class America, congratulations, you got the country you paid for. If you're not one of those individuals, then I hope you enjoy your "golden years" living in disease and poverty. You voted for it, after all.
Change your mind? Here's a checklist for a good start...
Demand term limits for all political offices.
Demand term limits for Supreme Court justices.
Demand abolishing lobbyist payola.
Demand a new, more representative voting system.
That last one is the ballgame. It's also complex and interesting. Fortunately, CPG Grey has you covered. Watching these videos is well worth your time if you're at all concerned about just how badly fucked you are by our current political system...
And... back to work. And my shitty trail mix.
Tags:
DaveLife
,
Fuck This Shit
,
Fucking Assholes
,
Fucking Scumbags
,
News
,
Pig-Fucking Assholes
,
Politicians
,
Politics
,
Travel
Categories:
DaveLife 2019
,
News – Politics 2019
,
Travel 2019
—
Click To It:
Permalink
—
0 Comments: Click To Add Yours!
Posted on June 18th, 2018

Everybody is laughing at the idea of spending billions of dollars we don't have on a "space force." But you won't be laughing when the alien invasion comes and we are DOMINATINNNNNNG SPAAAAACE!!!
Oh... you say aliens that are capable of interstellar travel will have technology that makes any "space force" we come up with about as threatening as a BB gun? Well... well... WE CAN STILL KEEP THE MEXICANS FROM INVADING THE MOON! HA!! CHECKMATE, HATERS!!!
=ahem=
Space exploration has always resulted in amazing technologies that eventually filter downward and make everybody's life better. I 100% support my tax dollars going towards organizations like NASA, who do a lot more than just push the boundaries of human knowledge... they also invest in technologies which keep us safe and help us to have a better understanding of the world we inhabit and (at least until the current administration) the dangers we face from the destruction we're causing to it.
Likewise, I also 100% support my tax dollars being spent on defense. Sure, I think it's insane that we have such a massive military complex when so many of the current threats we face can't be remedied that way... and it seems crazy that we have weapons enough to destroy the world a hundred times over and are told we still need more... but I want our military to always have access to cutting-edge technology which keeps them (and us) safe. So yeah, budget for that. Not military parades and golf trips on Air Force One, but that.
And now we're getting a space force?
We've got homeless vets, a stupid-ass 100% completely ineffectual wall to build, and legions of other problems that could use our tax dollars... but pew! pew! pew! pew!
Tags:
Dumbassery
,
Dumbasses
,
Dumbfuckery
,
Fuck This Shit
,
Fucking Assholes
,
Fucking Scumbags
,
Fucktards
,
Liberal Redneck
,
Pig-Fucking Assholes
,
Stupidity
,
Trae Crowder
,
Truly Stupid People
,
Trump's America
Categories:
News – Politics 2018
—
Click To It:
Permalink
—
1 Comment: Click To Add Yours!
Posted on November 26th, 2017

This may be the last Bullet Sunday you're going to see for a while (depending what my internet is like in Argentina), so indulge yourself in an all new Bullet Sunday, which starts... now...

• Save It! I have spoken out a lot on this blog about net neutrality and how crucial it is to the free and open internet we all enjoy. Most Americans agree. Every time killing it is brought up, there's a huge backlash and the FCC backs down. But our current government doesn't give a flying fuck about honoring the wishes of its citizens, nor does it care about selling out the internet and fucking us over. All Trump & Co give a shit about is stripping power and liberty from the people and giving that power to big business so the rich get richer and have more control over our lives. And so... prepare yourself for the end of the internet as we know it. I don't wish harm upon any living thing... but I sincerely hope that FCC Chairman Ajit Pai is repaid in spades for the evil he does.

• Dogs! Back before I was headed to Africa, I Googled for photography tips and was introduced to Will Burrard-Lucas. He is a nature photographer unlike any other, and the shots he gets are mind-blowing. Getting to actually meet him on my upcoming photographic expedition will be a real honor. One of his most recent posts was of African wild dogs photographed in South Luangwa National Park, Zambia. It's incredible...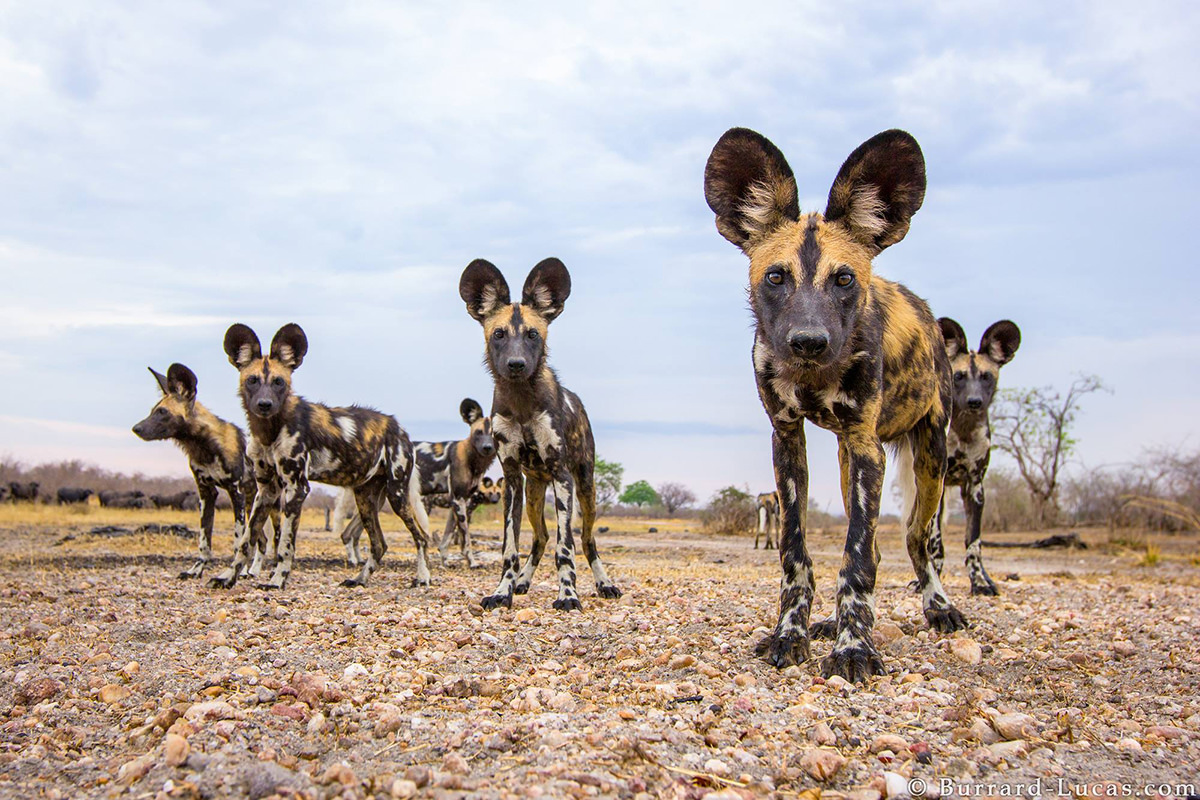 I was beyond lucky that I got to see these dogs in the wild when I was in Zimbabwe. My driver told me that his previous charges were a documentary film crew that searched for these beautiful pups for two weeks and didn't get to see a single one of them.

• Save It! Hey FOX "News"... stuff gets distorted on a curved reflective surface... YOU UNBELIEVABLE FUCKING PIECES OF IGNORANT SHIT!!! Fuck you sideways forever for propagating this bullshit...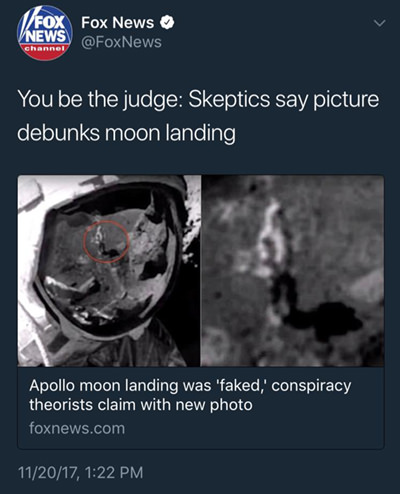 There are people saying that this is "conclusive proof" that we never went to the moon because it's not just an astronaut's reflection in the curved surface of a helmet... it's a stagehand on the "set" from when it was being faked here on earth. Just when I think that FOX "News" couldn't possibly be a bigger pile of shit, here it is. No wonder people who trust FOX "News" and use it as their only source are as stupid as a box of fucking rocks.

• 73! Vogue's 73 Questions videos are some of my favorite things on YouTube. Yes, it's staged and rehearsed, but you do get to know some nifty facts about interesting famous people. My hands-down favorite is Lupita Nyong'o...
And today I found out that Aziz Ansari has one!
And, of course, you can't watch the Vogue 73 Question videos unless you bask in the glory that is Vogue editor-in-chief Anna Wintour...

• Vera! I wouldn't watch Touched by an Angel... but Della Reese will always be "Vera" from Harlem Nights to me. I love that character as much as I could possibly love any movie character, and it was ALL thanks to Della...
Rest in Peace, Miss Reese... you will be missed.

• Crisis! Holy crap...
I'm more excited for this than I am to see Justice League. For the hundredth time... put the people in charge of the TV DC Universe in charge of the Cinematic DC Universe! The mind boggles at the possibility of what they could do with a big-screen budget given the amazing stuff they come up with for television every week.

• Family Values! It's like fucking clockwork. Some asshole is always getting caught with his dick in a place he tells OTHER PEOPLE they can't put their dick into. Any time I see some rabid homophobe ranting against homosexuality, I just assume it's because they're overcompensating. 90% of the time, it's true. Case in point... "State legislator Wes Goodman (Republican, obviously) has resigned after admitting he was busted having sex with a man in his office. The married conservative Ohio state lawmaker was known for his anti-LGBTQ stances." Because of course he was. Aren't they always? Hypocritical bullshit like this is getting so very tired.

• Quo! And, lastly, I leave you with the hellish buttfuckery that's become our status quo...

Time to start packing...
Tags:
Bullet Sunday
,
Comic Books
,
Dumbassery
,
FOX News
,
Liberal Redneck
,
Net Neutrality
,
Photography
,
Pig-Fucking Assholes
,
Politics
,
Supergirl
,
The Flash
,
Videos
Categories:
Bullet Sunday 2017
,
News – Politics 2017
,
Photography 2017
,
Travel 2017
—
Click To It:
Permalink
—
0 Comments: Click To Add Yours!
Posted on July 12th, 2017

Today is Net Neutrality Day. Which you'd think would be redundant since we have it, but apparently that may not be for long.
Pig fucker assholes like Chairman of the FCC Ajit Pai are once gain trying kill net neutrality so that big business can control the internet. Never mind that they have to tell lie after lie after lie to sell it to the American people... the money involved is massive, the people involved are all-powerful, and telling lies is not something they really give a fuck about.
I have written about how crucial net neutrality is to a free and open internet many, many times (like here, for example).
And I'm just one voice of many, because the American people have backed net neutrality many, many times.
But it never seems to matter, because the people trying to kill it have an endless supply of money to throw at the pig-fucking assholes who keep assaulting it.
It's at times like this that I sincerely feel we should burn this fucking shithole of a corrupt piece of shit country to the ground and fucking start over. What The United States of America is supposed to be all about is lost when its citizens no longer have a say. People with money are ultimately the only ones allowed to have a voice now. Because they are the only ones with the means of buying off the politicians who make the decisions for all of us...
If Pai and his bought-and-paid-for pig-fucking asshole confederates actually manage to kill net neutrality, I might as well take down Blogography. Because it's only a matter of time before Very Important People decide they don't like me calling them pig-fucking assholes and shut it down for me.
The pig-fucking assholes.
Visit the FCC and tell them that you support Net Neutrality.
UPDATE: And... Mr. Trae Crowder, everybody...
Holy shit what a cluster-fuck.