Posted on February 14th, 2021

It's Valentine's Day, the world's gone crazy, winter storms are striking, and I just drank my last can of Coke Zero, but all is not lost... because an all new Bullet Sunday starts... now...

• Let it Snow! It's snowing! And every time this happens, I think back to this TikTok, which is one of the funniest things I've ever seen...
It's getting to the point where I'd rather watch TikToks than television.

• Ryan! I swear... if Ryan Reynolds wasn't completely killing it as an actor, he could easily make a mint as a media consulting company. His every ad endeavour has been amazing...
The fact that he did this particular ad on behalf of a charity is just icing on the cake. I guess you can understand the reason my cat's full name is Jake Ryan Reynolds Simmer.

• Munchin'! There's a woman with a pet duck called "Munchkin" on my TikTok. The duck's most favorite thing is to go through the drive-thru at Dunkin's for a cup of ice water. Over the past several weeks she's been taking Munchkin to different drive-thrus, and today she FINALLY took her to Sonic, which has the most amazing ice ever...
We do not speak of the time that she took Munchkin to Dairy Queen and they refused to give her an ice water. Guess I'm not bothering with their duck-denying asses any more.

• SELECT ITEMS! My morning was ruined this past Tuesday, thanks to Cutlery and More's 20% OFF Sale...
=checks email=
"20% OFF! Wow! How awesome!"
=opens email=
"SELECT ITEMS? Crap! Well... mayyyybeee...."
=checks exclusions=
"FUCK!!!!!"

By manufacturer request? How can a manufacturer keep you from just putting your entire store at 20% off? This blows. The only things I want to buy have been excluded from their sale.

• Norge! Will Ferell had a Superb Owl commercial which promoted General Motors electric cars here in the USA and complain that Norway is currently #1 when it comes to fuel-free automobiles. It was basically a disturbingly funny look at how far the US is behind much of the world, and Will is angry at Norway because of it.
And now Norway responds...
What's so incredible here is how the original commercial typifies American response to most everything. We're #1. We're the best country in the world. No other country is better than us. Except when they are, and then we have to obliterate them. Whereas Norway's response is so typical of them. Smart, playful, educational, and delivering a smackdown in a way that's tough to really debate... yet not so harsh that it alienates Americans entirely. It's absolute insanity to think how stupid, gullible Americans have been conditioned by our wealthy corporate overlords to believe that the horrific state of this country is inconsequential to us being "the best" at everything. Which it is... for our wealthy corporate overlords. We are an incomprehensibly wealthy country, yet the vast majority of that wealth is exclusively in the hands of precious few people. Believing that this makes us the envy of all the world is the height of such laughable hubris that I'm surprised Norway can even deliver their response with any semblance of a straight face.

• Controversial Colors? The stuff I learn on TikTok could fill volumes, thanks to amazing content creators like this...
Weird, cool, and enlightening. That's pretty much TikTok in a nutshell.

• ENTITLEMENT OUTRAGE! Boy, the butthurt is strong on Facebook this past week. I watch six "traditional" television channels... HDTV, Food Network, Travel Channel, Bravo, VH1, and Hallmark (anything else on my TV comes from a custom streaming service like Netflix or Disney+). All of those traditional channels can be had on my $20 Philo subscription, which is SO cheap. I USED to pay $126 per month for satellite that was packed with channels I didn't want and never watched! I am saving over ONE THOUSAND DOLLARS a year by going with a package that fits exactly what I want!
Now some of these channels... namely those under the Discovery umbrella like HGTV... are offering their ENTIRE FUCKING BACK-CATALOG for popular shows... PLUS all-new exclusive content via a streaming service called discovery+. This is like a fucking all-you-can-eat-buffet for somebody like me who loves their programming and could watch them over and over and over again. And now I can. For $5 a month. Glorious!
I just took advantage of a discovery+ promo to get a YEAR of ad-free for $60 (usually the $5/mo. price comes with ads). It's a gift subscription special, so I gifted it to myself! I could not be happier. So imagine my unshock when I look through the comments on the Facebook post advertising the special and see "STOP NICKLE AND DIMING US!" and "NOPE! NOT PAYING YOU ONE CENT MORE!" and "I ALREADY PAY FOR CABLE, YOU'RE BEEING GREEDY!" and "IT'S A PANDEMIC AND YOU'RE SCREWING PEOPLE!" — And I'm like, whoa, whoa, whoa. This isn't lifesaving medicine... it's fucking TV shows for Christ's sake. AND, on top of that, Discovery STILL broadcast their regular programming over satellite and cable packages if that's the way you want to go. The only thing you miss out on it the exclusive content. But even that's not a big deal. Wait for all the episodes to air for a show you want to see, spend $5 for a single month to watch them, then cancel before it renews the next month. But NOOOOOO! That requires people to stop being fucking idiots.
I honest to God don't get the entitlement bullshit I see every fucking day. People feel ENTITLED to entertainment TV shows? Seriously? Ironically, half these people are probably just fine with health care costs bankrupting them instead of having Medicare for All be paid out of our taxes... but tell them they have to pay for new episodes of Fixer Upper? TOTAL FUCKING OUTRAGE! I cannot with people on the internet any more. It just keeps getting worse and worse and worse.

• IT'S EVERYWHERE! And lastly, before I go, here's one more TikTok that slayed me this weekend...
That's me cleaning up cat vomit the rare times that it's happened. To go through this every day? Yikes.

And now I suppose I should think about cleaning my house. Or not. It's not like I'm having visitors any time soon and my cats just don't care.
Tags:
Bullet Sunday
,
Comedy
,
Ducks
,
Entitlement
,
Norway
,
Ryan Reynolds
,
Snow
,
Television
,
TikTok
Categories:
Bullet Sunday 2021
,
Internets 2021
,
News – Politics 2021
,
Television 2021
—
Click To It:
Permalink
—
2 Comments: Click To Add Yours!
Posted on November 19th, 2019

I honestly don't know where I land on all the impeachment stuff.
I mean, yeah, the president abused his office for personal gain. There is no debating this. It all really happened and there's a preponderance of evidence that it happened. Of course the president denies it happened... but then, like every other time he's accused of something he did, he tries to suppress evidence and tell lies to convince people it didn't happen. Then real evidence is uncovered, proof is found, and he starts screaming "Fake News" so his supporters will look the other way. This has been happening since he assumed office. And it's obviously a strategy that works for him because he should have been thrown in jail long ago.
Except... don't all politicians do crap like this?
The issue at hand here is that President Trump's corruption is so much easier to see. Because. He's. Just. That. Damn. Stupid. And he surrounds himself with fucking morons like Rudy Giuliani who is happy to go on live television interviews and admit everything. And, oh yeah, President Trump's crimes run bigger, badder, and worser than most politicians, so there's that. He is effectively giving this country to billionaires, special interest groups, and foreign countries (many of them our enemies)... all while eradicating small business and the middle class to do it. People who benefit him get everything. People who cannot benefit him get fucked.
Same as it ever was.
Same as it ever was.
So, yeah, sure. Impeach him. Remove the president from office. Let bat-shit crazy insane Vice President Pence eradicate what few personal liberties remain and start World War III by nuking all the non-Christian nations (it's the jihad he's been masturbating over for decades). Or let President Trump continue his term... possibly get a second term... and run this country so far into the ground that it can never recover. Either way, we're fucked. The world is fucked.
The only way that impeachment will actually mean anything for the rest of us is if ALL the crooked politicians get thrown in jail. ALL of them. Then we can establish term limits... eliminate gerrymandering... abolish lobbyists... curb corruption... strive for equal representation... nurture personal liberties... repair our environment... protect our wildlife... set our clocks to permanent Daylight Saving Time... and work towards being a country that lives up to the ideals of who we want to be. Who we really want to be once all the slime has been eradicated and our government works for everyone and not the few.
Make that happen and I would gladly tune into the hearings.

In other news... I hope Netflix is offering Aamer Rahman a pile of money for his own special. I've shared a video from him before, but here's some more...
Some of his stuff is wonderfully insightful, flipping the script on race to illustrate exactly where we're at...
I don't find anything offensive in truth. If people do, then that's probably a good thing.
Posted on July 14th, 2019

I'd rather be anywhere else today, but escape is not in the cards... because an all new Bullet Sunday starts... now...

• MADness! It was announced this past week that MAD magazine will end its original-content run with the August 2019 issue. After that, it's all reprints with new covers that will only be available by subscription or in comic shops. Despite not having picked up an issue in years, this is more than a little sad to me, because MAD was a huge part of my past. I bought occasional issues in the latter-half of the 1970's, but became a MAD addict after the December 1978 issue (the Star Wars musical parody issue)...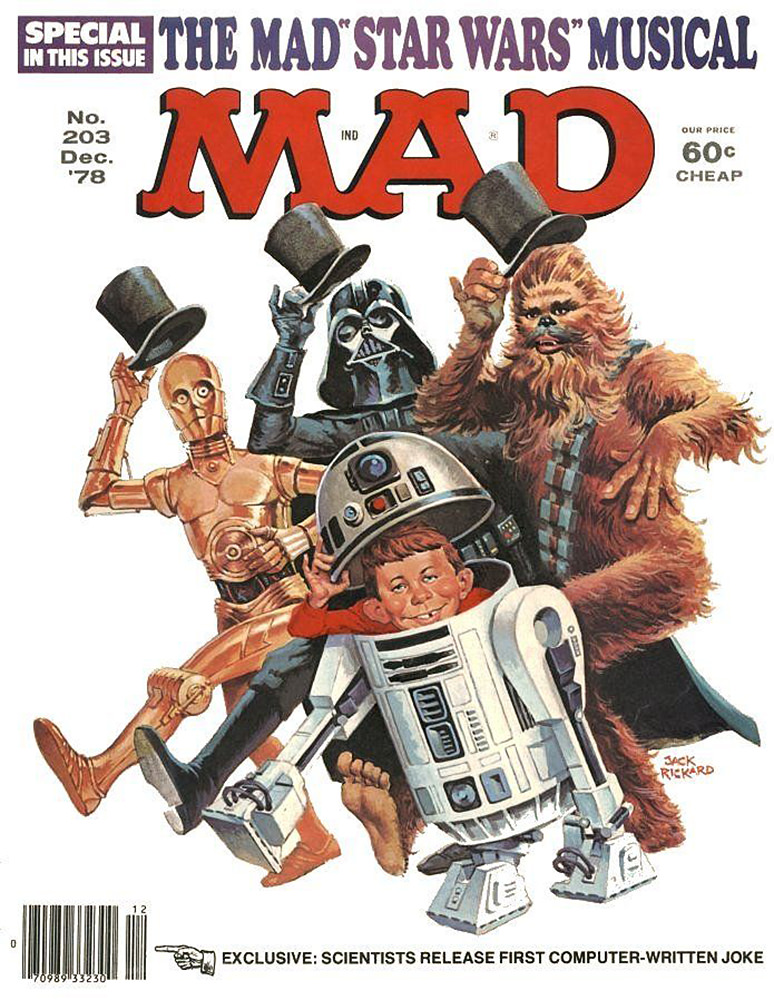 I purchased every single issue from No. 203 through No. 250, at which time I went back to only buying issues that had material I was interested in. I also purchased every reprint book I could get my hands on, scouring the local News Agency to obtain as many as I could find by my favorite MAD contributors... like Al Jaffe, Sergio Aragonés, Don Martin, and Dave Berg... and, of course, Antonio Prohías, who was the guy behind Spy vs. Spy. It's not just my favorites that are burned into my brain... contributors like Mort Drucker, Dick DeBartolo, and Jack Davis did a huge amount of work for the magazine and were a big influence on how I saw the world.

• Mushu? A gorgeous trailer dropped for the live-action version of Mulan...
It looks like Disney put some serious money into this remake! But where's Mushu? Is Eddie Murphy coming back to voice Mulan's dragon? Is Mushu even going to BE in the film? I will be sorely disappointed if he is not. Characters like that are what make it a Disney movie.

• Blown Away! I've never blown glass myself, but I love the art of it and I've been to many, many glassblowing shops. Including my idol Dale Chihuly's shop in Tacoma (and many of his installations) plus I've traveled to the "glassblowing island" of Murano in Venice so I could see the famous shops there as well. I love glass and have circled the globe to see the best of it. So you can imagine how excited I was when I learned that Netflix was developing a show called Blown Away...
Fortunately it's a show like Forged in Fire where the focus of the series is on the artistry rather than the shitty manufactured personal drama (ala Ink Master), which makes it fun to watch. The contestants are pretty great... the massive 10-furnace facility they built to host the show is amazing... some of the pieces are truly remarkable.... and the tension and drama from breakage is high. I do have some problems, however... A) Why aren't there enough tools for everybody that they have to wait for somebody to finish at a critical juncture? Also find it strange that they have to share hot-boxes. B) I don't get how the host got this gig. What experience does he have in order to be qualified to weigh in on the judging? According to his site, he's a professional rollerblader and organic chemist? WTF? C) Why can't we hear the judges deliberate? This would go a long way towards understanding their decisions. D) Why the time limit for a GLASS art competition? I'd much rather give them enough time that they can take risks and not be finished if they break late in the game.
Despite all that, Blown Away is still a great show if you love glass... or art... or demonstrations of skill.

• Blank! Netflix keeps blowing up their original entertainment, and Blown Away is not the only thing that's new this week... we also got a movie called Point Blank, a remake of a French film starring Anthony Mackie and Frank Grillo...
The concept is good. Mackie and Grillo are good. And money was spent on getting the action scenes right. Which is why I'm kinda puzzled as to why I feel so "meh" about the film. Perhaps because the most memorable thing about it was some truly bizarre 80's music choices. I guess I'm glad I watched it, but it didn't really grab me as I would have expected.

• Aziz! And Netflix isn't done there! They also released a new stand-up special by one of my favorite comedians, Aziz Ansari...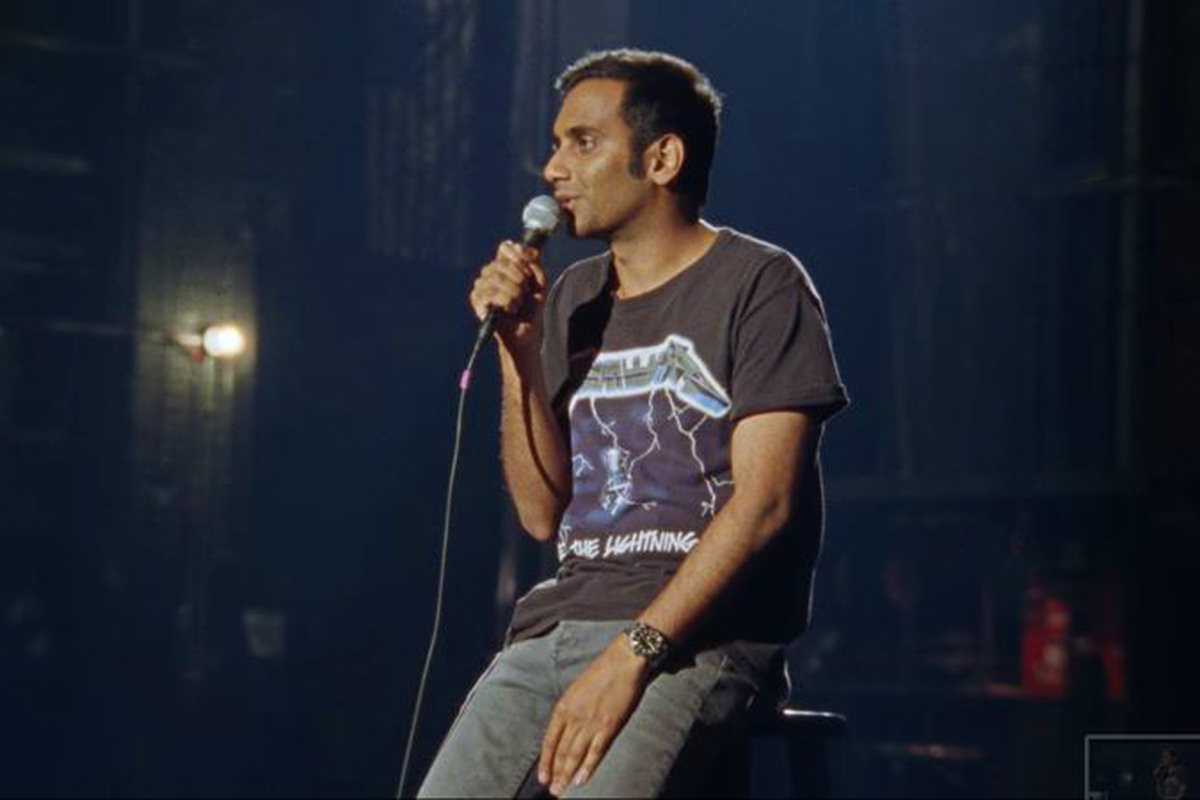 I'm not going to lie, it was an awkward show to watch. Aziz addressed the sexual misconduct allegations which were brought against him at the very beginning. But not really. He more "acknowledged" it than really "addressed" it. But he does seem sincere about having regrets and having learned something, so I guess that's better than nothing. From there Aziz goes on to deliver a varied set covering a range of topics, and most of it is pretty funny. What's not so funny is his delivery, which is subdued and kinda sad as he sits on a stool and sometimes speaks so quietly you can barely hear him. This is a wild departure from his previous stand-up specials which were crackling with energy... but he has moments of poignancy which wouldn't have worked otherwise, so I guess it was necessary. If you're a fan, Aziz Ansari: Right Now is worth a look. But don't expect what you've been conditioned to expect from him.

• Tacumentary! Last up on my parade of new Netflix shows? Las Crónicas del Taco. A documentary film on one of my favorite dishes... tacos! This trailer is in Spanish, but the documentary series has subtitles in English and French available...
Even though I'm a vegetarian, I still found this meat-based-documentary series to be fascinating. And depressing at times when brief glimpses of the animals are shown, because the conditions they are kept is not ideal. And with six different episodes exploring the history and preparation of six different style of tacos... Pastor (shepherd-style pork), Carnitas (slow-cooked pork), Canasta (basket-stacked tacos), Asada (grilled beef), Barbacoa (barbecue pit-style), and Guisado (stew)... there's more than enough taco here for your viewing pleasure. Worth a look if you're a foodie... or even if you're not, really.

• IN THE NEWS: TRUMP TAX PLAN LEADS TO $54 BILLION DECLINE IN CHARITABLE GIVING. "Many Americans want to give generously to charities, but they may not be able to afford to do so now with the changes implemented in the 2018 tax law." — The charity I work with knew that there would be a hit. Nobody had any idea it would be this bad. What's so horrible is that many charities fill in the gaps for people who are just trying to survive. As more and more people lose government assistance thanks to Trump Administration cuts, the number of people who will rely on charities increases... all while donations to these charities decreases. It's a recipe for disaster. But, hey... billionaires got tax cuts so they could gold-plate the toilets on their private jets, and that's what's important, right?

• Boys from the Dwarf! If the truth be told, Red Dwarf went on longer than it should have. Things started to go downhill with Series VI, and everything that came after that was really hit or miss. But, man, those early seasons are some of my most favorite television ever, so I'm always glad to see "The Boys from the Dwarf" again... even if it's just in a commercial...
And now I want to go back and watch the show all over again.

Bon Voyage, my Sunday bullets.
Posted on July 8th, 2019

I have had Hinterland on my Netflix watch-list for a long time. Tonight I finally watched the first episode of the first series.
It's fantastic. Mostly due to the remarkable performance of lead Richard Harrington. You can feel the wheels turning any time he's on screen...
Granted, I'm only half-way through the first season, but I'm sure liking this show. The atmosphere they've created permeates every scene so the series feels more "real" than most.
What's interesting about this show (other than how good it's been) is that every scene is filmed twice... once in English and once in Welsh (which is called "Cymraeg" in the Welsh language). I did a YouTube search to watch some of the Cymraeg scenes and it's amazing how all these actors have to essentially perform the same show twice. And since Hinterland looks so grueling and demanding of the actors, I can't imagine how difficult that must be...
I'm sure they use all kinds of tricks to make the show affordable. In the scene above where he destroys a kitchen, for example, they were careful to make sure there was no dialogue so they only had to shoot it once. If he had said "I hate my life!" while smashing the dishes, they would have had to buy all new dishes, clean the set, then reset the scene so he could say "Rwy'n casáu fy mywyd!" for the Welsh version.
Here's the trailer in Welsh...
I first learned about Wales and the Welsh language in anticipation of my visit to the beautiful Hard Rock Cafe in Cardiff (Caerdydd). Cymraeg is a fascinating language which is estimated to be spoken by less than a million people around the globe. Most people have probably only ever heard of it on viral YouTube videos where people are pronouncing very long Welsh words...
Before wrapping up this post, I'd be remiss if I didn't post a link to one of my favorite comedy bits by Welsh comedian Rhod Gilbert...
Happy Monday, everybody!
Posted on February 10th, 2019

Don't go fretting that you aren't in touch with what's new in life... because a Very Special Edition of Bullet Sunday starts now...

• NEW Disco! I tell you what... Star Trek: Discovery has been knocking it out of the part again this season. Even slow, throw-away episodes (like the latest one) have surprising depth. But, then again, any time spent with my favorite Kelpien, Saru, is time well-spent...
There is a campaign to get Doug Jones an Emmy for his work as Saru, and I can't think of another actor more deserving. Jones has flawlessly constructed movement, voice inflections, and mannerisms that feel completely alien, and the skill to be doing all that while completely encased in makeup and facial appliances is remarkable. He had better at least get nominated.
If you like sci-fi and are not watching Disco, you owe it to yourself to take out a free trial for CBS All Access and see what you've been missing. I am a diehard fanatic of Star Trek: The Original Series, and feel that this is the best series to come out in the Star Trek Universe since then. I was not impressed with any of the Next Generation/DS9/Voyager/Enterprise shows, but this? This is great stuff (despite the bitching and moaning from "Star Trek fans" that hate it... which, if that's you, don't worry... you'll be getting your Next Generation pablum when Captain Picard comes back with his new show).

• NEW! Netflix has just unleashed the third season of the One Day at a Time reboot, and it did not disappoint...
If there's a flaw, it's that the show feels the need to continue addressing absolutely every social issue in existence. It's handled really well, but it can still be exhausting. Yes, it's great to see the show address current events, but it's at its best is when it focuses on the people behind the issues. Fortunately there's plenty of that as well, and I'm hoping we get a fourth season.

• NEW Boys! Pet Shop Boys have a new EP that just dropped called Agenda. And it's as relevant and interesting as you would expect...
And then there's thinly-veiled political message, perhaps?
Yeah. Just when we needed it most.

• NEW Ellen! What would it take to coax Ellen DeGeneres to do her first standup special in 15 years? Apparently it's the $20 million that Netflix ponied up for Relatable, which was released back in December...
I just watched it again last night and I gotta say... it's worth the money. Ridiculously funny. Probably my favorite of all her specials so far. Until Netflix lures her back with $50 million maybe?

• NEW Boarding! CGP Grey released a new video this past week on how to best board an airplane. It's an interesting discussion, to be sure...

• NEW Country! With rare exceptions, I am decidedly not a country music fan. Though recently Casey Musgraves has me re-thinking this stance with her amazing Country-Pop fusion, which is some of the best music I've heard in a while. Because of that, I found this analysis on the current state of Country to be a fascinating watch...
The fact that the finger-snapping madness is becoming such a predominant force in music today is pretty disheartening. Time will tell if it's eventually replaced by something even worse.

No more new for you. See you next Sunday.
Posted on September 9th, 2018

Meh. I liked Sunday a lot better when it was being followed by a holiday. But don't think that this Sunday isn't going to be great... because an all new Bullet Sunday starts now...

• TED! Even if Nyle DiMarco wasn't the most super-humanly beautiful person on the planet, he would still be a beautiful human being...
Love who you are.

• Canadians! A lot of truth to be found in humor...
And sometimes the truth hurts.

• Elvin! What kind of completely bankrupt society do we live in that somebody working hard to earn an honest living is shamed? Like THIS is the guy from The Cosby Show that deserves to be shamed...
Seeing as how he had to quit his job at Trader Joe's, I'm glad he's got new work on Tyler Perry's upcoming show.

• FUCKING GAY CUPCAKES! What's so hilarious is how dumbfucks like Santorum actually believe the shit they are saying...
I have literally seen signs which say "If you don't believe in Jesus, don't shop here" while driving through Mississippi. There are documented incidents of gay couples who dare to hold hands in a shop or business getting kicked out! And what about all these YouTube videos which show discrimination against Persons of Color when trying to shop... or dine... OR EXIST in a racist business? THIS IS TOTALLY HAPPENING NOW, AND IF YOU SAY IT ISN'T THEN YOU ARE A FUCKING MORON. Not that being a fucking moron is anything new where Santorum is considered.

• Just Burn It! There it is...
Though these parodies would be a lot funnier if they weren't so damn accurate.

• Just Exploit It! Nike is a highly profitable business. They know their customer base. As with everything they do, their Colin Kaepernik commercial was a business decision. If they thought that supporting peaceful protest and Colin Kaepernick taking a knee would hurt their bottom line, they wouldn't be doing it. All these ridiculous shoe burnings and threats of boycott are just free publicity for Nike to appeal even more to the bulk of the people who are buying their stuff in the first place...
The simple fact is that Nike is a multi-national company whose profits aren't tied solely to the USA. Even if their sales were cut in half here, they're still going to be an immensely profitable brand around the globe. But yeah... go ahead and burn those sneakers. Nike already has your money. They don't give a shit. Or... why not donate your Nike gear to homeless vets if you don't want it any more?

• Iron Fist 2! Well, wow. I hated the first season of Iron Fist. I couldn't stand that the character dragged down The Defenders. But the second season is pretty good! First of all... DAUGHTERS OF THE DRAGON, BABY! YEEEAH!
Finn Jones is much better this time around. He acts more like a human than a frickin' Keanu Reeves impersonating robot... though I still maintain he's the wrong guy to play Iron Fist. He isn't as fluid and fun as the comics, and it's such a missed opportunity.
As is usual for the Marvel Netflix shows, the first half of the season is slow to the point of tedium with an occasional fight scene tossed in... then the back-end slaps you in the face and makes it all worthwhile. In the case of Iron Fist, the last episode is great, and what we should have been getting all along. What we also should have been getting all along? That trademark yellow mask, which finally makes an appearance...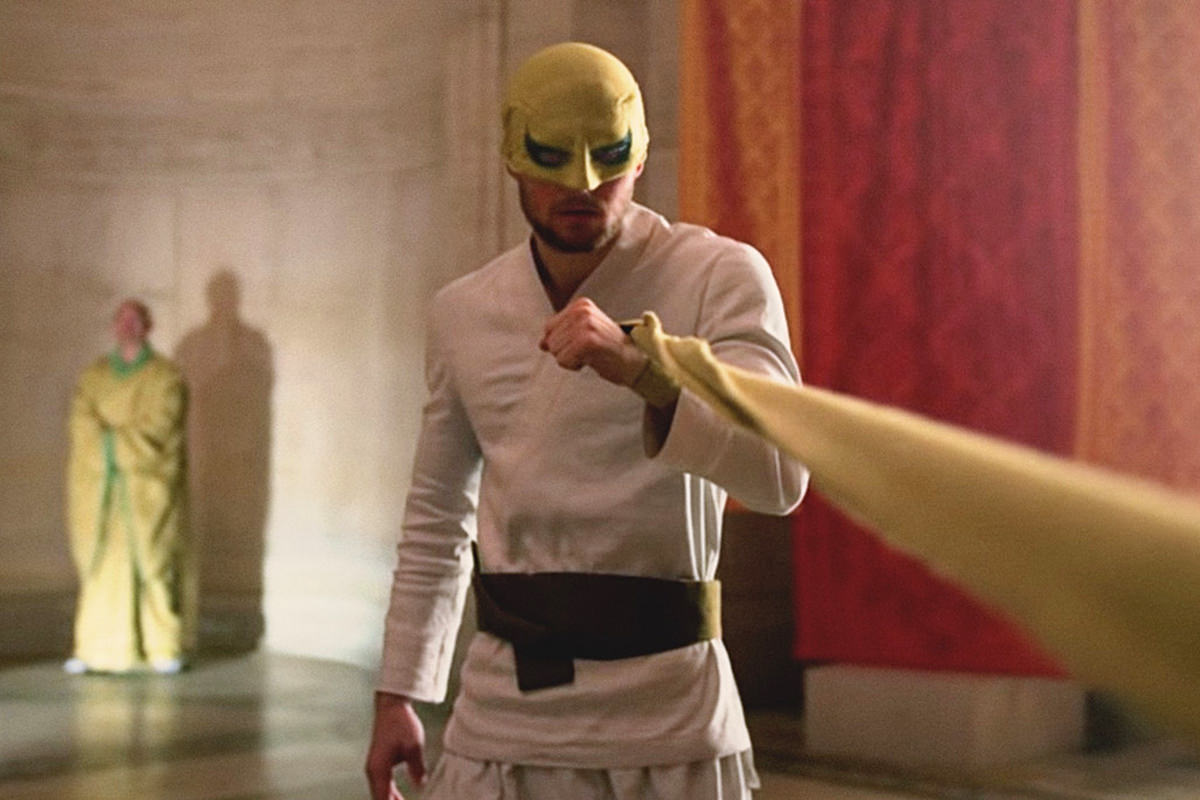 This season starts off with Danny Rand fulfilling his promise to Daredevil to defend Hell's Kitchen... BY SETTING UP SHOP IN CHINATOWN?!?? Hell's Kitchen is west of Midtown. Chinatown is way south from there! But whatevs. The story revolves around Davos (aka Steel Serpent), the Iron Fist who wasn't, seeking revenge on Dany Rand for taking the mantle he believes is rightfully his. The guy is legit nuts, which could have been silly if not for Sacha Dhawan being so compelling in the role. Along the way we get Joy Meecham and "Mary" (aka Typhoid Mary) as supporting villains. Mary started off unbearably irritating with her personality shifts being far less entertaining than if they had made her a straight-up villain from the start, but it ended up paying off at the very end.
In lieu of The Hand this time, we get forgettable syndicate villains in the form of rival triad gangs Golden Tigers and Hatchets. On one hand, I understand the need to provide legions of bad guys for Iron Fist to plow through, but it's just so tired to have triads floating through all the Netflix shows solely as disposable Asian cannon fodder. Come up with something new.
Like I said... this new season is pretty good. Mostly because of the ending. It could lead the show in a much better direction. Also helping? The fact that they cut it down to ten episodes. Which has me wondering if it would have been an even better season if they had streamlined things even further and cut it to six. Jettisoning all the Meecham sibling crap would have been a good start, and that alone would have made things so much better. They made everything grind to a halt every time they are injected into the story.

And... bullets spent. See you next Sunday.
Posted on May 21st, 2015

"Red Nose Day" is a British charity telethon event from Comic Relief that has been going on for years. If you're ever in the UK during the middle of March, there's quite a big deal made about it. The country's most famous comedians and celebrities perform sketches, parodies, and informational spots all in the name of soliciting donations from viewers. In addition, retailers sell Red Nose Day merchandise with proceeds going towards the charity.
All in all, it's a fairly entertaining event for a good cause...
It was only a matter of time before the USA imported the idea (don't all British television shows make it here eventually?), and I was looking forward to seeing how the American version would up the ante.
Except they didn't.
The show was total crap. Seth Meyers, who has a stellar history as a presenter, was inexplicably awful (he spent most of his opening denigrating the UK Red Nose Day efforts in a way that was supposed to be tongue-in-cheek, but felt mean-spirited to me). Sketches were just plain bad (all your favorite celebrities have funny voices and their movies are dubbed!). The only thing that was even remotely funny was a Billy on the Street bit, but it was sabotaged by Martin Short being Martin Short.
After what seemed like an eternity (but was probably more like 40 minutes) I couldn't take it any more and turned the channel.
So... I guess this is yet another case of American television ruining a British import.
How sadly typical.
Posted on March 30th, 2015

As a fan of the original Dean Martin Celebrity Roasts, I didn't warm up to the Comedy Central version right away. They were funny, but the celebrities weren't of the same caliber and too many of the jokes relied on being crass rather than clever.
But after the third roast (Pamela Anderson, of all people) I warmed up to the modern incarnation of the show and have been sure to watch each new edition when it's released. The material has been hit-or-miss, but always entertaining.
Tonight was the latest episode of the show, this time roasting Justin Bieber...
As somebody who has never been a fan of Bieber's "music," I have always been indifferent to his crazy antics. He's young, obscenely wealthy, and acts pretty much as you would expect somebody young and wealthy to act. End of story.
Also as expected, the roast was absolutely brutal.
Much of the material went over my head (Bieber bought a monkey he abandoned in Germany?) but was otherwise predictable. Chris D'Elia (Bieber's favorite comedian?) summed up the night with "I'm proud of you. You have it all. You are literally a guy who has it all, except for respect, love, friends, good parents, and a Grammy." Toss in crude jokes about Bieber's sexuality and call it a night.
And Justin Bieber took it all in stride. He had to, as the roast was his idea (apparently he had been begging Comedy Central to roast him for years). Then he had his chance at the podium. And was pretty funny...
"What do you get when you give a teenager $200 million? A bunch of has-beens calling you a lesbian for two hours."
And then something UNexpected happened.
Bieber then took time to apologize to his fans for his behavior and promised that he'd do better. That's he'd strive to be somebody you could be proud of.
He seemed genuinely sincere, so I guess we'll see.
Full marks, young man. Full marks.
Posted on October 26th, 2014

Good thing I passed the 21-day ebola incubation period this week... because Bullet Sunday starts... now...

• EEEEBOOOLAAAAA!!! And speaking of everybody's favorite virus... the amount of sheer ignorance I see on a daily basis regarding Ebola is just mind-boggling. That's to be expected, I suppose, because people react poorly when they're frightened. But having news sources contributing to that ignorance... assumably to keep everybody scared enough to keep watching their show or reading their paper or listening to their program... is disgusting. It's so bad that I can't even look at the shit anymore (seriously, it's even worse than election coverage). Somebody wake me when this is over so I can tune into the world again. Well, until the next wave of bullshit hits, anyway.

• WTF?!? And speaking of dumbfuck idiots contributing to ignorance...
Pat Robertson should be institutionalized. The amount of crazy he unleashes in any given week is more of a public health risk than Ebola.

• Lincoln. One of those rare moments that SNL actually made me LOL...
Jim Carrey's still got it.

• Jane! I really, really wasn't wanting to add a new show to my television schedule, however...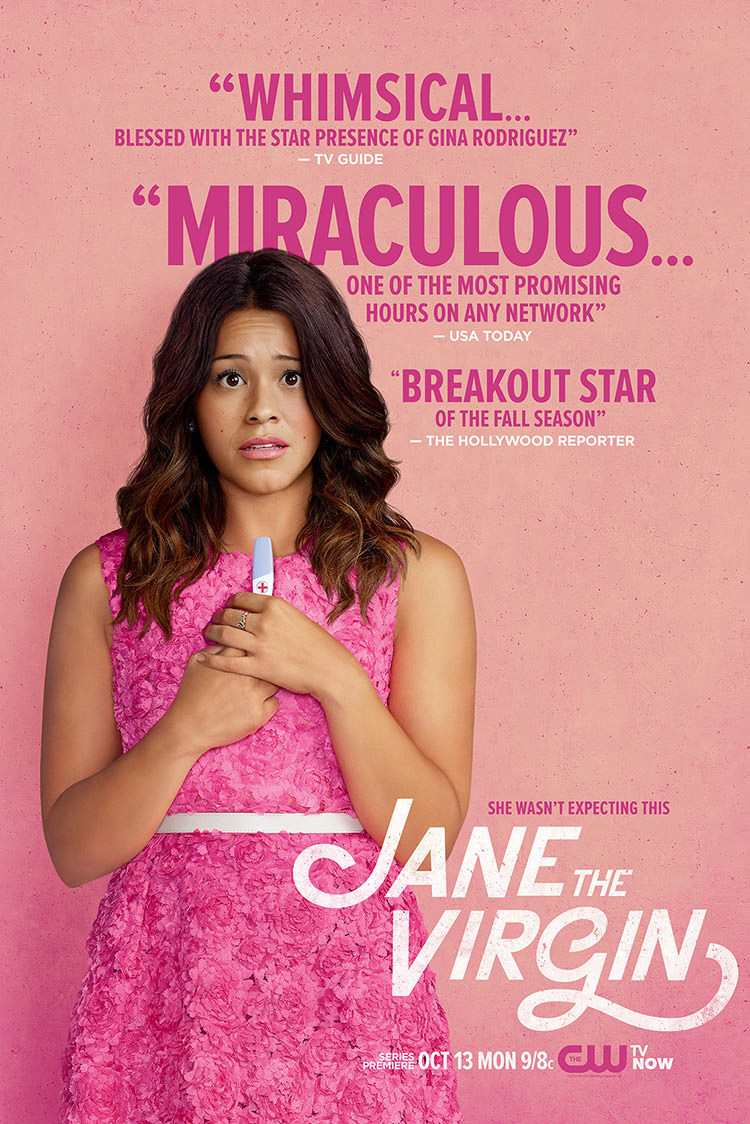 Jane the Virgin (modeled after a Latin America telenovela) is so crazy over-the-top that I had no hope for it working, but it somehow does... and it's funny. Well worth your valuable time to take a look.

• Ridiculous! I don't care who you are, you know you've made it when you get to appear on Sesame Street. Aziz Ansari, one of my most favorite entertainers, just joined the club...
Nothing makes you feel like a kid again more than talking to a Muppet, I'm sure.

• Maintenance! There's no easy way to seque from Sesame Street to... whatever this is... but did you know they made a sequel to D*CK MAINTENANCE? "Why pay two guys in a van to come suck your d*ck when you can do it yourself?"
And, if you haven't seen the original...
Classic.

And, on that note, I'm stopping with the bullets so I can go buff my d*ck.