Recovering from being deathly sick has never been more fun... because an all new Bullet Sunday starts... now...

• Toast! Awww... my little Toast nightlight arrived!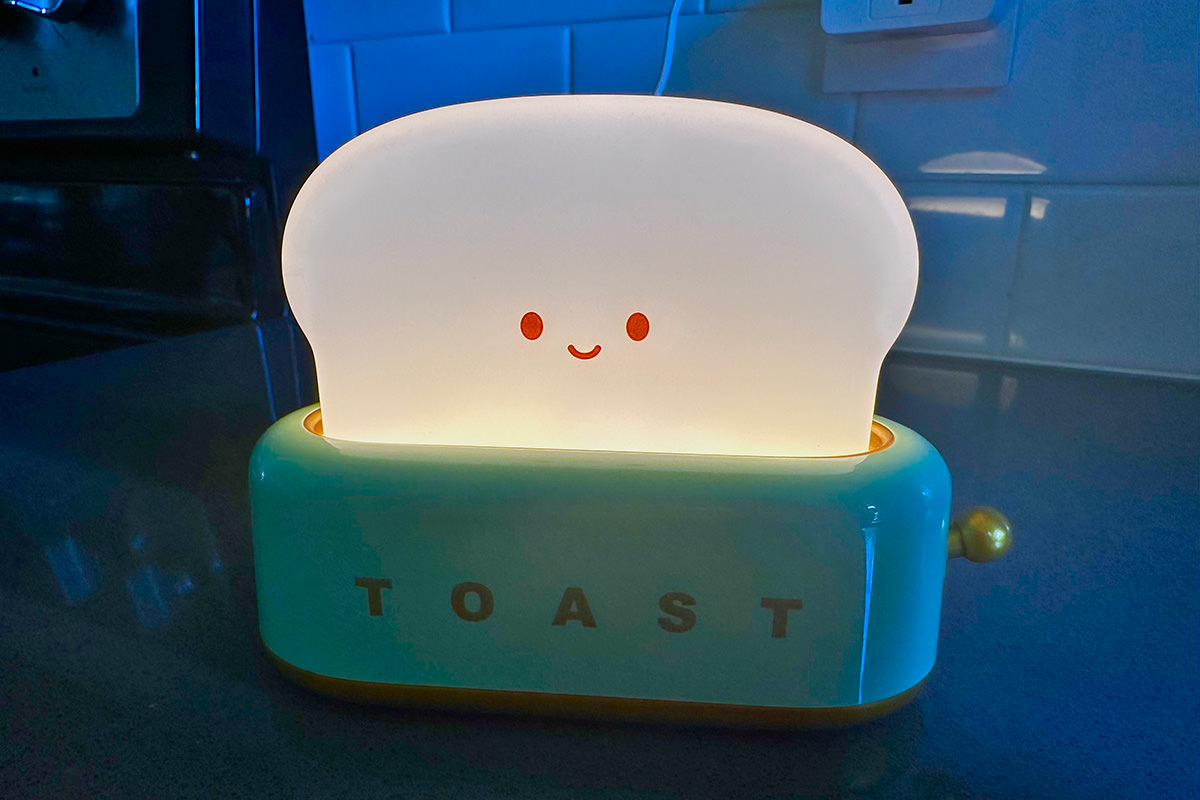 It's a nightlight that I put in the dark corner of my kitchen next to my toaster. Get it?

• Buses? These captchas are getting frickin' stupid ridiculous...
So what? Now we're just supposed to be clicking on every fucking square on these idiotic things?

• Good Omens 2! This looks even better than the first one. The casting was note-perfect for these characters, and seeing more of them is something I am very much looking forward to...
It's weird how flawless the casting was for these.

• Schlage Rage! It went something like this...
ME: "I hate my Schlage Sense smart lock SO much. Flames... flames... on the side of my face... Which lock should I get to replace it? Preferably one with HomeKey."
HOMEKIT FORUM MEMBER: "Definitely the Schlage Encode Plus."
ME: "IS THIS SOME KIND OF JOKE?!? I hate hate HATE the Schlage I have now!"
HOMEKIT FORUM MEMBER: "I understand. I agree. But know that all the bad things on the Sense have been improved one thousand percent on the Encode Plus. And be sure to get the Plus if you want HomeKey."
OTHER HOMEKIT FORUM MEMBERS: "Hard agree!"
ME: "Just so you know, if I hate this lock I am coming back to haunt all of you."
And... they were absolutely right. No more stupid battery pack cable. No more stupid setup fails. No more stupid "lock not found." No more stupid random lock resets. No more stupid random lock cycling. No more stupid HomeKit disconnects. It's an entirely new product. So good on Schlage for listening and improving, I guess. Doesn't change the fact that they unleashed a shitty product that I've been suffering with for seven years though.

• Hilarious! Zuckerberg on Apple Pro Vision: "Our vision for the metaverse and presence is fundamentally social. It's about people interacting in new ways and feeling closer in new ways. Our device is also about being active and doing things. By contrast, every demo that they showed was a person sitting on a couch by themself. I mean, that could be the vision of the future of computing, but like, it's not the one that I want." This is the stupidest fucking thing I've heard this week. How many times have a GROUP OF PEOPLE all put on their Facebook Quest VR goggles and sat around interacting in the same room? Nah, buddy. They're sitting alone on the couch! How is the Facebook headset more "social" when you're wandering around as a cartoon floating torso that's always gripping hand controllers? Apple at least went with uncanny valley avatars that attempt to look like you and leave your hands free...
Apple's take will cost HUGE MONEY... to start... but it will get cheaper over time. Facebook, who has lost millions (billions?) trying to do VR... and ultimately failing... shows Zuck's statement for what it is... fear. And bullshit. I'm not sure ANY of this is the "future I want." But I'd take Apple's vision over Facebook any day.

• Crossing the Street in Vietnam! Not a lie. Which would have been fine... except I had my mom with me, and most intersections are far busier than this one! I'll never forget the first time we went to cross a street. The intersection actually had a crosswalk signal (many don't). But it was totally ignored. We had the light but it made no difference at all... you're just expected to cross like this...
But still... it's s country like no other and worth a visit. As is this guy's TikTok.

• Church & State? Okay, government funded Christian schools are a thing now... so are they going to also fund Muslim schools? Buddhist schools? Hindu schools? So much FOR FUCKING SEPARATION OF CHURCH AND STATE!! This is a big slap in the face to all Americans, even if they consider themselves "Christian." Absolutely outrageous. Can't wait until the government is forced to sponsor Church of Satan schools because they're so fucking stupid that they don't have the fist clue about the can of worms they are opening. Jesus. OR NOT. THAT'S *YOUR* FUCKING CHOICE IN THIS COUNTRY!!!

And now I guess I had better make my bed, take a shower, and try and get some sleep .