I honestly don't have a problem with what other people believe. Unless what they believe persecutes or intrudes on others, in which case I have a very big problem with it.
But anyway... Halloween.
With each passing year I see more and more people going apeshit over Halloween. They think it's evil. They think it's "Satan's Holiday" (or the day Satan impregnates his bride, which is like a holiday, I guess). Which is fine. Like I said, people can believe whatever they want to believe. But when you try to shut down Halloween activities that other people want to enjoy? Fuck you. Fuck you sideways. You don't get to use your faith to dictate how other people live their lives. People who, by-and-large, aren't "celebrating Satan" but simply dressing up in costumes and having fun.
But if all you're doing is telling other people what you're into then have at it. You do you. I 1000% support this guy...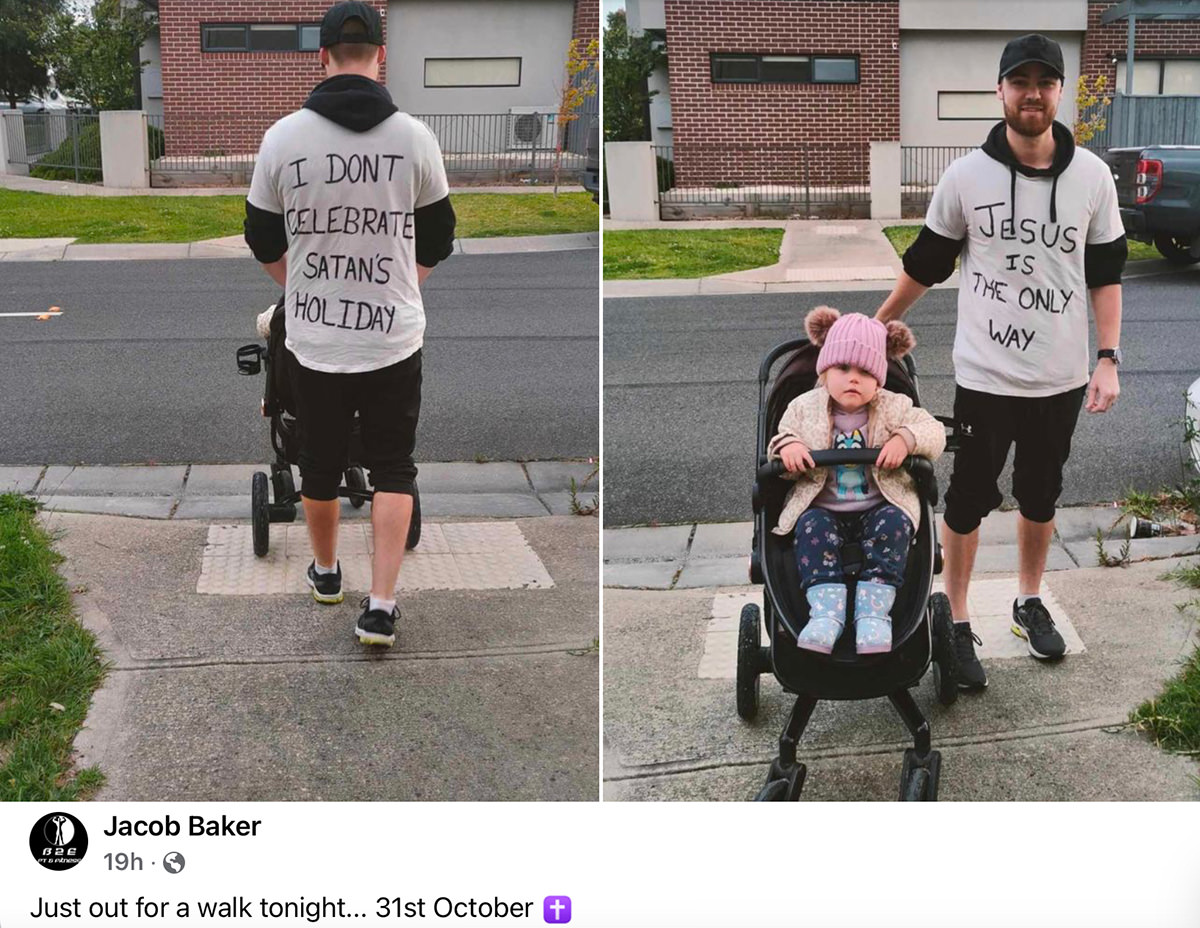 On the plus side, he managed to spell all the words correctly ON HIS HALLOWEEN COSTUME! Refreshing!
But tell me honestly... do Christians cease to exist if they stop performing for people who absolutely do not care? (kudos to his adorable kid for taking Satan's Holiday seriously and dressing up as a bear disguised as a human though).

Then there's the other end of the spectrum. I happened across a woman named "Sam" who is a Catholic convert and had this to say about Halloween: "Repeat after me: HALLOWEEN IS A CATHOLIC HOLIDAY. Stop letting secular America steal what's ours and turn it into everything it's not."
Stop letting America steal what's ours?!? Wow. CLEARLY this woman is blissfully ignorant of Catholic Church history! Because, yikes. That's quite a take.
BUT THEN... you keep reading and, yep, she's selling something...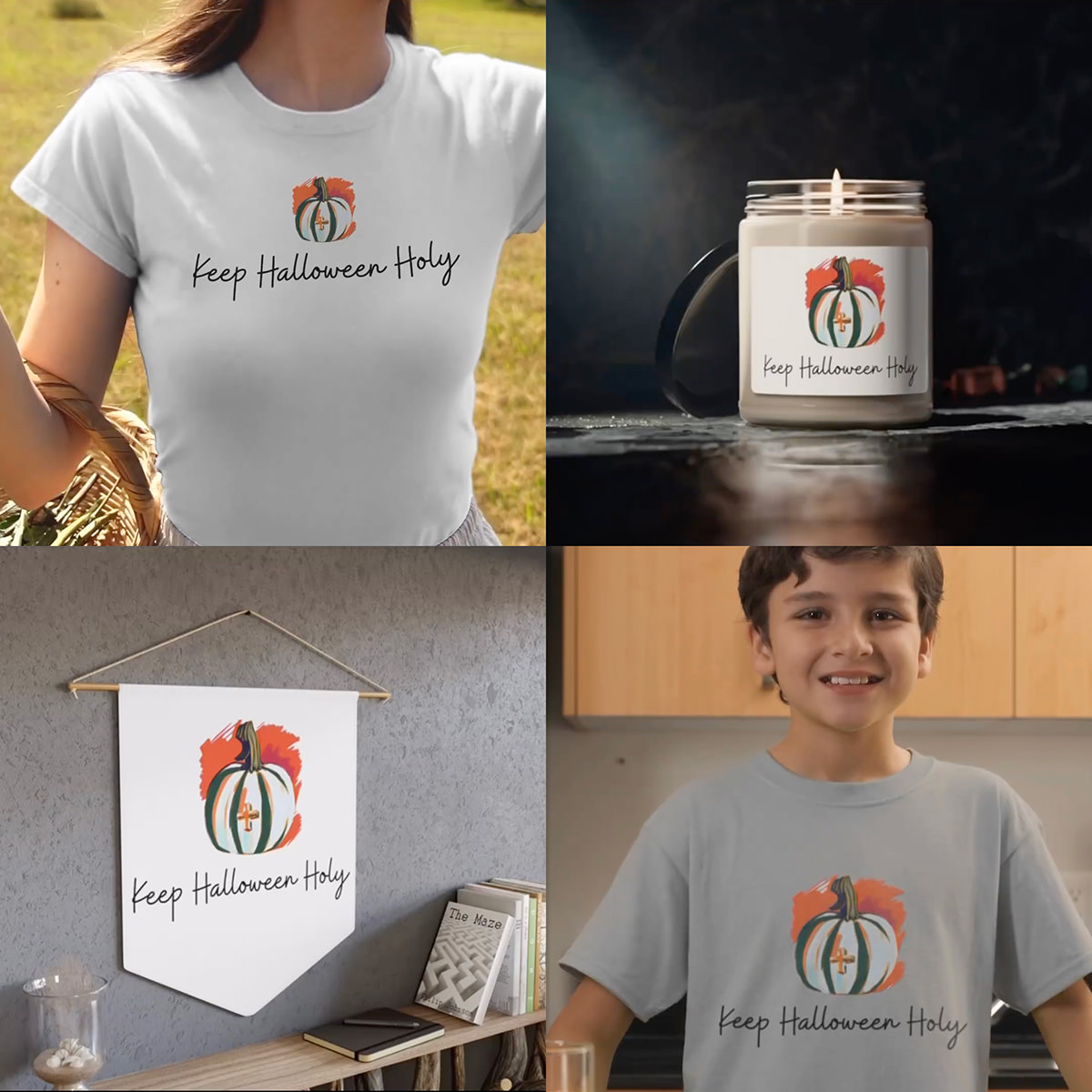 Now, so far as designs go, this one is actually darn good.
"I created these pieces as a way for you to promote the faith, decorate your homes, and maybe spark a conversation or two!"
Well, I was born into the Catholic faith. So I could just as easily say "Stop stealing what is ours to make a buck off of our fatih." But whatever. I am astutely aware of Catholic Church history, so this is actually very on-brand. And besides, I haven't been Catholic since I got evicted from Intermediate Sunday School for daring to ask "Where can I find purgatory in the Bible?" (probably just as well... the Primary Sunday School teacher liked to pretend he had a tail and invite us to chase after him and grab it... and by "it" I mean "his ass," so who knows what would have happened at the Intermediate level).
Meanwhile, back to Catholic Halloween...
"All Saints Day," as it is celebrated by Catholics, is about as far from "The Devil's Holiday" as you can get. I found this being shared on Facebook...
What's funny is that a comment on where this was posted had somebody ask if the guy in the bottom-right corner was Pokemon Trainer "Ash" from the video games.
And, while that's not the case, it's actually not as far off as you might think! That is not Ash... that's Carlo Acutis, who was beautified by The Church three years ago in 2020 (which means he's well on his way to being canonized as a saint)...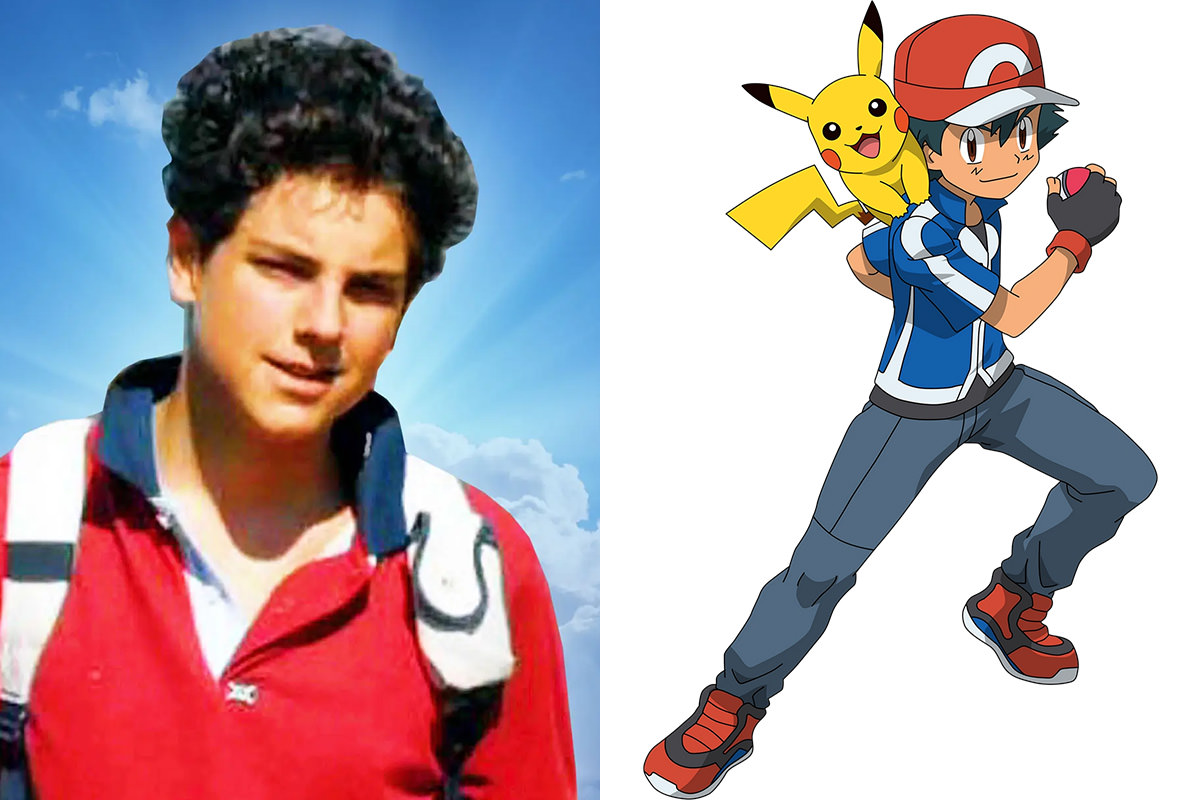 Though they are probably actually thinking of Pokemon Trainer Red (not Ash), who wore a red shirt and had a backpack like Carlo does in his most recognizable photo...
Carlo was actually a fairly interesting guy... a computer geek who loved video games and creating websites for The Church (his most famous being a site devoted to cataloging "Eucharistic miracles" that went live mere days before his death at age 15 in 2006). Odds are he will end up being a new Patron Saint of the Internet, which is a slightly more suitable choice than St. Isidore of Seville, who was assigned that glory by my favorite Pope... John Paul II.
As you would expect of somebody of his status, Carlo was entombed, then opened for public display, in Assisi (where he wanted to be buried since Saint Francis of Assisi was one of his most favorite saints)...
I have always been fascinated by Catholic Saints, even though The Church is a long ways behind me. It probably has to do with the many, many Catholic churches I've visited in my travels. They are always adorned with visages and artifacts from the Saints. Plus I love the movie Millions which buys strongly into Saint mythology.
I remember when Carlo's tomb was opened for veneration, there was a huge buzz across the internet that he was found to be "incorrupt." Which is to say that his body hadn't decayed like I normal person would. But, in fact, that wasn't the case. They had reconstructed his face out of silicone so that people visiting his tomb could see him as he was in life.
Which is not to say that he's all there for the viewing.
Only his undertaker knows for sure how much of him is actually there.
As with what happens to those in line for sainthood (or canonized into sainthood), they removed all kinds of parts and pieces to distribute them to churches as "first class holy relics." "First Class" being a piece of them. "Second Class" being something they owned. And "Third Class" being something they touched (dead or alive, I think). Holy Relics are a Very Big Deal in the Catholic Church. It was reported that Carlo's heart ended up in New York, which shocked me to my very core. I figured a finger bone or a piece of flesh... maybe... but his heart? That's like the top tier kind of relic! Alas, it wasn't his whole heart, it was a small fragment of his pericardium from his heart. Kinda. I mean the pericardial sack is just the membrane they cut through to get to the actual heart... but still pretty impressive.
He's going to be a saint one day, after all...
I know that Carlo's mom presented some of the relics to where they would be enshrined. And I sincerely hope it's because she wanted to instead of her being convinced to do so against her will. I'd think that going on a world tour with the blessing of The Church to hand out pieces of your son would be highly traumatic to a mother... but a Catholic mother? They be wired different (apparently she was raised in Rome but didn't consider herself to be Catholic until her son converted her, but still).
So, yeah, I hope everybody had a fun Halloween. Or, if you think it's absolute evil, I hope you had fun condeming Halloween.
You do you.