Posted on March 1st, 2023

A quick trip over the mountains today!
Years ago it was common for there to be snow in March. I remember drive over for my birtday in late March when it was near white-out conditions and chains were required. But these years that's becoming more and more rare. There have been times when ski resorts were shutting down in February due to lack of snow.
But this year? Season pass holders are getting a good deal because it looks like there will be plenty of snow through the month...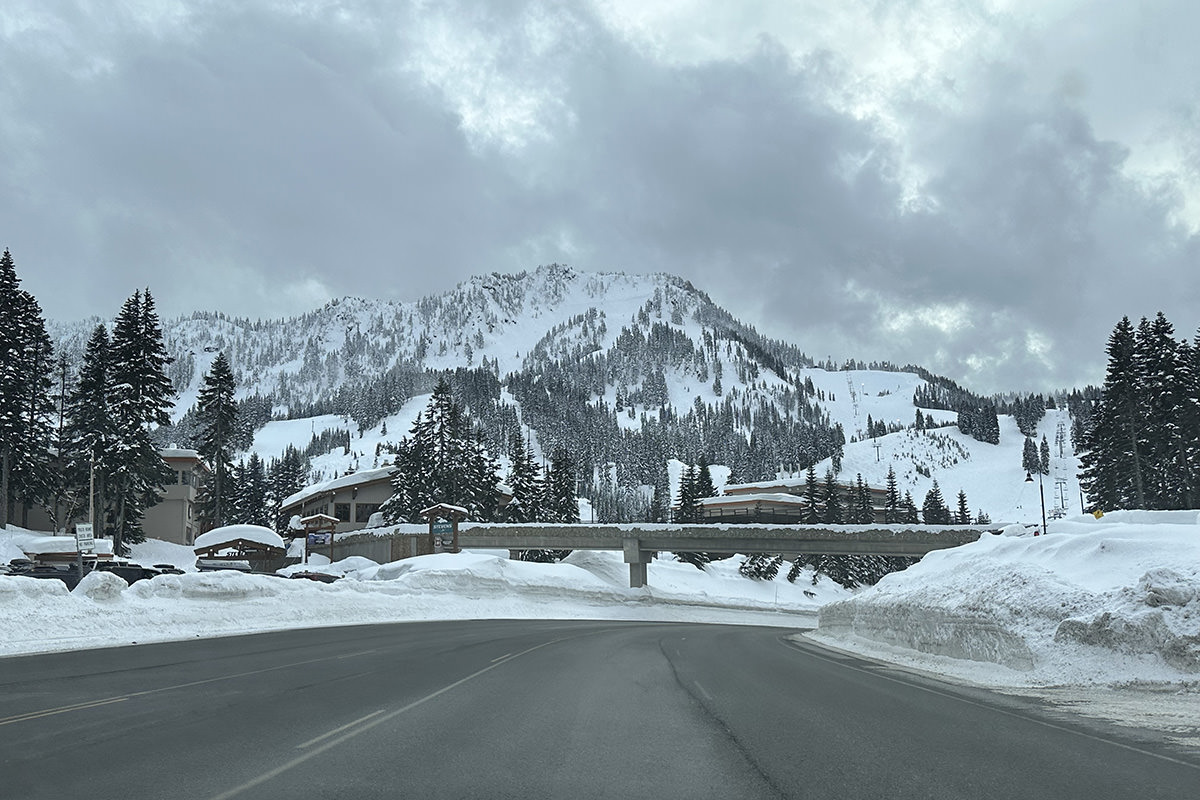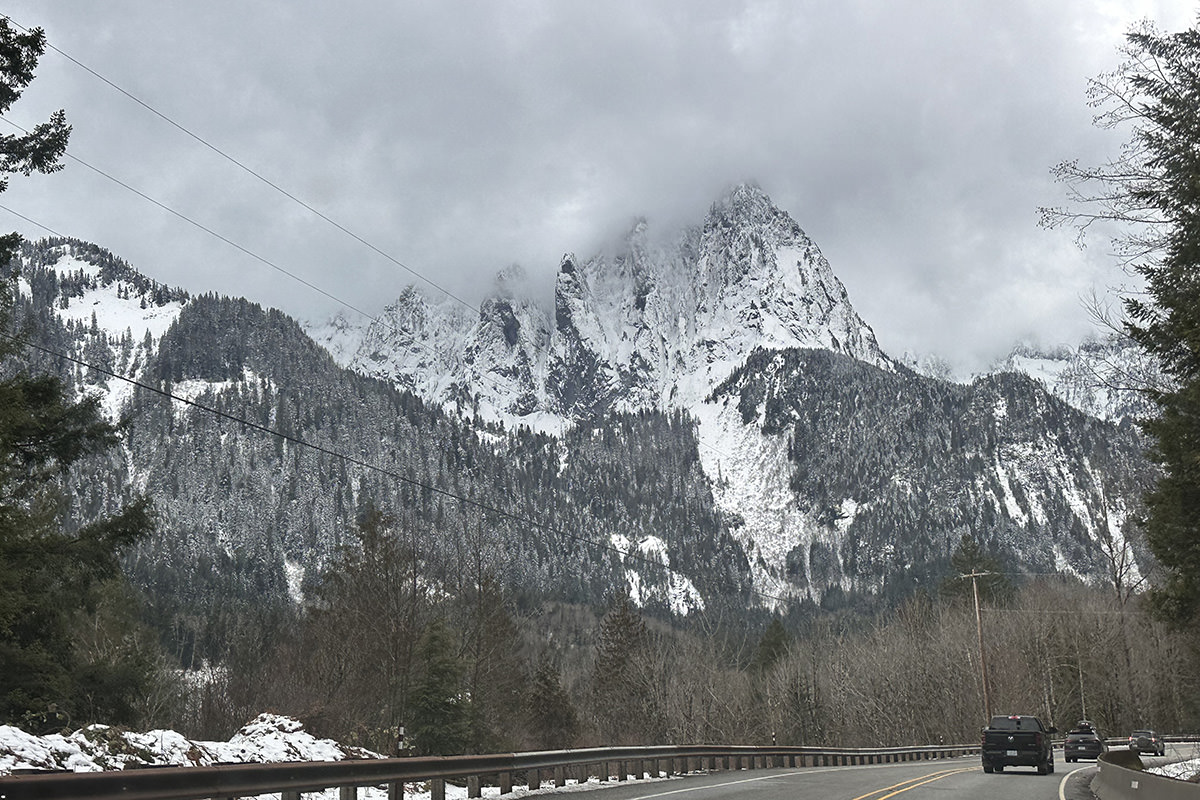 I dunno. I'm ready for Winter to be over.
Posted on December 5th, 2022

There hasn't been any new snow... but my street has a bit of snow on it, which means it can be tricky to drive on. I know to keep it slow and steady, but some people do not. When I got home from work tonight there was a car gunning it and getting nowhere. I was more than a little worried that their tires would grip a random chunk of pavement and they would launch towards me.
But it didn't happen, I managed to slip past into my garage while they were still grinding away.
When I went to my window, they had managed to skid another half-dozen yards... but were still flooring it in an attempt to get anywhere. A part of me wanted to run out with some kitty litter and say "Hey, let me thrown some of this down so you can get started, then drive slow and steady and you'll get out of here." But they had seen me driving my smaller, lighter car without issue and learned nothing, so I figured it was probably a lost cause and I would end up getting shot or something.
Ten minutes later I checked again and they were gone.
No idea if they changed tactics or just lucked their way into a part of the road that they could drive on.
I'm just glad that I didn't have to use up any of my kitty litter. Stuff is expensive.
Posted on November 23rd, 2022

Today I'm driving over the mountains. A prospect that looks a lot better than it did yesterday when the snow was dumping down.
Not that I'm worried about the driving, mind you. I've been driving in the snow forever. No, I'm worried about the sheer number of idiots on the road who either drive too fast for conditions or don't pay close enough attention while operating a motor vehicle.
Which is most people, alas.
It always seems weird that some people want to risk getting seriously hurt or dead... or causing others to get seriously hurt or dead... by not slowing down and paying attention.
I guess it's all worth it if you can text grandma that you're driving balls-to-the-walls so you can be there in time for cocktails.
Posted on April 14th, 2022

Fourth day in a row of waking up to a lot of snow falling down.
Previously, it would all melt before the day was ended. But today we got some serious snow. Seven inches I'm betting. Which is kinda a bummer because A) I started assembling my wood shop out in the garage, so my car has to be cleaned off each morning... and B) I already put away all my Winter clothing. I'm especially sad for all the flowers and trees that have already bloomed thanks to some warm days last week...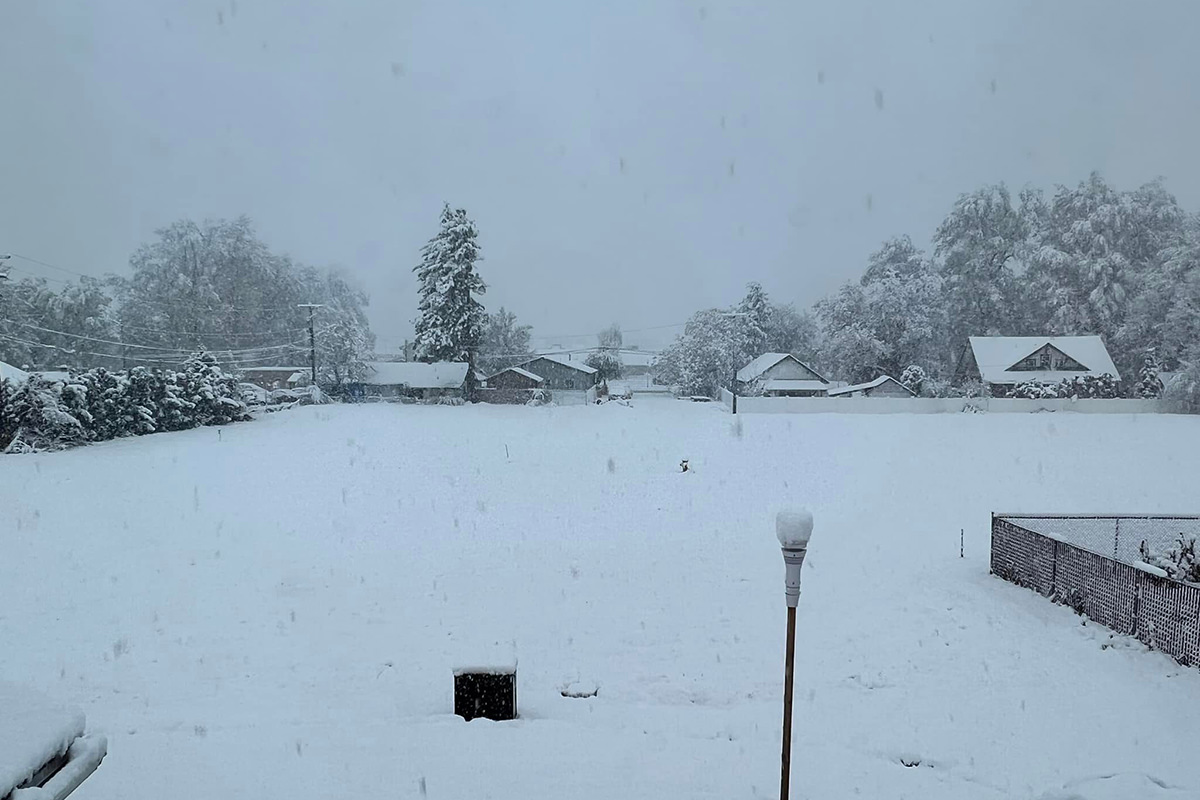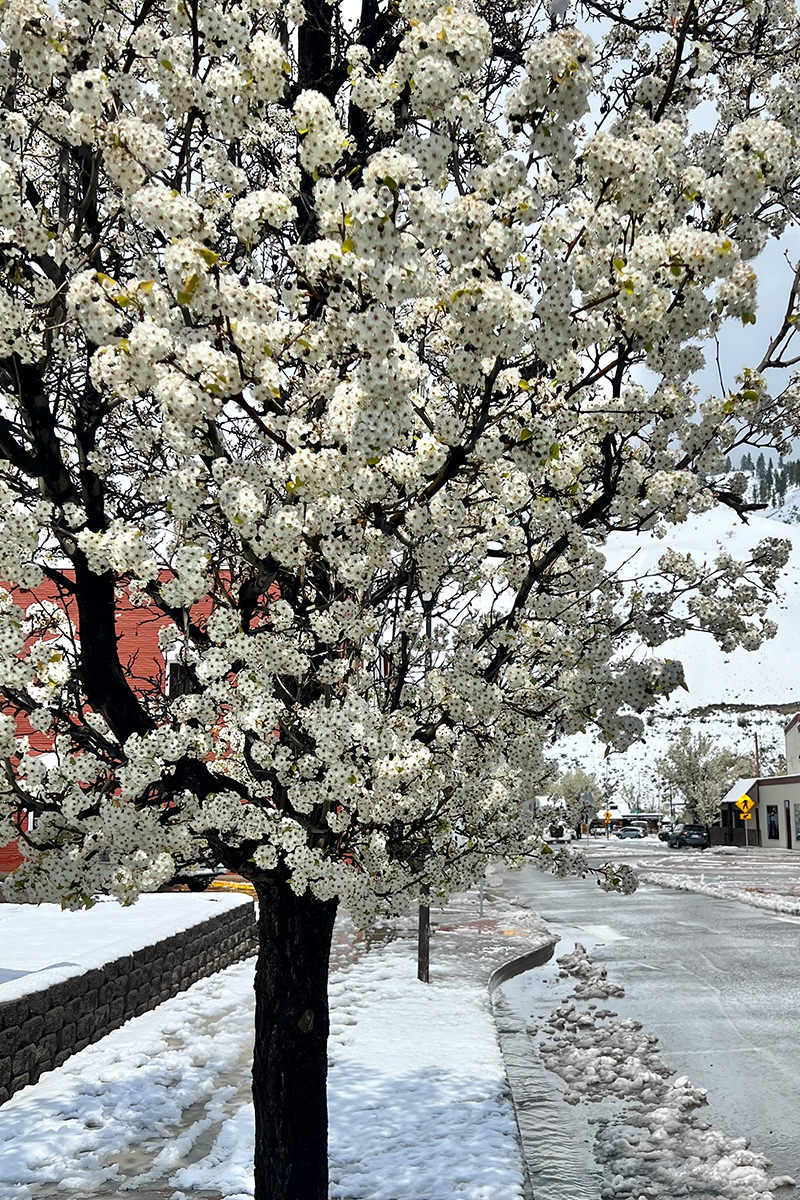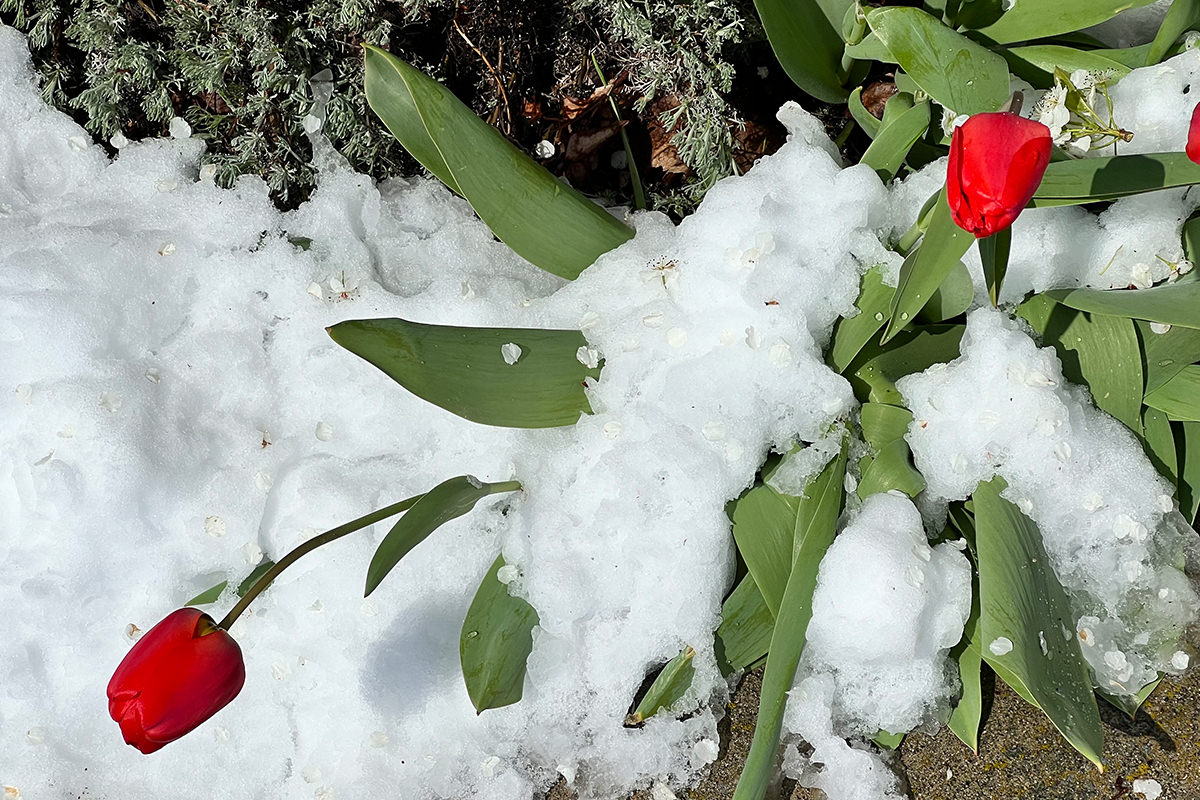 I mean...
That ain't melting by the end of the day. It will be lucky if it melts tomorrow.
Posted on April 11th, 2022

Yikes. It's snowing.
Like a lot.
Pretty sure that I will be clearing it off my car before going into the office. This isn't something that's going to melt an hour from now.
UPDATE: Yep...
Posted on January 7th, 2022

And lo did the city plow my street this morning! For which I am grateful, because I know they have been completely overwhelmed and have a lot of people complaining that their street hasn't been plowed. On my street, they plow just enough room for two cars to pass each other. The snow is essentially pushed to the side of the street. But on many streets, they don't have that option. They have to physically remove the snow and haul it away because there's no place for it to pile up on the sides. There's sidewalks and stuff to consider.
And now I have a 7-foot tall pile of snow in my front yard. Which is not unusual. Unless it's a warm winter, I often have a lot of snow piled there. Except it's usually over weeks of snowfall... not a single day! Once I saw that I could get out and drive into the office, Mt. Simmer was already crumbling. I got stuck and had to go forward and back to escape my driveway! But I did it...
There's a lot of snow out there. Which is kinda pretty to look at...
My joy at being able to excape from my house was tempered by the fact that Sindey Poitier died. Coming so quickly off the heels of Betty White dying, it was tough to take.
I've seen Sidney Poitier in many, many movies. Always great. It may be sacrilegious to say this given the importance of his many roles... but my absolute favorite performance by Mr. Poitier is in Sneakers. Yes, you read that right... Sneakers. I adore him as Crease in that movie. He was funny as hell... and brought a gravitas to the movie that even Robert Redford didn't have. Seriously one of my favorite movies ever made, and Sidney Poitier was a huge part of why...
And speaking of Sneakers... I haven't seen it in a year or two, so I'm going to get on that.
Rest In Peace, Mr. Poitier, sir.
Posted on January 6th, 2022

So... it snowed a little bit last night.
Okay, it snowed a lot last night. I woke up and the first thing I see is snow from the roof piled up in my upstairs bedroom window. That's at least 30 inches or so...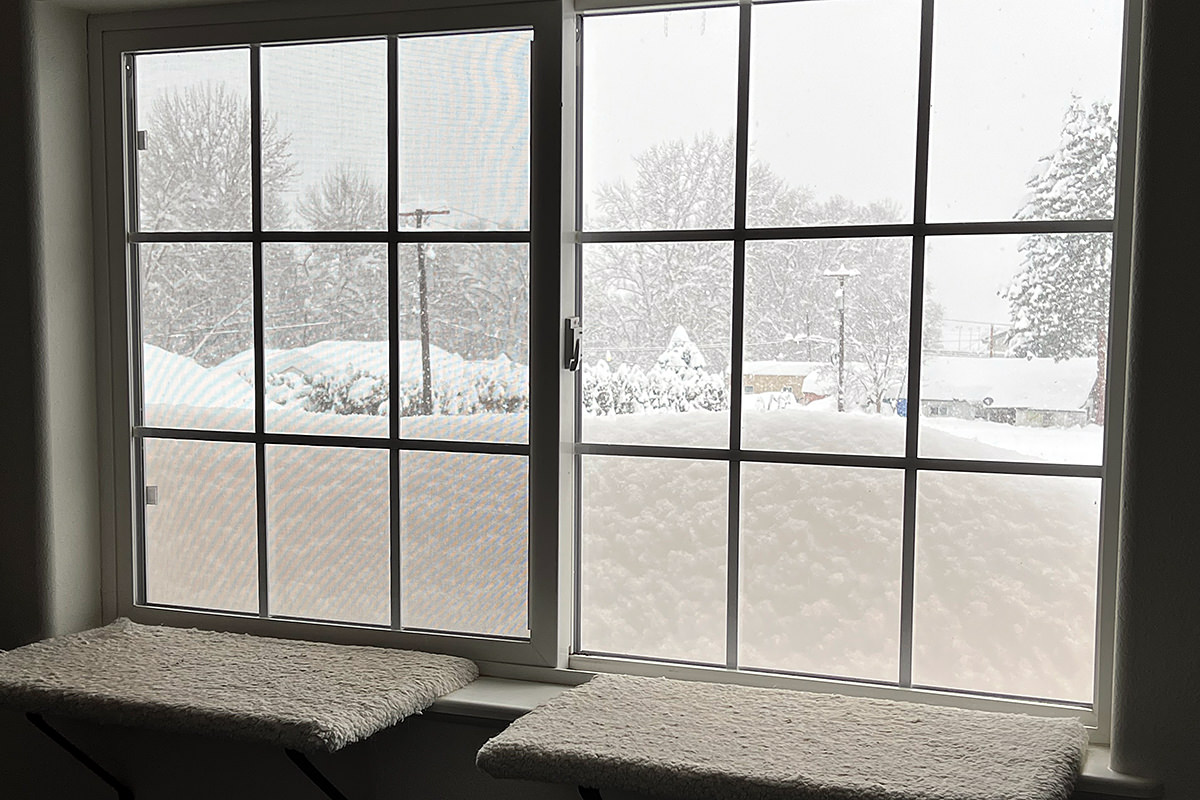 Upstairs at the front of my condo I only have little windows because there's a lot of roof going up that wall. They were covered. Can't see them at all...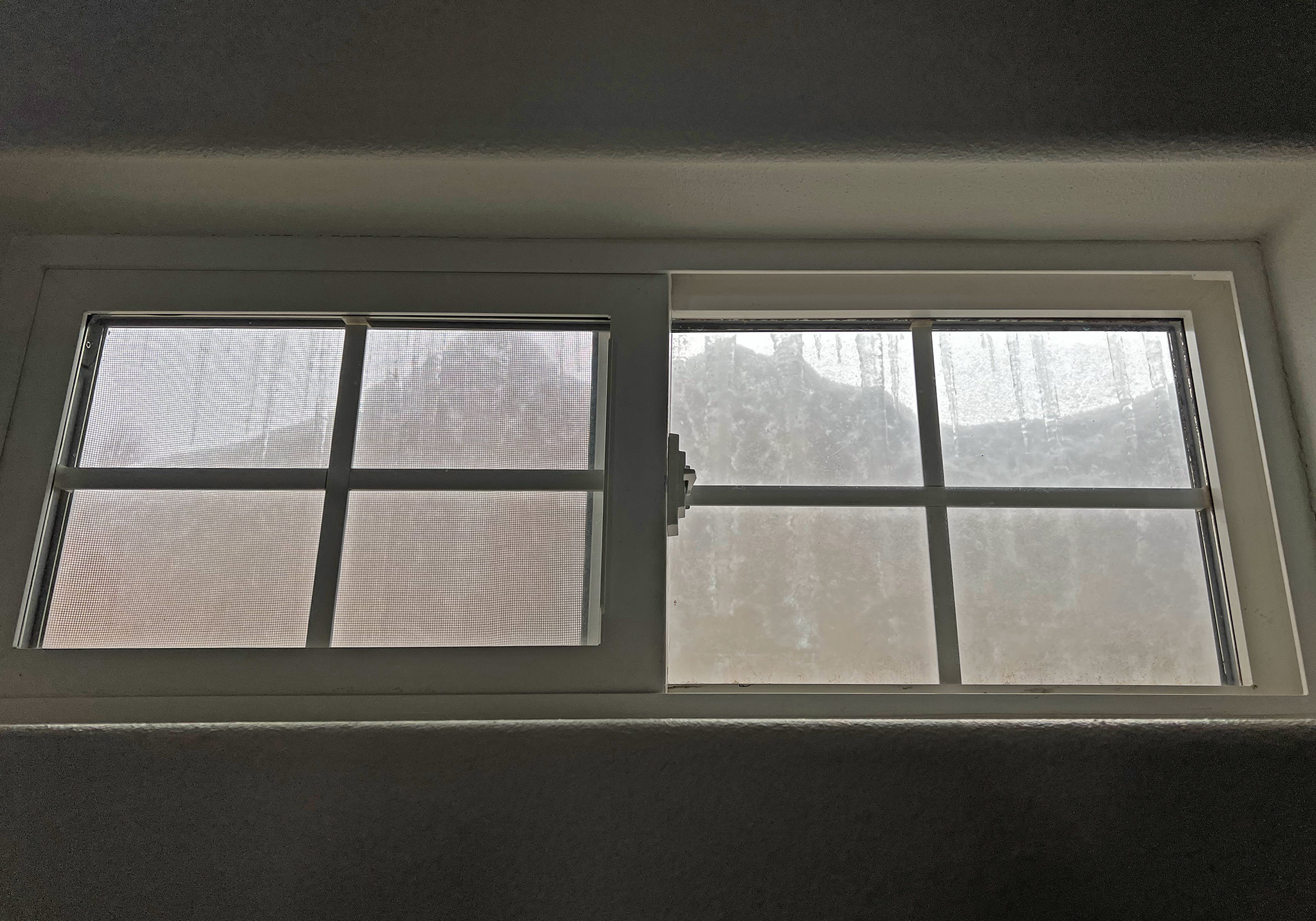 Turns out it was about three feet, 35 inches.
Jake and Jenny were not happy. Occasionally they would walk out to the catio and meow at the snow because it was blocking their view and they had to hop up on the perches to see out. And when they did that all they saw was snow, snow, and more snow, since it was still falling. My world was covered in white stuff...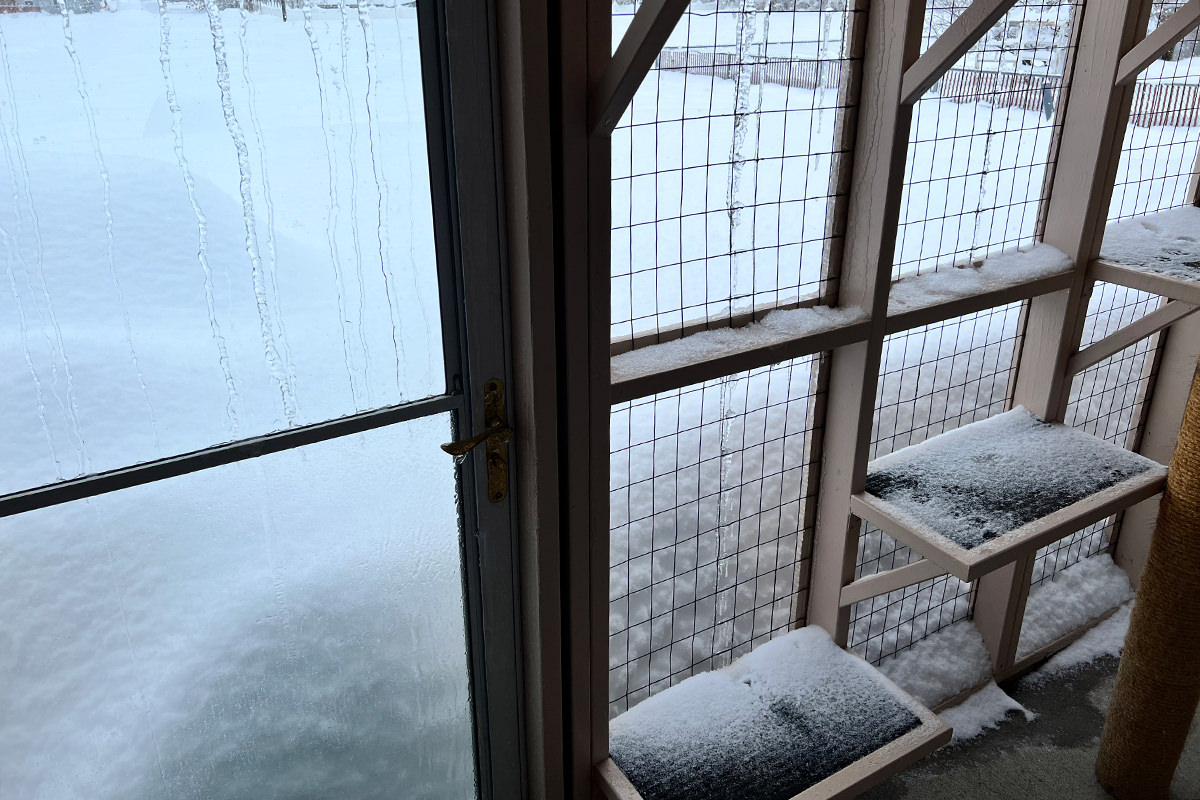 It ultimately probably ended up being around 4 feet, though the weight of it kept pushing it down, so it was tough to get an accurate read. Regardless, it was a lot of snow.
Now, when I was a kid, this was normal. We kids would regularly tunnel under the snow from one yard to the next so we had "secret passages." We were pretty nuts about it... spraying water inside the tunnels before nightfall so it would freeze and strengthen the tunnels.
Now, when my mom was a kid, it was normal for her to have snow so deep that kids would climb up on the roof and jump off into it.
Which is to say that the snow levels where I live have been dropping for decades.
Which is also to say that while the city where I live used to be accustomed to dealing with massive amounts of snow, they aren't now.
Which is ultimately saying that I was trapped in my house all day. The city couldn't get to my minor street because they were trying to remove snow from the major streets. And since my street wasn't plowed, the guys who plow my driveway couldn't get to it to plow (not that it mattered).
Since I was stuck, I turned on the television and got to work. My cats joined me soon after...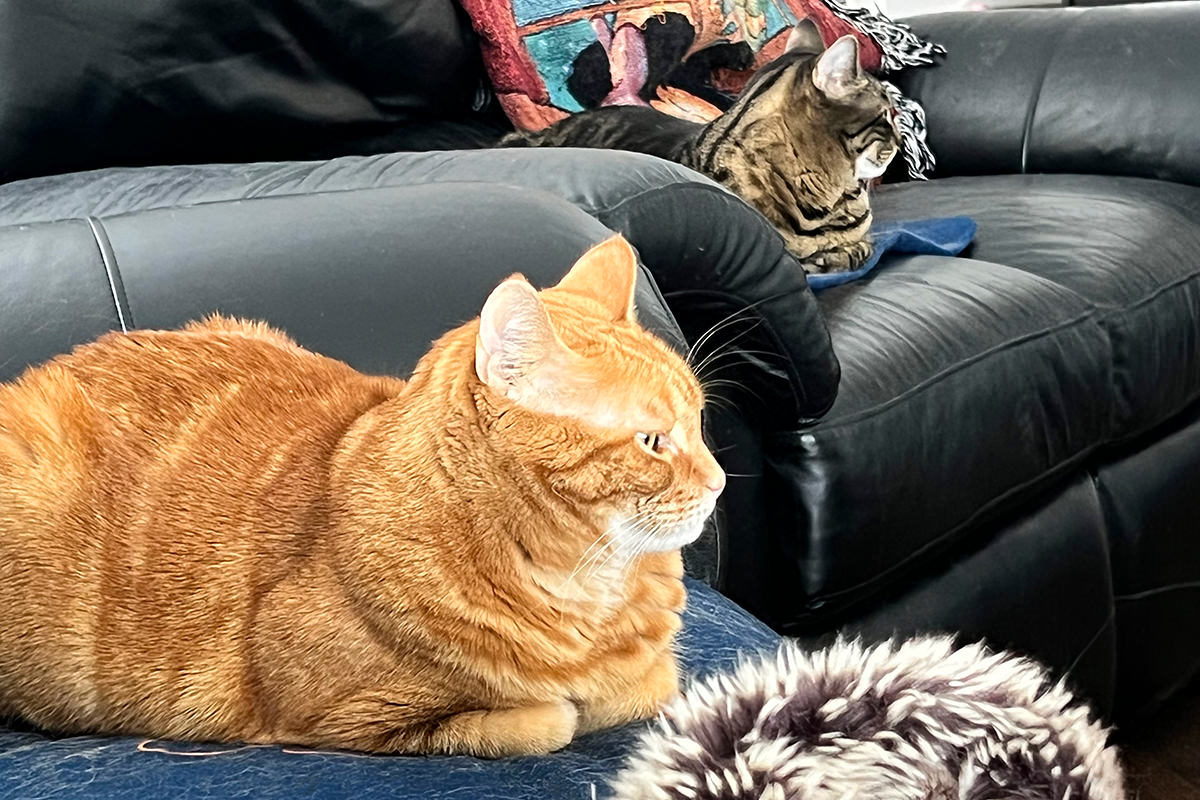 Eventually I went upstairs to work on my desktop computer because my laptop didn't have room for all the stuff I needed to see. Jenny had fallen asleep, but Jake wandered up to watch me work. Which is apparently very boring to him...
And here we are.
Still stuck at home. Fortunately, I just got a shipment of cat food and treats, so I'm in good shape for them. I have plenty of food for myself, but it's scattershot. I tried to make sure that I used up what I had so it wouldn't spoil over Thanksgiving and Christmas so it's just a few things here and there. But I won't starve or anything.
I fully expect that the city will get to my street tomorrow so I can be plowed out and go to the office.
And if not?
I guess I'll bore my cats some more.
Posted on December 26th, 2021

Christmas pushed by Saturday and Bullet Sunday posts... again this week.
Today's drive over the pass to get home was a little better than my drive over on Thursday. About 50% less terrifying maybe? Though there were still plenty of emergency vehicles and ambulances blowing past me in both directions thanks to numerous asshole drivers out there driving like maniacs... going way too fast for conditions and spinning out of control.
Still... kinda pretty though...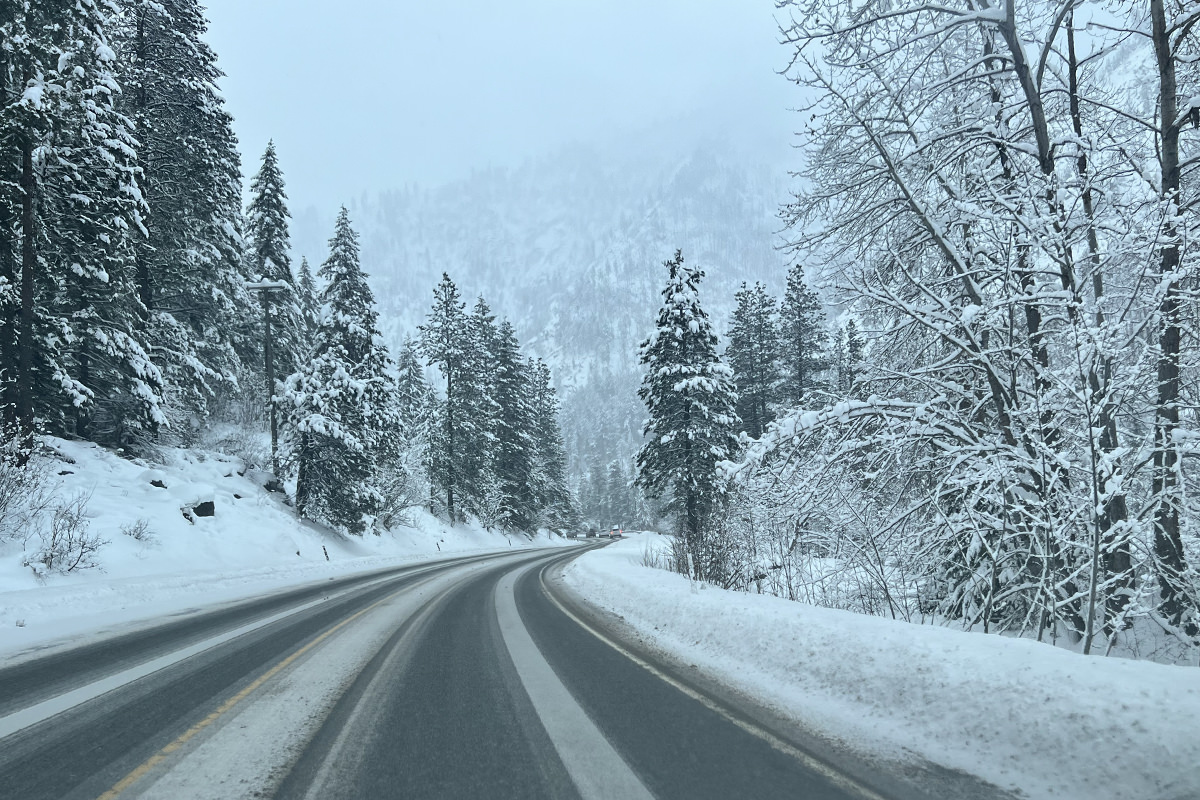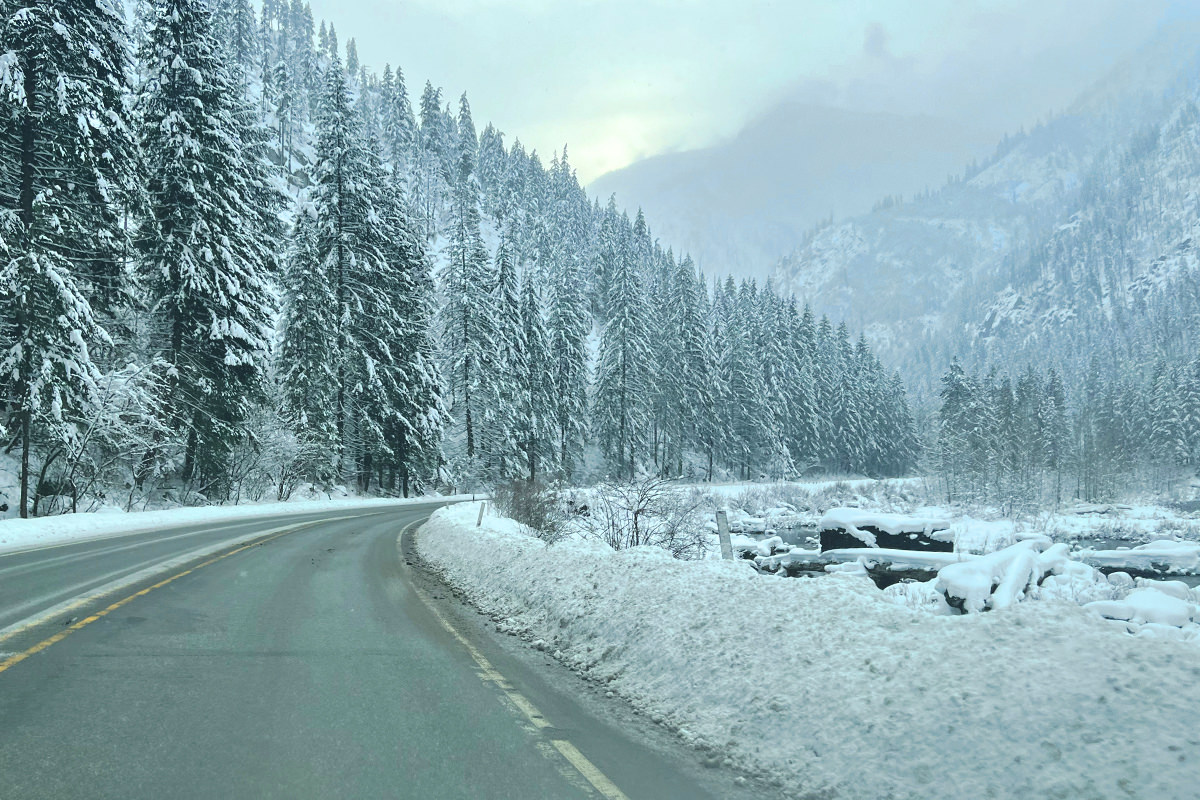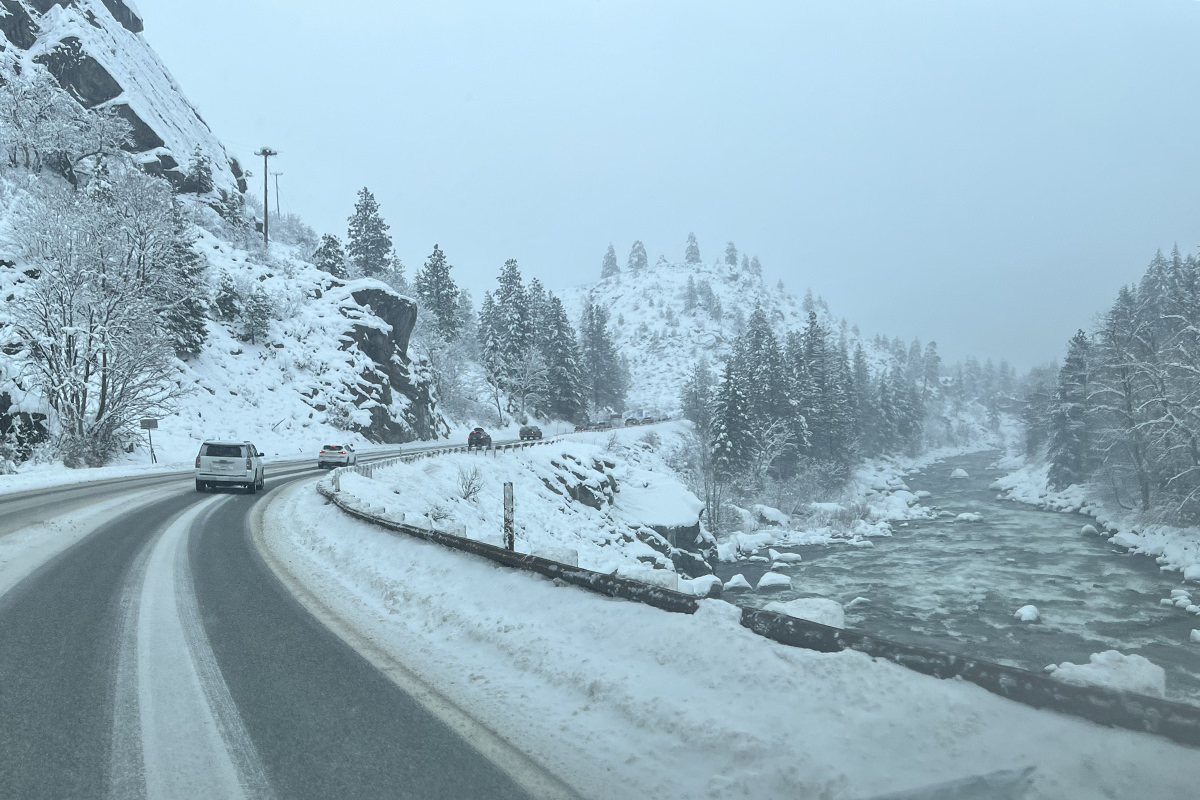 The cats were very happy to have me home. Mostly because I decided to give them some treats to hold them over until dinner. But which one? I currently have six different flavors...

I ended up going with Salmon, which is their favorite I think. It's the least I can do since I abandoned them for the past three nights.
Posted on November 18th, 2021

I got a notification that my iPhone trade-in was received by Apple and is in excellent condition, so my Upgrade Program return requirements are now closed and I'm good for another year. So happy that upgrading via mail works so seamlessly as opposed to the TOTAL FUCKING NIGHTMARE that ensued when I upgraded at the Apple Store. Never again.
Today I went to get my snow tires put on. It was an absolute mad-house, because we're supposed to get snow this weekend. I had made my appointment over a month-and-a-half ago, so I was covered... but apparently there was a line out the door when they opened up, so people were mad that all the walk-in appointments were gone.
Turns out that two of my tires didn't have enough tread on them, and the other two had 80%, so I ended up having to spend $268 to get the two replaced. Ouch. But... better to part with some of my sweet, sweet cash than to be unsafe on the roads. Still... ONE HUNDRED THIRTY-FOUR DOLLARS PER TIRE?!? I mean, I always go for the mid-grade stuff, nothing fancy, so how?. I could have sworn they were $68 last time, which means they've doubled in price? Yikes. Life is too expensive any more.
I am not somebody who's into fashion. Honestly I'm not. I wear jeans, T-shirts, and maybe an occasional henley or a button-down shirt.
That being said, I want a really nice light jacket and am willing to pay for it. BUT EVERY SINGLE ONE I FIND THAT I LIKE IS NOT AVAILABLE IN TALL SIZES! It's next-level frustrating. I am sick and tired of having sleeves that aren't long enough. And when I do find tall sizes, they usually have long torsos, which look silly. I'd like a fitted light jacket that ends at the waist, has long sleeves that taper, but then flare out at the wrist so I can wear gloves underneath. And I'd really like zippers on the cuffs in case I want to wear heavy gloves. And if it can look nice and not painfully plain and basic, that would be a plus.
Doesn't exist.
Which makes me really, really want to buy some patterns that I could alter so I can design and sew exactly what I want. Problem is, my sewing machine can't sew through thick fabrics... like multiple layers of denim... so I don't even know that I could do that. Even so? I'd like to try. Maybe I could design one out of regular fabric, then turn the pattern over to somebody with a capable machine or something. Because I'm not going to pay a premium price for an ill-fitting, boxy-looking, long-torso jacket any more.
And, last thought of the day... #NotAllMen...
Pretty much me, any time I start to think I have a handle on life.
Posted on February 14th, 2021

It's Valentine's Day, the world's gone crazy, winter storms are striking, and I just drank my last can of Coke Zero, but all is not lost... because an all new Bullet Sunday starts... now...

• Let it Snow! It's snowing! And every time this happens, I think back to this TikTok, which is one of the funniest things I've ever seen...
It's getting to the point where I'd rather watch TikToks than television.

• Ryan! I swear... if Ryan Reynolds wasn't completely killing it as an actor, he could easily make a mint as a media consulting company. His every ad endeavour has been amazing...
The fact that he did this particular ad on behalf of a charity is just icing on the cake. I guess you can understand the reason my cat's full name is Jake Ryan Reynolds Simmer.

• Munchin'! There's a woman with a pet duck called "Munchkin" on my TikTok. The duck's most favorite thing is to go through the drive-thru at Dunkin's for a cup of ice water. Over the past several weeks she's been taking Munchkin to different drive-thrus, and today she FINALLY took her to Sonic, which has the most amazing ice ever...
We do not speak of the time that she took Munchkin to Dairy Queen and they refused to give her an ice water. Guess I'm not bothering with their duck-denying asses any more.

• SELECT ITEMS! My morning was ruined this past Tuesday, thanks to Cutlery and More's 20% OFF Sale...
=checks email=
"20% OFF! Wow! How awesome!"
=opens email=
"SELECT ITEMS? Crap! Well... mayyyybeee...."
=checks exclusions=
"FUCK!!!!!"

By manufacturer request? How can a manufacturer keep you from just putting your entire store at 20% off? This blows. The only things I want to buy have been excluded from their sale.

• Norge! Will Ferell had a Superb Owl commercial which promoted General Motors electric cars here in the USA and complain that Norway is currently #1 when it comes to fuel-free automobiles. It was basically a disturbingly funny look at how far the US is behind much of the world, and Will is angry at Norway because of it.
And now Norway responds...
What's so incredible here is how the original commercial typifies American response to most everything. We're #1. We're the best country in the world. No other country is better than us. Except when they are, and then we have to obliterate them. Whereas Norway's response is so typical of them. Smart, playful, educational, and delivering a smackdown in a way that's tough to really debate... yet not so harsh that it alienates Americans entirely. It's absolute insanity to think how stupid, gullible Americans have been conditioned by our wealthy corporate overlords to believe that the horrific state of this country is inconsequential to us being "the best" at everything. Which it is... for our wealthy corporate overlords. We are an incomprehensibly wealthy country, yet the vast majority of that wealth is exclusively in the hands of precious few people. Believing that this makes us the envy of all the world is the height of such laughable hubris that I'm surprised Norway can even deliver their response with any semblance of a straight face.

• Controversial Colors? The stuff I learn on TikTok could fill volumes, thanks to amazing content creators like this...
Weird, cool, and enlightening. That's pretty much TikTok in a nutshell.

• ENTITLEMENT OUTRAGE! Boy, the butthurt is strong on Facebook this past week. I watch six "traditional" television channels... HDTV, Food Network, Travel Channel, Bravo, VH1, and Hallmark (anything else on my TV comes from a custom streaming service like Netflix or Disney+). All of those traditional channels can be had on my $20 Philo subscription, which is SO cheap. I USED to pay $126 per month for satellite that was packed with channels I didn't want and never watched! I am saving over ONE THOUSAND DOLLARS a year by going with a package that fits exactly what I want!
Now some of these channels... namely those under the Discovery umbrella like HGTV... are offering their ENTIRE FUCKING BACK-CATALOG for popular shows... PLUS all-new exclusive content via a streaming service called discovery+. This is like a fucking all-you-can-eat-buffet for somebody like me who loves their programming and could watch them over and over and over again. And now I can. For $5 a month. Glorious!
I just took advantage of a discovery+ promo to get a YEAR of ad-free for $60 (usually the $5/mo. price comes with ads). It's a gift subscription special, so I gifted it to myself! I could not be happier. So imagine my unshock when I look through the comments on the Facebook post advertising the special and see "STOP NICKLE AND DIMING US!" and "NOPE! NOT PAYING YOU ONE CENT MORE!" and "I ALREADY PAY FOR CABLE, YOU'RE BEEING GREEDY!" and "IT'S A PANDEMIC AND YOU'RE SCREWING PEOPLE!" — And I'm like, whoa, whoa, whoa. This isn't lifesaving medicine... it's fucking TV shows for Christ's sake. AND, on top of that, Discovery STILL broadcast their regular programming over satellite and cable packages if that's the way you want to go. The only thing you miss out on it the exclusive content. But even that's not a big deal. Wait for all the episodes to air for a show you want to see, spend $5 for a single month to watch them, then cancel before it renews the next month. But NOOOOOO! That requires people to stop being fucking idiots.
I honest to God don't get the entitlement bullshit I see every fucking day. People feel ENTITLED to entertainment TV shows? Seriously? Ironically, half these people are probably just fine with health care costs bankrupting them instead of having Medicare for All be paid out of our taxes... but tell them they have to pay for new episodes of Fixer Upper? TOTAL FUCKING OUTRAGE! I cannot with people on the internet any more. It just keeps getting worse and worse and worse.

• IT'S EVERYWHERE! And lastly, before I go, here's one more TikTok that slayed me this weekend...
That's me cleaning up cat vomit the rare times that it's happened. To go through this every day? Yikes.

And now I suppose I should think about cleaning my house. Or not. It's not like I'm having visitors any time soon and my cats just don't care.
Tags:
Bullet Sunday
,
Comedy
,
Ducks
,
Entitlement
,
Norway
,
Ryan Reynolds
,
Snow
,
Television
,
TikTok
Categories:
Bullet Sunday 2021
,
Internets 2021
,
News – Politics 2021
,
Television 2021
—
Click To It:
Permalink
—
2 Comments: Click To Add Yours!