Posted on November 23rd, 2023

As a vegetarian, today is far from "Turkey Day" to me.
I haven't eaten meat for over 37 years, but I was never much of a turkey guy to begin with. I'd eat it... but at a 50/50 ratio with jellied cranberry. I also didn't care for steaks, ribs, sausage, ham, pork chops, chicken, or any kind of seafood. The only meats I did like were hamburgers, bacon, and pepperoni. That's it. Everything else was eaten reluctantly.
Turns out I was predisposed towards vegetarianism from the start. But discovering Buddhism was what it took to push me over the edge.
I'm rather happy with the vegetarian alternatives to hamburger and bacon. And, believe it or not, I was never a fan of hotdogs until I discovered the vegetarian variety.
There is no adequate vegetarian substitute for pepperoni.
If there was, that would be something to be thankful for.
Posted on November 24th, 2022

I've never understood the love of eating dead turkey... even when I ate dead turkey. It's dry and pasty and smells weird. The only way to make it edible is to smother it with gravy or cranberry sauce or both.
Still, I'd imagine it's tastier than live turkey.
When it comes to being thankful on this Day of Thanksgiving, I suppose my list is longer than most. Me and my cats are relatively healthy, have a place to live, have food to eat, and nobody is wanting to eat us...
IF ONLY I COULD BE THANKFUL FOR SOMEBODY GIVING ME A MILLION DOLLARS!
hint hint
Posted on November 25th, 2021

I have a great deal to be thankful for.
And yet... it's tough to find a way to appreciate it in the middle of a pandemic where there are still people who are fucking things up and dragging everything out. It seriously feels like COVID is never going to end. The virus continues to mutate, and the anti-vax/anti-mask brigade doesn't seem to give a shit. Despite the fact that they are twenty times more likely to die if they contract COVID when compared to those who are vaccinated.
Oh well. All I can do is attempt to remain careful and try not to die from being one of the few breakthrough cases that happen. What else is there?
Posted on November 26th, 2020

It's not that I don't have anything to be thankful for.
I have so much. And I try to appreciate that. Honestly I do. I haven't managed to catch COVID yet. I still have a job. I have a roof over my head and something to eat. I have friends that mean the world to me (even though I don't ge to see them). I have my cats.
There are a great many people who have far less.
And yet...
This was my day today...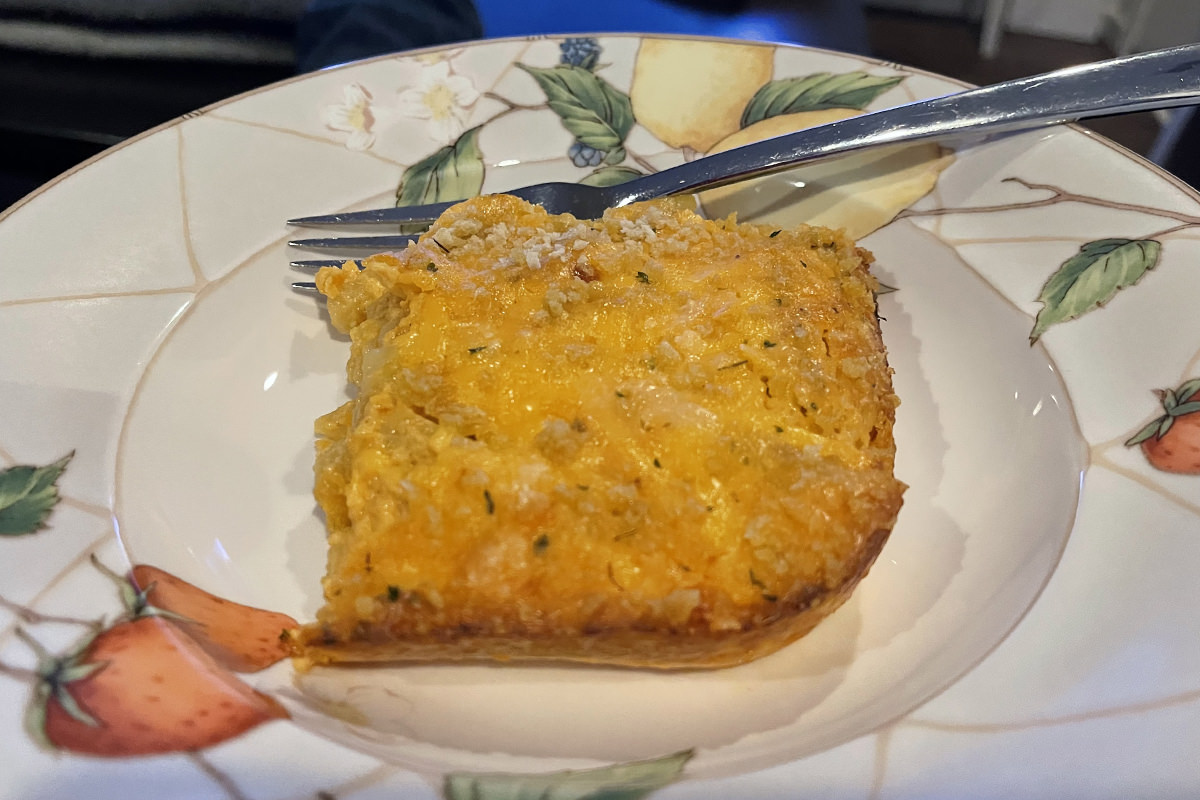 Happy Thanksgiving to me.
And to you.
Posted on November 28th, 2019

I was never much into Thanksgiving. Though I've always been into being thankful.
When I was a kid, Thanksgiving was just a bump in the road on the way to Christmas. The family would get together at grandma's house where we'd all partake in her amazing cooking... and even more amazing dessert. When I became a vegetarian in 1986 I was anticipating problems. But my grandmother took it completely in stride. She made the stuffing outside the bird and used vegetable broth. Beans no longer had bacon in them. I was able to eat more than my fill without eating meat, and it was fine.
My grandmother was pretty great like that.
When grandma couldn't cook large-scale meals any more, Thanksgiving became progressively more scaled back. Instead of her roasting an entire turkey, there would be a "turkey loaf" (whatever that was). Dessert was store-bought. And when she had to be moved to a care facility, some of the family would show up and order extra plates from the cafeteria so we could still have dinner together. It wasn't the same. It sure didn't taste as good. But it meant something special to her for everybody to get together, and that's all that mattered.
After my grandmother passed there would be no more Thanksgiving dinners.
Before the next one rolled around, my mom would already be in a care facility. Her first Thanksgiving there, my brother and I were able to take her to the Denny's up the road. The next Thanksgiving was too difficult for her to travel even a short ways, so we had it in her room with to-go plates from that same Denny's. It was at that point that we found out she had difficulty feeding herself, making her last Thanksgiving a depressing affair for all three of us.
She didn't make it to the next Thanksgiving.
And so now I'm just done with it all. I am not interested in going to another Thanksgiving dinner. All it would do is be a painful reminder of all I've lost, even as I continue to be thankful that I had so many good Thanksgivings with my mom and grandmother in the past.
For however many years I have left, I'm happy to cook up some mashed potatoes with bread stuffing and cranberry jelly and spend the day with my cats.
That's a good enough Thanksgiving for me.
Posted on November 22nd, 2018

For the first Thanksgiving in my entire life, I have nowhere I have to be. No heading to grandma's house for a family dinner. Grandma is gone. No driving over the mountains to buy a turkey plate for my mom at Denny's. Mom is gone. And while I'm grateful that I have places I could be, I think not being anywhere is what's best for me right now.
Last night I took a handful of sleeping pills so I wouldn't have to think about Thanksgiving. My cats decided to have a party.
Jake tried to get into the new auto-feeder and knocked it away from the bowls... so food was EVERYWHERE this morning.**
Jenny stepped on the "All Lights On" button on the home remote which lit up the entire ground floor at 2:30am.
Jake brought all his toys upstairs.
Jenny chased Jake on top of the writing desk and knocked over my Tiffany vase* (which wasn't broken).
So I woke up and got to clean up cat food, turn off lights, pick up toys, and gather toys for my Thanksgiving. Perfect!
Then I got to answer emails while being visited by my cats...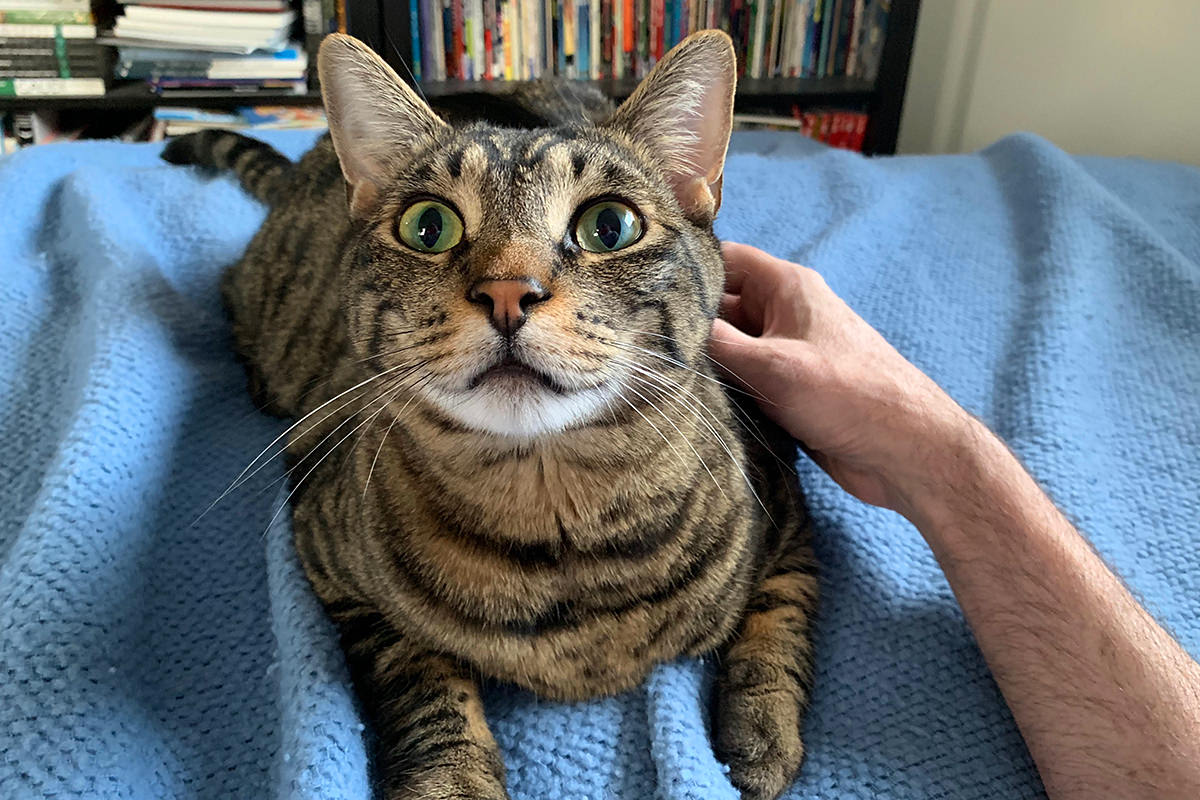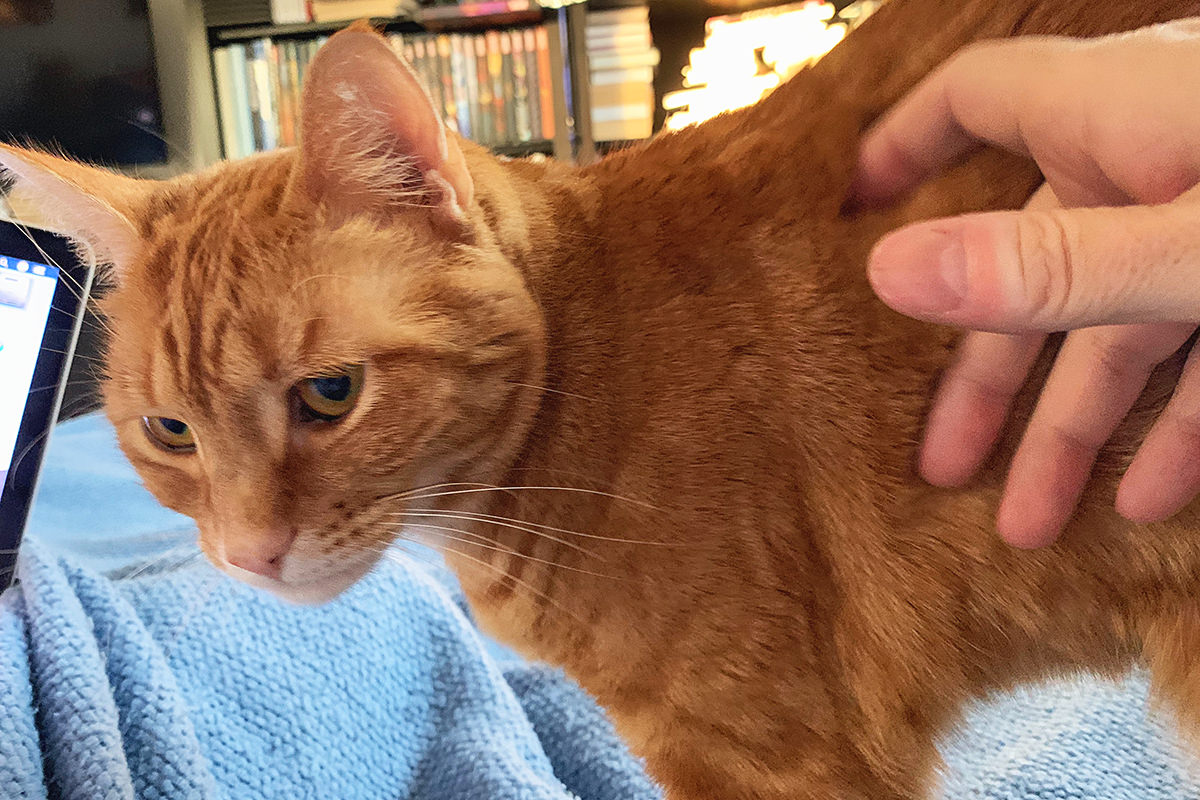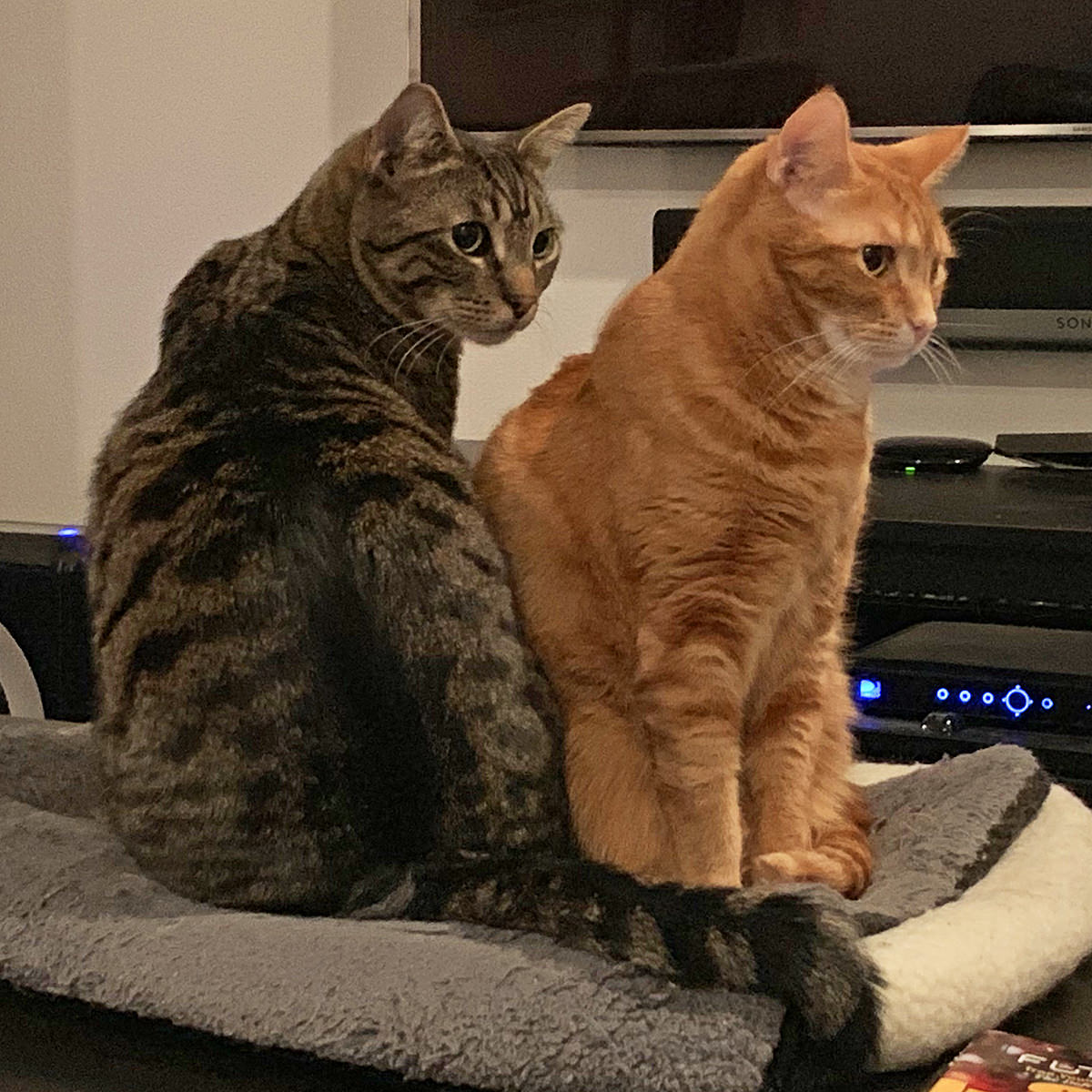 It was a great way to start my day.
Happy Thanksgiving, everybody!
---
*Back when Northwest Airlines was being merged with Delta, they sent out really nice Tiffany vases to their top-tier flyers as a "welcome gift" to Delta's SkyMiles frequent flyer program. Every once in a while I see them pop up on eBay (or other auction sites) for ridiculously low prices (usually around $40-$50).
**Guess I'm coming up with a way of securing the feeder so it can't move. Oh what fun...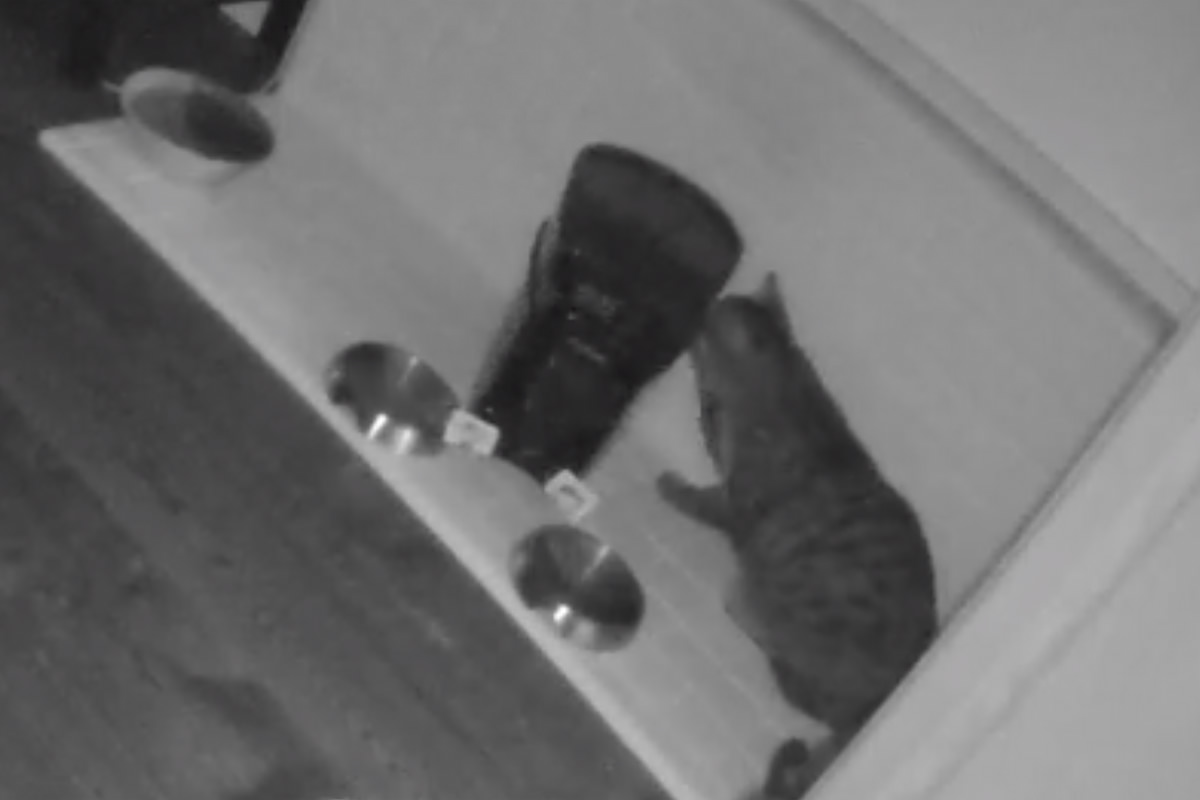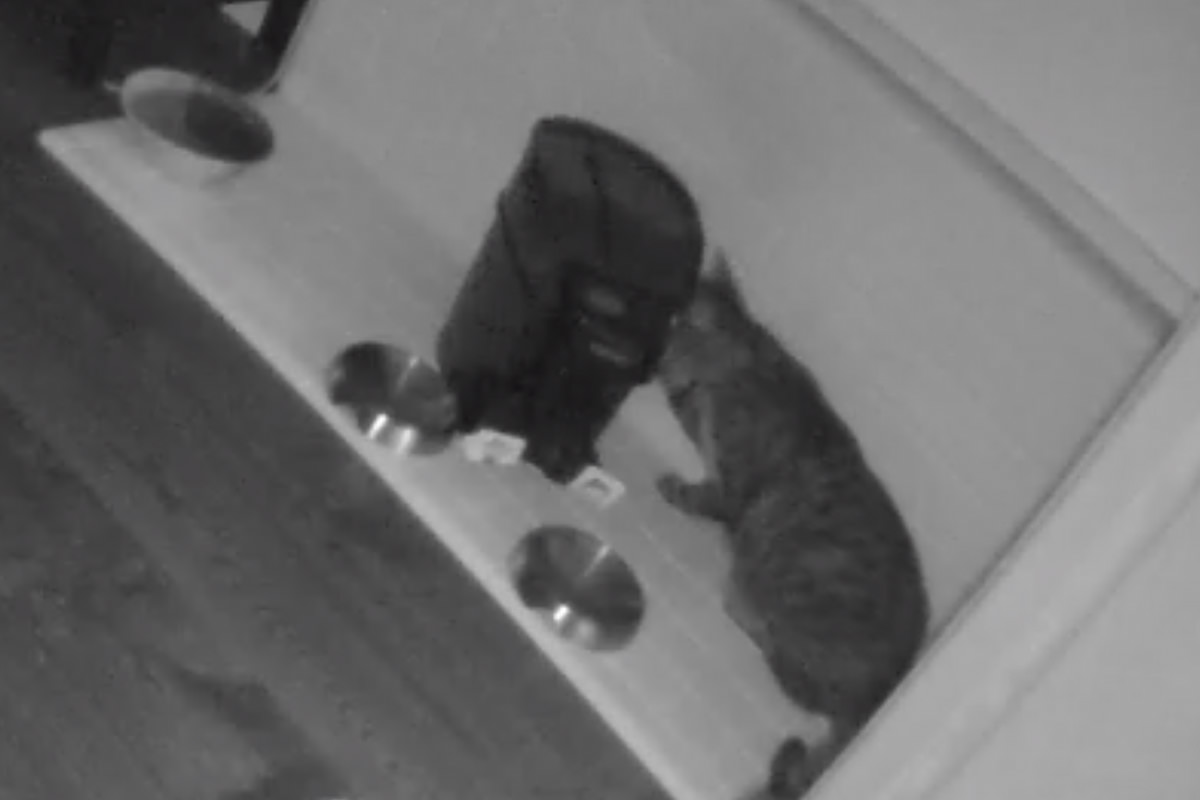 Posted on November 24th, 2016

The plan was to get up at 7:00am, take care of the cats, get cleaned up, then drive over the mountains to spend Thanksgiving with family.
All of which was scrapped when I checked the weather report for Stevens Pass...
Winter Storm Warning for East Slopes Northern Cascades, WA. Several rounds of snow for the mountains through the Thanksgiving holiday weekend. Heavy mountain snow will pummel the Cascades today into Friday morning. Snow accumulations will make travel very hazardous or impossible over mountain passes like Stevens Pass on Highway 2 and east towards Plain, Sherman pass on Highway 20, and Blewett pass on Highway 97. Winter Storm Warning remains in effect until 6 AM PST Friday.
If I had four-wheel drive? I probably would have risked it. But I don't. I don't even have snow tires on. Just some all-weather radials with an old set of chains in the trunk.
And so? Thanksgiving ruined.
Though I did try and be thankful for what I did have: A day home from work.
Thanksgiving breakfast was tacos, because that's all I had to eat. I wasn't supposed to be here, so I never went to the store. They were pretty awesome. Thanksgiving dinner was a plate of butter with some microwaved potatoes...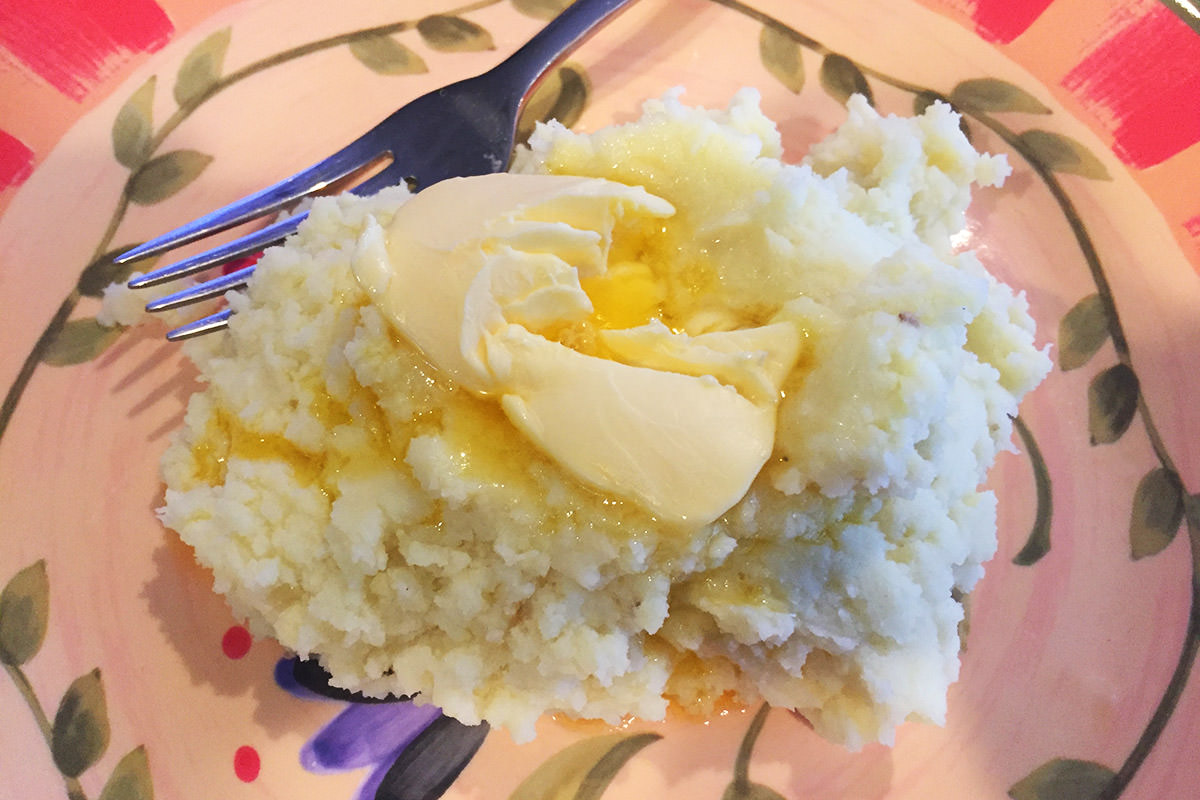 Jenny and Jake sure liked having me home. They followed me around everywhere all day long. Starting when I took a shower and went to brush my teeth...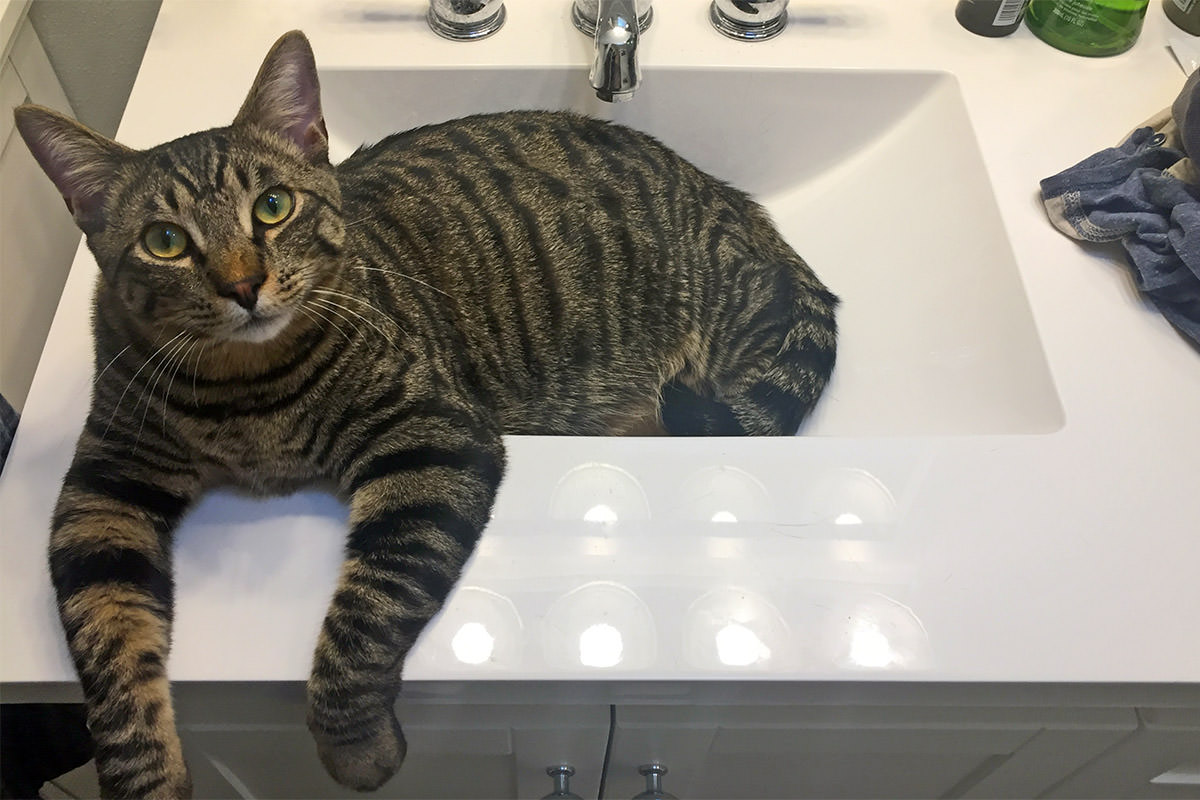 Jenny kept running out to the catio, getting cold, running back inside to steal my body heat, then running right back out again...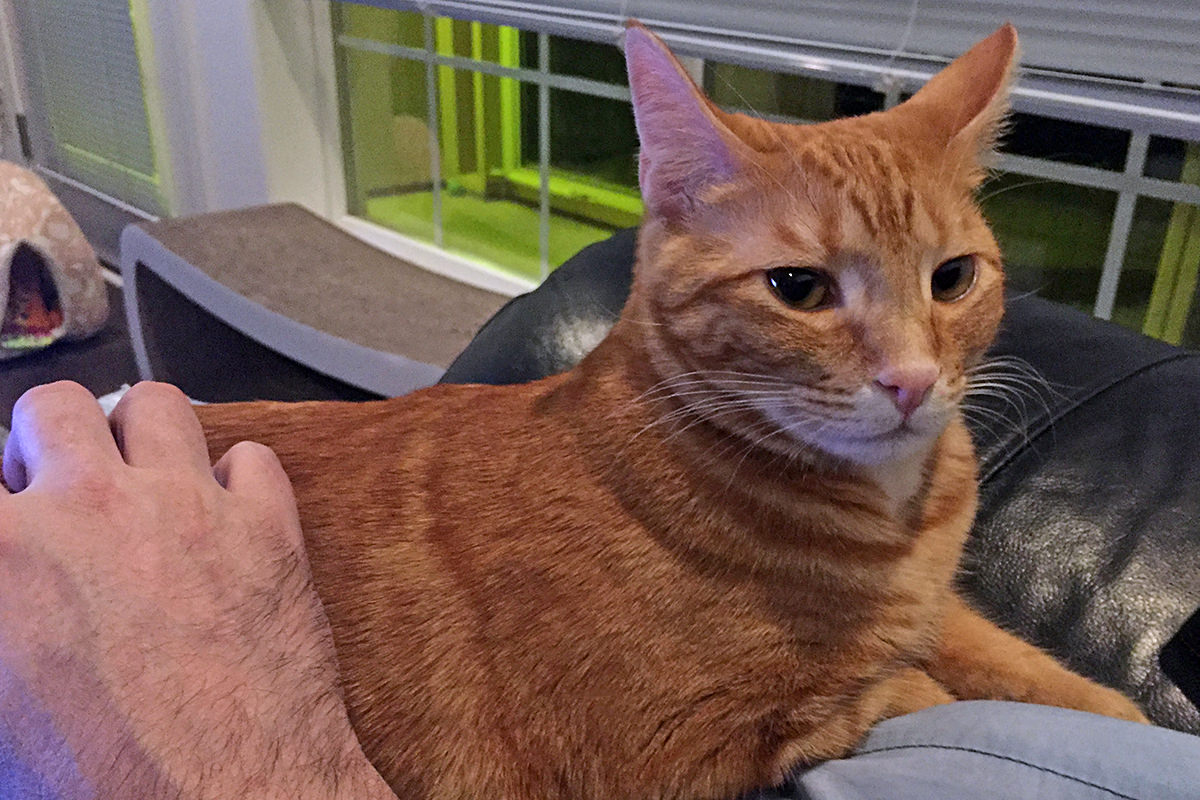 That's something to be thankful for, I suppose. It's nice to be useful.
Hope your Thanksgiving was equally eventful.
Posted on November 27th, 2014

I am working on Thanksgiving Day.
Your faux outrage is most appreciated!
Time to be thankful you're not a turkey...
Posted on November 28th, 2013

Not a good day to be a tasty bird.
But is there a good day to be a tasty bird?

And, to my Jewish friends... Happy Hanukkah!
Stay safe out there everybody.
Posted on November 27th, 2013

First there was "Black Friday."
And now, because the holidays simply aren't consumer-driven enough, tomorrow we're getting "Grey Thursday," formerly known as "Thanksgiving." Stores will be opening up for "pre-sales" so people can go shopping instead of having to spend time with their families. This has sparked a massive outcry from a lot people who think the holiday is sacred or something.
Personally, I don't give a shit. I try to be thankful for everything I have every day and I don't need a day set aside to remember to remember. My plans for tomorrow are to fly out on a work trip, which is nothing new. I've worked on Thanksgiving for as long as I can remember... even in the good ol' days of big family dinners and Thanksgiving celebrations.
But that's my choice, and I'm not alone. Most people I know who work on the holidays just arrange their celebrations and family time around their jobs. This includes people who work at hotels... restaurants... gas stations... and other service-oriented businesses that typically stay open for Thanksgiving. It's just the way it is, and has been for a very long time.
But now that Wal-Mart and Target doing it, people are losing their fucking minds?
A hotel clerk works on Thanksgiving and fuck 'em. But a Wal-Mart cashier works on Thanksgiving and the world is ending. I'm trying to wrap my head around the logic there, but am coming up empty.
All I know is that so long as our society continues to respond to the consumerism of the holiday season, retailers are going to accommodate them. There's money to be made, after all.
And this being America, that's something to be thankful for... isn't it?