Posted on September 20th, 2023

The Maui wildfire that devastated a community has provided too many sad stories all too regularly. Victims are still being identified six weeks later, wealthy real estate predators are descending on people to buy their land, and people are struggling.
But amidst all that... there's hope.
The Maui Banyan Tree, planted in 1873 and aged over 150 years, was horribly burned in the fire. But today I saw this...
Hope.
Life sometimes finds a way.
Posted on September 17th, 2021

Well that was brief.
But better brief than not at all, I guess? I'll wait and see if I ended up with COVID before making my final verdict.
Last night I said goodbye to my friends and hopped an Über for the 45-minute drive to the airport. I arrived in plenty of time for dinner at Burger King, which looked very different from previous times I've been here. THANKS, COVID!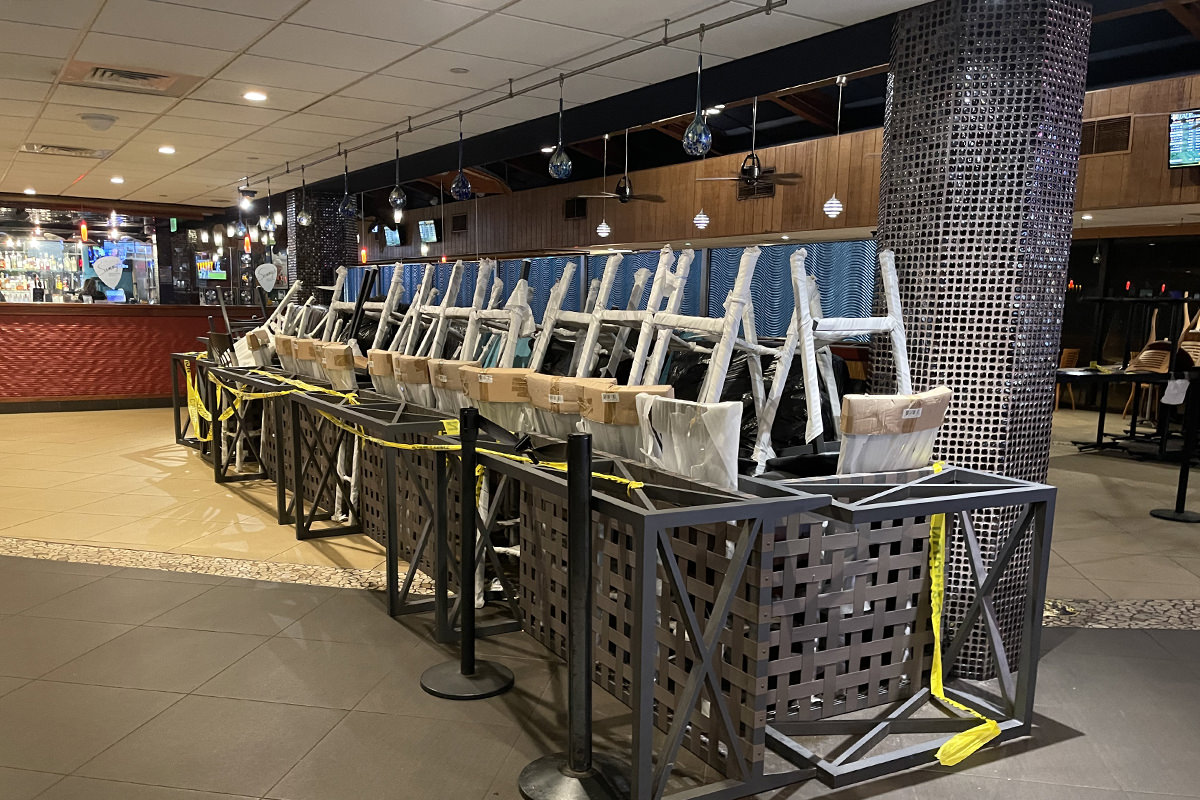 I ended up eating outside on a park bench in a deserted-looking airport...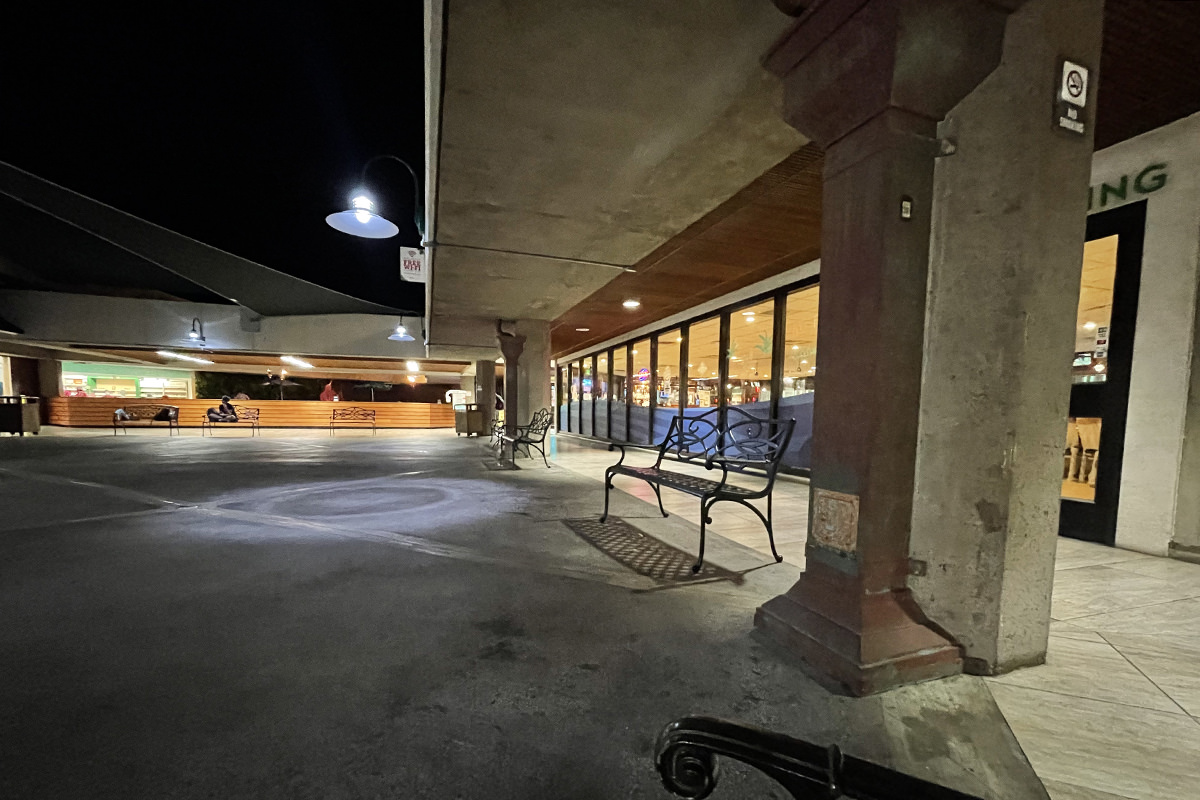 After dinner, I still had a little under two hours to kill...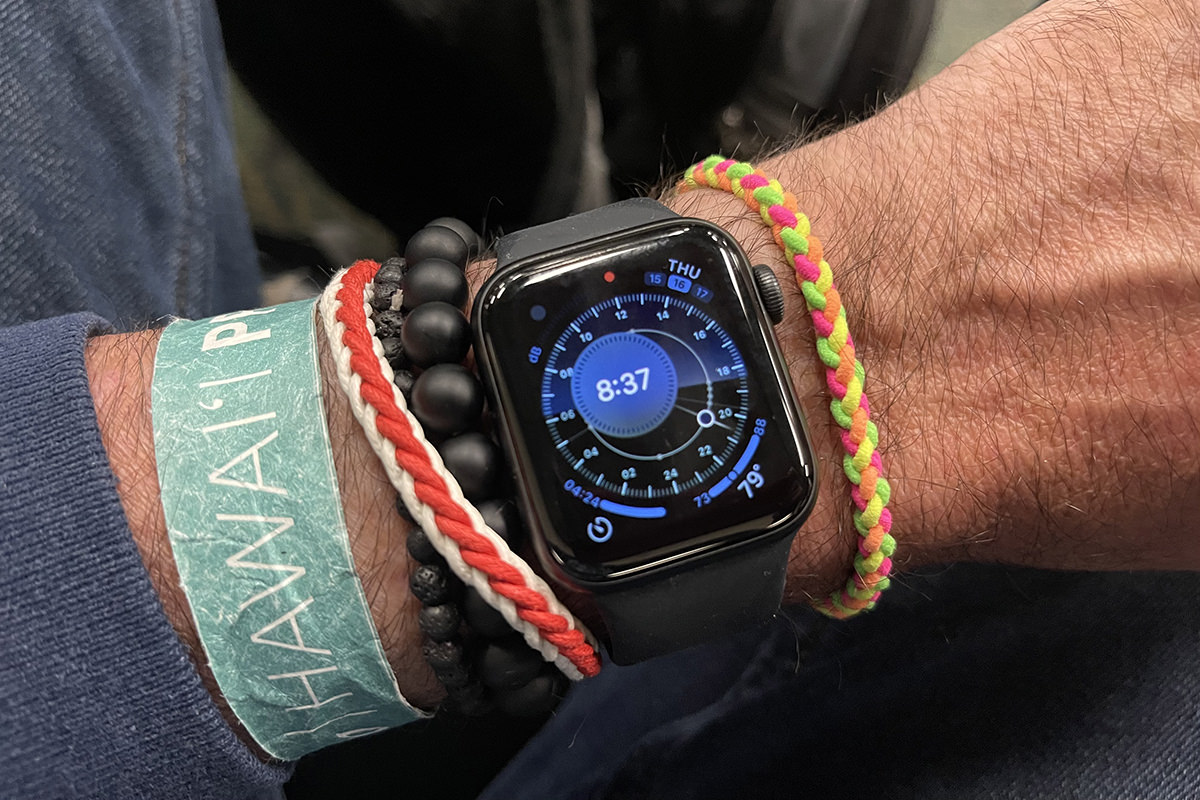 Note that my PRE-CLEAR Hawaii band was still intact after a week!
Very happy to have been upgraded to First Class...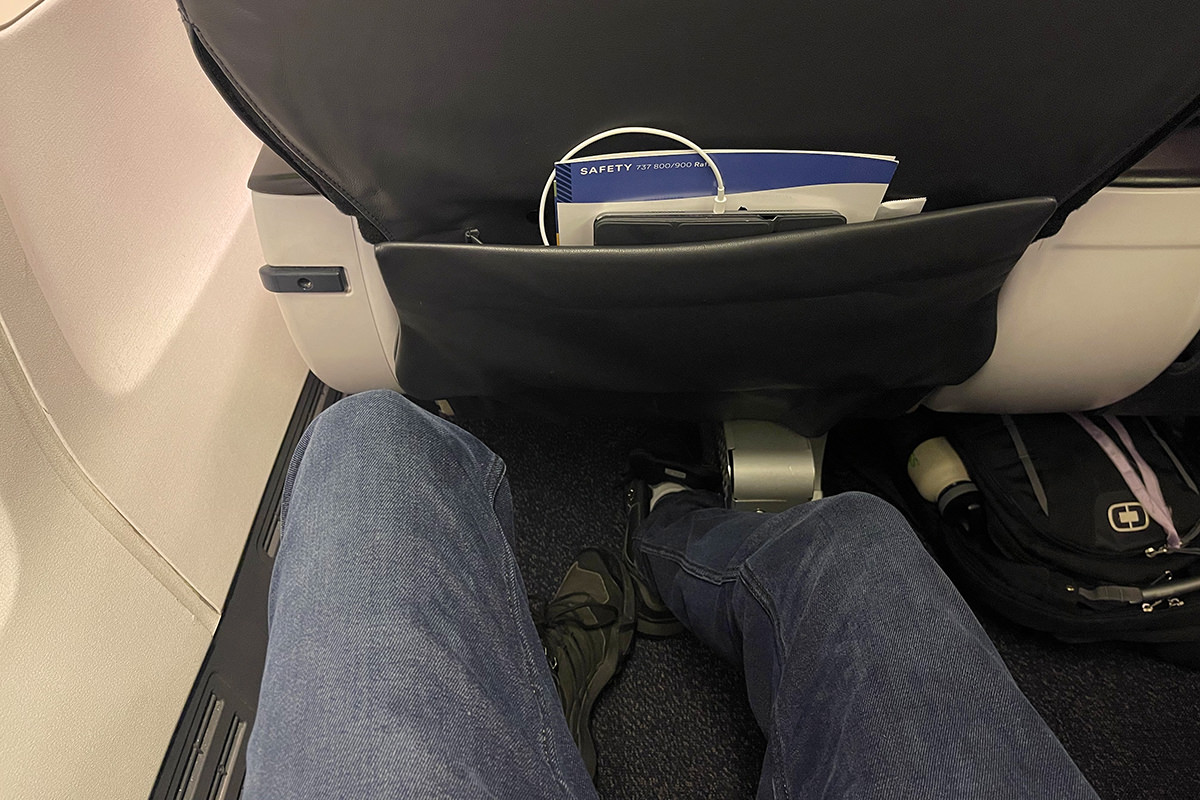 I thought that I would be able to get some sleep on the flight to Seattle, but not really! A measely one hour and eighteen minutes! I would have rather not slept at all, because now I was half-awake waiting for my next flight in three hours...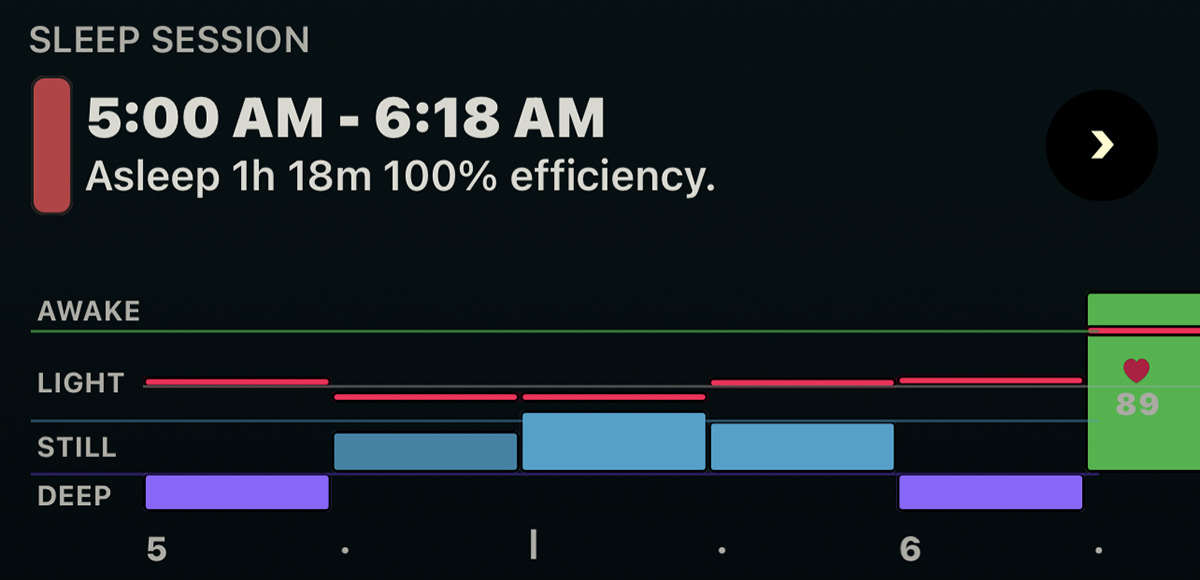 I guess the good news is that Apple Watch thinks that my sleep was 100% efficient!
The first thing I did after taking the train to the Main Terminal was check Apple's Find My... app to see if my suitcase made it (I tucked an AirTag inside). And, yay, there it is, still with the plane back at the North Satellite...
Eventually my suitcase caught up with me... though Apple's Find My... had all my crap spread out all over the place. My phone was the only thing actually shown to be with me. My Apple Watch was on the runway, my MacBook Pro was across the lobby, and my iPad was the next gate down in the hallway...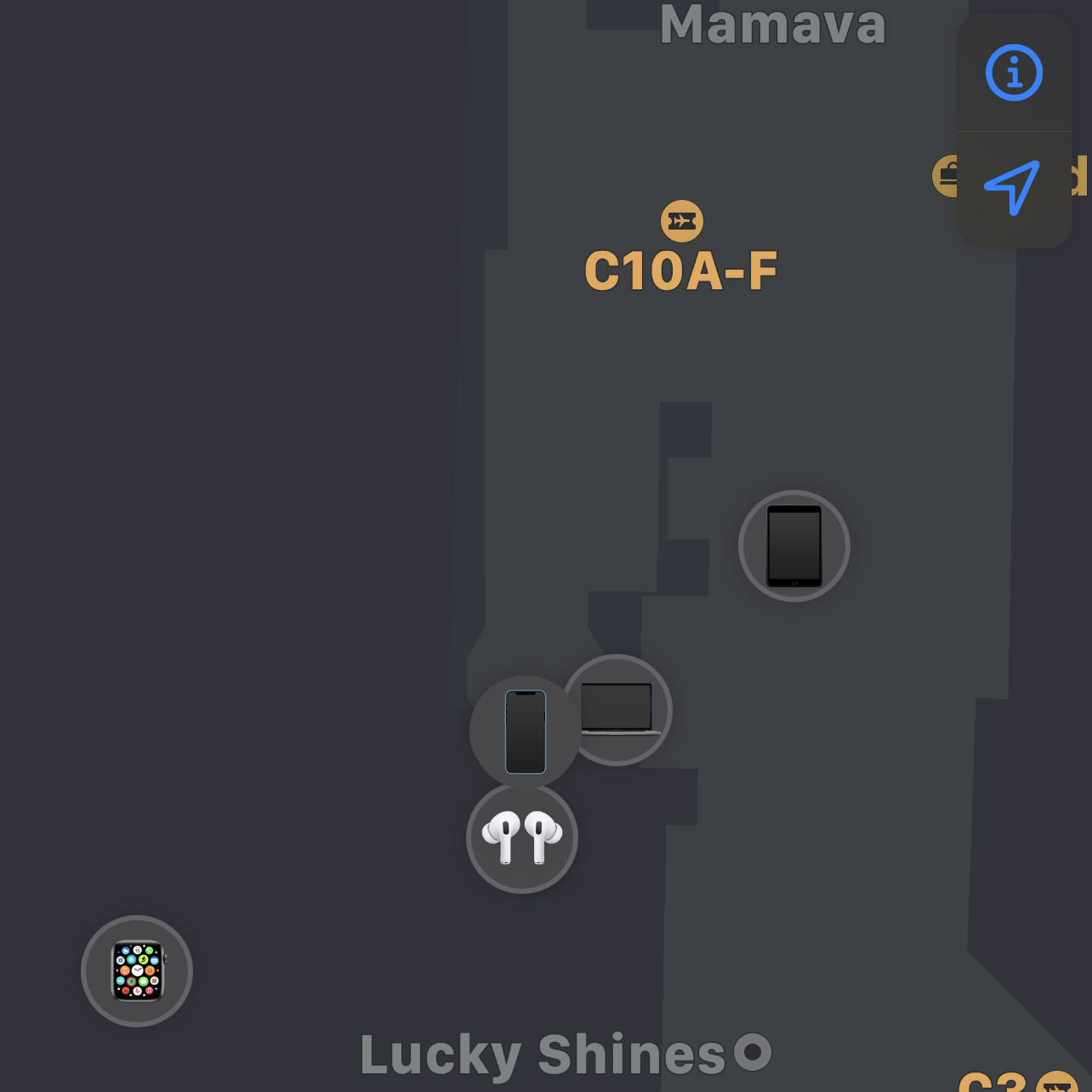 All that was left was a 25 minute drive home, where my cats came anxiously running to greet me...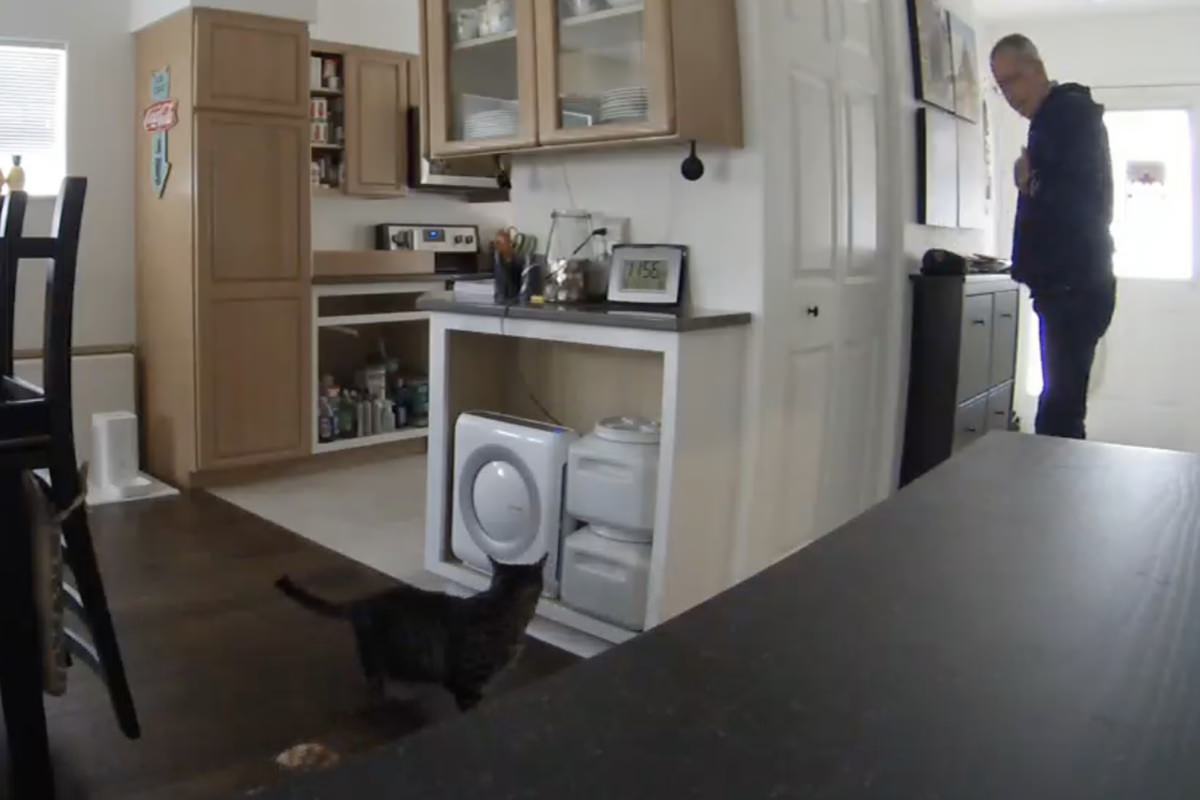 And there you have it. My first trip in nearly two years is in the bag.
Absolutely no idea when my next one might be. If the anti-vaxers and anti-maskers have it their way, the answer could very well be another two years.
Or never.
Posted on September 16th, 2021

Wah! Tonight I have to leave!
Time flies when you're not at home. I guarantee that if I were home that it would be Monday right now. Oh well. Trying to stay positive over having most of a whole day remaining before climbing in a metal tube and being hurled across the Pacific Ocean.
This morning started off very early because we had a morning snorkel at Molokini. But it was even earlier for me because I had to get up and pack first so I could get my crap transferred to my friends' room before we leave.
And here we are at the ass-crack of dawn... leaving...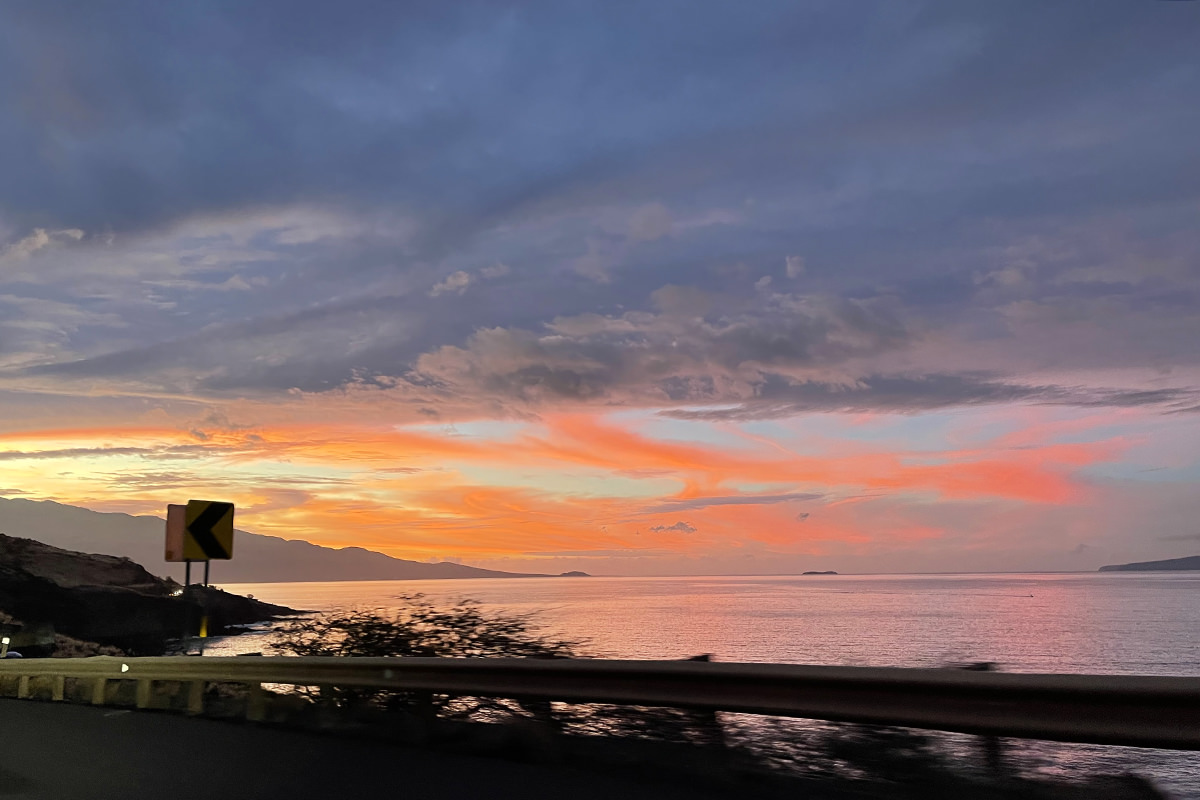 Molokini (which you can see in the distance there, 1/3 in from the right) is a place I've been many, many times. It was where much of my SCUBA certification course happened. Since I am flying tomorrow (and nobody with me dives) I was snorkeling along with everybody else. Which isn't bad. Molokini is kinda a sunken crater (but not really) which is somewhat shallow and had good visibility. So you can see fish even though you're not down with them.
Alas, my underwater camera is over a decade old, so it doesn't take very good photos, most of them ending up blurry beyond all recognition. Plus... the display stopped working half-way through, so I was shooting blind most of the time...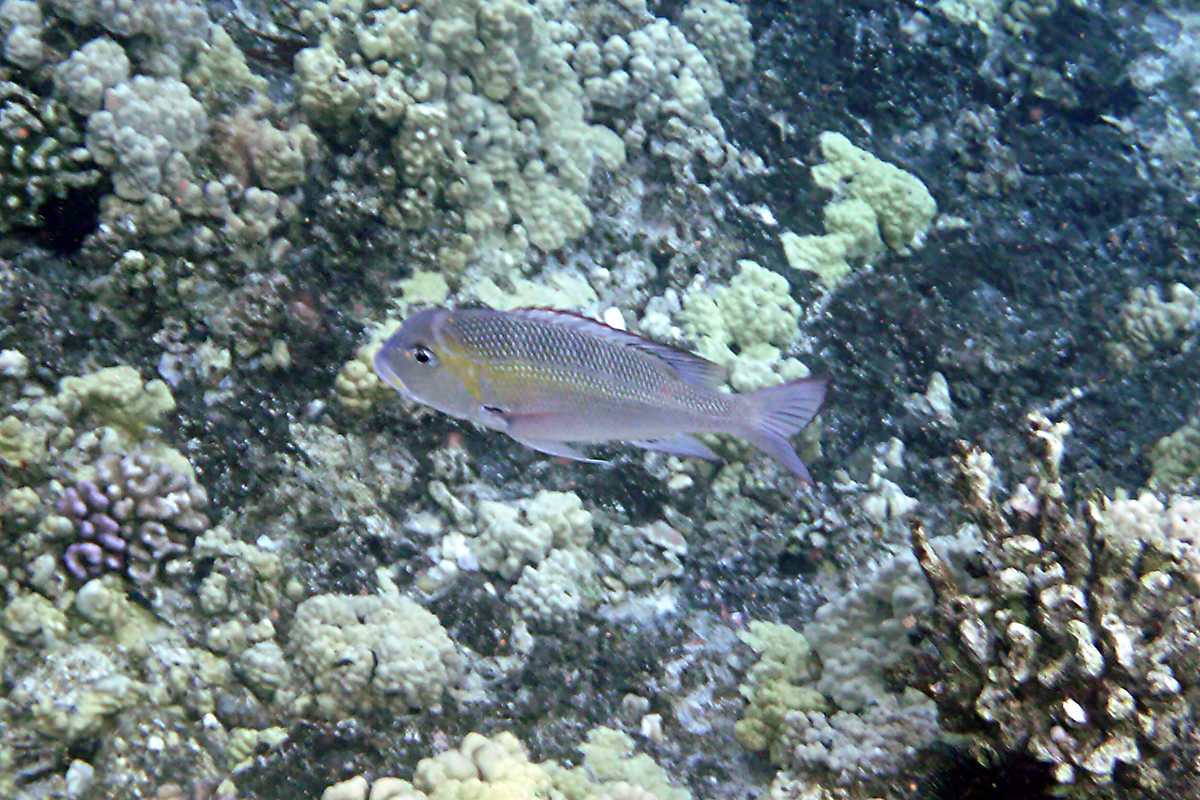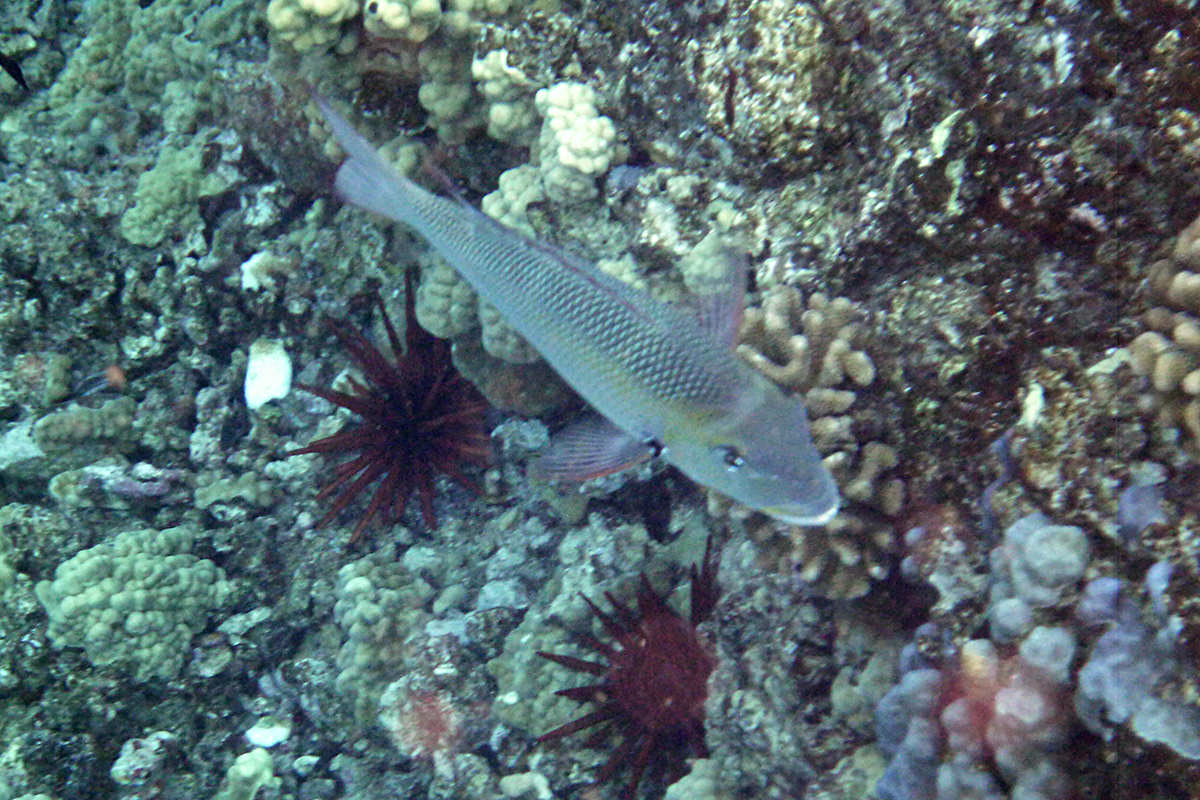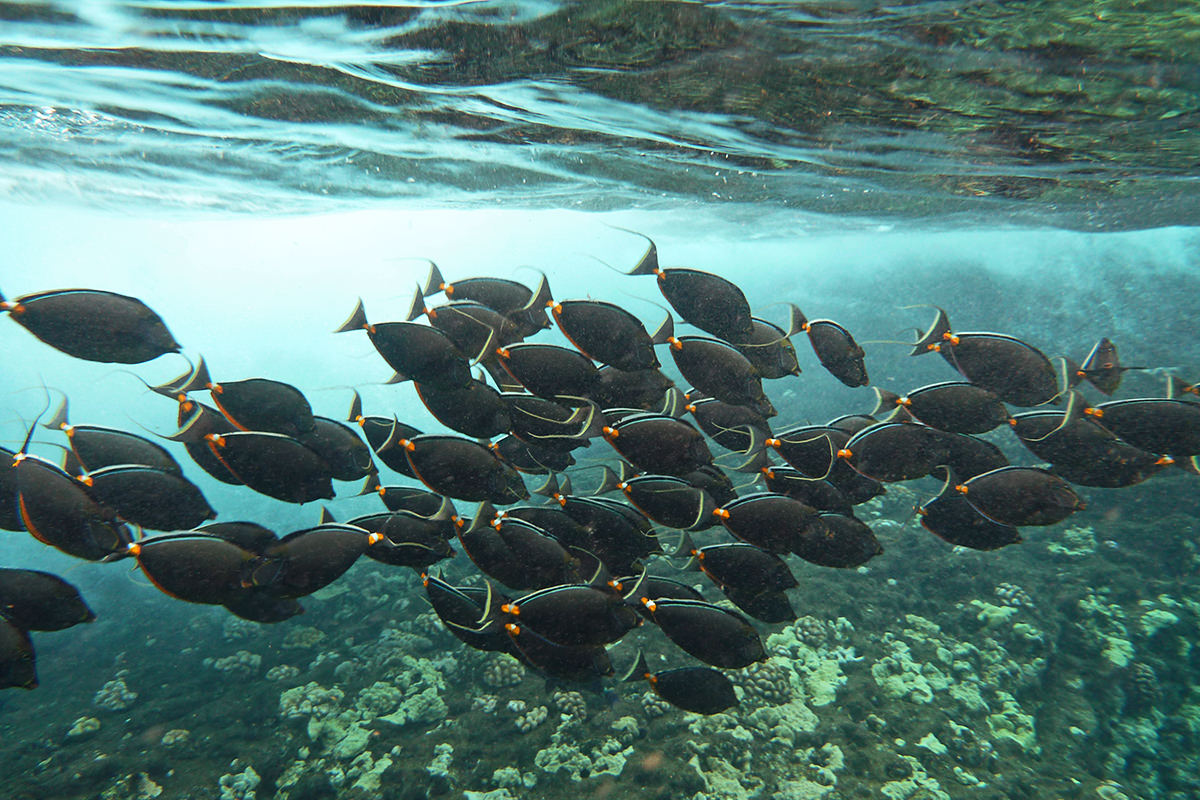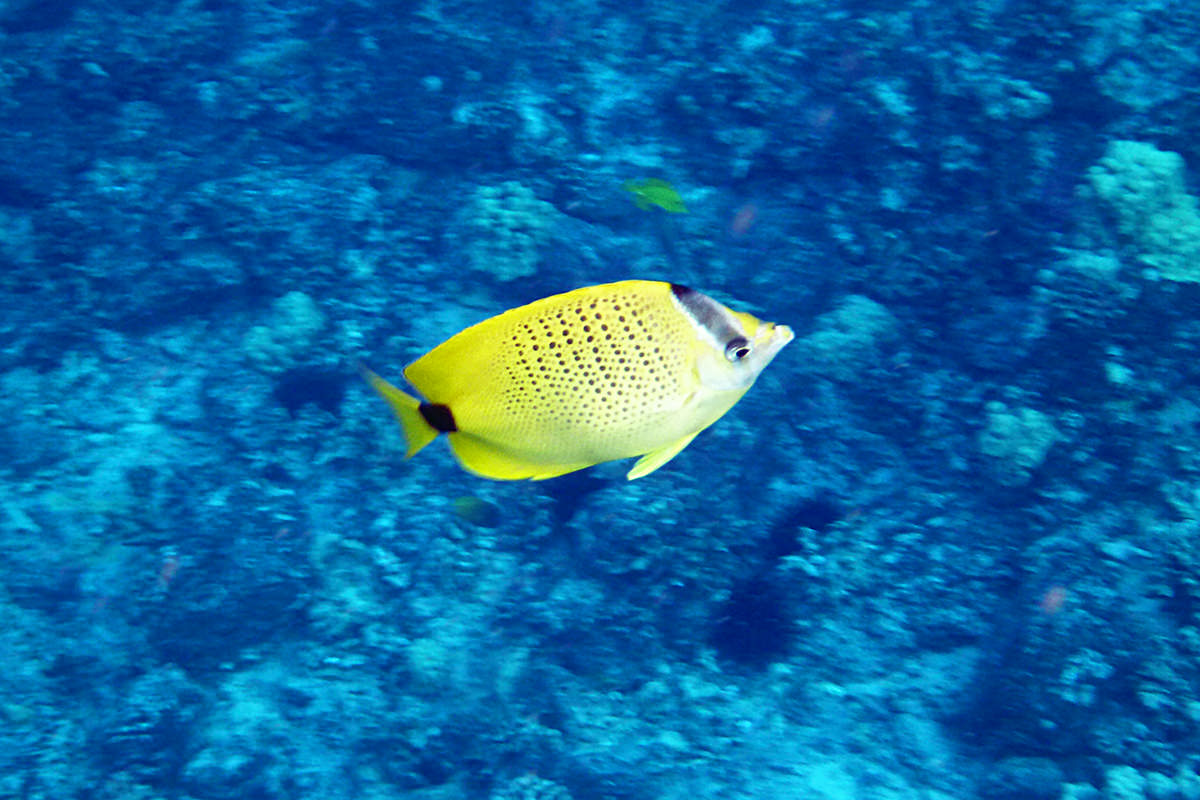 From there it was breakfast at my favorite spot on the island. It's Banana-Macadamia French Toast at the Kihei Caffe, baby!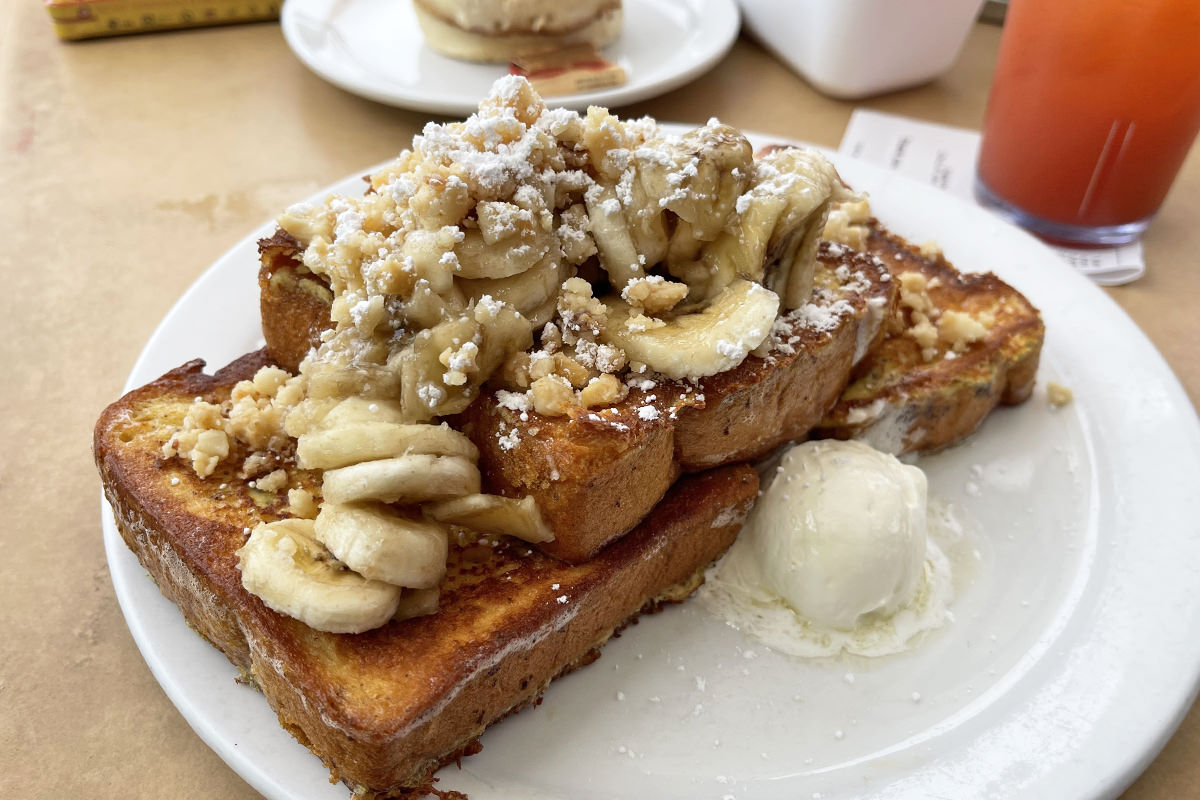 After that? I did a little side-trip for some research on a project I'll be working on soon.
After that? Time for a nap.
Then off to the airport. Waaaaaaah!
Posted on September 15th, 2021

This morning I hadn't gotten as much sleep as I had wanted... again... but now that my days are running short, I decided to wake up and walk the beachfront anyway. It's nice in the mornings when there's only a couple people around...
Today was when the proof-of-vaccination requirement went into effect in Maui County. We decided to take advantage of it by heading into Lahaina for luch at Cheese Burger in Paradise. Turns out we needn't have worried. Like everywhere else, restaurants had taken out every-other-table for a 50% cap... plus we got a window-front table...
I brought my mom along to Hawaii a number of times on my work trips because it didn't cost me anything. Cheese Burger in Paradise was one of her favorite places in Maui, so we went there multiple times...
I guess it's nice to eat there now since I have such fond memories of the place... but it's also rough, as you can imagine, since she's not there.
Lahaina was lovely, as usual...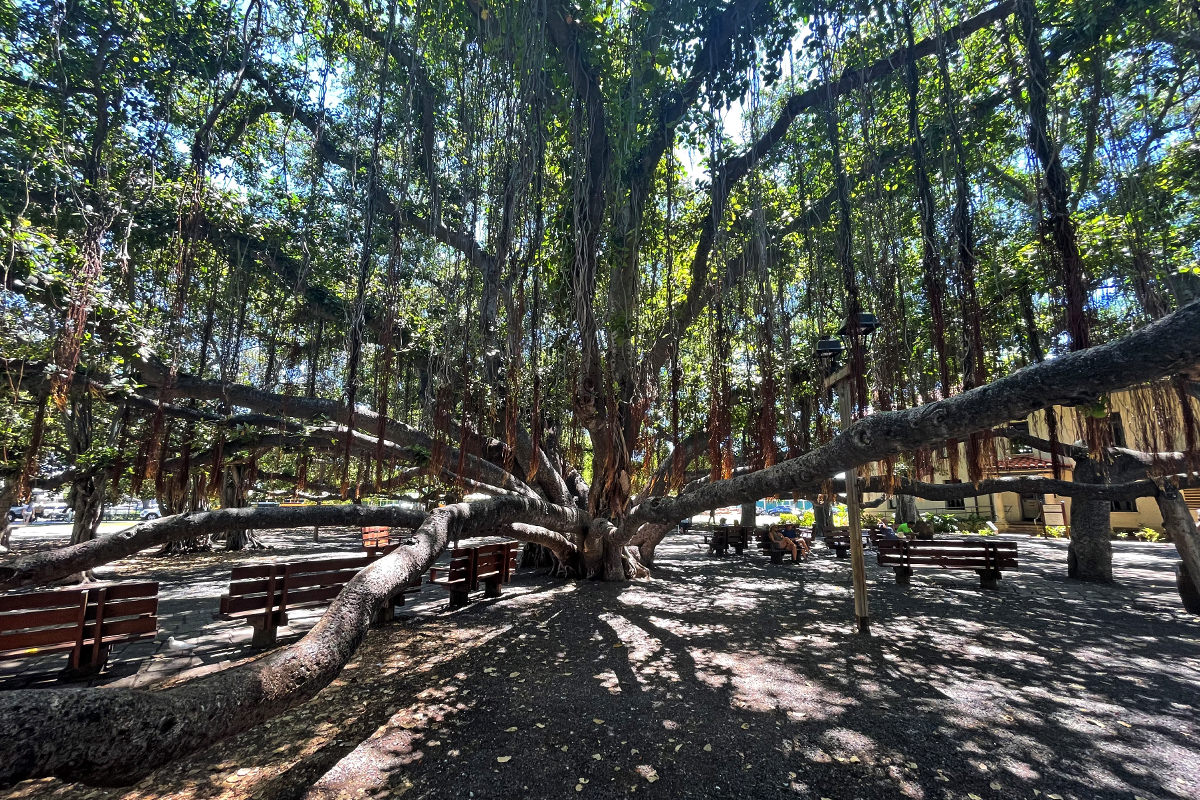 Another day down. And only one more day left.
Posted on September 14th, 2021

Trying to find open-air activities which minimize the risk of contracting COVID are fairly easy in Hawaii. Most of the activities that we enjoy are outdoors here.
Tonight that included a sunset booze cruise which was both outdoors and with excellent air-flow to keep COVID flowing away from you.
Bonus? A rainbow!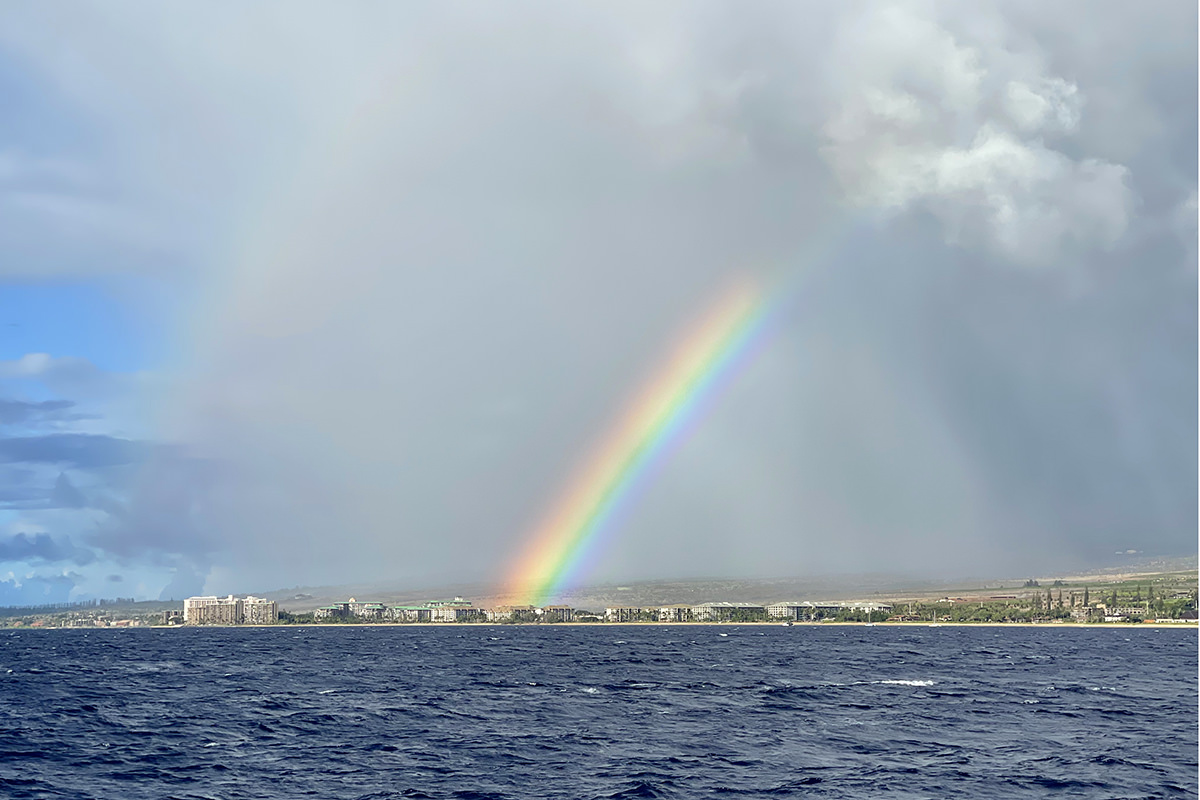 And... wait... is that a DOUBLE RAINBOW?!?
Plenty of ships tucked in for the night as we headed out...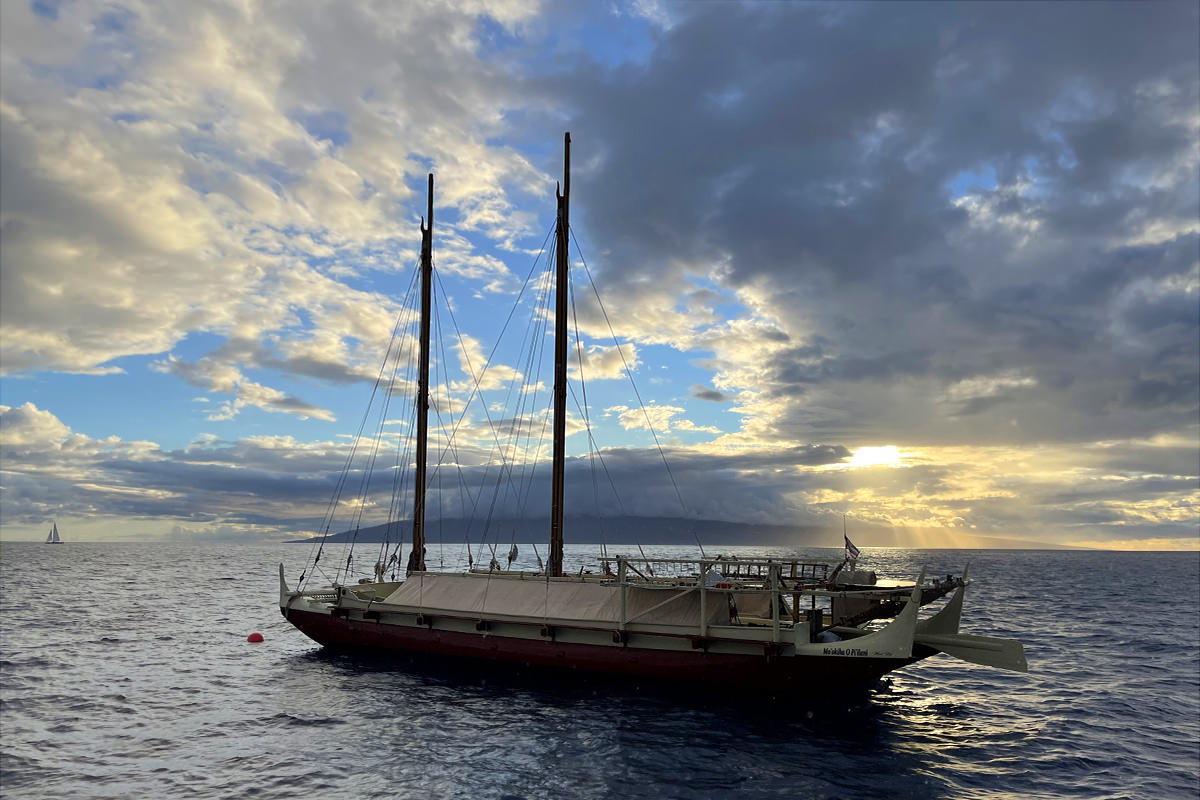 The sun gave us some beautiful buttery skies with rain falling to the South near Kihei...
And then, just like that, the sun was done setting...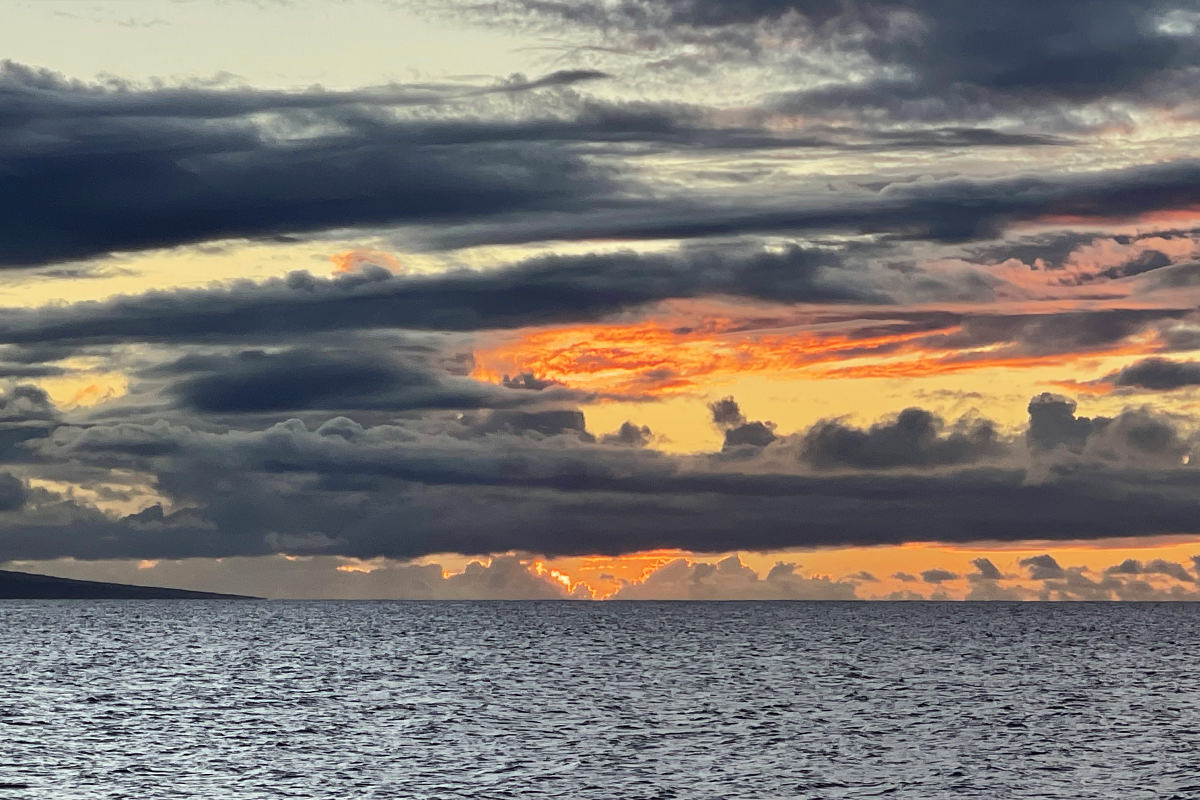 And it was time to get off the boat...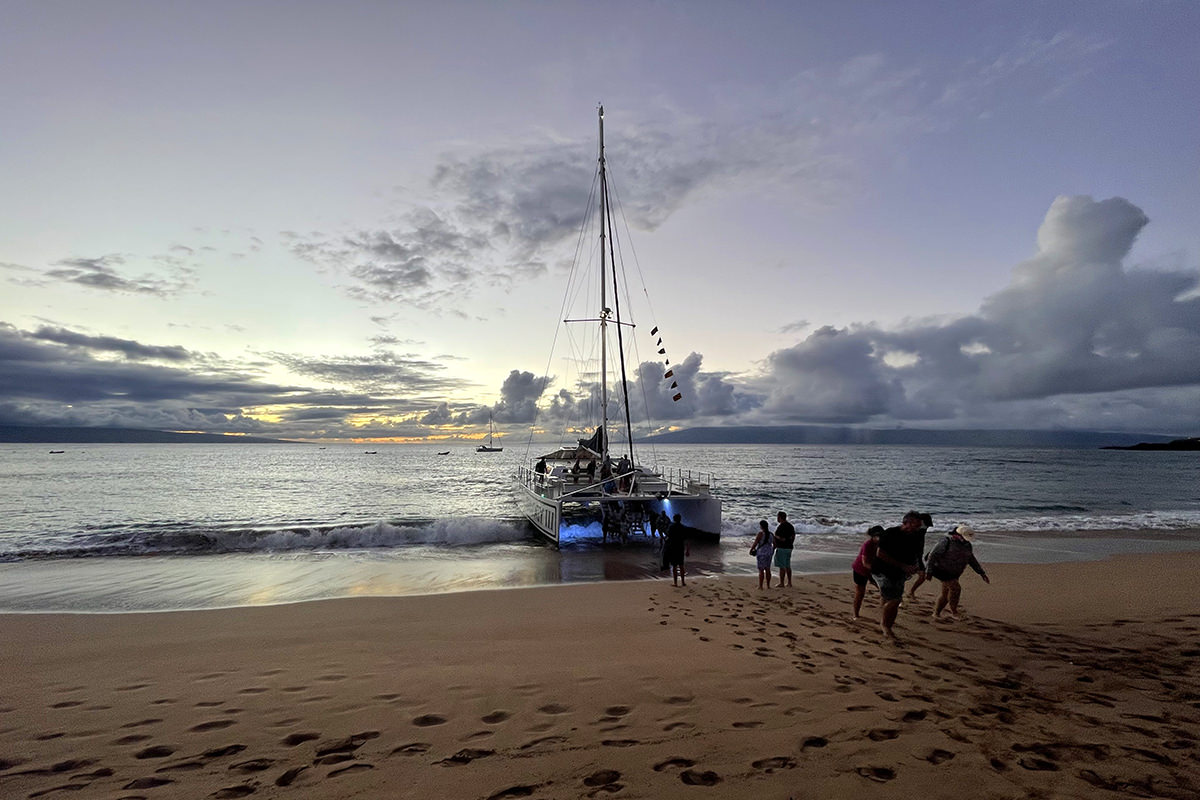 There are certainly worse ways to spend a socially-distanced eveneing.
Posted on September 13th, 2021

Other than the plane rides back and forth which, in themselves, are actually fairly safe considering that everybody is masked except to eat and the air recirculation is top-notch, this trip is relatively low-risk. The beach is wide open with fresh air circulating in the wind, and Hawaii is taking COVID seriously. Eateries and shops are at 50% capacity and, in a couple days, you'll even have to provide proof of vaccination in order to step foot in a restaurant.
Tonight we had dinner at Mick Fleetwood's restaurant on the rooftop which was socially-distanced, open-air, and quite nice...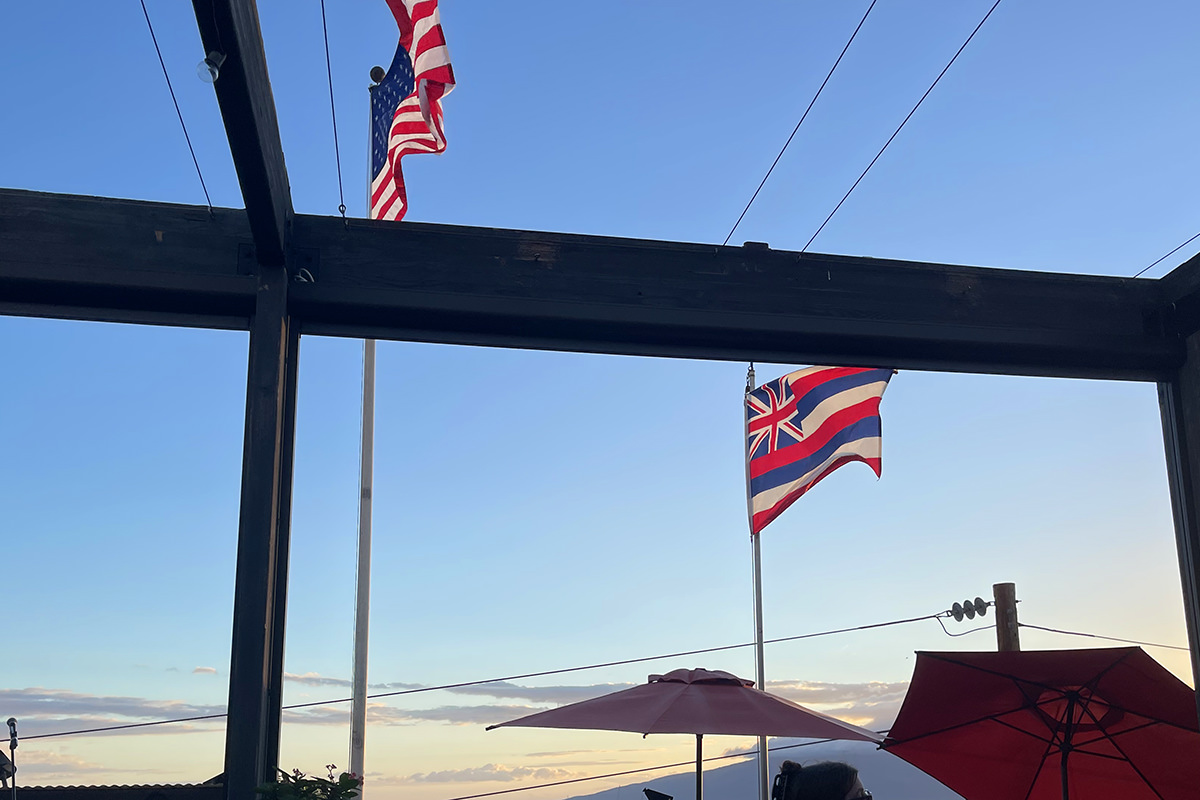 It seemed an acceptable risk.
As was ordering a salad, despite the number of salmonella outbreaks that keep happening with our lettuce supply.
Posted on September 12th, 2021

I can't seem to sleep.
Despite being completely exhausted, I didn't fall asleep until very late, then woke up depressingly early this morning (the tropical birds making all kinds of noise probably didn't help).
Most of my time was spent swimming in the ocean, lounging at the pool, or otherwise wasting time until the beach sunset ceremony for my friend...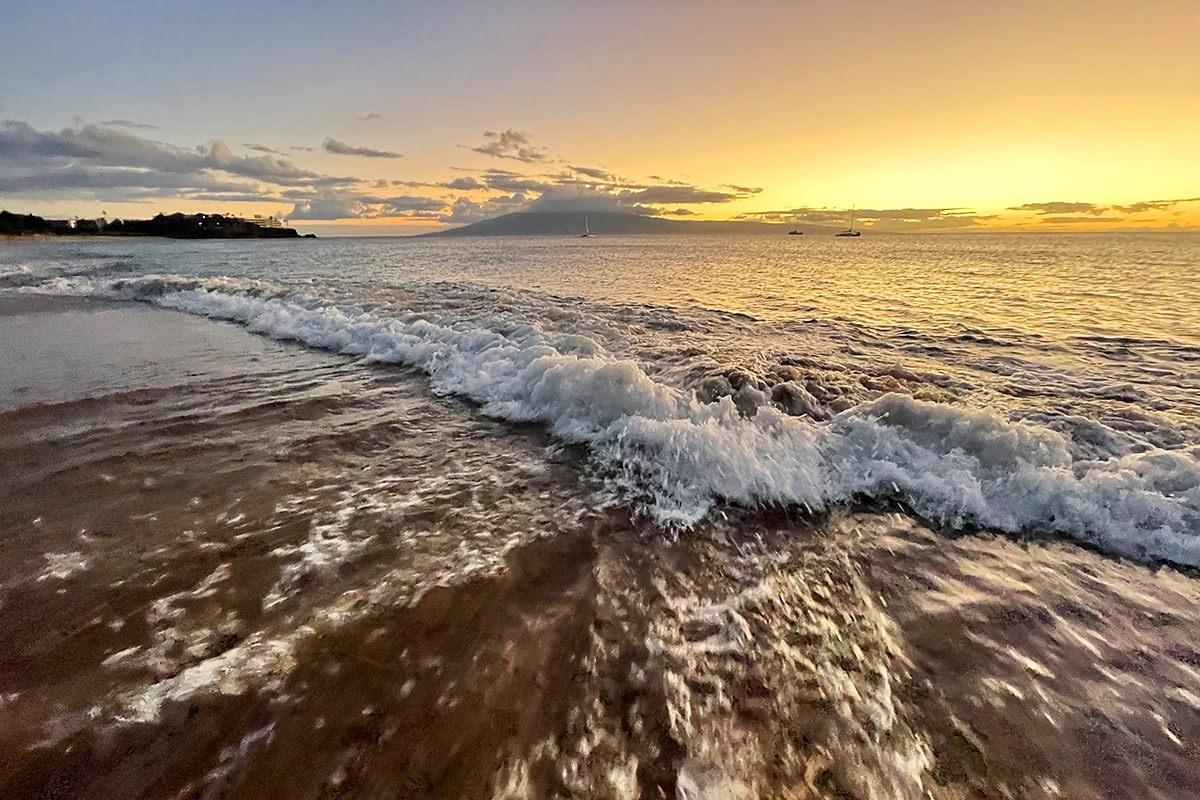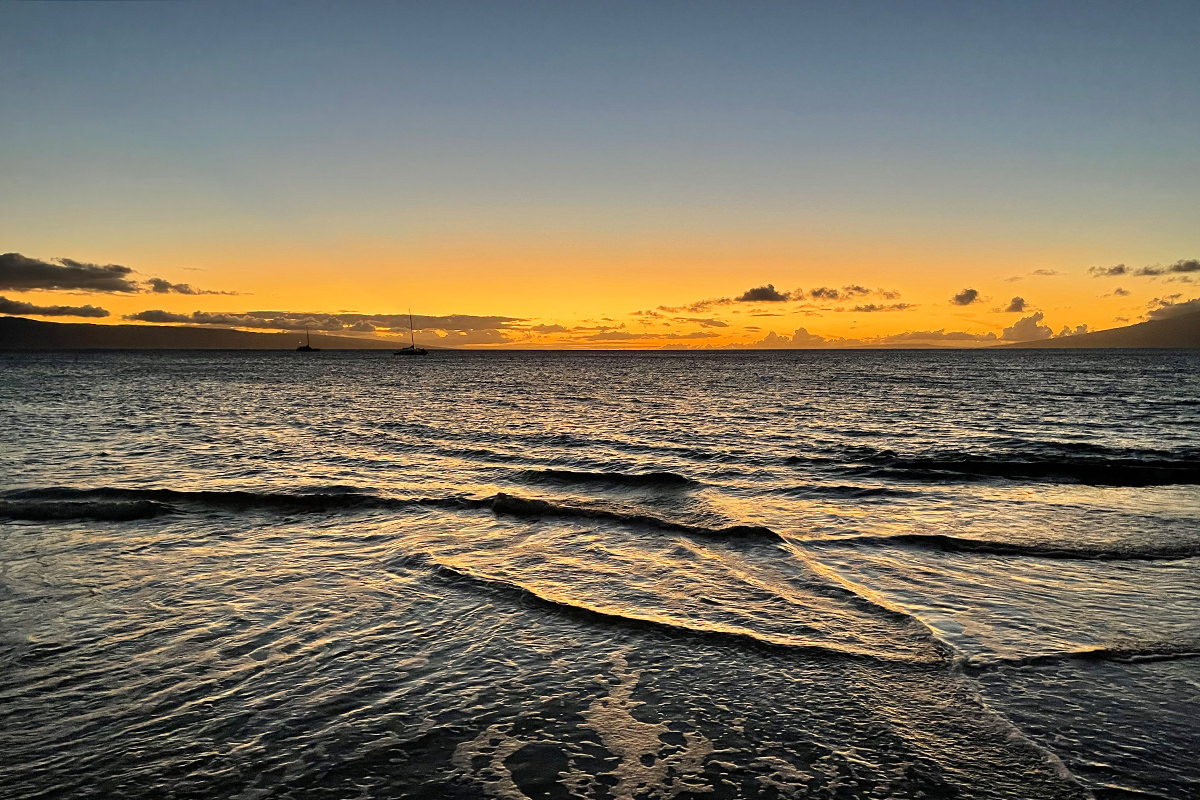 If I were smart, I'd be heading home to my cats... who have been wandering the house looking for me for two days, and take turns sleeping on my bed waiting for me to show up...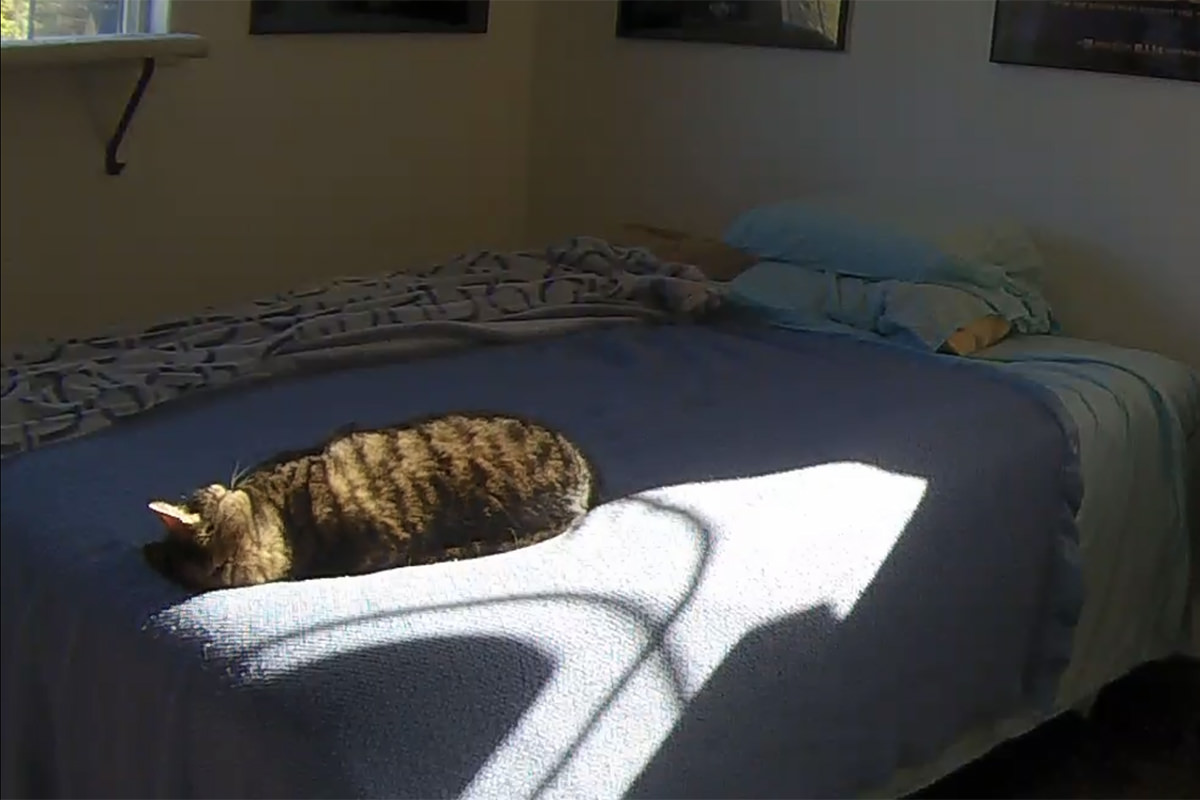 But I need a few more days in paradise, so they can enjoy a vacation from me for a while.
Posted on September 11th, 2021

Flying on 9/11 is an interesting concept, to be sure. Couple that with flying during a pandemic and... well... yeah.
My day started at 3:30am because I had an early flight. This wouldn't have been a problem except my cats sensed that something was going on last night and both of them took turns wanting to be petted. For two hours. So instead of going to be at 9:00pm, it was more like 11:00pm. A smarter person might have locked them out of the bedroom so they could get some sleep, but I think we all know that I'm not that guy.
All things considered, today was an uneventful day.
I don't know what I was expecting my first flight in two years to be like, but it wasn't the smooth sailing I got. Made it to the airport. Got checked in. Made it to Seattle. Got my PRE-CLEAR wristband to get me into Hawaii. Got upgraded to First Class. Had an easy flight over the Pacific Ocean. Easy trip to the hotel. Arrived in time for a nice dinner. If I hadn't had to wear a mask the entire time, this was a trip like a hundred others.
No anti-masker meltdown. Nobody being dragged off the flight in handcuffs. Nobody being an asshole even. Just everybody doing whatever they had to do to get to where they were going.
Nice.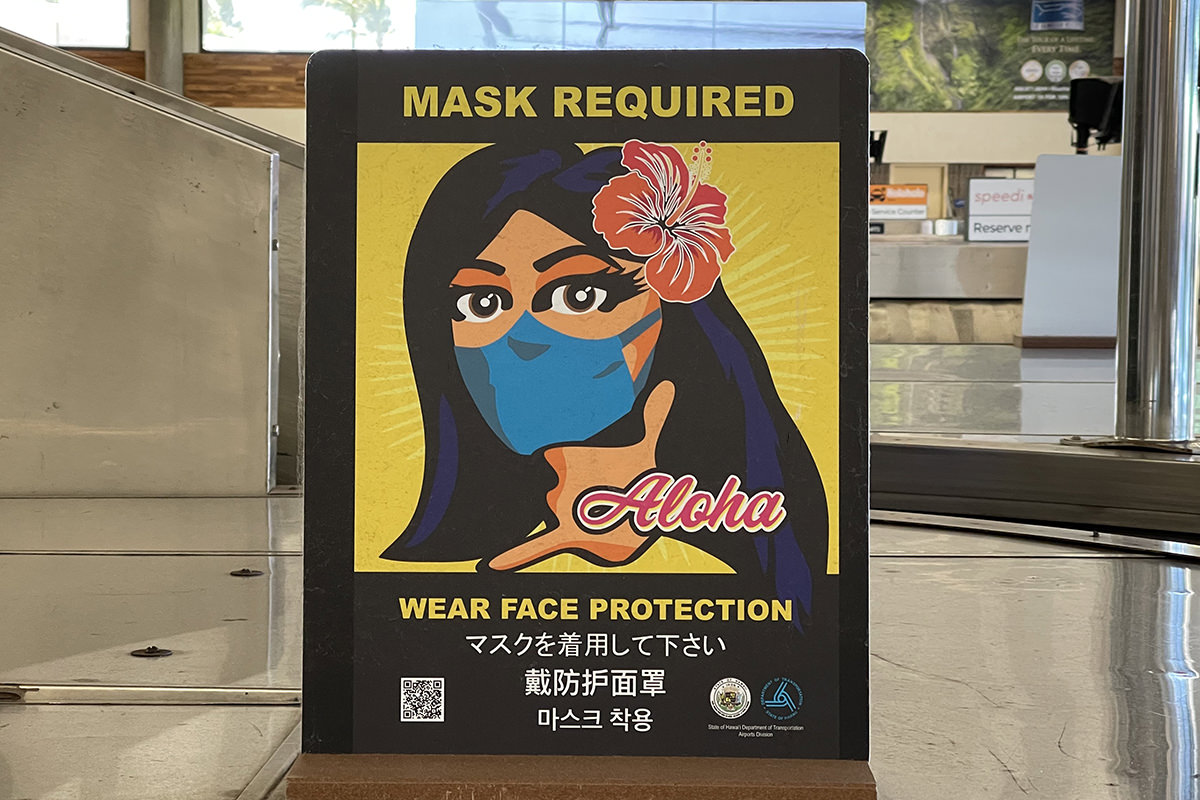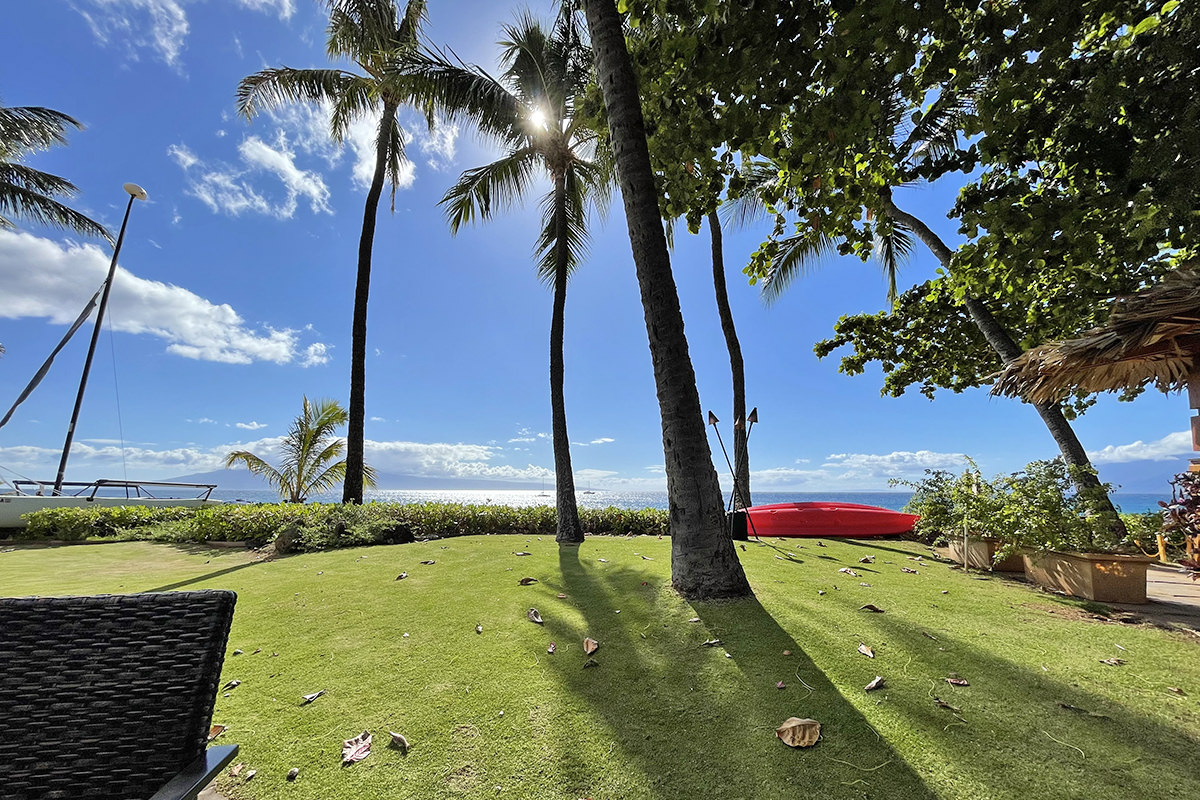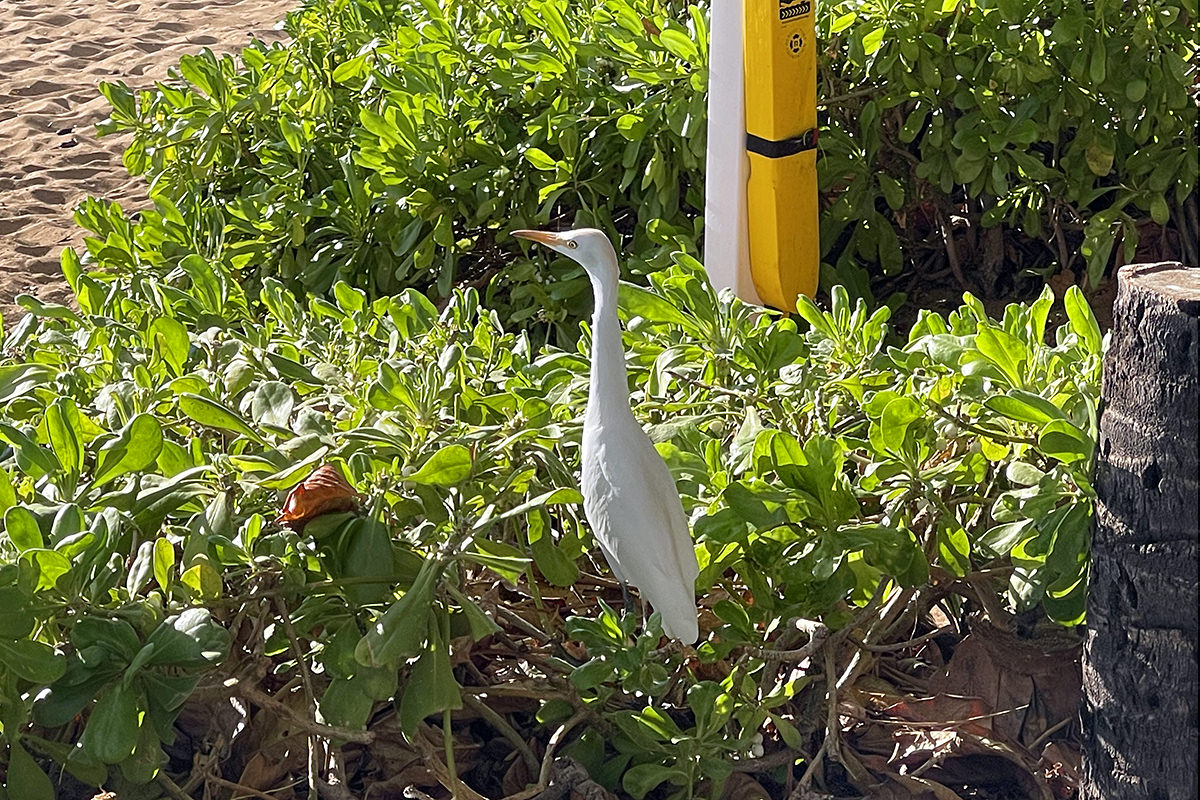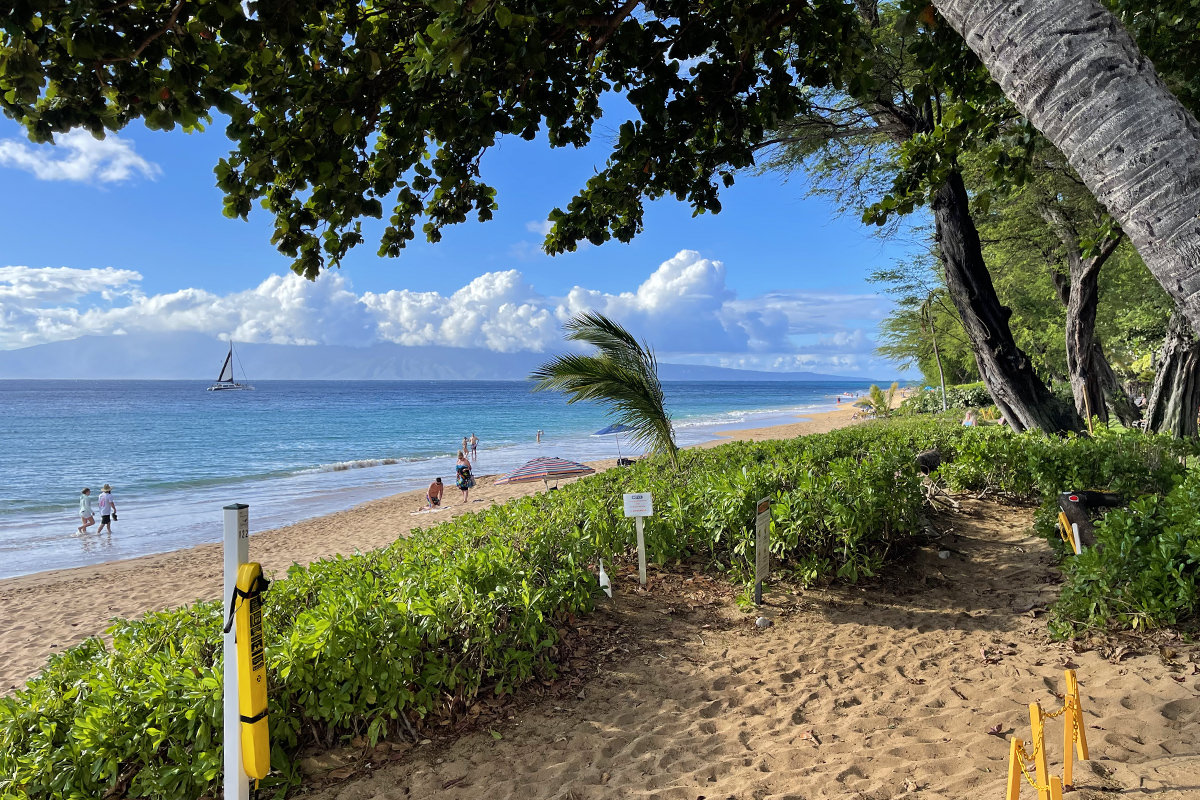 My PRE-CLEAR band managed to survive the trip, so I'm just going to leave it on...
And now for some sleep. It's been a very long day.
Posted on September 10th, 2021

I'm off to Maui for a "celebration of life" ceremony for one of my best friends to scatter his ashes in the waters of a place that he loved. We've had many adventures together in Hawaii. We got certified to SCUBA dive in Maui together. We took a hop over to Kauai to be chased by wild boars... and have even had a guy with a shotgun tell us to get off his property when we made a wrong turn. Along with friends, we've been all over the island, and it only seems appropriate that his ashes end up there.
Originally it was discussed for the Spring of 2020. But COVID. So then the Fall of 2020. Then the Spring of 2021. Then (finally) got planned for Fall of 2021 (which seemed sensible at the time since the vaccine was so widely available... but we all know how misinformation turned that into a fucking shit-show). And so here we are. Getting ready to fly over to Maui tomorrow.
The road to get to The Garden Aisle has been long. And made difficult in order to keep everybody safe as the COVID Delta Variant continues to explode.
In theory, meeting the requirements are a simple matter. But in practice? Not so much.
First of all, Hawaii requires the AlohaSafe Alert app be on your phone and enabled. This is actually pretty smart, because if you've come into contact with somebody who has a COVID diagnosis entered into the system, it will anonymously let everybody know who was in their vicinity. Smart. Assuming people keep it turned on AND enter their diagnosis into the system. Two failure points that will most certainly cause AlohaSafe Alert to be rendered useless. But it's required, so whatever.
Second of all, Hawaii requires a negative COVID test result within 48 hours or proof of vaccination to enter the state... unless you want to quarantine for a couple weeks. I'm vaccinated, so no problem there. I uploaded photos of my vaccination card to the travel.hawaii.gov "Safe Travels Program." No confirmation. No verification. No nothing. Apparently you need a digital pass in order to take care of this on top of the card scans? Who knows.
So I got a digital pass with the VaxYes app, thinking I could link that to Safe Travels. Nope. VaxYes is worthless.
So then I tried to get a CLEAR HealthPass via the CLEAR app. There were some initial problems, but I managed to get it taken care of and linked to my Safe Travels account just fine. Perfect. I can now fly into Hawaii.
BUT THEN... Oahu and Maui announced that they would require negative test results or vaccination proof to eat at restaurants and bars via the state-sanctioned CommonPass. No problem. I download the CommonPass app thinking I can just use my VaxYes, CLEAR, or Safe Travels pass to get that set up. NOPE! In order to use CommonPass, you have to have received a SMART Health Card. But the only way you can get a SMART Health Card is if your vaccination site offered it. My vaccination was from the Washington State Department of Health, and they don't offer SMART Health Cards (of course not... Washington State NEVER is on top of tech shit like this). Which means I have no way... none... of getting CommonPass for eating in restaurants or bars when I'm in Hawaii. Hopefully I can just show one of the other fucking passes I've had to get and that will do. I'll also bring my physical vaccination record card (which is a pain in the fucking ass because whomever designed this stupid shit made sure it doesn't fit in a fucking wallet).
So, essentially, it took two websites, four apps, and my vaccination card to get me this far. And I still have absolutely no idea how any of it works or even if any of it will work.
I guess if I show up in Maui and they refuse to let me in or decide to quarantine me, I'll finally find out that it didn't work.
So fingers crossed.
Posted on March 22nd, 2012

Juuuuuuust enough time to pack my suitcase. Again.
And draw a new 30 Day Challenge entry. Again.
Then I'm off to The Coast. Again.
It's a vacation from my vacation... just like I always dreamed about!
30 DAYS DRAWING CHALLENGE: Draw Something You Miss...
I miss lots of people that aren't in my life anymore. I miss a few television shows that are off the air. There's even some foods I miss that aren't around anymore. But this morning when I went out to my car so I could go to work... and found snow and ice covering it... I missed Maui most of all.