Posted on September 17th, 2017

Grey skies are starting to clear up, because an all new Bullet Sunday starts... now...

• McDONALD'S!!! Imagine my shock when I ordered my usual "Biscuit with Egg and Cheese Only" breakfast sandwich while I was at McDonald's in Spokane this past week... AND THEY DIDN'T CHARGE ME FOR BACON THAT I DON'T EAT!
Every time I've ordered this in the past, they've rung up a "Bacon, Egg, and Cheese Biscuit" then hit the "minus bacon" button. That usually costs me $3.29 or so, which means I'm paying for bacon I'm not getting. This is not unique to McDonald's. It happens everywhere. Order a Chalupa Supreme at Taco Bell but want rice instead of beef? Most times they charge you for the beef, remove the beef from the order, then charge you extra to add rice. Want a Market Fresh Cheese Sandwich at Arby's? Most times they charge you for the beef even though they never put it on the sandwich. It goes on and on. Sometimes it's different... Taco Bell will have a "beef sub rice" button or Arby's will credit you 50¢ when they remove the beef... but this is rare. I am hoping that McDonald's is starting a trend that others will follow. It sucks to pay for something you're not getting.

• Abandoned. While I feel absolutely terrible about the people who are facing natural disaster, it's the animals trying to survive it that have touched my heart. Bad enough there are wild animals who will struggle... but at least they have a fighting chance. Abandoned pets left tied up to die, however? Not so much. This horrific, disgusting, barbaric, inhuman practice is the stuff of nightmares. Luckily, something is starting to be done about it. People who abandon pets in some areas are going to be prosecuted...
There is no punishment harsh enough for abusing, neglecting, or abandoning an animal to life-threatening conditions. None.

• Grands! Who knew that Pillsbury "Grands" frozen biscuits are actually quite decent... tasty and fluffy... when the "Grands" canned biscuits are a disgusting mess that have an acidic burnt oil aftertaste? Good to know for those times I just need two biscuits and don't want to waste food making a batch of my own...
I never thought I'd find biscuits I like better than homemade, but here they are. If you've only ever tried the canned crap, this is worth a look. They are more expensive, but worth every penny.

• Gay Cake! Well that explains it then!

That there are people out there who actually believe this shit just boggles the mind.

• It's Pickle Rick! One of my favorite programs on television is South Park. Trey Parker and Matt Stone have been at the show for twenty-one years and yet, even with a few missteps along the way, it is just as culturally relevant as it ever was. South Park may be a crappy cartoon... but it skewers current events and pop culture like nobody else can, and I consider it essential viewing. A newer show that I'm in love with, Rick & Morty, is gearing up to be every bit as significant as South Park. I can only hope that it lasts for 21 years. The latest episode, The Ricklantis Mixup, is exactly why. It masterfully parodies everything from police brutality to puppet politics, yet still manages to be incredibly entertaining...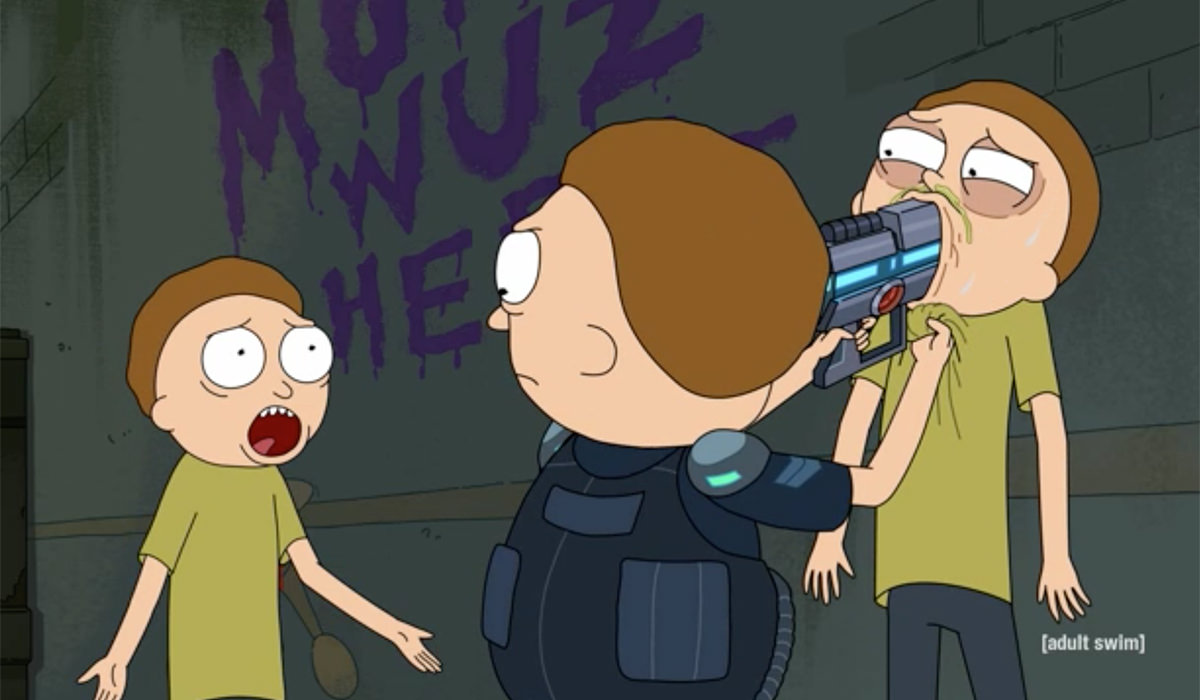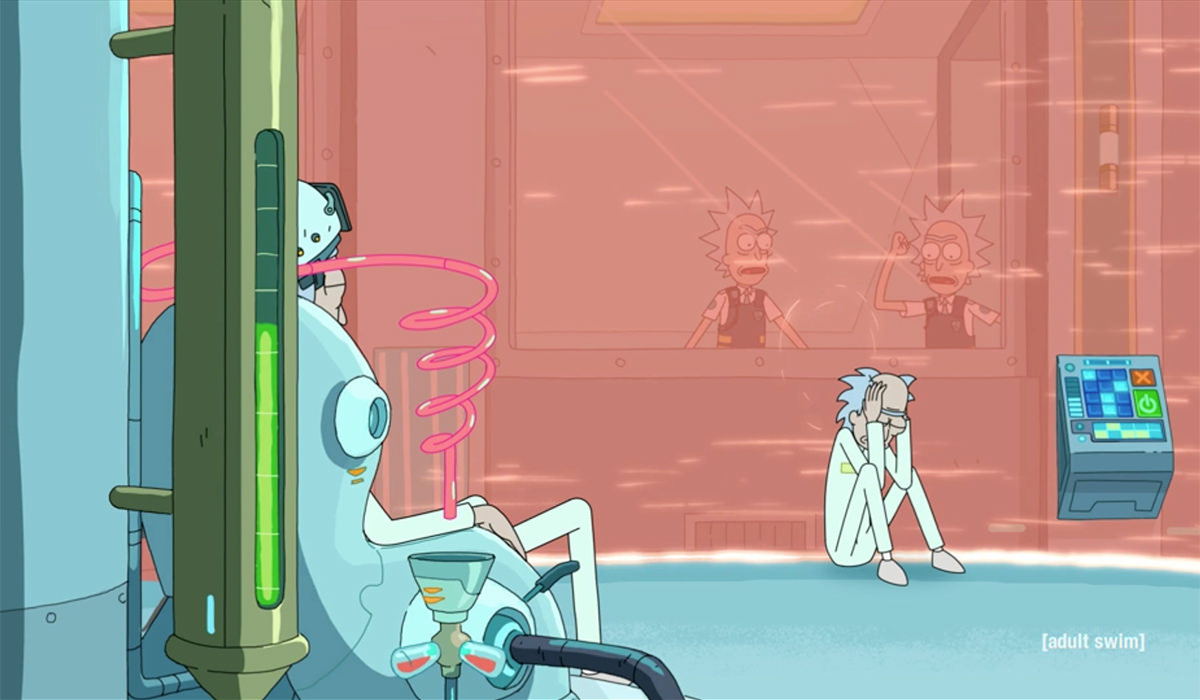 If you've got a warped sense of humor and like cartoons and sci-fi, here's the show for you. Disturbingly brilliant in ways most shows could never be. Not bad for a cartoon which started out as a Back to the Future parody of Doc and Marty.

Until next time, stay schwifty.
Posted on August 30th, 2017

I hate the taste of chicken.
I didn't like eating it before I became a vegetarian, and I'm certainly not going start eating the crap now. Even the veggie stuff that tastes like chicken is a big ol' PASS for me.
So guess what I ended up buying totally by accident at the grocery store yesterday?
Yes "Chik Patties."
Barf.
I'd like to say that it's my fault, but it's really not. The fault is 100% on Morningstar Farms for having shitty packaging which does nothing to distinguish the various products they make. All of them are green bags with purple stripes. And they dress the photos of different products in the exact same way so it's easy to get them confused...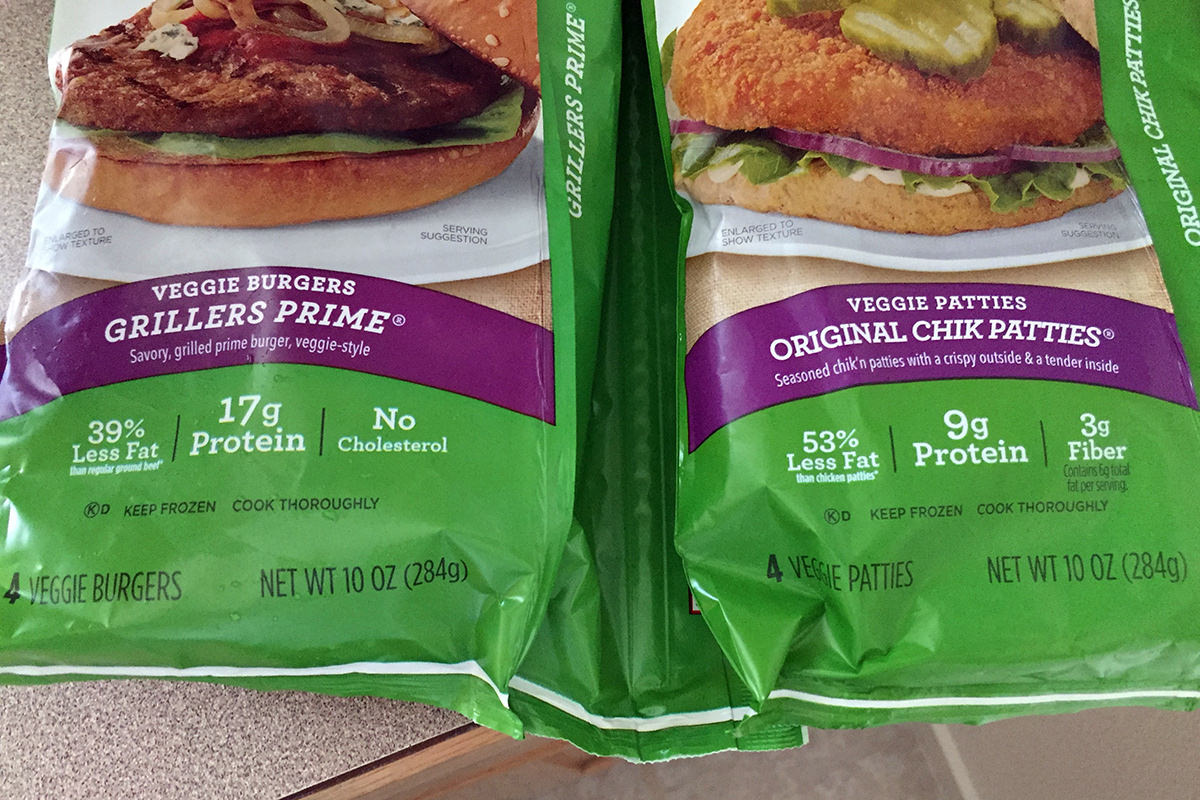 Especially
since the bags are just laying in a pile in the grocery freezer. I grabbed three packages of "Grillers Prime" and had no idea that the store put a "Chik Patties" in there (or, more likely, a shopper looked at it and put it back in the wrong place)...

This is a categorically bad design flaw that any designer worth their salt works very hard to avoid. Well... any designer except the one working for Morningstar Farms.
Helpful hint to not being a total dick to your customers... come up with packaging that uses color and design language to distinguish your products so people can get what they're wanting to buy. Look at your products from six feet away and see if you can tell them apart. Look at your products as they will be displayed and see if you can tell them apart. If you can't in either case, your design is a failure. Go back to the drawing board and come up with something that works.
Otherwise you end up with pissed off customers like me.
Huh. I wonder if my cats will eat "Chik Patties?"
Posted on July 30th, 2017

Time to get busy living... or get busy dying, because an all new Bullet Sunday starts... now...

• Sweet! Today is National Cheesecake Day! The odds of me finding decent cheesecake in the wilds of Maine are probably slim considering there aren't any Cheesecake Factory restaurants in the entire state. I'd have to drive to Boston, which is nearly five hours round-trip! But who knows? Perhaps there's some awesome blueberry cheesecake to be found 'round these parts. The question being... will I have enough energy to seek it out given that I haven't slept in two days?

• Sweeter! Also not available in the entire state of Maine? Pinkberry. Which is a major bummer, because they just added a delicious-looking Black Raspberry to their flavors list...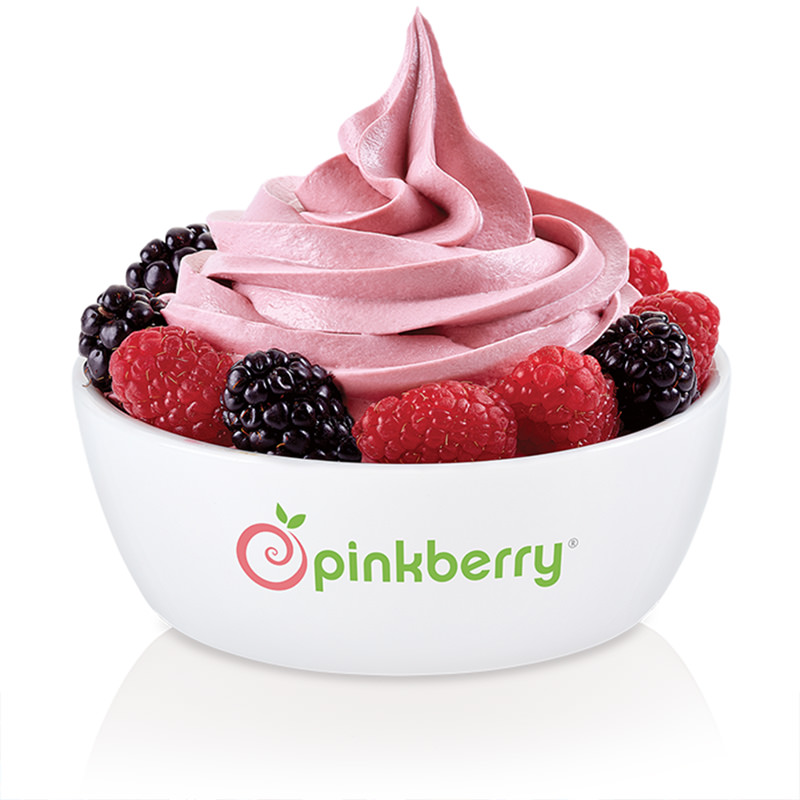 So not fair.

• Sweetness! Awwww...
This could be one of the best meet-cutes in history... or the beginning of a horror story to end all horror stories.

• Sweetest? In a move that I can't wrap my head around, I'm seeing posts to social media about people finding Halloween candy being put out. When it's not even August and the holiday is still three months away. Given how the leftovers go on close-out sale for the month of November, we might as well leave it out year-'round. One third of the year devoted to Halloween is absurd... and I like Halloween.

• Unsweet. Since politicians would rather tax people to death than reign in spending, we're inundated with taxes every damn day, and new taxes are never far away. Take, for example, the "Sugary Drink Tax" which adds to the cost of every soft drink (or pop, or soda, or Coke) you buy. Chicago's takes effect on Wednesday... and Seattle's takes effect in January. More cities are looking to follow suit so they can be a part of a crash-grab disguised as a way of saving citizens from obesity. It's shameless and pointless (politicians will never be satisfied with one new revenue stream when there are dozens more to be had!), but... easier than cutting spending, that's for sure. Which leads me to wonder exactly when the tax burden of everyday citizens is going trigger revolt. Could this be the one? Stay tuned.

• Sour. And speaking of bullshit taxes... Washington State's legislature is devoting $300,000 to a feasibility study of building high-speed rail from Portland to Seattle to Vancouver. Something which would undoubtedly be funded by putting a tax on the tax that's on the tax you're already taxed! And undoubtedly be run by the Washington State Department of Transportation... an organization which regularly takes projects which should be able to be completed in months, and dragging them out for years (all while creating the biggest inconvenience possible for everybody). It's a total recipe for fucking disaster. But let's spend THREE HUNDRED THOUSAND FUCKING DOLLARS to study it anyway.
Which, in itself, is fucking stupid. We don't need a study. All we have to do is look at California and the way their high speed rail is coming along. The project is hemorrhaging money and taking much longer than originally budgeted. As if that wasn't bad enough, the projected top speed of their "high speed rail" keeps dropping below the 220mph benchmark they set. But even better? Even at the outrageous price of $86 a ticket to go from San Francisco to L.A. ... IF they manage to get a whopping 10,000 passengers to ride per day... it will STILL take 203 years to pay for itself. And that doesn't even include maintenance costs?!?
Apparently the Washington State legislature has been taking advantage of our marijuana legalization before deciding where to throw away THREE HUNDRED THOUSAND FUCKING DOLLARS! And here's the best part... people like me who live in the Eastern half of the State and would rarely use the thing will undoubtedly be included in the taxation required to build it. Yay.

• Bitter. Holy crap where do I even start after the week in politics we've had?

Annnnnd... welcome to Shawshank.
Posted on July 28th, 2017

The cost to fly into Portland, Maine during high tourist season is astronomical. Far, far cheaper to fly into Boston and drive north than to pay for the convenience of terminating at PWM.
And so... that's exactly what I did.
Even though the last time I did this, I nearly died.
The route from Boston to Portland is fairly straightforward and takes less than two hours...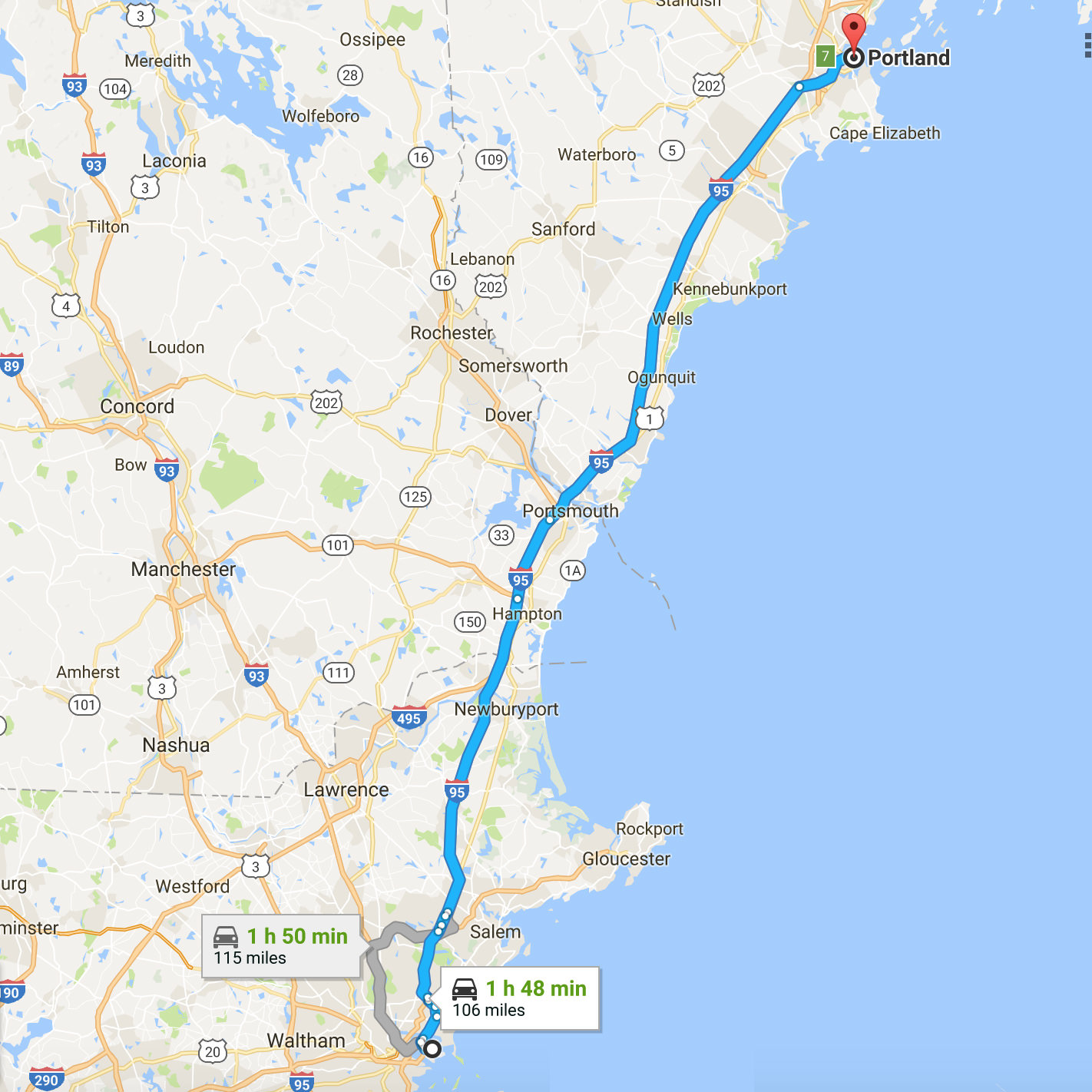 Unless you're me.
I had time to kill, so I took the crazy 3-1/2 hour back roads route to see some bits of New Hampshire I hadn't seen before. And avoid tourist traffic. And avoid a bunch of tolls...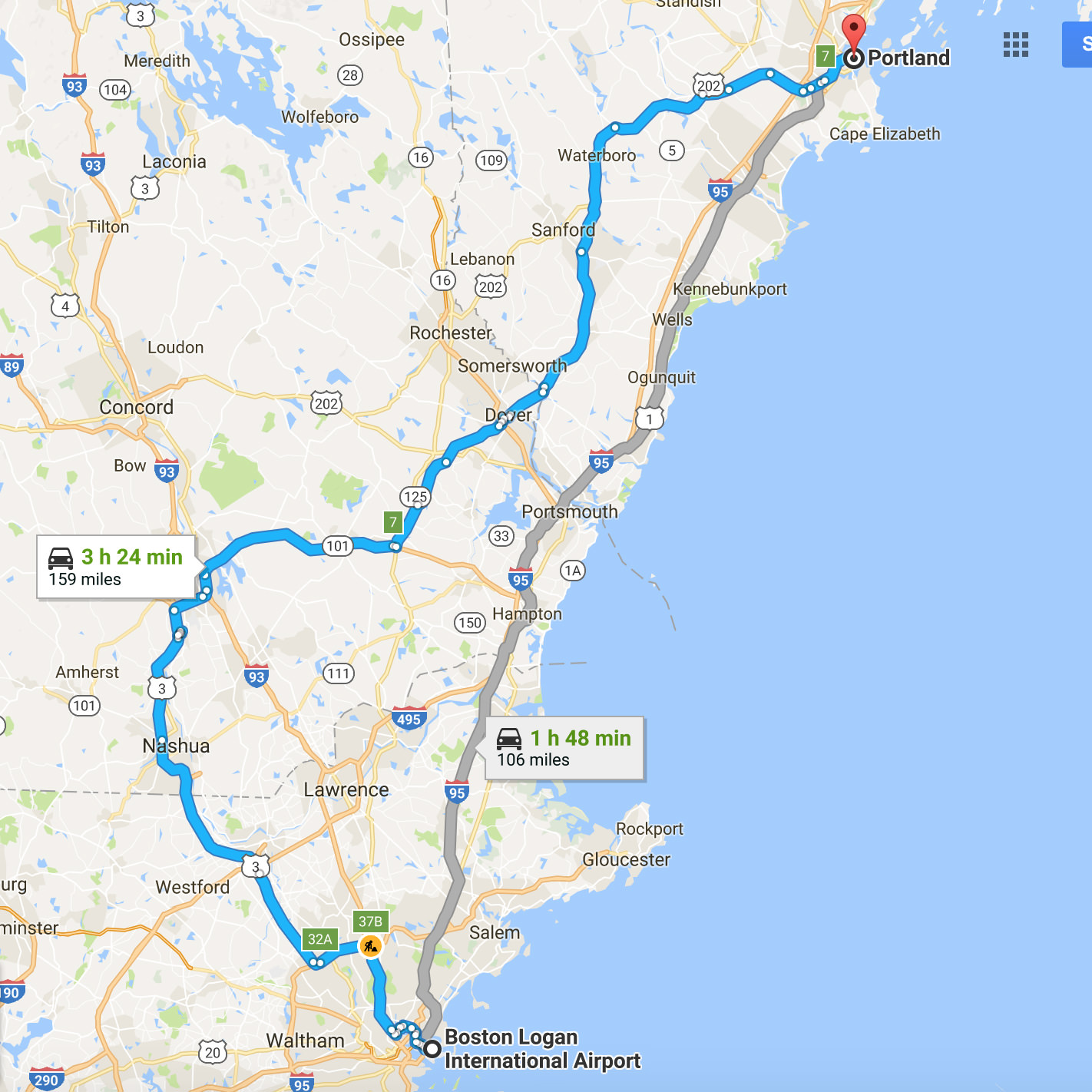 All in all... a lot more time on the road than I had patience for, but it was all worth it because Barbara's Maine Blueberry Crisp at Flatbread Co. was waiting for me when I arrived...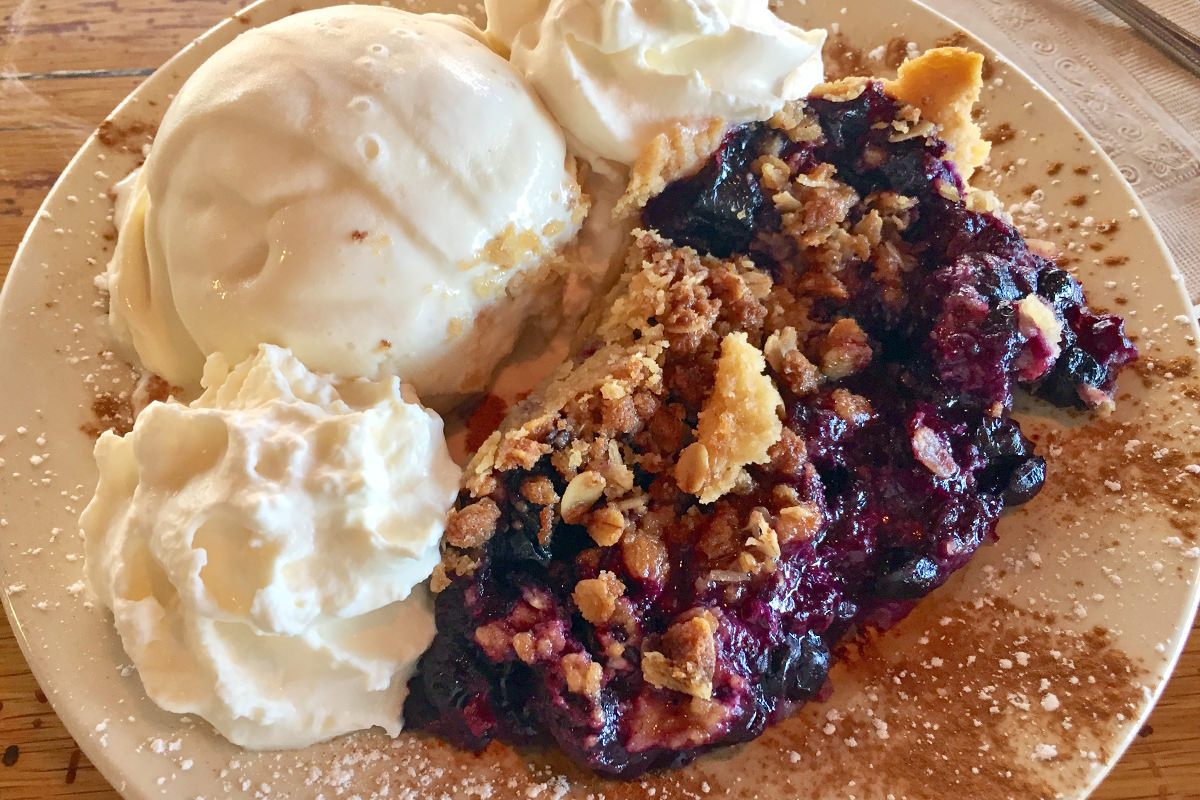 Other than my grandmother's apple pie, there is no dessert on earth I would rather have than this right here. Totally worth a five-and-a-half hour flight followed by a 3-1/2 hour drive. If you're ever in Portland during blueberry season, stop in and pray it's on the day's dessert menu.
After a late lunch, I had 45 minutes more in my rental car until I arrived at my job-site.
And now... since work starts at 5:00am tomorrow morning, which means I have to get up at 4:30am... I'll be taking my leave of you this evening. Good night! Blueberry dreams to you!
Posted on July 14th, 2017

I don't know who the mad genius was who put National French Fry Day and National Mac & Cheese Day next to each other... but kudos to that. Meal planning has been dead-simple these two days. And delicious.
Dinner was courtesy of "The World's Best Mac & Cheese" by Beecher's...
I don't know that it's "The World's Best"... but, if it's not, it's darn close.
Posted on July 13th, 2017

Pizza is probably my favorite food.
But not always.
Sometimes... sometimes... it's fried potatoes. When they're served with Dutch mayonnaise. They don't even have to be really great fries (like the amazing kind you get in the Netherlands or the kind I fry myself). So long as they have Dutch mayo, I'm good. So to celebrate National French Fry Day, I grabbed my Dutch mayo and went to the local drive-in for a big bag of lunch...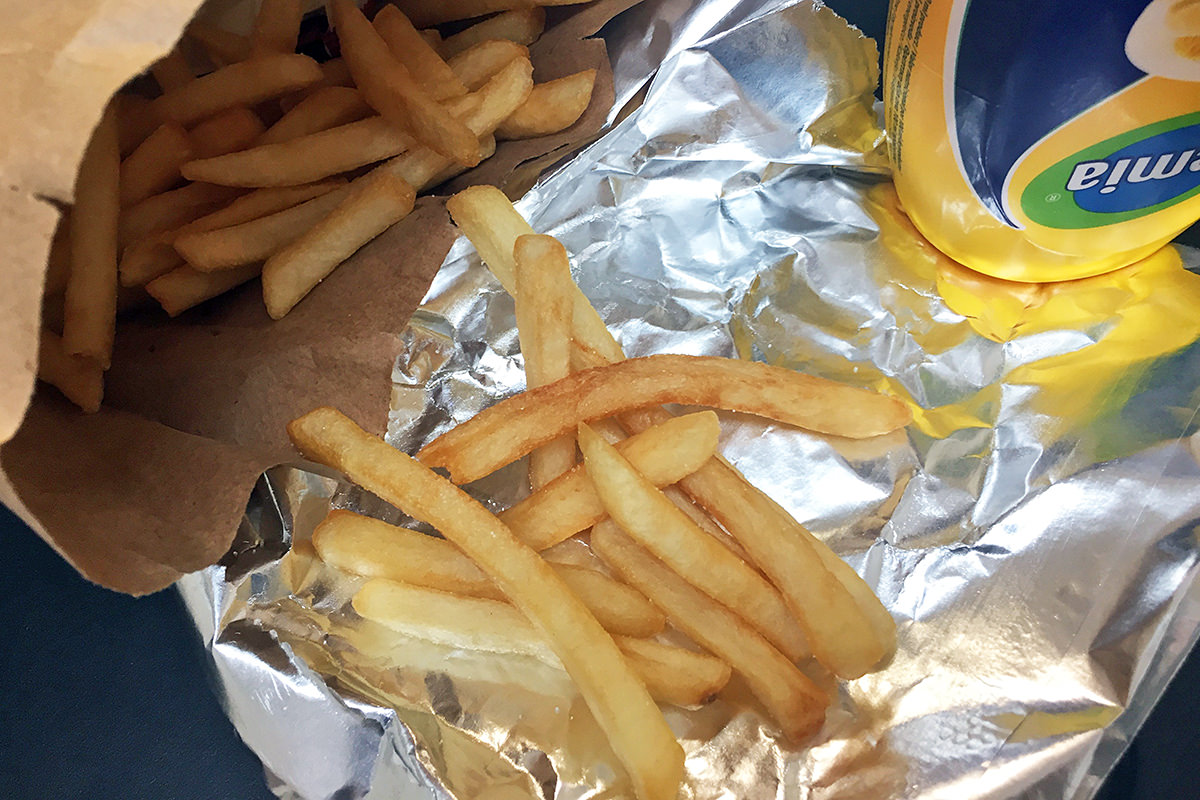 Delicious!
Tied with Chocolate Pudding Day (June 26th) as one of my favorite holidays!
Hope you got fried today!
Posted on April 30th, 2017

Time to celebrate another week down the toilet, because an all-new Bullet Sunday starts... now...

• DC! I have made no secret of my love of all things coming out of the Marvel Cinematic Universe... and my deep loathing of all things coming out of the DC Cinematic Universe. This fan video puts the reason why in vivid relief...
100% accurate. DC has a habit of taking fun, exciting, uplifting hero stories and degrading them to joyless sequences of death and destruction that are a chore to watch. Why in the hell they don't put the team in charge of their TV shows in charge of their movies I will never know. At least they know how to make the characters fun to watch. Justice League, a movie I should be on pins and needles to see, is something I honestly don't give a shit about. Not when we've got Marvel's Guardians of the Galaxy Vol. 2, Spider-Man: Homecoming, Thor: Ragnarok, and Black Panther coming up. Not to mention Infinity War, which promises to blow the doors off of any super-hero film yet seen.

• Piper! I never got to see Finding Dory in theaters, but bought the Blue-Ray in 3D so I could watch it at home. Never had time to explore the "extras" on the disc, but today discovered it has a Pixar Short called Piper included...
That snippet is just the tip of the iceberg. Such a wonderfully adorable bit of animation! Well worth tracking down if you haven't seen it yet.

• Tarzan! The novels of Edgar Rice Burroughs are some of the most imaginative and entertaining reads I've ever experienced. That he started writing them in 1912 just goes to show how incredible a storyteller he was. Between John Carter of Mars and Tarzan of the Apes (and a slew of others), he has a wealth of material just begging to be adapted into movies.
And they have been.
Unfortunately, they've mostly sucked. John Carter was a total shit-fest that abandoned everything that made the character so compelling. And Tarzan? In the books he is an extremely intelligent character who speaks dozens of languages and is as accomplished in civilization as Lord Greystoke as he is in the jungle as Tarzan. But what do we get? Every time Tarzan comes to the screen, he's a grunting ignoramus that barely knows how to speak because he's written more as an animal than a man. For any Tarzan fan it's a massive disappointment, and I'd all but given up hope that we'd ever get an adaptation of The Lord of The Jungle that wasn't crap. Enter The Legend of Tarzan...
Now, this is not a perfect film by any stretch of the imagination. It's not even a flawless adaptation of Tarzan. But holy crap... it's the closest thing I've yet seen, and I loved it. All that plus it has Samuel L. Jackson and Christoph Waltz in it! And gone are the days of Tarzan being a stupid savage! Hell, they even made an effort for Jane to be more than a damsel in perpetual distress! Sure the CGI, which actually started out quite good, ultimately degrades to a level that was below-par, but it didn't destroy how much I enjoyed watching the story unfold. So... ignore the critics. If you like Tarzan... the REAL Tarzan... this is a film that's definitely worth a look!

• TRADER JOE'S CONSUMER ALERT!
"Have you got any more Black Bean and Jack Cheese burritos? I took the last two."
"I think that's all we got. Have you tried the Super Burrito? It's the same except it's made with quinoa and sweet potatoes. Really good."
"Okay, I'll try it, thanks!"
And so tonight I decided to have a late lunch /slash/ early dinner and give it a try. I take a bite and it's not bad... light on the sweet potato and heavy on the quinoa... but it's got a nice spicy bite to it. And then... AND THEN... I take another bite and there's something crunchy/leafy/weird. Is that spinach, I wonder? I dig the wrapper out of the garbage and... IT'S NOT SPINACH... IT'S FUCKING KALE!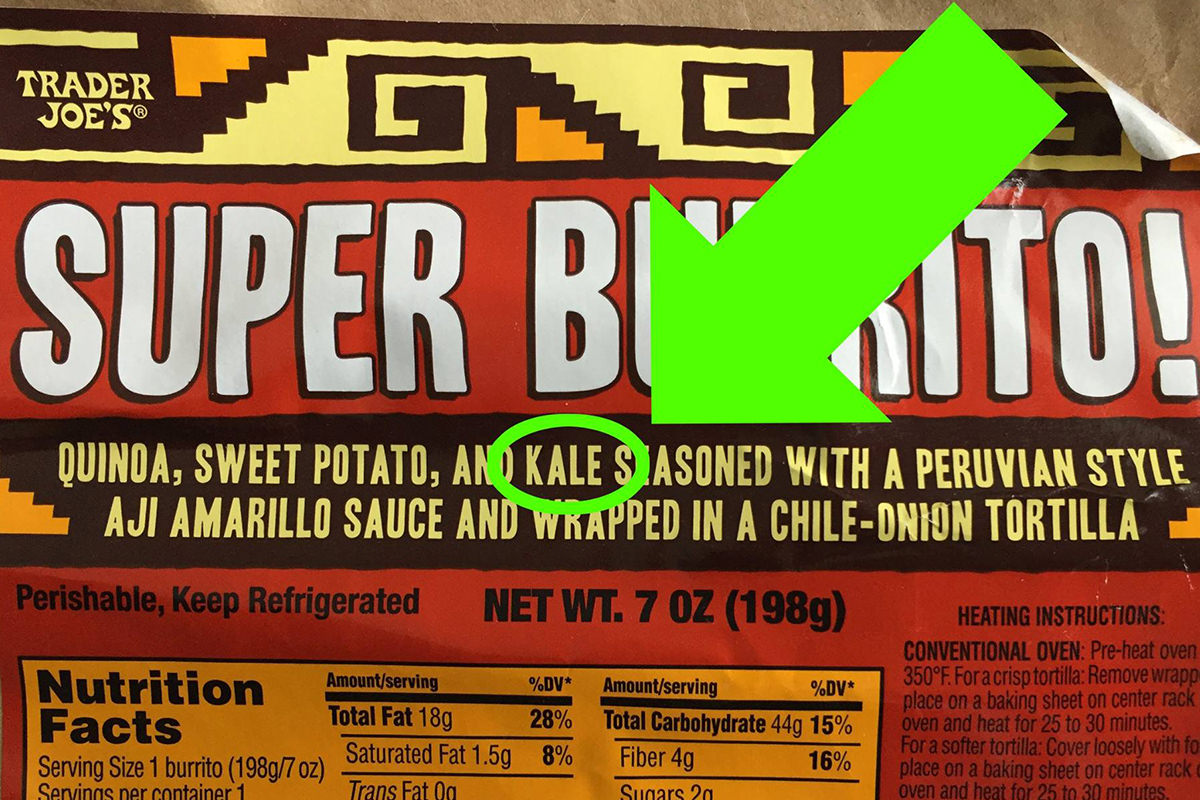 TRADER JOE'S TRICKED ME INTO EATING KALE AND NOW I FEEL LIKE I'M GOING TO DIE!!!
KALE!!!!!!! GAH!!!!
Needless to say, I am not in a good place right now, and I appreciate everybody's understanding as I attempt to mentally and physically recover from this tragedy. I will soon be setting up a GoFundMe page in an effort to help with the massive costs involved in getting me healthy again. WAAAAAHHH!!!! WHO PUTS KALE IN A BURRITO?!? WHY, LORD? WHYYYYYYY?!?.

• Let's Play! Alrighty then... time once again to play the "Will the piece of shit turn out to be a godless liberal... or will they be from the party of family values and moral righteousness?"...
JUDGE ARRESTED ON CHARGES OF HUMAN SEX TRAFFICKING OF A MINOR.
Oh yeah. Big fucking surprise... he's not only Tea Party and Ku Klux Klan supporter, but also a former Trump campaign chair! Because disgusting shit like this is only bad when Democrats are doing it, I guess? Republicans do this kind of heinous shit and "their base" elects them to the school board!
BONUS ROUND!
"Will the piece of shit turn out to be a godless liberal... or will they be from the party of family values and moral righteousness?"...
GOVERNOR RESIGNS AMID SEX SCANDAL.
Hmmm... let me guess...

• Bullshit! And lastly, an article that's well-worth a read, regardless of religious affiliation is here: America Isn't Growing Hostile Towards Christians, It's Growing Hostile Towards Religious Bullies. Because, look... so long as you can walk into a post office and buy a stamp with Jesus on it for Christmas... I've had just about enough of this bullshit notion that Christians are some kind of persecuted class and there's a war on Christian ideology. As somebody who is not a Christian and sees just how pervasive the religion is in dominating so many aspects of American culture, it's embarrassing that people are trying to keep this one alive. And yet FOX "News" is undoubtedly already warming up new ideas to make "The War on Christmas" become something out of nothing again. Because what plays better than victimization on TV?

Time to reload...
Tags:
Animation
,
Bullet Sunday
,
Edgar Rice Burroughs
,
Food
,
Kale
,
Marvel
,
Marvel Studios
,
Movies
,
Pixar
,
Tarzan
Categories:
Books
,
Bullet Sunday 2017
,
Food 2017
,
Movies 2017
—
Click To It:
Permalink
—
1 Comment: Click To Add Yours!