Posted on January 29th, 2023

Don't be sad about that asteroid missing earth so you have to go to work tomorrow ... because an all new Bullet Sunday starts... now...

• My my my my my Poker Face! I was sorely tempted to have every bullet today be the same thing... begging you to take a look at the new series from Peacock called Poker Face...
If you're old like me and used to love watching Columbo mysteries, this is like that... but with a cool twist. If you've never heard of Columbo, it was a series where you are shown who the murderer is right at the start, and the fun is watching the detective piece it together. I would watch Natasha Lyonne in absolutely anything, and she is flawless in this series. The first episode is a good setup, but the series really kicks into gear with the second episode. Then they just keep getting better. This is guaranteed to be on my "Best Of..." list for 2023. No doubt.

• Revolutionary! First of all... I played this pinball machine a lot back in the day. Between Xenon and Pinbot, a lot of quarters were lost! Which is why I think this video about the voice/music designer for Xenon, Suzanne Ciani, is just beyond cool...
Now, my favorite pinball machine of all time was The Addams Family back in the early 90's... but Xenon would certainly be on my list of all-time greats.

• Addams! And speaking of Addams Family Pinball... I just searched YouTube and found this...
If I could afford to track down one of these and buy it, I would 1000% do that. And clear a spot in my living room to put it. Just fantastic entertainment all the way around. I never got tired of it.

• MORTY! NEWSLASH: Justin Roiland: Rick and Morty creator dropped by Hulu as well as Adult Swim. Holy crap. I mean... It had to happen, but wow. I have no idea how this is going to affect Rick and Morty, which has been so good this past season.

• Expensive Air! California has "packaging waste" laws which are designed to keep manufacturers from putting a tiny amount of product in a massive box. Wonder what they think of this travesty from Hot Pockets?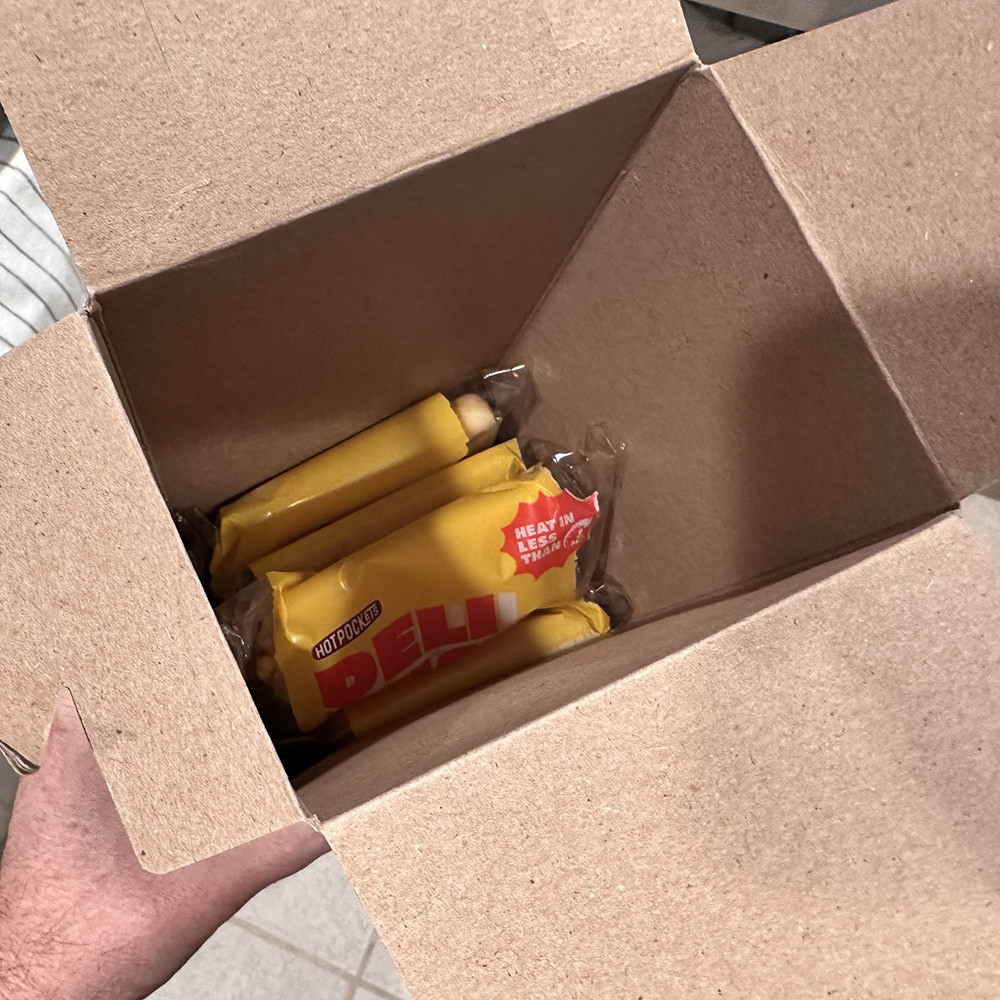 I am trying their new Deliwich frozen cheese sandwiches. There's 4 in a box. A massively huge box which could easily hold TWELVE OF THEM! WTF?!? I thought that they'd be a hell of a lot bigger than this. But the worst part was not the feeling that I was deceived and ripped off... it's the fact that these Deliwich things are awful. Pasty, doughy, gross. I was expecting something flakey and light. It's like a bad salty biscuit with a little cheese jammed inside. How did this ever make it to market? Did they taste-test it?

• Shoresy! I am going to wrap up this most excellent Bullet Sunday with some very good news... Shoresy has been renewed for a second season over at Hulu! And the best news? It's coming this year...
Easily one of my favorite shows of 2022 (it ranked #5 on my Best Of... list), I wasn't sure that we'd get a second season, but here we are.

Fingers crossed that more giant asteroids are incoming, but until then... see you next Sunday!
Posted on January 19th, 2023

When HelloFresh has recipes I want to try or revisit, I place my order and have darn good meals I can make once they arrive. When they don't have recipes that interest me, I take a pass and eat garbage instead. Usually frozen or boxed stuff. I just don't want to go to the grocery store to buy fresh veggies to make great food.
This week was a HelloFresh week, and it's been great.
Last night I had the single best meal I've ever had from HelloFresh, Vegan Shawarma-Spiced Chickpeas with Pistachio Rice, Cucumber Salad, and Garlicky White Sauce...
So good that I get chills just thinking about it. I was licking the dang bowl it was so good.
Then tonight was another triumph, Coconut Curry with Chickpeas and Basmati Rice Topped with Yogurt...
I swear... Garam Masala is one of the most beautiful spice blends ever. It is wonderfully complex, but when it's blended properly, it unites to create a flavor that hits as a singular expression. The stuff is so good, and I use it more places than I probably should.
This weekend I might just bite the bullet and head to the grocery store so I can make more of both of these. I have everything I need except bell peppers, lemon, cucumber, and grape tomatoes. That should be relatively painless to get... shouldn't it?
And if there's anybody out there who hasn't tried HelloFresh but wants to, I have a few codes for a free trial box that works for new customers, cancel any time! Just hit me up and if I have any, I'll send you one.
Posted on January 17th, 2023

Today my new HelloFresh box arrived and I was excited to have a good dinner when I got home. Then I actually got home and decided I didn't want to cook. Fortunately in the box there was a 10-minute meal of Pesto Caprese Sandwiches with an Almond-Studded Green Salad that didn't require cooking... just some light chopping, so that was dinner. It was okay. Not as delicious as the other options, but the idea of not spending over a half-hour in the kitchen was worth more than the flavor.
While chowing down, I took a look at HBO's adaptation of The Last of Us, an epic video game that I loved playing...
Interesting to note that at first I was going to take a pass because I just got out of The Walking Dead which they ran into the ground with similar zombi-apocalypse story. But I changed my mind for two reasons...
The cast. Pedro Pascal is one of my favorite actors. And playing Ellie is Bella Ramsey, who played Lyanna Mormont (ruler of Bear Island) in Game of Throm=nes. She played the role so well that she outshined other actors in major roles despite having very little screen-time.
The first season of 9 episodes tells the ENTIRE STORY of the first video game. No drawing shit out so long that it makes you wish you never started watching. Nope. Nine episodes and done. Assumably the second season will tell the entire story of the second game, and the third season will tell the entire story of the third game (that isn't due for three years or so). GOOD ON THEM FOR NOT STRETCHING SHIT OUT AD NAUSEAM!
The show was actually very, very good.
Absolutely everything about it was well done.
Color me absolutely shocked.
Posted on January 2nd, 2023

For a while I couldn't hop on social media without seeing people raving about the "Ninja Creami"... which is a very powerful blender that creams hard-frozen foods and liquids. This sounded familiar to me, because I have a friend who is a chef with a "Pacojet" that essentially does the exact same thing. Except Pacojet costs $8,000. The Ninja Creami costs under $200. The Pacojet is used for a wide variety of cooking purposes... like creating blended soups that can be heated up... as well as gelatos, ice creams, sorbets and stuff. And while the Creami can probably do whatever you want, it's mainly geared towards ice creams, gelatos, sorbets, and frozen drinks. I bought the "deluxe" version because it was on sale for only $20 more than the original version. It's not necessary, but it does give you a larger container, meaning you can make more ice cream in a single go...
Long story short? This thing is darn good, and worth the hype.
I thought that "creamifying" a can of peaches would result in a peach snowcone. But it actually turns into a luscious peach sorbet. I thought "creamifying" frozen cream and sugar would result in gritty, frozen milky ice. But it really does actually turn into creamy ice cream.
And it's so easy.
My favorite is sorbets. Dump a can of pineapple chunks in the Creami container, mix in sugar, freeze it, creamify it, and you've got pineapple sorbet. Dump a can of peaches in heavy syrup into the Creami container, use a pair of kitchen shears to chop it into pieces, freeze it, creamify it, and you've got peach sorbet...

Seriously! This was a frickin' can of peaches yesterday!
The biggest shock is how good Creami ice creams and gelatos are. They are not not at all gritty and fake-tasting. Heck, they're better than most of the stuff you can buy at a store. The recipe is just heavy cream, whole milk, sugar, a bit of cream cheese, and whatever flavors you want to put in it. Vanilla, chocolate, strawberries, most anything, really...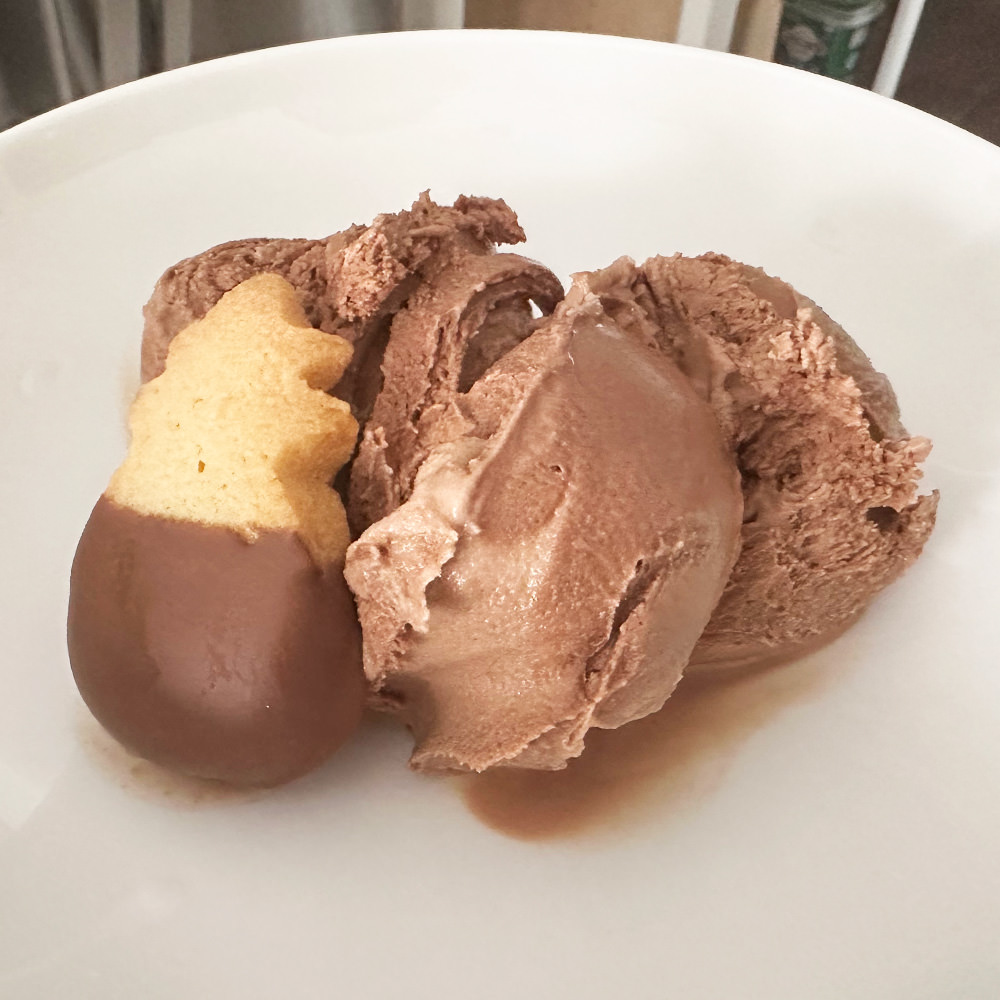 Cookie from Honolulu Cookie Co., not me!
There are recipes for "lite" ice creams (which are okay, but not great), pretty good frozen yogurts (ingredients: YOGURT!), and all kinds of frozen drinks (shakes, ices, slushes, and the like).
PROS
This ain't a poor substitute for actual ice creams, sorbets, and the like... it makes the real deal. Often better than what you can buy at the store. And with better ingredients.
Comparatively, the machine is dirt-cheap. Remember that it is a $200 alternative to a machine that costs in excess of $8,0000 (and I have no idea how Ninja isn't getting sued into oblivion by Pacojet for it).
So fast. Just toss it all together and freeze for 24 hours. Then put it in the Creami and have your treat in minutes.
You can make whatever flavors you can dream of. I've mixed just about every kind of fruit you can think of for sorbet and it mostly always tastes fantastic. Note that fruits in heavy syrup taste great. Fruits packed in juice (like pineapple) lack sweetness, so I dissolve in some sugar.
There is a mix-in feature where you can add nuts, crushed cookies, fruit, whatever. I am addicted to adding graham crackers (plain, chocolate, or cinnamon... all delicious additions!).
CONS
This machine is loud. I mean LOUD. I fired it up in my kitchen and traumatized my cats! It now resides in my garage, where I'm sure I'm traumatizing the neighborhood.
In order to make sure that ice crystals don't form in your ice cream and it ends up nice and smooth, you have to add something which minimizes the possibility. The Creami recipes use cream cheese. This is a good option because it's easy to find and works great. But even though it's just a tablespoon, it's still there. I may look into some options like guar gum or fruit pectin or something that doesn't intrude on the flavor profile.
The ingredients for sorbet is pretty cheap, but ice cream ingredients are heinously expensive. Have you seen the price of heavy cream? Even putting aside the cost of the machine, you are paying more for ice cream and gelato than what you pay in the store. Maybe if you buy in bulk at Costco you can come out ahead, but do not live under the illusion that Creami is saving you money by making cheap ice cream.
My intent on buying Creami from the start was to make "lite" ice creams that (hopefully) tasted great, because that's what everybody was raving about. Nope! All the monk fruit and coconut milk in the world ain't going to make that happen. Luckily the sorbets work for me, because... yikes. Maybe one day I'll find that magic combination of chemicals to make great "lite" ice cream, but I haven't found it yet.
While what I've gotten out of the Creami is darn good compared to store-bought, it will never come close to what you can get from the local creamery.
The reason the Ninja Creami isn't $8,000 is because it's cheap-ass plastic. I use mine around three times a week and don't have much hope for much longevity. Also, there are crap design choices that are frustrating in how it operates (like their shitty blender where the blade is ALWAYS falling out).
I always end up having to "re-spin" in order to get the creamiest product. Even though I've lowered the temp of my freezer, the initial "creamification" is more powder-like than creamy. Fortunately the re-spin fixes this, but it's still one more thing you have to do.
If you don't eat all of it in one go, there's a bit of an ordeal to eat the remainder. First you have to pack the leftovers down nice and flat... then you have to reprocess it when you want to eat it. You can't just take it out of the freezer and eat it. I was told that you can just let it thaw a bit so it softens, but that doesn't taste as good.
Mixing in stuff is a bit more manual than you'd hope. After you process it, you have a make a hole, put your mix-ins in there, then process it again with the "mix-ins" function. And while it's a more gentle cycle than the initial "creamification," it's still pretty harsh. Cookie pieces get turned into crumbs. Nuts are pulverized. Especially soft nuts like walnuts.
CONCLUSION
Knowing the caveats that I know now, I'd still buy me a Creami. And if it's of interest to you, you may want to get one before the inevitable Pacojet lawsuit shuts them down (I'm being 100% serious, as this is a very clear rip-off of their product... just look at the blade!). Being able to freeze up a bunch of options and have them available any time I want fresh frozen desserts is too good to be true. And the result is not a trade-off, but something that tastes pretty amazing. And once you figure out the recipes that end up with the treat you like best, you're ever only 24 hours away from having it.
Posted on November 30th, 2022

As anybody who has been reading this blog knows, I have been searching for a decent frozen pizza for decades. I can actually make pretty good pizza myself, but it's a lot of work and finding time is tough.
I finally hit the jackpot years ago with "Boardwalk Bagel Pizza" which was sold at Costco for a while. They had to be bought by the case, and I ate them almost daily. But then they disappeared, and no amount of internet sleuthing would tell me where they were made or where else I could get them.
Then, just last year in 2021, Red Baron introduced their "Fully Loaded" pizzas which were fantastic. I'd buy six at a time and eat minimum one a week. Then, for whatever reason, Red Baron changed the recipe. The sauce was different, the crust was different, and the cheese was even different...
So that was over. Would it be another 20 years before I found a frozen pizza that didn't suck?
Turns out that... no...
I happened across "Home Run Inn" pizza a couple weeks ago and decided to buy three of the small ones to try. The first time I made one, I microwaved it because it had special packaging that was designed to be microwaved. And it sucked. SUCKED! I was very close to tossing the remaining two in the garbage, but I can't afford to throw away food, so I waited a couple weeks and decided to bake another one in the oven.
And it was fantastic.
Very much like the "Butter Crust" pizzas I've had at Pizano's in Chicago (Home Run Inn is also thin crust Chicago pizza)...
And so... yeah. I've reached frozen pizza nirvana once again.
Any bets at how long it will be before they get dropped at the local grocery store?
Posted on November 16th, 2022

I watch a lot of YouTube. Like... a lot a lot. Probably more than actual television. Which is why I pay for the ad-free version, because being inundated by non-stop ads completely destroys my sanity.
There are a lot of YouTubers that I enjoy. I've blogged about them a couple times. And while I'm never looking for new creators to follow, I do poke around from time to time. And while I honestly don't need more to watch, sometimes I can't help myself.
My latest discovery is Anti-Chef.
I have never subscribed to a channel so fast. Not only that, but I also signed up to support his work on his Patreon.
I don't know how else to describe it... except Jamie Tracy is me! He's me in the kitchen!
This guy is a Canadian living in New York City, via London, via Belgium, via Toronto, who makes rather complex recipes and lets you watch. The results are often hilarious, because he's not an expert chef. He just a dude who likes cooking. But the complex nature of the recipes often has him confused and frustrated... and most times there's a complete disaster going on.
AND IT'S ME! THIS IS WHAT I GO THROUGH EVERY TIME I COOK! HE IS MEEEEEE!
In this video he's making Cronuts, which is something I've long wanted to try. But now that I've seen him attempt it... I know I would burn my fucking kitchen to the ground because he calls it a "one way ticket to hell" and I am not going to take that trip. But... they do look dang delicious!
Occasionally Jamie steps outside of the kitchen... as was the case with this video about PATATJES MET he filmed when he was living in Brussels...
His latest thing is to cook Julia Child recipes. Often to hilarious effect!
If you're looking for a YouTube rabbit hole to fall into, this is your guy.
Posted on September 9th, 2022

Today I will be cooking up a grilled cheese sandwich recipe that I've been working on forever. More on that in a second, because first I feel obligated to put some bullshit story in front of my recipe. Apparently that's The Law of the interwebs...
When we went into lockdown, I spent a lot of time in cooking forums and groups trying to find ways to get creative with limited groceries. One day there was a conversation built around your favorite grilled cheese sandwich.
Now, I have many, many "favorite" grilled cheese sandwiches. I love bread. I adore cheese. I have made so many different combinations of both that I couldn't possibly count them all. Growing up my grilled cheeses were American on whatever white bread was cheapest. I loved them. Still do.
All that being said, here is my favorite grilled cheese sandwich. Which got me some hate, I won't lie...
Blogography's Grilled Cheese
Two slices of rustic bread... my favorite is homemade. But if I'm not making it myself, I like Seattle Sourdough Baking Company's "Waterfront" round loaf.
Thinly-sliced, good quality Cheddar. It doesn't even have to be expensive or an import. I love Tillamook Medium.
Spreadable cream cheese.
Grated parmesan cheese. Not the "real" stuff... you want the cheap Kraft shaker stuff in the plastic bottle.
Thinly-sliced Granny Smith green apples or ripe tomatoes (if you got them, which I do not).
And here's what I do...
On a microwave-safe plate, pile up the thinly-sliced cheese between the slices of bread and nuke it for a short time. Ideally you want to stop just before the cheese is melted. On my microwave it's 12 seconds. Cheddar is a hard cheese that doesn't always melt easily, so this is just to make sure that the cheese gets really gooey when you actually cook it.
Place in a cold pan and turn on the heat to medium-high. Butter one side then turn it over and butter the other. Yeah, yeah, I know it's en vogue to use mayonnaise, and that's fine... but I prefer plenty of real butter.
Grill the one side until it is lightly toasted. You don't want it browned (you'll see why soon).
While the bottom side is grilling, take the top slice off and smear the inside with cream cheese. Stick the thinly-sliced green apples (or ripe tomatoes) to the cream cheese and stick it to the bottom slice.
Flip and lightly grill the top side.
NOW... once both sides are lightly toasted, that means the pan has come up to heat. What you do now is turn the heat down to medium. Lift the sandwich out of the pan with a food turner, then sprinkle a bit of the Parmesan into the pan and quickly place the sandwich back in the pan. Grill until the cheese has fused to the bread and turned deep brown (careful! It will burn quickly!).
Repeat for the other side.
Use a sharp knife to cut at an angle (you want that point on the end for your first bite!). The knife should be as sharp as you can make it so the bread doesn't get too smashed at the cut. I used to use a bread knife, but it really isn't necessary.
Serve on a plate with whatever green apple slices are left.
I didn't have green apple or tomato for this one, but you can get the idea...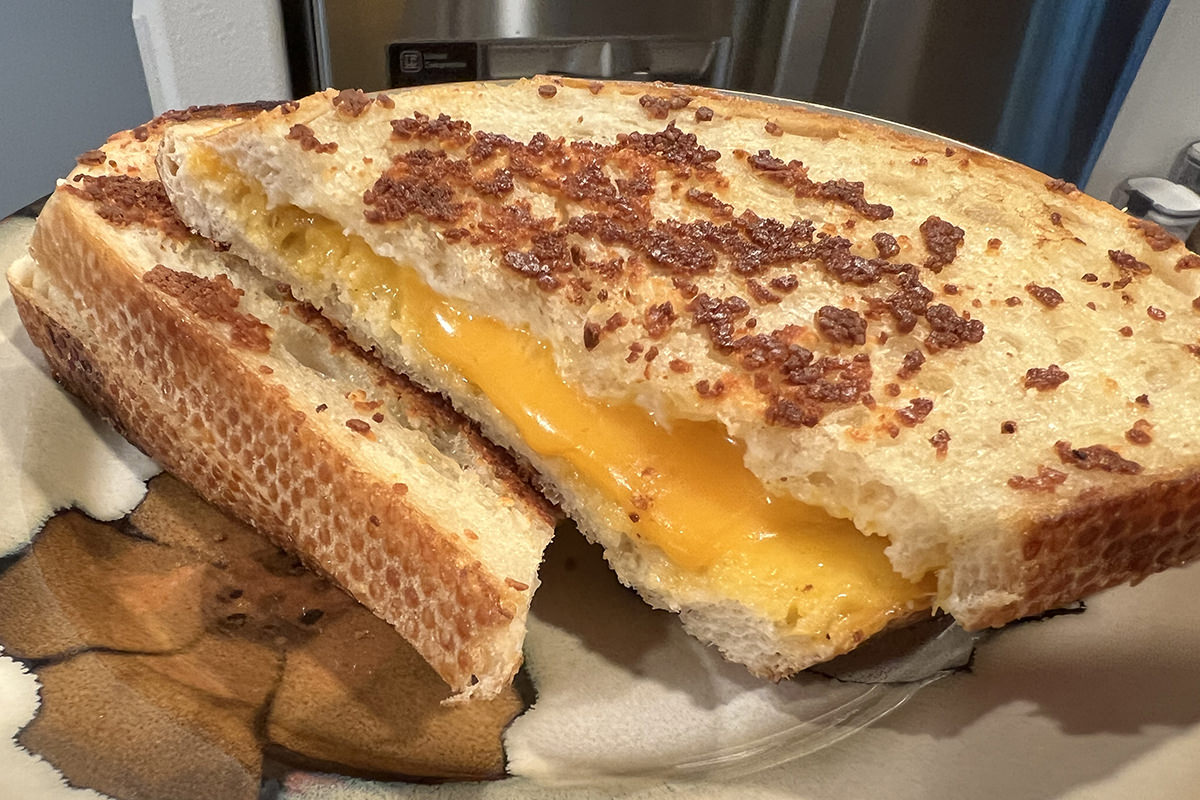 Now, there's some method to this madness. And I ended up having to defend my sandwich to people who were upset about my choices in a frickin' cooking forum...
"IF YOU MICROWAVE IT, THEN IT'S NOT A REAL GRILLED CHEESE!!" — As I said, cheddar isn't the meltiest cheese around and needs a little help. You can skip this step if it offends you so much, but those 12 seconds makes a big difference.
"CHEDDAR IS SO BASIC! THERE ARE BETTER CHEESES FOR GRILLED CHEESE!" — Then use them. Medium Cheddar is my favorite taste for this sandwich, especially when paired with green apple or ripe tomatoes.
"CREAM CHEESE ISN'T EVEN CHEESE!" — According to the FDA it qualifies, but whatever. I use it because it's a lovely, creamy texture addition... and does a darn good job of keeping the apples from sliding out of the sandwich. Unless you go too thick. Or over-cook it.
"GRATED PARMESAN? FROM A BOTTLE? IT'S NOT REAL CHEESE! IT'S SAWDUST!!! — Preaching to the choir. You're telling me something I already know. But whenever I use real parmesan, it sticks "wrong" and makes a mess. But the Kraft grated (with sawdust!) works perfectly for what we need. I don't want the "crustiness" to come from cooking the bread until brown. In my opinion, that's overcooked. But you want that crusty topping! Using grated Parmesan gives you a nice crustiness on the outside while keeping the bread soft and delicious. The texture is remarkable, and that small hit of Parmesan is so tasty.
"THAT'S A FRUIT SANDWICH, NOT A GRILLED CHEESE!" — Then leave off the green apples or the tomatoes. As you can see in the photo above, it's still a fantastic sandwich. I just like that small addition of other flavor to add a bit of complexity to the flavors and elevate it a bit. Cheddar has a strong enough flavor to not be overwhelmed.
"THIS IS A SHITTY GRILLED CHEESE. YOU DO EVERYTHING WRONG!" — If wrong tastes this good, I don't want to be right.
Thus is the politics of grilled cheese sandwiches. If you have a favorite of your own, then by all means keep doing what you're doing and not tell me how much my favorite sucks!
Posted on September 4th, 2022

It's the middle of a 3-day weekend, but I won't let that stop me... because an all new Bullet Sunday starts... now...

• There Be Dragons Here! We're three episodes into House of the Dragon and I'm fairly impressed. Not so much for the show, which is okay and I'm certainly enjoying it... but because anybody who has read Fire & Blood already knows what becomes of all these characters, and that's kind of exciting. At least we think we do. Heaven only knows that they could change events in order to drag the show out and have it end in a pile of shit like Game of Thrones...
In the books... this period in Westerous history which culminated in the disastrous "Dance of Dragons" war, was actually quite cool and interesting. If they stay faithful to it, the HBO series could have a great ending. If not? Well, strike two, I guess.

• POWERRRRR! In Amazon's absurdly expensive competition for the above, The Rings of Power, we've returned to Middle Earth (last seen in Peter Jackson's Lord of the Rings trilogy and The Hobbit trilogy). While watching the first two episodes, I was confused. What in the heck is this supposed to be? We're in The Second Age, which is fine... but it's not feeling very "Tolkien." Nor does it seem to be coming from The Silmarillion (Tolkien's book of stuff that happens in the First, Second, and Third Age). Sure, you've got Elrond and Galadriel, but not in a form that they're recognizable. At least not to me...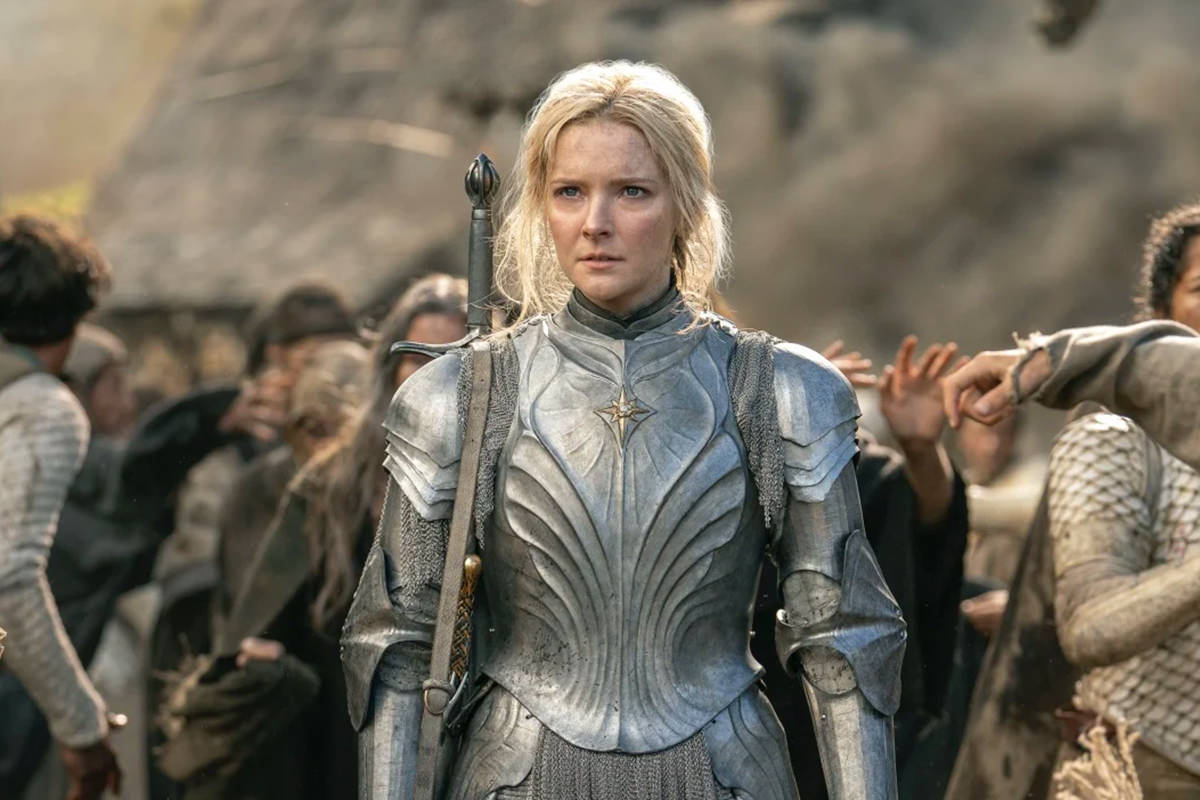 Not knowing what to think, I ran to Google to find out. Turns out that Amazon didn't buy the rights to The Silmarillion at all. All they got were the books which have already been made into movies, including the appendices, which is where the concept for Rings of Power came from. But the actual story? Pulled out of their asses. The show is visually stunning. The acting is great. And the story doesn't suck. I will absolutely keep watching. But, it's like, WTF? You would think that the Tolkien Estate would want for the series to be close to Tolkien's vision as possible. But I guess not. Money speaks louder than Elvish, I guess.

• GAH! MY GOD! WHAT DID HAPPEN TO MEN?!??? (here's a link in case TikTok is being a dick)...
I've heard this so many times in my life. "WHAT'S HAPPENING TO OUR MEN?!" It's such a laughable question to be asking. Harry Styles doesn't represent "all men" any more than a landing craft full of men during (assumably) D-Day does. Or any more than the alarmist snowflake in this video does.

• Booster for my Booster's Booster Booster! The minute it's available to me... "If you have had your primary series, with or without any number of boosters, you are eligible to get a bivalent booster this fall, as long as it has been at least two months since your last COVID vaccine."

• ZOMFG!!! I do not even know how to respond to this (here's a link in case TikTok is being a dick)...
Now, I love mayonnaise. It's one of my most favorite foods. No stupid-ass "factoid" like this woman is spinning would make me reconsider. Which is why I'm sharing this, because Dan Fisher's measured response is all that needs to be said.

• Your Sexism at Work! Yeah. Not enough people are talking about this: Grey hair: Fine for George Clooney but not Lisa LaFlamme?

• Food! GAH! I AM IN LOVE AGAIN! This woman's cooking TikTok is the best thing on the internet right now (here's a link in case TikTok is being a dick)...
Seriously, go watch her videos. She's absolutely lovely, has amazing recipes, and her videos are wonderfully entertaining.

• Safety. A quick and important read if you own an iPhone: How to Hard Lock an iPhone to Prevent Unauthorized Biometric Access (I don't know how this works on an Android phone, but you should find out if you own one).

See you in seven.
Tags:
Assholes
,
Bullet Sunday
,
COVID-19
,
Dumbasses
,
Food
,
Lord of the Rings
,
News
,
Streaming
,
Television
,
Vaccination
Categories:
Bullet Sunday 2022
,
Food 2022
,
News – Politics 2022
,
Television 2022
—
Click To It:
Permalink
—
1 Comment: Click To Add Yours!
Posted on August 18th, 2022

Turns out I only thought I was exhausted yesterday. Because today I found out exactly what "exhausted" really means.
Last night I was quick to take a nap because I knew I was going to wake up to watch the series premiere of She-Hulk: Attorney at Law that debuted on Disney+. Probably a mistake, but I didn't have to be to work until 9:00, so no big deal, right? (SPOILER ALERT: It would indeed turn out to be a big deal). I'm going to reserve comment on the show until we get past this origin episode... but my first impression was very good. I love Tatiana Maslany, and she brought everything you could hope for to the role. A guest appearance from The Hulk didn't hurt matters (where we also get a lingering question answered from the Shang-Chi and the Legend of the Ten Rings credits scene...
But anyway... Could not get back to sleep after hulking out, which ultimately lead to me getting a whopping three hours and twenty-eight minutes of sleep (according to Apple Watch). It didn't help that there were people in the neighboring hotel room who were making lots of noise and slamming doors until 2:30am. Thankfully work went very well, because if things went badly and a fully-functional brain was required, I would have been in deep trouble.
After work I stopped for a road pizza at David's...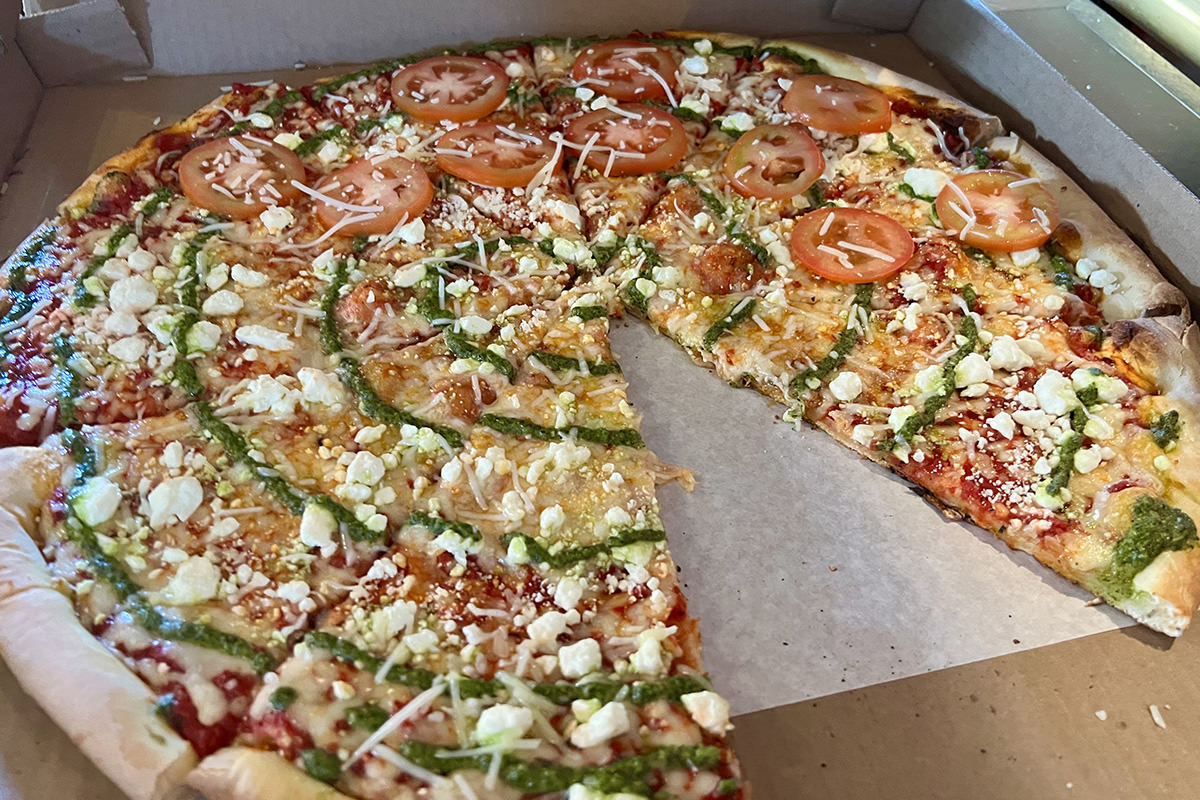 And then I was on my way. Three hours of nothing but this...
Could be worse. It could have been five hours of nothing but that.
Posted on August 2nd, 2022

This morning I woke up and really, really wanted a toasted bagel with cream cheese. Fortunately, I had both. Unfortunately I had a very busy morning and didn't have time to fix one up before I left the house for work.
But I never stopped wanting that dang bagel!
All day at work. All through my errands after work. Right up through the evening when I finally got home... that bagel was all I could think about. And so that was my dinner. Toasted to get it crusty then microwaved for 10 seconds to get it softened. Then schmeared with cream cheese. It was perfect.
And now I feel as though I have nothing left to live for.
Except chocolate ice cream for dessert, of course.