Posted on February 16th, 2021

The microwave in my work's break area is very old. It has aged so much that the white plastic parts are now yellow plastic parts. I don't know much about it, but I believe it's a 10-watt model. At least it seems that way. Something which would cook in 20 seconds in my microwave at home can take 2 full minutes at work. It's wasteful to just toss it out for a newer model since it's still functional, so we just deal with it. If somebody's reheating a bagel (or whatever) when you want to eat lunch, you just come back in ten minutes... no big deal.
Years ago I was reading a vintage magazine where they were predicting that in the future frozen meals would be packed in nuclear-powered packaging. No microwave required. You'd squeeze down on a corner of the aluminium tray and the Uranium-235 embedded inside would activate and cook your TV dinner. This raised all kinds of questions. Such as... what happens to all those food trays? Do they just go in the trash-can and get taken to a landfill? Wouldn't we all be glowing in the dark if the product caught on? What were they thinking?
At least they were still going to use aluminum trays instead of the plastic crap we use now. Not that anybody back then would ever recycle anything. Back then everything went straight into the trash.
I have a certain nostalgia for the TV dinners of old.
The earliest dinners I remember as a kid didn't come with dessert. There were three sections... one for the meat (for me that meant meatloaf, chicken, or salsbury steak), one for the potatoes (usually mashed, but sometimes slices or fries), and one for the vegetables (exclusively consisting of peas, carrots, and corn or a mixture thereof). That's it. That's all you got...

Photo from a Google Search, so I dunno.
I didn't like any kind of meat, even when I was very young, so mom sometimes let me have a macaroni & cheese dinner.
Eventually a small and mysterious fourth section was added. This was where the dessert landed. Sometimes it was fancy cobblers, cornbread, muffin, or maybe even a brownie, but my favorite was baked apple slices. Oh boy! There were only about four or five of them, but they were floating in a sea of sugar-cinnamon syrup that was so good I'd try and lick it out of the damn tray...

Photo from a Google Search, so I dunno.
As I got older, Swanson started getting creative. They had "International" versions which steered away from the meat and potato fare that the USA lived on in favor of exotic dishes from Old Mexico or Italy or even the faraway islands of Polynesia! Instead of a mere four sections, they would have five! They also had larger-size dinners which were their HUNGRY-MAN line of bake-and-serve meals. It was a bonanza of non-stop food goodness, fresh from your freezer!
Eventually microwave ovens dictated that aluminum trays be ditched in favor of plastic. And the golden age of TV dinners was over. We never got a nuclear option because microwaves were cheaper, I guess.
But not nearly as much fun, certainly. If Indiana Jones and the Kingdom of the Crystal Skull taught us anything, it's that.
Posted on February 8th, 2021

After spending the entire weekend with the worst case of food poisoning I've ever had... or maybe it was some other kind of reaction to the "plant-based meat" ingredient I ate... the last thing I wanted to do when I got up was go to work. I was still feeling weak, my stomach was still a bit dicey, and Monday's are always challenging even without all that.
But oh well... buckle up, buttercup. Or whatever.
The culprit for my woes? The last meal from my Martha Stewart meal kit... Plant-Based: Meat-Free Soft Tacos with Charred Corn & Guacamole...
Here's the review I left on Martha & Marley Spoon's site:

"This was a nice idea... but who approved this plant protein stuff? I have a cast-iron stomach. I have eaten the gamut of vegetarian meals on all 7 continents (okay, I was dining off the coast of Antarctica, but still)... and after eating these tacos I was the sickest I can remember being in a long while. And, as if that wasn't bad enough, the plant protein had HORRIBLE texture. Like eating pencil erasers. This isn't even a contest. Worst meal I have ever eaten with Marley Spoon or any other meal service. Probably in the top ten of the worst meals I've ever eaten period. On top of that they needed cheese... and the spinach should have been cut up because it kept falling out of the way-too-small shells. The only bright spot is that this was the ONE bag where my tomato wasn't pulverized by a can of beans this week (because there weren't any beans, I'm guessing). Literally gut-wrenchingly awful."
WHAT I DID NOT SAY BUT SHOULD HAVE SAID... this stuff shredded my intestinal tract in ways that I didn't even know were possible. When I'm not eating Imodium like candy and sitting on the toilet, I am doubled over with stabbing cramps. This was horrific. AND ON A SATURDAY NIGHT!!! Not that I have much going on in COVID-times, but oh my gawd. This stuff shouldn't even be legal. I spent an entire evening wanting to die.
So, yeah... not a fun day to me.
But Monday's rarely are.
Posted on February 7th, 2021

You're probably watching sportsball today, but I've got your touchdown right here... because an all new Bullet Sunday starts... now...

• BAT! My new ritual for Sportsball Sunday is to watch the Superb Owl episode of What We Do In The Shadows...
Far more entertaining that football could ever be.

• Make Mine Marvel! Finally. Exactly what I'm looking for in a Marvel Studios Disney+ series...
I'm assuming that they're not going to waste our time with three episode parodying 48 Hours, Lethal Weapon, and Rush Hour before actually getting to the action. And speaking of action... how amazing is it to see Sharon Carter (AKA Agent 13) kicking copious amounts of ass in this trailer?

• Beer! The Superb Owl commercials were mostly a bust this year for me. Except one. This is one of the best straightforward commercials I've seen in a long time...
It bypasses special effects and slick marketing to go with something much more intimate and human. And it works really well, accomplishing what commecials costing boatload more money can't. Bravo, David Fincher.

• Plague! As a long-time fan of Adam Ellis and his illustrated comics and stories, I was 100% unsurprised to learn that somebody made a shot-for-shot film adaptation... without asking for permision... of one of his stories...
I'm unsurprised because this shit happens CONSTANTLY. I've had my works stolen more times than I can count... for everything from business logos and remakes of my DaveToons to outright plagiarism where they erase my copyright and present it as their own work to promote their sites and products. There was a shop in the UK that printed out one of my cartoons to fill AN ENTIRE WINDOW DISPLAY and never responded to my emails once I was made aware of it. And don't even get me started on my photos. Those have been stolen so often that I had to stop putting hi-res images online, which was brought about because some asshole used one of my shots to promote a homophobic message of hate that really hit me hard. 95% of the time when people ASK me to use something, I am happy to say yes with the understanding that it's for non-profit use that doesn't promote hate-speech. But since I don't make any money off of my stuff, if YOU are, then I want to get PAID.
This right here from Adam Ellis is one of the worst and most egregious rip-offs I've ever seen. And the fact that the people who STOLE HIS WORK then asked him to promote it... and even blew him off when he asked them to remove their theft... is abhorrent. I hope he sues because he has a very good chance of winning. SOME of us should actually get justice for having our work stolen. This is rage-inducing. But what's even more rage-inducing? The response from the filmmakers after Adam's post went viral, essentially saying that they tried to contact Adam (right), but when he "didn't respond" they decided to steal his work anyway. Except because they added stuff to the story, they don't consider it to be really stealing. And since the concept of man being created from the earth has been told forever, then they have a right to tell it. Even if it rips off the way Adam interpreted it completely. So by that logic I guess I could rip them off by making a shot-for-shot remake of their film and they would be perfectly fine with that?

• I AM SEEN! And I don't think that I've ever felt more attacked!
Pretty much... me.

• Olive Garden? When it comes to eating out, I'm not the biggest fan of Olive Garden. It's okay... and there are certainly some dishes I like there... but it's not terribly authentic and I would prefer to make my own Italian at home. The exception is their salad and breadsticks. In fact, most every time I go there, it's not for the pasta... it's for that neverending salad and breadsticks. A while ago I found that they started selling their "Signature Italian" salad dressing in the grocery store. I bought a small bottle to try, absolutely loved it, and have been buy the big bottles two at a time so I never run out...
It makes salad become frickin' dessert. And it's made me start experimenting with making my own breadsticks. At first I thought it shouldn't be too difficult. It's just a basic bread slathered with butter and garlic salt. But they're surprisingly tricky to make the same, because th sticks at Olive Garden have a fluffy texture to them. I'm guessing it's because of some kind of dough additive, but I'm not giving up just yet. If Olive Garden ever releases frozen sticks at the grocery store that bake up the same, I may never go to their restaurants ever again.

• Population! I found this fascinating...
At some point mankind will understand that resources are finite and the planet is being destroyed. Then they will either do something about it... or they won't. The universe won't care one way or the other. Humanity, of course, will care quite a lot.

And that's my last touchdown.
Posted on January 21st, 2021

"So... what knife are you using?"
After 30 years of eating crap, I decided I wanted more out of life than frozen food reheated in a microwave so I signed up for Martha Stewart's meal service via Marley Spoon. It changed everything. I don't necessarily enjoy cooking, but I do love what comes from it. I am eating better now than I have in decades, and it would be tough to ever go back. And once I realized this truth, I started buying new stuff for my kitchen to make my cooking experience better. New tools. New cookware. New gadgets. New ingredients. New knives.
Again and again I heard THE ONE THING EVERY COOK NEEDS BEFORE ANYTHING ELSE IS A GOOD KNIFE! I was told that I could scrimp on a lot of things, but a cook's knife was not one of them. "Spend the $200 it takes to get the very best knife you can afford... it will last a lifetime and be an essential part of every meal you cook!" After I got done changing my underwear at the thought of spending TWO HUNDRED DOLLARS ON ONE FRICKIN' KNIFE I calmed down and scrolled past entire knife sets costing $50, and started researching what the best "fit" for me might be.
I was more accustomed to German-style knives which are total workhorses. They have heft and power to cleave through anything, and I came very close to purchasing a $195 Wüsthof that was most similar to the cheap-ass $18 plastic-handled chef's knife I had been using forever. But then I took another look at Japanese knives. They were harder, thinner, sharper, and seemed more suited to my vegetarian diet. If I wasn't hacking apart cuts of meat, what did I need with a heavier knife?
The rabbit hole you fall into when knife shopping is really, really tough to escape from.
I waffled between various brands for quite a while until I decided on a MAC Professional 8" Chef's Knife. Many, many professionals swore by it, the reviews were stellar, the price wasn't as bad ($150 at discount), and the more I read about it, the more it seemed like it was exactly what I needed.
Then it arrived.
I've always had a knife sharpener which easily and inexpensively keeps my cheap knives at peak sharpness. But it turns out my knives were never sharp at all. Not really. Compared to the MAC Chef's Knife I bought, I might as well have been using a frickin' spoon to slice tomatoes all these years...
I honestly don't know how to adequately describe how sharp this thing it. I really don't. It's razor sharp. It's X-ACTO blade sharp. After I opened it I touched the tip to see how sharp it was... and proceeded to prick my finger. This was no knife... it was a scalpel. For the first time in my life when holding a knife I thought Holy shit! I could straight up murder somebody with this thing! And I immediately had visions of dropping it on my foot and cutting it off... slicing through my fingers before I realized it... or reaching across the counter for something and impaling myself.
This knife scared the shit out of me.
The first thing I did was order a pair of cut-resistant gloves to wear when I cut tough, larger vegetables (like squash). The second thing I did was make a mental note to never use it barefoot. The third thing I did was decide to not toss out my old chef's knife. When I have company cooking with me, the last thing I would want is for them to seriously injure themselves... which is a frightening (but entirely realistic) scenario...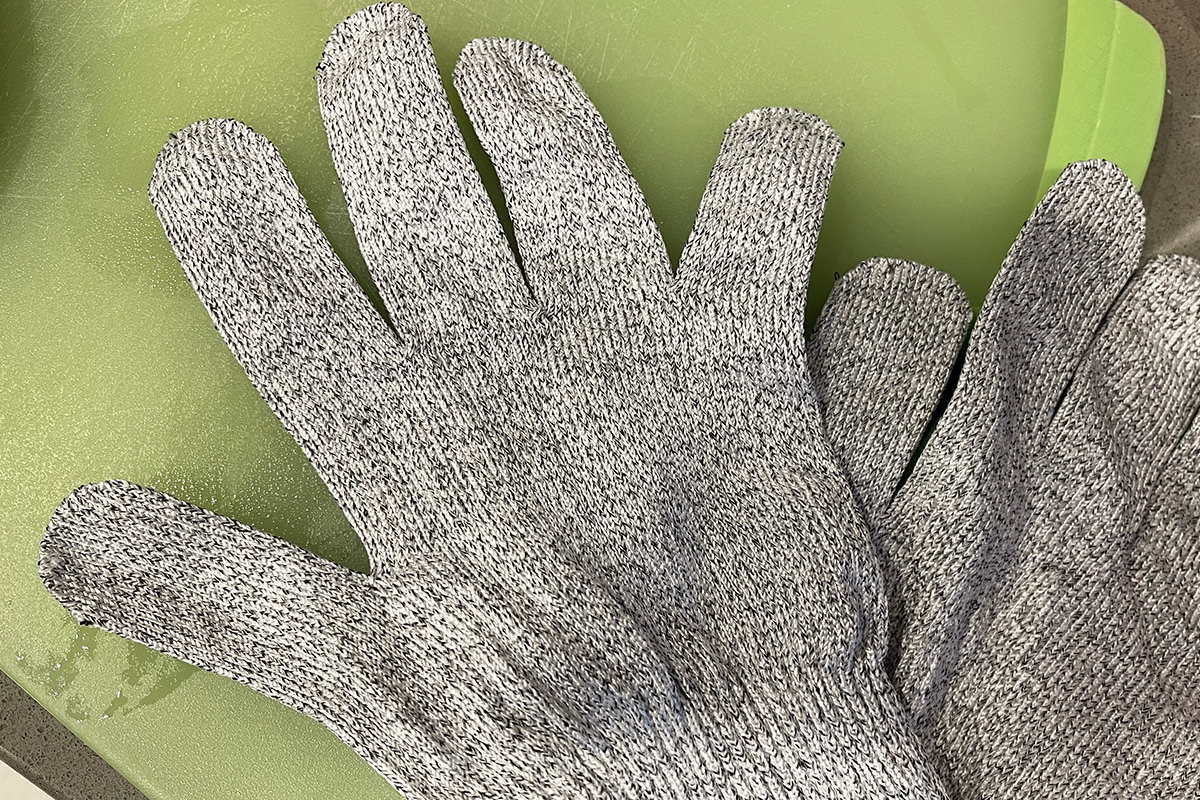 The MAC itself is a work of art.
Yeah, it's ridiculously sharp, but it's also extremely well-balanced. It has some heft, but doesn't get in your way. The bolster is enough to be comfortable, but not too much to keep me from holding it properly. And once I trained myself to cut with such a thin, sharp tool, I felt more in control than I ever did with previous knives. After the fear factor wore off, I grew to love it.
And yet...
So damn sharp. For softer veggies (like tomatoes) you can just set the knife on it and the thing will practically cut itself. You can shave a sheet of paper with it. After a year of using it, the thing can still scare the shit out of me. Since the steel used can rust easily, you have to clean and dry it immediately after use. No leaving it in the sink until morning. If you're cutting citrus, you have to occasionally rinse it while you're working with it. I learned how to clean knives from a food stylist. You hold the blade edge away from you and wipe from the spine edge only. If you were to foolishly wipe from the blade edge, you'd slice clean through your sponge and your entire hand. That's a doctor visit I definitely do not want, so I am beyond cautious whenever I have this thing in my hands.
To explain just how cautious... I never use it when I've been drinking.
Once you've used a good knife, you kinda get addicted to really great steel. I've since bought a few other quality knives that cost a fortune but are ultimately worth the investment. What I will not be buying is a pointed paring knife. I ended up getting a round-tip paring knife because it seemed safer to me, and that will do just fine, thank you very much!
Unless I actually do need to murder somebody. Seems like the compact size of a paring knife would be a lot easier to conceal than an 8" Chef's Knife!
Posted on January 20th, 2021

This is the drama I inevitably go through whenever I attempt to remember how to spell a word that I don't use very often...
Faroe: ALSO: Faeroe Islands (/ˈfɛəroʊ/; Danish: Færøerne) are a North Atlantic archipelago located 320 kilometres (200 mi) north-northwest of Scotland, and about halfway between Norway and Iceland.
No. That's not it.
Farrow:
María de Lourdes Villiers "Mia" Farrow (/məˈriːə di ˈlʊrdz ˈvɪljərz ˈfæroʊ/; born February 9, 1945) is an American actress, activist, and former fashion model. Farrow has appeared in more than 50 films and won numerous awards, including a Golden Globe Award and three BAFTA Award nominations.
No. That't not it.
Farroll:
was an admiral in the GalSec troops. She was in charge of an attack on a Wirrn. She was later injured because of a Wirrn. She was infected by the Wirrn to become the new Wirrn Queen. (
SEE:
British science fiction television programme
Doctor Who
)
No. That's definitely not it.
Farro:
Farro refers to the grains of three wheat species, which is sold dried, and cooked in water until soft. It is eaten plain or is often used as an ingredient in salads, soups, and other dishes.
Oh yeah! There it is!
Until recently, I don't know for 100% certain that I've ever had farro before. It certainly never showed up on the dinner table when I was growing up. I have vague-ish memories of probably eating it when I was traveling... like once I think it was served in an airline meal with apricots in it or something like that? I don't know. I'm old and my memory is going.
Suffice to say that farro has not played a big part in my life.
UNTIL NOW!
Both Martha Stewart (via Marley Spoon) and HelloFresh have been dropping farro bombs into my life, and I am totes here for it. The stuff is fantastic. Kinda like bulgur or quinoa but not really. I may plow under the grass in my front yard and try to grow it... that's how in love with the stuff I am! Then I'll set up a mill in the back yard so I can process what I grow. Sure it's all gluten, but isn't everything tasty in life? Except cheese, maybe? Cheese and ice cream? Yeah. That sounds about right.
Martha Stewart first dropped farro in my life via "Creamy Farro Fonduta with Roasted Winter Vegetable Medley" that turned out like this...
Except you can't see the cheesy farro fonduta stuff under all that, so here you go...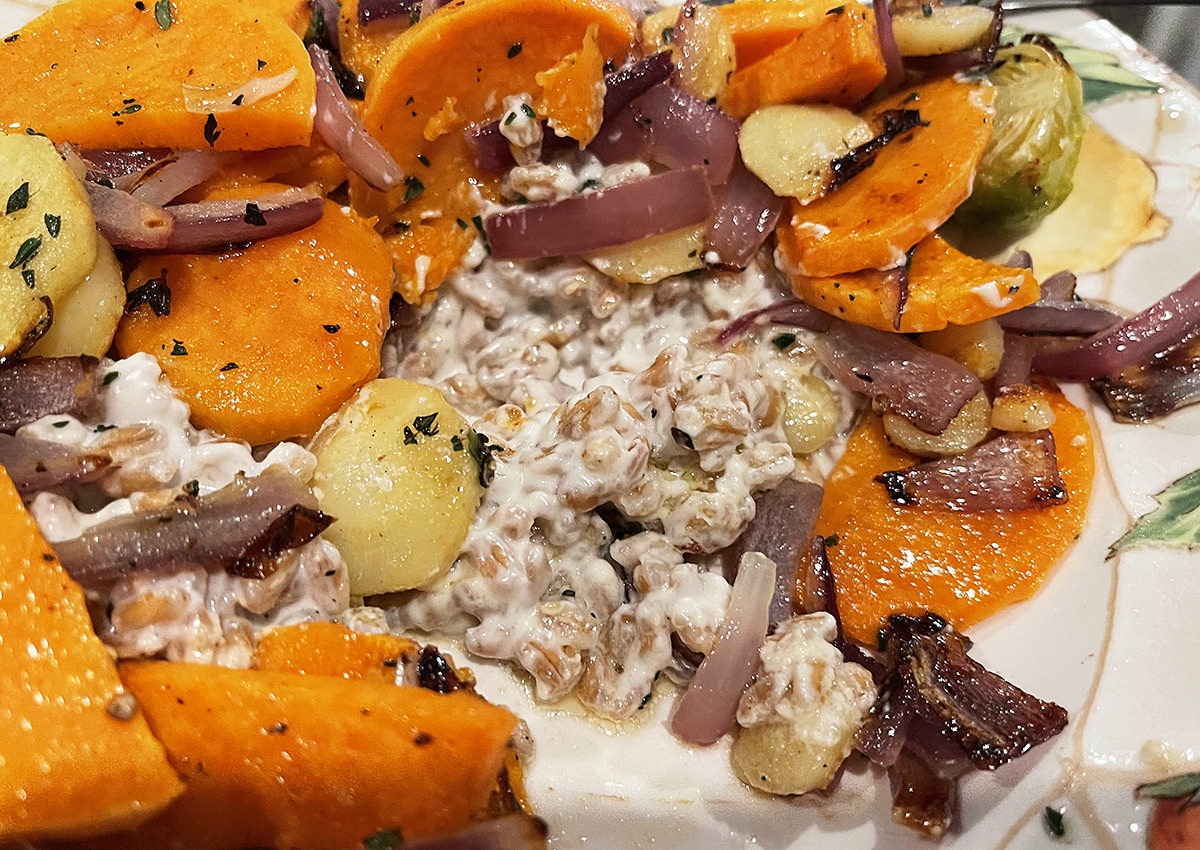 It's basically farro mixed with cream cheese and fontina. AKA MAGIC ON A FUCKING PLATE!
Then last night my dinner was "Roasted Veggie Farro Bowls with Marinated Cranberries & Salsa Verde Sunflower Pepitas" from HelloFresh...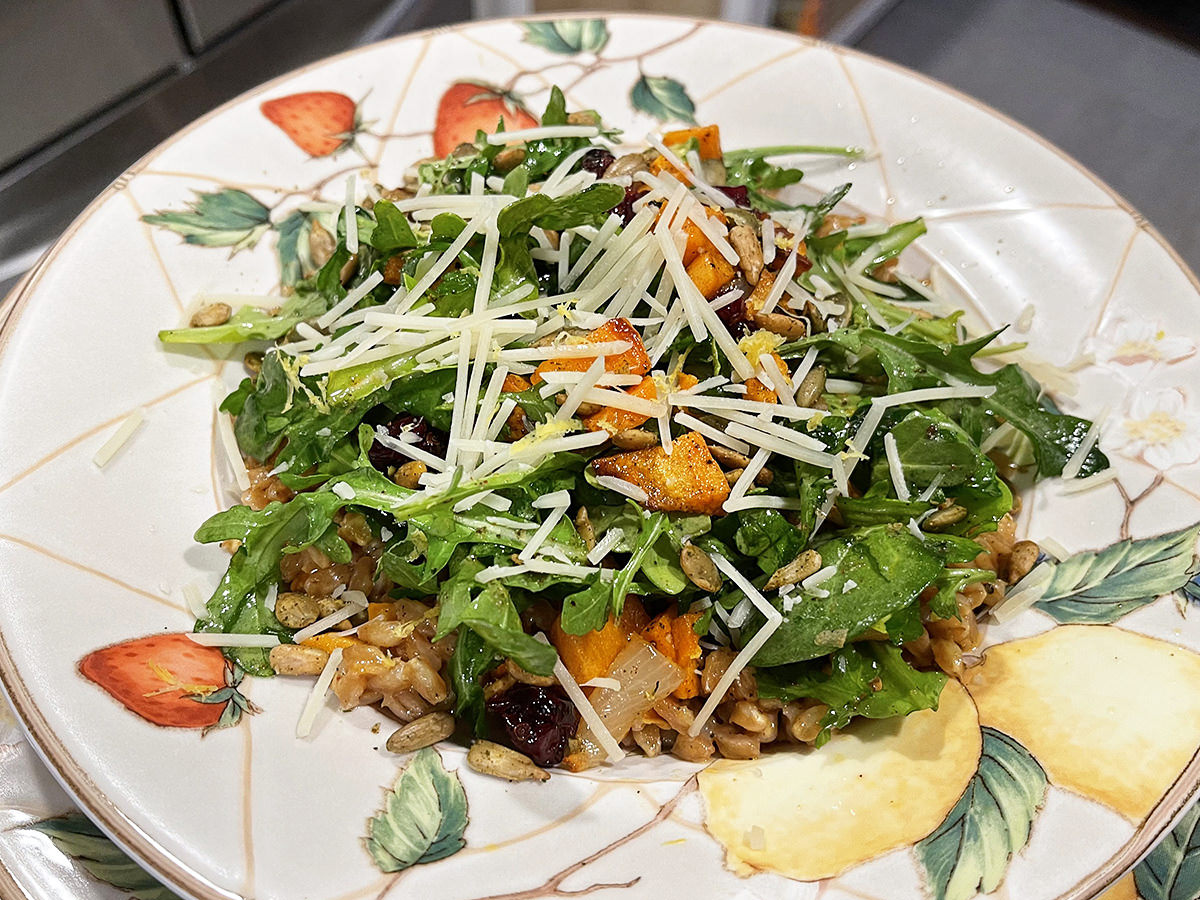 "But, Dave I thought you hated arugula?" — Well, I do. Arugula is what I imagine sadness and death tastes like. But I examined the recipe carefully and thought "Hmmm. Just maybe the sweet of the sweet potatoes, the tart of the cranberries, the sour of the lemon, and the aroma of the onions will be enough to counteract THE HEINOUS FUCKING BITTERNESS of the arugula? I think I'll try it!" — Then, just to make sure, I wasn't stingy with the salt and pepper AND I threw out 1/3 of the arugula. Worked like a charm! The blending of all the different tastes is incredible. I did end up having to throw out the "veggie stock" that was included (mushroom is a vegetable?) and use my own, but other than that... delicious! HelloFresh "Roasted Veggie Farro Bowls with Marinated Cranberries & Salsa Verde Sunflower Pepitas" FTW!
Boy. Kinda cool that after 54 years on this earth Im still discovering new foods to enjoy!
Posted on January 17th, 2021

Don't let the Wintertime blues get you down... because an all new Bullet Sunday starts... now...

• Betty! As somebody who loved Betty White long before it was cool, I am thrilled to wish her a happy 99th birthday today!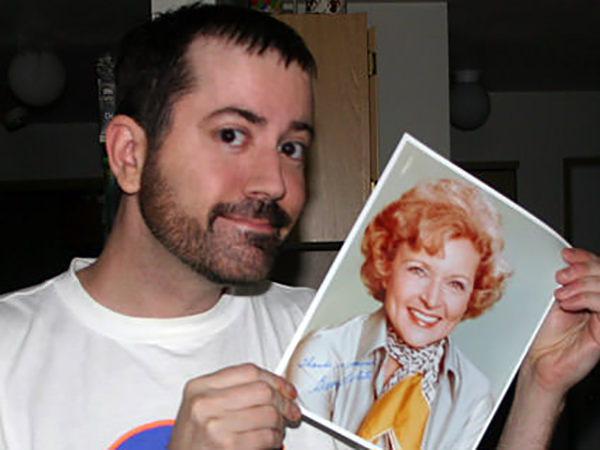 Betty's last work was reprising her role as the voice of "Bitey White" from Toy Story 4 in 2019. Wisely, she has quarantined herself against the pandemic so as to stay safe throughout 2020. I sure as heck hope that there's some televised special featuring the legions of stars who she's worked with over the years on the occasion of her 100th birthday.

• It Worked! This is the best thing I found on the internet this past week... and it's from August 2019...
Live your dreams, people. The guy in the photo is Abdul, an astrophotographer with some incredible images on his Twitter feed.

• Public Record? "I believe we will find that there's going to be a huge hole in the historical record of this president because I think there's probably been serious noncompliance of the Presidential Records Act." — Because the first thing a totally innocent person does is destroy evidence, right?

• WandaVision! Last Thursday night I stayed up for the midnight release of WandaVision's first two episodes on Disney+. While they are obviously building towards something, both of them seemed like a waste of time. If I wanted to watch cheesy old black-and-white TV shows, I'd tune in to Nick at Night (or whatever). The first episode was only 20 minutes of actual show (the second was closer to 30), and they STILL felt too long. If the setup is that Wanda is mentally trapped in old TV shows, they could have crammed all that in the first episode and moved on to the ACTUAL show after. As it is, it just seems like senseless padding. So I dunno.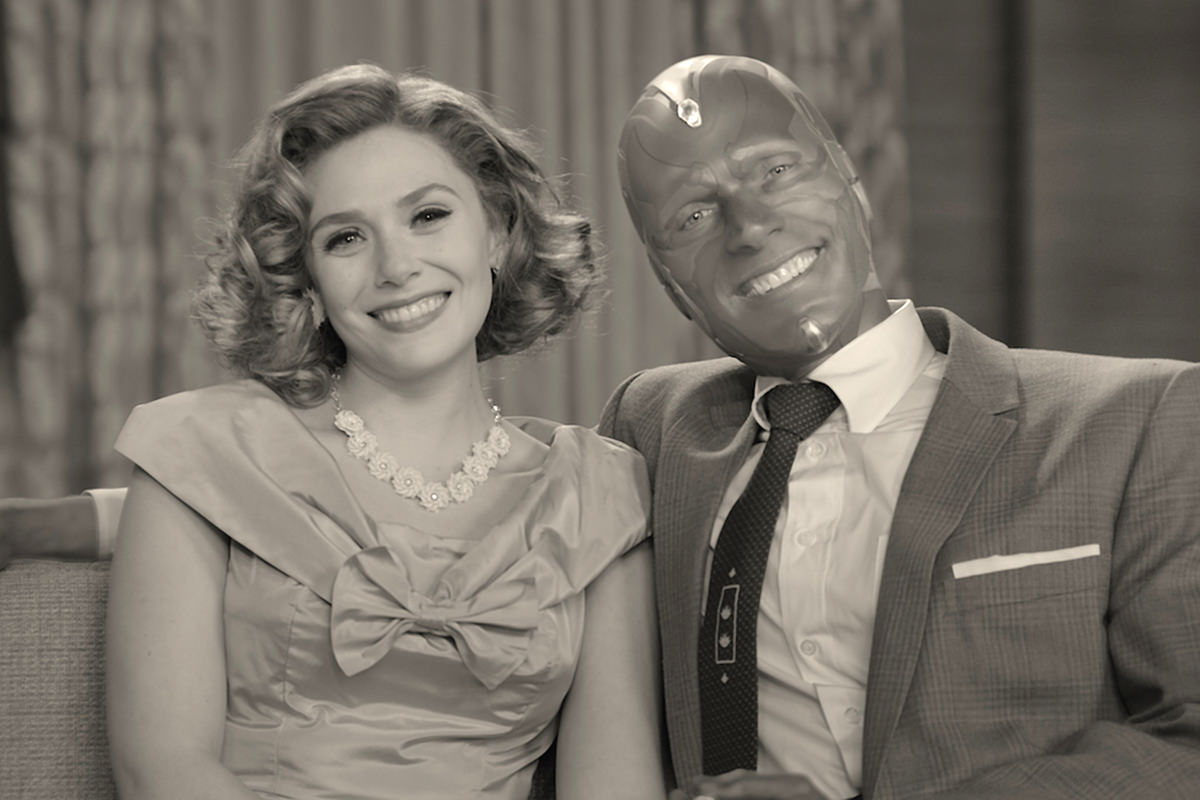 Maybe as they go deeper into the story these episodes will feel worth it. But right now? Not really.

• NEWSFLASH! Footprints Lead to Missing Hikers Lost on California Mountain for 5 Days. I'm just going to put this right here as a reminder... if you go hiking without a LifeStraw... even if it's just supposed to be a simple day hike that you've done a hundred times before... you may very well be risking your life. Anything can happen. You can go a fairly long time without food. You can't last long at all without water. LifeStraw can turn even a muddy puddle into water that won't kill you. Indeed, it could be a puddle that saves your life. Amazon has LifeStraw available for $15 right here.

• Magical? Magic Spoon low-carb, no-grain cereal is practically tasteless... when I first tried it, I thought I had The COVID because I couldn't taste anything. I will not be ordering again. Except the shit was SO expensive, that I've been trying to eat it all so I'm not wasting money. But the biggest issue I have... even more so than the lack of taste? It's their stupid fucking boxes. They sell the cereal direct. There's no need to glue the thin-as-paper box so heavily that there is NO WAY to open them without ripping them to shit. On my fourth box I was even trying to use a knife so I could open it without tearing anything. NOPE! The glue is actually HEAVIER THAN THE DAMN BOX MATERIAL. Why? It's not like it's sitting on a shelf somewhere! They really don't need to use glue on the lid AT ALL since the bags are sealed and it's going direct to consumers! This is the stupidest damn thing, and I just don't get it.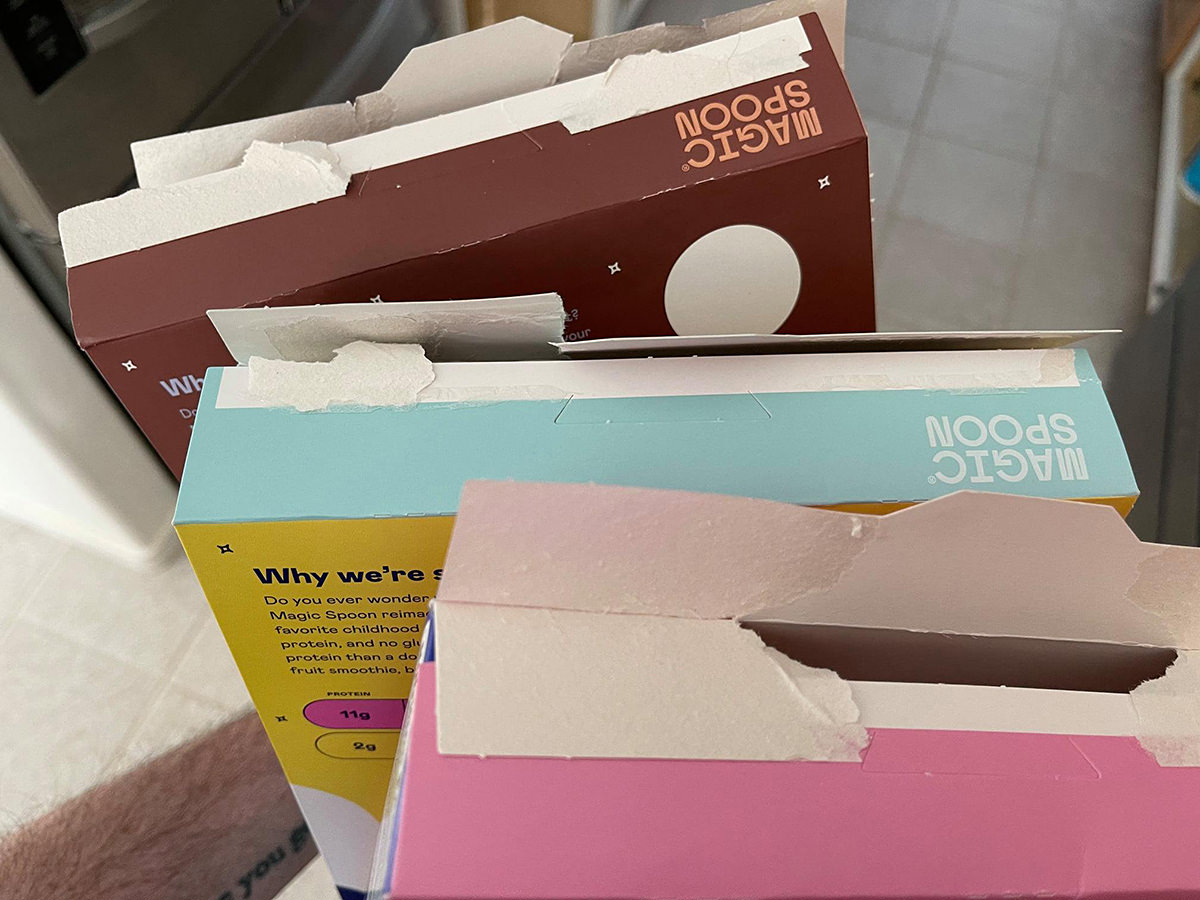 It's almost as if Magic Spoon is saying "FUCK YOU! HA HA HA! JUST TRY TO GET THE FUCKING BOX OPEN IN ONE PIECE!!!" Which is an interesting tact to take when your cereal is this bland. I mean, I never expected it to taste like sugar cereal, but dang. Artifical flavors are cheap. Try adding some.

Have a great rest of your Winter, everybody.
Posted on January 15th, 2021

And so now I know what it's like to be wealthy!
I had a coupon for trying out the HelloFresh meal service. And, since their vegetarian options no longer seem to revolve exclusively around mushrooms (which I can't eat) and cauliflower or broccoli (which I won't eat), I took them up on their introductory offer. I signed up, selected vegetarian meals that sounded good, and got excited over trying something new.
My first box was due to arrive next week. For whatever reason, they screwed up and sent it this week. Which wouldn't have bothered me, except they sent meat dishes. I contacted them to explain the problem, they immediately credited me the cost, then told me to dispose of the carnivorous meals as I wished. So I gave all the meat to a neighbor and decided to try to refashion the recipes to be vegetarian with the ingredients which were left over.
The reason I now know what it's like to be wealthy is that my box from Martha and Marley Spoon also arrived this week, which means I had six complete meals in my refrigerator ready to be cooked for dinner with leftovers for the following day's lunch. SCORE! I could never afford to do this on a regular basis, but boy is it awesome knowing that I don't have to think about what to cook or worry about going to the grocery store.
The first meal I wanted to try was "Bulgogi Lime Pork Tenderloin"... without the tenderloin.
It was essentially sweet potato and pepper dices sauteed with scallions, garlic, and Bulgogi sauce mixed with lime. Not much of a meal without the pork, but if I cook some hard rolls with cheese to pair with it, I thought it might be nice.
One of the first things you have to do is zest the lime. "Zesting" is not a new concept for me because Martha Stewart wants you to do it all the time in her recipes... it's just that I've never understood how to do it. When I searched on YouTube I saw that people "zested" by using what looked like a teeny-tiny cheese grater. Something I didn't have.
Except I thought that I did, because when you look inside the handle of my box grater, there looks like what appears to be a small grater. Alas, any time I attempted to use it for zesting, all it did was gum up with lime peel and I never actually got any tiny grated anything out of it. Wanting to know what I was doing wrong, I Facetimed a friend who works in a kitchen restaurant and asked her by holding it up to the camera and asking her how to use it.
The first thing she said was "Well, first thing you have to do is remove it so that the peel doesn't end up in the handle." It was charming that she thought me that dense, but I explained to her that it doesn't come out easily. In order to get it out, I had to use two pair of pliers and nearly busted the thing.
"Wait. Let me look at that again... move it close so I can see."
"I have no idea what that is, but it's not a zester!"
"See how there's no grates? It just looks like pokey spikes!"
"Maybe it's supposed to be a masher or tenderizer of some kind?"
"Yeah, you need to go buy an actual zester. Sorry."
And so I did. And it arrived today. I got one by Oxo Good Grips, which makes my favorite kitchen utensils and gadgets. It was expensive... $12 compared to others costing less than half that... but I knew it would probably be safer, smarter, and last longer, so I invested the money...
Martha Stewart would be so proud.
And so now I can finally zest a lime or a lemon and make all those recipes correctly that call for zesting a lime or a lemon.
Pretty grate, huh? (HA HA HA HA HAAAA! I slay me!)
So wish me luck with my first zesting experience. I'll let you know if I end up with my fingertips missing.
Posted on December 20th, 2020

Christmas is coming, but there's magic happening tonight... because an all new Bullet Sunday starts... now...

• Hallmarked! And... tonight was the last new Hallmark Christmas movie of 2020. I've watched and reviewed them all, as usual, of course. Now I just need to wade through a bunch of the other movies from Lifetime, Netflix, and such, and I'm done for another year. Surprisingly, I think this was the best year in a while. Even so, I'm done. I've been Hallmarked out. Until next year.

• RickVertising! If I was a company, I'd have Rick & Morty do all my advertisements...
Serious bang for your buck.

• Adopt! Speaking of ads... why is it that I can watch all the so-called "emotional" movies and not get emotional, but a commercial like this has me struggling to keep it together?
Just weird, I guess.

• Tater! Please tell me that I'm not the only one who has tried Martha Stewart's baked potatoes. Take LARGE YUKON GOLD potatoes... NOT russets... DO NOT poke holes in them. DO NOT oil or butter. Put a wire rack on the middle rack of your oven (so potatoes don't fall through) then bake at 325º for 90 MINUTES. DO NOT OPEN THE OVEN TO CHECK. Just have faith. — After cooking, smash them on a counter, pry apart, then add your favorite topping (I went with salt, pepper, butter, sour cream, and chives). — Remarkable. So creamy it's more like dessert than a potato. And that paper-crispy skin is like candy. Truly the best baked potatoes I've ever had. I won't be making them any other way ever again.

• Jangle! I am not into musicals, or fantasy, or kid films... so I've been putting off Jingle Jangle on Netflix. That being said, the production values and costume design? Holy. Shit. This may very well be the most beautiful film I've ever seen. I will be very disappointed if no rewards are won. Even the smallest details are fully realized... and EVERYWHERE...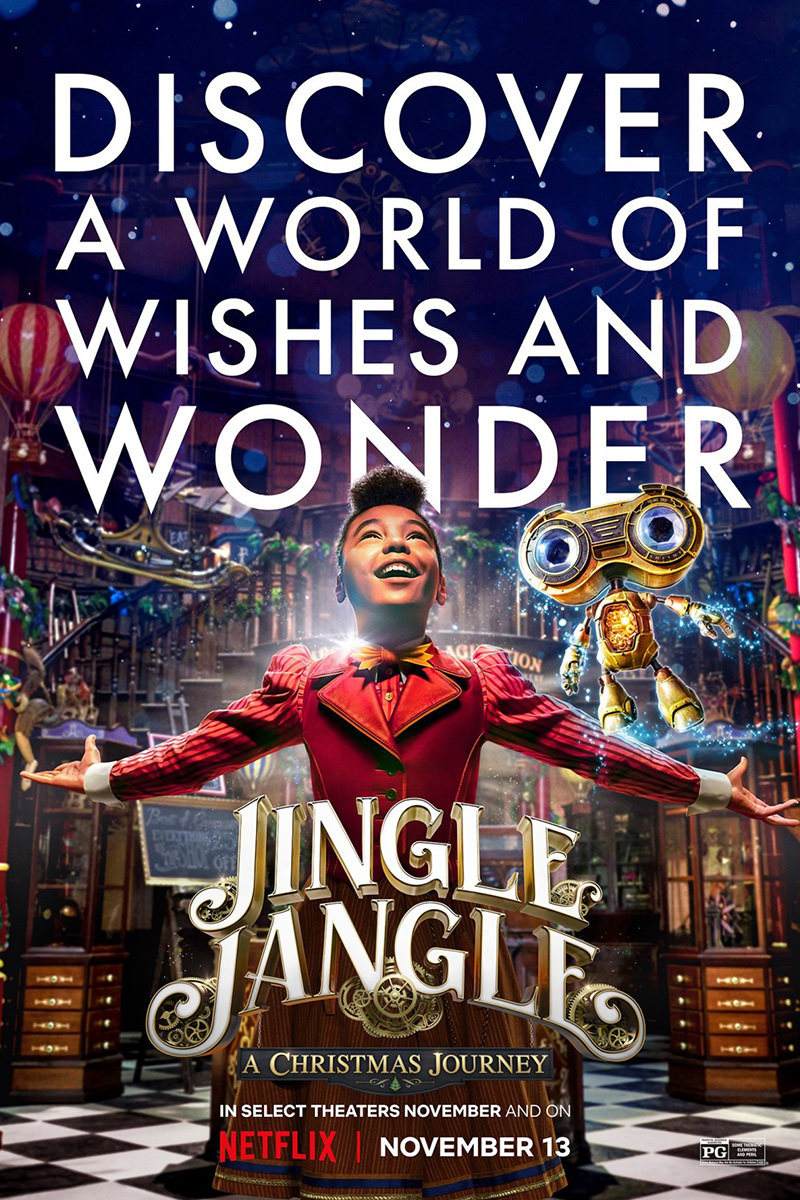 Worth watching (on Netflix) just for the visuals.

• Cop Doctors! One of the most demented (and hilarious) shows to ever air on television was Children's Hospital on Adult Swim (you can watch on Hulu, I believe). I just found out today that Netflix had a spin-off series with a lot of the same cast that aired back in January...
I binged the entire season and loved it. Boy I hope we get another season.

• Swap! I look forward to this every year. It never disappoints. I just wish they did even more of it...
Poor Colin. Though I won't feel too sad. He does get to go home to Scarlett Johansson.

And that's a wrap. See you after Christmas!
Posted on December 14th, 2020

I've got a bit of a TikTok addiction going on, and finally had to admit to myself that I have a problem so I can limit the time I've been wasting on it. Now I give myself 15 minutes when I get up and 15 minutes before bed... though sometimes I pick it up while I'm waiting for a file to upload or clothes to dry or stuff like that.
It feels very much like wasted time that I could be using for something else... except not really.
Because my favorite thing to do with TikTok is look for recipes. I have grabbed a shocking number of meal ideas off the app and have made many dishes I've found there. Last night I made these Herb and Parmesan Crusted Potatoes, and they were magnificent...
I mean seriously delicious. So good that after I finished an entire carb-loaded plate full of them, all I wanted to do was run to the grocery store so I could buy more potatoes. Fortunately, I was too busy being a lazy potato to go get more potatoes because that cannot be a good way to lose my remaining lockdown weight.
My second favorite thing to do with TikTok is follow a bunch of woodworkers and home renovators to get tips on the projects I like to do. Since TikTok videos are so short... 15 seconds each (with up to four strung together for a total maximum of 60 seconds)... you are getting maximum efficiency out of your time investment. Unlike YouTube videos where people can pad them with stupid crap you don't need to know... or waste your time selling products and other irrelevant nonsense... TikTok has none of that. 99% of the time, it's just the information you're wanting. 15 minutes on TikTok can easily equal an hour on YouTube or recipe sites where the author posts stupid shit for pages about how this was the recipe their grandmother found while on a wine tasting tour in Tuscany and she gave it to you on her death bed but there was a page missing so you had to spend a week looking through all of her paperwork until you found it but the information was in Italian so you had to write to your Uncle Giuseppe to get it translated and he's doing so great with his two kids all grown up and married and it breaks your heart because your own kids are growing up so darn fast and you know that you're only getting a few more summers at The Cape until they are married with children of their own and then you'll be a grandmother and you hope that they call you "Nana Kate" but you aren't named Kate at all your name is Jenna and that's a totally different story for a different recipe because, boy you're going to want to cook this right away so I'll just get right to the ingredients and instructions but, before I do, I just have to tell you about the time I went clamming on the beach and got so sunburned...
Cannot tell you how many times I've wanted to throw my laptop against the wall while scrolling through recipes because ABSOLUTELY EVERYBODY thinks that their life IS JUST THAT INTERESTING.
Unlike me, of course, who has such an interesting life that I put it on the internet daily.
But in a blog where that kind of nonsense belongs!
Posted on December 8th, 2020

Last year some friends bought me an Instant Pot when they came to stay with me. This year they followed it up with a new cooking device... even though the pandemic lockdown made it so they couldn't visit.
It arrived yesterday and I've already been playing with it... the Instant Pot Vortex Plus Air Fryer!
TL;DR... It's my favorite thing in my kitchen. It's essentially a little oven which can get very, very hot very, very quickly and fry foods without oil...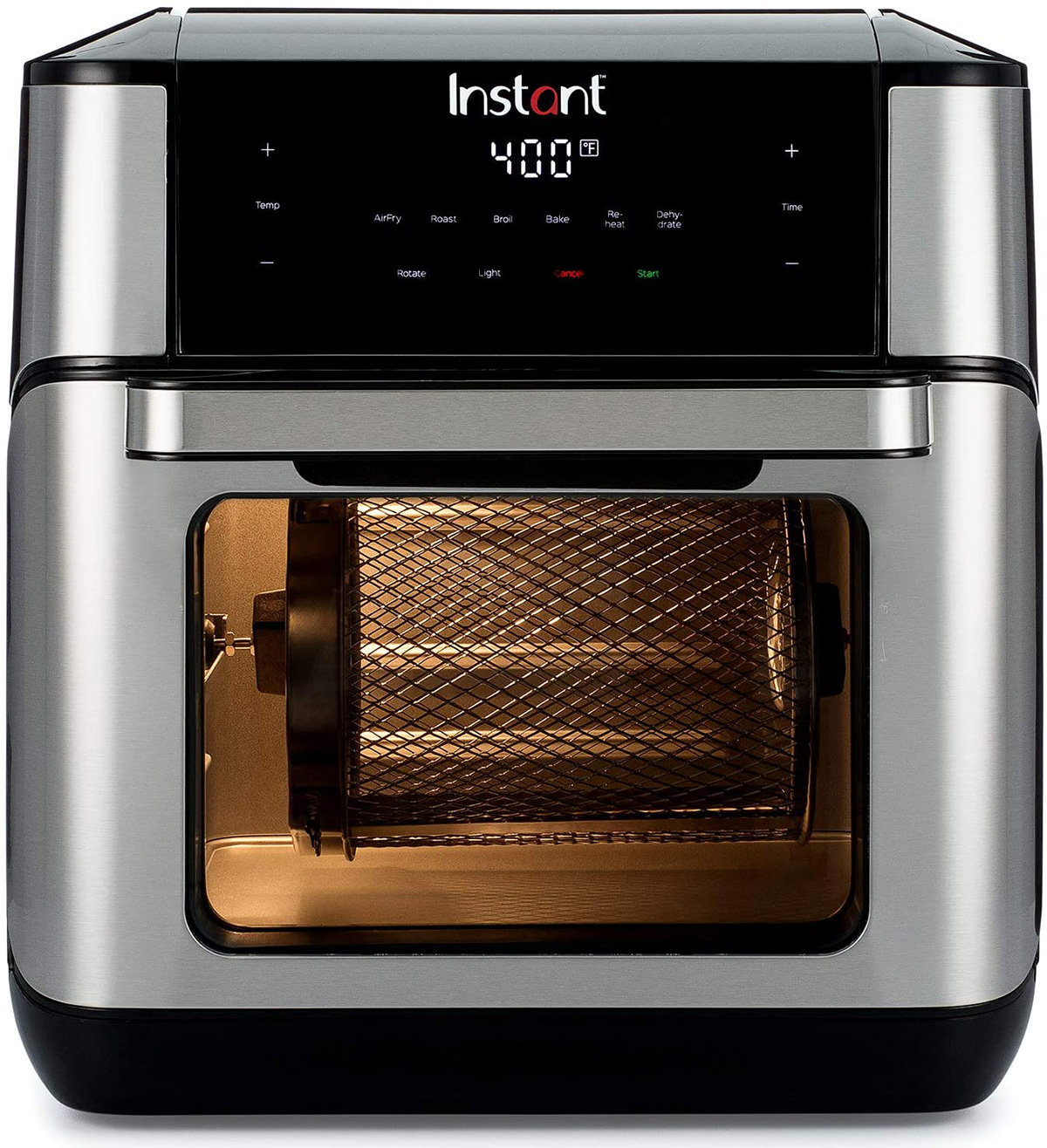 Except I don't want oil-free foods. I just want to be able to fry up some French fries without having to deal with the mess and expense of dragging my deep-fat-fryer out of storage. Fortunately, all you have to do is toss the fries in a bowl with some oil until they are well-coated and you're off to the races.
The air frying hood for my Instant Pot always worked well, but it was a pain to cook fries in it because you had to arrange them on a single layer so they cook evenly and get crispy all the way around. It's also a pain because you just can't fry that much stuff in it. The Vortex Plus completely solves this issue by including a rotisserie basket. You can load it up with fries and it will spin them around so they get evenly fried. It's very, very cool and works amazingly well. My fries were perfectly crisp and tasted fantastic. Practically as good as a deef-fat-fryer! Except a lot less mess and much easier to clean up.
Needless to say, I'm thrilled. It does exactly what I want it to do.
PROS:
Ridiculously convenient because the compact size fits on my kitchen counter under the cupboards and is always ready.
So much more energy efficient than heating up a big oven for a small amount of food... and far faster to heat up.
Unlike other air fryers, it actually "fries" more realistically thanks to the rotisserie basket.
The rotisserie basket and other interior parts are dishwasher safe.
I REPEAT THE ROTISSERIE BASKET AND OTHER INTERIOR PARTS ARE DISHWASHER SAFE! In all honesty, I was not anticipating that, and will likely use it far more often since it's so easy to clean.
Highly flexible to cook a wide variety of foods. Seriously can't wait to dry apple slices in this thing.
Relatively easy to use.
CONS:
THE SADISTIC FUCKERS AT INSTANT POT PLASTER A STICKER WITH

PERMANENT ADHESIVE

ON THE DOOR WINDOW WHICH IS IMPOSSIBLE TO REMOVE WITHOUT SOAKING IN GOO-GONE. WHAT A BUNCH OF FUCKING ASSHOLE PIECES OF SHIT. FUCK YOU, INSTANT POT!!
Smells like burning plastic when in use. I sincerely hope this dissipates eventually, but I've used it three times and it still smells awful.
Cook times are all trial and error while you're figuring things out. The cheese tacquitos I love usually take 10 minutes in my oven. In the Vortex Plus they take 5 minutes. Thank heavens I babysat them the first time I made them, because they would have been charcoal if left in for 10 minutes!
Despite being fairly easy to use, most of the time you're flying blind. When preheating, the display just says "ON"... if you forgot the temperature or time you set? Too damn bad. Until Preheat is over, you won't know. And while it's cooking it flashes between the time left and the temperature, so you have to wait to see what you want for when it shows up. This is just bad design. They could have come up with something far better even if they didn't want to have a larger display (they sell an upgraded model with enhanced display which solves this, but it could have been fixed with better planning on this model).
I'm not understanding the sounds. No, I don't want to listen to the damn thing beep every time I touch a fucking key or open the fucking door... but I do want a beep when it's done preheating or finished cooking. Maybe I'm not giving it a chance, but it looks as though it's "all or nothing?" Perhaps with more use I'll get this figured out.
While roomy enough for one person at 10 quarts... maybe for two people... the interior is still quite small. You won't be cooking a pizza or roasting a turkey in it.
You have to be very, very careful. I burned myself because I reached in to install the rotisserie basket and my hand touched the ceiling of the oven after preheating. Instant 400˚ burn that required ointment. Had I used the basket tool to install it, I wouldn't have got burned. Guess I should have fully read the instruction booklet before use.
Overall, I'm very happy with this little oven. I'm fairly confident that it will be my primary method of cooking from here on out. Whatever can fit in it there is going to cook in there... and I may never use my deep-fat-fryer again. I was hugely disappointed with the previous air fryer I bought (so much so that I gave it away) but the Vortex Plus with the rotisserie basket addresses all the problems I had with air frying. Had I known this unit was this good I would have bought one myself ages ago. As it is, the fact that it was a gift makes it all the better!
The Instant Pot Vortex Plus Air Fryer retails around $120, but I'm seeing it on sale everywhere for less (a Google Search shows that it was $90 on Black Friday). There's a model above mine which has a better display for $20 more, though I don't know that it's an essential feature.