Posted on June 4th, 2018

Happy National Cheese Day, everybody! I don't know about you, but I have been celebrating all day.
Cheese has been one of my favorite foods since I could eat solid foods. My most-loved cheeses are cheddar, parmesan, feta, American, and pepper-jack. My favorite time to eat cheese is "always." My favorite things made with cheese are sandwiches, pizza, and pasta.
I blog a lot about cheese, as you can tell when you Google Search my blog for it...
My menu for the day has been...
BREAKFAST: Cheddar Cheese Cubes, Scrambled Eggs and Cheese on Toast.
SNACK: Cream Cheese Bagel.
LUNCH: Veggie Cheeseburger, Colby-Pepper-Jack Cheese Stick.
SNACK: Grilled Cheese with Veggie Bacon Sandwich.
DINNER: Cheese Enchiladas with Yogurt Crème Fraiche, Nacho Cheese Bread.

It don't get much better than that.
Enjoy the celebration, y'all.
Posted on May 11th, 2018

Today I finally made the time to have my winter tires changed over to summer tires.
My plan was to arrive just when the tire store opened because you can usually get right in. Except there was an accident on the bridge into town so I was delayed 20 minutes. By the time I finally got there, the wait was up to an hour-and-a-half, and it would have been faster for me to change my own tires at home with my emergency car jack and a lug wrench.
It was a bummer, but it wasn't the wait that bothered me.
It was the reason for the wait.
As somebody at the tire store noted, there was no skidmarks on the bridge. Which means that the car (van?) which crashed into a car (which then crashed into another car) never made any attempt to stop. Which means they weren't paying attention. Which means they were probably texting or changing their baby's diaper or cooking a steak, or whatever the fuck it is that people do when not looking at the road like they're supposed to be.
Apparently the distracted driving "no-texting" law that Washington State passed has done nothing to solve a serious problem that's only going to get worse. Which begs the question... how many people have to die before this starts being taken seriously?
And speaking of dying...
As I've said many times before, I love McDonalds... despite constantly taking shit for liking McDonalds.
My favorite breakfast is a McDonald's Bacon, Egg, and Cheese Biscuit, no bacon, substitute round egg instead of spongey yellow powder egg. I could eat them every single day because it's just such a perfect breakfast food. The reason I don't eat them every day is that A) McDonald's is a 20 minute drive from my house, and B) they are expensive as hell. But right now McDonalds is running a special where you can get two of them for only four dollars! So, naturally, after getting my tires changed I did not pass GO, I did not collect $200, I went straight to McDonalds for a late breakfast.
It was, as expected, delicious.
Except I made the mistake of looking up the Nutrition Facts for my breakfast while I was eating it.
We'll set aside the 80 carbs in two Breakfast Biscuits and skip right to the 2100mg of sodium... 88% of the sodium that you're supposed to have in a day. And saturated fat? 11g which is 106% of the recommended daily ammount!
Holy shit!
I've never been so grateful that McDonalds is 20 minutes away and their McBiscuits are usually so damn expensive, because I'd be dead if they were next door and, you know, affordable and all.
Except they are on sale... and I am driving over the mountains tomorrow... so it looks like I may be courting death once again. Curse you McDonald's and your delicious breakfast!
Posted on March 28th, 2018

Remember when you would order fries and they would come lightly salted… but include little salt packets so that those people who want to court heart disease with heavy salt can go for it?
Those were the days.
Now it seems as though every time I order fries they are caked with salt. So much salt that I can barely taste the potato. Guess restaurants think that this is cheaper than providing salt packets...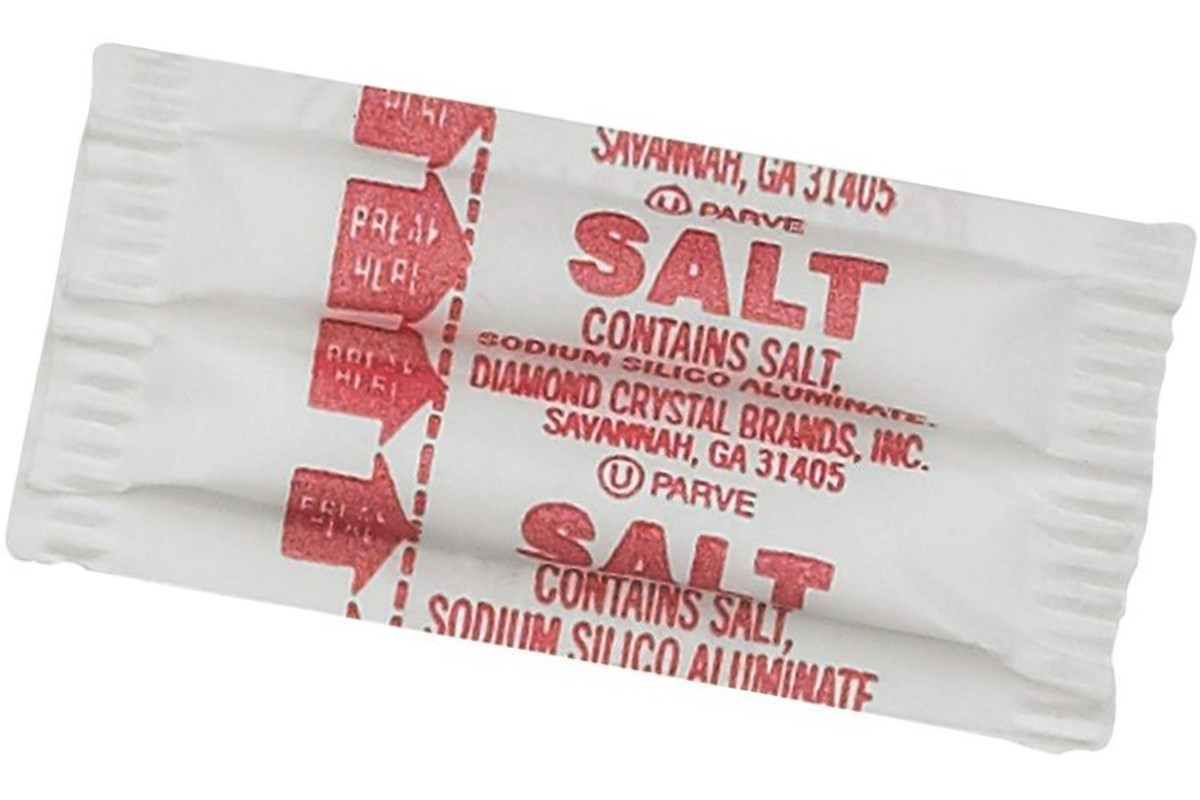 Though a case of NINE THOUSAND of them costs just $63, so you'd think it wouldn't be a problem. And if it were, couldn't they just ask people if they want salt when they ask them if they want ketchup?
Now, if you'll excuse me, I need to sit down while my arteries are hardening over the bag of fries I had for lunch.
Posted on January 23rd, 2018

I spent an hour last night cleaning the cats' bedroom... vacuuming and mopping... picking up all their toys... washing their beds... cleaning out the vents... upgrading their Litter-Robot... so can you guess where they have decided to unleash a tornado of destruction this morning? Go on... guess.
With all that's going wrong in my life right now, I could use some good news. I found it when I discovered Fridays has become This Close and has been developed by Sundance as a series for their streaming service. This is so great, and I can't wait to see it! Congrats to Shoshannah Stern!

I have been feeling a little beat down in life lately, so cooking is not on my radar. The past week I've been eating a lot of frozen pizza because it requires so little effort. Tonight's meal was a big ol' mess thanks to a paradox I'm calling Schrödinger's Pizza...
17 Minutes: Pizza undercooked.
18 Minutes: Pizza nearly incinerated.
I don't know what's happening in my over at the seventeen-minute-thirty-second mark, but it's apparently pretty serious.
And, on that note, I leave you to consume something burnt that used to be sauce and cheese on crust.
Posted on November 16th, 2017

My flight landed at Boston Logan International Airport at 5:30 in the morning. Needless to say, I was not able to sleep on the plane. I never can for some reason unless it's drug-induced. Problem is that sleeping pills make it impossible for me to deal with time changes, so I'm better off just doing without. I was tired, but the drive up to Portland (which I refer to as "Other Portland" since I am a West-Coaster and "Portland" to me is in Oregon) was dark, cold, and boring.
I arrived around 8:00am, which is way too early for hotel check-in (at least it is here in the USA... everywhere else on earth they always seem happy to check me in if I arrive really early so long as they have a room available). Since I was still not feeling well after being sick yesterday, I tried to book a cheap hotel room in Boston to get a few hours sleep, but they won't let you retroactively check-in yesterday so you can just stay the current morning. At least not online. I tried calling a hotel, but that was confusing for everybody involved and I gave up.
And so breakfast it is then.
Followed by three-and-a-half hours sitting in the hotel lobby trying not to fall asleep. At least not before I finally got a room and took a three hour nap.
Rather than go into a coma I decided on an early dinner.
There's a lot of things to love about Portland. The transitional period from Fall to Winter is definitely not one of them. It's windy. It's bitter cold. It's rainy and wet. And there is puddles of water everywhere in Old Town, which means you end up drenched from passing cars no matter how careful you try to be.
Other Portland is, however, a food paradise for me because they excel at three of my favorite foods...
PIZZA. I have no idea how Portland became a "pizza city" but here we are. My favorites are OTTO (seriously, their butternut squash and cranberry pizza is sublime), Micucci's Italian Grocery, and Flatbread Company (which has some of the best desserts on earth).
VEGGIE BURGERS. Again, no clue as to why Portland ended up being a mecca for custom veggie burgers, but this is the place. Many restaurants have frozen patties from local favorite Blue Mango (which, oddly enough, do not contain mangoes or anything blue)... but a surprising number of restaurants craft their own. My favorite in the city are from B.GOOD, but there are many others.
ICE CREAM. Perhaps it's the proximity to Vermont two states over or something, but some of the best ice cream I've ever had has come out of Portland, Maine. Oddly enough Portland, Oregon is also a great "ice cream city."
I opted for a B.GOOD veggie burger because it was the shortest walk and many ice cream parlors are closing early in the wintertime. Not that ice cream doesn't make an awesome dinner, mind you.
I should have pushed my way through and not taken a nap because now I'm not tired and probably won't be able to sleep tonight. Oh well. I've got a day to recover because work doesn't start until Saturday.
Pleasant not-dreams.
Posted on October 29th, 2017

Don't fear the reaper, because an all new Bullet Sunday starts... now...

• Benson! Robert Guillaume passed away this last week and it got me to thinking about the various roles he's played in his long acting career. Primary of which, was "Benson" on Soap (and the subsequent spin-off), where his sarcastic wit was showcased to hilarious effect. My personal favorite role was Isaac Jaffe on Sports Night, a role which is surprisingly relevant today...
You, sir, will be sorely missed.

• Think! Cost to renew my nine Nest security camera "Nest Aware" subscriptions annually? $500. Cost to renew Amazon's new Cloud Cam security camera subscription plan annually for triple the storage time and up to ten cameras? $200. This means I could essentially buy three new Amazon cameras every year PLUS get a superior subscription service for the cost of my Nest subscription alone. Gee... let me think real hard about what I should do. What to do? What to do? It's a quandary, that's for sure...

• Balls! I made falafel for the first time!
My balls were totally delicious.

• Mickey Hotel! Disney just announced that Disneyland will be getting a brand new 700-room hotel which will open in 2021...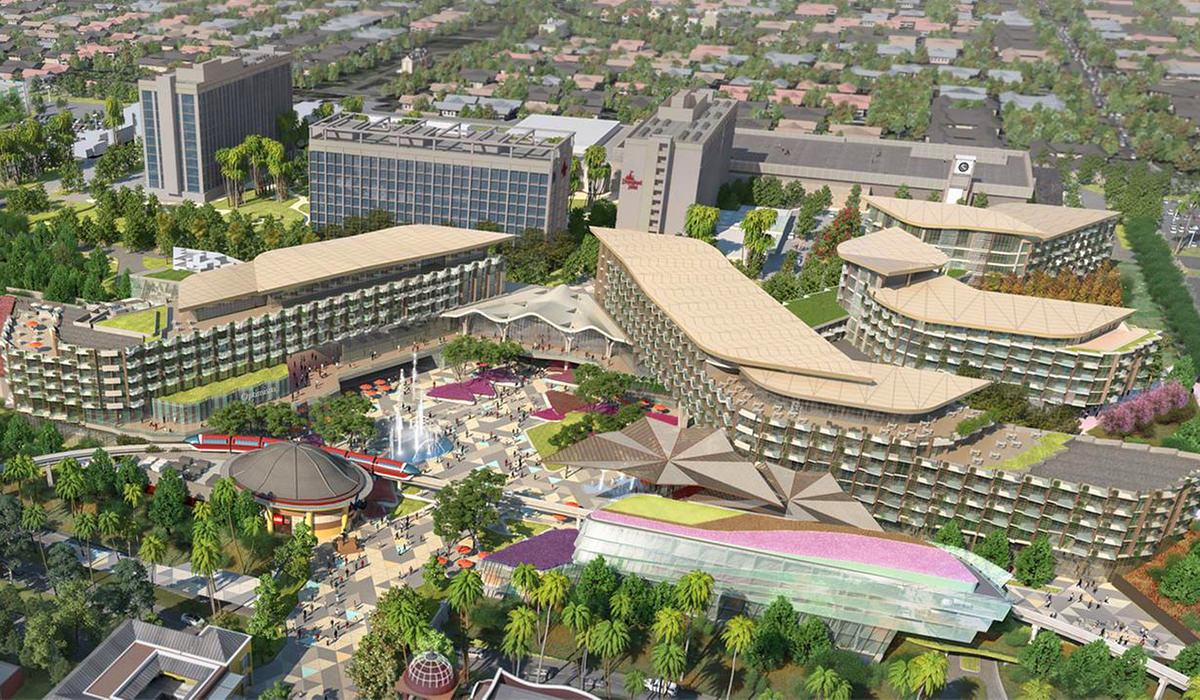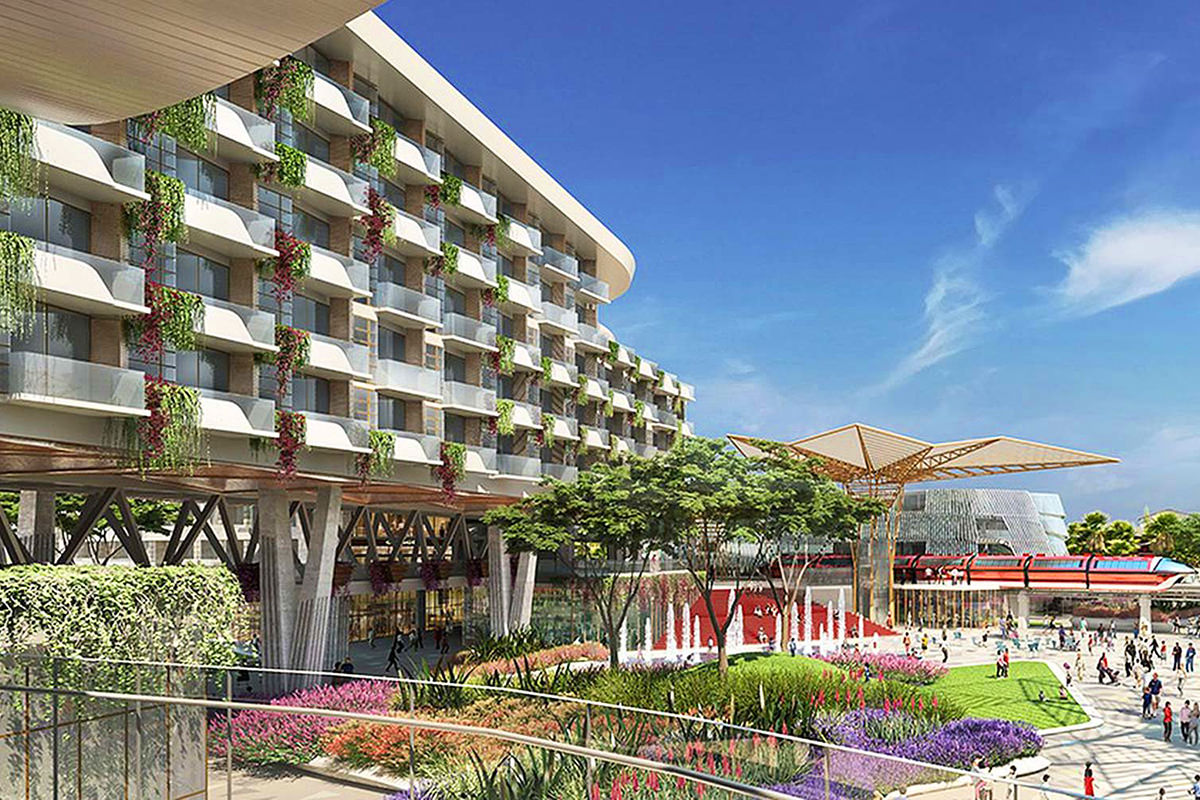 Compared to the amazing Grand Californian hotel across the way, it's kind of boring-looking. Not very "Disney-Special" to me.
The most interesting bit of information in the press release is not the hotel itself, but its location. In order to build the thing, Disney will be ripping out the West end of Downtown Disney. Which is currently occupied by ESPN Sports Zone, the AMC 12 theater, a Starbucks, The Rainforest Cafe and, ZOMFG... EARL OF SANDWICH! The LEGO Store is spared though...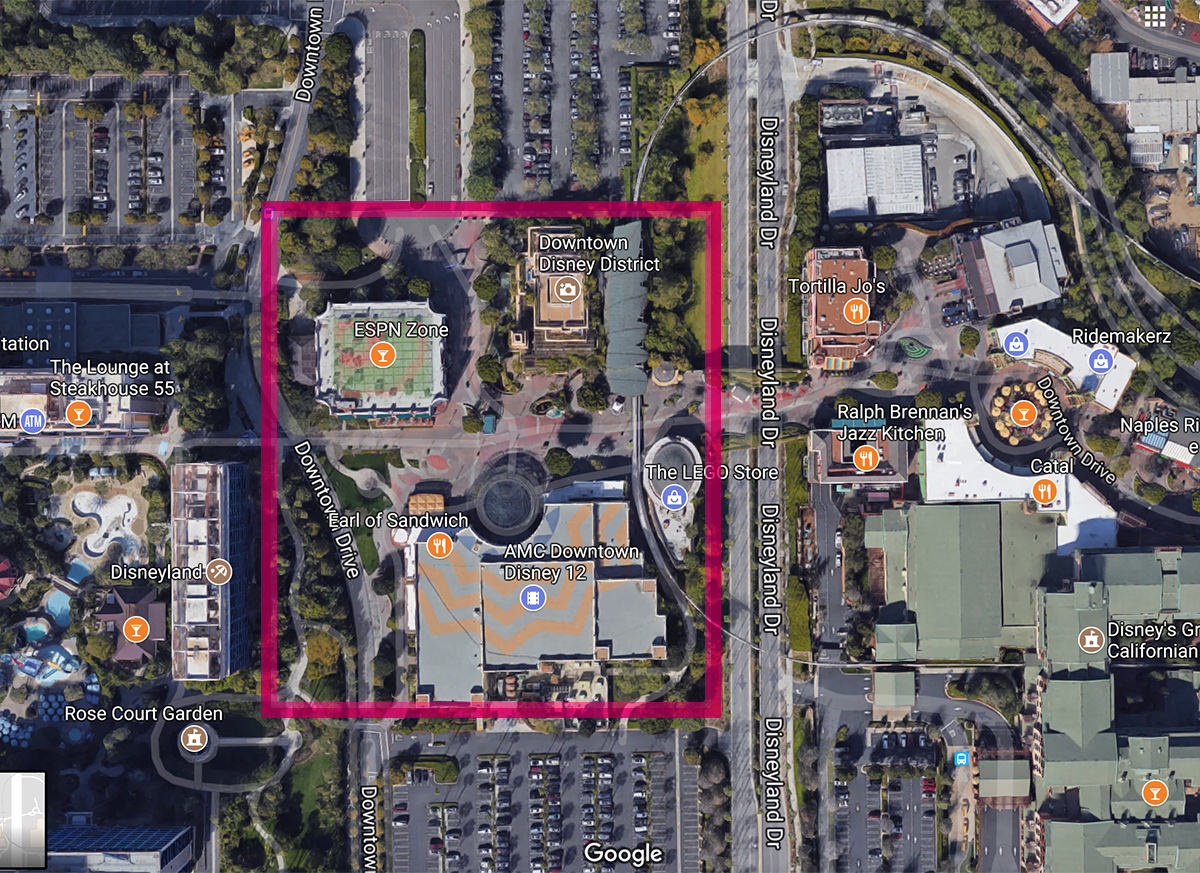 The money that a hotel generates is probably huge compared to the royalties from everything it's replacing. With this in mind, I don't know why A) They are only putting in 700 rooms when there looks like there's room for more, and B) they haven't expanded The Grand Californian (the "Redwood Creek Challenge Trail," cool as it may be, is hardly a critical part of California Adventure, so it seems a natural to rip it out and put in another 150 rooms).

• Payola! HEALDINE: Senate votes to kill new rule allowing class-action lawsuits against banks; Pence casts deciding vote. — FUCKING PIECES OF SHIT!!! No recourse now... NONE... when big banks fuck you over. You are forced to accept binding arbitration or small court settlements instead of having your day in court. And, of course, data breaches due to shitty bank security are now basically a crime without meaningful punishment. All because the fucking Trump Administration and their Republican lackeys have their mouths so deep on Big Finance cock for cash that they don't give a shit who it hurts... so long as the big paychecks keep coming their way. And OF COURSE they are re-framing this act of utter submission to bank payola as a "good move" for consumers because "frivolous lawsuit costs get passed on to consumers." All 100% bullshit of course. We STILL end up paying... just in a different way. Meanwhile, any and all protections are now ALL THEIRS. Looks like we've got ourselves a government by the wealthy, for the wealthy.

• Harrassment! Everywhere you look, it's the same damn thing. I do not know Robert Scoble personally. All I know is that he worked at Microsoft then got famous for conducting crappy "WHO ARE YOU?!?" videos with happening tech industry people. I also know that he went into rehab a couple years ago because he was accused of shitty and harassing behavior towards women when he was drunk and high.
I also know one of these women.
Now it's coming out that he didn't stop with his shitty harassment of women AFTER he was supposedly "cured" of the things he blamed his behavior on. Typical of these types of situations, people are defending him because he's married and supposedly a "good guy." Meanwhile... there's the women whom he's sexually harassed who are having to deal with the fallout of HIS crap.
I believe them. Scoble may be married with kids and be known as a "good guy" in certain circles, but obviously that does NOT exclude him from being a habitual sexual harasser.
On his Facebook profile, Scoble has the douchey description of himself as "Authority on what is next," even though he just talks about what OTHER PEOPLE are doing. I hope "what is next" for him is somebody pressing charges. The more times that shit like this results in public shaming and even more public punishment, the more these reprehensible fuckers will think twice before being assholes to their fellow human beings.

All our times have come, see you for more bullets next Sunday!
Tags:
Assholes
,
Bullet Sunday
,
Disney
,
Disneyland
,
Falafel
,
Food
,
Fucking Assholes
,
News
,
Politicians
,
Politics
,
Television
Categories:
Food 2017
,
News – Politics 2017
,
Television 2017
—
Click To It:
Permalink
—
0 Comments: Click To Add Yours!
Posted on October 3rd, 2017

I like yogurt okay.
I mean, it's not ice cream, but it makes for a decent substitution if you're trying to eat healthier. Especially when it's Tillamook yogurt, which is my favorite by a wide margin. Low in fat and good protein. High in carbs though, thanks to 21g average sugar. All their flavors taste amazing, but the Oregon Marionberry is my hands-down favorite.
AT LEAST IT WAS UNTIL I FOUND OUT THEY ARE COMING OUT WITH NEW HOOD RIVER PEAR YOGURT!!!
Pear is my all-time favorite flavor anything, so I was psyched to learn that Tillamook was making my yogurt-eating dreams come true.
Except, not really, because nobody in my area... or any area... seems to be selling it yet.
Sucks to be me.