Posted on March 16th, 2022

The big news from yesterday is that The Senate unanimously voted to put us on permanent Daylight Saving Time. It just has to pass The House, then be signed into law by President Biden.
After showing just how fucking useless they can be, politicians are finally waking up to the fact that they had better be doing something so it looks like they actually work for the huge amounts of money we pay them. And I guess this is as good as anything.
Of course, this Seanate vote doesn't mean shit until something is actually made into law.
The US government has a long, very long history of appearing like they're getting shit done... only to bail at the last minute because some lobbyist owns them, or they're being paid millions of dollars, or they don't bother to show up for the vote because it's Taco Tuesday, or there's money for them to be made opposing legislation somehow, or whatever the reason. Fuck Yankee Doodle, we know what the real symbol of this country is: politicians endlessly fucking us over for a buck.
Regardless, I still have hope that we'll finally be done with this stupid fucking bullshit of dicking with the clocks twice a year. There are few things I fucking HATE HATE HATE HATE more than the idiocy of going off DST come Fall every fucking year.
And you benefit as well, dear reader. You won't have to read my rants about stupid fucking time changes any more.
Posted on March 14th, 2021

We may be suffering from losing an hour of sleep because of that stupid fucking time change, but I will carry on regardless... because an all new Bullet Sunday starts... now...

• DST 4EVAR! You just know how much I must hate dicking with the clocks twice a year when you see how I'm willing to go on-record and agree with Marco Rubio on something. Make Daylight Saving Time permanent, split the difference, or get rid of clocks altogether. I just don't fucking care any more. Make the madness stop.

• Pizza? Italians reacting to Americans desecrating their national dishes is what you need today...
Pineapple on pizza? There isn't a cross big enough.

• PSA! And now, a public service announcement: IF YOU HAVE SIDE EFFECTS FROM YOU COVID VACCINATION, THAT'S BECAUSE IT'S WORKING, YOU POTATO! — I am checking daily to see when I can get mine. I will not hesitate. I won't jump in line ahead of anybody, but I will absolutely 100% get it the minute it's available to me.

• Home! =sigh= I miss my mom...

• Quantum Mechanics! Okay, I don't usually post memes that I don't make... but this is totally because of the science nerd in me right here...
I got interested in quantum mechanics because the concepts that come out of it are just so impossibly fascinating. I stay interested in quantum mechanics because the concepts that come out of it are just so impossibly impossible but... at the same time... totally possible.

• Chowder! When a pupper can literally ride a skateboard better than you...
It's not just that he can ride without falling off... IT'S THAT HE CAN MAKE A TURN!

• Swing-And-A-Miss! Well, shit. I had my fingers crossed and everything.

• Savage! This may very well be the most savage thing ever conceived... but also the most deviously genius...
I doff my hat to your evil ways, sir.

And now for a nice post-clock-change nap.
Posted on November 1st, 2020

The ghost and goblins may be gone, but spirits still linger... because an all new Bullet Sunday starts... now...

• Tres Lassos! My favorite show of all time, Ted Lasso on Apple TV+ was just renewed for a third season, even though they haven't started filming the second season yet...
Sad to think that it could be up to a year before there's any more Ted Lasso to watch, but at least there's new Ted Lasso coming. If you haven't seen it yet, it's worth a free trial at Apple TV+ to binge the show.

• Bond, James Bond! Standing out in the news of the week was James Bond actor Sir Sean Connery dying at 90 years old. My first "Bond" was Roger Moore in Moonraker in 1979, but once VHS home video allowed me to see all the earlier 007 movies, I was obviously blown away by the cool-calm that Connery brought to the role...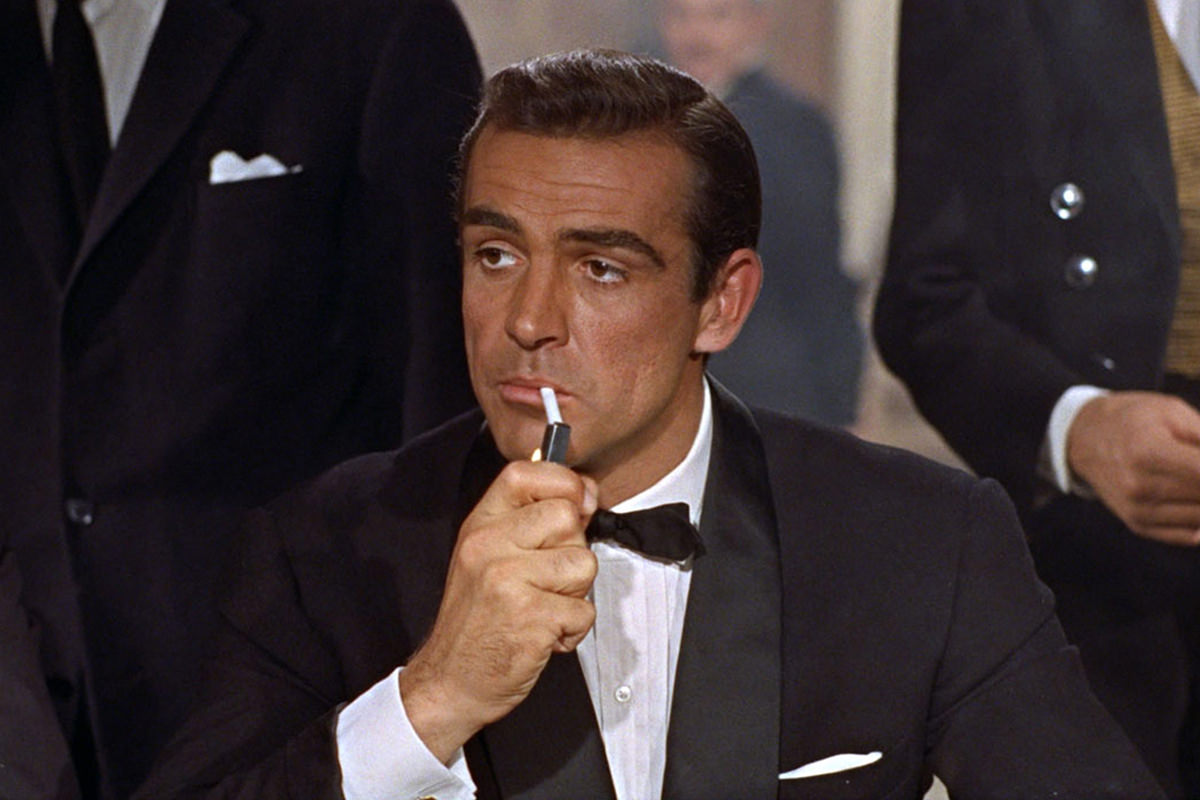 Though his work as Bond is probably my favorite role, he has plenty of other movies which made me a fan of his work. Of course Highlander immediately comes to mind. Indiana Jones and The Last Crusade, The Hunt for Red October, The Name of the Rose, Rising Sun, Playing By Heart, and The Rock were also flicks made memorable because he was in them. It's tough for me to reconcile being a fan of his work with his misogynistic bullshit, however... most famously with his infamous Playboy interview where he advocated slapping women. One could argue that he was a victim of the times he lived in because he said it in 1965, but he totally doubled-down on the idea over two decades later in a Barbara Walters interview. It wasn't until 2006 where he finally tried to walk back his idiotic stance, but an autobiography by his first wife alleged that he physically battered her, so seeing him as anything but an abusive asshole isn't easy. But you could almost say the same for James Bond in general. I guess the only thing left for me to say is "Rest in Peace."

• Happy! Fell down another TikTok rabbit hole while waiting for my clothes to finish in the dryer last night and got this video suggested to me... and I honestly don't know whether to be happy about it or break down in tears. It's heartbreaking to think that there are people who would wish this kind of thing upon a teenager. And yet we just got a new Supreme Court Justice who thinks that sexuality is a "preference" and will almost certainly interpret our laws accordingly. It's tough not to be disheartened by such events, but maybe videos like this one will change hearts and change minds so that we can celebrate people being who they are... and kids don't have to spend their young lives wondering if they will ever be allowed to be happy.

• Human Gaze! Isn't this how The Stepford Wives got started?
Or at least Westworld. In either scenario... not a great day for humanity.

• Maggie! As if the casting of Gillian Anderson as Margaret Thatcher wasn't brilliant enough... this promo for the upcoming fourth season of The Crown has a cover of "How Soon Is Now" by The Smiths attached!
After this, there's only two seasons left to go. Then I guess the monarchy just ends? Or something?

• Semi-Annual! Here we are again... my second of two posts each year where I say that ending Daylight Saving Time is FUCKING STUPID. Either make D.S.T. permanent or fucking split the difference because I am seriously over this moronic bullshit. I thought that Washington State had put an end to the insanity, but apparently federal approval is required...
If the E.U. can pull their fucking heads out of their asses and put an end to this crap next year, why can't the USA? Because our federal government is too fucking busy lining their own fucking pockets and giving lobbyist blow-jobs for fucking reelection cash instead of serving the American fucking people. That's why. Time to fucking overhaul the government so lawmakers do their fucking job instead of become useless career assholes? Oh probably.

• New Mando! I swear, The Mandalorian has no right to be as good as it is. If you like all things "Star Wars" and haven't seen it, might be worth a Disney+ free trial to take a look. The second season just started and the first issue is great...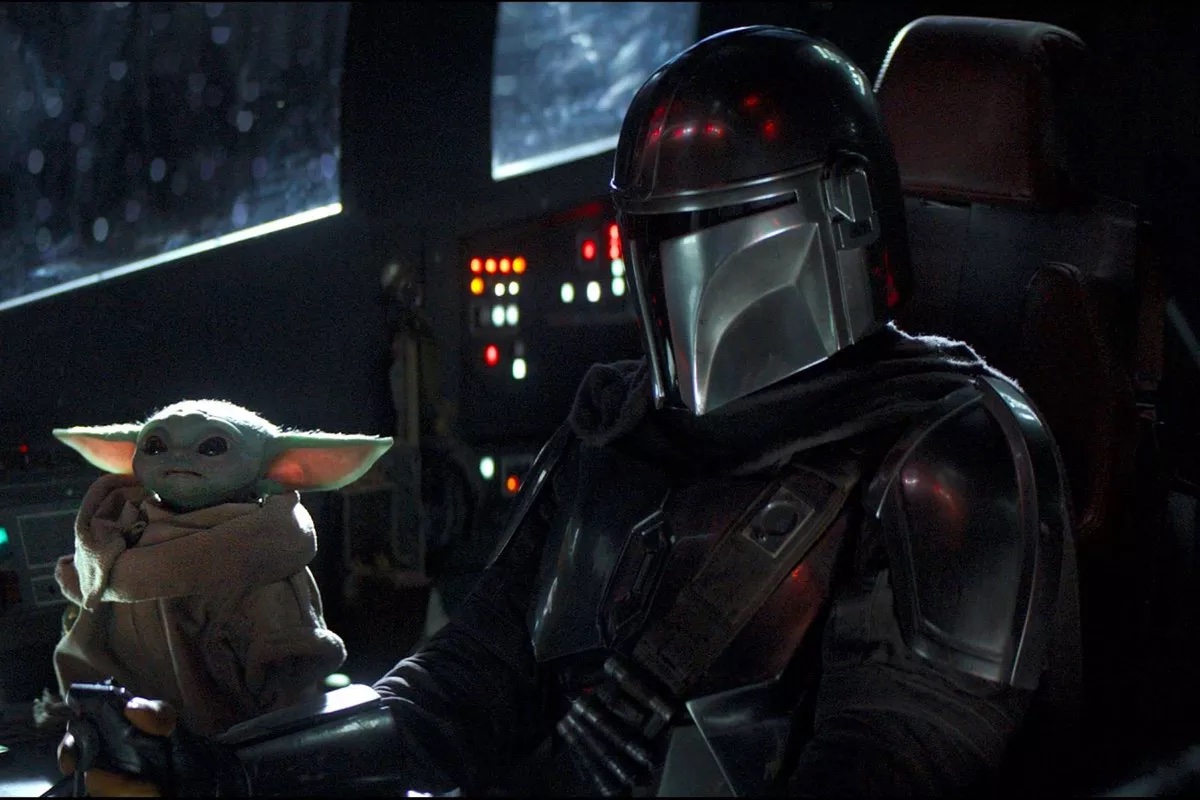 A better take on Star Wars than the prequels or sequels... and right up there with Solo and Rogue One which I loved. Kind of amazing how Jon Favreau kicked off the entire Marvel Cinematic Universe and is responsible for saving Star Wars. I hope Disney is paying him really, really well.

And that's your post-Halloween bullets for the day.
Tags:
Bullet Sunday
,
Daylight Saving Time
,
Movies
,
News
,
Politics
,
Robots
,
Ted Lasso
,
Television
,
TikTok
Categories:
Bullet Sunday 2020
,
Movies 2020
,
News – Politics 2020
,
Television 2020
—
Click To It:
Permalink
—
2 Comments: Click To Add Yours!
Posted on October 3rd, 2020

I cannot win with my cats.
In order to climatize them to the absurdly stupid tradition of changing the clocks twice a year, I always move the time in small increments the month prior to the change so it's not a shock to them. As you can imagine, the Fall is far, far more difficult because I am serving their meals progressively later. They do not like this. I get stared at with evil looks because they want their breakfast when they want their breakfast...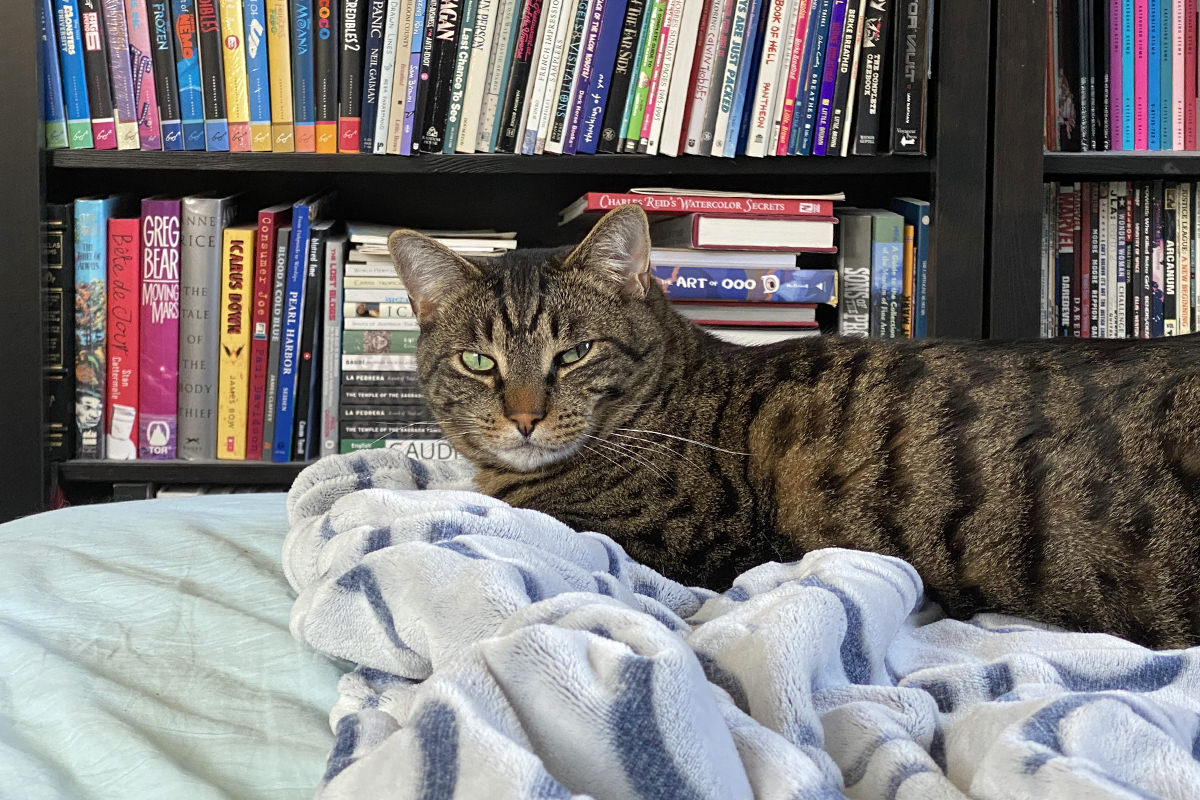 Usually when the feeder goes off? They bolt downstairs to scarf their little mid-day meal. But now? They just lay there glaring at me like food is the worst thing in the universe... then eventually saunter downstairs to begrudgingly eat.
I apologize to them, even though I hate Daylight Saving nonsense more than they ever could.
The time change (15 minutes a week for four weeks) has had a domino effect... ramping up the disdain for even thr smallest inconveniences. Take Jenny wanting to get into the laundry room, for example. The door is tough to open and close. Which is why I leave it open just a bit while washing clothes so it's easier to slide. Sometimes I leave it open a bit too much and Jenny is able to force her way in. But this time I didn't leave it open enough and she was pissed that she couldn't get it open. Pissed...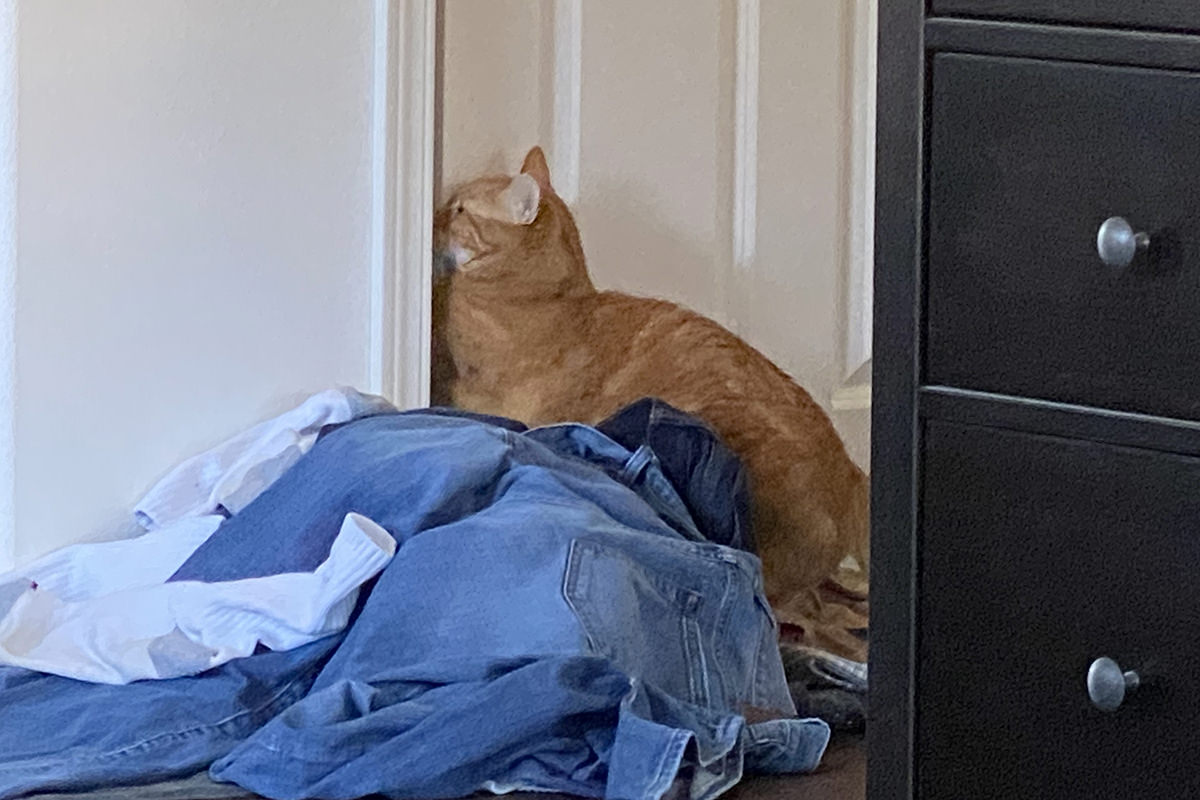 Here she is preparing to unleash a meow of frustration like she's never done before...
Fun!
There is a good thing about Fall arriving. I wake up every morning with Jake snuggled up to me. His favorite spot is behind my knees...
There are better ways to wake up.
But there are many, many worse way to wake up as well.
Posted on March 8th, 2020

Its... THE SHITTIEST DAY OF THE YEAR, but help is on the way... because an all new Bullet Sunday starts... now...

• Lose an Hour! There are many people who don't like the time change to Daylight Saving Time. Not me... I FUCKING HATE IT! There is nothing more stupid than dicking with the clocks twice a year. Ask anybody...
And yet politicians won't do a damn about it. They've got bigger things to do... like fuck us over for lobbyist cash. I mean, holy shit. This is the ONE THING they could do to better our quality of life that wouldn't cost them a fucking thing, and yet here we are. JUST PICK A FUCKING TIME AND STICK WITH IT! And now I get to do my taxes.
UPDATE: Annnnd... my effective tax rate went up AGAIN under the "tax-you-less" president. How nice. And now he wants to cut the Social Security I fucking PAID INTO my entire working life? Oh well. At least we're getting a brand new tennis court at the fucking White House.

• Women! On the bright side, it's International Women's Day! Which is kind of silly because shouldn't every day should be International Women's Day?

• Guardians! James Gunn confirmed that he'd like to see a Drax & Mantis movie. Which I'd love to see too but, let's face it, the ideal home for such a project would be Disney+ streaming...
If James Gunn were to pitch a Disney+ series for Drax and Mantis to Kevin Feige that he would write and direct, Marvel Studios would be falling all over themselves to say yes. First of all, without Chris Pratt and Zoe Saldana, the cast budget is a fraction of a Guardians of the Galaxy movie. Second of all, without Rocket and Groot, the special effects budget could be a fraction of a Guardians of the Galaxy movie. This makes good sense. This makes phenomenal sense. And I'm willing to bet that Dave Bautista and Pom Klementieff would 100% be up to do it. These are some of the most fun characters they could possibly play, so why not?

• Just Watch It.

• Sirens! There are plenty of television shows that I'm sad they canceled. One of the biggest is Sirens, which I love beyond all reason. I was rewatching them this weekend while working and started missing it all over again. Especially Billy, which is one of my favorite television characters of all time...
Billy Moments - Season 1 from mrnmrsreese on Vimeo.
He was a reoccurring character in Season One... but they (wisely) made him a regular in Season Two. There was no Season Three. But oh man do I wish there was. Both seasons are on sale for $4.99 on Apple's iTunes, if you want to check them out.

• Kern It! OH MY SWEET LORD! STOP ALLOWING PEOPLE WHO KNOW NOTHING ABOUT TYPOGRAPHY AND KERNING TO MAKE TITLES FOR YOUR TELEVISION SHOW! If this is not the worst I've ever seen... it's certainly in the top ten. SCRIPT TYPEFACES ARE MEANT TO BE CONNECTED! STOP SPACING THEM APART!!! And holy shit! THAT "B" IS SO FAR AWAY IT'S IN ITS OWN FUCKING ZIP CODE!!! GAH! GAAAAAAHHHH!!! My eyes are bleeding...
I simply do not understand how these kind of blaring typography errors flourish. Proper kerning is not rocket science. Watch a fucking YouTube video or something.

• NO TIME TO DIE! Daniel Craig was on SNL this weekend and, just like his previous hosting gig, it's surprising just how good he is at this. Of course he parodied his upcoming Bond flick, No Time To Die ...
I am sad that it's his final James Bond film, but if it means he's going to do more movies like Knives Out, which he was also great at.

And that's a wrap. Enjoy your higher taxes and losing an hour of your day!
Posted on October 3rd, 2019

It is easier to set my Alexa alarm to 7:04am than to reset the clock on the cat auto-feeder which has been gaining time and drifting a little bit later and later every day. So that's what I did last night. There's no sense messing around with the feeder until stupid Daylight Saving Time ends on November 3rd.
This morning Jenny was NOT having it.
At 7am ON THE DOT she was on my bed meowing her head off wanting breakfast and was very cross indeed that Alexa hadn't chimed in on that. Can you imagine what my life will be like in November when I have to set the clocks back and she has to wait ONE HOUR?!? No extra hour in bed for me... I can guarantee that. Actually it will be two weeks of no sleeping in, because I change their clock in 15 minute increments over time until they are off DST. Apparently it helps them adjust easier...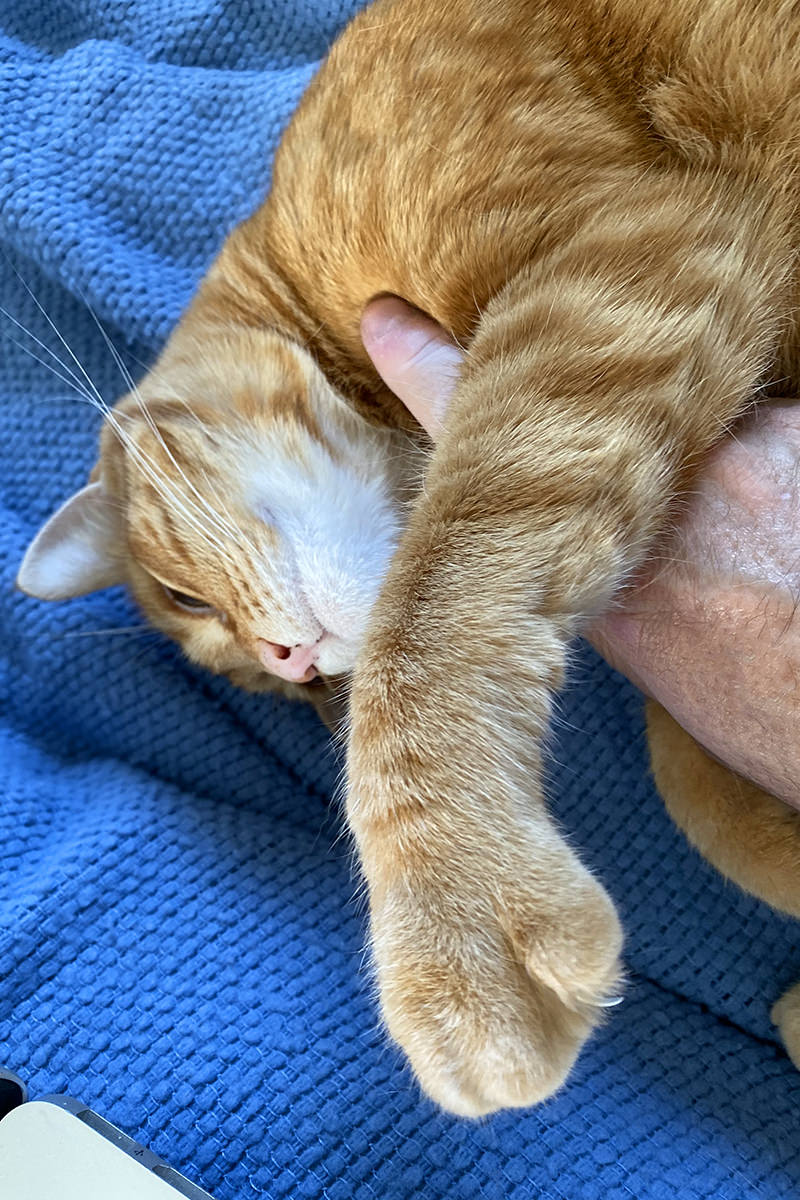 In other news... I was very nervous testing my blood sugar this morning. After all the potato salad I ate last night... and the huge bowl I had just before bed at 1am... I was sure it would hit 300. But nope! My spleen totally had my back and was a chipper 117 this morning. IT'S A POTATO SALAD MIRACLE!
Not a bad way to start my Thursday.
I am celebrating by having a bowl of potato salad for breakfast.
Posted on March 12th, 2018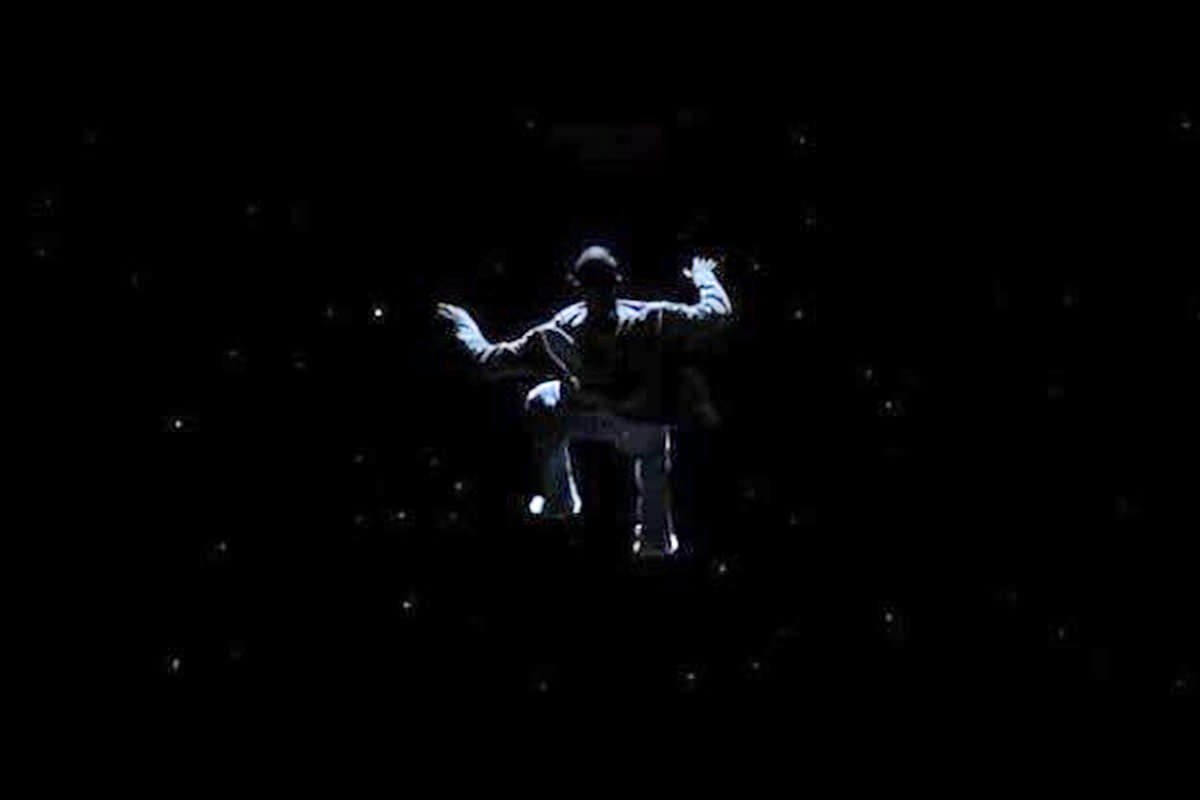 Posted on March 12th, 2017

Thank heavens I'm taking half-a-day off work, because an all-new Bullet Sunday starts... now...

• Stop the Insanity! Make it permanent... abolish it... split the difference... I honestly don't give a fuck. Just make it so that we're not dicking around with the clocks twice a year. This stupid shit... this utter madness... has got to end...
Seriously. If Trump wants to do ONE FUCKING THING that will benefit humanity in a way that every other fucking thing he's done has not... GET RID OF THIS IDIOTIC BULLSHIT!!!

• Healthcare. Finally. Broken down so even I can understand it! The puzzling way Republicans want to replace the individual mandate, explained with a cartoon.

• Wonderful. Do I dare get my hopes up after DC has shit the bed so many times now?
It could be incredible. If... only if...

• Loneliness. A sobering article that makes for an interesting... albeit more than a little depressing... read: The biggest threat facing middle-age men isn't smoking or obesity. It's loneliness...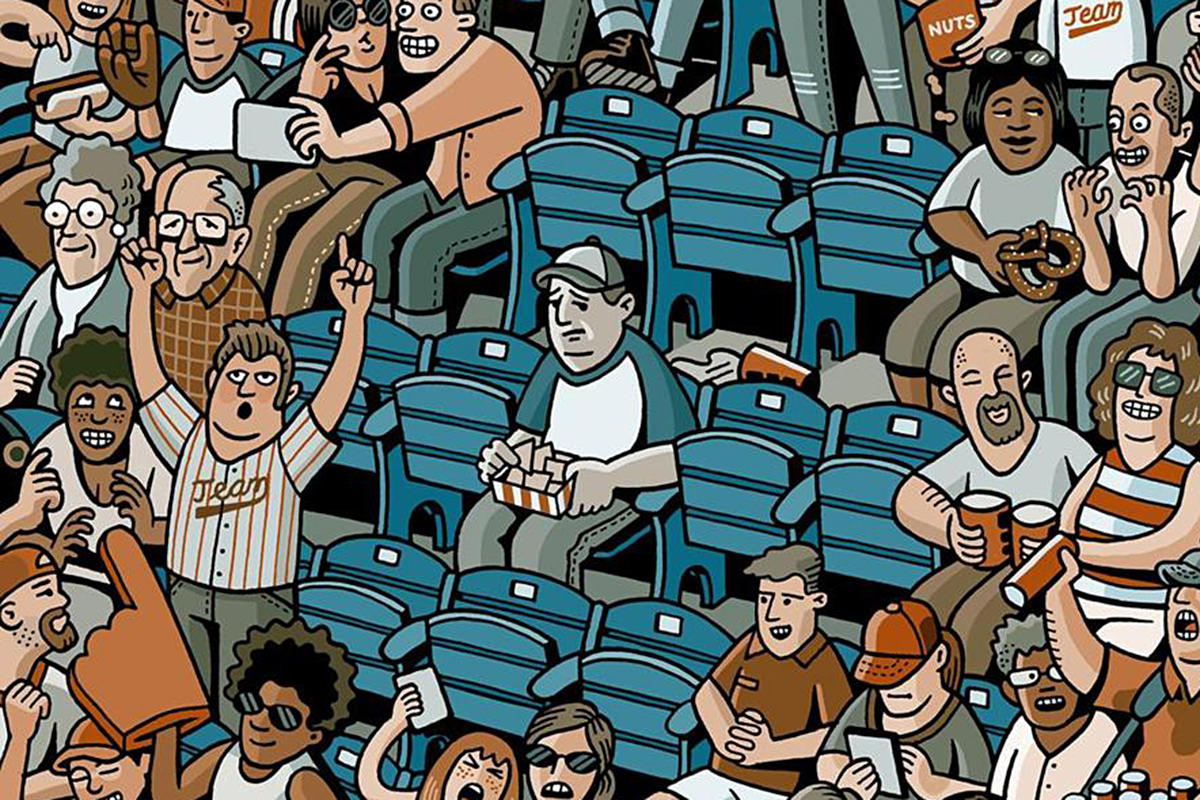 Illustration by Mario Zucca / Boston Globe
I don't know that I'm "lonely" so to speak. But most of the people I'm closest to don't live near me, and that can be difficult.

• Olive Garden. I had no business laughing at this as hard as I did. The whole concept of people in Olive Garden commercials acting like they've never seen a restaurant... or food... before, is epic...
I dare say that President Trump existing has made Saturday Night Live the funniest it's been in years. Even for sketches that don't feature President Trump.

• The Most Important Thing You'll See All Day. Yes. You can resist authority. In some cases, you're obligated to resist authority. Like when you are being lied to and your rights are being violated by authority. The video below is in three parts. Watch all three of them. Know your rights...
And here's a follow-up interview (good information, terrible sound)...
Have a phone with video capabilities? Film everything. Always film everything when it comes to the police. Even if you support the ideal of law enforcement (as I do)... Always. Film. Everything. Even when it's not happening to you. Because the police are not above the law and you just never know.
Note that the guy who filmed the video, Jesse Bright, tried to handle this without going public. All he wanted was an apology for having been lied to and illegally searched. Only after he was deterred at every turn did he released to video... not for personal gain, but to let everybody know what their rights are. He has no interest in any officers being punished or fired or anything. He just wants this critical information out there. Good for him.
I have a card in my wallet and in my car with the following statement:
Statement If Stopped or Questioned by Police or any Government Official

"Officer, I Assert My Fifth Amendment Rights As Stated On This Card"

Pursuant to the law, as established by the United States Supreme Court, my lawyer has advised me not to talk to anyone and not to answer questions about any pending criminal case or any other civil, administrative, judicial, investigatory or adjudicatory matter. Following his advice, I do not wish to talk to anyone about any criminal, civil, administrative, judicial, investigatory or adjudicatory matter, without my lawyer present. I waive no legal rights, nor give any consents, nor submit to any tests or other procedures, without my lawyer present. I ask that no one question or talk to me, without my lawyer here to advise me. I do not wish to answer any questions. I want to see my lawyer. Please call my lawyer immediately.

See: Miranda v. Arizona, 86 S.Ct. 1602, 384 U.S. 436 (1966), Maness v. Myers, 419 U.S. 449 (1975), Hoffman v. United States, 341 U.S. 479, (1951), Lefkowitz
Know. Your. Rights.

And now it's time to chew gum and vacuum. And I'm all out of gum...
Posted on March 9th, 2015

JUST SPLIT THE DAMN DIFFERENCE BETWEEN STANDARD TIME AND DAYLIGHT SAVING TIME AND GET RID OF THIS STUPID SHIT!
The Monday after dicking around with the clocks is the worst.

I know I complain about this dumbassery every time we mess with the clocks, but come on. HOW IS THIS STILL A THING?
Posted on March 7th, 2015

Here we go again.
I'm probably going to link to this video every time the clocks change from here to eternity...
Genius.
A reminder to all you presidential candidates out there... any candidate... any candidate... who promises to abolish the idiocy of Daylight Saving Time gets my vote. Republican? Democrat? Libertarian? Communist? Nazi? Whatever... my vote is yours if you JUST MAKE THE MADNESS STOP!