Posted on May 14th, 2017

Home is a great place to be, because an all-new Bullet Sunday starts... now...

• Spring Has Finally Sprung! When I got back yesterday, I noticed that the beautiful dogwood tree that the previous owner planted in the front yard was starting to bloom! I think my irises are also ready to pop, but they're a lot of work to keep pretty. The tree is beautiful from start to finish with no intervention from me...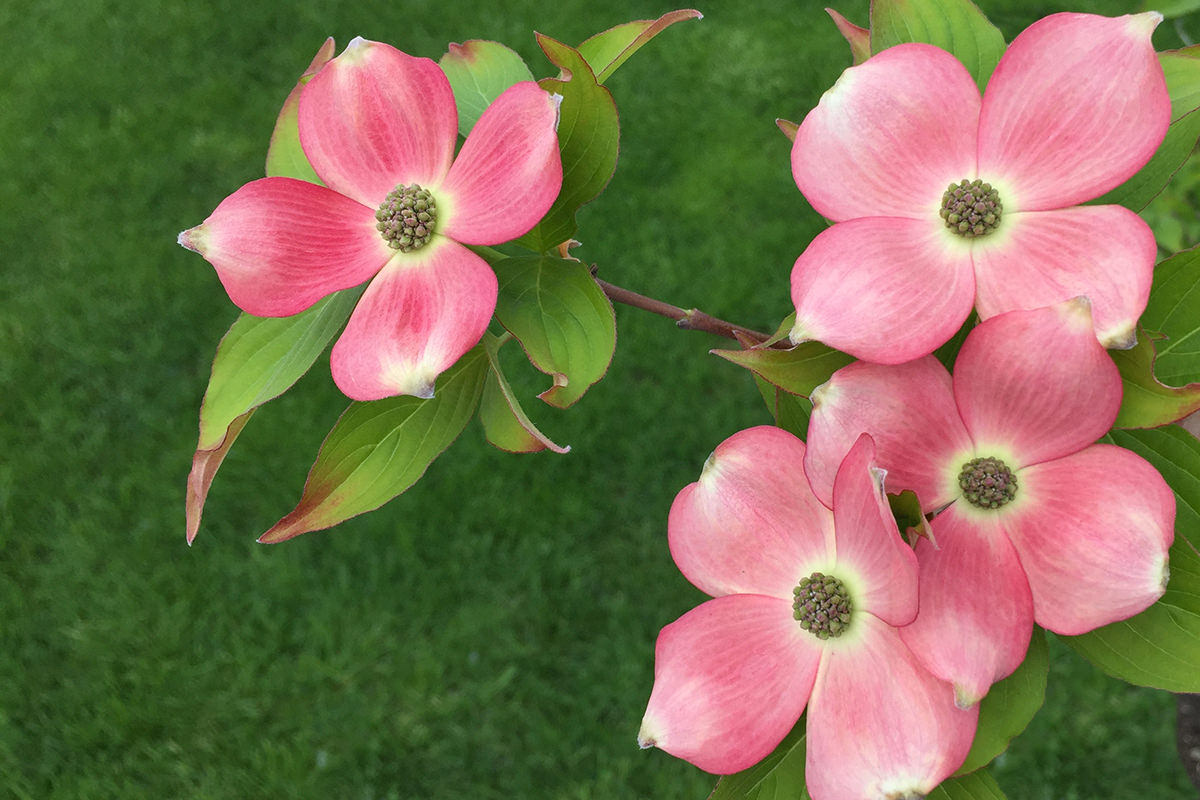 I was worried that the heavy snow destroyed it because everybody else's trees went into bloom weeks ago. Good boy!

• Sense8 Season Two! When Netflix released the first season of Sense8 back in 2015, a collaboration between The Wachowskis and J. Michael Straczynski, I was not interested. With the exception of the original Matrix film and possibly V for Vendetta, The Wachowskis have released nothing but shit. And I can honestly say that I can't recall liking anything Straczynski has ever produced... from his Spider-Man and Fantastic Four comic books to the steaming pile of shit known as Babylon 5. But, after seeing some acclaim for Sense8... I watched it. And actually ended up enjoying the show despite some idiotic story elements and an even more fucking idiotic Wilhelm Scream in the finale. And now here we are with the release of Season Two...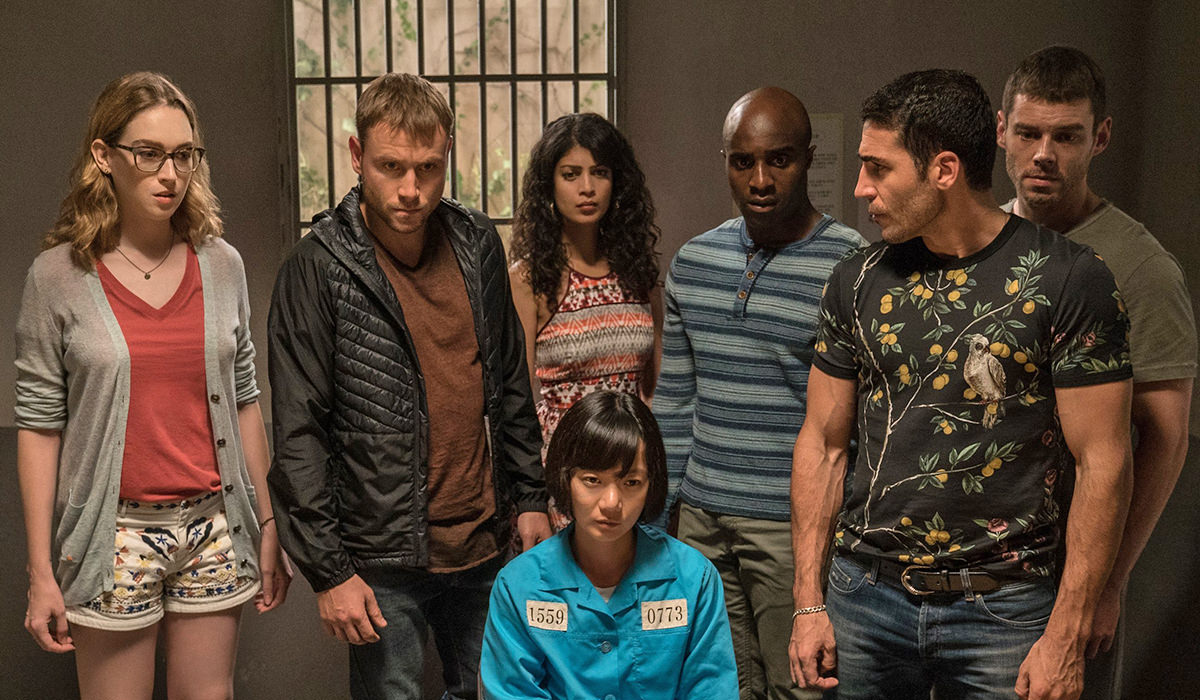 While I ended up liking the second season more than the first, there are serious problems that kept me from loving it. First of all... despite the large cast, they introduced even more characters. Some to disastrous effect. Take for example the trans character Nomi and her partner Amanita, a pair of hackers living in San Francisco. Easily two of the most unique and interesting characters on the show (if not television itself), but this season they are essentially shoved aside in favor of a new character called "Bug" that's not only annoying as fuck, he's also redundantly taking on hacking chores that should have stayed with Nomi and Neets. Like when Nomi had to dress in heels, but fell down and knocked herself unconscious, leaving "Bug" to save the day. Like HA HA HA HA! THE TRANS CHARACTER CAN'T WALK, so let's have a man step in and fix everything. What the actual fuck? But even worse is the mindless way they keep setting up fights and absurd situations so the characters can "mind bond." Sometimes it's what makes the show fantastic (let's face it, I could watch Doona Bae kick ass all day long) but other times it's just so badly manipulative and manufactured as to be laughable (Shades of Babylon 5, Batman!). The mind-bond scenes should be organic and come about naturally... like when Sun finally goes after her brother at the end in one of the best action sequences I've seen this year. But the absolute worst thing about Season 2 is the ending... which has a half-dozen cliffhangers. Everybody must be really confident that Netflix is going to shell out $100 million for season three. Because if they don't, a lot of people are going to be pissed at how pathetic an ending we got.

• Soda Pop! This right here is the idiotic crap that has people fed up with our elected officials: Diet drinks added to Seattle mayor's soda-tax proposal, upping revenue estimates. And you have to ask yourself... is the dipshit Seattle mayor's plan all about saving us from obesity and (now) fighting white privilege? Or is it designed to distract people from the news that he fucked teen boys? Let's allow the media to decide! And when it comes out that the mayor is also addicted to cocaine? THEN A TAX ON YOUR COOKIES TOO, YOU LOWLIFE PLEEB! All I know is that when you have to start adding a tax to a bottle of Coke in order to raise revenue, you are probably SPENDING TOO MUCH FUCKING MONEY!

• Do It Yourself! Never did I think in my lifetime that my small-town local grocery store would get self-checkout, but here we are. I guess even Redneckistan is tired of dealing with people's shit...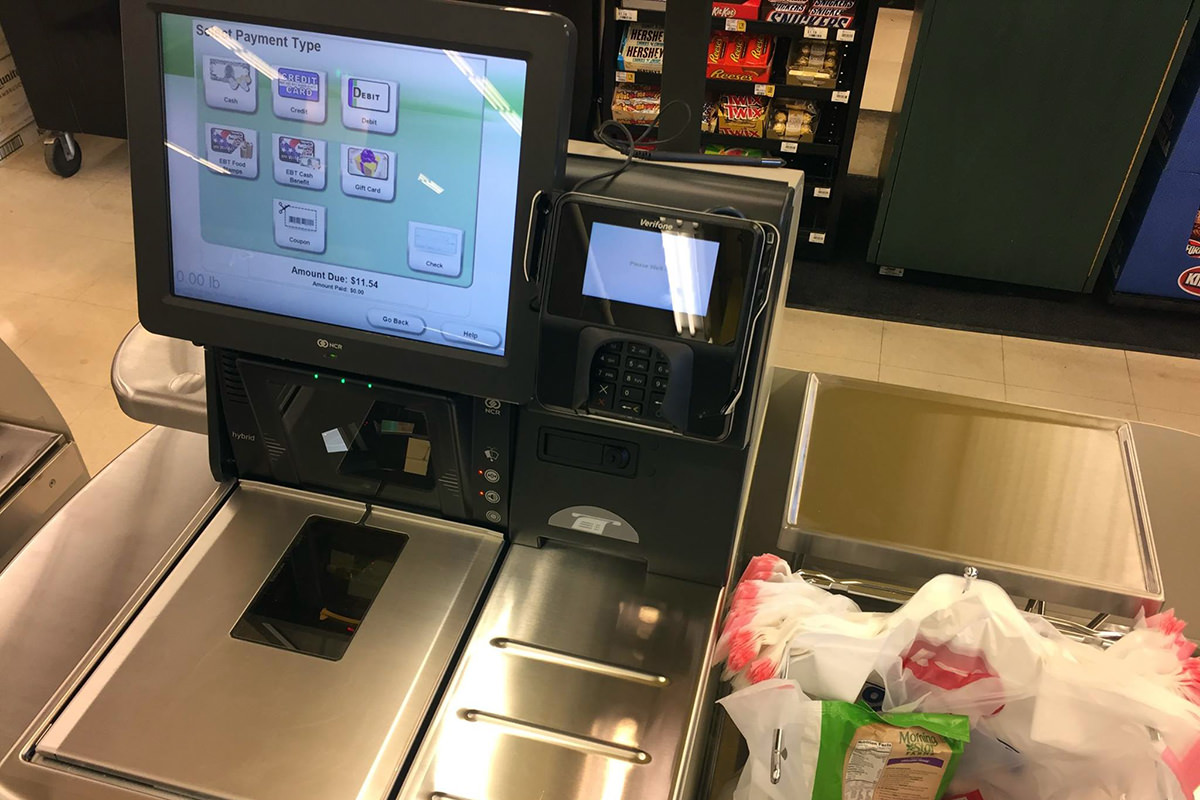 Oh well. I guess it's only a matter of time before we're all replaced by a machine.

• Travel Day! Yeah... you won't convince me that John McCain is some kind of hero for being the lone GOP voice asking for investigation into the president's ties with Russia. Of course I respect his service to this country, but he's a MIA/POW betrayer and a pile of fucking garbage as a senator. He and bipartisan Democratic betrayer John Kerry are BOTH a pile of fucking garbage. So get all wet over McCain if you want to... I'll just be over here reminding myself of his dishonorable treatment of those brave soldiers who couldn't come home like he did because of his actions in preventing it...
Jesus, what an asshole.

• Please Call Me Back! Is it possible for a song to have some of the worst lyrics you've ever heard... and yet you can't get enough of it? This track by the band Rey Pila is unapologetically 80's in tone and construction, which is why I like it. And yet... holy crap are these some awful lyrics. Granted they are out of Mexico, so English probably isn't their first language, but still...
I am hopelessly in a love/hate relationship with their stuff that's been posted to YouTube. Though some of their songs are pure love...
All 80's all the time over at Rey Pila!

And game over. So long, Bullet Sunday...
Posted on May 4th, 2017
The hypocrisy of Paul Ryan would be comical if it weren't for the lethal consequences of all his fucking bullshit.
I could go on for pages about what a massive betrayal the new "health care" plan is for the American people, but I'm just too damned tired. So here's Seth Meyers, again, to put it all into perspective...
As for the bill itself? Jesus...
The only possible up-side to all this crap is that once people understand how anybody who isn't young, healthy, and rich are completely fucked, maybe these douchebags will finally be voted out of office.
Posted on May 2nd, 2017

I spend entirely too much time questioning my sanity lately.
Every time I turn on the television, any time I go online, any time I am exposed to the world... I feel like I'm taking crazy pills...

For heaven's sake... just go play some golf or something. Yes it costs taxpayers millions, but at least you aren't fucking embarrassing the country or taking us closer to World War III.
Posted on April 27th, 2017

As I was sitting in the lobby of the tire store waiting for my flat tire to be replaced this morning, I found myself staring at a somewhat-recent(!) issue of TIME magazine.
Which is more like a pamphlet than a magazine anymore, but okay.
The cover, designed in the same style as TIME's infamous "Is God Dead?" cover from 1966, asks the question "Is Truth Dead?"...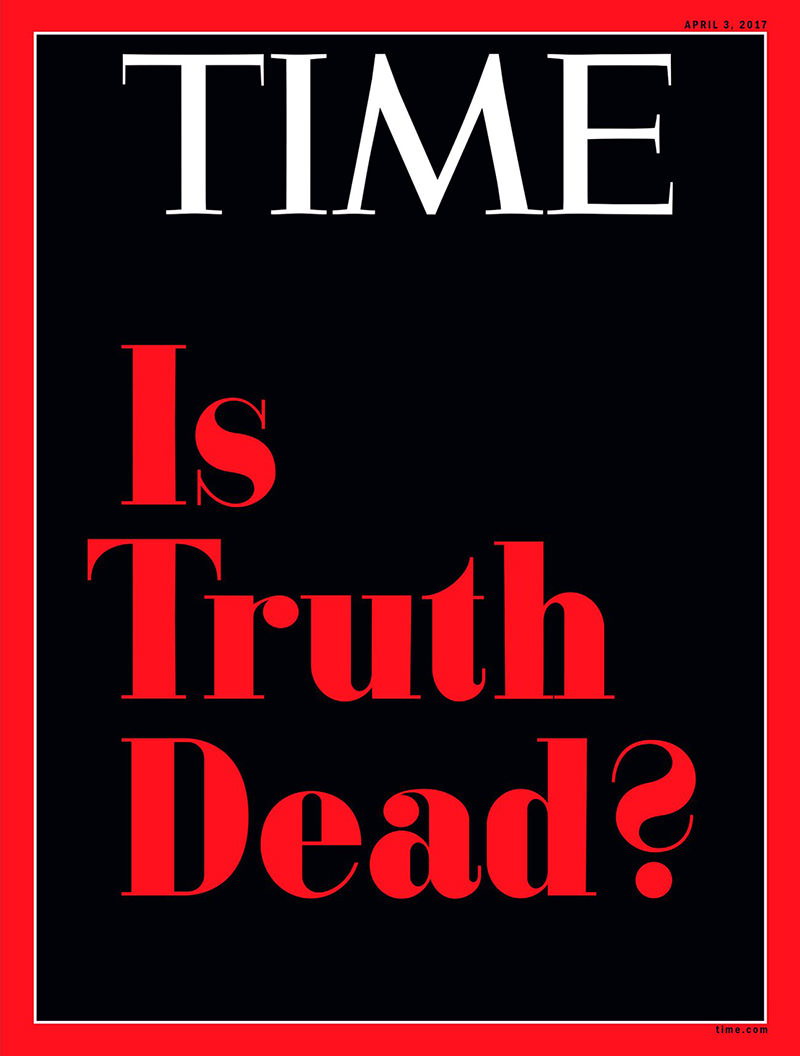 I didn't even need to crack the cover to know the answer to that. Not only is truth dead, it's been dead for decades.
It's just that now we can all stop pretending.
Not pretending that truth isn't dead.
Pretending that we care.
Posted on April 11th, 2017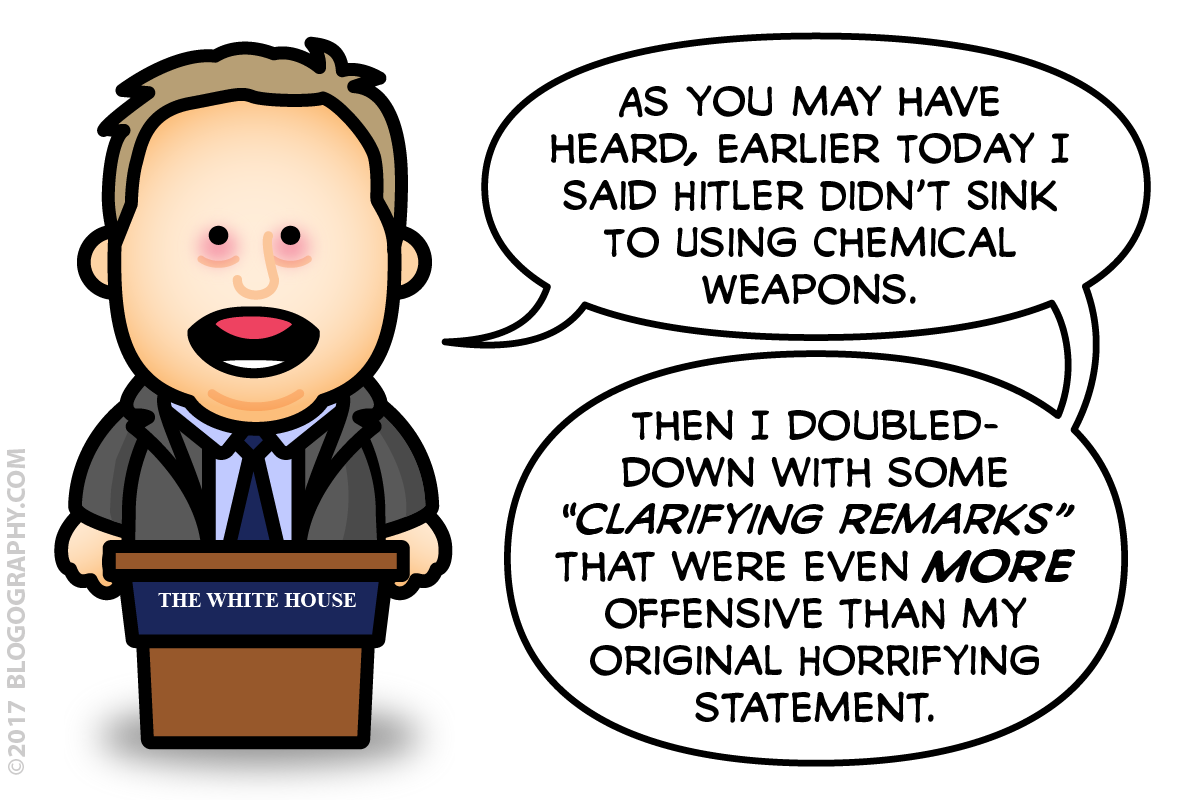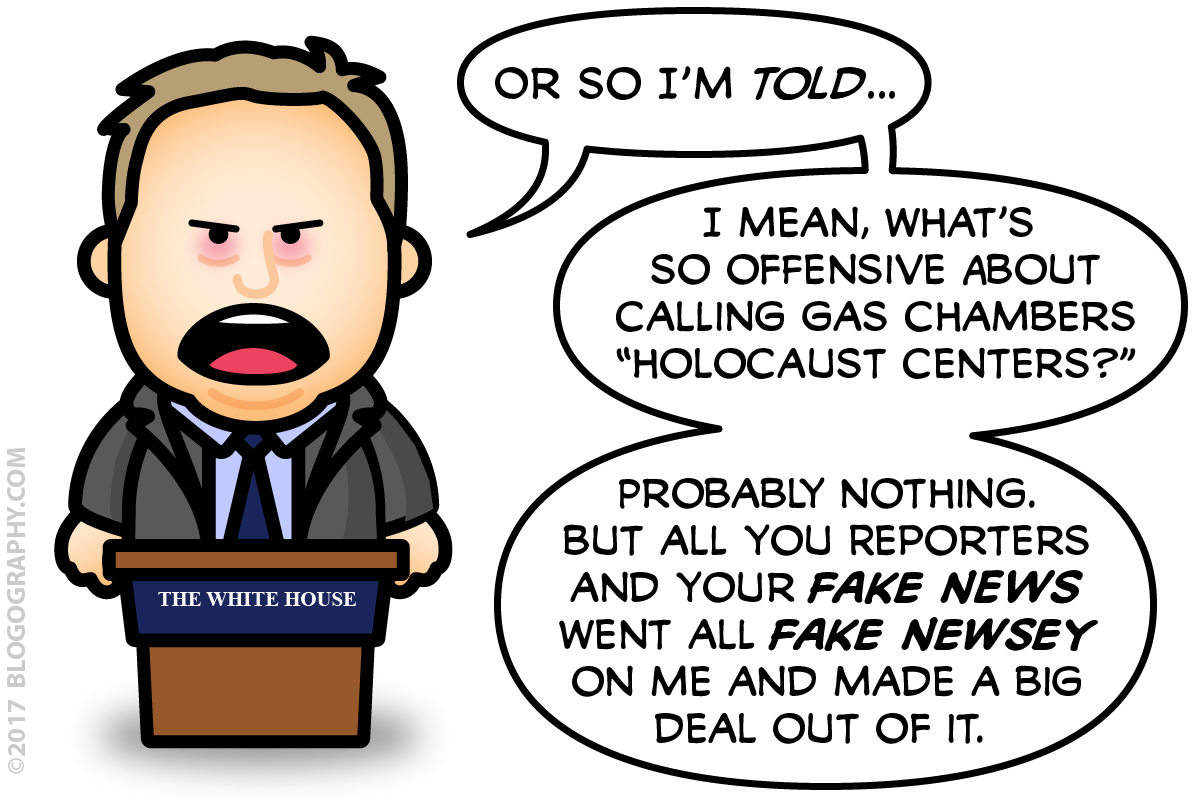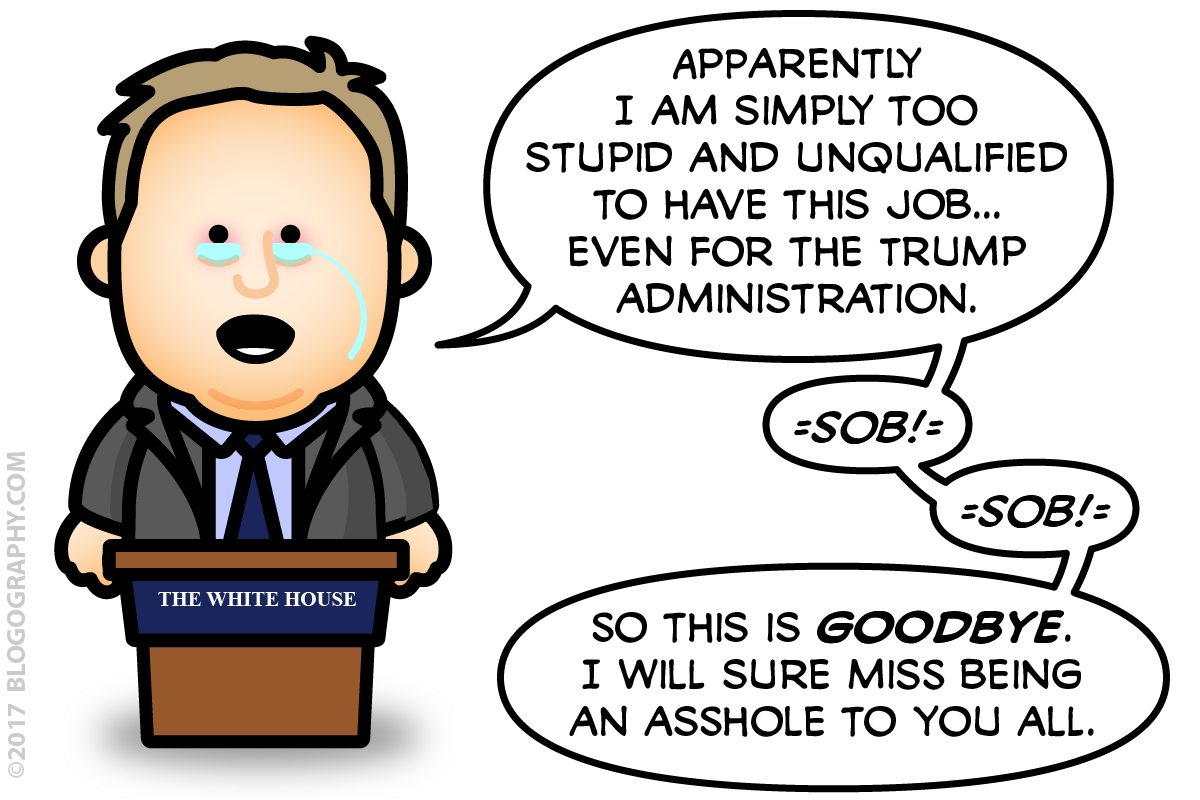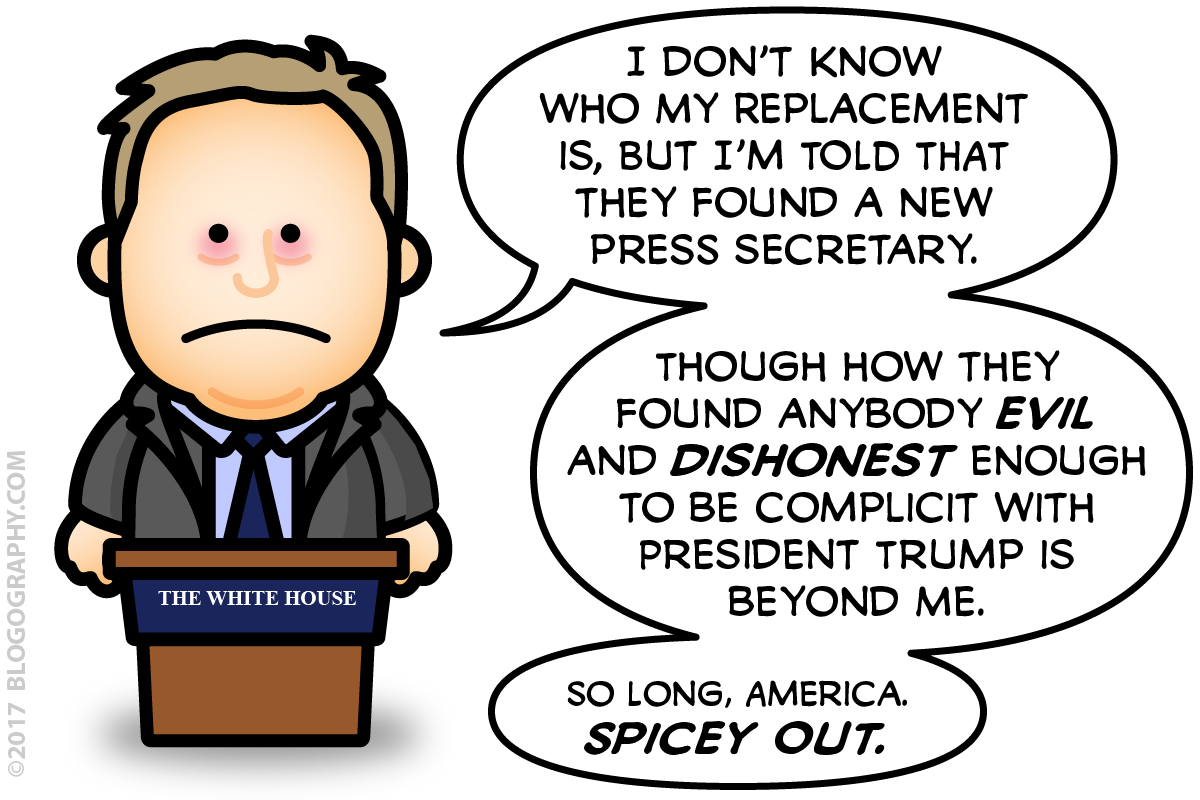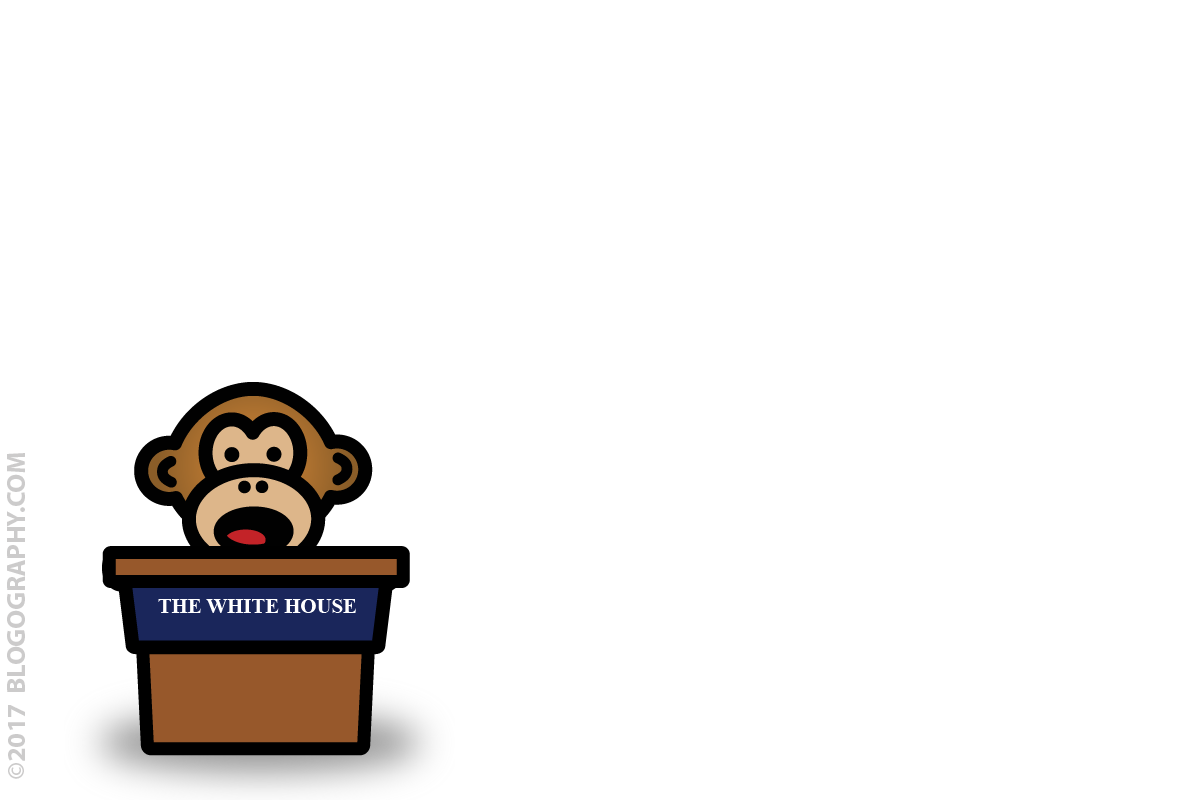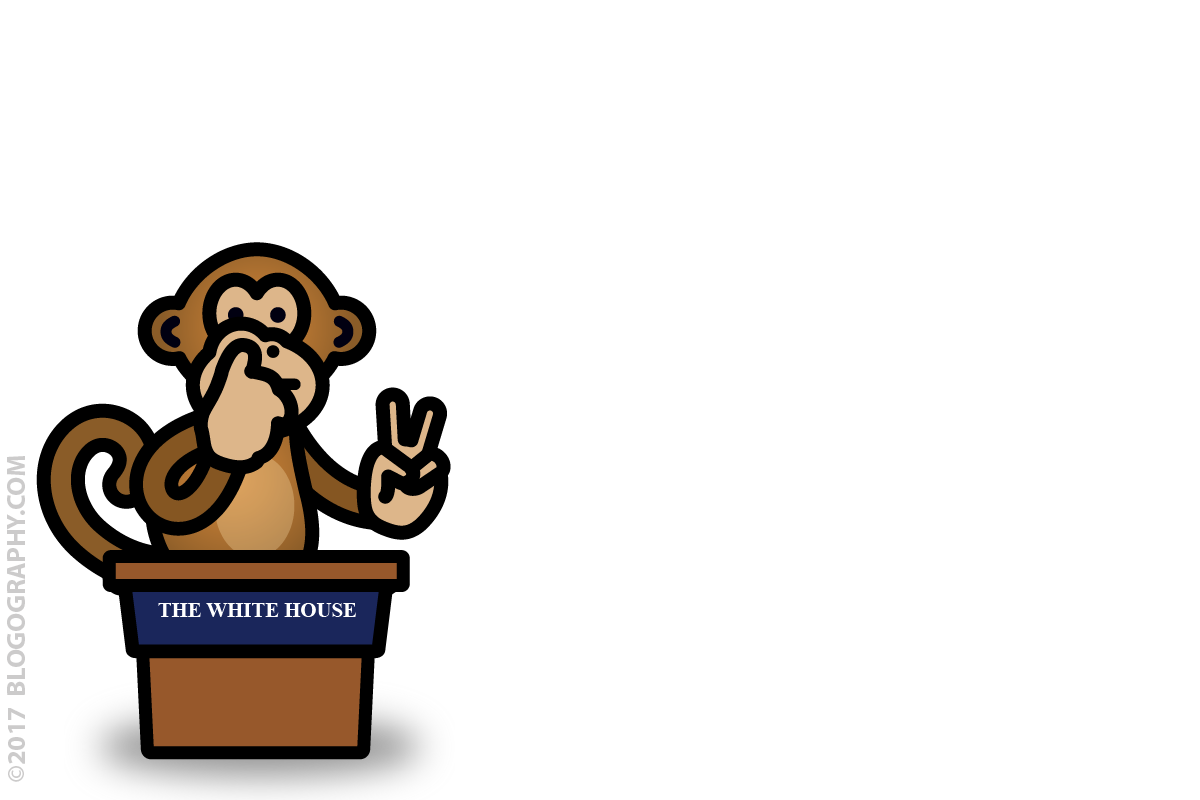 Posted on March 26th, 2017

Time to burn this muther to the ground, because an all-new Bullet Sunday starts... now...

• The Government is Not Your Friend. In all seriousness, I wonder what it's going to fucking take before US citizens wake the hell up to how their privacy rights are being chipped away by elected officials. Our bought-and-paid-for-Senators just voted to undo internet privacy regulations, which means that you ISP can sell your browsing history to advertisers. Our privacy is up for grabs, and fuckers in the GOP are the pimps making it happen. Might want to look into a VPN to protect yourself before this gets run through the House.

• GET OUT! I'm just going to chime in with the vast majority of critics and say that Get Out is one of the best films this year...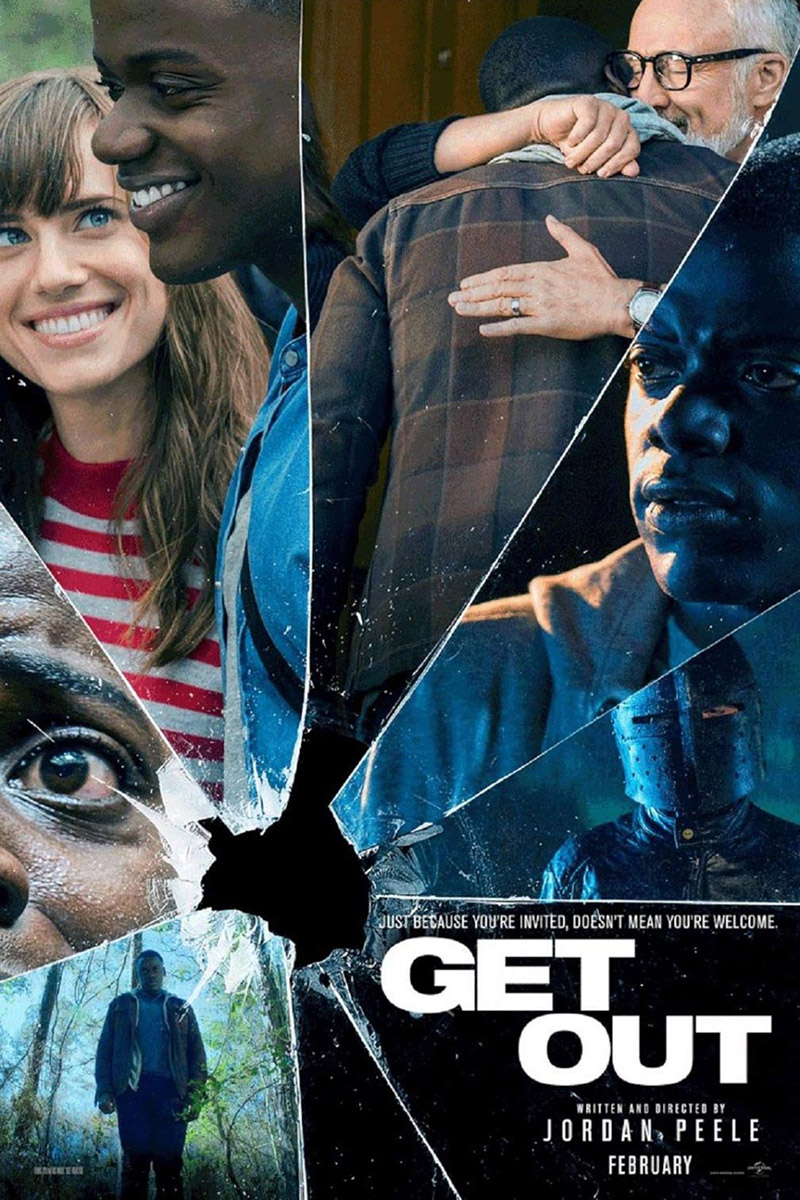 Jordan Peele has absolutely killed it. So far as suspense thrillers go, this is a tough movie to top. Easily going to make y "Best Of" list for 2017. Go see it!

• Final Dimensions? Rumors have been swirling that my favorite game of the moment... LEGO Dimensions is getting canceled. Back in January I was dismissive of such rumors. But now? Evidence is mounting.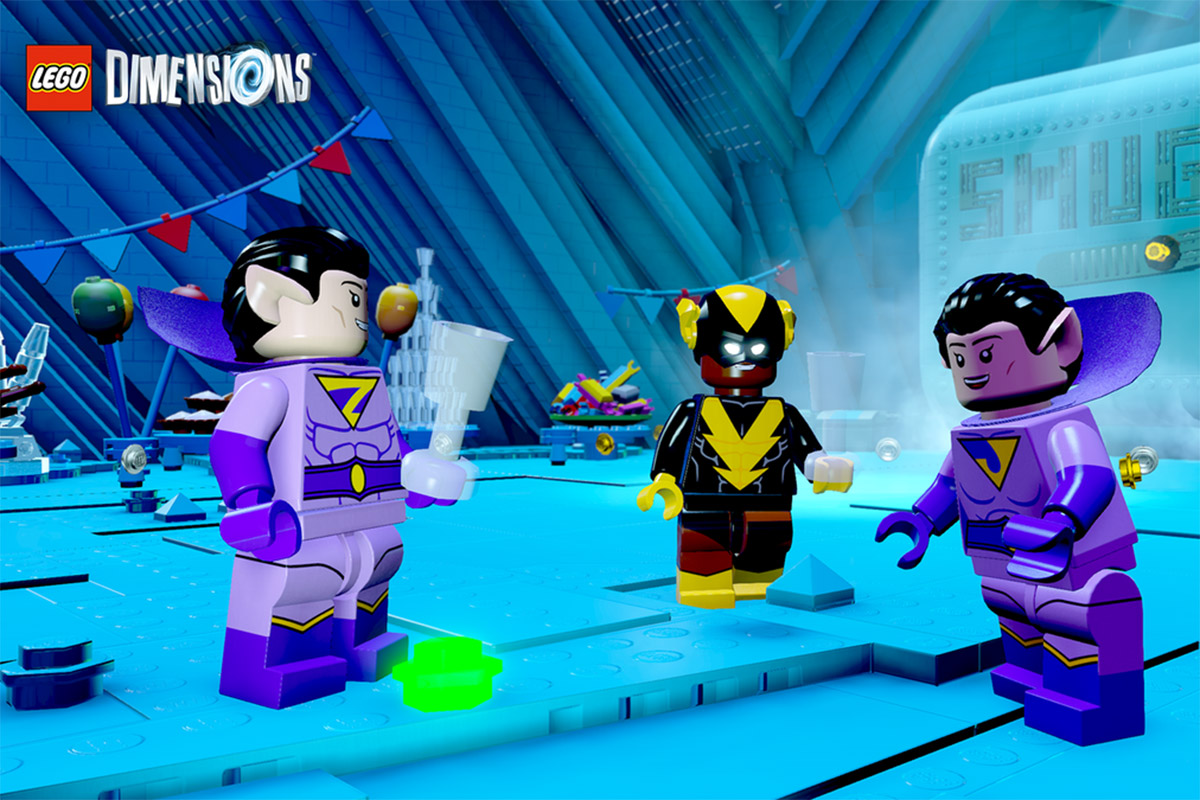 Needless to say... this sucks if it's true. Sucks hard. The sets that have been coming out lately are better than ever, and a lot of fun to play. More sets for properties like Beetlejuice, Powderpuff Girls, and Teen Titans GO! have been delayed, but are still on the way, so there's that. But still... I hope we're getting even more sets before LEGO hangs it up.

• Headlines. So... when you see a headline like this pop up in your newsfeed...
You have to guess... will this be some godless liberal senator scumbag with no moral values... or will it be a "family values" Christian who supports anti-gay, anti-trans legislation? Lets find out together, shall we?
State senator found with teenage boy in hotel room.
Big fucking surprise. It's the "family values" Christian who ends up being the fucking pervert. YET AGAIN! It's always these assholes getting caught texting things like "I'm gonna fuck you like a good little boy if you keep calling me daddy." They can't seem to help themselves. Which is why every fucking time I see some politician asshole going out of their way to shit all over LGBT equality, I automatically expect they're fucking pedophiles. And history seems to back this up.

• Assemble! Oh goody. Justice League looks like a total rehash of Batman vs. Superman... incomprehensible action sequences strung together with boring shit nobody cares about...
At least Zack Snyder is consistent with his suckage.

• Gubermint! There's so much fucked up shit going on with our Trump-infused government that I could fire off another fifty bullets just to touch on it. But doing so will probably make me want to blow my head off, so I'll pick just one...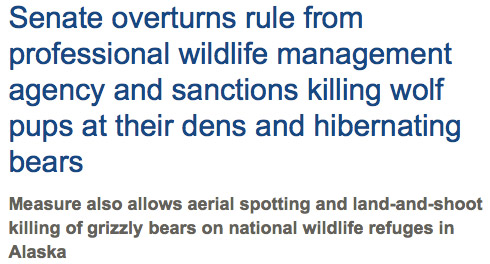 You can read about it here. What a bunch of fucking monsters we have representing us. If they are willing to treat innocent animals like this, there's no hope for us. None.

So over bullets for today.
Tags:
Assholes
,
Bullet Sunday
,
LEGO
,
LEGO Dimensions
,
Movies
,
News
,
Politicians
,
Politics
Categories:
Bullet Sunday 2017
,
LEGO
,
Movies 2017
,
News – Politics 2017
—
Click To It:
Permalink
—
1 Comment: Click To Add Yours!
Posted on February 12th, 2017

Stop what you're doing, because an all-new Bullet Sunday starts... now...

• Stuff. This PBS article entitled Sorry, Nobody Wants Your Parent's Stuff is a must-read if you're going to be the one cleaning out the house of a parent, friend, family-member, or loved-one after they pass on. It perfectly describes the sad reality I have been facing with my mom and grandmother's stuff. It's not like it's anything luxurious or expensive... but it's nice stuff that I assumed somebody would want and use. Nope. Can't even give it away... let alone sell it. And I tried absolutely everything I can think of. Dishes, furniture, knick-knacks... all of it ends up in the garbage, because I don't want to leave behind junk nobody wants when I kick the bucket. It's tough to make that call... but the memories aren't there for other people, and getting your head around that makes it easier to do what must be done.

• Reality. I'm just going to leave this link right here, because apparently there are people who need to see it: No One Wants to See ISIS Defeated More Than Muslims

• LEGO Dimensions! Way back in 2015, I reviewed LEGO Dimensions, which combines physical LEGO toys with the adorable puzzle-filled LEGO video games that I've been playing for a decade...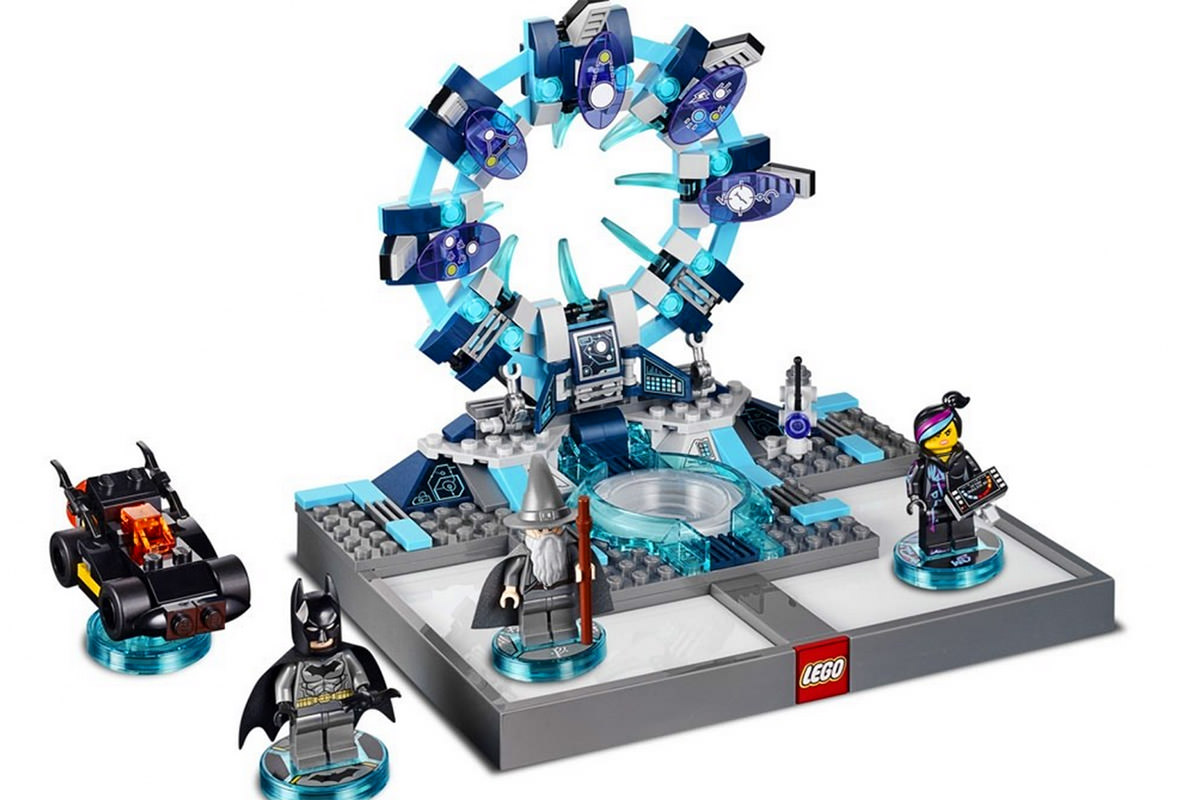 For the most part, I liked the game despite the tedious way that the LEGO toys have to be moved around on the "puzzle pad" to get through the levels... and the fact that you can't play 100% of the game unless you buy the toys required to play some areas that are locked off. For example, I don't care about LEGO Ninjago toys, and don't care if I play the Ninjago World that's in the game. But the main story has some spots where you have to have a Ninjago toy in order to use their "spinjitsu power" to unlock the door for a side-quest. That's pretty shitty. Eventually LEGO got tired of people (rightfully) bitching about this, and came up with "Hire A Hero" so that you can pay LEGO studs in-game to use a character that has a power you need to open a door (or whatever). It's a great solution when it works (sometimes I get to a place that I need to Hire A Hero but am not given the option for some reason). Even so, I'm kind of done with the game. OR WOULD BE IF THEY WOULD STOP RELEASING SUCH AWESOME ADD-ONS TO THE GAME!!! Lately LEGO has been killing it. The Mission: Impossible Level Pack was loads of fun. Ditto for the Adventure Time Level Pack, which was so faithful to the cartoon that you feel like you're INSIDE THE CARTOON. And they didn't stop there... they've got add-ons coming for everything from The A-Team and Knight Rider to Gremlins and The Goonies! Yes, the game-play is more of the same, but there's something about these unlikely but awesome add-ons that keep me playing.

• Akilah, Obviously. If you don't know who Tomi Lauren is, consider yourself lucky and skip this bullet. But if you do know who this moronic piece of shit is, then here's the ever-dreamy Akilah dropping the mic... on her head...
Akilah's entire YouTube channel is gold. I highly recommend checking it out.

• Poor. According to Rep. Jack Kingston of Georgia, being born into poverty is apparently a punishable offense. No surprise there. Our government has been doing this for decades. Eliminating living wage jobs then giving power to companies to exploit those caught in the fallout is essentially creating poor people then punishing them for being poor. But, hey... so long as the rich get richer, we'll continue to get the government they purchase for us, so carry on.
Except to say... I wonder if this STUPID FUCKING ASSHOLE even comprehends that, to kids, EVERY LUNCH IS A FREE LUNCH SINCE KIDS DON'T HAVE JOBS AND EVERYTHING IS PROVIDED FOR THEM. Probably not. STUPID FUCKING ASSHOLES are STUPID FUCKING ASSHOLES for a reason. This is not a bipartisan issue. I hope that people in Georgia wake up and vote out STUPID FUCKING ASSHOLE Jack Kingston for the good of all humanity.

• God Help Us. When even Iran... IRAN... can find humor in your president, you know you're in trouble...
The whole Trump presidency is just one horror after another, and it simply does not stop. Every fucking day there's a new disaster to pile on an already massive pile of disasters. It's quickly getting to the point where even Republicans are going to have to denounce President Pussy-Grabber if they value their jobs... or if they value avoiding World War III.

So many bullets, so little time... until next week, then!