Posted on March 30th, 2018

Never let it be said that nobody saw this shit-show coming.
Most people with any brains in their head saw it coming from a mile away.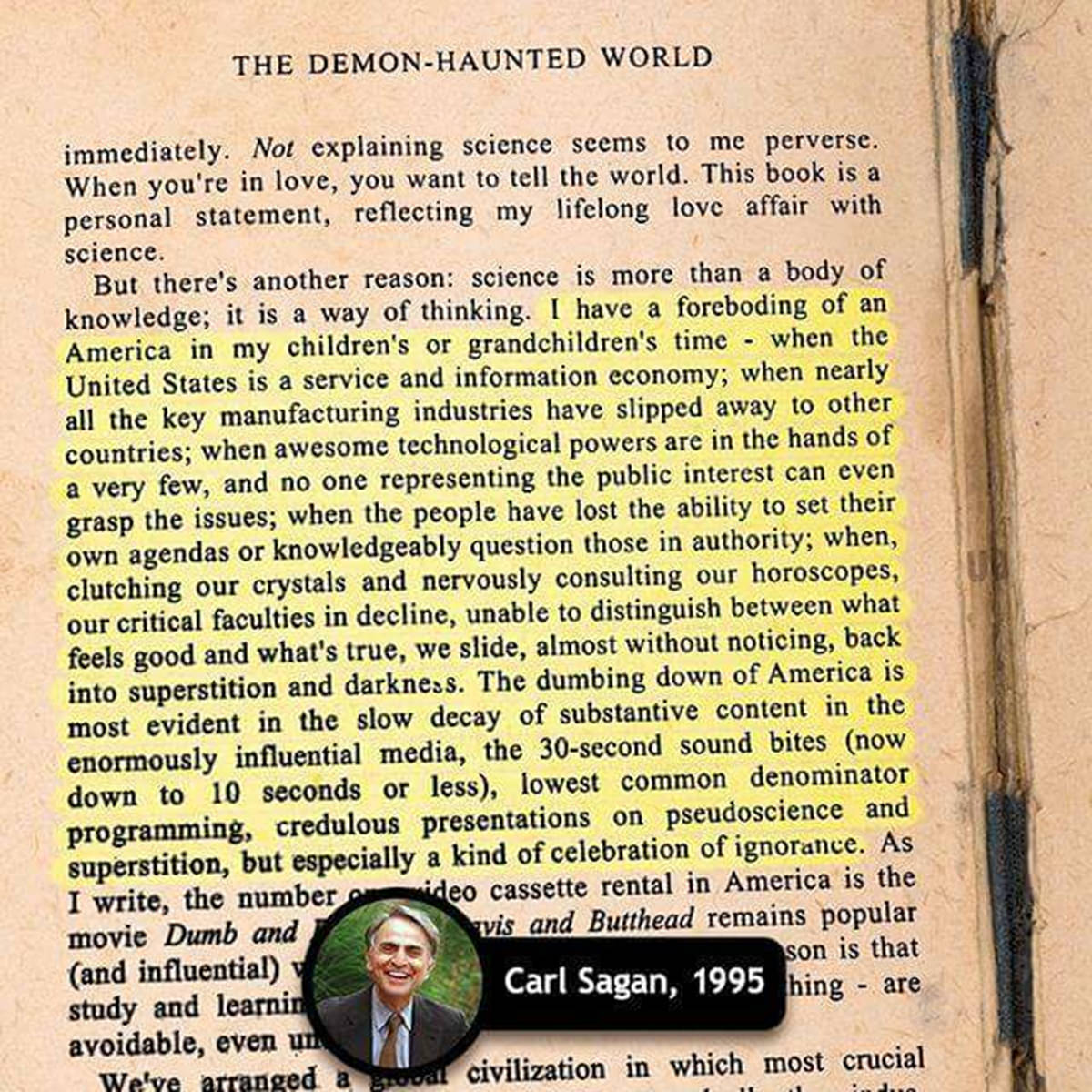 Well, maybe not a mile... but however far away 1995 was.
Posted on March 21st, 2018

Ignore me if you will, but this is a subject that means something to me.
Credit card debt is a pariah that will consume you. And now that interest rates are going to increase past the already absurd rates that credit card companies charge (thank you Federal Reserve!), it's more important than ever to get yourself out of credit card debt if you have any. Large balances are designed to keep you paying high interest charges forever, without ever fully paying off your debt. It's a trap... and it's really tough to get out of once you're caught in it.
I know this, because I've been there.
During my two years in college, I accumulated huge debt. Huge.
I wasn't working very much because of school and travel (and partying), but was spending as if I were a CEO. First it was one credit card. Then it was another. Then it was another. It took *decades* for me to climb out of it. Years of barely being able to make payments. Years of getting nowhere in paying off my balances. Once I realized the thousands of dollars being blown every year on interest, I started focusing on paying off my cards. It was hard. Very hard. I'd buy nothing but the bare minimums I needed to survive. I wore clothes until they fell apart. I'd do any activity on a shoestring budget and limit expenditures any way I could. It took years of this, but eventually I clawed my way out.
And I have made it my mission to pay off my balance every month ever since. Sometimes there are emergencies. Sometimes I haven't saved enough for vacation and it takes a couple months. But I work very hard to not spend money I don't have so I can pay off my balance every time.
There are a lot of ways to get help if you need it. Apps that help you set payment goals. Books on financial planning. Websites with great advice on how to get out of credit card debt. And, if you are really in deep, financial advisors that can come up with a plan and negotiate with banks to get interest lowered... or help you find a loan. But however you mount your attack on credit card debt, it's hugely important that you start immediately. Our own government is working with banks to enslave you with debt, and it's only going to get worse. Much worse. The sacrifices needed to escape their clutches are hard ones to make, but ultimately worth it.
I honestly don't know what the future holds with our Federal Reserve manipulating things the way they have been. They don't even bother hiding it any more. This country is now designed exclusively for the wealthiest among us. That may not be you, but finding freedom amongst the ruins is a goal worth having.
Good luck to you.
Good luck to all of us.
We need it now more than ever.
Posted on February 5th, 2018

I don't watch the Super Bowl. That's probably because I don't give a crap about football. Most years I still have the game on while I work because I want to see the commercials, but this year I figured I'd just watch them all on YouTube after the game. That way I don't have to add to the NFL viewer numbers since I feel that any sport which allows owners to shit all over The United States of America with it's mandated faux-patriotism can go fuck themselves. Colin Kaepernick did not disrespect this country, its people, or our troops when he respectfully took a knee in protest during the National Anthem... and yet he was treated as if he did, and is now paying the price for what became of it. So much for freedom.
Anyway... the one commercial I was wanting to see more than any other was the trailer for Avengers: Infinity War. A movie I am very, very much looking forward to come May...

Pretty great, right?
Everybody and their dog will be rushing to analyze every frame of the trailer, so I'm going to take a pass on that. Instead I'm just going to run through the eighteen scenes found therein and offer up my commentary. BE WARNED! If you aren't caught up on the past Marvel Studios films, there may be spoilers ahead...
And this is how you do it... lead off with the true promise of this movie: all the various Marvel Studios franchises are coming together in interesting ways. Here Technology, science, and magic are converging in a single shot.
The romance between The Scarlet Witch and The Vision is a major staple of the Marvel comic book universe. I'm very, very happy that they've been advancing this in the cinematic universe as well. Though I'm not sure what's going on here. Vision is projecting a human form, which is great... but what's the deal with the stone? Weirdest foreplay ever?
Though Thanos had been hinted at in the first Avengers film, he really didn't become a "thing" until Guardians of the Galaxy. There it was revealed he was as the father of both Gamora and Nebula. This firmly cemented Guardians as a part of the narrative build-up for this film, even though it took place in a galaxy far, far away.
"It's all been leading to this." Yes. Yes it most definitely has. Interesting to note that Bruce Banner somehow made it back to earth ahead of Thor, which is a little surprising considering they were last seen together in space. As an aside... what's with Tony Stark having an Arc Reactor in his chest again? that was removed in Iron Man 3.
One can only guess that the post-credits scene in Thor: Ragnarok has Thanos destroying the space ark with all the Asgardians on it, and only Thor survived to be picked up by The Guardians. That would suck, considering the destruction of Asgard itself has already punched Thor in the gut. But even more so because that means Korg probably perished with them. It's strongly hinted that time travel is going to play a part in the movie, so maybe dead isn't dead, just like the comic books. If so... dare we hope for a Quicksilver appearance?
If there's anybody who should be worried about Thanos showing up, it's Loki, who failed to secure The Tesseract for him way back in the first Avengers film. Maybe the fact that he managed to swipe it from Asgard before it went boom will be enough for him to be spared being killed?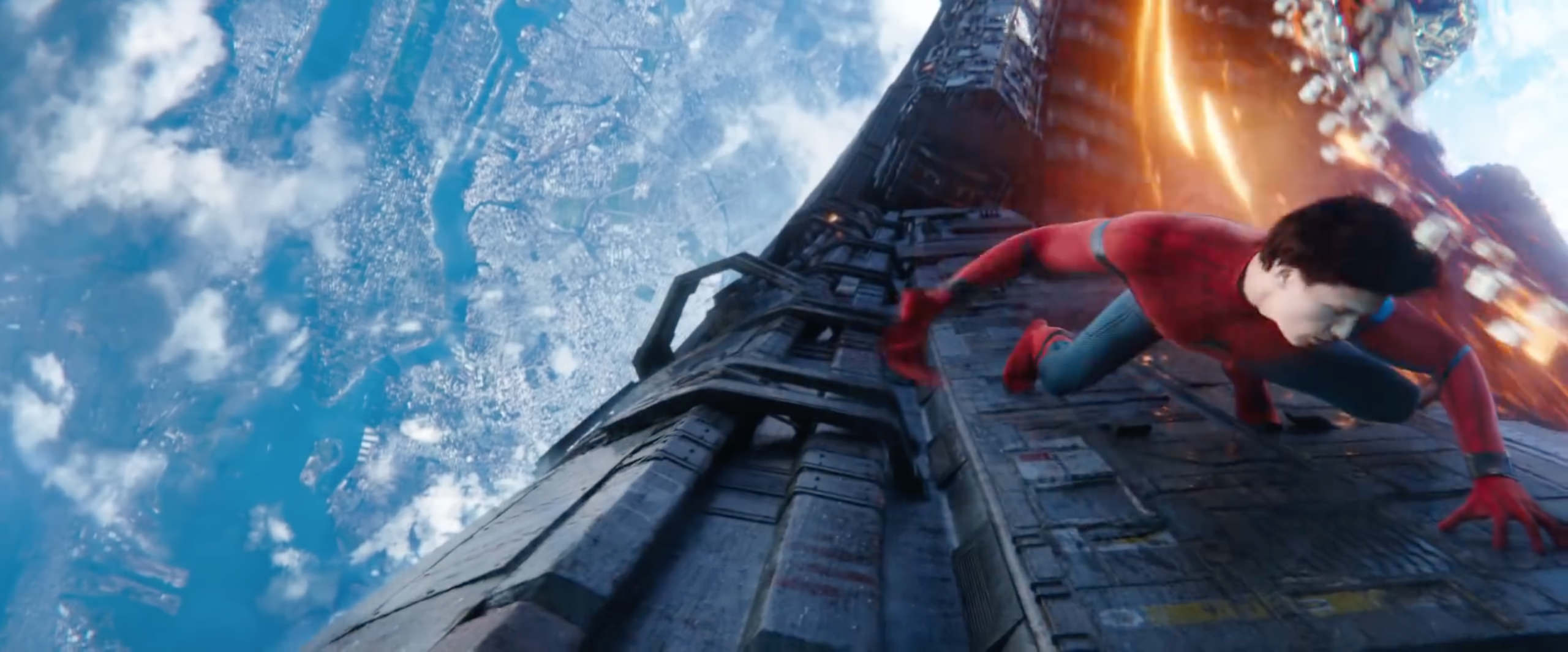 Spider-Man, once again biting off more than he can chew. No telling how he managed to get up to the big dimensional portal device(?) that appeared above NYC, but it's weird to think that he would think there's anything he could do about it. But, that's what makes him a hero... he has to try. And, thanks to his Spider-Sense, he knows it's a bad, bad thing.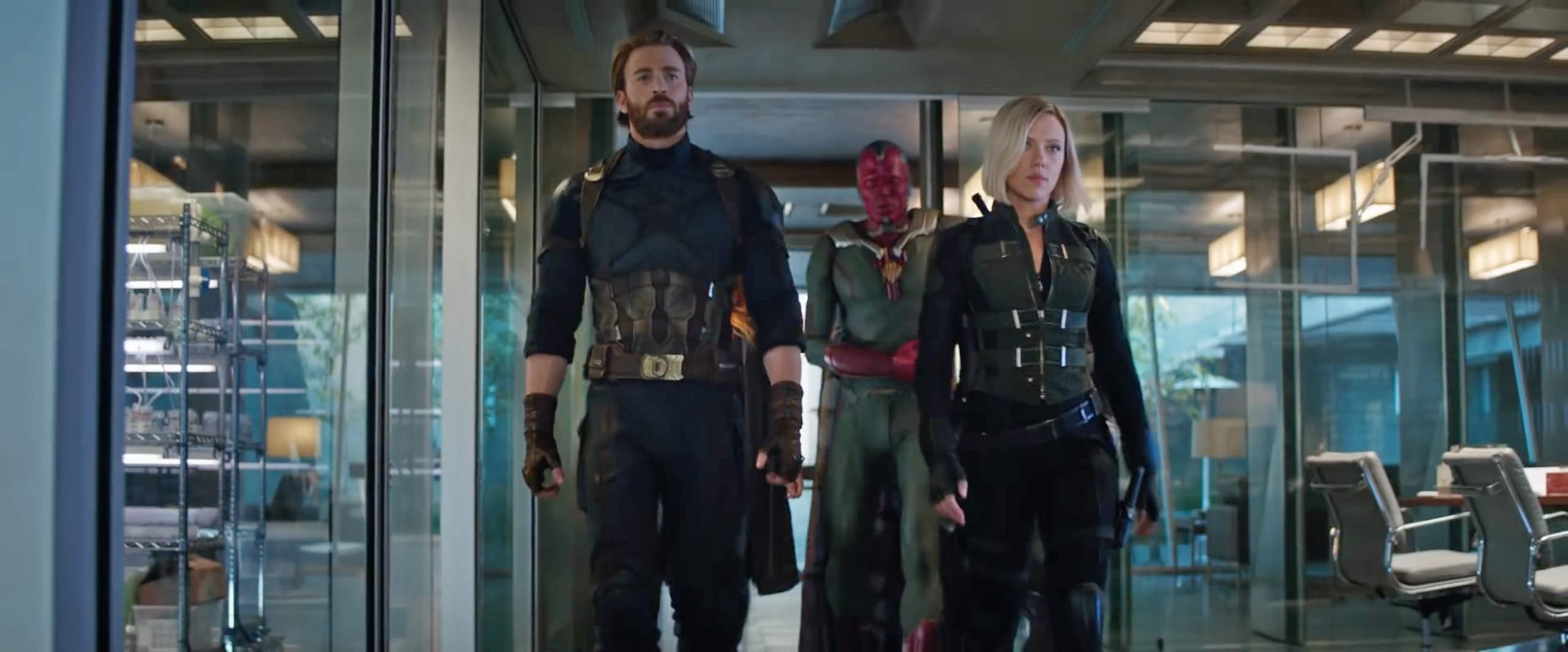 Black Widow was originally Team Iron Man in Civil War, but switched to Team Cap at the end. The Vision was always Team Iron Man, which means this is undoubtedly a scene from later in the movie when everybody has become friends again?
For anybody wondering if Thor losing an eye at the end of Ragnarok would be carried over to this film, here's your answer.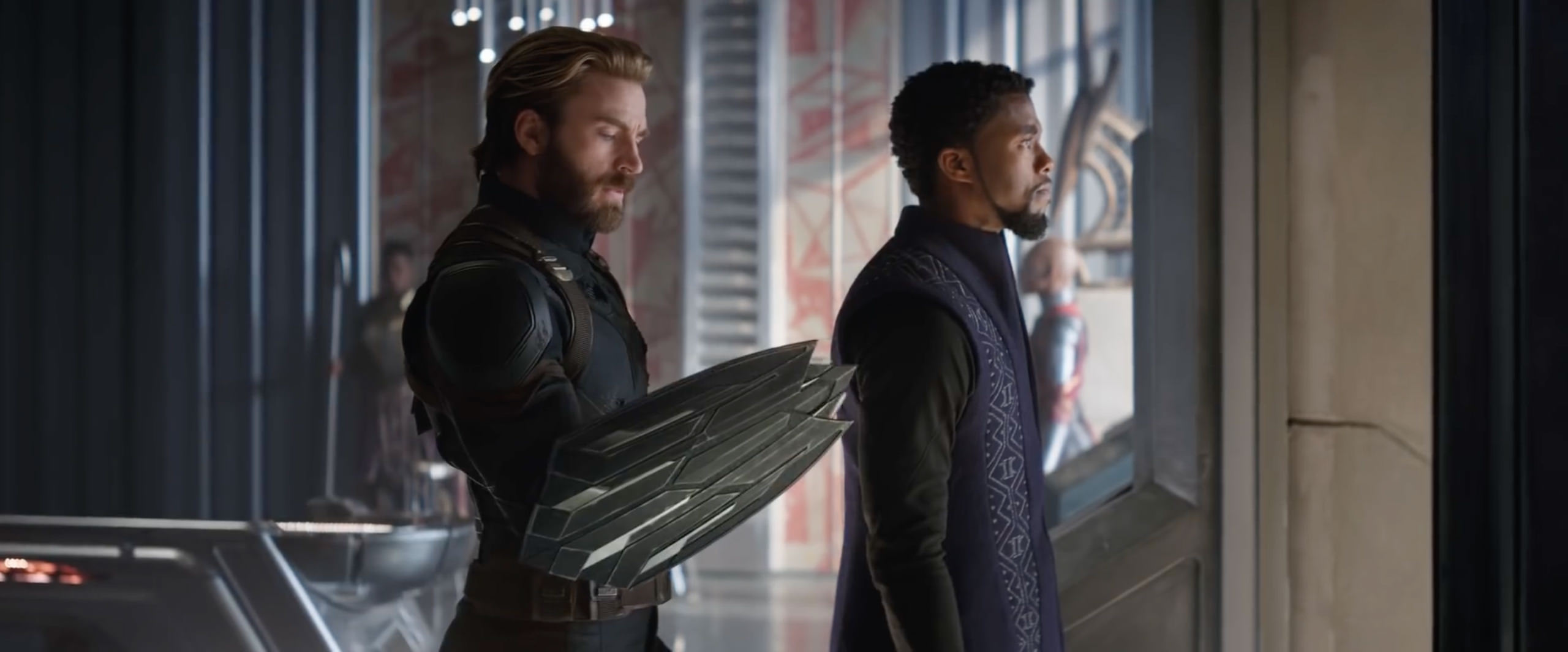 Fanboys are up in arms over Cap's new "shield" being this thing. I can't help but agree it's a shitty move. One of the coolest thing about his shield (other than being indestructible, of course) is that he can toss it like a Frisbee thanks to its saucer-like aerodynamics. Hopefully he gets the shield back somewhere along the line.
And so Tony Stark now has armor that chika-chika-chikas into place like Black Panther? More practical, of course, but not nearly as much fun. Until now, it's been a mechanical process that very much comes down to him donning a suit of armor to do battle. This is a lazy cop-out when it comes to storytelling.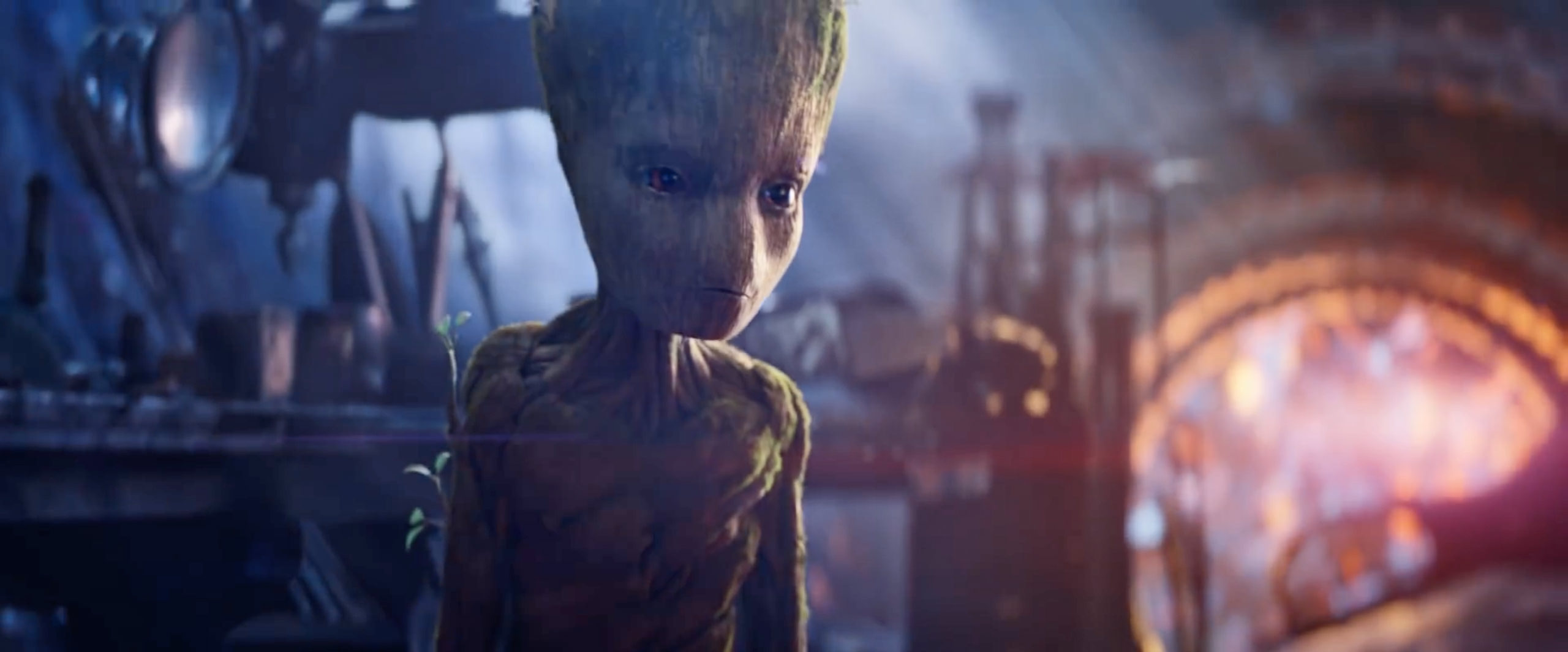 Is it sad that I want Teen Groot to be blown to pieces so we can start over with Baby Groot again? Oh how I loved Baby Groot!
Nebula wants Thanos dead more than anybody else in the whole Marvel Cinematic Universe. She also probably knows Thanos better than anybody else in the whole Marvel Cinematic Universe. I'm really hoping that she gets thrust into the spotlight in this film as she deserves to. Keeping her in the background can't possibly service the story they are telling. But, comparatively speaking, she's small potatoes amongst the cast, so who knows.
Not a fan of Black Widow as a blonde. Yes, they've changed her hair in every movie she's appeared in. Yes, she's a spy and it's feasible she was undercover as a blonde just as events of the movie open. But dammit, Black Widow is a red-head! And, while we're here, I'd just like to say that the rumors of Black Widow finally getting her own movie after being a guest in like... every other movie... had better be happening.
Well, it's Bucky. Awakened from his deep-freeze and fighting for Wakanda. Best of luck there, Buck.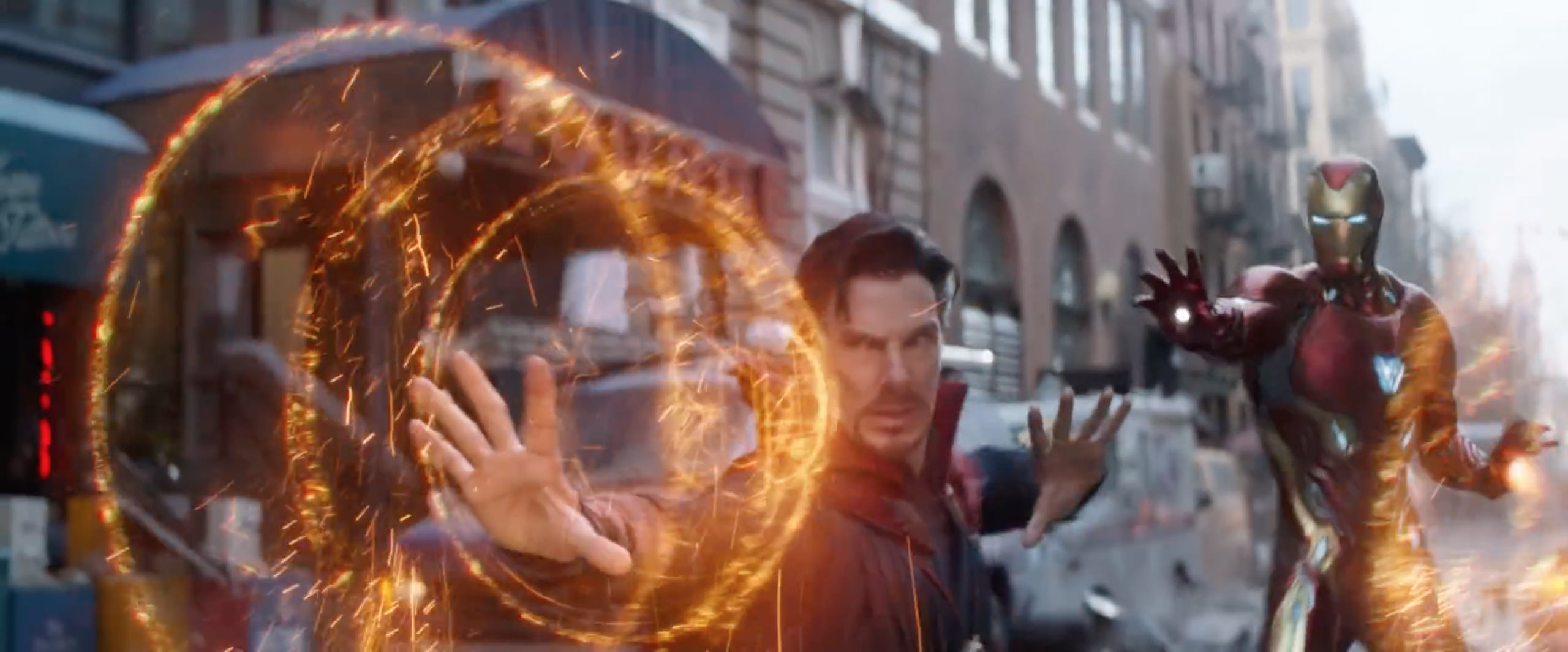 And here's the money shot for me. Dr. Strange, Wong, and Iron Man teaming up in battle. THIS is what Avengers: Infinity War is truly about... having all the various Marvel Cinematic Universe pieces coming together in cool ways. I am all fangirling out at this point.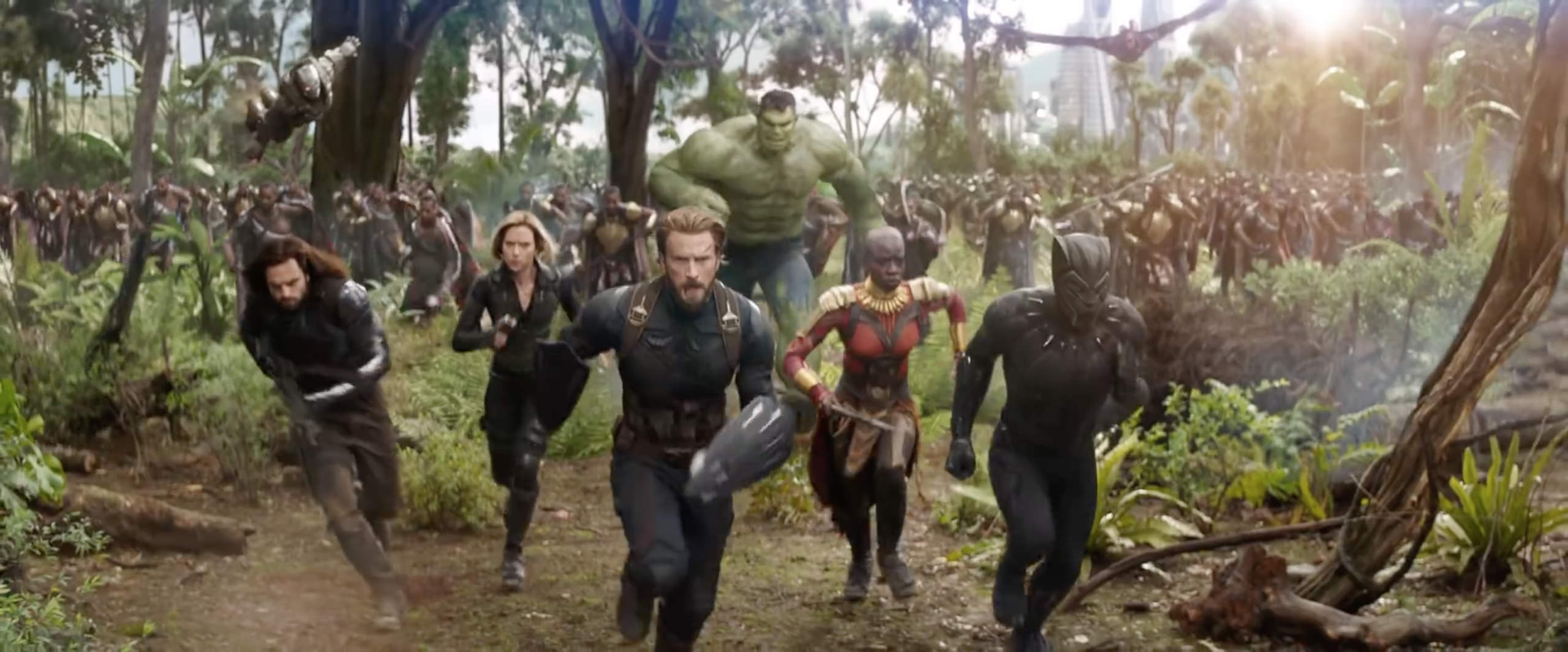 Remember... before you get all sucked into the Infinity War hype... Black Panther is coming out in a mere eleven days. WAKANDA FOREVER! — And, can I just say one more time how utterly silly and stupid Cap's "arm shields" look? No? Okay.
Thanos! Why U mad, bro? Black Panther scratch your face? Seriously, I'm asking... I don't recall seeing those scratches before.

Annnnnnd... scene. See you in May, Avenger!
Posted on January 24th, 2018

For the life of me, I have no comprehension in any measure for people who give a crap about how other people live their lives when it has absolutely no bearing on them or anybody else.
Today there was a story in The New York Times about two Army captains who are Apache helicopter pilots that just got married at West Point (which I can't link to because it's behind a pay-wall... =rolls eyes= ...so here's NewsWeek).
Right now most people are probably assuming that one of the pilots is a man and the other pilot is a woman.
Not so much, no.
It's two guys who fell for each other during the "Don't Ask Don't Tell" era circa 2009 and couldn't even go on a date until it was repealed in 2011 else they'd be risking their entire careers...

And, thanks to times being slightly more enlightened than past years (albeit temporarily, apparently), they have indeed just been married at West Point in full ceremony along with the only people who matter at a time like this... their friends, family, and brothers in arms...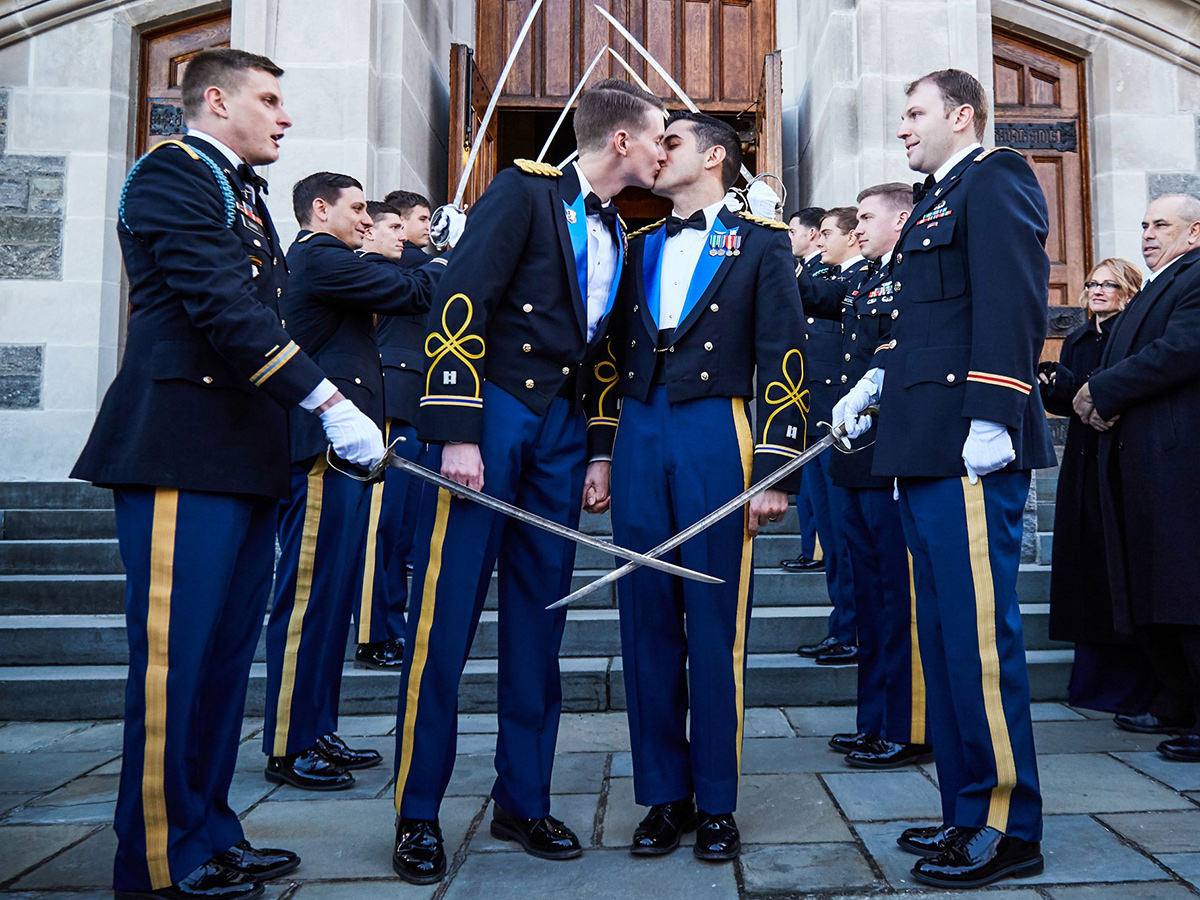 Now, you would think that everybody would be all "Congratulations! Best of luck! Thank you both for your service!"
Not so much, no.
I mean, a lot of people are saying that... but, of course, there's a chunk of people who have nothing but venom to offer two men who pay taxes, risk their lives serving their country, and just want their slice of American happiness that everybody here is supposed to be guaranteed by our fucking Declaration of Independence. And yet somehow them getting married is destroying society... the military... this country... and the entire earth?
Jesus.
Anyway...
I'm not much of a romantic, but the Arch of Sabers wedding tradition at West Point is one that gets me every time. I saw it in a movie or television show once, and have been transfixed by it ever since. Not sure if the saber-smack on the rump for the bride is still a thing... or if that's going by the wayside now... but it's all so classy AF (the protocol is online at West Point's official website).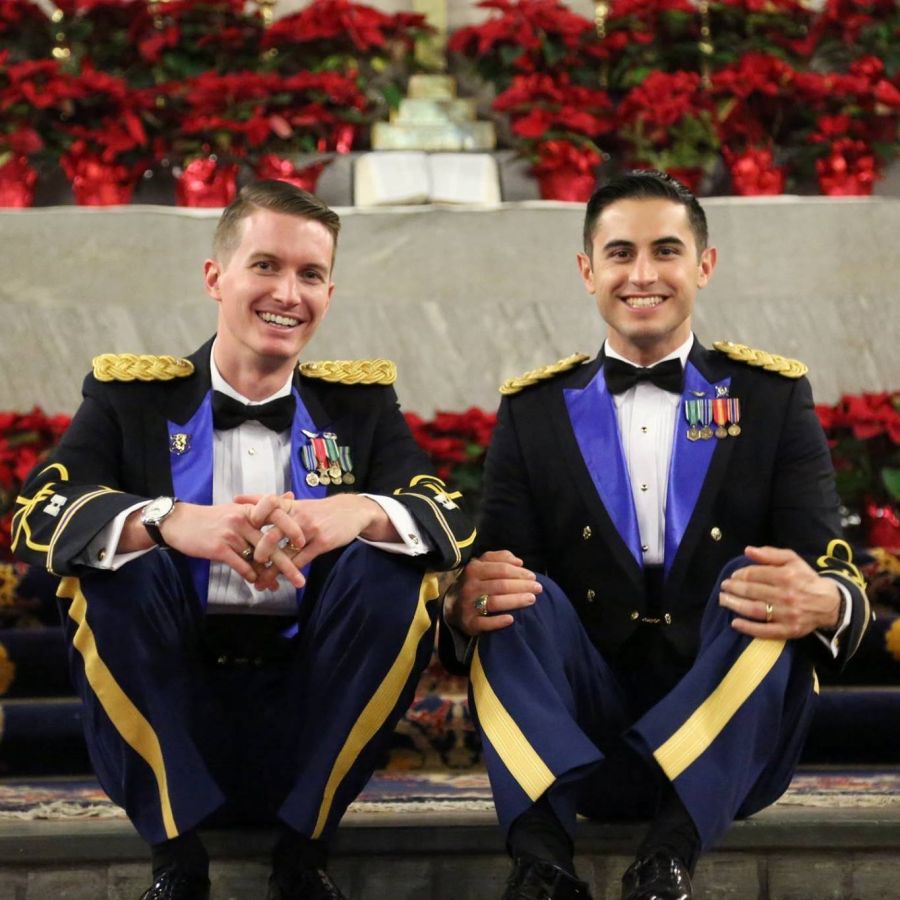 And so... Congratulations! Best of luck! Thank you both for your service!
Posted on January 12th, 2018

As a wise man once said before the election...
"Donald Trump is a racist, homophobic, misogynistic, foreigner-bashing, non-Christian-hating, ignorant, unstable, narcissistic, intolerant, bigoted piece of shit. And electing Trump is the equivalent of hanging a giant banner outside the country advertising the fact that we're a nation of racist, homophobic, misogynistic, foreigner-bashing, non-Christian-hating, ignorant, unstable, narcissistic, intolerant, bigoted pieces of shit. And that doesn't even address the embarrassment factor of having this ridiculous buffoon representing Americans on the global stage. You think we were the laughing stock of the planet during the Bush years? Try 1400+ days of Toxic Cheeto Jesus."
— David Simmer II, Blogography: No… God, No… Please Save Us…
The old me might have said something like that (or never said anything like that... these days apparently you can deny what you said even if others have heard you say it or the statement is recorded). But my New Year's resolution was to start being less ranty and more constructive so let's work from there, shall we?
Before we go any further, I want to make one thing perfectly clear. There is no doubt in my mind that President Trump called Haiti, El Salvador, and African nations "shitholes" and bemoaned that he'd rather have people immigrating to the US from countries like Norway.
This is exactly who Donald Trump is and has always been. Even FOX "News" initially confirmed that President Trump uttered these heinous words (even though the network is backtracking on their confirmation now, of course). Senator Dick Durbin was there and has said that he heard the president say it. Senator Lindsey Graham is reported to have confirmed this was what the president said (and hasn't contradicted any reports stating so).
And so... if I'm not going to rant over what a racist piece of shit* we elected to run this country or how diplomatically stupid you have to be to lob such insults at other countries when you're representing this country... what else is there to say?
Uh.
Something positive and constructive? On this?
Wow.
Well... Zimbabwe may not have a Trump Tower, but it's actually a beautiful country and has some amazing people...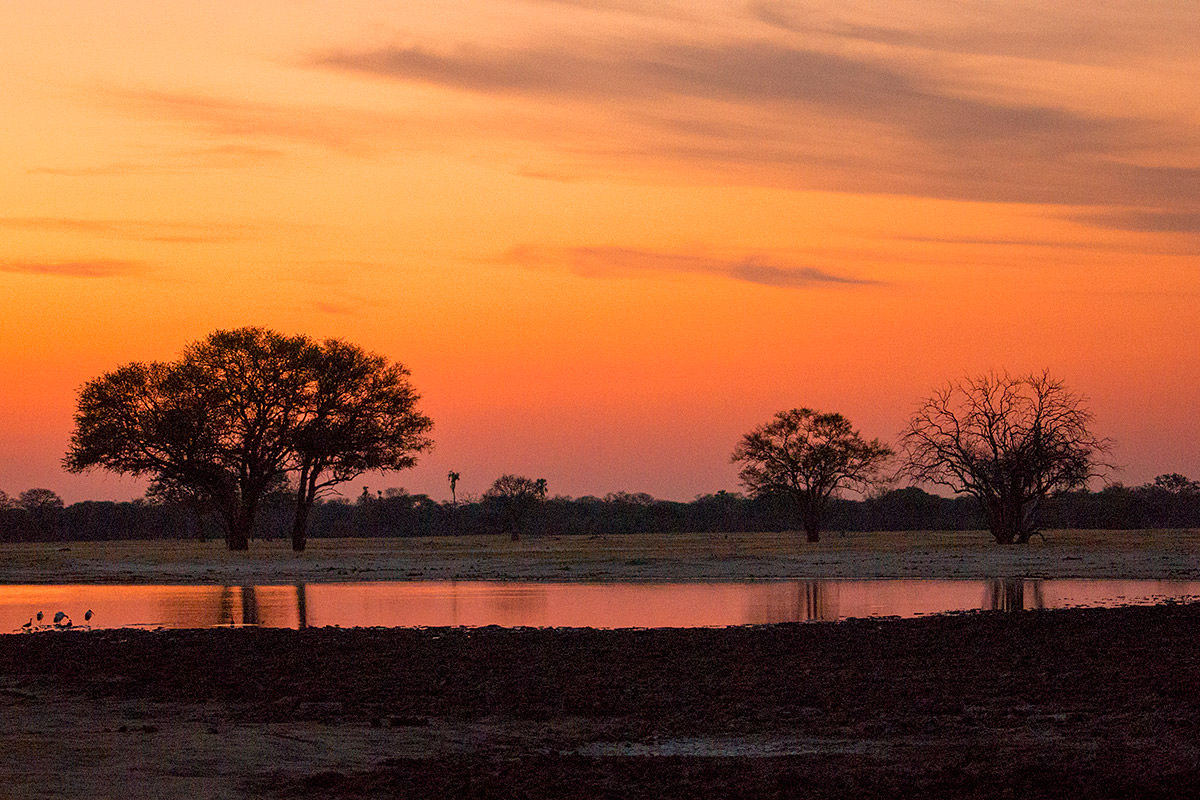 There's many a day lately I'd like to escape the "shithole" of Trump's America and return to Africa, that's for sure.
*Racist as in... three guesses as to what the predominant color of the people are in Haiti, El Salvador, and African countries... vs. the predominant color of the people in Norway.
Posted on January 1st, 2018

I never get mad at my cats.
It doesn't matter what they do that's "bad," I can never bring myself to get upset at a cat for being a cat. My cats make that pretty easy. They're well-behaved, for the most part, and don't get into to much trouble. Now that they're grown, they never scratch at the furniture or pee on stuff or anything like that (so far, anyway)...
On occasion there are problems. One of them will get to a place they're not supposed to be and break something, for example. But... how can that be their fault? More likely my fault for not anticipating the problem and preventing it. If I'm mad at anybody, it should be me.
It occurred to me a while back that if I can't get mad at my cats, shouldn't I be able to translate that passivity to people?
The Trump presidency has caused a lot of anger in me this past year. His dangerous ignorance, utter stupidity, and inhuman ability to not give a crap about people he is supposed to be representing as president... it grates on me like nothing else ever has. I find myself consumed with rage on a near-daily basis because every day it's just more of the same horrendous shit raining down on the world from The White House. Or, more likely, whatever golf course President Trump is occupying this week.
As somebody who honestly believes that anger is more destructive on the person who has it rather than those it's directed at, I know this it not healthy. Not for me. Not for the people I care about. Not for my cats.
And so, after completely unplugging from the world for two weeks in Antarctica and becoming accustomed to not being angry every waking moment, I made myself a promise to try and be more pragmatic, caring, and less angry in the new year. To attempt to let my anger go and focus on positive things so that I can help be a solution instead of being part of the static that divides us.
And then... just as I was making my mind up, it happens. A tweet President Trump unleashed finds its way into my news cycle...
And see... here is why my "letting go" of my anger is so tough. When it comes to my new commitment to setting aside hatred, I've already failed the test. Because stupid-ass shit like this just reinforces how utterly brain-dead and dangerous this fucking asshole actually is for this country and the world, and I can't help but be angry about that.
He has no clue... none... what climate change entails, nor does he care. And yet he speaks as if he's an authority on the matter. This is the same idiot who thought that hairspray quality today isn't as good as it used to be because ozone-depleting CFCs have been banned from aerosols... the same CFCs that he said could never affect the ozone layer because his apartment is "all sealed."
And yet... here we are. And here I am. Right back to where I was in 2017.
There's more stupid-ass tweets to come, I'm sure. There always are. And that's not even the start of it. I'm sure he'll find a way to keep assaulting all the Americans he loathes in short order... the non-Christian Americans, the unhealthy Americans, the Mexican Americans, the gay Americans, the poor Americans... whatever... the list is never-ending. And that doesn't even touch crap like his assault on net-neutrality, something that I am beyond passionate about.
And so... what?
What to do with the torrents of overwhelming Trump-initiated anger that very nearly destroyed me in 2017?
I honestly don't know. I wish I could argue against his fucked-up agenda without getting so enraged about it, but that's something I'm apparently incapable of doing. President Trump is an affront to everything I care about.
And yet I have to try.
I have to do better in 2018.
I could never ignore what's going on in the world in order to make myself be happier. Ignorance just allows ignorance to propagate. But the same could be said for hate.
And so... a plan.
I will try my best to accept the negative for what it is rather than what I make it into.
I will educate myself on the negative in order to better understand it from an objective viewpoint rather than an emotional one.
I will act upon the negative in a positive manner from a positive mindset in the hopes of bringing about positive change in myself and others.
I will attempt to detach myself from the negative (Buddhist-style) in order to accomplish all of the above.
Easier said than done to be sure. But, as I said, I'm going to try. Finding more positive inspirations in my life that encourage me to make the jump will probably help...
And here we go...
Tags:
Anger
,
Blogging
,
DaveLife
,
Dumbassery
,
News
,
Politics
,
Stupidity
,
Truly Stupid People
,
Trump's America
Categories:
Blogging 2018
,
DaveLife 2018
,
News – Politics 2018
—
Click To It:
Permalink
—
1 Comment: Click To Add Yours!
Posted on November 26th, 2017

This may be the last Bullet Sunday you're going to see for a while (depending what my internet is like in Argentina), so indulge yourself in an all new Bullet Sunday, which starts... now...

• Save It! I have spoken out a lot on this blog about net neutrality and how crucial it is to the free and open internet we all enjoy. Most Americans agree. Every time killing it is brought up, there's a huge backlash and the FCC backs down. But our current government doesn't give a flying fuck about honoring the wishes of its citizens, nor does it care about selling out the internet and fucking us over. All Trump & Co give a shit about is stripping power and liberty from the people and giving that power to big business so the rich get richer and have more control over our lives. And so... prepare yourself for the end of the internet as we know it. I don't wish harm upon any living thing... but I sincerely hope that FCC Chairman Ajit Pai is repaid in spades for the evil he does.

• Dogs! Back before I was headed to Africa, I Googled for photography tips and was introduced to Will Burrard-Lucas. He is a nature photographer unlike any other, and the shots he gets are mind-blowing. Getting to actually meet him on my upcoming photographic expedition will be a real honor. One of his most recent posts was of African wild dogs photographed in South Luangwa National Park, Zambia. It's incredible...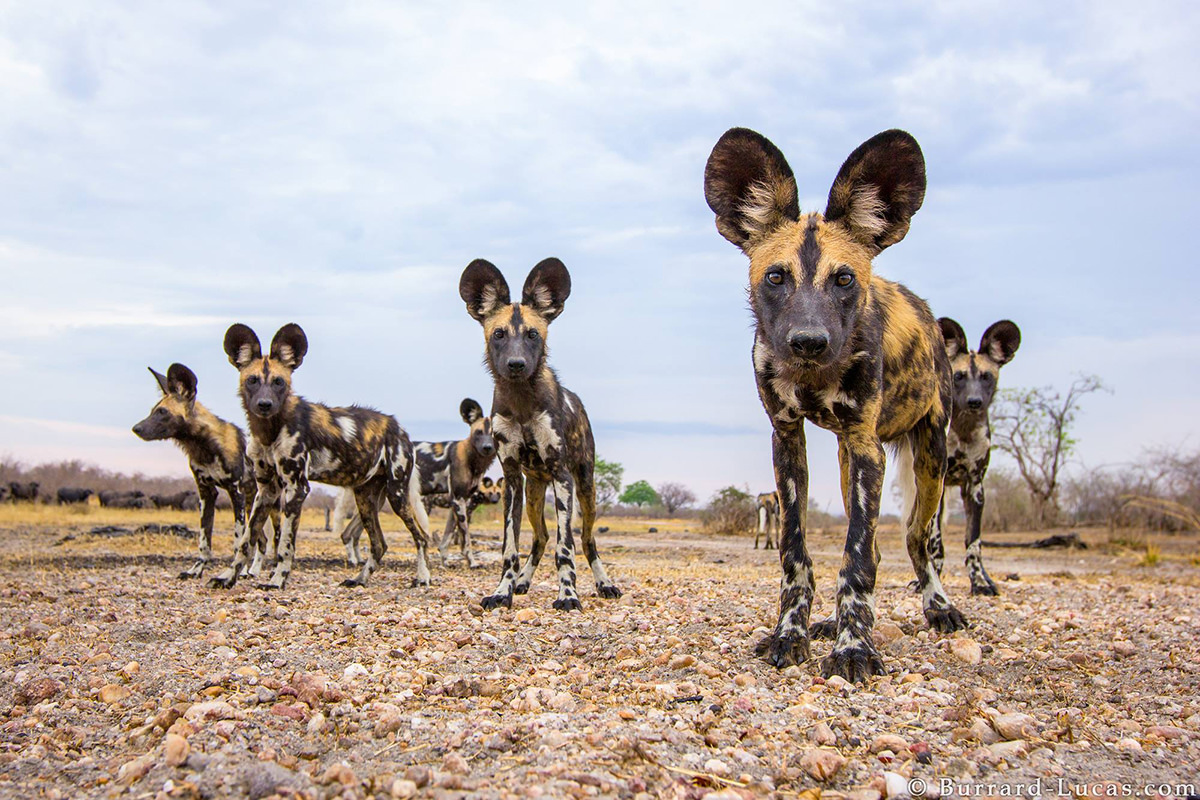 I was beyond lucky that I got to see these dogs in the wild when I was in Zimbabwe. My driver told me that his previous charges were a documentary film crew that searched for these beautiful pups for two weeks and didn't get to see a single one of them.

• Save It! Hey FOX "News"... stuff gets distorted on a curved reflective surface... YOU UNBELIEVABLE FUCKING PIECES OF IGNORANT SHIT!!! Fuck you sideways forever for propagating this bullshit...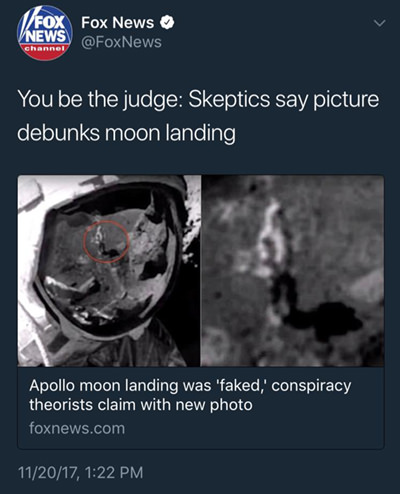 There are people saying that this is "conclusive proof" that we never went to the moon because it's not just an astronaut's reflection in the curved surface of a helmet... it's a stagehand on the "set" from when it was being faked here on earth. Just when I think that FOX "News" couldn't possibly be a bigger pile of shit, here it is. No wonder people who trust FOX "News" and use it as their only source are as stupid as a box of fucking rocks.

• 73! Vogue's 73 Questions videos are some of my favorite things on YouTube. Yes, it's staged and rehearsed, but you do get to know some nifty facts about interesting famous people. My hands-down favorite is Lupita Nyong'o...
And today I found out that Aziz Ansari has one!
And, of course, you can't watch the Vogue 73 Question videos unless you bask in the glory that is Vogue editor-in-chief Anna Wintour...

• Vera! I wouldn't watch Touched by an Angel... but Della Reese will always be "Vera" from Harlem Nights to me. I love that character as much as I could possibly love any movie character, and it was ALL thanks to Della...
Rest in Peace, Miss Reese... you will be missed.

• Crisis! Holy crap...
I'm more excited for this than I am to see Justice League. For the hundredth time... put the people in charge of the TV DC Universe in charge of the Cinematic DC Universe! The mind boggles at the possibility of what they could do with a big-screen budget given the amazing stuff they come up with for television every week.

• Family Values! It's like fucking clockwork. Some asshole is always getting caught with his dick in a place he tells OTHER PEOPLE they can't put their dick into. Any time I see some rabid homophobe ranting against homosexuality, I just assume it's because they're overcompensating. 90% of the time, it's true. Case in point... "State legislator Wes Goodman (Republican, obviously) has resigned after admitting he was busted having sex with a man in his office. The married conservative Ohio state lawmaker was known for his anti-LGBTQ stances." Because of course he was. Aren't they always? Hypocritical bullshit like this is getting so very tired.

• Quo! And, lastly, I leave you with the hellish buttfuckery that's become our status quo...

Time to start packing...
Tags:
Bullet Sunday
,
Comic Books
,
Dumbassery
,
FOX News
,
Liberal Redneck
,
Net Neutrality
,
Photography
,
Pig-Fucking Assholes
,
Politics
,
Supergirl
,
The Flash
,
Videos
Categories:
Bullet Sunday 2017
,
News – Politics 2017
,
Photography 2017
,
Travel 2017
—
Click To It:
Permalink
—
0 Comments: Click To Add Yours!