Posted on June 27th, 2021

Baby it's hot outside, but the hot lead from my bullets are even hotter... and an all new Bullet Sunday starts... now...

• Pride! I could do an entire week of posts on the TikToks of ileavebreadcrumbs. He is a man who married a male soldier during the era of "Don't Ask Don't Tell," and his stories are just... a lot. I cannot even fathom how straight couples would deal with the same obstacle that gay couples have to endure. Just take for instance their wedding...
The fact that he is willing to put himself out there knowing that homophobic bigots are just waiting to tear him apart in the comments is everything that Pride exists for. Love = Love.

• Pride Again! And it doesn't stop there. His husband is not just "fairly famous"... he's famous-famous." His story has been discussed in many, many places. Including, most famously, on The Daily Show...
He was even a part of The Newsroom...
That's all kind of crazy how they found out they were on a TV show! But... remarkable too.

• More Pride! But the TikTok that destroyed me was this one...
Do yourself a favor and go watch his TikToks. This is why we have a Pride Month.

• At The Car Wash, Yeah! A friend shared this video on Facebook and I must have watched it a hundred times by now. It's just that good...
Somebody filmed him doing it again, but this time we get to see him walk off...
I mean, you can see him just patiently waiting for the brush to come down and then walk directly underneath when it gets low enough. Makes ME want to give this a try!

• Salvage! One of my truly joyful distractions on YouTube is Baumgartner Restoration. Julian is an absolute master of his craft, and his latest project... restoring a van Dijk... is him at the absolute top of his game. If you have time to spare (and I highly recommend making time) this is a remarkable mini-documentary. UPDATE: The second part is even better, so I'm posting it instead (you can still catch the first part here, if you're hungry for the whole story)...
Absolutely incredible. UPDATE: and in this second part, be sure to watch an "end credits scene" that follows the blank black frame at the end (because there are no credit!).

• SHARRRRK! And... I've cleared my calendar for Shark Week starting July 11th. Thank heavens I have Discovery+, because I will absolutely be tuning in for Stranger Sharks!...
Oh, who am I kidding. I'll be tuning in for all of the shows!

• Beer Beer! Truck Truck! You may remember when I mentioned that a guy made a song out of somebody (rightly) critiquing Country music...
Well, it finally came out as an actual song. It's good. But a part of me thinks that something got lost in translation from the demo to the finished song...
The additional twang and polish is a bit distracting from what I was used to in the original track. Even so... that's a song that's going to be popping up on my SONOS rotation! And I'm not even a fan of Country music!

Now, if you'll pardon me, I'll go back to watching my air conditioning electricity bill continue to bankrupt me.
Tags:
Bullet Sunday
,
Dogs
,
LGBTQ
,
Music
,
Politics
,
Pride
,
Pride Month
,
Television
,
TikTok
Categories:
Music 2021
,
News – Politics 2021
,
Television 2021
—
Click To It:
Permalink
—
0 Comments: Click To Add Yours!
Posted on June 1st, 2021

Happy Pride Month, everybody!
It would be nice to think that 2021 would keep us moving forward, but there's a frightening amount of anti-LGBTQ legislation that is being introduced... especially on the anti-transgender front. The most troubling of which is targeting transgender kids which, given how vulnerable they already are, is horrific thing to have happen.
I sure hope that voters can find it in their hearts to keep tabs what their representatives are doing and educate themselves on these issues... because, more often than not, I am seeing gross misrepresentation of the facts.
The biggest misrepresentation being that coming out as "something other than straight" is a new trend that's confusing kids and being forced on people like it's some kind of fad.
At which point it may be helpful to look at it in a different context. Because being LGBTQ+ is nothing new... it's just that we're finally getting to the point where people are able to be who they are openly and not have to hide it any more. It used to be that being left-handed was considered evil and left-handed kids were forced to learn to write with their right hand. Naturally, the number of people who claimed to be left-handed during this time period plummeted. But once this nonsense started to fade away, the number of left-handed people increased. Except... they didn't. They had been here all along, it's just that they were not allowed to be who they are. It's the same for LGBTQ+ persons... they've been here all along. It's just that they've been forced to conform to societal "norms" that were forced on them.
It's far past time for that nonsense to stop.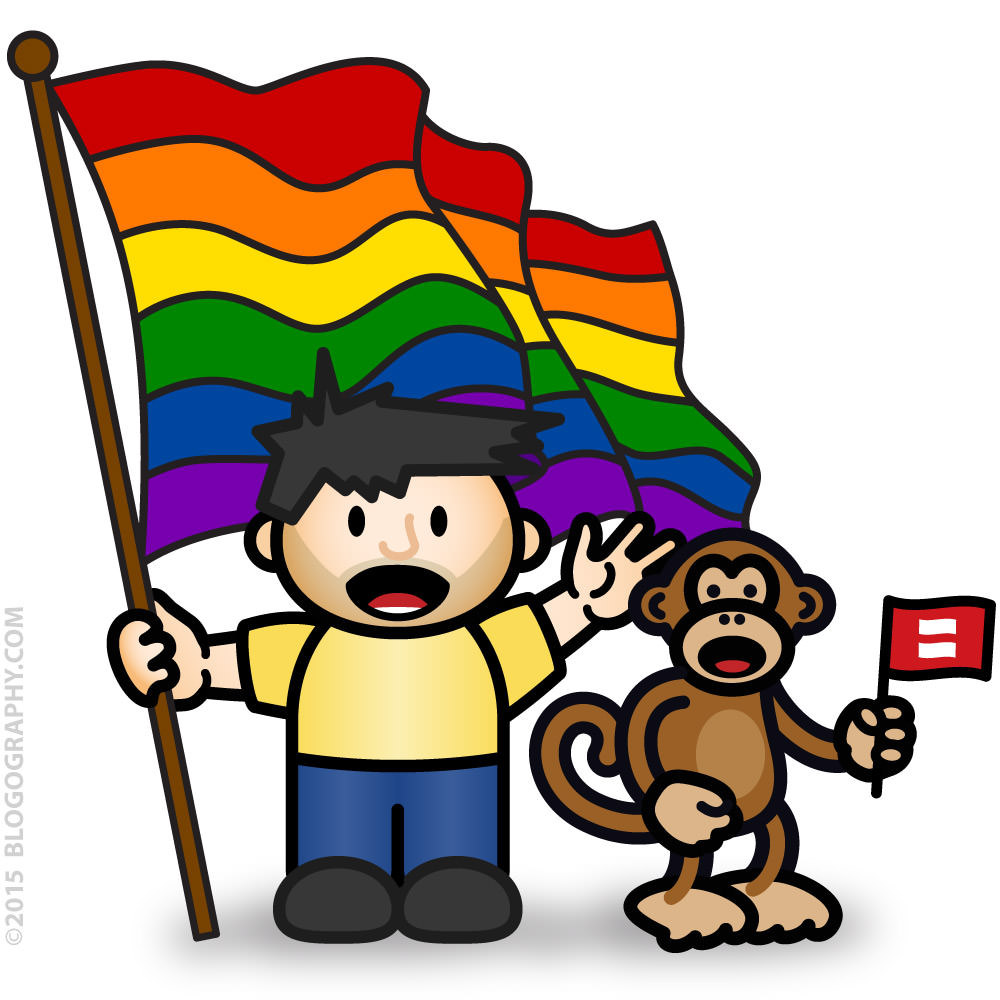 Posted on May 30th, 2021

Try to tell me that you were looking forward to the holiday weekend more than Bullet Sunday! Just try! I won't believe you... because an all new Bullet Sunday starts... now...

• Situational Conjecture! This past Thursday I had to run an errand, so I stopped at the drive-in for some lunch then parked to eat. As I was sitting there, I saw a skinny kid with tattoos on his calves walk by... and instantly I was taken back to something a friend told me. He was leaving a grocery store behind another man. As they exited, a kid comes up and asks if they have a couple bucks to spare so he can get something to eat. The man ahead of my friend said "Maybe if you spent less money on tattoos and drugs, you could afford to eat." My friend, who was mortified that this is how somebody would act towards a hungry person, set down his groceries and got out his wallet. He handed over $5 and said (loudly) "NICE INK! ENJOY YOUR LUNCH." My friend was still raging about it when he told me all this the following week. "Maybe he got the tattoos before he ended up in a situation where he's asking for food money! Maybe a friend is a tattoo artist and did them for free! Maybe he got them in trade for work he did! How the fuck does that asshole think he knows ANYTHING about that kid's situation? And do people with tattoos automatically do drugs? Where did that come from? WHAT THE FUCK, MAN?!? THE KID WAS HUNGRY!" My friend is, of course, absolutely right. About all of it. You just really never know what somebody's situation is or what they are going through. So don't let what you think you know turn you into an asshole. Heaven only knows I try.

• Wholesome Watch! Men with Baby Animals... a bullet in two parts. Starting with Part One...
And, Part Two...
You're welcome!

• Welp! This just in from the No Fucking Shit Department... JJ Abrams: Lack of plan in Star Wars' latest trilogy was a "critical" flaw.

• Sublet! I've mentioned more than a couple times my obsession with actor John Benjamin Hickey (heck, I even wrote a blog entry about him). He is hands-down one of my favorite character actors because he elevates every move he appears in... even when he's just popping up for a small role. — Now today I find that not only does he have a new movie coming out... HE'S THE LEAD! But it gets better... the movie is from director Eytan Fox, who made the amazing film "Yossi & Jagger."
To say I am psyched to see this movie is a massive understatement. It looks really good!

• LiLo Dallas Netflix Pass! Lindsey Lohan is starring in a Hallmark-style Christmas movie for Netflix about a spoiled hotel heiress who gets amnesia and ends up in the care of a blue-collar lodge owner and his daughter. Perfect. Absolutely perfect. It's Paris Hilton meets... um... well... LITERALLY Lindsey Lohan, and I will absolutely be tuning in for that.

• Our National Nightmare. Read this. Read this and tell me that this society isn't a misogynistic pile of shit looking for any excuse to control women, traumatize women, and punish women. Go ahead. Tell me. I'm waiting. Welcome to our dystopian nightmare. And don't be at all surprised when you research this and find that there are women who support it. Some of the most anti-woman people I've met have been women...
Jim Wright — May 26 at 8:24 AM

The Pennsylvania state legislature today voted to advance a bill by Republican state legislator, Frank Ryan, that would essentially fine women who miscarry, force them to apply for a "Fetal Death Certificate" (and pay a filing fee), and then require a formal burial or cremation of the remains (which the woman would also have to pay for) — no matter where in the pregnancy the miscarriage occurs.

If this were to pass, if you miscarry in Pennsylvania, say at six weeks, then by law you would be fined, penalized, and required to hold a burial for handful of non-viable cells that are essentially indistinguishable from menstruation.

Ryan drafted this bill because of "his own experience after losing a child."

He said he was "asking the ladies in the room" to "recognize how men feel."

I'll pause so you can shout the appropriate profanity here.

This isn't the first bill of its kind. And no matter if it passes or not, it won't be the last. Because, this is the inevitable end result of "life begins at conception" and "fetal personhood."

Inevitable.

This is where they were ALWAYS going to go with this.

Because even if they outlaw abortion, it won't be enough.

It won't be enough.

If you consider abortion to be murder, if you make that law, then it is inevitable that EVERY miscarriage WILL have to be investigated as a possible case of negligent homicide or manslaughter.

And that's EXACTLY where these religious nuts are going with this.

And if they pass THAT, it still won't be enough.

It won't be enough.

If they get their way, then the moment a woman becomes pregnant, she will legally be considered nothing more than an incubator with no rights or self-determination. Property of the State and of their religion.

That is the ONLY possible end result of this reasoning.

Don't take my word for it, listen to people like Ryan in their own words. Listen to the preachers. Listen to the Right to Life movement.

These evil lunatics need to be removed from every office in the land and their insane religion needs to be marginalized and starved until it dies forever.

Then they can give their miserable god a burial if they like.
No word as to whether fertility clinics which fertilize countless numbers of eggs in order to assist women having difficulty getting pregnant will be affected. But since only wealthy people can afford that kind of science, I think we all know what the answer will be.

• Sponsored?! And lastly today, holy shit...
And I so wanted a Nazi-era fuck blanket.

Dats all I got. I'm going to cut out and enjoy my Sunday. Hoping you do the same!
Tags:
Bullet Sunday
,
John Benjamin Hickey
,
Movies
,
News
,
Politics
,
Tattoo
,
Television
,
TikTok
Categories:
Bullet Sunday 2021
,
Movies 2021
,
News – Politics 2021
,
Television 2021
—
Click To It:
Permalink
—
0 Comments: Click To Add Yours!
Posted on May 28th, 2021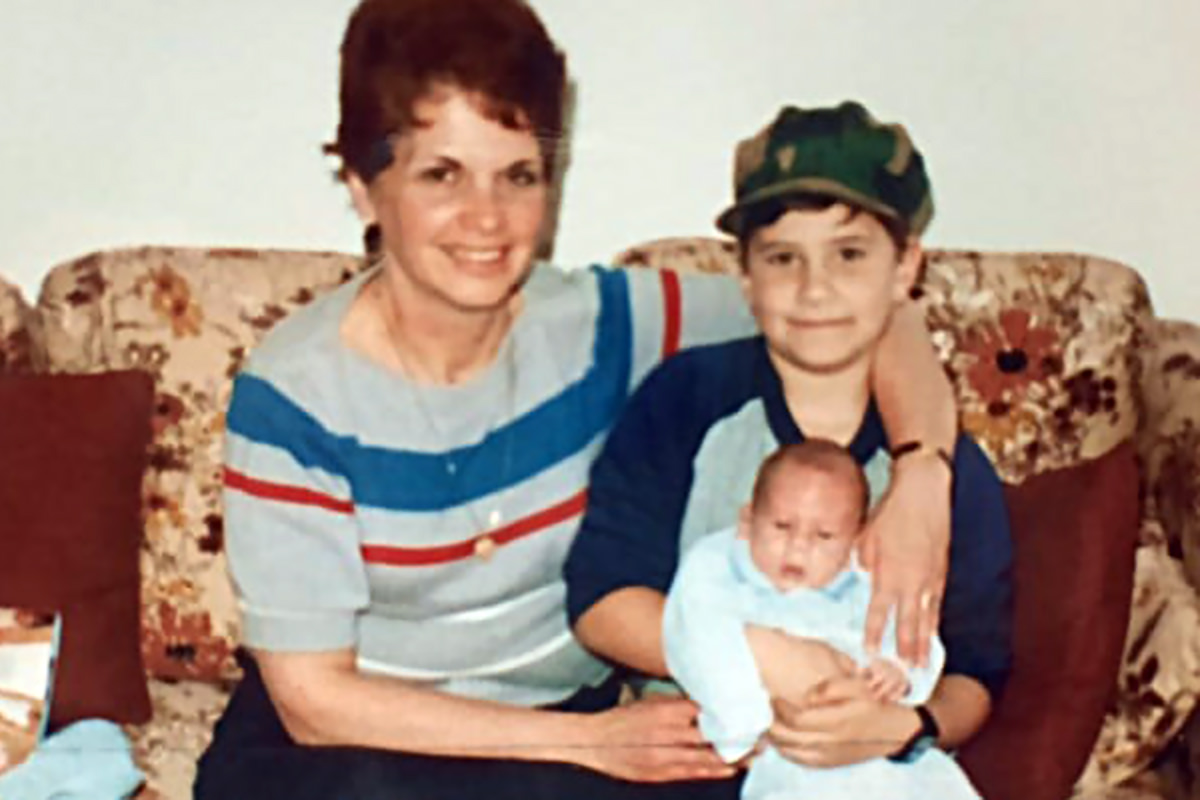 Posted on March 25th, 2021

I bounce back and forth between wanting to know absolutely everything that's happening in the world today... and wanting desperately to know nothing about anything anywhere. But I couldn't live with myself if I turned an ignorant eye to all the crap that's happening, so I do my best to stay informed and wade through the sewage forced upon us by the bullshit media with their bullshit agendas.
Right before my birthday happened, the "big news" of the day was Vice President Kamala Harris not saluting the military detail for Air Force 2 as she walked onto her personal jet to go do... something... or whatever. People were beside themselves with rage over her blatant disrespect.
Except...
The President of the United States of America salutes our troops out of (relatively) recent tradition because he is COMMANDER IN CHIEF OF THE ARMED FORCES. And even then it's not required OR expected. The Vice President isn't in command of jack-shit when it comes to the military, so she doesn't salute them. She's just a civilian in public service.
And yet here comes shitloads of people throwing a fit about it.
Which is like being big mad because a grocery store clerk doesn't salute our troops, but okay.
Every damn day this country gets more ignorant and more idiotic because people are fucking sheep who don't even know why they're mad any more. Somebody on TV or the internet tells them to be outraged, so they get outraged. All people care about is whether the outrage fits the narrative they've been programmed with. Facts, evidence, experience, accuracy, and knowledge simply Do Not Matter.
And I don't know what else to say about it except "Well, have at it then. Keep on being that person who can't help but announce to the world how big of a dumbass they are." — Because what else can I say? There's no changing anybody's mind, and patiently explaining why Vice President Harris didn't salute the guys outside her fancy plane would make zero difference. They would still be outraged.
And can you imagine if she had saluted?
Then the outrage would be SHE'S NOT MILITARY! SHE'S NOT IN THE CHAIN OF COMMAND! HOW DARE SHE THINK SHE IS WORTHY OF SALUTING OUR BRAVE TROOPS! WHAT A DISRESPECTFUL PIECE OF SHIT!!!
Because that's what the outrage machine does. That's all they're good for, apparently.

Which brings me to this bit of genius from comedian Russell Brand, one of the foremost thinkers on the planet (whether you agree with him or not)...
"I mean in England we have a Queen for fuck's sake. A Queen! We have to call her things like 'Your Majesty!' Like she's all majestic... like an eagle or a mountain. She's just a person. A little old lady in a shiny hat — a shiny hat that WE paid for. Or 'Your Highness.' What the fuck is that?! What, she's high up above us at the top of a class pyramid on a shelf of money with her own face on it? We should be calling her Mrs Windsor. In fact that's not even her real name, they changed it in the war to distract us from the inconvenient fact that they were as German as the enemy that teenage boys were being encouraged, conscripted actually, to die fighting. Her actual name is Mrs. Saxe-Coburg-Gotha.
All this drama. All this outrage. All this hate. It's all built around mere humans that used to exist to serve us... but now exist to be worshipped by us. If you are a Republican you are required to worship at the altar of President Regan. If you are a Trump-Republican you are required to worship at the altar of President Trump. If you are a Democrat, then President Obama is your god... with President Biden as some kind of god-adjacent deity or something. And once you've been programmed with which god you'll be worshipping, you are expected to be blindly loyal to them... all while hating everybody's else's god... regardless of circumstance.* Which is how we get to "KAMALA HARRIS IS A DEMON IN LEAGUE WITH THE GREAT SATAN JOE BIDEN AND WE NEED TO BE OUTRAGED WHEN SHE DIDN'T SALUTE EVEN THOUGH SHE DOESN'T HAVE TO SALUTE BECAUSE THAT'S WHAT OUR GOD DEMANDS OF US! (as handed down from on high by Fox News, restrictions do not apply)"
And, I gotta tell you, I'm exhausted by it all.**
If only we could get back to a place where political leaders are public servants again.***
Though, if I'm being honest, I think we've gone too far down the rabbit hole to ever go back. It's going to be politicians as gods, mandatory blind worship, generated outrage, and hate on top of hate on top of hate, from here on out. Which is both sad and inexplicable, because I think if you sat people down individually and asked them if this is what they really want, their answer would be "no." But nobody has time for that conversation. They have to get back to being mad about somebody over something that somebody told them to be mad about.

*Which, coincidentally enough, is how world religions seem to work, but I digress.
**Not exhausted enough to pick a god, but still... I digress.
***Or, at the very least, aren't able to be bought by lobbyist payola... no more digressing.
Posted on March 17th, 2021

I was born into the beginning years of what would eventually be known as Generation-X. We're younger than Boomers, but older than Millennials, and kinda get forgotten because it's all Boomer-This and Millennial-That. We're stuck in the middle and ignored, which is totally something we're used to. It's how we were raised.
For the most part, I am very happy with being a Gen-X kid. My childhood in suburban small-town America was fairly idyllic and carefree. Both my parents worked, which meant that me and my brother were self-supervised and did whatever the heck we wanted to do from the minute we got home from school to the minute it was time for dinner at 6:00.
We were the first generation to have video games and home computers. We were the first generation to be online and have internet. We were the first generation with mobile phones. It goes on and on. The massive number of personal technological advances that have taken place in our lifetime made for a really interesting adolescence.
But now we're the overlooked generation no longer. We're being called to arms!
On Monday Gillian Turner from FOX "News" said "Cancel culture is spreading like wildfire. There is a call for Generation X to lead the chage to save America from the social media mob. Can they do it?"
Okay, first of all, the question is not "Can they do it"... it's "Do they WANT to do it."
And, second of all, the answer is "FUCK NO."
Stuff I've enjoyed has been canceled my entire fucking life. Dungeons & Dragons, violent video games, regular video games, violent movies, regular movies, comic books, magazines, and a slew of television shows and commercials deemed "inapropriate." And what about the music I listened to? Punk rock, heavy metal, grunge, rap, new wave, and even fucking Britpop was getting canceled... I once had a note sent to my house because a teacher caught me listening to The Smiths on my Walkman! A group of us were sent to the office for listening to 2 Live Crew... IN A CAR IN THE PARKING LOT. Boomers did nothing but engage in "cancel culture" for my entire fucking life just because they didn't like what Gen-X liked.
Gillian Turner is a Millenial. But she's not calling on Gen-X to step up and stop cancel culture for her generation... she's wanting us to step up and stop it for her FOX "News" audience, WHICH ARE BOOMERS?! Yep, that's right... the SAME Boomers who wanted to cancel the fuck out of everything Gen-X enjoyed wants us to go to war to save shit that they enjoyed. Like stupid Mr. Potato Head and crusty old Dr. Suess books and shit.
Which is really stupid to begin with. Mr. Potato Head is still Mr. Potato Head, it's just being put under the umbrella brand of "Potato Head" so that there's a place for "Mrs. Potato Head" and "Potato Dog" or whatever. And the six Dr. Suess books are not being "canceled," the estate and publisher felt that they needed to be "retired" for having racist imagery that society is trying to move past. Which means the two biggest things which have Boomers' panties in a twist right now can't even be defined as "cancel culture" because nobody called for them to be canceled in the first place. The owners are making changes on their own volition.
Hypocritical idiocy like this drives me insane.
I ain't stepping up to save anything from "cancel culture" that has Boomers in an uproar, and it's laughable that I even have to say it.
"Oh dear. Somebody is trying to cancel something you love in the same way you that you tried to cancel the things I loved? And now you want me to do something about it for you? — Ha! Okay, Boomer."
Except, no. Not really.
Posted on March 10th, 2021

Yesterday I received a notice that the interest rate on the credit card I use to get a discount at the local tire shop chain has been increased to 29.999%. Holy shit!
Thankfully I only use it every 3 or 4 years when I have to get new all-weather or winter tires... and I pay it off in full immediately after I get the first bill... but this is still crazy outrageous for people who can't pay it off in full right away, isn't it? THIRTY FUCKING PERCENT?!?
And this is how poor people are made even more poor... predatory lenders. You're desperate for new tires so you can drive to work. You can't afford new tires. So you have to open a credit account to get the new tires... THEN PAY OFF A MASSIVE INTEREST RATE, which just makes you even more poor? But it's the avocado toast that's the problem. Okay. Whatever.
I am getting really sick and tired of ignorant assholes saying that people trapped in poverty are lazy or want to be poor or it's their fault. In the vast majority of cases, it's just not true. They are doing the best they can as their circumstances allow, and they don't have access to the money, connections, training, or education which allows them to find a better job and escape.
Which brings us to the Captain Samuel Vimes theory of socioeconomic unfairness...
"Take boots, for example. He earned thirty-eight dollars a month plus allowances. A really good pair of leather boots cost fifty dollars. But an affordable pair of boots, which were sort of OK for a season or two and then leaked like hell when the cardboard gave out, cost about ten dollars. Those were the kind of boots Vimes always bought, and wore until the soles were so thin that he could tell where he was in Ankh-Morpork on a foggy night by the feel of the cobbles. But the thing was that good boots lasted for years and years. A man who could afford fifty dollars had a pair of boots that'd still be keeping his feet dry in ten years' time, while the poor man who could only afford cheap boots would have spent a hundred dollars on boots in the same time and would still have wet feet." — Terry Pratchett, from his Discworld novels.
Poor people are kept poor because they live in a system which has been designed to keep them that way. Just like it's designed to keep shoveling money to millionaires and billionaires so they can even further game the system in their favor.
Usually by buying politicians so they keep making policy which benefits them exclusively.
But also by buying public opinion to convince us that poor people are lazy and deserve to stay poor.
Posted on February 18th, 2021

I wrote about the AIDS crisis that was exploding around me in the 1980's on a blog entry back in 2018. Dredging up the profound sadness of it all is something which haunts me 2-1/2 years later. If you haven't read it, here's your link, but the passage relevant to this entry is this...
"I'm filled with despair trying to wrap my head around what it was like for the gay community. I had friends who told me that they spent years in hospitals. Years. Not because they were sick, but because everybody they knew was sick or dying. I am aghast if I have to attend a funeral once a year. If you were an integral part of a large gay community, you might end up at a funeral every month. — Due to the AIDS epidemic, the 80's and early 90's were a tragic time of sadness and loss for a great many people."
Yes, it was very much a tragic time of sadness and loss for a great many people.
But not everyone.
Rush Limbaugh used to have a segment on his radio show called AIDS Update. He would start playing songs like Looking for Love (In All The Wrong Places) and then enthusiastically talk about all the gay men who were dying from AIDS-related complications, tell AIDS jokes, and have an on-air party because people dying from AIDS. He would read the name of gay men who had died and play horns and whistles in a jubilant celebration of their fate.
I try very hard not to wish people dead or celebrate people dying... but that doesn't mean I'm sad Rush Limbaugh has died.
Far from it.
Rush Limbaugh ruthlessly persecuted, mocked, and exploited entire segments of the population to his fanatical fan base. And LGBTQ+ persons were just the start. He was particularly horrible towards Black Americans, Native Americans, immigrants, the poor, and women... but there was really nobody he wouldn't attack with unbridled glee if he thought that he could turn hate into dollars. He was all the worst things about humanity compacted into a single blob of hate, and his monstrous cruelty is what he was best known for. He told starving children to eat out of dumpsters for Christ's sake.
And he was celebrated for it...

Photo from a Google Search, so I dunno.
So, no, I don't give a single fuck that Rush Limbaugh is dead.
Rush Limbaugh was a worthless piece of shit who left this earth worse than he entered it. He woke up every day trying to find new ways to make it worse. His repugnant influence helped create an environment so toxic that it's literally endangered lives. So I'm supposed to be sad about his passing? Fuck that. Burn in hell you lying, disgusting, monstrous gas-bag.
And speaking of burning in hell...
As you are undoubtedly aware, Texas is in serious crisis. Freezing weather has gotten so bad that people have been without electricity or heat for days. Toilets are frozen and you have to boil water to use it, assuming you can find a way to do so. People and animals are dying...
So of course Texas Senator Ted Cruz flies to Cancun for a vacation. And why shouldn't he? No matter how much repugnant shit he does, he's always reelected. Apparently the only thing that matters is that he has an (R) after his name. If people don't give a fuck that their representation in Congress is abandoning them, why would he give a fuck about them?
And of course Ted Cruz is the one who wanted to deny Federal aid to Hurricane Sandy victims when they needed help. He couldn't understand why Texas should have to send their tax dollars to other states... but, of course, now that the shoe is on the other foot... WHERE IS OUR MONEY?
And of course President Biden immediately approved relief. Unlike President Trump who was constantly threatening to withhold funds and deny help to states like California "who weren't very nice to him". I may not be a Biden fan, but God isn't it wonderful to not have a petulant man-baby running the country?
And of course Ted Cruz is happy to funnel money to his wealthy buddies at every opportunity at the expense of Texans and all Americans. Remember when he wanted to change the rules so that two Texas fracking BILLIONAIRES could get $35 million in COVID relief funds meant for struggling businesses? Pepperidge Farms remembers. But apparently Texas voters do not.
And of course wealthy Texas neighborhoods don't lose power. Texas developed their own power grid so that they aren't under government regulations which force you to have safeguards in place for natural disasters... like freezing cold... because that cuts into the profits of the wealthy few who control the grid! And if that doesn't bother Texas voters, then why would the voters give a shit if all the electricity goes to those same wealthy people?
And of course Texas oil millionaires are blaming green energy for the electricity shortfall. Never mind that this is 100% false and power officials have stated that green energy failures are the least of Texas's electrical problems... that blame has to go somewhere! Never mind that places like Canada and Alaska use wind turbines to produce electricity all the time... the problem is not that Texas cheapened out and didn't properly insulate their turbines, it's that green energy doesn't work! Because if my massive wealth came from making sure people were dependant on oil, I'd sure tell people that green energy is to blame for their woes! THEY HAVE WIND TURBINES IN ANTARCTICA PRODUCING POWER. But fuck logic!
I could literally spend my entire day continuing the hypocritical bullet points showing how Texas has been conned and gerrymandered into voting for people who literally don't give a fuck about them, but I really need to take a shower and get ready for work.
Okay... just one more, because holy shit...
My guess is that Rush Limbaugh is saving a seat for Ted Cruz in hell at the fraudsters and liars table.
Not that there aren't angels still among us...
Never forget that Dolly Parton is one of the first to step up and help when people are in crisis. She even contributed millions of her own money to COVID vaccine research. Now isn't this the type of person we should want running our government? You'd think so... and yet...
Posted on February 17th, 2021

Last night I got a call from a good friend I've known for over a decade. And the way you know that they are a good friend is that I actually picked up. There's only a dozen people that I will interrupt my busy pandemic lifestyle to talk with, and he is one of them.
"I'm starting to worry about you. Your texts and emails have you sounding down."
"More down than usual?"
"Yes."
I assured him that I'm doing just fine despite the pandemic completely changing my life, we shot the shit for a half hour, then said our goodbyes.
And I totally get why he called. COVID is happening, the world has gone to shit, and the light at the end of the tunnel is probably the headlight of a freight train. This is a friend who knows first-hand about my struggles, and it's nice to know that there are people who care enough to check in on me like this.
The centerpiece of our conversation was me explaining that there's a difference between wanting to die and being apathetic about dying. I don't want to die, I just don't care if it happens. For the time being I have cats that rely on me, there's some things left I'd like to do with my life (or try to do), and I'm not ready to check out just yet. So I'm good.
Mostly.
The news when I woke up this morning was Trump Plaza being imploded and demolished...

Photo from the Associated Press Newswire
This brought up memories of my first and only trip to Atlantic City back on July 17, 1999. I was working in New York City and ended up with a free day and nothing to do. Ultimately I decided that I would go to the Hard Rock Cafe Atlantic City for lunch so I could check it off my list, then head back to The City. The cheapest way to do this was via Greyhound Bus. Not the best way to travel, but I had survived far worse.
I managed to get a window seat half-way back, then sat there as the bus started filling up. Eventually a woman walked up and asked if she could sit next to me. I said "No problem" and she replied with "Thanks. You look like the person least likely to grab me or assault me." The only thing I could think to say way "Um, thanks. I guess?"
The next three hours were spent talking to my seatmate and new best friend. John F. Kennedy Jr. had died the previous day and she had to get out of The City. He had been the golden boy of NYC, was much beloved there, and things were just too depressing for her. A nine hour distraction was just what she needed. Like me, she had booked the 8am departure (arriving 11am) returning 2pm (or something like that). Along the way she had quite a lot to say. I remember almost none of it. I do remember her talking about how she had moved to a new church and signed up for choir. When she got her robe, she was dismayed to see that it was all white. "So there I am in all my Blackness standing there in the whitest robe I've ever seen..."
I didn't say much after explaining that my trip was just to visit the Hard Rock Cafe.
When we arrived we just kinda gravitated towards hanging out together for our three hours. The first thing I did was ask somebody where the "Trump Hotel" was at. "Which one do you mean? The Taj Mahal or the Plaza? I had no idea, so I just responded with "Um... whichever one has the Hard Rock Cafe in it?" Turns out it was the "Trump Taj Mahal" across from "Steel Pier" which was a 20 minute walk...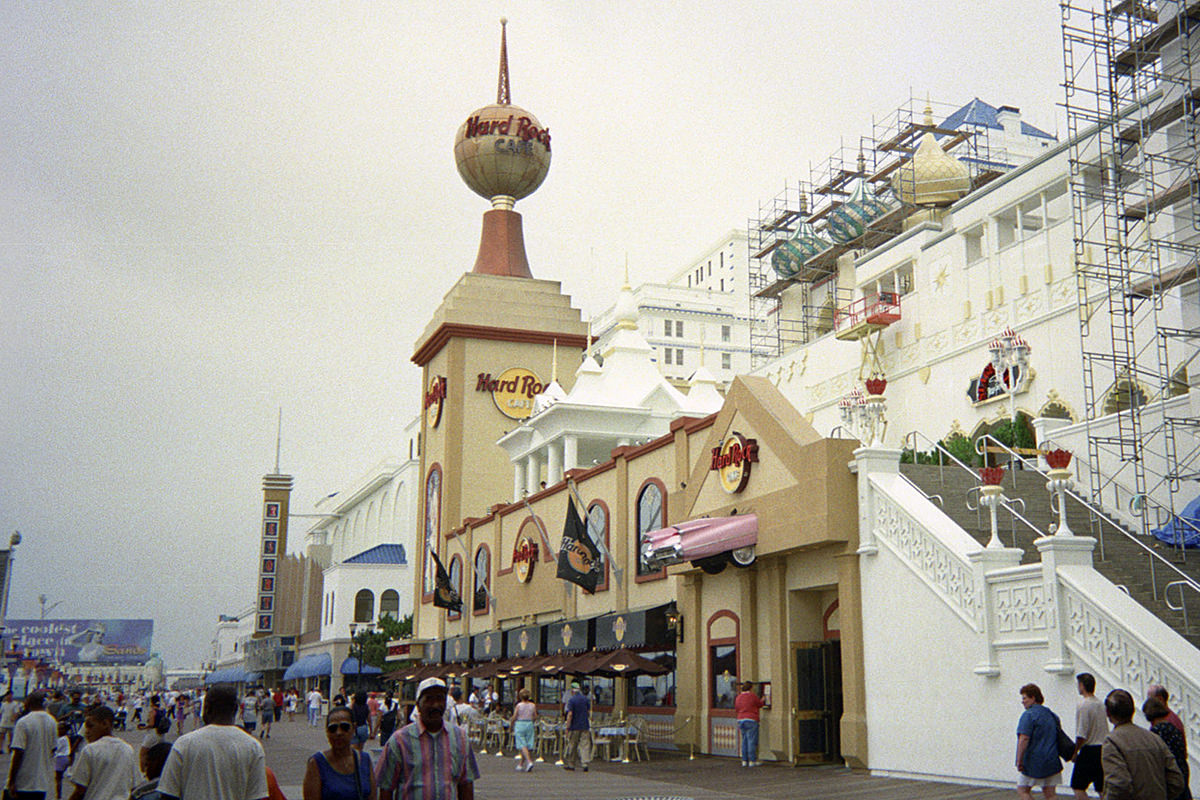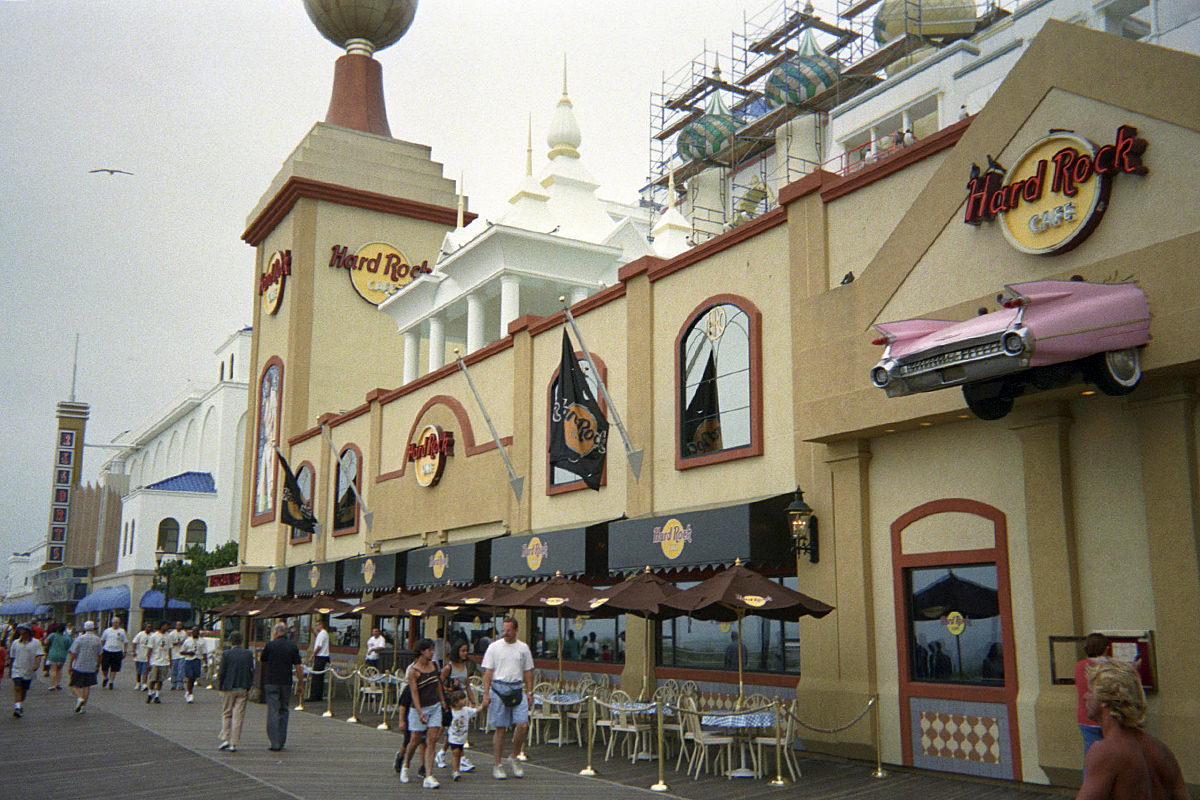 The All-Star Cafe Atlantic City was there too...
After eating lunch, we played slots in the casino for a while. I hit a $70 jackpot fairly quickly off a $10 investment, and poured her out a bunch of quarters so we could keep playing the various slot machines before walking back to the bus terminal. We had a great time. I got the Hard Rock Cafe checked off my list and she got her distraction.
And then some.
On the way back a fight broke out on the bus. Some guy leaned his seat back into some other guy and he was not happy about it. The guys were screaming. The wife of one of the guys was screaming. And the bus driver was screaming for them to knock it off or else he would stop the bus and kick them all off of it. Eventually the matter was settled by the husband and wife swapping seats or something. All my seatmate had to say about the situation was "I knew it. I just knew I wasn't going to get through six hours on a bus without something like this happening!" The rest of our trip was made in silence as we headed back to a city in mourning.
The Trump Taj Mahal Hotel and Casino was one of Donald Trump's many banruptcies and has a rather colorful history... including it being involved in money laundering and being a hot spot for Russian mobsters. Eventually the property was shut down in 2016, then sold to Hard Rock International in 2017. Then in 2018 they reopened it as the "Hard Rock Hotel and Casino Atlantic City."
As for The Trump Plaza Hotel and Casino? Also bankrupted. Also a colorful history. It was originally THE place to be in Atlantic City for the rich and famous. But once the Trump Taj Mahal opened in 1990, Trump ended up poaching his own customers with the newer, bigger, flashier property. Thus the Plaza bankruptcy in 1992. In 1993 Trump somehow made his way out of bankruptcy (do I even want to know how a casino beloved by Russian mobsters managed that?) and started expanding the property... because doubling down in the face of financial ruin is apparently his thing, I guess. But money wasn't the only thing that Trump lost... he also famously lost an eminent domain case against a woman named Vera Coking. Like the asshole he is, Trump tried to get the city to condemn her property so he could buy it and turn it into a limousine parking lot. He failed.
Just as Penthouse magazine publisher Bob Guccione had failed in the 1970's to buy her out of her home. A situation that fans of the Pixar movie, Up, might recognize...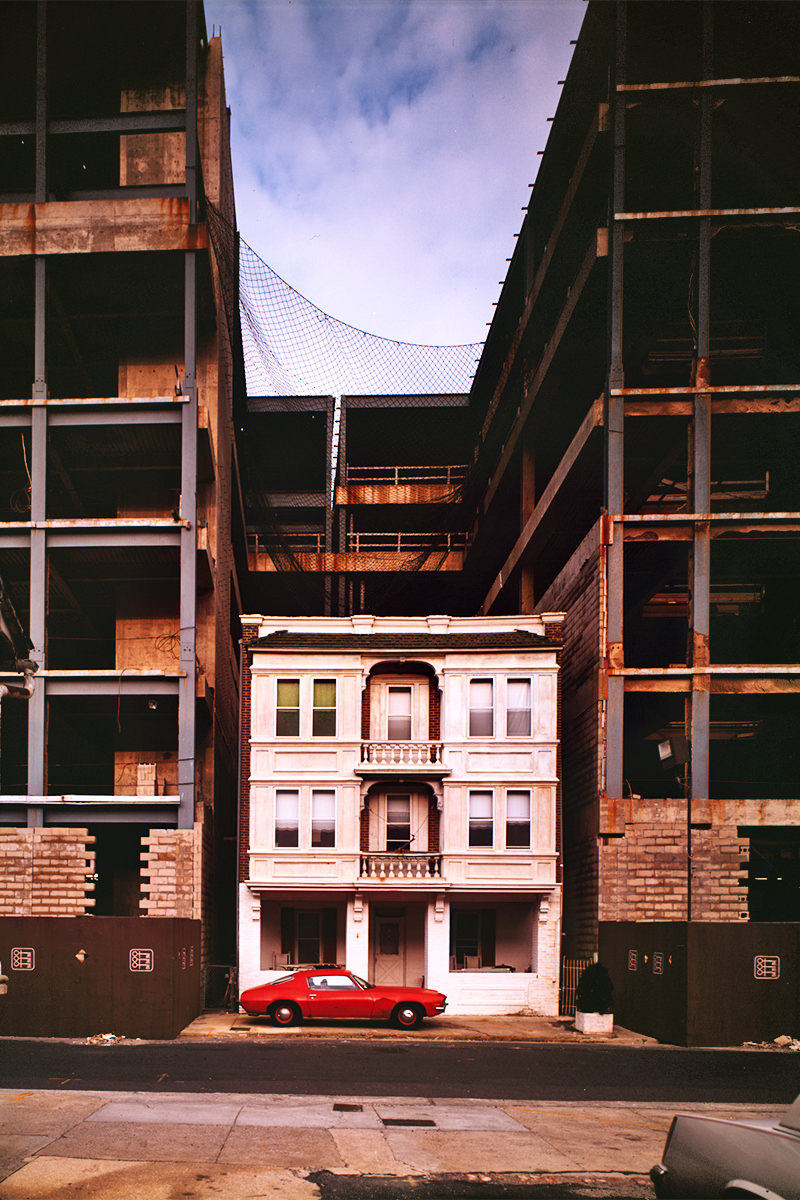 Photo by Jack Boucher for Historic American Buildings Survey, c.1991 (via Wikipedia)
Unironically I also have a photo of the now-demolished Trump Plaza Hotel from my 1999 visit. I took a photo of Planet Hollywood Atlantic City and it was sticking out like an ugly sore thumb in the background...
Trump's rise and fall in Atlantic City is an engaging story, which you can read in this Salon article originally published by InsiderNJ just before the previous presidential election: Atlantic City has a warning for the nation: Donald Trump brings ruin and despair. Salon helpfully added the byline "Trump looted and corrupted New Jersey's gambling mecca and then got out of town. Does that sound familiar?" Why, yes. It sounds very familiar, alas.
It's weird to think of the stuff that's happened in the world during my 54 years, 10 months, 3 weeks, and 3 days on this planet. From the year I graduated, Trump had Trump Taj Mahal ('84), Trump Plaza ('84), Trump's Castle ('85), Trump's Steel Pier ('88), and Trump's World's Fair ('89) in Atlantic City... and lost them all. His consolation prize being that he was elected President of the United States of America in 2016, the same year Trump Taj Mahal (his last remaining Atlantic City property) was shut down permanently.
Oh well. In addition to my dying (among many, many other subjects) I also hold apathy towards ugly buildings being demolished.
I am kinda glad that I was able to visit Atlantic City during Trump's heydey there in 1999 though. America's prince may have just died in a tragic plane crash... but Donald J. Trump, Democrat, was thinking of running for president on a pro-choice Reform Party ticket with Oprah Winfrey as his running mate.
It was a glorious time to be alive.
Posted on January 31st, 2021

I don't mean to alarm anybody, but this is the last Bullet Sunday of the 600's... because an all new Bullet Sunday starts... now...

• Good News, Everyone! After a shitty year of all bad news, it's nice to know that there's a best-case scenario happening right now... People Who've Gotten Both Shots Simply Aren't Getting COVID. And when they do get COVID because it's a mutant strain or whatever... they aren't requiring hospitalization and don't suffer such damaging effects. Nice! Much love to the scientists and researchers who have been working overtime to get us a vaccine.

• Residential! Alan Tudyk is one of my favorite actors, and I was pretty stoked when I randomly happened across his new series... Resident Alien. This is a comic book series I've glanced at, and I had no idea it was being adapted for television. As you'd expect, Tudyk is flawless at playing a quirky alien trapped on earth in disguise as a doctor, and I really loved the first episode...
The premise is pretty darn good, and it will be interesting to see how they play this one out.

• TikTok On The Clock! AMAZING tip for getting more coverage when painting! Thanks, TikTok!
Oh yeah. That's a painting trick I can use!

• Reelection Matters! Still no comment by Patty Murray or Maria Cantwell on Wall Street trying to protect wealthy hedge funds over average Americans? I may die of unshock. Can't upset their wealthy owners who bankroll their campaigns! Stock manipulation is fine... when rich people do it. Markets are free... until rich people lose money. Wall Street makes the rules to exploit the American people to benefit our wealthiest citizens. And the minute it doesn't, they change the rules. And Murray and Cantwell are still fighting for that status quo, apparently.
Say... here's an idea! We know Republicans can't win against our senators in Blue-Blue Washington State, but what about another Democrat? A Democrat not content to have Washington State sit on the sidelines or take a wait-and-see attitude when it comes to stuff going on Right Now?? A Democrat who doesn't check with their owners before acting? A Democrat that charges into battle for Washingtonians AS SHIT IS HAPPENING. Because hand-wringing after the fact is getting SO tiring. Alexandria Ocasio-Cortez was going on interviews, posting to social media, and had a live Twitch feed yesterday to address Wall Street protecting wealthy hedge funds over the American people. Where were our Senators? Planning their re-election campaigns, probably.

• Change! This right here is what I love about TikTok in a nutshell...
Cute story and a SpongeBob Squarepants reference? Yeah... sign me up.

• Flyover! Last night my Apple TV went to screen saver while I cleaned up my filthy kitchen (I swear, that onion/poblano Quesadilla filling is lethal). As I was sitting down I saw that the screen saver was flying over Buckingham Palace which is pretty easy to recognize. Then they keep flying over London and I see that so many of these old buildings have amazing car parks inside! I had no clue when I visited the Churchill War Rooms museum that they had this gorgeous rotunda car park within their walls...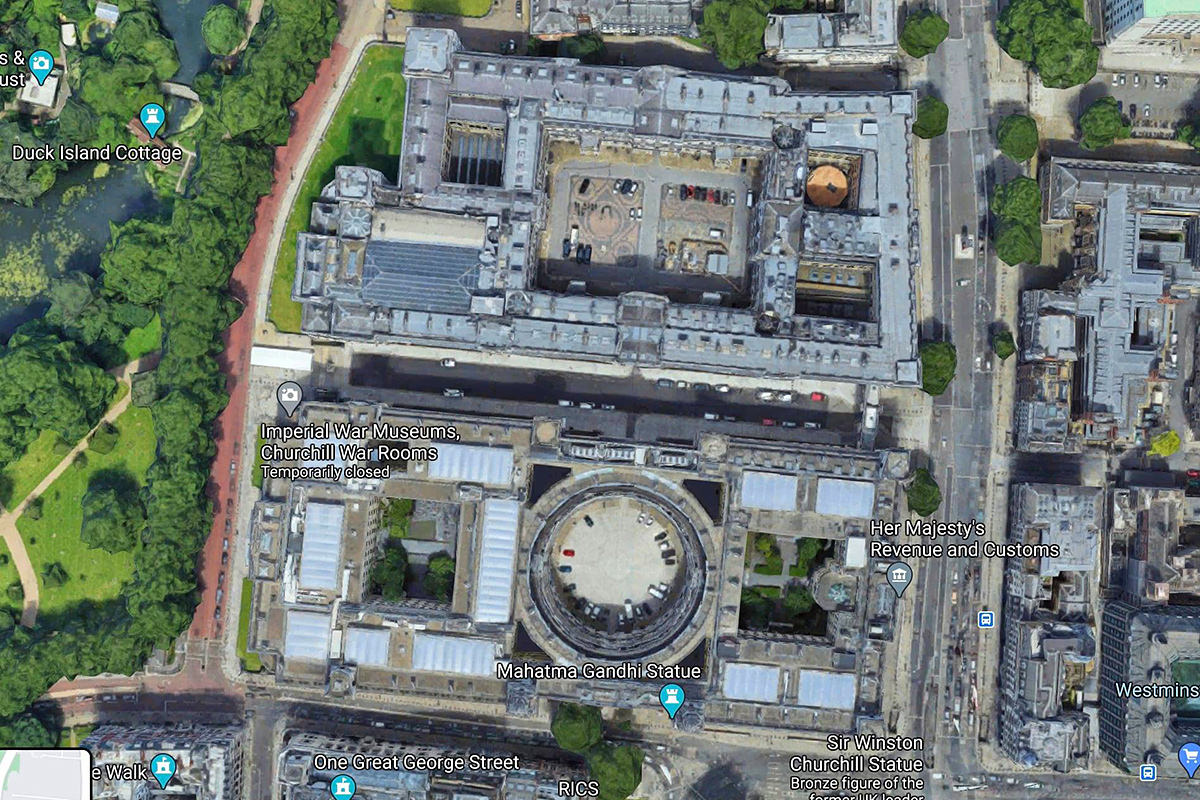 Image taken from Google® Maps Satellite View
Isn't this amazing? And the more I explored, the more interior car parks I found. That's pretty cool. I've seen some of these in person, but never knew how prevalent they are.

And that's a wrap on Bullet Sunday No. 699.
Tags:
AppleTV
,
Bullet Sunday
,
COVID-19
,
Maps
,
News
,
Pandemic
,
Politics
,
Television
,
TikTok
Categories:
Apple Stuff 2021
,
Bullet Sunday 2021
,
News – Politics 2021
,
Television 2021
—
Click To It:
Permalink
—
0 Comments: Click To Add Yours!