Posted on December 27th, 2021

Time to start those post-holiday blues... because another all new and delayed Bullet Sunday starts... now...

• Happy! I watch a lot of TikToks. Like a LOT a lot. And though I've seen some really good ones this past year, I think this is the one which has stuck with me the most (here's a link in case TikTok is being a dick)...
It's so important that kids see something hopeful at a time when they may be struggling. This doesn't just apply to LGBTQ kids, but any kid wondering if there's a place for them in this cold, cruel world.

• Dino Brau! And then there's this bit of TikTok science fact which everybody should know...
I mean, come on.

• It Ain't All Fun & Games! The sad truth in a single TikTok...
In the end, this is most politicians, alas.

• HRC Down! VERY sad to learn that the Hard Rock Cafe Oslo has closed. That was a darn good cafe. It's also where I met up with fellow blogger Karla before exploring the city!
For those of you who can't read Norwegian fluidly like myself (and Google Translate, of course!) it says "End for Norway's only Hard Rock Café — Hard Rock Café on Karl Johans gate in Oslo has its last opening day on Saturday. Thus, the only Norwegian branch of the international restaurant chain disappears.".

• COVID Electric Boogaloo! Omicron was just becoming known three weeks ago. THREE WEEKS! And look where we're at. It's the dominant strain of COVID now. Hospitals begging people to stay safe and get vaccinated, and their pleas being ignored. Well, I can only guess that Christmas will result in another explosion. What's it going to take for people to get serious?

• If You're Not a Rocket Scientist! I mean, it's just willful ignorance at this point...
And speaking of which...

• Again! Looks like they finally found Washington State Senator Doug Ericksen after he's been missing for weeks. Or found his body, that is. This is the same genius who wanted our governor to be fired because Jay Inslee enacted mask mandates to keep us safe during these trying COVID times. Maybe if he had gotten vaccinated and masked-up in El Salvador, he wouldn't be dead now.

No more bullets this year. Sorry. Something to look forward to in 2022, I guess?
Posted on November 8th, 2021

It's frustrating that we have media which is so badly polarized that it's impossible to get an unbiased read on current events. There's painfully obvious bias going on, with the problem being that many people don't seem to realize that. I know folks on both sides of the spectrum who would swear up and down that their news is "unbiased" (or, putting it another way, "Fair and Balanced") and I honestly don't know how they can say that with a straight face. Either they are saying it because they want to believe it, which is understandable... confirmation bias is a real thing... or they are saying it because they actually believe it, which is all kinds of dangerous.
In some ways, I actually prefer it when a news source is unabashedly Right or Left because they're making no pretense as to where they stand on the issues. You know where their pandering is and you can factor it into your thinking as you consume whatever media they're putting out there.
In some cases, there's issues which are neither Right or Left... they just quite simply are... but the only take you're going to get is one from the Right or the Left. It's enough to drive one mad.
Take for instance America's failing power grid.
This is a subject so deadly serious that everybody everywhere regardless of their political leanings should consider it of National importance and an essential thing to be investing in and safeguarding. Yet neither progressive nor conservative talking points address it with the seriousness which it should be taken. On the Right you have "privatization" as the answer (which is laughable given what happened in Texas recently)... and on the Left you have a bizarre mish-mash of wanting to invest in Green energy without understanding exactly why that's not a catch-all solution for every situation (honestly, you can't just shout "GREEN ENERGY" every fucking time the matter of our energy needs comes up and be taken seriously).
Last Week Tonight had one of the best takes I've seen last night despite being hardcore Left in its leaning. It should be considered essential viewing if you plan on using electricity in the future...
Now, there are some issues here that are not fully explored... there's only so much you can fit in a segment like this... but the entire point behind the story is solid. And that is that this country is heading to a major crisis that could have serious impact on all aspects of society.
But how do you explain this to somebody whose viewpoint has been crafted by the media they adhere to for their "news?"
It's virtually impossible.
This is easy to see when you look at the reactions to the $1 trillion infrastructure bill that was recently passed. Infrastructure has been a ball that's been kicked down the field for decades by Republicans and Democrats. Everybody says they want to do something about our roads disintegrating, our bridges falling apart, and so many other horrible problems... but they don't want the financial blowback attributed to them, so that ball gets kicked down the field for the next guy to deal with. This is such a horrible thing to have happen because it only gets more expensive the longer you put off dealing with it. But now President Biden picked up that ball and ran with it because we're quickly getting to the point that something HAS to be done. As you would expect, Democrats are touting this as something on-par to the Second Coming of Jesus Christ... while Republicans are saying it's clearly a sign that Satan has won, and our country is officially in the grips of Socialism.
Truth be told... it's actually somewhere in the middle.
And while I have loads of things I can be critical of President Biden for, the infrastructure spending is not one of them.
Mostly because $73 billion of that $1 trillion goes towards modernizing the U.S. power grid.
Feel how you want about JaBiden, I honestly don't care. But the fact that he's finally actually doing something about some very serious problems we have ignored for far too long deserves respect. And that's regardless of your politics. Because it was a politically suicidal thing to do even if it was the right thing to do.
We're running out of field for that ball to be kicked down. A goal is iminent. The game is about to be won.
And, in this case, that's not a good thing because we're all on the losing team.
Posted on October 15th, 2021

"Well, shit, I'm alive. The COVID booster didn't kill me. So I guess I have to go into to work."
Zero side-effects from the third Pfizer shot. Which worries me a little bit... how do I know that it did anything if there's no side-effects from my immune system getting charged up with COVID-fighting instructions? Though I didn't have side-effects the second time either (only the first, where I had a fever for three hours and soreness in my arm for three days).
In my county here in Central Washington, there's been 102 COVID deaths out of 10,912 total cases since tracking of the pandemic began. Right now they say that 638 people have tested positive in the first half of October. When I check the CDC site, it says that the eligible population here in my county is 73.6% vaccinated and 34 new people have been admitted into the hospital. If it's accurate, that's really good news. Given the number of anti-maskers out and about, I really expected us to be under 50% vaccinated. Some counties east of me in Idaho and Montana are 40-some-odd-percent, which is pretty scary. But not as scary as those counties sitting at 20% once you head over to the Dakotas. Holy shit. It's like a COVID incubater in some parts!
Which is how we end up with COVID variants like Delta, Beta, Gamma, Lambda, Mu, and the variants of those variants. It's all pretty crazy when you consider that the virus will only become more communicable and deadly as it changes to survive.
But that's nothing compared to the heinous level of idiocy coming out of the mouths of pieces of shit like Marjorie Taylor Greens, who is just the worst...
God she's awful. There's really no level to which this horrific excuse for a human being will stoop. I am disgusted to my core.
I'd say that I can't wait for her to get COVID, but you just know that she's been vaccinated. Pandering to her base with this hipocritical bullshit is how she stays in office.
Tags:
Assholes
,
Bat-Shit Insane
,
Bullshit
,
COVID Deniers
,
COVID-19
,
Fuck This Shit
,
Fucking Assholes
,
Fucking Scumbags
,
News
,
Pandemic
,
Pig-Fucking Assholes
,
Politics
,
Stupidity
,
Truly Stupid People
,
Vaccination
,
Worthless Pieces of Shit
Categories:
News – Politics 2021
—
Click To It:
Permalink
—
2 Comments: Click To Add Yours!
Posted on October 13th, 2021

As you may imagine, having a blog that's publicly out on the internet can result in a certain level of backlash from people looking at it. I got a death threat for my thoughts on President Trump. I got two death threats for my thoughts of Hillary Clinton. I've also gotten assorted threats for all kinds of things on this blog... with most of the hate coming from homophobes who really don't like that I am an LGBTQ+ ally. After Washington passed the Marriage Equality Act R-74 (something I advocated for at least once a week) I got one of the longest, nastiest, most hateful comments I've ever received. Obviously I didn't approve it. But I did send a reply since he included his email address: "I don't want any more kids killing themselves in my community because they're gay and think they have no future. Marriage equality shows these kids that people approve of THEM. I could give a shit about who's married or not. I then added a link to a news story of the kid from my high school alma matter who committed suicide after being relentlessly bullied. Bullied for nothing more than being who he is.
Who he was.
He died in February, 2012.
Then-Governor Gregoire signed the legislation for marriage equality ten days later on February 13th.
The legislation was voted into law during the 2012 November election.
Then it was rendered moot when the US Supreme Court made marriage equality law country-wide on June 25, 2015.
I was reminded of all this last night as I was watching the movie Adam & Steve for LGBTQ Movie Month (it was weirdly not horrible... with some very funny bits and some cringe bits). The film was released in 2005. At the time, I think that Massachusettes was the only place where marriage equality was legally available.
A different world now. Which is reflected in the movie. To an extent.
Malcolm Gets's character talks about wanting to fall in love, get married, and have kids like he saw in the movies. Spoiler Alert: Malcolm asks his boyfriend to marry him. And they do, in fact, get married at the end. But they don't go much further on commentary than that, despite the ceremony likely not being legally recognized? The idea of marriage equality in 2005 was a bit far-fetched. And ten years away was still ten years away, but it still seems that something could be said about hoping all 50 states would one day recognize their union. Or something? But maybe they didn't want that horrible backwards thinking intruding on such a happy moment for the characters? I get that.
All this has me really, really curious about that homophobe that hated me so badly for supporting equality back in the day. Did his head explode back in 2015 when "the gays" started getting married? Was he in denial about his sexuality and got over his self-loathing enough to get married to the man of his dreams? I honestly don't know. My hope is that if he's still a homophobe that he at least keeps that shit to himself.
Anything is possible.
DAVE'S 2021 MOVIE FESTIVAL CALENDAR
JANUARY: British Movies (and television)
FEBRUARY: Korean Movies
MARCH: Italian Movies
APRIL: Australian Movies (and television)
MAY: Art House Movies
JUNE: French Movies (and television)
JULY: Bollywood Movies
AUGUST: Japanese Movies
SEPTEMBER: Russian Movies
OCTOBER: LGBTQ+ Movies
NOVEMBER: Documentary Movies
DECEMBER: Holiday Movies (hello Hallmark!)
Posted on September 24th, 2021

I've stepped away from most of my political ranting here because it was consuming my life. Politics is so heinous in these United States of America that justice doesn't even fucking exist here. And people just don't care. Thus it's pointless to keep screaming into the void.
Everybody reading this blog knows that I have a healthy distrust of government, loathe 98% of our politicians, and detest the fact that wealthy & powerful people own this country and those we pay to represent us. It's why I advocate for term limits and breaking the stranglehold that lobbyists have over the oppressive load of shit that our government shackles us with.
And yet there are times...
This morning on Facebook somebody reposted this tweet from 2020:
This was referring to this article: Open-Access JSTOR Materials Accessible to the Public. The tweet was based on a minunderstand presented in the article (which has since been cleared up with a revision)... but the sentiment being presented is accurate.
Our government drove a brilliant and tireless political activist to suicide with a heinous campaign of overreach and lies.
As our government does.
Past precedent shows us that the government will always, always, always exterminate those they cannot control.
And we let them.
I first became aware of Aaron after his Infogami CMS was merged with Reddit, of which he is listed as a co-founder. But he didn't move to the forecfront of my thinking until his work in stopping the horrific government SOPA and PIPA laws. Aaron, along with others, got me to be a vocal opponent of this stupid shit, and removed any doubt that the poiticians making our laws don't give a single fuck about being educated about the legislation they advocate. They only do what their wealthy asshole owners tell them to do so the rich get richer at the expense of our citizens. And the only reason... THE ONLY REASON... that our government reversed course on SOPA and PIPA was because enough people got mobilized that their power and wealth were threatened.
And we can't have that, can we?
The U.S. Government: The Best Government You Can Buy!
And so now I am furious all over again... hence this blog post.
Aaron Swartz deserves to be remembered for the fucking hero he is. And of course it's equally important that we remember that our government of the money, by the money, for the money, shall not perish from the earth! We vote in people to keep it that way, after all. Hope you have a ton of money so you can take advantage of it.
If you want to know of Aaron's fascinating story, have I got a video for you. This documentary is essential viewing, so I'd get on that right away if I were you...
Rest in Peace, sir.
And thank you.
If you're in a video-watching mood, Johnny Harris has yet another incredible video that's worth your valuable time...
So it goes...
Posted on September 23rd, 2021

And now this... Idaho COVID crisis: Hospitals overflowing with sicker, younger patients.
Now, I don't celebrate anybody's death or want anybody to get sick. All life is precious, even if you can't see why, and I try very hard to remember this. But when people buy into the reams of misinformation about getting vaccinated, then clog up the hospitals so that somebody who has a heart attack can't get a bed... that's just fucking irresponsible, selfish, and disgusting. I was told that I'm going to die any minute now because I got vaccinated... I was told my DNA is being rewritten because I got vaccinated... I was told all kinds of absurd, stupid, impossible stuff because I got vaccinated. All from people who actually believe it. And yet here I am. Still.
For people on the fence about getting vaccinated... think about this for a second: If the vaccine was actually dangerous, the government would be giving it to poor people and minorities so they would create heard immunity for the rich and powerful people that own our government. But that's not what's happening. The rich and powerful were first in line to get the COVID vaccination because the government knows it's not just safe... it's UNDENIABLY safe. Know your history. Because if you did, you'll know this statement is 100% accurate.
Here's an article to get you started.
Stop believing the anti-vax propaganda nonsense. Start believing that COVID is the actual danger to you and those you care about, then do something about it. It's free.
I mean, for Christ's sake... Dolly Parton helped to fund the Moderna COVID vaccine, then stepped up to get the jab the minute she was eligible. YES, THAT'S RIGHT... DOLLY PARTON IS SUCH A SAINT THAT SHE REFUSED TO CUT IN LINE EVEN THOUGH SHE EASILY COULD HAVE!
If you can't trust Dolly Parton, who the fuck can you trust?
In other news...
When I got my flu shot today THERE WAS NO CANDY AFTERWARDS! NOT EVEN A SINGLE M&M! I WISH SOMEBODY HAD TOLD ME BEFORE-HAND... I WOULD HAVE REFUSED TO GET IT! NO CANDY... NO SHOT!
Wait a second... maybe THIS is why people aren't getting the COVID vaccine? No piece of candy after? Would the CDC please get on this?!? Could it really be as simple as "I would have totes got the COVID jab, but no candy after, so absolutely not!"
It's worth a shot.
Because the shot is worth it.
Posted on June 27th, 2021

Baby it's hot outside, but the hot lead from my bullets are even hotter... and an all new Bullet Sunday starts... now...

• Pride! I could do an entire week of posts on the TikToks of ileavebreadcrumbs. He is a man who married a male soldier during the era of "Don't Ask Don't Tell," and his stories are just... a lot. I cannot even fathom how straight couples would deal with the same obstacle that gay couples have to endure. Just take for instance their wedding...
The fact that he is willing to put himself out there knowing that homophobic bigots are just waiting to tear him apart in the comments is everything that Pride exists for. Love = Love.

• Pride Again! And it doesn't stop there. His husband is not just "fairly famous"... he's famous-famous." His story has been discussed in many, many places. Including, most famously, on The Daily Show...
He was even a part of The Newsroom...
That's all kind of crazy how they found out they were on a TV show! But... remarkable too.

• More Pride! But the TikTok that destroyed me was this one...
Do yourself a favor and go watch his TikToks. This is why we have a Pride Month.

• At The Car Wash, Yeah! A friend shared this video on Facebook and I must have watched it a hundred times by now. It's just that good...
Somebody filmed him doing it again, but this time we get to see him walk off...
I mean, you can see him just patiently waiting for the brush to come down and then walk directly underneath when it gets low enough. Makes ME want to give this a try!

• Salvage! One of my truly joyful distractions on YouTube is Baumgartner Restoration. Julian is an absolute master of his craft, and his latest project... restoring a van Dijk... is him at the absolute top of his game. If you have time to spare (and I highly recommend making time) this is a remarkable mini-documentary. UPDATE: The second part is even better, so I'm posting it instead (you can still catch the first part here, if you're hungry for the whole story)...
Absolutely incredible. UPDATE: and in this second part, be sure to watch an "end credits scene" that follows the blank black frame at the end (because there are no credit!).

• SHARRRRK! And... I've cleared my calendar for Shark Week starting July 11th. Thank heavens I have Discovery+, because I will absolutely be tuning in for Stranger Sharks!...
Oh, who am I kidding. I'll be tuning in for all of the shows!

• Beer Beer! Truck Truck! You may remember when I mentioned that a guy made a song out of somebody (rightly) critiquing Country music...
Well, it finally came out as an actual song. It's good. But a part of me thinks that something got lost in translation from the demo to the finished song...
The additional twang and polish is a bit distracting from what I was used to in the original track. Even so... that's a song that's going to be popping up on my SONOS rotation! And I'm not even a fan of Country music!

Now, if you'll pardon me, I'll go back to watching my air conditioning electricity bill continue to bankrupt me.
Tags:
Bullet Sunday
,
Dogs
,
LGBTQ
,
Music
,
Politics
,
Pride
,
Pride Month
,
Television
,
TikTok
Categories:
Music 2021
,
News – Politics 2021
,
Television 2021
—
Click To It:
Permalink
—
0 Comments: Click To Add Yours!
Posted on June 1st, 2021

Happy Pride Month, everybody!
It would be nice to think that 2021 would keep us moving forward, but there's a frightening amount of anti-LGBTQ legislation that is being introduced... especially on the anti-transgender front. The most troubling of which is targeting transgender kids which, given how vulnerable they already are, is horrific thing to have happen.
I sure hope that voters can find it in their hearts to keep tabs what their representatives are doing and educate themselves on these issues... because, more often than not, I am seeing gross misrepresentation of the facts.
The biggest misrepresentation being that coming out as "something other than straight" is a new trend that's confusing kids and being forced on people like it's some kind of fad.
At which point it may be helpful to look at it in a different context. Because being LGBTQ+ is nothing new... it's just that we're finally getting to the point where people are able to be who they are openly and not have to hide it any more. It used to be that being left-handed was considered evil and left-handed kids were forced to learn to write with their right hand. Naturally, the number of people who claimed to be left-handed during this time period plummeted. But once this nonsense started to fade away, the number of left-handed people increased. Except... they didn't. They had been here all along, it's just that they were not allowed to be who they are. It's the same for LGBTQ+ persons... they've been here all along. It's just that they've been forced to conform to societal "norms" that were forced on them.
It's far past time for that nonsense to stop.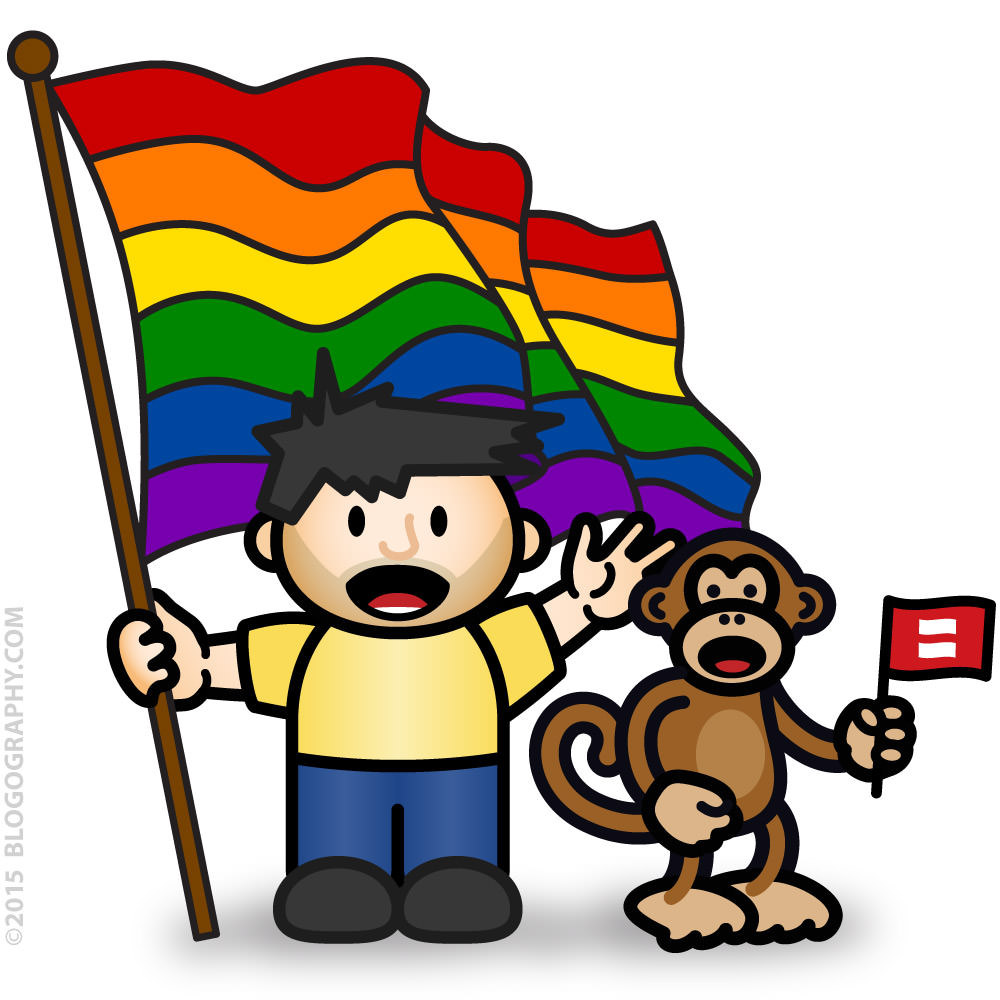 Try to tell me that you were looking forward to the holiday weekend more than Bullet Sunday! Just try! I won't believe you... because an all new Bullet Sunday starts... now...

• Situational Conjecture! This past Thursday I had to run an errand, so I stopped at the drive-in for some lunch then parked to eat. As I was sitting there, I saw a skinny kid with tattoos on his calves walk by... and instantly I was taken back to something a friend told me. He was leaving a grocery store behind another man. As they exited, a kid comes up and asks if they have a couple bucks to spare so he can get something to eat. The man ahead of my friend said "Maybe if you spent less money on tattoos and drugs, you could afford to eat." My friend, who was mortified that this is how somebody would act towards a hungry person, set down his groceries and got out his wallet. He handed over $5 and said (loudly) "NICE INK! ENJOY YOUR LUNCH." My friend was still raging about it when he told me all this the following week. "Maybe he got the tattoos before he ended up in a situation where he's asking for food money! Maybe a friend is a tattoo artist and did them for free! Maybe he got them in trade for work he did! How the fuck does that asshole think he knows ANYTHING about that kid's situation? And do people with tattoos automatically do drugs? Where did that come from? WHAT THE FUCK, MAN?!? THE KID WAS HUNGRY!" My friend is, of course, absolutely right. About all of it. You just really never know what somebody's situation is or what they are going through. So don't let what you think you know turn you into an asshole. Heaven only knows I try.

• Wholesome Watch! Men with Baby Animals... a bullet in two parts. Starting with Part One...
And, Part Two...
You're welcome!

• Welp! This just in from the No Fucking Shit Department... JJ Abrams: Lack of plan in Star Wars' latest trilogy was a "critical" flaw.

• Sublet! I've mentioned more than a couple times my obsession with actor John Benjamin Hickey (heck, I even wrote a blog entry about him). He is hands-down one of my favorite character actors because he elevates every move he appears in... even when he's just popping up for a small role. — Now today I find that not only does he have a new movie coming out... HE'S THE LEAD! But it gets better... the movie is from director Eytan Fox, who made the amazing film "Yossi & Jagger."
To say I am psyched to see this movie is a massive understatement. It looks really good!

• LiLo Dallas Netflix Pass! Lindsey Lohan is starring in a Hallmark-style Christmas movie for Netflix about a spoiled hotel heiress who gets amnesia and ends up in the care of a blue-collar lodge owner and his daughter. Perfect. Absolutely perfect. It's Paris Hilton meets... um... well... LITERALLY Lindsey Lohan, and I will absolutely be tuning in for that.

• Our National Nightmare. Read this. Read this and tell me that this society isn't a misogynistic pile of shit looking for any excuse to control women, traumatize women, and punish women. Go ahead. Tell me. I'm waiting. Welcome to our dystopian nightmare. And don't be at all surprised when you research this and find that there are women who support it. Some of the most anti-woman people I've met have been women...
Jim Wright — May 26 at 8:24 AM

The Pennsylvania state legislature today voted to advance a bill by Republican state legislator, Frank Ryan, that would essentially fine women who miscarry, force them to apply for a "Fetal Death Certificate" (and pay a filing fee), and then require a formal burial or cremation of the remains (which the woman would also have to pay for) — no matter where in the pregnancy the miscarriage occurs.

If this were to pass, if you miscarry in Pennsylvania, say at six weeks, then by law you would be fined, penalized, and required to hold a burial for handful of non-viable cells that are essentially indistinguishable from menstruation.

Ryan drafted this bill because of "his own experience after losing a child."

He said he was "asking the ladies in the room" to "recognize how men feel."

I'll pause so you can shout the appropriate profanity here.

This isn't the first bill of its kind. And no matter if it passes or not, it won't be the last. Because, this is the inevitable end result of "life begins at conception" and "fetal personhood."

Inevitable.

This is where they were ALWAYS going to go with this.

Because even if they outlaw abortion, it won't be enough.

It won't be enough.

If you consider abortion to be murder, if you make that law, then it is inevitable that EVERY miscarriage WILL have to be investigated as a possible case of negligent homicide or manslaughter.

And that's EXACTLY where these religious nuts are going with this.

And if they pass THAT, it still won't be enough.

It won't be enough.

If they get their way, then the moment a woman becomes pregnant, she will legally be considered nothing more than an incubator with no rights or self-determination. Property of the State and of their religion.

That is the ONLY possible end result of this reasoning.

Don't take my word for it, listen to people like Ryan in their own words. Listen to the preachers. Listen to the Right to Life movement.

These evil lunatics need to be removed from every office in the land and their insane religion needs to be marginalized and starved until it dies forever.

Then they can give their miserable god a burial if they like.
No word as to whether fertility clinics which fertilize countless numbers of eggs in order to assist women having difficulty getting pregnant will be affected. But since only wealthy people can afford that kind of science, I think we all know what the answer will be.

• Sponsored?! And lastly today, holy shit...
And I so wanted a Nazi-era fuck blanket.

Dats all I got. I'm going to cut out and enjoy my Sunday. Hoping you do the same!