Posted on January 10th, 2017

And so... about those Golden Globes...
I'm not a huge fan of award shows, because the winners rarely reflect the movies I enjoy and the performances I gravitate towards. But, then again, my favorite films of 2016 were Captain America: Civil War, Doctor Strange, and Deadpool, so make of that what you will.
Anyway... this year the Globes were better than most, but there are still some corrections I would make...
MOVIES
Best Supporting Actor: Aaron Taylor-Johnson, Nocturnal Animals
Who Should Have Won: Sebastian Stan, Captain America: Civil War (the entire weight of the movie rested on The Winter Soldier, and Stan killed it).
Best Original Score: La La Land
Who Should Have Won: Jóhann Jóhannsson, Arrival (beautiful, powerful stuff).
Best Original Song, Motion Picture: "City of Stars," La La Land
Who Should Have Won: "How Far I'll Go," Moana (never saw "La La Land").
Best Supporting Actress: Viola Davis, Fences
Who Should Have Won: Viola Davis, Fences (never saw the film, but... Viola Davis).
Best Actor, Musical or Comedy: Ryan Gosling, La La Land
Who Should Have Won: Ryan Reynolds, Deadpool (not even a contest).
Best Screenplay: Damien Chazelle, La La Land
Who Should Have Won: Jon Spaihts, Scott Derrickson, C. Robert Cargill, Doctor Strange (markedly fresh super-hero fare).
Best Animated Film: Zootopia
Who Should Have Won: Kubo and the Two Strings (Zootopia was fun, but Kubo was on another level entirely).
Best Foreign-Language Film: Elle
Who Should Have Won: The Handmaiden (absolutely stunning cinema).
Best Director: Damian Chazelle, La La Land
Who Should Have Won: Joe Russo, Anthony Russo, Captain America: Civil War (wrangling this many heroes in a coherent film is amazing).
Best Actress, Musical or Comedy: Emma Stone, La La Land
Who Should Have Won: Grace Helbig, Electra Woman & Dyna Girl (no joke... the funniest female performance I saw all year).
Best Motion Picture, Musical or Comedy: La La Land
Who Should Have Won: Deadpool (so obvious).
Best Actor, Drama: Casey Affleck, Manchester by the Sea
Who Should Have Won: I dunno.
Best Actress, Drama: Isabelle Huppert, Elle
Who Should Have Won: I dunno.
Best Picture, Drama: Moonlight
Who Should Have Won: I dunno. Moonlight looks good, but Arrival was the best drama I saw in 2016.
TELEVISION
Best Actor, Television Drama: Billie Bob Thornton, Goliath
Who Should Have Won: Matthew Rhys, The Americans (a great show and he's great in it).
Best Actress, Television Series Comedy or Musical: Tracee Ellis Ross, Black-ish
Who Should Have Won: Kristen Bell, The Good Place (what can I say, I love her and I love this show).
Best Television Series Comedy or Musical: Atlanta
Who Should Have Won: No Tomorrow (love Atlanta, but No Tomorrow is my favorite show of 2016)
Best Performance by an Actress In A Mini-series or Motion Picture Made for Television: Sarah Paulson, The People v. O.J. Simpson: American Crime Story
Who Should Have Won: Charlotte Rampling, London Spy (this was a great show, and Rampling had a lot to do with why).
Best Television Limited Series or Motion Picture Made for Television: The People v. O.J. Simpson: American Crime Story
Who Should Have Won: The Night Manager (such a great spy thriller).
Best Performance by an Actor in a Supporting Role in a Series, Mini-Series or Motion Picture Made for Television: Hugh Laurie, The Night Manager
Who Should Have Won: Hugh Laurie, The Night Manager (seriously, such a good show).
Best Performance by an Actress in a Supporting Role in a Series, Mini-Series or Motion Picture Made for Television: Olivia Colman, The Night Manager
Who Should Have Won: Olivia Colman, The Night Manager (ditto).
Best Performance by an Actor in a Mini-Series or Motion Picture Made for Television: Tom Hiddleston, The Night Manager
Who Should Have Won: Tom Hiddleston, The Night Manager (ditto again).
Best Actress, Television Drama: Claire Foy, The Crown
Who Should Have Won: Keri Russell, The Americans (toughie... loved Foy, but think Russell had the edge).
Best Television Drama: The Crown
Who Should Have Won: Westworld (as much as I liked The Crown, Westworld was my favorite).
Best Actor, Television Series Comedy or Musical: Donald Glover, Atlanta
Who Should Have Won: Donald Glover, Atlanta (absolutely deserved).
Posted on January 2nd, 2017

Since returning from hiatus, there have been a number of half-finished entries floating around that I've been meaning to finish up and post. This is one of them.
My love of comic books and movies have collided in amazing ways last year... Captain America: Civil War, Deadpool, and Doctor Strange were incredible. Unfortunately there were also boat-loads of crap courtesy of DC Comics, who just can't seem to get their shit together... X-Men: Apocalypse and Batman vs. Superman were complete garbage.
There were three other super-hero films I saw in 2016, how did they fare, I wonder?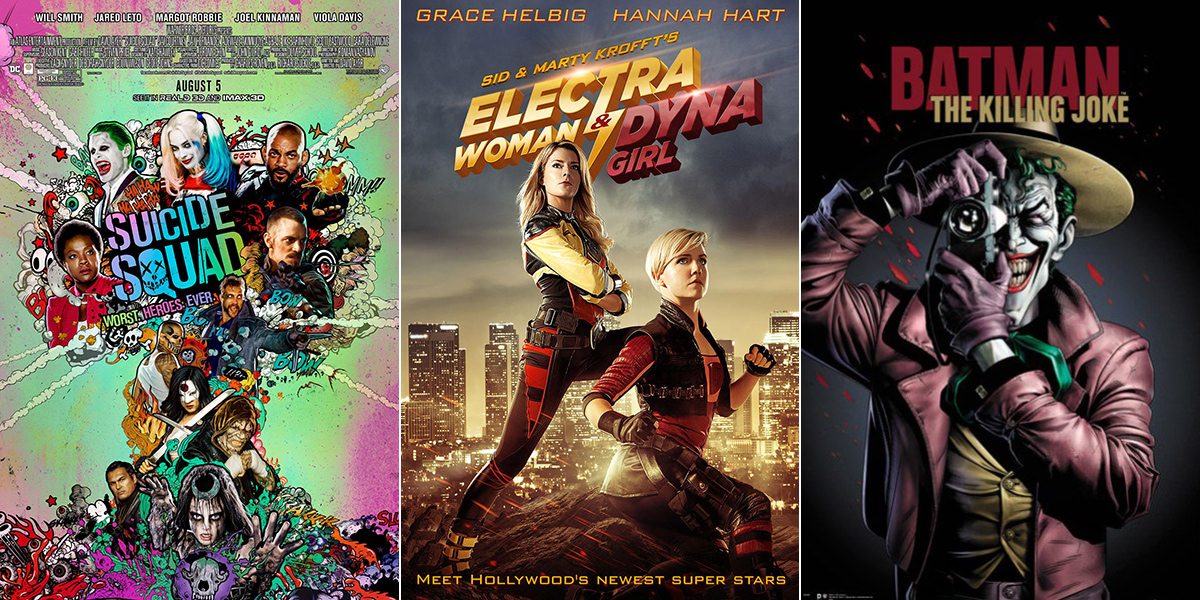 • Suicide Squad. DC Comics' concept of super-villains being forced to become a covert team of super-heroes has been going on in the comic book world since the late 80's. While passably entertaining on occasion, I never saw much potential as a movie franchise, yet here we are. The result is an epic mess that is a notch above the shitty Man of Steel and Batman vs. Superman films... but not by much. The moronic, scattershot plot populated with a bloated cast of forgettable characters and filled with ridiculous dialogue and forced humor (that wasn't funny) ended up being just... bad. Unless you can be entertained by random special effects blowing shit up between periods of utter tedium, there's no entertainment to be found here.
And now... I'm just going to get this out of the way... Jared Leto's "Joker" was total shit. The look was apparently copied from the comic arc Batman: Endgame, which wouldn't have been too terrible, except they added metal teeth, a bunch of tattoos that were utterly stupid (why the fuck would The Joker ink "damaged" on his forehead?), and then made him a frickin' drugged-out buffoon. A massive downgrade from Heath Ledger's brilliant take in the The Dark Knight. The rest of the cast? They fare somewhat better. Viola Davis was her incredible self and dominated her every scene as Amanda Waller. Will Smith's Deadshot was pretty much Will Smith being Will Smith, but at least he's entertaining. Margot Robbie was designed to be a stand-out as Harley Quinn and, when it works, it's the best thing about the movie (though I still think the character will never be better than she was in Bruce Timm's Batman: The Animated Series). Every other character was just window dressing with nothing of substance to do and mostly boring.
I'd get into the story, but that would be pointless. It's pretty much Suicide Squad vs. magical zombies and there's pathetic little character development or consequences for anything. RATING: D

• Electra Woman and Dyna Girl. It would be insanity to put a cheesy Sid & Marty Krofft Batman parody remake up against anything Marvel is doing when it comes to the super-hero film genre. This is not that kind of film. But I found Electra Woman and Dyna Girl infinitely more fun and entertaining than anything DC has put out lately. Based on the Krofft Saturday Morning live-action kid's show of the same name (starring Days of Our Lives' Deidra Hall!), the movie features online media stars Grace Helbig and Hannah Hart as two normal humans named Lori and Judy who dress up and play super-heroes in a world filled with heroes that have real super-powers. Eventually they get "noticed" by a super-hero publicity agent who turns them into the super-powered heroes they dreamed of becoming. Using gadgets dreamed up by genius Frank Heflin, Electra Woman and Dyna Girl hit the big-time and become crime-fighting media sensations. This leads to a rift in their friendship that comes just as the rise of the first super-powered villain to appear in ages. Hilarity (and some surprisingly entertaining antics) ensue. What's surprising about the movie is how it manages to be faithful to the original show, yet be completely fresh, new, and different. And pretty damn funny. For what it was designed to be, Electra Woman and Dyna Girl is a success. RATING: B-

• Batman: The Killing Joke (animated). Considered one of the best Batman stories to come out of the comics, The Killing Joke has been both praised and mired in controversy since its release in 1988. Praised because it featured Alan Moore and Brian Bolland's thoughtful look at the origin and longtime relationship between Batman and The Joker... controversial because of its misogynistic overtones in the crippling of Barbara (Batgirl) Gordon as a throw-away plot element. Ultimately I liked the book, but understood that it had some serious story issues that would be too much for some comic book fans. So when I heard that DC was turning it into an R-rated animated film, I was curious. Would they stay close to the original story... or would they try and fix some of the things that caused no small amount of backlash?
Turns out it's Option #3... LET'S MAKE THE STORY WORSE IN EVERY POSSIBLY WAY! I hated this film. There's a myriad of problems that ruin any chance of Batman fans embracing the movie... even if they liked the story on which it was based. Primary of which is that they have Batman and Batgirl in a sexual relationship, which is fucking absurd. Once that bullshit is out of the way, the film tries to get back on track... but the damage has already been done. RATING: F

Time to update my "Y2K Super-Hero Comic Book Renaissance" scorecard with another brilliant Marvel effort...
The Avengers... A+
The Avengers: Age of Ultron... A
Batman Begins... A
Batman Dark Knight... A+
Batman Dark Knight Rises... A
Batman vs. Superman: Dawn of Justice... D
Big Hero Six... A+
Blade... B
Blade 2... B
Blade Trinity... B-
Captain America... A+
Captain America: The Winter Soldier... A+
Captain America: Civil War... A++
Catwoman... F
Daredevil... B-
Daredevil (Director's Cut)... B+
Doctor Strange... A
Electra Woman and Dyna Girl... B-
Elektra... D
Fantastic Four... C
Fantastic Four: Rise of the Silver Surfer... D
Guardians of the Galaxy... A+
Ghost Rider... C
Ghost Rider: Spirit of Vengeance... D
Green Hornet... D
Green Lantern... C+
Hellboy... A
Hellboy 2: Golden Army... A
Hulk... C-
Incredible Hulk... B
The Incredibles... A+
Iron Man... A+
Iron Man 2... A-
Iron Man 3... A+
Jonah Hex... F
Kick-Ass... B+
Kick-Ass 2... B-
Man of Steel... F-
Punisher... C+
Punisher War Zone... C
Scott Pilgrim vs. The World... C
Spider-Man... B+
Spider-Man 2... A
Spider-Man 3... D-
Suicide Squad... D
Amazing Spider-Man... B
Amazing Spider-Man 2... B-
Superman Returns... C+
Thor... B+
Thor: The Dark World... A
Watchmen... B
The Wolverine... B
X-Men... C
X-Men 2: United... D
X-Men 3: Last Stand... F-
X-Men Origins: Wolverine... D
X-Men: First Class... B
X-Men: Days of Future Past... B-
X-Men: Apocalypse... D+

Posted on December 29th, 2016

And now is that special entry where I wrap up MY FAVORITE TV SHOWS OF 2016!
Which was kinda difficult to narrow down because alternate programming from studios like Netflix and HBO are changing the game.

THE TWELVE BEST...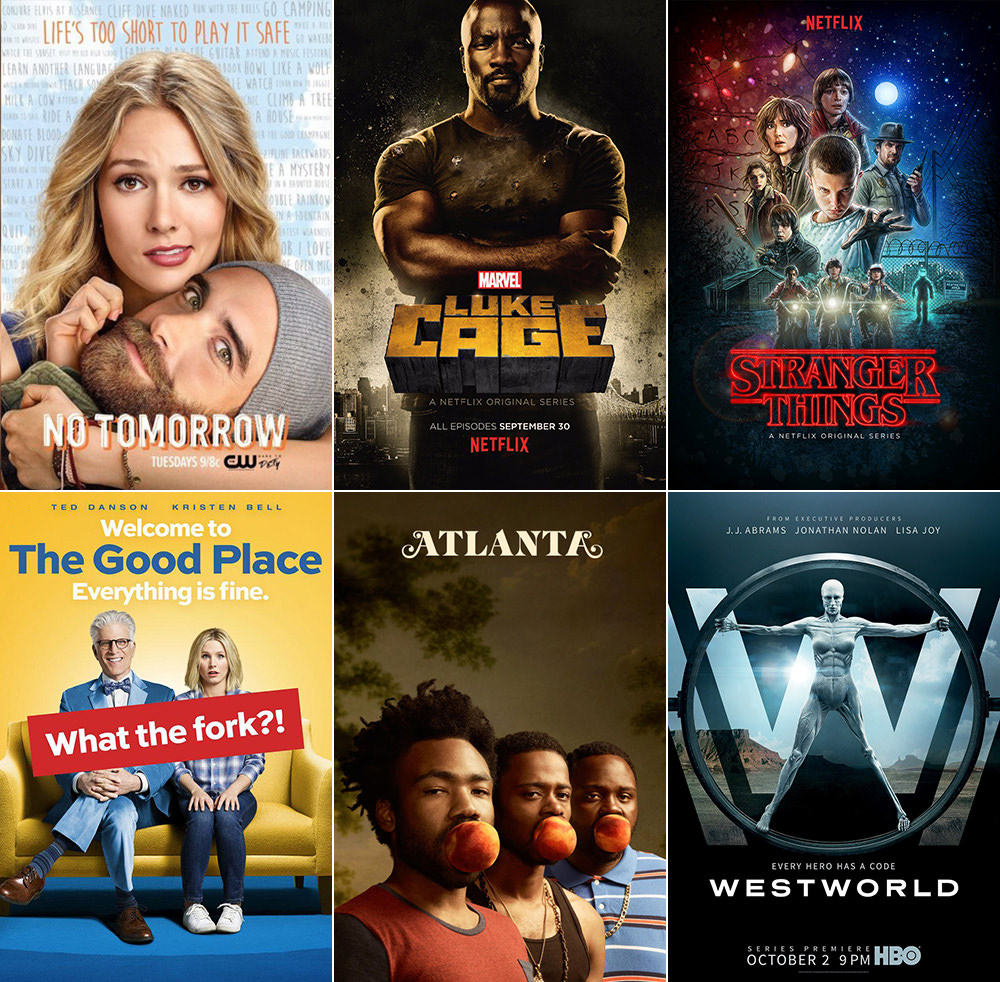 #1 No Tomorrow (The CW)
Girl falls for boy. Boy believes the world ends in eight months. They learn to live like there's no tomorrow while falling in love. Easily my favorite show currently on television, it's not just the central romance that's worth watching. The secondary characters are all fully-realized and equally interesting.
#2 Luke Cage (Netflix)
Sweet Christmas! After the genius of Netflix's take on Marvel's Daredevil and Jessica Jones, I was expecting that Luke Cage would be good. But not this good! It's just so wonderfully fresh and different... largely in part to the strong presence of its Harlem location and a jazz-appropriate soundtrack. And don't get me started on the flawless casting... Mike Colter IS Luke Cage! Adding Alfre Woodard to the mix is just gravy.
#3 Stranger Things (Netflix)
I ignored this show when it first appeared... until everybody and their dog started telling me I should watch it. The fact that it's so 80's nostalgia perfect would be reason enough for me to love it, but the story is actually pretty darn entertaining... kind of a cross between ET and The Goonies with spooky overtones. How the Duffer Brothers managed to get a team of young actors this good is almost a bigger mystery than the show. Then they added Winona Rider, which is all you really need to know.
#4 The Good Place (NBC)
I fully admit that I did not warm to this show quickly. But I stuck with it because Kristen Bell is a national treasure and everything she does is entertaining. Then the show found its footing and I fell in love with it. The humor of Kristen Bell's character ending up in "heaven" when she really should have gone to "hell" is fluid... almost ethereal in spots... but then it turns a corner and it's punching you in the face. And that's what makes the show so special. No show made me laugh in 2016 more than this one.
#5 Atlanta (FX)
Is there nothing that Donald Glover can't do? I didn't really understand what the show was about, but tuned in just to see what Glover was up to (he was half of my favorite thing in Community). So glad I did. Atlanta is seriously good television that has some of the most amazing, depth-filled characters you'll find. It's got humor to it, but it's a stabbing kind of funny that doesn't detract from the story. If you haven't given the show a try, just watch that first episode and try not to get hooked.
#6 Westworld (HBO)
When I found out that Anthony Hopkins and Ed Harris were attached to HBO's Westworld remake, I was intrigued. Actors of this caliber do not tend to gravitate towards shit. Then I saw that other terrific talents such as Evan Rachel Wood, Thandie Newton, and Tessa Thompson were onboard as well. What was going on here? I had to know. Turns out that HBO got a fantastic, mind-bending, thought-provoking story that is worth watching. Beautifully shot and having true depth to it, Westworld opens the discussion about whether man can be destroyed by his own creation... and whether that's actually a bad thing. But then adds enough twists to insure you'll never quite know the answer.
#7 Black Mirror (Netflix)
Kind of a Twilight Zone for a modern era, Black Mirror is a collection of thought-provoking stories of the near-future. If you take my advice to watch, I have a suggestion. Start with Episode 2 of Season 1 (skipping Episode 1), watch the remainder of Season 1, THEN watch that first episode before proceeding to Season 2. The reason is that the first episode is so freaky and "out there" that you will probably get the wrong idea of what the show is capable of. But once you've seen the other episodes, you'll be able to appreciate the first one for what it is in the grand scheme of things.
#8 The Night Manager (AMC)
A John le Carré adaptation that is firing on all cylinders. If you're into spy thrillers, this is a mini-series that's worth a look.
#9 The Crown (Netflix)
As a royalphile who's fascinated by the British Royal Family, I often find myself watching documentaries and series that are informative but boring. This is something different entirely. Following the reign of Queen Elizabeth II, The Crown is a beautiful mini series that will be broken down into six series of ten episodes each. If successive seasons are as terrific as this one, I'm set for the next five years.
#10 Lucifer (FOX)
I'd call this show a guilty pleasure," but I'm not feeling much guilt for being a fan. Especially with this latest season where "Mom" comes to town, which has been some of the best fun you can have with a television show.
#11 The Americans (FX)
This is a show that flows in and out of my "Best Of..." list, but is consistently great television and is always worth watching. The opening of Season 4 this year blew the roof off the show (again) and upped the intensity to a whole new level. Given its complexity, I don't know that I would advise jumping in the middle... you really need to start at the beginning... but it's such a great show that you'll be glad you did.
#12 London Spy (BBC America)
And now for something completely different! When Danny has a random encounter with Alex, it's love at first sight. But then things start to go terribly wrong when Alex turns up dead and it's revealed that he wasn't who he claimed to be. This plunges Danny into a rabbit hole of espionage as he tries to find out the truth about what's happened. The resulting story is a slow-burn thriller that is entertaining despite its flaws (of which there are many). In the end I don't know that the show was particularly great, but it was memorable in a way most shows in this genre are not. This is most likely due to the haunting talents of Ben Whishaw.

FIVE MORE WORTH WATCHING...
Preacher (AMC)
As a fan on the comic book of the same name, I didn't have much confidence that Seth Rogan would do it justice as a television show. He was the one who screwed up The Green Hornet, after all. So imagine my surprise when the adaptation turned out to be pretty darn good! Dominic Cooper has a handle on Jesse Custer, which was essential... but Joseph Gilgun and Ruth Negga as Cassidy and Tulip O'Hare is what pushes the show to the next level. Disturbingly funny with just enough horror to keep things interesting, Preacher should appeal to even non-fans of the book.
Wrecked (TBS)
Spoofing the epic shit-show that Lost turned out to be seems like it would be an easy chore. In reality... not so much. But then comes along Wrecked, a comedy centered around a group of plane crash survivors stranded on a mysterious island... and it kinda works. By no means a "smart" comedy, it relies on easy laughs and situations that are far from brilliant, but the characters manage to make it worth watching. Especially Todd (Will Greenberg) whose selfish and eccentric nature are gold.
Game of Thrones (HBO)
This past year is kind of wearing me out on the whole show, but it's still incredibly compelling television. Apparently it wraps up in two more seasons, which will be a welcome alternative to things being drawn out to tedium, but it's anybody's guess as to whether we're going to get a satisfying conclusion. Will it all be worth it in the end? The series of books are still far, far from being finished, so we're heading into unknown territory.
Elementary
This modern take on Sherlock Holmes is still going strong. Johnny Lee Miller and Lucy Liu still have amazing chemistry. The mysteries are still well-written. And, if anything, this latest season has been one of the best yet... stripping away distraction to focus on what makes the series so good. Could have easily made my top-twelve if there wasn't so much excellent fresh programming being released.
Dirk Gently's Holistic Detective Agency (BBC America)
To be honest, I'm not sure if I liked this series or not. It's quite different from the Douglas Adams books, and not always in a good way. Still, it's bizarre, fresh, and overall interesting enough that I'm glad I watched it. And it was rather smart how it all came together at the end, which is always a good thing. If "regular" television is boring you, this might be the ticket.

ANIMATION WORTH YOUR TIME...
Archer
The show that never disappoints. The fact that we only get three more seasons before Adam Reed packs it in is terrifying.
Bojack Horseman
Hands down the most bizarre mix of comedy and tragedy you will ever see, the third season of BoJack was its most ambitious yet.

CANCELLED BUT NOT FORGOTTEN...
Limitless (CBS)
My favorite show from last year started the second half of its first season strong. Indeed, Stop Me Before I Hug Again (airing in January) is one of the best episodes of the entire series. But then things went terribly, inexplicably wrong. A trip to Russia started a spy arc that disappointed. We got more of Brian's stupid, stupid family. And then the writers lost their minds completely when they had NZT (or a knockoff of it) go public in the last two shows. How in the hell they planned on recovering from that serious misstep we will never know, because CBS performed a mercy killing and cancelled it. From how things ended up, I'm not sure this was a bad move... but I will still miss the show. When it was good, it was the best thing on television.

MY MOST OVERRATED...
The OA (Netflix)
Holy shit what a disaster. After a non-stop barrage of people telling me to watch, I finally relented. And hated most everything about it. From the plodding, never-ending boredom that stretches out over eight long, grueling episodes (seriously, they could have done this in three) to the wacky interpretive-dance insanity that injects itself into the tedium, I slogged through every episode while wishing death would take me. Any time I complained about the show, people were telling me "you just don't understand its genius" which is code for "don't question this incomprehensible bullshit." Yeah, I get what they were attempting to do... and kudos for trying to put an original spin on a show that was far better (Stranger Things), but no thanks.
Fleabag (Amazon)
A critical darling that is firmly cemented in the top five of most every critic in the known universe, I just could not get into this show. I don't like any of the characters and didn't find the humor to be all that entertaining.
This is Us (NBC)
There is nobody I know who isn't head over heels in love with this show. I just don't get the appeal.
South Park (Comedy Central)
A show that's been on my "Best Of..." list since I've been making "Best Of..." lists completely shit the bed this year. Rather than concentrate the funny on individual episodes, this year we got an inexplicably crappy multi-part epic centering around internet trolling, Denmark, and the presidential election. Of course there were funny moments (this is South Park, after all), but this entire season has been a horrific disaster that never seemed to crawl out of the wreckage.

UTTER SHIT...
MacGyver (CBS)
What a total and complete pile of shit. The original show was a romp of ingenuity that was held together by the charms of Richard Dean Anderson. The revamp is a dumbed-down wankfest headed by a character so unlikeable that I can't fathom how I am expected to root for him. On the contrary, I spent the entire show hoping MacGyver would die so the supporting cast could be the focus.
Marvel's Agents of SHIELD (ABC)
After bitching endlessly about how unremarkable and dull this show is when it has potential to be slaying week after week, I was given renewed hope when it was announced that Ghost Rider would be making an appearance this season. Didn't help. Still mired in talking-heads-we-have-no-budget-for-what-counts tedium that has me racing to fast-forward through the bulk of each episode. Just give it up already. I'd rather have Coulson back in the movies where he was far better utilized.
Posted on December 28th, 2016

And it's time once again for my annual wrap-up of movies that came out this year.
Or, more accurately, a "wrap-up of movies I saw that came out this year." As always, there's a bunch of movies I never saw that would have probably ended up on my list (we'll get to that later). And here we go...

THE TWELVE BEST...
These are my favorite movies from this year that I actually saw.
#1 Captain America: Civil War
Shocker. My love of comic books was rewarded in two fantastic Marvel films, and it was really tough to decide what should come out on top. I ultimately went with Cap because the movie was just so damn good at giving comic book fans everything they dream about in a film. Hero angst? Check. Cap and Iron Man draw the line over a super-hero registration act that leads them inexorably to conflict. Fresh characters? Check. Not only do we get the debut of one of the most awesome characters in the Marvel Universe, Black Panther, we also get a brand new Spider-Man that's more faithful to the concept than anything that's come before. Super-battles? Check. In what has to be the single best super-hero fight ever committed to film, Team Cap vs. Team Iron Man was flawlessly realized. Having a massive surprise come from Ant-Man in the middle of it all was just icing on the best-tasting cake ever. Granted, the plot was a bit flimsy and filled with coincidence and inexplicable story beats... but I just didn't care. I watched Civil War three times in the theater and another half-dozen on video. I cannot fathom how The Russo Brothers could possibly top this in Avengers: Infinity War, but I'm dying to find out. You can read my review of this epic blockbuster right here.
#2 Doctor Strange
After Black Panther, my favorite Marvel comic book hero is probably Doctor Strange. This year I got to see them both on the big screen, and I was not disappointed. This film is an origin story, yes, but it's not like it could have been anything else. Unlike Batman or Spider-Man whose origin has been told to death, Strange is a bit unknown to the general movie-going public. Fortunately, what we get is anything but Yet Another Formulaic Pile of Origin Garbage. Stephen Strange is compelling in all the right ways before he becomes Master of the Mystic Arts. And he's even more compelling before he becomes Sorcerer Supreme. On top of that, we get some mind-boggling special effects that makes Doctor Strange fresh, exciting, and new compared to all the Marvel films that came before it. Yes, I too am a bit flustered by the whitewashing of The Ancient One as a Celtic white woman (deftly played by Tilda Swinton), but I get why. Yes, I am disappointed that the location was shifted from Tibet, but I get why. Avoiding stereotypes and having to be mindful of global box office means that there will be compromises when putting a ton of money into a film of this magnitude. That Marvel did so without completely destroying it is admirable in the face of realities they had to confront. Much of what they got right has to do with the flawless casting of Benedict Cumberbatch as Strange... whom Marvel wisely postponed filming to get. He had absolutely everything the character needed to succeed in a movie, and Cumberbatch held nothing back. Doctor Strange will be appearing in future Marvel films (including Infinity War) but I want a new solo flick that's unfettered from an origin story. Badly. Here's my review of Doctor Strange.
#3 Deadpool
Given how utterly shitty 20th Century Fox treated the character of Deadpool in the utterly shitty X-Men Origins: Wolverine, I fully admit that I was skeptical when it was announced a new solo movie was on the way. But when Ryan Reynolds (who was "Deadpool in Origins as well) promised that we'd be seeing something faithful to the outrageous character we knew from the comics, I became hopeful. It was a hope that paid off in spades. This is the fast-talking "merc with a mouth" that every Deadpool fan who suffered though Origins deserved. Mercenary Wade Wilson is diagnosed with inoperable, terminal cancer after finally finding the love of his life... and agrees to experiments meant to unleash super-powered abilities that will cure him. Unfortunately, things go terribly wrong, and the rest of the movie is Wilson trying to get a cure for the cure while also exacting revenge on the guy responsible. Absolute hilarity and fantastic action sequences ensue. Even in its quiet moments, Deadpool delivers... featuring perfect secondary characters played by TJ Miller and Leslie Uggams(!!!). Rated R for a reason... many reasons... but totally worth your time.
#4 Rogue One: A Star Wars Story
It's a Star Wars film. It has mind-boggling special effects. It has a return of characters you love and a new character that's destined to be a classic (new favorite droid K-2SO!). It features a plot that doesn't suck. The story is rough... even boring in parts... but serviceable. And, yes, I agree it's the best Star Wars movie since The Empire Strikes Back. So if you're a Star Wars fan, it's a foregone conclusion this movie is going to be on your "Best of 2016" list. That's why it's on mine.
#5 Kubo and the Two Strings
My love of animation embraces all its forms... hand-drawn... computer generated... cut-out... whatever. But the form that consistently blows me away is stop-motion animation, and Kubo is probably the most mind-bogglingly beautiful expression of it yet. Every frame is gorgeously orchestrated for scenes that are a dream to watch. It's just a bonus that there's a really great story behind it all. I will do you the favor of not disclosing anything about the plot. It's enough to know that this film is sheer magic and a must-see. Preferably on the big-screen (and, believe it or not, in 3D)... but if you missed it, home video will have to suffice.
#6 Star Trek Beyond
Rebooting the Star Trek franchise has been met with mixed feelings, and true fans either seem to love it or hate it. I absolutely love it. From the casting, which is a note-perfect nod to the original cast, to the beautiful special-effects, the films soar even when there is a misstep (of which Star Trek Into Darkness probably qualifies). Star Trek Beyond is yet another entertaining entry in the series, this time with an over-abundance of action filling the screen. But there's some real character moments scattered in there too, which is what makes the film work so well. Sadly, Anton Yelchin passed away after filming, which means this is the last time we'll see his perfect take on Pavel Chekov.
#7 Arrival
Color me shocked. Smart, cerebral, original sci-fi getting green-lit for a feature film? Whatever is Hollywood coming to? Oddly enough, I had read the original short fiction on which this film is based, Story of Your Life, and was not expecting that it would translate well to film given the time-bending aspects of the story. I was pleasantly surprised that they managed to get it right. Or... as close to "right" as they probably could. When aliens land on earth, world governments race to communicate with them so that they can unlock their secrets before other governments get a technological edge. The movie focuses on the American team (of course) lead by genius linguist Louise Banks (played by Amy Adams) and fellow scientist Ian Donnelly (played by Jeremy Renner). As Banks gets closer and closer to deciphering the language of the alien visitors, she finds that her perception of time is being altered. An ambitious adventure in cinema follows that's a true treat for sci-fi fans.
#8 Finding Dory
Revisiting the Finding Nemo universe was a risky gambit. But Pixar completely nailed it. I hesitate to say that it's a better film than the original... but Dory is a jaw-dropping, beautiful, overall joyful effort that will not disappoint Nemo fans. Having Sigourney Weaver drop in (as herself!) on the flawless voice cast was just perfection on perfection. If you love Pixar animation, here's your film.
#9 The Red Turtle (La Tortue Rouge)
Gorgeous animation from Studio Ghibli that's a warm blanket in visual form. The story is a gripping tale of survival that unfolds like a classic fairytale... but ends up being so much more. I truly hope that this overlooked gem makes a return to theaters after the festival circuit so people can see it as it was meant to be seen.
#10 The Nice Guys
Where in the hell did this come from? I completely missed it in the theater, but caught it on a boring cross-country flight. Boy was I glad to have discovered it, because The Nice Guys everything you love in a Shane Black film. And then some. Russell Crowe hasn't been this compelling since Gladiator. Ryan Gosling hasn't been this compelling ever. If you want to see a smart, funny, sophisticated 70's buddy flick that won't bore you (except when it does)... here you go.
#11 Moana
Walt Disney Pictures has been on a roll lately, and Moana is probably my favorite film of theirs since Lilo and Stitch (though Big Hero Six deserves a mention here). The film tells the story of a young woman, Moana, who sets sail on a mission to save her people. Along the way she meets the demigod Maui (Dwayne Johnson) and a fantastical adventure follows. The action is bold, beautiful, and larger than life... all animated to stunning effect with lush, sweeping visuals... but it's so much more than just a pretty flick. It's got great music, plenty of magic, and characters with actual depth. If you love computer animation, you owe it to yourself to see Moana on the big screen.
#12 The Jungle Book.
If you had told me that a live-action remake of Disney classic The Jungle Book would hit my "best of..." list for 2016, I would have laughed in your face. But here we are. Filled with incredible CG visuals that bring the story to life like never before... and featuring one of the best "young actors" ever to appear in a movie, The Jungle Book is incomprehensibly great. And the voice cast! Bill Murray as Baloo? Ben Kingsley as Bagheera? Idris Elba as Shere Khan? It never ends. I cannot fathom how Jon Favreau managed to pull off such a feat, but I was completely engrossed in the film and truly didn't want it to end. If you skipped it because you were skeptical, now you know.

HONORABLE MENTIONS...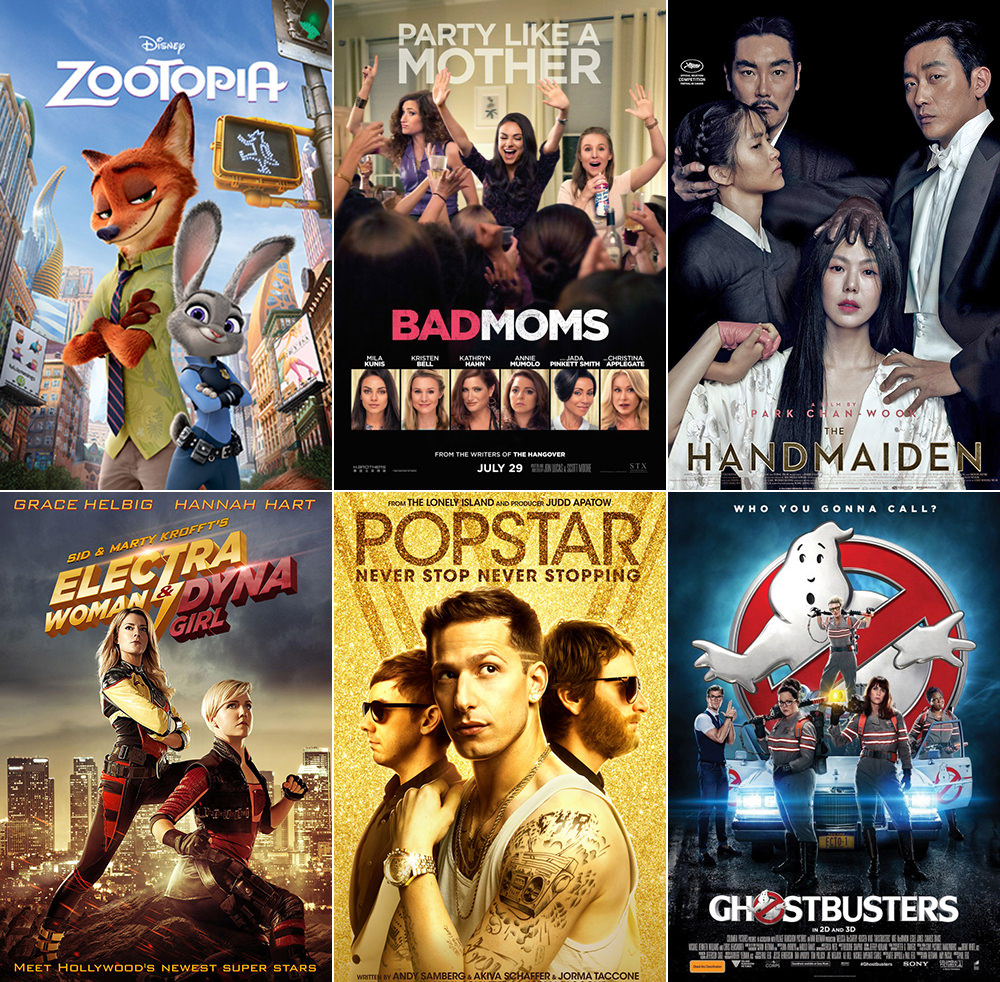 Zootopia
This is the film that ranked very high on a lot of critic's lists... and it's easy to see why. The characters are beautifully crafted and the world they inhabit feels fully realized. Everything is wonderfully animated and the voice cast is flawless. As if that wasn't enough greatness, it has a real story filled with humor and heart that's brilliantly told. I loved the film... a lot... but it just didn't have that sweeping, all-encompassing wonder that I got while watching Finding Dory and Moana. I struggled as to whether Zootopia or Jungle Book belongs in the final spot of my list, but settled on the latter because it was such a big surprise.
Bad Moms
I was a bit let down by the ending, but everything up to that is funny enough that I didn't care. Surprisingly original with perfect casting.
The Handmaiden
This is why people go to the movies... a beautiful story that looks stunning and has a dynamite cast. Yes, there were problems along the way and the ending could have used some work, but this sexy, violent gem gets so much right that it's easy to overlook its flaws.
Electra Woman and Dyna Girl
YES, I LIKED IT! A remake of the Sid and Marty Krofft live-action Batman spoof featuring YouTube stars Grace Helbig and Hannah Hart. It's a funny distraction that respects the source material, but is fresh and new at the same time.
Popstar: Never Stop Stopping
A complete take-down of the Justin Bieber stereotype that somehow manages to be funny and entertaining. There were some parts that didn't work which kept it from being a new This is Spinal Tap, but is overall a terrific effort.
Ghostbusters
Was it as good as the original? Oh hell no. It's not even as good as Ghostbusters 2. But it had some funny moments and excellent special effects to make that made it watchable.

DIDN'T SEE, MIGHT HAVE MADE MY LIST...

Jackie
Natalie Portman as Jackie Kennedy? Sign me up.
Sausage Party
Naughty and animated. A great combination I never got around to seeing.
Moonlight
This is the movie that has been most-recommended to me this year. Can't wait to finally see it.
The Edge of Seventeen
Completely off my radar, but I've heard amazing things.
Passengers
A film starring Chris Pratt and Jennifer Lawrence? Can't help but be worth watching.
Everybody Wants Some
Richard Linklater's follow-up to Boyhood. Who wouldn't want to see that?

NOT AS BAD AS THEY SAY...
Gods of Egypt
Yes, they whitewashed the cast. Yes, the special effects were all over the place. Yes, the story was a mess. But at least they tried to do something different. And for that alone, I was entertained. There were some big ideas here that were actually kind of cool and fun to watch... things just didn't come together in a way to make this compelling cinema.

THE WORST...
Batman vs. Superman: Dawn of Justice
I don't even know where to start. This shitty, blasphemous, idiotic take on two of the most beloved super-heroes in the world was a continuation of Zack Snyder's horrendous Man of Steel. But since it fucked up Batman, it was probably an even worse movie. And while SvB's greatest sin is that it is just no fun (I was bored to tears despite the action beats, which were confusing and senseless)... we did get Wonder Woman on the big screen at last. Gal Godot was perfectly cast and they gave her a look that was amazing. Sadly, she wasn't enough to save this awful, awful mess.
Suicide Squad
This unbelievably tedious movie featured a forgettable assortment of villains forced to be heroes that fight an endless horde of magical zombies. In-between all that is some of the most boring, shitty dialogue you'll find. And, as if that weren't bad enough, Jared Leto's "Joker" was a fucking embarrassment.
Independence Day: Resurgence
Clearly a case of "We're making a sequel to a popular movie, but we haven't a fucking clue what to do, so... SPECIAL EFFECTS IT!" This would probably be the stupidest, blandest, dullest, most unbelievable shitty film of any year... lucky for Roland Emmerich, Batman vs. Superman and Suicide Squad stepped in to take the punches. I'd discuss the story, but not one bit of it was worth remembering, so I can't.
Posted on December 12th, 2016

Don't go shovel that driveway just yet, because an all new Bullet Sunday starts... now...

• Does Whatever a Spider Can! I've always been more a Batman guy than a Spider-Man guy, but Marvel is looking to change that with their first Spidey film, Spider-Man: Homecoming...
I mean... seriously. Marvel seems incapable of fucking up a movie. They respect the source material and give fans exactly what they're dying to see. This is the complete opposite of what DC does, which is rewrite everything that makes the characters great and give fans what Zack Snyder wants to see... which is always a pile of shit. Couldn't be happier to be getting what looks like an amazing Spider-Man movie. The fact that Tony Stark is in there being Tony Stark just makes it too good to be true.

• The Artist Formerly Known As... If you're a Prince fan, GQ has a long, but highly entertaining look at his life from the perspective of people who knew him best. As if that wasn't enough... another genius, Nintendo's Shigeru Miyamoto, was interviewed over at Glixel. You're welcome!

• No Toys for Tots. After coming across this sorry story, I have concluded that it's probably the stupidest fucking thing I've read in a long time. A charity that collects toys for children won't accept toys raised by a tavern because they prayed on it and decided that toys coming from a bar is a bad thing? Who did this idiot pray to? I mean, she did read The Bible and know who Jesus hung out with, right? Yet another case of Faux Christians following in the footsteps of Jesus... just so long as those footsteps don't lead to conflict with their moral superiority and false virtue.

• Can I Be a Lesbian? This had me laughing out loud in the middle of the night at my hotel...
Fortunately, I must not have disturbed my neighbors because nobody beat the door down and strangled me.

• Kitty Homebody. Ever since I got back home in the early AM, the cats have been all over me. When I sat down tonight to work and watch Wedding Crashers, Jake came running in and attached himself to me then fell asleep...
After a bit he ran to get a snack and I thought I was free... but then Jenny came running in and took his place...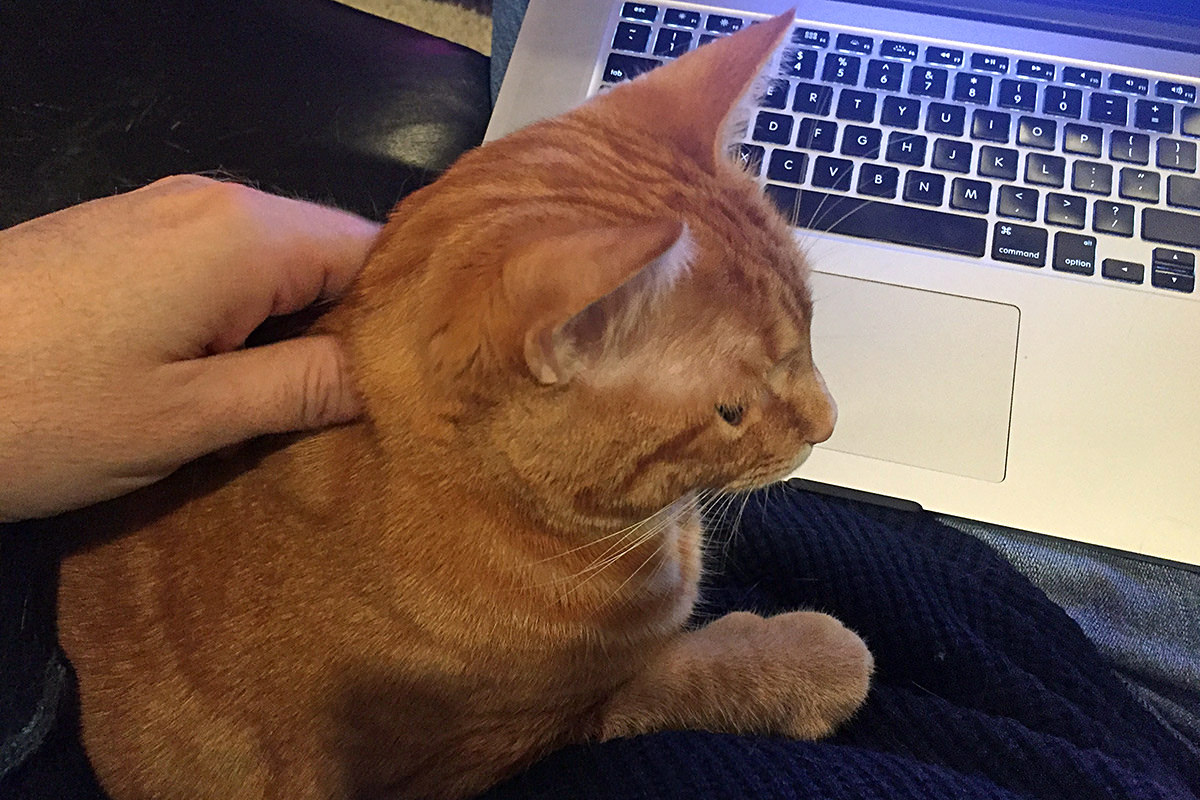 Then she ran to use the Litter-Robot and I figured that was the end of it... except Jake came running back to take her place...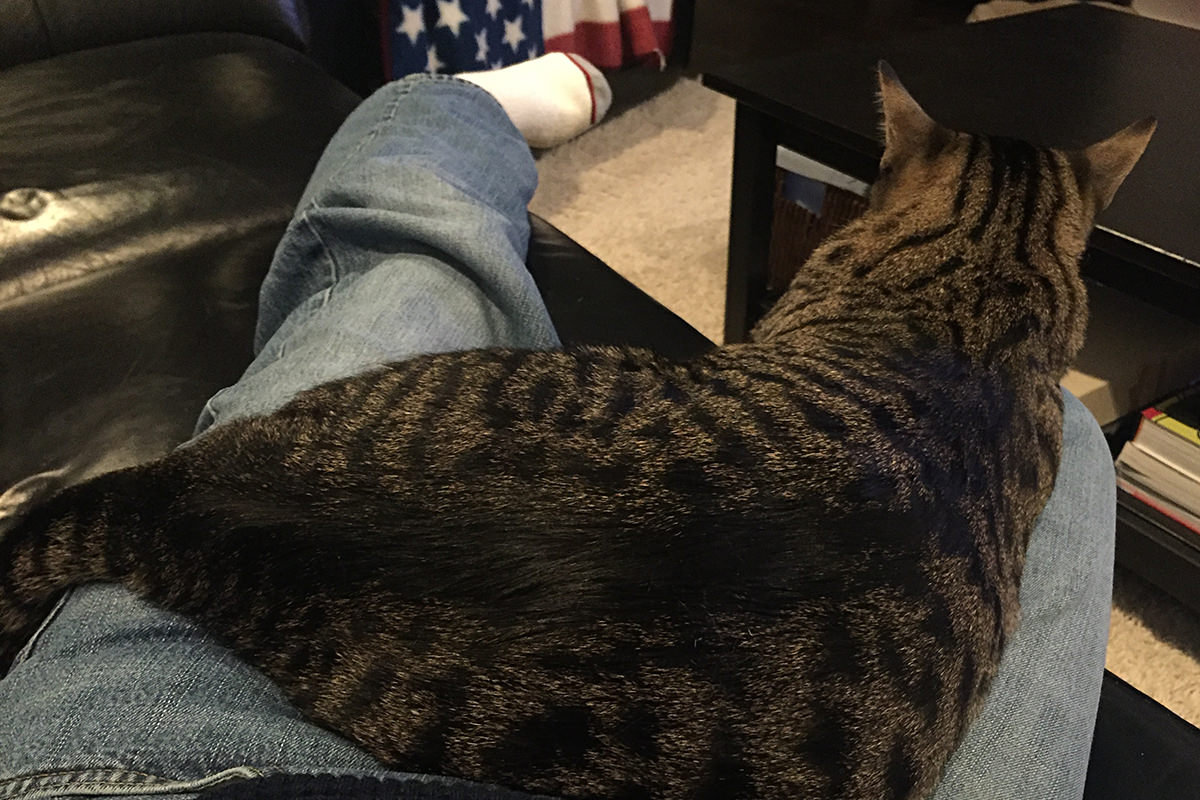 Eventually they must have decided I wasn't going anywhere tonight, and went back to life as usual. Until next time. As if I didn't already feel bad enough about having to leave them...

• Paranoia and Smoke Alarms. Just before my trip to Maine, I started getting paranoid about a fire in my garage. That's where my electrical panel is. That's where my furnace is. That's where my whole-home humidifier is. Any of those things could burst into flames and I wouldn't know about it until it burned through the walls and into the house. To set my mind at ease, I ordered another Nest Protect (smart smoke detector) to put in the garage. Now I'm wondering why smoke detectors in garages isn't a thing. Shouldn't they be? Sure it's $100 down the drain, but that's pretty cheap if my electrical panel caught fire while I was in Maine and unaware. Now my house will send me a text if the garage is on fire. So... yay? I suppose now I need to find out how to call a fire into my local fire department so I can actually do something about an alarm when I'm across the country and 9-1-1 won't connect me to the right place.

• A New History for Humanity. I whole-heartedly approve of this calendar. A simple change that adds loads of perspective...
Too many people think that all of humanity didn't begin until Jesus came along. This fixes the problem without completely disrupting everything. Until scientists decide that

• Trump Diplomacy. This pretty much sums it up...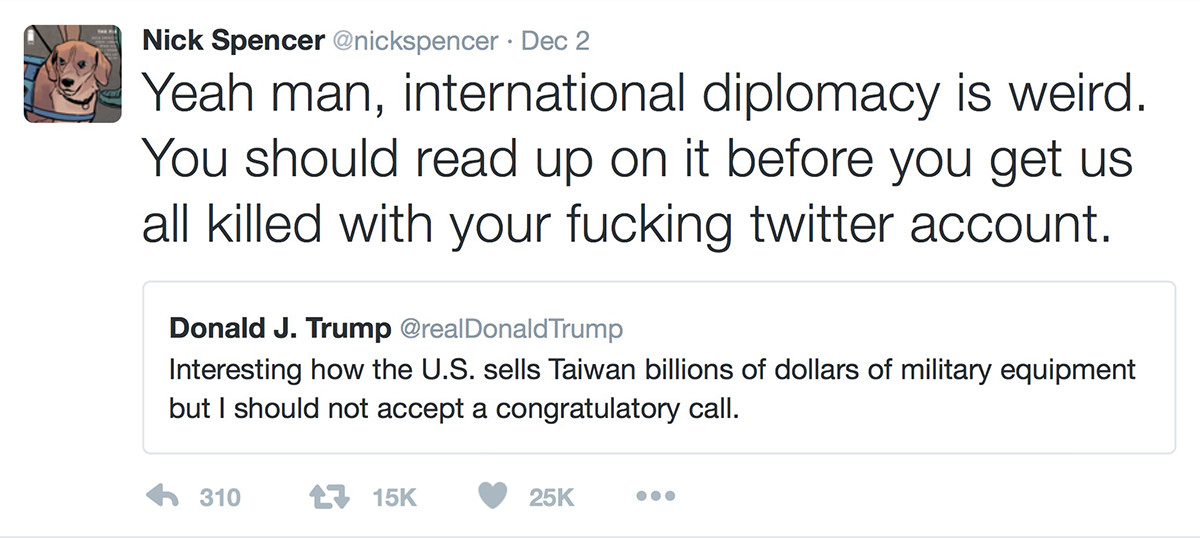 And anybody still calling me "alarmist" for posting end-of-days scenarios around President-Elect Trump's ignorance and stupidity can go read this and then go read this and fuck off now. You'll note that I linked to a FOX "News" story the second time since the people who love Trump and are not taking this shit seriously seem to think that FOX is the only "news" source that matters. Guess we don't have to give a shit about Trump cutting Social Security and Medicare since we're all probably going to be dead by the time he gets around to it. In the meanwhile... this is how Republicans are saving American jobs?

And... the bullets have flown. Until next week then.
Tags:
Bullet Sunday
,
Cats
,
Dumbfuckery
,
Funny
,
Home Automation
,
Marvel
,
Marvel Studios
,
Movies
,
Trump
Categories:
Bullet Sunday 2016
,
Cats 2016
,
Home Renovation
,
Movies 2016
—
Click To It:
Permalink
—
3 Comments: Click To Add Yours!
Posted on December 4th, 2016

Look on my works, ye Mighty, and despair!...
for behold! An all new Bullet Sunday starts... now...

• Groot! There can be no greater news on the internet right now than the new teaser trailer for Guardians of the Galaxy Vol. 2...
Guardians of the Galaxy Vol. 2 doesn't open until May and I already want to see Guardians of the Galaxy Vol. 3...

• Less. Having a mortgage wouldn't be so bad if nothing would ever break down and require expensive repairs. But it does. About every two months. And just when you think everything that has broken down has broken down and been fixed? Along comes something new. Which is why a letter for my lender was cause for excitement...
LETTER: "Congratulations! Your mortgage payment has gone down!"
ME: "No way!"
LETTER: "Way!"
ME: "NO! WAY!"
LETTER: "YES WAY!"
ME: "Dude, sweet!"
LETTER: "We're deducting $4.15 from your payment starting next month."
ME: "Fuck you, Letter."
...or not.

• Fixed? I love the HGTV series Fixer Upper. Chip and Joanna's design aesthetic and rapport makes for a great show... especially if you're into home renovation like I am. And while I am able to mentally divide my entertainment personality's personal life from their work... it's really tough to watch the show knowing that they attend a church which would happily push conversion therapy on their four kids should any of them be gay. How can you support that?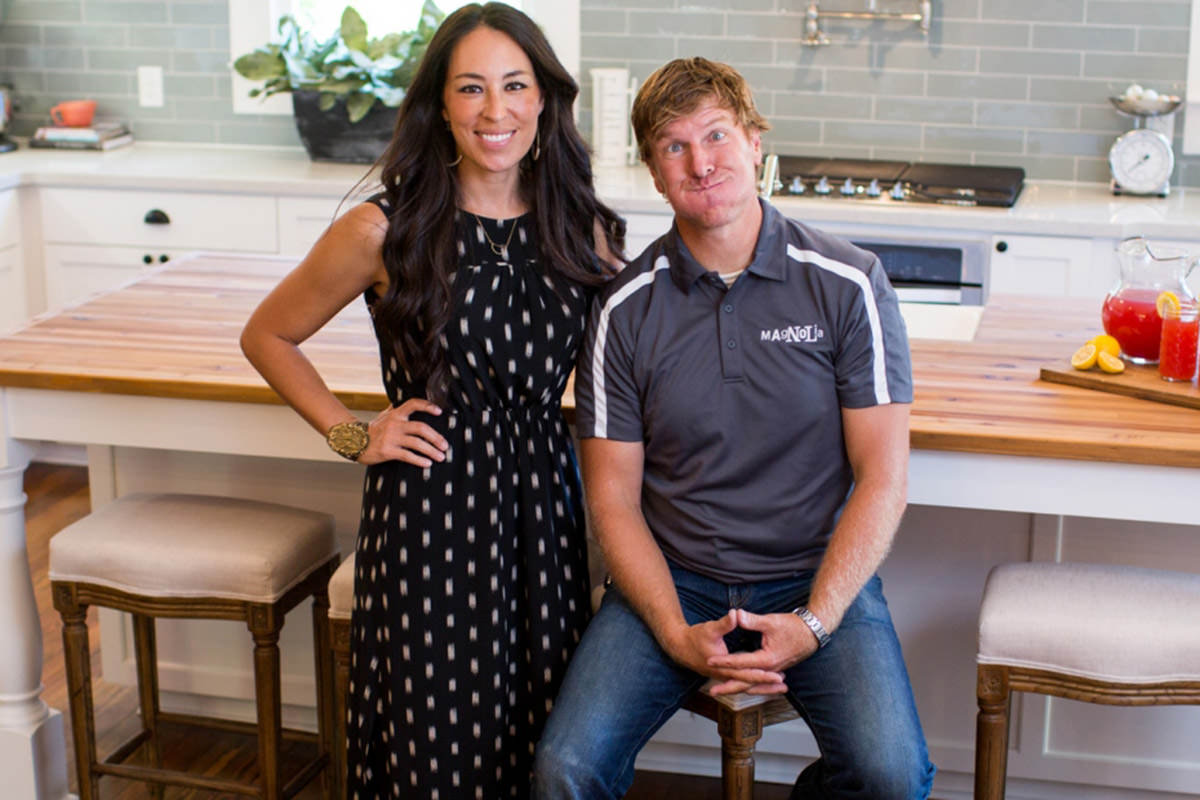 Even if the Gaines's don't advocate conversion therapy or aren't opposed to marriage equality... they (assumably) financially support a church that does. They are a part of the segment of society persecuting LGBT persons and, more specifically LGBT youth, just for being who they are. And it's this part of our society which is responsible for the toxicity behind the epidemic of suicides among our gay youth. They listen to the idiotic rhetoric of a church like this and think nobody... including God... will accept them as they are and see no way out. No amount of Texas charm or design sense can compensate for that.

• Our Dolphin. Here it is... the first book out of Thrice Fiction Magazine's Thrice Publishing. It is a wonderful, wonderful novella by Joel Allegretti that I'm incredibly proud to have had a small part in unleashing on the world...
Order a copy for your holiday reading list... or order a dozen for gifts that are sure to be appreciated! Click here to get Our Dolphin at Amazon.

• Crazy. I don't know what's more shocking. That Fake Jake pounded into the catio at a full-on sprint across the back yard... or that Real Jake just sat there at the point of impact and watched it happen without even blinking...
Jenny is still scared of Fake Jake's crazy antics... but Jake is all "meh" about it now.

• DST. Global humiliation, domestic devastation, and the threat of nuclear war would all be worth it if President Trump abolishes clock changes and makes Daylight Savings Time permanent this coming Spring. Just sayin'.

Well, I guess that's it for bullets. Probably. I dunno. Maybe in an hour I'll come back and add ten more.
Tags:
Books
,
Bullet Sunday
,
Guardians of the Galaxy
,
Marvel
,
Movies
,
Television
Categories:
Books
,
Bullet Sunday 2016
,
Cats 2016
,
Movies 2016
,
News – Politics 2016
,
Television 2016
—
Click To It:
Permalink
—
2 Comments: Click To Add Yours!
Posted on November 17th, 2016

One of the first things on my agenda while in San Francisco was to see Doctor Strange in IMAX 3D. Apparently it's filled with trippy visuals that make this the only acceptable way to see it. So I drop off my stuff and rush to one of the best IMAX theaters in the country... The Metreon... only to find out that their last ever IMAX showing of Doctor Strange was 40 minutes ago. From now on they're only showing the latest Harry Potter film (Fantastic Beasts?) in the IMAX theater.
What a bummer.
Then I remembered that there was a "Mini IMAX" up on Van Ness, and decided that was probably the next best thing. So off I went...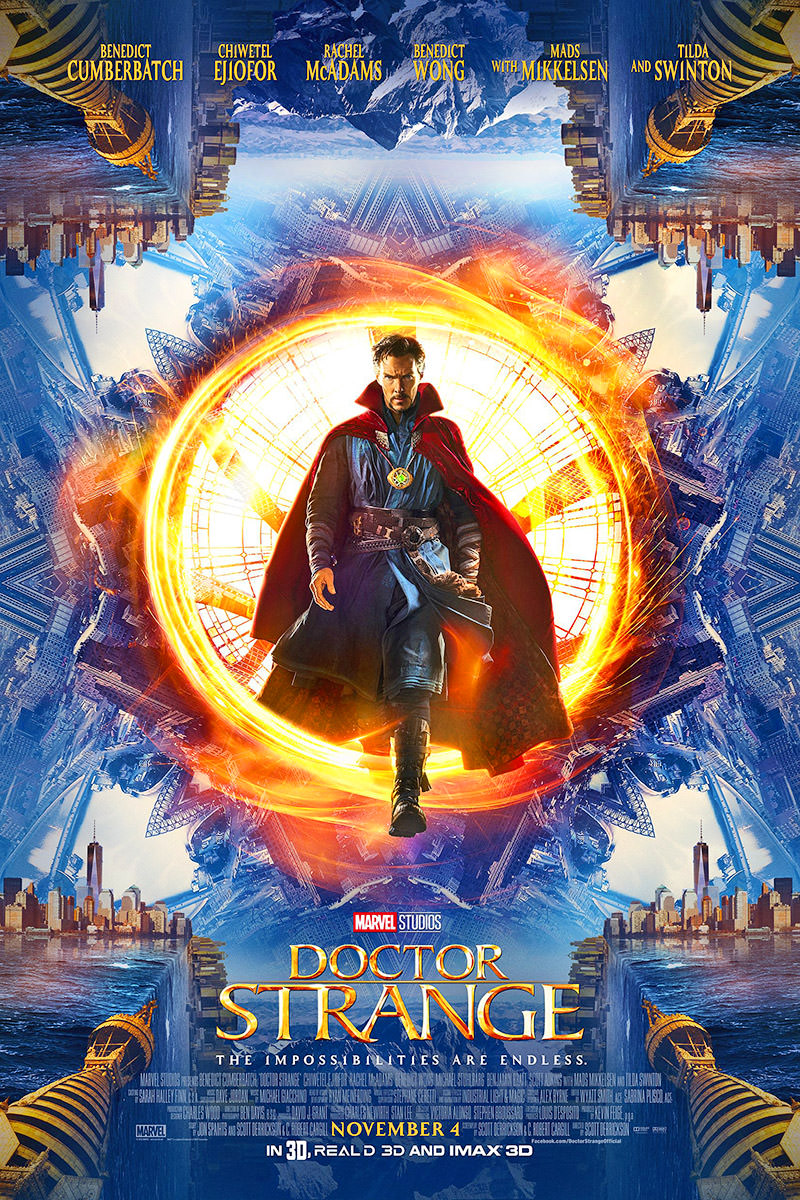 The movie was pretty darn close to perfect.
Painfully faithful to the comic book character in all the most important ways... with a few minor changes that didn't spoil it for me.
Arrogant surgeon Dr. Stephen Strange is at the top of his game... wealthy, powerful, brilliant at his job, and able to pick and choose where his talents will be used. But then one night he's texting while driving, gets into a devastating car crash, and his hands are ruined in the process.
Desperate to become a surgeon again, he wastes away his fortune looking for a cure for the severe nerve damage that makes his hands shake uncontrollably. Then, when all hope is lost and he's on his last dollar, he travels to Kathmandu in Nepal to chase down a mystical cure he stumbles upon.
There he meets The Ancient One who trains him to save lives not with a scalpel... but with the mystic arts. Thus magic has come to The Marvel Universe.
Awesomeness across the dimensions of the multi-verse ensues.
The biggest controversy in the film was changing The Ancient One from an older Chinese man to a younger Celtic woman (wonderfully played by Tilda Swinton). This was done partly to sidestep some stereotype landmines, at which it was mostly successful. The other elephant in the room was changing the location from Tibet to Nepal... a move which was made to appease the film board in China so it could be cleared for release in their country. This was a change that bothered me more than The Ancient One, because Tibetan mysticism is at the core of the character. But, oh well... when your budget investment for a film is this massive, I guess you can't afford to cut yourself out of a profitable market.
Marvel adjusted their filming and release date for Doctor Strange specifically to accommodate Benedict Cumberbatch's schedule. This was an incredibly smart move, because he is flawless as the character. He IS Dr. Strange. This seems to be something that Marvel excels at. Could anybody but Robert Downey Jr. play Tony Stark as Iron Man? Chris Evans as Captain America? Paul Rudd as Ant-Man? Scarlett Johansson as Black Widow? Chris Hemsworth as Thor? Hell, I even have a hard time seeing anybody but Jeremy Renner as Hawkeye! Cumberbatch inhabits the character with a near-unsettling ease, and it's incredible entertainment to watch.
If you have the opportunity, see the film in IMAX 3D. It's worth the effort, as the visual effects are mind-blowing to behold that way.
Right now I can't decide whether Doctor Strange or Captain America: Civil War is my favorite super-hero film of 2016. It's a very close race. I rate Civil War higher, but Strange could leapfrog after being so brilliant and fresh.

Time to update my "Y2K Super-Hero Comic Book Renaissance" scorecard with another brilliant Marvel effort...
The Avengers... A+
The Avengers: Age of Ultron... A
Batman Begins... A
Batman Dark Knight... A+
Batman Dark Knight Rises... A
Batman vs. Superman: Dawn of Justice... D
Big Hero Six... A+
Blade... B
Blade 2... B
Blade Trinity... B-
Captain America... A+
Captain America: The Winter Soldier... A+
Captain America: Civil War... A++
Catwoman... F
Daredevil... B-
Daredevil (Director's Cut)... B+
Doctor Strange... A
Elektra... D
Fantastic Four... C
Fantastic Four: Rise of the Silver Surfer... D
Guardians of the Galaxy... A+
Ghost Rider... C
Ghost Rider: Spirit of Vengeance... D
Green Hornet... D
Green Lantern... C+
Hellboy... A
Hellboy 2: Golden Army... A
Hulk... C-
Incredible Hulk... B
The Incredibles... A+
Iron Man... A+
Iron Man 2... A-
Iron Man 3... A+
Jonah Hex... F
Kick-Ass... B+
Kick-Ass 2... B-
Man of Steel... F-
Punisher... C+
Punisher War Zone... C
Scott Pilgrim vs. The World... C
Spider-Man... B+
Spider-Man 2... A
Spider-Man 3... D-
Amazing Spider-Man... B
Amazing Spider-Man 2... B-
Superman Returns... C+
Thor... B+
Thor: The Dark World... A
Watchmen... B
The Wolverine... B
X-Men... C
X-Men 2: United... D
X-Men 3: Last Stand... F-
X-Men Origins: Wolverine... D
X-Men: First Class... B
X-Men: Days of Future Past... B-
X-Men: Apocalypse... D+