Posted on May 2nd, 2018
And lo, Marvel Studios absolutely wasn't kidding when they taunted that Avengers: Infinity War is the culmination of the past ten years of the Marvel Cinematic Universe. This is not idle hype. Though Comic Book Reality being what it is, you have to wonder just how much of what happens in this truly epic film will have lasting effects on where we are going forward.
Something tells me not all of it is going to all be washed away. What ends up sticking is anybody's guess.
Except not really...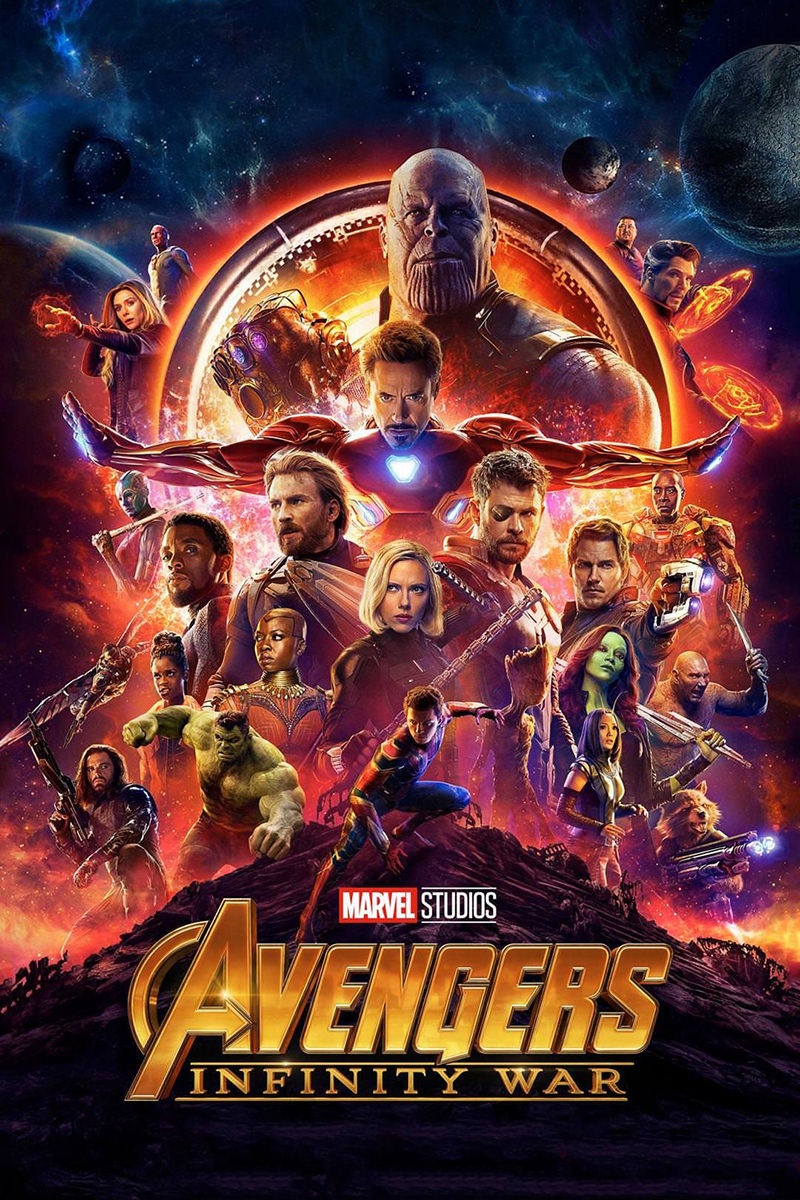 If you've ever read comics before... if you've ever been left hanging in the middle of a two-part comic book story before... then there's nothing much in Infinity War that could be all that shocking to you. Likewise, anticipating the thrust of the story in next year's still-untitled-conclusion-movie also doesn't take much effort.
And yet...
Infinity War actually did redefine the word "epic" when it comes to super-hero movies... or movies in general, really.
Obviously, my thoughts on the film are going into a spoiler-laden extended entry, which you absolutely do not want to read if you haven't seen Avengers: Infinity War yet.
You've been warned.
And also... another warning? Skip any trailers you haven't watched yet. One pretty major spoiler was dropped in one of the trailers I saw, and I'm still pretty raw about it.
And now? This is your last chance. Do not proceed unless having a movie ruined is something you enjoy.
Spoilers await in an extended entry...
→ Click here to continue reading this entry...
Posted on March 18th, 2018

Don't click that "Back Button" just yet, because an all-new Bullet Sunday starts... now...

• To Infinity! And so... here we are. A little over a month until the beginning of the end. Ten years of build-up all comes down to Avengers: Infinity War in April and its sequel next year...
So much to unpack here, which is not surprising considering the final movie has a runtime is 2 hours 36 minutes.

• A Brief History of Time. Stephen Hawking is gone! So remarkable that he managed to live so long with a disease which he was told would kill him decades ago. And look what his brilliant mind accomplished while trapped in a body which betrayed him! That he was a character on The Simpsons is just icing on the cake. An amazing, amazing man...
And funny...
Rest in peace, sir.

• LOLZ! Probably the funniest thing I've ever seen on Twitter...
And yet... this is utterly insane as well. How in the hell do you confuse Kumail Nanjiani, Kunal Nayyar, and Kal Penn? They look nothing alike! I guess some people just see skin color and don't look any further.

• Fourth World! Looks like DC is finally moving past Zack Snyder's laughably bad take on super-heroes. After Patty Jenkins hit gold with Wonder Woman, they're striking a deal with another celebrated woman to helm New Gods for the big screen. Congrats to Ava DuVernay! My first choice would be Taika Waititi since his love letter to Jack Kirby in Thor: Ragnarok was so perfect... but this is a great choice too...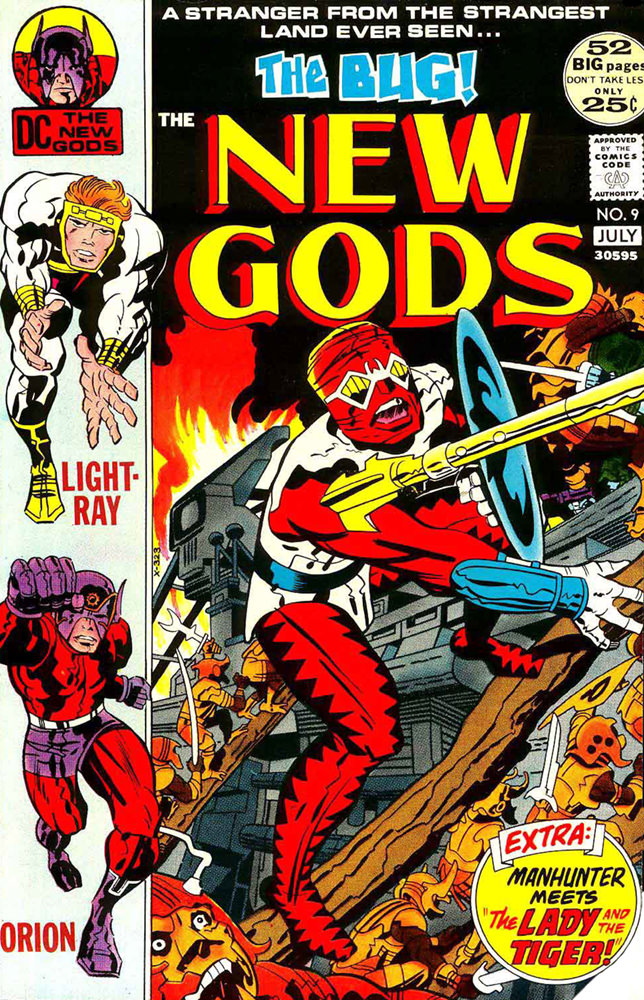 It will be interesting to see if DuVernay goes full-on Kirby or heads in another direction entirely.

• Incredible! ZOMG ZOMG ZOMG ZOMG... It's REAL!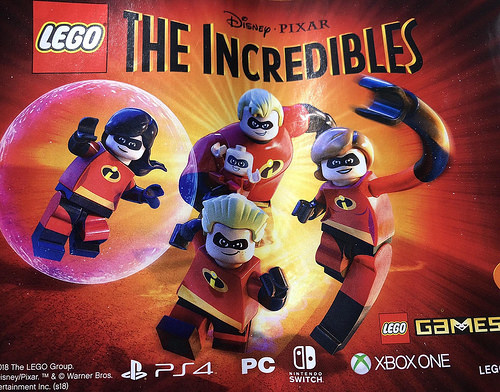 Needless to say, I want want want want this game!

• Chain Gang! Since subscribing to Amazon Music Unlimited, I've been going a bit crazy over music. Now that I have "tens of millions" of songs available anytime, anywhere, I'm asking Alexa to play esoteric stuff all day long that it would never have occurred to me to play before I subscribed. Something pops in my head? Play it Hear a song mentioned somewhere? Play it. Song pops up on a commercial? Play it. For the past two days I've been obsessed with Sam Cooke. He was mentioned on an episode of The West Wing, and I've been listening to everything available ever since. So many songs of his I recognize but never really knew where they came from.
Such an amazing talent. Which makes the bizarre circumstances of his death even more tragic.

Until next Sunday then...
Posted on February 24th, 2018

For comic book geeks, this truly is the golden age of cinema. On the Marvel side of the aisle, they have been killing it over and over and over again. This time it's with one of my most favorite Marvel heroes, Black Panther.
Given my passion for comic books, this is going to be a long one, so strap yourself in.
From the time I first started reading comic books, I was mostly a "DC Comics guy." This was undoubtedly because of DC being the home of Batman, probably my favorite super-hero. Batman doesn't have any powers except being absurdly rich, and yet he can hold his own on any super-team against even the most powerful villains. He made me think that I could be a super-hero too one day... all I needed was millions of dollars and a butler.
When I branched out into Marvel comics, it was a very different world. Sure their stories happened in a real place like New York City and not a fictional one like Metropolis or Gotham City, but that was just geography. To a kid in central Washington State, New York might as well have been the moon (home of The Inhumans!). The fact that Marvel tried to give larger-than-life heroes mundane problems was kind of lost on me. Spider-Man has all these amazing powers where he could earn hundreds of thousands of dollars as a body guard, but he chooses to be a struggling photographer? What sense does that make? Superman may live a mundane life as Clark Kent, but at least he had the sense to pick a career where he could pay the rent.
It went on and on like that for me with Marvel, the X-Men being the most perplexing of all. They never got tired of being persecuted as mutants, even with all the powers they possessed. I mean, yeah, many of them had human parents that probably made them sympathetic to the plight of mere humans... but come on. That's a plot point that gets really old, really fast.
There were two exceptions with Marvel, however.
Doctor Strange whose magical world was far more fascinating to me than anything Dr. Fate was ever given to do over at DC Comics.
Black Panther who was nothing like any other super-hero I had ever seen.
Doctor Strange already had his own fantastic movie, and now it's Black Panther's turn.
At last.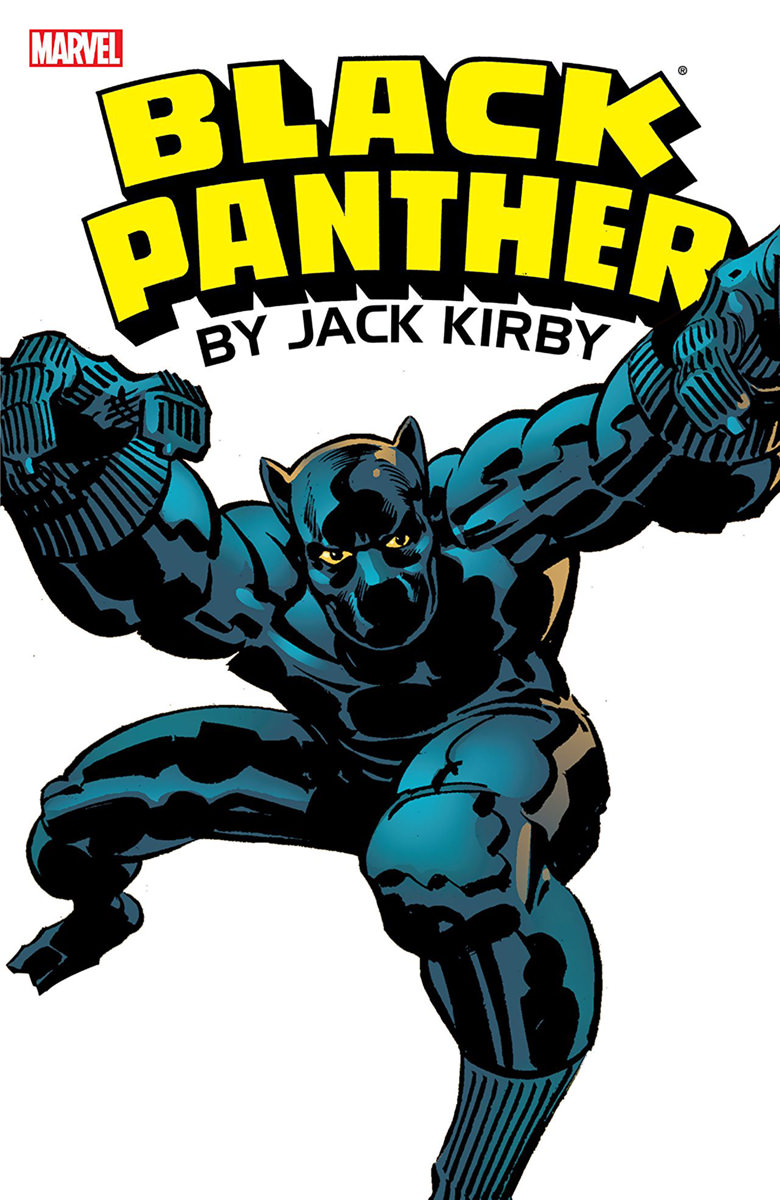 For those who have not yet seen the film, my spoiler-free review would have to be "It's faithful to the source material with plenty of nods to the comics... along with being wonderfully written, superbly cast, beautifully filmed, and fully realized... all while being painfully socially relevant." I seriously loved every frame of it, and Ryan Ryan Coogler, his team, and his cast deserves every bit of praise being sent their way.
For everybody else?

Alrighty then.
Prior to seeing Black Panther I pretty much knew what to expect. King T'Chaka was killed in Captain America: Civil War, his son T'Challa returned to Wakanda to become king... and somewhere along the way Killmonger shows up to ruin his day. And since we all know that Black Panther and many characters from his film will be showing up in Avengers: Infinity War, it's a forgone conclusion that T'Challa comes out on top. The hero wins. The villain dies. End of story. Right?
Surprisingly? It's not quite so cut-and-dry at that.
But I'm getting ahead of myself. You'll find my thoughts on Black Panther in an extended entry...
→ Click here to continue reading this entry...
Posted on February 16th, 2018

One of my all-time favorite Marvel super-heroes is coming to the Big Screen. I have never been so ready to see a movie.
It's time for The Black Panther...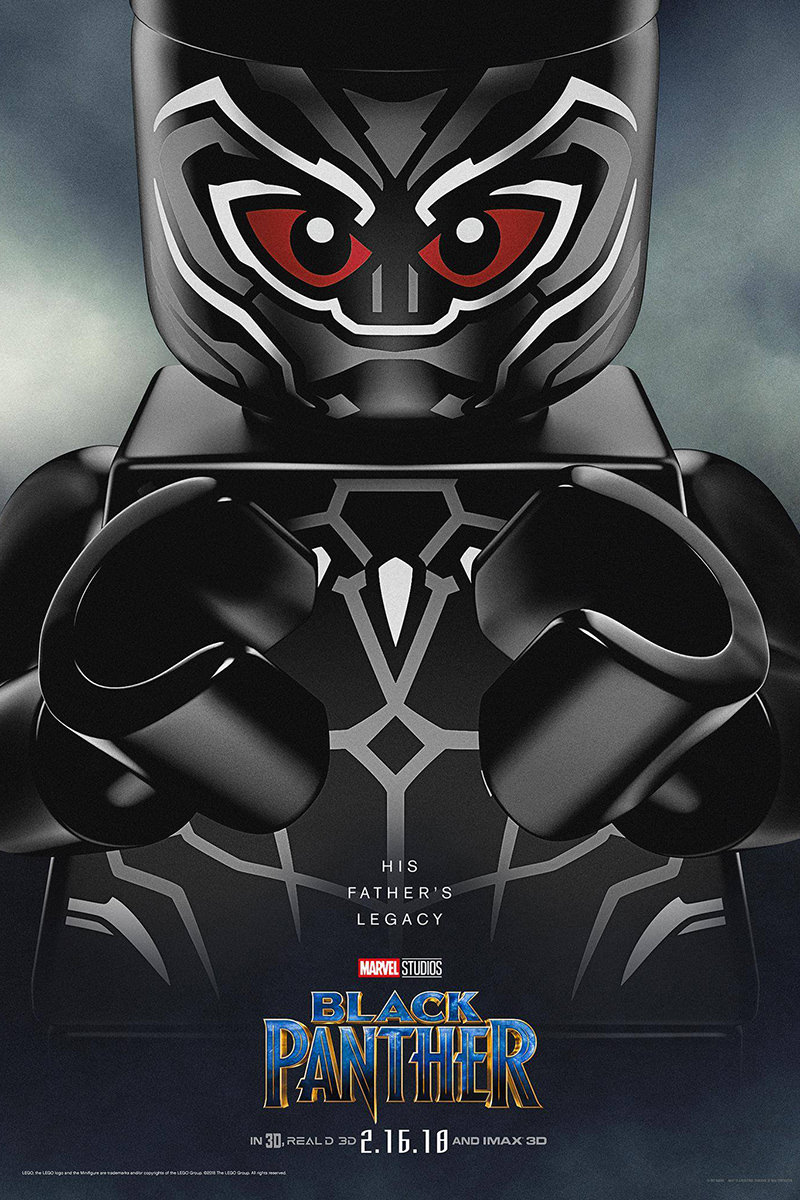 No idea when I'll have time to go see it, but hopefully sooner rather than later.
Posted on February 11th, 2018

Spring is just around the corner... so better prepare yourself, because Bullet Sunday starts... now...

• Priced to Move! And... Blade Runner 2049 just dropped to $15 on iTunes. Knew it wouldn't stay at $20 forever given how badly they need to make up for the poor box office showing. Such a shame. I loved this movie. Yes, it ran a bit too long in parts and was in desperate need of further editing, but it ultimately pays off I think. Beautiful film...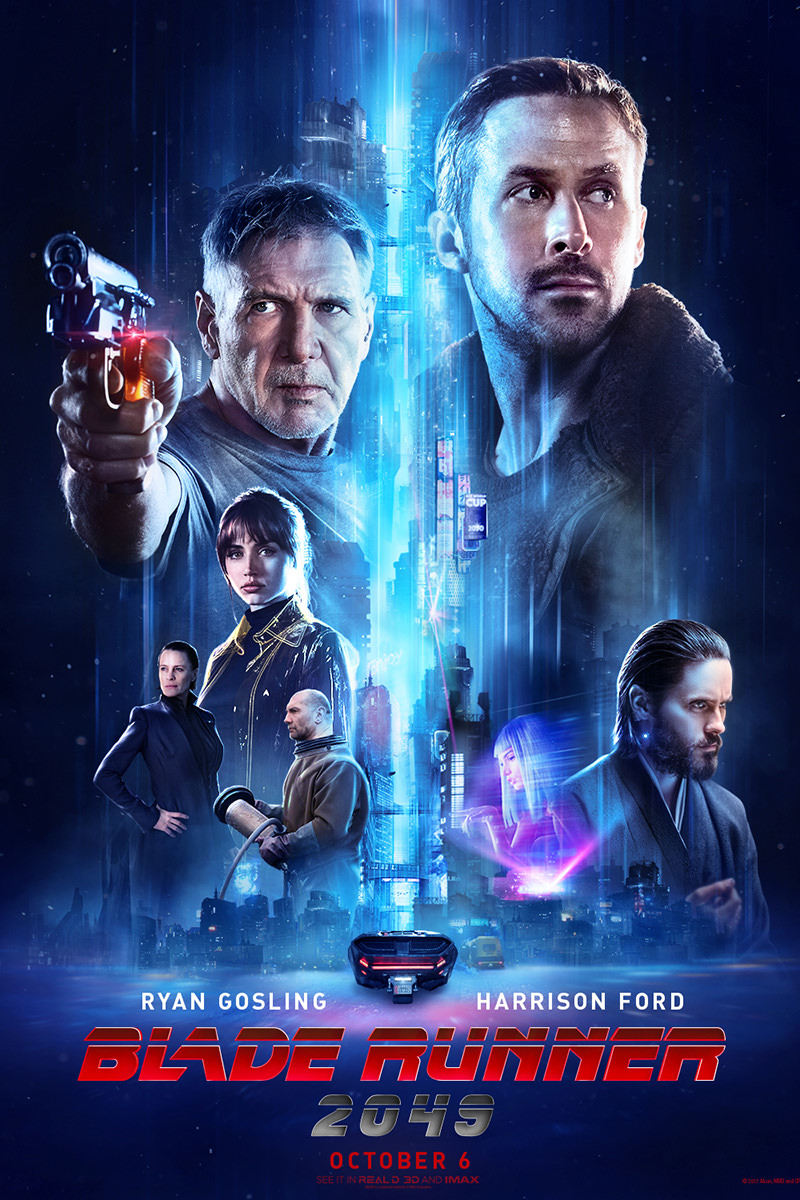 The sound mix on Blade Runner 2049 is one of the best I've ever heard. Completely immersive, and all channels are beautifully distinct or blended as required. My cats are more than a little confused by the effectiveness of the spatial sound.

• No! Got a call from the Democratic party this past week wanting donations. My response? "Democrats representing my state are running off lobbyist money and obviously don't need my help. Why don't you go ask Patty Murray's Big Pharma friends for money and leave me the hell out of it. Take me off your call list and never, EVER call me for money again." Hopefully that will scare them off, just like I've already scared off the Republicans. Since I am not party-affiliated and vote for /donate to both of them, I have double the bullshit to deal with. I will never allow a political party to send my money to corrupt assholes in the pocket of lobbyists... from now on, I donate to specific candidates I feel are worth it. Not that there's many of them left.

• Good! Despite the fast that The Good Doctor was created by David Shore, I held off watching it because I have a friend whose son is autistic, and I don't like the idea of the struggles that autistic persons go through being exploited for entertainment. Then this past week I finally decided to take a look and was just amazed...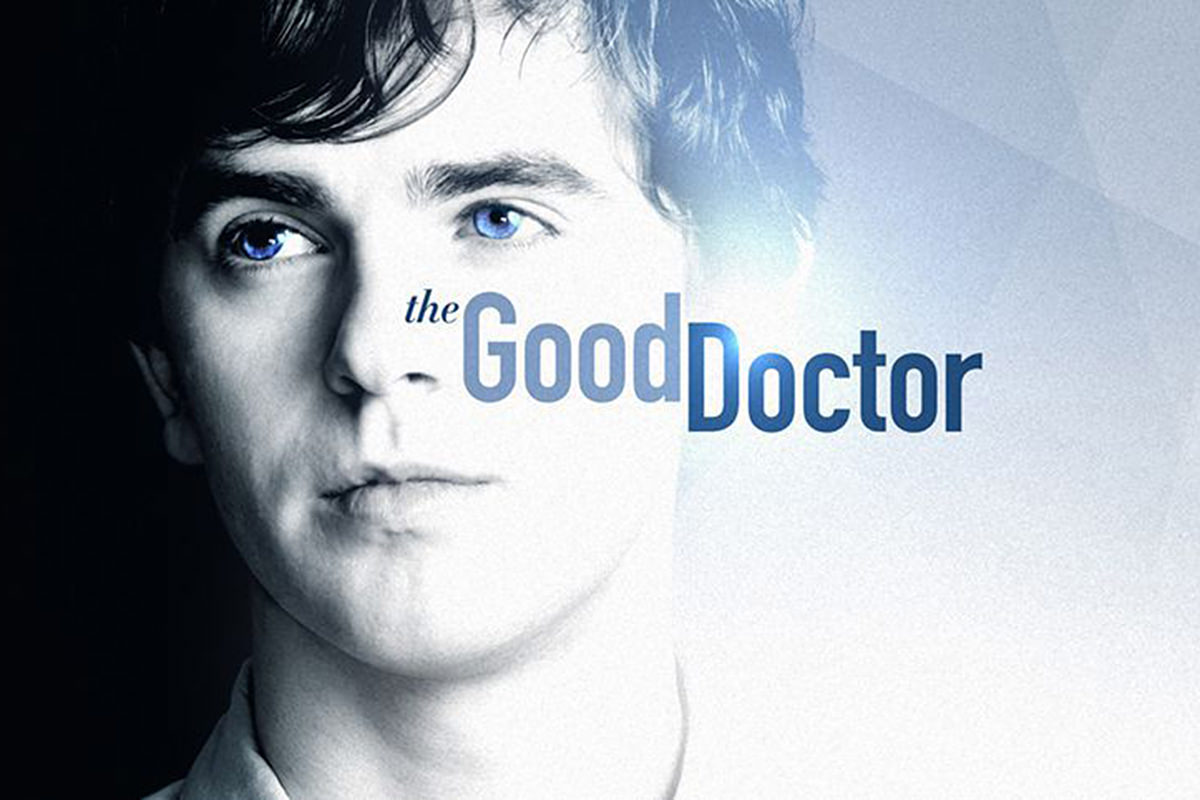 It's a very good show and didn't seem exploitative at all. I binged all 14 episodes I had. If you're not watching and like medical dramas, it's worth a look.

• Bio! And speaking of good television shows... iTunes has a free preview of A.P. Bio which stars Glenn Howerton (It's Always Sunny in Philadelphia and That 80's Show) as a teacher who is stuck in Ohio once his Harvard dream job passes him by. The result is actually funny... but also smart and even touching...
These things always look so stupid. When they turn out to be more than that, it's such a pleasant surprise. Patton Oswald is just the icing on the cake.

• Jones! And it seems as though Netflix will be keeping my monthly fee for.a while longer... new Jessica Jones is coming next month...
It's been revealed that Disney has no plans to take over the Netflix Marvel shows and move them to their new streaming service. Thankfully. Don't fix what's not broken. The Netflix shows are mostly awesome, unlike the ABC Television shows which suck ass.

• Unmolded! When I had my home renovated, I hired a fairly pricey contractor because I didn't want crap falling apart after a year. For the most part, I think it was a smart move... though there are some details of their work that pisses me off. Primary of which is the shitty molding installation.
My home has rounded "California Corners" which I hate hate hate. Mostly I just don't like how they look. But also because it made finding molding so difficult that I had to have it all custom made to get the clean and simple look I wanted. It was more money than I wanted to pay, but whatever.
Except... the installation was shitty. The corners were just slapped on there with no attempt made to blend the seams. I caught some of them before painting and sanded them a bit, but most of them had already been done and looked like this...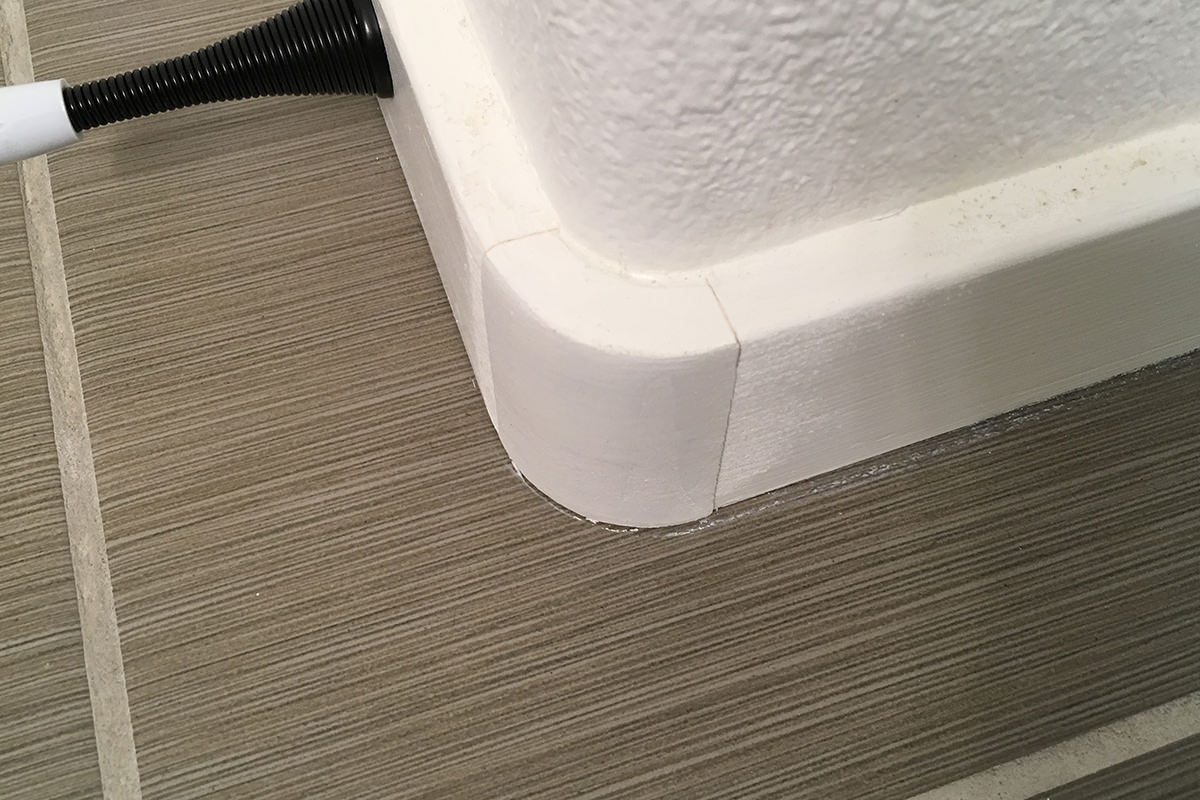 What chaps my ass is that it would have taken minutes to fix this before painting. But, since it wasn't fixed, that means I have to spend considerable more time sanding them out while making sure I'm not damaging the wall or floor...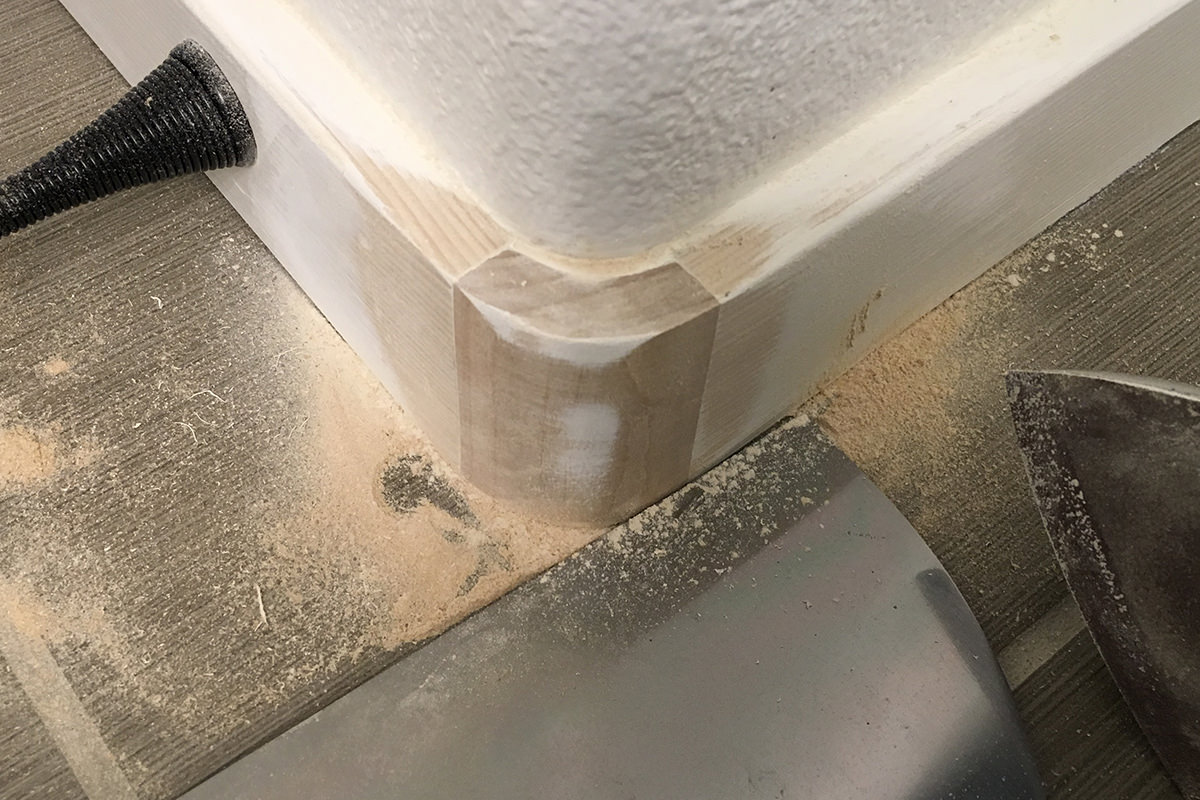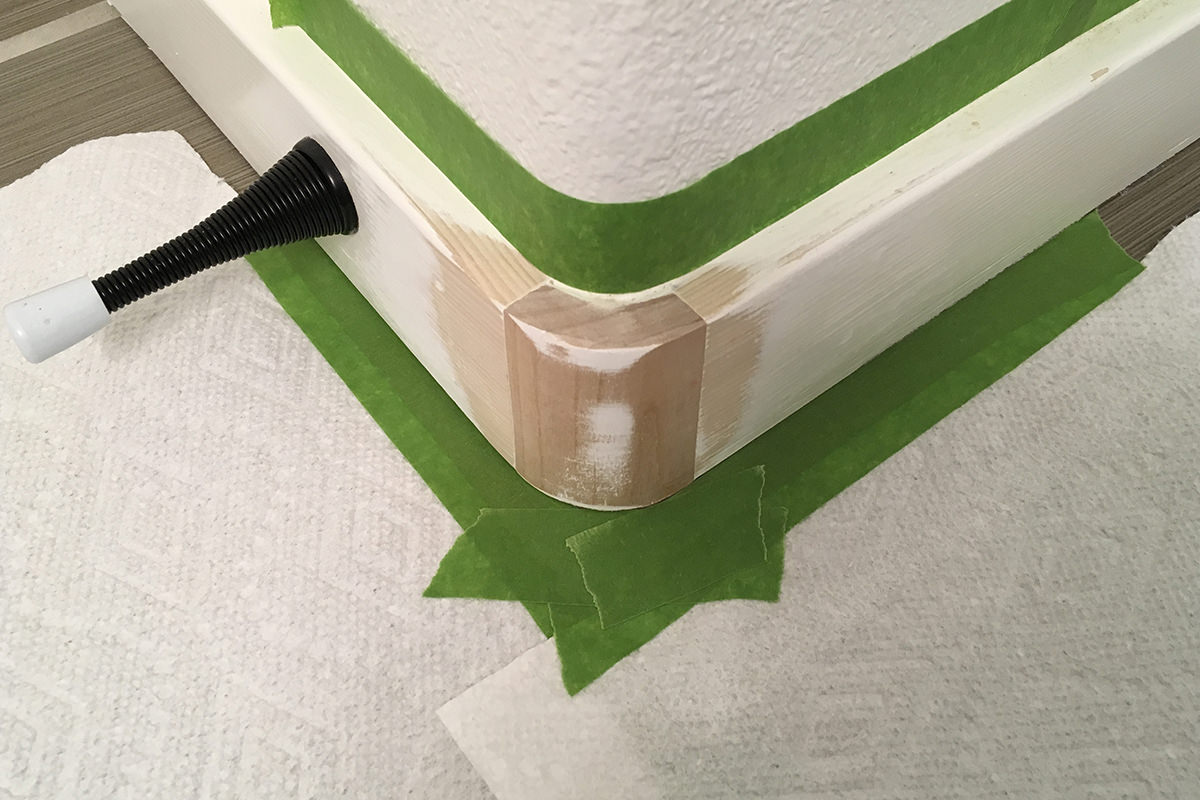 But the result is worth it. I'm just one more coat of leveling paint (after the first coat dries) to the seamless molding I should have had from the beginning...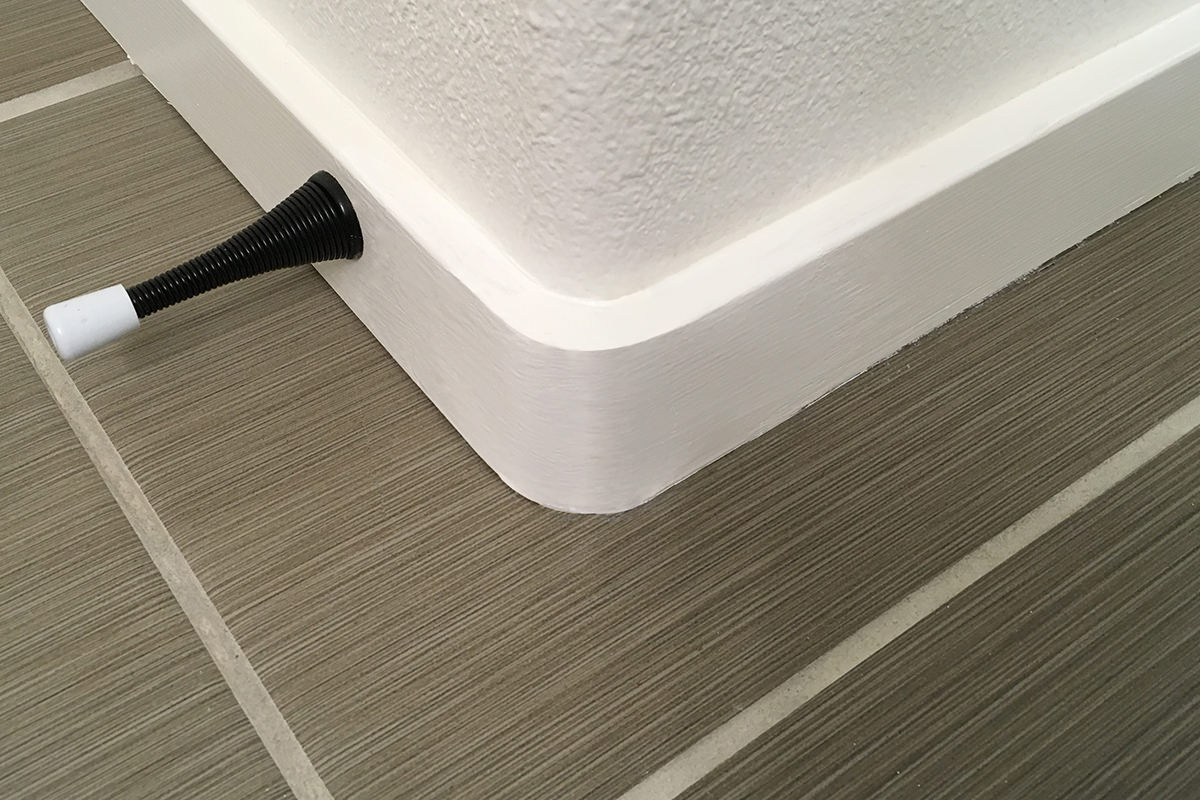 One down, eight to go.

Until next Bullet Sunday, enjoy winter's last gasp...
Posted on January 30th, 2018

Wow. 2018 is shaping up to be a heck of a year for super-hero movies! Let's take a look at the eight flicks that are coming up this year...

FEBRUARY 16: Black Panther
Black Panther has long been one of my favorites characters, and to see his phenomenal appearance in Captain America: Civil War was almost too good to be true. Getting an actual Black Panther feature film, however? Ordinarily I'd be wary, but Marvel Studios has not had a single misstep, and I'm not counting on this film being its first. It looks incredible. I like that Marvel is also heading in another direction now that they got other sub-genres covered. Tech: Iron Man, Politics: Captain America, Legendary: Thor, Action: Avengers, Magical/Mystical: Doctor Strange, Teen Angst: Spider-Man, Science Fiction: Guardians of the Galaxy... and now for Marvel's take on international intrigue done James Bond style, Black Panther. It's just all so perfect...
I actually prefer the teaser trailer below to the final official trailer above, because it sets up Wakanda for what it is in the Marvel Universe: The wealthiest, most technologically advanced society on earth, and one of the planet's biggest secrets...

APRIL 13: New Mutants
I like the idea of super-hero movies heading into horror territory, but not sure what to think of the trailer for New Mutants, which probably doesn't go far enough to make it worthwhile as a horror film. And quite possibly not far enough as a super-hero film either. But, hey, fingers crossed, as I really like the "Demon Bear" comic book storyline which this is rumored to follow...

MAY 4: Avengers: Infinity War
And here we are... what all the Marvel Studios films to date have been leading up to. I have incredibly high expectations, which I fully expect to be exceeded...

MAY 18: Deadpool 2
The first Deadpool was a pleasant surprise. Wonderfully faithful to the original comic book and starring the most perfect casting yet seen on film, the movie was a mega-blockbuster smash that deserved every penny it made...

JULY 6: Ant Man and The Wasp
When talking about the different sub-genres that Marvel Studios has been running through above, one that I left out was "fun" the original Ant-Man movie was a seriously fun caper flick. The sequel looks to be more of the same, but without the need for an origin story, which means it should be better than the original. I'm certainly counting on it...

OCTOBER 5: Venom
While I generally enjoyed the first two Tobey Maguire Spider-Man films, the franchise majorly shit the bed with Sam Raimi's third installment which (attempted) to bring the massively popular villain, Venom on the silver screen. It was done badly, which was a shame. Venom can be an interesting character when handled right. To do that, they brought in director Ruben Fleischer and cast Bane himself, Tom Hardy, in the lead role. Apparently the movie's story will be based on the "Planet of the Symbiotes" comic book stories, which means über-villain Carnage will be making an appearance. I have no clue if this will be any good but, if the reviews aren't tragic, I'll probably take a look.

NOVEMBER 21: X-Men: Dark Phoenix
I can only guess that this is an attempt to make up for the pile of shit that was X-Men 3: Last Stand, which attempted to touch on the seminal X-Men comic book arc... The Dark Phoenix Saga. But the ultimate villain of X-Men 3 was water (yes, seriously, it was fucking water) which was surprising as it was predictable considering it had Brett Ratner's stank all over it. Which, I suppose is a notch above Bryan Singer stank... but not by much. In any event, it would be nice to see a movie which takes the actual Dark Phoenix Saga seriously, though I'm not holding out too much hope given the laughable joke that X-Men: Apocalypse was... and that young-cast Wolverine doesn't seem to be a part of it...

DECEMBER 21: Aquaman
The fact that this is a film by James Wan and not another Zack Snyder shit-fest gives me a glimmer of hope that he'll pull a Patty Jenkins and make a DC Cinematic Universe film that's worth a crap...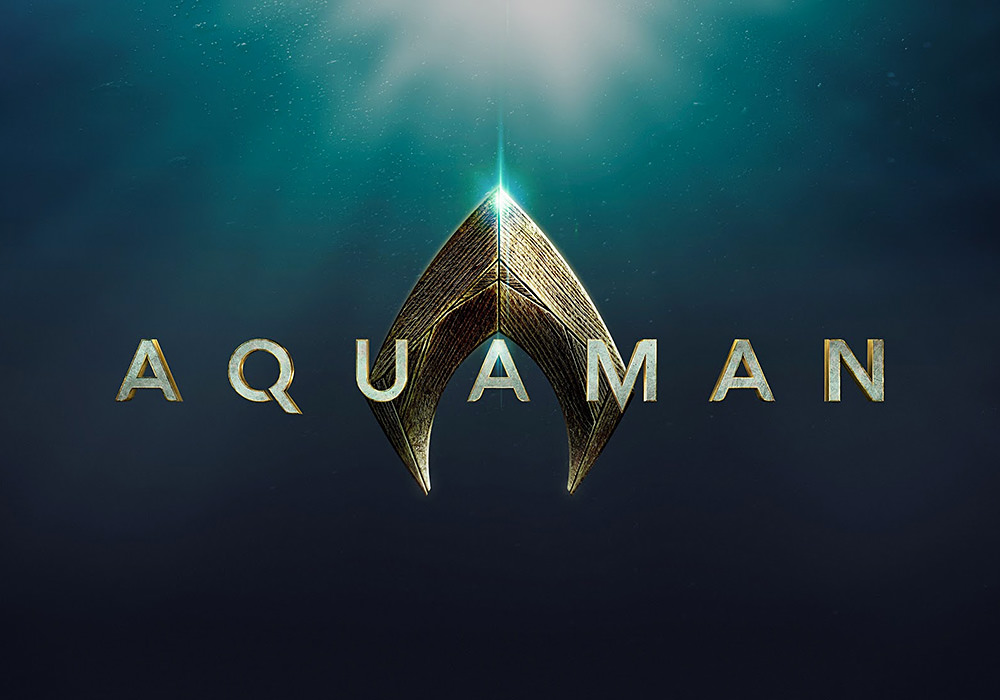 And tah-dah. I wish we got four Marvel Studios films each year. Three just isn't enough. Maybe that will change now that the X-Men franchise characters are back in the fold. At least one would hope so. If Marvel Studios started giving the X-franchise the care they've extended to their other films, we're within striking distance of Avengers vs. X-Men.
Posted on November 13th, 2017

When I put in my two cents on Thor: Ragnarok, I mentioned that I was questioning if it were my new favorite Marvel Studios movie. Ultimately, I decided it just couldn't be. When The Avengers came along, it was my every comic book fanboy dream come true on the screen. The magic from that movie hasn't gone away. Yet.
But then I had somebody ask me... How would you rank the rest of the Marvel movies then?
Well, this is how... at this moment, anyway...
The Avengers (A+) — My comic book fanboy dream come true. Not much else I can say.
Thor: Ragnarok (A++) — Hilariously funny while staying true to the character. A complete surprise.
Captain America: Winter Soldier (A+) — Technically Marvel's #1 movie because it was just so flawlessly put together.
Captain America: Civil War (A++) — If The Avengers was my fanboy team-up dream come true... this... this is the cherry on the top.
Guardians of the Galaxy (A+) — A D-list team given one of the best Marvel movie treatments.
Captain America: The First Avenger (A+) — Brilliant origin story that plays on nostalgia rather than blind patriotism.
Spider-Man: Homecoming (A+) — Everything you want a Spider-Man movie to be.
Doctor Strange (A) — Mind-bogglingly brilliant, beautiful, and fun.
Iron Man (A+) — The movie that started it all. Still holds up today.
Guardians of the Galaxy: Vol. 2 (A) — A terrific follow-up to the original made great by Baby Groot.
Ant-Man (A) — A complete home-run for a character that doesn't seem movie-worthy.
Iron Man 3 (A+) — A great Shane Black spin on the character that pays off because Robert Downey Jr.
Avengers: Age of Ultron (A) — Though I enjoyed it, this was not the movie I was hoping for. Ultron was not made at all scary enough for a villain to take on The Avengers.
Thor (B+) — Timing issues aside, this is an underrated gem of a movie.
Thor: The Dark World (B) — I actually liked this movie a great deal, it just has a hard time when pitted against the others in this list.
Iron Man 2 (A-) — Again... I really liked this movie (hey, it introduced us to Black Widow and Rhodey!), but it just falls short in comparison to the others.
The Incredible Hulk (B) — A decent-but-not-great movie that feels divorced from the rest after the role was switched to Mark Ruffalo.
Interesting to note how some movies rank higher when I grade them, but lower when compared to other movies in the list. Iron Man 2 with an A- rating, for example, comes in below Thor: The Dark World with a B rating. On its own merits, Iron Man 2 had so much to love with Black Widow and Rhodey coming onboard. But it's just not as good a story as what we got with Thor: The Dark World (though, admittedly, not by much).
But what's even more interesting to note? There is not a clunker on that list. I love all the films. Marvel is firing on on cylinders, and the movies they release just keep getting better and better and the universe they're building continues to grow.
And they show no signs of slowing down. Still to come? Black Panther, Avengers: Infinity War, Ant-Man and The Wasp, Captain Marvel, Avengers 4, Spider-Man 2, and Guardians of the Galaxy: Vol. 3.
And, if rumors are to be believed, we may actually finally get a Black Widow movie after 2019, so.... bonus points.