Posted on November 13th, 2017

When I put in my two cents on Thor: Ragnarok, I mentioned that I was questioning if it were my new favorite Marvel Studios movie. Ultimately, I decided it just couldn't be. When The Avengers came along, it was my every comic book fanboy dream come true on the screen. The magic from that movie hasn't gone away. Yet.
But then I had somebody ask me... How would you rank the rest of the Marvel movies then?
Well, this is how... at this moment, anyway...
The Avengers (A+) — My comic book fanboy dream come true. Not much else I can say.
Thor: Ragnarok (A++) — Hilariously funny while staying true to the character. A complete surprise.
Captain America: Winter Soldier (A+) — Technically Marvel's #1 movie because it was just so flawlessly put together.
Captain America: Civil War (A++) — If The Avengers was my fanboy team-up dream come true... this... this is the cherry on the top.
Guardians of the Galaxy (A+) — A D-list team given one of the best Marvel movie treatments.
Captain America: The First Avenger (A+) — Brilliant origin story that plays on nostalgia rather than blind patriotism.
Spider-Man: Homecoming (A+) — Everything you want a Spider-Man movie to be.
Doctor Strange (A) — Mind-bogglingly brilliant, beautiful, and fun.
Iron Man (A+) — The movie that started it all. Still holds up today.
Guardians of the Galaxy: Vol. 2 (A) — A terrific follow-up to the original made great by Baby Groot.
Ant-Man (A) — A complete home-run for a character that doesn't seem movie-worthy.
Iron Man 3 (A+) — A great Shane Black spin on the character that pays off because Robert Downey Jr.
Avengers: Age of Ultron (A) — Though I enjoyed it, this was not the movie I was hoping for. Ultron was not made at all scary enough for a villain to take on The Avengers.
Thor (B+) — Timing issues aside, this is an underrated gem of a movie.
Thor: The Dark World (B) — I actually liked this movie a great deal, it just has a hard time when pitted against the others in this list.
Iron Man 2 (A-) — Again... I really liked this movie (hey, it introduced us to Black Widow and Rhodey!), but it just falls short in comparison to the others.
The Incredible Hulk (B) — A decent-but-not-great movie that feels divorced from the rest after the role was switched to Mark Ruffalo.
Interesting to note how some movies rank higher when I grade them, but lower when compared to other movies in the list. Iron Man 2 with an A- rating, for example, comes in below Thor: The Dark World with a B rating. On its own merits, Iron Man 2 had so much to love with Black Widow and Rhodey coming onboard. But it's just not as good a story as what we got with Thor: The Dark World (though, admittedly, not by much).
But what's even more interesting to note? There is not a clunker on that list. I love all the films. Marvel is firing on on cylinders, and the movies they release just keep getting better and better and the universe they're building continues to grow.
And they show no signs of slowing down. Still to come? Black Panther, Avengers: Infinity War, Ant-Man and The Wasp, Captain Marvel, Avengers 4, Spider-Man 2, and Guardians of the Galaxy: Vol. 3.
And, if rumors are to be believed, we may actually finally get a Black Widow movie after 2019, so.... bonus points.
Posted on November 10th, 2017

It is tempting... so very tempting... to say that Thor: Ragnarok is my favorite film to come out of Marvel Studios. Except... how can it be? Surely my favorite film is the first Avengers movie. Isn't it? I mean, that was the prize. That's what everything had been leading to. Finally, at long last, we had a super-hero team movie that actually worked. That was actually good.
And yet... holy crap was Ragnarok amazing. Hilariously funny, but not so farcical that the action beats and serious bits fell flat. Game-changing, but still completely faithful to the source material. Different in feeling and tone from the Marvel we're accustomed to, but still familiar and wholly entertaining.
Thor: Ragnarok is the complete package.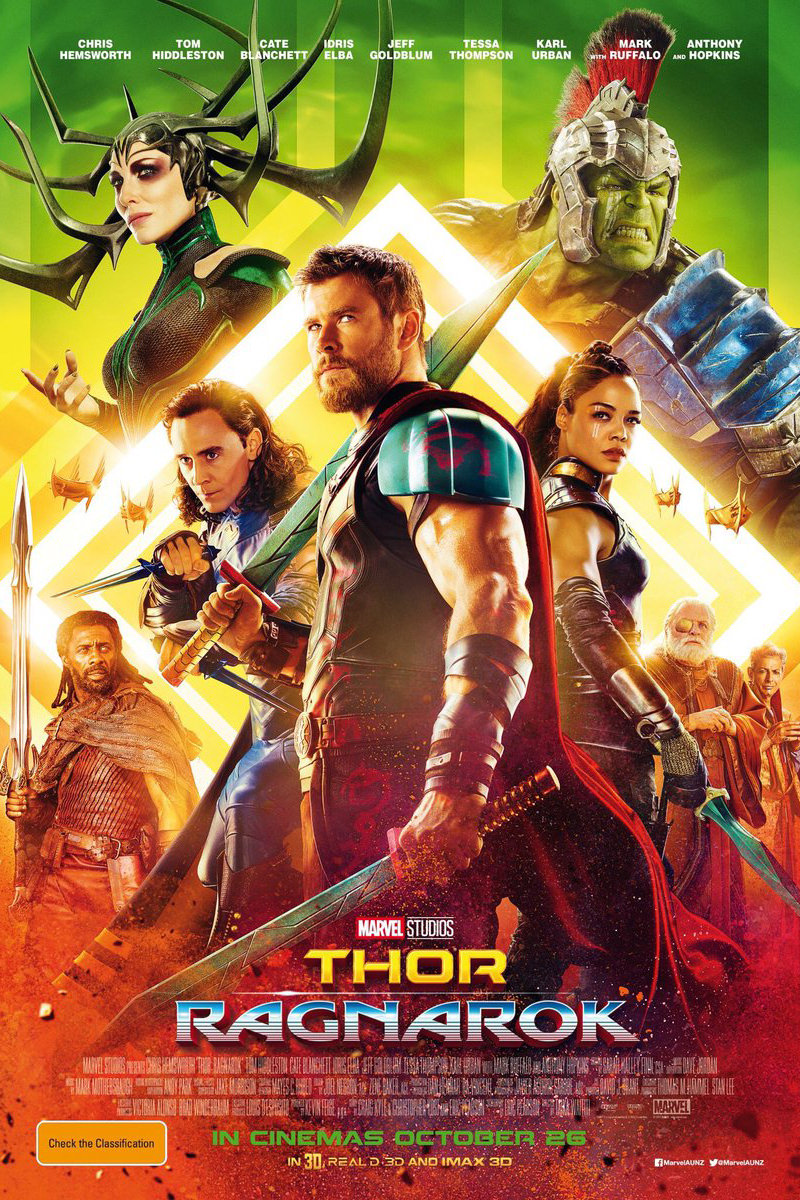 There are precious few things about this movie I don't love. A short list, just to name a few things off the top of my head, that I love most...
Chris Hemsworth's considerable comedic talents on full blast.
Cate Blanchett as Marvel's best (and most deliciously evil) movie villain yet.
Jeff Goldblum being the most Jeff Goldblum we've ever seen... or will likely ever see again.
Loki. Just Loki being Loki.
Every second Valkyrie is on the screen.
A smart... so very smart... evolution of The Hulk.
Idris Elba. Finally being given something worthwhile to do as Heimdall.
Kirby-inspired amazing visuals.
Mind-bogglingly awesome special effects.
Just a really good, funny, highly entertaining story.
I have no idea what the coming Avengers: Infinity War means for Marvel's original character base. Iron Man? Captain America? Thor? will any of them even survive it? If Thor does, they could do a lot worse than to invite back Ragnarok director Taika Waititi (who says he'd love to do another one).

Time to update my "Y2K Super-Hero Comic Book Renaissance" scorecard...
Ant-Man... A
The Avengers... A+
The Avengers: Age of Ultron... A
Batman Begins... A
Batman Dark Knight... A+
Batman Dark Knight Rises... A
Batman vs. Superman: Dawn of Justice... D
Big Hero Six... A+
Blade... B
Blade 2... B
Blade Trinity... B-
Captain America... A+
Captain America: The Winter Soldier... A+
Captain America: Civil War... A++
Catwoman... F
Daredevil... B-
Daredevil (Director's Cut)... B+
Doctor Strange... A
Electra Woman and Dyna Girl... B-
Elektra... D
Fantastic Four (2005)... C
Fantastic Four: Rise of the Silver Surfer... D
Fantastic Four (2015)... D+
Guardians of the Galaxy... A+
Guardians of the Galaxy: Vol. 2... A
Ghost Rider... C
Ghost Rider: Spirit of Vengeance... D
Green Hornet... D
Green Lantern... C+
Hellboy... A
Hellboy 2: Golden Army... A
Hulk... C-
Incredible Hulk... B
The Incredibles... A+
Iron Man... A+
Iron Man 2... A-
Iron Man 3... A+
Jonah Hex... F
Kick-Ass... B+
Kick-Ass 2... B-
Man of Steel... F-
Punisher... C+
Punisher War Zone... C
Scott Pilgrim vs. The World... C
Spider-Man... B+
Spider-Man 2... A
Spider-Man 3... D-
Amazing Spider-Man... B
Amazing Spider-Man 2... B-
Spider-Man: Homecoming... A+
Suicide Squad... D
Superman Returns... C+
Thor... B+
Thor: The Dark World... B
Thor: Ragnarok... A++
Watchmen... B
The Wolverine... B
Wonder Woman... A
X-Men... C
X-Men 2: United... D
X-Men 3: Last Stand... F-
X-Men Origins: Wolverine... D
X-Men: First Class... B
X-Men: Days of Future Past... B-
X-Men: Apocalypse... D+

Posted on November 6th, 2017

The big news of the day is the rumor that Twenty-First Century Fox is in talks to sell off most of the company to Disney. Not exactly groundbreaking, as movie studio consolidation has been ongoing over the years... except one thing.
Disney is the corporation that owns Marvel Comics and, more relevant to the point, Marvel Studios.
And since Twenty-First Century Fox had bought the Marvel movie rights for X-Men, Fantastic Four, Silver Surfer, and Deadpool (and subsequently crapped out a series of shitty X-Men films and even shittier Fantastic Four films plus an awesome Deadpool movie) buying the studio would mean the potential to fold these stellar properties into the Marvel Cinematic Universe proper. I mean, look how frickin' incredible bringing Sony's Spider-Man rights into the Marvel cinematic fold ended up being?
What could possibly top Avengers: Infinity War? I dunno. But Avengers vs. X-Men might do the trick, if handled properly.
Because a part of me wonders if merging the X-Universe with the Avengers universe would be a good thing. First of all... the entire concept of "mutants" would have to be woven into the Marvel Cinematic Universe. Until now, they haven't even existed. The creation of mutants could easily be dropped into the fourth Avengers film... maybe Thanos explodes and the energy washes over earth and mutates a bunch of people... but would that be too much in an already crowded universe of characters? Maybe. Then again, to finally... finally get a decent X-Men film after years of mostly shit would sure be a treat. I am just not convinced that they shouldn't remain separate, even if Marvel takes over the property.
The Fantastic Four, on the other hand? No such reservations. Integrate them into the MCU as soon as possible!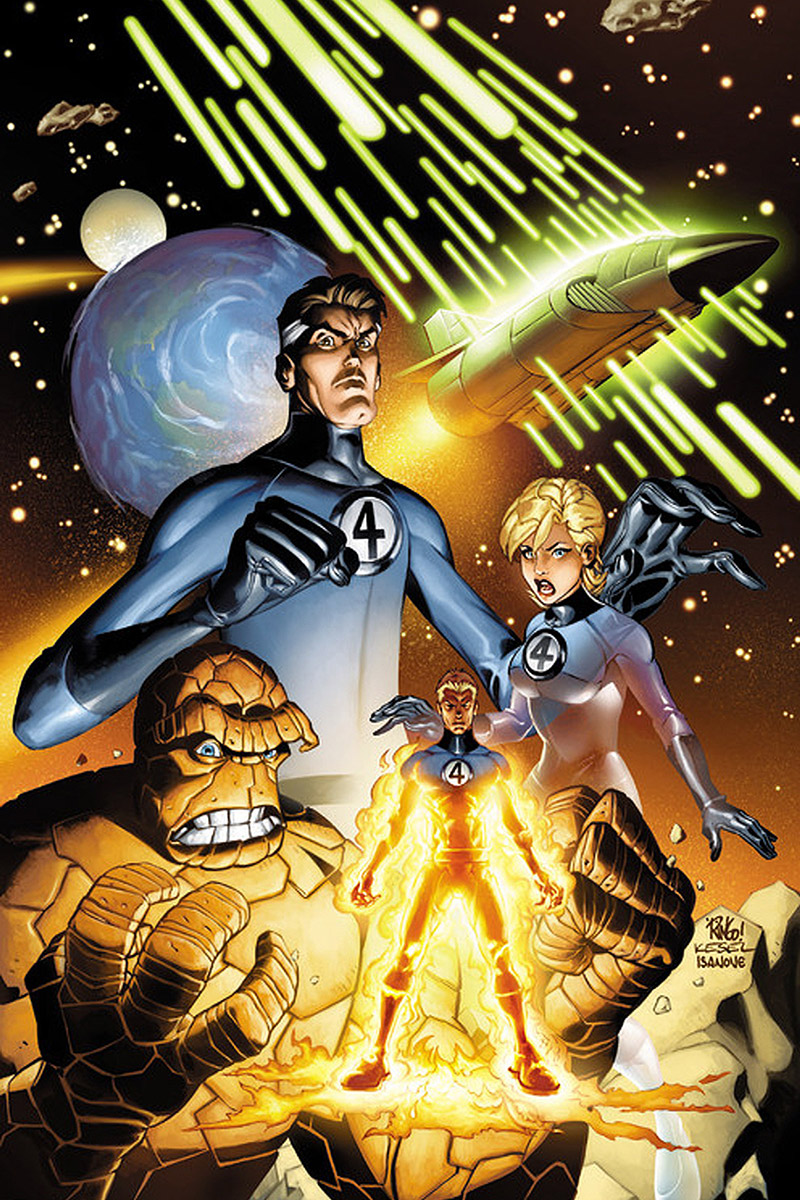 In the comics, The Fantastic Four was Marvel's first "super team" and is literally the cornerstone of their entire integrated super-hero-verse. Their footprint looms large over everything that came after, and it has always amazed me that with such a wealth of material (over 50 years' worth!) that we can't seem to get a FF movie that's worth a shit.
My hands-down favorite version of The Fantastic Four was Mark Waid and Mike Wieringo's take which began with an arc called "Imaginauts." In an effort to make them more than Just Another Super Hero Team, Waid/Wieringo imagined them as a team of explorers who happened to have super-powers, and their relationship as a family was put front-and-center. It was entertaining as all get-out. And, despite being one of Marvel's oldest franchises, it felt fresh, new, and exciting. As the MCU passes 10 years of existence, isn't an infusion of fresh, new, and exciting what they need to carry them into the next 10 years?
Marvel hardly needs counseling on how to handle their movies... I mean, holy crap, they just keep getting better and better... but please. Can we pretty please finally get a Fantastic Four movie that lives up to their potential? We've been waiting for so long.
Posted on August 20th, 2017

There actually is something interesting happening before the eclipse tomorrow, because an all new Bullet Sunday starts... now...

• Defenders! How is it that Netflix can be so damn flawless when casting every single character in every single Marvel series and in writing every single character in every single Marvel series... except when it comes to Iron Fist? Danny Rand is written horribly. The actor playing him is a terrible fit for this character. I could barely make it through the Iron Fist series, and now the character made it tough to get through the newly-released Defenders series too...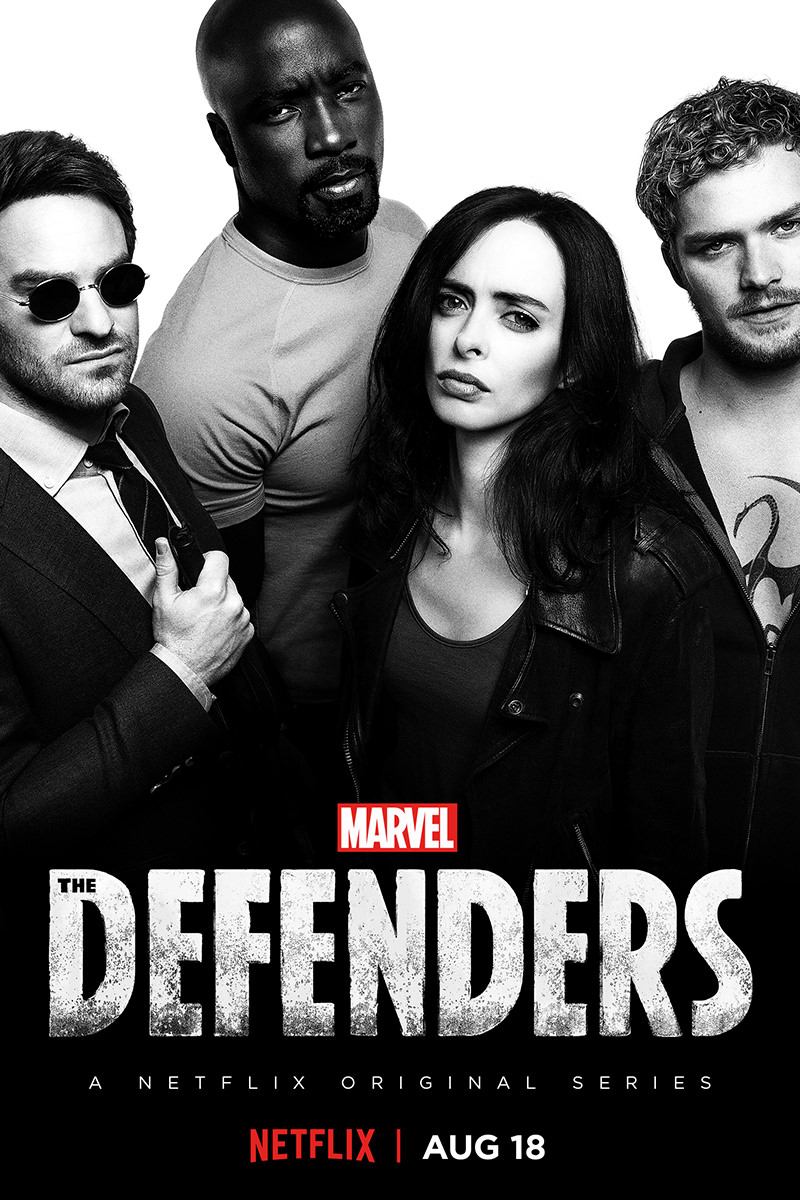 Every single time Iron Fist appears in The Defenders, everything that's moving forward so beautifully grinds to a halt and turns to shit. I mean... holy crap... they got Sigourney Freakin' Weaver, who elevates absolutely everything she appears in (including The Defenders), but even she is not going to be able to save this show when such a key piece of it is shit. There was a scene between Luke Cage and Danny Rand... fucking "Heroes for Hire" that we've been dying to see... and Mike Colter is just killing it as Cage while Finn Jones can't seem to deliver a single line with any conviction or semblance of skill. It's like he's trying to channel Keanu Reeves, which wouldn't be horrible... EXCEPT HE'S CHANNELING KEANU REEVES FROM BILL & TED'S EXCELLENT ADVENTURE. GAAAAAHHHHHH!!!!!
Look, I'm sure Finn Jones is a capable actor in other roles, but his take on Iron Fist sucks. The character takes a solid 5-star show and knocks it down to four. I hope they end up doing another Defenders... the idea is too good not to... but diminish, eliminate, or replace Iron Fist with something that's a better fit. Please. ☆★★★★

• Trolls! This. Is. Fucking. Genius.
I hope it catches on.

• Fake President! Making America... uhhh... great?... again?
So... Trump actually is accomplishing more than any other president! Finally, a truth!

• Ahnold! Just as an FYI... THIS IS HOW YOU FUCKING DO IT...

• Punch It! Seriously. I'm sick of this bullshit. We fought a fucking WORLD WAR over this. There are not "two sides" to this position. There is no "just as bad" when it comes to this. There is no confusion as to the appropriate response. We have memorials... history books... and a shitload of movies that make it quite clear...
Nothing less than 100% unapologetic, uncompromised, unconditional condemnation of white supremacists and Nazis is ever acceptable. If you don't fucking get that, then you have no business being president. Hell, you have no business calling yourself "human."
I mean, Jesus Christ... IT'S THE FUCKING NAZIS HERE!!!

• Dropt It! In a feeble attempt at ending on a positive note, this is must-see TV...

Annnnnd... I'm spent. No more bullets for you.
Tags:
Bullet Sunday
,
Dumbassery
,
Marvel
,
Netflix
,
News
,
Politics
,
Television
,
The Defenders
,
Trump
,
Trump's America
Categories:
Bullet Sunday 2017
,
News – Politics 2017
,
Television 2017
—
Click To It:
Permalink
—
1 Comment: Click To Add Yours!
Posted on July 23rd, 2017

Never fear, super-fans, because a Very Special Comic-Con Edition of Bullet Sunday starts... now...

• THOR: RAGNAROK! I liked the first two Thor movies quite a lot. Especially the first one, which did a masterful job of introducing Thor to the Marvel Cinematic Universe. It was grandiose and epic in a way you need a movie with gods to be, and set the tone for Thor in everything that would come after (including a couple Avengers movies). And now, the third Thor film is ready to be unleashed this November:
Super sweet! Kind of an 80's vibe, even in the amazing poster...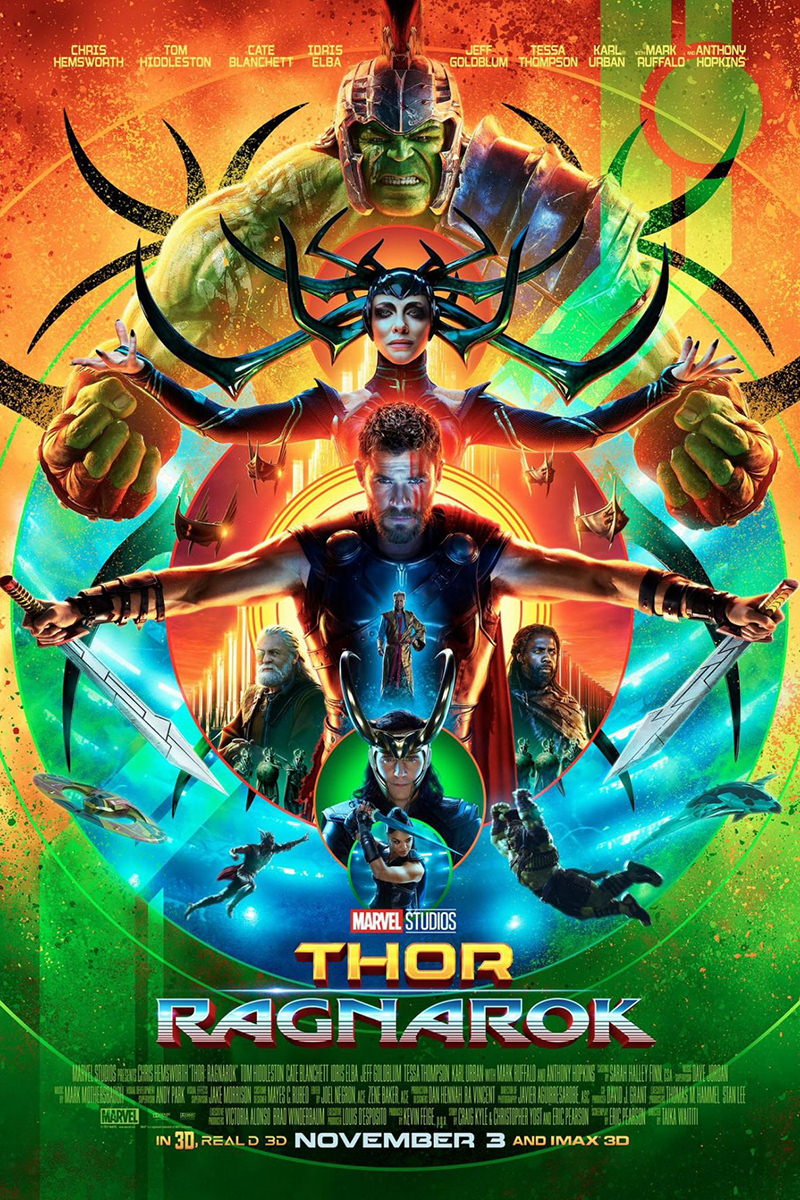 Marvel amazes me. Every movie they release is an escalation of what's come before. Sometimes it doesn't work 100% (I'm looking at you, Age of Ultron) but most of the time it seriously does. And Thor: Ragnarok looks to be knocking it out of the park. Can't. Wait.

• THE DEFENDERS! But before we get treated to new Thor, first we get to see the culmination of all four Netflix series... Daredevil, Jessica Jones, Luke Cage, and Iron First... with The Defenders. This seems like a great idea, and a logical culmination of all that's come before...
Time (and August 18th) will tell whether or not it's clever enough to be worthy, but getting Sigourney Weaver as your villain was a great start. Cool. All this and The Punisher coming by years' end too.

• THE INHUMANS! Also dropping prior to new Thor? The Inhumans. Originally they were getting their own movie but, after the franchise was turned to shit in ABC's Agents of S.H.I.E.L.D., I guess they felt a movie was aiming too high. Instead we get a compromise. The first episode is being released to IMAX theaters in September, then the show continues on ABC...
Eh. Probably good that they didn't attempt this in a feature film, because Medusa's magical hair was never going to look fantastic. Regardless, nothing I'm seeing here has me too excited. ABC had an amazing opportunity to do something truly different by taking The Inhumans into extreme weirdness, but it looks like Just Another Super-Hero Show on the Small Screen. Not surprising... I can't stand Agents of S.H.I.E.L.D., and it doesn't look like ABC is attempting to break any new ground here like they did with the amazing Agent Carter series. Pity.

• BLACK PANTHER! And here is where I start to lose my shit. I'm a huge, huge, massively huge fan of Black Panther. I was thrilled to see him finally join the MCU with Captain America: Civil War, and am positively giddy at the prospect of seeing him get a film all to himself. The technically advanced world of Wakanda is going to make for a heck of a movie, assuming they get the story right. And, from the looks the first trailer, they are definitely trying...
And that poster...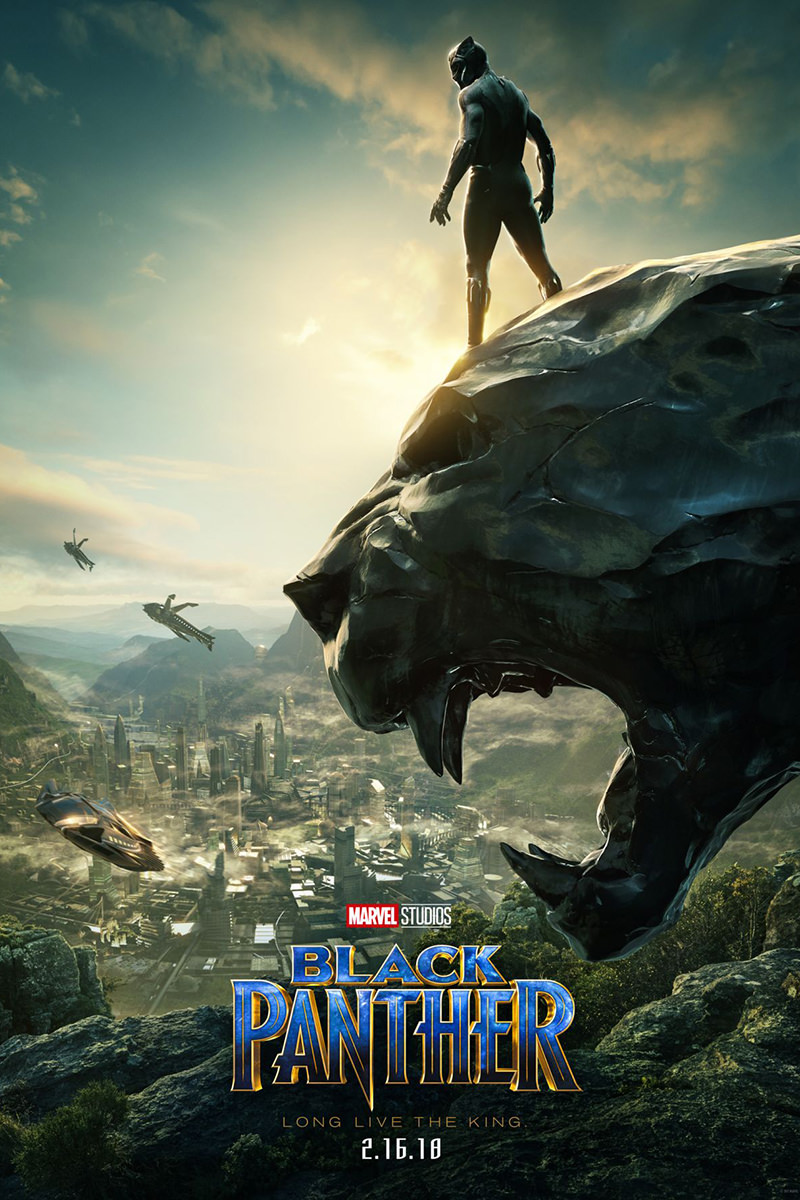 Since this is Marvel, I'm assuming they've nailed it. Not knowing is kinda killing me. Having to wait until February 16th to find out is really killing me.

• AVENGERS: INFINITY WAR And then there's the culmination of every Marvel Studios movie ever released coming to a theater near you on May 4th. The footage at Comic-Con has not been released yet (if ever), but they did give us a gatefold poster to drool over...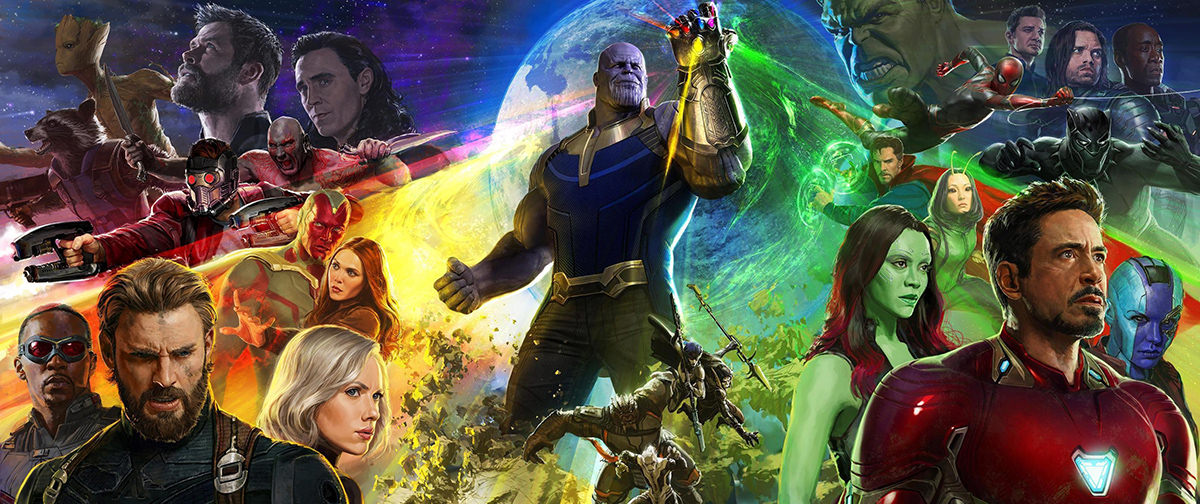 Which conveniently breaks down into three panels for closer inspection of all the awesomeness there is to unpack...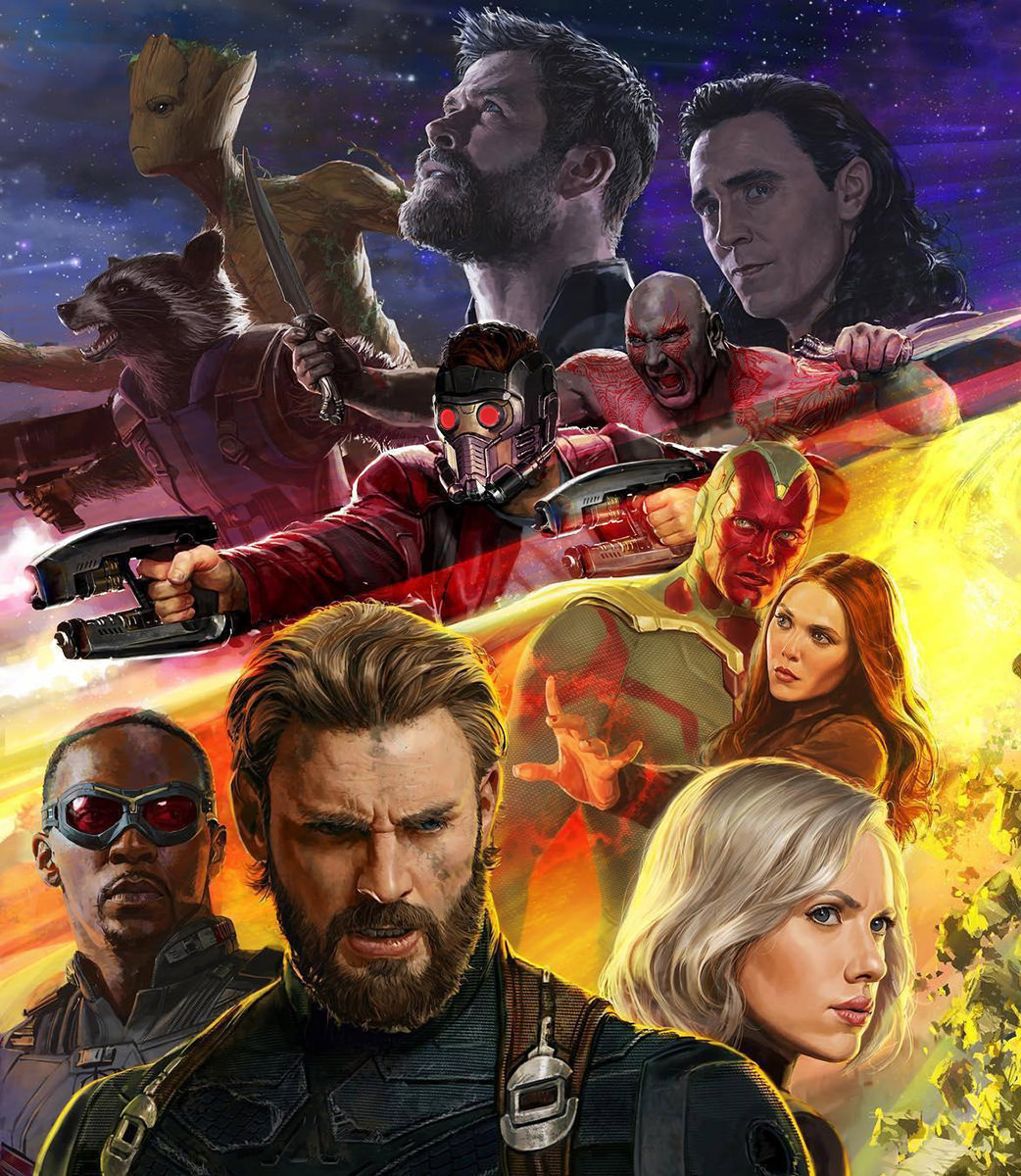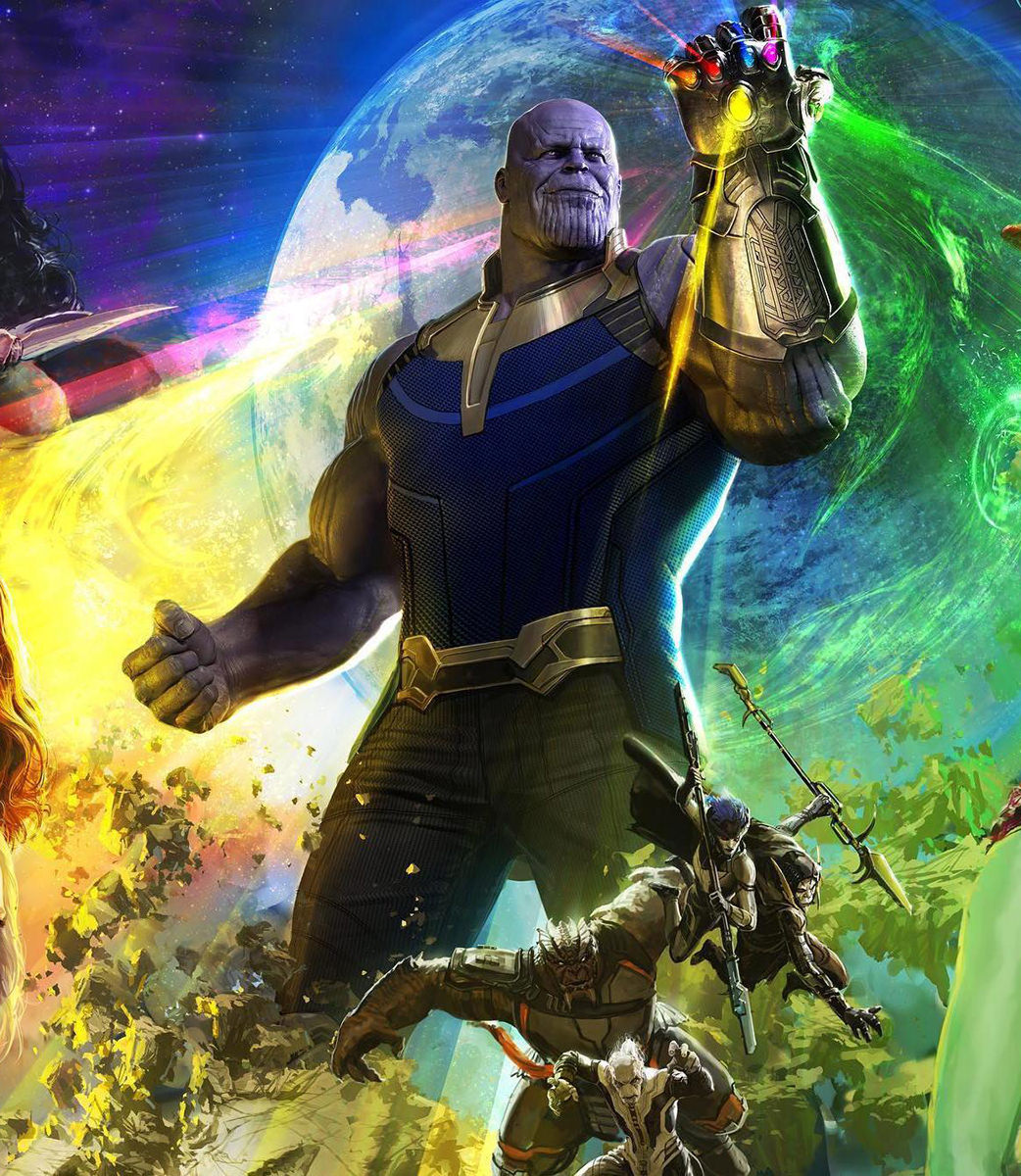 First of all... BLACK WIDOW IS A BLONDE THIS TIME AROUND? Wonder what in the hell that's all about. Second of all... why is Hawkeye getting the short end of the stick again? He's barely in the poster at all, and doesn't even get an action pose with his bow and arrow! Granted, he could arguably be seen as the weak link in The Avengers, but his fantastic ongoing comic book series show that this is not the fault of the character. It's what the writers do with him that makes him a weak link. Holy crap I wish they'd give him a Netflix series where he can finally shine. Next up... Spider-Man in a black suit is interesting. I don't hate it but, after so many movies where they weren't faithful to the comic book, I felt they finally nailed it with Civil War and Homecoming... so, why? And then... so very, very happy that they are apparently pushing the Scarlet Witch & Vision romance forward. That's an element 100% from the comic books, and I think it totally works. Then penultimately... holy crap did they do a frickin' amazing job capturing Thanos! Bad. Ass. And lastly... Cap with a beard! My expectations for Avengers: Infinity War are on overdrive. I'm expecting they'll be exceeded.

• JUSTICE LEAGUE! Blargh. DC Comics and Zack Snyder's idea of what makes a good super-hero movie is so nausea-inducing that I'll tackle that one tomorrow. I'm having too much fun loving on all of Marvel's awesomeness tonight.

And that's it for Comic-Con 2017. Until next year, True Believers...
Posted on June 11th, 2017

Time to bask in the rosy glow of the blogosphere, because an all new edition of Bullet Sunday starts... now...

• Batman! It's difficult for me to think about Sunday bullets when my head is trying to wrap itself around the passing of original Batman Adam West. It's even tougher to try and explain how his television show influenced my childhood. Yes, the show was cheesy as all get-out, but my love of comic books and super-heroes all goes back to Batman, which I faithfully watched in reruns every day after school...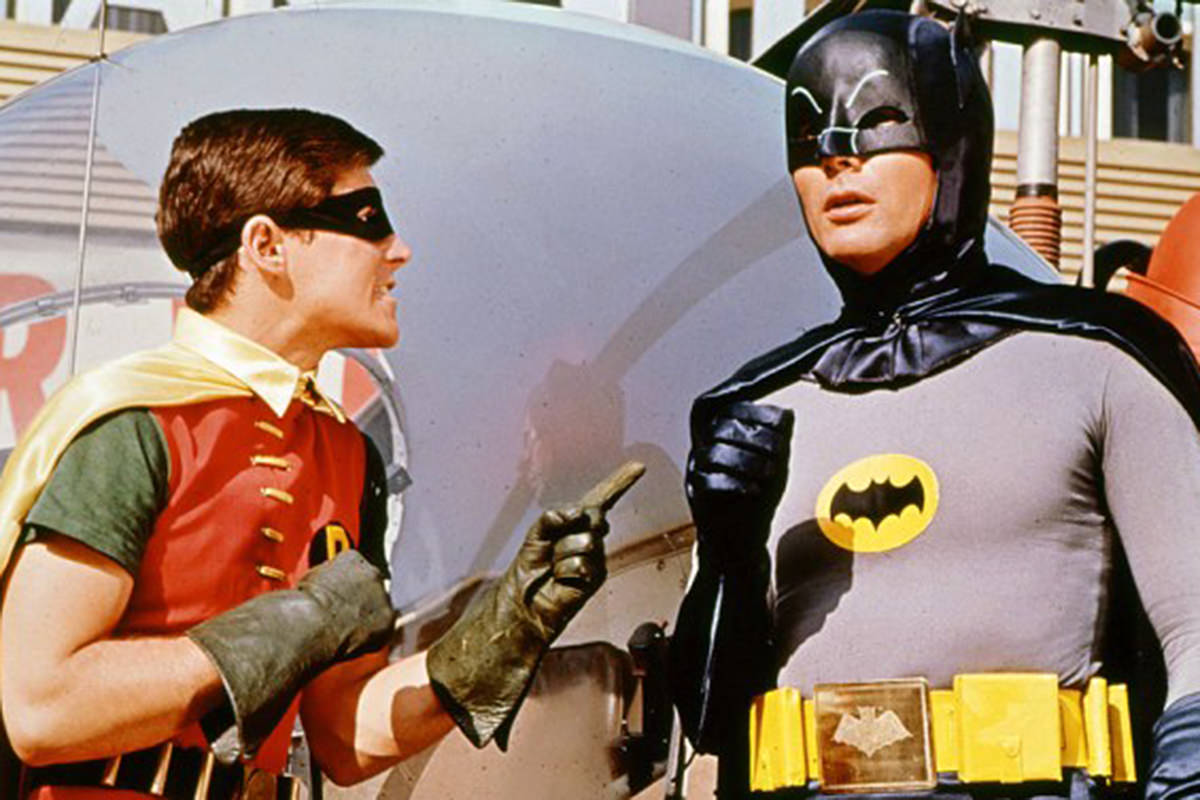 But the thing that cemented me as an Adam West fan is how the actor totally owned his character, and leveraged everybody's love of who he was to get an entirely new career as an animation voice actor. While probably best known for the Mayor of Quahog in The Family Guy, he voiced dozens of roles...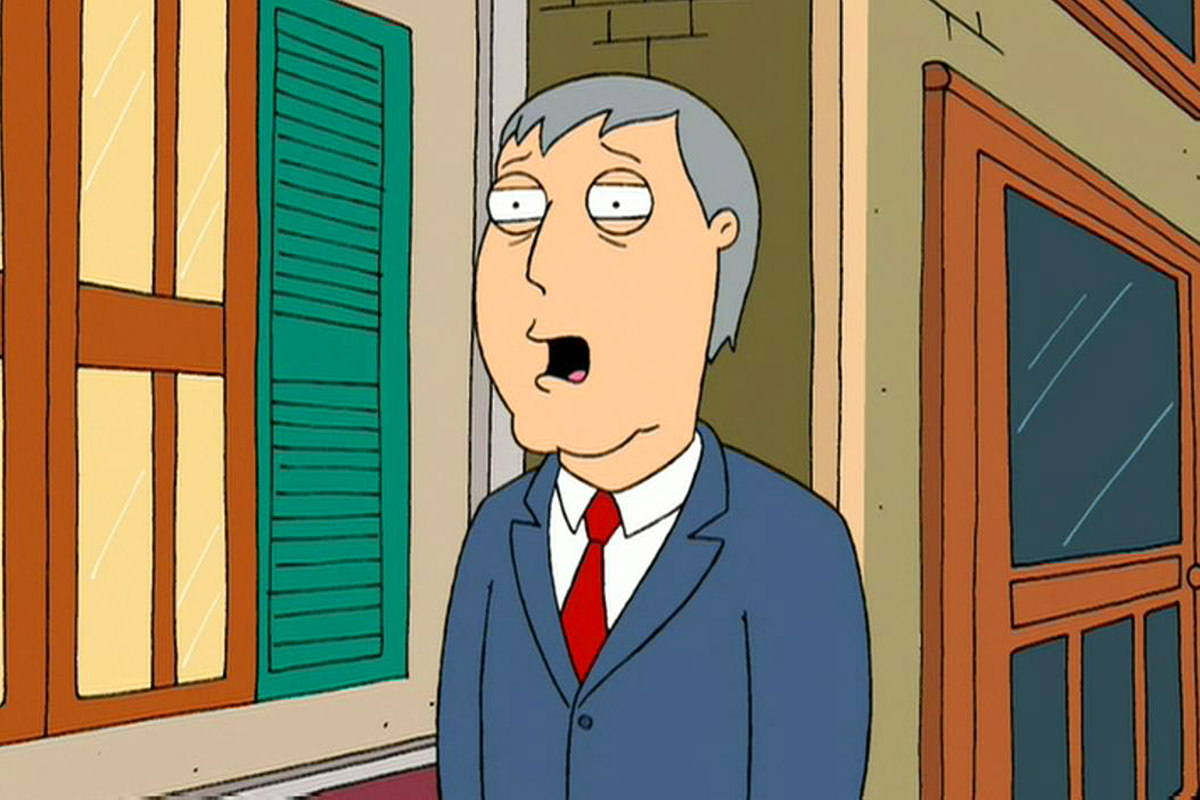 There have been a lot of famous people rushing to express their condolences, but the one we've been waiting for is from Adam West's Robin, Burt Ward. And with that... godspeed, Adam West. You will be missed.

• Black Panther! And... we're finally getting a real look at the long-awaited Black Panther movie. Like everything Marvel touches, it's looking incredible...
And, to think, we've got the new Spider-Man: Homecoming and Thor: Ragnarok movies coming soon! So great.

• LEGO CATS! What happens when two of your favorite things get smooshed into one? There is a company making LEGO Cats!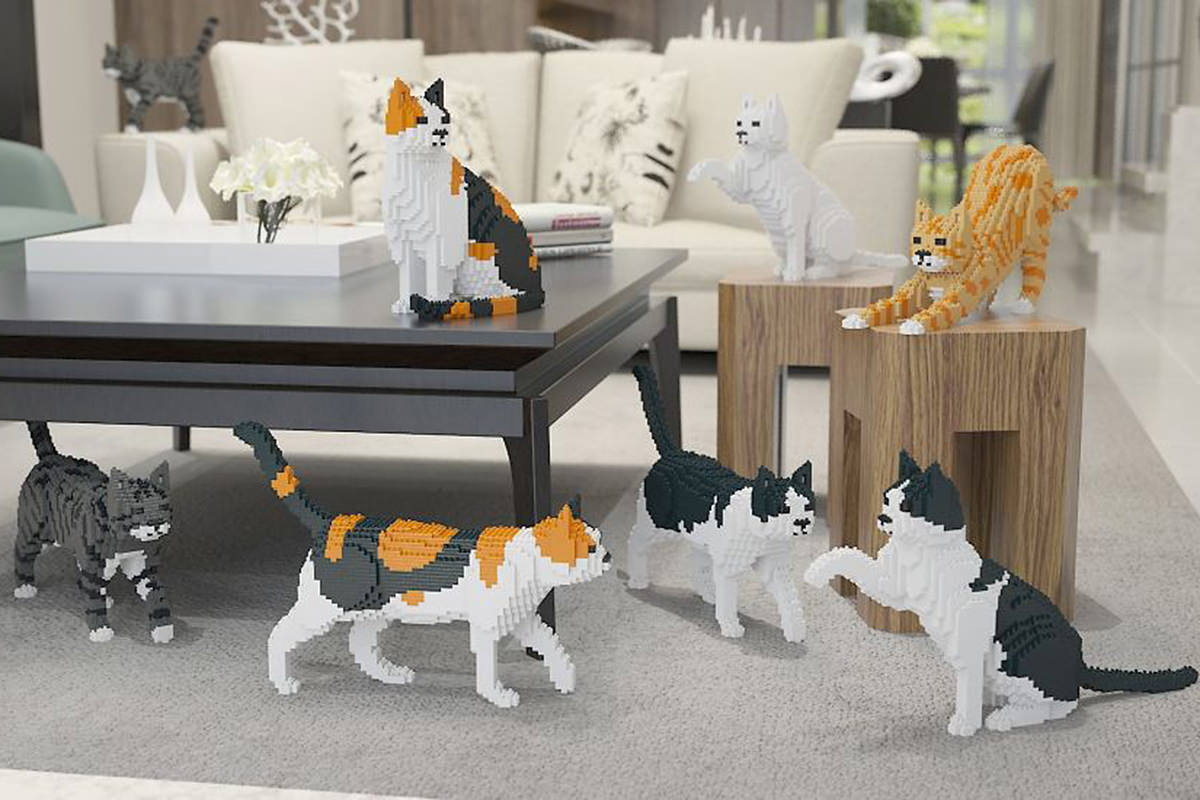 AWESOME! Thanks to long-time friend and food blogger extraordinaire, Foodiddy, for the link!

• Nail Me! Of the many tools I've invested in, my pneumatic brad nailer is one of my favorites. Being able to BAP! BAP! BAP! nails into place is a time-saving bit of wonderful I can't get enough of. There's a price you pay, however, and that's having to lug around an air compressor. For this reason, I've been dreaming of buying a nailer that is cordless and tankless... like the Milwaukee 18-Volt 15-Gauge Angled Finish Nailer...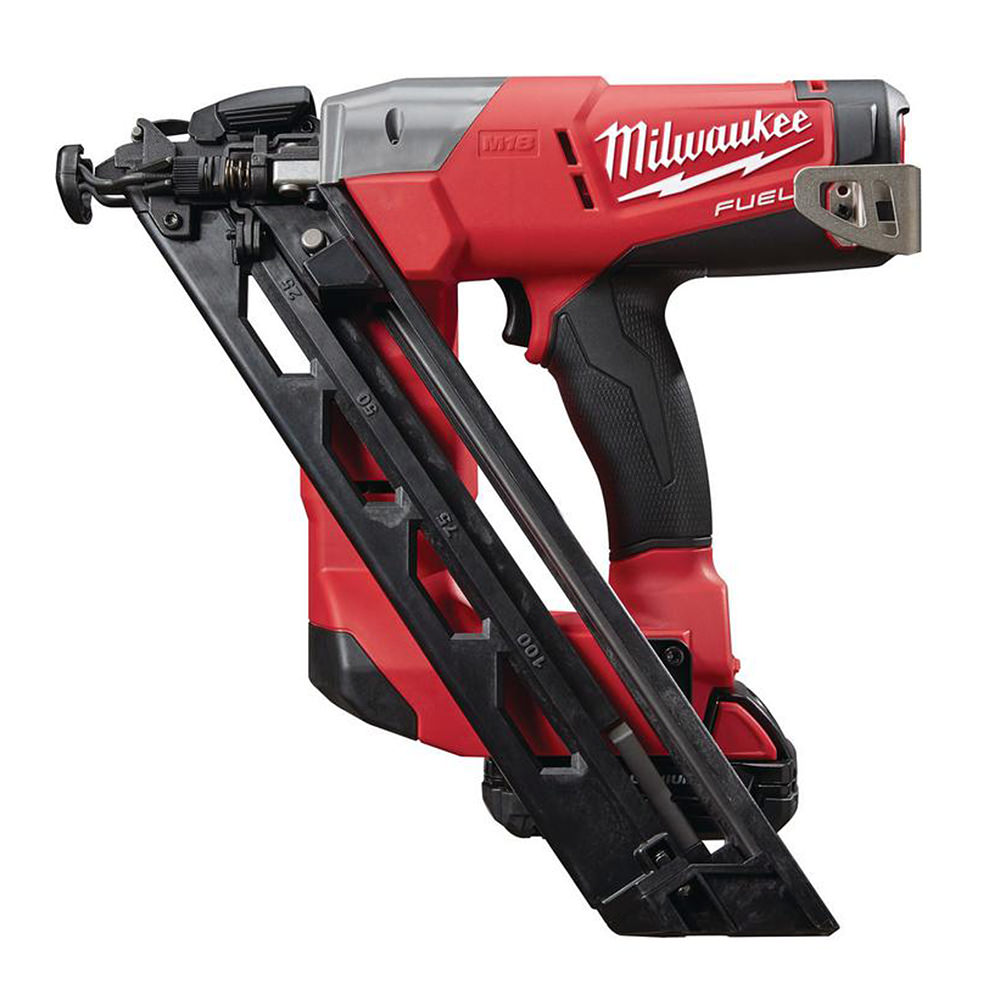 Problem is... it's like $400, which is a lot of money.
But then Home Depot sends me an email saying it's on sale at 40% off... just $240! And that comes with a new M18 Fuel battery! Sweet! I mean, I don't have $240, so it will have to sit on my credit card with my biscuit cutter, but it's still pretty great. If you're in the market for such a thing, the sale runs through June 21st!

• NEWSFLASH: A Studio Ghibli Theme Park Is CONFIRMED for 2020. — And... guess where I'll be going in 2021? There is no way to properly express my enthusiasm for even the idea of such a magical place.

• Humanity! I think it's awful we have to make commercials to explain lessons in Humanity 101 but, if we must, this is what it should look like...
This wonderful spot on foster homes for kids is not something new for Norway, they are also responsible for this amazing commercial...
And yet I live in a country that would rather build a useless border wall that will ultimately cause more harm than good (while doing fuck-all nothing to solve drugs or illegal immigration problems) instead of put any money towards those who need it most. That's how fucked up things are now, and how far we've fallen from the basic humanity that used to define us. Shameful.

• NEWSFLASH! Jeff Sessions says he's 'surprised' Americans aren't embracing his anti-marijuana stance. I'm betting a LOT of things surprise this dumbass moron. Like electricity. And indoor toilets. And being able to bring a woman to orgasm...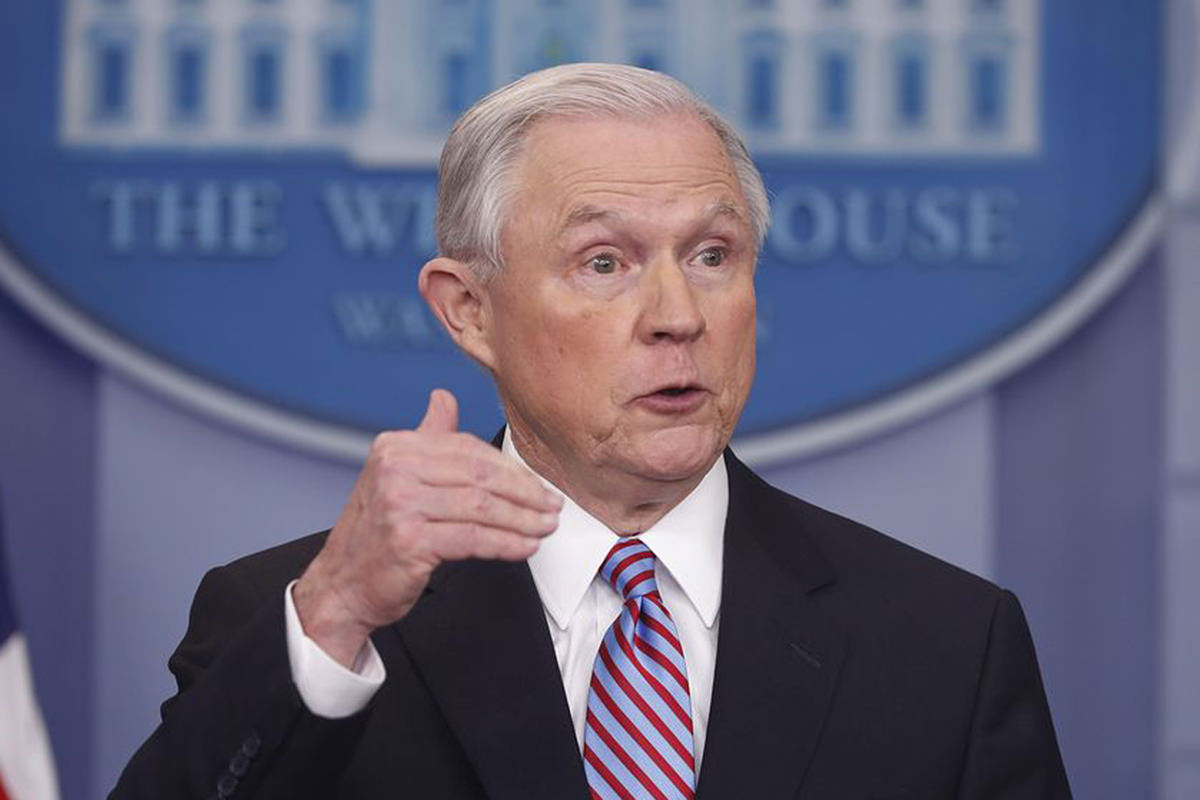 Photo by Pablo Martinez Monsivais / AP
I am sick and fucking tired of wealthy old white men making decisions based on their idiotic, antiquated notions. Legalization of cannabis is a growing trend because THE CITIZENS OF THIS COUNTRY WANT IT, and I find it ironic that Sessions comes from a party who's all about state's rights... except when it comes to something he doesn't like. What a fucking hypocritical douche.

And... no more bullets. There's a new episode of American Gods to be watching!
Tags:
Batman
,
Black Panther
,
Bullet Sunday
,
Cats
,
LEGO
,
Marvel
,
Movies
,
Politics
,
Studio Ghibli
,
Television
,
Tools
Categories:
Bullet Sunday 2017
,
Cats 2017
,
LEGO
,
Movies 2017
,
News – Politics 2017
,
Television 2017
—
Click To It:
Permalink
—
0 Comments: Click To Add Yours!
Posted on May 6th, 2017
Today was long-time blogging friend Howard's 50th birthday!
And to celebrate, he rented out a theater at The Alamo Draft House Denver so a group of us could watch Guardians of the Galaxy: Volume 2.
Given my love of the first film, I was really, really looking forward to seeing it...
And my verdict? Not as good as the first movie, but a fantastic film that's high on entertainment value.
For more of my spoiler-filled thoughts, you'll have to read on in an extended entry...
→ Click here to continue reading this entry...