Posted on October 29th, 2017

Don't fear the reaper, because an all new Bullet Sunday starts... now...

• Benson! Robert Guillaume passed away this last week and it got me to thinking about the various roles he's played in his long acting career. Primary of which, was "Benson" on Soap (and the subsequent spin-off), where his sarcastic wit was showcased to hilarious effect. My personal favorite role was Isaac Jaffe on Sports Night, a role which is surprisingly relevant today...
You, sir, will be sorely missed.

• Think! Cost to renew my nine Nest security camera "Nest Aware" subscriptions annually? $500. Cost to renew Amazon's new Cloud Cam security camera subscription plan annually for triple the storage time and up to ten cameras? $200. This means I could essentially buy three new Amazon cameras every year PLUS get a superior subscription service for the cost of my Nest subscription alone. Gee... let me think real hard about what I should do. What to do? What to do? It's a quandary, that's for sure...

• Balls! I made falafel for the first time!
My balls were totally delicious.

• Mickey Hotel! Disney just announced that Disneyland will be getting a brand new 700-room hotel which will open in 2021...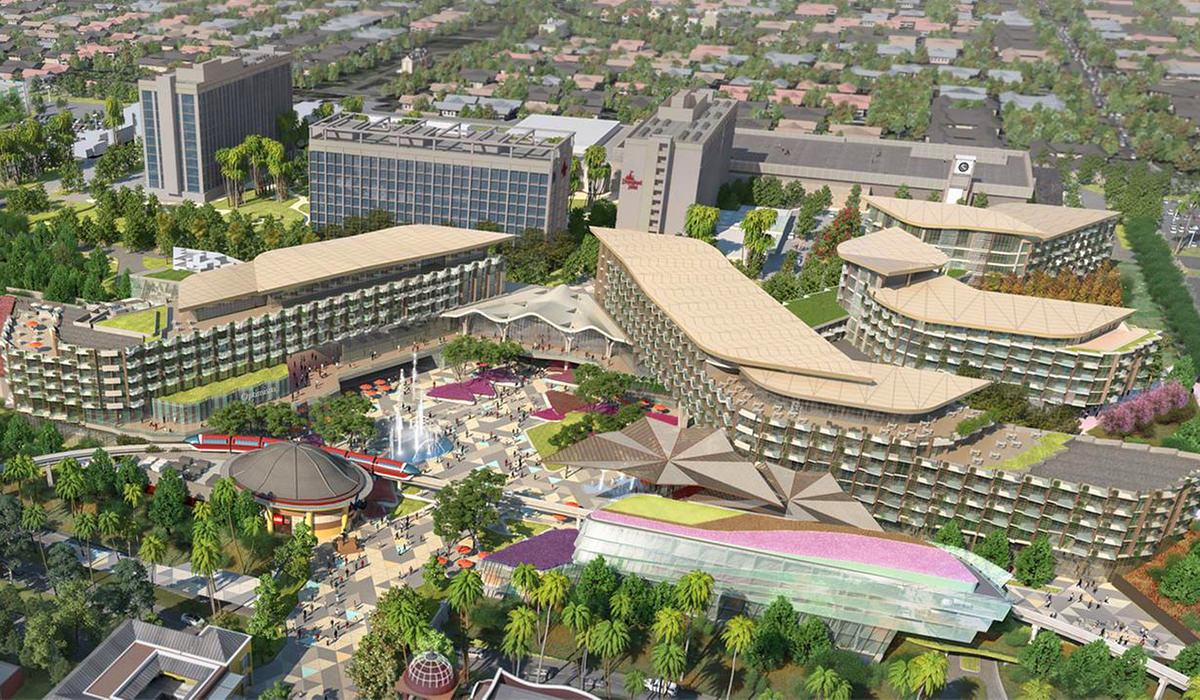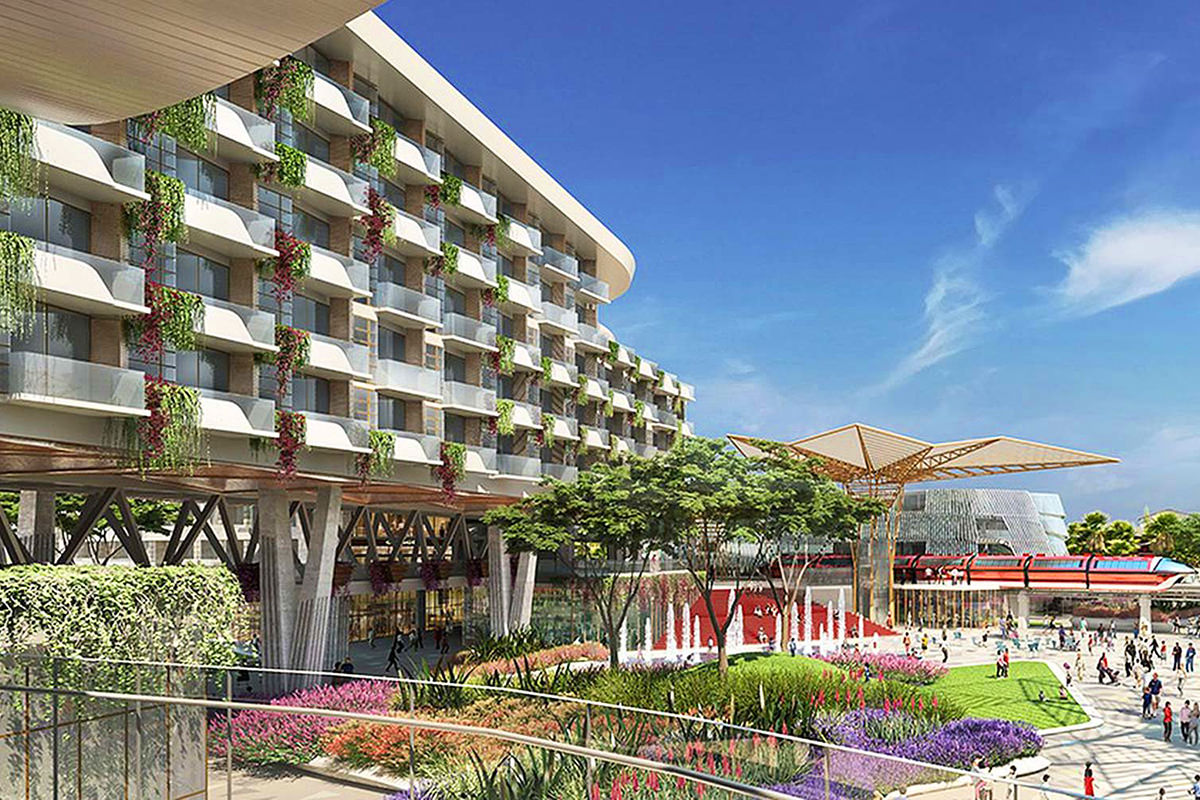 Compared to the amazing Grand Californian hotel across the way, it's kind of boring-looking. Not very "Disney-Special" to me.
The most interesting bit of information in the press release is not the hotel itself, but its location. In order to build the thing, Disney will be ripping out the West end of Downtown Disney. Which is currently occupied by ESPN Sports Zone, the AMC 12 theater, a Starbucks, The Rainforest Cafe and, ZOMFG... EARL OF SANDWICH! The LEGO Store is spared though...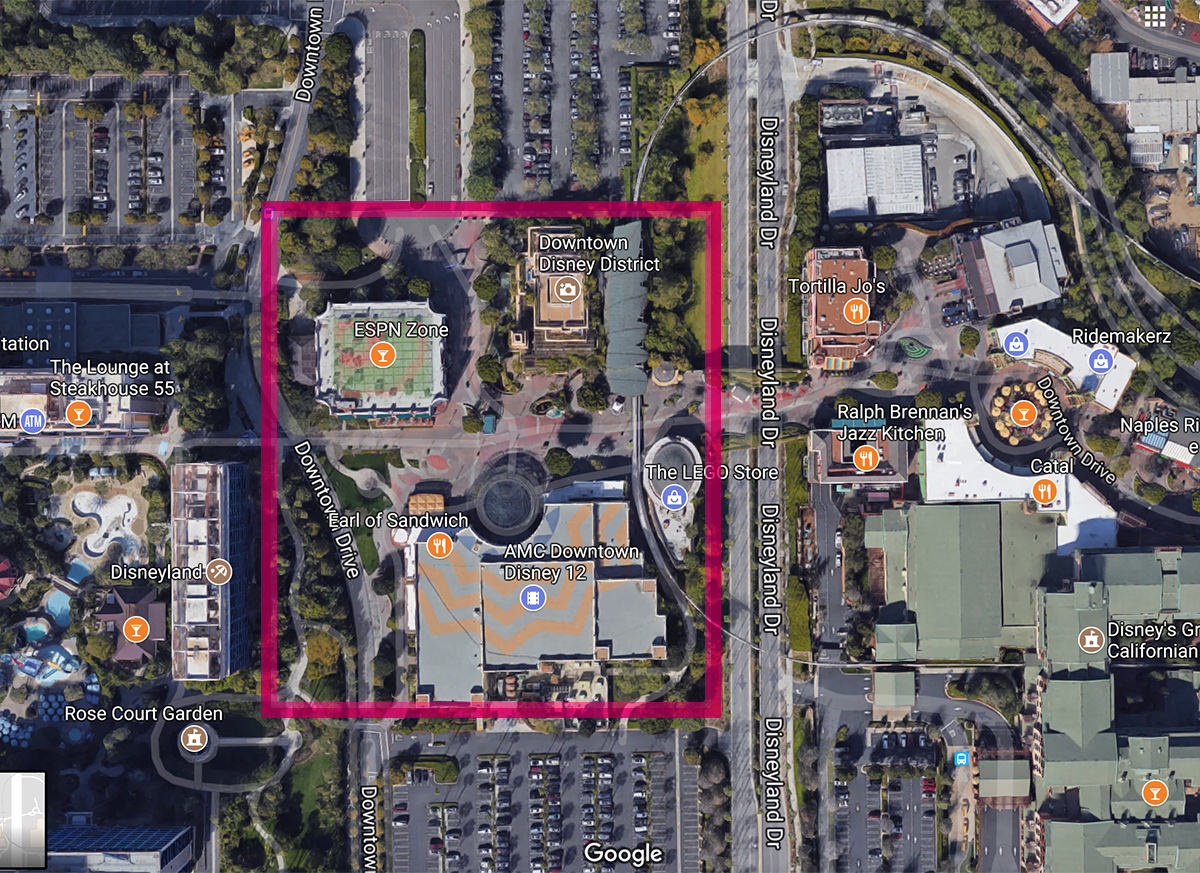 The money that a hotel generates is probably huge compared to the royalties from everything it's replacing. With this in mind, I don't know why A) They are only putting in 700 rooms when there looks like there's room for more, and B) they haven't expanded The Grand Californian (the "Redwood Creek Challenge Trail," cool as it may be, is hardly a critical part of California Adventure, so it seems a natural to rip it out and put in another 150 rooms).

• Payola! HEALDINE: Senate votes to kill new rule allowing class-action lawsuits against banks; Pence casts deciding vote. — FUCKING PIECES OF SHIT!!! No recourse now... NONE... when big banks fuck you over. You are forced to accept binding arbitration or small court settlements instead of having your day in court. And, of course, data breaches due to shitty bank security are now basically a crime without meaningful punishment. All because the fucking Trump Administration and their Republican lackeys have their mouths so deep on Big Finance cock for cash that they don't give a shit who it hurts... so long as the big paychecks keep coming their way. And OF COURSE they are re-framing this act of utter submission to bank payola as a "good move" for consumers because "frivolous lawsuit costs get passed on to consumers." All 100% bullshit of course. We STILL end up paying... just in a different way. Meanwhile, any and all protections are now ALL THEIRS. Looks like we've got ourselves a government by the wealthy, for the wealthy.

• Harrassment! Everywhere you look, it's the same damn thing. I do not know Robert Scoble personally. All I know is that he worked at Microsoft then got famous for conducting crappy "WHO ARE YOU?!?" videos with happening tech industry people. I also know that he went into rehab a couple years ago because he was accused of shitty and harassing behavior towards women when he was drunk and high.
I also know one of these women.
Now it's coming out that he didn't stop with his shitty harassment of women AFTER he was supposedly "cured" of the things he blamed his behavior on. Typical of these types of situations, people are defending him because he's married and supposedly a "good guy." Meanwhile... there's the women whom he's sexually harassed who are having to deal with the fallout of HIS crap.
I believe them. Scoble may be married with kids and be known as a "good guy" in certain circles, but obviously that does NOT exclude him from being a habitual sexual harasser.
On his Facebook profile, Scoble has the douchey description of himself as "Authority on what is next," even though he just talks about what OTHER PEOPLE are doing. I hope "what is next" for him is somebody pressing charges. The more times that shit like this results in public shaming and even more public punishment, the more these reprehensible fuckers will think twice before being assholes to their fellow human beings.

All our times have come, see you for more bullets next Sunday!
Tags:
Assholes
,
Bullet Sunday
,
Disney
,
Disneyland
,
Falafel
,
Food
,
Fucking Assholes
,
News
,
Politicians
,
Politics
,
Television
Categories:
Food 2017
,
News – Politics 2017
,
Television 2017
—
Click To It:
Permalink
—
0 Comments: Click To Add Yours!
Posted on October 5th, 2017

As anybody who has read this blog for any length of time already knows, I support the Second Amendment. This may sound weird coming from somebody whose faith doesn't believe in the handling or owning guns, but this isn't about me or my personal choices or beliefs. If it were up to me, nobody would have guns and everybody would live together in peace and harmony... amen.
But the world is a bit more complicated than that, so eliminating gun violence is not a simple problem to solve. And, as much as we'd like to think that there is something to be done about preventing mass-shootings, our options are not as cut-and-dried as people like to think.
The reason things are so complicated when it comes to gun violence?
It's the technology.
No, I'm not going to bore you with an endless diatribe about how guns are a God-Given American Right* or that Guns Are Guaranteed By Our Constitution So We Can Protect Ourselves From Our Own Government If They Become Corrupt And Abusive**... partly because I think that is a load of horse shit... but mostly because it honestly doesn't matter.
Because it's the technology.
It's being reported that the reason the mass-murderer in Las Vegas was able to harm and kill such a huge number of lives is because he had a "bump stock" which allows a semi-automatic rifle to fire like an automatic rifle. Naturally, a great many people are calling for "bump stocks" to be immediately banned. Which may actually help curb mass shootings like this in the future. At least for people who don't already own one.
But only for a short while.
Or no while at all.
The thing about "accessories" like this is that we are quickly getting to the point where you won't need to buy a "bump stock" from a manufacturer... you'll be able to download plans off the internet and 3D print one in the privacy of your own home. I don't know if current 3D plastics are strong enough for such a thing, but metal 3D printing is just one technological step away and it's not irrational to imagine a day very soon when somebody will be able to print out whatever they want from whatever material they desire. Including "bump stocks." So ban away. It will ultimately make very little difference (which is why the piece-of-shit-NRA is actually supporting the idea). The people who probably shouldn't have them will never turn them in. The black market for them will appear within minutes. It would take decades before you could collect them all (as if you ever could). In the meanwhile? Technology.
And "bump stocks" are not the end, of course. 3D printers will eventually get larger and more accurate and be able to produce stronger, more durable prints. And that technology will eventually trickle down to ordinary citizens, as all technology eventually does. 3D printing your personal copy of an AK-47 "assault" rifle in the privacy of your own home is really not that far away. Whatever weapon you desire, from a Klingon bat'leth or a BB gun to a .45 Magnum pistol or a fully automatic rifle... it will all be within reach.
Ah, but what about gunpowder! You can't 3D print gun powder! How about we let everybody keep their guns, but ban the bullets? It's a nice thought, but gunpowder was invented by a 9th century Chinese chemist and we've gone way, way past those days. Cooking up an explosive to propel a bullet is a relatively simple matter... probably using everyday items you can find under your kitchen sink.
So... what then?
If a ban on guns won't work because there are too many out there that will never end up getting confiscated and technology is quickly getting to the point where it won't matter anyway, what's the solution?
I don't know.
But, very soon now, it won't be about the guns, no matter how badly we want it to be.****
Which is where we get to the part of the story where I put in my 2¢ on stuff...
PRIORITIZE, ADVOCATE, AND FUND MENTAL HEALTH
Thanks to technology, keeping guns out of the hands of bat-shit crazy assholes who want to kill crowds of people isn't going to be possible (and, yes, you have to be a bat-shit crazy asshole in order to commit such a heinous act). Whether they 3D print them or buy them on the black market or whatever, some bat-shit crazy asshole intent on getting a gun to kill a bunch of people is going to get that damn gun. But... what if we prioritized, advocated, and funded mental health in this country so that bat-shit crazy assholes got help before they became bat-shit crazy assholes? As always happens, people are coming forth after the shooting to talk about bat-shit crazy crap that the shooter did "before the incident." In this case, it was subtle things like being abusive towards his girlfriend... and major things like buying a shit-load of Guns of Mass Murder. Odds are, there were signs the guy needed help long before we got to this place. But because this country refuses to prioritize, advocate, or fund mental health... he's fucked, which means we're all fucked. Better to get little Bobby some help when you catch him lighting shit on fire rather than wait for him to grow up and become an arsonist. But if you can't afford to get little Bobby some help, what can you do? Beat him into wellness? I think we all know that's just an invitation to escalation. Our government needs to fund mental health. Our insurance companies need to cover mental health. This is a non-partisan no-brainer. Force our politicians to act on this. That's what they're there for.
ELIMINATE MENTAL HEALTH STIGMA
I remain shocked that many, many Americans have mental problems that need tending to... and yet the overwhelming consensus seems to be that mental illness is something that is shameful and needs to be ridiculed, ignored, or hidden away. To this point... how many of you flinched when I used the term "bat-shit crazy asshole" in the first point above? Probably none of you. Because it's far easier to dismiss somebody with problems via ridicule than attempt to approach them with compassion and understanding. I am guilty of it. Odds are you are guilty of it. The USA is guilty of it. And so... people aren't getting the help they need. Parents are too ashamed to get help for their kids at a time when the help would do the most good. What will the neighbors think? Well, if they are well-adjusted, caring neighbors, they will be happy that your kid is getting the help he needs to grow up and become a well-adjusted adult. If they aren't, who gives a shit? They're obviously assholes who you shouldn't be factored into your thinking. And this is the point. We've got to change the conversation about mental health in this country. Eliminate the stigma which prevents people from getting the help they need.
REIGN IN THE PHARMACEUTICAL COMPANIES AND EDUCATE MEDICAL PROFESSIONALS
This goes hand-in-hand with points 1 and 2. A big reason that this country isn't funding mental health care the way we should? Because our representatives are paid by the pharmaceutical lobby not to. Why get to the root of the problem and try to solve it with talk when it's far easier for your doctor to just give you a pill to "fix it?" Not only easier... but far more profitable to the pharmaceutical companies as well. Now, I am not saying pills are not a solution... Lord only knows they have been for me at times... but are they they right solution? Not always. We had better be making sure that when pills are prescribed that they are the best way to address what's going on. I'm betting that a lot of times they're not. That's how people end up taking 20 pills a day. Want to ban something that will do some immediate good? Ban lobbyists. Cut the fucking money and perks out of our politics so that politicians do what's right instead of what's right for their re-election campaign. Ban doctors from taking money or perks from drug companies too. Instead get them better educated to recognize signs of mental problems and treat (or make a referral to treat) those who need it.
INVEST IN THE TECHNOLOGY TO COUNTER TECHNOLOGY
So, thanks to technology, people are soon going to be able to 3D print an AK-47 at home. What can you do about it? Not much, if we're being honest. But what about investing in the technology to counter the technology that makes mass-shootings possible? Do I know what this technology might be? No. I'm just not that smart. But I've got a box named "Alexa" that sits on my counter that controls my entire automated home just by me talking to her, and people smart enough to come up with that are smart enough to come up with all kinds of magical things. Problem is? Who is going to pay for developing technology to save 59 people at a concert when they can make Big Money by investing in the development of the technology that lets hundreds of thousands of people turn on their kitchen lights by talking to a box? There has to be a pot of gold at the end of the rainbow or else nobody is going to chase the rainbow. I don't know about you, but having my tax dollars go towards funding technology that makes us all safer? Sign me up. I'm not saying I want to build Skynet here... but an automated drone which can recognize a mass shooting happening at act instantly to protect people? (or whatever) Yes please.
INITIATE REASONABLE GUN RESTRICTIONS
Yeah, yeah. While I honestly believe that, very soon now, gun restrictions are about as useful as a buggy whip... there's something to be said about a sane approach to firearms in this country right now. It's an attitude which will ultimately influence the way that future generations view guns, and we are obviously need something better there. As I said a couple days ago, when I was a kid who was a member of the NRA and shot guns, the NRA was not a psychotic organization that wanted everybody to be fucking paranoid about their gun freedoms all the fucking time so they can keep membership dues and contributions flowing. The NRA was a sane, rational, organization which existed to promote gun safety. They also advocated reasonable gun restrictions so that people couldn't abuse the guns that NRA members are so passionate about. The president at the time, Conservative Demigod Ronald Reagan, was also an advocate for reasonable restrictions on gun ownership. Overall, it was a much saner time. But now? Fuck that, there's money for the NRA to be making in unlimited firearm access! There's money for the president to be making in unlimited firearm access! There's money for all our politicians to be making in unlimited firearm access! And it's that attitude that's getting people killed. So, yeah. Reasonable gun restrictions. Universal background checks are supported by the vast majority of Americans. But with our politicians too busy sucking NRA cock for cash... and the NRA too busy sucking gun company cock for cash and chasing paranoia money for even more cash... it's not happening. Force politicians to do what the majority of people in this country already want: require background checks for anybody purchasing a firearm under any conditions. Something else that the majority of Americans support? Banning gun possession by anybody who is under a restraining order for domestic violence. Yes, they might acquire a firearm by other means (that's always a possibility), but surely standing up and saying "persons legally found to be violent towards others shouldn't legally be able to own a gun" is a no-brainer? You'd think so... but that's our politicians sucking cock for cash again. The list goes on and on. That "bump-stock" thing, for example. Reasonable restrictions are not a violation of the Second Amendment. They are a clarifying statement on the Second Amendment for the common good. And, regardless of what technology does to render restrictions moot in the future, right now we are in desperate need of common good.
I could go on. This is a long, difficult, complicated subject. But I think you get where I'm coming from. Banning guns outright... whatever kind of guns they may be... is a very short term solution for a long-term problem that is not going away. Not in this country where guns are as prevalent as staplers. Not in this time when technology is going to be arming people in ways we can't even dream of yet. By focusing money and effort on what makes somebody want to murder masses of people... by developing a healthier take on mental health problems... by coming up with reasonable attitudes towards what gun ownership should be... these are all things that should be obvious steps. But clearly they are not. Partly because Americans seemed content to be conditioned to think that mass shootings are "the price of freedom"... partly because we are driven to treat the underlying problem as shameful and worthy of ridicule... partly because our country's political system is corrupted by lobbyists... and partly because our politicians are sucking cock for cash.
Don't think for a minute that anything will ever change without action. Don't think for a second that our politicians will stop sucking cock for cash on their own. They've got re-election to think about. This has to come from us. This. Has. To. Come. From. Us.
Otherwise, we get the country we deserve.
And that's true no matter how you feel about guns, no matter what politial party you ascribe to, and no matter how many people die.
*Using a gun to hunt or protect yourself is absolutely a right in this country. So is collecting guns. So is trading guns like bubble gum cards, if that's your thing. For now. Because the amazing thing about the American Constitution which spells out these rights is that it can be amended or even tossed out and replaced. Not by God, but by the American people. Given it's the Second AMENDMENT to The Constitution that we're talking about here, you already knew this, right?

**Bwah ha ha... "IF" they become corrupt or abusive? That ship has certainly sailed! The reason it's horse shit to think that you'll be able to protect yourself from a corrupt and abusive government is that you won't be firing at soldiers with guns who are "coming to get you"... not by a longshot. Those days are long gone. You'll be facing endless waves of tiny armed drones. Drones that can react faster than a human and are far more difficult to hit. Not to mention being expendable.*** And this is assuming that a rogue American government wouldn't just send a missile up your ass.

***Not that our government hasn't treated the men and women serving in our military as expendable... don't even get me started.

****Lets set aside the debate over whether it's currently about the guns, since my argument is that it just won't matter in the near future. That debate gets us nowhere, because we (as a country) will never agree on it. In my opinion? OF COURSE IT'S ABOUT THE FUCKING GUNS! The whole "Guns don't kill people, people kill people!" argument is about the stupidest shit I've ever heard. Do you think the lunatic that killed 59 people and injured hundreds of others could have done so from the 32nd floor of a hotel a block away without a fucking gun? Yes, a gun is a tool to be used and abused like any other. But give me a fucking break.
Posted on July 12th, 2017

Today is Net Neutrality Day. Which you'd think would be redundant since we have it, but apparently that may not be for long.
Pig fucker assholes like Chairman of the FCC Ajit Pai are once gain trying kill net neutrality so that big business can control the internet. Never mind that they have to tell lie after lie after lie to sell it to the American people... the money involved is massive, the people involved are all-powerful, and telling lies is not something they really give a fuck about.
I have written about how crucial net neutrality is to a free and open internet many, many times (like here, for example).
And I'm just one voice of many, because the American people have backed net neutrality many, many times.
But it never seems to matter, because the people trying to kill it have an endless supply of money to throw at the pig-fucking assholes who keep assaulting it.
It's at times like this that I sincerely feel we should burn this fucking shithole of a corrupt piece of shit country to the ground and fucking start over. What The United States of America is supposed to be all about is lost when its citizens no longer have a say. People with money are ultimately the only ones allowed to have a voice now. Because they are the only ones with the means of buying off the politicians who make the decisions for all of us...
If Pai and his bought-and-paid-for pig-fucking asshole confederates actually manage to kill net neutrality, I might as well take down Blogography. Because it's only a matter of time before Very Important People decide they don't like me calling them pig-fucking assholes and shut it down for me.
The pig-fucking assholes.
Visit the FCC and tell them that you support Net Neutrality.
UPDATE: And... Mr. Trae Crowder, everybody...
Holy shit what a cluster-fuck.
Posted on April 10th, 2017

There are few businesses I loathe more than United Airlines.
They are a shitty, shitty company and just about every experience I've ever had with them has been a bad one. I stopped flying them because they lost my luggage twice in four flights and were unbelievably shitty to me as I attempted to get it back. Then, after nearly a decade, I finally flew them again. Not only did they lose my suitcase right out of the gate and treat me shitty for it... they then charged me to check it back home, even though I never got to use it my entire trip.
I detest these fuckers. Absolutely detest them.
Which is why I experienced zero shock when I saw that they had forcibly removed one of their paying customers from a flight they overbooked...
Now... before we go any further...
Most all airlines overbook their flights whenever they can.
The reason being is that they know that a certain number of people will cancel flights or change their ticket or arrive too late to make their flights or whatever. They're just trying to make sure that planes go out full, because that's what needs to happen for them to make money.
It's for this reason that I heavily advocate getting a seat assignment in advance and checking in for a flight the minute you are able to do so. That way, you're all set in the event that a flight is oversold. It will be somebody who didn't get a seat or check in early that gets left behind in an oversell situation (assuming the airline can't get volunteers to take a later flight).
Or so I assumed.
From the looks of things here, the guy had his seat assignment. So I honestly don't know what's going on. If United knew they needed crew on the flight, why didn't they handle this fiasco before boarding took place? You simply do not remove somebody from the plane like this. If you oversell a flight, you deny the person who didn't get a seat assignment and then lavish money and gifts on them out of compensation... before boarding.
But this is the fuckers at United Airlines we're talking about, and so...
...not a big surprise that this is how they decided to handle the situation.
United Airlines Hates You.
And guess what? Every time you fly with this heinous shithole of an airline, you're empowering them to keep hating on you... along with every other person flying with them...
Find a different way to fly.
Posted on April 9th, 2017

You may be thinking that after 500 Bullet Sundays I'd be giving up! But never fear, because an all-new Bullet Sunday starts... now...

• Target! Well, shit! All this time I've been waiting for the Victoria Beckham collection to debut at Target. It finally drops, and I find out it's WOMEN ONLY! What the hell?!?
Oh well... I promised I'd buy something nice when it the Beckham Collection was released, and I'm going to keep that promise. Good thing it's at Target where I know I can use the bathroom after changing into my new frock de Posh Spice.

• Something For Everyone! I'm not going to weigh in on the dumbass Pepsi commercial bullshit with Kendall Jenner... everything that needs to be said about it has been said. I just wondered over and over how in the hell the concept managed to get greenlit in the first place. And now, thanks to Saturday Night Live, we have that insight...
Probably. Probably.

• THE FACTOR! And speaking of SNL... holy crap! Alec Baldwin not only has a terrific President Trump, but a flawless Bill O'Reilly as well!
If only he would permanently join the cast. I mean, seriously, SNL ratings are higher than ever, and he's a perfect fit.

• Dreamy! Somehow I missed this one?
I need more dream pop in my life.

• Hannity! Yeah. Just going to leave this right here...
Agenda-ramming asshole.

And... Bullets B Gone.
Posted on March 28th, 2017

Well, as expected, the bought-and-paid-for representatives in The House have voted with the bought-and-paid-for senators in The Senate to strip away privacy protections for internet access. Now the legislation will be passed to President Trump so he can sign off on it.
Everything you are online will soon be in the hands of your Internet Service Provider.
Who will sell everything from your browser history to your location data to whomever will pay for it. And, believe me folks, they will.
The Republican spin about how this is a Good Thing is total bullshit. There is nothing more important than your privacy when it comes to the internet. There cannot be enough protections to ensure your privacy on the internet. Any claims to the contrary can be nothing but bullshit.
So... be sure to look into a VPN if you plan on browsing the internet in the future.
Also... please pardon the mess at Blogography for a while. I'm switching the entire site over to an SSL security certificate, so images, videos, and such will probably be messed up until I get everything sorted. If you check the URL in your browser address bar, you'll see that Blogography is now HTTPS secure. You can hover over the badge at the bottom of my sidebar to verify it.
Next up? Killing off net neutrality, I'm sure.
UPDATE: Here's a handy list of how much your senators and representatives were paid to sell out your privacy. Pig fuckers, every one of them. But especially The Right Dishonorable Cathy McMorris-Rogers and the Right Dishonorable Daniel Newhouse, Representatives from my Great State of Washington. Enjoy the tens of thousands of dollars you took in betrayal of your fellow Washingtonians and their privacy, assholes.
Posted on March 26th, 2017

Time to burn this muther to the ground, because an all-new Bullet Sunday starts... now...

• The Government is Not Your Friend. In all seriousness, I wonder what it's going to fucking take before US citizens wake the hell up to how their privacy rights are being chipped away by elected officials. Our bought-and-paid-for-Senators just voted to undo internet privacy regulations, which means that you ISP can sell your browsing history to advertisers. Our privacy is up for grabs, and fuckers in the GOP are the pimps making it happen. Might want to look into a VPN to protect yourself before this gets run through the House.

• GET OUT! I'm just going to chime in with the vast majority of critics and say that Get Out is one of the best films this year...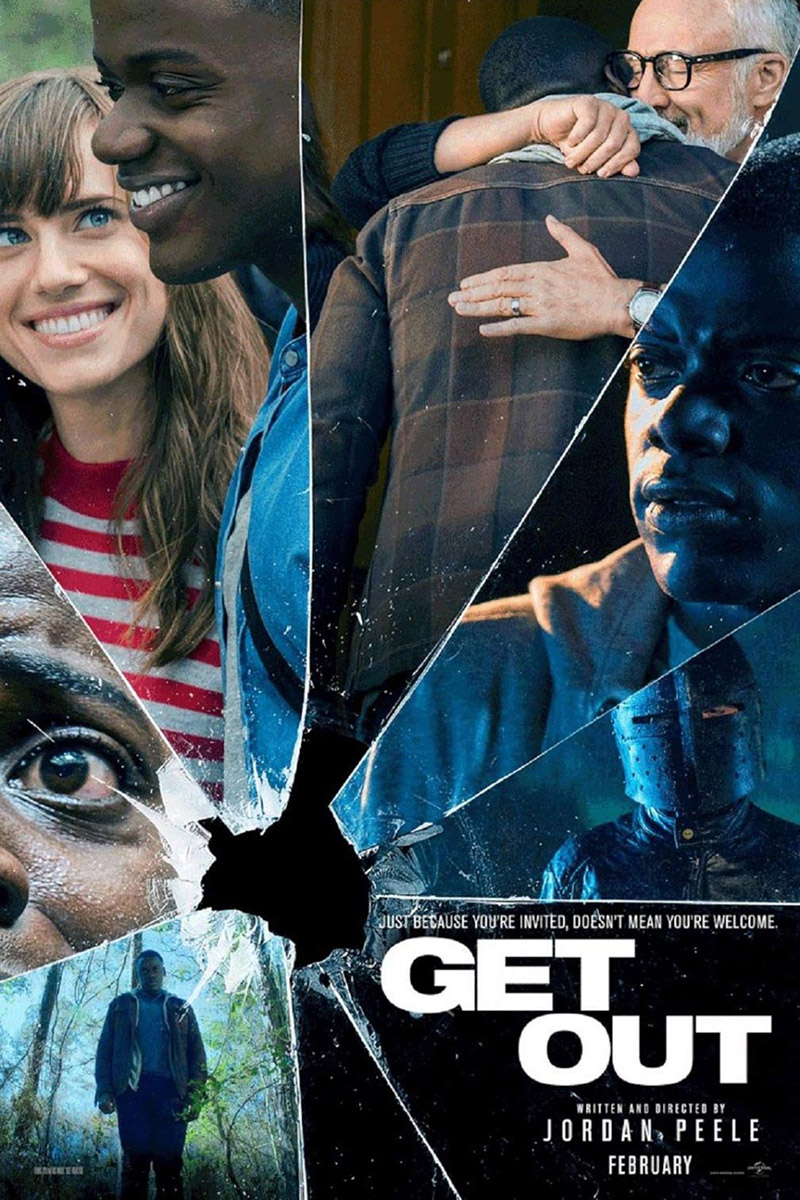 Jordan Peele has absolutely killed it. So far as suspense thrillers go, this is a tough movie to top. Easily going to make y "Best Of" list for 2017. Go see it!

• Final Dimensions? Rumors have been swirling that my favorite game of the moment... LEGO Dimensions is getting canceled. Back in January I was dismissive of such rumors. But now? Evidence is mounting.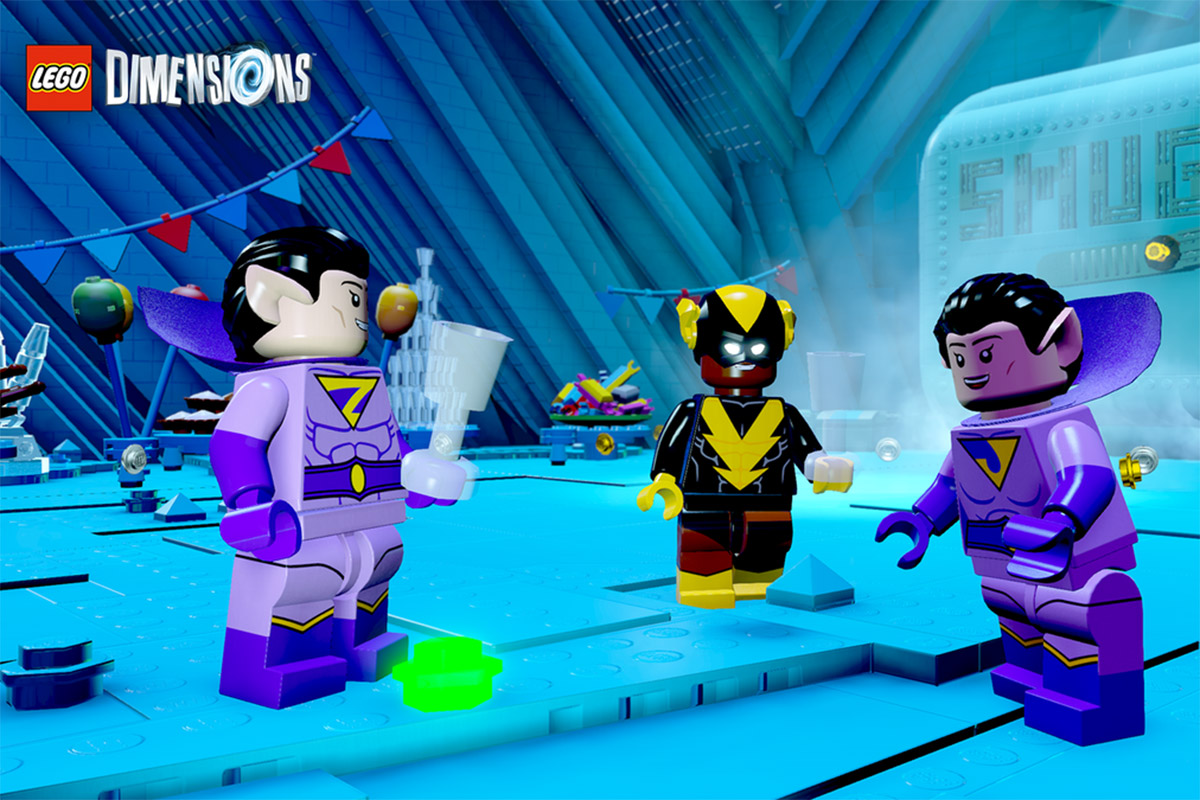 Needless to say... this sucks if it's true. Sucks hard. The sets that have been coming out lately are better than ever, and a lot of fun to play. More sets for properties like Beetlejuice, Powderpuff Girls, and Teen Titans GO! have been delayed, but are still on the way, so there's that. But still... I hope we're getting even more sets before LEGO hangs it up.

• Headlines. So... when you see a headline like this pop up in your newsfeed...
You have to guess... will this be some godless liberal senator scumbag with no moral values... or will it be a "family values" Christian who supports anti-gay, anti-trans legislation? Lets find out together, shall we?
State senator found with teenage boy in hotel room.
Big fucking surprise. It's the "family values" Christian who ends up being the fucking pervert. YET AGAIN! It's always these assholes getting caught texting things like "I'm gonna fuck you like a good little boy if you keep calling me daddy." They can't seem to help themselves. Which is why every fucking time I see some politician asshole going out of their way to shit all over LGBT equality, I automatically expect they're fucking pedophiles. And history seems to back this up.

• Assemble! Oh goody. Justice League looks like a total rehash of Batman vs. Superman... incomprehensible action sequences strung together with boring shit nobody cares about...
At least Zack Snyder is consistent with his suckage.

• Gubermint! There's so much fucked up shit going on with our Trump-infused government that I could fire off another fifty bullets just to touch on it. But doing so will probably make me want to blow my head off, so I'll pick just one...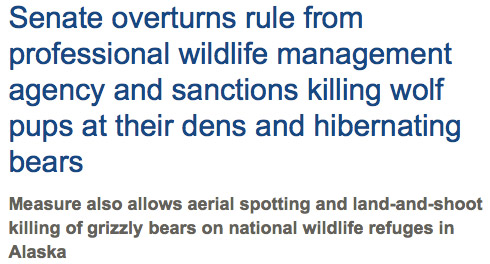 You can read about it here. What a bunch of fucking monsters we have representing us. If they are willing to treat innocent animals like this, there's no hope for us. None.

So over bullets for today.
Tags:
Assholes
,
Bullet Sunday
,
LEGO
,
LEGO Dimensions
,
Movies
,
News
,
Politicians
,
Politics
Categories:
Bullet Sunday 2017
,
LEGO
,
Movies 2017
,
News – Politics 2017
—
Click To It:
Permalink
—
1 Comment: Click To Add Yours!