Posted on May 10th, 2022

Pantone is now charging people to use their color books in Adobe Illustrator.
I wonder if there's an alternative system, because this is fucking absurd. Designers don't buy inks... we specify inks so that printers and fabricators can purchase the inks from Pantone.
Except now we can't specify jack shit because Pantone wants us to pay $60 a year for the privilege.
Fuckers.
If anything, Pantone should be paying ME to specify their inks to my printers! Something I've been doing for FREE for them for decades.
I swear, there are days I just want to take a torch to corporate America for the way that they treat people. I sure hope that somebody who isn't a greedy piece of shit develops a new color system replacement for people who are tired of Pantone's bullshit. I am betting that every designer on earth would hop on board.
Having to pay to promote a company's products when we don't even get a cut of the sale? Are you kidding me? Apparently Pantone didn't learn their lesson with Hexachrome and needs to be taught another.
Fuckers.
Posted on October 15th, 2021

"Well, shit, I'm alive. The COVID booster didn't kill me. So I guess I have to go into to work."
Zero side-effects from the third Pfizer shot. Which worries me a little bit... how do I know that it did anything if there's no side-effects from my immune system getting charged up with COVID-fighting instructions? Though I didn't have side-effects the second time either (only the first, where I had a fever for three hours and soreness in my arm for three days).
In my county here in Central Washington, there's been 102 COVID deaths out of 10,912 total cases since tracking of the pandemic began. Right now they say that 638 people have tested positive in the first half of October. When I check the CDC site, it says that the eligible population here in my county is 73.6% vaccinated and 34 new people have been admitted into the hospital. If it's accurate, that's really good news. Given the number of anti-maskers out and about, I really expected us to be under 50% vaccinated. Some counties east of me in Idaho and Montana are 40-some-odd-percent, which is pretty scary. But not as scary as those counties sitting at 20% once you head over to the Dakotas. Holy shit. It's like a COVID incubater in some parts!
Which is how we end up with COVID variants like Delta, Beta, Gamma, Lambda, Mu, and the variants of those variants. It's all pretty crazy when you consider that the virus will only become more communicable and deadly as it changes to survive.
But that's nothing compared to the heinous level of idiocy coming out of the mouths of pieces of shit like Marjorie Taylor Greens, who is just the worst...
God she's awful. There's really no level to which this horrific excuse for a human being will stoop. I am disgusted to my core.
I'd say that I can't wait for her to get COVID, but you just know that she's been vaccinated. Pandering to her base with this hipocritical bullshit is how she stays in office.
Tags:
Assholes
,
Bat-Shit Insane
,
Bullshit
,
COVID Deniers
,
COVID-19
,
Fuck This Shit
,
Fucking Assholes
,
Fucking Scumbags
,
News
,
Pandemic
,
Pig-Fucking Assholes
,
Politics
,
Stupidity
,
Truly Stupid People
,
Vaccination
,
Worthless Pieces of Shit
Categories:
News – Politics 2021
—
Click To It:
Permalink
—
2 Comments: Click To Add Yours!
Posted on June 8th, 2021

Honestly, I have tried to work the word "hate" out of my vocabulary. Because I have seen where it leads. So I endeavor to not hate anybody, anyplace, or anything.
And sometimes end up failing miserably.
Like with AT&T.
After being forced into a new plan so I could have access to 5G data, my bills were never right. The amount I verified I was to pay never ended up being on my bill. So I would call AT&T... they would see I was correct... then fix it. Until the next month. All in all it took them SEVEN FUCKING MONTHS to get it straightened out. At which time I was done. I was more than done. I wanted nothing to do with this shitty company that can't figure out how to bill people the amount they promise. So I switched to T-Mobile. Called AT&T and canceled my plan on April 24th. Called for my pay-off amount on May 5th (that's the day after my billing cycle). Provided my credit card. Paid my canceled account off. Then verified that the transaction went through on my bank statement (which it did on May 7th). Fourteen years as a loyal AT&ampT customer down in flames because they can't figure out a fucking billing statement.
But at least I'm done, right?
NOPE! Nope de nope nope nope.
Because today I received a balance overdue notice. On a canceled account. That I paid in full. To an AT&T representative. Over the phone. Not some random amount I pulled out of my ass... the amount I was told I owe to close out my account.
So I called the fuckers to tell them that I don't owe them a damn thing.
It didn't go as well as you would expect. Even though it's obvious to anybody with a fucking brain in their head that they made a mistake. My bill is always $152 to $157 a month. With the exception of November-December where my brother and I bought new iPhones and had to pay bullshit activation fees even though AT&T doesn't do a fucking thing because it's all automated...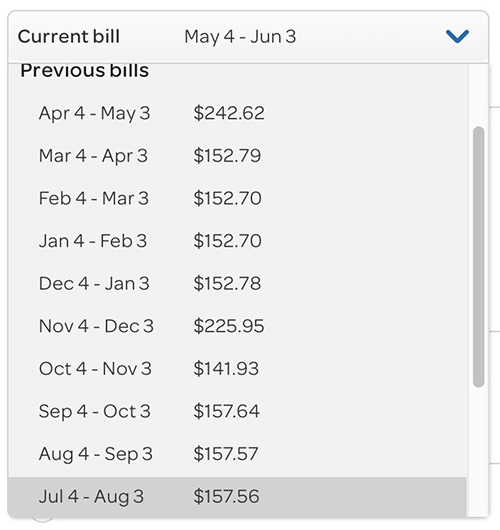 But I digress.
For no reason at all, AT&T decided my final bill was NOT the amount on my closed account that the representative gave me and took my credit card for... I owe them $89.83 more. Even though I was out of contract and there were no cancelation fees or anything. But nobody could explain WHY I owed this additional money. Nor could they explain how my bill jumped extra money AFTER I HAD PAID IT. Nor did they find it strange even though I was on auto-pay until my last bill, so they automatically took the amount out of my checking account. Nope. They just wanted the money. And, depending on whom I talked to, it was either old money owed on my wireless account, old money owed on my Direct TV account (that I canceled three years ago), or just money I owed period and I should shut up and pay it.
After being transferred to FIVE DIFFERENT PEOPLE IN FIVE DIFFERENT DEPARTMENTS OVER TWO HOURS, I finally told the last guy that I wasn't paying them a fucking thing because I don't just throw money away when I don't owe it. They weren't hearing me, so I screamed "EITHER ZERO MY ACCOUNT OR TAKE ME TO COURT BECAUSE I DON'T OWE YOU THIS MONEY AND I'M NOT PAYING IT! WHICH WILL IT BE? So they turned me over to collections, which offered the same party line. After TWO AND A HALF LITERAL HOURS and I'm not making that up because my phone keeps track...
...I decided I'd just try the online chat. Which has mostly been useless, so I stopped using it...
Six minutes later... while I was still on hold with the fucking collections department... Josie, bless her heart, saw that it WAS strange my bill jumped $89.83 for no reason with no explanation, then got a supervisor to zero out the account.
Jesus Christ.
So this is how people become homicidal maniacs.
If nothing else, this only confirms that my absolute hatred of AT&T is entirely justified and I'm more relieved than ever I got the fuck out of that shitty company who doesn't know WHAT the fuck they are doing and doesn't have a billing system that's worth a damn.
Until next month when I'm assuming I'll get a new bill for a canceled account.
Posted on May 23rd, 2021

Feeling lost? Feeling that the internet has let you down? Want to be let down even further? Well have no fear... because an all new Bullet Sunday starts... now...

• Dogs! We Rate Dogs is now on TikTok! This is one of the more wonderful things to ever come out of the internet, and I'm happy to see it showing up on The Tok as well. I love that they are taking time to explain one of the best memes to ever exist...
Some things deserve to go mega-viral. This is one of those things.

• Love is a Drug! Watch this. Watch Katie Porter dismantle the outright lies of Big Pharma. This is ASIDE FROM the fact that the US government funnels ADDITIONAL money in the form of government research to these companies. Taxpayers get soaked front-to-back, and NOBODY GIVES A SHIT. This is why lobbyist payola must be removed from politics. And that's a bi-partisan position, because there is trash on both sides of the aisle taking money to stay silent and sell us out. Except not Katie Porter. Thank God...
But will anything come of this? Probably not. Too many politicians in government who are NOT named Katie Porter are too busy fucking us over for money and power. Our system of government is designed that way.

• SQUIRREL! Mark Rober is back. And so are his squirrels...
I don't know what's more remarkable... that Mark keeps building these outlandish things... or that the squirrels somehow manage to get it all figured out in the end.

• Give Blood? And yet here we are...
Sorry monogamous gay men! There's still a three month abstinence waiting period before you can donate blood! And yet I can shoot up with dirty gutter needles and have unprotected at-risk intercourse with crack-addicted sex workers day and night (so long as they're women) and there's -zero- waiting period on my giving blood (so long as I'm not presenting any symptoms). Because that totally makes sense! Except it doesn't... because bigotry never does.

• Don't Fence Me In! And now for a cautionary tale, courtesy of vlogger Johnny Harris...
In all seriousness, is there anything on this planet that humans haven't screwed up?

• Be Best! People who get off on cruelty boggle my mind. What has any trans person ever done to you to deserve this? I'm genuinely curious. People are just doing their best to live their life the best they can with the cards they were dealt. And their reward for trying to carve out a little piece of happiness and live their best life is for you to shit all over them? That's not the flex you think it is. You're just showing the world that you're awful...
Do better to be better.

THE END! NO MORE BULLETS FOR YOU!
Posted on May 21st, 2021

There's a special place in hell for companies who try to fool people into doing business with them by pretending to be authorities of something. Earlier this week I received an "official notice" about a monetary disbursement on my mortgage. Not from my lender... but from "the county office" where I reside. And I'm all like PAY ME THAT MONEY!
Except...
It's only at the very bottom of the letter in tiny grey print where they tell you that they are actually not an "official" anything... they are a bank and that this is a refinance offer. So all the government-like official symbols and claims of being "county representatives" are just bullshit to try and fool you into contacting them for "money you are owed."
It's a scam.
Meant to deceive hardworking people. And especially to deceive the elderly, who are more easily roped into believing this kind of bullshit.
Rage inducing.
And if the ACTUAL AUTHORITIES are not going to do something to put a stop to this, I can only hope that all the liars and assholes responsible for this horrendous shit will spontaneously combust. Though going out in a blaze of glory is too good for them.
Posted on April 26th, 2021

Every damn day there's stuff going on that's worse than the day before, and I am exhausted. I just want to crawl under the covers and forget the outside world exists before I even get to my lunch hour because something in the news was the last straw for me.
Flat earthers. Anti-vaxxers. COVID deniers and mask deniers. Q-Anon conspiracy dipshits. Politicians selling us out to their wealthy corporate owners. Asholes making life so much harder for anybody who isn't a billionaire. The list goes on and on, but it generally boils down to mean people and stupid people. And most of the time the worst offenders are both. Those who lack compassion and kindness. Those who are willfully ignorant and not willing to acknowledge truth. It's depressing just how bad things have gotten because these people are intent on fucking it up for all of us.
The good news is that I finally set aside some time to reinstall Wordpress so the PHP update is no longer killing my blog, so there's that.
So I guess there's nothing stopping me from kicking my Monday to the curb a little early and crawling under the covers to play video games for the rest of the day.
Though I'm pretty sure my cats will want dinner come 6:00.
Tags:
Assholes
,
Blogging
,
Cats
,
COVID-19
,
DaveLife
,
Dumbassery
,
Dumbasses
,
Life As We Know It
,
Pandemic
Categories:
Cats 2021
,
DaveLife 2021
,
News – Politics 2021
—
Click To It:
Permalink
—
0 Comments: Click To Add Yours!
Posted on February 10th, 2021

It's not that I'm losing my passion or drive for the things that matter to me, it's just that I've stopped giving a crap about the things that don't. My work, my friends, my causes, my hobbies, my cats... they get 100% of my energy and dedication. Dumbasses who pollute the world with their ignorance and hate, however, now get only the most minimal amount of attention that I am forced to give them. Sure there was a time I'd dedicate myself to trying to understand their position while treating them with compassion and caring, but now they can spontaneously combust for all I care.
I came to this radical (for me) new outlook after watching a woman claim that the reason she acted so horribly towards some retail workers was because she was misled and duped by some bad information. And I was like... wait a minute. The bad information which "misled and duped you" only affected how you viewed the situation. Your being a total fucking asshole is what made you scream and yell at some employees just trying to do their job. You can blame somebody else for what you thought you knew... you can't blame somebody else for how you choose to treat people. That's 100% on you.
Because, seriously, if my excuse for not condeming your shitty behavior is "Well, maybe they've been wealthy their entire life and were never taught how to care about people..." then the problem person in that scenario is me.
And still them, of course. They're the asshole in question, I'm just an asshole by association.
Problem is, even an asshole by association ends up smelling shitty.
Posted on February 7th, 2021

You're probably watching sportsball today, but I've got your touchdown right here... because an all new Bullet Sunday starts... now...

• BAT! My new ritual for Sportsball Sunday is to watch the Superb Owl episode of What We Do In The Shadows...
Far more entertaining that football could ever be.

• Make Mine Marvel! Finally. Exactly what I'm looking for in a Marvel Studios Disney+ series...
I'm assuming that they're not going to waste our time with three episode parodying 48 Hours, Lethal Weapon, and Rush Hour before actually getting to the action. And speaking of action... how amazing is it to see Sharon Carter (AKA Agent 13) kicking copious amounts of ass in this trailer?

• Beer! The Superb Owl commercials were mostly a bust this year for me. Except one. This is one of the best straightforward commercials I've seen in a long time...
It bypasses special effects and slick marketing to go with something much more intimate and human. And it works really well, accomplishing what commecials costing boatload more money can't. Bravo, David Fincher.

• Plague! As a long-time fan of Adam Ellis and his illustrated comics and stories, I was 100% unsurprised to learn that somebody made a shot-for-shot film adaptation... without asking for permision... of one of his stories...
I'm unsurprised because this shit happens CONSTANTLY. I've had my works stolen more times than I can count... for everything from business logos and remakes of my DaveToons to outright plagiarism where they erase my copyright and present it as their own work to promote their sites and products. There was a shop in the UK that printed out one of my cartoons to fill AN ENTIRE WINDOW DISPLAY and never responded to my emails once I was made aware of it. And don't even get me started on my photos. Those have been stolen so often that I had to stop putting hi-res images online, which was brought about because some asshole used one of my shots to promote a homophobic message of hate that really hit me hard. 95% of the time when people ASK me to use something, I am happy to say yes with the understanding that it's for non-profit use that doesn't promote hate-speech. But since I don't make any money off of my stuff, if YOU are, then I want to get PAID.
This right here from Adam Ellis is one of the worst and most egregious rip-offs I've ever seen. And the fact that the people who STOLE HIS WORK then asked him to promote it... and even blew him off when he asked them to remove their theft... is abhorrent. I hope he sues because he has a very good chance of winning. SOME of us should actually get justice for having our work stolen. This is rage-inducing. But what's even more rage-inducing? The response from the filmmakers after Adam's post went viral, essentially saying that they tried to contact Adam (right), but when he "didn't respond" they decided to steal his work anyway. Except because they added stuff to the story, they don't consider it to be really stealing. And since the concept of man being created from the earth has been told forever, then they have a right to tell it. Even if it rips off the way Adam interpreted it completely. So by that logic I guess I could rip them off by making a shot-for-shot remake of their film and they would be perfectly fine with that?

• I AM SEEN! And I don't think that I've ever felt more attacked!
Pretty much... me.

• Olive Garden? When it comes to eating out, I'm not the biggest fan of Olive Garden. It's okay... and there are certainly some dishes I like there... but it's not terribly authentic and I would prefer to make my own Italian at home. The exception is their salad and breadsticks. In fact, most every time I go there, it's not for the pasta... it's for that neverending salad and breadsticks. A while ago I found that they started selling their "Signature Italian" salad dressing in the grocery store. I bought a small bottle to try, absolutely loved it, and have been buy the big bottles two at a time so I never run out...
It makes salad become frickin' dessert. And it's made me start experimenting with making my own breadsticks. At first I thought it shouldn't be too difficult. It's just a basic bread slathered with butter and garlic salt. But they're surprisingly tricky to make the same, because th sticks at Olive Garden have a fluffy texture to them. I'm guessing it's because of some kind of dough additive, but I'm not giving up just yet. If Olive Garden ever releases frozen sticks at the grocery store that bake up the same, I may never go to their restaurants ever again.

• Population! I found this fascinating...
At some point mankind will understand that resources are finite and the planet is being destroyed. Then they will either do something about it... or they won't. The universe won't care one way or the other. Humanity, of course, will care quite a lot.

And that's my last touchdown.
Posted on January 8th, 2021

I got up early this morning to get some work done before feeding the cats and running into Tourist Town to do some grocery shopping. Early morning shopping is the best shopping because the store is so empty. But also? My cupboards and refrigerator are low on staples, so I was excited about having food in the house again.
The other big draw for my grocery shopping today was a coupon I had which gives me $11 off a total of $110 or more. That's 10% off... on top of the other coupons I have. I love it when opportunities like this comes along, because it's the one time I allow myself to buy stuff that's not on sale. But you have to be careful. One penny under $110 and no discount for you. I kept careful track in my head and got to $120 (actual total $116.88), so way to go, me.
Along with a shiny new iPhone, I changed my service plan with AT&T. My new phone can do 5G, my service plan didn't have 5G, and even though I probably won't see 5G any time sooon where I live, I'd like it available when I travel (assuming I travel again). AT&T had a deal where I could get my two lines for $65 a line (with auto-pay and paperless billing enabled), and I'd actually be saving money in the long run over what I had, so sign me up...
Before (virtually) signing on the dotted line, I went over the details of what I would be charged very, very carefully with the phone rep. I wanted to be darn sure there weren't going to be any hidden fees above what I was already paying. After a very patient person went through everything with me... twice... I changed my plan to the new $65 per line.
My previous bill was a mess. I had no idea what was going on because AT&T jerks you around with pro-rated billing and activation fees and other stupid shit that I had no way of understanding. But then today my current bill with none of the extras arrives. And I looked it over very carefully. And, wouldn't you know it, only ONE of my lines was $65. The other was $75...

=sigh=
So I online-chat with AT&T and explain the problem. After pulling up my account, I'm told this:
I see that you have been charged for monthly service charge. That is why you got high in your bill.
I explain that my bill very clearly shows one of the lines was charged $75. Then I get this:
I see that you have been charged $65 for one account and $65 for another account. But this time they have added $8.33 for one account.
I then have to tell them that I am looking at my bill and it clearly shows one line is $75, so I don't know where they're seeing both are at $65. I don't care what the fees are showing, the amount per line I was quoted (and which is still showing on their website) is NOT being honored.
After a while of them "looking into it" I get this:
Yes you are right. Sorry for that. Let me go ahead a note to change that for you. So it will not reflect in your next billing cycle.
Look, I really want to give AT&T the benefit of doubt here, but I see this shit ALL THE TIME, so it's tough not to be cynical. I signed up for a new plan so I could get 5G at $65 a line (if I use auto-pay and paperless billing, which I do). but I'm charged $75 for one and $65 for the other. And the ENTIRE TIME I'm chatting with customer support, I think back to my grandmother and mother being easily confused by pages of bills that are designed to obscure how much YOU'RE ACTUALLY BEING BILLED FOR, and I know beyond any doubt that they would have just paid the overcharge month after month because they didn't know any better. And if they did call customer support, they undoubtedly would have believed the bullshit about "extra fees" and not pressed the issue any further.
This is rage inducing.
And I cannot help but ask... is AT&T doing this on purpose? Do they make their billing statements confusing and encourage auto-pay and paperless billing so they can rip you off and have less chance of being caught? I am seriously outraged right now. I'd dump these assholes in a second if other carriers were any better... but they're all the same, aren't they? So what good would it do?
If the Democrats in power want to make me happy after they're done sucking off the lobbyists lining up to pay them to betray US citizen interests... FIRST they can put us on permanent Daylight Saving Time so we're not dicking with the clocks twice a year. THEN they can pass an act which forces all these asshole companies to not hide all their charges when you sign up for shit. The price they advertise should be the price you pay... AND IT SHOULD INCLUDE ALL THE FUCKING FEES AND OTHER BULLSHIT THAT **NEVER** ALLOW YOU TO KNOW WHAT YOU'RE PAYING BEFORE YOU COMMIT TO A CONTRACT!
But you know what? AT&T probably shovels millions upon millions upon millions to politicians so they can just keep doing exactly what they're doing. Which means nothing is going to change any time soon. Our politicians won't do anything to threaten that sweet, sweet lobbyist payola now would they?
At least not in my State. Senator Patty Murray is OWNED by the medical lobby, and we all know how much they just LOVE to obscure costs in their billing. Major surgery results in pounds of never-ending bills that are intentionally confusing so you just shut up and pay. Which is exactly the kind of behavior our politicians crave... "I'll shut up just so long as you pay."
God bless America.
Posted on October 2nd, 2020

The world won't slow down even for a minute and it's so overwhelming that it's getting tough to know where to turn, what to do, where to go... and how to feel.
I didn't realize exactly how bad it had gotten until I tuned into the season finale of Ted Lasso and felt like bursting into tears two minutes in. As good and inspiring and hopeful as the show is... and it is 100% the best show of 2020... it's just ridiculous that a frickin' TV series should have that kind of effect on a person, right?
Well...
Maybe not. Because it ended up being one of the most sublimely perfect episodes to air on the silver screen in the history of television, and you wouldn't be human if you didn't feel like bursting into tears at least ten times while watching it.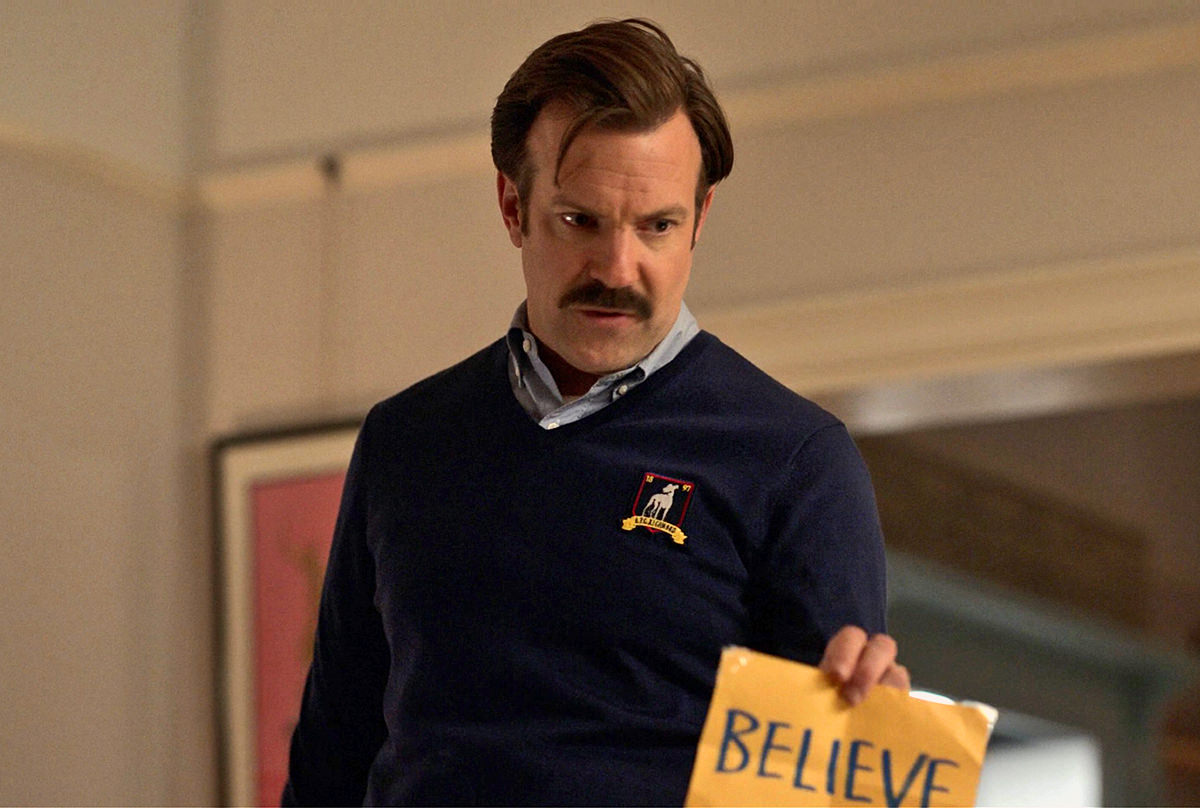 A bright spot in the pile of shit that is 2020 to be sure.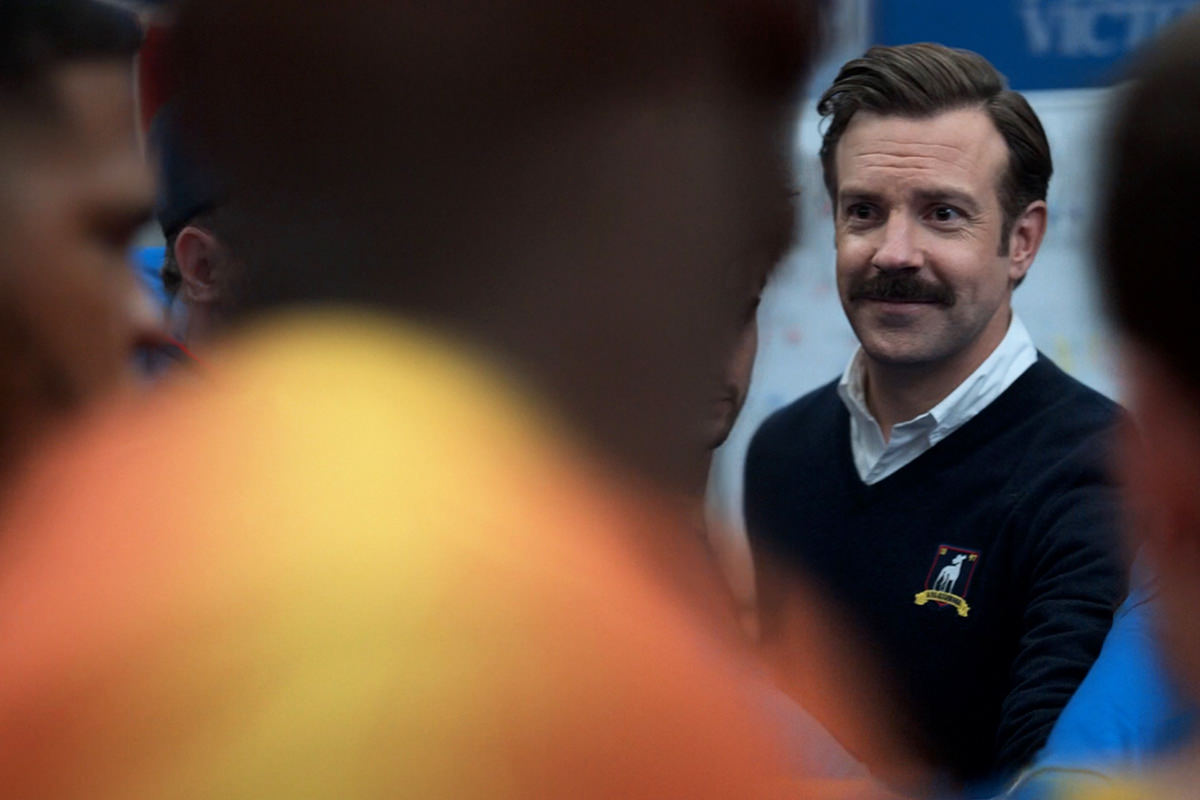 As for the rest?
Well... as tempted as I am to show President Trump and his Now-Revealed-to-be-Equally-Horrendous-First-Lady the exact same lack of concern and dismissive attitude that they have afforded the 200,000+ American citizens who have died from COVID-19 or COVID-19-related complications, I'd like to think I'm a better person than that. Because all I can think about is their fourteen-year-old son who has done nothing to deserve losing a parent... or contracting the virus himself... being yet another victim here. His dad may be blaming everything on China when he was ultimately the one to address how we dealt with a global pandemic, but what does Barron have to do with that? Was he the one to say "Hey, dad... I know that countries like Italy have been completely overwhelmed with death and destruction from the coronavirus and you might think we should be acting quickly to make sure it doesn't happen here... but can you instead lie to everybody and tell them it's a hoax that will disappear without us doing anything so that your billionaire friends have their stock investments protected at the expense of American lives?"
Of course not.
So, no. I absolutely do not wish death or harm on anybody here. Instead I'll just say "Best wishes for a speedy recovery Mr. President and First Lady Melania! I'm sure the exceptional round-the-clock health care afforded you both by your wealth and position will ensure you are safe as houses... even though it's a shame that you are doing everything you can to strip even the most basic healthcare from a great many American citizens whose lives you hold in your hands during this crisis."
Well, okay... maybe I do wish that President Trump loses his sense of taste and smell so he can't enjoy all that KFC and McDonald's that he eats... the asshole deserves it after what he's done to this country... but he's a human being like the rest of us and deserves compassion and our best wishes.
Not much of a human being, admittedly, but still... we're all in this together. GO TEAM AMERICA... BREAK!
Tags:
Apple TV+
,
Assholes
,
COVID-19
,
Fucking Assholes
,
Fucking Scumbags
,
News
,
Pandemic
,
Politics
,
Ted Lasso
,
Television
Categories:
Apple Stuff 2020
,
News – Politics 2020
,
Television 2020
—
Click To It:
Permalink
—
0 Comments: Click To Add Yours!