Posted on January 17th, 2022

Today is Martin Luther King Jr. day... and Newsweek has posted a wonderful collection of his greatest speeches here. His most famous... and arguably his most beautiful is, of course, I Have a Dream, which I have listened to many, many times. Last year I ran across this interesting article about it, but forgot to post it.
Today would have been Betty White's 100th birthday. The only celebrity I have ever truly loved...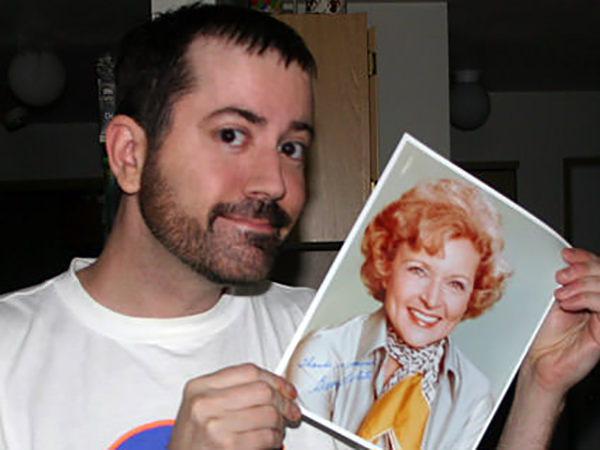 On previous Betty White birthdays I've donated cat food from their wishlist to the Wenatchee Valley Humane Society. This time I'm giving cash because it's been a weird couple years and I want them to use the money however they need to. I cannot imagine how many animals have had to be surrendered due to the pandemic. If you can donate whatever you can spare to your local shelter in honor of Betty, I know she would have loved you for it. Every little bit helps.
It's also First Lady Michelle Obama's birthday today...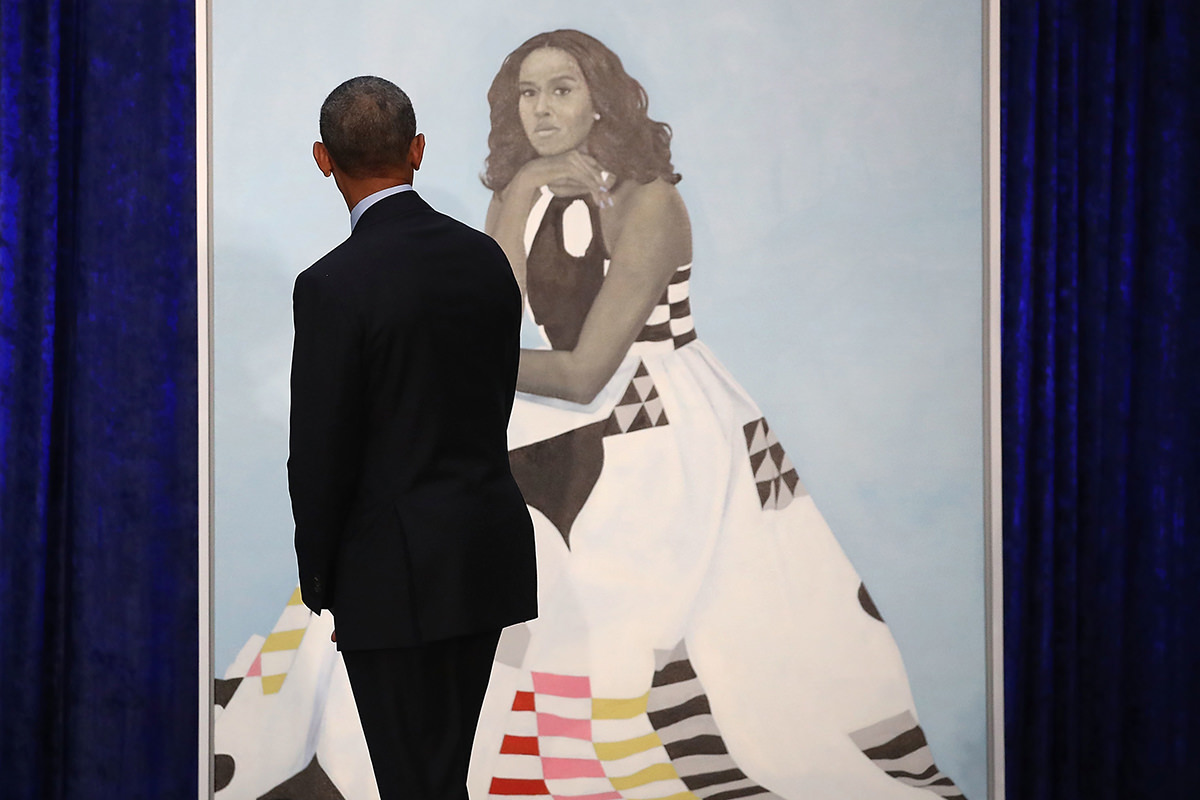 Photo by Mark Wilson/Getty Images
This must be like having your birthday fall on Christmas. Can't be easy to have a birthday which falls on the same birthday as one absolute legend... and a federal holiday celebrating another absolute legend.
Posted on January 18th, 2021

Happy Martin Luther King Jr. Day, everybody!
I am fortunate enough to get the day off, but I still ended up working so I could get caught up while not having new work dropped on me. That's almost like a holiday right there!
As is my custom, I started my day by listening to his I Have A Dream speech in its entirety. I also pulled out my copy of The Autobiography of Martin Luther King, Jr. which I haven't re-read in a while. Last year I re-read Where Do We Go from Here and the year before that Strength to Love, so it's time to be inspired.

Illustration from Doodles by Drea

And now... I should probably clean my house or wash clothes or make dinner or do something productive. Though I've already performed a firmware update on my NAS and backed up my files, so maybe that counts as productivity?
Still need to make dinner and clean my kitchen though.
That's more than enough productivity.
Posted on January 21st, 2019

Happy Martin Luther King Jr. Day, everybody!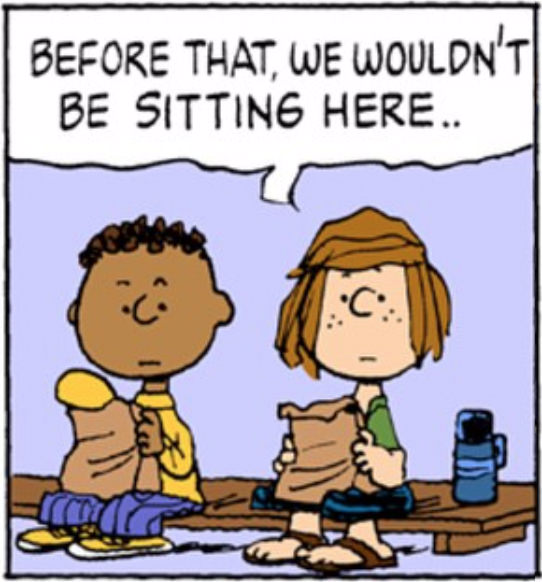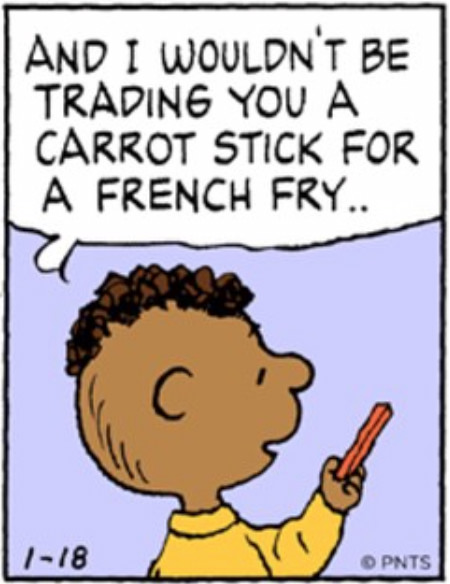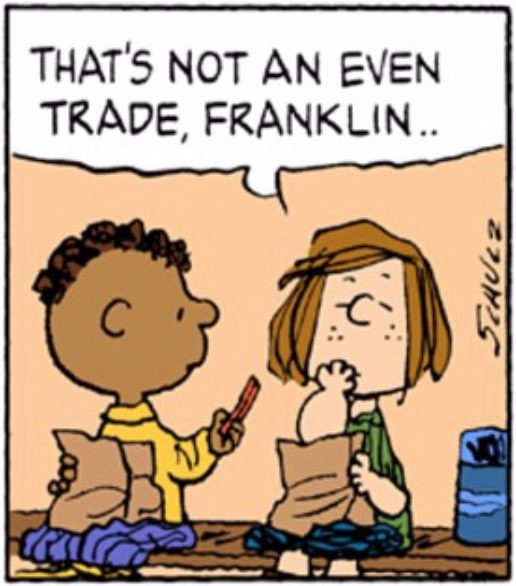 Posted on January 15th, 2018

And here we are again... Teen Vogue unleashing a healthy dose of reality in a reality-starved world.
Yes, you read that right. Teen Vogue!
"This Martin Luther King Jr. Day, we would do his memory justice by honoring all of his legacy. Not just the parts that make white Americans comfortable." — Martin Luther King Jr. Was More Radical Than We Remember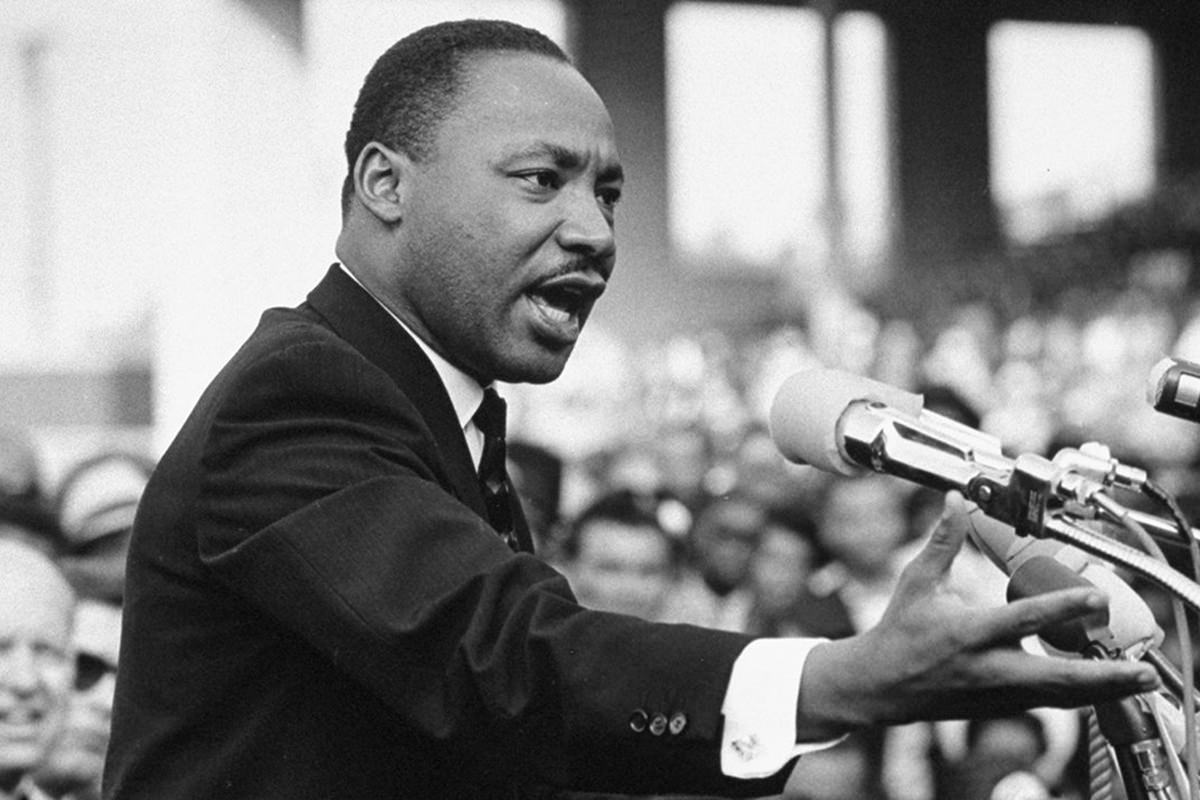 Wishing you an uncomfortable holiday.
Posted on January 20th, 2014

This morning I started out the same way I begin every Martin Luther King Jr. Day... by listening to his beautiful I Have a Dream speech in its entirety.
Man, did Dr. King know how to inspire with his words. And his actions.
This year I'm seeing more and more people posting great stuff beyond his most famous speech, which is very cool...
Worth your time, all.
And if all that's not enough MLK for you, here's a great time-lapse film of an artist creating a sketch honoring him on this day set aside to remember...

And if celebrating the legacy of Martin Luther King Jr. has put you in too good of a mood today, no worries. You can always count on Sarah Palin to come along a destroy everything.
I'd usually say something horribly offensive here in response the the utterly insane levels of stupidity that seems to flow endlessly from Sarah Palin's disgusting mouth... but today... today... I'm inspired to be better than that.
Posted on January 21st, 2013

I started today the same way I start every Martin Luther King Jr. Day... by listening to his brilliant and beautiful "I have a Dream" speech in its entirety. In my humble opinion, it's probably one of the best-known speeches that most people never bother to listen to. That's a real shame, because it's famous for a very good reason.
Anyway...
I get MLK Jr. Day off, so I really, really didn't want to go into work today. But it ended up being unavoidable. Now I'm back home where it's 4:00pm, all my energy has been sucked dry, and I don't feel like doing a damn thing. Except watch Star Trek VI: The Undiscovered Country which is playing on television.
And it's while watching it that I've suddenly realized something I never knew...
Scotty is one badass motherfucker and a stone-cold killer!
For reals. Let me walk you through it. SPOILERS AHEAD!..
At the end of the film, Captain Kirk discovers a massive conspiracy to destroy a peace conference which involves Starfleet, The Klingons, and The Romulans. To foil the conspiracy, he beams down to the peace conference with his crew. The first thing he does? Tell Scotty to check out the back...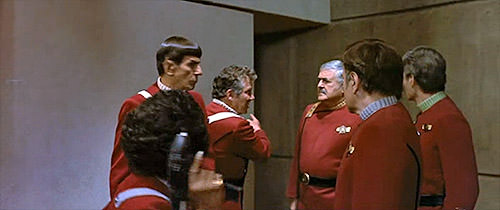 Meanwhile, a Klingon assassin is going to kill the President of the Federation of Planets...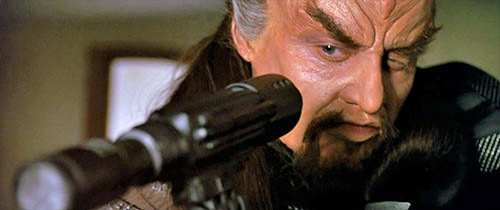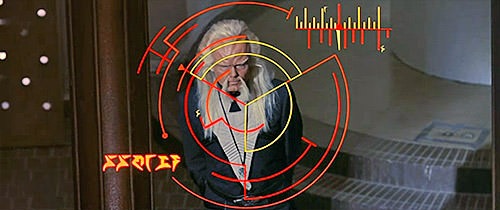 But Captain Kirk saves the President, no problem...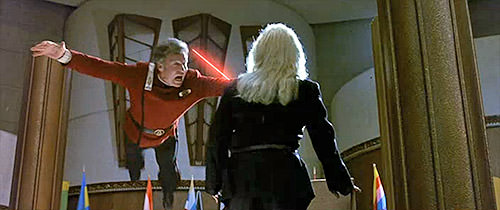 One of the conspirators is Lt. Valeris, who is caught by Spock...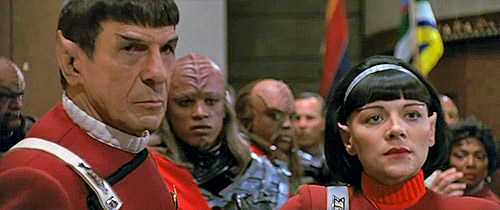 Another conspirator is held by Chekov...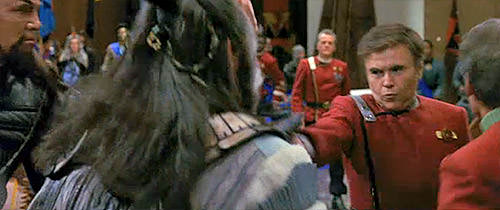 Dr. McCoy captures a Romulan conspirator...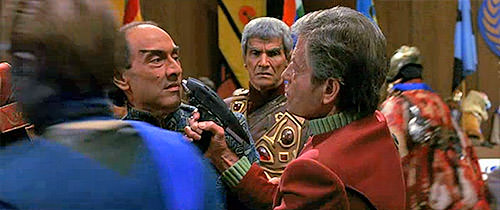 Then Sulu captures Admiral Cartwright, yet another conspirator...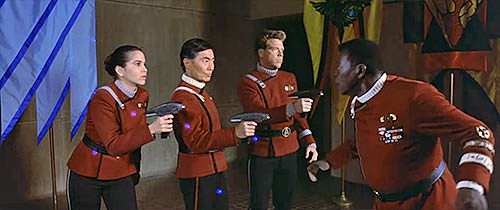 As for Scotty?
That's a different story.
Mr. Scott finds the assassin hiding in some kind of balcony... so he kicks the fucking door down...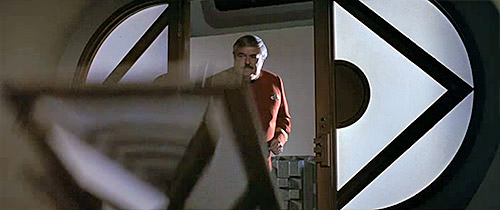 The assassin turns his head to see what the ruckus is...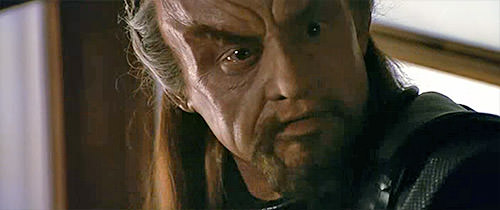 While his gun is still pointing in the opposite direction out a hole in the glass...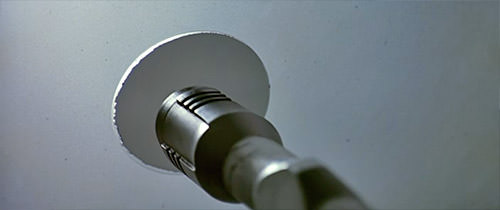 Does Scotty then say "Drop the weapon!" and take the assassin prisoner? No. No he does not. Even though he's not in any immediate danger, he pulls out his phaser and shoots the guy...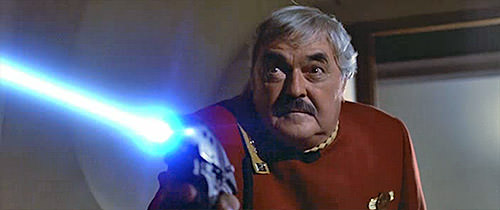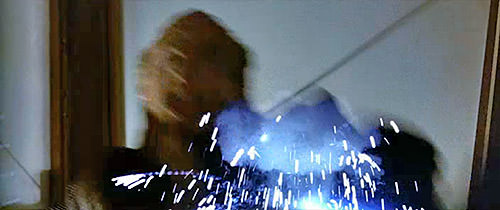 Which blows him through the fucking window...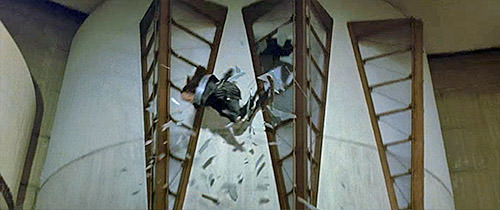 Plunging him to his death...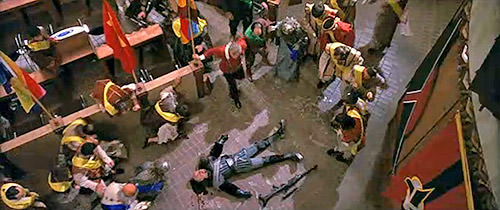 What does Scotty do then? He marches to the front of the crowd like a boss, gun in hand...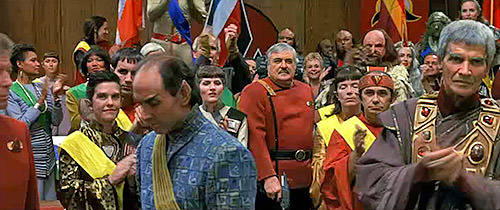 Then stands in front of everybody to soak up the applause for a job well done...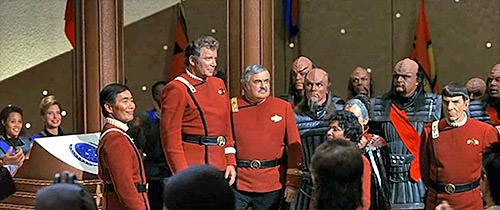 Everybody else on the Enterprise takes prisoners. But Scotty don't play that. If you're up to some crooked shit, Scotty shoots your ass dead and pitches you out the fucking window. Making him one of the baddest motherfuckers in the galaxy and a stone-cold killer...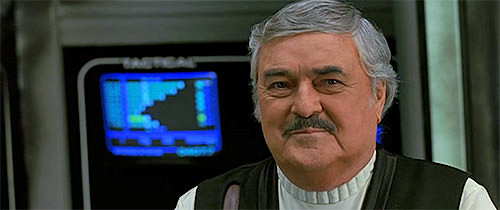 Who knew? Sure he could get a little excitable from time to time, but Scotty's the quiet one of the group! Just goes to show that you never know who the true badass motherfuckers are.
Even in outer space.
Live long and prosper, everybody.
Posted on January 17th, 2011

I started today the same way I start every Martin Luther King Jr. Day... by listening to his brilliant and beautiful "I have a Dream" speech in its entirety. It never fails to inspire. I actually had the day off from work on this holiday, but chose to get some things done at the office anyway. Somehow, no-pressure work days are always more productive than they have a right to be.
After work I needed bread and milk, so I was off to the grocery store. As I was walking down the aisles, a box of crackers started screaming at me. After investigating, I found out it wasn't actually crackers, it was something stupider than a box of crackers. It was a motion-sensor voice-recording of this asshole...
I always wondered if there could possibly be anything more annoying than Fran Drescher. It turns out there is, and it's "Chef" Guy Fieri. I have no clue what the appeal is here, but he's showing up everywhere. Just look for the ridiculous "I CRAVE ATTENTION" bleached hair and listen for the manic "YOU CAN'T IGNORE ME" screaming.
Tonight was the premiere of SyFy Channel's rip-off remake of one of my favorite shows... the UK's awesome Being Human from the BBC...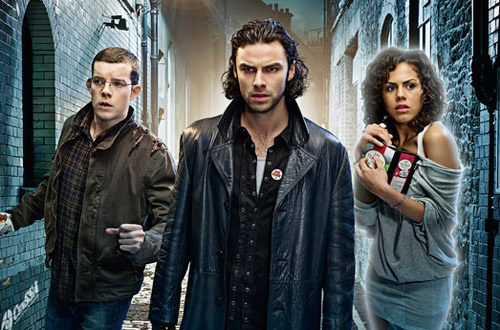 The original is a funny, yet sublimely dark, drama/comedy about a Vampire, a Werewolf, and a Ghost trying to live a normal life under anything but ordinary circumstances. It is surprisingly entertaining despite the schlocky premise. But, for reasons that continue to escape me, SyFy (in collaboration with Canada's Muse Entertainment) feels that they need to cash in on the vampire craze and remake the show for North American audiences instead of just airing the Real Thing or trying to come up with something original.
The resulting Being Human do-over is... interesting...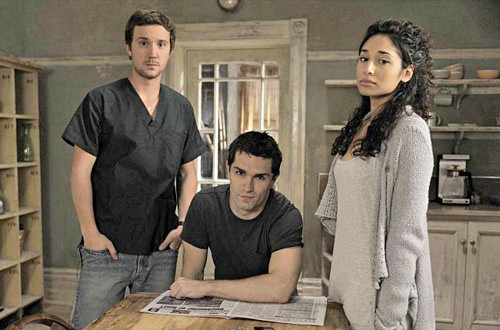 It is in no way a "bad" show. I think the actors do a pretty good job with the material considering they're basically re-treading territory that has already been deftly explored on another continent. And there's the problem. If you've seen the original, this is going to feel like an inferior copy by comparison. Because it is. It's less subtle, less charming, and (surprisingly) less... human(?)... at least from what I've seen so far.
And yet I will be watching next week.
Something tells me that the show holds promise of becoming something more than a copy. If the people involved want it badly enough! Just like The Walking Dead is making some interesting diversions from the comic book source material, Being Human has a chance to grow into a show of its own. And I want to see that show. There's definitely room for me to enjoy both of them if our revision should prove worthy.
Which is exactly opposite of the reason I will not be watching MTV's remake of the shocking BBC program Skins which takes a scary look at what teenagers are doing with their lives. In that case, one show is more than enough.
Posted on January 18th, 2010

There are people who get Martin Luther King Jr. Day off work. I am not one of those people. But I did go in an hour late to do my part. I also stopped by the mini-mart so I could pick up a bag of cheese-popcorn and a bottle of Coke.
As I was heading up to the cash register to pay for my breakfast, some guy came in and announced "HAPPY BROWN BROTHER DAY!" To which somebody else said "Maybe one day we'll get a white guy day." After nearly tripping on my own feet in disbelief as I approached the counter, I was compelled to say "EVERY DAY IS WHITE GUY DAY! Especially in this redneck town."
I guess I should stop being surprised when I hear stuff like this, but it never fails.
Probably because I'm too hopeful.
Though I wasn't jumped in the parking lot afterwards, and I didn't get the crap beat out of me for being a smart-ass, so I guess that's something.

"Darkness cannot drive out darkness... only light can do that.
Hate cannot drive out hate... only love can do that."
— Martin Luther King Jr.