Posted on September 17th, 2023

It may be getting cold enough that I'm contemplating turning on the heat, but it's always warm on my blog... because an all new Very Special Video Edition of Bullet Sunday starts... now...

• Kookaburra! Now, granted, I would not want this outside my window (and I remember them very well from my trip to Australia), but it's sure nice to admire them from afar...
So cute. Are there any baby creatures that are not adorable?

• Andor! Diego Luna is precious and life-affirming. This entire video is fantastic...
On top of that? He's a remarkably gifted actor. I am dying for the second season of Andor to arrive.

• ¡Yo Quiero! "It's the same thing in a different thing." — HE'S FIGURED IT OUT! HE'S DISCOVERED THE TACO BELL FORMULA!
LOL. These foreign takes on quintessentially American things never gets old!

• Does Whatever a Spider Can! Video games have reached the point where you're basically playing a feature film. This looks incredible...
This was a Spider-Man game when I first started playing...
Insanity. And soon we'll have much, much better VR experiences, which could take it to an even more immersive level.

• Unreal! If you want a look into the absolutely fascinating world of 3D computer graphics, this is an amazing behind-the-scenes look at how photogrammetry works...
Now, I've written about the Unity gaming engine a couple times before. The stuff people are doing with it is breathtaking (including companies like Lucasfilm and Marvel using it for producing their projects). It is an amazing, amazing tool. Unfortunately, they've just unveiled a hugely controversial licensing model, which is gouging game developers in a terrible way. It's easy to say "Just switch to a different gaming engine if you don't like the cost!" Except video games take years to develop. Even for large studios with hundreds of employees. So if you've been working on a game for two or three years... how can you afford to switch to a different engine? This is a major deal. So major that some game projects are being canceled... and some developers are going to switch engines despite the additional time needed...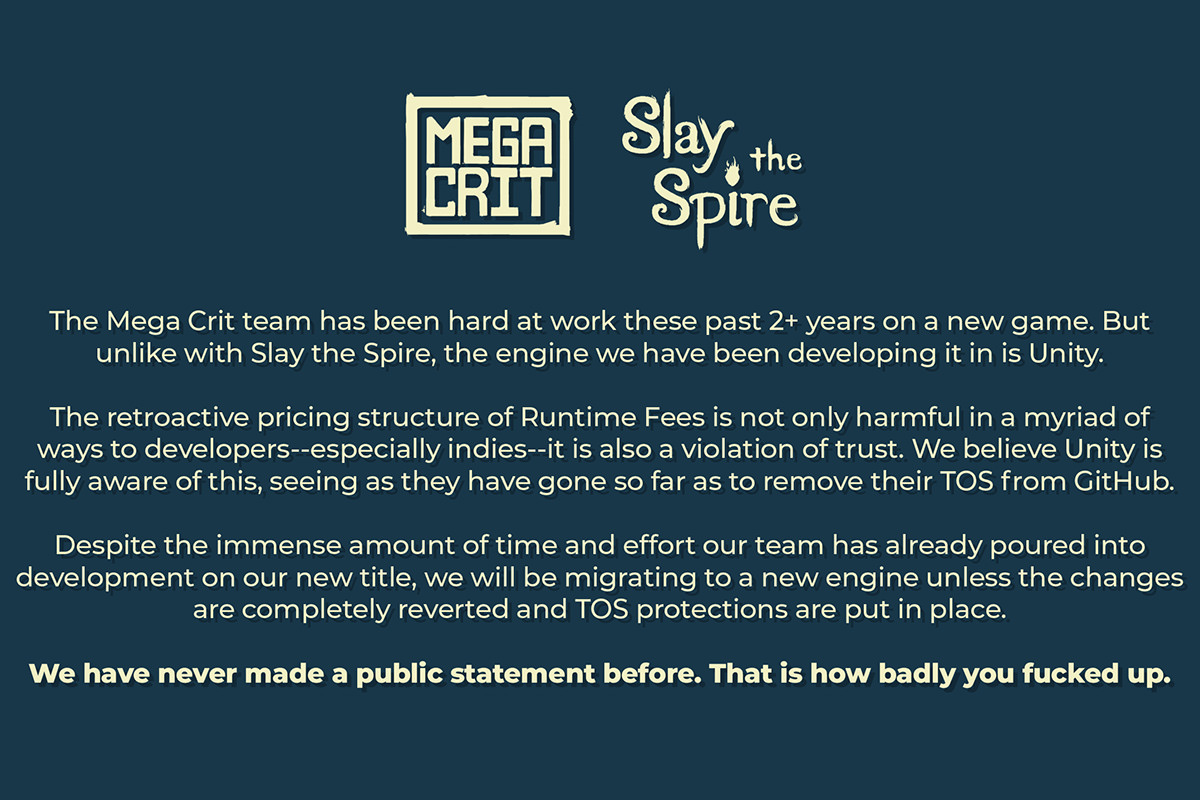 Of course the people behind Unity deserve to get paid for their hard work. But to kill developers to get there seems like a horrifically bad business model. Hopefully they will re-evaluate what they're doing and come up with something more reasonable.

• SCIENCE! Despite an inexplicable (and highly selective) anti-science movement by fucking idiots, science marches on. And this is fascinating...
Fascinating and scary. Plants screaming? But in brighter news... research into Alzheimer's just keeps advancing. Very promising that one day we might have a cure.

• HomeShit! For anybody saying that I am exaggerating about just how fucking shitty Apple's HomeKit is, this guy is a total expert and even he can't solve the problems he's been having. He finally ended up resetting and rebuilding his entire HomeKit setup...
If I get this desperate, I'm just going to bail on HomeShit altogether and go with Matter and some kind of smarter home hub (like Homey Pro). In the meanwhile, I am just applying Band-Aids to try to solve the massive fucking problems I'm having. As an example, I just installed a light and motion sensor in my garage as a backup to automatically turn the light on when the doors open since HomeShit automations keep dying on my door sensor for some reason (even though the light switch and sensor itself is operating perfectly).

And on that happy note... enjoy the rest of your Sunday.
Tags:
Apple Stuff
,
Bullet Sunday
,
Food
,
HomeKit
,
HomeShit
,
Science
,
Television
,
Video Games
Categories:
Apple Stuff 2023
,
Bullet Sunday 2023
,
Food 2023
,
Television 2023
,
Video Games
—
Click To It:
Permalink
—
1 Comment: Click To Add Yours!
Posted on February 20th, 2023

Apple is one of the wealthiest companies on the face of the earth. So is it really too much to expect that they fix their stupid home automation bullshit? After my fifth reboot of my router and all my HomePod minis because my automations randomly stopped working... again... I ordered a bunch of cheap NON-HOMEKIT smart-plugs. This way instead of having to run around my house and move all my furniture when I'm forced to reboot, I can just use the Gosund app to reboot them all from the comfort of my couch...
I find it absolutely embarrassing that Apple can't seem to get their shit to actually work. They released HomeKit EIGHT FUCKING YEARS AGO! Eight years and they're still fumbling around in the dark. Just like I am when the automation to turn on my garage light doesn't work... again.
I cannot fathom how Apple isn't embarrassed as fuck that they have unleashed a shitty technology and haven't been able to get it working reliably for eight years. If I were Apple CEO Tim Cook, I'd dedicate however much money it takes to FIGURE THIS SHIT OUT so that HomeKit customers don't have to spend $40 on smart plugs from another manufacturer just to keep their crap operational. Anything less make him look like fucking amateur hour.
And while he's at it... maybe he could have them fix Apple Mail so that deleted messages actually delete instead of randomly go blank buck stick around until you quit and restart the app? Not everybody buys into HomeShit, but most of their customers are using the mail app that came with their computer!
And, oh yeah, happy fucking Presidents' Day.
Posted on December 27th, 2022

With each passing day I grow more enraged at Apple.
It used to be that they did no wrong. But now-a-days? It's just one shit sandwich after another.
Take for example HomeShit (AKA HomeKit). This technology has been fucking stupid from the very beginning. But everything I read lead me to believe that over the past six years most of the problems have been resolved and it's a very good home automation solution in 2022. And so when INSTEON bit the dust and I had to replace all the smart tech in my home, I went ahead and took a bite of the HomeKit Sandwich. With a caveat. I made sure that the HomeKit stuff I bought was "Matter Smart Home Enabled" so if I wanted to switch to Google Home Assistant or (heaven forbid) back to Amazon Alexa, I would be able to do so because Matter is going to be compatible with everything.
Yeah... HomeKit is still HomeShit.
Nothing is a more glowing indication of this than the fact that Apple just rolled out a new "HomeKit Architecture Upgrade"... then had to immediately delete it because people were having all kinds of crazy troubles with losing their smart home. Some great beta-testing Apple has there. Though I should note that my upgrade proceeded without issue. That I know of. Yet.
And... the upgrade actually seems to have solved a problem where if you edited an automation it would stop working. Mine seem to be working now.
But it's not all a bed of roses.
As I was driving over the mountains for the holidays, I realized that I forgot to turn off the alarms that I have set up on my HomePod minis to let Jake and Jenny know when it's time for breakfast and dinner (I found that by training them to listen for an alarm, they don't bother me when I'm home as it gets close to feeding time). I was not worried though, because I could just turn them off remotely using the Apple "Home" app on my iPhone.
Except, no. Not so much.
For some stupid fucking reason, Apple requires you to be on the same WiFi network before it will allow you to change the alarms. Never mind that I could easily change them remotely when my alarms were on Amazon Alexa... Apple refuses to allow me to turn off the alarms remotely. And I've never been so disgusted with any "smart home" technology I've ever used. Not being able to turn off alarms means that every morning at 6:55am and every evening at 5:55pm, my HomePod minis would have their alarms going off... and they don't fucking stop going off for fifteen fucking minutes! That's fifteen minutes of my poor cats having to listen to an alarm blaring. That's just fucking cruel, and I am so enraged with Apple that I very nearly threw all my HomePod minis in the fucking garbage when I got home. So damn stupid. WHAT'S THE FUCKING POINT OF HAVING MY SMART HOME ON MY PHONE IF I CAN'T CONTROL ALL ASPECTS OF MY SMART HOME WHEN I'M AWAY FROM MY HOME?!?
This goes beyond AirDrop file transfers not working.
This goes beyond print jobs failing all the time.
This goes beyond the Mail app being a hot pile of fucking trash.
This goes beyond daily frustrations with bugs in Apple apps that never get fixed.
This even goes beyond the fact that HomeShit automations still failing ALL THE FUCKING TIME...
It's a simple thing that has huge impact on my poor cats having to listen to alarms blaring at them.
But Apple doesn't give a single fuck about crap like this because they're too big to give a fuck about customers. As what has always been the case, you get the shit sandwich that Apple serves you or you eat a shit sandwich from somewhere else. And they're all terrible. Though it would seem that Google Assistant is the least worst, according to tests by Marques Brownlee...
Personally, I'm about ready to go back to having a stupid home. Sure it's not as helpful, but at least you can count on it to work as expected.