Ugh.
Another hump-day on the books.
And all I could think about all day long was this TikTok that greeted me when I woke up this morning (here's a link in case TikTok is being a dick)...
Has there ever been anything more relatable than this?

It's time for Bullet Sundayyy! It's time for Bullet Sundayyy!

• Sharktopus! As a fan of stupid crappy horror movies, I was ecstatic when SyFy Channel (the queen of stupid crappy horror movies) announced SHARKTOPUS!!!

Well, the movie finally debuted last night, and I am happy to say that it was indeed so unbelievably stupid and crappy that it's raised bad television to an entirely new level of awesome. I can't wait for the Director's Cut Extended Special Edition Blu-Ray release!

• Elmo! Yes, it was a little odd that Katy Perry decided to wear a very low-cut dress so she could stick her boobs in Elmo's face for an appearance on Sesame Street. But Katy Perry is Katy Perry, so what can you do...
That being said, whoever it was at Children's Television Workshop (now called "Sesame Workshop"... the production company behind Sesame Street) who decided to leak the video on YouTube is a complete genius. Not only do they get a preview of the reaction that the clip will receive, but they get free publicity for the show with millions of YouTube hits. Well, to the surprise of NOBODY, people across the country lost their minds over the thought that children might be exposed to Katy's cleavage, so her appearance was canceled. Heaven only knows how these puritanical nutjobs react when taking their kids to a pool or the beach. As usual, the young children they are so desperate to protect probably wouldn't even understand they're looking at something "dirty" and it's the ADULT REACTION that MAKES it "dirty" and damages their kids, but whatever. I still think it was kind of cute.

• Beheaded. I received a comment while I was on vacation asking me if I had changed the DaveToons that rotate randomly across the tops of all Blogography pages. Apparently they hadn't seen their favorite header in a while, and wanted to know what happened. The answer is YES! I replaced all of the old "flat color" DaveToons with newer "shaded color" DaveToons a couple months ago. Thanks for noticing!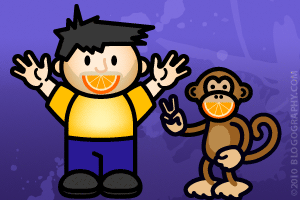 8 old ones were kept, 2 were updated, and 40 were replaced. If your favorite is gone, I'm sorry... maybe it will come back one day. But the good news is that all the old headers have been archived from the past five years so you can look at them whenever you like...

• TV Scorecard. For anybody who cares, I've put a quick rundown of the new shows for the 2010-2011 season with my score (based on their first episode) in an extended entry. For everybody else, I'll see you tomorrow when we're back to the daily grind...
→ Click here to continue reading this entry...