Today I was much like a kid at Christmas given that my new Apple Watch Series 9 and iPhone 15 Pro Max arrived. It happened the morning I was hanging out with my friends, so I was anticipating the transfer from my old phone to be shit-butt city as we went bar-hopping and I was climbing on and off Wi-Fi all afternoon.
Turns out I had nothing to worry about. Unlike last year when I upgraded to the iPhone 14 Pro Max, everything went off without a hitch. Well, almost. There's one teeny tiny problem that's giving me fits, but I'll get to that.
Apple Watch Series 9
As I mentioned during the keynote, I had zero intention of upgrading my Apple Watch Series 6. There just doesn't seem to be anything worth upgrading for. Well, except having a new battery, since the one in my old watch would no longer last the day if I had the always-on display set to "on." Still. With the display off except for tap-to-wake, I easily made it through the day and it did everything I needed it to do.
What tipped the scales for me was the fact that Series 9 does most all Siri processing locally. Which means that simple requests aren't passing through the cellular radio on my iPhone for a round trip that causes a noticeable delay. And, sure enough, the Apple Watch is really quick with Siri requests, which makes the price of admission worth it for me (once you factor in the $115 that Apple will give me to trade in my old one).
But it turns out this isn't the best part of upgrading.
The display is not just brighter... it's bigger!

It's five o'clock somewhere...
I have to get the little watch since, as you can see, my arms are so thin. The Series 6 is 40mm. The Series 9 (in red) is 41mm. But there's also the fact that the display goes out further to the edges. Everything looks bigger. Very nice.
The double-finger-tap control works as advertised. Everything is very zippy. Fast and smooth. Overall, a good upgrade from where I was. I dunno if this is a worthy upgrade if you've got a Series 8, but for me it was a good choice.
iPhone 15 Pro Max
I gave serious consideration to skipping an upgrade for a year so I could own my iPhone 14 Pro Max outright. But ultimately I figured one of the benefits of being in the Apple Upgrade Program is getting the latest and greatest, so I caved. Mostly because I use it more as a camera than a phone and the 5× optical zoom lens plus claims of better night photos swayed me. Along with the fact that iPhones hold their value well... but not so great that I'm leaving loads of money on the table from what I can tell looking at the 13 Pro Max used market.
Camera aside, I honestly don't notice a big difference with the 15. Sure it's a touch lighter, but all the things I like are mostly the same and the one thing I hate (Apple's silicone cases do not stay attached like they used to) is also the same. It's fast. It's capable. It runs all my apps very well. The end. Maybe I'll buy a game that has ray-tracing to see how that looks. Stunning, I'm sure.
Setup was far, far better than the past two years. Pairing my new Apple Watch was seamless. Everything copied over just fine. The only problem I have is that my phone app shows a red badge notification with a "1" in it... even though there's no fucking notifications when I look everywhere in the app. I've restarted three times and shut it down once. No joy. I finally just turned off badge notifications. Hopefully Apple will fix this shit one of these days. UPDATE: Turned off my iPhone for 20 full minutes then restarted. That did the trick.
Other than that, my complaints are A) They don't have a (Product)RED silicone case for it... B) The new Action Button is a cool thing, but it's WAY up on the side, so it's only hand if you're holding your phone horizontally... and you can't customize it for double-click or triple-click, and... C) The blue that I got is pretty much black with a blue cast... in the right light. And it's like... what's the fucking point? You've already got a black phone. So why not make a bright red (Product)RED phone or something that will truly look bold and different? Why do Pro users always get fucked with these boring-ass "premium" color choices? Of course, I'll take these over the fucking PASTELS that the regular iPhone 15's got. Because yikes. Those look like total shit. Maybe I should have gone with Raw Titanium color to have something different? Meh. It doesn't bother me that much. It's just disappointing.
Lastly there's USB-C 3.2 Gen 2 which will allow you to transfer much, much faster than Lightning (480 megabytes per second vs. 10 gigabytes per second). If you've got the right cable. And it's about fucking time. Jesus. Apple puts these massive sensors in their cameras and allow shooting RAW, but it takes an eternity to get them off of it because the resulting files are huge. I didn't even bother to shoot RAW, because it can take days to get them all in your computer to actually work on them. I've got USB-C 3.2 cables, so maybe now I will. Thank you to the EU for mandating USB-C on all phones... otherwise Apple would probably stick with obsolete Lightning ports for years longer. The one thing I don't understand it why they didn't just go with Thunderbolt4 (100Gps) compatibility to really make it worthwhile. Guess they're saving that to get you to upgrade in the future? In any event, you can record ProRes 4K 60Hz video directly to an external SSD now, which is pretty special.
iPhone 15 Pro Max Camera
First a caveat on that spiffy new 5× lens. It needs good light to function. If you don't got that, it switches back to you main camera. This did not happen with the 3× lens on my old camera. At least not that I recall. This is a pretty big downgrade, if you ask me. It may very well be a deal breaker for some people who would rather have a 3× lens with more flexibility. As for me? I'm greedy. I wish we would have gotten both. Add a fourth lens on the Pro Max to get the best of both worlds! Or, ideally, give us a 3× and a 10×. UPDATE: If you want to force the camera to use the 5× lens in low light, some third party camera apps (like Halide) will let you.
That being said, when you've got some light it's very nice. This was shot in a bar with not great lighting, but look how good it turned out at 5×! Very sharp and the color is beautiful, despite the fact that we're very clearly entering HDR "Deep Fusion" territory here...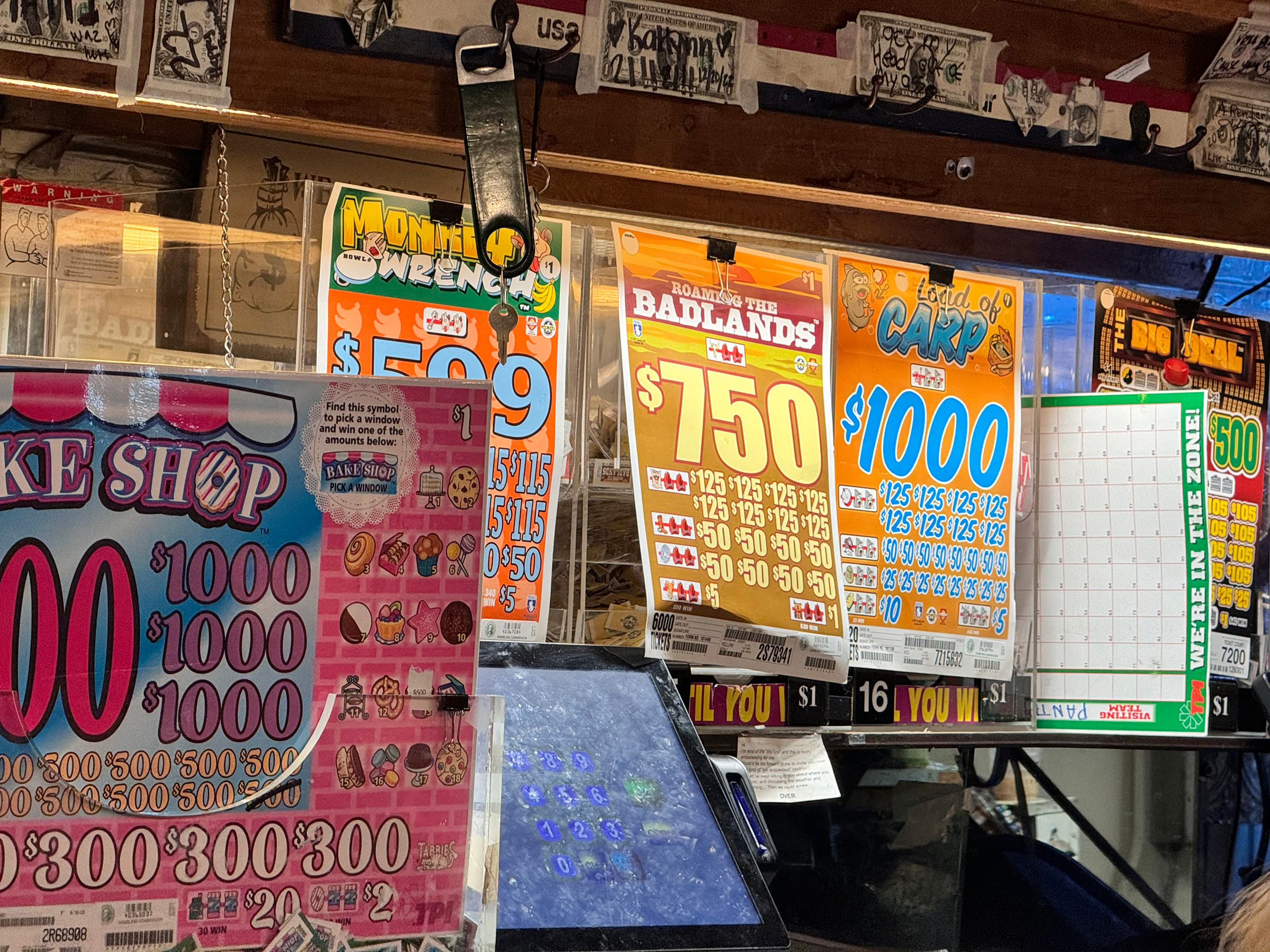 Click here to look at a bigger version.
Click here to see the full size version.
That's pretty impressive... but the main lens really looks great...

Click here to look at a bigger version.
Click here to see the full size version.
Interesting that Apple now calls the "Main Camera" the "Wide Camera" and the "Wide Camera the Ultra Wide Camera. Note that the "Wide Camera" has a goodly number of pixels more than the previous generation (but with bigger files, natch)...
Now... I have only had the camera for a tiny amount of time. I will obviously be taking more photos and a closer look at the features and quality sometime soon (especially when it comes to being able to change the focal point after the fact... because in playing around with it, this is a very cool feature). And of course I'll want to look at how well it shoots ProRes video (especially its ability to shoot LOG video that can be color graded easily and pushed in directions you can't get easily otherwise).
But last thing I want to say before I go is how Apple's claim that the new camera has "seven lenses" is not quite the bullshit it seems given that there's only three lenses on the back. The main lens allows you to use "virtual lenses" that crop into the data with common focal lengths (24mm, 28mm, and 35mm). But you still end up with 5712×4284 images, which means that Apple is upscaling or doing some kind of magic to get there. And the result is very good. I did the same thing in Photoshop to compare, and Apple's method always comes out on top. Which means that they must have specialized computational photography routines to come much closer than a mere crop.
Ultimately I don't know that going for the upgrade was the best choice for me. I likely could have gotten along with the 14 Pro Max for another year without issue. But as somebody who likes any improvement Apple will give me on the cameras, the 15 Pro Max will likely make me happier overall.
Until next year.