Posted on March 8th, 2019

Happy International Women's Day! It seems only fitting that I saw Captain Marvel, the first movie by Marvel Studios to headline a woman, today.
When you are a huge fan of comic book movies... but also well-versed in the original comics which inspired them... you have a fine line to walk. On one hand, you have to understand that what works in comic books doesn't always translate to screen, so there will be changes made. On the other hand, movies that stray too far from the source material are throwing away what made them popular enough to be made into movies in the first place.
DC Comics' attempt at a "shared universe" of stories has been a complete disaster. They not only take a steaming shit on their source material*, they can't even be consistent between films. Batman vs. Superman, Justice League, Wonder Woman, and Aquaman don't match up, even though the entire point of rebooting everything was to make it so they do match up.
Marvel, on the other hand, has made painstaking strides to ensure that their entire "Marvel Cinematic Universe" is consistent and everything syncs together. There have been minor missteps but, for the most part, they have succeeded beyond all reason. On top of that, they have also been exceedingly respectful of their source material. Changes are made, of course, but they are changes that (mostly) make sense.
And then along comes Captain Marvel...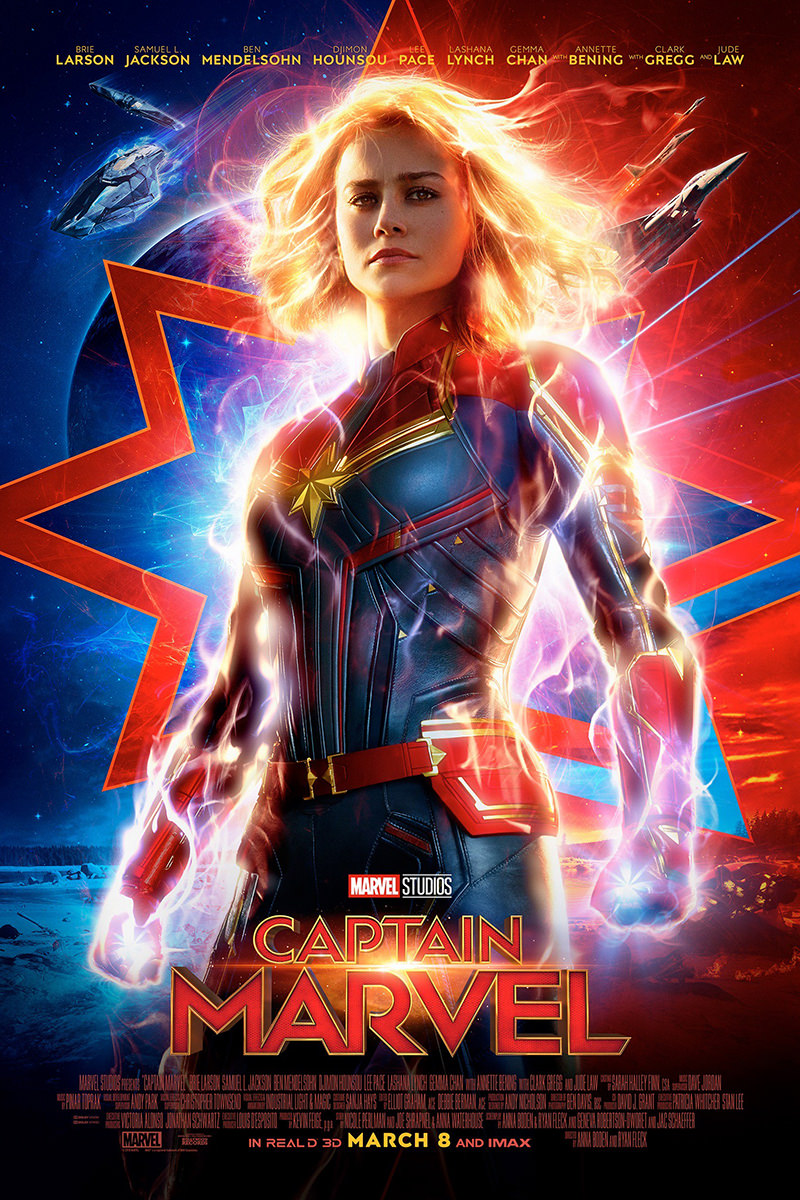 The comic book character has a long... very long... history. "She" was originally a "he" and explaining how we got from point A to point B would take pages to explain. Suffice to say that the original (male) was a Kree warrior. An explosion of an alien device merged his DNA with that of Carol Danvers, turning her into a super-powered Human/Kree hybrid known as "Ms. Marvel." Over the years she became "Binary" followed by "Warbird." Eventually she came back around to "Ms. Marvel" before landing on "Captain Marvel" in her character-defining series of the same name by Kelly Sue DeConnick. Last year Marvel completely changed her origin. Instead of being a human that became a Kree hybrid in an explosion, it turns out her mother was a Kree all along, and the explosion just "awakened" her powers.
Personally, I thought that the change was a load of shit that was entirely unnecessary. But apparently Marvel wanted a strong, independent female character whose powers weren't derived from a man, so this is what we got.
The movie is something entirely different. Ordinarily this would be a major sticking point for me... but, in this case, I understand why they did what they did. Unlike the Marvel Comic Book Universe which is going on 60 years now, the Marvel Cinematic Universe is just 10 years old. Adding a new character with such an extensive and complicated history like Captain Marvel and having them work within such a truncated timeline is nigh impossible unless liberties are taken. How do you have her get her powers from the original Captain Marvel without having to explain who he is? Well, within a 2-hour movie, you don't.
That being said, I think Marvel did the best they could to find a way to get Captain Marvel into their Cinematic Universe while still respecting the source material as best they could. Sure, there's a part of me that believes better choices could have been made, but only if the MCU was standing still. Which it's not. The current Avengers: Infinity War and Avengers: Endgame storylines are massive undertakings which are the culmination of a decade's worth of films. Even by having Captain Marvel take place in the 1990's, there's only so much you can do.
And what Kevin Feige and Marvel did do is make a pretty darn good movie.
The story is mostly entertaining and cohesive within the bigger MCU picture. The characters are well-crafted, the dialogue is well-written (even if the humor doesn't always land), and Samuel L. Jackson turns in a computer-youthified performance that's as great as you would expect. Brie Larsen was terrific as Carol Danvers, though parts of her character felt oddly detached and lacking in subtlety. I'm hoping that this was an attempt to make her seem more "alien-like," but we won't know that until her future appearances (such as Avengers: Endgame, coming next month!).
If I have a criticism of the film, it would be that the action is not as engaging as it should have been. If you're going spend a good chunk of the movie playing detective so you can uncover Carol's past, you'd better darn well deliver when the fighting starts. Except the battles weren't quite "there"... sometimes bordering on tedious. I wish a little more thought had been put into providing more memorable action beats.
If you want to read my spoiler-filled comments on the film, you can do that in an extended entry.
→ Click here to continue reading this entry...
Posted on January 16th, 2019

My only complaint about Marvel Studios is that they are restricting themselves to three movies per year. This seems lacking in ambition. I understand not wanting to crowd the theaters in a wash of super-hero films, but maybe after the 21st Century Fox merger is complete they will up their game a bit? Hopefully.
In the meanwhile...
The first trailer for Spider-Man: Far From Home dropped earlier this week...
The most obvious piece of new information here is Jake Gyllenhaal as Mysterio...
He doesn't seem like he's a villain... yet? I guess?
From appearances, it would seem Peter Parker is being deputized by Nick Fury to become "Spider-Man: Agent of S.H.I.E.L.D." or something like that. Apparently to fight some elementals terrorizing Europe. That's seems pretty mundane and impersonal for a Marvel movie, so I'm guessing something (or more likely, someone) is behind it all.
Since the new Spider-Man takes place after Avengers: Endgame it's interesting to note that life on earth has returned to normal. Which means it returns to normal in Endgame. Which seems to indicate that Thanos and his snap were eradicated from the timeline? We shall see.
And then there's Captain Marvel...
New character posters for the forthcoming movie have been unleashed. Notably absent is a poster for Ronan the Accuser. Kinda weird that he didn't get one when everybody else did...
Captain Marvel / Carol Danvers, of course...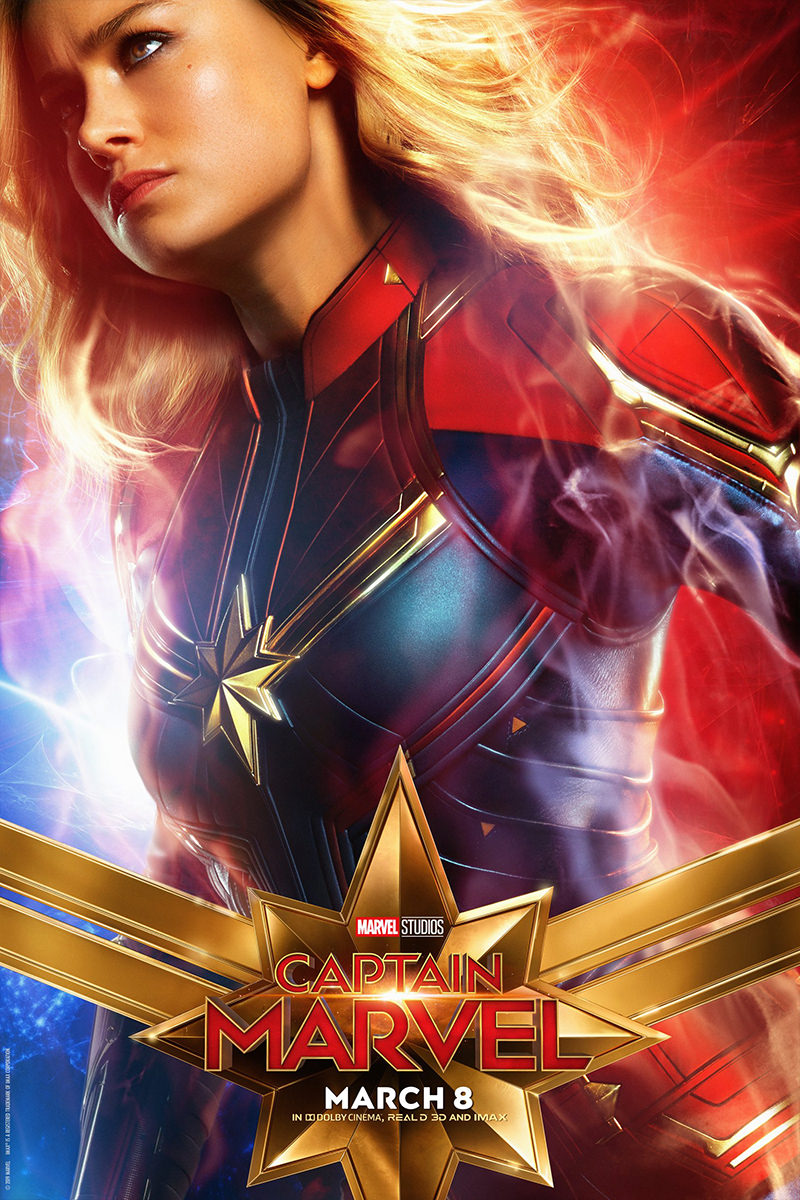 Agent Nick Fury, having been CGI youthed to his 90's self...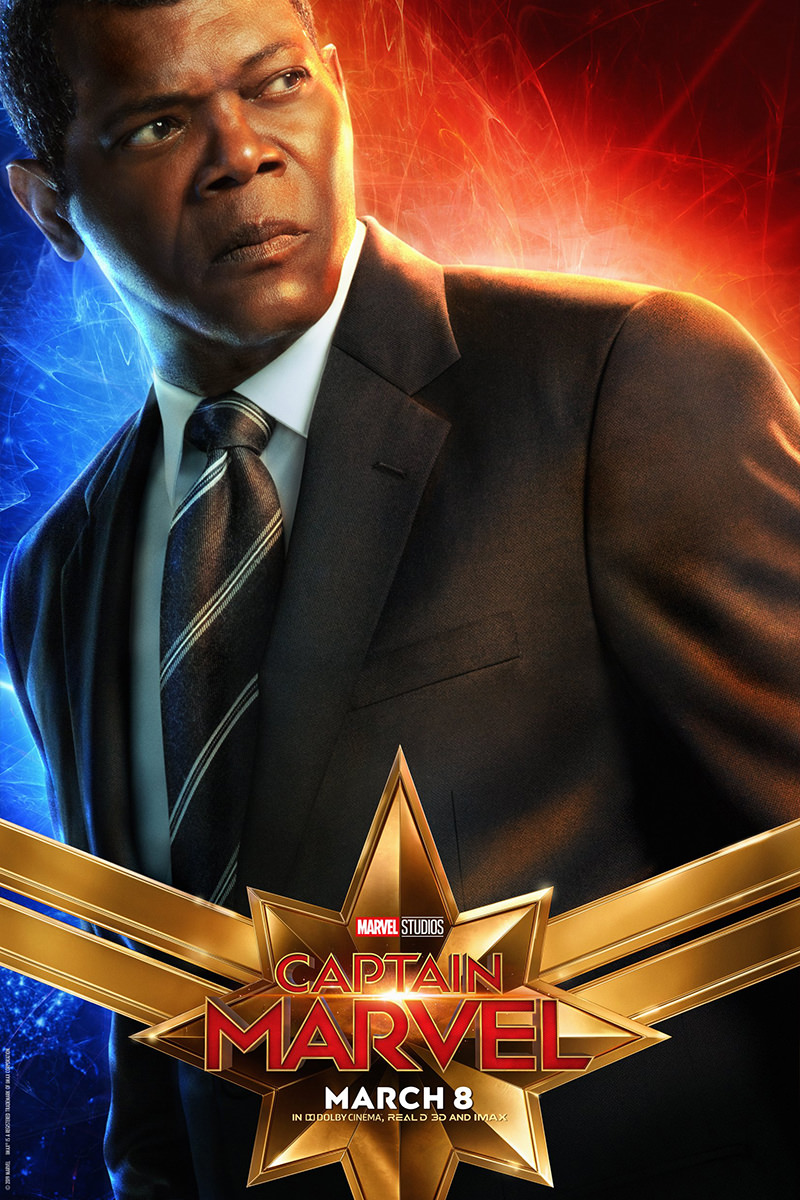 Agent Phil Coulson, likewise youthified...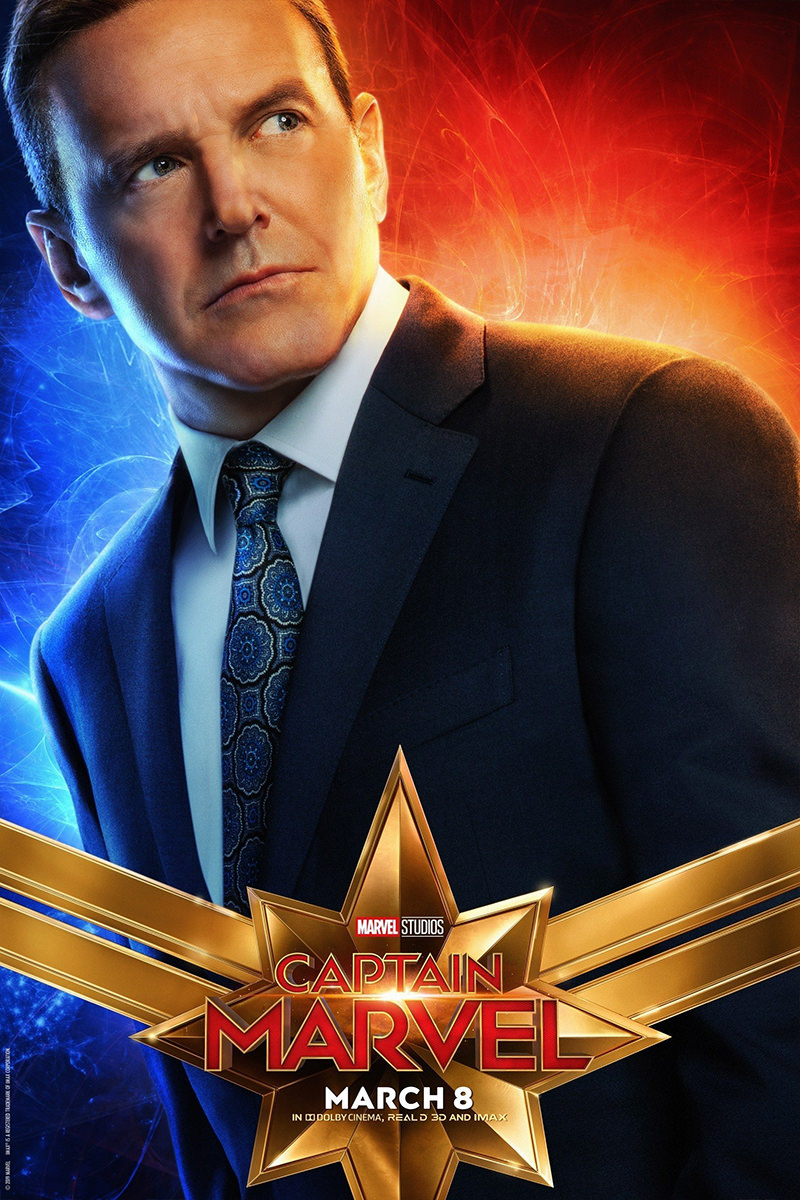 Maria Rambeau, whom I'm guessing is future-hero Monica Rambeau's mom and fellow pilot...
Goose, Carol's cat... which is named "Chewie" in the comic books (after Chewbacca)... and is apparently named after Anthony Edward's Top Gun character here...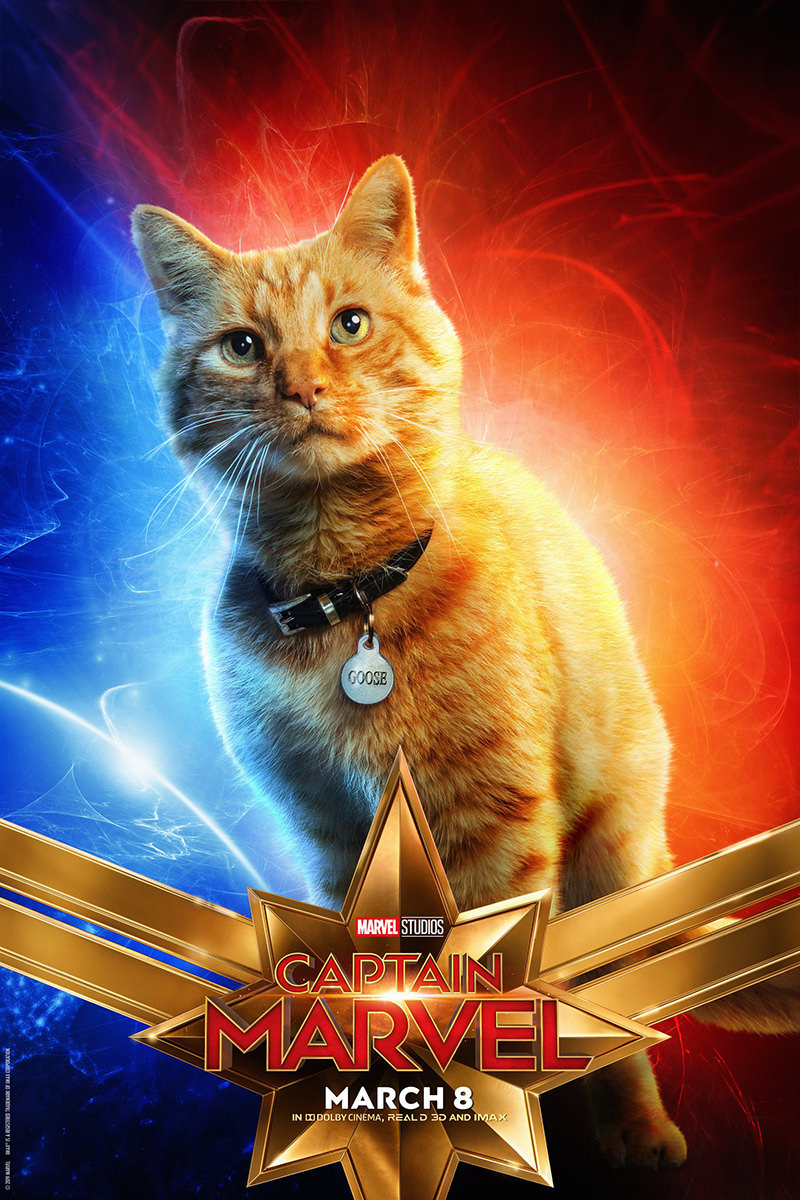 Mar-Vell(?) is the original Captain Marvel in the comic books but, since the origin is changing for the movies, he could be playing somebody completely different...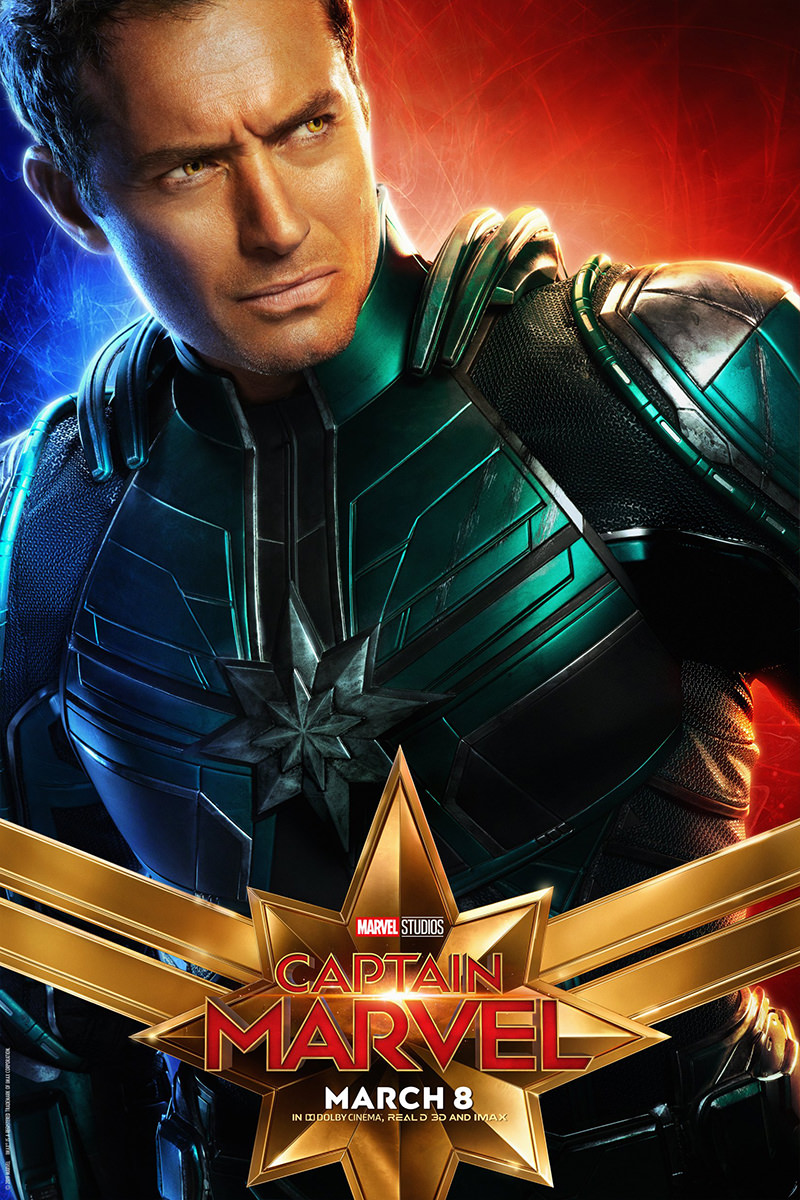 Korath, whose last appearance was in the first Guardians of the Galaxy movie...
Minn-Erva, an enemy of Carol in the comics, but apparently isn't that (yet) in the movie...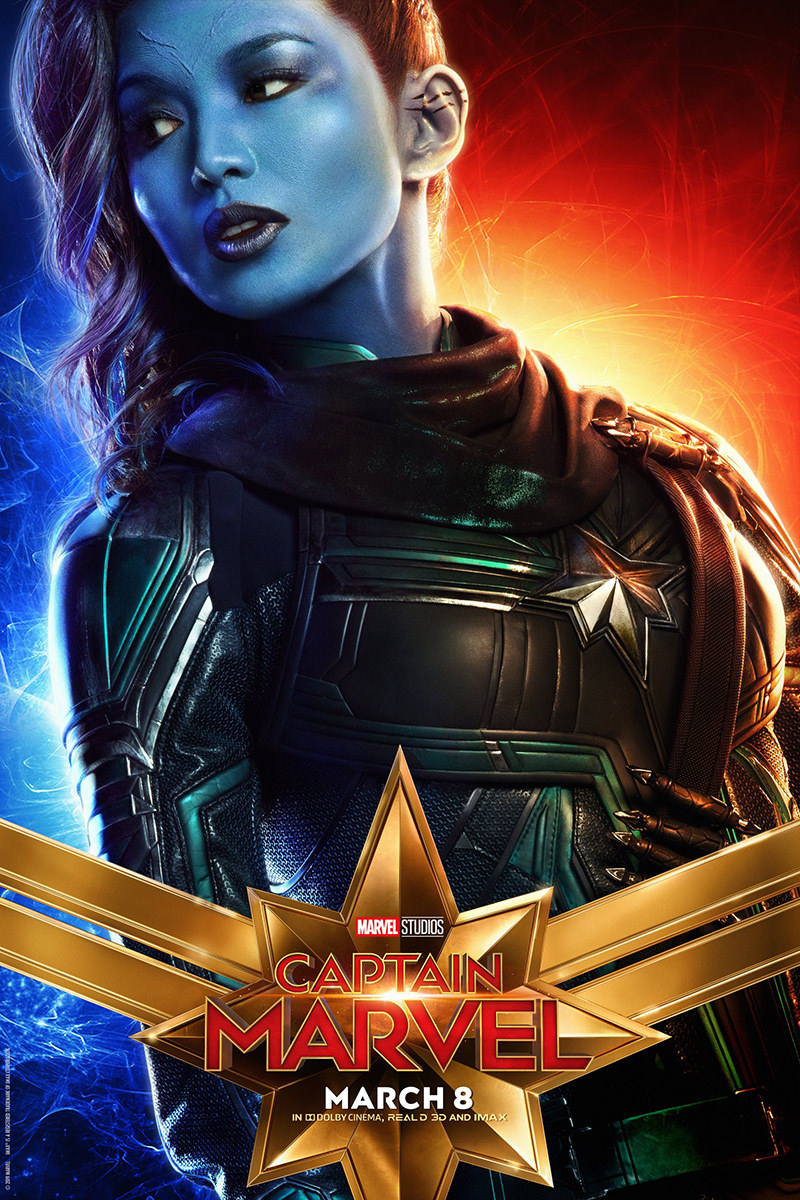 Talos, an evil alien Skrull shown here in his human form...
??? No idea who Annette Bening is playing in the movie... Supreme Intelligence in human form perhaps...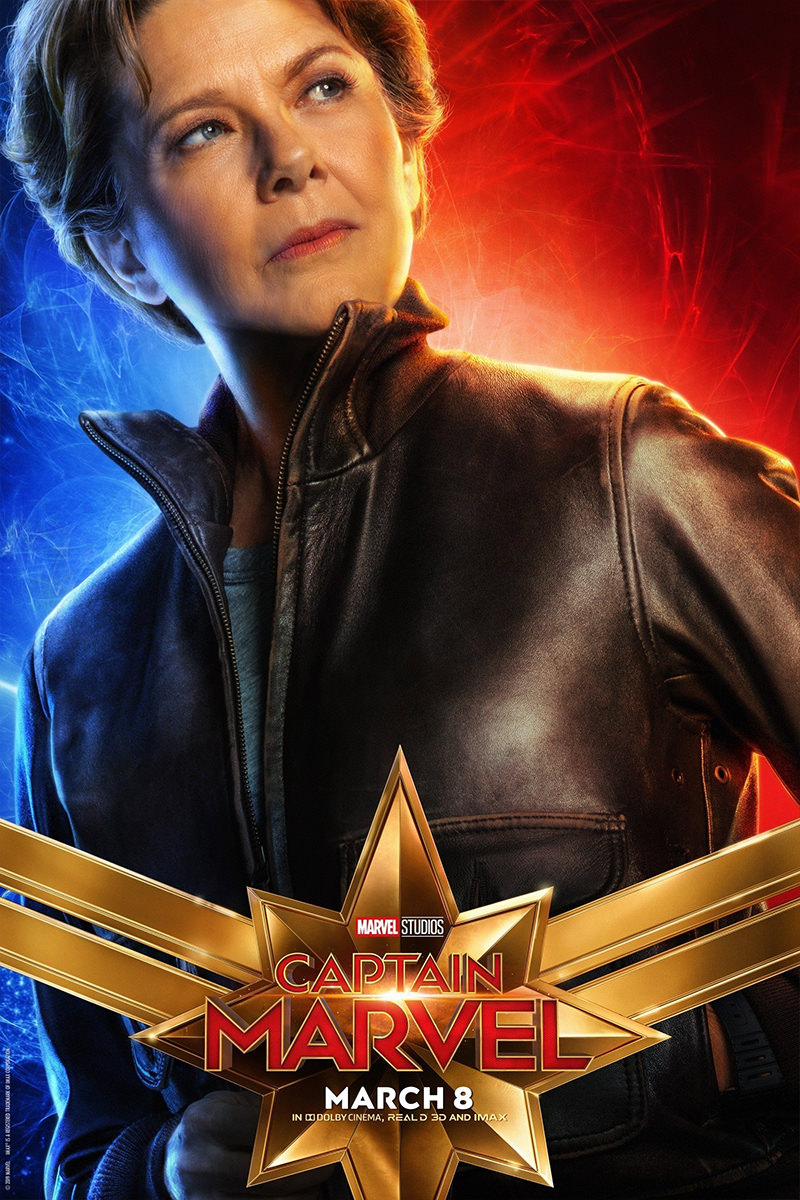 March 8th can't get here soon enough.
Posted on December 2nd, 2018

December is here and you shopping days are numbered. But don't despair... because the greatest gift of all is here! Bullet Sunday starts now...

• Cap! I didn't think it was possible for me to want to see Captain Marvel more than I already did... but then this poster was released...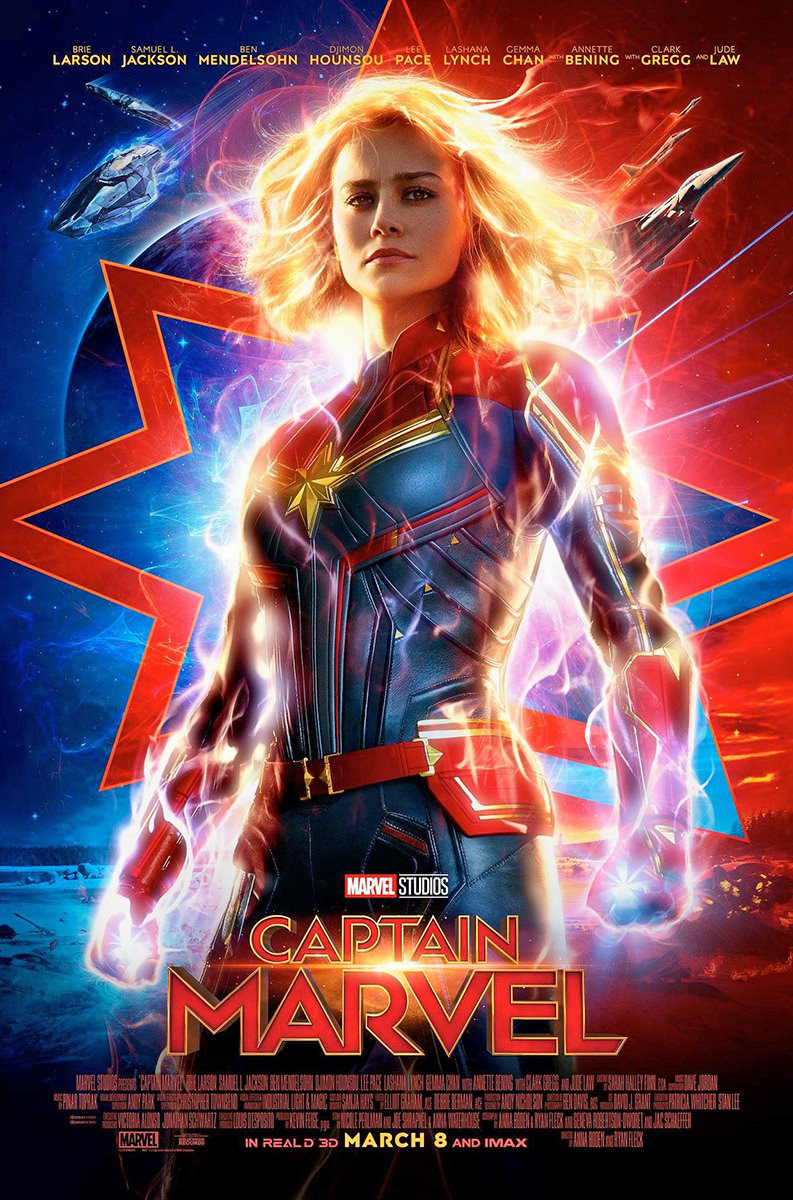 UPDATE: And then the second trailer was released...
And holy crap am I dying to see it now!

• SO CUTE! And now I want kittens! Again!
But... Jake and Jenny are plenty of cats in my house, so I'll just have to keep watching YouTube videos like this.

• A Catch! Speaking of cats and YouTube... my current obsession is watching cats catching fish videos...
Amazing. I don't know why I always thought that fish were an unnatural food for cats. Something that we humans got them addicted to. Maybe because most cats don't like water? But now that I've seen it? Makes perfect sense.

• Becoming! I purchased the audiobook of former First Lady Michelle Obama's Becoming because I wanted the experience of having her read it to me. I'm half-way through and it does not disappoint...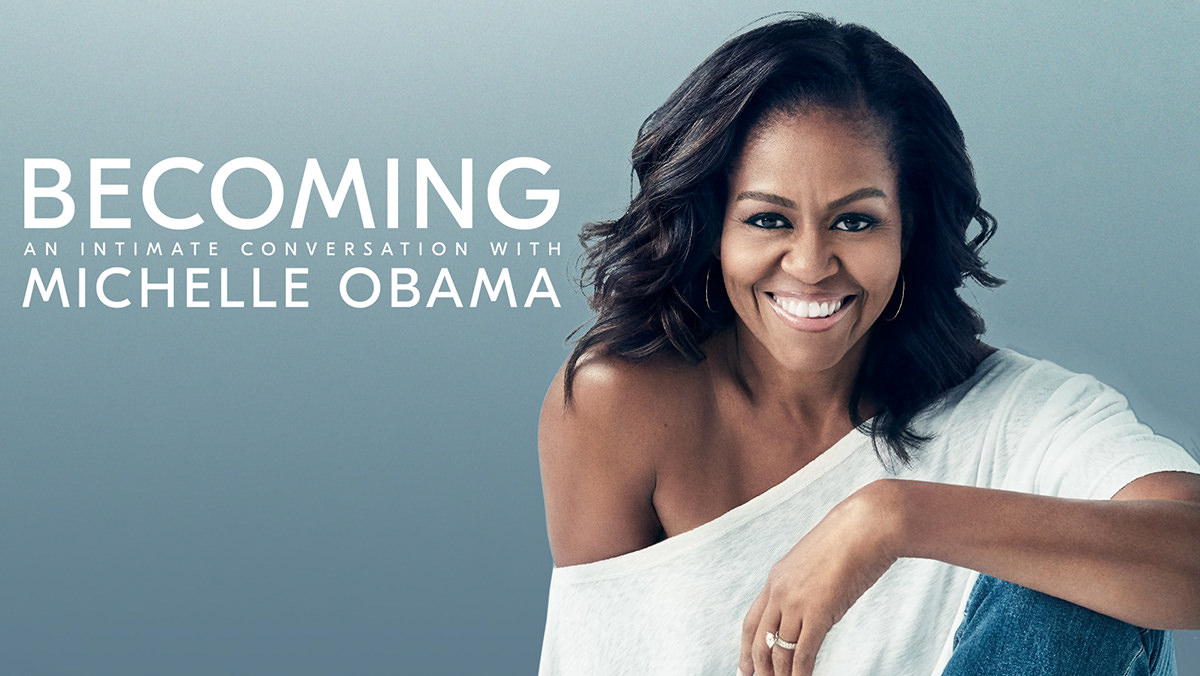 Of course Obama-haters were going to crap all over her no matter what she wrote... and people hoping for dirt will be better-served elsewhere... but I enjoyed going behind the scenes of her life from her own perspective. Mrs. Obama's ability to advocate for hope is inspiring, and I found her words was a welcome distraction.

• IN THE NEWS! "REPUBLICAN SENATORS WHO TRIED TO KILL YEMEN WAR RESOLUTION WERE PAID BY SAUDI LOBBYISTS" — We truly do have the best government money can buy. This is fucking disgraceful. For the life of me, I don't understand why Americans aren't rioting in the streets over this bullshit.

• A Man Called Ove! I've seen this remarkable Swedish film four times now. I think I love it more with each viewing...
I honestly don't know how to feel about Tom Hanks doing an American remake. Usually Americanizing a foreign film doesn't bode well, but... Tom Hanks. I want so badly for it to be good. If, for no other reason, that Americans who don't like watching films with subtitles will get to see this terrific story.

And that's the end of that. Fun times await me, as I'm flying out tonight.
Posted on September 23rd, 2018

Pull up on that pumpkin spice latte... because an all new Bullet Sunday starts now...

• Boston! My beloved Red Sox are American League East champions for the third year in a row...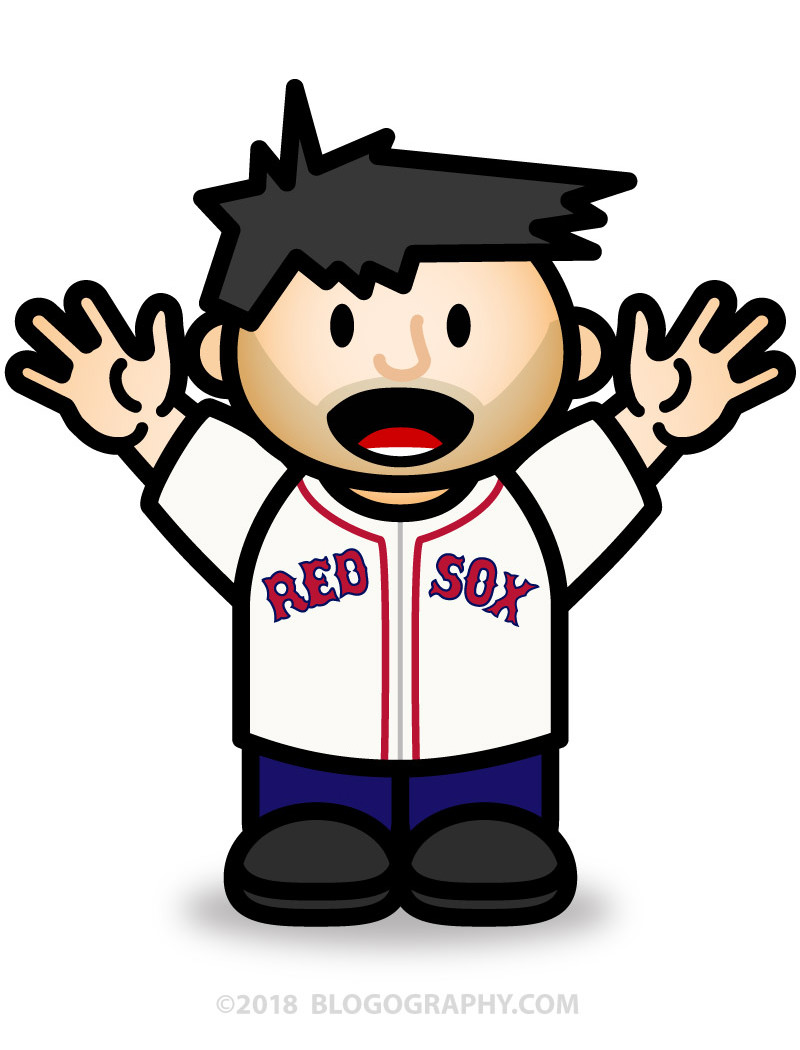 LET'S GO, BOSTON!

• The Last O.G.! I was watching... something... on TBS and saw a commercial for Tracy Morgan in The Last O.G.. As a huge, huge, mega-huge fan of Tracy, I was excited to see it. Only to find out that it had already aired this past Spring...
It is phenomenal. Funny as hell. But touching too. I loved every episode and am relieved to find out that it has already been renewed for a second season. Highest possible recommendation. If you haven't seen it, please do yourself a favor and take a look.

• Believer! The last thing I would ever want to do is convict an innocent person for a crime they did not commit. That being said, Brett Kavanaugh is up for a lifetime appointment to the Supreme Court. There is no walking this back. And since it makes no sense whatsoever that Dr. Christine Blasey Ford would invite a felony by lying to the FBI (or invite death threats towards her and her family), I think it's critical that an investigation be done. Especially now that more women have come forward. Anybody who thinks otherwise is either an asshole or wanting to serve a personal agenda over the good of this country...
I believe women. I believe in due process. I believe in innocence until proven guilty. I believe in justice. And I seriously question those who would sidestep any of that. Like the fucking piece of shit publisher of our local newspaper who equates rape to cheating at golf and smoking (you only think I'm joking). I don't expect people appointed to the Supreme Court to be perfect. They're human, after all. But I do expect them to not be rapists. Because no, not all boys do it, and rewarding this heinous behavior only propagates the rape culture that keeps creating new generations of rapists. It's got to finally end sometime. That time is now. Because time's up.

• Family! To all the single parents... to all the double dads... to all the double moms... to everyone who is trying to raise the best kid they can while listening to people scream "EVERY CHILD NEEDS A MOM AND A DAD!" over and over and over... know that you are exactly enough. Love alone makes a family. It always has...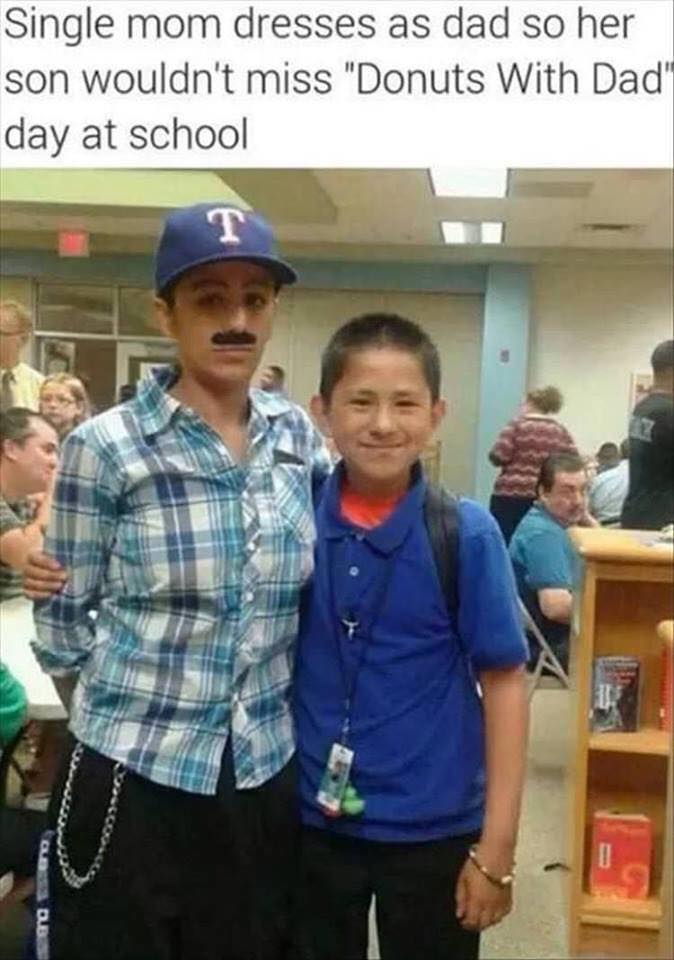 I saw this meme floating through my Facebook feed and was reminded for the hundredth time that the people who think it's their business to stick their nose into other people's business are the ones most likely guilty of whatever it is they are professing to hate. So you do you. Everybody else is just doing the best they can with the cards they were dealt and don't deserve your stupid-ass judgement.

• Cold! This has got to be the most insane political commercial I've seen yet...
What kind of piece of shit do you have to be to have all your siblings not only not vote for you... but take out a devastating opposition ad to boot? Cold!

• Chewie! It's the little things that add up to make a good thing great. Nobody is more aware of this than Marvel Studios. In their new movie poster for Captain Marvel, people have been noticing a cat walking off-frame in the shadows. I took a look in there with Photoshop and, sure enough, there's a cat there...
This is undoubtedly meant to be Carol Danvers' cat, Chewie! Who is not actually a cat, but an alien species called "Flerken" which resemble and earth cat. He's a rather large part of the Captain Marvel comic books, having made several appearances...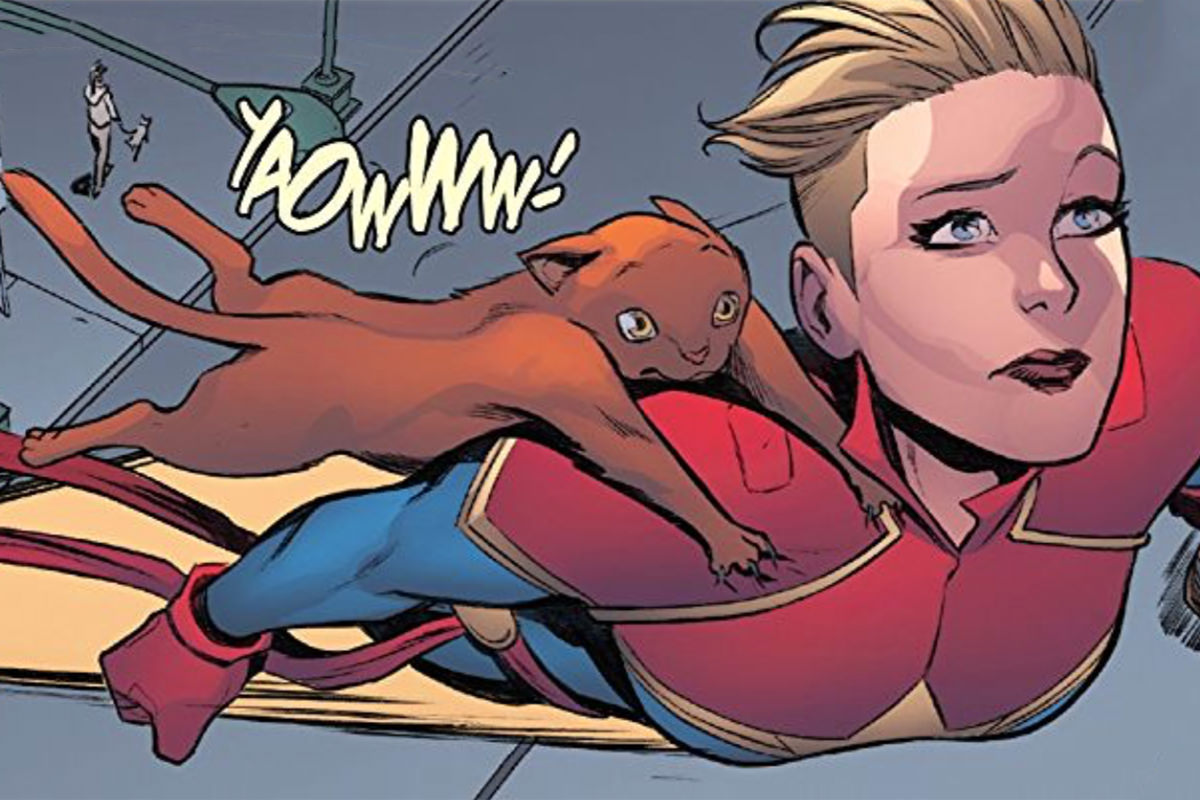 Holy crap does Marvel know how to handle their characters. And now it's been confirmed that Kevin Feige will be overseeing The X-Men and The Fantastic Four in addition to the rest of the Marvel Cinematic Universe. As it should have been all along! So long, FOX, your shitty, shitty, unbelievably shitty super-hero movies will not be missed.
And that's not all in Marvel news... rumor has it that Loki and The Scarlet Witch may be getting their own TV series on Disney's new streaming service. That will be fantastic, if it happens. But if I'm being honest? The character I most want to get a TV show is Hawkeye. If they were to base it on the Matt Fraction and David Aja comic book run, it would be absolutely amazing.

And... I'm done with bullets for the day. I got things to do.
Tags:
Bullet Sunday
,
Captain Marvel
,
Marvel
,
Marvel Studios
,
Movies
,
News
,
Politics
,
Red Sox
,
Television
Categories:
Bullet Sunday 2018
,
Movies 2018
,
News – Politics 2018
,
Television 2018
—
Click To It:
Permalink
—
2 Comments: Click To Add Yours!
Posted on September 18th, 2018

I woke up at 5:00am this morning... crossing my fingers that the emails I was waiting for had been answered so I could get to work. I really, really wanted to start in early so I could get off work early and continue cleaning my garage. But, alas, no work emails.
What I did get was a notification that Marvel Studios' Captain Marvel trailer and poster had been released. Something that I've been waiting and waiting and waiting for.
Worth the wait (as if there were any doubt)...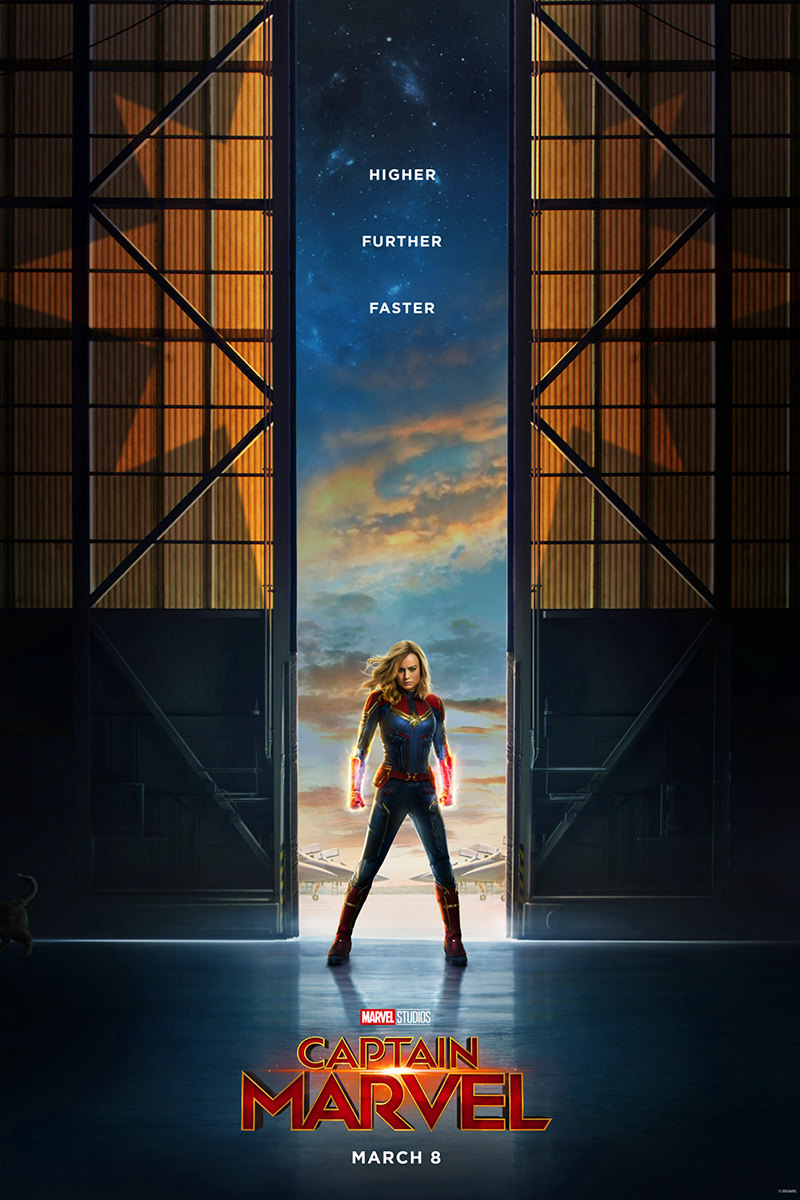 Totally worth the wait...
And so I spent the next 20 minutes obsessing over the trailer and what we were going to get out of the finished movie. As one does. Let's unpack this, shall we?
We start with Carol Danvers crashing into a Blockbuster. Just in case you needed a big ol' slap in the face that this movie takes place in the past...
LOL. Yep! That's aughtta do it...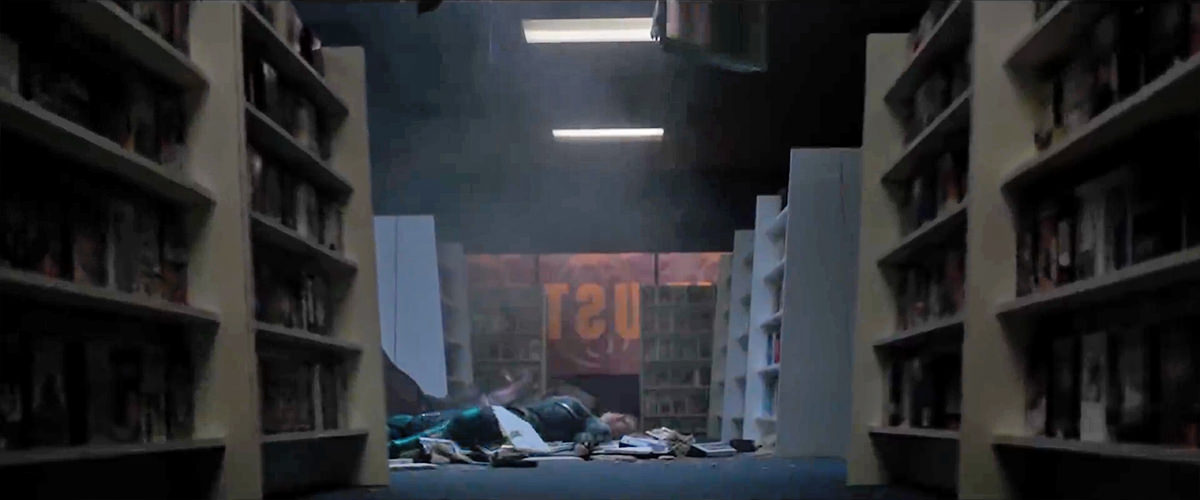 At this point, Carol is still in her Kree warrior costume. I'm not entirely sure how the movie will interpret her long, complicated comic book history, but it would seem that she originated on earth, ended up a part of the Kree Empire due to her hybrid genetic makeup, and eventually ends up back on earth. Assumably to thwart a Skrull invasion (the Skrulls being longtime enemies of the Kree)...
Interesting to note that people are totally ignoring her costume. I mean, yeah, this is New York... but super-heroes are not a "thing" at this point in time so you'd think it would be a strange sight?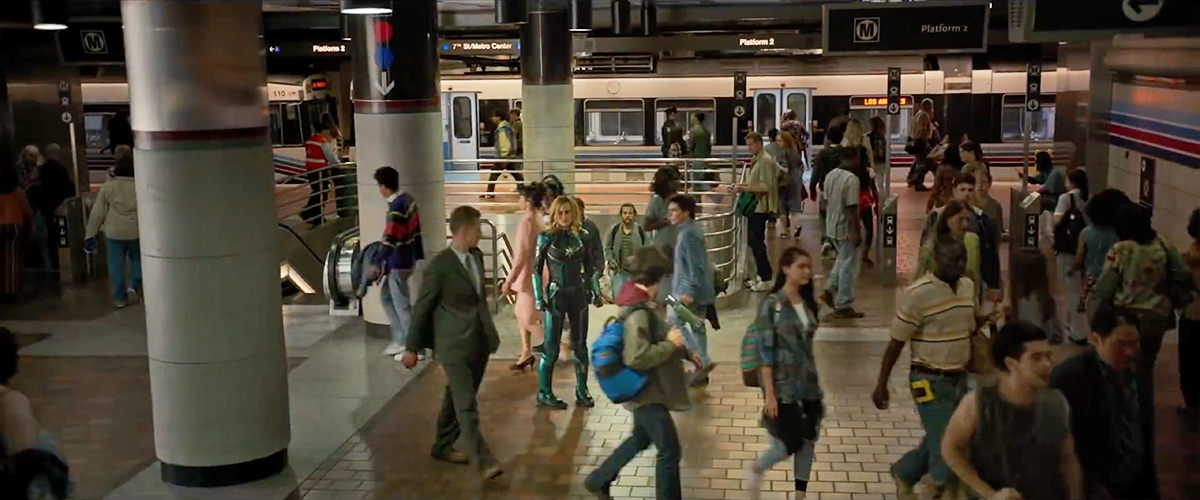 And... here's Samuel L. Jackson as Agent Nick Fury hanging around a Skrull autopsy. And that other guy in there... could it be?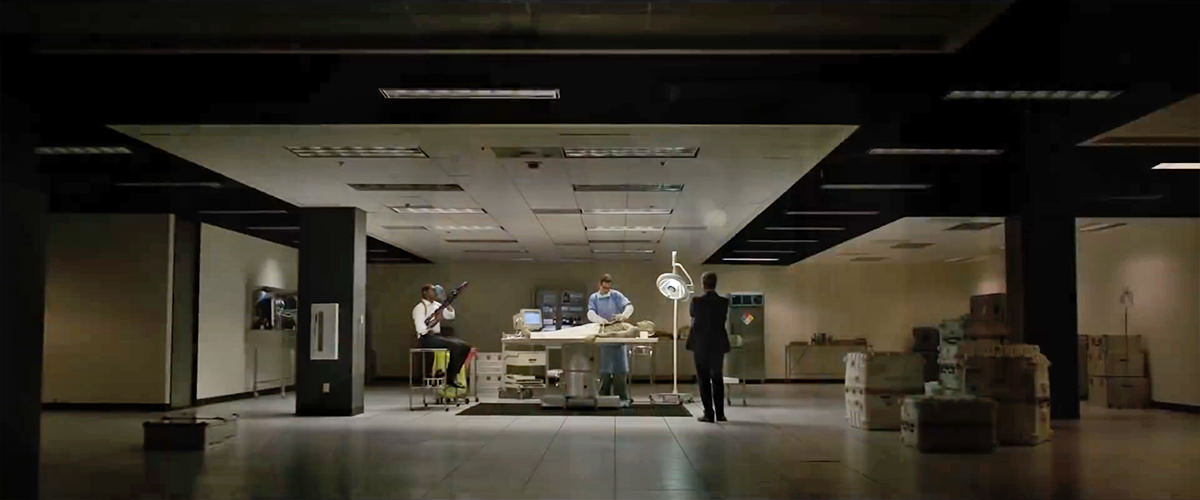 I am guessing that this is where Carol Danvers life is changed forever. She's a fighter pilot for the US military heading into space to investigate a spaceship. I'm guessing it's at this point that her DNA is merged with that of Mar-Vell, a Kree warrior, paving the way for her to become Captain Marvel...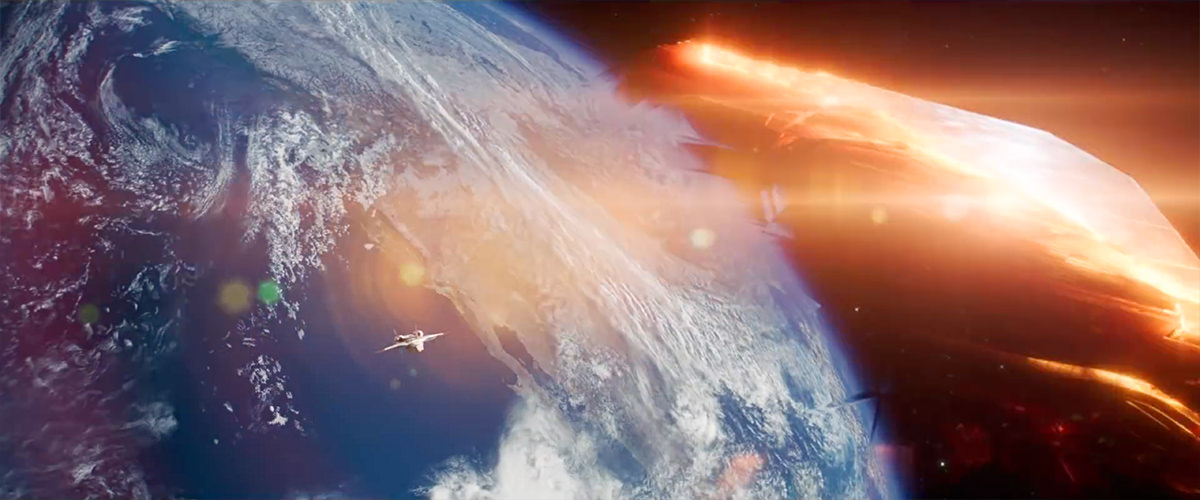 Annnnnd... here's the money shot. To me at least. Carol in full Captain Marvel gear blasting the shit out of something with her energy beams. I had a real concern that Marvel would downgrade her power set because she's Just. That. Powerful. and they didn't know what to do with her. Eliminating her energy manipulation powers was the obvious way to do that. But... here we are... praise be to Kree-Pama...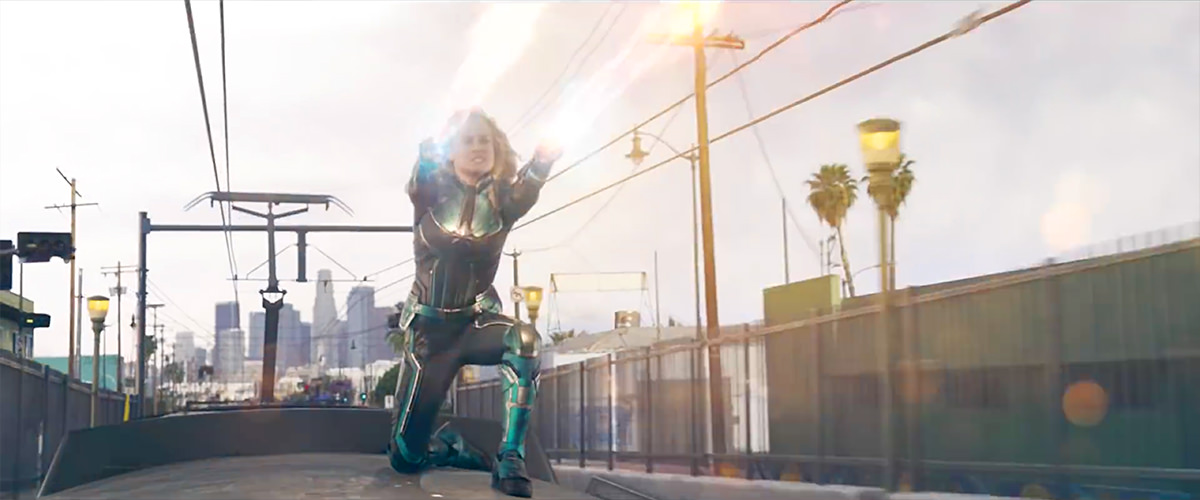 We knew that Samuel L. Jackson would be appearing as his younger self in this movie. And while nobody does de-aging special effects better than Marvel, it does seem a little uncanny valley when you take a frame out of the context of motion...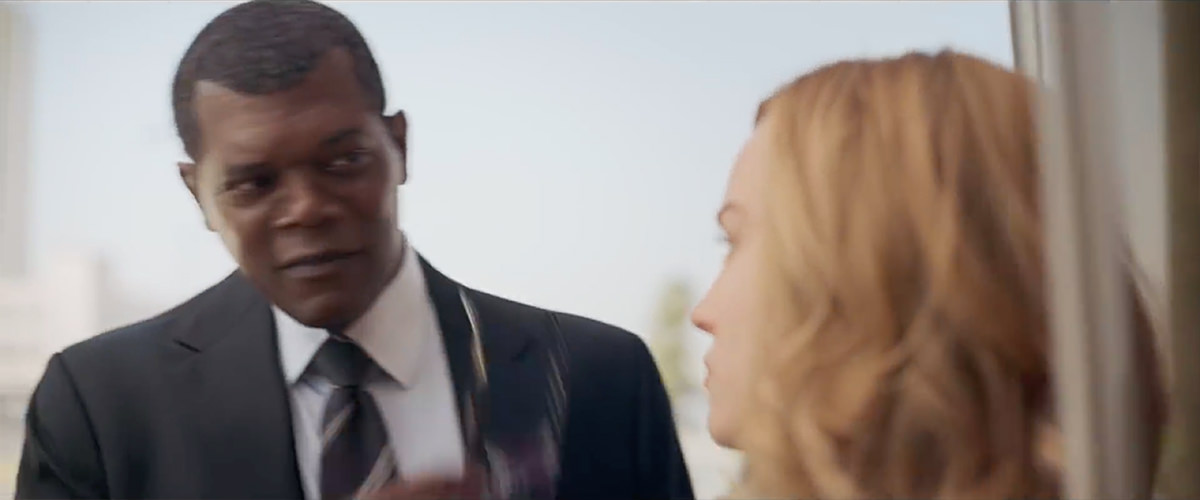 "Soooo... you're not from around here..." — "It's hard to explain." — Indeed it is...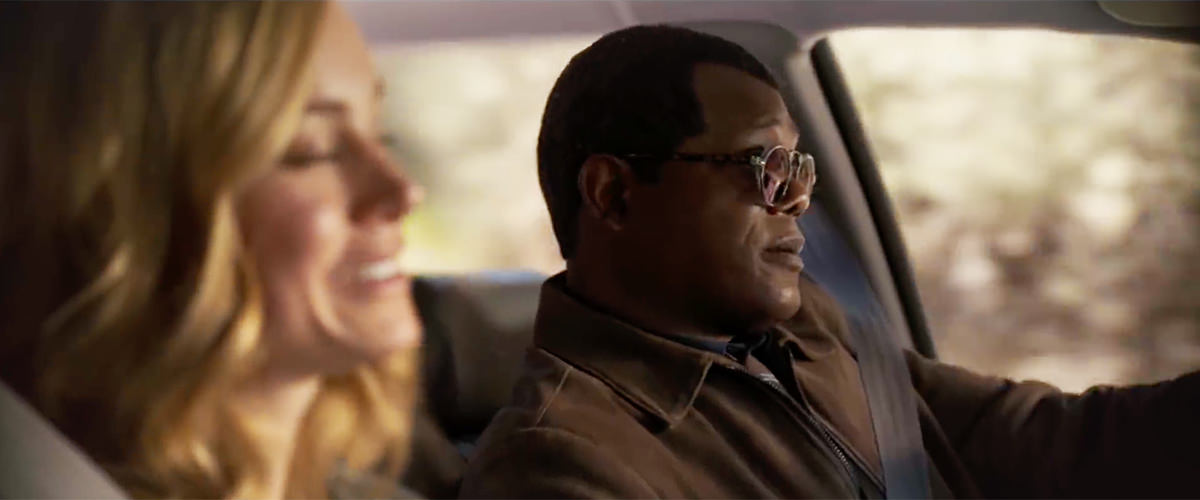 Back into space. I don't think this is earth, so I'm guessing this is the spaceship carrying Carol Danvers to the Kree Homeworld (which is probably Hala, at this point?)...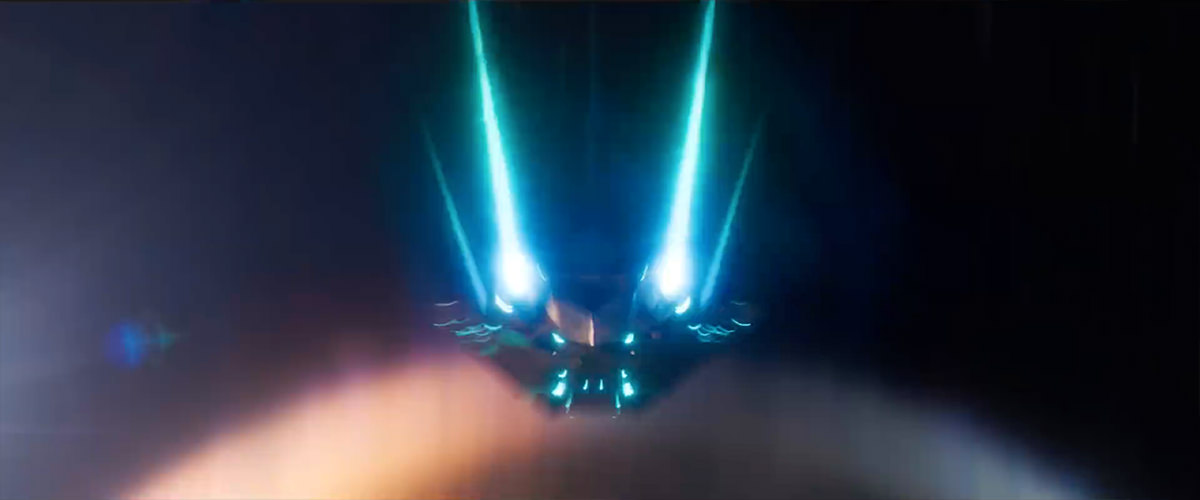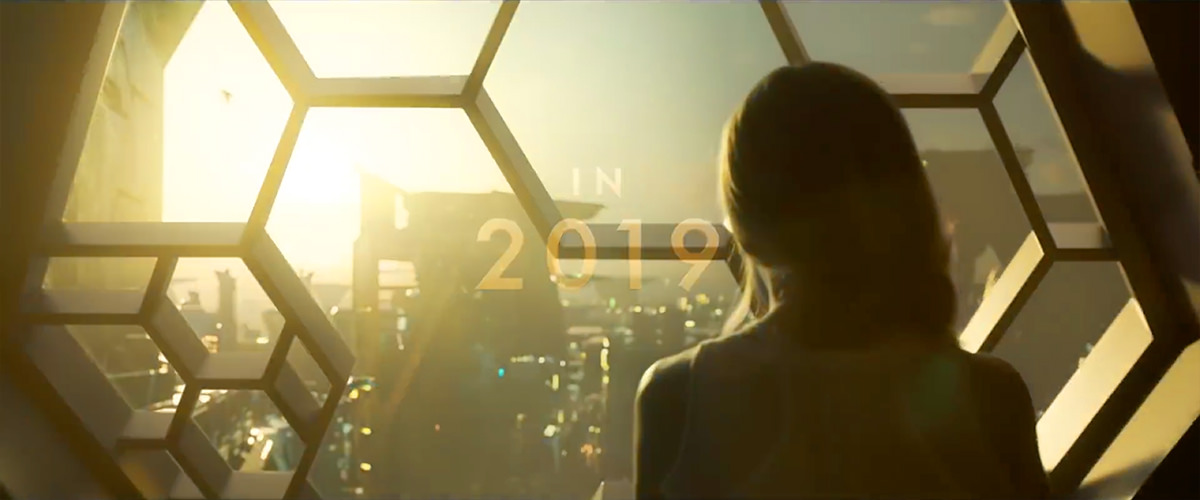 And we're jumping around time and space again. Back to earth. Here's Carol Danvers with Maria Rambeau. Not Monica Rambeau from the modern-day Marvel Cinematic Universe... but Maria "Photon" Rambeau from the past. Which makes her Monica Rambeau's mom... I'm guessing? Monica Rambeau is best known as the super-hero Photon, but was also Captain Marvel at one time. She was also "Pulsar" and "Spectrum"...
Here's where things get interesting. Carol Danvers falls back to earth after her run-in with the Skrulls/Kree. I'm guessing this is after her DNA has been infused with Kree goodness, because otherwise she'd be dead... wouldn't she?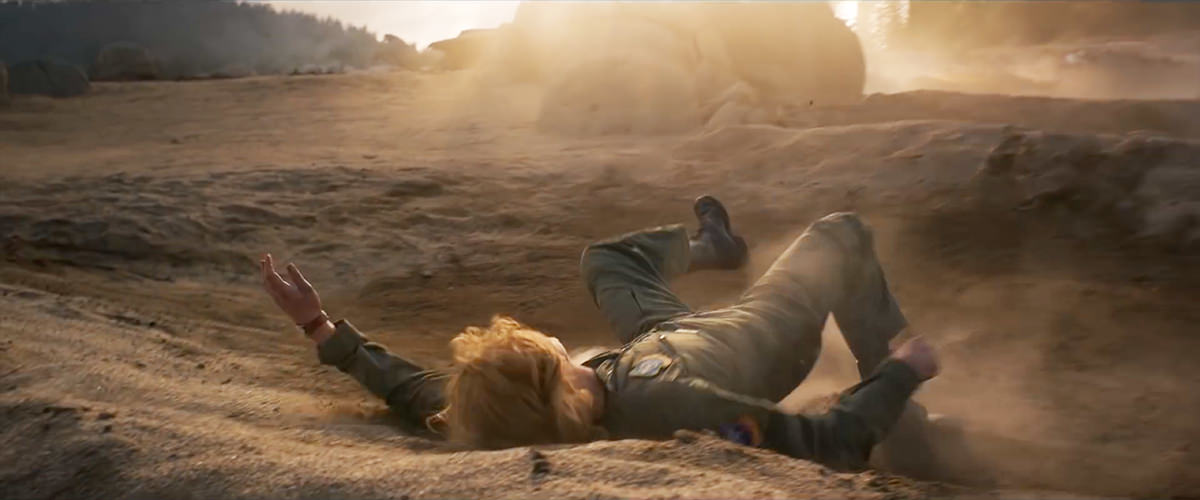 And now we're jumping ahead again because Carol is in her blue, red, and gold uniform instead of her green Kree uniform. Apparently she's been captured. And they're experimenting on her? Or maybe just confining her...
Jumping back in time again... because here's Carol in her Kree warrior uniform again. In the comics there are Blue Kree (apparently the default) and Pink Kree and a long, complicated history between them. No idea how that will be streamlined for the movies...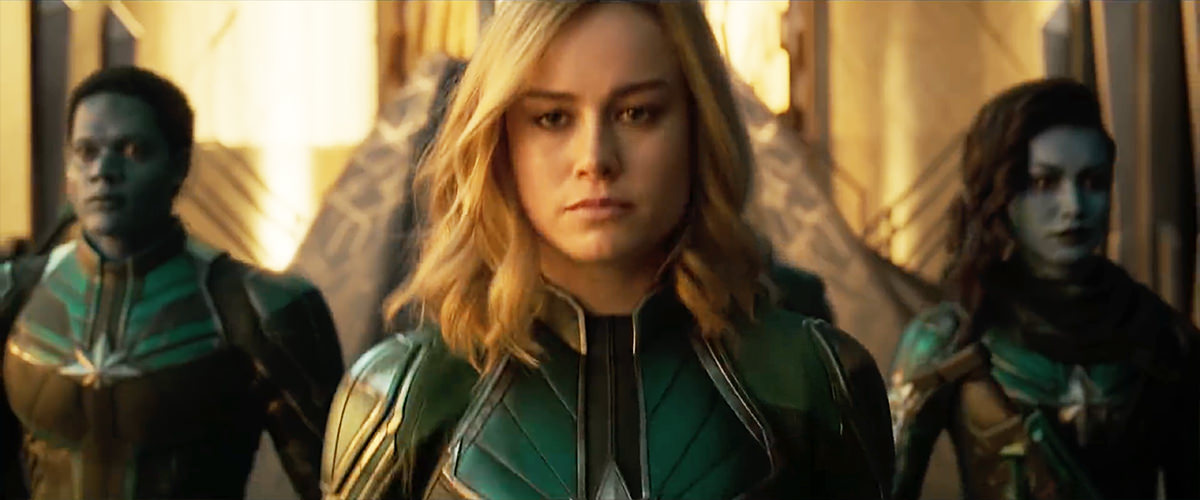 And... Mr. Jude Law, everyone! My guess (along with every other fanboy on the internet) is that he is playing Mar-Vell. Which is the original Captain Marvel in the comic books...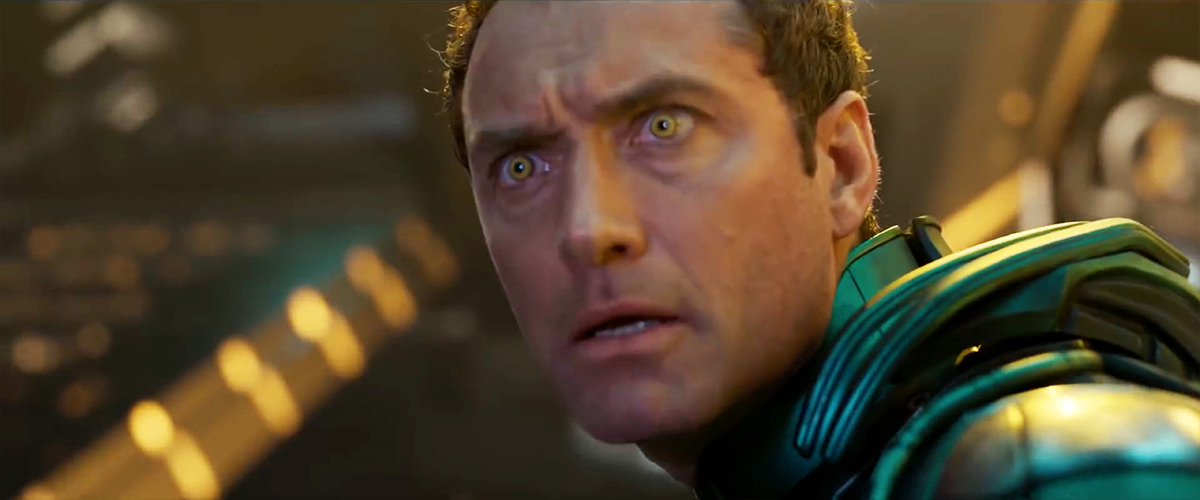 The Skrulls... arriving on earth, I'm guessing...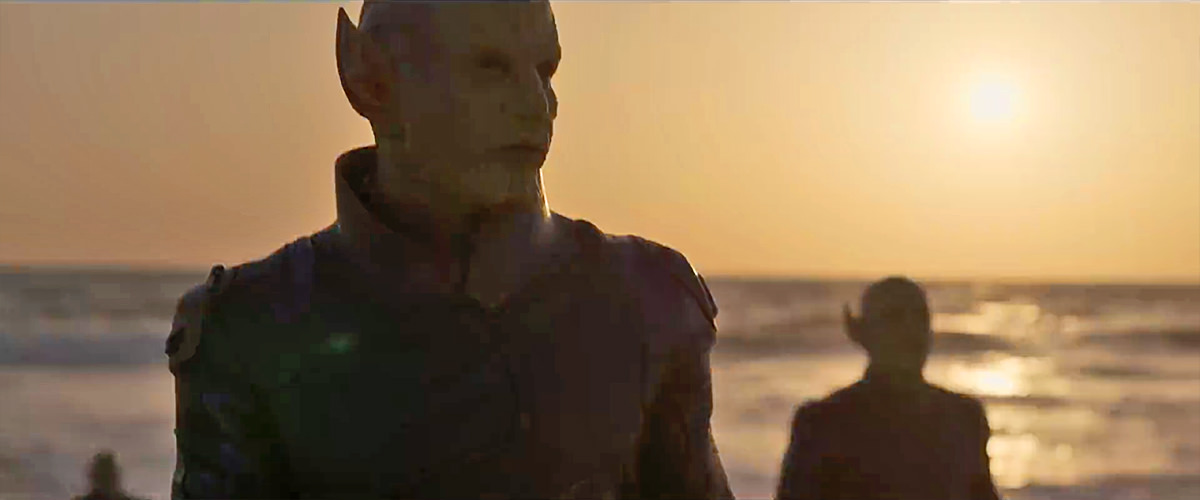 Oh look! Carol is punching a kindly old woman in the face! Except... we all know that she's not a kindly old woman. She's a shape-shifting Skrull pretending to be a kindly old woman! Mark my words... the Skrulls are going to be a major story in the upcoming Marvel Cinematic Universe. If events follow the comics, there are Skrulls who have replaced several Marvel super-heroes and are just waiting for their Skrull brothers and sisters to return to earth for another shot at domination...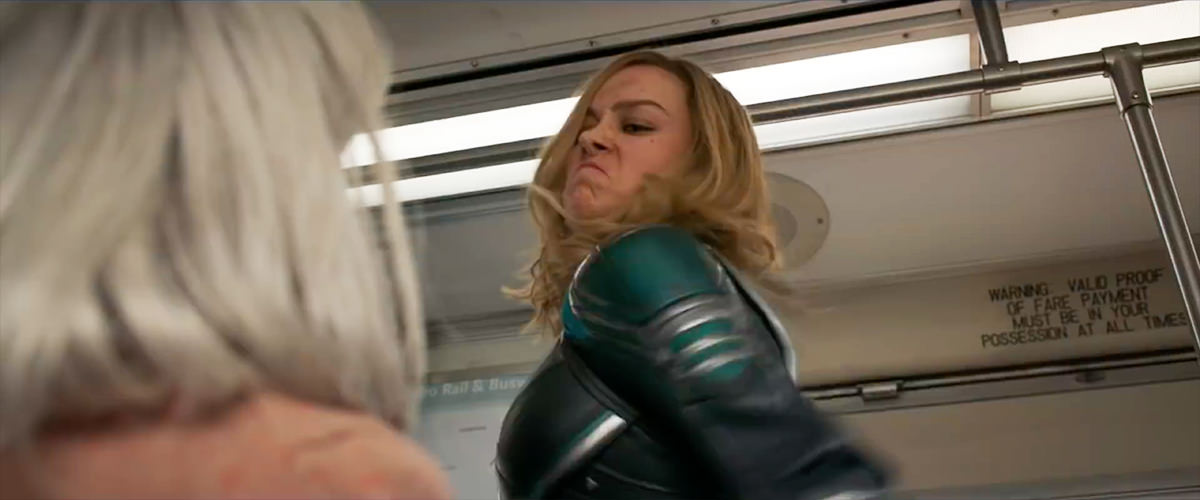 And... heeeeere's Ronan, everybody! This is long before Ronan the Accuser manages to get his hands on an Infinity Stone and make trouble for the Guardians of the Galaxy. At this point he's just a regular Kree. And possibly Carol Danvers' boss...
There we go! It's young Phil Coulson! Whose first name I'm pretty sure is "Agent." Needless to say, I am positively thrilled to see him return to the Marvel Cinematic Universe. I don't watch the Marvel's Agents of SHIELD television show (loathe it so hard), so it's nice to see such a great character again...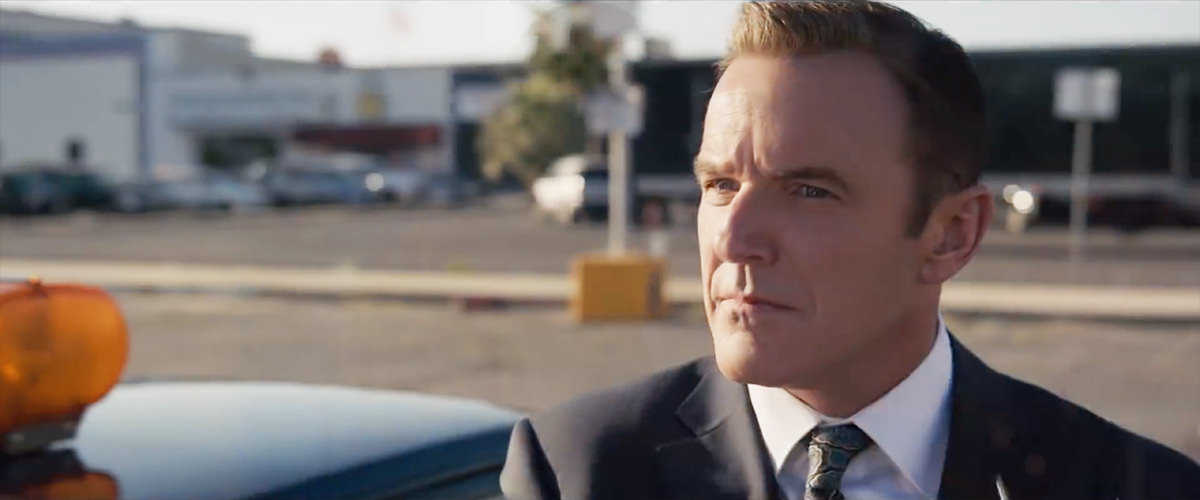 It's Nick Fury with his pocket pager! A different model than the pocket pager he uses to summon Captain Marvel at the end of Avengers: Infinity War...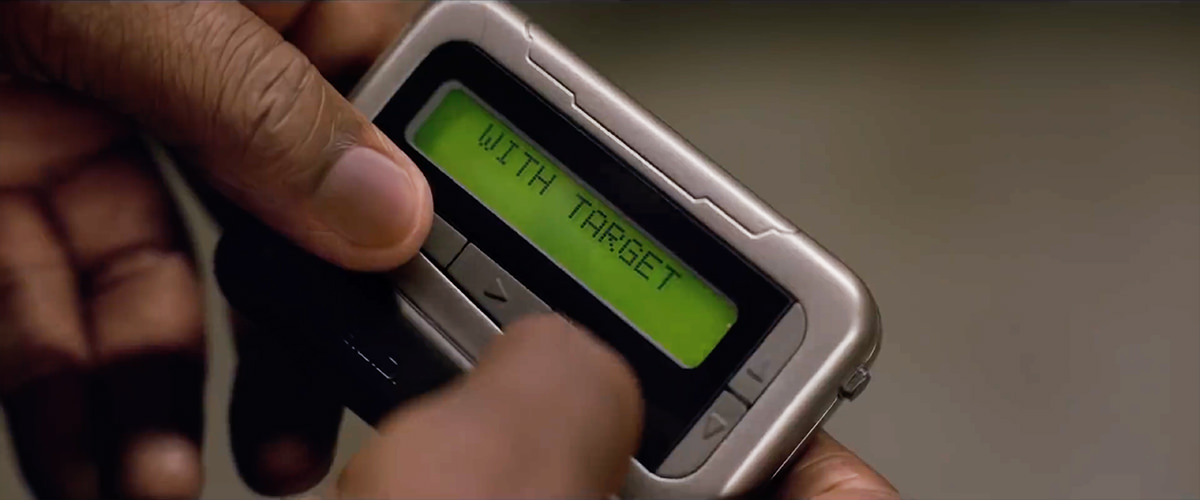 Underwater Kree! I am really hoping that this is Carol Danvers in this shot. At one point in the comics she had a mohawk, so this would be a fun nod to the source material...
Uh oh... somebody just got zapped...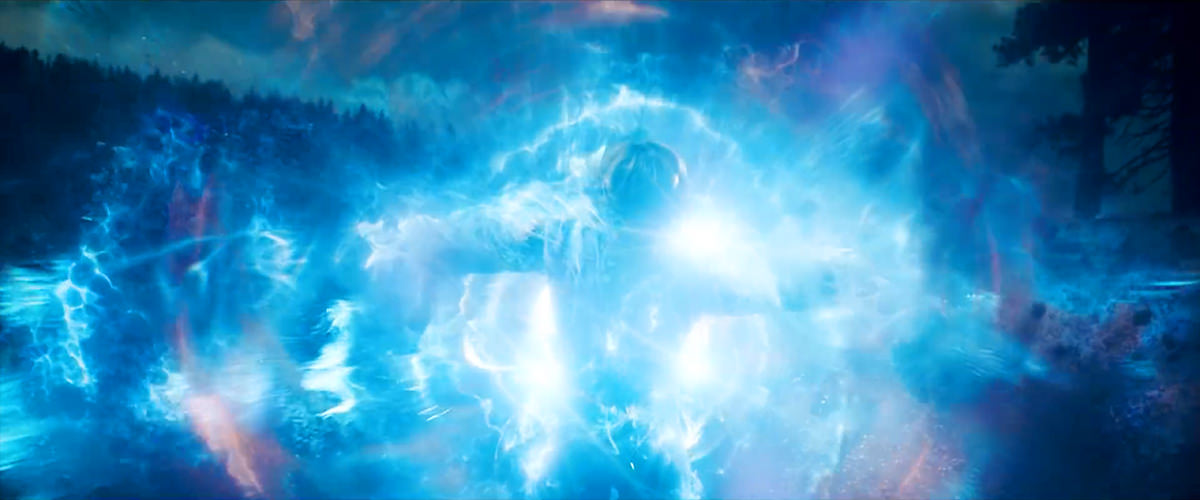 Yep, looks like Carol to me!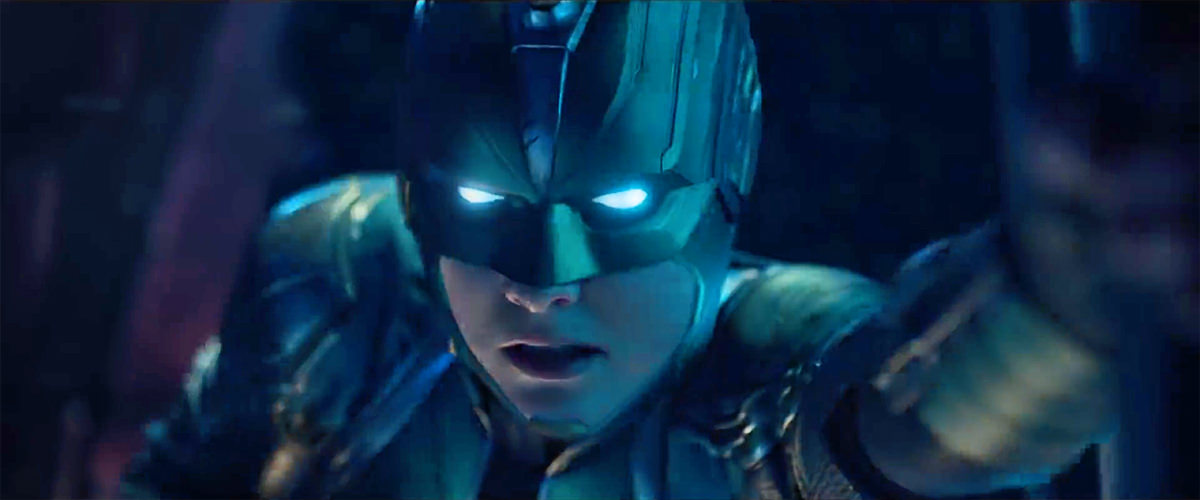 Annnnnnd... could that head be MONICA RAMBEAU?!? I sure hope so! Boy oh boy am I excited to see her join the Marvel Cinematic Universe...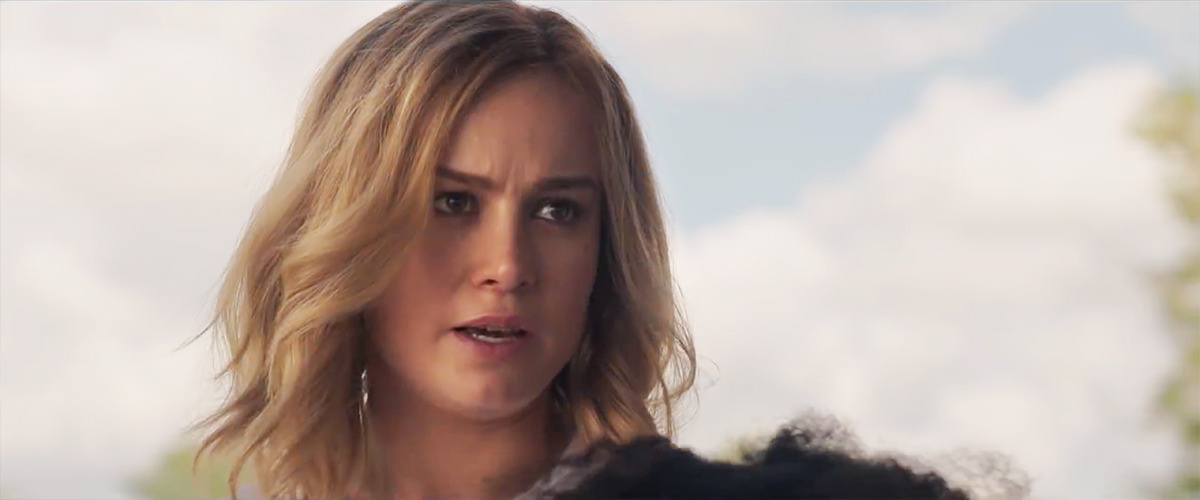 And here's Captain Marvel's final costume in all its glory...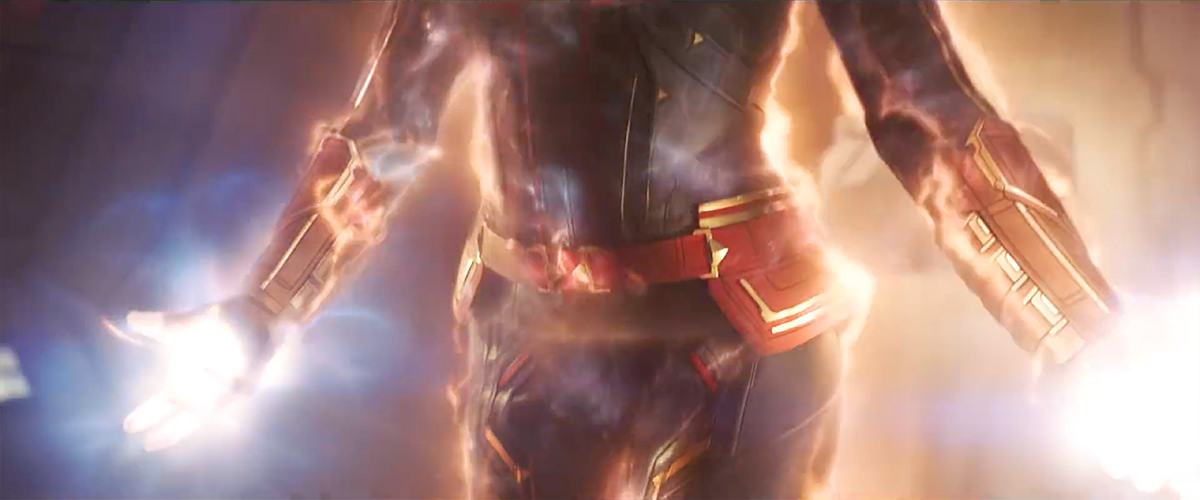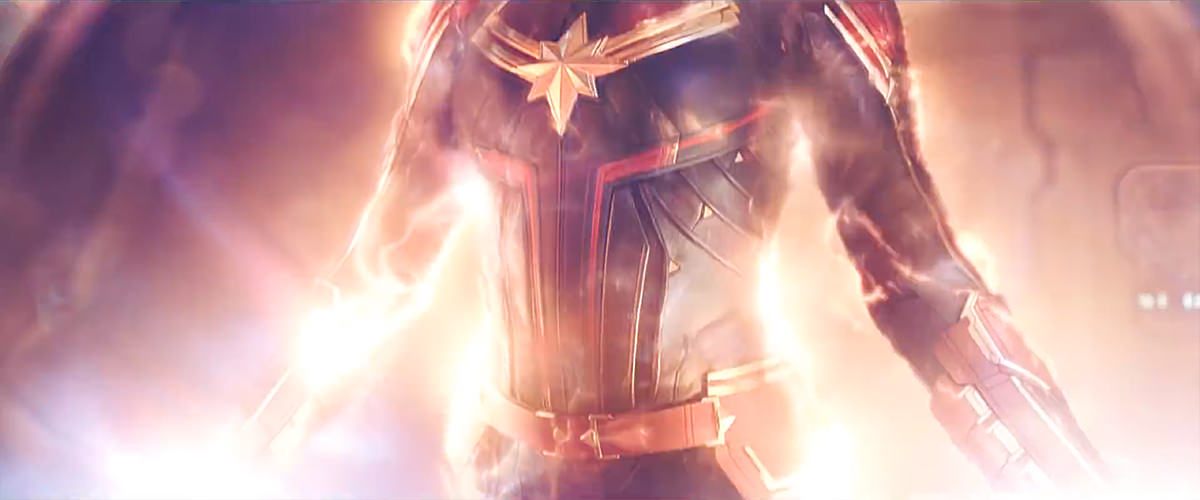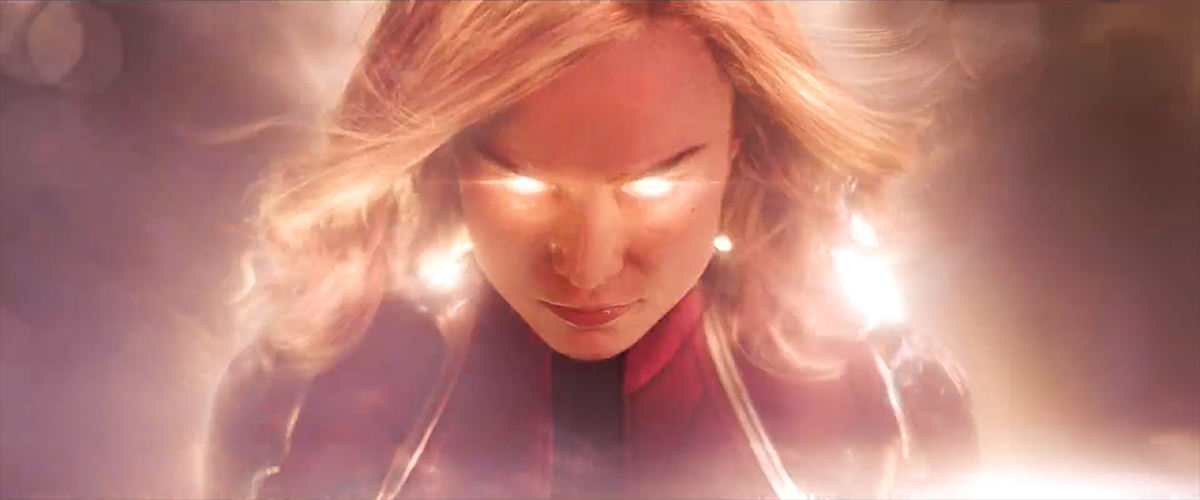 "I'm not what you think I am." Nice! And we end with the movie logo, which is oh so pretty...
Needless to say, I am 1000% stoked to see this movie. Having to wait until March 8th, 2019 is a bit harsh, but I just know it will be worth the wait. Marvel ain't about to start screwing up now. Not that they've been absolutely killing it movie after movie for ten years!
If only I could go into a coma until then so I wouldn't have to be here all anticipating it and stuff. I am not a patient man.
Posted on September 5th, 2018

Entertainment Weekly has a feature on the new Captain Marvel movie coming up from Marvel Studios.
I was never a fan of the original Captain Marvel and didn't care much about his cosmic exploits unless they crossed over with other Marvel characters I liked. But things got a lot more interesting when Carol Danvers (formerly Ms. Marvel, formerly Binary, formerly Warbird) took over the role. Her comic book run by Kelly Sue DeConnick was fantastic stuff and I've been a fan of Captain Marvel ever since
And now this...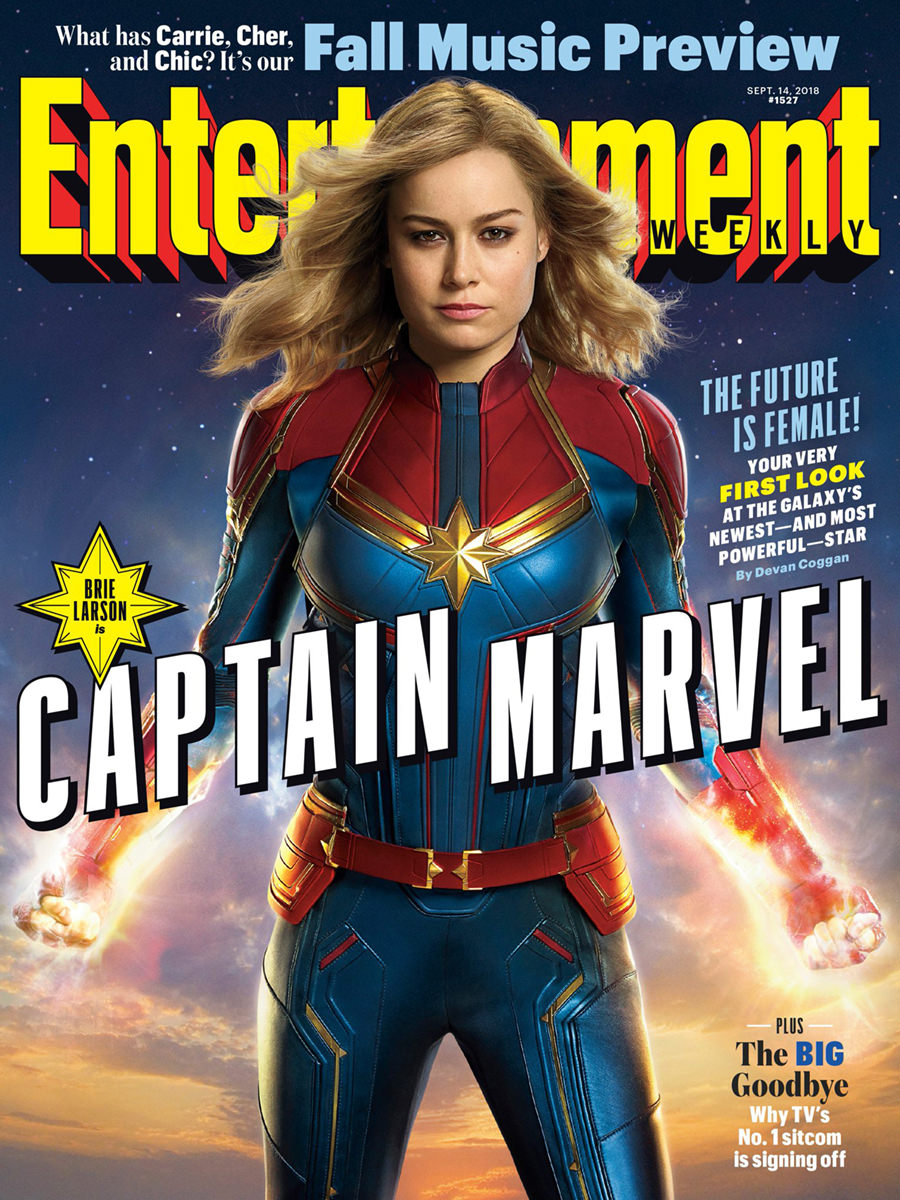 I think I peed myself a little bit when I saw it.
I cannot fathom what they are going to put her up against. She's the most powerful character in the MCU, so they will undoubtedly come up with an antagonist to match. The brutality of the battles had better be epic and put The Hulk to shame. I mean, we know the primary antagonist will be the Skrulls... but in what way? The Skrull/Kree War is a huge staple of the comic books, but how is that going to translate? No idea. I'll bet it's awesome though...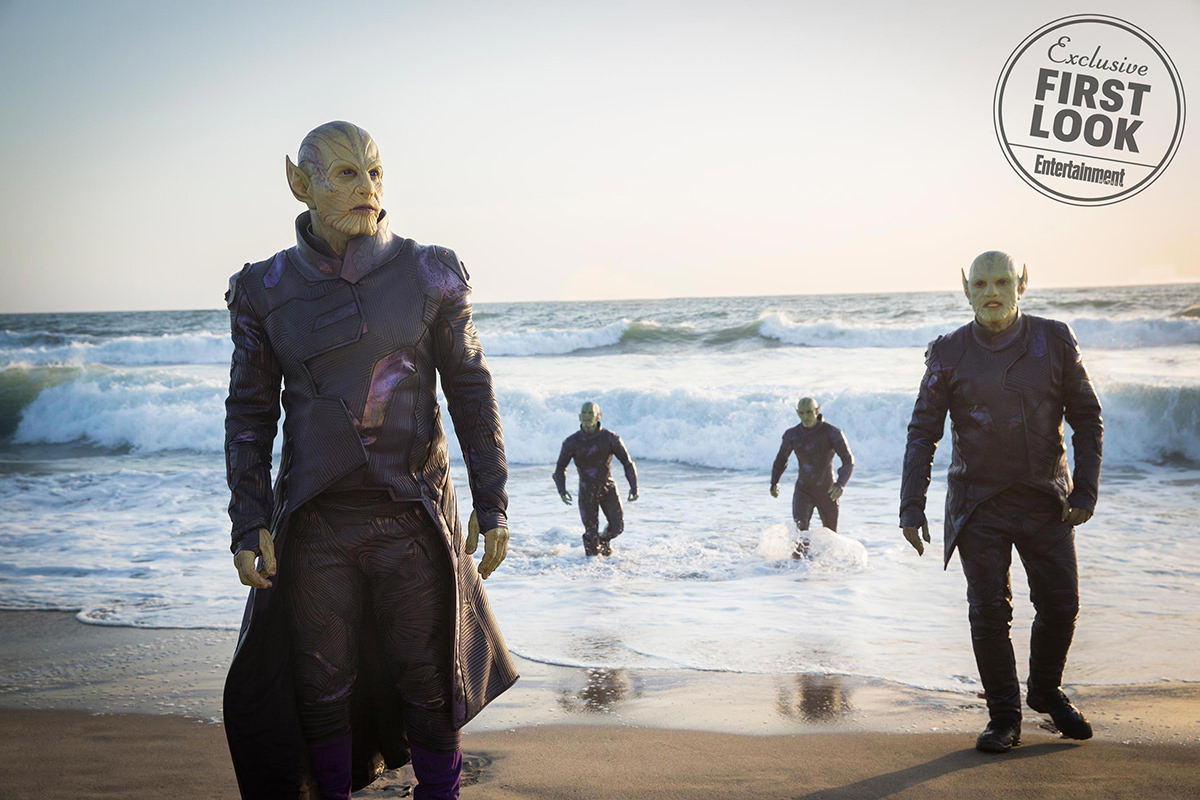 Another photo shows Ronan the Accuser, but this movie takes place in the 90's long before he got an Infinity Stone and was killed in the first Guardians of the Galaxy movie. So he's just a regular, albeit talented, Kree warrior...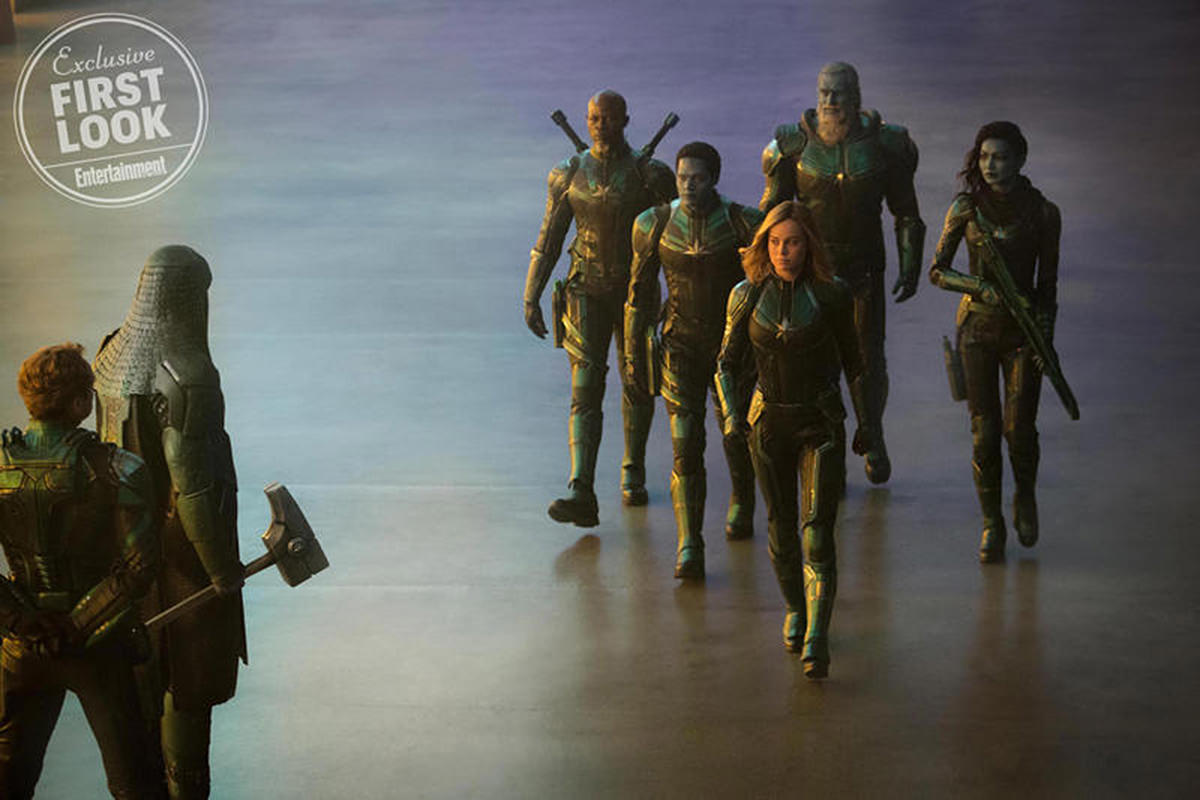 Thanks to Marvel's love of de-aging characters, a young Nick Fury is in the mix. Apparently he has a major role to play, because Samuel L. Jackson's part is being touted as the first time a character has been de-aged for an entire movie!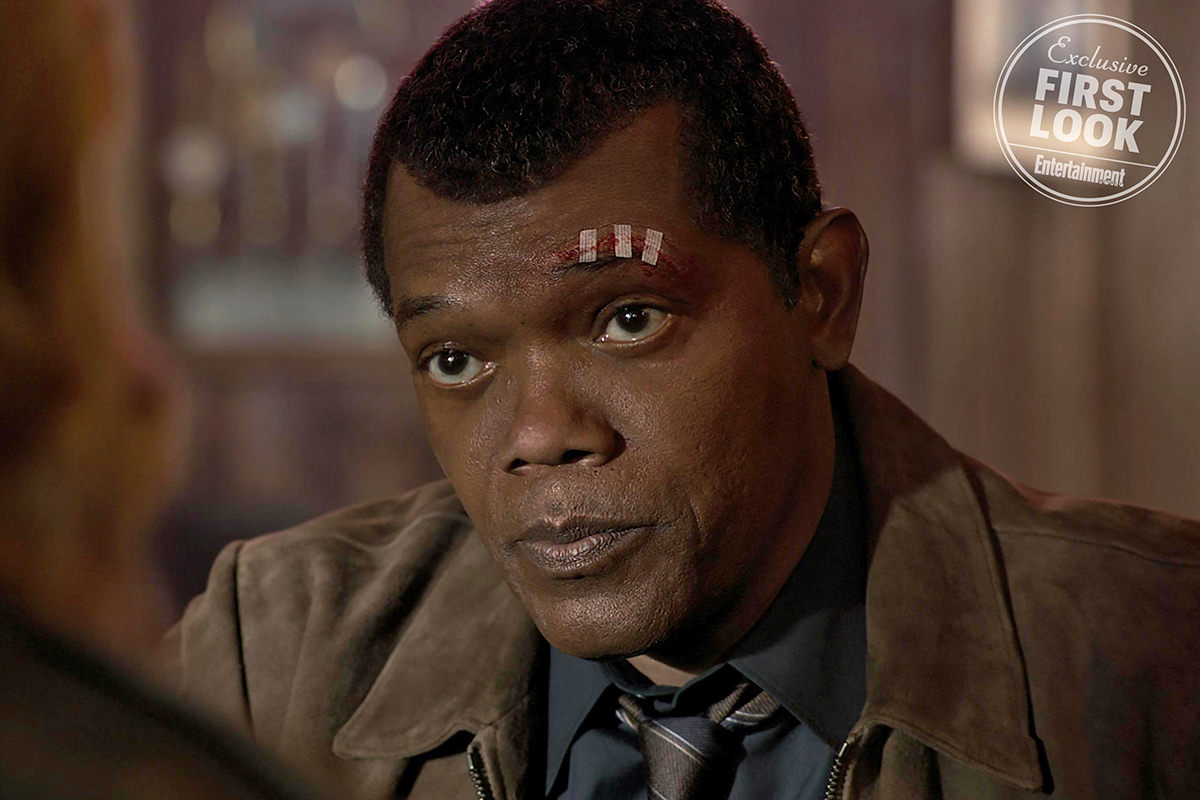 Amazing, amazing stuff.
It's a long wait until Captain Marvel debuts on March 8, 2019!