Posted on February 28th, 2021

I may be really, really tied of Winter right now, but I'm happy to hold out for Spring... because an all new Bullet Sunday starts... now...

• Boys! I'm just going to start this out with the best thing I've seen all week... and it's why I love TikTok reason #2371 — John Stamos showing Beach Boy Mike Love a young band playing a beautiful rendition of Wouldn't It Be Nice, a song he co-wrote...
How unbelievably awesome is this?

• Plus! In advance of "CBS All Access" transforming to " Paramount+" there's an awesome deal where you can get a year of commercial-free streaming for half-price (just select an annual plan and use PARAMOUNTPLUS in the coupon code box at check-out). 90% of network shows I watch are on CBS and I love avoiding commercials, so this was an offer I can't refuse. LOVING IT. I love, love, love Queen Latifah at The Equalizer, and revisiting Young Sheldon has been fun. Of course there's also Magnum P.I., one of the best shows on television. Some older shows are not streaming properly yet (I'm guessing that will be fixed after the transition come March 4th) but new shows are working fine. I wanted to try out Clarice but Siri keeps typing "Clarisse" so I had to hand-type it into AppleTV manually... WHY, LORD? WHY DOES LIFE HAVE TO BE THIS HARD? — On the other hand, I am liking Clarice very much. How does CBS do it? Other networks just don't have the track record for great television like this! If you love TV, then check out this amazing 50% off deal before it disappears on March 3rd!

• YAS QWEEN! I get irrationally invested in the lives of people on TikTok. This guy hasn't updated in two days and I'm probably going to lose sleep wondering if he got the job...
He has exactly two videos posted. This one was enough to get me totally invested. I guess that's what happens when the pandemic hasn't left you with much of a life of your own to live? Best of luck to you, sir, in finding a new job.

• Super New! Ta-Nehisi Coates writing a Superman movie? YES PLEASE! I mean, how many damn times are we going to have to sit through the same old Superman movie? Christopher Reeve, Brandon Routh, and Henry Cavill all did great jobs, but I'm ready for something truly different. Like maybe Calvin Ellis Superman?!?
Though I wouldn't be mad if Henry Cavill was given another go. He's actually a great Superman, and it's not his fault that he's had to work from shitty, SHITTY scripts. In any event, I am definitely excited at what might come of this.

• EcoBullshit! This video is absolutely fascinating. A lot to unpack when it comes to the "green" direction that the smartphone market is heading... fortunately Arun Maini has done the work for you, and it's well worth a watch...
The hypocrisy of it all is mind-boggling... but oh so expected.

• Retail Therapy! Well darn. Fry's Electronics had some of the coolest retail stores outside of Disney, and they just shuttered all their stores. They were destination-worthy places, and I traveled to several in California when they were at the height of their popularity. From the NASA-themed store in Anaheim and Egypt-themed store in Campbell... to Alice in Wonderland-themed in Woodland Hills and Old-Timey Sci-Fi-themed in Burbank, Fry's sure made shopping fun! Brick-and-mortar shops were having a tough time staying afloat before the pandemic... I have a feeling that because of COVID this is the fate for many of them.

• Without Telling Me... I don't know why I find this so incredibly sweet... but I really do...
And for anybody thinking that she's being an asshole... it's a joke. And he was obviously in on it...


And that's a wrap on bullets, Sparky... bring on Springtime weather.
Tags:
Apple Stuff
,
Bullet Sunday
,
Comic Books
,
iPhone
,
Movies
,
Superman
,
Television
,
TikTok
Categories:
Apple Stuff 2012
,
Apple Stuff 2021
,
Bullet Sunday 2021
,
Movies 2021
,
Television 2021
—
Click To It:
Permalink
—
2 Comments: Click To Add Yours!
Posted on January 7th, 2021

I have passed out exactly once in life, a long time ago. I was in high school. I wasn't feeling well and had to have my blood drawn at the clinic so they could try to figure out what was going on. My mom and I were standing at the elevator and the next thing I knew I was waking up minutes later with strange people surrounding me and my face being slapped. I don't remember anything about it and had to be told that I passed out.
Last night at around 10pm, my tongue swelled up on one side. I battled it with the antihistamines I was given for just this purpose... crushing them up so I could use a straw shoved back in my mouth to swallow them. I had my epi-pen ready just in case. I passed out around 7:30am. I remember the alarm going off to feed the cats. I remember coming back up stairs. And then... nothing. I woke up at 11:05, kinda half in bed. My tongue and the floor of my mouth still swollen a bit. Lips a little swollen too, which was new. But there was no pain, which was nice.
Passing out is so weird. One day I'm going to have to read up on the science about it. The thing that bugs me about it is not the losing consciousness, but the memory loss. I don't remember ANYTHING. So weird!
And then...
...I remembered that I had my Apple Watch on, and it had recorded everything.
And the data it had collected is interesting...
As you can see from the above, I nodded off a little after 1:00am. Then I was wide awake (or being still) around 1:30am. I finally drifted off to sleep around 5am when the antihistamines I had been chugging all evening started to work. I was awakened from a deep sleep at 7am when the Alexa alarm went off to feed my cats breakfast.
And then...
I only thought that I passed out at 7:30am. What happened is that I passed out again immediately after I got back upstairs to my bedroom. And you can see it. No blue bars where I was drifting off into sleep... just an immediate crash from green to purple when I lost consciousness. Something I've never seen before.
Now, from a health standpoint, this is kinda scary.
But from a technical medical standpoint? How cool is that?!
The rest of the day was rough. I managed to go into the office, but my tongue was still swollen a bit, so it was not a comfortable experience for me. I think I may have even drooled during a Zoom meeting?
It's so hard to tell. Apple Watch doesn't record that information. Yet.
Posted on December 10th, 2020

Now that Apple has released their $550 AirPods Max, it seems fitting that I review my new AirPods Pro. I had done some work for a friend this past Summer who kindly showed their appreciation with an Amazon gift certificate. I never knew what to do with it until I bought a new heated mattress pad and had some left over to buy AirPods Pro. I wasn't going to get them because I didn't like the original AirPods, but they were on sale for $180 and reviews claimed that all the things I hated about the originals had been solved... and then some. And since I may end up traveling again one day, they seemed a handy thing to have. The sound, while nothing great, is good enough when you're traveling and don't want to cart around a big pair of headphones.
So let's get to it, shall we?
PROBLEM: AIRPODS FALL OUT OF YOUR EARS CONSTANTLY
This was my most hated flaw of the originals. It got to the point where I was afraid to travel with them because they would never stay in my ears. Fart with your head turned and you're guaranteed that at least one of them would pop right out, and I was furious that Apple screwed the design up so badly. Eventually I "solved" this by purchasing silicone cups to put over them, but it was a crap solution because I had to take them off in order to fit the AirPods back in the charging case. AirPods Pro, on the other hand, have silicone cups already on them (in your choice of sizes) and stay in my ears perfectly fine. In addition, the seal they make provides better sound.
PROBLEM: WIRELESS CHARGING CASE COSTS EXTRA
AirPods Pro come with a wireless case included, thus saving me from trying to track down the stupid-ass Apple "Lightning" cable with a USB-C connector. Considering I have ONE USB-C charging brick that I can never find (amongst a hundred USB-A bricks), I usually end up having to charge from my MacBook Pro. What kind of life is this? JUST SWITCH EVERYTHING OVER TO USB-C ALREADY!!! Holy shit. The dream scenario of just having to lug around ONE charger for everything will always be out of reach when Apple keeps forcing us to suck on their shitty, antiquated, idiotic Lightning port. But NOPE!. Fortunately the MagSafe puck I'll be traveling with can also charge these wirelessly, so at least there's one less thing to forget at home.
PROBLEM: NO NOISE CANCELATION
When traveling... especially on a plane... having noise cancelation is essential unless you want to blast the volume to insane levels. I really missed it when I upgraded(?) to AirPods, and am happy that AirPods Pro have remedied this. Not surprisingly, Apple did a great job and it works well. And when you don't need the cancelation, there's "transparency mode" which allows outside sound to come through.
PROBLEM: POOR CONNECTIVITY
The original AirPods used the W1 chip which had wonky connectivity problems which popped up at random. Apple then developed the H1 which improved on this greatly in their second generation AirPods. This was carried over into AirPods Pro and it is a far better experience. The H1 also features "Always On Siri" which means she's always listening and can respond to commands.
PROBLEM: SEALED, DISPOSIBLE DESIGN
Of course Apple hasn't solved this problem... they are in the disposable design business! Like previous versions, AirPods Pro are glued together so you can't replace the battery when it won't hold a charge any more, essentially making them landfill poison. About the only thing you can do other than toss them is take them to Apple for recycling. Apparently there's a battery program at Apple, but they don't actually replace the battery, they just give you a new pair and recycle the old ones for a price.
PRO EXTRA: SIZE
AirPods Pro are slightly smaller, but in a way that makes them look a lot smaller when you're wearing them... a good thing.
PRO EXTRA: SPATIAL AUDIO
And here's what convinced me to pull the trigger on the AirPods Pro... spatial audio. This weird, magical technology somehow simulates a kinda "surround" style sound where the speakers know when you turn your head in relationship to the multi-channel audio coming from your late-model iPhone or iPad. And it totally works! Turn to the left and your right AirPod has the center channel directed more towards it. The effect is actually best when your head is turned than when you're looking straight ahead... but it's still pretty good even so, because occasional head movement you're not even aware of keeps the illusion intact. I sincerely wish that this was a feature on the Beats Solo Pro cans I reviewed yesterday.
IN CONCLUSION...
I would not have bought AirPods Pro if it weren't for the gift certificate balance I had. And I certainly wouldn't have paid the full price of $249 for them. But for "free" (relatively) and $180 (on sale)? They're still way overpriced, but ultimately worth it for travel or even just walking to work given that these ACTUALLY STAY IN MY EARS. These are what Apple should have released the first time, design-wise. On the plus-side, the sound is better than other wireless earbuds I've tried (but still not spectacular), pairing with Apple devices is effortless and the way everything works together is magical and seamless, the wireless charging case is great, the spatial audio is fantastic, and they work as advertised. On the minus-side the built-in disposability is awful.
Once I'm able to travel again, I guess I'm set for audio now.
Assuming I ever get to travel again.
Posted on December 9th, 2020

I didn't really do much for Black Friday despite it being the most important shopping day of the year for me in past years. But I did make a purchase on Cyber Monday that I had been wanting to make for a while now... new wireless over-ear headphones.
While I live alone and can blast music as loud as I want to, I don't actually end up doing this because it is tough on my cats with their sensitive ears. Sometimes I watch a movie with the sound loud and they don't seem to mind... or run upstairs if they do mind... but I generally don't do that because it's not really fair to them since they can't escape the noise.
Enter the Beats by Dr. Dre Solo Pro WiFi Headphones which were knocked down to $170 (from their usual $300 price tag). And since I had $50 in reward certificates piled up at Best Buy, that knocked the price down to a reasonable $120...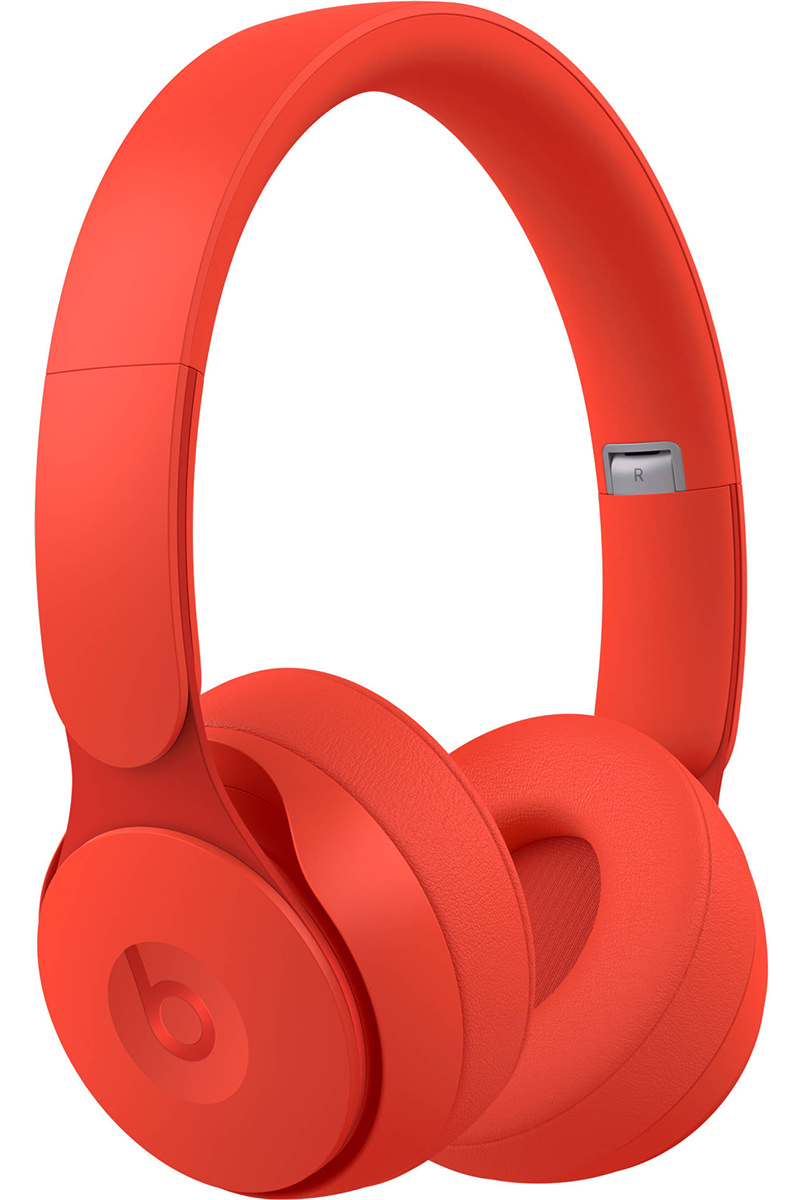 Sexy, aren't they?
Not in the same league as Apple's incredible new AirPods Max headphones, but those cast $550, which is half a mortgage payment, so they're out of my league.
Probably the easiest way to review these is to just run through the pros and cons, so that's exactly what I'm going to do...
PROS:
The WiFi pairs effortlessly with Apple products. My iPhone recognized them immediately and, now that my iPhone knows I have them, I'm told that the firmware will be kept up-to-date automatically. Likewise, my iPad, AppleTV, and Mac can all have their sound sent to the Beats Solo Pro cans with minimal effort. This is how wireless should work.
No matter what music source I'm listening to... iPad, iPhone, MacBook Pro, or AppleTV... if I get a phone call, the Beats Solo Pro will ring through. That's a nifty feature, and why staying withn the Apple ecosystem has a payoff.
The sound is top-notch. Really well balanced without the horrific bass fuzz overload that plagued the older Beats I had tried.
Very good wireless range. I can listen uninterrupted everywhere in my home except the garage (though, admittedly, my house is fairly compact).
Stylish to the last detail as only Apple can manage. I love love love the red model I bought because it (mostly) matches my Product(RED) iPhone case.
They feel like a quality product... not at all cheap and weak.
The sound cancellation is phenomenal. Seriously good. Puts the BOSE and Sony sound canceling models I tried to shame.
"Transparency mode" (which allows outside sounds to permiate the headphones) works really well, but is not going to make a difference when listening at high volume.
Invoking Siri with a long-press of the Beats right-side plate controller is a flat-out cool feature. And since it is getting info from your iPhone connection, you can literally ask Siri for just about anything.
Includes a soft case that's not going to offer much protection, but it's better than nothing and will at least keep them clean.
Battery life is very good. I was only down to 50% after about 10 hours of off-and-on listening in "transparency" and "noise cancelling" modes. If you run out of juice you can get a 10-minute quick charge that will last you 3 hours.
To turn them on, you unfold them. To turn them off, you fold them. This is elegant and smart because you'll always know whether your battery is draining just by looking at them... but I do wonder if it will cause more wear and tear on the hinges this way. In any event, it's smarter than a switch, which I always seem to forget to turn off and drain the battery. It's habit after only three days to "fold them off" when I'm done listening.
The packaging is gorgeous.
CONS:
Despite being a Product(RED) color Or close enough to it), from what I can tell no money from my purchase actually went to Product(RED). Absolutely no idea why Apple, who has been such a big supporter, didn't go all Product(RED) with these?
I disregarded the complaints in reviews from people saying they are "too tight" because I have a thin head. Didn't make a difference. These are tight on my pin-head and definitely lead to fatigue. This is categorically absurd and I have no idea what the hell Apple was thinking. If you have a normal size head, they're going to be uncomfortable. If you have a large head, these are going to be painful. And thank heavens I have thin wire frames on my glasses, because if I had regular frames these cans would be excruciating. I hope that they loosen up over time.
Not only do they get uncomfortable after a while because they're so tight... they also get hot. There's absolutely no breathability with the vinyl ear pads, and you'll be taking a break after a couple hours or it just gets too warm to be comfortable because of how tight they are pressed against your ears.
Does not support Apple's new "spatial audio" feature. At all. It's just stereo and nothing but stereo. But wait... it gets worse! While most movies played the sound in stereo as expected, some shows... most notably Ted Lasso on AppleTV+ played the center channel through the right-side and the rest on the left-side? Likely an Apple problem, which leads me to believe that it will happen on others as well. If Apple can't get it right 100% of the time, what hope do I have for others?
The sound doesn't auto-switch between Apple devices. Listening to music on your iPhone then turning on AppleTV does not switch the audio to AppleTV... in fact, your AppleTV won't even remember that it was last playing to your Beats Solo Pros and will have to be told. Again. Even worse? Sometimes the connections are janky. My work computer recognizes them immediately and I can manually route the sound to them, but on occasion no sound will play even though they are confirmed to be receiving a stream.
While the sound, as noted above, is excellent overall... there are times I feel the treble is a bit too crisp, and since you don't really get equalizer controls out of most apps, that's what you're stuck with. Not terrible, but could be better. I wish there was a way to adjust this globally in the headphones themselves.
There's no obvious way to tell whether you're holding them with the right side on the right and the left side on the left because these look identical however you hold them. I thought that maybe Apple had devised a magical way to know which way they were situated on your head and adjusted the stereo feed accordingly, but nope. You have to be sure to look for the tiny "R" or "L" to make sure you have them on correctly. This is a serious design flaw.
They get plenty loud for me, but I'm surprised that they don't get louder than they do. There are a few tracks that I really want to crank, and these headphones are not having it. Probably a good thing because it will save my hearing.
The microphone for talking to Siri or answering phone calls is pretty good... but not great. I made a test call to a friend who said that I sounded okay, but they could tell I was not using the handset microphone.
You can invoke Siri hands-free by saying "Hey Siri"... but if you have other Apple devices (like my MacBook Pro) running, it will intercept the command and force you to do a long-press on the Beats plate to get Siri to listen.
The charging is via Apple's proprietary "Lightning" port because of course it is. Everything else in the world has gone USB-C (including Apple's own iPad) but because Apple doesn't give a fuck what's logical or convenient, they have to go with the cable that's dying and will soon be discontinued (as I'm sure iPhones will be going wireless-charging-exclusive any day now). Lord how I fucking HATE this bullshit. But it's Apple, and this is the kind of crap that Apple does.
The controls are kind of janky. The right ear-cup has a "Beats" logo plate on the side. Pressing on the top increases volume... on the bottom decreases the volume. Pressing the plate in the middle will pause/play or answer the phone... but you have to hit it just right or else it doesn't work. You have to push dead-center to get it to play/pause and it took me a while before I was able to get it to hit every time.
The controls for skipping forward or backwards (double/triple clicking on the Beats plate) doesn't seem to work outside of Apple's apps. When listening from the Amazon Music Unlimited app, for example, it does nothing. WTF? Likewise, telling Siri to skip a track outside of Apple apps doesn't work either.
And that's a wrap. Most everything I have in the "cons" column can be overlooked or dealt with except the tight fit. And I cannot for the life of me fathom what Apple was thinking here. Surely they had people try them on before releasing them to manufacturing? If I were to return these, it would be for that reason alone. It's absolutely infuriating that this is a huge concern and outright complaint on these cans by so many people yet Apple has chosen to ignore the feedback. Infuriating but not surprising... just look at Apple's idiotic "butterfly keyboard" that they stuck to like glue despite years of massive outrage by customers telling them it was shitty. Apple always does what they want and doesn't give a crap about how it affects usability or comfort. You either live with it or you don't. And what a shame.
I guess we'll see if having my head squeezed is a dealbreaker and I end up returning these. In the meanwhile, I sure do like the sound I'm hearing.
Posted on December 6th, 2020

I may be spending my day celebrating, but that doesn't mean I've forgotten about this blog... because an all new Bullet Sunday starts... now...

• Happy Birthday! Jake and Jenny were feral rescues, so their birthdate is kinda-sorta estimated. I think. Maybe the person who found them knew the exact date and reported it when they got to the Humane Society, I'm not sure. In any event, December 6th is what's on all their paperwork and their insurance, so this is the day I wish them a Happy Birthday. And this year I am actually home to tell them "Happy Birthday" in person, which is rare. They weren't available for adoption until they got out of foster care and were fixed, and that was February 16th, 2016 (meaning these photos are of them when they were 2 months and 11 days old)...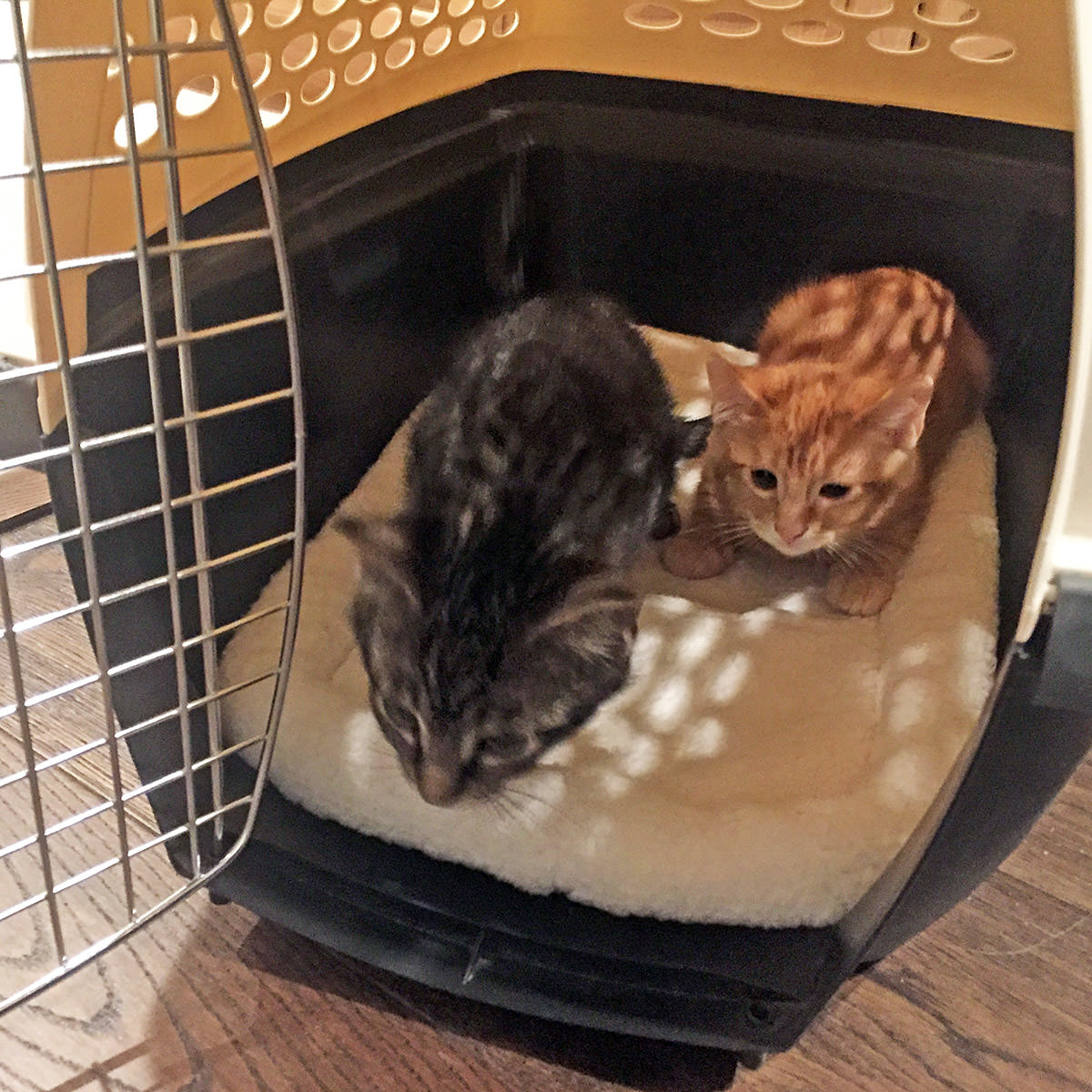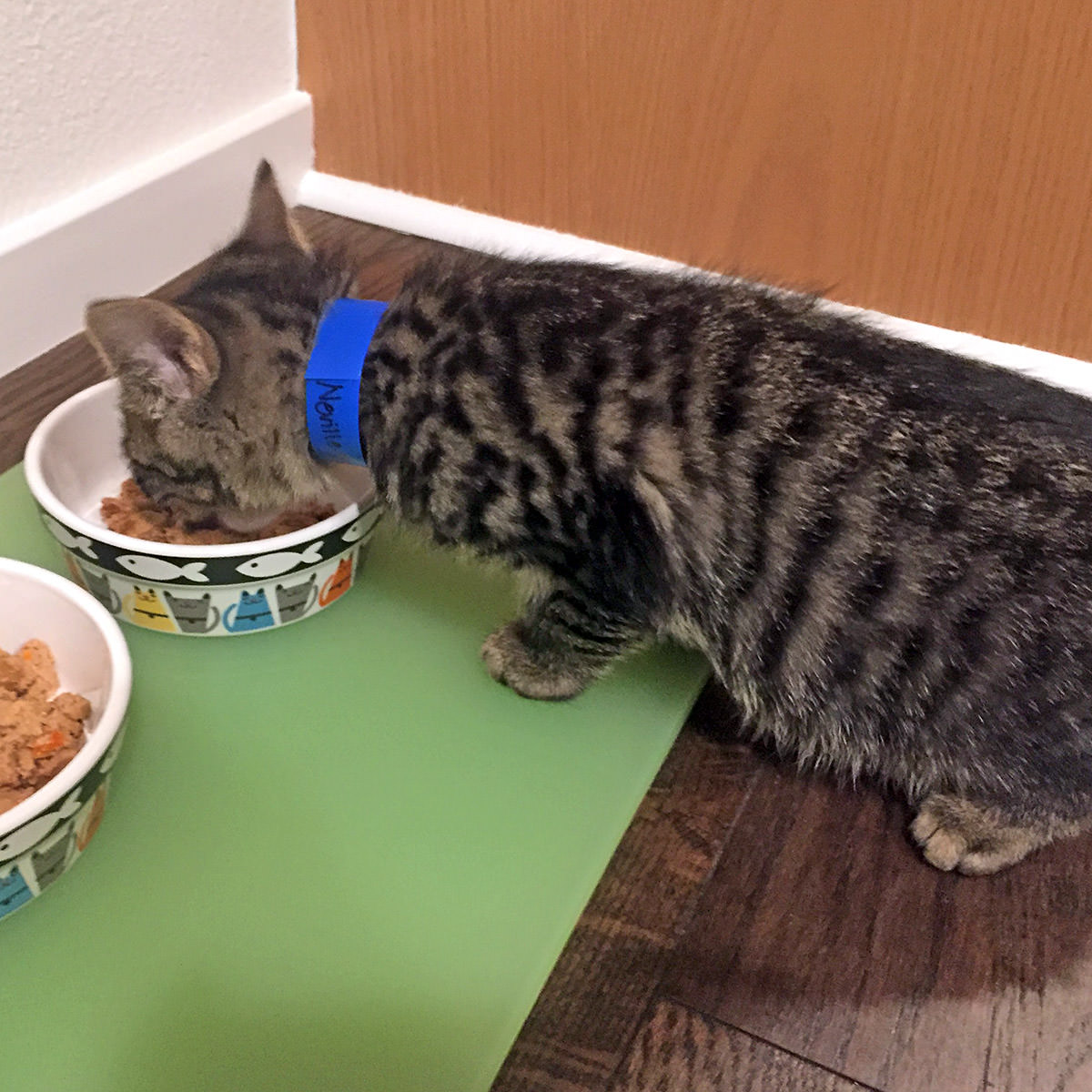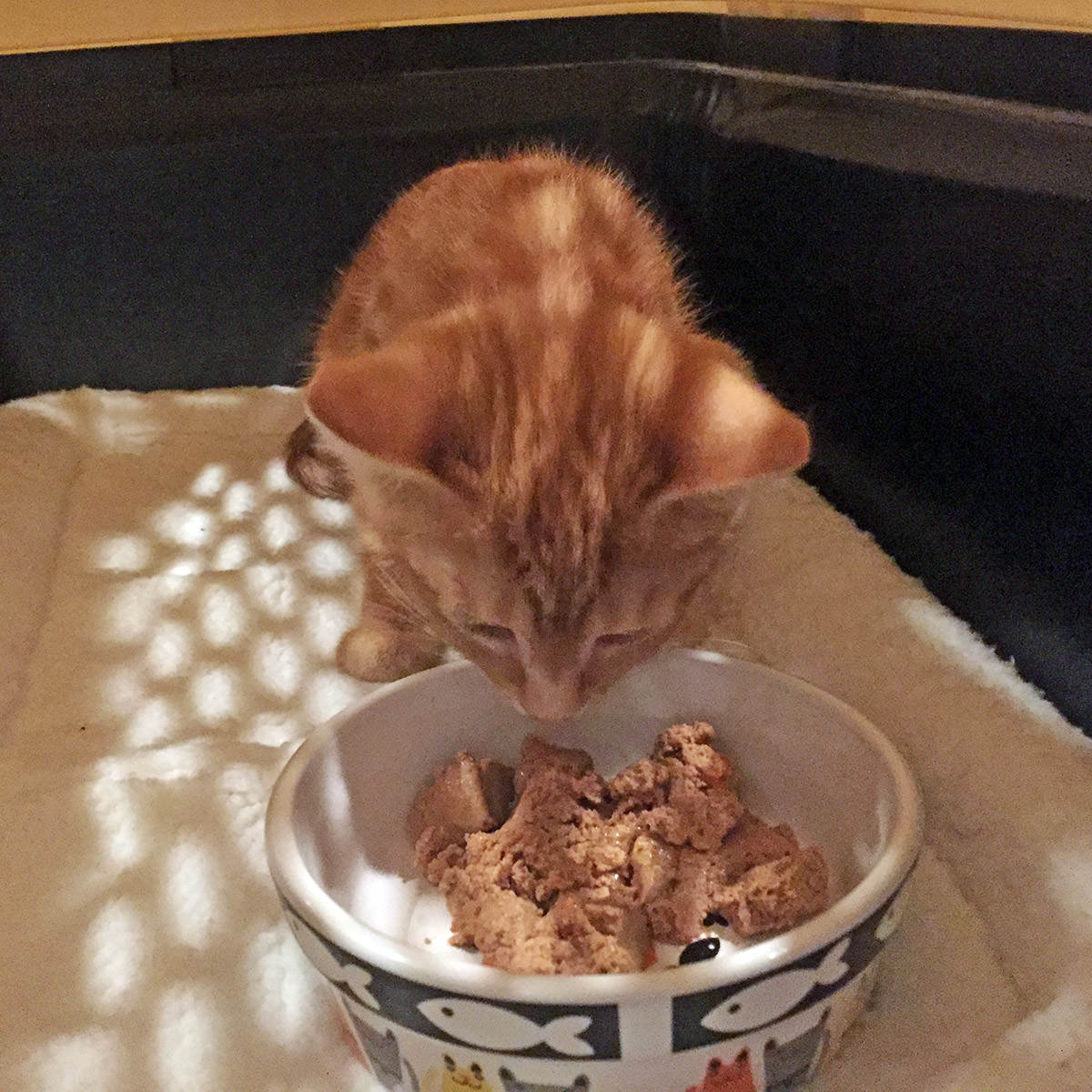 They were both so scared that it took weeks before I was even allowed to touch them. Most of their time was spent hiding under the couch. Jake was easily motivated by food (and still is) but Jenny took much longer because she's so much more cautious (and still is). Adopting them remains one of the best things I've ever done, so happy birthday to my amazing cats!

• AutoSleep! Speaking of my cats... at 3:30am I was awakened by Jake really struggling with a hair ball. My cats rarely have hair balls since I brush them regularly, so I got up to make sure he's okay and clean up the mess. I would have thought that I dreamed it all, except I've been using the AutoSleep app with my Apple Watch and can verify exactly when I got up...
AutoSleep is an app that has all the data that Apple's own Health app is missing... like the most basic of information, HOW MUCH SLEEP DID I GET? Health just gives you a start and a stop time, leaving you to have to mentally calculate it out, which is plain stupid. AutoSleep does so much more in addition to basic functions, which makes it well worth the $5 price tag, and I highly recommend it for Apple Watch owners who wear theirs to bed at night.

• Dysfunction? Since there are so many assholes still not willing to mask up to stop the spread of COVID, maybe this will motivate them... Another Reason to Wear a Mask: COVID-19 May Cause Erectile Dysfunction. We can only hope. Thanks to way too many people not being careful and acting like the pandemic isn't real... and even more of these people getting together for Thanksgiving despite the risks... hospitals are already starting to reach maximum capacity...
This doesn't just affect people who have serious COVID-19 symptoms and will die without hospitalization, it also affects anybody who get a treatable health problem... like a heart attack... who can't get into a hospital because all the beds are taken by COVID patients. Stop being an asshole. This virus doesn't just kill old and sick people, it can kill anyone. A vaccine is just around the corner (along with even more incredible treatments in the pipeline) and everything can just wait.

• Weight! On November 19th, I reached the heaviest I've ever been... 192 lbs. Usually I try to stay at 170 lbs. and not exceed 180 lbs. because that's when I feel my best, but gave myself a pass because of COVID shit happening. But enough was enough, and I started trying to eat sensibly again. No more Family Size Bag of Lay's Potato Chips in a single day... no more Pop Tarts for breakfast... no potato salad at midnight. Two weeks later I'm down to 186 lbs., which means I've got 16 lbs. to go to get to my goal weight. It's shocking to think that I managed to put on 22 lbs. since March, but when you sit around the house doing fuck-all day after day, I guess that's what can happen. I need to eat better and be more active, because I'm getting old enough that the weight doesn't fall off as easily as it used to. Bring on that vaccine! I want my life (and body) back!

• Mulan? Good Lord is the live-action Mulan a boatload of shit. Very, very beautiful and pretty... but shit. Thank heavens I didn't pay the $30 to see it early... which I was this close to doing because I love the Disney animated classic original so much. The story doesn't even make sense anymore. And they left out Mushu, which is just madness when they've given her magical powers from The Matrix which makes the whole thing fantasy anyway...
Ugh. What a waste of money that could have been put into another Star Wars series or Marvel Studios series for Disney+.

• HEADLINE! Warner Bros. Smashes Box Office Windows, Will Send Entire 2021 Slate to HBO Max and Theaters — In an unprecedented announcement, the studio will send 17 films — including The Matrix 4, The Suicide Squad and Dune to its streaming service for 31 days the same day they hit theaters.
Look, as I've stated many, many times, I absolutely hate the "theater experience" any more. Between people texting and talking and letting their kids run around and generally being assholes, it's about the worst form of "entertainment" there is, and I'd rather do just about anything else for fun. The only movies I see in theaters are those that I can't wait for (like Marvel Studios films). Otherwise? No thanks. So, for obvious reasons, I am thrilled by the news that I will be able to watch Dune and The Matrix 4 at home with an HBO Max subscription. But, on the other hand, I wonder what this means for those massively expensive blockbusters that I love. Will they even be able to be made any more if theaters don't exist? My guess is that they will still make them because A) Streaming services are already paying insane amounts of money for movies... B) Special effects are getting cheaper, and expensive actors can be replaced if they refuse to work within the new budgets... and C) This is where the future was headed all along as the home viewing experience gets better and better. So I dunno. I am certainly not rooting for theaters to die off completely... I think they still have a role to fill... but I'm not going to complain about not having to suffer through a theater for the movies I want to watch, that's for sure.

• HEADLINE! Elliot Page, Oscar-Nominated 'Juno' Star, Announces He Is Transgender. — Hi friends, I want to share with you that I am trans, my pronouns are he/they and my name is Elliot," Page wrote in a statement that he posted on Tuesday
And good for him. I'm thrilled when somebody figures out who they are and what it takes to live their best life at a cost of $0 to me. Because this is not about me! Who Elliot Page is has absolutely zero effect on my life what-so-ever. How great is it that he's got it all figured out, because many people never do. My gender identity was a cakewalk. I'm a man. I've always felt like a man. My genitals align perfectly with who I am at my very core. I've only ever been attracted to women. I've only ever had sex with women. And I can't imagine somebody telling me that I can't be who I am... just like I can't imagine somebody feeling entitled enough to tell Elliot Page who they are either. Whether you accept it or not, transgender persons exist. And when they have the strength to come out to the world, it will undoubtedly save lives. Far too many transgender kids are killing themselves because they can't picture a world that they could ever exist in. Elliot Page shows them that they can.

Now it's time to stop slinging bullets so I can go serve Ocean Fish Pate "birthday cakes" to my fuzzy kids. Be safe, everybody.
Tags:
Apple Stuff
,
Apple Watch
,
Bullet Sunday
,
Cats
,
COVID-19
,
DaveLife
,
Movies
,
News
,
Pandemic
,
Television
Categories:
Apple Stuff 2020
,
Bullet Sunday 2020
,
Cats 2020
,
DaveLife 2020
,
Movies 2020
,
News – Politics 2020
,
Television 2020
—
Click To It:
Permalink
—
2 Comments: Click To Add Yours!
Posted on November 19th, 2020

The iPhone Upgrade Program return kit showed up today. Which means I guess it's time for me to decide whether or not I'm keeping the iPhone 12 Pro MAX pretty quick.
Or immediately.
Because there's no way I'm giving up the iPhone 12 Pro MAX. Yes, I was concerned about it's MASSIVE size, but in less than a week I've just kinda adapted to it. And really adapted to that big, beautiful screen. Sure there are times I'd rather not have to deal with something so big, but the pros vastly outweigh the cons, and there's no going back for me.
So my beautiful Midnight Green iPhone 11 Pro which has served me very well, was boxed up and will be handed over to FedEx tomorrow.
What also showed up today? My MagSafe wireless charging puck...
One thing I should get out of the way is that the magnets are strong. The puck really "sticks" to my iPhone and equally well to my Project RED iPhone silicone MagSafe case. Very nice. It gives you a satisfying "click" when it snaps into place. I like it very much.
Just like my case provides a visual animation on the display when you pop it on, the puck too gives you an animation which starts like this...
Then gives you a quick flash on the charge of your battery...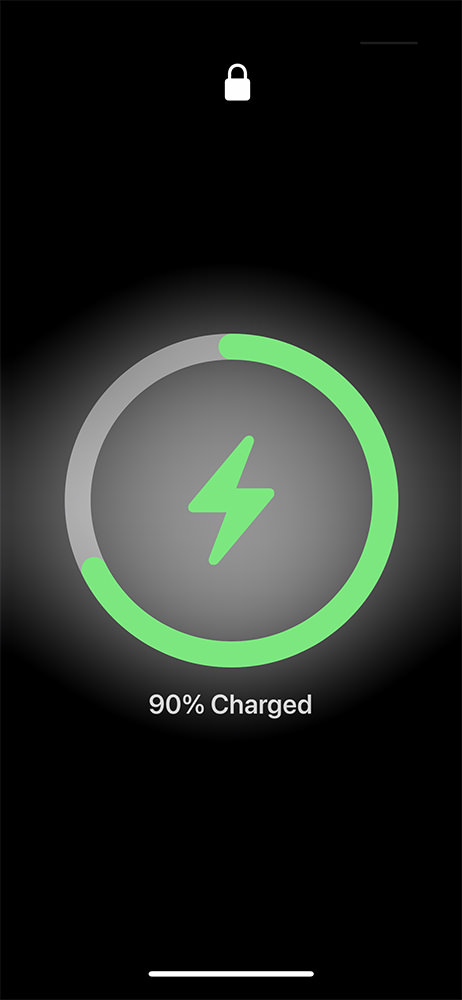 Classy.
All is not perfect, however. First of all, the 20 watt charging brick which allows fast-charging is not included. No charging brick is included. That's a $20 separate purchase from Apple. I have the 18 watt charging brick from my old iPhone 11 Pro, so I'm just going to use that. Since I charge my phone overnight, fast charging isn't necessary. Note that if you decide to use a brick of your own, you will not only not get fast charging, you will have to make sure that it's USB-C, not USB-A (like most all charging bricks are, including those that came with all iPhones prior to the 11).
The puck/cable itself is minimalist and even pretty, if you're into that aethstetic. I am concerned with where the cable meets the puck though. It looks like it could follow suit for every iPhone "Lightning" cable Apple has ever made and break quite easily. That's a big yikes for a $30 item.
Ultimately I think bringing MagSafe to the iPhone is handy and cool. I wish it was still a thing on my MacBook... and it eventually transitions to the iPad. I just wish it wasn't so dang expensive. Cheaper alternatives will be coming from third parties (indeed they already have been), but I don't know if I would trust it with such an expensive toy as an iPhone.
In other news, Dr. Fauci was surprisingly a part of the dog-and-pony show press conference on COVID-19. After President Trump repeatedly attacked Fauci, mused about firing Fauci, and essentially muzzled Fauci... I audibly gasped when he was trotted out along with Vice President Pence and others.
Dr. Fauci's statement on the vaccines was highly encouraging. I was dubious about the effectiveness claims being made, but Fauci laid it all out and essentially calmed any concerns I had. So I, for one, will be getting a vaccination just as soon as somebody like me is able to get it (assumably I will come after health care workers, the elderly, the sick, and the hospitalized). Sure something might go wrong. That's always a risk with new medication (as I found out after taking Accutane), but I'm old with cats as my only dependants so I'll take the risk. Gladly. Whatever it takes to get our lives back to "normal" again.
I have no idea what the anti-vaxxer brigade is going to do. Assumably they're going to take a big ol' pass on getting vaccinated. Which is extremely selfish and shitty, but typical. I don't feel sorry for them if they get sick and die, or lose lung capacity, or end up with brain chemistry problems, or whatever other heinous health problems that survivors end up with. Who I feel sorry for are their children. More and more science is attributing serious health problems... likely lifelong serious health problems... to child COVID-19 survivors. Madness.
And I really feel for immunosuppressed persons who might like to get vaccinated but can't. How shitty that their very lives are in the hands of assholes?
Oh well. Hasn't that always been the case for all of us?
Posted on November 17th, 2020

My biggest iPhone disappointment was the iPhone 6. I bought it direct from AT&T in September of 2014. It was a terrific phone at the start. It had the first "Retina" display and everything on it looked amazing. It was fast. It finally had the ability to shoot 1080p HD video. The photos on it were a clear step up from the iPhone 5 released two years prior. It was a good purchase that I was happy to have made.
But then... right around the time the iPhone 7 was released in September of 2016... everything started turning to shit.
All my apps were slow to launch, sluggish to use, and it didn't make any sense. Apple Support had me reset the phone and reinstall everything. Didn't work. Then sometime in mid-2017 the battery started malfunctioning. I'd charge it up and it wouldn't last me a day of light use. I was traveling somewhere... Salt Lake City maybe?... and made an appointment with the local Apple Store because I just couldn't take it anymore.
The Apple Genius looked at it or hooked it up to something or ran a diagnostic app or whatever. They told me that it was operating normally for its age and maybe I should upgrade if it was a problem. Or I could pay out-of-pocket for the battery to be replaced (my AppleCare had expired).
I absolutely didn't want to buy a new phone since Apple was most certainly releasing a new model in a few months. But because I needed a reliable phone for my work travel, I bought an iPhone 7 off of eBay for cheap, and used that until the iPhone X was unleashed a few months later in November of 2017.
Like I said, it didn't make sense At. The. Time.
But now we know that Apple was intentionally slowing phones down in order to extend battery life. Which would have been fine if I knew what was happening and had a choice to turn this "feature" off and on. But I wasn't told, I didn't have a choice, and Apple's "solution" was to buy a new phone.
That's "Batterygate" in a nutshell.
Today I found out that there was a class-action lawsuit where Apple agreed to pay out million of dollars in compensation to people like me who got burned by "Batterygate." But here's the problem... I never knew about the lawsuit. Never received any communication from Apple about it. Never had a chance to participate before the October 6, 2020 deadline.
And I am pissed.
Even if I were to only get a $25 gift card settlement or some other silly amount that in no way approached the money I had to pay for my second-hand iPhone 7, at least I would get something.
I know that only the lawyers end up getting rich off of these lawsuits and I likely wouldn't get much of anything, but you'd think that since Apple and AT&T had a record of my purchase they would be obligated to contact me.
Oh well. Even more money for the lawyers, I guess.
Posted on November 13th, 2020

Back when my iPhone was mostly used as a phone, I didn't care so much about upgrading. But now that my iPhone is used mostly as a camera, getting the latest model has become increasingly important to me. The better my camera-phone gets, the less I have to lug around my "real" DSLR camera. And thanks to the Apple iPhone Upgrade Program I can actually afford to upgrade. This year, getting the best camera came with an added surprise... it's not available on the "Pro" model, it's only on the "Pro MAX" model. AKA Apple's "HUGE F#$!%@ PHONE" model. Knowing Apple has a two-week return policy, I decided to see if the MAX was something I could live with because I want that phone.
And today it arrived.
Let's just go straight to the elephant in the room... or, to be more accurate, the elephant in my hand. This phone is ridiculously huge. Almost bordering on comically impractically huge. And heavy. From a usability standpoint, Apple seriously should not have gone this large. Because there's simply no getting around the fact that this is a two-handed device. Even when Apple has features like a slim "side keyboard" for typing one-handed, you will still have way too many controls out of reach and end up using a second hand. Even when you have fairly large hands like I do.
But we'll get to that. We'll get to all of that

Packaging and Contents
The packaging for my new iPhone is a classy, minimalistic affair. Apple kindly has pull-tabs on everything so it's easy to unwrap and open...
I bought the Pacific Blue color, which is very nice... though difficult to photograph. As has been widely reported, Apple does not include a charger or headphones. All you get is a cable. Apple says that this is because there are too many charger bricks out there already, but it's an absurd stance to take. The vast, vast majority of chargers are USB-A. Furthermore, even if you have a USB-C charger, it's very likely not the 20 watt brick which means you won't get fast charging. The brick I got with the 11 Pro is only 18 watt, so even last year's model isn't good enough. I guess I'm not too mad about it... my phone charges overnight so it can be slow... but it's still more than a little bit infuriating.

Stylings & Construction
My favorite iPhone of all time is the iPhone 4. Absolutely stunning construction with that classy metal band holding everything together like a glass sandwich. They more-or-less carried over the design to the iPhone 5, but the 4 remained my favorite. Everything that followed was a step down... until Apple decided to resurrect the design for the iPhone 12 Pro. And, let me tell you, it's gorgeous. The band is now tinted stainless steel and looks amazing...
I deeply regret having to put a case on the thing because it's just so pretty, but I have to keep it in flawless condition for the Apple iPhone Upgrade Program. Oh well. When it comes to construction, the iPhone 12 Pro Max sure feels substantial and solid. The glass back is etched for grippability, but still feels a little slickery. The thickness seems the same as my old 11 Pro... with the exception of the camera bump which pokes out quite a bit more. So much more that the phone doesn't lay flat when you put a case on it and set it on a table. That's annoying, but it's the price you pay for the camera you get.

Jacked
I'm going to break this out in it's own space because it' just so idiotic... the iPhone 12 line still doesn't use a USB-C jack for charging or connectivity! They finally moved iPad and Macs to USB-C, but iPhone is still tied to Apple's proprietary "Lightning" connector. This is just inexcusably stupid. Apple says they keep it because there's so many Lightning devices out there, but that's a laughably weak argument to make considering they've abandoned absolutely everything in their recent history. You are trying to tell us that there were not a lot of USB-A devices out there? Go sell that crap somewhere else. Just move to USB-C and get it over with.

Setup
A hallmark of Apple products is their ease of setup and use. But that's not always the case, and it seems that setup complications keep getting more and more severe while happening more and more often. Sadly, my iPhone 12 Pro MAX experience was far from ideal. The concept is that you set your old phone next to your new phone when you turn it on and everything transfers over. That part was fairly smooth. My activation and settings magically popped up with no problem. Mostly. Some apps, like Amazon Alexa and Schlage, required a login to get started. Other apps, like Smart Life and Hue, were ready to go immediately. No big deal. What was a big deal was when I got to my Apple Watch. You are not allowed to just click on the Watch app and have everything working. Nope! First you have to unpair with the old phone. Which would be fine. Except I couldn't make it happen because nothing... and I mean nothing I tried work. Either nothing happened or I couldn't get verified by the Apple ID Server...
After trying over and over and over to get past this, I finally Googled to see if I could do it another way. Turns out I could unpair by remotely wiping it from iCloud. Jeez. That was a mess with a lot of trial-and-error that took 20 minutes of my time, but eventually it happened. But that was only the beginning. THEN I got this...
Which sucks because now I'm going to have to change the password on all my Apple devices. It's just so phenomenally stupid. YOU HAVE TO LOGIN WITH YOUR CURRENT PASSWORD TO CHANGE THE PASSWORD. IF SOMEBODY WASN'T ABLE TO GET IN TO BEGIN WITH, WHAT DOES THIS SOLVE?!? As it turns out, nothing. Because THEN I got this...
And this is exactly what I was talking about. Apple's ease of setup is only good when it works. When it doesn't work, the entire system is a massive barrier to getting anywhere. After nearly an hour-and-a-half of work, I finally got my watch to unpair, erase, pair and restore. But holy crap what a stupid ordeal. Do better, Apple. This is Microsoft-Windows-level pathetic.

Battery
My iPhone arrived this morning at 11:15am at about 75% full. It's now 10:00pm and it's down to 50% full. My guess is that it only dropped that much because of all the setup and playing around I've been doing. It seems likely that I won't ever have to worry about battery life seeing as how I charge it every night and never once had my iPhone X or iPhone 11 Pro run out of power. I expect that it will continue not being a problem with the 12 Pro MAX. The MagSafe charging puck I ordered hasn't arrived yet, so I can't comment how it works or how fast it is with my 18 watt charger instead of the brand new 20 watt charger you're supposed to buy in order to get fast charging. The phone is so huge that it's tough to position on my Qi wireless charger and I'm assuming the MagSafe puck will be easier. It better be for $30.

Display
The OLED Super Retina display is definitely pretty. It's bright and saturated and anything you put on it looks great, just like it did on my old iPhone 11 Pro. However... after having seen the new "ProMotion" display on my iPad Pro which refreshes at 120 Hz, the poky 60 Hz refresh rate on this phone seems almost primitive. Other manufacturers have gone to 120 Hz, so I don't know what the deal is with Apple. My guess would be battery life, but it seems weird that they haven't been able to figure it out so that the user can choose whether display or battery is important to them. I barely use 25% of my battery each day, so I'd absolutely click the preference for ProMotion. Because once you've seen the buttery-smooth optics of a high refresh rate, going backwards is really quite jarring. For Apple's sake, I hope iPhone 13 Pro has ProMotion, because anything less is pretty embarrassing.

Sound
For some reason I thought that massive size of the MAX would have better sound than the "standard" size iPhone Pro. This doesn't seem to be the case. Out of their respective cases, the sound is not noticeably different between my old phone and new phone. Not that this is disappointing... far from it. I still cannot fathom how Apple manages to get such phenomenal sound out of a frickin phone that's so thin. No, it's never going to rival what you can get out of a dedicated speaker, but what you do get is better than I ever expect.

Size
And so here we are. Remember how I was talking about how the iPhone 4 and iPhone 5 were my favorite iPhone designs of all time? One of the things I loved about them was how beautifully compact they were. When I made the jump from iPhone 8 to the iPhone X, the size increase was tough to take. Jumping up again to the MAX is beyond tough to take. Just look at the iPhone 5 next to my new iPhone 12 Pro MAX...
The MAX is what's considered a "phablet," which is a hybrid phone/tablet. I never thought I would own one. Who wants a massive phone to lug around? The jump from 11 Pro to 12 Pro MAX looks like this...
After spending the day with it, I'm still not sure how I feel about the size. I really hate not being able to operate it one-handed. With practice I might be able to get some functionality back, but way too many controls are always out of reach. It's hugely frustrating. On the plus side, the other size-related drawbacks that I thought would be a problem ended up not being a problem at all. It fits in my pockets just fine (shirts, pants, jeans, and jackets). I can shoot with the camera one-handed. It's not uncomfortable to hold or use as a phone. And it doesn't seem to get in my way like I imagined it would.
When it comes to what I like about the size? That large screen is phenomenal for looking at photos. This cannot be overstated. The difference is not subtle. It may not seem like a massive change on paper, but the MAX feels more like looking at a photograph. I absolutely love that. I think back to all the times I've shown people images from my phone and how they have to squint and put their face up to it... and it's hard to imagine going back. And then there's gaming. Slow 60 Hz refresh rate aside, the larger size is SO much nicer for playing games. And watching movies. And reading. And just looking at... well... everything. The larger size allows for things to display a touch larger as well, so if you have aging eyes like mine it offers a slightly better experience to boot.
My guess is that I will be keeping the MAX rather than returning it for the "regular" 12 Pro. Even setting the superior camera aside, there are too many nice things about the large screen I'm enjoying which offset the inconvenience of having to use two hands sometimes.

Camera
The initial hot take from reviewers who got an advanced phone sent to them was that the photography difference between the iPhone 12 Pro and iPhone Pro 12 MAX was not quite the leap everybody was expecting. The larger sensor does have slightly less noisy images in low-light... but it's nothing mind-blowing. You get more detail in the shadows... but not so vast that most people will notice. There's extra length on the telephoto at 2.5x vs. 2x... but it's not going to make a massive difference in the long run (so to speak). The sensor-shift optical stabilization reduces shake a bit... but not so much that you'll be able to get radically sharper photos while moving. It's all subtle degrees of change instead of some kind of revolution. And yet... I will take whatever advantage I can get, no matter how small. Most all I care about when it comes to my iPhone is the photos I can take. If the MAX is what it takes to get the best, then that's what I want.
Though the difference between 12 Pro and 12 Pro MAX cameras may not be huge, the difference between them and my 11 Pro very much is. The first photo I took was of Jake when he plopped down next to me after I got home. It was starting to get dark, so it wasn't especially bright. First I shot it with the 11 Pro, which dropped into 1-second Night Mode and got me this image (cropped to about 70%)...
Then the 12 Pro Max, which did not drop into Night Mode, got me this image (cropped to about 70%)...
Now, I don't mind saying that I was a little disappointed. They both look similar, don't they? The 12 Pro MAX is a little bit more clear, but that's just because it didn't have to expose the scene for a full second. Then I zoomed in further and saw just how much more clear the 12 Pro MAX is. Here's the 11 Pro...
And here's the 12 Pro MAX...
And... there it is. This is why I'm so grateful that Apple has an iPhone Upgrade Program which allows me to afford to upgrade every year. This is not a small difference. This is huge. The 12 Pro MAX has superior imaging which will allow me to zoom in tighter... print larger... and do more... with every shot I take. And this is just the first photo I took! I can't fathom what I'm going to see when I goof around with the camera over the weekend. I'm guessing I'm going to be blown away. I expect to be blown away.
One thing I'm dying to experiment with is Apple's new ProRAW photo image format. The file size is around 25 MB... each... but there's more information with less artifacts and a higher dynamic range. And the raw data you capture isn't touched as you adjust it in the Photos app, so the image doesn't degrade. You can always go back to exactly what you captured at any time. I won't be shooting ProRAW for casual shots, but I'm very excited at having it available when I'm shooting serious shots. Vacation scenery shots, portraits, photos for work... any time the bigger file is worth it. Alas, ProRAW isn't coming until iOS 14.3 which hasn't come out yet, so something to look forward to.
I'm sure early next week sometime I'll be posting photos I've been taking.

Accessories
I ordered the (PRODUCT)RED version of the silicone case along with my iPhone like I always do. The red color makes it easy to spot, it will look all Captain America with my blue phone, and the Apple-branded cases have always been quality. The fact that some of the profits go towards fighting AIDS in Africa is just icing on the cake. Now Apple has a new "iPhone Studio" tool where you can see what your iPhone will look like when paired up with various color cases and MagSafe wallets...
The new MagSafe that intelligently (and magnetically) attaches things to the back of your phone actually is pretty cool. My case is red, so when I pop it on the phone it is able to recognize that and give you a cool special effect that pulses across your display...
Had my case been green, the effect would be green, and so on. A nice touch.

Conclusion
Nice as the iPhone 12 Pro MAX is, it's not a foregone conclusion that I'm keeping this phone. There are times that I am not bothered by the massive size... there are times that it's just so overwhelming that I don't know if I can live with it. Maybe after a week it will seem "normal" but it sure doesn't now. I hate that it's so bad for working with one-handed. Part of that is just not being able to grip something so big. But a chunk of that is also Apple and 3rd party developers not doing a good job of adapting their apps to function well on a huge display like this.
But then...
...I pick up my old iPhone 11 Pro and it feels like a toy (I pick up my old iPhone 5 and it feels like it's fake). I love that bigger display so much that any time I drop back to a phone without it the thing feels wrong somehow.
I guess I'll have to wait and see.
Once thing I do know is that I can't wait to see what kind of photos I can get out of it.
Posted on November 11th, 2020

Yesterday Apple resurrected Steve Jobs for a One More Thing event. And, try to check your shock, I'm going to talk about it!
Veteran's Day started early for me when the cats found a golf ball and decided to play with it in my bedroom... on my hardwood floors... AT 3:30 AM!! This is the golf ball that disappeared well over a year ago. As mentioned previously Jake can fit the ball in his mouth and carry it around. Before falling back asleep I heard them rolling it around downstairs but saw no sign of it when I went to feed them later this morning.
I honestly don't understand my cats. 99% of the time Jake and Jenny sleep when I sleep. I am almost never bothered or awakened by them at night. But every once in a while...
Ugh. Not. Enough. Coke Zero. To get me through this day.
I had planned on spending my Veteran's Day morning boxing up all the stuff I bought for my AnySoldier.com care packages so I can get them mailed for Christmas arrival. Instead I spent my morning taking a nap before work. THANKS, CATS!!!
2020, amiright?
And now back to Apple's third(!) "special event" of the season which, as expected, ended up being product announcements for their new Apple-based silicon Macs...
I'm not going to recap everything here. There are tech sites taking care of that. But I do have some thoughts. If you haven't seen the event and want to watch, here's where you can do that.
This has been a long, long time coming. In all honesty I thought that Apple would be using their own chips in Macs before they started doing it in their iPhones and iPads. Intel kept overpromising and underdelivering on their wares, and Apple made no bones about how disappointed they were to be locked into Intel silicon. But here's the thing... I never blamed Intel for this. I blamed Apple. Intel chips are, for all intents and purposes, generic. They are used in Windows computers, Linux computers, specialty computers... all kinds of computers. And while Apple is certainly an important customer, Microsoft Windows is where the money is at. So the idea that Intel was supposed to gear their chips towards making Apple happy is laughable. If Apple don't like it... go somewhere else or make their own. So here we are. At last.
Apple's strength has always been that they control the hardware and operating system of their Macs. Because of this, they can have tight integration between the two and do things that other companies can't. No need to worry about third party PC manufacturers breaking under your shiny new OS... you're the only Mac hardware game in town. At the macro-level Apple can do whatever they want and optimize things however they want. Now they are at the micro-level, and it's going to be a complete and total gamechanger for the Mac. As it should be.
In general, I've found Apple's "special event hype" to be fairly accurate. If they make a claim of battery life, for example, then you can pretty much count on them being truthful about it. But when it comes to their claims of their custom M1 chips being hugely more powerful compared to Intel chips, I am a bit dubious because it's just lines on a chart. What is the basis for these claims? We don't know. I have zero doubt that these chips are more powerful in many respects, but at what, specifically? I guess we'll know next week when real-world tests are unleashed.
The transition from Motorola Power PC chips to Intel was pretty much a non-event for Mac users. There were a few hiccups, sure. But the emulation was speedy, seamless, and, "universal binary" apps (which had code for both Power PC and Intel in the same file) just worked. I am 100% confident that the transition from Intel to Apple will be just as seamless. Probably more so, since Apple's Swift programming language does all the heavy lifting for developers.
And so the days of RAM upgrades are over. GPU upgrades are over. CPU upgrades are likely over. Apple puts absolutely everything on a single M1 chip and solders it to the board. This disturbs me greatly. Not that they are putting everything on a single chip... that's awesome because things will run faster using less power and everybody wins. But what happens when the M2 comes out? The M3? You can't just pop out your old M1 chip and pop in a newer more powerful chip. You're buying new computers every time you need something faster... and tossing out your old one. In some respects, I kinda get it. Computers are so speedy now that they just don't need to be replaced as often. Solid State Drives are fast enough for memory swapping that RAM upgrades aren't as necessary. And since everything is being shoved through Thunderbolt/USB-C, the external bus is also really fast and powerful. And Apple has had a habit of making their OS releases be backwards-compatible to a decent degree. Plus it's not like Mac users have had any kind of true expandability for decades. But even so... a part of me is bummed. It would seem that a company as environmentally-oriented at Apple would move towards upgradability instead of planned obsolescence.
Within a decade I would be very, very surprised if MacOS and iOS don't merge into a single entity. It's where Apple has been headed all along. My iPad is one of the most amazingly powerful machines I've ever owned... it feels more powerful that my newer MacBook Pro. And now that everybody is going to be running on the same chip architecture, it just makes sense. I don't exactly hate the idea, but the files system on iOS is atrocious and the Mac has been stagnant. I don't know where the leap will be here, but a drastic leap is due. Once that gets figured out, everything else is academic.
Take for example file icon thumbnails. Used to be that if you save a file in Photoshop under MacOS, Photoshop would save a tiny "thumbnail" image WITHIN THE FILE so that your Mac could display the contents of the file instantaneously. When Apple transitions to MacOS X, embedded thumbnails were eliminated. Now every thumbnail is dynamically generated on demand. This is fucking outrageously stupid. When trying to find an image I need to work on I have to sit and wait... and wait... and wait... AND WAIT for my Mac to generate a ton of thumbnails until I see what I'm looking for. It's insane. I hate it. I means I HATE IT! And, yes, I name my files carefully, but visual representations are often far more efficient at finding a visual file. Except on a Mac where they definitely are not. Until Apple fixes this kind of stupid shit, they will just be baking in even more stupid into their OS's... however many there may be.
Apple scraping the low-end bottom of their product line for their first M1 products is hardly shocking. Far safer to test the waters with machines that aren't "mission critical" until they have a few refresh cycles under their belt. Easier to deal with having a potential recall on a $700 Mac mini somebody uses for web surfing instead of a $10,000 Mac Pro that's the primary machine running a business, just sayin'.
That being said... I can easily see an entire business being run on a Mac mini if Apple's claims about the speed and power are across-the-board and it's as revolutionary as it seems like it might be. From the early tests I've seen, the little Mac mini is more powerful than the iMac I use at work. And it's 1/4 the cost. This could result in a big, huge, mega-huge expansion in the number of people buying Macs instead of Windows PCs.
Naturally, I am excited about having a more powerful machine using less power. Who wouldn't be? But it's what comes along with that which has me more excited than I should be... the machines run cooler. Interesting to note that the new M1 MacBook Air, M1 MacBook Pro, and M1 Mac mini are all using the same chips. Where the MacBook Pro and Mac mini gain their speed and power advantage over the MacBook Air is that they have cooling fans. The M1 MacBook Air does not. The chips can run faster because they are cooled and can generate more heat. That's kinda bonkers when you think about it. Apple doesn't make a slow M1, a medium-speed M1, and a fast M1... the limiting factor on speed is how cool they can be kept. Slap your M1 MacBook Air on top of an ice pack and I'm guessing it can run just as fast as the "more powerful" machines. Kind of makes you wonder what kind of cooling technological advancements this might end up driving, doesn't it?
720p IS NOT ACCEPTABLE FOR A CONFERENCING CAMERA! Holy crap, Apple... how frickin' dense do you have to be?
All things considered, my dream "Mac" is a 26-inch iPad running MacOS apps. It would attach to a stand for desktop use... then pop off so I can paint while sitting on my couch. I've never felt closer to being able to buy this machine than I do right now. Watching iPad apps run natively on the M1 Macs gets your brain churning over the idea of it going the other way around as well.
And that's that, I guess. There's no reason for me to buy any of the new M1 Macs. My MacBook Pro isn't even a year old and my work iMac is slower than I'd like at some things but still fully useable for everything I do. It's nice to think that by the time I'm ready to replace either of them, a far cheaper computer will likely be available that's more powerful than what I was using. If nothing else, that's my ultimate takeaway from Apple's "One More Thing."
Posted on October 21st, 2020

I've been walking to work whenever possible in order to fill in the "Activity Rings" on my Apple Watch so it won't bug me about being a potato. Few things are worse than sitting on your couch watching television and eating Cheetos when your Apple Watch buzzes and says "You can still do it!" At which point I get all mad at my watch and tell it "Stop bothering me! Can't you see I'm watching TV?
And, oh yeah, apparently it's healthy to get some exercise from time to time.
EXCEPT WHEN YOUR EXERCISE TRIES TO KILL YOU!
This morning on my way to work I tripped over some twine that had been discarded in the field behind my house. And it wasn't one of those "oopsies!" moments, I bit it pretty hard. Lucky for me, my security camera captured the whole thing. I've cropped into the footage here...
Hurt my wrist. Hurt my elbow. Really hurt my knee. And hurt my pride... because, seriously, am I so old that I'm going to have to get one of those LifeCall alerts now?
Oh probably.
And since I'm The Olds now, I know I'm not going to heal as fast as I did in my 20's. Nope... this pain is going to be with me for a while. What's weird is that it doesn't hurt very much when I'm moving. It's when I've been sitting at my desk for a couple hours then try to move that's the killer. The pain in my knee is breathtaking. As in it literally takes my breath away.
Something else that took my breath away?
My Apple Watch, which is supposed to have "fall detection," didn't detect shit. Didn't beep and say "Holy shit, are you okay?" Didn't ask if I wanted to call for an ambulance. Didn't even have a laugh at my expense. Not sure what's going on there, but it's irritating to know that this feature will not be having my back if I need it. Or having my knee, as the case may be.
So that's my hump-day today. How're things with you?