Posted on January 24th, 2023

Apple just released their new M2 Max MacBook Pro laptops.
I bought the M1 Max MacBook Pro just over a year ago. But... Apple was claiming a 25% to 30% boost in performance, which is a big deal for me because that's a productivity increase I can't ignore. Less time working is more time I have for other things... IF it were true.
So I decided to trade in my M1 for the M2 with the idea that if it's not noticeably faster, I would return it. The cost to upgrade is huge, and I can't afford to do it if there's not really a benefit.
WELP! KEEPING IT! The speed for the stuff I do most definitely is noticeable. It's almost unreal that it could get even faster when the jump last time was so huge.
Besides... how could I give it up when Jenny loves that new Mac Smell?
Everything in the new model besides the faster chip with faster graphics is pretty much the same. Though you are getting better WiFi 6E (which I can't take advantage of because I don't have a 6E router) and better HDMI 2.1 connectivity (which I can't take advantage of because I rarely if ever run an external display).
Something that hasn't changed but frickin' should have changed is the SD Card slot. It's still UHS-II when UHS-III has been out SINCE 2018! Not that I can take advantage of it either, but when you're paying this kind of price tag you expect that you're getting top-of-the line components. This is just sloppy.
But hey, it's still an incredible machine that I feel lucky to have in my possession.
Posted on January 4th, 2023

Number 6,438 in my list of SHIT APPLE DOES THAT NOBODY FUCKING ASKED FOR: Apple Mail Inline Link Preview.
Who the fuck thought that this useless fucking PREVIEW OF NOTHING is needed, desired, or in any way helpful? It's like... here's a link to a Facebook page, and Apple removes the link to put a HIDEOUS BIG-ASS LINK LOGO IN THE MIDDLE OF YOUR EMAIL...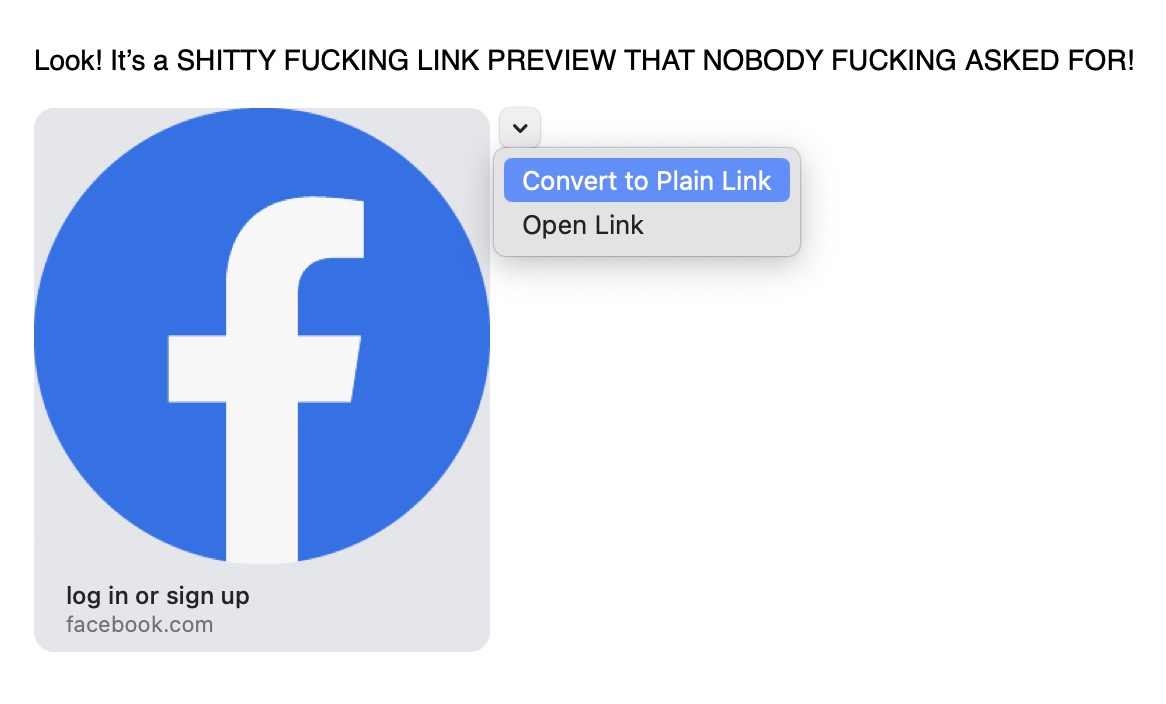 And, of course, because this is fucking Apple, there' no way to turn this shit off by default.
Oh no. You have to right click and tell it to go back to a sane "plain link."
God I am so sick and fucking tired of this kind of crap. It's only slightly less annoying that Adobe changing the way shit has worked FOR DECADES with no way to go back to the original behavior. Or the way that they randomly switch between origin-zoom and scrubby-zoom in Illustrator with no way to force a default. Typical. It's like... PICK ONE. I don't give a shit which way you go... JUST FUCKING PICK ONE!
Posted on December 27th, 2022

With each passing day I grow more enraged at Apple.
It used to be that they did no wrong. But now-a-days? It's just one shit sandwich after another.
Take for example HomeShit (AKA HomeKit). This technology has been fucking stupid from the very beginning. But everything I read lead me to believe that over the past six years most of the problems have been resolved and it's a very good home automation solution in 2022. And so when INSTEON bit the dust and I had to replace all the smart tech in my home, I went ahead and took a bite of the HomeKit Sandwich. With a caveat. I made sure that the HomeKit stuff I bought was "Matter Smart Home Enabled" so if I wanted to switch to Google Home Assistant or (heaven forbid) back to Amazon Alexa, I would be able to do so because Matter is going to be compatible with everything.
Yeah... HomeKit is still HomeShit.
Nothing is a more glowing indication of this than the fact that Apple just rolled out a new "HomeKit Architecture Upgrade"... then had to immediately delete it because people were having all kinds of crazy troubles with losing their smart home. Some great beta-testing Apple has there. Though I should note that my upgrade proceeded without issue. That I know of. Yet.
And... the upgrade actually seems to have solved a problem where if you edited an automation it would stop working. Mine seem to be working now.
But it's not all a bed of roses.
As I was driving over the mountains for the holidays, I realized that I forgot to turn off the alarms that I have set up on my HomePod minis to let Jake and Jenny know when it's time for breakfast and dinner (I found that by training them to listen for an alarm, they don't bother me when I'm home as it gets close to feeding time). I was not worried though, because I could just turn them off remotely using the Apple "Home" app on my iPhone.
Except, no. Not so much.
For some stupid fucking reason, Apple requires you to be on the same WiFi network before it will allow you to change the alarms. Never mind that I could easily change them remotely when my alarms were on Amazon Alexa... Apple refuses to allow me to turn off the alarms remotely. And I've never been so disgusted with any "smart home" technology I've ever used. Not being able to turn off alarms means that every morning at 6:55am and every evening at 5:55pm, my HomePod minis would have their alarms going off... and they don't fucking stop going off for fifteen fucking minutes! That's fifteen minutes of my poor cats having to listen to an alarm blaring. That's just fucking cruel, and I am so enraged with Apple that I very nearly threw all my HomePod minis in the fucking garbage when I got home. So damn stupid. WHAT'S THE FUCKING POINT OF HAVING MY SMART HOME ON MY PHONE IF I CAN'T CONTROL ALL ASPECTS OF MY SMART HOME WHEN I'M AWAY FROM MY HOME?!?
This goes beyond AirDrop file transfers not working.
This goes beyond print jobs failing all the time.
This goes beyond the Mail app being a hot pile of fucking trash.
This goes beyond daily frustrations with bugs in Apple apps that never get fixed.
This even goes beyond the fact that HomeShit automations still failing ALL THE FUCKING TIME...
It's a simple thing that has huge impact on my poor cats having to listen to alarms blaring at them.
But Apple doesn't give a single fuck about crap like this because they're too big to give a fuck about customers. As what has always been the case, you get the shit sandwich that Apple serves you or you eat a shit sandwich from somewhere else. And they're all terrible. Though it would seem that Google Assistant is the least worst, according to tests by Marques Brownlee...
Personally, I'm about ready to go back to having a stupid home. Sure it's not as helpful, but at least you can count on it to work as expected.
Posted on November 28th, 2022

After I climbed out of credit card debt, I swore to never get sucked in again unless an absolute emergency happened and I was forced to. The interest charges are just too obscene to deal with, so I only use my cards when I have money to pay off the balance.
Sometimes it's easier said than done... especially now-a-days... but the cost to get out of debt is so high that I'll do just about anything to avoid it. Better to survive on peanut butter and ramen for a month now so I don't have to survive on peanut butter and ramen for six months later. And it all adds up.
For this reason, I was mortified when Apple wrote to me with the "good news" that my credit limit on Apple Card has been increased. TO FOURTEEN THOUSAND DOLLARS!
Just how much Apple crap do they think I will be buying? Am I now supposed to call them up and say Please ship me 7,000 iMacs! or what?
The unreality of it all boggles my mind.
Posted on November 15th, 2022

I've always ignored the whole MagSafe scenario because I didn't think it would be very practical. Room for three cards? THREE?!? What am I supposed to do with that? Especially considering that Washington State legislators are more concerned with raising taxes and running for re-election than actually getting shit done so we can have digital licenses. Other states are hopping on board. But not Washington! Patty Murray is too busy sucking Big Pharma dick to have ten fucking minutes to tell her staff to instruct the Department of Licensing to do jack shit. So one of those three precious card slots will be devoted to my physical license, leaving me with two left (thank you shitty USA health care system!).
Now, given that one of those has to be for my health insurance card means I'm left with one slot left.
And even though ApplePay is finally rolling out to most stores now-a-days, that should probably go to my primary credit card for places it doesn't work.
And that's all she wrote.
But would it be enough? I tested it out by rubber-banding the three cards together and sticking them in my front pocket while my wallet with the rest of my junk goes in my back pocket. I would keep track of how many times I had to reach for my wallet in a month and see if MagSafe Wallet was even possible.
Surprisingly? Turns out it was. So I orderd the orange one to go on my Project RED case on my Deep Purple iPhone...
Now... I originally wasn't going to go with the Apple wallet because I didn't want to buy leather anything. Faux leather was fine. But Apple MagSafe Wallets are the only ones that have "Find My" technology which will let you know when your wallet was last attached to your iPhone. Since I was genuinely concerned with the wallet falling off, this seemed a handy feature to have, so I went with Apple's cruelty-enabled option.
Turns out that the magnets on this wallet are actually pretty good, I've been using it for over a month and it's never fallen off once, even when sliding it in my pocket.
The only problem I have with the magnetic attachment is that it doesn't snap to alignment, and oftentimes I have to twist it a bit so that it pops into place. Kind of a huge flaw in Apple's design, but not a dealbreaker.
The only other difficulty is getting the cards in and out. There's a thumb-hole on the back which allows you to push the cards out one-by-one. But sometimes they come out easier than others. I've taken to having my credit card be in the back since that's by far the card I use most (Home Depot and other stores don't allow ApplePay).
Other than that? Kinda great, actually. I love not having to lug around a huge wallet, and the three slots are all I really need (though hopefully one day Patty Murray will be forced out of office and be replaced by somebody who will give Washingtonians digital driver's licenses, because I'd rather add my Health Savings card in its place).
If you rarely use cash like me... and don't need a ton of cards on you, then this is actually a pretty good investment.
Posted on September 7th, 2022

Oh look! Today was yet another Apple Event!
Tim Cook started things off with Dear Apple... which is dramatic readings of people who have written to him saying how much Apple has improved their lives... and saved their lives! It's like, okay, we get it, and it's probably smart to focus on this (thanks for at least trying to be clever about it), but this is kinda a weird way to kick off excitement for new products, isn't it?
Let's get to it, shall we?

APPLE WATCH SERIES 8
Here's the thing. I love my Apple Watch. It helps me monitor my sleep and can do some handy things so I don't have to grab my iPhone as much.
Temperature Sensor! — This is actually pretty darn cool in helping people with ovaries track their menstrual cycle. Good on Apple for thinking of it. Not that this is useless for men... being able to know if you have a low-grade fever when you otherwise might know about it is important in the age of COVID. Nice.
Sleep Tracking! — I have complained... loudly about how bad Apple's sleep-tracking app is. It's so bad that I never use it... I use AutoSleep which is much more capable. Except now Apple has tried their best to mimic what I've been using, which is great that they finally got off their asses... but kinda sad for apps like AutoSleep that filled the gaps while Apple ignored them. I just hope that the new app won't be so damn stupid about requiring you to enter you sleep/wake times! AutoSleep doesn't require this, it just measures when I sleep. So if I manage to take a nap, it's recorded. I guess we'll find out.
Safety! — The fall detection on my watch didn't detect the one actual fall I took... but has falsely detected me "falling" in the shower at least a half-dozen times. So I'm not sure if I can trust the new "car crash" sensor. Though Apple sure makes it sound compelling, so maybe? Seems a smart feature to have... especially if you crash and end up incapacitated.
Low Power Mode! — I thought that "theater mode" already did this?
International Roaming! — Might have been nice when I was traveling internationally a lot. Except I've never felt the need to buy a cellular model. My phone is always with me.
Here's the promo...
One of my biggest complaints from Series 6 is still here! I just checked... Apple still doesn't allow me to "customize it your way" the way I want to customize it. This is so damn stupid. Maybe if I go to an actually Apple Store they could help me? I want a Project RED case with a Black Solo Loop. The only way to do this online? Buy a Project RED watch with a band I don't want and won't use... then pay another $50 to get the Black Solo Loop...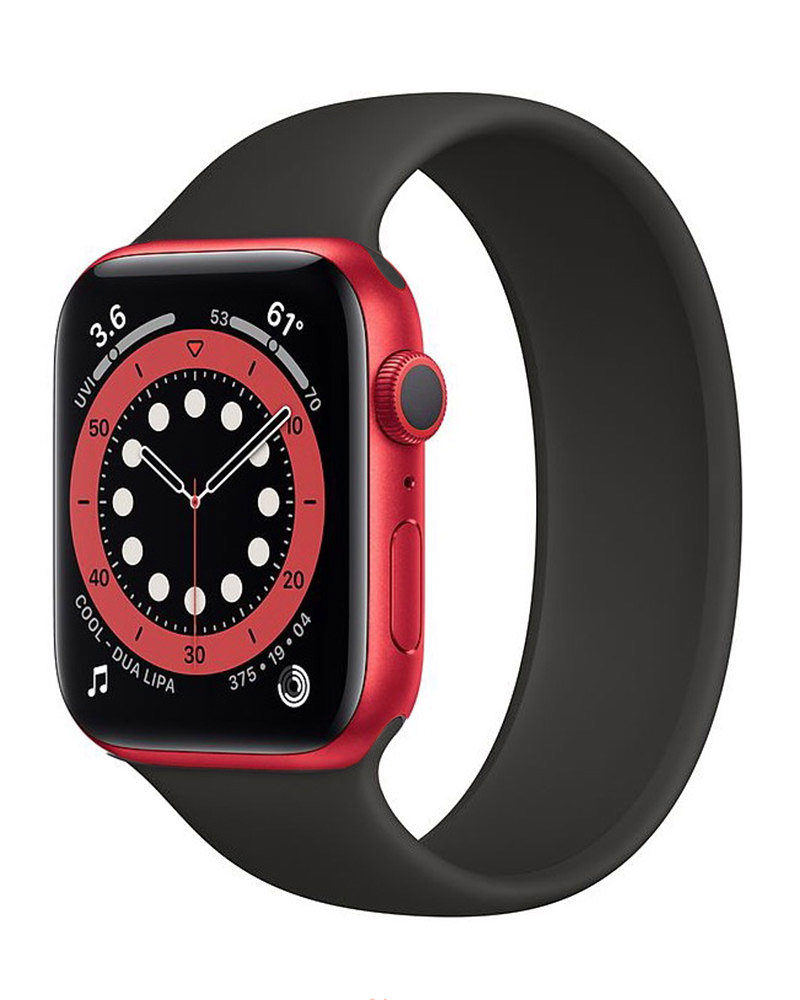 Pretty crappy, Apple.

APPLE WATCH LE
I don't know if saving $150 for a lighter feature set would be the best choice for me... but it's nice that Apple is at least trying to be a little sensitive to the fact that people don't have shitloads of money laying around. From what I can tell you lose always-on display, edge-to-edge display, Blood Oxygen and ECG reading, and "fast charge." So... not a lot, actually. A smart choice if you want a more basic watch that still have a lot to offer.

APPLE WATCH ULTRA
Apple's long-rumored "super watch" is actually pretty compelling. If it weren't so darn HUGE it might be something I'd consider (if I had $799 to spare).
Action Button! — Now, why can't the other watches have this? No, it wouldn't be as big and you couldn't poke it with gloves like the Ultra version, but it would still be handy to have that button customization feature! BOOOOO!
Display! — Yeah, yeah, it would be nice to have this super-bright display on my watch so I can read it in the sun, but it's understandable that you'd need to have a watch this huge to hold a battery to make it actually work.
Big Battery! And, yeah, having three days of battery life would be nice, but I can get almost two days with my watch in "theater mode" so I'm not crazy jealous about it.
New Bands! — The bands for this watch are something I'd love to take a look at. Alas, not one of them is available for the 41mm watches, which is kind of shitty.
Enhanced Precision GPS! — Not something I'd ever need... but I guess it's kind of cool if you need it for training and what-not. Not really sure why the other watched can't have the L5 hookup, but oh well.
New Compass! — Now, come on. Would it really be all that difficult to give the other watches a compass that works well? It's kinda a bummer that you have to pay $400 more to get a watch that handles this better than the (let's face it) poor compass in the other watches.
86db Siren! — That doesn't seem all that loud... but it might be loud enough to make a difference in calling for help when you fall off a trail or something.
Underwater! — Yeah, this is all frickin' cool. Not that you'd want to get rid of your SCUBA dive computer, but it's pretty nice from the standpoint of being able to integrate with apps (like the Oceanic+ app that they demoed). If I were a diver, I'd probably ignore the huge size of the watch just to have that feature.
Ultimately, I really like this watch. I just could not deal with how astoundingly big it is (SERIOUSLY! JUST LOOK AT IT IN THE AD WHERE IT'S SHOWN ON PEOPLE'S WRISTS! HOLY CRAP!). Even for the features you get. I have to say... the advertisement that they came up with for the watch is unintentionally hilarious with its overly-dramatic overtones...
I mean, come on... adventure can be fun too! It's not always so dire!

AIRPODS
I used my Airpods to death when I was traveling constantly. And the "Pro" pods were my favorite travel pods I've ever used. Not only did they not fall out constantly like the old model version, but they had that spatial sound mode that was brilliant. But now that I'm not traveling? Rarely use them. I prefer my Beats. The new "Pro" AirPods that got released today are said to improve sound quality, but I sincerely doubt it's going to be groundbreaking compared to the ones I have now. The enhanced noise cancelation, better battery life, and adaptive transparency mode would be pretty sweet though. And how awesome is the swipe volume control?

iPHONE 14
Since I've bought the "Pro" version all the way back to the iPhone X, I'm not sure about what features are improved compared to the iPhone 13. But it sure can't be much.
Colors! — once again you can get the Product RED color for the lower-end iPhone, but I'll bet every dollar I have that you won't be able to get a Product RED color for the Pro model. Infuriating.
Max! — The iPhone mini is gone, replaced by an iPhone Max. I can't go back to the "regular" size after living with the Max, so I'm happy this is an option for people who don't need Pro features.
Camera! — I am more interested in how well the camera works than any other feature. I don't even care so much about making calls if my camera is dope. Fortunately, the iPhone 14 looks to have a pretty good duo-lens camera that will be more than acceptable to most people. While other phone manufacturers have features which exceed what Apple has done... I honestly think that the photos you get off iPhone are better due to Apple's advanced processing on their Photonic Engine. It's nice to know that iPhone 14 isn't lagging too far behind in this regard. Especially in low-light conditions.
Crash Detection! — Makes sense that if the Watch is getting this, the iPhone is as well.
SOS Satellite Connectivity! — Very, very nice. Especially if you are often in areas where there's no cellular signal. And Apple looks like they have made it as easy to use as possible, which is incredibly smart. I feel I should get an iPhone 14 for the emergency satellite connection alone. Give how horrendously shitty T-Mobile coverage is... even when I'm in a city which is supposed to have great coverage... it might be the only way to call for help if I'm in desperate need while walking down a city street! =sigh= I really need to see if Verizon has an old people plan like T-Mobile so I can actually make calls and use cellular data again. I dropped to 2 bars on LTE while driving through a city of 35,000 people today! But, hey, the price for T-Mobile's crap service cannot be beat if you're age 55+! — I just hope to heaven that people don't tie up emergency services with this unless it's an actual dire emergency.
Sustainable! — Say what you like about Apple, but the fact that they are so good about trying to keep e-waste out of landfills is terribly important and admirable.
All-in-all... this is a pretty good bargain when it comes to iPhones.

iPHONE 14 PRO
And here we go (boy is Tim Cook excited! Must be great!)...
Purple! — Yeah, I really want that purple iPhone, even though I
I'm An Island! — The pill cut-out on the screen is kinda dumb. But here's Apple putting lipstick on a pig in a way that's actually pretty cool. The way the "Dynamic Island" works is darn clever and conceals the fact that you've got a cut-out for cameras on the front of your iPhone. So... not so dumb, actually. Pretty impressive, in fact. I love it, even though I'm not entirely sure what's going to get covered up when your "island" has junk in it?
Screen! The display on Apple's iPhones has always been great, and it's amazing to me that they can keep getting better, brighter, with more dynamic range. Yes please.
Always On! The always-on display is a long, long time coming... and it's a bit embarrassing that Apple has taken so long to get here. Though the way that they've given the display an ability to drop to such a low refresh rate to save battery is probably a big reason why it's taken them a while. They wanted to do it right. The funky lock-screens are fun, but I don't know that this is anything I've been dying for.
Chips! — The new A16 Bionic is faster, of course, but I really don't do much on my phone that will take advantage of this. Maybe I should start intense gaming or something? Nice that the battery life just keeps getting you more bang for your buck. The efficiencies built-in are very important to Apple because conserving battery life is important to their customers.
Camera! — And... here's why I'll be upgrading my 13 Pro to the 14 Pro (thanks to my belonging to the Apple iPhone Upgrade Program, I can actually afford to do that!). The new lenses, 48 Mp "quad sensor," and camera functionality are more than worth it. A DSLR just isn't necessary to me anymore, and this makes that even more true. The light-gathering ability of the larger sensor makes my mouth water. Just look at how gorgeous the shots you can get are! All in ProRAW at 48MP resolution. So great.
ProRes DolbyVision! — While the quality of iPhone photos vs. other phones can be debatable, I don't feel the same about video. The iPhone is leagues above what I can get out of the Samsung, and the way Apple keeps pushing it to be better means it's more true than ever.
Price! — How in the heck are they keeping the price the same? Everybody... including me... thought for sure that Apple would be jacking up the price!
The promo video is pretty good at hitting all the sweet spots...
Like I said... the camera makes it all worthwhile to me, so I'll be using my option in the Apple iPhone Upgrade Program to upgrade. Probably in Purple. Maybe in Black. BUT DEFINITELY NOT IN PRODUCT RED, HUH APPLE?!???

THE END!
So... no real surprises, I guess. Just incremental improvements with no revolutionary innovations. Again. One day there is going to be some paradigm-altering new feature at one of these things. The question being... will it have come from Apple first?
Posted on August 9th, 2022

Yesterday I had a disaster of a morning attempting to sign a frickin' PDF. Adobe continues to treat PAYING CUSTOMERS like criminals, which made activating Acrobat on my home iMac incredibly time-consuming and difficult. First it wouldn't authenticate. Then it wouldn't download. Then after restarting twice I managed to get it installed, but the installer wouldn't acknowledge that it was installed. Except I still managed to run it. But then the current version of Acrobat didn't work right with the current version of MS Word. So I had to create the PDFs manually, then load them. But then Adobe wouldn't allow me to sign the documents because I couldn't load my signature. So I had to go to the online version of Acrobat to load my signatures. Then I finally got to where I could sign the damn documents... only to find that Acrobat wouldn't allow me to save anything. Turns out I had to turn off online services for some reason in order to be able to save locally. A process that should have taken at most five minutes clocked in at just over an hour.
Remember the good ol' days when you could just buy a program and then use the program you paid for?
And, as bad as that was, today was even more frustrating.
But this time it was Apple instead of Adobe that I was battling.
My Apple Studio Display hasn't been able to play sound for more than 10 seconds since I got the thing. It starts to play and then almost immediately cuts out. Then you have to switch to a different audio, then switch back, at which time it plays again for another ten seconds and then cuts out. Yet again.
Well, today I finally got the software update which fixes the bizarre audio issues that have been plaguing Studio Display users for months... only to then have my computer get stuck in an endless update loop.
There's two hours of my life that I'm never getting back.
I totally appreciate that computers are getting faster and more capable all the time. The stuff they can do now is close to magic. But what good is all that when they go to shit so often that you actually lose hours of your life?
I tell you what... graphic design in the 80's is being remembered with increasing fondness with each passing day.
Posted on August 7th, 2022

World War III is back on the table thanks to politician idiocy, but don't let that harsh your mellow... because an all new Bullet Sunday starts... now...

• Wedding! To my fellow Hallmark movie nerds... Wedding Season on Netflix. The concept has been done to death, but this one is way too cute to miss...
I love how Netflix gives a good budget to their movies like this. It makes all the difference in diferentiating them from Hallmark.

• Star Wars Summer! The LEGO Star Wars Summer Vacation Special has a gem of a Weird Al song attached to it, and the video is right here...
Whether you're a Star Wars fan or a LEGO Star Wars fan or both... the special is worth a look! Find it on Disney+.

• Eternally Again! Patton Oswalt leaked that they are working on another Eternals movie. Good. Now leave powerless, annoying Sprite the fuck out of it (or kill her to start off the film). Leave Ajak dead. Leave Ikarus dead. And as much as I loved Gilgamesh, leave him dead. Then kill off Druig (or turn him into the full-on villain he is). Focus on Sersi, Thena, Kingo, Phastos, and Starfox. FIVE characters instead of however the fuck too many were in the first film. Marvel needs to get over themselves that Eternals was an epic masterpiece and come to terms with the fact that they created a bloated, scattered, mess of a film. Avengers Endgame had DOZENS of characters and felt more focused. Don't get me wrong... I enjoyed Eternals and didn't think it was as awful as many people did... but it could have been SO much better. I do hope that Chloé Zhao comes back to direct because her work is so beautiful... but don't force her to cram so much shit in her film that it gets so very sloppy.

• Vacation! This is so accurate as to sting a bit (here's a link in case TikTok is being a dick)...
I haven't had a vacation in three years. Sure I have the hours... but I'm always too busy to actually use them.

• Trash! I will keep saying it... Nancy Pelosi is garbage. Everything wrong with government is right here (And here's a link in case TikTok is being a dick)...
Like most of our politicians, she doesn't give a FUCK how many people she hurts so long as she keeps grabbing that money and power! And she doesn't care if she starts World War III or tanks our stock market to get it.

• PAID! I'd like to leave this Bullet Sunday on a good note... I paid off my blue iMac, Lemon, this week!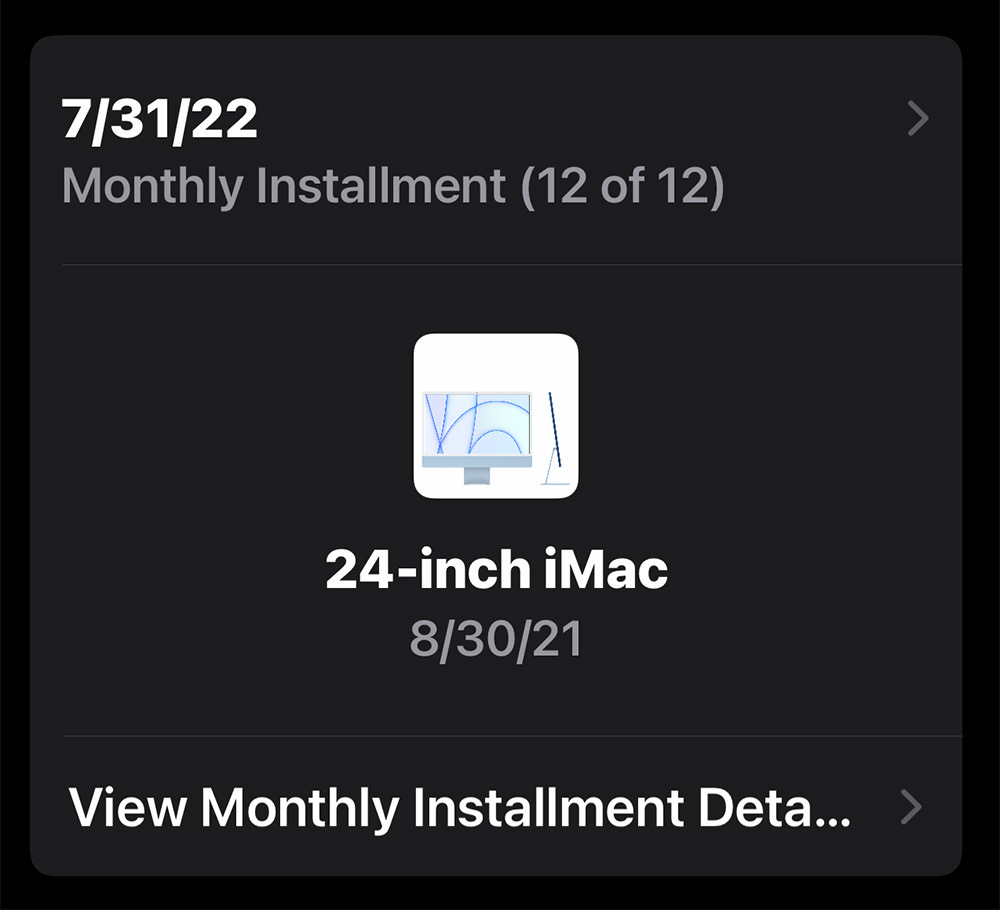 And in two months my MacBook Pro will also be paid off. Which will be very nice. The money not used for making payment can go towards groceries, gas, and everything else that's insanely expensive now-a-days.

TTFN, Bullet fans...
Tags:
Apple Stuff
,
Bullet Sunday
,
Disney+
,
Eternals
,
Marvel Studios
,
Movies
,
Netflix
,
News
,
Politics
,
Television
Categories:
Apple Stuff 2022
,
Bullet Sunday 2022
,
Movies 2022
,
News – Politics 2022
,
Television 2022
—
Click To It:
Permalink
—
0 Comments: Click To Add Yours!
Posted on June 8th, 2022

Monday was the annual World Wide Developer Conference, and here's my thoughts on what came from that.
PASSKEYS
I'm putting this first because it's something that took me completely by surprise in the best possible way. Having to keep track of dipshit passwords in the year 2022 is absurdly stupid, and it's been more than a little shocking that nobody has thought to do anything about it. Sure Apple has made things better by having TouchID and FaceID auto-fill your passwords for you, but it's still stupid. For one thing, there's still a password floating around out there that can be compromised by a company with lax security. Apple wants to ditch passwords in favor of biometric handshaking. Finally. And because they want to get this up-and-running quickly, they're working with Google and Microsoft to make it happen. Can't happen soon enough.
CARPLAY
Up until now, CarPlay has been a curious diversion to me. It doesn't really do anything beyond what my iPhone can do when slapped on my car vent holder. Certainly nothing that makes me want to run out and buy a CarPlay stereo or a CarPlay-enabled car. But now? Apple has gone and made CarPlay take over the entire dash, and it's just phenomenally cool...
HOMEKIT HOMESHIT
My complete and total loathing of Apple's Smart Home standard, HomeKit, has not abated since it debuted in 2014 and was actually viable in 2016. It's the most absurdly stupid thing which works with nothing and what it does work with... works badly. I tried to get started with it twice and ended up hating it more after each go. Apple has now started over from scratch, which is about the best thing they could do. The new HomeKit will be built upon the new Matter standard, which is backed by everybody who's anybody in tech, which means that even if Apple shits the bed AGAIN, there will be other options so you're not trapped. I am 1000% looking forward to Matter, which means that I will be a part of HomeKit and not care.
MACBOOK AIR M2
This thing is sexy as hell with its four color options and beautiful design. But that's not even the best part... it's got Apple's shiny new M2 chip inside! If you don't need the power and ports of a MacBook Pro, this is a no-brainer ($1,000 for an M1 chip model, $1,200 for an M2 chip model).
MACBOOK PRO 13 M2
I am beyond confused by this machine. It's $100 more than the Air, has the same chip, a slightly smaller screen... and the only difference I can see is that the screen is OLED on the Pro. Not that it makes any difference to me... I need a 16" model, which this is not.
iOS 16
This update feels mostly cosmetic, allowing you to create custom lock-screens and switch between them like faces on an Apple Watch. The only part of this upgrade which excites me is that you can have "Live Activities" which update on your lock screen in real time, so you don't have to unlock your phone and navigate to the app to track progress on something. Also in this update is improvements to the Photos app (mostly to do with sharing) and the Messages app (you can edit and delete messages, which seems nice on the surface, but could be a nightmare for those being bullied or stalked via text who need evidence) and the Mail app (better search and the ability to undo a send, when supported by the recipient). There's also better dictation abilities (you can use the keyboard while dictating something by voice!) and some intriguing tech which allows hearing-impaired persons to have voices transcribed for them in real-time, which is all kinds of cool (the fact that iOS 16 is finally compatible with Nintendo Switch controllers after waiting for this for years is just icing on the cake).
macOS VENTURE
A lot of what the desktop is getting is the same stuff as what's happening in iOS. But there are a few perks that are unique here. First of all, you can now use handoff with FaceTime calls. So if I've started a FaceTime on my iPhone I can sit down at my Mac and transfer the call there with a click. That's very slick and useful. Likewise, you can use the superior camera on your iPhone as the webcam for your Mac and be able to use it as a Center Stage camera if your monitor doesn't have that ability (see above). And there are MagSafe adapters on the way to affix your iPhone to your Mac, which is a nice touch. Even nicer? An attempt has been made to make managing large numbers of Finder windows easier and for task switching not suck. Something called "Desk View" which allows you to use your iPhone camera to look down at your desk while still having a separate view on your face. This will be incredibly useful to me... it looks like Zoom will adopt the ability, which I truly hope happens since that's where most of my video calls happen. In addition to this stuff... games are faster... there's a lot of minor improvements all over the place, and there's now a shareable online whiteboard for collaboration called Freeform which is cool... but I don't know if it is cross-platform with Windows users? I missed it if this is possible.
iPad OS 16
Ever since iPad broke away from iOS, I keep waiting for this quantum leap change that's going to make it all worthwhile. A pretty big change was multi-tasking for using multiple apps at the same time... but then things kinda just... stalled. Of course iPads are getting all the new stuff from iOS (and the nice app-switcher from macOS Ventura), but all the coolest new stuff is only available for iPads with an M1 chip, which leaves me out. Of course, the thing that I most want from an iPad is a model with a much larger screen for drawing, which hasn't materialized yet.

And that was it. Since none of the OS stuff will be officially released until September (unless you like the idea of playing with the public betas which drop next month).
Until then... I guess I'm good.
Posted on June 7th, 2022

When the order was placed for my new Studio Mac and Studio Display for work, the lead time was two weeks for the display, then two months for the computer. But the display never came. Instead it got extended out to the same date as the computer since Apple (wisely) wanted to ship displays for other customers whose computers were available. Which would have been great, except that my computer shipped early, leaving me with two weeks having to use a terrible old monitor that was kicking around the office.
But now the display is finally here, so I'm able to add my thoughts (my comments on the Mac Studio are here).
If I were to summarize it all, I'd probably say something like "A high quality display which comes at a (relatively) good price." And I should probably start off talking about the pricing, because that's the most controversial topic in front of me. The thing is $1,600. Which is darn pricey for a 27-inch display... but a frickin' bargain for the 5K 27-inch display that Apple is selling. Which is to say that if you need 5K resolution, this thing is cheap. If you can get by with 4K, this thing is expensive for your needs. I mostly use my machine for graphic design, so the 5K is a nice thing to have... but not critical. But there are other features you get for the money that makes it a (relatively) good price for my needs.
DESIGN BUILD
The thing that you rarely have to worry about when it comes to Apple is how their stuff looks. There are exceptions, of course (the "sunflower" iMac looked stupid and the "trash can" Mac Pro had embarrassingly bad functionality), but most of the time anything you buy is guaranteed to be stunning, functional, and well-engineered. The Studio Display all all of that. It's tooled from aluminum which is both durable and beautiful. The stand design looks simple and elegant (this is where most manufacturers screw things up). The glass is not anti-glare (unless you want to pay $300 to get "nano-textured" glass) but isn't so thick that you're getting weird double-reflections. The base model allows you to tilt the panel towards you or away from you at a fairly large angle of motion (if you want a height-adjustable stand, that's an additional $400). There's no headphone jack to be found, which makes sense considering there's one on the Mac Studio computer (albeit IN THE BACK!). Overall, I'm quite pleased... though I am puzzled by how thick this thing is. It's about double the thickness of my iMac at home, and that has a whole computer inside of it! This is likely what was required for the awesome speaker setup, but it is odd. Though it's also kinda nice because it adds some heft to it so it's less likely to be bouncing around.
PICTURE QUALITY
There is no denying it. This thing is gorgeous to look at. With its 5K resolution, there are no "jaggies" happening anywhere on anything ever. Then you add it's vivid, flawless color fidelity, and it's just like looking at a hi-res back-lit photograph. As with other Apple Devices, it has the ability to monitor the light in your surroundings an adapt to it using Apple's "TrueTone" color correction. And then there's the brightness, which can be turned up so high that it feels like you're getting a suntan. There's absolutely nothing about the picture quality for me to be critical of. It's perfect as I knew it would be.
AND REGARDING 5K...
Because the pixels are so frickin' dense, you can fit a lot more stuff on the screen and still have it be perfectly crisp and legible. I love this quite a lot... EXCEPT... it can really suck when you have apps which don't allow you to enlarge the GUI elements. All the Adobe apps make this easy. As do a lot of my apps. But Apple's very own Mail app, for example? I can only find a place to make composing emails with a larger font. There's no way to apply a "universal zoom" to all your inbound emails. So most every time I receive something, I have to manually bump up the type so I can read it. It's just a tap or two on the "Command" key plus the "+" key, so it's not a huge deal... but even Apple's Safari browser allows you to set a default zoom for every site you visit. It's cumbersome, but at least you only have to do it once! It would be great if there was an option to set a minimum font size on these apps so it would be handled for me with zero need to do anything.
SOUND QUALITY
For whatever reason, Apple decked this thing out with six high-quality speakers that sound frickin' amazing, considering how the small amount of space that they're occupying. Even more impressive is that Apple is up to their "spatial audio" tricks to make you feel as though the sound has enveloped you. It's a pretty nifty trick, though some sound sources work better for this than others. Blade Runner 2049 (my benchmark for checking surround sound quality) sounds glorious. Not that I'll get to hear it much. Obviously I can't blast the sound while at work, so the audio experience will be lost on me because I have to use headphones so as not to disturb my co-workers.
CAMERA
When the Studio Display was first released, it was savaged by people saying that the webcam was horrific. This turned out to be software-related instead of anything to do with the hardware, and it was fixed before my display ever arrived. I find the camera quality to be outstanding (assuming you have a good internet connection). One of the newer features from Apple is "Center Stage" which allows you to walk around the room and have the camera follow you and automatically zoom in on where you're at. This is darn cool, and accomplished by using the wide-angle lens of the camera to soak in a large area... then zoom in to where the focus point is. What's particularly nifty is how it can recognize if there are multiple faces so it can shift the lens to make sure everybody is in-frame. I'm just happy that it's 12 mega-pixel, because apple has historically had awful resolution web-cams that have been embarrassing for far too long.
PORT ARRAY
There may be no headphone jack, but you do get three downstream USB-C ports in addition to the lone upstream thunderbolt port that plugs into your computer. A high-quality Thunderbolt cable is included. Interesting to note that this upstream port also acts like a 96W charger if you're plugging it into a MacBook or something (nice!).
IN CONCLUSION...
Overall I'm thrilled with the Studio Display. I'm even more thrilled that my work coughed up the $1,600 instead of me. Because if I were buying this for myself I'd have been a little upset that wanted a non-glare screen and a height-adjustable stand weren't included (that monitor is a whopping $2,300!). Even so, $1,600 for a 5K display is still getting you a lot of bang for your buck assuming 5K resolution useful to you (if 4K is good enough, you'd likely be better served by a less-expensive option). I've read that inside this thing is essentially a full A13 Bionic Chip inside which runs a full version of iOS. This is likely so that it can do the Center Stage shenanigans. Which is fine, except it sure seems like dramatic overkill. I would have been just as happy if they would have dropped this and took $100 off the price.