Posted on March 1st, 2020

We may be at the beginning of a pandemic, but the bullets are still flying... because an all new Bullet Sunday starts... now...

• Hertz! Michael Hertz has passed away. He is largely responsible for one of the most beautiful and elegant map designs you'll find. It's the New York City subway map, which sought to simplify and clarify the depiction of the various lines by making them easier to understand...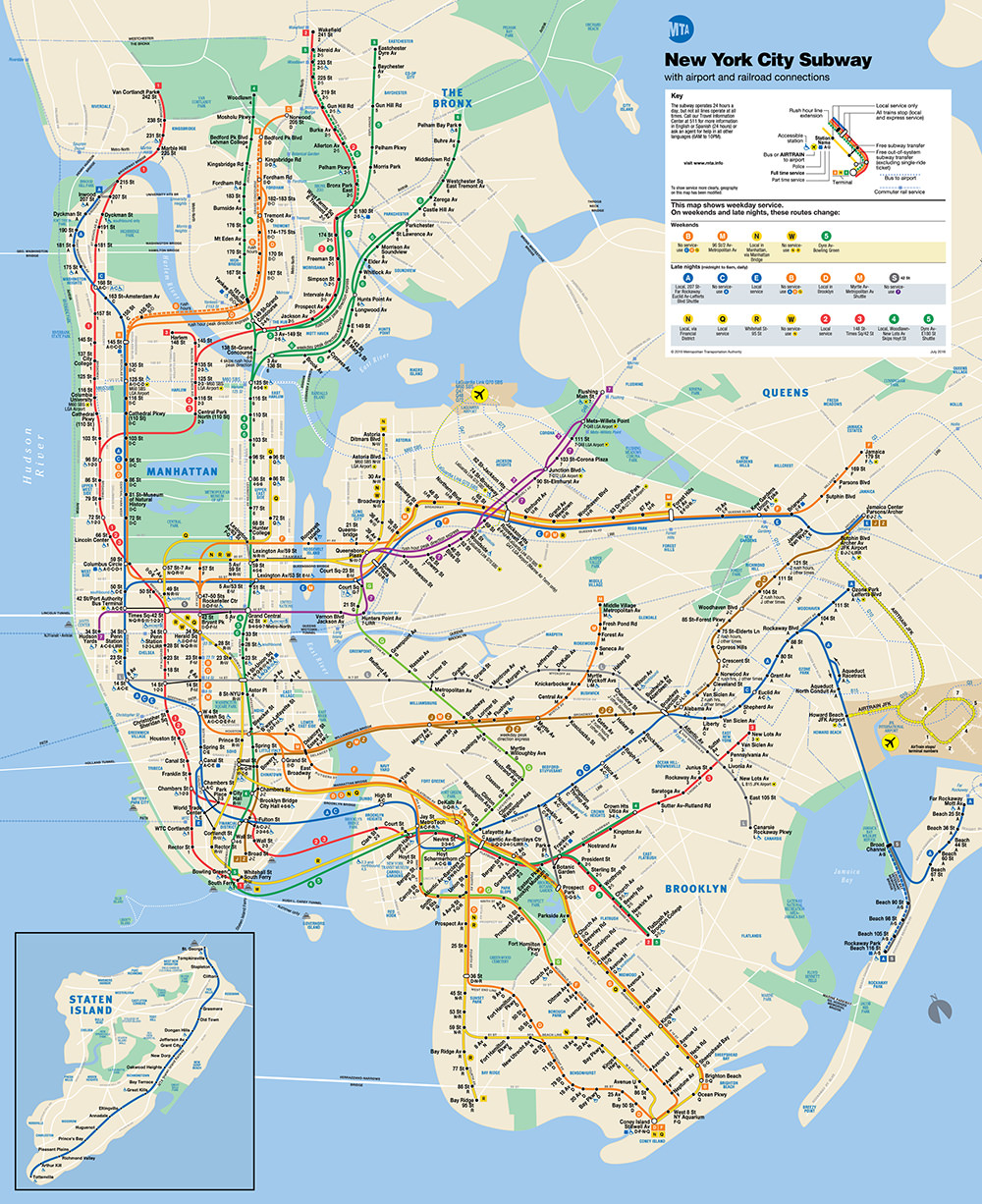 There were other versions of this map over the decades, but this modern version from 1978 is the one most people today are familiar with. It was proceeded by an equally beautiful (yet slightly more confusing) version by Massimo Vignelli...
My first dozen times visiting New York City I ended up buying a new fold-out pocket subway map each time because I always forgot to bring an old one with me. Now, of course, I've just got the map on my iPhone. But I'll always have a place in my heart for the map I used for decades to get me around the city.

• Nygaard! Another designer who passed away that's definitely worth noting? Jens Nygaard, the guy who created the LEGO minifigs...
As somebody who started with LEGO before the minifig was introduced, this was absolutely a game changer. Prior to the minifies, which I believe I first got in the LEGO Space sets, we just drew a face on a stack of bricks. The "official" people of the LEGO Universe were a fantastic addition to the toy which took it in a fantastic direction that continues to this day.

• Dyson! Completing the trifecta of those who passed away this past week... Freeman Dyson. This brilliant mathematician, physicist, and astronomer (among other things) was such a huge influence on me that my pen-name, Maach Allon Dyson, was in honor of him. Because, seriously, just look at some of his accomplishments from his Wikipedia page. Though the thing that he's likely best known for... especially by me... is the Dyson sphere...
The idea is that a technologically advanced civilization would have the ability to maximize use of energy from their sun... by surrounding it with a sphere or a sphere of rings or a sphere of panels or something like that. It's a mind-blowing idea that would require mining materials from a huge number of celestial bodies (such as comets and asteroids) in order to construct. Pretty fantastic stuff.

• Apps on Parade! I ran across this video and had to laugh at just how frickin' brilliant it is at showing the sheer absurdity of Adobe's "Creative Cloud." I pay $57.34 per month to use exactly four of them... Photoshop, Illustrator, InDesign, and Acrobat. I also use Lightroom Classic to catalog my photos, but it's not something I need to have. Which means I essentially use less than 1/10th of the apps I have to pay for...
I would be willing to bet that this is the case for at least half of the people paying for Creative Cloud. Hardly getting our money's worth here, but that's what happens when you've got a lock on the industry. My only hope is that eventually another developer... most likely Affinity... will get to the point where Adobe will not be the only option for me. But until then? Blergh.

• Manga Mac! Apple released a clever new commercial which shows various times that Macs have appeared in Japanese manga animation. It's pretty great...
Just makes me want to rewatch the hundreds of manga that I've loved over the years.

• New Horizons! And speaking of ads in Japan... Nintendo really knows how to hit all the feels in their advertising...
The new version of Animal Crossing called Animal Crossing: New Horizons drops on March 20. It's one of those games that always starts out interesting, but I grow bored with fairly quickly. There's only so many fish and bugs you can catch before it gets old. Though maybe the online collaboration will keep it interesting for longer? I don't know that I want to spend $60 to find out.

And with that, bullets have come to a close this fine Sunday. Wash your hands!
Tags:
Apple
,
Bullet Sunday
,
Design
,
LEGO
,
Macintosh
,
Maps
,
News
,
Nintendo
,
Video Games
Categories:
Apple Stuff 2020
,
Bullet Sunday 2020
,
LEGO
,
News – Politics 2020
—
Click To It:
Permalink
—
0 Comments: Click To Add Yours!
Posted on May 17th, 2018

You would think that when you pay for a movie in iTunes that the poster art would remain the same as when you bought it. But that's not the case. A while back Marvel started changing all the artwork in their store, which ended up changing the artwork on all the movies I bought.
And it all sucks.
Not that I'd be thrilled if it were better than the originals... I want the art that I recognize so I can recognize the movies I own. I want what I originally purchased.
Take for example the poster for Guardians of the Galaxy...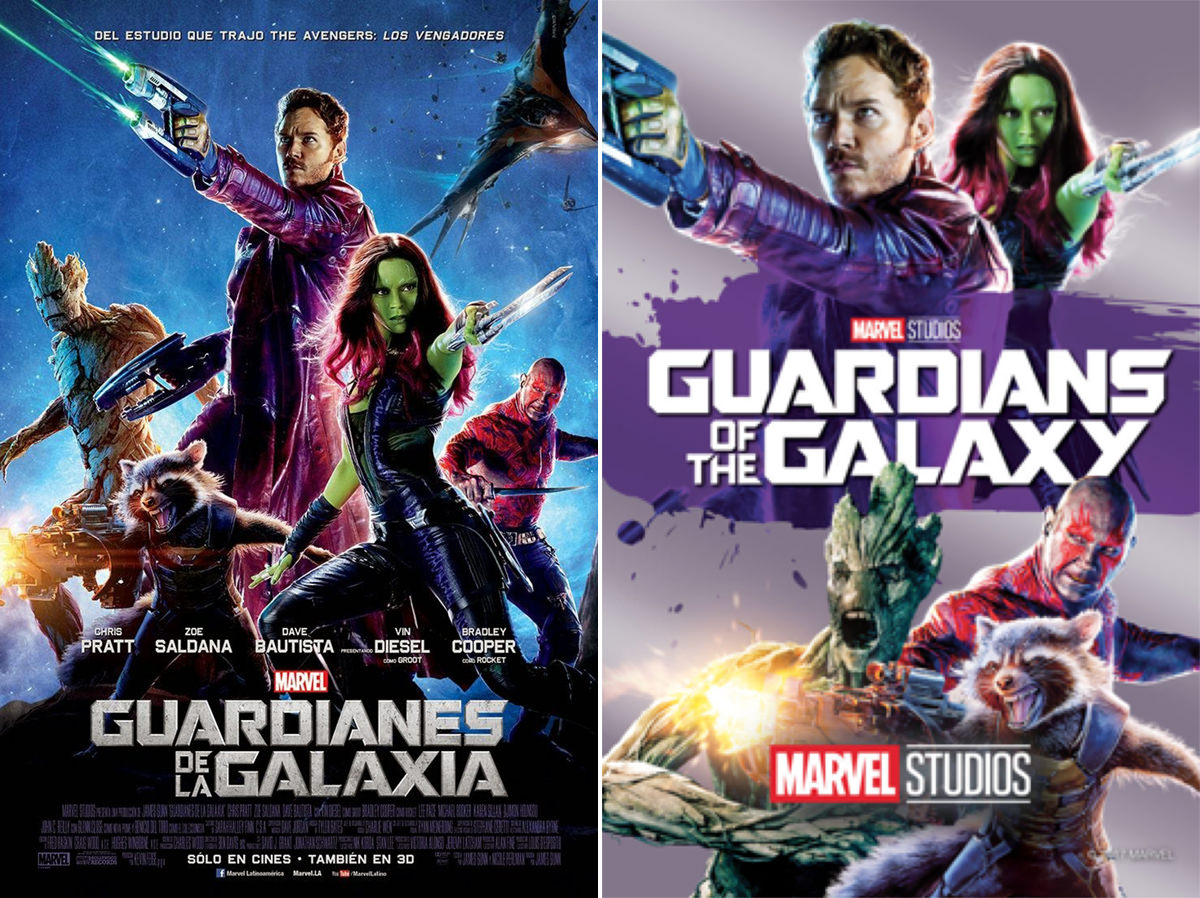 They hacked up pieces of the original poster, rearranged them, then slapped them on a boring-ass background. It looks worse than shitty, because there's no composition or context. Can you tell what in the hell Star-Lord is doing? Holding on to a handle? Who the hell knows?
The sequel poster is even worse. The cool and colorful art with all kinds of cool movie imagery in the background. It's been replaced with something so boring as to be sedate by comparison...
Thor: The Dark World is especially horrific in that he no longer looks like the god of thunder, but somebody in a red cape and bad hair...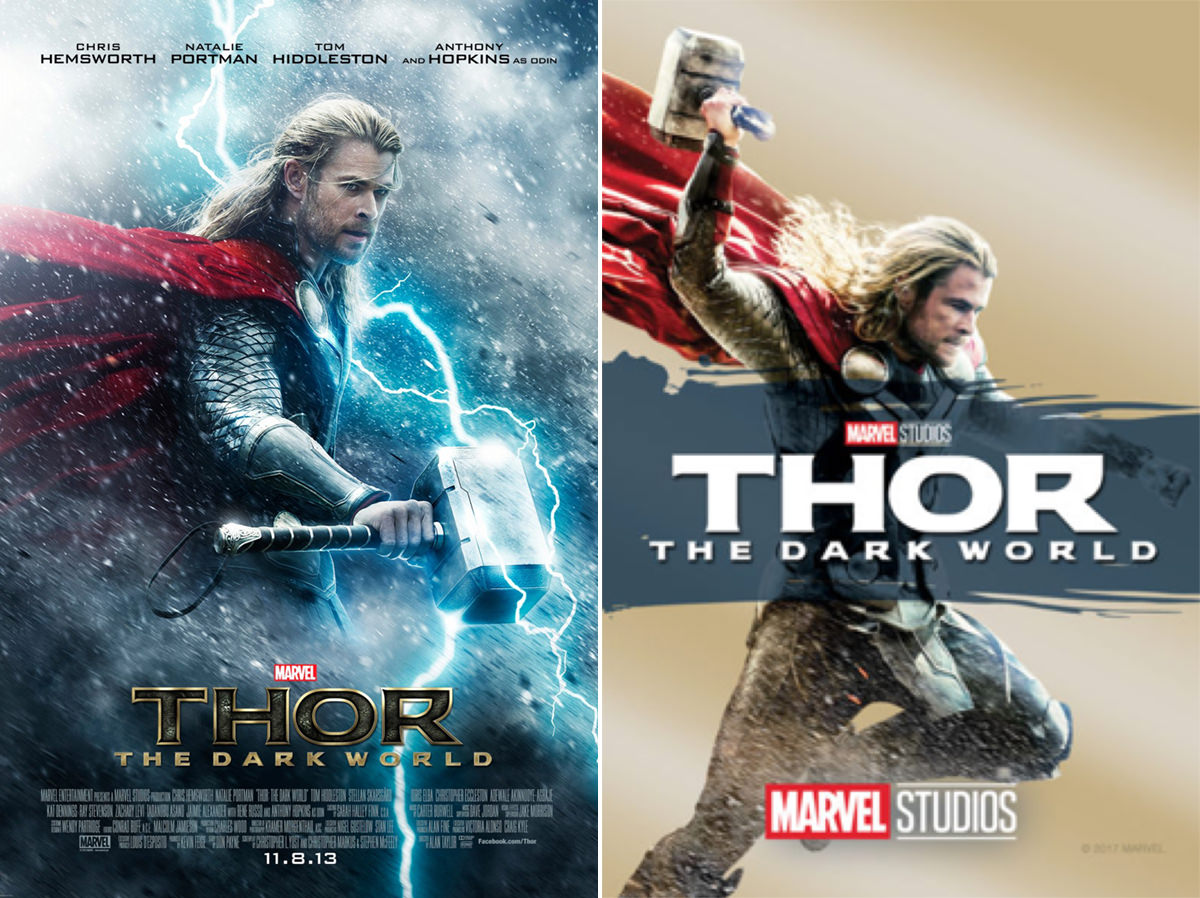 Since most Marvel movies take place in New York City, Ant-Man was a breath of fresh air since it switched it up to the West Coast and San Francisco. To be sure there was no mistaking this, they put it right there on the poster...
When they remade it, they simply stripped away all the cool supporting elements and slapped some ugly-ass faux-metallic effect. Lame.
Group films like Avengers have posters that are carefully crafted to show the dynamic of the team. But now all we get is a grotesque cut-and-paste hack-job that has no interplay between characters and no dynamic. Somebody with a box of Colorforms could do the same damn thing... and probably better, since people wouldn't have their legs cut off and be suspended in air...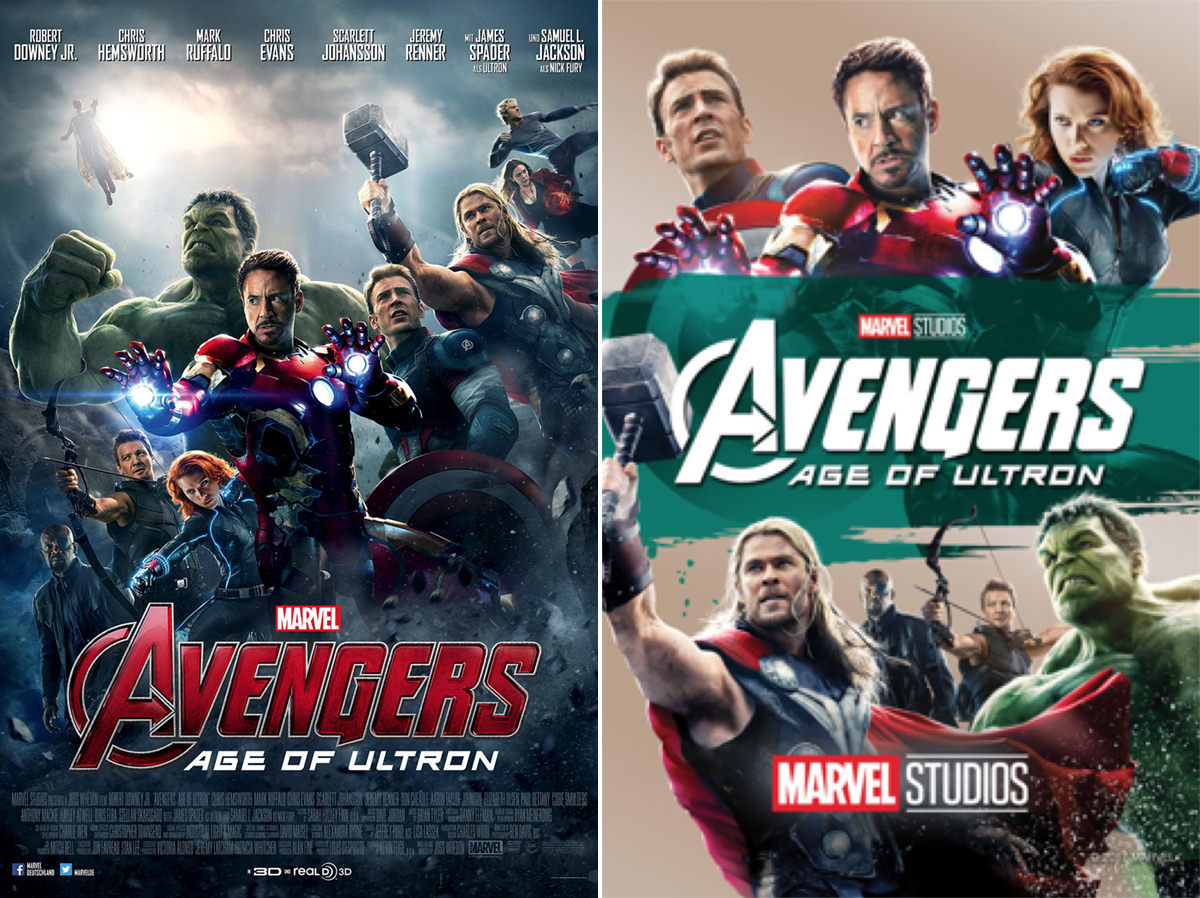 Another great example of this... Captain America: Civil War. What was the most incredible part of the film? The fact that there was a massive battle which pits hero against hero. But the new poster rips this away, completely confusing the story. For all we know from looking at the shitty art, this is a Captain America and Iron Man buddy picture. Or an Iron Man movie with a guest-spot by Cap, since the figures have been reversed and Stark is in the #1 spot...
Doctor Strange is a mind-bending film which introduces magic and other dimensional planes to the Marvel Universe. But now? Some guy in a red cape with a tall collar? Shitty. Utterly shitty...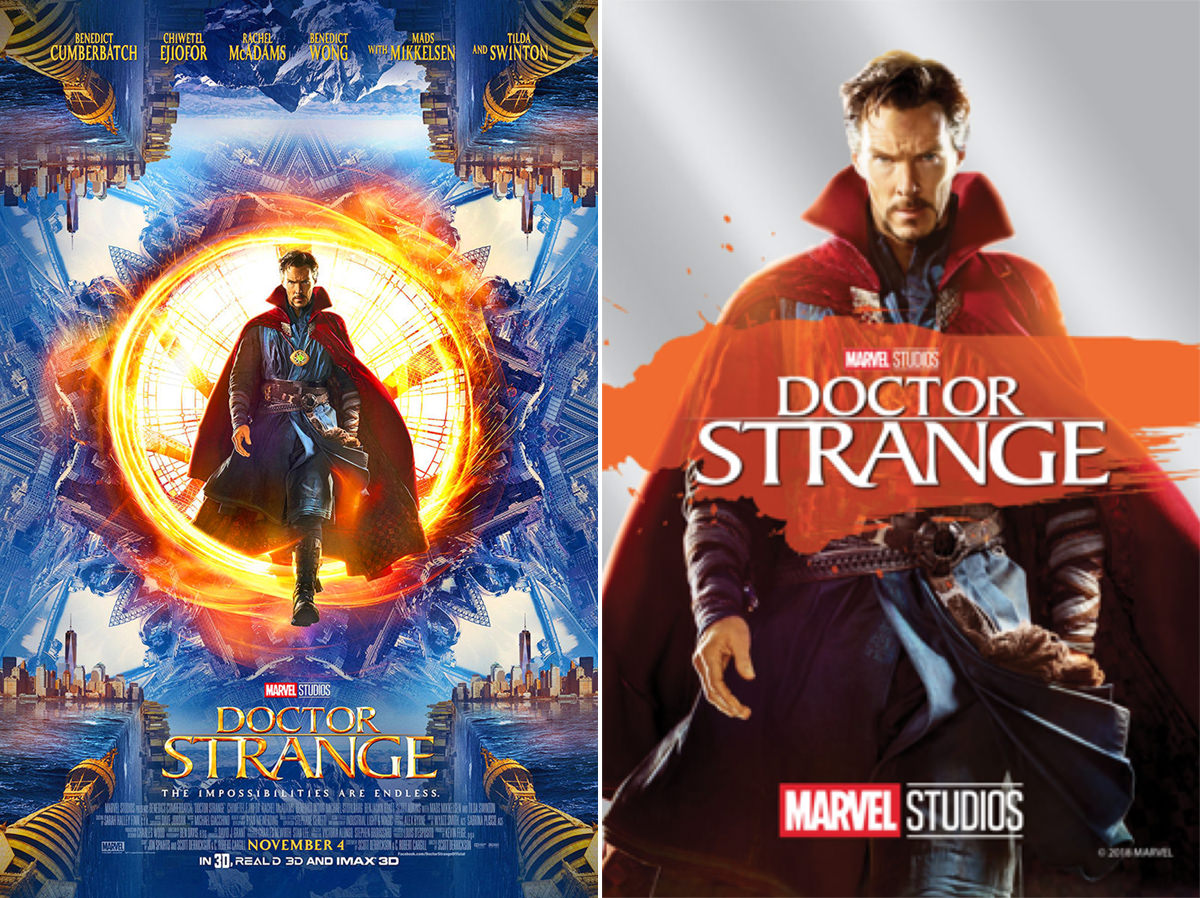 I think my most hated poster remake is for Iron Man 3...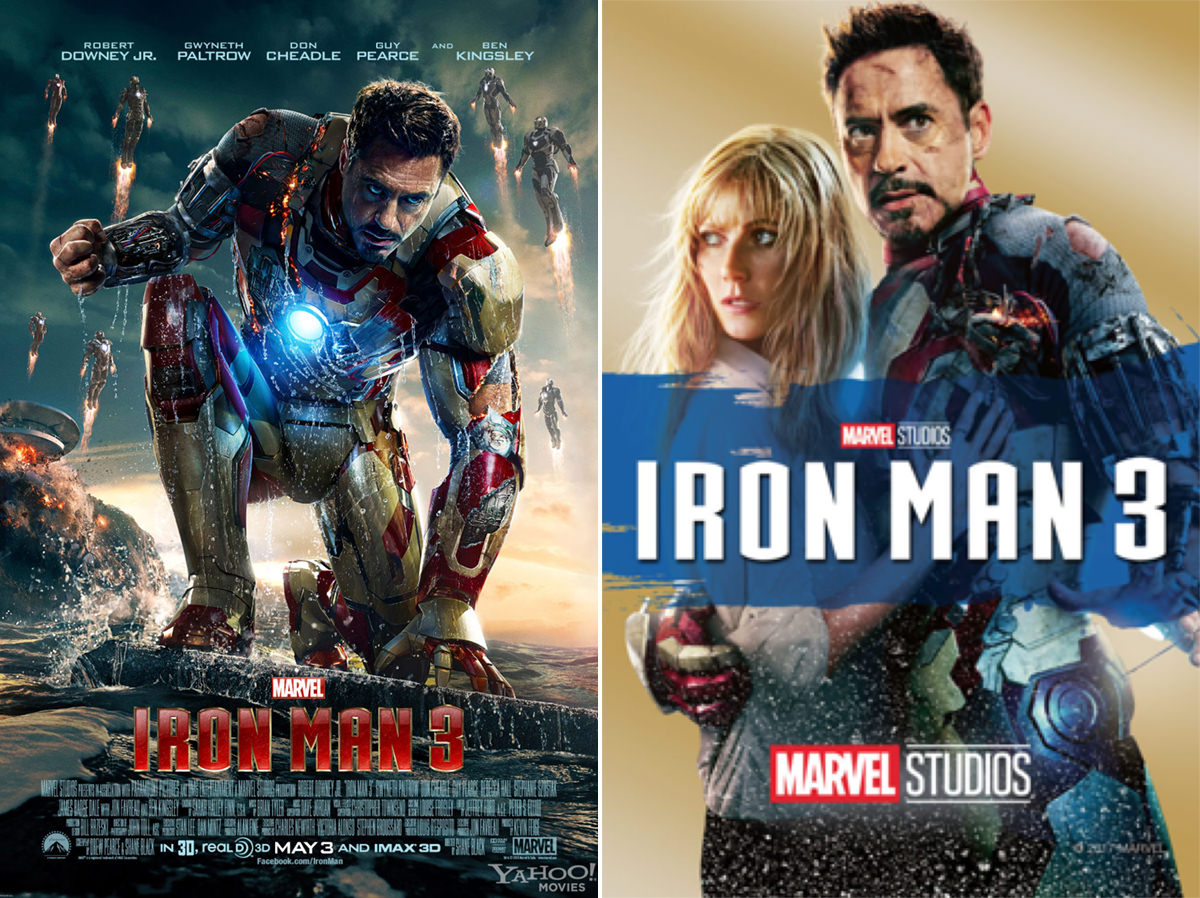 The original poster was SO cool. Foreboding atmosphere, Tony's house exploding, and The Iron Legion are all there... along with a ravaged but determined Iron Man. But the remake? You can barely even tell that's Iron Man. Looks like the cover to some kind of Harlequin Romance or a shitty, low-budget crapfest. And can somebody please explain why the characters are fading into a star-field?
I understand the thinking in redoing the posters. They are trying to create something that will be easily understood at the smaller thumbnail sizes that you'll find in iTunes or other movie streaming services. But when they come up with something this shitty, does it really matter if you more easily understand them? If anything, I'd argue that the original posters are more distinct and interesting... even if you can't fully tell what's going on when reduced to tiny sizes.
At the very least, they could leave it up to the buyer which poster to display in their iTunes library.
Because the new crop is more than just ugly and boring... they're offensively bad design.
Posted on September 20th, 2017

Today I was browsing through thousands of typefaces in an attempt to find something that fit the project I was working on. I couldn't find one, so I created my own typeface. Which sounds incredible, because complex work like that can takes weeks... months even... but it's a little less incredible when I mention that I only needed six characters.
They were hard characters though.
I mean, there was a "G" in there!
Still. Four-and-one-half hours of my life gone. That's 45 minutes for each character. Well, 30 minutes for five characters and two hours for that damn G... but... yeah.
Sometimes my life would be so much easier if there weren't any G's in it.
And Q's.
Fuck Q's.
Posted on August 3rd, 2015

Still recovering from my sleep-deprived trip to Maine.
Last night I bought milk for cereal and had a surprise when I went to pour it. It wasn't milk... it was half & half! I didn't understand how this happened until I ran back to the store so I could have cereal for breakfast...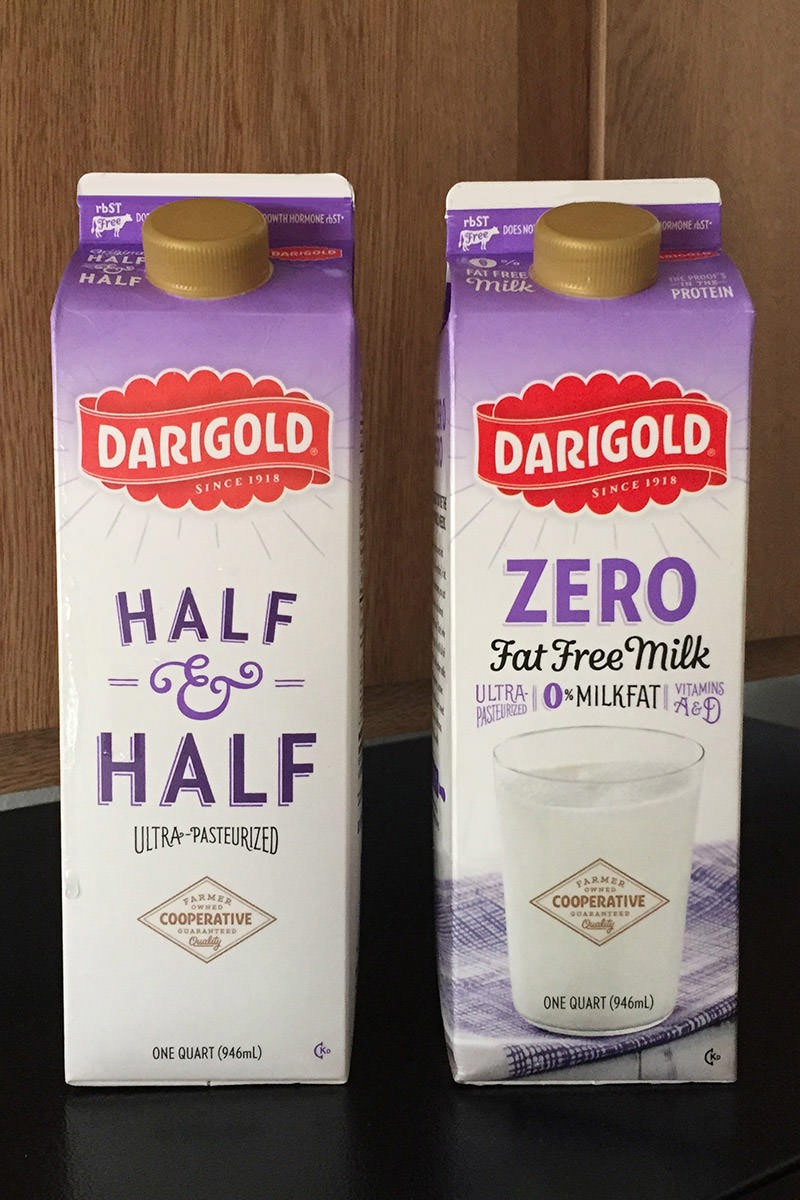 When the cartons are angled towards you, all you see is purple. Somebody at the store got confused and loaded the fat-free milk section with half & half. I didn't bother checking because I buy milk from the same spot week in and week out.
Pretty crappy of Darigold to not do color-coding right. If you're going to make two different items the same color, you should at least try to differentiate them design-wise. ON THE PART PEOPLE ACTUALLY SEE!
What does one do with half & half anyway? What is it even? Half milk and half fat? Scary.
Posted on June 22nd, 2014

It must be Sunday... because Bullet Sunday starts... now...

• Paws. It won't be easy to watch... but if you care about our furry feline friends, you'll want to see The Paws Project, now available to stream on Netflix. It documents the horrifying effect of declawing cats, which is far worse than taking off a nail on a human. It's more like taking off the finger-tips down to the first knuckle on a human...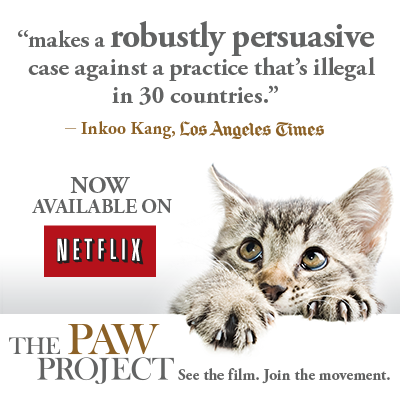 Declawing is just awful. And yet there are still veterinary hospitals that promote it because it's profitable... even though there are far more humane alternatives. Hopefully this barbaric practice will be outlawed nation-wide if enough people start speaking up about it.

• Pledge. I have no idea where this photo comes from. But it's genius, and every time I run across it I love it even more. Because: 'MURICA!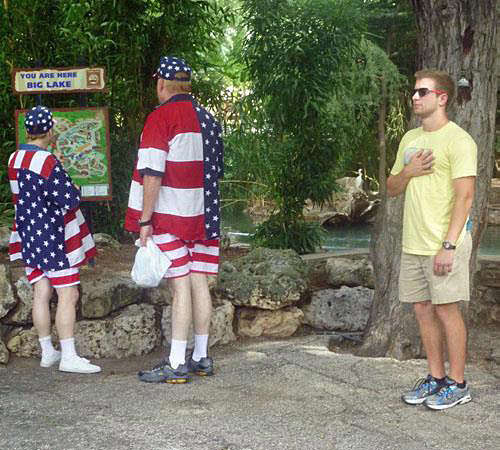 I've finally decided to blog it so I can look it up easily every time I need a laugh.

• Silence! As if this video wasn't already freaky as hell with the sound...
Of course, anything featuring Jagger and Bowie is bound to be freaky as hell.

• Kare! As a huge, huge, mega-huge fan of Susan Kare's work, I was thrilled when Foodiddy sent me this link...
I wish she would have had time to go a bit deeper into her creative process, but this is a must-watch video for anybody interested in graphic design.

• Cozy My Ass. Of all the "Hitler Dubs" floating around out there, THIS is by far my favorite: Hitler tries to rent an apartment in San Francisco...
Oh, Hitler!

• Perry! I've grown so accustomed to Texas Governor Rick Perry being a raging douche that the insane shit he says doesn't phase me any more. Comparing homosexuality to alcoholism... while repugnant, ignorant an fucking stupid... is a relatively mild offense for him. I'd argue his pathetic attempt to write that off as a mistake after doubling down on it is even more ridiculous. Regardless, Funny or Die has a brilliant commentary on this particular bit of Rick Perry idiocy...
Can you believe the piece of shit is probably going to run for president again in 2016?

And... that clicking sound you here is me out of bullets in my blog-based six-shooter. Until next week...
Posted on August 31st, 2009

Avitable has announced this year's theme for his annual Halloween bash, and it's a good one: INVADED!
Like last year, Adam asked me to create a T-shirt design to help raise money for the party, and with an awesome theme like "alien invasion," I could hardly say no. The challenge would be to find a new way of having fun with the DaveToon characters so that I wouldn't be bored. After a little thought, I decided to try an old "Sci-Fi Comic Book" design and see if I could make that work. All the best alien invasion stuff could be found in the pulp comics and films of yesteryear, so it seemed like a good fit.
After an hour of goofing around, this is what I came up with...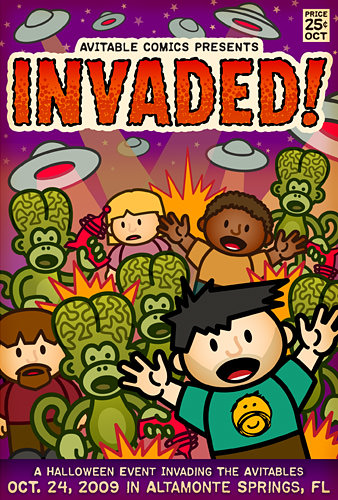 If you want to support the Avitaween party (or just want to look really cool), you can buy the shirt at Adam's Zazzle Shop.
If you want a behind-the-scenes peek at how the design was created, I've got that in an extended entry...
→ Click here to continue reading this entry...