Posted on June 1st, 2023

I have friends in the LGBTQ+ Community who mean more to me than taco salad. I cannot imagine my life without them. I cannot imagine our world without them. And I do not suffer bigots gladly who would do them harm with their words or deeds.
Wishing everybody all my best for Pride Month and every month... and hoping that society does better to make you feel welcome, safe, and loved. For all you give to us... for all the lives you enrich with your authentic selves... I will ever be your ally and friend...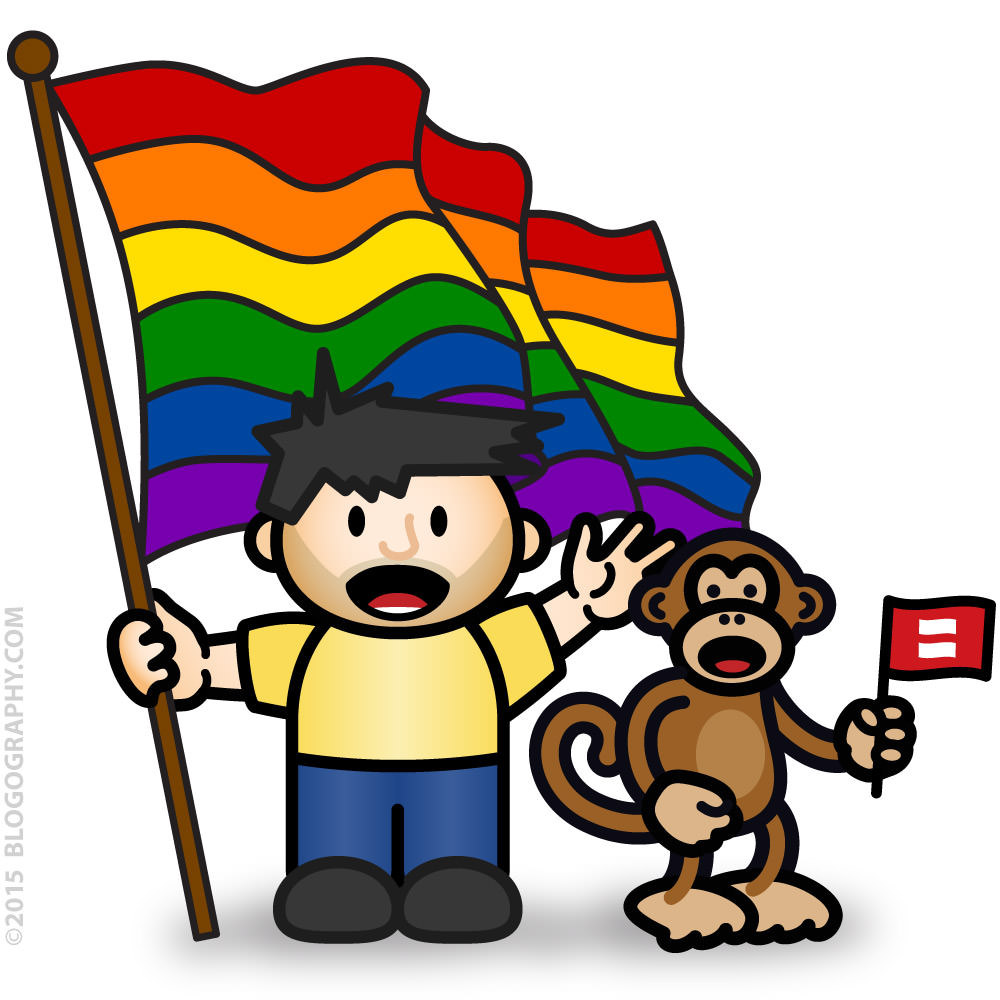 Of all the crap that inundates us at the beginning of Pride Month, this amazing retrospective on how the song I'm Coming Out... errr... came out... by the incredible Nile Rodgers himself...
Now I guess we brace for the legions of Christo-facists inserting themselves into LGBTQ+ spaces to tell them that they don't belong along with all the other horrible things they say because they have nothing better to do than persecute people whose lives HAVE ABSOLUTELY NOTHING TO DO WITH THEM.
Oh well. Something additional to take pride in I guess, because you must be doing something right to get them so pressed over something that HAS ABSOLUTELY NOTHING TO DO WITH THEM.
Posted on June 30th, 2021

I've said many, many times that I am a massive, unapologetic Miley Cyrus fan. It started with Hannah Montana and has carried all the way through her music career. Her voice just hits me right every time. I held off watching her Stand By You concert until this last day of Pride because it seemed a great way to close out the month.
It was fantastic.
Miley is a ride-or-die LGBTQ+ ally, and she uses every possible opportunity to back that up in this show. If you haven't seen it, it's on Peacock. If you don't have Peacock, it's worth getting the free trial just to watch it.
Here's my live commentary as I watched, just in case you can't live without my thoughts...
Billy Ray! They started with Billy Ray Cyrus! And... is that really Tish Cyrus?!? No. Drag queen impersonator? I'm lost and the show hasn't even started!
Starting out with a cover of Cher's Believe seems about the most appropriate way to open a celebration of Pride there could ever be. It's a great rendition of a classic. A drag queen review accompanying her is just the icing on the cake.
Not being a fan of Country, I am not terribly familiar with Little Big Town, but they are doing a very nice cover of Cyndi Lauper's True Colors with Miley.
Ooh! My Heart Beats for Love is a good Miley track to include in a Pride celebration! Such a great song.
Oh gawd. TJ from Brothers Osbourne came out rocking a French tuck. I BLAME TAN FRANCE FOR THIS MADNESS! To make up for it, they're singing a cover of Pat Benatar's We Belong. Beautifully.
A Madonna Medley! As if they had a choice. I think the crowd would have burned down the theater if Madonna hadn't been involved in here somewhere. My favorite Madonna song by a long mile is Express Yourself (I'm sure it has nothing to do with the David Fincher music video). Miley is absolutely doing it proud. Which makes sense. It's for Pride, after all. Oh man. Like a Prayer. If Miley sings Take a Bow or Holiday it will complete a trifecta of my favorite Madonna tracks!
It's not like I give a crap about Orville Peck's whole "Masked Singer" schtick... I'm just not a fan because he always sounds so forced and unnatural. Doesn't help that they are dueting Cowboy Take Me Away, which is a song I don't much care for to begin with.
ABBA! Oh man. And it's GOOD! Maren Morris can hold her own against Miley, so this is a great duet. Dancing Queen remains an amazing song in any decade.
Party in the USA is a fantastic Pride anthem... so of course Miley's singing a snippet of it. This is a slightly subdued version that's absolutely beautiful. Why couldn't we have gotten the entire song?
Welp. Doing my best to hold it together as Miley belts out I'll Stand By You. I would have totally shat myself if Chrissie Hynde walked out to sing it with her.
Mickey Guyton is back! Joining Miley for a rendition of Blondie's Heart of Glass. Now, don't get me wrong... Mickey is killing it... but I love Miley's version of this song and wish it hadn't been a duet.
Believe it or not, The Climb is not one of my most favorite Miley songs, but it is so hugely apropriate for a Pride special that she can't really not sing it.
Miley getting her makeup fixed on-stage is about the most Miley thing to happen so far.
Oh... all I had to do was wait. Here's the full song of Party in the USA. Except... Miley is destroying her own song by adding audience participation. Always fun if you're actually in the audience... always a boner-killer if you're watching at home. And now she's talk-singing. Ugh. Just why? And just when you think it couldn't get worse? CHEER-SINGING!
LAST SONG?? But we just got started! — George Michael's Freedom... well that's just about perfect isn't it?
I tell you what... I would have given just about anything to be at this concert. What a fun night with some great performances!
Posted on June 27th, 2021

Baby it's hot outside, but the hot lead from my bullets are even hotter... and an all new Bullet Sunday starts... now...

• Pride! I could do an entire week of posts on the TikToks of ileavebreadcrumbs. He is a man who married a male soldier during the era of "Don't Ask Don't Tell," and his stories are just... a lot. I cannot even fathom how straight couples would deal with the same obstacle that gay couples have to endure. Just take for instance their wedding...
The fact that he is willing to put himself out there knowing that homophobic bigots are just waiting to tear him apart in the comments is everything that Pride exists for. Love = Love.

• Pride Again! And it doesn't stop there. His husband is not just "fairly famous"... he's famous-famous." His story has been discussed in many, many places. Including, most famously, on The Daily Show...
He was even a part of The Newsroom...
That's all kind of crazy how they found out they were on a TV show! But... remarkable too.

• More Pride! But the TikTok that destroyed me was this one...
Do yourself a favor and go watch his TikToks. This is why we have a Pride Month.

• At The Car Wash, Yeah! A friend shared this video on Facebook and I must have watched it a hundred times by now. It's just that good...
Somebody filmed him doing it again, but this time we get to see him walk off...
I mean, you can see him just patiently waiting for the brush to come down and then walk directly underneath when it gets low enough. Makes ME want to give this a try!

• Salvage! One of my truly joyful distractions on YouTube is Baumgartner Restoration. Julian is an absolute master of his craft, and his latest project... restoring a van Dijk... is him at the absolute top of his game. If you have time to spare (and I highly recommend making time) this is a remarkable mini-documentary. UPDATE: The second part is even better, so I'm posting it instead (you can still catch the first part here, if you're hungry for the whole story)...
Absolutely incredible. UPDATE: and in this second part, be sure to watch an "end credits scene" that follows the blank black frame at the end (because there are no credit!).

• SHARRRRK! And... I've cleared my calendar for Shark Week starting July 11th. Thank heavens I have Discovery+, because I will absolutely be tuning in for Stranger Sharks!...
Oh, who am I kidding. I'll be tuning in for all of the shows!

• Beer Beer! Truck Truck! You may remember when I mentioned that a guy made a song out of somebody (rightly) critiquing Country music...
Well, it finally came out as an actual song. It's good. But a part of me thinks that something got lost in translation from the demo to the finished song...
The additional twang and polish is a bit distracting from what I was used to in the original track. Even so... that's a song that's going to be popping up on my SONOS rotation! And I'm not even a fan of Country music!

Now, if you'll pardon me, I'll go back to watching my air conditioning electricity bill continue to bankrupt me.
Tags:
Bullet Sunday
,
Dogs
,
LGBTQ
,
Music
,
Politics
,
Pride
,
Pride Month
,
Television
,
TikTok
Categories:
Music 2021
,
News – Politics 2021
,
Television 2021
—
Click To It:
Permalink
—
0 Comments: Click To Add Yours!
Posted on June 20th, 2021

I'm back from my quick trip over the mountains, so you know what that means... an all new Bullet Sunday starts... now...

• Happy Father's Day! Here's your Sunday Morning Happy. Watch until the end...
And happy Father's Day to the lucky dad of this adorable baby!

• Blame it on the Rain! Hope your Sunday weather is better than what these poor Guinnea pigs got...
Yeah... there's yet another TikTok rabbit hole I fell down.

• Picard! The first season of Picard wasn't stellar, but good enough that I enjoyed it (despite not being a Next Generation fan). The second season, however? I am very interested in seeing what they do with it, especially since Guinan is returning...
Fascinating to see an 80-year-old Patrick Stewart playing a 98-year-old Picard. Even more fascinating? That an 80-year-old Patrick Stewart would want to. But, thankfully for whatever reason, he does.

• Luca! The sad thing about our pandemic world is that movies get sent to streaming services, which somehow makes them seem "less than" the big movie releases of years past. Like a cheap "straight-to-video" film or something. Take Luca, for example, the latest Pixar film. It is incredible... easily on-par with any other Pixar movie ever made. It's the adorable story about young sea monsters who long for something more on the surface world in 1950's Italy. And it is stunning. It's set in a fictional town, but it easily recognized as a mix of the five fishing villages of Cinque Terre (which you can read about here). And the voice cast has some real surprises that I won't spoil here. Love, love, loved this movie...
Even more amazing? Thanks to the COVID-19 pandemic, this entire film was made from home! Highest possible recommednation. If you have Disney+, it's a no-brain to add to your watch list.

• Citizencide! Holy. Shit. This woman is literally the worst. Her sublime ignorance, stupidity, and complete lack of empathy typifies the horrors of so many of our elected government officials. Unbelievable, yet entirely believable. Even expected...
You can label my political disdain all you want, but this is what has be convinced that our government is actively trying to kill us. And we're voting for them to do it.

• "Today in Christian Love..." And people wonder why Pride Month is important...

• Snap Me! Ending on an LOL-worthy YouTube video seems like the way to go this Bullet Sunday...
THANOS WAS RIGHT!

=sigh= I suppose I really should clean up my house a bit since I was gone all weekend and have to go to work in the morning.
Tags:
Bullet Sunday
,
Disney
,
Disney+
,
Dumbassery
,
Government
,
LGBTQ
,
Marvel Studios
,
Movies
,
Pixar
,
Pride Month
,
Star Trek
,
Stupidity
,
Television
,
TikTok
,
YouTube
Categories:
Bullet Sunday 2021
,
Movies 2021
,
News – Politics 2021
,
Television 2021
—
Click To It:
Permalink
—
0 Comments: Click To Add Yours!
Posted on June 1st, 2021

Happy Pride Month, everybody!
It would be nice to think that 2021 would keep us moving forward, but there's a frightening amount of anti-LGBTQ legislation that is being introduced... especially on the anti-transgender front. The most troubling of which is targeting transgender kids which, given how vulnerable they already are, is horrific thing to have happen.
I sure hope that voters can find it in their hearts to keep tabs what their representatives are doing and educate themselves on these issues... because, more often than not, I am seeing gross misrepresentation of the facts.
The biggest misrepresentation being that coming out as "something other than straight" is a new trend that's confusing kids and being forced on people like it's some kind of fad.
At which point it may be helpful to look at it in a different context. Because being LGBTQ+ is nothing new... it's just that we're finally getting to the point where people are able to be who they are openly and not have to hide it any more. It used to be that being left-handed was considered evil and left-handed kids were forced to learn to write with their right hand. Naturally, the number of people who claimed to be left-handed during this time period plummeted. But once this nonsense started to fade away, the number of left-handed people increased. Except... they didn't. They had been here all along, it's just that they were not allowed to be who they are. It's the same for LGBTQ+ persons... they've been here all along. It's just that they've been forced to conform to societal "norms" that were forced on them.
It's far past time for that nonsense to stop.