Posted on February 19th, 2017

Stop what you're doing, because an all-new Bullet Sunday starts... now...

• Phone Home? Are you an American who travels internationally? Or a foreigner visiting the USA? Then here's an article for you: I'll never bring my phone on an international flight again. Neither should you. We're quickly coming to a point where personal privacy and freedom is being tossed right out the window. It's only going to get worse.

• This Guy. Thank heavens John Oliver has returned from hiatus to save our sanity...
And just when you think things can't get worse...

• Sorry. It would seem an apology to Sweden is in order...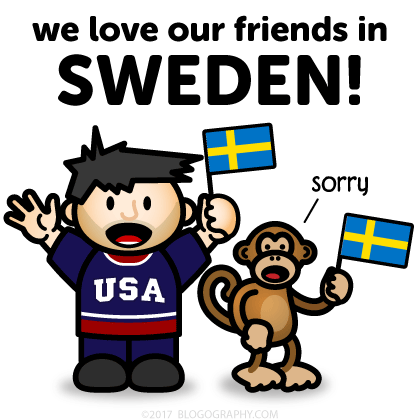 Guess I'm going to have to make apology graphics for all the countries of the world. I'm confident President Trump will get around to saying stupid shit about all of them eventually...
And I thought George W. Bush was a fucking embarrassment.

• Merry Marvel. The little promos that Marvel is releasing in anticipation of the upcoming Thor: Ragnarok have been really funny. This past week they released Team Thor: Part 2...
The surprising thing is that the next Thor movie isn't here until NOVEMBER! Before that we've got Guardians of the Galaxy Vol. 2 on May 5 and Spider-Man: Homecoming on July 7. If you haven't seen it yet, Team Thor: Part 1 can be found on YouTube.

• Gerrymandering. Yes. It's time to stop this fucking bullshit...
We get the government politicians buy for us. Time to start giving a shit.

• PAY! PAY! PAY! As I mentioned a while back, LEGO addressed complaints about having to buy additional toys to complete a mission by adding "Hire a Hero" where you can have temporary access to the toy you need... for a price. A price that gets more expensive the more often you need it. But... hey... beats having to buy a LEGO set you don't want, right?
Not really.
As I found out by playing the LEGO Dimensions Knight Rider fun pack, you need the LEGO Dimensions Mission: Impossible level pack because the 30 seconds you get for "Hire a Hero" Ethan Hunt isn't long enough to solve one of the puzzles. And now I find that I can't really completely LEGO Dimensions A-Team fun pack without the LEGO Dimensions Adventure Time level pack because the 30 seconds you get for "Hire a Hero" Finn the Human isn't long enough to solve one of the puzzles.

I PITY THE FOOL WHO MAKES ME BUY MORE SETS TO COMPLETE THE SET I JUST BOUGHT!
Needless to say, this is pretty shitty. When you "Hire a Hero" you should get to keep that hero until the puzzle has been solved. Anything less is just going right back to a massive paywall that's incredibly unfair. But... there's money to be made, so whatever. Guess buying one toy will never be enough.

AND I AM DONE WITH BULLETS FOR THE WEEK!
Posted on June 23rd, 2015

The biggest drawback of watching Apple's latest wankfest of all the "insanely great" technologies they've got coming down the pipe is me sitting in front of the computer screaming "WHY DON'T YOU FUCKING FIX THE SHIT THAT'S BROKEN BEFORE ADDING MORE PROBLEMS FOR YOUR USERS?"
Because more and more, Apple's myriad of bugs and busted shit in OS X is giving me Microsoft Windows flashbacks. What's worse is that Apple seems to have little interest in fixing stuff. No response in the forums. No fixes in the updates. No acknowledgement of anything wrong, despite many, many users reporting the same problems.
Take for instance iTunes.
The program is utter crap. It has been for years. I could go on for ages about how stupid it is that you can't stream movies you buy, but are forced to download them. I could rage for days on how utterly insane it is that the iTunes Store doesn't let you know which movies you're already bought. Or how your movie purchases never show up in the "My Movies" tab unless you've downloaded all of them. It's just such a steaming load of bullshit. Yet it's been going on for years. And Apple doesn't care. And the way you can tell they don't care is that they never fix this moronic crap. But what's worse than helpful features being omitted are the legions of bugs that make using iTunes such a horrendous experience.
iTunes Match is FOREVER fucking up. Every damn time I fire up iTunes expecting to be able to play the music I purchased "in the cloud," iTunes just sits there spinning it's wheels. It doesn't matter which computer I'm on. It doesn't matter if I disabled all virus protection. It doesn't matter if I clear caches. It doesn't matter if I try all the idiotic work-arounds people come up with. It doesn't even matter where I'm at around the world. Sometimes, after 20 minutes or so, it will tell you there's a problem and tell you to logout and login again... which does work... but should I have to do that every fucking time I start iTunes? It's become almost automatic for me now, which is fucking bananas. Because, of course, if you logout you end up having to re-start Match which takes ages to get going again.
And I can't tell you how many times a day I have problems with iCloud. I'm consistently and constantly seeing this on my screen...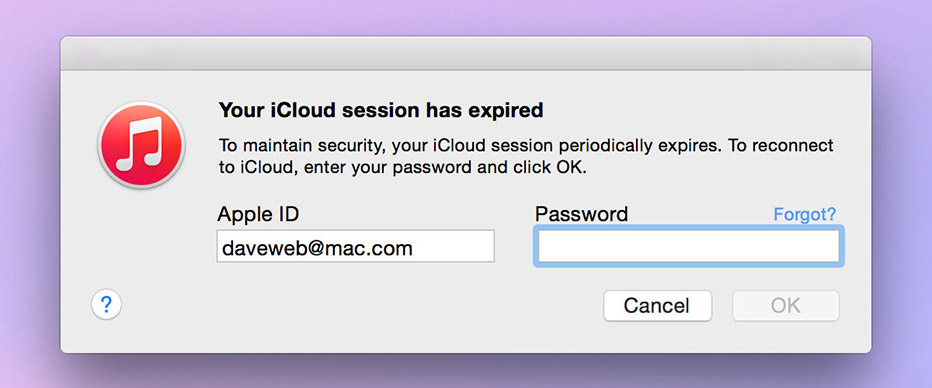 This is so stupid on so many levels. First of all, my Macs are all password protected. If I've got them password protected, nobody is accessing them but me... so why in the hell is iCloud logging me out? Even if I were to accept that this is a valid security concern, "periodically" to Apple means SEVERAL FUCKING TIMES A DAY. I have to login to iCloud to use iTunes. I have to login to iCloud to use iMessage. I have to login to iCloud to FaceTime. I have to login to iCloud to scratch my nuts. Once a month would be fine. But I am sick to fucking death of this CONSTANT need to have me login over and over and over and over AND OVER again. Shit... if I logout of iTunes to try and access my Match music, I'm forced to login to iCloud THREE GODDAMN TIMES before the nonsense stops. That alone causes me to go ballistic. Add in all the other times I have to deal with this shit and I'm in thermonuclear meltdown over Apple idiocy daily.
Who the fuck is in charge of fixing busted shit? ANYBODY?
But that's old news.
The latest boatload of crap coming out of Cupertino? This...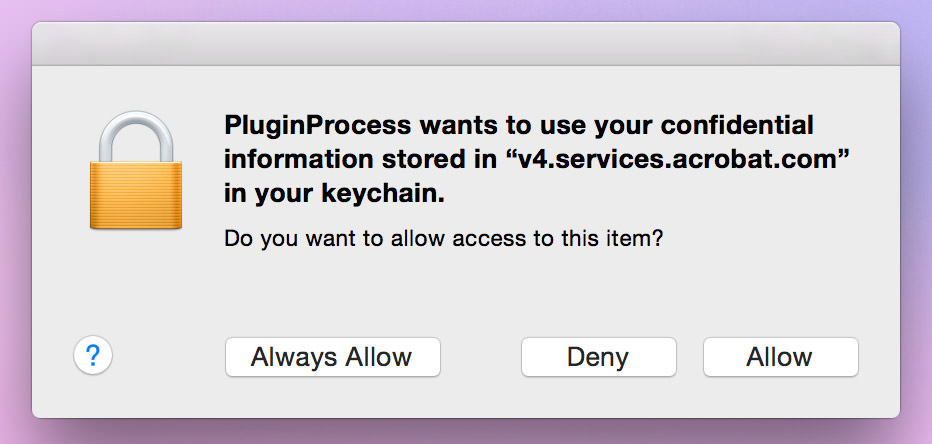 I click "Always Allow" of course.
But Apple must not know what the fuck "ALWAYS" means, because I keep getting this damn dialog box popping up all the time. Sometimes at random. Always when clearing my browser history. Does Apple give a shit? Of course not! NO response to those sick and tired of having to deal with whatever the fuck "PluginProcess" is. No patch to fix the problem. No acknowledgement a problem even exists, because if it goes unacknowledged, the problem isn't real to Apple! It's all in your imagination!
Apple used to have a motto of "It just works."
That hasn't been true in fucking ages.
Macintosh isn't superior to Windows any more. Sure it looks better and is more logical but, in the grand scheme of things, it's not better.
If you're not going to aspire to be better than your competition, just fucking close it down and concentrate on your iPhone or iPad or Apple Watch or Apple Music or whatever the fuck is your flavor of the moment. Anything less is just wasting everybody's damn time.
Posted on October 30th, 2014

I hate to sound like a broken Apple-bashing record here but, in all seriousness, things have gotten so overwhelmingly bad that I'm feeling as frustrated with Mac OS and iOS as I ever was with Windows.
First of all, quality control is total fucking bullshit. I am running into bugs within minutes of installing updates... MINUTES! And these are not esoteric one-in-a-million-users bugs, but problems so basic and ordinary that I cannot fathom how they get missed when Apple is testing their shit (they DO test their shit, don't they?). So far as I know, my set-up on my iPhone, iPad, and Macs are fairly typical. I am not running any hack software of any kind. I am not on a custom network or using a VPN. I am not using terminal tweaks or altering the system software at all. I'm just trying to get through my damn day without a crash or running into some idiocy that makes my life difficult. But that's almost impossible now-a-days with even the simplest of tasks.
Like using email.
I have four email accounts. One personal IMAP account. One work IMAP account. One charity work IMAP account. One ThriceFiction IMAP account. All four are synced using Apple's iCloud. Except they're not. If I make changes to an account... or add an account on one of my devices... or delete an account... or change any account information... it's supposed to sync up and make changes on all my devices. But it doesn't, and I have no fucking clue why. Not that Apple makes it easy to figure out what you're doing with your accounts anyway. In what has to be one of the most inexplicably stupid-ass design flaws ever, there is no single place to go to manage your accounts. There are THREE. The first two can be found in the Mail menu...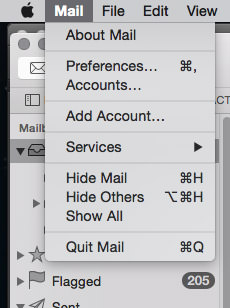 There's the "Accounts..." option, which opens up a panel from the System Preferences.
There's also an "Add Account..." option, which opens up a sheet on your main mail window. This is ten flavors of stupid, because you'd think that if you wanted to add an account, you'd click on the "Accounts..." menu option and just add it there (which you certainly can). But Apple has it as a separate menu item, duplicating functionality for no reason that I can tell.
And then things get really strange.
Click on "Preferences..." and you now how account management options in a third place...

WHAT THE BLOODY FUCK?!??
Seriously, what in the hell is going on here?
Does Mail have its own set of accounts separate from the system preferences accounts? Or are they pulling from the same place? If they're the same... GOOD LORD, WHY ARE THEY IN TWO PLACES? If they are separate, are they all syncing with each other? Which ones are synced to iCloud? How do I control what goes where? Does the "Add Account..." option in the Mail menu add to the system prefs or to Mail? Or both? This is absolute madness. To duplicate shit in multiple places, each with different interface, is utterly confusing and just bad design. This is the type of stupid shit I have historically expected from Microsoft... but Apple?!?
And the idiocy doesn't stop there.
Apple is known for creating wonderfully handy and useful ways of doing things which are so great that people switch platforms just to take advantage of how well thought-out a computer experience can be. One of my hands-down favorites is the ability to switch SMTP email servers within a Mail message from email to email. As somebody who travels often, this is an absolute godsend, because some servers I use don't work remotely. Elegant, simple, and infinitely useful...
So guess what Apple eliminated in Mail for their latest OS, Yosemite?
Yes. The ability to switch the SMTP server on the fly is now gone. If you have multiple servers associated with an account, Mail will just keep trying all of them until it finds one that works. The problem there is that my default server WILL LOCK ME OUT if they get too many network errors. This means that I now have to remember to go into email preferences and change the default SMTP server before I compose an email when I am on the road. Which I often forget to do, which means that I get locked out of my work connection over and over and over again.
This is just fucking insane.
Why?
Why did Apple remove such an astoundingly handy feature?
Did it clutter up Mail's composition window too much? Did they think it was too confusing even though it didn't even show up unless you allowed more than one SMTP server to be used? Was it simply forgotten when they were re-coding the app for Yosemite? Who the fuck knows? And it's not like there's any way you can call up Apple and ask them. At the very least you'd think that Apple would put this as an app preference instead of deleting it entirely, but I've come up empty looking for it.
And don't even get me started on the hideous mess of trying to get SMTP servers assigned in iOS. Just look at this bullshit...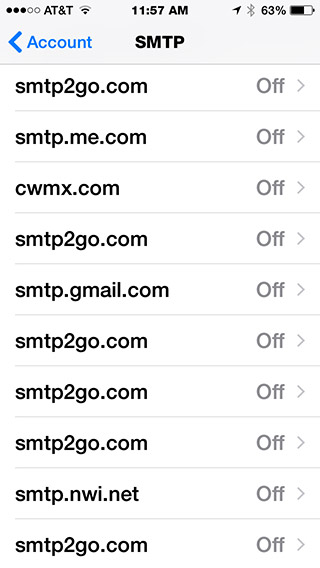 Any idea why servers are showing up multiple times? If there are different settings between the duplicates, any idea how to tell what's different between them? Not even an Apple Genius could figure that one out.
I am so frustrated dealing with Apple idiocy like this every single day that I'm about ready to fucking burn all my Apple crap and become a luddite.
Not that they'd give two shits. Apple knows what's best for you, even if they don't, and if you don't want to accept that you can piss off because they've got billions of dollars and don't have to care.
Which makes two of us.
Posted on January 4th, 2014

Well, crap.

Posted on July 30th, 2013

Yesterday was not a great day.
Today wasn't much better.
Partly because once things start to go wrong, they always seem to continue to go wrong... but mostly because I had an exhausting 3-1/2 hour drive awaiting me at the end of my work day. As I have written many times before, the journey to Spokane is long, boring, and filled with mostly nothing. Which is not to say that I have anything against Spokane itself... it's actually a pleasant and interesting city... it's just not so frickin' mind-blowing that I want to spend 3-1/2 hours driving here.
But... work... and all that.
Anyway...
About 2/3 of the way to Spokane is an exit for the city of Washtucna, Washington. I have never been there. But every time I drive by the exit sign, I find myself saying "Washtucna" out loud over and over again in an attempt to find the proper pronunciation, all the while wondering what the city might be like. Today was no different...
Wash-tuck-NAH!
WARSH-took-neh!
Wash-TUCK-naaaaaah!
When all of a sudden...
BLAM!
RATTLE! RATTLE! RATTLE! RATTLE!
Apparently my muffler and/or exhaust pipe has now come loose from the frame of my car.
As I said, once things start to go wrong, they always seem to continue to go wrong, because I had already been having problems with my piece-of-shit automobile. And now I have new ones.
So... as you can see by this map, I was not exaggerating about the vast expanse of nothing going on in the Central Washington Columbia Basin...
There was nowhere I could pull off I-90 and travel to where I could be assured of there being an auto repair shop... certainly not one that would be open at 6:00pm. All I could really do was keep going and hope my car didn't fall apart before I got to Spokane. And all the while I was having to listen to...
RATTLE! RATTLE! RATTLE! RATTLE!
Luckily for me, my car held together.
Like the Millenium Falcon, but not really.
And so I did what any normal person would do after driving 3-1/2 hours with a car that's falling apart. PIZZA!!!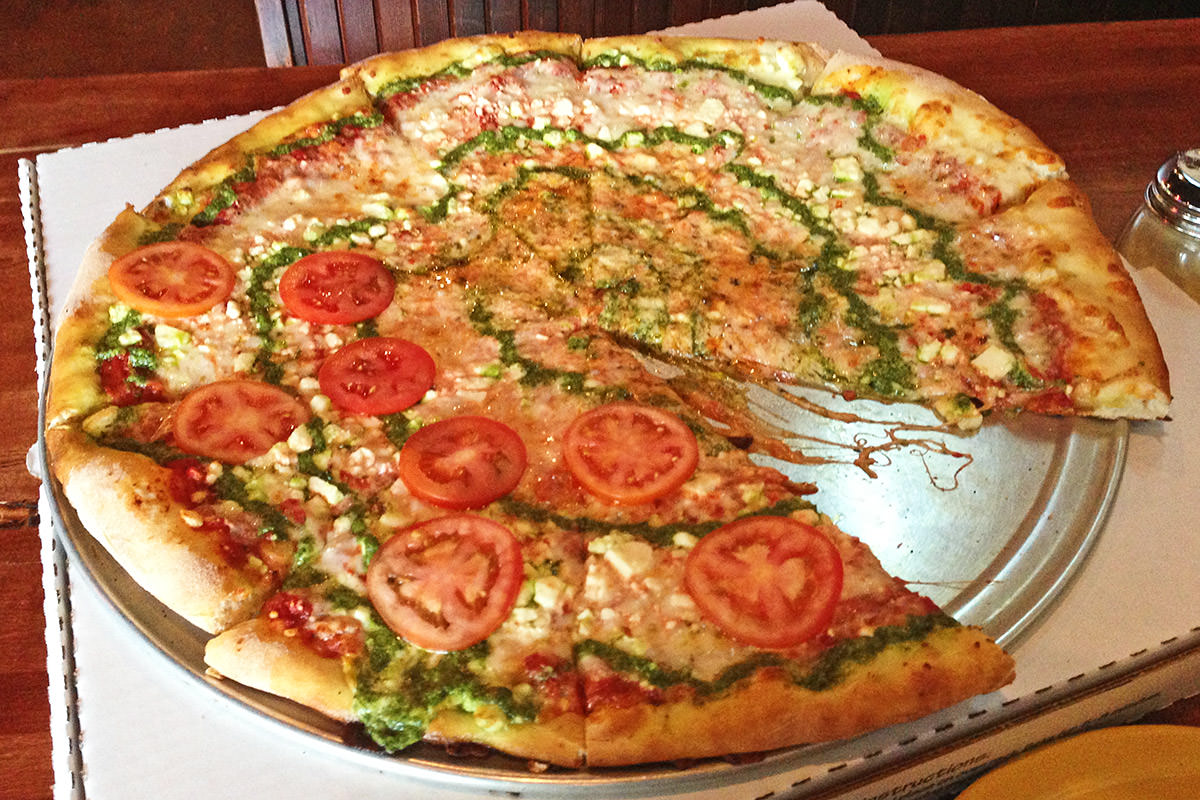 Car repairs can wait until tomorrow.
Probably.
Wash-TUCK-naaaaaah!
Posted on November 12th, 2012

Don't let that calendar fool you ... because a delayed Bullet Sunday on Monday starts now...

• Help. Long-time blogging friend and celebrated author NYC Watchdawg has written a post over at his Social Medic site about supporting medics who lost everything in Hurricane Sandy. If you want to help The Big Picture by contributing to a very worthy small piece of it, here's your chance. You'll be helping those who help others (and continue to help others despite their devastating losses) to help themselves during this very difficult time of their lives. Even if you can't donate, any efforts to spread awareness would be much appreciated!

• Investigation. My expedition with Paranormal Georgia Investigations was a great time last night, as expected. And while I didn't capture any evidence with my camera like last time, I did take some photos of the creepy interior of Old South Pittsburgh Hospital. Of course, they don't look half as creepy when illuminated by a camera flash, but still... pretty creepy...

Not too bad on the outside... in the daylight, anyway..

I liked documenting all the toys left out for the ghost children to play with. This is one lonely rocking horse.

I'm pretty sure this bunny was dead. Totally non-responsive.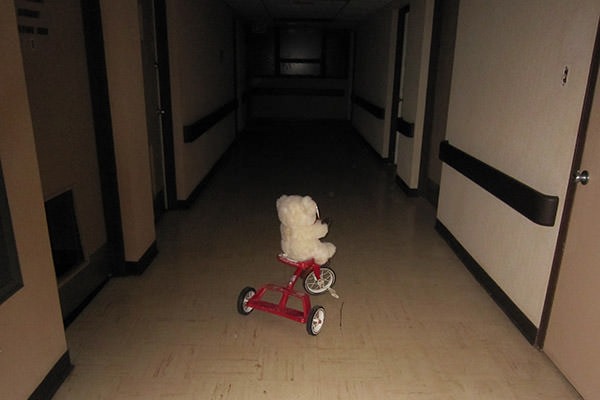 I took this bear away from a naughty ghost child and let him go for a tricycle ride.

One sad bear. You'd be sad too if you spent your time in a cold, dark hospital with ghosts.

I volunteered to use my medical skills to remove an appendix or something... there were no takers.

Leaving my mark in Graffiti Hallway with all the professional paranormal teams.

I also tagged the scary dorm room that Muskrat and I got to stay in. We bad! We bad!
Keep in mind that in the dark, while looking for ghosts and stuff, it's quite a different scene than shown here all lit up in a photo. But that's part of what makes the experience so interesting! I'm excited to see what data the PGI team captured of doors opening by themselves and other nifty stuff. Hopefully they'll make their way through the evidence pile soon so I can post a link.

• Medicinal. I've mentioned a couple of times that I carry a "Travel Medicine Cabinet" with me when I'm away from home... whether it's a month... or even just a day. Since I never know where I'll be or what I'll have access to, I choose to be as prepared as possible for any scenario. From allergies, colds, and diarrhea... to lost fillings, cuts, and motion sickness. Heck, I don't even get motion sickness... I just keep it with me in case somebody else I'm with gets it...
Tonight I was very, very glad that my kit contained "Hearos" ear plugs. Let's just say that my hotel neighbors are crazy-loud with their nocturnal activities... and I was in no mood to listen to it. If there's one thing to learn from the Boy Scouts (other than "thou shalt not be gay"), it's to always be prepared. I can't tell you how many times that's paid off for me.

• Petraeyal. Like most people, I am a bit sickened by the massive CIA Overlord / Retired Army Gen. David Petraeus scandal that's rocking the headlines right now. Yes, he's a fucking scumbag that cheated on his wife with another fucking scumbag that cheated on her husband... but we don't know all the facts there, and it's none of my damn business what he does in his fucked-up private life. No, the sickening part to me is the FOX "News"-led conspiracy crap that this was some kind of scheme by President Obama to keep Petraeus from testifying in the hearing concerning the Benghazi attacks. Which, naturally, I learned from watching The Daily Show...
Yeah, no agenda there. Pathetic. I mean, seriously? America's best line of defense against a network that rips this country apart by spreading more lies and disinformation in a single day than North Korea does in a decade is a COMEDY SHOW? At some point, you really have to wonder how we've survived this long.

• Foxy. This will come as a shock to nobody, but I don't watch the FOX "News" channel outside excerpts that get torn apart and mocked on The Daily Show. Their "Fair and Balanced" credo is a crock of shit, and they are the epitome of the partisan hackery that's ripping this country apart. Just like nut job Keith Olbermann on the Left, I long for the day FOX "News" fades into irrelevance on the Right.
And because I don't watch FOX, I was completely unaware of the bat-shit crazy un-reality bubble they created around themselves with the delusion that Mitt Romney was not only going to win the presidency, but was going to dominate the election in a landslide. Until I saw their coverage on Election Night. Since I was convinced that President Obama would get his second term, there was no place I wanted to be watching except FOX. And seeing it all unfold there was a revelation. Everybody there was certain Obama would lose? Really? This made everything even more entertaining than I had imagined... until Karl Rove went into denial, at which time it just became sad. The entire network was dedicated to getting Romney elected, and they completely failed.
And while I get no pleasure seeing people genuinely upset that their candidate of choice was not elected... I fully admit to experiencing an entirely new level of Schadenfreude watching FOX News implode. And now, thanks to the wonderful people over at Pundit Shaming, I can relive the heady days of denial over and over again.
Which is almost as fun as watching Ben Afflek (YES, THAT BEN AFFLECK!) masterfully tear apart the afore-mentioned Keith Olbermann on Saturday Night Live back when people actually gave a shit about Keith Olbermann...
Schadenfreude is so not pretty. But I just don't care!
And, on that shameful note, I suppose I'm off to bed. Goodnight everybody!
Posted on May 2nd, 2012

I've always liked The Hulk, because I think that he's a character everybody can relate to. Many-a-times while reading Incredible Hulk comics I thought about the rage monster inside of every one of us that's barely contained and ready to burst out at a moment's notice.
Then I have to wonder what it would take to push me over the edge and unleash the beast.
Watching FOX "News" and their near-continuous stream of exaggerations, half-truths, and outright lies to push their agenda would come close. Not so much because they do it... they're hardly unique amongst news organizations for that... it's more because they claim to be "fair and balanced" when clearly they're full of shit...
I mean, WTF?!?
Hulk not mad. Hulk confused...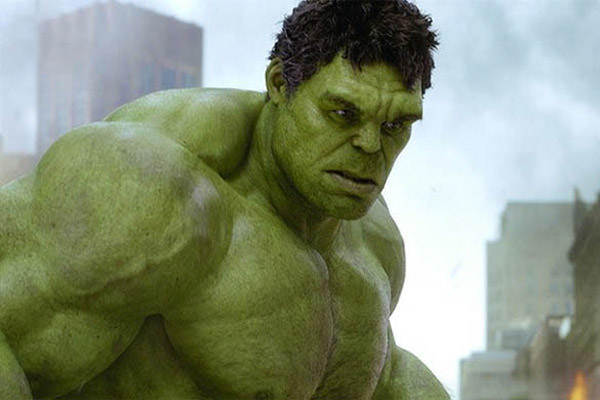 A fucking COMEDY CHANNEL is having to fact-check one of the most popular news organizations on the planet?
Something has gone very, very wrong. And that makes Hulk angry...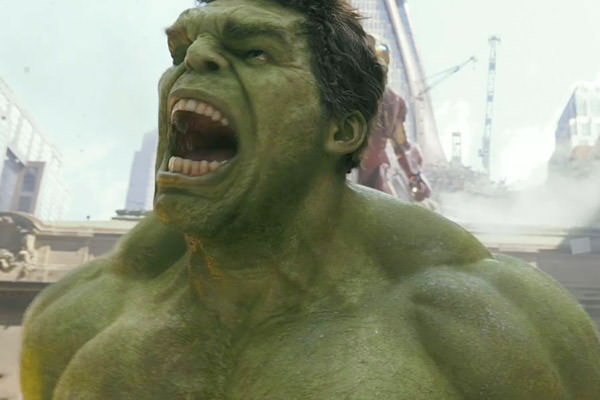 And you won't like Hulk when he's angry.
UNLESS... you are watching The Avengers movie, which opens nation-wide on Friday! I mean, seriously, with the exception of a few douchebags writing negative reviews so they can get some attention, everybody is LOVING this film!
If only DC Comics could get their shit together. Because, with the exception of an awesome-looking finale to the Batman trilogy with the upcoming Dark Knight Rises, they got nuthin'. To think that they could have built on the success of Batman and unleashed amazing Superman, Wonder Woman, Green Lantern, and Flash films... culminating in a frickin' JUSTICE LEAGUE movie... well, it's almost heartbreaking. Green Lantern was lame, and what little I've seen of Man of Steel is looking awful.
Oh well. Between Marvel Comics movies and FOX "News" I guess we've got enough popular fiction to keep us occupied for a while.