Posted on January 4th, 2023

Number 6,438 in my list of SHIT APPLE DOES THAT NOBODY FUCKING ASKED FOR: Apple Mail Inline Link Preview.
Who the fuck thought that this useless fucking PREVIEW OF NOTHING is needed, desired, or in any way helpful? It's like... here's a link to a Facebook page, and Apple removes the link to put a HIDEOUS BIG-ASS LINK LOGO IN THE MIDDLE OF YOUR EMAIL...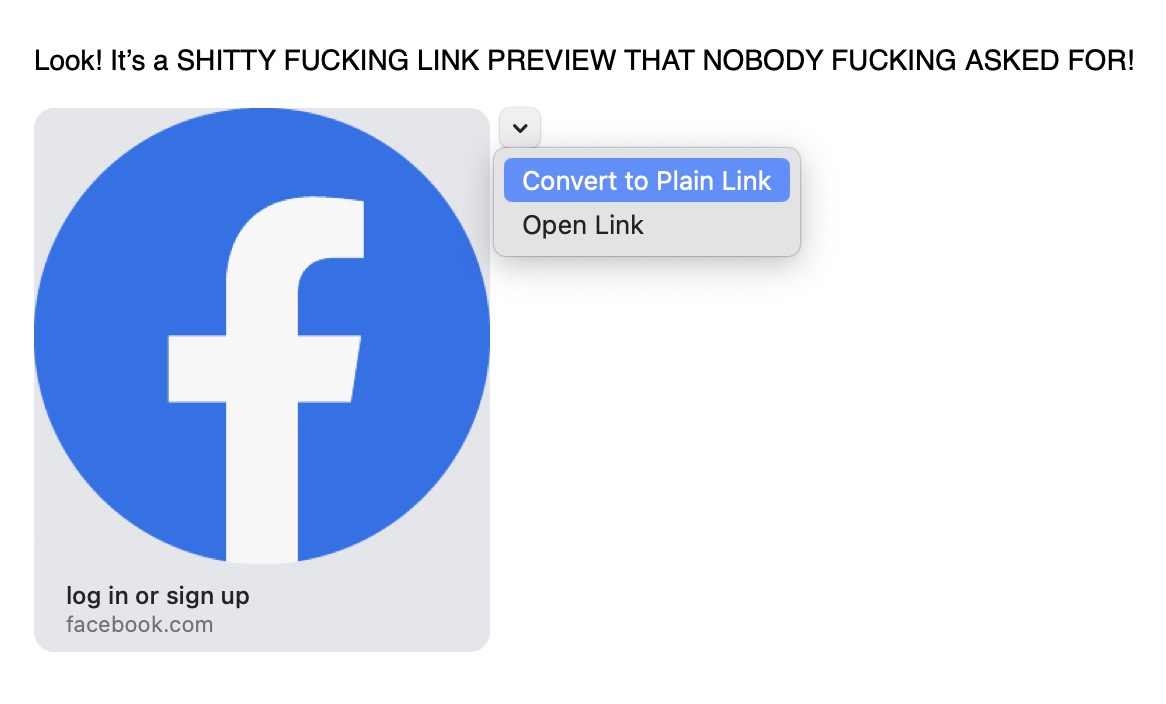 And, of course, because this is fucking Apple, there' no way to turn this shit off by default.
Oh no. You have to right click and tell it to go back to a sane "plain link."
God I am so sick and fucking tired of this kind of crap. It's only slightly less annoying that Adobe changing the way shit has worked FOR DECADES with no way to go back to the original behavior. Or the way that they randomly switch between origin-zoom and scrubby-zoom in Illustrator with no way to force a default. Typical. It's like... PICK ONE. I don't give a shit which way you go... JUST FUCKING PICK ONE!
Posted on September 27th, 2022

January of last year I ordered a workbench from Home Depot because it finally went on sale (I had been coveting it for months). It arrived and, alas I never had time to assemble and install it. So it's been sitting in my garage these 20-some-odd months. It's a really cool model too, because you can fold it against the wall when you need it to be out of the way. Since I use my garage as a woodworking shop, that's essential.
They said it was adjustable height, and they even showed it installed in a garage on their site (albeit a much nicer garage than mine!)...
But here's the thing about garages... the floor slopes slightly away from the side walls and away from the back wall so that when you wash out the floor all the water can more easily head outside. It's not a lot... usually around 1%... but it adds up when you are talking the distance of a 6-foot table.
But no problem, right? They advertise the bench as being height adjustable!
Um... yeah... no.
The BACK legs have screw feet which are adjustable. The wheels on the front legs are not adjustable at all.
But it gets worse!
The distance that the back legs will unscrew is less than the distance between screw-holes! Essentially making them useless for trying to level out your table. And since the front legs are not height adjustable at all, one side or the other will not touch the ground if one side is higher than the other.
The upshot of all this design stupidity is that I have to shim the table on three sides in order to have a level surface. The two back legs since the screw-feet can't extend far enough. And the front right leg since the slope of the floor means it can't reach the ground. Who the fuck designs this kind of nonsense? Why even bother with the screw-feet on the back legs when they can't extend far enough, can't be independently screwed out to the length you need, and are useless for side-to-side leveling?
The back shims are permanent. And that's fine. But I'm incredibly irritated by the fact that I have to slide a paint stir-stick under the front-right leg any time I fold out the damn table. And don't even get me started by the soft, cheap-ass screws they give you to bolt the thing to the wall. Even with a good large-sized Phillips screwdriver head that fits like a glove... AND USING A HAND-DRIVER INSTEAD OF A POWER TOOL... the things still strip out. Cheap-ass bullshit.
I'd return the stupid thing, but since I waited so long to take it out of the box, it's too late.
The thing is built like a tank, which is nice. But had I known the hot mess I was getting, I would have just built my own. But that's kind of how it works now-a-days, doesn't it? Do it yourself or risk disappointment. The irony that I would have bought all the materials at Home Depot is not lost on me.
Posted on November 8th, 2021

It's frustrating that we have media which is so badly polarized that it's impossible to get an unbiased read on current events. There's painfully obvious bias going on, with the problem being that many people don't seem to realize that. I know folks on both sides of the spectrum who would swear up and down that their news is "unbiased" (or, putting it another way, "Fair and Balanced") and I honestly don't know how they can say that with a straight face. Either they are saying it because they want to believe it, which is understandable... confirmation bias is a real thing... or they are saying it because they actually believe it, which is all kinds of dangerous.
In some ways, I actually prefer it when a news source is unabashedly Right or Left because they're making no pretense as to where they stand on the issues. You know where their pandering is and you can factor it into your thinking as you consume whatever media they're putting out there.
In some cases, there's issues which are neither Right or Left... they just quite simply are... but the only take you're going to get is one from the Right or the Left. It's enough to drive one mad.
Take for instance America's failing power grid.
This is a subject so deadly serious that everybody everywhere regardless of their political leanings should consider it of National importance and an essential thing to be investing in and safeguarding. Yet neither progressive nor conservative talking points address it with the seriousness which it should be taken. On the Right you have "privatization" as the answer (which is laughable given what happened in Texas recently)... and on the Left you have a bizarre mish-mash of wanting to invest in Green energy without understanding exactly why that's not a catch-all solution for every situation (honestly, you can't just shout "GREEN ENERGY" every fucking time the matter of our energy needs comes up and be taken seriously).
Last Week Tonight had one of the best takes I've seen last night despite being hardcore Left in its leaning. It should be considered essential viewing if you plan on using electricity in the future...
Now, there are some issues here that are not fully explored... there's only so much you can fit in a segment like this... but the entire point behind the story is solid. And that is that this country is heading to a major crisis that could have serious impact on all aspects of society.
But how do you explain this to somebody whose viewpoint has been crafted by the media they adhere to for their "news?"
It's virtually impossible.
This is easy to see when you look at the reactions to the $1 trillion infrastructure bill that was recently passed. Infrastructure has been a ball that's been kicked down the field for decades by Republicans and Democrats. Everybody says they want to do something about our roads disintegrating, our bridges falling apart, and so many other horrible problems... but they don't want the financial blowback attributed to them, so that ball gets kicked down the field for the next guy to deal with. This is such a horrible thing to have happen because it only gets more expensive the longer you put off dealing with it. But now President Biden picked up that ball and ran with it because we're quickly getting to the point that something HAS to be done. As you would expect, Democrats are touting this as something on-par to the Second Coming of Jesus Christ... while Republicans are saying it's clearly a sign that Satan has won, and our country is officially in the grips of Socialism.
Truth be told... it's actually somewhere in the middle.
And while I have loads of things I can be critical of President Biden for, the infrastructure spending is not one of them.
Mostly because $73 billion of that $1 trillion goes towards modernizing the U.S. power grid.
Feel how you want about JaBiden, I honestly don't care. But the fact that he's finally actually doing something about some very serious problems we have ignored for far too long deserves respect. And that's regardless of your politics. Because it was a politically suicidal thing to do even if it was the right thing to do.
We're running out of field for that ball to be kicked down. A goal is iminent. The game is about to be won.
And, in this case, that's not a good thing because we're all on the losing team.
Posted on October 15th, 2021

"Well, shit, I'm alive. The COVID booster didn't kill me. So I guess I have to go into to work."
Zero side-effects from the third Pfizer shot. Which worries me a little bit... how do I know that it did anything if there's no side-effects from my immune system getting charged up with COVID-fighting instructions? Though I didn't have side-effects the second time either (only the first, where I had a fever for three hours and soreness in my arm for three days).
In my county here in Central Washington, there's been 102 COVID deaths out of 10,912 total cases since tracking of the pandemic began. Right now they say that 638 people have tested positive in the first half of October. When I check the CDC site, it says that the eligible population here in my county is 73.6% vaccinated and 34 new people have been admitted into the hospital. If it's accurate, that's really good news. Given the number of anti-maskers out and about, I really expected us to be under 50% vaccinated. Some counties east of me in Idaho and Montana are 40-some-odd-percent, which is pretty scary. But not as scary as those counties sitting at 20% once you head over to the Dakotas. Holy shit. It's like a COVID incubater in some parts!
Which is how we end up with COVID variants like Delta, Beta, Gamma, Lambda, Mu, and the variants of those variants. It's all pretty crazy when you consider that the virus will only become more communicable and deadly as it changes to survive.
But that's nothing compared to the heinous level of idiocy coming out of the mouths of pieces of shit like Marjorie Taylor Greens, who is just the worst...
God she's awful. There's really no level to which this horrific excuse for a human being will stoop. I am disgusted to my core.
I'd say that I can't wait for her to get COVID, but you just know that she's been vaccinated. Pandering to her base with this hipocritical bullshit is how she stays in office.
Tags:
Assholes
,
Bat-Shit Insane
,
Bullshit
,
COVID Deniers
,
COVID-19
,
Fuck This Shit
,
Fucking Assholes
,
Fucking Scumbags
,
News
,
Pandemic
,
Pig-Fucking Assholes
,
Politics
,
Stupidity
,
Truly Stupid People
,
Vaccination
,
Worthless Pieces of Shit
Categories:
News – Politics 2021
—
Click To It:
Permalink
—
2 Comments: Click To Add Yours!
Posted on October 3rd, 2021

Everybody do the hokey-pokey and turn yourselves around... because an all new Bullet Sunday starts... now...

• Lasso Unwound! The fact that the writers of Ted Lasso are taking a beloved character from the first season and turning them into a literal villain is an interesting turn. The penultimate episode that played out on Friday makes this fairly irrevocable, and there's no real way of getting out of it. Couple that with the fact that Dr. Fieldstone is leaving the show (God please don't let it be permanently!) and I am very interested in seeing how next week's finale is going to play out...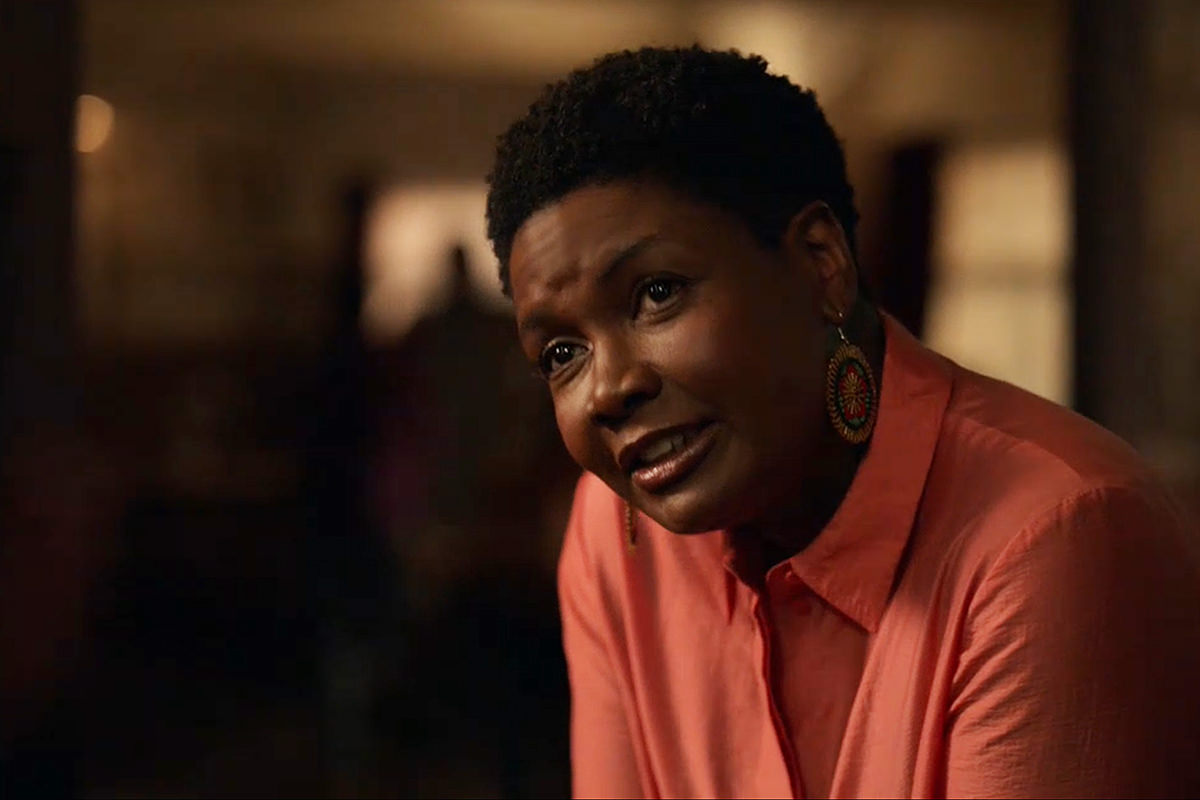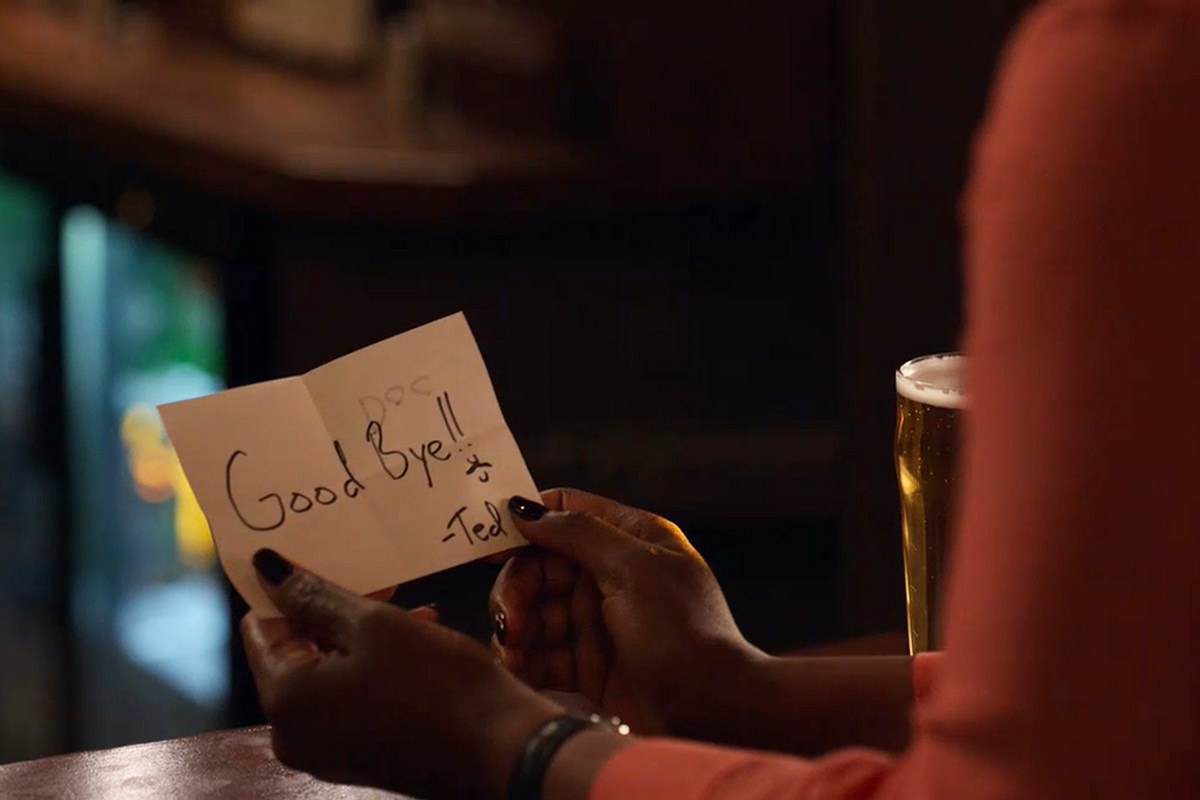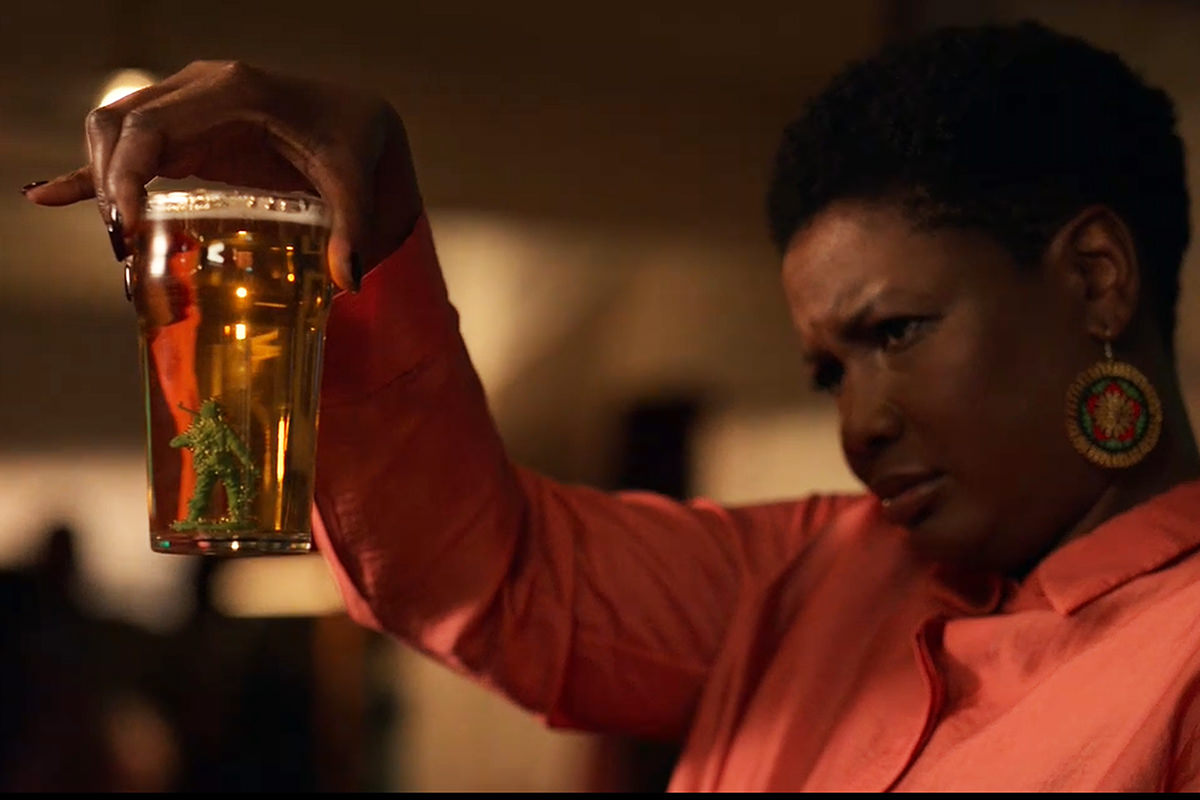 Before all the awards and accolades, it was said that Ted Lasso was going to be a trilogy of seasons. But now that Apple has a very, very good reason to keep the show running, I am fairly certain that a fourth season is highly likely. But whether or not that will include Jason Sudeikis as Ted remains to be seen.

• NO CRYING! I wish I knew whom to credit this photo to, because it is absolutely epic. Easily one of the best Halloween costumes I've ever seen...
Adorable. Adorable. Adorable.

• Poorly Animated! As a massively huge fan of Reza Farazmand's comic strip Poorly Drawn Lines (which he graciously contributed to Thrice Fiction)), I was happy to hear that it was becoming an animated series. And now it's here...
You can watch it on FX and stream it on Hulu right here.

• Trash TV! Paramount+ is fucking garbage. Can't play the content I'm paying for, and their tech support doesn't give a shit. Tells you to jump through hoops that never work. Has you disable stuff that no other streaming service requires. Then blames you or your hardware when none of their "suggestions" work. When will these fucking dumbasses learn that whenever they treat their customers like shit, it just encourages them to find other ways of watching the content they want to see. I have many streaming services... and NOT ONE OF THEM fails consistently like Paramount+. Not Amazon Prime, not Netflix, not Philo, not YouTube TV, not Hulu, not Apple TV+, not Peacock, not HBO Max, not Sundance, not Discovery+, not Hallmark Now, not Disney+, not Showtime... NONE of them fail like piece of shit Paramount+. And yet it's MY fault. Right. Okay. Cool. Well, at least I'm not alone...
If it weren't for the new Star Trek shows, I wouldn't give a fuck about Paramount+... the only show I watch on CBS is Magnum PI, and I always buy that off of iTunes so I can watch the episodes multiple times.

• PASSWORD?! This bullshit right here...
It is so fucking infuriating how sites set their requirements. Most of the things which they claim protect your security actually do exactly the opposite. Making passwords impossible to remember. Making passwords expire. All kinds of idiotic shit which keeps you from getting where you need to go. And password managers only scratch the surface, because sometimes it's the SITE that's fucked up. I've had many a site tell me that I have my password wrong EVEN THOUGH IT'S SAVED IN A MANAGER, and then when I have to reset it, I'm told that I can't use my previous password? Fuck you.

• NEWSFLASH: Photographer, social media star Matt Mathews: Opossum taken by the state was his 'baby'. Animals are not seen as living creatures by our laws. They are seen as disposable assets unworthy of consideration. And usually it comes down to some stupid-ass bullshit about "God providing animals for man's use..." (or abuse, as the case may be). But if you took ten minutes to actually read the Bible, you'd find that it dictates that animals are indeed worthy of kindness and care. God rejoices in ALL that he created. How in the hell do you think that this somehow excludes animals? This is just more of the typical "pick-and-choose theology" that plagues us. And our government.

• HA! Apples response to the EU wanting to dictate a USB-C standard for all devices is a laugh riot: "We remain concerned that strict regulation mandating just one type of connector stifles innovation rather than encouraging it, which in turn will harm consumers in Europe and around the world." What a load of horse shit. They moved to USB-C for their laptops and iPads without any problem. Why the fuck is the iPhone any different? Oh... that's conveniently left out of the statement.

That's what it's all about...
Tags:
Apple
,
Bullet Sunday
,
Bullshit
,
Halloween
,
Movies
,
Ted Lasso
,
Television
,
The Internets
Categories:
Apple Stuff 2021
,
Bullet Sunday 2021
,
Internets 2021
,
Movies 2021
,
Television 2021
—
Click To It:
Permalink
—
2 Comments: Click To Add Yours!
Posted on September 27th, 2021

Well, I guess that work is done for the morning since my mouse ran out of battery and Apple has you charge the fucking thing from the bottom so it's no longer usable.
It's stupid shit like this... design over function... that has plagued Apple for decades. I never even got a warning that the thing was running low so I could charge it. What good is a "pretty" mouse if I can't fucking use the thing? I am so over this bullshit...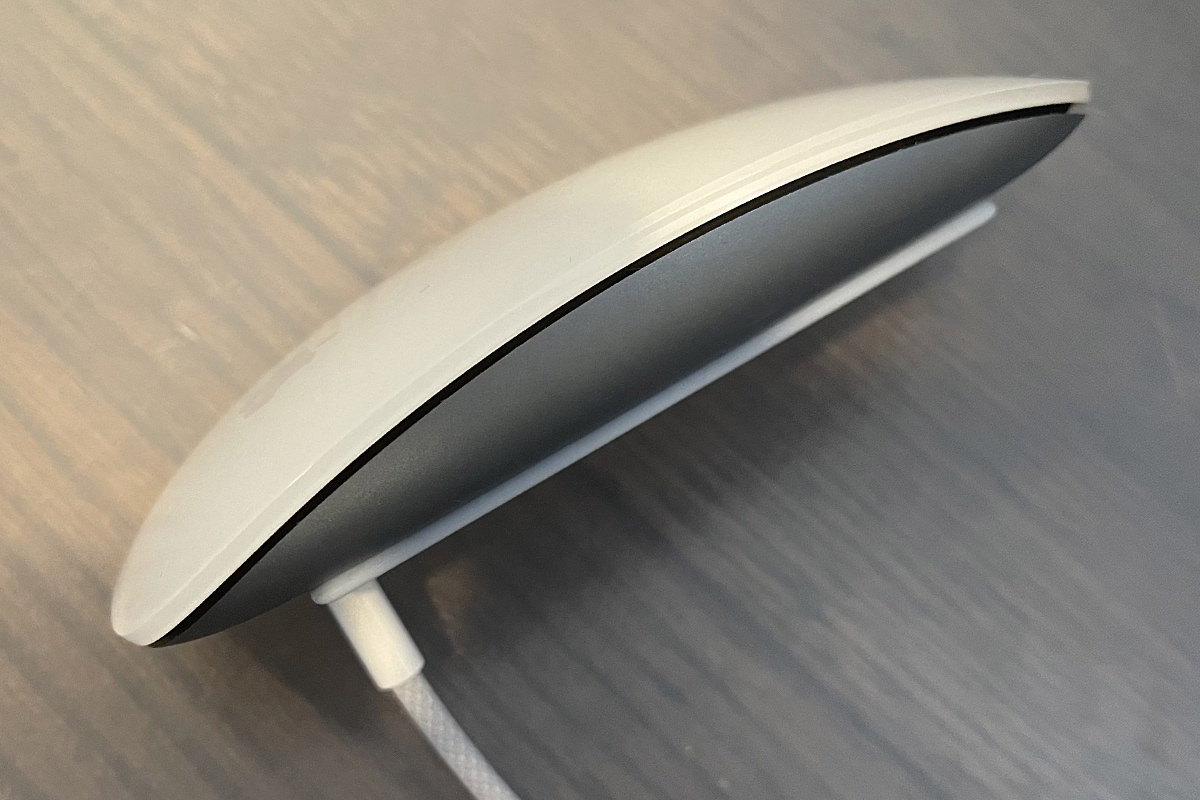 Apple should allow you to NOT order an Apple mouse and keyboard when you get a new computer so you can use the money to buy something that's actually fucking functional with the money. Or... here's an idea... OFFER NON-APPLE OPTIONS WHEN YOU ORDER YOUR FUCKING COMPUTER! Maybe when people stop opting for their idiotic crap Apple will get a fucking clue? Probably not. Jesus. This is a company worth BILLIONS.
All they had to do was have the Lightning plug be at the front edge so you can plug it in and use it like a corded mouse when it keeps charging. But Apple has it on the bottom for some stupid-ass reason that only they give a fuck about.
Lord how I wish that Windows wasn't a flaming pile of shit so I had a viable alternative to this Apple crap.
Posted on June 28th, 2021

DON'T EVER LET YOURSELF BE GASLIT.
Thank you so very, very much to the Progressive Insurance supervisor who pulled my Snapshot cancelation call WHERE I PAID THE $20 DISCOUNT REVERSAL TO THE AGENT BEFORE HANGING UP. I received a bill tonight... the only bill I received since canceling Snapshot. I didn't understand what it was for, so I went online to check. It was that Snapshot deduction reversal plus a $10 late fee. Ugh. I thought all this billing error crap would at least take a break after finally canceling AT&T!
So I contacted Progressive via chat to explain what happened. The chat agent did not give a fuck. Tried to tell me I had received multiple emails with the charge, so she wasn't going to waive the late fee (which I did not get, or I would have called just like I did with the one I received tonight). THEN I told the chat agent to pull my phone call. Told her that it was so memorable to me because the agent almost hung up before taking my payment and I had to stop him to give him my credit card. The chat agent said that pulling the call was not necessary because the payment wasn't made and this was all my fault. Essentially gaslighting me into believing that I imagined paying a bill just last month. I imagined not receiving the emails. Or, more likely, she believed I was lying.
Well screw that. So I called Progressive instead. I made the payment (sans late fee) and then asked to have my original phone call pulled. She transferred me to a supervisor who then pulled the call (apparently since I'm in Washington State they couldn't refuse to pull it even if they wanted to).
AND, YEP, IT ALL HAPPENED EXACTLY LIKE I REMEMBERED. EVERY DETAIL I PROVIDED WAS CORRECT. WE DID TALK ABOUT HIS HOME IN CLEVELAND. I DID HAVE TO REMIND THE GUY HE DIDN'T PROCESS MY PAYMENT. I DID GIVE HIM MY CREDIT CARD.
Yet they didn't believe me. Or didn't give a shit if they did believe me.
This is some huge bullshit right here.
But at least Progressive made it right in the end. They waived the late fee due to THEIR error. They pulled the call. They apologized. They confirmed that I'm not delusional and imagining things. I guess I can't really ask for more than that.
EXCEPT TO SAY... might want to try believing your fucking customers. I know that a lot of people are liars and scammers... but I asked for the call to be pulled. THAT'S how I was trying to prove that I WAS NOT a liar or a scammer. And yet the chat agent wanted none of it. Would rather make me think I'm an insane liar than value my concerns.
DON'T ALLOW THEM TO GASLIGHT YOU.
YOU ARE WORTH MORE THAN THAT.
YOU ALWAYS HAVE BEEN.
And it turns out those calls actually ARE recorded for your protection. At least mine was. The protection of my sanity.
UPDATE: And it gets worse.
Today is Tuesday, June 29th. The day after I just had to go through all this crap. I receive an alert on my phone from the Progressive app that I owe $30 AGAIN. I click through to see what the issue is, and this is what I see...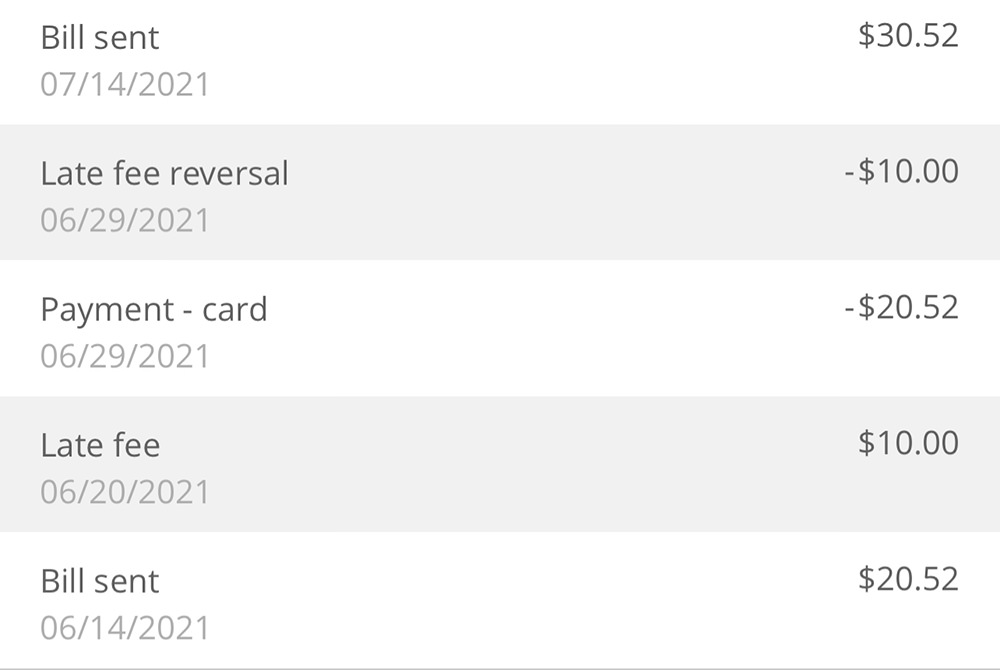 Well, that's interesting. You sent me a bill... IN THE FUTURE?!?
So I call. Again.
I get gaslit. Again.
I explained calmly that I just received a future bill dated July 14th, 2021 on the Progressive app for something I just resolved last night. Only to basically be told that they don't see it. That it was dated yesterday. That no bill exists. I need to read the bill again. So I get upset. I DO HAVE A BILL. IT DOES SAY IT WAS SENT ON JULY 14th, 2021. Then they start telling me to calm down that I don't owe anything. Says I'm yelling at them when I'm definitely not. Then I apologized and tried to explain that the reason I'm upset is because of what I went through last night and I'm being told I'm imagining something... AGAIN! Jesus Christ. The way Progressive treats their customers is just beyond horrible.
DOES THAT SCREENSHOT NOT SAY THAT A BILL WAS SENT ON JULY 14th?!?
"CALM DOWN! WE DIDN'T SEND YOU AN EMAIL! YOU NEED TO READ THE BILL!"
Well, as I said, it wasn't an email. It was an alert on the Progressive app. AND I AM LOOKING AT IT RIGHT NOW!
This is just... beyond abusive at this point. It's AT&T all over again. What is it about these companies that they can't handle their fucking billing? I am going to find a way to record ALL my phone calls with companies. Then I'm going to post the shit on social media because being called a delusional liar OVER SHIT THE COMPANY DID is getting so old.
Calm down? After what you just said to me?
How am I NOT supposed to get upset when your company continues to call me a delusional liar? Even when I have PROOF that I'm not imagining things and NOT a liar? When I have to keep contacting you and getting treated like shit FOR YOUR ERROR? When I have to get a supervisor to pull my call so you'll believe me? Do you honestly expect me to be Miss Mary Sunshine under these conditions? Unreal. Your company is just unreal. But I shouldn't be surprised. This is what companies do now-a-days. I'm just sad to learn that Progressive is the same as all the rest. Flo always seems so nice in those commercials.
Posted on March 25th, 2021

I bounce back and forth between wanting to know absolutely everything that's happening in the world today... and wanting desperately to know nothing about anything anywhere. But I couldn't live with myself if I turned an ignorant eye to all the crap that's happening, so I do my best to stay informed and wade through the sewage forced upon us by the bullshit media with their bullshit agendas.
Right before my birthday happened, the "big news" of the day was Vice President Kamala Harris not saluting the military detail for Air Force 2 as she walked onto her personal jet to go do... something... or whatever. People were beside themselves with rage over her blatant disrespect.
Except...
The President of the United States of America salutes our troops out of (relatively) recent tradition because he is COMMANDER IN CHIEF OF THE ARMED FORCES. And even then it's not required OR expected. The Vice President isn't in command of jack-shit when it comes to the military, so she doesn't salute them. She's just a civilian in public service.
And yet here comes shitloads of people throwing a fit about it.
Which is like being big mad because a grocery store clerk doesn't salute our troops, but okay.
Every damn day this country gets more ignorant and more idiotic because people are fucking sheep who don't even know why they're mad any more. Somebody on TV or the internet tells them to be outraged, so they get outraged. All people care about is whether the outrage fits the narrative they've been programmed with. Facts, evidence, experience, accuracy, and knowledge simply Do Not Matter.
And I don't know what else to say about it except "Well, have at it then. Keep on being that person who can't help but announce to the world how big of a dumbass they are." — Because what else can I say? There's no changing anybody's mind, and patiently explaining why Vice President Harris didn't salute the guys outside her fancy plane would make zero difference. They would still be outraged.
And can you imagine if she had saluted?
Then the outrage would be SHE'S NOT MILITARY! SHE'S NOT IN THE CHAIN OF COMMAND! HOW DARE SHE THINK SHE IS WORTHY OF SALUTING OUR BRAVE TROOPS! WHAT A DISRESPECTFUL PIECE OF SHIT!!!
Because that's what the outrage machine does. That's all they're good for, apparently.

Which brings me to this bit of genius from comedian Russell Brand, one of the foremost thinkers on the planet (whether you agree with him or not)...
"I mean in England we have a Queen for fuck's sake. A Queen! We have to call her things like 'Your Majesty!' Like she's all majestic... like an eagle or a mountain. She's just a person. A little old lady in a shiny hat — a shiny hat that WE paid for. Or 'Your Highness.' What the fuck is that?! What, she's high up above us at the top of a class pyramid on a shelf of money with her own face on it? We should be calling her Mrs Windsor. In fact that's not even her real name, they changed it in the war to distract us from the inconvenient fact that they were as German as the enemy that teenage boys were being encouraged, conscripted actually, to die fighting. Her actual name is Mrs. Saxe-Coburg-Gotha.
All this drama. All this outrage. All this hate. It's all built around mere humans that used to exist to serve us... but now exist to be worshipped by us. If you are a Republican you are required to worship at the altar of President Regan. If you are a Trump-Republican you are required to worship at the altar of President Trump. If you are a Democrat, then President Obama is your god... with President Biden as some kind of god-adjacent deity or something. And once you've been programmed with which god you'll be worshipping, you are expected to be blindly loyal to them... all while hating everybody's else's god... regardless of circumstance.* Which is how we get to "KAMALA HARRIS IS A DEMON IN LEAGUE WITH THE GREAT SATAN JOE BIDEN AND WE NEED TO BE OUTRAGED WHEN SHE DIDN'T SALUTE EVEN THOUGH SHE DOESN'T HAVE TO SALUTE BECAUSE THAT'S WHAT OUR GOD DEMANDS OF US! (as handed down from on high by Fox News, restrictions do not apply)"
And, I gotta tell you, I'm exhausted by it all.**
If only we could get back to a place where political leaders are public servants again.***
Though, if I'm being honest, I think we've gone too far down the rabbit hole to ever go back. It's going to be politicians as gods, mandatory blind worship, generated outrage, and hate on top of hate on top of hate, from here on out. Which is both sad and inexplicable, because I think if you sat people down individually and asked them if this is what they really want, their answer would be "no." But nobody has time for that conversation. They have to get back to being mad about somebody over something that somebody told them to be mad about.

*Which, coincidentally enough, is how world religions seem to work, but I digress.
**Not exhausted enough to pick a god, but still... I digress.
***Or, at the very least, aren't able to be bought by lobbyist payola... no more digressing.
Posted on January 10th, 2021

Free speech has consequences, which is nothing new to bloggers like me... because an all new Bullet Sunday starts... now...

• Colosseo! My mom's favorite landmark is the Roman Colosseum. She asked to visit it every trip we made to Rome which, I believe, was four times (it was a cruise stop twice and a trip stop twice). I'd ask her why she loved it so much and she'd say "I don't know... I just do." When I told her that maybe she was a gladiator in a previous life, she thought that was funny and started telling people that when showing this photo...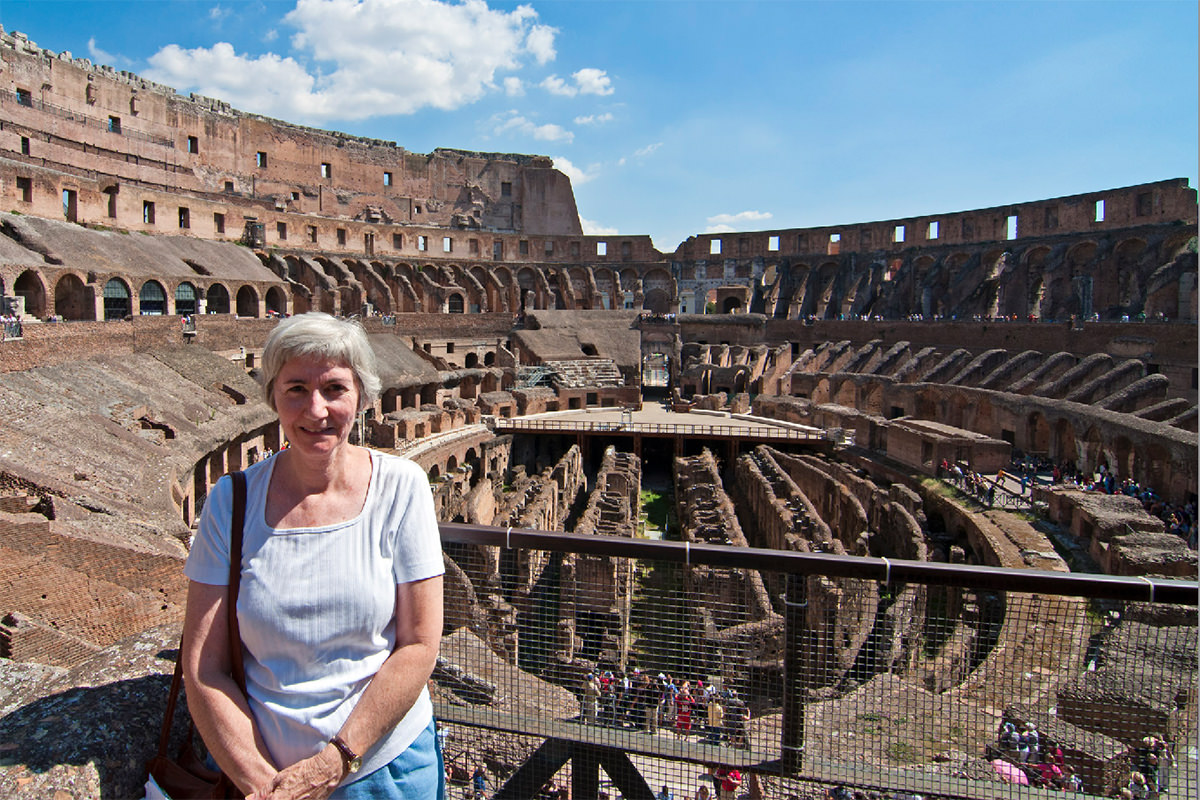 Because of this, I very much wish she was still alive, because Rome is renovating the Colosseum, and I think the idea of being able to stand on the floor of the Colosseum arena would be so thrilling to her that we would have definitely made a fifth trip once it was completed. This is really, really cool, and I'd love to be able to visit again. But it won't be the same without my mom there to share it.

• LEGO! I have to say... whomever works in LEGO advertising which came up with this ad for a "Make Your Own MiniFig" game apparently doesn't have the same filthy mind that I do, because, well...
Is that a hotdog in your pants, madam, or are you just happy to see me?

• PERFECT! I've watched this TikTok more times that I'd ever admit. It's hilarious because it's true...
Though I'd argue the point that this is how girls make coffee, because I see plenty of guys doing essentially this. And given my distaste for coffee, this would absolutely be me as well.

• Cute Gay Shit! TikTok is so much more than funny coffee memes. There is some genuinely touching stuff on there that gives me hope for all humanity...
And just KNOW that this gentleman gets lumped in with people he's condemning because of how he looks and talks. You know it. God bless you, sir.

• NEWSFLASH! FORBES: Close To A Worst-Case Scenario—Former CDC Director Issues 'Horrifying' Outlook For New Covid Strain. If your balls don't shrivel up after reading this, then you probably don't have balls. But you are alive if you're reading this, balls or no balls, which means you should be horrified that there are still people not taking this shit seriously. Protect yourself. Protect others. This has catastrophe written all over it.

• Specs? Apple is the most ridiculous fucking company. They want to make their products as simple to use as possible by taking all the "tech" out of everything. Which is fine. EXCEPT YOU CAN NEVER MANAGE TO GET ANY FUCKING SPECS FOR ANYTHING THEY SELL. Will this cable work for charging? I dunno. What is the maximum transfer rate for this cable? I dunno. Can I quick-charge with this cable? I dunno. What about the charger? I dunno. Can you at least tell me if it is USB-PD compliant? I dunno. They literally tell you NOTHING in their support docs or on anything in their entire store. — If you want to shield your customers from scary tech-speak, fine. But at least have the fucking information SOMEWHERE for the people who need to know this shit. Their solution for everything is to say "Well, if it doesn't work, you can always return it." Which is an astound attitude to take considering that it wastes my time and their resources, and I'm getting seriously tired of it.

• Apolitical! My existence right now:
REPUBLICANS: You're just a Democrat shill.
DEMOCRATS: You're just a Republican shill.
ME: I AM NEITHER A DEMOCRAT NOR A REPUBLICAN! I DON'T UNDERSTAND THE NEED TO WORSHIP POLITICIANS AND FALL IN LINE WITH A POLITICAL PARTY RUN BY WEALTHY ASSHOLES THAT ARE PROPPED UP BY WEALTHY CORPORATIONS WHO DON'T GIVE A SHIT ABOUT US! WHY CAN'T I JUST BE A NON-PARTY SHILL?! WHY DOES MY SHILLNESS HAVE TO BE ATTACKED LIKE THIS? I AM A SHILL FOR ALL HUMANITY! AND A SHILL FOR CATS! TOWANDAAAAAAA!!!
Because, like, how could you not be a shill for floofy bellies like dis?

Stay frosty out there, my friends.
Tags:
Apple
,
Bullet Sunday
,
Bullshit
,
Cats
,
COVID-19
,
LEGO
,
News
,
Pandemic
,
Politics
,
Rome
,
TikTok
,
Travel
Categories:
Apple Stuff 2021
,
Bullet Sunday 2021
,
Cats 2021
,
LEGO
,
News – Politics 2021
,
Travel 2021
—
Click To It:
Permalink
—
2 Comments: Click To Add Yours!
Posted on August 3rd, 2020


Oh... that time is now, isn't it?