Posted on June 15th, 2018

Okay. This has been a pretty shitty day for me, but there was one bright spot.
Over something I had almost given up hope on.
Something I wanted so badly.
NETFLIX HAS PICKED UP LUCIFER FOR A FOURTH SEASON!
I was upset when it was canceled.
I was doubly upset once I got around to watching the "bonus" episodes... the first of which is about as good as television gets.
So, THANK YOU NETFLIX, for rescuing one of the best shows on television! Cannot wait to see what Lucifer and Co. get up to next!
Posted on June 10th, 2018

It's been yet another week full of hypocrisy and evil, but it's all good, because an all-new Bullet Sunday starts now...

• Two! I loved everything about the first LEGO Movie... except the ending. When they dropped into "The Real World," everything fell apart for me. With this in mind, I have mixed feelings about the sequel...
Yes, I'm excited to see it. But can we please just stick in the world of LEGO and let Chris Pratt be hilarious? That would be great, thanks.

• No Reservations. There wasn't much I didn't like about Anthony Bourdain. He was responsible for some highly entertaining television. He was a world traveler and advocate for better understanding and acceptance between cultures. He used his celebrity to advocate for worthwhile causes and draw attention to injustices. He was an incredible guest on any talk show he dropped by. He was somebody I liked and admired, which is why his death has hit me so hard. You will be missed, sir.

• Darkness and Light! I was never a fan of the Cloak & Dagger comic books. They all had the same story. Cloak & Dagger hunt down drug dealers. Cloak goes a little crazy because he's hungry. Dagger feeds him a light sandwich. Lather, rinse, repeat. On occasion they team up with other heroes, but their baggage is always the same. And now Freeform TV has created a Cloak & Dagger television show...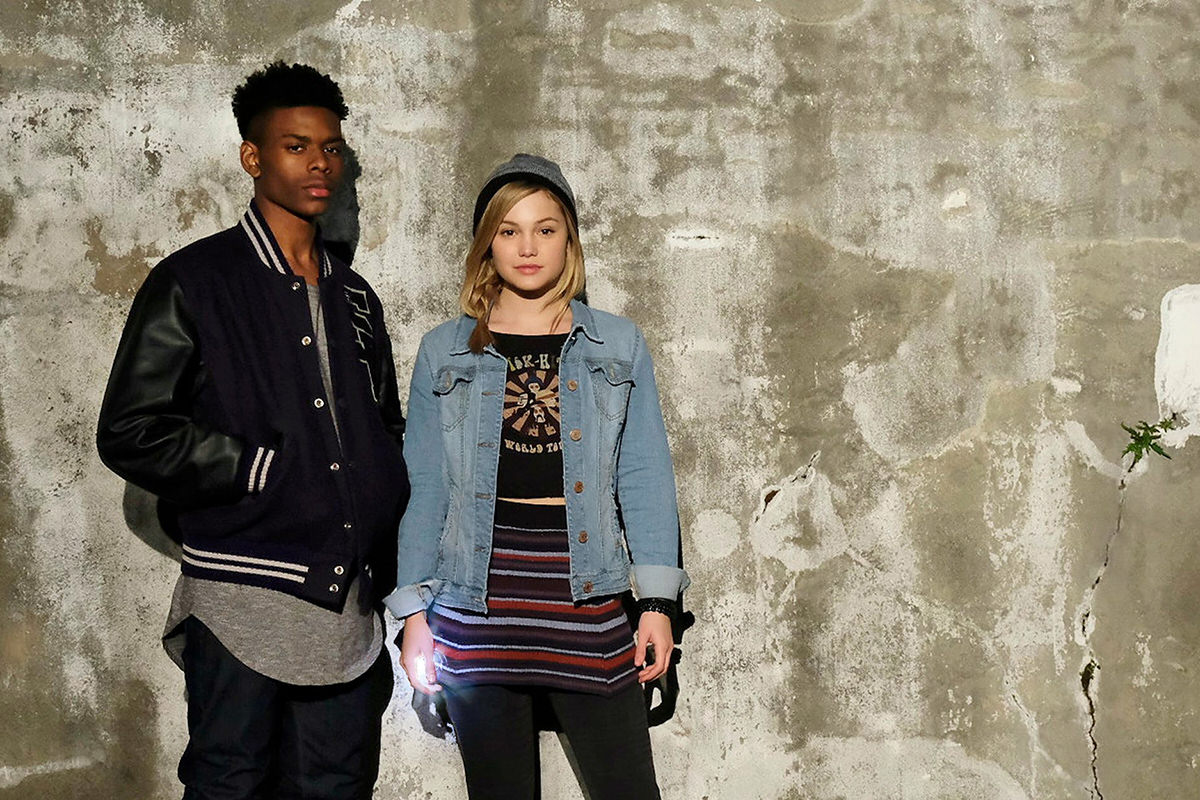 Now, I'm not saying that every super-hero show has to be packed with super-power fights... but there has to be something to make it interesting... otherwise it's just another boring TV drama I don't care about. And if the first two episodes of Cloak & Dagger are any indication, here's yet another boring TV drama I don't care about. Which is a shame, because the actors are very good.

• You! Other than an occasional song here and there, I haven't given much thought to Maroon 5 in years. But now they've dropped a new video for their song Girls Like You that's packed with more guest-stars than you can shake a stick at.
Not a bad song at all. And if you're having trouble putting a name to all the faces, here's a link for you. And, as much as I like it, this is not going to displace my favorite Maroon 5 video...
And if that's not enough Maroon 5 for you... here they are covering Bob Marley's Three Little Birds...
'Cause every little thing gonna be alright.

• NEWS: With deal to close this week, Bayer to retire Monsanto name
Well of course they are retiring the Monsanto name! Monsanto is fucking evil incarnate, and people were finally waking up to it. But now? Bayer is just the aspirin people! Evil + Evil = Bigger Evil.

• A Red Letter Day! As my final bullet of the day, I leave you with one of my favorite Pet Shop Boys songs that's woefully under-appreciated... and highly relevant to my life as of late...
Doesn't get much more Pet Shop Boys than that.

So long until next Bullet Sunday!
Tags:
Bullet Sunday
,
Comic Books
,
LEGO
,
Movies
,
Music
,
Pet Shop Boys
,
Television
,
Travel
Categories:
Bullet Sunday 2018
,
Movies 2018
,
Music 2018
,
Television 2018
—
Click To It:
Permalink
—
2 Comments: Click To Add Yours!
Posted on June 3rd, 2018

Welp, my air conditioner has finally kicked in, so I guess that means summer is here... so I'm keeping it cool because an all-new Bullet Sunday starts now...

• Villains! It's no secret that I love the entire catalog of LEGO video games. They're not particularly challenging, but that's the appeal for me. I can shut my brain off and just enjoy things without stressing over it all. And now? DC Super-Villains...
So great. What's not so great? I don't have a system to play it on. Looks like a Nintendo Switch might be in my future. Once they drop to a price I can afford, that is.

• Goodbye to Film! Nikon stopped making film cameras back in 2006. Now Canon is Officially Done Selling Film Cameras After 80 Years. I honestly don't know how to feel about the death of film. My first "serious" camera was a Canon film camera that my parents gave me as a graduation present. I loved the thing, and was still shooting with it as early as five years ago. What I love about film is the mystery of it all. You don't know what you're going to get. Even if you THINK you know what you're going to get, there's a chemical reaction taking place that can make surprising things happen. Not that I am sad that the world went digital. On the contrary, it has made photography so much more enjoyable for me specifically because the mystery is gone. I know whether or not I got the shot immediately after taking it. And I don't have the expense of film and developing it keeping me from experimenting with new things. I can shoot hundreds of photos, delete all but the ones I want, then shoot hundreds more at no additional expense. And yet... the end of film is an end to an era which was some of the best entertainment I had for nearly two decades of my life.

• Flop! My television is on HGTV (Home and Garden Television) 90% of the time, and I watch all the home renovation shows. One of those that became almost too annoying for its own good was Flip or Flop. A show which imploded when its stars had an epic tabloid-worthy breakup that resulted in divorce. Now, a year later, they're back...
This past week the first new episode since their split finally aired. It was cringe-inducing awkward... but more entertaining than the show has been in years. And so... I guess I'm going to keep watching. But I fully plan on hating myself while doing so.

• Older! As I tear apart my garage to make room for my wood shop, I'm running across all kinds of interesting items from my past. Like my old Walkman!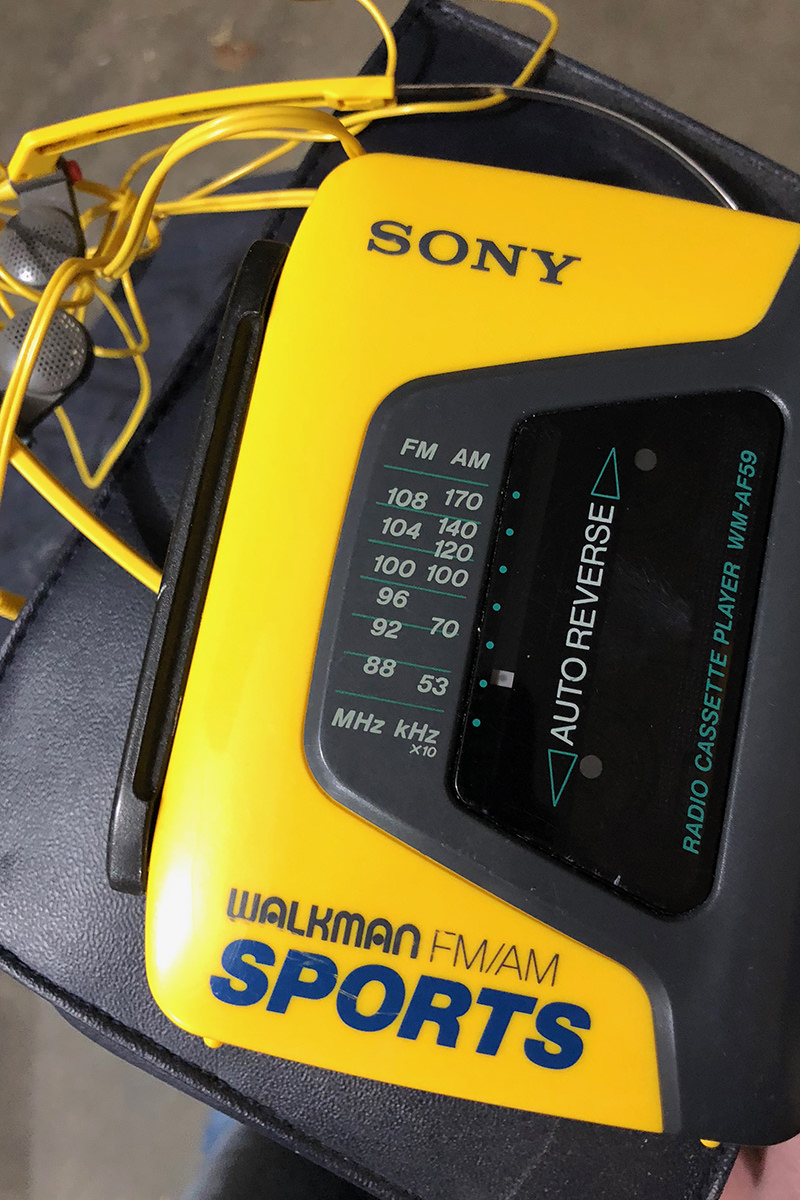 And also? Rubylith masking film. Something I used by the car-load during the early days of graphic design layout. The mask was sticky and attached to a clear acetate layer, so you could create masks that can be stacked up...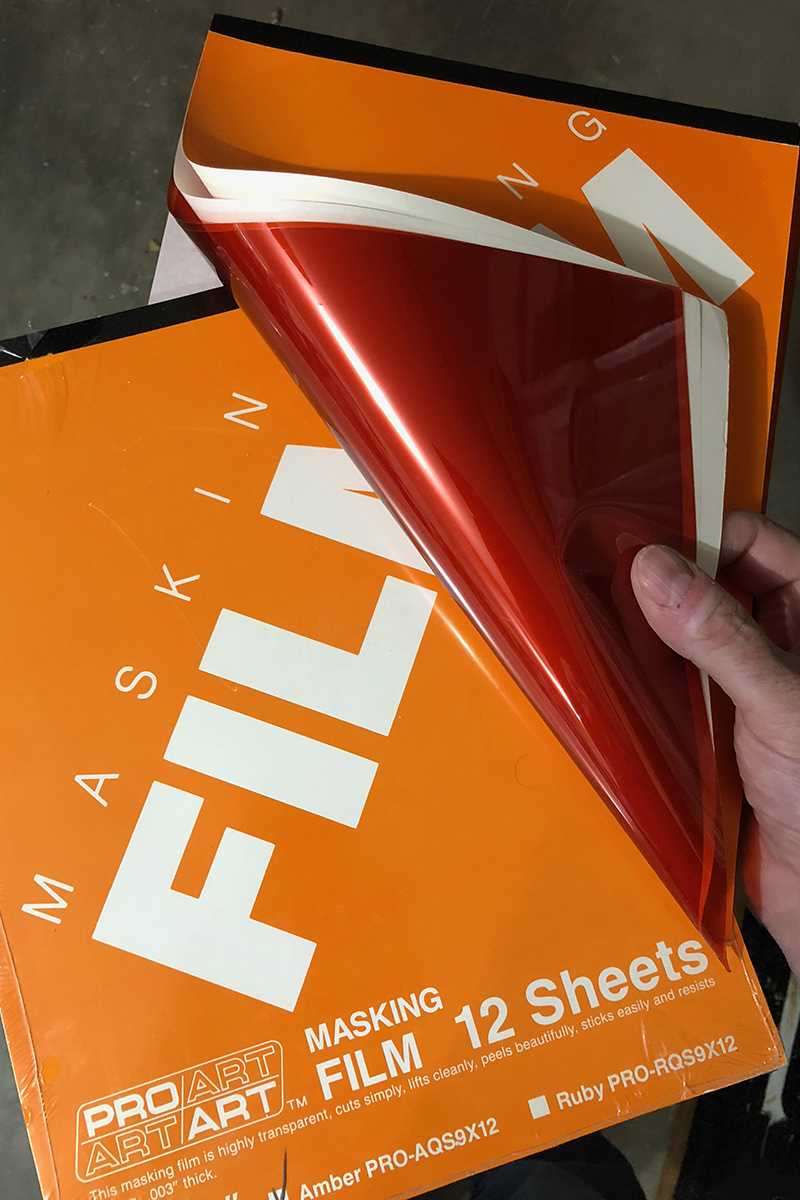 Ah memories. But I wouldn't change music on my iPhone or computer layout for all the Walkmans and Rubylith in the world.

• Villains! As I started cleaning out my refrigerator, I found six... SIX... containers of mayonnaise open...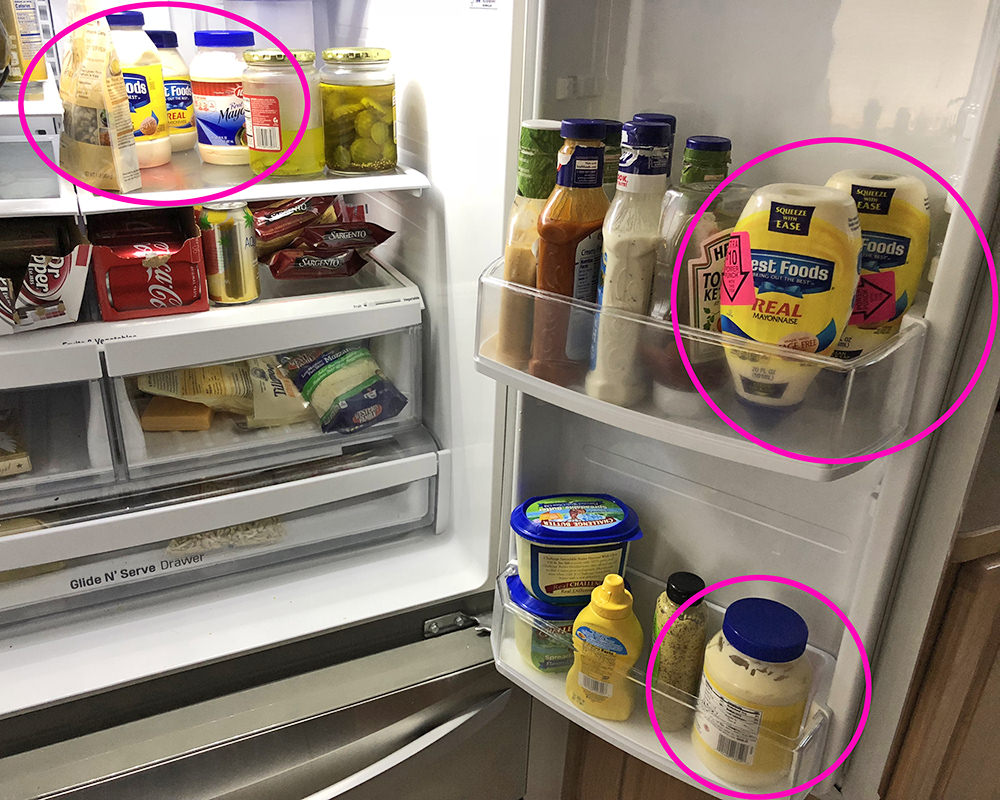 WHY?!?? HOW?!?? There are times that I think I might be bat-shit crazy. This is one of those times.

• Faith! Reelz, who has been churning out a steady stream of really good TV shows about tragic music stars, recently came out with new shows on George Michael, including their George Michael's Lonely Life which was quite good. And reminded me about when George appeared with James Cordon for the first Carpool Karaoke, and James' reaction to his death...
Still sad that George is gone. His music at the end was every bit as interesting as when it began, and I was looking forward to more of it.
Posted on May 21st, 2018

And it would seem that the television networks are starting to whore out promos for the upcoming Fall season. Given my love of television, I'l a little excited about that. Given how bad most new television shows end up being, that excitement is tempered by caution. Let's take a look at what I've seen so far, shall we?

I'M ONBOARD...

WHISKEY CAVALIER
If this didn't have Scott Foley and a comedic edge, it would be a hard pass. But it stars Scott Foley and has a comedic edge, so...
This will either bring it all together... or fail utterly as a MacGruber imitation that takes itself too seriously. I'm banking on the former.

MURPHY BROWN
I was a huge, huge, mega-huge fan of Murphy Brown and watched every episode they made. If ever there was a time that we needed her back, it's now...
A few thoughts...
The showrunners are wanting a three-week-to-air production schedule so the show can tackle current topics before they get buried. The only show faster than that is South Park, so good luck with that!
I was deeply saddened when Eldin left the show... and totally gutted when the actor who portrayed him (Robert Pastorelli) died. I am certain that there will be some kind of tribute to the beloved character, but it's not the same as having him there.
Murphy's son Avery is going to be a series regular, which is great. He was last played by Haley Joel Osment and will now be played by Jake McDorman, whom I loved to scary extremes in the television version of Limitless. He is perfect casting.
The status of Jim Dial (Charles Kimbrough) seems to be up-in-the-air. I've read that he's not appearing. I've read he will do a cameo guest spot. If his heart isn't in it, then this is probably for the best. But, boy, I was sure hoping for more Jim Dial.

FRIENDED BY GOD
Usually, a show with this premise would cause me to roll my eyes so hard that I'd suffer a brain hemorrhage. But this actually looks pretty good...
Ironically, this show is very much in the vein of Kevin (Probably) Saves the World, which was cancelled... and has an overt faith reference in the vein of Living Biblically, which was also canceled. Doesn't bode well for the show making it past a single season, but maybe it will find an audience that the other shows never did.

THE ROOKIE
I can't fault the idea of putting Nathan Fillion in another show lead... as Firefly and Castle proved beyond a shadow of a doubt, the guy knows how to carry a show... but I question the concept with this one...
Older small-town guy moves to L.A. to be a rookie cop? Alrighty then. I'm counting on Fillion's undeniable screen presence carrying this one through, because that's what he does.

I FEEL BAD
This could be awful. It's probably awful. But if the actual show is as good as this preview, I'll absolutely be tuning in...
Fingers crossed, because the lack of interesting-looking comedies this coming season is a bit depressing.

WORTH A SHOT...

MAGNUM, P.I.
When revisiting a past show, there are a number of choices. The three most popular are A) Pick up with the same cast at a later time... B) Pick up with a new cast that has unfolded out of the old cast... or C) Completely reboot the entire show with new actors in old roles. Unfortunately for all of us, Magnum has gone with Option C, which is a truly awful decision (as the MacGyver reboot will confirm). Yes, it can be done well (though technically Star Trek is an alternate timeline it is effectively a reboot, and done very well), most of the time it just isn't. Especially when you're trying to replace the insanely charismatic and quirky Tom Selleck in the lead...
Why couldn't they have just made the guy Magnum's son or something? That way Selleck could appear in a couple episodes (like Leonard Nimoy did in Star Trek) to at least try to keep some continuity between series. The only bright spot is that they got Zachary Knighton to play Rick, which is something. I'm not holding out much hope, but I am hoping.

THE NEIGHBORHOOD
The premise didn't do anything for me, but the casting of Cedric The Entertainer and Josh Lawson had me curious to see how this was going to play out. But then they replaced a perfectly-cast Josh Lawson (shown in the footage below) with a woefully-miscast Max Greenfield (FRICKIN' SCHMIDT FROM New Girl?!?) and that all went out the window...
I just don't get it. Lawson had that role down. Anything Greenfield does with it is just going to be an imitation of better casting, so I don't even know what to think.

MANIFEST
Oh good Lord... it's a mashup of The 4400, The Crossing, and a half-dozen other "mysterious return" shows we've seen to death already...
What will make it either work or not work is whether the "mystery" is compelling and sustainable. I am not holding out much hope for that, but I'll tune in to see how they approach it. If it's unique enough, I might give it a try for a while.

FBI
ABC canceled Deception, a show about a magician working with the FBI, while CBS picks up a show that's just the plain old FBI. How this is supposed to stand out from everything else on television is beyond me...
I give this practically zero chance of survival, but I'll give it a chance just in case.

NEW AMSTERDAM
I was disappointed to find out that this was not, in fact, a revival of the excellent 2008 series of the same name starring Nikolaj Coster-Waldau, but instead YET ANOTHER HOSPITAL DRAMA starring Ryan Eggold (formerly from The Blacklist). Where this will ultimately fail for me is the over-the-top-self-masturbatory-level of drama that always makes medical dramas like this (and the horrendously bad The Resident) fail utterly...
I mean, it's not my imagination... this IS yet another iteration of The Resident, right? Because I hate-hate-hate that show.

THE COOL KIDS
I like every single cast member in this show. But is it funny? Not from what I'm seeing in the pilot...
There's certainly the talent there to pull it together, but it's forced-funny and I don't know if talent will be enough.

A MILLION LITTLE THINGS
Well, here it is... the whole "Dump Beloved Actors in a New Show and Roll the Dice" show we get every season that never lasts...
The guys in question are James Roday from Psych, Ron Livingston from Office Space, David Giuntoli from Grimm, and Romany Malco from Weeds. I actually like the cast, it's just that there's nothing here which even remotely appeals to me story-wise. And yet... that casting.

THE PASSAGE
If it weren't Ridley Scott, I'd stumble right past this. But... Ridley Scott... and the kid looks like she can act, so maybe...
The thing that concerns me about this is the sustainability of the story. I mean, I guess it's feasible that no other kid can replace this one... but that's awfully thin. I'll spend a lot of time thinking "NOT WORTH IT! JUST FIND ANOTHER KID!"

ABBY'S
There is literally nothing about this show that compels me to tune in... except... Mike Shur. So consider me compelled.

TITANS
Yet another DC Comics show... this time based on their Teen Titans franchise. If it's as good as Supergirl? Great. If it's doomed to whither away like Arrow did or The Flash is doing, I guess that's okay. But if we're getting something as lame as Legends of Tomorrow? Don't bother.

CLOAK AND DAGGER
A Marvel Studios show that's not on Netflix nor ABC, which is cause for concern... but not panic. I was never a big fan of the comics, but I'll say hello just to see.

ALSO ON THE WAY, BUT NO WAY...

GRAND HOTEL
Bitchy catfighting and sleeping around in a sexy hotel setting. How original. Unfortunately, it looks near-embarrassing to me, but that could be that it's just not my cup of tea. The saving grace may be the Miami Beach location, but I don't know if that's enough to get me tuning in. Probably not.

FAM
Despite Sheryl Lee Ralph having a spot, this doesn't look to be even a little entertaining. Hasn't this kind of thing been done to death and canceled to death already?

THE RED LINE
I don't know how many damn "Chicago" shows we need with Chicago Med, Chicago PD, and Chicago Fire already crowding the airwaves... but here's more of the same, for those who need it. The difference being that Ana DuVernay and Greg Berlanti are behind it.

THE CODE
Apparently an effort to resurrect JAG by CBS. Oh thank heavens. You can never have enough legal dramas on television.

SCHOOLED
A spin-off of a show I don't watch (The Goldbergs) which I won't watch.

ALL AMERICAN
Oh Lord. The Fresh Prince meets Friday Night Lights in a show that thinks it can be taken seriously. PASS.

THE VILLAGE
A building filled with forced-drama. What's not to hate?

THE KIDS ARE ALRIGHT
Oh joy. That 70's Show but with Irish Catholics. Hold my Guinness.

SINGLE PARENTS
With Taran Killam in the lead, it might be worth a look... but the idea of watching 30 minutes of single parent problems is nigh suicide-inducing, so I'll probably pass.

CHARMED
Yeah... once was enough. Especially since I didn't even like the first one.

THE FIX
Wait... what? A thinly-veiled copy of the OJ Simpson trial? BUT WHYYYYY?!??

THE INBETWEEN
As if there wasn't enough stale television coming up, here's a mashup between Medium and The Ghost Whisperer! This bores the shit out of me and I haven't even seen a preview.

THE ENEMY WITHIN
A blatant rip-off of The Blacklist that doesn't even try. So I won't either.

REL
Now, I am 100% onboard with Lil' Rel getting a TV show, but this? I can't even wrap my head around how bad the trailer is.

PROVEN INNOCENT
Oh hooray. Yet another legal drama with absolutely nothing going for it, even though it photocopies the concept of the fantastic Life by having it feature a former wrongly-convicted lead. Gag.

HAPPY TOGETHER
There's reaching for a concept and then there's this hot mess. If you've ever wondered what it would be like to have Justin Bieber move into your house, I guess this is for you.
Posted on May 13th, 2018

Mother's Day isn't the only good thing to happen today... because an all new Bullet Sunday starts... now...

• Wubba Lubba Dub Dub! Looks like we're getting another 70 episodes of Rick & Morty!
My cat Jenny will be thrilled. Don't ask me why, but she loves the show. I think it has to do with Rick's voice, because if I'm watching and turn the television up, she'll come running to see what's happening. It sounds crazy, but I shit you not. She likes watching television, but she loves the Rick & Morty...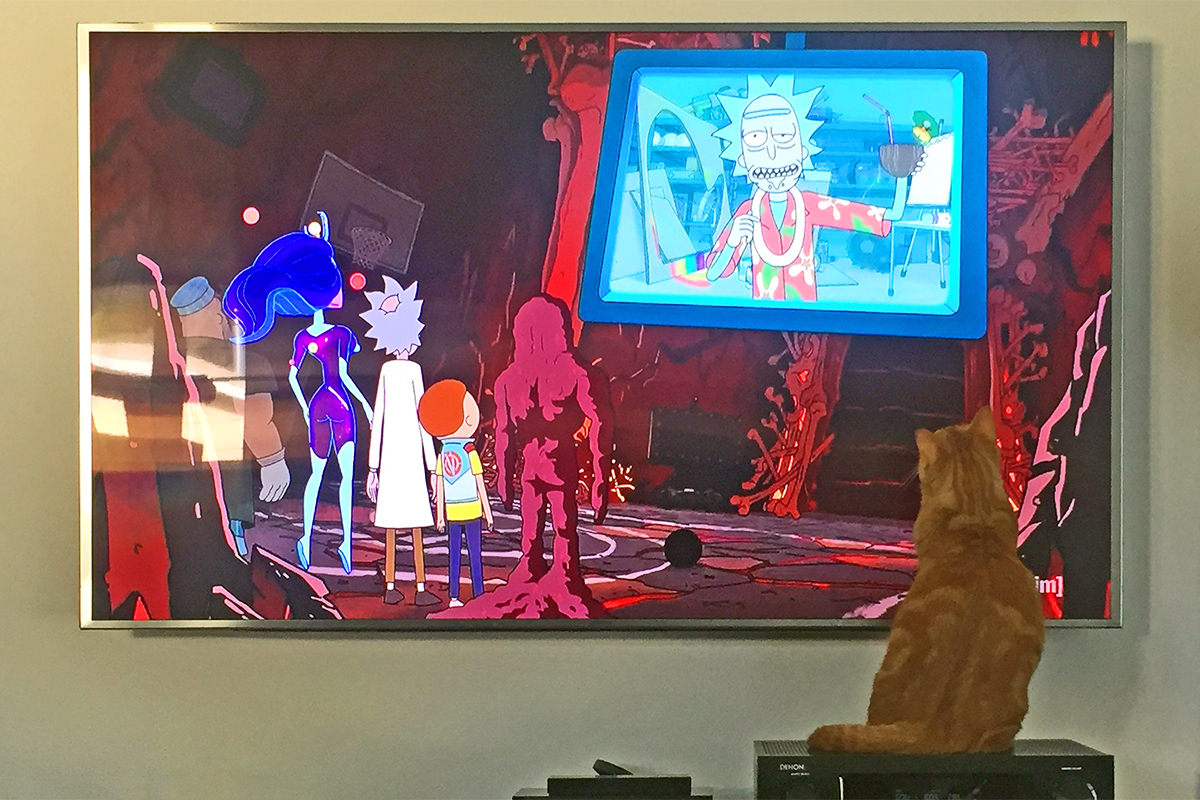 Not bad for a Back to the Future parody.

• Satan! FOX went on a brutal cancelation spree, axing shows that I really enjoy like The Last Man on Earth, The Mick, Reno Nine-Nine and, horror of horrors, one of my favorite shows ever... Lucifer.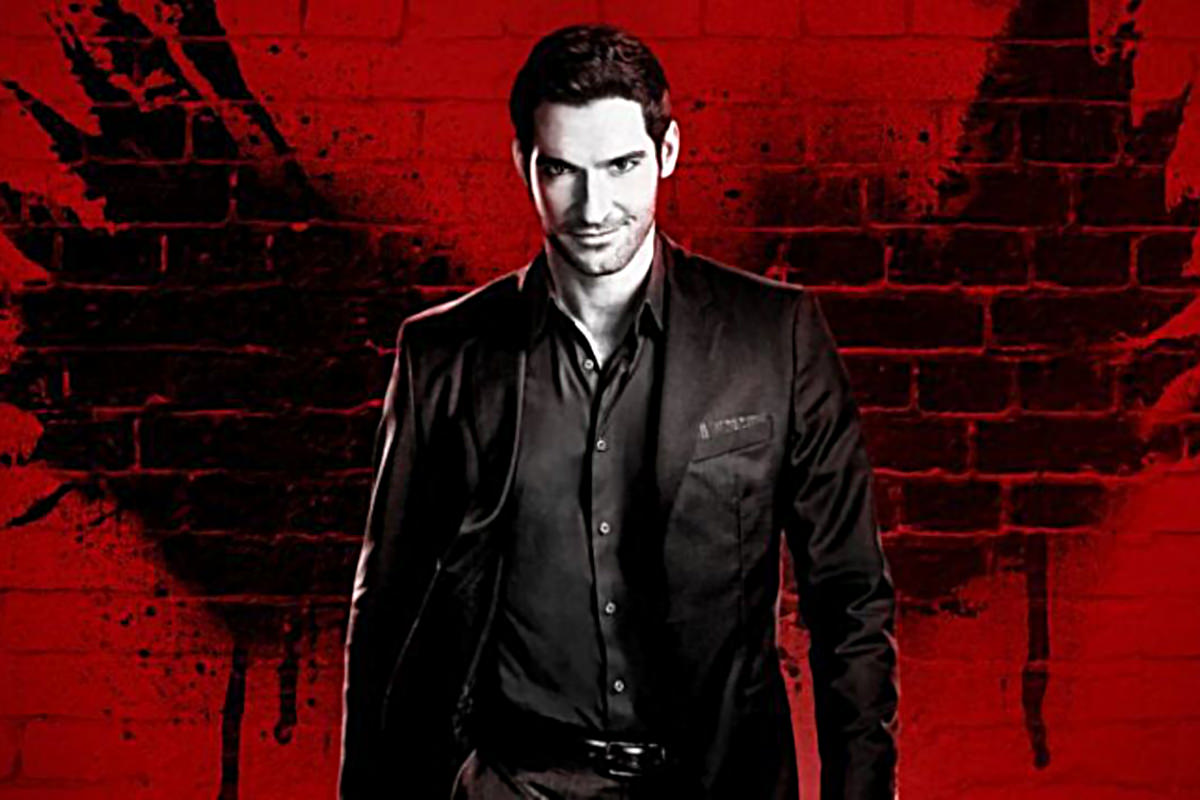 Apparently Reno Nine-Nine has been saved by NBC, which isn't much of a surprise since the show is distributed by NBC. Lucifer is co-produced and distributed by Warner Brothers, but their network blew up back in 2006. No idea where it would find a home unless one of the streaming networks like Amazon, Hulu, or Netflix grabs it. Which would sure as hell be nice, since they could wrap up the show and give us a proper ending. No word yet on what the fate will be for Champions and L.A. to Vegas... two more shows I would be sad to lose.

• Challenge! Ariana Grande has always been an incredibly good sport when it comes to putting up with Jimmy's shenanigans, and has played numerous "challenge" games with him on The Tonight Show. And now there's this...
Now that's talent.

• Adventure! Every once in a while I see an image posted of what video game graphics look like now compared to what they looked like when I first played video games. It just keeps getting more and more insane...

Posted by marvinrabbit on imgur.
Video games are more like playing a movie than ever, and I'm not sure if that's a good thing or a bad thing. Back when my gaming experience was an Atari 2600, it was just a distraction that couldn't compare with Real Life...
But now that gaming is, in some ways, better than Real Life? Hmmmm...

• Try Evil! According to The Wall Street Journal, Apple is going to partner up with the pig-fuckers at Goldman Sachs to come out with their own branded credit card. Looks like Apple has completely given up and decided to go 100% evil. Since the WSJ is behind a pay-wall (deep eye-roll), here's the story at Fortune magazine.

• Health! I'm just going to finish my bullets by leaving this right here: The incredibly frustrating reason there's no Lyme disease vaccine.

So long, Sunday... I got a P!NK concert coming up.
Posted on April 22nd, 2018

No time for me to wallow in being sick... because a brand new Bullet Sunday starts... now...

• Earther! Oh look... it's Earth Day! Happy Earth Day, everybody!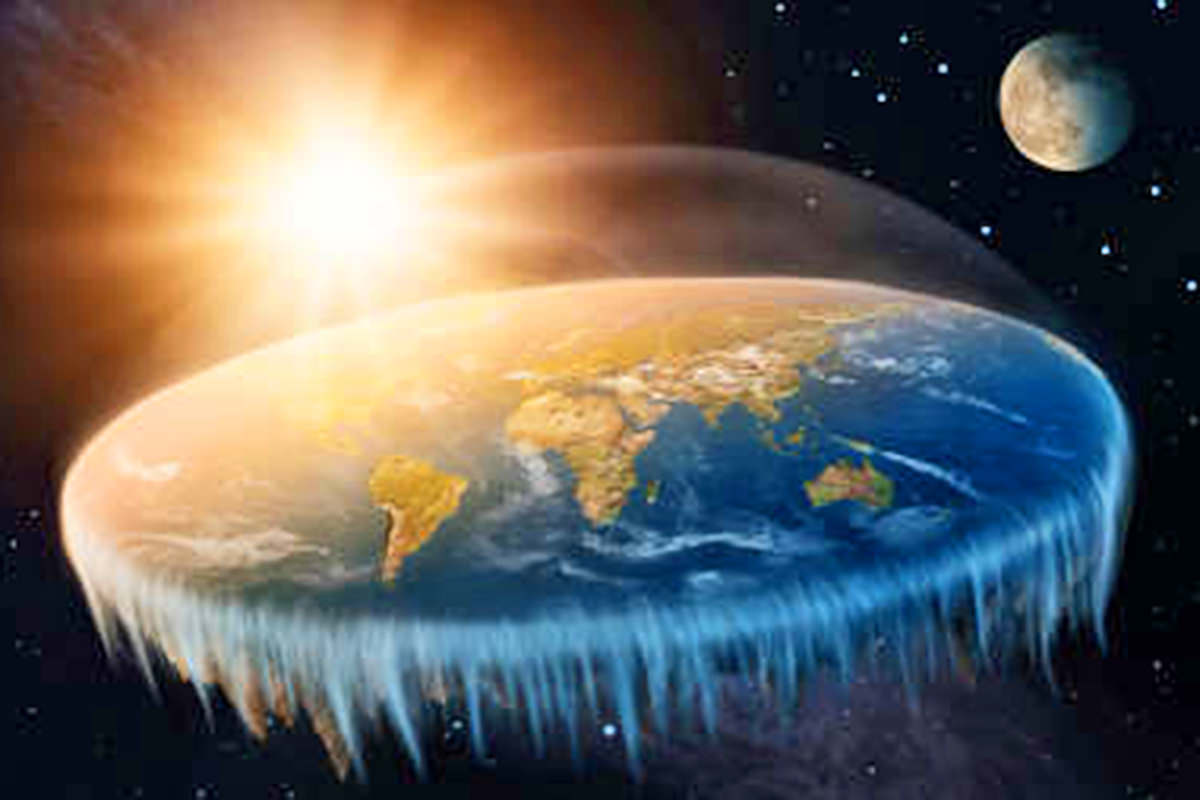 Still makes me laugh.

• Westworld 2.0! When it comes to surprises, Westworld would certainly be up there. The first season was complex and satisfying in a way I never thought it would be. Now we've arrived at the second season, and it would seem as though we'll be getting more of the same...
The weirdest thing about this new run is that the "hosts" which garnered sympathies in the first season are just as bad as the humans now. They are blazing a path of death and destruction that gives no quarter to anyone, and it will be interesting to see exactly how invested viewers can be with that. Time will tell.

• Mon-El! One of my favorite comic books from my youth was The Legion of Super-Heroes. A key member of that super-team is Mon-El, whom is currently appearing in the Supergirl television series. Yes, they've managed to screw it all up... Mon-El is married to Saturn Girl instead of dating Shawdow Lass, and Saturn Girl's husband Lightning Lad is nowhere to be found... but it's still been fun seeing him on television. I was confident that they would eventually have him "suit-up" but was disappointed with how they decided to do it...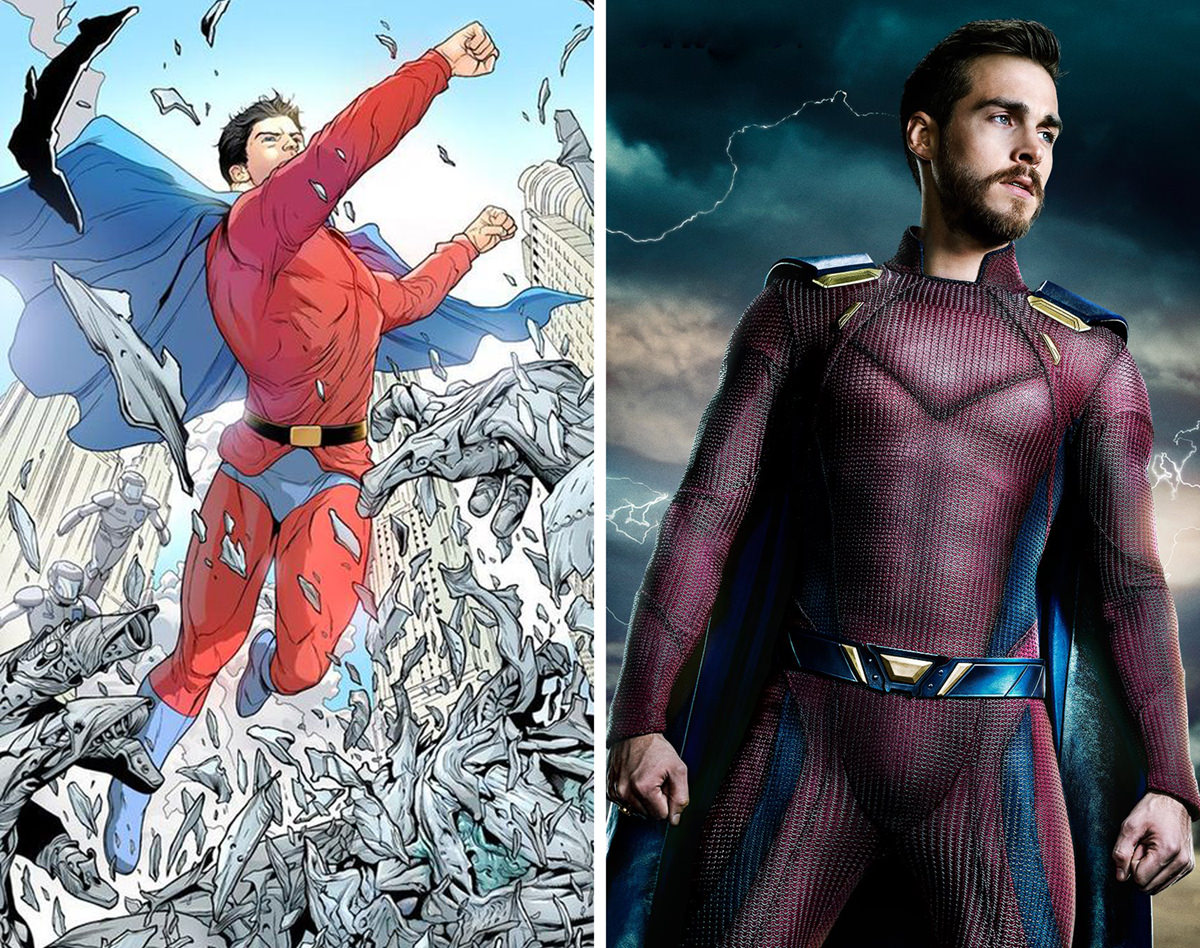 The thing that always made Mon-El's costume interesting and unique was that he wore a kind of coat that went under his belt. They've done away with it, so now Mon-Ell just looks like dozens of other super-heroes. Boring. I mean, I know that concessions have to be made when translating from comic book to real life, but surely they could have done something to harken back to the source material.

• Danger Island! Everybody ready for new Archer this coming Wednesday?
After this, there's only one more season left. Which is really hard for me to wrap my head around. It just keeps getting better and better... why stop? Especially since there's no telling when we'll get new Rick and Morty.

• Le Google! And so... apparently Google has killed their /ncr (No Country Redirect) feature, meaning that there is apparently no way to get Google searches for USA English outside of the USA now. This sucks, but is hardly surprising. Companies like Google, Apple, Microsoft, and the rest simply Do Not Give A Fuck about their users now. It's all about how to wring money out of them, not service their needs. So great. Now when I travel to foreign countries, I guess I have to learn a foreign language. This time around I couldn't even get a VPN to get me pages in English. Oh well. Time to search for a new search engine?

• Oh! Sandra Oh is remarkably talented. Sandra Oh fully deserves to head a show. Sandra Oh is incredible in Killing Eve...
"One thing I will share with you—when I got the script for Killing Eve, I remember I was walking around in Brooklyn and I was on my phone with my agent, Nancy. I was quickly scrolling down the script, and I can't really tell you what I was looking for. So I'm like, 'So Nancy, I don't understand, what's the part?' And Nancy goes 'Sweetheart, it's Eve, it's Eve.' In that moment, I did not assume the offer was for Eve. I think about that moment a lot," Oh told Vulture reporter E. Alex Jung. "It's like, how does racism define your work? Oh my goodness, I didn't even assume when being offered something that I would be one of the central storytellers. Why? And this is me talking, right? After being told to see things a certain way for decades, you realize, 'Oh my god! They brainwashed me!' I was brainwashed! So that was a revelation to me."
Thank heavens attitudes are changing... just not fast enough.

No more bullets. Time for me to carry on being sick.
Posted on April 9th, 2018

Today is a busy day because I am off for vacation starting tomorrow. In an effort to save time so I can pack and clean house before tearing out of here, I thought I would cut-and-paste a ranking of my top-five episodes from each Star Trek series that I had made last week. A fellow fan and I were discussing the merits (or lack thereof) of all things Trek, and this is how we let each other know exactly What Kind of Star Trek Fan We Are. Because, let's face it, wars have been started over this kind of thing.
But then I decided to rank the series themselves.
Then I decided to write my thoughts on each series.
Then I had to go back through my lists and question some of my choices.
Next thing I know, a half hour has passed, and my entire reason for this entry have all come crashing down. I spent more time making a blog post out of something that I would have been much better off starting from nothing. Cat photos take hardly any time at all.
But anyway... here we go, starting with my ranking of all the series best-to-worst...
Star Trek: The Original Series
Star Trek: Discovery
Star Trek: The Next Generation
Star Trek: Enterprise
Star Trek: Deep Space 9
Star Trek: Voyager

And here are my top-five episodes within each, in series order...

Star Trek
The first Trek is undeniably the best Trek with strong stories that hold up even to this day. That they managed to make it look so good given the effects technology at the time is just icing on the cake. Yes, the acting was less than subtle, but there's no denying that the cast was a magical combination that sustained the franchise well past cancelation. If there's a grievous fault in the series, it would be almost the entirety of the third and final season, which saw budgets slashed and shitty stories like And the Children Shall Lead taking a steaming dump on the sublime excellence of the first two seasons. No spin-off even comes close to how imaginative and revolutionary a show Star Trek was, is, and will always be.
Mirror, Mirror
The City on the Edge of Forever
Space Seed
Balance of Terror
Assignment Earth

Star Trek: The Next Generation
Gene Roddenberry's bizarre edict that the future was perfect, everybody on The Enterprise was buddy-buddy, and all internal conflict on the ship was to be purged, made for a bland return to a once-great show. I was on vacation in Maui when the premiere debuted. But I was such a Trek fan that I gave up precious time in paradise to watch the first episode. It was so heinously boring and shitty... from the story to the sets to the effects to the costumes to (some) of the acting... that I was mired in shock and disbelief. How in the hell did anybody making the show thing this was Star Trek? Not to say it was all crap. Things improved after the first season and some true gems were to be found amongst the ruins... but, yeah, it was mostly crap. Though it wasn't the crappiest thing to come out of Star Trek. Not by a long shot.
The Inner Light
Darmok
Yesterday's Enterprise
The Best of Both Worlds
Remember Me -tie- The Ensigns of Command

Star Trek: Deep Space Nine
Despite having the series elevated by the amazing talents of Avery Brooks in the lead (ZOMG! It's Hawk!), this low-rent Trek knock-off was absurd to new extremes. Made infamous for Odo being the shape-changing alien that never changed shape, everything seemed to be done on the cheap. They blew their budgetary wad on the Deep Space Nine space station set, then had no money to go anywhere interesting, do anything interesting, or see anything interesting. They tried to compensate with the whole Bajoran/Cardassian conflict, but it was poorly handled and came across as false drama. The religious angle with the "Prophets" was boring in ways Next Generation could only dream about, and things were off to a bad start from the beginning because of it. Eventually even the people running the show realized what a turd they had crapped out, and added a ship (The USS Defiant) so they could go places... and fan-favorite character Worf... but it was too late. All that had come before had mired the show in mediocrity, and precious few episodes managed to escape it. But when they did manage to escape it, the series showed such amazing promise. A glimpse at what could have been. Unfortunately it was too rare an event to make me care about the show, because they always went crawling back to what made it suck.
The Visitor
Trials and Tribble-ations
Far Beyond the Stars
Little Green Men
Second Skin

Star Trek: Voyager
Holy shit where do I even start? Because I am having a tough time finding the words to express just how much I hated this show. Hated it. There were elements I liked... in particular Robert Picardo as The Doctor and Tim Russ as Tuvok. And eventually we got Jeri Ryan as the Borg's "Seven of Nine" which was another coup. But that wasn't even remotely enough to salvage what a mess things were. First of all... the entire concept of the show was to remove "Star Trek" from everything "Star Trek" so writers could throw out the rules and let their imaginations run wild. A crew formed from conflict! No support system! Limited resources! Life on Voyager was to be a brutal struggle for survival in a strange and hostile universe far, far from home. But we never got that! Well, we rarely got that. What we got was yet another Next Generation retread that didn't even come close to the standards set by Next Generation (such as they were). As if that weren't shitty enough, "button-pushing action" was elevated to new heights. A conflict arises. Buttons are pushed to solve it. All while the "EPS conduits" are failing and the plasma is rerouted. Over and over and over and over again. I barely watched the show, but ended up binging on DVD rentals after everything ended so I could fast-forward through the boring crap. Which is to say I was fast-forwarding most of the time. The fact that I couldn't even manage to think of five episodes I liked well enough to list speaks volumes. It was all Oh... I remember that one with Sarah Silverman! and Oh... that episode with the rapid-evolving civilization was good enough that "The Orville" ripped it off!" Give me a break.
Blink of an Eye
Year of Hell
Future's End

Star Trek: Enterprise
It was a good concept. Go back to all the newness and exploration of the unknown that made Star Trek so amazing by setting a show before Star Trek existed. Then get a big name like Scott Bakula to star in it. Then spend the money needed to make the show actually look great. It would be different. It would build pre-continuity continuity for the original series. It would focus on all the things Star Trek fans love and jettison those things they didn't. It would be a love letter to everything Star Trek! That would be great, right? Well, it sure could have been. Except some genius decided to mire the whole thing in the so-called "Temporal Cold War" which had death-grip on the show for three whole seasons. Sure, they were creative enough to escape it from time to time, but it pretty much killed what should have been an enjoyable outing. The fact that it never really paid off just added insult to injury. No surprise that my favorite episodes are ones that tried to side-step the restrictions that plagued the series.
Carbon Creek
In a Mirror, Darkly
Similitude
Twilight
Dear Doctor

Star Trek: Discovery
And here we are. The latest Star Trek spin-off that has divided fans and set the internet on fire. It seems most people either love it or hate it, though the reason they love it or hate it differ completely. I absolutely loved it. And the reason I loved it is because I felt it finally... finally... recaptured what I loved about the original series. At long last, we had actual Star Trek happening again! And yet there are people who hated it because they didn't feel it was Star Trek at all. And I get it. Honestly I do. It has many problems continuity-wise. It completely and utterly rejects Roddenberry's silly "no internal conflict" edict. There were inexplicably stupid changes made (WTF with the Klingons?). And some of the tech is just plain silly (spore drive?!?). But, as a die-hard fan of the original, I just didn't care about any of that because the "flavor" or what captured my imagination from the start was there. It also had some brilliant re-workings of some of Trek's best ideas. As if all that wasn't enough, the special effects and casting were choice. Sure the last two episodes fizzled, but the slow burn and massive payoff for everything before that was all I could want in a Star Trek show. I cannot wait to see what they come up with for their second season.
The Wolf Inside
Despite Yourself
Into the Forest I Go
Vaulting Ambition
Context is for Kings

Just for duck soup (and a need for completeness), here is my ranking of the Star Trek movies which I took from my blog post here (with details, if you need them!)...
Star Trek II: The Wrath of Khan
Star Trek IV: The Voyage Home
Star Trek
Star Trek VI: The Undiscovered Country
Star Trek Beyond
Star Trek: First Contact
Star Trek Into Darkness
Star Trek: The Motion Picture
Star Trek III: The Search for Spock
Star Trek: Generations
Star Trek: The Final Frontier
Star Trek: Nemesis
Star Trek: Insurrection

And I guess that's a wrap on Star Trek. If all goes as planned, tomorrow's entry will be written from the airport.