Posted on September 17th, 2017

Grey skies are starting to clear up, because an all new Bullet Sunday starts... now...

• McDONALD'S!!! Imagine my shock when I ordered my usual "Biscuit with Egg and Cheese Only" breakfast sandwich while I was at McDonald's in Spokane this past week... AND THEY DIDN'T CHARGE ME FOR BACON THAT I DON'T EAT!
Every time I've ordered this in the past, they've rung up a "Bacon, Egg, and Cheese Biscuit" then hit the "minus bacon" button. That usually costs me $3.29 or so, which means I'm paying for bacon I'm not getting. This is not unique to McDonald's. It happens everywhere. Order a Chalupa Supreme at Taco Bell but want rice instead of beef? Most times they charge you for the beef, remove the beef from the order, then charge you extra to add rice. Want a Market Fresh Cheese Sandwich at Arby's? Most times they charge you for the beef even though they never put it on the sandwich. It goes on and on. Sometimes it's different... Taco Bell will have a "beef sub rice" button or Arby's will credit you 50¢ when they remove the beef... but this is rare. I am hoping that McDonald's is starting a trend that others will follow. It sucks to pay for something you're not getting.

• Abandoned. While I feel absolutely terrible about the people who are facing natural disaster, it's the animals trying to survive it that have touched my heart. Bad enough there are wild animals who will struggle... but at least they have a fighting chance. Abandoned pets left tied up to die, however? Not so much. This horrific, disgusting, barbaric, inhuman practice is the stuff of nightmares. Luckily, something is starting to be done about it. People who abandon pets in some areas are going to be prosecuted...
There is no punishment harsh enough for abusing, neglecting, or abandoning an animal to life-threatening conditions. None.

• Grands! Who knew that Pillsbury "Grands" frozen biscuits are actually quite decent... tasty and fluffy... when the "Grands" canned biscuits are a disgusting mess that have an acidic burnt oil aftertaste? Good to know for those times I just need two biscuits and don't want to waste food making a batch of my own...
I never thought I'd find biscuits I like better than homemade, but here they are. If you've only ever tried the canned crap, this is worth a look. They are more expensive, but worth every penny.

• Gay Cake! Well that explains it then!

That there are people out there who actually believe this shit just boggles the mind.

• It's Pickle Rick! One of my favorite programs on television is South Park. Trey Parker and Matt Stone have been at the show for twenty-one years and yet, even with a few missteps along the way, it is just as culturally relevant as it ever was. South Park may be a crappy cartoon... but it skewers current events and pop culture like nobody else can, and I consider it essential viewing. A newer show that I'm in love with, Rick & Morty, is gearing up to be every bit as significant as South Park. I can only hope that it lasts for 21 years. The latest episode, The Ricklantis Mixup, is exactly why. It masterfully parodies everything from police brutality to puppet politics, yet still manages to be incredibly entertaining...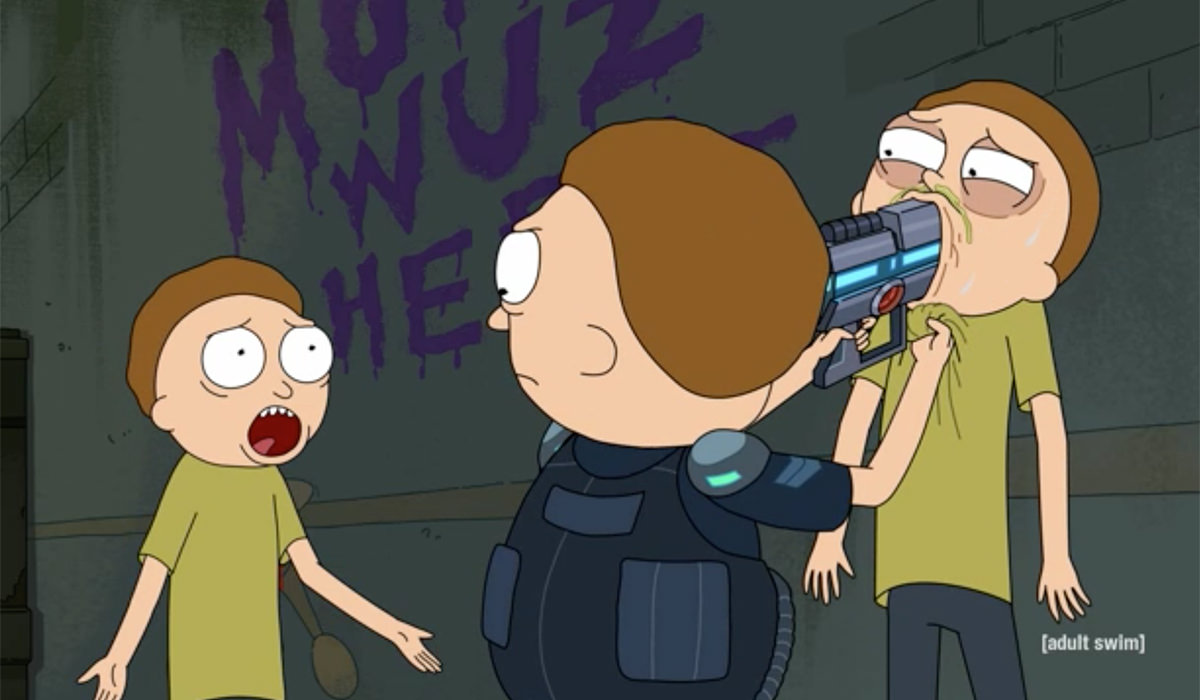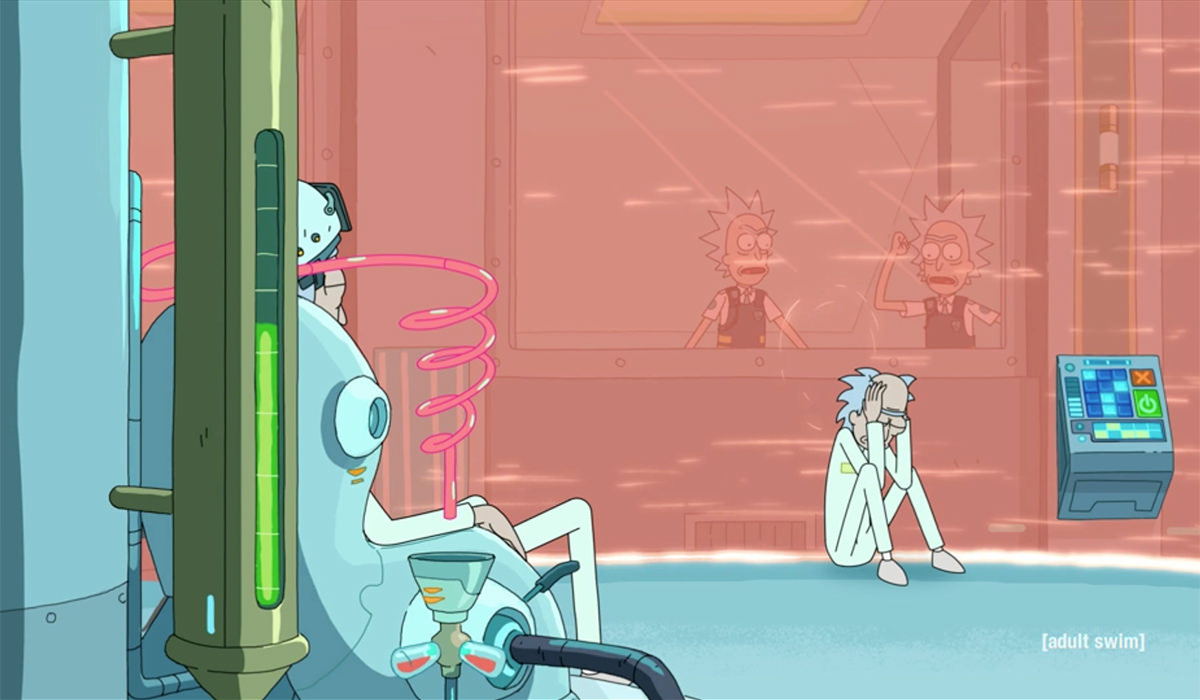 If you've got a warped sense of humor and like cartoons and sci-fi, here's the show for you. Disturbingly brilliant in ways most shows could never be. Not bad for a cartoon which started out as a Back to the Future parody of Doc and Marty.

Until next time, stay schwifty.
Posted on September 10th, 2017

Wildfires and hurricanes got you down? Sorry to add to your troubles but another natural disaster has arrived, because an all new Bullet Sunday starts... now...

• Charitable! IF YOU HAVE A KIND HEART AND ARE ABLE TO DONATE TO FIRE/HURRICANE RELIEF... PLEASE VERIFY THAT THE CHARITY TO WHICH YOU ARE SENDING YOUR HARD-EARNED DOLLARS IS GOING TO MAKE GOOD USE OF IT. There are all too many charities which do not. A good place to start is to head to Charity Navigator, which reports on what charities do with their donations.

• Orville! The geek reviews for Seth MacFarlane's new sci-fi show The Orville were pretty bad. I decided to tune in anyway, just to see how awful it really was. Except... I actually ended up liking it. No, it's not Galaxy Quest like everybody expected... it's actually a faithful clone of Star Trek: The Next Generation, but with some funny moments scattered amongst the drama...
Actually, I'd argue it's superior to Next Generation, which I never really got into. My favorite part of the show is the helmsman and navigator (Scott Grimes and J. Lee) who have amazing buddy chemistry. Other characters are a bit glossed over, but the previews of upcoming episodes looks like they'll get their day. Is it a perfect show? No. It's a bit uneven and the pacing drags a bit in spots. But those are things that will improve in time as the writers, actors, and directors get everything figured out. The one thing they've nailed though is the special effects, which are pretty great. I've gone from zero expectations to high hopes over the course of just this one episode. May the rest of the season be worth my valuable time.

• Intermission! Of course, this was back when a candy bar was 5¢ and you could actually afford to GO to the lobby and buy a treat...
It just gets crazier as the video goes on. I remember some of this from the movie Grease where John Travolta has been stranded at the drive-in... branded a fool. What will they say Monday at school?
Oh Sandy.

• Danger! Just when you think you've seen it all, Delta Airlines has to come along and prove you wrong...
Delta claims that the flight was never in any danger. Weather radar implies otherwise, but okay.

• Polydactyl! Speaking of hurricane Irma close calls... I was very happy to learn that all 54 cats at Hemingway House in Key West were sheltered and made it through the storm. I haven't been there in over five years, but the place sure made an impression on me...
Kind of a cool place to visit if you're ever in Key West.

• Orlando! As I type this, Irma is headed to Walt Disney World. Here's hoping Mickey Mouse, Pluto, Buzz Lightyear, and company all stay safe!

And that's a gale-force Bullet Sunday... over and out.
Posted on August 27th, 2017

The seventh season of Game of Thrones is over... but all is not lost, because an all new Bullet Sunday starts... now...

• Thrones! Welp... that was a riveting finale. At the very end, I mean. Despite having some great moments (I LOVE YOU ARYA!), it was actually kind of slow until that point.
I was disappointed we didn't get more Beric in this episode. He is my favorite character on Game of Thrones by a wide margin, and it was this scene that made it thus...
The fact that he can ignite a sword in flames with his blood is just icing on the cake...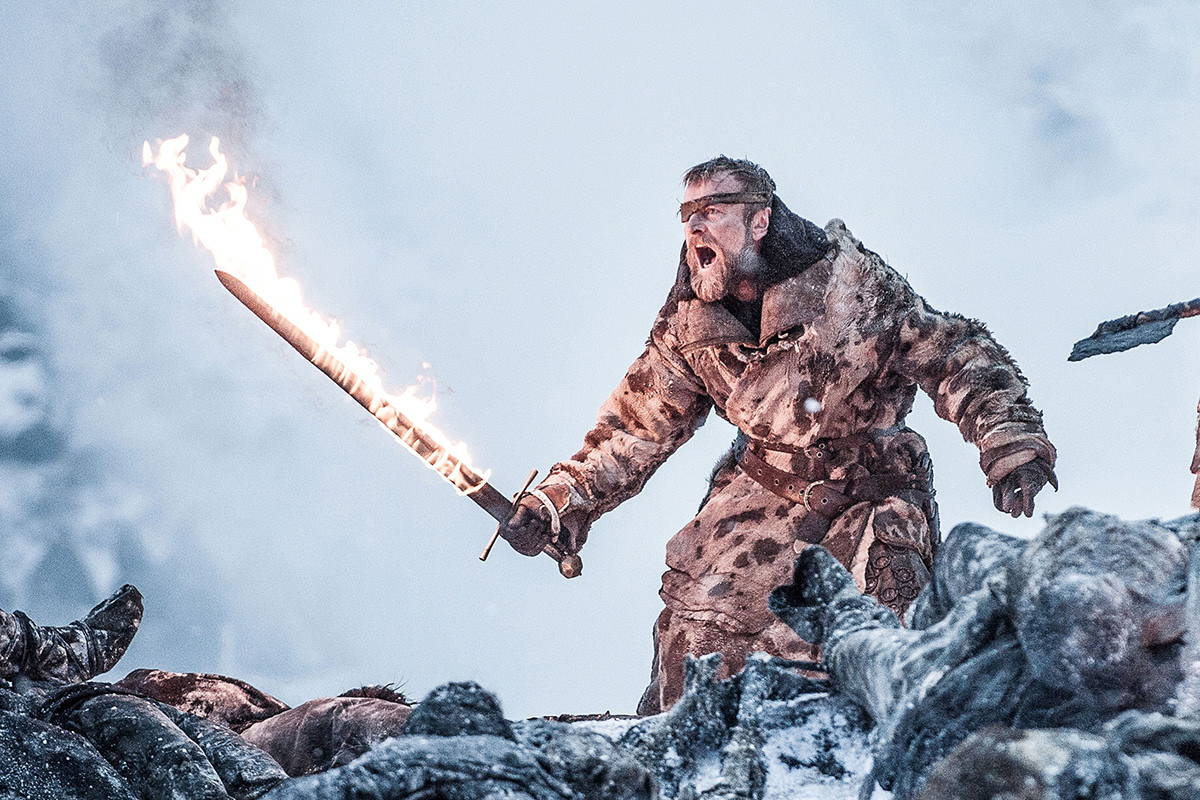 Here's hoping he somehow manages to survive the show. Because...
Holy crap!

• Grrrace! I never watched "Will & Grace" when it was on TV because Deborah Messing plays characters that are neurotic messes, and this looked to be more of the same. Then I saw the Election Special, liked it, and decided to buy the first three seasons when they went on sale at iTunes to prepare me for the return this Fall. Karen Walker is one of the best comedic characters to ever appear on television. Without Karen and Jack, this show would have been a total bomb.
I despise Will and Grace, finding them selfish and uncaring... yet seemingly unaware of how horrible they behave. They think themselves to be better people than they are. Karen and Jack are selfish and uncaring too, but have no illusion about it. Hard not to respect that. Especially when Karen is so damn funny.

• Never Gonna Give You Up! Probably the best thing I've seen all week...
As if I didn't have enough reason to already love The Foo Fighters.

• Assholery! If I don't know somebody's gender or how they identify, I use "they" and "their" and "them." It's not hard, it's not a big deal, and I'd rather be unspecific than be wrong. If your way of referring to people in this situation is to use "he-she" then you're an asshole. What do you get out of being an asshole to people you don't even know? Seriously, I'm dying to know. People are just trying to get through life as best they can with the cards they were dealt. They don't need your bullshit assholery heaped on them too.

• Rich and Powerful! HEADLINE: A Federal Judge Put Hundreds of Immigrants Behind Bars While Her Husband Invested in Private Prisons. This should surprise absolutely nobody. This is the way our corrupt system works. Wealthy, powerful people continue to exploit their privilege and position at the expense of everybody else. Just as they've bought our government, they're buying our freedoms, our liberty, and our justice. Because if we actually HAD justice, this judge would be FUCKING EXECUTED and her husband IMPRISONED FOR LIFE. But, by all means... continue to buy into the system that gives ZERO SHITS for you and allows people like this to prosper. This hasn't been a country "of the people, by the people, for the people" for a long time now. It perished from the earth the minute money became more important to us than ideals.

• Still More Assholery. Even if you are willing to put aside his many, many atrocities against people... Joe Arpaio is still a fucking inhuman piece of shit that deserves a hell of a lot worse than jail.
And here's Trump pardoning him from a mere six months of jail time. HE WON'T EVEN DO SIX FUCKING MONTHS.

• Violence! I really do try not to advocate violence... but sometimes you need to take out the fucking trash, know what I'm sayin'? "A racist lady made some disparaging comments about black people and Colleen, who has a biracial child, decided to beat the brakes off her..."
Garbage is as garbage does.

And enough of that mess. See you next week!
Posted on August 23rd, 2017

It's been one of those weeks.
Fortunately, it's half over.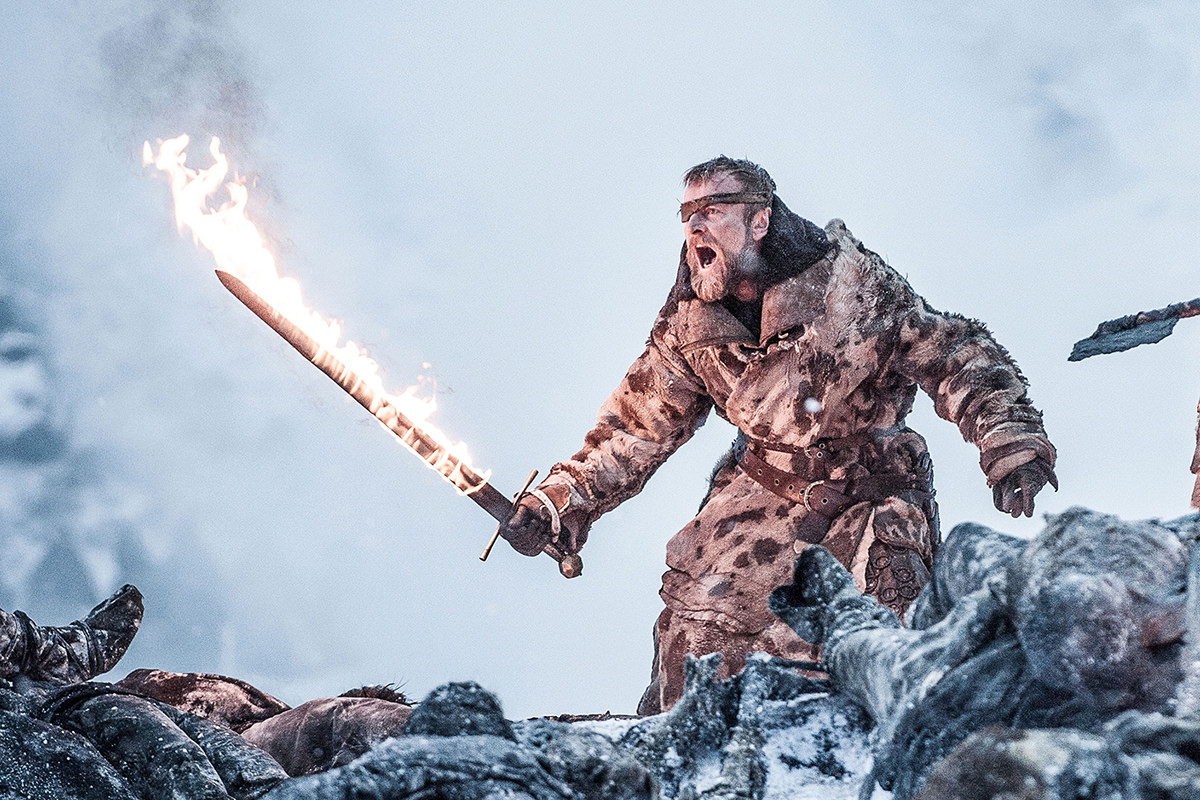 Can't get this coming Sunday's Game of Thrones season finale out of my head.
Something to look forward to, anyway.
Posted on August 20th, 2017

There actually is something interesting happening before the eclipse tomorrow, because an all new Bullet Sunday starts... now...

• Defenders! How is it that Netflix can be so damn flawless when casting every single character in every single Marvel series and in writing every single character in every single Marvel series... except when it comes to Iron Fist? Danny Rand is written horribly. The actor playing him is a terrible fit for this character. I could barely make it through the Iron Fist series, and now the character made it tough to get through the newly-released Defenders series too...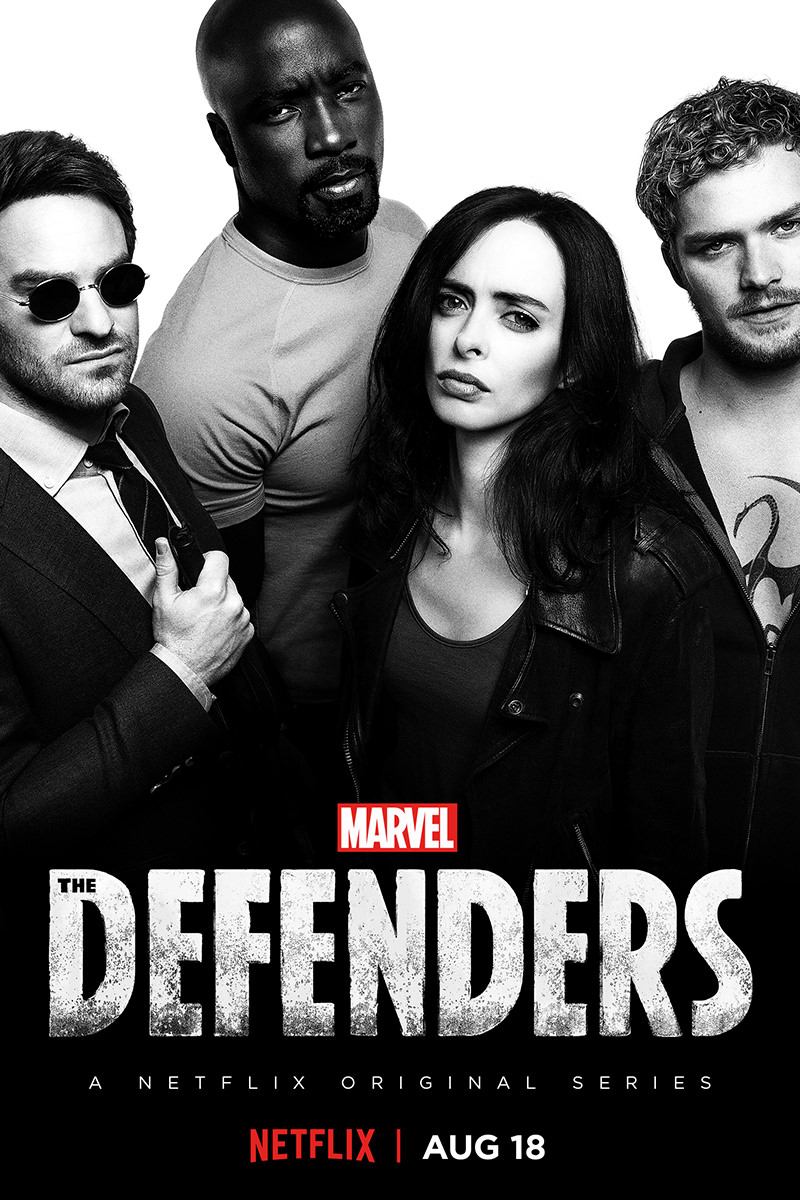 Every single time Iron Fist appears in The Defenders, everything that's moving forward so beautifully grinds to a halt and turns to shit. I mean... holy crap... they got Sigourney Freakin' Weaver, who elevates absolutely everything she appears in (including The Defenders), but even she is not going to be able to save this show when such a key piece of it is shit. There was a scene between Luke Cage and Danny Rand... fucking "Heroes for Hire" that we've been dying to see... and Mike Colter is just killing it as Cage while Finn Jones can't seem to deliver a single line with any conviction or semblance of skill. It's like he's trying to channel Keanu Reeves, which wouldn't be horrible... EXCEPT HE'S CHANNELING KEANU REEVES FROM BILL & TED'S EXCELLENT ADVENTURE. GAAAAAHHHHHH!!!!!
Look, I'm sure Finn Jones is a capable actor in other roles, but his take on Iron Fist sucks. The character takes a solid 5-star show and knocks it down to four. I hope they end up doing another Defenders... the idea is too good not to... but diminish, eliminate, or replace Iron Fist with something that's a better fit. Please. ☆★★★★

• Trolls! This. Is. Fucking. Genius.
I hope it catches on.

• Fake President! Making America... uhhh... great?... again?
So... Trump actually is accomplishing more than any other president! Finally, a truth!

• Ahnold! Just as an FYI... THIS IS HOW YOU FUCKING DO IT...

• Punch It! Seriously. I'm sick of this bullshit. We fought a fucking WORLD WAR over this. There are not "two sides" to this position. There is no "just as bad" when it comes to this. There is no confusion as to the appropriate response. We have memorials... history books... and a shitload of movies that make it quite clear...
Nothing less than 100% unapologetic, uncompromised, unconditional condemnation of white supremacists and Nazis is ever acceptable. If you don't fucking get that, then you have no business being president. Hell, you have no business calling yourself "human."
I mean, Jesus Christ... IT'S THE FUCKING NAZIS HERE!!!

• Dropt It! In a feeble attempt at ending on a positive note, this is must-see TV...

Annnnnd... I'm spent. No more bullets for you.
Tags:
Bullet Sunday
,
Dumbassery
,
Marvel
,
Netflix
,
News
,
Politics
,
Television
,
The Defenders
,
Trump
,
Trump's America
Categories:
Bullet Sunday 2017
,
News – Politics 2017
,
Television 2017
—
Click To It:
Permalink
—
1 Comment: Click To Add Yours!
Posted on August 13th, 2017

It's not just another day in America, because an all new Bullet Sunday starts... now...

• Fuck It! Fuck white supremacy. Fuck the Alt-Right. Fuck neo-Nazi assholes. Fuck all of this anti-American bullshit...
The final point is the most important... if you are silent on this horrendous shit, you are complicit with this horrendous shit.

• Trump! Called it. Though even I didn't anticipate it would happen this quickly...
Further reading at GQ: Charlottesville Is the America That Donald Trump Promised

• Fire! If you hate me now, you'll be happy to know I'm totally doomed.

• Pierced! Food for thought...
I have yet to visit a tattoo/piercing shop that wasn't the epitome of cleanliness and professionalism.

• Defenders! Five days... five days away...
My expectations are probably too high, but here's hoping...

• Toys! It's the little things...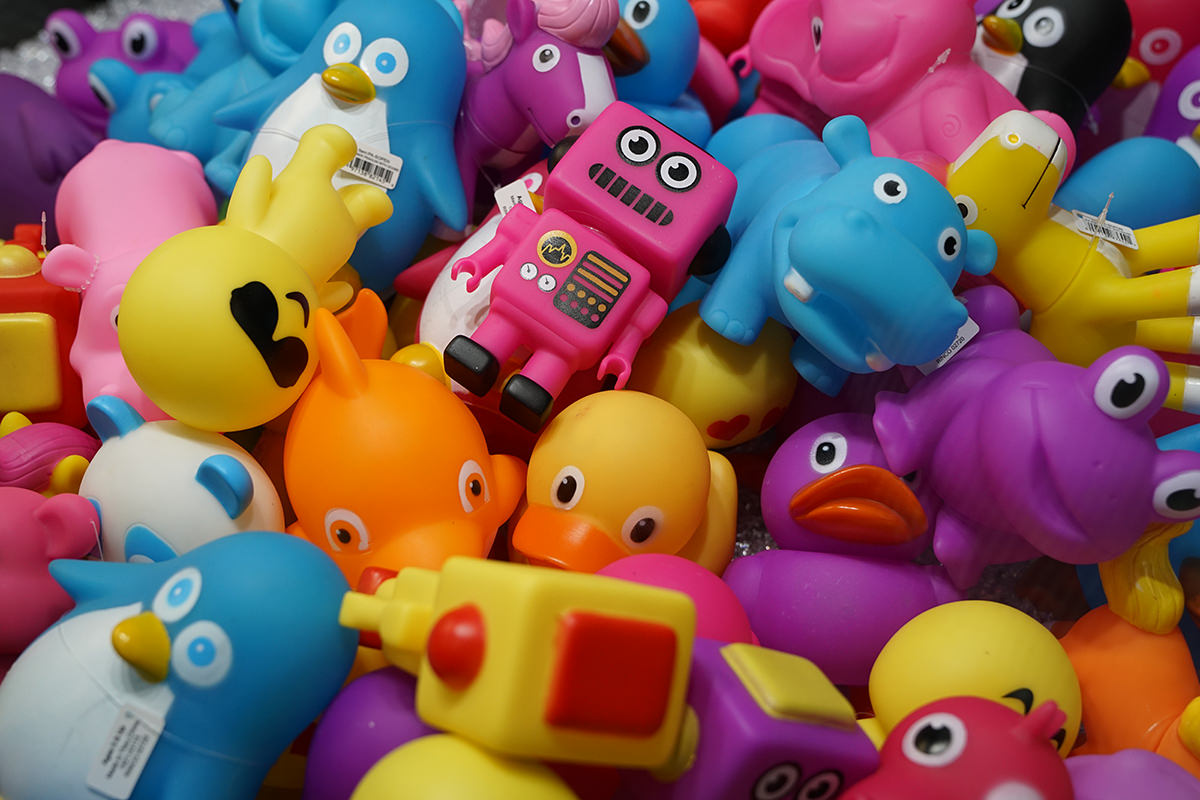 And, on that note, Blogography out...
Posted on August 11th, 2017

I took a sick day today and, thanks to a drug-induced coma, spent the entire day in bed.
I didn't even watch television. I just... slept.
Now that I'm semi-awake, I decided to eat dinner and catch up with Forged in Fire while I wait for the people I hired to come install gutters on the catio.
Your blade... will kill...