Posted on November 5th, 2017

Snow may be here but be of good cheer, because an all new Bullet Sunday starts... now...

• RAGNAROK! I haven't seen Thor: Ragnarok yet because life has been insane lately... but I will be doing so sometime soon. I hope. If you haven't seen it yet and want a spoiler-free experience, DO NOT watch the video below, which is somewhat spoilery, but hilarious...
Of course, the commercials are more spoilery than this, but, yeah.

• Tokyo! There are many places on this earth I feel at home in when I visit. Tokyo is one of those places. Which is strange, because it's a city on my list that's very much removed from my "normal." Maybe I lived there in a past life? I dunno. But I love it there. And because I love Tokyo, I also love films which feature the city (Lost In Translation is a great example). And now there's a short film called The Tokyo Project...
If you have HBO and a half-hour to kill, I highly recommend it. Clever story. Beautifully shot. Well worth your valuable time.

• Miyazaki! One of the many, many reasons I love Miyazaki films so much is the incredible attention to detail that goes into every frame. I watch them over and over and over because the wealth of details is something to be savored. Here's an Instagram by en93kitchen that focuses on the food in his films, and shows a side-by-side comparison to actual food that's been prepared to look like what's in the movie...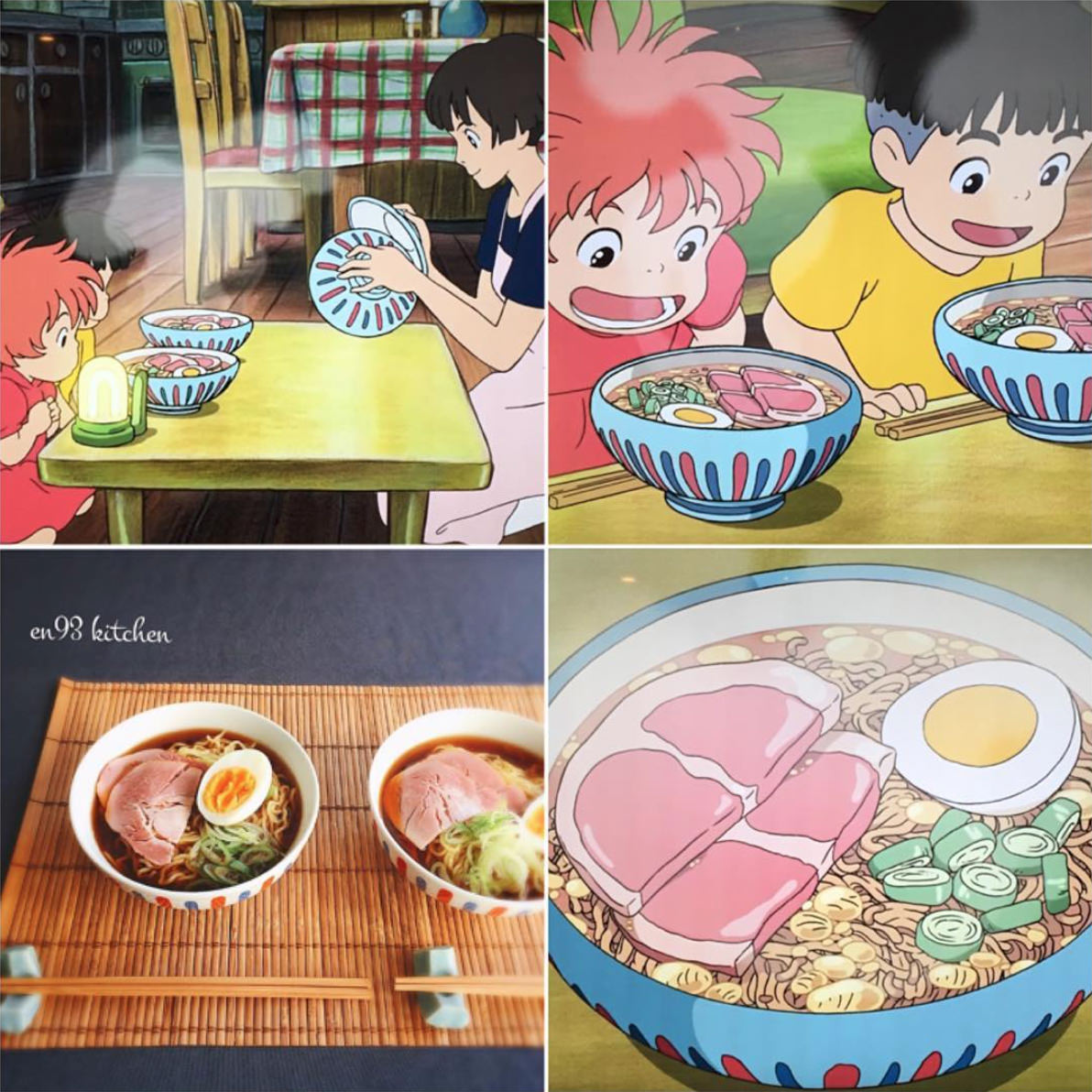 Amazing!

• Busted! Despite the fact that "Mr. Plinkett" is a fictional character (played by Red Letter Media's Mike Stoklasa) the movies analyzed under that monicker are, for the most part, spot-on. His reviews are as insightful as they are entertaining, and I've spent a lot of time watching the Red Letter Media YouTube channel. The latest Mr. Plinkett in-depth was for the Ghostbusters 2016 reboot. A film I mostly hated, but could never really articulate why. Luckily, I no longer have to try. It's nearly an hour long, but balls-on accurate and worth your valuable time...
That fact that the review also includes smart analysis of what made the original Ghostbusters so damn brilliant is just a bonus.

• What Happened? So... essentially you can take Hillary's book, rip out the pages, insert this Politico story, and then read What Happened for reals I guess? My loathing for Hillary Clinton is well documented. The fact that I was forced to vote for her because I didn't want a Trump presidency is something that enrages me to this day. The more information that comes out about how there is nothing "democratic" about the Democratic Party should shock nobody. That's the way politics work in this country. What should shock people is that nothing will be done and nothing will change. Ever. We just don't want it badly enough.

• Dip! I swear... Eric Trump discovering Fun Dip on Saturday Night Live's "Weekend Update" is one of the best thing I've seen all week...
Dies. Again.

It's the end of bullets as we know it...
Posted on October 29th, 2017

Don't fear the reaper, because an all new Bullet Sunday starts... now...

• Benson! Robert Guillaume passed away this last week and it got me to thinking about the various roles he's played in his long acting career. Primary of which, was "Benson" on Soap (and the subsequent spin-off), where his sarcastic wit was showcased to hilarious effect. My personal favorite role was Isaac Jaffe on Sports Night, a role which is surprisingly relevant today...
You, sir, will be sorely missed.

• Think! Cost to renew my nine Nest security camera "Nest Aware" subscriptions annually? $500. Cost to renew Amazon's new Cloud Cam security camera subscription plan annually for triple the storage time and up to ten cameras? $200. This means I could essentially buy three new Amazon cameras every year PLUS get a superior subscription service for the cost of my Nest subscription alone. Gee... let me think real hard about what I should do. What to do? What to do? It's a quandary, that's for sure...

• Balls! I made falafel for the first time!
My balls were totally delicious.

• Mickey Hotel! Disney just announced that Disneyland will be getting a brand new 700-room hotel which will open in 2021...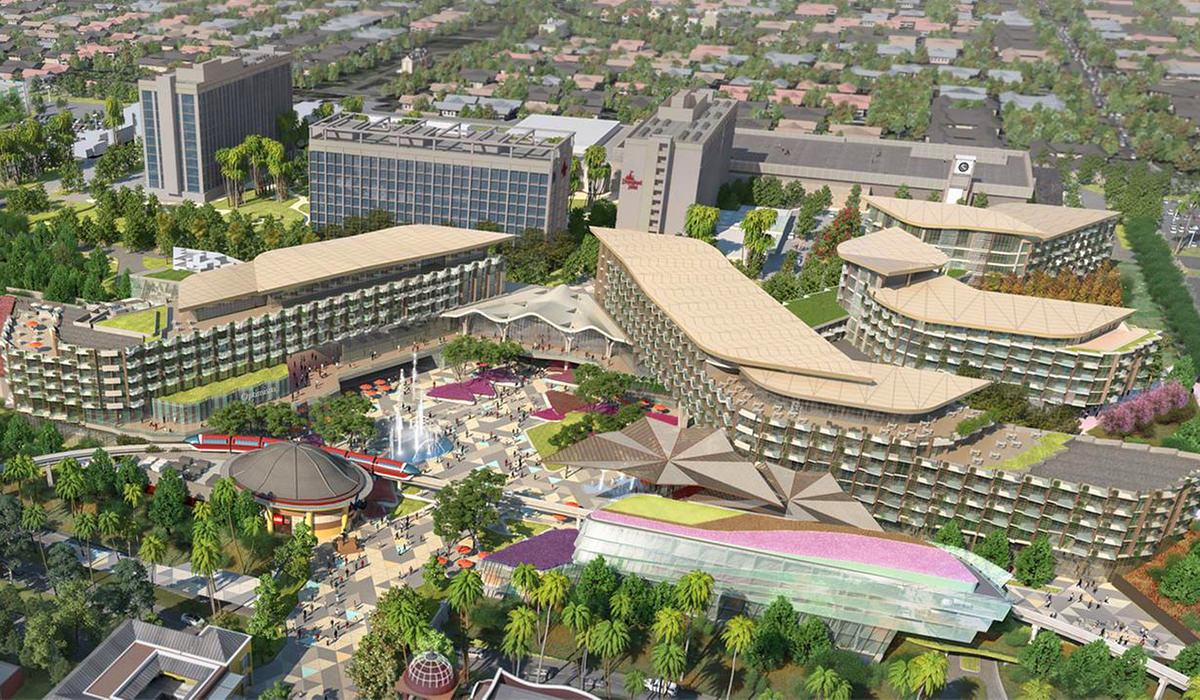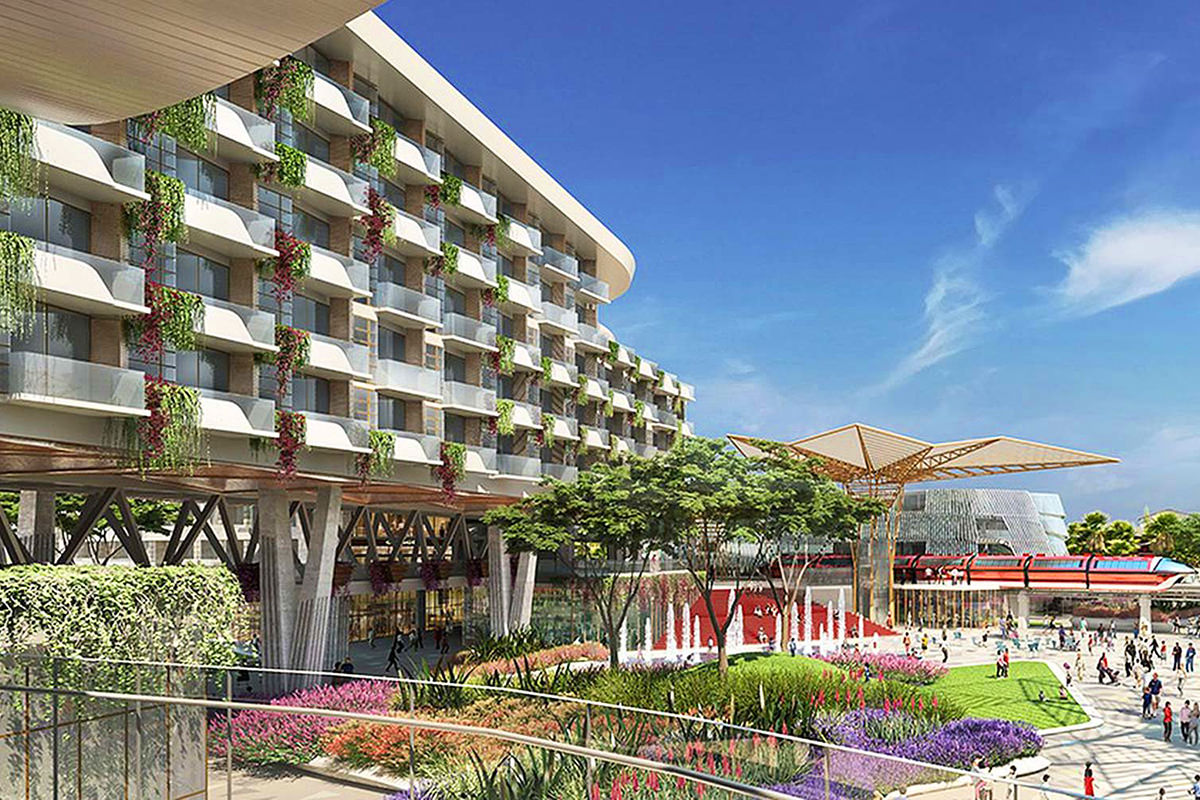 Compared to the amazing Grand Californian hotel across the way, it's kind of boring-looking. Not very "Disney-Special" to me.
The most interesting bit of information in the press release is not the hotel itself, but its location. In order to build the thing, Disney will be ripping out the West end of Downtown Disney. Which is currently occupied by ESPN Sports Zone, the AMC 12 theater, a Starbucks, The Rainforest Cafe and, ZOMFG... EARL OF SANDWICH! The LEGO Store is spared though...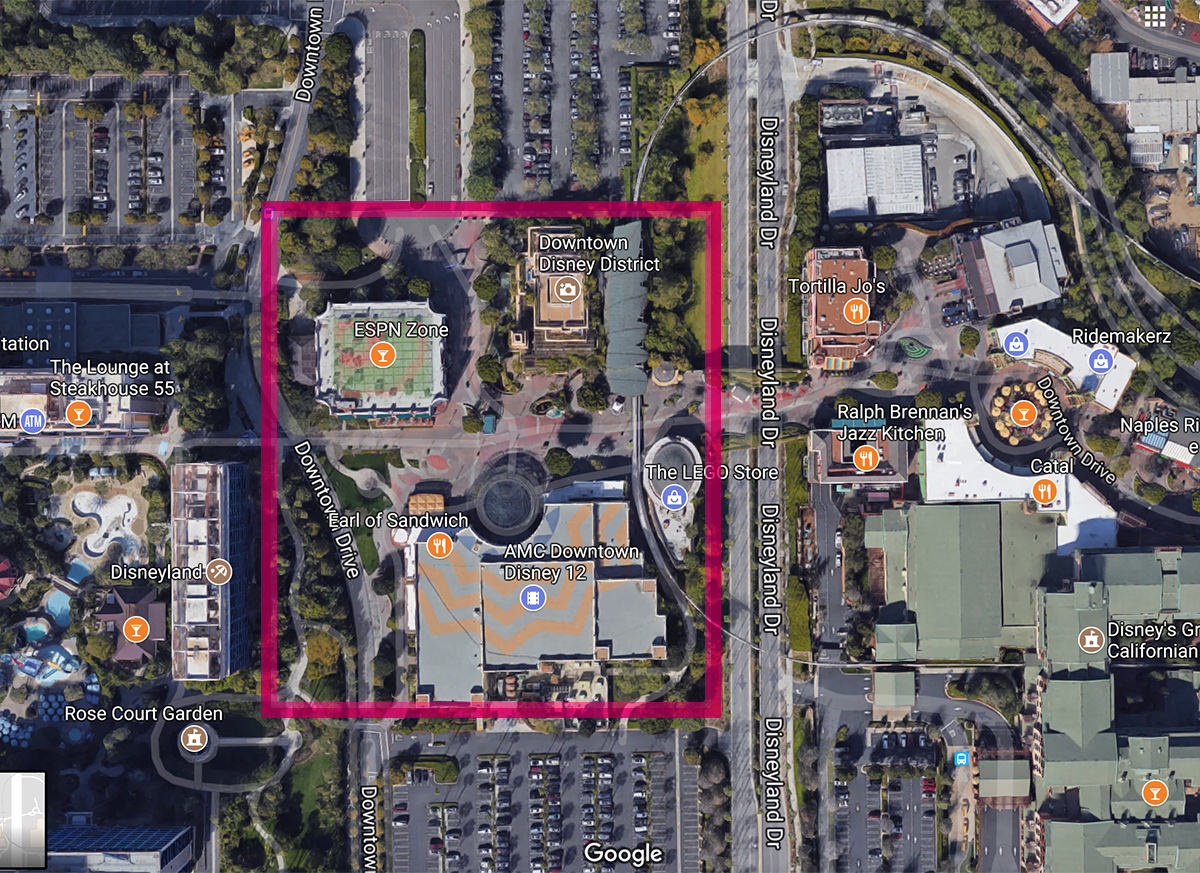 The money that a hotel generates is probably huge compared to the royalties from everything it's replacing. With this in mind, I don't know why A) They are only putting in 700 rooms when there looks like there's room for more, and B) they haven't expanded The Grand Californian (the "Redwood Creek Challenge Trail," cool as it may be, is hardly a critical part of California Adventure, so it seems a natural to rip it out and put in another 150 rooms).

• Payola! HEALDINE: Senate votes to kill new rule allowing class-action lawsuits against banks; Pence casts deciding vote. — FUCKING PIECES OF SHIT!!! No recourse now... NONE... when big banks fuck you over. You are forced to accept binding arbitration or small court settlements instead of having your day in court. And, of course, data breaches due to shitty bank security are now basically a crime without meaningful punishment. All because the fucking Trump Administration and their Republican lackeys have their mouths so deep on Big Finance cock for cash that they don't give a shit who it hurts... so long as the big paychecks keep coming their way. And OF COURSE they are re-framing this act of utter submission to bank payola as a "good move" for consumers because "frivolous lawsuit costs get passed on to consumers." All 100% bullshit of course. We STILL end up paying... just in a different way. Meanwhile, any and all protections are now ALL THEIRS. Looks like we've got ourselves a government by the wealthy, for the wealthy.

• Harrassment! Everywhere you look, it's the same damn thing. I do not know Robert Scoble personally. All I know is that he worked at Microsoft then got famous for conducting crappy "WHO ARE YOU?!?" videos with happening tech industry people. I also know that he went into rehab a couple years ago because he was accused of shitty and harassing behavior towards women when he was drunk and high.
I also know one of these women.
Now it's coming out that he didn't stop with his shitty harassment of women AFTER he was supposedly "cured" of the things he blamed his behavior on. Typical of these types of situations, people are defending him because he's married and supposedly a "good guy." Meanwhile... there's the women whom he's sexually harassed who are having to deal with the fallout of HIS crap.
I believe them. Scoble may be married with kids and be known as a "good guy" in certain circles, but obviously that does NOT exclude him from being a habitual sexual harasser.
On his Facebook profile, Scoble has the douchey description of himself as "Authority on what is next," even though he just talks about what OTHER PEOPLE are doing. I hope "what is next" for him is somebody pressing charges. The more times that shit like this results in public shaming and even more public punishment, the more these reprehensible fuckers will think twice before being assholes to their fellow human beings.

All our times have come, see you for more bullets next Sunday!
Tags:
Assholes
,
Bullet Sunday
,
Disney
,
Disneyland
,
Falafel
,
Food
,
Fucking Assholes
,
News
,
Politicians
,
Politics
,
Television
Categories:
Food 2017
,
News – Politics 2017
,
Television 2017
—
Click To It:
Permalink
—
0 Comments: Click To Add Yours!
Posted on October 22nd, 2017

I am Sundaying so hard right now, because an all new Bullet Sunday starts... now...

• Feral! This past Monday was "National Feral Cat Day." My cats, Jake and Jenny, were feral kittens when they were found. I don't think they quite adapted to foster care, and were still very much feral little scrubbers when I adopted them. Weeks of patience turned into months of building trust which has turned into 1-3/4 years of the best furry friends I could hope for. They are still, in their hearts, feral cats who are very slow to trust. And they hide the minute anything out of the ordinary happens. Sometimes, on rare occasions, they are even wary of me. But most of the time they love crawling all over me for pets and attention and I've never been lonely since they took over my home. Feral cats are more work than those kitten raised around people... but I wouldn't trade mine for the world. If anything, I think I appreciate them more than I would other cats because I had to put effort into getting them to accept me. And once they did? There's no better feeling...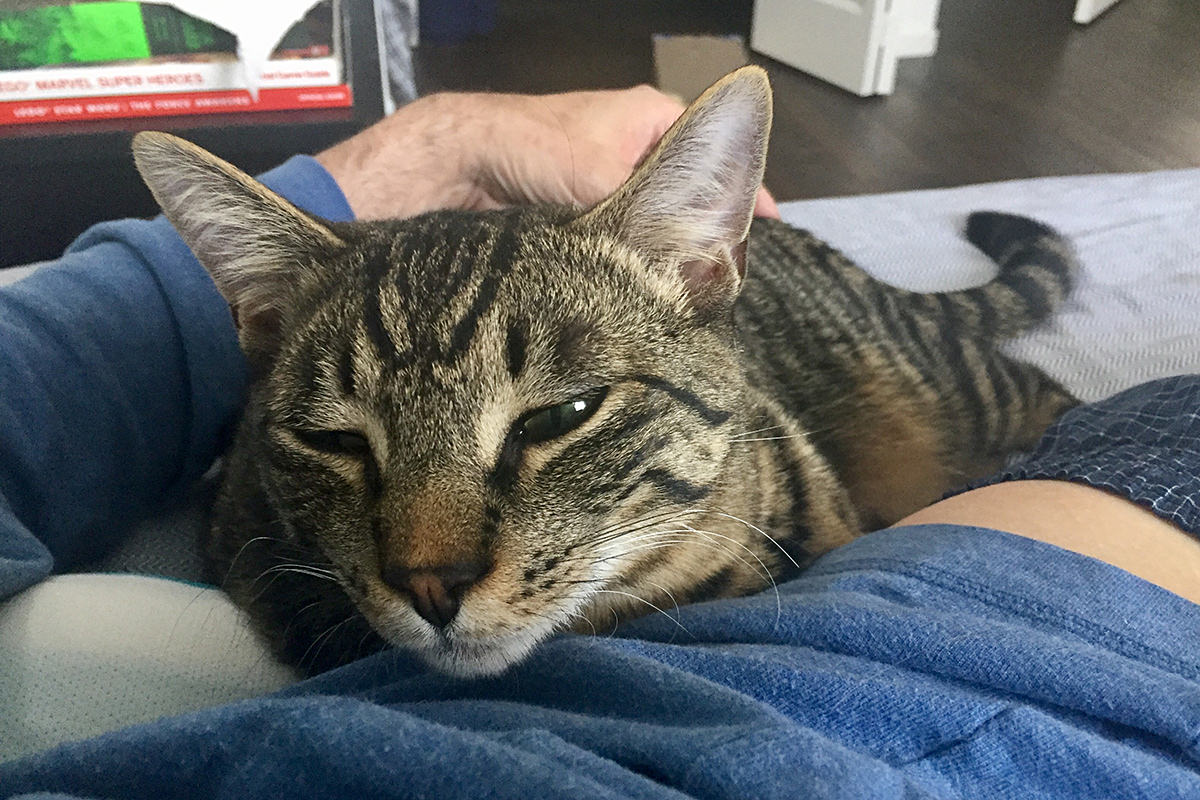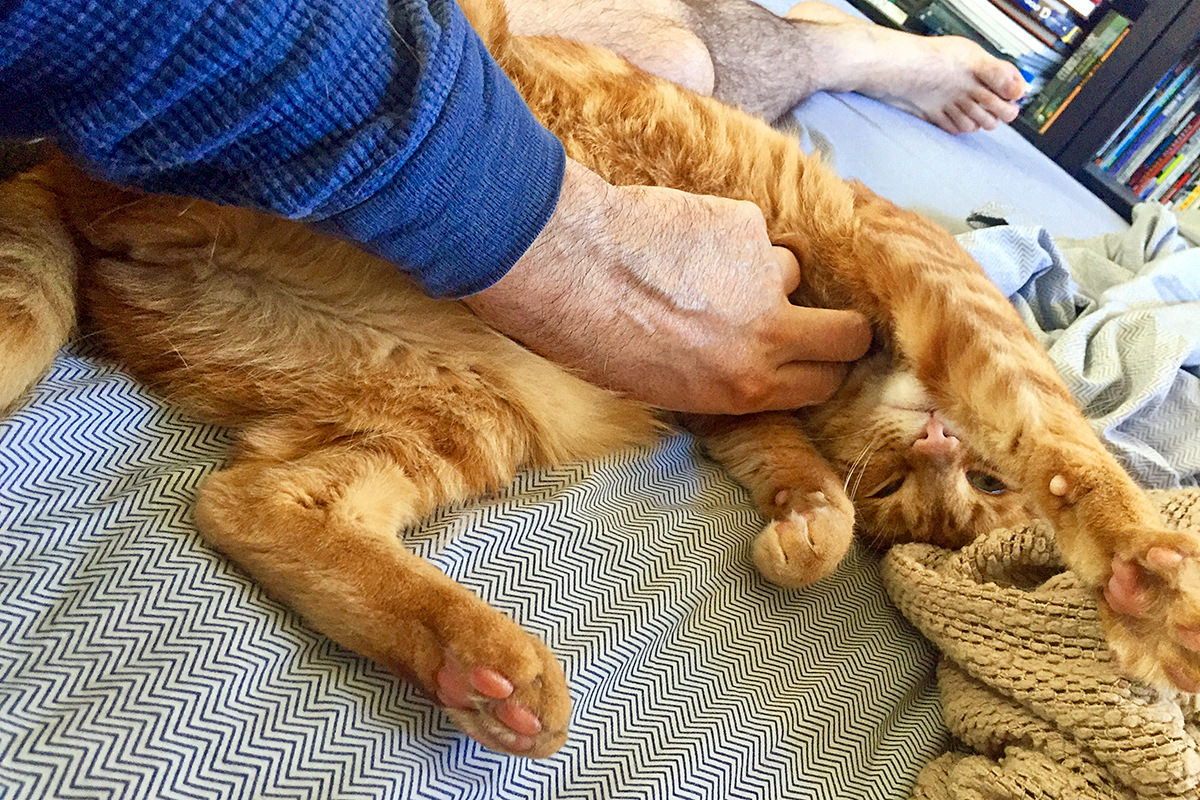 If you have the opportunity to help out a feral cat, the work is definitely worth the reward!

• Dimensions? And so... it would seem that LEGO Dimensions is no more. Typical. Oh well. The gameplay was getting tired... but it was kept fresh by the licensed properties they kept bringing to the table.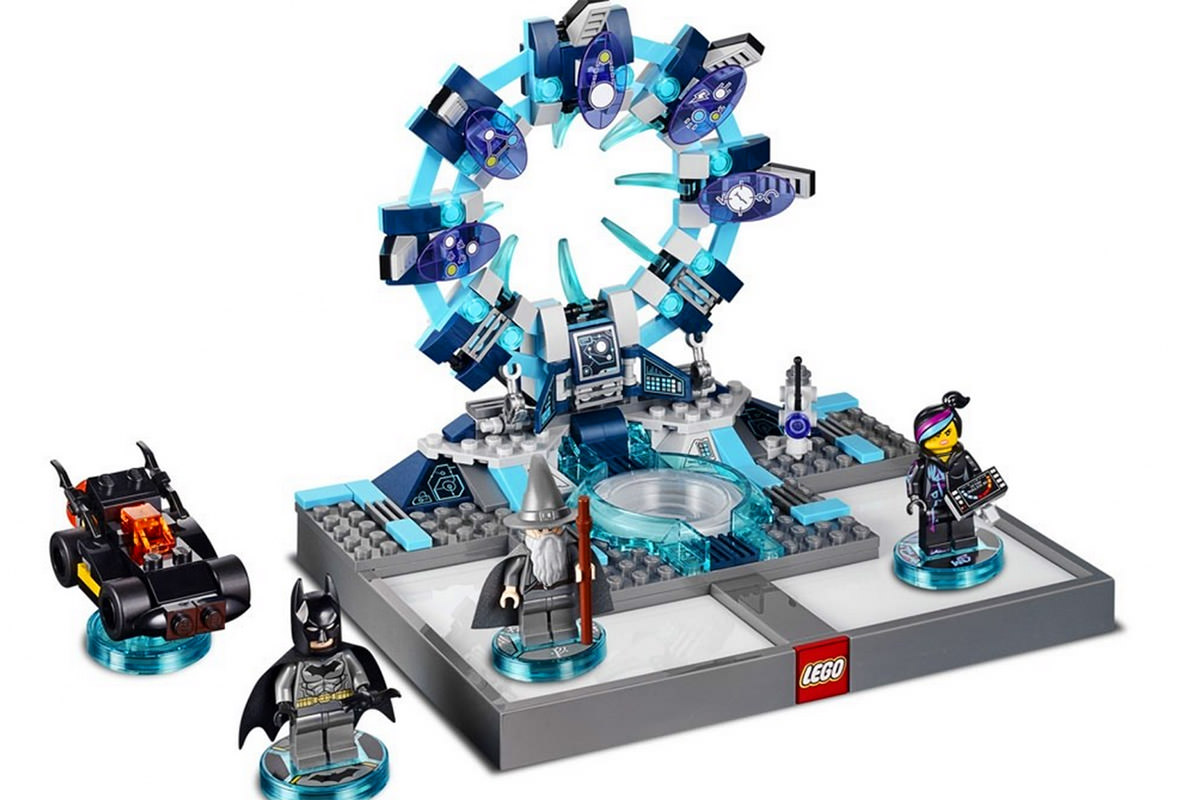 Wish they would have got LEGO Star Wars in the mix before signing off... after Disney Infinity dried up, it seemed a natural.

• Get Help! The reviews for Thor: Ragnarok have been stellar. And with each new clip released, I just want to see it more...
Cannot. Wait.

• Lucifer! Right now there's a lot of good television going on. In addition to The Good Place, which is the best show on television right now, we've also got Star Trek: Discovery, The Flash, The Orville, and Supergirl... not to mention some of the indy oddball stuff (like Dirk Gently), which makes it tough for me to keep up with my shows. But that one show I will always make time for? Lucifer!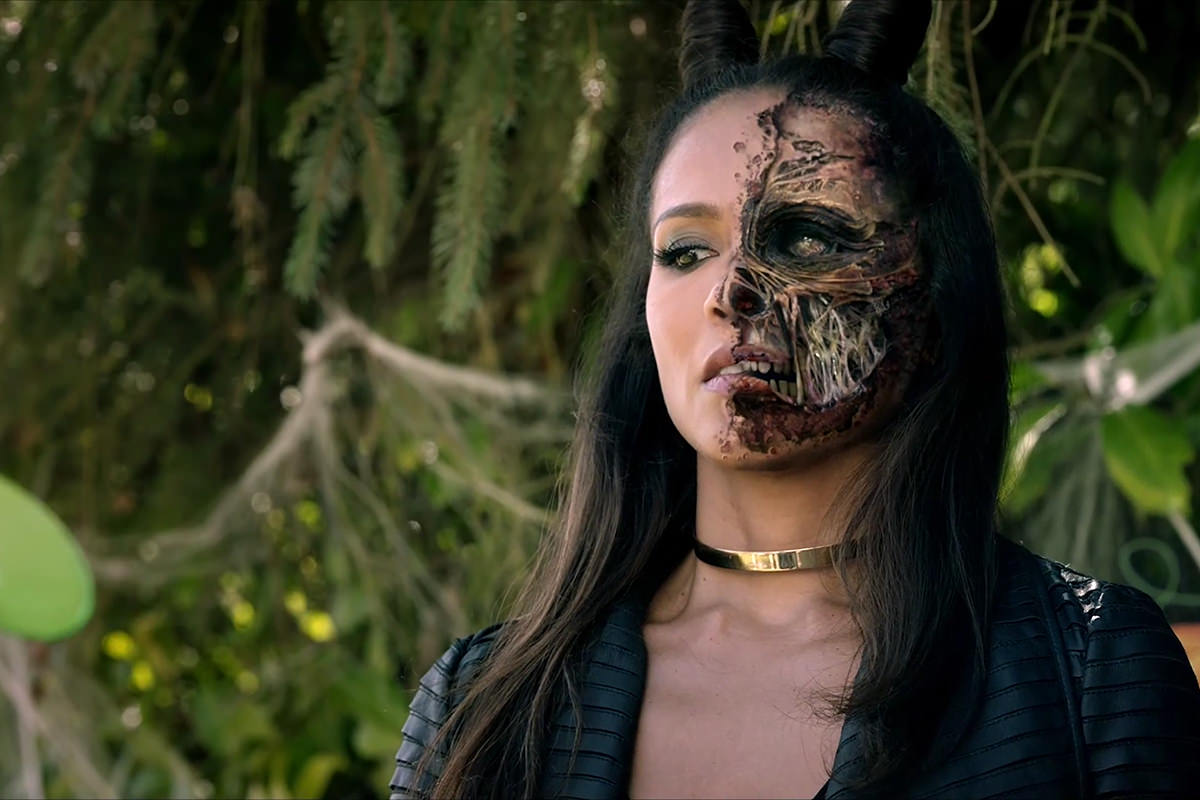 Last season was fantastic because "Mom" came to visit, which led to some interesting directions for the show. Now they seem to be focusing on fleshing out secondary characters instead of bringing in new ones, and I couldn't be happier. Maze is probably the best character on the show after Lucifer, but has been largely marginalized. But this last episode (S03:E03 Mr. and Mrs. Mazikeen Smith) puts her in the spotlight and the results are so amazing I find myself wishing they would spin her off into her own show. If you're not watching, you really should be.

• Jack! Another show I've been very much enjoying has been the revival of Will & Grace. Though I strongly dislike the two main characters, secondary characters Jack and Karen always seem to salvage the show. The latest episode (S09:E04 Grandpa Jack) is no exception. Jack, who discovered he had a son (thanks to a sperm bank "donation") gets an even bigger surprise when he discovers his son had a son, so he's now a grandpa!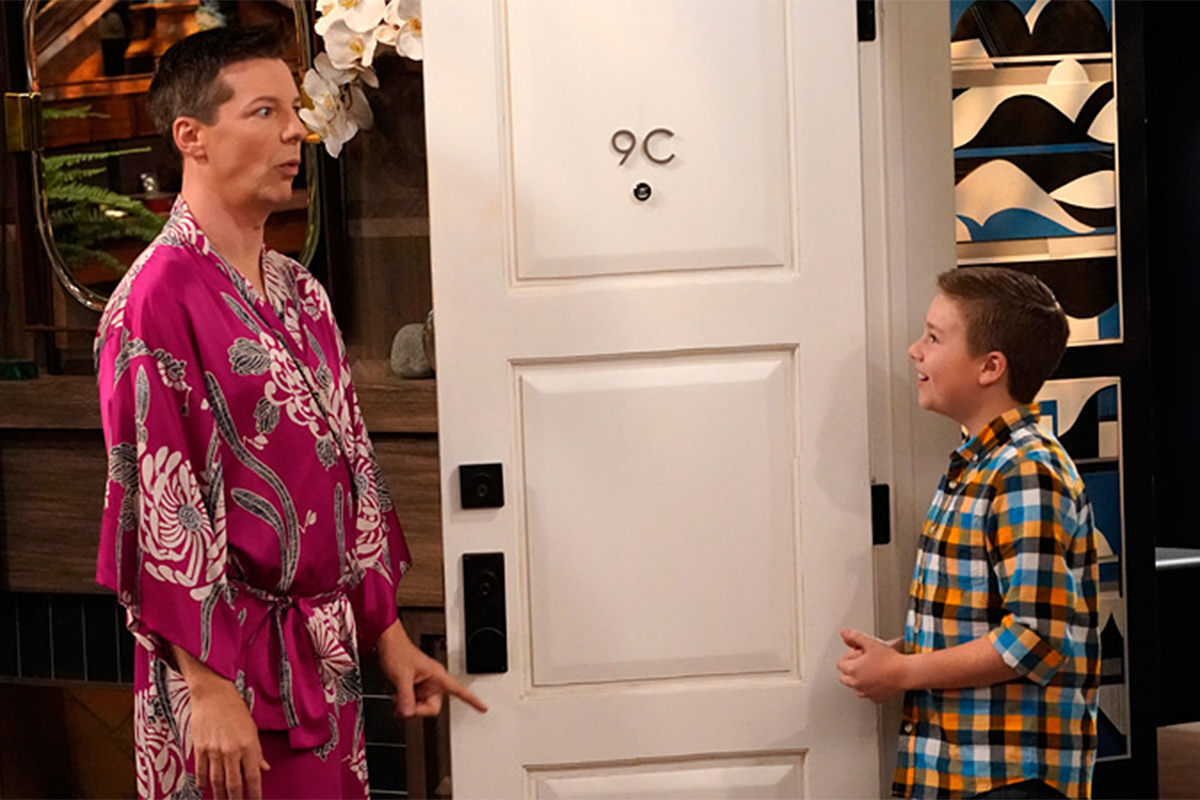 I will not spoil the story except to say... it's both hysterically funny and emotionally devastating at the same time. And it has two guest appearances that are absolute gold. When they restarted the show, I was hoping that we'd see Jack's son again. I never expected that his story would be this good. Well worth a look.

• Decor! When I moved into my home, I noticed that the previous owner had left a lot of decor scattered about. None of it was too my taste, so I made it my mission to toss it all out. The only thing left is a lion head above my doorbell and a weird dried flowers plaque with hooks I use for my keys and hats. The plaque was useful, but I vowed to replace it when I found something better... I never did. The lion I was going to ditch when it was removed for painting... but I ended up putting it back. Don't know why. I kinda like him, I guess...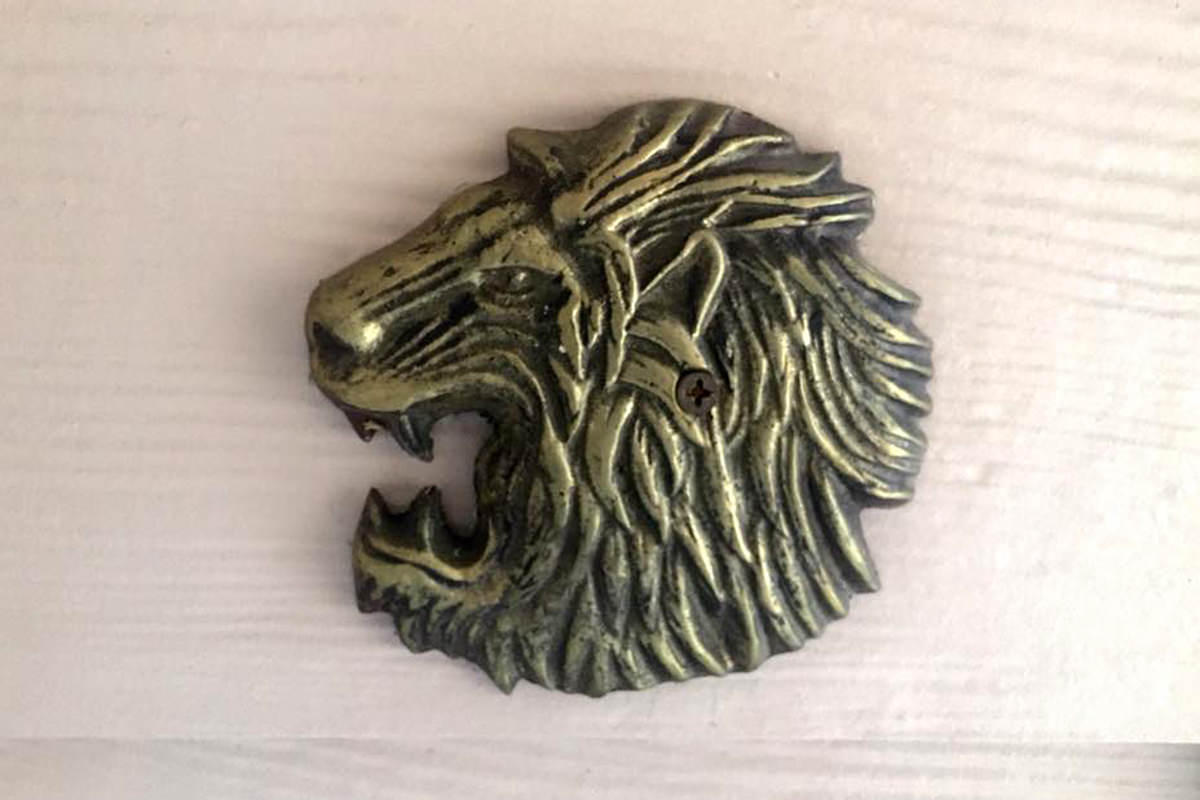 I suppose one of these days I really should go shopping to find a replacement for my key hooks.

And... Sunday is over. So too are the bullets.
Tags:
Bullet Sunday
,
Cats
,
LEGO Dimensions
,
Movies
,
Star Trek
,
Television
,
The Good Place
,
Thor
Categories:
Bullet Sunday 2017
,
Cats 2017
,
LEGO
,
Movies 2017
,
Television 2017
—
Click To It:
Permalink
—
0 Comments: Click To Add Yours!
Posted on October 20th, 2017

"Eleanor, your cocaine and escape train are ready!"
Posted on October 15th, 2017

Put on your Sunday Best, because an all new Bullet Sunday starts... now...

• Midnight Trailer! It's great how Marvel attempts to distinguish their movies in tone and look. Black Panther appears to have all the hallmarks of a Marvel Studios movie... but is very different at the same time. Kinda a sci-fi take on super-heroes with a heavy African influence...
First Doctor Strange, now this? Needless to say, I can't wait. Black Panther is one of my favorite Marvel heroes, and the fact that he's getting a movie fills my fanboy heart with joy.

• Hammer Time? You know how when you read a news headline and you think it's just too crazy to be real and it certainly has to be from some parody site? Yeah, that... Home Depot Panics Over Millennials; Forced To Host Tutorials On Using Tape Measures, Hammering Nails.

• Have Bigotry, Will Travel! America's new biggest export... hate...
Kim Davis Takes Struggle Against Gay Marriage To Another Theater: Romania.
This idiotic piece of shit is not a hero. She's not a marriage role model. She's just a bigot who refused to do her job. And now she's taking her bigotry on a world tour. Fuck her. Fuck her up her hypocritical thrice divorced ass.

• Jack is Back! I'm a pretty big of theTom Clancy "Jack Ryan" books... and even liked the movies despite the fact that they kept changing the actor (from Alec Baldwin to Harrison Ford to Ben Affleck). So when Amazon Prime announced they were developing a show around the character starring John Krasinski, I was intrigued. And here we go...
Interesting! Definitely something I'll be checking out.

• Gently! Last year we were treated to yet another television treatment of Douglas Adams' Dirk Gently's Holistic Detective Agency. It was insane, but in the best possible way. A dozen random threads that made no sense somehow managed to come together at the end in a way that made you want to go back and watch the whole thing over again. The show itself is really tough to describe, but here's Dirk Gently himself to make an attempt...
Season two just started. The first three minutes immediately got me addicted to the show again...
It probably helps to have seen (experienced?) the first season for yourself before heading into the second. But, if you enjoy the utterly bizarre, it's worth a look.

• Poopsie! And, lastly, just because I feel the need to not have suffered through this alone, I present Poopsie...
There's a lot of ways to sell pet food, but this is probably the most unique I've seen.

And, on that note, no more bullets today. Go make a poopsie and enjoy your week!
Posted on October 8th, 2017

It may be cold outside but it's warm in here, because an all new Bullet Sunday starts... now...

• Miley! I've been a fan of Miley since Hannah Montana. Things like this are why...
I am so happy that she's moved past all the crazy-ass antics to focus on her actual talent. Looking forward to more Miley in the years ahead.

• Fight! Thought I'd get my money's worth out of CBS All Access and watch The Good Fight...
So THIS is what happens when you concentrate your efforts on 10 episodes per season instead of watering things down over 22. I admit that I was a bit let down by the final episode, but everything leading up to it was fantastic. Has me wanting to go back and watch The Good Wife, which I skipped the first time around.

• Papyrus! The season opener for SNL was awful... but THIS was genius!
I don't hate Papyrus as much as a number of other fonts, but it's overused and mis-used so often as to deserve a bit of hate.

• Japan! Speaking of SNL, I missed this bit of utter brilliance when it first aired. If you are a fan of the American version of The Office, here you go...
All the characters are pretty great impersonations of the originals, but Jason Sudeikis playing Jim is about as good as it gets. He is sorely missed on the show.

• NEWSFLASH: Saved by lesbian capitol officer, Rep. Scalise goes and speaks at anti-LGBT hate group convention...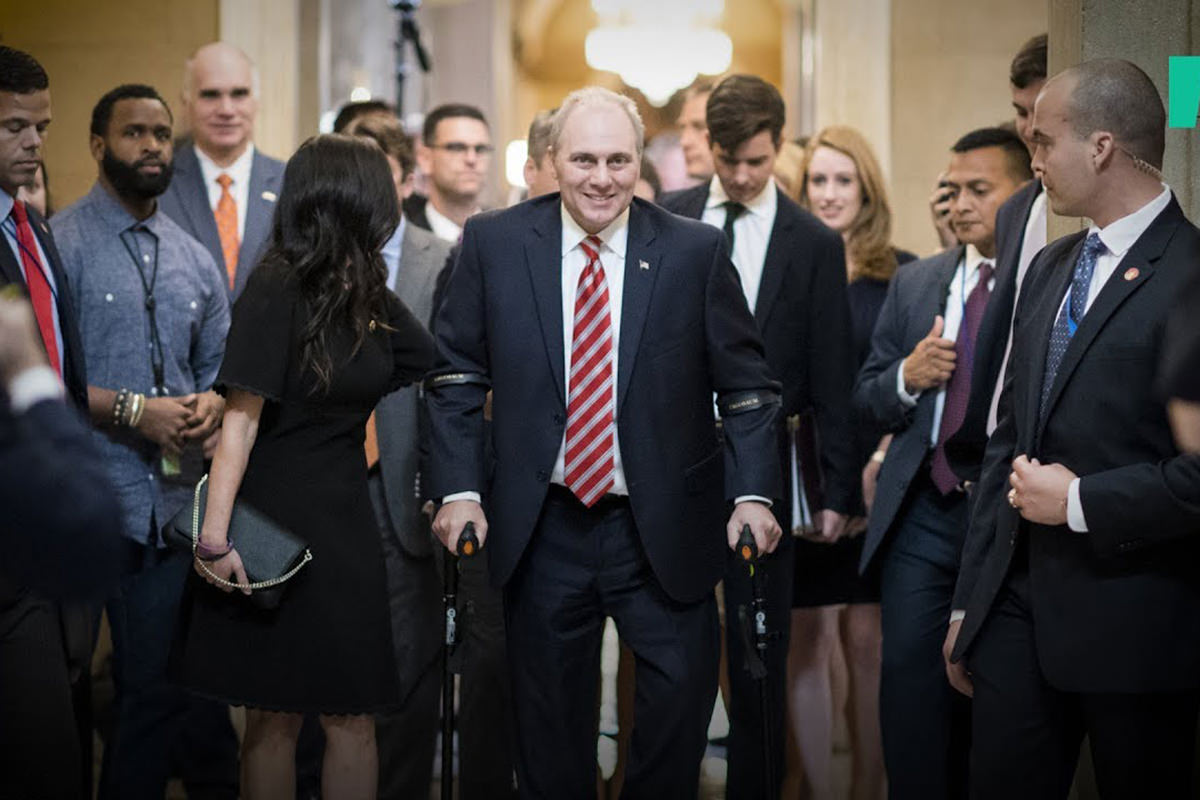 Photo by Bill Clark / Getty
Because of course he did. Homophobia runs so deep in these assholes that not even a brush with death will give them a new perspective on life... ALL life... not just the unborn fetuses and Christians they profess to give a shit about.

• NEWSFLASH: "Pro-Life" Congressman Caught Telling His Extramarital Boo to Get an Abortion. And it's this asshole right here, Republican Representative Tim Murphy...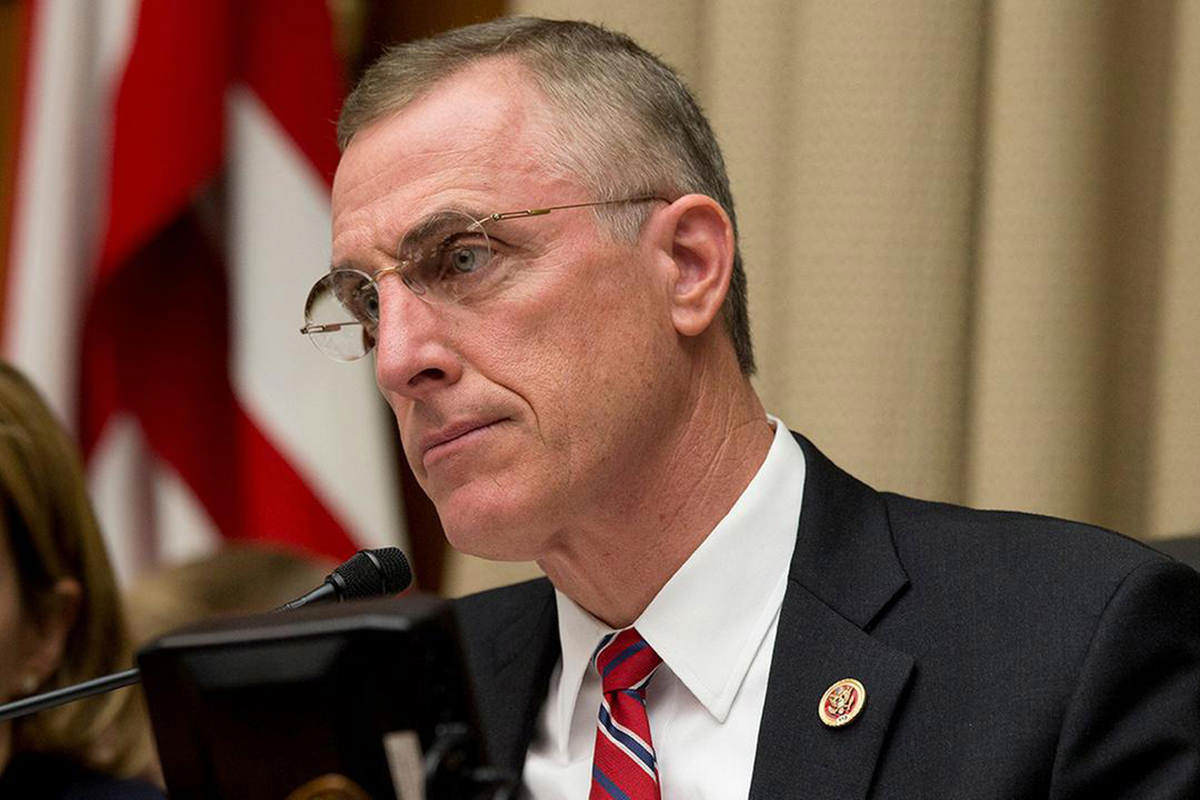 Photo by J. Scott Applewhite / AP
So...
Virulently anti-gay politicians end up caught in gay sex scandals, so why not? Virulently anti-drug politicians end up getting caught with drugs, so why not? Virulently anti-big-government politicians end up wanting to regulate every fucking thing they don't like, so why not? This is just more of the same fucking hypocrisy that drives me completely insane when it comes to our fucked up government. Fuck this asshole. He can't retire enough times.

So long for this week, Bullet Sunday.
Posted on October 1st, 2017

Time won't give me time, because an all new Bullet Sunday starts... now...

• Discovery! I can honestly say that the new Star Trek: Discovery is shaping up to be my favorite television Trek since the original series. Rather than recycle the same old thing, they seem to be intent on taking the show in entirely new directions. Some for the better (ditching the "one big happy family" concept is refreshing), some for the worse (why in the hell re-imagine the Klingons yet AGAIN?). Tonight's episode introduces us to Captain Lorca (brilliantly played by Jason Isaacs) and the USS Discovery (with a gorgeous saucer section married to a butt-ugly triangle body) along with a rather unique premise for the show involving "space spores" which is just bizarre enough to work...
Given the exceedingly high production values, I'm not going to bitch about the $6.00 a month fee to watch the show on "CBS All Access." But, if what I'm hearing is true, CBS plans on airing the first half of the season now, then waiting until 2018 to air the rest. Thus dragging out the length of time their subscribers have to be subscribed (assuming they aren't smart enough to cancel Access until Discovery starts airing again). This is just shitty as all get out (if true) and I have to wonder if CBS realizes how pissed off people already are that they have to pay a premium in the first place?

• So Sick! I've been wanting to see The Big Sick since it debuted. I finally got my chance...
Such a good film. The fact that it's based on a true story is just icing on the cake. Other than playing Dinesh in Silicon Valley, I haven't seen Kumail Nanjiani in anything but bit parts previously (including his hilarious spot in an otherwise awful movie Mike and Dave Need Wedding Dates). He's pretty fantastic, and this movie just goes to show how somebody's real life can be every bit as entertaining as fiction. If you're looking for a movie to rent, it's worth a look.

• So Sicker! Apparently co-writing and starring in "The Big Sick" is not Kumail Nanjiani's only brush with brilliance...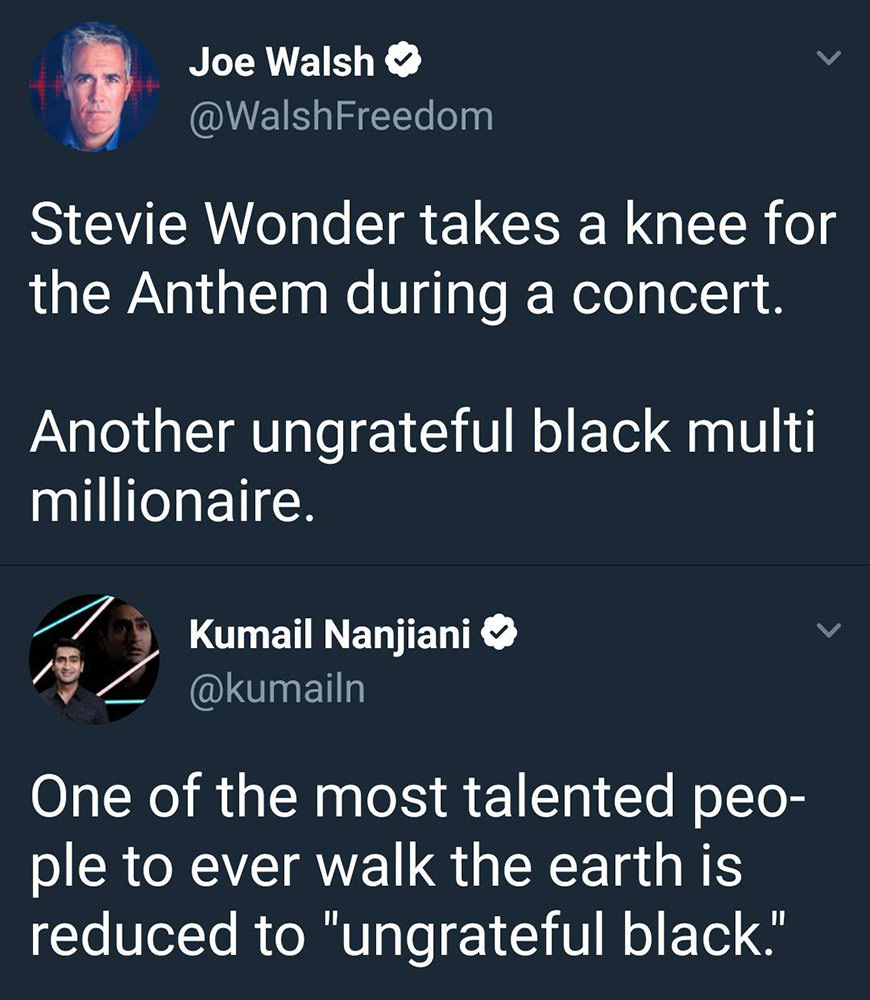 Joe Walsh is fucking garbage.

• Gag! And speaking of fucking garbage... Megyn Kelly is fucking garbage. For years she was a divisive shill for the far right masquerading as a "journalist," and now she's decided to reimagine herself as a non-political talk show host...
I cannot fathom why NBC hired her. Did they really think they were going to attract FOX "News" viewers?

• Tweeter! If you mine President Trump's Twitter feed there's a dose of hypocrisy to be found for everything he does...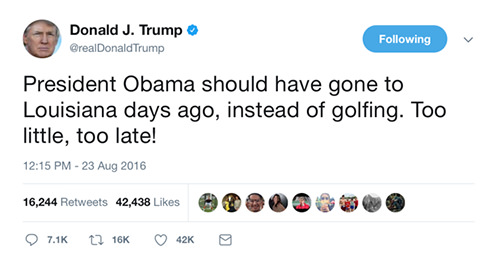 But the Toxic Cheeto Dumbass dedicated his golf trophy to Puerto Rico, so I guess that makes all the difference?

• Just Jack Plus One! I love British comedian travel shows. As if having funny moments isn't enough, they always visit interesting places. Jack Whitehall and his father are in Thailand, Cambodia, and Vietnam in this first season and it's great. If you enjoy travel shows... it's worth a look!
Jack Whitehall: Travels with My Father is available on Netflix now. And, while you're at Netflix, be sure to check out Master of None and Hasan Minhaj: Homecoming King.

See you next week