Posted on May 24th, 2020

You may be stuck in the house, but you won't be lacking for televised entertainment... because a very special Streaming Video Edition of Bullet Sunday starts... now...

• Big Eden! For better or worse, small-town rural America has been saddled with a shiny veneer of down-home values and a sense of strong community. And, having lived that my entire life, it feels an accurate way of looking at things. But this image kind of glosses over the general bigotry and specific homophobia that seems to permeate it all. Big Eden is a movie which shows what happens if it didn't permeate it all...
This is such a warm, charming, and wonderful movie. I don't want to spoil a thing, but suffice to say that it's flawlessly realized cinema. After finishing it, I had to watch it all over again because there are dozens of tiny moments happening in the backgrounds by actors performing at the top of their game. This won a slew of LGBTQ awards, but I'd hardly call it a "gay movie." It's just a movie about a place that you wish existed.

• The Ultimate Gift! I had ZERO expectations for yet another "spoiled rich brat loses his fortune and turns his life around" movie... but The Ultimate Gift was a really good take on the genre...
James Garner is a multi-billionaire with a truly horrible family. This includes a spoiled grandson who spends money like it was water and hasn't worked a day in his life. Everybody gets short-changed in the will when James Garner dies, but the grandson is given a second chance at an inheritance. All he has to do is complete a series of challenges which will win him gifts... ending with "The Ultimate Gift" after all the challenges have been met. But the challenges are not easy and are designed to push him into being a better person. Yes, there are some over-the-top moments to create artificial angst and drama but, overall, I walked away really enjoying this one.

• Hide Away! (Josh Lucas, James Cromwell • 2012) — This movie has polarizing reviews. Some people hated it. Some people loved it. I absolutely loved it. Josh Lucas shows up at a small coastal town and buys a beat up old sailboat to refurbish. The entire movie is a metaphor for rebuilding your life after tragedy, and has been filmed beautifully. I mean really beautifully...
Some of the reviews were screaming "NOTHING HAPPENED IN 85 MINUTES OF RUN-TIME... NOTHING!!!" To which I can only respond "Maybe everything happened and you just weren't paying attention?" The movie 100% relies on Josh Lucas selling it, and he does not falter. From beginning to end, his nuanced performance and commitment to the story were pretty incredible. The ending takes a little thought to process, but was well-handled, I think.

• Kid Brother! This was one of those films where I pretty much had to trust Amazon's recommendation because I would have never given it a second look had I just seen the poster on the Prime Streaming page. A reclusive janitor's life takes a very different turn when his kid brother comes to stay with him...
Do not let the trailer fool you, there is some really good subtle humor and great performances. Where did Alan Longstreet come from and why hasn't he been in like A HUNDRED MOVIES by now? Clever, charming, and some real heart, Kid Brother is worth a look.

• The Lovebirds! Amazon doesn't have an exclusive on enjoyable movies. Netflix just dropped The Lovebirds, starring Issa Rae and Kumail Nanjani. I'm big fans of both, so I was planning on tuning in even if it looks kinda slapsticky and goofy...
And, don't get me wrong, it's absolutely slapsticky and goofy... but it's not without its charms, and I thought Nanjani and Rae did an incredible job of selling it. When all is said and done, it's a cute, sweet film that manages to overcome its weaknesses. It also take place in New Orleans, which is a definite plus.

• Mythic Quest: Quarantine! And, lastly, a lot of television shows are doing "quarantine" episodes or finding other imaginative ways to carry on. Late-night talk shows are thriving in the age of COVID-19. But none of them... none of them... can compare to the sheer brilliance that they came up with for an all new episode of Mythic Quest: Raven's Banquet...
The trailer shows none of the ingenuity which makes the episode so bloody brilliant, which is actually pretty great because it doesn't spoil anything... including an amazing finale. I really enjoyed the first season of the show from Apple+... this is just icing on the cake.

And that's all the movie bullets I got. Stay safe, everybody.
Posted on May 18th, 2020

This past weekend was about as unproductive a weekend as I've had in a very long time. I didn't do much of anything. I think the long weeks of not being able to hang out with friends or, you know, enjoy life, are starting to get to me.
What also gets to me? Going to watch The Abyss and finding that my DVD will no longer play despite still being in flawless condition. The good news is that HBO has it playing, so I was able to watch it after all. The bad news is that I was sent into a total panic at the thought of my massive DVD and Blu-Ray collection deteriorating into unplayability.
I've re-purchased or converted or as much of my collection as possible into digital. But so many things... so many, many, things aren't available digitally. Some movies (like The Abyss and True Lies) inexplicably never made it past DVD. So if you want to own them, that's all you got. As for television shows? Forget about it. Can't be converted, and a huge number of them not only never made it past DVD... but they are out of print and unavailable.
If my old television DVDs become unplayable, then that's all she wrote.
And so I've taken a dip into the quasi-legal arena of backing up my irreplaceable DVDs with digital copies. I say "quasi-legal" because technically breaking the DVD encryption is legally discouraged. But what the fuck else can I do? I can't buy them digitally. All I can do is buy yet another DVD copy that's likely just as old and deteriorating as the one I already own because it's gone out of print.
Like one of my favorite shows, Kitchen Confidential.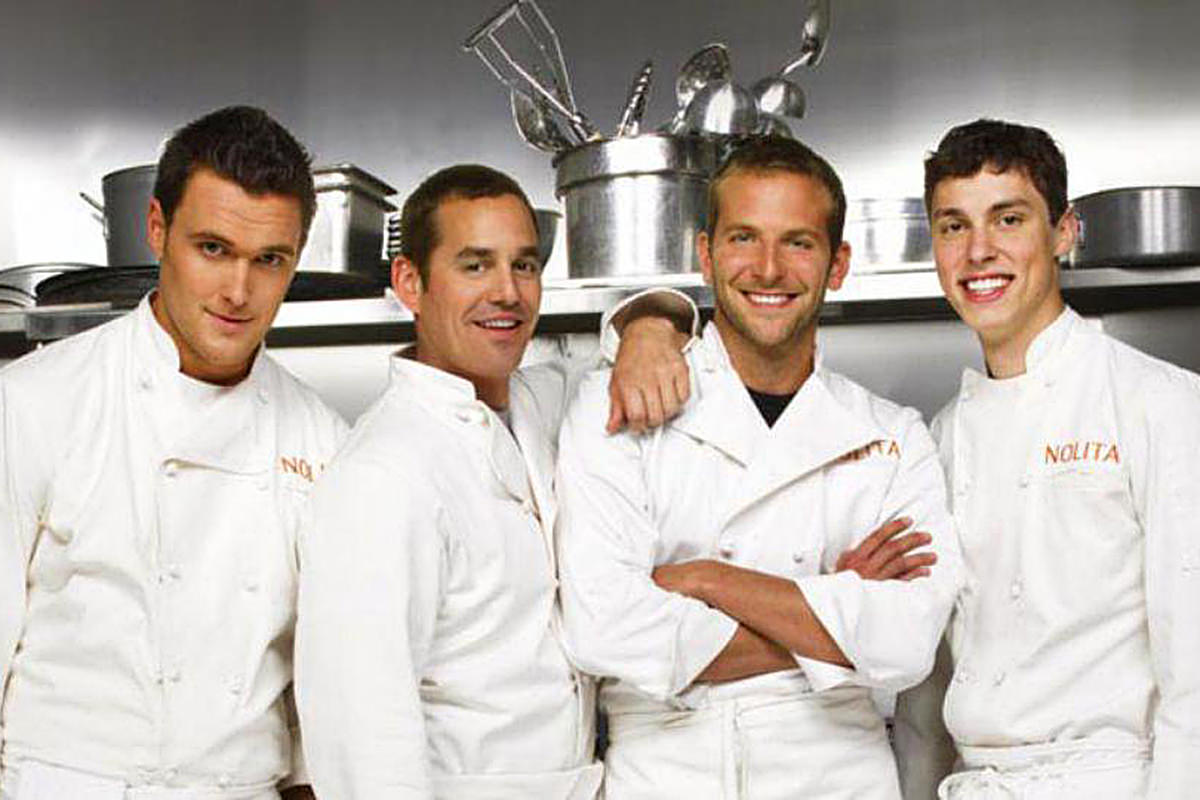 I can't believe that the show was canceled after 4 episodes. All 13 that they filmed were dementedly hilarious and featured a stellar cast (including Bradley Cooper, John Cho, and Frank Langella). It's a total bargain at $15 on DVD, but if the DVDs are becoming unplayable, it's a waste of $15.
And so I've ripped digital backups of DVDs I already own because it's all I can do to preserve what I purchased. And if FOX eventually comes to their senses and releases it digitally? Of course I'll re-buy it. I love the show and want to support everybody who worked on it.
Even if I am a bit bitter about supporting the studio which canceled it.
And speaking of bitter...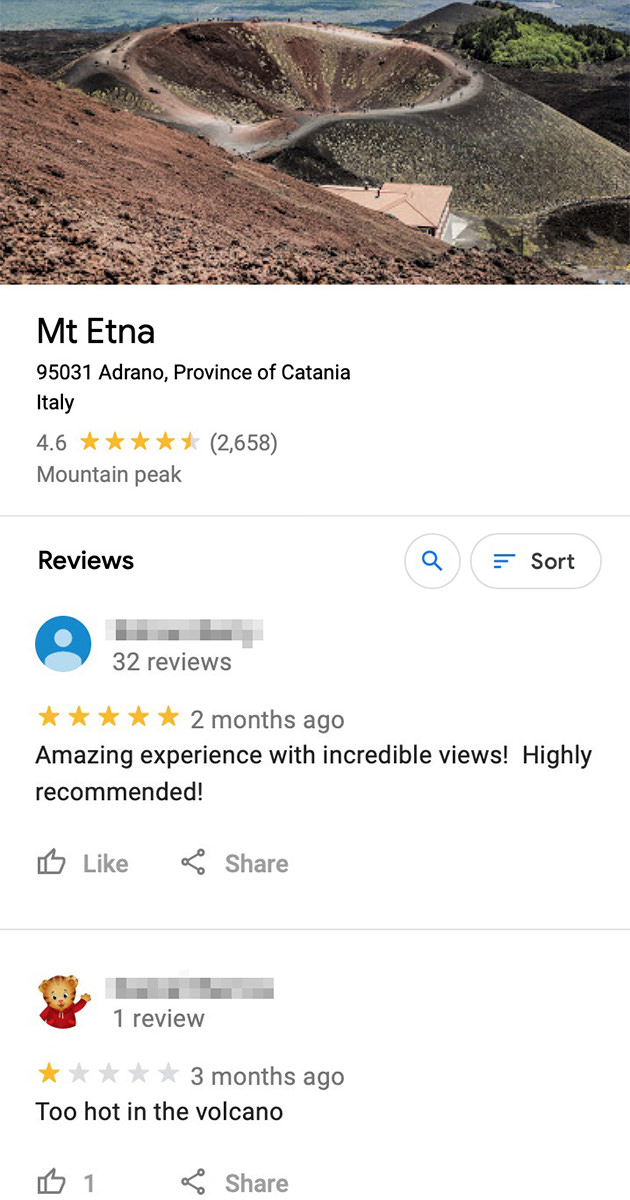 Like they always say... if you can't stand the heat, don't go into the volcano.
Posted on May 15th, 2020

Nobody was more surprised than I was how much I loved the new Star Trek: Discovery series that CBS All Access unleashed on their streaming platform. The first season was beautifully realized, deliciously twisty, and featured some of the best acting to ever appear in Star Trek. It truly felt like something fresh and new, and I was thrilled to experience it (even if I had to pay extra money to see it). I hadn't loved a Star Trek series this much since the original.
The second season was a bit of a disappointment to me. It featured a convoluted time travel narative instead of the shocking turns we got in the first season. Even so, I still found a lot of things to enjoy about it. And by far the biggest thing? We got to see Spock before his tenure under Captain Kirk. It was when he was serving as First Officer to Captain Christopher Pike... which Trek fans know from the fantastic two-part Original Series show: The Menagerie. Pike was wonderfully realized by Anson Mount and Rebecca Romijn turned in a fantastic appearance as Number One.
But it was Ethan Peck as Spock that made me desperately want to see more of their adventures aboard The Enterprise...

Courtesy of ViacomCBS and CBS All Access Television
And today we got the news that we actually will be seeing more of them...
Star Trek: Strange New Worlds will pick up with the crew where their appearance on Star Trek: Discovery left off.
And so... a great time to be a Star Trek fan. We've got a third season of Discovery on the way... along with the Michelle Yeoh spin-off Star Trek: Section 31. And if that wasn't enough, the intriguing Star Trek: Picard has been renewed for a second season and we're getting a new animated show called Star Trek: Below Decks. And now Strange New Worlds too!
I dunno about you, but I'm thrilled to be getting some good news for once.
I think we're due.
UPDATE: And, just like that, we're back to the Twilight Zone as President Trump's "Space Force" unveiled its new flag...
I mean, it's not my imagination... that's the Starfleet logo on the Space Force flag, right?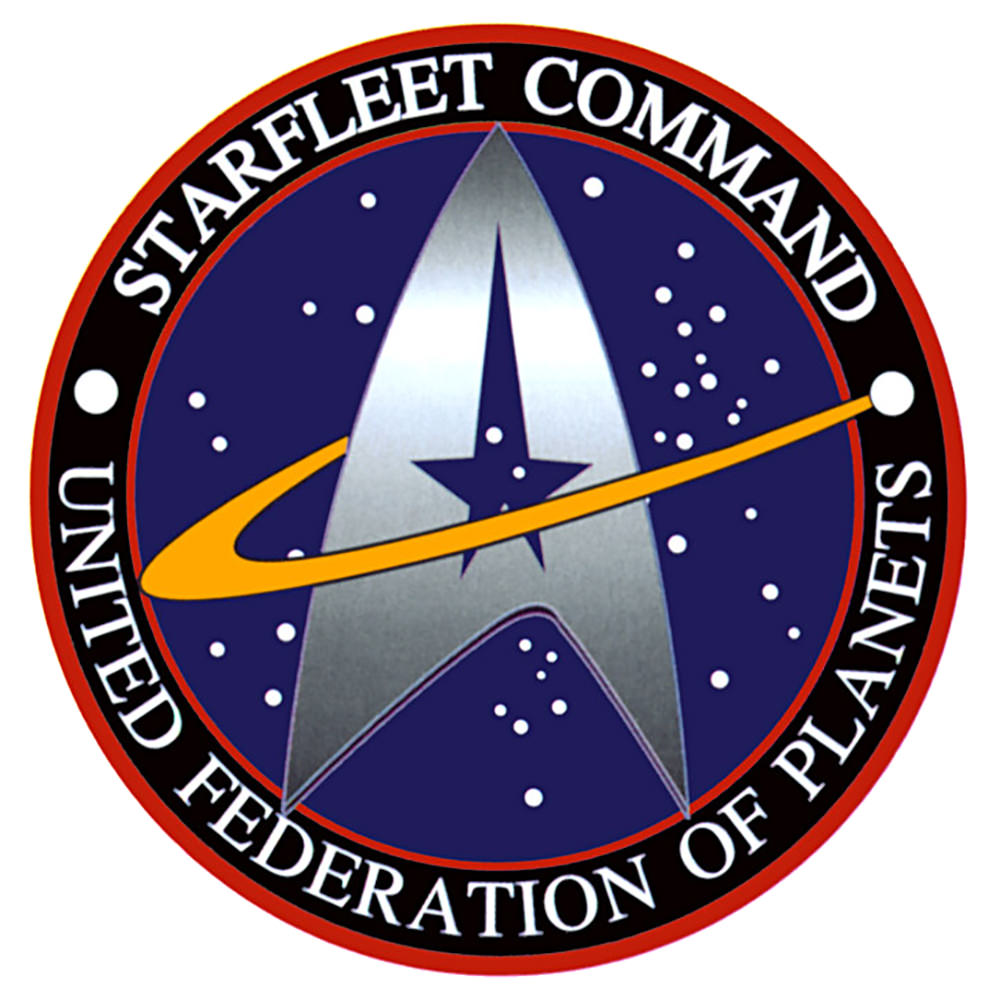 Bad enough this country is going into even bigger debt over something so stupid... but to steal the logo from Star Trek? The insanity of it all makes my head hurt.
Posted on May 11th, 2020

I finally watched First Lady Michele Obama's Becoming on Netflix.
Love her or don't love her, there's no denying that she's a fascinating person...
I really enjoyed the show (and her book) even though I've not always been a fan. Some of the things she's been party to I've vehemently disagreed with, as I think they've been an attempt to do a good thing badly. Take, for example the new "Nutrition Facts" label. It's meant to help people eat healthier. But ultimately it's just another expense and hardship for small business food manufacturers who have to invest a rather large chunk of money into something which is ultimately not worth it.
The calories font is bigger. How does that help? They tweaked a few values. How does that help? People who want to eat unhealthy foods already know that they are eating unhealthy foods, and they're not going to change their mind because the calories font is bigger. Stuff like this is what Democrat detractors can point to and, with good reason, say that they make things harder on American businesses.
But then she also worked very hard to get kids healthier meals in school and a bunch of other wonderful things, so you gotta have perspective. In the end I can say that, if nothing else, I believe that Michele Obama was a patriot who honestly thought that she was doing what's best for the people she served. Can't say that about too many political figures.
Especially now-a-days.
Posted on May 10th, 2020

XXX, but XXX... because an all new Bullet Sunday starts... now...

• TAIKAAAAAAA! And lo did an angel descend from the heavens and declare that Taika Waititi will be writing and directing a Star Wars movie, and it was good. I frickin' adore Taika. What We Do In the Shadows, Hunt for the Wilderpeople, Jojo Rabbit, Thor: Ragnarok (Korg!)... everything the guy touches turns to gold whether he's writing, directing, or acting. As if that's not enough, he just seems like a genuinely smart, talented, funny, interesting, and exceedingly nice person...
We got a taste of Taika in the Star Wars universe when he directed an episode of The Mandelorian (and provided the voice of IG-11). Now he's bringing us more Thor (Thor: Love & Thunder), a new Flash Gordon, a new Time Bandits, plus a new Star Wars. Naturally, I couldn't possibly be more thrilled that he's working on projects I desperately want to see.

• Swoop! I love stories like this...
Birds are awesome.

• BMO! I had no plans... none to invest any more money in television. Especially HBO Max, which has nothing to offer me. Well... almost nothing...
BMO is one of the best parts of Adventure Time and I'd be lying if I said I didn't want to see where they take the character.

• PATATJES MET! I found this article on A Global Taxonomy of French Fry Dips to be especially enlightening. I, of course, choose fries with Dutch mayo. It's the only way to fry.

• Wood! Watching Netflix's Hollywood left me mildly entertained, but I can't stop thinking that they're trying to do a good thing badly while missing a bigger opportunity. Revisionist history is a fine line to walk. You either go for broke, rip up the rulebook, and grab your reimagining of history unapologetically by the throat... or you float through history making random changes that are all rainbows and cotton candy but ultimately don't mean anything to anybody but you. Quentin Tarantino *IS* revisionist history cinema, and Inglourious Basterds is a genius-level event of just how powerful a tool it can be. Ryan Murphy's Hollywood is just whispy fluff in a genre wrapper that "what-ifs" real events to mild effect. The final episode is just ridiculous with its pie-in-the-sky over-the-top goofiness. THAT BEING SAID... holy cats is Jim Parsons good in this thing! His character is a predatory monster which perfectly illustrates how power in the wrong hands can lead to a nightmare of a human being. I am guessing his take on Rock Hudson's manager is based on a real person who did these horrible things, and that's a really scary thought...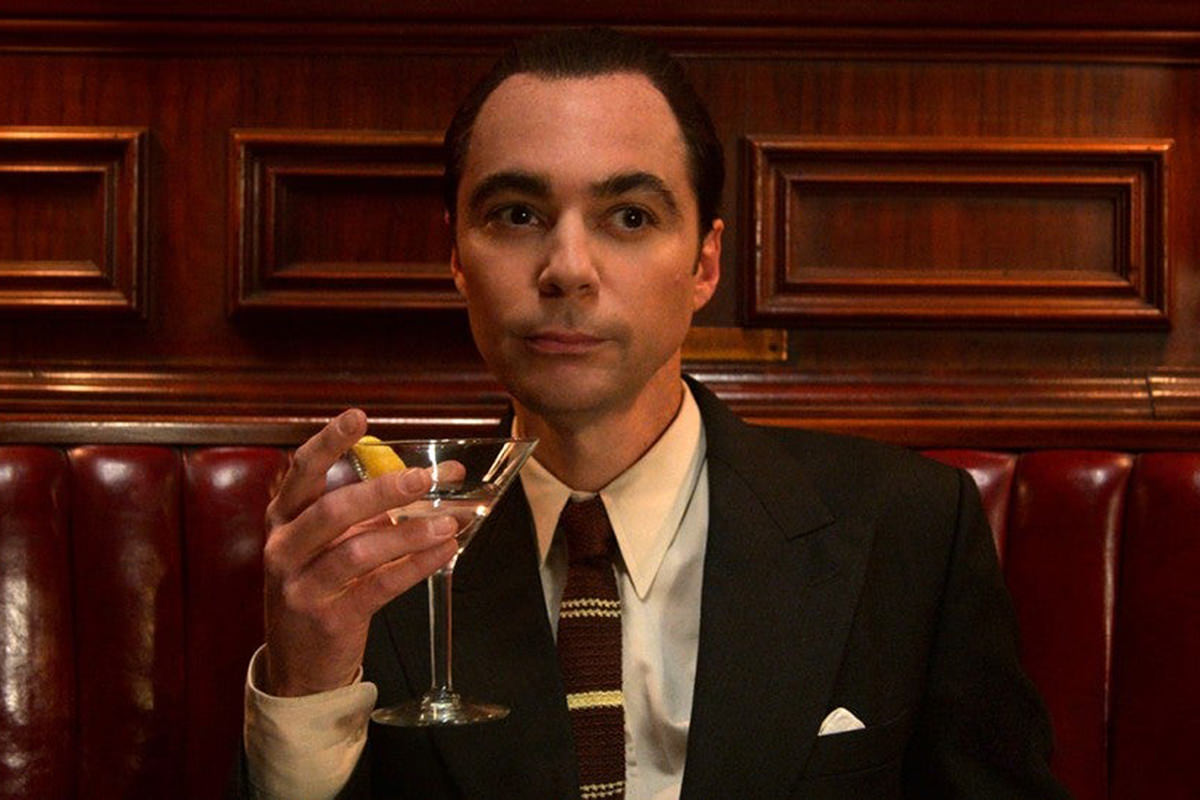 Good on you, Mr. Parsons. I'm excited to see where you take your post-Big Bang Theory career next.

• Advice! I generally roll my eyes at all these "lists of life advice" that make the rounds of the internet a couple times a year. But this one, titled 68 Bits of Unsolicited Advice is pretty great and some of them (such as "A vacation + a disaster = an adventure" are exceptional. Well worth a read.

• Monk! Okay... this is pretty cool. I kept hoping and hoping that we'd get a Monk movie or two so we could see what he was up to now...
And now I just want a Monk movie even more than I did.

• Remember! And, lastly, just read this. There are some remarkable people doing wonderful things in the middle of our current crisis. They should be recognized and appreciated.

And that's a wrap on Bullet Sunday. At least for today.
Posted on May 8th, 2020

I'm not "running out of things to watch," but I am getting bored with the massive amount of stuff that's available to watch. Binging Plan Coeur (The Hook Up Plan) yesterday really made me want to revisit some of my favorite French films, but it's tough to work and read subtitles at the same time, and I can't afford to lose the hours like I did yesterday. I thought that I would instead put on some of my favorite Japanese anime since I was once fairly fluent in the language and "it's just cartoons," but that didn't work out at all. My Japanese comprehension is so out of practice now that I have to stop and think about what's being said, which is actually more distracting than reading subtitles.
I was lamenting the idea of starting in on another Netflix series when a friend in a Zoom meeting mentioned that they've been watching a lot of YouTube videos. This seemed like an excellent idea, because that's somewhere below mindless entertainment, and the YouTube app for my AppleTV will just keep playing them one-after-the-other all night long!
When I asked for suggestions, the first one out of their mouth was Mr. Beast. I was going to take a pass because the only thing I had ever heard about the guy was that he drops a lot of homophobic slurs, but my friend said "He's done so many good things," and I was intrigued.
At first I was just going to start at his first video and run through them all, but he's been doing this for six years(!) and most of his earliest videos are just him playing video games and stuff. He then made a slew of videos speculating on the wealth of other YouTubers and making fun of other YouTubers. Then he went through a phase of counting to really high numbers... reading the entire dictionary... and doing other time-consuming and inane stunts.
Yeah. No thanks.
But then things started getting interesting about two years ago.
Mr. Beast started giving away hundreds of thousands of dollars (which he gets from sponsorship and branding deals). He'd give somebody $10,000 for winning a video game challenge. He'd tip a server $20,000. He'd give random subscribers to his channel huge amounts of cash. And he also started doing crazy stuff like trashing his friend's car then give them a new car... buying every billboard in his city... spending 24 hours in prison... and having his friends do random challenges for huge cash prizes.
I began to see his appeal. His stunts are genuinely interesting.
My favorite stunt he pulled was buying a house then ordering a pizza from Dominos. He offered the pizza delivery guy $2,000 if he would help them go shopping for stuff to move into the house "for a friend," then he gave the fully furnished house to the delivery guy after they were done. Watch the video. It's pretty great...
Title screen obviously shot after the video was made... I hope.
After a while you start really getting invested in the lives of his friends. Poor Cameron kept losing challenge after challenge and never won anything. You really started to feel sorry for the guy because he was constantly made fun of. Then, finally, he won one and I was far more happy for him than I had a right to be...
Yeah, this is not highbrow entertainment, but it is entertaining. I've certainly seen worse uses of time and money on YouTube.
After my Mr. Beast marathon, I started catching up on all the YouTubers I follow but have neglected over the past several months. Like Unbox Therapy, who unboxed Apple's SEVEN HUNDRED DOLLAR WHEELS for their MacPro computer so you don't have to. It looks to be an oddly unsatisfying experience...
Don't worry. Eventually he made a skateboard out of the wheels.
Yahtzee at Escapist's Zero Punctuation took a look at Animal Crossing: New Horizons and it's oddly comforting in its raw predictability...
John Kirkwood made cheese & onion pasties... something I am dying to make and will attempt soon, because it's like a gorgeous blend of some of my favorite things...
Ryan at ScreenRant unleashed another hilarious pitch meeting...
Two amazing thinkers (who just happen to be brilliant comedians) discuss atheism and other deep topics in a fascinating conversation...
And lastly there's Johnny Harris, who actually spent his valuable time looking into flerfers (insert eye-roll)...
After all that, I was ready to start watching regular ol' television again, and started in on Ryan Murphy's latest... Hollywood... which is currently airing on Netflix. Not exactly sure this is going to be my thing, but it sure looks like it was expensive to make.
Posted on May 7th, 2020

YOU YIELD TO TRAFFIC IN THE CIRCLE. It's that simple. That's the only rule. It doesn't take a rocket scientist to understand it. If there's a car already in the traffic circle, you wait until it's passed before entering. And yet...
25% of the time... at least 25% of the time... I run into somebody who doesn't yield.
Like yesterday when I was driving home. And of course the guy is pissed at me even though he was 100% in the wrong for cutting in front of me instead of yielding like he should have. And I honestly don't get the mentality. I'm supposed to just slam on the brakes in the middle of the traffic circle and back up traffic to let people in? That's the complete opposite of how it's supposed to work.
=le sigh=
I continue to wade my way through the massive list of movies and shows I've flagged to watch so I can see if there's anything good on TV. My latest obsession is Plan Coeur (aka The Hook Up Plan) on Netflix. It's a French romcom that has its fill of stupid moments, but is otherwise fantastic. The characters are all beautifully realized and you want to care about them even when they aren't at their best.
Because it's French, I have to watch with English subtitles, which adds another level of amusement to the show...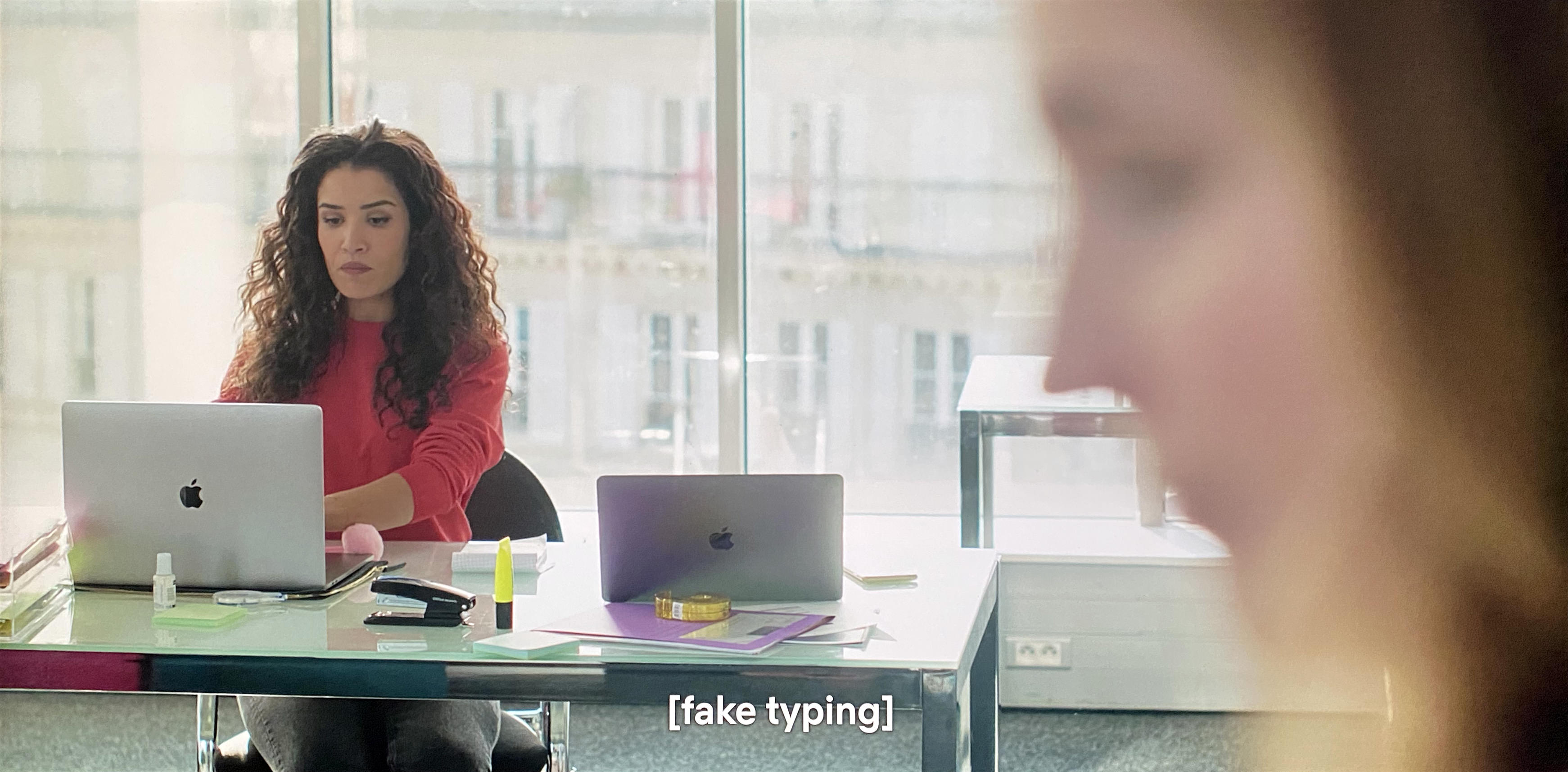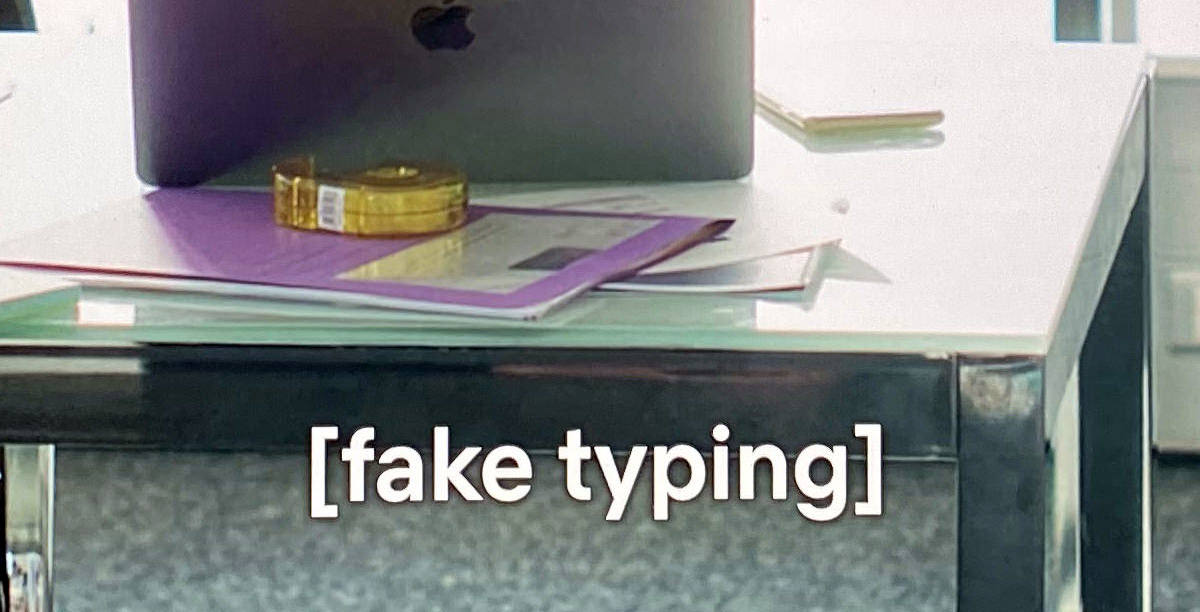 Most of the time, the show is smartly written and has clever one-off lines throughout to bring the funny...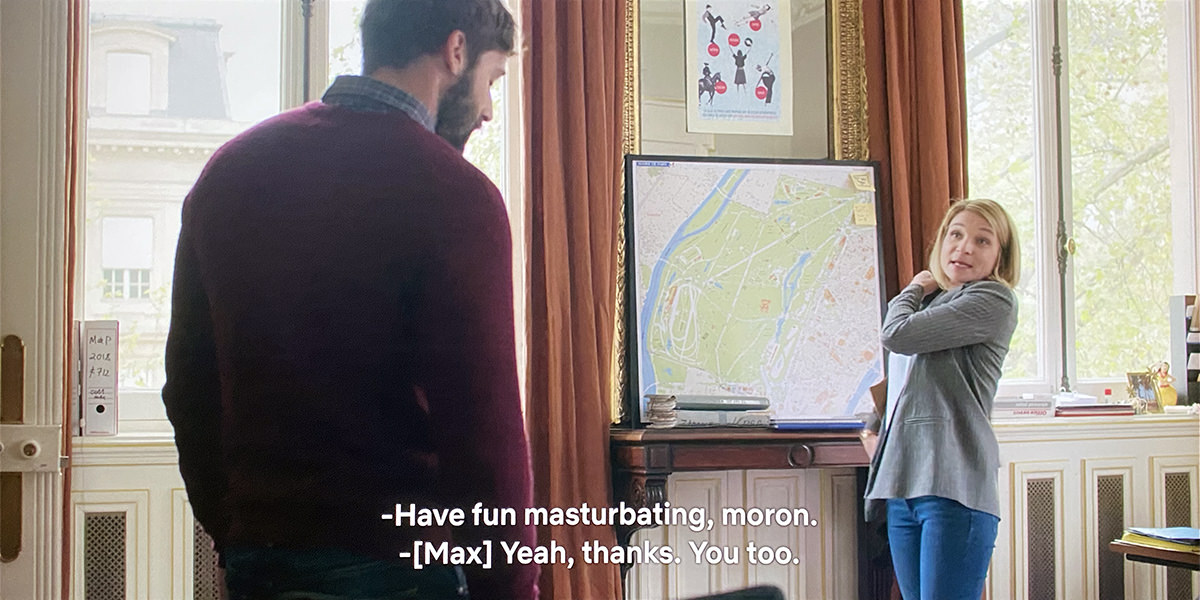 And, of course, it's French, so the romantic moments are flawlessly orchestrated...
What really took me by surprise is the music, which is haunting and beautiful. It's practically another character in the series and makes even mundane moments something to be savored...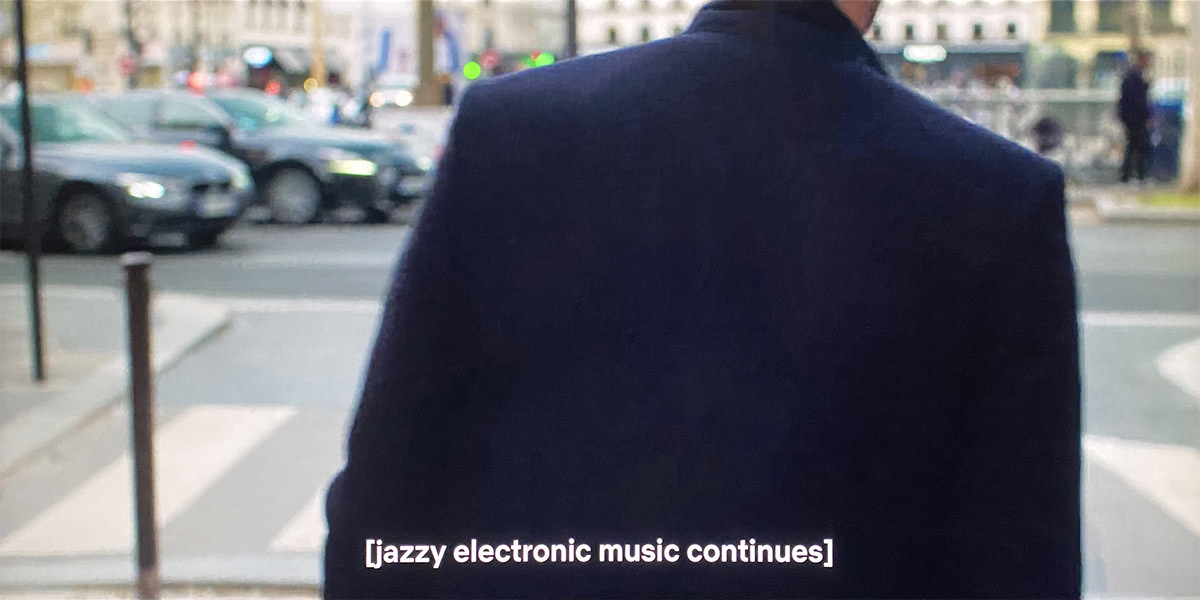 I was compelled to track down the composer, which is Frédéric Magnon, and became an instant fan. When Elsa shows her sister her new apartment, I had to rewind the scene and play it over and over because it's just that good...
The entire soundtrack is fantastic and worth hunting down (Amazon Prime Unlimited has it).
So... if you're looking for a show to binge while you're stuck at home, I highly recommend giving The Hook Up Plan a try. Both series of the show are available on Netflix...
As much as I loved the show and want to see a third series, I almost think I'd rather they left things where they were at in the finale. It was the perfect way to end things even though you'll definitely be wanting to know what happens next.
Which is what makes great television, isn't it?
Posted on May 3rd, 2020

I'm bored out of my mind without being able to hang out with my friends, but excitement awaits me... because an all new Bullet Sunday starts... now...

• Nadiya! One of my favorite Great British Bakeoff contestants, Nadiya Hussain, has a new Netflix series out... Nadiya's Time to Eat. Not all of it is vegetarian, but I've gotten some good ideas from her show. Including this gem...
Sounds amazing, right? And how charming is she with her lovely British accent? Nadiya's got some cool ideas for quick and easy meals that makes her show a great thing to watch. Just keep in mind that the British terms for certain foods can be different ("caster sugar" there is "fine baker's sugar" here), and sometimes products (such as Double Cream, which is 48% milkfat, for example) may not even exist where you live (the thickest I can get is Whipping Cream, which is only 36% milkfat. Also? Nadiya provides all oven temperatures in Celsius, so you'll need to convert to Fahrenheit.

• Facebook "Standards!" It's gotten to the point where I can't understand the point of Facebook any more. They are so wildly inconsistent with the posts they ban that you can't really know what is acceptable or not. Take for instance this tweet I reposted that is clearly a joke on all the "5G causes the Coronavirus" conspiracy theorists...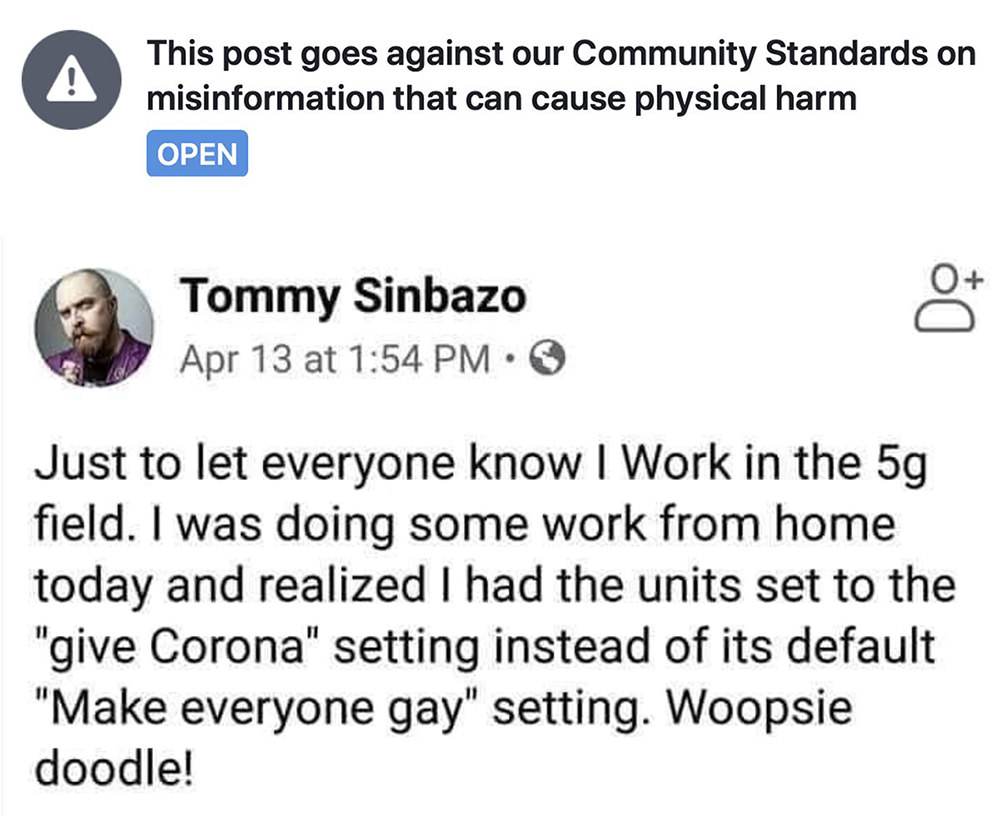 Meanwhile, some of the anti-vaxers and homeopaths and flat earthers and other morons are posting shit that is ACTUALLY MISINFORMATION THAT CAN CAUSE HARM and have free reign? Dafuq? I have posts taken down more and more lately, and in no case did I agree with the decision or even see why they took it down in the first place. Facebook has no concept of context or humor and are acting like total dipshits with this ban-hammer crap.

• Love Is Love! One of the members of my "Bible Study for Non-Christians" group brought up the movie Road to Edmond, which they decided to watch because it sharply divided Christians who saw it. None of the rest of us had heard of it, but it was free to watch on Amazon Prime Streaming, so we all agreed to take a look so we could have a discussion about it. I honestly don't know what my takeaway is. I almost stopped watching 20 minutes in because one of the characters was driving me crazy and the non-budget and amateurish acting was almost too much to take. But I stuck with it because I didn't want to be left out of the conversation with my group. Turns out that everything was building to something, not everything is what it seems, and it's actually a fairly remarkable film. I definitely understand why some people are completely incensed with it... heaven only knows there's enough to provoke that reaction. But I also understand why some people have fallen in love with it too. As I said, I honestly don't know how I feel about it... maybe I'll have more perspective once I've discussed it. All I definitely know is that I love the closing credits song as much as I could possibly love any song... it's Love is Love by Trey Pearson.
Trey Pearson has a lot of great songs, this one is called Silver Horizon and is every bit as good...
And if not for Road to Edmond, I likely never would have found it.

• Download! Boo! BOOOOOOOO! AMAZON'S GREAT NEW SHOW, UPLOAD, ENDS ON A HUGE CLIFFHANGER! And what are the odds that they won't renew it? Fuck all the television studios who refuse to show a complete story in a season. All this does is fuck over fans of the show when they cancel it.
BOOOOOO! And what's so frustrating is that they didn't need the cliffhanger. It's just lazy writing, and NO show should end a season on a cliffhanger unless they have the next season already started. So rage-inducing. If Amazon cancels Upload I'll be more furious than usual when this happens.

• After! Somebody edited together the underlaying narrative of grief that runs through one of my favorite shows so far this year... and it's almost unbearable to watch. What makes After Life so amazing is how it tempers the grief with humor. Without the humor though? It's a serious exploration of the human condition. Spoilers, obviously...
Ricky Gervais really knocked it out of the park with this show. He's already said that he's been so touched by the outpouring of love for the show that he's working on a third season. And, oh well yeah, HE DOESN'T END HIS SERIES ON A FUCKING CLIFFHANGER BECAUSE HE KNOWS THERE'S NO GUARANTEE THAT THERE WILL BE A NEXT SEASON! He's talented enough to come up with a way to start a new season without cliffhangers.

• Suess Raps! These videos of a guy rapping Dr. Suess over Dr. Dre beats is total genius...
I hesitate to guess how many times he had to practice these before getting this good.

• Better! TIME IS JUST A SOCIAL CONSTRUCT TO KEEP YOU FROM DOING WHAT YOU WANT TO DO WHEN YOU WANT TO DO IT! WELL SCREW THAT! I AM IN CONTROL OF MY OWN DESTINY! SO... MORNING DRINKING at 9:00AM IN MY UNDERWEAR WITH CHEETOS AND TELEVISION, BABY! — MY DAY IS BETTER THAN YOUR DAY!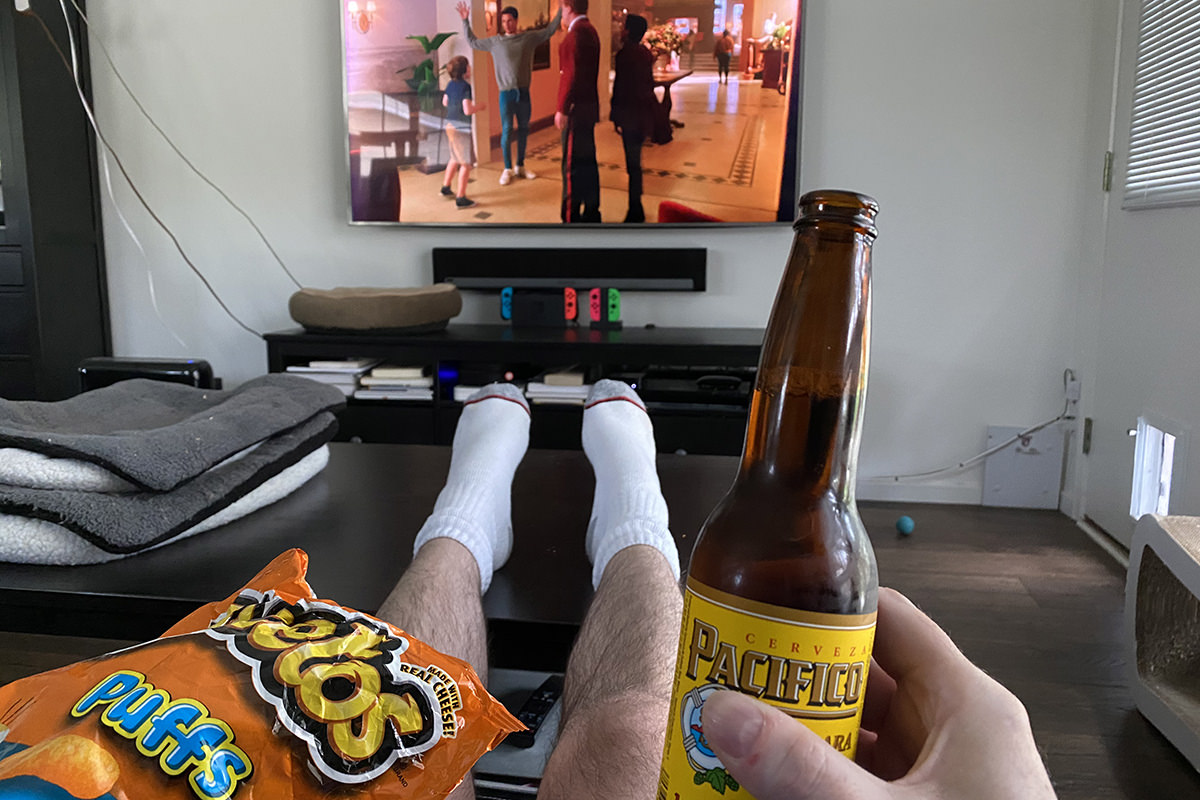 So how was your day?

And that's that for bullets on this fine Sunday in quarantine.
Tags:
Bullet Sunday
,
FaceBook
,
Food
,
Movies
,
Music
,
Television
,
Videos
,
YouTube
Categories:
Bullet Sunday 2020
,
Food 2020
,
Movies 2020
,
Music 2020
,
Television 2020
—
Click To It:
Permalink
—
0 Comments: Click To Add Yours!
Posted on April 27th, 2020

Last night I was looking at movies on iTunes and saw that there were some titles available to RENT for $20. To RENT!
Then I realized that they were all movies which had just been released to theaters right before the lockdowns started. They are being shoved to home video early at a premium price in the hopes that they can reclaim some of the money they missed out on. None of which I would pay $20 to see... but heaven only knows that there are movies I'd pay $20 to see. Like Black Widow which keeps getting pushed back.
Of course I'd much rather pay $0 to see a movie.
Which is why I'm always looking through services like HBO and Amazon Prime.
Much to my delight, Amazon Prime has a documentary that I didn't even know existed... Never Surrender: A Galaxy Quest Documentary...
As one of my all-time favorite movies, I was keen to see this because so many of the people behind the film are in it (including Tim Allen and Sigourney Weaver).
Sadly, my favorite part of the movie... Alan Rickman... had passed away and couldn't participate...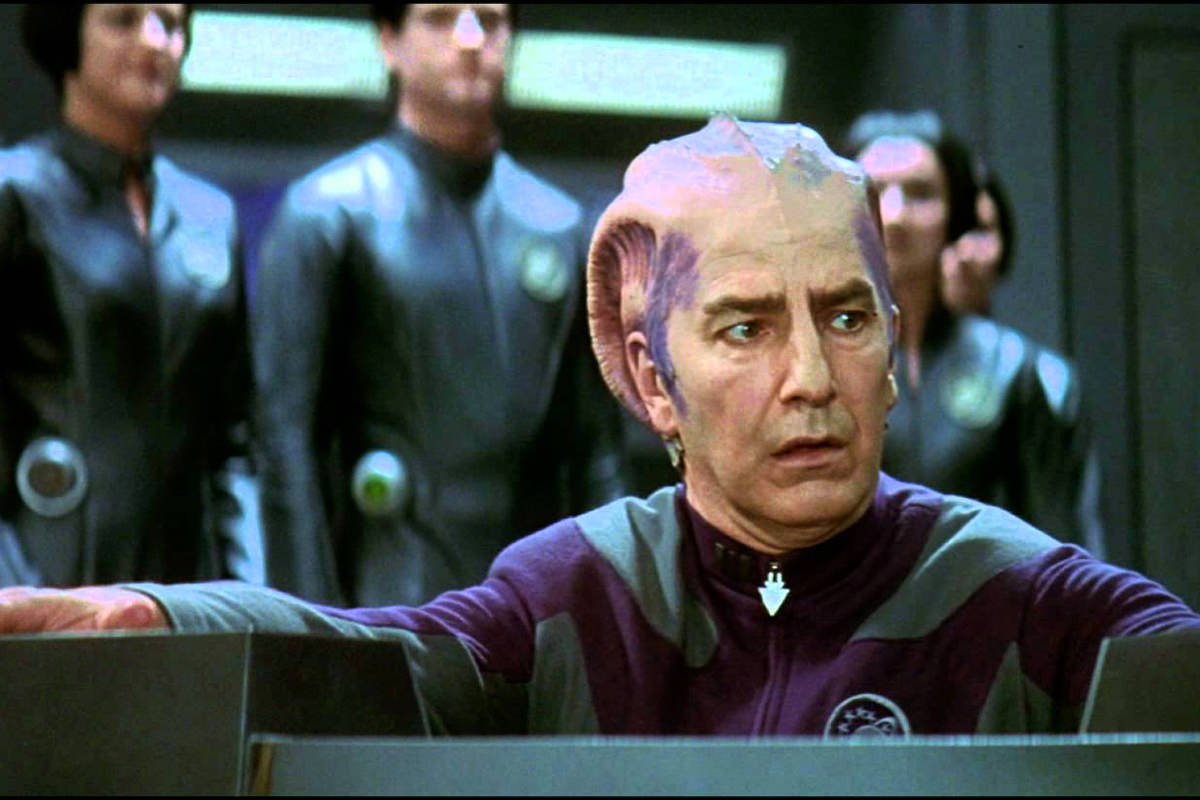 His very dry humor was hilarious, and he has one of the most touching scenes in the entire film. Fortunately, there are others in the documentary who remember his work there. He was Sir Alexander Dane! I love that.
Never Surrender lead to my watching a documentary on Susan Oliver called The Green Girl, which was absolutely fascinating (and has a short appearance by Betty White!). Unbelievable how shitty she was treated by Hollywood...
The Green Girl then lead to another documentary called United We Fan (about fan campaigns to save canceled television shows), which was also interesting...
And THAT lead to my watching yet another great documentary called Geek, and You Shall Find...
And then I happened upon With Great Power: The Stan Lee Story, which was as interesting as you'd think it would be...
At that point I could have watched a dozen more, but ended up going to bed instead so I could stare at the ceiling and not sleep.
Definitely getting my money's worth out of Amazon Prime this month!
Posted on April 21st, 2020

Showtime's brilliant series Episodes, starring Matt LeBlanc (Joey of Friends fame) was added to Netflix back in 2018 but I only recently started watching it from the beginning. I had Showtime for the first two seasons, but since that was a while ago, I thought it best to start from the beginning and power my way through all five seasons. Tonight I finally got to the last episode.
I had forgotten just how funny and depraved it was...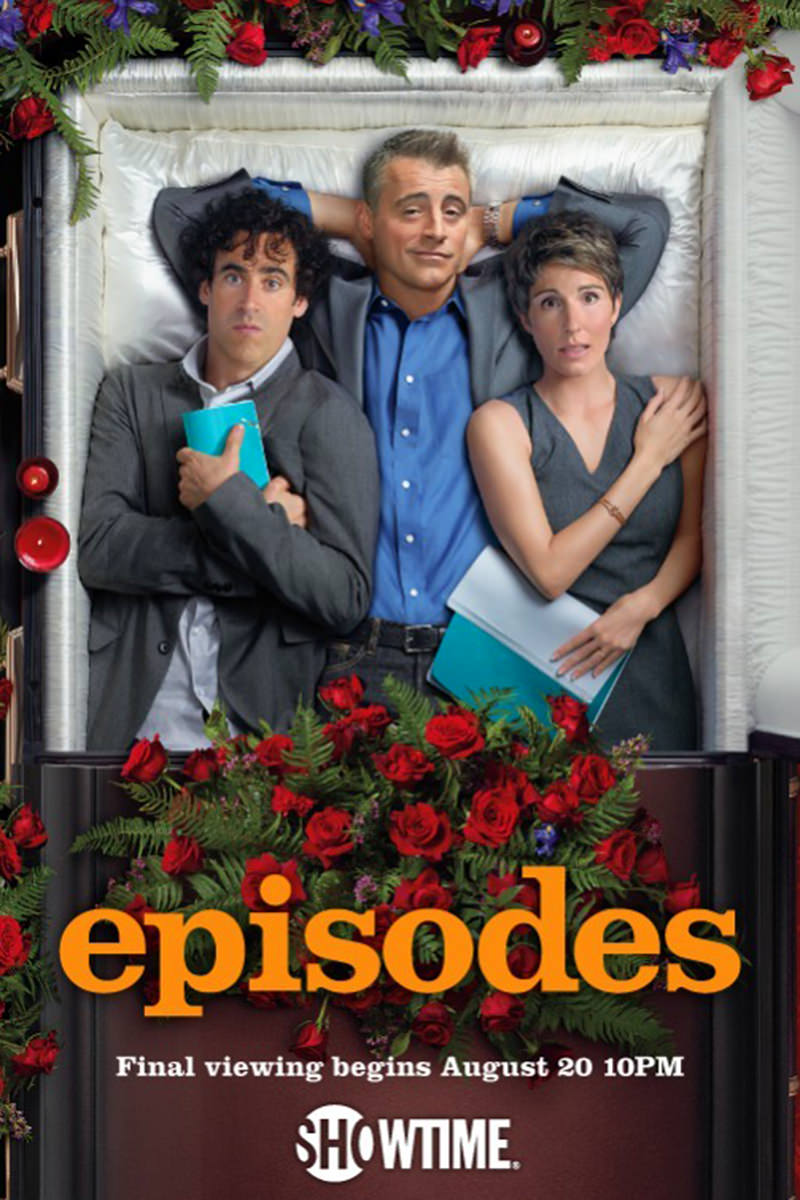 So much so that I was sad when I got to the final episode. At least they wrapped it up pretty well. If you haven't seen it yet and have Netflix, then it might be worth your valuable time.

And now, because I have nothing better to blog about, I figure I might as well catch up on my latest meals from Martha Stewart and Marley Spoon!

19. Bean & Cheese Taquitos with Tomatillo Salsa & Sour Cream
I fell in love with tomatillos in a previous Martha Stewart recipe box, and automatically order any dish that has them. This is essentially the same meal as the quesadillas I had weeks ago, but rolled into taquitos. I should have made them into quesadillas, because the taquitos are a heinous mess. All the filling runs out while they bake. But still... fantastic meal and super delicious!

20. Risotto Primavera with Asparagus, Leeks & Peas.
Nothing great. And the instructions were really confusing... plus I have no idea why they have it served on a bed of greasy spinach, which was kinda gross. Won't be making this one again.

21. Coconut-Peanut Rice Noodles with Blistered Zucchini & Green Beans.
This is the first time I ordered a duplicate recipe... something I wasn't planning on doing except... well... quarantine and not wanting to go to the grocery store. It was their AMAZING Coconut-Peanut Rice Noodles with Blistered Zucchini & Green Beans that I loved so much the first time. THIS TIME when I made it, I held back half of one of the Sriracha packets because I felt the full amount overwhelmed the peanut butter flavor. FLAWLESS! PERFECT! AMAZINGLY BALANCED NOW! When I make this on my own, I will switch to blistered green beans only. I am getting a bit tired of the way Martha puts zucchini in everything, and I think it lacks the flavor that green beans have.

22. Fresh Fettuccine Alfredo in a Hurry with Baby Kale Salad.
I hate to say it, but this entire meal was kinda embarrassing. First of all... this was a lot longer process and a lot more difficult to make than ACTUAL FETTUCCINE ALFREDO! The real recipe is fettuccine noodles with butter and grated parmesan AND THAT'S IT! If you make it any other way, IT'S NOT FUCKING FETTUCCINE ALFREDO! No cream. No lemon and garlic and other extra shit. It's parmesan and butter. Period. And I would know... I've eaten at the restaurant where it was invented several times when visiting Rome! But this? Just no. Instead of fettuccine noodles, there I was cutting up pasta sheets AGAIN. Instead of a load of parmesan, you get two tiny squares to grate up. Instead of butter you get mascarpone cheese, garlic, and LEMON?!? The result is a bland, senseless pasta fiasco that should NEVER be called "Fettuccine Alfredo." Luckily I had some extra parmesan to throw on top for SOME added flavor. And don't get me started on the Baby Kale Salad. Yet AGAIN Martha wants you to toss the shit with oil. I am so sick of fucking greasy lettuce in these meals that I couldn't stomach the thought of it. And so I dumped a bunch of French dressing on top to help cover up the kale. ATTENTION MARTHA STEWART... OTHER SALAD DRESSINGS EXIST OTHER THAN OIL. HOLY SHIT!!! From now on I will be looking at the recipes very carefully instead of just clicking stuff that looks good. I thought this was going to be a simplified one-pot recipe for Alfredo or something. Turns out it wasn't even the dish advertised.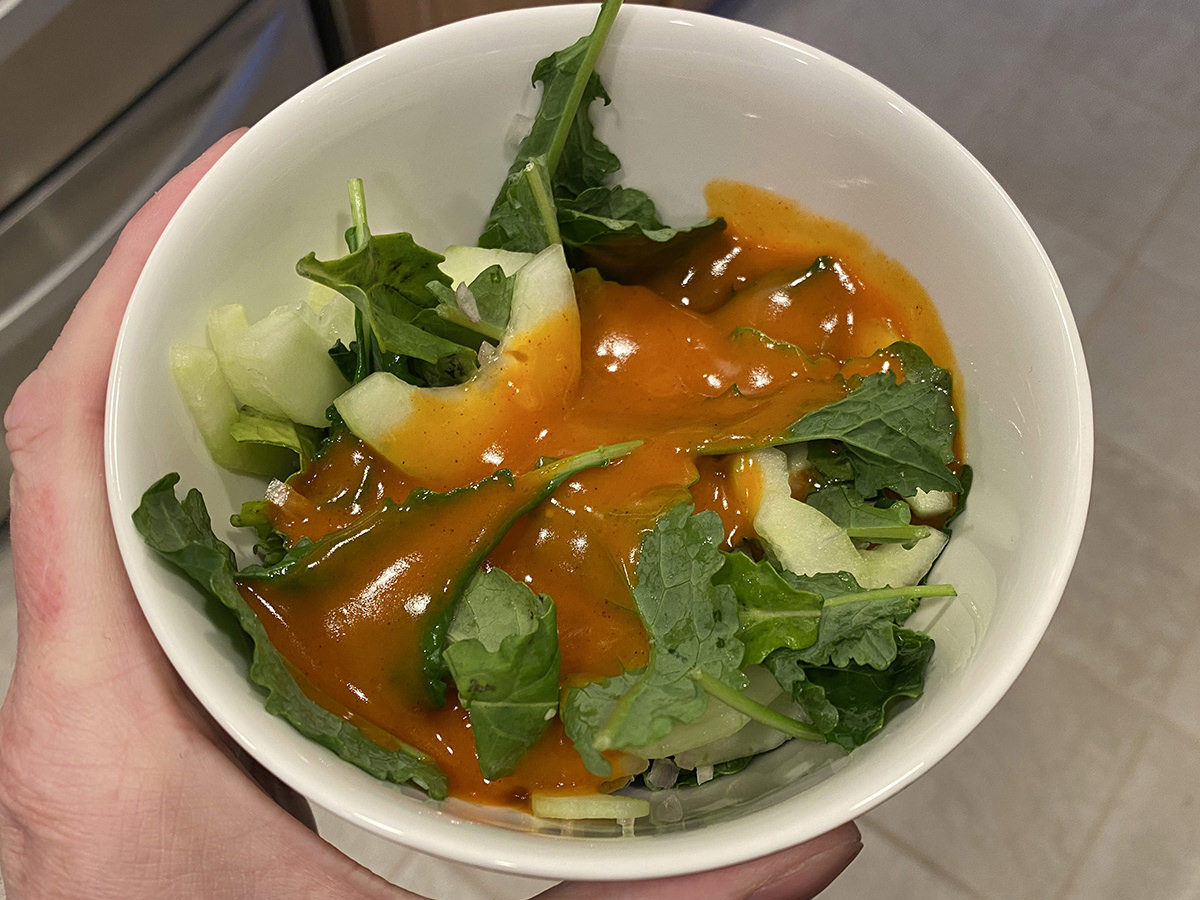 And I guess that's the end of that.