Posted on August 23rd, 2020

Fan conventions may be on hold, but don't get your super-suit tights in a bunch... because an all new DC Comics Fan Dome Edition of Bullet Sunday starts... now...

• FAN DOME! In the absence of fan conventions (like Comic-Con) there's been an awful lot of "virtual cons" happening. DC Comics held their own virtual con event this weekend, called Fan Dome. The only thing I actually tuned in live for was Wonder Woman 1984 and Suicide Squad. Everything else was just when it hit YouTube. Precious little information was dropped for Aquaman 2, Shazam 2, or a new Superman film, but everything else happening in the next 2-3 years was touched upon. Let's take a look, shall we?

• THE SUICIDE SQUAD! Technically, this is Suicide Squad 2, but in order to distance James Gunn's take on the franchise from the previous installment, they added "The" in the front and left "2" off the back. Packed to the gills with characters even more obscure than the original team, Gunn promises a unique take on the material which follows his incredible success with the Guardians of the Galaxy flicks over at Marvel. Out of all the films DC is unleashing on us, this has the best shot of my liking it...
ODDS TO LIKE IT: 85%

• WONDER WOMAN 1984! I was completely unprepared for Patty Jenkins' incredible Wonder Woman movie, released in 2017. It was a fantastic, faithful, and fully entertaining representation of everybody's favorite Amazon for the silver screen. Three long years later, we're finally getting a sequel. I am not 100% sure how exactly how this wacky throwback is going to play out, but the trailer sure looks encouraging...
ODDS TO LIKE IT: 75%

• THE BATMAN! When it comes to Batman live-action movies, the character has fared better than most, but there have been some serious missteps...
Batman (1989) Demented Tim Burton Batman fun!
Batman Returns (1992) Memorable for Danny DeVito and Michelle Pfeiffer and an absurd story.
Batman Forever (1995) Joel Schumacher taking a huge, stupid dump on the franchise.
Batman & Robin (1997) Joel Schumacher's nail in the coffin of Batman movies.
Batman Begins (2005) Christopher Nolan reinvigorates Batman for film in a new trilogy.
The Dark Knight (2008) The pinacle of Batman movies with the definitive Joker.
The Dark Knight Rises (2012) A drastic step down has Batman ending on a whimper.
Batman v Superman: Dawn of Justice (2016) Zack Snyder shits all over Batman, specifically, and super-heroes, in general.
With the exception of The Dark Knight Rises, the best Batman going has been the LEGO games/movies and the animated cartoons. And here we go again, this time with Matt Reeves directing Robert Pattinson in The Batman. Alas, it's looking like a bit of a mess in the trailer, but who knows?
ODDS TO LIKE IT: 25%

• BLACK ADAM! I hate hate hated the Shazam! movie. Now we're getting a movie around one of Shazam's biggest villains, Black Adam. I have no clue what this is supposed to be. Is he fighting Shazam? Is he going to be an actual villain? Who knows. I'd abandon all hope, except Dwayne "The Rock" Johnson is starring in it, so I guess that's something.
ODDS TO LIKE IT: 20%

• THE FLASH! One of the worst parts of Zack Snyder's shitty Justice League was his take on The Flash. Wrapped in one of the shittiest movie super-hero costumes of all time, Ezra Miller's godawful versions looked like a pile of junk instead of the sleek, elegant character from the comics. And those horrific "jokes" that he simply would. not. shut. up. with (courtesy of Joss Whedon, I'm guessing?). has me not giving a crap about this movie. About the only thing even remotely interesting to me is the fact that Michael Keaton's Batman will be making an appearance. Otherwise? Ugh.
ODDS TO LIKE IT: 10%

• JUSTICE LEAGUE: THE SNYDER CUT! One of the worst super-hero films ever created, Justice League was a horrific pile of shit that followed Zack Snyder's truly awful Batman v Superman Dawn of Justice and Man of Steel fiascos. While the fact that Snyder has created it guaranteed it would suck, the fact that Joss Whedon was brought it to make it "funny" in the hopes it would perform like his two Avengers movies made it even worse. An inconsistent mish-mash that I hated more than I ever thought possible. Now Zack Snyder has been given millions of dollars so he can "restore his vision" for the film. Which means it's still going to be a pile of shit... it's just going to be a consistent pile of shit.
ODDS TO LIKE IT: 2%

I suppose if theaters ever open up in the USA again, I might actually get to see some of these. But, more likely than not, I'll just be waiting for home-video. If I'm going to risk death in a theater, it won't be for anything coming out of DC Comics, that's for sure.
Posted on March 7th, 2019

I missed Aquaman in the theater. I had wanted to see it but life kept getting in the way and, to be honest, it was not a priority for me. Despite a home run with Wonder Woman, DC has a horrendous track record with their new "universe" of films, and I just don't give a shit. Especially not enough to have to sit with a bunch of rude assholes at the local cineplex. If ever there was a movie studio screaming "wait-for-video," it's DC.
But now that Aquaman is on iTunes, I plunked down my $20 to take a look. Not as good as it could have been... much better than what I was expecting. I don't plan on spoiling anything major here... but, if you haven't seen it yet (and are planning on doing so), you might want to wait before reading.
There was some stuff I liked...
This was essentially a super-hero mash-up of Indiana Jones and Tomb Raider. Which sounds awful, but it mostly worked.
Jason Momoa does not disappoint. His frat-bro demeanor may be a bizarre character choice, but it does make him different amongst the crowded field of super-heroes and that's a good thing.
We finally get to see Aquaman in a costume that respects the source material...
Amber Heard, Nicole Kidman, and Willem DaFoe were perfectly cast. And the fact that they made Heard's take on Mera a hero instead of damsel in distress was a pleasant surprise...
The underwater effects are pretty great.
The movie's visual design is mostly excellent.
The sound design is amazing.
The soundtrack is fantastic.
The chase through Sicily is one of my favorite action sequences in a super-hero movie, which is weird given that this movie centers around an underwater world.
The final underwater battle is spectacular. I wish I had seen it in IMAX.
In stark contrast to the steaming pile of shit that Zack Snyder brought to Batman vs. Superman and Justice League, this movie is actually fun.
And the stuff I didn't...
As much as I loathed Justice League, it seems moronic that they completely ignored what happened in that movie. Aquaman is supposed to be a part of a bigger universe but failed, utterly, to remember that.
In the comic books, Mera is an alien from another dimension... which explains her powers. In the cinematic version her powers are basically unexplained?
While I did like the visual design, they made Atlantis into underwater Asgard (complete with Odin and the Rainbow Bridge) which was lame...
Black Manta, one of the coolest villains in comics, was kinda wasted. They essentially made him DC's answer to Iron Man (where does his tech training come from though?), then disposed of him... hopefully to return, as teased in the end-credits...
I like Patrick Wilson well enough, but didn't feel he brought much to the role of Orm. This is probably more the fault of the dialogue he was given than his talent as an actor. And then there's his metal Ocean Master mask which distorts to show his emotions. It looked really tacky and stupid, which is why I'm glad he wasn't in it very often...
The attempted slapsticky comic beats are juvenile and stupid. The octopus playing drums. The goat on the plane. Holy shit, why do this absurd bullshit when your movie doesn't need it?
In the end, Aquaman wasn't a bad effort. Far from it, there was actually a lot to enjoy here. Partly because of the imagination at work in bringing Atlantis alive... but mostly because director James Wan went out of his way to run as far away from Justice League as he could. The problem with DC movies being that he had to do so in the first place. Still, they've already announced a sequel to be released in 2022, so maybe the best Aquaman movie is yet to come? Time will tell.

Time to update my "Y2K Super-Hero Comic Book Renaissance" scorecard...
→ Click here to continue reading this entry...
Posted on July 31st, 2018

Today Marvel's Avengers: Infinity War was released on digital home video. I thought before I sat down and wrote my thoughts on the movie, I'd take a run through Justice League from the Distinguished Competition and jot down some notes on it as well.
It's no secret that, with one exception, I loathe the DC Comics Cinematic Universe. Wonder Woman was pretty great. But Man of Steel, Batman vs. Superman, Suicide Squad, and Justice League were all festering piles of crap that were not only bad movies... they were bad adaptations of the comic books they were taken from.
Justice League was so bad that I couldn't even get through it. I've only just watched various chunks when I've seen it on HBO. But, in the interest of fairness, I thought that I would sit through the whole thing last night to see if that changes my opinion.
Turns out that, no, it most definitely does not...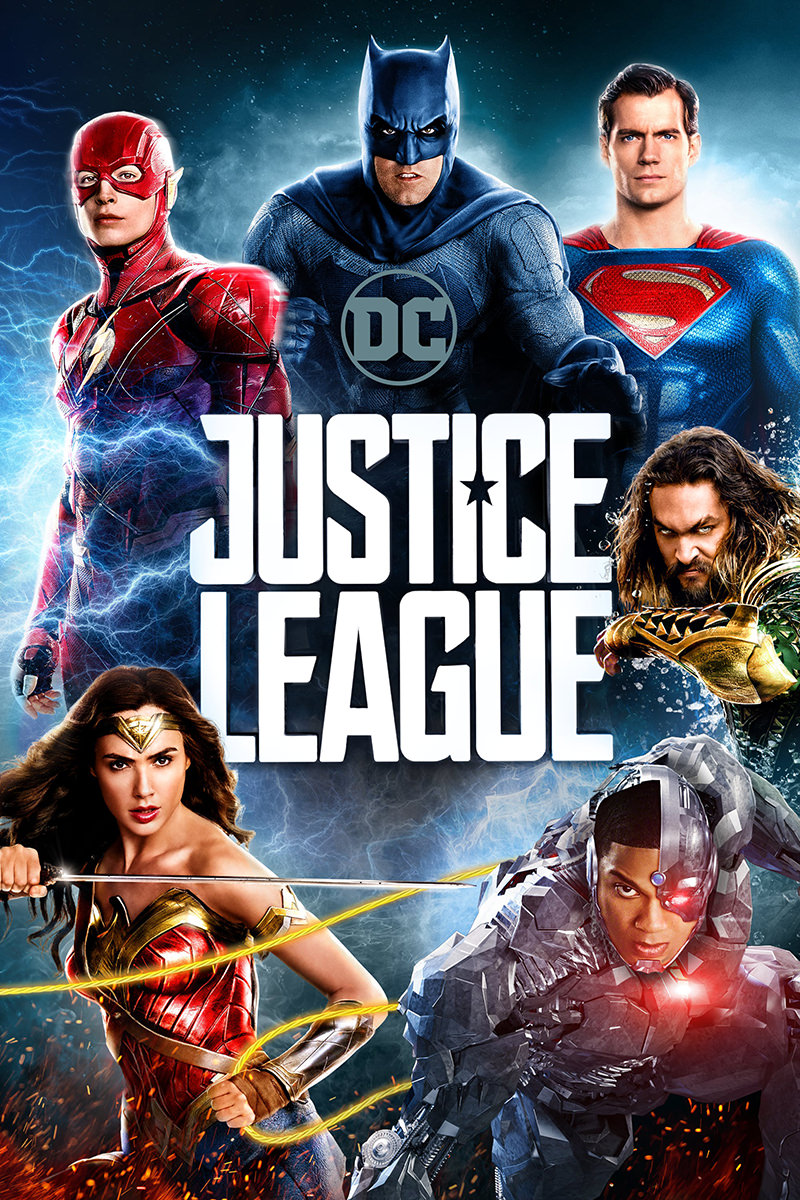 If anything, it sucks even harder in one viewing because it's such an epic slog to force your way through. All that did was make me end up resenting the film even more than I already did. My notes are something I'm posting for myself so I don't lose them, but feel free to read along if you want to.
And now? Do not proceed unless you've already seen the movie. LOL! JUST KIDDING! You do not want to see this movie, trust me.
Spoilers await in an extended entry...
→ Click here to continue reading this entry...
Posted on February 15th, 2018

I've made no secret about how much I loathe the current crop of DC Comics movies. With the exception of Wonder Woman, they are bad films that take a massive shit on the original source material. Batman vs. Superman, Suicide Squad, and Justice League were all gut-wrenchingly awful and only get worse upon subsequent viewings. How DC can fuck up this badly when Marvel is nailing it film after film is a complete mystery to me. It's as if the people in charge of DC movie production have taken what made their characters so popular for so long, and then just done the opposite of that.
Fortunately, the people running DC's television shows are on an entirely different level. Arrow, The Flash, and Supergirl are consistently good, and now we get Black Lightning, which may be saddled with a lame disco costume and sub-par villain... but is otherwise fantastic. I'm not particularly fond of Legends of Tomorrow, but it's still a watchable show. Bravo to The CW Network showrunners who totally get what they need to be doing with DC characters to make them work.
What fans need is for The CW to be given rights to a Superman series and a Batman series. Hell, turn the network into The DC Network and give us Wonder Woman, Green Lantern, and Legion of Super-Heroes shows too! If there's one thing that Tyler Hoechlin's amazing turn as Superman guest starring in Supergirl has shown us, we need these shows.
In the meanwhile though?
I've been completely hooked on the LEGO DC Comics movies. They are not all home runs, but they are great entertainment and totally watchable in a way the Zack-Snyder-infused movies will never be...

And so... If you're a DC Comics fan who hasn't checked out the movies that LEGO is cranking out, you might want to give them a try. Sure they're filmed with toys, made for kids, and aren't at all serious... but, until Patty Jenkins becomes showrunner for the DC Cinematic Universe, it's about as good as it's going to get.
Until Wonder Woman 2 comes along, of course.
Posted on July 24th, 2017

I am so far beyond giving a shit about Zack Snyder's shitty DC Comics super-hero movies that I honestly don't know if I'll even bother seeing Justice League in theaters.
I mean, just look at this bullshit trailer...
Some observations...
Dark. Dark. Dark. Dark. And more dark. Jesus, what an awful-looking downer of a movie. The occasional attempts at humor are completely wasted when the atmosphere is nothing but bleak, dire, and depressing.
Cyborg and The Flash look like total and complete shit. Whomever designed their fucking horrifically bad costumes should just give it up. Aquaman is equally incomprehensible, but at least he doesn't look defective.
In an obvious attempt at playing off the tremendous success of Wonder Woman, they lead off with her... but she's fighting a small group of regular human bad guys? Pathetic. FUCKING PATHETIC!!! We've seen this stupid shit over and over and over and over and over and OVER AND OVER AND OVER AGAIN!! IT'S NOT FUN! IT'S NOT INTERESTING! IT'S JUST BORING AND SAD. WHAT THE FUCK?!???
And OH MY GAWD... ENOUGH WITH THE SECRET IDENTITY CRAP! I am so very, very thankful that Marvel gave up on this silly bullshit. They use it when it makes sense (ala Spider-Man, who is ultimately just a kid with a regular life to hang onto) but everywhere that it is just a tired distraction, they've not bothered to bore us with it. But DC? No. We've still got Bruce Wayne crap to bore us. Still got Clark Kent crap to REALLY bore us. And now they've decided to saddle Wonder Woman with Diana Prince working as a fucking museum cleaning lady? WHO GIVES A FUCKING SHIT?!? Seriously... does Zack Snyder EVER take a minute to look at what makes modern super-hero movies work? EVER?!??? Secret identities were a great way to fill time without a need for expensive special effect shots in the 1980's... but we're waaayyyy past that now. We get it. DC heroes have secret identities... but you don't have to fill precious screen time with it anymore. GET OVER IT ALREADY!
Nice to see the Amazons again... but the introduction of the movie's big bad (Steppenwolf?) is almost cringe-worthy. Are DC's costume designers forced at gunpoint to put unnecessary and distracting textures EVERYWHERE? It looks fucking ridiculous. Jack Kirby's creations deserve so much better than this.
At least they make Aquaman's underwater action look good. Maybe there's hope for the upcoming Aquaman movie, and it will be another Wonder Woman rather than a shitty Man of Steel or Batman vs. Superman. If, for no other reason, than we're getting James Wan in the director's chair. Hopefully he'll add some fucking FUN to the film instead of fifty layers of depressing. Again.
Oh joy. I was worried we would get all the way through the trailer without seeing a Wonder Woman ass shot. But, nope... even after helping to win World War I, she's still just another piece of ass to DC's movie division!
After getting a frickin' amazing "speed effect" with Quicksilver in the X-Men films... and a more subtle, but equally good speed effect for Quicksilver in Age of Ultron, just look at the awful thing they came up with for The Flash. Running in slow motion to simulate super-speed? Groundbreaking. Or it would be if The Six Million Dollar Man hadn't pioneered it in the 1970's. Even when they do move him at actual super-speed, the overabundance of lightning is just silly. Does he kill people with all that stupid electricity when he runs by them? I mean, it's fine when used with subtlety, but this? Zack Snyder is obviously compensating for something here. Probably a shitty story.
And... again with the disaster porn. It's as if Zack Snyder doesn't know how to make a movie without the entire world exploding. Which begs the question... how the fuck are there any people left alive on earth when absolutely everything is getting destroyed all the time? This is fucking absurd, and I don't understand how the entire plot of DC's latest film slate can be summed up as "explosions." Doesn't anybody at DC care?
It's said that Joss Whedon is doing extensive reshoots for Justice League after Zack Snyder had to remove himself from the film to deal with a family emergency. I don't think punching up the dialogue (Whedon's specialty) is going to help. It's just pouring more money down a hole. What's really sad here... almost to the point of tragedy... is how much better the DC television division is at making good super-hero live action. They should have turned the Justice League movie over to them and built on the terrific, faithful, and far-superior versions of The Flash and Superman they already have on TV.
But instead we got this crapfest.
Maybe one day we'll finally get a DC Cinematic Universe that doesn't suck copious amounts of ass... but, sadly, that day is not today.
Or even tomorrow, apparently.
Posted on June 6th, 2017

I've been a fan of Wonder Woman since I was 11 years old and Lynda Carter appeared on my television wearing those satin tights. By the time her final season aired, my 13-year old self was head over heels in love. Lynda Carter was Wonder Woman. At least she was the closest thing to Wonder Woman mere mortals could get.
After the cancelation of The New Adventures of Wonder Woman, my interest in the Amazonian princess waned. I was a huge DC Comics nerd, but never bought many Wonder Woman comics unless a guest star I liked was showing up. Most of my exposure to her came from her appearances in Justice League of America, where she was almost always overshadowed.
And then... genius artist and storyteller George Pérez rebooted Wonder Woman in 1987...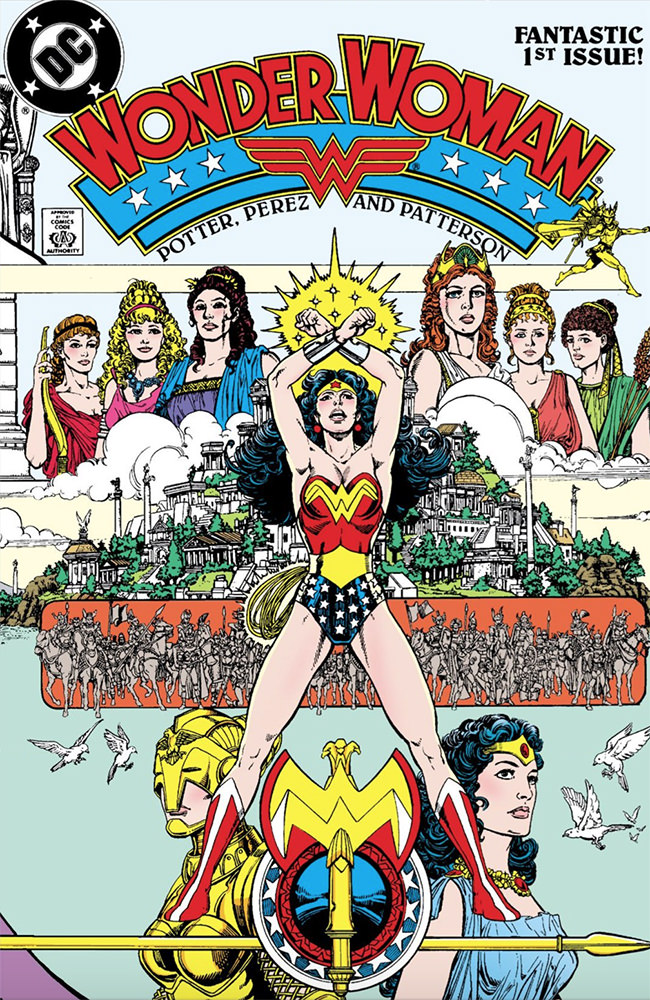 The series is a master-work, delving deep into the Greek mythology of the character. No longer a "female Superman," Diana had a clear purpose and direction that distinguished her from other super-heroes in the DC stable. Having married my love of Greek mythology with my love of comic books, I became a massive Wonder Woman fan.
Fast-forward to today, and we have a new iteration of Wonder Woman to capture our imaginations. This time, finally... at long last, on the silver screen...
I'm going to put my spoiler-laden review in an extended entry, because the last thing I want to do is ruin such an amazing film for those who haven't seen it. Suffice to say that it is one of the best DC Comics adaptation we've yet seen. Only The Dark Knight can touch it. And nobody could be more thrilled than I am to say that. After the horrendously shitty string of DC movies we've endured... Man of Steel, Suicide Squad, and (Lord help us) the pile of shit known as Batman vs. Superman... I was beginning to lose hope.
But Wonder Woman changes everything. Faithful to the source material. Beautifully designed with mind-blowing special effects. Flawlessly cast. Terrific story. Awesome directing. Great music. It's the total package, and everything you want in a super-hero film. It's so good that you'd almost think it was a Marvel movie!
So... definitely go see it before reading any further...
→ Click here to continue reading this entry...
Posted on January 2nd, 2017

Since returning from hiatus, there have been a number of half-finished entries floating around that I've been meaning to finish up and post. This is one of them.
My love of comic books and movies have collided in amazing ways last year... Captain America: Civil War, Deadpool, and Doctor Strange were incredible. Unfortunately there were also boat-loads of crap courtesy of DC Comics, who just can't seem to get their shit together... X-Men: Apocalypse and Batman vs. Superman were complete garbage.
There were three other super-hero films I saw in 2016, how did they fare, I wonder?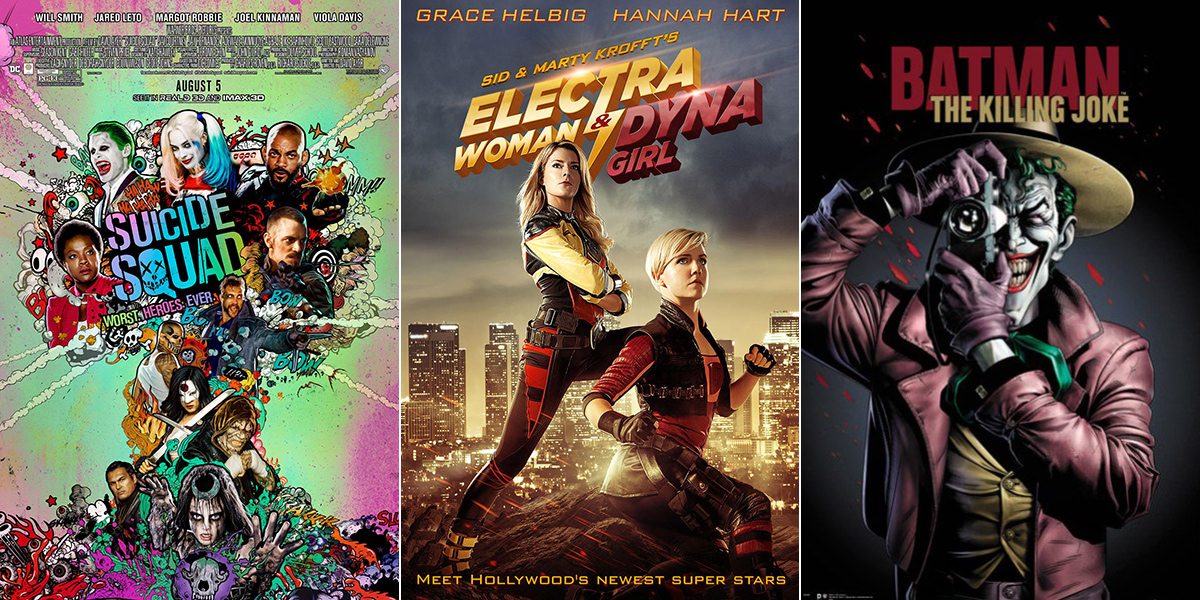 • Suicide Squad. DC Comics' concept of super-villains being forced to become a covert team of super-heroes has been going on in the comic book world since the late 80's. While passably entertaining on occasion, I never saw much potential as a movie franchise, yet here we are. The result is an epic mess that is a notch above the shitty Man of Steel and Batman vs. Superman films... but not by much. The moronic, scattershot plot populated with a bloated cast of forgettable characters and filled with ridiculous dialogue and forced humor (that wasn't funny) ended up being just... bad. Unless you can be entertained by random special effects blowing shit up between periods of utter tedium, there's no entertainment to be found here.
And now... I'm just going to get this out of the way... Jared Leto's "Joker" was total shit. The look was apparently copied from the comic arc Batman: Endgame, which wouldn't have been too terrible, except they added metal teeth, a bunch of tattoos that were utterly stupid (why the fuck would The Joker ink "damaged" on his forehead?), and then made him a frickin' drugged-out buffoon. A massive downgrade from Heath Ledger's brilliant take in the The Dark Knight. The rest of the cast? They fare somewhat better. Viola Davis was her incredible self and dominated her every scene as Amanda Waller. Will Smith's Deadshot was pretty much Will Smith being Will Smith, but at least he's entertaining. Margot Robbie was designed to be a stand-out as Harley Quinn and, when it works, it's the best thing about the movie (though I still think the character will never be better than she was in Bruce Timm's Batman: The Animated Series). Every other character was just window dressing with nothing of substance to do and mostly boring.
I'd get into the story, but that would be pointless. It's pretty much Suicide Squad vs. magical zombies and there's pathetic little character development or consequences for anything. RATING: D
• Electra Woman and Dyna Girl. It would be insanity to put a cheesy Sid & Marty Krofft Batman parody remake up against anything Marvel is doing when it comes to the super-hero film genre. This is not that kind of film. But I found Electra Woman and Dyna Girl infinitely more fun and entertaining than anything DC has put out lately. Based on the Krofft Saturday Morning live-action kid's show of the same name (starring Days of Our Lives' Deidra Hall!), the movie features online media stars Grace Helbig and Hannah Hart as two normal humans named Lori and Judy who dress up and play super-heroes in a world filled with heroes that have real super-powers. Eventually they get "noticed" by a super-hero publicity agent who turns them into the super-powered heroes they dreamed of becoming. Using gadgets dreamed up by genius Frank Heflin, Electra Woman and Dyna Girl hit the big-time and become crime-fighting media sensations. This leads to a rift in their friendship that comes just as the rise of the first super-powered villain to appear in ages. Hilarity (and some surprisingly entertaining antics) ensue. What's surprising about the movie is how it manages to be faithful to the original show, yet be completely fresh, new, and different. And pretty damn funny. For what it was designed to be, Electra Woman and Dyna Girl is a success. RATING: B-
• Batman: The Killing Joke (animated). Considered one of the best Batman stories to come out of the comics, The Killing Joke has been both praised and mired in controversy since its release in 1988. Praised because it featured Alan Moore and Brian Bolland's thoughtful look at the origin and longtime relationship between Batman and The Joker... controversial because of its misogynistic overtones in the crippling of Barbara (Batgirl) Gordon as a throw-away plot element. Ultimately I liked the book, but understood that it had some serious story issues that would be too much for some comic book fans. So when I heard that DC was turning it into an R-rated animated film, I was curious. Would they stay close to the original story... or would they try and fix some of the things that caused no small amount of backlash?
Turns out it's Option #3... LET'S MAKE THE STORY WORSE IN EVERY POSSIBLY WAY! I hated this film. There's a myriad of problems that ruin any chance of Batman fans embracing the movie... even if they liked the story on which it was based. Primary of which is that they have Batman and Batgirl in a sexual relationship, which is fucking absurd. Once that bullshit is out of the way, the film tries to get back on track... but the damage has already been done. RATING: F
Time to update my "Y2K Super-Hero Comic Book Renaissance" scorecard with another brilliant Marvel effort...
The Avengers... A+
Avengers: Age of Ultron... A
Batman Begins... A
Batman Dark Knight... A+
Batman Dark Knight Rises... A
Batman vs. Superman: Dawn of Justice... D
Big Hero Six... A+
Blade... B
Blade 2... B
Blade Trinity... B-
Captain America... A+
Captain America: The Winter Soldier... A+
Captain America: Civil War... A++
Catwoman... F
Daredevil... B-
Daredevil (Director's Cut)... B+
Deadpool... A
Doctor Strange... A
Electra Woman and Dyna Girl... B-
Elektra... D
Fantastic Four... C
Fantastic Four: Rise of the Silver Surfer... D
Guardians of the Galaxy... A+
Ghost Rider... C
Ghost Rider: Spirit of Vengeance... D
Green Hornet... D
Green Lantern... C+
Hellboy... A
Hellboy 2: Golden Army... A
Hulk... C-
Incredible Hulk... B
The Incredibles... A+
Iron Man... A+
Iron Man 2... A-
Iron Man 3... A+
Jonah Hex... F
Kick-Ass... B+
Kick-Ass 2... B-
Man of Steel... F-
Punisher... C+
Punisher War Zone... C
Scott Pilgrim vs. The World... C
Spider-Man... B+
Spider-Man 2... A
Spider-Man 3... D-
Suicide Squad... D
Amazing Spider-Man... D
Amazing Spider-Man 2... D-
Superman Returns... C+
Thor... B+
Thor: The Dark World... B
Watchmen... B
The Wolverine... B
X-Men... C
X-Men 2: United... D
X-Men 3: Last Stand... F-
X-Men Origins: Wolverine... D
X-Men: First Class... B
X-Men: Days of Future Past... B-
X-Men: Apocalypse... D+
Posted on January 19th, 2016

Nobody wants DC to succeed with their movie efforts more than I do. I love superheroes. I really love superhero films. And it would be great if DC could churn out movies for their characters that are on-par with the amazing stuff that Marvel's been doing.
But their record has been utter shit. With the exception of the Nolan Bat-films, there's been too much terrible lately. Green Lantern was gut-wrenchingly awful. Man of Steel was one of the worst comic book films I've ever seen... and I'm including turds like Jonah Hex and Catwoman (also DC character films, by the way). For whatever reason, DC just can't seem to get their shit together. Even though they've got some fantastic characters to play with.
And then there's Suicide Squad. Which finally got a full trailer. And it looks like total shit...
Ugh.
And don't even get me started on what they've done to The Joker.