Posted on March 31st, 2018

When it comes to bed sheets, I want them to stay cool and dry. I want crisp, breathable fabric that is tough enough to last. I don't like satin sheets. I really don't like "sateen" sheets, which are cotton sheets pretending to be satin sheets. When a hotel has sateen sheets, I have to kick them off (if it's warm) or wear sweats (if it's cold) because the glossy finish makes me sweat.
After being puzzled for years over things like "finish" and "thread count," I finally figured out that the sheets I want are called "percale," they're made of cotton, and the lower the thread count the better. What's great about this is that the sheets I just described are the cheapest you can buy. Also the opposite of what most people prefer, which is "sateen" in the highest thread count possible... 800 or higher.
So when I was shopping at IKEA and saw "percale" weave sheets at a mere 152 thread count, I was intrigued. Could these DVALA sheets at $25 a set (Queen) be the cool, crisp, breathable, dry sheets I've been dreaming of?
Turns out they totally are the sheets I've been looking for!
They are absolutely perfect.
No, they aren't soft and silky smooth. Truth to tell, they're actually kind of rough... even after having been washed twice. But that's exactly what I wanted because they are cooler to sleep on, they're tougher, and they have that crispy feel I love.
Cat hair sticks to them like glue, however, so I guess you can't have everything.
But anyway...
It's been an interesting morning at my house. At 6:02am I received a robocall from my credit card company saying that I may have fraudulent charges on my account. So I call the number they gave me, only to find out that they have no idea what I'm talking about, and they made no such call. And I'm like "THEN HOW DID I GET THIS NUMBER TO CALL YOU?" and they're all "WE DID NOT CALL YOU!" and I'm all "YOU DID, BECAUSE I JUST DID A REVERSE LOOK-UP OF THE CALLER ID AND IT'S YOU!" — I'm put on hold for a bit, then they come back and say "Oh, there's a problem with our computers calling people." Typical.
As I'm talking to my bank, I hear the cats banging around in the catio. They've heard that I'm awake, and come charging up the stairs demanding breakfast, even though it's almost an hour away. Jake has chunky white dust all over him, and I wonder if somebody threw a bag of cocaine into the catio while being chased by the police or something. I'm not about to snort my cat since I have no idea if the cocaine is premium grade or not, so I brush it all off and try to go back to sleep. Meanwhile Jenny has found Mufasa on the window perch that was left there last night. She starts ripping into him when Jake notices. And so then I have cats chasing each other all over my bedroom when I just want to get some sleep.
When Alexa finally chimes at 7:00am and the cats come back all crazy because it's breakfast time, I see that Jake has straw in his mouth. The only place I have straw is in the garage... I keep some for Fake Jake's winter shelter. So I go running downstairs and, sure enough, I left the garage passdoor ajar and my cats have been having big fun in my garage, including knocking over a bucket which was filled with drywall dust. Which means there won't be a bag of cocaine in the catio as I had first thought.
AND THEN, as if that weren't exciting enough, I can't find Jake and Jenny's Easter baskets. So now I have treats and cat toys for Easter morning, but no baskets to put them in. Looks like I'll be tearing apart my garage looking for Easter baskets this afternoon.
So this is my Saturday.
Posted on March 29th, 2018

Oh joy. An opening day loss for the Red Sox.
Here we go again...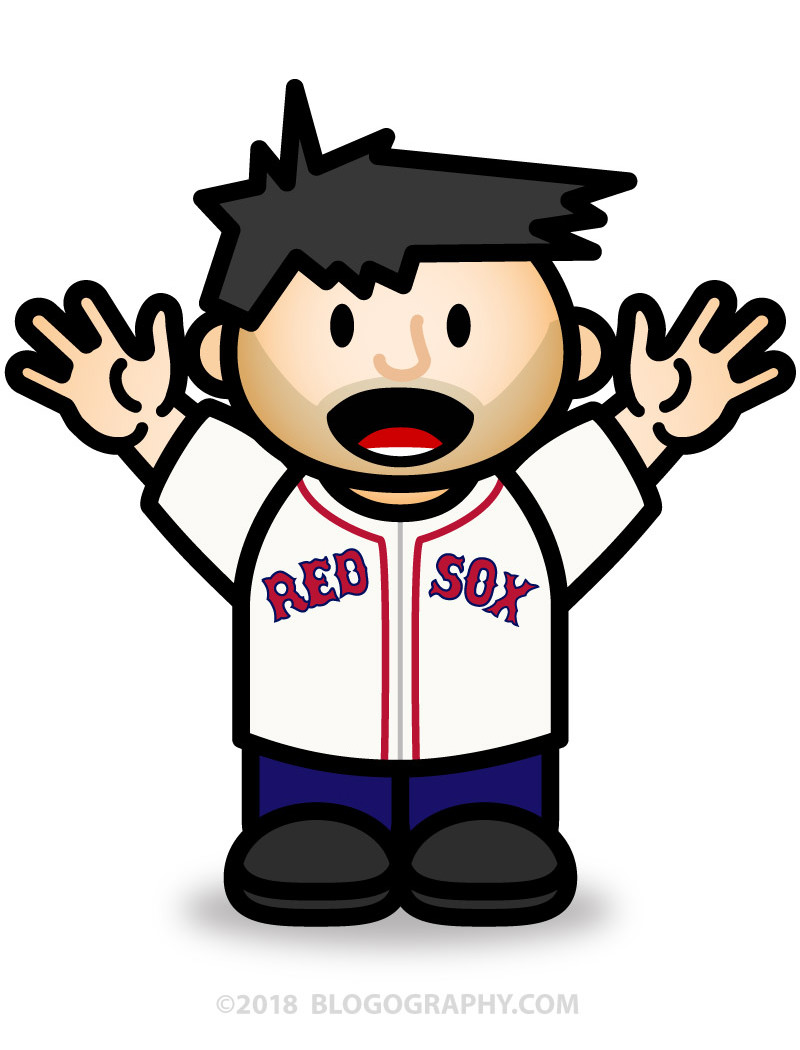 All the pieces for a great season are there. They just need to fit together.
Here's hoping...
Posted on March 21st, 2018

Ignore me if you will, but this is a subject that means something to me.
Credit card debt is a pariah that will consume you. And now that interest rates are going to increase past the already absurd rates that credit card companies charge (thank you Federal Reserve!), it's more important than ever to get yourself out of credit card debt if you have any. Large balances are designed to keep you paying high interest charges forever, without ever fully paying off your debt. It's a trap... and it's really tough to get out of once you're caught in it.
I know this, because I've been there.
During my two years in college, I accumulated huge debt. Huge.
I wasn't working very much because of school and travel (and partying), but was spending as if I were a CEO. First it was one credit card. Then it was another. Then it was another. It took *decades* for me to climb out of it. Years of barely being able to make payments. Years of getting nowhere in paying off my balances. Once I realized the thousands of dollars being blown every year on interest, I started focusing on paying off my cards. It was hard. Very hard. I'd buy nothing but the bare minimums I needed to survive. I wore clothes until they fell apart. I'd do any activity on a shoestring budget and limit expenditures any way I could. It took years of this, but eventually I clawed my way out.
And I have made it my mission to pay off my balance every month ever since. Sometimes there are emergencies. Sometimes I haven't saved enough for vacation and it takes a couple months. But I work very hard to not spend money I don't have so I can pay off my balance every time.
There are a lot of ways to get help if you need it. Apps that help you set payment goals. Books on financial planning. Websites with great advice on how to get out of credit card debt. And, if you are really in deep, financial advisors that can come up with a plan and negotiate with banks to get interest lowered... or help you find a loan. But however you mount your attack on credit card debt, it's hugely important that you start immediately. Our own government is working with banks to enslave you with debt, and it's only going to get worse. Much worse. The sacrifices needed to escape their clutches are hard ones to make, but ultimately worth it.
I honestly don't know what the future holds with our Federal Reserve manipulating things the way they have been. They don't even bother hiding it any more. This country is now designed exclusively for the wealthiest among us. That may not be you, but finding freedom amongst the ruins is a goal worth having.
Good luck to you.
Good luck to all of us.
We need it now more than ever.
Posted on March 1st, 2018

The weather has been weird lately.
Just when you think that Winter is over and Spring us here, it snows. Lately any new snow hasn't been sticking around long... the sun or rain washes it away... but there's still been old snow hanging around.
Until this week, when the last of it finally melted...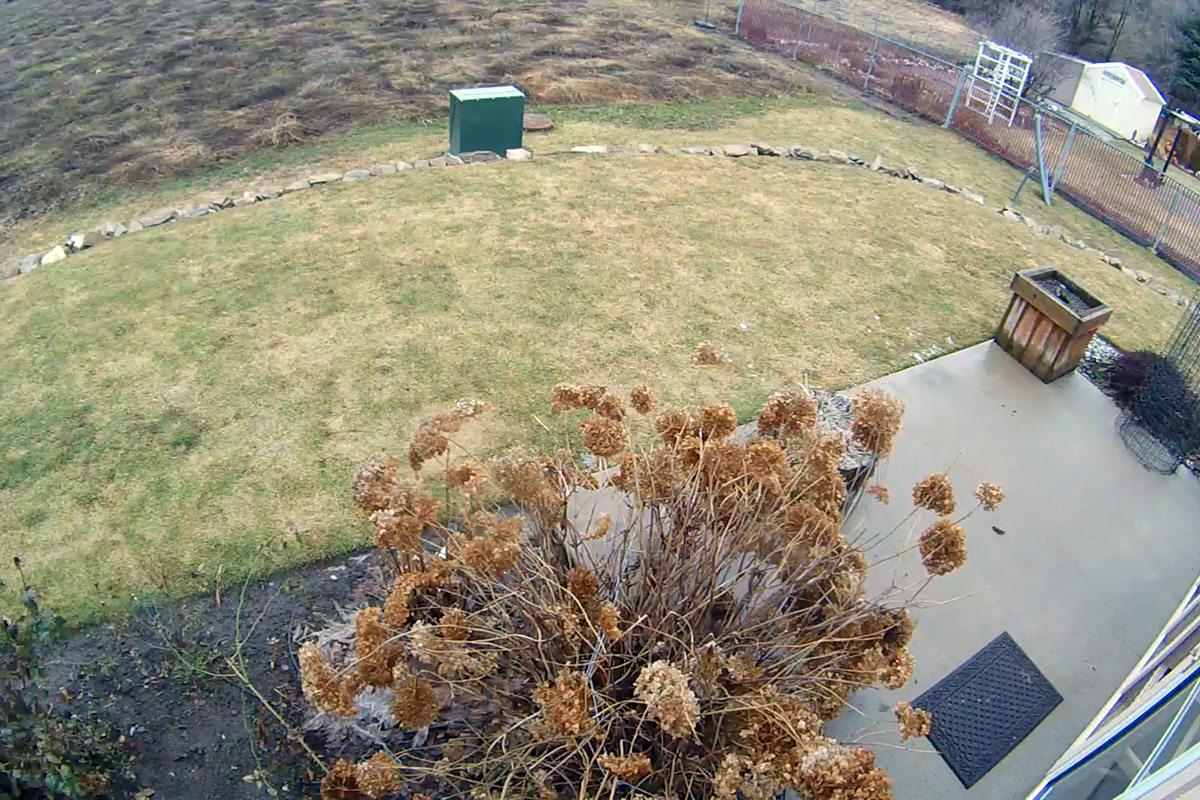 And so... I guess that's that for Winter. At least in my neck of the woods.
Though never say never, because we could end up in a blizzard tomorrow if Mother Nature has other plans.
Posted on February 26th, 2018

Since this past Caturday was spent discussing a cat of an entirely different kind... Black Panther... I am picking up the slack by posting my crazy cat lady stuff today.
One of my best finds in the cat toy arena is a new scratching post that the cats have been loving because it's really tall. Unlike most posts, they can stretch out as much as they want and not run out of pole. On top of that, they can climb it like a tree, which is something they both love to do. But Jake is a little more enthusiastic about making a game out of it. Set a toy on top, and he'll jump and climb his way up to grab it and throw it off...
He's kind of violent about it, so you have to be sure that your hands and other protruding body parts are kept clear...

It's all fun and games until Jenny makes noise jumping up on the couch and scares him just as he's reached his goal...

The reason Jenny is jumping up on the couch is because I set my freshly-laundered pants there. For whatever reason, that's always an open invitation for her to jump up and use my jeans as her personal scratching post. Or, as in this case, bite the crotch out. Which is exactly what I want her to do if somebody ever tries to grab my pussy...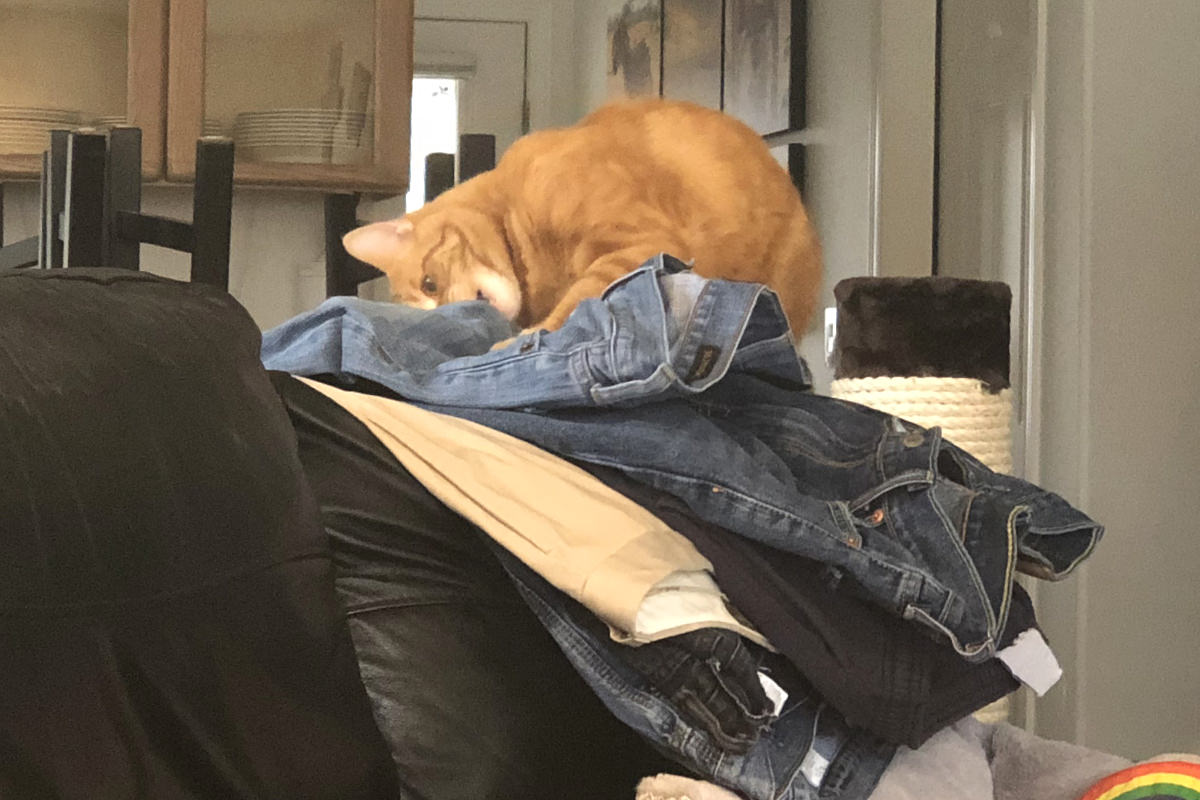 As I've previously mentioned, nobody appreciates a good belly rub like Jenny does. Every night when I go up to bed, she sprints up for her nightly belly rub. And she will stare at you until she gets her way. Or, if she's really impatient, she'll start meowing at you...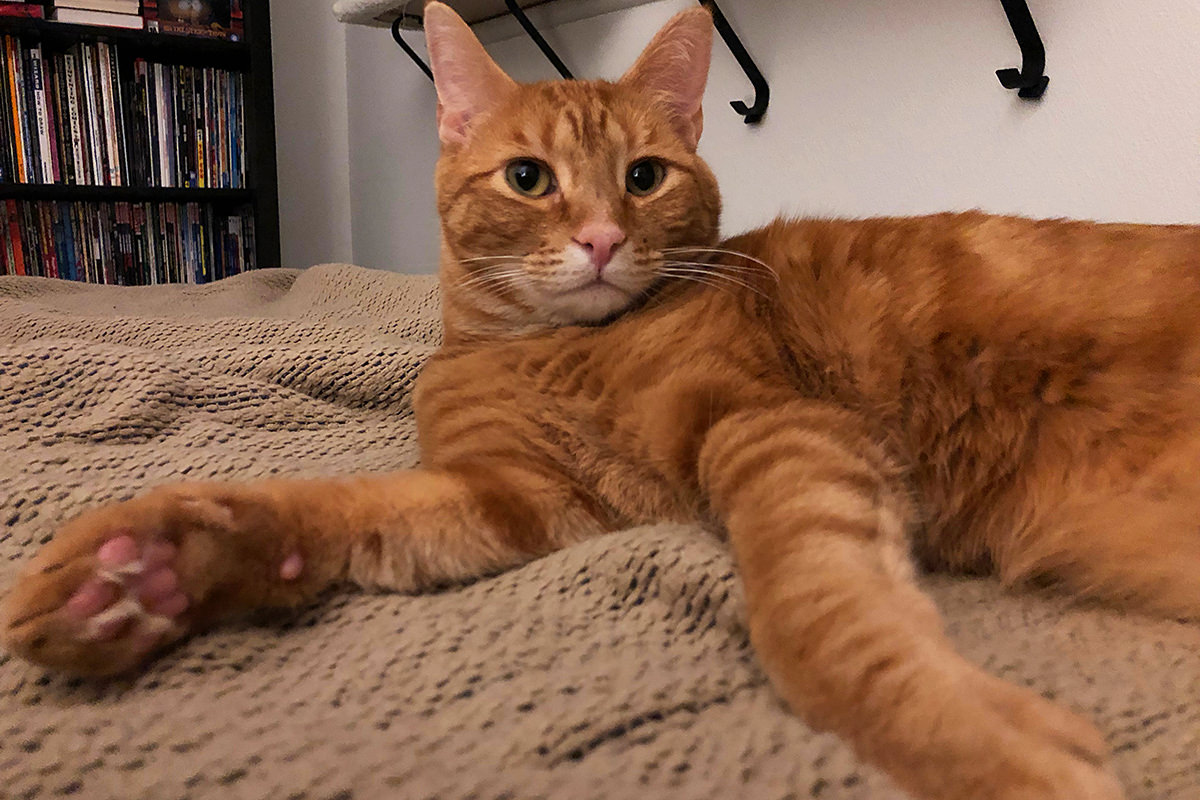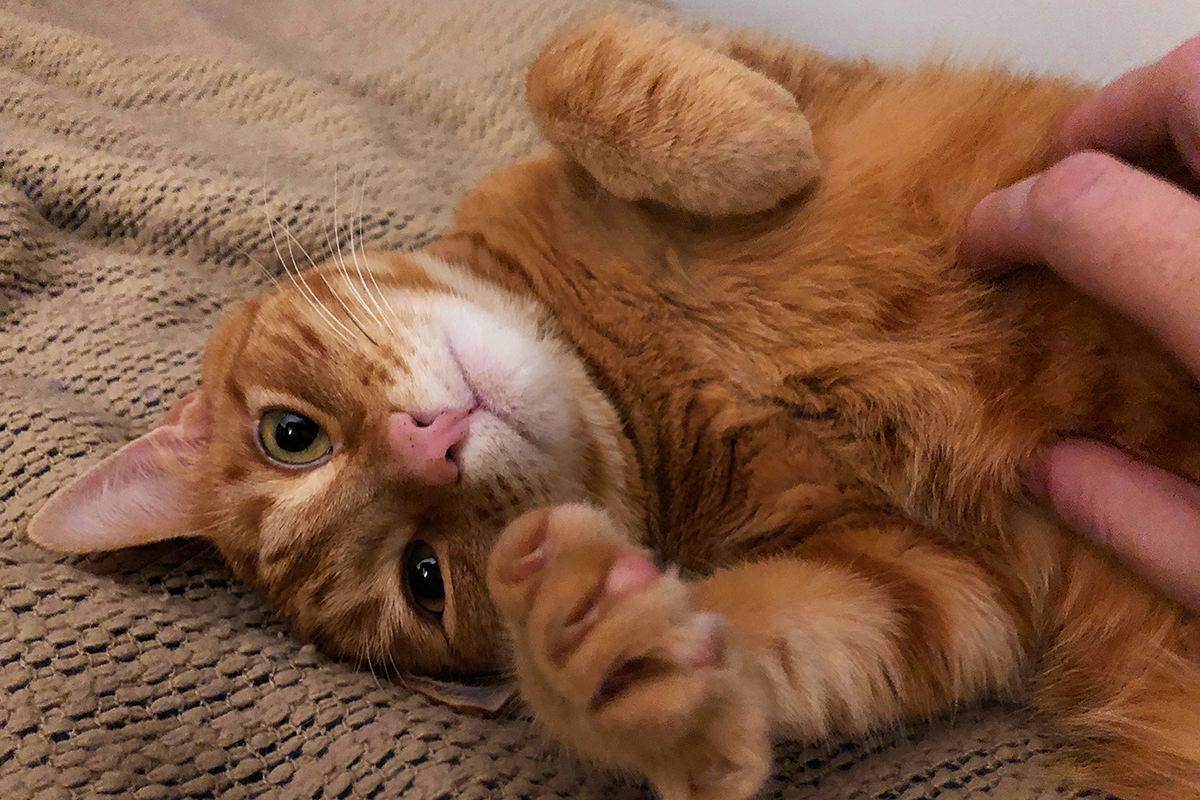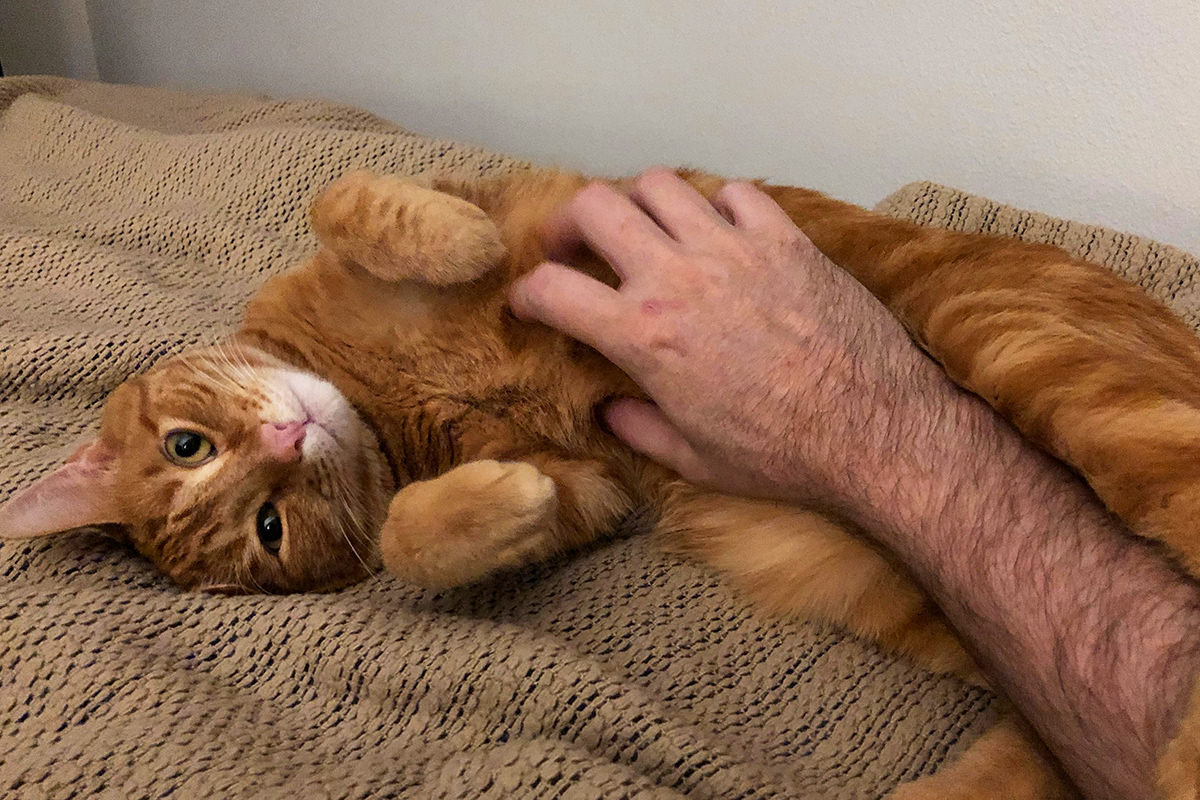 Since Jake got a video this time, here's Jenny's...

When it comes to using the litter box, Jenny has gotten increasingly insistent on having a clean place to poop in. She loves a clean box so much that if something goes wrong with the Litter-Robot and she has to wait too long for it to cycle, she has zero problem waking me up at 4:00am to fix that. Last night I noticed her sticking her head in the litter box acting like she was scared to go in...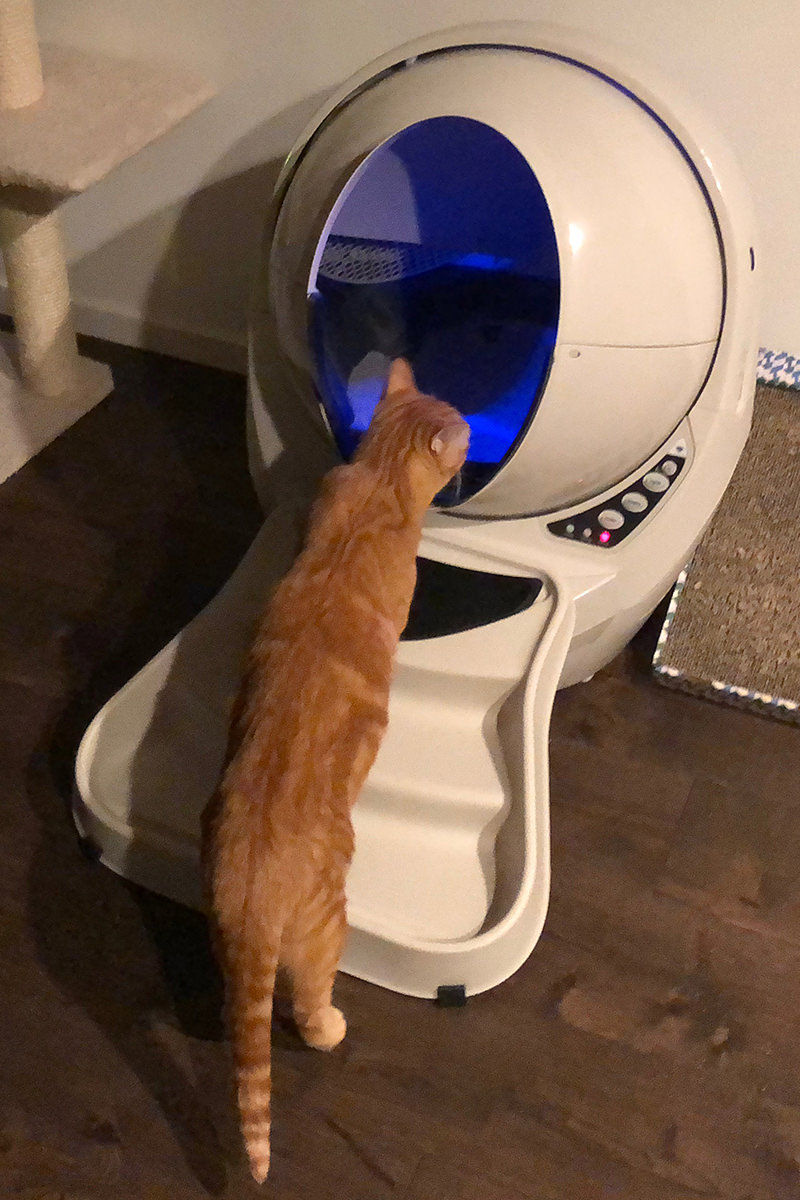 Then I saw that the red light was on, which meant that Jake must have beat her there, and Litter-Robot was waiting five minutes before it cycles, which allows the waste to clump and be disposed of more easily. This is no big deal, because Jenny is perfectly content to wait for it to clean itself. I've seen her do so many times.
But this time?
This time she started meowing for Litter-Robot to hurry up.
I started laughing because just when I think my cats can't surprise me... they go and do something like this.
Or this...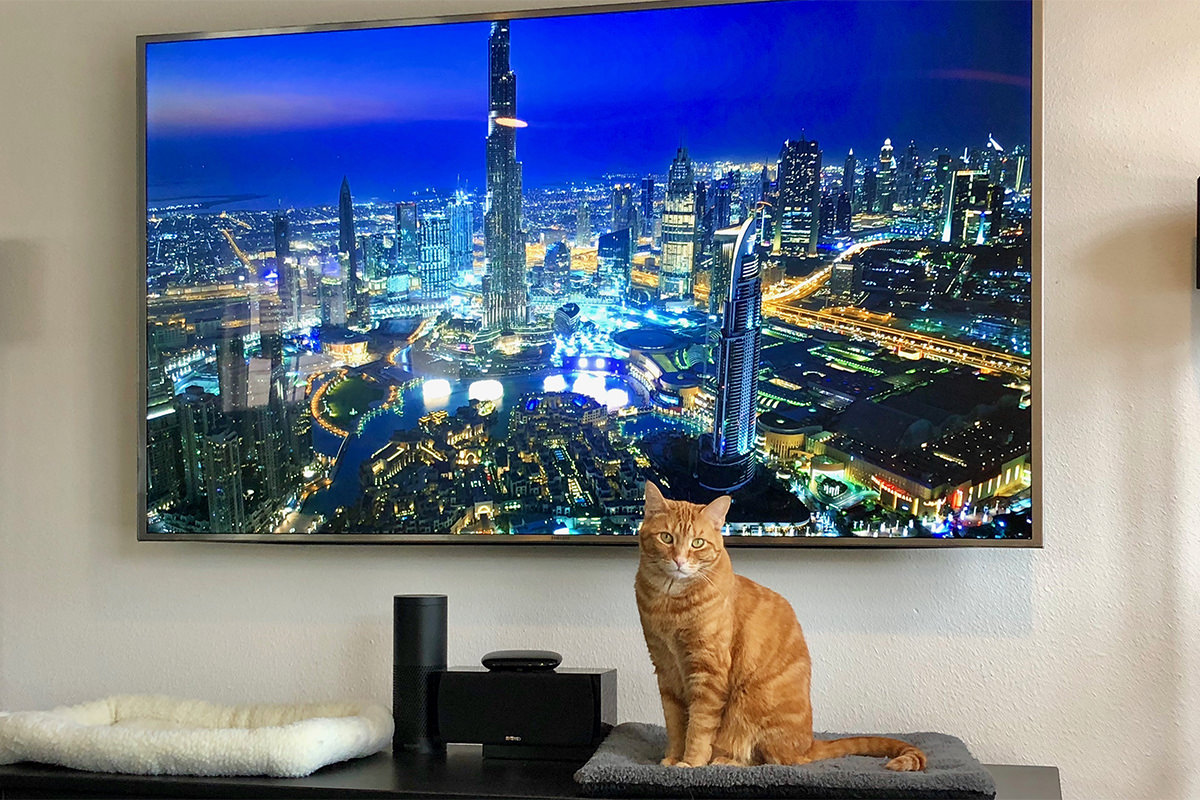 Jenny was watching television, but I had to pause in order to take care of something and the cityscapes screensaver activated. Jenny was not please about this. Not pleased at all. In fact, I think she was quite cross.
I don't know why. That's one beautiful screensaver. I've not been to Dubai yet, and that Blade-Runner-esque view makes me want to visit real soon now.
And that's all I got. See you next Caturday... which is a short five days away!
Posted on February 19th, 2018

After I finished mopping all my floors as my Chore-of-the-Day, I decided to get to work and turned on my television for some background noise. Then, once again, I got a "Cannot Communicate with the Satellite Dish" message. I assumed it was the cable to my DVR that was dying, because I can usually wiggle it and get things working again. But not today.
And so... I had to postpone work and go buy a new cable.
That was the easy part. The hard part was replacing the cable because I have all my cords wrapped up, and replacing one of them means having to unravel others too...
Since I was already having to wade through all my cables, I decided to just disconnect everything and start over. I've made several changes since I first organized everything, and the mess has gotten a bit out of control. Also... I wanted to relocate my stereo receiver because the cats like to lay on it for warmth, and I worry it's not getting enough ventilation and might blow out...

Unfortunately this is a much bigger project than it may first appear. The IKEA media center I have is a really poor design because the shelves don't have enough space to fit my receiver. I decided to modify the unit by taking out the middle drawer, building a shelf there, cutting out the back so I can run cables, then moving the center shelf up an inch-and-a-half...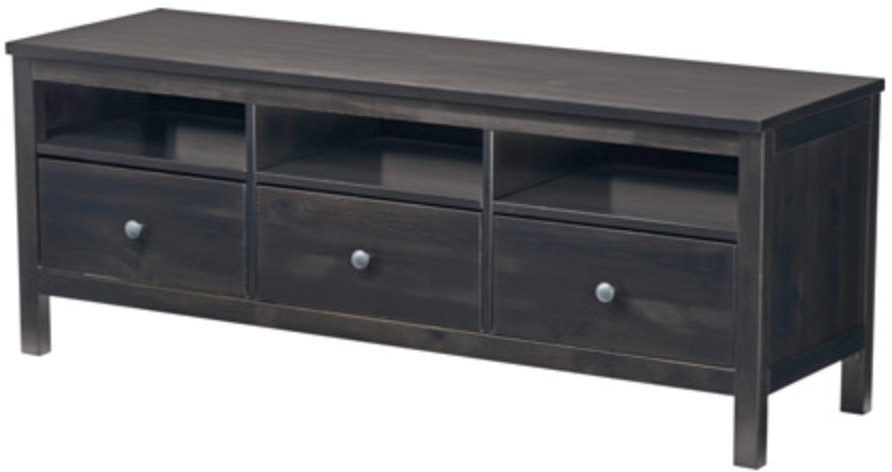 While I was at it, I decided to see if moving my router off the top would interfere with the WiFi signal. Turns out it did not, so I decided to move it along with the receiver. This is nice, because now all I have on top of my media center is the center channel speaker and Alexa. Much cleaner, and my living room looks less cluttered.
Once the noise from drilling and sawing was done and the cats came out of hiding, I was surprised at how quickly Jake noticed that his favorite sleeping spot had vanished...
When Jenny finally noticed, she was not happy. Not happy at all...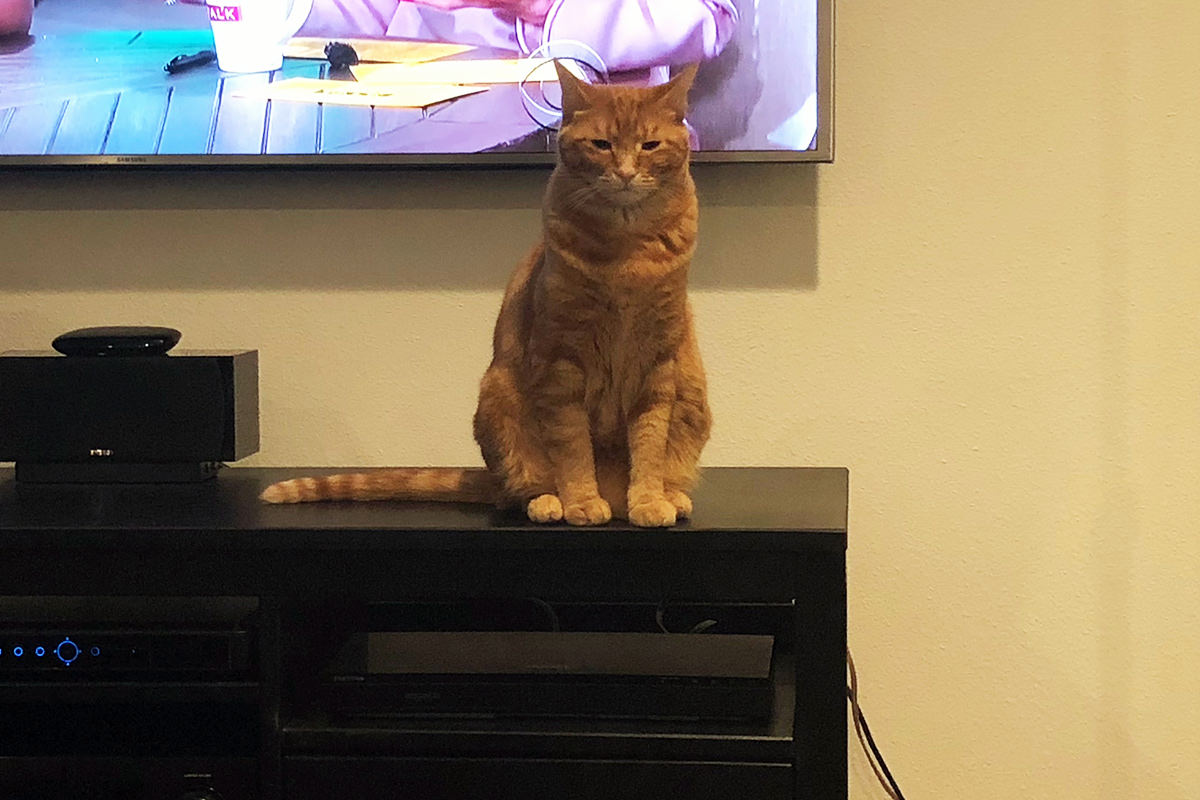 The cats then tried to find a new "favorite sleeping spot," but nothing seemed to make them happy...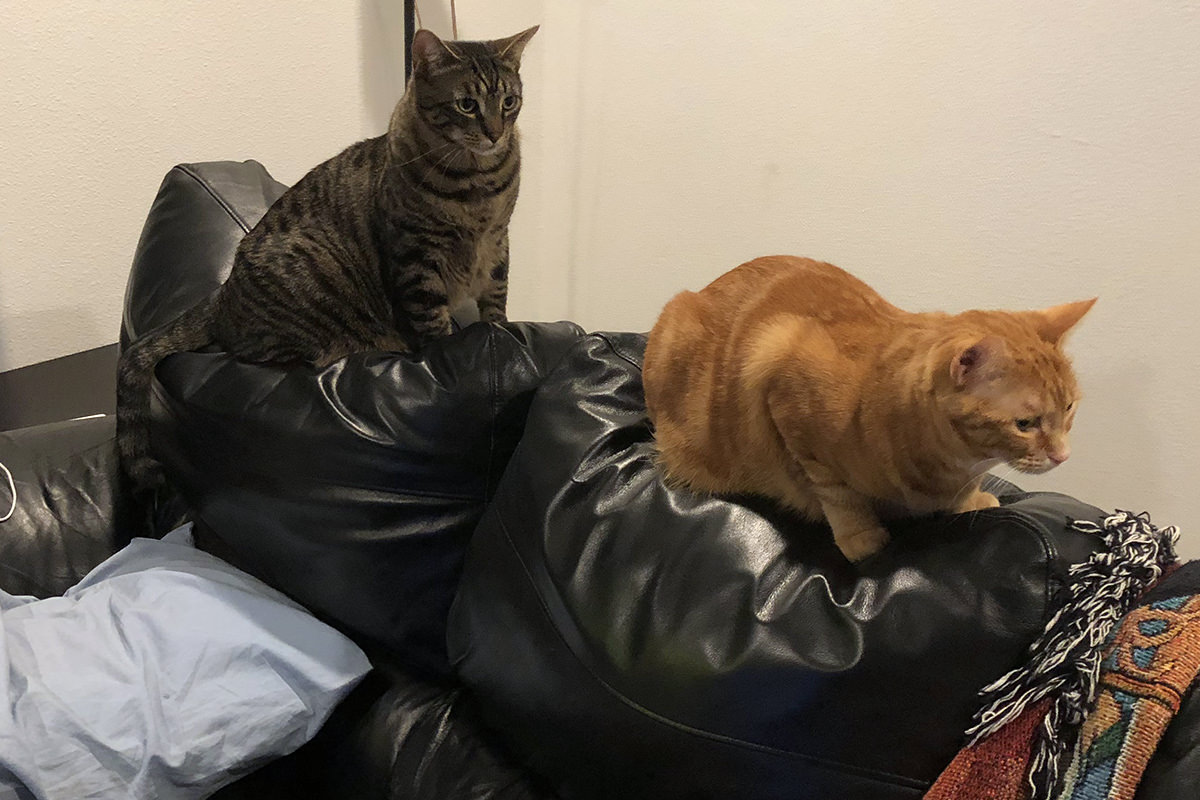 And now I realize that I should have waited a day to do all this since tomorrow is their visit to the vet, and that's going to be traumatic enough without them losing their stereo receiver napping spot.
Probably more traumatic for me than for them. Which is why I've been dreading tomorrow all year.
Posted on February 17th, 2018

When I bought a house, I truly was not prepared for how much work it would be. My HOA fees cover the yard care and the snow removal... what else is there?
Turns out there's a lot.
Tons of little tasks that add up and overwhelm you day after day. For the longest time I just ignored them until forced to deal with them, but then I started writing all the little things down on a "Daily Chores List" and tackle a new task every day. Sometimes it's something quick and easy... like washing the bathroom mirrors. Other times it's something more involved like fixing the toilet handle or replacing the washers in my kitchen faucet.
Today's chore was three-and-a-half hours of cleaning out my toolbox and organizing my screws/nails/fasteners/etc. storage chests.
It would have probably gone faster, except I had "help" from my cats...
They simply would not stop "helping." They'd climb in any open box or bag. They'd root through every container and bag of garbage. Half my time was spent wrangling cats.
Jake and Jenny just loooooove to "help." Like when they "helped" with my taxes...
And, of course, they were right there to "help" when I was cleaning out my dresser and end-table...
When a new order of food and toys arrives from Chewy, the only "help" they're interested in is composting the packing paper...

I suppose I should be grateful that I have such kind-hearted and helpful cats?
Probably.