Posted on March 24th, 2023

I swear... I honestly thought I was 55 turning 56 today. I've been telling people that I'm 55 all year long. Turns out I'm 56 turning 57 today.
I'd be thrilled that I'm one year closer to retirement, but given the number of politicians just dying to cut the Social Security I've been paying into my entire working life, I am facing the reality that retirement isn't in the cards.
Happy fucking birthday to me.
Posted on March 18th, 2023

Back in February a friend sent me a photo of a neon sign they had bought and said it would be cool if I were to make a Bad Monkey neon so I could sell them. And he included a link to a company called YellowPop... a company that custom-makes "neon-style" light-up signs out of LED strip-lights and flexible plastic covers.
I went to their site, looked around, and started thinking that, yes, this would be incredibly cool to do.
So I looked at the color of tubing they had available and drew up a couple options that I could send to them to see if it were feasible...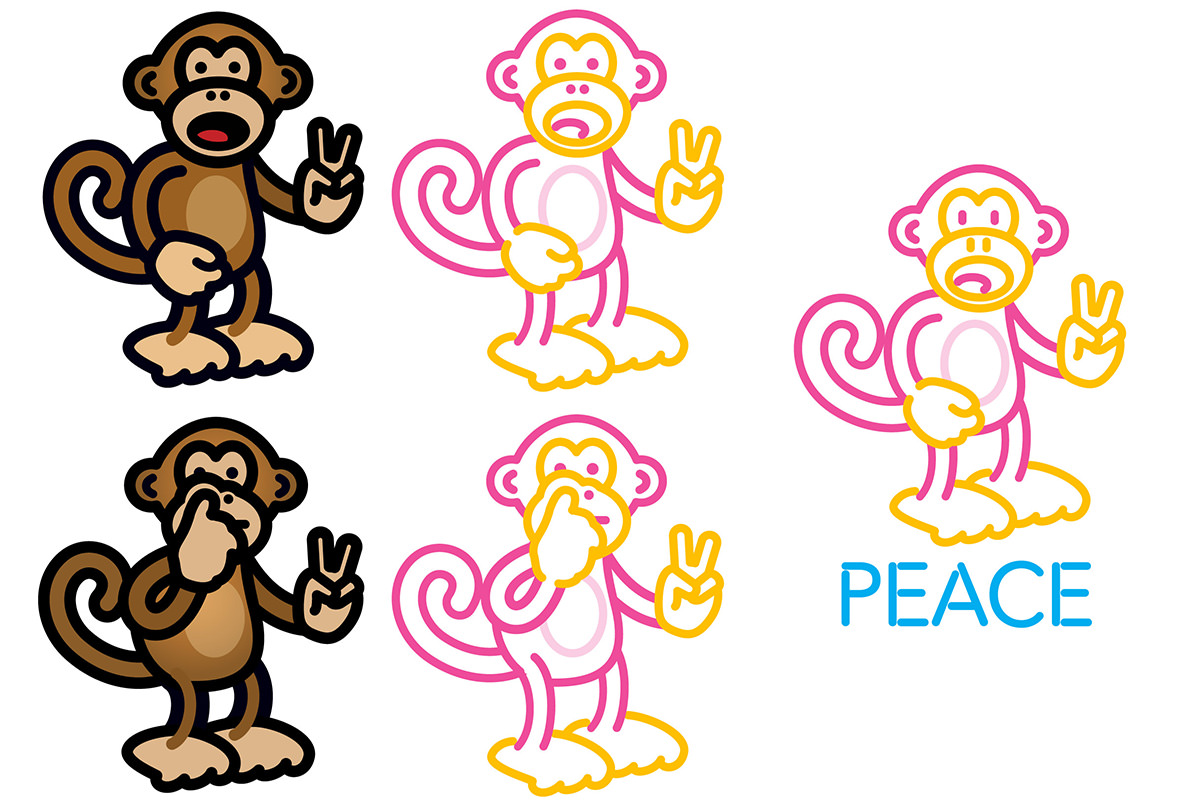 I was assigned a sales team contact and quickly got back a rendering of what they could do...
As much as I liked the idea of Bad Monkey picking his nose, I thought that the overlapping yellows were a bit confusing. So I decided on Bad Monkey flashing a peace-sign... then asked if they could add the lettering below it. I also asked to have it flipped horizontally. Since people "read" from left-to-right here in the USA, I wanted the peace-sign to be the lead instead of the tail. I also wanted them to add the word PEACE at the bottom to make the piece taller. Within hours I got back a revised composition that looked fantastic.
There was some back and forth as I asked for small changes to be made until I was happy (my favorite being "the arms need to be consistent width, like macaroni"). But, to their credit... my sales rep (Hi Kristina!) never once got aggravated or acted the least bit irritated (even though I'm sure they had to be by the time we finished!)...

No idea why it's practically on the floor now.
The sign ended up quite a bit larger than I had imagined (30×42 inches) when I first drew it, but there's only so tight you can bend the plastic tubing, so this was as small as it could get.
Now, one thing I should say right off the bat is that these signs are expensive. Like really expensive. As in ZOMG I WILL BE EATING PEANUT BUTTER FOR MONTHS! expensive. As in $1,200 expensive. I did a little poking around to see if there were shops making them for less money, and there were, but not one of them had the glowing reviews that YellowPop had, and that was worth it to me. What good is saving $300 if the result is crap?
Wiping out the entirety of my Black Sunday savings, I wrote back to my most excellent YellowPop rep to order it.
Fast-forward a couple weeks and my order has shipped. It arrived on Friday.
And, let me tell you... it is GORGEOUS. I had fairly high expectations given how much money I spent, but YellowPop went just... beyond. I unboxed it, plugged it in, and literally gasped when it lit up...

If you look real hard, you can see Jake down there checking it out!
Originally, I was going to hang it in the corner of my living room. But it was so phenomenally good that I just couldn't do it. I cleared out a wall in my dining room so it had plenty of space to breathe and be fully appreciated.
But how to hang it?
The instructions they give you are pretty vague. Essentially "Pop in those drywall anchors, attach the metal pegs, then screw your sign to it! The end!" Problem is that with a sign this big you would need to have two people hold it into position, pencil through the holes in the acrylic backing onto the wall, then install the metal pegs. But I didn't want to have to bother two friends or neighbors on a weekend, so I decided to trace the sign onto the cardboard sheet that came in the shipping box. Then I could cut out the tracing, tape it to the wall, and know where to put the holes all by myself...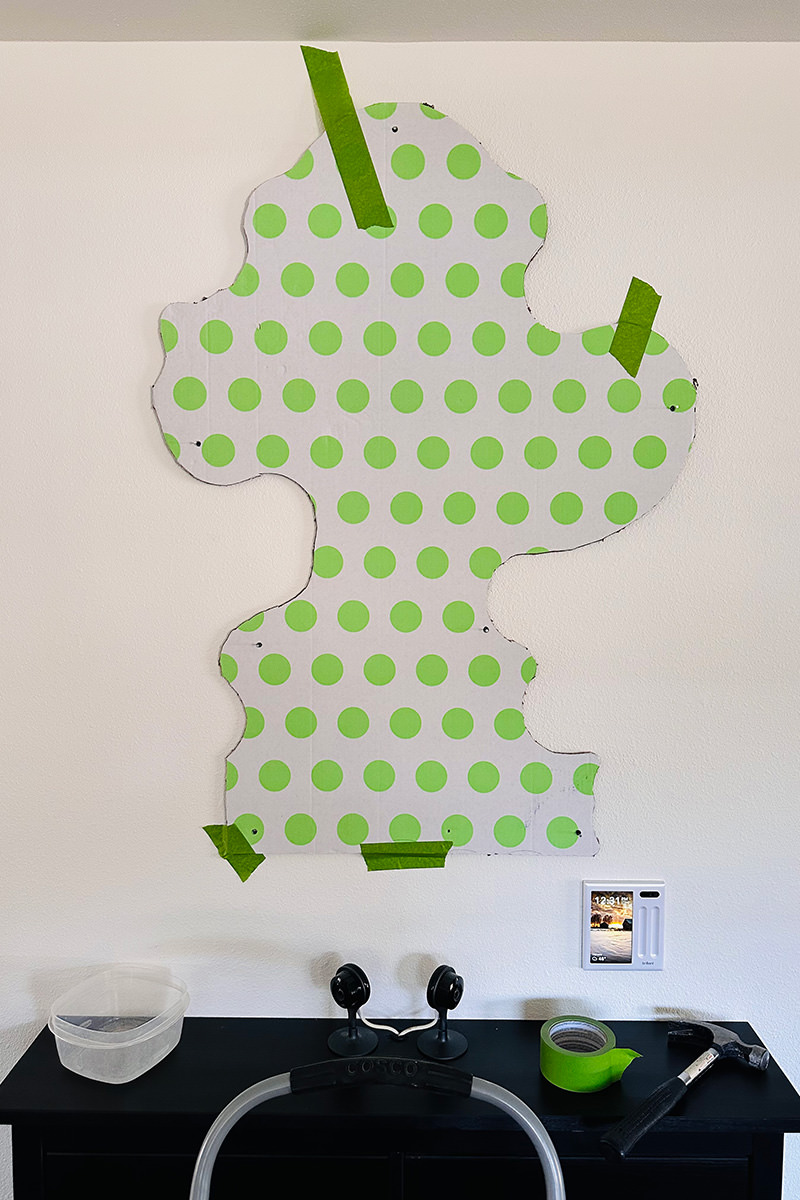 Ask for help? I'm a loner, Dottie. A rebel. I'll do it myself!
The metal mounting pegs are actually very smart, because they set the sign out away from your wall, which makes it look more like glass tubing instead of something that's flat against the surface...
One thing I did to make it easier to hang alone was to move the sign a tiny bit off-center so that the mounting peg at the top was firmly anchored square into a wall stud. Then I could screw in that peg long enough to hold up the sign so I could screw in the rest. If I hadn't put it into a stud, it was heavy enough that it would probably have ripped out from the drywall if I tried this.
And there you have it. My amazing new Monkey Peace sign is up...
LOVE IT!!! ABSOLUTELY LOVE IT!
The problem with this photo is that you can't tell just how incredible this looks in person. The "neon" looks all blown out and blurry in photos... whereas in Real Life, it is perfectly defined and has a beautiful glow to it. Looks very much like actual neon from any angle until you get close and see that it's not really glass tubes. Remarkably, the light is diffused enough that it appears solid, not at all looking like a bunch of little LEDs.
UPDATE: When it gets dark, the light is even more impressive. Gorgeous. Photos still don't do it justice though...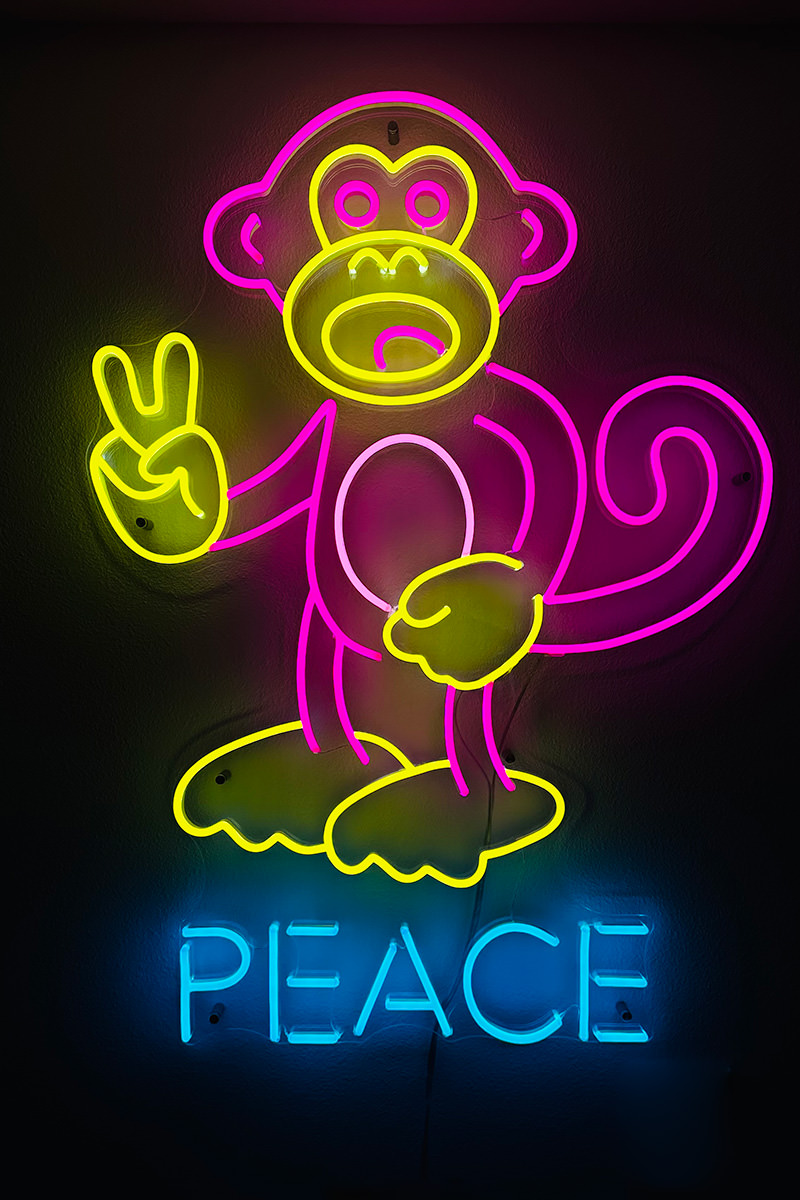 One piece of advice... spring for the dimming remote control ($29). The sign is actually more impressive when it's not at full brightness, and it's nice to be able to turn it off and on from across the room...

Yes, as you can see, my cats are clearly unimpressed.
So, yeah... thrilled with the whole experience from start to finish. If you're looking to have custom "neon" of your own, I highly recommend YellowPop for the job! They're expensive, but worth every last penny. I cannot stop staring at it.
I guess now I'll be saving up for my next piece. This turned out too good not to.
Posted on March 3rd, 2023

Ooh! Look at me! I'm on blog vacation for a week!
I am also on a vacation-vacation for a week. Well, I'll never be able to truly escape from work... but I'll do my best.
If I don't end up in prison somewhere, I'll see ya all soon.
Posted on March 2nd, 2023

When the new company was hired to inspect my HVAC, they guy immediately told me of all the problems which were wrong with my 26-year-old system. This came as quite a surprise, because the previous company always told me that my system was great for an older model. But the new guy had the receipts... he took photos of everything and told me that it wasn't a matter of "if" but "when." Everything could run for another two years. It could fail tomorrow.
The cost to fix it so it wasn't on the verge of failure? $1,200.
There was no way I was going to spend $1.200 on a band-aid, so decided to invest in a new system.
The options presented to me were Silver, Gold, and Platinum. The Platinum system was simply beyond my finances to pay for. The Silver and Gold were ultimately the same price once a rebate from the local utility district was considered (they pay you to install a heat pump system to save energy so they can then sell that energy at a bigger profit to businesses or other regions). So Gold it was.
It looks nice next to my new water heater. It also looks like money...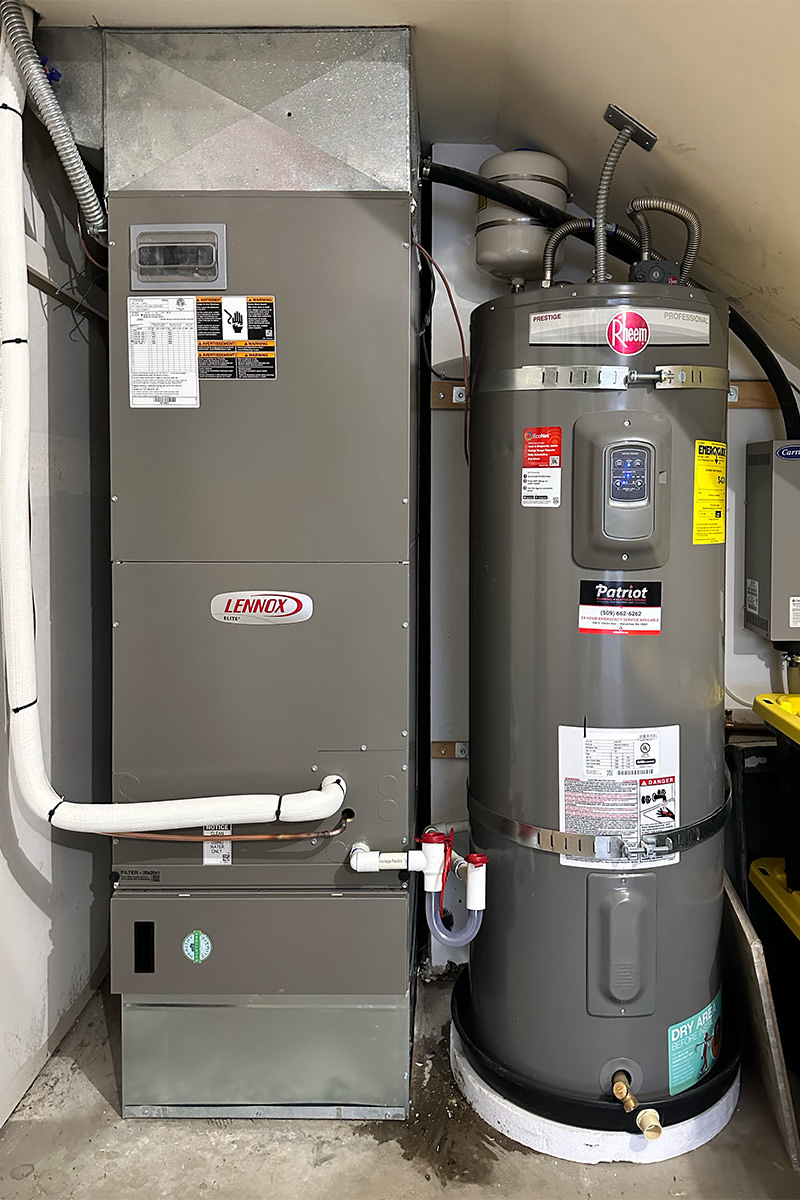 Fortunately I had been sinking money into an "emergency fund" for just such an occasion as replacing a water heater and HVAC system. Once the rebate is considered, I "only" had to come up with $650. Which will, in turn, come out of my tax refund.
Of course now I have no emergency fund left, so hopefully I won't have another emergency any time soon. Knock wood.
So there you have it.
Hot water. Hot air. And (eventually) cold air too.
Posted on March 1st, 2023

A quick trip over the mountains today!
Years ago it was common for there to be snow in March. I remember drive over for my birtday in late March when it was near white-out conditions and chains were required. But these years that's becoming more and more rare. There have been times when ski resorts were shutting down in February due to lack of snow.
But this year? Season pass holders are getting a good deal because it looks like there will be plenty of snow through the month...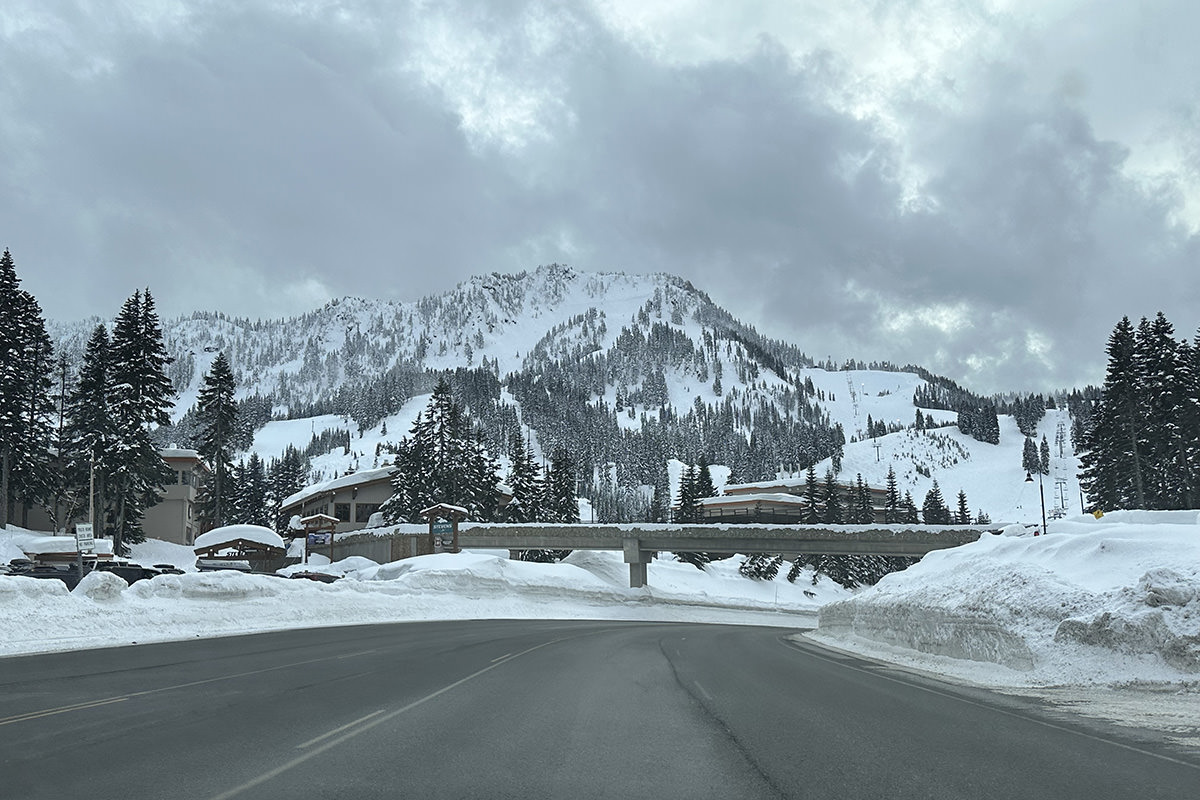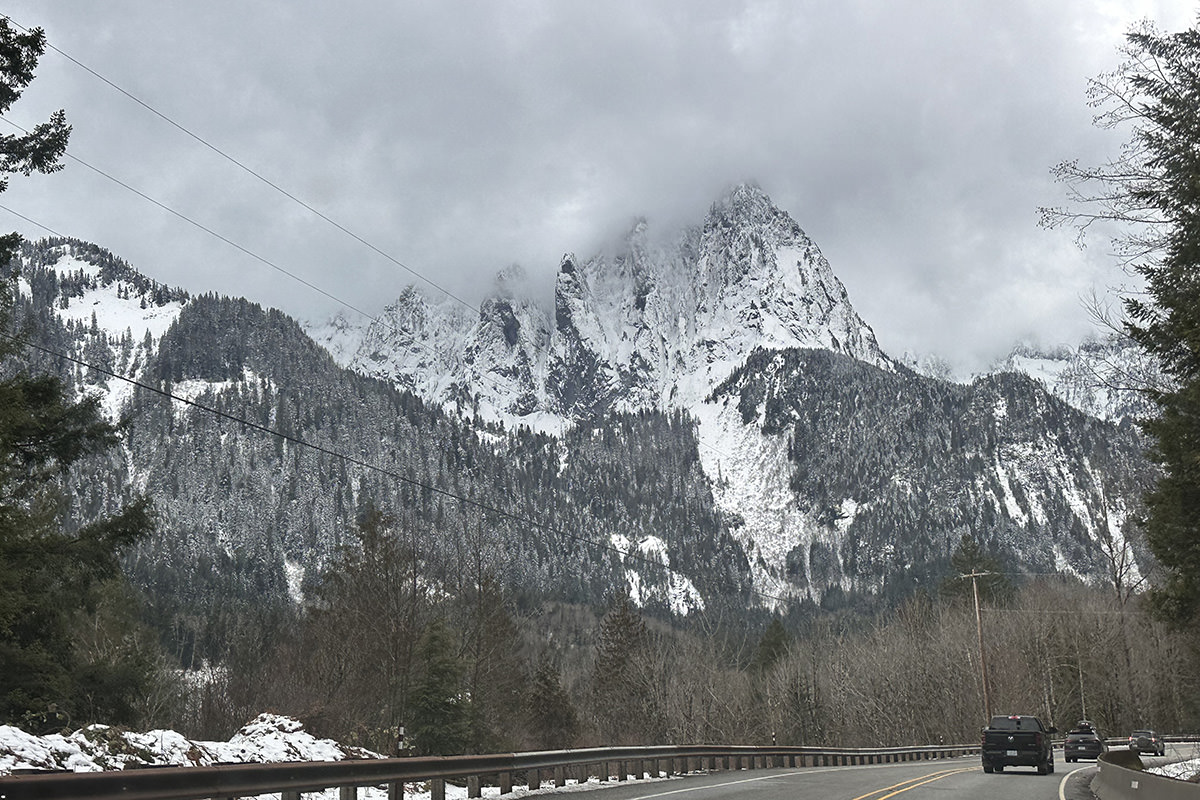 I dunno. I'm ready for Winter to be over.
Posted on February 28th, 2023

Wait... this is the end?
Where did February go?
There was a cartoon a while back where somebody explained how a person's life is like the sands in an hourglass. When you're young, there's a lot of sand so it appears to be barely moving. But as you get older and the sands run out, it seems to run quicker and quicker even though it's always been falling at the same speed.
I guess my sands are starting to run out because it seems like Christmas was just yesterday.
Posted on February 27th, 2023

I was doom-scrolling through social media while waiting for files to download and found one of my favorite kinds of videos... somebody bitching about something totally inconsequential. Except it's really not, given how undesirable changes keep getting rammed down our throats, all in the name of "progress."
Take for example breakfast cereals. Manufacturers are pressured by parents groups and government agencies and whatever else misguided nonsense there is to make changes to our cereal so that they are "healthier." Which would be great, except they end up tasting like shit...
I stopped eating all breakfast cereals except Raisin Bran and granola because it all tastes like crap now. I used to eat it all times of the day or night. Loved the stuff. Couldn't get enough. Now? Even Raisin Bran is awful, but at least the raisins make it bearable. I'm sure soon even the raisins will have to be low sodium and low sugar.
Cocoa Puffs, Apple Jacks, Peanut Butter Captain Crunch... so many cereals are practically inedible now. Well fuck that. Why not make NEW "healthy" cereals for people who want that crap and leave the cereals we have alone?
That's progress for you.
Posted on February 22nd, 2023

We've been having some nice weather lately. Very nice.
It's been so nice that I've been leaving windows open to get a breath of fresh air flowing through my house. The cats go outside to their catio when they want fresh air, but I'm indoors at work and mostly indoors at home, so it's been a refreshing change. Every year March through May are usually nice enough for open windows, especially in more recent years.
It inspired me to get my Summer clothes out of storage this past Monday and get to washing them. Yesterday I finished...

With all my Summer and Winter clothes in there, my closet is bursting at the seams!
Then this morning I decided to head to tourist town so I could go grocery shopping before work. Only to see that there was snow on my car which had to be scraped off.
Then I got to the grocery store and this is what I saw...
Soooo...
Clearly my celebration of Spring was premature.
Clearly!
On the bright side, shopping for groceries at 7am is always such a treat because there's hardly anybody there. And the older I get, the more I'm thrilled to not have to spend time doing anything with random strangers.
Now get off my lawn!
Posted on January 27th, 2023

Everybody likes to speculate about what they would do if they won the lottery and came into sudden wealth. The memes are on social media all the time. And the answers are usually something along the lines of "I'd quit my job and travel!" Or, if you really hate your job it's more like "I'd tell my boss to kiss my ass then buy a boat!"
Most times I read these replies and don't know how to answer because so many details are missing.
How much money are we talking about, after taxes? If it's a million dollars, here in Washington State you'd lose $250,000 of that (according to the Lottery Tax Calculator) leaving you $750,000. So... that's likely 10 to 20 years covered depending on how much you spend in a year. Or perhaps 5 years if you go really crazy. So... when you really think about it... quitting your job only works if it can carry you to retirement age. By the time I retire, retirement age will probably be 70 years old, so I could quit work if I spend only $50,000 a year. Totally doable, really. Though, to be honest, I'd probably still work for at least five years since Social Security is likely going to be in the toilet unless Congress stops being a bunch of dumbasses.
Where it gets interesting is if the lottery is more like 10 million dollars. That leaves me $7.5 million to play with after taxes. Even if Social Security collapses completely, if I live to be 80 years old I'd have $250,000 a year to spend! In which case... oh yeah... I ain't working another day in my life. Pay off my house. Travel a bit. Do some remodeling. Go crazy. Then it's just day after day of drawing and woodworking for me until I die.
If I win $100 million, I'm going to space.
I guess this means I should start buying lottery tickets?
Posted on January 25th, 2023

For the past several months I have been receiving emails meant for another person from "Piedmont Health" in Georgia. Since some of the emails are notifying him of an appointment change and pre-appointment procedures, I was understandably concerned that he wasn't getting critical information regarding his health. And the emails are not generic... they are discussing his heart health specifically, which is most certainly a HIPAA violation.
I have sent dozens of message to every email address I can find at Piedmont... all ignored.
I have called several different departments in an effort to get this fixed... absolutely nobody give a shit.
I have contacted Georgia Department of Public Health and GDC Health Services... blown off and ignored.
After calling three times and emailing twice, I receive an email telling me that "my" appointment has been rescheduled...
I even found the Other-David on Facebook (I think) and tried messaging him. Nothing.
I tried fixing this situation yet again a couple weeks ago after getting emails with his health information, and FINALLY got ahold of somebody who said they would get the request to the right department. I was relieved that the situation would be resolved. At last.
The appointment was set for January 31st. Next Tuesday. So today I got even more emails asking for Other-David to set up a MyChart account... check in for his appointment... instructions for the appointment... all of it.
So much for the sadistic fucks at Piedmont fixing the email address of the guy in Georgia who is NOT ME.
I sure hope that Other-David gets a phone call, because I am DONE sending emails and calling and trying to resolve this error. Any email I get from Piedmont is now going directly to the garbage...
I cannot believe that these assholes have ignored me after MONTHS of wasting my time trying to get this resolved. I fucking hate this company. If I am ever in Georgia and need life-saving care, just let me die. I want nothing to do with these Piedmont pieces of shit ever again.
So best of luck, Other-David... if Piedmont treats your heart the way they treat your privacy and communication, you're fucked.