Posted on July 21st, 2017

What I need...
What I really, really need...
Is an off-switch.
My brain is so overwhelmed with stuff... a lot of it being inconsequential, mindless stuff... that I can't focus. Especially at night when I need to be sleeping.
Oh well. In six hours I have to head over the mountains in a 2-1/2 hour drive. Maybe that will sort things out with my brain.
Posted on July 13th, 2017

Pizza is probably my favorite food.
But not always.
Sometimes... sometimes... it's fried potatoes. When they're served with Dutch mayonnaise. They don't even have to be really great fries (like the amazing kind you get in the Netherlands or the kind I fry myself). So long as they have Dutch mayo, I'm good. So to celebrate National French Fry Day, I grabbed my Dutch mayo and went to the local drive-in for a big bag of lunch...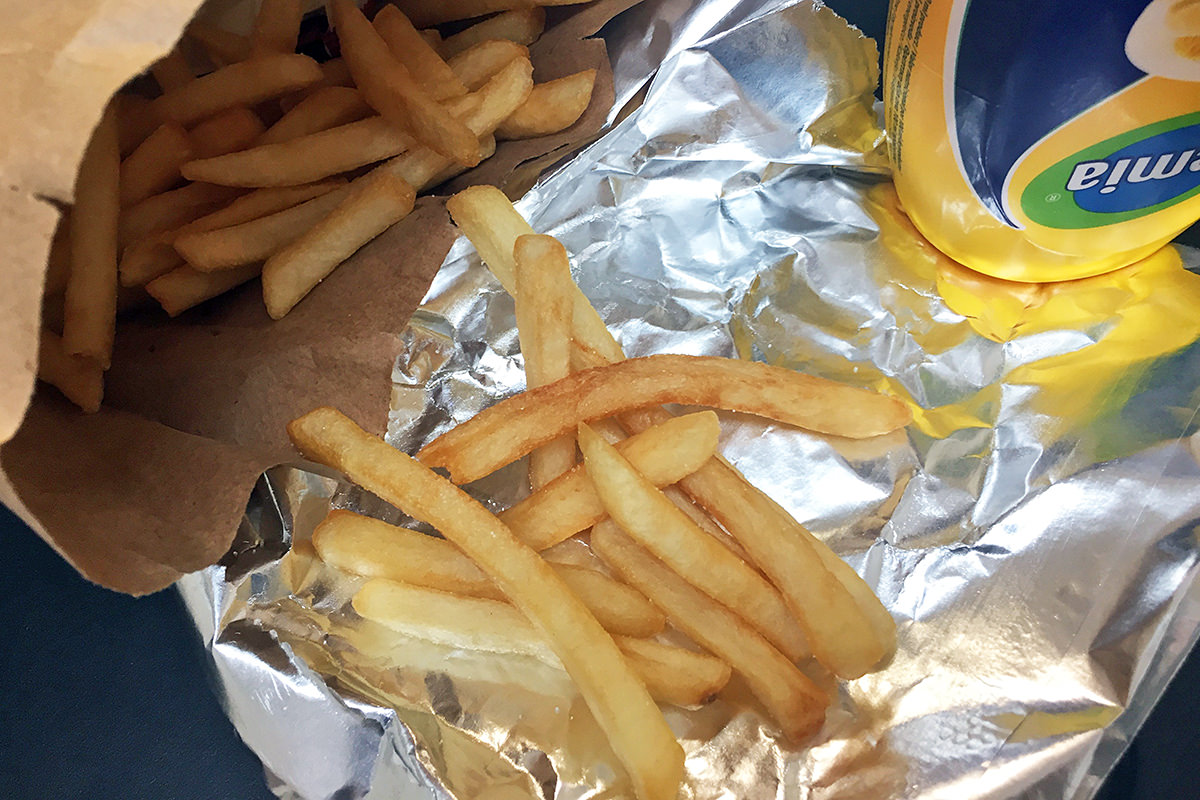 Delicious!
Tied with Chocolate Pudding Day (June 26th) as one of my favorite holidays!
Hope you got fried today!
Posted on June 28th, 2017

Today was the day I was supposed to be flying to Orlando.
But I ended up canceling back in May because my calendar was obscenely full here at home. And it turns out that I didn't know the half of it. This week has been so packed that I have been looking into cloning technology.
I need a Dave 2.2 ...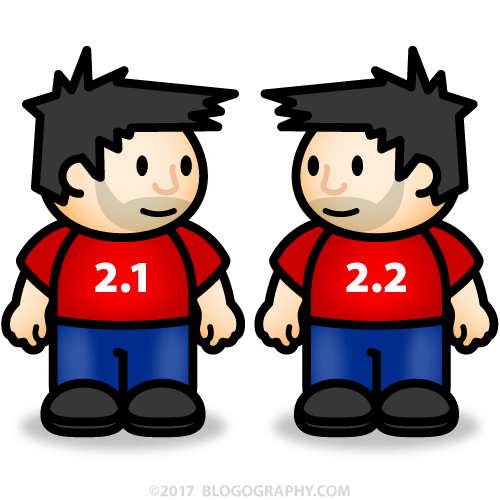 Though... to be honest, cloning me is probably not the best idea. The world can only sustain so much evil, and this would push us over the top.
Way over the top.
Posted on June 19th, 2017

And so I'm dead now.
When I went upstairs to watch Netflix in bed at 9pm last night, Jenny was still out in the catio. When I finally decided to go to sleep at around 11pm, I checked the cameras and saw she was still out there. This is not unusual, as she loves chasing bugs in the catio at night. Jake, I assumed, was off asleep somewhere.
When I woke up at 2am, I checked the cameras and saw that Jenny was still out in the catio. No Jake. I activated all the internal cameras. Still no Jake. I assumed that he was still off sleeping somewhere. So I started scrubbing backwards through the internal cameras so I could figure out where.
Jake was nowhere to be found. The last time he showed up was 7:15pm, when he was climbing down the cat tree.
Holy crap! Did I lock him in the laundry room?
No.
I can't find him anywhere.
No big deal, I grab the cat treats and shake the bag. Jenny comes running in from the catio immediately.
No Jake.
This is unprecedented. For Jake to not show up for kitty snacks is inconceivable. He loves those things. Loves them. The only reason he wouldn't show up is because he's trapped somewhere. Or dead.
And thus begins 20 minutes of total panic as I proceed to tear my house apart.
Still no Jake. He's vanished.
Either he has wedged himself somewhere I haven't thought of or... he got outside somehow?
Total panic becomes a complete meltdown as I start checking outside cameras. And there he is. Wandering around the back yard. At least he was at 1:28am, which was almost an hour previous...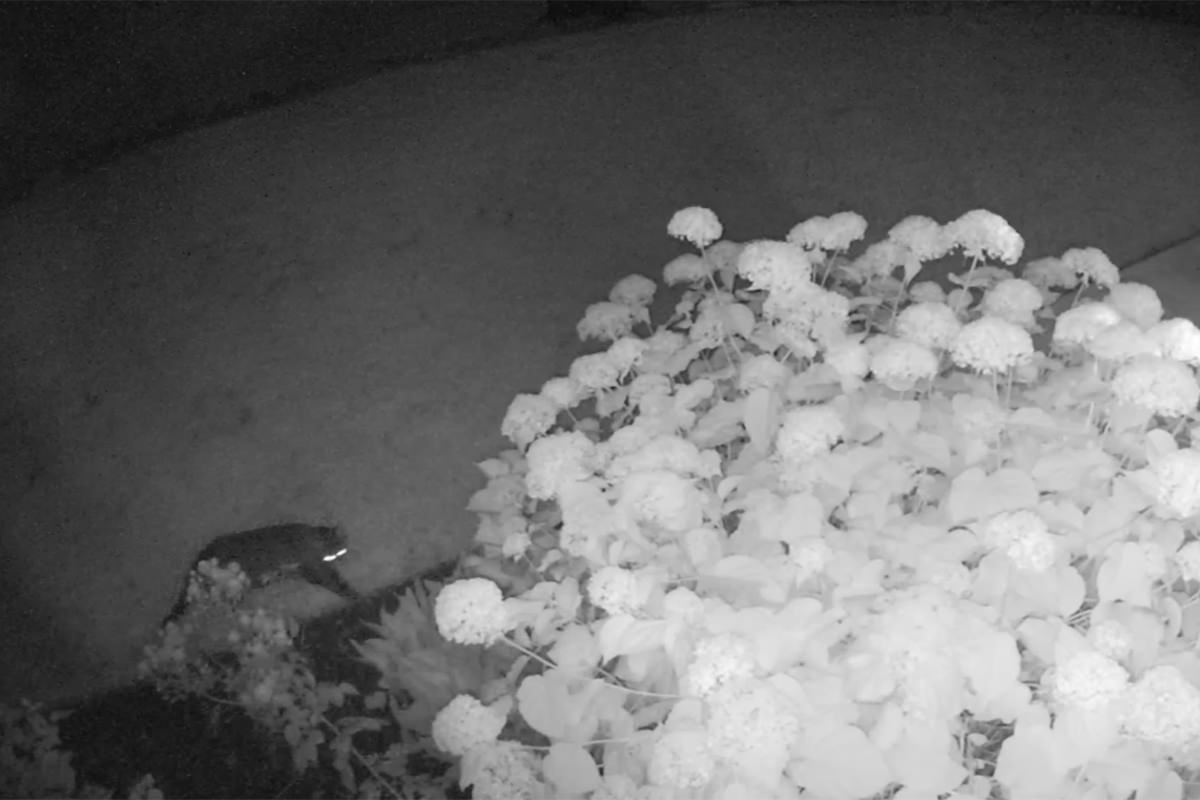 What. The. Hell?
At first I thought it might be Fake Jake, but the more I watch the video, the more I'm convinced it really is Jake, and he managed to escape. Some way. Some how.
I am trying to think if I have ever been at the panic level I was at that moment.
I honestly don't think I have.
And so there I am, out in the catio with the door wide open, shaking a bag of treats. He shows up minutes later...
But... how? How did he get out? He was around when I got home from work, I'm sure of it. Did he escape when I took out the garbage? Did I leave a window open somewhere and he pushed out the screen? Is there a hole in the fencing on the catio?
Back to the cameras. And... turns out he pushed off the roof of the catio (video at 8x speed)...
A couple things to note:
Jake paces back and forth, pushing on the roof at different spots. It's like he knows he can push through somewhere if he can get the leverage.
I can't see where he drops to the ground. I'm guessing he jumps over to the shrub, and climbs down that way?
Jenny totally watches him escape.
Eventually Jenny pushes through the roof as well, but chooses not to leave. Thank heavens.
The catio is now closed, pending my securing the roof panels.
From what I can tell, Jake was never too far away from the catio. He appears on the back porch several times throughout the night (video at 8x speed)...
Though he did circle the entire building once. He appears in the front yard at 11:45pm... goes out of frame at the bottom near midnight... then reappears at the top of the frame exactly 30 minutes later. Heaven only knows what he did along the way (video at 8x speed)...
More than once he tries to find a way back into the catio, and most times his sister is on the other side watching him...
So there you have it... Jake's big adventure.
And my nervous breakdown. Because all I can think about is how this could have happened tomorrow when I'm traveling and Jake would have been stuck outside.
Needless to say, I won't be getting any sleep tonight. If ever.
Maybe if I would stop checking the video cameras every 15 minutes to make sure the cats are still inside and safe...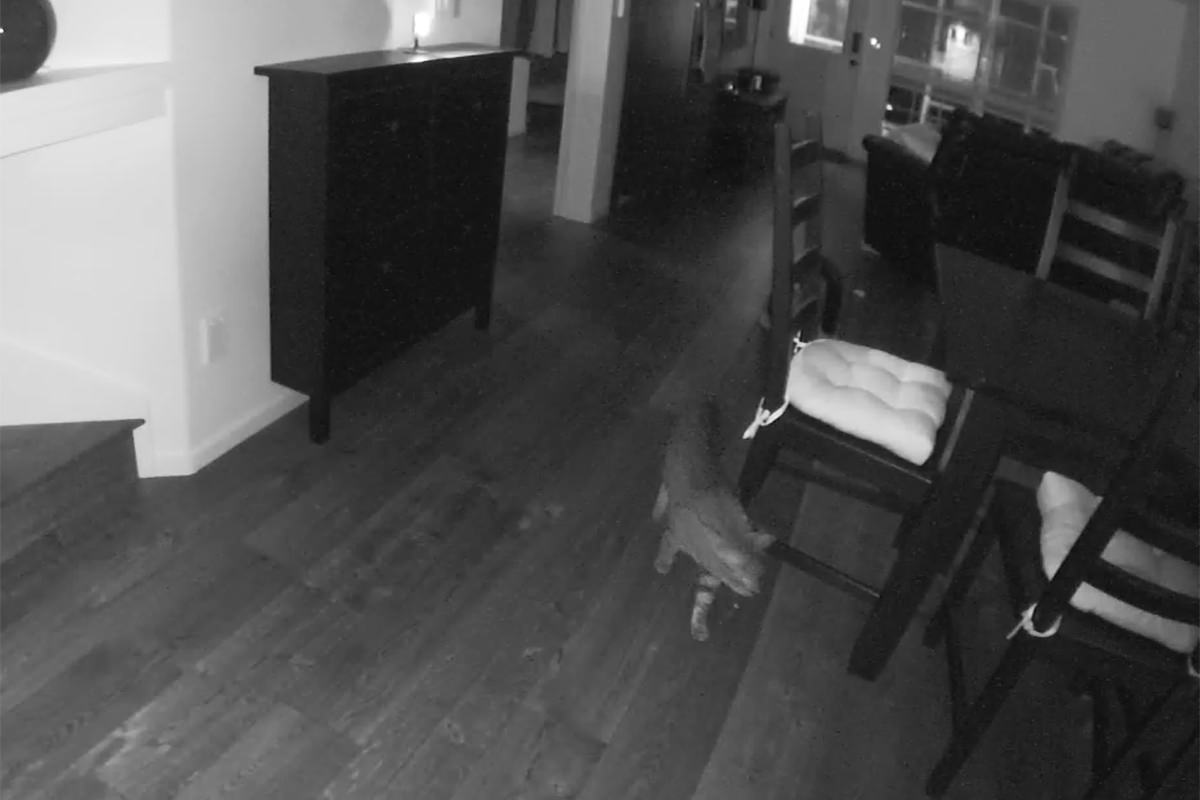 Cats. What can you do?

UPDATE: Turns out my framing contractor (who also made the roof for the catio) used screws that were way too short. They were barely grabbing into the wood. So when Jake was walking back and forth pushing on the ceiling, the screws were popping out like rivets...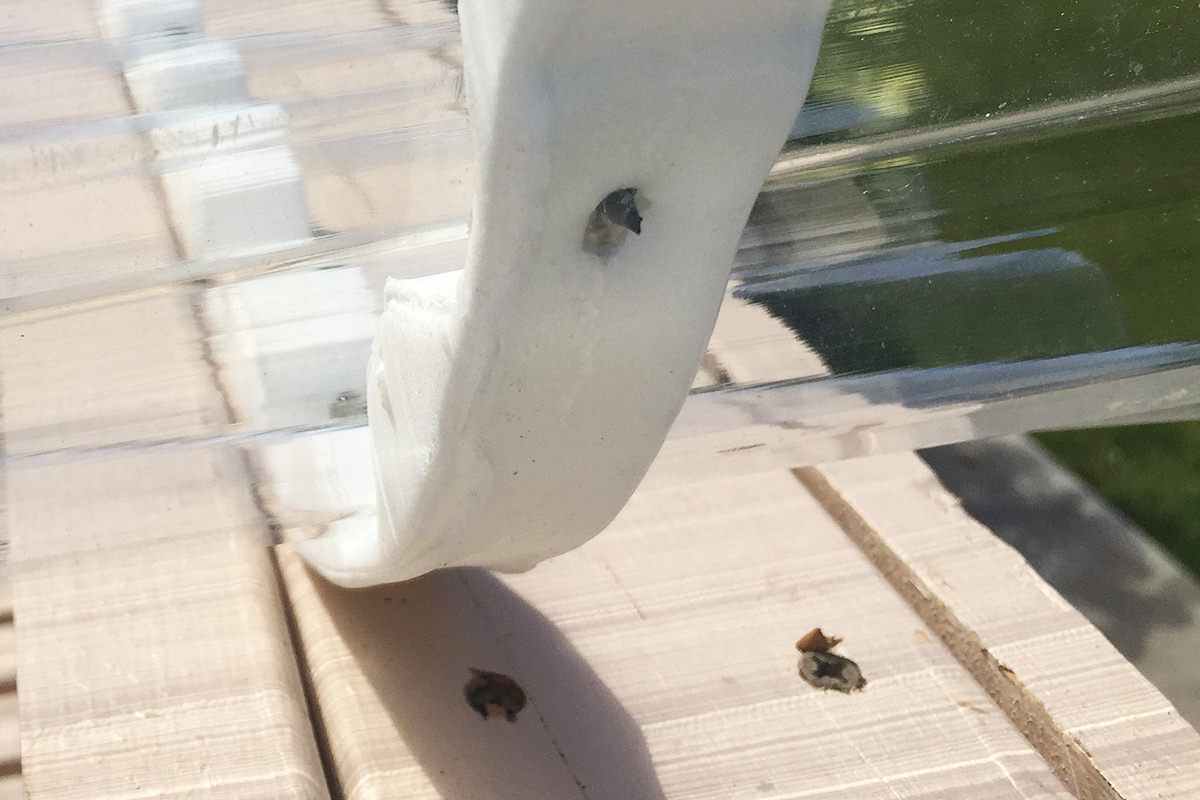 I'm replacing them all with screws that are 2-1/2" times longer.
And... Jake and Jenny can enjoy their catio once again.
And... I can have the peace of mind that the cats can't get out.
Until the next time.
Posted on June 15th, 2017

Thanks to ceiling fans and evening ventilation, I have yet to turn on the air conditioner this year despite having some 90°+ days.
Needless to say, I'm ecstatic. Next to heating, running the air conditioner is the most expensive use of electricity I have. It can easily approach $100 per month if I'm not careful. Like last year when, apparently, I really liked being cool on hot days. This year I can't afford not to be careful, hence my ecstatic nature.
Next week this time I will be in Las Vegas for some meetings and to visit friends. The temperature there has consistently been over 100° with the forecast calling for a high of 116°... that's ONE HUNDRED AND SIXTEEN DEGREES.
Fortunately I am not paying for that air conditioning.
In other news, I finally got my hands on the Wonder Woman: The Art and The Making of the Film book...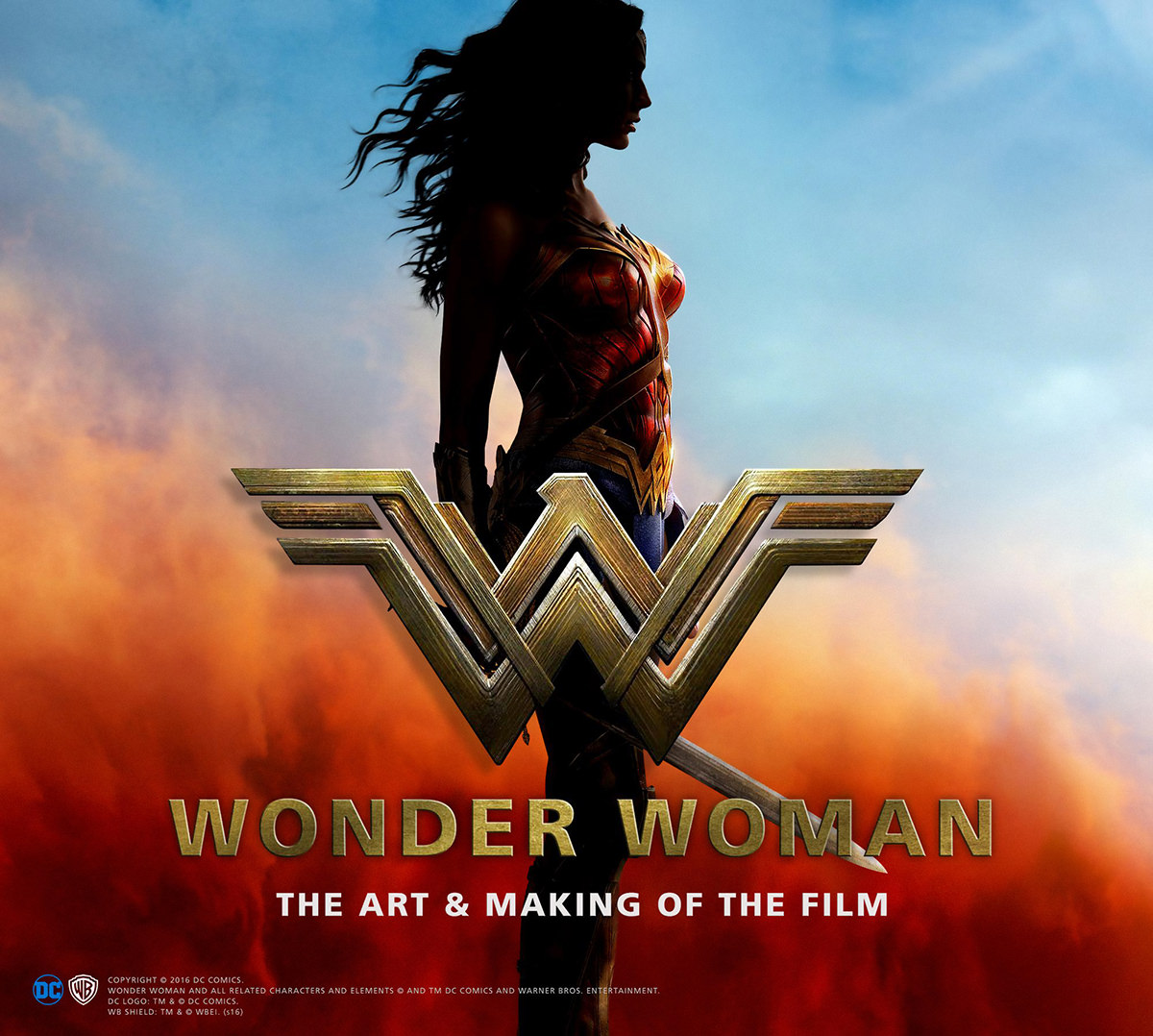 I love these kind of movie books... especially for the Marvel super-hero films and the Disney/Pixar films. I usually end up buying all of them, as the "how" is sometimes even more interesting than the movies themselves. This one is no exception. The production values on Wonder Woman were incredible, and seeing all the thought behind some of the decisions made just adds to the experience.
Of particular interest is the design for Themiscyra, home of the Amazons. If you've seen the film, you can just imagine.
And if you've seen the film and like it as much as I do, then checking out this book is a must.
Posted on June 14th, 2017

Today hasn't been the greatest of days. Too much to do and not enough time to do it... despite working day and night. Might as well take a blogging break.
Even though what I should really be doing is cleaning my disaster of a house. Jenny has decided she's an interior decorator, and keeps moving things around. This morning she moved her scratching pad, her brush loop, all the couch pillows, and a box I was using as a garbage bin. As if that weren't enough, it seems that one of the cats got wet paws and then tracked mud(?) though half the downstairs, so that needs to be mopped up as well.
But not tonight.
If you read yesterday's entry, you know that I have a mole in my front yard. I've named him Monty. And now I want him to go away, because he's been busy... there were three additional holes that popped up this morning. Those ultrasonic stakes I ordered cannot get here quick enough, but tomorrow will have to do.
I did have a mole-related scare this afternoon.
I received an alert on my phone from the security system, and rightly assumed it was the yard care team mowing the lawn.
WAIT... mowing the lawn?!?
MONTY!!!!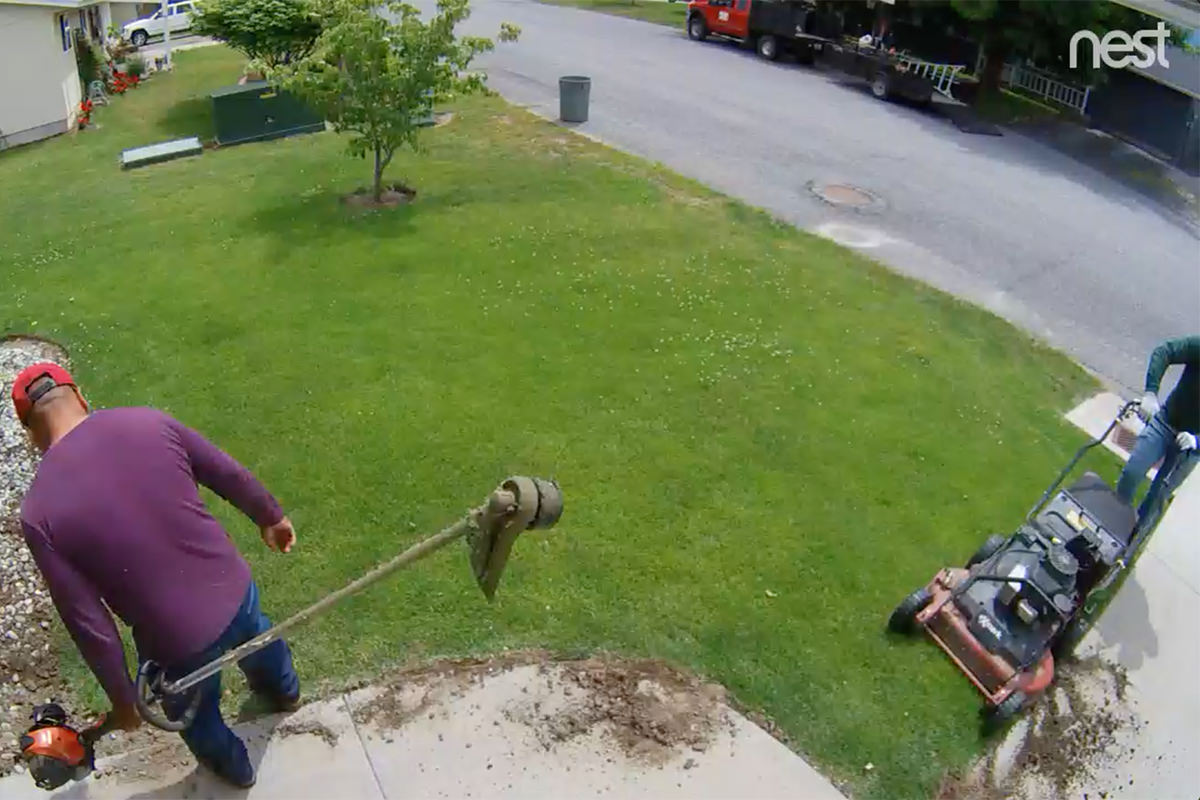 I don't know that I've ever worried over something that I want gone before, but here we are.
I kept checking the cameras to see if I'd get a glimpse of him digging up my lawn again, but it never happened. When I got home I went looking for any sign of Monty... and there it was. A fresh mole hill in my flowerbed. Assumably, my rodent is still around.
Which is good? I guess?
Hopefully I will feel different as I am planting my ultrasonic mole deflector shields tomorrow.
Posted on June 13th, 2017

So there I was, merrily hacking away on my latest project at work when I feel something tickling my hand. I look down and there's an ant crawling on it. "Well hello there, little fellow? Did you get lost?" Then, as I am getting up to take him outside, I notice ants E.V.E.R.Y.W.H.E.R.E. Crawling on the floor. Crawling up my desk. Crawling on my Doritos...
"HOLY SHIIIIIIIIIT! ANNNNNNNNTS!!! I scream.
I then shake off the ant on my hand, run and get the vacuum cleaner, then unleash armageddon upon the ants.
You see, when it's one ant, it's cute. When it's a swarm of ants... not so cute. That's when my Buddhist leanings towards all life being precious and doing no harm get chucked right out the fucking window. DIIIIIIIE! DIE YOU SCUM!!!
After looking around to see if Ant-Man was hiding in a corner somewhere, I went and whined about it to a co-worker. I was upset that there were ants. I was upset I had to Hoover them. I was really upset I had to Hoover my Doritos.
"Ah. They were after the Doritos then."
"What? Why? Ants love sugar. I eat Doritos because they have zero sugar."
"SOME ants like sugar. Other ants love grease."
"GREASE?!?"
"Yeah, grease. Fats. Like in your Doritos."
I Google that shit and, sure enough. some ants love fats.
I did not know that.
What I DO know? I've got moles. At least that's what the internet tells me after I shared my security camera footage...
The mole dug along my sidewalk, then popped up in front of my flower bed.
I have lived in this region of Redneckistan most of my life. I've never seen a mole. The only place I've seen a mole hill is not anywhere around here. I've also seen them in cartoons. Figures that the time I finally have a mole experience is when I buy a home and they are tearing up my front yard.
I did Google that shit to find out what I'm dealing with, only to find that moles are kinda cute...
They're also smaller than I thought. Like... tiny. Fit-in-your-hand-tiny. Amazing how they can cause such a ruckus when they're so small.
Anyway... turns out that moles, unlike ants, are aggressively solitary. Which means I probably only have one mole.
The last thing I want to do is kill him so, thanks to the internet, it's been suggested I try ultrasonic spikes to drive him away. I ordered them immediately and they will be here Thursday. And Thursday can't get here fast enough. The little bastard is really going to town. I came home to this...
I may not have a yard left by Thursday!
I always wondered where "Whack-A-Mole" came from.