Posted on November 25th, 2021

I have a great deal to be thankful for.
And yet... it's tough to find a way to appreciate it in the middle of a pandemic where there are still people who are fucking things up and dragging everything out. It seriously feels like COVID is never going to end. The virus continues to mutate, and the anti-vax/anti-mask brigade doesn't seem to give a shit. Despite the fact that they are twenty times more likely to die if they contract COVID when compared to those who are vaccinated.
Oh well. All I can do is attempt to remain careful and try not to die from being one of the few breakthrough cases that happen. What else is there?
Posted on November 18th, 2021

I got a notification that my iPhone trade-in was received by Apple and is in excellent condition, so my Upgrade Program return requirements are now closed and I'm good for another year. So happy that upgrading via mail works so seamlessly as opposed to the TOTAL FUCKING NIGHTMARE that ensued when I upgraded at the Apple Store. Never again.
Today I went to get my snow tires put on. It was an absolute mad-house, because we're supposed to get snow this weekend. I had made my appointment over a month-and-a-half ago, so I was covered... but apparently there was a line out the door when they opened up, so people were mad that all the walk-in appointments were gone.
Turns out that two of my tires didn't have enough tread on them, and the other two had 80%, so I ended up having to spend $268 to get the two replaced. Ouch. But... better to part with some of my sweet, sweet cash than to be unsafe on the roads. Still... ONE HUNDRED THIRTY-FOUR DOLLARS PER TIRE?!? I mean, I always go for the mid-grade stuff, nothing fancy, so how?. I could have sworn they were $68 last time, which means they've doubled in price? Yikes. Life is too expensive any more.
I am not somebody who's into fashion. Honestly I'm not. I wear jeans, T-shirts, and maybe an occasional henley or a button-down shirt.
That being said, I want a really nice light jacket and am willing to pay for it. BUT EVERY SINGLE ONE I FIND THAT I LIKE IS NOT AVAILABLE IN TALL SIZES! It's next-level frustrating. I am sick and tired of having sleeves that aren't long enough. And when I do find tall sizes, they usually have long torsos, which look silly. I'd like a fitted light jacket that ends at the waist, has long sleeves that taper, but then flare out at the wrist so I can wear gloves underneath. And I'd really like zippers on the cuffs in case I want to wear heavy gloves. And if it can look nice and not painfully plain and basic, that would be a plus.
Doesn't exist.
Which makes me really, really want to buy some patterns that I could alter so I can design and sew exactly what I want. Problem is, my sewing machine can't sew through thick fabrics... like multiple layers of denim... so I don't even know that I could do that. Even so? I'd like to try. Maybe I could design one out of regular fabric, then turn the pattern over to somebody with a capable machine or something. Because I'm not going to pay a premium price for an ill-fitting, boxy-looking, long-torso jacket any more.
And, last thought of the day... #NotAllMen...
Pretty much me, any time I start to think I have a handle on life.
Posted on November 17th, 2021

I'm too tired to function and it's all TikTok's fault. As you might have guessed by the video below, I fell down another TikTok rabbit hole before bed last night.
The look on this opossum's face kill's me. "He fainted, so I thought I'd tell you about opossums while he wakes up!"
AND THEN THERE'S THIS...
=sigh= I pretty much live for this sort of distraction in thie pandemic world we live in.
Posted on November 16th, 2021

Last night when I got home I was all excited because I was planning on cooking rice noodles with blackened green beans in a spicy sauce and had been thinking about it all day.
So there I was getting all the ingredients out and the Sriracha fell off the counter. It's in a plastic bottle, so I just ignored it while I got everything else out.
THE CAP ON THE SRIRACHA BROKE OFF AND PLASTERED MY KITCHEN WITH A SPICY BLOODBATH OF RED SAUCE!
After 20 minutes of scrubbing down my kitchen, I was like "Meh. Guess a cheese sandwich is good."
I don't even know why I try any more. This is what my life just is now.
Then this evening as I was bending over to put dinner down for Jake and Jenny, I saw that the Sriracha splashed under the counters and I still had more cleaning to do. This time when it's dried and caked on.
I really need to wrap everything I own in bubble wrap. It's the only way I'm safe in my own home.
Posted on November 1st, 2021

I worked all weekend, so I woke up really early not to get a jump on my day... but to clean my house. The only thing I managed to get to yesterday was steam-cleaning the cat feeding station. That's something I do regardless of whatever else I have going on because I want to make sure Jake and Jenny stay healthy.
But anyway...
As I was scrubbing, vacuuming, and dusting, I had a Hallmark movie playing. The last thing I want is to get behind, because there's like a hundred of these things dropping from Hallmark Channel, Lifetime, Netflix, and the rest. Half-way through the movie I realized that I wasn't paying attention to what was going on. Not that you have to... most of these movies are painfully basic, redundant, and lacking anything requiring critical thinking. It's just that I'm kinda done with them. 95% of them are the same damn thing you've seen a hundred times before, and only rarely is there anything trying to be different. The only reason I didn't turn this one off is because it was starring Katee Sackhoff and I'm a fan.
Do I dare hope that I'm over my Hallmark addiction? Lord, I hope so... but probably not.
Far more interesting was this video that got forwarded to me this morning...
I don't know about you, but this is far scarier than the original Jurassic Park!
And now? I should probably go to work seeing as how it's almost 9:00am.
Posted on October 29th, 2021

I was told that I would "probably die in 6 or 7 months" after I got my first COVID vaccination.
Well, as of today it's been 7 months. Apparently I'm going to need all your thoughts and prayers to live through the night. Though since I went back for the second vaccination and went back for a third time to get a booster... maybe I don't deserve to live?
Posted on October 28th, 2021

MetaFilter: Living Alone in the U.S. Is Harder Than It Should Be
This article is validating.
I do not mind living alone. On the contrary, I have come to love it. I can find my own happiness without having to worry about maintaining happiness of another person, which is what has doomed all my relationships. I just can't sustain that to the level required.
My bad.
It is what it is.
But there are times that living alone is awful, and it has absolutely nothing to do with loneliness or anything mentally-related. It has everything to do with how expensive it is.
Good prices on food usually mean a two-for or three-for deal on an item that's ALREADY more than I can use. And so I buy a single pack at a far higher price than if I could afford to buy multiples. It's not that I'm bitter about it... that's the price I pay for choosing to be single. What I am bitter about is when I pay more AND GET LESS WITH IT!
Take T-Mobile, for example. If I had multiple phones on my plan, I'd get SD Netflix for free. But even though I have to pay more per line than people with multiple lines have to pay, I get less for my money. No Netflix for me. I am bitter as hell about that. I choose to be single and pay more per line. Fine. That's the cost of my choice. But to not get what families get even though I'm paying more? It's a difficult concept to process.
Oh well. I'm grateful I can afford a mobile phone at all, so I'll try to cling to that. Otherwise? Yeah, it would be nice to have help cleaning my home and sharing expenses, but I'm good.
I've got cats to keep me company, after all.
Posted on October 19th, 2021

I think that I lived with the horrific, byzantine, and abusive billing at AT&T for so long that I am in complete shock now that I'm with the no-nonsense billing at T-Mobile. It's just a text once a month saying "Your bill is $50. Period. And we've paid it from your credit card. Your balance is now $0. Have a great day." Or something like that.
My God. When I think back to the MONTHS I spent just trying to just pay the for the damn plan that I purchased with AT&T... but could never get straightened out... it's nigh-traumatic. Every month the amount was wrong. Then I'd end up having to call, then end up with a credit, then I'd get some mysterious charge nobody could explain, then my credit would disappear, then the amount would change, then they'd want me to switch plans to fix it(!), then they would say it was fixed but it was never fixed, then they would pro-rate a correction to the correction of the correction. And it was still wrong. HOURS of my life gone... and for what? Having to do it all over again the next month!
So relieved those days are over!
Posted on October 14th, 2021

I qualified for the Pfizer booster shot and I leapt on it like a starving lion.
Ever since they announced that the Pfizer vaccine lacked the long-term protection that Moderna offered, I was waiting for my chance. Don't get me wrong... it still does a great job of protecting you from death... it's just that breakthrough cases for the vaccinated can have harsher symptoms than expected. And "harsher symptoms" are something I can't really afford to risk.
And so, I made the appointment at the local clinic's drive-through site (a fiasco in itself, that I'll write about below).
For my previous vaccinations, I went to the mass-vaccination site. For my first dose, barely anybody was there. For my second dose, nobody was there. But at the smaller clinic drive-through, there were at least a dozen people getting shooted. That was unexpected and nifty.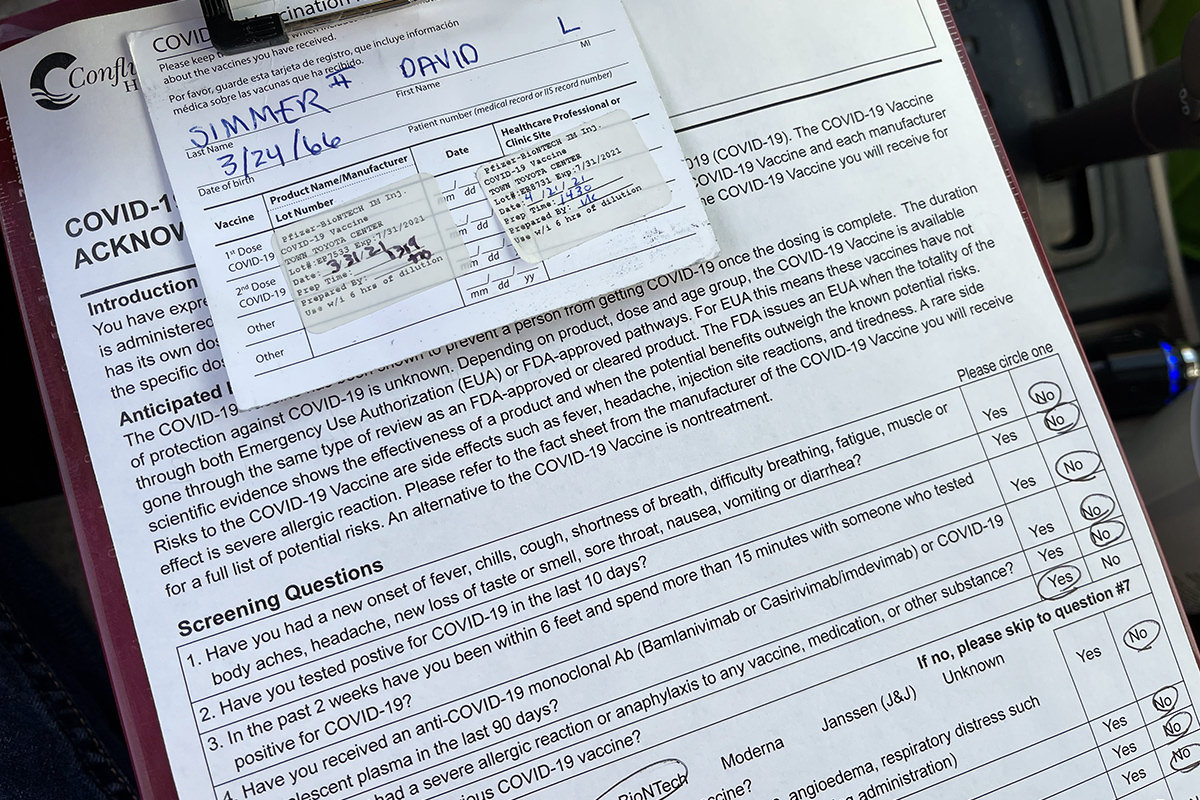 I can hear it now... "Holy shit, dude! You're stupid enough to get a THIRD vaccination? You're going to die for sure now!" — Which is what I'm guessing all the people who said I'd be dead by September after my initial vaccination are going to say. Because of course.
AND YES I ASKED FOR DOUBLE LIZARD DNA!!!
UPDATE: SHIT! NOT ONLY DID I NOT EXPERIENCE ANY PAIN OR SIDE-EFFECTS ALL DAY TODAY, I ALSO DIDN'T START TURNING INTO A LIZARD PERSON! THERE GOES MY DREAM OF JOINING THE ELITE LIZARD PERSON CABAL THAT RUNS THE WORLD!!
And now for the absolute absurdity it took to confirm my appointment (which I made by phone this morning).
Holy crap I wish Confluence Health would move away from MyChart.
It is the most inanely frustrating system to deal with. Nothing makes sense.
They send me an email to check in for my appointment. I click on the checkin link button. I then get taken to their website WHERE THEY WANT ME TO VERIFY THE EMAIL ADDRESS THAT THEY JUST SENT THE CHECKIN LINK TO?!? WHAT THE FUCK?!? And so I click the link to be sent a code that verifies my email... AND IT NEVER COMES. So, essentially, I can't check in as requested by email because they can't verify the email? And I know that if I call tech support the solution will be "check your spam folder." It's always "check your spam folder." Like people don't already know to do that by now. And it's not just MyChart. The Confluence Health website is shit too. Wanna login to MyChart? Well, first you have to scroll down and find the MyChart link. Then you go to the MyChart page and have to scroll all the way down the page for the "LOG IN TO MYCHART" link. Why not just put that fucking link at the top of the home page so people don't have to do all this work? Or, better yet, PUT THE LOGIN AT THE TOP OF THE FRONT FUCKING PAGE! They want you to use MyChart to save on staffing costs, but make it a hassle to do so. Which begs the questions... does anybody at Confluence Health use this shit themselves? Of course not. If they did then it would be a hell of a lot less shitty.
At least one would hope so.
Oh well. I finally got my booster.
I'm assuming that since a ton of people aren't getting fucking vaccinated that COVID will continue to mutate in the anti-vax people and we'll have to get annual boosters like the flu vaccine to handle that shit.
Which ain't fun, but it beats sucking on a tube of horse dewormer.
Posted on October 12th, 2021

No clue if it's Dreamhost, my internet, or what the hell is going on... but my blog takes fucking forever to load. FOREVER! Maybe it's the new "fast cache" plugin that's screwing things up? No idea. Which means it's just one more task to add to this weekend's "To-Do List." Which, as you might guess this close to winter, is packed full as it is.
The good news is that I managed to finish cleaning up my garage and putting away my woodshop projects so that I can park indoors. That's a task that got moved up the list because I've been having to scrape frost off my windows in the morning. And I really don't want to be doing that when the home I'm fortunate enough to call my own has a garage.
The bad news is that some of my projects got put away unfinished. That's going to really bug me, but maybe I'm going to have some time on the weekends that I can drag them out and get things completed.
BWAH HA HA HA!
Only joking. My motivation to do anything of use is at an all-time low. I'm lucky to be getting out of bed in the morning. And I probably wouldn't if my cats didn't need to be fed.
Which just goes to show that Jake and Jenny are good for something after all!