Posted on February 26th, 2021

It's almost 1:00am. I watched the latest episode of WandaVision (discussed below) then picked up around the house before collapsing in bed to write this blog entry. An entry which won't be posted until morning because I'm sure there are going to be a hundred mistakes that I'm too tired to catch right now.
Yesterday was uneventful. The most interesting thing to happen was when I decided to make a "Barbecue Pineapple Flatbread Pizza" from HelloFresh... then just couldn't do it. I ordered it because meal services often have things that sound disgusting but end up delicious. But when it came time to marinate the pineapple in barbecue sauce so I could slap it on the pizza?
No.
Just no.
There's no way that could ever be considered "delicious" so I put the ingredients away... slapped some Contadina Pizza Sauce on the flatbreads... added mozzarella, parmesan, and feta... then baked them until I had cheese pizzas. They were fine.
Except...
As I was pawing through my stack of drawers to find a pizza cutter, I reached in and ended up slicing my finger on a serrated knife. Took a nice chunk of skin off my finger, but didn't bleed. Lucky me. I can't wait for Spring so I can finish my kitchen remodel, because it's tough living like this. Tough on my fingers, that is.
But Anyway...
My thoughts on the latest episode of WandaVision are in an extended entry...
→ Click here to continue reading this entry...
Posted on February 25th, 2021

Last night I finally took some sleeping pills to knock my ass out so I could catch up on some of the sleep I haven't been getting.
I went to bed at 10:00pm, fell asleep by 10:30pm, then woke up ten minutes before the cat breakfast alarm went off at 7:00am. According to my Apple Watch app AutoSleep, that resulted in 8 hours and 18 minutes of beddy-bye sleepy-time...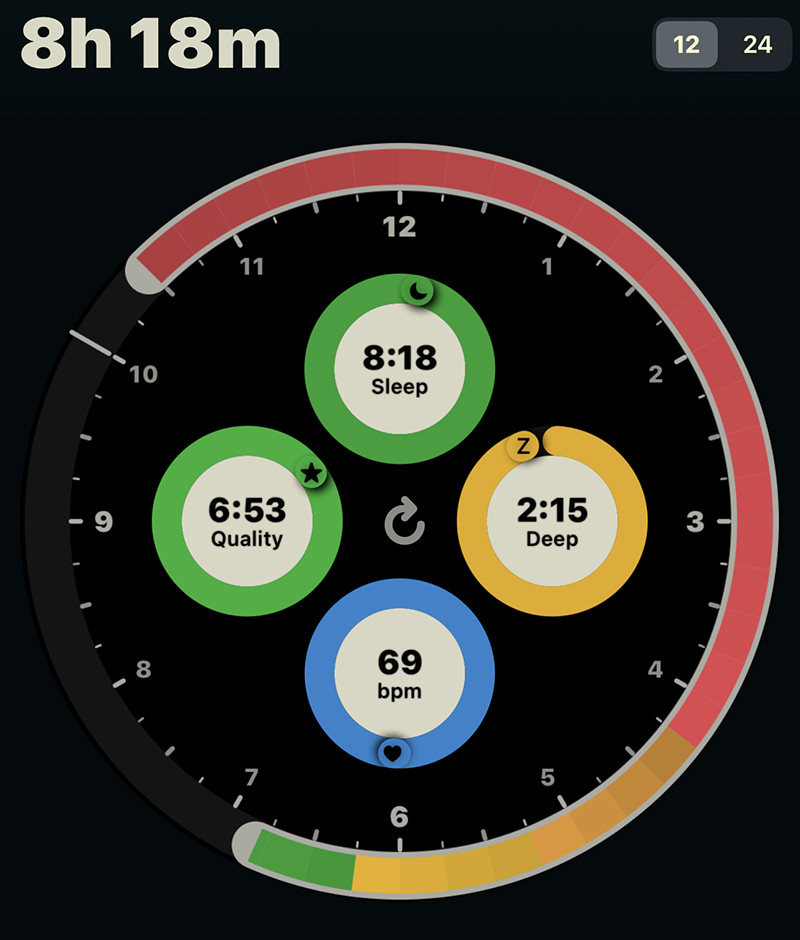 And it was a huge mistake, because I felt drugged up this entire day. Still managed to get my work done, but was mired in a mental fog that made it tougher to function that days when I'm only getting 4 hours of sleep.
Thanks to Apple Watch, I think I understand why. It used to be that I looked at the "Quality Sleep" metric... which in this case is 6 hours and 53 minutes. That sounds great. It sounds like a lot. Where I need to be looking is at the "Deep Sleep" metric, because it's on days where I get more deep sleep that I'm feeling my best. Though I slept for over 8 hours, I only got 2-1/4 hours of deep sleep.
That's less deep sleep than I get on a "regular" night where I'm sleeping half as much.
Apparently the drugs are good at knocking myself out, but the sleep I get is restless. I looked back to other nights and see a pattern. 5 hours 42 minutes sleep, 3 hours 6 minutes deep sleep... 4 hours 12 minutes sleep, 2 hours 48 minutes deep sleep... 3 hours 45 minutes sleep, 2 hours deep sleep. Shorter periods of sleep are actually far more productive for me "Deep Sleep-wise," as crazy as that might sound.
And so now I'm going to see what I can do to get better, longer deep sleep.
My guess is that exercise will have something to do with it. Which is fine because the snow is melting so I can start walking to work again. Correlating how much deep sleep I get with how much exercise I get will prove interesting, I'm sure.
In the meanwhile, I guess I'll be happy with 4 hours of sleep knowing that a good chunk of that will be the sleep I need to function properly.
Posted on February 16th, 2021

The microwave in my work's break area is very old. It has aged so much that the white plastic parts are now yellow plastic parts. I don't know much about it, but I believe it's a 10-watt model. At least it seems that way. Something which would cook in 20 seconds in my microwave at home can take 2 full minutes at work. It's wasteful to just toss it out for a newer model since it's still functional, so we just deal with it. If somebody's reheating a bagel (or whatever) when you want to eat lunch, you just come back in ten minutes... no big deal.
Years ago I was reading a vintage magazine where they were predicting that in the future frozen meals would be packed in nuclear-powered packaging. No microwave required. You'd squeeze down on a corner of the aluminium tray and the Uranium-235 embedded inside would activate and cook your TV dinner. This raised all kinds of questions. Such as... what happens to all those food trays? Do they just go in the trash-can and get taken to a landfill? Wouldn't we all be glowing in the dark if the product caught on? What were they thinking?
At least they were still going to use aluminum trays instead of the plastic crap we use now. Not that anybody back then would ever recycle anything. Back then everything went straight into the trash.
I have a certain nostalgia for the TV dinners of old.
The earliest dinners I remember as a kid didn't come with dessert. There were three sections... one for the meat (for me that meant meatloaf, chicken, or salsbury steak), one for the potatoes (usually mashed, but sometimes slices or fries), and one for the vegetables (exclusively consisting of peas, carrots, and corn or a mixture thereof). That's it. That's all you got...

Photo from a Google Search, so I dunno.
I didn't like any kind of meat, even when I was very young, so mom sometimes let me have a macaroni & cheese dinner.
Eventually a small and mysterious fourth section was added. This was where the dessert landed. Sometimes it was fancy cobblers, cornbread, muffin, or maybe even a brownie, but my favorite was baked apple slices. Oh boy! There were only about four or five of them, but they were floating in a sea of sugar-cinnamon syrup that was so good I'd try and lick it out of the damn tray...

Photo from a Google Search, so I dunno.
As I got older, Swanson started getting creative. They had "International" versions which steered away from the meat and potato fare that the USA lived on in favor of exotic dishes from Old Mexico or Italy or even the faraway islands of Polynesia! Instead of a mere four sections, they would have five! They also had larger-size dinners which were their HUNGRY-MAN line of bake-and-serve meals. It was a bonanza of non-stop food goodness, fresh from your freezer!
Eventually microwave ovens dictated that aluminum trays be ditched in favor of plastic. And the golden age of TV dinners was over. We never got a nuclear option because microwaves were cheaper, I guess.
But not nearly as much fun, certainly. If Indiana Jones and the Kingdom of the Crystal Skull taught us anything, it's that.
Posted on February 15th, 2021

Today is technically a holiday at work, but I'm going in anyway to clean up a bunch of little things that have been piling up. I have decided to wear sweats to the office for the first time ever because nobody should be there to notice. Except you just know that somebody will end up being there and notice. Oh well. I barely have the energy to go into work... let alone change pants. So sweat pants are a step above no pants, I suppose.
And just as I resigned myself to heading into the office a little early, this happens...
And of course she rubs all over me before planting herself, so now I'm covered in cat hari...
Then, before you know it, she's fast asleep... trapping my arm in the process...
I promised myself that I'd be in the office by 10:00am, so eventually I say "Do you want a treat? Is it treat time? Let's go get a treat!" At which time she's flying off of my and dashing downstairs at top speed.
Now, usually when I have to go into work on a holiday, I treat myself to a snack-run at the mini mart. I buy all the junk foods I normally try to avoid. But the idea of having to deal with anti-mask idiocy and "election fraud" rants was too much to bear, so I microwaved a veggie burger instead. Sometimes the snacks just aren't worth it.
Despite icy roads and nearly getting rear-ended, I made it to my desk at 9:58am. So way to go me, I guess...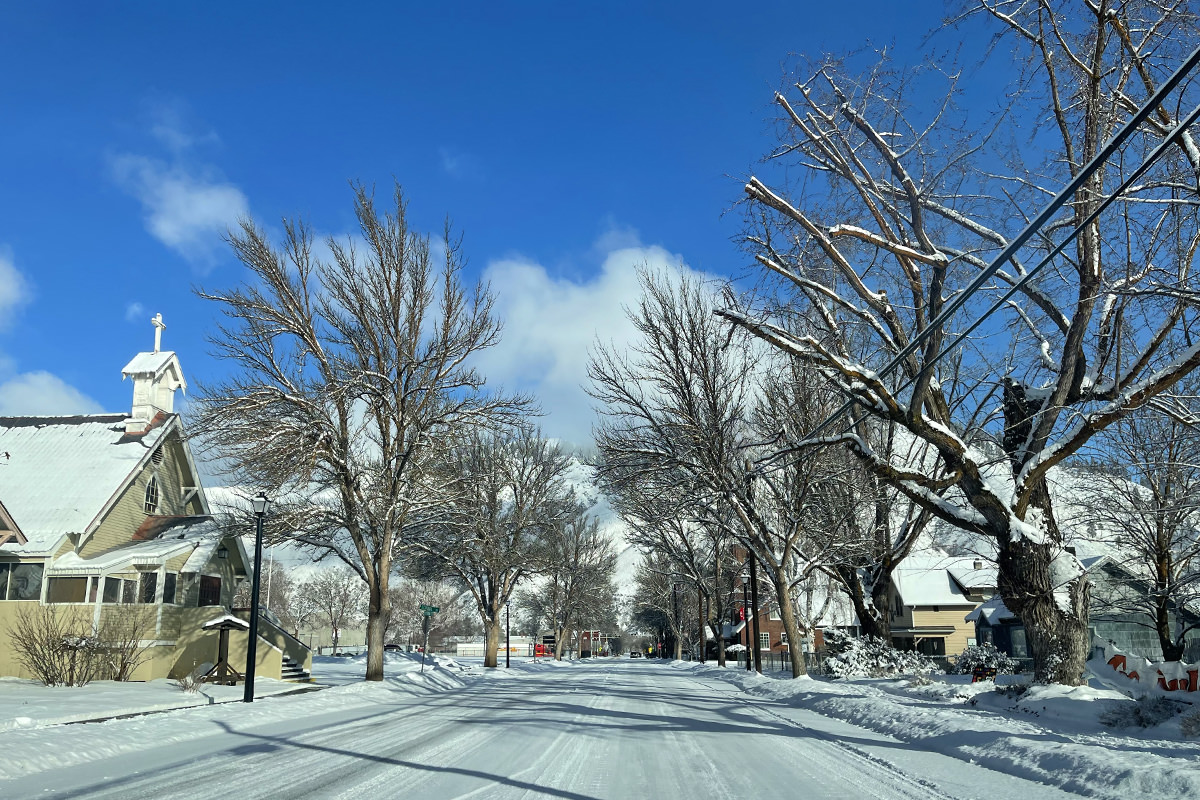 What followed was a furious three-hour burst of productivity that stunned me so hard that I didn't end up working an entire half-day. Instead I ditched a half-hour early and came home to veg out in front of the television. My free trial to Apple Arcade hasn't been touched yet and will expire any day now, so I should at least take a look at that.
Posted on February 11th, 2021

This morning I woke up with a splitting headache for no good reason.
Or bad reason even. I didn't sleep on my neck wrong... or stay up late drinking... or spraypaint a mailbox in an enclosed space... or bang my head on a wall repeatedly. I just went to bed fine and woke up with my brain in distress. I was going to Google my headache symptoms to see what went wrong, but every time you do that they always tell you that you have cancer or some strange disease, so I decided to skip it.
Hence my self-diagnosis of "headache for no good reason."
I always hesistate to tell people when I have a headache. They either have some home remedy like "You need to spin around three times, put a hot towel on top of your head, drink a bottle of tabasco sauce, then use leeches to drain a quart of blood." Or, even worse, they'll insist that you MUST have done something wrong and then grill you for twenty minutes trying to figure out what it is... "It's like a kick to the balls, you must have done something to deserve it."
By far the most awkward response I've ever received was this one... "Shall we pray on it together?" I got this while on an overnight work trip to Greenville, South Carolina after I asked the concierge where the nearest pharmacy was so I could get some aspirin. Possibly due to my throbbing brain, my stupid self thought that he didn't know where to find one and we were praying for guidance... to a drug store. Except that wasn't what he meant at all. He was asking if I wanted to pray for God to heal my headache. Figuring that The Almighty probably had better things to do on a Tuesday morning, I thanked him for the kind offer and said that I just need an aspirin.
After that I resigned myself to suffer in silence come future headaches.
The only reason I'm telling YOU is because my blog is a safe space for me to suffer in public. That's why I have a blog in the first place. Well, that plus I need a way to keep my fans involved in even the most intimate details of my life, because I'm a raging narcissist like that (as if my calling people who read my daily dose of bullshit "my fans" wasn't a big enough indication already).
Though I'm hoping that by the time anybody reads this my handful of Maxium Strength Headache Relief will have kicked in, and any offers of medical advice or prayer will become moot.
Or I am dead and out of my misery at long last.
In that event you're more than welcome to pray for my immortal soul, such as it is.
Posted on February 10th, 2021

It's not that I'm losing my passion or drive for the things that matter to me, it's just that I've stopped giving a crap about the things that don't. My work, my friends, my causes, my hobbies, my cats... they get 100% of my energy and dedication. Dumbasses who pollute the world with their ignorance and hate, however, now get only the most minimal amount of attention that I am forced to give them. Sure there was a time I'd dedicate myself to trying to understand their position while treating them with compassion and caring, but now they can spontaneously combust for all I care.
I came to this radical (for me) new outlook after watching a woman claim that the reason she acted so horribly towards some retail workers was because she was misled and duped by some bad information. And I was like... wait a minute. The bad information which "misled and duped you" only affected how you viewed the situation. Your being a total fucking asshole is what made you scream and yell at some employees just trying to do their job. You can blame somebody else for what you thought you knew... you can't blame somebody else for how you choose to treat people. That's 100% on you.
Because, seriously, if my excuse for not condeming your shitty behavior is "Well, maybe they've been wealthy their entire life and were never taught how to care about people..." then the problem person in that scenario is me.
And still them, of course. They're the asshole in question, I'm just an asshole by association.
Problem is, even an asshole by association ends up smelling shitty.
Posted on February 4th, 2021


If you beat your head against a wall all day... you're going to end up with a headache.
Posted on February 3rd, 2021

Yesterday was not a particularly great day.
I've been consumed with a project at work, and packed up my files so I could continue working on it at home while watching Groundhog Day. The entire drive home all I could think about was how exhausted I was and how much I wish that I could just go home, climb into bed, then sleep until dawn.
Once I got home I noticed that the bowl I use to bribe Fake Jake away from the garage with treats if he shows up in the morning was missing. It's not easy to spot from the street, but I always scan the area to make sure that Fake Jake won't come running in front of the car as I pull into my garage, so I noticed it immediately.
And I was furious.
Irrationally furious, but that's how I get when I've exhausted.
WHERE IS FAKE JAKE'S BOWL?!? WHO IN THE HELL STOLE FAKE JAKE'S BOWL? I WILL LOOK AT MY SECURITY CAMERA FOOTAGE AND I WILL FIND YOU! THEN I WILL END YOU! I WILL HUNT YOU DOWN LIKE A DOG! BLOOD WILL RUN THROUGH THE STREETS! VENGEANCE WILL BE MINE!!!
As I stomped into the house I pulled out my phone to check the footage, and...

Oh. Well, I can't even be mad about that. Kinda ironic that if I had actually went after the culprit, I would have literally been hunting down a dog. Luckily, the bowl was still in the street where he dropped it and hadn't been run over or anything.
In hindsight, I probably shouldn't have been so angry. Absolutely anything could have happened, and it wouldn't have necessarily been theft. I should resolve that in 2021 I will wait until facts are in evidence before becoming irrationally angry.
Which, if I became angry then, would no longer be quite so irrational?
I dunno. Something to shoot for, I suppose. Hindsight may be 20/20 but my rage is eternal.
Posted on January 29th, 2021

Boy, losing Cloris Leachmen and Cicely Tyson in the same week? That's a sobering way to close out January after closing out the shit year that was 2020.
Last night I blew all my energy dishing up Jake and Jenny's wet food, leaving me no energy to cook for myself. I had eaten a veggie burger early in the day while running errands, so it wasn't a big deal. I ended up eating some Cheez-It's and drinking a Coke Zero then calling it good.
Which of course meant that I woke up hungry in the middle of the night.
Which resulted in my eating another handful of Cheez-It's, but I digree.
The problem with waking up in the middle of the night is that it also wakes my cats up. They are perfectly happy to let me sleep and rarely bother me when I'm lost in slumberland, but all bets are off if I wake them up. First Jenny wanted pets. Then Jake wanted pets. Then Jenny came back again for more pets. According to my Apple Watch, I finally fell asleep again after 2:30am. Was that handful of Cheez-It's worth it? Probably not.
Four-and-a-half hours later when I was awakened by Alexa so I could feed them breakfast, I noticed that THEY weren't the least bit tired. I guess when you spend the entire day sleeping, you always have surplus energy.
In other news... I stayed up 'til midnight so I could watch the latest episode of WandaVision, where things are finally starting to happen. It only took four episodes, but okay. It wasn't necessarily great, but it does hint that great things are coming. If you've already seen it and are interested in my spoiler-filled thoughts, you can find them in an extended entry...
→ Click here to continue reading this entry...
Posted on January 27th, 2021

Even after I had taken a second sleeping pill, I could not get to sleep last night. Then I kept seeing that it was light out and thought that it must be close to time to get up, which screwed me up even more.
But it wasn't time to get up. Here is a photo taken at around 1:00am...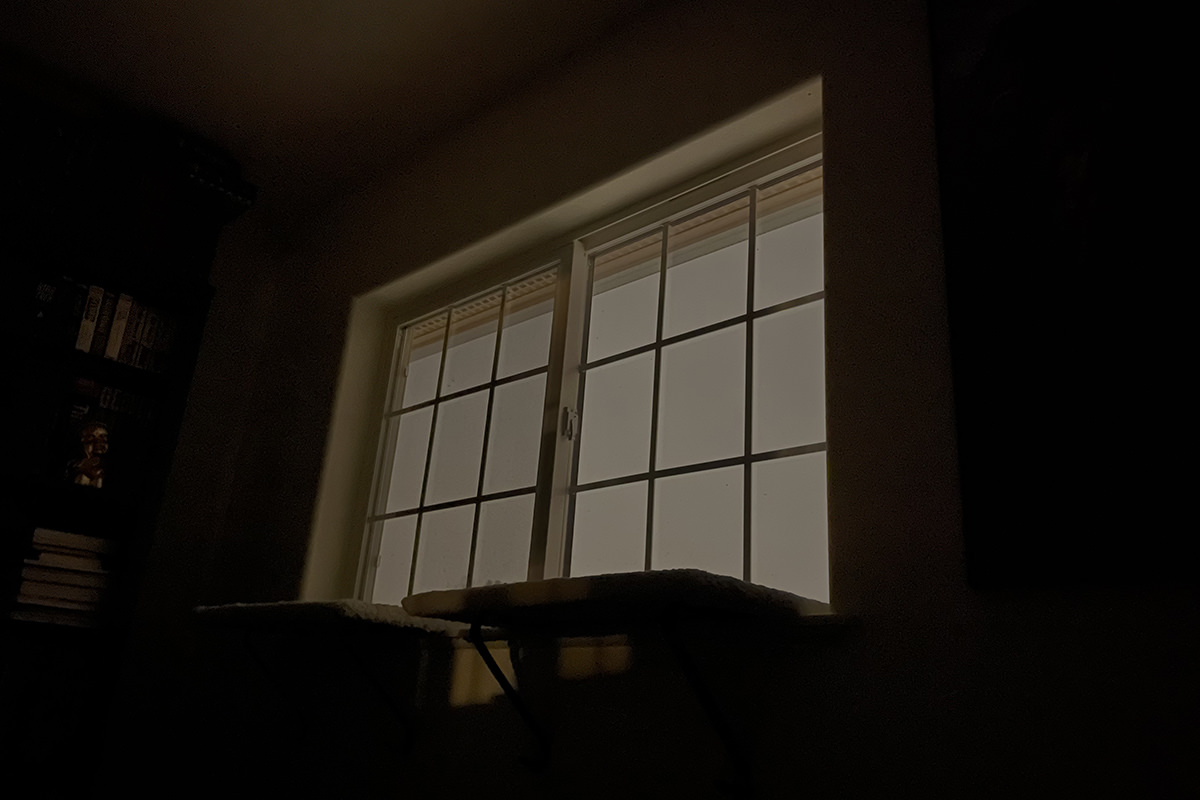 Everything was covered in snow, there was snow falling, and streetlights reflecting between the clouds in the sky and the snow on the ground created an artificial light out my window. My window which used to have blinds on it, but they had to be removed when Jake clawed is way up from the cat perch and nearly choked himself to death on them.
Oh well.
My Apple Watch tells me that I finally fell asleep at 3:15am and was awakened by Alexa telling my cats that it was their breakfast time at 7:00am. Soooo... 3-3/4 hours total sleep then.
Is it any wonder that after I took my shower but before I drank a Coke Zero that I was a little groggy? Since it was all cold and snowy out, I grabbed a nice red flannel shirt to wear. Flannel is nice on a cold Winter day...
I tried to put it on but it wasn't going on. I tried again and it still wouldn't go on. Finally I walked into the light so I could see if it was buttoned up or something... and noticed that the reason I couldn't get my shirt on was because it wasn't a shirt. It was pajama bottoms that my sister gave me for Christmas...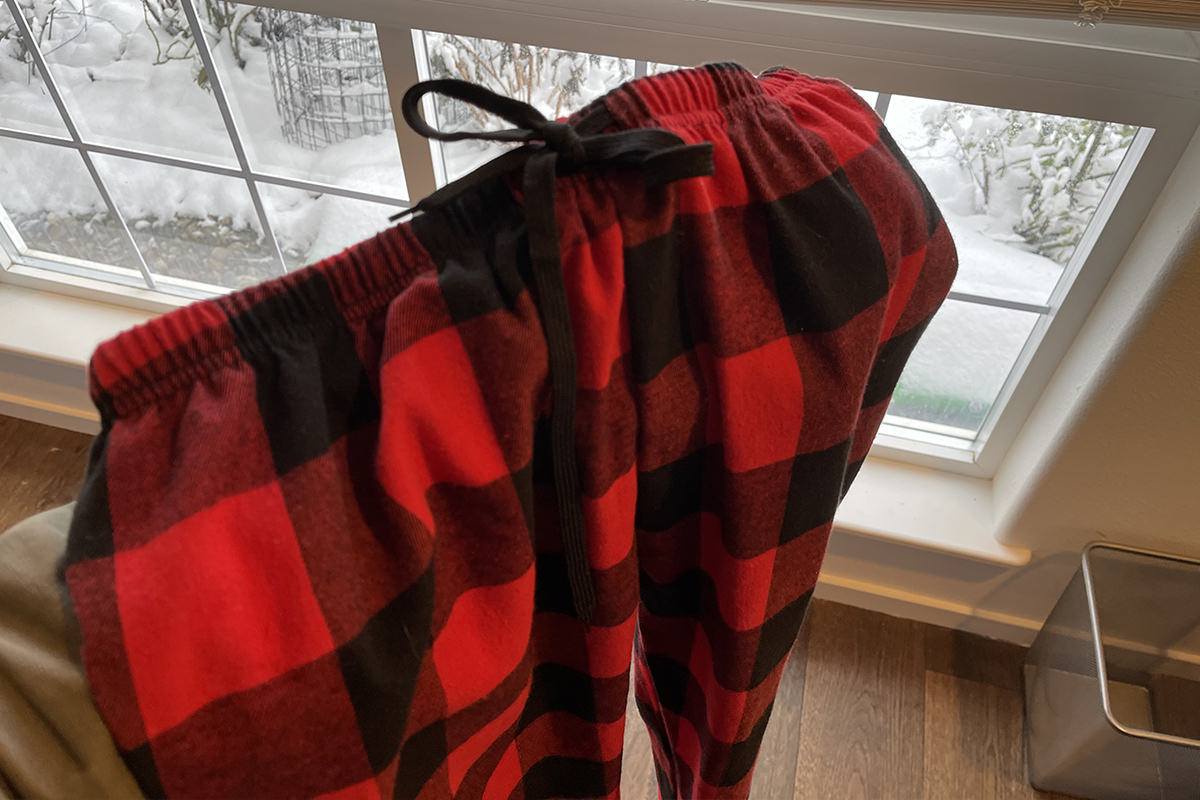 As you can imagine, this was a humdinger of a day.
It didn't help that, on top of being exhausted from lack of sleep, all the problems that missed me on Monday and Tuesday landed on me today.
But I did eventually find a flannel shirt that was actually a flannel shirt, so at least I was comfy during the onslaught.