Posted on July 2nd, 2020

Today was the second time this year I had to cancel major plans so I can sit at home. Thanks to our shitty handling of the pandemic, The USA is experiencing record high infections... whereas countries that took this shit seriously from the start continue to slow. Now they're starting to open back up because the threat is manageable... whereas here in these United States we continue to open up despite things being worse than ever.
Which, of course, means that things will just continue to get worse.
Which, of course, means we're just dragging this out longer and longer.
Which, of course, means that we're just ruining the economy even more than it was.
So congratulations to the entire Trump Administration and all the State governments who have hopelessly fucked us. I hope people remember them on Election Day.
As for me? I'm just going to sit here being bitter about losing my entire summer.
Posted on June 29th, 2020

I did not sleep last night because I knew better than to try.
I stayed up watching television and working on fundraising to take my mind off of the clock hitting midnight when June 29th would once again drop on me with the weight of a hundred bricks. Two years ago I said goodbye to my mom, and it still hurts the exact same today as it did then.
Just like last year, it has gotten easier to live with, however.
I almost never think of the awful years at the end when the mom I loved was fading away bit by bit. I'm also a lot less angry over having to lose her twice. I don't think I will ever be over mourning her, but now it's gotten to the point where all I have is the love in my heart, which is as it should be, I suppose. Sometimes I feel like I should be angry, but I'm too grateful for what time we had. How lucky am I to have so many happy memories traveling the world and going on adventures together?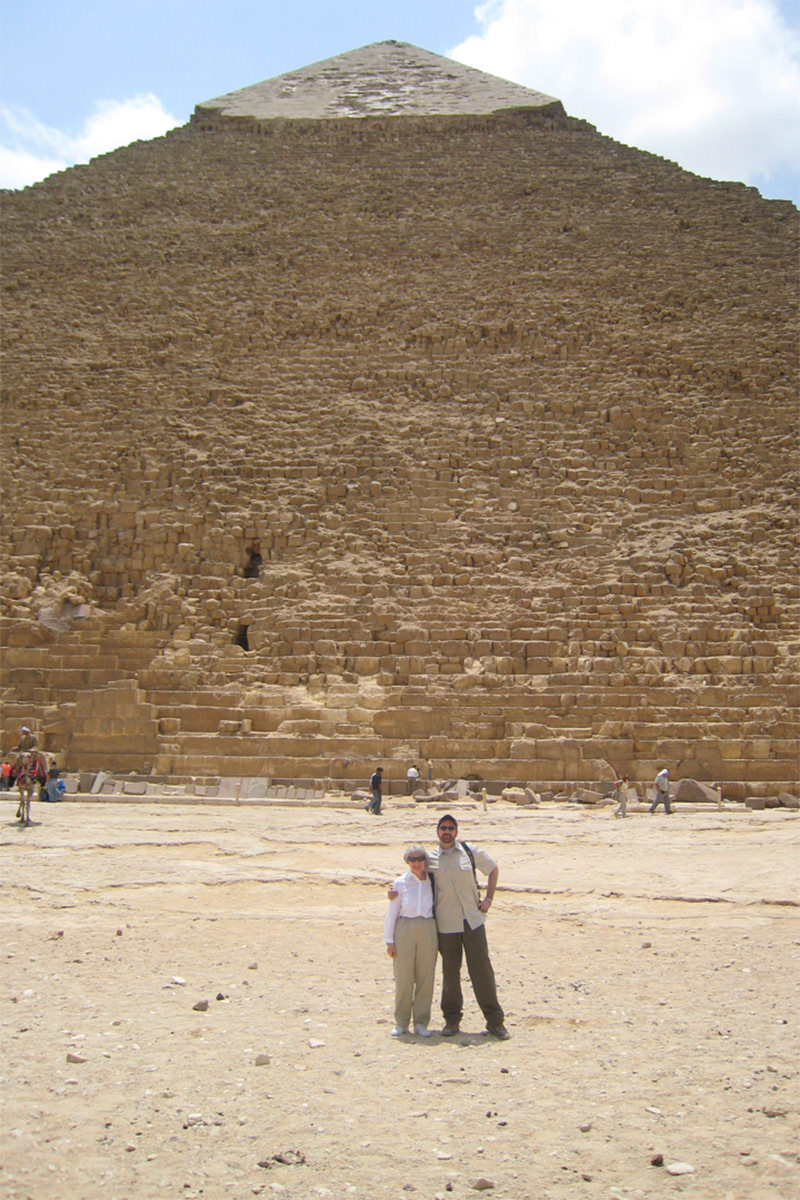 Maybe in another couple of years I will be able to sleep at night on June 28th.
Perhaps in another decade I'll not dread seeing June 29th appear on my calendar.
That would certainly be nice. In the meanwhile I'll just have to get through as best I can and try to keep focused on what's important...
Love and miss you every day, mom.
Posted on June 17th, 2020

Today was the first time I've had a semi-normal day in a very long time. Nearly four months, which seems like forever given lockdowns and such.
After canceling appointments and locking myself away at home for everything except grocery shopping, today was the day I finally threw caution to the wind and headed out into the wilds of Redneckistan. I had an appointment that I really didn't want to reschedule for a third time. That went fine. Everybody I spoke to was masked and respected social distancing norms. Pretty much all that I could hope for.
So then I decided to get really crazy and get some take-away lunch (I'm not quite to the point where I want to chance dining in). I decided to get an Impossible Whopper at Burger King as a "thank you" for continuing to support vegetarians. I was so excited that I actually took them up on a "Two for $6" special. They so rarely include Impossible Whoppers on specials, so I decided on a second one instead of fries.
They tasted incredible.
I ate them slowly, savoring each bite, while sitting in my air conditioned car.
Surprisingly, most people visiting Burger King were masked and respecting the 6-foot rule! The only customer not masked was a construction guy two people ahead of me. Color me shocked.
Then I went to Petco because I was running out of kitty litter. Same thing. Most people masked again! Could it be that Redneckistan and their idiotic "FUCK GOVERNOR INSLEE!" rhetoric were finally getting a clue? That Inslee isn't out to kill their businesses and strip them of their freedom... he's just following expert advice of people smarter than him when it comes to pandemics to try and keep Washingtonians safe?
Maybe!
And then I went to Safeway to pick up some rice noodles, Sriracha sauce, and Tamari sauce so I can make loads of the Coconut-Peanut Rice Noodles with Blistered Green Beans that I love so much...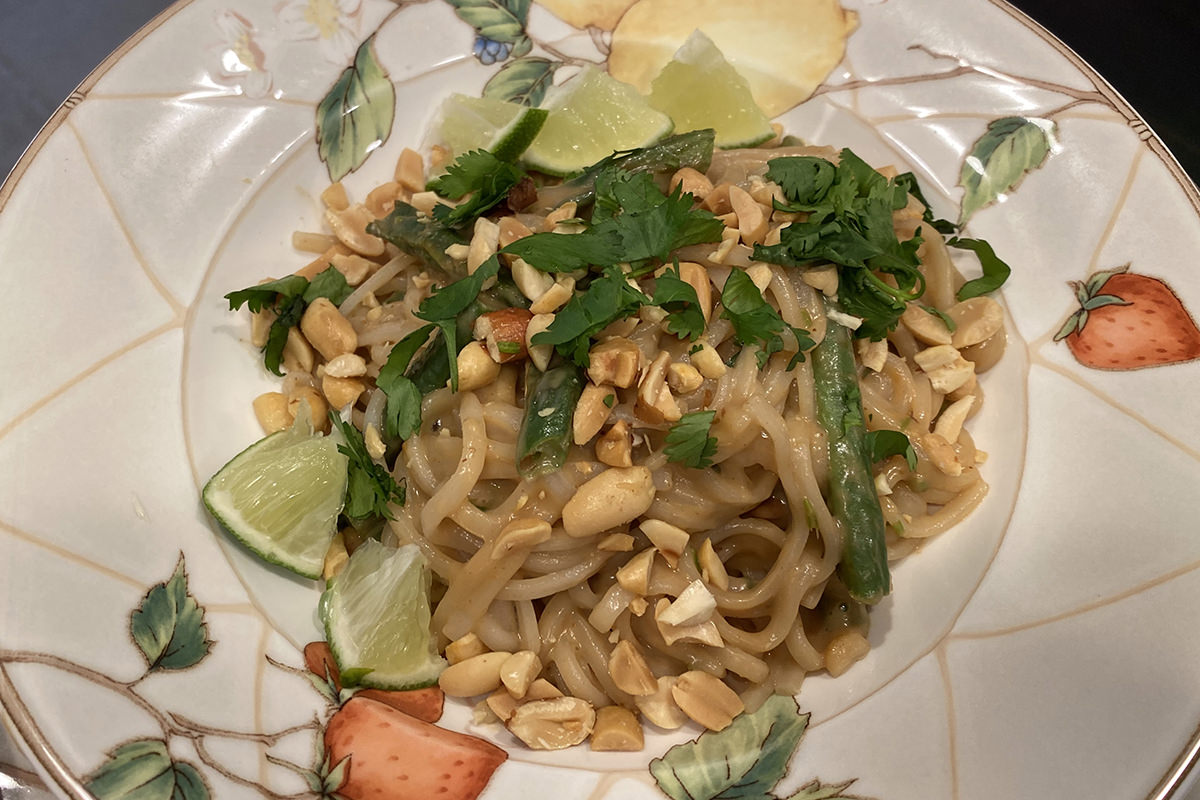 And... there I was... right back in the Redneckistan I know and love.
Not only were at least half of the people going without a mask, some of them were acting like outright assholes about going unmasked. Not that they have to go out of their way... the fact that they weren't wearing a mask is enough to tell me that they're an asshole. We wear masks to protect others in case we're infected! So of course there are selfish people who don't give a fuck about other people. Of course! Never mind that research shows a 90% drop in COVID-19 infections where masking is mandatory. Never mind that it's such a simple fucking thing to do. THAT'S AN ASSAULT ON MY FREEDUMB! And since Washington State went into lockdown before the the infections in Seattle came across the mountains in force, I'm guessing a majority of the people here still think that the pandemic is overblown (at best) or a Democrat hoax (at worst). But, when you think about it, who can blame them? Those who worship all things Trump see him setting a horrifically irresponsible personal example and are just following suit.
But hey... even if I did end up with the Coronavirus, at least my cats have something to poop in and I managed to get my first fast food in nearly half-a-year. That's not nuthin'.
In other news, I picked up some contact lenses to try out today. I stopped wearing contacts almost a decade ago when I started needing progressive lenses. Problem is... glasses fog up when wearing a mask. So now I'm trying to figure out a contacts/reading glasses combination which will make things a little easier (and less foggy) in our new COVID-19 reality.
Posted on June 15th, 2020

Home ownership is the money pit which never ends. No sooner than one expensive problem is solved than another pops up to take its place. Or, in my case, several things.
In an effort to save a hit to my wallet, I'm taking on the repair tasks myself. Some of them are difficult and require research. Others are easy but require money. My favorite things are those that are easy and cheap. Those tasks I tend to do right away because easy and cheap are my middle names.
Well, you know what I mean.
When I bought my new place, I had to do a lot of remodeling so my mother could live there safely. She couldn't walk on carpet very well, so I had to rip it out and put in hardwood. Simple tasks were becoming difficult and messy for her to manage, so I tried to accommodate that as well. I ripped out tubs and enlarged showers so it was easier for her to get in and out of... and clean. I also replaced the toilets from two-part standard models to one-piece "comfort height" models. I did whatever I could to make things easier for both of us.
I don't know if you have ever shopped for toilets, but single-piece models are expensive. Even the cheapest ones are double or even qradrupal what it costs for the standard stool/tank model that's commonly used. I ultimately went with Kohler because I found them on sale for $400 each (regular $600). Given that you can easily find decent 2-piece models for under $100 each, that's a heck of an investment.
You would think that a $400 toilet would have pretty good quality parts for the money.
Yeah... not so much.
From the get-go, both toilets would randomly start running for around a minute. At first I'd notice it happening a couple times a month. Then weekly. Then daily. Aghast at the water that was being wasted, I managed to fix the downstairs toilet just by taking it apart and putting it back together. The upstairs toilet, however, never managed to be fixed no matter how many times I worked on it. If anything it got worse, running 4 or 5 times a day. Because of the lockdown I ended up with extra time on my hands and decided to take another crack at it. I started taking it apart and... snap! The middle of the "AquaPiston" flush valve snapped. Rather than just buying a replacement for that, I decided to spend $20 and get an all new AquaPiston. Despite being advertised as having "leak-free performance," it was the only part that could really be the problem. Wanting to make sure that it was a genuine Kohler part and not a knock-off, I ordered direct from Kohler.
The part finally arrived and, viola, the problem was totally solved...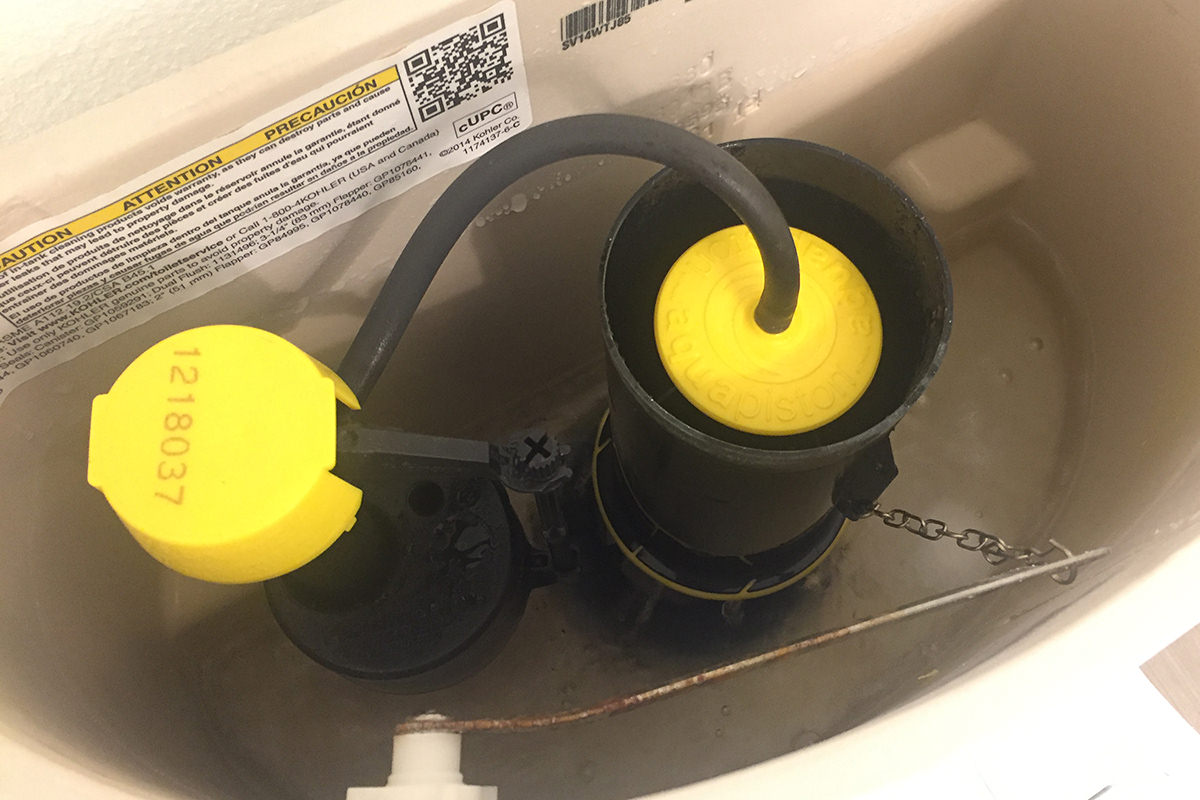 Apparently the AquaPiston which came with my toilet was defective.
Note in the photo above that the handle trip-rod has rusted. $400 doesn't get you a non-rust part, I guess.
I've now reached the point where the projects I'm facing are far more pricey. Some I can't even do myself. I was really hoping that this year would be the year I got to replace my countertops, sink, and garbage disposal. All of them are awful, and there are issues with the disposal that simply can't be fixed. The worst part is that it leaks underneath when the waste/water level gets too high. But it doesn't make much sense to replace it if I don't replace the sink (which is cheap, damaged, and looks terrible). And it makes no sense to replace the sink before replacing the countertops (which are just cheap and terrible). I was making good progress with my savings until the pandemic, now I don't know if it's an expense I can swing no matter how badly it's needed. Maybe I'll look into a home equity loan or something, because the longer I wait the more it's going to cost.
So much for having the luxury of being cheap and easy, I guess.
Posted on June 12th, 2020

You may (or may not) have noticed that many times lately my daily posts to Blogography are showing up days late. I still write every day, but I've taken to holding off a while before I publish what I've written. Most of my posts now-a-days are blistering rants about current events and, after I've cooled down, I realize they don't really add anything to the conversation. So I delete them and dig into the drafts I've got written about cats, computers, and stuff, then put that up instead.
It's a tough thing to do, because these are NOT short posts. They are pages of material that can take some time to write...
But... maybe the therapy of writing them is enough for me. They don't really need to see print.
And so today's rant, which was not really something that should see print, has been tossed and I will instead be sharing photos of the flowers growing in my yard.
The flowers in my back yard were here when I bought the place. I can't take any credit for them at all. I pretty much just leave them alone and every year these beautiful flowers show up. There's these really pretty big fluffy flowers I like. No idea what they are called, but how cool are they?
Some are mostly pink...
Whereas others have a lot of yellow in their middles...
There are a bunch of roses... that I think are called "tea roses." They come in a variety of shapes...
The flowers from the previous owner in the front were all in pots that had to be hand-watered. Problem is that I travel too much to take proper care of them so I had to get rid of the plots and plant a bunch of new flowers that could be watered by the automated system. This year a neighbor picked out a bunch of different flowers for me and I was left with some extras. I bought a big wooden planter and just tossed them all inside. They've all done really, really well! Except at the time I planted them I didn't know what size they would end up. If I did, I would have put the taller ones in the middle instead of the outside. Oops...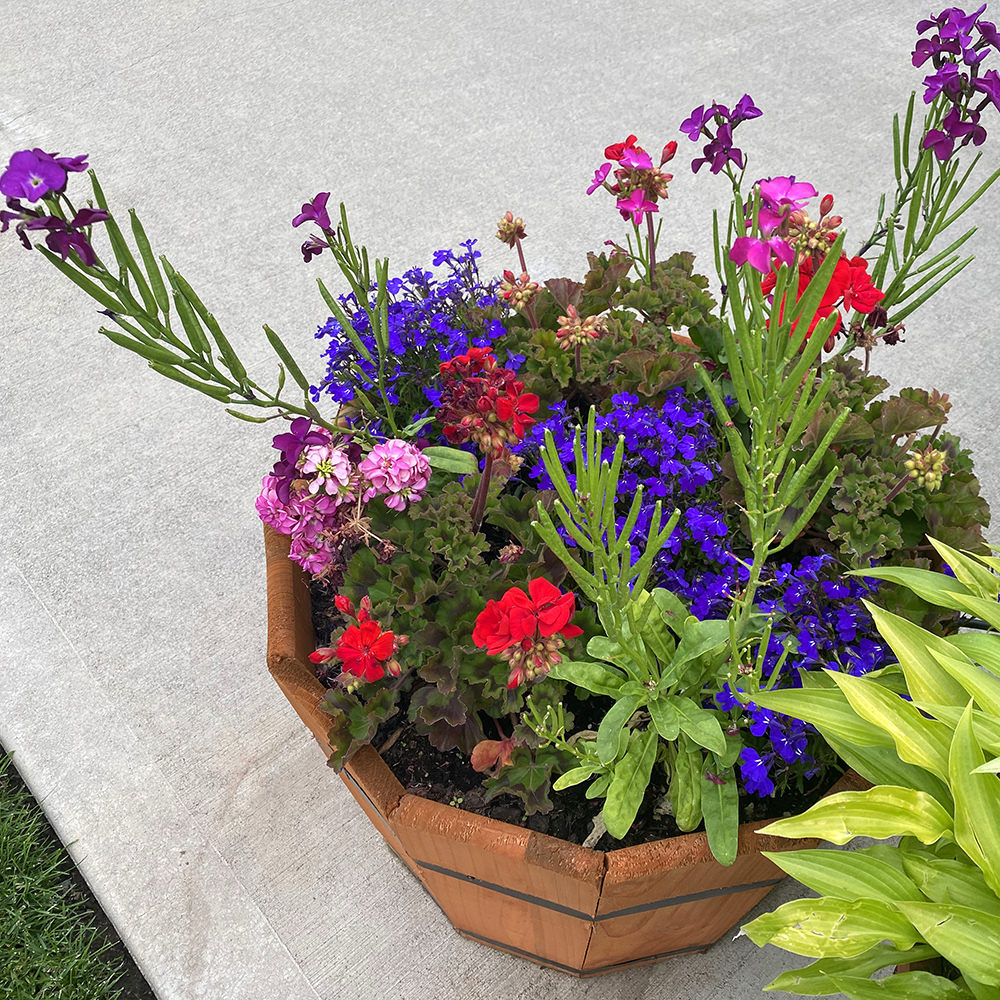 Still pretty though.
Speaking of leftover flowers... I stuck one of them between the two giant purple things I bought previously. I thought for sure it would die from lack of sunlight, but it's actually been thriving! He seems happy there...
The rest of the flowers I planted are doing great too. I especially like the pansies...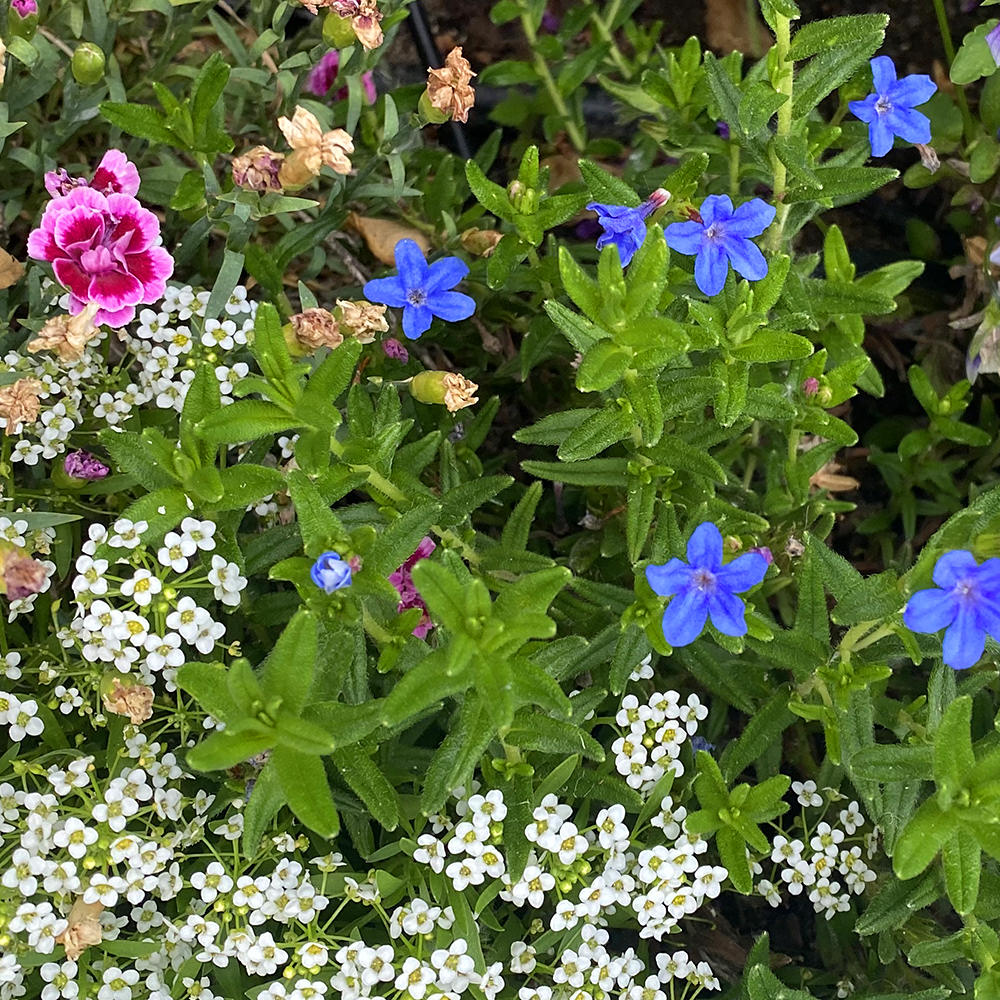 And speaking of those big purple things, they are doing great. The bees absolutely love them...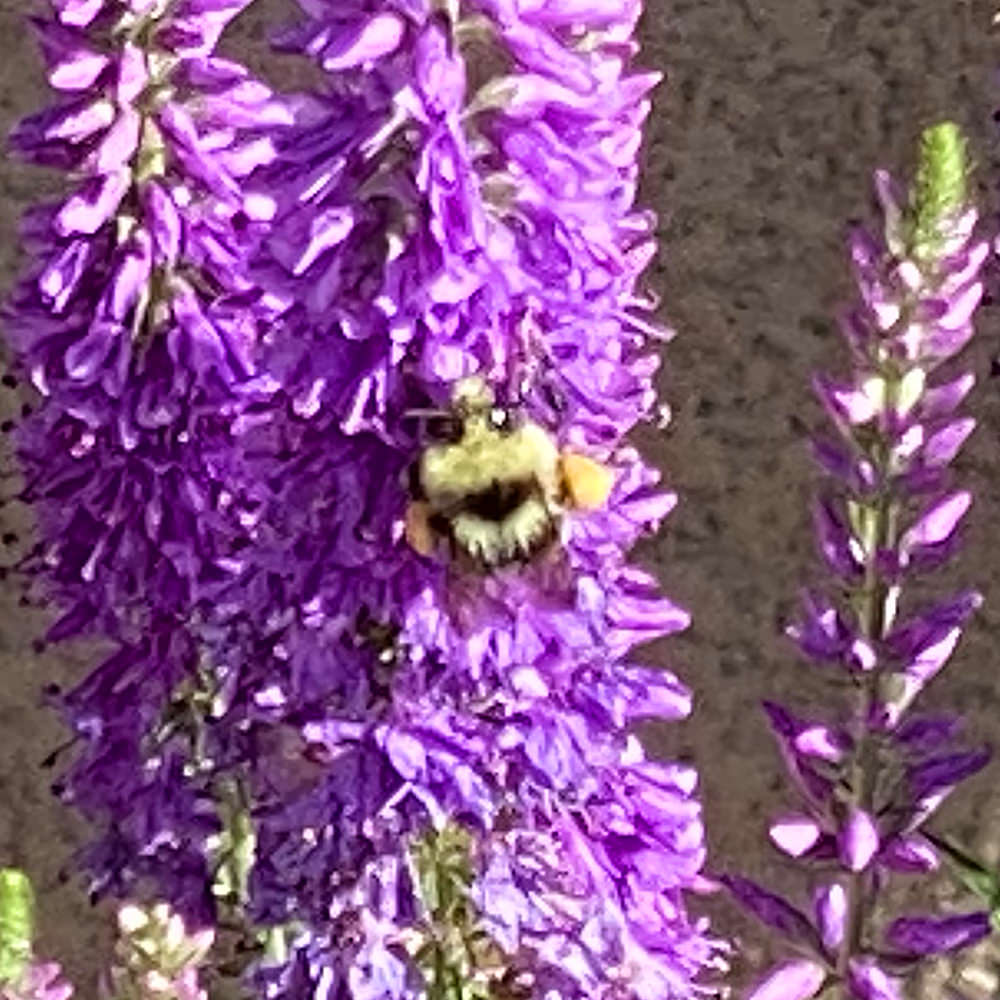 Guess we'll see if tomorrow's post has to be deleted. It's Caturday, so I sure hope not.
Posted on June 5th, 2020

When I was a kid, we'd climb into our big Chevy Blazer each month after payday and head into the nearby Big City for dinner out (hopefully at Pizza Inn, my favorite)... then head to Prairie Market for groceries.
Prairie Market doesn't exist any more (neither does Pizza Inn, at least not here), but it was a discount warehouse grocer from the 60's which was most notable for all the inexpensive generic foods they sold. Black and white boxes. Black and white labels on cans and bottles. Black and white signs on the big bulk food bins. It was nothing like the "generic" foods sold today, which are essentially re-branded in-house store brands, these were generic-generic. And it all came rushing back to me when I removed the sleeve from my tub of Feta Cheese and saw this...
All of a sudden I was 4th grade again.
Just like shopping for groceries today, nothing at Prairie Market had prices on it. But unlike today, where things are rung up by their UPC bar code, at Prairie Market you grabbed a grease pencil and wrote the price on every item. My mom would pick out what she wanted. My dad would write the price on it with his impeccably perfect handwriting, then my brother and I would stack it on the giant slab cart (like you find at Home Depot) before heading to the next item.
It was a really smart way to shop, because the food was just as good as the name-brands you could buy (probably because the name-brand companies manufactured it) but cheaper because every aspect of the experience was done as cheaply as possible. In addition to not paying to price-sticker stuff, they didn't stock anything on the shelves. They just cut the face off the case and threw it on a rack. There were checkers to ring you up, but they had to key-in every item. And they were fast. You bagged your own groceries, of course (in real paper bags, natch).
I don't remember when Prairie Market closed. I think in the late 70's or early 80's maybe? Probably when all the grocery chains started consolidating and developed their own name-brand alternatives. And UPC code scanners came along.
The giant cement building that Prairie Market built is now a toy store-slash-sporting goods store. I shop there once or twice a year, and I'm able to remember exactly how it used to be every time. The ghost of all those generic packages still haunt me.
As do the banana chips.
One hot summer day we ended up buying a big bag of dried bulk banana chips. Then my brother and I ate them all the way back home. In a hot car. For twenty minutes. Not long after we pulled into the driveway I was puking my guts out and everything tasted... and smelled... like bananas to me for days. It was years before I could eat banana chips again. And I still can't eat them alone, even to this day. Only if they're scattered in a trail mix or something. And even then I have unpleasant flashbacks.
If only food prices were as cheap now as they were at Prairie Market back then.
Holy crap are things expensive now. Even when adjusted for inflation, food in 1970's was crazy cheap compared to today. Vegetables for 15¢ to 20¢ a can? I think only meat and dairy are cheaper now (with adjusted pricing) than they used to be... and that's thanks to government subsidies artificially making them cheaper. Without it, I'm sure they'd have massive price tags like everything else.
But, hey, the packaging is prettier, so there's that.
Posted on May 29th, 2020

"It is impossible to build one's own happiness on the unhappiness of others. This perspective is at the heart of Buddhist teachings." — Daisaku Ikeda
Like a lot of people, I'd imagine, I have been looking towards my faith to find comfort in and make sense of this world we find ourselves living in. To which people are all "Awww, me too!" Until they realize that the faith I'm talking about is not Christianity, which leads to an uncomfortable silence as my imagination has them adding me to their okay-to-hate-list.
Because that's pretty much how it goes, doesn't it? Your interpretation of a special book says that it's okay to hate certain people, so you ignore the larger message of love and forgiveness and focus on the hate because it's so much easier. And since your interpretation serves as justification for your hate, you've got some kind of divine permission which makes it all okay no matter how ugly it may be.
I'm sure I've been hated for a lot of things. I came to this conclusion early in life thanks to being smart in a world that prefers ignorant, unremarkable in a world that prefers beautiful, sickly in a world that prefers virility, and willful in a world which prefers submissiveness. Somebody feels I fall short of an idealized goal, so I get hated for it. And, yeah, it can hurt. I've bought into the brainwashing as well... because how could anybody not... and I've spent plenty of time hating myself too. No need to point out where I don't measure up because, honestly, I'm right there with you.
Attacking on my masculinity (or lack thereof) is the go-to way that people have been hating on me for decades. I've been called "faggot" more times than I can count. I'm not gay... but that doesn't matter because I'm not masculine. And since masculine guys (and masculine-worshipping guys and gals) think that being masculine is everybody's ultimate goal in life, it's easy to throw a little hate my way.
When I was younger, it bothered me. I may not have even fully understood what the word meant, but it must be something terrible if it was being directed at me, right? I'm a nerdy weak kid, so the strong perfect people pretty much had no choice but to bully me. It's my fault for choosing to be a nerdy weak kid, after all. I deserve it.
Then I grew up, stepped out of my bubble, went out into the world, and started meeting actual gay people, for whom the slur had been created. I quickly learned that these were some of the strongest people I had ever met. They had to be in order to survive a society which had been designed to persecute and hate them. — And yet I'm supposed to be upset that somebody wants to count me amongst their ranks? Holy shit, what an absolute honor. Of course I've met people in the LGBTQ community that are total assholes who are happy to bully me right along with the rest of society's toxic elements... but, by and large, the LGBTQ community has been far more kind and accepting of me than any other, which is why most of the people I love, respect, and admire make their home there.
So, yeah, people call me a "faggot" whether it's intended to be imasculating or because they think I'm gay. And the whole time I'm laughing because I see it as such a huge compliment... all while being angry and sad that such an ugly word has been created to hurt people I love.
And so...
All of this came crashing down on me this morning when I read the latest news concerning Brian Sims, a Representative from Pennsylvania. Yesterday he posted a live melt-down video because Republican House members tested positive for COVID-19... but only told other Republicans about it. People who had been in contact with those testing positive were still showing up to chambers... unmasked, and Democrats were never told a thing. They only found out because a reporter found out. Representative Sims disclosed that the reason he's so angry is that he's high-risk for infection because he donated a kidney, and it was a horrific scenario for his fellow representatives and staff who might have taken the coronavirus back to their families unknowingly.
Fast-forward to today when Representative Sims showed up to voice his renewed disgust at how horribly Republicans had acted throughout this entire ordeal... only to have Republican Representative Jerry Knowles yell out that Sims was "a little girl" as he was finishing up his speech.
There it is...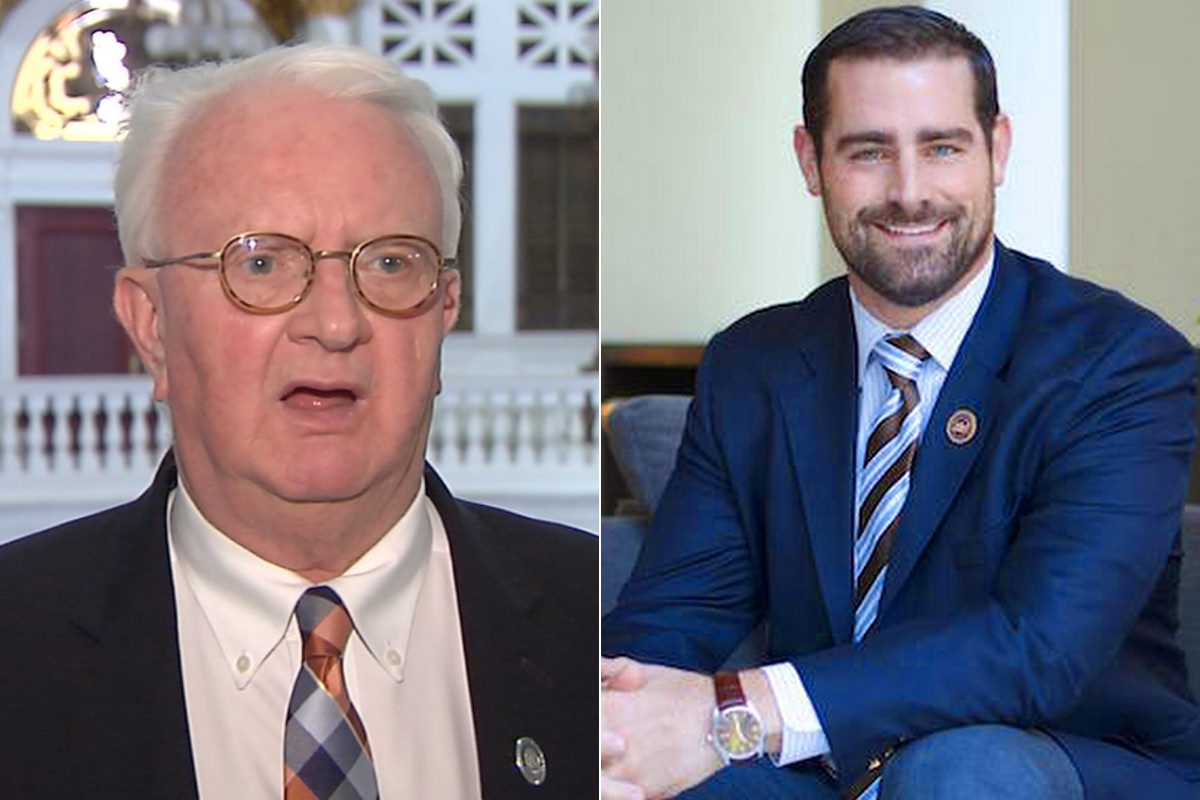 That's manly masculine man Jerry Knowles on the left and little girly girl Brian Sims on the right.
You wouldn't think "little girl" of Brian Sims because he's outraged that he was willingly exposed to people who were exposed to the coronavirus and it's risky for him to contract it because he answered the call to go under the knife and donate a kidney... would you?
I mean, holy crap, they have to practically rip you in half to get at the kidney and it's far from a cakewalk. There's significant risks during and after you donate, and if your remaining kidney fails for some reason, you are in some serious shit. You have to be made of pretty tough stuff just to consider donating a kidney.
You wouldn't think "little girl" of Brian Sims when you look at him because, let's face it, the guy is fire and just about any man on earth would be happy to look like this ruggedly handsome individual... would you?
I mean, holy crap, the guy even pals around with his big fucking manly dog...
So what could it be? What could it possibly be as to why Representative Jerry Knowles was screaming "LITTLE GIRL" across chambers while Representative Brian Sims was speaking? What?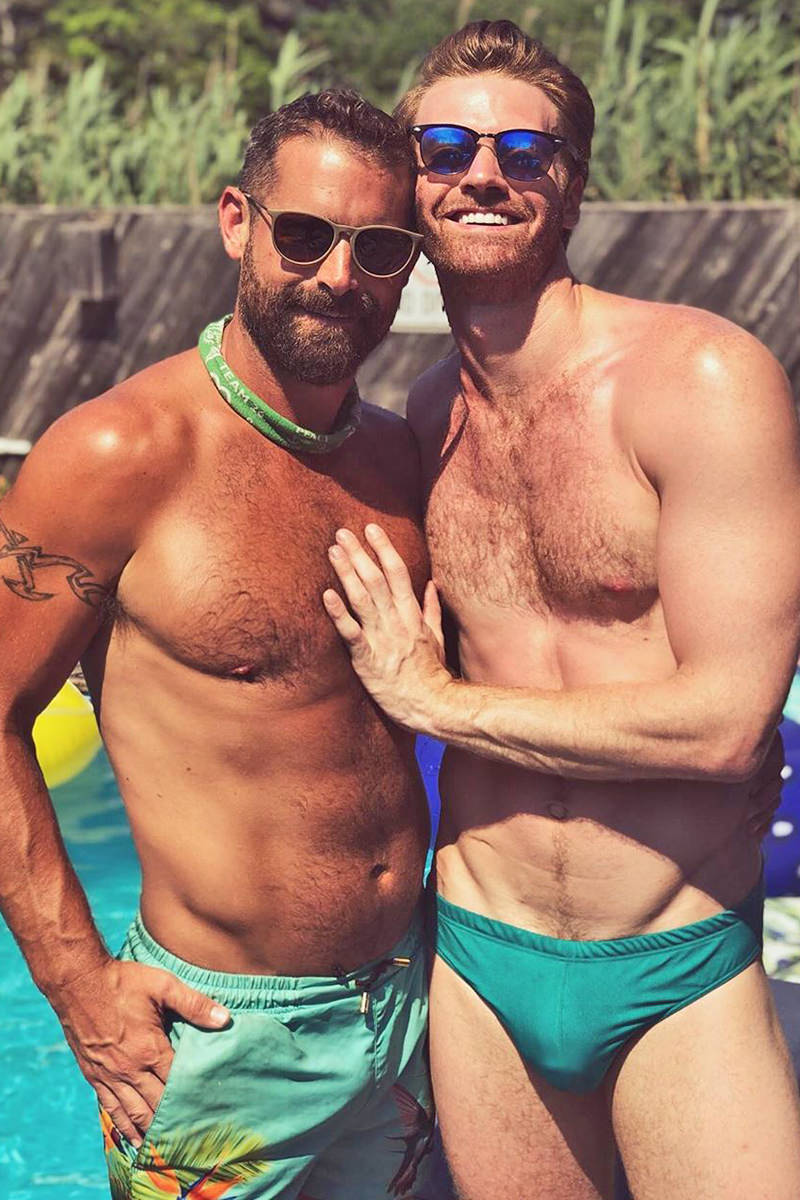 Ohhhhh.
Oh. I see.
He was called a "little girl" because he's gay, thus not at all masculine. Yes, I recognize it all too well.
Fortunately, just like I've come to understand that people calling me "faggot" is actually an incredible compliment, Brian Sims was basking in the honor of being called a "little girl" because he knows what it actually means. Not what some bigoted old fart thinks it means... what it actually means to be a little girl growing up in the world. Having to look a certain way or act a certain way or else being told she's not a girl. Having to work harder to achieve success only to be rewarded with less. Having to deal with non-stop harassment and intimidation yet still be expected to smile. Being made to feel unsafe because "boys will be boys" somehow excuses everything, no matter how horrific. And that's just a taste of the gauntlet that little girls have to navigate. The list goes on and on. This is supposed to be an insult? Representative Knowles should be so lucky to have somebody call him a "little girl." Little girls are tough. They have to be. And a pathetic coward like Knowles wouldn't know tough if it sat on his face. What a fucking embarrassment.
Representative Brian Sims has been an interesting political figure to watch over the years. Interestingly enough, I wrote about him here on my blog a decade ago before he ever ran for office. It all started with this inspiring video...
Since then, Sims has not been without controversy. Some of it was inevitable. He's an out and proud hardcore liberal gay man in public office. There are people who are vehemently opposed to any and all of this, and I'm sure the Representative has to wade through their vitriol daily...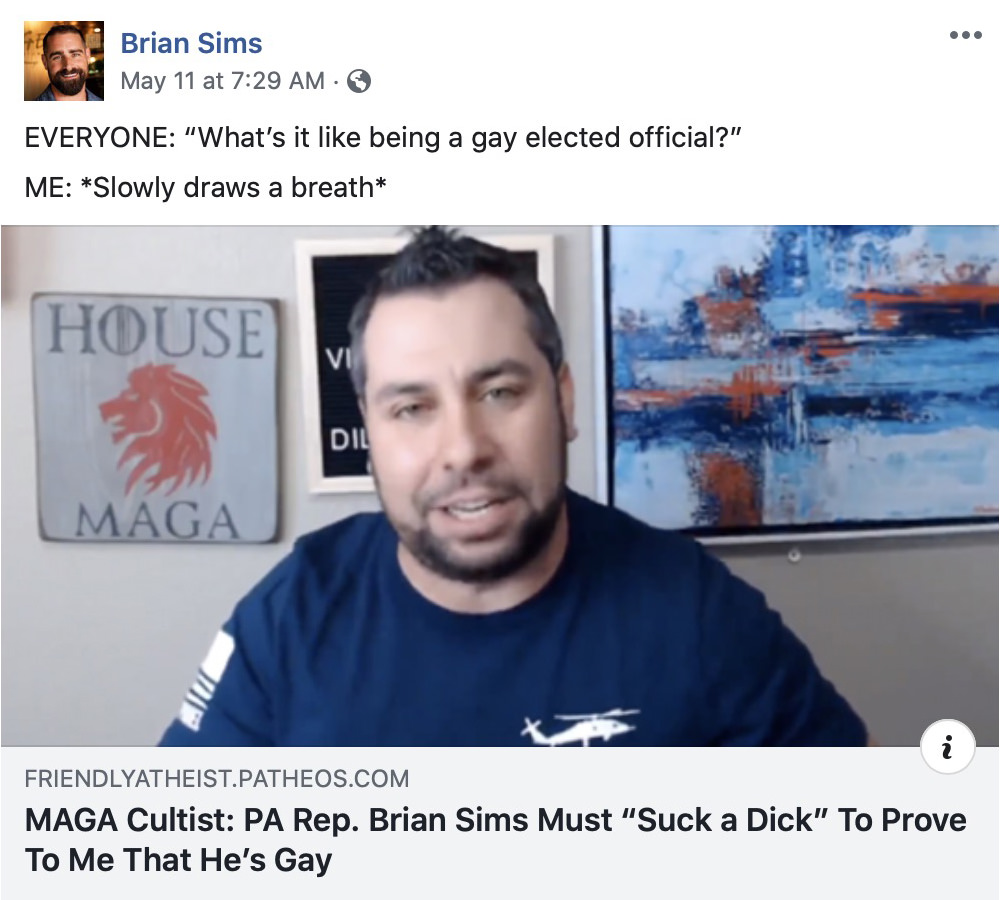 His responses are sometimes shocking and controversial... sometimes surprising... sometimes funny. Sometimes, they're all three...
Other controversies are a bit more complex, but not at all surprising. He is, after all, a politician. And apparently you can't be a politician without being party to some shady shit. Politicians and shady shit go together like peas and carrots. He posted videos of himself confronting praying Planned Parenthood protestors that were cringe-inducing even to Planned Parenthood supporters, then issued a "non-apology apology" after the fact. He's been the subject of an ethics investigation after accepting speaking fees in violation of policies which forbid it. He regularly says and does things that are inappropriate for his office... like posting a photo of himself flashing a middle finger saying that it's his "welcome message" to Vice President Pence when he visited. I mean, come on, take the high ground so people don't have to make excuses for voting for you. If a Republican were to flip the bird as a "welcome message" to Vice President Biden, Democrats would lose their damn minds.
Not that I don't appreciate the sentiment, mind you. Vice President Pence and everybody party to the Trump Administration can absolutely fuck right off. But you're a public servant and supposed to be held to a higher standard than that of a vile asshole such as myself. And hey, I'm trying to be better. Really I am. Building my happiness on the unhappiness of others is not what I'm supposed to be about. Daisaku Ikeda was not wrong when he says that it's an impossible thing to do. Every structure has to start with a strong foundation or what you build on top of it is likely to crumble.
That being said, I suppose you kind of have to cut some slack to Brian Sims and people like me for going off the rails from time to time. Just look at the horror story of the world we have to live in.
Well, okay, I deserve a little more slack than Brian Sims does. Because at the end of the day, he gets to look like Brian Sims and I... well... I most definitely do not...
I'm allowed to be a little bit bitter about that.
Posted on May 28th, 2020

The two days it took to build flower beds, fill pots, and plant flowers seems to be paying off. From what I can tell, only one plant died and all the rest of them are doing really well. I should probably weed everything again, but I'm in no hurry for that. All I know is that my yard doesn't look like a disaster area any more, and that's probably a good thing... even though I won't be having guests to appreciate them any time soon...
The irises on the side of my home are in peak bloomage, which is to say that they're all falling over because the flowers are too heavy for the stalks holding them up. I propped them up where I could and took photos so they can at least be appreciated before they all start dying...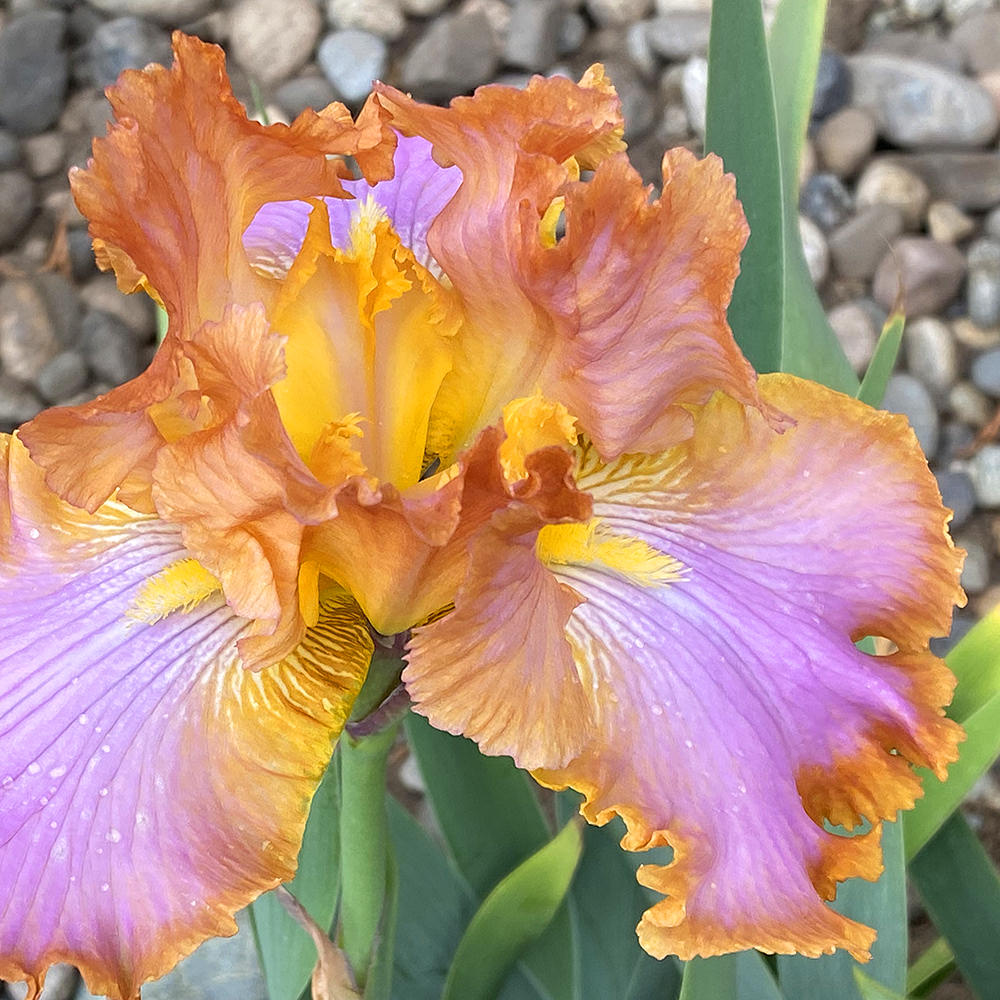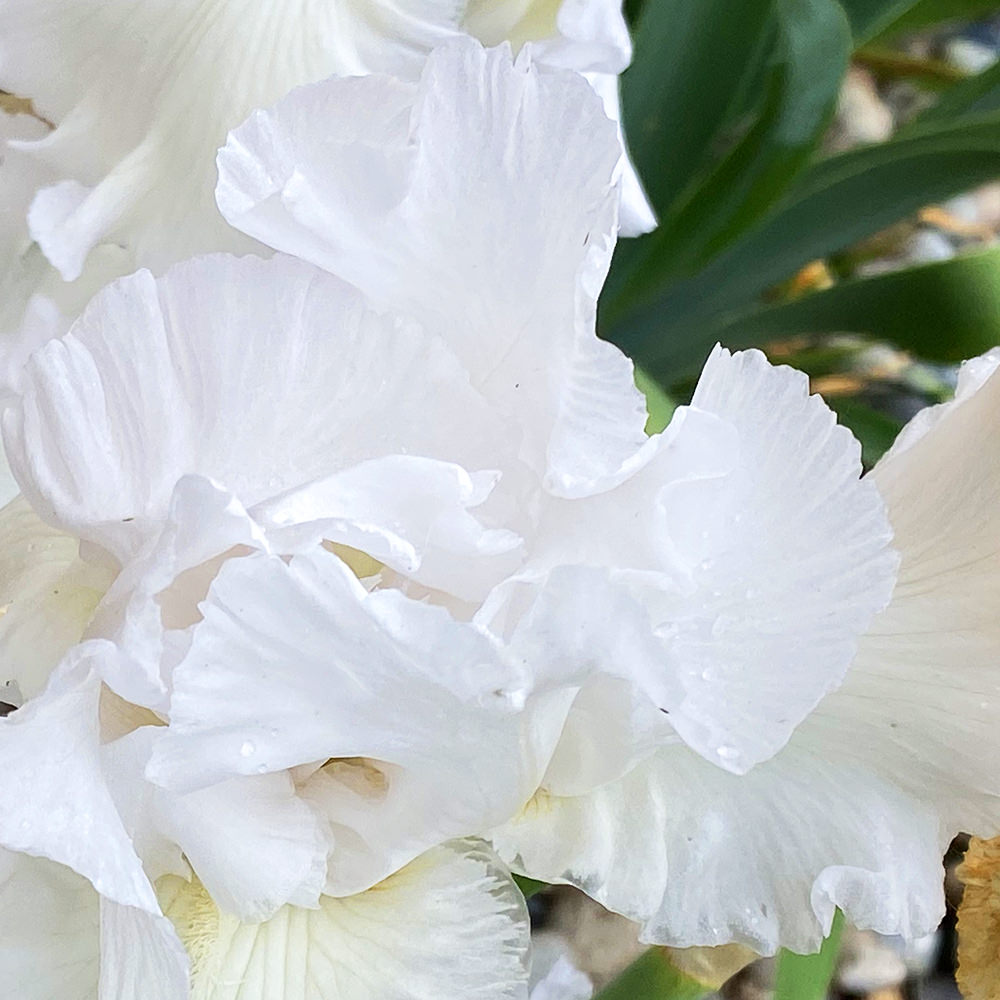 I think I mentioned that I'm in the process of backing up all my DVDs before they rot to unplayability. But I'm also looking into the best way of backing up my 8mm cassette tapes. For quite a long time all my shows were recorded on 8mm because the quality was better than VHS and they were much smaller and easier to store. Over the years as the shows have become available to purchase digitally, I've been tossing the tapes out... but there's still quite a few shows which I can't purchase and will have to digitize. Including two of my favorite shows of all time... Cupid (1998, starring Jeremy Piven) and Oh Grow Up! (1999, starring the late Stephen Dunham). I cannot for the life of me understand why television studios don't just release their entire catalogs to scrape up some cash, as there are many shows I'd gladly buy if only I could.
Including some shows I never even knew existed.
Yesterday I became aware of a 2016 show from the UK called Hooten and the Lady when a friend let me stream it from his Sling DVR. Apparently The CW acquired the USA rights and broadcast it in 2017. He thought I might like it... and I absolutely do...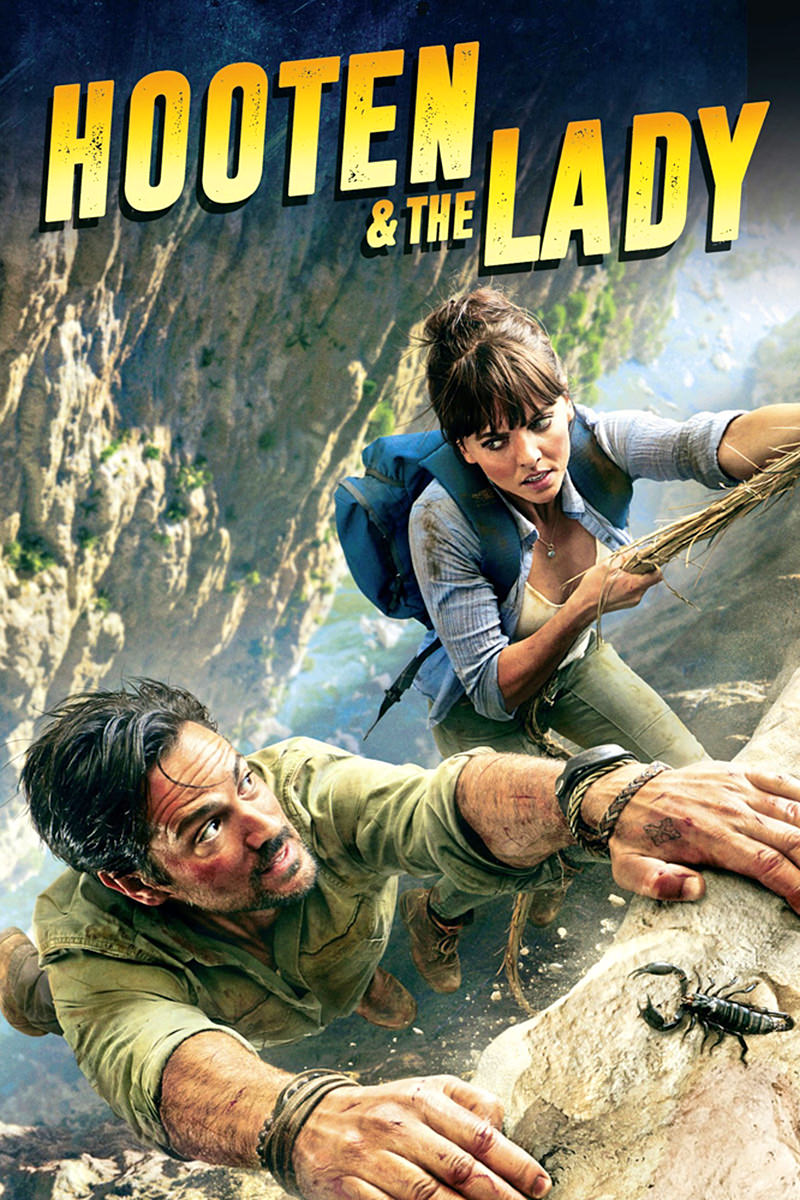 I liked the first three episodes so much that I went to buy it so I could see the five remaining episodes. Alas I can't buy them. It isn't available here in the USA in the iTunes Store, nor can I purchase it on DVD or Blu-Ray because it's region-encoded and won't play on my machine. Which is a pity, because it's really, really good. Kinda Indiana Jones meets Romancing the Stone. Or something like that. It's got action and has some funny moments to it. Guess I'll have to see when my friend will let me schedule some time with his Sling Box again so I can finish it up. Alas it never got a second season, which is inconceivable to me. It's such a great show.
Except it actually is totally conceivable to me because all the good shows seem to get premature deaths.
Posted on May 27th, 2020

Last night I stayed up until 1:30am working, so I decided I deserved to leave work early today. So at 1:30pm I gathered my things... I hopped in my car... I screamed at the world... I sucked it up... and went grocery shopping.
This is most decidedly not something I wanted to do. If you remember last time I did this one month ago, it did not go well. I could have probably held out for another week... perhaps two... but I didn't like the consequences of doing so. At the end of that second week, I'd be eating saltines with ketchup or something.
As an added incentive? My Safeway Monopoly Instant Winner prize tickets expire tomorrow, and I will absolutely risk COVID-19 (and dealing with assholes) for $44 in free stuff.
Little did I know that 2/3 of my tickets could not be redeemed. So many of the things I was supposed to get for free or at discount were out-of-stock. Free bottle of hand-sanitizer? Don't make me laugh. Discount on Vlassic pickles? Nope. No Vlassic pickles to be had. Discount on chocolate milk? Denied. What I estimated to be $44 in savings ended up being... $17 total. Wheeee. My biggest score was a bottle of aspirin that I will never use. I only take Ibuprofen. But it was free, and who knows? Maybe one day I'll need it.
One hour and $200 in groceries later, I escaped no worse for wear.
That I know of, anyway.
I'd estimate that less than half of the people shopping with me were wearing masks. Which is not surprising. A lot of people here still think that the pandemic is a hoax, masks will kill you with carbon monoxide poisoning, and a litany of other nonsensical things. Logic has gone right out the window.
Which is why I'm more than a little worried about Washington State starting to open up again. Don't get me wrong, I certainly hope that we can reopen safely and not get a second bigger wave of COVID-19 infections, but it wouldn't surprise me after observing how some people are acting. If everybody was observing proper distancing, wearing masks, and generally giving a shit about other people, I'd feel a lot better about it.
Oh well. Not much I can do about it... except protect myself as best I can, look after others as best I can, and listen to people calling me names because of it.
Posted on May 26th, 2020

Today was not a great day.
The brain rewiring I've had to learn in order to deal with my dyslexia falls apart when I'm tired or stressed or upset, and today I was all three. This makes reading a challenge... but also creeps into my ability to speak properly when things get really bad. Today I had multiple times where I couldn't find my words, something that hasn't happened in years. It's frustrating. It's embarrassing. It's just plain tough to deal with.
It's the pandemic. It's the easily debunked conspiracy theories. It's the politics. It's the uncertainty. It's the inhumanity. It's the lack of empathy and kindness.
It's a woman in Central Park weaponizing her white tears in a staged 9-1-1 call in an attempt to "kill via police" a Black man who had the audacity to ask her to obey the law and please leash her dog.
It's all of it. It's everything.
The world we have right now is not conducive to my living in it, and I honestly don't know what I can do about it. Probably nothing.
But I gave it a try when I bought Minecraft Dungeons from the Nintendo Switch eShop.
After all things LEGO, my favorite genre of video game is dungeon crawlers. I love the exploring and discovery and secrets and, of course, battling monsters for loot. The Diablo trilogy... the Baldur's Gate games... even the cutesy RPG crawlers like Fire Emblem, Trials of Mana, and (of course) the myriad of Final Fantasy games... I enjoy them all (and it's thanks to the first one I played, Dungeon Master on my Atari ST computer).
And while I don't play Minecraft, I was intrigued when I found out we were getting Minecraft Dungeons because I could use a fun dungeon crawler right about now.
The game starts out pretty simplistic. Exploration is curbed as you learn to fight enemies and follow the linear path laid out before you. At the mid-point of the game, things become more challenging and, if I'm being honest, a lot more fun. There's more to see, explore, and do, and the enemies no longer roll over and die at the sight of you. I've likely got another hour or two of gameplay left, but right now I'm digging it because I'm having to put a little more thought into how I'm approaching a level. Would have been nice if they started here, but it's all good.
I'm not anticipating things getting absurdly difficult, but I'm guessing the end won't be a cake-walk either. Apparently once you beat the game you can replay it at a higher difficulty, so that might be fun. And since the maps are (reportedly) procedurally-generated, it might be a slightly different experience, which is nice.
If you've played Diablo, you've pretty much played Minecraft Dungeons. The similarities are striking, even if the visuals are radically different. Mojang Studios used the same 8-bit blocky graphics they used for the original Minecraft, but they're really pretty and polished in this game. Sure, sometimes it can be annoying because it can be tough to get a bead on things quickly, but overall I really enjoy the aesthetic they dreamed up (and would probably appreciate it even more if I was more familiar with Minecraft).
Another departure from this Diablo clone is the class and weapon enhancement system. As in, there isn't classes and weapon enhancements can be recovered and redistributed as you upgrade your weapons. Being able to define and change your play style by not having to commit to a character class is simplistic and unrealistic (in context) but I rather like it. And you're not going to hear me complain about being able to transfer enhancements (or "enchantments" as they call them) to new weapons I like.
Right now I'm playing solo, but Minecraft Dungeons allows for 4-player co-op, which is something I'd really like to try. It seems like the entertainment value from multi-player would probably allow me to more easily gloss over the shortcomings of a simplistic game like this. The problem is that I can't cross-play with my friends who are playing on a platform other than another Nintendo Switch. This blows and, when I searched for it on the internet, I found that Mojang Studios is planning on providing a free update that will allow it. Since the only other people I know playing this are not doing so on a Switch, I guess I just have to be patient and hope that they aren't bored with the game by the time cross-play is released.
Ultimately I like this game. It feels like it's going to be a bit short and lacking the complexity I usually enjoy in a dungeon crawler, but it's also just $19 so at least it's priced accordingly. The fact that it's essentially a LEGO video game with different visuals is the real draw for me, however. In a time when the Real World seems like a void of despair from which I can never escape... being able to escape into Minecraft Dungeons is a welcome distraction.