Posted on September 23rd, 2022

Remember yesterday when I said that I had a fever for 30 minutes, then a sore arm, then nothing else from my booster's booster to my COVID booster?
If only that had been the end of it.
I woke up freezing three times in the middle of the night last night. It's kinda a haze, but I did remember the first time very well because I was shaking so much that I fell over when I got up to grab another couple of blankets. My teeth were chattering so much that I thought they would break.
I've had "chills" before... but never like this!
I woke up tired from lack of sleep, but otherwise feeling fine. Except the wildfire smoke was heavier than usual today, which was really tough on my allergies. I ended up leaving work at noon because my head hurt so bad that I couldn't concentrate.
And now I'm at home with three air purifiers running while I watch YouTube videos. Like this interesting one from 2019 by one of my favorite content creators... Marques Brownlee...
I actually have a very early model Mac. This makes me want to drag it out and play with it again. It's still remarkable to me.
Posted on September 21st, 2022

It's mind-boggling just how often I am expected to put up with crap that nobody else seems to have to. Maybe it's because I'm a total pushover and try too hard to be nice. Maybe it's because the path of least drama is my default mode of operation. Maybe I lack the strength to put my foot down.
Whatever the reason, I'm obviously not bothered enough to change anything, so I guess it's on me.
Though I think the fact that people take advantage of this says a lot about them.
I'm going to not worry about it because a new episode of She-Hulk: Attorney at Law is on in twenty minutes.
Posted on September 20th, 2022


At some point the wildfires have to end, right? I just want to breath again.
Posted on September 19th, 2022

There was a meme floating through Facebook this past week asking "What company or service that has closed would you bring back?" And I was like "Wow... so many." But if I was forced to pick just one, it would probably be Anthro.
This is a copany that made industrial furniture. And I bought a lot of it. Their stuff was built like a tank, looked great, and had a lot of thought behind it. My two desks at work (along with my scanner stand) is Anthro. My desk at home used to be Anthro until I used a built-in nook desk for my computer and put it into storage. But I still have Anthro shelving at home.
You've probably seen Anthro products before even if the name isn't ringing any bells... it's pretty iconic-looking...
The reason I'd like to bring Anthro back (other than they made such great stuff) is that I need some replacements for the plastic shelf brackets. They're beefy, but plastic gets brittle after 30 years and they're starting to split on me.
Right now I'm essentially canibalizing parts from various Anthro stuff to keep the pieces I'm still using operational.
I wonder if somebody out there is 3D printing the pieces I'm looking for? Seems like there's a demand for it given how many thousands upon thousands of furniture pieces that Anthro make for the decades they were running.
Posted on September 15th, 2022

I have had enough of this smoke.
I guess you could say that it is looking a little better today, but the smell is still hanging in the air and the hills are still hazy. It would be nice if they could manage to get the wildfires contained... not just for my sinuses, but for all the little woodland critters that are being made homeless.
IN OTHER NEWS...
Since I can't go outside except to drive to work, I have been staying indoors huddled up next to my air purifiers and watching a lot of television. And holy crap have I got a winner. If you want to see one amazing television show, then tune into Netflix for лучше чем люди (which translates as "Better Than People," but has been retitled Better Than Us by Netflix). It takes place in the near future where robots are around to help humans... but a new kind of robot prototype escapes, and her programming is not like other robots!
This series is gorgeously realized. The tech that's integrated into people's lives all seems remarkably intuitive and real. The world that's been created is amazing... not so far from our own, but jusssst different enough to be fascinating. And the cast is incredible (the young girl who plays Sonya is so good). Seriously one of the best things I've watched in a minute. The more you watch, the more it sucks you in! I have no idea why Netflix didn't promote the heck out of this show. You can watch all sixteen episodes dubbed into English, but the original performances are so good it's better with subtitles.
You're welcome!
Posted on September 13th, 2022

I am getting close to my breaking point here. I am doped up on allergy medication all day, which means I'm falling asleep all day. The irony being that the constant drainage of my sinuses makes it impossible to actually sleep.
This is Day 3 of being held hostage by increasing amounts of wildfire smoke. Except I still have to go into the office, which involves my opening the door to the smokey hellscape outside, dashing out of the house, then closing the door as quickly as I can (then hoping that the air purifiers will get rid of any smoke that crept inside).
But the cats? They don't seem to care about the smoke at all. Both of them are out in the catio several times a day. You'd think that their enhanced sense of smell would be overwhelmed, but apparently they care less about that than having a few remaining warm days outside (though it's not so warm here any more!). I worry about their tiny lungs... but they're so low to the ground that there's not much smoke there. But the smell is still fierce.
I remain hopeful that they'll be able to put out the fires very soon thanks to dwindling heat and occasional rains, but every time I look at the wildfire map the fire perimeter seems unchanged.
I'm destined to have smoke on the brain for a while longer, I guess.
Posted on September 12th, 2022

This year we've been blessed with few wildfires plaguing us. And those that have been around haven't really blown into the valley all that much.
Until now.
Very early Sunday morning I woke up smelling smoke, which always provides a small amount of trauma because my mind instantly transports back to when I was in the middle of a fire and panic sets in. Once I realized that it wasn't my house on fire, but was instead smoke from one of the three fires in the mountains, I was flooded with relief. For about 5 minutes. Then I had to think about how this would affect my serious smoke allergies...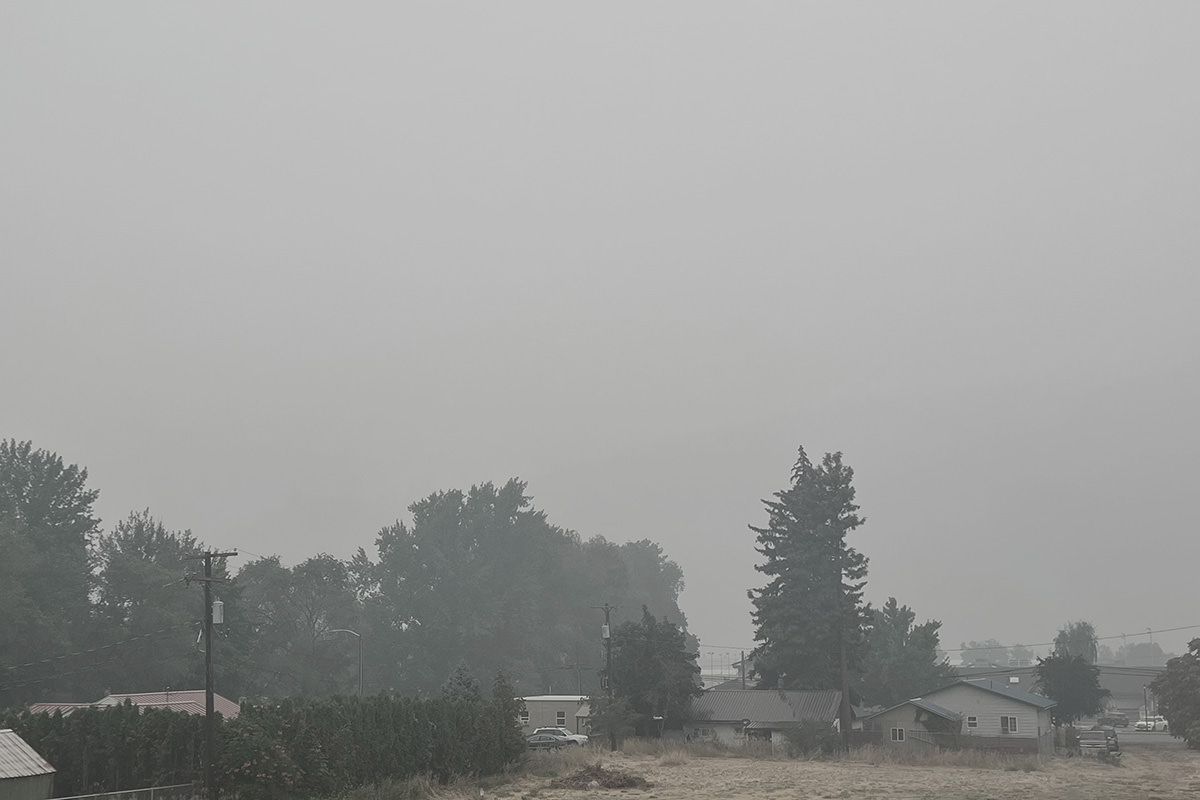 The nearby hills are completely missing here
Here is the treat that I get to endure when the smoke gets terrible...
Cramping. This is not "ooh, my insides hurt a bit" bad, it's more like "ZOMFG! SO THIS IS WHAT IT'S LIKE TO GIVE BIRTH!" bad. I end up laying down doubled-over in agony. And it's not just smoke... any incense that's burning will have the same effect.
Diarrhea. No idea why. Probably a side-effect of the cramping?
Shortness of Breath. This one is kinda obvious, but it's not as bad as the cramping, so I can deal with this so long as I'm not exerting myself.
Loss of Apetite. This is a bit of a big deal because I gain/lose weight so easily. Two or three days of not eating and my pants are falling off of me. I usually force myself to eat something when my stomach starts rumbling.
Vomiting. If I eat in small amounts, it's not so bad. But anything more than a small handful and I might as well not eat at all.
Dry Heaves. What's that? "Just don't eat and enjoy the weight loss," you say? Doesn't matter. Even worse than throwing up anything I eat is getting dry heaves for something I never ate.
So... not a great day to be me! Hopefully you're having a better day being you.
Posted on September 6th, 2022

I think I'm dead.
Or, at the very least, dying.
So you'll have to excuse me not feeling like blogging tonight. I'm going to go to bed so I can die in peace.
EXPECT ME TO RISE FROM THE DEAD TOMORROW FOR THE LATEST APPLE EVENT! NO RESPECTABLE APPLE WHORE STAYS DEAD WHEN TIM COOK TAKES THE STAGE!
Posted on September 5th, 2022

International Labour Day is a global holiday on May 1st which celebrates the contribution of workers to society and advocate for their rights. The United States, ever marching to the beat of our own drum, celebrates our Labor Day today.
I, of course, had to work.
Which is fine. I plan on taking a half-day off on Wednesday.
Somebody else who isn't getting a holiday today either? Voyager 1. He was launched 45 years ago today. I mean, he's more of an "it" than a "he," which is actually a better way to look at the situation...
Otherwise you have to assign feelings to Voyager 1 as he hurtles through the vastness of cold space all alone. Poor guy.
Look, I did it again.
Posted on September 2nd, 2022

When Jake used to get sick or be upset, he hid from me. Him not showing up for a meal or running to meet me when I walked in the door is how I knew something was wrong. But now? Complete opposite. When he eats a bug and feels sick or is stressed about something, he will cling to me like glue. He's so clingy that I've come dangerously close to stepping on him.
Last night I have no idea what happened... probably ate a praying mantis for no reason at all or something equally disgusting... but he was on me. On the couch. Going upstairs. Brushing my teeth. Climbing into bed. And it's not like he's on the bed with me... he's squeezed up to me as close as he possibly can be.
At first, it's incredibly sweet that he thinks of me as comfort food when he's not doing well. But around midnight when I really should be going to bed, it's not quite so sweet. I'm scared that if I fall asleep I might roll over on him and crush him, so I continued to work for another hour. Around 1:00am, I was so tired that I couldn't focus on work and started playing on the internet
The first thing I did was find a TikTok where a guy was talking about crAIyon, a site that draws whatever you can think of. And what was the first thing that came to mind? Taylor Swift eating corn on the cob!
Have you ever seen anything so terrifying? Well hold on to your hats, because next up was Ryan Reynolds on a boat wearing a bear hat!
Then came A bear at the movies eating popcorn in a newspaper hat!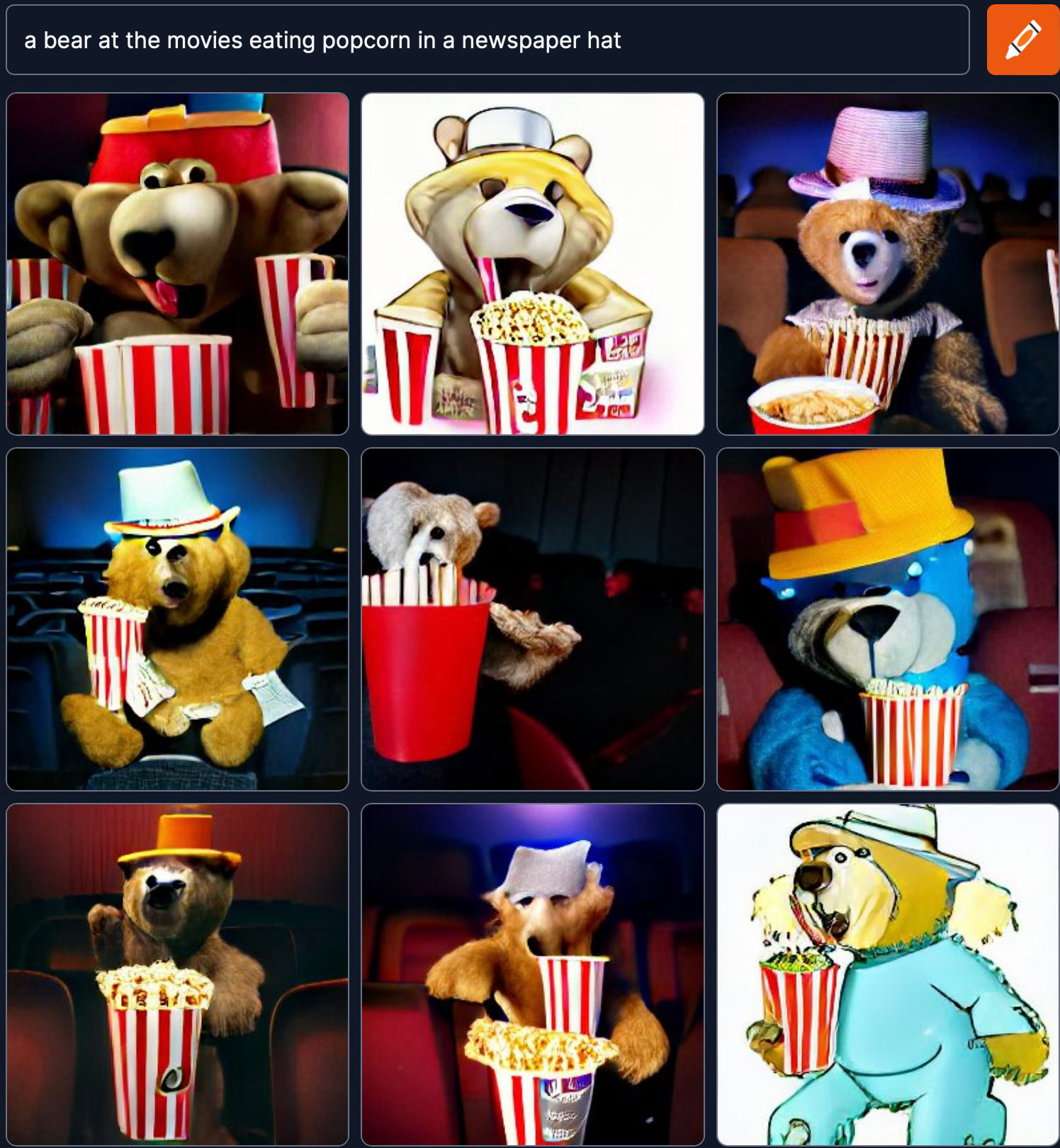 And A cat in a birthday hat eating cake!
Once I got to the nightmare that was Ernest Borgnine Wearing a Dress and Sitting on a Toilet I knew that I had to stop.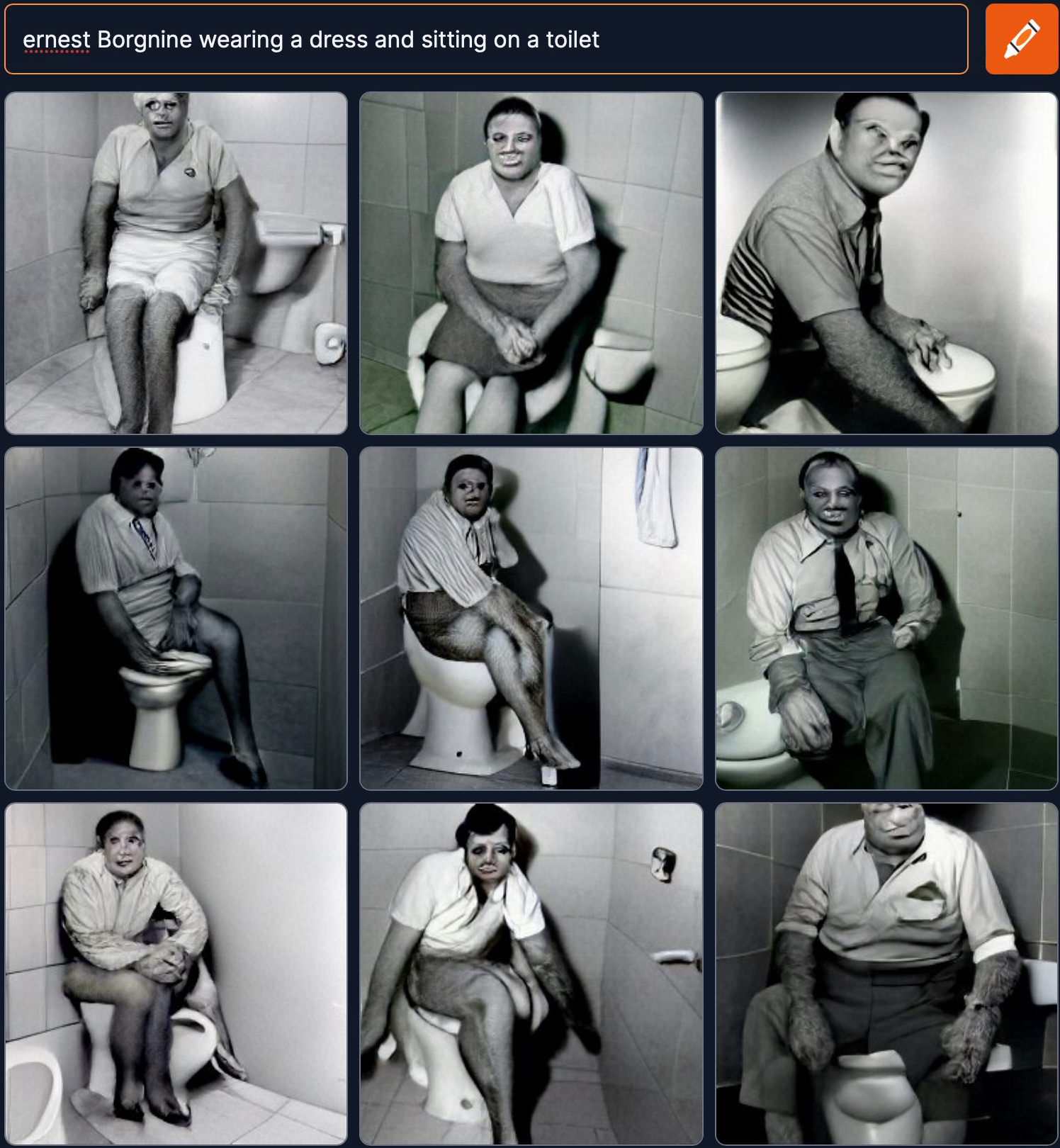 AND, NO, I DON'T KNOW HOW MY BRAIN COMES UP WITH THIS STUFF!
After that I came across a TikTok which lead me to a YouTube series by comedian/actor Kyle Prue called Rabbit. For such a shallow premise, it gets shockingly deep. By the time I got to the third episode I was completely obsessed and had to finish off all five (even though Jake had already climbed to the end of the bed). If you want a time-waster that has some serious thought behind it, this is a trailer for the series...
Now, right off the bat I should inform you that when he hits the woman with the hammer, it's not what you think. This is smarter than that. And I'm telling you... if this was a television series, I would totally watch it.
And now it's running close to 2:00am so I really, really need to try and get some sleep. It's now Friday so I guess this counts as my Friday post? I sure hope so.