Posted on August 11th, 2017

I took a sick day today and, thanks to a drug-induced coma, spent the entire day in bed.
I didn't even watch television. I just... slept.
Now that I'm semi-awake, I decided to eat dinner and catch up with Forged in Fire while I wait for the people I hired to come install gutters on the catio.
Your blade... will kill...
Posted on August 10th, 2017

The smoke pouring into the valley since I got back has made breathing increasingly challenging. Even worse, the Flonase that gets shot up my nose so I actually can breath is now causing nosebleeds. As if that weren't enough, all the above is making it impossible to sleep.
Now I'm home from work just laying here... waiting to die...
Come, come, come, nuclear bomb...
Posted on August 5th, 2017

My long-time friend Howard died today and I am lost.
We first found each other through blogging a decade ago, but our friendship went far beyond that. Last night I was sifting through hours upon hours of texts, messages, emails, and comments, and realized that we have been in near-continuous contact since we first found each other. Our taste in music, movies, anime, and so many things were in perfect sync so there was always something to talk about.
And I guess sometimes you just know, you know?
We met in person a half-dozen times, usually when I was in Denver for work. The first was at my "Daveorado" event back in August of 2009...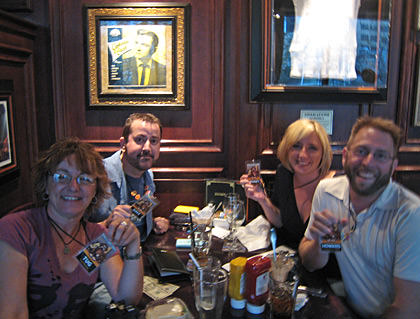 Tug, Me, Hot Doctor's Wife, and Howard at the Hard Rock Cafe Denver!
And then there was that time we flew to L.A. so we could catch a rare US appearance by anime god Hayao Miyazaki, truly one of the best moments of my life.
And then there was the time we went to see Duran Duran at Red Rocks.
And then there was the time back in May when I flew to Denver to celebrate Howard's 50th birthday.
But most of our contact was just everyday stuff. Like when I first got Jake and Jenny and he decided to make them into a meme...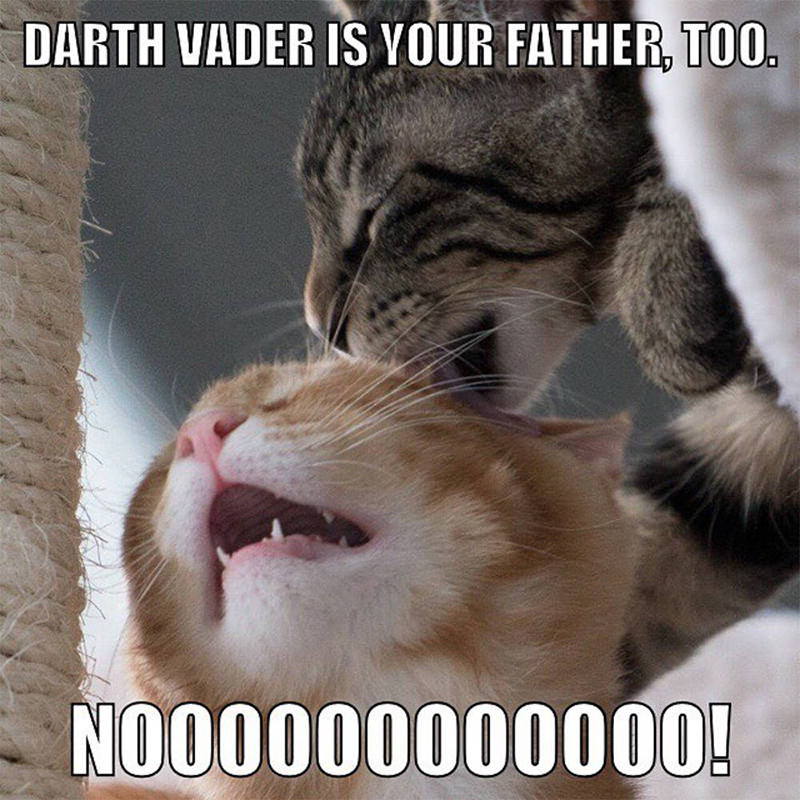 He was forever sending me stuff like that.
And forever talking about music. We have text conversations that go on for hours that are nothing but Pet Shop Boys. But it wasn't just our love of 80's tunes that made for good music talk. Every once in a while he'd turn me on to new music too. Most notably Holy Ghost! and Postiljonen. One minute I'm reading an innocent text... the next minute I'm obsessing over a band I'd never heard of before...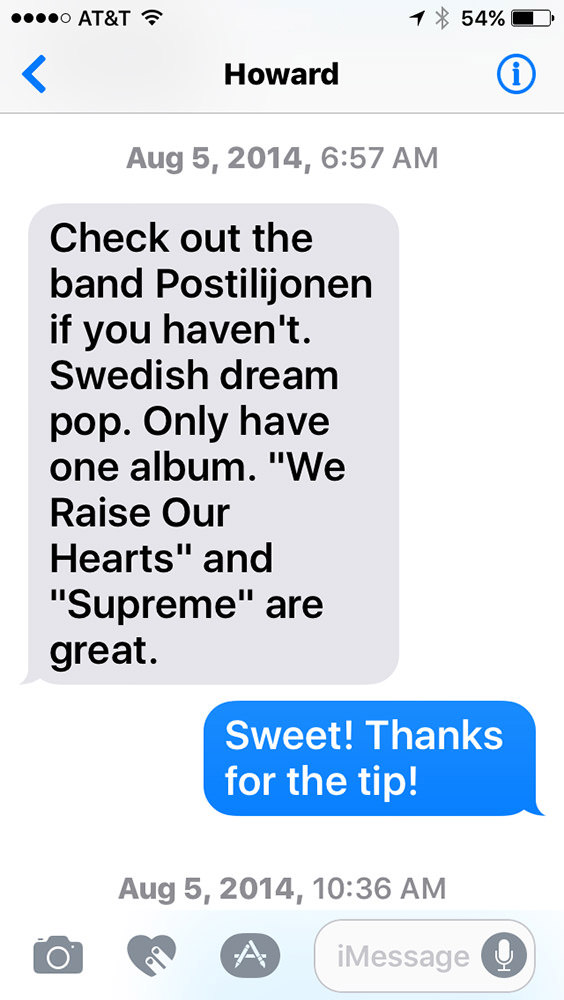 Along with music was the movies we loved to talk about. All kinds of movies... but mostly our shared love of Miyazaki and Studio Ghibli films. Back in February a new one was released, The Red Turtle, and I got more than just his thoughts on the film...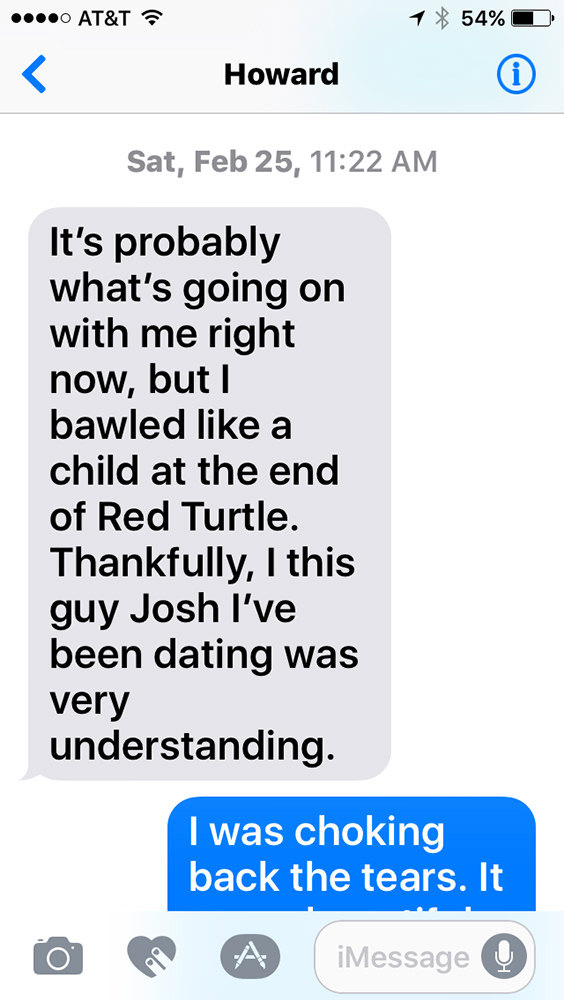 And then this past Monday, Howard and his "understanding guy" got married! I will be forever grateful for Josh bringing light and love into Howard's life these past six months.
Another thing I'll be forever grateful for is that Howard always knew how I felt about him. I loved him dearly, and told him so...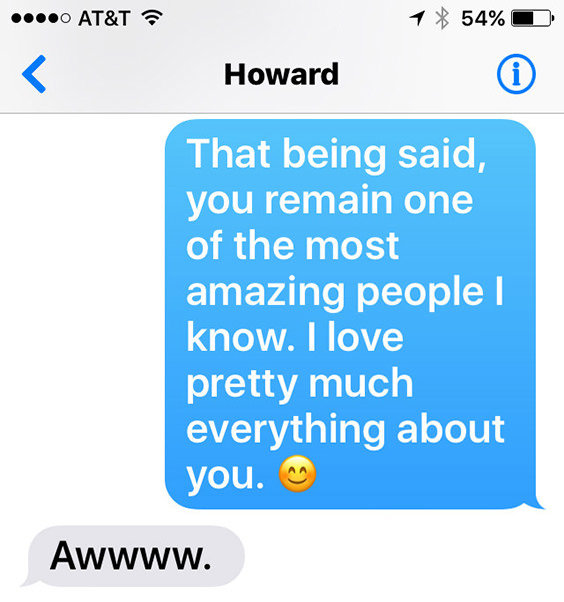 I could write volumes about how much Howard meant to me, but that text probably does a better job of it.
He was a soul mate.
It's as simple as that.
What's not simple is trying to find a way to carry on with life after a chunk of your heart has been ripped out. But I will find a way, because anything less would be an insult to somebody who fought so bravely every day to carry on...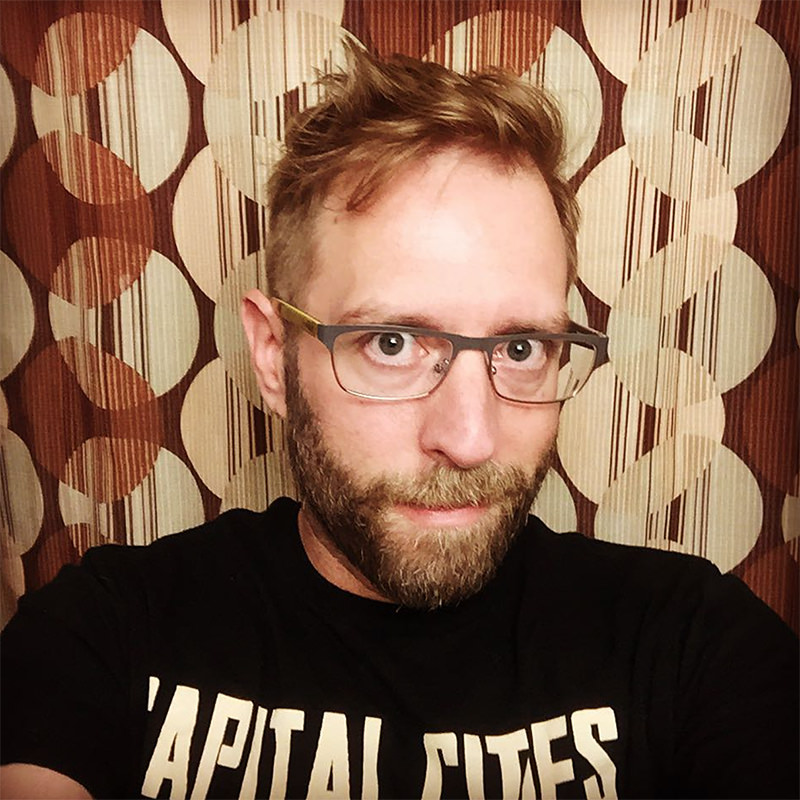 Goodbye, my friend. I will always love you. I will always miss you.
And you don't have to be embarrassed about liking that Katy Perry song in heaven.
Posted on July 21st, 2017

What I need...
What I really, really need...
Is an off-switch.
My brain is so overwhelmed with stuff... a lot of it being inconsequential, mindless stuff... that I can't focus. Especially at night when I need to be sleeping.
Oh well. In six hours I have to head over the mountains in a 2-1/2 hour drive. Maybe that will sort things out with my brain.
Posted on July 13th, 2017

Pizza is probably my favorite food.
But not always.
Sometimes... sometimes... it's fried potatoes. When they're served with Dutch mayonnaise. They don't even have to be really great fries (like the amazing kind you get in the Netherlands or the kind I fry myself). So long as they have Dutch mayo, I'm good. So to celebrate National French Fry Day, I grabbed my Dutch mayo and went to the local drive-in for a big bag of lunch...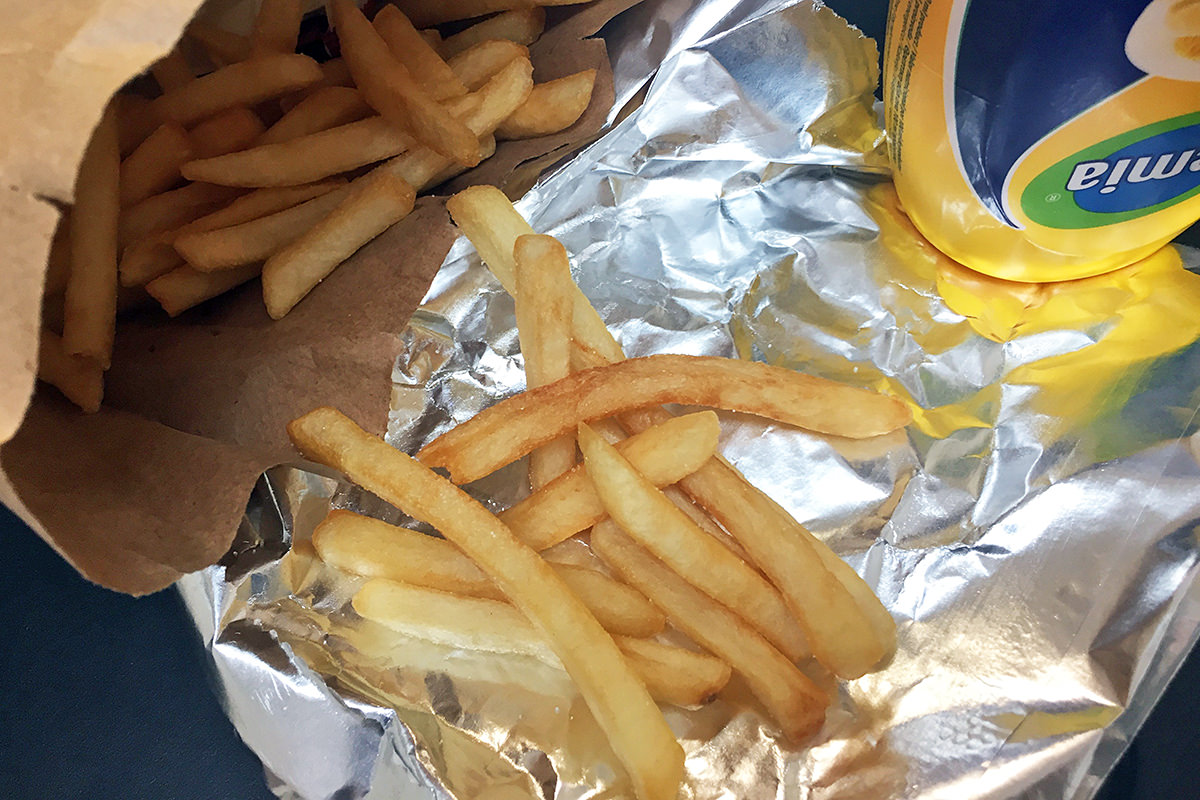 Delicious!
Tied with Chocolate Pudding Day (June 26th) as one of my favorite holidays!
Hope you got fried today!
Posted on June 28th, 2017

Today was the day I was supposed to be flying to Orlando.
But I ended up canceling back in May because my calendar was obscenely full here at home. And it turns out that I didn't know the half of it. This week has been so packed that I have been looking into cloning technology.
I need a Dave 2.2 ...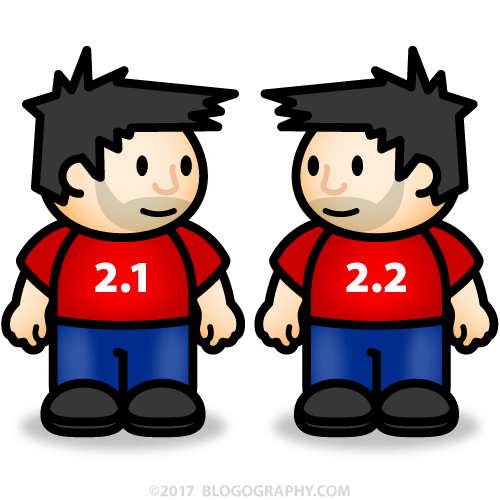 Though... to be honest, cloning me is probably not the best idea. The world can only sustain so much evil, and this would push us over the top.
Way over the top.
Posted on June 19th, 2017

And so I'm dead now.
When I went upstairs to watch Netflix in bed at 9pm last night, Jenny was still out in the catio. When I finally decided to go to sleep at around 11pm, I checked the cameras and saw she was still out there. This is not unusual, as she loves chasing bugs in the catio at night. Jake, I assumed, was off asleep somewhere.
When I woke up at 2am, I checked the cameras and saw that Jenny was still out in the catio. No Jake. I activated all the internal cameras. Still no Jake. I assumed that he was still off sleeping somewhere. So I started scrubbing backwards through the internal cameras so I could figure out where.
Jake was nowhere to be found. The last time he showed up was 7:15pm, when he was climbing down the cat tree.
Holy crap! Did I lock him in the laundry room?
No.
I can't find him anywhere.
No big deal, I grab the cat treats and shake the bag. Jenny comes running in from the catio immediately.
No Jake.
This is unprecedented. For Jake to not show up for kitty snacks is inconceivable. He loves those things. Loves them. The only reason he wouldn't show up is because he's trapped somewhere. Or dead.
And thus begins 20 minutes of total panic as I proceed to tear my house apart.
Still no Jake. He's vanished.
Either he has wedged himself somewhere I haven't thought of or... he got outside somehow?
Total panic becomes a complete meltdown as I start checking outside cameras. And there he is. Wandering around the back yard. At least he was at 1:28am, which was almost an hour previous...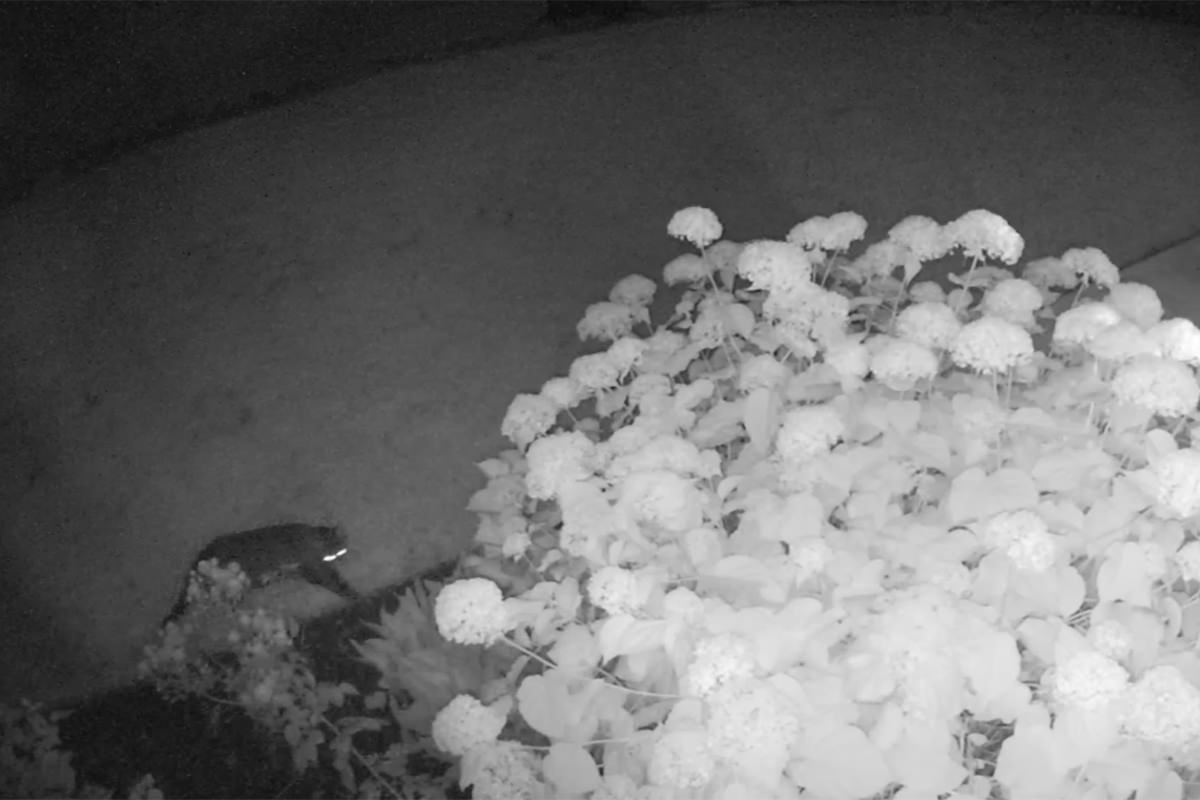 What. The. Hell?
At first I thought it might be Fake Jake, but the more I watch the video, the more I'm convinced it really is Jake, and he managed to escape. Some way. Some how.
I am trying to think if I have ever been at the panic level I was at that moment.
I honestly don't think I have.
And so there I am, out in the catio with the door wide open, shaking a bag of treats. He shows up minutes later...
But... how? How did he get out? He was around when I got home from work, I'm sure of it. Did he escape when I took out the garbage? Did I leave a window open somewhere and he pushed out the screen? Is there a hole in the fencing on the catio?
Back to the cameras. And... turns out he pushed off the roof of the catio (video at 8x speed)...
A couple things to note:
Jake paces back and forth, pushing on the roof at different spots. It's like he knows he can push through somewhere if he can get the leverage.
I can't see where he drops to the ground. I'm guessing he jumps over to the shrub, and climbs down that way?
Jenny totally watches him escape.
Eventually Jenny pushes through the roof as well, but chooses not to leave. Thank heavens.
The catio is now closed, pending my securing the roof panels.
From what I can tell, Jake was never too far away from the catio. He appears on the back porch several times throughout the night (video at 8x speed)...
Though he did circle the entire building once. He appears in the front yard at 11:45pm... goes out of frame at the bottom near midnight... then reappears at the top of the frame exactly 30 minutes later. Heaven only knows what he did along the way (video at 8x speed)...
More than once he tries to find a way back into the catio, and most times his sister is on the other side watching him...
So there you have it... Jake's big adventure.
And my nervous breakdown. Because all I can think about is how this could have happened tomorrow when I'm traveling and Jake would have been stuck outside.
Needless to say, I won't be getting any sleep tonight. If ever.
Maybe if I would stop checking the video cameras every 15 minutes to make sure the cats are still inside and safe...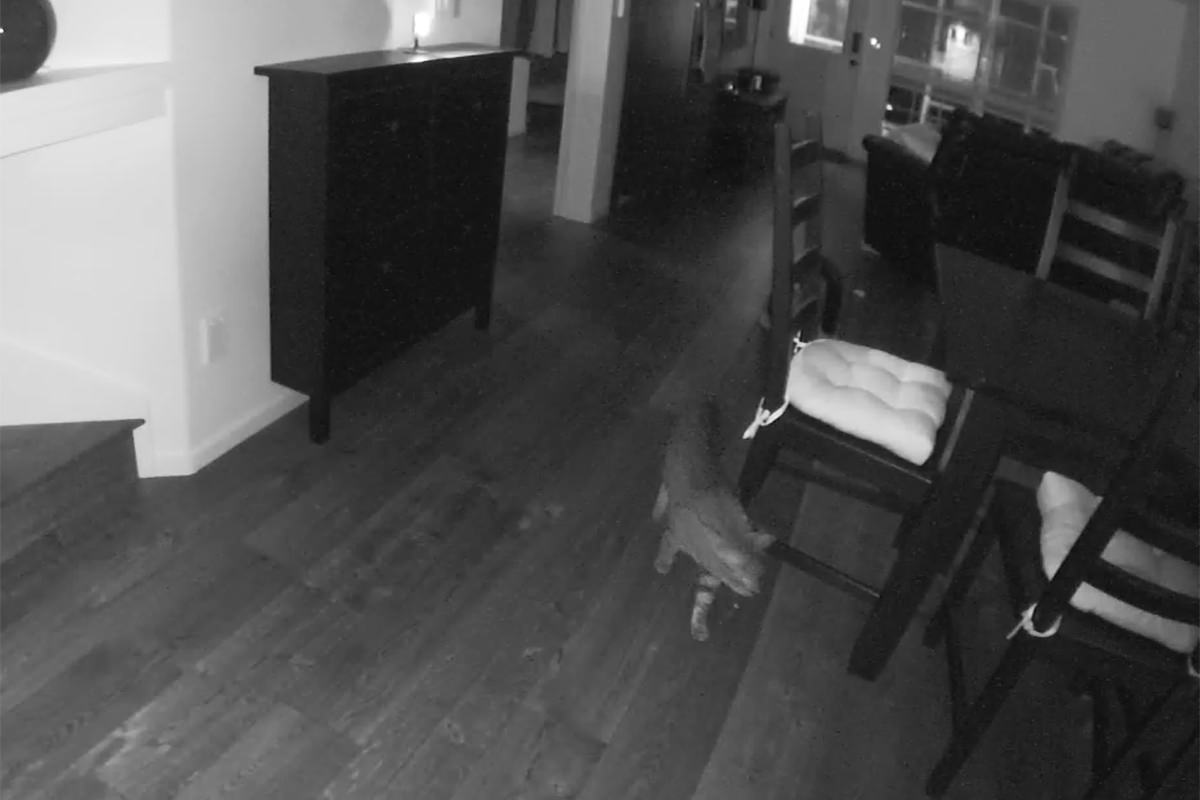 Cats. What can you do?

UPDATE: Turns out my framing contractor (who also made the roof for the catio) used screws that were way too short. They were barely grabbing into the wood. So when Jake was walking back and forth pushing on the ceiling, the screws were popping out like rivets...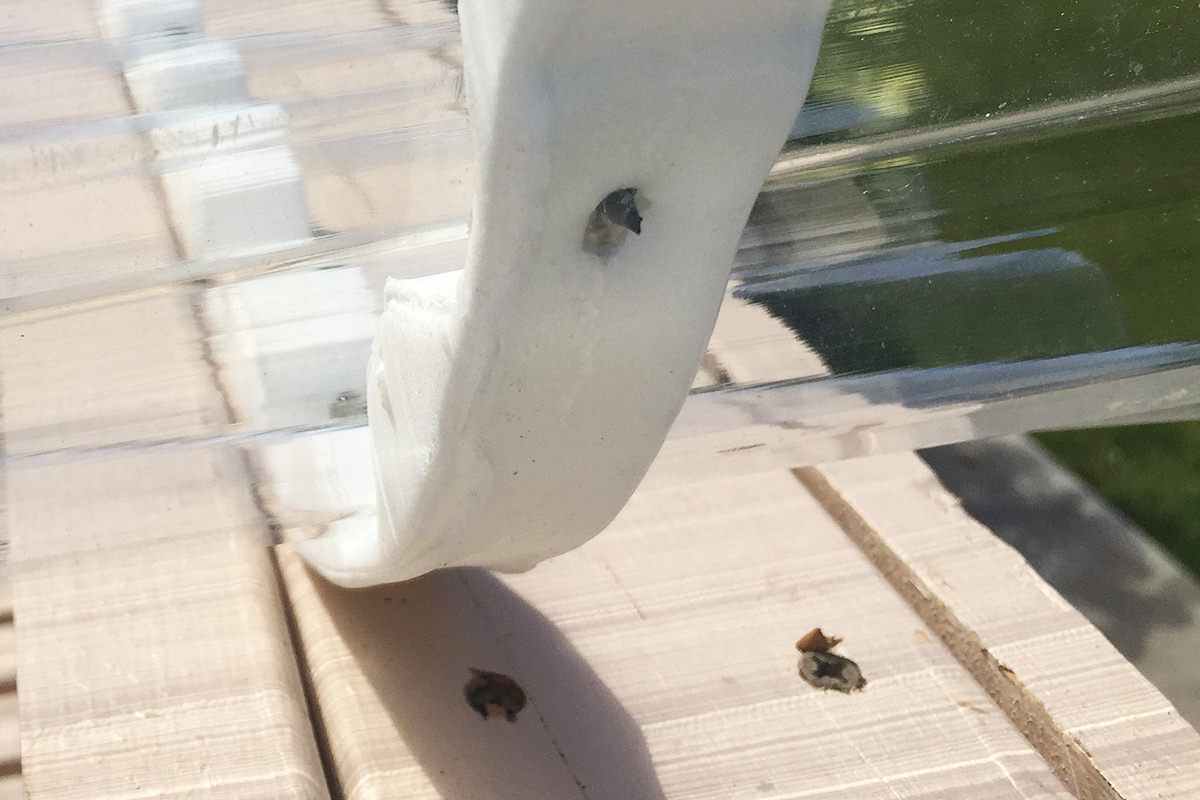 I'm replacing them all with screws that are 2-1/2" times longer.
And... Jake and Jenny can enjoy their catio once again.
And... I can have the peace of mind that the cats can't get out.
Until the next time.