Posted on June 28th, 2022

My internet is out.
This doesn't happen very often. I'm blessed with highly reliable internet service, and this is something I truly feel blessed to have. I know friends who are not so lucky.
Fortunately, I have internet on my phone that I can use as a hotspot. Except I burned through my high-speed data alotment in five minutes, at which time I barely had internet at all...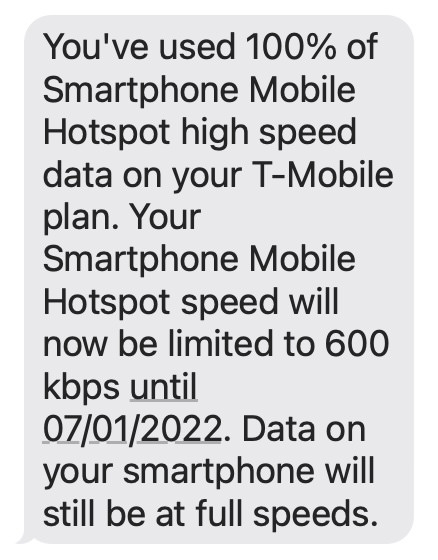 No big loss... except my smart home is now a stupid home, I can't watch television, and my security cameras are in meltdown.
I'd say that it's time to read a book, but I'd rather just go to bed.
Posted on June 20th, 2022

The fact that time passes so quickly when you're having fun and so slowly when you're not is one of life's most cruel twists. And, yeah, I understand that it only feels that way, but isn't that enough?
I ended up working only a little bit this past weekend, which meant that I had some time to set up my wood shop in my garage and get started on some projects (mostly involving my art studio, which has been gutted so I can build something new that actually functions how I need it to).
On Saturday, it was just past 11:30pm before I realized how late it had gotten. I went to check the clock to make sure it wasn't too late to run my miter saw (I try to never make noise after 9:00pm) and had no idea that I had been happily working away for over nine hours. I honestly expected it to be around 8:00pm when I looked. On Sunday I ended up cleaning house all morning and working until late into the night... losing track of time. Again.
Meanwhile on my Monday I thought my day was near over only to find out that it was only 2:00. And even that seemed as if I had been in the office for an eternity.
It's a darn shame that I need to work to pay for building materials.
And pay for my mortgage and food and stuff, of course.
Posted on June 10th, 2022

Today I had to leave the office early so I could get home and finish up some stuff that I had left on my home computer. But first I decided to make some bread because I ran out.
It's pretty much a science at this point. Take out the SourJo starter and let it warm up for 30 minutes. Mix together the first half of the ingredients and let rise for 45 minutes. Add the rest of the ingredients and let it rise for 45 minutes. Deflate it, shape into loaves, then let it rise for 45 minutes. Then bake for a half hour.
At this point you're supposed to let it cool, but I never have that kind of patience...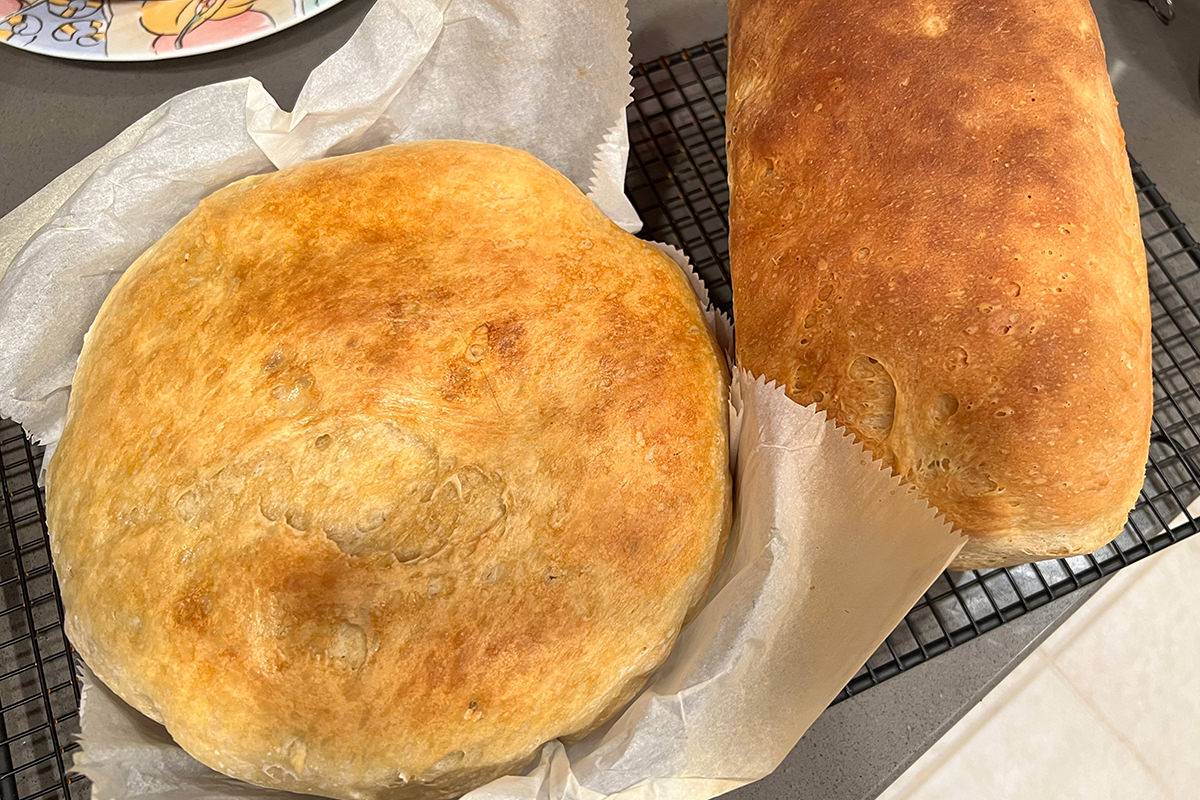 Yes. It tastes every bit as good as it looks.
And smells even better than that.
I'd bake it daily if it didn't take three hours to make. And I could eat unlimited carbs without consequences.
Posted on June 2nd, 2022

Every morning it happens.
Call after call after call of people I don't know popping up in my notifications. Except my phone doesn't ring through for unidentified callers, so it has zero effect on me. I turned THAT feature on the minute my mom died and I no longer had to wait for doctor calls or emergencies that might have come up.
I don't want to talk to people I know on the phone... but people I don't know? That's a hard pass. If it's critical, they can leave a voicemail...
Interesting to note that they are making several calls at once, because most phones allow you to have multiple calls from the same number break through your unknown caller blocking.
But not me, baby.
Anybody I care about getting through to me is in my contacts.
Posted on May 31st, 2022

A common plot device to many science fiction stories (and more than a few comic book story arcs) is one of an alternate timeline. Something happens... usually involving time travel... which causes established events to veer from their intended path, thus creating a new timeline.
One of my favorite uses of this is in Back to The Future: Part II where Biff Tannen uses the Sports Almanac to give his past-self knowledge of the future, thus changing his path to that of an evil millionaire. Marty then has to go back in time to prevent Biff from doing what he already done-did.
Classic.
Lately I've been feeling like I'm trapped in an evil alternate timeline where somebody has changed the path that we're all supposed to be on. And do you blame me? The amount of horrendous shit happening in the world just keeps escalating, and there really doesn't seem to be any end in sight.
Alas, something tells me that Marty McFly ain't going to show up and magically fix everything this time.
Posted on May 30th, 2022

I haven't been back to the cemetery since I buried my mother.
I thought I would go back this year on Memorial Day to see the flag remembrance that they do every year, but I ended up taking a pass. Instead I looked at the photos I've taken from past years.
It's not the same, but it's the best I can manage right now...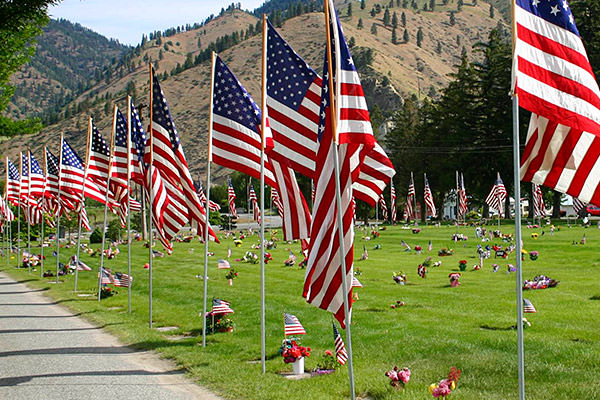 A beautiful way to remember those who died in service of their country on behalf of a grateful nation.
Posted on May 27th, 2022

Yesterday when I got home I noted that my dogwood tree was fully in bloom. It's an annual event which makes the whole thing worthwhile, and it only lasts for about a week. Then the color fades and the petals drop and I'm left with a nice-looking, albeit 100% green, tree (at least until winter comes).
I made a note to take a photo this morning because morning has the best light for photographing the blossoms because the pink looks the deepest. In the afternoon the sunlight bleaches out the flowers.
When my cats woke me up because there was a small spider on the ceiling, I was aghast to hear rain dumping down on my roof. "Surely the blossoms have all been stripped from the tree!" I said to my cats... who looked at me like I was crazy.
But when I was trudging off to work I was pleasantly surprised to see that not a single petal had fallen...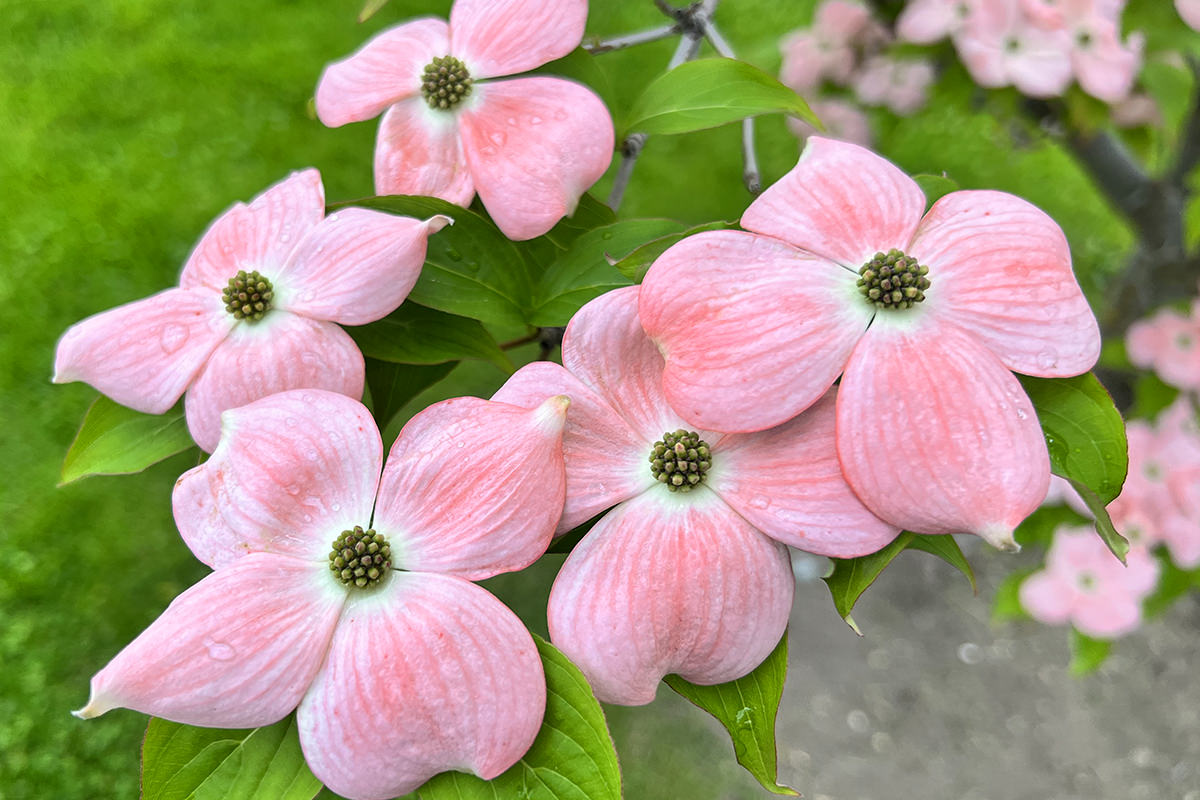 They were, however, a little bit wet.
Posted on May 18th, 2022

Yesterday morning I was walking out to my car and pulled a hamstring. Right in the middle of the street as I was crossing it. And it wasn't like I was sprinting across... or dancing across... or doing anything weird. I was just walking. And that was enough, apparently.
Getting old sure sucks.
The pain has been pretty excrutiating. I kept it elevated, iced, and took Ibuprofen like you're supposed to, but it didn't make much difference.
This morning it felt fine. Until I walked on it. Or hobbled on it, as the case may be.
Remember when I was young and invulnerable just last week?
Posted on May 15th, 2022

You can't keep a good blogger down, even in the middle of your blog not allowing you to upload images for some reason... because an all new Bullet Sunday starts... now...

• WAAAAAHH! The bastards at CBS canceled Magnum P.I.. The show's first season was incredible. The second nearly as good. They faltered a bit in the third season, but rebound beautifully in the fourth (and now final) season. What's interesting is that the final episode tied up a few things and answered a question which everybody had since the beginning... will Magnum and Higgins ever get together?
What's so shitty about all this is that Magnum P.I. was a fairly sold performer. Not stellar, but more successful than some of the stuff which gets renewed. Guess CBS is dedicating themselves to another shitty reality show that they can buy for cheap and cancel after a year. Well, duly noted. The entire cast was gold, I can't wait to see where they end up next.

• Lost! Okay... maybe it's the Hallmark fan in me, but I really liked this one! Lost City is funny, adventurous, and surprisingly sweet...
Everybody went all-in on their roles. Sandra Bullock, Daniel Radcliffe, Brad Pitt, all great... but it was Channing Tatum who completely owned his character. He was unafraid to play dumb as a box of rocks, and I loved it. If you see the movie (on Paramount+, the worst of the worst of streaming services), be sure to watch the credits for a scene that's pretty great.

• Remo! Fred Ward, Star of The Right Stuff, Tremors, Dies at 79. Except Fred Ward will forever be Remo Williams to me...

Though having Joel Grey play Korean will always be cringe.
And he was a big part of why Big Business ended up working as well as it did...
There were other roles, of course. The guy did great work for a long time. Rest In Peace, sir.

• Heartstopper! This actually is hope...
Kids are going to believe whatever they're taught to believe. But access to information is easier than ever, and sometimes the truth wins out.

• Fruit! When I was a kid, my mom used to pack little tins of Dole fruit in my lunch. Now, of course, they've switched to plastic like everything else. But here's the problem... there is no way... NO WAY AT ALL... to open these little containers without juice pouring out everywhere...
I have tried everything. Usually I go to the sink to open them, but when I'm trapped on a call and can't leave, I have to open it here. This is me trying to be my most careful when opening my pears... FUCKERS!!! Now I look like I had an accident in the bathroom or something.

• Moose! YESSSSSS! WHY IS THIS NOT AVAILABLE IN THE US?
Mayo Mousse. Genius.

I'm guessing eventually I'll figure out how to post this. Probably.
Posted on May 13th, 2022

As I've said every year of the six years I've lived in my home... irises are the stupidest flowers.
They grow up all gorgeous and lovely and tease you into thinking that they're worth having in your garden... then they end up heavier than the stem will support, flop over, get mowed into mulch by the yard care people, then die after a week...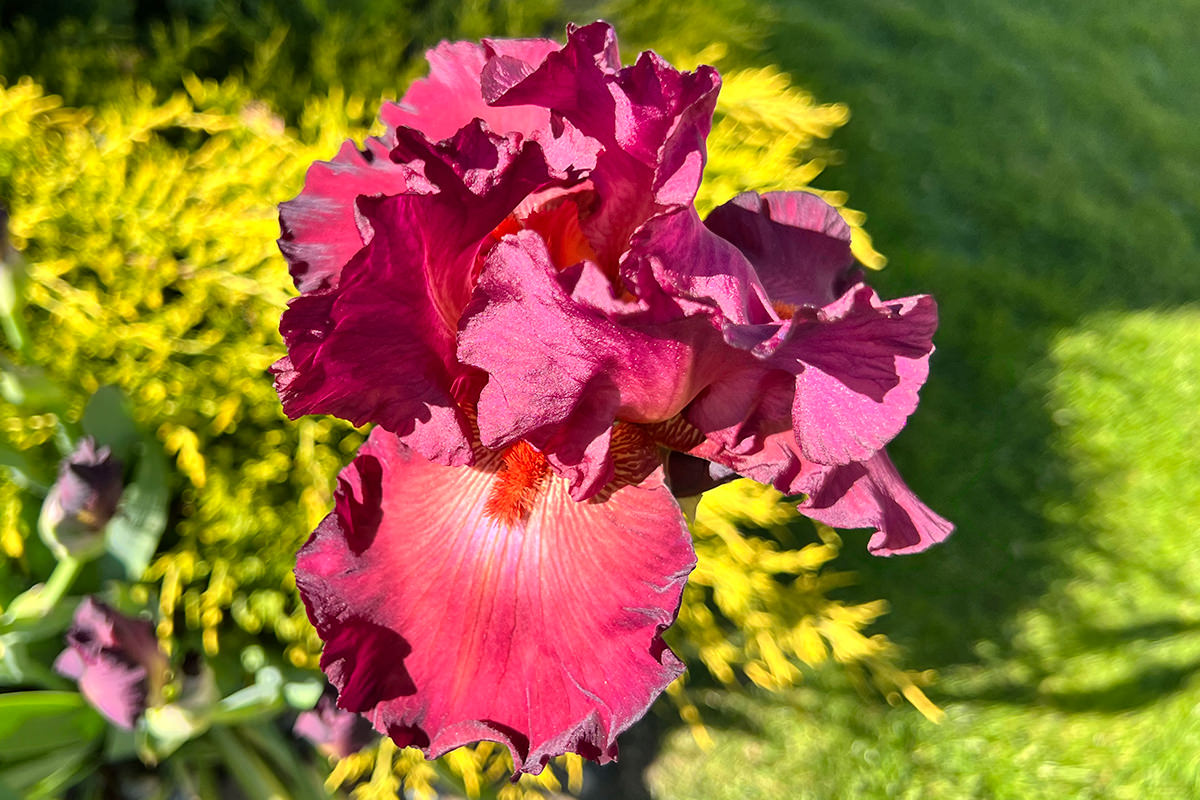 These are already flopping over...
These I tried to kill off two years in a row. They simply will not die and keep coming back...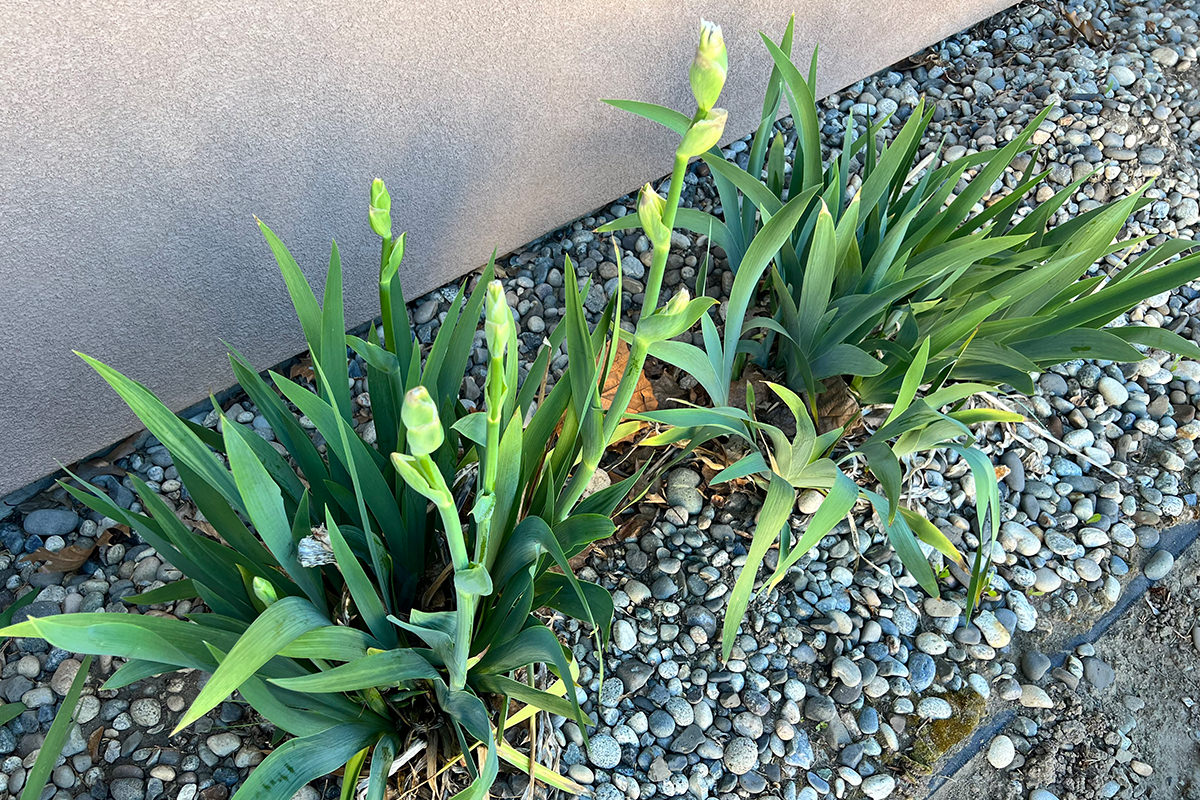 If you want plants that are immortal (but still so very stupid), irises might be the flower for you!