Posted on November 23rd, 2020

I'm experiencing a tea renaissance. Last night I had some amazing Winter Chai and I'm still thinking about it this morning. I stopped drinking tea for the longest time, but took it up again when I was served some amazing native tea in Laos back in 2013. After a couple years I started favoring sodas, but now I'm drifting back into tea-land again. Figured I might as well since the tea I ordered for my 2020 guests in January (that wouldn't end up coming thanks to the pandemic) will have to be replaced soon anyway... even though I froze it to keep it fresh like you're supposed to.

Winter Chai Blend from Tea Forté, whose pricey teas I love.
Oh well.
I have a free pizza to thank for my renewed interest in drinking tea.
Last week I went out for groceries and got yet another free pizza. Safeway/Albertsons is forever giving away free pizzas with purchase of something else. And since the "something else" is usually something I'm buying anyway, I always grab one. I don't like frozen pizza, but I'm not going to pass up on free food. This was my fourth free cheese pizza and I had to make room in the freezer by tossing out some old stuff I shouldn't have been saving in the first place... and drinking my tea stash. From there I moved on to cleaning out the refrigerator and found a full carton of eggs hidden behind the fresh carton I just bought. I don't even remember having bought them. I don't shy away from expired foods, but eggs that are a month past their "Best Before" date are probably a gamble I shouldn't be taking, so down the garbage disposal they went.
Last night I had one of those free cheese pizzas for dinner. It was the last thing I wanted to eat, but I didn't have room for my next freebie so I thought I should whittle down my pile. My attitude ended up being "Sure I don't want it, but does it even really matter?"
And it's at that point I realize I've been saying that to myself a LOT recently...
"Does it even really matter?"
When I made a sawdust pile on my garage floor last week and keep telling myself I should clean it up... but realized I'm the only one who will ever see it and left it there.
When I kept putting off giving myself a haircut because I always end up making a mess of my head... but realized nobody will see it to care, so I pulled out the clippers.
When I saw my appointment to get my Global Entry Card renewed... but realized I'm not going anywhere any time soon and rescheduled for next March.
When I started trying to eat a bit healthier this past month... but realized that I could get COVID any minute now because people are selfish assholes, so I bought a box of jelly donuts.
When I got a supplies list together so I can finally tile my kitchen backsplash... but realized I won't be having guests any time soon and stuck it in a drawer.
When I made a list of new clothes to buy on Black Friday... but realized that I'm not going anywhere any time soon to care about new clothes, then threw it in the trash.
When I pulled up my work To-Dos I made so I could take off on Wednesday for Thanksgiving... but realized that I don't get a Thanksgiving this year and ignored it.
When I look at my chores list that's getting way too long... but realized that the entire world is on hold, so why should this list be any different, and took a pass.
Because, seriously, does any of that really matter? No. Not really. Dishes left in the sink. Cleaning that needs to be done. Projects that are lingering. Things I need to stay on top of. It just doesn't matter. Life is just a self-isolating blur of tedium sameness, and I'm mired in it like quicksand.
About the only thing that matters are my cats. Where I'm happy to just let things go in my life, I refuse to let anything go in theirs. I still steam clean their feeding station. I still wash their food dishes and water fountain. I still clean their beds. I still collect their toys. I still play with them. I still drop everything when they want attention. I still do everything I can to make sure they're cared for.
Just like after my mom died, I probably owe it to Jake and Jenny that I find the willpower to keep going day after day. Mostly because they are about the only thing I've going for me right now. But partly because I don't want to keel over and die and have them eat me.
Though with all these exotic teas I've been drinking lately, I'll bet I'm delicious.
Posted on November 20th, 2020

Back in October I purchased new wiper blades and wiper fluid for my car, then made an appointment to get my snow tires put on. I also created a grocery list for all the things I would need to take to Thanksgiving dinner. After an entire year of not being able to see family and friends, I was more than a little excited that I would finally be making a trip over the mountains to see everybody.
Then the pandemic exploded. Again.
Thanks to people who are entirely too careless, COVID infections are on the rise, hospitals are filling up, and the recommendation is to avoid family gatherings until things calm down again. Especially if you have existing conditions which make contracting the virus potentially fatal. I've struggled with my breathing for the past decade, so I'm especially screwed if I get a serious case of The 'Rona. Especially if the hospitals are full up and there's no place for me to go if shit hits the fan. And since I'm absolutely certain that entirely too many people will totally be having unsafe Thanksgivings, I guess that's all she wrote for my Veggie Turkey Day celebration.
And then today was the appointment for my tire change.
I was going to cancel, but since I had to run into The Big City to drop off my old iPhone at Fed-Ex anyway, I decided to just keep it.
The experience was more depressing than I anticipated.
Getting tires changed so I can stay at home? So much fun.
My hope is that things calm down enough that I at least get to have a Christmas dinner with family. But if everything explodes yet again because of Thanksgiving idiocy, I suppose that's going to be a goner too.
Is it any wonder that I'm getting that COVID vaccination the minute it becomes available?
My cats are great and all but, so far as the holidays go, being stuck at home with them is not my ideal way to celebrate.
Posted on November 16th, 2020

Yesterday Washington State's governor released a new lockdown measure in the hopes that the latest wave of infections sweeping the country won't overwhelm our hospitals. As you can imagine, there's some serious outrage happening here. I have no idea what else they're supposed to do. Are we just supposed to ignore the pandemic until people are dying in the street because the health care infrastructure is maxed out? Daily death tolls keep climbing even though doctors and scientists have a better handle on things and people have a better chance of surviving now. What this means is that more people are being infected than ever before and COVID-19 is spreading faster than ever before. Something has to be done.
So, yeah. Let's just be extra cautious for a while until we have a vaccine in the new year. Hopefully serious illness rates can be slowed down enough that there's hospital beds for those who need them. This is not some evil master plan to control people, it's just a common sense approach to dealing with a population containing people who refuse to wear masks and refuse to be careful, thus fucking it all up for the rest of us.
Man. Can you imagine if we had just locked everything down for two solid weeks and rolled out massive testing back in March? Maybe then we'd be like New Zealand who listened to science and have all but eliminated COVID-19. Twice.
Oh well. It is what it is... our response was our response... and now we're paying the consequences. Again.
Story of my life, Year 2020.
Posted on November 10th, 2020

I am fortunate that my home is fairly energy efficient. It must have pretty good insulation to keep the heat out, because I barely have to run my air conditioning in the Summer. The Winter is a different story. It gets so cold where I live that the heat has to run often just to maintain a temperature of 72º F when I'm home. My smart thermostat drops to 70º F while I'm at work and 66º F when I'm sleeping. The cats don't seem to be much bothered, but they have heating pads to sleep on if things are too chilly for them. As for me? I wear wool socks and extra layers... and I have a heated throw for my couch and a heated blanket for my bed. It's not ideal, but it aves me a lot of money on my energy bill. And it works.
Except when it doesn't.
At around 2:30am I woke up with terrible leg cramps. And I was freezing.
Apparently the heated blanket on my bed has died.
The coldest I've ever been was not Antarctica. Not even close. The coldest I've ever been was at a Berlin train station in the middle of Winter. It was so cold that I couldn't feel my legs... and my fingers and toes (once I managed to heat them back up) were tingly for days. The second-coldest I've ever been was on top of Cadillac Mountain in Maine waiting for the sun to rise. That one was on me. I just had to get photos from the first place to see sunrise in the United States. Worth it though...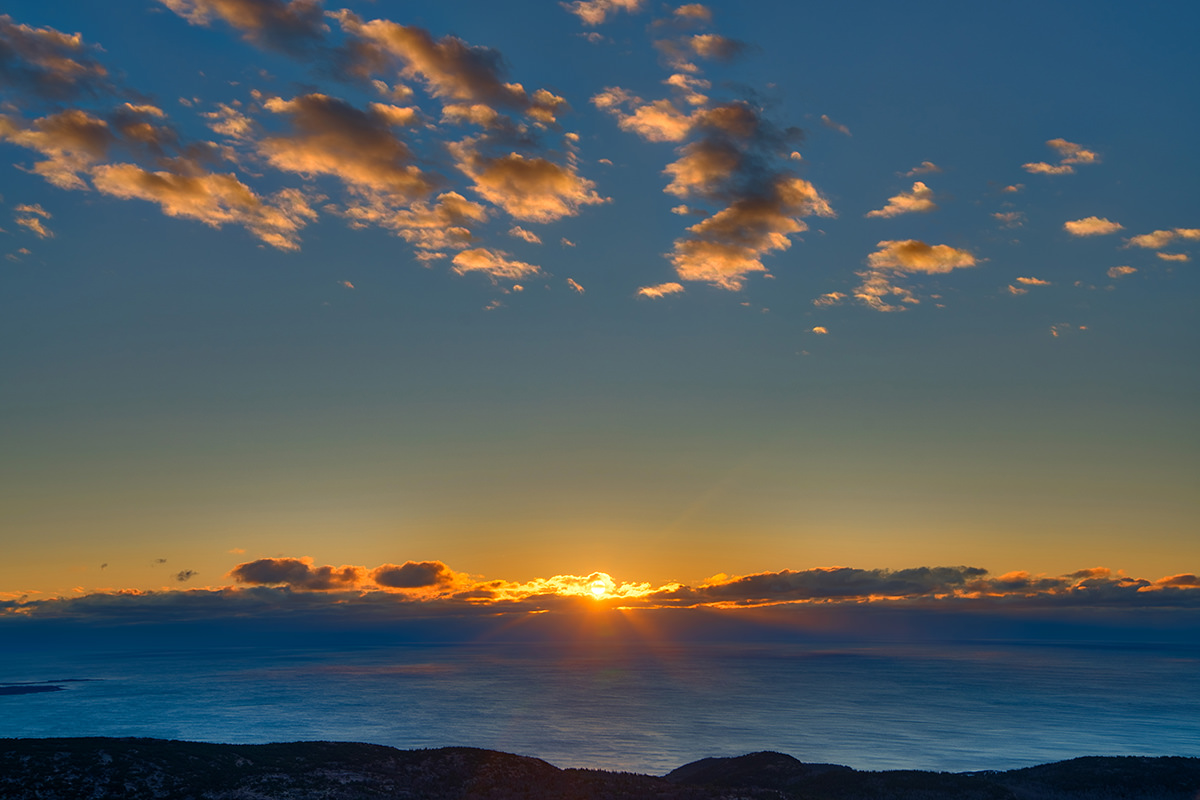 This morning was nothing that bad. But it sure felt like it. And so I guess I need to order a new hot blankey. This is a no-brainer purchase because the money saved on my power bill will pay for a new blanket in just one month. I toyed with the idea of trying to repair it, but I think an electric blanket is one of those rare cases where that isn't an option. It's just my luck I would screw something up in the electrical system and the blanket would burst into flames in the middle of the night.
Slightly worse than waking up cold, I think.
A shame it couldn't have failed closer to Black Friday though.
That's also just my luck.
Posted on November 6th, 2020

There's a feature in iOS 14 where you can have a "photo widget" on your home screen. It pulls photos from my phone that I see every time I wake it up. Most of the pictures displayed are of my cats because most of the photos on my phone are of my cats. But there are occasional photos of my travels... or my friends... or my mom and my family... or scenery I thought interesting enough to capture. Every once in a while it pops up with a photo I transferred from my "real" DSLR camera to my phone.
This morning when I woke up it was a penguin from my epedition to Antarctica...
I remember taking this shot with perfect clarity.
You are instructed not to approach within a certain distance of any wildlife... like six feet or something. But it's okay if wildlife approach you. It's not like if a penguin walks up that you have to turn tail and run away or anything like that. This happened to me a couple times. The first time was at Hydrurga Rocks where the above photo was taken. The penguin was bobbing along as penguins do when I dropped down to take a photo of him. He stopped, looked my way, then hopped over within a couple feet...
I would have offered him a fish if I had one on me, but I did not, so he gave me a once-over then wandered away...
And so I found myself thinking about this penguin for a good chunk of my morning. What's going on with him? Is he still around? Still healthy? Hasn't been eaten by a seal or something? How long does a penguin live anyway? What's the life of a chinstrap penguin?
Turns out the Chinstrap Penguin AKA Pygoscelis Antarcticus can live for up to 20 years.
So maybe he's still around. Swimming in ice-cold waters. Hunting for fish. Sunning himself on rocks. Doing whatever other penguin stuff that penguins do.
That would be nice.
I know thanks to climate change things are getting tough for arctic and antarctic wildlife, so it's nice to think that he's doing okay.
Or she's doing okay? Males and females look exactly the same and the only way I could ever tell was if they were next to each other since males are larger than females. Which is probably why they are the ones who end up fighting over pebbles to build nests? I should probably look into that one of these days. Maybe the next time a penguin pops up on my iPhone home screen.
Wouldn't want to misattribute penguin outrage.
In Washington State, so long as your ballot is postmarked by Election Day, it will still be counted even if it arrives at the polling station up to 20 days after Election Day. Obviously we are not a battleground state... WA is about as blue as blue can get thanks to the massive progressive voting block on the Seattle-side of the mountains... but, technically, our election is not over until November 23. So when I hear people in Washington going on a tirade because votes are still being counted in other states... it takes all my willpower to keep from telling them to take a seat. If we were a battleground state deciding the election and the vote was close, WE would be potentially delaying things for weeks. But it's all good. The Office of the President doesn't transfer until noon on January 20th.
Save your human outrage for something else.
Tags:
Antarctica
,
DaveLife
,
iOS
,
iPhone
,
News
,
Penguins
,
Photography
,
Politics
,
Travel
Categories:
DaveLife 2020
,
News – Politics 2020
,
Photography 2020
,
Travel 2020
—
Click To It:
Permalink
—
0 Comments: Click To Add Yours!
Posted on November 5th, 2020

I've been buying less and less meal boxes from Martha Stewart and Marley Spoon because... A) They are expensive, and... B) It's sometimes tough to find two new recipes I want to try on the same week. Most of the older recipes I like have been made numerous times on my own for less money, so it's only the new ones I really care about. This week finally had two that I wanted to try, so I coughed up the money to pay for them.
Tonight was Indonesian Vegetable Nasi Goreng with Crispy Shallots...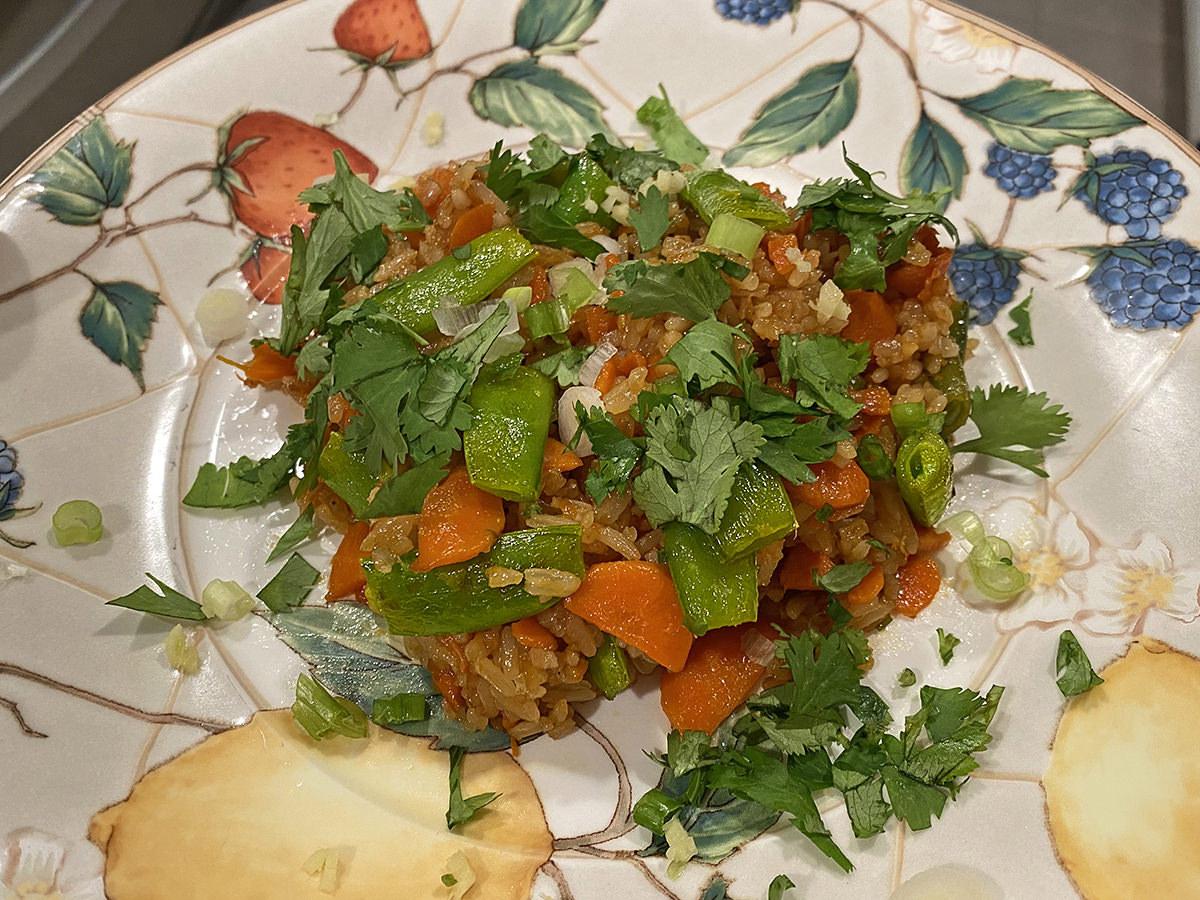 I was dubious about the taste because the sauce has ketchup, vinegar, teriyaki sauce, chili garlic sauce, salt, and... sugar? But it was actually very good.
Last night was Black Bean & Quinoa Taco Bowl with Crispy Tortilla Strips. And I guess I owe an apology to Martha Stewart. I ordered this one even though I don't care for quinoa very much. I do love me a good taco bowl though, and it sure looked great in the photo...
It was a lot more work than I expected, but hey... TACO BOWL FOR DINNER! Then I got to the part of the recipe where you slop marinated romaine and tomatoes OVER HOT QUINOA AND SPICED BLACK BEANS! And I was all... BLECH! The lettuce is going to wilt immediately and I'm going to end up with a gross, sludgey, toxic mess. Bad Martha! But NOPE! Martha is always right, and I should have known she wouldn't endorse a bad recipe. This was ONE PHENOMENAL SALAD! Absolutely loved it, even though mine didn't look as nice as the photo...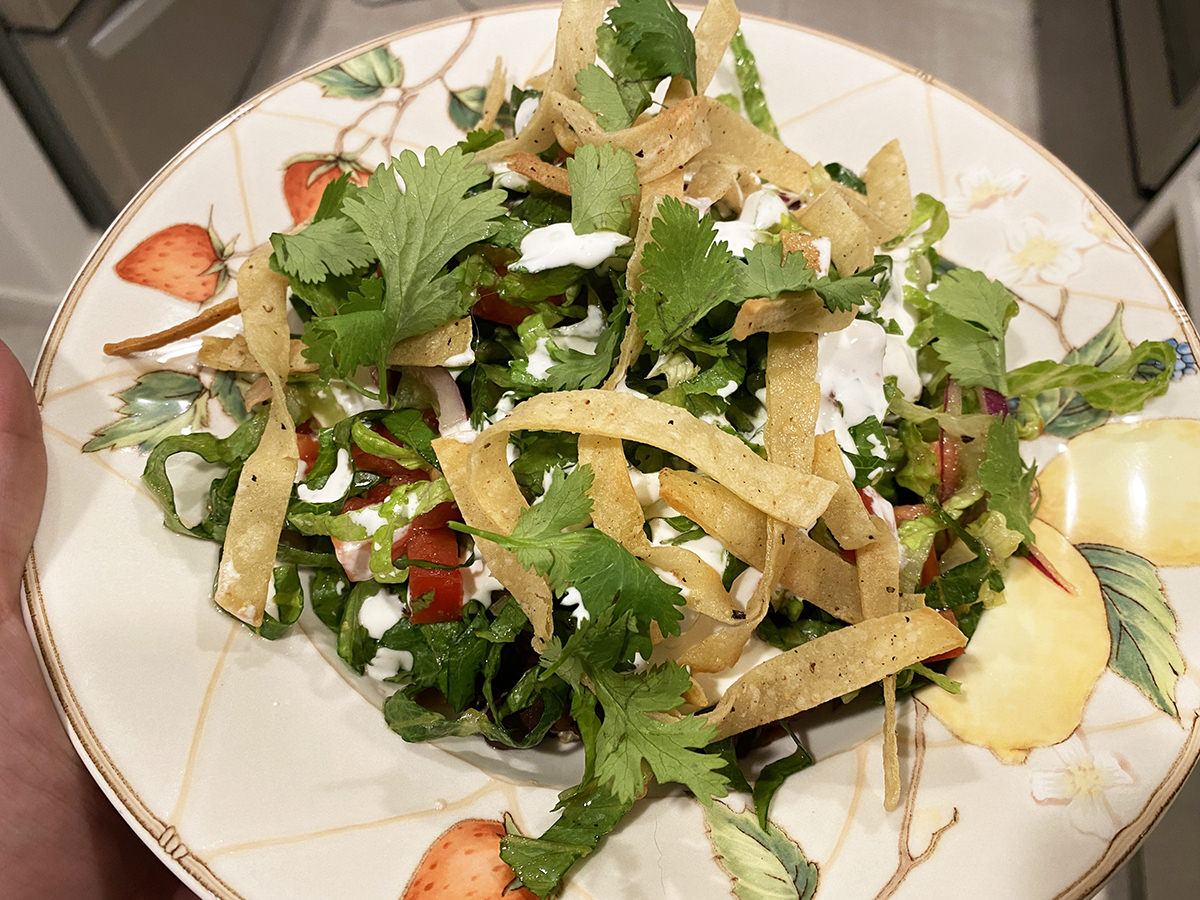 And while it wasn't as good for my leftovers lunch as it was fresh, it was still pretty good...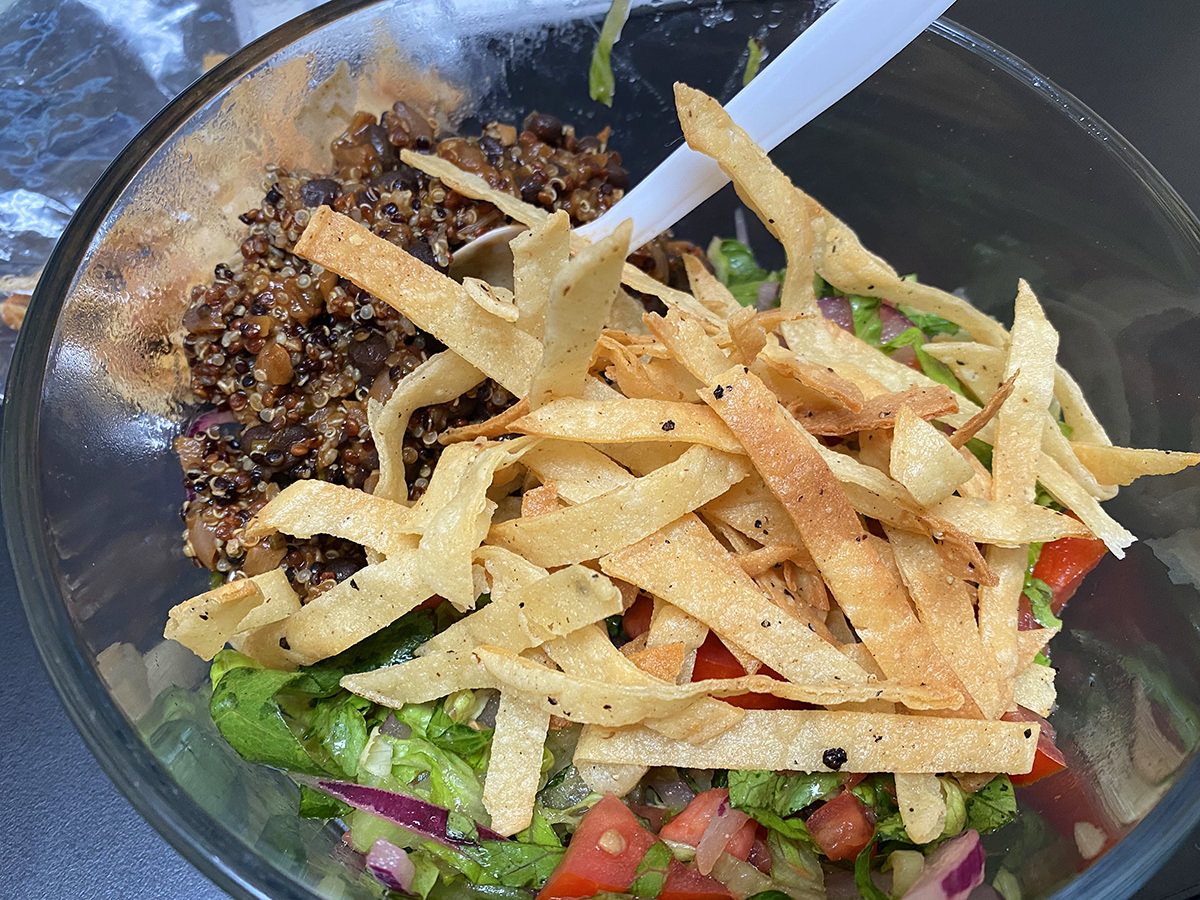 Boy, gotta hand it to Martha's meal service... she's opened me up to so many amazing recipes that I never would have found on my own! And now I have two more. Both of which might actually be good for me? Say it isn't so!
Now that's some food for thought.
Because thought has to be put somewhere now-a-days.
Posted on November 3rd, 2020

Well, maybe not so much "love" as "acknowledgement." An acknowledgement that they too are a living creature on this earth and deserve to be cherished as any living creature should be.
Which is why I don't kill spiders or flies or anything else if I can help it.
All Hallows' Eve was a depressing affair. I bought Halloween candy thinking that I would figure out a way to pass it out in case trick-or-treaters showed up. But, alas, I ultimately decided it would be better to close the blinds, turn out the lights, disconnect the doorbell, and drink. In the near-five-years that I've lived here I've never had the blinds down. I didn't even know if they worked...
I ripped down the blinds by the cat tree so the cats wouldn't get caught up, so I had to board it up. Jake was not happy...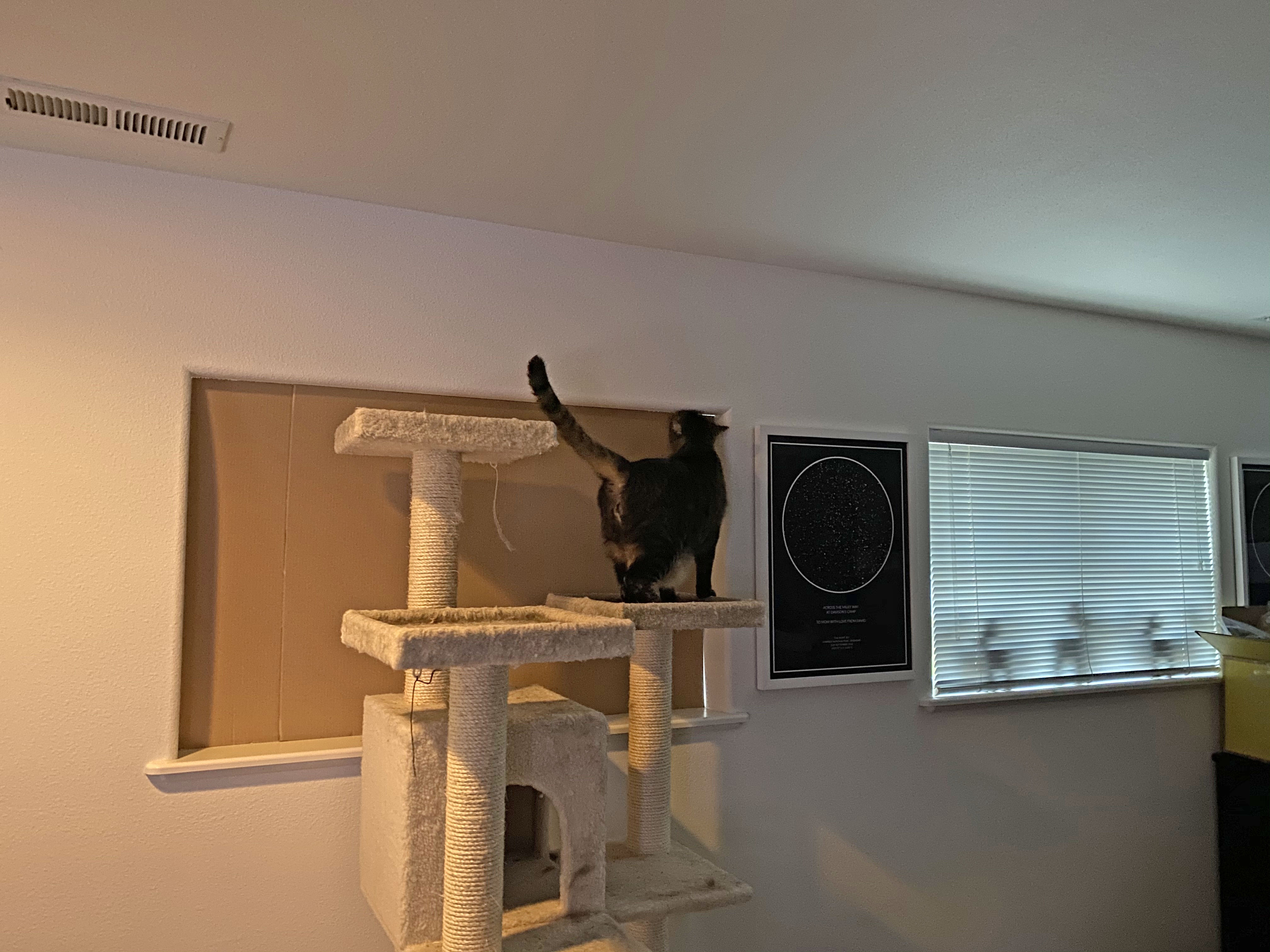 The drinking had more to do with ending Daylight Saving Time than being depressed at how shitty my Halloween had become, but you probably knew that already.
When I woke up Sunday morning the first thing I saw was a tiny fuzzy spider on my bedside table lamp. I took my chocolate graham crackers out of their Ziploc and used the bag to trap the little guy. And I do mean little, as you can see by the grain of sugar on his back...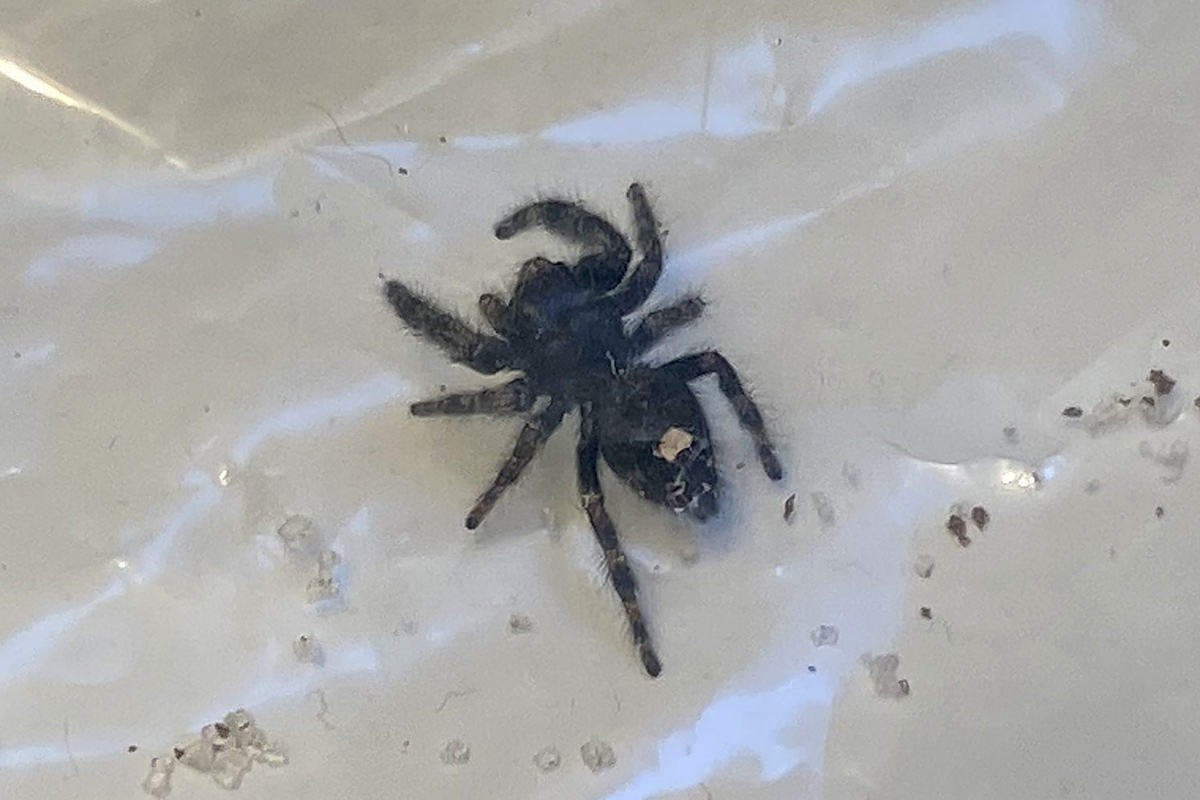 It's a nice warm Fall day so I set him out in the sunshine, make sure he could walk okay, then took his picture...
It wasn't until I got back inside my home and looked down to admire my clean floors that I noticed I was in my underwear. I didn't think that I saw anybody out there with me... but didn't know for sure. Can they call the police for indecent exposure if you're outside in your drawers? Probably...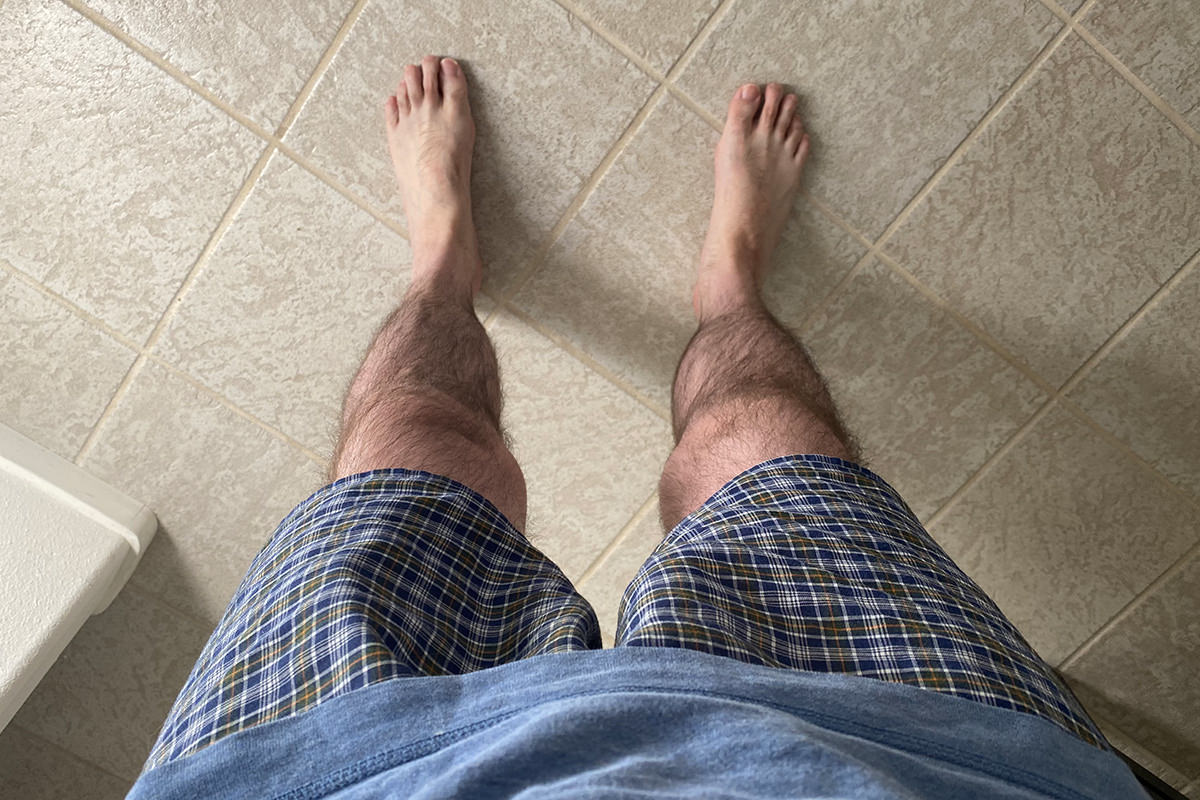 And now I guess it's time for me to willfully ignore Election Night coverage. I've voted and that's all I can do. Whatever happens happens and I'll find out about it tomorrow... or next week... or next month. In the meanwhile it's once again absurd how all these sites are forecasting a runaway election for Biden. I know better. We've been through it all before.
Posted on November 2nd, 2020

Friday night when I got home I decided to make the Linguini Walnut cream Sauce that I had been craving all week. I never made it because I was too tired after work to even think about cooking or cleaning up the mess. Friday was no different, but I decided to do it anyway because I was tired of frozen burritos and peanut butter sandwiches.
I've made the recipe so many times that I just do it all from memory. Chop the shallots, add garlic and butter to soften, add crushed walnuts 'til toasted, cook pasta, add pasta, parmesan, mascarpone, sour cream, pasta water, salt, and pepper. Serve with parsley and parmesan. As usual I made extra so I had leftovers for a couple meals.
After cooking I threw together a salad and decided to post my amazing dinner to Facebook so everybody could be jealous that I was eating home-cooked fabulousness on a Friday night...
...and was mortified that I couldn't find a clean spot on my kitchen floor to photograph against. I had spilled stuff, dribbled stuff, and even had a leaky tub of ice cream which made messes that I wiped up but never truly cleaned. Eventually I gave up and zoomed in close so my dirty floor wouldn't show...
The following morning I took a hard look at my floors and couldn't believe how bad things had gotten. I'm meticulous about keeping my countertops spotless but, without guests to impress thanks to quarantine, I had been neglecting my floors. I hadn't steam-cleaned them in months, so I guess it was time. Once I was done I removed the cleaning pad and... holy shit...
THAT'S JUST FROM MY SMALL KITCHEN ALONE! Remember when I first got my steam-mop how mortified I was seeing the pad AFTER CLEANING MY ENTIRE HOME? This is what grossed me out after steaming a kitchen, living/dining room, two bathrooms, a laundry room, two hallways, and three bedrooms...
I've always been obsessive about keeping a clean house... especially my kitchen. It's highly disturbing that I've used the pandemic and subsequent lack of houseguests as an excuse to just "let things go," and this is where it's gotten me.
But I'm going to try and not beat myself up over it.
Like everybody else, the mental toll of being isolated while the world goes to hell has changed my perspective when it comes to things I allow myself to beat myself up over.
Eh. You know what I mean.
Posted on October 29th, 2020

Today was "Flu Shot Day" at work. I got it for years, then stopped because I so rarely get sick, then started again when my doctor said "Tens of thousands of people die each year from the flu, but you do you." Physically, the shots never bother me. I used to get three allergy shots a year for decades. It's the psychological game that does me in. It's like I can FEEL those tiny amounts of weakened flu strain viruses whooshing into my arm... along with my body going "Oh shit!" and creating antibodies to battle it out. I can't really, of course, but that's my imagination for you. Creating a horror narrative where none exist.
And speaking of a horror narrative...
As I think I've mentioned a few times, I have "themed" months for the movies I watch. October, of course, is devoted to horror films. It's not my preferred genre, to be sure, but there are gems to be had. Last night I finally got around to watching Doctor Sleep. And since HBO had the extended "Director's Cut" available, that's the one I went with...
I liked it. I liked it a lot.
It's light on genuine frights, but has some truly disturbing moments. One of the moments is so disturbing that I question how they even managed to film it. Acting is acting, but some things are just too "out-there" even when you're pretending.
Doctor Sleep is Stephen King's follow-up to The Shining. The sequel book was excellent, and very much worthy of the original novel. Even as a King fan, I find some of his books miss the mark for me, but this was definitely not one of them. It continues the story of Danny Torrance, now all grown up, after what he went through at the Overlook Hotel. Some of the beats are predictable (Danny is using drugs and alcohol to dull his "gifts") but there are still some good surprises to be had. Along the way he is contacted by Abra, a young girl with shining powers that eclipse his own. There's also a spooky group of villains in "The True Knot" who hunt people with the shining so they can torture them, kill them, and extract their power as life-extending "steam."
King infamously hated the Stanley Kubrick film adaptation of The Shining. I was disappointed in the changed that were made, but found Jack Nicholson's performance more than made up for it. This was one of those rare instances where I liked both the book and the movie... but for different reasons.
The Doctor Sleep film is kinda strange in that it's not a direct sequel to the movie, though it definitely takes its cues from there. It's also not a true adaptation of the book. It pays homage to both and I think is better because of it. Suffice to say that fans of both will find things to love and to not love so much.
The best part of the film is the casting. Ewan McGregor as Danny is flawless. He has an amazing knack for being able to draw on the haunted narrative that his character demands, and I don't know that many other actors could have done as good a job of it. They also struck gold with Kyliegh Curran as Abra, a critical role that would have ruined the movie if they cast somebody up to the task. But the real standout to me was Rebecca Ferguson as Rose The Hat. She completely nailed the role. You walk away from the film hating her. In a good way...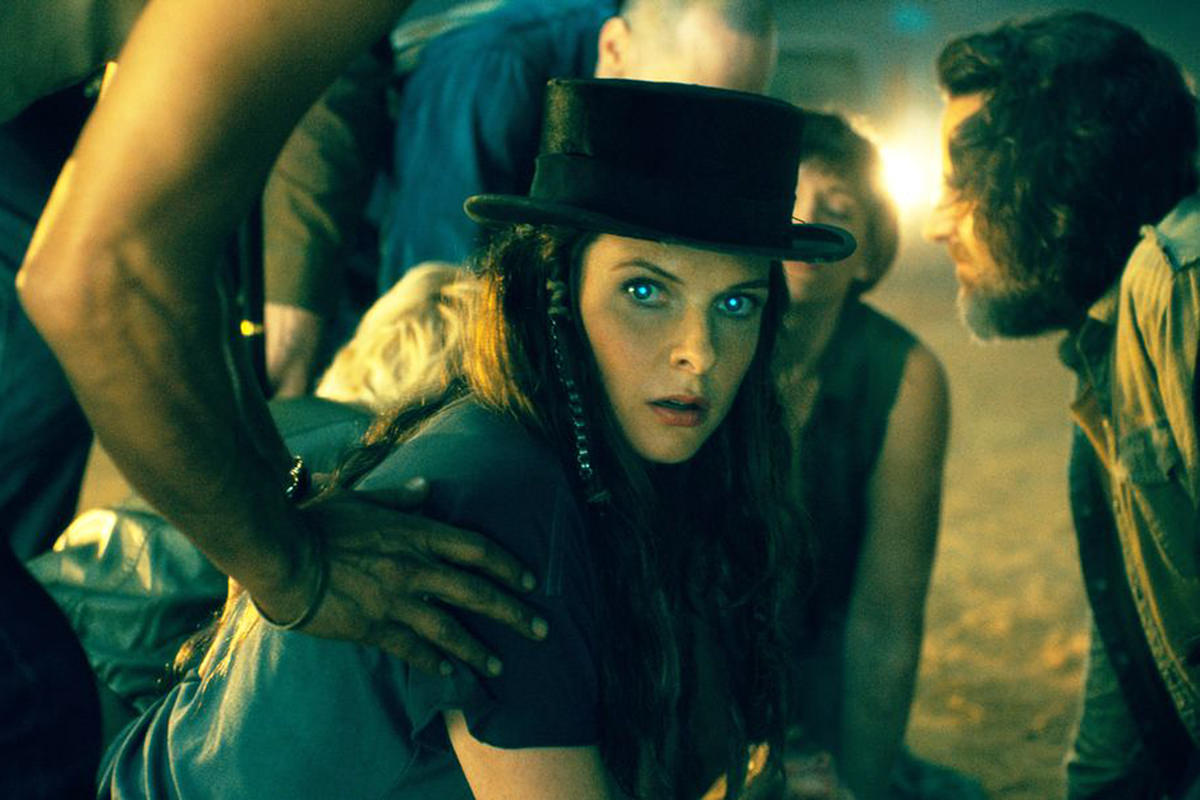 There wasn't a minute she was on screen where I wasn't wanting her dead.
I think the movie is approachable even if you didn't read/see The Shining. Though, of course, you'll get a little more out of it if you've seen the Kubrick film). If you're looking something to watch to get in the Halloween spirit, this is worth a look (and see the Director's Cut, if you can find it... HBO Max has it as an "extra").
And now, if you'll excuse me, the battle for flu virus supremacy continues in my bloodstream. I was told this year that they are giving out higher doses, so I guess we'll see. It's 2020, after all.
Posted on October 28th, 2020

It was a day where so many things went wrong. Which is no surprise, because this has been the year where so many things went wrong.
12:30am — I have been trying to get more sleep, so I went to bed at half-past midnight. I fell asleep around 1:00am, which is very good for somebody who usually goes to bed around 3:30am. Any sleep I was going to get was short-lived, however.
1:10am — Remember how I paid extra for a kitchen faucet with the sensor under the neck where my cats couldn't turn it on?
My cats rarely jump up on my kitchen counters, but apparently Jake not only did that... but he accidentally found out the hard way how to turn the faucet on. It would automatically turn off after four minutes, but I didn't know what was going on, so I ran downstairs to see if anybody was hurt.
3:30am — I finally fell back asleep at 3:30am which, ironically, is my usual bedtime.
6:30am — I was awakened three hours later when the alarm went off to feed my cats breakfast (I'm easing them into the end of Daylight Saving Time).
7:00am — After taking a quick shower I plugged my shiny new 14 Terabyte backup drive into my NAS. Just try telling my 1986 self that a 14 TB drive would fit in my hand, be available to the public, and cost under $200. Incredible...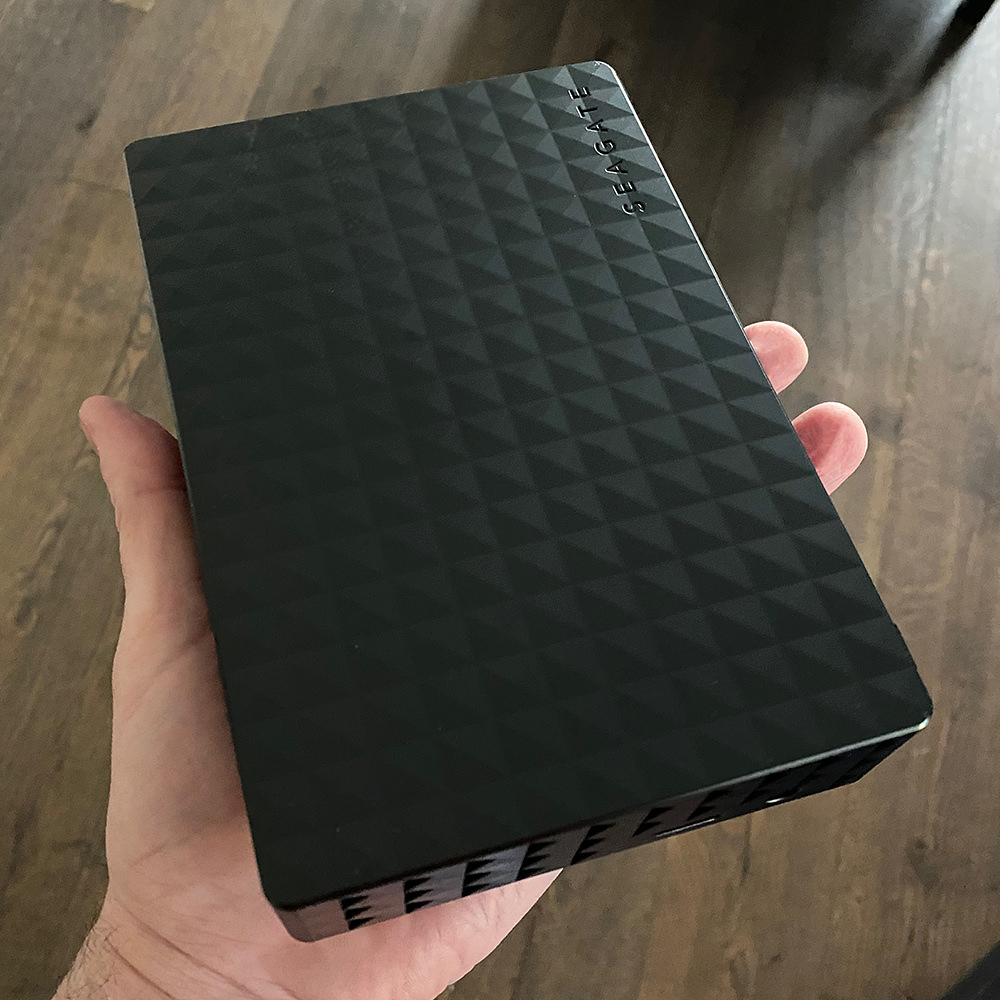 9:00am — After getting everything set up, starting my backup, and working for a bit while making sure everything was backing up, I headed off to work. The first thing I did was call up my NAS back home so I could grab the files I was working on... ONLY TO FIND OUT THAT EVERYTHING WAS DISPLAYED IN ITALIAN! And I could not find a way to change it back to English! My filenames were still as I made them, but all the commands and such are Italian now for some reason. I studied conversational Italian when I ended up going to Italy so often... but that's not at all helpful to me when trying to read technical stuff. I ended up using my memory, best guesses, and Google Translate to get my work done.
10:30am — I learned of another friend-of-a-friend who took their own life after being furloughed from their job due to the pandemic. That makes two. I did not know either of these people, but they were important to people I care about, so that makes them important to me. I honestly don't know what the final straw was which led to something so tragic. If I had to guess, it would be the end of the month being right around the corner and having no money to pay the bills. After not being able to find a job despite months of looking, their only hope was a stimulus check, but Mitch McConnell shut down Congress after shoving an inexperienced bigot into that vacant Supreme Court seat. So here we are.
11:40am — The sun started coming out, so I decided to take the rest of the day off to install some de-icing heat cables on my roof. With temperatures falling day-after-day and rain in the forecast, this might be my last chance to run cables in relative comfort...
12:35pm — Well, I didn't fall off the roof, so there's that. But, alas, the cable ended up being too short to reach the outlet, so I had to run into The Big City to get an all-weather extension cord. On my way out of town, I was reminded of the horrible news I had gotten just two hours earlier. BECAUSE HA HA HA HA! SUICIDE IS HILARIOUS!
12:45pm — And... I get pulled over by the State Patrol. I was not speeding, so I had no idea what the fuck I did to deserve that. Turns out my tabs were expired. Fortunately I had my receipt showing that I bought them online back in August... I just never got them in the mail. Weirdly enough, the officer told me that they were showing in the system as "unpaid." He said he wouldn't give me a ticket if I promised to look into it with the DOL. Nice guy. Even though he was unmasked the whole time.
1:25pm — I stopped at Petco so I could refill all my kitty litter buckets to get my cats through the winter. Alas, they only had enough to fill two of my four buckets... so I ended up having to buy two new ones. There's $6 I'll never get back.
1:40pm — I pick up the extension cable I needed. Whee.
1:55pm — Since I was in the neighborhood, I decided to stop by Burger King for an Impossible Whopper. There wasn't a special going on, so I had to pay full price. Full price! Thanks, 2020! I got my order to-go, but still had to wait for it in a restaurant with a couple of unmasked pieces of shit who were served even though a sign on the door said they had to be masked... and letting them know that if they didn't want to wear a mask they could use the drive-thru.
2:30pm — Before pulling back into town, I make a detour to a licensing office to pick up my tabs. Since they too have no record of the payment going through despite my receipt, I end up having to pay the $68.00 + $2.25 credit card fee. This is turning out to be an expensive day.
2:45pm — I sit down for a minute. My plan was to figure out why my NAS is speaking Italian, but instead this happens...
3:00pm — After wrapping and taping the extension cord connection to keep water out, I zip=tied everything to the gutter struts to keep it out of the trough. Then I plugged the gutter cable and the roof cable into a "smart" outlet switch so my house can turn them on when it snows and the temperature is below freezing. Looks like I'm good to go for winter.
4:00pm — Before it gets dark, I install cameras in the cat shelters I set up last week, then change batteries on the WiFi temperature sensors. This way I can keep track of Fake Jake to make sure he's doing okay as the temperatures drop below freezing. Then I cut back my hydrangeas, loaded the dishwasher, and figured out how to get my NAS speaking English again.
5:15pm — I am tired. My back hurts. My feet are cold. So I grab a sandwich for dinner and put my feet up on my heating pad. I have it to myself for all of ten minutes. Despite having his own heating pad, Jake takes over mine every time...
9:15pm — Fake Jake calls it a night and is all comfy in his shelter. Tomorrow I'll shorten the berms so he'll be a little more sheltered from any wind...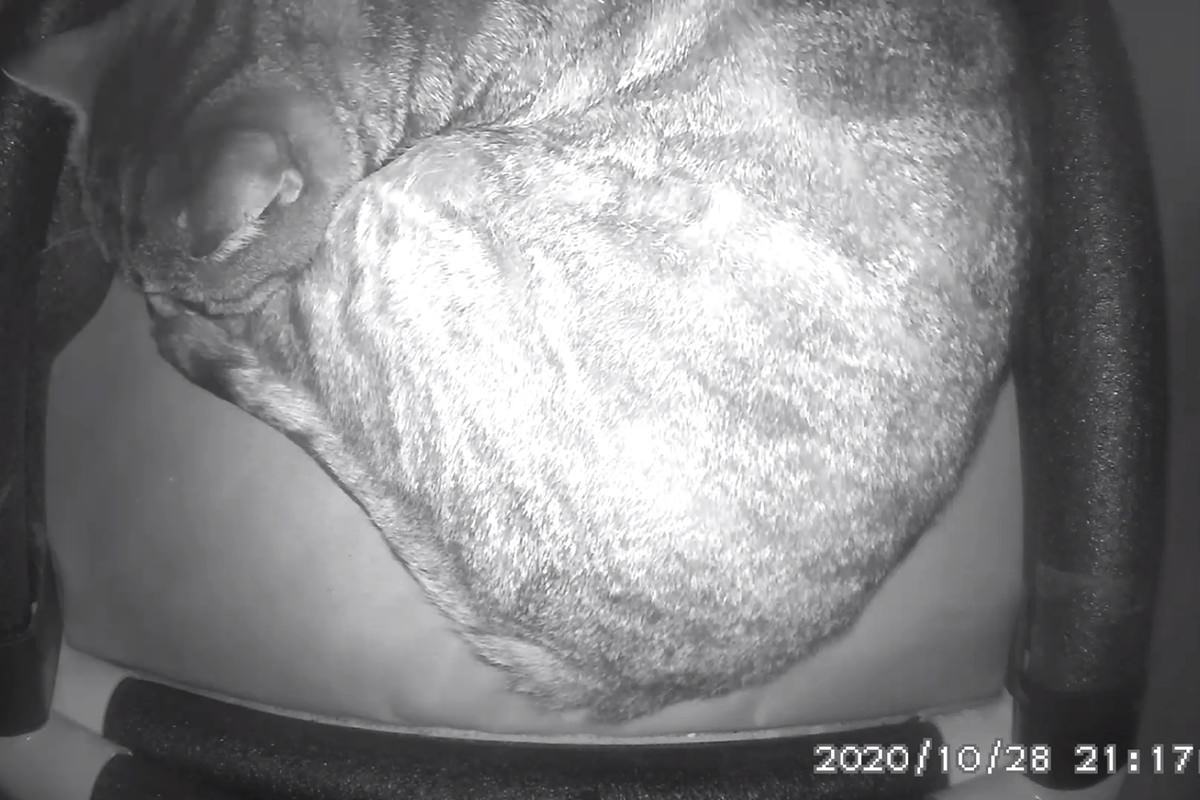 9:30pm — Bloggity blog blog blog. Let's hope I can get to bed before 3:30am tonight.