Posted on April 21st, 2017

There was a meme going around Facebook a while back where people listed their favorite "stuff"... excluding essentials like food, shelter, eyeglasses, and such... as well as living beings like friends, family, and pets.
The first time I saw the meme, it was supposed to be "stuff" from when you were a kid. This would be an easy list to make, featuring things like comic books, video games, a bicycle, and the like. Then the meme came around again but this time it was for "stuff" as an adult, which seemed little more complex.
But not really. Here are my top ten...
Passport. Traveling the world has been the gift that keeps giving. Of all the "stuff" I have, this is probably the one thing that means the most to me.
iPhone. While being in constant contact with the world is both a blessing and a curse, my life has gotten so much easier... so much better... because of my iPhone. The thing I love most about it is the freedom. So many things, both for work and for my personal life, are possible most everywhere I go. Whether it's being able to login to an FTP server and transfer a file... or being able to call up a map when I'm lost... I can do almost anything when I have an iPhone and a mobile data connection. I try not to take it for granted, but it's so integrated into my life that I inevitably do so. And then there's the camera. So many moments would have never been captured without the awesome (and super-handy) camera in my phone.
MacBook Pro. Even though mine has been giving me fits lately, having a laptop powerful enough to unchain me from a desk is something I'm grateful for almost every day.
Garage. In the winter I love having a garage so I don't have to clean snow off my car every morning. It's also nice to have a place to store stuff. And come summer I can convert the space to a wood shop. I've never had a garage before buying a home, and having to go back to life without one would be tough.
Catio. It was important to me if I got cats that they would be indoor cats because it's so much safer for them given where I live. But because I am gone to work all day and travel a lot, I worried an exclusively indoor life wouldn't offer much stimulation for them... regardless of how many toys I bought. A catio is the ultimate compromise. The cats can be outside, but still stay safe. And they are endlessly entertained by everything going on out there, so they hang out in the catio all day long. Probably one of the best investments I've ever made.
Television. I am a big fan of television shows and watching movies at home. Having a nice big TV makes it more of an event.
Refrigerator with Crushed Ice Maker and Filtered Water Dispenser. I love love love crushed ice in my drinks. Not just in summer... all yer long. But short of putting ice in a bag and bashing it with a hammer... or trying to get it to crush in a blender... or buying a bag of the stuff only to have no freezer space to store it or having the ice all stick together in a giant blob if you do... it's just too much of a pain in the ass. Which is why when I got my new place, the first appliance on my list to buy was a refrigerator/freezer with a crushed ice dispenser. The filtered water dispenser is equally nice. I drink more water now than I ever have. So healthy!
Guest Room. It doesn't get used very often, but boy am I grateful to have a very nice guest room when I need one. Especially for elderly family and friends who would be more comfortable in their own room than crashing on a couch like I would. And now I'm putting a wall-bed in

my office

the cat's play room because there's been a couple times that having a second room for guests would have been handy. I hope whomever ends up in that room doesn't mind sharing (though the cats almost always choose to sleep with me).
Power Tools. I love my drill. I love my miter saw. I love my pneumatic nailer. I love my new router. I even love my favorite jigsaw. I may have only started woodworking last year, but it's quickly become my favorite activity. And having a bunch of awesome tools lets my imagination run wild when working on projects.
Photos. Photos of all my trips. Photos of my friends and family. All those memories that photos bring back.

Life is easier when you're not attached to physical stuff.
But everything on that list is stuff I'm glad to have in my life.
Posted on April 20th, 2017

The reason I want to be obscenely wealthy is not to buy a bunch of expensive crap.
If a billion dollars were to suddenly drop in my lap, I don't know that I would get a new house. Or even a new car. Living in a palace and driving a Ferrari just don't interest me. Neither does accumulating a lot of expensive crap. So long as I can afford a laptop, a nice camera, and an iPhone... I'm pretty much done.
No, the reason I want to be obscenely wealthy is so I don't have to work and can spend the rest of my life traveling the world.
Not that I haven't found a way to travel the world now... but there are experiences that require time and money I will never have that haunt my travel dreams.
Take, for example, Tristan da Cunha
Located in the middle of nowhere in the South Atlantic, this small island is one of the most remote places on earth...
It's so remote that the only way to get there is by ship. Which takes six days.
Luckily, ships are making runs to Tristan da Cunha somewhat monthly out of Cape Town (though the dates of departure/return are not set in stone and can move depending on numerous factors). The return passenger fare is under $700 USD, which is a pretty decent price, all things considered. I would not count on luxury digs, however, as the two ships currently making the run are a fishing ship and a cargo ship.
And there's more!
Space on the two ships is limited. And non-resident tourist passengers have the lowest possible priority. If somebody is sick and needs to get off the island for medical reasons? You get bumped. If somebody on official island business needs to leave at the last minute? You get bumped. If somebody on the island decides they want to holiday in Cape Town? You get bumped. What this means is that you can schedule a trip to arrive at Tristan da Cunha on May 22nd then return to Cape Town on May 28th... and end up leaving on June 2nd and returning August 23rd (or longer!).
So to visit, not only do you need to have the time and money to sit around Cape Town waiting for a ship... you also have to have the time and money to sit around Tristan da Cunha waiting for a ship.
OR... you can try to book a cruise ship.
Apparently there are cruises that sail the South Atlantic from time to time. They run between Ushuaia (South America) and Cape Town (Africa). They last two weeks and cost over ten thousand dollars... so, again... time and money required.
OR... if you're a billionaire?
I'd imagine you could go wherever the hell you want. Charter an entire ship to get to/from Tristan da Cunha if you want to. The world is your oyster.
And that's the reason I want to be obscenely wealthy.
Posted on April 17th, 2017

Back in the early days of personal computing, the World Wide Web didn't exist. Even after it was invented it took a while before it was in wide use, and even longer before it had the ungodly amount of stuff available as we know it today.
So when you were a computer hobbyist in the 1980's like I was, most of your information about what was new and cool in the world of computers came from hanging out at your local computer shop or, more likely... magazines.
As a computer fanatic, I subscribed to a lot of magazines. I started out as an "Atari" guy, which meant my primary source for news, information, education, and such came from ANALOG and Antic magazines. After a while STart and ST-LOG were added. I also subscribed to more "generic" magazines like COMPUTE!, Creative Computing, and Computer Shopper.
These magazines were also the way that companies advertised their products.
Most of the time there was more information available than what could effectively be presented in an ad, so there was a note at the bottom which said something like "For more information, circle 117 on reader service card."...
You'd then hunt down a postcard in the middle of the magazine with numbers all over it so you could circle all the products you were interested in and fill up your mailbox with even more computer-related crap...
There were days that my family's mailbox was so packed with magazines and literature I had requested that I had to take a box to carry it all. I'd then spend the rest of my day looking through info on all the crap my heart desired... that I could never afford.
Now, of course, most of my computer news comes from computer news websites and product information on anything I could possibly be interested in is just a click away.
Convenient, sure... but not nearly as much fun.
Keeping this in mind, let's revisit that ad scan I posted above...
It's a company advertising a custom printer-driver so that you can access printer features from within Atari Writer (an Atari word processor). If you read the fine print, you'll note that you can't call in an order using a credit card. You have to send a check or money order to them, then they'll send the driver to you. You'll also note that there is no web address where you could go online to purchase and download the driver immediately. The World Wide Web didn't exist to make that possible.
Heck, email didn't even exist back then, so there was no way you could get the driver sent to you directly either. Not that early email systems made it easy to send attachments.
And yet... if you were into computers back in the 1980's, none of this was horrible. Back then, personal computing technology was a daily dose of actual magic, and getting stuff you ordered via the post office was an event on-par with Christmas morning.
Something I'm trying to remind myself now that my MacBook's GPU hardware is trashed, and it will have to be sent in... again... for repairs.
Welcome to 1982.
Which would be awful except my phone has a computer in it. That's today's equivalent of actual magic, and something I take for granted every time I look at it.
Which is pretty sad considering the phone I used as a kid was wired to the wall and came with a rotary dial you had to use to make a call.
Posted on April 5th, 2017

Last year was tough. This year looks to be more of the same, but for different reasons.
And more of the same reasons. Of course.
A wise person would probably put some effort into diffusing that which was assaulting them, but I'm too damn tired. Far easier to just try not thinking about it and go on with life...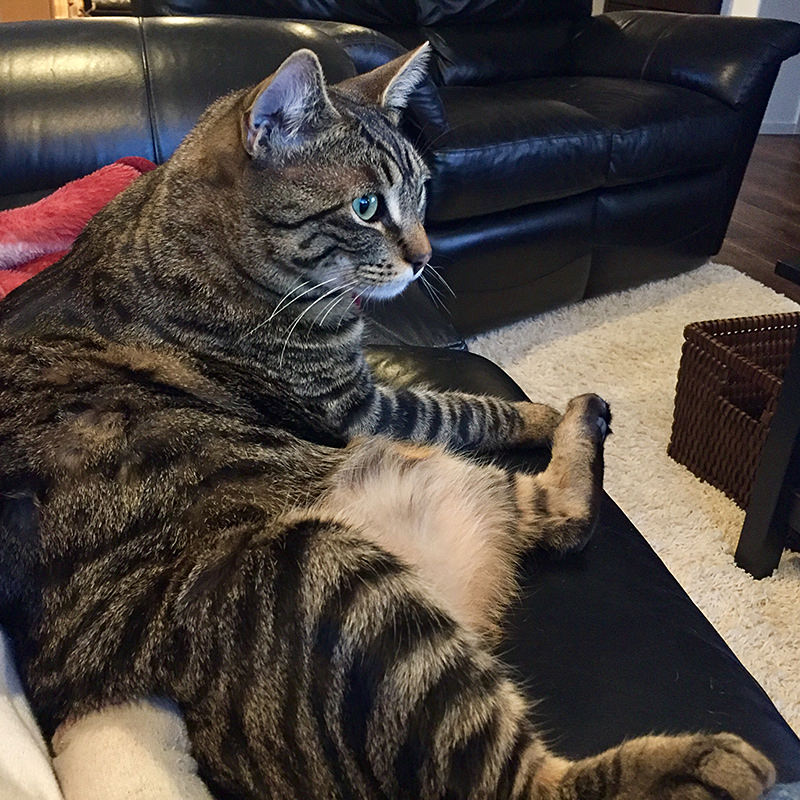 So here's to life.
Such as it is.
Posted on March 27th, 2017

Call me paranoid, but home security is something that I take very seriously. In addition to having electronic door locks, motion sensors, breakage sensors, trip sensors, and three sets of security cameras, I've got a very cool system that ties it all together with a redundant processor and independent power supply.
One set of cameras has battery backup and records to a secure local location. That way, if the power gets cut or the internet is down, I still have recordings of everything that goes on. The other two sets of cameras record to separate locations in "The Cloud" and are far more fun. The NestCams are my favorite, having really good optics and the best-of-class online storage. I pay for the 10-day option... which is more than I need, but the least you can get... which does have the side-benefit of browsing backwards in time.
This morning as I left for work I noticed that the snow had completely melted from my yard, and made a GIF from snapshots of the past ten days...
Pretty amazing given that this shot of my yard was taken on February 8th where the snow was over 6-feet tall and piled out into the street...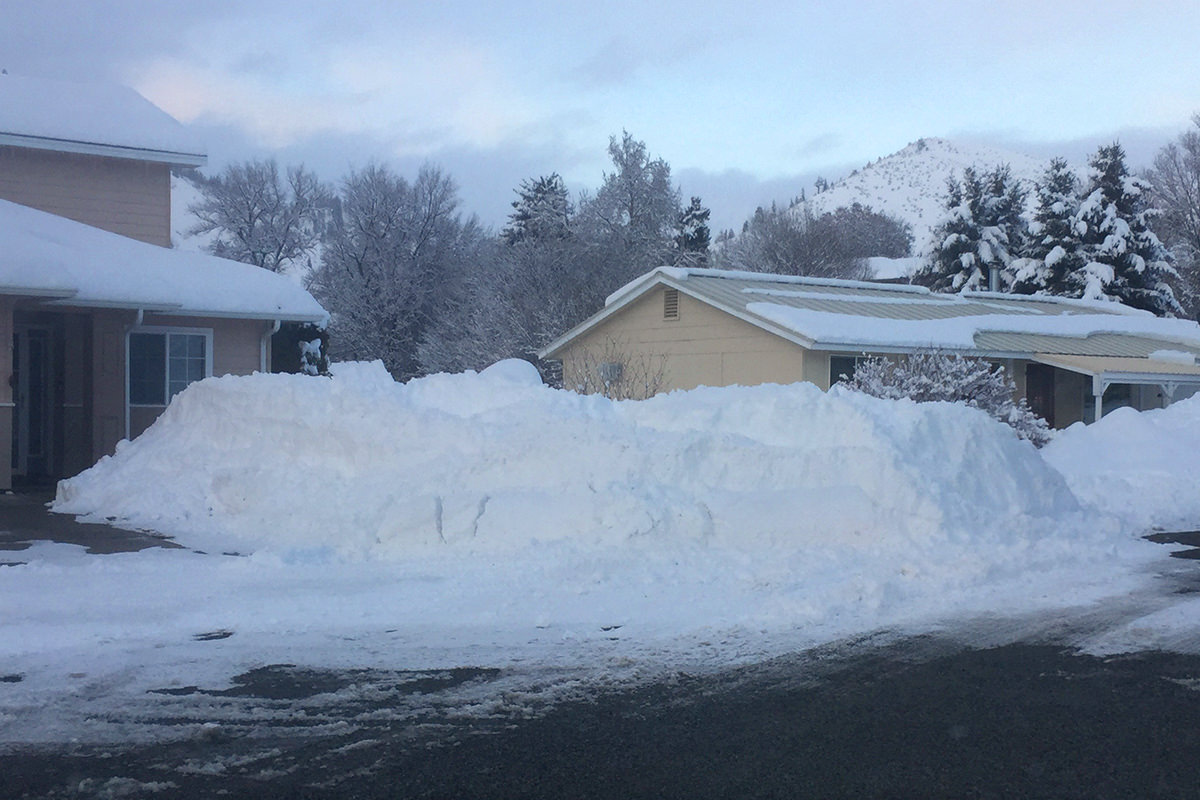 Now that the snow has gone, I'm excited to turn my garage into a wood shop once again. In addition to building Catio Phase Two, making my own cat furniture to replace the carpeted monstrosities I have now, and building new kitchen cabinet doors... I also want to rebuild my closet to make use of every bit of available space. I can't believe how inefficient stock closets are. It's like they are built to intentionally waste space and be as inconvenient as possible.
I'm finding a lot of ideas online, but what I really need is a "Pimp My Closet" show on HGTV. Closets are some serious business, yo.
Posted on March 24th, 2017

You say it's your birthday?
It's my birthday too!
Ordinarily I'd be celebrating another having survived another year above ground, but things have been going sideways since I got back from Vegas, so now I'm starting to wonder if I'd be better off six feet under.
Oh well.
I'll be there soon enough.
In the meanwhile? Vanilla bean ice cream.
Posted on March 11th, 2017

Adopting Jake and Jenny have me contemplating a lot of "What If?" scenarios.
The biggest "What If?" being... What if I hadn't adopted them? What would have happened? I came very close to not getting them because I didn't understand the rules at the Humane Society. If it wasn't me, I'm sure somebody would have adopted the kittens... they were tiny and adorable after all. But they likely would not have been adopted together, and I have a mild panic attack at the thought of Jenny having been separated from her brother at the beginning. Now she would do fine. But, as a kitten, she took a lot longer to come around. The only thing that helped keep her from being terrified for months was that she had her brother to lean on.
Another "What If?" that plagues me is... What if I had gotten to adopt Jake and Jenny's brother? I certainly wanted to once I learned there were three siblings. But somebody had "reserved" the third kitten, which was something I didn't even know was allowed...
The only thing I do know is that his name would have been Roger. The name I wanted to give Jenny before my mom forbid it.
Ultimately, two cats is what I wanted, and I do think that a third would have added some difficulty with my travel. Litter Robot would need to be emptied faster, so I couldn't be gone as long. Feeding would also be more complicated. So... all's well that ends well. At least I hope that's true for Could-Have-Been-Roger.
Anyway...
Jenny has become addicted to television. Every night she waits for me to head upstairs, then runs ahead of me... excited that we get to watch TV in bed. And heaven help me if I don't turn it on fast enough! She will start meowing at the television until I do...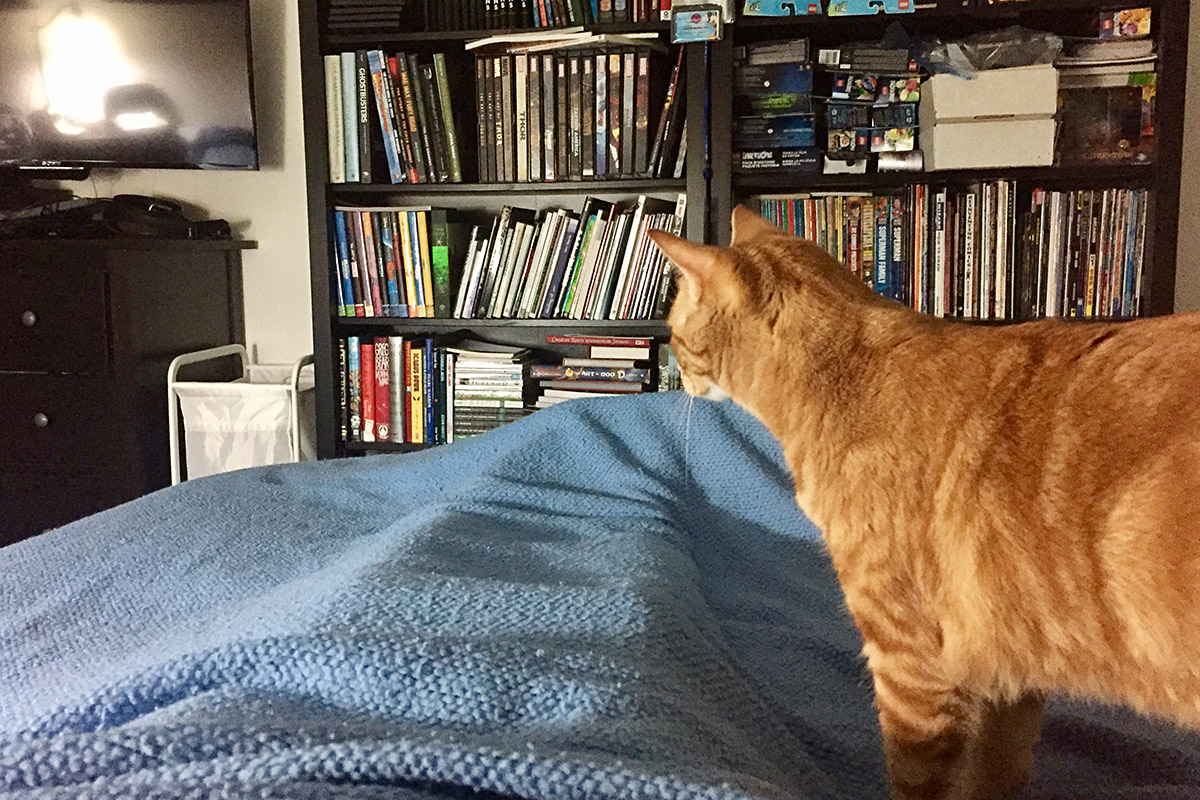 Once it's on, she'll have a seat...
And watch for an hour or more...
She likes shows with people talking the best. The West Wing is a favorite. She does not like action-packed shows very much. The noise and fast camera swaps seems to be a turn-off.
If it's too late... or I am concentrating on work and don't want the TV on... Jenny will sit and stare at me with a disapproving look on her face if I ignore her meowing...
When that doesn't work, she throws herself down and pouts...
Other than TV time in bed, Jenny doesn't hang out with me very often. Could be because Jake has been really clingy lately. He's on me in the morning before I go to work. Taking a nap while Jenny hauls up her morning tributes...
And on me in the evening when I get home from work...
Covered in cats from sunrise to sunset.
There are worse ways to spend a day.