Posted on January 25th, 2021

Back when I was a kid, my family visited my grandmother in California. While there, I was reading the comics in the newspaper and saw that her paper had Garfield, which I thought was about the funniest thing ever. When I got home, my local paper didn't carry it, so my grandmother would cut them out of her paper and send them to me every couple weeks or so. It was a Big Deal.
Eventally, Garfield books were released. My grandma kept sending them.
Eventually, my local paper had Garfield. My grandma kept sending them.
Eventually, I had mostly outgrown Garfield. My grandma kept sending them.
By the time my grandma died, I had quite a stack of them piled up waiting to be read. One day I sat down and started reading them and realized that the real treasure was never the Garfield comics. Sometimes she would send other comic strips that struck her funny. Sometimes she would send a photo of her pets. Sometimes she would send newsclippings of things happening where she lived. And sometimes she would send a letter.
The letters were the most special because reading them made it feel like she was still alive.
That's when I had the idea to save the remaining letters so I could open one every year on her birthday. Which, as you could probably guess, is today. And when I went to the box with all my remotes where I keep them, I saw that there were only two left...
After shaking off the shock of what I had clearly forgotten last year, I started reading through them all...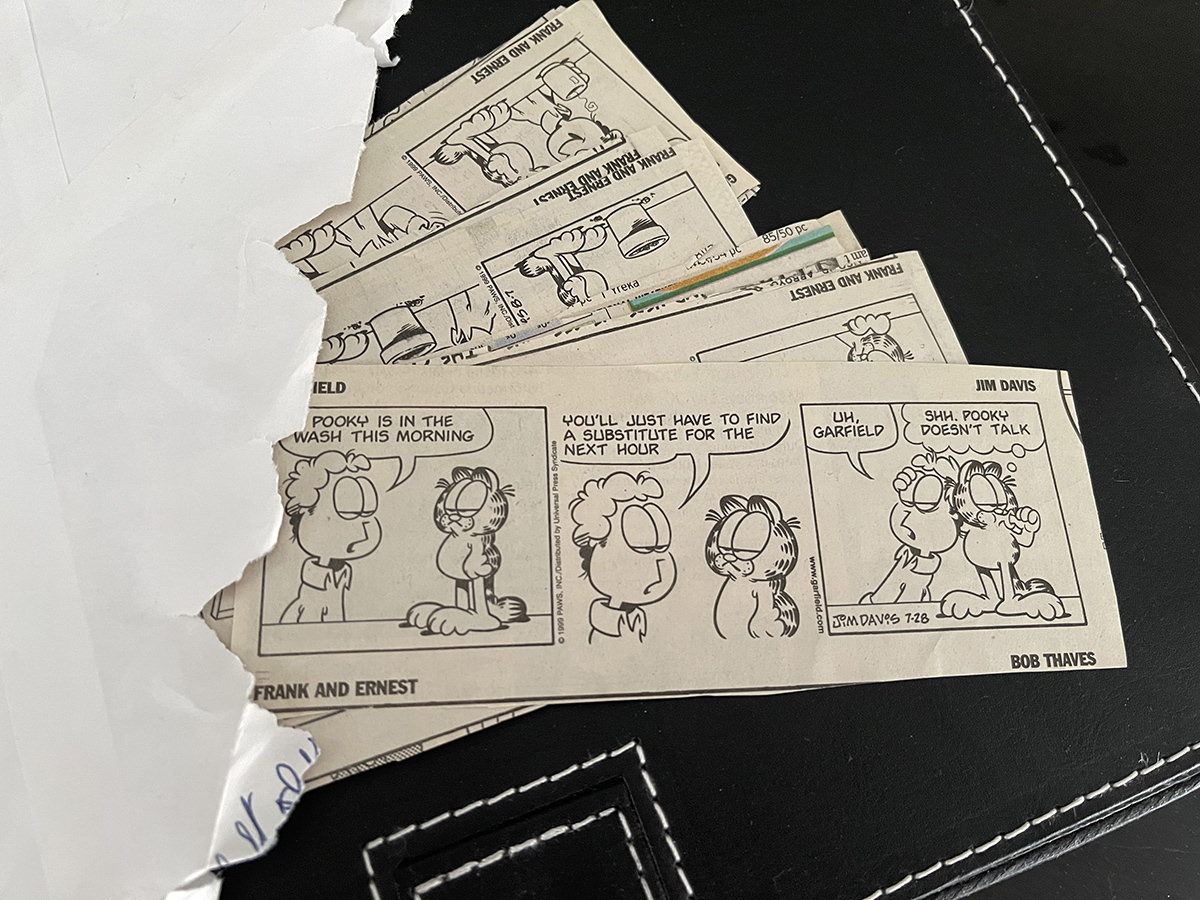 And now there's just one envelope remaining.
I have to wonder if I'll be opening it one year from now... or saving it for a time I really need it... or never opening it at all because I like the idea of holding onto it. And to her.
My grandmother called me her "Little Politician" because when I was little I used to talk more than any politician she ever heard. She loved animals, and I'm pretty sure that's where I got my love of animals was inherited from. She made the best enchiladas I've ever had. And she sent me Garfield strips because I liked to read them.
Happy birthday, grandma.
Posted on January 22nd, 2021

Despite working my ass off all week I didn't accomplish much of anything. After catching up by working on Martin Luther King Jr. Day, I was behind again by the end of the day today.
I won't even mention the loads of chores that need to be done around my house.
What I need is two more of me. Well, not two more exactly like me... more like two of me that haven't been beaten down by a year of COVID and aren't mired in a quarantine malaise. I need two of me from 2019. Or how about two of me from 2000? Sure I didn't know as much, but I had a lote more energy and enthusiasm for life, that's for sure.
I mean, just look at me back in 2000...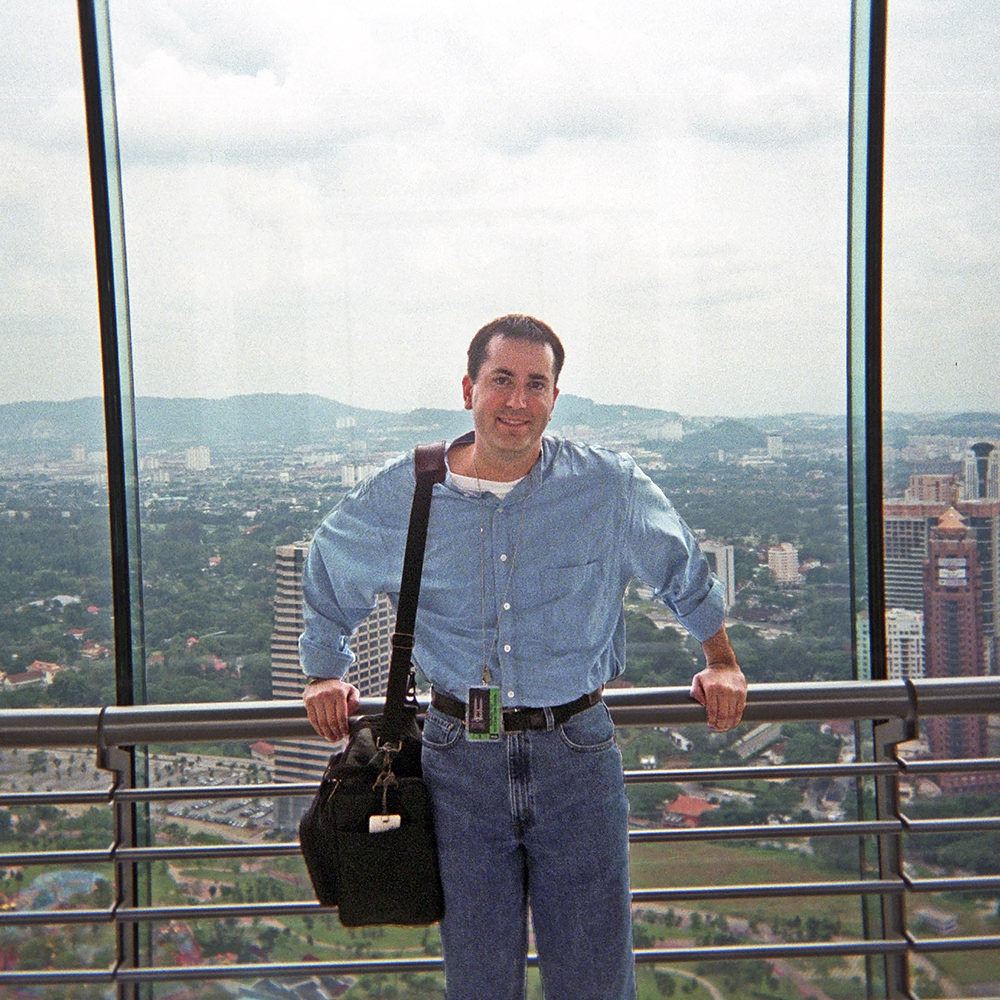 Me on the visitation deck of Petronas Towers in Kuala Lumpur

It's all downhill from there, buddy.
Tags:
DaveLife
Categories:
Uncategorized —
Click To It:
Permalink
—
0 Comments: Click To Add Yours!
Posted on January 19th, 2021

tl;dr... I'm too old for this shit
This is undoubtedly Too Much Information, but I've gone without sex for so long now that I think that I might be over it. As in... I'm done. It's over. Pack up my dick, put it on a shelf, and call it a day. I've managed to survive since August, 2019 without it, so sayonara sexy time. We had a good run.
Because whether you're in a relationship or not, sex always has a cost. And the longer I've gone without, the more I'm beginning to think the cost is too damn high. Not literal "cost"... as in money (though that can certainly be a factor when you're single)... but the cost that comes any time you invest yourself mentally, emotionally, and physically with another person.
In other words, I really am too old for this shit.
I suppose it only stands to reason that this would happen. I have been done with actual relationships for at least a decade. Maybe two. Sure I stumble into them on occasion but, try as I might, it's just not something I'm able to make work long-term. And despite my being brutally up-front about this, there are still women who seem to want to give it a go... I get all goofy and say "okay"... then give it my best shot because relationships are so nice at the beginning that I want it to work... then try to act shocked when it doesn't, even though I knew better.
At least she believes me when we both realize things are not working out and I say "It's not you, it's me"... I said as much at the very beginning.
Is it any wonder that I am so addicted to crappy Hallmark rom-coms? Watching a fantasy world where people fall in love and live happily ever after... all in 90 minutes or less? Well, technically you never SEE a "happily ever after" because the movie ends on their first kiss. For all we know they DON'T live happily ever after. For all we know that kiss was bad. And they've only known each other for a week, after all. I'm sure the bad habits, annoying quirks, and love of banjo music doesn't come out until Week Two (though "Did I happen to mention that I have a meth addiction?" probably doesn't come out until ten years of marriage, three kids, and no teeth). I guess my point is that it's nice to think that they live happily ever after (with or without the meth).
So there you have it. Hallmark movies in lieu of relationships. Porn in lieu of sex. I guess all my bases are covered then?
You tell me. I use blogging in lieu of therapy.
Posted on January 18th, 2021

Happy Martin Luther King Jr. Day, everybody!
I am fortunate enough to get the day off, but I still ended up working so I could get caught up while not having new work dropped on me. That's almost like a holiday right there!
As is my custom, I started my day by listening to his I Have A Dream speech in its entirety. I also pulled out my copy of The Autobiography of Martin Luther King, Jr. which I haven't re-read in a while. Last year I re-read Where Do We Go from Here and the year before that Strength to Love, so it's time to be inspired.

Illustration from Doodles by Drea

And now... I should probably clean my house or wash clothes or make dinner or do something productive. Though I've already performed a firmware update on my NAS and backed up my files, so maybe that counts as productivity?
Still need to make dinner and clean my kitchen though.
That's more than enough productivity.
Posted on January 15th, 2021

And so now I know what it's like to be wealthy!
I had a coupon for trying out the HelloFresh meal service. And, since their vegetarian options no longer seem to revolve exclusively around mushrooms (which I can't eat) and cauliflower or broccoli (which I won't eat), I took them up on their introductory offer. I signed up, selected vegetarian meals that sounded good, and got excited over trying something new.
My first box was due to arrive next week. For whatever reason, they screwed up and sent it this week. Which wouldn't have bothered me, except they sent meat dishes. I contacted them to explain the problem, they immediately credited me the cost, then told me to dispose of the carnivorous meals as I wished. So I gave all the meat to a neighbor and decided to try to refashion the recipes to be vegetarian with the ingredients which were left over.
The reason I now know what it's like to be wealthy is that my box from Martha and Marley Spoon also arrived this week, which means I had six complete meals in my refrigerator ready to be cooked for dinner with leftovers for the following day's lunch. SCORE! I could never afford to do this on a regular basis, but boy is it awesome knowing that I don't have to think about what to cook or worry about going to the grocery store.
The first meal I wanted to try was "Bulgogi Lime Pork Tenderloin"... without the tenderloin.
It was essentially sweet potato and pepper dices sauteed with scallions, garlic, and Bulgogi sauce mixed with lime. Not much of a meal without the pork, but if I cook some hard rolls with cheese to pair with it, I thought it might be nice.
One of the first things you have to do is zest the lime. "Zesting" is not a new concept for me because Martha Stewart wants you to do it all the time in her recipes... it's just that I've never understood how to do it. When I searched on YouTube I saw that people "zested" by using what looked like a teeny-tiny cheese grater. Something I didn't have.
Except I thought that I did, because when you look inside the handle of my box grater, there looks like what appears to be a small grater. Alas, any time I attempted to use it for zesting, all it did was gum up with lime peel and I never actually got any tiny grated anything out of it. Wanting to know what I was doing wrong, I Facetimed a friend who works in a kitchen restaurant and asked her by holding it up to the camera and asking her how to use it.
The first thing she said was "Well, first thing you have to do is remove it so that the peel doesn't end up in the handle." It was charming that she thought me that dense, but I explained to her that it doesn't come out easily. In order to get it out, I had to use two pair of pliers and nearly busted the thing.
"Wait. Let me look at that again... move it close so I can see."
"I have no idea what that is, but it's not a zester!"
"See how there's no grates? It just looks like pokey spikes!"
"Maybe it's supposed to be a masher or tenderizer of some kind?"
"Yeah, you need to go buy an actual zester. Sorry."
And so I did. And it arrived today. I got one by Oxo Good Grips, which makes my favorite kitchen utensils and gadgets. It was expensive... $12 compared to others costing less than half that... but I knew it would probably be safer, smarter, and last longer, so I invested the money...
Martha Stewart would be so proud.
And so now I can finally zest a lime or a lemon and make all those recipes correctly that call for zesting a lime or a lemon.
Pretty grate, huh? (HA HA HA HA HAAAA! I slay me!)
So wish me luck with my first zesting experience. I'll let you know if I end up with my fingertips missing.
Posted on January 14th, 2021

I honestly thought that once I got my Uninterruptible Power Supply that I'd never have a power outage again. That's just how things go for me. A problem comes up again and again and again... spend money to handle the problem for next time... the problem never happens again. I'm sure I'm not alone.
Installed my UPS on November 18th... had a power outage this past Tuesday.
Well I'll be darned!
Must to my delight, the UPS operated exactly as it was supposed to. My home automation, internet router, and NAS drive never lost power and there was no need to spend hours restarting and recovering my data with an "integrity check." Nice. So a big thank you to CyberPower for making a product that actually works. I was beginning to think that such a thing didn't exist any more.
Like my Samsung television. Less than five years old and the backlighting is already starting to screw up. My previous Sony television (now in my bedroom) has lasted over a decade. My television before that (a massive Sony widescreen tube television) lasted over 15 years. At this rate, my next television will last for 1-1/2 years? Holy crap.
Winter has been a massive disappointment this year.
Despite getting plenty cold for snow, it's mostly been rain. Any snow we get turns to rain the next day which leaves us with a mushy mess and icy streets. The day of my power outage two days ago, I found myself waking to at least 6 inches of snow. Then it sprinkled rain. So when I peeked out my window and could see cars sliding and getting stuck, I decided to work at home for a bit and wait for the snowplow. But eventually I needed to go into the office and took a chance. It's a tricky business. You have to drive fast enough so that you don't get stuck... but slow enough that you're not spinning out. I had a few dicey moments, but eventually made it to the main road. Just as I was congratulating myself, the snowplow turned onto my road.
Oh well.
Of course the guys hired to plow my driveway did it before the snowplow arrived, which meant a massive berm of snow was blocking my driveway when I got home. Not wanting to get out and shovel, I decided to accelerate to ramming speed and just bust my way through. Which went fine... but it sure felt like parts were going to be ripped out of my undercarriage.
As the berm has melted and re-froze each day, it's now become more of a ice curb than a snow berm. That cannot be solved by busting through it, so I've kinda created a path for my tires to drive through that gets me into my garage.
Probably should have just shoveled it while I had the chance.
But I know the minute I spend money for a snow shovel to solve the problem next time, it will never happen again, so I'm just going to pretend to be oblivious so I can save a buck.
You should know by now that I never learn.
Posted on January 8th, 2021

I got up early this morning to get some work done before feeding the cats and running into Tourist Town to do some grocery shopping. Early morning shopping is the best shopping because the store is so empty. But also? My cupboards and refrigerator are low on staples, so I was excited about having food in the house again.
The other big draw for my grocery shopping today was a coupon I had which gives me $11 off a total of $110 or more. That's 10% off... on top of the other coupons I have. I love it when opportunities like this comes along, because it's the one time I allow myself to buy stuff that's not on sale. But you have to be careful. One penny under $110 and no discount for you. I kept careful track in my head and got to $120 (actual total $116.88), so way to go, me.
Along with a shiny new iPhone, I changed my service plan with AT&T. My new phone can do 5G, my service plan didn't have 5G, and even though I probably won't see 5G any time sooon where I live, I'd like it available when I travel (assuming I travel again). AT&T had a deal where I could get my two lines for $65 a line (with auto-pay and paperless billing enabled), and I'd actually be saving money in the long run over what I had, so sign me up...
Before (virtually) signing on the dotted line, I went over the details of what I would be charged very, very carefully with the phone rep. I wanted to be darn sure there weren't going to be any hidden fees above what I was already paying. After a very patient person went through everything with me... twice... I changed my plan to the new $65 per line.
My previous bill was a mess. I had no idea what was going on because AT&T jerks you around with pro-rated billing and activation fees and other stupid shit that I had no way of understanding. But then today my current bill with none of the extras arrives. And I looked it over very carefully. And, wouldn't you know it, only ONE of my lines was $65. The other was $75...

=sigh=
So I online-chat with AT&T and explain the problem. After pulling up my account, I'm told this:
I see that you have been charged for monthly service charge. That is why you got high in your bill.
I explain that my bill very clearly shows one of the lines was charged $75. Then I get this:
I see that you have been charged $65 for one account and $65 for another account. But this time they have added $8.33 for one account.
I then have to tell them that I am looking at my bill and it clearly shows one line is $75, so I don't know where they're seeing both are at $65. I don't care what the fees are showing, the amount per line I was quoted (and which is still showing on their website) is NOT being honored.
After a while of them "looking into it" I get this:
Yes you are right. Sorry for that. Let me go ahead a note to change that for you. So it will not reflect in your next billing cycle.
Look, I really want to give AT&T the benefit of doubt here, but I see this shit ALL THE TIME, so it's tough not to be cynical. I signed up for a new plan so I could get 5G at $65 a line (if I use auto-pay and paperless billing, which I do). but I'm charged $75 for one and $65 for the other. And the ENTIRE TIME I'm chatting with customer support, I think back to my grandmother and mother being easily confused by pages of bills that are designed to obscure how much YOU'RE ACTUALLY BEING BILLED FOR, and I know beyond any doubt that they would have just paid the overcharge month after month because they didn't know any better. And if they did call customer support, they undoubtedly would have believed the bullshit about "extra fees" and not pressed the issue any further.
This is rage inducing.
And I cannot help but ask... is AT&T doing this on purpose? Do they make their billing statements confusing and encourage auto-pay and paperless billing so they can rip you off and have less chance of being caught? I am seriously outraged right now. I'd dump these assholes in a second if other carriers were any better... but they're all the same, aren't they? So what good would it do?
If the Democrats in power want to make me happy after they're done sucking off the lobbyists lining up to pay them to betray US citizen interests... FIRST they can put us on permanent Daylight Saving Time so we're not dicking with the clocks twice a year. THEN they can pass an act which forces all these asshole companies to not hide all their charges when you sign up for shit. The price they advertise should be the price you pay... AND IT SHOULD INCLUDE ALL THE FUCKING FEES AND OTHER BULLSHIT THAT **NEVER** ALLOW YOU TO KNOW WHAT YOU'RE PAYING BEFORE YOU COMMIT TO A CONTRACT!
But you know what? AT&T probably shovels millions upon millions upon millions to politicians so they can just keep doing exactly what they're doing. Which means nothing is going to change any time soon. Our politicians won't do anything to threaten that sweet, sweet lobbyist payola now would they?
At least not in my State. Senator Patty Murray is OWNED by the medical lobby, and we all know how much they just LOVE to obscure costs in their billing. Major surgery results in pounds of never-ending bills that are intentionally confusing so you just shut up and pay. Which is exactly the kind of behavior our politicians crave... "I'll shut up just so long as you pay."
God bless America.
Posted on January 7th, 2021

I have passed out exactly once in life, a long time ago. I was in high school. I wasn't feeling well and had to have my blood drawn at the clinic so they could try to figure out what was going on. My mom and I were standing at the elevator and the next thing I knew I was waking up minutes later with strange people surrounding me and my face being slapped. I don't remember anything about it and had to be told that I passed out.
Last night at around 10pm, my tongue swelled up on one side. I battled it with the antihistamines I was given for just this purpose... crushing them up so I could use a straw shoved back in my mouth to swallow them. I had my epi-pen ready just in case. I passed out around 7:30am. I remember the alarm going off to feed the cats. I remember coming back up stairs. And then... nothing. I woke up at 11:05, kinda half in bed. My tongue and the floor of my mouth still swollen a bit. Lips a little swollen too, which was new. But there was no pain, which was nice.
Passing out is so weird. One day I'm going to have to read up on the science about it. The thing that bugs me about it is not the losing consciousness, but the memory loss. I don't remember ANYTHING. So weird!
And then...
...I remembered that I had my Apple Watch on, and it had recorded everything.
And the data it had collected is interesting...
As you can see from the above, I nodded off a little after 1:00am. Then I was wide awake (or being still) around 1:30am. I finally drifted off to sleep around 5am when the antihistamines I had been chugging all evening started to work. I was awakened from a deep sleep at 7am when the Alexa alarm went off to feed my cats breakfast.
And then...
I only thought that I passed out at 7:30am. What happened is that I passed out again immediately after I got back upstairs to my bedroom. And you can see it. No blue bars where I was drifting off into sleep... just an immediate crash from green to purple when I lost consciousness. Something I've never seen before.
Now, from a health standpoint, this is kinda scary.
But from a technical medical standpoint? How cool is that?!
The rest of the day was rough. I managed to go into the office, but my tongue was still swollen a bit, so it was not a comfortable experience for me. I think I may have even drooled during a Zoom meeting?
It's so hard to tell. Apple Watch doesn't record that information. Yet.
Posted on January 6th, 2021

I'm just going to get this out there... not a fan of JaBiden.
I never wanted Joe Biden as my president. I definitely didn't want ex-prosecutor Kamala Harris as my Vice President. And Hillary Clinton, who is the very model of a garbage politician, was nowhere near my list of desired presidential candidates when she was shoved down our throats last election. But my thinking that she's "garbage" isn't saying much because 98% of our politicians are lobbyist-fed garbage as far as I'm concerned. So long as MONEY is allowed to corrupt our politics and buy off the government, the entire system is garbage.
But my loathing of Biden, Harris, and Clinton pales in comparison to how much I outright despise President Trump. His every single move was made to exclusively benefit himself, corporations, and the über-wealthy wealthy... in that order. Anybody who says otherwise has never actually looked at what he did for his four years in office and asked "Who does this really benefit? He exploited people's ignorance, bigotry, and Faith to screw us all.
So, yeah, I'm saying good riddance to Trump and will be very happy to say good riddance again when JaBiden leaves office.
Good Lord. How in the hell have we gotten here? That Trump and Biden are what we end up with as our leaders is is both inexplicable and sad. It's like the bar is now so low now that nothing will surprise me any more. Big Bird winning the presidential election in 2024? Yeah, sure. Whatever.
But what really gets me is how people become fanatically devoted to politicians in the first place. They're just people... not Jesus... or The Beatles. It makes zero sense... and I'm saying that about both Republicans and Democrats. I was absolutely bewildered by the Cult of Hillary Clinton. What was it about her that had people so consumed? And we don't even need to talk about the Cult of Donald Trump, which is even more bizarre to me. I mean...

Um... well... that's... unique? Is the word I'm looking for? Photo from the European Press Agency
From what can be theorized, anybody this devoted (yet this different in their varying ideology) are just all hating the same thing. Hate is what binds them together. It has nothing to do with loving their country, which was made quite clear when they assaulted the police, stormed the Capitol, tore down the American flag, then raised a Trump flag in its place. I mean, aren't those all the things that anybody who truly loves the USA would say are a bad thing?
What's amusing (for lack of a better word) is the sublime ignorance which is driving all this.
I've heard more than a couple times how people are branding this as a "revolution." I keep hearing things like "This is what had to happen! When we declared our independence in 1776, did we write a letter to the British telling them that we were going to be America? NO!! We went to war and kicked them out!"
Except... um... yeah... not so much.
The entire history of American Independence is well-documented, if anybody should care to investigate it. In actuality we wrote a rather important "letter" and did indeed "send it" to King George of England by publishing its text in colonial newspapers. It's called the Declaration of Independence. Perhaps you've heard of it? From what we know, the letter arrived in Britain via papers in Belfast the month after it was signed. It was all a formal affair, and the British even published a rebuttal to it and everything.
Also? There was massive support for the Revolutionary War. Like everybody in the colonies was behind it. This wasn't a splinter group who wanted to break away from England... absolutely everybody wanted it to happen. So a handful of people buying into completely unfounded election conspiracy theories which have been disproven over and over and over again... and even been disproven by Trump-voting Republicans... does not a revolution make.
I mean, I'm not happy Biden is our president either... but holy shit! SEDITION?!?
And now, if you'll excuse me, I'm having another idiopathic angioedema attack. Half of my tongue has swollen so large that I am having difficulty swallowing. Which is a bummer, because that's he only way I can take huge loads of antihistamines in order to stop it from getting so large that it chokes me to death. What I'm having to do is crush them into powder, mix with water, then use a straw shoved way back in my mouth to get them in me. How fun!
My evening will be spent propped up by pillows with an epi-pen in my hand, just in case.
And, assuming there's a country left when I wake up in the morning, I guess we'll see what tomorrow brings for the United States of America.
Posted on January 5th, 2021

Eastern Washington is home to many, many small unincorporated towns which are basically just places which have some kind of historical reason for existing... a stop on a now-abandoned railroad or trail... an important business that used to be there... or maybe a place which intersects land owned by local farmers. And, to many of them, the nearest major city (usually Spokane) is 1 to 2 hours away. They usually don't have stores, shops, or restaurants to speak of (those being anywhere from 30 minutes to 45 minutes away). If they're lucky, there might be some kind of general store with a few edible staples and various sundries amongst the grain and feed, but there's no full-on grocery store. Instead they have to make their own meals from what they can get at the nearest grocery store when they go once or twice a month. That's just how it goes.
I've been thinking about this a lot lately.
Partly because I am sick to fucking death of seeing political maps of Washington State where the entirety of Eastern Washington is painted red making it look like a gajillion people vote red and it's unfair that "blue Seattle gets to dictate who runs the state." That's a pretty gross exaggeration. Some of these towns which turn counties red have like A DOZEN PEOPLE in them. And land doesn't vote. So Washington State is getting the political representation which is actually representing the majority of the voters in it, regardless of what story a map is presenting.
However... the other side of that coin is the fact that these small towns DO exist. These dozens upon dozens of rural communities and the people in them DO endure. Often times they are the people who farm our land and grow our food and have communities which MEAN SOMETHING. So having them wholesale ignored by our State government is fucked up beyond all reason.
Is what's best for Seattle always going to be what's best for little Benge, Washington with its 50 people? Fuck no. But the rules Benge lives by are the rules major population centers over the Cascades dictate to them. District and County governments are supposed to have power to make sure they get fair representation but, let's face it, their power is severely limited in the grand scheme of things. Ain't nobody with major political power speaking up for the good people of Benge...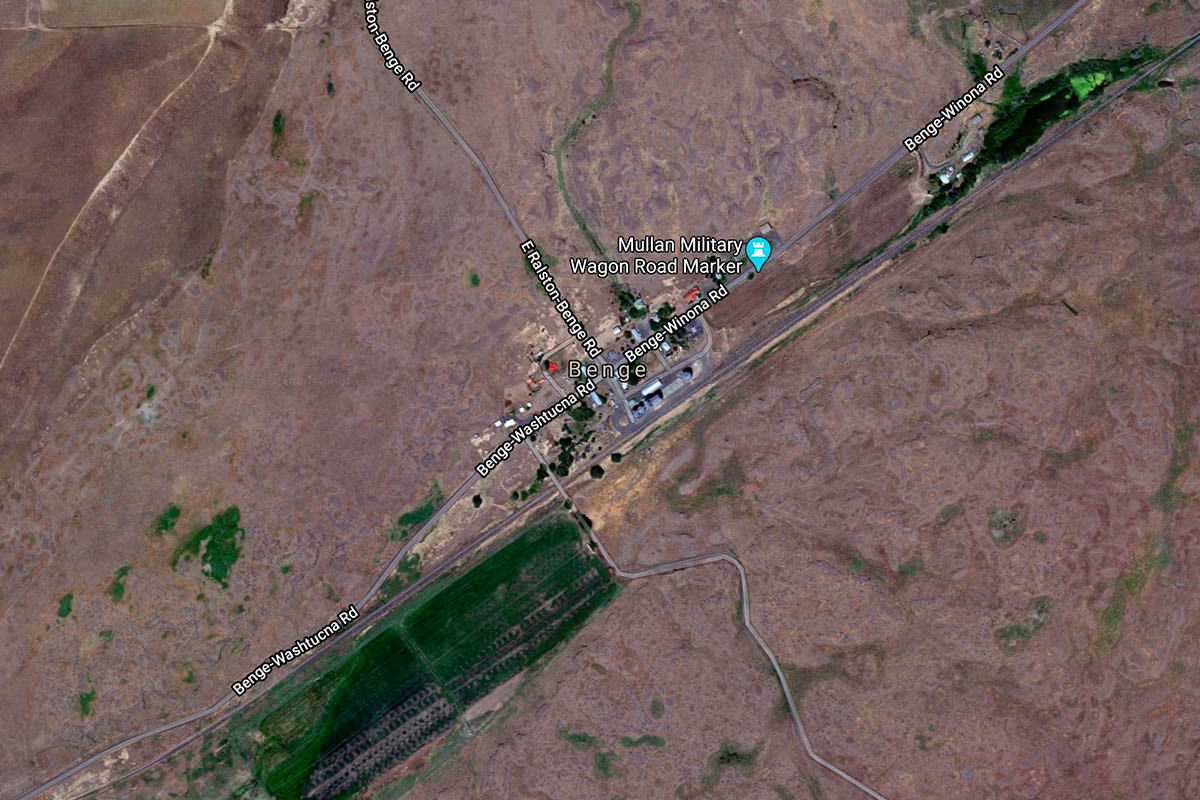 Benge, WA as seen from Google Maps, ©Google
The red dot on this map points to where Benge is in Washington State...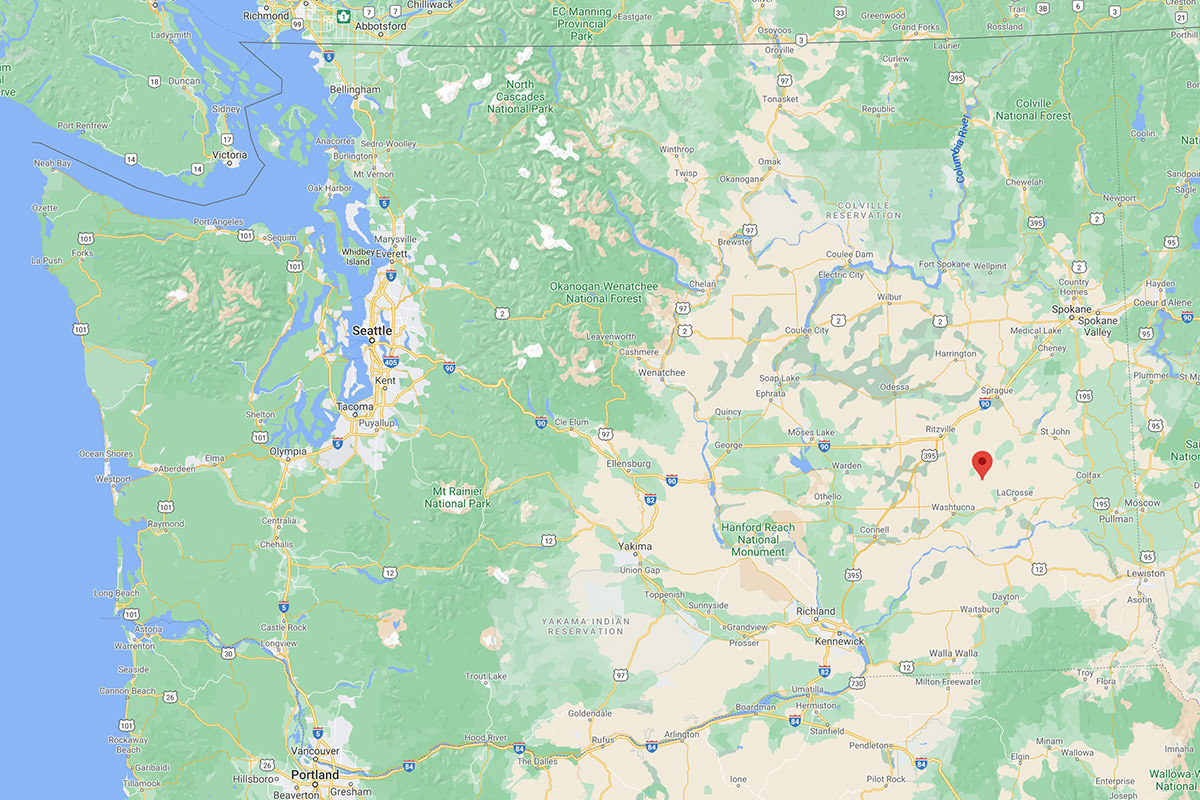 Benge, WA as seen in relation to Washington State from Google Maps, ©Google

Now, I've never been to Benge. Odds are I will never step foot in this town.
But a part of me really, really wants to.
I would love to travel to all these small, so-called "nothing" towns that dot my side of the state as a way of acknowledging that they exist. That the people who inhabit them deserve to be recognized for the thankless work they do to grow our food. To remind myself that they are a part of Washington too, and that the lives of their citizens mean something when it comes to the rest of the state.
Even when they get lumped into politics of a city that's four hours away.
Especially then.
I dunno. Benge is 2-1/2 hours from where I live. However, it's an easy 35 minute drive off I-90 on my next trip to Spokane... so maybe one day? I'd like to think that Benge would have a kind word for a stranger passing through town. It's a nice thought to have, isn't it? I'm from a small, rural, Eastern Washington community too, after all.
I just won't mention that there's a grocery store ten minutes from my house. No need to flaunt my big-little-city luxuries like that.