Posted on September 6th, 2021

My home is kept relatively clean... or, in the case of my kitchen... spotless. The exception has always been my laundry room. I've cleaned it and vacuumed it from time to time, but it hasn't actually been cleaned out since before I moved my mom out in July of 2016.
Over 5 years ago.
My laundry room became a dumping ground for all of my mom's clothes that hadn't been donated to Goodwill... along with other stuff that belonged to her that I've never gone through. I kept waiting, thinking that there would come a time when the thought of it wouldn't be quite so painful... but of course that day never came. I've always dreaded when guests would ask to use my laundry because it was so packed with crap, but oh well. That's something I haven't had to worry about in two years.
This past weekend I was taking a load out of the washer and accidentally backed into it all, and stacks of crap fell over onto the floor. So I finally just sucked it up and decided to clean it out over the past two hours.
And here we are...
A little more heartbroken than I started the day, but a lot less cluttered. My laundry room is finally a laundry room again. It's much nicer to wash clothes in, that's for sure. Here's Jake "helping"...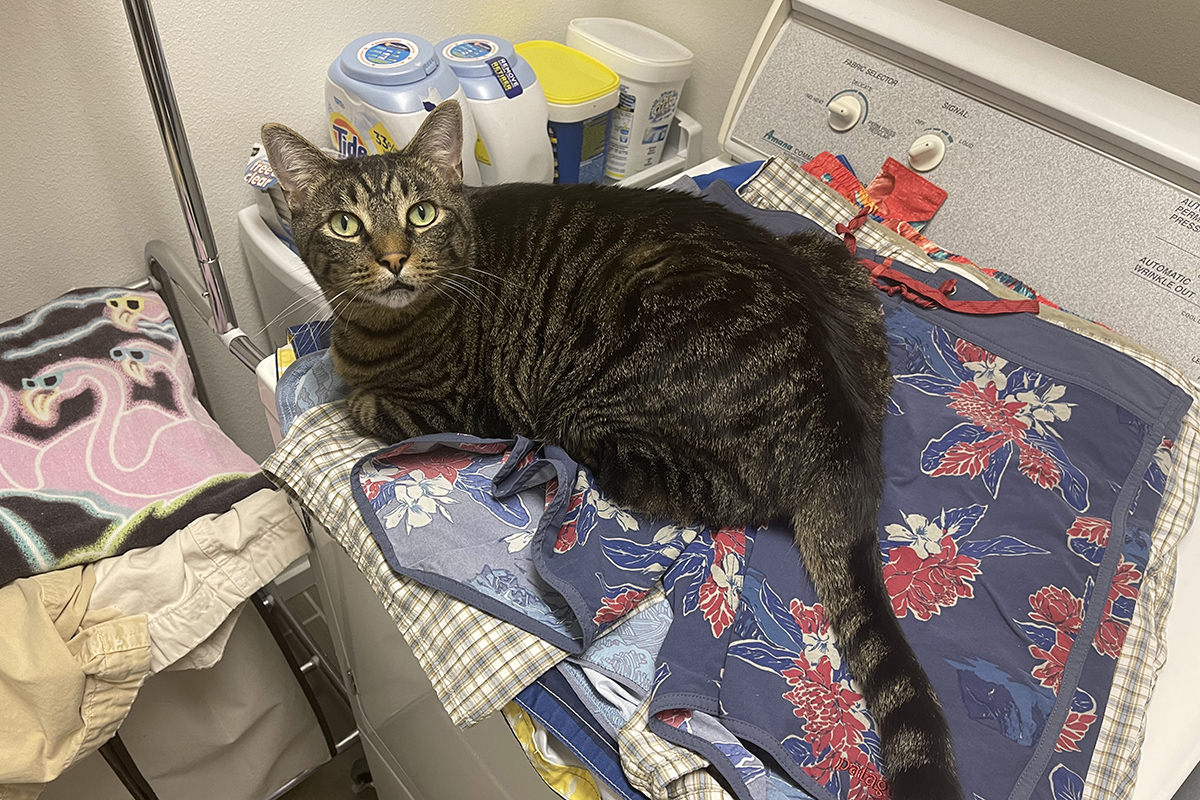 The next morning as I was walking downstairs to feed the cats their breakfast, I noticed that the sky in the photo of my mom riding Daisy the camel in Egypt matches the lovely flat blue of New Lemon...
How cool is that? This is one of my most favorite photos of my mom from our travels because the only thing she cared about when we went to Egypt was that she got to ride a camel at the pyramids. Everything else was gravy to her. So of course I made it happen. And managed to get this amazing shot of everything she dreamed of in one photo. I made this print to hang in her room at the memory care facility (with many others) so she could see it and know she was "home" even if she didn't recognize the place. And it was a godsend. Because even as her memory was fading, I could ask her if she remembered the camel's name... and she would say "That's Daisy." This memory was so special to her that even when other parts of her life were gone, she held onto this one. And I caught it with my camera. And that's why it hangs above my desk. It's been there since I built my desk.
Old Lemon...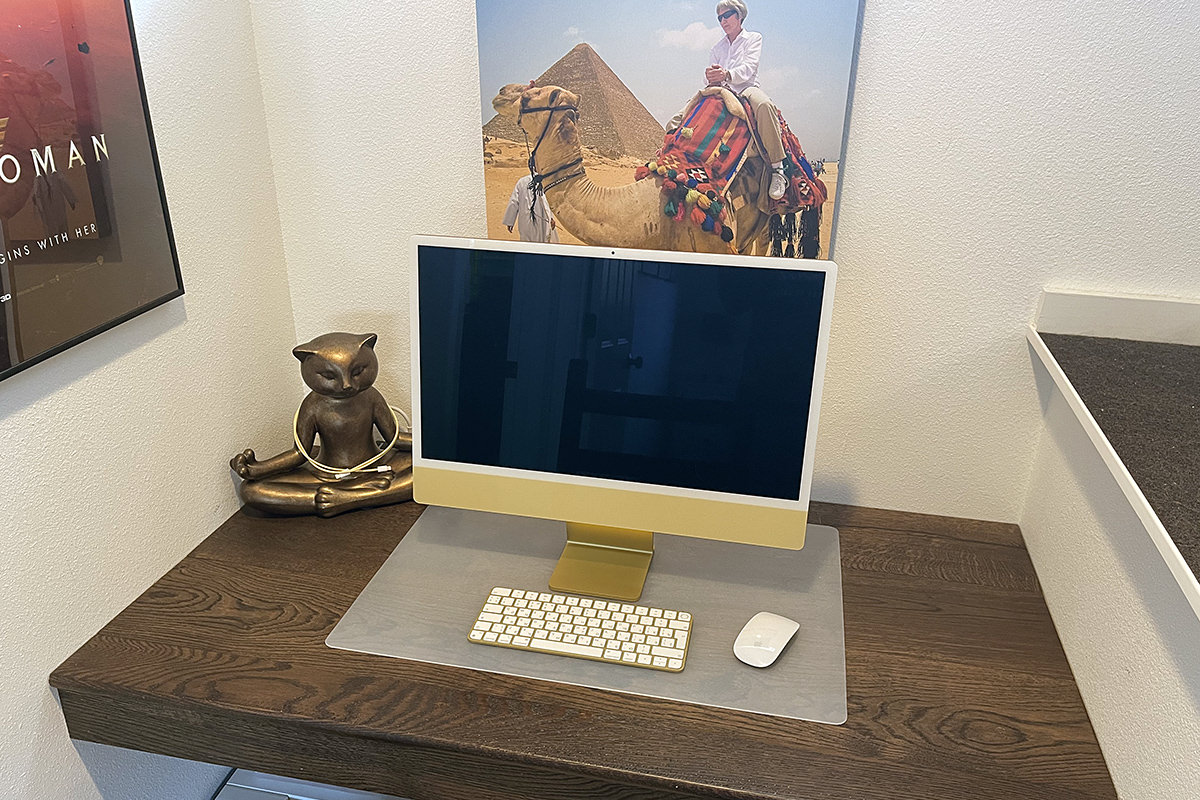 New Lemon...
Now it's back to work and The Great Pottery Throw Down!
Posted on August 24th, 2021

For the first time in over a month, I was able to get through all the "to-dos" due on my list before leaving work. I celebrated by ordering a pound of fries at the local drive-thru for my dinner. I was going to make spicy black bean soup... but this was easier. Less chopping and cooking and dirty dishes and such. Oh well.
What I should have done after consuming a pound of potatoes and grease is catch up on all the sleep I have been missing because I'm staying up late working. What I actually did was a bunch of housekeeping on my work files while watching the What If... T'Challa was Star Lord episode of Marvel Studio's What If... cartoon anthology...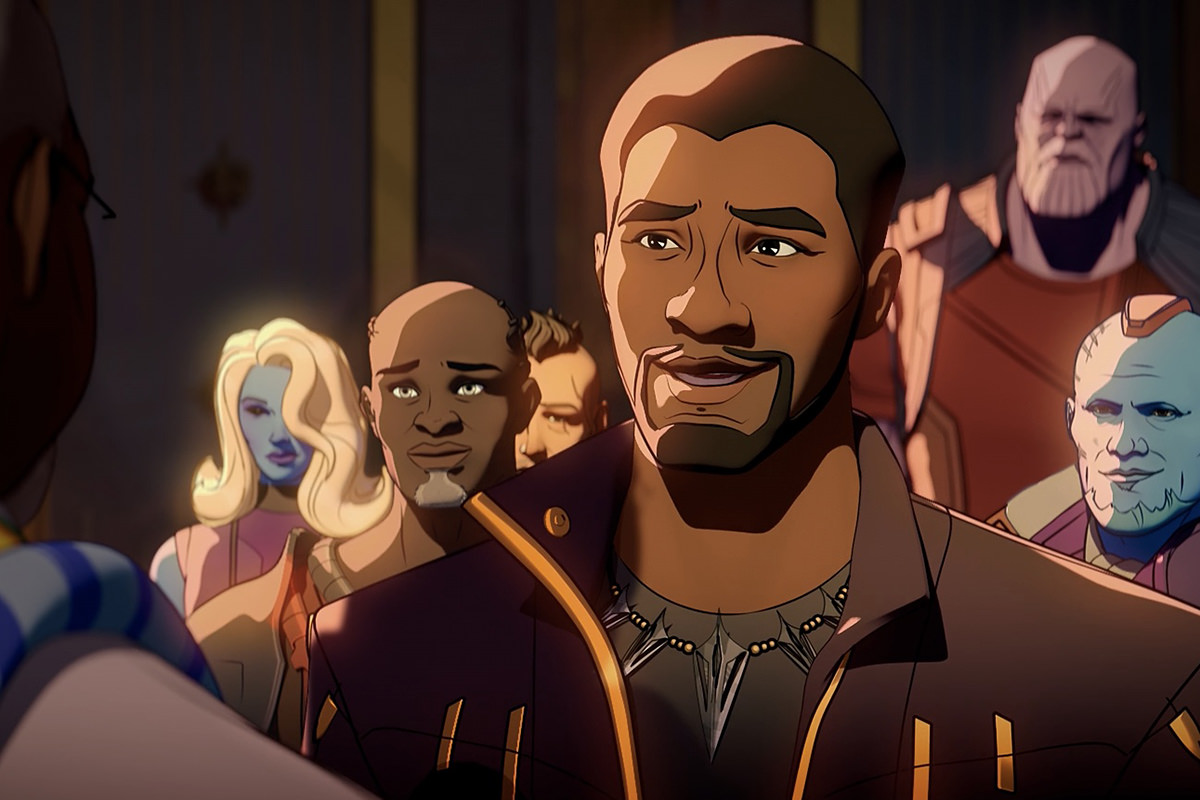 This is my third time watching it. And every time gets harder as it sinks in that this is the last time we'll be blessed with Chadwick Boseman starring as Black Panther. And it's absolutly gutting. He was taken from us far too early, and it just seems impossible that he's gone.
In other news... I'm in Facebook Jail. Again.
The previous time I was jailed was just plain stupid and ridiculous. This time is monumentally stupid.
I was watching a Hallmark movie last night when I saw an actor who looked familiar. So I Googled him to see what I might be recognizing him from. The first photo that popped up was the actor with one of his hands partly in his pants, but it wasn't sexual. He wasn't grabbing his junk. You couldn't see his junk. He wasn't even licking his lips. Nothing even suggestive... unless you call having his shirt off "suggestive."
I dropped the image in a CLOSE FRIENDS ONLY POST and asked the question "Why would an actor promote himself with a photo that looked like he has jock itch?" Within minutes... REMOVED FOR EXPLICIT SEXUAL CONTENT! Three days in jail.
It's just the most insane thing.
People regularly post music videos that are actually sexually suggestive and absolutely nothing happens. And then there's me.
I would love to tell Facebook to go fuck themselves, but a huge chunk of my friends are on the platform. And since they're scattered around the globe, this is what I got. And so... I'll probably just take a step back. Not devote so much of my time to Facebook, who can pull the rug out from under me over idiotic shit I have zero control over.
Posted on August 23rd, 2021


Ugh. Not this shit again.
UPDATE: Well, wow. This just made my Monday suck a magnatude less!
Holy crap! I had no idea that Doctor Strange was going to be such a big part of the movie! Thrilled with it!
Posted on August 16th, 2021


Screaming at the world doesn't seem to work.

Posted on August 12th, 2021

According to my Apple Watch, I fell asleep at 10:30pm, woke up around midnight for 15 minutes (of which I have no memory), fell back asleep, then woke back up about 12:45am. I remember waking up the second time quite clearly. I was choking. No idea on what, but I was gasping for air and my throat was on fire. After drinking a bunch of milk and a few slices of toast, I went back to bed to watch TikToks until I fell asleep again. Jenny kept me company. For about 10 minutes. Then she was fast asleep. Lucky cat.
When I woke up again at around 6:15am, my room was bathed in a red glow.
Most places, this would be a horrible thing to wake up to. But I live in a valley in a state where wildfires are rampant and smoke collects. Since nobody was banging on my door, I just assumed it was smoke from a fire elsewhere in the state that was giving me a Red Alert vibe.
When I finally got out of bed at 6:55am to feed my cats, this is what I saw out my window...
There's no filter on that. It's straight out of my iPhone.
As you can see, there's no smoke in my immediate vicinity... it's actually collecting in the Columbia Basin to the East (the actual fires are about a two-hour drive North of me).
As usual, my thoughts are with the firefighters who are working to contain the fire... the people in danger of the fire... and, of course, the many animals trying to escape and survive the fire.
Surprisingly, fire season where I live has been fairly mild this year (knock wood).
Which seems a reason to celebrate.
Except we're not through fire season yet.
Posted on August 9th, 2021

Getting older sucks.
But that's not to say that it can't be made to suck worse!
No offense to the AARP, but I'm not going to be clicking through on this story...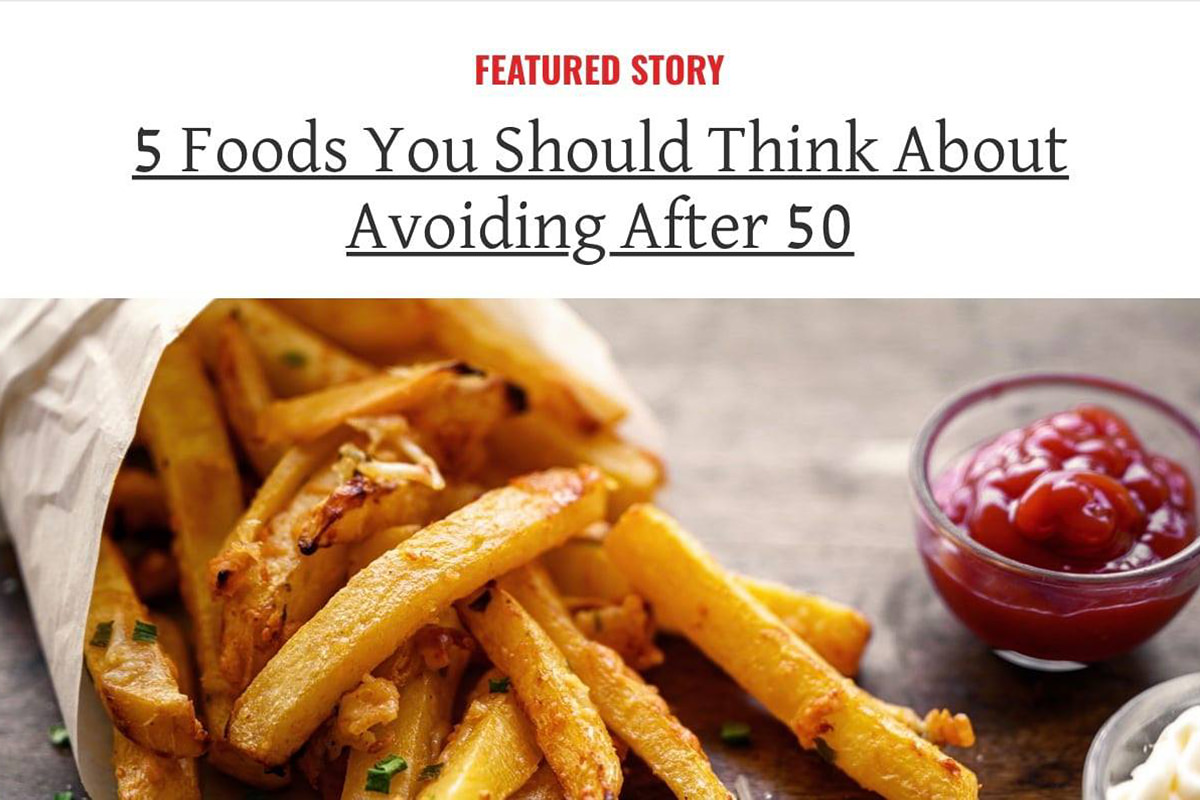 Fried potatoes are one of the few pleasures I have left. I'D RATHER DIE THAT NEVER BE ABLE TO EAT THEM AGAIN!
Posted on August 5th, 2021

Tonight I was finally let out of Facebook prison. I guess 24 hours was all it took to be rehabilitated from stupid shit that should have never got me banned in the first place. But, hey, it's not my world... I just give up my privacy and time to play in it.
I did finally end up doing what most every person who regularly gets hit with the ban-hammer does on Facebook... create an alternate account.
Meet John Baron II...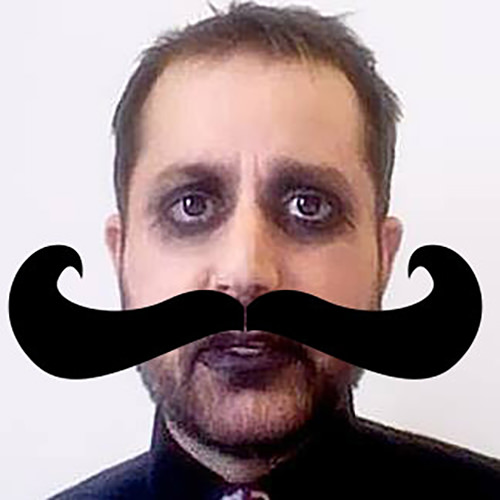 Obviously I can't let my cats on Facebook without a disguise as well... meet Bubair and JennAir...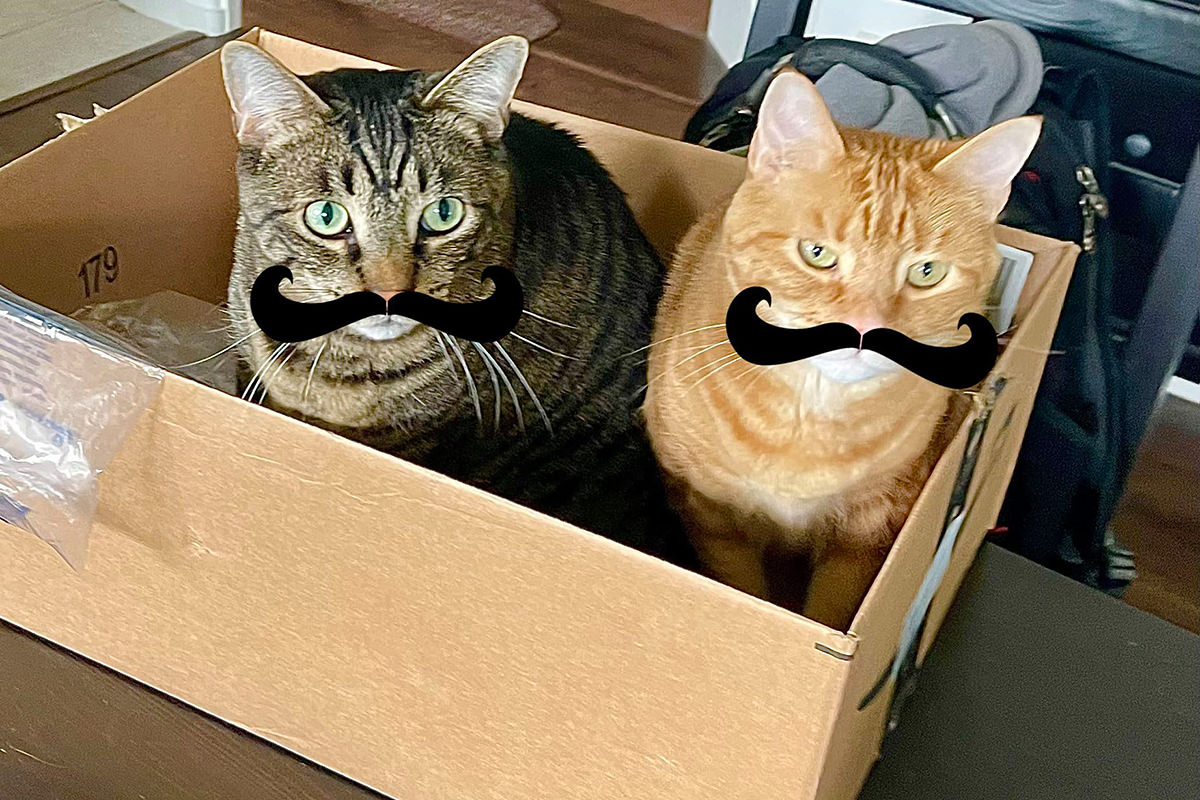 And now that Fake Jake is back, it's time to meet Faker Jake...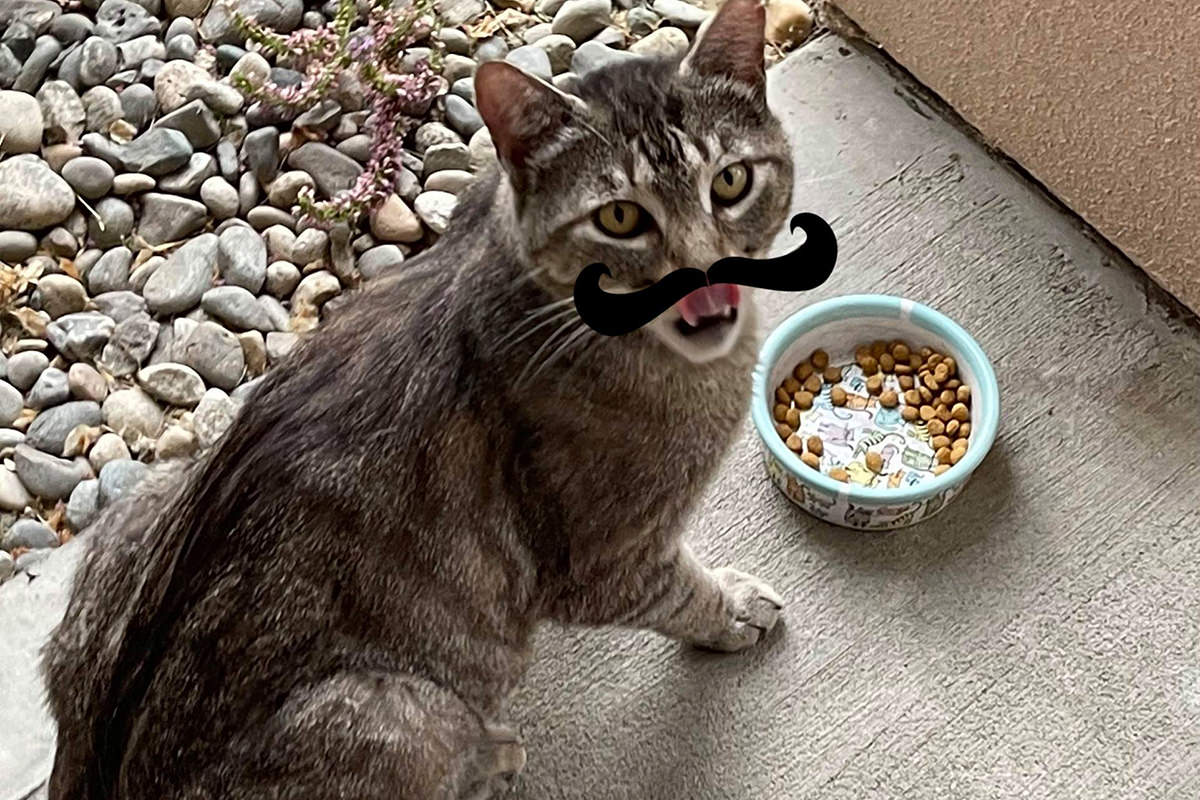 Yes, it's childish and juvenile... but so is stupid Facebook and their inconsistent and absurd policies for banning general statements out of context while ignoring direct threats to specific people.
Posted on August 2nd, 2021

Today I picked up my iPhone and went to slide it into my shirt pocket. What I didn't know is that an X-ACTO blade I had put on the same shelf where I set my iPhone had attached to the back. I got a nice slice on my finger to let me know though.
OR MAYBE MY iPHONE GOT THE COVID VACCINE AND THAT'S THE REASON THE X-ACTO BLADE ATTACHED TO IT?!?
I know that sounds insane, but it's no less crazy than people claiming they got "magnetized" after getting vaccinated.
Posted on July 28th, 2021

It's currently 15 minutes until midnight. I have precious little time to get a blog entry in for the day... and nothing to blog about.
Except...
Just now ehen I was looking through my iPhone photos to see if I could remember something blogable that happened today, I saw this photo taken earlier this evening at 10:11pm...
What is this?
Where was I at 10:11pm?
This has to be in my house, but I'll be darned if I know which part of my house it is.
I actually walked around room to room, holding up my iPhone to see if I could figure it out. My best guess is that this is my upstairs bathroom and that rectangular hole in the upper-right is my skylight. But what would I be doing with my camera app running in the bathroom?
AM I FILMING PORN IN MY BATHROOM WHILE SLEEPWALKING NOW?
Wait... I am a sleepwalker?
Wait... I fell asleep at 10:11pm and didn't know it?
I suppose if money starts rolling in from an OnlyFans account (which I also would have had to set up while sleepwalking) then I'll know for sure.
Otherwise?
I'll be darn disappointed if I'm sleep-sexting my homemade sleepwalking porn to people for free.
Posted on July 27th, 2021

I have found no way of writing the pronunciation of my name on Facebook.
The only option I get is their default, which is wrong. "DAY-vid" is fine. But my last name has TWO Ms in it. You don't pronounce it "SI-mer"... it's more like "SIM-mer." So I just turn the pronunciation off because it annoys me greatly...
I've always thought that my name was kinda a no-brainer to pronounce... "Summer" with an "I" instead of a "U" is close enough because people who are not me won't catch the missing "M" and I don't care if somebody is giving it a shot. But SO MANY TIMES I get "Summer" or "Zimmer" or "Sighmer" or "Simner" or "Simmey" and whatnot. Which, no big deal, because it's easy enough to say my name back to them... but to this day I don't know where those pronunciations come from. I can only guess that they have people in their life that are close and seeing what they know? In any event, Facebook isn't helping.
My name is from the Frisian word for "summer" and it's not generally all run together when I've heard it. It's got a subtle double-tap on the M in there. So that's how I've always pronounced it. Not sure about my family, but I don't really care because it's my name and I know the origin.