Posted on January 16th, 2018

Between the weather and my work schedule there's nothing much else going on in my life.
Except for the cats, of course...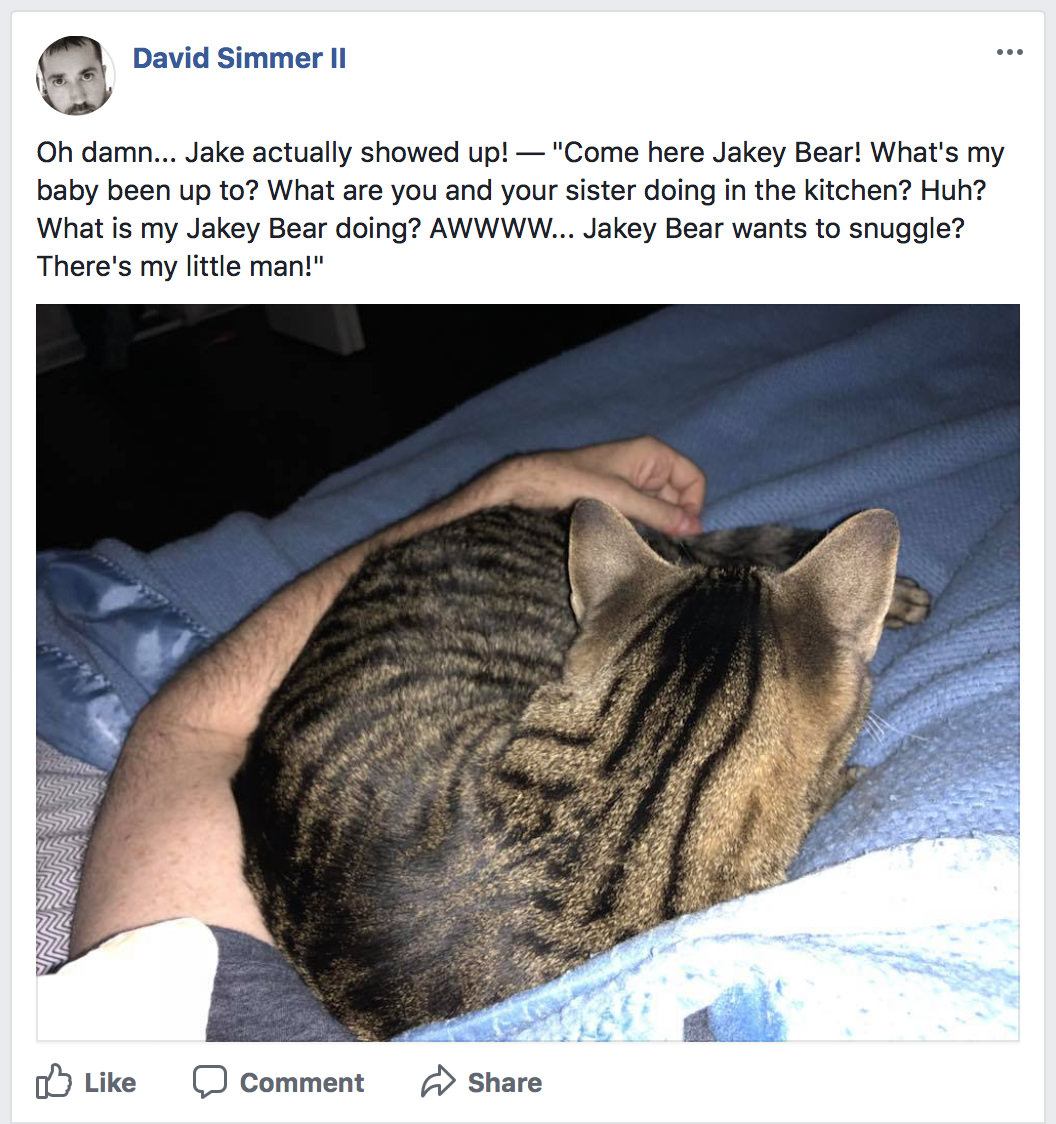 Turns out I didn't close the pots and pan cupboard, so Jake and Jenny were climbing all over in there. This is great, because I was dying to wash six loads of metal in the dishwasher, and now's my chance!
Posted on January 11th, 2018

Snow is frickin' dumping down today.
I mean really coming down.
I had to drive to The Big City and back for a dentist appointment and ended up regretting that I didn't cancel it. The roads were plowed earlier in the morning, but conditions worsened since then and there's a pretty big accumulation of snow and slush you have to drive through... even on the highway. Also? People are driving like frickin' morons. One person in a small van thought that they would cruise around us cars driving at a SANE speed for the conditions. I watched as they got sucked into the slush and rammed their vehicle straight into the center barricade. I was laughing my ass off as I passed. Maybe I shouldn't have... perhaps the driver had an emergency... but 99 times out of 100, this kind of thing happens to people who get what they deserve for driving stupid. It's just fortunate they didn't take anybody else down with them.
Oh... and on the way back from the dentist I stopped for lunch. As I was getting out of my car, I heard a guy screaming "OH YEAH! FUCK YOU! DON'T SLOW DOWN, ASSHOLE! I DON'T FUCKING CARE! FUUUUUUCK YOOOOUUUU!" which was subsequently repeated all over again.
Turns out he was shoveling the sidewalk and when cars drove by he was getting totally douched in dirty slush water. He was not happy. Didn't help that he was absolutely not dressed for the job in non-waterproof clothing and was probably soaked down to his tookus. Oh well. Live and learn, buddy. Live and learn.
I honestly don't mind winter weather. I've lived in it since I was 5 years old and learned how to drive in it since I first started driving. No, I don't like having to clean snow off my car, but snow is pretty, and I've grown accustomed to having it around town...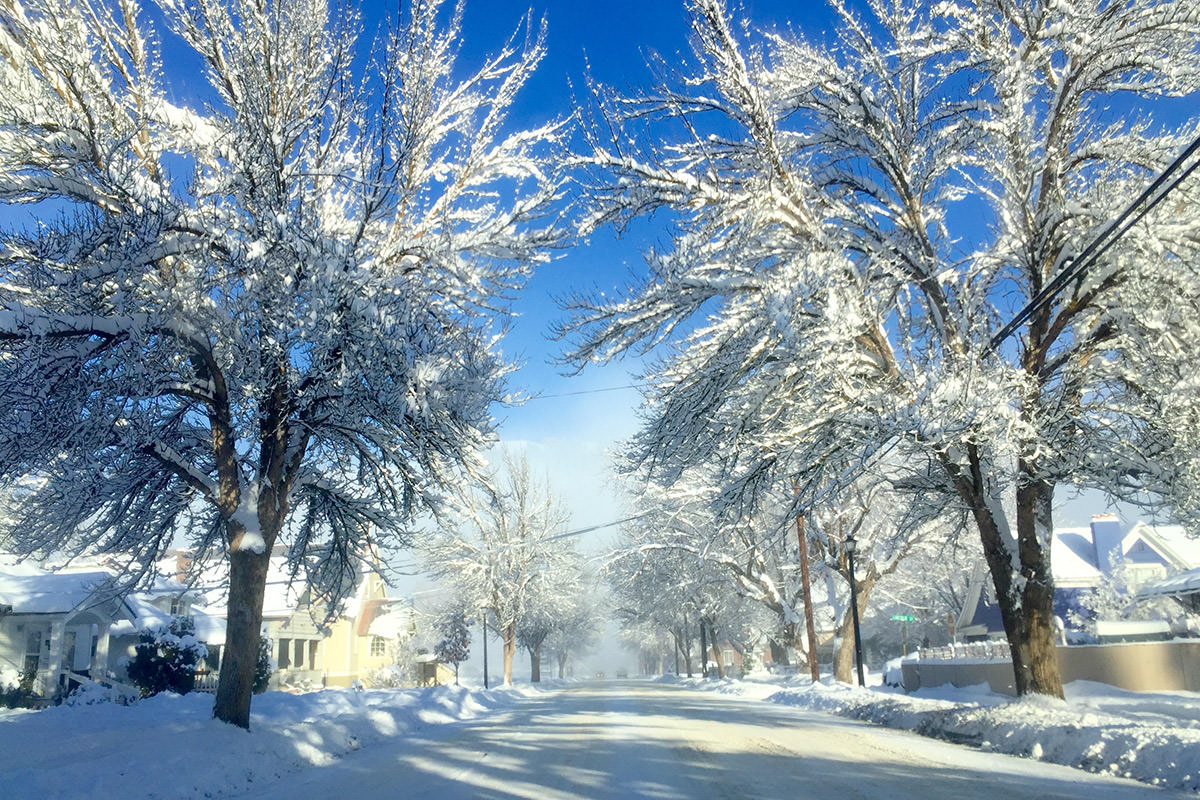 Except...
I usually end up hating it from Day One as well as liking it, because people are stupid assholes.
That's true for most things though.
Posted on January 8th, 2018

Jake needs to lose four pounds.
Which is not easy because he will eat every bit of food that I put out as soon as he can get it. Jenny prefers to graze over time, which means the minute she steps away Jake will pounce on her food immediately.
I've gotten a little more proactive in taking food away and putting out smaller and smaller amounts that I can ration so Jake isn't devouring food meant for Jenny.
Jake is not taking his diet well.
Tonight I caught him eating from a bag of dry food I was foolish enough to leave on the kitchen counter. He knows exactly what it is... and apparently knows how to open a sealable bag as well...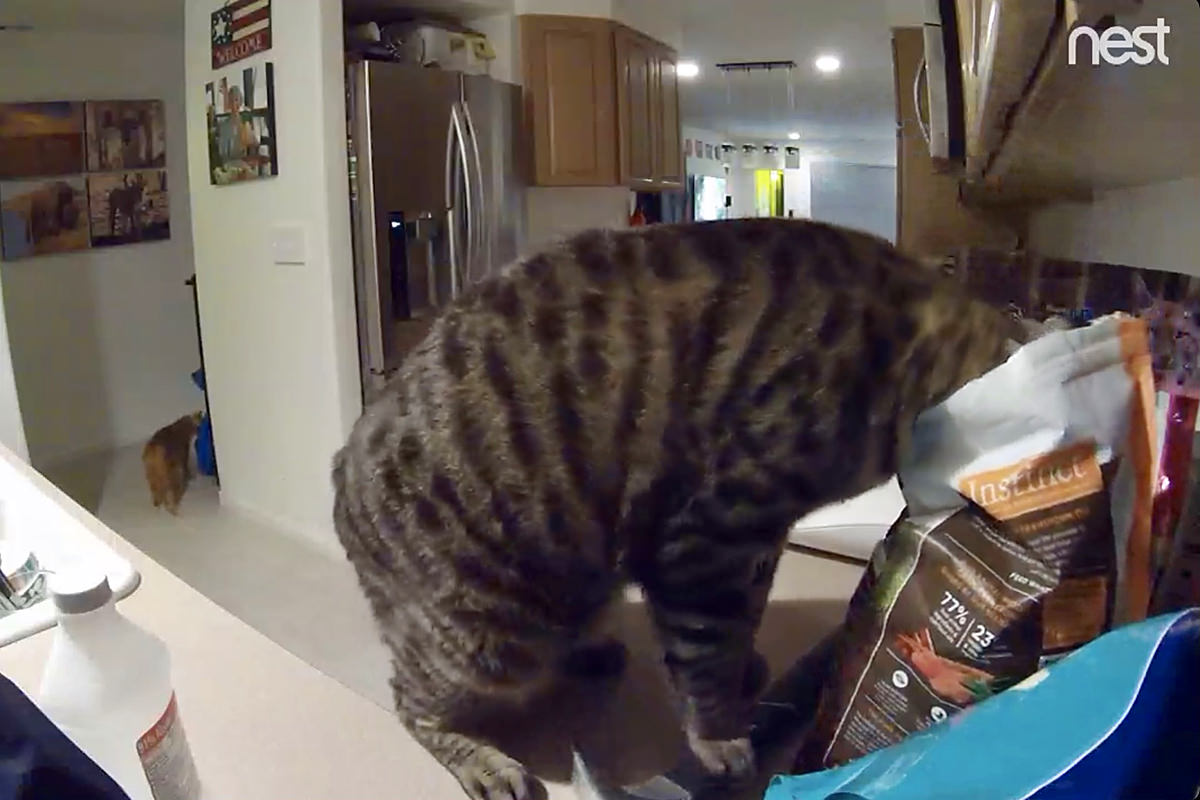 I yelled for him to get down, which he did.
Not five minutes later, Jenny hopped on the counter to see if she could get away with snagging a bite or two...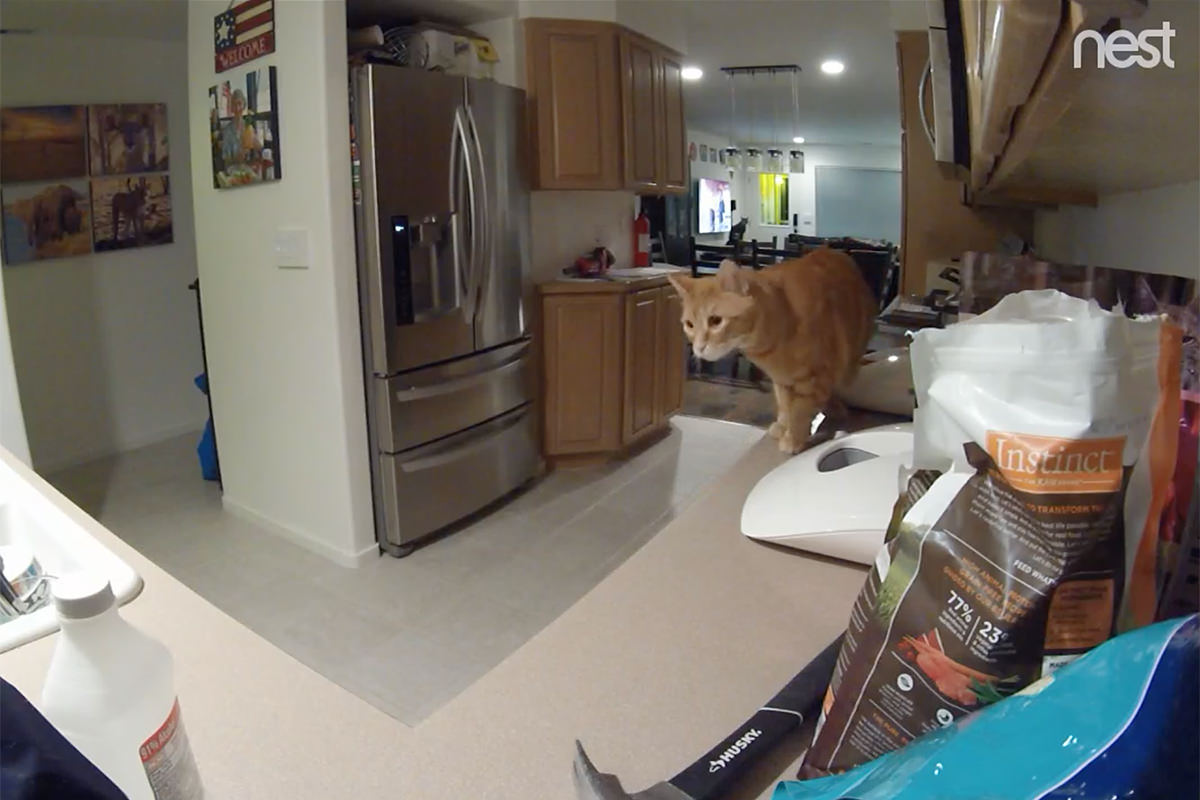 I yelled at her before she could manage it, and she won't look at me now. Even once I called her to come up to bed, she refuses to look me in the eye. Which means I've been getting snubbed and side-eyed all night...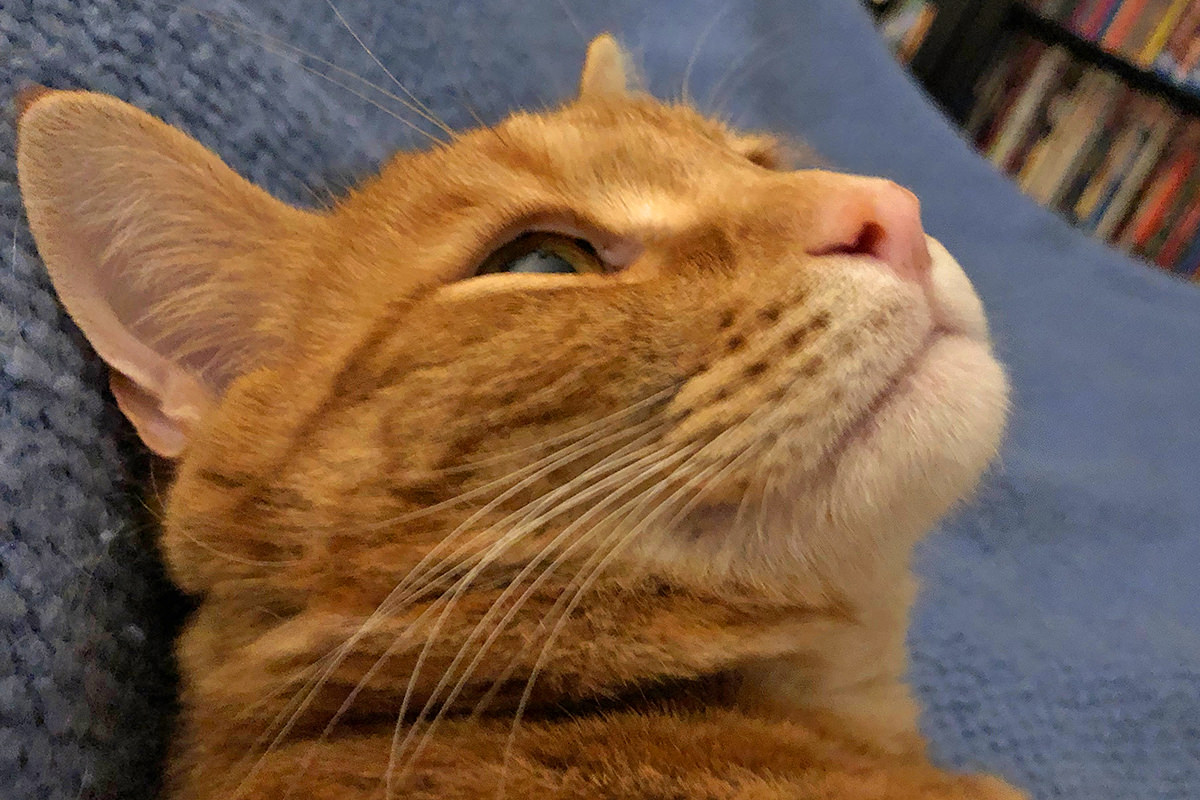 Hell hath no fury like a woman scorned.
If I am killed in my sleep, check for claw marks.

UPDATE: I've been asked how much food they get. Jake and Jenny get three tablespoons of dry food and a tablespoon of wet food twice a day (each). Jenny doesn't know what to do about wet food. She ate it as a kitten, but now she just licks it. Jake will then walk over and polish off her gravy-free wet food before tackling his dry food. So, essentially, Jenny is eating less than a half cup a day while Jake is eating over half cup a day, when it really should be reversed...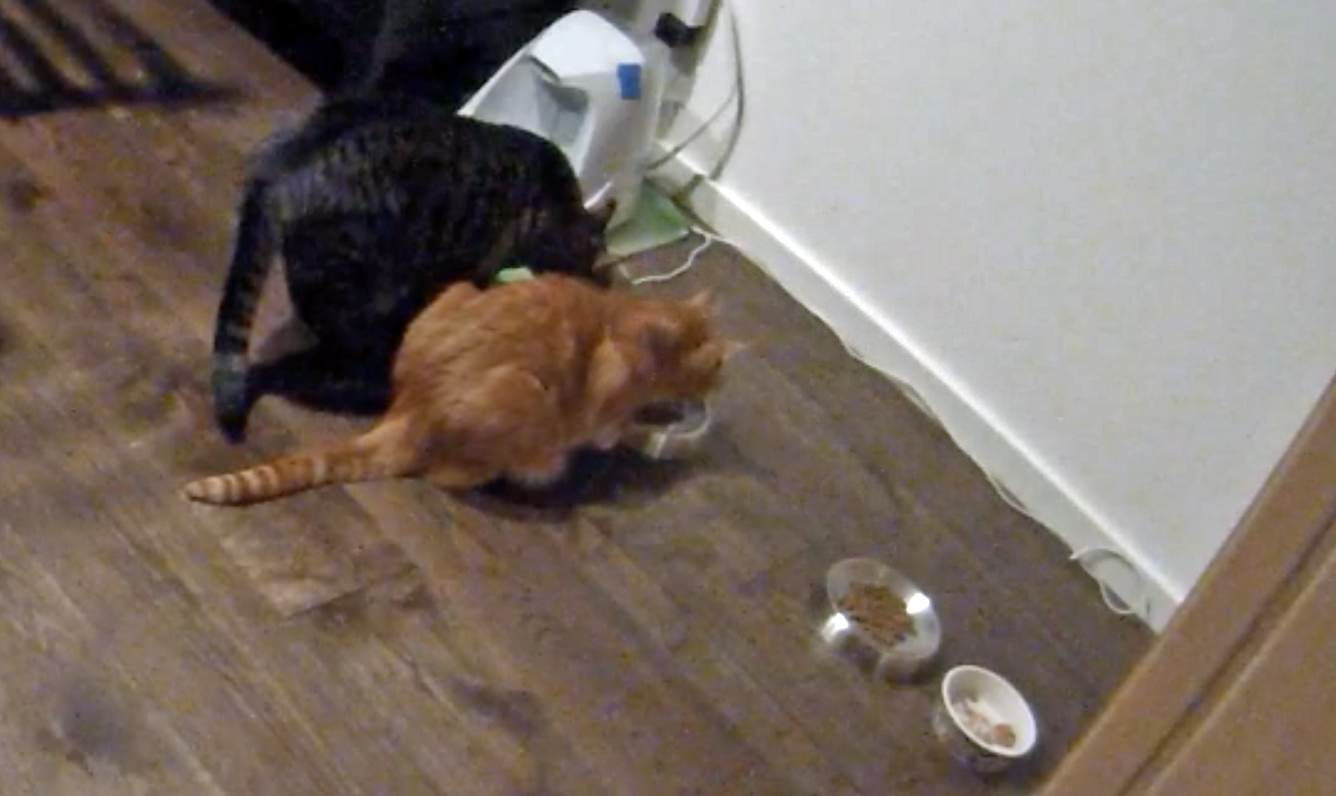 I bought some expensive stainless steel bowls that spread the food out while keeping it centered so that they avoid "whisker fatigue"... but my cats don't seem to care, so I still use bowls for their wet food. As they wear out (or break) I've been replacing them with shallower bowls in the hopes that the cats find them easier to eat from.
Posted on January 5th, 2018

Yesterday I had to go to the post office, which is always a guaranteed interesting time here in Small Town America. After a boring wait to buy stamps, I thought I was going to be denied any entertainment until I was leaving and passed a woman (mid 40's?) who kept singing "Hello, Dolly! Well hello, Dolly! La da da da da da da da da da daaaaa!" I stopped to look through my mail as an excuse to see if she knew any of the lyrics other than "Well hello, Dolly" but she did not. It was just "Hello, Dolly! Well hello, Dolly! La da da da da da da da da da daaaaa!" over and over until she left.
Weird.
Not that I know what the hell the lyrics are. I can't stand Broadway musical type stuff, so she knew as much as I do.
I thought it was an odd song to be singing until I was driving home from work today and saw a banner advertising a local high school production of Hello Dolly! that's happening later this month.
After singing "Hello, Dolly! Well hello, Dolly! La da da da da da da da da da daaaaa!" all the way home, I finally Googled the lyrics. I also Googled what in the hell the play is about and ended up on Wikipedia. The Hello Dolly! article itself is Too Long, Didn't Read... but get a load of the character names! Horace Vandergelder? Cornelius Hackl? Barnaby Tucker? Ambrose Kemper? Ernestina Money? Rudolf Reisenweber? ERMENGARDE?!??
Hilarious. Maybe I need to buy a ticket to the high school play just to be able to hear today's teens call each other "Horace" and "Ernestina."
Just kidding. Sitting through a high school production of Hello Dolly! is what I imagine Hell must be like.
For the record, here are the actual lyrics I Googled...
Hello Dolly
This is miss Dolly
It's so nice to have you back where you belong
You're lookin' swell, Dolly
I can tell, Dolly
You're still glowin', you're still crowin', you're still goin' strong

I feel the room swayin'
While the band's playin'
One of our old favorite songs from way back when
So, take her wrap fellas
Find her an empty lap, fellas
Dolly, never go away again

I feel the room swayin'
While the band's playin'
One of our old favorite songs from way back when
So, golly gee, fellas
Have a little faith in me, fellas
Dolly, never go away
Promise, you'll never go away
Dolly, never go away again
So... apparently Dolly went away, came back to sit on somebody's lap, now everybody is begging her not to leave again?
I don't know why Wikipedia couldn't have just said that. Would save everybody who doesn't want to go see the play a lot of time.
Posted on January 1st, 2018

I never get mad at my cats.
It doesn't matter what they do that's "bad," I can never bring myself to get upset at a cat for being a cat. My cats make that pretty easy. They're well-behaved, for the most part, and don't get into to much trouble. Now that they're grown, they never scratch at the furniture or pee on stuff or anything like that (so far, anyway)...
On occasion there are problems. One of them will get to a place they're not supposed to be and break something, for example. But... how can that be their fault? More likely my fault for not anticipating the problem and preventing it. If I'm mad at anybody, it should be me.
It occurred to me a while back that if I can't get mad at my cats, shouldn't I be able to translate that passivity to people?
The Trump presidency has caused a lot of anger in me this past year. His dangerous ignorance, utter stupidity, and inhuman ability to not give a crap about people he is supposed to be representing as president... it grates on me like nothing else ever has. I find myself consumed with rage on a near-daily basis because every day it's just more of the same horrendous shit raining down on the world from The White House. Or, more likely, whatever golf course President Trump is occupying this week.
As somebody who honestly believes that anger is more destructive on the person who has it rather than those it's directed at, I know this it not healthy. Not for me. Not for the people I care about. Not for my cats.
And so, after completely unplugging from the world for two weeks in Antarctica and becoming accustomed to not being angry every waking moment, I made myself a promise to try and be more pragmatic, caring, and less angry in the new year. To attempt to let my anger go and focus on positive things so that I can help be a solution instead of being part of the static that divides us.
And then... just as I was making my mind up, it happens. A tweet President Trump unleashed finds its way into my news cycle...
And see... here is why my "letting go" of my anger is so tough. When it comes to my new commitment to setting aside hatred, I've already failed the test. Because stupid-ass shit like this just reinforces how utterly brain-dead and dangerous this fucking asshole actually is for this country and the world, and I can't help but be angry about that.
He has no clue... none... what climate change entails, nor does he care. And yet he speaks as if he's an authority on the matter. This is the same idiot who thought that hairspray quality today isn't as good as it used to be because ozone-depleting CFCs have been banned from aerosols... the same CFCs that he said could never affect the ozone layer because his apartment is "all sealed."
And yet... here we are. And here I am. Right back to where I was in 2017.
There's more stupid-ass tweets to come, I'm sure. There always are. And that's not even the start of it. I'm sure he'll find a way to keep assaulting all the Americans he loathes in short order... the non-Christian Americans, the unhealthy Americans, the Mexican Americans, the gay Americans, the poor Americans... whatever... the list is never-ending. And that doesn't even touch crap like his assault on net-neutrality, something that I am beyond passionate about.
And so... what?
What to do with the torrents of overwhelming Trump-initiated anger that very nearly destroyed me in 2017?
I honestly don't know. I wish I could argue against his fucked-up agenda without getting so enraged about it, but that's something I'm apparently incapable of doing. President Trump is an affront to everything I care about.
And yet I have to try.
I have to do better in 2018.
I could never ignore what's going on in the world in order to make myself be happier. Ignorance just allows ignorance to propagate. But the same could be said for hate.
And so... a plan.
I will try my best to accept the negative for what it is rather than what I make it into.
I will educate myself on the negative in order to better understand it from an objective viewpoint rather than an emotional one.
I will act upon the negative in a positive manner from a positive mindset in the hopes of bringing about positive change in myself and others.
I will attempt to detach myself from the negative (Buddhist-style) in order to accomplish all of the above.
Easier said than done to be sure. But, as I said, I'm going to try. Finding more positive inspirations in my life that encourage me to make the jump will probably help...
And here we go...
Tags:
Anger
,
Blogging
,
DaveLife
,
Dumbassery
,
News
,
Politics
,
Stupidity
,
Truly Stupid People
,
Trump's America
Categories:
Blogging 2018
,
DaveLife 2018
,
News – Politics 2018
—
Click To It:
Permalink
—
1 Comment: Click To Add Yours!
Posted on December 31st, 2017

For those who only read one of my posts each year... or anybody wanting a recap of the past year here at Blogography... this post is for you! As customary, I've jettisoned loads of the usual junk so this entry is "mostly crap" instead of the "total crap" they usually are.
2017 was far from ideal. And yet... compared to the bucket of never-ending suck that was 2016, it was a vast improvement. So I can't really complain.
---
JANUARY
• Said goodbye to President Obama, a president that I never learned to truly appreciate until the total disaster that's now occupying The White House moved in...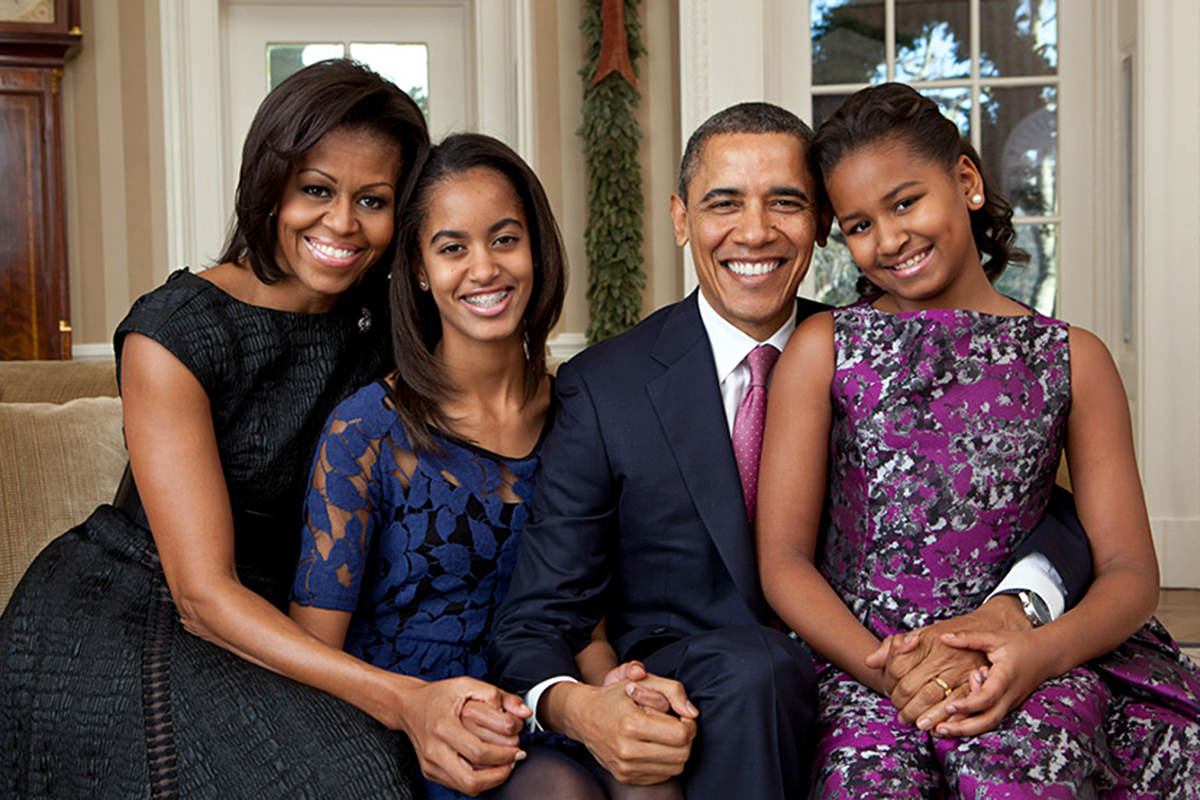 Official White House Photo by Pete Souza
---

FEBRUARY
• Took my cats to the vet for the first time, something I am definitely not looking forward to doing again in the New Year...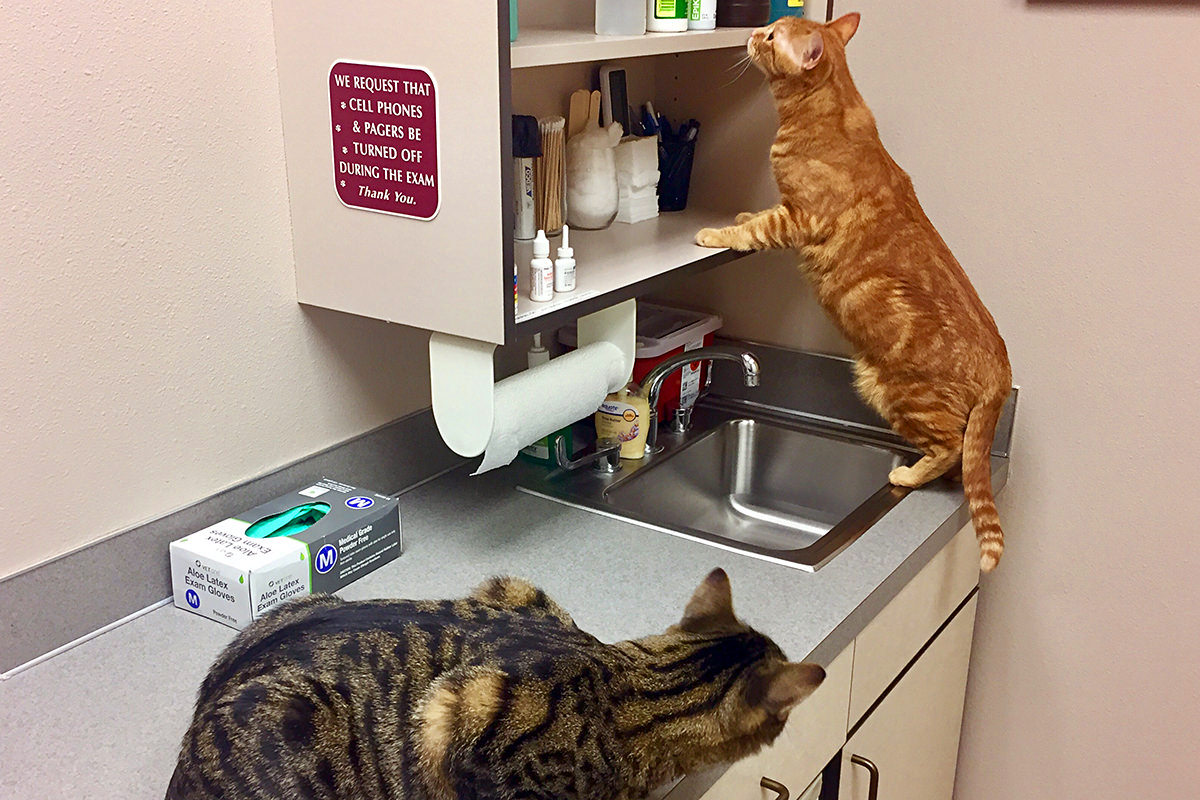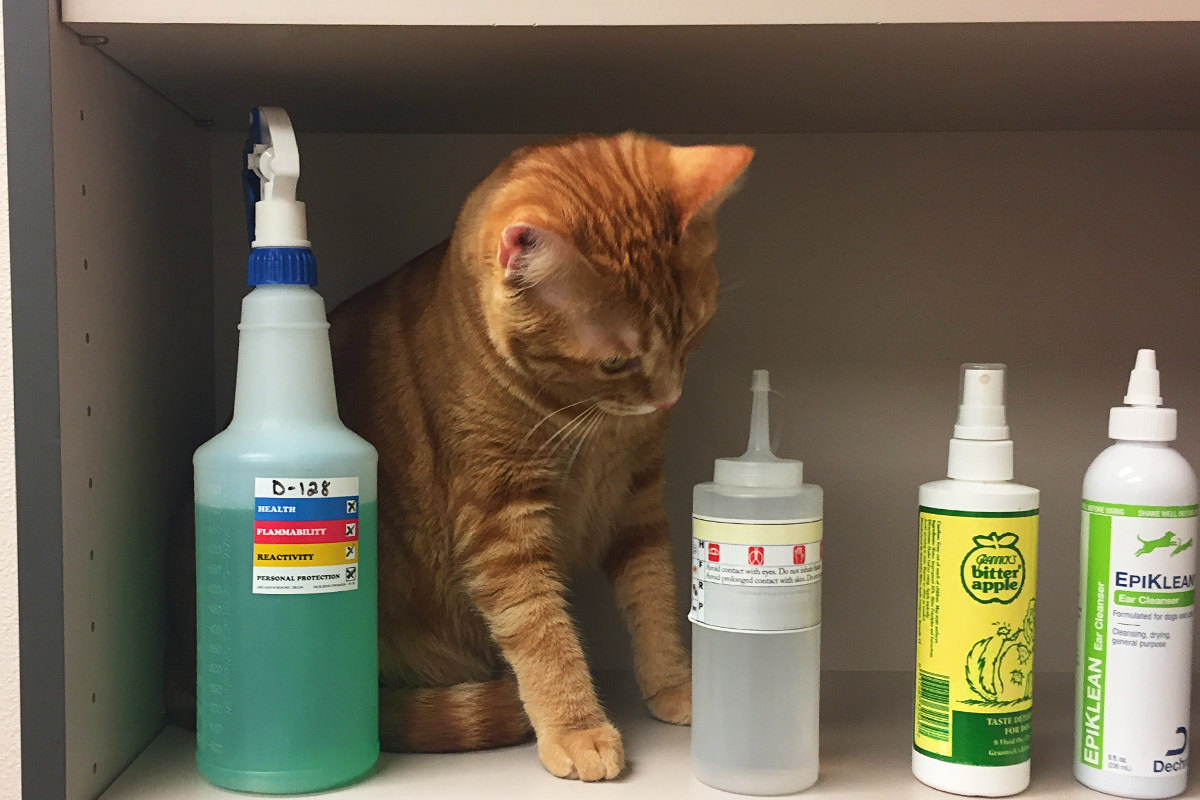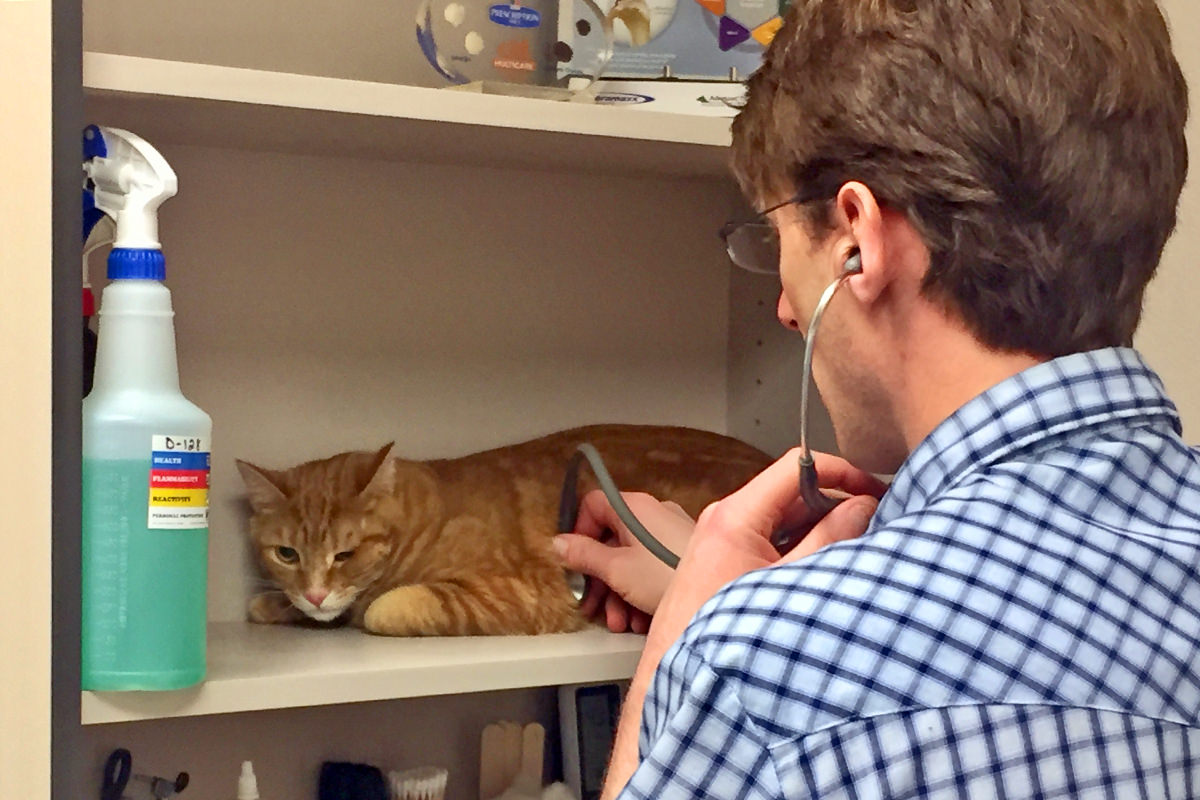 ---

MARCH
• Went to Disneyland for work, then ranked my all-time favorite Disney attractions.

• Yesterday I listed my favorite albums of 2017. Last March I listed my all-time most hated songs that everybody else seems to love.

• Flew to San Francisco to see one of my favorite new musical artists, Wrabel, with my (literal) rockstar friend Aaron.

• Headed to Las Vegas, where I finally ziplined down Fremont Street, among other things.
---

APRIL
• Said goodbye to Lil' Spicey...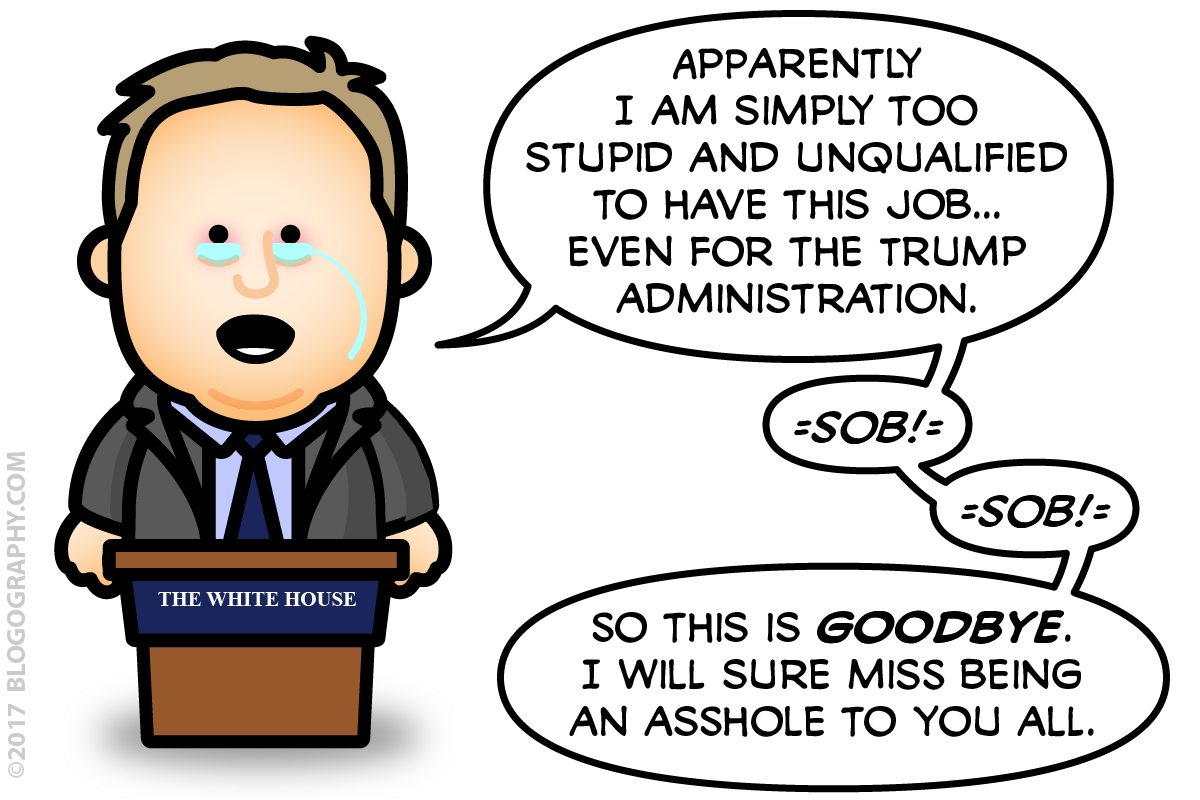 • Built a built-in desk... for my cats, apparently.
---

MAY
• Flew to Denver to celebrate my good friend Howard's 50th birthday with the Guardians of the Galaxy: Volume 2!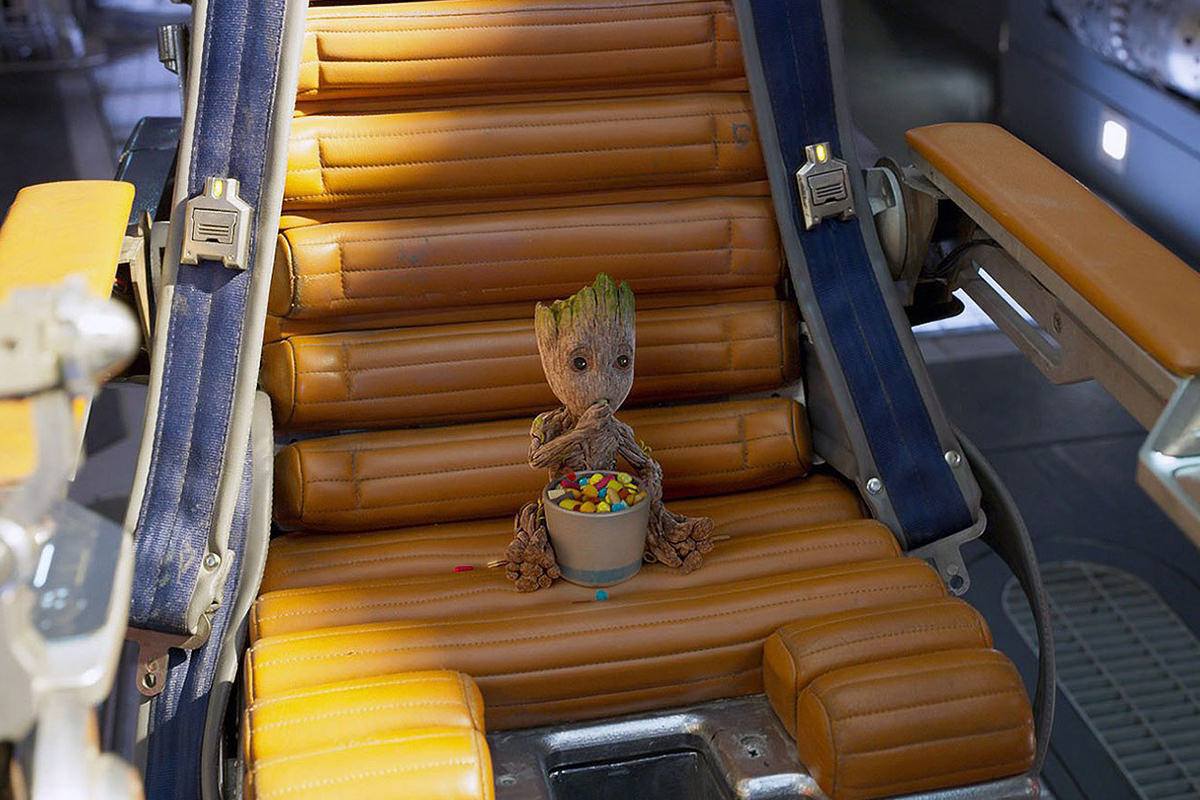 ---

JUNE
• Built new built-ins for my bedroom closet, which turned out amazing...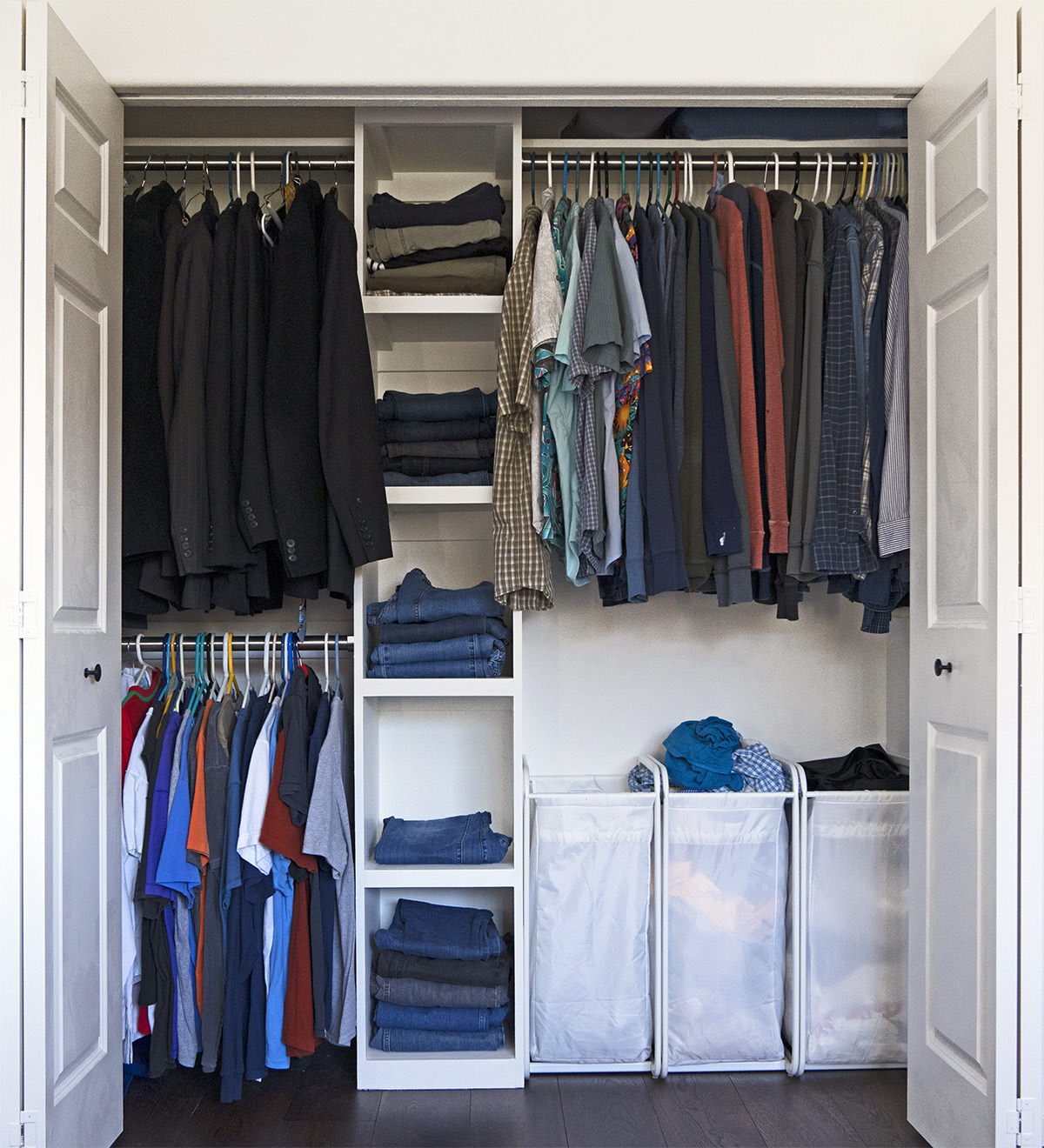 • Had one of the biggest scares of my life during The Great Jake Escape...

• Back to Vegas again (for work this time).
---

JULY
• Said goodbye to my long-time blogging friend, Anissa.

• Welcomed Carl the RoboVac to my family...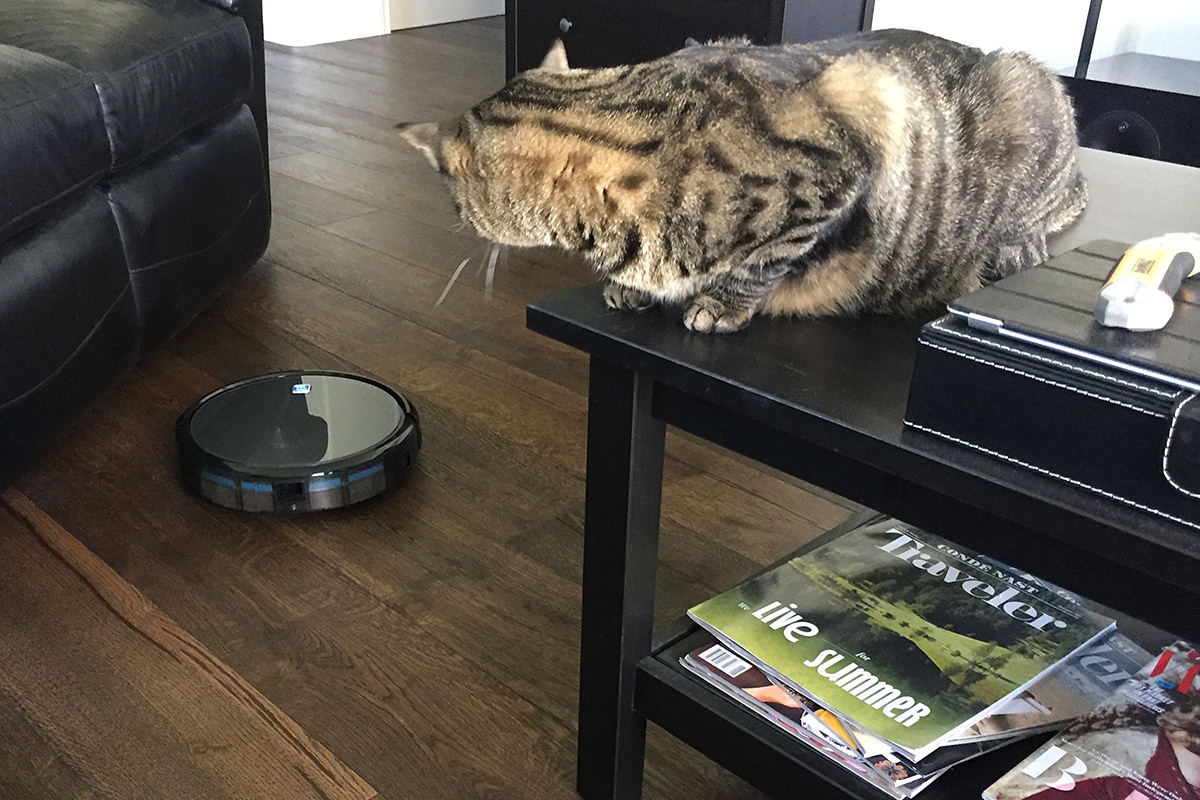 • Flew to Maine for blueberries (and for work).
---

AUGUST
• Said a painful goodbye to my good friend and long-time blogging buddy, Howard.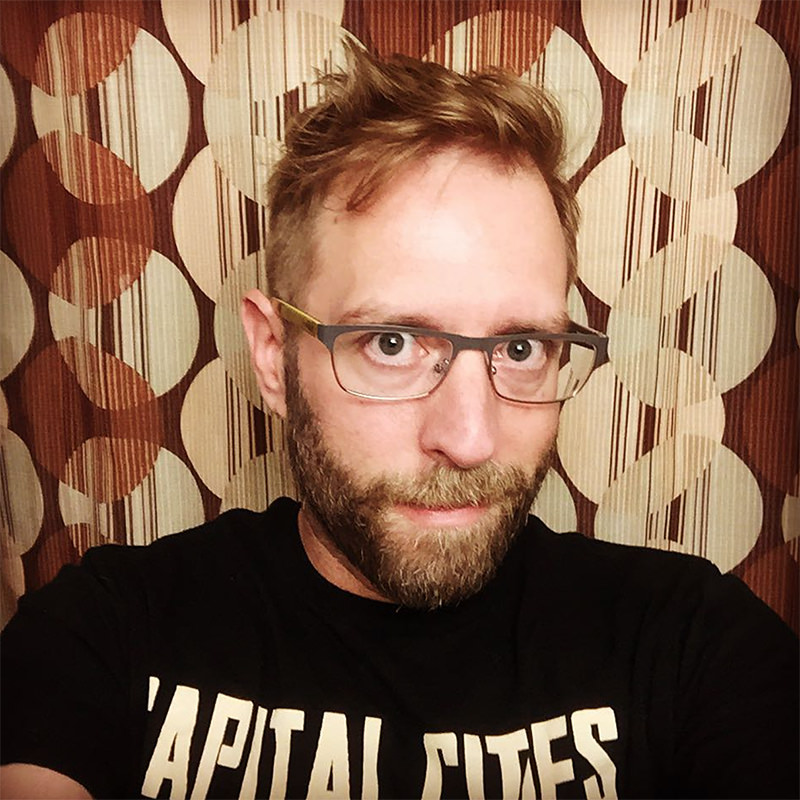 • Lived through Raccoonageddon.

• Live-blogged my photographing the eclipse (with my cats).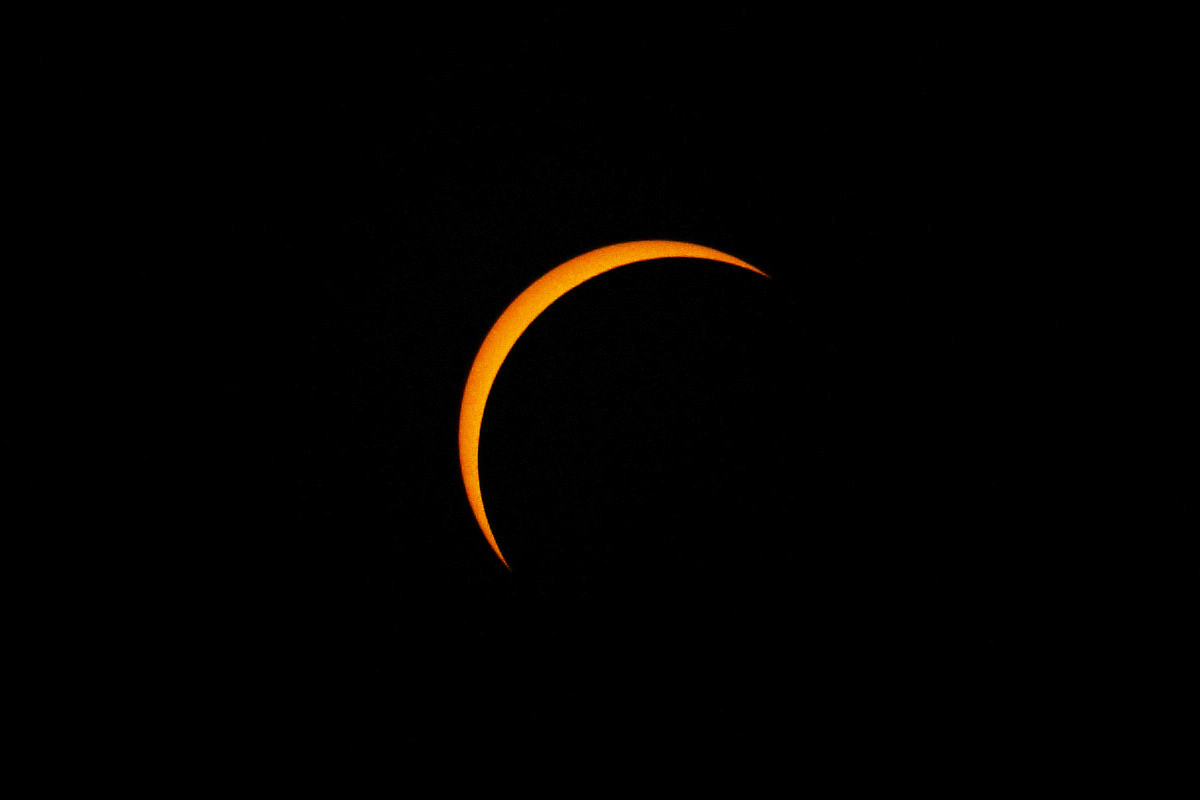 • Read The Nashville Statement so you don't have to.
---

SEPTEMBER
• Lived through another round of wildfires in my neck of the woods.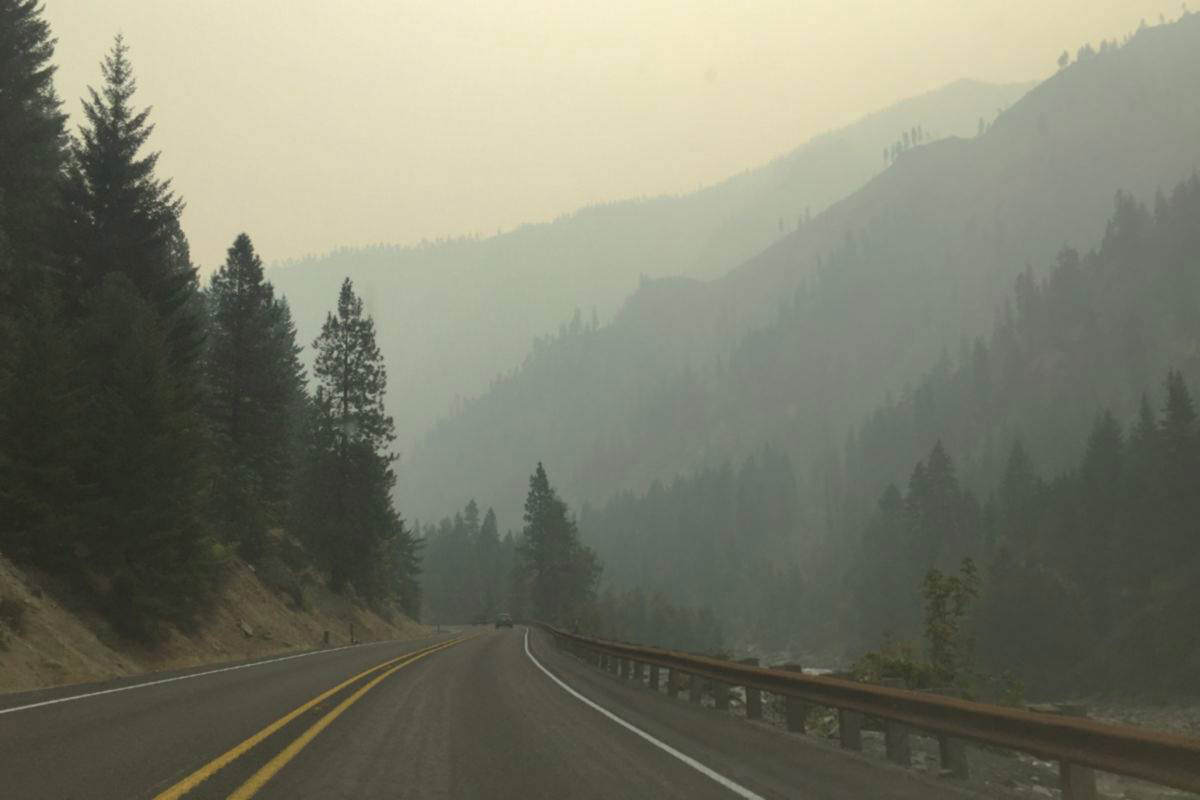 • Built a tunnel for a bird to escape my home before my cats could murder it...
---

OCTOBER
• Wrote "Second Amendments and Horse Shit" which surprised some people, I'm sure.

• Had some extra money that came my way and wrote about what I did with it... which included getting some old negatives scanned...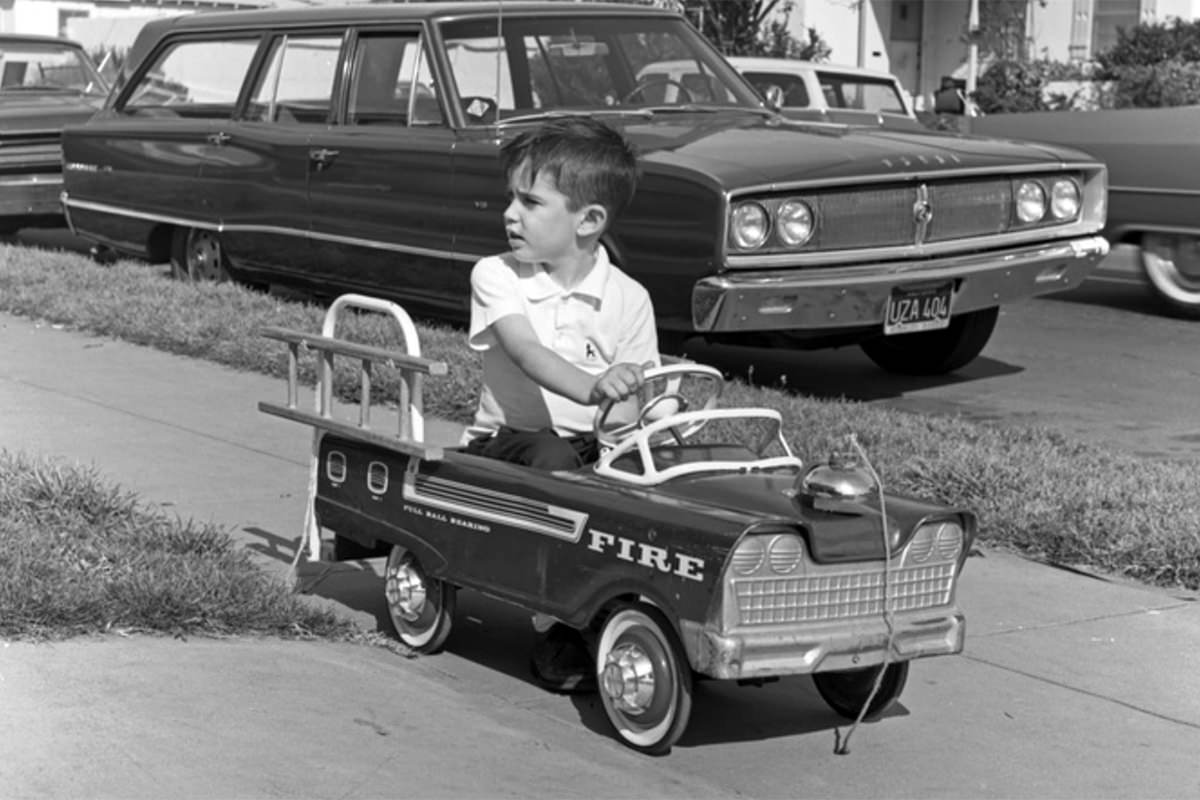 • Added Joy the Mopping Robot to Carl the RoboVac and my growing family.

• Got my cats into the Halloween spirit...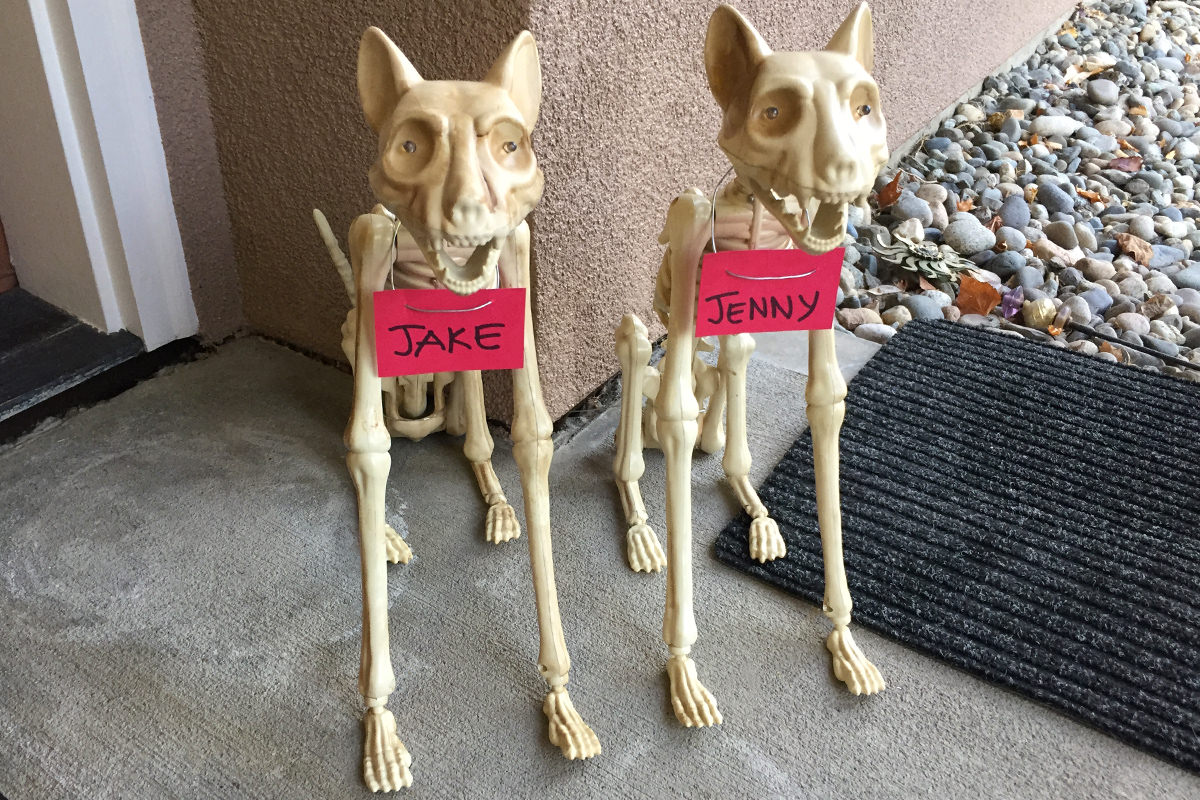 ---

NOVEMBER
• Had a colonoscopy... and posted photos of my beautiful colon (you're welcome!).

• Flew to Maine and finally visited Acadia National Park...

• Visited the Eastern-Most Point in the USA at West Quoddy Head Light on a bad weather day...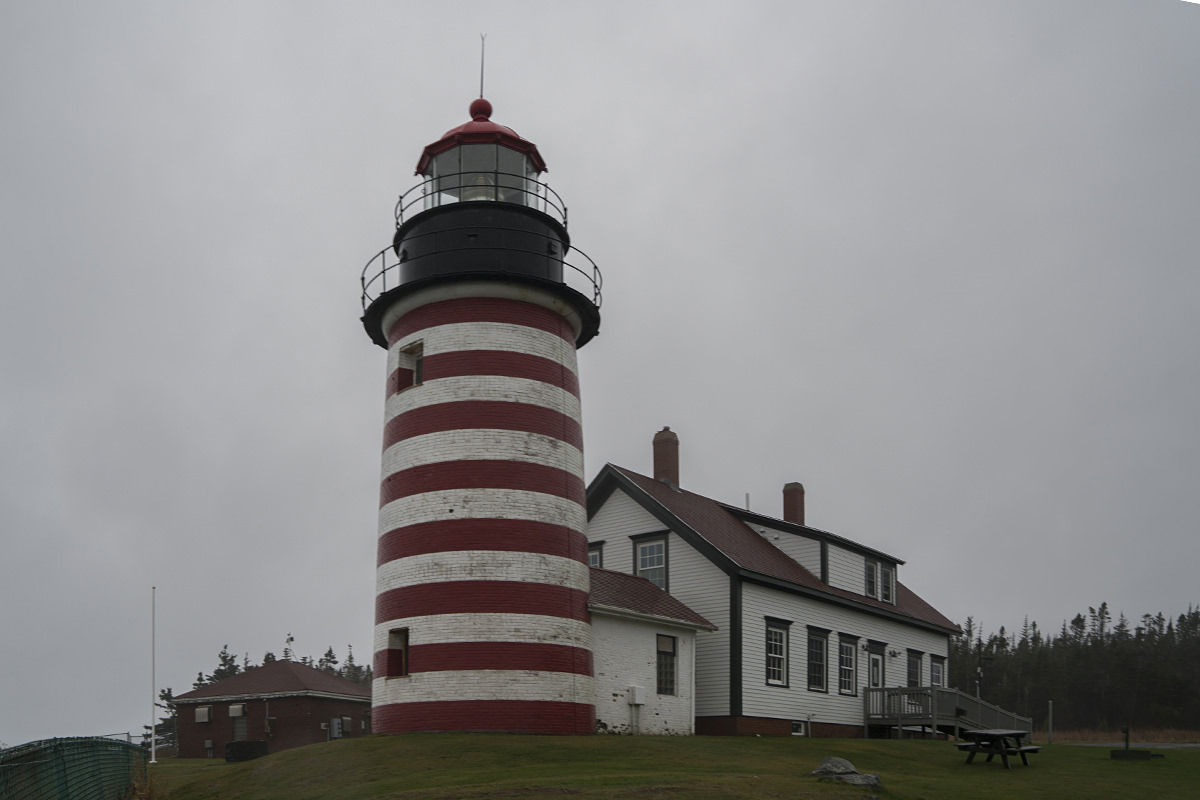 • Was first in the USA to see the sun rise at Cadillac Mountain...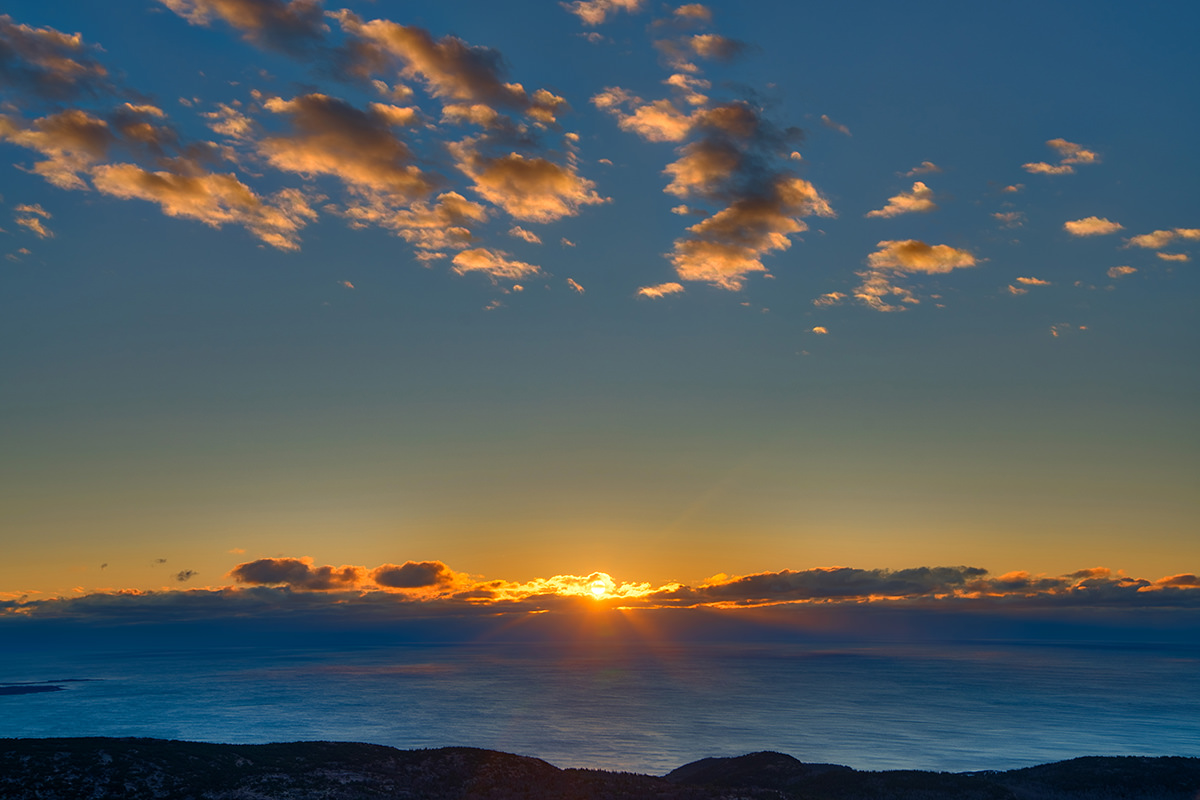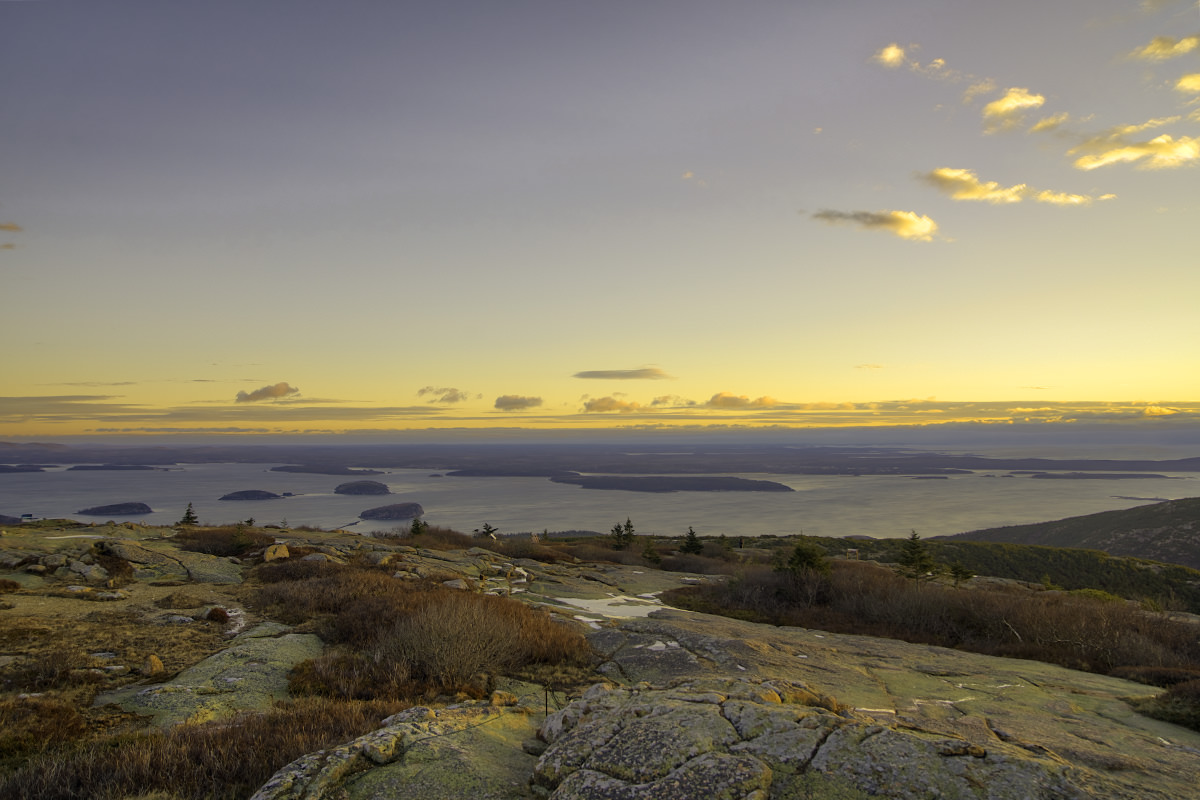 ---

DECEMBER
• Flew to Buenos Aires and visited Evita at Recoleta Cemetery...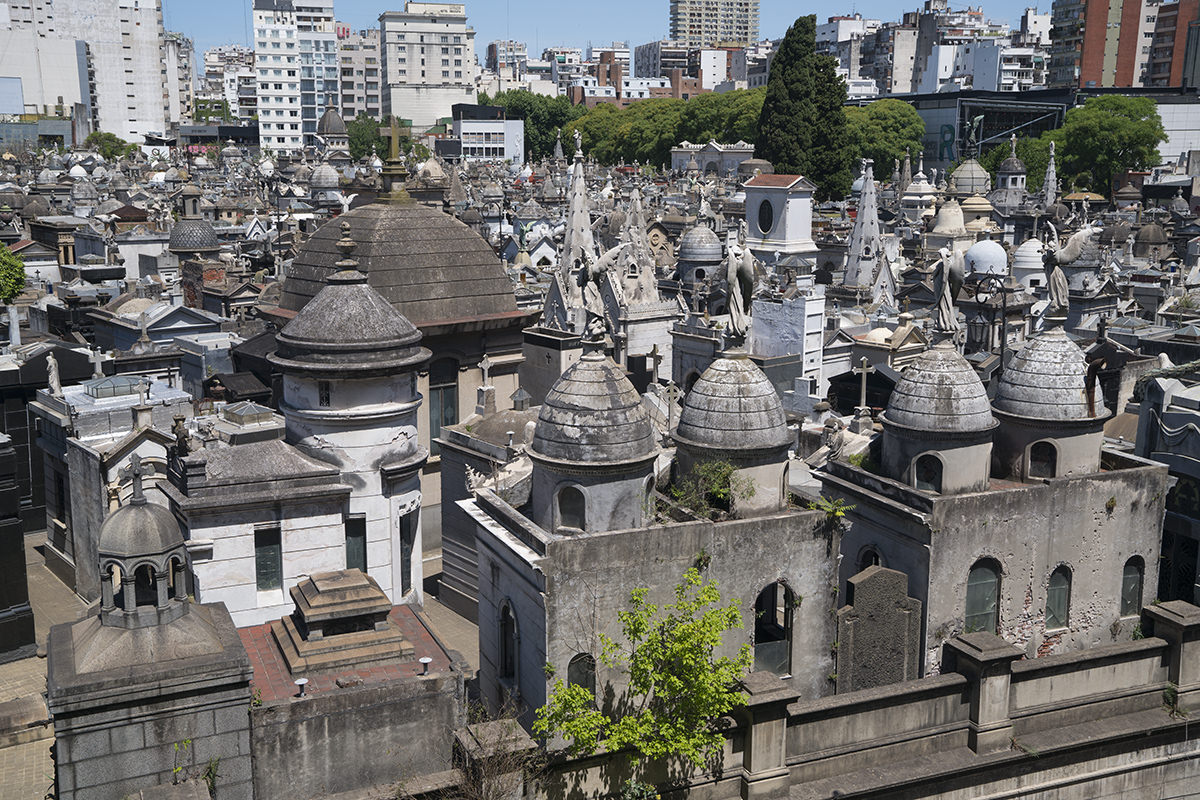 • Took in the view at The End of the World...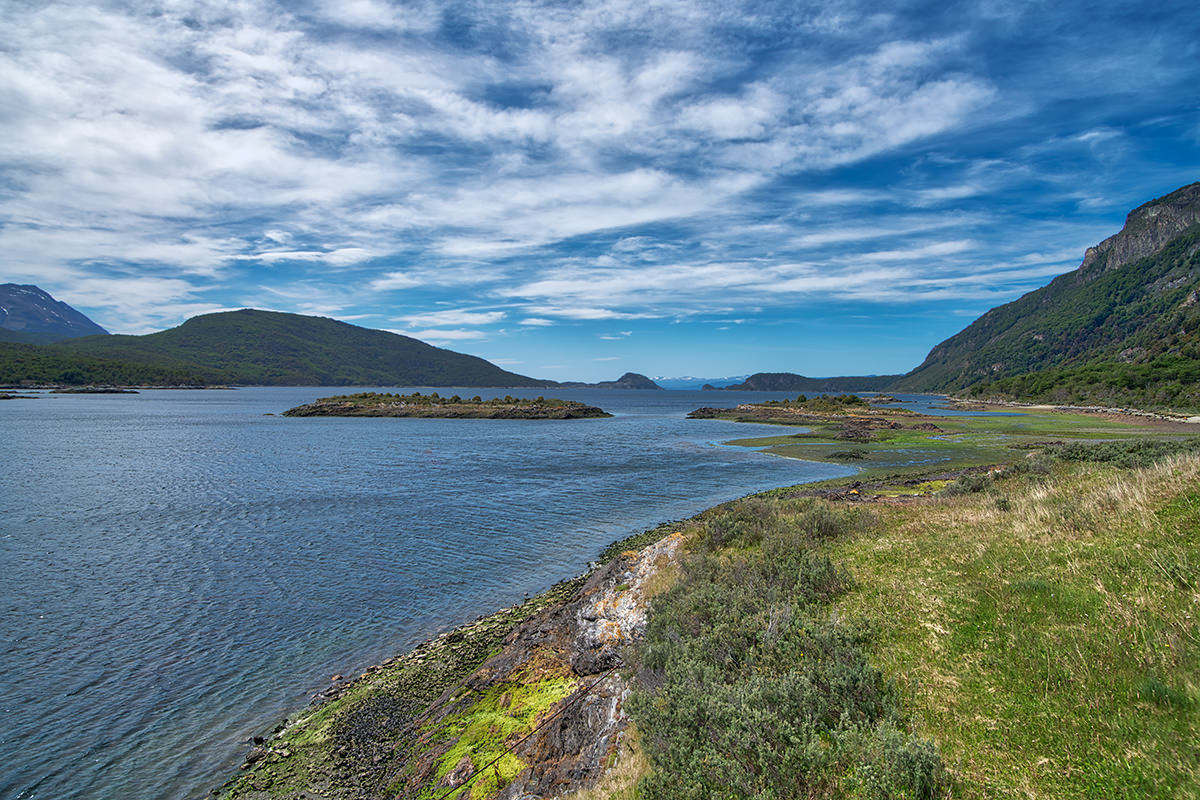 • Headed out across The Drake Passage in some of the roughest seas on earth...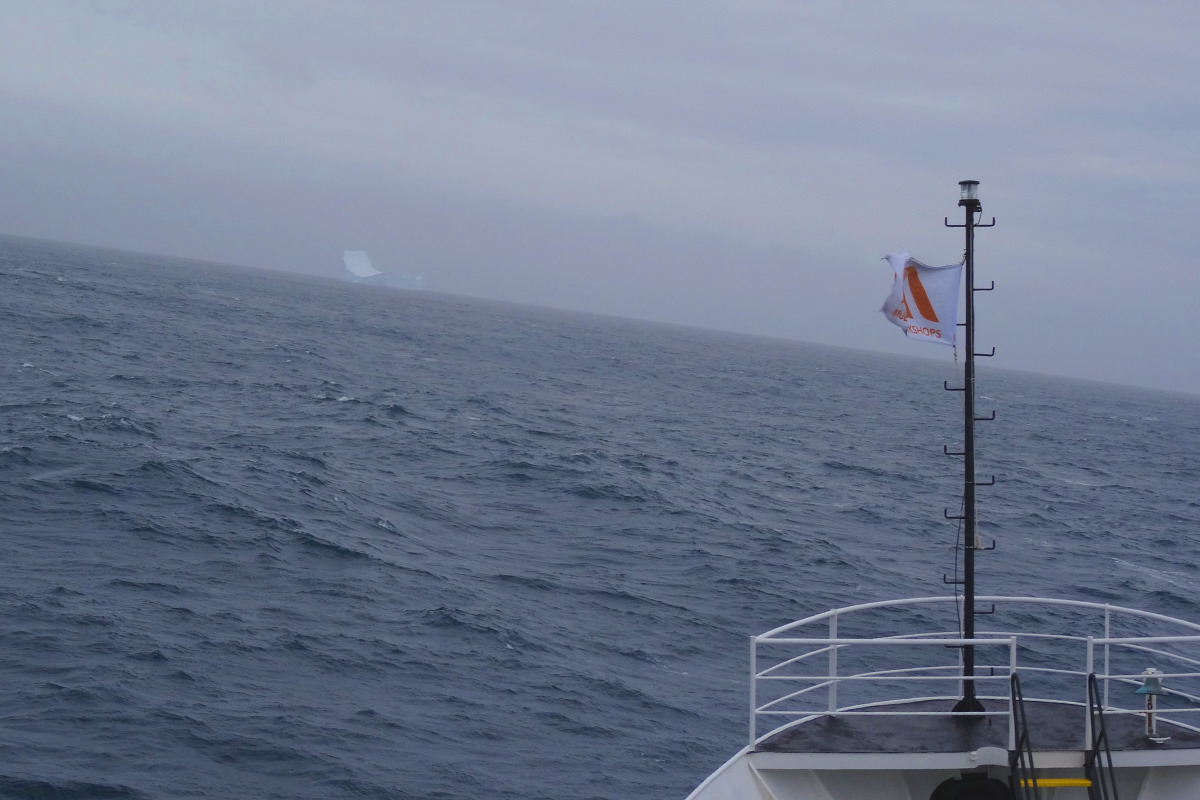 • Fulfilled a life-long dream when I finally set foot on Antarctica for the first time...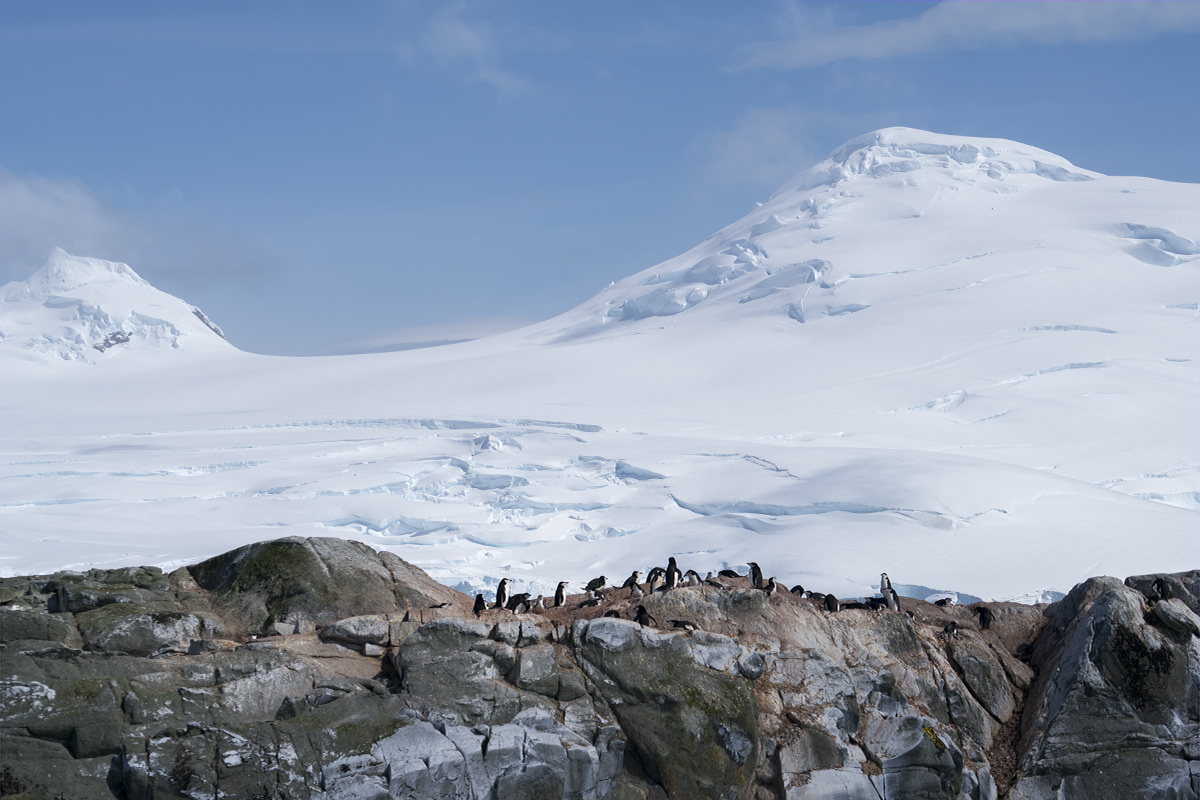 • Photographed Antarctica icebergs at "night"...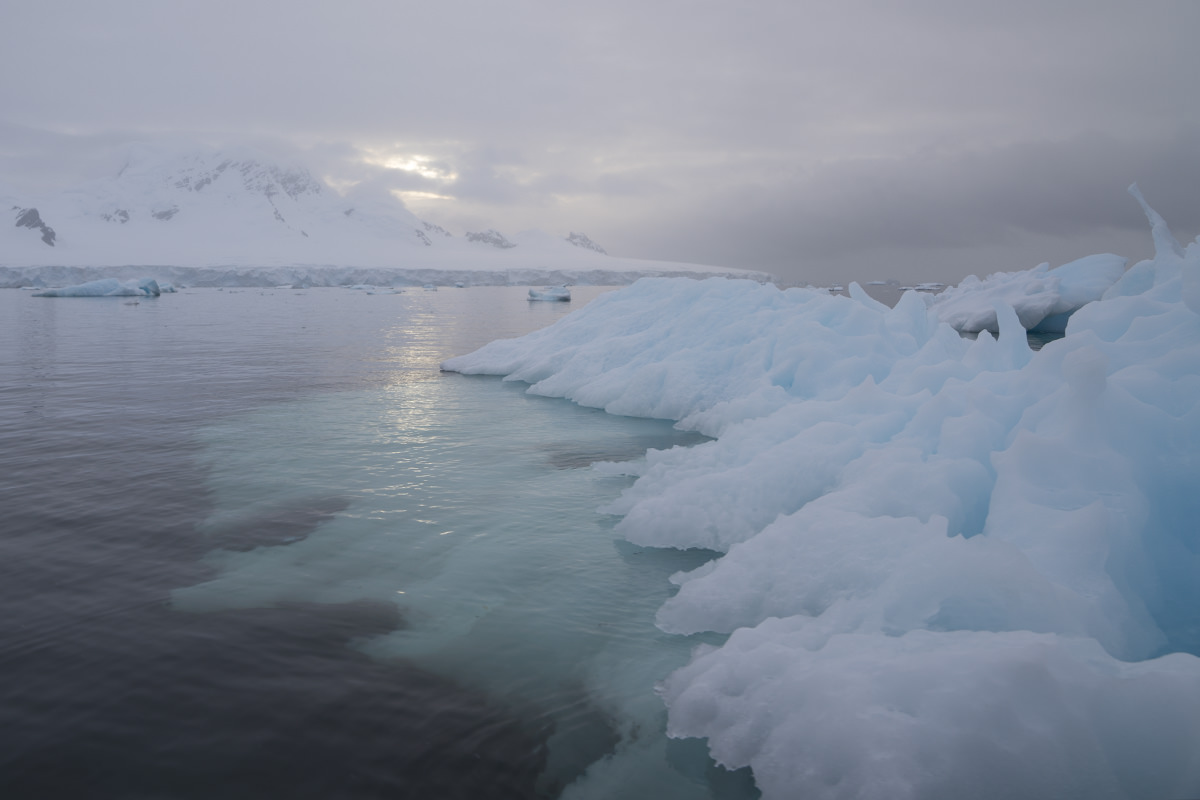 • Explored the lives of penguins...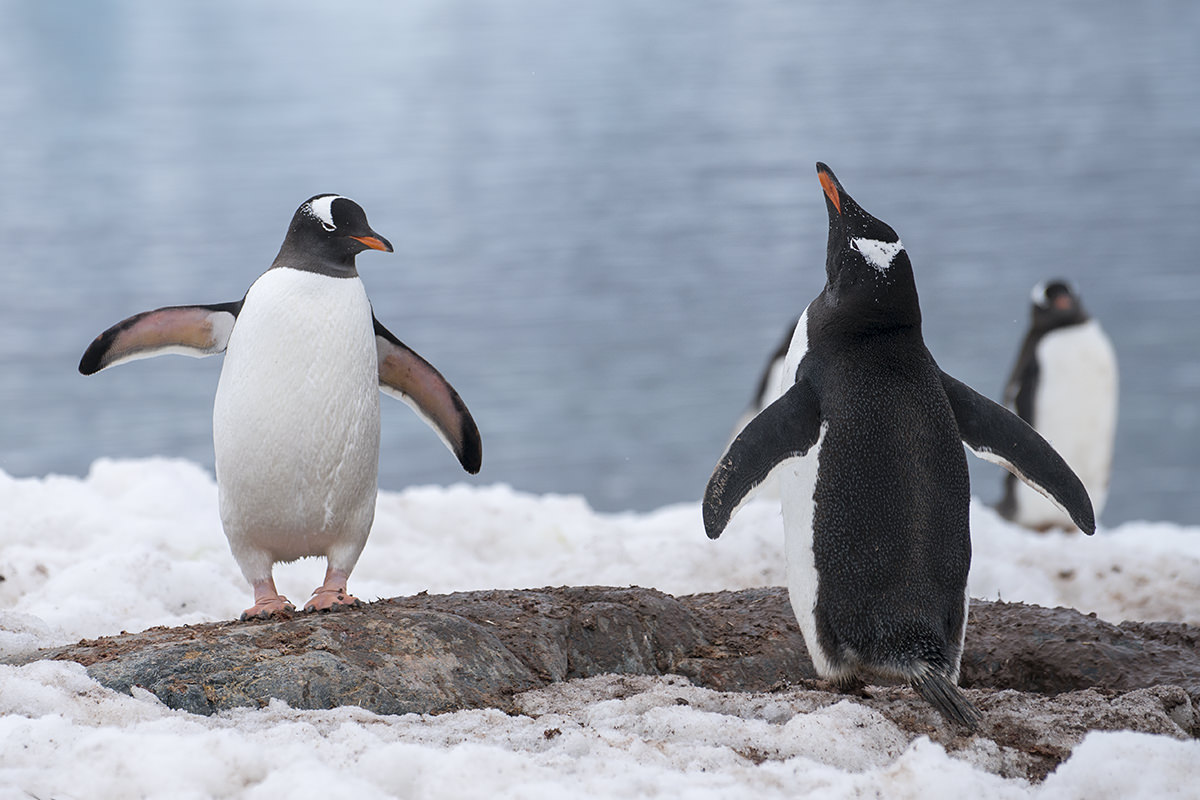 • Had one of the most amazing days of my life when I stepped foot on the seventh continent...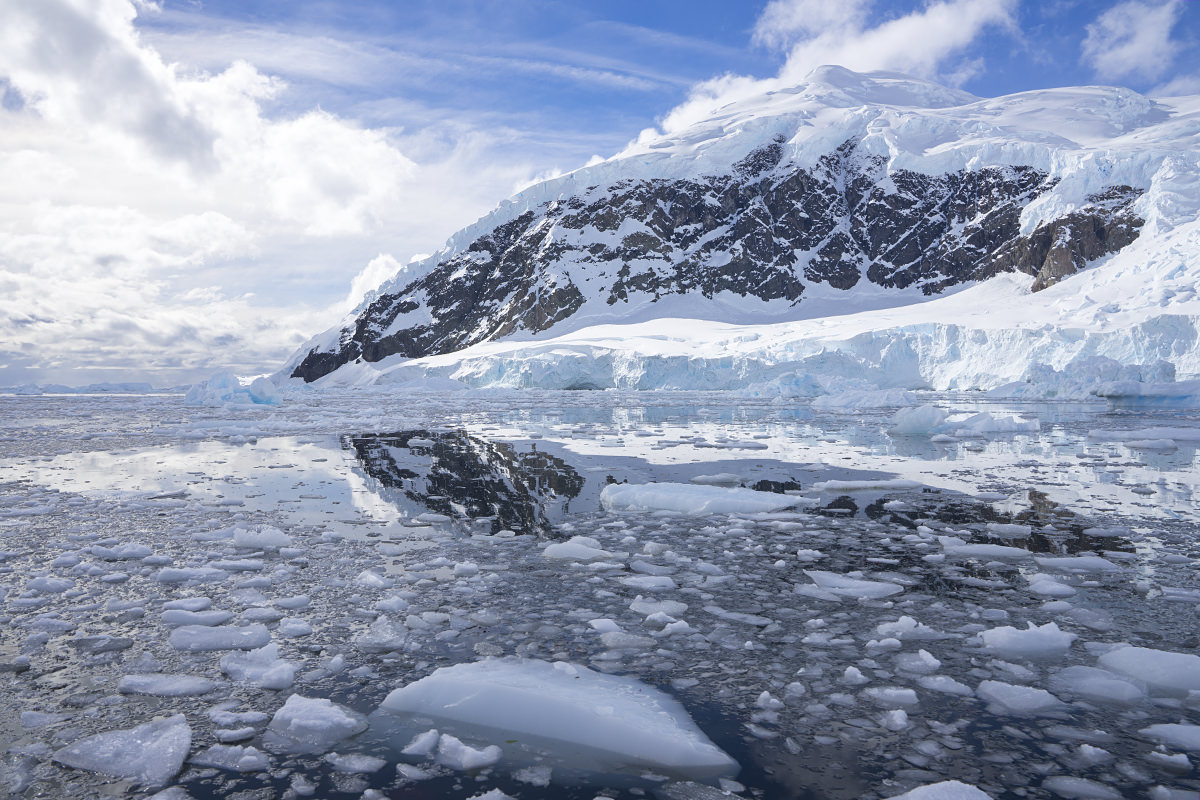 • Got up-close-and-personal with some whales...

• More penguin photography at Half Moon Island in Antarctica...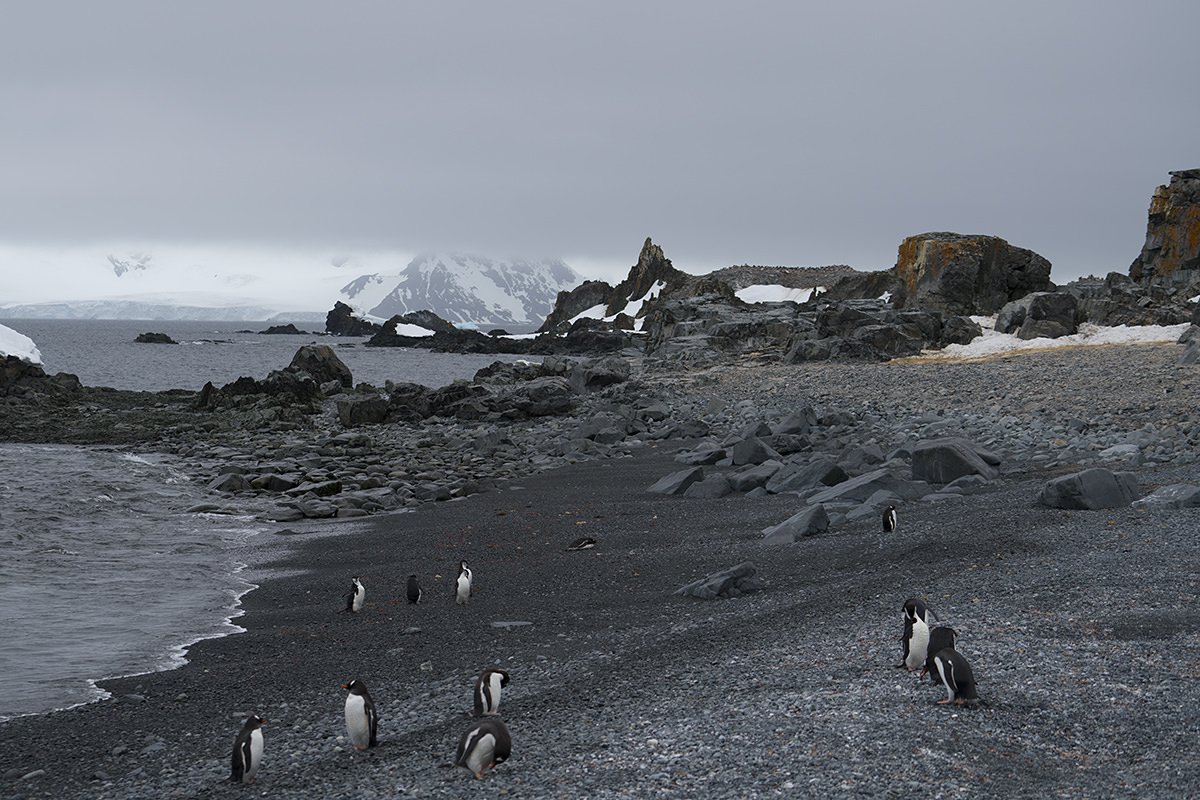 • Used Apple's new "iPhone Update Plan" so I could buy an iPhone X and post my thoughts on the astoundingly expensive thing.
---

And there you have it, the year that was the major events in my 2017.
Well, the ones I shared on my blog, anyway.
Thanks once again to my cats, family, and friends for making life bearable through the not-so-great times. Though, I have to say, closing out the year with my bucket-list trip to Antarctica certainly had it ending on a high note.
Here's to a good 2018, everybody.
Posted on December 24th, 2017

And so... I'm heading over the mountains for a short holiday vacation.
All week I was a little apprehensive because the weather forecast kept changing, but it ended up being a beautiful day with bare roads and pretty scenery. A piece of cake drive to be sure...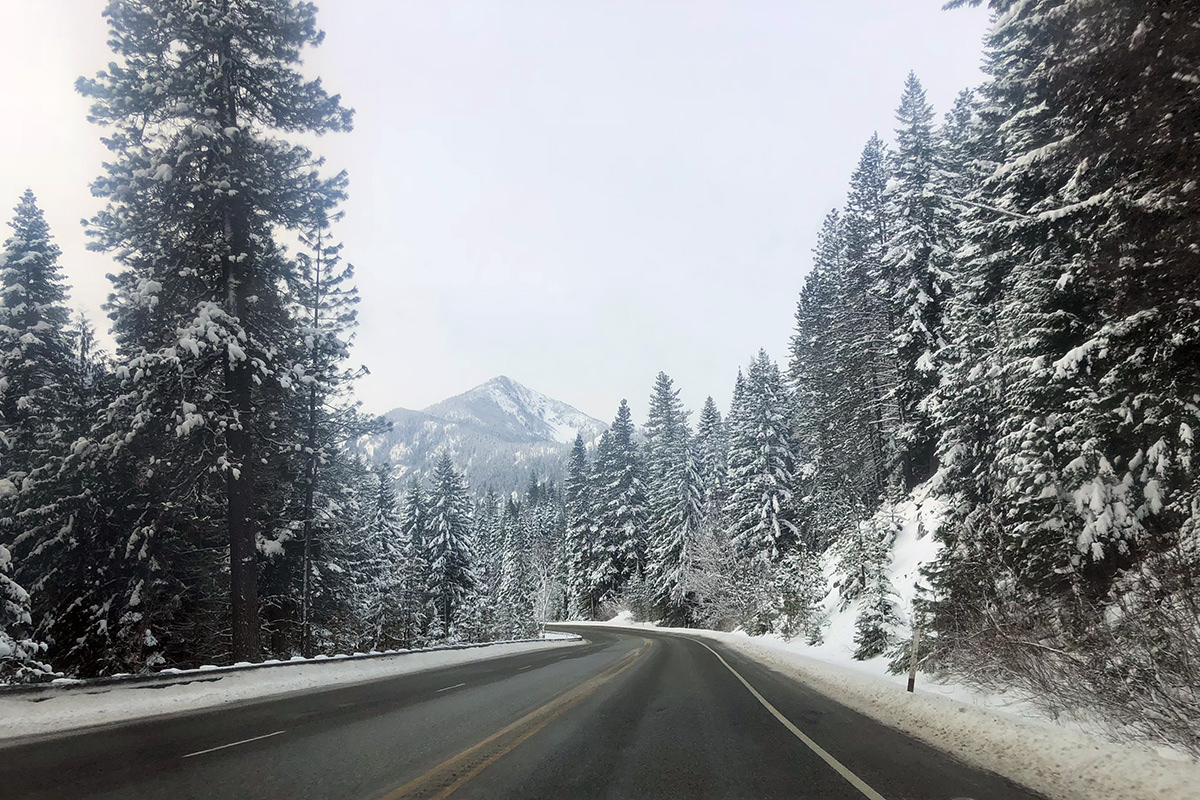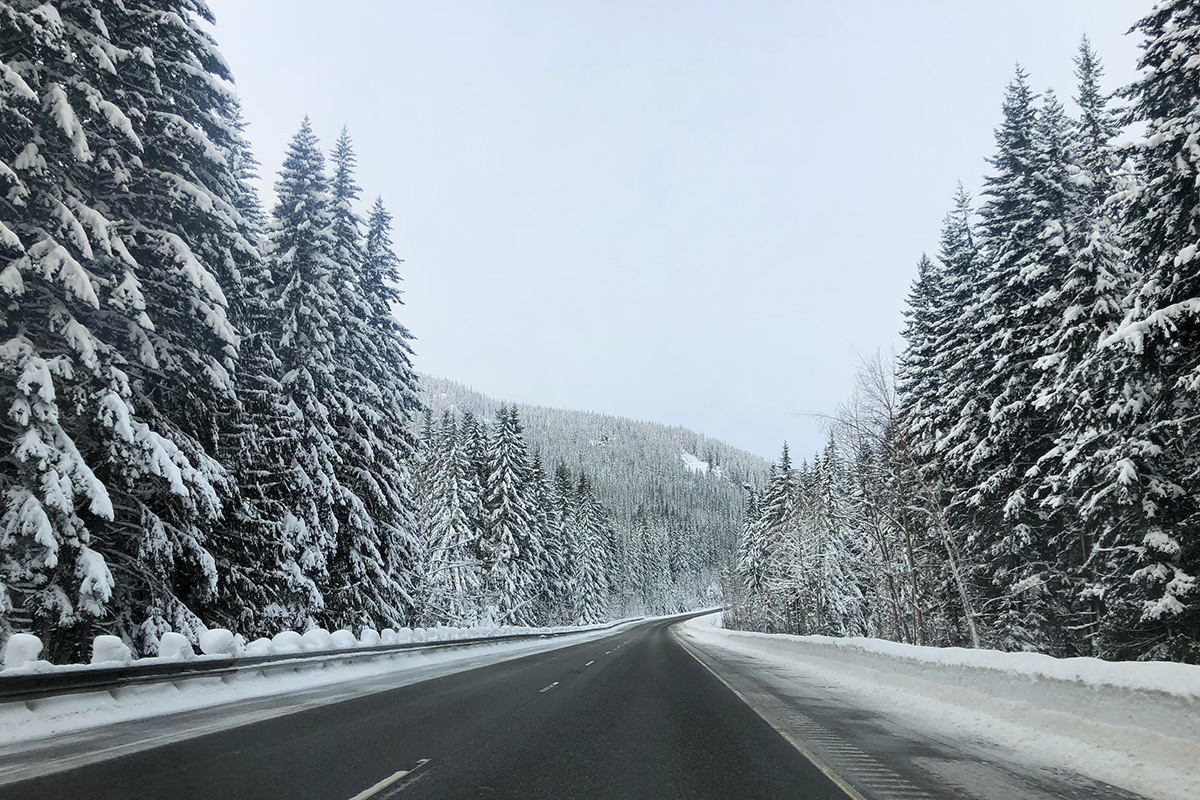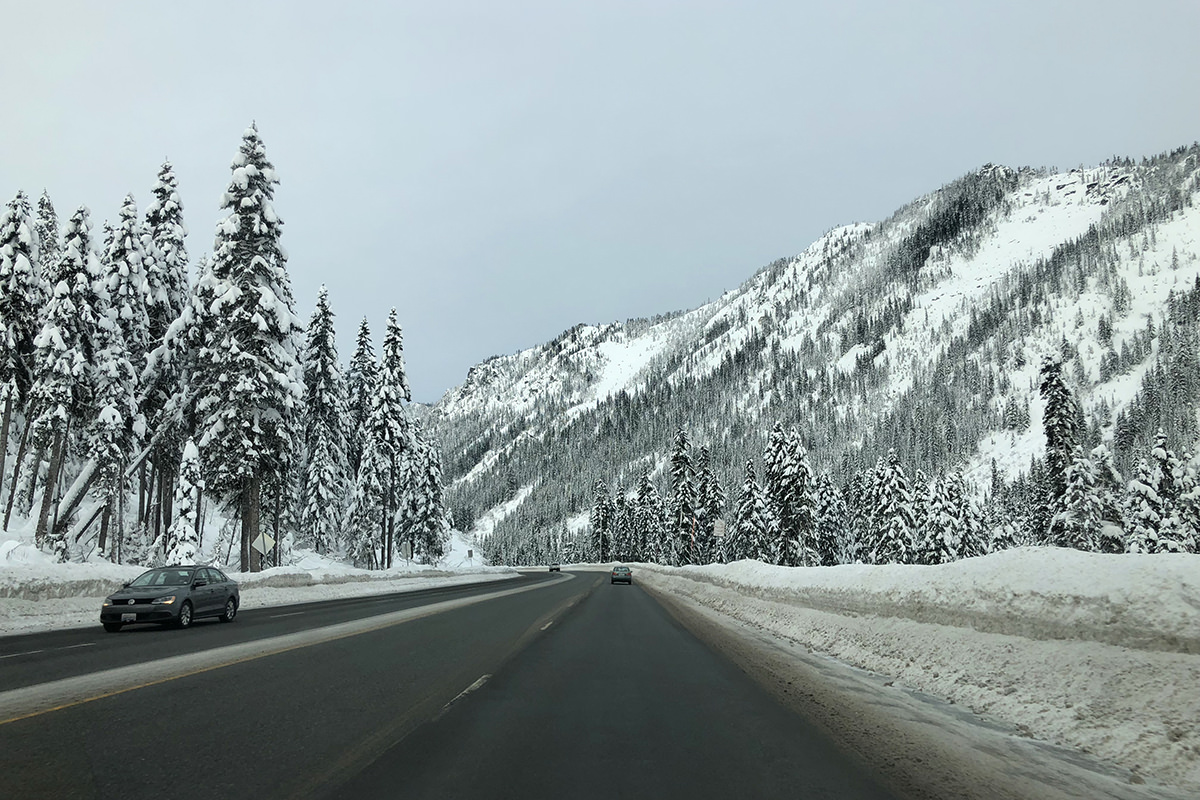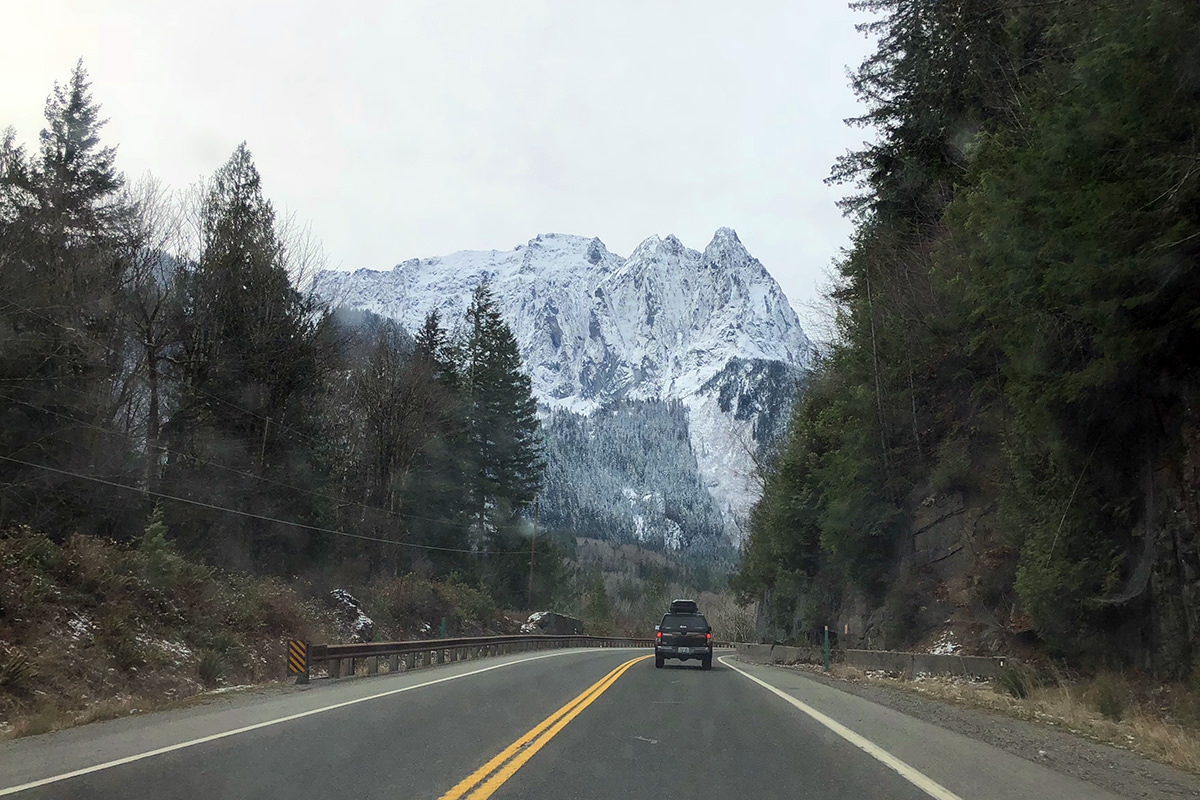 Alas, my visor-clip broke apart half-way through, so I missed recording some of the glorious snow-filled wonder.
Catch you after Christmas!