The world is falling apart, again, but there's calm amongst the storm... because an all new Bullet Sunday starts... now...

• Woooooo... ZOMBIES! Any COVID vaccinated people had the FEMA test tone activate the 5G to turn you into an undead zombie yet? Because I got all six COVID vaccinations and still nothing. I wish it would hurry up and unalive me so I can be a real zombie right now instead of a work zombie who only wishes he were dead.

• Fly Spirit Airlines! Honesty. How refreshing!
What the heck is this? LOL. Still glad I'm not traveling non-stop.

• Satisfying Sound! There's a silly little app called Klack that makes old-style keyboard sounds when you type on a Mac. Right down to the "clunk" sound that the spacebar makes! (and the heavier "click" you get when pressing the backspace key). It's just $4 and I cannot express how much I love it. Makes typing more fun than it has a right to be. If you have a Mac and you're curious to know what it's about, here you go.

• Calling All Speakers. There's so much that could be said about the idiocy surrounding Kevin McCarthy getting ousted as Speaker of the House. The dumbass brought it all on himself thinking he could both suck up to the MAGA contingent and go around them, so there's no real sympathy to be had. But anyway... here's one tweet and two videos comment that says it better than I could...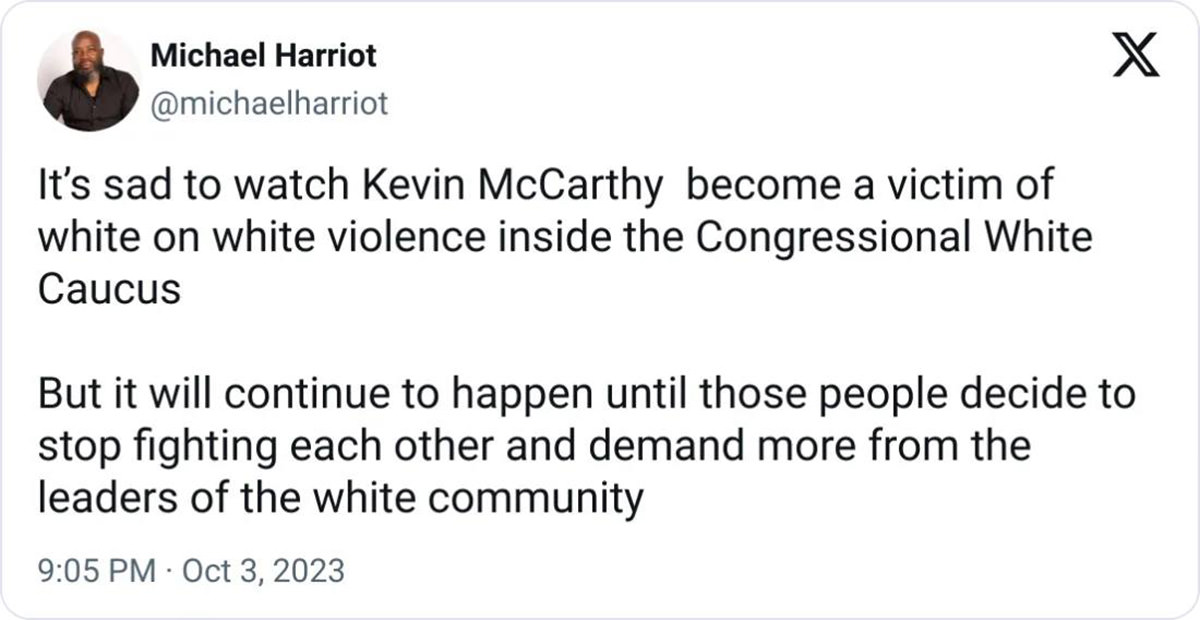 And now this...
And of course Jeff Jackson has the scoop (here's a link in case TikTok is being a dick)...
Now I guess we sit back and see what nightmare comes next.

• GHOSTS! Hallmark Channel has a movie with ghosts?!?
It was actually pretty good. If you're looking for a totally not spooky movie to watch to psych you up for Halloween, give this one a shot.

• Your Government in Inaction! Government exists to sit on progress. It's coming up on a YEAR since Digital Driver's Licenses were proposed for Washington State. Still hasn't made it to fucking committee. Honest to God... I have no fucking clue what these assholes do all fucking day that shit never gets done. We should have the damn things by now for people who want to opt-in to using them. A year, AND NOTHING... and lots more steps to go before it gets to sit on Jay Inslee's desk for another fucking year...
At this rate TELEPORTERS will be invented before backwards Washington State has digital driver's licenses. What the fuck is it going to take to get representatives in government who actully want to get shit done?

• NEWSFLASH: California governor vetoes bill to make free condoms available for high school students, citing cost! — THIS SHOULD BE THE DECISION OF THE PARENTS! — And I agree. Except there are dipshits who are all "MY CHILD WON'T HAVE PREMARITAL SEX BECAUSE WE ARE A CHRISTIAN FAMILY!" who are essentially endangering their children's lives and inviting unwanted pregnancies because their kids are sexually active despite their ignorance (see: Sarah Palin, and shitloads of other "Good Christian Families" who end up with grandchildren because of premarital sex). So the truth is that abstinence-only education doesn't work. Kids are becoming sexually active whether their parents want it or not. And a decision has to be made as to whether we, as a society, protect these kids from their parent's bullshit. Unfortunately, Gavin Newsom made a bad call. I don't give a single fuck WHAT parents think. IF YOU WANT TO CURB ABORTION NUMBERS... GIVE CONDOMS TO EVERYBODY AND MAKE SURE THEY KNOW HOW TO USE THEM! As for cost... can you really put a price on essential shit like this?

Best of luck. To all of us.