Posted on December 4th, 2023

Yesterday I wanted FBLTCs for dinner (Fake Bacon, Lettuce, Tomato, and Cheese Sandwiches). But, alas, when my grocery order arrived there was no bread. The one I asked for wasn't available so they substituted... nothing?!? It's white bread. For the love of God, Safeway, substitute ANY OTHER WHITE BREAD, like you substitute for everything else.
So anyway... that meant I had to make some bread.
A big part of the reason I wanted my kitchen remodeled? SEALED COUNTERTOPS. I've never had them before. I prefer a wood cutting board for chopping stuff up... but it kinda skeeves me out to have something wet like bread dough being scraped off wood with all the cuts on it. With sealed countertops, you can scrub them down with baking soda, disinfect them with white vinegar, then wipe them up with a hot water bath and know it's perfectly clean with no creepy crevices to scrape out of. Especially lately as I've been experimenting with a stickier SourJo bread dough... it still ends up with that super-dense texture I love, but has a crustier crust on it...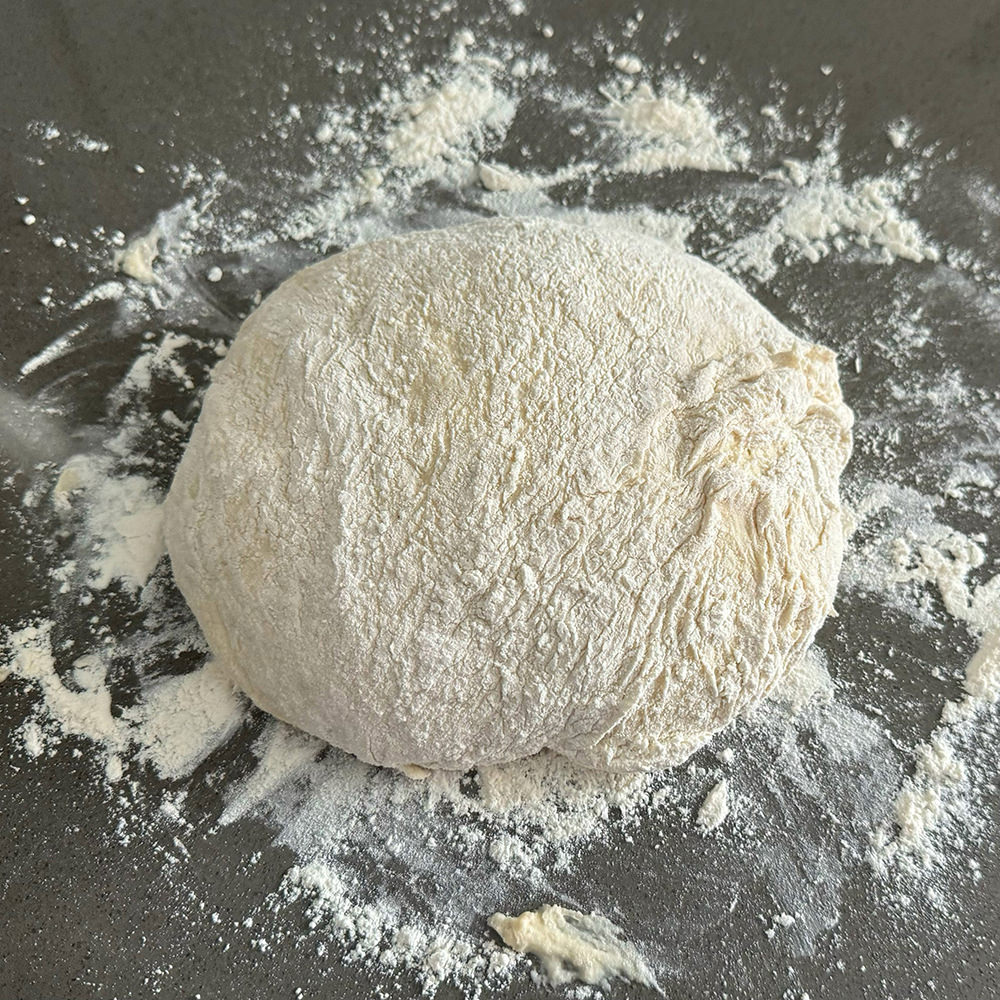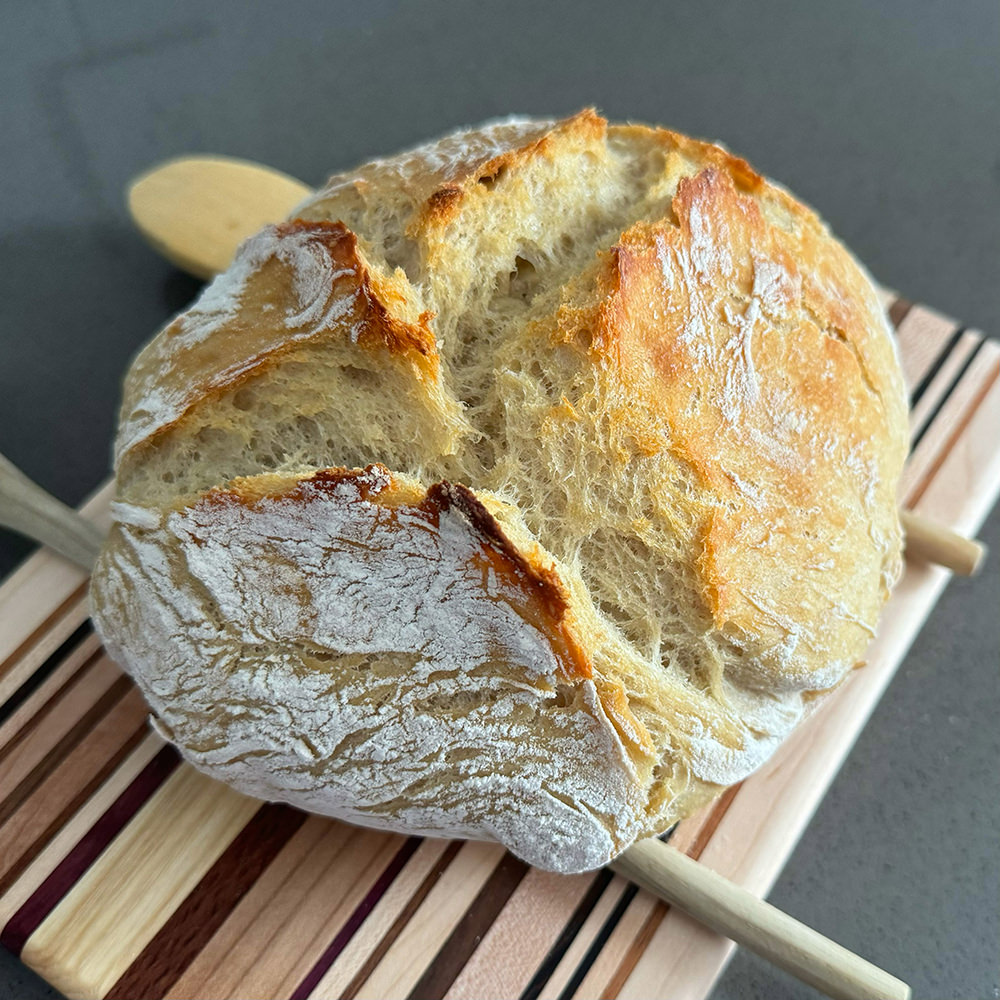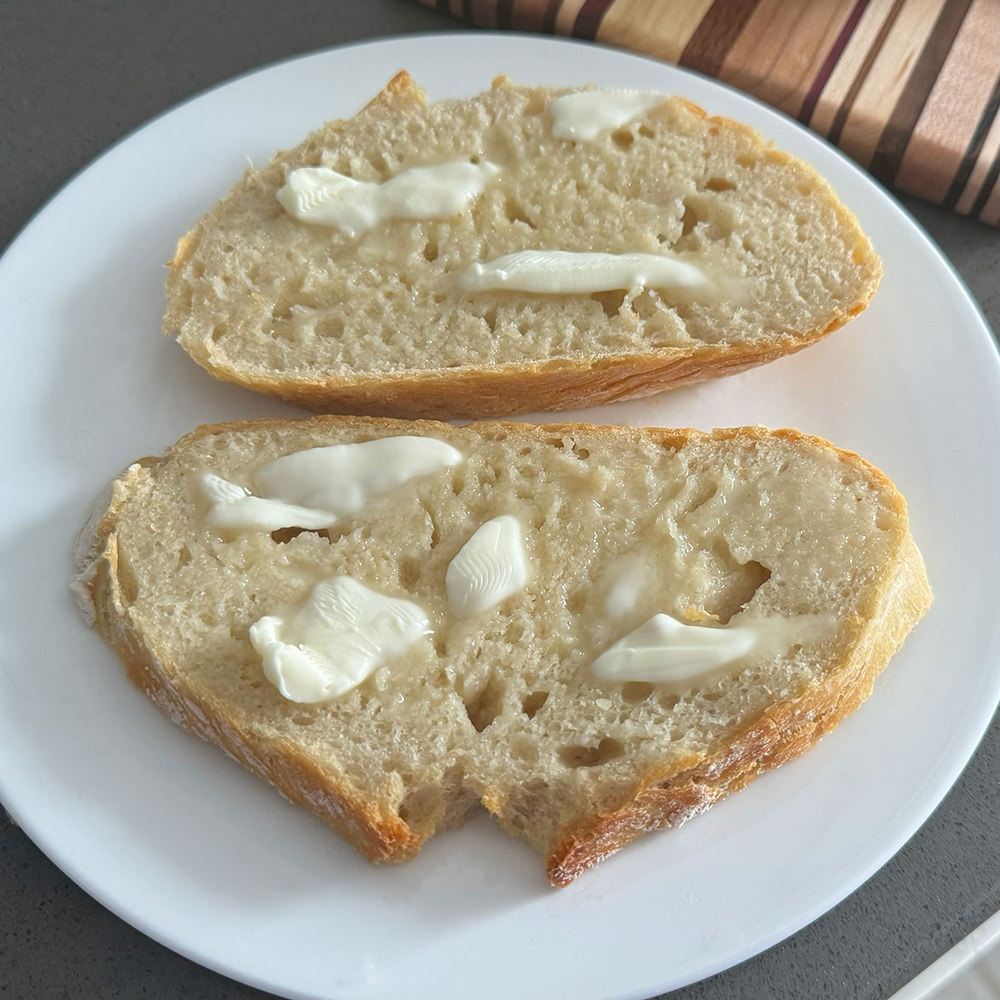 I think next I'll start experimenting with a longer third rise to get some air in it and see if I still like it as much. I usually prefer a bread with fewer holes so that condiments don't leak through it... but I had a rustic loaf last week that was really delicious, so maybe it's time I try something different.
But anyway... about those FBLTCs...
Too delicious. Many thanks to Morningstar Farms for their soy bacon, which tastes darn good in these sandos.
Posted on June 10th, 2022

Today I had to leave the office early so I could get home and finish up some stuff that I had left on my home computer. But first I decided to make some bread because I ran out.
It's pretty much a science at this point. Take out the SourJo starter and let it warm up for 30 minutes. Mix together the first half of the ingredients and let rise for 45 minutes. Add the rest of the ingredients and let it rise for 45 minutes. Deflate it, shape into loaves, then let it rise for 45 minutes. Then bake for a half hour.
At this point you're supposed to let it cool, but I never have that kind of patience...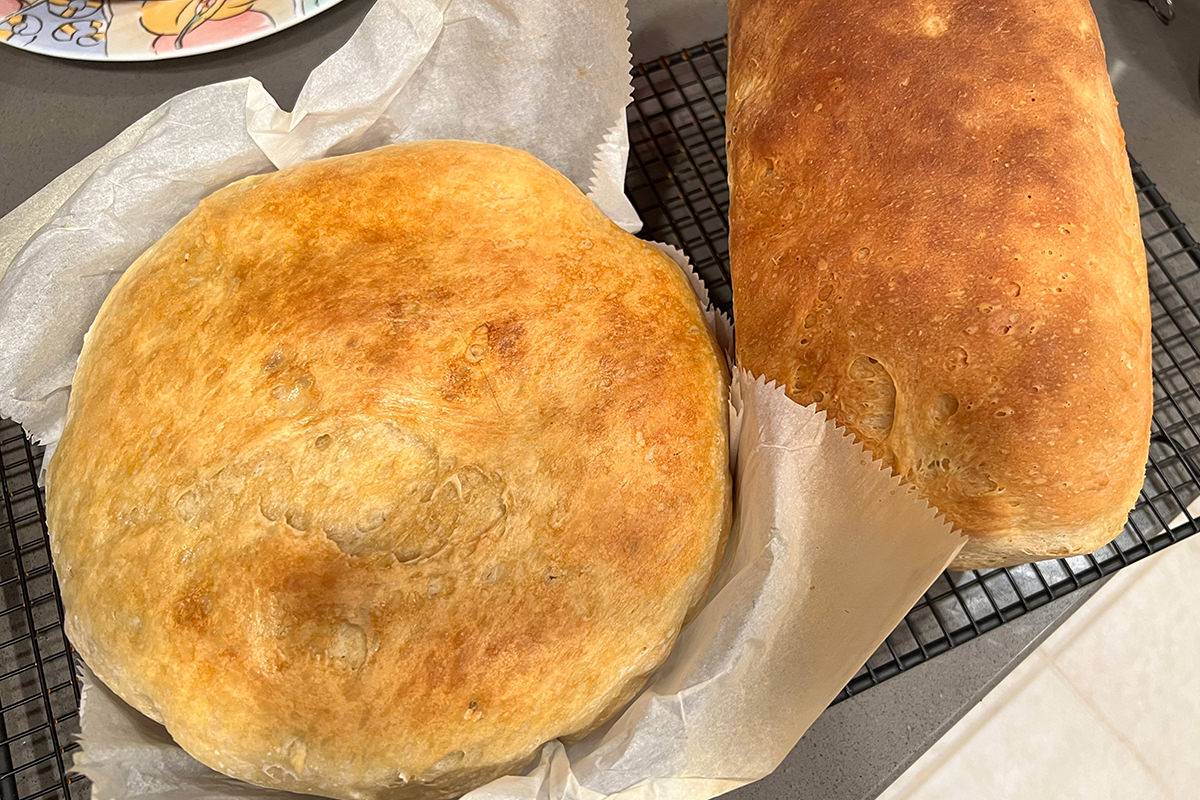 Yes. It tastes every bit as good as it looks.
And smells even better than that.
I'd bake it daily if it didn't take three hours to make. And I could eat unlimited carbs without consequences.
Posted on April 19th, 2020

Life in isolation may be better than no life, but your life is about to get measurably better... because an all new Bullet Sunday starts... now...

• Dough! I finally broke down and baked a couple loaves of my beloved SourJo bread. It was too hard going without, so I used the last of the flour I had been saving and went for it. The result was as delicous as it was beautiful...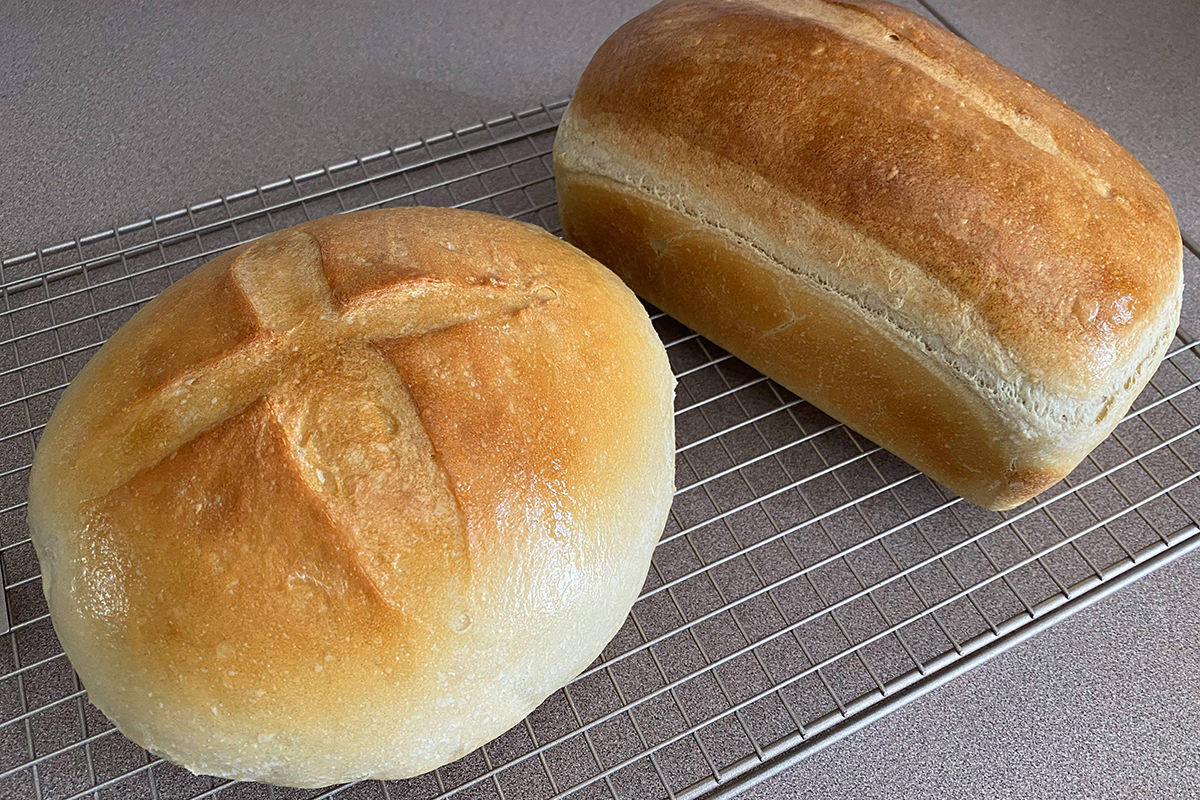 I have decided to slice and freeze the pan-loaf so I can thaw it out as toast when I need a bread fix. The round loaf, however? That I'll be eating in copious chunks with butter and jam! I sure hope that flour, sugar, and yeast come back to grocery store shelves sometime soon.

• Various Corn! Oh look... John Oliver is back to drop some truth on the outrageous levels of stupid shit that have been plaguing us as of late...
The Below Deck: Sailing Yacht drop-in was particularly wonderful for those of us who are fans of the show.

• Terms of Agreement! HOLLYWOODREPORTER.COM: COURT RULES PHOTOGRAPHER GAVE UP EXCLUSIVE LICENSING RIGHTS BY POSTING ON INSTAGRAM. This is categorically absurd. A feature of Instagram is that people can embed and share what you post. Mashable wanted to use the image without embedding the Instagram framing. They offered money. The artist refused the amount of money. So Mashable just used the Instagram framing as it was DESIGNED TO BE USED!! If you don't want people using your work in ways that social media was designed to be used... THEN DON'T FUCKING POST IT TO SOCIAL MEDIA! Especially a site like Instagram where you have to agree to their terms specifically allowing this kind of thing when you sign up for an account. Put your work on a PRIVATE SITE and EXPLICITLY STATE the terms of use (or lack of use) where you are sharing it. This is not rocket science. Nobody should be shocked or surprised as to what can happen when you post your work to social media. THIS IS WHY THEY CALL IT "SOCIAL MEDIA!"

• Sucks So Good! One of my favorite movies of all time is What We Do In The Shadows. It's hilariously funny in all the right ways. It spawned a television serious on FX that was every bit as well-done and hysterical. And now they've started their second season...
I was late to the television series (I didn't know it even existed), but now I'm crazy for it. I pre-ordered the entire season at iTunes because I just know that I will be watching them over and over again. Highest possible recommendation.

• Moo! Cows are truly some of the most gentle and beautiful animals. Part of why I can't bring myself to eat them...
THAT is one content kitty right there!

• Color! This is probably the coolest thing I've seen all year. A series of RGB colorspace books which depict every color imaginable...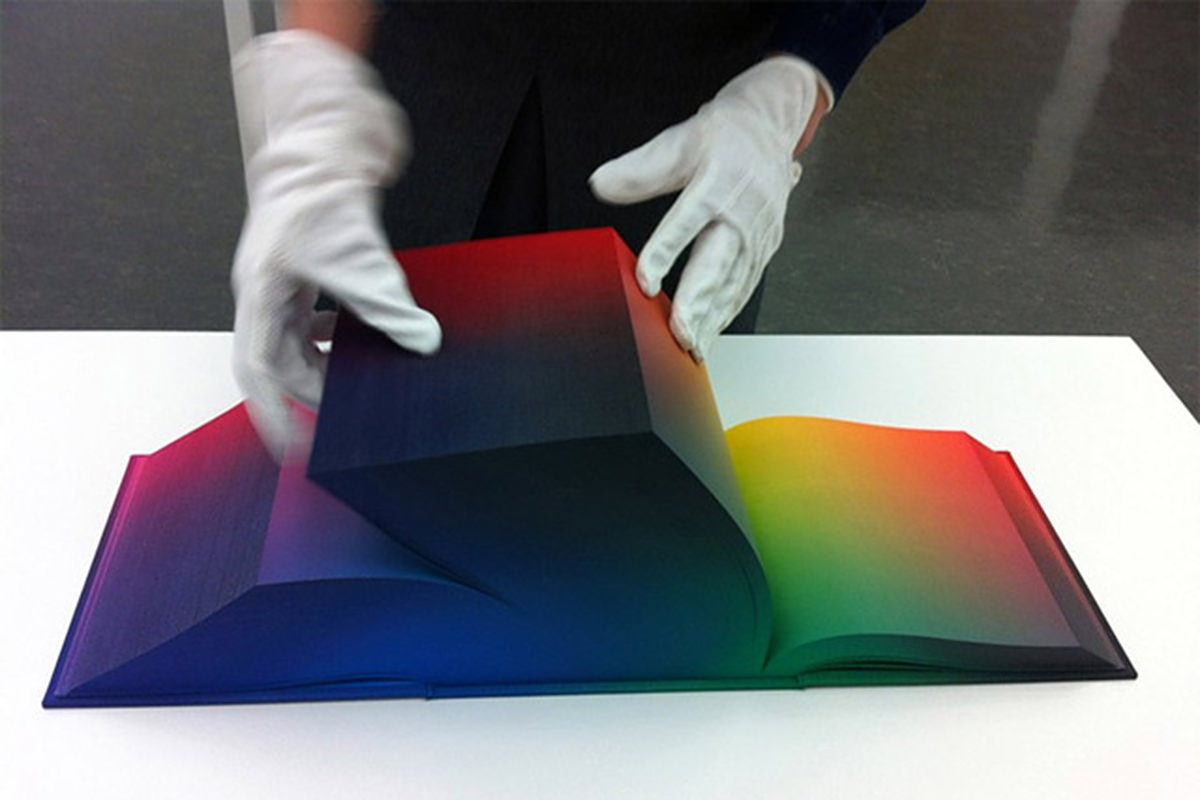 Image attributed to Brittany Schall


Photo by Vegard Kleven
You can read about the RGB Colorspace Atlas over at Colossal. You can see the work over at artist Tauba Auerbach's site.

• 'MURICA! And let's wrap this up with a shut-out to the brave nurses confronting IGNORANT STUPID FUCKING ASSHOLES protesting lockdown BY BARRICADING STREETS DURING A PANDEMIC WHEN AMBULANCES MAY NEED TO GET THROUGH...
I am so fucking sick and tired of this idiotic trash that I want to vomit. You can read about it here.

And that's all she wrote for bullets this Sunday.
Tags:
Art
,
Bread
,
Bullet Sunday
,
Cats
,
COVID-19
,
Dumbassery
,
Dumbfuckery
,
Idiocy
,
News
,
Social Media Idiocy
,
Television
Categories:
Bullet Sunday 2020
,
Cats 2020
,
Television 2020
—
Click To It:
Permalink
—
5 Comments: Click To Add Yours!
Posted on April 15th, 2020

This morning I was awakened at 5am by the sound of a cat puking. Since this happens so rarely, I immediately grab my iPhone so I can use the flashlight on it to see who's sick. Turns out nobody is sick. Jake just had a hairball and, of all the places in my home, he decided to puke it up in my bedroom. Thanks, buddy!
Guess I need to step up my brushing with the Furminator.
And now for something entirely not cat-related.
I have been craving bread for a week. But I haven't baked any because 1) I don't want to use up what precious little flour I have left... and 2) I am too tired after work for a long process of multiple rises. And so... tonight I decided to just whip up a loaf of single-rise "wet bread" which doesn't taste as amazing as my beloved SourJo bread, but it does taste like bread. AND I NEEDED IT!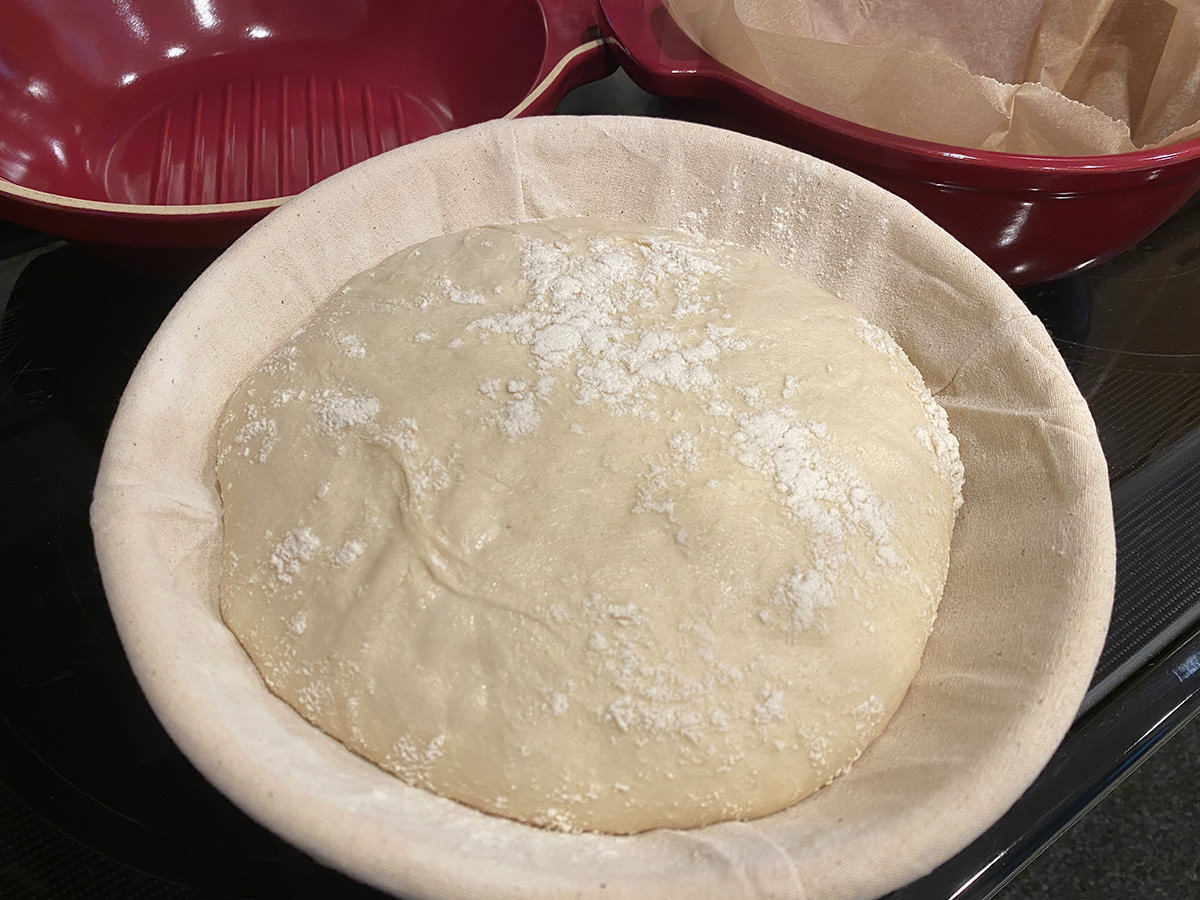 Bread. At last.
Dutch oven bread always gives me the nicest crust. I used to have a cast-iron Dutch oven that I inherited, which I hated. Eventually I replaced it with an Emile Henry potato pot after a friend and I were discussing bread and she recommended it. The thing is made in France and was really expensive... $100 I think?... but it's so perfect for bread. The reason being that "regular" dutch ovens are deep with a shallow lid. It can be tough to get in and out of it when you're dealing with a "wet loaf" that doesn't hold its shape and may be sticky. The potato pot is less deep but has a tall lid. So there's room to rise, but it's easy to work with. Apparently so many people ended up using this potato pot for bread that it's been rebranded "bread & potato pot" by Emile Henry (a company founded 1850 in Burgundy!).
Which is all a convoluted way to say that my Dutch oven is a French oven, I guess.
UPDATE: The pot is indeed pricey. The red one I have is now $120 at Amazon, but they have a black one for $110 as well. As you can see, the pot is split in the middle instead of the top so that the lid is deeper and the base is more shallow, making it much nicer for bread-making...
And it also does a bang-up job of cooking potatoes, as it was originally designed for.
Now, if you'll excuse me, I just ate dinner and am going to have a slice of bread for dessert!
Posted on September 8th, 2019

Summer may be in its last gasp but the weather couldn't be better, because an all new Bullet Sunday starts... now...

• Thunder Rolls. Well, the weather couldn't be better now. Last night was an entirely different story. The thunder was shaking the entire house. The lightning was so bright that it was illuminating everything like it was daytime...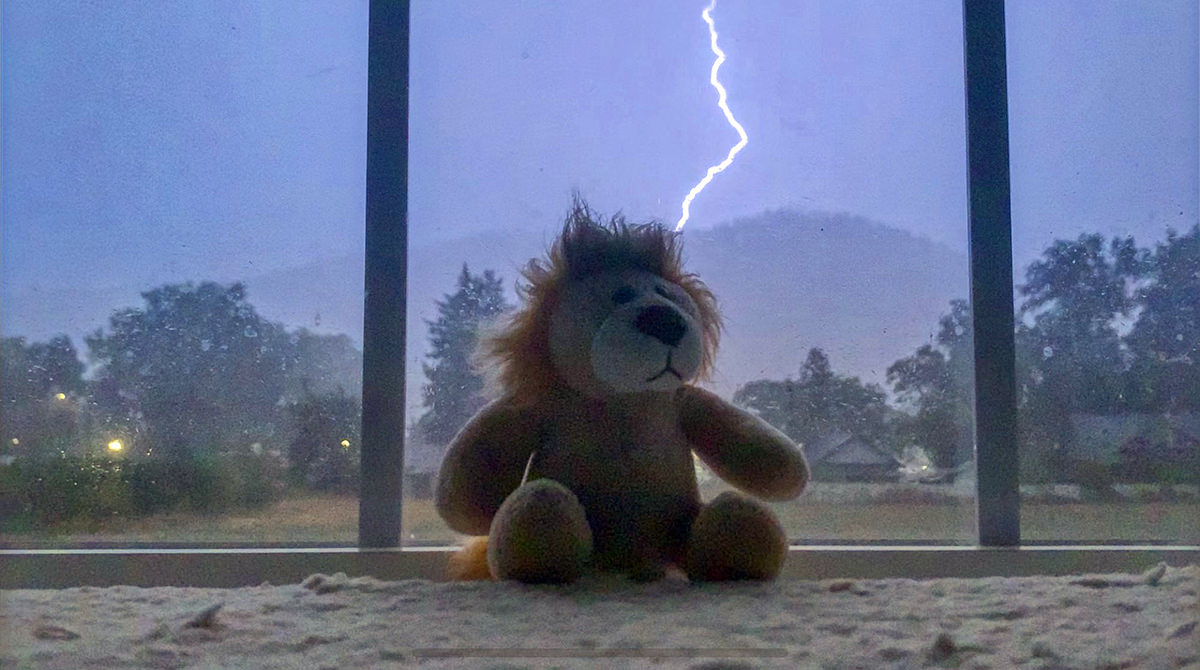 The cats were not happy. Jenny came in crying when all the ruckus started. Jake arrived ten minutes later, and I heard him whining all the way up the stairs. I pet them for a while before finally jumping to the window to take photos.
Then today... no clouds and flawless blue skies...
Enjoy it while it lasts, pretty girl. Winter is coming.

• Baked. September is my most favorite month of the year to bake stuff, and I do so often. Something about the combination of temperature and humidity creates the perfect storm for high-rising, wonderfully-textured bread. Today I made some beautiful bread and amazing hamburger buns...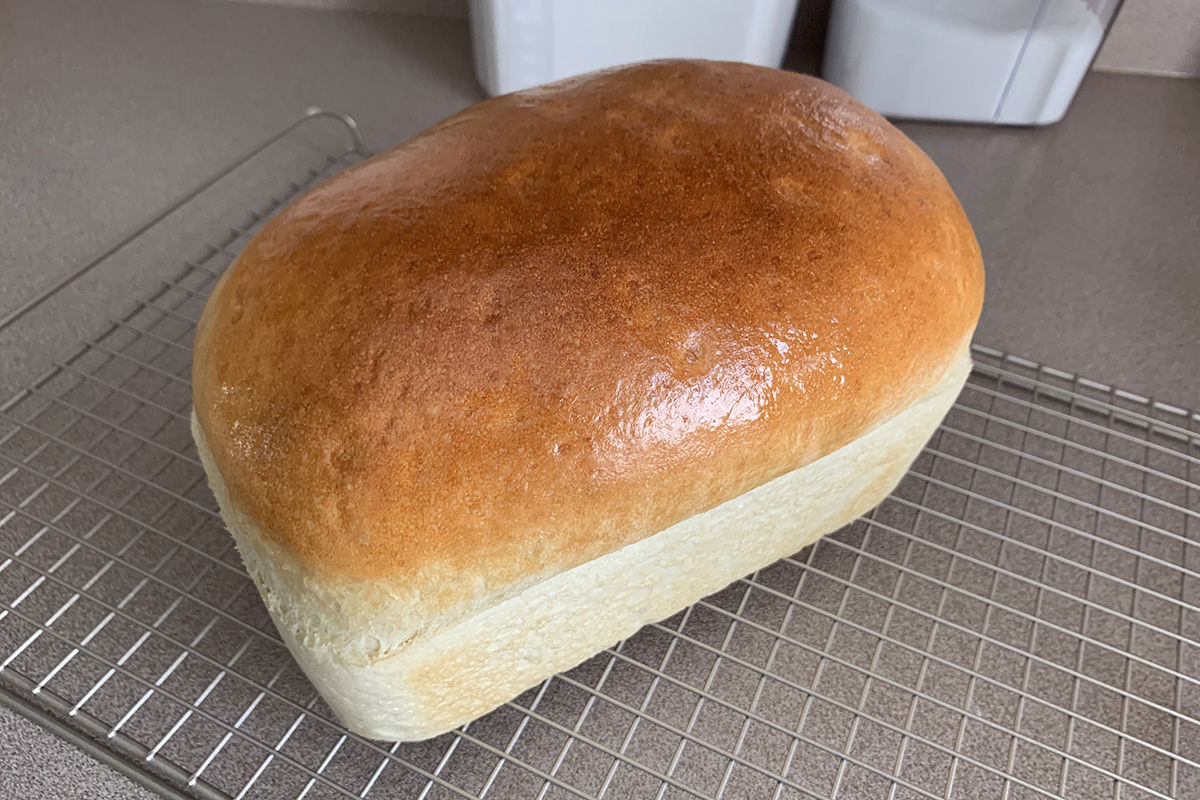 And, let me tell you... homemade hamburger buns are the best! Tonight's selection was a veggie burger with lemon garlic mayo, dijon mustard, thinly-sliced tomato, and pickle on homemade bun...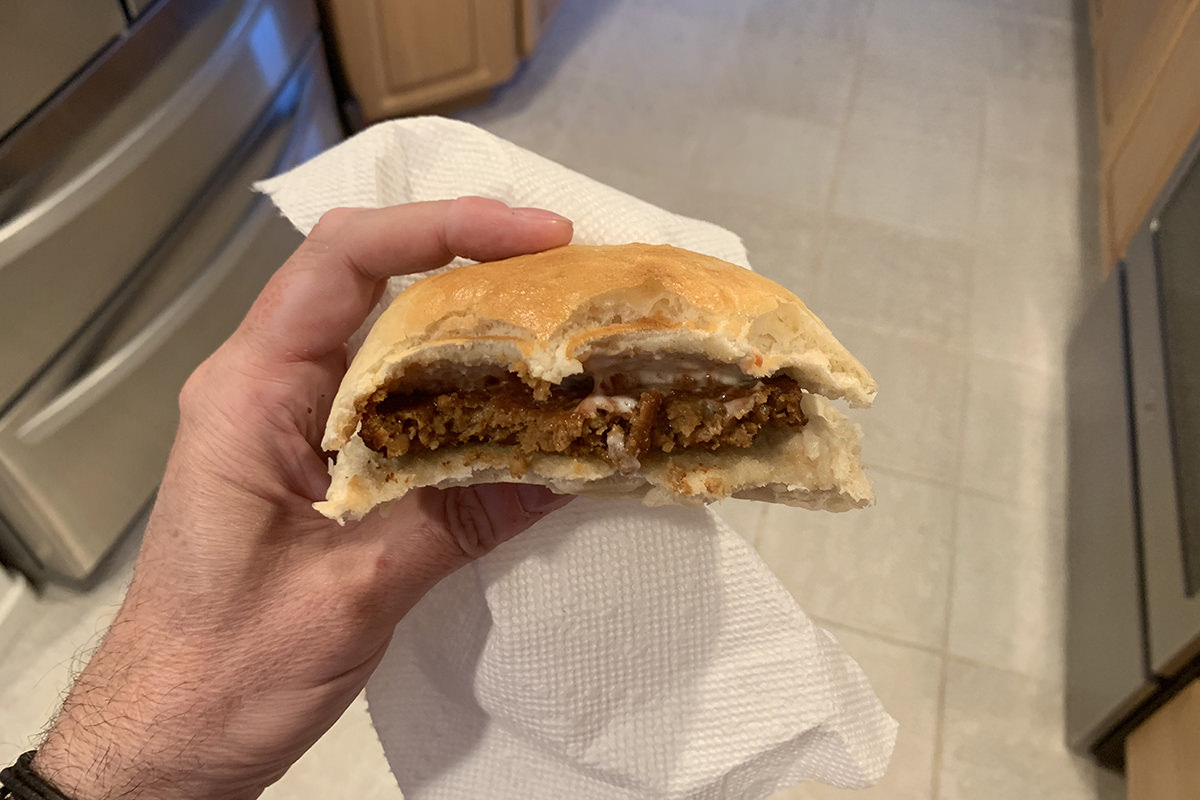 Pretty fantastic, if I do say so myself.

• Very Berry. On Thursday when I dropped by the market to pick up some flour, I saw that strawberry cartons were on sale 2 for $5. I bought them on a whim and have been stressing ever since. Fruit usually goes on sale when it doesn't have much life left, so I've been eating them non-stop so I don't waste my $5. I was eating strawberries morning, noon, and night for two days, but I finally managed to power through. I may be sick of strawberries now, but they were some beautiful berries...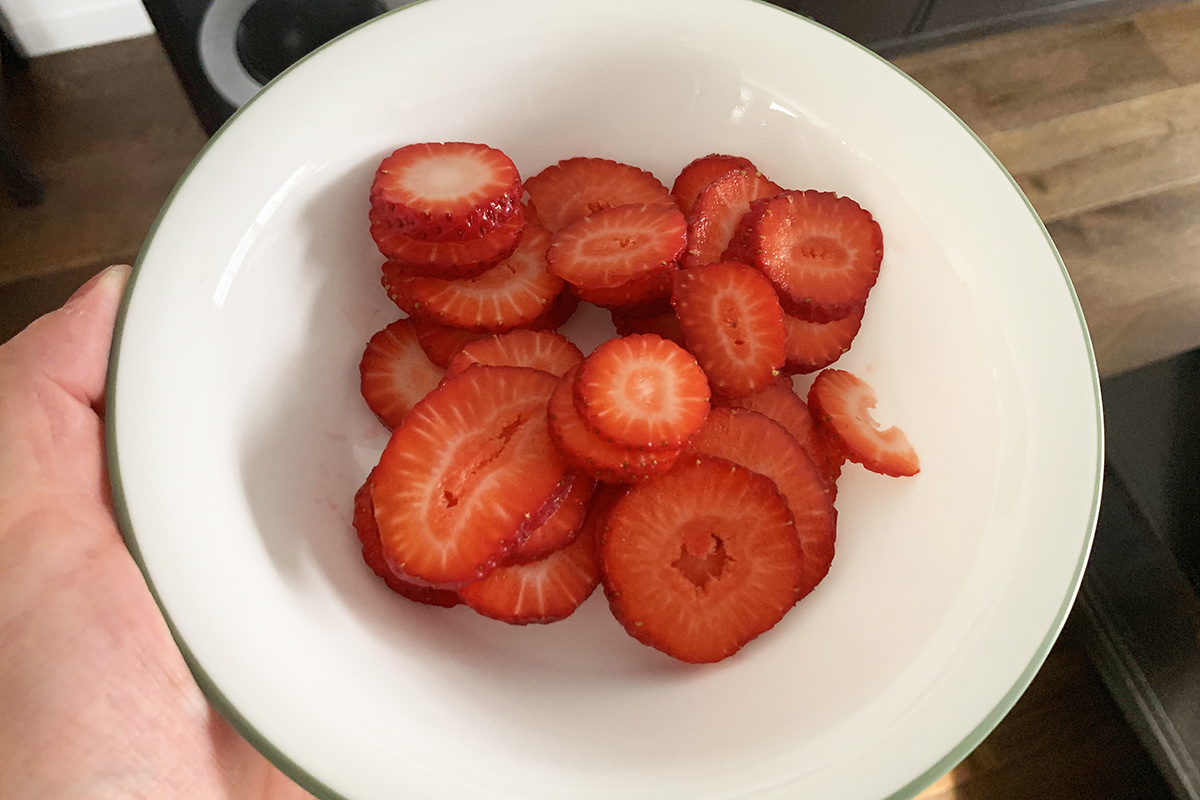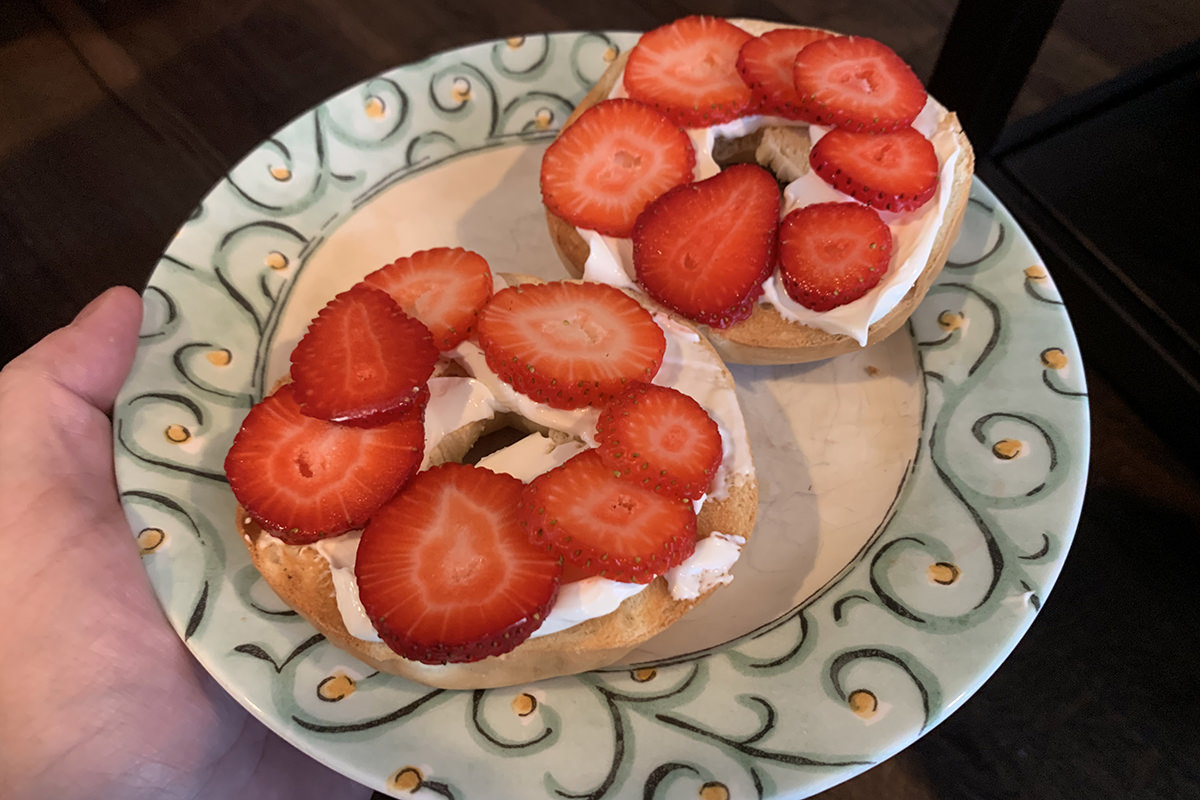 Boy does being single suck when it comes to grocery shopping. I always end up having to buy more than I can eat. The good news is that I'm done with strawberries for the year... just in time for the final summer crop to leave us!

• Scary Tech. The trailer for JEXI has been released. It's a comedy exploring what happens when the artificial intelligence on a guy's phone gets a little too smart. It's supposed to be a comedy. But when I watch this trailer I can't help but look at it as a near-future horror story...
I mean, seriously... isn't this the nightmare scenario that's entirely too plausible? Yeah, that's what I thought.

• Hellmark. Usually I don't give a crap about somebody's politics. I am easily able to separate an actor from their work, and do so all the time. Democrat? Republican? I'm neither, so I honestly don't care. But there's no way I'm supporting the career of somebody who is in bed with the toxic waste assholes at the Family Research Council like Dean Cain. Guess I'll have to be happy with watching all the Hallmark movies except the handful he appears in.
And speaking of Hallmark, Flip That Romance was finally repeated today...
This movie is genius. IT'S GENIUS! I've been anxiously waiting seeing Flip That Romance since the moment I found out it exists. The film combines two of my favorite things... home renovation shows and Hallmark movies. And it's good! Funny! Hallmark heaven, as it were.

• Nonstarter. You know... the more I use my Apple Card, the more I absolutely love it. It's just so absurdly easy and the features are crazy-good. So good. The only problem is that the benefits are total shit. 2% back? 3% on Apple products? So lame. I hope that other credit card companies take note of what Apple is doing and step up their game. Or Apple gets with the program and starts offering 5% back like a real card... even if it's just on Apple products (As it is, it's cheaper to buy Apple products on Amazon with my Amazon Card because I get 5% back on Amazon purchases... what sense does that make?). It will be interesting to see if Apple drives change in the industry like it has for so many other things. I would certainly hope so.

Hope your new week is a good one!
Posted on January 7th, 2019

I can pinpoint when my love affair with bread began... Elementary School. The cafeteria had these amazing rolls that defy description. But I'll try for you. They were dense without being heavy. They were drenched in butter for fantastic flavor. They were everything I love about bread. You used to be able to buy extras for a quarter. I bought a ridiculous amount of them. I even took them home for my mom because they were just that good.
Then I graduated to Middle School and that was the end of it. I never had them again, though I would often think back to those heady days of breaded bliss.
I'd eat a lot more bread over the years, of course, but none of it quite compared.
Then one day at a family holiday dinner, my sister-friend's mother-in-law brought homemade garlic bread. And there is was... the bread I had been missing for decades was on my plate.
Naturally I was immediately obsessed. Turns out it's a sourdough hybrid that uses both sourdough starter and yeast to rise. This means you can get good flour density without being heavy like a brick. And it wasn't sour despite having sourdough in it. I ended up taking a jar of sourdough starter home with me so I could make my own. For years I rarely bought bread, I made my own.
Then tragedy struck.
When I moved to my new place, I accidentally left my starter out in my car for a week. I thought it would be fine since it was winter, but when I finally remembered it, the poor thing was in pretty bad shape. I could never get it to rebound, and eventually it developed a reddish-pinkish hue and had to be thrown out.
My life was in turmoil back then, so it was easier to just buy bread, and I forgot about making it.
But then it was served at Christmas dinner last month and I fell in love all over again. I was given another jar of starter and have been making my own bread again ever since...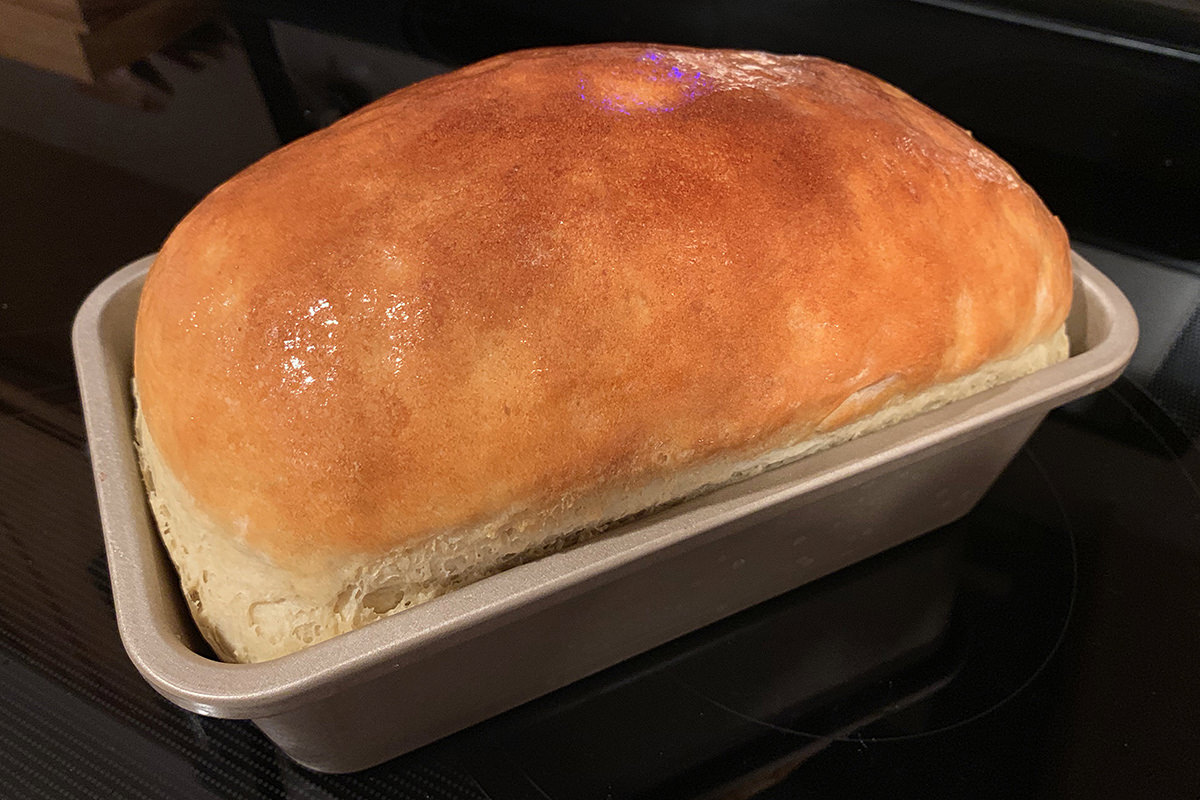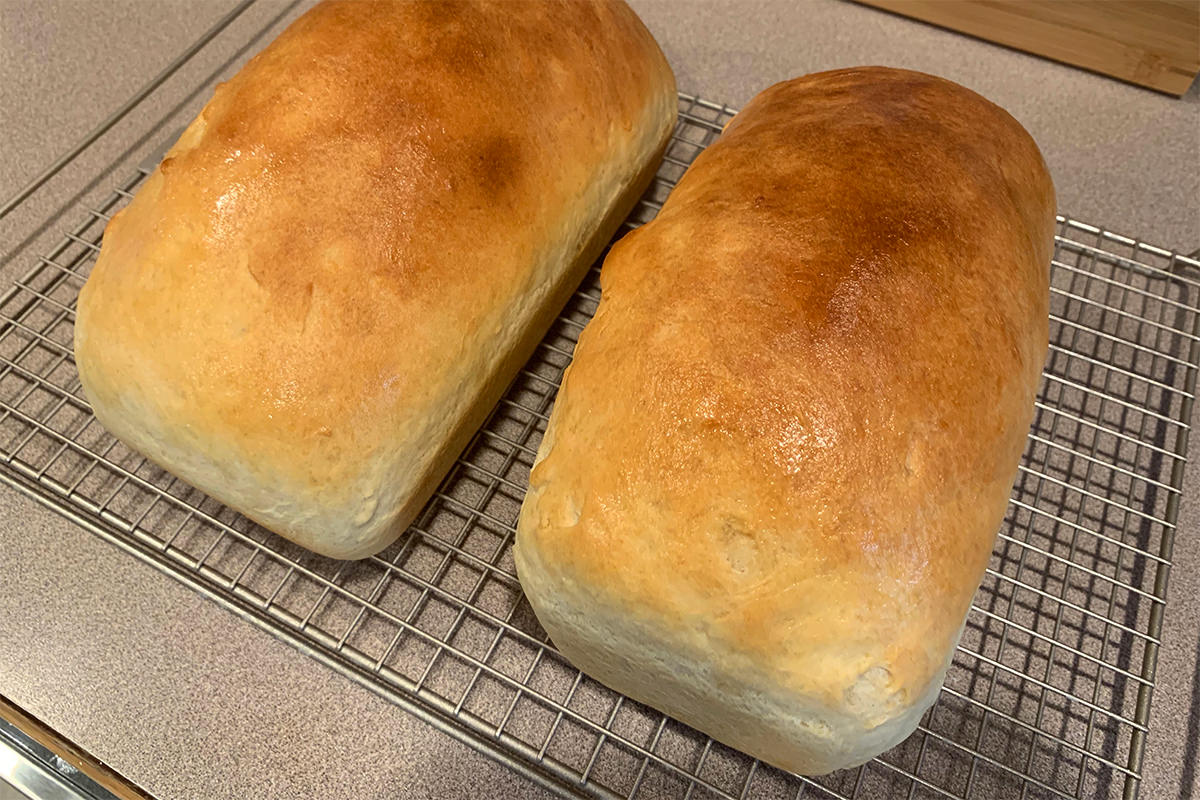 So good.
Lately I've been experimenting with the amount of flour I add. More flour results in denser bread that's not too dry, if you don't overdo it. Less flour results in a higher rise, when you want flakier bread or use it to make cinnamon rolls.
And this time I promise to take good care of my starter so he won't ever go pink again.