Posted on June 18th, 2018

Everybody is laughing at the idea of spending billions of dollars we don't have on a "space force." But you won't be laughing when the alien invasion comes and we are DOMINATINNNNNNG SPAAAAACE!!!
Oh... you say aliens that are capable of interstellar travel will have technology that makes any "space force" we come up with about as threatening as a BB gun? Well... well... WE CAN STILL KEEP THE MEXICANS FROM INVADING THE MOON! HA!! CHECKMATE, HATERS!!!
=ahem=
Space exploration has always resulted in amazing technologies that eventually filter downward and make everybody's life better. I 100% support my tax dollars going towards organizations like NASA, who do a lot more than just push the boundaries of human knowledge... they also invest in technologies which keep us safe and help us to have a better understanding of the world we inhabit and (at least until the current administration) the dangers we face from the destruction we're causing to it.
Likewise, I also 100% support my tax dollars being spent on defense. Sure, I think it's insane that we have such a massive military complex when so many of the current threats we face can't be remedied that way... and it seems crazy that we have weapons enough to destroy the world a hundred times over and are told we still need more... but I want our military to always have access to cutting-edge technology which keeps them (and us) safe. So yeah, budget for that. Not military parades and golf trips on Air Force One, but that.
And now we're getting a space force?
We've got homeless vets, a stupid-ass 100% completely ineffectual wall to build, and legions of other problems that could use our tax dollars... but pew! pew! pew! pew!
Tags:
Dumbassery
,
Dumbasses
,
Dumbfuckery
,
Fuck This Shit
,
Fucking Assholes
,
Fucking Scumbags
,
Fucktards
,
Liberal Redneck
,
Pig-Fucking Assholes
,
Stupidity
,
Trae Crowder
,
Truly Stupid People
,
Trump's America
Categories:
News – Politics 2018
—
Click To It:
Permalink
—
1 Comment: Click To Add Yours!
Posted on March 21st, 2018

Ignore me if you will, but this is a subject that means something to me.
Credit card debt is a pariah that will consume you. And now that interest rates are going to increase past the already absurd rates that credit card companies charge (thank you Federal Reserve!), it's more important than ever to get yourself out of credit card debt if you have any. Large balances are designed to keep you paying high interest charges forever, without ever fully paying off your debt. It's a trap... and it's really tough to get out of once you're caught in it.
I know this, because I've been there.
During my two years in college, I accumulated huge debt. Huge.
I wasn't working very much because of school and travel (and partying), but was spending as if I were a CEO. First it was one credit card. Then it was another. Then it was another. It took *decades* for me to climb out of it. Years of barely being able to make payments. Years of getting nowhere in paying off my balances. Once I realized the thousands of dollars being blown every year on interest, I started focusing on paying off my cards. It was hard. Very hard. I'd buy nothing but the bare minimums I needed to survive. I wore clothes until they fell apart. I'd do any activity on a shoestring budget and limit expenditures any way I could. It took years of this, but eventually I clawed my way out.
And I have made it my mission to pay off my balance every month ever since. Sometimes there are emergencies. Sometimes I haven't saved enough for vacation and it takes a couple months. But I work very hard to not spend money I don't have so I can pay off my balance every time.
There are a lot of ways to get help if you need it. Apps that help you set payment goals. Books on financial planning. Websites with great advice on how to get out of credit card debt. And, if you are really in deep, financial advisors that can come up with a plan and negotiate with banks to get interest lowered... or help you find a loan. But however you mount your attack on credit card debt, it's hugely important that you start immediately. Our own government is working with banks to enslave you with debt, and it's only going to get worse. Much worse. The sacrifices needed to escape their clutches are hard ones to make, but ultimately worth it.
I honestly don't know what the future holds with our Federal Reserve manipulating things the way they have been. They don't even bother hiding it any more. This country is now designed exclusively for the wealthiest among us. That may not be you, but finding freedom amongst the ruins is a goal worth having.
Good luck to you.
Good luck to all of us.
We need it now more than ever.
Posted on July 12th, 2017

Today is Net Neutrality Day. Which you'd think would be redundant since we have it, but apparently that may not be for long.
Pig fucker assholes like Chairman of the FCC Ajit Pai are once gain trying kill net neutrality so that big business can control the internet. Never mind that they have to tell lie after lie after lie to sell it to the American people... the money involved is massive, the people involved are all-powerful, and telling lies is not something they really give a fuck about.
I have written about how crucial net neutrality is to a free and open internet many, many times (like here, for example).
And I'm just one voice of many, because the American people have backed net neutrality many, many times.
But it never seems to matter, because the people trying to kill it have an endless supply of money to throw at the pig-fucking assholes who keep assaulting it.
It's at times like this that I sincerely feel we should burn this fucking shithole of a corrupt piece of shit country to the ground and fucking start over. What The United States of America is supposed to be all about is lost when its citizens no longer have a say. People with money are ultimately the only ones allowed to have a voice now. Because they are the only ones with the means of buying off the politicians who make the decisions for all of us...
If Pai and his bought-and-paid-for pig-fucking asshole confederates actually manage to kill net neutrality, I might as well take down Blogography. Because it's only a matter of time before Very Important People decide they don't like me calling them pig-fucking assholes and shut it down for me.
The pig-fucking assholes.
Visit the FCC and tell them that you support Net Neutrality.
UPDATE: And... Mr. Trae Crowder, everybody...
Holy shit what a cluster-fuck.
Posted on June 4th, 2017

The world may be on the brink of disaster, but have no fear, because an all new edition of Bullet Sunday starts... now...

• Hey You Guys! LEGO Dimenions finally got around to releasing expansion packs for LEGO City Undercover and The Goonies. Both are excellent. Especially The Goonies, which is faithful to the source material in all the best ways. A lot of love went into this game...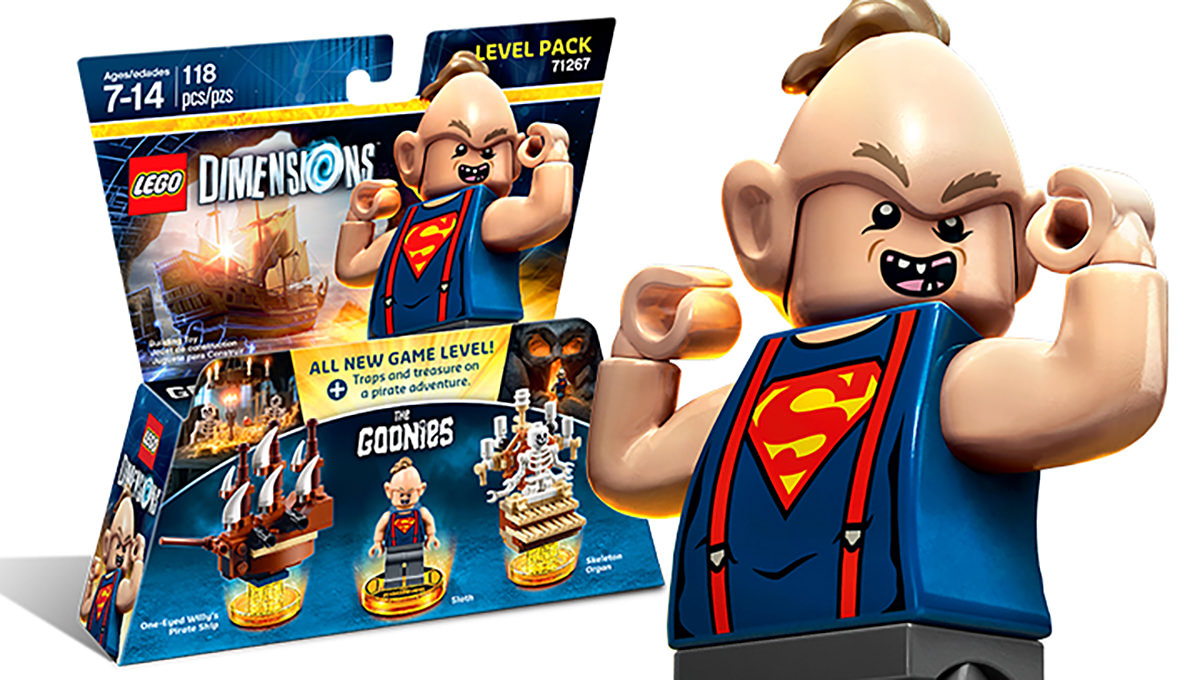 Which makes me even sadder that the rumor is LEGO Dimensions is being discontinued after the Powerpuff Girls, Teen Titans GO!, and Beetlejuice packs are released this Fall. Such a shame. It just keeps getting better and better with each new release.

• Free Climb! Every year on Christmas Day I check to make sure that free-climber Alex Honnold is still alive. Things like this are why: Climber Completes the Most Dangerous Rope-Free Ascent Ever...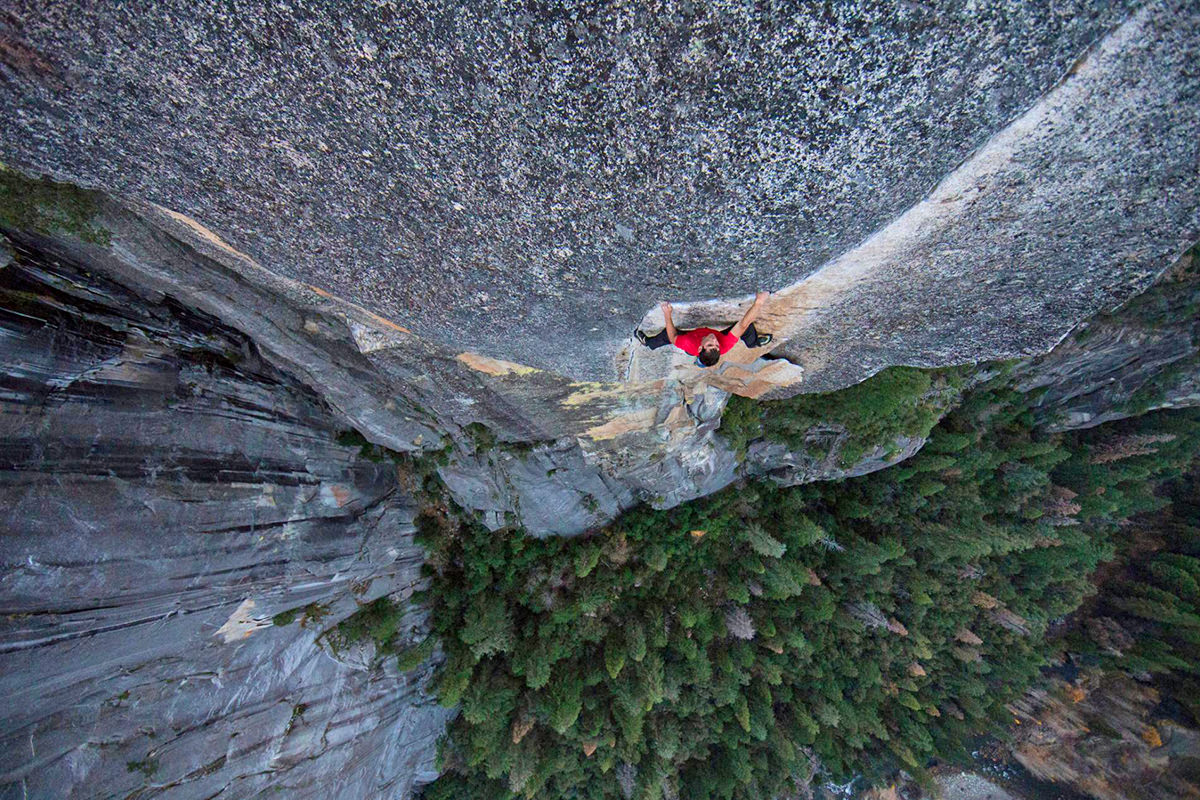 Photo by Jimmy Chin and National Geographic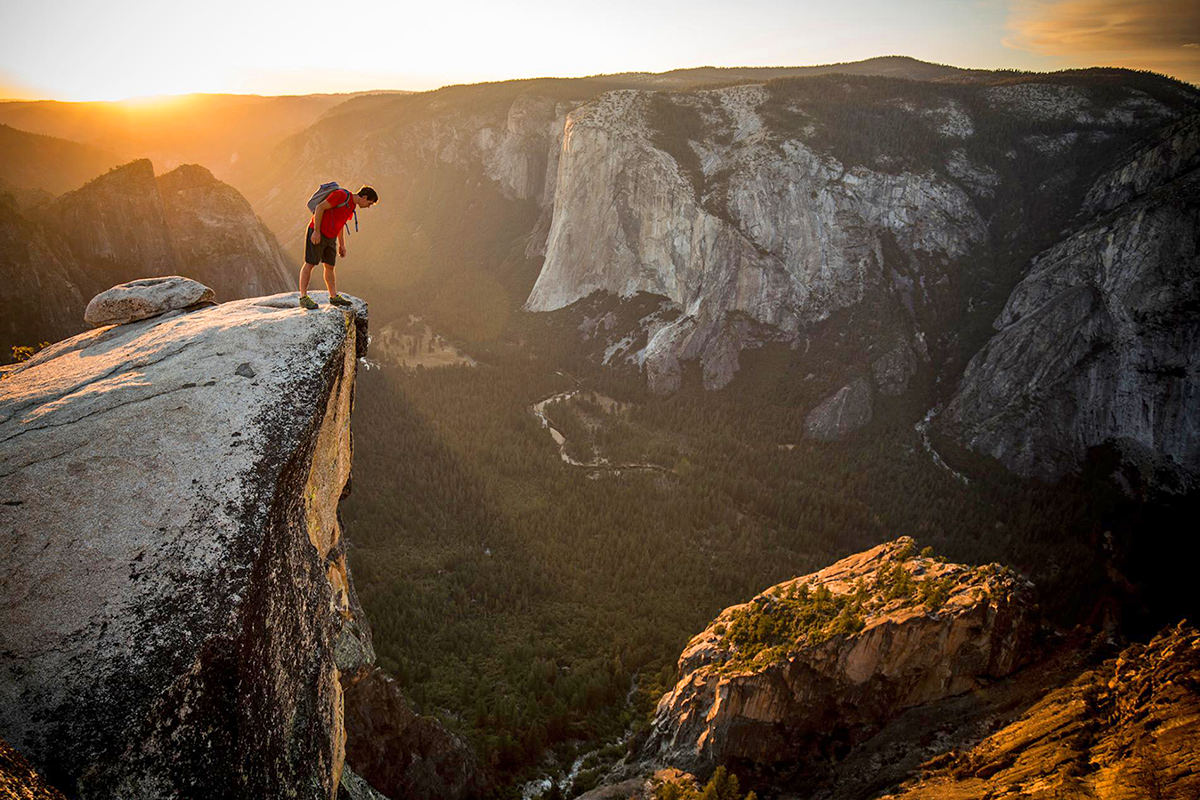 Photo by Jimmy Chin and National Geographic
For the money, I maintain that Alex is the world's greatest living athlete. I cannot comprehend how he does what he does.

• If You Were Here! The Thompson Twins are one of my all-time favorite bands. If You Were Here is one of my favorite songs by the band. If you had told me that I'd like a cover of this track, I'd say you were crazy. But then Kitty Hawk released one years ago that is actually really good...
It will never take the place of the original, but it's nice to hear a different take on the song.

• Hasan! If you haven't already taken my advice and seen Hasan Minhaj's comedy special: Homecoming King on Netflix, you need to do that right now. And, when you've seen it and start suffering from withdrawals, you'll be happy to know that he is still over at The Daily Show... stealing entire episodes with a two-minute appearance...
If you have a minute, you should watch this segment...
Assuming you can. Comedy Central's video streaming goes down so often that I'm surprised they even bother...
Seriously. Minimum 50% of the time, Comedy Central is dead now-a-days.

• Sick. Of. This. Shit! This week in the news, Fucking Dumbass Bigot Says Gays Are Like Hitler, Trans Kids Are All the Devil...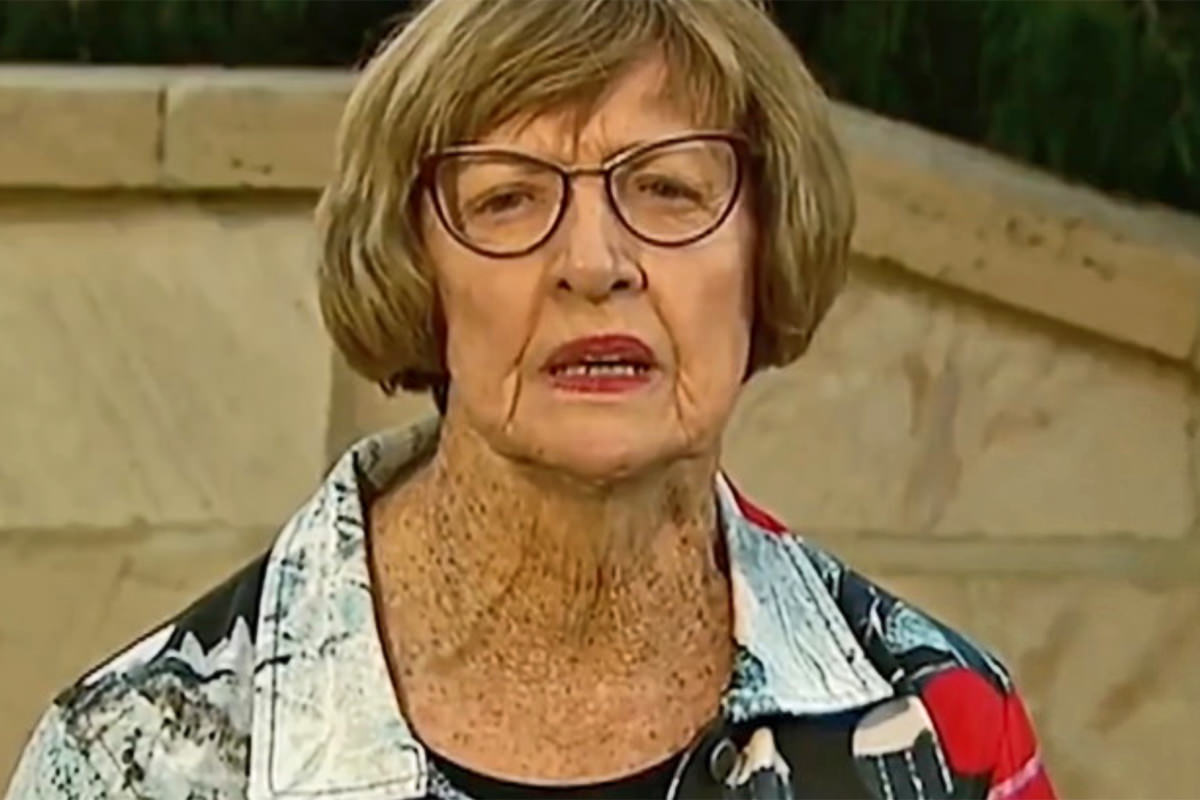 Photo from YouTube / The New Civil Rights Movement
Uh huh. Hitler. Yeah. Got it. The Nazis killed up to 20 million people. That totally equates to gay and trans people just wanting to have the same rights as everybody else and, well... existing... and such. — What a repugnant piece of shit. What a complete douche of a human being. What a fucking asshole. But one day she'll be dead and nobody will care... NOBODY WILL FUCKING CARE... so there's that.
And, lest we forget that bigotry doesn't end there, also in the news this week: Anti-Muslim Protests Planned in 23 Cities Across the Country. — As recent headlines will attest, we are in more danger from white Christian terrorists than anything coming out of our Muslim communities. But, sure, let's protest brown people because it fits the narrative being rammed down our throats from the highest levels of government. What a bunch of hypocritical fucking "religious freedom" loving dumbasses. Apparently you have the "freedom" to be whatever religion you want... so long as it's Christian.

And... back to the day's disasters...
Tags:
Bullet Sunday
,
Dumbassery
,
Dumbfuckery
,
Hasan Minhaj
,
LEGO Dimensions
,
News
,
Politics
,
Television
,
Thompson Twins
Categories:
Blogging 2007
,
LEGO
,
News – Politics 2017
,
Television 2017
—
Click To It:
Permalink
—
4 Comments: Click To Add Yours!
Posted on May 7th, 2017

It's good to be home, because an all-new Bullet Sunday starts... now...

• Travel Day! Last night I was going to head into Denver for some dinner and bumming around after Howard's birthday party, but made the mistake of "laying down for a minute" and decided I'd rather order out pizza and watch TV. After pizza, I decided to pack up my crap, iron tomorrow's clothes, and get everything ready to go for today. Always a smart move, because I just love being able to roll out of bed, shower, and head out on a travel day. Why I don't do this more often I will never know. I guess that deep down I prefer the mad dash of getting ready in the ten minutes before my ride arrives? Who can say?

• Home! When I arrived back home today, the first thing I did was start unpacking. Jenny felt threatened by dirty clothes flying and retreated to her basket...
Jake kept trying to crawl all over me, so I grabbed his favorite blanket and finally gave in while I was sorting laundry...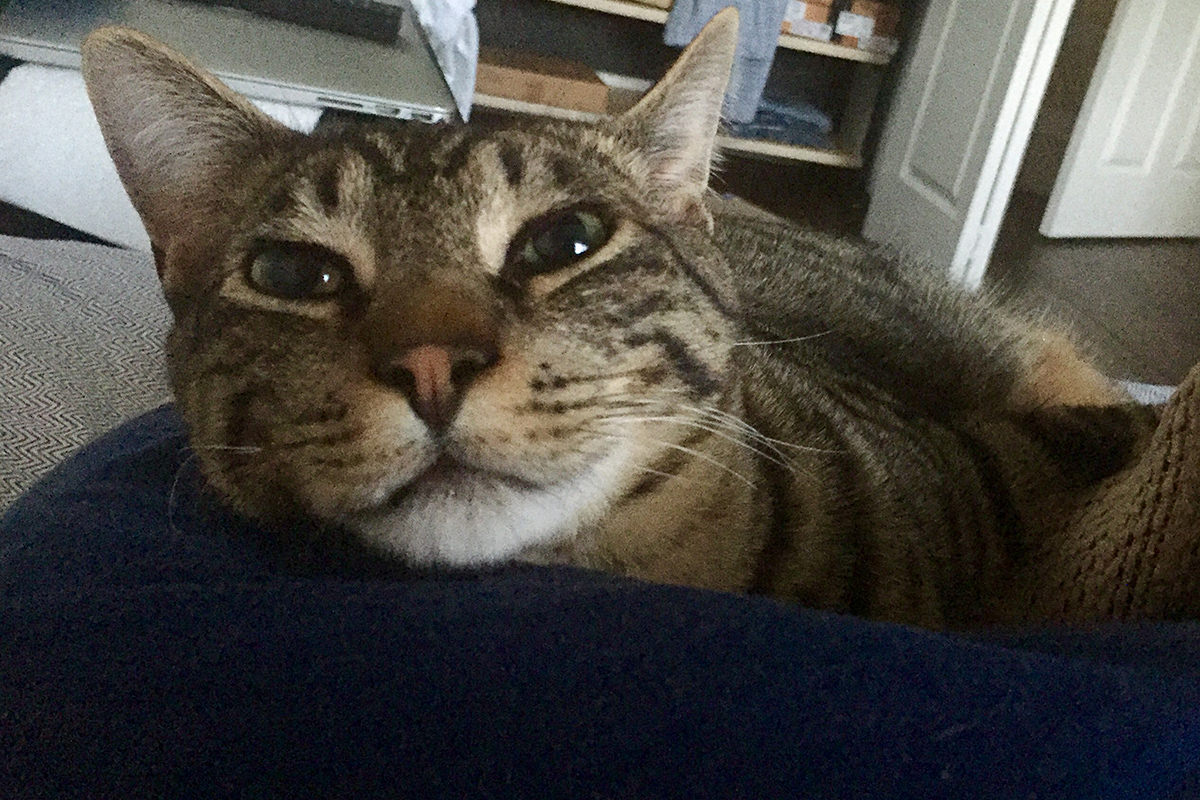 Laying down was a mistake, as I fell asleep almost immediately. When I woke up, Jenny had joined in and I was covered in kittens. There are certainly worse homecomings.

• Things to do in Denver. Side-by-side on the Denver "Things to Do" rack at my hotel...
But which to do first? Hmmmm...

• Hope! As a huge fan of Greek mythology for as long as I could read, I've always had a soft spot for Wonder Woman. When George Pérez reinvented the character in 1987 by jettisoning decades of bad choices so she could be tied even stronger to her Greek mythological origins, Wonder Woman quickly became one of my favorite super-heroes. Which is why I've been awaiting her big-screen debut with absolute dread given the horrendously shitty movies DC has been churning out lately. And yet... there's hope...
Not bad. Not bad at all. I guess we'll know for sure on June 2.

• Spidey! And lest we forget that Marvel has a super-hero film of their own coming out this summer...
I mean, holy shit. I liked the first two Tobey Maguire films okay, but this... THIS... is Spider-Man! He moves like you'd expect Spider-Man to move, and it's a glorious thing to see. Cannot wait for July 5th!

• Neutrality 2. I have said pretty much all I have to say about the pig-fuckers in our government wanting to sell-out the internet to big media companies. But now that our corrupt asshole of a president is mounting a new assault, all I want to do is explode with rage. Here's a more rational response...
How the American people can be SO FUCKING STUPID as to put up with this FUCKING BULLSHIT is beyond me. But, hey... the American people elected a pussy-grabbing Cheeto Jesus as president, so I suppose I shouldn't be surprised.

And I'm fucking done.
Tags:
Bullet Sunday
,
Cats
,
Dumbassery
,
Dumbfuckery
,
Movies
,
Net Neutrality
,
Spider-Man
,
Wonder Woman
Categories:
Bullet Sunday 2017
,
Cats 2017
,
Internets 2017
,
Movies 2017
,
News – Politics 2017
,
Travel 2017
—
Click To It:
Permalink
—
1 Comment: Click To Add Yours!
Posted on December 15th, 2016

It's gotten to the point where I should just be numb to the crazy-ass appointments that President-Elect Trump is making to his administration, advisory board, and transition team. But then one of them has to go and open their mouths, and I'm in full-reverse out of numb and back to despair at the horror of it all.
Like today when I saw this video of Trump adviser Anthony Scaramucci making the rounds...
This follows Trump's McCarthy-esque demand to know all the Department of Energy scientists who work on climate change. Something that is already unthinkable and terrifying.
If this interview was meant to make people feel better about the Trump Administration's notably anti-science bias, Scaramucci did a shitty job of it. Not only is he in serious climate change denial despite the scientific evidence of it all... he's also a Young Earther who believes that the planet is only 5,500 years old.
These are the people who will be making decisions for this country.
I've said numerous times that we're all fucking doomed because of this bullshit. I mean it every time. Because when somebody is drunk and playing with matches while standing in a pool of gasoline, you have to say something.
Problem is that the people who can do something about it are apparently looking the other way.
Posted on December 12th, 2016

Don't go shovel that driveway just yet, because an all new Bullet Sunday starts... now...

• Does Whatever a Spider Can! I've always been more a Batman guy than a Spider-Man guy, but Marvel is looking to change that with their first Spidey film, Spider-Man: Homecoming...
I mean... seriously. Marvel seems incapable of fucking up a movie. They respect the source material and give fans exactly what they're dying to see. This is the complete opposite of what DC does, which is rewrite everything that makes the characters great and give fans what Zack Snyder wants to see... which is always a pile of shit. Couldn't be happier to be getting what looks like an amazing Spider-Man movie. The fact that Tony Stark is in there being Tony Stark just makes it too good to be true.

• The Artist Formerly Known As... If you're a Prince fan, GQ has a long, but highly entertaining look at his life from the perspective of people who knew him best. As if that wasn't enough... another genius, Nintendo's Shigeru Miyamoto, was interviewed over at Glixel. You're welcome!

• No Toys for Tots. After coming across this sorry story, I have concluded that it's probably the stupidest fucking thing I've read in a long time. A charity that collects toys for children won't accept toys raised by a tavern because they prayed on it and decided that toys coming from a bar is a bad thing? Who did this idiot pray to? I mean, she did read The Bible and know who Jesus hung out with, right? Yet another case of Faux Christians following in the footsteps of Jesus... just so long as those footsteps don't lead to conflict with their moral superiority and false virtue.

• Can I Be a Lesbian? This had me laughing out loud in the middle of the night at my hotel...
Fortunately, I must not have disturbed my neighbors because nobody beat the door down and strangled me.

• Kitty Homebody. Ever since I got back home in the early AM, the cats have been all over me. When I sat down tonight to work and watch Wedding Crashers, Jake came running in and attached himself to me then fell asleep...
After a bit he ran to get a snack and I thought I was free... but then Jenny came running in and took his place...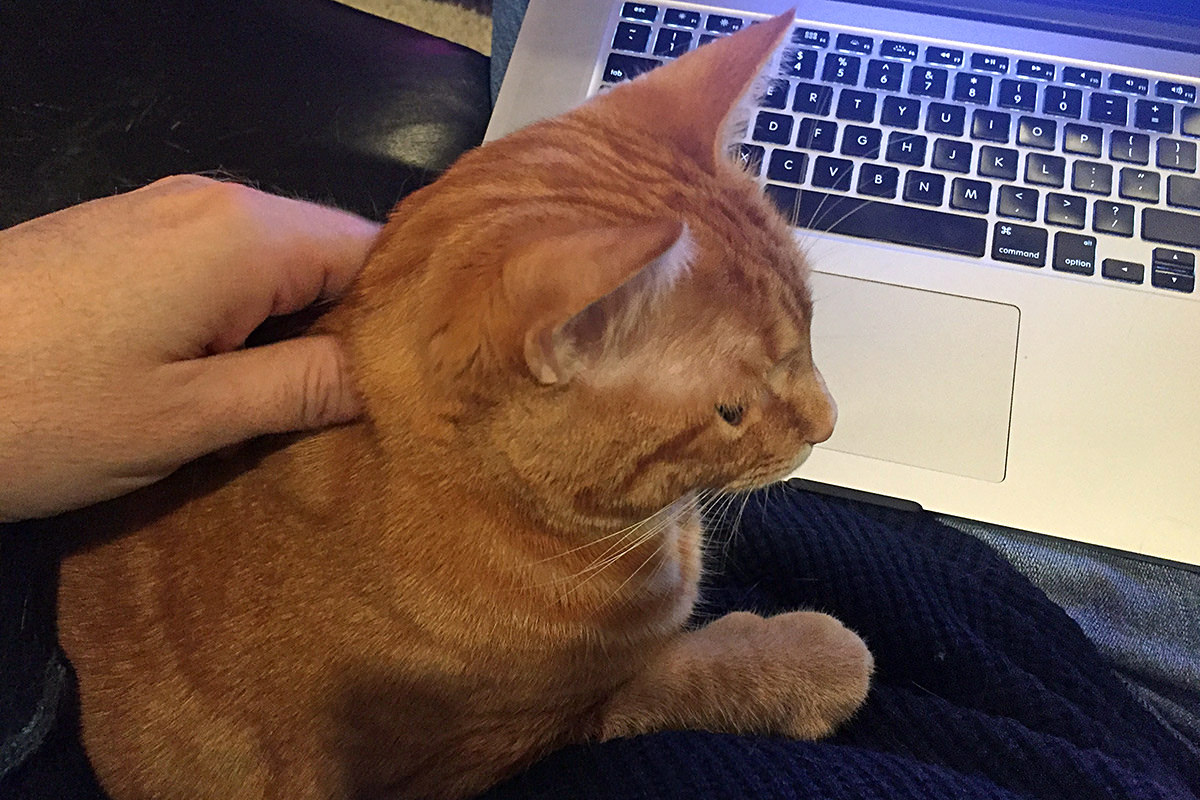 Then she ran to use the Litter-Robot and I figured that was the end of it... except Jake came running back to take her place...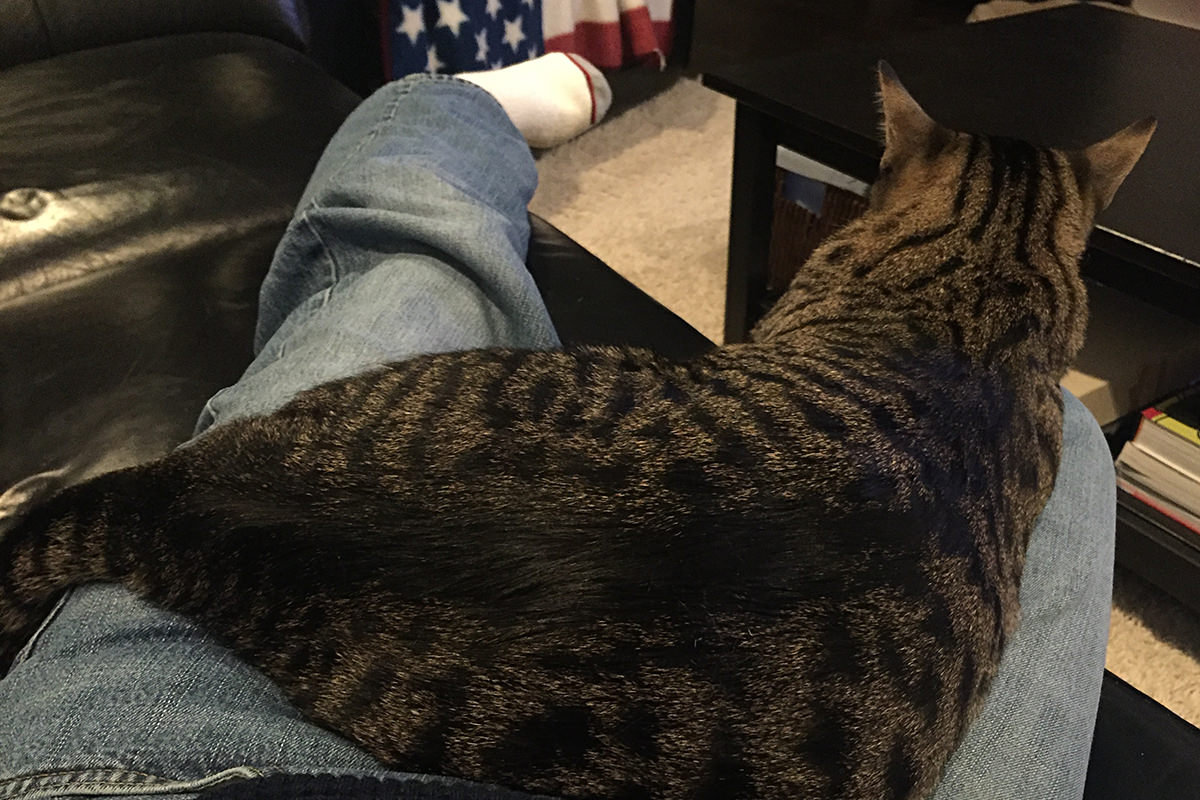 Eventually they must have decided I wasn't going anywhere tonight, and went back to life as usual. Until next time. As if I didn't already feel bad enough about having to leave them...

• Paranoia and Smoke Alarms. Just before my trip to Maine, I started getting paranoid about a fire in my garage. That's where my electrical panel is. That's where my furnace is. That's where my whole-home humidifier is. Any of those things could burst into flames and I wouldn't know about it until it burned through the walls and into the house. To set my mind at ease, I ordered another Nest Protect (smart smoke detector) to put in the garage. Now I'm wondering why smoke detectors in garages isn't a thing. Shouldn't they be? Sure it's $100 down the drain, but that's pretty cheap if my electrical panel caught fire while I was in Maine and unaware. Now my house will send me a text if the garage is on fire. So... yay? I suppose now I need to find out how to call a fire into my local fire department so I can actually do something about an alarm when I'm across the country and 9-1-1 won't connect me to the right place.

• A New History for Humanity. I whole-heartedly approve of this calendar. A simple change that adds loads of perspective...
Too many people think that all of humanity didn't begin until Jesus came along. This fixes the problem without completely disrupting everything. Until scientists decide that

• Trump Diplomacy. This pretty much sums it up...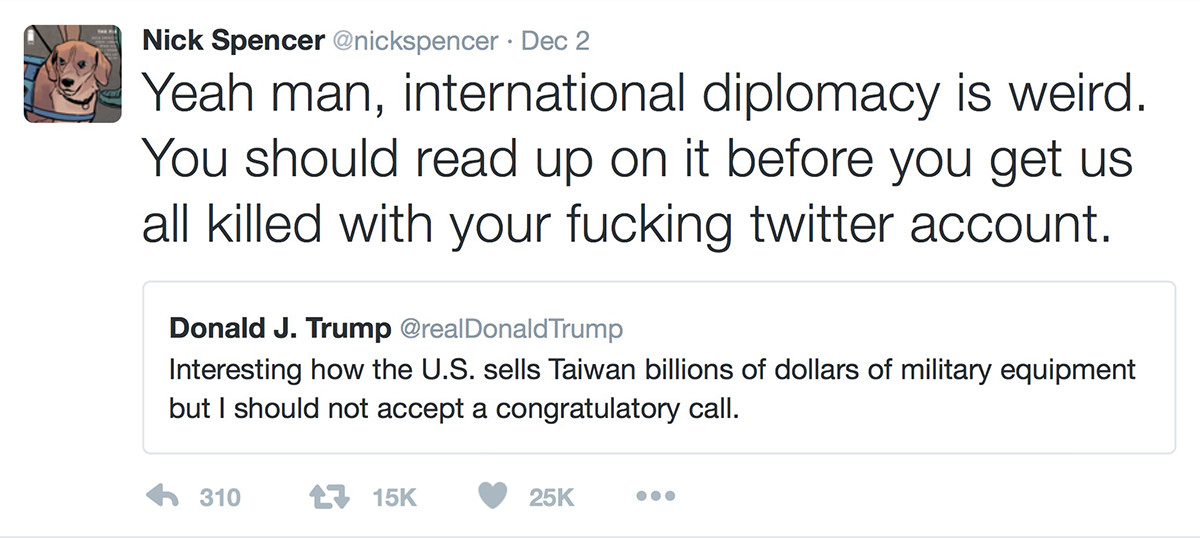 And anybody still calling me "alarmist" for posting end-of-days scenarios around President-Elect Trump's ignorance and stupidity can go read this and then go read this and fuck off now. You'll note that I linked to a FOX "News" story the second time since the people who love Trump and are not taking this shit seriously seem to think that FOX is the only "news" source that matters. Guess we don't have to give a shit about Trump cutting Social Security and Medicare since we're all probably going to be dead by the time he gets around to it. In the meanwhile... this is how Republicans are saving American jobs?

And... the bullets have flown. Until next week then.
Tags:
Bullet Sunday
,
Cats
,
Dumbfuckery
,
Funny
,
Home Automation
,
Marvel
,
Marvel Studios
,
Movies
,
Trump
Categories:
Bullet Sunday 2016
,
Cats 2016
,
Home Renovation
,
Movies 2016
—
Click To It:
Permalink
—
3 Comments: Click To Add Yours!