Posted on September 10th, 2023

I don't know who needs to hear this, but life is indeed good... because an all new Bullet Sunday starts... now...

• Not Nice! It has been a tough time for Hard Rock properties around the globe. A number of them have closed this year, and last night it was announced that the cafe in Nice will be closed by the end of the week. The cafe itself was kinda boring on the inside, but it was still a nice place with beautiful views...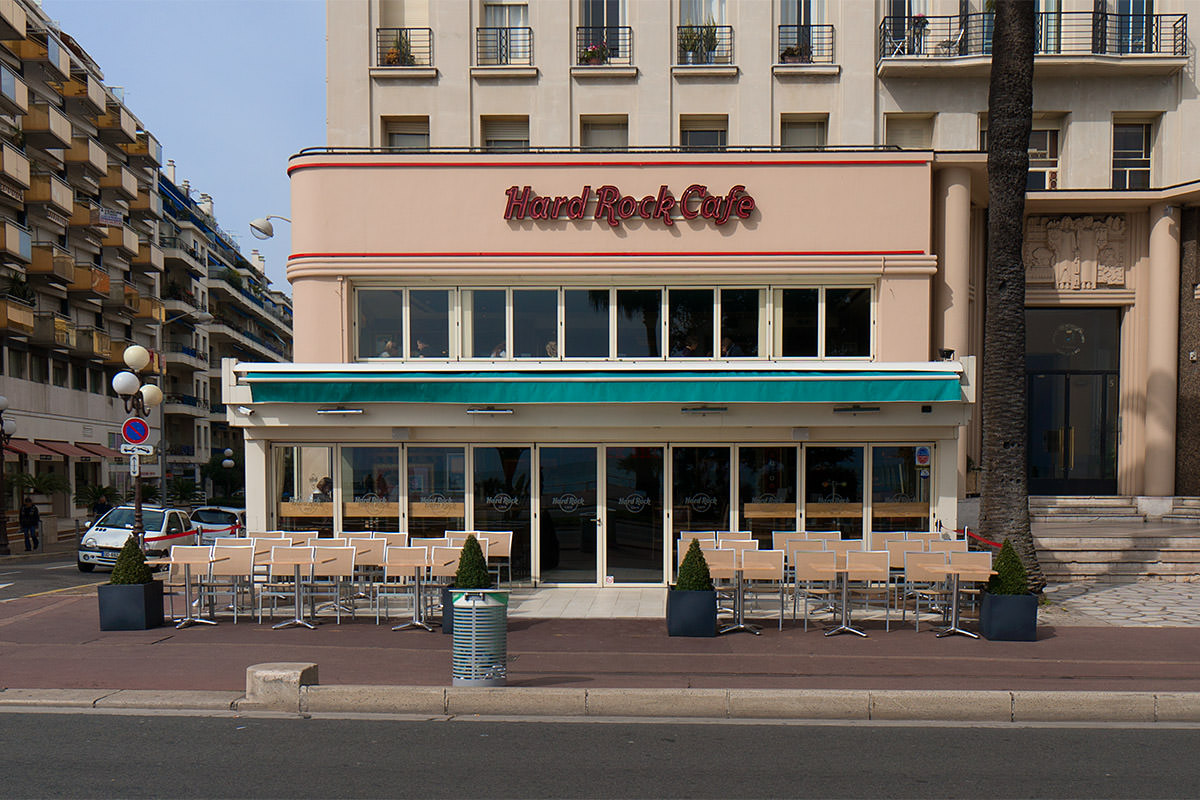 I visited in 2014. This was the infamous trip where I was hit by the shuttle that took me to the airport. In the end, it's just a restaurant... but I do feel bad for the people who worked there and built a family around it.

• Scuttlebutt! Look, there is no denying Halle Bailey's talent. There was a reason she was cast as Ariel in the live-action The Little Mermaid remake, and it had absolutely nothing to do with Disney being fucking "woke" or whatever racist bullshit people are claiming. Because holy crap is she fantastic...
That being said... this was a wholly unneeded remake of a classic film because they didn't try to do anything new or revolutionary with it except add a couple songs (including the gut-wrenchingly awful Scuttlebutt). The sea creatures were scary as fuck because they looked so weird. The guy playing Prince Eric was okay, but has less charisma than his animated counterpart. While I like Awkwafina, she was horrifically miscast as Scuttle (Buddy Hackett made him absent-minded and charming, Awkwafina just made the character stupid?). Melissa McCarthy was good casting, but as much as she relished in the role, she paled in comparison to the late great Pat Carroll as Ursula. Also I agree with the criticism of the makeup...
On the plus side, the special effects were actually pretty great. But that's hardly enough to make it a good use of your time.

• Oxygen! Wow. The more you know (here's a link in case TikTok is being a dick)...
Science is darn cool.

• Nice Dress! It's so simple. Just be kind... and correct where needed to continue to be kind...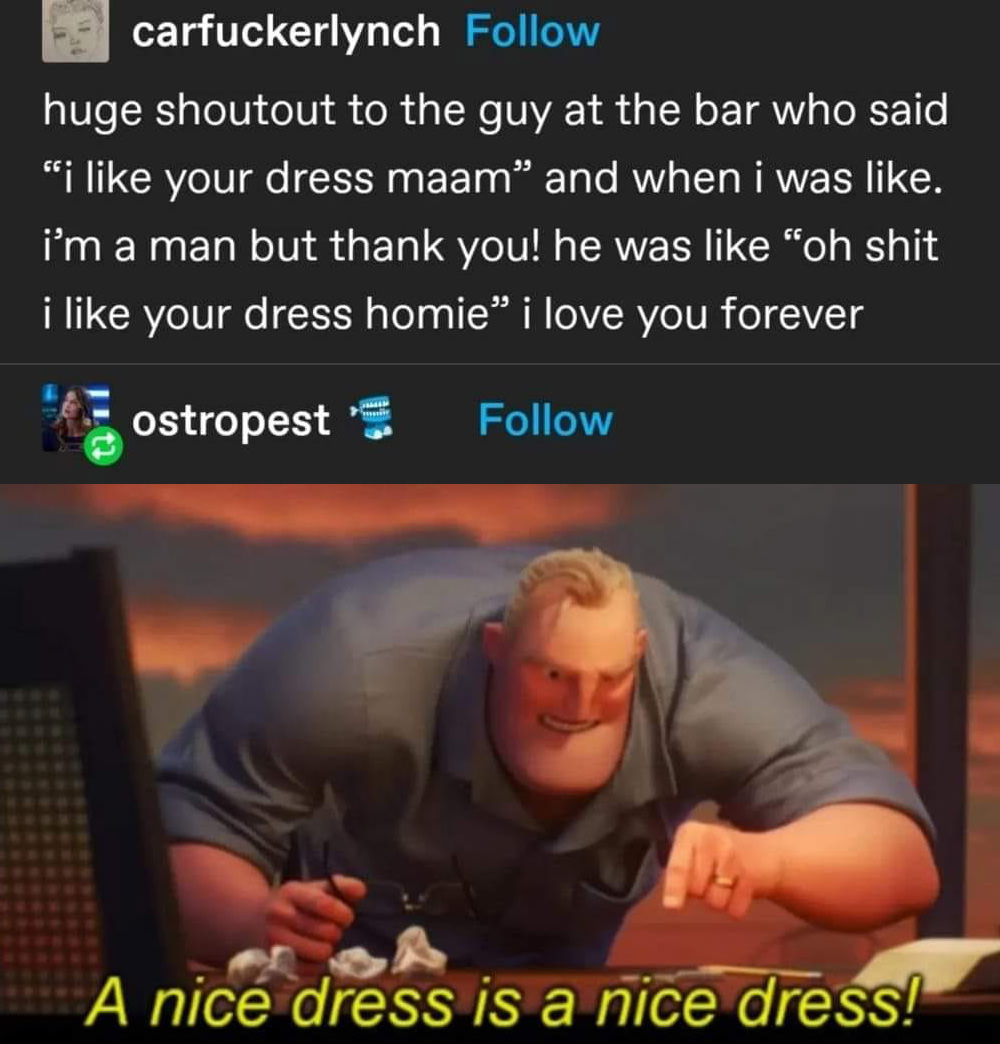 Why are there people who would rather be a fucking asshole about it in these situations where it costs $0 to just be kind? I saw this pop up somewhere in social media, and thought how nice it was that this guy's day was made just because somebody wasn't an asshole. Couldn't we all use a little of that?

• MangaManga! I gotta say... so far as manga adaptations go, One Piece feels pretty spectacularly faithful. The casting is flawless. And, let's face it, that's where the series was going to live or die. How they found their Monkey D. Luffy is close to a miracle, as Iñaki Godoy is Luffy come to life. And Nami, Shanks, and Zoro are straight out of the books too!
On one of my trips to Japan, the manga was all the rage, so I looked up the English translation when I got back to the US (thanks, Viz!). I've been addicted ever since. The Netflix show makes me want to re-read it from the start.

• Circle, Send! If you have ever watched the absurd Reality TV game show on Netflix called The Circle, you know how batshit insane it is. Leave it to Jake Cornell to completely summarize the insanity in a TikTok. This is painfully accurate (here's a link in case TikTok is being a dick)...
I swear, some comedians are more brilliantly able to explain things than an entire textbook.

• MAX... Prices! Warner Bros. Discovery Says Ongoing Strikes Will Mean $300M-$500M Hit to 2023 Earnings. Guess it's going to be time to raise the subscription price to HBO Max. Again. They don't give a fuck about the people making their content... they sure don't give a fuck about their customers (except how much money they can wring out of us). It's absolute madness how they were bragging about how much money they were going to SAVE because of the strike... and now they're watching people unsubscribe in droves because they raised prices and customers mad about paying more for the new content won't get... so now they're going to LOSE money. Good. Couldn't happen to a nicer conglomerate. Fuck Warner Brothers-HBO-Discovery and and their idiotic fucking leadership who have brought this entirely on themselves. If they sink under their stupidity, that's one less service I'll have to rotate through. Which is fine by me.

Enjoy the rest of your Sunday.
Posted on September 5th, 2023

I am in a state of constant amazement how we have all these faux "Christians" just gagging to be persecuted for their "faith." You see it everywhere. The latest trend is so-called "Christians" dreaming of oppression by "practicing their mugshot for when they make it illegal to preach the true gospel of Jesus."
Which is, of course, hysterical.
Especially in this country where Christians are writing their faith into law and forcing people to live in accordance with their bullshit.
Say, I have an idea! Rather than buy into this idiotic fantasy from the future that will never happen... why not live in accordance with Scripture RIGHT NOW by actually help people who are struggling and suffering? Show the world just how big of a real Christian you are BY ACTUALLY FOLLOWING THE TEACHINGS OF JESUS. Because pretending you're going to be persecuted while persecuting others just makes you a hypocritical joke.
In order to not be in a constant state of despair, I seek out compassion and kindness from everyday people who aren't constructing some kind of elaborate performance... they're just living their life. Which is to say if they ARE Christians, they are following Jesus with their actions instead of their words... and if they ARE NOT Christians, they are actually demonstrating Christian ideals more perfectly than those screaming how superior they are because they fantasize about getting persecuted in the name of Jesus.
Just look at this (here's a link in case TikTok is being a dick)...
I'd take a hundred of this guy over "Christians" with a fantasy persecution complex. Any day of the week.
Posted on November 27th, 2012

I hardly ever just plop down somebody else's stuff on my blog... but after I saw a photo on Facebook this morning, it has been all I can think about all day long.
So many times I find myself thinking that the job our police think they have is to "Harass and Humiliate" rather than "Serve and Protect" as their motto claims. Getting bullshit tickets... or seeing people in peaceful protest getting pepper-sprayed... or watching yet another "excessive force" dash-cam video on the news... it all contributes to this ongoing terrible image we form in our heads when the word "POLICE" is uttered.
But we know that's not true. Not for some police. Undoubtedly not for most police. I'm betting the vast majority of police officers truly want to help serve and protect the community they work in. They must, because it's a fairly thankless job. And yes, there are some rotten apples in the barrel, but that shouldn't define police officers as a whole.
Especially when wonderful things like this come to light...
Jennifer Foster of Florence, AZ was visiting Times Square with her husband Nov. 14 when they saw a shoeless man asking for change. She writes, "Right when I was about to approach, one of your officers came up behind him. The officer said, 'I have these size 12 boots for you, they are all-weather. Let's put them on and take care of you.' The officer squatted down on the ground and proceeded to put socks and the new boots on this man. The officer expected NOTHING in return and did not know I was watching*. I have been in law enforcement for 17 years. I was never so impressed in my life. I did not get the officer's name. It is important, I think, for all of us to remember the real reason we are in this line of work. The reminder this officer gave to our profession in his presentation of human kindness has not been lost on myself or any of the Arizona law enforcement officials with whom this story has been shared."
*image cropped from the distance at which it was taken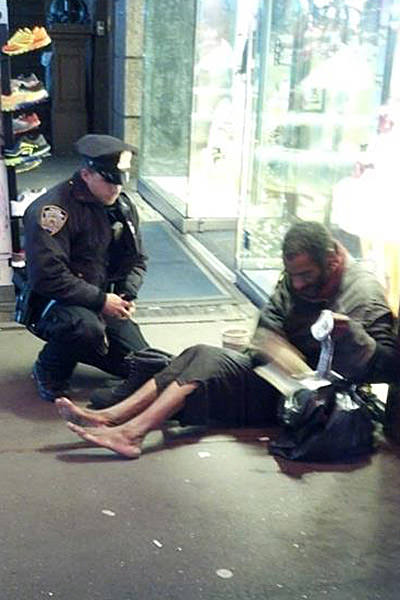 I cannot adequately express what this story means to me.
Because moments like this mean everything to me.
This police officer and kind-hearted people like him are a gift to all humanity. And acts of compassion like this inspire others to open their own hearts and make this world a better place. This is how we survive as a species.
And we need it so badly right now.

So thank you, officer, for giving shoes to someone in need.
And by "shoes" I mean "hope" and by "someone" I mean "everyone."