Posted on July 17th, 2017

I love good marketing.
The problem is that so few companies manage it.
Apple happens to be a company that excels at good marketing. Like when they converted the banners in the iTunes Store to LEGO in celebration of The LEGO Batman Movie being released.
And now... the banners across the top of the "Movies" section of the iTunes Store were all movie titles constructed out of emojis! (in celebration of The Emoji Movie perhaps?) I copied all of them because I just couldn't stand the idea of such brilliance being lost. How many can you guess?




Even the "featured titles" were spelled out in emoji...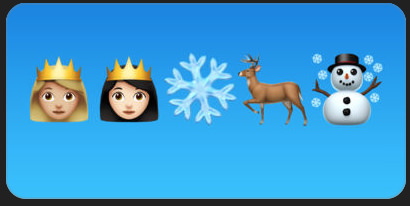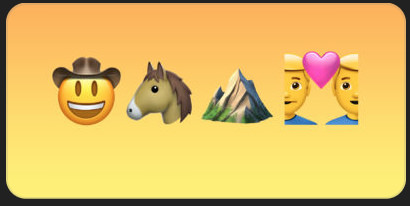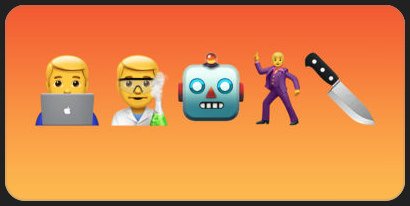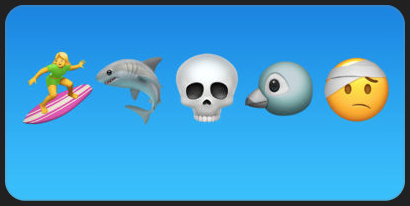 So great.
Posted on July 7th, 2017

Temperatures finally breached 100° this week, so the air conditioner had to be turned on. Darnit. Odds are it's going to stay on because the forecast is up there for the next ten days. Probably longer.
So much for tiny electricity bills.
Even though I set the temperature between 74° and 76° and use ceiling fans, it's a goodly chunk of money to keep everything in the house from melting.
Including the cats.
And then...
Back in 2015 when Apple released the latest and greatest 4th generation Apple TV, I purchased one to replace my aging 2nd generation unit (which I moved to the guest room). Despite the remote being shit, I was happy with the upgrade. At first. Eventually I found out that the unit had horrible problems streaming video from Apple. Other sources... Netflix, HBO, Showtime, YouTube, Hulu, you-name-it, were all working fine on Apple TV, it was just my iTunes Store purchases that were stuttering and crapping out... or not loading at all.
So when I ended up winning a second Apple TV from an incentive give-away, I just tossed it in the closet. My bedroom TV has Netflix built-in, so I figured I'd just wait until somebody came up with a hack to turn the Apple TV into a web server or something. Since it had problems streaming my rather large collection of Apple media, it just wasn't worth messing with.
Until Game of Thrones Season 7 was announced to be arriving.
My bedroom TV doesn't have an HBO app, so I decided to dig out the extra Apple TV so I can watch Thrones in bed as God intended.
But first I had to find the thing, because I had no idea what happened to it during the move. I've been searching off and on for weeks to no avail. And then this morning I finally found it.
By accident.
My cats have been acting crazy, so I decided to start putting my iPhone charging cable in the tiny empty cupboard above my range hood and microwave where they couldn't get to it... and... voilà...
My "empty" cupboard contained an old phone book, a Hershey chocolate candle, and... my missing Apple TV. In all honesty, I do not remember putting it in there. I don't remember putting any of it there. I can't even think of why I'd have done it.
Probably so I wouldn't lose it?
Jenny helped me set it up...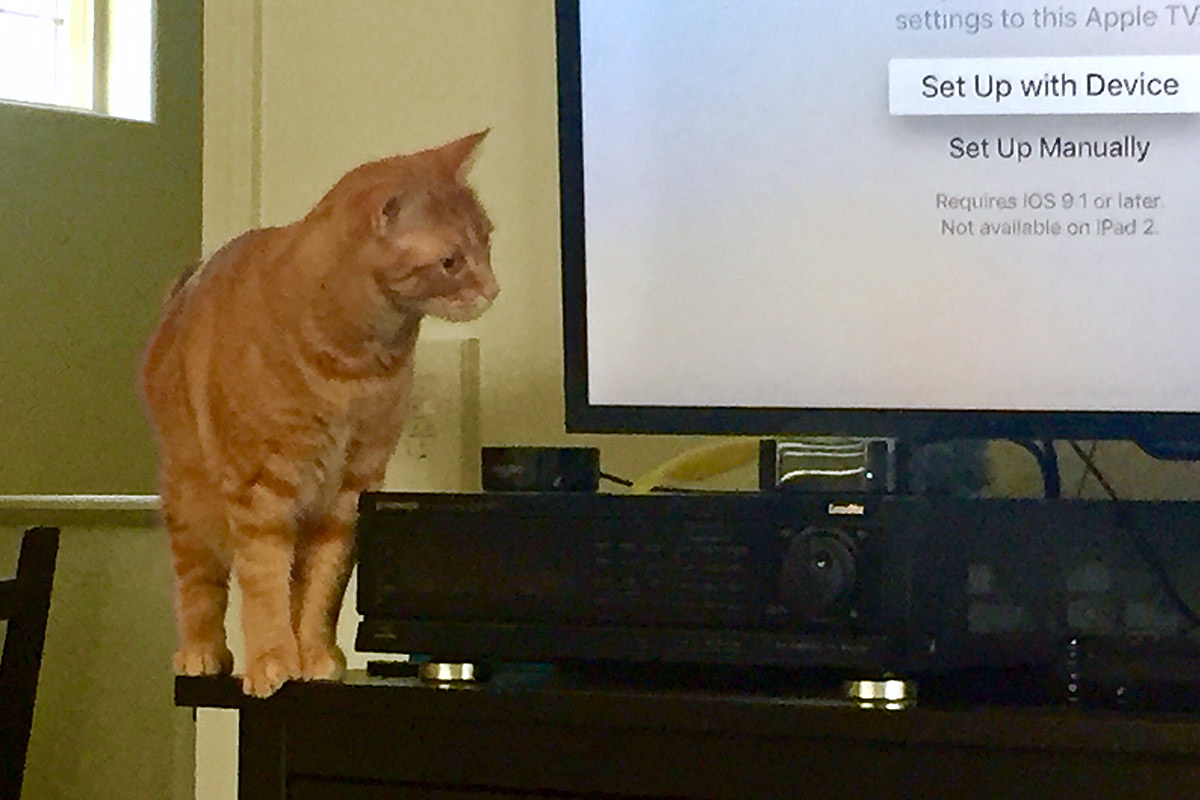 And... ready for new Game of Thrones on the 16th!
Posted on June 25th, 2017

Hope you're enjoying those lazy, hazy days of Summer, because an all-new Bullet Sunday starts... now...

• Munneh! But, yes. By all means. Let's invest our money in coal. Soon-to-be-obsolete coal that nobody is going to want when there are going to be far cheaper, cleaner, and more efficient ways to get our energy...
I mean, we could bring this technology to former coal towns and train the workers there for jobs that will actually matter. But, no. Because coal. Uh huh...
The sheer idiocy involved in killing off the American worker by our politicians is just astounding. We're not going to be competitive in the global job market, and we did it to ourselves by electing assholes who are more interested in fleecing taxpayers for the benefit of coal executives than creating jobs for ex coal miners.

• Kens! And so This happened: Mattel released 15 new variations of Ken Dolls... aka Mr. Barbie...

And no, your eyes are not deceiving you... there are Ken dolls with a man-bun now. I can't fathom the parent that would buy their daughter (or son, for that matter) a doll with a fucking man-bun on it, but since society is hell-bound anyway, here you go. As if that weren't enough, the Kens are available in three body types: Original, Slim, and Broad. Because heaven only knows we don't want to cause body identity issues in our children. Their dolls have hipster man-buns now, and that's enough fucking trauma for childhood.

• MMMMMMEAT! Clearly God wants everybody to be vegetarian, and this is His solution... OH, LOVELY: THE TICK THAT GIVES PEOPLE MEAT ALLERGIES IS SPREADING. From the tick's perspective, I'm guessing that people taste like chicken.

• White! "Being white in this country, I should just shoot myself." — Somebody please hand her a gun. Because this racist fucking waste of space shouldn't be raising kids... let alone be allowed to join society...
No matter how many times I see bigoted shit like this, I remain amazed. Not that assholes such as her exist... but that they feel so confident in their racist bullshit to act this way in public.

• Hope That Helps! Ben Palmer released video from one of his shows and it is everything you'd hope it to be...
Watching him troll on Facebooks is one of the reasons I am happy that Facebook exists.

• HomeShit! You know, I understand that companies can't release a winner every time. There are going to be some duds, even for the most inovative of them. I get that. Honestly I do. But Apple's HomeKit is such a festering pile of shit that I cannot fathom why in the hell they don't scrap it and start over or fix their stupid crap so it will actually function reliably. Thank heavens the only thing I was stupid enough to trust to Apple's failed system is my door locks. I wanted them on a completely separate system from the rest of my home automation for security reasons and, hey, it's Apple... right? What could go wrong?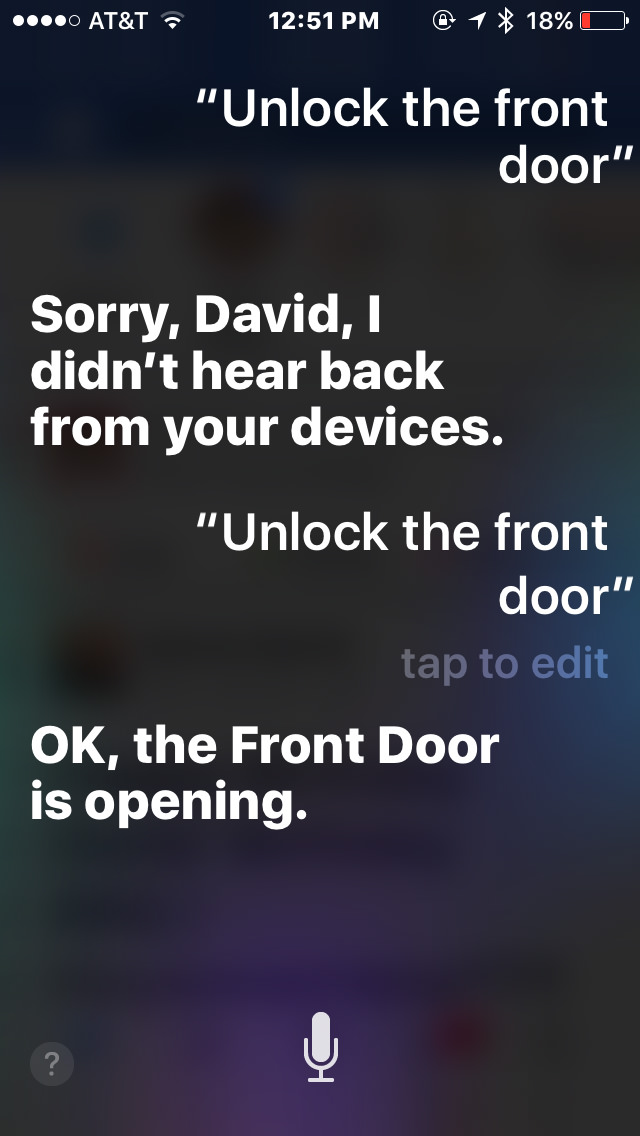 I never dreamed the answer to that question would be everything. Apple should just do everybody a favor and kill off HomeKit instead of continuing to pretend that they give a flying fuck about home automation.

Dis be da end, everybuddy.
Tags:
Apple
,
Bullet Sunday
,
Dumbassery
,
Dumbasses
,
Home Automation
,
HomeKit
,
John Oliver
,
Meat
,
Politics
,
Toys
Categories:
Apple Stuff 2017
,
Bullet Sunday 2017
,
News – Politics 2017
—
Click To It:
Permalink
—
7 Comments: Click To Add Yours!
Posted on June 5th, 2017

And so it's time once again to tune into the Apple World Wide Developer Conference keynote to find out what everybody's favorite fruit-based tech company has up their sleeves for second quarter 2017.
I have to admit, I no longer get ramped up for these Apple things like I used to. In the past, I would take a frickin' vacation day when the WWDC keynote was unspooling just so I could unpack all the Apple goodness that had been unleashed. I'd pour over every minute and blog epic breakdowns of everything that was announced.
Now?
Well, I'm still excited over Apple's stuff... they're an exciting company. But the way they keep screwing up has me less enthused than I once was. I bought into their HomeKit home automation tech, only to find out that it is a total load of crap. They keep making "pro" equipment that isn't for "pros." The reliability of their products is in the toilet, and the way they address their lack in quality is bullshit. Meanwhile Microsoft is killing it with their Surface line, easily picking up the pro design market that Apple is abandoning.
But I digress.
Rather than have to watch hours of keynote like I did, here's a 19 minute recap that tells you everything you need to know (assuming you haven't seen it already)...
And here are my reactions...
Amazon on Apple TV. It's about frickin' time. I mean, I know this was probably more an Amazon issue than an Apple issue, but the wait has just been silly. A pity that the Apple content delivery is so shitty. I still can't get reliable streaming of my Apple video purchases despite every other streaming service in existence working perfectly fine... even on my AppleTV.
watchOS 4 Some nifty features. It's interesting how Apple has cracked the nut here that so many companies have failed with. Problem is that the watches are still too thick and clunky to be comfortable on me.
MacOS High Sierra. As the self-proclaimed "Heart and Soul of Apple," the company sure doesn't seem to be putting the Mac on the same level as their phone/watch/tablet products. This update to the MacOS offers some interesting features... in particular the new file system that's been a long time coming... but most of it is fluff. Where is the groundbreaking innovation that's going to keep the Mac platform moving forward? Certainly not at this keynote.
VRkit. Mass adoption of Virtual Reality isn't going to happen until it's much cheaper... and a hell of a lot less cumbersome and uncomfortable. When Apple releases VR that's accessed with a pair of glasses instead of some janky headset, maybe I will get excited. But now? Interesting and entertaining for early adopters, but it's got a long, long way to go before it's an essential technology.
iMac Pro. Why the fuck can't Apple get it through their heads that all this "pro" equipment they are releasing is not what pros are wanting? Your "pro" Mac option is now a fucking iMac? An iMac? A $5000 computer you can't expand or self-service? Oh... but it comes in fucking "Space Gray," so that makes up for everything! Give me a fucking break. Yes, it's an awesome computer... a powerfully awesome computer that looks great... but it is NOT WHAT PROS ARE LOOKING FOR!
iOS 11. Messages syncing is great, Personal Apple Pay is wonderful. Upgraded Siri is awesome... especially the translation feature! Siri learning and persistence is cool. Photo upgrades are welcome. New Control Center is overdue. Do Not Disturb while driving is critical to help keep dumbasses from being dangerous on the road. ARkit augmented reality is sweet, but kind of gimmicky.
iPad Pro. Wishing this was my iPad. The upgraded display is phenomenal, and looks like it will make using Apple Pencil even more remarkable. But the best part is the new size. The move from 9.7" to 10.5" feels like the perfect move... just a little bit more room to be more productive, but not to the cumbersome degree of the 12.9" model. I don't know that these new iPads are the ideal answer to Microsoft's Surface, but it's definitely a step in the right direction. But at a price.
iOS for iPad. If Apple keeps bringing desktop features to iPad, pretty soon they won't need to sell desktops. Which is probably the ultimate goal here. File management is finally here and, while not as feature-rich as I had hoped, it's still very much a step in the right direction.
HomePod. I'll buy one. Absolutely. This is the perfect device for playing music in my bedroom... perhaps even in my living room. But when it comes to home automation, it's too little too late. WAY too little because it relies on Apple's shitty HomeKit technology that I've abandoned. WAY too late because Amazon's Alexa does so much more in every arena, and already controls my home automation perfectly. To me, this is competition to SONOS, not Alexa. Maybe one day that will change, but Apple is going to have to integrate with other systems like Amazon has done in order to make any headway.
All in all... some nice upgrades in the OS and software departments, but more of the same bullshit for pro design users. A market Apple used to own, but is throwing away with gleeful abandon. Leaving me to wonder if my next computer will be running Windows. My license for Adobe's Creative Cloud Suite works for Mac or Windows, and they function the same on both systems. Food for thought.
Tags:
Apple
,
Apple TV
,
Apple Watch
,
iMac
,
iPad
,
iPhone
,
iPhone Photography
,
Mac
,
Mac OS X
,
WWDC
Categories:
Apple Stuff 2017
,
News – Politics 2017
—
Click To It:
Permalink
—
3 Comments: Click To Add Yours!
Posted on May 22nd, 2017

This has not been a very good day.
Last weekend I thought I had a kidney stone, but the pain subsided and I counted my lucky stars that it was gone. Turns out it was a temporary reprieve. Last night I started having pain again, and it only got worse as the evening went on. By the time I woke up this morning, the pain was stabbing through my back so badly that it was hard to walk.
But I had to go in to work, so I took some pills, put on my tough-guy pants, then headed out the door.
Only to find that most of my irises, pretty as they are, had all collapsed under their own weight...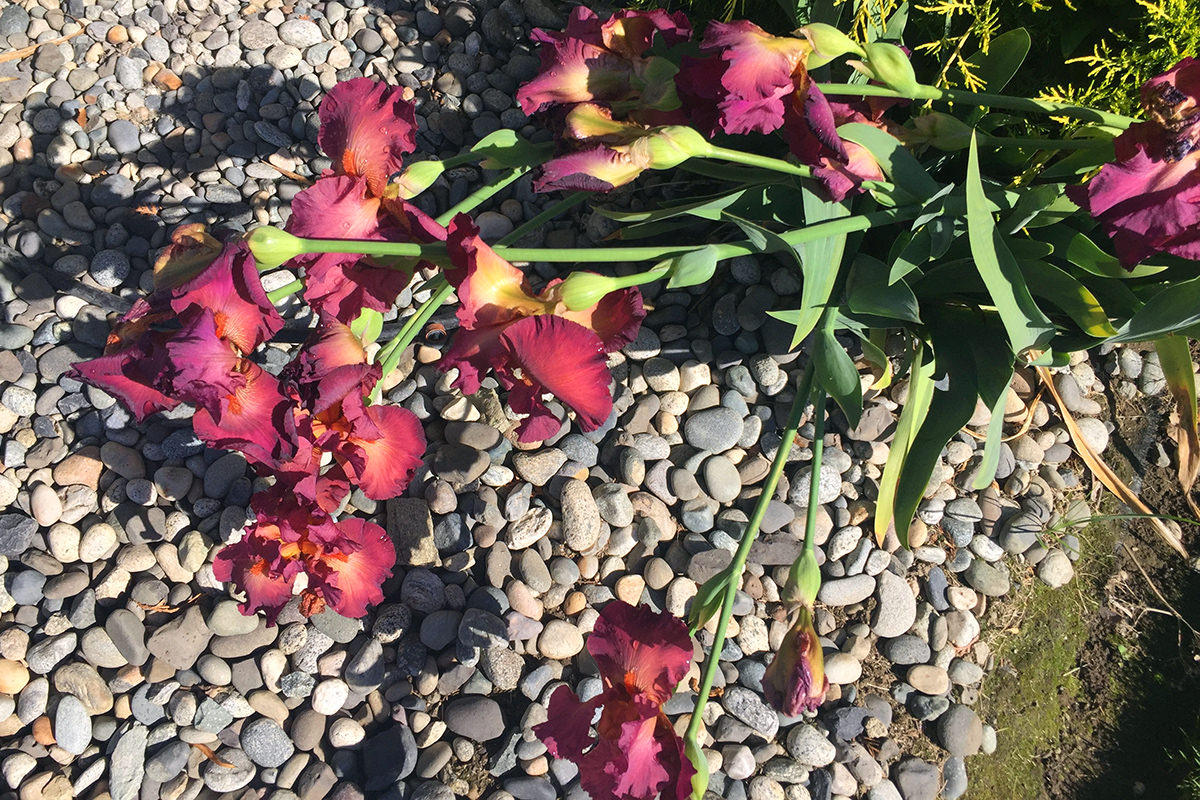 What a stupid flower. I guess bees still pollenate them when they're on the ground, because otherwise I'm guessing they would be extinct. I suppose if they are still alive when I'm feeling better, I'll have to tie them up like last year. Still, those plants that manage to stay upright are as pretty as ever...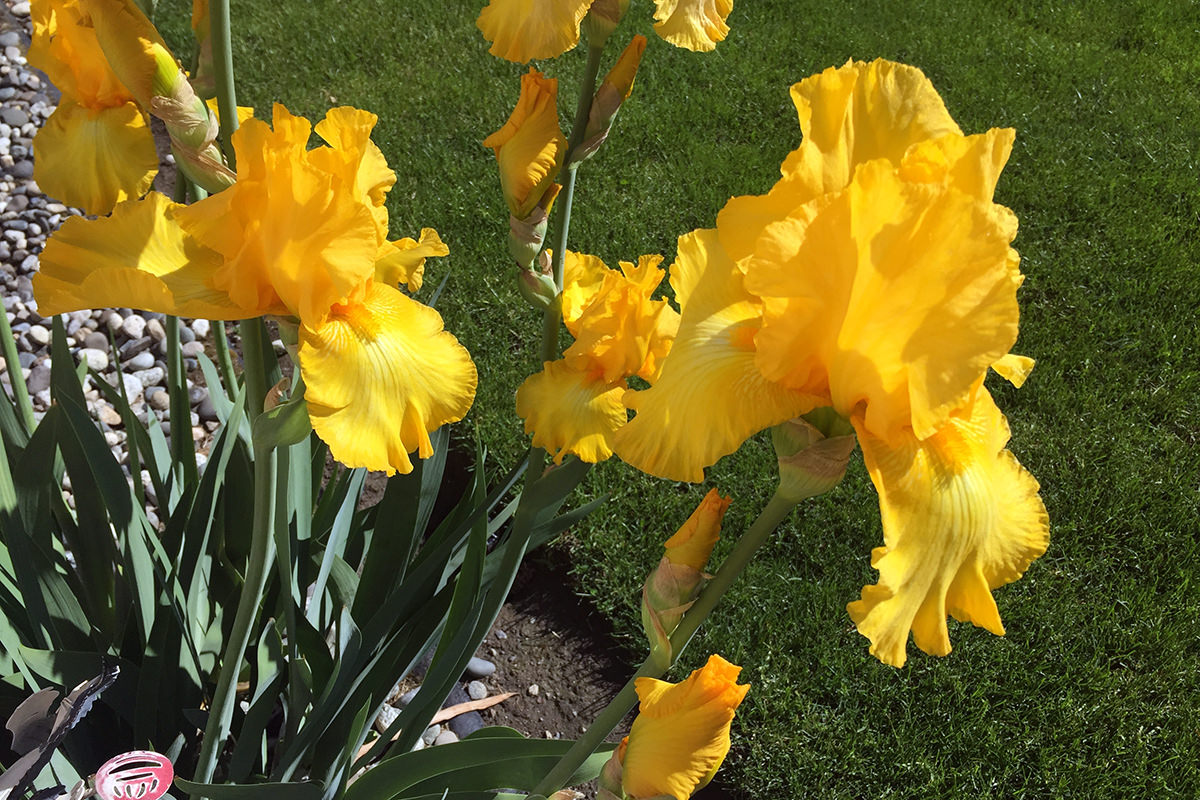 I anticipated that work would be agony, but it actually managed to take my mind off of things... for a while.
By the time noon rolled around I was D-O-N-E.
And so I went back home, took more pills, then had to spend some quality time with Jenny, who was upset with me for leaving her today in the first place. I'm guessing that shedding her winter coat is an itchy process, because she wants to be scratched all the time... and will start crying if you don't comply...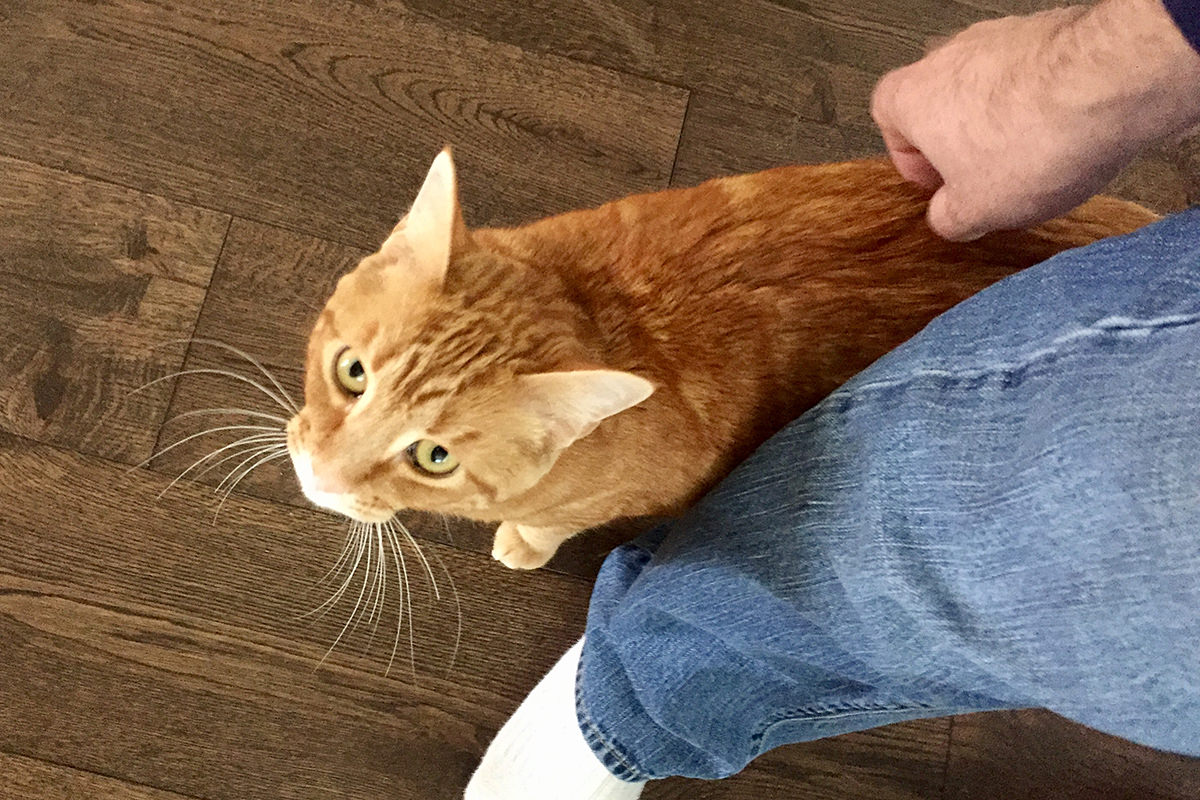 Eventually I managed to disengage so I could go upstairs where I planned to die in bed. It was a good plan... until Jake decided it was his turn for attention. Or maybe he was playing nurse, it's hard to tell...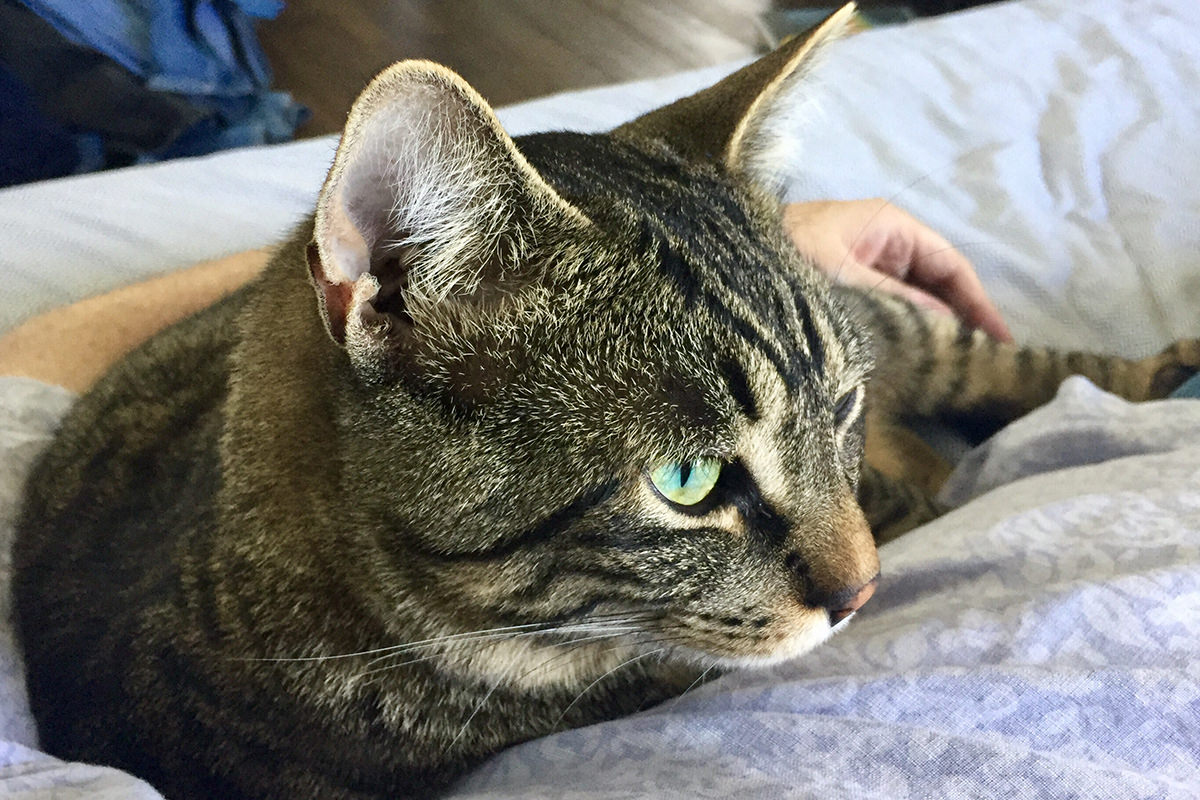 I streamed a couple episodes of West Wing off Netflix, then decided to listen to some music in the hopes I would fall asleep. But Apple's streaming services were shit, as usual, and I couldn't never get my music to load on my AppleTV...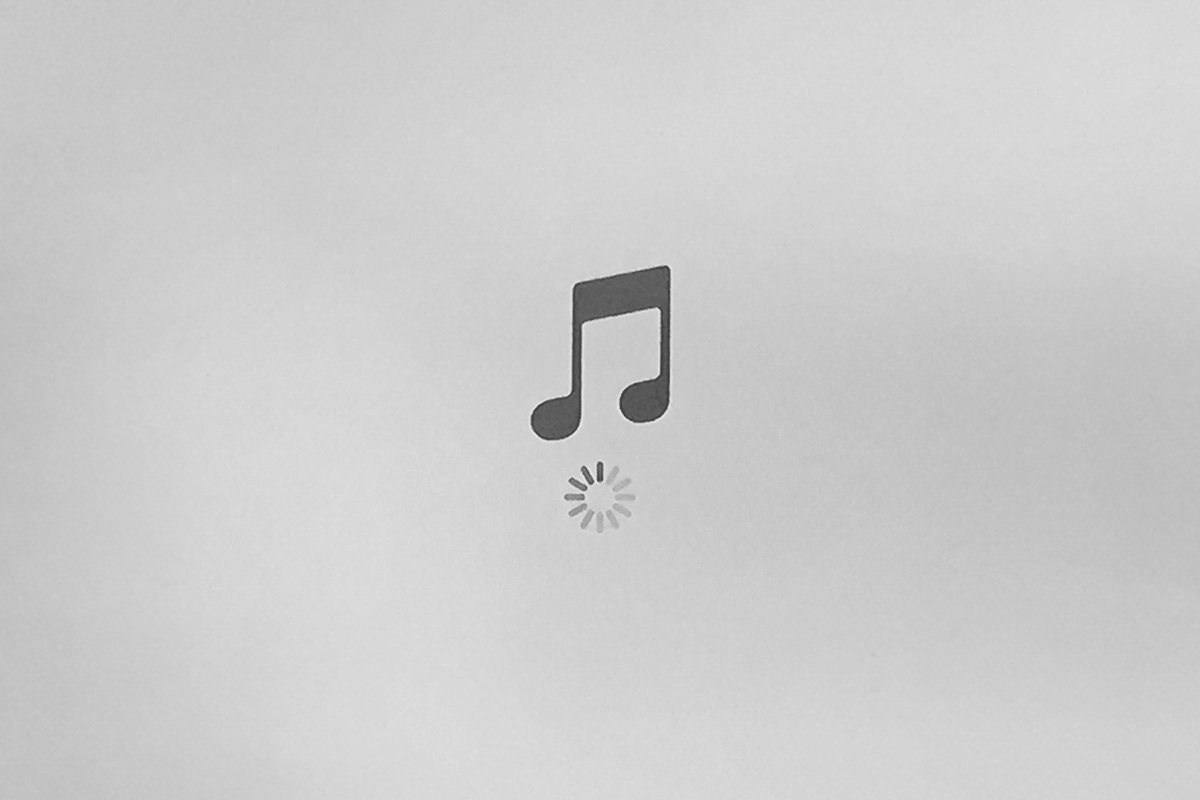 I don't understand why Apple doesn't spend some of their billions of dollars solving a problem that none of their competitors seem to have. I can stream to AppleTV without problem every time I try from Netflix, HBO, Showtime, Starz, Amazon, Hulu, Youtube, and the like... but Apple's streaming rarely manages to work without some kind of issue. If I can get it to work at all. Maybe Apple needs to hire other people to develop their shit since they seem incapable of doing it themselves. When I pay for stuff in the iTunes Store, I expect to be able to have access to it.
Anyway...
Today the heat got up to 86 degrees here, but I never had to turn on the air conditioner... even though I noticed many of my neighbors had. I'm chalking that up to my having installed a ceiling fan in my bedroom, which worked so fantastic for me last year. Such an energy-saver. I wish I had the fixtures in place so I could put them in every room of my house.
And now? Time for more pills and sleep. Fingers crossed. Really hoping that everything works itself out soon, because I can't keep missing work with all the stuff I have to do there.
Much as my cats would probably hope otherwise.
Posted on May 20th, 2017

In celebration of The LEGO Batman Movie being released on iTunes (a film I absolutely recommend you should see)... Apple put a bunch of movies on sale and gave their visuals a LEGO treatment.
I liked them so much that I wanted to be sure and save them to my blog in case I ever wanted to see them again...





A couple of these films could have been vastly pproved if they were LEGO creations... just sayin'.
Posted on April 3rd, 2017

My Blogography posting has been erratic this past week because my laptop had to be sent in for repairs. After five years, my MacBook Pro's keyboard would randomly refuse to type R, T, Y, U, I, and O. Eventually it went from "randomly" to "constantly," so... game over.
Rather than do a backup and restore, I decided to wipe the drive and start over from scratch. This is an easy thing to do since all my data and files are stored online (mostly on DropBox and iCloud). All I have to do is reinstall the apps I'm actually going to use and my data will magically transfer back to my local drive from The Cloud. The end.
Ain't technology grand?