Posted on May 26th, 2022

My nine-year-old iMac computer at work has been dying for years and finally just refused to work properly at all this past January. You could never search for anything. Apps would hang the computer for no reason. The display would black out at random. It was horribly frustrating, but I held on... working partly on my laptop and partly on my home iMac when my work machine was acting up... because I knew that Apple was going to release new Macs at their Spring Event. Which they did back in March.
My guess was that they would release an M1 27" iMac, which is exactly the machine I needed.
My guess was wrong.
Instead we got the "Mac Studio" which was in every way perfect for my needs...
More powerful than a consumer Mac, but not overly-powerful (and overly-expensive) like a Mac Pro.
NO BUILT-IN MONITOR, which I was very happy about, because it's always a shame when you have to recycle a perfectly good monitor when you recycle the computer. iMacs are horrible this way.
USB-A PORTS, which means that I can plug in my scanner, DVD-R drive, and printer without having to buy dongles or new cords.
AN SD CARD SLOT, so I can transfer photos from my camera to my computer without yet another stupid dongle.
PORTS ON THE FRONT OF THE FUCKING COMPUTER, which has been a sore spot with me when it comes to Apple ever since they started moving shit to the back of the computer. It's just senseless and stupid, and every time I have to rotate my old iMac to plug shit in I wanted to scream.
And now for the bad news... the Apple Studio Display that was to go with my shiny new computer hasn't arrived yet. It was actually supposed to arrive before my computer ages ago, but rather than ship it to me, Apple decided to hold off since my computer wasn't available yet. Then the COVID lockdowns hit China and so now the Mac finally arrived but I'm having to use a crappy old HDMI monitor that's so pixelated and low-res that I can barely work on it. Better than nothing, I suppose, but this is more than a little bit frustrating.
Design Grade: A-
The computer itself is quite nice-looking. A minimalist 1/2-height cube with pleasing rounded corners. Kinda like a tall Mac mini...
On the front of the computer is the afore-mentioned SD card slot and two USB-C ports. There was no little "lightning bolt" symbol above the USB-C ports so I assumed that they were not Thunderbolt-4 compatible (as it is on the less-expensive model). I was wrong. They are full-on Thunderbolt, which is nice, and I'm guessing Apple left off the symbol for aesthetic reasons (as they are wont to do). The SD card slot is inexplicably still the older SD-XC UHS-II standard. The much faster SD-UC standard has been out for years now, so this is kinda inexcusable given the massive size of photo and video files now-a-days. My camera is not SD-UC so it doesn't affect me... but if I ever do get a camera with a SD-UC slot, I'm going to be understandably pissed. And... oh yeah... do you want to know what's not on the front of the computer? The power button. Which means if you need it, you are groping blindly around the back. I have no idea why this is the case. Apple could have at least put it on the side near the front if they thought it was too ugly to go on the front.
On the back of the computer is that pesky power button plus all the remaining ports. On my model this means four USB-C Thunderbolt-4 ports, two USB-A ports (helleluja!), and an HDMI 2.0 port (never mind that the 2.1 standard has been out since 2017, Apple is once again using older ports for some reason). Plus 10 Gigabit Ethernet, which is nice because our offices just got rewired... and a headphone jack (surprise!). My DVD-ROM is unplugged because my two USB-A ports are taken, so I'll probably end up with a dongle for it, alas...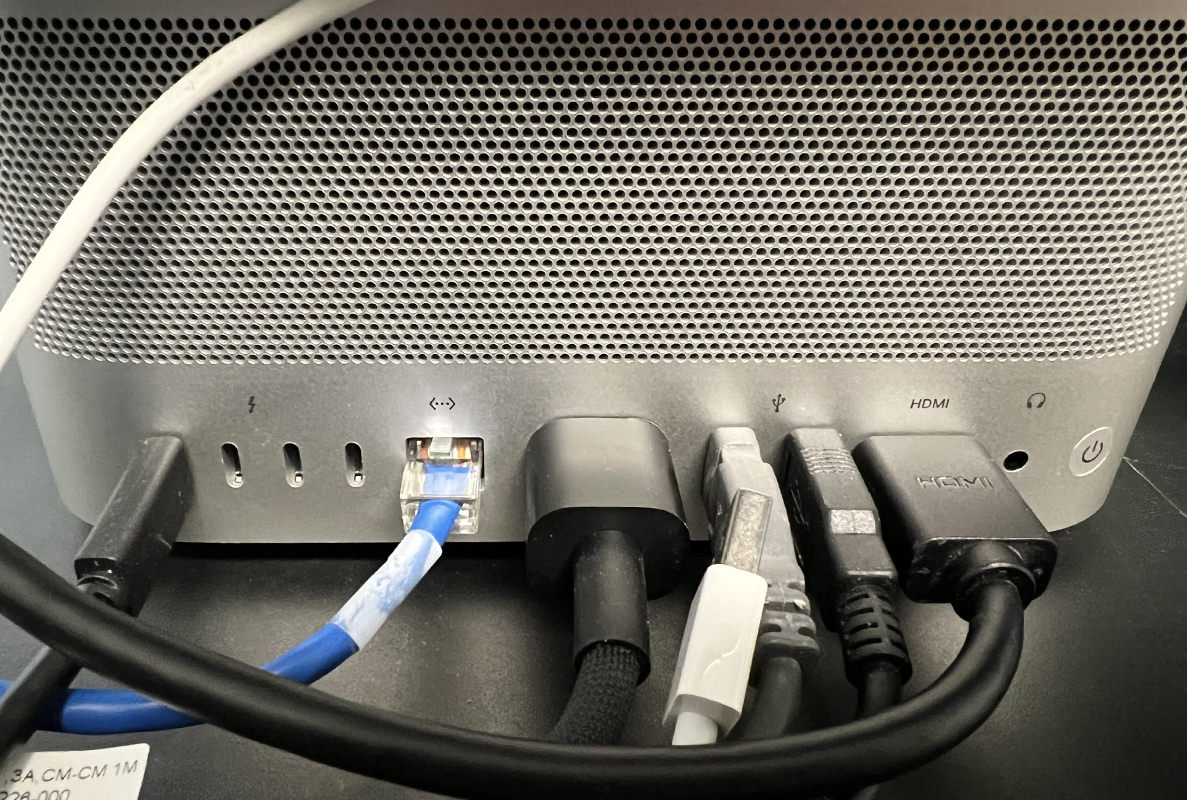 One disadvantage about the computer is that the soft aluminum casing paired with sharp edges is just asking for dings and nicks to appear. Mine arrived with a small ding on the front-top edge, so I can only imagine that it's going to end up a lot worse once I start actually using it...
The fragility aside, I have no complaints. For something that's meant to occupy the space between consumer and pro in Apple's lineup, this is about what you'd hope for.
Price Grade: B-
The computer comes with no keyboard and no mouse included in the price. You get the computer, a power cord, and a black Apple sticker (I thought that the black stickers were for "Pro" purchases, but I guess the "Studio" was deemed worthy...
For pre-configured machines you have a choice of a $2,000 model which has 32GB of unified memory and 512GB storage, plus the M1 MAX Apple Silicon chip with 8 performance cores and 2 efficiency cores for the CPU, 24 GPU cores, and 16 neural engine cores... and a $4,000 model which has 64GB of unified memory and 1TB storage, plus the M1 ULTRA Apple Silicon chip with 16 performance cores and 4 efficiency cores for the CPU, 48 GPU cores, and 32 neural engine cores. My work was nice enough to get me the ULTRA version because I needed the memory. It would have been cheaper to upgrade the entry model, but I was happy to get the more powerful machine.
As to whether the price is worth it? Well... yes and no. I think that the $2,000 model is actually a darn good bargain for what you're getting. That would be enough to satisfy mid-range power-users at a decent cost. The $4,000 model, however, seems overpriced. For that kind of money, you really should be getting the chip with 64 GPU cores (but that's a $1,000 add-on, $5,000 total). I might feel differently if there was a clear speed benefit to the ULTRA chip, but benchmarks show that it's mostly equivalent to the lesser version except in extreme circumstances, so I would have likely been just fine spending $2,000 for the base model and adding $400 for more memory and $200 for more GPU cores. But, hey, as Apple optimizes their "Metal" rendering engine to better take advantage of ULTRA, and app developers hop on board, I might end up being very glad that my employer spent the extra cash.
Performance Grade: A
The hallmark of Apple Silicon is that you get considerable power out of less energy. This is a godsend for portable Macs (my MacBook Pro with the M1 MAX chip can go all day on a single battery charge) but not as critical for desktop machines like the Mac Studio. Conceptually desktop machines will be able to put additional power to good use. But in practice it doesn't feel like more bang for your buck. I ran races between my MacBook and Mac Studio expecting the M1 ULTRA to run circles around the M1 MAX, but that's just not the case. Yes, the Mac Studio is faster, but it's not by a revolutionary amount. This may sound like a complaint... but it really isn't. The fact that Apple has managed to make chips this powerful means that the entire line gets an "A grade" from me.
Everything on my new machine feels zippy. Basic tasks happen near-instantaneously. Complex Blender 3D scenes render very fast when using version 3.1 that's optimized for MacOS X's "Metal" graphics package. Rendering video in Final Cut Pro is ridiculously fast. Needless to day, the Apple Silicon optimized versions of Adobe's Photoshop and Illustrator perform amazingly well. And as more work goes into Metal drivers (by Apple) and apps (by developers) the sky's the limit. I was happy to have a working computer. But having one as powerful as the Mac Studio feels too good to be true. Work is so much easier when you have a screaming-fast machine.
Final Grade: A-
Ultimately this is a very nice, very capable machine. And having an option for power-users which doesn't force you into a "Pro" machine that's overkill for your needs is refreshing. I won't get the full benefit from the machine until the Studio Display that goes with it arrives... and developers further optimize their apps to utilize it... but in the meanwhile I am a very happy camper.
Posted on May 25th, 2022

Oh look! I've got some tech crap to beef about, and you get to come along for the ride! If you're in a good mood and don't want it spoiled by my ranting, I'd just skip this entry.
But if you're already raging on your Wednesday, this one's for you!
Apple Mail
Apple is worth billions of dollars, and yet their Mail app is one of the shittiest fucking user experience for any app ever made. And they keep making it worse! This is not hyperbole, it's absolute fact. Setting aside from the fact that Apple took away your ability to select the outgoing SMTP server for those times you need to do that... and setting aside the fact that the notification app icon badges rarely have accurate information (especially in iOS)... and setting aside that sometimes after reading an email and scrolling all the way through it to get it marked as "read" it doesn't actually mark as "read" until you force it... and setting aside that Mail will not SHUT THE FUCK DOWN when you tell your computer to shut down... and setting aside the fact that account management in the desktop app is a horrific shitshow which is split between two separate locations on two separate apps... the absolute worst part of Apple Mail is that YOU CAN'T FUCKING DELETE AN ACCOUNT... EVER! Choosing "Remove Everywhere" so that the account will fucking die does absolutely jack-shit, because the account is automatically added back seconds later. And it doesn't matter if you make the account inactive on all your iCloud devices. It still comes back, and there's NOTHING you can do about it (except make it inactive). I've read that some people have finally managed to delete and account by turning off Cloud Keychain on all their devices, then deleting the account on all devices, then starting the keychain sync again... but it doesn't work for everybody. So WTF Apple? Why the fuck doesn't "Remove Everywhere" actually remove the shit? Obviously I don't give a fuck if other devices are using it (that I don't know about) because if I want it fucking removed EVERYWHERE that includes ALL MY FUCKING DEVICES! This kind of stupid shit is what drives me fucking insane with Apple and their bullshit. Users have zero power over their own settings.
Amazon Alexa
In the beginning, Alexa was a quirky voice assistant that managed to do very little not very well. But then it started adding capabilities, having better voice recognition, and becoming more reliable in its tasks. At that point it became an essential home automation tool that made "life in the future" so very cool. But over the last couple years, Alexa has turned into unreliable bloatware that pisses me off more than anything. Ask an Alexa device to play a song, the device you spoke to acknowledges the command, THEN PLAYS THE FUCKING SONG ON AN ENTIRELY DIFFERENT DEVICE IN ANOTHER ROOM! How the fuck is this even remotely sensible. I get it if a device in another room hears the command and starts playing there... but that's not what's happening. Then there's the fact that lights will randomly "not be able" to turn off and on by voice command. Then there's the fact that Alexa is constantly telling me about new abilities and features that I couldn't care less about... all while not being able to do the shit that I asked it to do. I have no idea if these many problems are because Amazon no longer gives a shit about Alexa... or if they're concentrating on adding new shit while letting the old shit deteriorate... or the system is so bloated with crap that it's just not able to function. Regardless, I am seriously considering a switch to Google Hub, which has none of these irritating and debilitating issues. At least not yet.
Apple Photos
The only way to force a sync so that any new photos in the cloud are downloaded is to QUIT THE APP AND THEN OPEN IT AGAIN! Why the fuck can't Apple just add a little "sync" button to the toolbar so you aren't doing this stupid, backwards bullshit? And what about the fact that dragging photos out of the app sometimes gets you a JPEG file and sometimes gets you a HEIC file? And what about the fact that sometimes you drag images out of the app and they don't bother to export at all... or export only after Photos sits there like a stupid shit for a minute first? Photos is categorically awful for photo management, and Apple does not give a fuck. Another case of a company with billions of dollars sitting on their stacks of cash instead of using it to update their fucking apps.
AppleTV
Worst user interface ever. Okay, that's probably hyperbole, but it certainly feels like it. If you have anything more than 25 movies or TV shows, navigating is an absolute slog. Unlike Plex (or any other decent media app) which allows you to scroll over to an alphabet directory to skip to a section, AppleTV makes you scroll through every last fucking piece of media you own. I've purchased hundreds of movies and shows... which means if I want to watch Zoolander, I am 100% fucked. Not only do I have to scroll through every other piece of media I own, I have to wait for all the catalog images to load because AppleTV doesn't cash them. Couple all this bullshit with the fact that AppleTV isn't even reliable at playing shit, and one has to wonder why the fuck Apple even bothers.
Apple TouchID
Having TouchID is cool. Not as cool as having FaceID, but still pretty cool. Want to buy something or access private information or enter a password... just touch the fingerprint sensor and your Mac will take care of it for you! Except when it doesn't. Which is often. Despite having TouchID and allowing it to control everything, I still end up having to type fucking passwords every fucking day. When I went to sync my FTP sites just 15 minutes ago, Keychain Access asked me to type my password. Why? What the fuck good is TouchID if it just randomly doesn't work for some random reason? Doesn't anybody at Apple even use a fucking Mac so they can see this? Or do they know about it and just not give a shit?
INSTEON
I am still fucking raw about the home automation company I used, INSTEON, shut down without notice. Luckily I have an independent hub that doesn't rely on their servers, but recently I've found out that all my monitoring devices are randomly failing (this morning I thought that my garage door was open because INSTEON reported it as open, even though it was closed). I understand that you roll the dice and take your chances every time you purchase a cloud-enabled device (may the people behind Feed-and-Go burn in hell for all eternity), but the very least these assholes could do is offer a workaround or give you options so that your devices no longer work.
Boy. My blood pressure is at critical levels and I'm not even half-way through the crap I'm mad about! I'd better stop before I bust a blood vessel or something. As a bonus, I'll have fodder for another WTF Wednesday, if I deem myself healthy enough to write it up.
Posted on February 15th, 2022

Everybody has been releasing their "Apple Report Card" for 2021, so I thought I'd do the same.
MAC: A+
In the entire existence of the Macintosh personal computer, I've never had such a fantastic double-whammy as the iMac M1 and MacBook Pro M1 MAX. There's always been something keeping one or the other from greatness in the same timeframe. Then came 2021. First I got an iMac and was completely blown away by what a great low-end computer it was. Thanks to the M1 chip, it didn't feel low-end at all. Then came the MacBook Pro refresh. After far too long of getting shitty laptops that were overpriced, underpowered, and kept losing features which made them anything but "Pro," Apple finally... FINALLY... gave us a laptop that was actually designed for professionals. All we need now is a Pro desktop machine, and I'll be a happy camper.
iPHONE: A
The change from 12 Pro to 13 Pro was fairly subtle. The most noticeable thing about the latest model to me was the 3× telephoto lens and incredible battery life. But still... an excellent phone that deserves an A rating.
iPAD: C
The current iPad offerings are very good. But we're still missing one that's of a large enough size to be truly useable by artists as a graphics tablet replacement. So Samsung has stepped up and created an Android tablet that actually is large enough to be a Wacom Tablet killer... and it's been so popular that Samsung literally had to shut down pre-orders. Apple completely missed the window by once again ignoring what users need, and will be playing catch-up in a market they could have so easily owned had they not been so absurdly myopic. It's fucking embarrassing. And has me seriously wanting to take a look at the Samsung tablet... assuming they can ever catch up with demand enough that I can take a look. Pathetic and sad.
WATCH: B-
Apple Watch is a wonderful product that I never thought would be as useful as it's turned out to be. But it's stagnating. Apple makes minor cosmetic changes and acts like they've revolutionized smart watches. And it's really kind of hilarious... in a bad way. Apple needs to take a serious step back and figure out ways of pushing the WatchOS platform forward in new and interesting ways. Otherwise they're just going to be overtaken by other more affordable alternatives which can do the same thing for less money. That ain't good.
TV: D
The AppleTV interface is horrendously bad AND APPLE WON'T FUCKING FIX IT! It's just mind-boggling how Apple has BILLIONS OF DOLLARS and can't bother to improve their shitty, antiquated fucking TV OS when companies with a tiny fraction of their resources (like Plex) have a far more useable interface. At least Apple is finally addressing their shitty fucking hardware by getting rid of their phenomenally bad remote and replacing it with one that's... slightly better (but still bad). And don't get me started on the MacOS TV app, which somehow manages to be even worse that the TV OS version! This department needs an entire overhaul from top to bottom with a new team of fresh eyes who aren't interested in rehashing the same old crap we've been stuck with since Day One.
SERVICES: C
Apple actually has very good services... it's just that they're horribly overpriced. And they're bundled in ways that are fairly useless for my needs.
HOMEKIT HOMESHIT: D-
Jesus. I simply don't understand how Apple keeps fumbling their smart home offering this badly. "HomeKit" is abhorrently bad and it's not improving nearly fast enough. Amazon and Google have not only eaten Apple's lunch, they've gone on to eat Apple's breakfast, dinner, snack, and dessert. It's not that I dislike HomeKit... it's that I detest it because it's total garbage. I am hopeful that Apple's alliance with Amazon, Google, and others on a new "universal standard" will be the shot in the ass that Apple needs to actually make something worth a shit.
HARDWARE QUALITY: A
My iMac, MacBook Pro, iPhone, and iPad are all built really well and perform beautifully. Well worth the money I've paid for them, which hasn't always been true of Apple products.
SOFTWARE QUALITY: D
Where do I even start? From MacOS stagnating to positively embarrassing depths to their basic apps lacking fundamental features that regularly have them being eclipsed by small third-party developers... software quality is just atrocious at Apple. They either need to get off their asses, invest some serious time and money, stop coasting on mediocrity, and listen to their users... or start buying out developers who have their shit together. Because I am sick and fucking tired of Apple being complete cock-ups when it come to their software. Even worse? Things that Apple did well at one time get diminished or outright cut (even simple things like being able to choose which SMTP server to use in Mail are just... gone). What a way to sabotage their stellar hardware.
Posted on December 17th, 2021

Being born in 1966 puts me in a unique position in time... technologically speaking.
I was there for the birth of computing. I was there for the birth of personal computing. And the internet. And MP3 players. And video games. And mobile phones. And smart phones. And so-on and so-on. In many ways, this is a very cool thing, because people born after me don't know of a world without the stuff we have today. It's also a bad thing because I'll be dead before the unimaginably cool stuff is ever invented.
Oh well.
Looking back I can remember outlandish pre-modern-technology shit that kids today would completely balk at. People existed without a mobile phone? Without internet ON your phone? That's crazy!
Recently I saw a video about the ol' PDA days and it all came rushing back to me. Personal Data Assistants were a huge deal when they debuted (computing in your pocket!) and I was an early adopter. I had the Apple Newton, the Palm Pilot, the Handspring Visor, the iPaq, the Treo, and even the Sony CLIE (my favorite of the bunch, which was PalmOS-based) and the Sony MagicLink. And the minute a new one would debut with even cooler features I would sell my old one and get it.
Eventually they didn't really go anywhere so I gave up on PDAs. I just wasn't using them.
Then the iPhone came along, and the rest is history. Bye bye PDA, hello smart phone.
Two companies that have been mostly lost in the tome of modern technology I remember fondly. And there's some cool videos on YouTube that will give you a taste why I feel that way.
The first is General Magic (the people behind the Sony MagicLink)... sorry the music trounces over the people speaking, it's annoying as fuck, but this documentary is awesome...
And the second is a new interview doc about Handspring (the people behind the Visor and Treo...
Now we're at that lull stage where technology is coasting. My iPhone gets faster and has a better camera every year, but nothing truly new is happening. But that next leap is coming soon. Maybe it will be Apple's wearable glasses? I dunno. But I hope I'm alive to see it!
Because I look forward to the generation who cannot comprehend a time before computer chip brain implants. YOU HAD TO TYPE STUFF ON A SCREEN TO ACCESS THE INTERNET?!? THAT'S CRAZY!
Indeed it was.
But I had a fun time watching all that technology happening in Real Time.
Posted on November 9th, 2021

I have many times sang the praises* of the iPhone Upgrade Program. It allows you to make monthly interest-free payments on the iPhone of your choice... then you can either trade it in after a year and upgrade to a new model... or you can finish out your two years of payments and keep it. This really is the best of both worlds. When the next model iPhone comes out, you get to decide whether or not it's worth it to start all over with two years of payments or skip a year and own your phone.I just like that the program means I can afford a top-of-the-line model. Maybe you have $1,100 laying around to go buy one, but I sure don't, so this is the only way I was getting an iPhone 13 Pro MAX.
Today was the day I prepped my old iPhone 12 Pro MAX for return to Apple.
It's been a good phone, I've gotten a lot of use out of it, and I've enjoyed having it, so I'm a little bit sentimental about having to part with Tomato (the name I gave him because of his tomato-red case). Back when I first used the program to upgrade, I Googled to find out what happens to returned iPhones. I found a YouTube video (since removed) which explained that more recent models in good condition have components replaced to get refurbished, then get sold. If your iPhone is too old or too busted to be refurbished, Apple takes it apart and salvages what materials they can so they can turn them into more modern parts for newer models. Pretty slick. And a good investment for Apple, since they can continue to make money off of phones that were already purchased!
My iPhones get slapped into cases the minute I unbox them, so they get returned in prestine like-new condition. I'm relatively confident that they get refurbished and resold, which means somebody is getting a terrific phone at a discounted price. Which is far better than chucking the thing in a cabinet with the rest of my old iPhones to collect dust.
My return box arrives tomorrow. At which time it will be buh bye Tomato.
Hopefully your new owner likes you as much as I did.

*WARNING: DO NOT GO TO THE APPLE STORE TO TRADE IN YOUR iPHONE! ABSOLUTELY 100% DO NOT EVEN THINK ABOUT IT. WHEN I DID THIS, THEY DIDN'T LOG MY PHONE AS HAVING BEEN RETURNED SO APPLE SAID THEY WERE GOING TO BILL ME FOR BOTH PHONES SINCE I DECIDED TO KEEP IT. THIS TOOK *MONTHS* TO GET STRAIGHTENED OUT. MONTHS!!! HOURS OF WASTED TIME TALKING TO APPLE SUPPORT... AND GETTING HUNG UP ON. HOURS OF WASTED TIME TRYING TO TALK TO THE APPLE STORE. HOURS OF SENDING EMAILS. IT WAS HANDS-DOWN ONE OF THE WORST EXPERIENCES I'VE HAD WITH ANY COMPANY EVER! SO UNTIL APPLE STARTS HANDING OUT RECEIPTS FOR TRADE-INS AT THE APPLE STORE, HAVE YOUR NEW PHONE DELIVERED SO THEY CAN SEND YOU A RETURN BOX WITH A TRACKING NUMBER! DO *NOT* MAKE THE MISTAKE I DID!
Posted on November 5th, 2021

When I ordered my new iPhone way back on October 9th I was told that it would be arriving between November 10th and 17th. A month away. But, unlike when I ordered my new MacBook Pro, I wasn't dying to get my hands on it. The only reason I was getting a new iPhone was because the camera improvements seemed worth a look, and it seemed silly to not take advantage of The iPhone Upgrade Program which allows me to afford these things in the first place. That's it.
Imagine my surprise when I got a notice telling me that my iPhone had shipped a whole week early! Well, shipped from China, naturally, but it still only took two days to arrive. I sure hope my new MacBook is sent early like this!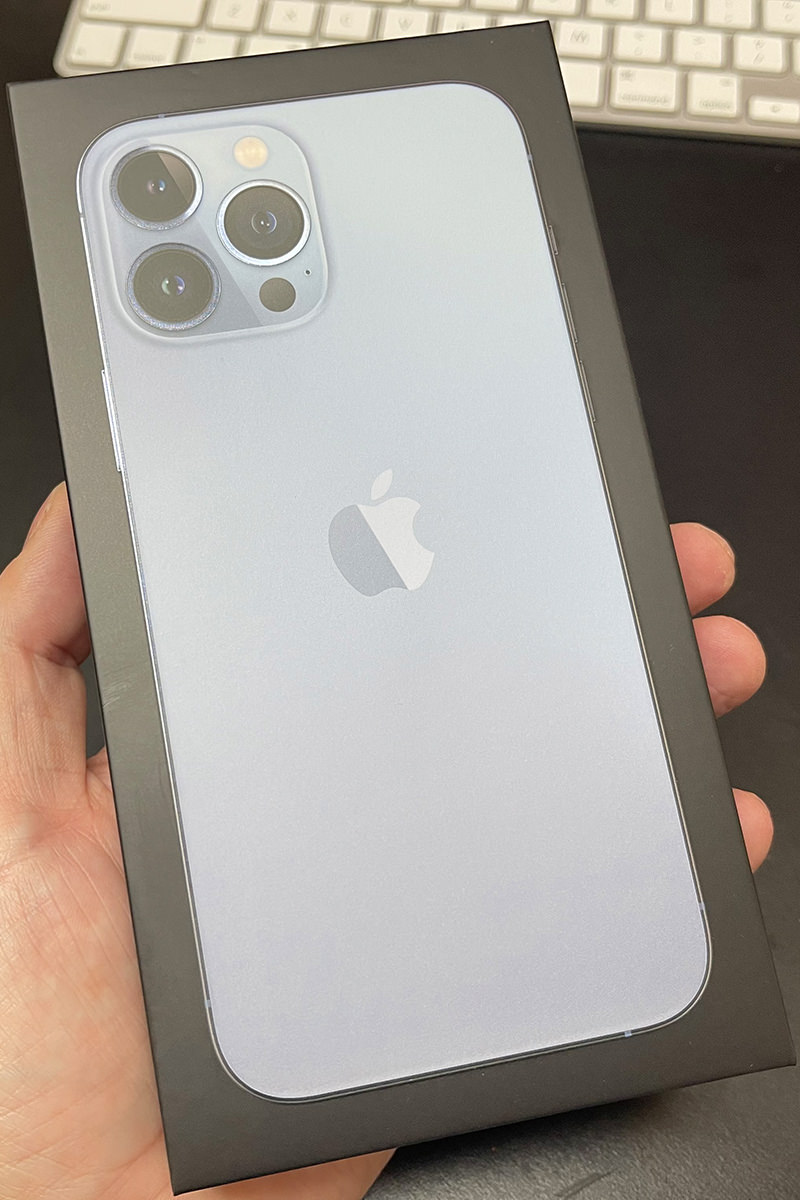 So let's take a look at things, shall we?
DESIGN
Other than a bigger camera bump on the back, you'll be forgiven if you don't think the 13 Pro MAX is different than the 12 Pro MAX at first glance. I legit thought that they had accidentally sent me an iPhone 12 Pro MAX by mistake until I turned it over and saw the slightly larger camera bump and bigger lenses. My phone is the "Sierra Blue" model, which is nice. The color is a little more subtle than what you see in the photos on the website... it looks almost white if you have any light on it. But the sides of the phone are absolutely gorgeous. A shiny steel blue color that looks so sharp. I love it but, if I'm being completely honest, I prefer the darker blue from last year (and, if I'm being even more honest, I prefer the dark green from the year before that)...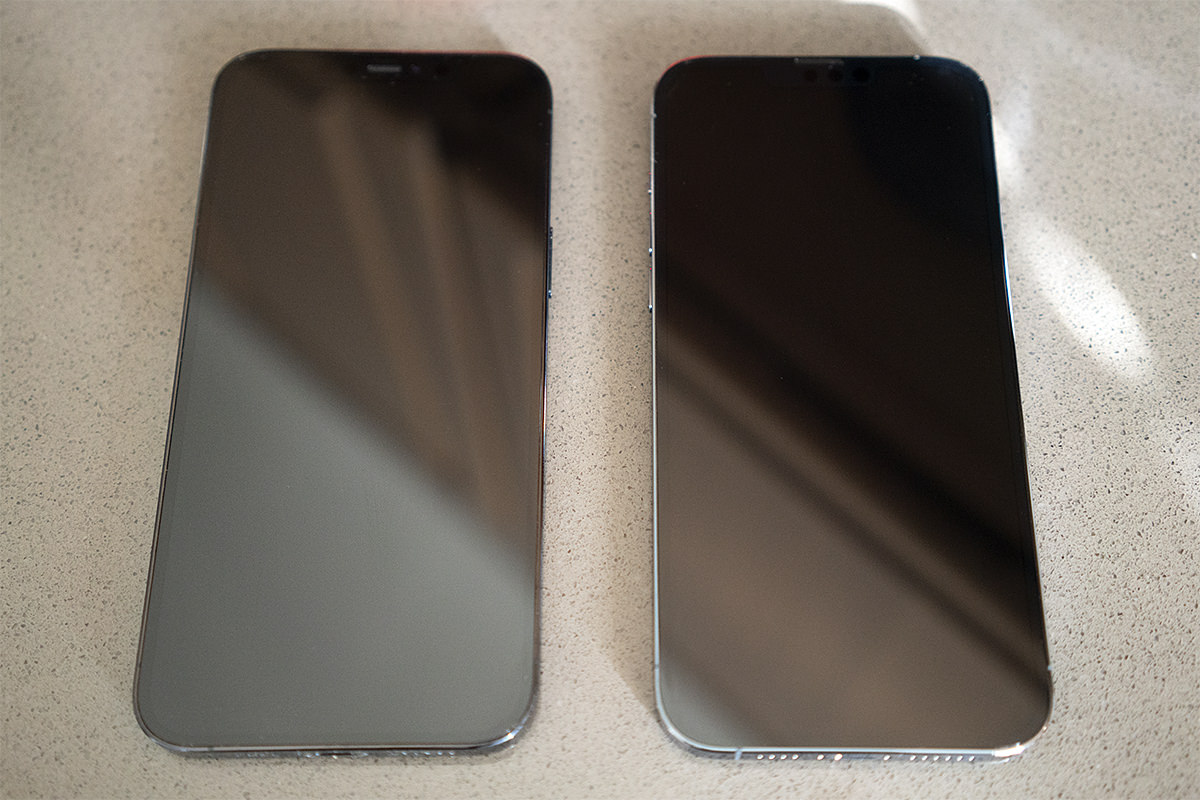 If you look very close, you can see the ear speaker has moved to the very top in the new model.

The deeper color just has a different "feel" to it that I prefer.
The weight is definitely a bit heavier, and I noticed it the minute I picked it up. It's even more noticeable when switching between hold my old and new phones. It's not going to be an issue. If I really stare at it on-edge I can see that it's a tiny bit thicker, but not in a way that I'm going to be noticing.
SETUP
If there's one thing that Apple has down to a science, it's setting up their devices. Mostly (this was not the case for me, which we'll get to). It's especially simple if you have an older Apple device. When I turned on my new phone, my old phone immediately lit up and was ready to transfer everything. I was given the option of either setting up the new iPhone from iCloud, which would allow me to use it in about 15 minutes because the non-essentials would be gradually downloaded after the essentials had been transferred... or I could transfer directly from my old iPhone and have absolutely everything set up exactly as before which takes about an hour. I wasn't in a hurry, so I opted to do the direct iPhone transfer. Also? I didn't want to risk the internet cutting out half-way through and screwing up the transfer.
Alas, the transfer was not all smooth sailing. Apps kept starting and stopping during the download, which meant it took a lot longer than an hour to complete (even though I could use what was loaded after about 45 minutes). The re-pairing with my Apple Watch failed spectacularly and was a total bitch to get fixed (read more at the end). And while the transfer initially seemed to go well, my old iPhone was stuck on "Time remaining 6 minutes" for at least a half-hour... probably longer. After everything was transferred and complete, I had to force-reset my old phone because it STILL was stuck on six minutes! I don't know why in the hell I should have these problems when Apple has clearly designed the process so people don't have any issues... but here we are.

Stuck on six minutes... FOR ETERNITY!!!

The irony is not lost that the first shopping app to load was Apple's own!

And nothing I did would work. Time to factory reset the Apple Watch... AGAIN!
DISPLAY
The size and resolution of the Super-Retina OLED display is the same as last year (2778 × 1284 pixels). The difference being that the newer model has a ProMotion 120hz refresh rate, meaning that scrolling is buttery-smooth and there's no tearing when there's rapid movement being displayed. This is not something that a lot of people will notice right away when upgrading. I barely did. Until I went back to my old iPhone! Then it becomes much more obvious and now I never want to go back! Scrolling is positively glorious now. Running at 120hz sucks more battery power, which is why Apple has delayed using it while other manufacturers were switching to it. Apple didn't want to sacrifice battery life, which is something that far more people would notice. Why we are getting 120hz now is that they figured out how to make it be adaptable. The screen runs at 120hz when there's fast-moving things to view... but drops down to a far slower refresh rate when there's not. The result is a superior display that doesn't hit your battery. That's pretty sweet.
BATTERY
Maybe it's because I just don't use my phone as much as other people, but I haven't had my iPhone run out of battery for years. On the contrary, there were many times that I wouldn't even bother to charge the 12 Pro MAX at night because my battery had barely moved. And now Apple as gone and improved the battery life again. In the day I've been using the phone, it's still at 40%... and that includes the setup, which had to be a battery-sucking procedure! Once I'm done using it constantly as I have been, it will be using even less battery. This is a long way from the days that I had to carry a battery pack with me so I could watch movies on a plane-ride!
PORT
When I first unwrapped the charging cable, I got very excited. "ZOMG! IT'S USB-C!!" But then I looked at the other end, and nope! Apple is still sticking with that stupid fucking "Lightning" port instead of moving to USB-C like they have with their iPads and computers. This is just mind-bogglingly ridiculous, and I cannot wrap my head around why Apple keeps dragging their feet. They claim it's because there are so many iPhone devices which still use Lightning and they don't want their users with many devices to have to re-buy them. To which I can only say "Where was this concern when you dropped the headphone jack?!?" The simple truth is that Apple will probably drop the port completely before switching to USB-C. So maybe their concern is valid. Don't make your users re-buy stuff that they'll just have to throw out in a year or two. Let's look at the math here... they've already got MagSafe for charging, WiFi 6 for transferring data, and the battery life is so good that quick-charging isn't as critical to have... so why keep the port at all? The day is definitely coming, because that would free up some room inside for new gadgets. I'm guessing that Apple's "concern" over customers with Lightning devices will mysteriously vanish then. Probably. All I know is that I'd like to travel with ONE charger and ONE cable before that day arrives. And wouldn't it be nice if Apple would just have one MagSafe standard for everything? Dare to dream.
VIDEO
I don't shoot a lot of video footage. When I do, it's usually for work. I prefer photography for my personal stuff. But there was something new with the iPhone 13 Pro MAX that had me intrigued... the ability to shoot Native Apple ProRes video. Apple ProRes is a codec (encoding/decoding file format) which many professionals use because it offers very good quality at a semi-decent file size. Problem is that you have to purchase a camera to record in it. My Sony Pro DSLRs record in AVCHD. Previous iPhones shot M4V. The iPhone Pro 13 series is my first chance to go with ProRes, so I leapt on it. I was so excited at the prospect that I actually upgraded the storage to 256GB, because that's what's required to shoot ProRes 4K at 30 frames per second (with the base 128GB model, you can only shoot 1080p maximum). Since I edit video in Apple Final Cut Pro (which is built around the ProRes codec) I already knew I could edit the format easily. But then Apple announced the M1-PRO and M1-MAX chips used in the new MacBook Pro would have special onboard hardware to support ProRes video! Which is to say that now I had even more incentive to play around with video on my iPhone. I'll probably post some footage once I've had a chance to play around with it a bit more.
CINEMATIC MODE
Way back in 2016, Apple introduced "Portrait Mode" for photography which would put the focus on people and pets by blurring the background. This is what larger DSLR camera lenses can do naturally, and it's nice because your subject "pops" out of the photo. Given the iPhone's tiny lenses, it was a nifty trick, but didn't always look that great. The edges around people would be blurry or weird. And forget about using it for pets because it just looked so bad. But then over the next few years "Portrait Mode" just kept getting better and better. And the fact that you can adjust the blurriness of the background after you've taken the photo is just icing on the cake. I don't use it a lot (I am mostly fine with the blurriness you get direct from the lens), but boy am I glad to have it available!
But "Portrait Mode" has never been available for video.
Until now. And Apple calls it "Cinematic Mode." It adaptively focuses on subjects to blur out the backgrounds and can even track when somebody looks away to automatically focus on what they're looking at. It's incredibly slick. And you can override the focus point after you've shot the video which is amazing.
Not surprisingly, this new tech not terribly great right out of the gate. But I'm guessing that this new "Cinematic Mode" will improve for video just like "Portrait Mode" did for photos. I've only shot a few videos using it just to see what's going on, but am not so impressed that I am using it by default. It has its uses, but I don't use my phone like that very often. Maybe I will when it gets to be as good as "Portrait Mode" is now?
PHOTOGRAPHY
Ever since the iPhone 11 Pro, I've not felt the need to lug my Sony DSLRs around everywhere. The camera on my phone had become so good that there just wasn't a need. Especially for travel, where not having to carry around anything additional was such a blessing. I still use my DSLRs for serious photo shoots where I require high-quality lenses to get what I need... but the way Apple has managed to use on-phone processing to mimic DSLR quality with such tiny lenses is pretty phenomenal, so I use actual cameras less and less. Now we're two generations later and the photography you can get out of the iPhone 13 Pro MAX is nothing short of jaw-dropping.
First of all, the telephoto lens has gone from 2.5× to a full 3×, allowing you to shoot better long-range photos because it's coming off the lens instead of being digitally zoomed. Second of all, whereas only the main lens had optical image stabilization in the iPhone 12 Pro models, the iPhone 13 Pro models have it for all three lenses. This allows you to shoot better photos while moving and much better photos in low-light. And speaking of low-light, Apple has improved that once again as well. The apertures are smaller so the lens can let in more light. The image sensors are larger which allows them to capture more light. Put these two improvements together, and your ability to capture very good night shots is pretty great. I went into my closet with no lights on, just ambient light from the hallway. The iPhone wants you to make a timed exposure for 2 seconds, so I did that...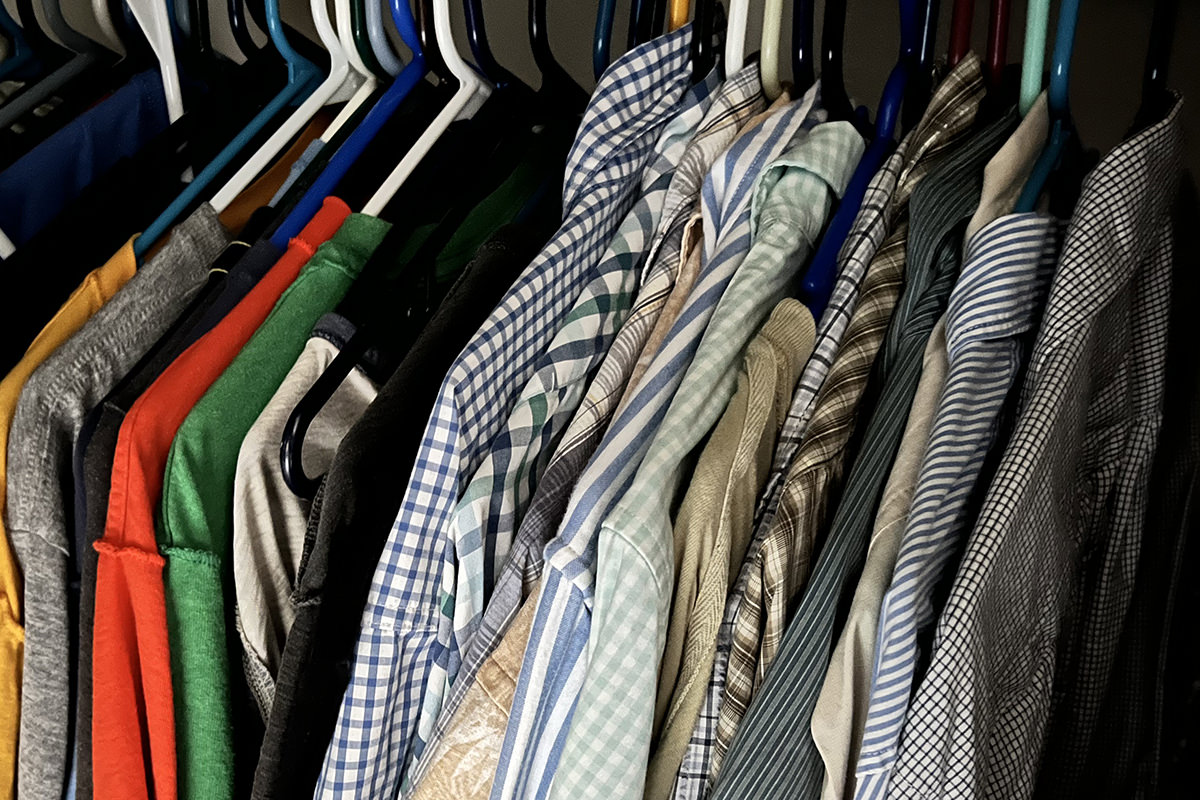 This is a 2 second timed exposure.
Then I turned timed exposure off...

This is an untimed exposure.
Given how little light is here, both of these are pretty remarkable shots. The image stabilization keeps the 2 second shot crisp and gives pretty good color representation. The shadows are very deep though. The untimed exposure is a little dead-looking with drab colors, but the fact that you can see colors at all is impressive. A couple seconds in adjustments and you could salvage it fairly well if you don't mind a little grain...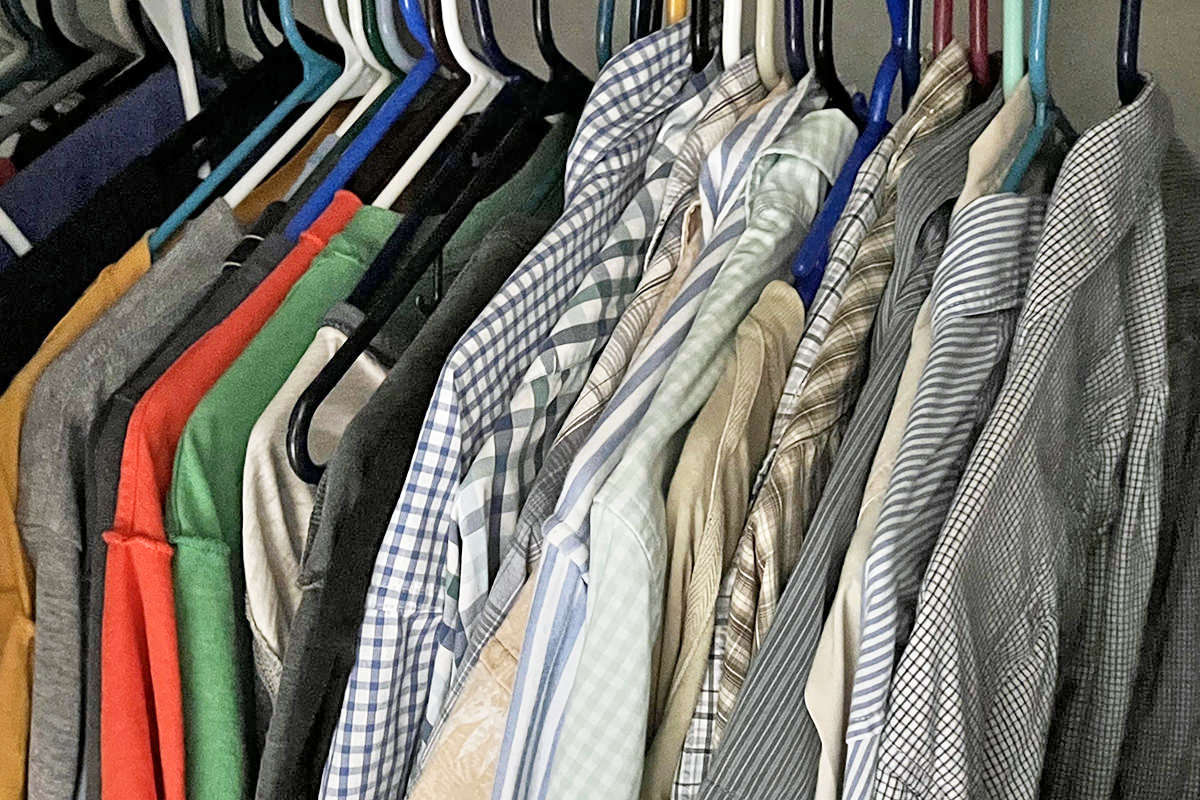 This is a an untimed exposure, with adjustments.
If anything, that's the more realistic option of the three, and pretty much what it would look like if I turned the lights on.
And then there's the ability to shoot macro. This allows you to get as close as 2cm to shoot some really cool close-ups...

This is a full-width image crop.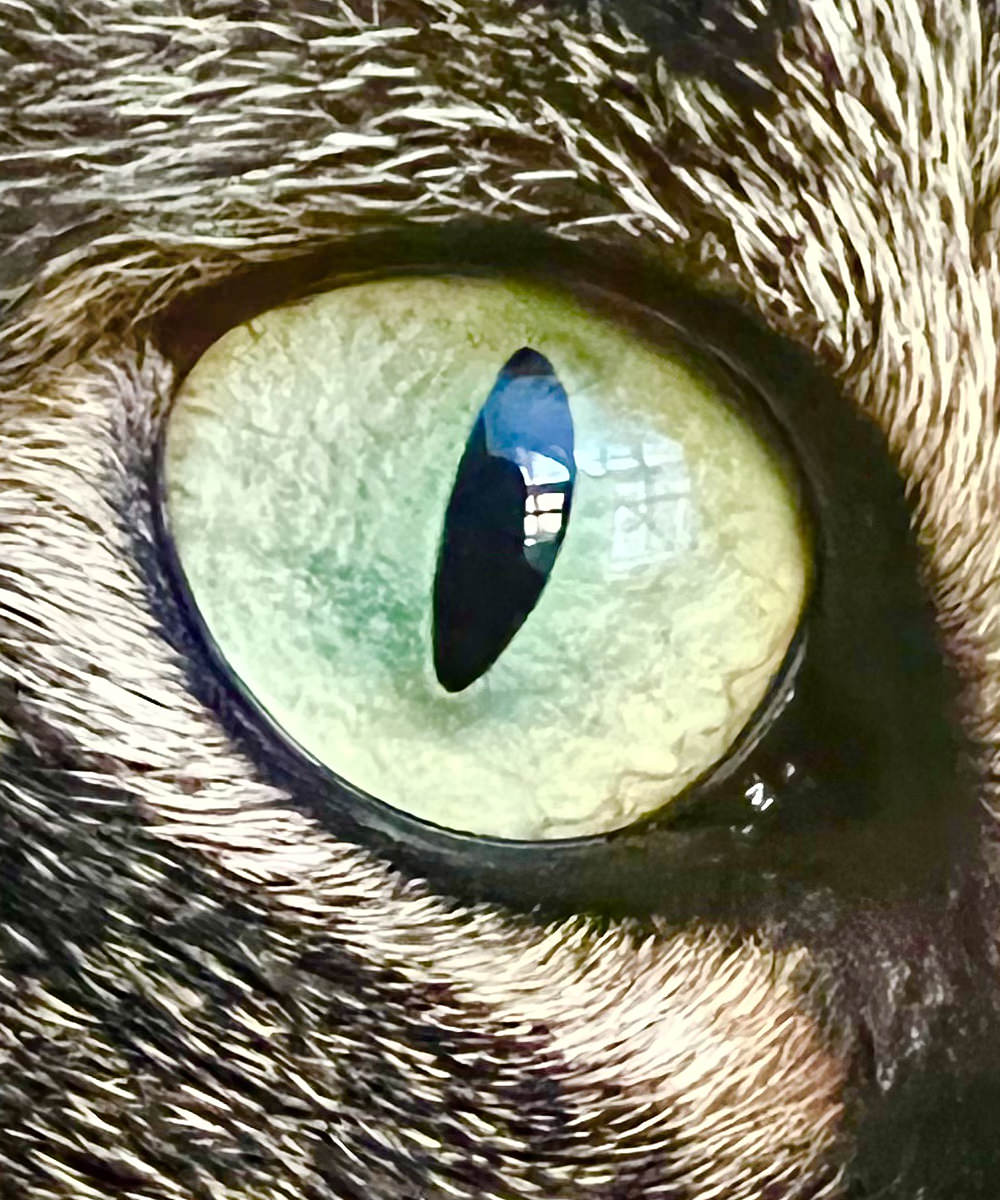 This is a 100% crop of the original image.
If this were Summer, I'd have some vibrant shots to take. But, alas, everything is dying, so that's what I got. Still... just about anything can be cool when you shoot it close-up!
As mentioned above, Apple uses computational photography to go beyond what such small camera lenses are capable. The iPhone is so fast and powerful that Apple can shoot multiple images, analyze them, then assemble the parts to create a far better image (kinda a super-HDR, as it were). This is especially useful in getting good detail out of a shot...
Something new to the native Apple iPhone photo app (but available from other iPhone apps) is the idea of filters. If you like your photos to have more contrast, there's a filter for that. If you want deeper, more saturated colors, there's a filter for that. Want a warmer or cooler look? There's filters for that too. But Apple isn't just applying a filter over the images when you do this. Instead, Apple is selectively applying them locally. Which means that if you want more vivid color in your images and turn on the "vibrant" filter, any human skin in your shot isn't pushed to weird places, but instead preserved a bit and made less vivid so it still looks like human skin. It's a nifty trick.
GOING NEXT-LEVEL BIONIC
The new A15 Bionic chip that powers the iPhone 13 Pro has a lot more speed and power than the previous A14, but you'll hardly notice in your day-to-day use. Apps work pretty much the same. But there are some exceptions. The computational photography abilities and Cinematic Mode video are things that are only possible because of the new chip. And then there's some apps which definitely benefit. FaceID, for example, which was near instantaneous is 100% instant now.
A CASE FOR CASES
You can't really tell from the below photo, but the new Project RED case is a richer red. Less tomato-like. I absolutely love it. At first I thought that my old case looked less rich because it had faded, but I'm pretty sure that's not the situation because I remarked more than once that I wish I had a deeper red color. The the inside was never exposed to light, and you can really tell there. So... wish granted, I suppose. Though it's a bit of a nightmare to pay $50 for this thing...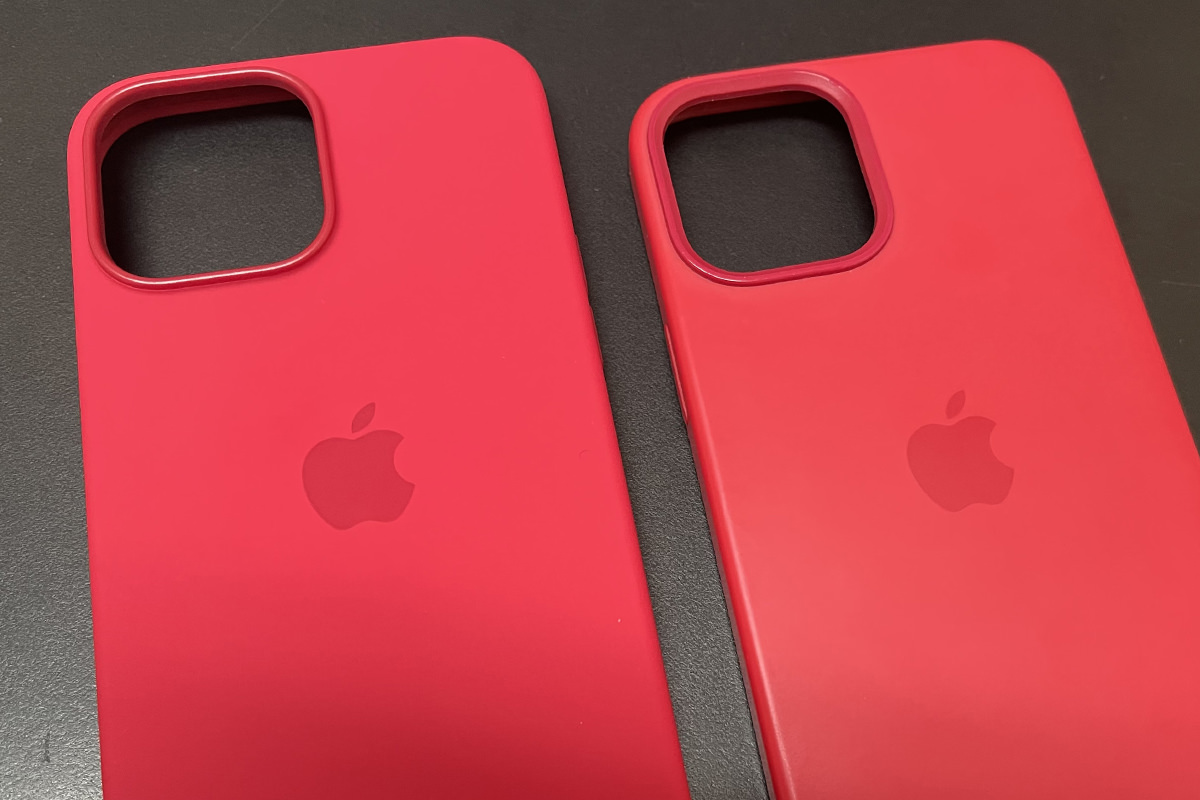 Newer, deeper red case is on the left... old tomato case on the right.

Newer, deeper red case is on the RIGHT this time... old tomato case on the left.
CONCLUSION
Camera features aide, this isn't an essential upgrade. I probably wouldn't have bothered if I weren't in the Apple iPhone Upgrade Program. That being said, the new cameras are pretty sweet. Not a revolutionary change... but an incremental step that's worth taking if you're serious about mobile phone photography.
But before we go...
ABOUT THAT APPLE WATCH PAIRING FIASCO
Same thing that happened last year. My new iPhone recognizes that I have an Apple Watch. It asks me if I'd like to pair it. I start the process by pointing the camera at my watch face while dots swim around it. A few minutes later I get an error message saying that my watch can't be paired. Then I go to the Watch app on my old phone to unpair the watch only to find out that the old phone can't find the watch to unpair it. Then I have to physically factory reset my watch entirely so I can start all over from scratch, which sucks copious amounts of ass because then I lose all my settings and credit cards and have to start all over again. This is so fucking stupid. Apple maintains the illusion that upgrading your phone is this simple, easy process... which it appear to be. Until it's not. God it's infuriating. Such a monumentally stupid, frustrating experience from start to finish, and it gets to the point where I'm ready to set my fucking watch on fire rather than have to deal with this shit. For the second year in a row! Next time I upgrade I'll try unpairing before transferring. If that works, I'm just going to be even more mad that Apple doesn't tell you to do that in the first place. But shouldn't they really find a way to make this work as designed? And isn't it absurdly embarrassing that it doesn't work as designed in the first place?
And lastly...
CARRIER UPGRADE FEE
Despite the fact that T-Mobile didn't have to do a fucking thing when I transferred to a new phone, they still charge an activation fee (despite it being completely automated). It's a cash grab that all the carriers do, and it's rage-inducing. I don't know what the fee is (I think T-Mobile charges $30... AT&T charged me $50) but anything more than $0 is too much. I know for a fact that I will be screaming "FUCK YOU, YOU ASSHOLES!" at my bill when I get it. Hopefully I remember to go out to my car so I don't scare the cats.
See ya when my new MacBook Pro MAX arrives, fellow Apple whores!
Posted on October 18th, 2021

Another week. Another Apple Event.
Where the last time was for iPhones, this time was (mostly) the new models of MacBook Pro.
As hard as it is to believe that you'd rather watch the event yourself and not listen to my take on the proceedings, I've gone ahead and posted the YouTube video at the end of this post...
Music
From the start of things, it seemed like Apple was about to make some kind of dramatic announcement regarding music. But all we get is a new Apple Music level, playlists, AirPods, and a new color of HomePod mini. Which we'll get to in a minute. But first? This really cool video that opened the event...
Nifty, huh?
AirPods. I detest the original AirPods. The slick plastic would not stay put in my ears and they were forever falling out. Eventually I had to buy a pair of silicon covers so I wouldn't lose them. Which was annoying, because I had to remove the covers every time I charged the things. And here's Apple releasing the same shitty slick plastic crap they did before... at $179. New features, but nothing worth having to add sillicon covers. I'll be sticking with my old AirPod Pros, thanks.
Cheaper Apple Music. I am an Amazon Music Unlimited guy. I tried buying a HomePod to switch to Apple, but we all know how that turned out. So no $9.99 a month subscription to Apple Music for me. Now there's a new tier for just $4.99 a month. It's only good on Apple devices (from iPhones to iPads to Apple Watches to Macs to AppleTV), does not come with spatial audio Dolby Atmos, does not come with lossless audio files, doesn't allow viewing the lyrics, doesn't allow downloading, and doesn't allow sharing features. Otherwise? Alle the cool Apple Music stuff you could want. Alas, again, since HomePod is fucking bullshit, I'll stick with Amazon.
HomePod mini in Colors! Yeah, not a chance. I am not wasting more time with Apple's shitty fucking "experience" when it comes to this disastrous pile of shit.
M1
I'm just going to put this right up front: my "low-end" Apple Silicon M1 iMac is glorious. It runs absolute circles around my previous-generation MacBook Pro. Not even close. Apple's bargain basement iMac completely trounces my pro-level Mac of two years ago. Which begs the question... what happens when Apple releases a professional version of this chip for power users given that their cheapest solution is already pro-level for me. Enter the M1 PRO (which we were all expecting) plus the M1 MAX. Which crams a lot more power on that little chip...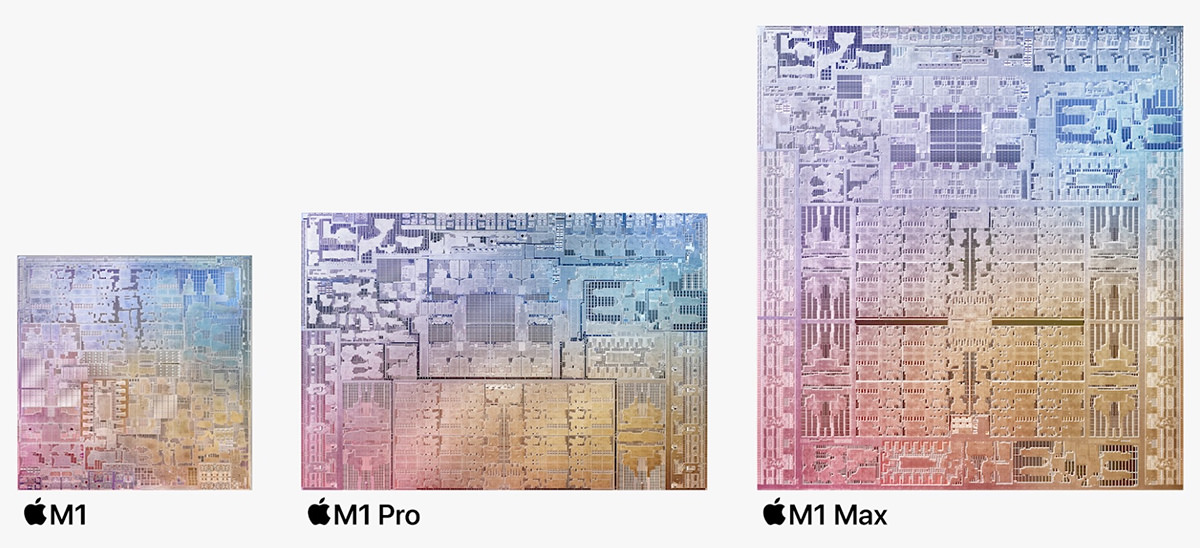 M1 PRO. It's ridiculously powerful.
M1 MAX It's more than ridiculously powerful.
Look, I can pop up all the graphics Apple shared about how the new M1s consistently outperform the competition in every possible metric. But why? Suffice to say that you can do stuff on these new MacBook Pros that couldn't previously be done on a laptop this compact. That's how powerful they are. And the fact that it does all of it with far, far less power consumption for longer battery life? Well that's icing on the cake, right? That's exactly what you want on a laptop. And so here they are...
MacBook Pro
16-inch and 14-inch. Apple starts out by saying how the smaller 14-inch version doesn't cut corners to have the smaller size (why would it when the Apple Silicon has made everything so small?). Turns out they aren't lying. The M1 MAX isn't available in a default configuration... but you can configure to have it if you want. That's pretty sweet.
Wakey Wakey. Instant awake. It's like... my current MacBook Pro wakes up really quickly... but you notice it. I love the idea of not noticing that!
Keyboard Faith. I'm hoping Apple didn't "new and improve" the keyboard again (which is how we ended up with those shitty fucking "butterfly" keyboards that Apple forced on us for FIVE DAMN YEARS). From what I can tell, TouchID is the same and the only difference is that the background behind the keys is black. So yay?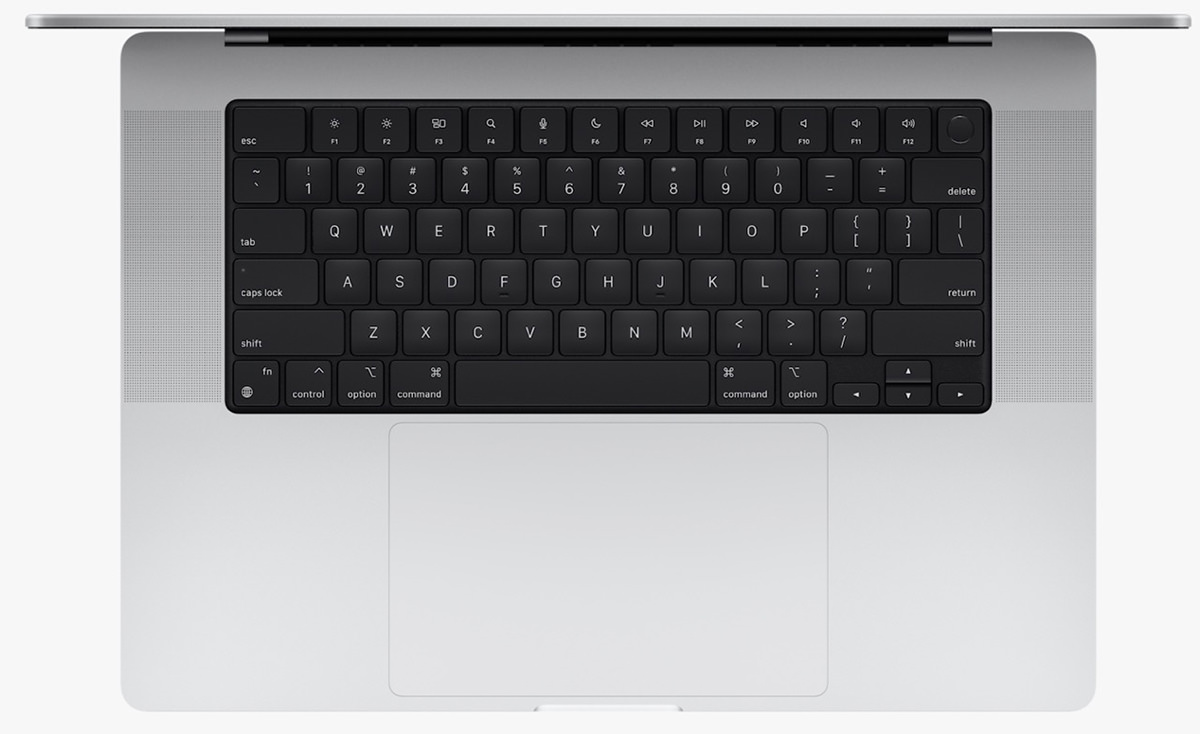 TouchBar Free. As you will note, Apple has finally given up on the stupid-ass TouchBar which was new levels of annoying. Now we get keys that you can memorize instead of an ever-changing interface that requires you to physically look at where stuff is to operate. Thank God.
Stupidity Recant 101. The SD memory card is back. Losing this was next-level stupid and I'm happy it's back.
Ports! Apple has standardized on USB-C (you get three plus an HDMI port) and ridiculously claims that you can attach a bunch of stuff (namely a bunch of monitors) "...all without a single adapter!" — Except NOT. Because there's not a single USB-A port. Yes, everything is moving to USB-C... but there's still tons upon tons of things that are USB-A, so you actually will, in fact, need those damn dongle adapters for non-video devices. At least a headphone port is still there for people who haven't gone wireless.
Screen Real Estate. HA! They brought the iPhone notch to the MacBook Pro display! Which... eh... I wanna see what happens when the apps I use that have a lot of menu items is used. Do they wrap around the notch? Get truncated? Abbreviated? What? Yeah, I'm glad to have the extra screen real estate, but what's the trade-off? What's the cost?
ProMotion Display. Another iPhone tech makes its way to the Mac. Nice. Scrolls like buttah. Plus 1000 nits brightness and deeper blacks! I'll bet HDR looks spectacular.
Selfie Camera. 1080p. At last. Apple has looked fucking stupid all this time stuck with their shitty cameras. The one on my iMac M1 is very nice. I'm guessing this one is pretty much the same.
Soundly Sound. The sound is better. It has spatial audio. Which is nice, of course, but it's still laptop sound. I'm always in headphones when listening to audio on the MacBook Pro, so it's not something I'd really use.
Mass Memory. Up to 64GB unified memory. Which... which is pretty phenomenal for a portable platform. You can also have up to a whopping 8TB of storage. EIGHT TERABYTES! This will come in real handy for those wanting to edit 8K video on the road! It is expensive, however. An additional $2,200 from the 1TB standard.
Battery Life. The energy efficiency of the new M1s gives you up to 21 hours of video playback on the 16-inch model, which is stunning. But it sounds like any app can benefit from big power savings... even running under Rosetta 2 emulation. Always a plus when working on the road.
Fast Charge. 50% in just 30 minutes? Well that's pretty sweet!
Stupidity Recant 102 Gee, Apple, thanks for bringing back a huge feature that you fucking humiliated yourself with for omitting in the previous generation: MadSafe power. All those ads that touted MagSafe as THE way to charge... and Apple threw it away for USB-C? So stupid. Though... I have to wonder if you can still charge via USB-C if that's all you have? (UPDATE: Yes you can). I didn't hear them mention that.
The ad they came up with (which hasn't been posted, but is in the event video below) is actually... um... scary? Apple's hinting that the new MacBook Pros are so powerful they might be able to become sentient or something.
Just for fun I put together my dream MacBook Pro. 16-inch M1 MAX with 64GB Unified Memory, 2TB Storage. And the grand total is... FOUR THOUSAND TWO HUNDRED AND NINETY-NINE DOLLARS! Wow. Now, granted, that's an awful lot of power that is probably reserved for 8K video users and the like... but just to experience that every time I sit down to work on large projects? Must be magic. Interesting to note that the M1 MAX only adds $200 to the price tag of a "standard" MacBook Pro. So a more reasonable Apple M1 Pro with 32GB Unified Memory and 1TB of storage that clocks in at a fairly reasonable $3,099 just jumps to $3,299... which is probably the route I would go if I had $3,300 burning a hole in my pocket (which I do not).
AN ASIDE: If it's only a $200 difference, why not just put the M1 MAX in all the machines? Having a lower tier pro that's just $200 different seems ridiculous. People are spending thousands of dollars, so what's $200 more for the better chip that offers so much more? I don't get it. Unless they want to make people feel good about spending the $200 or something. The logic... it baffles.
Interesting to note that if you pay with Apple Card, you'd get 3% cash back, which is $100. If Apple gave a more reasonable 5% cash back (like Amazon and others) on Apple purchases, you'd get $165. Which is just $35 shy of getting the M1 MAX for free. It's strange that Apple doesn't make a thing of that. "FOR A LIMITED TIME, SPEND $3000 OR MORE ON A M1 PRO MACBOOK PRO WITH YOUR APPLE CARD AND WE'LL UPGRADE YOU TO THE M1 MAX AT NO CHARGE! (cash back not applicable)." If Apple were to do something slick like that... or do a double cash-back promotion ($198)... I would probably go into debt to get that laptop. So it's maybe a good thing they aren't doing that!
Anyway...
Do I want one of these things? Lord, yes. Will I buy one? I can't really afford it because I ain't going into debt when I have an existing MacBook Pro that's loads inferior, but still works for my needs. Maybe when they unleash next year's models?
AN ASIDE: I like Apple CEO Tim Cook. He'd be great to hang with and go out to dinner with. But there are times I long for a bastard perfectionist like Steve Jobs to be in charge so Certified Apple Whores stop getting the shitty experiences we've been plagued with. For MONTHS MacOS X file search has been broken. And by "broken" I mean "useless as a pile of dog shit." Which is why I was screaming at the Apple Event stream with "THESE PRETTY NEW MACBOOKS DON'T MEAN SHIT IF YOUR SEARCH IS BUSTED! WHEN I TRY TO FIND MY WORK FILES, YOU RETURN PICTURES OF MY CATS... HOLY FUCKING SHIT, APPLE! SEARCHING FOR FILES IS A CRITICAL EVERYDAY FUNCTION! HOW CAN YOU ALLOW THIS TO GO ON FOR THIS LONG? WHY NOT TAKE TEN MINUTES TO HOP OFF YOUR M1 PRO/MAX TRAIN AND FIX YOUR FUCKING FINDER FILE SEARCH SO PEOPLE WHO BUY YOUR HARDWARE CAN ACTUALLY USE IT!!! DAMN!" As it is I have to use a third-party search tool in order to track down my files. That's some serious fucking bullshit.
And that was it. Short and sweet.
If somebody has $3,000 they want to give me, I'll order one immediately. Otherwise? I sure hope everybody who's been waiting for a shiny new MacBook Pro enjoys the ride.
And here's that Apple Event video I promised...
Happy Monday, everybody!
Posted on October 8th, 2021

It's my iPhone Upgrade Program anniversary date!
And you know what that means... I have the option to trade in my iPhone 12 Pro MAX for a brand new model! Something that I've ended up doing ever since I got into the program. But will I do it this year? Ah the dilemma...
To upgrade or not?
Pro or Pro MAX?
Which configuration?
Which color?
Here we go then...
To upgrade or not?
Since the only way I can afford these very expensive iPhones is through the iPhone Upgrade Program and their monthly payment deal, I am faced with a bit of a tough choice every time a new model comes out. Do I upgrade after one year and keep paying for something I don't own? Or do I skip a year, pay out the phone after the two year term, and end up owning a phone that actually belongs to me? A phone that I can then trade in for a discount on the iPhone 14 Pro? That would be $500 in the bank... which is quite a lot of money. The problem is that it means I'm without the latest and greatest camera for an entire year, which is something I really, really use. Like a lot. A lot a lot. I likely don't use it $500 worth... but I do enjoy it $500 worth. And so... here I go upgrading early again.
Pro or Pro MAX?
When the iPhone Pro 12 was introduced last year, the only way to get the best camera that Apple offered was to go with the MAX (gigantic) version. And I really, really struggled with that. The iPhone I had already felt too big... do I really want to go even bigger? In the end, I decided to go for it. If I didn't like it, I could always return it, right?
At first I hated it. Too big. Too difficult to type with one hand. Too clumsy. Not at all a nice experience compared to the smaller iPhone I was accustomed to...
But then...
Ya kinda get used to it. I especially got used to it for viewing videos and photos. And playing games, of course. That bigger screen makes a world of difference. And so I kept the iPhone 12 Pro MAX, better camera and all.
It's different this time around. The iPhone Pro 13 and iPhone Pro 13 MAX both have the superior camera. So do I stick with the Pro MAX version? Or go back to the "regular" size that I prefer. Because, seriously, I do miss being able to operate my iPhone with one hand. Sure the MAX has the ability to shift the keyboard towards the edge, but that only works to type. You can't reach much of the screen because it's just so darn huge. Even with my large hands.
But viewing photos on that big screen tho...
Yeah, I'm sticking with the Pro MAX. I may hate some things about it, but the benefits of that big, glorious display outweigh any foibles of having to deal with the larger size. Besides, I'm used to it.
Which Configuration?
I got the minimum memory 128GB model last year. I barely use over half that. So I really don't need more than 128GB in a phone. Except... in order to shoot the best video quality (something I am anxious to try) Apple requires a minimum of 256GB. That adds $100 more to the already outrageous price tag. But... wouldn't it be worth it to be able to shot the absolute best movies possible on the phone? Well, $100 spread out over the two years of my Apple Upgrade program is just an extra $4.17 more on my monthly payment, so it kinda seems like a no-brainer. Except on those months where I could really use $4.17, which is most months since I got a mortgage. Oh well. If things go sideways I guess I could always sell my house to keep my iPhone!
Which Color?
I want me a Product RED iPhone, dammit! But, once again, that isn't an option on Apple's flagship Pro iPhones. My choices are Graphite, Gold, Silver, and Sierra Blue...
The Gold and Silver can be removed immediately. I'm not interested in either. So the question becomes... will Graphite or Sierra Blue look best in my Product RED iPhone case?
In all honesty, I think that the Graphite looks better. But it also looks pretty basic. The Sierra Blue, on the other hand, looks cooler and more interesting, so let's go with that. Seriously though... can Apple PLEASE PLEASE PLEASE bring Product RED to the Pro models next time? It's frustrating that the lesser phones always get the cooler colors. I mean...
Like I said. Frustrating.
Order Up!
As usual, Apple makes ordering your shiny new iPhone a simple experience. I go to the upgrade program site, click on the options for the iPhone I want, then click the purchase button. My order is added to the queue and they'll send me a box to return my old phone when the new one ships. Simple.
EXCEPT... Look at this!
So... yeah. Simple. The waiting for a month, however? Not so simple.
Posted on October 3rd, 2021

Everybody do the hokey-pokey and turn yourselves around... because an all new Bullet Sunday starts... now...

• Lasso Unwound! The fact that the writers of Ted Lasso are taking a beloved character from the first season and turning them into a literal villain is an interesting turn. The penultimate episode that played out on Friday makes this fairly irrevocable, and there's no real way of getting out of it. Couple that with the fact that Dr. Fieldstone is leaving the show (God please don't let it be permanently!) and I am very interested in seeing how next week's finale is going to play out...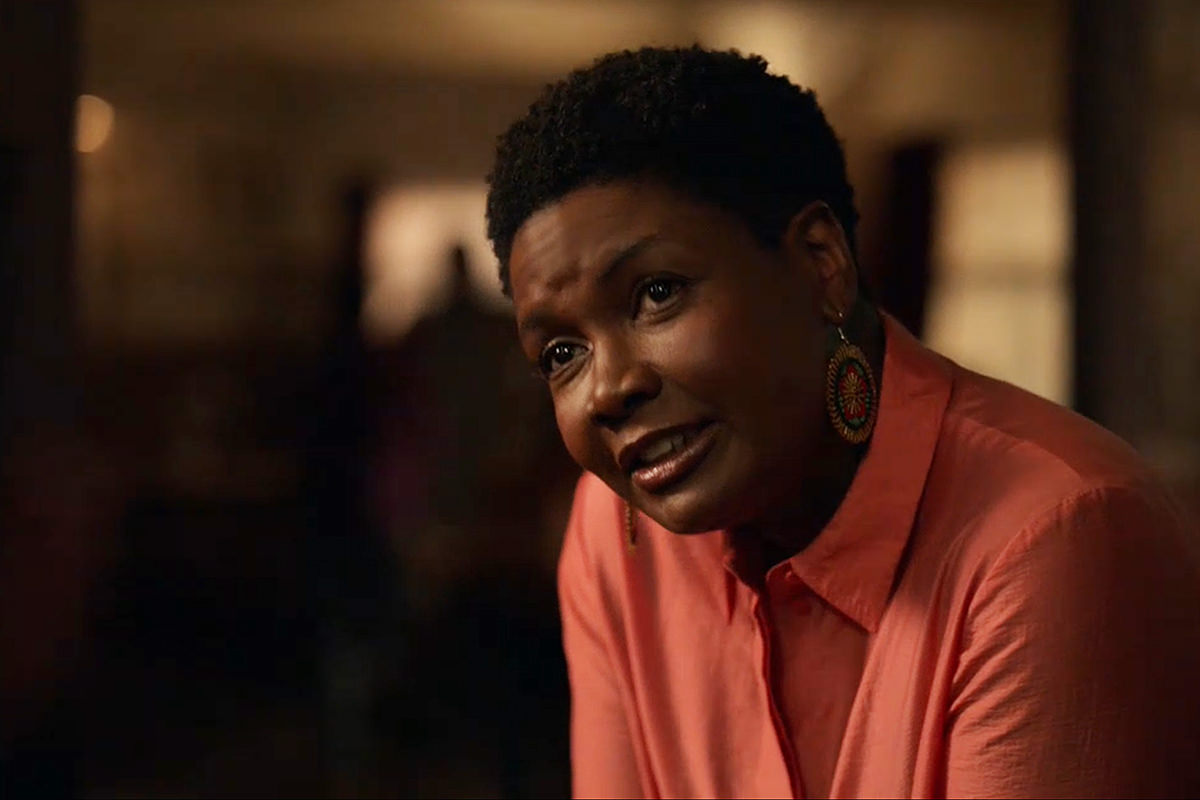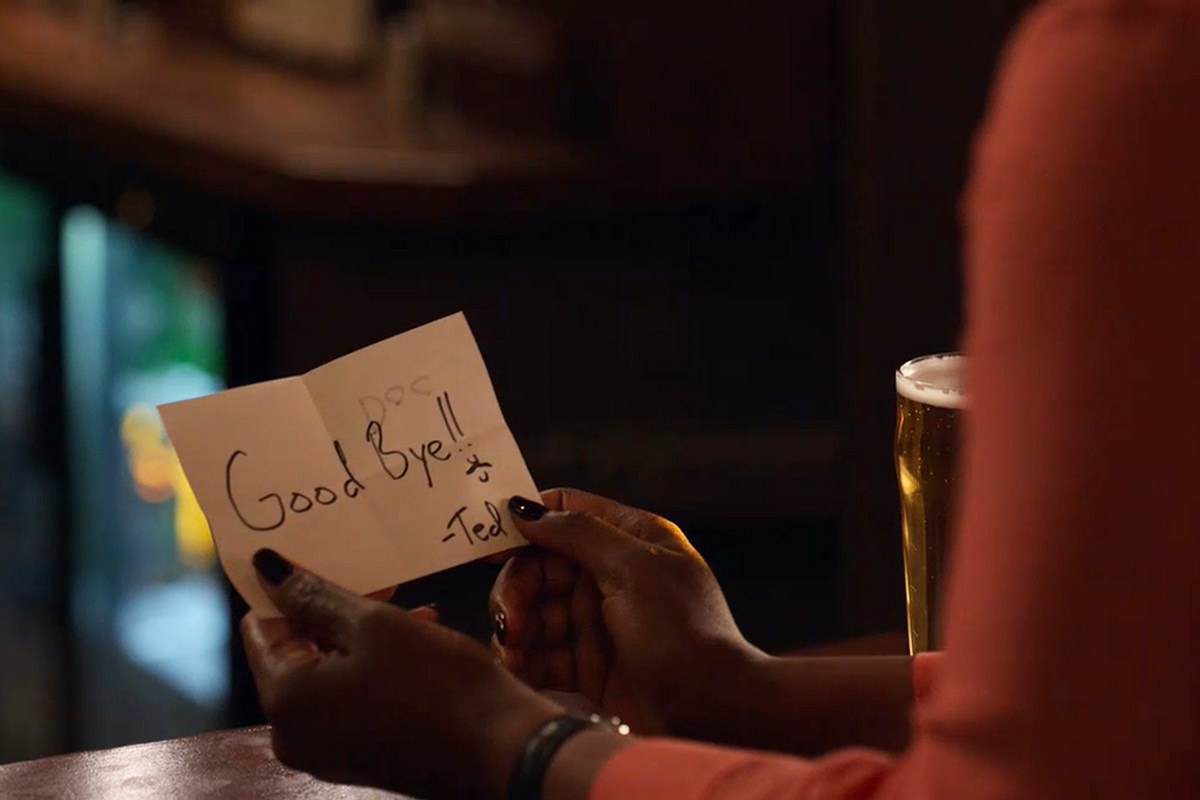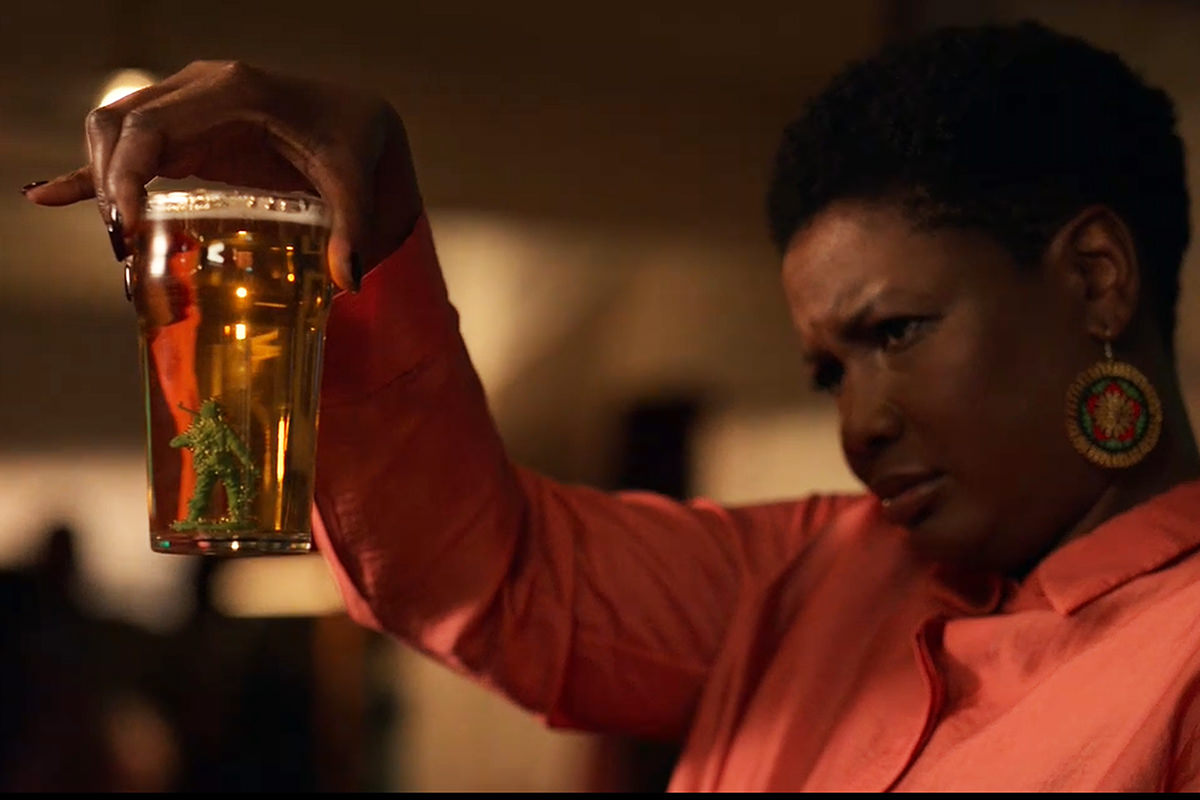 Before all the awards and accolades, it was said that Ted Lasso was going to be a trilogy of seasons. But now that Apple has a very, very good reason to keep the show running, I am fairly certain that a fourth season is highly likely. But whether or not that will include Jason Sudeikis as Ted remains to be seen.

• NO CRYING! I wish I knew whom to credit this photo to, because it is absolutely epic. Easily one of the best Halloween costumes I've ever seen...
Adorable. Adorable. Adorable.

• Poorly Animated! As a massively huge fan of Reza Farazmand's comic strip Poorly Drawn Lines (which he graciously contributed to Thrice Fiction)), I was happy to hear that it was becoming an animated series. And now it's here...
You can watch it on FX and stream it on Hulu right here.

• Trash TV! Paramount+ is fucking garbage. Can't play the content I'm paying for, and their tech support doesn't give a shit. Tells you to jump through hoops that never work. Has you disable stuff that no other streaming service requires. Then blames you or your hardware when none of their "suggestions" work. When will these fucking dumbasses learn that whenever they treat their customers like shit, it just encourages them to find other ways of watching the content they want to see. I have many streaming services... and NOT ONE OF THEM fails consistently like Paramount+. Not Amazon Prime, not Netflix, not Philo, not YouTube TV, not Hulu, not Apple TV+, not Peacock, not HBO Max, not Sundance, not Discovery+, not Hallmark Now, not Disney+, not Showtime... NONE of them fail like piece of shit Paramount+. And yet it's MY fault. Right. Okay. Cool. Well, at least I'm not alone...
If it weren't for the new Star Trek shows, I wouldn't give a fuck about Paramount+... the only show I watch on CBS is Magnum PI, and I always buy that off of iTunes so I can watch the episodes multiple times.

• PASSWORD?! This bullshit right here...
It is so fucking infuriating how sites set their requirements. Most of the things which they claim protect your security actually do exactly the opposite. Making passwords impossible to remember. Making passwords expire. All kinds of idiotic shit which keeps you from getting where you need to go. And password managers only scratch the surface, because sometimes it's the SITE that's fucked up. I've had many a site tell me that I have my password wrong EVEN THOUGH IT'S SAVED IN A MANAGER, and then when I have to reset it, I'm told that I can't use my previous password? Fuck you.

• NEWSFLASH: Photographer, social media star Matt Mathews: Opossum taken by the state was his 'baby'. Animals are not seen as living creatures by our laws. They are seen as disposable assets unworthy of consideration. And usually it comes down to some stupid-ass bullshit about "God providing animals for man's use..." (or abuse, as the case may be). But if you took ten minutes to actually read the Bible, you'd find that it dictates that animals are indeed worthy of kindness and care. God rejoices in ALL that he created. How in the hell do you think that this somehow excludes animals? This is just more of the typical "pick-and-choose theology" that plagues us. And our government.

• HA! Apples response to the EU wanting to dictate a USB-C standard for all devices is a laugh riot: "We remain concerned that strict regulation mandating just one type of connector stifles innovation rather than encouraging it, which in turn will harm consumers in Europe and around the world." What a load of horse shit. They moved to USB-C for their laptops and iPads without any problem. Why the fuck is the iPhone any different? Oh... that's conveniently left out of the statement.

That's what it's all about...
Tags:
Apple
,
Bullet Sunday
,
Bullshit
,
Halloween
,
Movies
,
Ted Lasso
,
Television
,
The Internets
Categories:
Apple Stuff 2021
,
Bullet Sunday 2021
,
Internets 2021
,
Movies 2021
,
Television 2021
—
Click To It:
Permalink
—
2 Comments: Click To Add Yours!
Posted on September 27th, 2021

Well, I guess that work is done for the morning since my mouse ran out of battery and Apple has you charge the fucking thing from the bottom so it's no longer usable.
It's stupid shit like this... design over function... that has plagued Apple for decades. I never even got a warning that the thing was running low so I could charge it. What good is a "pretty" mouse if I can't fucking use the thing? I am so over this bullshit...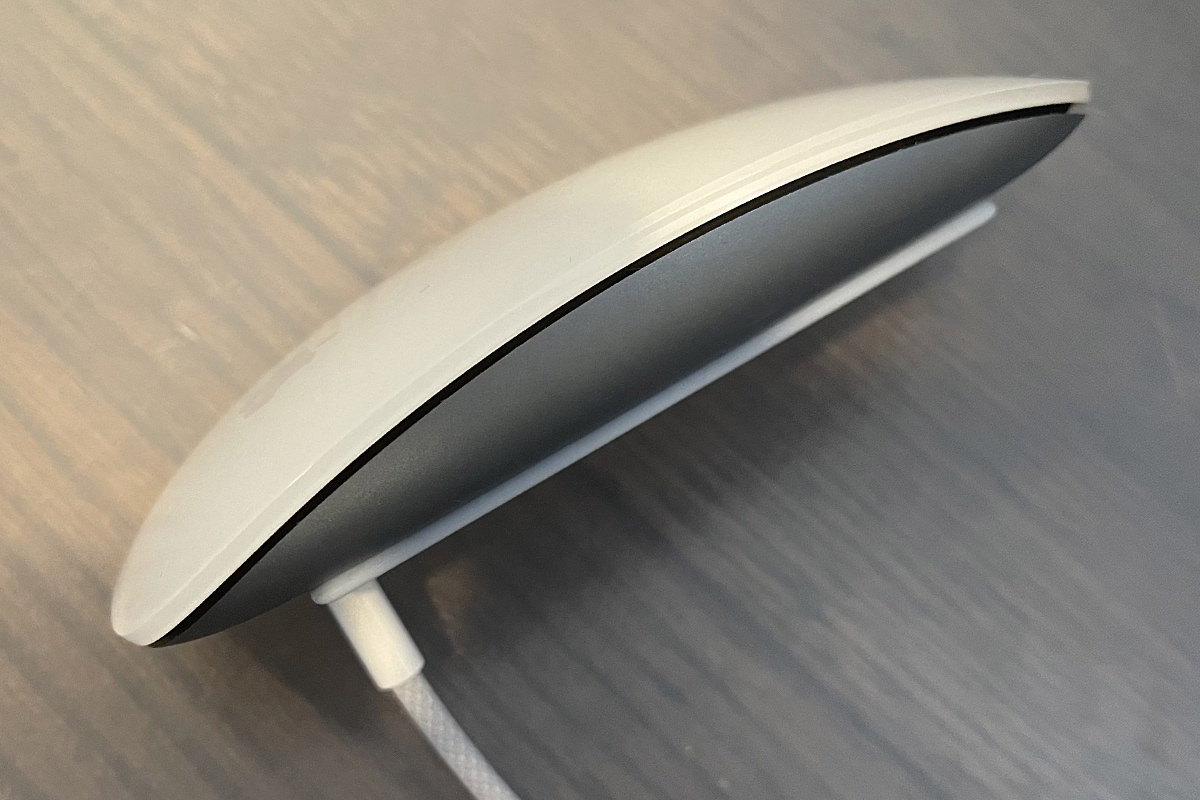 Apple should allow you to NOT order an Apple mouse and keyboard when you get a new computer so you can use the money to buy something that's actually fucking functional with the money. Or... here's an idea... OFFER NON-APPLE OPTIONS WHEN YOU ORDER YOUR FUCKING COMPUTER! Maybe when people stop opting for their idiotic crap Apple will get a fucking clue? Probably not. Jesus. This is a company worth BILLIONS.
All they had to do was have the Lightning plug be at the front edge so you can plug it in and use it like a corded mouse when it keeps charging. But Apple has it on the bottom for some stupid-ass reason that only they give a fuck about.
Lord how I wish that Windows wasn't a flaming pile of shit so I had a viable alternative to this Apple crap.