Posted on November 2nd, 2017

Another year, another macOS X release. And it's called "High Sierra."
This new operating system is one of those infamous "under the hood" releases where there's few actual changes you'll notice (nothing like the "hundreds of new features" Apple unleashed with "Sierra" back in September, 2016). And, while these are always disappointing releases on the surface, there is definite gold to be found in upgrading. Maybe. Rather than review the release (plenty of more capable sites than mine will be doing that), I thought I'd just write down my thoughts and comments.
Away we go...
INSTALL ME, YOU FOOLS... Installation, which used to be a major event back in the day, has been pretty much automated by modern operating systems. Apple, in particular, has made strides to have their OS upgrades be as painless as possible. The worst part about it is the waiting (well, unless your install goes wrong, in which case the worst part is having to recover your computer... please back up first!). Depending on your internet connection speed, the download and install can take around 25 minutes (at my office on fiber with a Fusion Drive) or 45 (at home on cable with an SSD). Both times it was a piece of cake. Bravo, Apple.
EXPRESS YOURSELF... Apple added a bunch of "emoji" to High Sierra. Most of them are charming, but useless to me. Others I'll probably actually use. Like these...

Emoji are actually a big help when trying to convey the sentiment behind your words. Not that they can always avoid a confusing message... absolutely they can just make things harder to understand depending on how you use them... but society is always evolving, and perhaps this will help move non-verbal non-visual communication to a better space. Because something has to.

A BOLD NEW FILE SYSTEM... Arguably the most critical and vital Big New Thing about High Sierra is the switch from HFS+ to APFS. For the non-geek set among you, that's changing the way your Mac handles data on it's storage devices. Apple created their own new thang (Apple File System) instead of hanging on to the antiquated old thang they had been using (Hierarchical File System Plus). It is a much-improved way of handling data, according to Apple. And this time, that is not marketing hype. First of all, cloning files (which used to be slow... and even risky... with large files or a lot of files) is now almost instantaneous. To test, I duplicated a folder filled with 3.6 GB of photos. I barely had time to blink and it was done. Amazing. Really amazing. That alone makes High Sierra worth the price of admission (which is FREE, by the way). But let's not stop there...
The reason that duplicating my massive folder of photos in the example I gave above was so quick is because the files weren't actually duplicated. Since they were on the same drive, APFS just duplicated pointers to the same files. Which means not only was it instantaneous, the duplicate didn't take up much additional space at all! The only way this changes is if you change a file. Then the file is actually duplicated with the original still safely in its original location. This kind of stuff is so clever... yet so obvious... that it kind of seems like magic and a long-time coming at the same time.
Getting the size of a folder used to be agonizing. The Finder would take forever to calculate all the internal file sizes, add them up, then give you an answer. With APFS, it's much faster. With the size of storage drives now-a-days, I don't pay attention to this like I used to, but it's nice to know I won't be screaming "HURRY UP!" at my screen when I need this information.
Like to divide your storage drive into multiple volumes, but hate having to decide how much space to allocate to each partition? APFS doesn't make you decide. You can add a bunch of different volumes and, since they all now share the same space, sizing is automatic.
I never bother with encrypting my drives because the way Apple does it isn't very effective. APFS changes that. Data now can be fully encrypted on a file-by-file basis, which means it's more secure, more capable, and less obtrusive to the user. I encrypted my MacBook drive (it took two days in the background) and don't notice any difference in speed or how I was accessing my data. So okay then.
APFS is kinda "self-correcting" now, in that it fights file corruption by keeping tabs on file checksums to make sure the files themselves haven't been inadvertently changed. To be honest, I don't quite understand how this works when it comes to actually solving a data correction problem (maybe it only works when you have the file backed up somewhere so APFS can pull the original if the one it has is found faulty?) but if it makes my data safer, I'll take it.
Something really intriguing is the idea of "snapshots" which is something I use when working in Photoshop. What happens is that, as you work, you take a "snapshot" when you reach some kind of milestone in your project so you can go back to that if future changes end up being something you don't like. APFS does this for your files, writing out all the little changes (and changes only, to be space-efficient), which I'm guessing will be integrated into Apple's "Time Machine" backup strategy. This allows you to go back in time on your files and retrieve old versions. I can't tell you how many times I've done this. Once while working on an issue of Thrice Fiction I accidentally deleted half the magazine and didn't notice until the next day. Ordinarily, I'd have to start all over. But, thanks to Time Machine, I just went back and retrieved the old file so I could copy the pages back into my document. Simple. If APFS is going to make this faster/easier, hooray.
My work Mac has an Apple "Fusion Drive" which is a SSD/Hard Drive hybrid. As of this writing, Apple Fusion Drives are not supported by APFS (WTF?). Apparently this is coming soon, but it's really silly that Apple couldn't get any problems solved by launch.
Obviously, my experience with APFS is limited right now, but I like what I read about it. Time will tell whether it's a blessing or a curse.

TIME WON'T GIVE ME TIME... I was surprised to find that the date and time were not in my menu bar. Installing High Sierra turned them off, so I had to go into prefs to turn them back on.

SPOTLIGHT NOT SO SHINY... I fucking hate "Spotlight," which is Apple's whole-system search tool. The menu bar "Spotlight Search" is so shitty and incapable that I don't even use it. Instead I use an ACTUAL TOOL TO GET THE JOB DONE, namely "Alfred," an app that makes search act exactly as one would expect search to act. What's weird is that when you use Apple's search box in a Finder window, it's actually not bad. For some reason, they save the shittiness for hot-key menu-bar-enabled Spotlight, where you inevitably always end up scrolling down to "Show All In Finder" because the results are so fucking worthless. Spotlight can also launch apps and do other shit... including the new shit of tracking a flight for you... but ultimately it's a system that's long overdue for a complete overhaul to become a serious tool instead of a toy add-on. Maybe now that there's a Core Framework in place in High Sierra, developers will make Spotlight something worth looking at but, for now, I couldn't care less and don't use it unless Siri uses it to answer one of my questions.

SIRI? WHEREFORE ART THOU, SIRI?... Apple's automated assistant, Siri, sounds like an all new gal (or guy, if that's how you've preferenced it) thanks to an improved speech synthesizer. To me the improvement is noticeable but not revolutionary (Siri takes a back seat to Alexa's speech quality, in my humble opinion). I also think that Siri is grossly minimalistic when it comes to being a smart and friendly part of the macOS. For example? She's not HomeKit integrated. You can't tell Siri on your Mac to unlock the front door when your hooker arrives, you have to grab your iPhone and tell that Siri to do it. Why? This is some amateur hour bullshit (though that's what I've been saying about HomeKit since day one... talk about an AppleFAIL). Still, the number of things you can ask Siri to look up for you and do for you are not insignificant, and she seems to be getting more capable all the time (especially with your music). I just wish Siri felt as much a part of macOS operations as she does to iOS operations (though even that isn't as stupendous as it should be)... and stop being treated as a happy afterthought on the desktop. Microsoft's Cortana and Amazon's Alexa are eating Apple's lunch here. Sink some of those billions of dollars into giving us the next-generation AI we can all love. And fear.

HEAVY METAL DREAMS, PART TWO... Apple's graphics display technology is divvied up into several pieces, all of which handle different parts of drawing out the information you see on your computer display. One of those display technologies is "Metal" which is (simplistically speaking) an application programming interface (API) which you can use to pass off intensive graphics chores to macOS for hardware-accelerated rendering. It's actually a very impressive technology which has been greatly improved in High Sierra with "Metal 2." The tech is pretty great at doing a lot of things well... so much so that Apple has actually taken things like drawing windows in the Finder and started passing them to Metal 2 to take care of. In addition, Apple has developed new stuff for Metal 2, like a virtual reality API, which should(?) make for some interesting new apps (though iOS is waaayyyy ahead of macOS in this area). I'm not sure exactly how compatible Metal 2 is with third-party graphic cards (none of my Apple stuff can even add a graphics card) but, if your card or Mac's internal graphics is compatible, you should see some display improvements... particularly with things like intense games written to take advantage of what Metal 2 has to offer... even over other technologies like OpenGL.

OH HOW I LOVE YOUR HIGH-EFFICIENCY CODEC... Computers today are vastly superior in capabilities to those ten years ago. Hell, even five years ago. I've been around personal computers since the beginning, so I know full well how far we've come... I've seen it happen. The one area that continues to surprise me is video. Back in the day you had to buy a Mac costing thousands, add a graphics card that cost thousands, then add a video board that cost thousands... just to be able to edit video. And even then it wasn't that great in ease of use, quality, or capabilities. Contrast and compare that with being able to capture and edit full-HD video on your frickin' smartphone with absolute ease today and you can see where I'm coming from. The problem is that, as photo and video quality gets better and better, you have to have more and more space to store it. High Sierra makes a quantum leap in addressing that problem. High Efficiency Video Codec (HEVC) and High Efficiency Image Format (HEIF) are built into the OS now, and will give you much smaller file sizes at the same quality (or even give you better quality photo and video at the same size). The samples I've seen of still photos with HEIF are jaw-dropping. Fantastic quality at half (yes, HALF) the file size? Yes! Video files that are half-the size but don't look it? Sign me up! Except... not really. My iMac is relatively new, but doesn't have the ability to encode HEVC. You have to have a special hardware processor onboard which my Mac does not. Nor does my MacBook. All I can do is decode the new video formats. And, bummer of bummers, the video is a bit choppy when I look at it. Oh well. While it may not be something I can currently take advantage of, the pieces are in place for a very bright future when it comes to photos and videos on the Mac.

MACHINE LEARNING FOR FUN AND PROFIT... While actually kind of a hard mix of exciting and scary all in one, "machine learning" is a technology that's going to revolutionize our lives. Or doom all humanity to extinction. One of those two things. Apple is buying into the former by introducing the CoreML API, which allows complex data analysis and categorization. From that, it can extrapolate the data to make "intelligent guesses" as to how the data should be interpreted and acted upon. Or something like that. The end-result is smarter software (some of which is going to happen in ways we can't even dream of) and more capable tools. At least that's the goal. The one thing that Apple got right in their version of "machine learning" is that it's not an internet-enabled technology. It all happens on your Mac or iPhone out of privacy concerns. Time will tell how much use Apple or third-party developers get out of CoreML, but it certainly makes for some exciting future prospects.

GOING ON A SAFARI... I have mixed feelings about Apple's web browser, Safari. On one hand, it's blazingly fast... and even faster now in High Sierra (seriously, you'll notice!). On the other hand, it fucks up way too much. Take for instance Facebook. Holy shit... everybody is on facebook, so you'd think that Apple could get it right for that one particularly critical site. Nope. You get everything from input errors to zoom display errors and everything in-between. Now, admittedly, this may be Facebook's fault for the way they code their site... but should that matter? Apple's job is to make their browser display sites the way they need to be displayed and they are not doing that. That's entirely on Apple. New to Safari with High Sierra are features like "enhanced pop-up blocker" which is supposed to do a better job of blocking annoying windows that sites love to generate with ads and shit. Which would be great... if it actually worked. Try to make a reservation at Hilton.com and they still manage to have a fucking "Room Key" pop-up window appear behind your fucking browser window so when you've made your fucking reservation you have to close another fucking window that you didn't fucking want. Yeah, it's fucking Hilton's fucking fault... but fuck Apple anyway for getting my hopes up that they could stop this fucking bullshit. Apparently Apple has also made privacy improvements in the way websites can track you, which is nice I suppose, but I wanted the pop-up window-blocking they fucking promised me. I mean, holy fucking shit... macOS has to be told to generate a window, and you're telling me that there's no way to stop this shit?!? Get the fuck out of here.

TAKING NOTES... Notepad can now make tables. Wheeee. It can also pin notes to the top so that it doesn't get dropped in the newness list when you write/modify a different note. About damn time.

MAIL CALL! ARE YOU THERE MAIL?... If I had to pick one thing that makes me crazy about Apple, it's that they just don't seem to give a fuck about what the end user wants. THEY decide what you want... and how you'll use it. Nowhere is this more apparent than their email app, Apple Mail. It used to be that you were able to select the mail server to use for sending your email within the message itself. Now? You have to go into prefs and turn servers off and on. And even that doesn't always work, despite being a huge time-waster and a fucking horror show of an inconvenience. Sending attachments as "Windows Friendly Attachments" was an option for a while, but never fucking worked, so now it looks like Apple abandoned it (apparently you can command-line a way of not sending embedded attachments, but sometimes I want embedded attachments, so that's useless to me). The list goes on and on. Apple Mail is a steaming pile of shit that's almost impossible to use in a way that makes sense or is in any way capable. And yet... despite a dozen alternatives... it's the one that works best with the Mac, and so I am stuck with it. Needless to say, Apple doesn't give a flying fuck about professionals who need a capable email app, so Mail still gets fuck-all in High Sierra. I mean, yeah, it gets better compression of your email archives... and I think it's supposed to have better search or something... but things that matter? Nope. And don't hold your breath that it will ever fucking happen. That's Apple in a nutshell. For fuck's sake... I know you want to keep things simple, Apple, but at least give power-users a fucking option to have options in the prefs, otherwise you're never going to be taken seriously. Meanwhile over at Microsoft, Outlook is embarrassing the fuck out of pitiful Apple Mail in countless ways.

MESSING WITH MY PHOTOS... Apple used to produce a sweet piece of software called "Aperture." It was a wonderfully intuitive and capable photo editing tool that also maintained a photo library for you. No, it wasn't Photoshop but, for photographers, it was a powerful way to manage and improve your photos. But then Apple dumped it, leaving their thousands of dedicated users to switch to Adobe Lightroom or some other tool that wasn't Aperture. I was incensed at the time. I was so mad that I started seriously thinking about moving to Windows and giving up on Apple the way that Apple had given up on me. Cooler heads prevailed and I stuck around, but I'm still pretty pissed about it. Apple's replacement "Photos" was a meager cataloging tool that didn't impress me in the least. With High Sierra, Apple has finally added basic editing tools like the iOS version has... and even added some tools that iOS doesn't have yet. Like a "healing brush" which allows you to edit out unwanted bits of a photo and have it magically fill in. Like taking a beach shot and erasing those tiny people spoiling your beautiful image. Photos is much slower than Photoshop as you add more and more edits, but at least you can do it... and do it fairly well as long as you're not asking too much. Overall, it's nothing that's going to make me switch from Adobe LightRoom (and a pale, pathetic shadow of Aperture) but for the casual photographer that just wants to make their photos look pretty, these are some welcome additions.

THOU SHALT NOT HAVE ANY OTHER APPS THAN 64 BIT... Any of your apps still 32-bit? Well, unless they get upgraded to 64-bit apps, High Sierra is as far as you go, since 32-bit will be unsupported after this. If you're clutching some old app you love that's been discontinued, you may want to buy an extra Mac now that you can keep in perpetual High Sierra Land to run in.

And so... here we are. The end.
Well, at least we're at the end of all the things I want to comment on when it comes to High Sierra.
Ultimately, I don't know whether to recommend an immediate upgrade. Given that the showpiece of this macOS update is file system changes that are massive and incomplete, it may be worth it to wait a while. At least until Apple gets APFS working on Fusion drives. Your data... especially if you don't have a good backup strategy... is the most endangered thing about your Mac, and dicking around with the system which controls all that is dangerous territory. And it's an update you really don't have to take. At least not yet. Partly because there are no absolute must-have features that make the risk worth the reward... but mostly because the biggest benefits aren't even available to all Macs, only those with hardware new enough to take advantage of it. Heaven only knows I don't want to end my comments on High Sierra with a "meh," but that's pretty much where I am.
What's not so "meh" is what happens in future OS releases that build upon the under-the-hood technologies that Apple is banking on now. APFS? Metal 2? CoreML? HEVC and HEIF? All things that could have big, big payoffs in the years ahead.
Assuming Apple will still give a fuck about the Mac by then. The way things are going, they could just abandon it and go all iPhone/iPad all the time.
What a shame.
Posted on October 19th, 2017

I am so sick of Apple's stupid shit I could just vomit.
NONE of my movie purchases will play through iTunes right now. NONE of them. I pay Apple a shit-ton of money to be able to watch movies I bought, and I can't stream them... can't even download them. And this is far from the first time. AppleTV is even worse than iTunes. And while I'm sure that Apple will blame me like they always do when something goes wrong now-a-days, I can say that I am having zero problems watching media from Amazon, CBS, Netflix, NBC, ABC, HGTV, HBO, Showtime, Starz, and even YouTube. Nope... as usual... it's just Apple.
The company has BILLIONS of dollars. Why in the hell can't they fix their media server shit so it works most of the time?
Spending it all on their new giant donut headquarters I guess.
I cannot decide if Apple's fall from grace is more sad or pathetic. And, to be honest, I don't give a shit. Just let me watch the movies I've paid for.
Posted on September 28th, 2017

Investing in a new Apple TV when I have such blind hatred for the previous iteration is probably incredibly stupid... but I have a huge chunk of movies and music purchased from the Apple ecosystem, so it's kind of a necessity to keep up. Especially now that Apple is offering free upgrades to 4K HDR video for all your previous movie purchases (when available, of course).
And... I suppose I should just run through the fine points rather than re-hash the broad strokes, since those are mostly the same.
Apple TV Box
Looks identical to the previous one. I'm sure there's probably quite a few differences under the hood, but I ain't opening it up to check.
Shitty Fucking Apple Remote
Still unbelievably fucking shitty. The touch-input area is just as stuttery and unresponsive as ever, making simple tasks like navigation frustrating... and complex tasks like keyboard input unbearable. I fucking HATE this piece of shit. The only difference between the new one and the previous one is that the "menu" button has an elevated white circle drawn around it.
Shitty Fucking User Interface
Still unbelievably fucking shitty. If you've purchased anything more than a dozen movies or TV shows, you'll go absolutely bat-shit crazy trying to navigate through pages upon pages upon pages upon pages upon pages of crap. Especially when you're forced to use the unbelievably fucking shitty remote.
4K
The 4K picture is totally great. Remarkably, I've not yet gotten any of the streaming errors or throughput problems which plagued the previous Apple TV. Considering that there's probably a lot more data coming through the pipe for a 4K picture, this is truly shocking. My guess is that there's new compression tech that makes this possible... but only time will tell as to whether or not Apple's unbelievably fucking shitty media delivery will rear its ugly head.
HDR
I have an HDR-capable TV. My stereo receiver is HDR-capable. When I plug Apple TV directly into my TV, the Apple test-program says that HDR will be used. When I plug into my stereo receiver, however, the Apple test-program says that my television isn't HDR capable, and it will downgrade to regular color fidelity. And, of course, since this is Apple we're talking about, there's no way to just force the fucking thing to deliver the HDR signal that my receiver and TV are capable of. This kind of shit drives me i-n-s-a-n-e. Do it Apple's way or no way at all.
Picture Quality
I put in my copy of Kingsman on 4K HDR Blu-Ray then started up Kingsman 4K HDR from Apple TV. Then I switched between them. Not even close. The 4K Blu-Ray picture is superior in every possible way. The color is better. The clarity is better. The contrast is better. Black levels are better. There's literally nothing that's not better on 4K Blu-Ray. The Apple TV 4K image has crisp details in fine items like hair and text... but mooshy areas of softness any time the color values are similar, particularly in bright spots. This is undoubtedly a function of the high compression, but I have no idea what's responsible for the other issues. The bright, almost washed-out haze that permeates every scene is just bad compared to cable or Blu-Ray. I don't recall the older Apple TV having this problem?
Audio
Seems on-par with what I got from the Blu-Ray. Rich, full sound.
HomeKit
Apple's pathetic attempt at Home Automation... which they call "HomeKit"... is pretty awful. I'm guessing a big part of why it's awful has to do with it being run through Apple TV. Sure it beats having to purchase a dedicated hub, but maybe with a dedicated hub it would have been worth a crap. When I swapped out the old Apple TV for the new Apple TV, it took several attempts to get HomeKit commands working... but at least they ended up working without my having to do any crazy setup revision or anything.
And So...
If you're dying for the best possible picture on your 4K HDR television, you'll have to keep buying 4K HDR Blu-Ray discs. Apple isn't even in the same ballpark. That being said, the picture quality is a step up from non-4K non-HDR Apple TV. So... until HDR 4K Blu-Rays drop to the same price as Apple TV digital purchases, you may still gain benefit from the latest and greatest Apple TV. The fact that Apple doesn't charge a premium for the higher quality is a nice bonus for anybody investing in the 4K HDR... but don't be fooled into thinking it'll be the same quality as the equivalent Blu-Ray.
Posted on September 13th, 2017

Apple started off their September Event video with sweeping views of the brand new Apple Campus, otherwise known as "The Donut" or "The Spaceship" or "The Mothership." It is, of course, a structure of sublime beauty. Then, as The Beatles' All You Need is Love plays, we fly over to the equally sublime Steve Jobs Theater as attendees file in.
Then, in a moment that tore at my heart, the voice of my personal hero fills the theater that bears his name. And, just far a moment, it feels like he never left us. Then Tim Cook walks out with tribute to Jobs and the moment is gone. The Keynote begins.
Let's watch it together, shall we?
APPLE PARK
I could have watched an entire keynote devoted to Apple's new headquarters but, alas, all we get is a fleeting look. Happily, Tim announced that there will be a visitor's center! I will, of course, be paying a visit one of these days. An Apple Whore's life isn't complete until you've made a pilgrimage to The Mother Ship...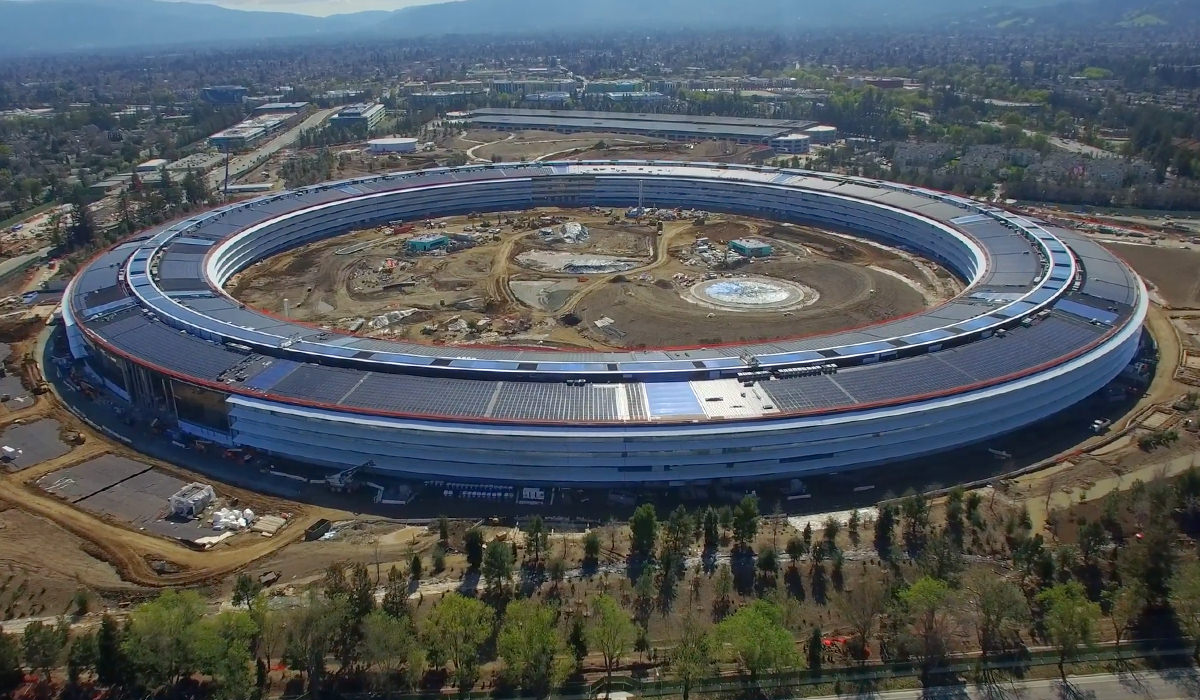 Aerial drone footage by Matthew Roberts

APPLE RETAIL
Oh gag me. Apple doesn't call their major stores "stores" any more... they are "town squares." I mean, yeah... they are beautiful spaces where people can gather but, come on. These are monuments to retail, not the cities they reside in.
There is no doubt that Apple "town squares" are beautiful inside and out... architectural marvels that capture my imagination like no other stores can. And the plans they announced for Paris and Milan are borderline destination-worthy, which is remarkable. These are STORES!

APPLE WATCH 3
Apple finally cracked the smart-watch after a stream of other companies tried and failed. And their efforts paid off... they now have the #1 watch in the world. What's interesting is how Apple has changed this space. Their smartwatch is more of a lifestyle piece than a tech toy, and they continue to push into fitness and health in a way that makes their wares a compelling purchase.
The big announcement from this segment is that the new Apple Watch 3 now has a cellular radio, so it doesn't require a phone to access the internet. Dick Tracy has just become real, y'all. You can make/answer calls... send texts... even stream Apple Music... all without a phone. On my AT&T plan, this functionality costs an additional $10 a month. I guess that's a fair price... though I don't picture using $10 worth of data every month, as my iPhone will still get the lion's share of my usage.
I would love an Apple Watch 3. It's a magnificent piece of tech and, given my elevated heart rate, would probably be a benefit to my health. And yet... I have small wrists. Even the small Apple Watch is a massive clunker on me. What I want... what I really really want... is an thinner Apple Watch. I'd sacrifice some features (like the cellular radio) just to have something I can actually wear comfortably.
The price of admission for Series 3 with cellular is $399. Given that the watch is "darn close to magic," this seems like a bargain. Available September 22.

APPLE TV 4K HDR
I have many frustrations with Apple. One of the biggest is Apple TV. The remote is shit. The user interface is shit. Streaming my Apple purchases (when I can even get it to work) has quality that is shit. And if my Apple TV struggles to stream HD content now, what hope is there that a massive 4K stream is going to get through? What's so frustrating is that the Apple TV apps FOR EVERY OTHER STREAMING SERVICE is fantastic. I never have a problem with Netflix, ABC, NBC, CBS, YouTube, Showtime, HBO, Starz... ANY of them. Just my Apple iTunes purchases. How messed up is that?
Assuming I could actually get the Apple TV 4K HDR to stream shit (I have a 4K HDR television), it seems like a great device. Mainly because Apple will automatically upgrade your HD purchases to 4K HDR at no charge. If only they would come up with a better remote.

iPHONE 8
My every day phone is an iPhone 6. It's a little slow to initiate with the newer OS and apps, but it works perfectly fine, and I didn't feel the need to upgrade to an iPhone 7. Yeah... 3D touch is cool and the nicer camera (especially on the 7+) would be great... but it wasn't worth the cost. Even once my battery started cutting out at 10%.
But it's time to upgrade, and the iPhone 8 looks like a great choice. FINALLY stereo speakers (in both orientations!). The A11 Bionic chip would be a quantum leap from the A8 chip in my current phone. The camera looks incredible, but I'm disappointed that the dual-lens model with "portrait mode" is only available in the giant iPhone again. I don't want to lug around a giant phone. And while I'm not a big "augmented reality" fan yet, I have to say, the AR star map app they showed off is right up my alley. Needless to say, wireless charging is a much-coveted feature. No more plugging/unplugging a power cord... just slap it on a charging mat. Kind of odd that Apple took so long to get here when other companies have had wireless charging for a while. Available September 22.

iPHONE X
Let me just start by saying ONE THOUSAND DOLLARS?!?? Boy, that's a lot of money for a phone. But is it worth it?
Maybe.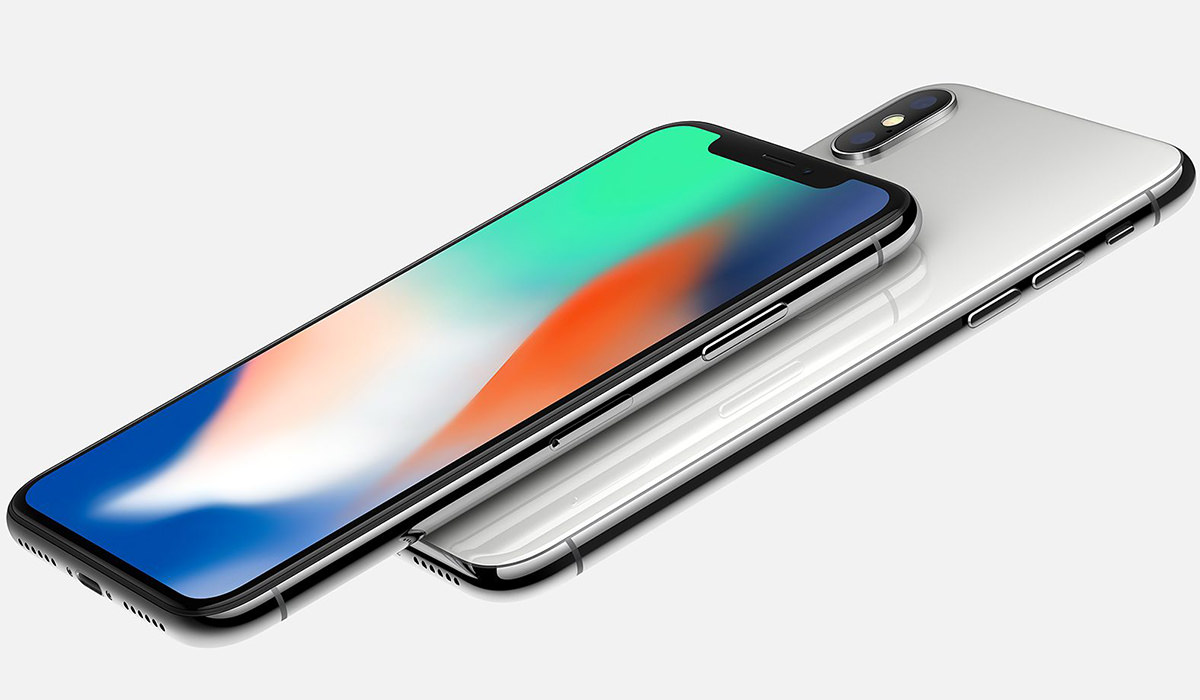 The bullet points...
Super Retina Display. Should be fantastic. The black levels and huge contrast ratio make for an amazing visual treat. Photos will look amazing.
No Home Button. A long time coming. Opens up the entire phone face for display and eliminates a physical fault-point.
Face ID. If it's reliable (the demo puts this in doubt), this is a much nicer experience than having to futz with your fingerprint and Touch ID. The technology behind this is insane, and will open up a whole new world of interface design.
Neural Engine. Welp. Skynet Step One is now in your pocket. An iPhone that has machine learning... what could possibly go wrong? "Siri, please stop telling the toaster to kill me!"
Animoji! Animated poop emoji? Okay... I'm sold. Give me an iPhone X.
Swipe. Am I the only one who thinks that the new swipe gestures are going to cause some thumb cramping? No? Okay.
Face ID Mask Tracking. This is a totally useless idea that will add an entirely new level to drunk FaceTime chatting.
Face ID Animoji. Craig Federighi as a poop emoji will never go away. The whole idea of communicating via animated emjoi is a cute selling feature... but, other than kids who can afford iPhone X, who is going to use this on a daily basis?
Camera X. Given the importance of camera quality on smartphones (I use my camera far more than any feature... like 100× more), it's a given that the camera on Apple's flagship phone is going to be incredible. Here is the dual-lens camera that I wish was in the regular-sized iPhone 8. But probably won't get there until... iPhone 9?
Selfie Sticht. If you just loooooove taking photos of yourself, then the selfie-camera (formerly the "front-facing camera") with portrait mode on the iPhone X is for you.
AirPower. The future is here. Slap down your iPhone, Apple Watch 3, and AirBuds (in wireless case) on the mat and charging is instant and automatic. Sadly, there doesn't look to be a charging option for Apple Pencil. I guess I'll still have to plug that one in.

I am not going to buy a new phone until I get back from Antarctica. Heaven only knows how I'd end up destroying the thing while on that trip. No, my new iPhone won't be coming until tax refund time next year. Whether I will end up spending $300 more for the iPhone X over the iPhone 8 is anybody's guess. I mean... ONE THOUSAND DOLLARS FOR A PHONE?!? But, then again, I've paid $300 for a pocket camera that's not as good as the camera in iPhone X, so that's something to take under consideration. In the end, I compare my iPhone to a mattress. With a mattress, it makes sense to buy the best one you can afford since a huge portion of your life is going to be spent sleeping on it. The iPhone is no different. It's easily the most-used piece technology I own. It's also the most valuable considering what I can do with it while not in front of a computer. Especially when traveling. Ideally, I'd like to spend no more than $400 on a phone. That seems a good price point to me, and what I'm comfortable forking over. But, given how important the iPhone has become in my life, I think I can get comfortable being uncomfortable.
As to how uncomfortable? Probably iPhone X uncomfortable. I mean, that camera...
Posted on July 17th, 2017

I love good marketing.
The problem is that so few companies manage it.
Apple happens to be a company that excels at good marketing. Like when they converted the banners in the iTunes Store to LEGO in celebration of The LEGO Batman Movie being released.
And now... the banners across the top of the "Movies" section of the iTunes Store were all movie titles constructed out of emojis! (in celebration of The Emoji Movie perhaps?) I copied all of them because I just couldn't stand the idea of such brilliance being lost. How many can you guess?




Even the "featured titles" were spelled out in emoji...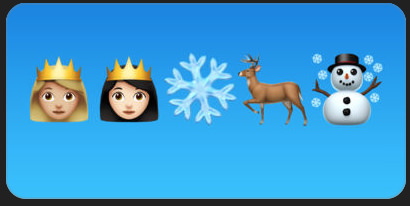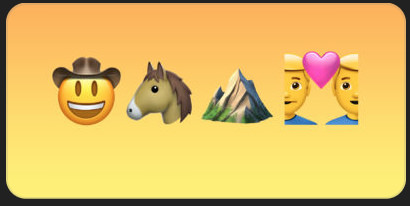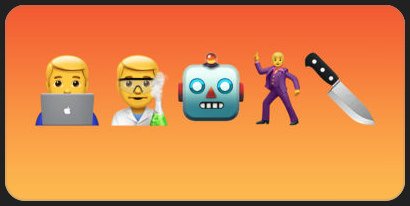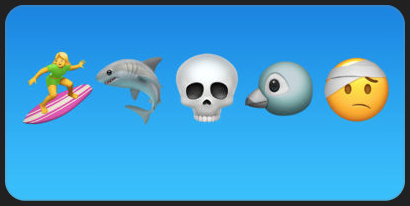 So great.
Posted on July 7th, 2017

Temperatures finally breached 100° this week, so the air conditioner had to be turned on. Darnit. Odds are it's going to stay on because the forecast is up there for the next ten days. Probably longer.
So much for tiny electricity bills.
Even though I set the temperature between 74° and 76° and use ceiling fans, it's a goodly chunk of money to keep everything in the house from melting.
Including the cats.
And then...
Back in 2015 when Apple released the latest and greatest 4th generation Apple TV, I purchased one to replace my aging 2nd generation unit (which I moved to the guest room). Despite the remote being shit, I was happy with the upgrade. At first. Eventually I found out that the unit had horrible problems streaming video from Apple. Other sources... Netflix, HBO, Showtime, YouTube, Hulu, you-name-it, were all working fine on Apple TV, it was just my iTunes Store purchases that were stuttering and crapping out... or not loading at all.
So when I ended up winning a second Apple TV from an incentive give-away, I just tossed it in the closet. My bedroom TV has Netflix built-in, so I figured I'd just wait until somebody came up with a hack to turn the Apple TV into a web server or something. Since it had problems streaming my rather large collection of Apple media, it just wasn't worth messing with.
Until Game of Thrones Season 7 was announced to be arriving.
My bedroom TV doesn't have an HBO app, so I decided to dig out the extra Apple TV so I can watch Thrones in bed as God intended.
But first I had to find the thing, because I had no idea what happened to it during the move. I've been searching off and on for weeks to no avail. And then this morning I finally found it.
By accident.
My cats have been acting crazy, so I decided to start putting my iPhone charging cable in the tiny empty cupboard above my range hood and microwave where they couldn't get to it... and... voilà...
My "empty" cupboard contained an old phone book, a Hershey chocolate candle, and... my missing Apple TV. In all honesty, I do not remember putting it in there. I don't remember putting any of it there. I can't even think of why I'd have done it.
Probably so I wouldn't lose it?
Jenny helped me set it up...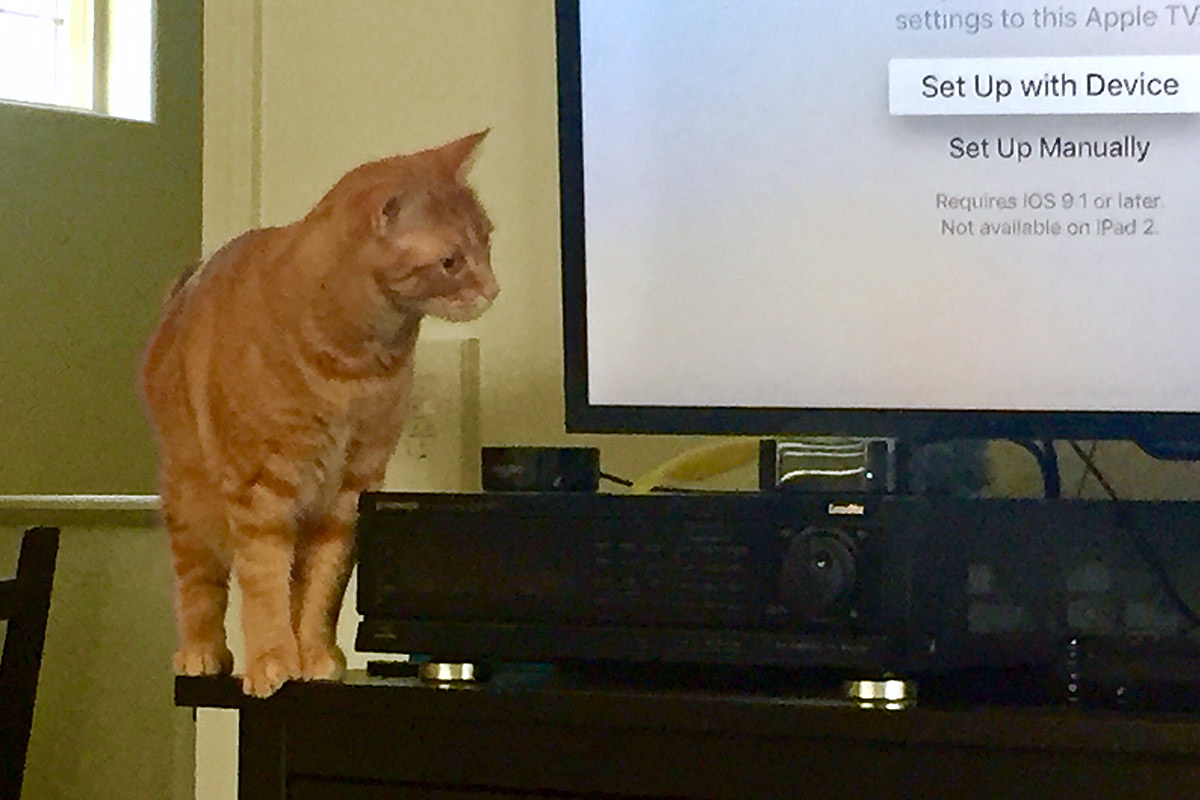 And... ready for new Game of Thrones on the 16th!
Posted on June 25th, 2017

Hope you're enjoying those lazy, hazy days of Summer, because an all-new Bullet Sunday starts... now...

• Munneh! But, yes. By all means. Let's invest our money in coal. Soon-to-be-obsolete coal that nobody is going to want when there are going to be far cheaper, cleaner, and more efficient ways to get our energy...
I mean, we could bring this technology to former coal towns and train the workers there for jobs that will actually matter. But, no. Because coal. Uh huh...
The sheer idiocy involved in killing off the American worker by our politicians is just astounding. We're not going to be competitive in the global job market, and we did it to ourselves by electing assholes who are more interested in fleecing taxpayers for the benefit of coal executives than creating jobs for ex coal miners.

• Kens! And so This happened: Mattel released 15 new variations of Ken Dolls... aka Mr. Barbie...

And no, your eyes are not deceiving you... there are Ken dolls with a man-bun now. I can't fathom the parent that would buy their daughter (or son, for that matter) a doll with a fucking man-bun on it, but since society is hell-bound anyway, here you go. As if that weren't enough, the Kens are available in three body types: Original, Slim, and Broad. Because heaven only knows we don't want to cause body identity issues in our children. Their dolls have hipster man-buns now, and that's enough fucking trauma for childhood.

• MMMMMMEAT! Clearly God wants everybody to be vegetarian, and this is His solution... OH, LOVELY: THE TICK THAT GIVES PEOPLE MEAT ALLERGIES IS SPREADING. From the tick's perspective, I'm guessing that people taste like chicken.

• White! "Being white in this country, I should just shoot myself." — Somebody please hand her a gun. Because this racist fucking waste of space shouldn't be raising kids... let alone be allowed to join society...
No matter how many times I see bigoted shit like this, I remain amazed. Not that assholes such as her exist... but that they feel so confident in their racist bullshit to act this way in public.

• Hope That Helps! Ben Palmer released video from one of his shows and it is everything you'd hope it to be...
Watching him troll on Facebooks is one of the reasons I am happy that Facebook exists.

• HomeShit! You know, I understand that companies can't release a winner every time. There are going to be some duds, even for the most inovative of them. I get that. Honestly I do. But Apple's HomeKit is such a festering pile of shit that I cannot fathom why in the hell they don't scrap it and start over or fix their stupid crap so it will actually function reliably. Thank heavens the only thing I was stupid enough to trust to Apple's failed system is my door locks. I wanted them on a completely separate system from the rest of my home automation for security reasons and, hey, it's Apple... right? What could go wrong?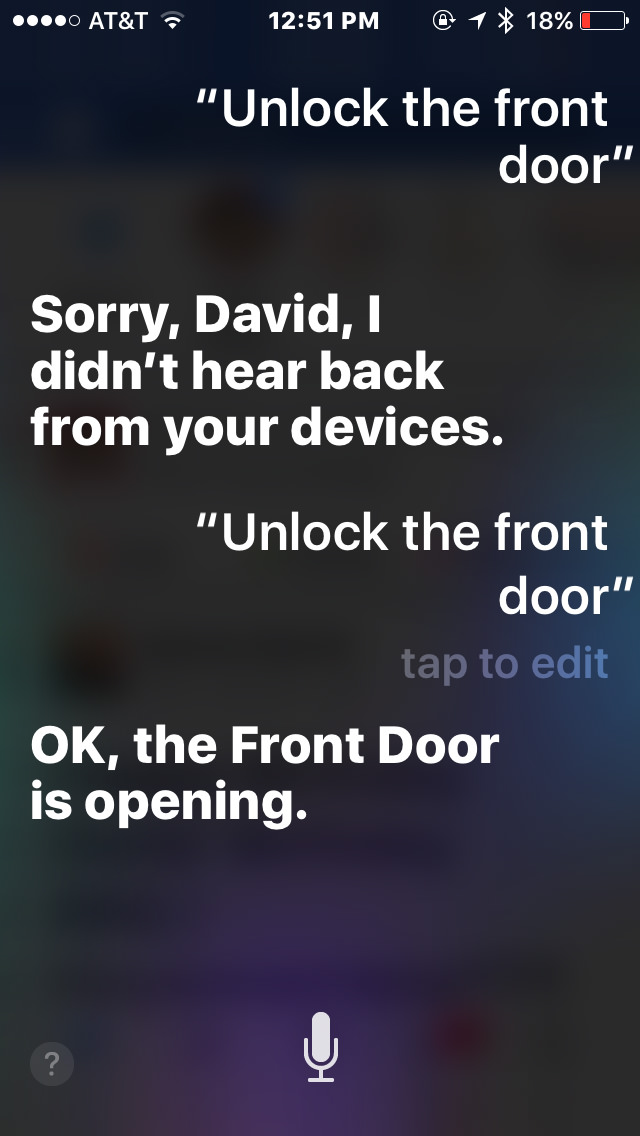 I never dreamed the answer to that question would be everything. Apple should just do everybody a favor and kill off HomeKit instead of continuing to pretend that they give a flying fuck about home automation.

Dis be da end, everybuddy.
Tags:
Apple
,
Bullet Sunday
,
Dumbassery
,
Dumbasses
,
Home Automation
,
HomeKit
,
John Oliver
,
Meat
,
Politics
,
Toys
Categories:
Apple Stuff 2017
,
Bullet Sunday 2017
,
News – Politics 2017
—
Click To It:
Permalink
—
7 Comments: Click To Add Yours!