Posted on January 3rd, 2022

I am way behind on my Hallmark Christmas movies. And will only get further behind because I've got so many work projects on my plate and now Hallmark has Winter movies starting to run.
I keep telling myself that maybe this is the year I finally give up on Hallmark since all the movies are essentially the same at this point. Something made hilariously clear by the many, many parody videos that have been released...
Oh well. It's something to listen to while I work, isn't it? Though at this rate I'll still be watching Christmas movies in July.
JUST IN TIME FOR HALLMARK CHANNEL'S CHRISTMAS IN JULY MARATHON! WOOO!
Posted on December 25th, 2021

Thanks for spending another year with me here at Blogography! Wishing you the happiest of holiday seasons for what's been a rather awful year. Again.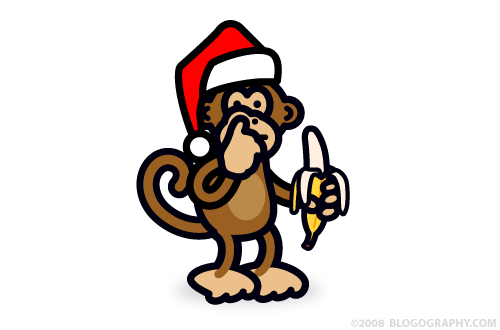 I'd wish for a better Christmas next year, but I did that in 2020 and look what happened!
Posted on December 24th, 2021

Today was a perfectly lovely day from start to finish.
I should really be grateful... but there's a feeling of dread that's come out of trying to fall asleep on Christmas Eve when the entire world is going to shit. Fortunately there was a new Jägermeister to try, so I'm not totally falling asleep on my own vocation...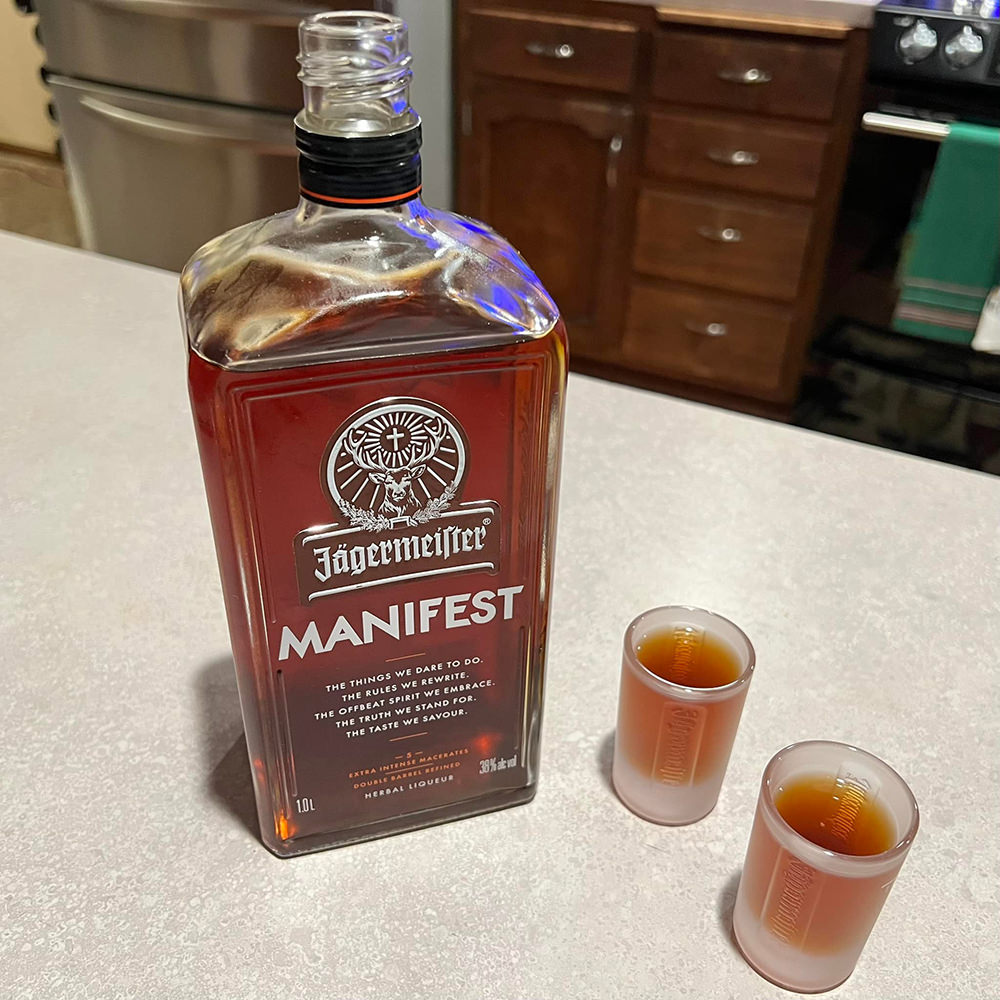 It's not bad. Even if it is entirely too expensive. I'll probably stick to regular Jäger, because I'm a cheap drunk that way.
Posted on December 23rd, 2021

Thanks to climate change, driving over the mountains for Christmas has been less and less of a problem with each passing year. But every once in a while... well... Mother Nature happens.
Between the time I left my driveway and arrived to the mountain pass highway start, they had closed the pass. So I had to turn around and try a different mountain pass. Or rather two passes.
The roads were pretty messy, with high piles of slush making the trip quite hazardous. Cars were spinning off the road left and right. Some of them because they think that 4-Wheel Drive makes them invulnerable... some of them because they don't think that they needed to chain-up even though it was posted as required... and still others because they were just dumbasses who were driving like maniacs. I managed to make it over without incident because I chained-up and took my time. LIKE YOU ARE SUPPOSED TO!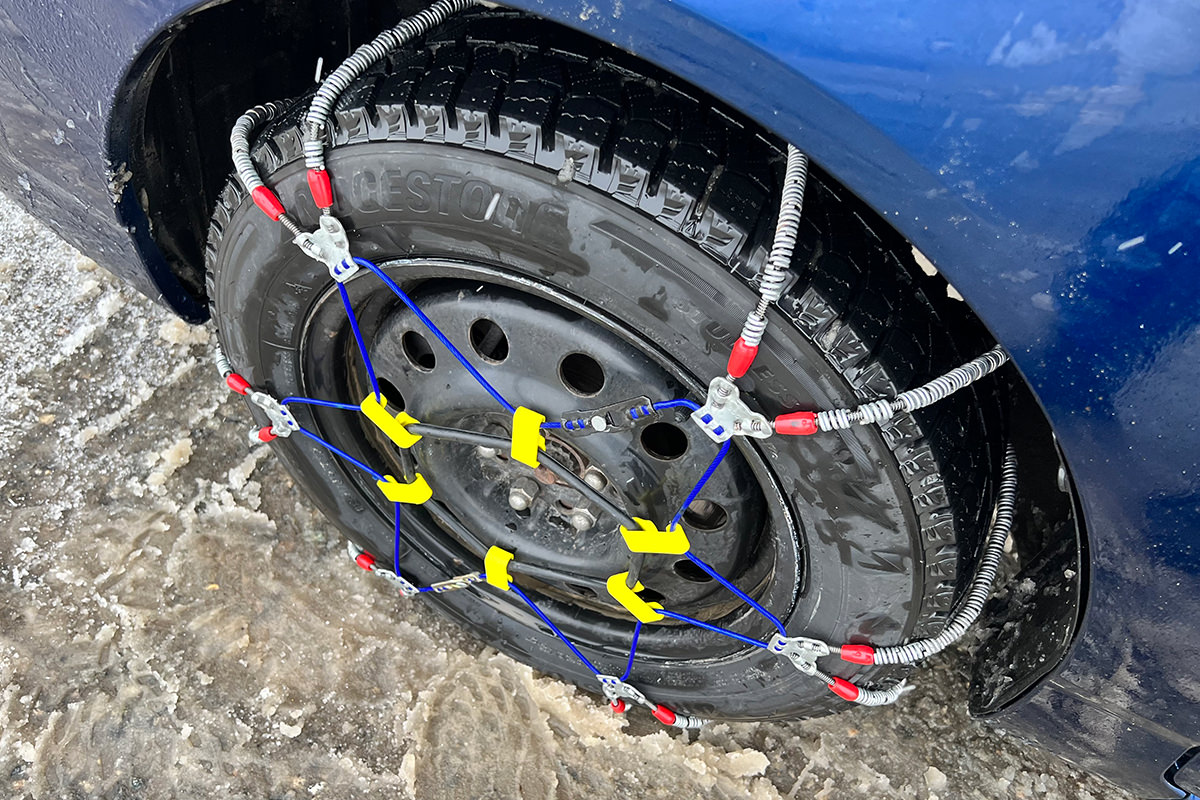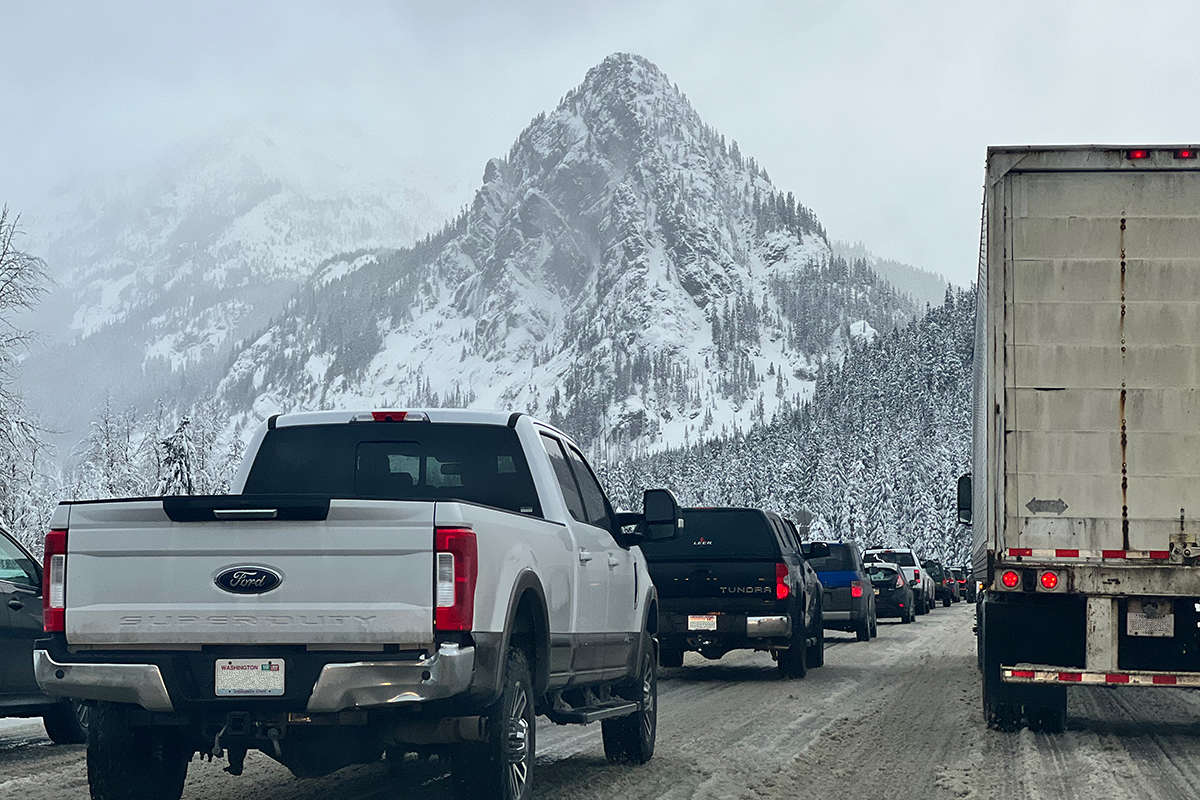 What a mess.
And how was your Thursday?
Posted on August 13th, 2021

Since I don't celebrate Christmas, I can take it or leave it when it comes to Christmas television specials. If done well, it transcends any holiday and just becomes darn good television that's great entertainment.
As you can probably guess... the latest episode of Ted Lasso 100% nailed it (spoilers to follow). They did such a good job that I stayed up and watched it when it debuted... then watched it again this morning... then immediately watched it all over again with subtitles.
That being said, I'd have been thrilled just watching the claymation opening credits! WONDERFUL!
There were three rather distinct stories woven into this episode. The heart and soul of the meaning of Christmas was found in Ted and Rebecca's story. It's sweet and charming to behold... but the deeper meaning is to be found with just how big a 180° that Rebecca has taken since the first season. Ted was always the empathetic one when it came to others... Rebecca was only seeing a way to use others to enact her revenge. Then her heart won out after a relentless assault by Ted's kindness, and this season she's just as lovely a person as you could hope to meet. Taking time away from epic holiday parties to make sure Ted is doing okay with his first Christmas away from his family... his first Christmas divorced...
Rebecca's plan to get Ted into the Holiday Spirit? Delivering Christmas gifts to kids that didn't get any...
It could not have possibly have been more perfect.
The second story involves Higgins and his annual Christmas dinner for players who are far from home. This means that Nathan and players like Jamie Tartt and Colin Hughes drop out early in the episode. Which is actually kind of nice, because players like Richard Montlaur get a minute of screen time they wouldn't normally get (and believe me, Montlaur's +1 definitely makes it worthwhile!). It's also a telling moment for Higgins, because usually he's so unpopular that only two or three players showing up... but this year everybody who doesn't have a place to go shows up! It's genuinely sweet. As is an appearance by Higgins' late cat, Cindy Clawford...
I was worried that events of the previous episode would be forgotten... but they do get a mention. And if there's anybody who could give Ted a run for his money in the sweetness department... it's Sam, and I couldn't be happier that he's gotten so much screen time this season...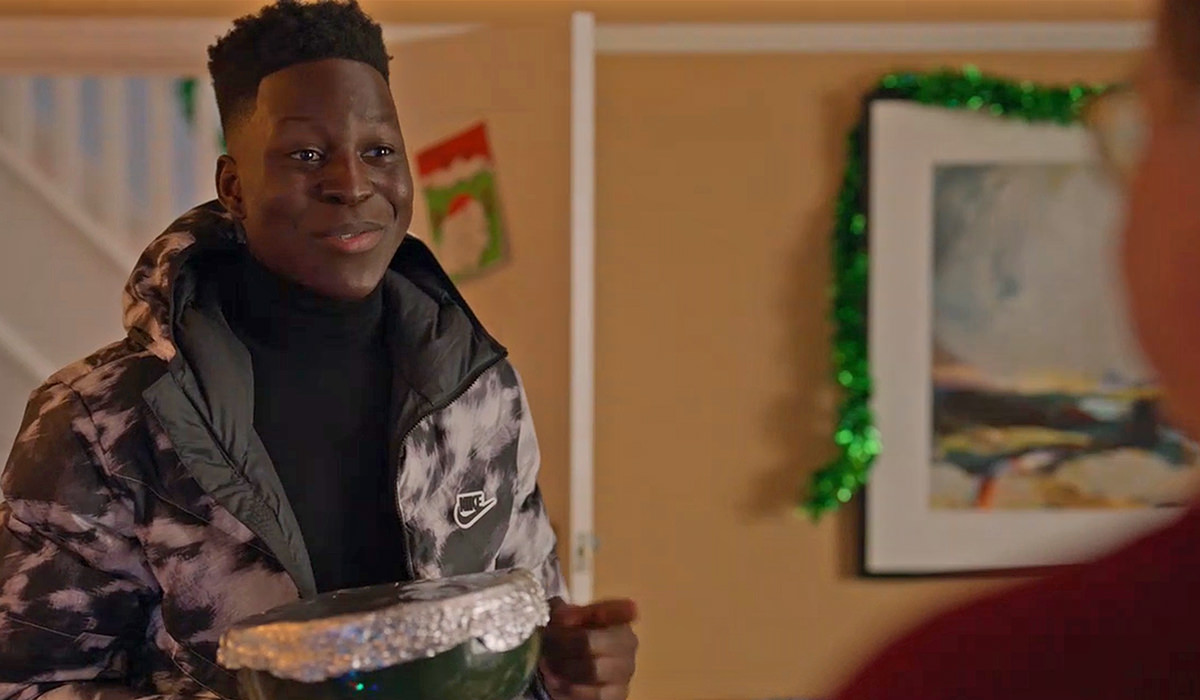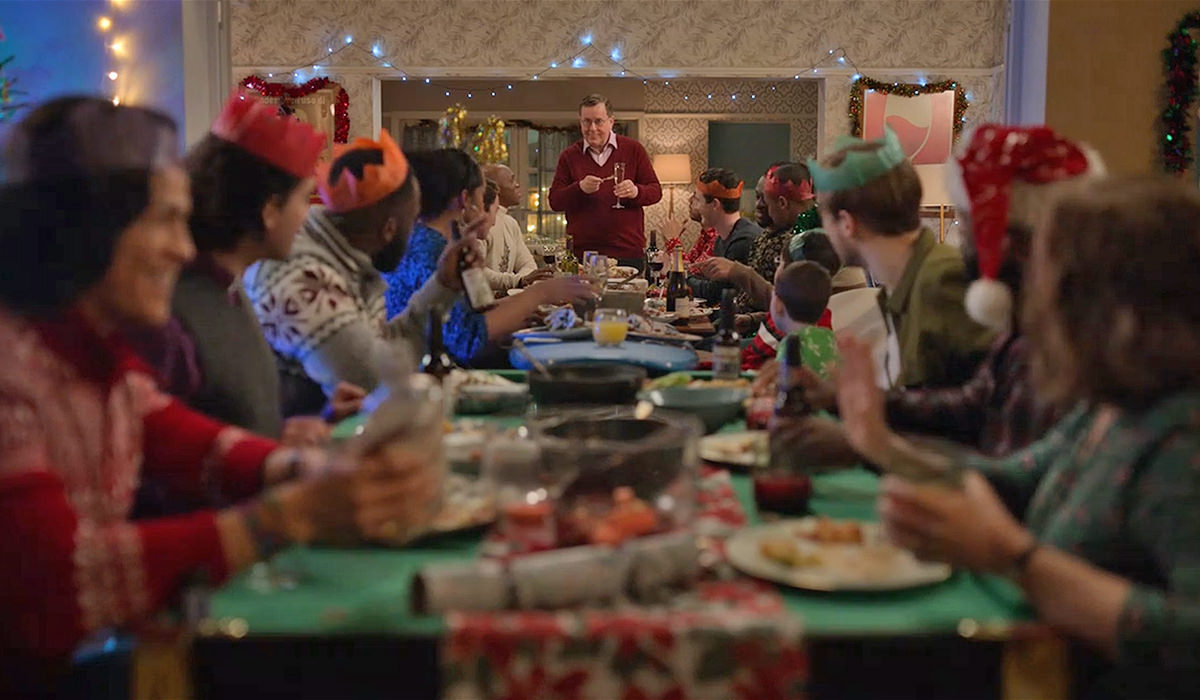 The last story is probably my favorite... because it's Roy Kent... but boy does his neice Phoebe hold her own (again) this episode. Roy and Kelley are planning "Sexy Christmas," but plans go awry when Phoebe shows up with a big problem...
And just because the show never misses an opportunity to demonstrate once again how Roy and Keeley are a romance for the ages...
Phoebe's problem is horrendous bad breath which Keeley (rightly) determines must be clinical. This gives Roy the idea of driving back to his "posh neighborhood" and banging on doors until they find a dentist. This is ripe with touching moments of Roy showing genuine love for his niece that belies his gruff exterior...
That we end up with a cameo from the "Ussie Guy" from the first season (he is actually the fourth character we meet after Rebecca, Higgins, and Ted!) is just icing on the cake...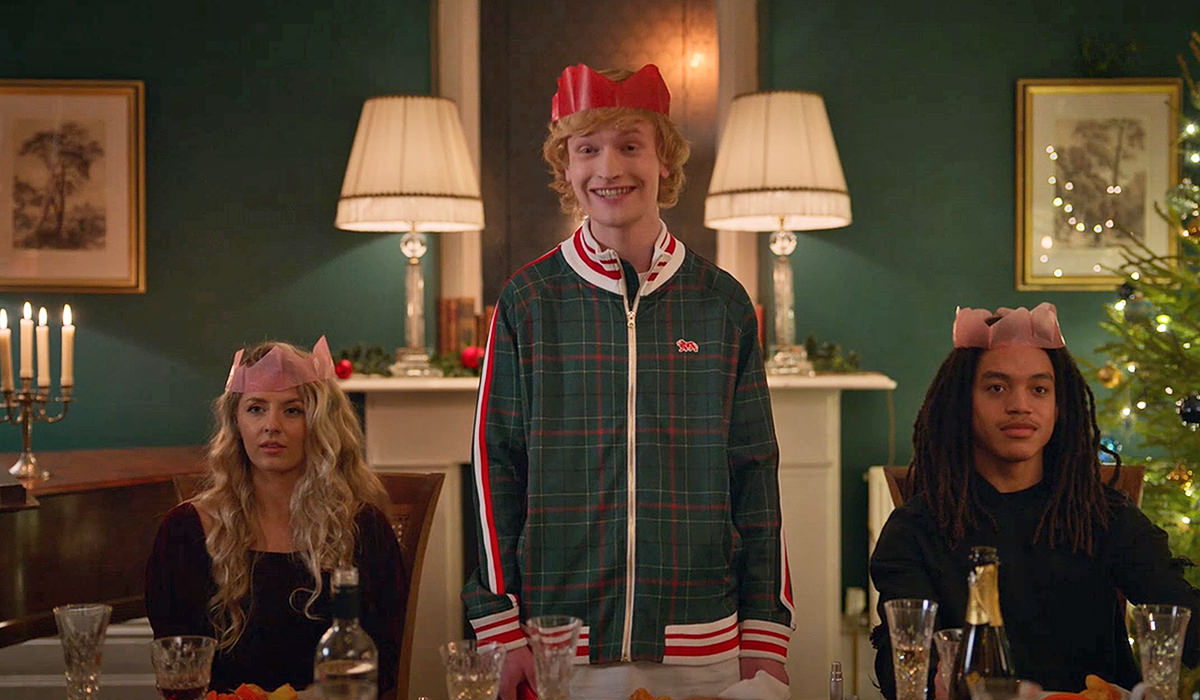 And it's at this point that I feel compelled to mention that the cinematography in this episode is sublime...
Is that... it that another smile from Roy Kent?!
As wonderful as this episode is (my favorite this season and ranking very high overall), I can't help but think how much more wonderful it would be to watch it during the holidays (which, of course, I will)...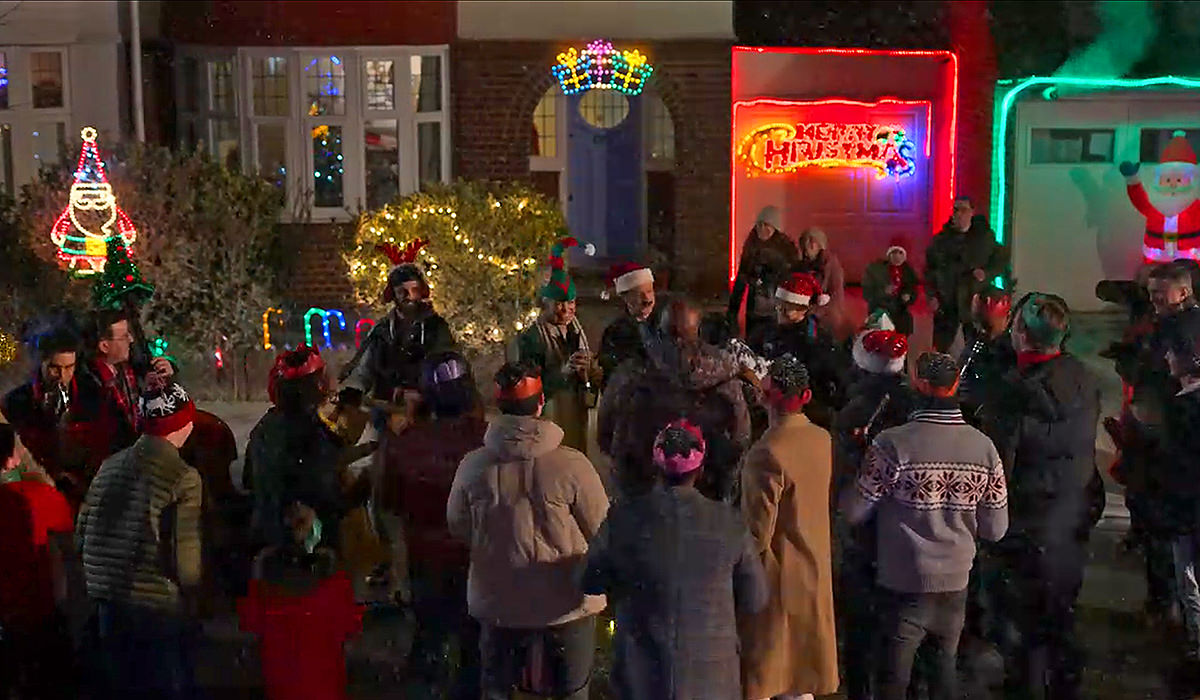 What can I say? The best show ever to air on television just aired one of the best episodes to ever air on television. It's almost impossible to see how it could be topped, but I say that almost every week.
Posted on December 25th, 2020

Not the best holiday season, but here's hoping you're making the best you can out of it.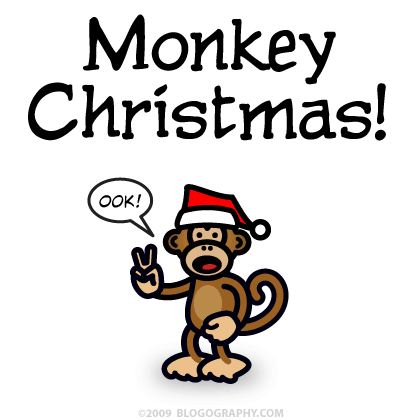 Posted on December 25th, 2019

I may not celebrate the holiday now, but when I was growing up Christmas was a huge deal. And because of that, my childhood Christmases are well-documented. There are many, many photos from over the years. Thanks to them being digitized, I can look at them any time I want. And what better day than today?
Here is just a tiny sampling...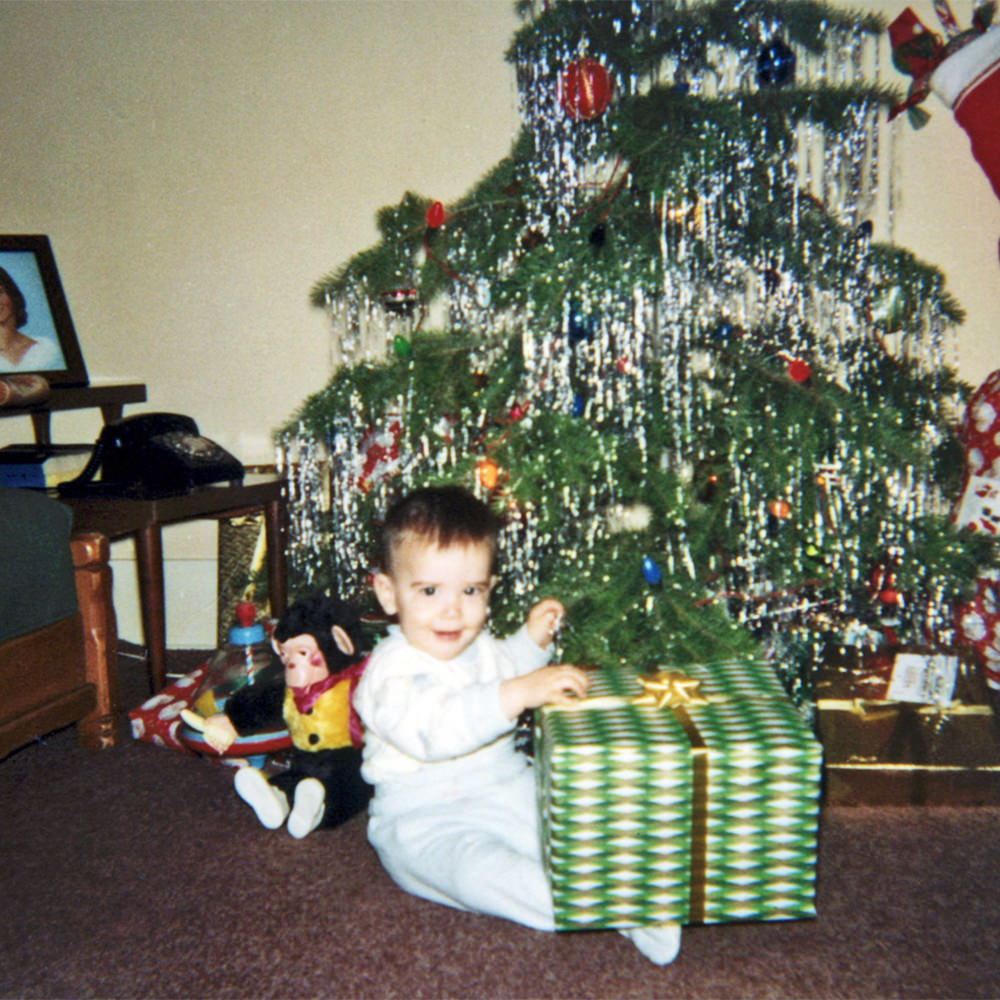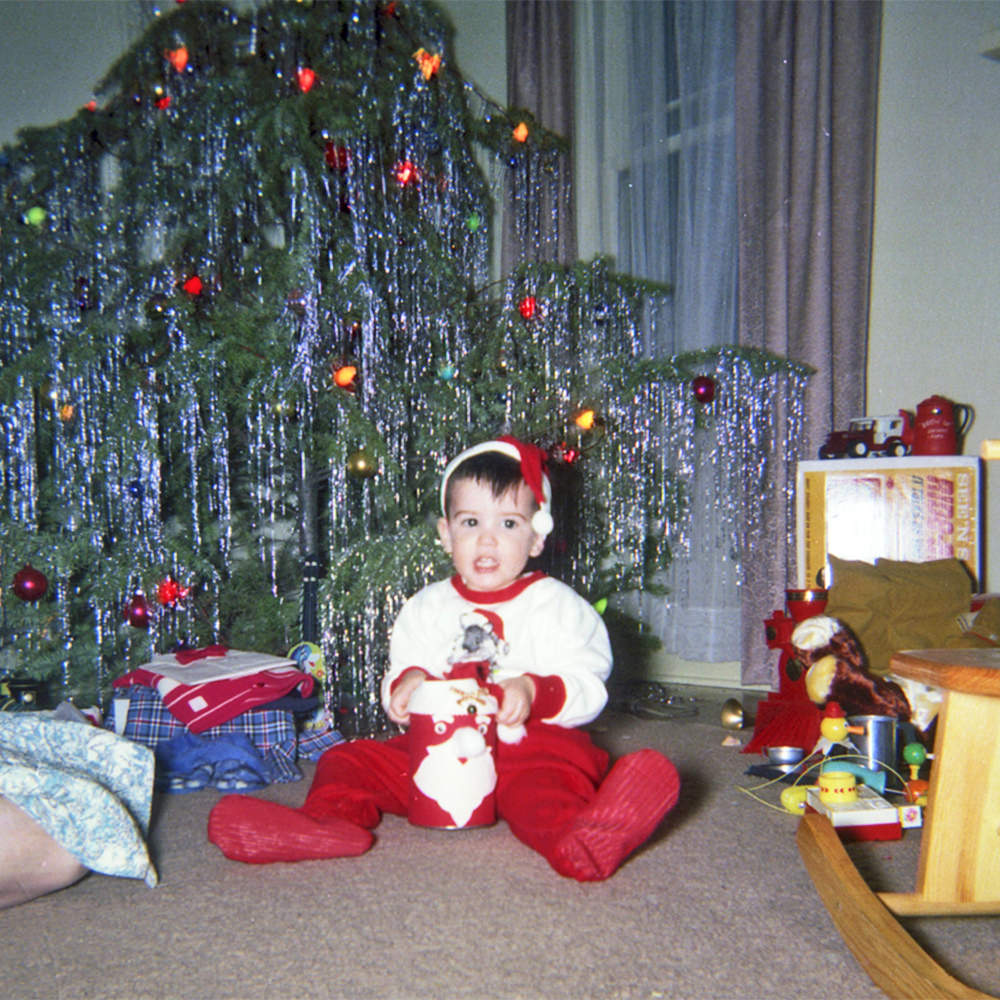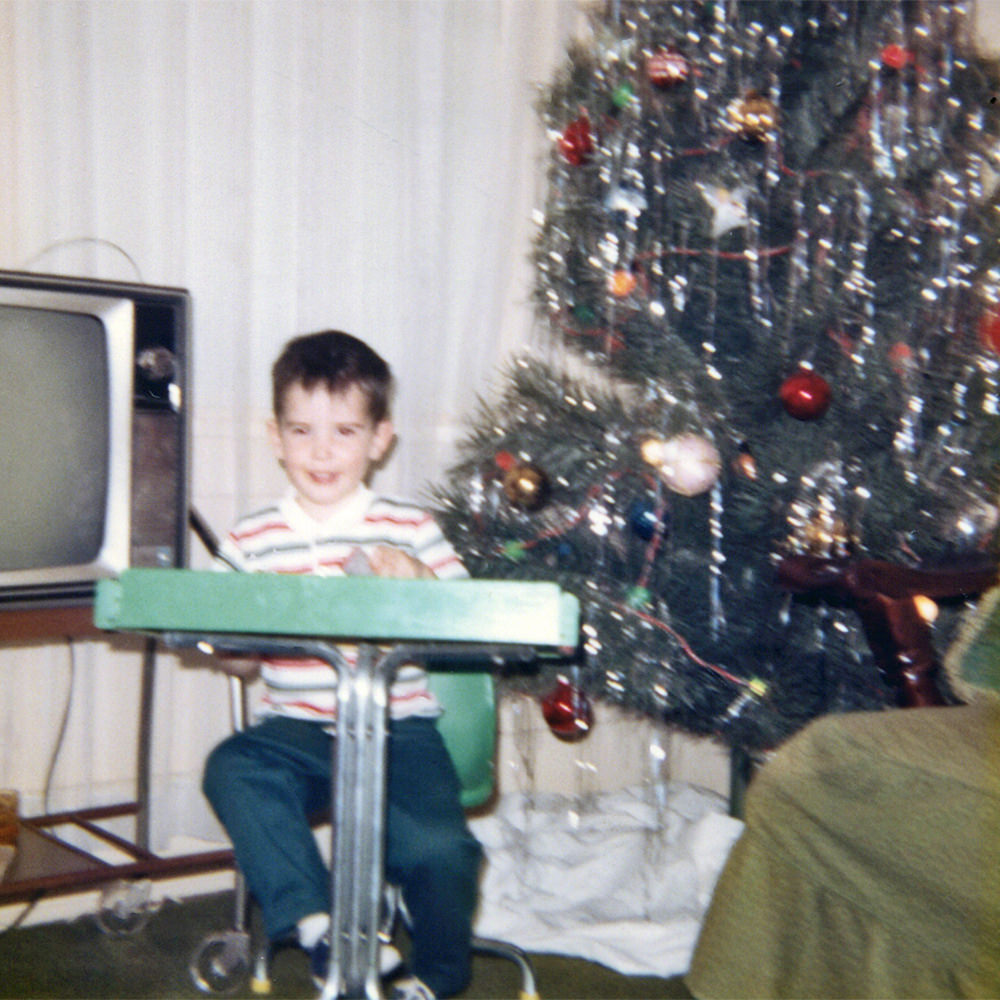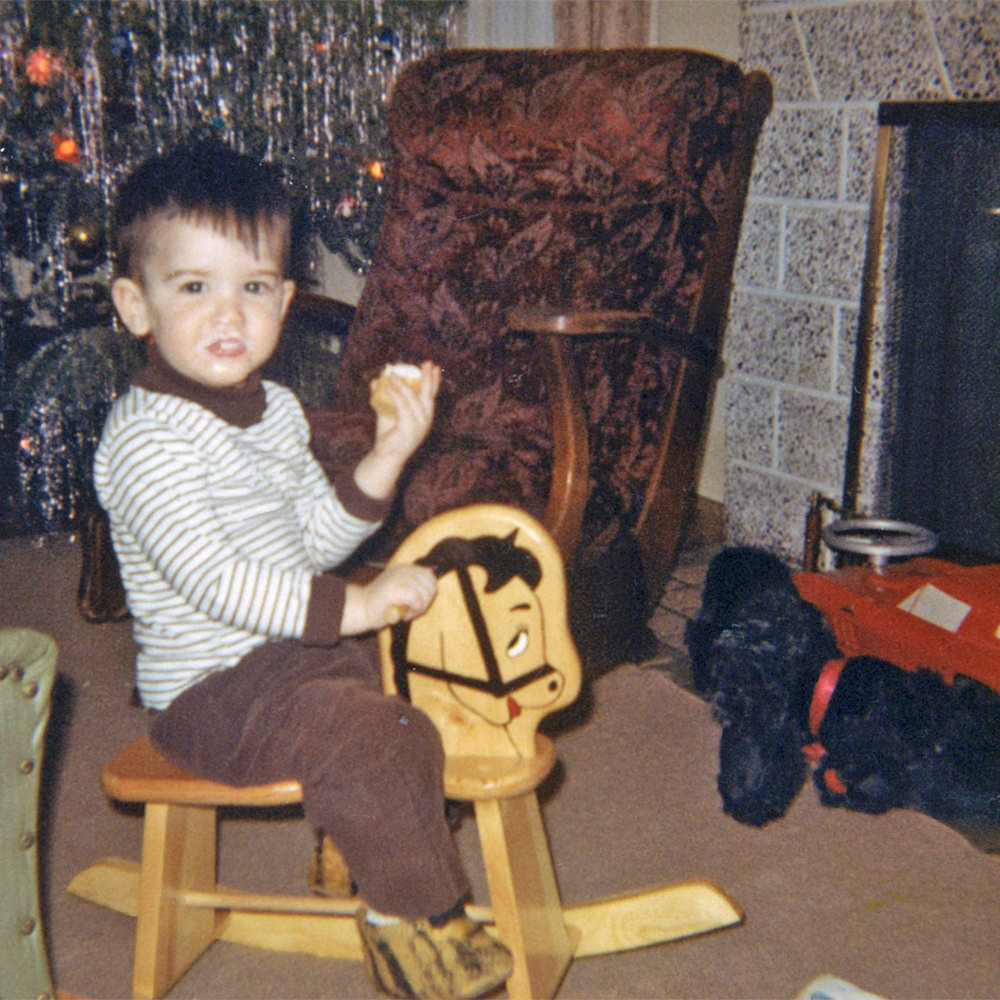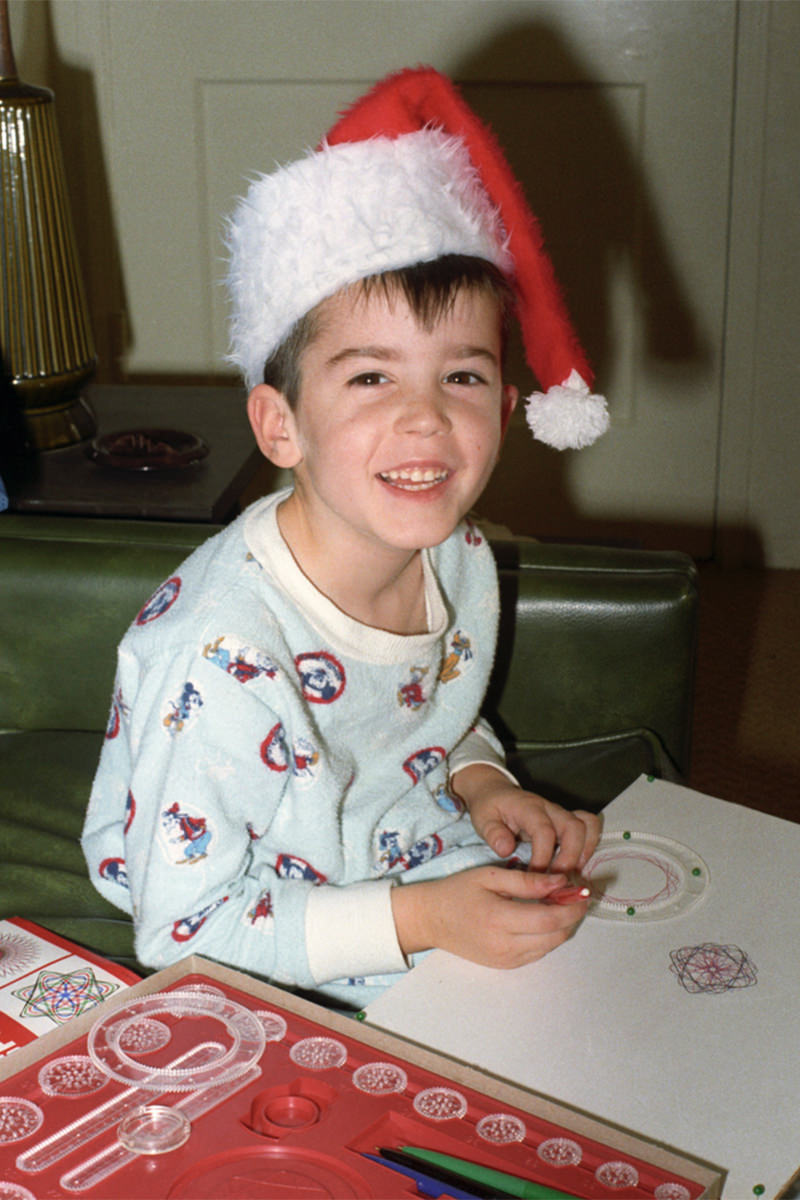 Christmas Day was always the same routine when I was young...
My brother and I wake up way too early and wait for mom and dad to wake up so we can open presents.
We'd tear into the mountain of gifts under the tree.
Mom would pull out a tray of Svenhard's Swedish Bakery "Horns A Plenty" sweet Danishes, slather them with butter, then heat them under a broiler. Then serve them up with hot chocolate. Best breakfast ever.
We'd play with our Christmas loot until it was time to pack up the car and head to grandma and grandpa's house.
More presents followed by Christmas dinner at the grandparents.
Back home to play with new toys until we'd pass out.
As I got older, Christmas was increasingly more sedate, but Svenhard's "Horns A Plenty" for breakfast never changed. Except eventually we got a microwave, so mom would nuke them instead of broiling them. A couple years ago I bought some for nostalgia's sake and was shocked at how sweet they were. I remember them being more "buttery" than "sweet" and now it's the opposite.
But the memories themselves are pretty sweet.
And so... to all those who celebrate it... have yourself a happy Christmas!
Posted on December 24th, 2019

Unlike last year when I had to chain up and drive through a snowstorm, this year it was a piece of cake to drive over the mountains.
It always surprises me how there are people who must not drive except that one time of the year when they have to... because Christmas Eve and Christmas Day are the absolute worst. People just have no clue and I'm surprised that there aren't more accidents than there are. Because ideal road conditions just means that people pay even less attention to what they're doing.
Oh well. I survived the journey, so I guess now I just get to relax and settle into some holiday meriment...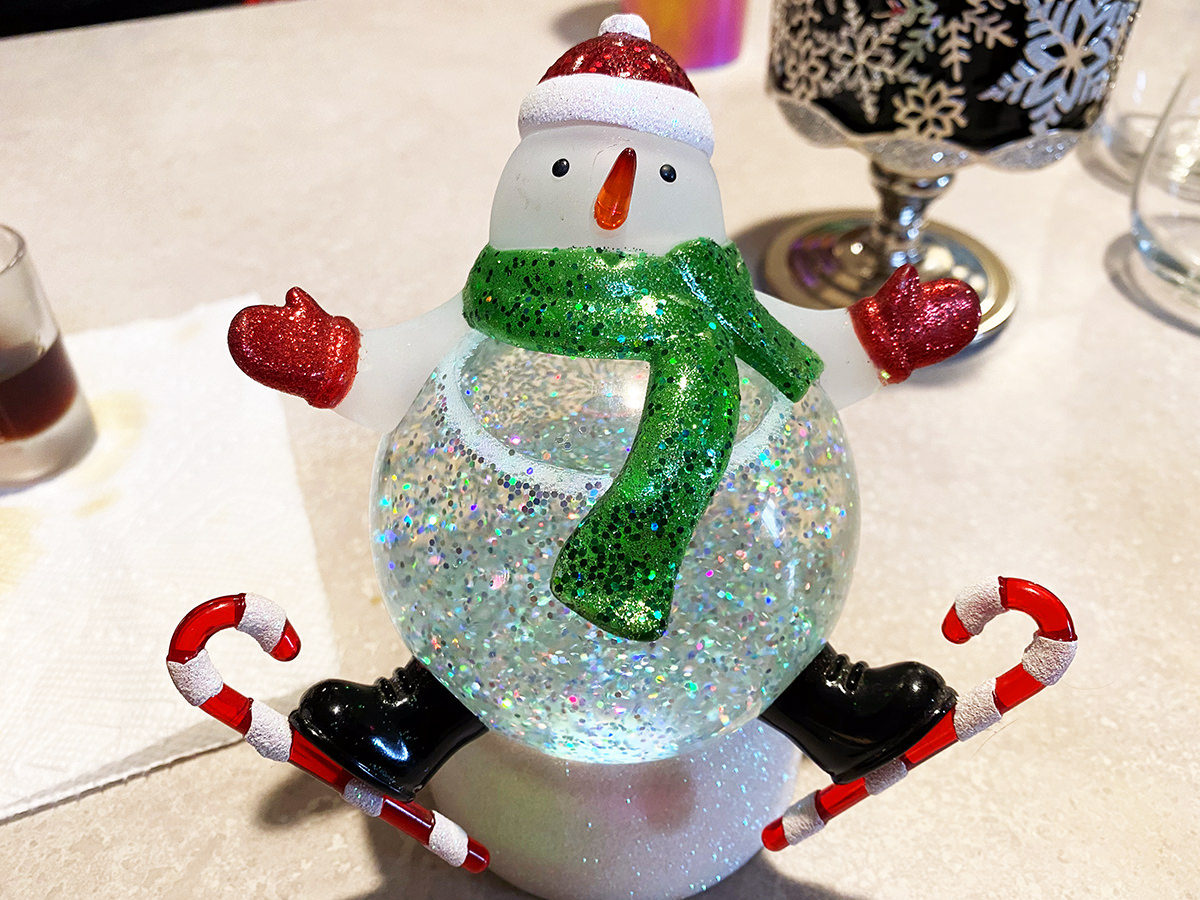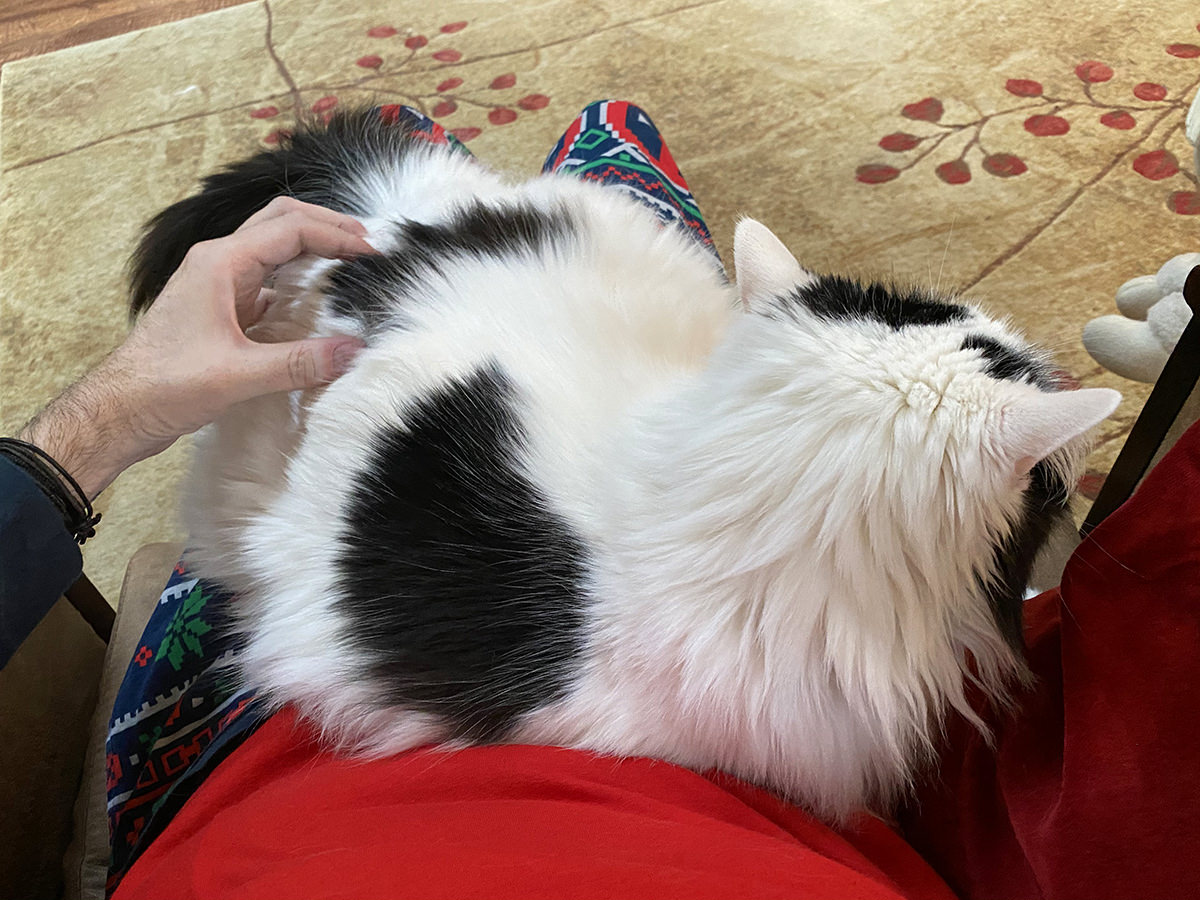 Hope everybody has a good pre-holiday holiday.
Posted on December 25th, 2018

I'm not sure how I'm supposed to feel about Christmas now that both my grandma and my mom are gone. For my entire life, they were Christmas. Even once I decided I didn't need to celebrate the holiday, it still meant something to me because it meant something to them.
But now? Forever more, it's just another day without them here.
Which is to say that it's just a day like any other day.
Might as well see a movie?
We ended up seeing Vice which I was a bit excited about because Adam McKay wrote and directed it. Having his wit turned towards the steaming pile of garbage that is former Vice President Dick Cheney...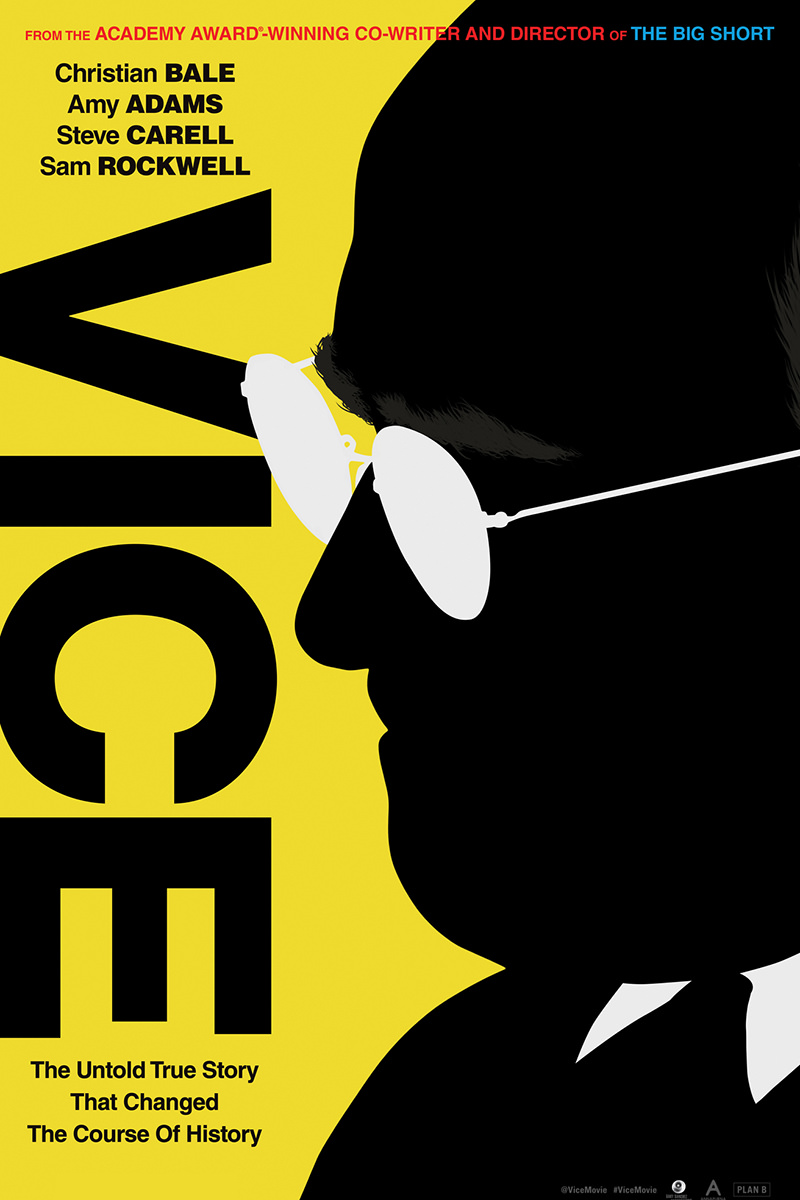 Didn't care for it.
It was funny in spots (and really funny in one particular spot), which was entertaining... but it was a kinda slapped-together documentary-style movie that didn't expose or enlighten. And while it did present some of the horrible shit Cheney unleashed... it didn't show it in any real context, nor did it really explore the consequences. It's just laid out the stuff we already knew.
Lame.
Dick Cheney is a fucking monster.
I want to see a movie that takes what he did and follows it through to what happened because of it. Not with a title card at the end of the movie, but with and actual exploration of just what a heinous blight on all humanity he has been.
All that being said, the performances in this flick are phenomenal. Christian Bale... Sam Rockwell... Amy Adams... they all deserve their Golden Globe nominations, and are a shoe-in for Oscar nominations as well. Truth be told, Steve Carell was brilliant as well. But best picture?!? Seriously? Nah.
Have a happy Christmas, if that's a thing you celebrate. Otherwise? Happiest of Tuesdays to you.
Posted on December 24th, 2018

Apparently squatting down to apply and remove chains to my car for the drive over the mountains yesterday worked some muscles I haven't used in a while... because my gluteus maximus is all kinds of sore today. Guess I need to look into assercize or something like that. Or, I dunno, just exercise at all maybe?
And speaking of chains...
Yesterday after I made my way through Tourist Town, there's a sign before you head into the mountains advising you as to road conditions and closures and such. If the roads are impassable, there's also an arm-block that drops down to keep people from going any further.
This was the sign which warned me that chains were required over the pass... 21 miles ahead.
Some people decided that they didn't want to wait 21 miles and were pulling over to apply chains for driving on bare roads. Since the roads were bare, everybody with chains was driving way too fast. And so... chains were flying off tires and being busted to shit left and right. Which meant that some people wouldn't have chains for the pass and would be ticketed if caught.
Welcome to the hazards of winter driving.
But it was worth it to spend the holidays with friends...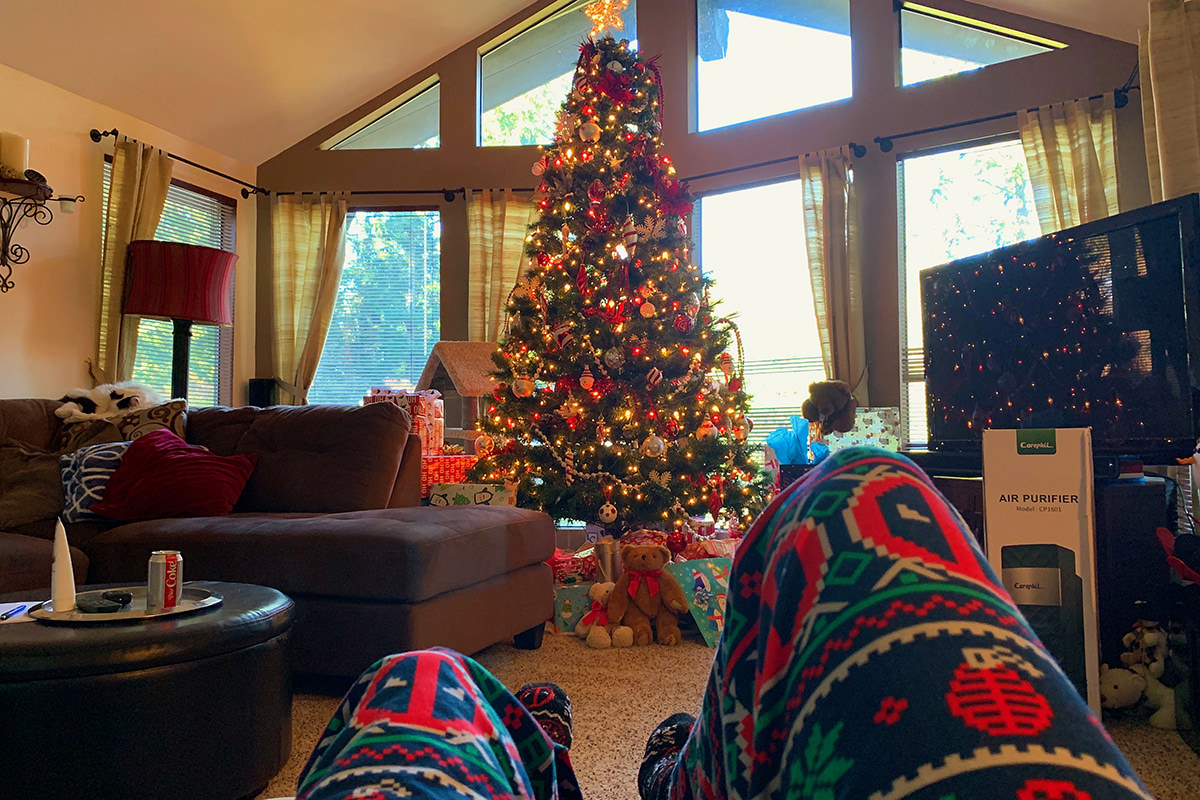 Bring on the jolly fat man!