Posted on February 12th, 2023

Don't worry, I'm here with a distraction from the Superb Owl... because an all new Bullet Sunday starts... now...

• Ronnie! Talked about a missed opportunity at the Superb Owl! I was waiting for Rhianna to walk out and say "Uh oh! Bonber alert!" then Andy Samberg would walk out as Shy Ronnie...
One thing's for sure... it would have been unexpected.

• Lo siento! This would be the kind of thing that happens to me (here's a link in case TikTok is being a dick)...
...assuming my girlfriend was Miss Universe 2020.

• Scam the Tragedy! A gentle reminder... if you receive an email wanting you to donate to a cause... any cause... don't click the link in the email. If it's not an organization you know the address for to type directly in your browser, do a Google search for the official website. I just received an email wanting me to donate to the Syria and Türkiye earthquake relief efforts from "The Red Cross," and it was a big ol' scam. All my donations go to Doctors Without Borders anyway, but holy crap... what kind of garbage would exploit a tragedy to scam people out of money?

• You're Poor! You can't afford it, you povo (here's a link in case TikTok is being a dick)...
Because you're poor!

• Luther! OOOOOOOH BOY! I am really, really looking forward to this...
It's like... Idris Elba is magic on the screen. Every. Single. Time. Just look what he did in the frickin' Thor movies, for crying out loud! And Luther is an exceptional character that shows off exactly why the guy is so good at his craft. Kudos to Netflix for sinking some money into quality.

• Alexa He Ain't! I really wish that Sonos speakers could use Siri. Because the Sonos Voice Assistant is fucking useless as a piece of shit at a pool party. Telling it to play songs never works. The only thing it does reliably is "stop" music when you tell it. Otherwise it's some bullshit about not understanding what you want and having to use your SONOS app. One thing I DO like, however, is the voice that SONOS uses for their AI. He's very calming. A little vulnerable. Which he kinda has to be given that he can't do jack shit. Though he's not as sexy as "Australian Male Voice 1" that I use for Siri but, let's face it, nobody could be sexier than Australian Male Voice 1. That guy sounds like he has slept his way through entire ecosystems.

• Again! After being severely disappointed with the last two Depeche Mode albums, I was surprised at the first single off their forthcoming album, Moments Mori. Ghosts Again is more like Depeche Mode than they've been in ages...
One can only hope that the rest of the album is this good.

Until next Superb Owl...
Posted on February 5th, 2023

Don't let the Sunday Evening Blues get you down... because an all new Bullet Sunday starts... now...

• Little Guys! Paul Rudd reading Scott Lang's autobiography is about the best thing ever. And it's not just a commercial for the new Ant-Man movie, it's an actual book...
Yeah, I will definitely be buying the audiobook of that one. Assuming that there's a real audiobook to go with the real book.

• Kelce! The whole rivalry between the Kelce brothers is almost making me want to tune in to the Superb Owl. And the more it pops up, the more amazing it gets. Which has me genuinely afraid to know too much about them because it's so typical to run across some truly horrific stuff in people's past...
All I know is that Jason likes to dress up as "Fat Batman" and there's not much else I care about...
Here's hoping they're good people. And that their mom is having the best game ever (there's a petition to have her flip at the coin toss, and could there possibly be a more perfect person?).

• Pedro! Pedro Pascal hosted Saturday Night Live last night, and it had some very funny skits...
AND FIND THE LIE...
I'd post more, but you might as well go track down the episode on Peacock to see them all.

• Woodall! "Analysis videos" are often more about the perspective of the analyst than a deep dive which actually analyzes anything. There are exceptions. I've mentioned Thomas Flight, who remains one of my favorites for film analysis. Another one I recently binge-watched for hours is James Woodall. His thoughts on film and television are fantastic. What's amazing is that he has a grand total of twelve videos in two years. One of his most famous is likely his look at The Devil Wears Prada, currently at 2.4 million views...
But all of his videos are worth your valuable time if you like a good deep dive.

• Fuck Off! And I don't know what to do with fucking piece of shit dumbfuck bigot assholes, so I guess we're even? (Here's a link in case TikTok is being a dick)...
I've never seen people so fucking brain-dead over crap THAT HAS NOTHING TO DO WITH THEM in my life. What the fuck do you care? I guess these people really, really want to get a look at people's genitals or something.

• Peanut Butter! And then there's this...
And yet people keep listening to these dipshit assholes and accept everything they say as absolute truth because disinformation never gets removed from social media and there are zero consequences to talking out of your ass about shit you don't understand and know nothing about. And society just keeps getting more and more stupid because of it.

Enjoy those precious moments of weekend you got left while you still can.
Posted on February 14th, 2022

No, I didn't want the Super Bowl. I don't give a crap about football. The only sports I have any interest in are baseball (GO RED SOX!) and hockey (GO BLACKHAWKS!). Which is not to say that I have no interest in the Super Bowl itself, because the commercials and half-time show are always a lot of fun.
The half-time show was amazingly great. Not Prince level-great (how could it be?), but I thought it was extremely well done and the performances were fantastic. Epic even.
But of course all the news today was either about how Snoop Dogg smoked a joint before he went on stage...
...or how Eminem kneeled...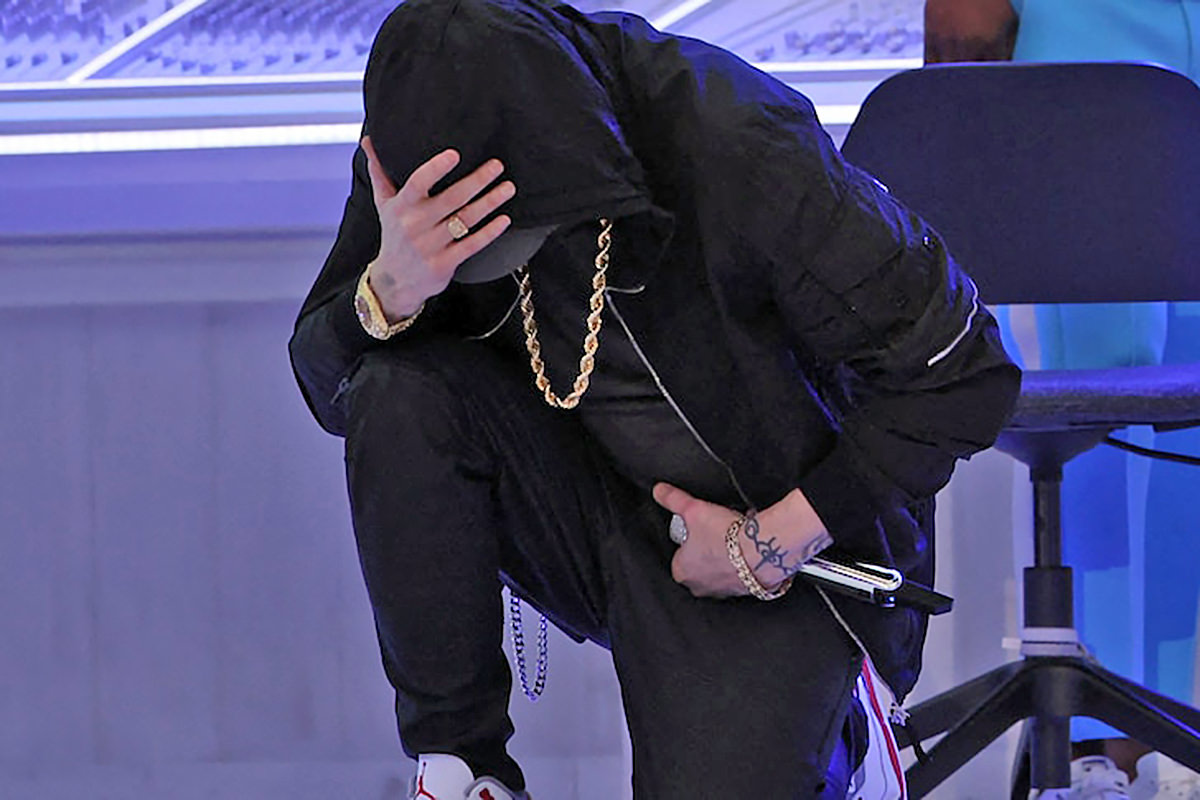 Image from Mike Segar @ Reuters
...or how Mary J. Blige was showing thigh in her costume choice...

Image from Kevin C. Cox @ Getty Images
...or how Dr. Dre sang the lyric "still not loving police" in his song Still D.R.E....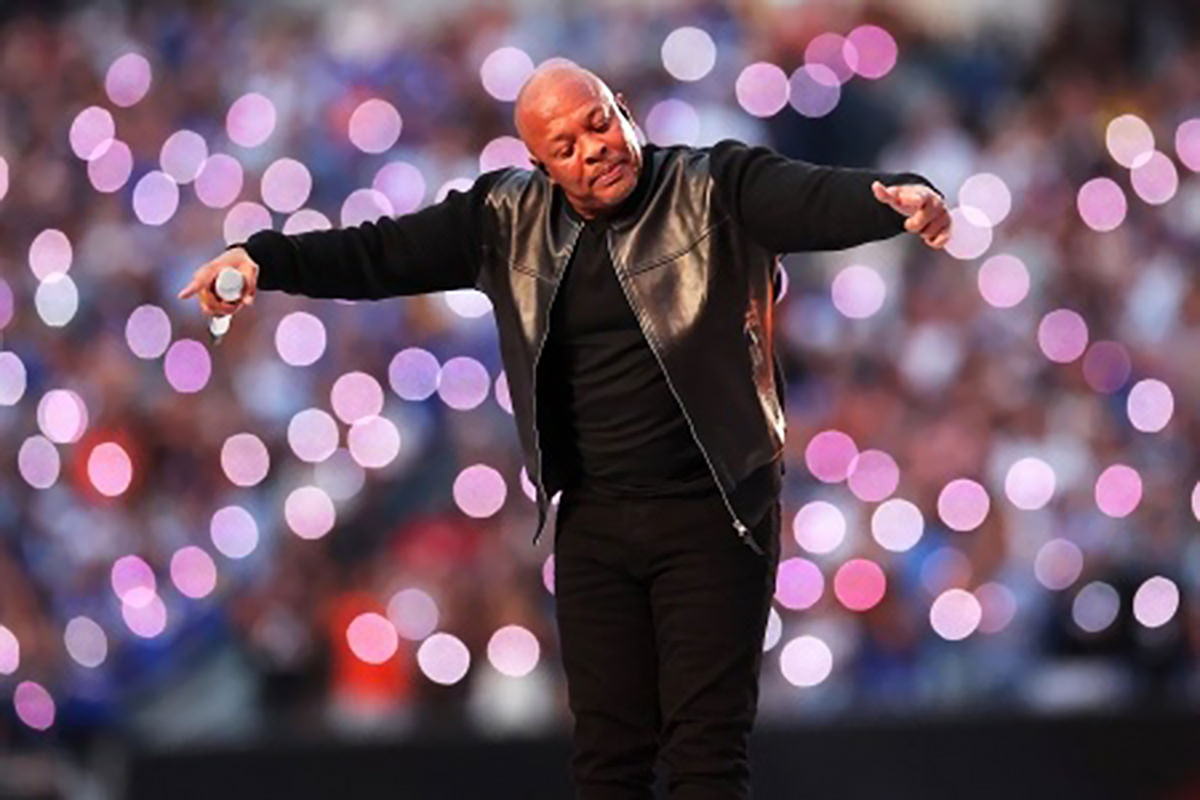 Image Credit Unknown (taken from Rolling Stone)
To which I can only respond...
Snoop Dogg is always high. He in no way has ever concealed this, so when you book him for a gig you can count on him performing high. That's how he does what he does. Nobody should be shocked. Feel free not to watch the Super Bowl ever again if this offends you.
It's a free country. Eminem is going to do what he's going to do. So stop acting like he took out a gun and shot people during the snow. He took a knee. That's it. And I find it incredible to have to repeat the fact that Colin Kaepernick ASKED VETERANS THE MOST RESPECTFUL WAY TO PROTEST WITHOUT DISRESPECTING THE FLAG OR THEIR SERVICE, AND TAKING A KNEE WAS WHAT HE WAS TOLD. So everybody can just calm the fuck down. This form of protest was endorsed by the only people who should give a shit. And Eminem expressing his beliefs and opinions are exactly what this country is supposed to be about. Feel free not to watch the Super Bowl ever again if this offends you.
As for Mary J. Blige. Are you fucking serious? People wear FAR less than this at a public pool. She looked spectacular and her outfit was not the least bit problematic. If people want to feel otherwise, then go right ahead. It's a free country. So feel free not to watch the Super Bowl ever again if this offends you.
Dr. Dre is able to express his experience just like everybody else, and if he has a platform to do so, then why should he give a crap if some people won't like it? Answer? HE SHOULDN'T! Elon Musk and other billionaires do and say stuff which offends me all the time and people praise them for it... but Dr. Dre should be treated differently? Fuck no. None of the words he used were profanity. And condemning him over what he feels and what has experienced is absurd. Go ahead and be offended. Refuse to buy his music. You do you. But understand they he gets to do him too. And, oh yeah... feel free not to watch the Super Bowl ever again if this offends you.
I didn't look very hard, but I'm sure that Kendrick Lamar and 50 Cent were lambasted over something. They're Black men in America, which means somebody somewhere is pissed off about it. That (along with death and taxes) is a certainty. And all the more reason they deserve to be performing at the Super Bowl. And probably should have been a long time ago.
Anyway...
When it comes to the commercials, there were a few that got me. My hands-down favorite was The Sopranos remix with the kids reenacting the show opening...
It doesn't feel like a Super Bowl without a Budweiser commercial that makes you want to bawl your head off...
The star power in the Planet Fitness ad was great. And the way that Lindsay Lohan is willing to poke fun at herself just makes me love her all the more (I fell back into love with her again after her response to a Cameo request)...
I love anything with Salma Hayek... but it was the surprise appearance by Arnold that made this commercial so much fun...
I could listen to Morgan Freeman read the telephone book and be completely entertained, so hearing him in this terrific ad for Turkish Airlines was great...
The Alexa ad by Scarlett Johansson and Colin Jost was seriously funny...
Probably the most important and heartwarming commercial was for the Google Pixel 6 phone, which works to take amazing photos of you... no matter your skin tone. And I'm sure that Google will be accused of being "too woke" or some other such bullshit because a lot of white people will be saying "I don't know what Black people are complaining about!" because this is a non-issue FOR THEM... but imagine how important this is for persons with dark skin tones who have had to live with their photos turning out crappy because nobody ever bothered to try and make them look good? Wonderful. And how the world should be...
Runner up to most important commercial is a commentary on the insane divide of this country and how people will go at each other throats over shit that doesn't matter...
So... all in all... not a bad slate of ads that I actually wanted to watch. Effective advertising seems like a lost artform (99% of commercials are shit and don't make me want to do anything except ignore them, skip them, or not buy the product), so it's nice that somebody somewhere knows how to do it right.
Posted on February 5th, 2018

I don't watch the Super Bowl. That's probably because I don't give a crap about football. Most years I still have the game on while I work because I want to see the commercials, but this year I figured I'd just watch them all on YouTube after the game. That way I don't have to add to the NFL viewer numbers since I feel that any sport which allows owners to shit all over The United States of America with it's mandated faux-patriotism can go fuck themselves. Colin Kaepernick did not disrespect this country, its people, or our troops when he respectfully took a knee in protest during the National Anthem... and yet he was treated as if he did, and is now paying the price for what became of it. So much for freedom.
Anyway... the one commercial I was wanting to see more than any other was the trailer for Avengers: Infinity War. A movie I am very, very much looking forward to come May...

Pretty great, right?
Everybody and their dog will be rushing to analyze every frame of the trailer, so I'm going to take a pass on that. Instead I'm just going to run through the eighteen scenes found therein and offer up my commentary. BE WARNED! If you aren't caught up on the past Marvel Studios films, there may be spoilers ahead...
And this is how you do it... lead off with the true promise of this movie: all the various Marvel Studios franchises are coming together in interesting ways. Here Technology, science, and magic are converging in a single shot.
The romance between The Scarlet Witch and The Vision is a major staple of the Marvel comic book universe. I'm very, very happy that they've been advancing this in the cinematic universe as well. Though I'm not sure what's going on here. Vision is projecting a human form, which is great... but what's the deal with the stone? Weirdest foreplay ever?
Though Thanos had been hinted at in the first Avengers film, he really didn't become a "thing" until Guardians of the Galaxy. There it was revealed he was as the father of both Gamora and Nebula. This firmly cemented Guardians as a part of the narrative build-up for this film, even though it took place in a galaxy far, far away.
"It's all been leading to this." Yes. Yes it most definitely has. Interesting to note that Bruce Banner somehow made it back to earth ahead of Thor, which is a little surprising considering they were last seen together in space. As an aside... what's with Tony Stark having an Arc Reactor in his chest again? that was removed in Iron Man 3.
One can only guess that the post-credits scene in Thor: Ragnarok has Thanos destroying the space ark with all the Asgardians on it, and only Thor survived to be picked up by The Guardians. That would suck, considering the destruction of Asgard itself has already punched Thor in the gut. But even more so because that means Korg probably perished with them. It's strongly hinted that time travel is going to play a part in the movie, so maybe dead isn't dead, just like the comic books. If so... dare we hope for a Quicksilver appearance?
If there's anybody who should be worried about Thanos showing up, it's Loki, who failed to secure The Tesseract for him way back in the first Avengers film. Maybe the fact that he managed to swipe it from Asgard before it went boom will be enough for him to be spared being killed?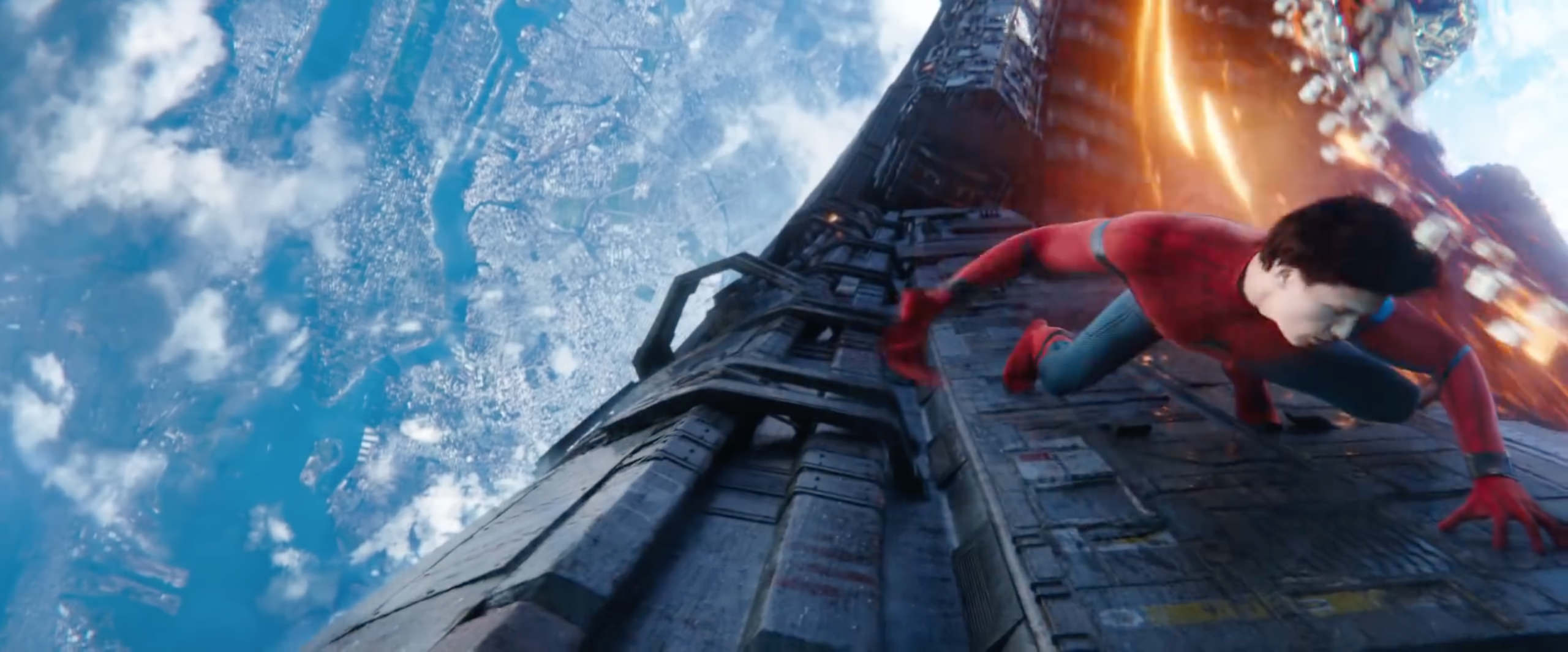 Spider-Man, once again biting off more than he can chew. No telling how he managed to get up to the big dimensional portal device(?) that appeared above NYC, but it's weird to think that he would think there's anything he could do about it. But, that's what makes him a hero... he has to try. And, thanks to his Spider-Sense, he knows it's a bad, bad thing.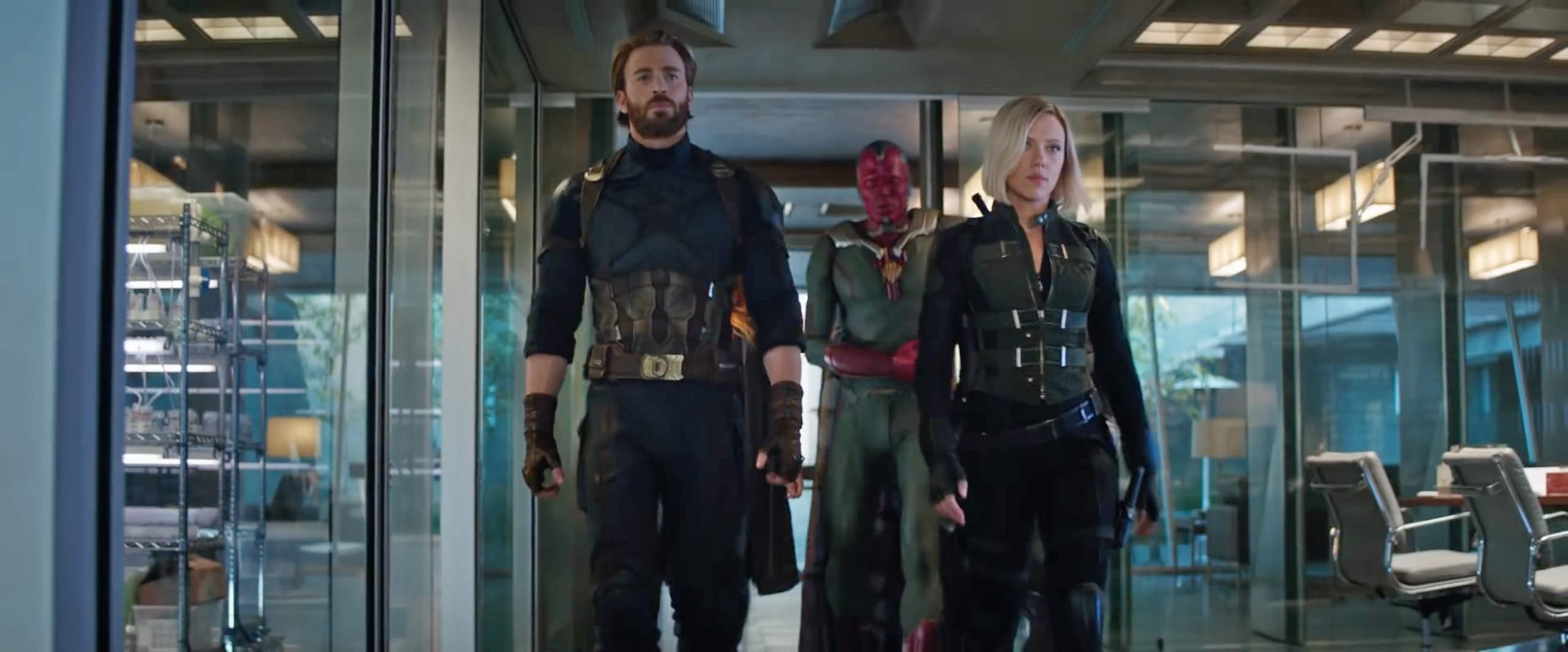 Black Widow was originally Team Iron Man in Civil War, but switched to Team Cap at the end. The Vision was always Team Iron Man, which means this is undoubtedly a scene from later in the movie when everybody has become friends again?
For anybody wondering if Thor losing an eye at the end of Ragnarok would be carried over to this film, here's your answer.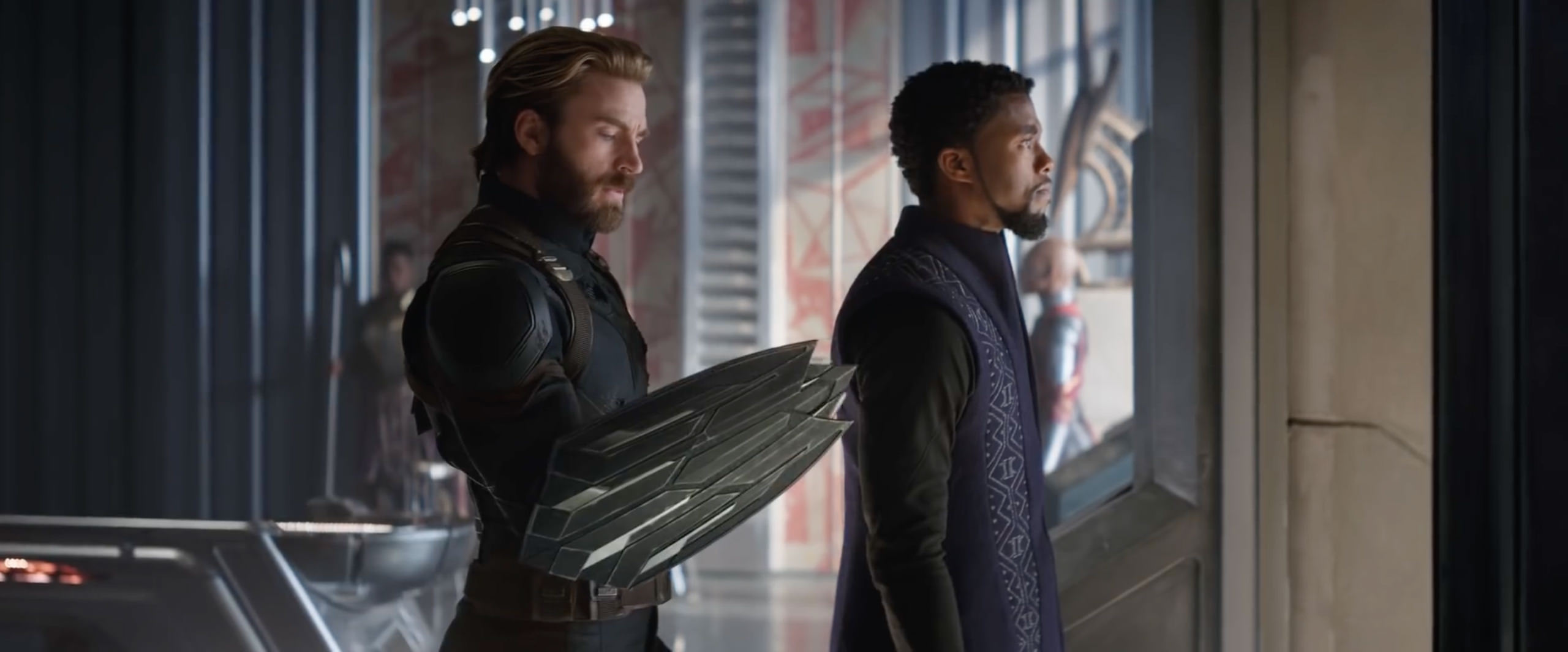 Fanboys are up in arms over Cap's new "shield" being this thing. I can't help but agree it's a shitty move. One of the coolest thing about his shield (other than being indestructible, of course) is that he can toss it like a Frisbee thanks to its saucer-like aerodynamics. Hopefully he gets the shield back somewhere along the line.
And so Tony Stark now has armor that chika-chika-chikas into place like Black Panther? More practical, of course, but not nearly as much fun. Until now, it's been a mechanical process that very much comes down to him donning a suit of armor to do battle. This is a lazy cop-out when it comes to storytelling.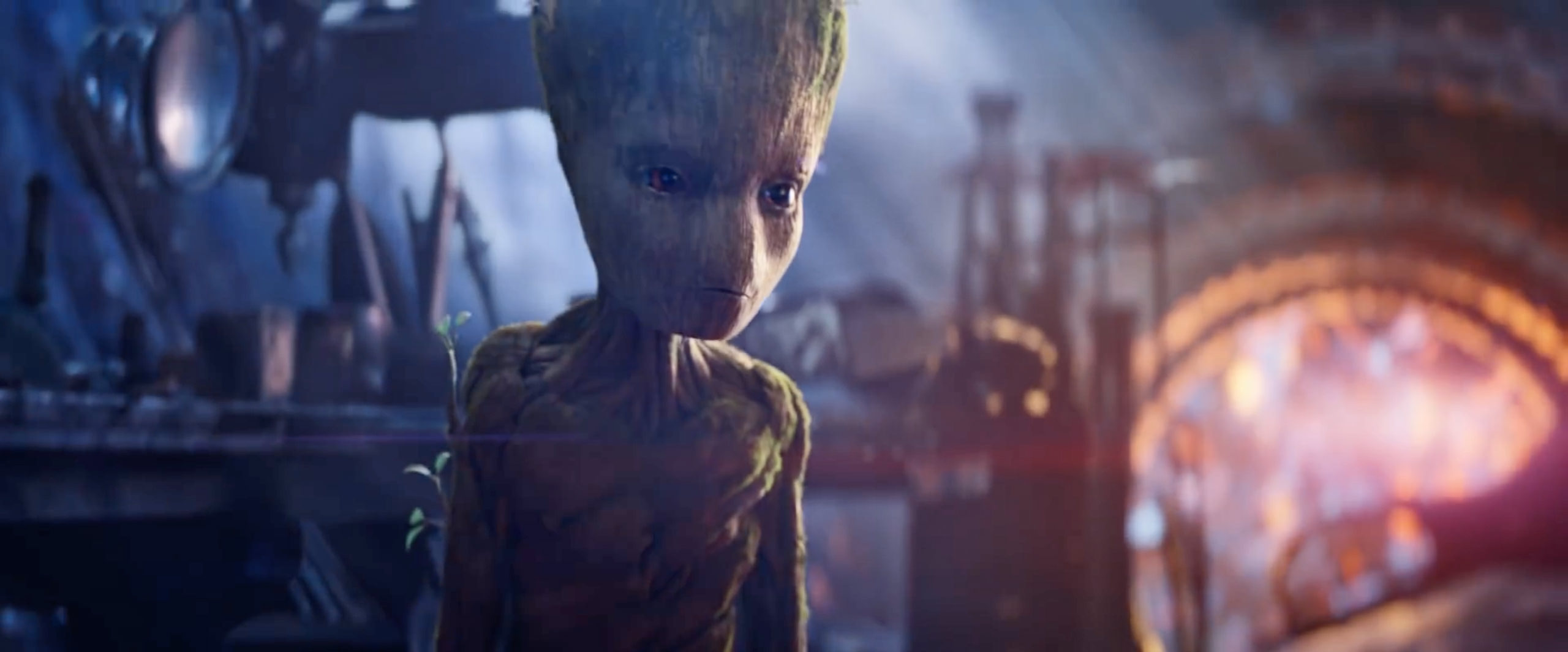 Is it sad that I want Teen Groot to be blown to pieces so we can start over with Baby Groot again? Oh how I loved Baby Groot!
Nebula wants Thanos dead more than anybody else in the whole Marvel Cinematic Universe. She also probably knows Thanos better than anybody else in the whole Marvel Cinematic Universe. I'm really hoping that she gets thrust into the spotlight in this film as she deserves to. Keeping her in the background can't possibly service the story they are telling. But, comparatively speaking, she's small potatoes amongst the cast, so who knows.
Not a fan of Black Widow as a blonde. Yes, they've changed her hair in every movie she's appeared in. Yes, she's a spy and it's feasible she was undercover as a blonde just as events of the movie open. But dammit, Black Widow is a red-head! And, while we're here, I'd just like to say that the rumors of Black Widow finally getting her own movie after being a guest in like... every other movie... had better be happening.
Well, it's Bucky. Awakened from his deep-freeze and fighting for Wakanda. Best of luck there, Buck.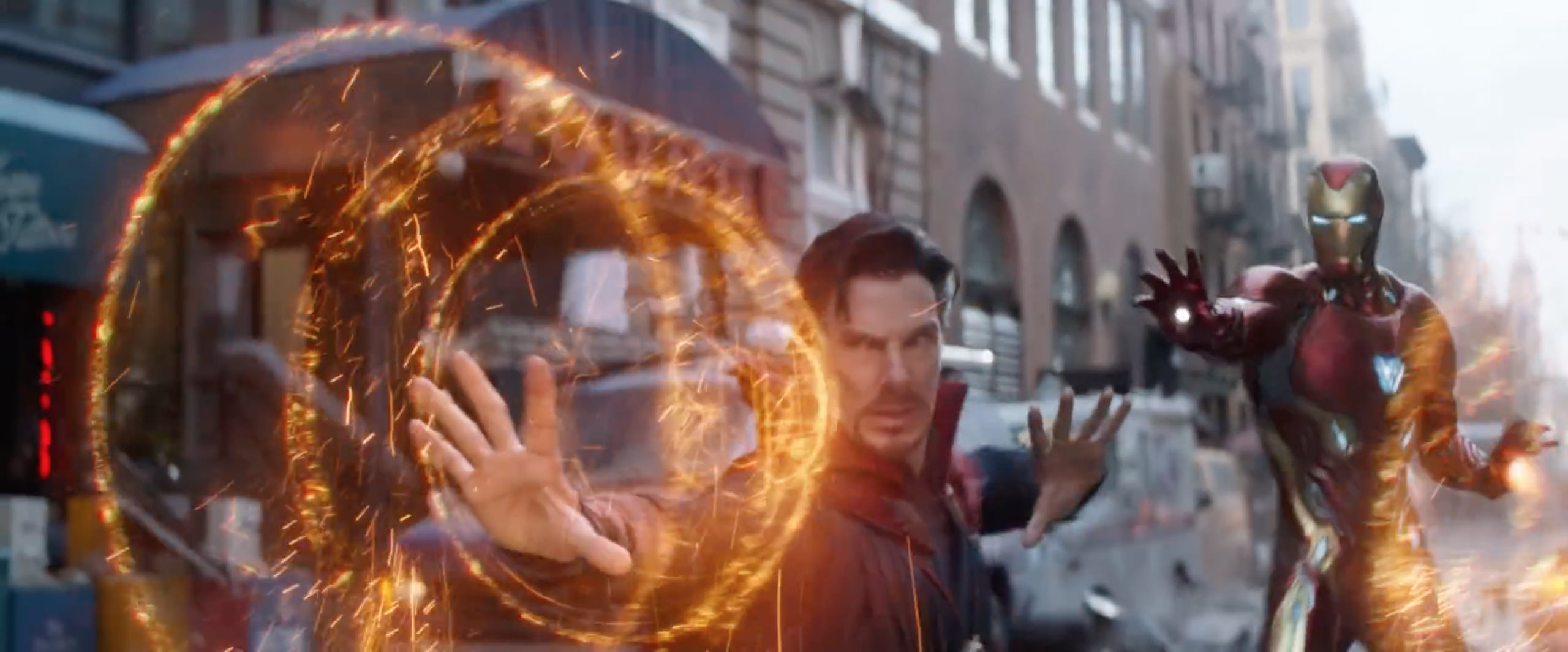 And here's the money shot for me. Dr. Strange, Wong, and Iron Man teaming up in battle. THIS is what Avengers: Infinity War is truly about... having all the various Marvel Cinematic Universe pieces coming together in cool ways. I am all fangirling out at this point.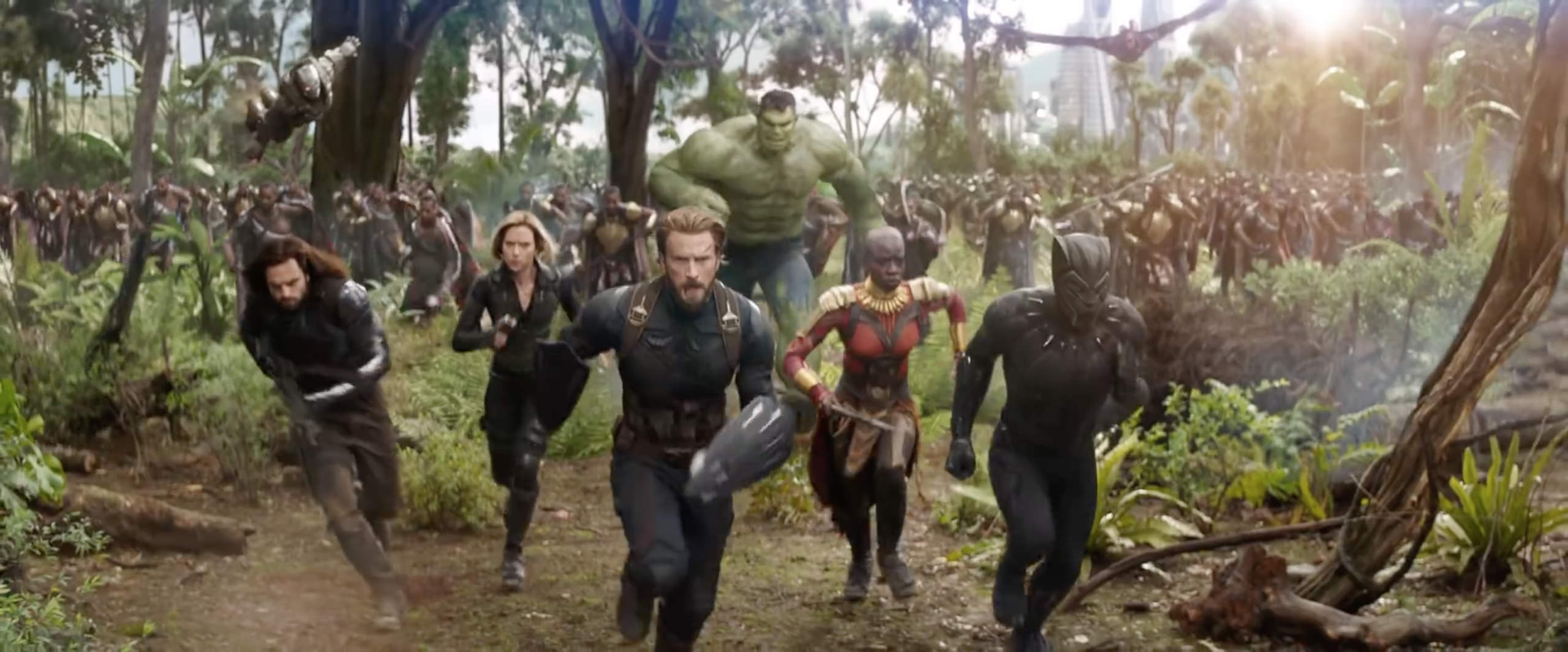 Remember... before you get all sucked into the Infinity War hype... Black Panther is coming out in a mere eleven days. WAKANDA FOREVER! — And, can I just say one more time how utterly silly and stupid Cap's "arm shields" look? No? Okay.
Thanos! Why U mad, bro? Black Panther scratch your face? Seriously, I'm asking... I don't recall seeing those scratches before.

Annnnnnd... scene. See you in May, Avenger!