Posted on February 25th, 2018

Prepare yourself, because a Very Special BLACK PANTHER EDITION of Bullet Sunday starts... now...

• Art! One of the best things about Black Panther is the production design. A lot of what went into that is explored in yet another wonderful edition of Marvel Studio's Art of the Movie books, which somebody on YouTube was kind enough to thumb through...
There's very little of the book that's not fascinating... or gorgeous...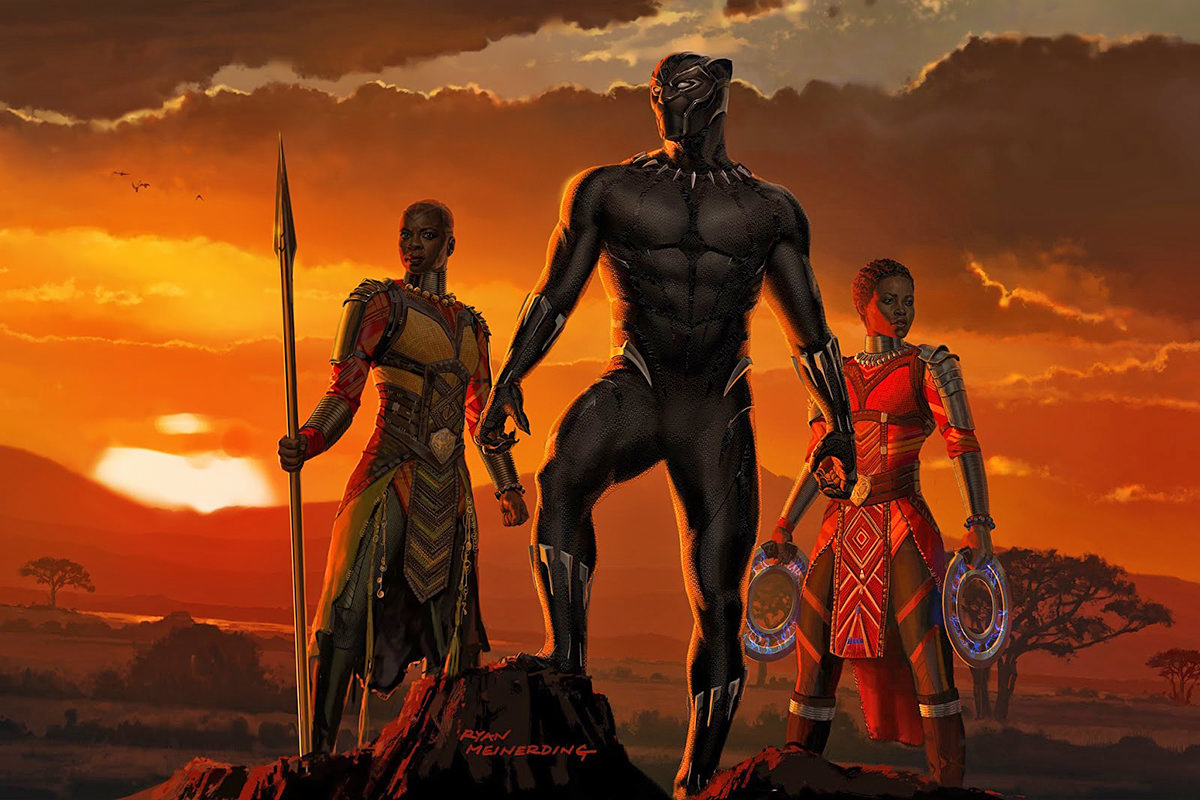 I own the entire series and love them. You can pick up the absolutely beautiful Black Panther edition from Amazon.

• Trevor! The detractors for Black Panther have been pretty stupid about it. I mean, if you don't like the movie, fine... to each their own. But the whole "This movie is racist because it's mostly Black people" is laughably stupid. My favorite commentary on this was by Trevor Noah from The Daily Show...
Speaking of Trevor Noah, if you haven't read or, better yet, listened to the audiobook of his Born a Crime, then it is absolutely worth your valuable time to do so. While interviewing Lupita Nyong'o for Black Panther, it was revealed that she will be producing and playing his mother in the movie adaptation...
Can't wait!

• Mother! Speaking of audiobooks, a momentary aside... I am just now finding out that Jenifer Lewis released a book last month called The Mother of Black Hollywood. Whether you know her as Ruby from Blackish or one of her many roles over nearly 30 years in Hollywood, it is so good...
Here is Jenifer Lewis being Jenifer Lewis... while plugging her book (and other things)...
If you want to be entertained for hours, search for "Jenifer Lewis" on YouTube and prepare yourself. This video is an hour of amazing...
I have only just started listening to the audiobook, but it is fantastic already. If you are a member of Audible, it's worth a credit. If you are not a member of Audible, you get a FREE credit when you sign up! Go do that and get this book!

• Comics! If you've seen the movie (and I'm assuming you have), there's a lot more to the story in the original comic books. Here's my four favorite series...
I would be remiss if I didn't add Jack Kirby's work on the Black Panther, which is also an important read.

• Wrong Panther! It'll be reiterated below, but I think it important to state it here: There is NO relation between the Black Panther of the comic books and the Black Panther Party. And yet... I've seen this pop up more times than I can count online.

• Panther Facts! Let's wrap up this Bullet Sunday with a list of interesting Black Panther bullets, courtesy of Kevin E. Ross, who has asked that people share it...
The Black Panther (real name: T'Challa) is the first mainstream black superhero ever. He was created by Marvel Comics and the team of Stan Lee and Jack Kirby, the same two responsible for heroes like Thor, the Fantastic Four, and Captain America.
Created in 1966 during the turbulent Civil Rights era, he is the first black superhero not created as an "token," a dependent, or a sidekick. This was considered extremely controversial for the time period. He predates Captain America's Falcon (1969) and Luke Cage (1971). He also preceded the revolutionary activist group the Black Panther Party by 3 months (he was introduced in July of 1966, and the Black Panther Party in October of 1966. They were not connected).
T'Challa (his real name), is also the ruler of a fictional African kingdom called Wakanda (population 6,000,000). Wakanda is considered one of the wealthiest nations on Earth as well as one of the most technologically-advanced. Imagine if Disney World's Tomorrowland and the Rainforest Cafe merged.
Wakanda's wealth is the result of a meteorite that crashed on to the continent 10,000 years ago. Composed of a rare alien material called Vibranium, the metal is sought by many in the world for its scientific applications and its military capabilities. It is only available in Wakanda, thus the country keeps itself closed and shielded from the outside world. Vibranium basically absorbs any energy directed towards it and holds it like a sponge. Imagine buildings that wouldn't crumble under the force of an earthquake, or soldiers protected against explosions from grenades and other explosive devices. Wakanda does export other commodities such as coal, diamonds, and technology, which contributes to its worth.
Wakanda has tons of vibranium in underground storage. One gram of vibranium is worth $10,000. That means Captain America's 12-pound shield, which is composed of the material, is worth just over $54 million dollars.
Being the monarch of the world's richest nation also makes you rich. T'Challa's net worth is $90.7 trillion dollars, which makes him richer than Batman's Bruce Wayne (9.2 billion) or fellow Marvel running mate Tony "Iron Man" Stark (12.4 billion). By a lot.
In the comics, the Black Panther is also one of the most well-respected men in the world. He is a combination of nobility (Thor), patriotism (Captain America), and superior intellect (Iron Man). He is also an Oxford graduate with a PhD in physics and is considered one of the top-5 minds on the planet.
The Black Panther is more than the special costume he wears. He is also a world-class athlete who was trained in martial arts, judo, wrestling (a popular Wakandan sport), and all forms of hand-to-hand combat. He also has enhanced healing properties, strength, speed, agility, and tracking senses. This is the result of ingesting a special heart-shaped herb that grows only around the site of the crashed vibranium meteorite. The radiation from the meteorite produces the plant which, once ingested, gives the recipient the aforementioned special abilities. Only those in the royal hierarchy and heirs to the panther mantle are eligible to use it. This means that the Black Panther has absolutely no problem going toe-to-toe with Captain America, who is considered the world's best hand-to-hand combatant and fighter.
Steeped deep in African tradition, Wakandans worship Bast, a female deity known also as the Panther God. The symbolic mythology here is also directly connected to ancient Egypt. She is revered as a protector and defender of the nation. This makes the Black Panther her agent outside the spirit realm, and thus more than a hero, but a true mythical figure. Imagine if the Pope wore a costume, had superhuman abilities, and defended the Vatican from its enemies both foreign and domestic.
Because of Bast, Wakandan women are highly-respected. The king's personal guard, the Dora Milaje, are an elite female fighting force. T'Challa's younger sister Shuri is a genius level intellect and considered one of the smartest women on the planet. Not only does she give the Black Panthers technologically-advanced suit & tech superior upgrades, but also other inventions to help further her country's technological dominance. While Tony Stark, who is considered one of the smartest men on the planet, graduated from MIT at age 17, he did not invent the Iron Man suit until age 42. By contrast, Shuri is only 16 years old.
In the comic books, the Black Panther was briefly married to Storm of the X-Men (remember Halle Berry?). Storm was from Wakanda's African neighbor Kenya (but grew up in Cairo, Egypt).

Until next week... WAKANDA FOREVER!
Tags:
Art
,
Black Panther
,
Books
,
Bullet Sunday
,
Comic Books
,
Marvel Studios
,
Movies
,
Television
,
The Daily Show
Categories:
Books
,
Bullet Sunday 2018
,
Movies 2018
,
Television 2018
—
Click To It:
Permalink
—
1 Comment: Click To Add Yours!
Posted on February 13th, 2018

As I've mentioned more than a few times, I'm a huge, huge, massively huge fan of Kehinde Wiley's work. When he had his first solo exhibition in Columbus, Ohio... I flew there to see it and was not disappointed. I also attended his 2013 show at The Jewish Museum in San Francisco, which was equally amazing.
So imagine my surprise when President Obama's presidential portrait was unveiled and it was painted by... Kehinde Wiley!
It's just as glorious as I knew it would be before I even laid eyes on it...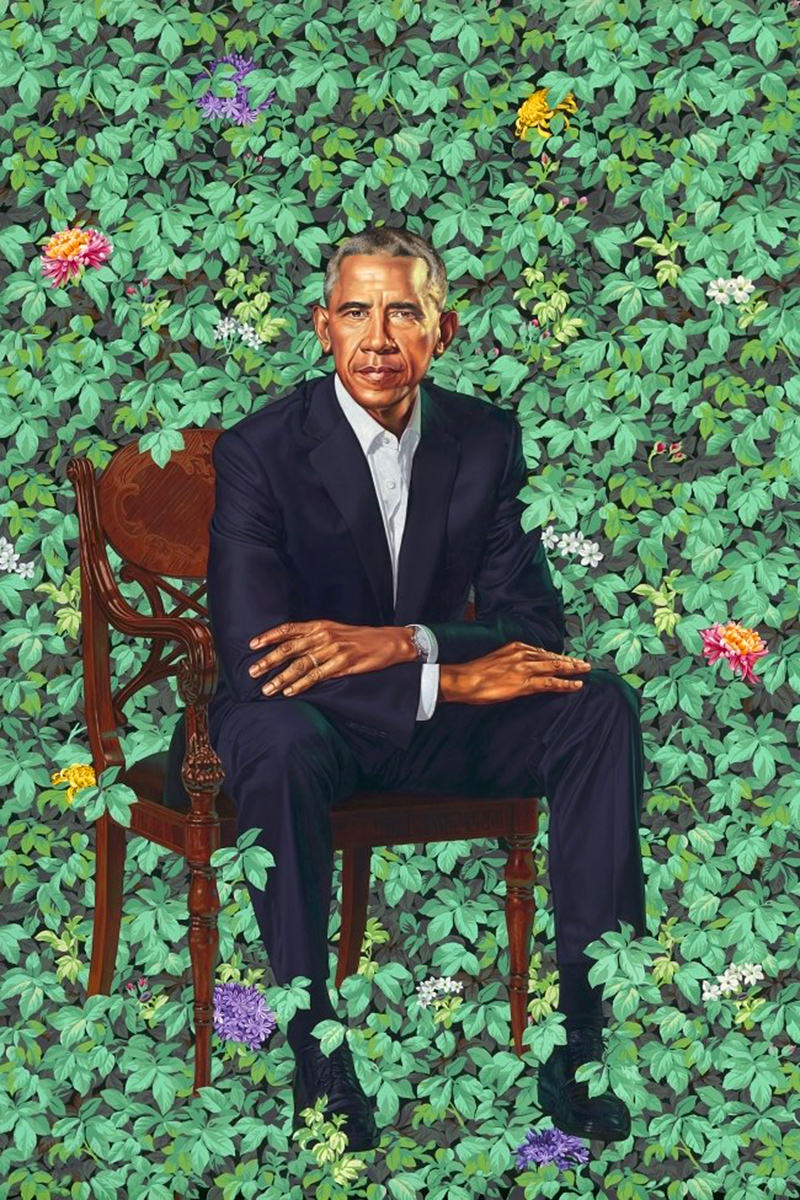 This tiny photo will not do the actual painting justice. Wiley's works are vivid, powerful, and larger than life in a way that simply cannot be captured unless you are viewing it in person.
I am also familiar with Michelle Obama's portrait artist, Amy Sherald, and find her work to be beautiful as well. And while I do think the First Lady's painting is perfectly lovely, I wish it had a bit better resemblance to her...

Needless to say, the fact that these portraits... and their subjects... are a departure from what has come before means that the Hate Brigade is out in full force.
And I get it. If you don't like the paintings, fine. If you think that the paintings stray too far from what you feel is acceptable for presidential portraits, fine. That's your opinion and you're welcome to it.
But opinions on the work was not where most of the hate was leveled.
FOX "News" personality and professional piece of shit, Sean Hannity, posted some bizarre crap to Twitter about President Obama's portrait... which was subsequently deleted and blamed on somebody else (of course). And, speaking of racist pieces of shit, a South Carolina resident who is on a city's transportation committee took the opportunity to call our former president a Muslim and the N-word.
And of course we also had to endure the whole "Reverse Racism" myth because Kehinde Wiley reimagines classical-style subjects and paintings with the Euro-centric subjects swapped out with Black men and women. This included a reimagining of the biblical tale of Judith beheading Holofernes which, despite Wiley having spoken about it on more than one occasion, was used to call President Obama a "racist" because of his portrait artist choice.
I'm seriously running out of eyerolls at this point.
Anyway, if viewing Kehinde Wiley's stunning works compells you to learn more about him, I highly... highly... recommend watching the PBS documentary Kehinde Wiley: An Economy of Grace. It's a fantastic look into his art, his process, and his world, and you can see a preview of it here...
The full documentary will probably be playing on your local PBS channel sometime soon because of this added exposure, but you can also rent it for $4 or purchase it for $10 on iTunes.
And now... time for me to revisit my exhibition guide from his Columbus art show.
Posted on November 12th, 2017

Put on that winter jacket, because winter is here along with an all new Bullet Sunday, which starts... now...

• Save It! I hate, hate, HATE the messing with the clocks twice a year. Daylight Saving Time ended a week ago, but my cats still haven't fully adjusted. Hell, I haven't fully adjusted yet either. At some point somebody has to end this madness.

• Canes! Back when I was traveling to L.A. twice a year, I decided to take an early run to Disneyland to get a handmade candy cane at Christmastime. It was insanity. The line to get one was crazy-long (now I guess they just hand out wristbands or something?) and they are really expensive ($10 when I bought one... probably $15 now!). And yet... a freshly made candy cane during the holiday season? Magic! Worth every penny! I'd buy one again... though the standing in line to get a wrist band is kinda a waste of Disney-Time! And speaking of raising canes at Disneyland, I just found this cool video...
I wonder how tough it is to make your own candy canes at home?

• Reveal! After watching a show on the beautiful restoration of Michelangelo's Sistine Chapel, I became more than a little obsessed with the art of restoring art. And why I've been captivated with art dealer Philip Mould's Twitter feed where he's been sharing some restoration photos like this one...
Amazing. I need to see if I can track down a blog where they keep track of stuff like this.

• No Wonder! This is incredibly fucked up.

• It's a Wonder! This, on the other hand, is incredible.

• Dance! This is the best thing I've seen on the internet this week, even though it's four years old...
Except bats eating grapes. It doesn't get cuter than bats eating grapes...
There. I can face another week now.

Time for a hot chocolate, I think. See you next week... I'll be the one bringing the bullets.
Posted on September 1st, 2017

A while back I talked about adding more National Parks Posters to my collection because they were on sale for a price too good to pass up. When they arrived, I took the opportunity to re-frame everything, then relocate them from my storage room to a wall on my stairway.
It was a good plan...
At least it was a good plan until the new frames I ordered showed up.
Re-framing, wiring, and hanging a dozen posters is a lot of work.
Too much work. Especially when you have to be precise when wiring and even more precise when hammering in the hangers so that everything will line up once you start hanging. It took
days
of nights to get it all sorted.
But it ended up being worth it because the end-results are magic.
It's tough to get a shot in my narrow stairwell, but you can get an idea...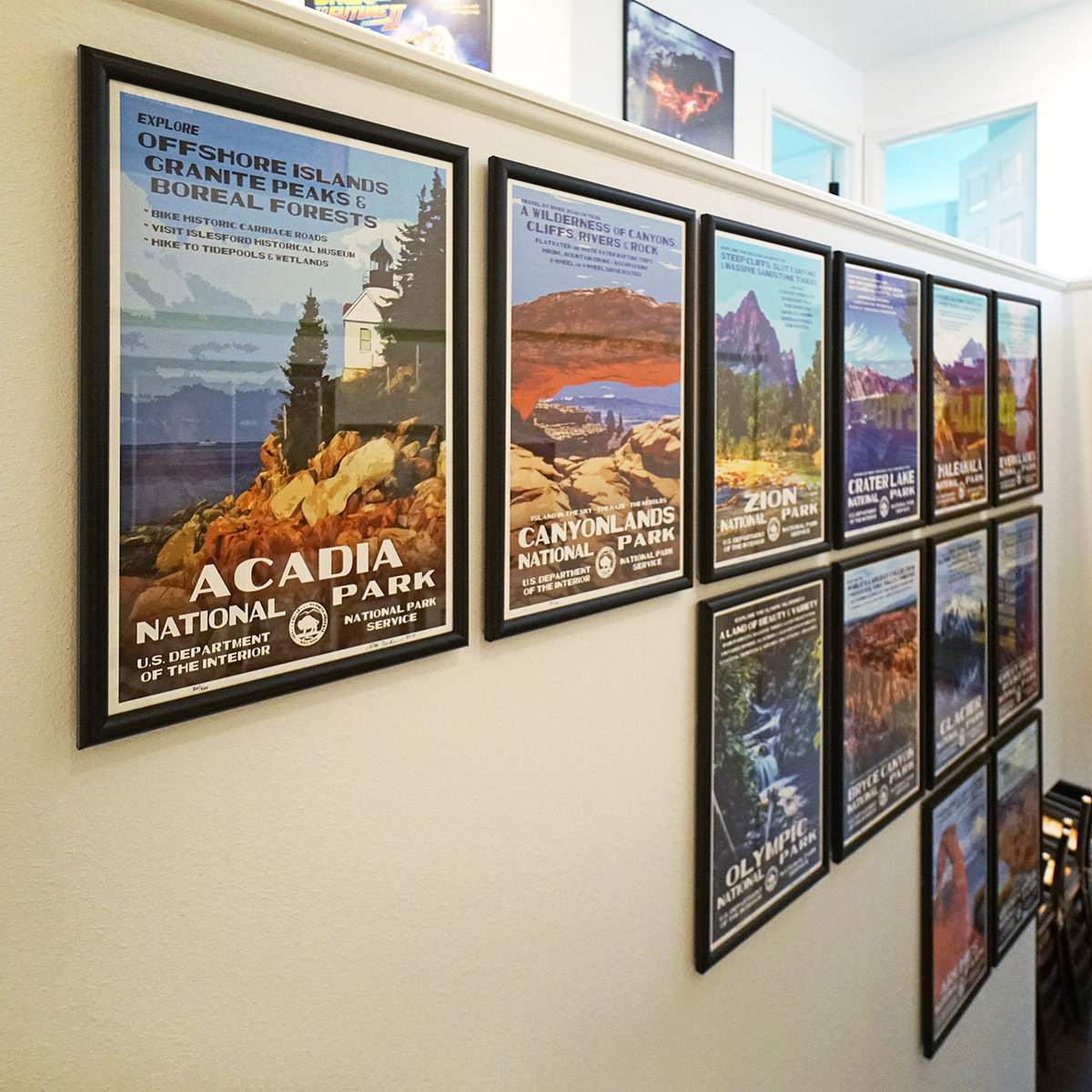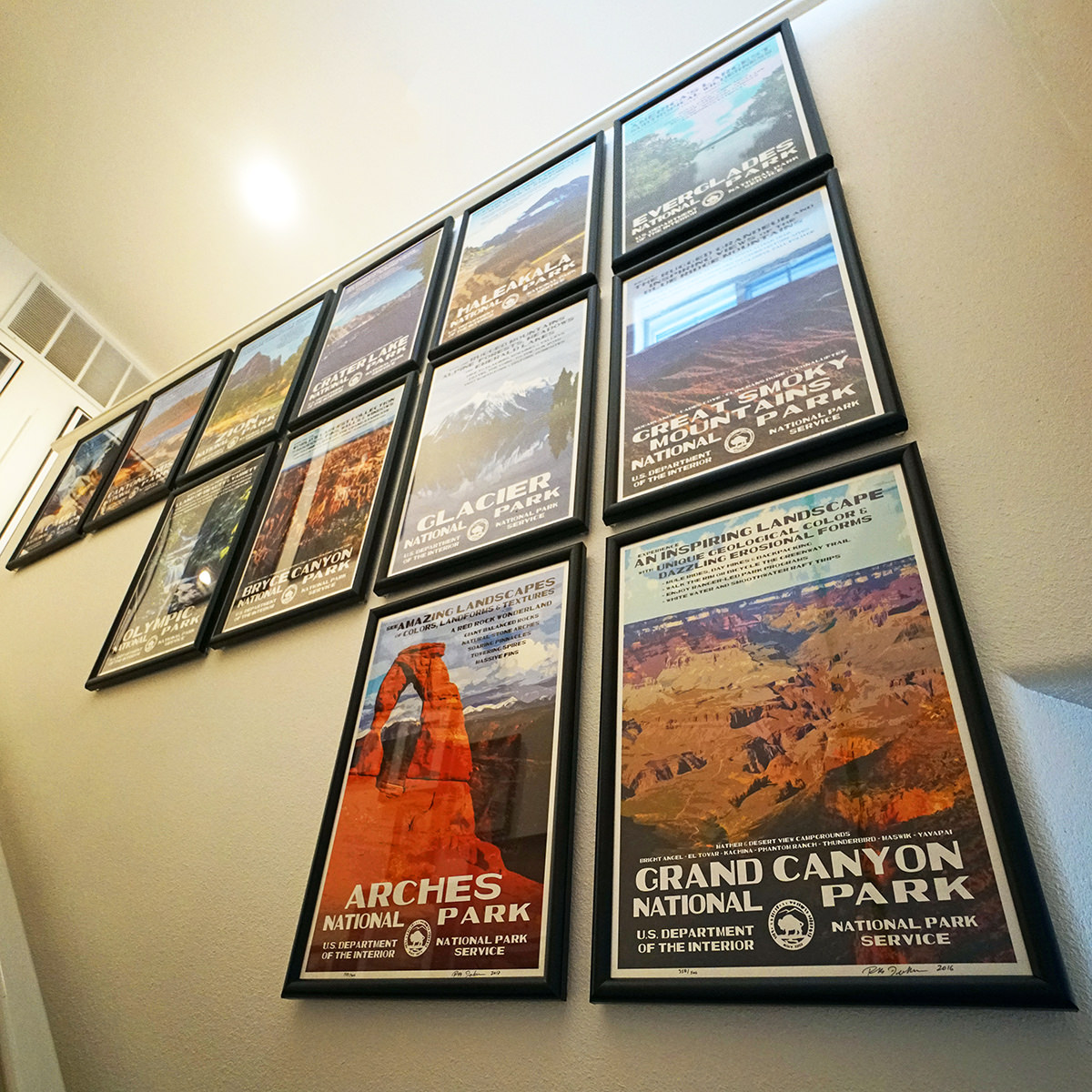 I think I can squeeze in two more... but I worry about the frames ending up too close to the handrail. I guess we'll see once I've visited more parks.
Oh... and if you want to grab some of Rob Decker's beautiful National Parks posters for your own home, they're on sale over Labor Day weekend at his site, so now's the time to do it!
And... speaking of hanging... I finally found a print I like for my guest bathroom that fits in with the Robert Lyn Nelson underwater posters I've already got in there...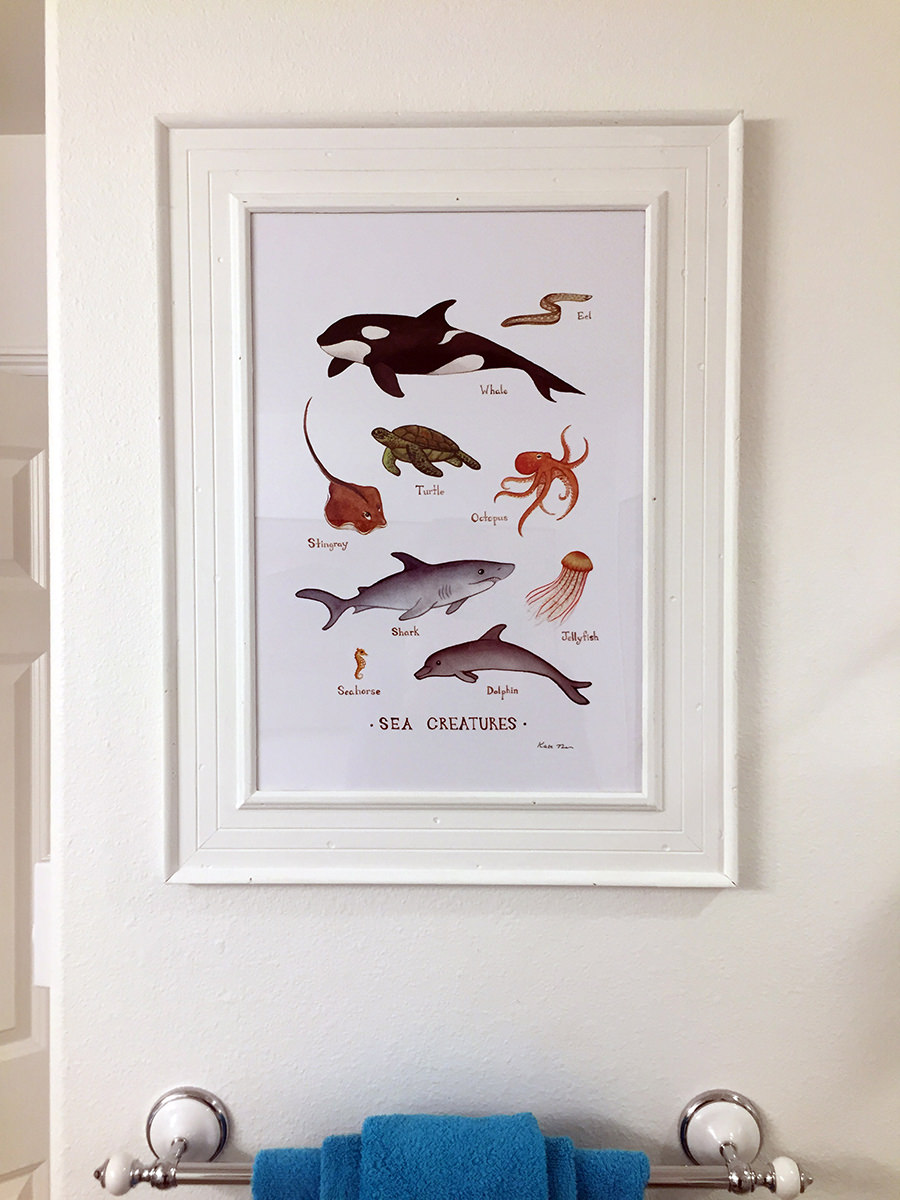 Kind of nice to have artwork and photos in my home that are by somebody other than me!
Posted on August 31st, 2017

Good news, everyone!
The twentieth issue of Thrice Fiction magazine has been released... just in the nick of time for the August cover date to still be in August! And you can read it online or download it for FREE at our website!
This time we are honored to feature a gorgeous cover illustration by Chilean artist Alvaro Tapia Hidalgo, who does work for The New Yorker, The Washington Post, Wired, Rolling Stone, New Republic, Forbes, Harper's Bazaar, and other fine publications. Many thanks for his kind generosity in allowing us to feature his artwork in this issue...
If you'd like to see more of Alvaro's stunning work, head over to his website and prepare to be blown away!
And now... what are you waiting for? Go take a look at the latest issue of the best fiction 'zine you're not reading: Thrice Fiction!
Posted on August 17th, 2017

Rather than focus on the hideous events from another tragic day in this country, I thought I'd search for something positive about the good ol' USA that doesn't fill me with overwhelming dread and embarrassment.
I didn't have to go far.
I recently got a notice that Rob Decker is having a killer sale through the month of August on his incredible US National Park posters. There are many people/companies creating these, but Rob's are my hands-down favorite (he studied under Ansel Adams!). He bases the designs on his own photography, and crafts them in the style of the old-time WPA Federal Art Project posters that were made in the 30's and 40's. They are magic...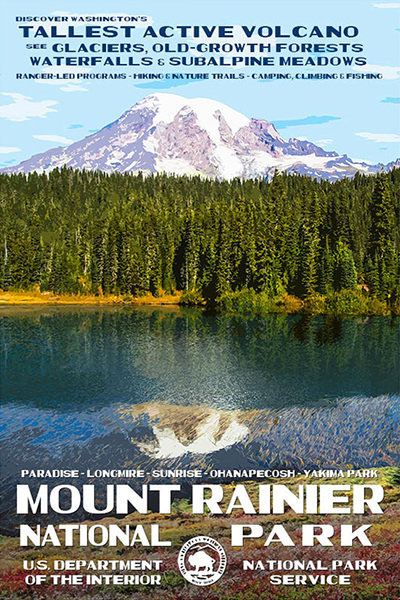 Artwork © Rob Decker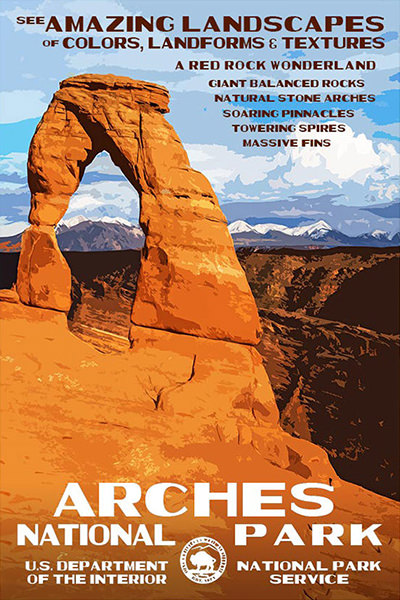 Artwork © Rob Decker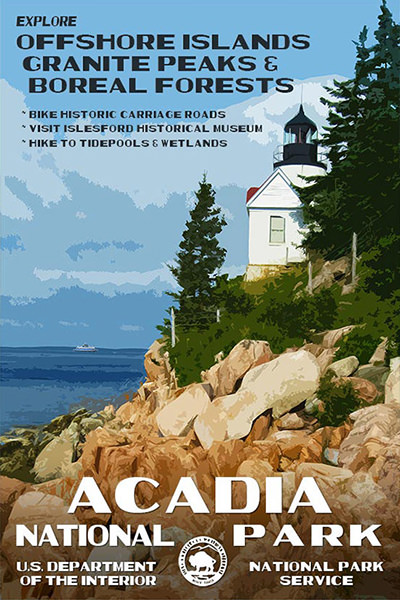 Artwork © Rob Decker
All of these gorgeous 13×19 posters are signed/numbered limited editions and usually retail for $30 each (which is a total bargain)... but with his sale, you can pick them up for as low as $20 each!
Talk about something Americans can be proud of... our incredible 59 National Parks are national treasures and truly showcase America the Beautiful. I visit them whenever I can, and have plans to visit more in the near future. Here's my list with a check next to the park posters I own (click on a National Park to visit its Wikipedia Page)..
Just for fun, I mapped them all out in Google Maps here...

Rob plans on eventually releasing posters for all 59 National Parks, so hopefully Hawaii Volcanoes, North Cascades, and Redwood will be added to my collection soon!
In the meanwhile, I rearranged my stairwell wall so I can fit my recent purchases into my collection...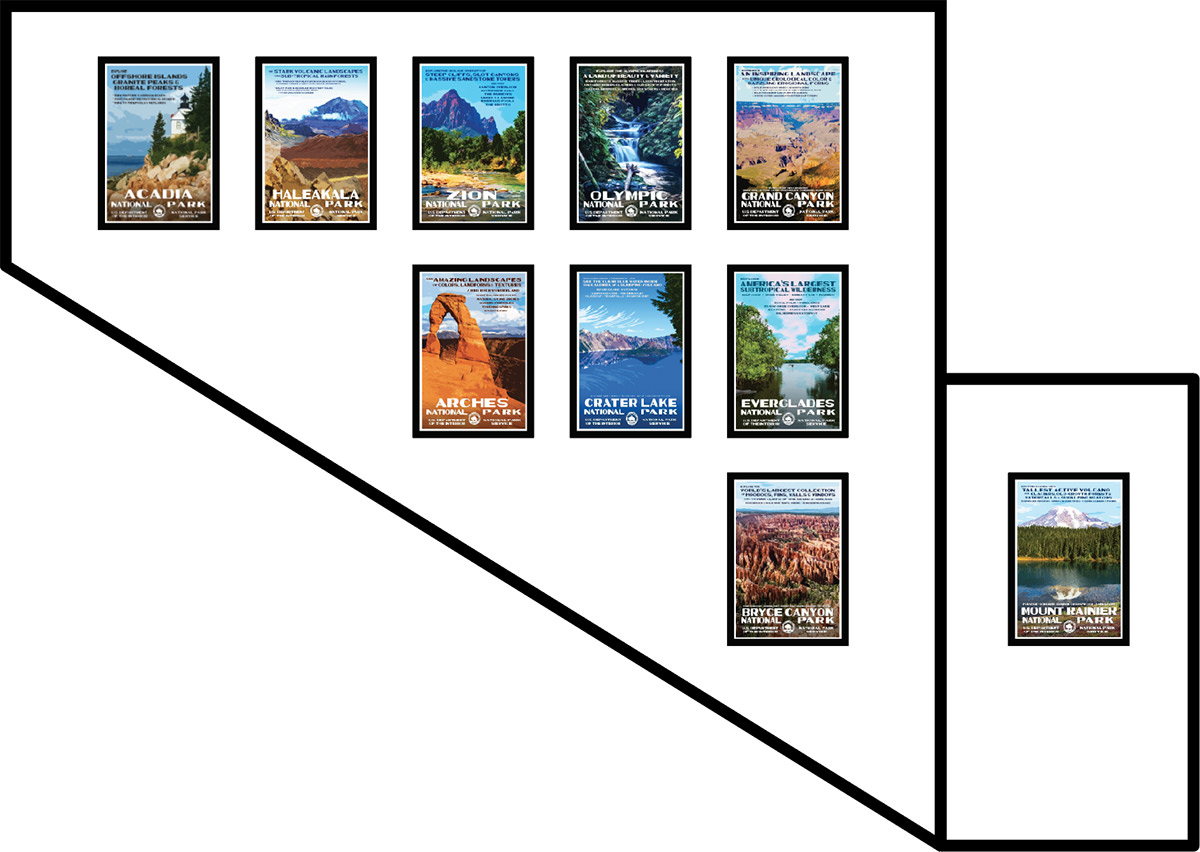 Annnnd... my wall is full now! As I visit more National Parks, I guess I'll have to add any new posters to my office the cat's room walls.
Posted on April 24th, 2017

Did you know that yet another issue of Thrice Fiction Magazine will be debuting this month (hopefully)?
Well, it's true!
And while I don't want to give any of the awesome stories away, I thought I'd take a minute to share one of the art pieces I put together last night.
My favorite way of creating art to accompany a story is to draw, paint, or photograph something of my very own. But there are times that it's just not possible for what I'm trying to communicate. For one particular story in our next issue, I wanted to create a Bon Appetit magazine-style page. My vision was to have a kind of fried fish/prawn hybrid sitting on a plate in a Japanese restaurant... perhaps with a dollop of wasabi on the side. Being a vegetarian who hates seafood, the idea of putting fish parts in my deep-fat fryer filled me with horror, so I decided the best way to get what I wanted was to buy stock photos and assemble them into what I was envisioning.
And so I searched Adobe Stock for the pieces I needed...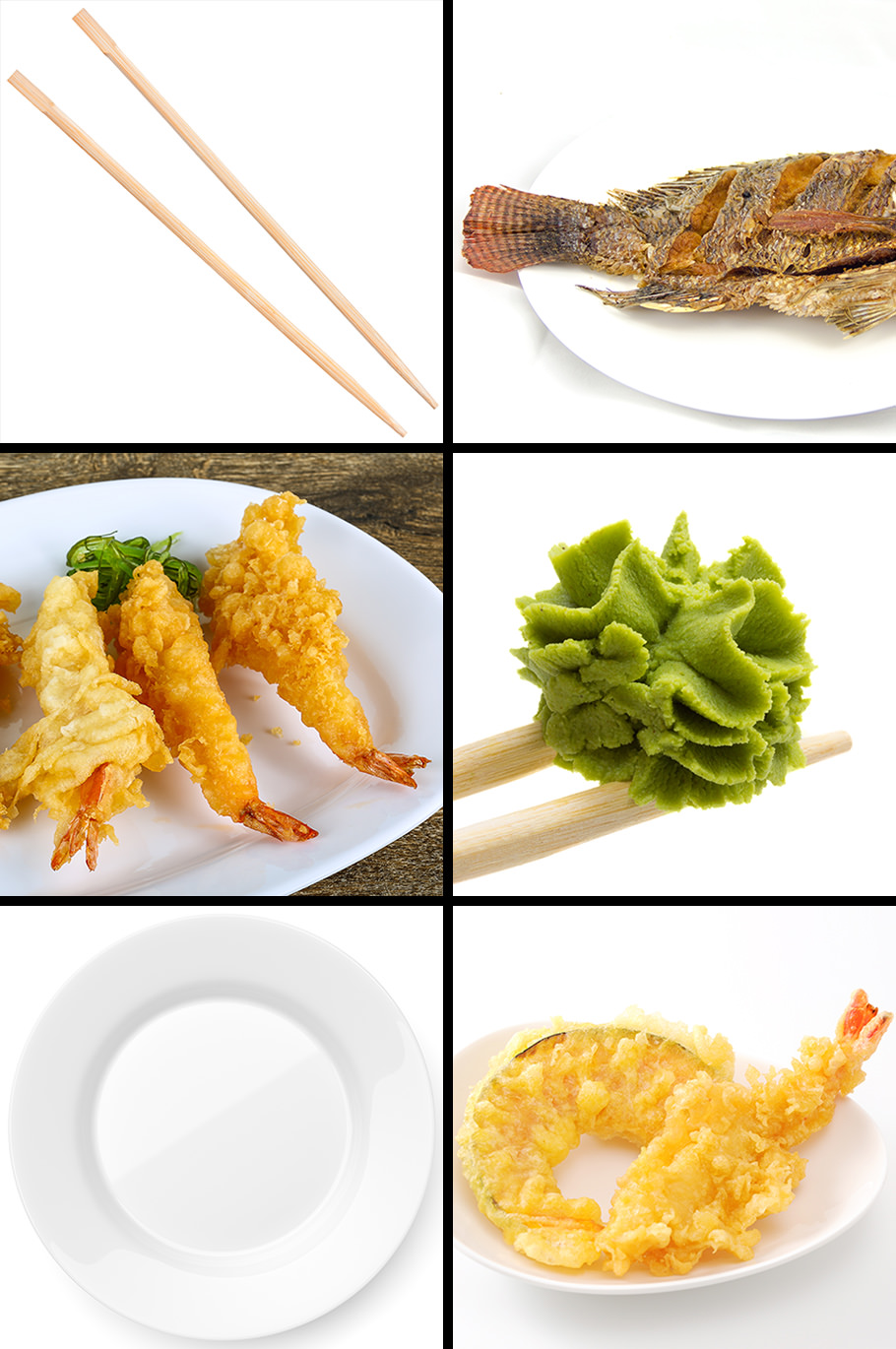 Then downloaded preview images into Photoshop so I could see if they would fit together well...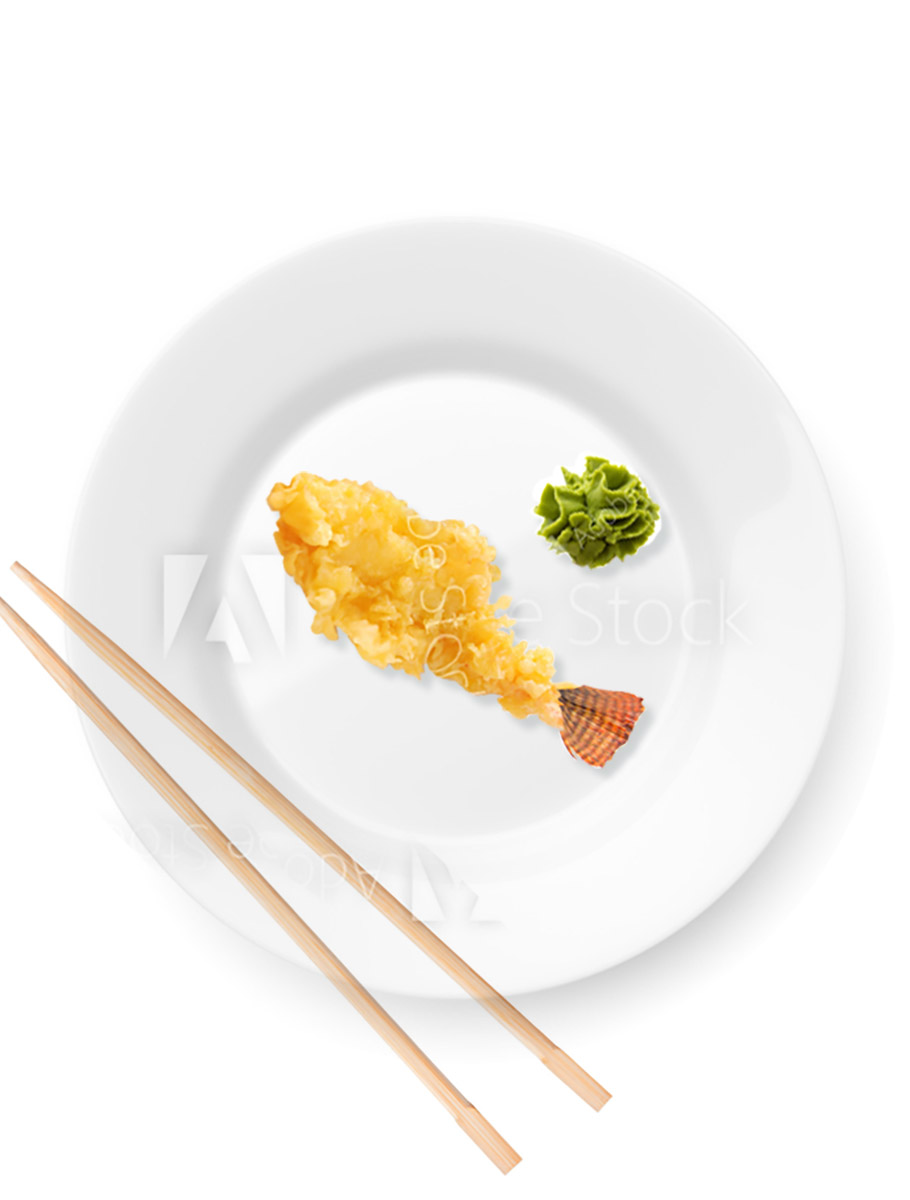 Then, once I was happy with all the parts and pieces I found, I'd purchase the full-res photos and get to work. I had to combine three pieces of fried fish/prawns into one... add it to a plate with some wasabi and chopsticks... then paint in shadows to bring it all together and make it look "real-ish"...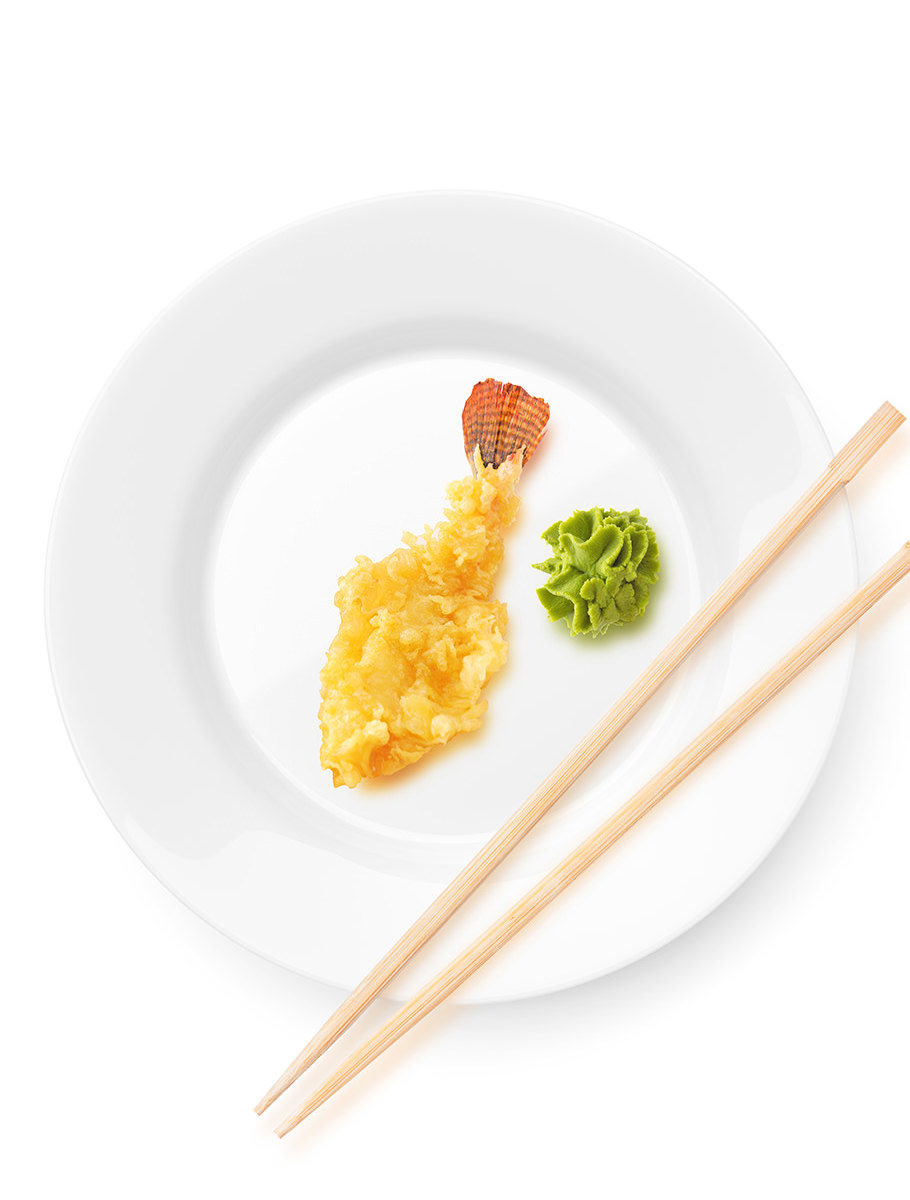 And voilà! A fish-prawn thing is served!
To find out why it's served... you'll have to download the April issue of Thrice Fiction, coming soon!