Posted on May 1st, 2018
Oh look! The latest issue of Thrice Fiction magazine is out!
And you can read it online or grab a copy in PDF or eBook format absolutely FREE by visiting our website at ThriceFiction.com.
As always, it's got a great slate of writers and artists...
Including art by yours truly. And guess who is making his Thrice Fiction debut in our latest issue? IT'S JAKE! No... he didn't write a story... but I did use him in the artwork I created for a story by Meg Tuite!
Alas, all efforts in getting him to hold a Rolodex met in failure, so there's some Photoshop involved... but he's just as adorable as ever!
So what are you waiting for? Go check it out!
Posted on April 17th, 2018
When I had to lop a week off my vacation, Budapest dropped from four nights to two, Vienna dropped from three nights to one. This is a tragically short amount of time in either city when you haven't visited before, but I tried my best to see as much as I could in the time I had.
When it comes to Vienna, my primary goal was to see some art by Klimt, his works having a wonderful art-deco sensibility that I love.
My first stop was to be at the gates of the Belvedere Palace Museum, home to Klimt's most famous work... The Kiss, when they opened for the day. That way I could rush to the Klimt works before people (ugh!) got in the way. As a bonus, the weather was much nicer this time around...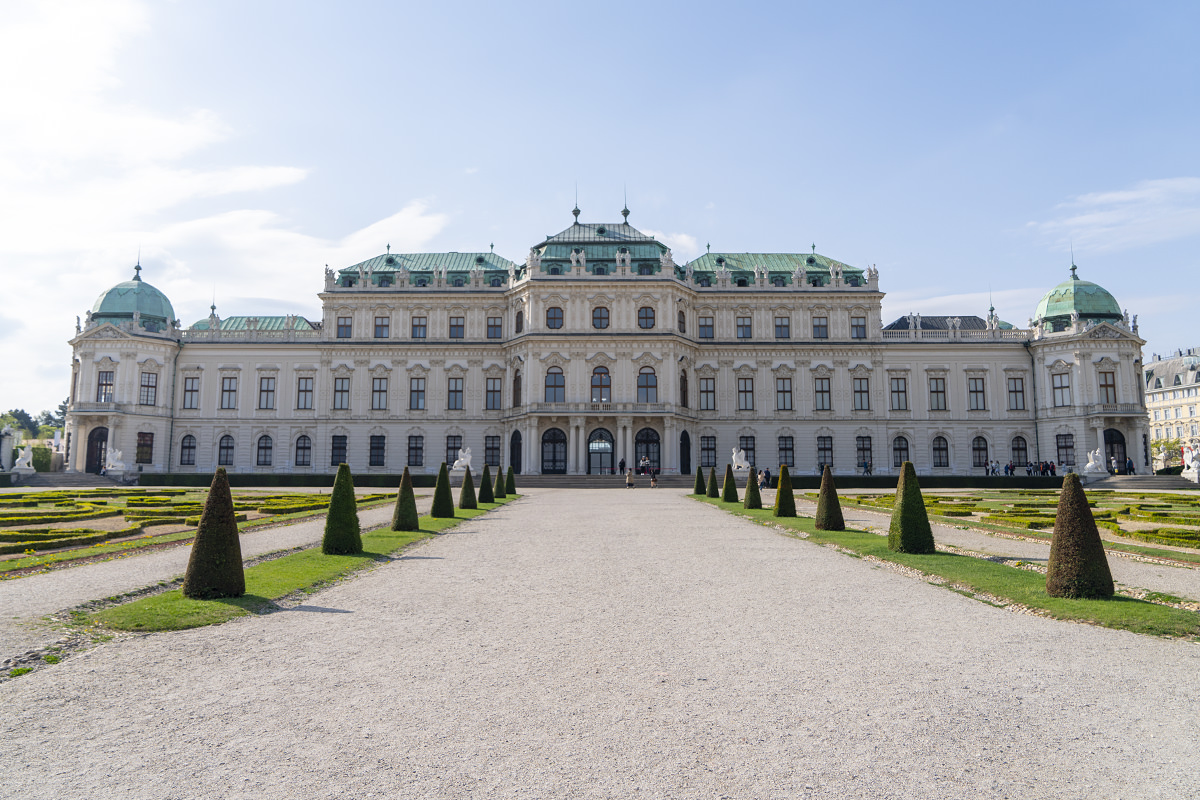 The Kiss is absolutely stunning in person. It's about 6-foot square, and has a luminescence you're never going to capture in a photo, but here we go anyway...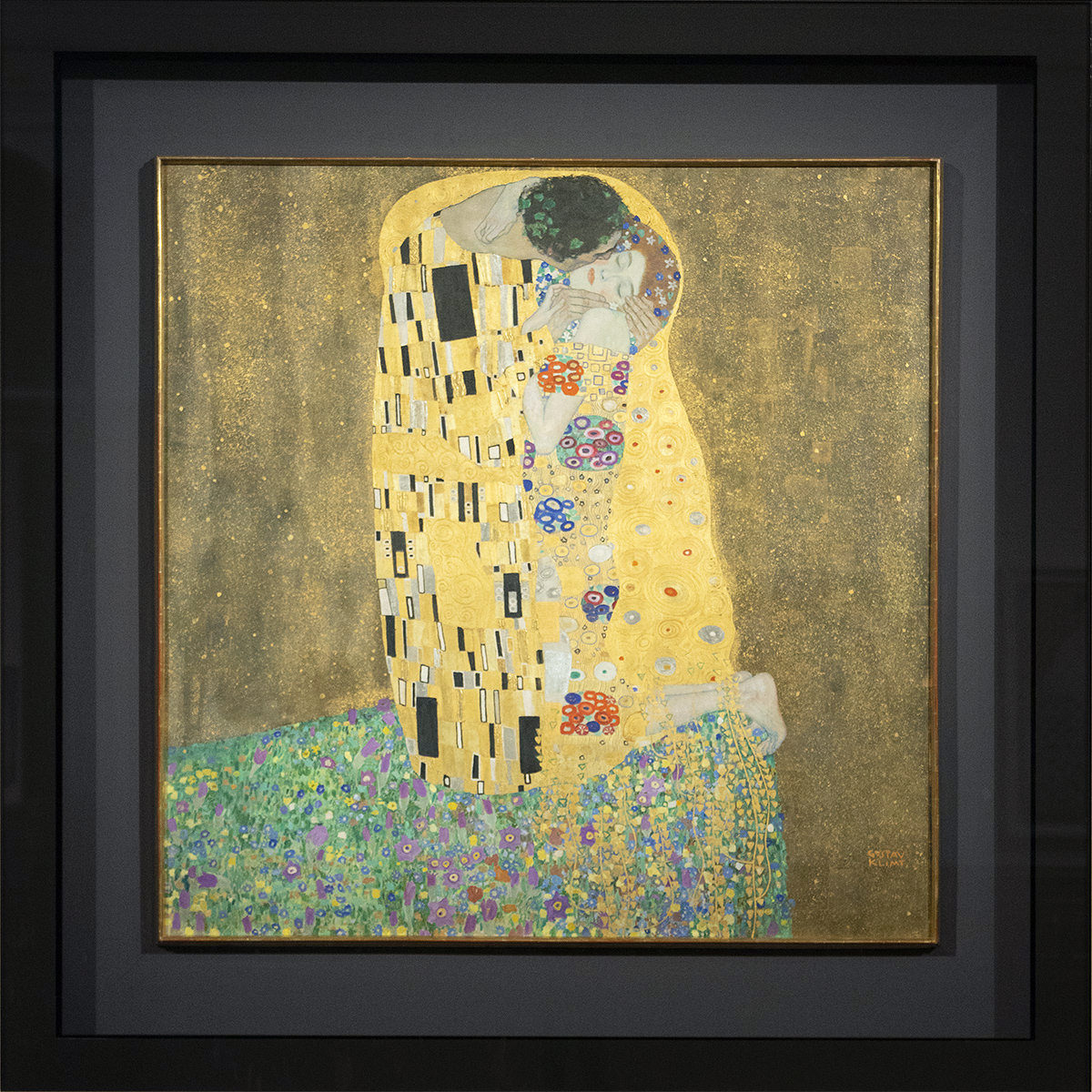 When you get really close, the texture and construction packed into the piece is mesmerizing...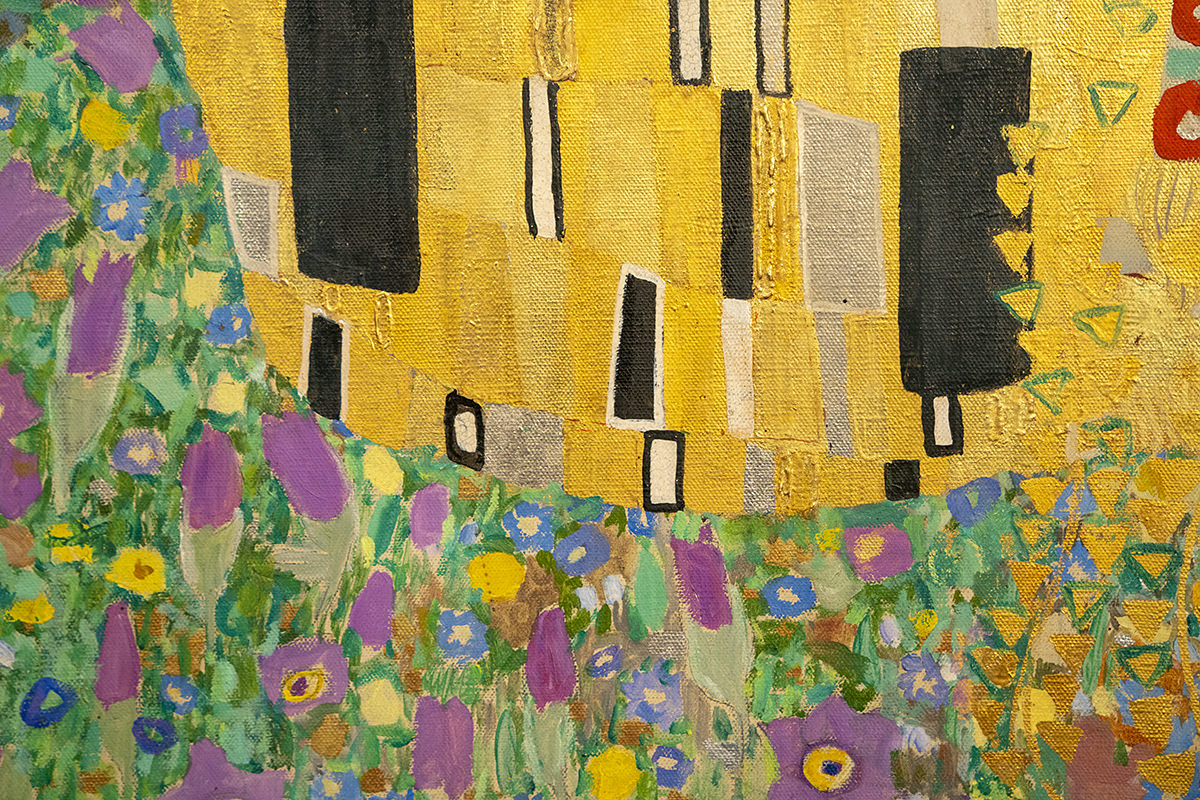 There are more Klimts, but they all kind of pale in comparison...

The museum houses other wonderful works as well, and it sure was nice to see them without people (ugh!) mucking about. Well worth arriving early...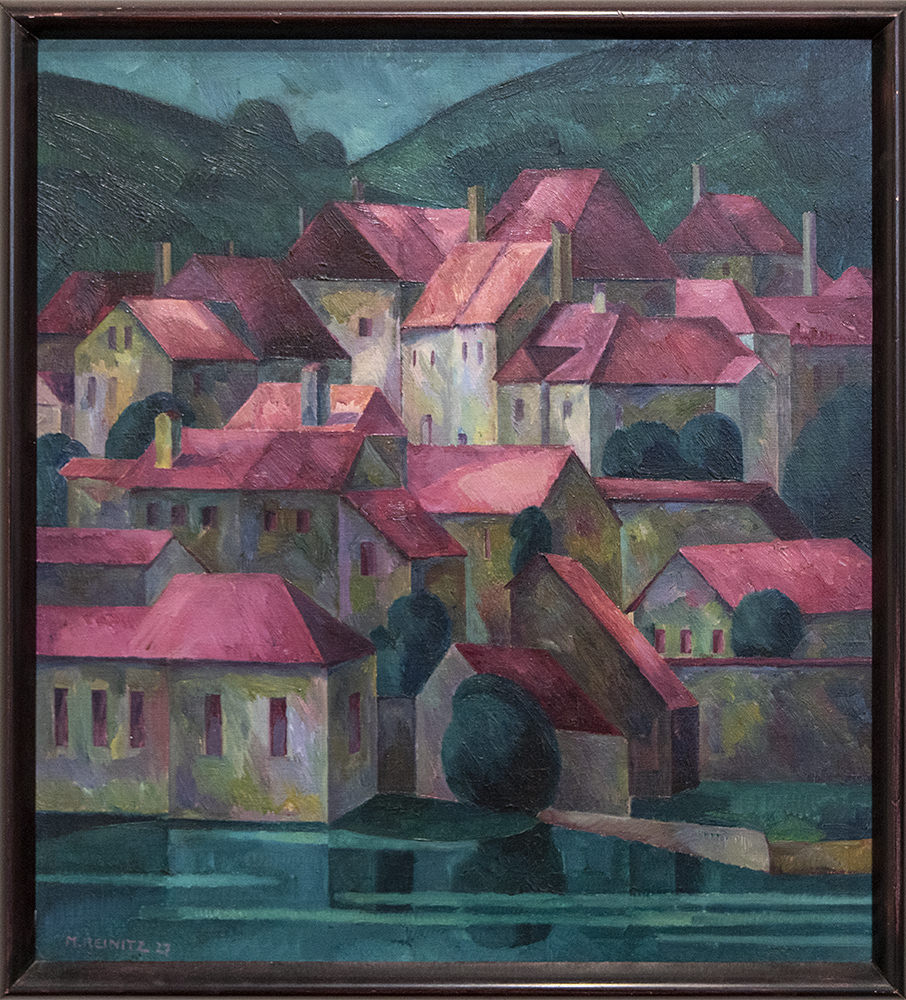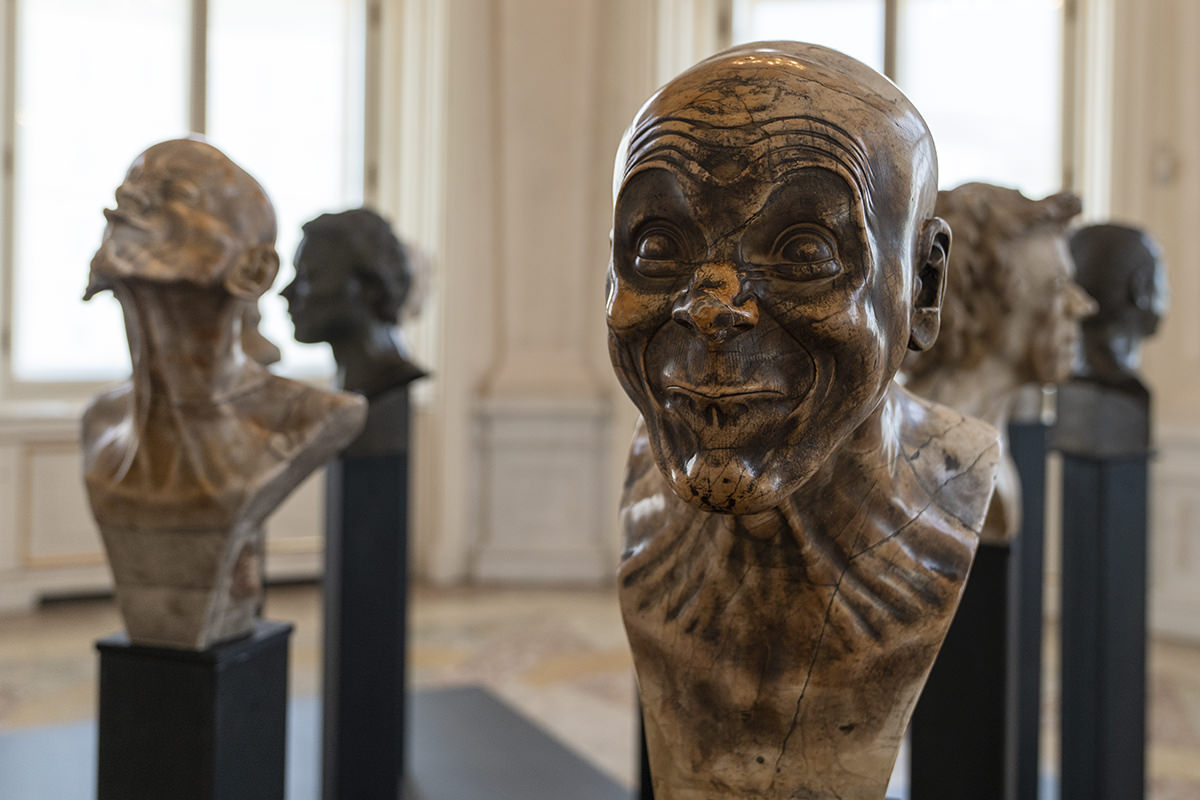 The palace itself is magnificent. And turning it into a museum is a far better use than an endless parade of sitting rooms...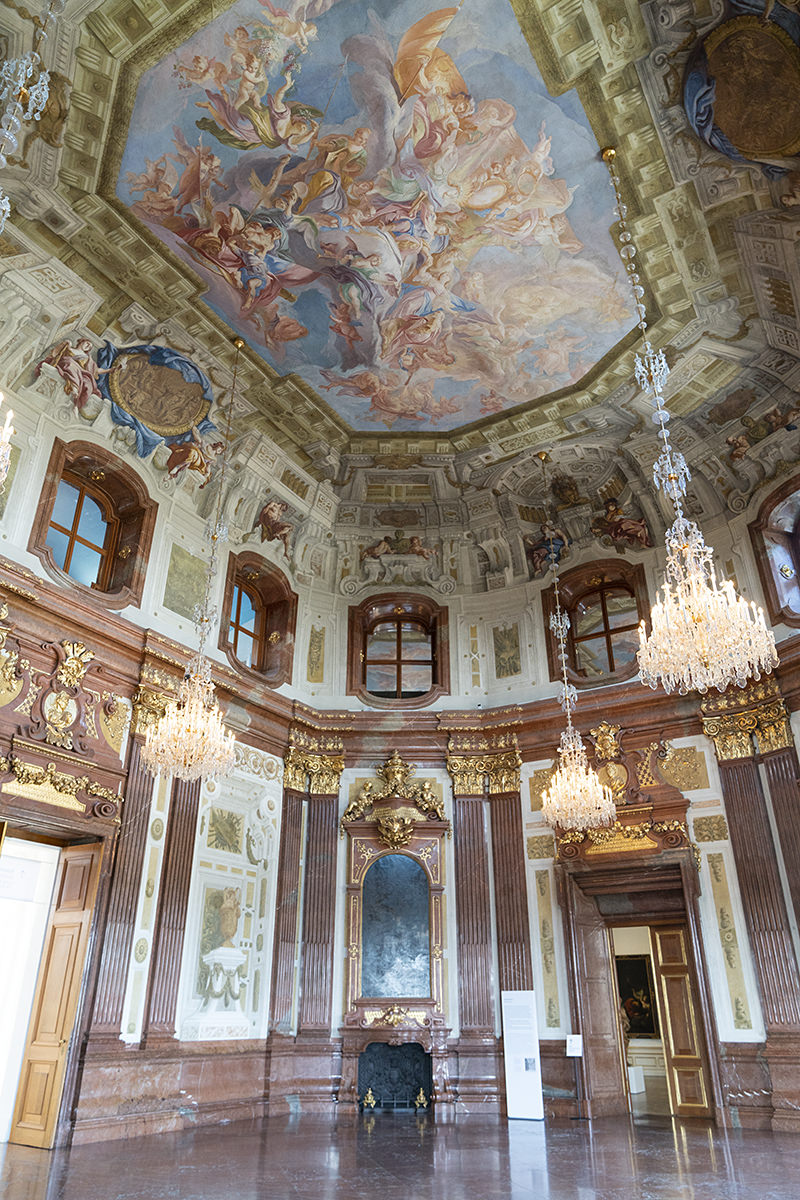 After exploring the Belvedere, I took a tram to the other site I really wanted to see before I left... the Kunsthistorisches Museum Vienna. To mark the 100th year since Klimt's death, they have constructed a massive "Stairway to Klimt" which spans the main atrium and allows you to see his paintings there at eye-level. It's pretty incredible...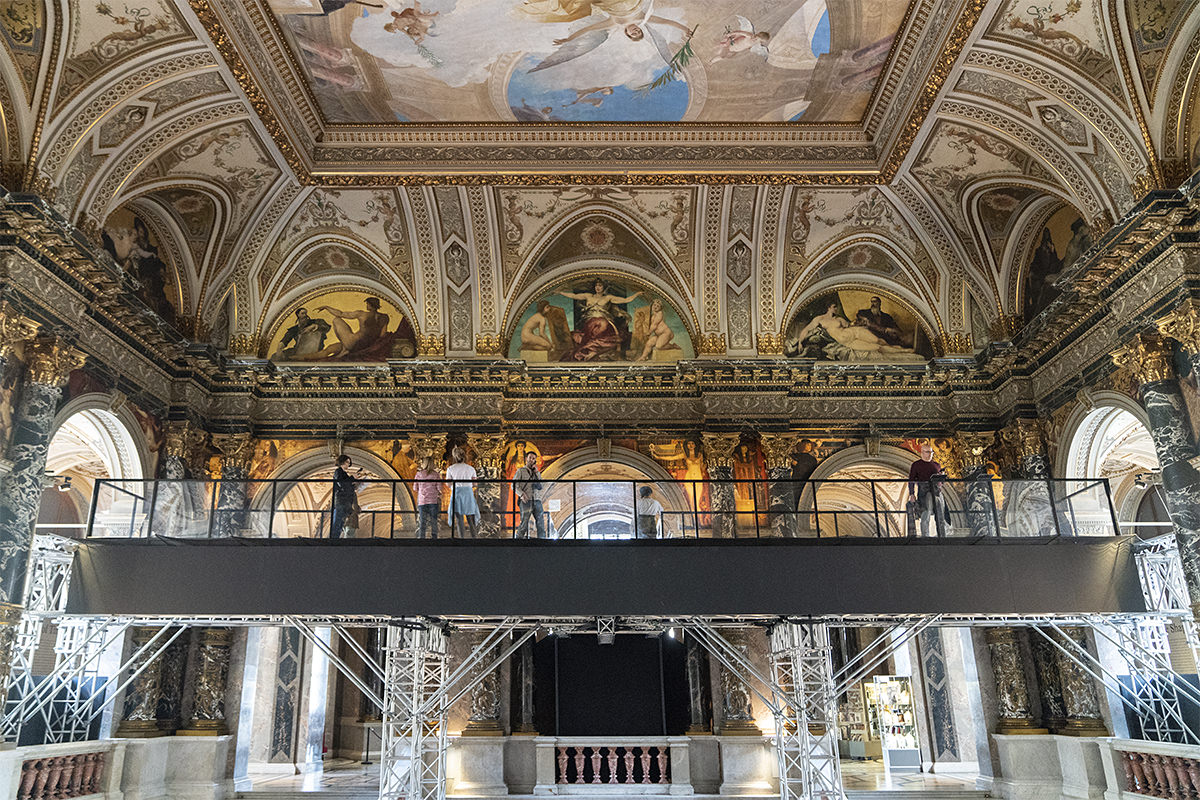 The opportunity to see these works in this way is akin to magic...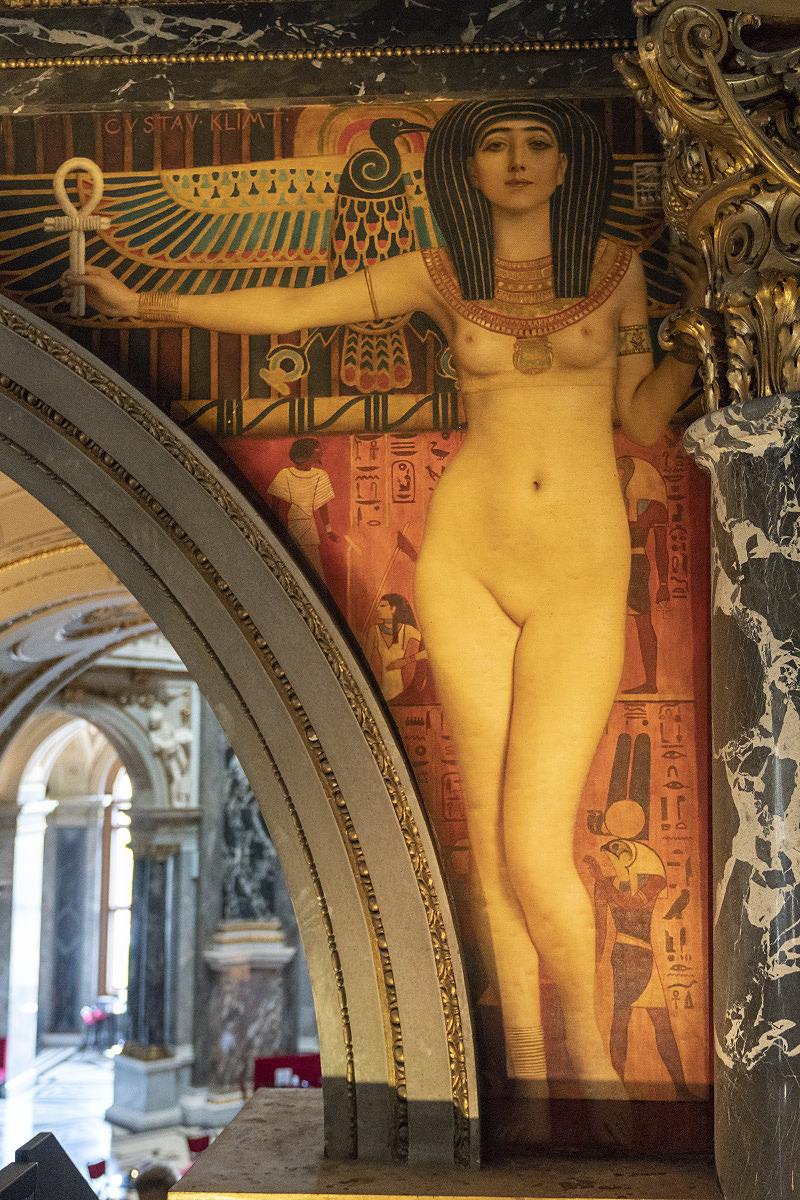 As if that weren't enough, Nuda Veritas from a private collection is on loan while "Stairway to Klimt" is running...

The museum has a lot of different works, but I didn't have much time to spend with them... instead breezing through most everything. I did spend a little more time with their Egyptian artifacts though...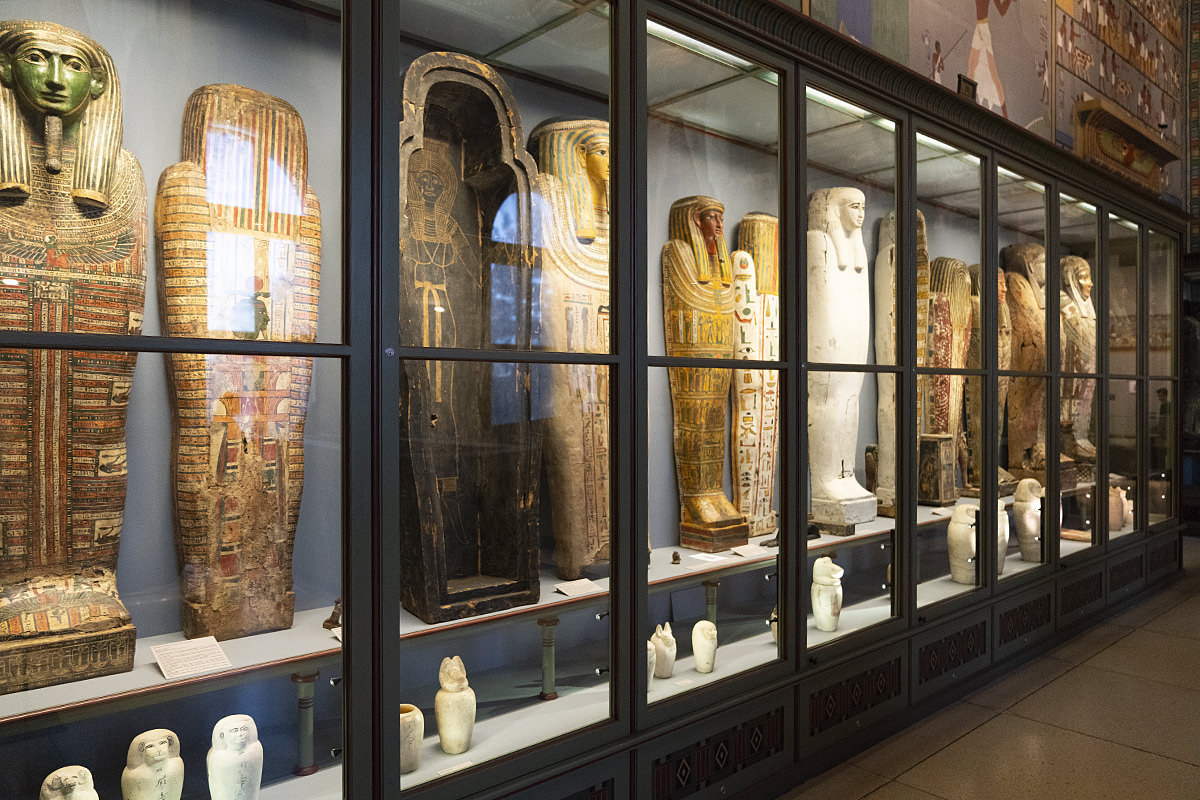 As I was headed back to my hotel so I could pack up and catch my flight, the weather was really getting nice. Such a shame I couldn't stay and enjoy it...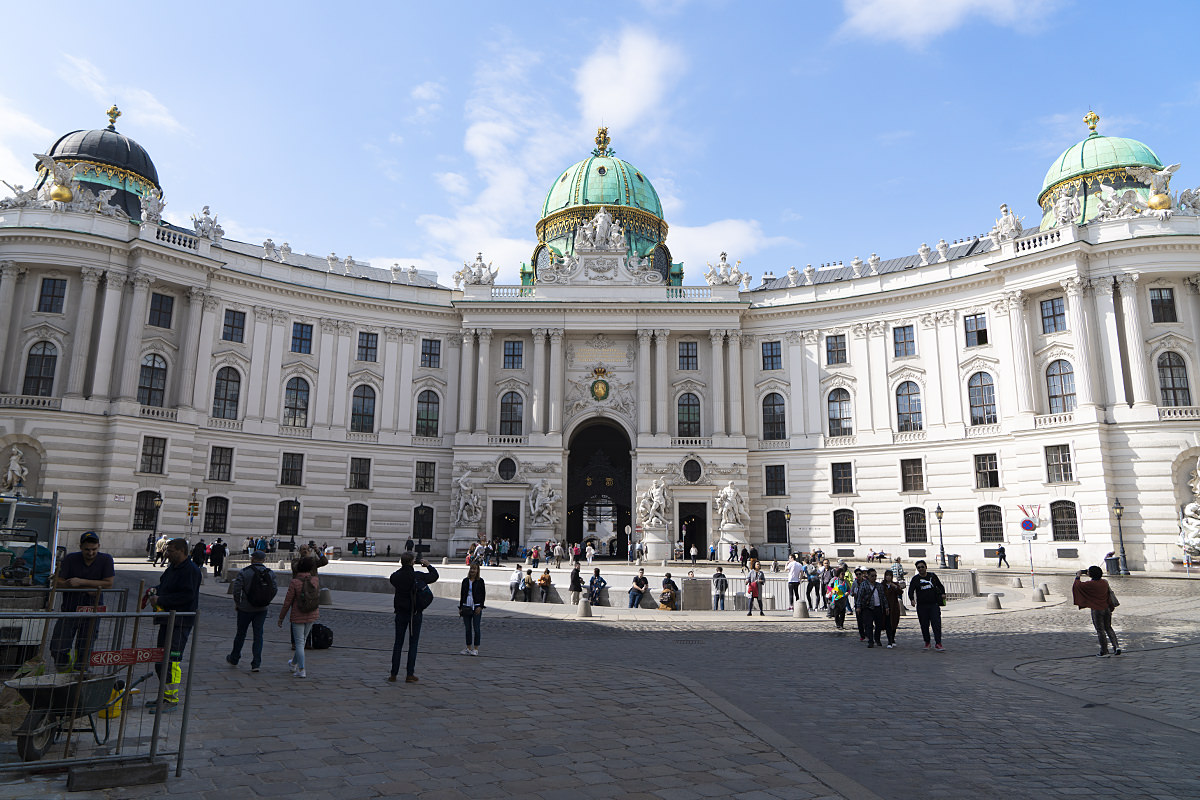 And, just like that, my time in Vienna was over.
One subway stop and a 16-minute "City Airport Train" ride later and I was winging my way back to DutchyLand.
Posted on April 16th, 2018
Vienna is a city with historical significance that I have long wanted to visit. When it got a Hard Rock Cafe 2-1/2 years ago, I finally had the excuse I needed to plan a trip. That being said, Vienna is a hard sell if you don't like classical music and horses, as they seem to be the life-blood of the city. Neither of those things interest me, so I tended to focus on the architecture and art, both of which interest me very much.
By train, Vienna is a swift 2-1/2 hours from Budapest. I always spring the small amount extra for a First Class ticket, which seems to result in less hassle during border crossings. I left at 7:30 in the morning and was surprised that there were only two other people in my coach...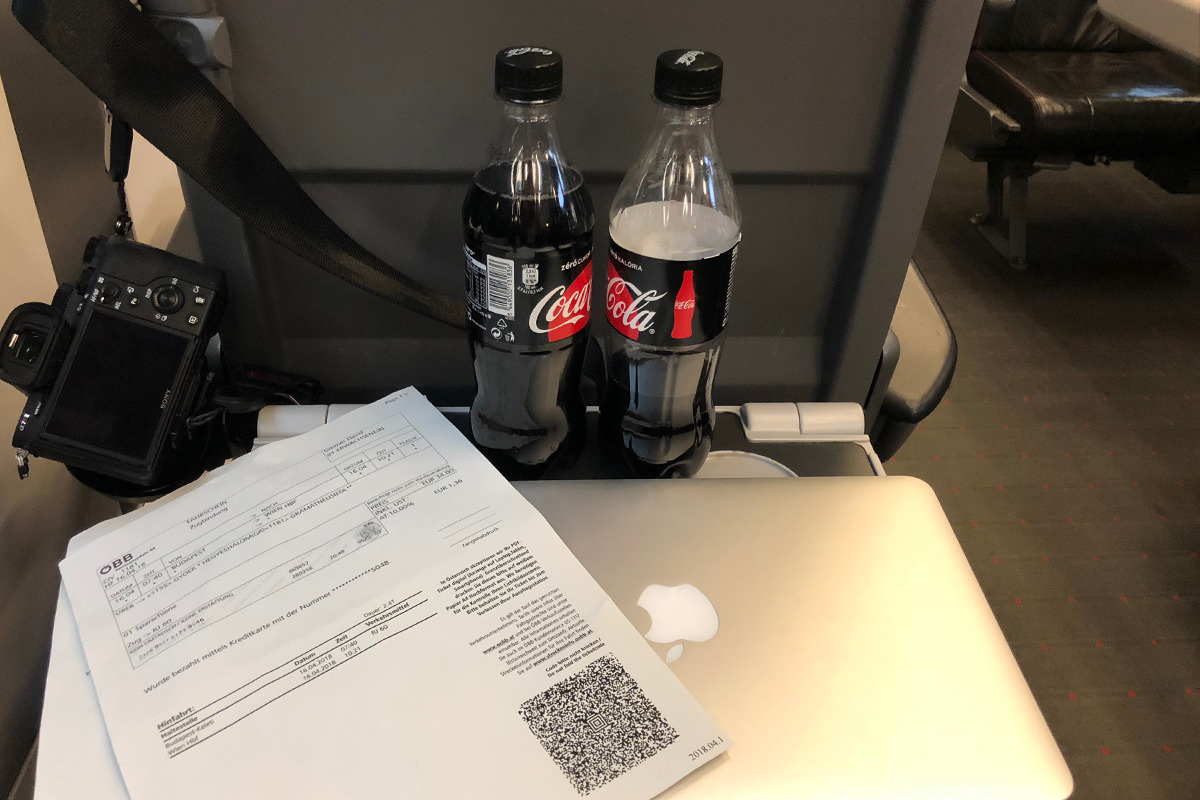 As expected, the city is incredibly well-connected with public transportation, including a system of trams and subways that makes navigation a snap. Walking to my hotel, the first photo I snapped on this dreary Monday encapsulated Vienna pretty well...

I hadn't eaten breakfast, so my first stop was the Hard Rock for a quick bite. It's nice, but one of the fairly boring new "hipster chic" properties I'm not a fan of...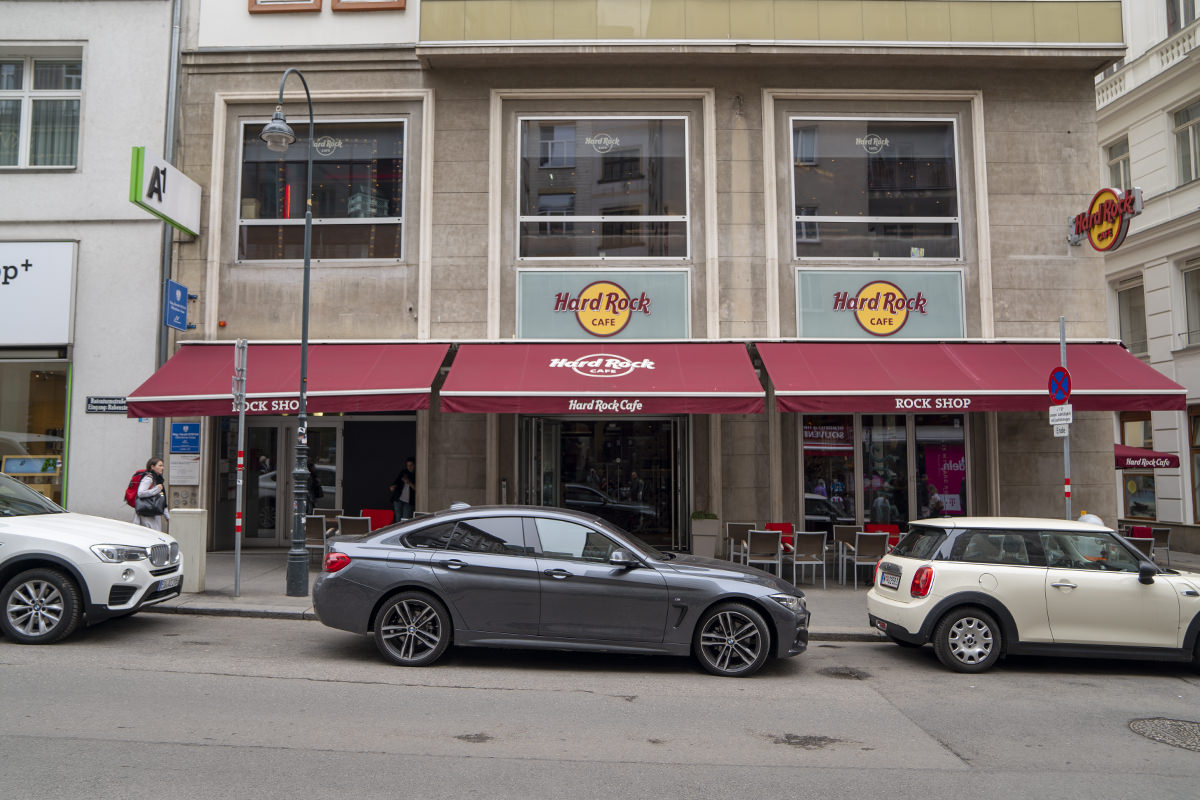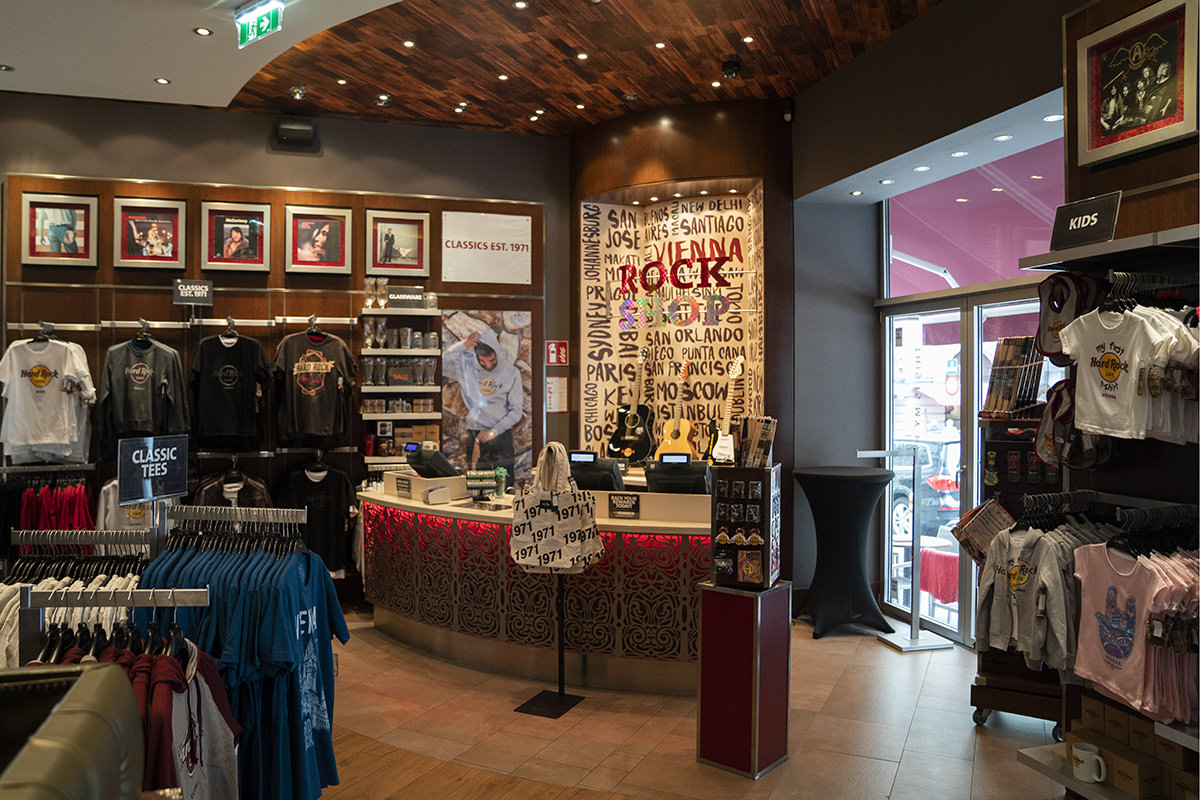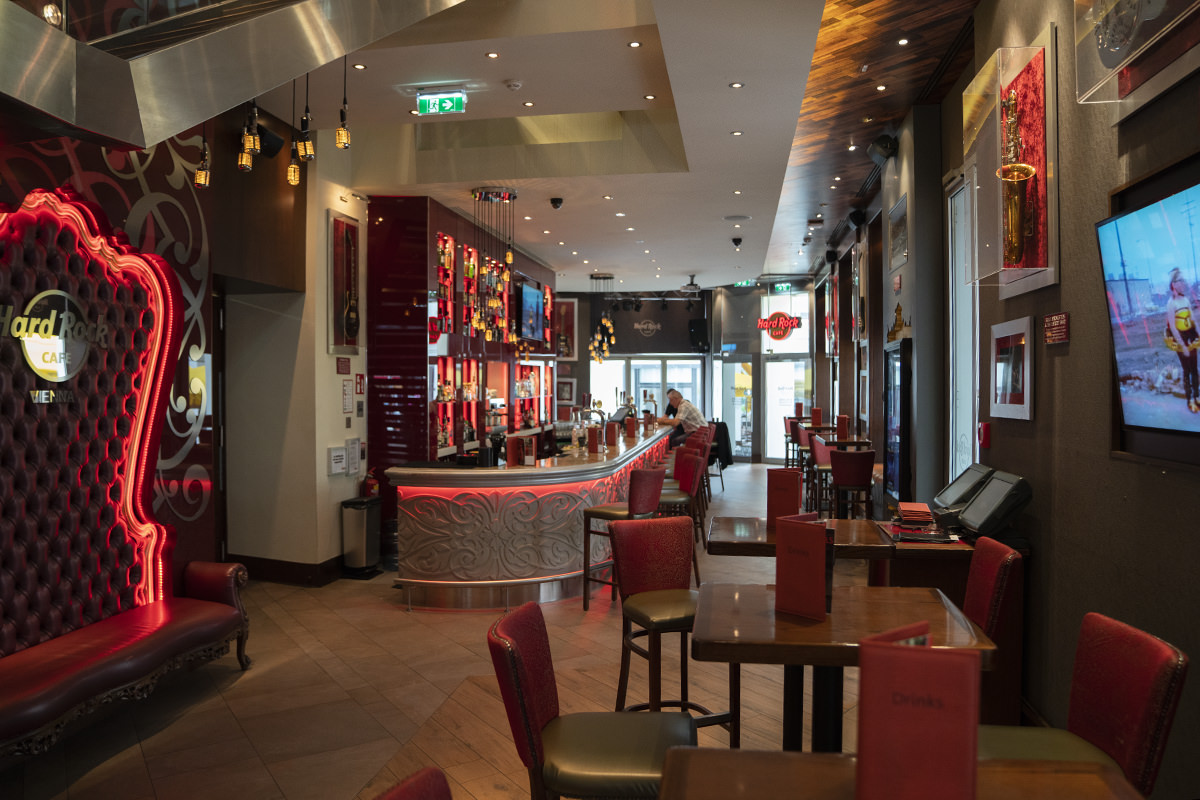 My first stop after lunch was to run out to Schönbrunn Palace. Don't ask me why. I always end up regretting it after visiting palaces, and this was no exception. It's all "Here's a sitting room. Here's a sitting room. Here's a sitting room. Here's a sitting room. Here's a bedroom. Here's a sitting room." Which begs the question... exactly how many places did these people need to sit down? I didn't spend much time after I saw that Schönbrunn was just more of the same thing I've seen a dozen times before...

Back in the city proper, I decided to wander around and look at architecture, which could keep me occupied for days. There's just so much to see...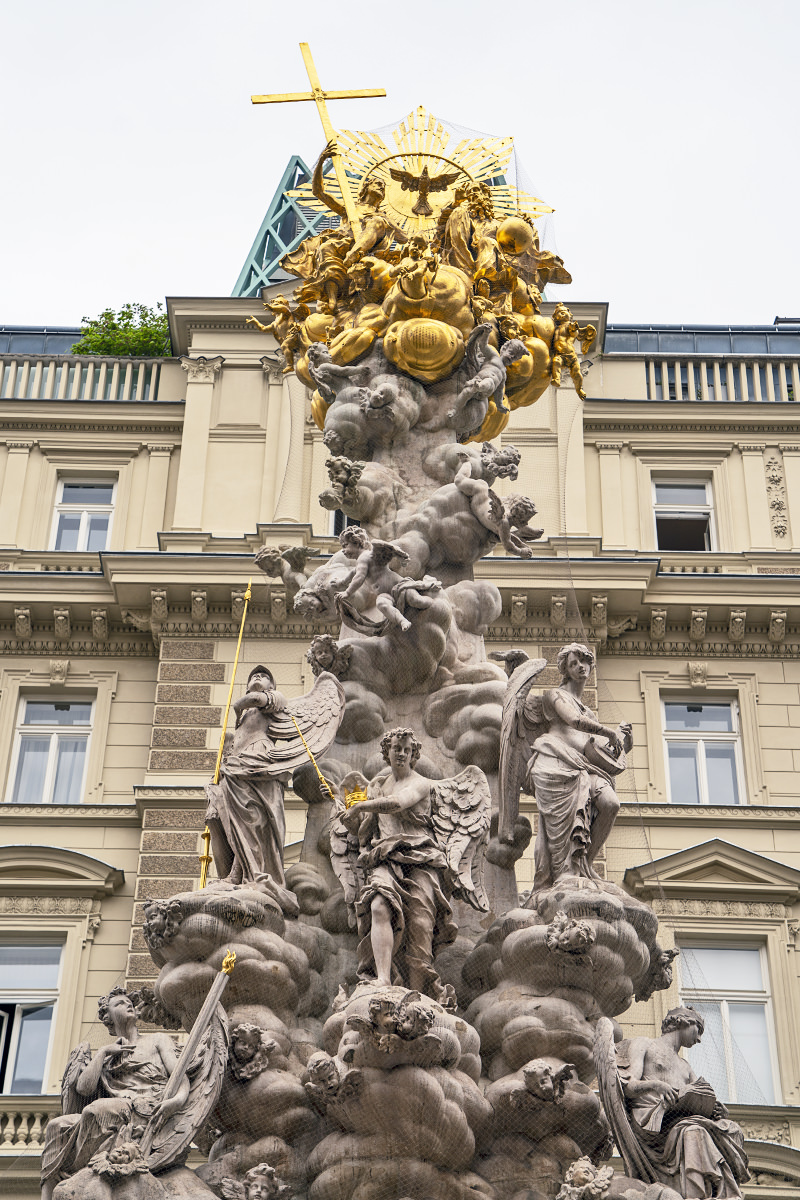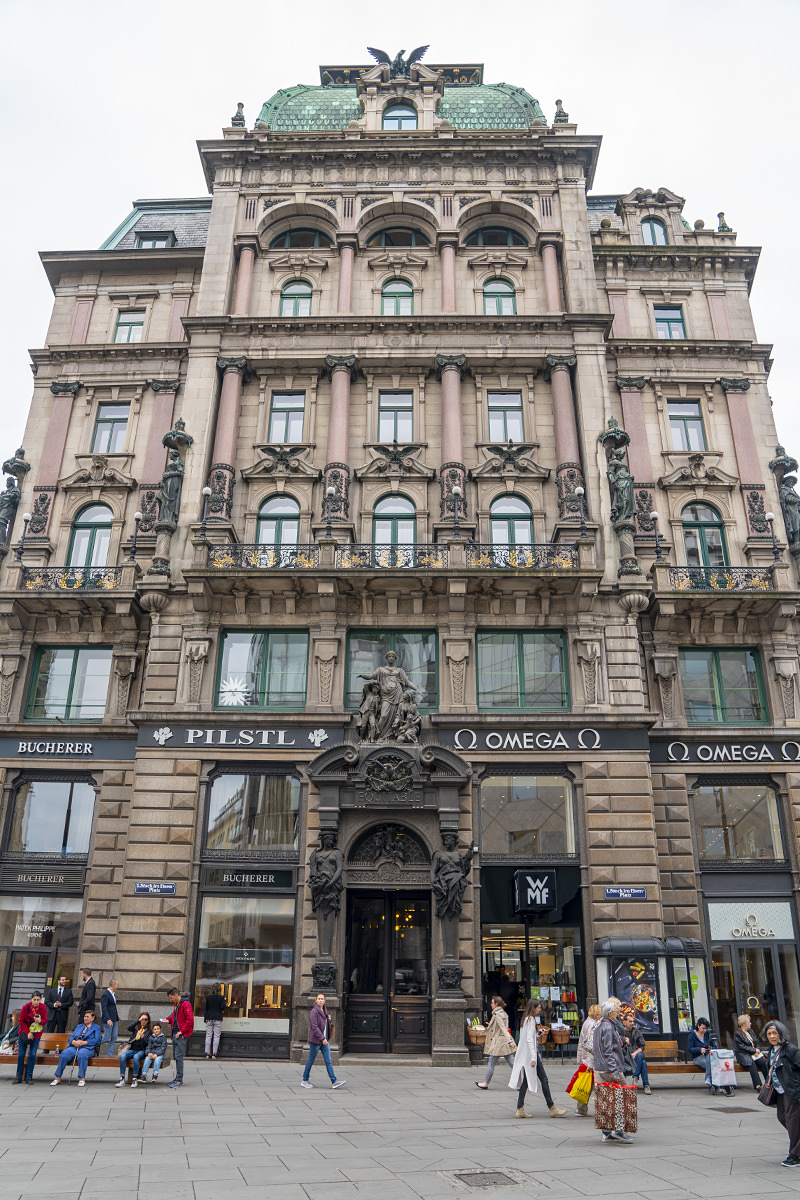 There is, of course, a cathedral. It's pretty much par-for-the-course when it comes to gothic European cathedrals...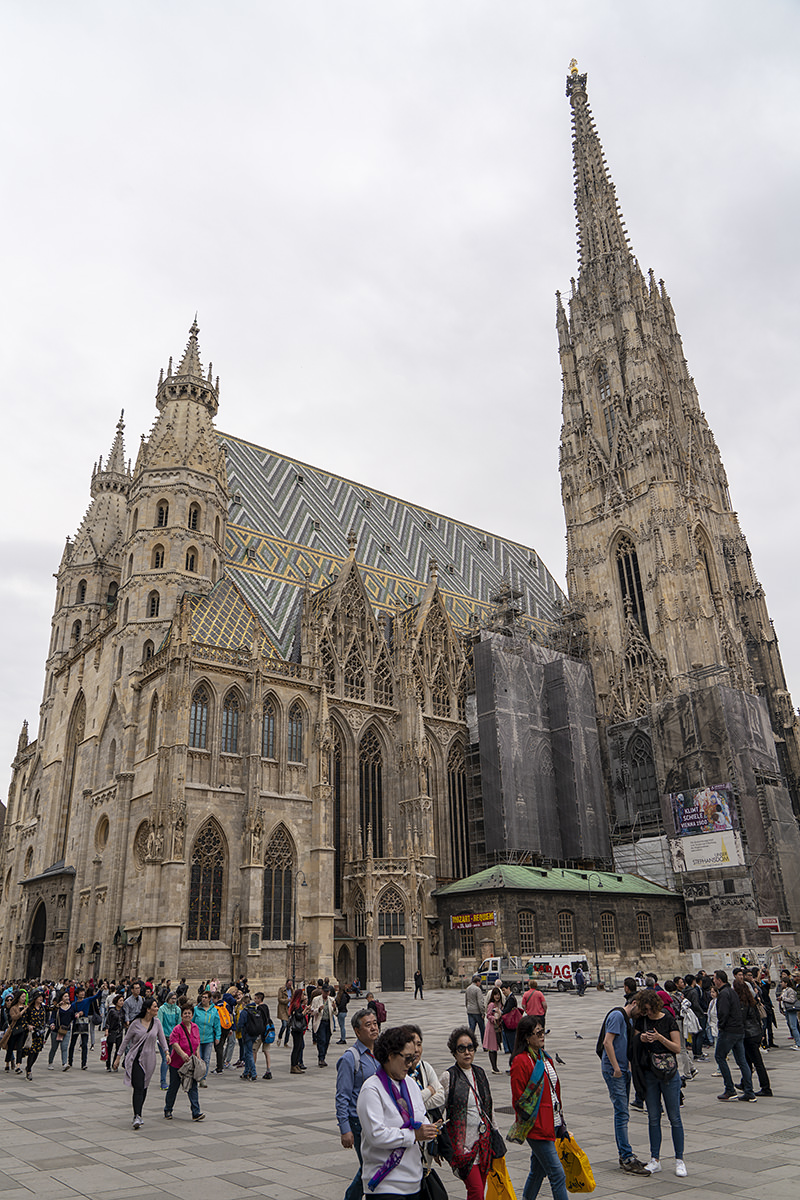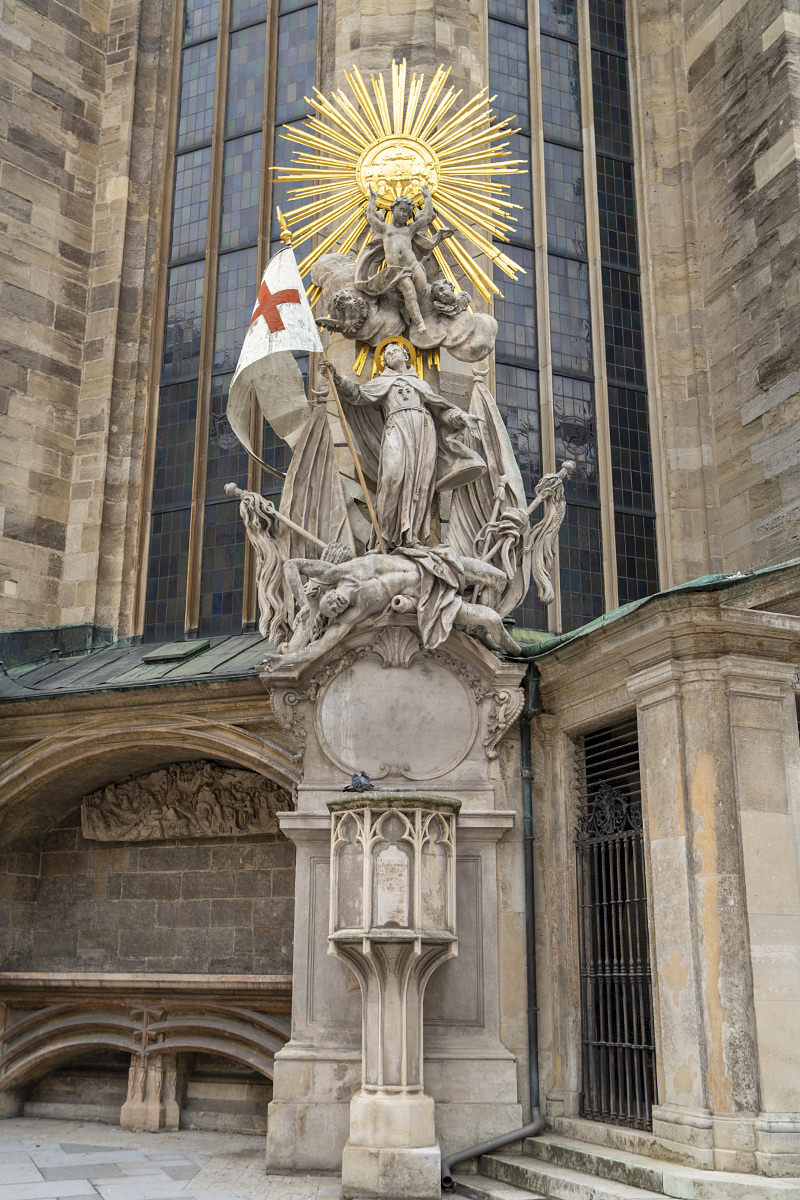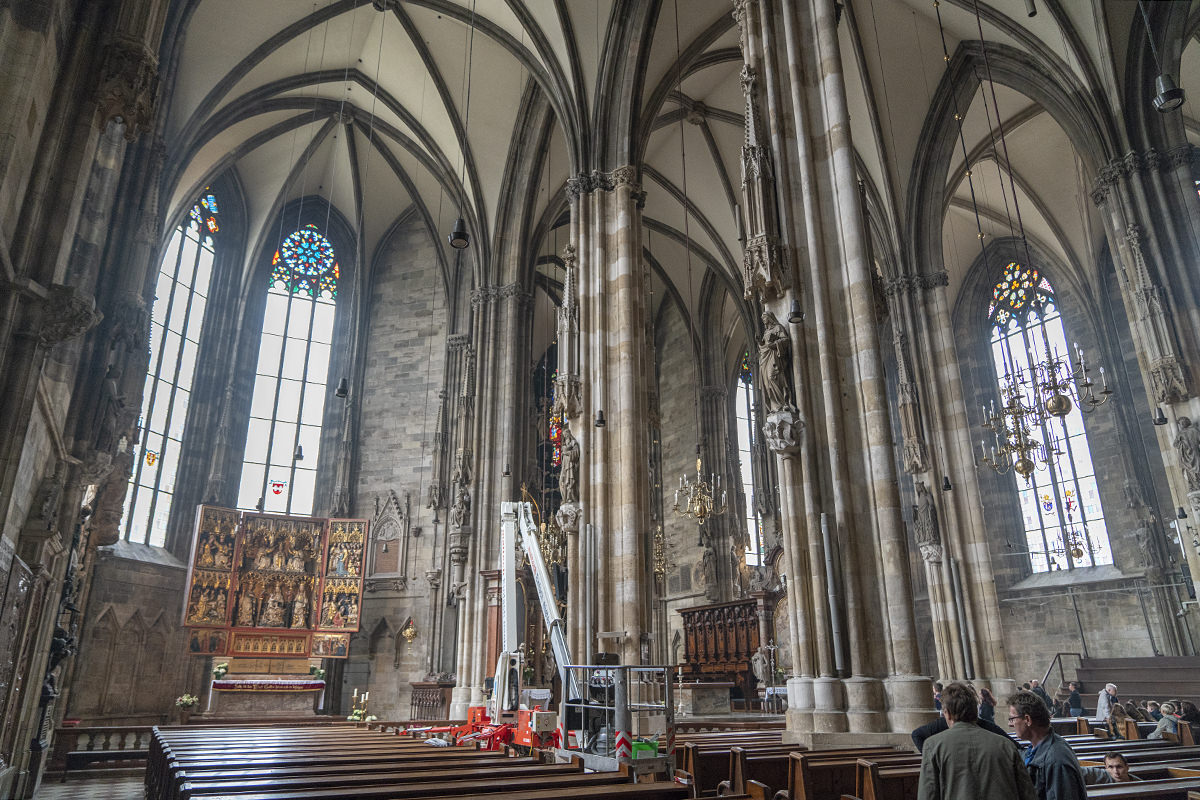 My final stop for the day was the Albertina Museum, where I knew there was a "Monet to Picasso" exhibit that was definitely worth my valuable time to visit. What I didn't know was that there was also a new Keith Haring exhibit, which was just icing on the cake...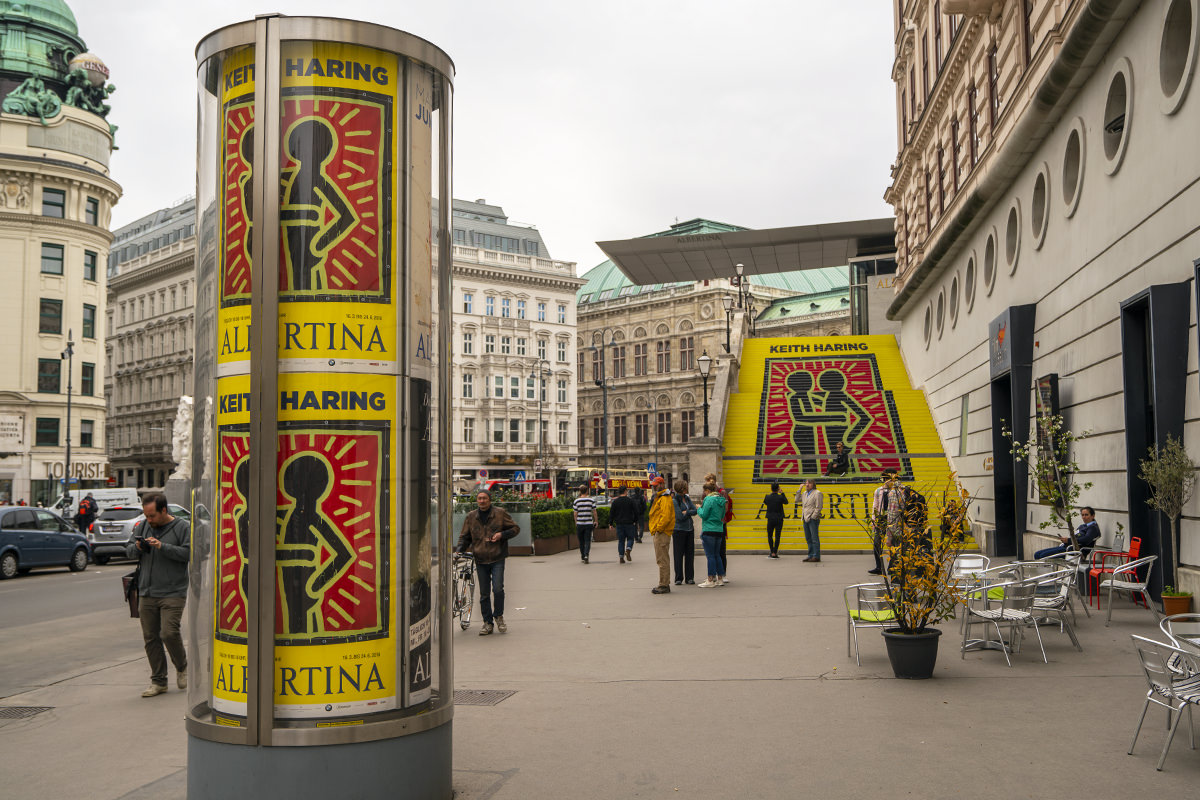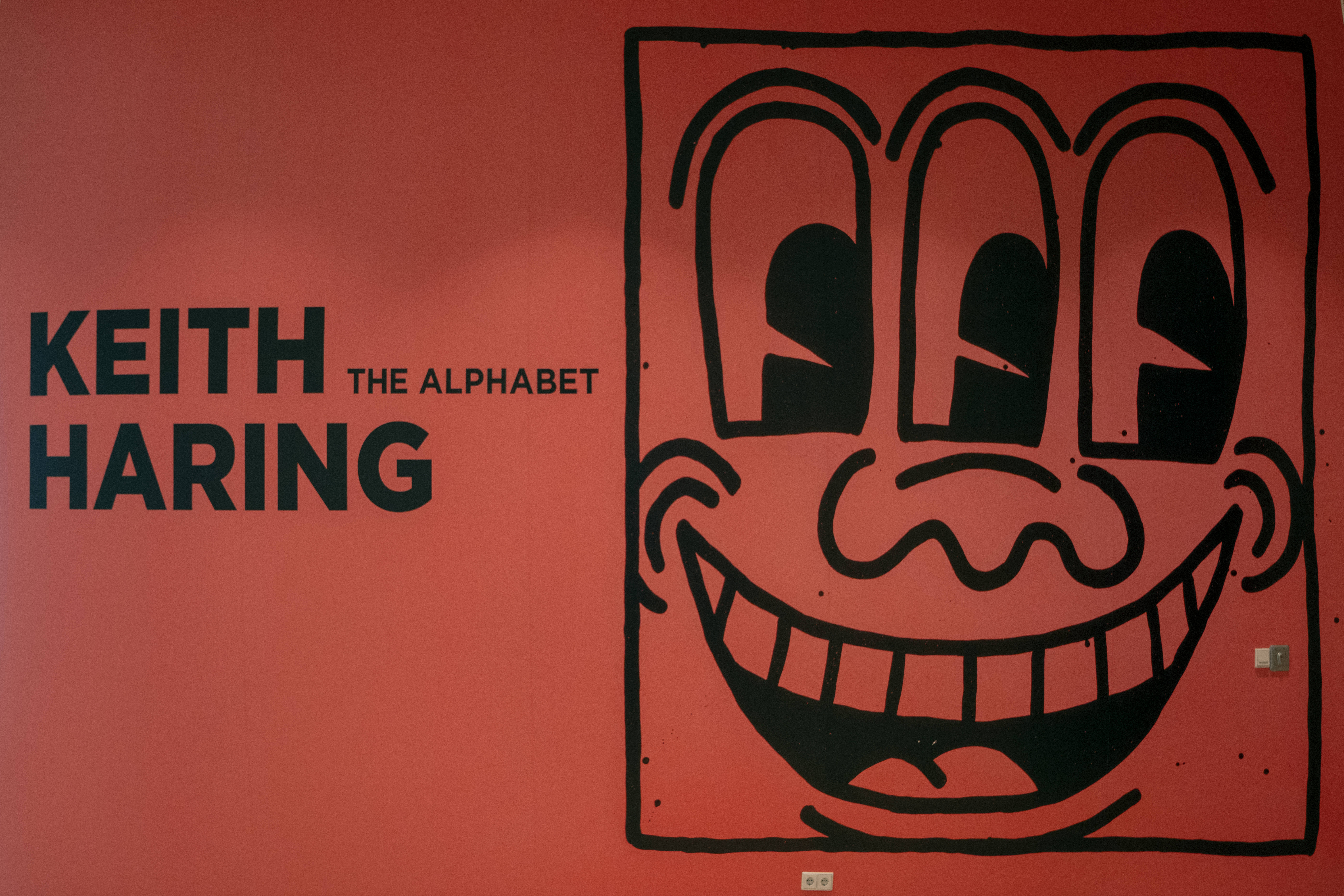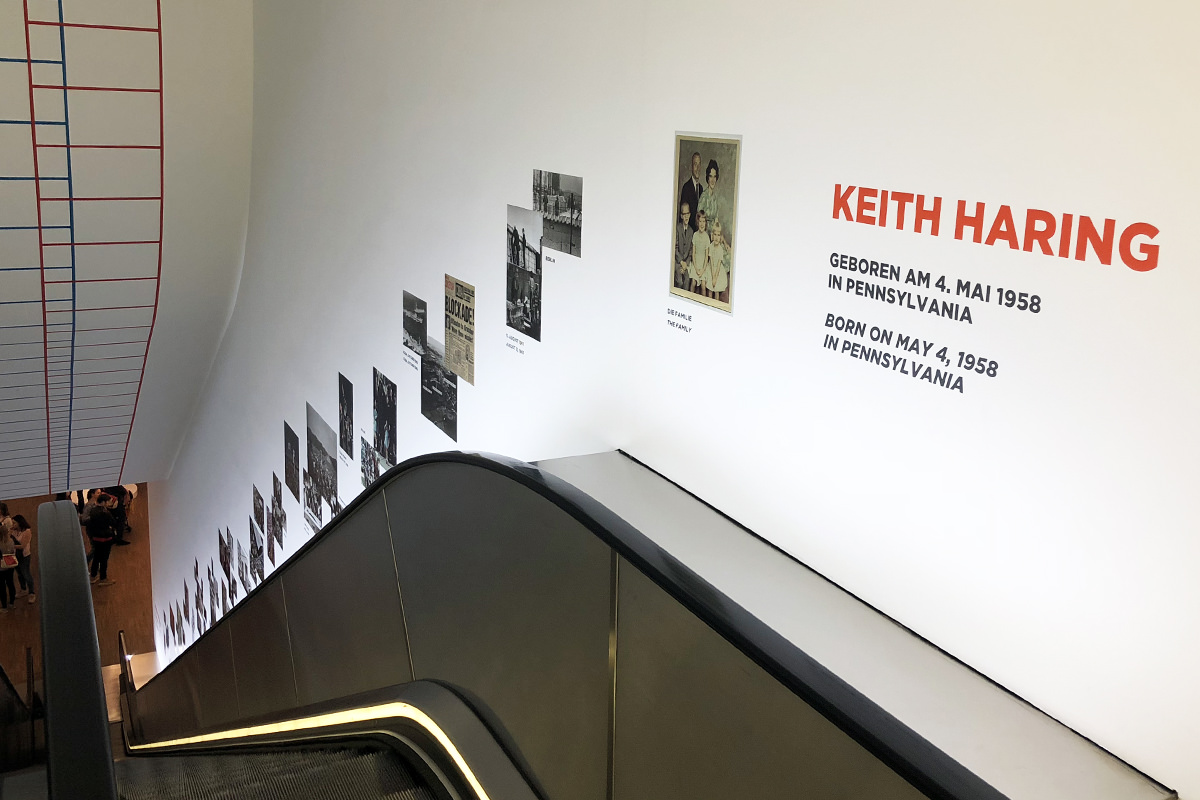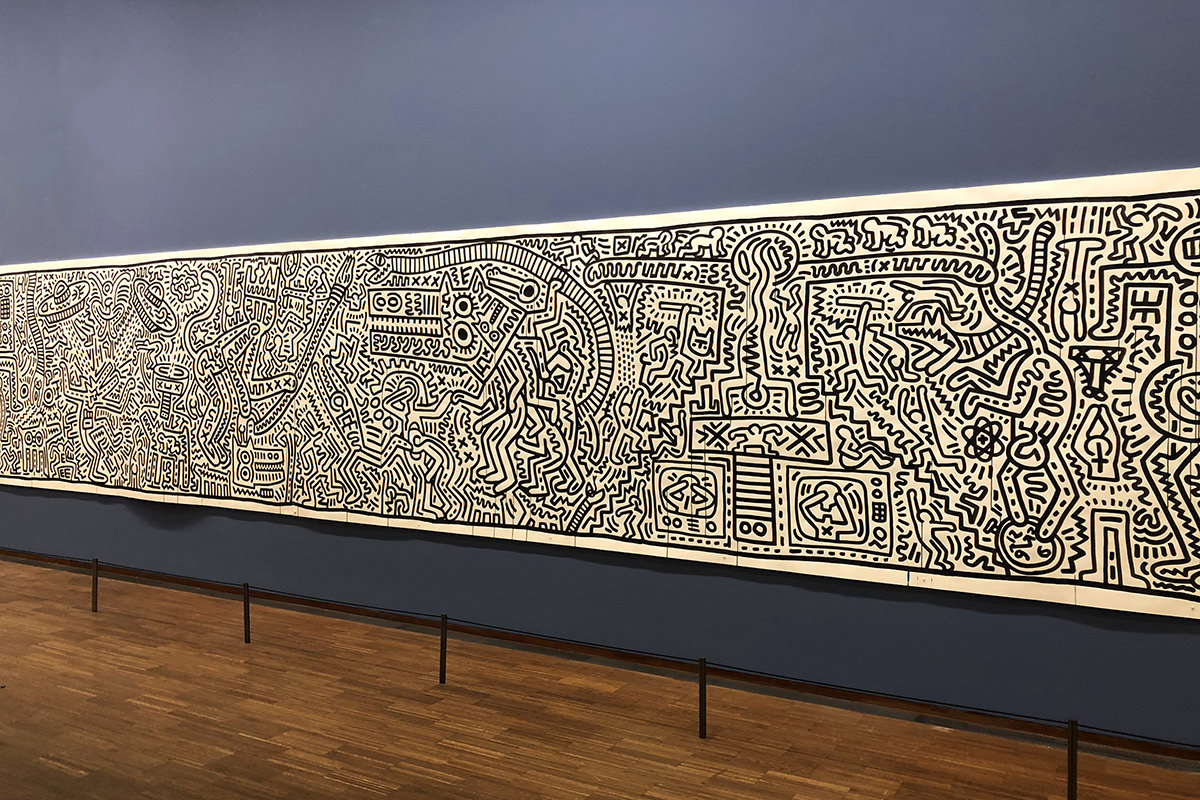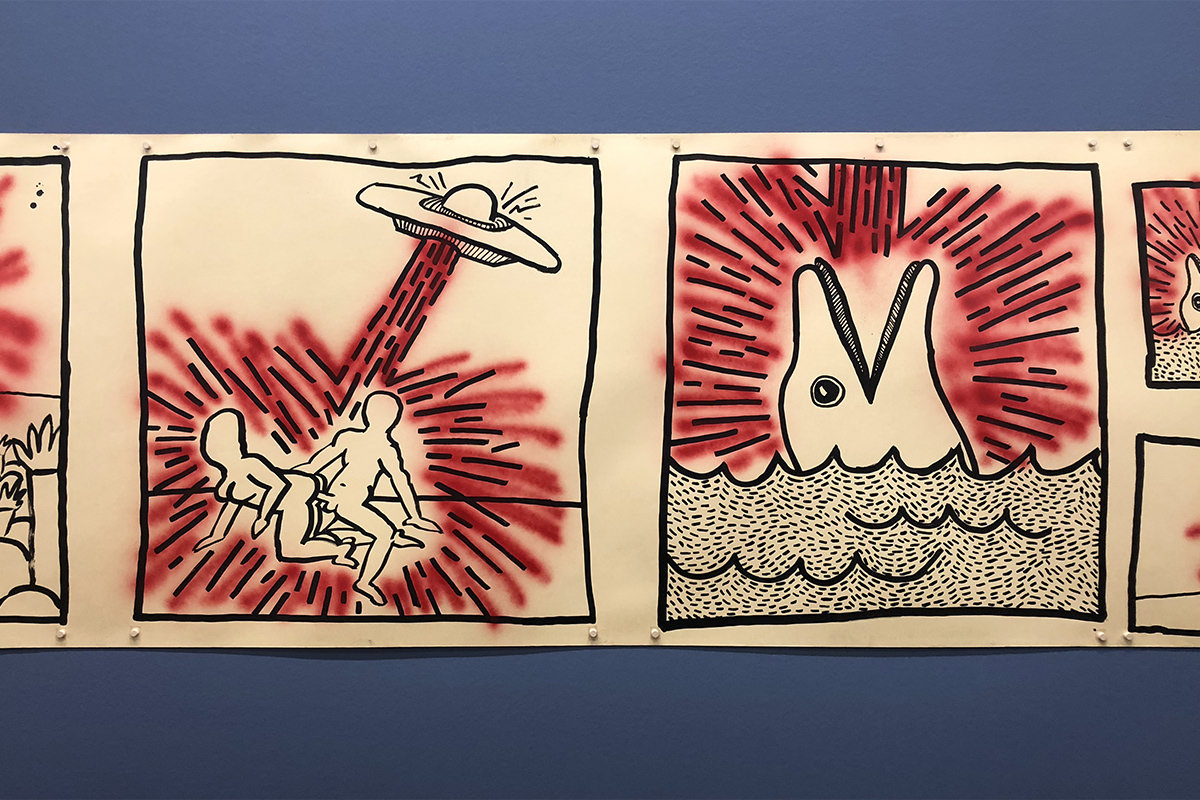 Phenomenal exhibit. Fantastic museum.

After spending way too much time looking at art, everything was starting to close, so I decided to track down a falafel shop for dinner...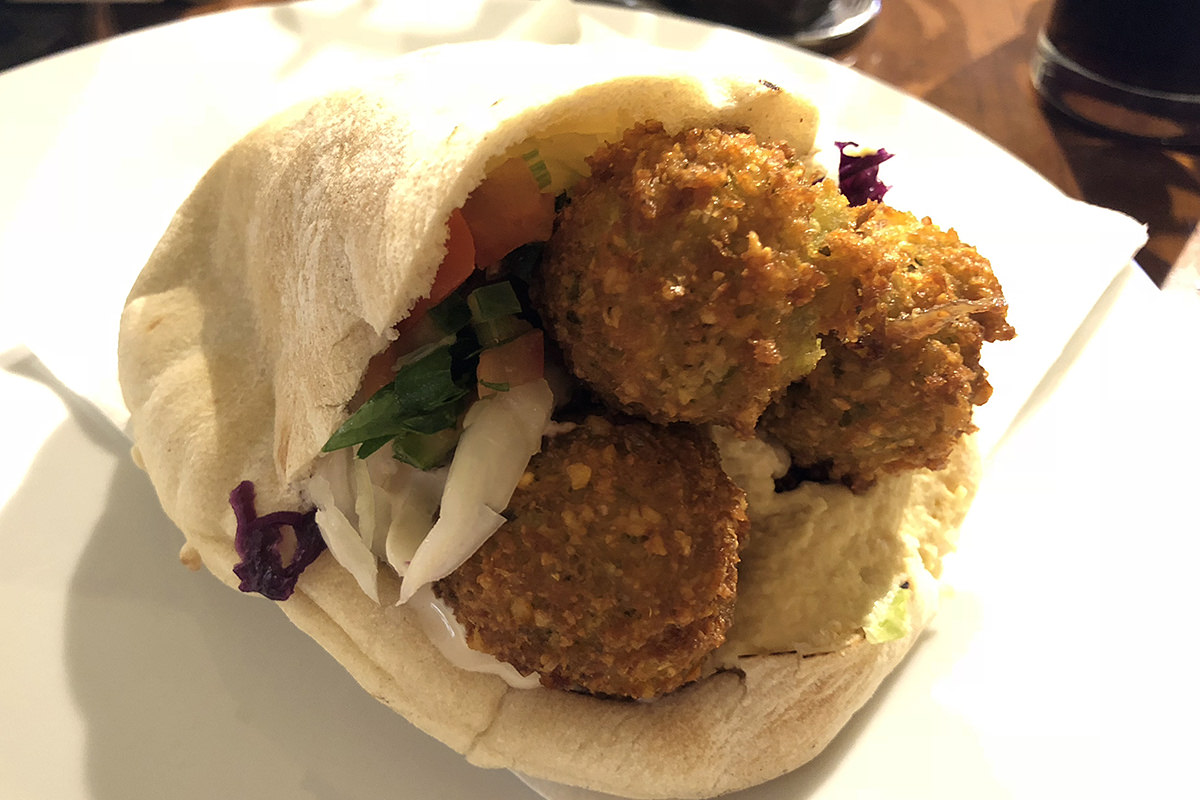 And now? Time for sleep. I have two very important stops to make tomorrow before flying back to the Netherlands, and I want to be sure to be rested up.
Posted on February 25th, 2018

Prepare yourself, because a Very Special BLACK PANTHER EDITION of Bullet Sunday starts... now...

• Art! One of the best things about Black Panther is the production design. A lot of what went into that is explored in yet another wonderful edition of Marvel Studio's Art of the Movie books, which somebody on YouTube was kind enough to thumb through...
There's very little of the book that's not fascinating... or gorgeous...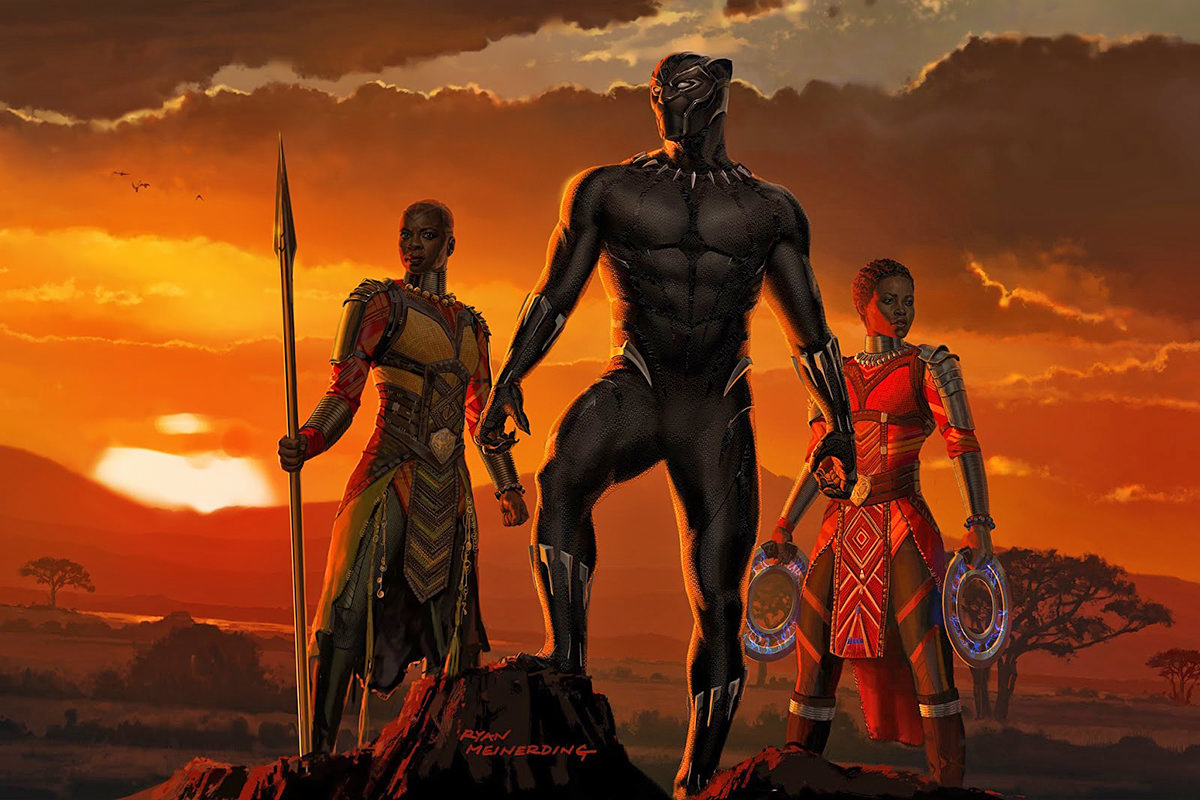 I own the entire series and love them. You can pick up the absolutely beautiful Black Panther edition from Amazon.

• Trevor! The detractors for Black Panther have been pretty stupid about it. I mean, if you don't like the movie, fine... to each their own. But the whole "This movie is racist because it's mostly Black people" is laughably stupid. My favorite commentary on this was by Trevor Noah from The Daily Show...
Speaking of Trevor Noah, if you haven't read or, better yet, listened to the audiobook of his Born a Crime, then it is absolutely worth your valuable time to do so. While interviewing Lupita Nyong'o for Black Panther, it was revealed that she will be producing and playing his mother in the movie adaptation...
Can't wait!

• Mother! Speaking of audiobooks, a momentary aside... I am just now finding out that Jenifer Lewis released a book last month called The Mother of Black Hollywood. Whether you know her as Ruby from Blackish or one of her many roles over nearly 30 years in Hollywood, it is so good...
Here is Jenifer Lewis being Jenifer Lewis... while plugging her book (and other things)...
If you want to be entertained for hours, search for "Jenifer Lewis" on YouTube and prepare yourself. This video is an hour of amazing...
I have only just started listening to the audiobook, but it is fantastic already. If you are a member of Audible, it's worth a credit. If you are not a member of Audible, you get a FREE credit when you sign up! Go do that and get this book!

• Comics! If you've seen the movie (and I'm assuming you have), there's a lot more to the story in the original comic books. Here's my four favorite series...
I would be remiss if I didn't add Jack Kirby's work on the Black Panther, which is also an important read.

• Wrong Panther! It'll be reiterated below, but I think it important to state it here: There is NO relation between the Black Panther of the comic books and the Black Panther Party. And yet... I've seen this pop up more times than I can count online.

• Panther Facts! Let's wrap up this Bullet Sunday with a list of interesting Black Panther bullets, courtesy of Kevin E. Ross, who has asked that people share it...
The Black Panther (real name: T'Challa) is the first mainstream black superhero ever. He was created by Marvel Comics and the team of Stan Lee and Jack Kirby, the same two responsible for heroes like Thor, the Fantastic Four, and Captain America.
Created in 1966 during the turbulent Civil Rights era, he is the first black superhero not created as an "token," a dependent, or a sidekick. This was considered extremely controversial for the time period. He predates Captain America's Falcon (1969) and Luke Cage (1971). He also preceded the revolutionary activist group the Black Panther Party by 3 months (he was introduced in July of 1966, and the Black Panther Party in October of 1966. They were not connected).
T'Challa (his real name), is also the ruler of a fictional African kingdom called Wakanda (population 6,000,000). Wakanda is considered one of the wealthiest nations on Earth as well as one of the most technologically-advanced. Imagine if Disney World's Tomorrowland and the Rainforest Cafe merged.
Wakanda's wealth is the result of a meteorite that crashed on to the continent 10,000 years ago. Composed of a rare alien material called Vibranium, the metal is sought by many in the world for its scientific applications and its military capabilities. It is only available in Wakanda, thus the country keeps itself closed and shielded from the outside world. Vibranium basically absorbs any energy directed towards it and holds it like a sponge. Imagine buildings that wouldn't crumble under the force of an earthquake, or soldiers protected against explosions from grenades and other explosive devices. Wakanda does export other commodities such as coal, diamonds, and technology, which contributes to its worth.
Wakanda has tons of vibranium in underground storage. One gram of vibranium is worth $10,000. That means Captain America's 12-pound shield, which is composed of the material, is worth just over $54 million dollars.
Being the monarch of the world's richest nation also makes you rich. T'Challa's net worth is $90.7 trillion dollars, which makes him richer than Batman's Bruce Wayne (9.2 billion) or fellow Marvel running mate Tony "Iron Man" Stark (12.4 billion). By a lot.
In the comics, the Black Panther is also one of the most well-respected men in the world. He is a combination of nobility (Thor), patriotism (Captain America), and superior intellect (Iron Man). He is also an Oxford graduate with a PhD in physics and is considered one of the top-5 minds on the planet.
The Black Panther is more than the special costume he wears. He is also a world-class athlete who was trained in martial arts, judo, wrestling (a popular Wakandan sport), and all forms of hand-to-hand combat. He also has enhanced healing properties, strength, speed, agility, and tracking senses. This is the result of ingesting a special heart-shaped herb that grows only around the site of the crashed vibranium meteorite. The radiation from the meteorite produces the plant which, once ingested, gives the recipient the aforementioned special abilities. Only those in the royal hierarchy and heirs to the panther mantle are eligible to use it. This means that the Black Panther has absolutely no problem going toe-to-toe with Captain America, who is considered the world's best hand-to-hand combatant and fighter.
Steeped deep in African tradition, Wakandans worship Bast, a female deity known also as the Panther God. The symbolic mythology here is also directly connected to ancient Egypt. She is revered as a protector and defender of the nation. This makes the Black Panther her agent outside the spirit realm, and thus more than a hero, but a true mythical figure. Imagine if the Pope wore a costume, had superhuman abilities, and defended the Vatican from its enemies both foreign and domestic.
Because of Bast, Wakandan women are highly-respected. The king's personal guard, the Dora Milaje, are an elite female fighting force. T'Challa's younger sister Shuri is a genius level intellect and considered one of the smartest women on the planet. Not only does she give the Black Panthers technologically-advanced suit & tech superior upgrades, but also other inventions to help further her country's technological dominance. While Tony Stark, who is considered one of the smartest men on the planet, graduated from MIT at age 17, he did not invent the Iron Man suit until age 42. By contrast, Shuri is only 16 years old.
In the comic books, the Black Panther was briefly married to Storm of the X-Men (remember Halle Berry?). Storm was from Wakanda's African neighbor Kenya (but grew up in Cairo, Egypt).

Until next week... WAKANDA FOREVER!
Tags:
Art
,
Black Panther
,
Books
,
Bullet Sunday
,
Comic Books
,
Marvel Studios
,
Movies
,
Television
,
The Daily Show
Categories:
Books
,
Bullet Sunday 2018
,
Movies 2018
,
Television 2018
—
Click To It:
Permalink
—
1 Comment: Click To Add Yours!
Posted on February 13th, 2018

As I've mentioned more than a few times, I'm a huge, huge, massively huge fan of Kehinde Wiley's work. When he had his first solo exhibition in Columbus, Ohio... I flew there to see it and was not disappointed. I also attended his 2013 show at The Jewish Museum in San Francisco, which was equally amazing.
So imagine my surprise when President Obama's presidential portrait was unveiled and it was painted by... Kehinde Wiley!
It's just as glorious as I knew it would be before I even laid eyes on it...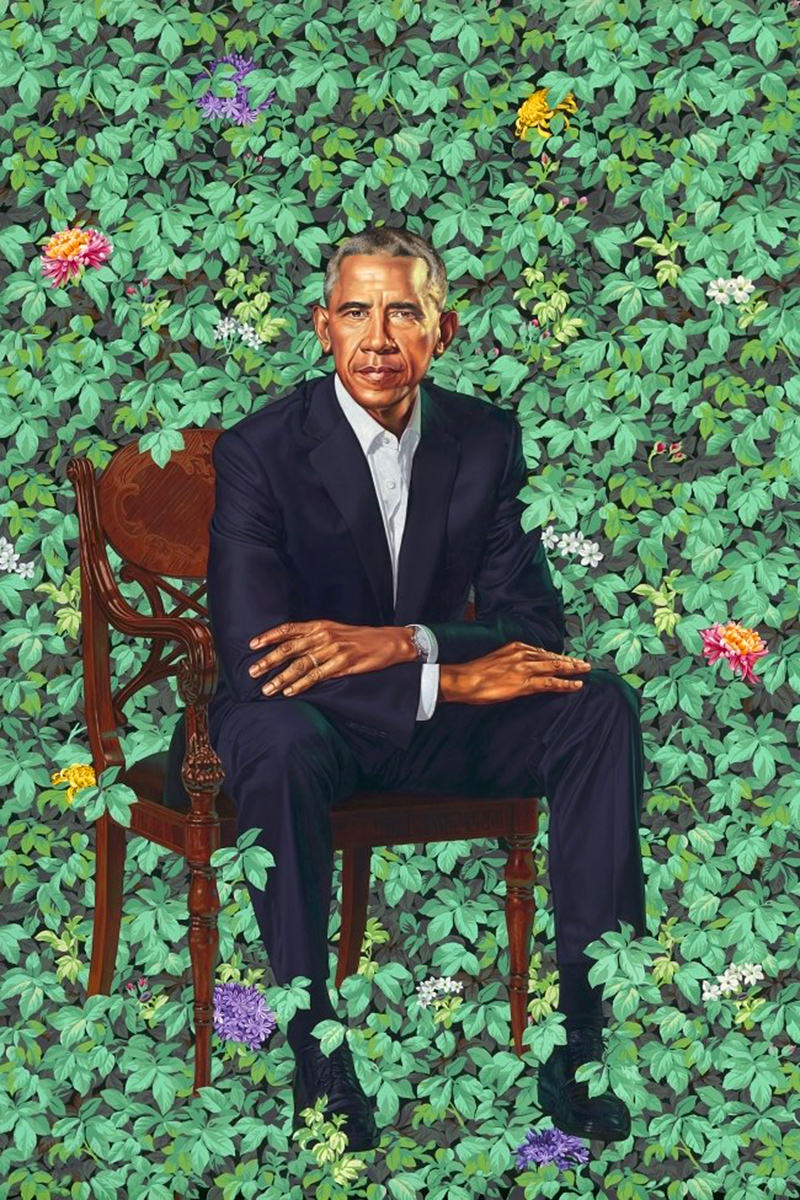 This tiny photo will not do the actual painting justice. Wiley's works are vivid, powerful, and larger than life in a way that simply cannot be captured unless you are viewing it in person.
I am also familiar with Michelle Obama's portrait artist, Amy Sherald, and find her work to be beautiful as well. And while I do think the First Lady's painting is perfectly lovely, I wish it had a bit better resemblance to her...

Needless to say, the fact that these portraits... and their subjects... are a departure from what has come before means that the Hate Brigade is out in full force.
And I get it. If you don't like the paintings, fine. If you think that the paintings stray too far from what you feel is acceptable for presidential portraits, fine. That's your opinion and you're welcome to it.
But opinions on the work was not where most of the hate was leveled.
FOX "News" personality and professional piece of shit, Sean Hannity, posted some bizarre crap to Twitter about President Obama's portrait... which was subsequently deleted and blamed on somebody else (of course). And, speaking of racist pieces of shit, a South Carolina resident who is on a city's transportation committee took the opportunity to call our former president a Muslim and the N-word.
And of course we also had to endure the whole "Reverse Racism" myth because Kehinde Wiley reimagines classical-style subjects and paintings with the Euro-centric subjects swapped out with Black men and women. This included a reimagining of the biblical tale of Judith beheading Holofernes which, despite Wiley having spoken about it on more than one occasion, was used to call President Obama a "racist" because of his portrait artist choice.
I'm seriously running out of eyerolls at this point.
Anyway, if viewing Kehinde Wiley's stunning works compells you to learn more about him, I highly... highly... recommend watching the PBS documentary Kehinde Wiley: An Economy of Grace. It's a fantastic look into his art, his process, and his world, and you can see a preview of it here...
The full documentary will probably be playing on your local PBS channel sometime soon because of this added exposure, but you can also rent it for $4 or purchase it for $10 on iTunes.
And now... time for me to revisit my exhibition guide from his Columbus art show.
Posted on November 12th, 2017

Put on that winter jacket, because winter is here along with an all new Bullet Sunday, which starts... now...

• Save It! I hate, hate, HATE the messing with the clocks twice a year. Daylight Saving Time ended a week ago, but my cats still haven't fully adjusted. Hell, I haven't fully adjusted yet either. At some point somebody has to end this madness.

• Canes! Back when I was traveling to L.A. twice a year, I decided to take an early run to Disneyland to get a handmade candy cane at Christmastime. It was insanity. The line to get one was crazy-long (now I guess they just hand out wristbands or something?) and they are really expensive ($10 when I bought one... probably $15 now!). And yet... a freshly made candy cane during the holiday season? Magic! Worth every penny! I'd buy one again... though the standing in line to get a wrist band is kinda a waste of Disney-Time! And speaking of raising canes at Disneyland, I just found this cool video...
I wonder how tough it is to make your own candy canes at home?

• Reveal! After watching a show on the beautiful restoration of Michelangelo's Sistine Chapel, I became more than a little obsessed with the art of restoring art. And why I've been captivated with art dealer Philip Mould's Twitter feed where he's been sharing some restoration photos like this one...
Amazing. I need to see if I can track down a blog where they keep track of stuff like this.

• No Wonder! This is incredibly fucked up.

• It's a Wonder! This, on the other hand, is incredible.

• Dance! This is the best thing I've seen on the internet this week, even though it's four years old...
Except bats eating grapes. It doesn't get cuter than bats eating grapes...
There. I can face another week now.

Time for a hot chocolate, I think. See you next week... I'll be the one bringing the bullets.
Posted on September 1st, 2017

A while back I talked about adding more National Parks Posters to my collection because they were on sale for a price too good to pass up. When they arrived, I took the opportunity to re-frame everything, then relocate them from my storage room to a wall on my stairway.
It was a good plan...
At least it was a good plan until the new frames I ordered showed up.
Re-framing, wiring, and hanging a dozen posters is a lot of work.
Too much work. Especially when you have to be precise when wiring and even more precise when hammering in the hangers so that everything will line up once you start hanging. It took
days
of nights to get it all sorted.
But it ended up being worth it because the end-results are magic.
It's tough to get a shot in my narrow stairwell, but you can get an idea...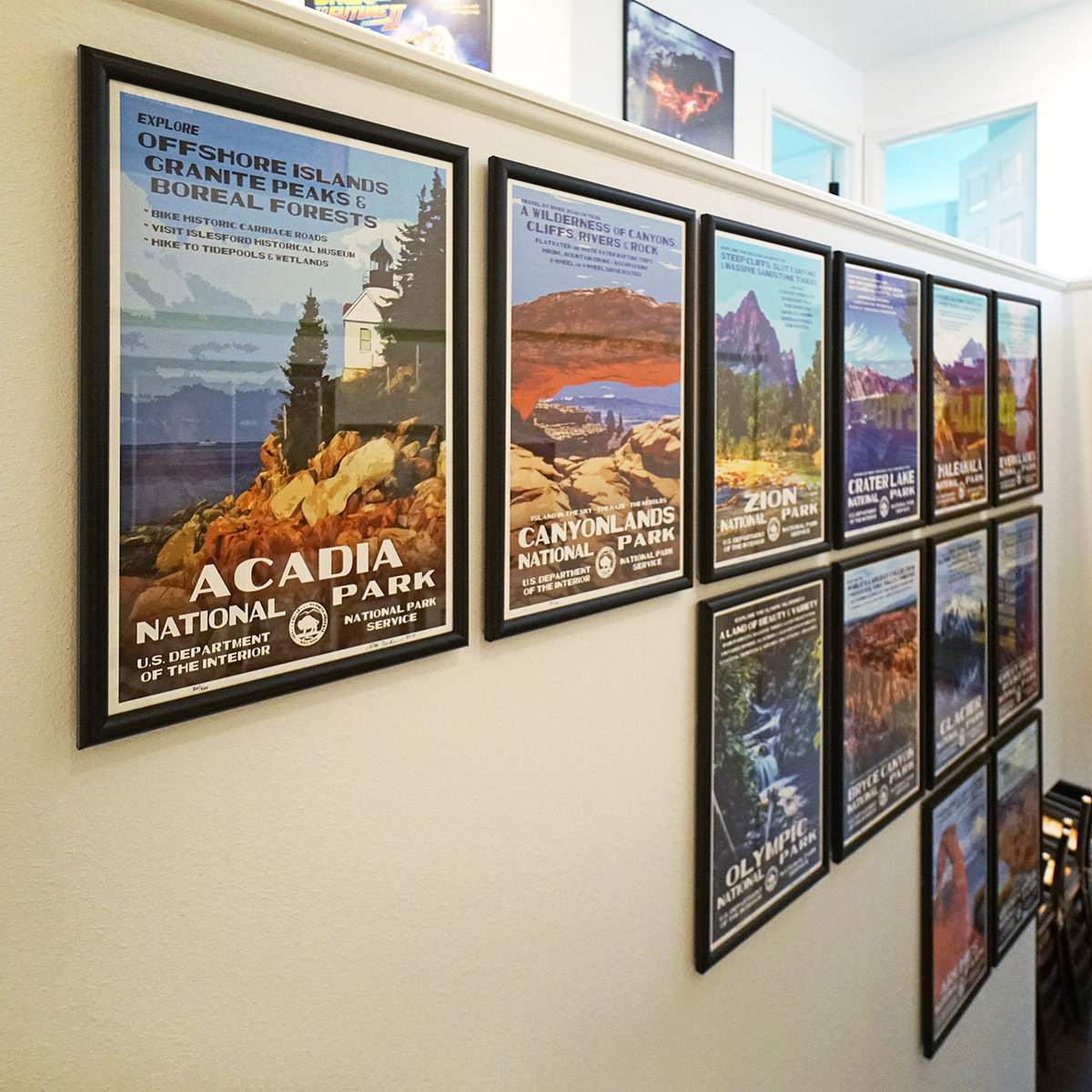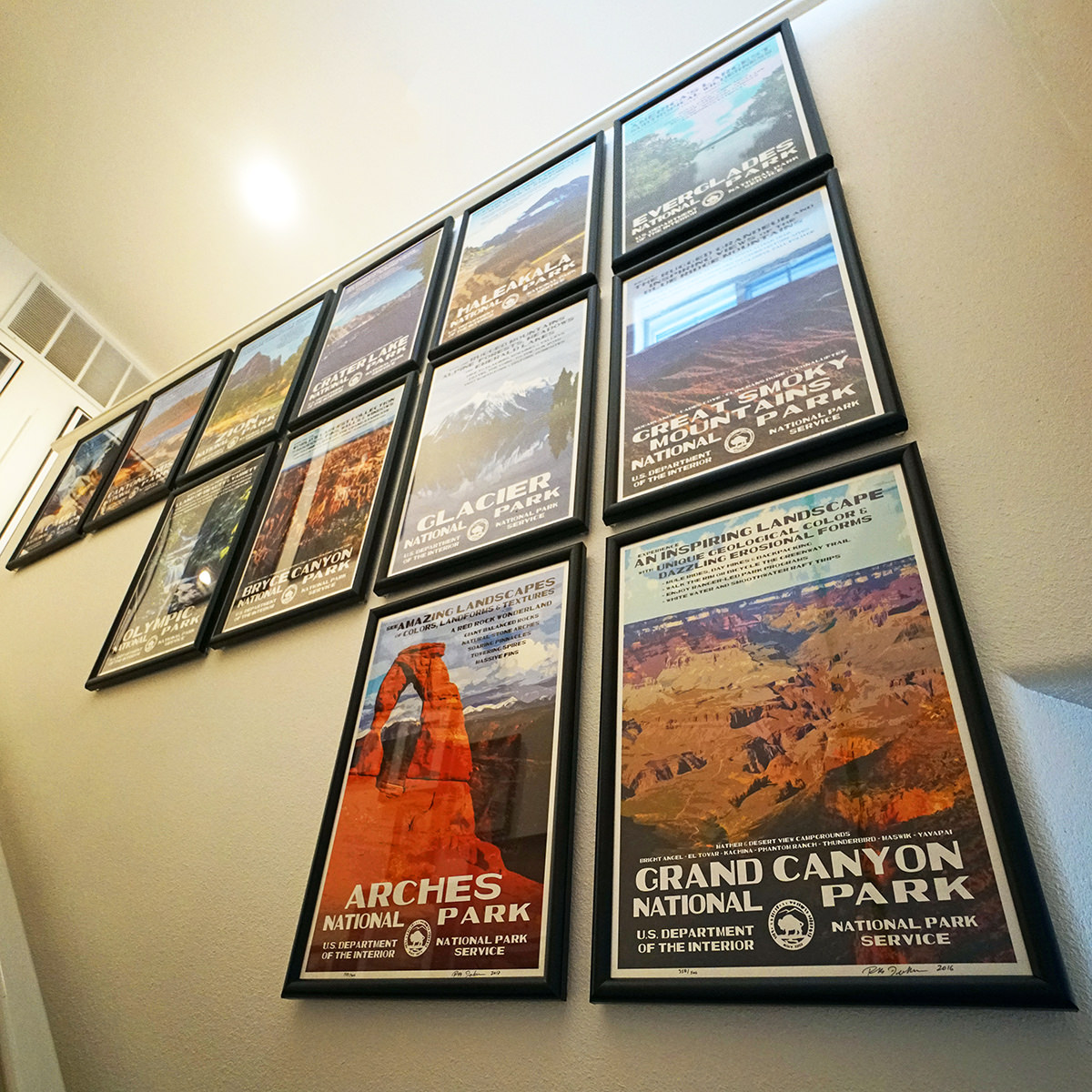 I think I can squeeze in two more... but I worry about the frames ending up too close to the handrail. I guess we'll see once I've visited more parks.
Oh... and if you want to grab some of Rob Decker's beautiful National Parks posters for your own home, they're on sale over Labor Day weekend at his site, so now's the time to do it!
And... speaking of hanging... I finally found a print I like for my guest bathroom that fits in with the Robert Lyn Nelson underwater posters I've already got in there...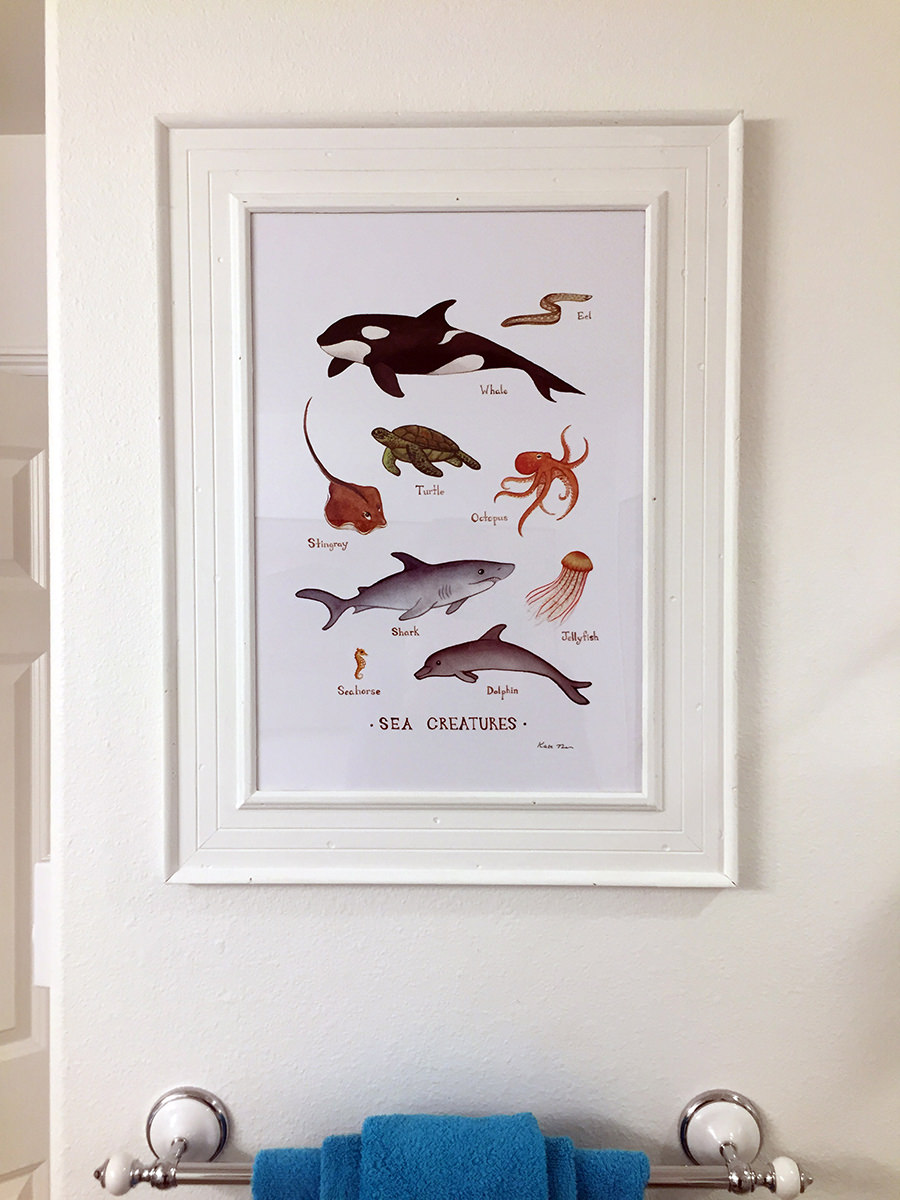 Kind of nice to have artwork and photos in my home that are by somebody other than me!