Posted on November 12th, 2017

Put on that winter jacket, because winter is here along with an all new Bullet Sunday, which starts... now...

• Save It! I hate, hate, HATE the messing with the clocks twice a year. Daylight Saving Time ended a week ago, but my cats still haven't fully adjusted. Hell, I haven't fully adjusted yet either. At some point somebody has to end this madness.

• Canes! Back when I was traveling to L.A. twice a year, I decided to take an early run to Disneyland to get a handmade candy cane at Christmastime. It was insanity. The line to get one was crazy-long (now I guess they just hand out wristbands or something?) and they are really expensive ($10 when I bought one... probably $15 now!). And yet... a freshly made candy cane during the holiday season? Magic! Worth every penny! I'd buy one again... though the standing in line to get a wrist band is kinda a waste of Disney-Time! And speaking of raising canes at Disneyland, I just found this cool video...
I wonder how tough it is to make your own candy canes at home?

• Reveal! After watching a show on the beautiful restoration of Michelangelo's Sistine Chapel, I became more than a little obsessed with the art of restoring art. And why I've been captivated with art dealer Philip Mould's Twitter feed where he's been sharing some restoration photos like this one...
Amazing. I need to see if I can track down a blog where they keep track of stuff like this.

• No Wonder! This is incredibly fucked up.

• It's a Wonder! This, on the other hand, is incredible.

• Dance! This is the best thing I've seen on the internet this week, even though it's four years old...
Except bats eating grapes. It doesn't get cuter than bats eating grapes...
There. I can face another week now.

Time for a hot chocolate, I think. See you next week... I'll be the one bringing the bullets.
Posted on September 1st, 2017

A while back I talked about adding more National Parks Posters to my collection because they were on sale for a price too good to pass up. When they arrived, I took the opportunity to re-frame everything, then relocate them from my storage room to a wall on my stairway.
It was a good plan...
At least it was a good plan until the new frames I ordered showed up.
Re-framing, wiring, and hanging a dozen posters is a lot of work.
Too much work. Especially when you have to be precise when wiring and even more precise when hammering in the hangers so that everything will line up once you start hanging. It took
days
of nights to get it all sorted.
But it ended up being worth it because the end-results are magic.
It's tough to get a shot in my narrow stairwell, but you can get an idea...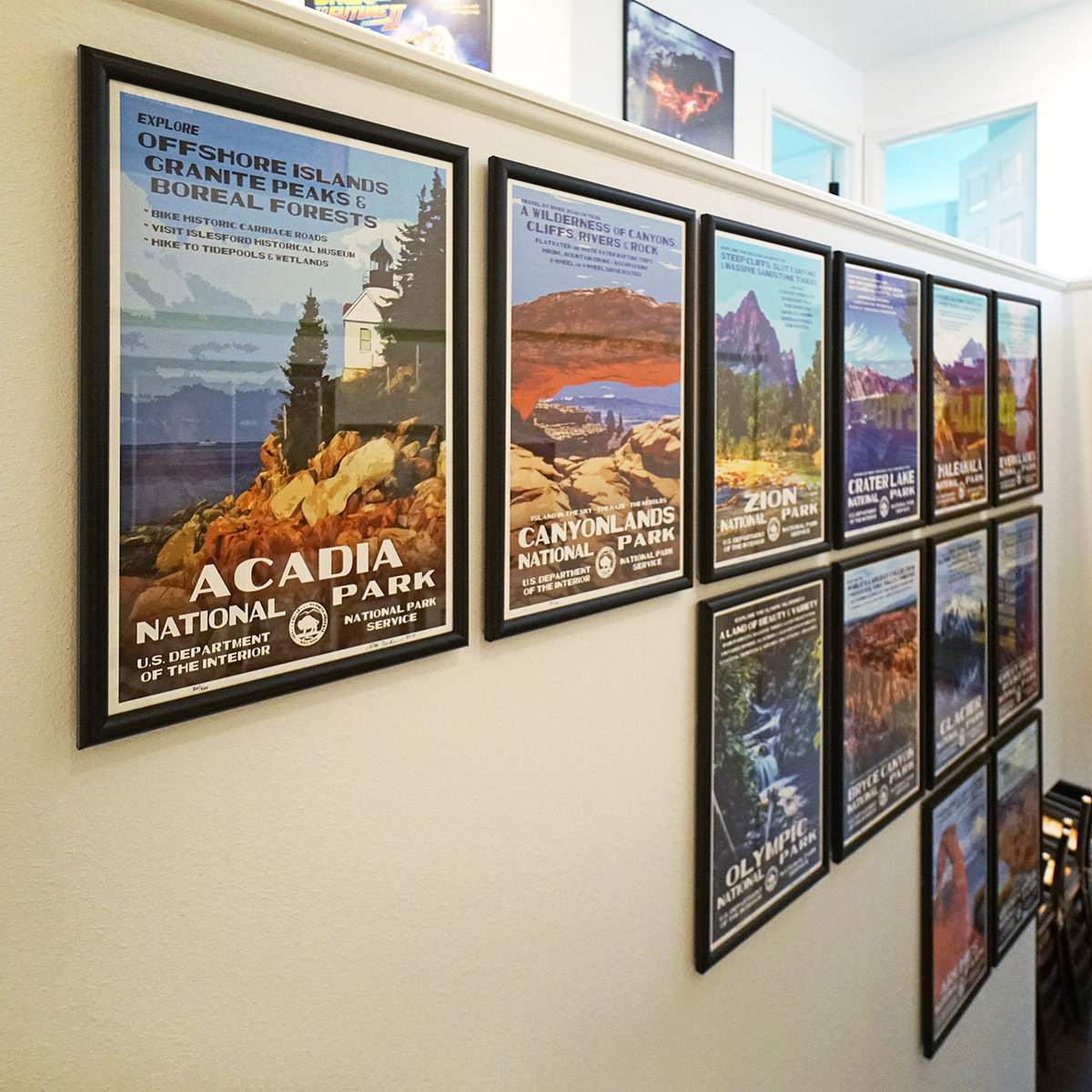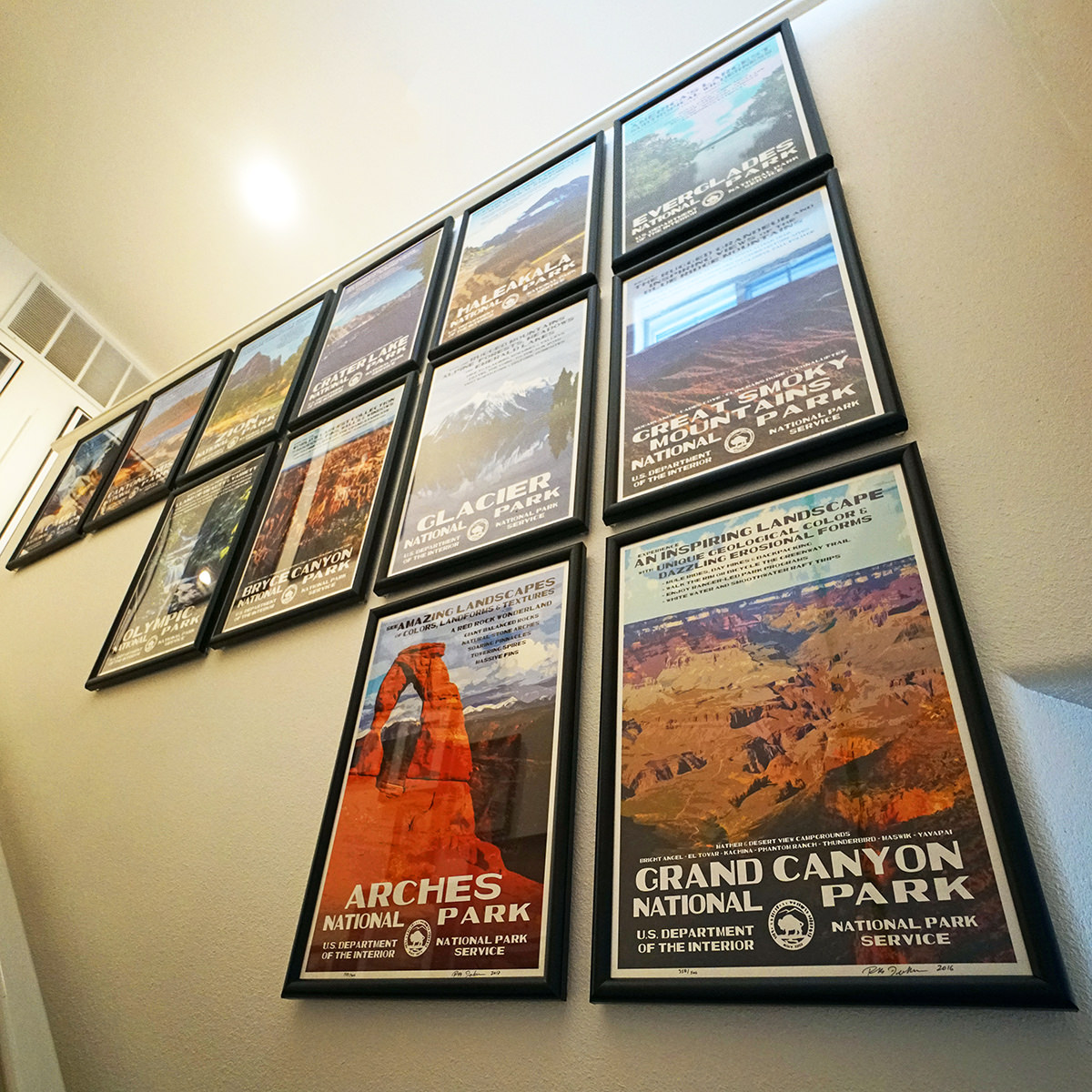 I think I can squeeze in two more... but I worry about the frames ending up too close to the handrail. I guess we'll see once I've visited more parks.
Oh... and if you want to grab some of Rob Decker's beautiful National Parks posters for your own home, they're on sale over Labor Day weekend at his site, so now's the time to do it!
And... speaking of hanging... I finally found a print I like for my guest bathroom that fits in with the Robert Lyn Nelson underwater posters I've already got in there...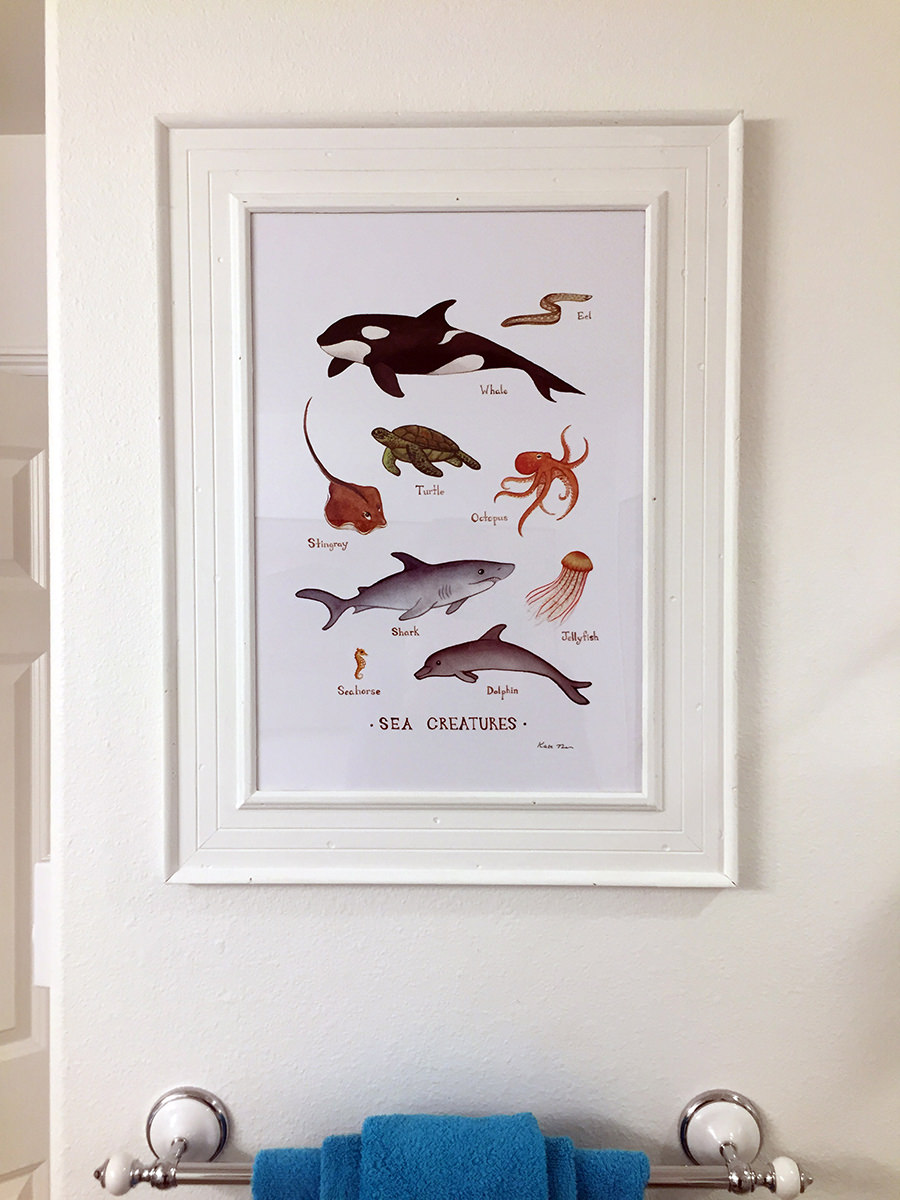 Kind of nice to have artwork and photos in my home that are by somebody other than me!
Posted on August 31st, 2017

Good news, everyone!
The twentieth issue of Thrice Fiction magazine has been released... just in the nick of time for the August cover date to still be in August! And you can read it online or download it for FREE at our website!
This time we are honored to feature a gorgeous cover illustration by Chilean artist Alvaro Tapia Hidalgo, who does work for The New Yorker, The Washington Post, Wired, Rolling Stone, New Republic, Forbes, Harper's Bazaar, and other fine publications. Many thanks for his kind generosity in allowing us to feature his artwork in this issue...
If you'd like to see more of Alvaro's stunning work, head over to his website and prepare to be blown away!
And now... what are you waiting for? Go take a look at the latest issue of the best fiction 'zine you're not reading: Thrice Fiction!
Posted on August 17th, 2017

Rather than focus on the hideous events from another tragic day in this country, I thought I'd search for something positive about the good ol' USA that doesn't fill me with overwhelming dread and embarrassment.
I didn't have to go far.
I recently got a notice that Rob Decker is having a killer sale through the month of August on his incredible US National Park posters. There are many people/companies creating these, but Rob's are my hands-down favorite (he studied under Ansel Adams!). He bases the designs on his own photography, and crafts them in the style of the old-time WPA Federal Art Project posters that were made in the 30's and 40's. They are magic...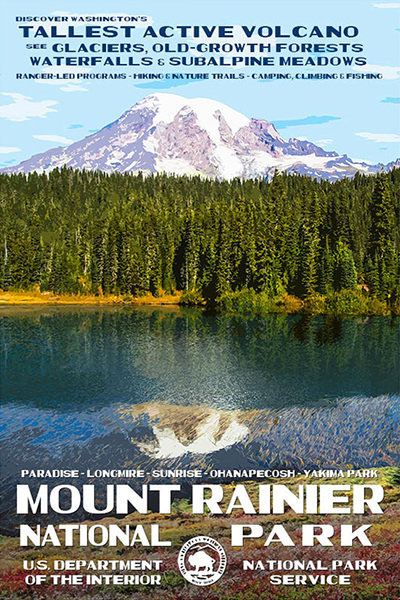 Artwork © Rob Decker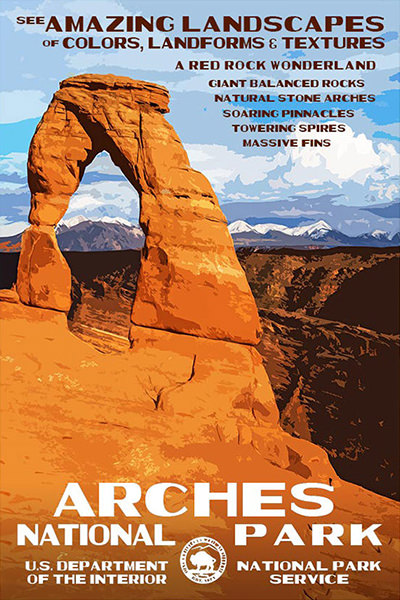 Artwork © Rob Decker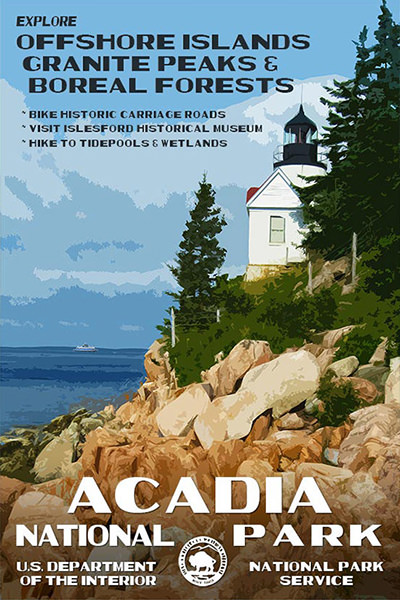 Artwork © Rob Decker
All of these gorgeous 13×19 posters are signed/numbered limited editions and usually retail for $30 each (which is a total bargain)... but with his sale, you can pick them up for as low as $20 each!
Talk about something Americans can be proud of... our incredible 59 National Parks are national treasures and truly showcase America the Beautiful. I visit them whenever I can, and have plans to visit more in the near future. Here's my list with a check next to the park posters I own (click on a National Park to visit its Wikipedia Page)..
Just for fun, I mapped them all out in Google Maps here...

Rob plans on eventually releasing posters for all 59 National Parks, so hopefully Hawaii Volcanoes, North Cascades, and Redwood will be added to my collection soon!
In the meanwhile, I rearranged my stairwell wall so I can fit my recent purchases into my collection...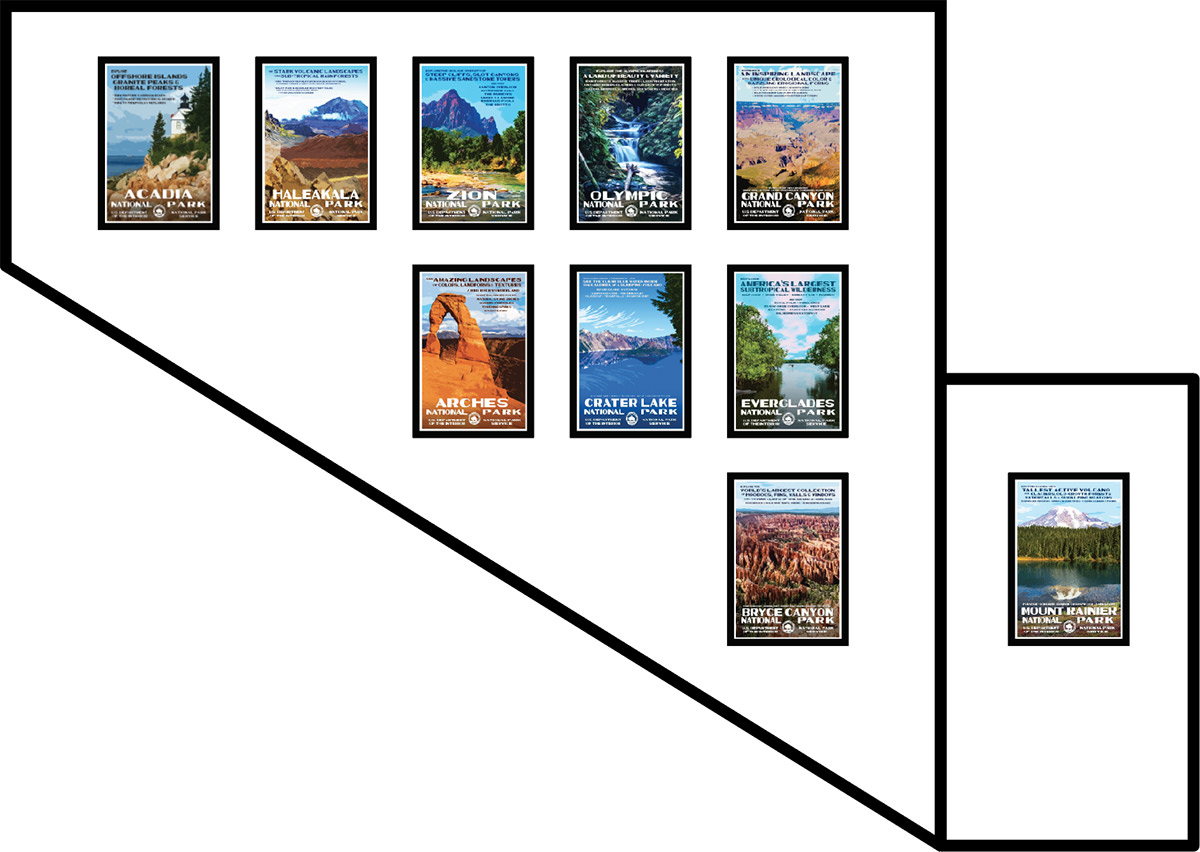 Annnnd... my wall is full now! As I visit more National Parks, I guess I'll have to add any new posters to my office the cat's room walls.
Posted on April 24th, 2017

Did you know that yet another issue of Thrice Fiction Magazine will be debuting this month (hopefully)?
Well, it's true!
And while I don't want to give any of the awesome stories away, I thought I'd take a minute to share one of the art pieces I put together last night.
My favorite way of creating art to accompany a story is to draw, paint, or photograph something of my very own. But there are times that it's just not possible for what I'm trying to communicate. For one particular story in our next issue, I wanted to create a Bon Appetit magazine-style page. My vision was to have a kind of fried fish/prawn hybrid sitting on a plate in a Japanese restaurant... perhaps with a dollop of wasabi on the side. Being a vegetarian who hates seafood, the idea of putting fish parts in my deep-fat fryer filled me with horror, so I decided the best way to get what I wanted was to buy stock photos and assemble them into what I was envisioning.
And so I searched Adobe Stock for the pieces I needed...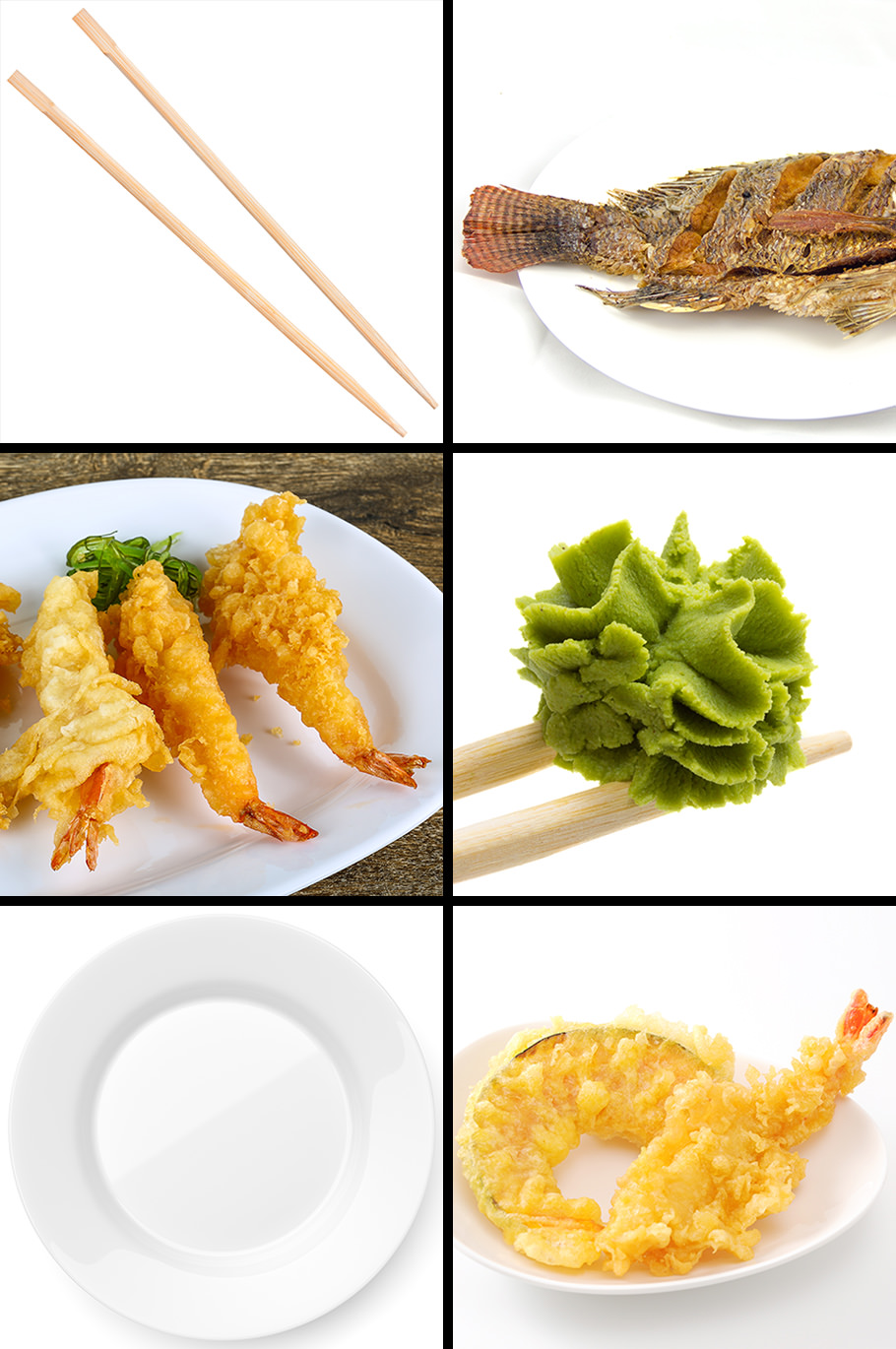 Then downloaded preview images into Photoshop so I could see if they would fit together well...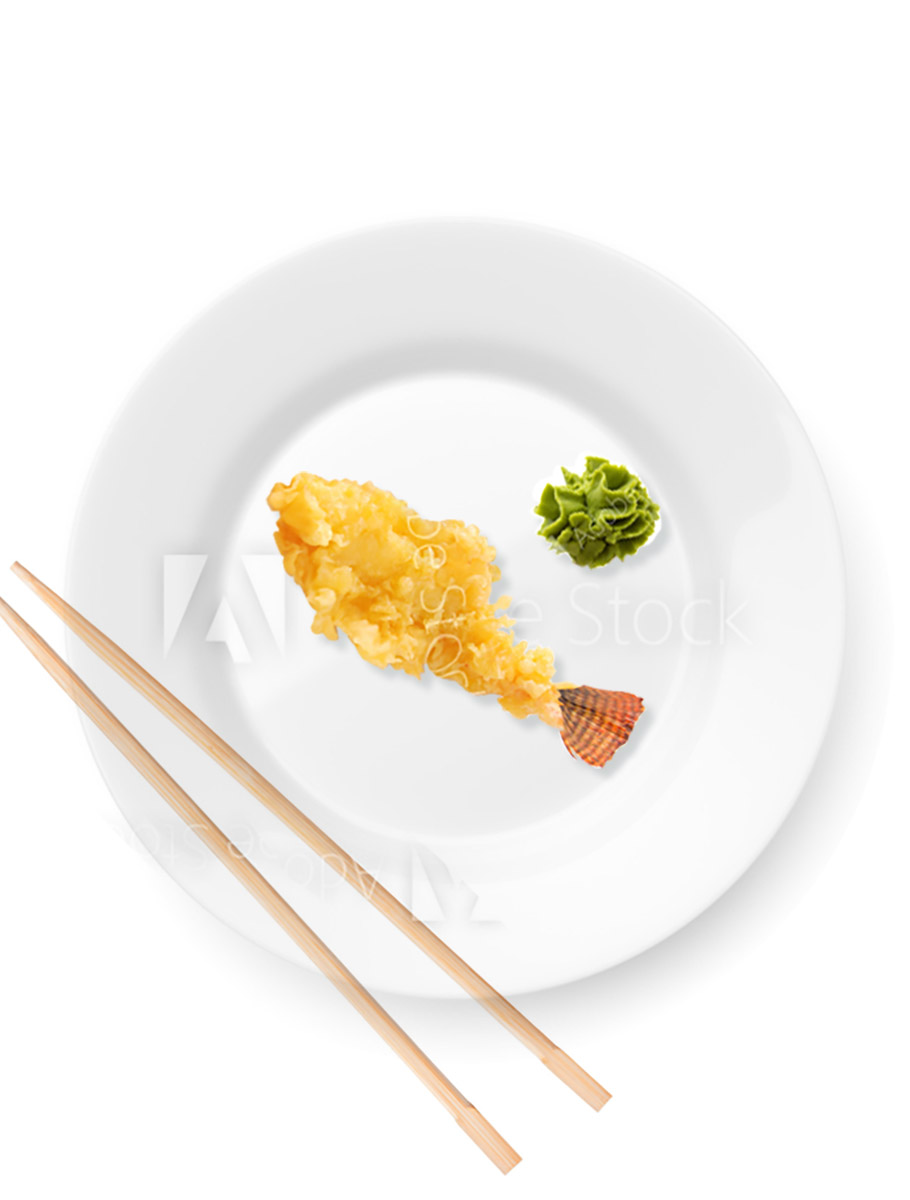 Then, once I was happy with all the parts and pieces I found, I'd purchase the full-res photos and get to work. I had to combine three pieces of fried fish/prawns into one... add it to a plate with some wasabi and chopsticks... then paint in shadows to bring it all together and make it look "real-ish"...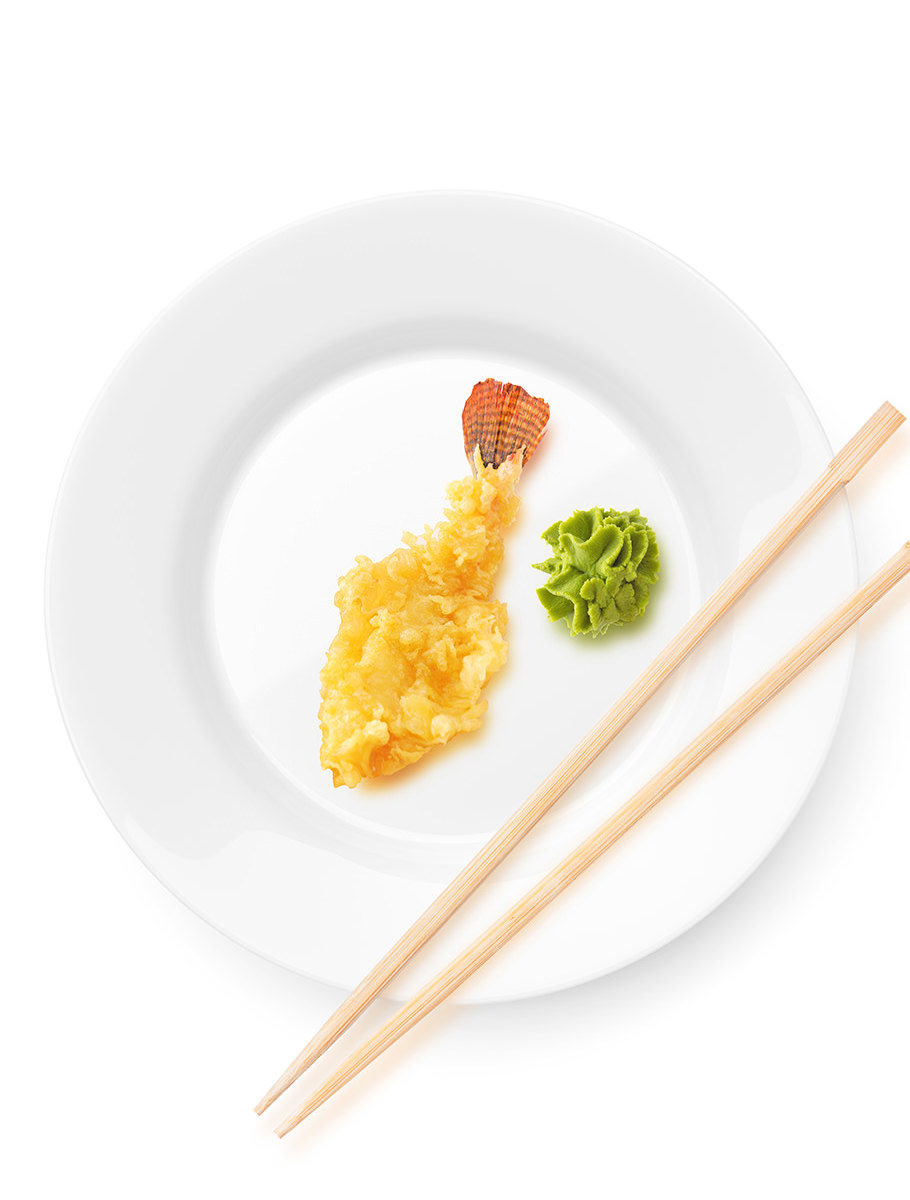 And voilà! A fish-prawn thing is served!
To find out why it's served... you'll have to download the April issue of Thrice Fiction, coming soon!
Posted on February 27th, 2016

Wow.
This kind of artistry makes my heart ache...

Everything about these cookies is mesmerizing. I can only guess that they taste amazing as well...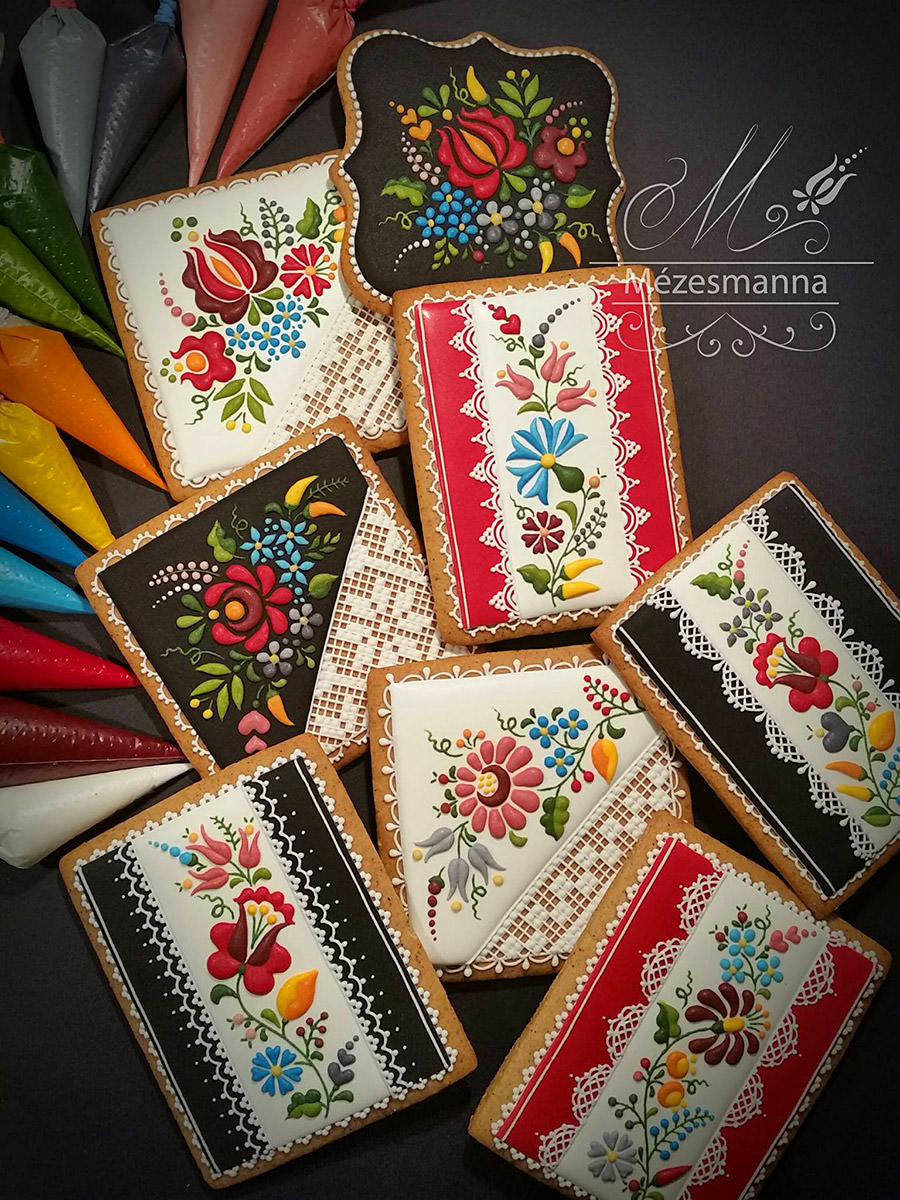 If you're looking to be completely blown away... here's her Facebook page.
Posted on December 6th, 2015

The holidays must be near, because the gift of Bullet Sunday starts... now...

• AVOID! I'd like to begin this entry with "Screw United Airlines," easily the worst airline going. They bring nothing but misery, and just don't give a fuck. I'd rather eat a piece of shit encrusted with pubic hair than to ever give United Airlines one cent of my money.

• Ware. Chris Ware is one of my favorite living artists. His work provides insight into the human condition in a way few people can match. This is his latest...
As if that wasn't gift enough, a "behind the scenes" exploration of the cover has been ANIMATED over at the New York Times website. Absolutely worth a watch. Click here immediately to experience it.

• Rescue. Speaking of cats... essential viewing...
Catfishing! Amazing that somebody probably abandoned the poor things out there.

• SvB. Oh gawd. The Superman vs. Batman film looks even worse than I imagined. Even worse than the pile of shit that was Man of Steel. How could DC have fucked this up so bad? Oh... Zack Snyder... that's right. Let's overdramatize the shit out of even the most mundane moments. People love that. Barf...
This makes Superman IV: Quest for Peace look like total genius... because at least that turd had Gene Hackman in it. Jesse Eisenberg's "Lex Luthor" is a fucking embarrassment. I can't help but wonder if this movie fucking tanks... as it rightfully should... what happens to the DC cinematic universe? Hopefully it gets flushed down the toilet so somebody who gives a shit about the comics can start over.

• Regerts. A kitten who regretted his life choice...
Does it GET cuter than this?

• Diamonds. Dayamn! No pressure...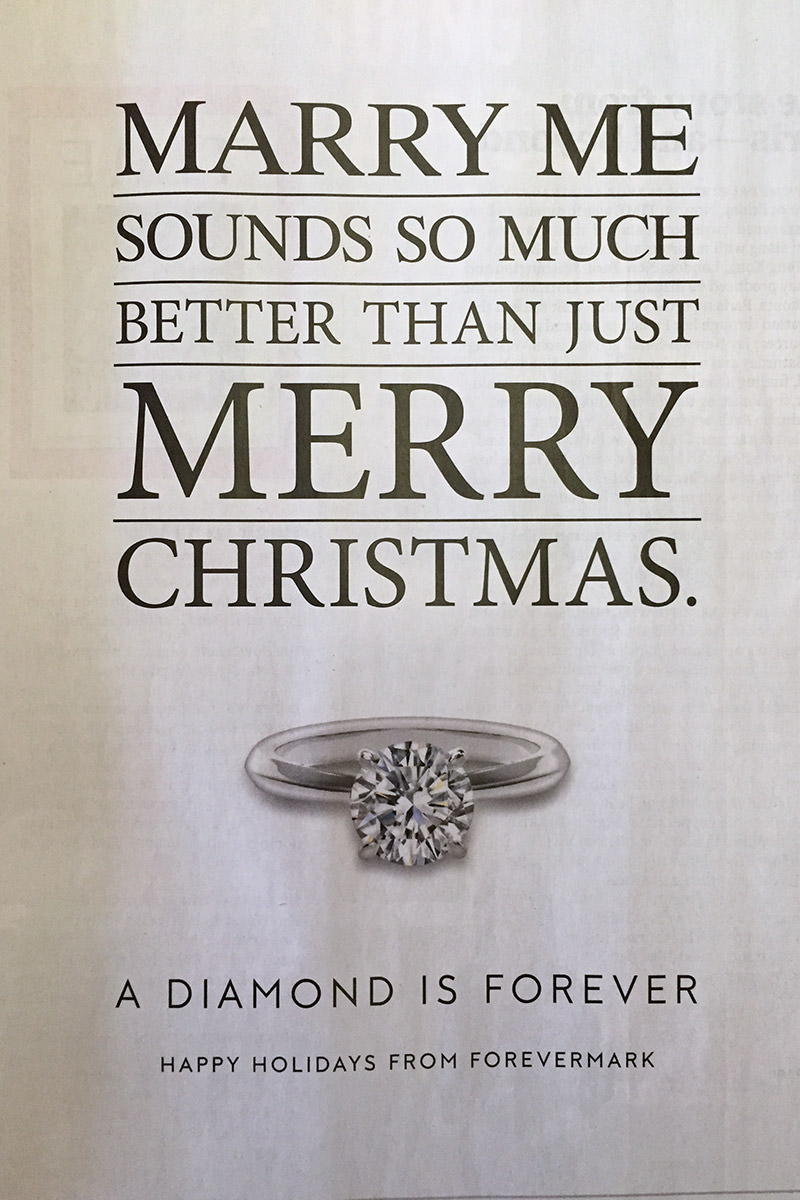 And also... WAR AGAINST CHRISTMAS!!!

I'm spent. No more bullets for you.