Posted on June 5th, 2017

And so it's time once again to tune into the Apple World Wide Developer Conference keynote to find out what everybody's favorite fruit-based tech company has up their sleeves for second quarter 2017.
I have to admit, I no longer get ramped up for these Apple things like I used to. In the past, I would take a frickin' vacation day when the WWDC keynote was unspooling just so I could unpack all the Apple goodness that had been unleashed. I'd pour over every minute and blog epic breakdowns of everything that was announced.
Now?
Well, I'm still excited over Apple's stuff... they're an exciting company. But the way they keep screwing up has me less enthused than I once was. I bought into their HomeKit home automation tech, only to find out that it is a total load of crap. They keep making "pro" equipment that isn't for "pros." The reliability of their products is in the toilet, and the way they address their lack in quality is bullshit. Meanwhile Microsoft is killing it with their Surface line, easily picking up the pro design market that Apple is abandoning.
But I digress.
Rather than have to watch hours of keynote like I did, here's a 19 minute recap that tells you everything you need to know (assuming you haven't seen it already)...
And here are my reactions...
Amazon on Apple TV. It's about frickin' time. I mean, I know this was probably more an Amazon issue than an Apple issue, but the wait has just been silly. A pity that the Apple content delivery is so shitty. I still can't get reliable streaming of my Apple video purchases despite every other streaming service in existence working perfectly fine... even on my AppleTV.
watchOS 4 Some nifty features. It's interesting how Apple has cracked the nut here that so many companies have failed with. Problem is that the watches are still too thick and clunky to be comfortable on me.
MacOS High Sierra. As the self-proclaimed "Heart and Soul of Apple," the company sure doesn't seem to be putting the Mac on the same level as their phone/watch/tablet products. This update to the MacOS offers some interesting features... in particular the new file system that's been a long time coming... but most of it is fluff. Where is the groundbreaking innovation that's going to keep the Mac platform moving forward? Certainly not at this keynote.
VRkit. Mass adoption of Virtual Reality isn't going to happen until it's much cheaper... and a hell of a lot less cumbersome and uncomfortable. When Apple releases VR that's accessed with a pair of glasses instead of some janky headset, maybe I will get excited. But now? Interesting and entertaining for early adopters, but it's got a long, long way to go before it's an essential technology.
iMac Pro. Why the fuck can't Apple get it through their heads that all this "pro" equipment they are releasing is not what pros are wanting? Your "pro" Mac option is now a fucking iMac? An iMac? A $5000 computer you can't expand or self-service? Oh... but it comes in fucking "Space Gray," so that makes up for everything! Give me a fucking break. Yes, it's an awesome computer... a powerfully awesome computer that looks great... but it is NOT WHAT PROS ARE LOOKING FOR!
iOS 11. Messages syncing is great, Personal Apple Pay is wonderful. Upgraded Siri is awesome... especially the translation feature! Siri learning and persistence is cool. Photo upgrades are welcome. New Control Center is overdue. Do Not Disturb while driving is critical to help keep dumbasses from being dangerous on the road. ARkit augmented reality is sweet, but kind of gimmicky.
iPad Pro. Wishing this was my iPad. The upgraded display is phenomenal, and looks like it will make using Apple Pencil even more remarkable. But the best part is the new size. The move from 9.7" to 10.5" feels like the perfect move... just a little bit more room to be more productive, but not to the cumbersome degree of the 12.9" model. I don't know that these new iPads are the ideal answer to Microsoft's Surface, but it's definitely a step in the right direction. But at a price.
iOS for iPad. If Apple keeps bringing desktop features to iPad, pretty soon they won't need to sell desktops. Which is probably the ultimate goal here. File management is finally here and, while not as feature-rich as I had hoped, it's still very much a step in the right direction.
HomePod. I'll buy one. Absolutely. This is the perfect device for playing music in my bedroom... perhaps even in my living room. But when it comes to home automation, it's too little too late. WAY too little because it relies on Apple's shitty HomeKit technology that I've abandoned. WAY too late because Amazon's Alexa does so much more in every arena, and already controls my home automation perfectly. To me, this is competition to SONOS, not Alexa. Maybe one day that will change, but Apple is going to have to integrate with other systems like Amazon has done in order to make any headway.
All in all... some nice upgrades in the OS and software departments, but more of the same bullshit for pro design users. A market Apple used to own, but is throwing away with gleeful abandon. Leaving me to wonder if my next computer will be running Windows. My license for Adobe's Creative Cloud Suite works for Mac or Windows, and they function the same on both systems. Food for thought.
Tags:
Apple
,
Apple TV
,
Apple Watch
,
iMac
,
iPad
,
iPhone
,
iPhone Photography
,
Mac
,
Mac OS X
,
WWDC
Categories:
Apple Stuff 2017
,
News – Politics 2017
—
Click To It:
Permalink
—
3 Comments: Click To Add Yours!
Posted on February 26th, 2017

Don't panic just yet, because an all-new Bullet Sunday starts... now...

• A Simple Difference. I love advertising that really makes you think, and this ad from Australia is absolutely brilliant in getting its point across. Before watching, it may be helpful to know that Aussies use BBQ sauce the way Americans use ketchup. And Aussie tomato sauce is much like ketchup except not...
For an equivalent American context, the guy telling his dad he likes tomato sauce is the equivalent to going to Chicago and telling the hotdog vendor that you want ketchup on your dog.

• Dyer for Govorner! Now THIS is transparency on a candidate website! Not really anybody's business but his, but I get why he's written it. I think most people would hemorrhage if they were to have this kind of insight into the people they've elected. Well, except for President Trump. Apparently he can do whatever the fuck he wants... no matter how heinous... and it doesn't matter to his supporters. Even though those same supporters have condemned the same activities in others.

• Dimensions Now that Disney Infinity has died, I am really, really hopeful that LEGO Star Wars and LEGO Marvel Super-Heroes will end up in LEGO Dimensions. The epicness of such a fusion would almost be too much for me to handle. Darth Vader driving the Batmobile? Spider-Man slinging through Adventure Time world? Catwoman meeting Black Panther? The possibilities... the possibilities...
Big fun awaits... if Disney will play ball.

• HeLa Can. Not. Wait. The book, The Immortal Life of Henrietta Lacks, was excellent. And while I've never liked Oprah as a talk show host, I've always loved her as an actor...
If you haven't read the book, it's worth a look.

• Ross! Be yourself. Unapologetically. Be like Ross and let the haters hate on... it's all they have...
Ross has got to be one of the nicest guys in Hollywood. Milo Yiannopoulos has got to be one of the biggest assholes on the planet. There is no contest here. None.

• ALARM! Why is the iPhone alarm system so shitty? Can't skip an alarm without turning it off. The alarm plays... FOREVER... instead of turning off after a few minutes. The snooze feature is absolute garbage because it's so inflexible. The list goes on and on. If you use your iPhone as a clock like I do, this is a daily frustration that drives me bonkers, especially on the weekends. Apple... you have BILLIONS of dollars. Why not take a fraction of that money and fix your shit?

And... aren't we all glad that's over?
Posted on March 16th, 2016

I love a good television ad.
Putting Cookie Monster in an iPhone ad is about as good as it gets.
Putting Muppets in anything is about as good as it gets.
Posted on October 14th, 2015

It's not that I get upset because somebody texted the wrong number...
...it's because they don't have an iPhone, so I have to pay texting charges to let them know.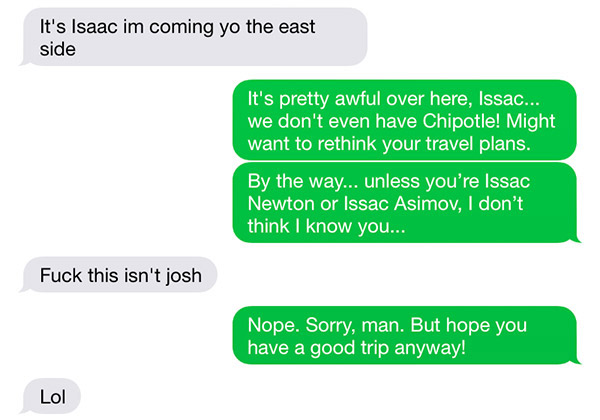 Damn green bubbles!
Posted on September 9th, 2015

Another September, another Apple Event.
This time there were few surprises, as Apple rumor sites have had the skinny on what's coming for months. Actually, with the exception of the Apple Pencil, I don't think there were any surprises. But we'll get to that in a bit.
Apple Watch
Until they make it thinner, I just don't give a crap. All the cool new features in the world don't mean a thing unless I actually want to wear it. Holy crap. You're Apple. Figure out a way of moving the battery to the strap or something.
iPhone 6S
I covet the new 12MP camera. That also shoots 4K video. Which is amazing (assuming you've got the memory for it).
DEEP. TRENCH. ISOLATION.
At first I thought that Live Photos was gimmicky... until I looked at the gallery. Photos that come to life like this are pretty cool. Kinda like Vines, I guess. Facebook support is great... hopefully Vine will be supported too.
3D Touch (formerly Force Touch?) with Taptic Engine response and "Peek & Pop" looks wonderfully intuitive and useful. If developers start integrating it in their apps like the video showed, this alone might be worth the cost of an upgrade.
Faster-Better-Stronger Touch ID is a welcome upgrade.
The new "iPhone Upgrade Program" from Apple is interesting. A new iPhone every year so you've always got the latest. Unlocked for any carrier. AppleCare+ included. $36.58 a month for a 64GB 6S. That's $438.96 a year, which saves you around $200 from the cost of buying a new iPhone outright each year... $300 if you include a new AppleCare+ contract. Still, I don't know if this is something I'm willing to get into unless my mobile carrier will give me a discount on service since I won't be subsidizing a phone with them. I'm guessing that's not going to happen, and so... my 2-year contract with AT&T will undoubtedly be renewed. When is Apple going to create their own mobile network?
UPDATE: Shit. No optical image stabilization on the 6S. You still have to go with the "plus" model to get it, which sucks, because I still find the "non-plus" models to be too big.
Apple TV
Still no HomeKit. Holy shit is Apple fucking up on this.
The new model is not the breakthrough Apple seems to think it is. Others (including Google) had a lot of these new features ages ago.
Given how pathetic Apple's menu system is and how hard it is to do anything with the crappy Apple TV interface, slapping Siri on top of everything is appreciated... but doesn't do jack to solve the real problem.
The new swipe remote is great. If there is one area Apple excels, it's boiling down complicated remotes to something elegant and simple. Nice.
Siri's "What did they say?" feature which automatically jumps back 15 seconds AND temporarily turns on closed captioning is genius. The ability to access Siri info while watching AppleTV without interrupting what your watching is also very nice.
The Apps feature, assuming they get some good games, could really put a dent in Wii, Playstation, and Xbox sales. Apple TV certainly has the power to play good games.
Where my disappointment comes in is that I honestly thought Apple would be coming out with their own network content offerings, thus allowing everybody to build a cable package of only the channels they want to pay for. I am so sick and fucking tired of paying for an outrageously expensive cable package filled with tons of shit I don't want, but have to pay for. Oh well. It's coming one of these days. It pretty much has to, even if Apple isn't the one to do it.
Given how much money I've got invested in iTunes Store media AND the fact that my Apple TV is really old... I'll probably go ahead and spend the $149 come late October (since I won't be playing games (I have consoles for that), the $199 version would be overkill). Blergh.
iPad Pro
Okay. I'm just going to come right out and say it... I want one of these things so very, very bad.
Surprise!
I've been jonesing for a graphics tablet with display for the longest time. Problem is they are incredibly expensive, and the stylus lag coupled with the thick glass above the display on more affordable models is a total boner-killer for me. But here comes Apple with a new "Apple Pencil" that apparently eliminates lag and is coupled with Apple's laminated display which minimizes the amount of glass between you and what you're drawing...
And, oh yeah... it's still an iPad, so it can do everything an iPad can already do on top of being a kick-ass graphics tablet display. Giving you a much bigger bang for your buck than purchasing a graphics tablet display alone.
And about that price...
$799 for a 32GB model (pretty useless if you're doing serious work)
$949 for a 128GB model (more realistic, but I was hoping for at least 256GB)
Add a $99 Apple Pencil and you're over $1000 for the model you want. Which hurts. But that's roughly what a Wacom Cintiq 13" HD Touch runs, and it can only do one thing (though, admittedly, it does it very well). So, assuming iPad Pro and Apple Pencil end up being as good as they look, APPLE! TAKE MY MONEY!
Guess we'll find out come November.
All things considered, a worthy Apple Event.
My favorite part of the show was closing it out with a great live performance by OneRepublic. My second-favorite was the news that Apple now has an Android app for transitioning from an Android phone to an iPhone. Classic!

As a Certified Apple Whore, I never feel more alive than when Apple releases something new that I want.
Posted on August 16th, 2015

Time for a very special Los Angeles bullets edition... because Bullet Sunday starts... now...

• Getty. If forced to pick my favorite place in Los Angeles, it would probably be Disneyland. Outside of Disneyland the contenders get murky and I'm not entirely sure what my next pick would be. But The Getty Center would be near the top of the list. It's a gorgeous location above L.A. that's populated with beautiful galleries that are filled with amazing art. And it's all free for the viewing (though parking is $15, if you're driving up)...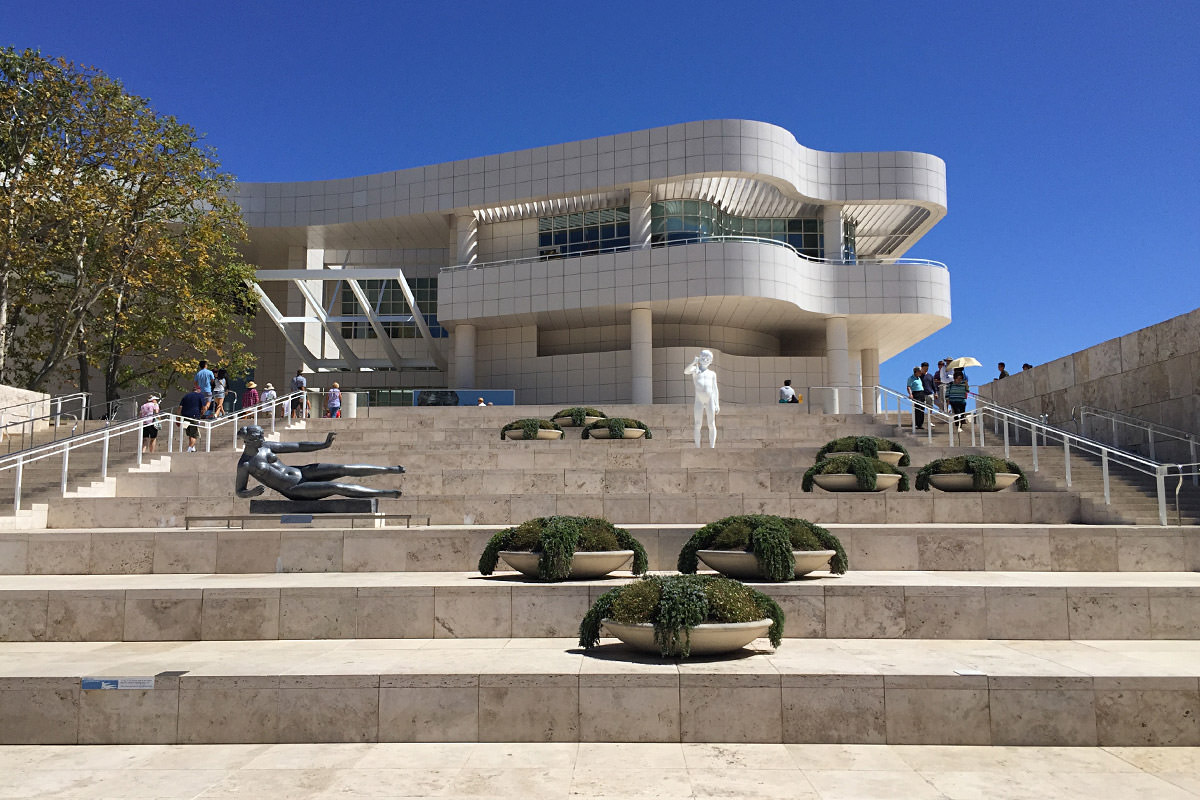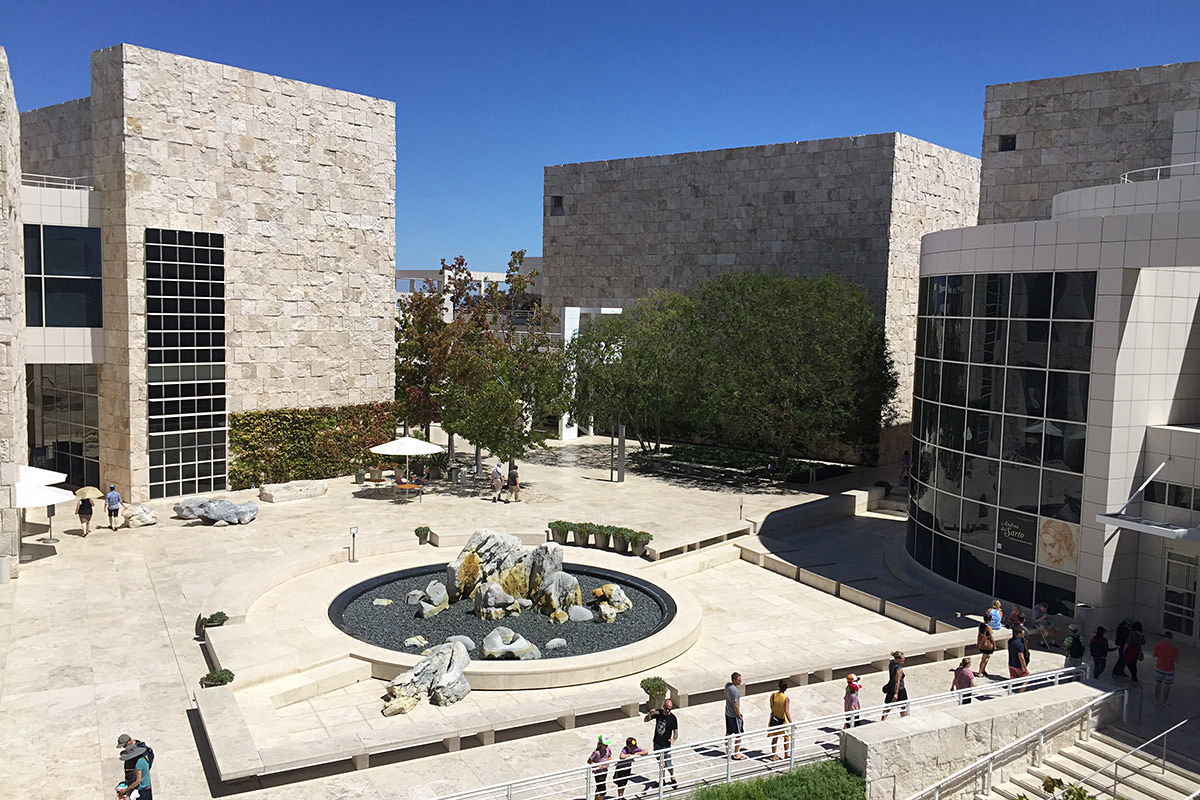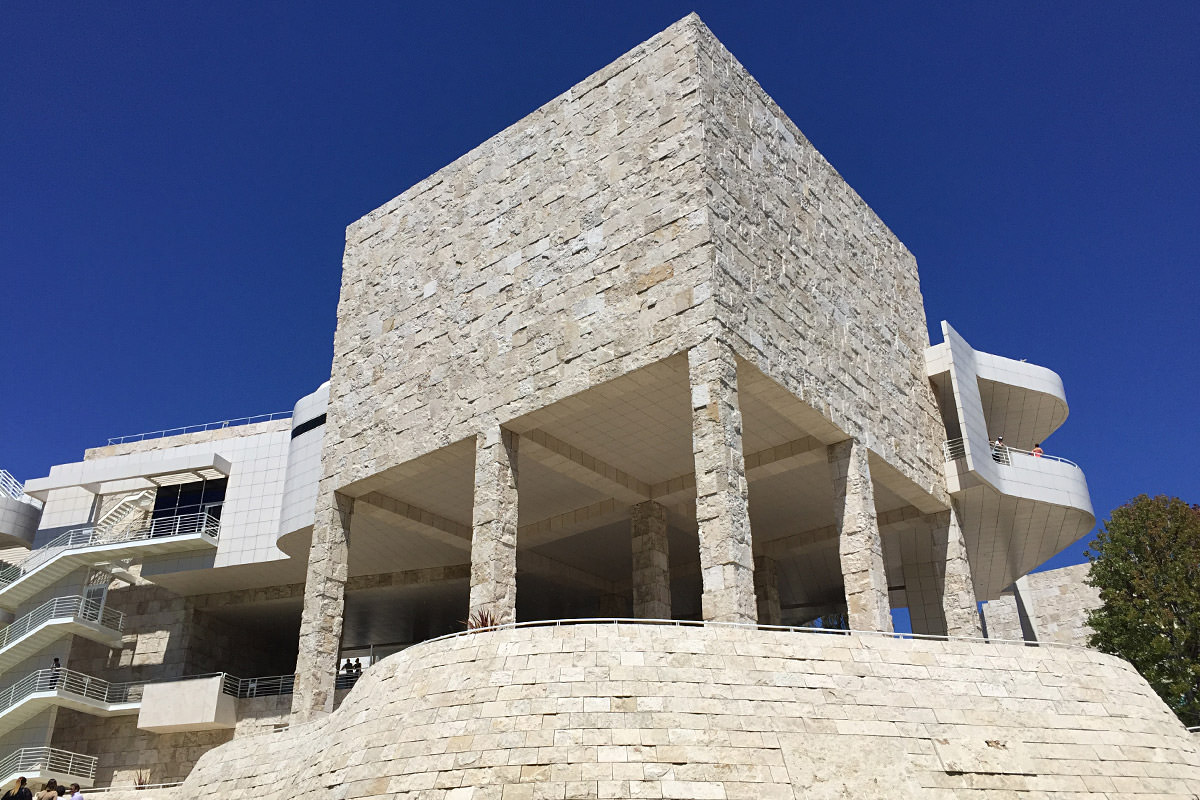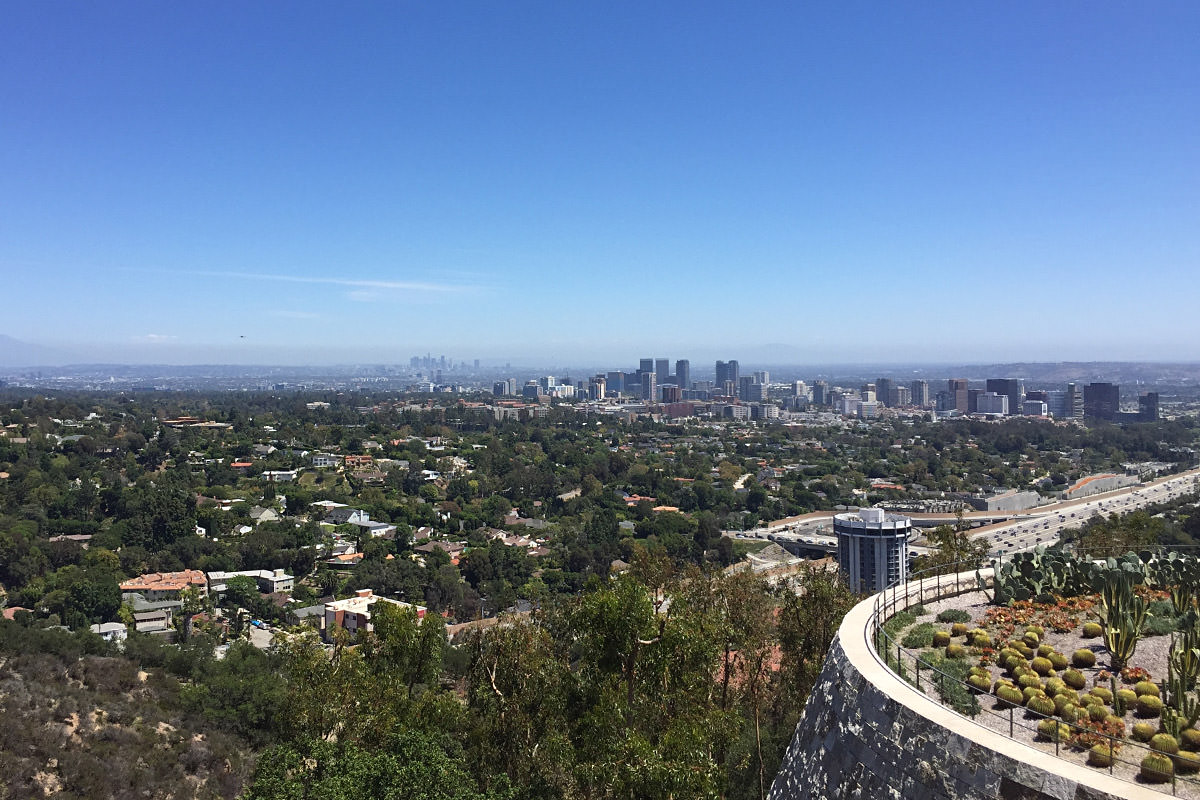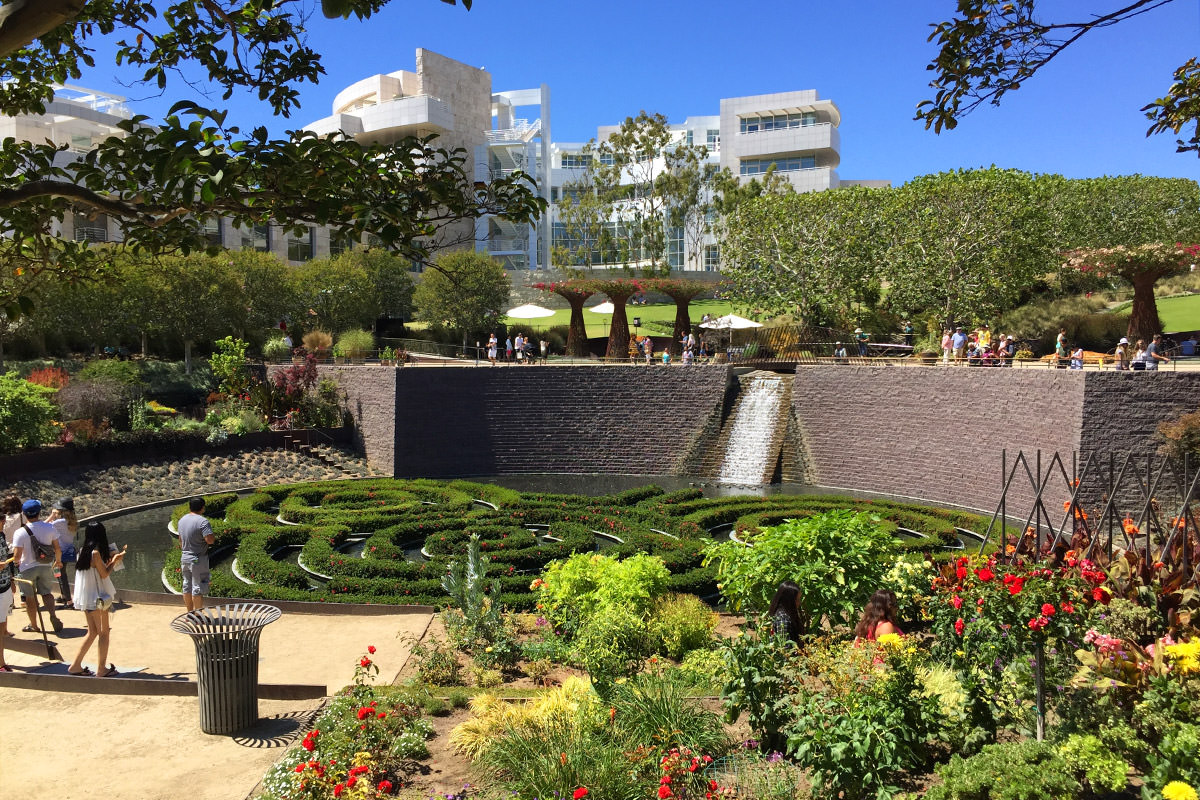 • Frog. If you look closely in the first photo above, a work called "Boy with Frog" (by Charles Ray) is near the top of the steps...
This surprised me, because a much taller version is at the tip of the Punta della Dogana in Venice, Italy...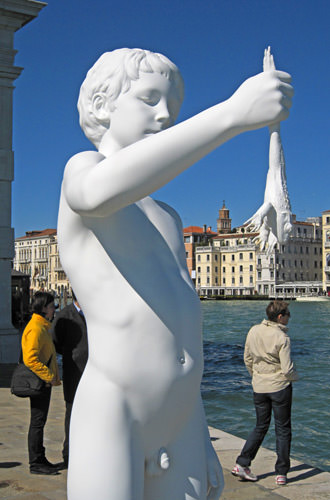 Not sure what that's all about, but it was kinda cool.

• Art! As a huge Monet fan, I usually thrill to see new works... but those at The Getty are versions of a theme that I've already seen many times. Still great though...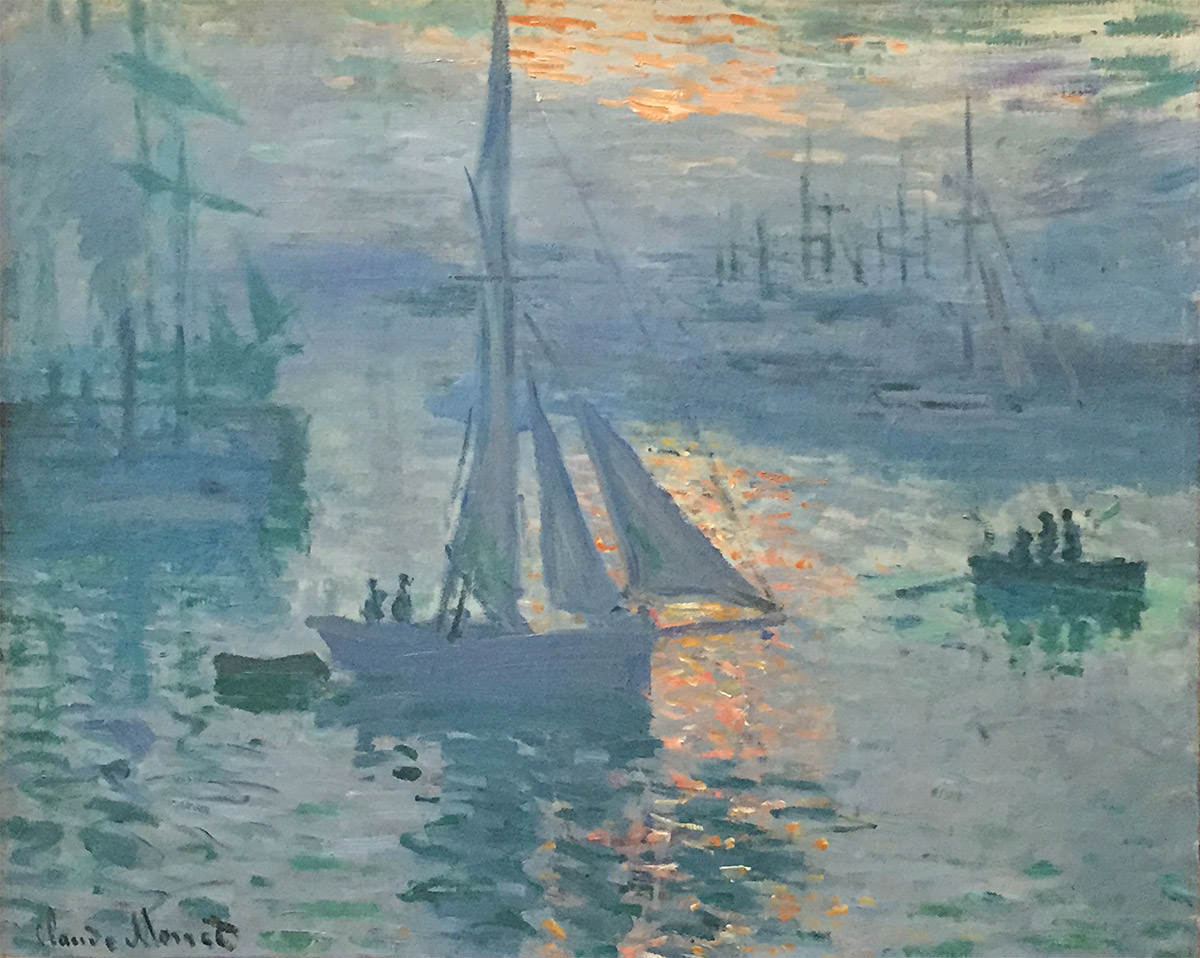 The most popular painting at the museum is a nice irises pieces by Van Gogh...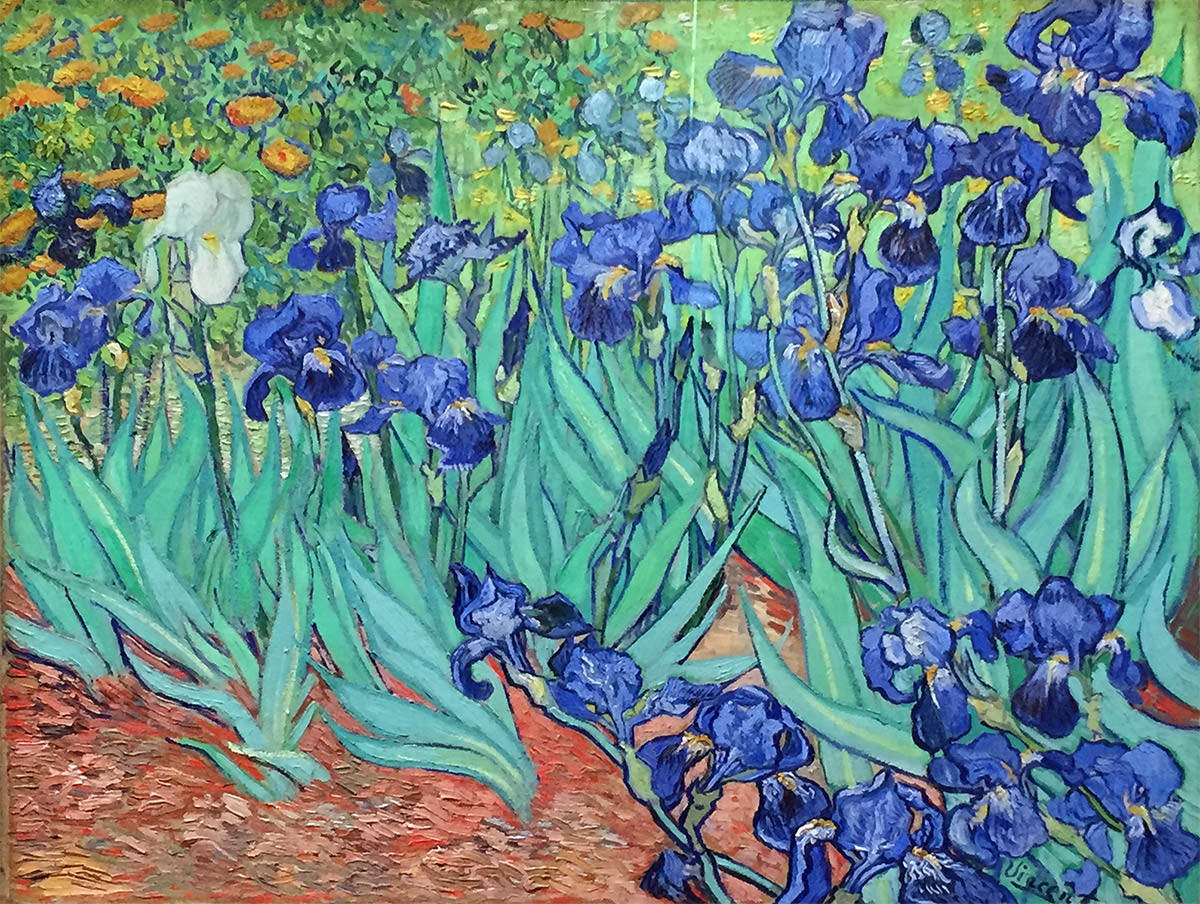 Probably my favorite piece is one that has Baby Jesus loving GOLD, but... SUSPICIOUSLY...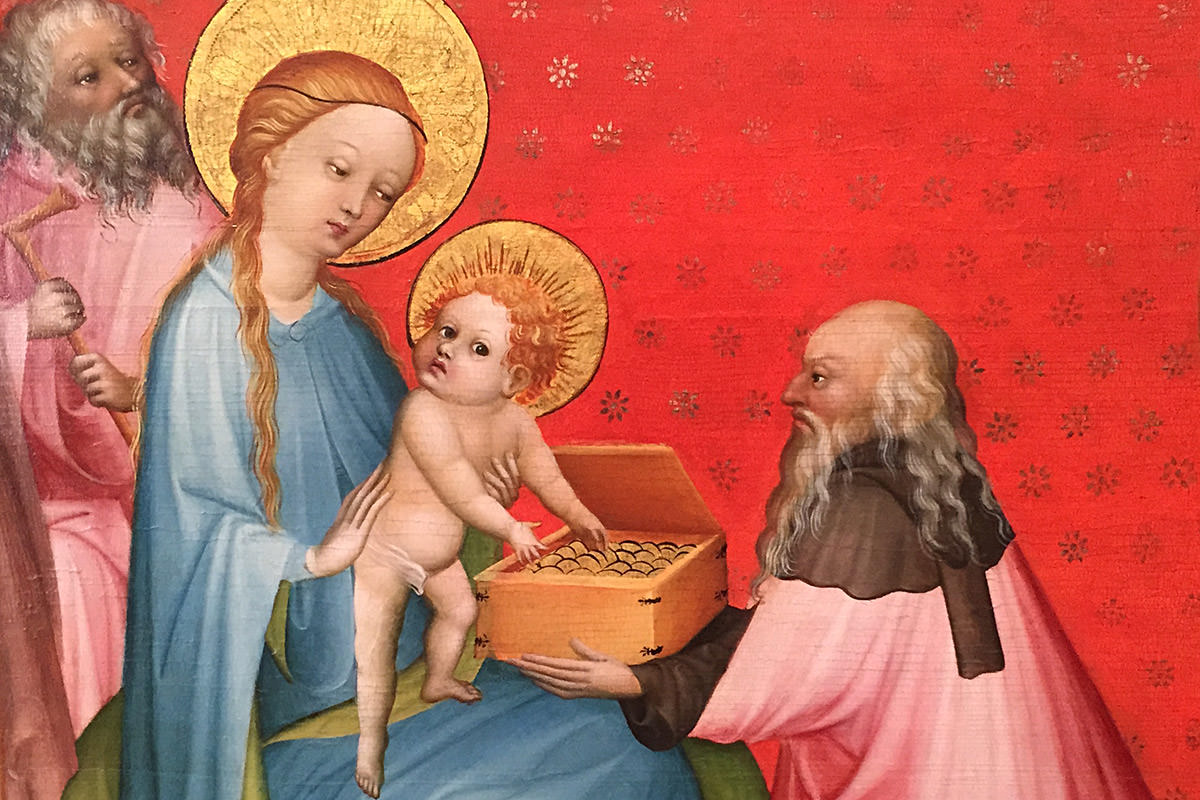 And, of course, RICK JAMES, BITCH...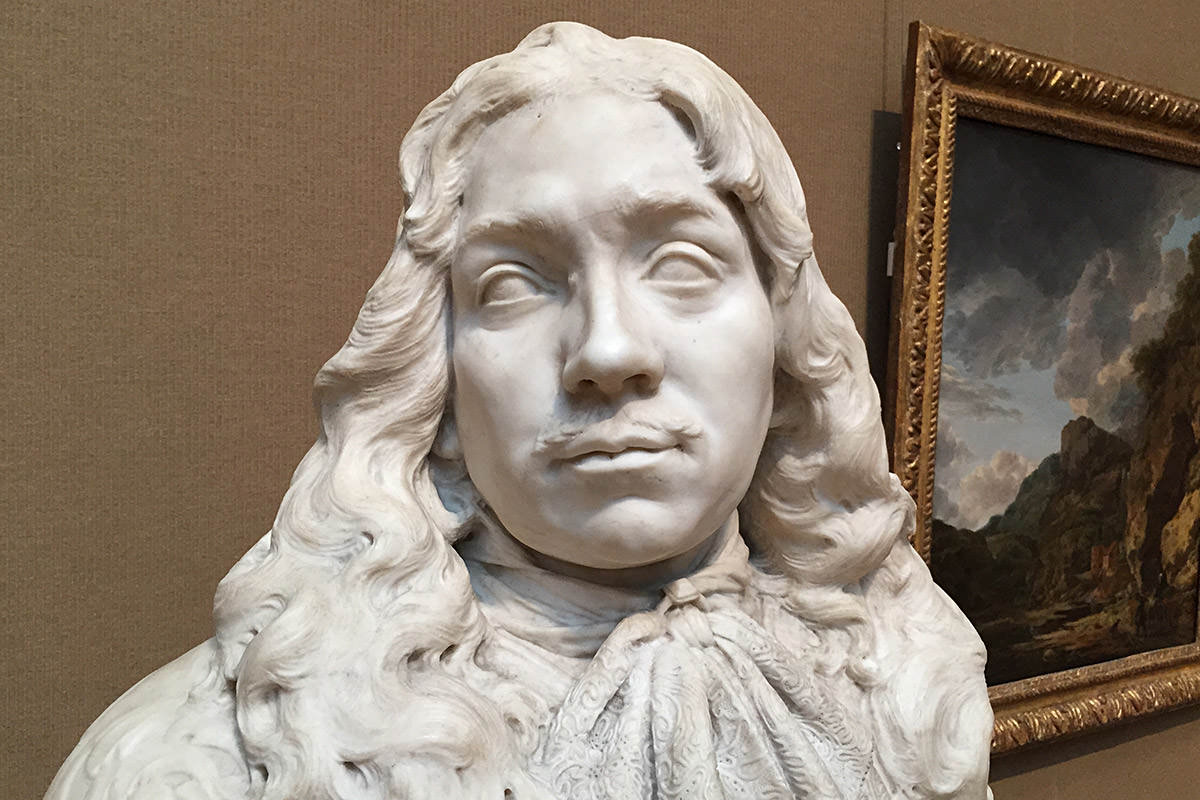 • Rude! Los Angeles is a weird city where lots of weird stuff happens. Like the public hanging of a Teddy Bear...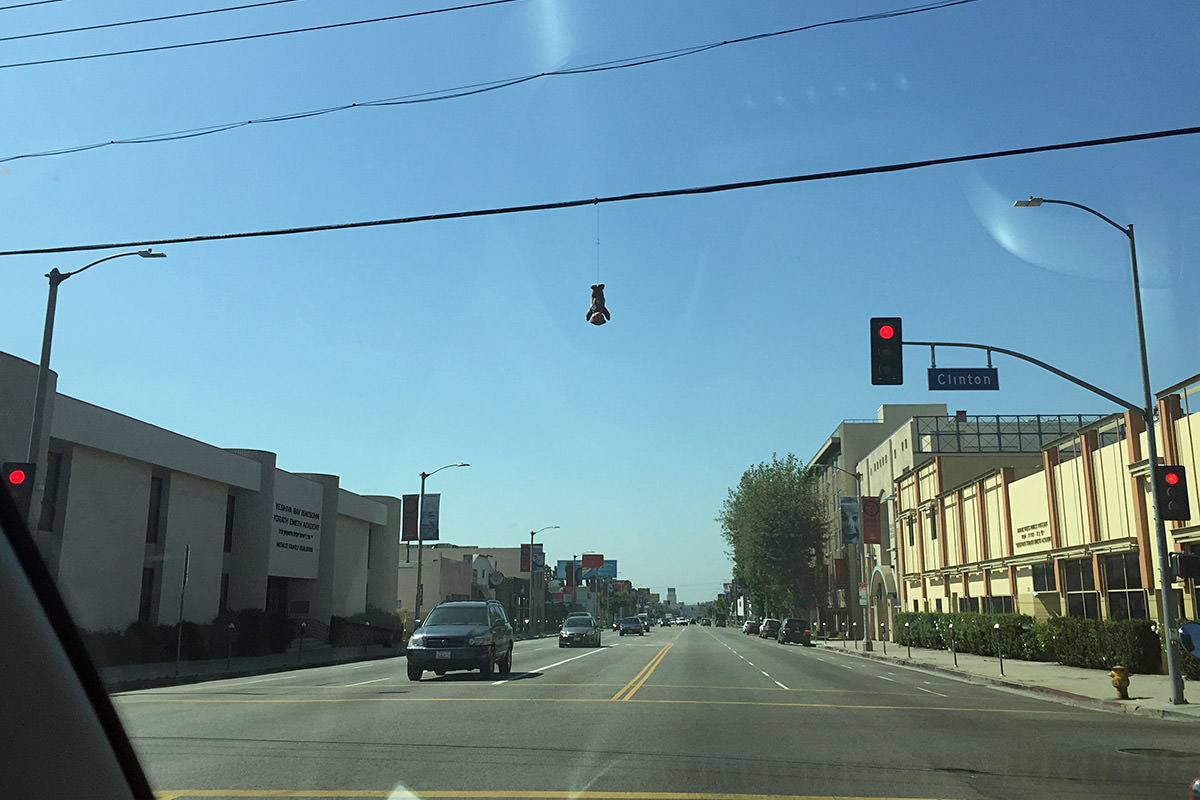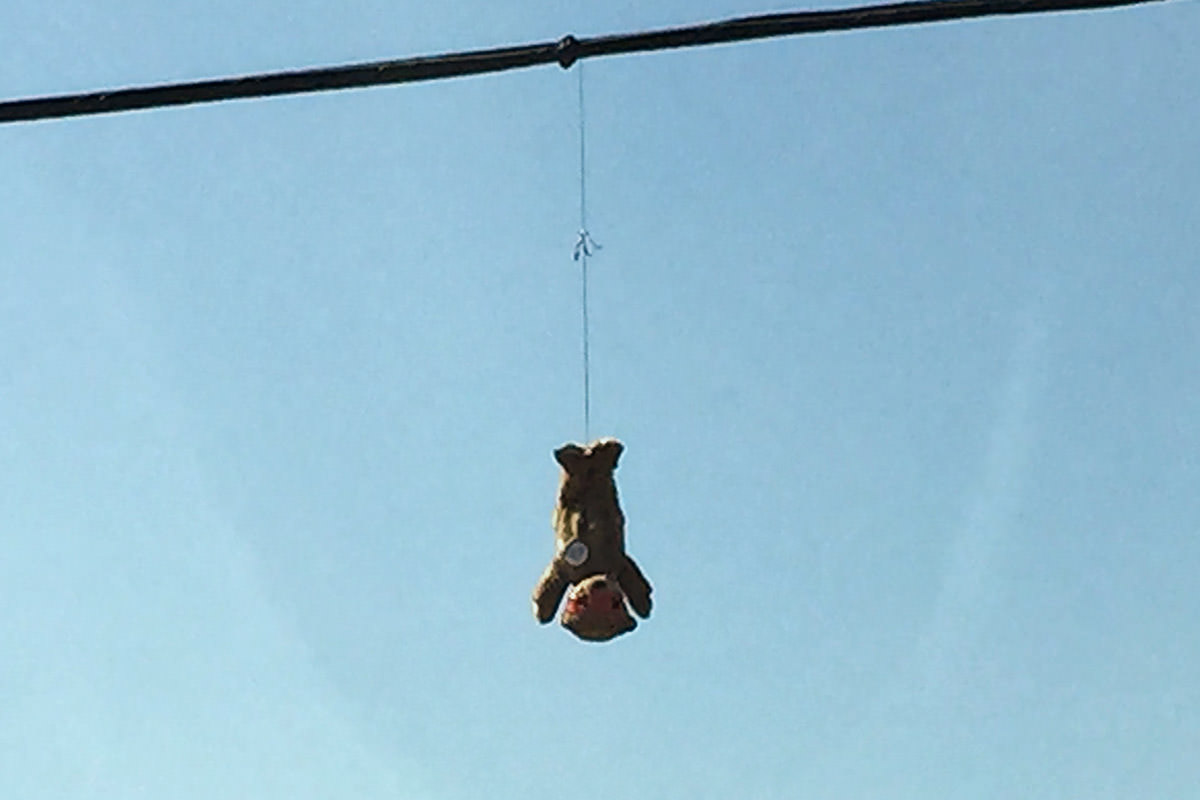 In all seriousness, WTF is wrong with people?!?

• Traffic? Something I had not seen on the most excellent navigation app, Waze, before is a traffic jam gauge. It tells you how long the current jam will last...
Interestingly enough, it was pretty darn accurate! Sweet! Modern technology at work.

• Traffic! You see the oddest things in L.A. traffic (my favorite being DOMO-KUN!), and today did not disappoint. The first thing I noticed was an abundance of handyman vans that seem to be in competition for most interesting paint job. Two I managed to photograph...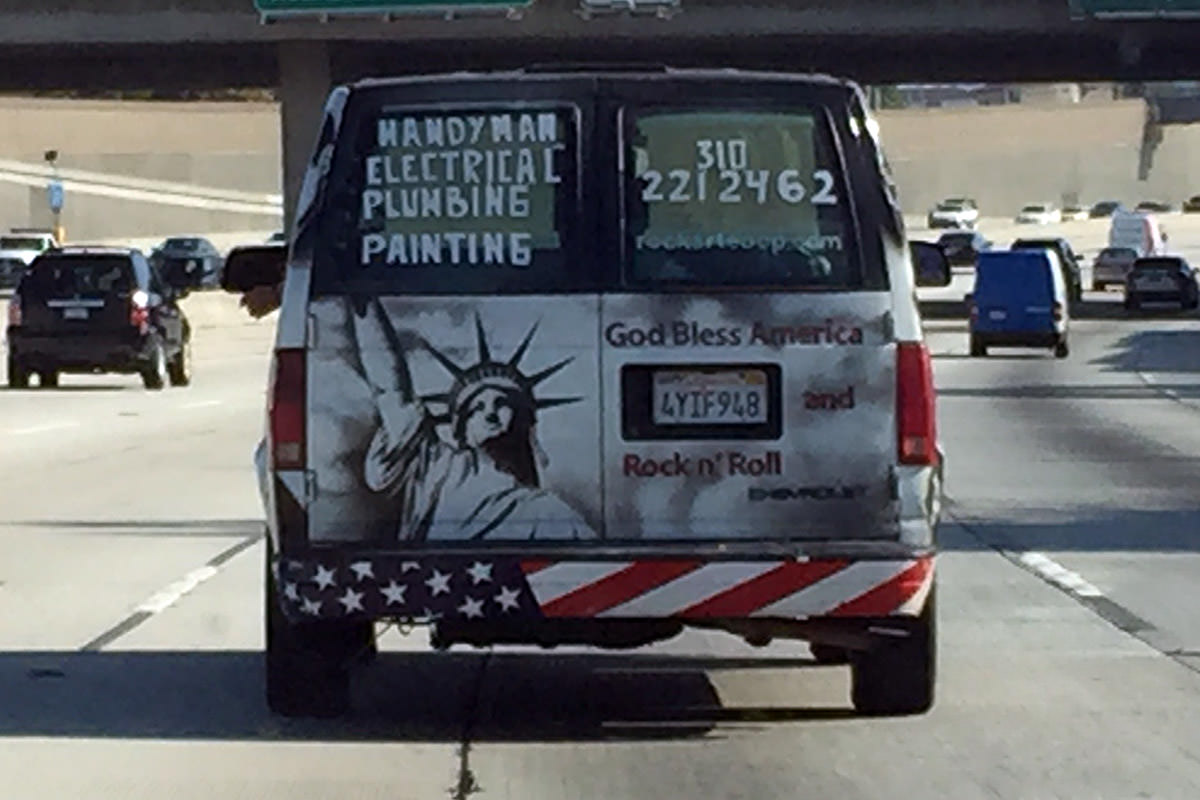 Rock n' Roll indeed... he had the heads of dozens of rock legends painted on the sides!

Truly... Stitt does happen!
Though L.A. traffic was best represented by somebody proclaiming their love of traffic...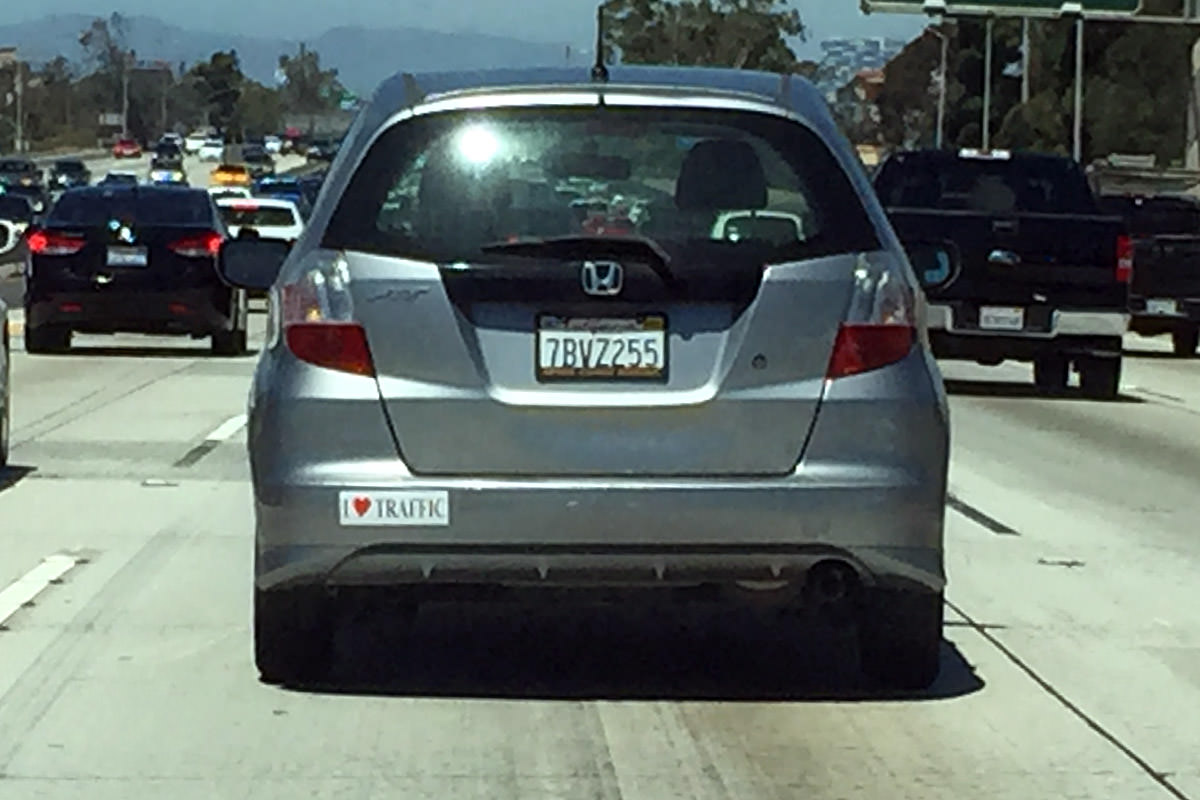 So long leisure bullets... tomorrow it's time to get to work.
Posted on June 9th, 2015

And so yesterday was Apple's Word Wide Developers Conference 2015 Keynote.
I was underwhelmed. Mostly because the One Thing I wanted to hear more about was barely touched upon, and what was covered lacked any kind of "wow factor" for me.
I guess what follows here could be consider "spoilers" if you haven't seen it yet, so click here to watch Apple's Keynote if that's important to you.
On with the show...
The Intro.
A video featuring former SNL funnyman Bill Hader playing WWDC's "director" David LeGary opened the event. It was surprisingly funny. Even if you don't care about anything Apple, it's worth watching the start of the keynote just to see the intro.
Tim Cook Welcome.
Mr. Cook was his usual enthusiastic, entertaining self as he welcomed everybody to The Most Important Developer Conference on Earth. His most entertaining bit was when he brought up the Great Baseball Ransom Note. Last week Cleveland Indians' Brandon Moss hit the 100th home run of his career. The ball ended up landing in the Indian's dugout, which meant it was time for Brandon's teammates to write up a ransom note listing their demands in exchange for the ball. Interestingly enough, everybody's demands ended up being Apple products... iPads, iPhones, MacBooks, Apple watches, and the like...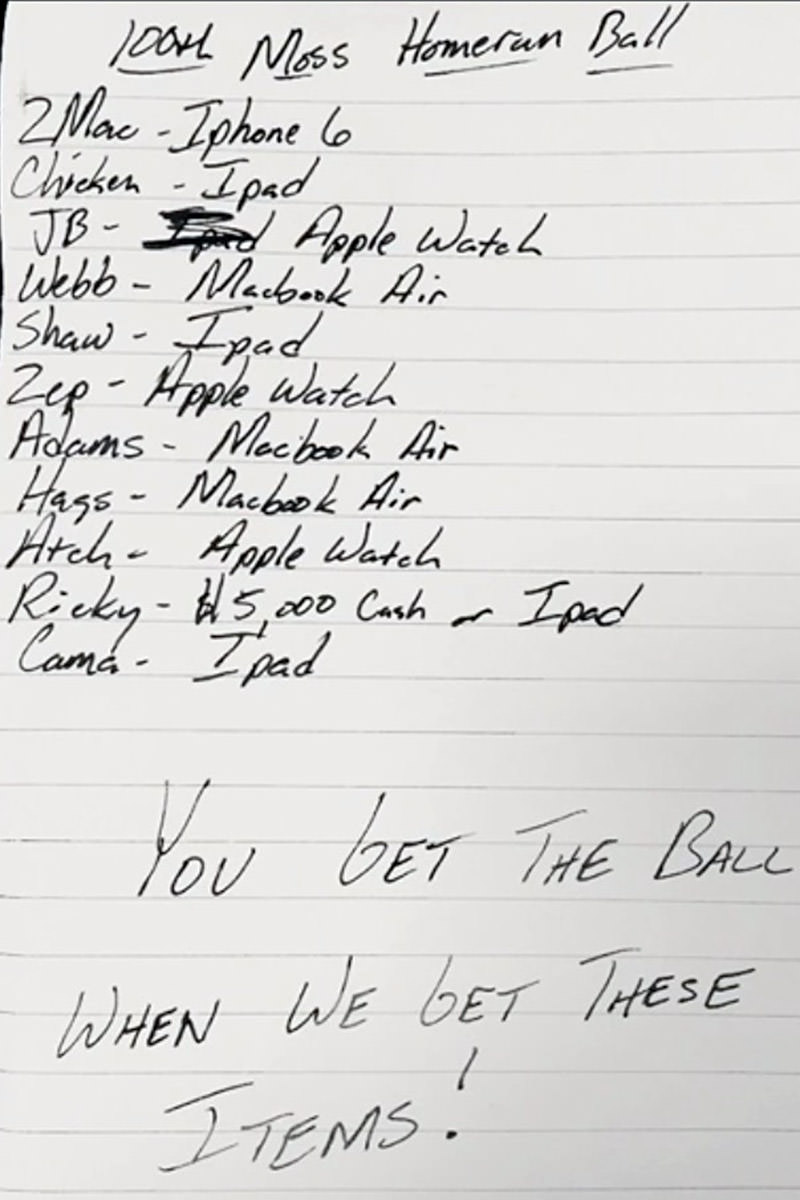 Tim Cook was amused enough by this to have Apple pick up the tab for the demands, meaning Brandon gets his ball at no charge. Pretty sweet!
Mac OS X El Capitan
Craig Federighi, who has the best hair in tech, started things off by introducing us to the next version of Mac OS X, El Capitan...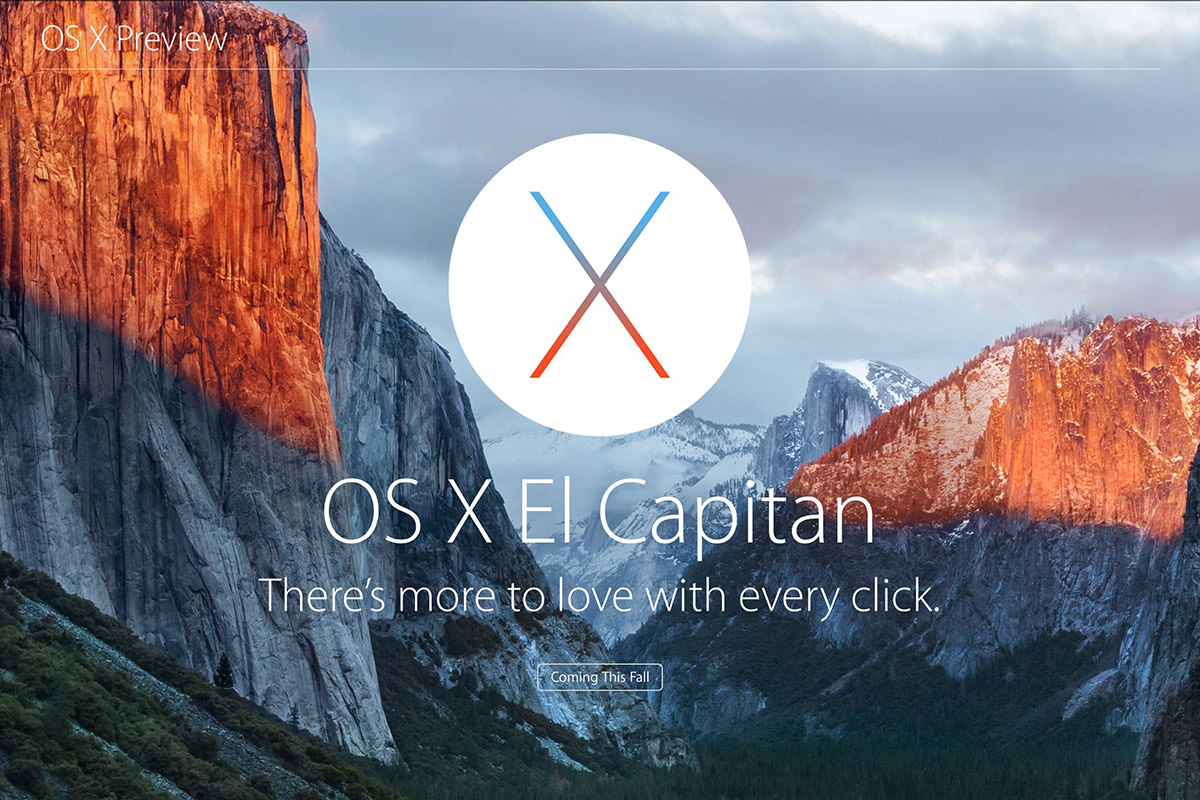 Definitely evolutionary instead of revolutionary, El Cap's new features are kind of middle of the road. The new "Split View" feature which allows you to automatically size and position windows in the Finder has been something I've been doing with Moom for ages. OS X Search with "Spotlight" is already a loser to me because it's cluttered with too much shit that gets in the way of me actually finding stuff on my Mac. Well, guess what El Cap does for Spotlight? ADD EVEN MORE SHIT TO GET IN THE WAY! Yay! Craig touted more full-screen app features, but didn't mention THE ONE FUCKING THING THAT FULL-SCREEN APPS NEED... a way of permanently turning on the menu bar so you have access to critical information such as BATTERY LIFE REMAINING and THE TIME OF DAY without having to unhide the menu bar first. Lame! There are some nice new features in mail... but all I care about is if Mail has been made more reliable. Because right now Mail is utter shit, and adding more features doesn't fix shit. Note has been improved, but all I care about is whether or not Notes will sync properly now, which it hasn't done in ages. Safari is getting pinned tabs now, which is nice... but I'd sacrifice this nifty feature for better compatibility in a heartbeat. Maps is getting tansit directions at long last. And, lastly, Apple announced that Metal, their iOS graphics technology which is hugely powerful and efficient is coming to OS X. Oh happy day.
iOS 9
Siri is getting more better smarter, which is nice. Apple's getting more serious about publishing with their News app, which has me interested in seeing if it can be applied to THRICE Fiction. The Notes app is getting more powerful, which seems a little pointless considering that third-party apps have this space fairly well filled. Maps is getting improvements (including public transportation planning in some cities), which should be a no-brainer, but Apple has been dragging their heels for some reason. Wallet is replacing Passbook to better reflect where Apple is going with the app... the centerpiece being Apple Pay, which is the greatest thing since sliced bread, so that makes me happy.And, lastly, the iPad is getting multitasking, which is pretty smart considering Windows Surface has been eating Apple's lunch on this since they launched. The best news of all, however, is that iOS9 will run on every iPhone and iPad that iOS8 did, so nobody is getting left behind this time around.
Apple Music
The biggest news of the day did not end up being what I thought it would be... Apple hung that on their new streaming music service... Apple Music. It really isn't much different than Spotify or any other service, except that it looks better and appears to navigate easier. Apple is trying to up the ante by rolling in some features from their now-deceased Ping service in Connect, which allows artists to keep their fans up to date with what's going on. And then there's the new worldwide net-radio "experience" Beats 1, which seems insane to me... too many people have too many different musical tastes, so how can you plan a WORLDWIDE station that appeals to everyone? MTV (back when they actually played music) had to break up into pieces and have localized channels in different parts of the world... even that didn't work. Personally, none of this stuff appeals to me. I like to own the music I love. If I buy a digital track, it's mine to play forever. With streaming services, the music stops when the money runs out. Stop paying, stop playing. But, hey, Apple Music is going to have a free three-month trial, so who knows.
HomeKit
The main thing I was looking forward to at this conference was big news about Apple's HomeKit home automation technology which is (apparently) going to revolve around AppleTV. It was announced a year ago and has basically gone nowhere, so now was the time, right? All the WWDC propaganda had the AppleTV shape and the words "The Epicenter of Change" plastered on it, so what other conclusion could be drawn except finally HomeKit was getting its due?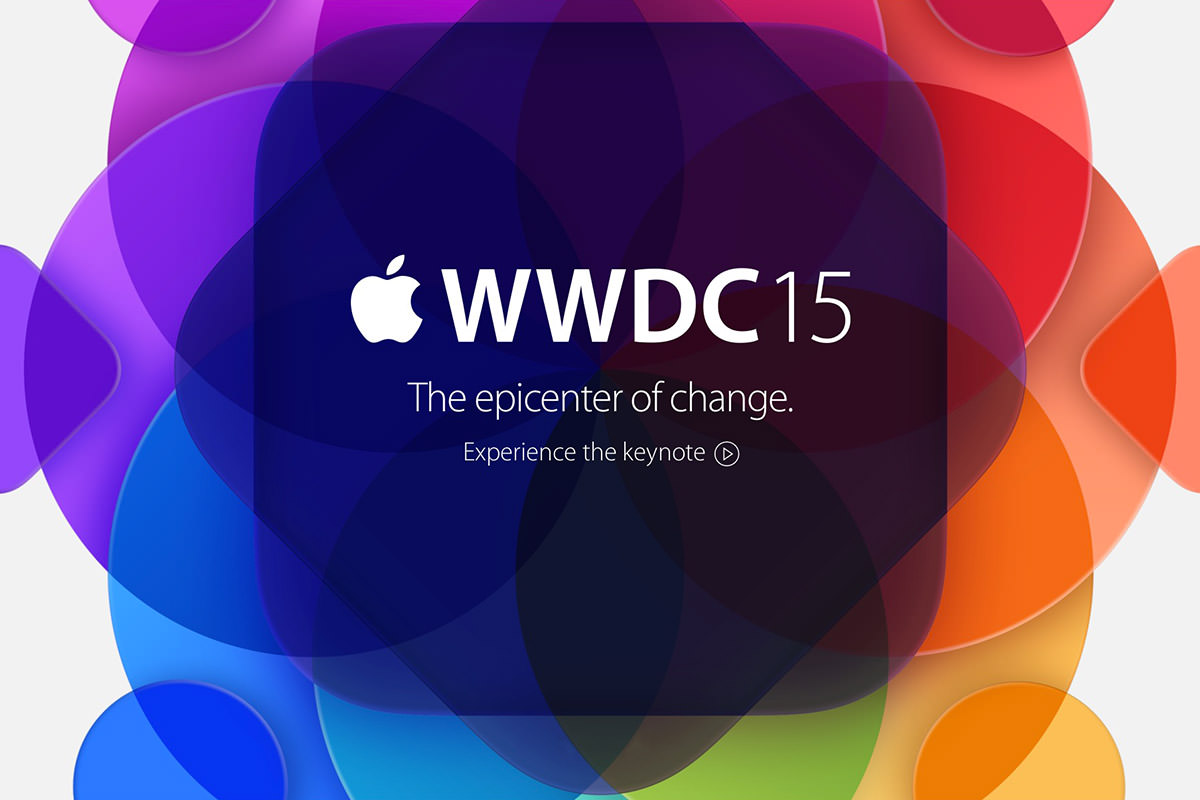 And yet it didn't happen.
Maybe they were never planning on it. Maybe something changed. Maybe it wasn't ready. Who knows.
All I know is that nobody is better at shitting on Apple technologies than Apple themselves. Yes, new devices are being released for HomeKit. Yes, Apple took a whole minute of the WWDC keynote to tell us that HomeKit will be adding support for more than just lights and locks. But that's it. All that teasing for nothing.
And I just don't get it.
The longer Apple waits to stake their claim in the exploding home automation market, the less impact they're going to have. They need to be out there now!
I never thought I'd be saying this, but Apple needs to break apart as a company. Sure it's great to have everything under one roof, but when you can't focus enough to get shit done, maybe it's not the best fit. The slow death of HomeKit before its even released is a big wakeup call.
But oh well.
Maybe Apple will get their shit together and do a HomeKit "Special Event" by the end of the year and prove me wrong.
Otherwise, why did they even bother coming up with it?