Posted on June 22nd, 2020

Here we go with yet another post-Apple-World-Wide-Developer-Conference keynote. This year's was really long, so I am only writing about things when I have a comment to make instead of summarizing every little thing that was presented. If you want to watch the keynote yourself, just head over to Apple.com and have a look!

• But First... Kudos to Apple for prefacing their WWDC Keynote with a statement on racism, equality, and injustice... and what they are doing to address racism in their industry and our communities. Not only that, but Tim Cook called out the "senseless killing of George Floyd," which is not as strong as calling it what it is... but at least they didn't diminish it by merely calling is "the death of George Floyd." This is not just lip service. Apple is putting their money where their mouth is too. Apple is investing $100 million to help in demanding equality in our communities. That's a drop in the bucket compared to the massive fortune they're sitting on, but it's a heck of a lot more than what other big companies are doing. Apple is also creating programs for Black developers and finding new ways to encourage involvement by POC in the developer community. As a step forward, all the developer videos from WWDC are completely free for anybody to look at this year. Good on them.

• iOS: Widgets. One of the things that I loved so much from MacOS X was the widget screen. So many incredibly useful tools are just a swipe away. Then Apple eliminated them and I was bigly sad. And yet... here they are in iOS?!? Does this mean we will see a return of widgets in MacOS? I am holding my breath. I have said many, many times how my favorite mobile phone to work on was Windows Phone. Yeah, I never gave up my iPhone for it but, upon release, Windows Phone OS had new ideas with fresh ways of doing things. By contrast, Android was just a poor iPhone copy. One of the best features of Windows Phone was "Live Tiles," and that's almost exactly what iOS widgets are looking to be like.

• iOS Picture in Picture Video. Before iOS 14, you had to stop watching a video if you needed to access your apps for some reason. Now Apple has made it so you can keep watching (and listening) while you use your apps. Given how many times a day I get a distraction, being able to keep watching while I'm glued to my phone while traveling is a serious big deal.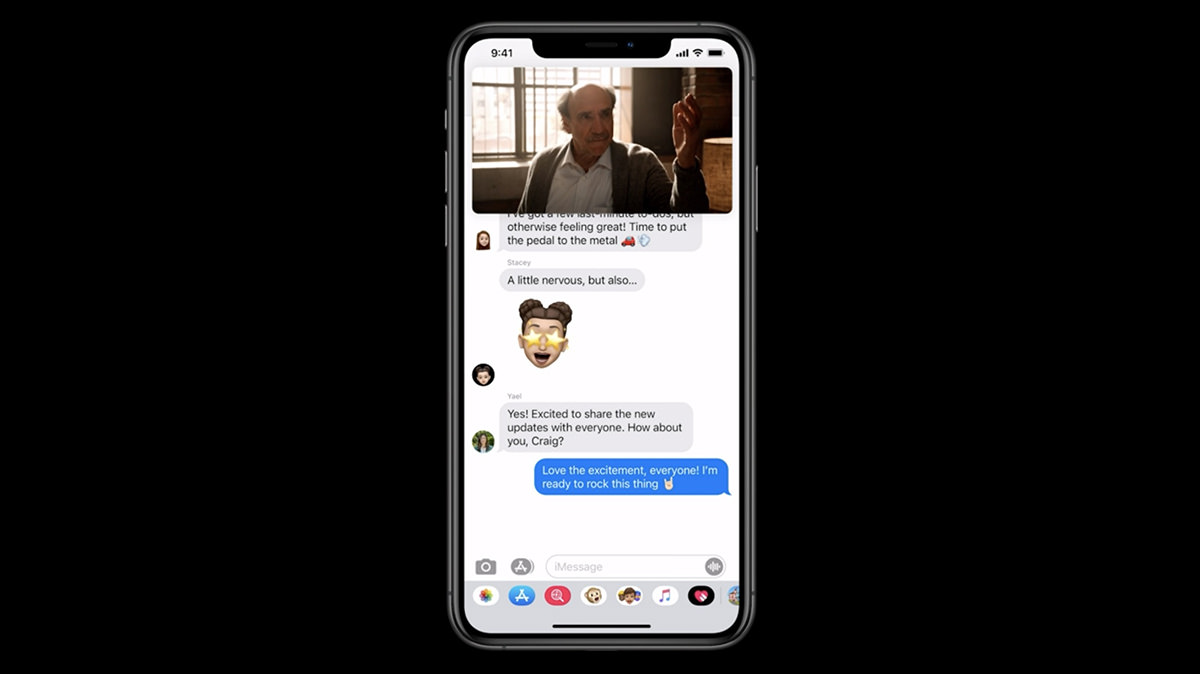 • iOS Translate. Holy shit. Offline machine learning translation with conversation mode? Sign me up! As translation gets better and better, this is going to open up the world in new ways. I cannot tell you how many times this would have come in handy with my work. Very exciting stuff.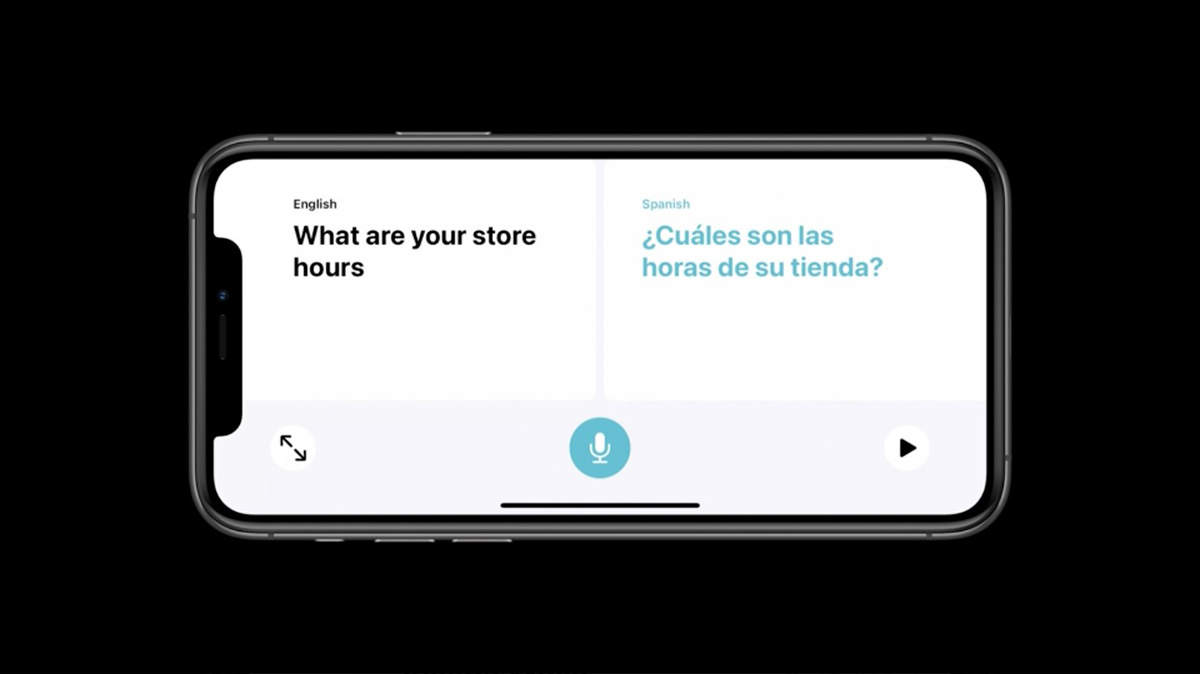 • iOS Messages. I hate phone calls. All my friends and co-workers know this. I will put off returning a phone call for as long as possible. But a text message? I will hop on that immediately. And yet... I still kinda detest text messages because it's such a messy way to communicate. Apple has started addressing this by adding new features. The one that's most important to me? Groups. Group texts have been vastly improved, which is a huge step towards organizing the madness that can ensue.

• iOS Maps. I never use Apple Maps for actual navigation because I'm addicted to Waze. I only use it for the cool 3-D views of cities and to have access to their "Walk-Around" feature, which is a greatly upgraded version of Google Maps' "Street View." But that may change. Sounds like they are upgrading their directions (which have been pretty awful). All they need now is automated traffic redirection like Waze has and they could be a contender.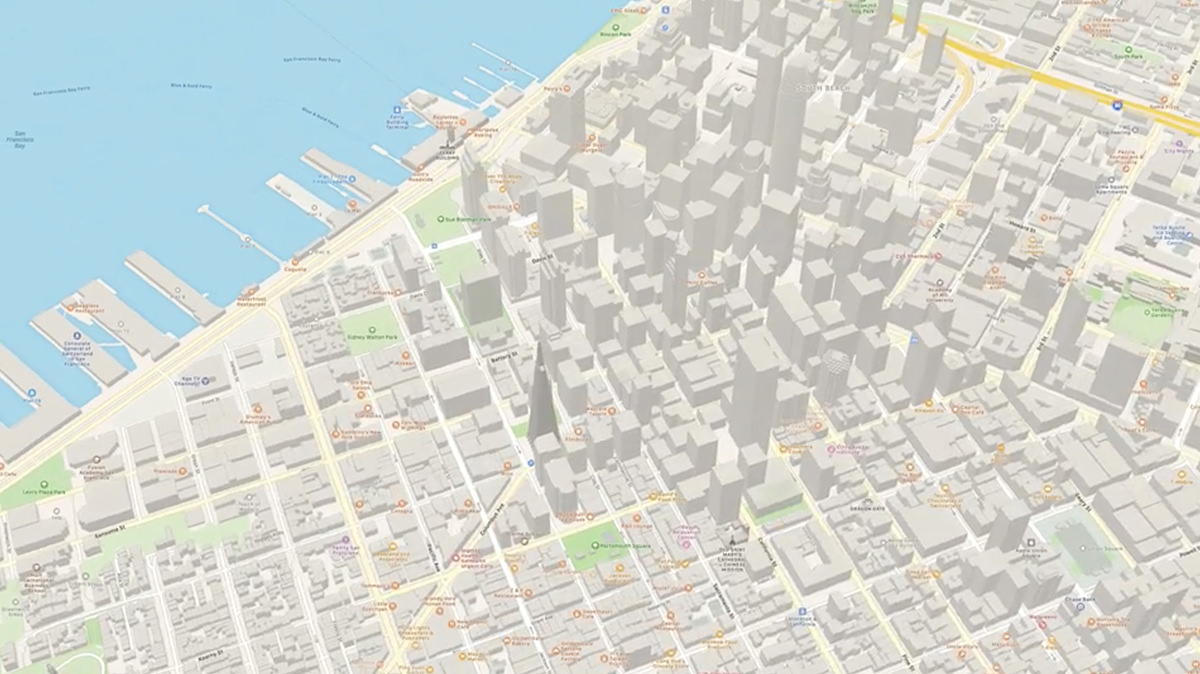 • iOS Digital Car Key. Being able to have my home unlock when I arrive is so cool. Apple is extending the idea further with digital car keys. Now not only can you use your phone to unlock your car, you can also message a digital key to somebody so they can drive or move your car if needed... no matter where you are in the world. Of course I would need to buy a new BMW in order to use it... BWAH HA HA HA... but a boy can dream, can't he?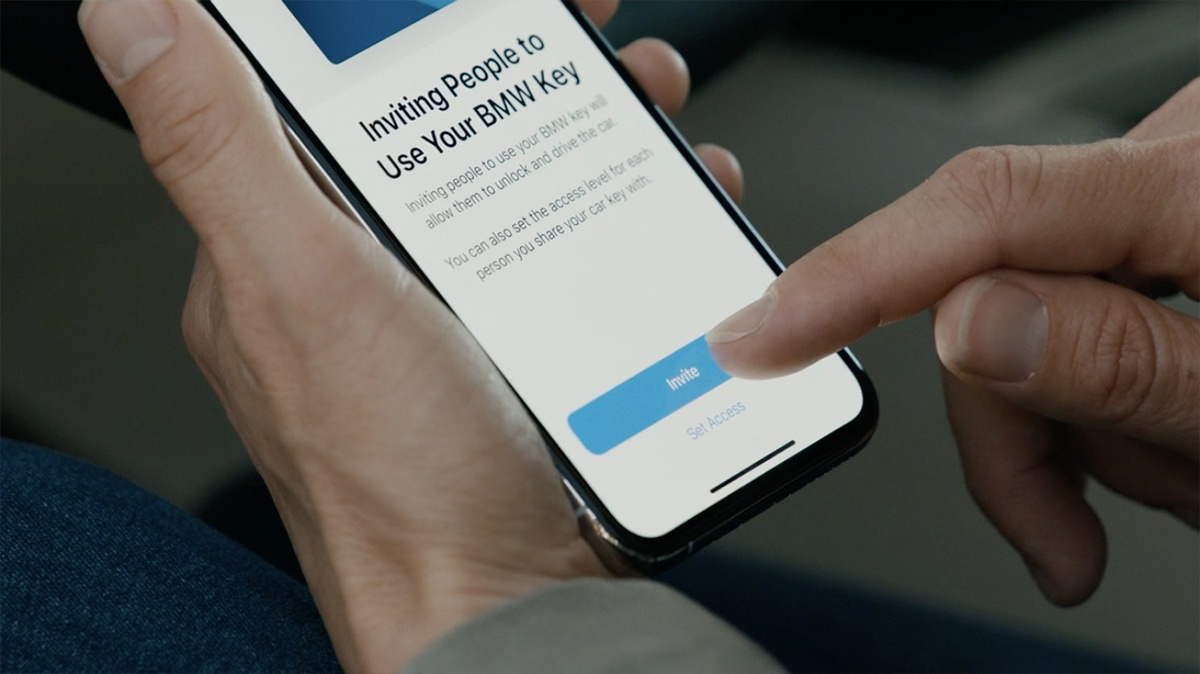 • iOS Apps. No mention from Craig about the recent controversy of Apple being wishy-washy about which apps owe them a cut of their revenue, but I didn't expect there to be. Craig can likely get away with this because he's got almost offensively good-looking hair.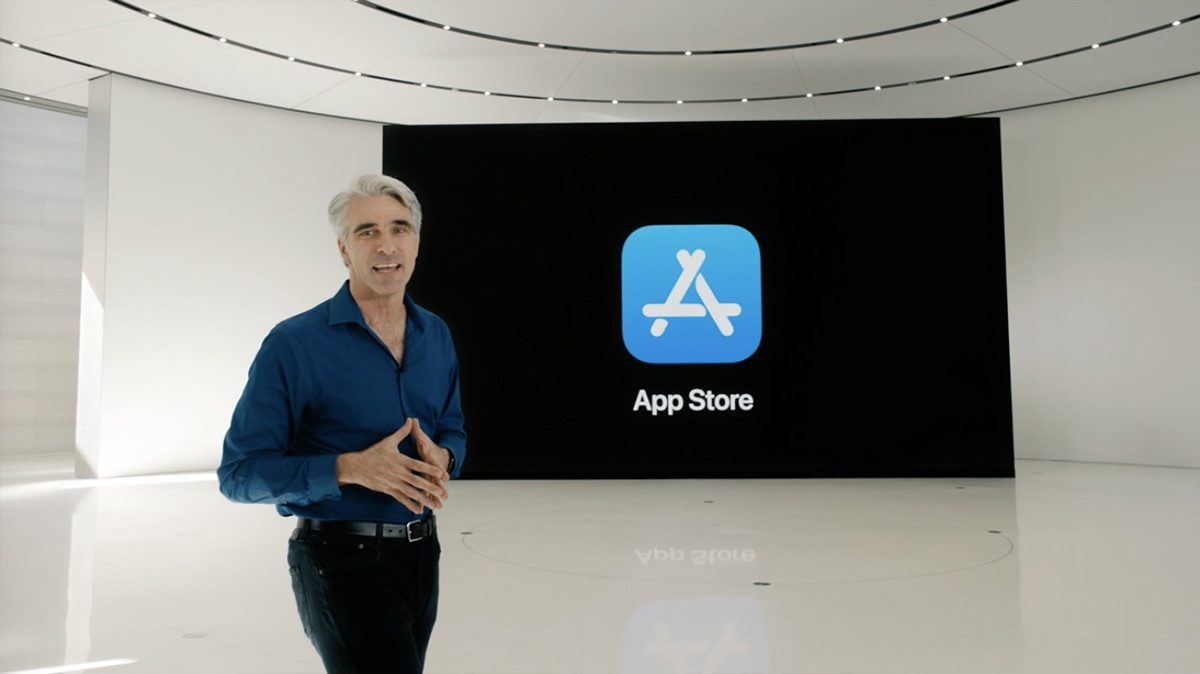 • iOS App Clips. Having to download a new app for some little task is frustrating. App Clips are tiny pieces of apps that handle simple tasks you need to get through your day. They load immediately and will streamline tasks because they integrate ApplePay and "Log-In With Apple" features. And if you want the full app after using the App Clip, you can easily download it. Simple!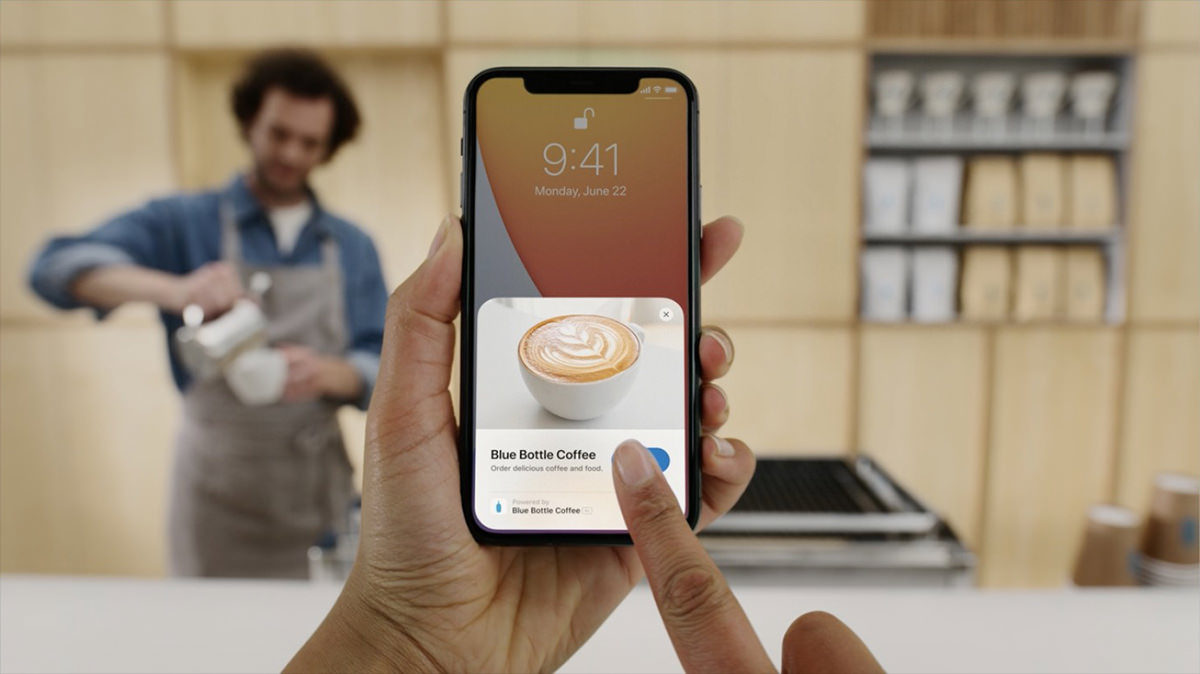 • iPadOS. I only use my iPad for two things... creating art and Zoom calls. That's it. Everything else happens on my iPhone or Mac. Apple is working hard to change my thinking on this by continuously upgrading the iPad experience. They started off with something that goes a long way towards addressing multitasking issues and app navigation... SideBar. This seems a no-brainer given the small screen of the iPad compared to a desktop Mac, but this is the first I've seen it. Smart stuff.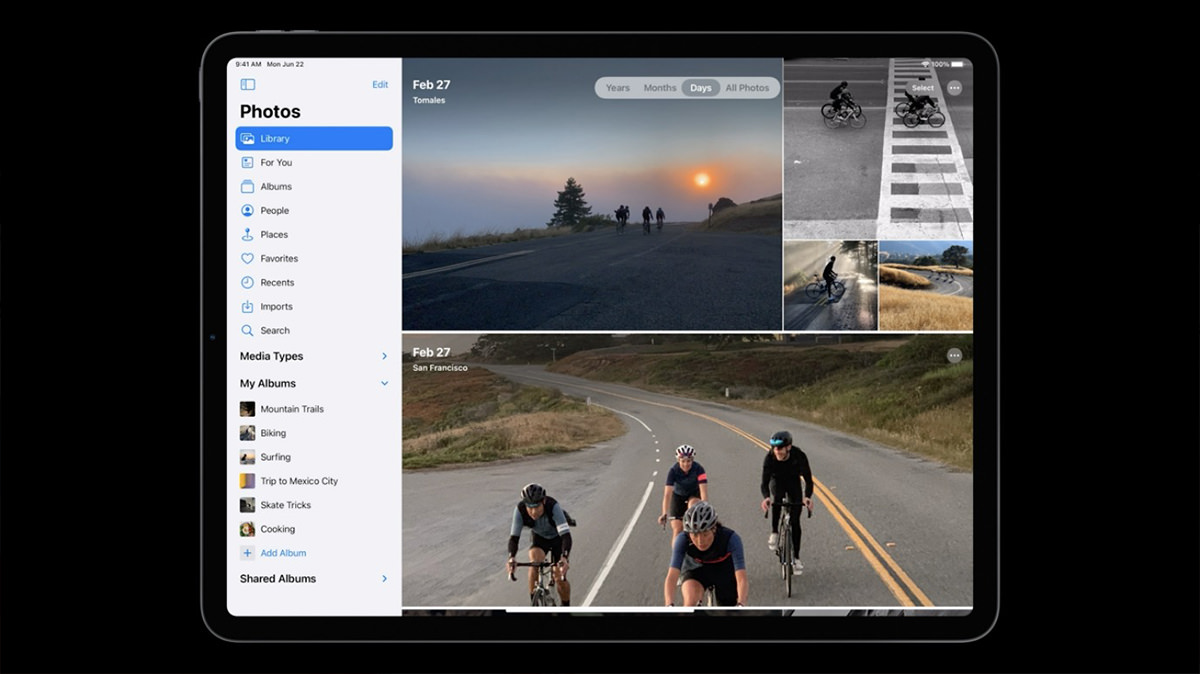 • iPadOS Phone Notification. The way iPad handles calls is kinda stupid. You are dropped out of your app in order to deal with it. Not any more. You can accept or dismiss calls or FaceTime or Skype requests with a popup. Much better.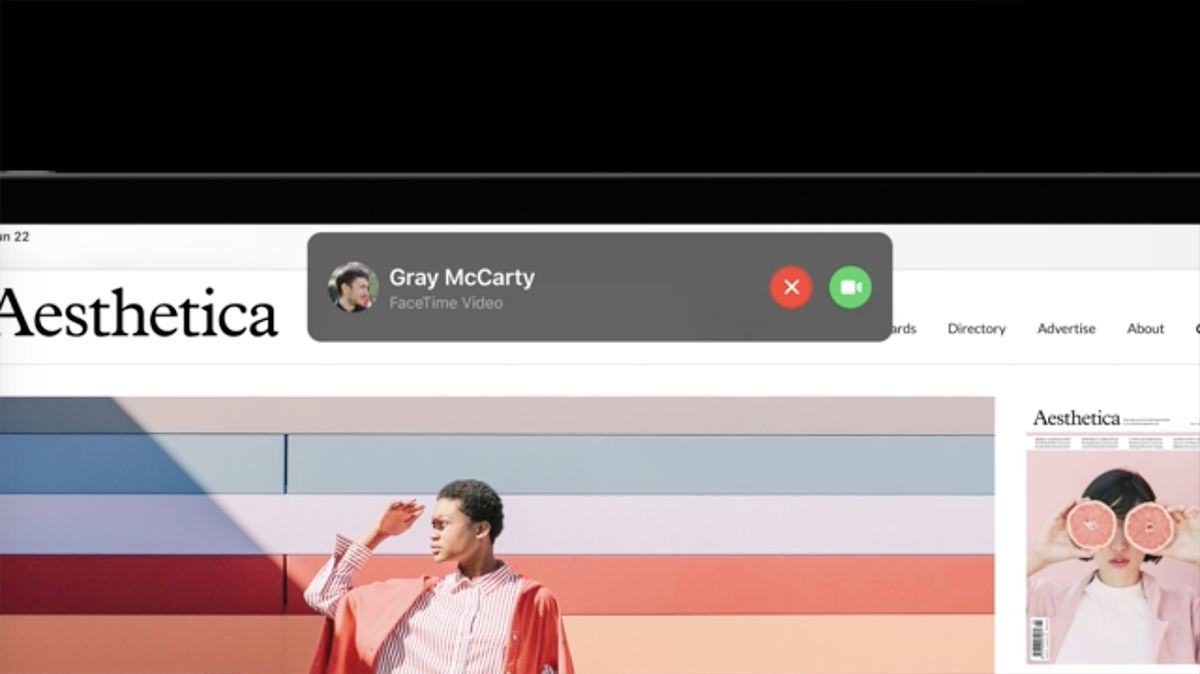 • iPadOS Pencil. iPad is now attempting to treat your handwriting like actual text. You can select it and move it easily. Or have it converted on-the-fly when you paste. iPad is essentially now full-on an Apple Newton with "Scribble" which instantly converts handwriting to text.

• AirPods. Auto-switching between devices? Magical. But the spatial audio feature being added to AirPods Pro is what has me really excited. If it actually works as advertised, this is Dolby Atmos Audio for one, and well worth investing in a new set of AirPods for me. The way the spatial audio ADJUSTS ON THE FLY when you move your head is incredible.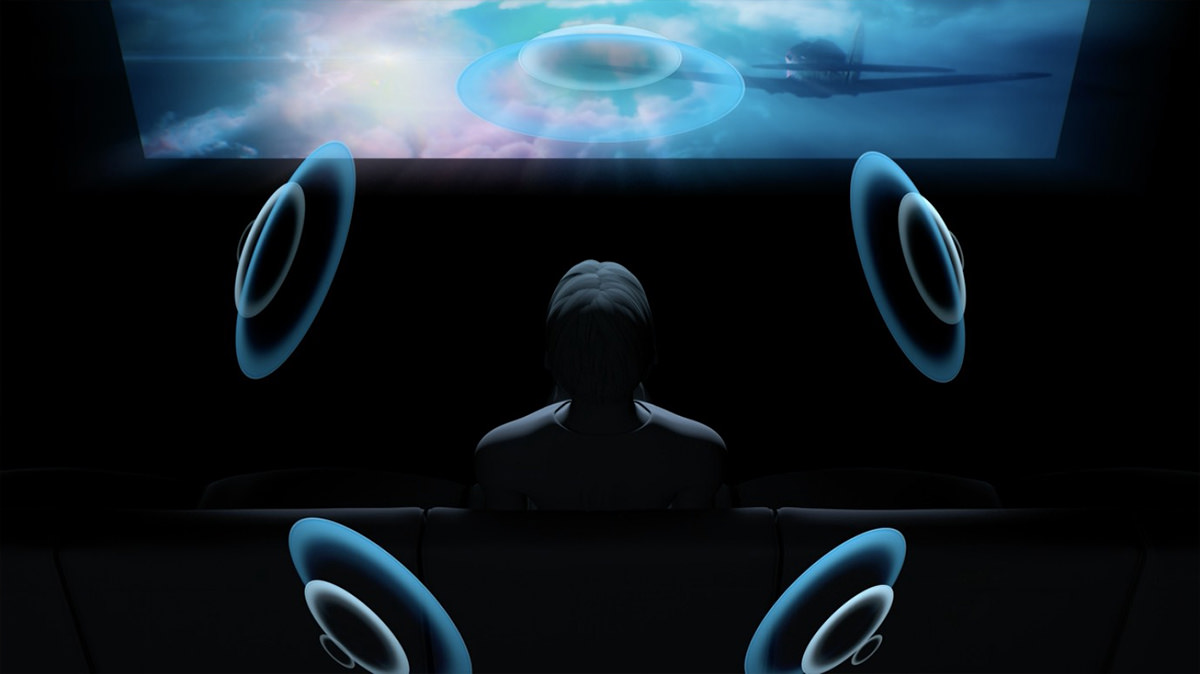 • WatchOS. I am fairly certain I will be buying into the Apple Watch ecosystem soon. I avoided it for the longest time because I find them so uncomfortable to wear. But after using Waze Band for a while now, I seem to have adjusted. My change of heart has everything to do with the Apple Health benefits which come with WatchOS. As I get older, I am more and more interested in taking advantage of the monitoring and active involvement of staying healthy. I will not, however, use the new "Dance" feature, which would probably result in injuries. Maybe if they add "pole dancing" I will reconsider?

• WatchOS Sleep. The Waze Band ventures a little bit into sleep monitoring, but I don't have a lot of confidence in accuracy and there's no tools to help you get better sleep. Apple Watch seems like there's a lot more going on, making sleep features far more useful.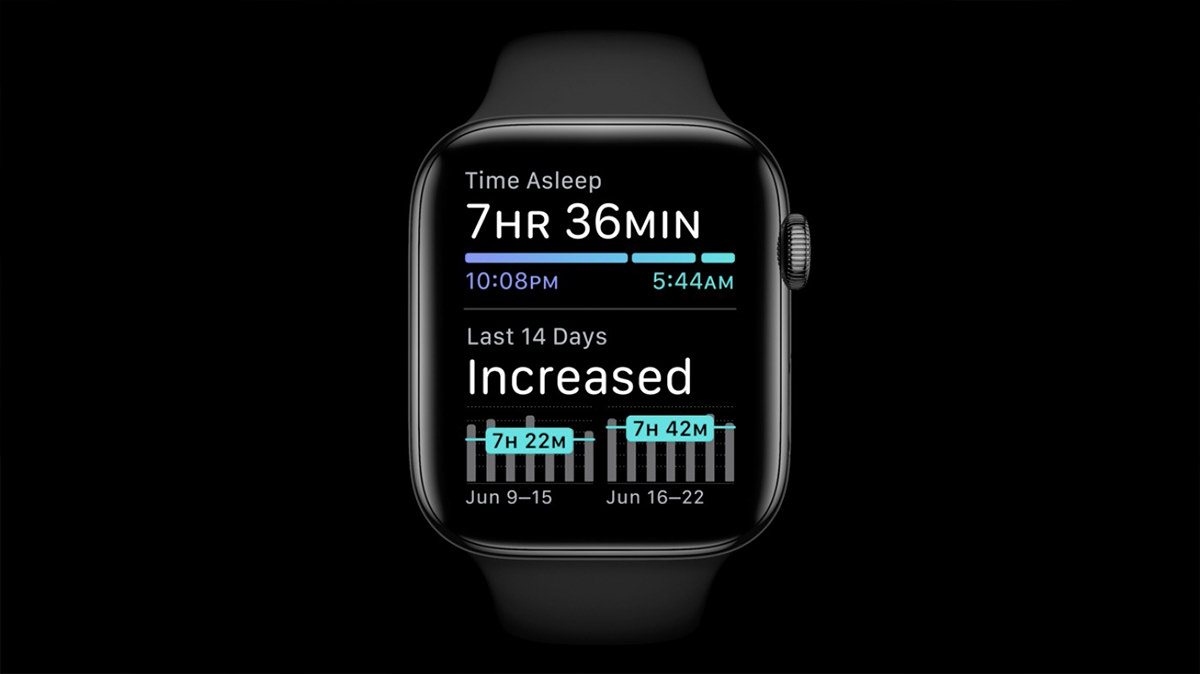 • WatchOS Wash. Talk about timely features... Apple has added a hand washing monitor which makes sure you are washing long enough to destroy the lipid layer of things like COVID-19 so the virus will die.
Note that Kevin seems to have thinner wrists like me, so he's wearing his watch quite a bit lower than you usually wear a watch because it's uncomfortable on the wrist bone for us. This is encouraging. If this guy is in charge of stuff with WatchOS, and he has to wear a watch like I do, that means all the hardware monitoring features will likely work for me because he's obviously going to be testing them. Sweet!

• Privacy. Apple seems to put a lot more thought into privacy than other companies. They are constantly providing more tools to protect us and keep moving data analysis locally so that it doesn't have to go out onto the internet. I don't have much to say about this except Good job, Apple! Our own government doesn't seem to be interested in guarding our privacy, so it's nice that somebody is stepping up.

• HomeShit Kit. I detest HomeKit. I avoid it whenever possible because it's just an awful, awful system. Expensive, limited, and it barely works for me. Despite having multiple AppleTVs in my home to fully blanket everything with plenty of signal, sometimes I get an error which says that HomeKit can't communicate with my devices. Ugh. Apple has been steadily improving HomeKit with features and such, so maybe I will check it out again one day. But given my horrible past experience, I'm in no hurry. And yet... there's some compelling integration with iOS that has me wondering if I should be investigating it sooner. The one thing I am very interested in is Apple joining a new home automation consortium with Google. Does this mean my Nest cameras will integrate with HomeKit? Interesting to think about.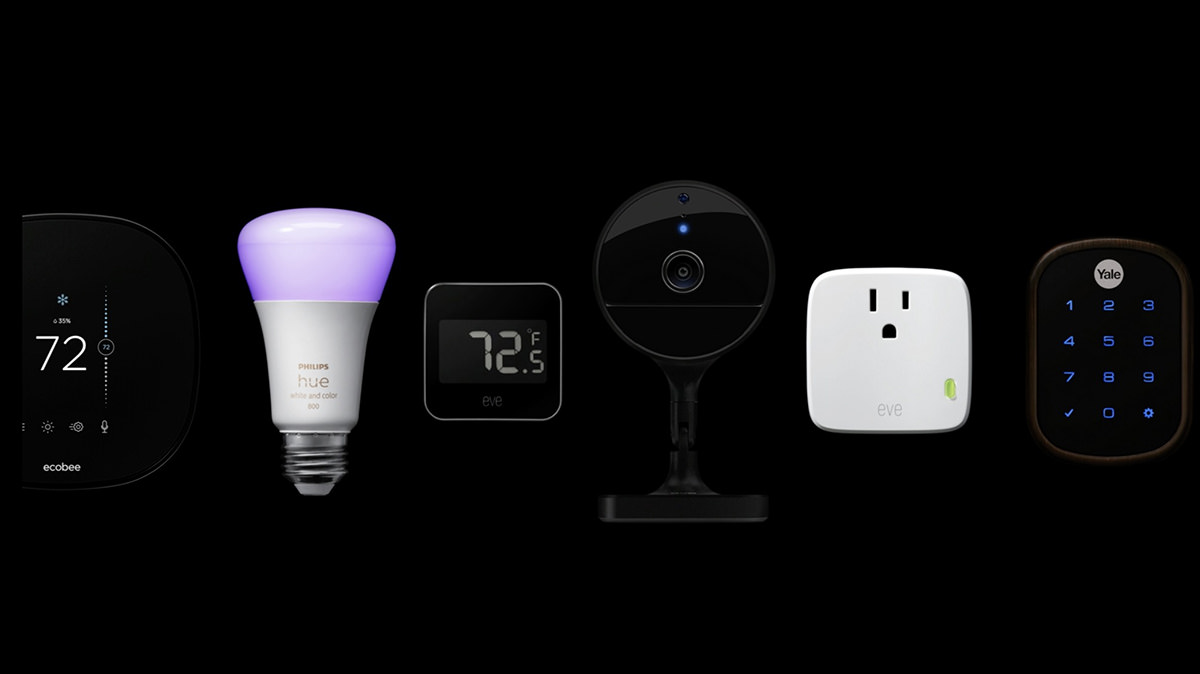 • AppleTV. My experience with AppleTV has been less than stellar. Sometimes it's downright bad. It apparently has very little RAM for streaming because there are times I get shitty, stuttering video. But the biggest problem is with Apple media itself. Even when other streaming services are working flawlessly on my AppleTV, the stuff I bought from iTunes will fail to load or not display properly. Until they address this, all the other bells and whistles (like new picture-in-picture for apps) don't mean much to me.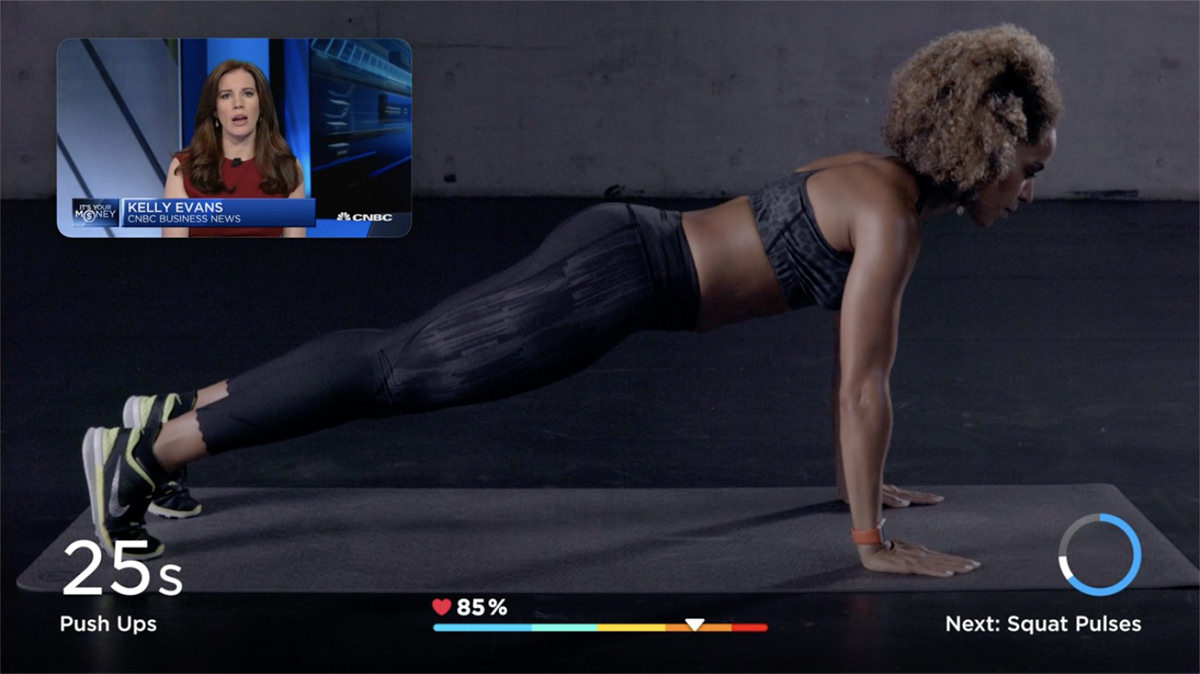 • AppleTV+. One of my favorite works of science fiction is the original Foundation trilogy by Isaac Asimov. Apple bought up the rights and teased the result...
No idea how this will play out, but I'm certainly excited to see what they've done with it.

• MacOS Big Sur. "Drug-fueled, mini-bus-driving, vision-quest?" — Okay, Craig. Settle down! If you believe the hype, this will be the biggest change to the visual interface of the Mac since the switch to OS X. I don't know if that's the case... these changes seem a more "evolutionary" than "revolutionary"... BUT THAT BEING SAID... I absolutely love what I'm seeing. WIDGETS ARE BACK? FUCK YEAH!!! Discontinuing them was a bigly stupid move, and adding them into Notification Center is okay by me.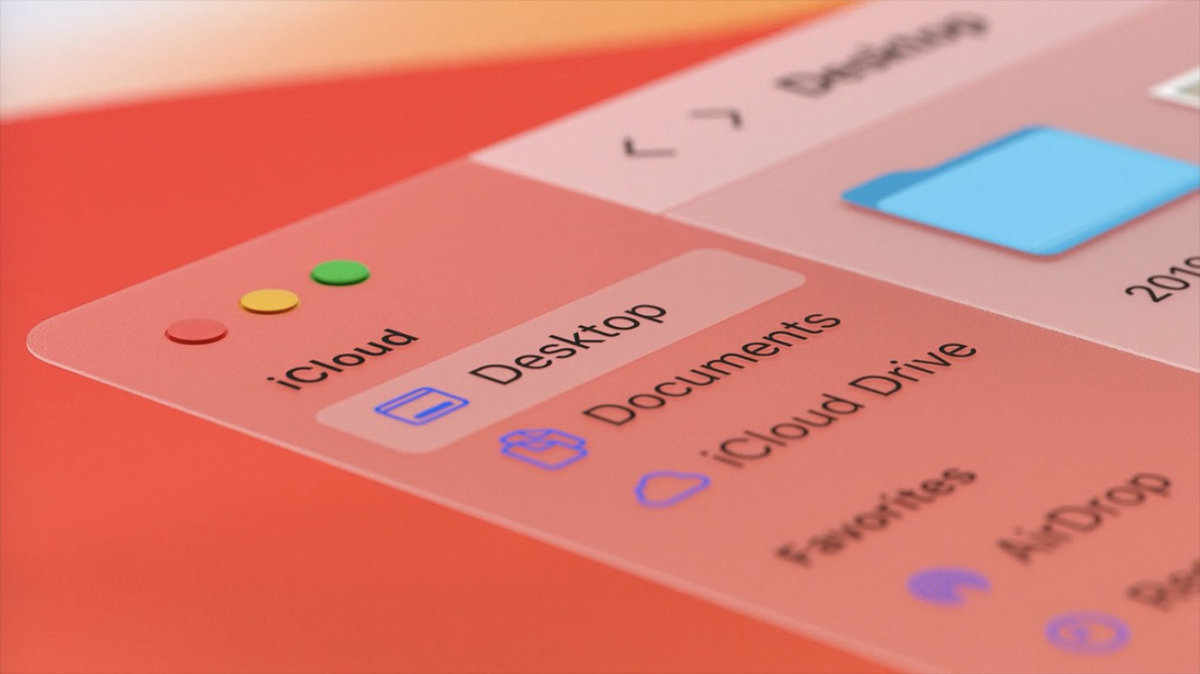 • MacOS Icons. MacOS has redesigned icons! Whee! What pisses me off is that Apple STILL hasn't allowed icons to be manually generated and "baked" into data files. Used to be when you saved a photo from Photoshop, the app would generate a tiny icon to attach to the file so you could see what image you've got. MacOS X eliminated this. Now data file icons are generated by the Finder. Which is so fucking stupid. No longer can you just scroll through all your images and see what they look like... you have to scroll and wait... scroll and wait... scroll and wait... it's infuriating.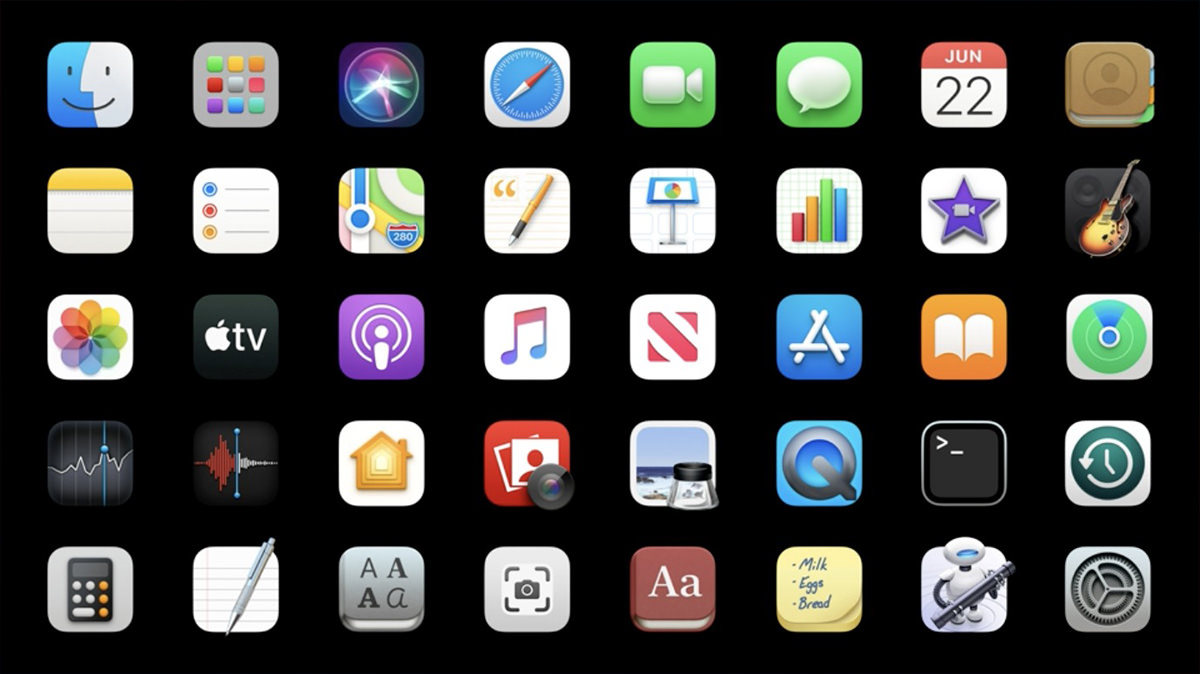 • MacOS Maps. And... MacOS is no longer the red-headed step-child of Apple's hardware when it comes to maps. Apparently they are adding more iOS Maps features that have been missing since Maps appeared on MacOS.

• MacOS Safari. Even though I remain unconvinced that Safari is the best browser out there, it's my default browser just the same. Apple wants to be sure that this remains the case, because they keep making it more responsive and faster with each new release. On top of that, they are constantly improving security and privacy features. By far the most exciting is that they will now notify you if your passwords have been compromised when a data breach is reported. How amazing is that? THESE are the features that are important to me. And, oh yeah, they made Safari more customizable and pretty as well. Whee. And what about those new tabs? NICE...
Plus... inline translation when the language of the site is different than your selected language. Looks like you have to click a button. I wish I had an option for pages to translate to English automatically for me... and just let me know with an icon indicator or something so I can switch back if needed.

• Mac on ARM. First it was a switch from 8086 to PowerPC. Then it was a switch from PowerPC to Intel. Now Apple is reeeeeally moving forward by developing their own silicon chips for Macs, just like they already do for iPhones and iPads. This is incredibly smart. By having MacOS work hand-in-hand with custom chips that they design and control, Macs will get faster, smarter, and have better battery life. They can tailor every aspect of the "brain" of their computers to do exactly what they want with no wasted processes or energy. Everybody knew this was coming. I honestly thought it was going to be years off yet. I'm happy to see that it's happening sooner rather than later. My only worry? That eventually Macs will just become big iPads. Because right now there are things that Macs can do which are clumsy or impossible on an iPad. But who knows what the future will bring?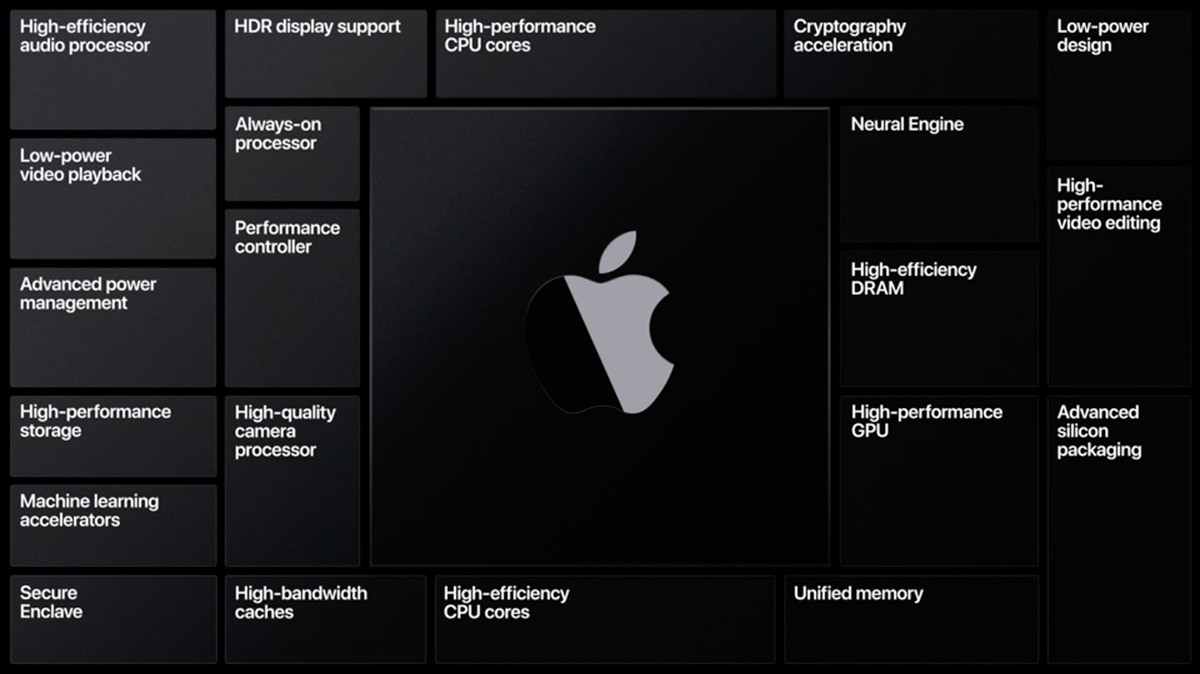 It looks like anything written in Apple's Xcode app development system will just have to be recompiled. Perhaps with minor tweaks. Simple. Microsoft and Adobe are already there for all their apps, and these are some really huge and complicated apps! What will be interesting is how these big companies use the custom hardware to add features to their products. This reminds me of the switch from PowerPC to Intel. All the apps would compile to work on both products via Universal Binary packages, and the user experience was seamless. But for those apps which weren't compiled to run on Intel silicon, they had a translation environment called "Rosetta." Now they've brought that idea back with Rosetta 2," so it looks like the transition is going to be just as seamless to Apple silicon, which is exactly what you want. Performance seems to be very good as well, so what's not to love?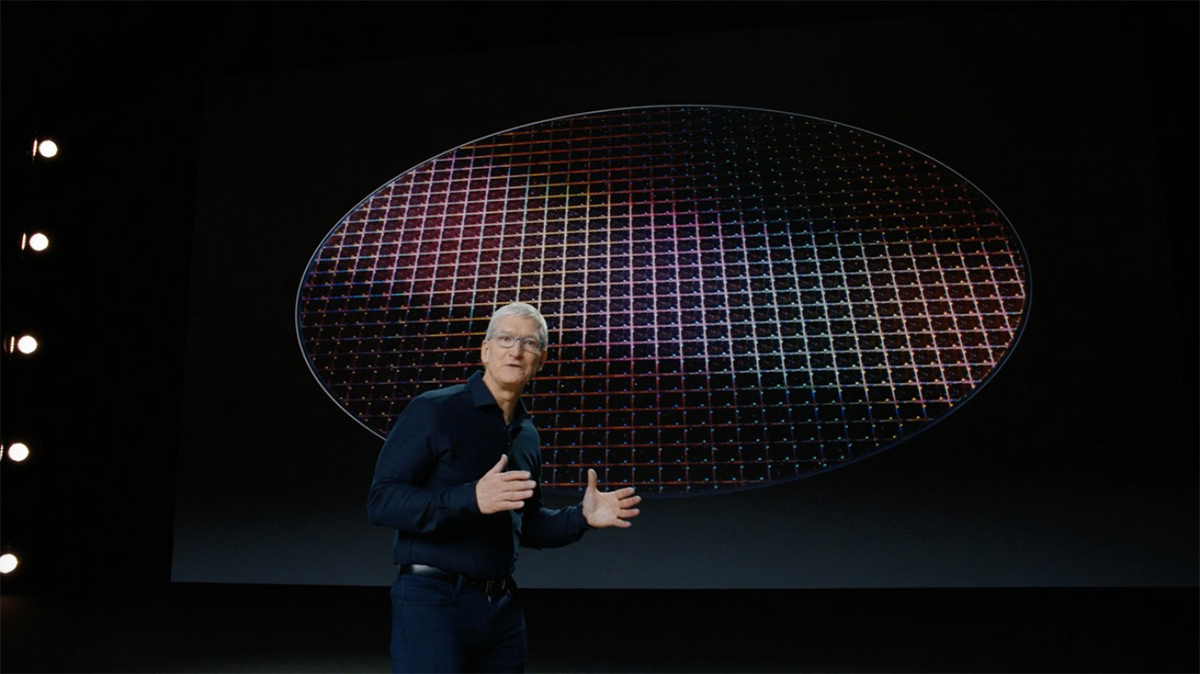 • iOS on MacOS. A brilliant side effect of Apple making their own chips is that they can make it so iOS and iPadOS apps run natively on the new Macs. That's pretty great.

And that's a wrap. There's a lot of stuff to really appreciate here, but it's all vaporware until it ships and end-users have access, so I guess we'll see.
Posted on April 23rd, 2020

The last iPad I bought was the 1st generation 9.7-inch iPad Pro four years ago in 2016. It was my second iPad and, at the time I purchased it, the intent was to use it as a laptop replacement for travel. That didn't work out at all. It just wasn't capable enough for me to do real work on it. Any time I traveled with my iPad, I had to have my MacBook with me as well. Still, it was good for watching movies on the plane.
What the iPad did do for me was revolutionize the way I draw and paint digitally. Thanks to its blazing speed, virtually non-existent parallax, and low latency (with the right app)... plus the fantastic responsiveness of the Apple Pencil stylus... everything changed. I found it to be a better experience for creating art than an expensive Wacom Cintiq tablet paired with a high-end computer! If there was a flaw, it was that the 9.7-inch size was too small for me to work comfortably, and I regretted quite badly that I didn't spend the money to buy the 12.9-inch size.
In November 2018 Apple released their 3rd generation model iPad. It was compelling enough an upgrade from my older model that I started saving $50 a month until I could afford one.
A month ago Apple released their 4th generation model iPad Pro. It was definitely time to upgrade now, but I had only saved up $700 of the $1000 price tag. Then quarantine started dragging on so I figured I might as well blow through some of the vacation money I had been saving since I won't be using it any time soon... and went to order me a new 12.9-inch iPad!
Much to my horror, the specs stated that my 1st generation Apple Pencil wouldn't work with the new model and I would have to spend an additional $130 to buy an upgraded one of those as well. It would be another month until I could get the money together for that, so my plans were put on hold.
Eventually I managed to scrape the money together and order... then today it finally arrived!
And now for my thoughts...
Holy cow is this thing beautiful. And so impossibly thin! It's like a thick sheet of glass with metal on the back. I honestly don't know how they manage it, and thinking of how far technology has come in my lifetime makes my head hurt.
My old iPad was pretty darn fast, even when running modern apps. But this thing is ridiculously speedy. Everything happens instantaneously. There's no delay for anything. It's kinda how like you dream your computer would work... except it's reality. What I don't understand is why Apple put in an A12Z chip instead of the newer, faster, better A13 chip that's in my iPhone. The A12Z has an additional core compared to the A12X from the previous iPad (8 cores instead of 7) which aids in some areas, but it's a minor upgrade at best. If you're going to use a new chip, why not go with the best you already have instead of spending the money to retool an older one with minimal effect?
The "new and improved" $130 Apple Pencil drawing stylus is actually "new and improved." It has a matte surface instead of a glossy one so it also has a more natural texture when you grip it. I also like the thinner diameter (which I know some people do not). But the absolute best part? You don't have to plug it in to charge it! It magnetically attaches to the iPad and charges wirelessly in either direction (nice for lefties and righties)... but only on the right "long-side" of the iPad (when held vertically... it's the top when held horizontally). As a side benefit, the flat "charging" side of the Pencil means it won't roll off the table. Where the Apple Pencil is just frickin' brain dead is that it's not reversible. Most styluses can be flipped to erase something (mimicking a real-life pencil eraser). STILL NO ERASER ON A $130 STYLUS IS UNFORGIVABLE. They do have a tap sensor on the pencil, however. In Procreate a double tap switches to the eraser. Another double tap goes back to your pen. This is a really nice way of working, but I still don't understand why a stylus costing a fraction of what Apple's charging has an eraser end when Apple's doesn't. Even so, I like this stylus 1000% better than Apple's old one. If I have a complaint, it's that I don't understand how it costs $30 more than the previous model.
Back to the iPad itself... the larger size of the 12.9-inch model is far, far better for drawing and painting. Not as comfortable to hold, of course, but much easier than a tablet hooked up to a computer. EXCEPT... thanks to a feature called "Sidecar" you actually can hook your iPad up to your computer if you want to (assuming it's a new enough model to support it)...
But it gets better... MacOS X apps which support pressure sensitivity can inherit this data from the iPad! Below is not a screenshot of my computer screen, it's Photoshop on my iPad in Sidecar mode. I drew a mustache on Jake to show how the pressure sensitivity on brushes allows you to get thicker lines as you press harder...
Not as flawlessly responsive as when using an iPad-native app like Procreate, but still perfectly useable! This is next-level-amazing, because now I won't have to save up $1,200 to get that Wacom Cintiq Pro 16 display tablet I've been dreaming of. My new 12.9" iPad is able to sit in for a 15.6" tablet, and still be useable as an iPad on its own! Disconnect the Cintiq from your computer and it doesn't do anything. iPad truly is the best of both worlds.
Not that I wouldn't love to have an even bigger screen than 12.9-inches but, finances considered, it's absolutely big enough. Still, can you imagine if Apple were to unleash a 16-inch iPad? A 20-inch iPad? As display technology gets more amazing and cheaper, it's gonna happen. The pro creative market pretty much demands it. Apple could match Wacom Cintiq models size-for-size and price-to-price and corner the market with display tablets that are also fully iPad-functional.
The display on this thing is brilliant. I mean really brilliant... as in bright and beautiful. I don't even need to turn the display brightness to maximum like I usually do! Colors are lush and saturated. The refresh rate is a mind-boggling 120Hz and buttery smooth when dragging shapes I've drawn. Just like my older iPad, it's still too slick for me to draw comfortably. To help with this I've ordered a PaperLike 2.0 screen protector which is supposed to feel more like drawing on paper. We shall see. The brightness and color is spectacular, so I am hopeful that the protector won't diminish that any. Apple says that there's a fantastic anti-glare coating on the display, but it looks to have the exact same reflectivity of my old one, so I'm hopeful the PaperLike will help with that too.
I don't think I've ever used the camera on either of my past iPads. My iPhone is better and more capable for taking photos (not to mention handier since it's always in my pocket). Never-the-less, the new iPad Pro has gone dual-lens with a wide and ultra-wide lens if I ever need them. The big technology here is the brand new LiDAR (Light Detection and Ranging) Scanner which can accurately map out your surroundings for things like Augmented Reality. I haven't had a chance to play with this much, and I don't know that it's something I will ever use regularly, but it does give us a hint as to how big Apple is betting on AR for the future.
Something else I haven't used in previous iPads was the front-facing "selfie" camera. But in the age of social distancing when video-conferencing has become the norm, I've found myself actually using it. And Apple's camera works fine... when the iPad is held vertically. But since I use my iPad horizontally the vast majority of the time, it's just bizarre. People can see me fine, but I'm looking off to the side and I got a comment that it's a bit disorienting. You may be thinking "All video conferencing cameras are like that!" and you're right. But it's very noticeable in horizontal mode because the camera is on the side of your screen instead of on top of it. And there's another problem there too... when held in portrait orientation, there's a good chance your thumb will cover the camera needed for FaceID unlock. Apple really, really needs to rethink this and put a camera for both vertical and horizontal orientations. Transmitted sound is really good, and I'm told it's not as "tinny" as my old one when I asked about it during video chat. Likely because Apple says they are using five "studio-quality" microphones.
There's no headphone jack, of course. I have AirPods so this isn't a problem, but I sure wish I could use my high-priced headphones from 1994 with the iPad and not have to use an adapter. Right now, my MacBook Pro is the only thing left which has a headphone jack. That being said, the sound quality coming from the built-in speakers floors me. Just as with my iPhone before this, I cannot comprehend how such good sound can come from speakers so thin! And, unlike the cameras, Apple has made darn sure that your stereo experience is good whether you hold it vertically or horizontally (though horizontal seems to give better dimension to the sound because the speakers are further apart). There are four speakers, two on the top and two on the bottom, and they seem to adjust automatically depending on the orientation of the iPad. So nice!
Given how stubborn Apple can be about cables and connectors, I was pleasantly surprised to see that the 2020 iPad has USB-C instead of Apple's proprietary Lightning connector. Granted, before USB-C was invented Apple had to do something to get away from the "this-side-up" idiocy of older, larger, slower USB connectors... but given how USB-C is on everything else Apple makes and working great, it seems silly to hold out on the iPhone. Hopefully that will be remedied soon.
And then there's the iOS that's running everything...
=sigh=
Having the greatest tablet hardware in the world means very little when the software isn't up to the task. And iOS is mostly there. But not completely. The gesture-based multitasking is just plain bad. It's confusing, complicated, unintuitive, and sometimes I can't even get it to work correctly (and never understand why). Sadly, this makes an otherwise amazing product feel half-baked. Given Apple's long history of sublime user experiences and interfaces, this is baffling to me. There are a number of "proof of concept" videos out there showing better alternatives to how Apple is doing things, yet Apple themselves just sits on their hands? Why? I can only imagine it goes back to their preposterous stubbornness (which was responsible for their laptops having shitty keyboards for years). Well, get off it, Apple. You can do better than this. You need to do better than this. The power users you're courting to break free of the "home and hobby" mindset of a tablet not being a "real" computer isn't going to change until you do.
And so...
In all the ways that matter, the 2020 iPad Pro is not that different from 2018 iPad Pro. It has one more core in the CPU and a LiDAR sensor that's of limited use, and that's pretty much it. But when compared to my 2016 iPad? It's a pretty big upgrade. And not just because I went from a 9.7-inch screen to a 12.9-inch screen... it's faster, smarter, and more capable in every way. And when you couple that with the fact that I can use it as a display tablet when hooked up to my desktop Mac? It's a phenomenal value... even with the $1,000 price tag (or, if you include the $130 Apple Pencil stylus I had to buy, the $1,130 price tag).
We are rapidly getting to the point where computers and tablets are converging. This is more apparent when you look at Microsoft Surface and the slew of touch-screen PCs being released, but things seem more kludgy on the Windows side than with Apple's more purposeful iOS/MacOS convergence. Next year Apple is said to be switching from Intel chips to their custom ARM chips in their Macintosh computers. The next step will be to have an iOS layer on MacOS to run iPad apps natively. Then, once all the apps have gone to iOS for the Mac, the MacOS is no more. As technology gets smaller and faster, it's pretty much inevitable. I have to wonder if it will be less than 10 years before you can get an iOS desktop? I dunno. More likely, it will just be iPad. And if Apple gets off their asses and stops being so stubborn, this might not be a bad thing.
To be honest, I would have rather spent my vacation money on an actual vacation. But, I am quite happy with my new iPad and am grateful to have gotten it ahead of schedule. Hopefully it will unleash my creativity and be worth the price.
Posted on February 7th, 2020

Every year the Six Colors blog on all things Apple issues a report card. For the past week I've taken time when I have a free minute to make up a report card of my own.
I should start out by saying that I remain disappointed that Six Colors doesn't have a "Customer Service" section on their report card. If they did, I would give Apple an F- or whatever the lowest possible score is. The two horrendous incidents I endured in 2019... both of which were 100% Apple's fault... were so trauma-inducing that I STILL haven't been able to sit down and write out a blog entry on what happened. Every time I start, I get so overwhelmed with seething hatred that I have to stop. Maybe one day. But, suffice to say, Apple "customer service" is so downright horrific that the very thought of it has me questioning if I ever want to buy anything from Apple ever again.
But on to the report card...
The Mac — B
Over the past five years I would have given Apple a D. Their shitty, shitty "butterfly" keyboards on their MacBook Pro laptops were a fucking disaster, and everybody hated them. But Apple being Apple felt that everybody was wrong and kept using the stupid things. They finally came to their senses and released a MacBook Pro with a "scissor" keyboard in 2019 and it made all the difference. I'm still upset that they removed Firewire, USB-A, and MagSafe from a so-called "pro" laptop, but I guess Apple is going to remain being Apple and ain't going to stop any time soon. The giant trackpad I was anticipating liking actually ended up being a negative, because it takes up a huge amount of space and is easy to touch when you don't mean to. Also? I have a hard time selecting text with it or click-dragging, something I've never had a problem with before.
When it comes to the desktop Macs, I have to drop Apple down a grade. They are so focused on the high-end Mac and iMac that it feels like the "models for the rest of us" are getting shafted. And don't get me started on the Mac mini. The original idea for that was to give people on a budget a way to afford a Mac by bringing their own periphreals. But now? The cheapest model is $800. EIGHT HUNDRED DOLLARS! If this is meant to be an entry model which is priced to be budget-friendly, it fails spectacularly.
When it comes to MacOS X, which is apparently included in this category, I am indifferent. It feels like MacOS has been stagnating for years. Nothing overly-exciting or truly fresh and new has been released in what feels like forever. To me, MacOS X Catalina was actually a step backwards. My MacBook Pro comes with a fingerprint sensor for TouchID. You would think that this means you are done with entering your passwords. You would be wrong. I am constantly entering my fucking Apple ID password. CONSTANTLY! It is fucking embarrassing just how bad Apple is at security. They put on this huge show of how they are encouraging people to use stronger passwords, then completely sabotage it by making people have to enter these longer, more difficult passwords over and over and over and over and over and over and over and over and over and over and over and over and over and over and over and over and over and over and over and over. Who the fuck is going to use a complex, hard-to-crack password when you have to keep entering it over and over again? Nobody. Apple's claim to be making strong passwords more common is 100% bullshit. If anything, Apple's piss-poor handling of passwords encourages easier-to-remember, easier-to-crack passwords.
iPhone — A
I love, love, love the latest iPhone. The phone part is all the same... just a bit faster is all... but the camera is sublime. The camera is everything. I wrote extensively about the iPhone 11 Pro and its miracle-camera here. If anything, my opinion has only gone up since I wrote it. Between Night Mode, Deep Fusion, three lenses, and the amazing quality of it all, I almost never use my DSLR any more. Why would I drag it around everywhere when I can take shots like these with my frickin' phone?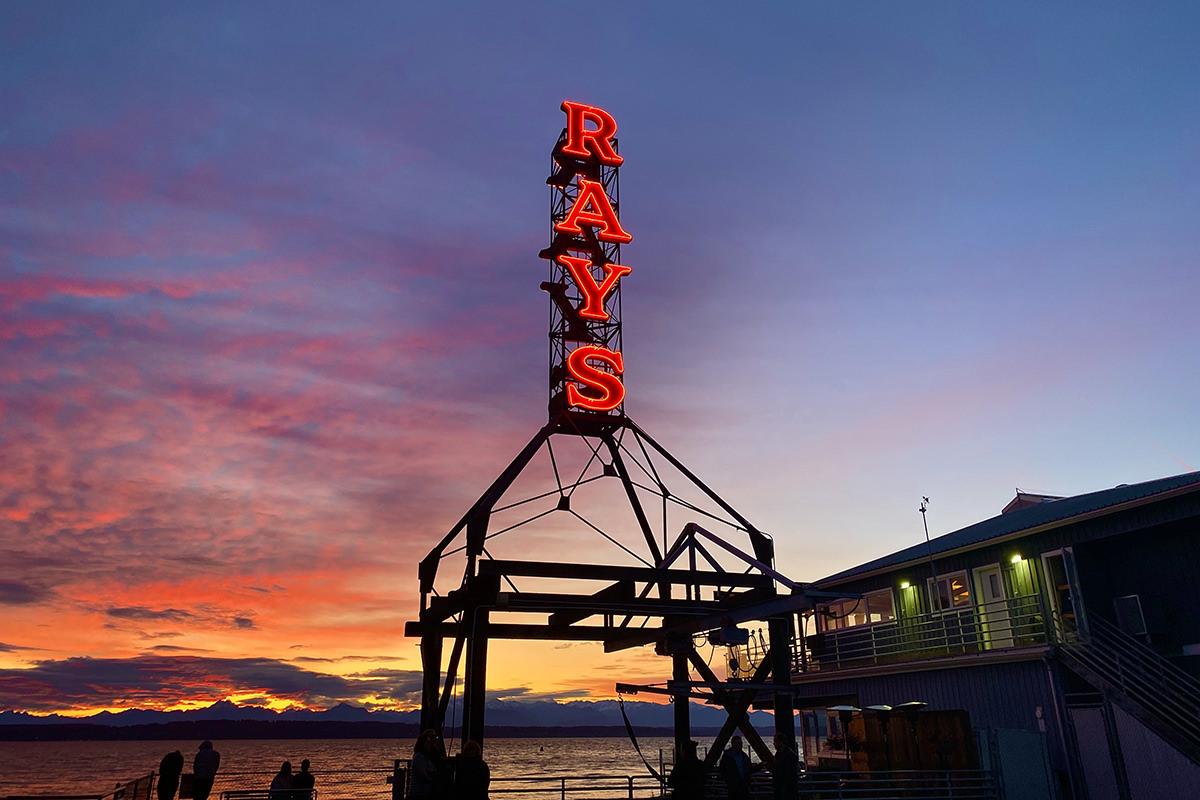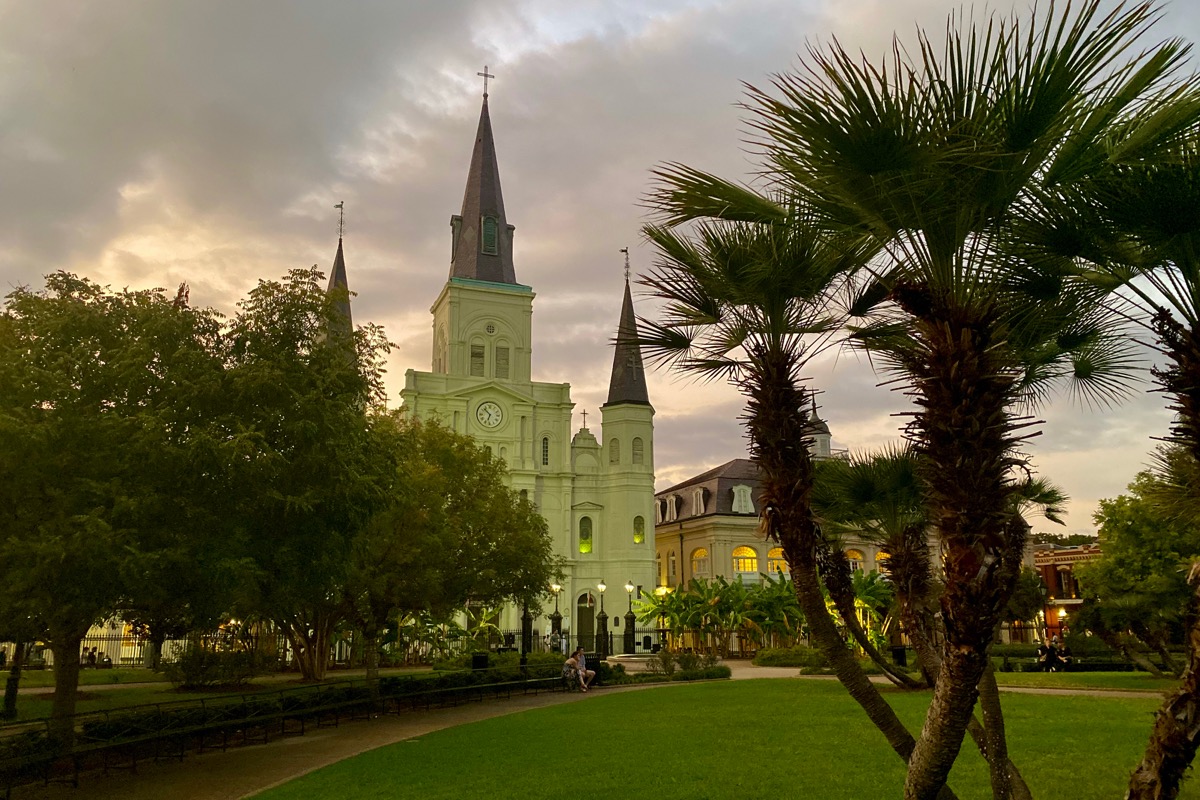 Amazing. If this keeps up, in another couple years most people won't even think about buying an actual camera.
iPad — C+
iPad is an amazing, amazing tool. Drawing and painting on it is a sublime joy that still amazes me. And, as they release newer models of iPads and Pencils, it just keeps getting better and better. Where the problem lays is with iOS for iPad. It's just so darn bad. I have been trying and trying to figure out how the gesture-based multi-tasking works, and just when I think I understand it something happens which makes me realize that I absolutely don't. In all honesty, this aspect of iOS for iPad needs to be completely gutted so they can start over from scratch. Just burn it to the ground and start over. The user interface is a place where Apple usually excels. But this? THIS?!? Complete shit. It doesn't matter how good the hardware is when the OS driving it is this cumbersome. And so I averaged them together to get my grade.
Apple Watch / Wearables — C
I'm probably not qualified to comment here because I don't own an Apple Watch and have no plans to buy one. They are just so darn thick that I find them uncomfortable. Why they aren't investigating putting the battery in the band somehow or doing something to make them thinner is a mystery. Because if you've got a thin wrist like I do, it's just not a very good option. It's a real shame too, because I really like the health features. That being said... if a chunk of money lands in my lap, I might bite the bullet anyway because there's just so much good stuff to be had so conveniently.
AppleTV — D
Apple seems content to let AppleTV languish, and it's really too bad. The interface is abhorrent. So horribly difficult to use. Have a ton of movies? I hope not. Because you'll spend a lot of time scrolling and scrolling. But what's worse is that Apple content is just plain shitty to stream. Constant buffering errors, drop-outs, and pauses. And before you blame my fiber internet (which is what Apple does)... I don't have this problem with ANY OTHER SERVICE when streamed on my AppleTV. Not even with Disney+ or Amazon Prime streaming on Ultra HD!
Then there's Apple's idiotic attempt at doing away with logins by tying services you purchase through them to your Apple ID. I say "attempt" because the shit DOES NOT WORK. I can't tell you how many times I've subscribed to a streaming service through the AppleTV in my living room then can't use it on the AppleTV in my bedroom. And since you don't get a login, there's absolutely nothing you can do... EXCEPT NEVER, EVER, EVER SUBSCRIBE TO ANY STREAMING SERVICE THROUGH APPLETV! As if that weren't enough, if you subscribe to a service through AppleTV that doesn't have a desktop app, you can't watch it on your computer. You could probably watch it online through the provider's website if you got a login from AppleTV, but you don't so you can't. It makes no sense... NONE... as to why you'd ever go through Apple.
And don't even get me started on the shitty, SHITTY fucking remote they bundle with the thing. It is the single worst remote control I have used on any product ever. Constantly grabbing it by the wrong end. Constantly having trouble navigating content. Constantly losing the little fucker in my couch. I HATE it. And I mostly hate AppleTV, even though most third-party apps are pretty decent... and those gorgeous screen savers are sublime.
Services — C
I don't subscribe to Apple News+ or Apple Arcade, and only have Apple TV+ because I get it free for a year. I subscribe to iCloud, but it's so horribly priced that I only buy the bare minimum for iPhone backup. The only plus is that iCloud Drive is content to just be a cloud drive, which is more than you can say for DropBox, who keeps adding the most ridiculously shitty and bloated services to their cloud drive that I just don't want. About the only thing I can truly comment on here is paying for Apple services. For weeks I've been getting a pop-up on my Apple Wallet asking me if I want to link my Apple Cash as a payment method at Apple. I absolutely do. Except it fails when I make the attempt. EVERY FUCKING TIME!
Why in the hell do they bother asking if it doesn't ever work?
HomeKit

HomeShit — F
I fucking hate HomeKit. It's a flakey, incomplete, crusty asshole of a technology. After waiting forever for compatible devices to come out, I started buying them... then immediately stopped because the experience was so bad. Rarely worked well. Sometimes didn't work at all. I'd recommend that Apple just give it up already, but they just joined a consortium with Amazon, Google, and the Zigbee Alliance, so maybe they're on the right track now. Hopefully this will at least result in a workable technology, because I am totally ready to have my home automation built into iOS.
Hardware Reliability — B
My score is comparative. When compared to every other tech company, Apple reliability is pretty darn good. It's not perfect, however. I've had to replace hard drives in two Macs in two years because the internal drives started failing.
Software Quality — F
Where do I start? I hated iTunes. I railed against what a profoundly shitty app it was and how bad my digital life was with it. Then they released the AppleTV app for MacOS and the Music app for MacOS and they are so fucking horrendous that I find myself longing for iTunes again. The TV app is the worst of the bunch. Try finding anything. You can't. Can't find the content you own easily. Can't find new stuff to buy AT ALL. When I go to the "movies" tab, for example, there are a bunch of things that AREN'T EVEN FUCKING MOVIES...
And that's just the tip of the iceberg. Everything from Photos to the App Store to Books to Messages have serious problems and Apple doesn't seem to give a shit just how bad an experience it is.
Developer relations
As I'm not a developer, I can't really comment here. Except to say that I still question Apple's App Store policy of taking 30% of in-app purchases. That seems high considering all they do is process payment. Credit card charges aren't nearly that high, and it seems an absurd percentage in exchange for the convenience. In-app purchases should just be another reason why developers love developing for iOS. As it is, many developers just don't use it because the cut is too high. Want to buy a comic book in Comixology? Sorry. Have to go to the website and buy it that way because Amazon apparently doesn't have margin enough on books to give away 30%.
Environmental/Social/Societal Impact — D
Apple seems increasingly willing to suck up to the Trump Administration... wanting to play nice to get tariff exemptions, I'm guessing. From not speaking out against outright lies about President Trump convincing Apple "to open a new plant in Texas"... to Tim Cook (WHO IS GAY) sucking up to Cheeto Jesus even though he has been rolling back LGBTQ rights at every opportunity, I am disgusted to my very core on this. The only reason Apple gets a D instead of an F is that they seem to continue to improve working conditions and environmental aspects of the company abroad. Still a lot of room for improvement (and it's happening way too slowly), however.

And that's the end of that. Nobody wishes I could have given Apple better scores than I, but things are sliding so badly in so many areas that I really didn't have much choice. The lone exemption being the iPhone, which is better than it's ever been.
And one of these days... I promise... I will finally unload on the heinous state of Apple Customer Service that I had to endure. It is one of the most mind-boggling, mind-blowing things I have ever experienced in "service" and that is saying a lot considering the crap I've had to put up with over the years.
Posted on December 12th, 2019

On Friday I was walking through a parking lot to the mini-mart when a car came bombing around a corner and hit me. I was knocked down and my keys and iPhone went flying. They weren't driving terribly fast... but it was way too fast for a parking lot and totally fast enough to knock me off my feet.
The screen protector on my iPhone was shattered. But when I removed it the iPhone was in flawless condition. Since nothing was broken (including me) I told them to be more careful and slow down, then went on with my life.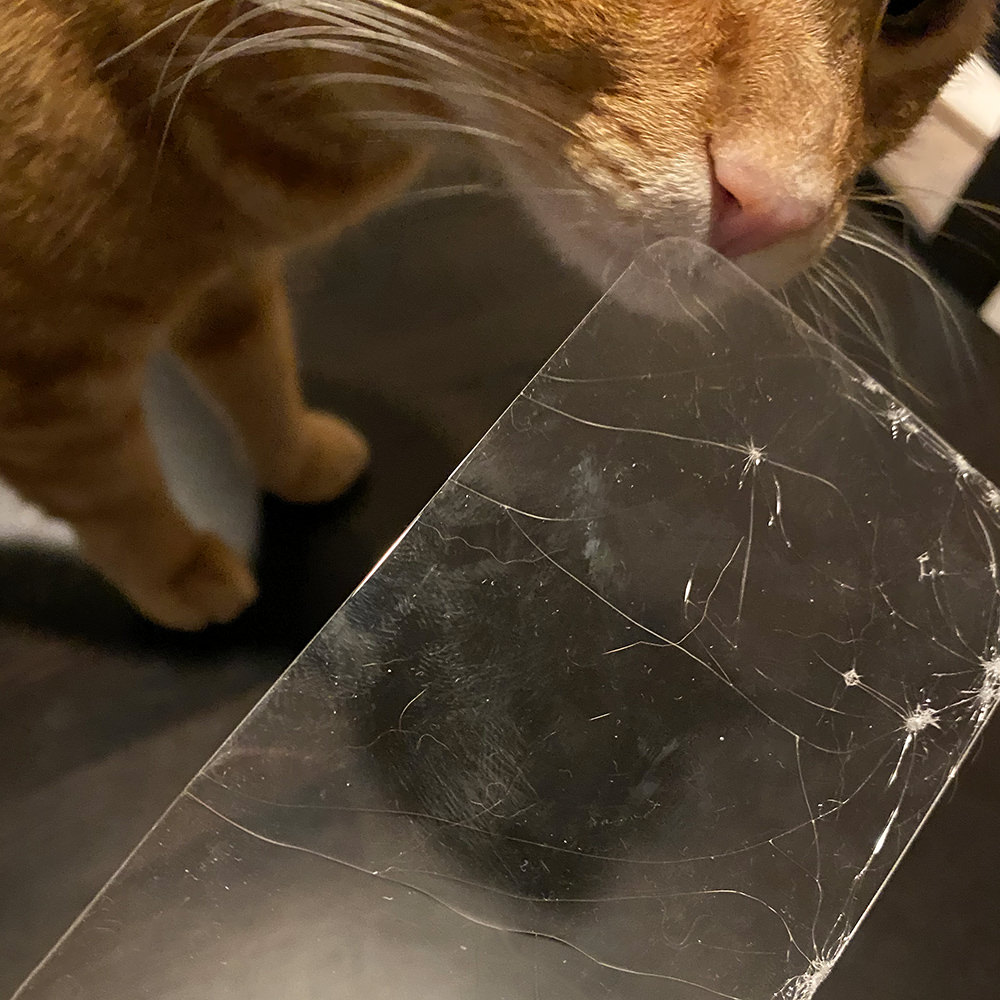 Alas, the next morning my iPhone display was "banding" (there were dark stripes going across the display). Later in the evening my display was getting progressively dark and when I woke up on Sunday it was completely black.
I am still traumatized from the heinous fucking treatment I had to endure courtesy of Apple "Support" when I attempted to make a claim on my AppleCare+ insurance plan... so it will be a while before I'm ready to blog about that bullshit. But I absolutely will. Suffice to say that Apple "Support" is made of 100% asshole, still, and the number of times I heard "There's nothing I can do!" from "support" leads was staggering. Which means either A) They are lying for whatever reason, or B) Apple management doesn't empower their leads with the power to do A-N-Y-T-H-I-N-G! Which is fucking insane. And sets up their entire "support" organization up for failure. Which may be the plan. I have no fucking clue.
Eventually I did FINALLY manage to get my phone replaced and it arrived today.
Setting up a replacement iPhone is blissfully effortless. You log in to iCloud and restore from a backup. BLAM! You're done.
Except... not so much.
After my email accounts transfered over, I had the same error THAT I HAD A YEAR AGO when I got a new phone. The same error THAT I HAD THREE MONTHS AGO when I got a new phone.
A message pops up which says "CANNOT VERIFY SERVER IDENTITY"...
You click "Details" and the pop-up disappears but nothing happens.
You click "Cancel" and the pop-up disappears but nothing happens.
Then the dialog box comes back over and over and over and over and over and over and over and over and over and over and over and over and over and over and over and over and over and over and over and over and over and over and over and over and over and over and over and over and over and over and over and over and over and over and over and over and over and over AND FUCKING OVER AGAIN! And it simply will not stop no matter what you do. Every five seconds it comes back.
When you search through Apple's knowledgebase, you'll see that this bug has been discussed SINCE TWO-THOUSAND-FUCKING-SIXTEEN! It's been around and been reported FOR THREE DAMN YEARS! And Apple won't do fucking shit to fix it. Your ONLY option is to delete your email account and start over. Which means that migrating your email accounts is essentially useless. How damn hard is it to have the "Details" button bring up a sheet where you can choose to "trust" the server?
I guess Apple has bigger fish to fry.
Like ensuring that their "support" team treats their customers like shit.
Posted on October 13th, 2019

I've been catching up with preparing my home for winter this weekend, but I had to make time for blogging, because an all new Bullet Sunday starts... now...

• Compare. I am putting this video here because I just can't believe it exists. Arun Maini (who has a great YouTube Channel) compared all the iPhones ever made for quality and features, plus showed and unboxing of each as well...
One of the most shocking parts of this video is the end where he compares the cameras. I maintain that the camera in the new iPhone 11 Pro may be the best camera I've ever owned. No, it can't really compare my Sony DSLR... but, in some ways, it actually eclipses it. First of all, it fits in my pocket and is with me at all times. Second of all, it has capabilities you could only get from a device with a massively powerful computer in it... like Night Mode and the forthcoming Deep Fusion. Aside from all that, it's just capable of taking amazing, amazing photos.
Of course the biggest shock is the benchmark escalation...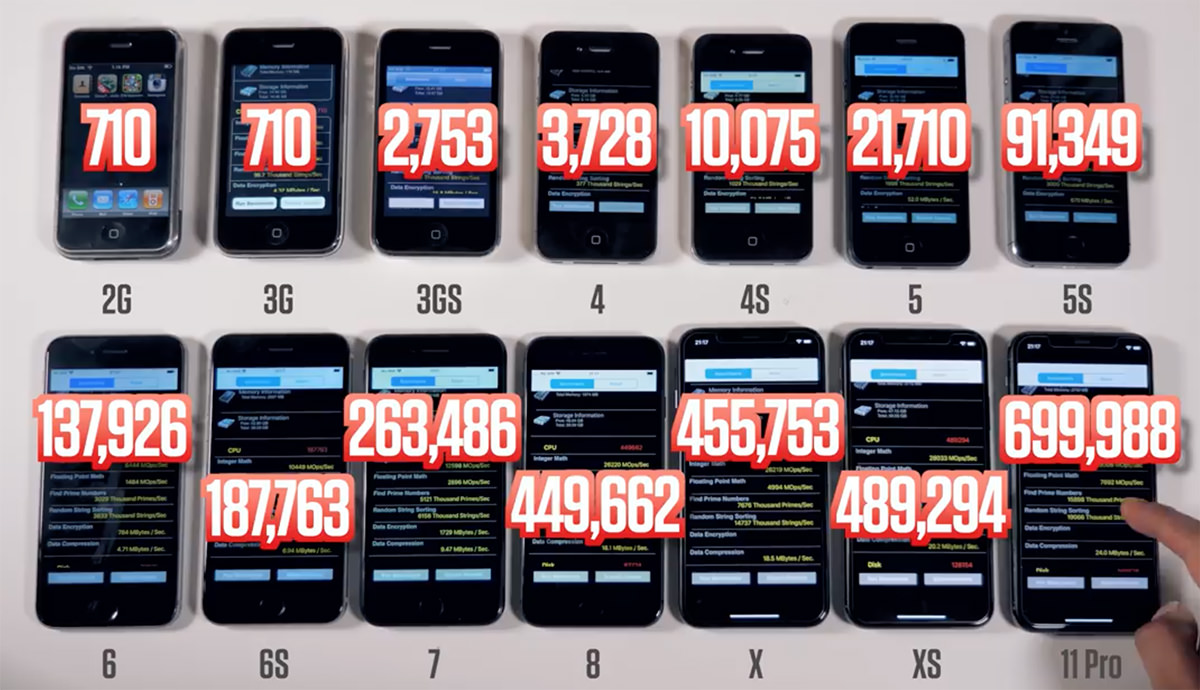 I mean... wow. As an aside here, I've owned the following: 2G (The Original), 3G, 4, 5, 6, 7, X, XS, and 11 Pro...
I kept all the boxes (except I can't find the box for 7). I think the only actual phone I kept was the 5 (it's in the shadows up there in the corner) because I loved the look of it so much (the 4 is a close second). I also have a 2G Original around here somewhere. The other phones I donated because the trade-in value is always worth less to me than helping somebody out... or, as of the iPhone X, I returned it to Apple as part of their iPhone Upgrade Program.

• Vieux Carré. They are building a Hard Rock Hotel in New Orleans at the Northeastern corner of The French Quarter. I was staying just around the corner from the construction site, and walked by while I was there to check things out. Unfortunately I couldn't see much... and, even more unfortunately, there was a horrific accident which has left two workers dead and one still missing...
As the push to get things done ever cheaper and faster escalates, worker safety seems to be pushed aside. I sincerely hope that's not the case here.

• GROUCH. I do not care how many accolades that the Joker movie gets... I have zero interest in seeing it. The "real" Joker was a career criminal who was driven insane when he dropped in a vat of chemicals. The key takeaway being that he was always a criminal. In this new movie, Joker becomes a criminal due to mental illness, and I'm not here for it. The film is a completely unnecessary revision that simply doesn't interest me. Maybe one day when it's free on HBO or whatever, I'll give it a try out of boredom... but I'm not rushing to the theater to see it. Last night on SNL, there was a parody for Oscar the Grouch which brilliantly captures how I view Joker...
Perfect. THIS IS PERFECT!

• Three. It came out a short while back that Kevin Smith had finally manages to get Jeff Anderson onboard for Clerks 3. He had written a script ages ago, but Jeff didn't want to do it. Apparently after some discussion, Smith decided to write an all new script inspired by his heart attack that Anderson could get onboard with. Needless to say, I'm ecstatic...
Kevin Smith has made some of the favorite films. He kinda lost me when he took a detour into Cop Out, Red State, Tusk, and Yoga Hosers... but the idea of getting another Jay & Silent Bob movie this month followed by another Clerks? Too good to be true.

• Vileness. You will be absolutely amazed what Portuguese street artist, Vile, can do with cans of spray paint...
Check out the story over at My Modern Met for more of his mind-blowing graffiti art.

• Apple and TV. I absolutely loathe the way Apple handles the video media they peddle. They charge more money than any other provider to sell you something you are forced to watch with their shitty, shitty apps. AppleTV is a grotesque mockery of interface design that barely works. The iPhone and iPad apps are missing so many critical features (LIKE SORTING YOUR HUNDREDS OF PURCHASES) that they're a heinous burden to use. And now there's the TV app for my Mac that came with their new Catalina MacOS. It is the very definition of crap. I never thought I'd be longing to go back to iTunes, but at least it was functional. The TV app is fucking garbage. They regularly send you to places that have no content... THEN DON'T GIVE YOU A FUCKING "BACK" BUTTON TO GO BACK TO WHERE YOU WERE!
And just try searching for stuff you want to buy. I dare you. I double dare you. I am so fucking embarrassed for Apple that I feel like vomiting. And if Steve Jobs were alive today he'd probably burn the company to the ground. After he strangles all the dumbasses who thought that "butterfly" keyboards in MacBooks was a good idea.

• Stellar. Christopher Nolan's Interstellar is a movie that I didn't like at first but, as time went on and I gave it another chance, I came to appreciate it as pretty good sci-fi. The high-concept science behind it is fascinating. Yes, the way that Nolan tried to inject "humanity" into it was a kludge, but it's still an entertaining story. And while I found everything pretty straightforward (despite some glaring plot holes), I found this cool (spoiler-filled) graphic which explains the time shifts in a great way...

Click image to embiggen.
Of course I ended up watching the movie again last night just to follow along. I like it even better the third time through.

See you next Sunday, buckaroos.
Tags:
Apple
,
Apple TV
,
Art
,
Bullet Sunday
,
Hard Rock
,
iPhone
,
iPhone Photography
,
Movies
Categories:
Apple Stuff 2019
,
Bullet Sunday 2019
,
Hard Rock 2019
,
Movies 2019
—
Click To It:
Permalink
—
0 Comments: Click To Add Yours!
Posted on October 8th, 2019

Having been to The Crescent City many times, I know how crucial it is to pack minimum 2 changes of socks and underwear and 3 changes of shirt every day. When the heat and humidity makes you sweat like I do, anything less is just being irresponsible.
Work yesterday ran me pretty ragged and I had been eating all day long, so my ambitions for dinner were low. I made my run to Cafe du Monde and that was all I needed...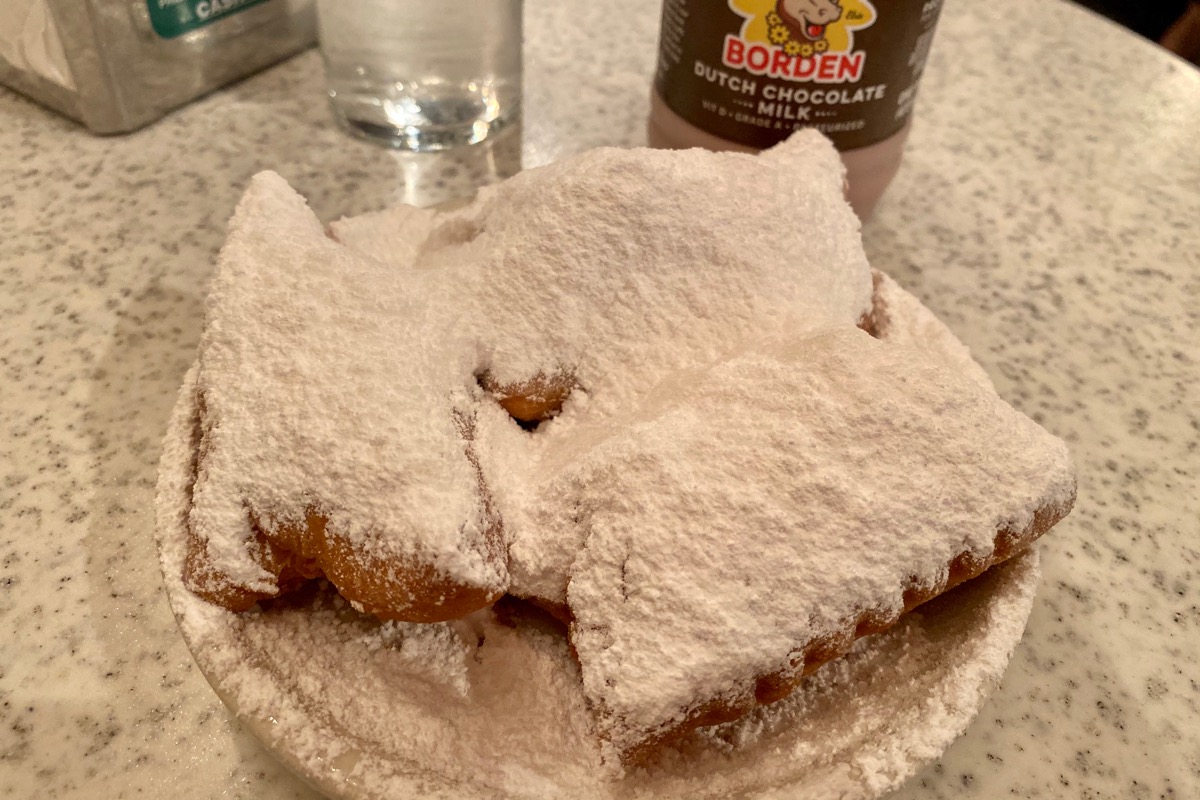 When I sat down to eat, I was overwhelmed with the feeling that something was wrong. Something had changed. After a minute I realized that the painting "It seemed like an ordinary day, until I had coffee with Jesus at the Cafe du Monde" which had been hanging on the green-stripes wall was missing. Just a blank spot there now...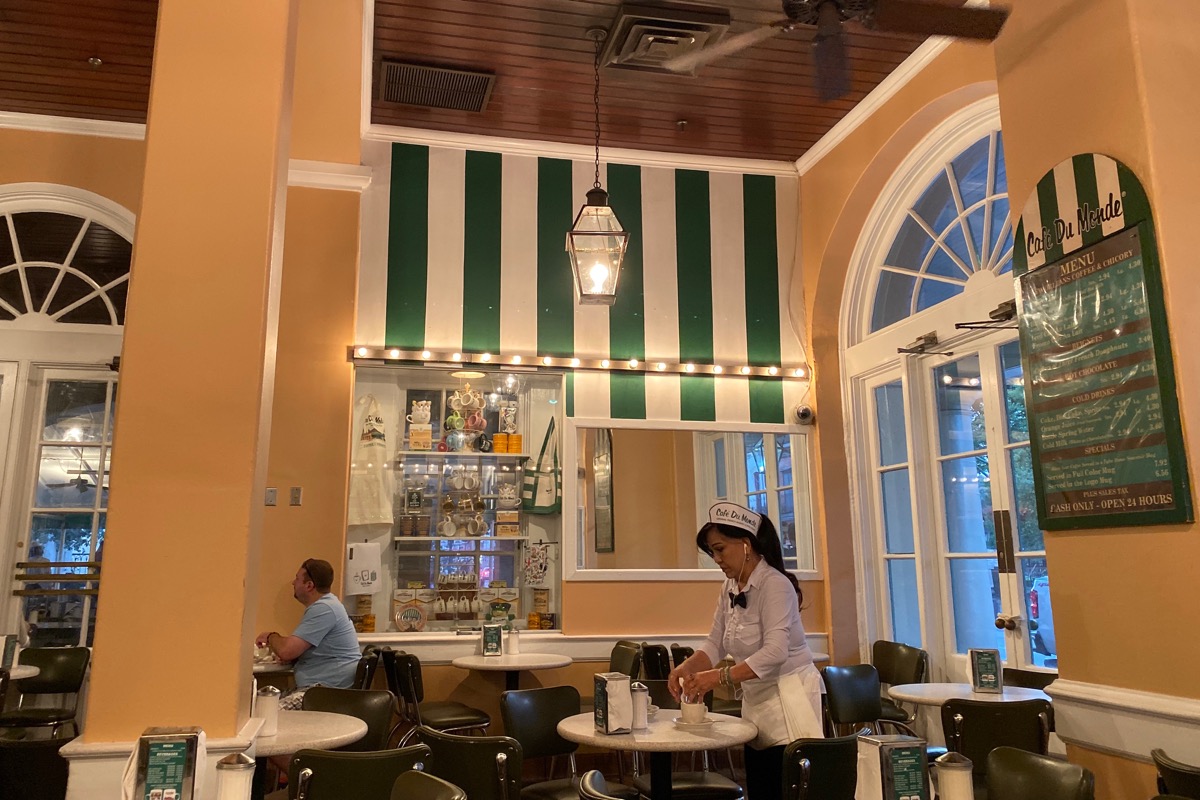 I've blogged about the painting and how much I like it two or three times now...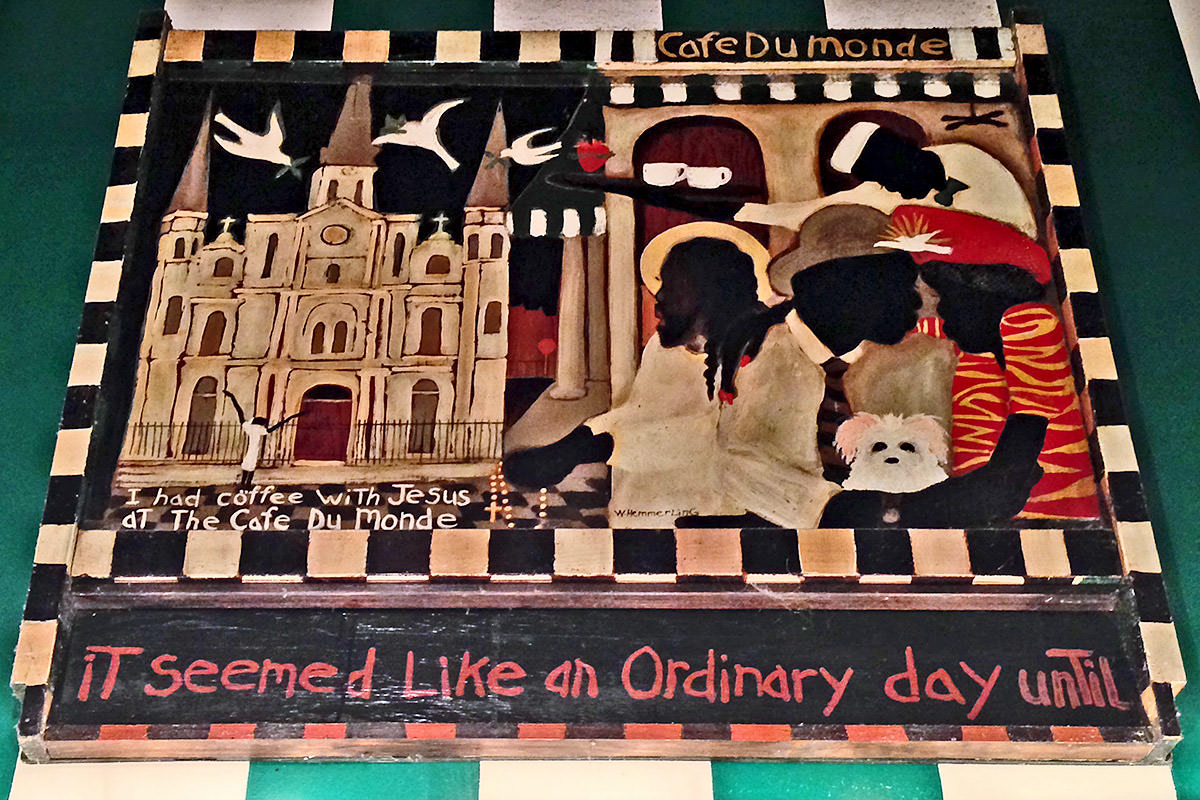 I asked at the counter and all they would say was that it had "been moved to a new location." I hope that's the case, because I will be sorely disappointed if some religious zealot asshole complained and they had to take it down.
Then I just wandered so I could take a few photos with my iPhone 11 Pro to see how it handles things when the light is fading. And to play around with that magnificent wide-angle lens, of course...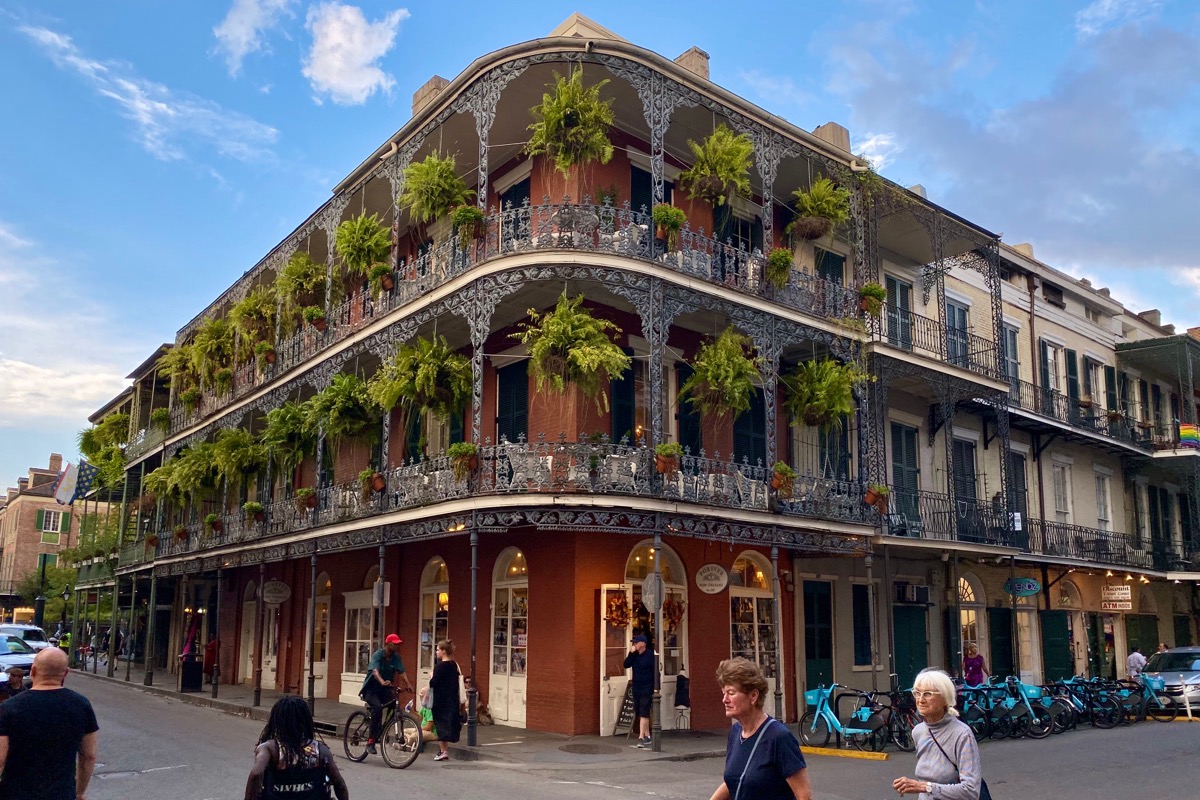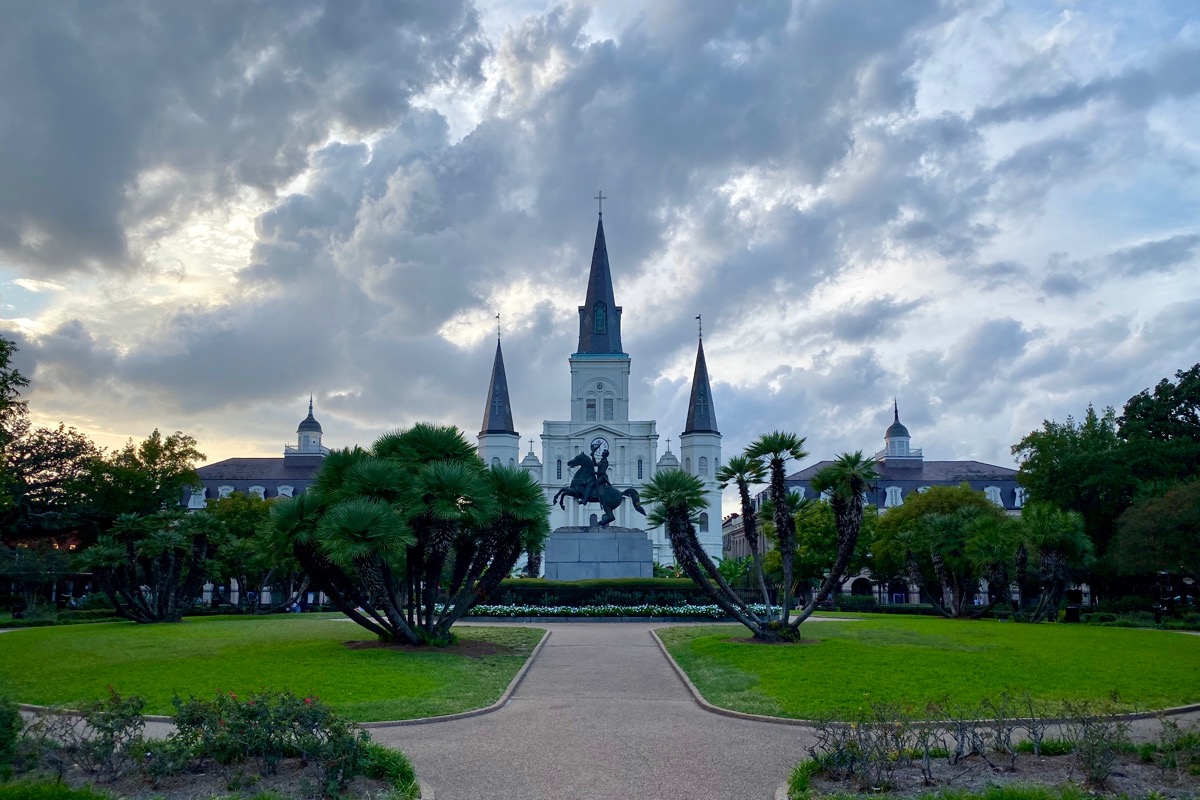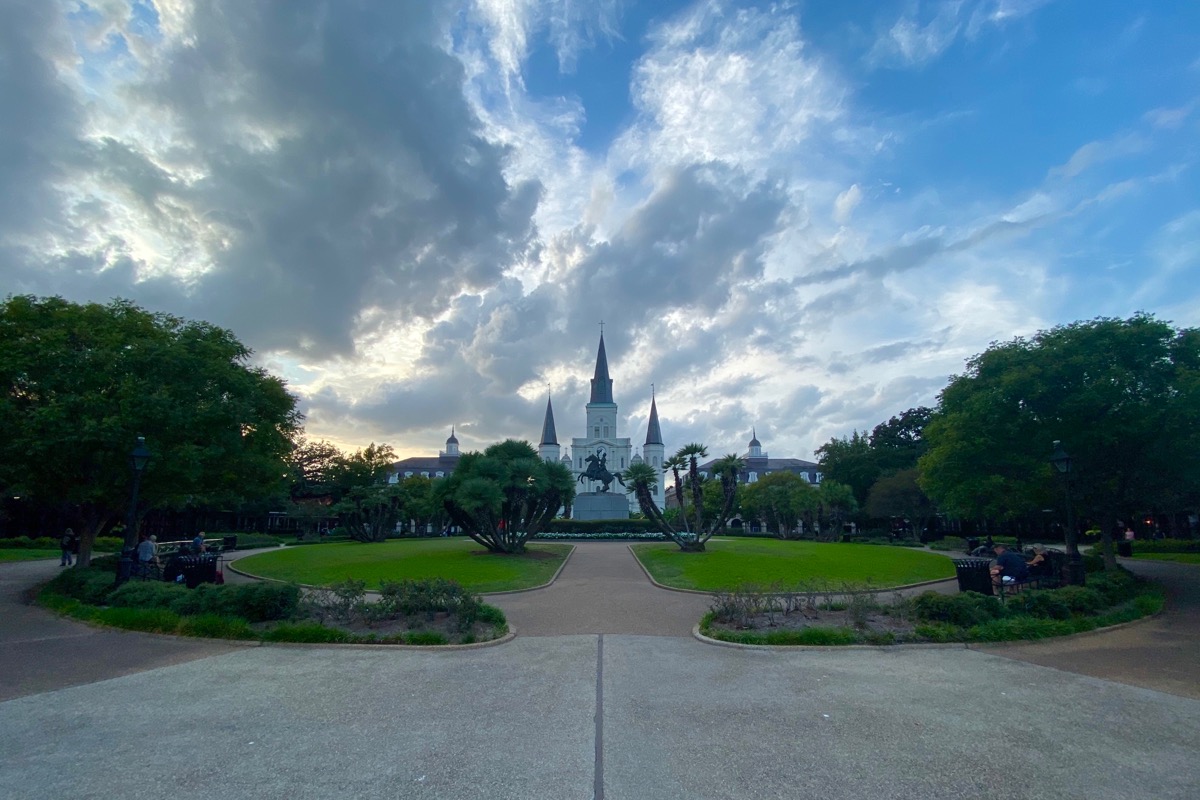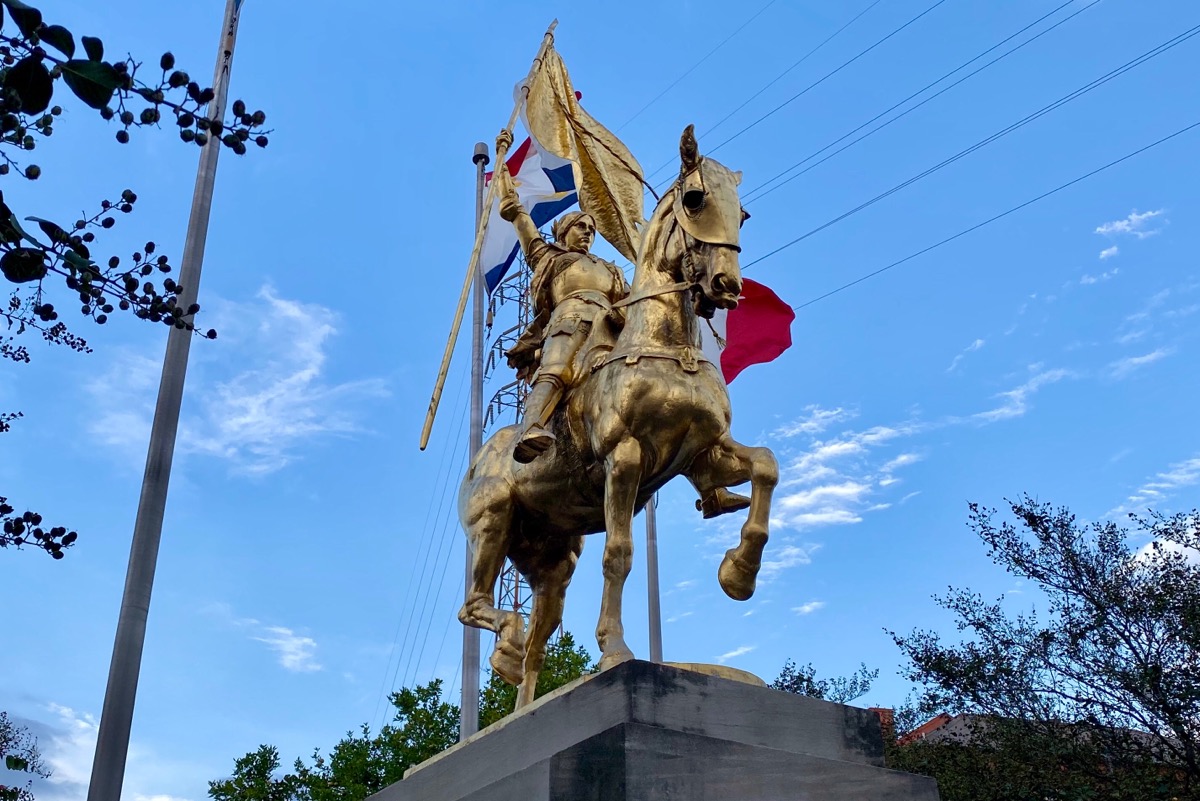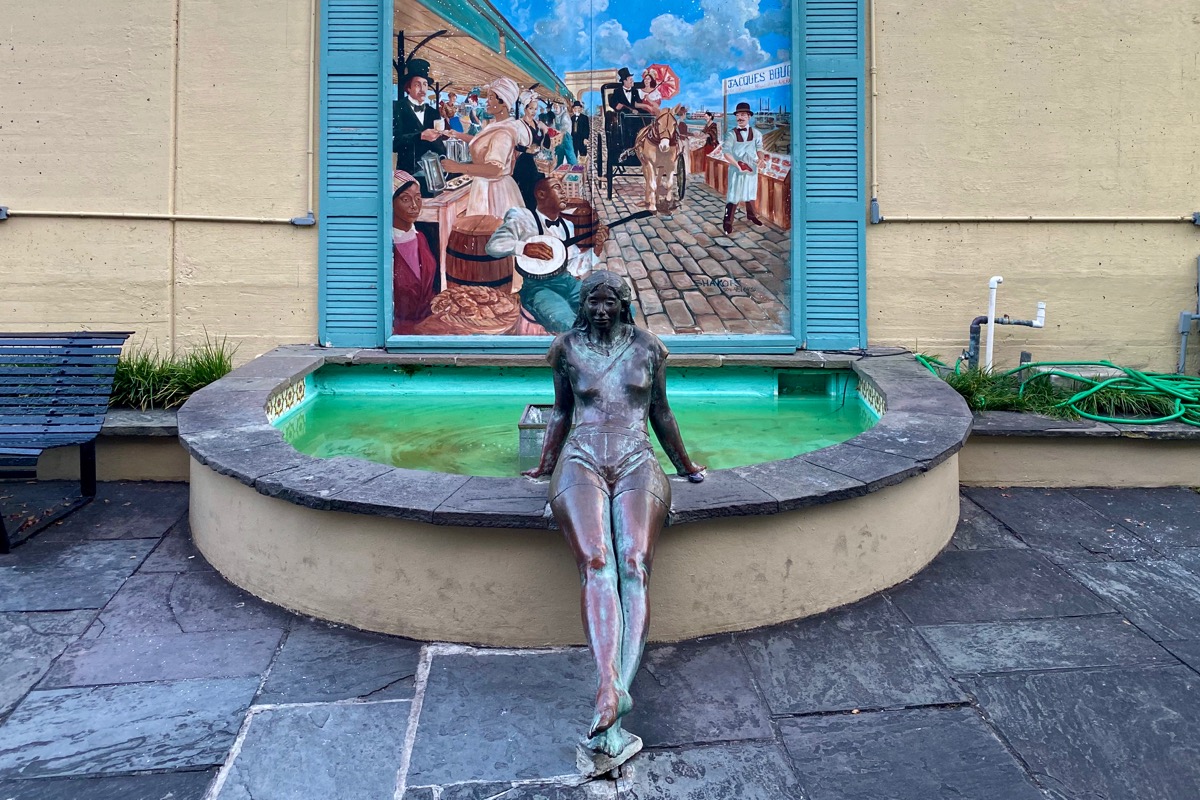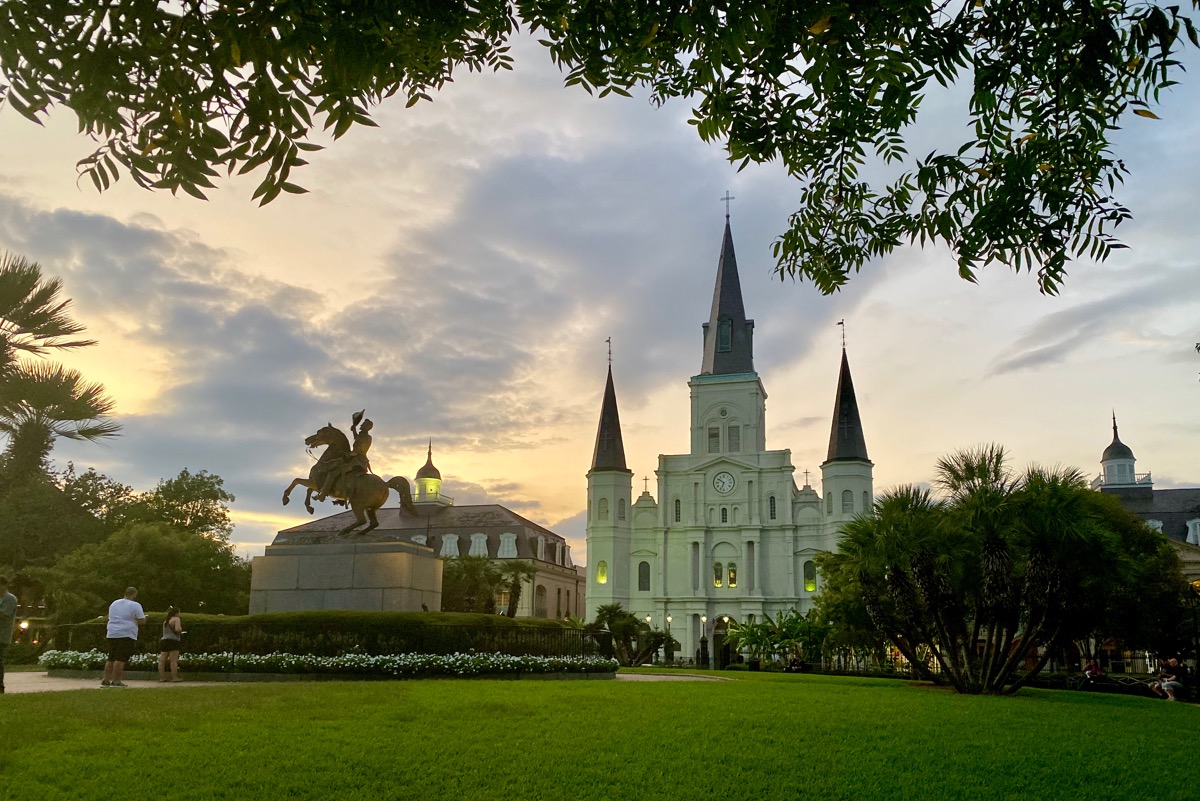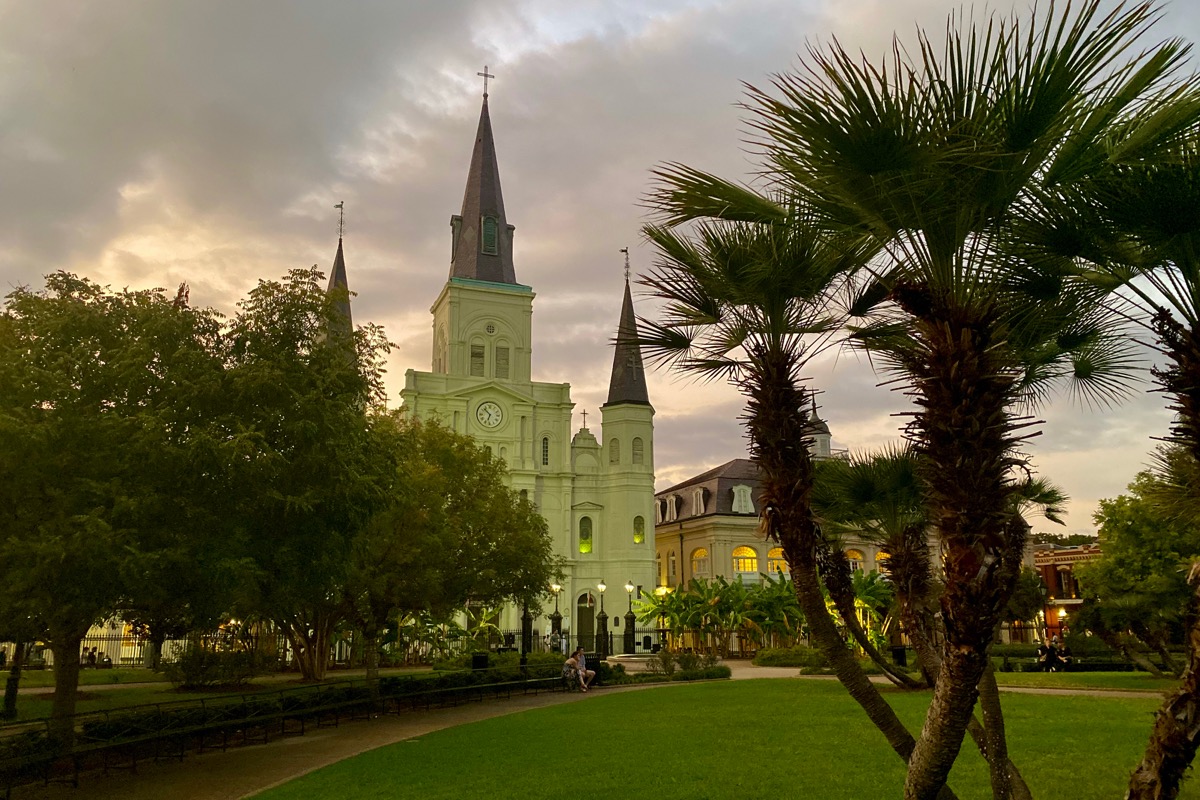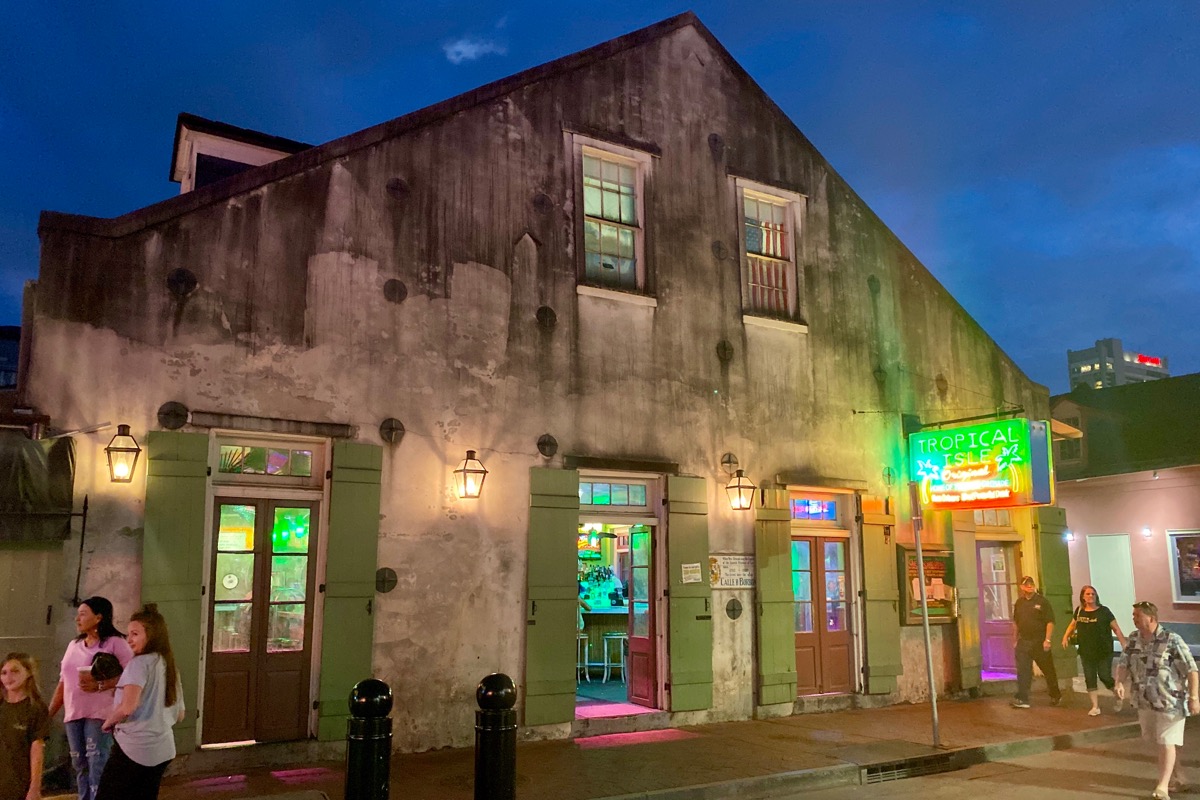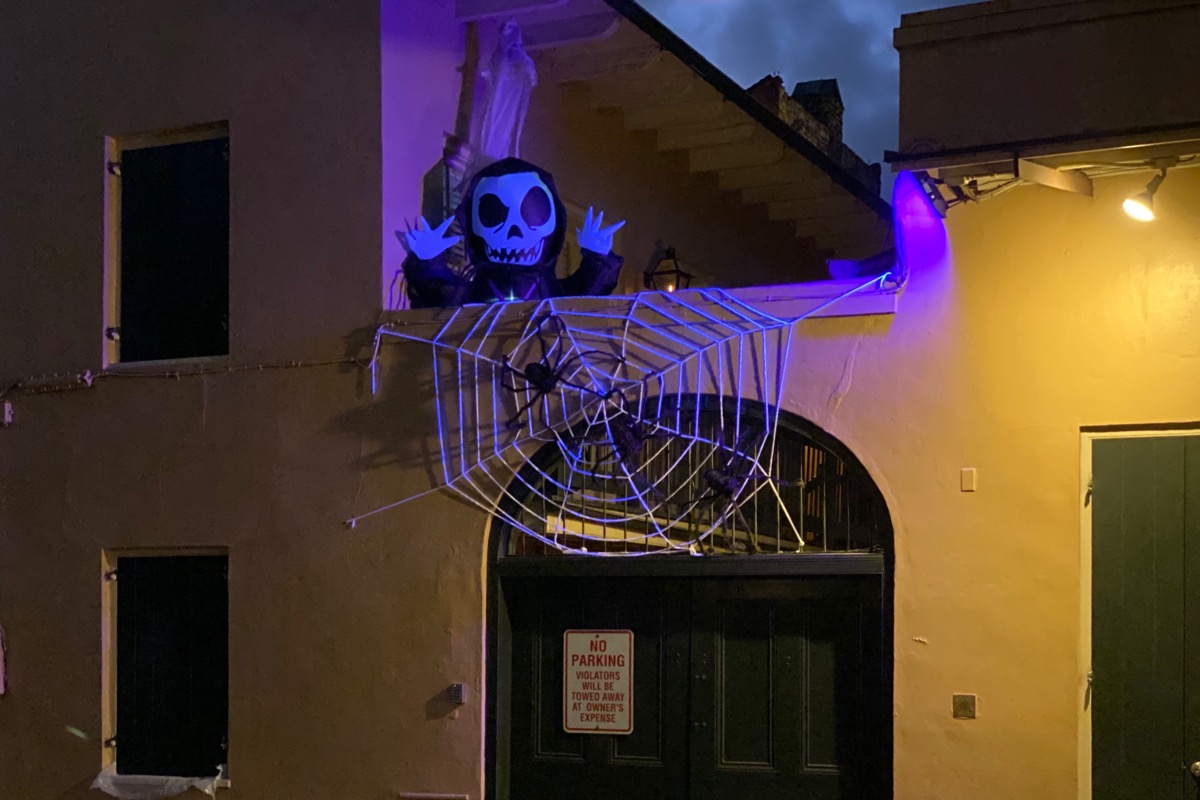 Alas, I'm old now, so I was headed to my hotel just before 9:00. I was past my limit of sweating for the day and didn't feel like drinking my way into a coma. Sure it was an early night, but I got a great sleep in, so it's all good.
This morning was spent in bed working. Not because I had to, but because I wanted to enjoy my air conditioned hotel room until they kicked me out. I am on my last pair of underwear and socks, so going out and having nothing to change into after sweating through my clothes was the last thing I wanted to do (you are welcome, people on the plane sitting next to me).
With three hours to kill, I decided to have a leisurely lunch at Attiki. They have a fantastic falafel wrap, which sounded all kinds of amazeballs. Then I couldn't resist one last stop at Cafe du Monde for dessert...
This time I had a guest...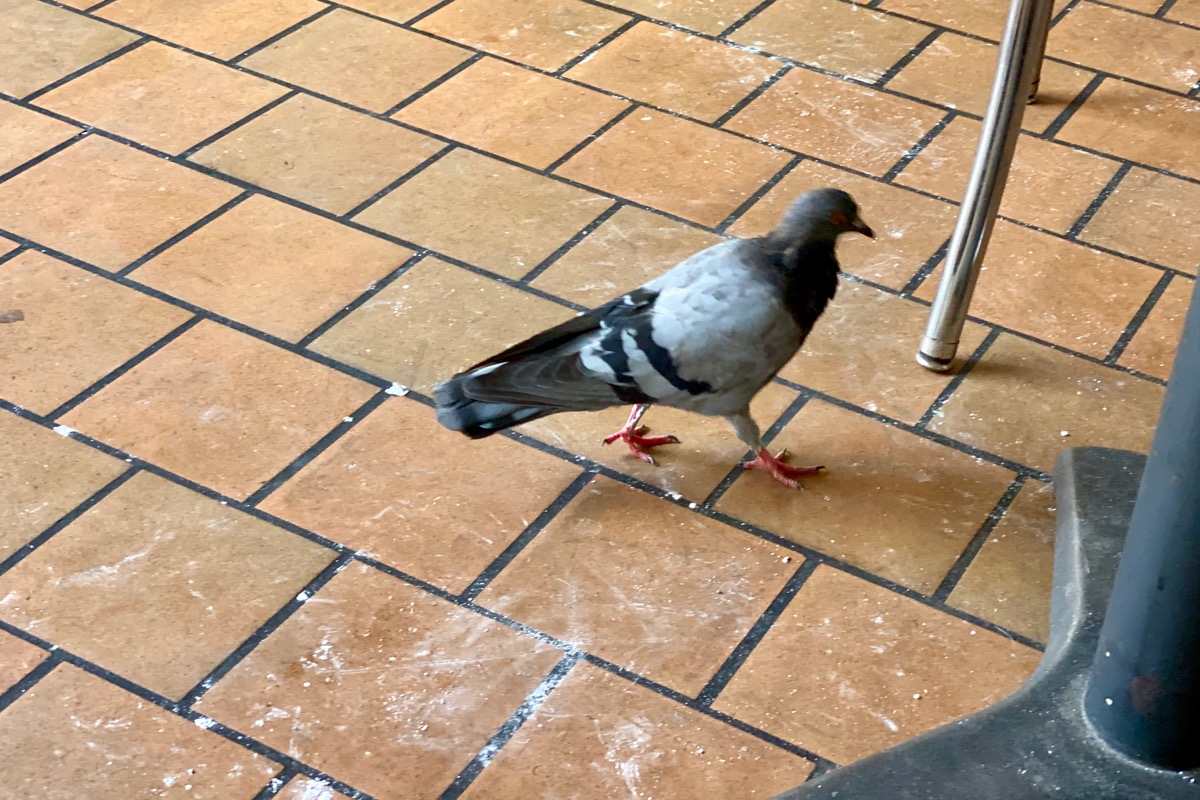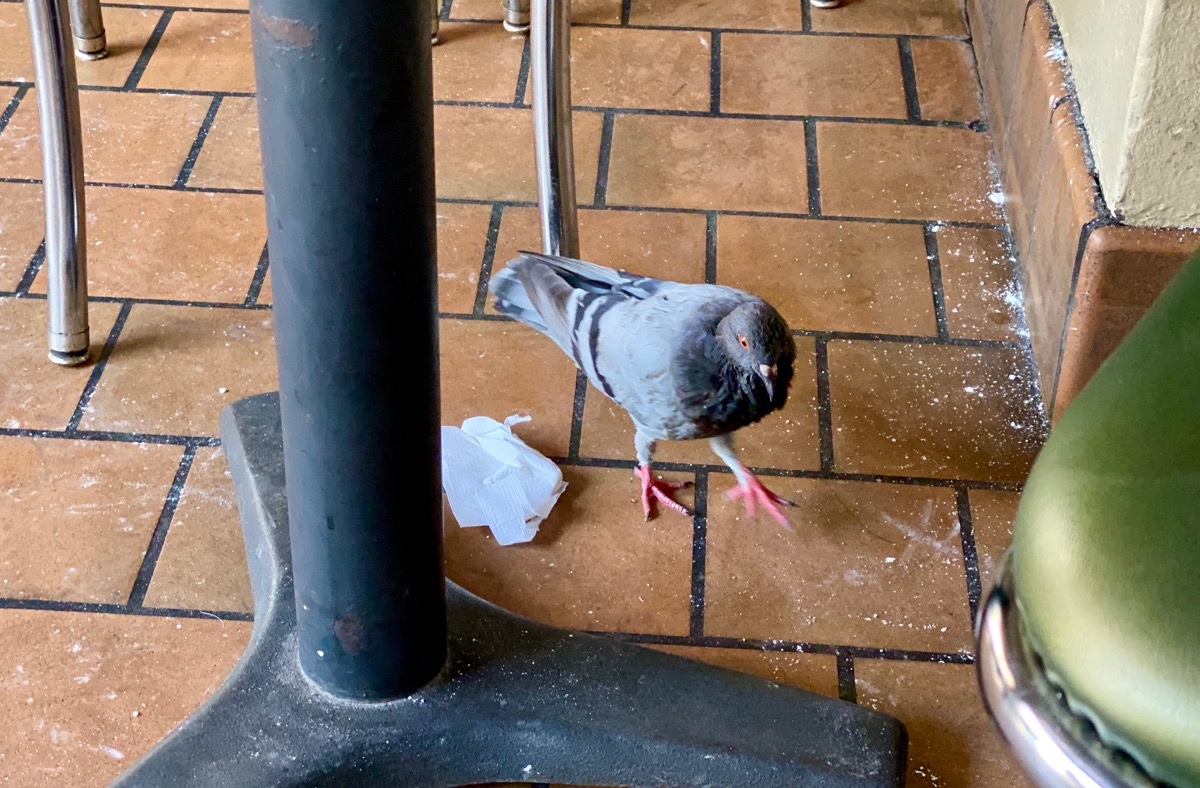 After second lunch, I stopped by the Hemmerling Gallery to ask about the painting that used to hang in the Cafe du Monde (which I mentioned above). They told me his painting was moved across the street to a general store owned by Cafe du Monde. They also told me that the painting was inspired from when Bill was sitting at the Cafe du Monde drinking a coffee and a man sat down at his table who looked like Jesus. This scared him, so he got up and moved to another table, finished his coffee, and left. As he was walking away, he started feeling bad about the way he had acted, so he went back to apologize. But the man was gone. As he was walking through the square, he saw the man again sitting on a park bench. He sat down and tapped the man on his shoulder and asked him if people tell him he looks like Jesus. When the man turned around, he had the most beautiful face Bill had ever seen. He went to his preacher and said he thought he met Jesus at the Café du Monde... then painted it.
So I walked back to the store and, here it is. So sad they moved it from its rightful place at Cafe du Monde! Mystery solved though...
And now I am waiting for my shuttle to the airport for my flight home. Hopefully we land in Seattle early, because I've still got a long drive ahead of me after the flight.
And there are cats at home waiting for me.
Posted on October 7th, 2019

New Orleans is my favorite American city...
...to visit. I don't think I could ever live here, because the heat and humidity would do me in. I dunno. Maybe I could eventually get used to it, but I do not handle sweating non-stop very well.
Yesterday on the plane I tried to count up how many times I've been to The Big Easy. My first trip was in 1983 for a DECA convention when I was between my junior and senior year in high school. It was my first trip outside of the state by myself. And I mean really by myself, because my chaperoning teacher couldn't make the trip. New Orleans is probably not the best place to be 17 years old and totally unsupervised, but I lived to tell the tale. And here I am on my 11th... or maybe 12th or 13th... trip to New Orleans. It's hard for me to remember all the trips I took before I started a record of my travels at Blogography (yet another reason to keep blogging, I suppose).
Dinner last night was at Coop's Place...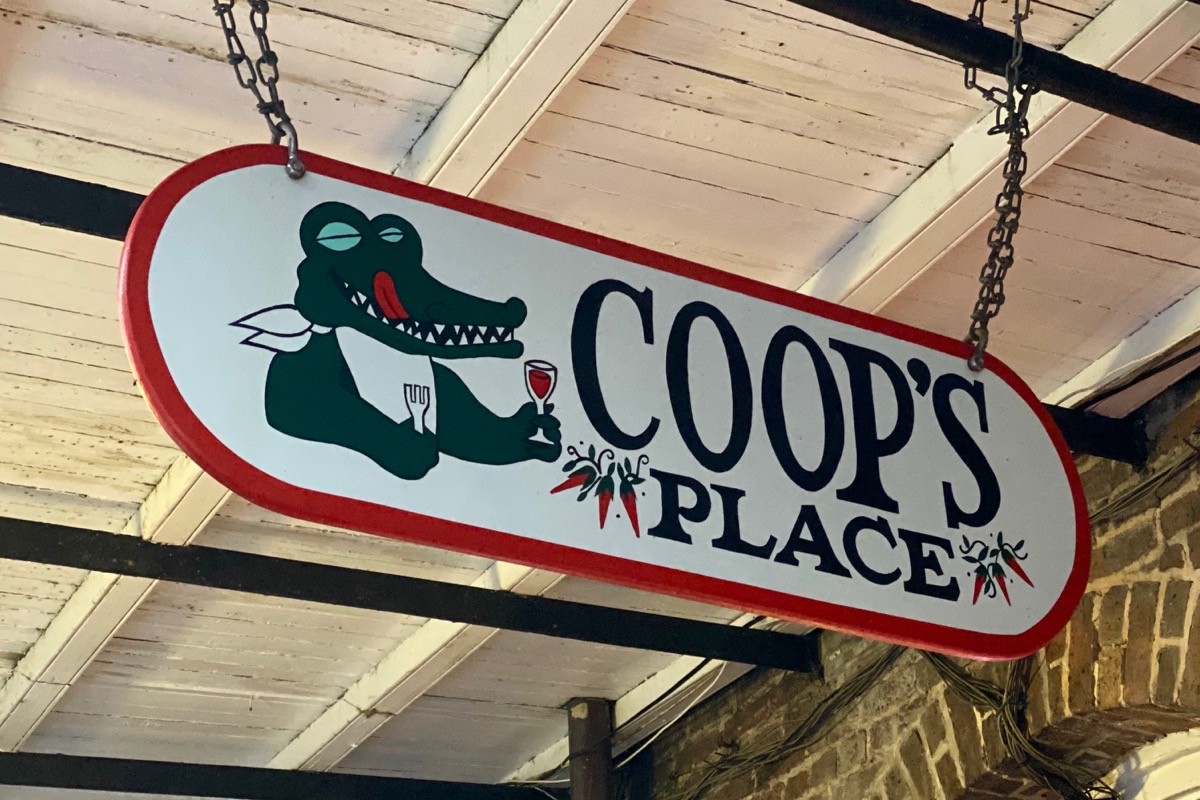 This is one of those dining establishments which makes me feel sorry for people eating here who don't know what to expect. The food is excellent, but everything else is a bit rough around the edges...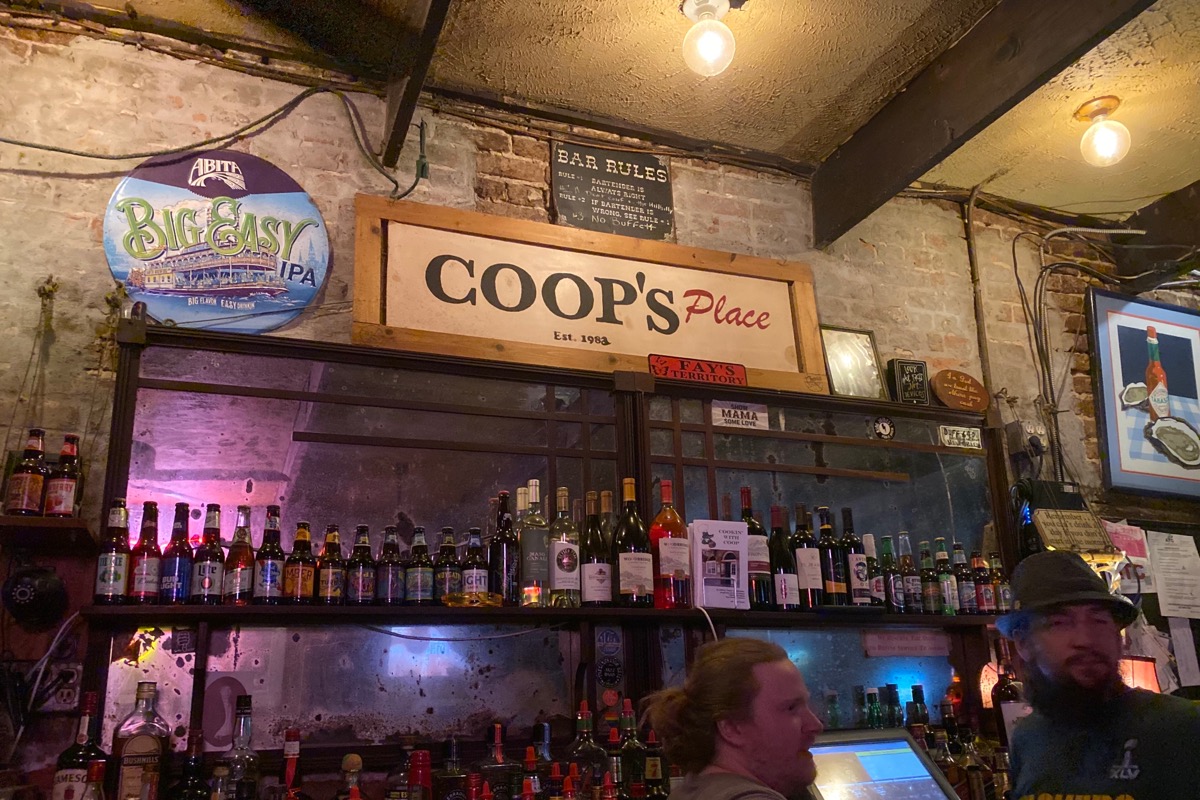 You'll be eating your veggie burger when all of a sudden a group will ask their server if they can split the check. Then you've got the server screaming "HEY! DO WE SPLIT CHECKS HERE?" And everybody in the establishment will then scream out "FUCK NO!" or just "NO!" If they're being nice about it. And you can expect the same treatment any time you ask for anything special or even think about hassling the staff. They are simply not here for it. Which is part of the fun, I guess. I was here to eat, drink too much, and watch The Saints game on Coop's battered old CRT television...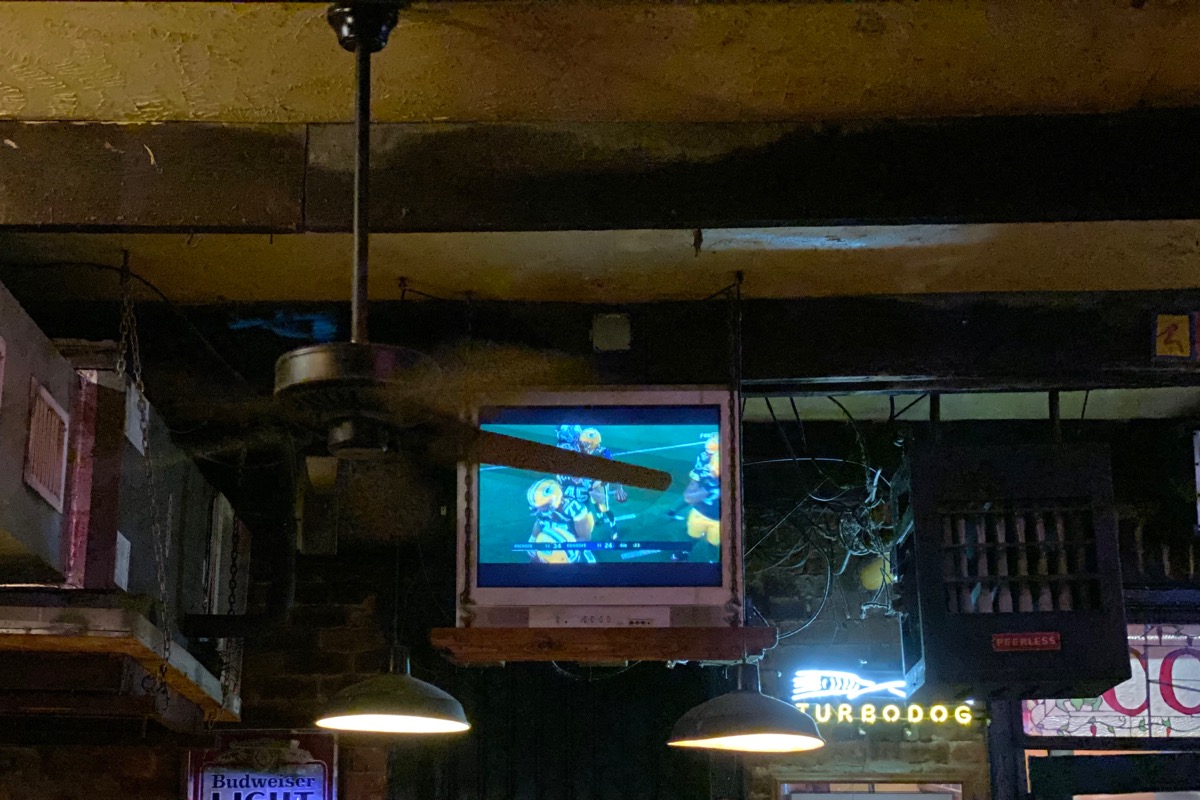 Every time I eat here, I am shocked that I don't end up with some kind of food poisoning from eating mayonnaise that's not refrigerated and has been sitting out in a warm bar all day, but I never have...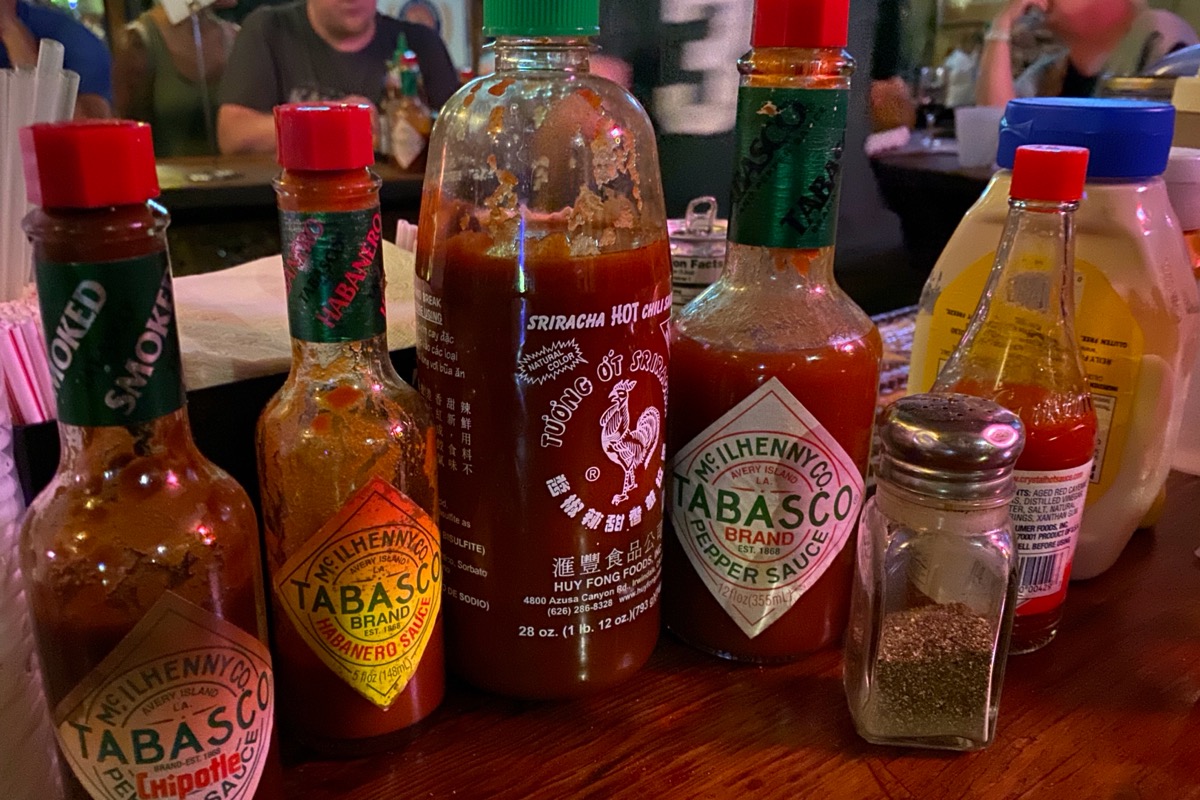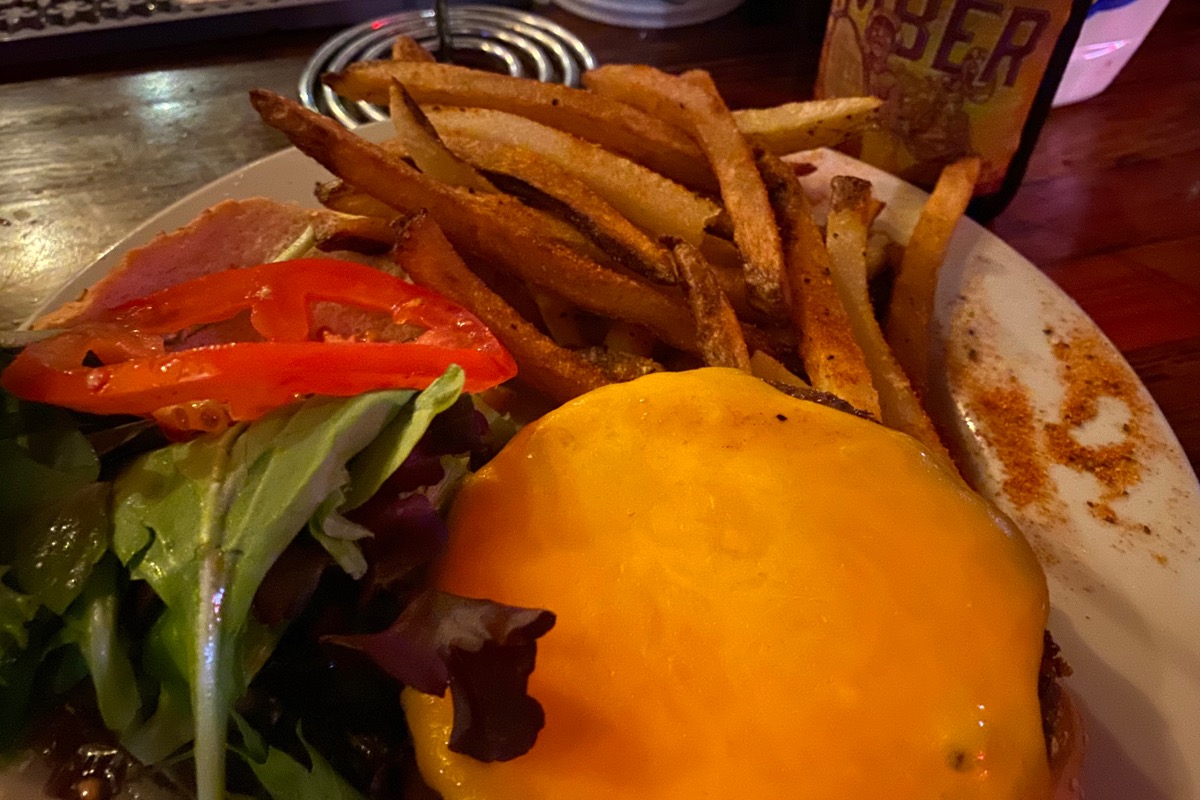 I ate and drank too much considering I had to work this morning, but that didn't stop me from walking down Bourbon Street as I made my way back to my hotel...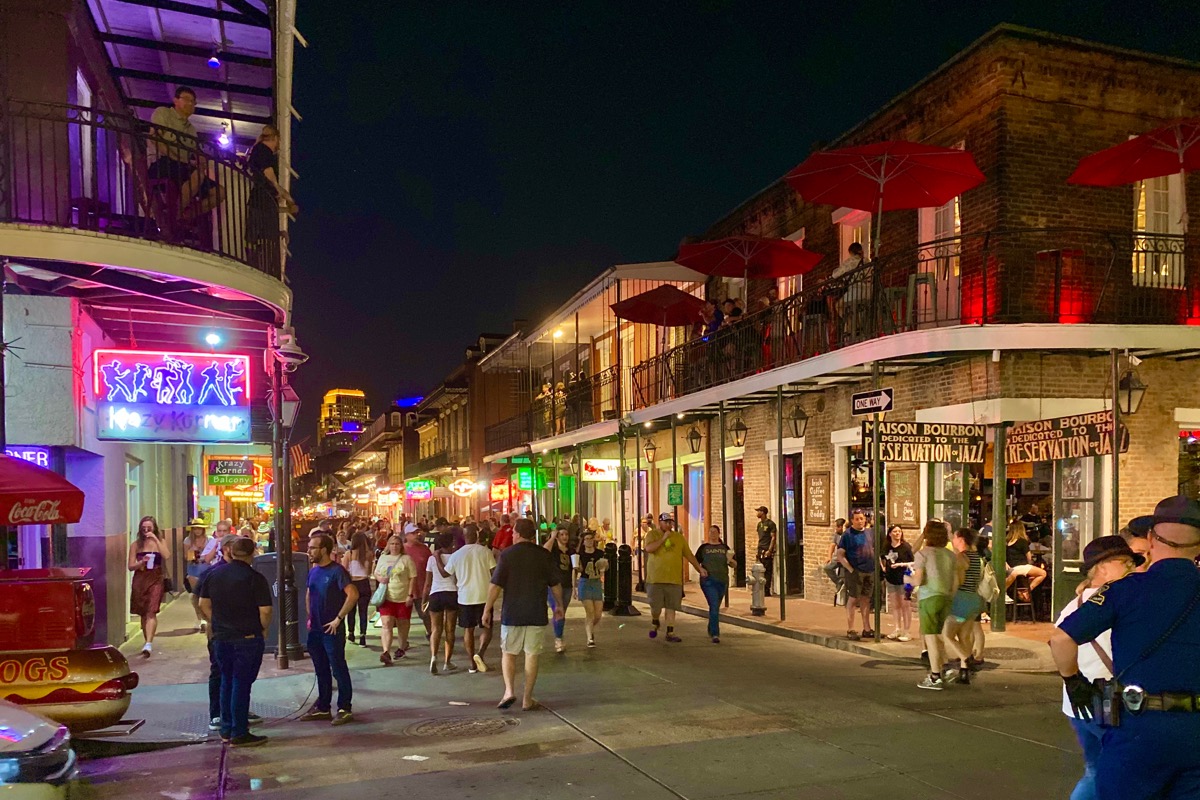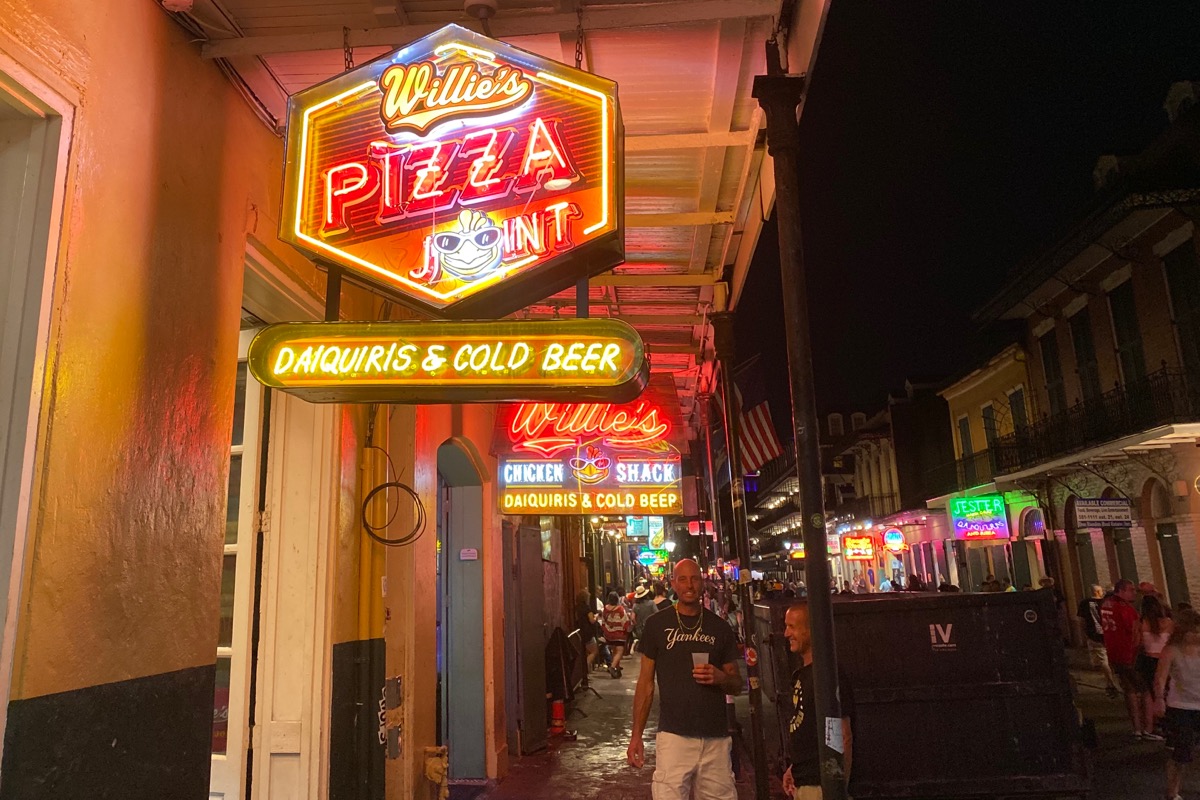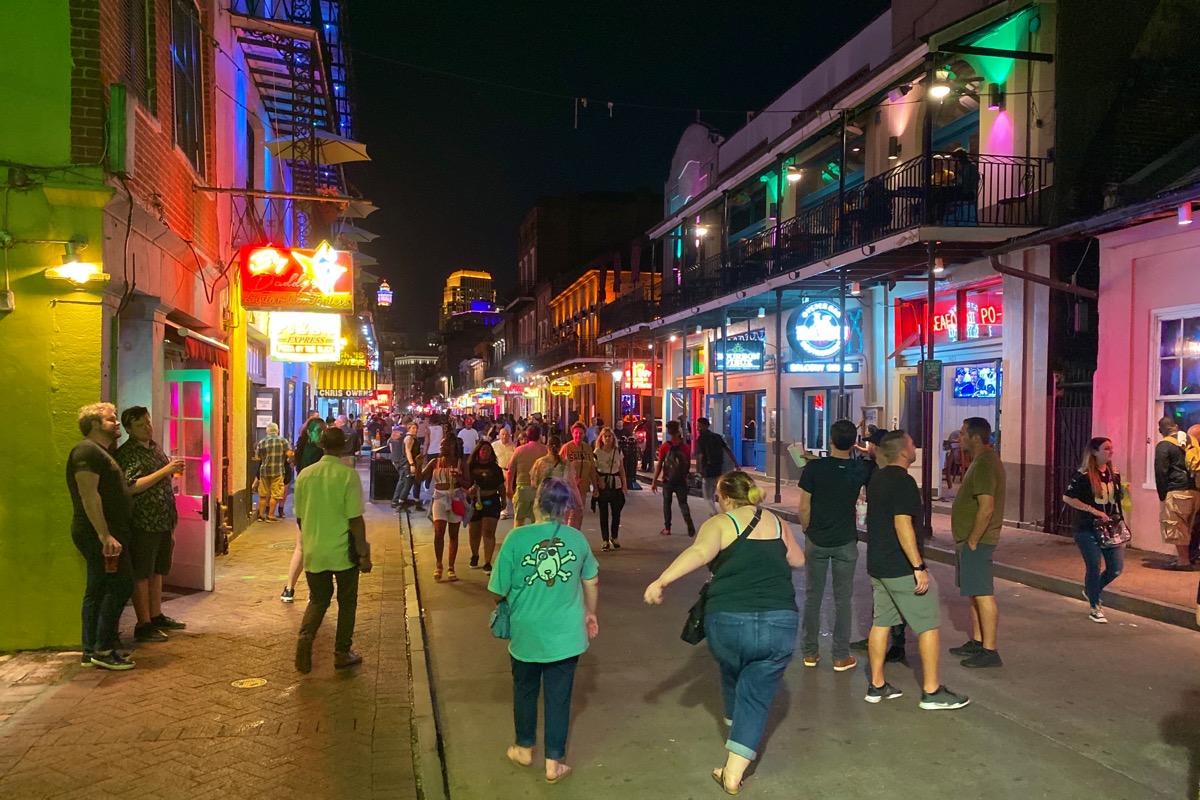 I then worked on my presentation materials until I fell asleep around midnight.
And today it was a brand new day. I had set my iPhone to wake me at 6:30am so I had time for breakfast before work. I was surprised that the alarm actually woke me until I realized I am still on Pacific Time, so it's 4:30am to me. Oh well. It was a glorious morning out, so I decided to take a stroll before eating. Jackson Square was beautiful as always...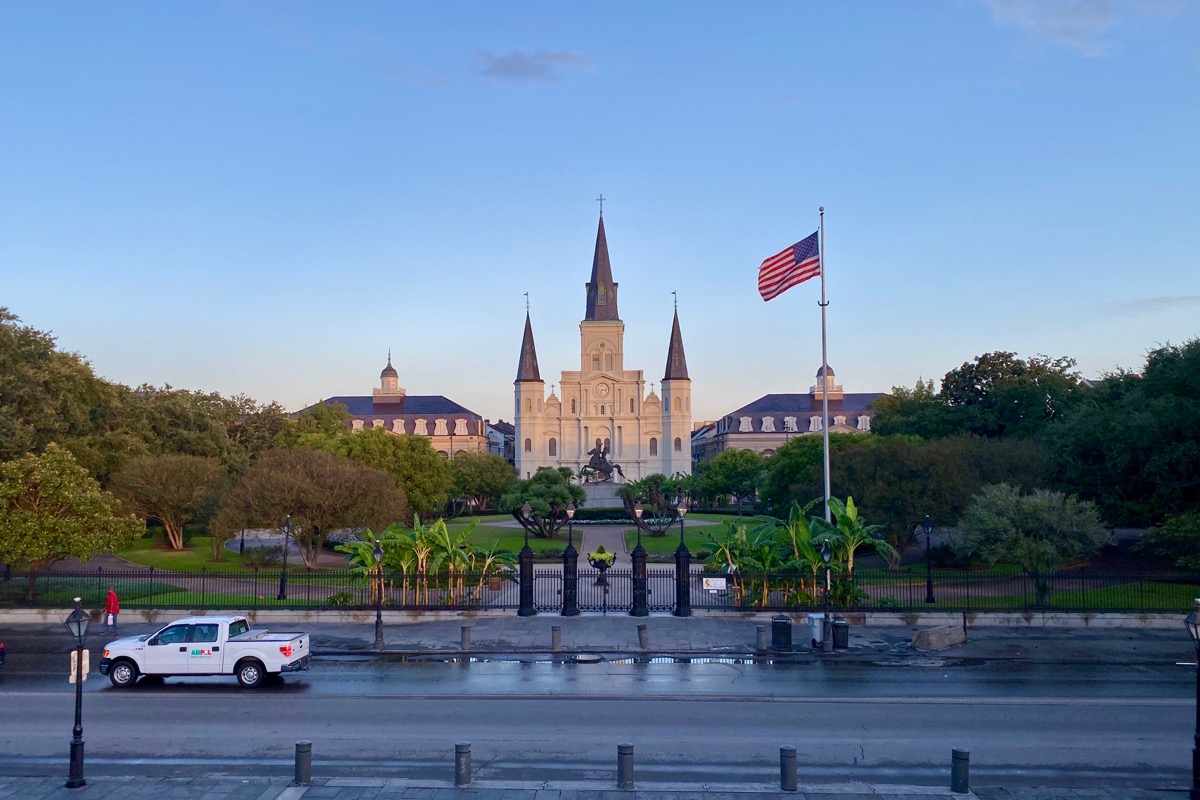 Zooming in with iPhone 11 Pro's telephoto lens to see the creamy morning light reflecting off St. Louis Cathedral...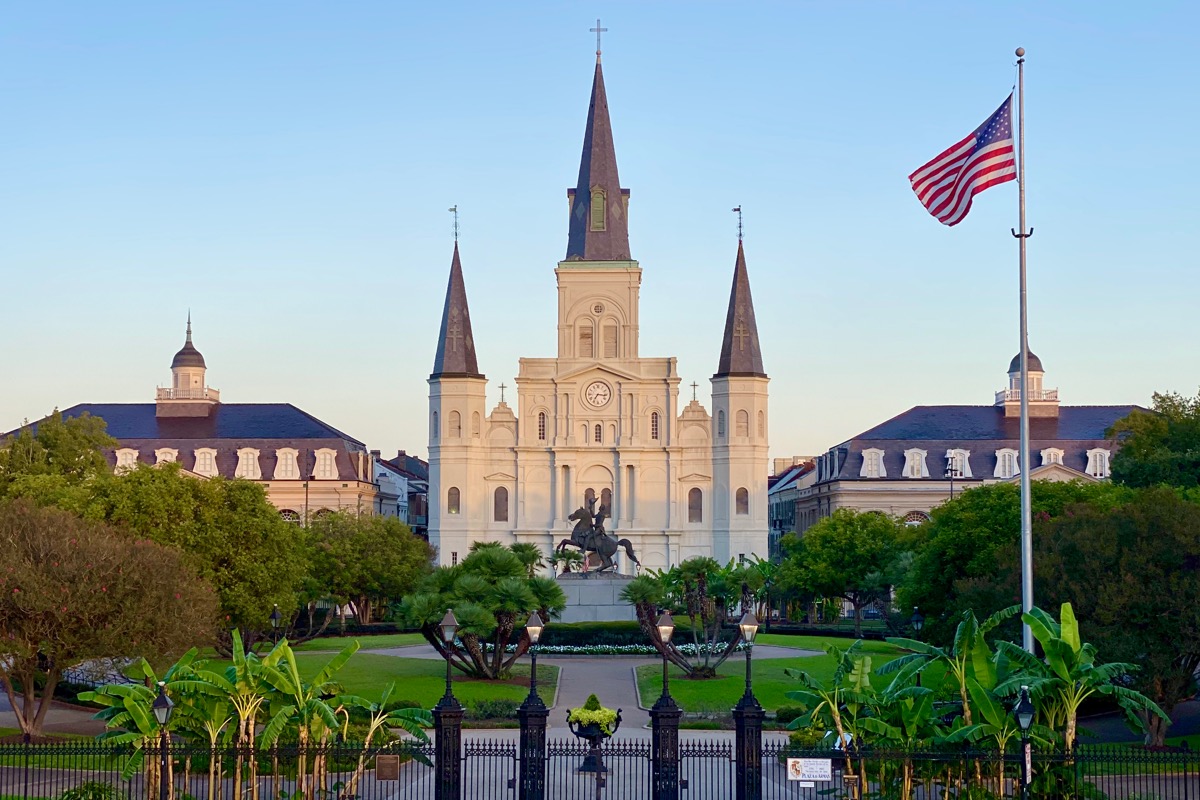 And here's using the amazing wide-angle lens...
That wide angle lens is just so nice when shooting in a city. Here are some comparisons between what I can capture without it vs. with it...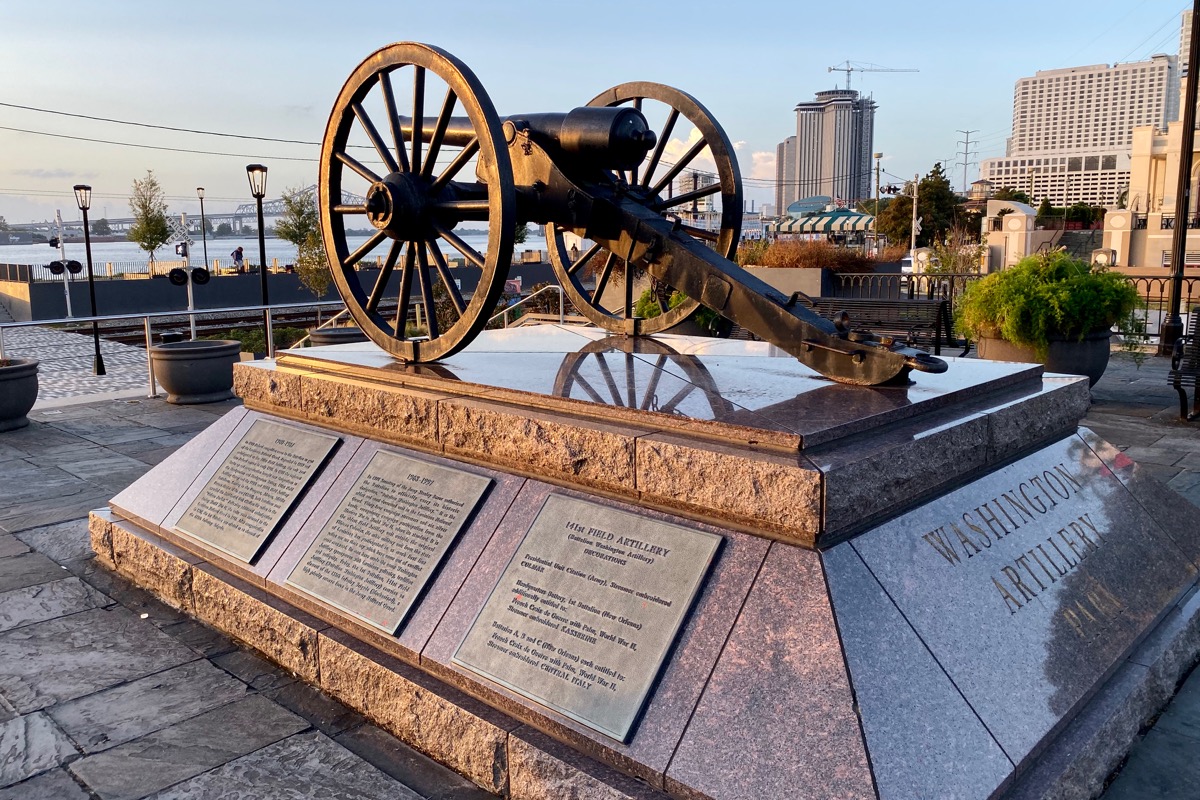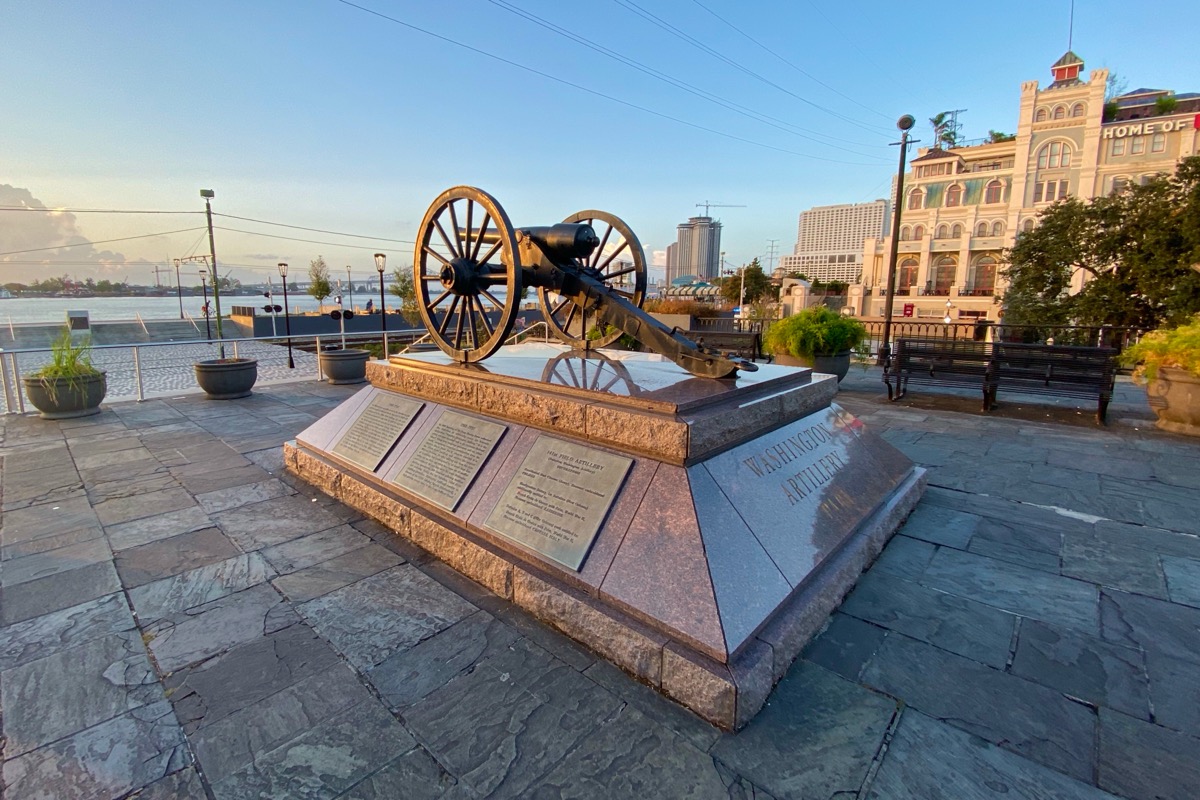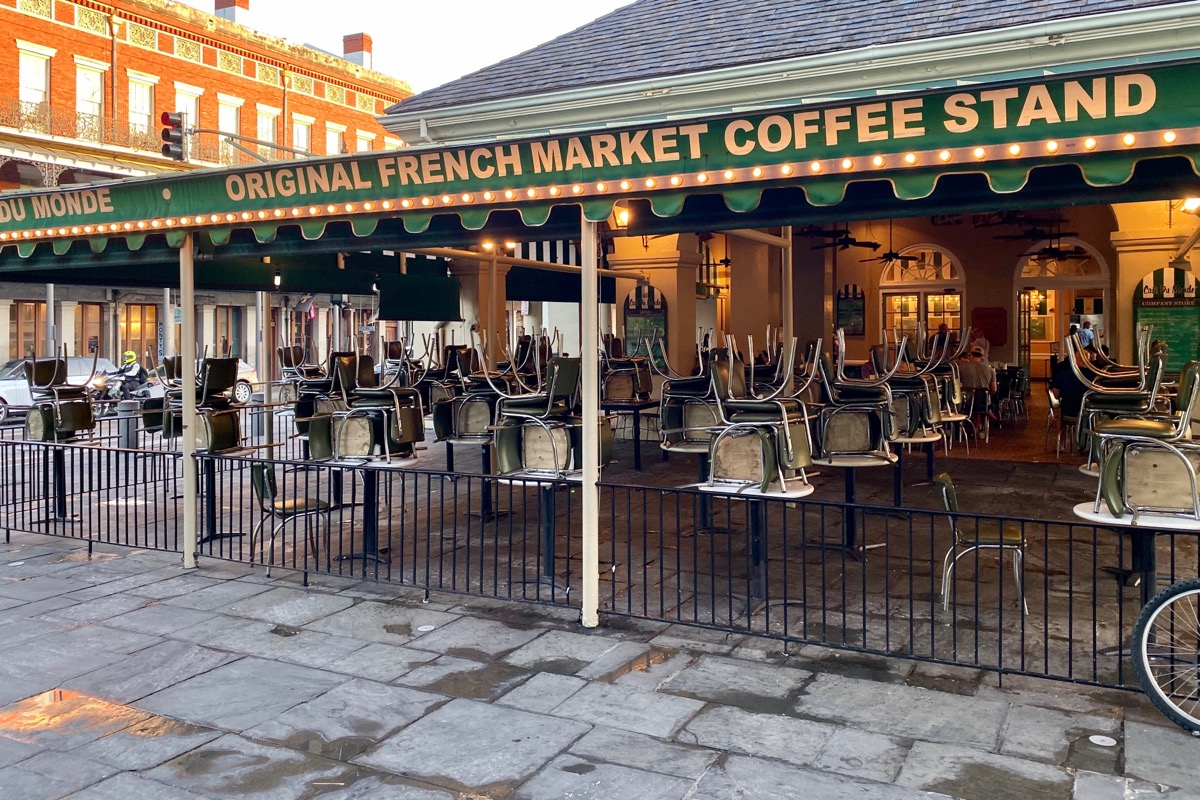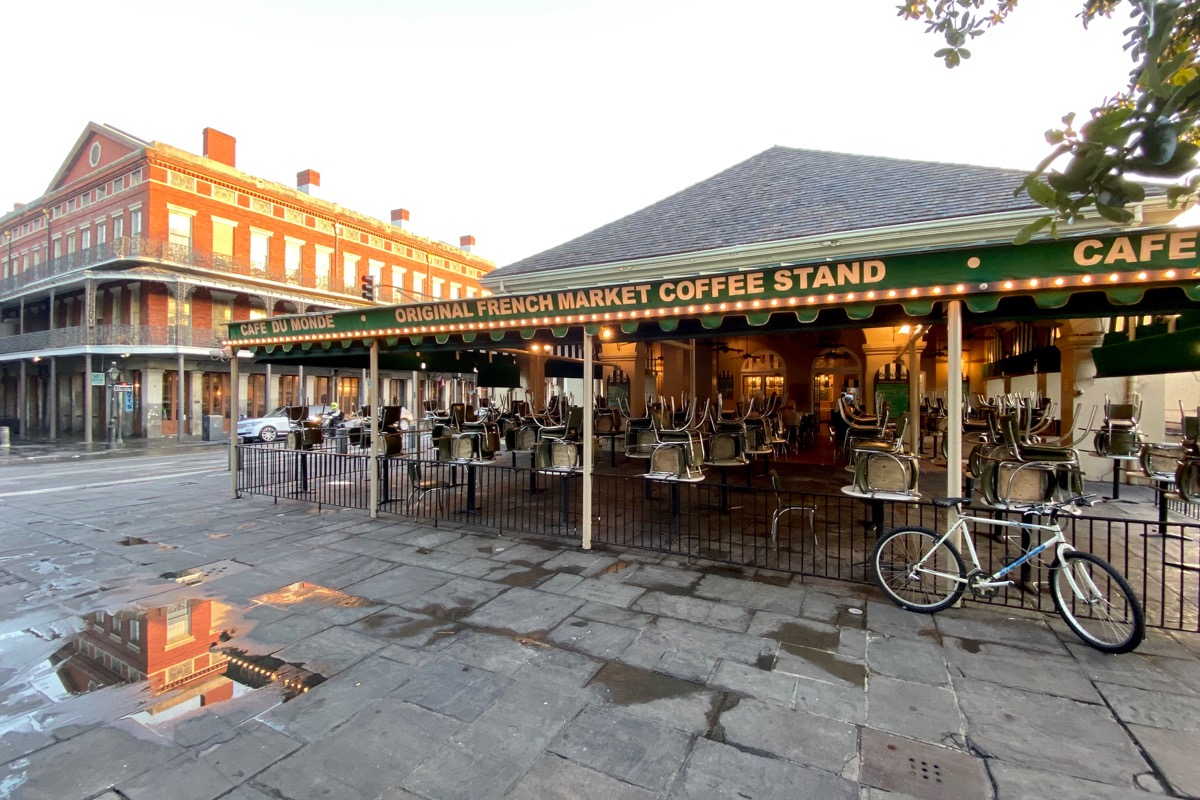 Interesting to note that new wide angle lens has prompted apple to add planar adjustments to the editor in Photos. It's very cool, assuming you have enough image to work with. Not so cool if you don't...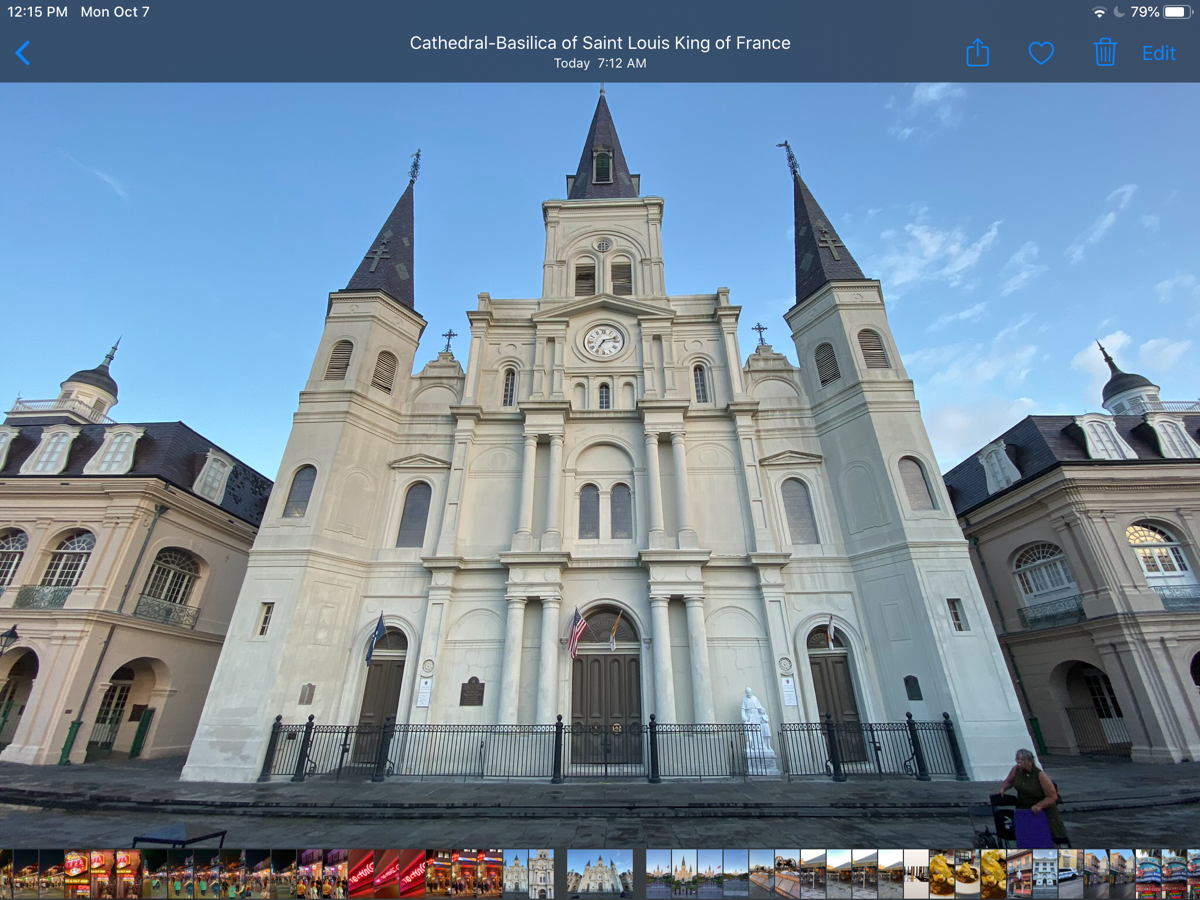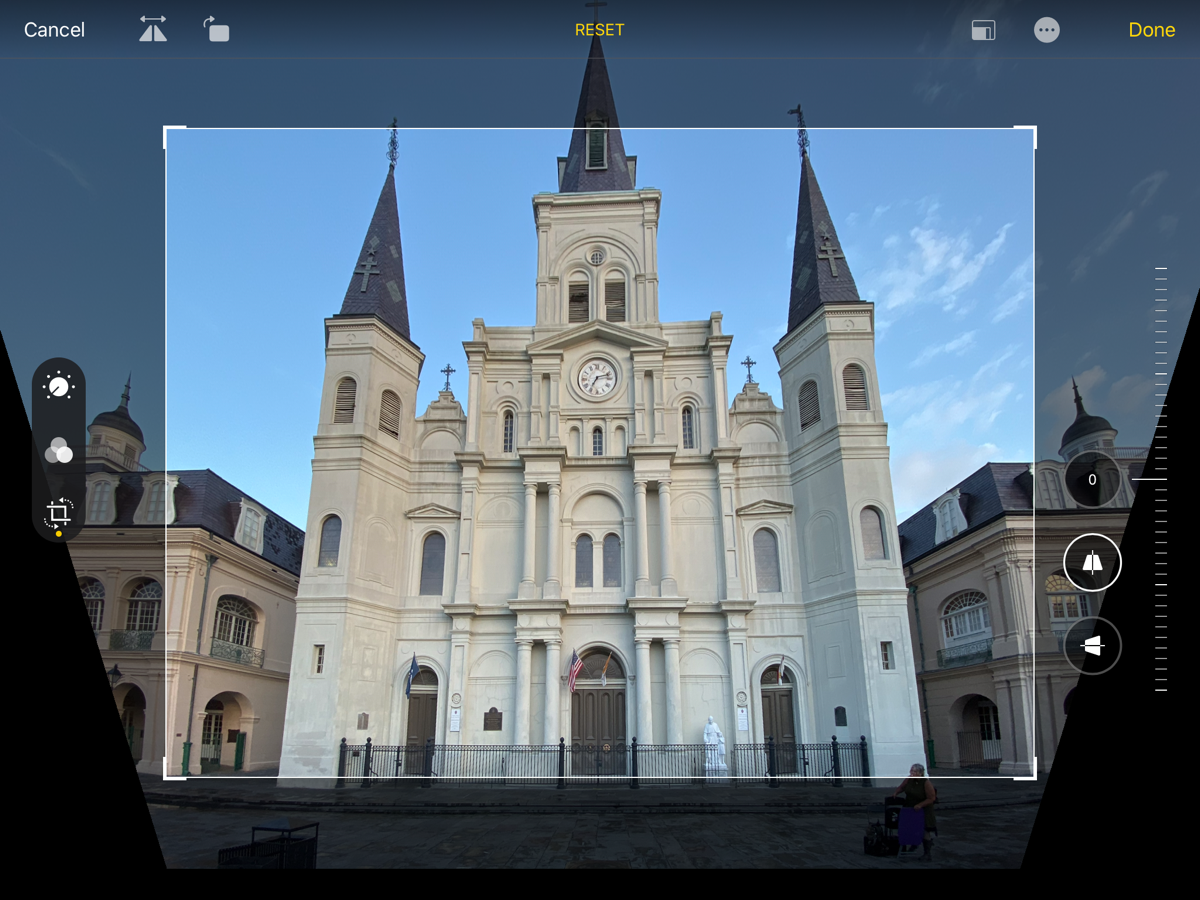 That could be fixed by switching to a square or vertical crop, however, so still... pretty darn cool.
After 20 minutes of exploring my New Orleans morning, I headed to Restaurant Stanley for my second-favorite Bananas Foster French Toast in the city, which was phenomenal, as expected...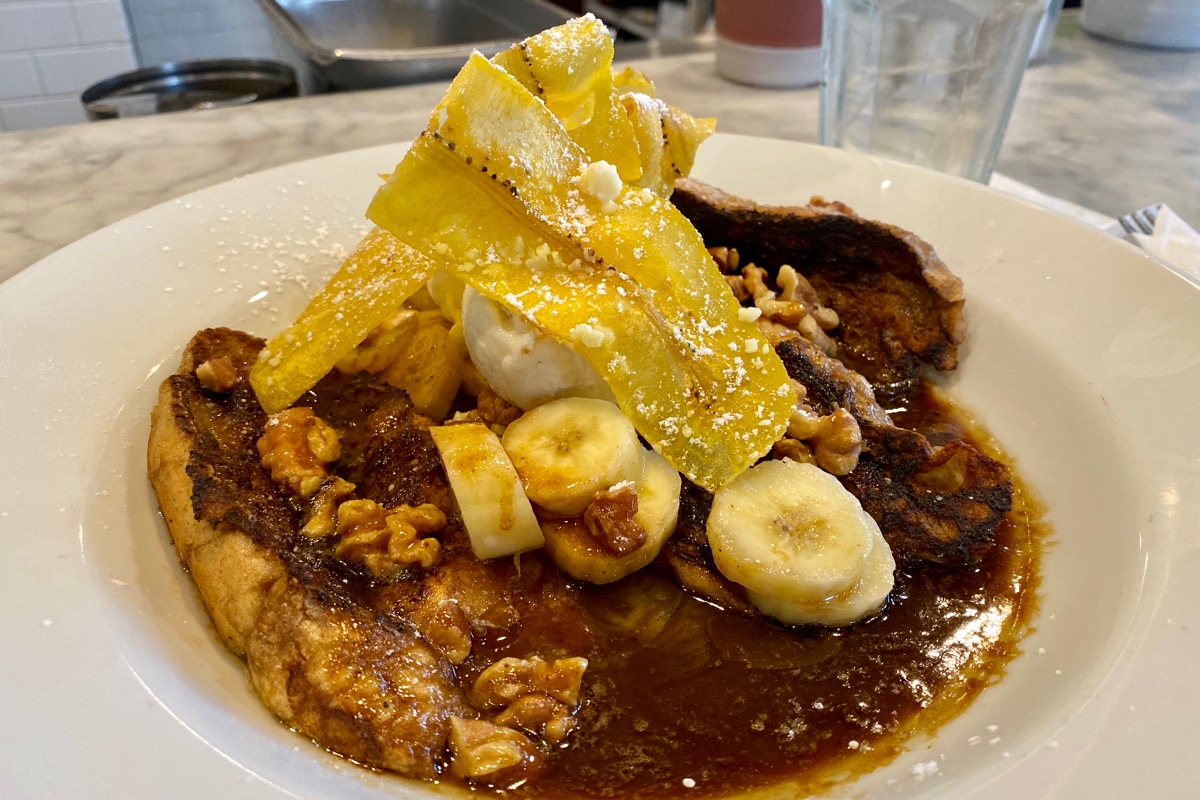 Alas, then it was time to head to work. But I got to walk down Bourbon Street on my way back, which is a very different scene in the daylight hours...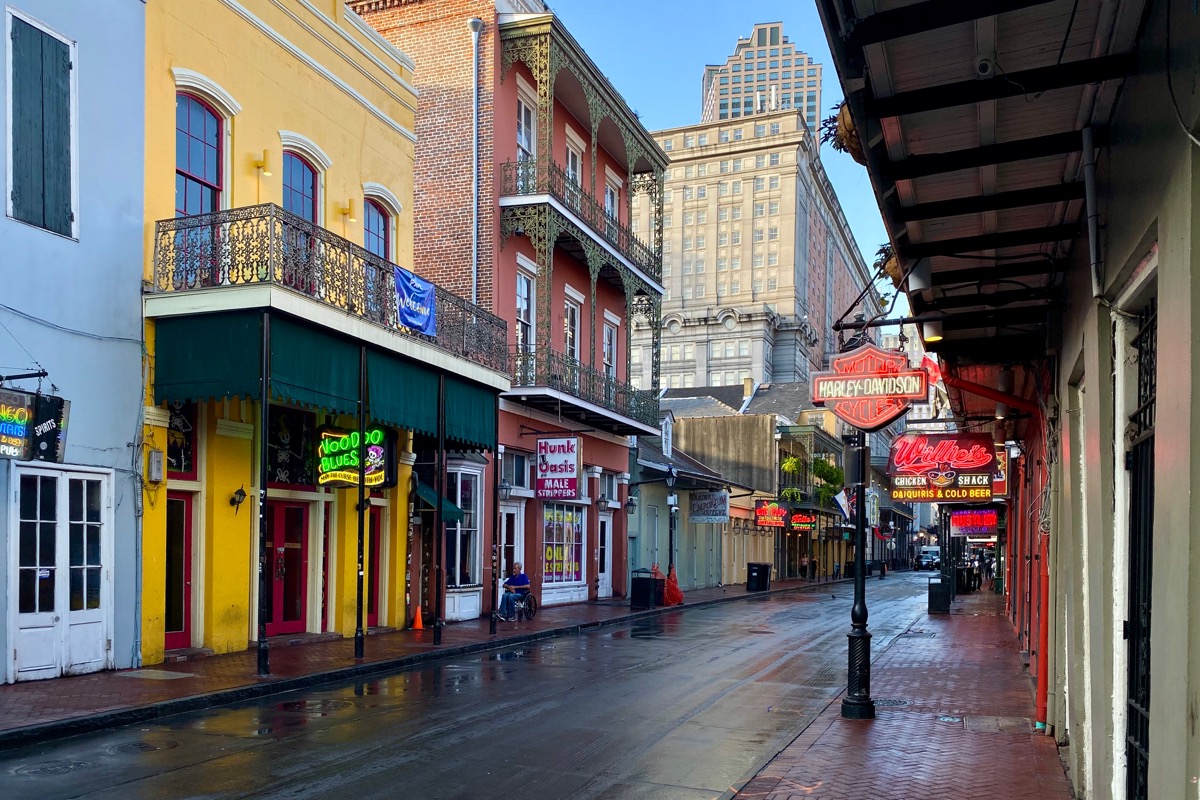 But it's nice to see some of the amazing signage there in good light...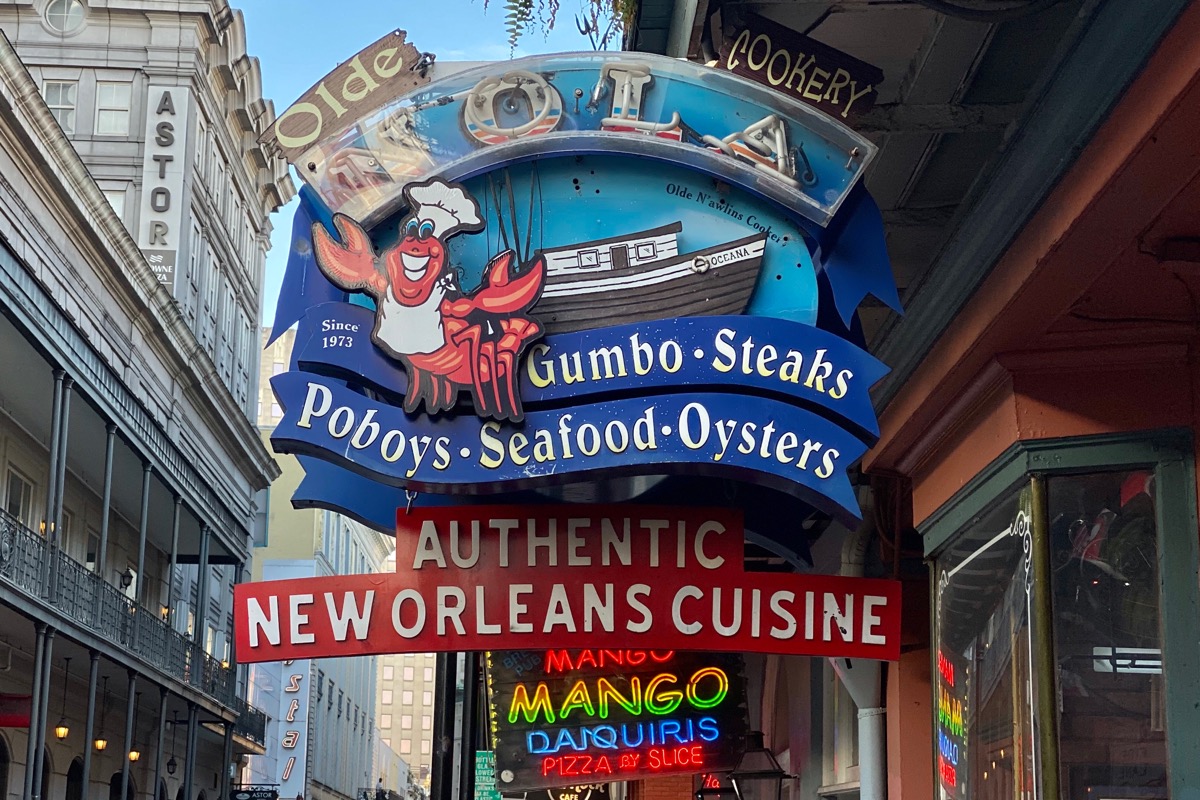 Then it was time for work.
And now I'm waiting on two work meet-ups this afternoon before this trip is officially a wrap!
See you on the West Coast next time, sports fans!
Posted on October 1st, 2019

Look, I'm just going to say it... if you've got an iPhone X or XS, then the only reason to upgrade to the iPhone 11 Pro is for the camera update, which is significant. Everything else is hardly a revolutionary step up... and, in one case, Apple even takes a step backwards.
And so, I'll just run through everything quickly before getting to the camera, which is why we're all here isn't it?
PRICE
Still $1000 for the 64GB iPhone 11 Pro. It's too much. But that's the price you pay for tech like this. I can barely fill up 2/3 of the smallest memory configuration, so 64GB is plenty for me. If you use tons of apps and store a bunch of movies and stuff in local memory then you'll want more... and pay more. There's the bigger iPhone 11 Pro Max, which wouldn't fit in my pocket (or my budget) so I took a pass. The good news is that my monthly payment in Apple's iPhone upgrade program is unchanged.
PRETTY
Make no mistake, this phone is gorgeous. The new frosted glass back has a nice matte feel (assuming you don't put it in a case) and the overall design is elegant, polished, and feels solid. I went for the new "Forest Green" color, because it's just so pretty. In most light, it looks more grey than green to me, but it picks up the light enough to give a hint of green that looks great. Alas, when paired with my Project (Red) case, the back is covered up, but you can still see a hint of the color in the camera cut-out. Maybe a clear case is a better way to go? But then you lose the matte glass, so I'm good.
STRONG
There's all kinds of videos showing the durability of the iPhone 11 Pro. They are impressively tough. But since I'm on the iPhone Upgrade Program (the only way I can afford these things) and I have to return the phone in pristine condition, I can't risk it. I've got a screen protector and case on at all times.
BATTERY
Apparently I should get (on average) 4 hours more battery life over my old XS. I guess that's awesome, but I barely used much battery on my old phone. Maybe when I travel or use maps for driving, but I'm not going to complain about having more time with my iPhone before charging. And speaking of charging... you get a nice 18 watt charger to fill the battery faster, which is a big improvement over the tiny 5 watt charger we used to get. Alas, Apple is still married to its Lightning connector for charging, but the end of the cable which plugs into the power adapter is USB-C. Go figure. Most of the time I'm using wireless charging so it's not a big issue for me.
DISPLAY
Still has the annoying notch at the top. That being said, the fidelity of the display is stunning. I mean, the old display was beautiful and all, but this is next level stuff. If you download a high quality movie at full resolution, you are in for a treat. The image simply does not fall apart and the color and brightness is phenomenal. Photos look as amazing as you'd think they would. Everything about the display is as good as it gets and worthy of Apple's flagship iPhone.
SOUND
Apparently the iPhone is now rocking Dolby Atmos sound, which is cute when you consider it's still pumping it through two tiny little speakers. To be honest I can't tell much improvement, but I thought the old sound was pretty great for a phone already.
3D TOUCH
Here's the thing about 3D Touch. It's gone. Apple removed it. This is surprising from the standpoint that newer phones should have more features, not less. It's not surprising from the standpoint that Apple rarely promoted or took advantage of the feature. I've read on a few sites that removing 3D Touch helps contribute to better battery life. That (along with the newer, larger battery and more efficient A13 chip) is probably true. But I really, really miss it. I am slowly getting used to Apple's replacement... "Haptic Touch"... which is essentially just a long-pause as opposed to a harder pause... which isn't terrible. But it's not the same. At all.
FASTER
And speaking of that new A13 chip... Apple claims it's up to 20% faster than the previous generation A12. I have no reason to doubt this, but I really don't notice it. My previous phone was plenty fast and day-to-day speed improvements (if they exist) don't really register for me. That being said, the speed boost is undoubtedly crucial to improvements behind the scenes, like the new camera's jaw-dropping abilities. And so... thanks, I guess.
PHOTOGRAPHY
It's not hyperbole to say that the camera in the iPhone 11 Pro is a quantum-leap improvement over the iPhone XS. It's a bit less of an improvement over the camera in the Google Pixel 3 (which I have limited experience with, but really liked) and the camera in the Samsung Galaxy S10 (which I got to use for three months and was underwhelmed with). Regardless, Apple's latest camera in the iPhone 11 Pro is (currently) unmatched. It's an artful symphony of hardware advancements and incredibly smart and clever software which pushes it ahead in (most) all areas. Which is where I'm at now.
PHOTOGRAPHY: CAMERA
While other cameras are pushing 16 megapixels (and higher!), Apple seems content to stick with 12 megapixels. This is understandable on many levels... primary of which is that they take less storage space. But it's also questionable if we really need more than 12 megapixels on a phone. It's plenty of resolution to print a fairly large hardcopy photo, and way more than enough resolution to look at on a phone screen. Where higher resolution comes in handy is when you want to crop into a photo. THEN it's kinda a big deal. And yet... ideally you'd just want a longer (telephoto) lens so I dunno. Would I like more? Sure. Do I need more? Probably not.
PHOTOGRAPHY: CAMERA LENSES
The iPhone 11 Pro has cameras lenses (not including selfie cam), as follows...
They're all good and have great optical quality. And, thanks to Apple's fantastic Camera App, you zoom between them without even realizing it. You just compose your shot and iPhone picks the correct camera/lens as you zoom in or out. The big news here is the Ultra Wide Angle Camera, which adds a lot of image area. So much area that I have to hold my camera in a new way because my fingers are in the frame if I hold it like I used to. Just look at this comparison... starting with the telephoto...
And here's the wide angle...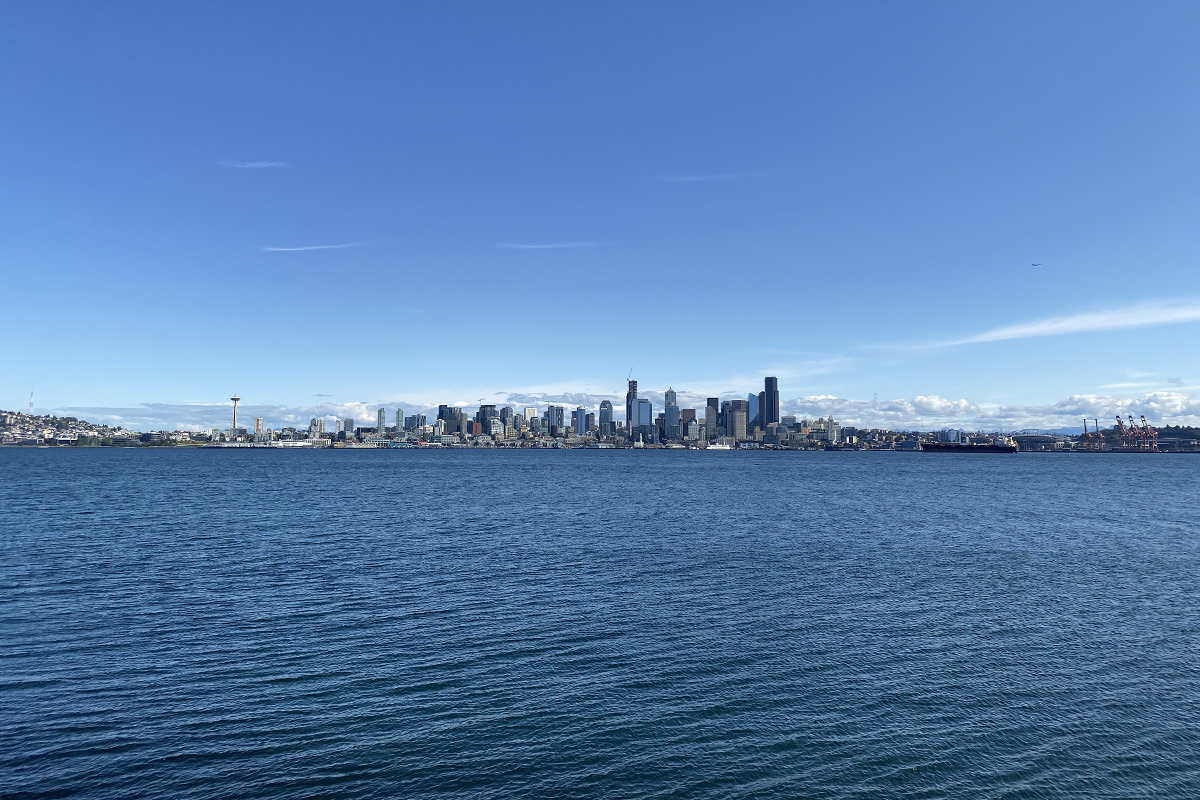 And here's the ultra-wide angle...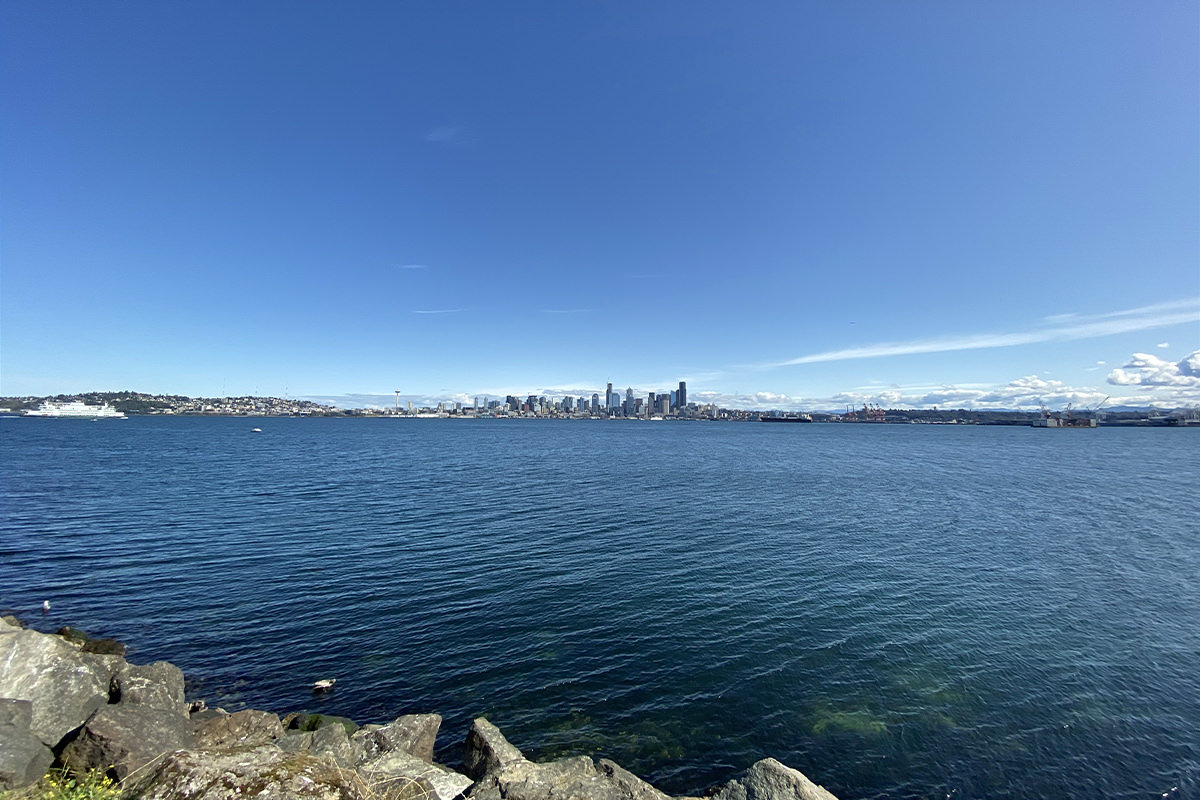 Granted, where you'll most likely be using the ultra-wide is not shooting things that are far away, it's shooting things closer to you...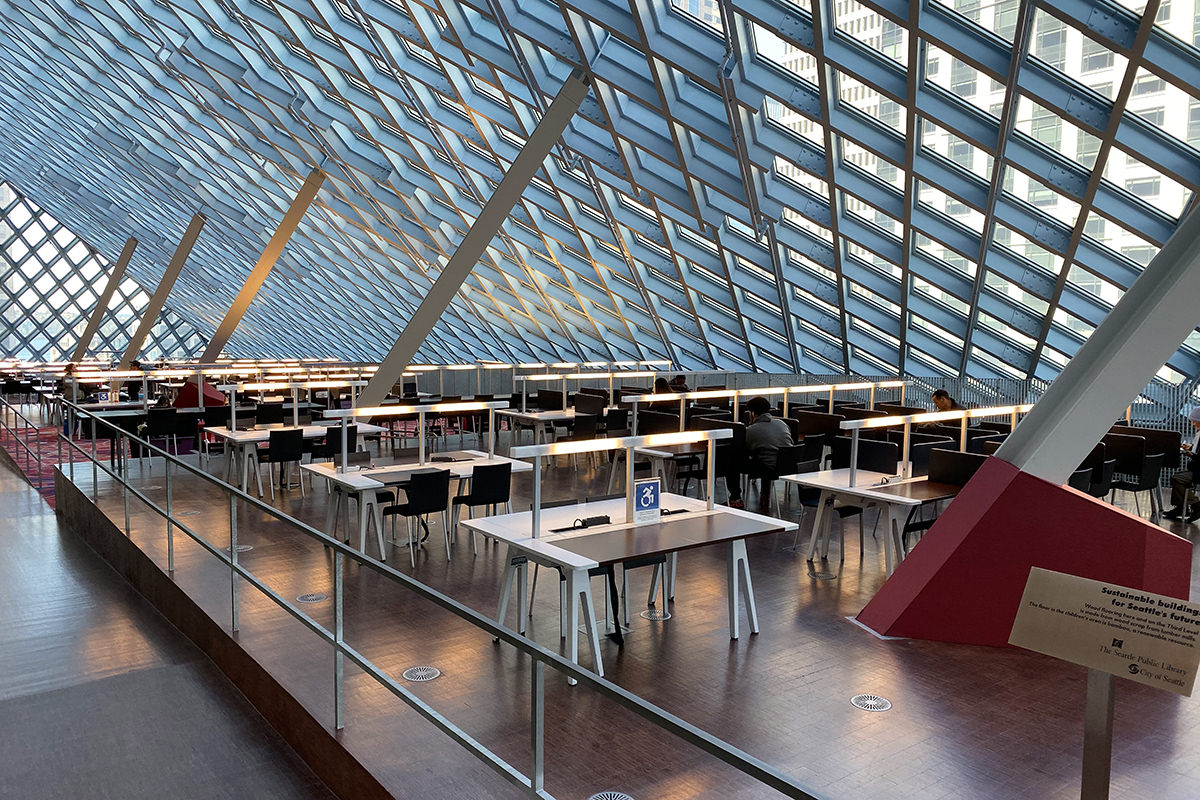 In which case it's a very big deal...
Alas, the Ultra-Wide Angle doesn't have image stabilization and can't use Night Mode (see below), so there are some limitations there, but boy is it a handy thing to have. I find myself using it far more than I thought I would, and quickly realized how critical it is not just for travel, but for everyday use.
PHOTOGRAPHY: CAMERA NIGHT MODE
The iPhone 11 has decent apertures for its three cameras, which allow you to get pretty spectacular shots without any long exposure trickery...
The Ultra-Wide Camera is f/2.4 which is darn good and allows for gorgeous shots as well...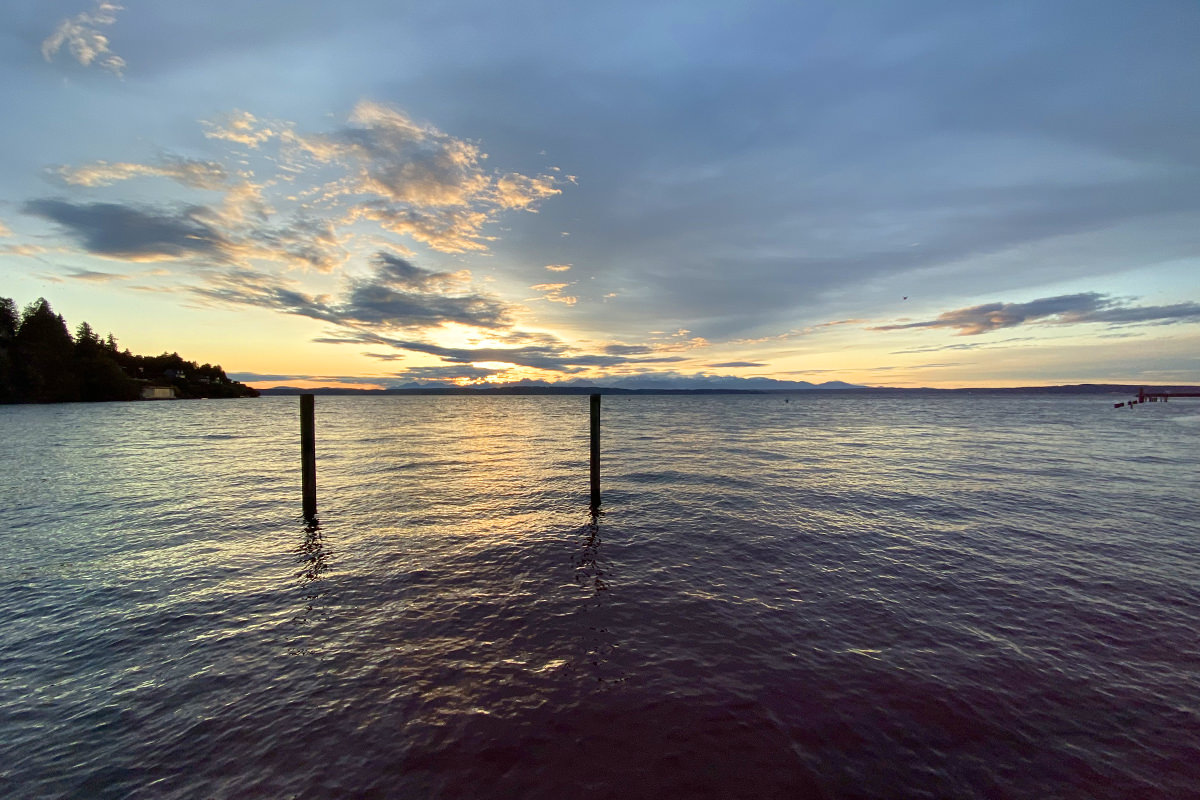 Color fidelity is epic...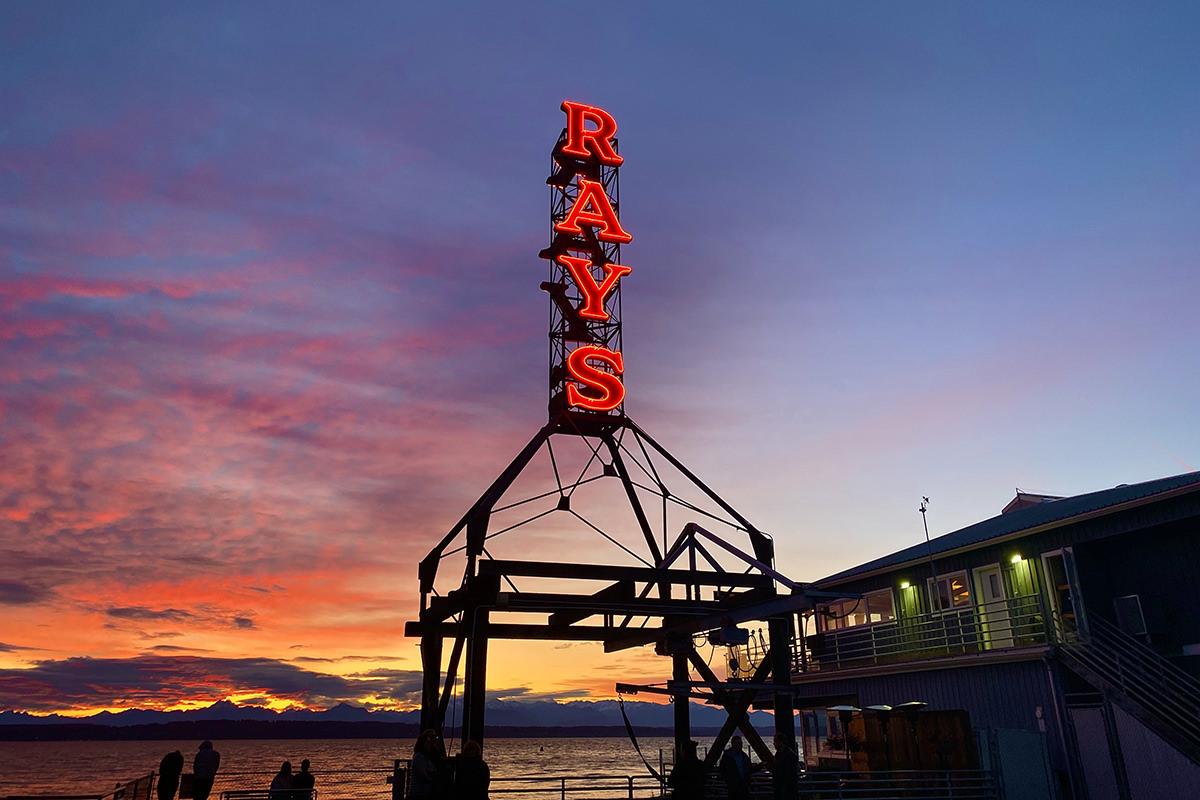 There are limits of course. Once things get too dark, everything can be lost in the shadows. This is nice for artistic purposes, but not what we want most of the time...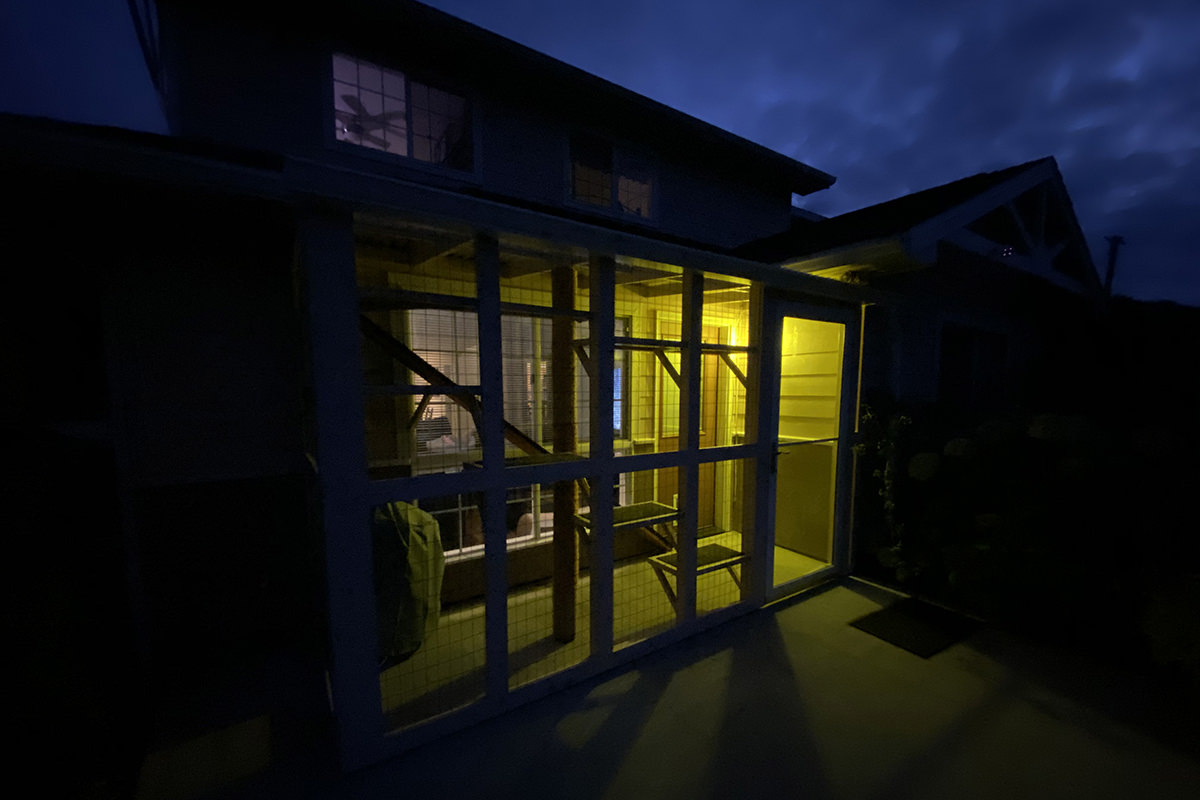 So what happens when there's not enough light for a shot? Glad you asked!
Google's Pixel 3 had a revolutionary "Night Sight" feature which I was extremely jealous of. I was so jealous that I borrowed one from a friend so I could try it out for a day. My iPhone had decent low-light ability, but it was nothing like what I got from the Pixel 3. Night becomes day and it was an incredible thing. Apple being Apple, they've taken the ball and ran with it. iPhone 11 Pro has automatic "Night Mode" which kicks in without you having to do a thing. It's essentially a long exposure which is assisted by image stabilization and some nifty software processing. The results are pretty amazing.
Here's my back yard with Night Mode turned off...
And here it is with Night Mode on automatic which, of course, is activated given that it's pitch black out...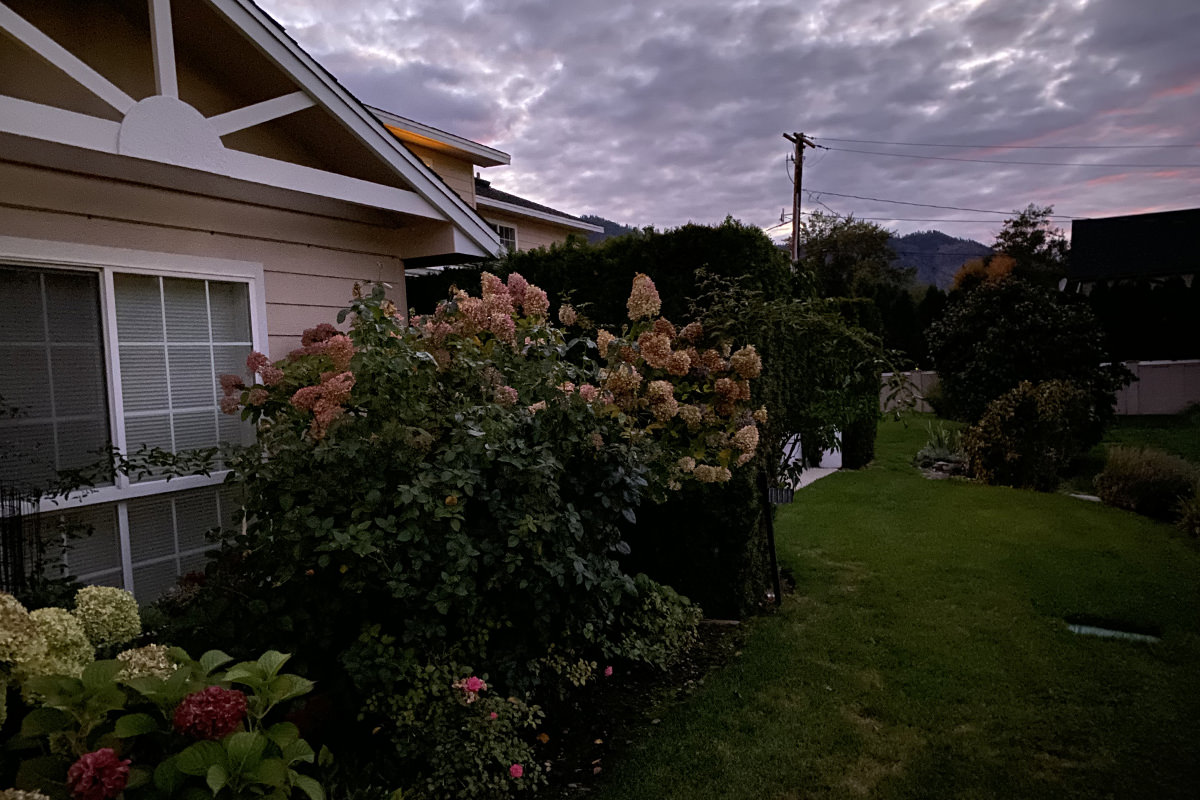 Now, before you think "hey, that's still pretty dark," keep in mind that this is what I got straight out of the camera. I can still go in and make adjustments...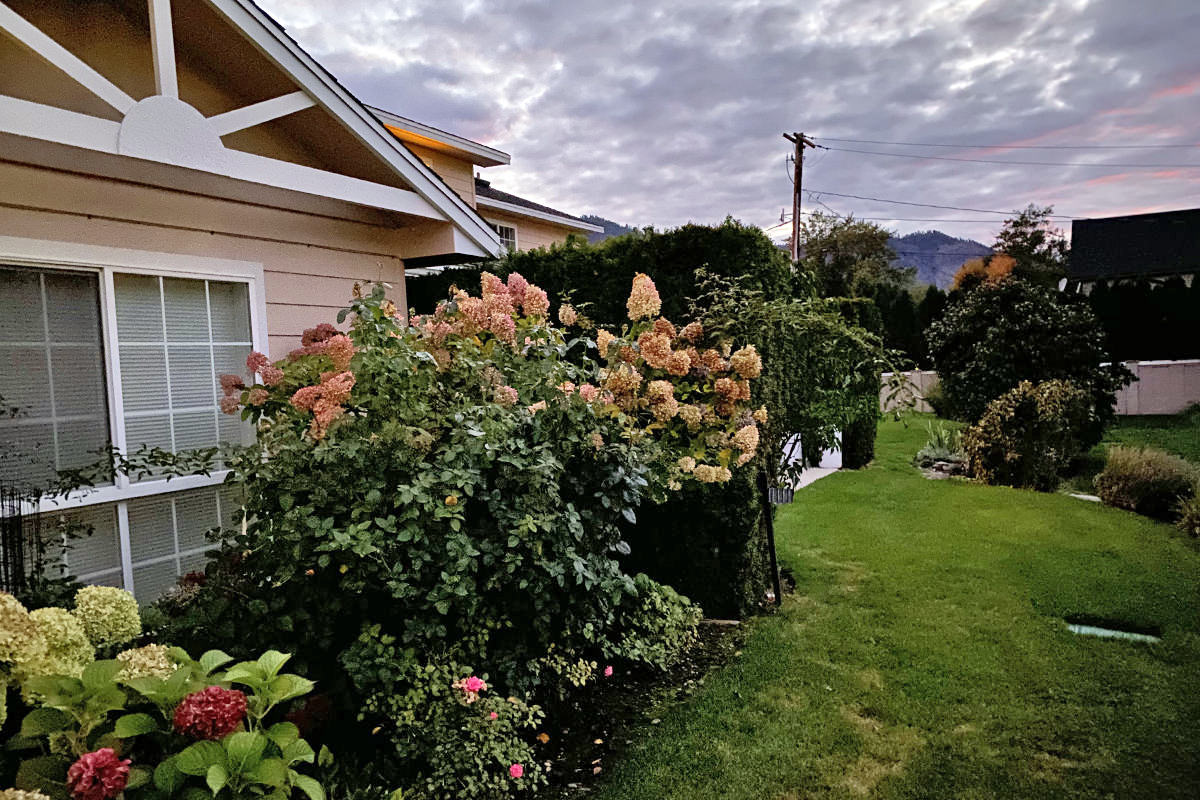 This level of color fidelity and detail would be impossible with any iPhone prior to this one. It looks like early evening instead of the middle of the night! What's surprising is how often Night Mode gets applied. I thought shooting through a bright window in darkness would fail to trigger Night Mode because the subject in the center is illuminated, but it was triggered anyway...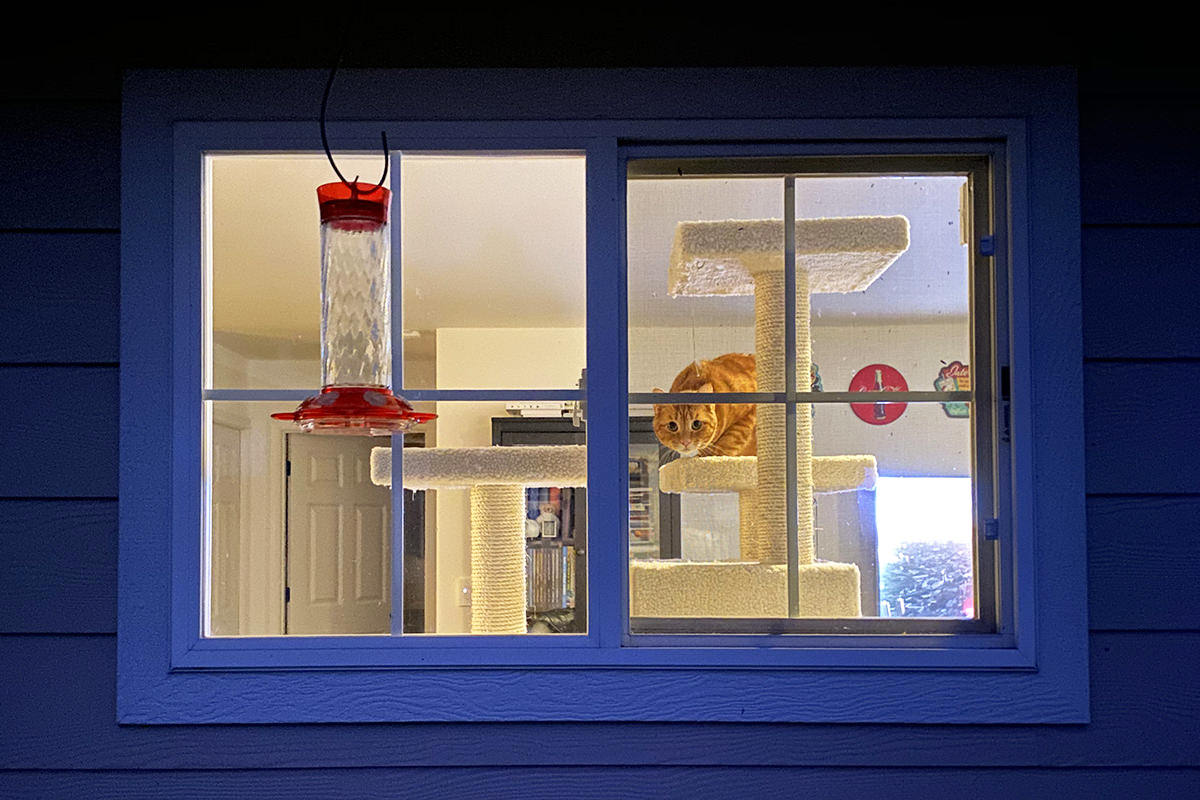 Curious to know why I needed Night Mode for such a shot, I turned it off and shot again...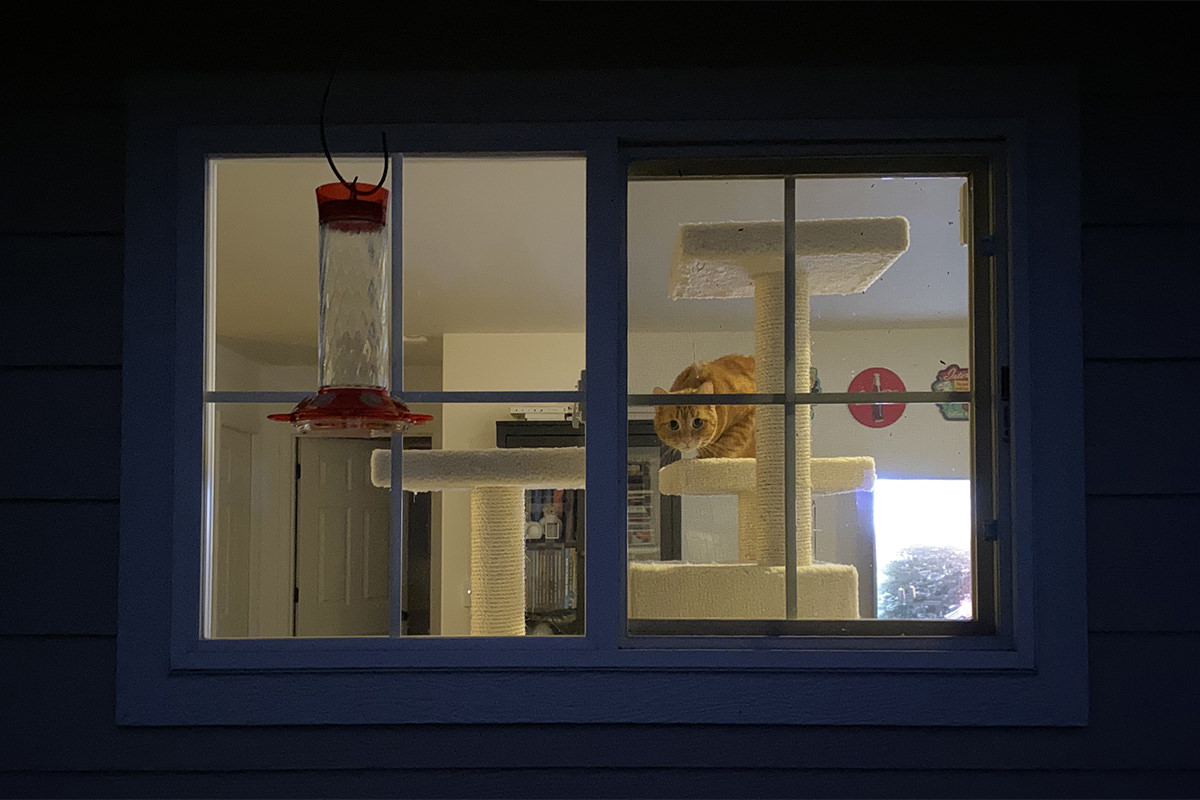 Welp, I guess that's why. I'm getting a much, much better shot with a longer exposure. This is Apple's remarkable "machine learning" at work. Diagnosing shots so you don't have to. I dare say that even the most amateur photographer is going to be able to get pretty amazing shots with the iPhone 11 and iPhone 11 Pro thanks to Apple helping them out behind the scenes.
"Night Mode" is not magic, however. It's a long exposure. And while image stabilization and camera processing will help keep static scenes in focus, you're fresh out of luck if the subject is in motion. A long exposure of motion is just going to make a blur out of it all. And be careful... the telephoto lens does not support night mode. If you zoom in further than 1× the resulting photo will be shot with the standard wide angle camera and be digitally zoomed.
PHOTOGRAPHY: CAMERA APP
Apple's new camera app is pretty great. It's still got an "automatic" mode which will even out the lighting and correct the color tone... usually in a way that's better than what you have without it... but it's the new manual controls they've added to the list which makes the new app so compelling...
Exposure
Brilliance
Highlights
Shadows
Contrast
Brightness
Black Point
Saturation
Vibrance
Warmth
Tint
Sharpness
Definition
Noise Reduction
Vignette
And of course all those tools are "live," so even if you don't know what they mean, you can still play around and see what they do. Sharpness and Noise Reduction have been a long time coming, and I'm particularly impressed with how well Sharpness works. It feels like it's more of an "Unsharp Mask," which provides superior results. The Noise Reduction, however, is pretty basic. It's more of a "LET'S BLUR OUT THE NOISE!" tool than anything else. Here's a shot with no noise reduction applied. It may be tough to see here, but there's quite a bit of noise in this image because I turned Night Mode off. You'll just have to trust me, as you will still see the blurry mess that Noise Reduction makes...
Here's 50% noise reduction...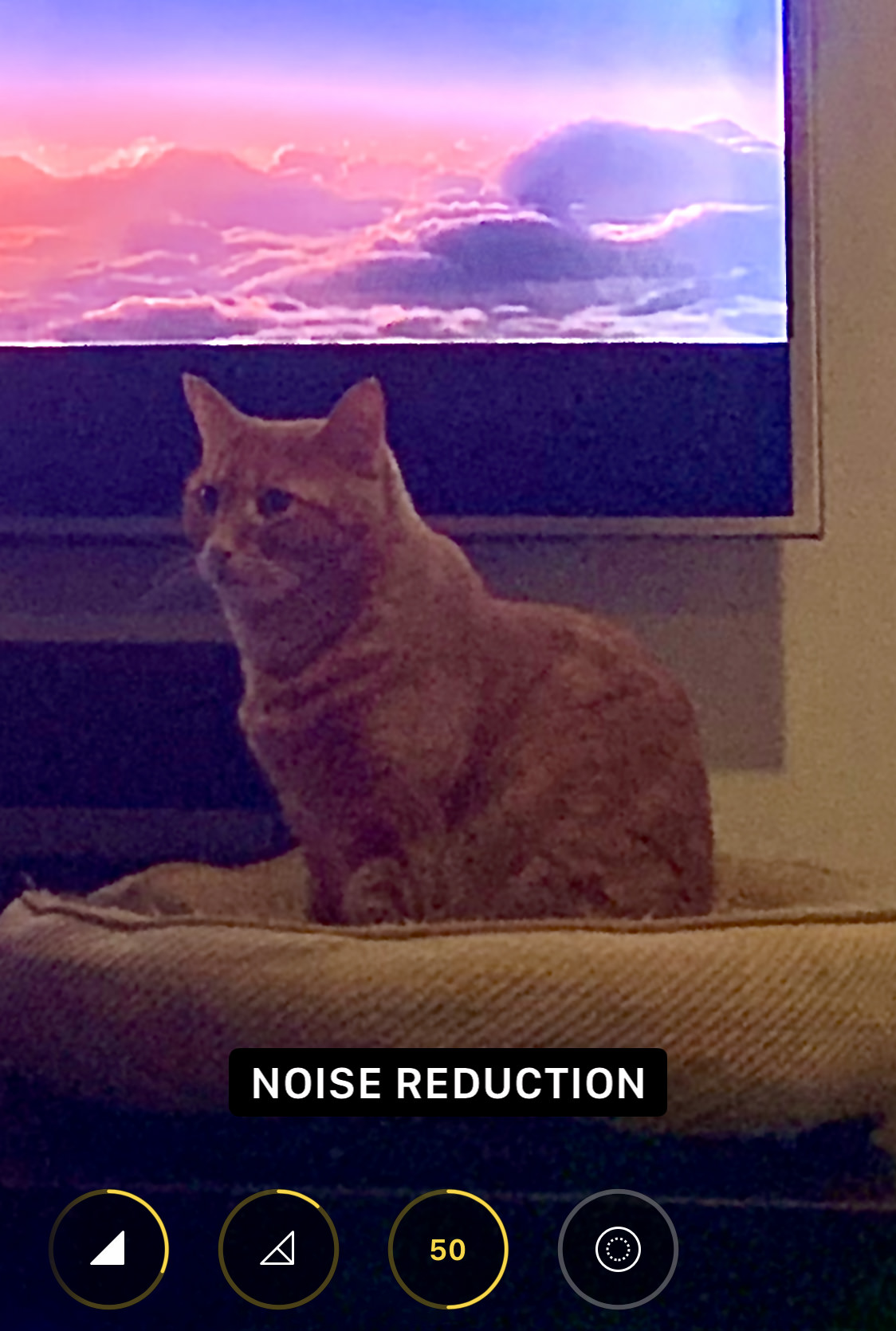 Not bad, but you can see that edge definition is being lost. To see what's really happening you have to turn up Noise Reduction to 100% like this...
Is the noise gone? Sure! But your image is so blurry that even sharpening can't save it. Professional noise reduction tools you can purchase for Photoshop try to eliminate noise while leaving detail. They do a much better job than this, and they do it by not aggressively removing every speck of noise... but finding a way to figure out where noise can be reduced without rendering the image a blur. Since this is Apple's first attempt at the tool, I'm going to give them a pass here... because that they even tried is a good thing... but I sure hope they work on improving it for next time.
PHOTOGRAPHY: CAMERA VIDEO
I don't shoot a lot of video (which is probably why I can get away with the 64GB model phone), but what little I've shot with iPhone 11 Pro is pretty great. Especially using the Ultra-Wide camera. As if the new lens wasn't enough to make videographers start drooling, you can now edit video in ways you couldn't before... like actually being able to crop it. No idea why this took so long, but editing 4K video in realtime is no small feat, so I guess it was worth the wait. Especially since I can now make adjustments and apply filters in the editor... without having to wait for the results to render. That's pretty crazy.
PHOTOGRAPHY: CAMERA SELFIES
I don't do selfies much. But the new front-facing camera got an upgrade to 12 megapixels and does a better job of getting great-looking shots. The "big new feature" for the selfie-cam is the "slofie" which is a slow-motion video capture. Whee.
PHOTOGRAPHY: DEEP FUSION
Later this year, Apple will push out a camera update which includes "Deep Fusion," a technology which uses machine learning to assemble the best parts of multiple photos shot in rapid succession to pull out detail and color like never before, as demonstrated at Apple's keynote last month...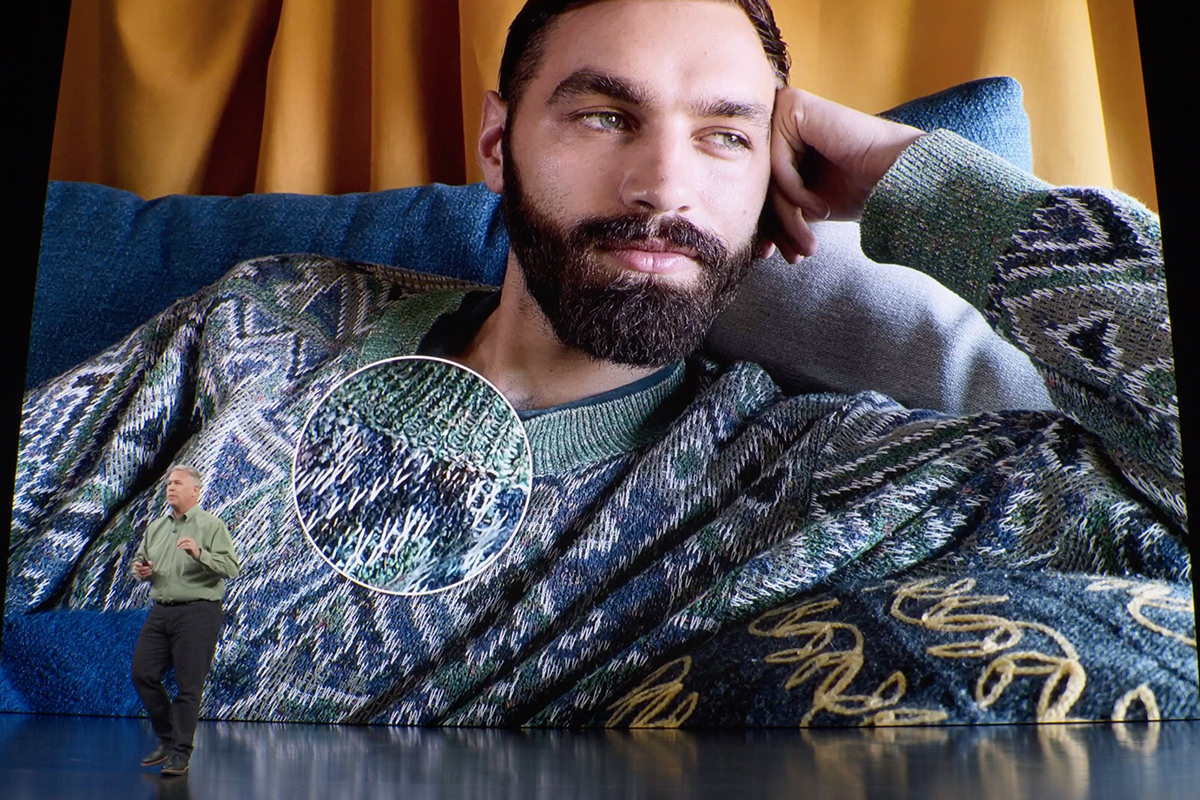 It's kinda a "smart HDR" technique which uses pixel shifting to enhance detail (I talk about HDR here). Naturally I can't wait to give it a shot. Or a hundred shots.
CONCLUSION
The iPhone 11 Pro is pretty much the iPhone I've been waiting for... and not for the phone part... it's for the camera part. No, it's not going to take the place of my DSLR camera, but it is so vastly improved for photography that I will likely be using my DSLR much less than I already do. This new model is just so incredibly capable of getting fantastic shots that I don't need to be lugging around a big heavy camera everywhere. And it has me wondering what iPhone 12 will bring to the table. Probably more incredible camera features that I can't live without. =sigh= I really would like to be able to skip a year of upgrading... but this was definitely not that year. I will likely be posting more photos as I explore the iPhone 11 Pro's capabilities more, so you've been warned.
Posted on September 10th, 2019

AND LO DID TIM COOK DESCEND FROM ON HIGH TO DELIVER A NEW iPHONE TO THE APPLE FAITHFUL FROM THE SANCTITY OF THE APPLE SPACESHIP HEADQUARTERS!
He dropped some other Apple stuff too, but the only thing I really cared about was the iPhone. And the only reason I cared about a new iPhone was the possibility of an improved camera inside of it.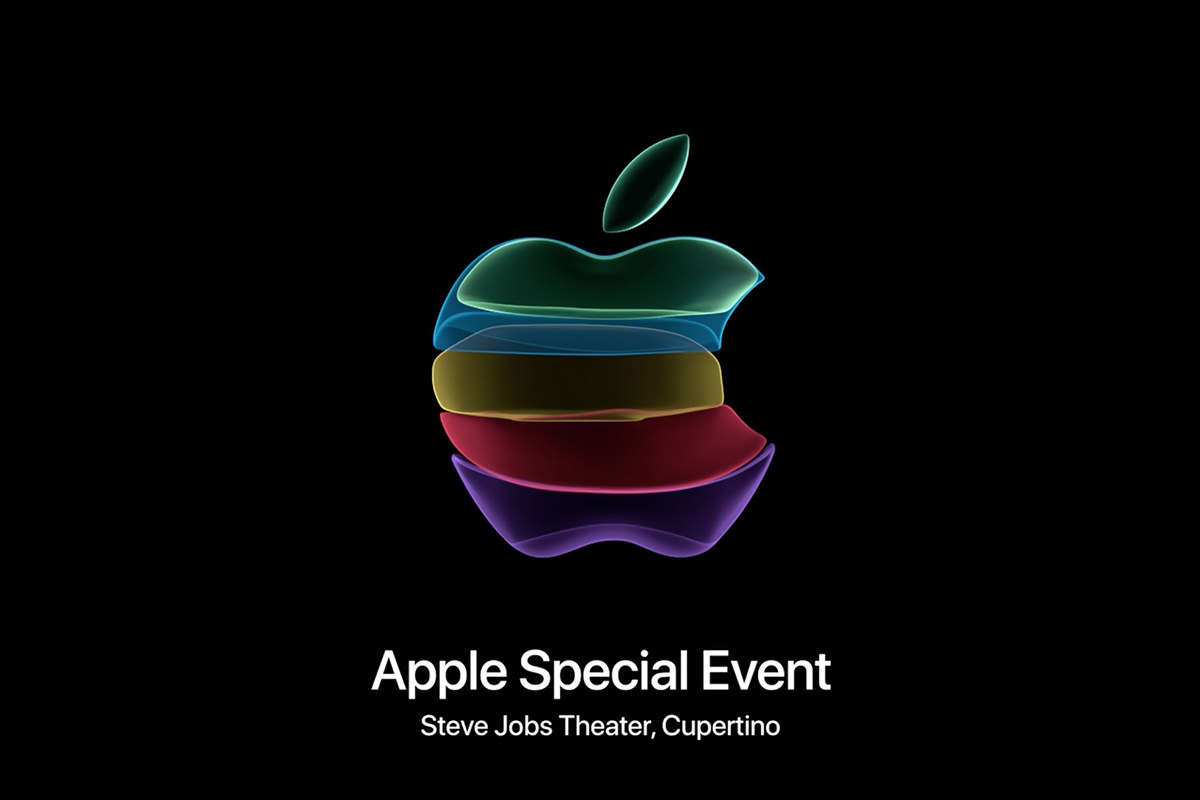 And here's all the crap Apple talked about, along with my notes...

Apple Arcade
I love video games. I've loved video games since video games were invented. Alas, I never have time to actually play them, which means my Nintendo Switch sits mostly unused and any game I buy for my iPhone is never finished. So when Apple announced "Apple Arcade" I was ready to take a big 'ol pass... but then you find out it's just $4.99 a month (a third less than I was expecting) and a part of me is like Hmmmmmm?!? $5 is (on average) what I pay for a single game. Now I can get hundreds of games for that same price? That's a pretty sweet deal. And every one of the games are exclusive to Apple. So who knows? Maybe a couple times a year I'll pay my $5 and play when I can for a month just to see what's up. Sure beats paying $5 for one game that will never be completed. There's a one-month free trial to check it out on September 19th...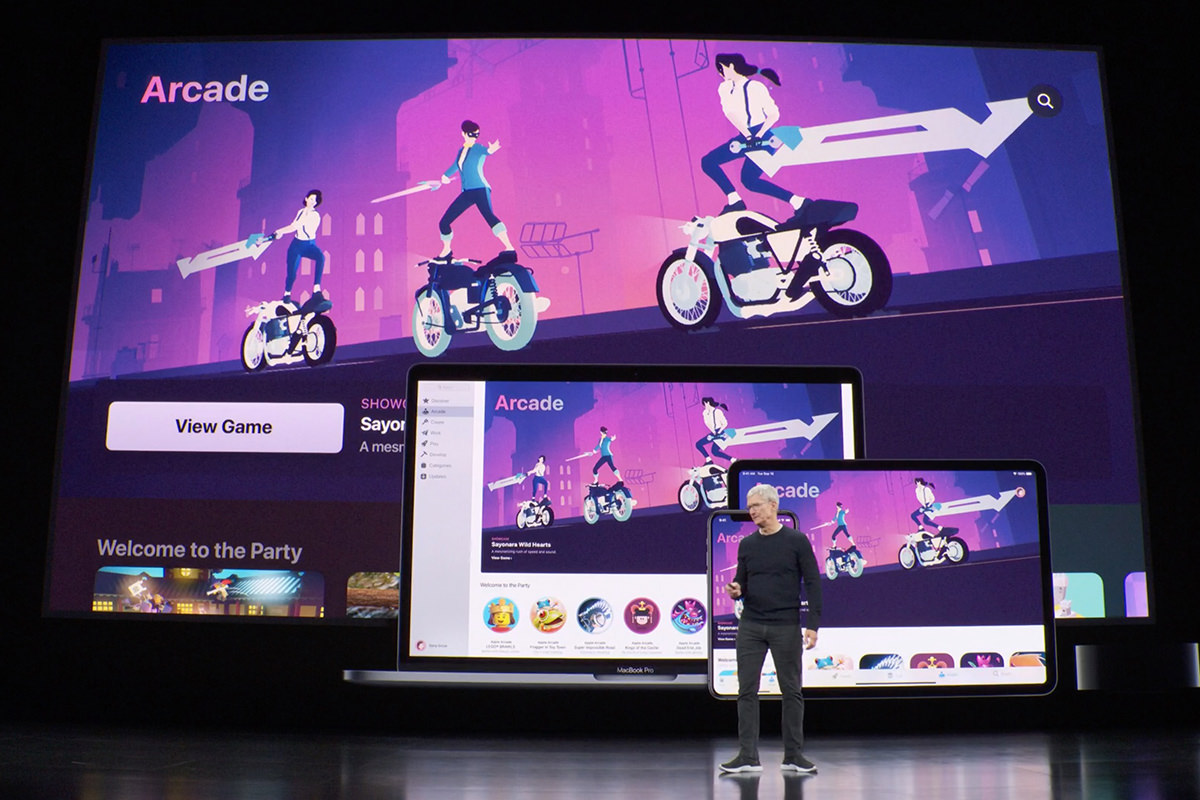 Apple TV+
I already pay far more for television every month than I am comfortable with (or can afford). But looking at the cool shows that Apple has lined up for their streaming service is certainly compelling. And, again, I'm more than a little blown away that Apple is only going to charge $4.99 a month given the money and quality of shows they are producing. This will be yet another case of paying for a month of service a couple times a year so I can binge all their content. And then Apple drops the other shoe... any purchase of a new iPhone, iPad, or Apple TV comes with a FREE year of Apple TV+, which is pretty mind-blowing. Apple developed a streaming service not as a monthly revenue model... BUT TO SELL MORE OF THEIR PRODUCTS! No idea if people like me who are a part of the iPhone Upgrade Program will get a free year every time they trade in their old phone for a new phone, but that would be pretty sweet...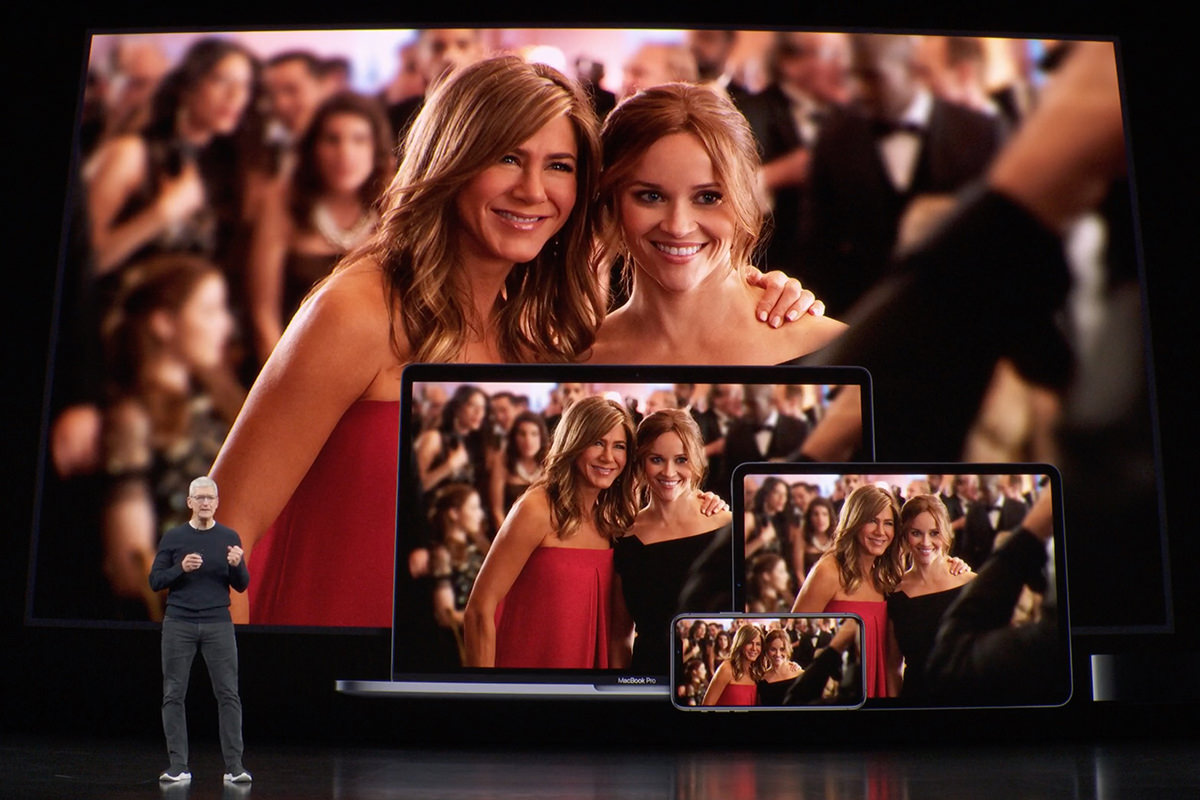 iPad
I have a new-ish model of iPad which I purchased to paint with. And I love it for painting. The Apple Pencil is fast, intuitive, and there's all kinds of apps available to unleash your creativity. But what I need an iPad for is drawing, not painting. I want to be able to draw on the thing, and I have a really hard time with that. I just can't seem to get the precision needed for drawing down, and every time I try I end up reaching for a pencil and paper. What I need to do is just sit down for a week and force myself to learn. But I can never find the time so my iPad sits in a drawer. For that reason, iPad news is kind uninteresting to me... but I do tune in, because nothing would make me happier than to use an iPad for travel instead of lugging my laptop everywhere. And if things keep advancing like they have been, we are closer to that becoming a reality than ever before. Would I buy a new 7th Generation iPad if I could afford one in the first place? Probably not. But I still want one, and that's how Apple gets you. The latest model is sublimely fast, capable, and beautiful to look at and draw on. What's not to want?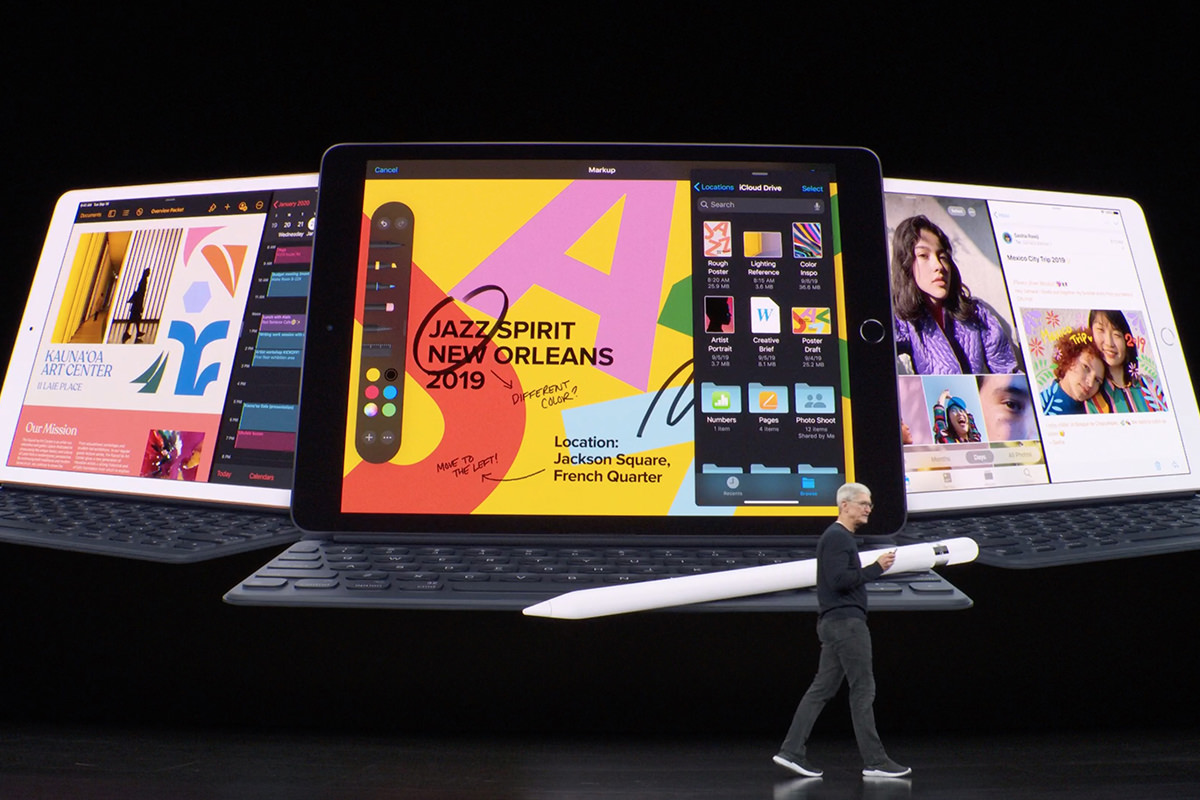 Apple Watch
The only way that I would ever buy one of these would be if they made it considerably thinner. Because while I would absolutely love to own one... I would likely never wear it. But, again, I want one anyway because Apple makes such a compelling case as to why I can't live without one. The health features alone are pretty spectacular. But now the display is ALWAYS ON which addresses my other major pet peeve about Apple Watch. The fact that they innovated a way to make this happen without sacrificing battery life is insanely great. All the other new stuff in Series 5... like a compass... is cute, but not compelling enough for me to shell out $500.
iPhone
iPhone 11. This is the new entry model iPhone, which I'll just skip right over, since it doesn't have the cameras I am looking for. Faster, better Face ID, better cameras, blah blah blah... it's dope, we get it. The base model starts at $699.
iPhone 11 Pro and 11 Pro Max. Here we go...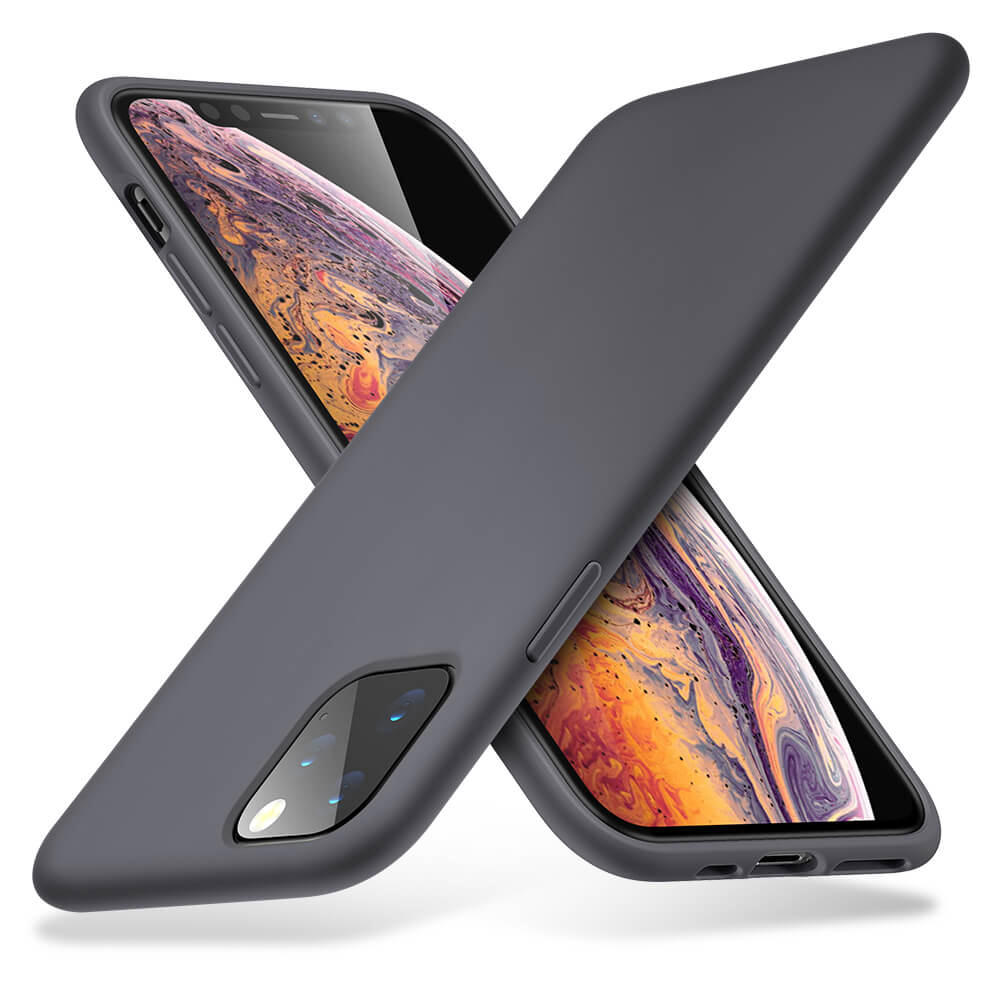 Durability. They claim that the new iPhone Pro models are constructed with the toughest glass ever created for a mobile phone. Will this preclude giving up a protective case? That would be nice, but I'll have to wait until somebody tests that. Since I am on the iPhone Upgrade Program and have to return my iPhone in pristine condition if I don't want to pay a fine to get a new one, I'll probably end up with a case unless the glass is so tough that it's impossible to scratch. Not likely.
Display. Apparently "Super Retina" displays just aren't good enough now. Apple has leapt forward with Super Retina XDR. It's got better contrast, better color gamut, better brightness... all while being 15% more energy efficient.
A13 Bionic Chip. Apple's line of chips has been fine-tuned specifically for doing exactly what Apple wants their phones to do and nothing more or less. There's no wasted energy going anywhere because Apple designs them that way. This makes them crazy-powerful all while drawing less power from the battery. Nowhere is this more evident than with Apple's dedication to "machine learning" via their "Neural Engine." This is a special set of routines that can analyze massive amounts of data and provide tools to use that data in intelligent ways. Feed it a bunch of images of an object to define an object, for example, and you can ask it to look for the object in new images with very little coding. That's pretty basic scenario, and creative programmers are able to do much, much more. This is a case of Apple providing killer tools so developers can come up with killer apps.
Battery. I don't use my phone a lot, so the battery has barely drained when I charge it each night. Even when I travel and am using my phone constantly, it still lasts me all day. I rarely ever run out of battery (which used to happen all the time with earlier iPhone models). Even so... the new Pro has up to 4 hours more battery life... the new Pro Max has up to 5 hours more battery life. And they are including a more powerful charger, so you can charge your phone quicker as well (assuming you still want to use a cord... ugh!). It was expected that Apple would introduce "reverse wireless charging" so you can use your iPhone battery to charge another phone... or your Apple Watch... or your AirPods... or whatever. This was introduced in the previous version of the Samsung Galaxy phones, but didn't happen this time for the iPhone. Maybe next year.
Haptic Touch. As rumored, Apple has eliminated 3D Touch from its displays, which allowed a "deep touch" to perform different functions from a "touch." This is a real shame, because 3D Touch is a frickin' amazing feature (no wonder it wasn't even mentioned at the event!). So now instead of a display that's pressure-sensitive, we instead get "Haptic Touch" which relies on the length of a touch instead of the hardness of a touch to deliver different functions. This is most decidedly not the same thing, even though Apple is essentially selling it that way. I'm sure it will just be a learning adjustment. But it's weird that Apple would be removing features like this. I guess it makes for cheaper displays... but how is that a consolation in a phone that starts at $1000?!?
Lightning Again. The dream was that Apple finally move to USB C for the cable hookup. They didn't. It's still a Lightning connector, which means you have to continue to pack stupid Lightning cables with you everywhere. I rarely use a cable at home thanks to wireless charging, but I use it all the time when I travel, which is why this sucks.
Sound. Dolby Atmos on a phone is an absurd claim... probably more "Dolby-Atmos-like," but I don't doubt that the spatial sound abilities are much improved.
Camera. I use my iPhone as a camera more than anything else. By a ridiculous margin. To me, it's not a phone at all... it's a camera which happens to be able to use the internet and make phone calls. When I travel now-a-days, I rarely take my actual camera with me. My iPhone is enough. And with each new version that Apple unleashes, my "professional camera" is less necessary. I haven't needed to buy a new mobile phone in years. But I do so anyway because I want a better camera.
Night Mode. Apple has always had pretty good low light capabilities. But with the advent of mobile phones like the Google Pixel with its amazing "night sight," Apple's efforts are downright pitiful. But now they've addressed this shortcoming in a big way to add far better low light photography to the iPhone. This is a pretty big deal...
Lens Trio. Saying that the iPhone Pro has "three lenses" is actually wrong. It has three cameras, each with a different lens. A 12MP 26mm f/1.8 Wide Camera, a 12MP 52mm f/2.0 Telephoto Camera, and a 12MP 13mm f/2.4 Ultra-Wide Camera...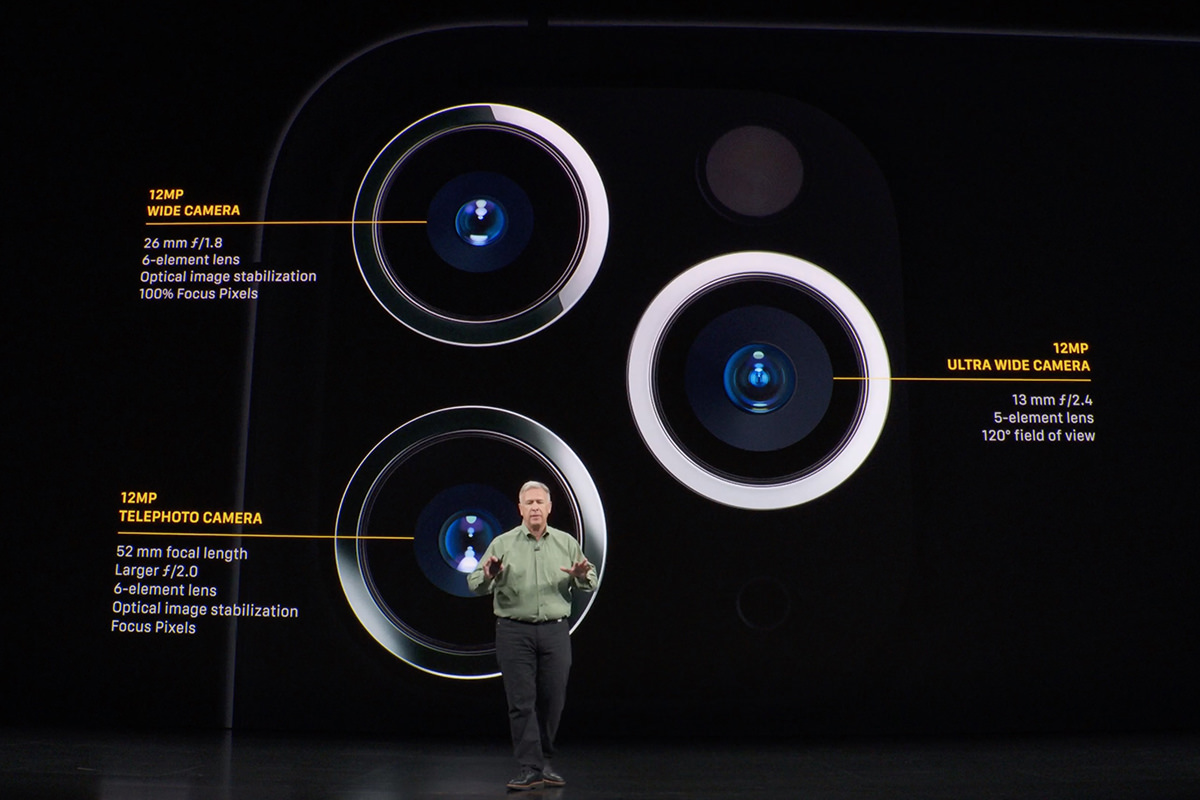 Note that we haven't gotten an increase from 12MP in a while now. This is probably smart given the massive storage space needed, but they really need to get to at least 16MP real soon for those who want it... maybe even giving just one of the lenses 24MP or something. Anyway... it's the ultra-wide that's important here...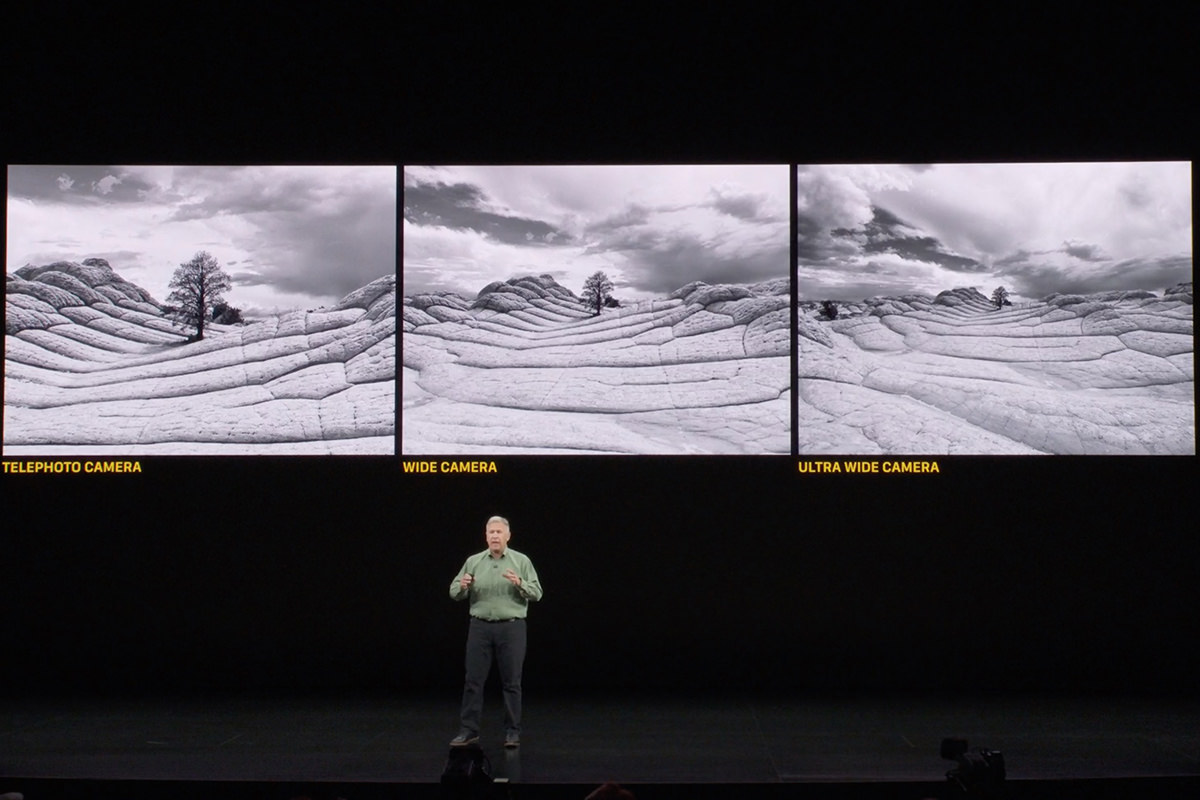 Most any time I've taken scenic photos I end up having to take panoramas, which are great but problematic. Far better if I can take a wide photo in one shot, which is going to be much more likely now.
Deep Fusion. And here's where things get interesting! Deep Fusion is a technology which uses the iPhone's machine learning to to build fantastic detail out of multiple shots... automatically. Every time you initiate the shutter, iPhone takes nine photos (four of them happen before you even touch the shutter). It then analyzes every pixel of all the images and builds a finished image which combines the best pixels from each... in less than a second. The demo image is phenomenal, and has me totally sold...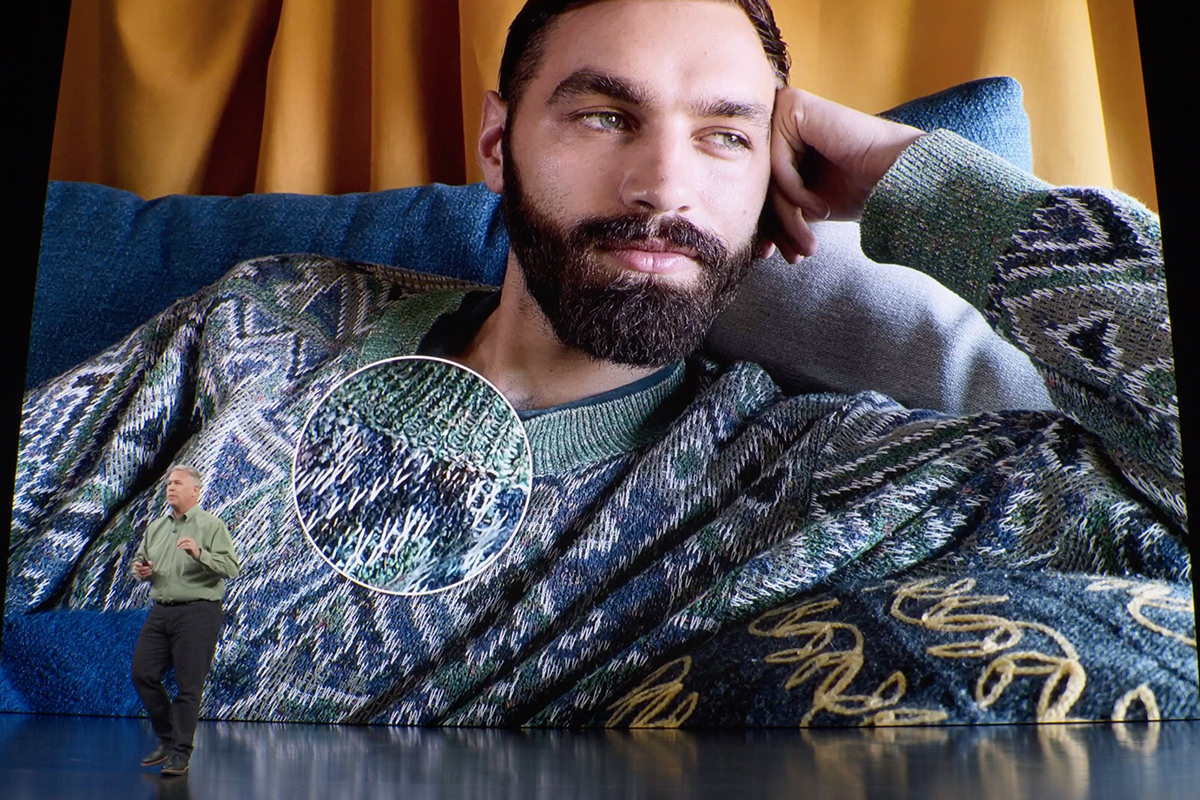 Video. All three cameras can shoot in 4K. New editing tools allow for adjusting attributes like brightness. That's impressive. But it's Mickey Mouse stuff when you consider what it can actually do with these cameras. To demonstrate that, Apple had the CTO from FiLMiC show off the next version of their app which takes full advantage of the fact that the iPhone Pro can record from MULTIPLE CAMERAS AT THE SAME TIME!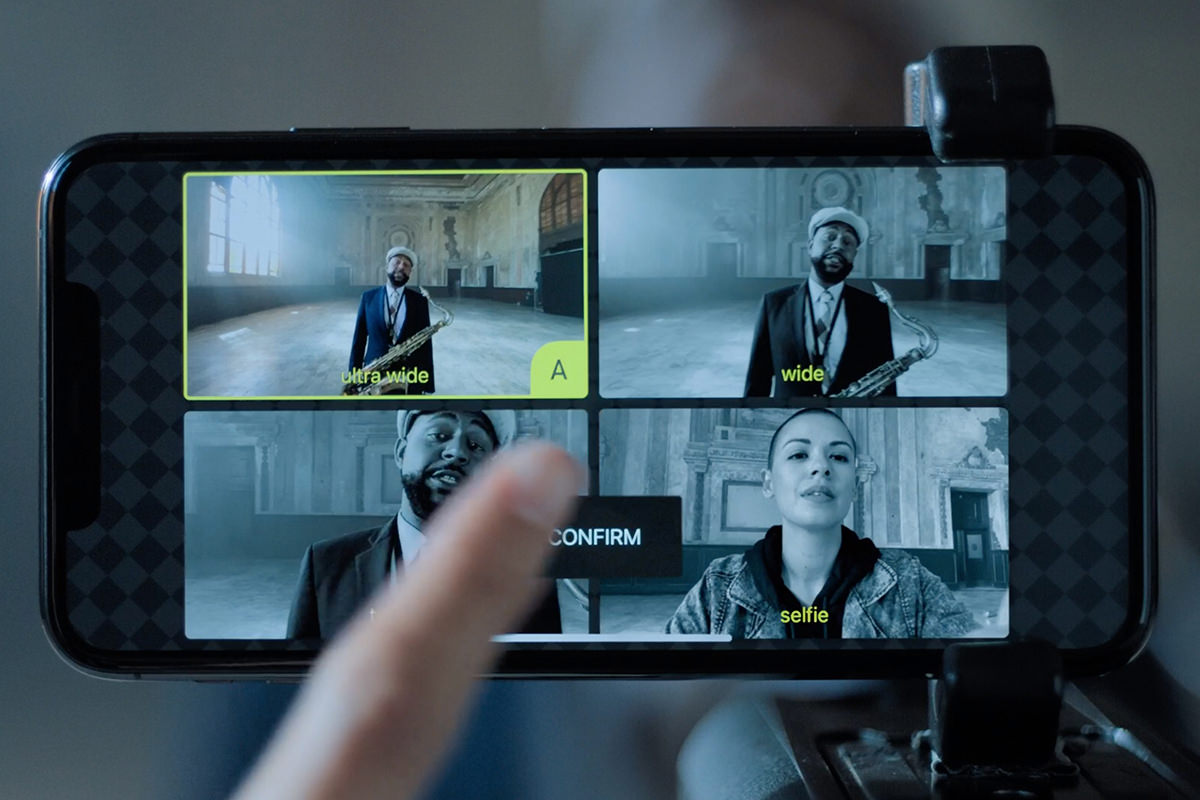 So you can have coverage at the wide and telephoto levels in the same shot. And you can use the selfie cam as one of those cameras.... Which means you can record both sides of a talking heads conversations in one go...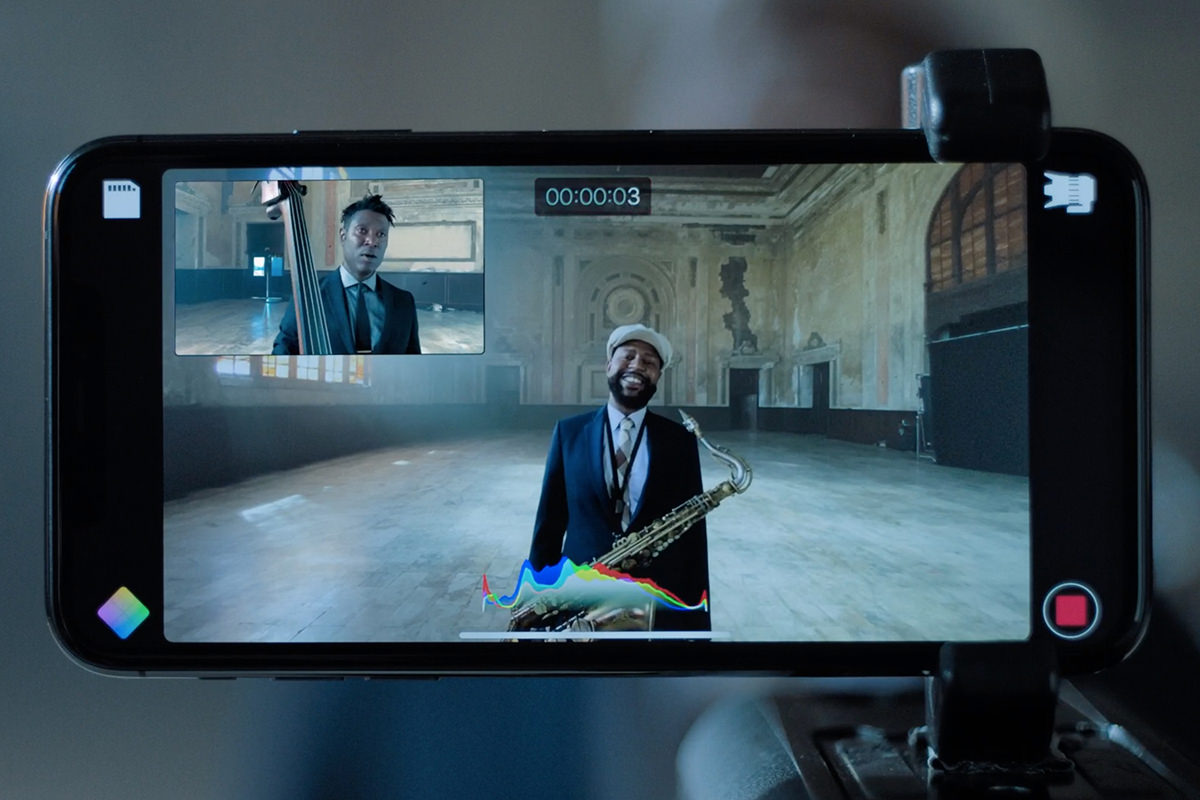 Insanity. But in the best possible way.
5G. Ain't got it. Which is a bit of a dangerous game to play. As the 5G rollout gains momentum, having a phone with the option of connecting to it seems like something you want to have in a $1000 phone for future-proofing. But Apple, of course, doesn't want to future-proof. They want you to keep buying new phones to get those sweet new features.
Price. No increased retail on the Pro. Still $1000 for the "regular" sized one... which seems absurd, even when considering all it can do. I don't have $1000 to throw around, so I will be upgrading from my current iPhone with the iPhone Upgrade Program I bought into last year...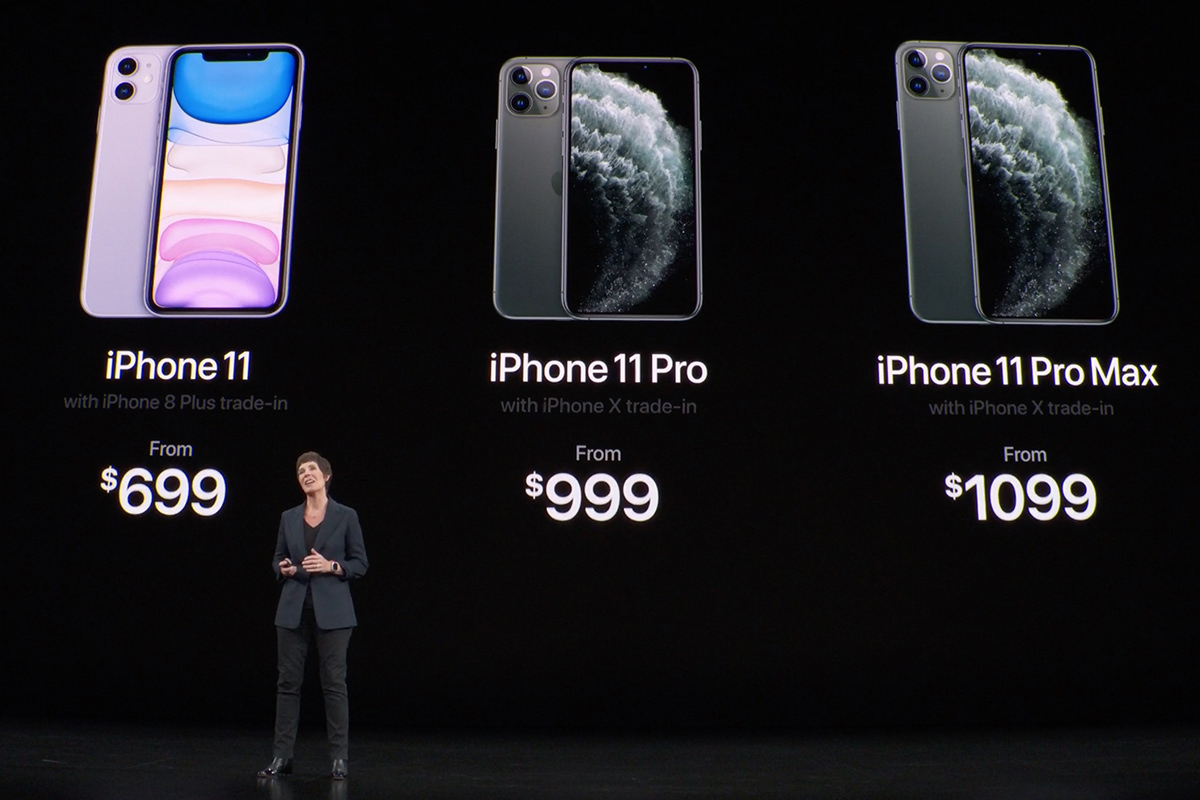 Artistry. Apple gave some of the new iPhone Pro phones to professional photographers and let them loose. Using the new tech, they created some amazing images...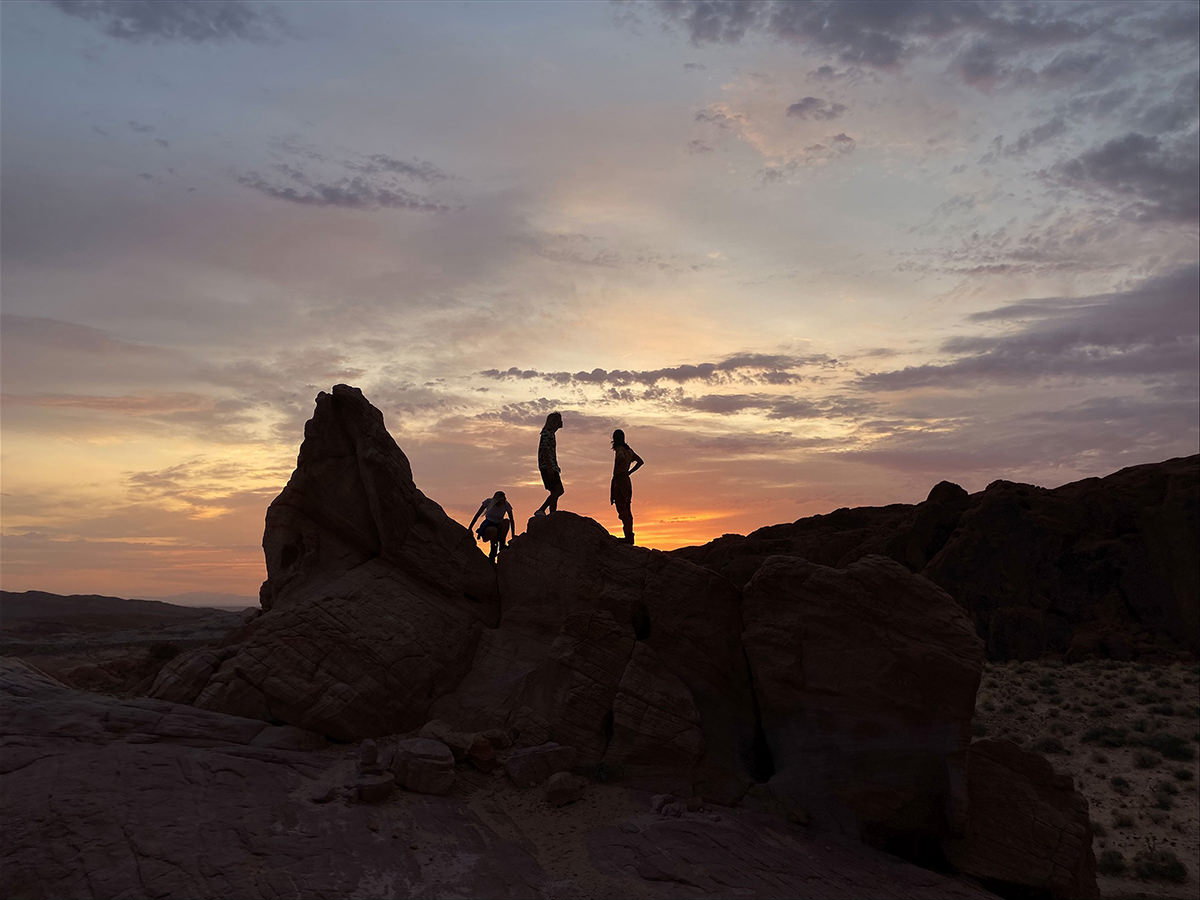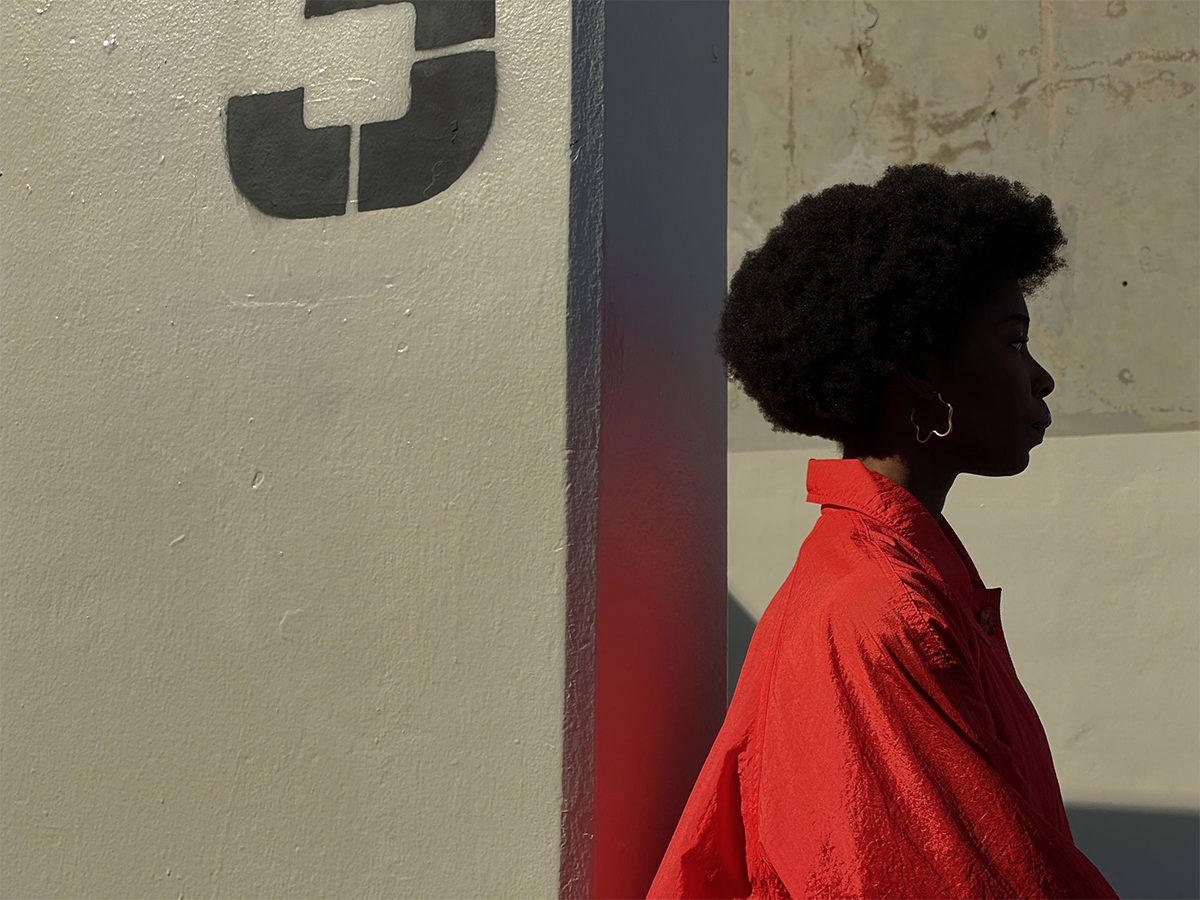 And that's all she wrote.
My iPhone Upgrade Program renewal date isn't until the 20th, and I'm too cheap for an early buy-out, so I'm fine waiting until then (which, coincidentally, is the actual release date). Of course by that time the waiting list queue for backorders will likely have me getting my new iPhone 11 Pro in October, so I won't get to try out the awesome new camera(s) until then.
Think of all the cat photos I'll be missing out on.
Posted on June 3rd, 2019

I typed some notes during Apple's streaming presentation of the World Wide Developer's Conference keynote this morning. Since I know absolutely everybody is dying to know my thoughts on things*, this post is for you!

• Eco-Unfriendly! And here's Tim Cook to start things off. Right off the bat he's touting how Apple is a sweet ecosystem that marries hardware, software, and services to create an experience unlike any other...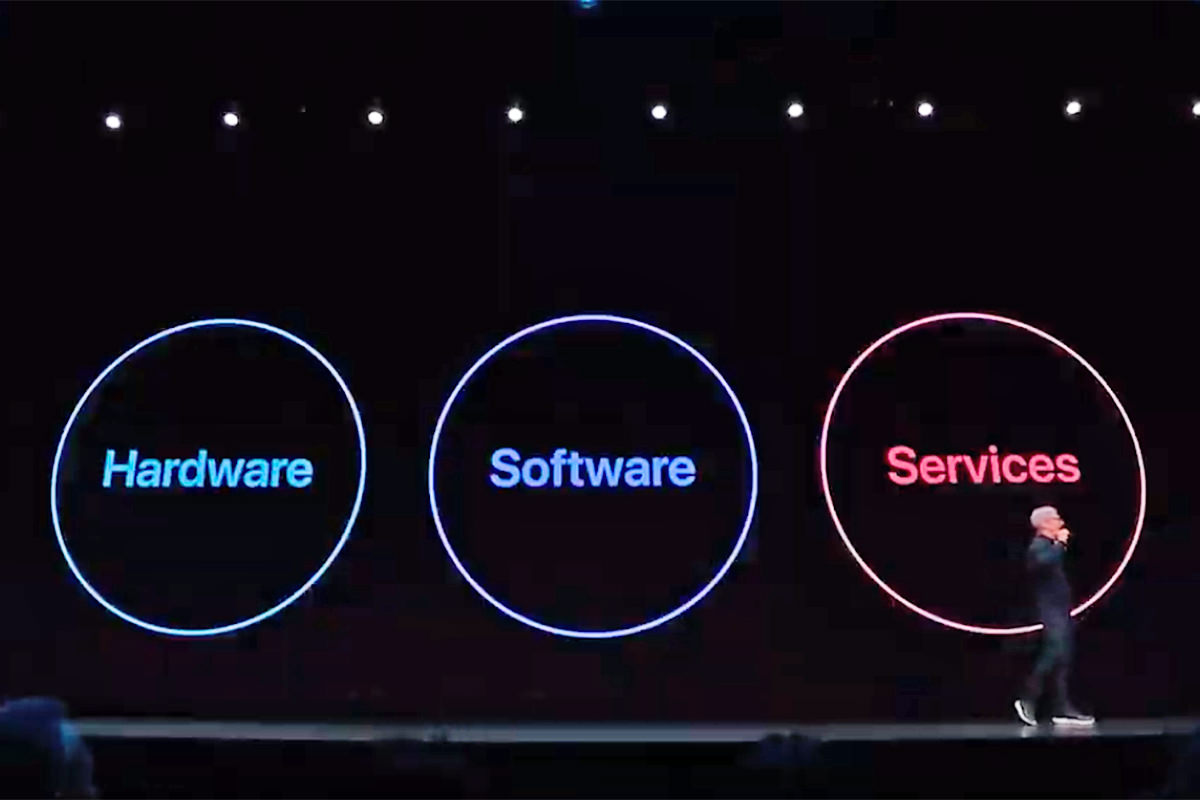 Say what you like about Apple, but it's totally true. The problem is that when one part of their ecosystem sucks, you get a bad experience. This applies to hardware (I fucking hate the MacBook Pro keyboard, and will avoid buying one of their shitty laptops for as long as I can), software (when they aren't abandoning critical in-house software like Aperture, they create fucking garbage like HomeKit), and services (their media streaming is unbelievably shitty and I'm furious that they always blame my internet, when my fiber connection streams flawlessly from everybody else). I used to put up with everything because, hey, at least it was better than Windows, but is that really true anymore?

• Apple Arcade! Now Tim is talking about "Apple Arcade"... a new membership service where you get access to a lot of cool and exclusive games. Out of everything announced, I only give a crap about LEGO Brawls, so this is probably not going to be for me...

• Apple TV PLUS! Ugh. I mean, really? Yet another streaming service? I admit that the clip shown from the alternate-history space-race drama For All Mankind looks interesting, but enough for me to pay up a monthly fee? Doubtful. Disney+ is absolutely on my radar because of all the Marvel Studios and Star Wars shows in development, but it would take a heck of a lot for me to buy into Apple's random non-catalog of shows.

• Apple TV! Apple TV has one of the shittiest interfaces in tech history. It takes forever to find the stuff you want to watch. Even if you know where to get to it, you still have to scroll and scroll and scroll. Apple added Siri to AppleTV so you can just tell it what you want, but I find it to be flakey and not always accurate. Why would I buy something from iTunes when it's available streaming from Hulu, Netflix, Amazon Prime, or whatever? I thought that "TV" was supposed to prioritize stuff you already have over stuff you have to pay for, but that hasn't been my experience. But I digress. They've apparently redesigned everything to be less shitty. EXCEPT THEY ARE USING CLIP PREVIEWS LIKE NETFLIX WHICH I FUCKING HATE HATE HATE HATE HATE!!! Fuck this. I hope to God they allow you to turn that shit off.
Ooh! And now Apple is saying that you will be able to use controllers from Xbox One and Playstation to control games on AppleTV! Yay! Except... where is support for my Nintendo Switch Pro controller? Oh well. I don't have time to play many games anyway.
Okay... I love the new underwater 4K screen saver! Reminds me of the serene scene aquarium screen saver I had on my Mac ages ago...

• Apple Watch! Ya know? I'd sure like to have an Apple Watch, but I just know I would never wear it because it's so damn thick. Until they fix that, they can throw all the new "watch faces" at me they want... I'm not biting. Except... ZOMG! A CALCULATOR APP! Just like my old calc digital watch had back in the 80's!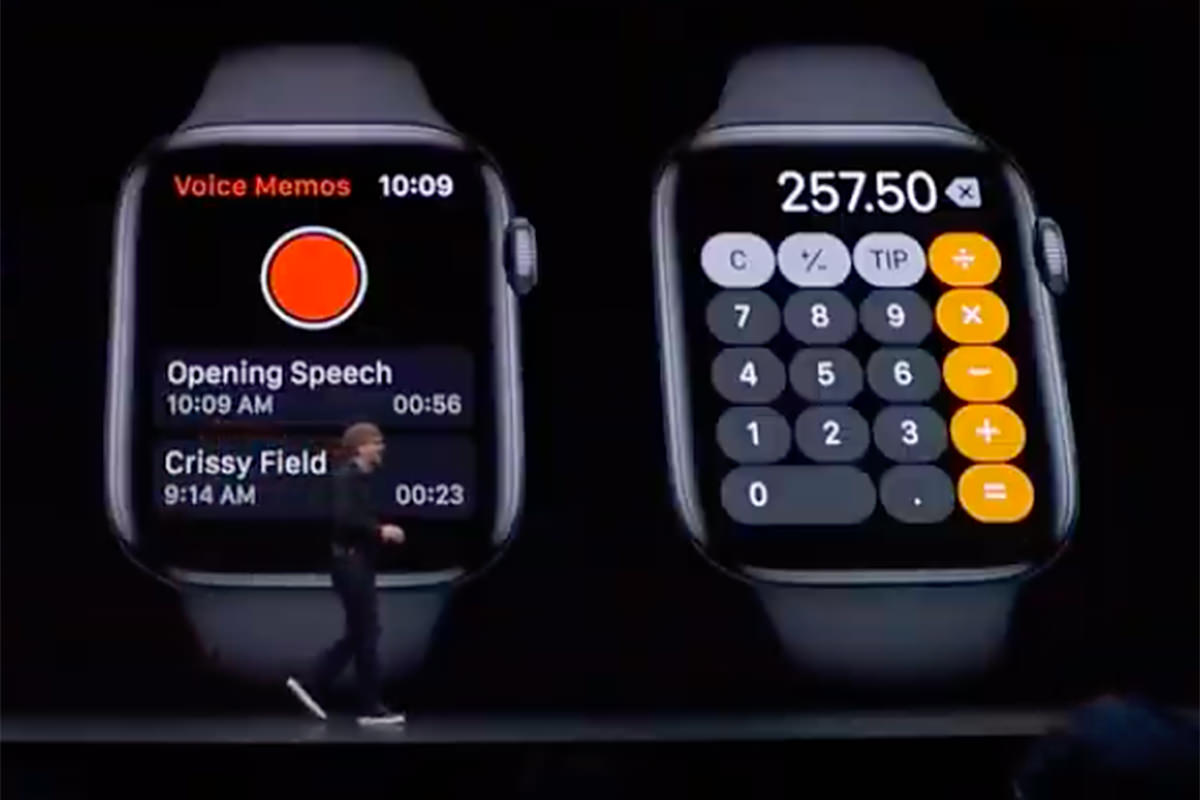 The new WatchOS will be able to run apps independently of the companion iPhone app. That seems like a pretty critical feature, but I don't know how they have the memory available for such a thing? This allows you to install apps from the App Store directly on your Apple Watch which, again, seems like a critical feature to have.
I like the idea of how the Apple Watch can help you out by monitoring your health... but I know darn well I would stop using it when I see just how unhealthy my lifestyle is, so that's not a big draw for me. For the ladies there's a menstrual cycle tracker now that will help you to know when your period is coming and when you are most fertile for the baby-making.

• iOS 13! Apparently the next version of iOS will focus a lot on speed. Face ID will unlock 30% faster... apps will install faster... apps will launch faster... that kinda thing. Naturally, it's hard not to be happy about that. And I most certainly hope that it launches the camera faster so I don't miss as many time-critical shots like I do now. A more reliable camera that isn't locking up all the time would also be nice.
I'm torn on the new "Dark Mode"... I stopped using it on my Mac because it was wildly inconsistent between apps, sometimes making it impossible to use apps that weren't patched to accommodate it. Perhaps if they did a better job of it for my iPhone I will have better luck? I dunno. It costs nothing to try. And, may I just say, that Apple using Depeche Mode's Black Celebration for their demo is about the best thing I've seen from this keynote so far?
I've been using Google's keyboard for a long time now because it supported swipe typing. Problem is, my iPhone is forever reverting back to Apple's keyboard even though I've not asked it to. Now that Apple supports swipe typing, maybe it will be a better experience? I sure hope so. All the new predictive input stuff is nice, but I often find that my iPhone gets it wrong far more often than it guesses correctly. Maybe their new "machine learning engine" will improve this? One can only hope.

• Maps! And so... shots fired at Google Maps! But here's the deal. Unless Apple gets into the traffic monitoring game like Google and Google-owned Waze, I'm probably sticking with Waze. Pretty is pretty, but I'll take the better functionality every time...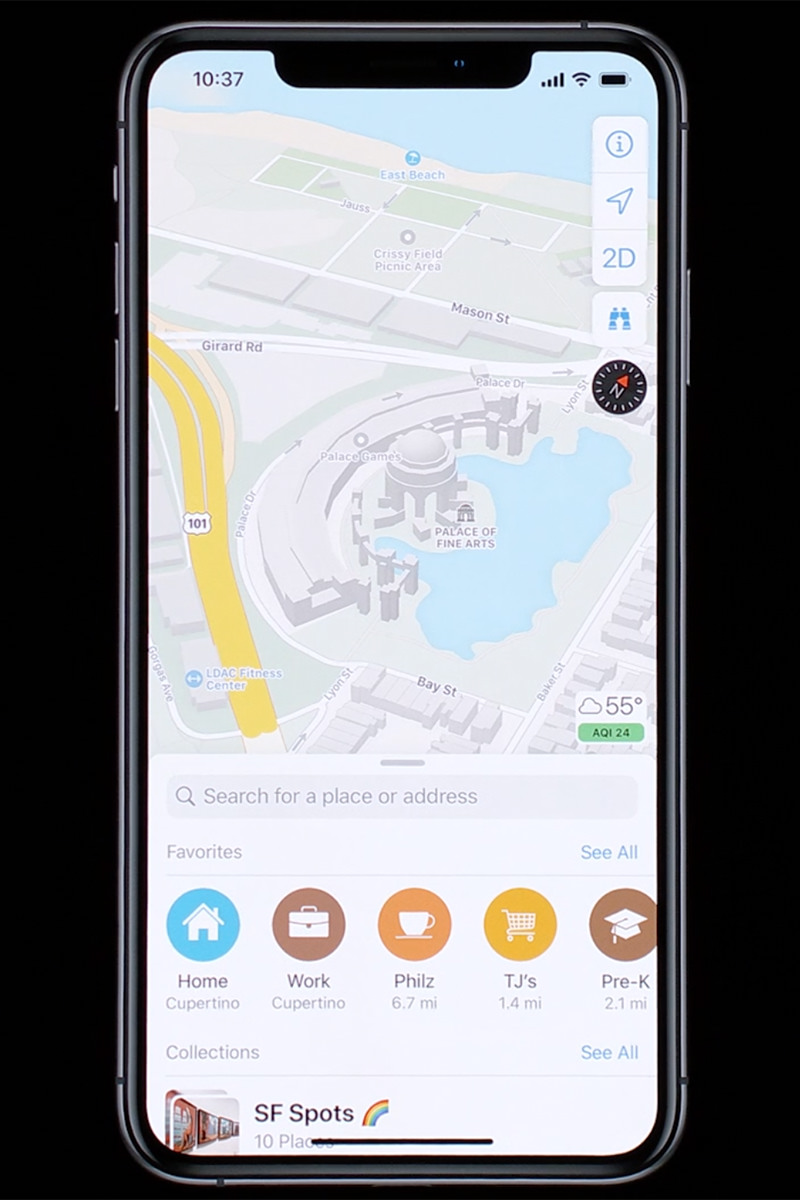 Meg Frost is up in her cool future-wheelchair to demo Maps. Holy crap is it a beautiful app! I may use it a lot more, but the navigation of Waze will be hard to leave behind...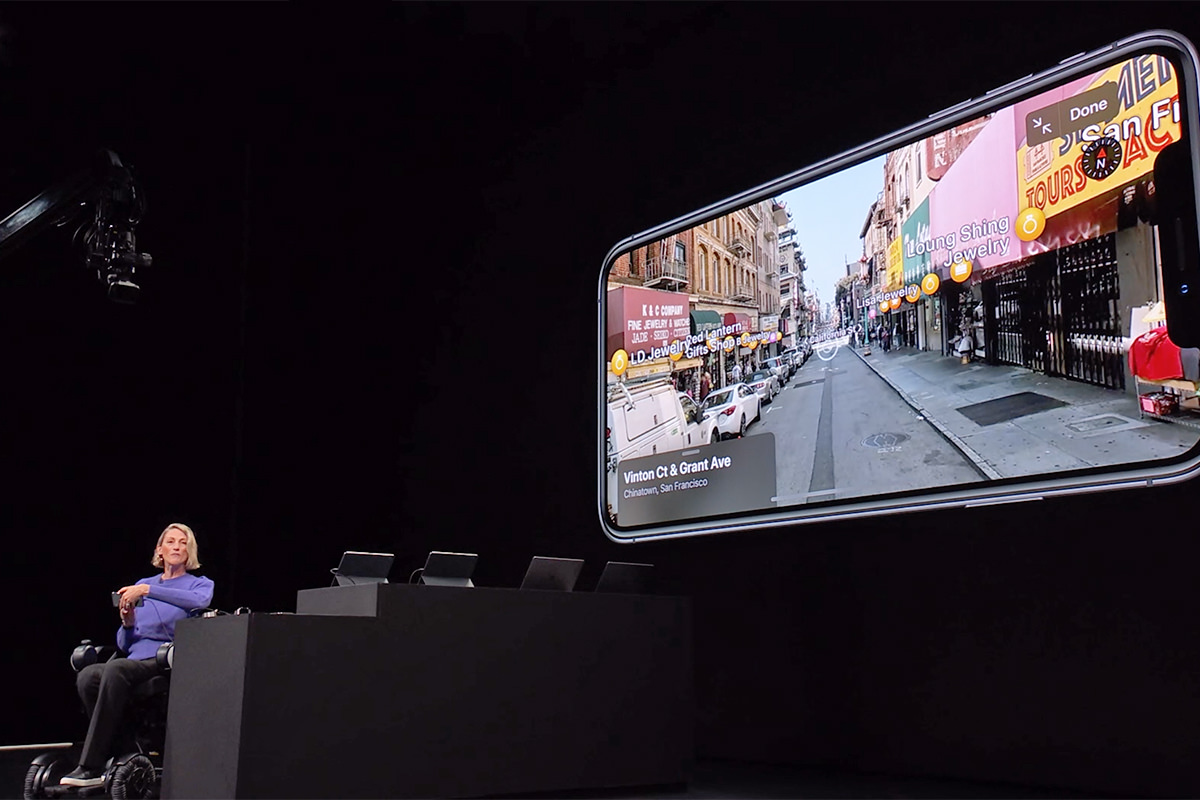 Apple is doing their OWN version of "street view" and it looks spectacular...
I'll definitely be using Apple Maps for armchair traveling, but for actual driving? The jury is out.

• Security! And here's where Apple takes an even bigger swing at Google... privacy and security. Companies like Google and Facebook track everything you do and monitor all the activity on your phone because they are selling ads. To be effective at selling ads, they need to know who you are and what you do. I don't give much of a crap about this (hey, I'm a blogger, all that stuff is online for anybody to see anyway), but I do like Apple's philosophy of erring on the side of caution. It started with ApplePay, which securely pays for stuff without tying the purchases to a credit card (which is nice), and I absolutely love the convenience of it. And now Apple is moving their privacy mandate into other areas at a system level. I approve.
Location monitoring by your phone could be a very big problem if you don't know it's happening and you're a thief or having an affair or whatever. Apple is putting the kibosh on that by being more proactive about how your location is used and how long an app gets to use it. That's totally swell.
And, as if the shots fired weren't obvious enough, here's Craig Federighi telling the whole world that they are seriously going after Facebook and Google by creating their very own "Sign in with Apple" login service! Sweet!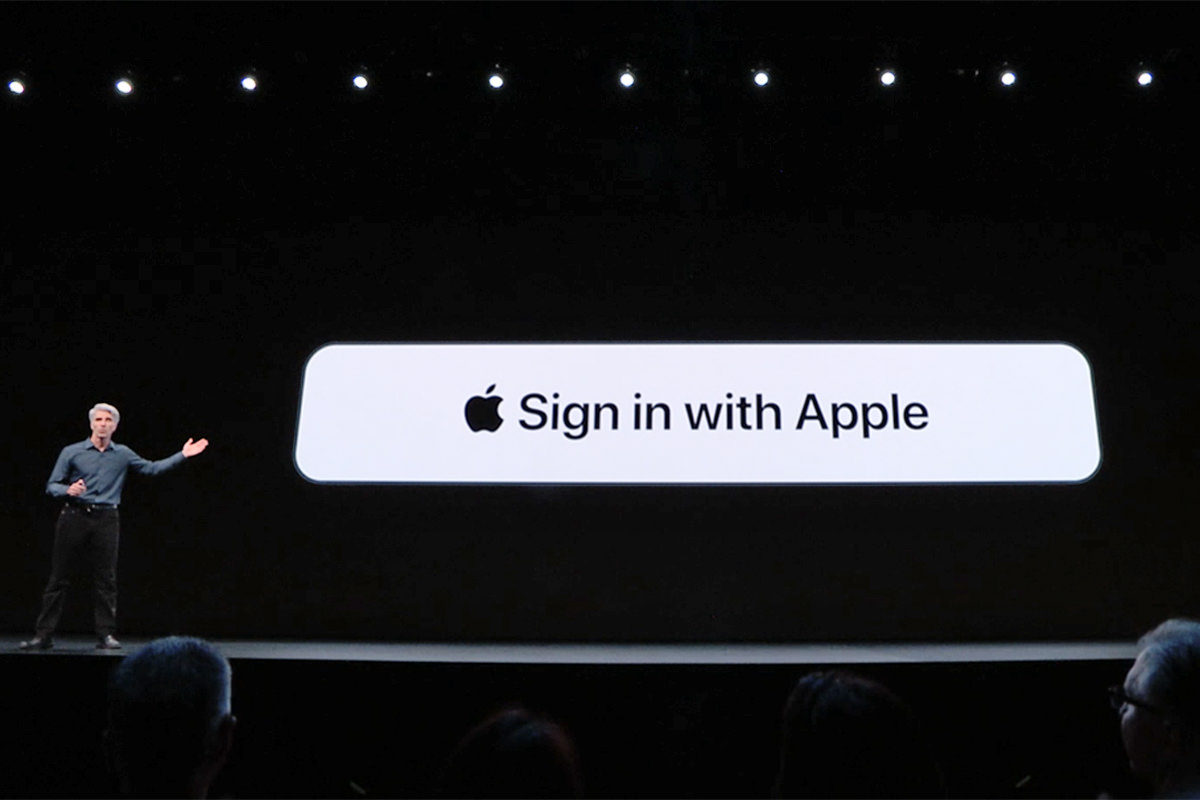 No personal information whatsoever handed over. I think it's pretty obviously that absolutely everybody will switch to Apple's login service the minute it becomes available on sites. I know I sure as hell will be.
Okay, THIS is huge. Apple is coming up with their own privacy email forwarding service! You can immediately establish a temporary email ID... then use or dispose of it for as long as you want! NICE.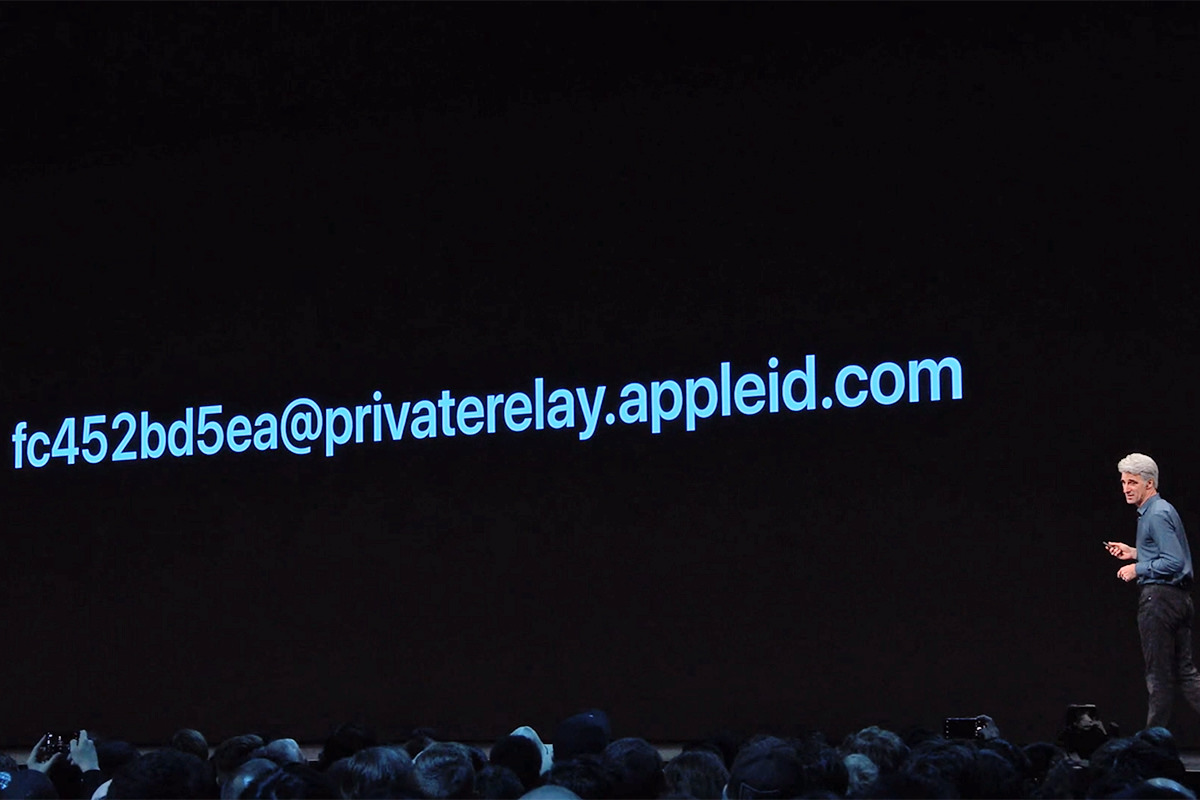 I've used random forwarding addresses for a very long time, but having to set them up is always such a pain. Now that it's an OS-level feature, it will be so much easier. Kudos, Apple!
Interesting. Apple is adding their own security camera streaming service to their heinously shitty HomeKit home automation bullshit. The privacy features are admittedly compelling, even though I just don't care that much. So people can hack my account and watch me talking to my cats... whoop-dee-do. However... On one hand, I would love to get rid of all my Google NestCam shit and their fucking "NestAware" idiocy for something better. So maybe. Except I hate hate hate shitty HomeKit so much that I just don't think it's a viable option. Maybe one day? I just don't know.

• Memoji! While I think the idea of Apple's Animoji and Memoji are cute, they just aren't something I'm interested in using. I tried it a few times just for fun, but the idea of using it day-in and day-out makes zero sense. The novelty wears off far too quickly. Except... NOW THEY'VE ADDED MAKEUP?!? And piercings? AND HATS?!? Ooh! Maybe I will have to use Memoji now that I can add eyeshadow and lipstick!
Memoji stickers are actually pretty cool. I don't use stickers very often, but I might use something like this.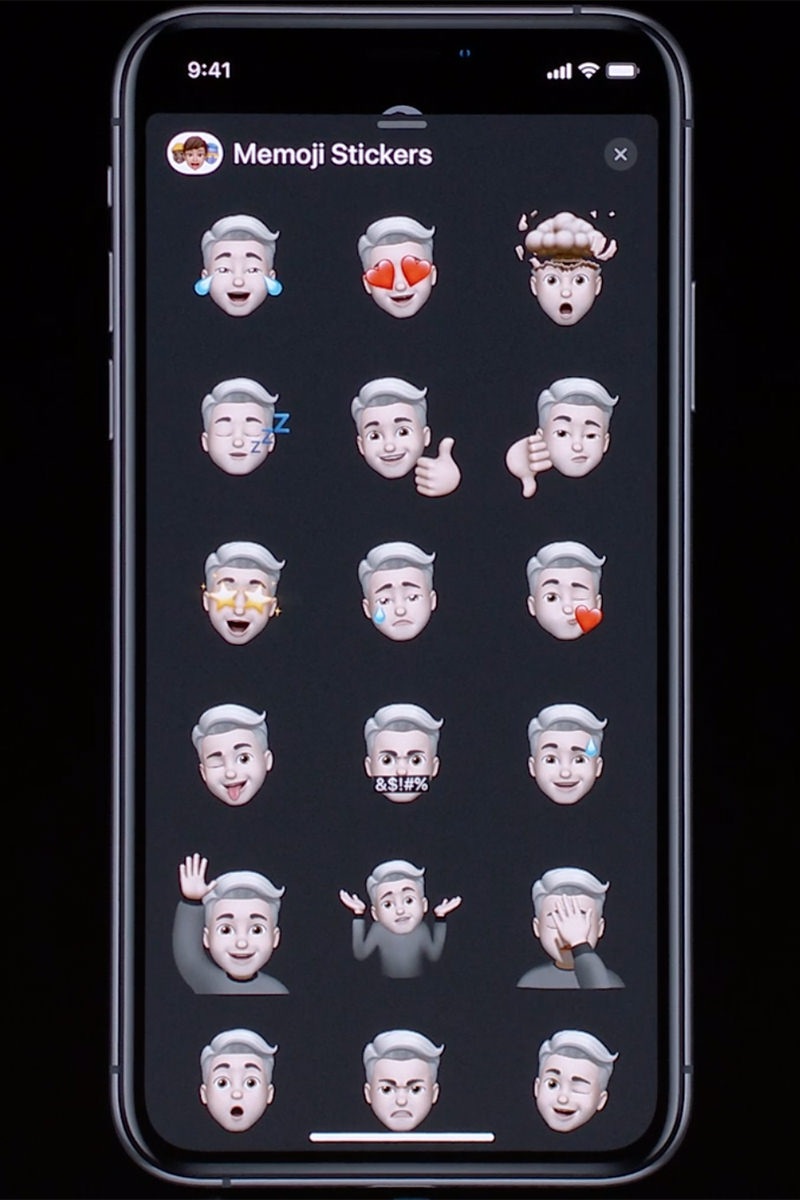 • Photos! I take far, far, far more photos on my iPhone than any camera I have ever owned. It's just too convenient and the quality is just too good (and getting better!). The fact that Apple keeps adding cool editing features just gives me even more reason to keep shooting with iPhone. I've always got it with me anyway.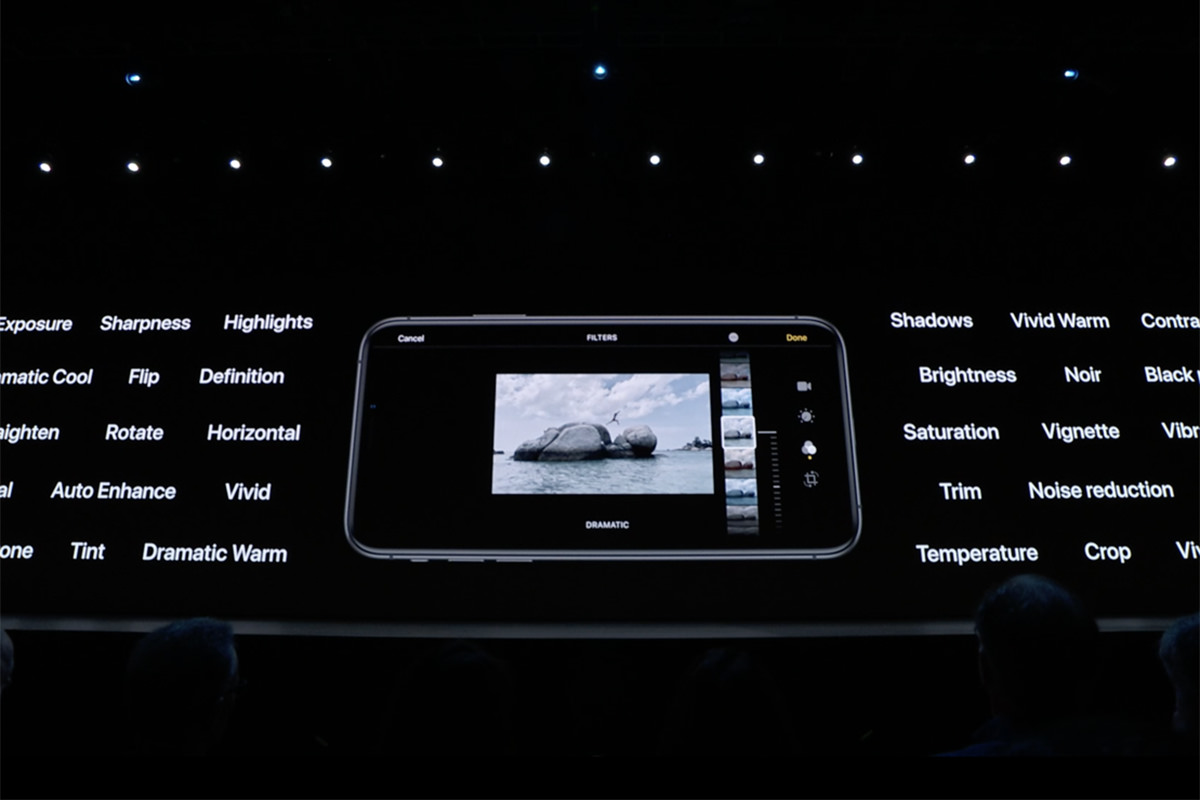 And now you can apply effects to video as well as... gasp!... ROTATE VIDEO AS WELL!
The new machine-learning photo management tools are pretty great too. I really should go delete all the duplicates and junk photos I've taken. Could probably cut the number of photos I've got stored in half. Probably more.

• AirPods! I like everything about the concept of AirPods... but hate the AirPods themselves. They absolutely 100% do NOT stay in my ears. And given the number of people complaining about losing them, I'm guessing it's a serious problem for everybody. I pretty much only use them when traveling because then it's worth the time to put the silicone tips on them so they actually stay in my ears. My thinking is that this will be the first and last pair of AirPods I buy until Apple starts making them so they fit... and are more sustainable. As it is now, there's nothing you can do except throw them away when the battery fails. Wasteful. Shamefully wasteful for a company that professes to be on the cutting edge of "green sustainability."
Having messages announced through your AirPods would drive me insane and I would most definitely not have that feature turned on. One feature I do like, however, is the AirPod Audio Sharing feature. How cool is that? So long as you both have AirPods, very cool!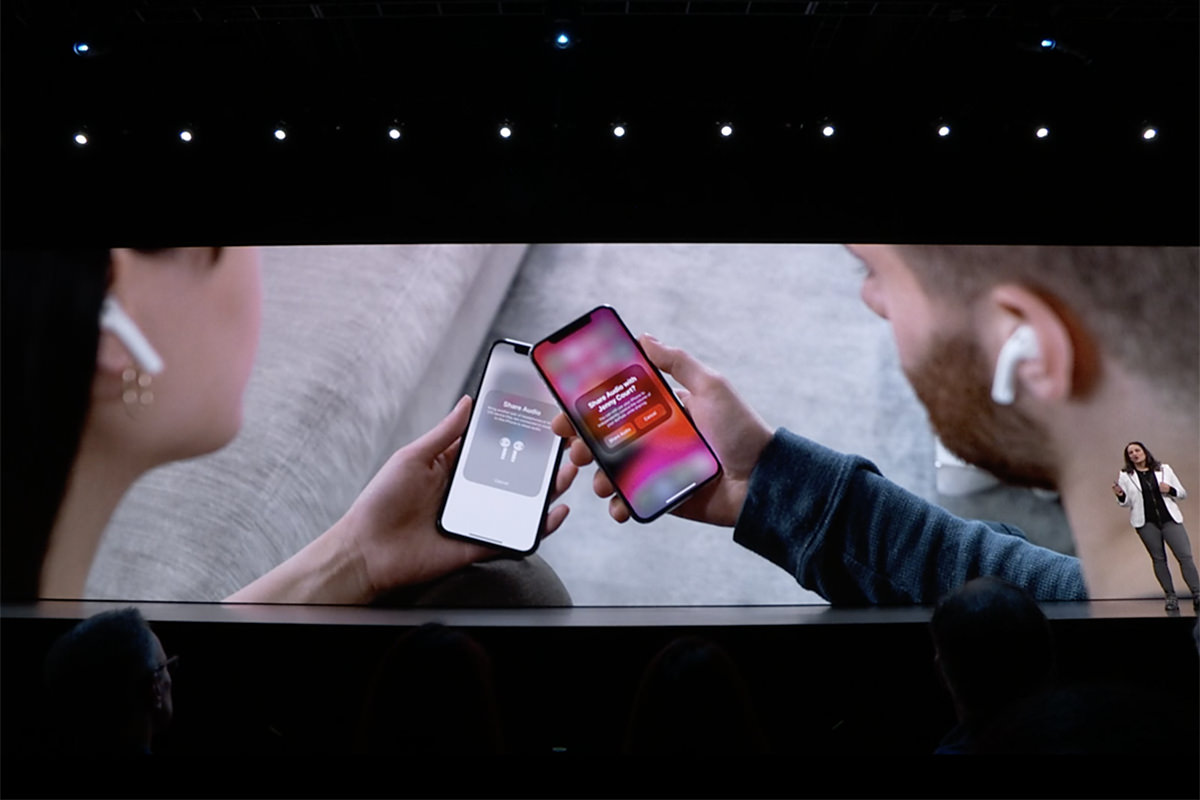 • HomePod! Whatever, dude. Drop the price by half and I might consider purchasing one. Until then? My SONOS system is doing just fine.

• CarPlay! I would be thrilled to have a CarPlay enabled stereo in my auto, because the integration features with my iPhone are just too good. But I am just not in my car often enough to justify the cost. Happy that Apple keeps improving the CarPlay experience though, because maybe one day...

• Speech! The new "Neural TTS" (Text To Speech) quality is insane. Once more update and they will probably have something indistinguishable from an actual human! Hell, my iPhone already speaks in a way that's more intelligible and human than our President!

• iPad! I may die of un-shock... iPads will no longer be using a forked version of iOS but instead run a custom iPadOS. Given how Apple keeps pushing iPad to encroach on what desktop computers do (and compete with Microsoft's Surface tablet), it was something that pretty much had to happen. And it just makes sense. iPad is more than just a big iPhone. Better split-view... gestures designed for a larger screen... drag and drop... this is all stuff that, frankly, Apple should have had years ago.
One thing that had to happen to make iPad more of a desktop equivalent is to have far better file handling. It looks like Apple realizes this and is working to add more and more functionality. All the features are nice... but nowhere is this new direction more easily understood than by the fact that you can plug a thumb-drive into your iPad now...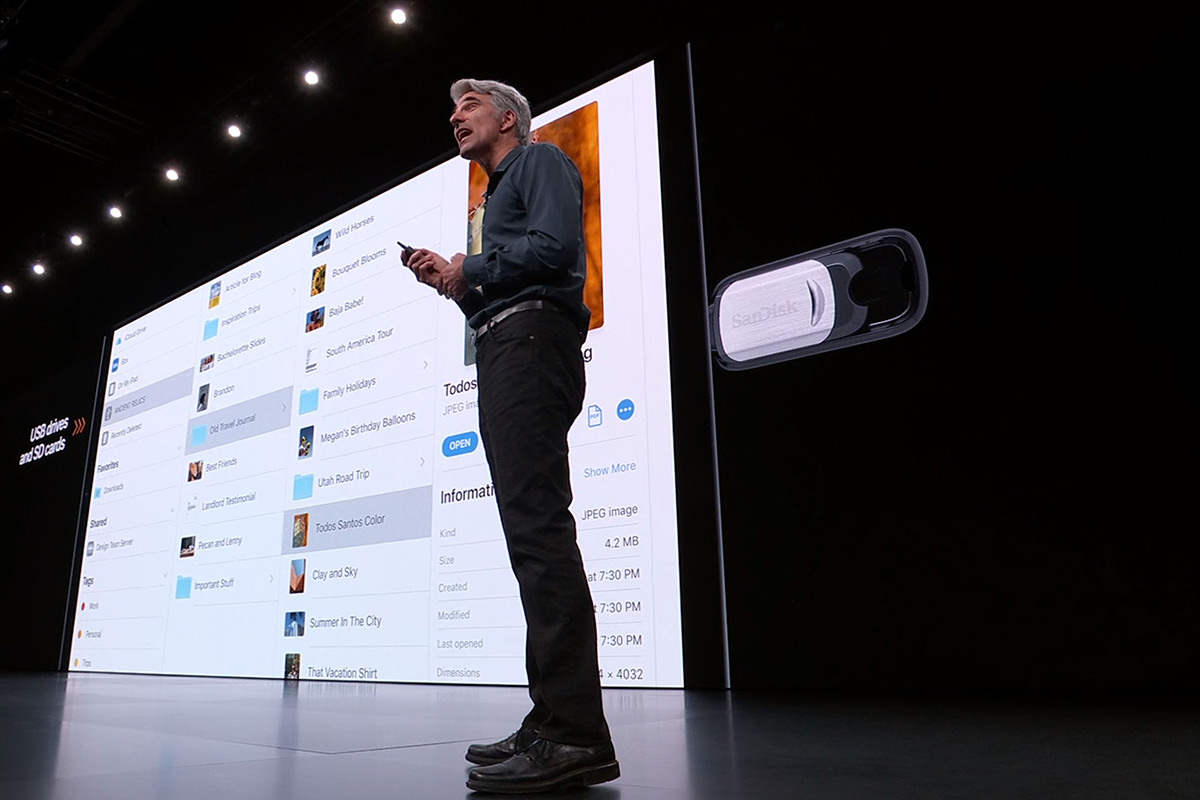 • Pencil! I love my first-generation iPad pencil and would dearly love the features of the second-gen... if only my older iPad supported it. Perhaps eventually I will use my iPad a lot more often for my artistic endeavors, so it'll be worth it to invest the money. But that's just not in the cards right now.

• Mac! "WE LOVE THE MAC!" Tim Cook exclaims! Which is hard to take seriously when they are putting shitty keyboards on their laptops that render them useless... or just make them impossible to type on. As if you couldn't tell from my numerous posts on the topic, I am fucking livid that Apple has essentially flushed their MacBook line down the toilet thanks to their "butterfly keyboards" that nobody wants.

• Cheese! Is it just me... or does Apple's new $6000 MacPro look like a cheese grater? A pretty cheese grater, yes... but a fucking cheese grater...
Would I love to own one? Of course I would. But I just can't justify the absurd cost. Yes, Apple put a lot of work into making the thing worth the price tag, but it's all stuff that's not essential to what I do. Maybe if I start composing music with thousands of instruments or editing 6K video, I'll have a need, but this is just silly. At least it's a vastly more configurable and expandable "Pro" computer than the laughably shitty "trash can" machine they released last time.

• Display! The new Apple Pro Display XDR is an absolute steal at $5,000. I sincerely doubt that there is anything out there that can touch it at any price. But, then again, FIVE THOUSAND DOLLARS FOR A COMPUTER DISPLAY!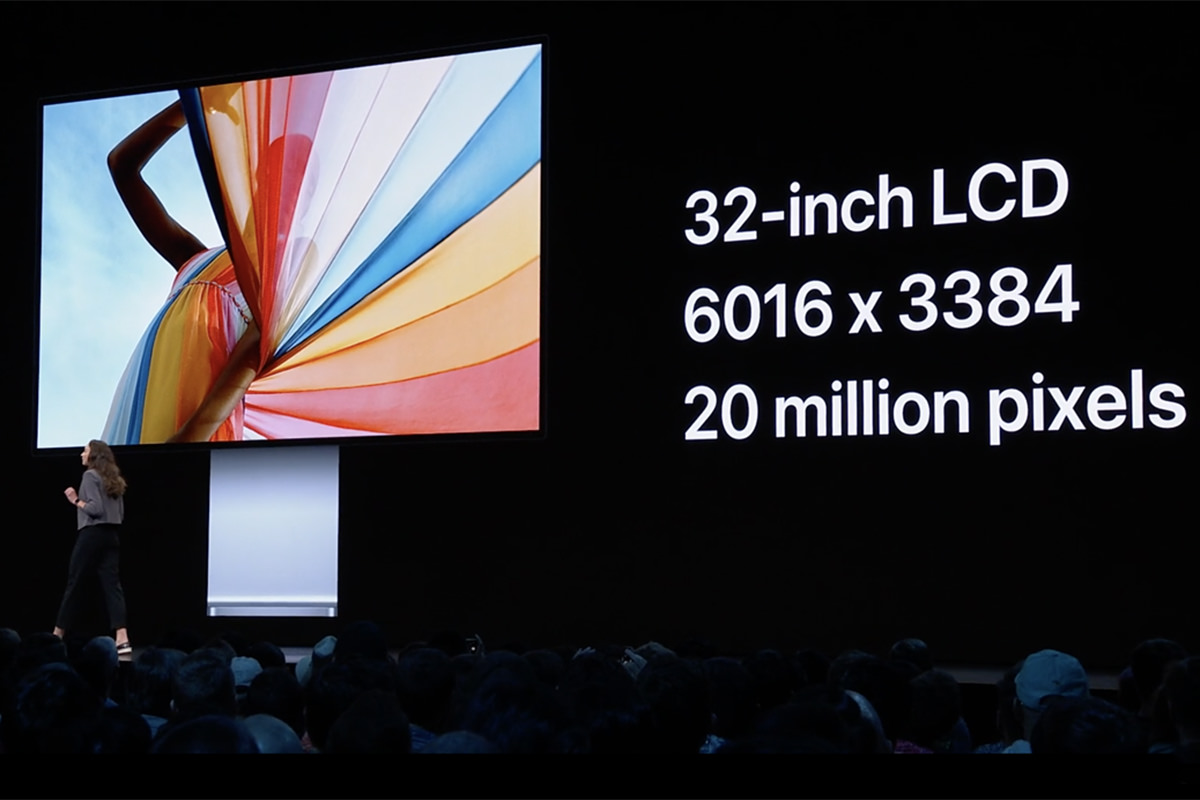 • Catalina! Keeping up with their "Places of California" motif for naming their MacOS releases, we now get Catalina. That should make for some very pretty desktop backdrop photos!

• iTunes! At least Apple is self-aware enough to realize what a bloated pile of shit iTunes has become... and can even joke about it. Except... forgive me for not finding it funny that they are only just now addressing the problem when it's been a major hassle for years. And so now iTunes is dead and being replaced with Music... Podcasts... and TV...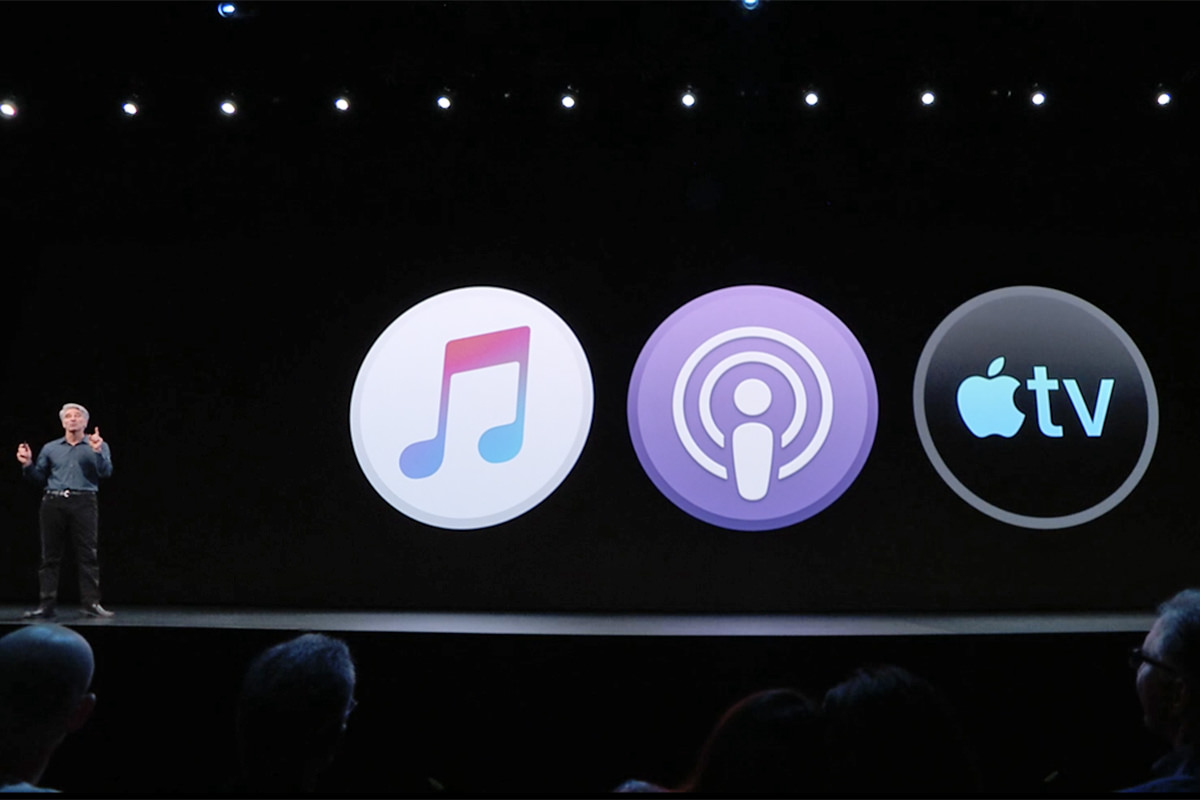 That's all great and stuff... but until the server farm delivering my Apple-purchased media content is made much more stable, reliable, and actually worth a shit, it all means pretty much nothing to me.

• Sidecar! Use your iPad as a second screen? Yes please! That could come in SO handy sometimes when I just need a readout that's not covering up what I'm working on!

• Voice Control! At home, I am talking to my house (through Alexa) all the time. She controls absolutely everything, and I'm so accustomed to it that I don't even think about it any more. "Turn on the television!" and "Turn off the porch light!" and "Lock the door!" and "Show my the Catio Camera!" are just... natural(?)... to me now. But, for whatever reason, I just don't think of talking to my Mac. Maybe as it becomes more and more voice aware, that will change. From what they showed at the keynote, however, this could be a huge help to disabled persons who can't use keyboards or mice.

• Find My! Being able to find your devices, even when they are offline? Fantastic. This is the same concept of my "Tile" trackers that I have on my keys, in my backpack and in my wallet. It talks to nearby devices with extremely low power consumption so that you have a much better chance of finding your iPhone, MacBook, iPad, or whatever, that's gone missing.

• Locked! You can remotely lock/wipe your iPhone so that it becomes useless if stolen. There's no doubt in my mind that this is curbing theft of these devices. Why risk jail-time if you can't do anything with it? And now that technology is coming to the Mac, which is nice.

• Developers! Developers! Developers! The new Catalyst project that allows you to compile iPhone apps for the Mac... plus new advancements with their Swift programming language... plus continuing advancements in allowing easy integration of new technologies like AR (augmented reality)... Apple has (mostly) always made sure that developing for their products is as painless as possible, and it looks like they are serious about making sure that tradition continues. Good on you, Apple!

• Reality! And speaking of AR... the new "Reality Composer" sure looks interesting! It can automatically extract people so that rendered objects and move around them! Cool! And the Minecraft demo of how that works is pretty spectacular. This is the future of technology, and it's only a matter of time before we see it around our home... in our car windshields... and on our glasses...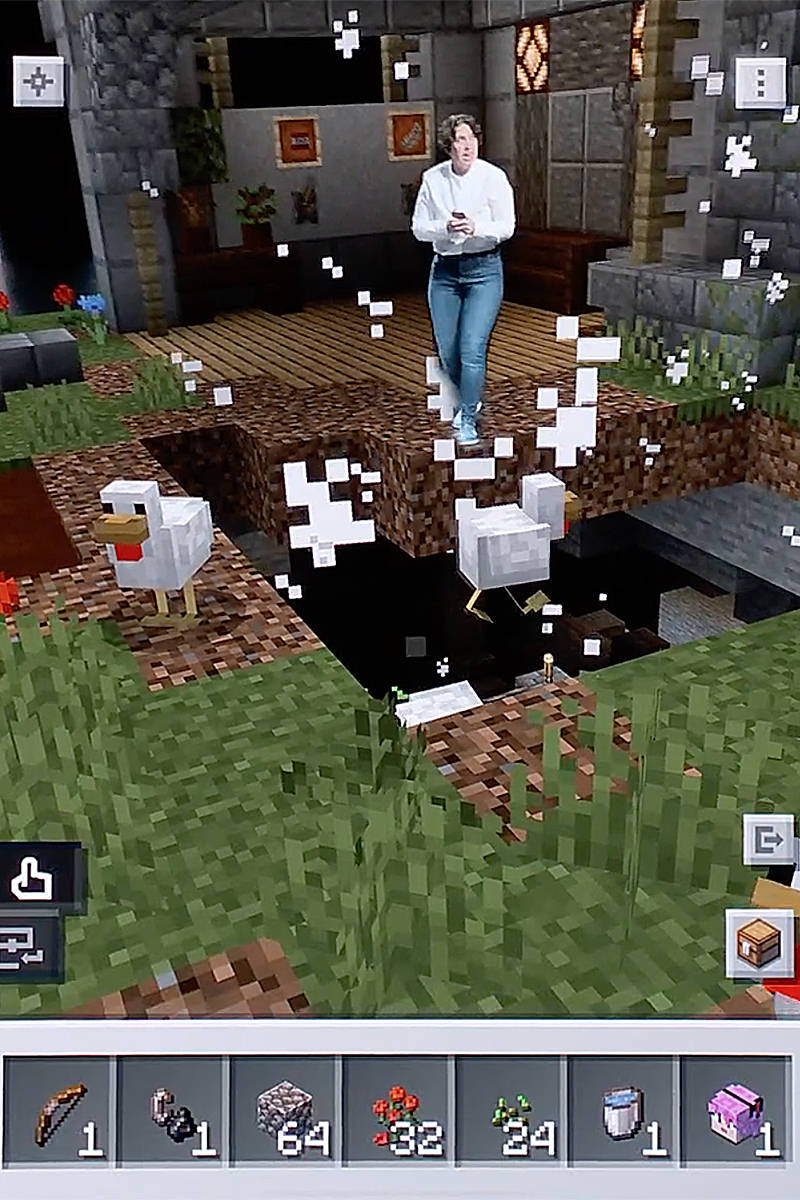 Right now it's pretty much a technology demo... but you can see where it's all going. Eventually.

And that's the end of that, I guess. This keynote seemed a lot more "evolution" over "revolution," but there's some real winners in there that have me more optimistic than I was yesterday as to how much I want to be in bed with Apple any more. Given how pissed off I've been with them lately, that was no easy task. Having to wait until Fall to get at any of it is a bit of a bummer, but that's the way the Apple falls.
*Okay, I know practically nobody actually cares what I think, but that's probably the case for most subjects I blog about... why should this be any different?