Posted on September 22nd, 2023

Today I was much like a kid at Christmas given that my new Apple Watch Series 9 and iPhone 15 Pro Max arrived. It happened the morning I was hanging out with my friends, so I was anticipating the transfer from my old phone to be shit-butt city as we went bar-hopping and I was climbing on and off Wi-Fi all afternoon.
Turns out I had nothing to worry about. Unlike last year when I upgraded to the iPhone 14 Pro Max, everything went off without a hitch. Well, almost. There's one teeny tiny problem that's giving me fits, but I'll get to that.
Apple Watch Series 9
As I mentioned during the keynote, I had zero intention of upgrading my Apple Watch Series 6. There just doesn't seem to be anything worth upgrading for. Well, except having a new battery, since the one in my old watch would no longer last the day if I had the always-on display set to "on." Still. With the display off except for tap-to-wake, I easily made it through the day and it did everything I needed it to do.
What tipped the scales for me was the fact that Series 9 does most all Siri processing locally. Which means that simple requests aren't passing through the cellular radio on my iPhone for a round trip that causes a noticeable delay. And, sure enough, the Apple Watch is really quick with Siri requests, which makes the price of admission worth it for me (once you factor in the $115 that Apple will give me to trade in my old one).
But it turns out this isn't the best part of upgrading.
The display is not just brighter... it's bigger!

It's five o'clock somewhere...
I have to get the little watch since, as you can see, my arms are so thin. The Series 6 is 40mm. The Series 9 (in red) is 41mm. But there's also the fact that the display goes out further to the edges. Everything looks bigger. Very nice.
The double-finger-tap control works as advertised. Everything is very zippy. Fast and smooth. Overall, a good upgrade from where I was. I dunno if this is a worthy upgrade if you've got a Series 8, but for me it was a good choice.
iPhone 15 Pro Max
I gave serious consideration to skipping an upgrade for a year so I could own my iPhone 14 Pro Max outright. But ultimately I figured one of the benefits of being in the Apple Upgrade Program is getting the latest and greatest, so I caved. Mostly because I use it more as a camera than a phone and the 5× optical zoom lens plus claims of better night photos swayed me. Along with the fact that iPhones hold their value well... but not so great that I'm leaving loads of money on the table from what I can tell looking at the 13 Pro Max used market.
Camera aside, I honestly don't notice a big difference with the 15. Sure it's a touch lighter, but all the things I like are mostly the same and the one thing I hate (Apple's silicone cases do not stay attached like they used to) is also the same. It's fast. It's capable. It runs all my apps very well. The end. Maybe I'll buy a game that has ray-tracing to see how that looks. Stunning, I'm sure.
Setup was far, far better than the past two years. Pairing my new Apple Watch was seamless. Everything copied over just fine. The only problem I have is that my phone app shows a red badge notification with a "1" in it... even though there's no fucking notifications when I look everywhere in the app. I've restarted three times and shut it down once. No joy. I finally just turned off badge notifications. Hopefully Apple will fix this shit one of these days. UPDATE: Turned off my iPhone for 20 full minutes then restarted. That did the trick.
Other than that, my complaints are A) They don't have a (Product)RED silicone case for it... B) The new Action Button is a cool thing, but it's WAY up on the side, so it's only hand if you're holding your phone horizontally... and you can't customize it for double-click or triple-click, and... C) The blue that I got is pretty much black with a blue cast... in the right light. And it's like... what's the fucking point? You've already got a black phone. So why not make a bright red (Product)RED phone or something that will truly look bold and different? Why do Pro users always get fucked with these boring-ass "premium" color choices? Of course, I'll take these over the fucking PASTELS that the regular iPhone 15's got. Because yikes. Those look like total shit. Maybe I should have gone with Raw Titanium color to have something different? Meh. It doesn't bother me that much. It's just disappointing.
Lastly there's USB-C 3.2 Gen 2 which will allow you to transfer much, much faster than Lightning (480 megabytes per second vs. 10 gigabytes per second). If you've got the right cable. And it's about fucking time. Jesus. Apple puts these massive sensors in their cameras and allow shooting RAW, but it takes an eternity to get them off of it because the resulting files are huge. I didn't even bother to shoot RAW, because it can take days to get them all in your computer to actually work on them. I've got USB-C 3.2 cables, so maybe now I will. Thank you to the EU for mandating USB-C on all phones... otherwise Apple would probably stick with obsolete Lightning ports for years longer. The one thing I don't understand it why they didn't just go with Thunderbolt4 (100Gps) compatibility to really make it worthwhile. Guess they're saving that to get you to upgrade in the future? In any event, you can record ProRes 4K 60Hz video directly to an external SSD now, which is pretty special.
iPhone 15 Pro Max Camera
First a caveat on that spiffy new 5× lens. It needs good light to function. If you don't got that, it switches back to you main camera. This did not happen with the 3× lens on my old camera. At least not that I recall. This is a pretty big downgrade, if you ask me. It may very well be a deal breaker for some people who would rather have a 3× lens with more flexibility. As for me? I'm greedy. I wish we would have gotten both. Add a fourth lens on the Pro Max to get the best of both worlds! Or, ideally, give us a 3× and a 10×. UPDATE: If you want to force the camera to use the 5× lens in low light, some third party camera apps (like Halide) will let you.
That being said, when you've got some light it's very nice. This was shot in a bar with not great lighting, but look how good it turned out at 5×! Very sharp and the color is beautiful, despite the fact that we're very clearly entering HDR "Deep Fusion" territory here...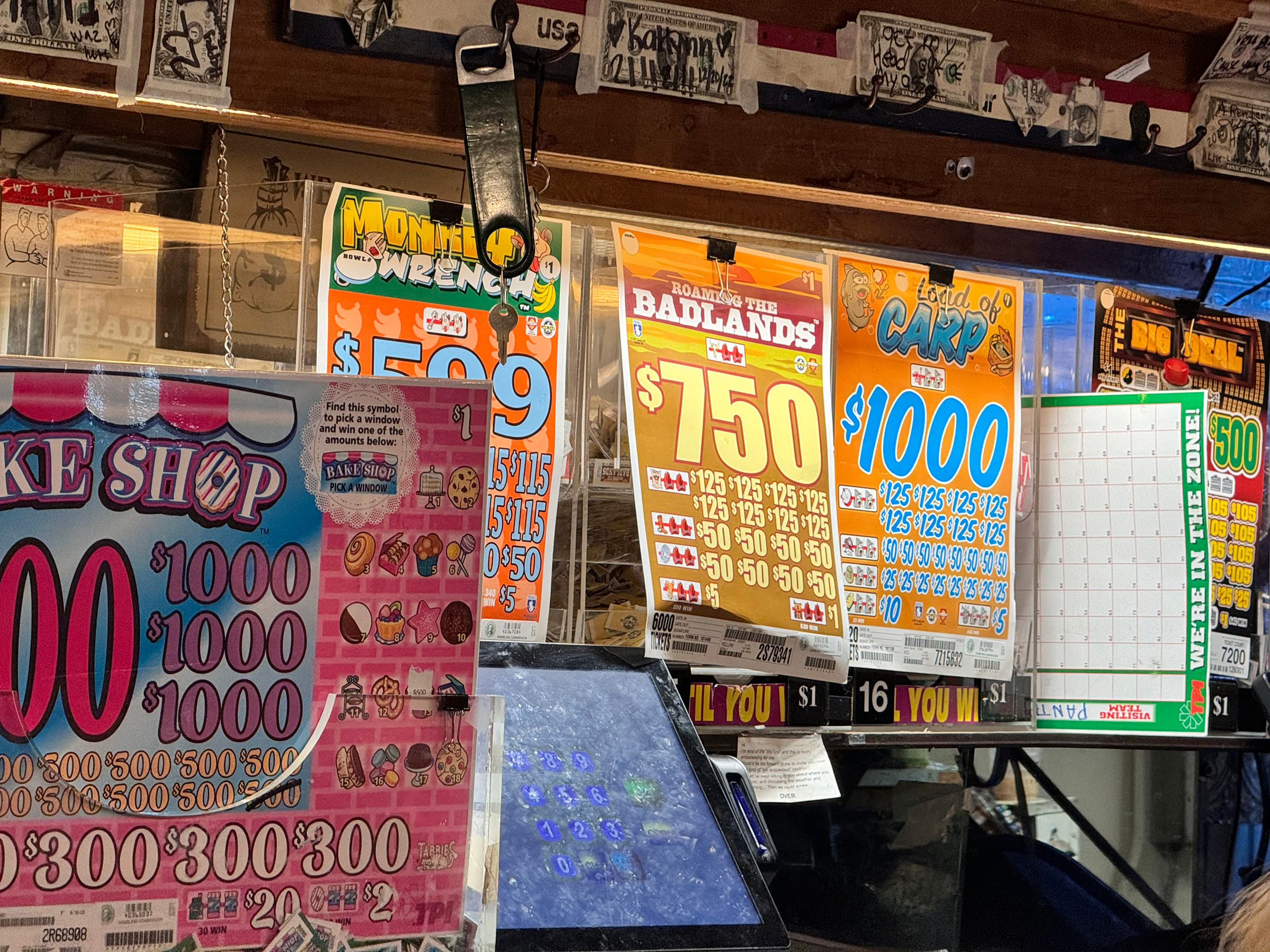 Click here to look at a bigger version.
Click here to see the full size version.
That's pretty impressive... but the main lens really looks great...

Click here to look at a bigger version.
Click here to see the full size version.
Interesting that Apple now calls the "Main Camera" the "Wide Camera" and the "Wide Camera the Ultra Wide Camera. Note that the "Wide Camera" has a goodly number of pixels more than the previous generation (but with bigger files, natch)...
Now... I have only had the camera for a tiny amount of time. I will obviously be taking more photos and a closer look at the features and quality sometime soon (especially when it comes to being able to change the focal point after the fact... because in playing around with it, this is a very cool feature). And of course I'll want to look at how well it shoots ProRes video (especially its ability to shoot LOG video that can be color graded easily and pushed in directions you can't get easily otherwise).
But last thing I want to say before I go is how Apple's claim that the new camera has "seven lenses" is not quite the bullshit it seems given that there's only three lenses on the back. The main lens allows you to use "virtual lenses" that crop into the data with common focal lengths (24mm, 28mm, and 35mm). But you still end up with 5712×4284 images, which means that Apple is upscaling or doing some kind of magic to get there. And the result is very good. I did the same thing in Photoshop to compare, and Apple's method always comes out on top. Which means that they must have specialized computational photography routines to come much closer than a mere crop.
Ultimately I don't know that going for the upgrade was the best choice for me. I likely could have gotten along with the 14 Pro Max for another year without issue. But as somebody who likes any improvement Apple will give me on the cameras, the 15 Pro Max will likely make me happier overall.
Until next year.
Posted on September 12th, 2023

Today was Apple Event Day... titled Wonderlust. No idea how what they presented is a combination of "Wonder" and "Wanderlust," but that's marketing for you.
If you want to watch it, the full video is on Youtube here. If you want it condensed down to 17 minutes, then The Verge has got you covered...
My comments (since I know you're dying to hear them) are below...
Mac
Transition has been complete to Apple Silicon. Though I still think that the Mac Pro is a bit nonsensical which, if not really Apple's fault... it's due to Apple Silicon not really being conducive to external upgrades for memory and such.
Really nice that Marques Brownlee (MKNHD) got a shout-out as an important voice to quote. He definitely deserves that.
They don't give us any new AppleVision Pro news, except to say that what's being developed for it is incredible. I don't doubt it. I truly don't.
Apple Watch Series 9
I have an Apple Watch Series 6. There was zero incentive for me to upgrade to Series 7 or 8. Sure my battery dies too soon and I have to keep the always-on display off, but it's otherwise still perfect for my needs. And now here's Series 9.
The chip that runs the latest and greatest is truly impressive... now featuring Machine Learning Neural Cores so that many of your Siri requests run on-device and are more accurate. I would hope that even those commands which have to go out over cellular data on my iPhone will be speeded up as well. Specifically, telling my garage door to open. I think that this will be the case, because the command will just be issued while (hopefully) instead of a round-trip to have the command processed?
I use my watch to find my iPhones more often than I'd ever admit. Apple Watch now has the ability to find it with a directional beacon. This is a bit nicer than triggering an alert noise and having to try and listen for it. I leave my iPhone in all kinds of places... in the garage... outside... whatever... so this is good news for me (and my cats, who scamper when they hear that alarm going off).
2000 nits brightness on the screen. So good. That's double the Series 6 I have, which is more than adequate in all but the brightest of sunny days.
One-handed gesture for double-tap. This is straight out of the AppleVision Pro handbook. Watching it in action on Apple's demo video makes it look like a very cool thing to have. I know I would start using it from Day One, because I'm always reaching for the button.
Available in Pink! But I want that (Product)RED watch with a black band... it's actually what I wanted last time, but you can't get a different color band when you go with Product(RED).
Apple's first carbon-neutral product. Good on them.
Apple Green Environmental Initiatives
Octavia Spencer as Mother Nature? Well, I guess if you gotta go with some stunt casting on a stupid promo video, Octavia Spencer will make it look 100% less stupid, so there's that.
Apple is reeeeally pushing sustainability in all aspects of their operation. It's great and all, but I'm wondering if anything is being done about taking care of their workers better. Because putting nets on their buildings to keep employees from killing themselves by jumping off is not exactly a solution.
Despite the fact that much of what Apple is doing to "save the planet" is highly beneficial to them (whether by act, deed, shipping costs, or tax write-offs) it's still a cool thing to be doing. If most companies acted like this, it actually would benefit the planet. Though "carbon offsets" are dubious at best, and there's loads written about how they're kinda a scam. Maybe Apple is different, but yeah... this is benefitting them too. Don't assume otherwise.
Apple abandoning leather is nice for me, who wants to kill as few creatures as possible. The only things I bought made out of leather is some of my shoes and the Apple Wallet on my iPhone. This will give me one less thing, because when my wallet wears out, I'll switch to a non-leather one.
Apple Watch Ultra 2
Still too big for me and my pencil-arms.
3000 nits display. Insanity. That's fully-readable in full sunlight.
Better, faster, yada yada. This is not a watch for me, but it's very capable with many cool features for outdoorsy type people.
iPhone 15
Oh gawd. Pastels?? Why? Are they popular again? I'm not seeing it. I'm mad enough that Apple used pastels on their iMacs. And no purple? WTF? At least they have black as an option for people who don't want a pastel.
Dynamic Island for everyone! I have to admit this is a pretty cool idea I use often (and a great way to conceal the cameras).
The glass tech on the back will never be not cool.
Camera improvements are always a given and, as usual, some of the tech is filtering down from the Pro models. I mostly prefer Apple's take on photography over their competitors, and knowing Apple wants their lesser model to keep pace is nice.
The ability to switch focus after the fact is the real power of computerized phone cameras over DSLRs. There have been attempts to do this for years, but Apple's take is the first way to do so without penalty.
A16 Bionic is inherited from the iPhone 14 Pro. A very good chip indeed.
Ultra-wide-band chip has been improved to have more precision finding. That's great news for people who rely on FindMy like I do!
Voice Isolation is a cool feature, but I'll be interested to hear how Apple's implementation is. In the past, the technology has been hit-or-miss.
Find My over satellite? Was this already a feature that I didn't know about?
Roadside Assistance over satellite is handy. I dropped AAA, but if I were driving in isolated places, I would re-up my membership.
Satellite services free for two years. What happens after two years? Time to get a new phone? $1000 a month? What?
USB-C. About FUCKING time. Jesus. Lightning was great TWENTY YEARS AGO! Though the fact that large files will STILL take forever to transfer because they are using USB-C V2 is kinda puzzling. I guess V3 will be saved for the Pro.
iPhone 15 Pro & Pro Max
Here we go... the whole reason I tuned in. Will I be trading in with my iPhone Trade-In Program... or waiting a year to own the phone I have outright?
Titanium frame. Well that looks expensive. Though the lighter weight might be worth it. And it sure is pretty with that brushed texture.
The display has the same specs as before... just with a smaller bezel. This results in a slightly (probably unnoticeably) smaller size phone. Considering I buy the Max model, even a tiny bit is appreciated, though this is clearly nothing to be excited about.
Blergh. Once again, the Pro models don't get fun, bright colors. Always the more "refined" look... which is a bit of a bummer. FOR CRYING OUT LOUD... GIVE ME MY FUCKING (PRODUCT)RED PRO MAX, APPLE! The Blue Titanium is so dark as to be fairly black (like the purple I have now), so I might go with the Natural Titanium color if I upgrade, just to have something different. I'd have to see them in person. The option of White Titanium is puzzling. It's like... why bother? It's close enough to Natural as to be moot.
The Action Button is a smarter use of control real estate, that's for sure. And being able to customize it is pretty great. I'd probably use it for camera, but who knows?
"Standby Mode" only works if you have a charging stand that supports having the phone display sideways. Since I've got a Google Hub as a clock (to instantly view my Nest Cams), I'm probably taking a pass and not buying a new stand if I upgrade.
Welp. We knew it was coming... 3 nanometer chips. It seems more like a concept that's more science fiction than reality. At some point, I wonder just how much speed and power a phone actually needs. Regardless, the power-savings and heat reduction will always make the smaller chips worth having. But I'm puzzled that battery life is still clocking in at the same as before: up to 29 hours video playback? Shouldn't it be better than before? Or did they shrink the battery?
It will be interesting to see the speed benchmarks of the A16 Bionic vs. the A17 Pro. I am expecting it to not be a serious increase for normal use, but will obviously be better for gaming and such.
USB-C... V3! So long as you pony up the cash for a very expensive cable that can actually utilize the full-speed, that's a huge benefit for anybody shooting RAW photos and video.
The GPU capabilities are impressive as hell already. Now we're getting an additional GPU core for added capabilities. Realtime ray-tracing is cool for gaming... and 3D applications across the board, if that's your thing.
A video just to focus on gaming. Amazing that CONSOLE GAMES can now be ported to play on a frickin' phone without dumbing down the visuals or play mechanics. That'll sell a few iPhone 15 Pro Max handsets!
The base model starts at 256GB, double the minimum as before. That's what I got last year because I wanted to shoot the ProRes video at maximum (which won't work on 128GB models). So the cost, for me, is the same as last year. The rumor mill was saying that there would be a hefty price increase, so this is a pleasant surprise.
iPhone 15 Pro Max Photography
This is really all I care about, so it's getting its own section.
All lenses seems to have an improved anti-reflective coating, which is great.
As expected, all the Photonic Engine routines are getting improvements. Making it easy for anybody to get amazing shots. There's nothing that Apple didn't demonstrate that wasn't incredible.
The telephoto lends upgrade is pretty sweet. 5X Optical Zoom on a 25% larger sensor (although the aperture is the same across the board). That's on the Max. The regular-sized phone is sticking with 3X. The "periscope prism" design of the lens allows a lot of focal length in a small space... which is superior to janky digital zooming (which is not exactly janky on an iPhone since their neural engine rendering helps out quite a bit).
The shake-reduction should be better given that the 15 Pro has double the speed of micro-adjustments than the 14 Pro. This is very cool, because as good as my current phone is, there's definitely room for improvement. And on the Pro Max you've got 5X telephoto, which will make good stability a must-have feature.
The wide-angle lens macro mode is looking pretty great. Though the macro shots I am getting out of my camera now are also pretty great.
And here it is... direct recording Pro Res video to an external device via USB-C V3. I wonder how many budget movie production houses are just going to say "screw it" and go with an iPhone to save hideous amounts of money over pricey dedicated digital video cameras? Of course major studio films have the money, but how many starter and small studios will benefit from this? A lot, I'm betting. Apple always demos video that looks incredible, so it's not absurd to think that this will be the leap needed to get professional use for cinema. Especially given that the limitation of transferring to your Mac for editing is disappearing thanks to USB-C V3.
Case in point...
Spatial video recording is now an option... of course. This allows shooting 3D photos and movies for the AppleVision Pro. This alone might make it worth upgrading if that's you, though if you're going to drop the money for an AppleVision Pro, you certainly don't need to worry about the cost of upgrading your iPhone.
Final Thoughts
USB-C V3 is great, but why not USB-C Thunderbolt 4? This is inexplicable (even more so when you consider that Thunderbolt 5 was just released). As is the fact that there's NO fast-charging and NO reverse-charging. It's like Apple is intentionally nerfing their phones so that they have something new to announce next year. That's pretty shitty.
Interesting to note that Apple is adding 6TB and 12TB storage options to iCloud. Their storage is already so expensive that I can't imagine how much this will cost.
The iPhone mini is officially dead. If you want a tiny phone, you're out of luck with Apple. The small phones never got the features I wanted, so they were never an option for me... but some people will rightfully be upset. But not enough people to keep Apple making them.
Apple didn't mention it in the presentation, but MacOS Sonoma will be releasing on the 26th (iOS 17 releases on the 18th). This is not a feature-heavy, revolutionary release, though there are a few low-key features I'm looking forward to.
Another nugget not mentioned... the iPhone Pro and Pro Max are Thread-enabled for Matter (the new smart home standard) which is interesting and cool. I haven't switched to Matter yet because HomeKit it bad enough without inviting more trauma. Eventually I will be switching because HomeShit is SO FUCKING BAD that I can't stand using it (the latest... telling Siri to turn off my table light turns off my kitchen lights).
Dunno if I'll be upgrading my Apple Watch. Again, there just doesn't seem to be much there to justify the cash outlay. Where's the new sensors they're working on? I keep waiting for some massive feature to debut that I can't live without... and it never comes. What I have is plenty (especially HomeKey, which I love for unlocking my doors).
While the Apple Watch Ultra is not for me... I cannot wrap my head around a display with 3000 nits brightness!
The new iPhone, however, is definitely appealing. Slightly, slightly smaller size... albeit with a tiny bit more thickness... plus a drop in weight (240g to 221g) is welcome but not critical to me. The extra GPU core and better speed are also not critical, as I am not running hardcore games on my iPhone (unless you consider Hello Kitty Island Adventure to be hardcore). I love the idea of USB-C V3, though I'll likely still be charging over MagSafe, so it's not as critical as it would be if I needed to offload tons of massive files. The camera is more important to me than anything else, and while there's a few things that I'd really like to have when it comes to that... I'm not sure better zoom and slightly better night mode is appealing enough to get me to upgrade. It might not be. I guess I'll wait for the reviews and see what photos people are getting out of it before I know if I'm going for the trade-in. My Apple Trade-In Program date doesn't hit until January, (I think?) so I've got time to decide if I'm going for it. I may decide just to skip it solely so I can actually own my phone after a year... something I haven't been able to claim since I joined the program.
Update
Apple will give me a $115 credit on my Apple Watch Series 6. Honestly, that's double what I was expecting. I seriously thought it would be a token $50 for something that's three generations old. And so... that, along with the Apple Card 3% discount, drops the price of upgrading to something I can stomach (in monthly payments with 0% APR, of course). Since the only way to get the Apple (Product)RED watch I covet is to get it with the (Product)RED band, I just did it. I can alway buy the black band later. Because holy crap does that look amazing...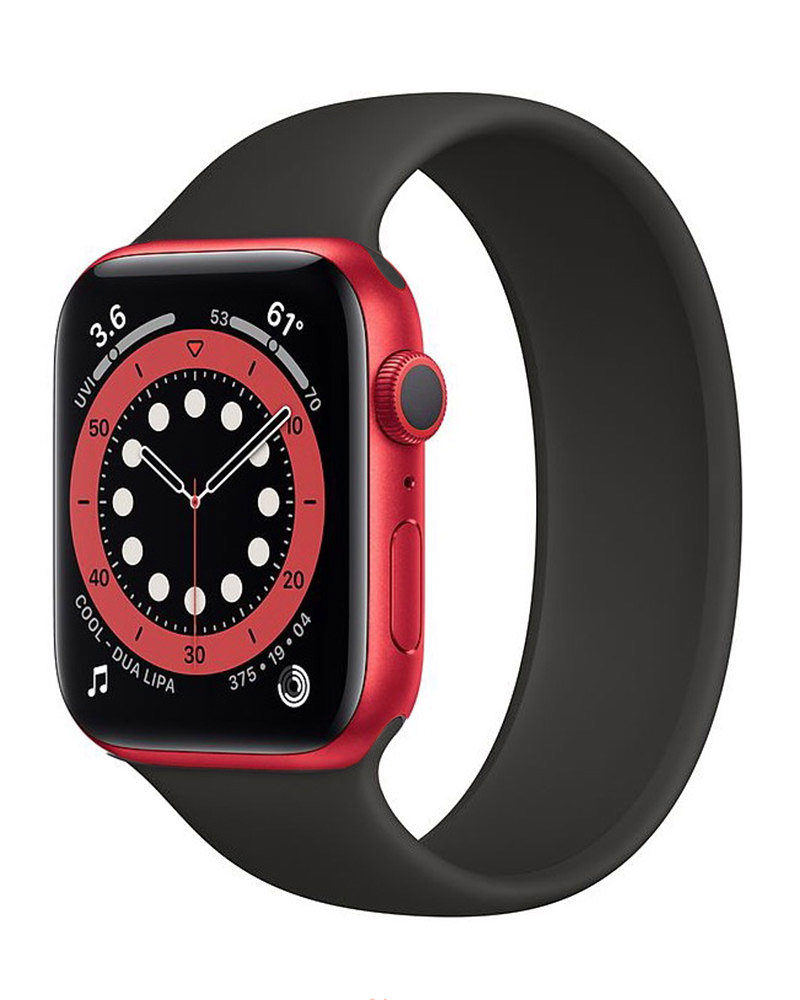 So I guess I actually will end up with only a $65 credit since that black band will cost me $50. Dangit.
Posted on July 27th, 2023

This morning I took an Über back to The Big City to pick up my car. I was expecting a $500+ bill, but it was only $85 because the whole muffler didn't have to be replaced, it was only a connector or flange or something. There is still a rattling when you first accelerate, so that will have to be looked at, I suppose. But... it's far better than it was.
Now I just need to have the roof stripped and repainted, and I guess I've got a car for the next couple years.
The iPhone "Always-On Display" allows me almost two days of battery life (normal usage) which is a big improvement from when I first got the phone and it was just over a day of use. I never thought that I would care about it, but between being able to customize the lock screen with widgets and having live tiles for background app updates (SHADES OF WINDOWS PHONE!), it's a darn handy thing to have...
No more waking up my phone a half-dozen times to check on when my Über is arriving.
Posted on February 10th, 2023

It's that time of year when Six Colors has released their annual report card on all things Apple.
Their report card is calculated by talking to a lot of people. Mine is calculated based only on my own experience. In many ways I agree with their assessment. In others I disagree strongly (they gave HomeKit a D+, which I thought was incredibly generous given the shitshow it is).
But anyway... here we go...
Mac: A-
Apple must be doing something right, because their latest round of MacBook Pros were sweet enough to convince me to upgrade after only one year (thanks to their trade-in problem, which is not great, but so easy and better than nothing). For most things... like email and web browsing and the like... there is virtually no difference with the new M2 MAX chip. But for the actual work I do? 15% to 20% faster is absolutely worth it. Less time waiting on renders and stuff gives me more time to do other stuff. I was a bit surprised that the iMac is still stuck at 24" and the M1 chip... and there's still no MacPro, which is getting increasingly embarrassing... but I am fairly certain all that is forthcoming with the advent of Apple's new 3nm chips, coming soon to a computer near you. Though it's kinda a bizarre flex for a desktop machine when the true miracle of dropping to 3nm is the power savings, so I'm guessing it must have one heck of a performance bump. 2022 was pretty much a stop-gap year to the Next Big Thing, and how 2023 pans out will largely depend on just how big that Next Big Thing ends up being.
iPhone: B
If I wasn't on the Apple iPhone Upgrade Program track, I would have likely skipped the iPhone 14 Pro. It just wasn't much more significant than the 13 Pro it replaced. All the improvements were mediocre and far from sexy, which is a real head-scratcher. Maybe now that we're in 2023 Apple has something more spectacular planned... a better camera would be a great start... but I have to wonder if there's nothing but low-hanging fruit from here out. I'd like to think that the "Dynamic Island" isn't the pinnacle of iPhone innovation, but it's really starting to feel that way. If I were still with my iPhone 12 Pro, I'd likely be none-the-wiser, and that's a very bad sign for Apple. Still, their phones are really nice (and still my favorite), so grading them lower than a B seems criminal.
iPad: C
I love my iPad Pro, but there has been zero reason to upgrade it after three years. There's nothing going on with iPad, which is a shame, but it's still the best tablet on the market by a country mile. And, as Apple-savvy as I am, I have no fucking clue which accessories work with which model, which is an absolute disaster for a company that bills itself as the easiest and most user-friendly option.
Apple Watch: B
Another product that just doesn't seem to be going anwhere... no revolutionary new features or ideas here. At least with the base model. A very notable exception is the Apple Watch Ultra, which is amazing on every level and bumps my grade from a C to a B. Problem is that it's very narrow in focus, as big as a Buick, and has a limited audience. And yet for those who need it, the thing is a game-changer. I am still waiting for a blood glucose monitor before I upgrade again. My 3-year-old Apple Watch is just fine. Even then, my "ancient" tech is still far more appealing to me than the newest of the new when it comes to other brands.
AppleTV: D
Holy shit. What the fuck is it going to take before Apple gives us a user interface that's worth a shit? I just raged about this fairly recently, and if I start in again I may not be able to stop. Just about every other TV interface on the market that I've seen is better than this crap, and the fact that Apple does nothing about it just means I'm not investing in any more of their bullshit. I don't care how good the remote is.
Services: C
I am so meh on everything Apple is doing in the Services arena that I am finding it difficult to even comment. It's all still too expensive for what you get. The plans don't have enough options so that people can get exactly what they need, so they are either paying for more or less than what they would otherwise like. Apple TV+ is okay, but I don't watch enough on it to really care (until Ted Lasso returns). I don't give a crap about the fitness stuff. I switched to Apple Music when I dumped Amazon Prime, but it's not that different and costs more than what I was paying, so I honestly don't care. I don't have time to play their games. I know Apple is making a metric shit-ton of money off Services... I wish I could say they earned it. Right now their bundles aren't worth it to me, so I am paying for iCloud Drive, AppleTV, Apple Music, and iTunes Match all separately. In order to get an Apple One bundle, I'd still have to purchase an iCloud Drive upgrade because what comes with it isn't enough. Let me build my own bundle with a calculated discount and I'd likely upgrade my score to a B. That's for flexibility, not value.
HomeKit: F-
I jumped to HomeKit when Insteon folded the first time. This involved a lot of expense on my part, as most all my switches and devices had to be changed out. And what did I get for my money? A horrendously fucked up system that barely works. And it just keeps getting worse. All of a sudden half my shit will just up and stop working. HomePods will refuse to issue commands. I've woken up to find that my garage door mysteriously opened at 2am for no reason. And despite everything running on the super-speedy Thread technology now, Automations are slow as shit... when they bother to work at all! At the rate that I've had to unplug and plug back in my HomePod minis in an attempt to get things working again, you'd sure as hell think that Apple would make a plug on the mini itself so I don't have to go moving the fucking furniture every time I need to unplug to reset my network. HomeKit is HomeShit more than ever, and there's no end in sight. Just more "architecture upgrades" to slap lipstick on a pig. Fortunately most of my devices are Matter compatible, so I'll be looking into going that route. Hopefully it will allow me to use Siri since Apple is in with Matter, but things will actually work once I transfer.
Hardware Reliability: A-
Software issues and OS stupidity aside, the hardware is always on-point. Although I am dropping them from an A to A- because of the afore-mentioned wired plug on the HomePod mini. Now that the MacBook Pros offer an SD card slot and an HDMI port instead of forcing me to use dongles, I'm thrilled (a USB-A port would be nice, but will never happen). The Mac Studio I have at work is fantastic, offering everything I'd want from a Mac Pro at a much cheaper cost. My iMac M1 is still chugging along and works fantastic. My iPhone, iPad, and Apple Watch are solid builds and the hardware is as reliable as it gets (if only they'd finally, finally put USB-C on the iPhone so I'm not trying to transfer massive photo files over slow and stupid "Lightning" technology that's positively ancient). I have so few complaints when it comes to Apple hardware that I won't be jumping ship any time soon.
Software Quality C+
Even with HomeKit removed from the equation, I still have numerous problems with the way Apple software functions (or doesn't function as the case may be). Apple Mail is a fucking travesty and one of the biggest piece of shit apps I have ever used. And Apple doesn't give a fuck. Features I use are stripped out of their software for no reason other than they want it that way. Bugs are rampant and pop up in the strangest places. It's almost as if nobody at Apple is using their own apps, because the same bugs never seem to go away. One day maybe Apple will start giving a shit. Until then? Still the best option, faults and all.
Developer Relations N/A
As I am not currently in the Apple Developer Program, I don't really have room to comment. Except to say that the World Wide Developer Conference always seems like a fantastic step in keeping things right with those developers on their platform. As a consumer, however, I can say that their App Store is a pile of shit. Which is a mystery because they get a cut of every sale. You'd think they would want it to be a top-tier experience. But instead apps you are looking for are hard to find, update options are weird, AND THERE'S NO FUCKING WAY TO FIND ONLY GAMES THAT DON'T REQUIRE IN-APP PURCHASES! And speaking of in-app purchases... maybe they wouldn't be as annoying if they weren't so damn expensive, but since Apple takes such a huge, huge cut of the money, expensive they will remain. This is such a problem that it's entirely likely Apple will be forced to allow customers to "side-load" apps and bypass the App Store. This would be a disaster because affordable apps wouldn't come with protections. And it's all on Apple and their greed.
Societal and Society Impact B
They are one of the most accessible platforms in existence, and trying to make sure that anybody can use them regardless of any physical or mental challenges is pretty incredible. Where they fail is with their employees. And it's some pretty heinous failures. They need to do better.
Customer Service B+
This is a category I added on my own after my heinous experience with the iPhone Upgrade Program (I returned my old iPhone at an Apple Store... Apple said I never returned it... and I spent TWO MONTHS trying to get it straightened out). I have to say... exchanging my iPhone in the mail? Flawless. The trade-in experience with my MacBook Pros? Flawless. Actually getting support? Not so flawless. Apple makes it incredibly difficult to get the help you need, instead letting you use Google for support (see: HomeKit). That being said, they did exchange my faulty keyboard with hardly any trouble, so hardware is not the issue it used to be, so there's that.
Overall, Apple is still doing more right than wrong. It's why I'm so loyal, because other brands are pretty awful. And yet there's always room for improvement, and Apple has more than a few things that need improving, so here's hoping.
Posted on November 15th, 2022

I've always ignored the whole MagSafe scenario because I didn't think it would be very practical. Room for three cards? THREE?!? What am I supposed to do with that? Especially considering that Washington State legislators are more concerned with raising taxes and running for re-election than actually getting shit done so we can have digital licenses. Other states are hopping on board. But not Washington! Patty Murray is too busy sucking Big Pharma dick to have ten fucking minutes to tell her staff to instruct the Department of Licensing to do jack shit. So one of those three precious card slots will be devoted to my physical license, leaving me with two left (thank you shitty USA health care system!).
Now, given that one of those has to be for my health insurance card means I'm left with one slot left.
And even though ApplePay is finally rolling out to most stores now-a-days, that should probably go to my primary credit card for places it doesn't work.
And that's all she wrote.
But would it be enough? I tested it out by rubber-banding the three cards together and sticking them in my front pocket while my wallet with the rest of my junk goes in my back pocket. I would keep track of how many times I had to reach for my wallet in a month and see if MagSafe Wallet was even possible.
Surprisingly? Turns out it was. So I orderd the orange one to go on my Project RED case on my Deep Purple iPhone...
Now... I originally wasn't going to go with the Apple wallet because I didn't want to buy leather anything. Faux leather was fine. But Apple MagSafe Wallets are the only ones that have "Find My" technology which will let you know when your wallet was last attached to your iPhone. Since I was genuinely concerned with the wallet falling off, this seemed a handy feature to have, so I went with Apple's cruelty-enabled option.
Turns out that the magnets on this wallet are actually pretty good, I've been using it for over a month and it's never fallen off once, even when sliding it in my pocket.
The only problem I have with the magnetic attachment is that it doesn't snap to alignment, and oftentimes I have to twist it a bit so that it pops into place. Kind of a huge flaw in Apple's design, but not a dealbreaker.
The only other difficulty is getting the cards in and out. There's a thumb-hole on the back which allows you to push the cards out one-by-one. But sometimes they come out easier than others. I've taken to having my credit card be in the back since that's by far the card I use most (Home Depot and other stores don't allow ApplePay).
Other than that? Kinda great, actually. I love not having to lug around a huge wallet, and the three slots are all I really need (though hopefully one day Patty Murray will be forced out of office and be replaced by somebody who will give Washingtonians digital driver's licenses, because I'd rather add my Health Savings card in its place).
If you rarely use cash like me... and don't need a ton of cards on you, then this is actually a pretty good investment.
Posted on September 7th, 2022

Oh look! Today was yet another Apple Event!
Tim Cook started things off with Dear Apple... which is dramatic readings of people who have written to him saying how much Apple has improved their lives... and saved their lives! It's like, okay, we get it, and it's probably smart to focus on this (thanks for at least trying to be clever about it), but this is kinda a weird way to kick off excitement for new products, isn't it?
Let's get to it, shall we?

APPLE WATCH SERIES 8
Here's the thing. I love my Apple Watch. It helps me monitor my sleep and can do some handy things so I don't have to grab my iPhone as much.
Temperature Sensor! — This is actually pretty darn cool in helping people with ovaries track their menstrual cycle. Good on Apple for thinking of it. Not that this is useless for men... being able to know if you have a low-grade fever when you otherwise might know about it is important in the age of COVID. Nice.
Sleep Tracking! — I have complained... loudly about how bad Apple's sleep-tracking app is. It's so bad that I never use it... I use AutoSleep which is much more capable. Except now Apple has tried their best to mimic what I've been using, which is great that they finally got off their asses... but kinda sad for apps like AutoSleep that filled the gaps while Apple ignored them. I just hope that the new app won't be so damn stupid about requiring you to enter you sleep/wake times! AutoSleep doesn't require this, it just measures when I sleep. So if I manage to take a nap, it's recorded. I guess we'll find out.
Safety! — The fall detection on my watch didn't detect the one actual fall I took... but has falsely detected me "falling" in the shower at least a half-dozen times. So I'm not sure if I can trust the new "car crash" sensor. Though Apple sure makes it sound compelling, so maybe? Seems a smart feature to have... especially if you crash and end up incapacitated.
Low Power Mode! — I thought that "theater mode" already did this?
International Roaming! — Might have been nice when I was traveling internationally a lot. Except I've never felt the need to buy a cellular model. My phone is always with me.
Here's the promo...
One of my biggest complaints from Series 6 is still here! I just checked... Apple still doesn't allow me to "customize it your way" the way I want to customize it. This is so damn stupid. Maybe if I go to an actually Apple Store they could help me? I want a Project RED case with a Black Solo Loop. The only way to do this online? Buy a Project RED watch with a band I don't want and won't use... then pay another $50 to get the Black Solo Loop...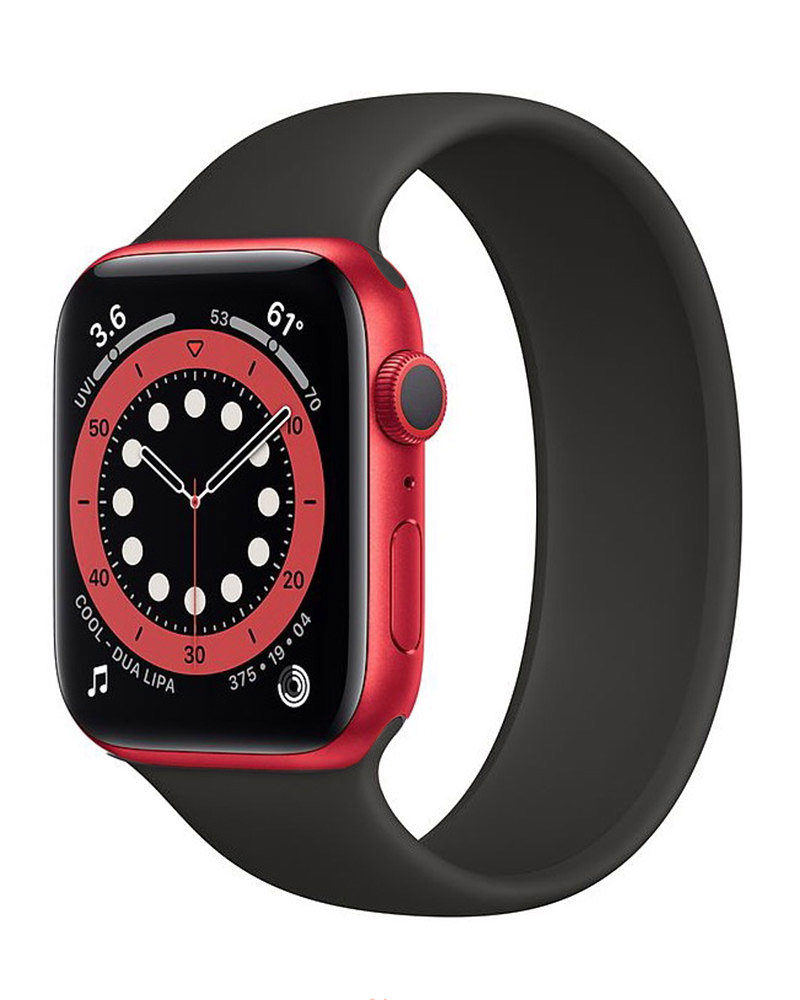 Pretty crappy, Apple.

APPLE WATCH LE
I don't know if saving $150 for a lighter feature set would be the best choice for me... but it's nice that Apple is at least trying to be a little sensitive to the fact that people don't have shitloads of money laying around. From what I can tell you lose always-on display, edge-to-edge display, Blood Oxygen and ECG reading, and "fast charge." So... not a lot, actually. A smart choice if you want a more basic watch that still have a lot to offer.

APPLE WATCH ULTRA
Apple's long-rumored "super watch" is actually pretty compelling. If it weren't so darn HUGE it might be something I'd consider (if I had $799 to spare).
Action Button! — Now, why can't the other watches have this? No, it wouldn't be as big and you couldn't poke it with gloves like the Ultra version, but it would still be handy to have that button customization feature! BOOOOO!
Display! — Yeah, yeah, it would be nice to have this super-bright display on my watch so I can read it in the sun, but it's understandable that you'd need to have a watch this huge to hold a battery to make it actually work.
Big Battery! And, yeah, having three days of battery life would be nice, but I can get almost two days with my watch in "theater mode" so I'm not crazy jealous about it.
New Bands! — The bands for this watch are something I'd love to take a look at. Alas, not one of them is available for the 41mm watches, which is kind of shitty.
Enhanced Precision GPS! — Not something I'd ever need... but I guess it's kind of cool if you need it for training and what-not. Not really sure why the other watched can't have the L5 hookup, but oh well.
New Compass! — Now, come on. Would it really be all that difficult to give the other watches a compass that works well? It's kinda a bummer that you have to pay $400 more to get a watch that handles this better than the (let's face it) poor compass in the other watches.
86db Siren! — That doesn't seem all that loud... but it might be loud enough to make a difference in calling for help when you fall off a trail or something.
Underwater! — Yeah, this is all frickin' cool. Not that you'd want to get rid of your SCUBA dive computer, but it's pretty nice from the standpoint of being able to integrate with apps (like the Oceanic+ app that they demoed). If I were a diver, I'd probably ignore the huge size of the watch just to have that feature.
Ultimately, I really like this watch. I just could not deal with how astoundingly big it is (SERIOUSLY! JUST LOOK AT IT IN THE AD WHERE IT'S SHOWN ON PEOPLE'S WRISTS! HOLY CRAP!). Even for the features you get. I have to say... the advertisement that they came up with for the watch is unintentionally hilarious with its overly-dramatic overtones...
I mean, come on... adventure can be fun too! It's not always so dire!

AIRPODS
I used my Airpods to death when I was traveling constantly. And the "Pro" pods were my favorite travel pods I've ever used. Not only did they not fall out constantly like the old model version, but they had that spatial sound mode that was brilliant. But now that I'm not traveling? Rarely use them. I prefer my Beats. The new "Pro" AirPods that got released today are said to improve sound quality, but I sincerely doubt it's going to be groundbreaking compared to the ones I have now. The enhanced noise cancelation, better battery life, and adaptive transparency mode would be pretty sweet though. And how awesome is the swipe volume control?

iPHONE 14
Since I've bought the "Pro" version all the way back to the iPhone X, I'm not sure about what features are improved compared to the iPhone 13. But it sure can't be much.
Colors! — once again you can get the Product RED color for the lower-end iPhone, but I'll bet every dollar I have that you won't be able to get a Product RED color for the Pro model. Infuriating.
Max! — The iPhone mini is gone, replaced by an iPhone Max. I can't go back to the "regular" size after living with the Max, so I'm happy this is an option for people who don't need Pro features.
Camera! — I am more interested in how well the camera works than any other feature. I don't even care so much about making calls if my camera is dope. Fortunately, the iPhone 14 looks to have a pretty good duo-lens camera that will be more than acceptable to most people. While other phone manufacturers have features which exceed what Apple has done... I honestly think that the photos you get off iPhone are better due to Apple's advanced processing on their Photonic Engine. It's nice to know that iPhone 14 isn't lagging too far behind in this regard. Especially in low-light conditions.
Crash Detection! — Makes sense that if the Watch is getting this, the iPhone is as well.
SOS Satellite Connectivity! — Very, very nice. Especially if you are often in areas where there's no cellular signal. And Apple looks like they have made it as easy to use as possible, which is incredibly smart. I feel I should get an iPhone 14 for the emergency satellite connection alone. Give how horrendously shitty T-Mobile coverage is... even when I'm in a city which is supposed to have great coverage... it might be the only way to call for help if I'm in desperate need while walking down a city street! =sigh= I really need to see if Verizon has an old people plan like T-Mobile so I can actually make calls and use cellular data again. I dropped to 2 bars on LTE while driving through a city of 35,000 people today! But, hey, the price for T-Mobile's crap service cannot be beat if you're age 55+! — I just hope to heaven that people don't tie up emergency services with this unless it's an actual dire emergency.
Sustainable! — Say what you like about Apple, but the fact that they are so good about trying to keep e-waste out of landfills is terribly important and admirable.
All-in-all... this is a pretty good bargain when it comes to iPhones.

iPHONE 14 PRO
And here we go (boy is Tim Cook excited! Must be great!)...
Purple! — Yeah, I really want that purple iPhone, even though I
I'm An Island! — The pill cut-out on the screen is kinda dumb. But here's Apple putting lipstick on a pig in a way that's actually pretty cool. The way the "Dynamic Island" works is darn clever and conceals the fact that you've got a cut-out for cameras on the front of your iPhone. So... not so dumb, actually. Pretty impressive, in fact. I love it, even though I'm not entirely sure what's going to get covered up when your "island" has junk in it?
Screen! The display on Apple's iPhones has always been great, and it's amazing to me that they can keep getting better, brighter, with more dynamic range. Yes please.
Always On! The always-on display is a long, long time coming... and it's a bit embarrassing that Apple has taken so long to get here. Though the way that they've given the display an ability to drop to such a low refresh rate to save battery is probably a big reason why it's taken them a while. They wanted to do it right. The funky lock-screens are fun, but I don't know that this is anything I've been dying for.
Chips! — The new A16 Bionic is faster, of course, but I really don't do much on my phone that will take advantage of this. Maybe I should start intense gaming or something? Nice that the battery life just keeps getting you more bang for your buck. The efficiencies built-in are very important to Apple because conserving battery life is important to their customers.
Camera! — And... here's why I'll be upgrading my 13 Pro to the 14 Pro (thanks to my belonging to the Apple iPhone Upgrade Program, I can actually afford to do that!). The new lenses, 48 Mp "quad sensor," and camera functionality are more than worth it. A DSLR just isn't necessary to me anymore, and this makes that even more true. The light-gathering ability of the larger sensor makes my mouth water. Just look at how gorgeous the shots you can get are! All in ProRAW at 48MP resolution. So great.
ProRes DolbyVision! — While the quality of iPhone photos vs. other phones can be debatable, I don't feel the same about video. The iPhone is leagues above what I can get out of the Samsung, and the way Apple keeps pushing it to be better means it's more true than ever.
Price! — How in the heck are they keeping the price the same? Everybody... including me... thought for sure that Apple would be jacking up the price!
The promo video is pretty good at hitting all the sweet spots...
Like I said... the camera makes it all worthwhile to me, so I'll be using my option in the Apple iPhone Upgrade Program to upgrade. Probably in Purple. Maybe in Black. BUT DEFINITELY NOT IN PRODUCT RED, HUH APPLE?!???

THE END!
So... no real surprises, I guess. Just incremental improvements with no revolutionary innovations. Again. One day there is going to be some paradigm-altering new feature at one of these things. The question being... will it have come from Apple first?
Posted on July 15th, 2022

Sad video flashback time.
Back in the day, I preferred Windows Phone over iPhone (shocking, I know). I personally never bought one, but received them for development and spent a lot of time with them. Interestingly enough, all the GUI work I did... for four separate Windows Phones apps... never went anywhere because the apps were never released.
There are still things about Windows Phone that I wish Apple & Android would adopt. Windows Phone is weird in that Microsoft was both behind and ahead of their time...
Interesting to think about what it would take for a new mobile OS to break the strangelhold that Apple iOS and Google Android OS has on the market. I honestly think it can't be done. It's going to take some huge technological leap to get there.
Assuming we're still using phones instead of some kind of chip implanted in our head.
Posted on June 8th, 2022

Monday was the annual World Wide Developer Conference, and here's my thoughts on what came from that.
PASSKEYS
I'm putting this first because it's something that took me completely by surprise in the best possible way. Having to keep track of dipshit passwords in the year 2022 is absurdly stupid, and it's been more than a little shocking that nobody has thought to do anything about it. Sure Apple has made things better by having TouchID and FaceID auto-fill your passwords for you, but it's still stupid. For one thing, there's still a password floating around out there that can be compromised by a company with lax security. Apple wants to ditch passwords in favor of biometric handshaking. Finally. And because they want to get this up-and-running quickly, they're working with Google and Microsoft to make it happen. Can't happen soon enough.
CARPLAY
Up until now, CarPlay has been a curious diversion to me. It doesn't really do anything beyond what my iPhone can do when slapped on my car vent holder. Certainly nothing that makes me want to run out and buy a CarPlay stereo or a CarPlay-enabled car. But now? Apple has gone and made CarPlay take over the entire dash, and it's just phenomenally cool...
HOMEKIT HOMESHIT
My complete and total loathing of Apple's Smart Home standard, HomeKit, has not abated since it debuted in 2014 and was actually viable in 2016. It's the most absurdly stupid thing which works with nothing and what it does work with... works badly. I tried to get started with it twice and ended up hating it more after each go. Apple has now started over from scratch, which is about the best thing they could do. The new HomeKit will be built upon the new Matter standard, which is backed by everybody who's anybody in tech, which means that even if Apple shits the bed AGAIN, there will be other options so you're not trapped. I am 1000% looking forward to Matter, which means that I will be a part of HomeKit and not care.
MACBOOK AIR M2
This thing is sexy as hell with its four color options and beautiful design. But that's not even the best part... it's got Apple's shiny new M2 chip inside! If you don't need the power and ports of a MacBook Pro, this is a no-brainer ($1,000 for an M1 chip model, $1,200 for an M2 chip model).
MACBOOK PRO 13 M2
I am beyond confused by this machine. It's $100 more than the Air, has the same chip, a slightly smaller screen... and the only difference I can see is that the screen is OLED on the Pro. Not that it makes any difference to me... I need a 16" model, which this is not.
iOS 16
This update feels mostly cosmetic, allowing you to create custom lock-screens and switch between them like faces on an Apple Watch. The only part of this upgrade which excites me is that you can have "Live Activities" which update on your lock screen in real time, so you don't have to unlock your phone and navigate to the app to track progress on something. Also in this update is improvements to the Photos app (mostly to do with sharing) and the Messages app (you can edit and delete messages, which seems nice on the surface, but could be a nightmare for those being bullied or stalked via text who need evidence) and the Mail app (better search and the ability to undo a send, when supported by the recipient). There's also better dictation abilities (you can use the keyboard while dictating something by voice!) and some intriguing tech which allows hearing-impaired persons to have voices transcribed for them in real-time, which is all kinds of cool (the fact that iOS 16 is finally compatible with Nintendo Switch controllers after waiting for this for years is just icing on the cake).
macOS VENTURE
A lot of what the desktop is getting is the same stuff as what's happening in iOS. But there are a few perks that are unique here. First of all, you can now use handoff with FaceTime calls. So if I've started a FaceTime on my iPhone I can sit down at my Mac and transfer the call there with a click. That's very slick and useful. Likewise, you can use the superior camera on your iPhone as the webcam for your Mac and be able to use it as a Center Stage camera if your monitor doesn't have that ability (see above). And there are MagSafe adapters on the way to affix your iPhone to your Mac, which is a nice touch. Even nicer? An attempt has been made to make managing large numbers of Finder windows easier and for task switching not suck. Something called "Desk View" which allows you to use your iPhone camera to look down at your desk while still having a separate view on your face. This will be incredibly useful to me... it looks like Zoom will adopt the ability, which I truly hope happens since that's where most of my video calls happen. In addition to this stuff... games are faster... there's a lot of minor improvements all over the place, and there's now a shareable online whiteboard for collaboration called Freeform which is cool... but I don't know if it is cross-platform with Windows users? I missed it if this is possible.
iPad OS 16
Ever since iPad broke away from iOS, I keep waiting for this quantum leap change that's going to make it all worthwhile. A pretty big change was multi-tasking for using multiple apps at the same time... but then things kinda just... stalled. Of course iPads are getting all the new stuff from iOS (and the nice app-switcher from macOS Ventura), but all the coolest new stuff is only available for iPads with an M1 chip, which leaves me out. Of course, the thing that I most want from an iPad is a model with a much larger screen for drawing, which hasn't materialized yet.

And that was it. Since none of the OS stuff will be officially released until September (unless you like the idea of playing with the public betas which drop next month).
Until then... I guess I'm good.
Posted on March 8th, 2022

AND LO DID TIM COOK DESCEND FROM THE HEAVENS TO BESTOW UPON THE WORLD NEW APPLE PRODUCTS, AND IT WAS GOOD!
Or not. I haven't quite decided. But there was indeed an Apple Event™ today, and Tim Cook did indeed drop a bunch of stuff on an undeserving world. As usual, I just can't seem to shut my mouth about it, so here we go. If you want to watch the actual Apple Event™ before reading my commentary (or watch as you read) then here you go...
AppleTV+
Some of the forthcoming movies and shows look interesting to me. The addition of Friday Night Baseball is an intriguing idea, but the only way I would want to watch it would be if they're showing a Red Sox game, so who knows how useful this will be to me. I'm not quite understanding where Apple is going with all this. Television series (like my beloved Ted Lasso) and movies (like the wonderful CODA) make sense. But baseball? I don't get it. This is not a big missing piece that is filling a hole in Apple's lineup to attract subscribers.
iPhone 13
Whoop-dee-doo. A new green shade for iPhone 13 and iPhone 13 Pro. It kinda makes me upset that A) Apple adds colors after you've already bought the latest model... and B) the Pro models always get "sophisticated" (i.e. boring) colors. Let me know what I can have when a product is released. And, for the love of God, give the Pro users cool bright colors like the non-Pro models get. I want my (PRODUCT)RED iPhone Pro, dammit.
iPhone 13 SE
This is the "budget" model iPhone that's not exactly "budget." But it is a more affordable option for people wanting a newer, faster iPhone with a better camera and 5G. What's surprising is that the SE is actually more bang for your buck than what you get with a standard model iPhone 13. Because with the exception of FaceID (which I love) this is a pretty sweet feature-packed mobile phone for $430.
iPad Air 2022
Yada yada yada... better, faster, stronger than the last model. This means nothing to me, because what I want is a 17-inch iPad Pro. That's all I want. Until they offer one that's sized for graphic artists, there's no need for me to upgrade from my iPad Pro 12.9-inch model. But for somebody wanting an iPad that slays? This is for you. This is the model I would have bought for my mom. In purple. At $600 it ain't cheap, but there's a lot of bang for your buck in that price tag. Inexplicably, by adding the M1 chip, Apple pushes this into "Pro" territory, which makes me wonder why they have "Pro" models at all. Unless there's new "Pro" models around the corner which will leapfrog this new Air? M2 perhaps?
Mac Studio
Studio Display
And here we go. Pro users want to upgrade their machines faster than the average iMac user. But it's always a waste because the 27-inch display on the iMac Pro is integrated with computer, so getting rid of one means you're getting rid of both. And the trade-in value ain't that great. So separating the computer from the display makes a lot of sense. Unfortunately, doing so means that you have to pay more to get what you need (even though upgrading will be cheaper because you can hang on to the monitor (and this monitor is really sweet, featuring 5K, great sound, and a very good camera)...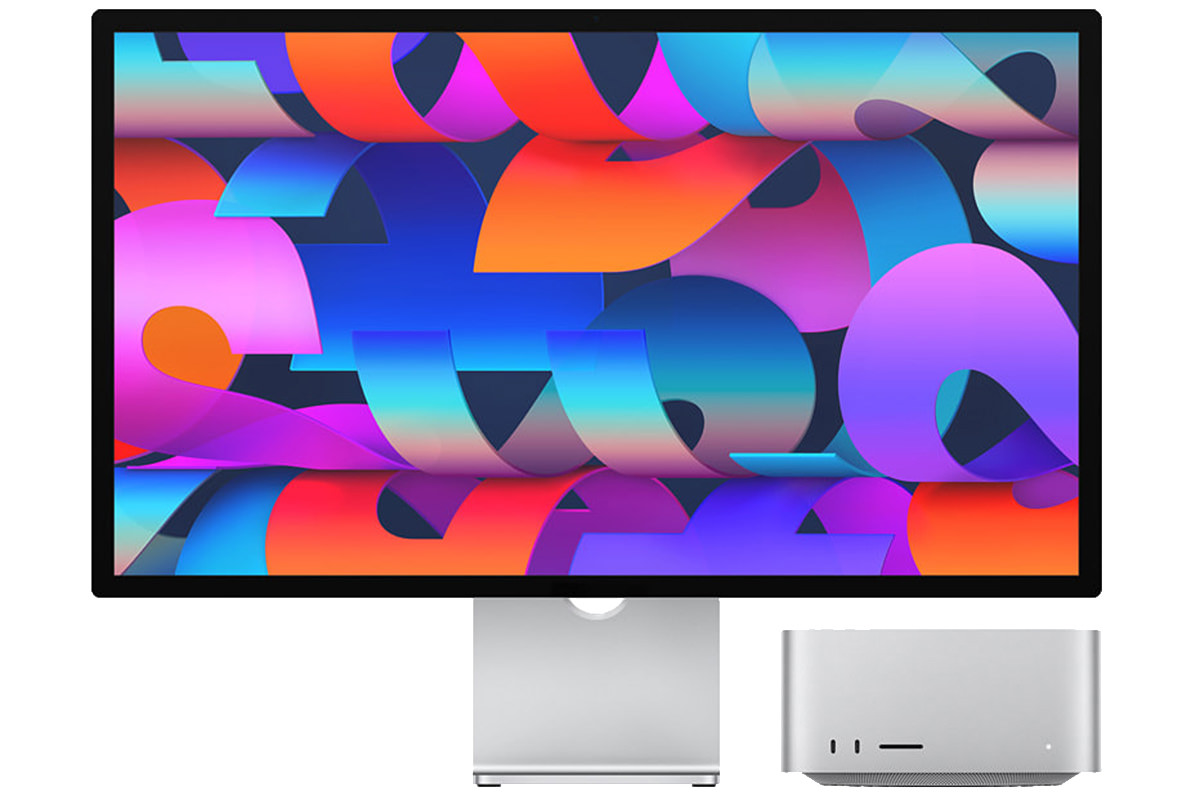 My MacBook Pro with M1 Max is the ideal laptop because it redefines power computing on the go... all while getting sublime battery life. I couldn't be happier with it. Finally an actual Pro laptop! The new Mac Studio allows you to choose between this very capable chip... or the shiny new M1 Ultra. This beast of a processor is essentially "ultra-fusing" two M1 Max chips together into a single processing unit that's more powerful and efficient than using two separate chips that are soldered to the motherboard. Plus the system sees it as a single chip, so developers don't have to do anything special to take advantage of its power. Naturally, I covet a computer using one of these chips... but, even with the intensive work I do, it's likely overkill. Hopefully my office will spring for one of the cheaper models for me, because my 8 year old iMac is dying and takes forever to do simple tasks.
The $2,000 and $4,000 price tag is a lot of cash. But when compared to equivalent high-end PCs it's actually a pretty fair price. And compared to the iMac Pro it's replacing (at $5000) it's a hot bargain. Then there's the Mac Pro, which is still for sale on Apple's website and still using Intel chips. They start at $6000. I'd rather max out a Mac Studio for that kind of money. At least until Apple upgrades the Mac Studio to whatever ungodly powerful chips they're developing.
And that was all she wrote.
And speaking of "she"... interesting to note that all the developers interviewed when talking about the M1 Ultra were women. Appropriate as we celebrate "International Women's Day," I guess. Hopefully all these women are getting equal pay for their work... because that would be something to really celebrate.
But anyway...
Here's the Apple product matrix as it currently stands...
| | ENTRY | MID-RANGE | PRO |
| --- | --- | --- | --- |
| iPhone | iPhone SE | iPhone | iPhone Pro |
| iPad | iPad Air/Mini | iPad | iPad Pro |
| iMac | | iMac 24" | |
| Mac | Mac mini | Mac Studio | Mac Pro |
| MacBook | MacBook Air | | MacBook Pro |
| Watch | Series 3 | Watch SE | Series 7 |
So... inconsistent and all over the map then. Steve Jobs must be turning over in his grave.
Though Steve was innovating in a different, simpler age. Tim Cook seems to be more interested in filling needs than filling boxes, which is probably how it should be. No, it's not simpler than having a neat matrix with clearly-defined labels... but it does make sure that people will get devices that are a good fit for what they are wanting to do with it and how much money they have to spend. And that's probably a better approach.
I dunno.
All I do know is that I wish money was not an option, because I would just buy the biggest, baddest, most expensive model of everything Apple makes every time they release it.
Fantasyland is so much nicer than Reality.
Posted on November 9th, 2021

I have many times sang the praises* of the iPhone Upgrade Program. It allows you to make monthly interest-free payments on the iPhone of your choice... then you can either trade it in after a year and upgrade to a new model... or you can finish out your two years of payments and keep it. This really is the best of both worlds. When the next model iPhone comes out, you get to decide whether or not it's worth it to start all over with two years of payments or skip a year and own your phone.I just like that the program means I can afford a top-of-the-line model. Maybe you have $1,100 laying around to go buy one, but I sure don't, so this is the only way I was getting an iPhone 13 Pro MAX.
Today was the day I prepped my old iPhone 12 Pro MAX for return to Apple.
It's been a good phone, I've gotten a lot of use out of it, and I've enjoyed having it, so I'm a little bit sentimental about having to part with Tomato (the name I gave him because of his tomato-red case). Back when I first used the program to upgrade, I Googled to find out what happens to returned iPhones. I found a YouTube video (since removed) which explained that more recent models in good condition have components replaced to get refurbished, then get sold. If your iPhone is too old or too busted to be refurbished, Apple takes it apart and salvages what materials they can so they can turn them into more modern parts for newer models. Pretty slick. And a good investment for Apple, since they can continue to make money off of phones that were already purchased!
My iPhones get slapped into cases the minute I unbox them, so they get returned in prestine like-new condition. I'm relatively confident that they get refurbished and resold, which means somebody is getting a terrific phone at a discounted price. Which is far better than chucking the thing in a cabinet with the rest of my old iPhones to collect dust.
My return box arrives tomorrow. At which time it will be buh bye Tomato.
Hopefully your new owner likes you as much as I did.

*WARNING: DO NOT GO TO THE APPLE STORE TO TRADE IN YOUR iPHONE! ABSOLUTELY 100% DO NOT EVEN THINK ABOUT IT. WHEN I DID THIS, THEY DIDN'T LOG MY PHONE AS HAVING BEEN RETURNED SO APPLE SAID THEY WERE GOING TO BILL ME FOR BOTH PHONES SINCE I DECIDED TO KEEP IT. THIS TOOK *MONTHS* TO GET STRAIGHTENED OUT. MONTHS!!! HOURS OF WASTED TIME TALKING TO APPLE SUPPORT... AND GETTING HUNG UP ON. HOURS OF WASTED TIME TRYING TO TALK TO THE APPLE STORE. HOURS OF SENDING EMAILS. IT WAS HANDS-DOWN ONE OF THE WORST EXPERIENCES I'VE HAD WITH ANY COMPANY EVER! SO UNTIL APPLE STARTS HANDING OUT RECEIPTS FOR TRADE-INS AT THE APPLE STORE, HAVE YOUR NEW PHONE DELIVERED SO THEY CAN SEND YOU A RETURN BOX WITH A TRACKING NUMBER! DO *NOT* MAKE THE MISTAKE I DID!