Posted on April 30th, 2023

Spring has sprung and the local orchards are killing me with allergies, but I am not dead yet... because an all new Bullet Sunday starts... now...

• Williams! John Williams is one of the... if not the... greatest movie composers of all time. A lot of people may debate this, but anybody who can take a pile of shit like Star Wars: The Phantom Menace and make it even a little tolerable has earned the honorific. Duel of the Fates is an incredible piece of music. CinemaStix does a shallow dive into "The Best Decision George Lucas Ever Made, and here it is...
Williams was due to retire. But then we found out he was composing for the final Indiana Jones movie... Indiana Jones and the Dial of Destiny... and now it sounds like he has something cooking with Steven Spielberg too. Lucky us!

• Wes! And speaking of Star Wars... these Wes Anderson parodies just keep getting better and better. My previous favorite was the parody of what an Anderson X-Men film would be like. But this is my new favorite...
Wow. I would pay serious money to watch this film.

• ROBOTS! There are movies that I am completely hooked on before the trailer even reaches the halfway mark. This is 1000% one of them. It looks hilarious...
Since it's by HBO films, I'm guessing it will end up on "Max" eventually. We'll see if I can wait that long... or whether I'll be paying the on-demand price to see it before that.

• Hate System! Former Republican Governor of California Arnold Schwarzenegger has long been speaking out against bigotry, and on Friday this CNN interview was posted...
Say what you want about the guy but, in the grand scheme of things, he is a force for good in this world. We need more people like him.

• Beautification! This video is not for everyone. But if you're an architecture nerd like me, it's a wonderful, wonderful deep dive into reversing a horrible trend of turning cities into prisons. It's long, but I watched it twice because it was so interesting to me...
We need more of this happening in our cities. We need it.

• Puppers! This past week I saw a flood of "reaction" videos from people talking about the latest video from Lewis Capaldi. People bawling their heads off. People breaking down completely. And I was like "Whatever!" because I'm not a very emotional person, and just dismissed the "overreaction" outright. But then I watched it...
Then I was like "Yeah, I get it now." Humans and their antics may not often put a lump in my throat... but animals can do it quite easily. Couple the song with the video, and you can't be human and not react in some way to it.

• Undiplomatic! The Diplomat (Netflix) was very good television. It's dense and smart without being boring. It spins its wheels a bit, but ultimately moves ahead at a good clip. It also has fantastic performances that make it all the better. BUT THEN THEY END IT ON A MASSIVE CLIFFHANGER. Not about some small aspect of the story... BUT THE ENTIRE POINT OF THE STORY. It's like the story was cut in two and you only get the first half. Which is just fine if you've already been renewed for a second season. But, so far as we know, no second season has been ordered. Which means that the writers of the show are hacks of the fucking worst kind. They're too lazy to complete a story and then come up with a big idea to open the second season... instead they drop a bombshell so that they can just continue with what they've already done. No need to figure out a way to forge forward in a new, exciting direction... just roll onward from where you've already been. And if you get canceled? You don't care! Fuck your audience!...
I am so sick of this shit. IF YOU DON'T KNOW IF YOUR SHOW WILL CONTINUE, WRAP IT THE FUCK UP! STOP WITH THE UNWARRANTED CLIFFHANGERS YOU ABSOLUTE PIECE OF SHIT HACKS. This crap is fucking embarrassing, and I'm tired of it. — UPDATE! The show has been renewed for a second season. Which does nothing to stop my raging, because they could just keep doing this same shit each season until they're canceled and we're left hanging.

If I'm still alive from allergies next Sunday, you know where to find me.
Posted on April 16th, 2023

After Easter Sunday we're back to just another Sunday. BUT NOT REALLY... because an all new Bullet Sunday starts... now...

• Supertramp! The other day I was reminded of one of my favorite album covers, Supertramp's Breakfast in America from 1979. On top of having a great cover, the album had some great tracks on it. Tracks I haven't listened to in years. So I decided to play it. After iTunes displayed the album art, I wondered whatever happened to the woman who was in the photo. A quick Google search later, and I found out her name was Kate Murtagh and she passed away in 2017. Something else I found out? The album cover is one of those wild-ass conspiracy theories where there are people claiming that it predicted 9-11 because when you reverse it, 9 11 appears behind where the World Trade Center is at...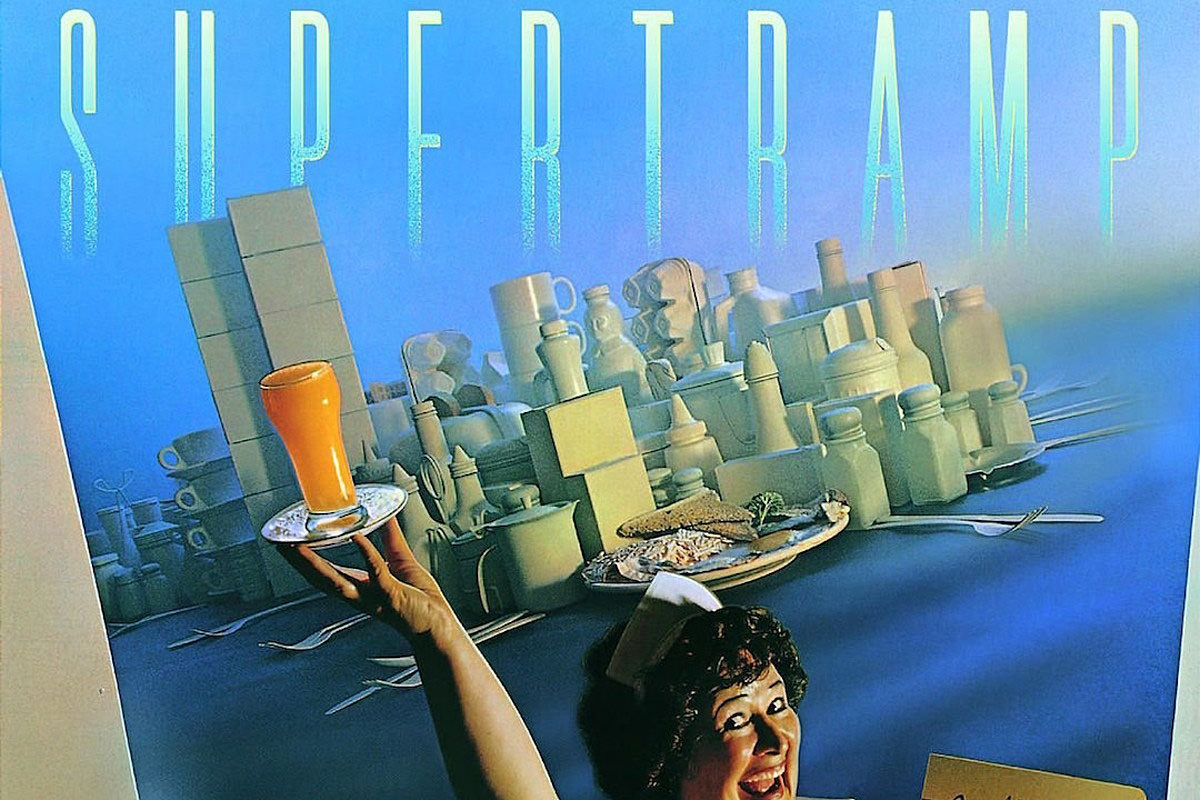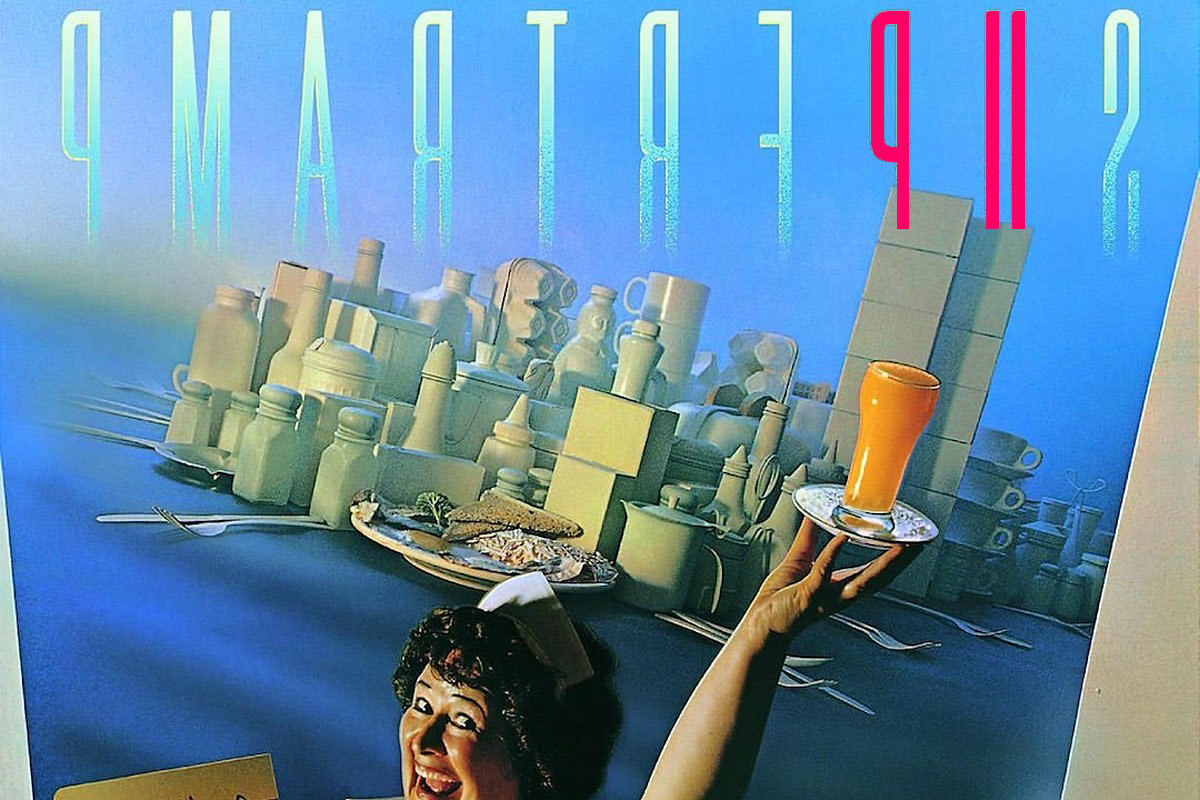 And it's like... whatever. Every coincidence has to mean something to people who don't have anything else going on, I guess.

• Perspective! This is a little bit of genius thinking (here is a link in case TikTok is being a dick)...
Trying to be grateful for everything and anything is something to strive for. And this is a good reason to believe that.

• Johnny Reb! You're Probably Wrong About Confederate Monuments...
Or, maybe you're right.

• Defensive! Holy shit. This video is an hour. But it's worth your valuable time. Jon Stewart is an actual journalist. And getting to the truth is his only goal... and he will roast anybody, of any party, and of any position... to get to it. This is a master class in what journalists will strive for. Dang. You'd have to be very brave or very foolish to agree to be interviewed by Jon Stewart...
Good to know. Good to know.

• Chatty AI! This video explaining AI is 5 years old. From what I can tell, it was renamed to mention ChatGPT so that it would become relevant again. Despite the fact that it never was irrelevant...
We are moving towards a truly wacky time in human history.

• Easter is a Shade of Orange! I missed this last week, and I'm dead now...
It's like... he's more Trump than President Trump!

• Mindblowing Proteins! Holy crap!
The miracle of life is truly a miracle.

Enjoy what's left of your Sunday.
Posted on March 30th, 2023

I have a love/hate relationship with Sonos Home Audio.
On one hand, they are very good speakers. The sound I get from a single Sonos One (the cheapest, smallest speaker in their lineup) is better than I get from the speakers on my pricey Sony television. Sonos speakers are very well balanced to handle just about everything. Music sounds just as good as audiobooks which sounds as good as TV shows and movies.
But on the other hand, Sonos can be incredibly frustrating. When I replaced my Sonos PlayBar with a Sonos Arc, I spent a full hour talking with their support to get everything working. It was supposed to be an easy, no-brainer task, but it sure didn't end up that way for me. And then there's weird networking drop-outs that happen at random and can be a real bitch to resolve considering the only thing I ever get told is "IT'S BECAUSE YOUR WI-FI NETWORK SUCKS!!!" (as if I have some kind of cheap-ass Wi-Fi router buried in the basement instead of dual AmpliFi Alien routers in a mesh network that blankets my home with perfect Wi-Fi).
In the end I am happy enough with Sonos to ignore its shortcomings (no line-in is fucking stupid on a level of fucking stupid that has me reconsidering what I consider to be fucking stupid given how expensive their speakers are... and don't get me started on not being able to use dedicated left and right channels for surround sound). I have quite a few of their products collected from Black Friday sales over the years, and most rooms in my house are covered with Sonos sound. Heck, I even have Sonos in the bathrooms so I don't have to miss what's happening on my television shows when I have to get up and go pee.
And then Sonos decided to get cute and offer a new line of "Era" speakers. The Era 100, which takes the place of their entry-level Sonos One speaker... and the Era 300, which takes the place of their long-abandoned Play 3 speaker.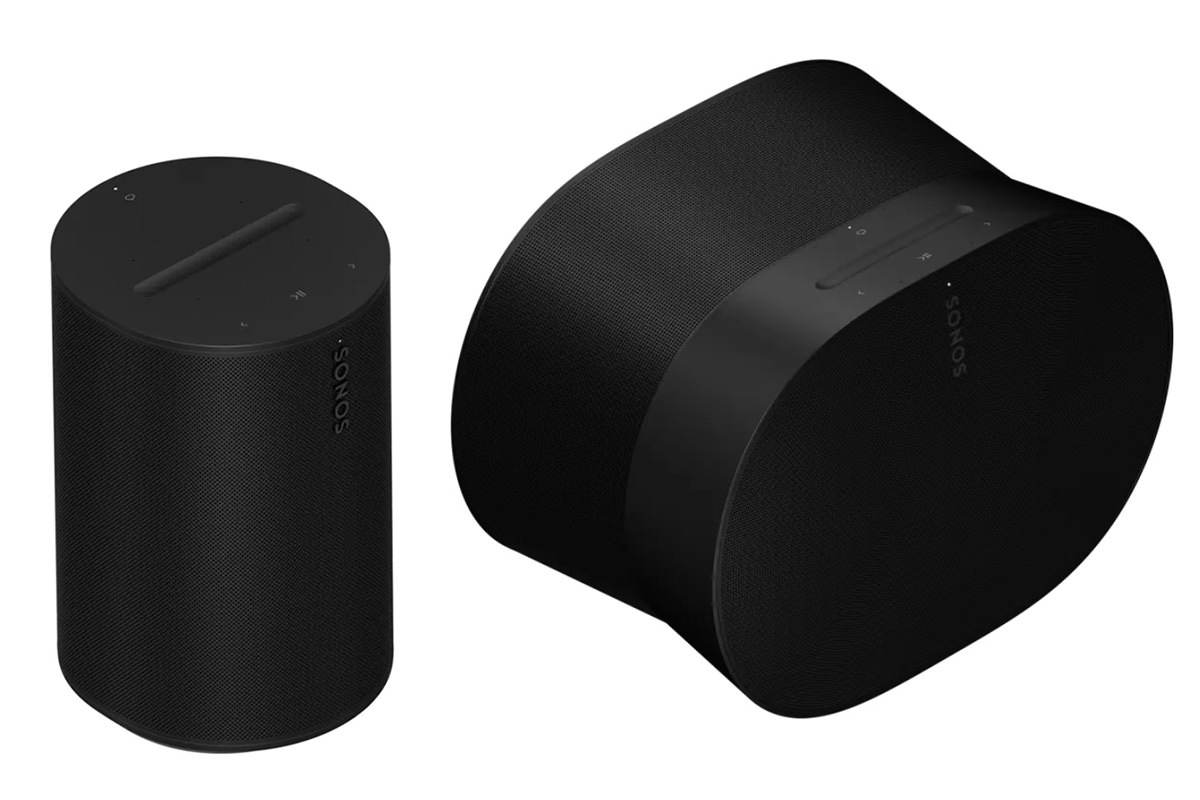 At first I was going to safely ignore their new offerings because I have neither the money nor the desire to expand upon my speaker collection.
But then I learned that the Era 300 is designed from the bottom up to support Dolby Atmos and I was intrigued. Dolby Atmos allows precise sound placement within a room. This is usually reserved for theaters which can install speakers all the way around the seating area... along with the ceiling... so that the action can move around the room to match what you are seeing. It's a pretty nifty trick. The technology is something that is supposed to be supported by my Sonos Arc soundbar, but the effect is minimal to the point that it might as well not even exist at all.
The Sonos Era 300 has an up-firing speaker that looked substantial enough to actually maybe kinda support actual Atmos sound bouncing down on your from above...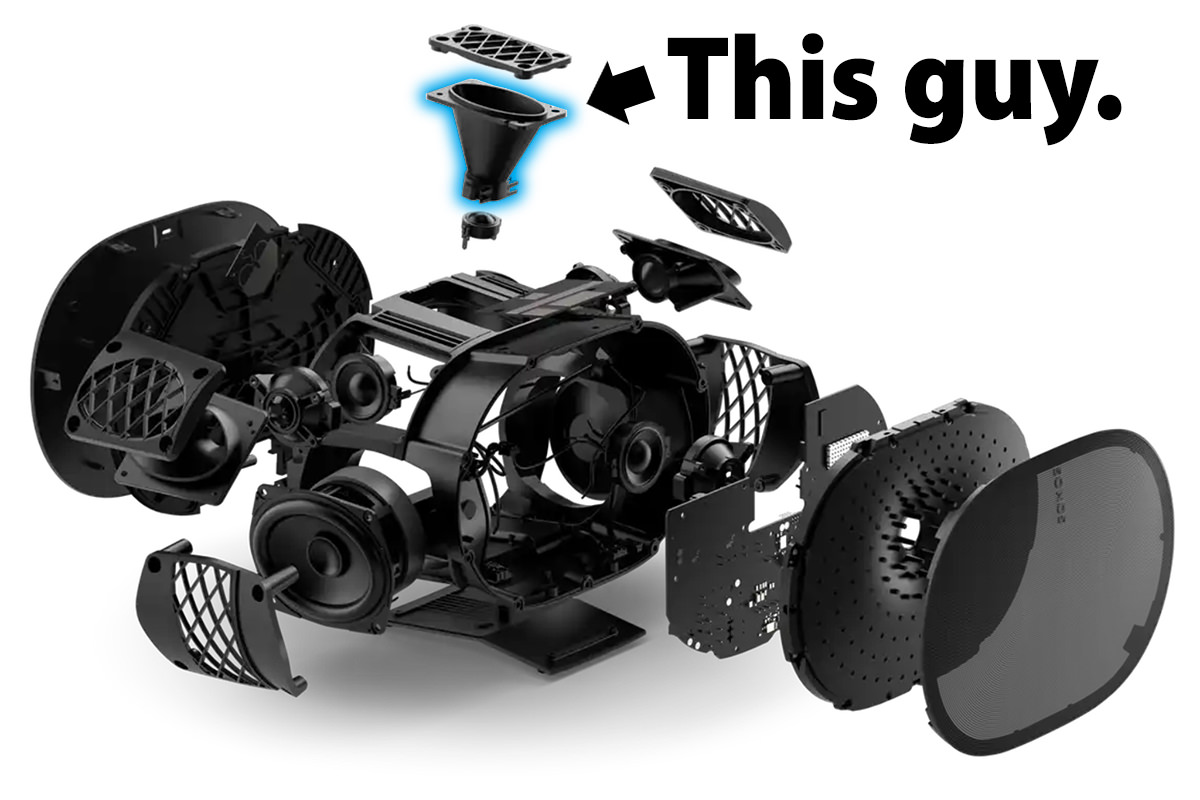 So I used my final two Sonos upgrade credits and all the Black Friday money I had left after buying Neon Bad Monkey and pre-ordered a pair of them.
And now they're here.
And I'm just going to cut to the chase here. They are... pretty good.
Because whether or not you have great Atmos sound largely depends on the audio mix that movie and television studios add to their products. I've tested these speakers for hours with all kinds of movies available in Dolby Atmos, and it's very rare that I find myself going "Whoa!" because some sound playing above me was distinct enough to catch me by surprise. No, for the most part, you're largely just getting a better, fuller surround sound experience. Back-To-Front and Front-To-Back audio is far more distinct with those up-firing speakers because you can feel the "movement" better. Far better than I did with my Sonos Ones as rear speakers. For that reason alone I am quite happy with my purchase. And who knows? Maybe as more and more people have Dolby Atmos available at home, studios will start doing better mixing so that my speakers can take advantage of it.
Now lets get to the Dolby Atmos experience that's truly worth it... Atmos Music!
I tell you what... I had read that Apple was partnering with Sonos so that their spatial audio tracks would play on Sonos hardware... but I wasn't thinking of that when I fired up some music to see if it sounded good from the 300s. A couple tracks played and I was suitably impressed.
Then the song If You're Too Shy (Let Me Know) by The 1975 dropped and I thought I was hallucinating. Lead singer Matt Healy's vocals were IN FRONT OF the music. And acoustical queues were all over the room. If I closed my eyes, it was as if The 1975 were set up in my living room. Then I remembered about the Apple Music Atmos thing and, sure enough...
For many Dolby Atmos music tracks, what you hear is flat-out mind-blowing. The 1975 remixed all their stuff, and (for the most part) it's incredible. Some songs are more experimental than others. Some songs push it too far to the point of distraction. But most of the songs are perfectly rendered in a way that makes the whole experience... maybe not better... but perhaps nicely different.
All of a sudden I was scouring all my favorite tracks to see if they had Atmos mixes available.
And it was like discovering music all over again.
Yes, there are instances where the Atmos is a gimmick that doesn't work. But for others? It runs the gamut. The biggest surprise was Kacey Musgraves Golden Hour. Whomever came up with her mixes just knocked it out of the park (with a couple notable exceptions which are gimmicky as hell). It. Is. Sublime. In Oh, What a World when that banjo hits, I had chills running up my spine. It's a fantastic experience. My favorite Post Malone tracks were wonderfully mixed for spatial audio. The newest Taylor Swift album is beautiful. And some bands you just know were hopping on the bandwagon early with Atmos remixes... like ODESZA. The track they did with Namoi Wild, Higher Ground, feels like her vocals are ON TOP OF the music. Or something. I can't even begin to explain it. But it's fantastic. Of course, it was a great track even before spatial audio...
The highest praise I can offer for spatial audio and Dolby Atmos music is that, when mixed right, the vocals never get lost in the music. They are always distinct and rendered front-and-center. One of the best songs to hear this is with Miley Cyrus's Flowers. There's places that she harmonizes with herself. But when listening to it without Atmos, the voices blend together. With Atmos, however, the harmonizing backing vocals are... like... elsewhere. They don't merge or compete... they're just another part of the music. I don't know quite how to explain it. But once I hear the difference... then go back to regular stereo... I can no longer un-hear it because the Atmos version feels like it's the way you're supposed to be hearing it.
So... probably not returning my pair of 300s... even though there's some bullshit right out of the gate.
First of all, Sonos finally... FINALLY... added bluetooth and line-in to their speakers. But when you configure them to be part of a Dolby Atmos setup... YOU NO LONGER CAN USE THEM FOR EITHER! WHAT THE BLOODY FUCK, SONOS??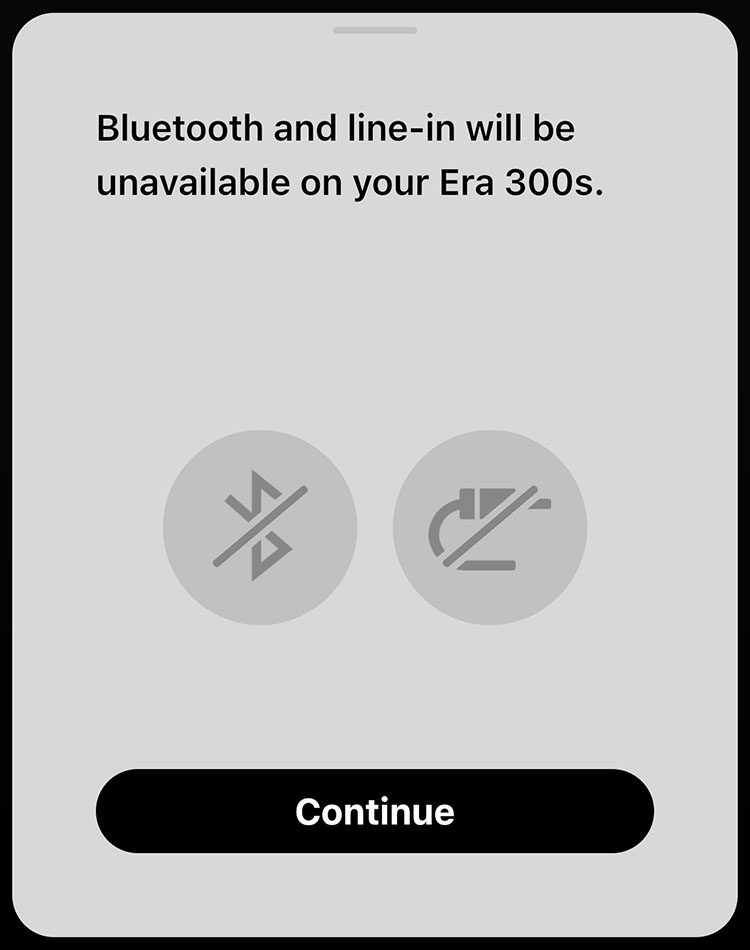 When that message popped up, it was all I could do to keep from throwing my phone against the wall. I was more than a little upset... I was fucking pissed.
I'm sure that Sonos will come up with some kind of bullshit excuse to explain it away, but the simple fact is that you could easily... easily... just have the speaker ignore all other input once the line-in is receiving input. This is not fucking rocket science. The fact that I can't just plug into one of my pricey new speakers with a frickin' line-in is so far beyond rage-inducing that I honestly don't know what to do with my anger from it.
But at least there's the option for a line-in... AT ALL.
If I were flush with cash I'd likely buy a single Sonos Era 300 for my bedroom and run a line from my television. That way I could have darn good TV sound along with a kick-ass speaker for music (the stereo separation from a single 300 is surprisingly good).
BUT WAIT, THERE'S MORE!
Assuming I win the lottery tomorrow, it's not enough to just buy a $450 Sonos Era 300 speaker for my television. YOU ALSO HAVE TO BUY A FUCKING $20 MINI-PLUG DONGLE! It's like... holy shit. There's fleecing your customers, and then there's Sonos fucking gouging their customers. This is pretty disgraceful.
So... to summarize in bullet points...
Setup actually worked like it was supposed to this time. I had an immediate software update I had to send to the Era 300's, but I was up and running in minutes.
I love that the power cord plug is smaller now. My rear speakers are on a slim shelf that I drilled holes in so the cords are hidden. But the Sonos Ones had a big-ass plug which meant I had to use a metal rod to smash it through the hole. The new Era plugs are more compact and just pop through. Easy!
I've had mixed results with Sonos TruePlay tuning (where you walk around the room waving your phone around while the Sonos app listens to tones and calibrates the speakers so their sound is best rendered in your room). The first time I tried it years ago, I loved it. Then the last couple times I thought the calibration was pretty bad and removed it. This time the jury is still out. I think it made my Atmos music sound better... but the movies I tried after calibration didn't sound as bright and the overhead sound was muted. I'll probably keep TruePlay on but fine-tune the EQ and upward sound levels.
The line-in garbage mentioned above is fucking bullshit. I am outraged that not only is it fully disabled when you use them as surrounds... but you also have to buy a fucking dongle. It's as if Sonos said "WELL, YOU WANTED A LINE-IN, SO HERE IT IS... TOO BAD WE FUCKING BROKE IT!
Until more studios really invest in doing Dolby Atmos mixes that are killer, I wouldn't buy these speakers just for movies with Dolby Atmos. It's just not a big enough upgrade given how many mediocre mixes are out there claiming to be "Atmos."
The "killer app" on the Era 300s is Dolby Atmos music. Spatial audio provides an experience I haven't heard before and, for the most part, I absolutely love it. As more and more artists go back and remix their music (or remix the mixes that aren't that great) I think this is reason enough to give them a listen and see what you think.
Yes, the price of Sonos gear is as heinous as it ever was. About the only justification I can offer is that they feel quality. They are noticeably heavy and seem built to last. And, needless to say, the sound quality is darn good given the size. Exceptional even. I have never had a complaint about the sound I get... and even a meager little Sonos One provides a great experience. Sonos is one of those companies where I think the cost is likely worth it. That being said, every piece of my Sonos gear was bought on sale because... damn.
All my stuff was purchased directly from Sonos because I like that they offer a money-back-guarantee when you purchase from them. It's the least they can do given how much money it costs. If you are on the fence, it's worth investigating whether the shop you're buying from can offer a guarantee. Pretty sure not all of them do.
If you are a long-time Sonos customer, Sonos will give you "upgrade credits" which knock 15% off the price of their wares. For every speaker you own that's old enough to earn a discount, you get one credit to use on another speaker to replace it. Except you don't have to return your old speaker... you get to keep it! If you registered your products with Sonos, be sure to look at your account and see what's available. I saved nearly $70 each on the 300s, which is serious money.
A lot has been said about how "ugly" the Sonos 300s are. Personally, I'm not seeing it. I am very sensitive to design aesthetics and actually really like the look of them. When sitting on the shelf behind my couch, they look nice from any angle and have an impressive heft to them that makes me confident a cat isn't going to knock them off (if they were to ever climb up on those shelves, which they rarely do).
I did not buy any Era 100s and really have no plan to do so. The improvement over my Sonos Ones seems minimal, as there's no up-firing speakers for rendering Atmos. The stereo separate looks like it might be pretty good... but since the speaker is so narrow, I'm not sure how noticeable it would be.
And there you have it.
If you've got a showroom somewhere near you with Sonos gear, it might be worth a look if you're thinking about investing in new speakers.
Posted on February 12th, 2023

Don't worry, I'm here with a distraction from the Superb Owl... because an all new Bullet Sunday starts... now...

• Ronnie! Talked about a missed opportunity at the Superb Owl! I was waiting for Rhianna to walk out and say "Uh oh! Bonber alert!" then Andy Samberg would walk out as Shy Ronnie...
One thing's for sure... it would have been unexpected.

• Lo siento! This would be the kind of thing that happens to me (here's a link in case TikTok is being a dick)...
...assuming my girlfriend was Miss Universe 2020.

• Scam the Tragedy! A gentle reminder... if you receive an email wanting you to donate to a cause... any cause... don't click the link in the email. If it's not an organization you know the address for to type directly in your browser, do a Google search for the official website. I just received an email wanting me to donate to the Syria and Türkiye earthquake relief efforts from "The Red Cross," and it was a big ol' scam. All my donations go to Doctors Without Borders anyway, but holy crap... what kind of garbage would exploit a tragedy to scam people out of money?

• You're Poor! You can't afford it, you povo (here's a link in case TikTok is being a dick)...
Because you're poor!

• Luther! OOOOOOOH BOY! I am really, really looking forward to this...
It's like... Idris Elba is magic on the screen. Every. Single. Time. Just look what he did in the frickin' Thor movies, for crying out loud! And Luther is an exceptional character that shows off exactly why the guy is so good at his craft. Kudos to Netflix for sinking some money into quality.

• Alexa He Ain't! I really wish that Sonos speakers could use Siri. Because the Sonos Voice Assistant is fucking useless as a piece of shit at a pool party. Telling it to play songs never works. The only thing it does reliably is "stop" music when you tell it. Otherwise it's some bullshit about not understanding what you want and having to use your SONOS app. One thing I DO like, however, is the voice that SONOS uses for their AI. He's very calming. A little vulnerable. Which he kinda has to be given that he can't do jack shit. Though he's not as sexy as "Australian Male Voice 1" that I use for Siri but, let's face it, nobody could be sexier than Australian Male Voice 1. That guy sounds like he has slept his way through entire ecosystems.

• Again! After being severely disappointed with the last two Depeche Mode albums, I was surprised at the first single off their forthcoming album, Moments Mori. Ghosts Again is more like Depeche Mode than they've been in ages...
One can only hope that the rest of the album is this good.

Until next Superb Owl...
Posted on January 16th, 2023

As I do every year on Martin Luther King Jr. Day, I listened to his iconic I Have a Dream speech.
But this year was a little different.
This is amazing...
I can't help but hope that setting it to music might entice people who may not hear otherwise hear it to take a listen.
Posted on January 8th, 2023

Don't worry about me being buried under snow, again, I'll manage just fine... because an all new Bullet Sunday starts... now...

• I Can See Clearly Now! I didn't want to spend $720 to replace my two damaged windows... but it turns out it was money well-spent. If for no other reason than I can actually see out of them now. Having to try and look through condensation and sediment that was inside my old busted windows was impossible in cold weather. And since the kitchen window is the ONLY window on either floor where I can see out the front of my house... and my bedroom window is one of only two useable windows on the ENTIRE 2ND FLOOR... they're probably the most important windows I have! Ironic how that works! But typical, huh?

• Sing! This is Dave Grohl's daughter, Violet...
Gorgeous. Musical talent very much runs in this family.

• As It Should Be. Tennessee Becomes First State to Charge Child Support to Drunk Drivers Who Kill Parents. Absolutely shameful that this is not the norm in all 50 states. Actions should have consequences... especially for something as dire as this. I'd ask my Senators Patty Murray and Maria Cantwell where they're at on this, but it's probably the same place that digital driver's licenses are for Washingtonians... nowhere. They're too busy cashing their Big Pharma checks... or whatever it is that's more important to them.

• Big Ships! Now this is both fascinating and cool...
When things get bigly huge is when they get very interesting. Where do they get the materials to build something so massive?

• Order-Free! Netflix occasionally likes to experiment with their content. I like to encourage this, even though it rarely results in big wins. Their latest is Kaleidoscope, a heist series with episode colors instead of episode numbers, that you can watch in any order (and which Netflix shuffles for every viewer)...
My order was Black, Yellow, Green, Blue, Orange, Violet, Red, Pink, and White. Black is always first. White is always last. I don't know that my order is better than any other, but I like that Yellow was first because one of the very few twists in the series would be ruined otherwise. Ultimately this isn't a bad show... it's just not a great one. Probably because the episodes can be watched in any order, they have to be self-contained. They can't really build upon each other to create a narrative. And they can't really do anything monumental because then they could spoil something if watched in the wrong spot. They're all just meh after a while. Which is to say that though I enjoyed the series at first... by the time I was half-way through I was disappointed. The ending was kinda fun though. I'm not sure exactly how this concept could be improved in the future, but I wish Netflix luck in trying.

• Themes. Angelo Badalamenti died last month. He was a phenomenally gifted magician who had a long and interesting career, mostly scoring film and television. But what he's probably best known for is his collaborations with David Lynch. The guy made Twin Peaks what it was...
It's not exactly like his life was cut short... he was 85... but as I always do when somebody with such talent passes, I can't help but think he left us too soon.

• Old Amsterdam! Few shows made such an immediate impact on me as New Amsterdam (the second one, not the first one about an immortal in New York City, which was also very good). It's a hospital drama in a sea of hospital dramas, but one that feels quite different to me. And it's ending this month. It got an abbreviated final fifth season...
Over the years it's had some amazing stories told, and I'm a bit sad that it's not going to be around any more (even though the drama outside the hospital had gotten a bit stale). All I know is that this cast... starting with Ryan Eggold... better end up on great new shows as soon as possible.

Until next week, buckaroos.
Posted on December 29th, 2022

Usually my list is a bit eclectic, including everything from metal to country to trance. But this year I just wasn't interested in straying from pop, and so I didn't. Thus here's my favorite pop albums of 2022 for your listening pleasure (I am next to positive that I'm missing some stuff on here because I lost my list back in November and had to recreate it!)...
#1 Flying Machines by Max Frost
Max first came to my attention thanks to his music mashups on TikTok where he sings a song by one band in the style of another band... playing all the parts himself. Most of them were very good. Some of them were exceptional (singing Dream by Fleetwood Mac in the style of The 1975 was genius). His original stuff never really grabbed me until he debuted Flying Machines which is filled with catchy pop tracks that I listened to a lot in 2022.
#2 Muna by Muna
Muna completely captivated me with their 2017 debut album, About U. Every track was brilliant, and I still find myself listening to it often. In 2019 they gave us Muna Saves the World which was nice, but it didn't hook me the same. Now they're back with their third album and it gets an awful lot right. Really well-crafted tracks that show they haven't lost their touch.
#3 Being Funny in a Foreign Language by The 1975
This is likely my favorite contemporary pop band going today. The problem is that after their debut album... where I obsessed over every track... the results have been mixed. I like maybe half the tracks and can leave the rest. Their latest is maybe sitting at a little over half, which is nice, but it's still missing something for me. Even so, the tracks I like got played a lot.
#4 Harry's House by Harry Styles
I have been awaiting the follow-up to Fine Line for three years and largely found the resulting album worth the wait.
#5 Midnights by Taylor Swift
I don't know what it is with me and Taylor. The holy trifecta of 1986, Reputation, and Lover took her to the top of my list when it comes to music. But then we got Folklore and Evermore which sent her stock plummeting because I only enjoyed a few songs off of each. Now Taylor has made some improvements with Midnights, that's a well-crafted album I've been enjoying quite a lot... just not at the level of past pop perfection.
#6 Fear Fear by Working Men's Club
I was very late to the party with the debut album of Working Men's Club, but I was right on time for the follow-up. Fear Fear is a glorious post-punk, new-wave masterpiece that could have sat comfortably next to Depeche Mode and other acts in the 80's. My favorite track, Circumference has serious vibes from so many bands of that era that it almost seems impossible to have come from 2022.
#7 Crash by Charlie XCX
I'll say one thing about Charlie, she's consistent. She knows exactly what her fans want to hear, then delivers beautifully.
#8 Dawn FM by The Weeknd
My relationship with The Weeknd is complicated. When he has a song I like, I love it beyond measure. But when he's being experimental or trying to make some statement art piece, it's beyond frustrating. This time around he's got some really great tracks sprinkled amongst some oddities which don't track... all while performing under his "Old Weeknd" persona (which is a step above his "Car Wreck Bandaged Weeknd," I guess?).
#9 *Happiness Not Included by Soft Cell
This is band which is completely defined by their debut masterpiece, Nonstop Erotic Cabaret. It was a sleazy, sex-filled romp that dropped track after track on a theme you didn't want to end. Forty years later and the sound is still oozing from your speakers with a sleazy disdain, and that ain't a bad thing. The songs are new. The vibe is not. And what more could you want? How about a collaboration with The Pet Shop Boys? Well, here you go...
#10 The Tipping Point by Tears For Fears
Here we are with another 80's band giving us something new while holding on to the sound their fans are wanting.
#11 The Loneliest Time by Carly Rae Jepsen
I never really paid attention to Carly Rae, only noticing when she had a hit climbing the pop charts. Then came Emotion, and I had a friend gushing about it so I gave the album a shot. It was gold. Since then I've been hoping to hear another album that catches me like that, but 2019's Dedicated wasn't it. Neither is The Loneliest Time, but I'm still enjoying it.
#12 Night Call by Years and Years
While not quite reaching past heights, this is a darn good album with some real treats to be had.
BEST ALBUM THAT WASN'T AN ALBUM: All the single releases from Fly by Midnight from 2022!
This has to be one of the most brilliantly prolific pop bands running. In 2022 they release a seemingly non-stop parade of songs... none of them from an album. Or even an LP! Some bands use albums to tell a story... the songs on it connecting to create a narrative. Other bands just put tracks on the album that are collected for no particular reason, they just want an album out. Fly by Midnight doesn't bother. The just keep going and going. I mean, seriously, JUST LISTEN TO THESE GEMS! If these were off an album, that release would have topped my list.
HONORABLE MENTION: See You in the Stars by The Lightning Seeds
After Cloudcuckooland, Sense, and Jollification I didn't think that things could get much better for Ian Broudie's music project. And I was, unfortunately, right... there was a steady decline as the music just wasn't hitting like it had in those first three albums. See You In The Stars is more of the same, but did provide enough feeling of nostalgia for me to tune into it with fondness.
HONORABLE MENTION: Melt Away: A Tribute to Brian Wilson by She & Him
Zooey Deschanel and and M Ward's band has had some pretty great highs in their musical careers. Which is why I'm just not getting the need for an album of Brian Wilson covers. It's not bad... they don't embarrass themselves or anything, and it's perfectly listenable... it's just that this album isn't really needed. The Wilson originals bury the effort six feet under, and I wish they had spent their time on something that mattered.
SINGLE OF THE MOMENT: Loser by Charlie Puth
I have to take Charlie in small doses because listening to an album stacked up has me growing really tired really quickly. That being said, I really loved his track Loser, which is quite a banger.
LATE ADDITION: Wrapped Around Your Finger by Post Malone
I maintain my list all throughout the year, adding albums and songs as they pop up. This one popped up for me two weeks ago! It's the kind of music from Posty that I love, and ended my year of music on a happy note.
Posted on October 2nd, 2022

I may be mired in wildfire smoke and barely able to breathe, but have no fear... because an all new Bullet Sunday starts... now...

• Behind! If you're old like me, get a colonoscopy, y'all...
The fact that Ryan and Rob are willing to use their celebrity for important stuff like this is why I love Ryan and Rob.

• Ch-Ch-Ch-Changes! Just an FYI that Changeland, one of my favorite films of 2019 is now streaming on Amazon Prime. As if the fact that it's gorgeously shot in Thailand isn't enough, the closing credits features Thai cats! It's a bit deeper movie than this trailer lets on, but it's fun too...
I own the film, so I can watch it any time I want... but I will be giving it more than a couple views on Amazon just to give it some love for studio execs who need to be making more films like this.

• Diego! Well, crap. Now I love Diego Luna even more than I already did...
If you're not watching him being brilliant in Andor, which is the best Star Wars since Rogue One, then you should get on that.

• Play On! Explain to me again how Lizzo playing a fucking flute is somehow controversial. SHE IS A CLASSICALLY-TRAINED FLAUTIST FOR FUCK'S SAKE! Just listen to this...
IT'S NOT LIKE THEY HANDED IT OVER TO SOMEBODY WHO DOESN'T KNOW WHICH END TO BLOW INTO! IT'S NOT LIKE THEY GAVE IT TO PETE TOWNSEND WHO SMASHED IT ON STAGE! IT'S NOT LIKE LIZZO SHOVED IT UP HER ASS AND SHIT IT OUT ON THE CONSTITUTION WHILE KICKING A PUPPY. AND TELL ME THAT BEN SHAPIRO EVEN KNEW ABOUT THE FUCKING FLUTE BEFORE LIZZO PLAYED IT. THE WAY THIS PIECE OF SHIT TRIES TO CREATE FAUX OUTRAGE TO CATER TO PEOPLE WHO JUST WANT TO BE MAD ABOUT EVERYTHING ALL THE TIME IS THE ACTUAL FACE TATTOO PHENOMENON AT WORK...
But that's not all... how the fuck is Lizzo twerking with a slave-owner's crystal flute more disrespectful than it's past-owner James Madison LITERALLY ENSLAVING PEOPLE? I will never in a million years be able to wrap my head around the faux outrage and blatant hypocrisy of these assholes...
Good on Lizzo. I hope she keeps pissing people off for a very long time.

• Expired! Petco rewards points used to expire after 90 days. Then it was 45 days. Now it's 30 days. They really, really don't want you to be able to cash in your points. I look forward to the email telling me that they expire in 24 hours. Guess the only thing I'm buying there now will be their bulk kitty litter... and it's probably cheaper and more convenient to get it from Chewy anyway, so maybe not even that. In adjacent news... look forward to your local Petco announcing that they will be closing soon.

• Avalon! I have only ever been a casual fan of Brian Ferry and Roxy Music. That being said, I played there Street Life: 20 Greatest Hits album to death, and still fire it up from time to time...
Most of my favorite tracks from Roxy Music is from their masterpiece album Avalon. Which is why this look at the album and its recording is so cool to see...
And... now I'll be listening to Street Life on repeat for the rest of the evening.

Until next Sunday then. Here's hoping your air is smoke-free.
Tags:
Assholes
,
Bullet Sunday
,
Fucking Assholes
,
Hipocrisy
,
Movies
,
Music
,
News
,
Television
,
Worthless Pieces of Shit
,
YouTube
Categories:
Bullet Sunday 2022
,
Movies 2022
,
Music 2022
,
News – Politics 2022
,
Television 2022
—
Click To It:
Permalink
—
2 Comments: Click To Add Yours!
Posted on August 12th, 2022

I will never get used to the spatial audio in Apple AirPods. The way that the audio shifts to provide the illusion that the sound is always coming from in front of you is witchcraft, and somebody should be burned at the stake for it. Except not really, because it is so cool.
Even after all these months, I still feel like the AirPods are broken and the sound is, in fact, actually coming from my monitor. So I pull out the earbuds and confirm that they are, in fact, working... then immediately feel mad at myself for being fooled yet again.
Different topic, same subject...
I continue to make progress on setting up my studio. Most recently that meant trying to do something about the audio system so I can listen to music while I work. I started with a single SONOS One speaker, but missed having stereo... so I added a second one... only to end up still unsatisfied because they aren't spaced well for good stereo. Also, they're blasting at me from the sides, which is disorienting.
Unfortunately there's no much I can do about it, because my desk is pushed up against the wall. And there's a window above it. What I really need is SONOS PLAY bar right in front of my desk so that I could have simulated stereo separation coming from directly in front of me.
And that's when I was like wait a minute... I could relocated the SONOS PLAY bar to my studio, then upgrade my living room surround system to a SONOS ARC. That's actually a great idea all the way around, because the ARC uses HDMI for volume control that comes directly from my television instead of the janky optical+separate remote ordeal I have with on the PLAY. As usual, it only takes money. The ARC is $900. The mounting bracket is an additional $80. With tax that's over $1000, which is hard to justify. Except... July was one of those glorious twice-a-year months with three paydays instead of two... so maybe? SONOS has an upgrade program running where you can get 15% off your purchase, and it's only money, right? Who needs savings?
So I ordered it.
I'll spend every day until it arrives experiencing buyer's remorse, I'm sure.
Posted on August 8th, 2022

I was deeply saddened to learn that Olivia Newton-John passed away today.
I fell in love with her... and fell in love with her hard... while coming of age in the 70's and 80's. I wasn't allowed to go see Grease in the theater (I was 12 years old)... but it was one of the first VHS tapes I rented in the early 80's! That was back when VCRs were so expensive that you couldn't afford to buy one unless you were wealthy. Instead my family reserved the VCR at the local video store to rent over the weekend... then rented a stack of movies to go with it so we could get our money's worth out of the pricey machine rental.
And, yeah, I watched Grease multiple times on multiple weekends. I was never a fan of musicals but... well... Olivia Newton-John. Because, damn...
And I listened to that soundtrack many, many, many, many times.
And then there was Xanadu.
Because of my love of Olivia-Newton John, I begged my parents to let me go see it in the theater when it was released in 1980. I was 14 years old. It was a PG film. My parents relented, and let me go see it with my friends. The movie wasn't great... but I did like it because it played to a trifecta of my loves... Olivia Newton-John, Don Bluth Animation, and Greek mythology. Olivia Newton-John was positively radiant in every frame...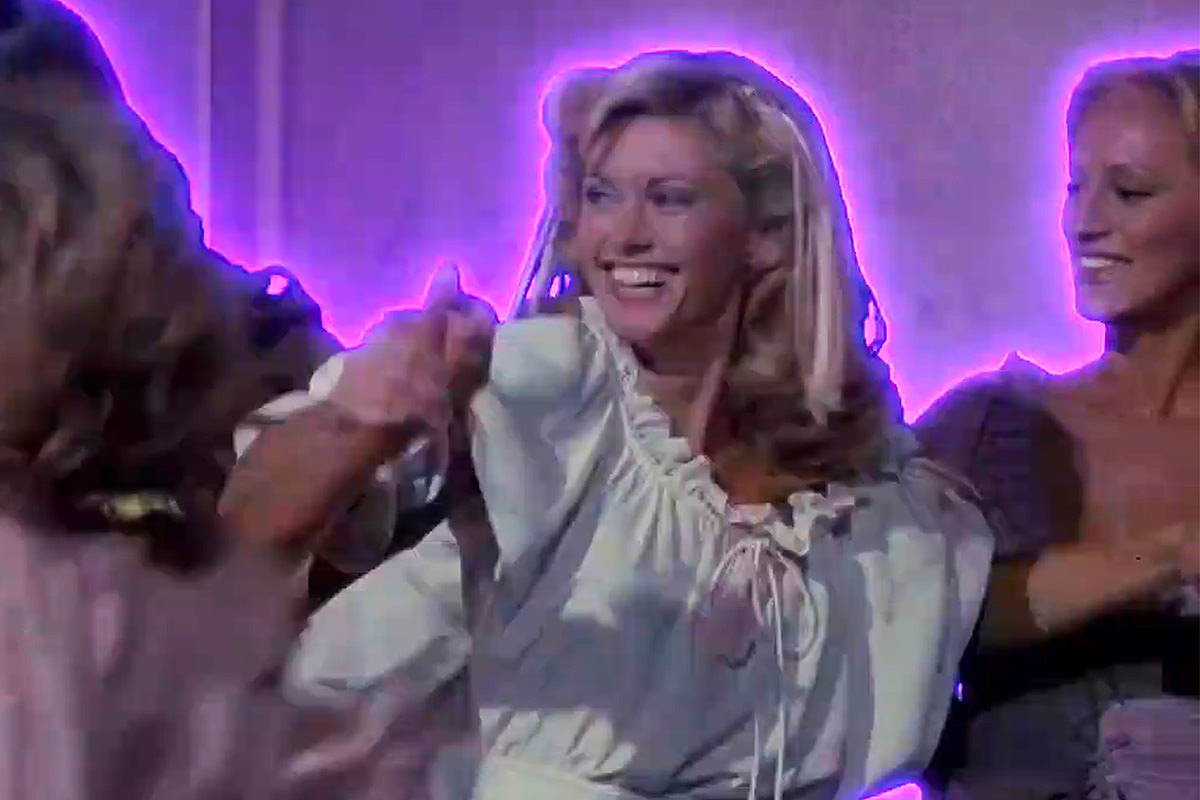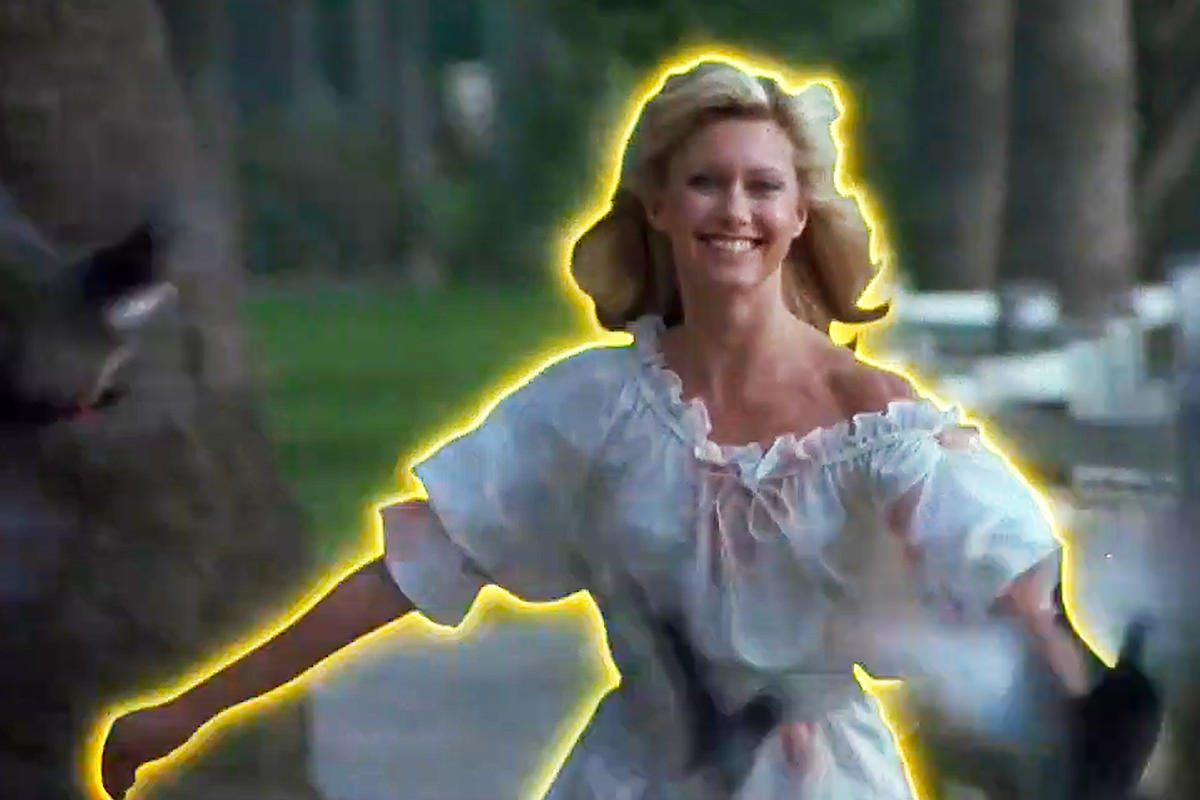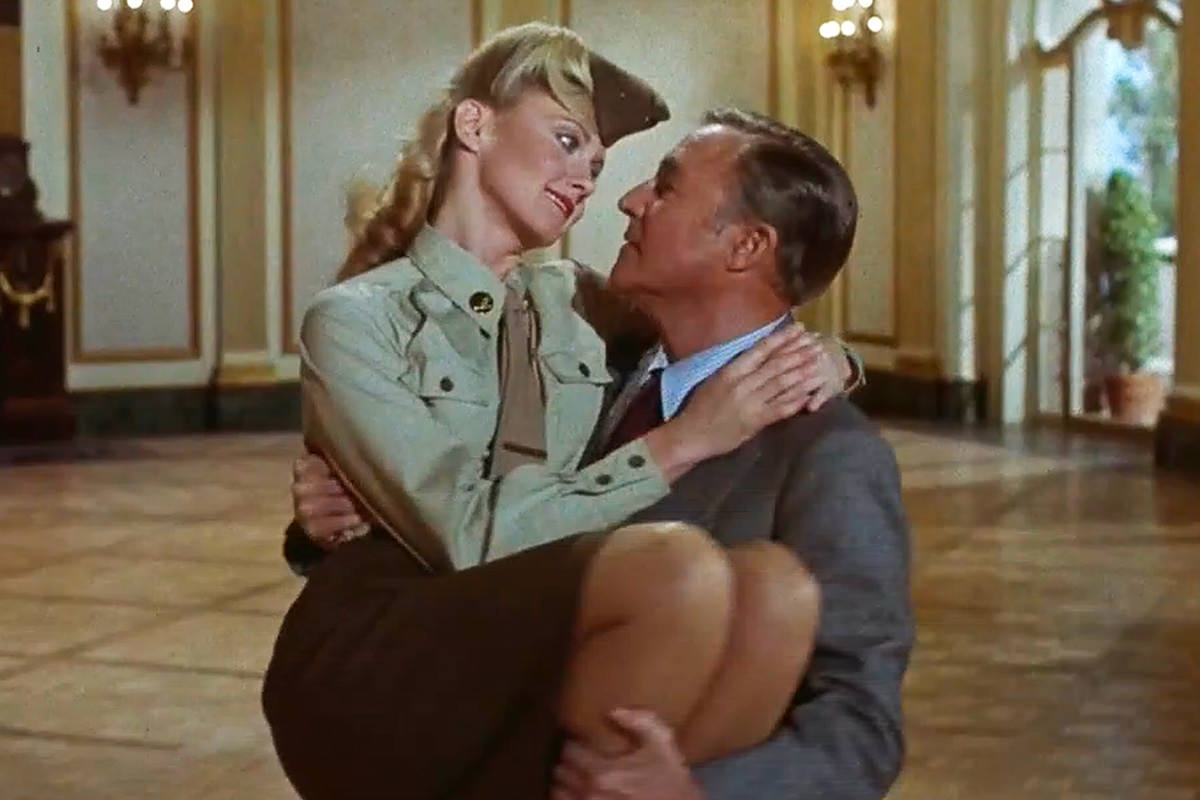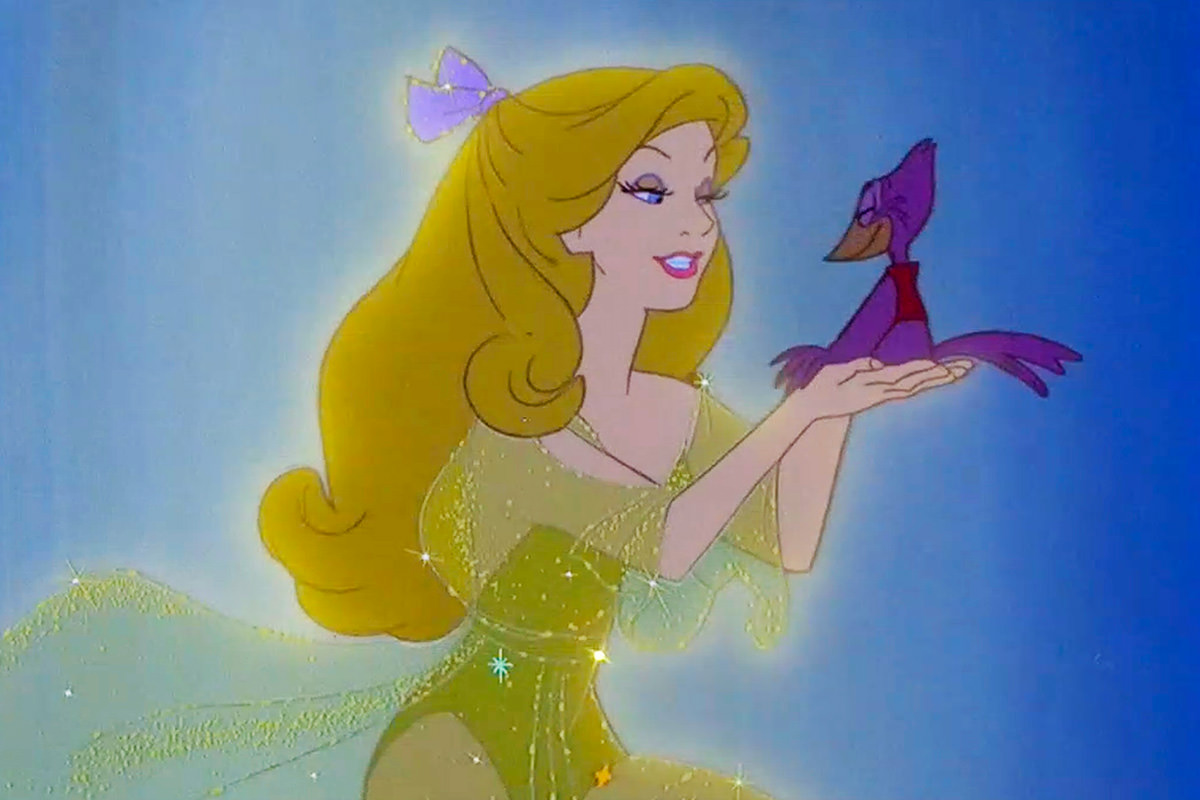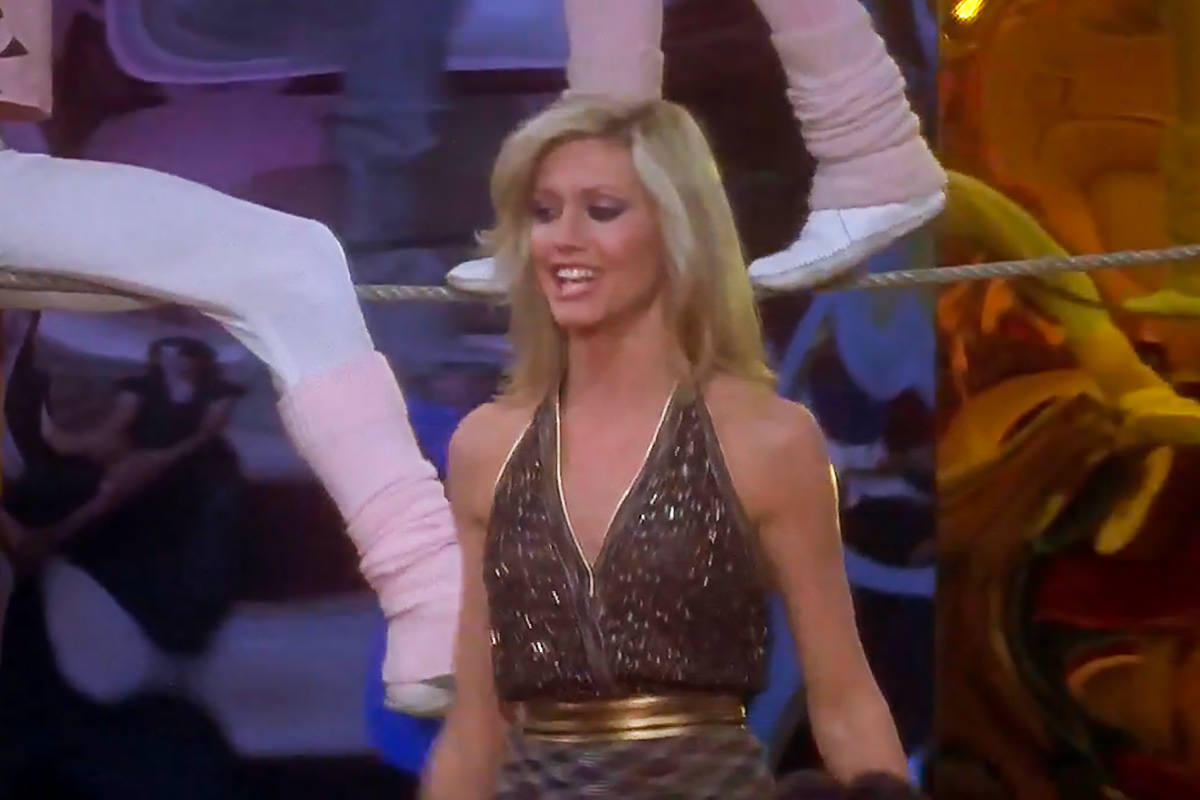 Kira never got to say which muse she was... but she started to say it. Her name started with a "T" which means she was Terpsichore, muse of dance. And while the movie wasn't all that great... the soundtrack was incredible. I played it to death.
In 2020 Olivia made a quick video on the 40th anniversary of the movie... looking as radiant and lovely as ever...
ONJ appeared numerous places over the years. More recently she was a guest-judge on RuPaul's Drag Race and even appeared in one of the Sharknado movies!
As sad as it is that she's gone, she leaves behind music that will carry on for a very long time. And that ain't nothin'. Rest In Peace, Olivia Newton-John, you will be so very missed.