Posted on December 25th, 2021

Thanks for spending another year with me here at Blogography! Wishing you the happiest of holiday seasons for what's been a rather awful year. Again.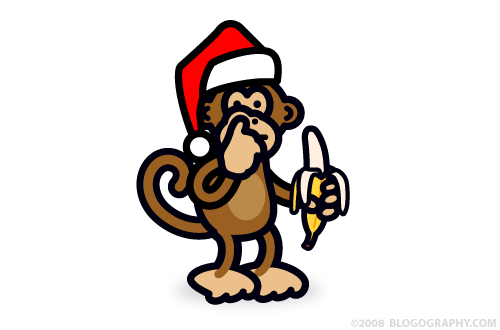 I'd wish for a better Christmas next year, but I did that in 2020 and look what happened!
Posted on November 29th, 2021

Last night I finally, finally managed to get my WordPress cache turned off so that hopefully I can post to my blog again and have the posts actually show up. My frustration level is at an all-time high, so despite wanting to not think about troubleshooting Blogography I just couldn't take it any more. So here we are.
UPDATE: Annnnnd... shit. Now it's more broken than it used to be. Guess I'm not done banging my head against a wall after all.
UPDATE: UPDATE: Yeah, I'm giving up for the night. Maybe later tonight if I have any brain cells left I can worry about it then.
UPDATE: UPDATE: UPDATE: Are... are we working again?
UPDATE: UPDATE: UPDATE: UPDATE: No. Fuck.
Posted on November 11th, 2021

My website is coming back as "WEBSITE NOT FOUND" half the time... but if I reload, it's all there. I can only guess that it's my cache plugin acting even more weird than ever? The PROBLEM is that when I go to send POSTS to Blogography my blogging software can't find the site either. This is bad when I get an error... very, very bad when my posts seem to go through, but are, in fact, LOST FOR ALL ETERNITY!
So... what to do? Turn off the cache plugin so that I stop having problems... or leave it on because otherwise my blog will go down any time it gets an increase in traffic?
I'm leaning towards turning it off, but I'll have to look into that next week, because my schedule is stacked.
Posted on October 12th, 2021

No clue if it's Dreamhost, my internet, or what the hell is going on... but my blog takes fucking forever to load. FOREVER! Maybe it's the new "fast cache" plugin that's screwing things up? No idea. Which means it's just one more task to add to this weekend's "To-Do List." Which, as you might guess this close to winter, is packed full as it is.
The good news is that I managed to finish cleaning up my garage and putting away my woodshop projects so that I can park indoors. That's a task that got moved up the list because I've been having to scrape frost off my windows in the morning. And I really don't want to be doing that when the home I'm fortunate enough to call my own has a garage.
The bad news is that some of my projects got put away unfinished. That's going to really bug me, but maybe I'm going to have some time on the weekends that I can drag them out and get things completed.
BWAH HA HA HA!
Only joking. My motivation to do anything of use is at an all-time low. I'm lucky to be getting out of bed in the morning. And I probably wouldn't if my cats didn't need to be fed.
Which just goes to show that Jake and Jenny are good for something after all!
Posted on October 1st, 2021

Maybe the internet is trying to tell me something.
Maybe it's time to just let go.
My blog has been mostly-broken for months now. Strange things happen where posts don't get posted or are lost completely. But sometimes they post just fine. And I never know which of the three it's going to be. If the post gets posted... but then doesn't show up and is lost... there's nothing I can do. It's just gone gone gone. It's so commonplace to me now that I automatically copy the post before posting so I don't have to start over from scratch if it's lost. It's maddening.
And has me wondering if clinging to blogging is even worth it any more.
My traffic is as high as it's ever been, but that's mostly due to Google searches. Everybody else has moved on to social media and left blogs behind, so why not me?
I just don't know.
One of these days Blogography is going to break down (again) and I'm just going to leave it there.
Posted on September 28th, 2021

Last night I had to retrieve some files from an old computer. I hadn't turned it on in two or three years, so there was a lot of junk that got left behind.
Including some unfinished blog posts.
Like this one...
Whenever I look at a world map, all I see is this...




I've been trying to get to India for years. I actually planned to visit several times... including my 50th birthday... but ended up having to cancel my plans for one reason or another.
I suppose

No idea where I was going with this.
I would still very much like to visit India one of these days. Assuming we ever get to travel again. It could just be pandemics from here on out. In which case I'm happy for what I got to see of the world when I was still able to see it.
Now I guess planning a visit to the grocery store is about as big as I dare to dream.
Posted on September 20th, 2021

When I got back on Friday, I posted all the entries I wrote while I was away.
They still haven't shown up on my blog, which leads me to believe that there is an issue with my new caching plugin. Oh joy.
UPDATE: Now everything is showing up except Saturday & Sunday??
UPDATE UPDATE: Welp. enough messing around for tonight. I'm beat. I guess my posts show up when they show up then.
Posted on September 9th, 2021

I will still be blogging every day, but the posts will be saved and posted after a week's time. This is to help my blog caching plugin do its thing, because it keeps getting reset after I post and it's taking forever. I'm at a convenient breaking point, so the timing is good.
See you next Friday when (hopefully) things will be back to normal around here and I can flood Blogography with a week's worth of posts.
If you could ever say things were ever "normal" here to begin with.
Posted on August 30th, 2021

My blog is dead.
It was hugged to death by a Reddit post talking about Lake Powell's water level being so low that junk which is usually underwater is now fully exposed. Like a boat that sank. A comment on the Reddit post had a link to a Blogography post where I had a photo of the same boat 15 years ago...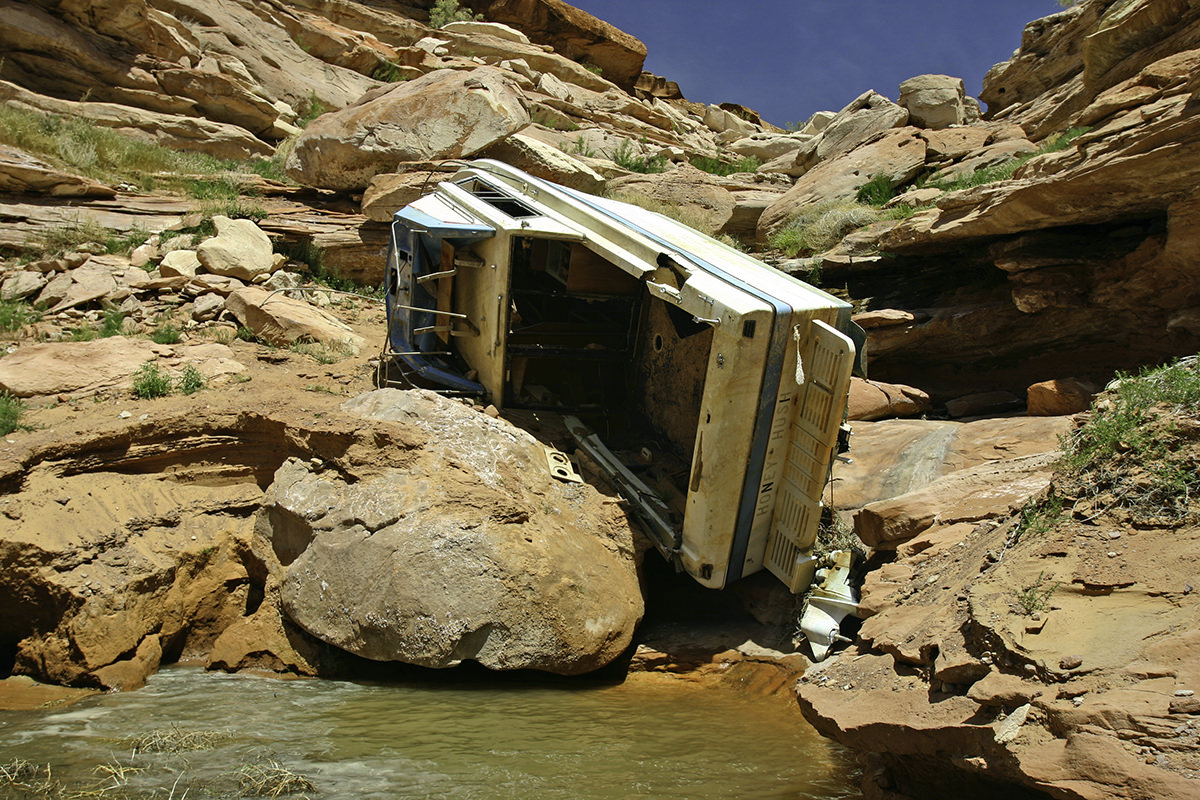 And since I pay for the cheapest web hosting available, I don't have the bandwidth available to deal with such a massive amount traffic. Which means my blog just kind of shut down under the pressure of it all. Somebody had to post a link to the page cache on the Internet Wayback Machine.
In an attempt to (maybe?) head off such a thing in the future, I installed a plugin called "Simply Static" which is supposed to help by generating static pages so WordPress doesn't have to generate it every time it's requested. Not sure how it works since WordPress still gets the request and has to reroute it to the correct page via the plugin, but I guess it's worth a shot.
Heaven only knows that a resource as critical as Blogography should stay running at all costs.
On the bright side, getting the "Reddit Hug of Death" did get me an opportunity to upload a higher resolution shot that looks much better, so I guess there's that.
UPDATE: I couldn't get my Simply Static site to work properly, so I ended up reinstalling WP Super Cache. Maybe it will work this time around? I had to remove it a couple years ago because videos wouldn't play. Maybe that's been fixed.
Posted on August 4th, 2021

Facebook is the craziest thing.
I just got banned... again... for suggesting that anybody committing violence against airline cabin crew who are just trying to do their job by enforcing mask requirements deserves to get shot. I made no threat against any specific person, just commented on a scenario figuratively speaking. The result? Banned for 24 hours. Meanwhile, there's a guy I know who routinely gets highly specific threats of death or bodily harm... not to mention a woman I know who has received multiple rape threats... and Facebook is all "nothing to see here... business as usual... carry on!"
Fortunately on my blog I can say whatever the heck I want.
So I can make my feelings very clear here... people know that masks are required by airlines. So if you're reminded of that fact by a flight attendant and rather than obey their rules you instead assault other passengers or the cabin crew then, yes, absolutely, you should probably shot. There's simply no excuse.
Consequences and all that.
There's good news to be had, however, I've finally figured out how to fix my blog. What else could I do if I wasn't wasting time on Facebook with this stupid crap?