Posted on June 6th, 2023

Remember back in the mid-2000's when I was having annual Blogiversary contests and creating cool Blogography swag for prizes and purchase?
Pepperidge Farms remembers.
And so do I every time I open my closet. That's because I kept a number of the T-shirts for myself. Most of them I wear only on special occasions because I'm down to my last shirt. But others? I wear to death. They don't look all that great now because the ink is flaking off, but the shirts themselves were quality and are still in good shape so I am happy to wear them anyway because they're darn comfortable.
There is one of my designs from 2006 that actually looks better the more it ages...
So cool. If I could have found a way to print like this when they were new, I would have absolutely done it!
Interesting to note that at the time I designed the shirt, Bad Monkey looked quite different...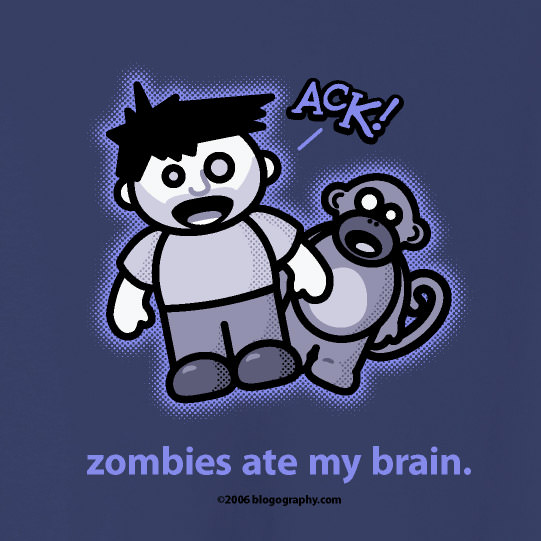 And that was when Lil' Dave still had "mitten hands" as well. In-Between when I designed the shirt for the contest and actually printed it, Bad Monkey had changed to his current, thinner version... and Lil' Dave has actual fingers.
Good times. Good times.
Something I need given that there's no new episode of Ted Lasso tomorrow.
Posted on May 14th, 2023

It's a lovely Spring day. As much as it can be, anyway. So I guess it's go time... because an all new Bullet Sunday starts... now...

• Opt-Out of Stupid! =sigh= The first Mother's Day without my mom was, as you can imagine, a soul-crushing event (and each one after is no easier). Not because it reminded me of what I had lost... because there wasn't anything that didn't remind me of what I lost... but because the weeks leading up to the actual day means being inundated with emails telling me to buy a gift for my mom. That's an assault that was incredibly difficult to deal with, because nothing would make me happier to be able to buy something for my mom again. Now-a-days, it's getting a bit easier because companies are allowing you to fine-tune your emails to not include events which my be tough on you. But of course there are total fucking assholes who want to make this kindness into something horrible. Because that's where we are now...
Just fuck you. Is there absolutely anything... anything at all... that can make you put yourself in somebody else's shoes for even two fucking seconds? I try to find the best in people, but I sincerely doubt it. Trading off of misery is apparently too profitable.

• Tattoo Me! I was outright called a "satan worshipper" once because I have tattoos. I told them that my tattoos have nothing to do with satan... only to be screeched at with "ANY TIME YOU DESECRATE THE BODY GOD GAVE YOU, YOU ARE WORSHIPPING SATAN!!!" And that's when I looked her dead in the face and said "Then hail satan and fuck off, I guess." Because I'm happy to confirm idiotic biases. I'm here to help. Which is why this resonates with me...
People are so toxic now-a-days that unless you conform exactly to their ideals they go all asshole on you.

• Jenno! A conversation I had yesterday...
"Ooh! There's a new Hannah Gadsby special on Netflix!"
"You like Hannah Gadsby?"
"Sure. I mean, there's parts of her sets that don't hit with me, but that's okay."
"THAT'S BECAUSE YOU'RE A MAN!"
"I HAVE APOLOGIZED FOR MY GENDER MANY TIMES!"
"YOU CAN'T APOLOGIZE ENOUGH!"
"I'M SORRY!"
"Okay. You're good for another day."
"DAY? Can't we call me good for a month? Or at least a week?"
"No."
"Okay then, have a nice evening!"
"You too!"
"As good as the patriarchy will allow."
As it turns out, this is my favorite her specials.

• Lord of the... Rings?! These Wes Anderson parodies just keep coming. And are fantastic...
As always, I would pay serious money to see this film if it existed.

• Dooce. One of the most famous bloggers ever, Heather Armstrong, died this past week after losing her long struggle with depression (a battle she fought very hard, even going so far as to undergoing experimental treatments where her brain activity was stopped then restarted). This is awful. I think she wasn't even 50 yet? She's one of the old school bloggers who started around the time I did. I wasn't into mommy-blogging, but I ran across her posts from time to time and she was about as real as you could get online. Which is probably why she was so popular. I'd read things she wrote and think "Wow, I could never get that personal so publicly!"... and I'm betting that's what made her so relatable and beloved by the community that formed around her (even though lately she became infamous for blogging some pretty heinous things that I disagree with vehemently). Rest in peace, Heather. You can't get Dooced in heaven. Thinking of her two kids today.

• Tour of Wealth! Architecture YouTube is a bottomless pit of amazing homes and buildings for me. I can get lost there for hours. This one popped up this past week, and I honestly don't know how to feel about it...
If I had the money? Sure! I'd live there! Except... I just don't know how I could sleep at night knowing that I've used $250,000,000 that could have gone towards helping people. AND STILL HAVE MILLIONS LEFT OVER TO SPEND ON A NEW HOUSE... OR TEN! It's just so unfathomable to me.

Wishing you a good rest of your Sunday.
Posted on March 16th, 2023

The sad thing about the demise of blogs is that our online communities have been fractured.
Facebook is nice, but you can have friends half-way around the world living in the same city who don't even know that each other exists. Back when blogging was a thing, we'd regularly have meet-ups, and new friendships could be formed since everybody showed up to the same place and got to know each other in a social setting. There are days I miss blogging more than others (even though I'm still doing it)... and today is one of those days.
Posted on February 6th, 2023

And... apparently my blog is borked again. I can update pages, but posts kinda fall into the void.
I used to use an app called "MarsEdit" which was a very nice composing tool. But it stopped working once the security on my blog changed because it doesn't support the required authentication now. I know that it was recently updated, but it doesn't look like the security was touched, so I started composing posts in WordPress directly. Problem is that WordPress doesn't like you to organize your own photos and wants to do that for you. I'm not a fan. This means I need to hand-code the photo HTML by hand. Also a pain in the ass.
AND THEN WORDPRESS EATS MY POST!
I wonder if it's a better option to compose the posts in MarsEdit and then copy/paste into WordPress? At least that way my posts wouldn't be lost if they didn't actually... you know... post.
=ponders-
Oh well. All that's going to have to take a back seat to fixing whatever is wrong with Blogography first.
Posted on January 1st, 2023

The first article I read in 2023 was this one: Bring back personal blogging. And it's interesting to me because every new year I debate whether or not I'm going to keep doing =waves arms= all this. The question has been especially wearing on me during the pandemic when I'm just not doing anything worth blogging about.
The article itself has some very good points though.
Social media, for all its popularity, simply doesn't have the community building that blogging did back in the day. I've made a lot of friends via blogging, and a handful of them are closer than many of my in-person friends. My guess is that this is because in-person friendships rely mostly on how often you see them, where blogging friendships rely mostly on how often you keep in contact with them. Even if you meet up with them in-person from time to time, your relationship goes beyond presence.
On April 18th, Blogography turns 20 years old.
Back in the day, I'd hold a week-long Blogiversary celebration with contests, new merchandise, and everything. Just look at this video from 2008 when the Grand Prize was me flying to wherever in the world the winner was so I could deliver prizes and have a party...
And so I did. I flew to St. Louis and had a great time!
I can't imagine doing anything like this now.
I mean, sure I still meet up with old-school bloggers from those early years. I met with one back in 2021, another in 2022, and will meet with another in March (proof positive that the article is right about the communities we built). But that's a far cry from all the "Dave Events" that used to happen... or even the larger gatherings like TequilaCon.
But it's this past community that still exists which makes blogging something I'm not quite ready to give up on yet.
So... here's to twenty years of blogging... and counting, I guess?
Wishing you and yours all the best in this New Year.
Posted on December 18th, 2022

I need a week to catch up on life before heading over the mountains for the holidays.
See you post-holidays for my annual wrap-ups for 2022.
Posted on July 26th, 2022

Blogging to me is such a habit that I don't even think about it much. I haven't had to in nearly twenty years. When I have a free moment each day I just sit down and hammer out what's on my mind. Simple.
But the way I hammer out my posts is via a blogging app that does all the heavy lifting for me. It's called MarsEdit and I've been using it for a long time. The problem is that my blog is under constant assault by hackers who really, really want the deep Google index for Blogography to exploit for whatever it is they're selling. I get hundreds, sometimes thousands, of attacks a week. And because of this I've had to close some security vulnerabilities... including the access point that MarsEdit uses to post here. There's a newer, more secure way to use outside blogging apps, but unfortunately MarsEdit can't do that yet.
So now I've had to start using the internal editor inside of WordPress, which is less than ideal. It gets the job done, but it's a whole lot less intuitive and spontaneous as I've gotten used to.
Oh well. It wouldn't be life on planet earth if somebody wasn't trying to make my life miserable. This is just one more thing.
Posted on July 6th, 2022

This morning I started getting hit with attacks to my blog. Hard.
I was receiving hundreds of emails from my blog security software informing me that unauthorized people were trying to login, resulting in their IP address getting banned. I didn't really pay them any mind. Even if they get my username which, let's face it, WordPress makes easy... they have to manage to guess a rather complicated password (so complicated that I have zero hope of remembering it and have to rely on my password manager)... plus I have two levels of two-factor authentication enabled.
This makes it a bit tough to break through, but there's all kinds of WordPress vulnerabilities that get exploited, so it's bound to happen eventually.
There are attempts to break into my blog daily. But I have not had such a huge series of attempts like this in a very long time.
Maybe my previous entry had something to do with it? No idea.
Posted on May 23rd, 2022

As you may (or may not) have noticed, my blog wasn't updating this past week-and-a-half.
I continued to write as I always do, but when I went to post anything to the site, Blogography returned an error saying that my "connection had been refused." I automatically assumed that my WordPress installation was borked because it keeps happening with increasing regularity.
But this time it wasn't WordPress's fault.
Eventually I figured out that the VPN node I had been using to access the internet was the same node used by somebody trying to hack my blog. When my security plugin on WordPress detected the attempt, it blacklisted the IP address. When I switched to a different VPN node, I was able to post everything that had been stacked up.
What are the odds?
This does have me concerned that people who use VPNs (and, seriously, everybody should be using VPNs) are going to have increasing difficulties attempting to reach content on the internet.
And where would the internet be without Blogography?
Far, far worse off, I'd imagine.
And, oh yeah... the trailer for the new Mission: Impossible movie dropped today! It looks bonkers cool!
This entire franchise has had some great stories. And the stunts are incredible. Can't wait!
Posted on May 2nd, 2022

I am tired.
Too tired to think about blogging.
But not too tired to scroll through TikTok while I eat dinner!
A little happy for your Monday... especially if you ever watched Boy Meets World (here's a link in case TikTok is being a dick)...
I feel this to my very soul (here's a link in case TikTok is being a dick)...
Maybe it's because I had a tough day, but this hit brutally hard. We do have a lot of work to do (here's a link in case TikTok is being a dick)...
I should probably go to bed now, but I think I'm too tired to think.