Posted on May 27th, 2018

It may be the last day of the week, but this holiday weekend keeps on rolling... because an all new Bullet Sunday starts... now...

• Pooh! Of all the movies coming up, I have to admit that Christopher Robin is the one I'm most looking forward to at the moment...
With all the advancements in special effects, it's the ability to make films like this which impress me most.

• Whoa! Keanu Reeves and Winona Ryder? Sign me up!
I'm not a romantic-comedy "romcom" kinda guy, but this movie will be worth seeing for the casting alone. Not in theaters, of course, but when it hits HBO or Netflix, I'm on it.

• Hotness! I've been running across a lot of treasures from my past as I work my way through my garage. As an example... look how brutally hot I was on my learner permit!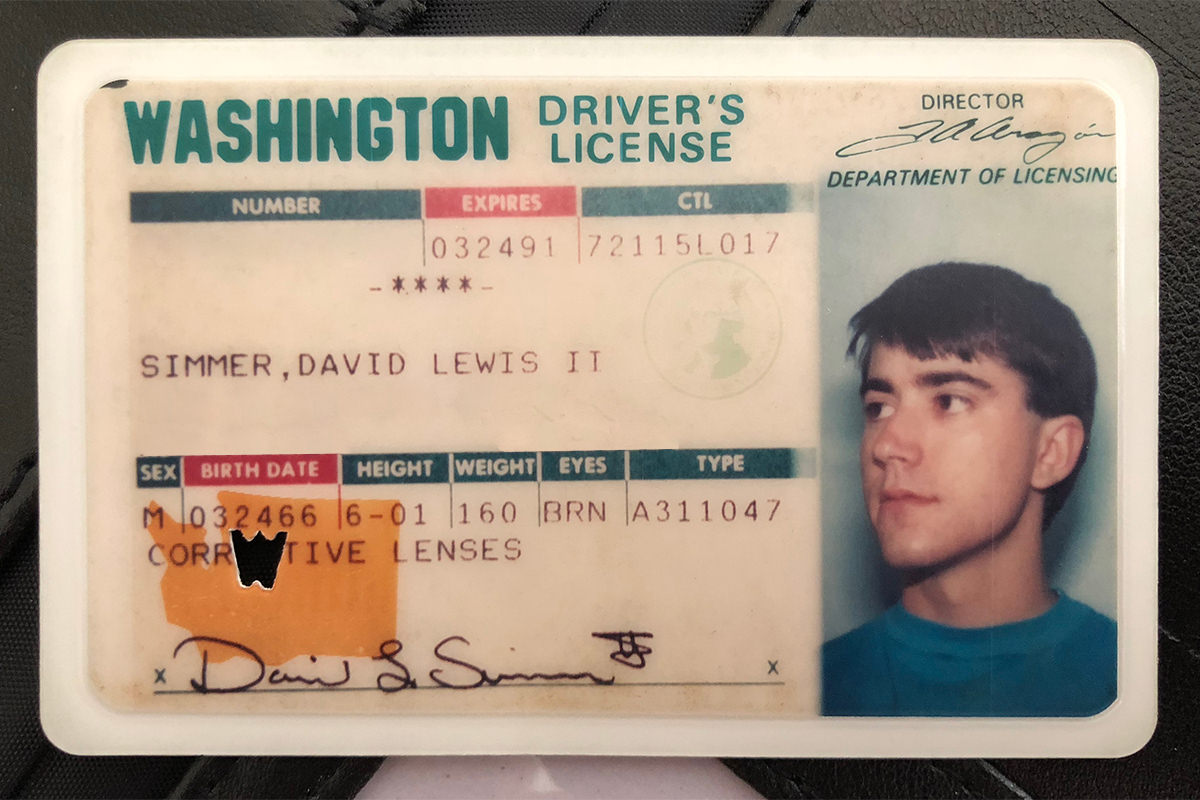 Yep... if I were legal in that photo, I'd do me!

• Togs! The closer they get to making Mon-El have his iconic comic book costume, the closer my inner fanboy gets to peeing my pants...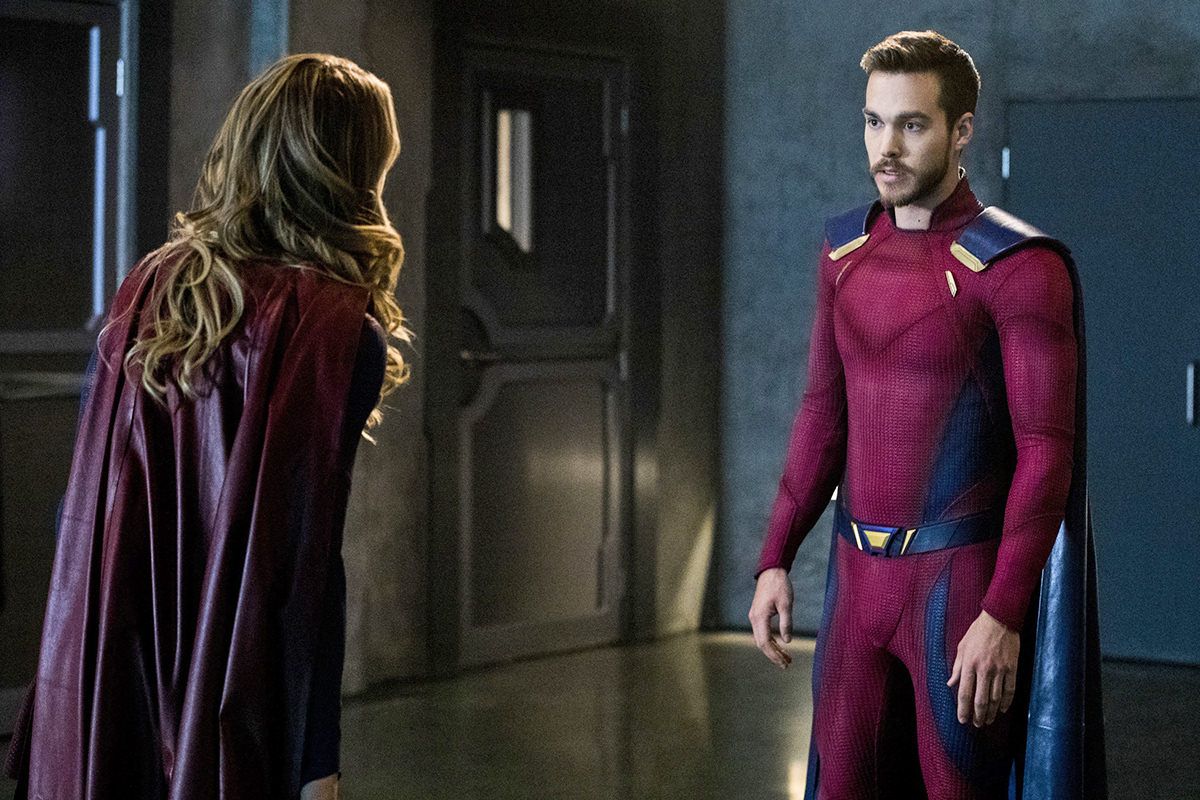 Almost there. Just need that waistcoat... then call it good!

• Thanks, Obama! Yes, I had problems with some of President Obama's policies... but I never stopped admiring him as a person. That goes double Michelle Obama, who was such an exemplary First Lady. So to say that I'm anxious to get my hands on her forthcoming book is an epic understatement...
The unabridged audiobook is available for pre-order at Audible. Since Michelle Obama is narrating all 14 hours of it, I couldn't press the purchase button fast enough.

• Quilt! Hey OG bloggers! Somebody made this incredible quilt for me back in the day, but I can't remember who it was? Does anybody know?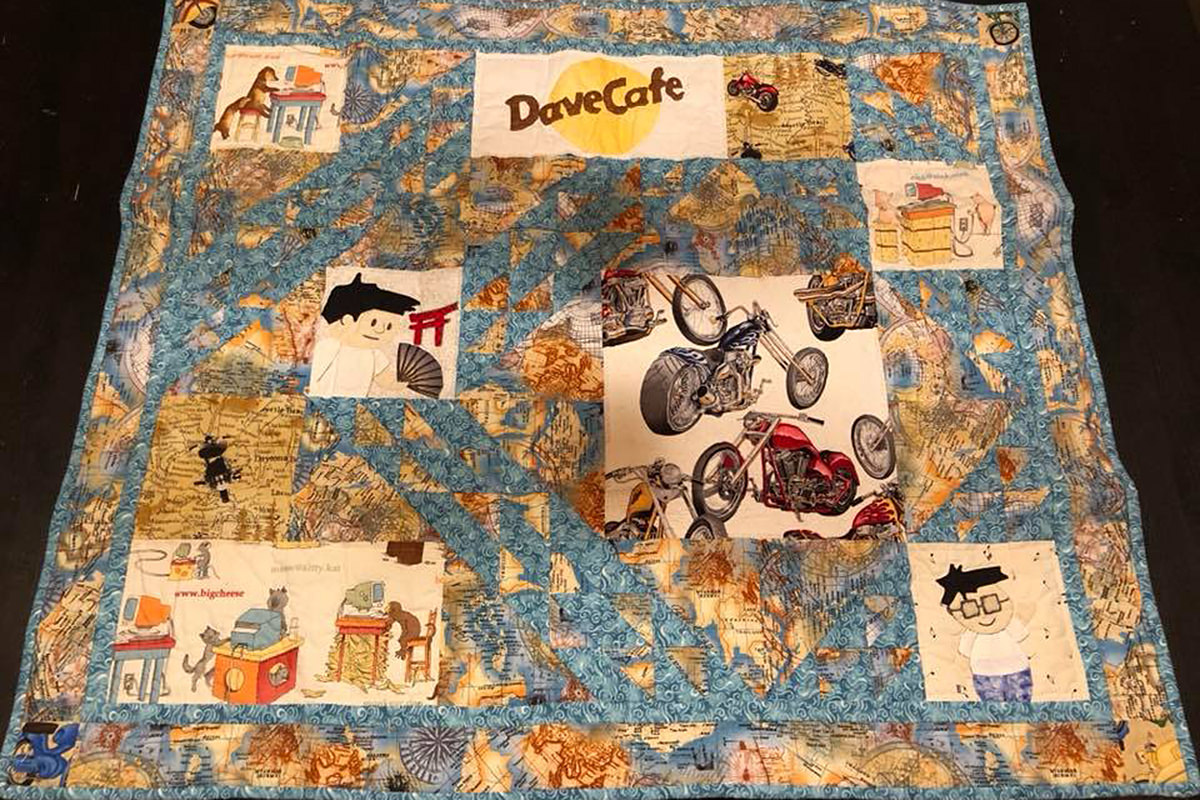 I'm hanging it up to display in my room, and I'd like to attach a tag with the author.

What are you still doing here? The bullets are over. They're over! Go home. There's nothing more for you here.
Posted on April 26th, 2018
I started paying for CBS All Access because it was the only way to watch Star Trek: Discovery. I kept paying so I could watch The Good Fight. In-between all that, I started re-watching episodes of 60 Minutes, a show I've never had much interest in until I found out that CBS All Access has nearly 200 episodes available for streaming. My biggest problem with the show is how they take interesting subjects and drag them out to the point of tedium. Which is why it's such a great show to have running as background noise while I work. I can safely ignore it while still absorbing relevant snippets.
Until something pops up that destroys my ability to ignore it.
While watching an old 60 Minutes segment on Bob Mankoff... cartoon editor of The New Yorker... there was a segment about cartoonists pitching their latest yucks to him. Most of the cartoons get rejected, but a few get through. Among them is a cartoon about Tarzan...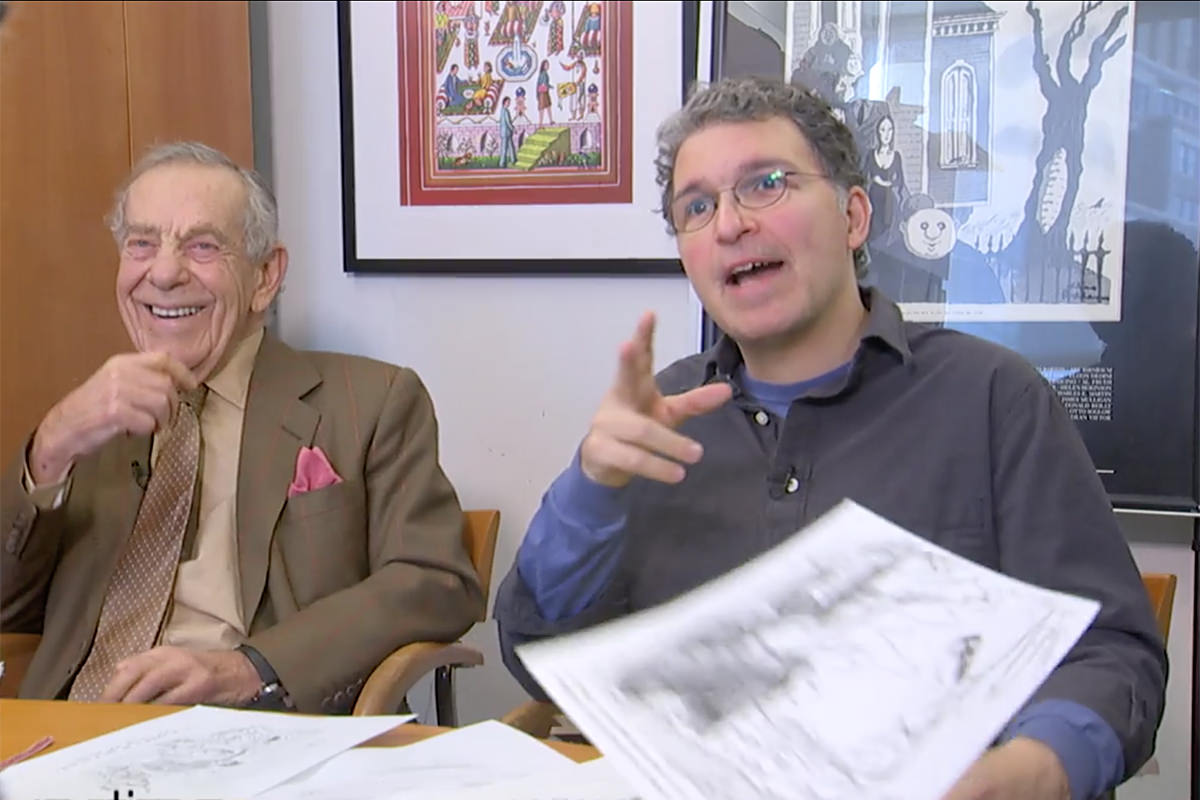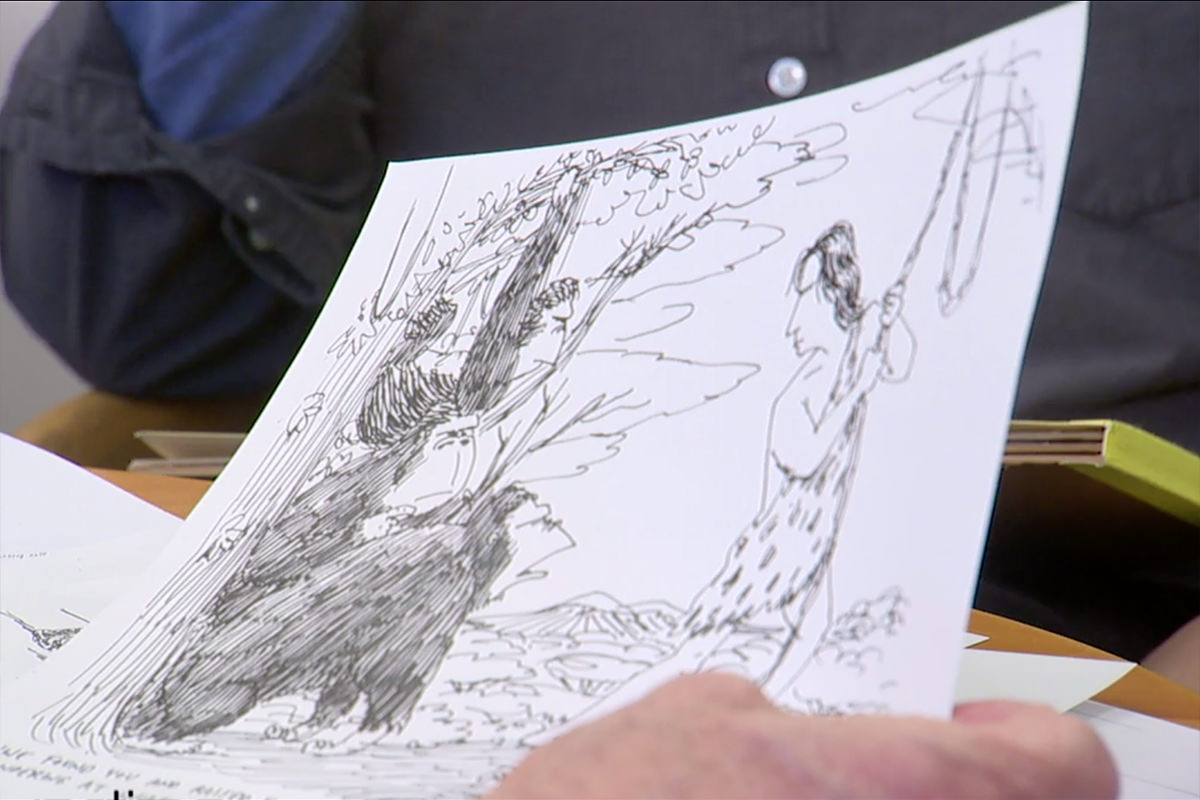 Mankoff: "The apes are saying 'We found you and raised you as one of us, so we were just wondering at what point did you learn to shave?"
Cartoonist: "I have researched this. There is no iteration of Tarzan in literature, comic books, or movies in which he has facial hair. It makes no sense!"
Doesn't make sense?
Bullshit.
Bull.
Fucking.
Shit.
You don't have to be a Tarzan fan like me who has read all the books dozens of times to know this is 100% bullshit.
In the very first book... Tarzan of the Apes... the Edgar Rice Burroughs novel that started it all... the original Tarzan source for all the literature, comic books, and movies... it is explained that Tarzan started scraping the hair from his face because he understood he was a man, not an ape, and he was afraid of turning into an ape...
"But of these things Tarzan did not think. He was worried because he had not clothing to indicate to all the jungle folks that he was a man and not an ape, and grave doubt often entered his mind as to whether he might not yet become an ape.

Was not hair commencing to grow upon his face? All the apes had hair upon theirs but the black men were entirely hairless, with very few exceptions.

True, he had seen pictures in his books of men with great masses of hair upon lip and cheek and chin, but, nevertheless, Tarzan was afraid. Almost daily he whetted his keen knife and scraped and whittled at his young beard to eradicate this degrading emblem of apehood.

And so he learned to shave—rudely and painfully, it is true—but, nevertheless, effectively."

—Edgar Rice Burroughs, Tarzan of the Apes
Which begs the question... exactly how much "research" did this cartoonist do that he didn't run across the reason his cartoon is stupid? Apparently he didn't even read half-way through the first Tarzan book.
I wish I knew why crap like this pisses me off.
Is it because the cartoonist lied and obviously didn't research anything? Is it because I get sick and tired of Tarzan being continuously misrepresented? Who knows. I wish it didn't piss me off, because then I wouldn't have to stop working so I can blog about it.
Posted on April 23rd, 2018

As somebody who is passionate about world travel and the free exchange of ideas around the globe, today is a sad day for me. After years of hacking attacks on my blogs which result in dozens of lock-out notices being generated every day, I've just banned a huge chunk of IP addresses from access... including all of China, Russia, and goodly chunks of several other Asian countries that are currently on the blacklist maintained by Wizcrafts.
Will this stop hacking attempts? No. I'm sure plenty of hackers will use spoofing or VPN services to keep trying. That's part of the game, and I accept it. But, after my second malware exploit this year, I had to do something to try and make it more difficult for hackers to get through, and this was my last resort.
I get no pleasure from it.
Denying access to somebody in China or Russia who runs across Blogography in a Google search and has genuine interest in something I have to say goes against my entire reason for having a blog. But I've been left with little choice. Every time my site is exploited, it takes precious time I don't have to fix it. I either have to do my best to block these hacks before they happen... or shut down my blogs entirely.
So here we are.
As is always the case, the few are ruining things for the many.
Posted on April 11th, 2018
Traveling with one blogger friend to meet up with another blogger friend has to be one of the better things to come out of the internet.
That so few bloggers are out there now is more than a little depressing to me.
Posted on April 5th, 2018

There are times people ask me why I still have a blog. There are times I wonder myself why I keep Blogography going. The whole "blogging community" that seemed like it would last forever a decade ago has evaporated. Most of my blogging friends hung it up years ago or moved to Twitter or Facebook.
But not me.
It got to be a habit, it's still a habit, and there are still a lot of people visiting here (15 years of blog entries indexed by Google will do that).
I think, more than that though, is the nostalgia of what blogging once was that won't let go of me. I have met so many people because of this thing... many of whom have become dear offline friends. Blogging was family to me.
That's what makes it all worthwhile.
I am reeling this morning after learning that long-time blogging friend "Hot Coffee Girl," AKA Kelly, passed away. Such a kind and caring soul. And one who will be missed by many.
Once when I was in Chicago we met up to "Tilt" out the window of Hancock Tower in Chicago. As we were waiting for our ticket time, we stopped at a small juice bar at Hancock Plaza where Kelly proceeded to order a shot of wheat grass juice. This tiny little paper cup was filled with green sludge and cost a fortune, but she was totally loving it. And I was totally loving teasing her about it... which I did for years after.
I'm gutted that so many good friends met on the internet are now gone. Anissa, Lisa, Howard, Tracy, Rick... dear people all, each leaving a hole in our hearts. So glad I got to meet them in person, even though they became much more than a name on a computer monitor to me, even if we had never met at all.
Rest in peace, Hot Coffee Girl.
Posted on January 1st, 2018

I never get mad at my cats.
It doesn't matter what they do that's "bad," I can never bring myself to get upset at a cat for being a cat. My cats make that pretty easy. They're well-behaved, for the most part, and don't get into to much trouble. Now that they're grown, they never scratch at the furniture or pee on stuff or anything like that (so far, anyway)...
On occasion there are problems. One of them will get to a place they're not supposed to be and break something, for example. But... how can that be their fault? More likely my fault for not anticipating the problem and preventing it. If I'm mad at anybody, it should be me.
It occurred to me a while back that if I can't get mad at my cats, shouldn't I be able to translate that passivity to people?
The Trump presidency has caused a lot of anger in me this past year. His dangerous ignorance, utter stupidity, and inhuman ability to not give a crap about people he is supposed to be representing as president... it grates on me like nothing else ever has. I find myself consumed with rage on a near-daily basis because every day it's just more of the same horrendous shit raining down on the world from The White House. Or, more likely, whatever golf course President Trump is occupying this week.
As somebody who honestly believes that anger is more destructive on the person who has it rather than those it's directed at, I know this it not healthy. Not for me. Not for the people I care about. Not for my cats.
And so, after completely unplugging from the world for two weeks in Antarctica and becoming accustomed to not being angry every waking moment, I made myself a promise to try and be more pragmatic, caring, and less angry in the new year. To attempt to let my anger go and focus on positive things so that I can help be a solution instead of being part of the static that divides us.
And then... just as I was making my mind up, it happens. A tweet President Trump unleashed finds its way into my news cycle...
And see... here is why my "letting go" of my anger is so tough. When it comes to my new commitment to setting aside hatred, I've already failed the test. Because stupid-ass shit like this just reinforces how utterly brain-dead and dangerous this fucking asshole actually is for this country and the world, and I can't help but be angry about that.
He has no clue... none... what climate change entails, nor does he care. And yet he speaks as if he's an authority on the matter. This is the same idiot who thought that hairspray quality today isn't as good as it used to be because ozone-depleting CFCs have been banned from aerosols... the same CFCs that he said could never affect the ozone layer because his apartment is "all sealed."
And yet... here we are. And here I am. Right back to where I was in 2017.
There's more stupid-ass tweets to come, I'm sure. There always are. And that's not even the start of it. I'm sure he'll find a way to keep assaulting all the Americans he loathes in short order... the non-Christian Americans, the unhealthy Americans, the Mexican Americans, the gay Americans, the poor Americans... whatever... the list is never-ending. And that doesn't even touch crap like his assault on net-neutrality, something that I am beyond passionate about.
And so... what?
What to do with the torrents of overwhelming Trump-initiated anger that very nearly destroyed me in 2017?
I honestly don't know. I wish I could argue against his fucked-up agenda without getting so enraged about it, but that's something I'm apparently incapable of doing. President Trump is an affront to everything I care about.
And yet I have to try.
I have to do better in 2018.
I could never ignore what's going on in the world in order to make myself be happier. Ignorance just allows ignorance to propagate. But the same could be said for hate.
And so... a plan.
I will try my best to accept the negative for what it is rather than what I make it into.
I will educate myself on the negative in order to better understand it from an objective viewpoint rather than an emotional one.
I will act upon the negative in a positive manner from a positive mindset in the hopes of bringing about positive change in myself and others.
I will attempt to detach myself from the negative (Buddhist-style) in order to accomplish all of the above.
Easier said than done to be sure. But, as I said, I'm going to try. Finding more positive inspirations in my life that encourage me to make the jump will probably help...
And here we go...
Tags:
Anger
,
Blogging
,
DaveLife
,
Dumbassery
,
News
,
Politics
,
Stupidity
,
Truly Stupid People
,
Trump's America
Categories:
Blogging 2018
,
DaveLife 2018
,
News – Politics 2018
—
Click To It:
Permalink
—
1 Comment: Click To Add Yours!
Posted on December 31st, 2017

For those who only read one of my posts each year... or anybody wanting a recap of the past year here at Blogography... this post is for you! As customary, I've jettisoned loads of the usual junk so this entry is "mostly crap" instead of the "total crap" they usually are.
2017 was far from ideal. And yet... compared to the bucket of never-ending suck that was 2016, it was a vast improvement. So I can't really complain.
---
JANUARY
• Said goodbye to President Obama, a president that I never learned to truly appreciate until the total disaster that's now occupying The White House moved in...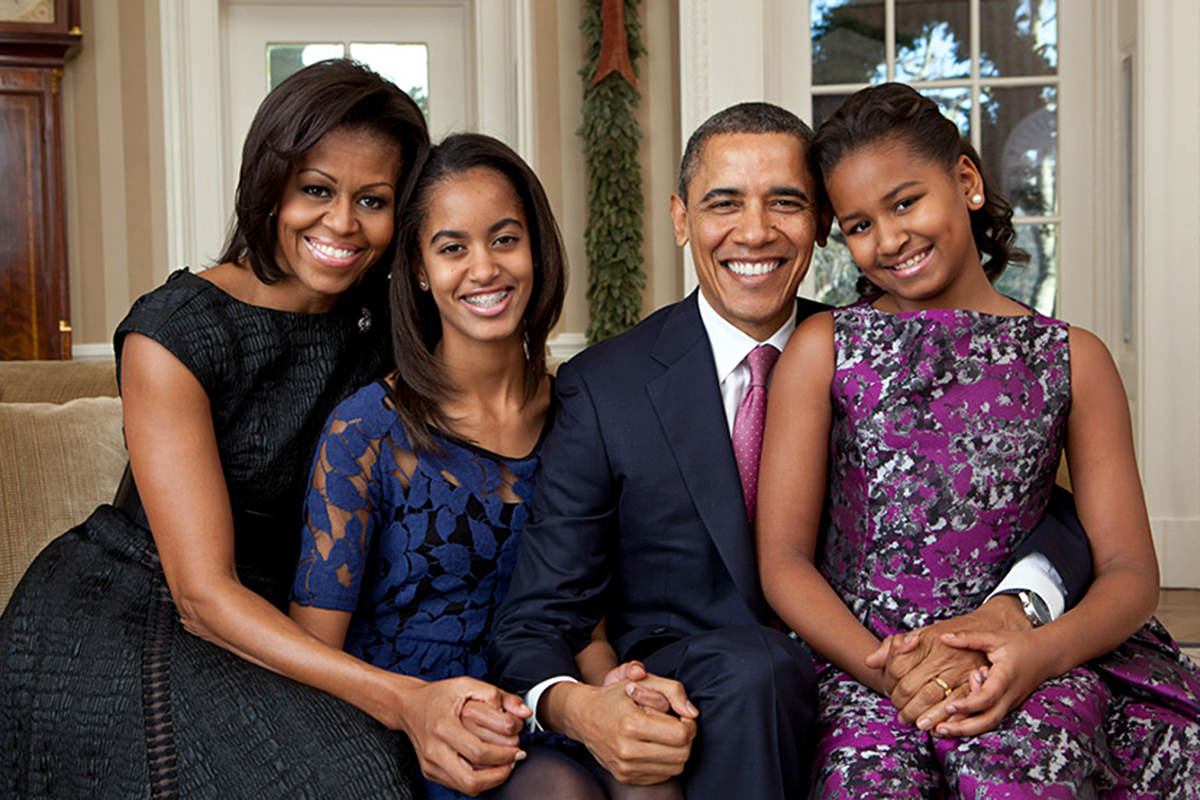 Official White House Photo by Pete Souza
---

FEBRUARY
• Took my cats to the vet for the first time, something I am definitely not looking forward to doing again in the New Year...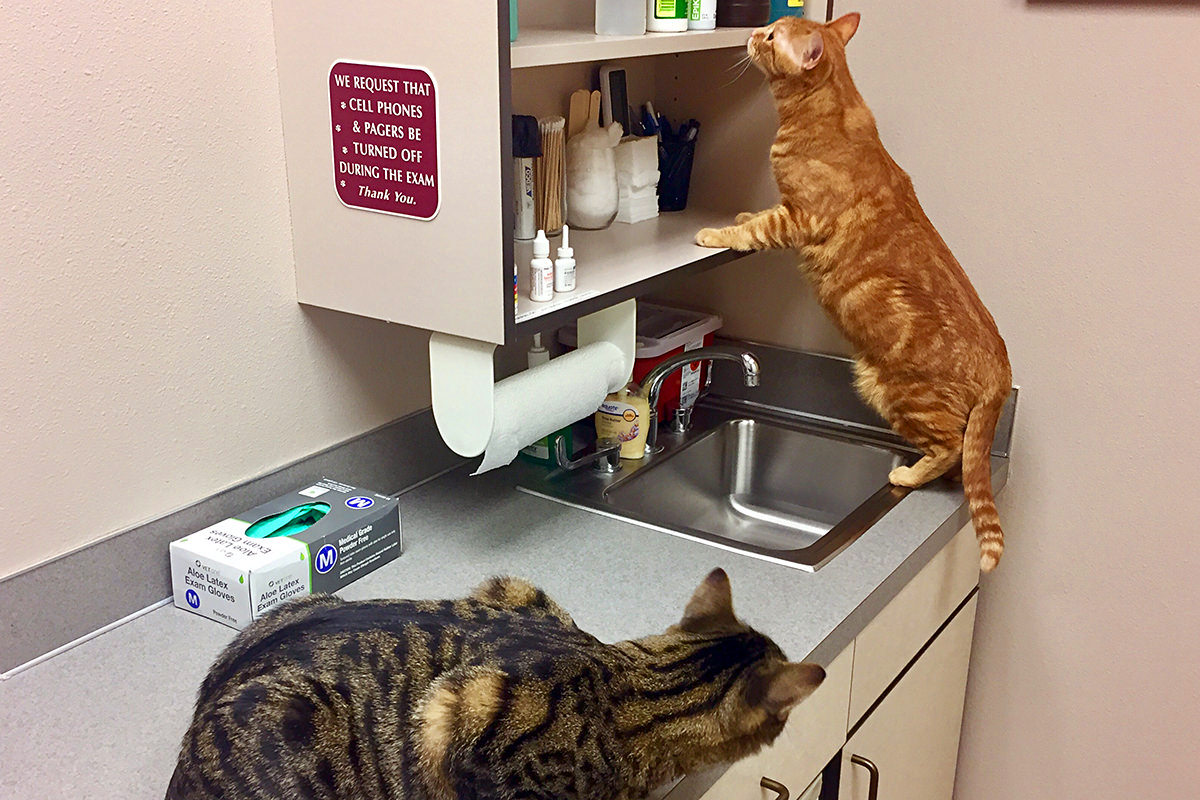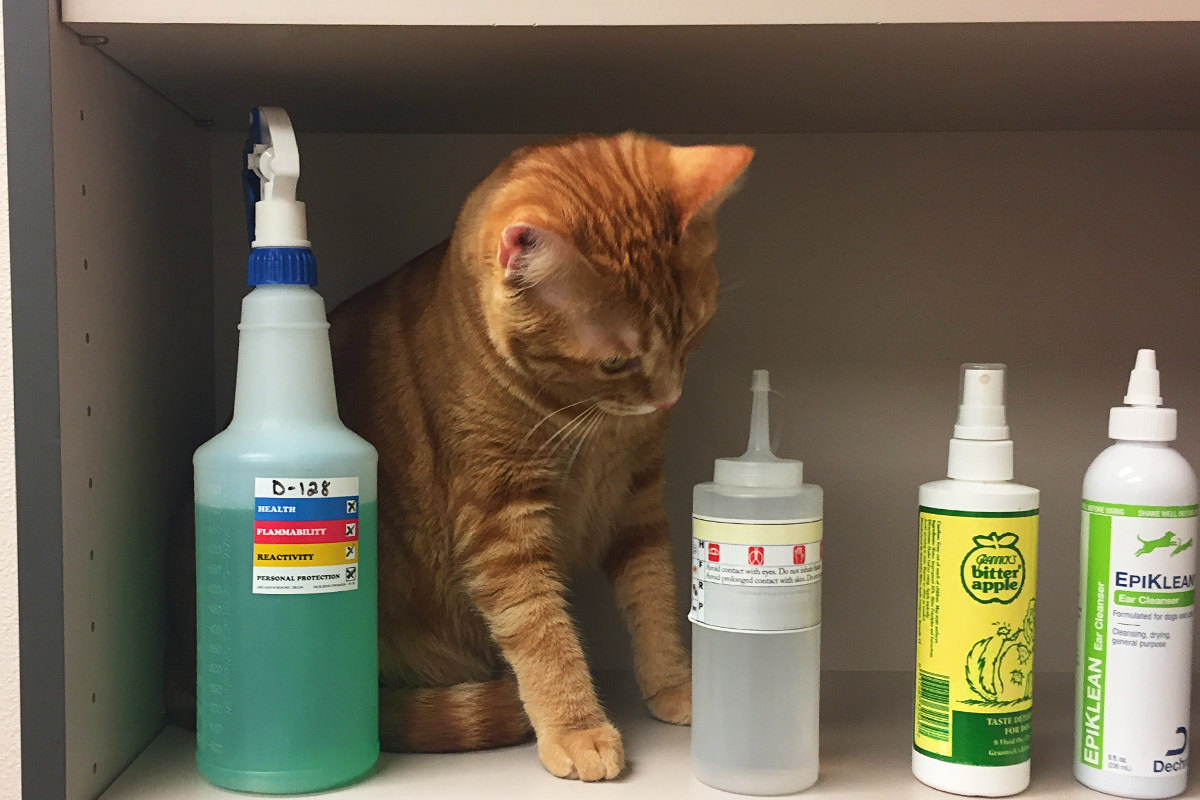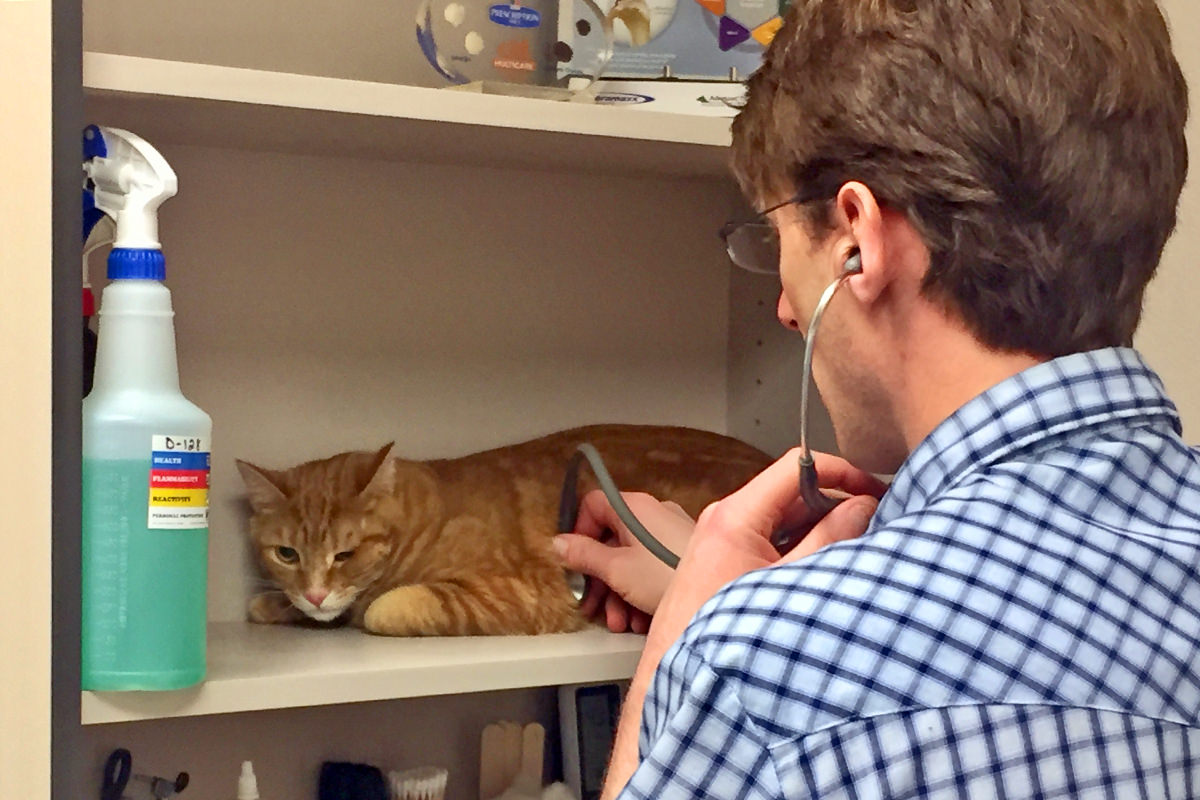 ---

MARCH
• Went to Disneyland for work, then ranked my all-time favorite Disney attractions.

• Yesterday I listed my favorite albums of 2017. Last March I listed my all-time most hated songs that everybody else seems to love.

• Flew to San Francisco to see one of my favorite new musical artists, Wrabel, with my (literal) rockstar friend Aaron.

• Headed to Las Vegas, where I finally ziplined down Fremont Street, among other things.
---

APRIL
• Said goodbye to Lil' Spicey...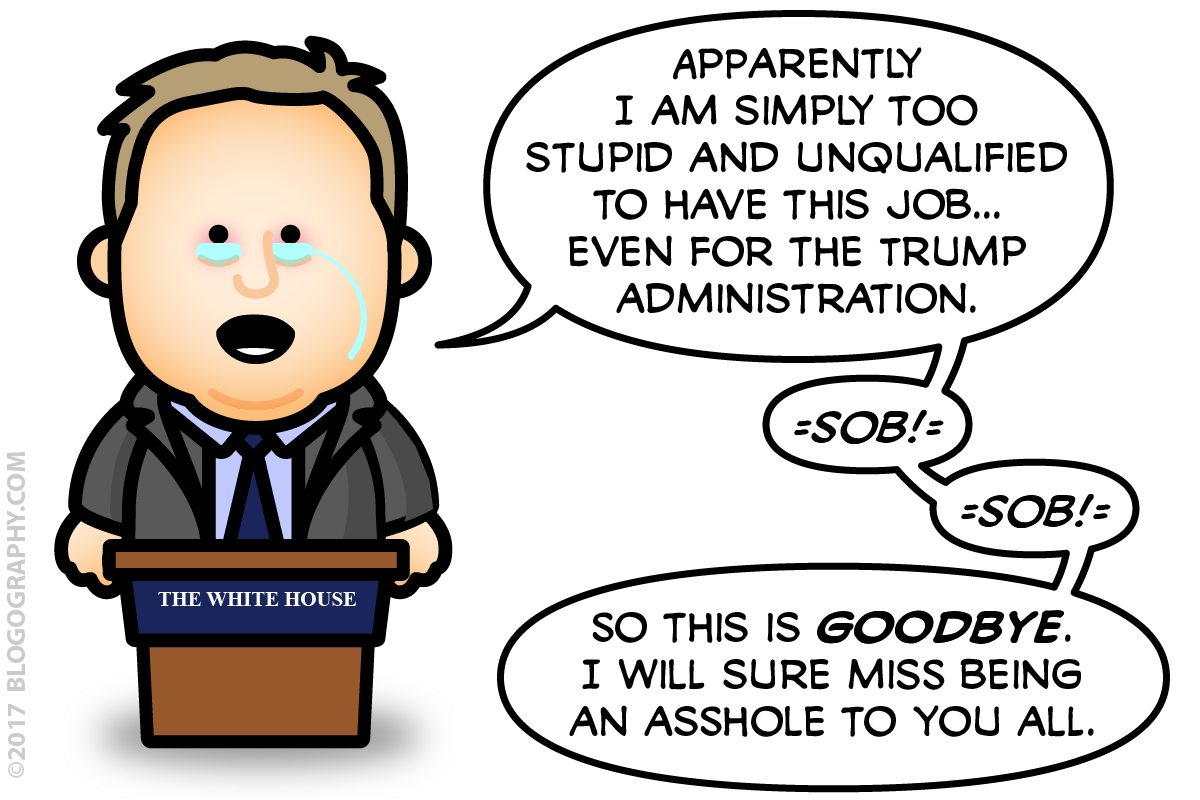 • Built a built-in desk... for my cats, apparently.
---

MAY
• Flew to Denver to celebrate my good friend Howard's 50th birthday with the Guardians of the Galaxy: Volume 2!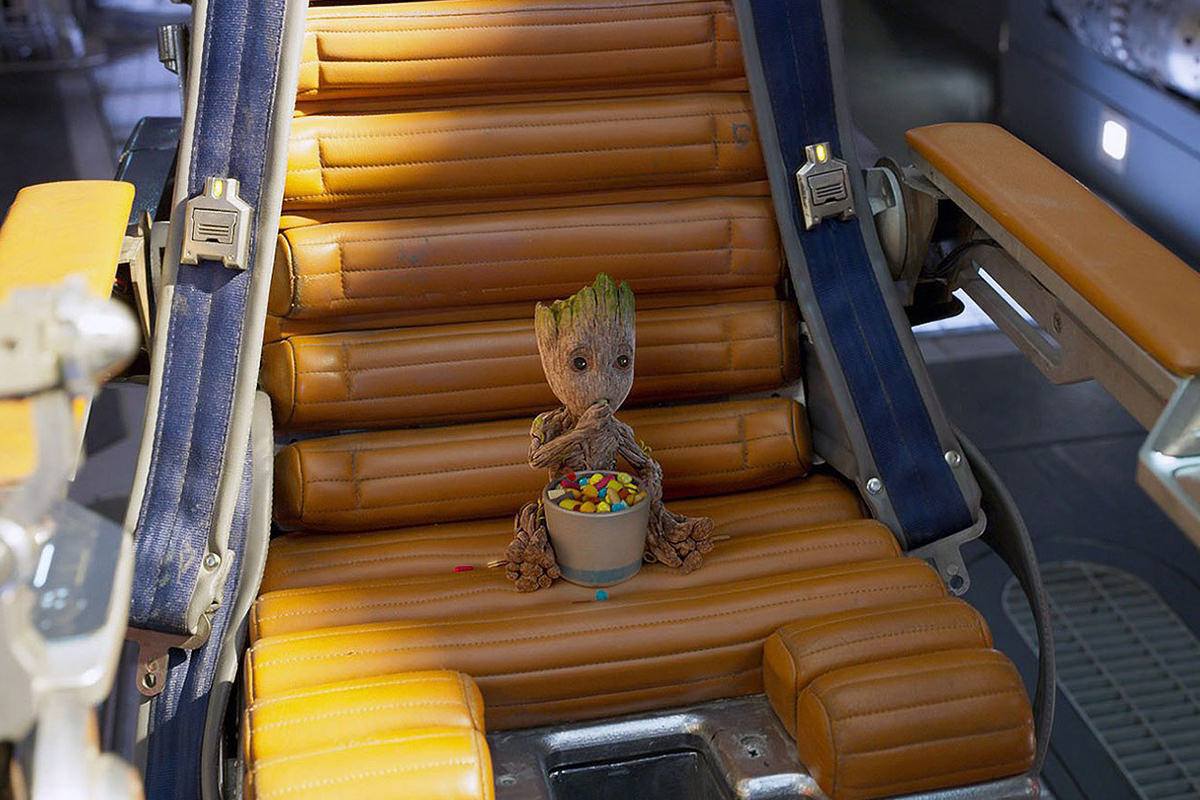 ---

JUNE
• Built new built-ins for my bedroom closet, which turned out amazing...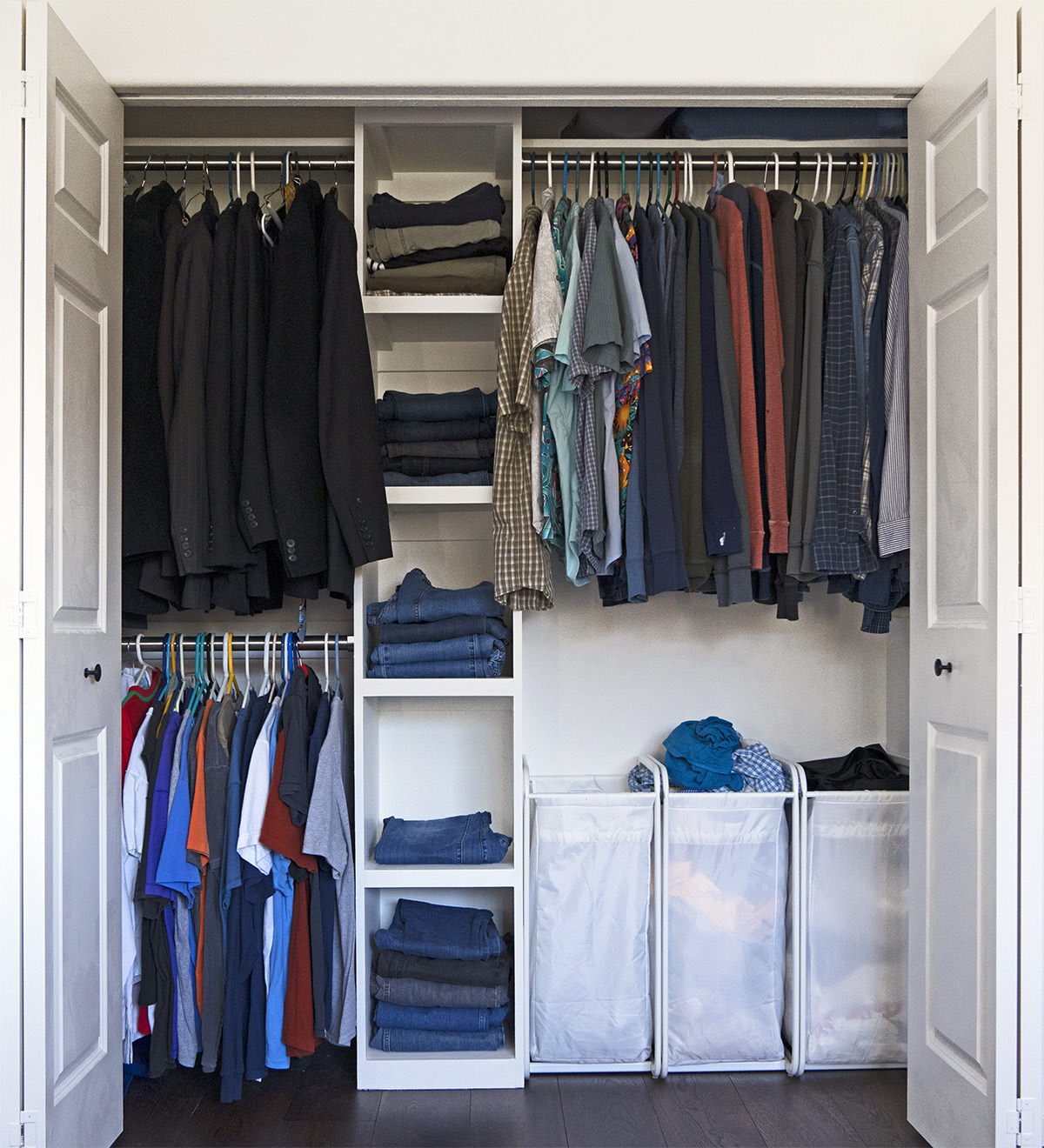 • Had one of the biggest scares of my life during The Great Jake Escape...

• Back to Vegas again (for work this time).
---

JULY
• Said goodbye to my long-time blogging friend, Anissa.

• Welcomed Carl the RoboVac to my family...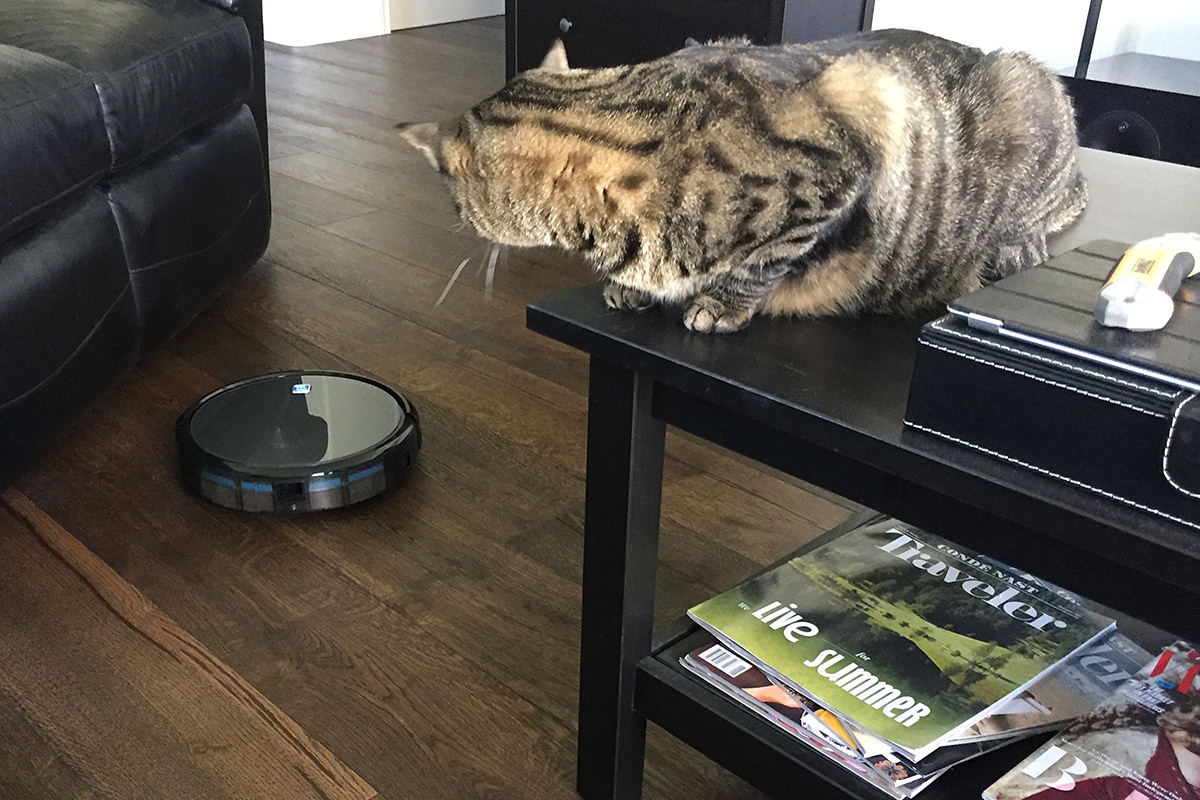 • Flew to Maine for blueberries (and for work).
---

AUGUST
• Said a painful goodbye to my good friend and long-time blogging buddy, Howard.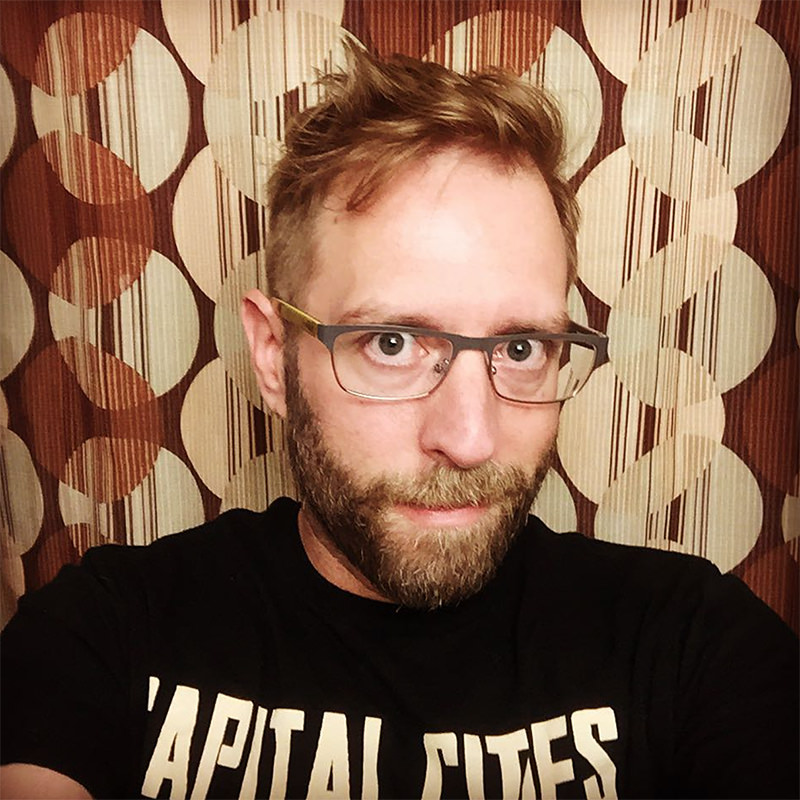 • Lived through Raccoonageddon.

• Live-blogged my photographing the eclipse (with my cats).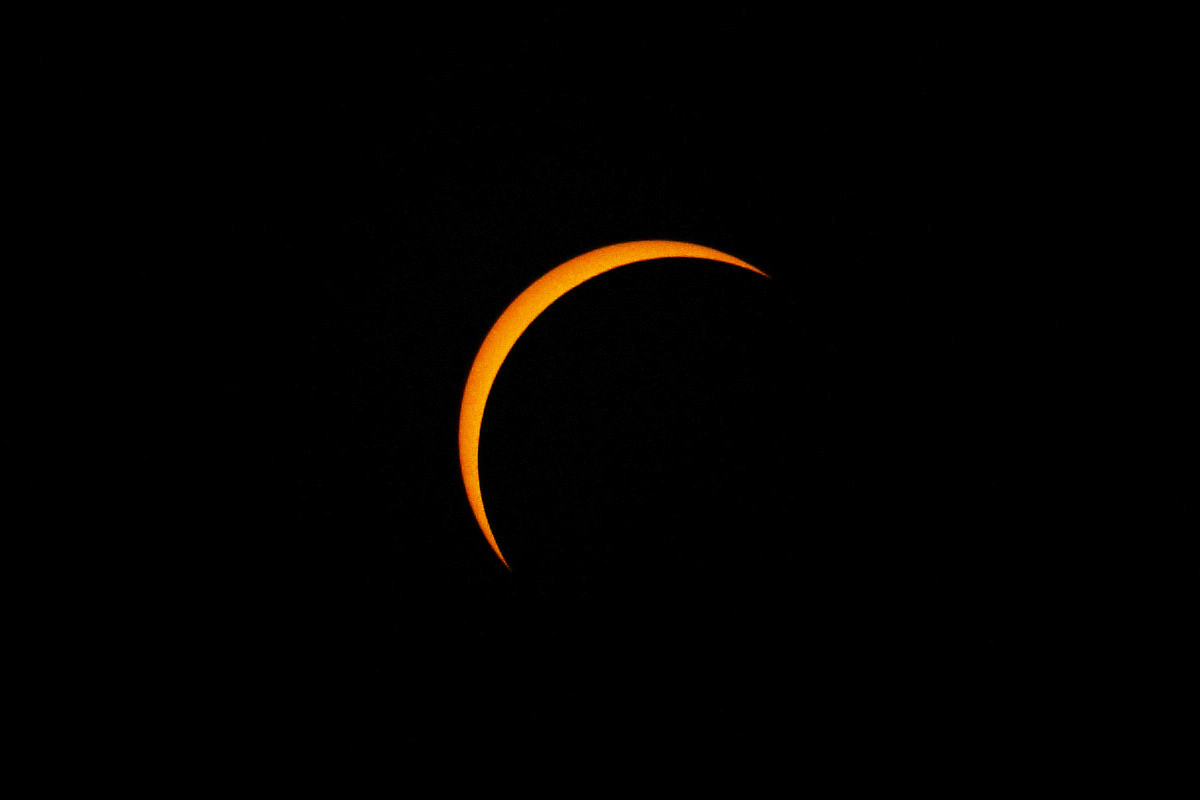 • Read The Nashville Statement so you don't have to.
---

SEPTEMBER
• Lived through another round of wildfires in my neck of the woods.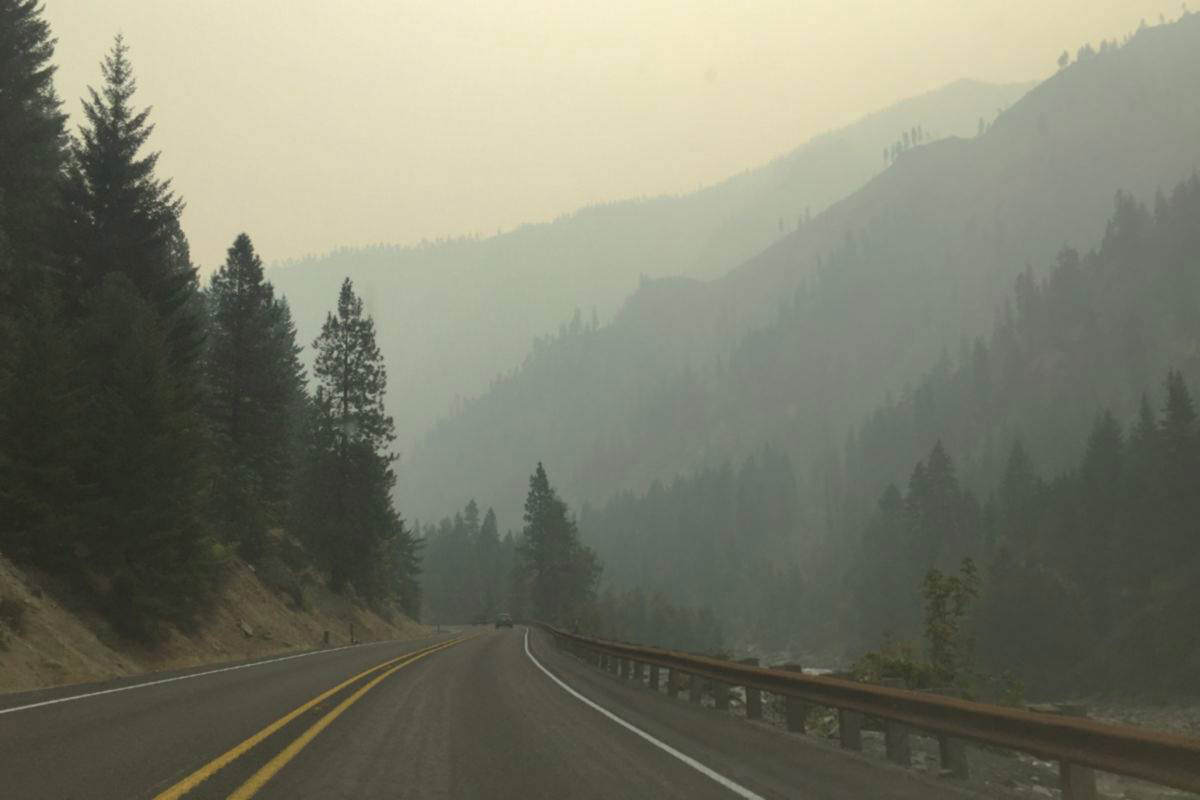 • Built a tunnel for a bird to escape my home before my cats could murder it...
---

OCTOBER
• Wrote "Second Amendments and Horse Shit" which surprised some people, I'm sure.

• Had some extra money that came my way and wrote about what I did with it... which included getting some old negatives scanned...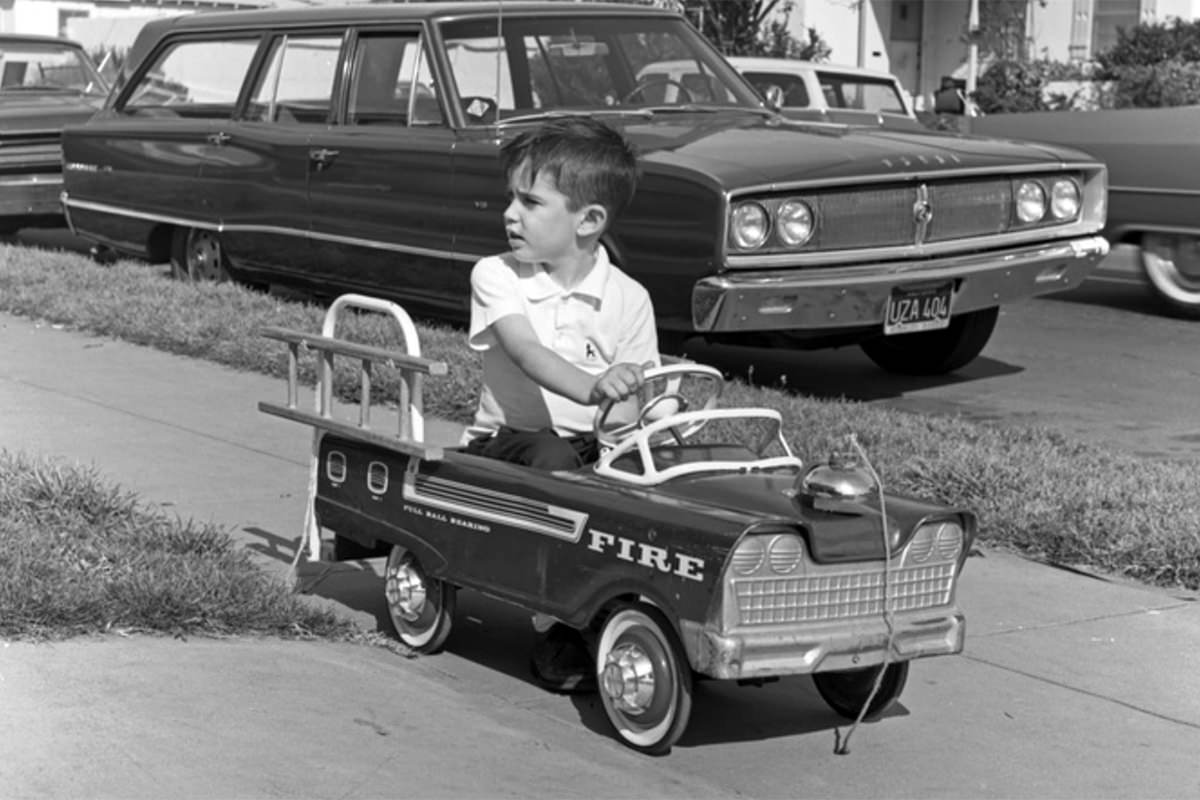 • Added Joy the Mopping Robot to Carl the RoboVac and my growing family.

• Got my cats into the Halloween spirit...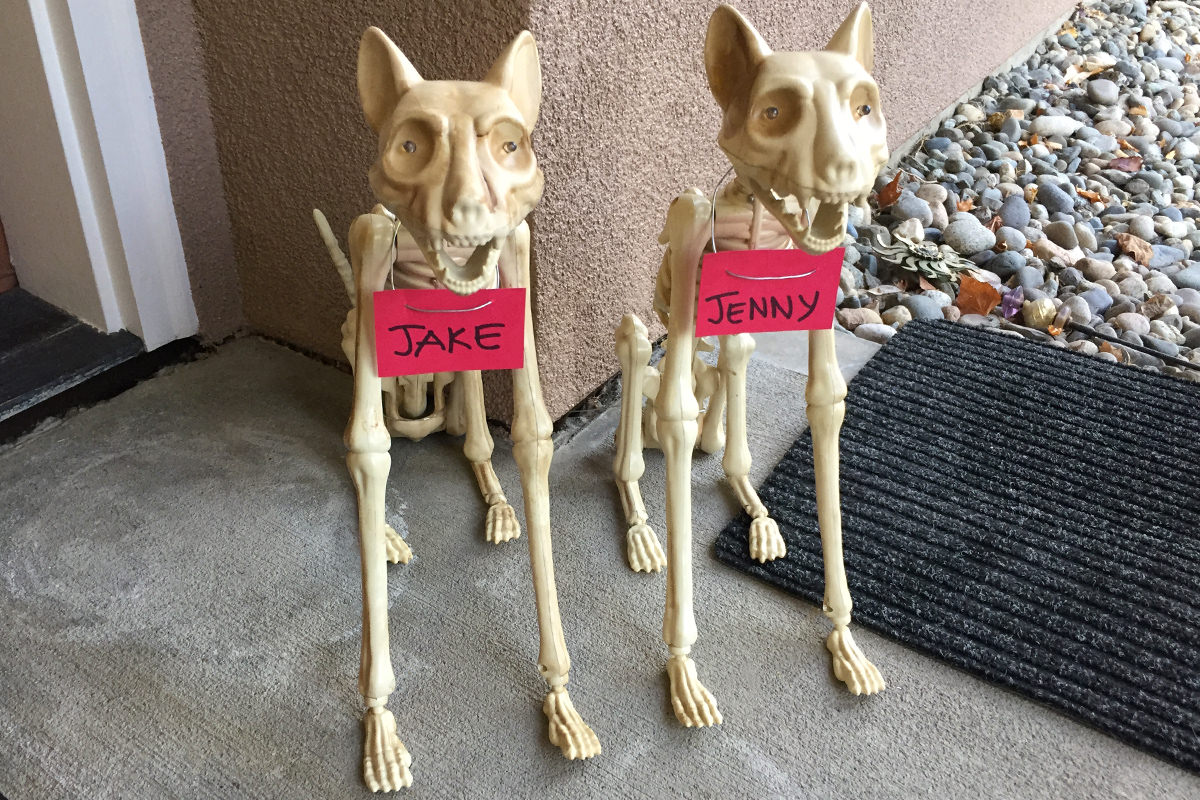 ---

NOVEMBER
• Had a colonoscopy... and posted photos of my beautiful colon (you're welcome!).

• Flew to Maine and finally visited Acadia National Park...

• Visited the Eastern-Most Point in the USA at West Quoddy Head Light on a bad weather day...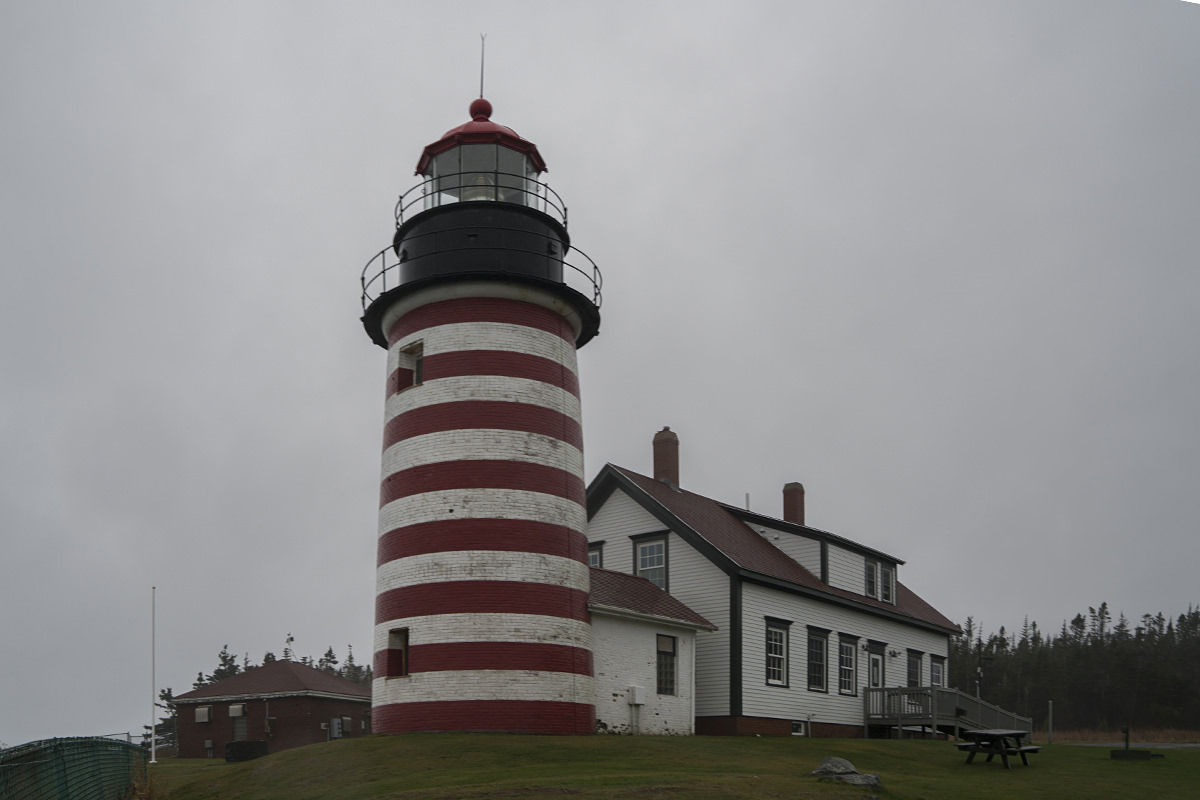 • Was first in the USA to see the sun rise at Cadillac Mountain...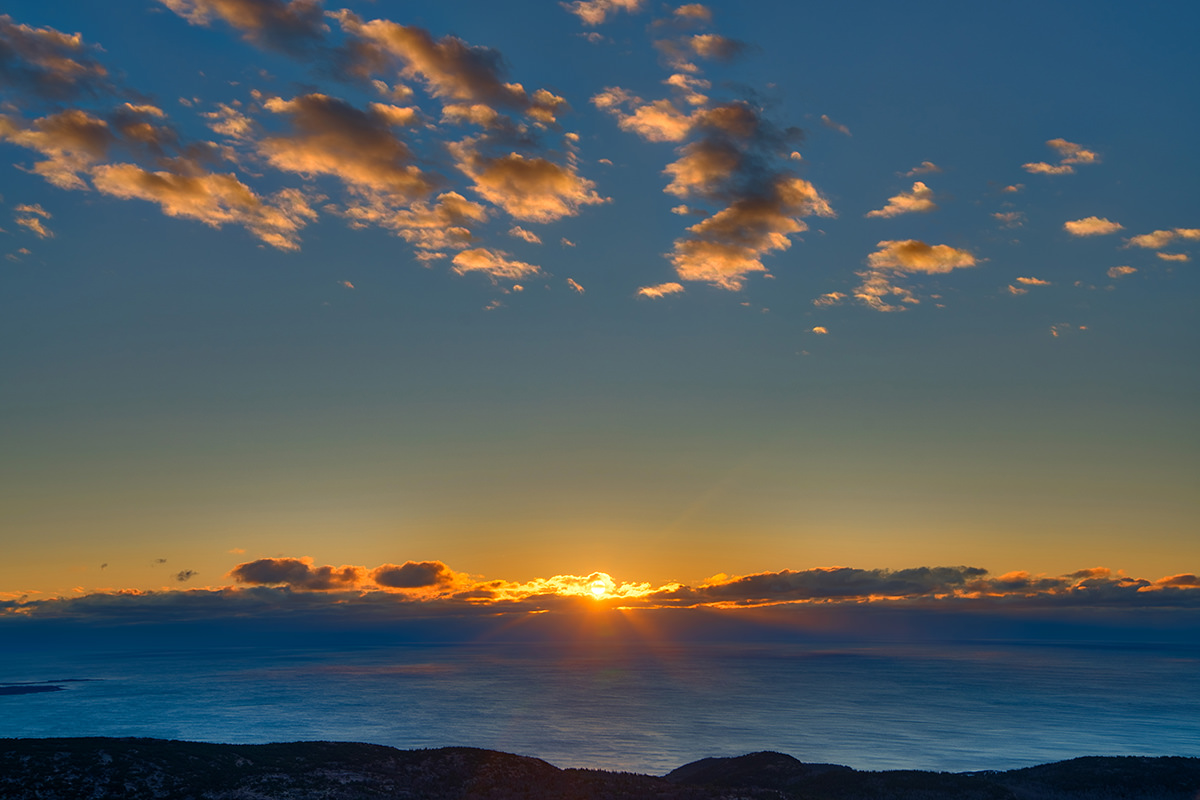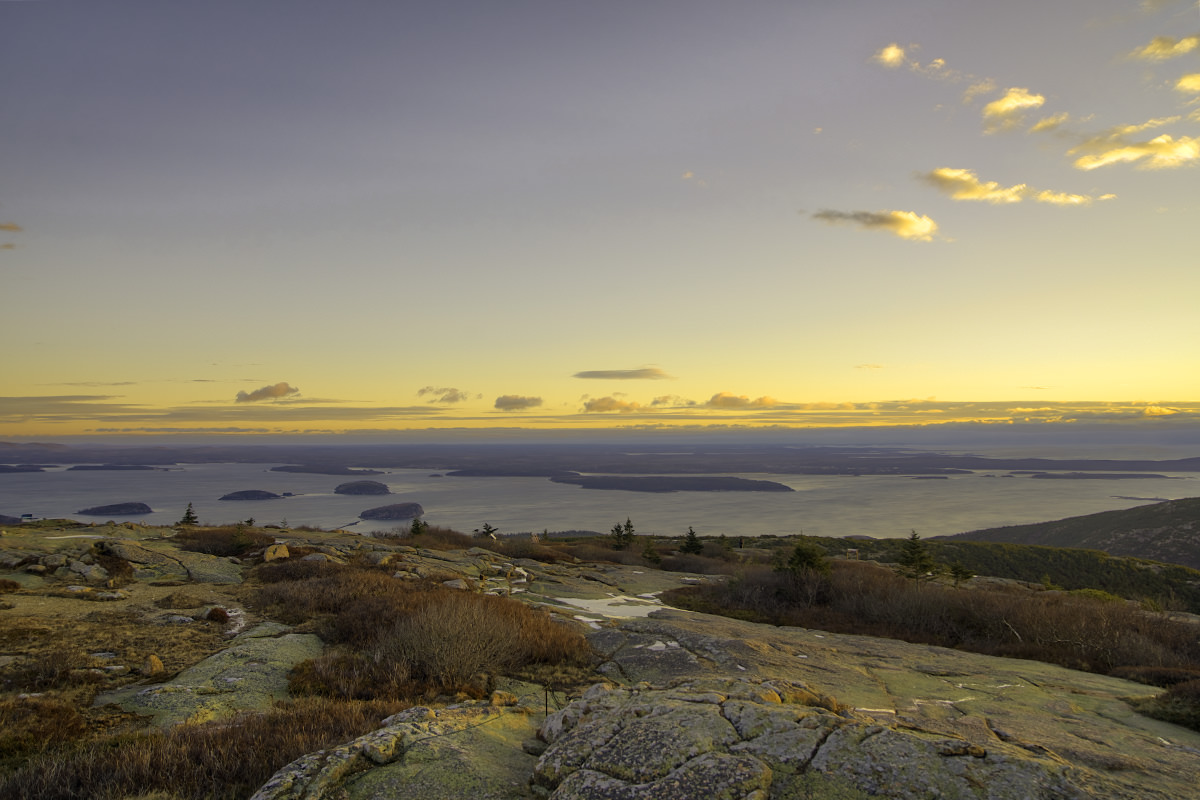 ---

DECEMBER
• Flew to Buenos Aires and visited Evita at Recoleta Cemetery...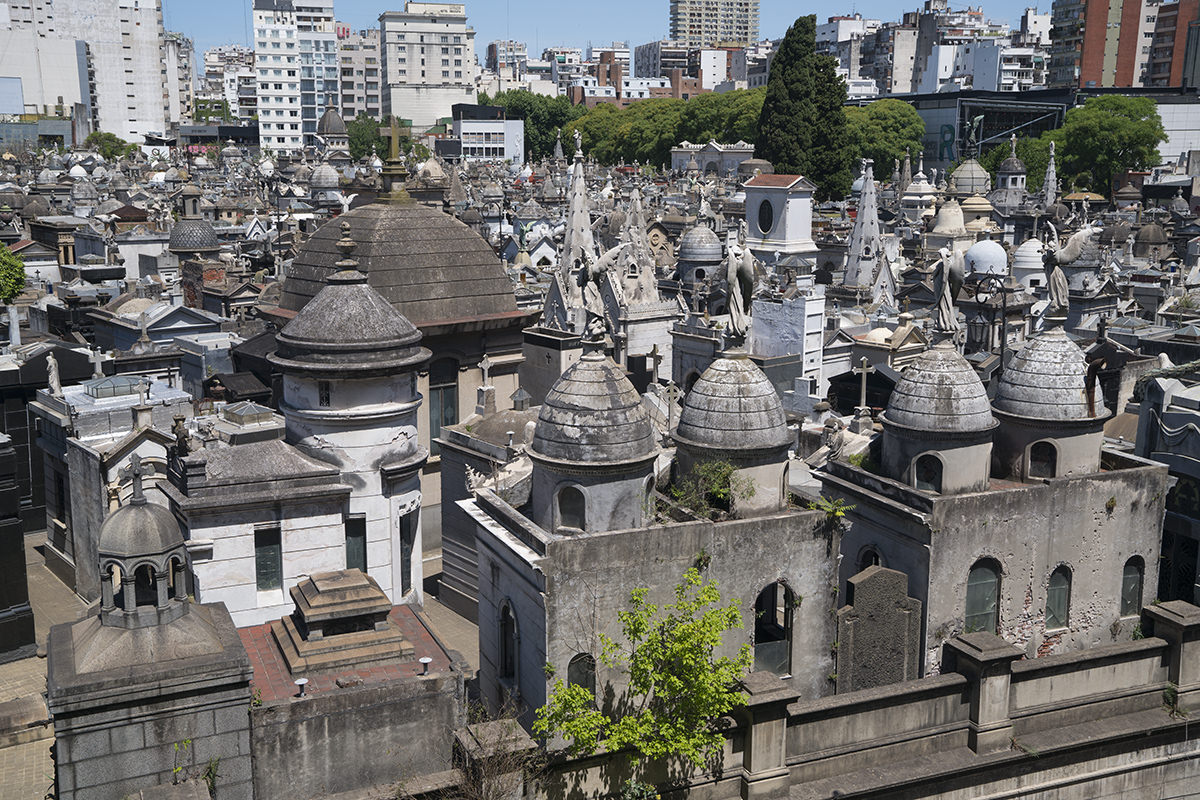 • Took in the view at The End of the World...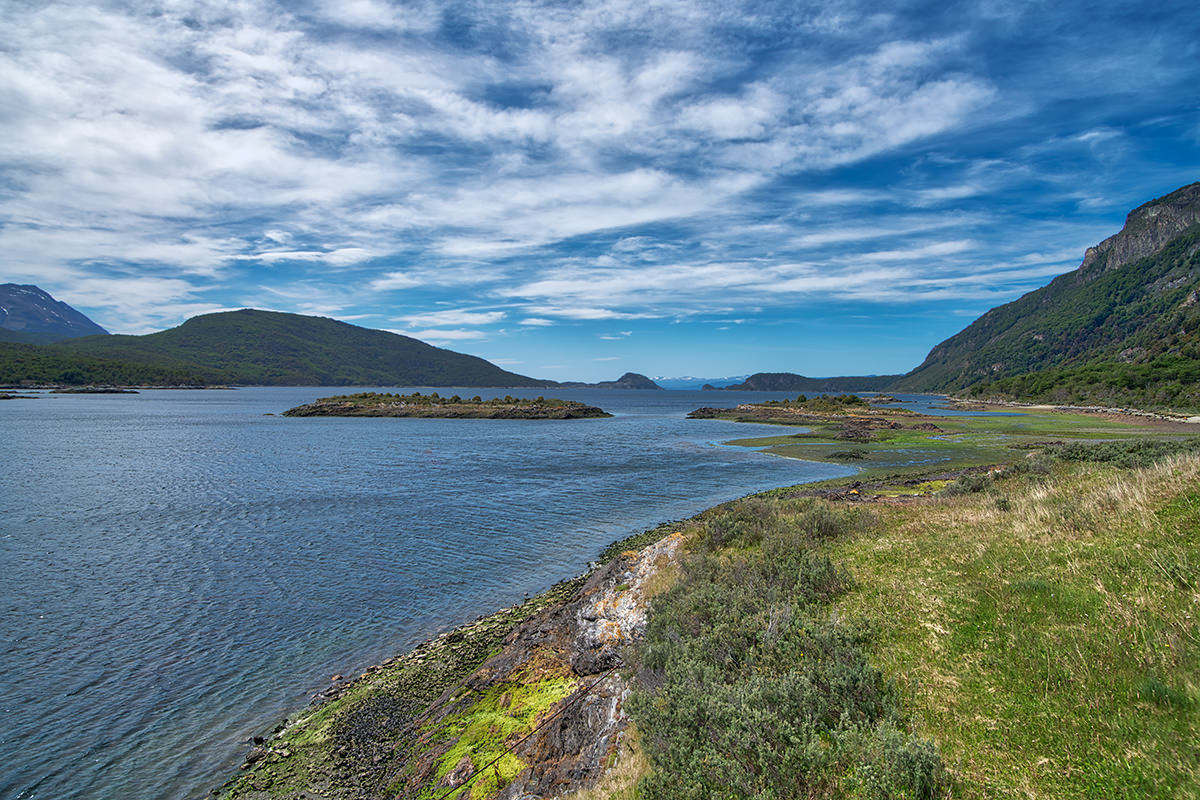 • Headed out across The Drake Passage in some of the roughest seas on earth...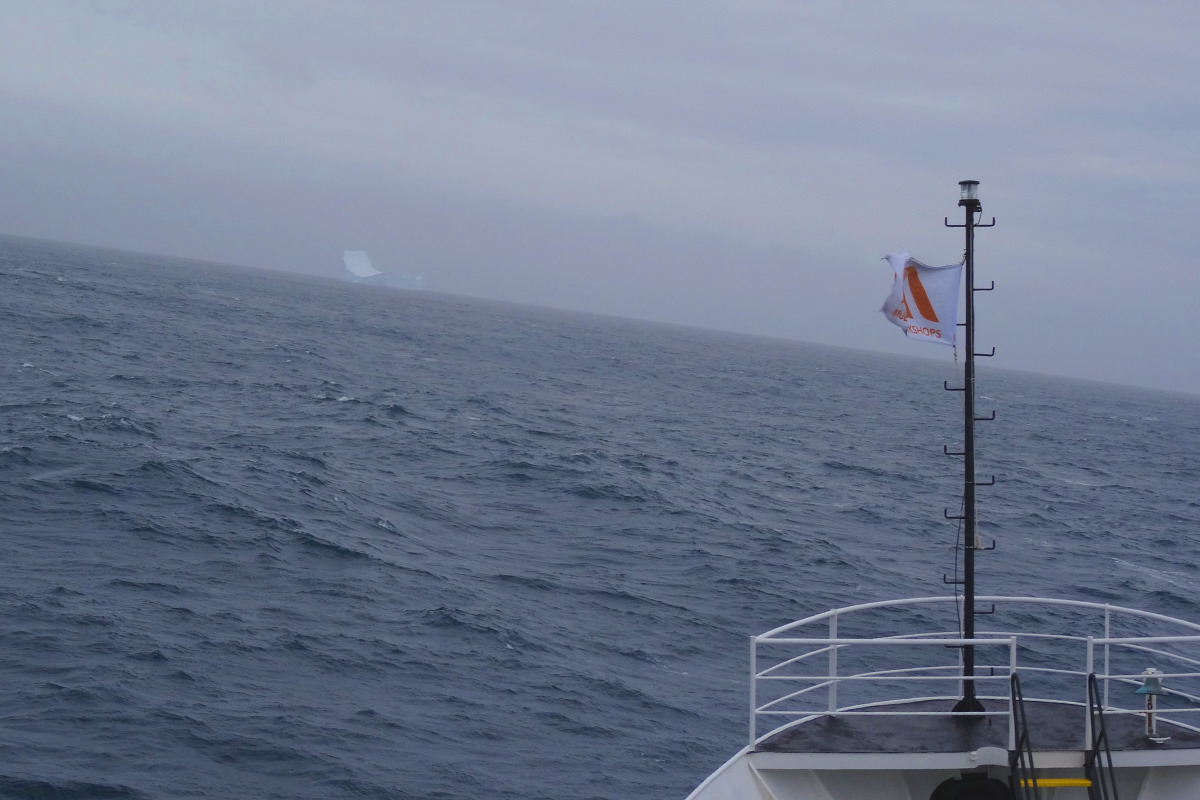 • Fulfilled a life-long dream when I finally set foot on Antarctica for the first time...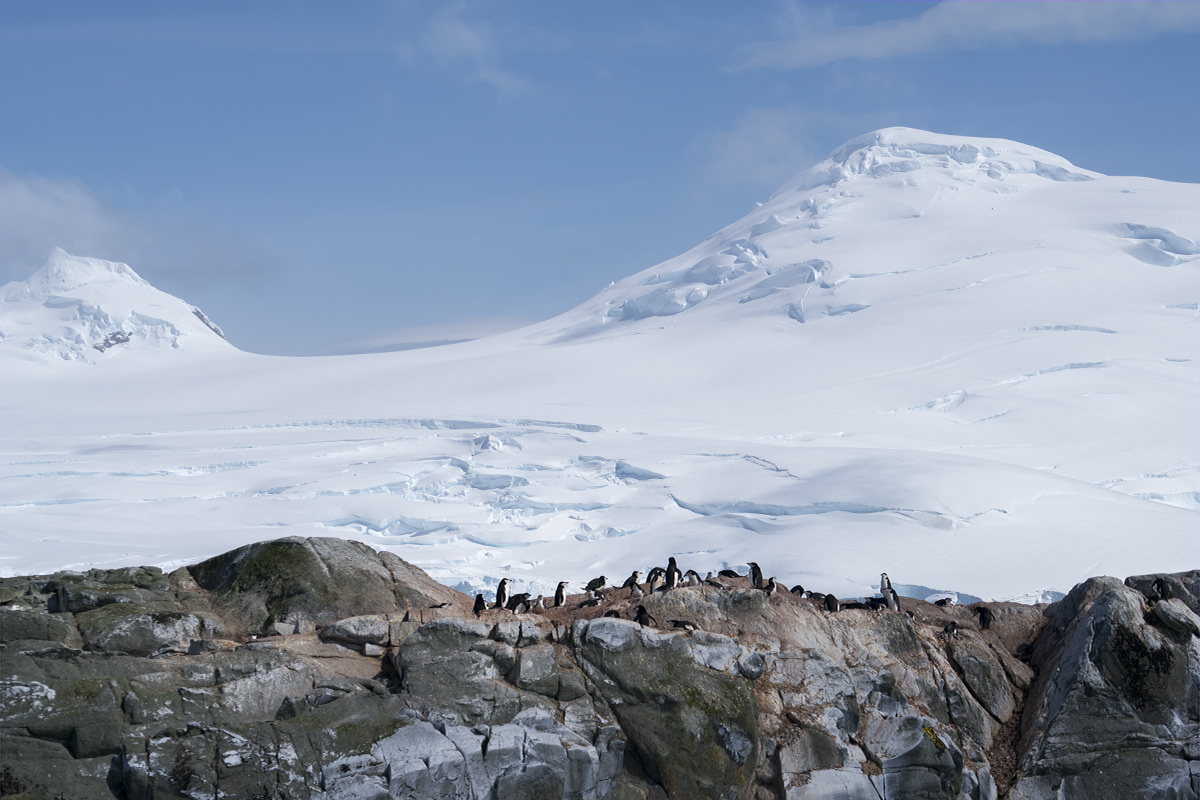 • Photographed Antarctica icebergs at "night"...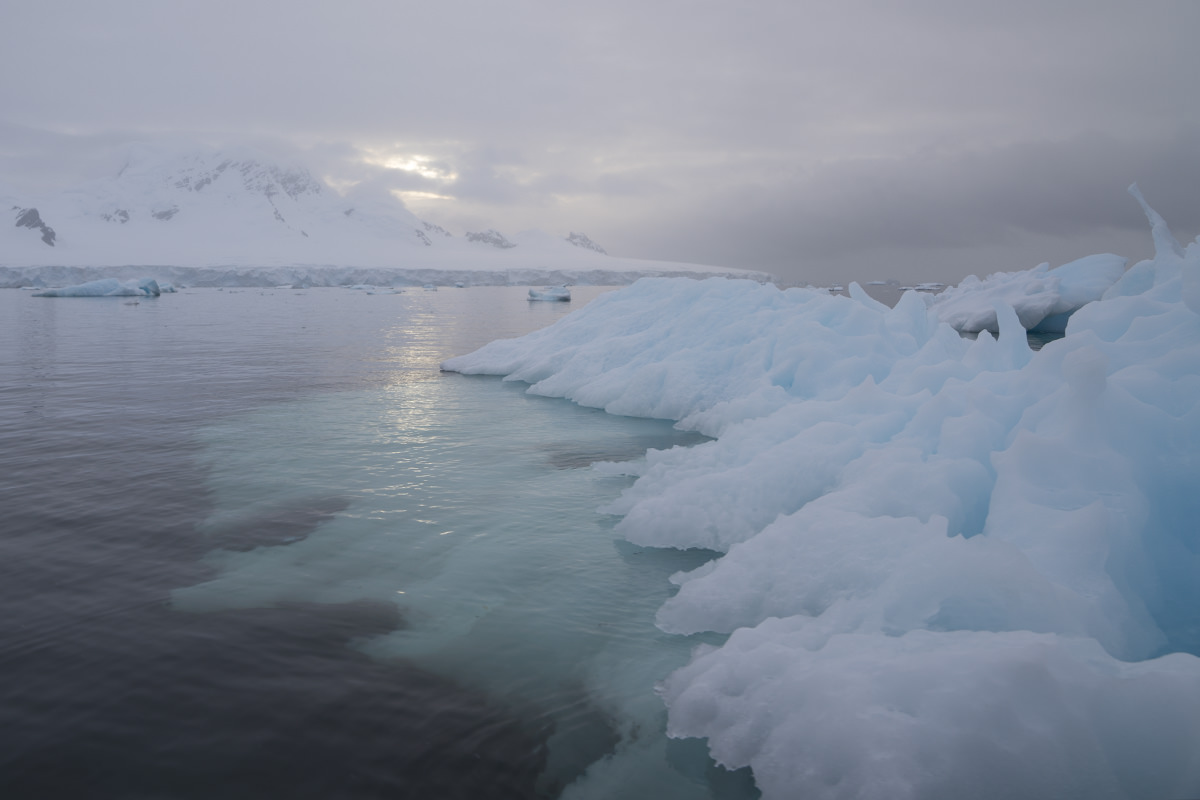 • Explored the lives of penguins...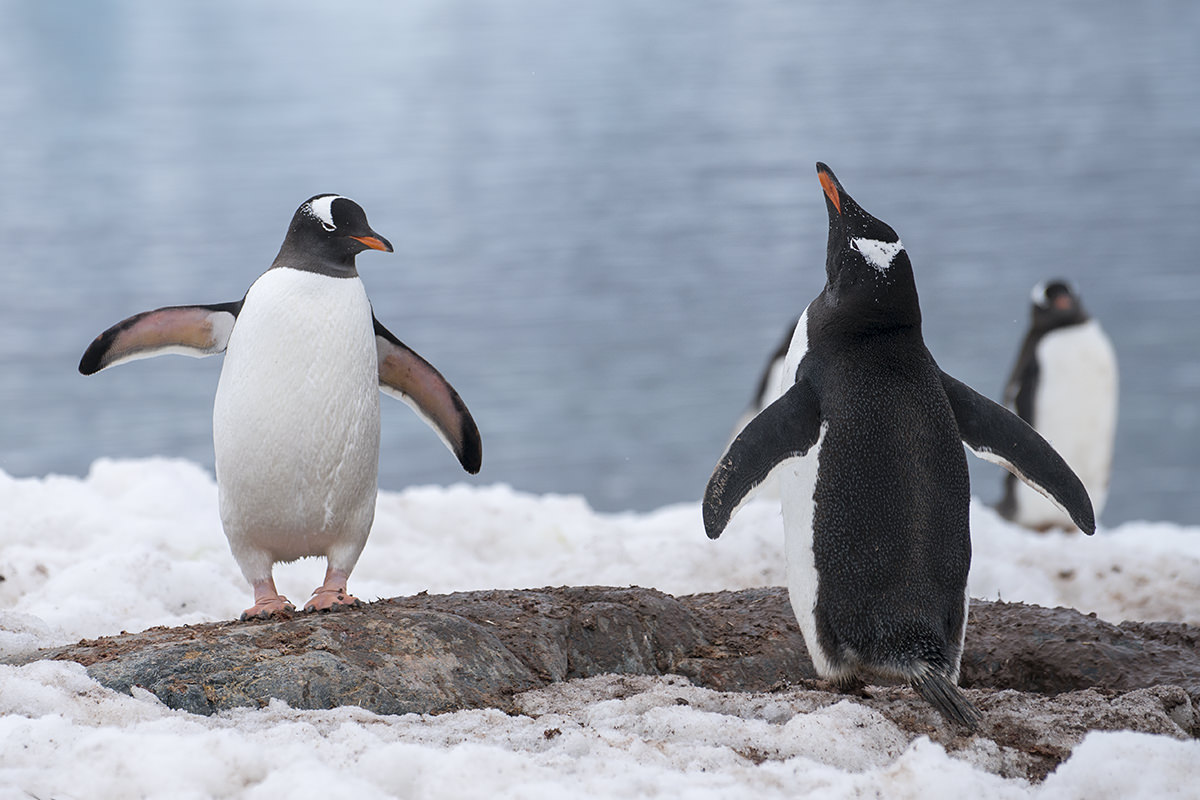 • Had one of the most amazing days of my life when I stepped foot on the seventh continent...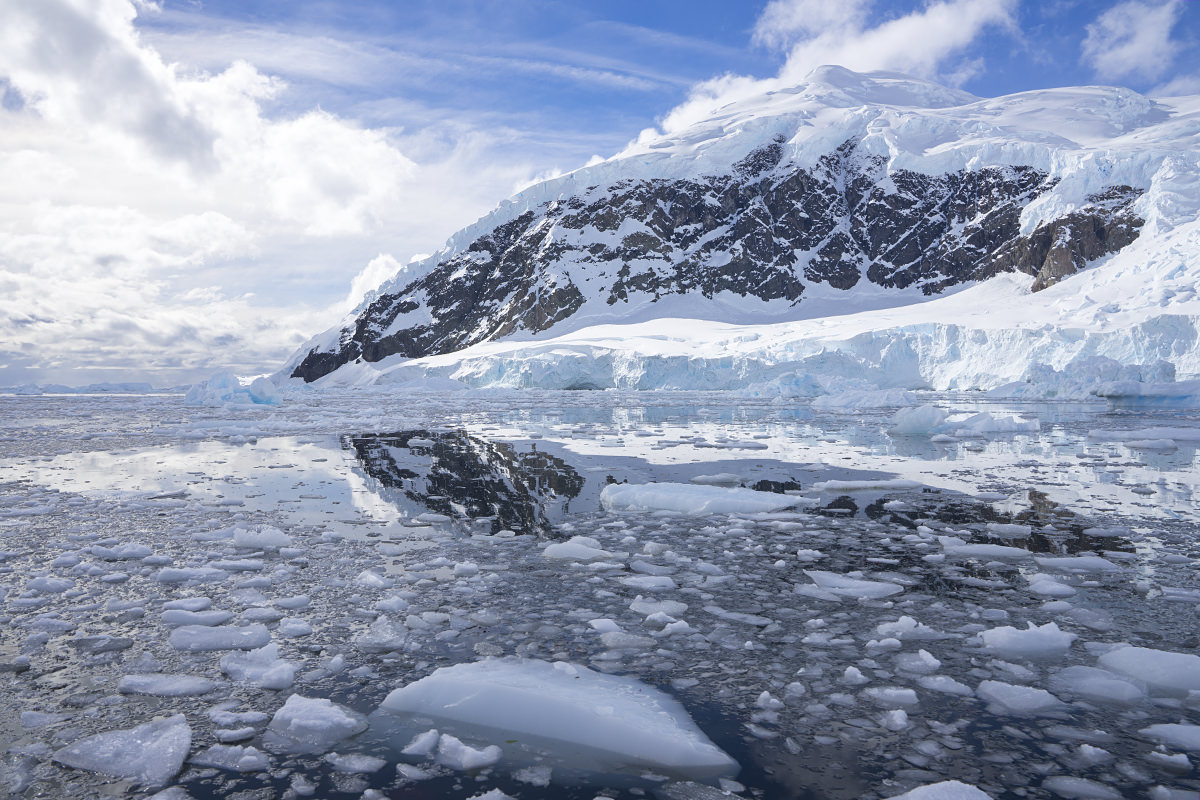 • Got up-close-and-personal with some whales...

• More penguin photography at Half Moon Island in Antarctica...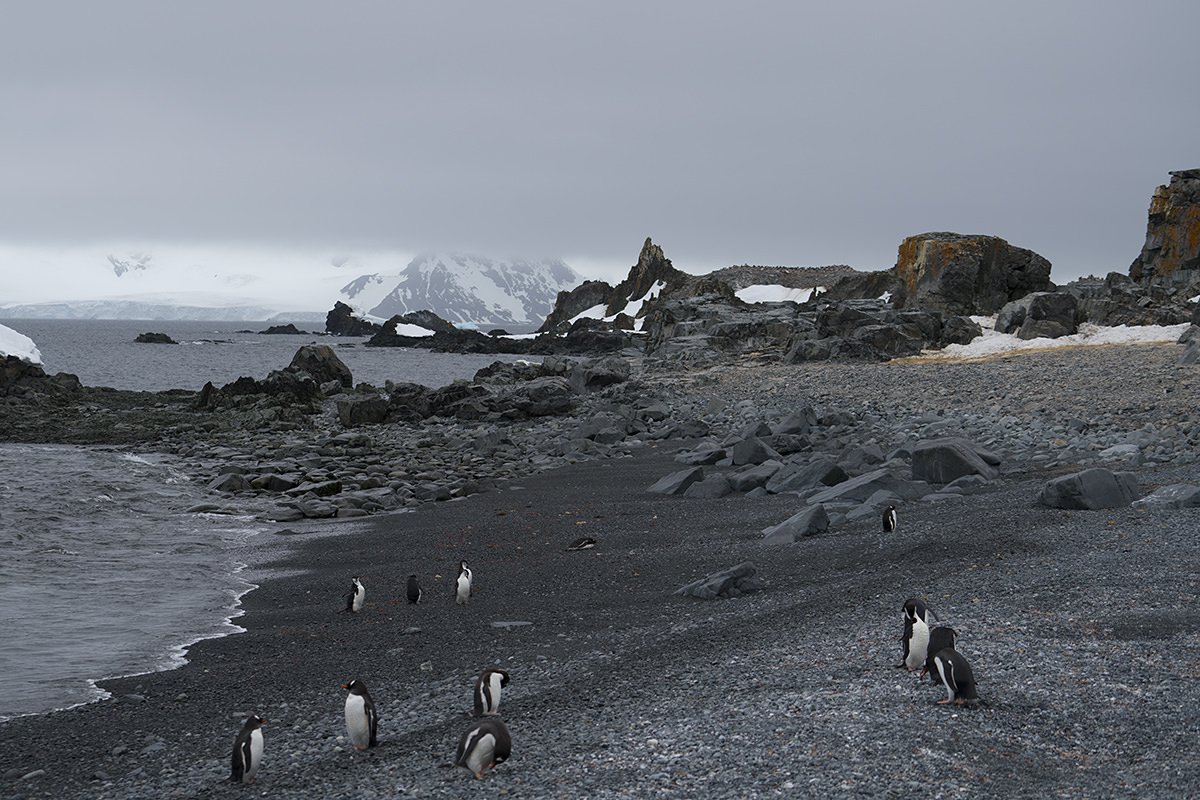 • Used Apple's new "iPhone Update Plan" so I could buy an iPhone X and post my thoughts on the astoundingly expensive thing.
---

And there you have it, the year that was the major events in my 2017.
Well, the ones I shared on my blog, anyway.
Thanks once again to my cats, family, and friends for making life bearable through the not-so-great times. Though, I have to say, closing out the year with my bucket-list trip to Antarctica certainly had it ending on a high note.
Here's to a good 2018, everybody.