Posted on July 18th, 2021

I'm overwhelmed with work, but the bullets must endure... because an all new Bullet Sunday starts... now...

• HEADLINE: Buttered Saltine Crackers Are The Hot New Viral Snack Trend That's Taking Over the Internet — Surely this is a troll article... I mean it would have to be, wouldn't it? I've been eating buttered saltines at least once a week for decades. My mom used to pack them in my lunch. Now that I'm an adult living alone, I usually skip the knife and just slap the butter in a bowl and scrape the saltines through it. Delicious. Oh... and I still pack them in my lunch as a snack all the time too. IS CHEESE AND CRACKERS GOING TO BE THE NEXT VIRAL SNACK TREND?!?

• Racing! There's a guy on TikTok who uses his treadmill to film races between stuff and it's fantastic! Many of these are edge-of-your-seat races and it's tough to watch just one...
I am embarrassed to admit how much time I spent watching these things...
But you get it, right? This is totally acceptable addicting behavior!

• Painted! It's. Just. For. Fun. If attacking the parents or shaming a child is your first reaction, you need serious help...
Somebody had the absolute gall to comment "Needs a father figure ASAP"...
Not only has a father figure... he has an amazing father figure.

• Ya Burnt! I always always always have my television on while I'm working at home because I need background noise to keep me focused. I just finished Psych (which is getting a third movie this year!), and was pleased to see that Amazon Prime Video then advertised that all seasons of Burn Notice are available for streaming. I've forgotten how much I loved this show. SO smartly written, with some genuine humor and a flawless cast...
So, yeah, happy as a cat in a kettle of fish to be streaming the show as my new background noise of choice!

• Swim! SHIT, DAD! I KNOW I JUST HAVE A LEARNER'S PERMIT, BUT WHEN ARE YOU JUST GOING TO LET ME DRIVE THE DAMN CAR?!?

• TACO SUNDAY! Remember how I mentioned that one of my Amazon Prime Day finds was a dishwasher-safe metal taco holder? Finally remembered to try them. GENIUS!!
If anything, the product is better than what I expected, because it hangs over the plate without falling off, which allows me room to add chips and guac dip! VERY nice to be able to have the taco shells held upright while you're trying to fill them. And I think it will be even more useful when I have soft-shell tacos. Worth every penny (even if I had paid full-price) and I'm very happy with them.

• Taste! THIS JUST IN FROM THE "IT'S FUNNY BECAUSE IT'S TRUE!" DEPARTMENT...
This is one of those TikToks that gets funnier every time I see it pop up.

• HEADLINE: Britney Spears Can Hire Own Lawyer, Judge Rules. — This is obscene. The woman has been an ATM for her father and other abusers as they exploit her and her mental health for dollars... and the courts just keep letting it happen. Now we're supposed to be elated that SHE GETS TO HIRE HER OWN LAWYER TO REPRESENT HER IN COURT? SERIOUSLY? THAT'S HOW IT'S SUPPOSED TO WORK IN A COURT OF LAW YOU SICK ASSHOLES!!! Fuck the judge. Fuck the courts. Fuck her "conservators." Fuck "justice." Fuck everybody who has tormented and exploited this poor woman so her work is their payday. I am disgusted to my very core. If Britney Spears was a man, can you fathom something like this happening to her? And can you imagine what this would be like if she was a Person of Color? Our entire system should be burned to the fucking ground and replaced with something that actually has ANY SEMBLANCE to justice. Whatever the hell that means any more.

And that's your happy little bullets for this fine Sunday.
Posted on June 2nd, 2021

It's getting to the point that I don't want to drive any more.
Because every time... whether it's five minutes to work or two hours over the mountains... people are driving like psychotic assholes. They are so aggressive and awful that driving has become an overwhelmingly stressful chore.
Take four-way stops, for example. There are two in my small town I use regularly. In increasing frequency, people are not waiting their turns. They roll right through the stop because they don't want to wait for you to come to a complete stop... as you are legally required to do.
A ten-minute drive to the grocery store will easily result in somebody cutting me off. An asshole revving their engine behind me while I wait for somebody to cross the street. Some jerk recklessly racing around me in the parking lot. And an idiot running a stop sign. And this is not some random event that happens every once in a while, it's every damn time!
On the way back from the Seattle-side of the mountains yesterday, there was a car ahead of me bouncing between 45mph and 55mph on a single-lane 60mph highway. As you can imagine, this is frustrating, so the minute there's passing lane, I went to go past him. AT WHICH TIME HE STARTS DRIVING 70MPH!! Then, the minuite the passing lane disappears, he's right back down below the speed limit. Which is to say that he was intentionally not allowing cars to pass him. He got off on the idea that he was blocking people. I waited for a straight-away where passing was permitted but, you guessed it, he sped up the minute I sped up and put on my turn signal to go around him.
Finally I couldn't take it any more. The next time a passing lane opened up, I floored it and did not give a shit. But here's the thing... he didn't move to the right lane. He stayed in the passing lane as cars were trying to pass him. We had to pass on the right! And of course he sped up so that only people willing to temporarily go 75mph could pass him.
Assholes like this should not be allowed to drive.
Hell, they shouldn't be allowed to live! This kind of intentional asshole driving should be punishable by death, because it's people like that who cause fatal accidents with their aggressive, idiotic bullshit.
It's a shame I don't want to drive any more because I've always been such a good driver.
Scratch that. I am an exemplary driver.
Never caused an accident. Have never come close to causing an accident. The one accident I've been in was when I was stopped at a light and a driver trying to escape the police RAN INTO ME. I've driven in 47 states. I've driven in Japan, Germany, the Netherlands, the UK, Austria, Spain, Italy, France, and Mexico without incident. I'VE DRIVEN IN DETROIT AND SURVIVED! I've had only two tickets in 38 years of driving... BOTH OF WHICH WERE BULLSHIT... but that was decades ago.
So naturally I signed up for Progressive Auto Insurance "Snapshot" program so I could save $20 every six months.
I'm sure this device which monitors your driving is great for some places... but not where I live! I am constantly being dinged for stuff that's not an actual thing, and honestly feel that this device encourages bad driving. Where I live, there are stop lights on the highway. So naturally you're going to make hard stops from time to time when a light changes and you're going 60 miles per hour! BEEP BEEP! Come up to a YIELD and don't make a complete stop... A YIELD, NOT A STOP? BEEP BEEP! Actually make a complete stop like you're supposed to? BEEP BEEP! And the beeps I get for hard stops is insane. Apparently anything less than a 2mph deceleration is considered a "hard stop," which means that you are coming up to stops way too slow and backing up traffic where lights are close together. I don't make hard stops. But I also don't make old-person-slow-stops that cause problems and accidents either. Yet... BEEP BEEP!
I kept hoping that the Snapshot device would eventually get smart about the conditions where I live, but on my 44th day of the 45 day trial I just couldn't take it any more and opted out. I don't care if it rates me a "B+" for my driving and tells me I'm doing a good job... I am not going to start driving unsafely just to avoid that fucking BEEP BEEP!
A $20 savings over six months is not worth my sanity.
Posted on January 24th, 2019

As I think I mentioned a while back, I've been working on a photo wall in my stairwell. It's a huge, expensive project, but I've been loving how it's been coming together so much that it's all been worth it.
Until I went to finally finish the dang thing only to realize I'm out of black spray paint for a couple frames that are the wrong shade of black. So after work I made a quick run to The Big City and Home Depot for a stupid (but necessary) $3 can of paint.
Then I went to finally, finally finish the dang thing only to realize that I didn't have enough Command Strips to hang all the remaining photos. So there I was at 8:00pm tonight making another run to The Big City and Home Depot to buy hangers.
The good news is that I think I will finally, finally, FINALLY be able to finish the dang thing tomorrow morning once the paint has had a chance to dry thoroughly.
If not, there will be no more trips to The Big City and Home Depot. Instead I'll just light the entire project on fire and forget I ever thought about doing it.
Because everybody has their limits.
Mine was two trips to Home Depot ago.
Posted on December 26th, 2018

Driving in the snow and ice is not that tough if you have experience and good tires.* I've been driving in this stuff for decades and my tires (which I originally purchased for my mom) are the best money can buy... so not such a big deal.
What is a very big deal is other drivers on the road. A significant portion of which are total idiots and raging assholes.
They drive too fast for conditions. They drive way too aggressively. They follow too close. They don't pay attention. They pull out in front of you. They cut you off. All of which is bad when the roads are perfect and dry... but when they're covered in ice and snow? Disaster. You may be able to drive in the stuff, but your ability to do so safely depends on how others are driving.
I was fairly lucky on my way home today. Had a dumbass pull in front of me once and had somebody following way too close, but it was a pretty easy drive because the plows were out keeping things clear.
Here's a short 30-second video of me at the top of the pass...
Music by Ikson
Fun stuff.
And now I'm home safe and sound where I have two cats who are very happy to see me.
Though Jake is slightly more interested in the snow that's been dumping down in buckets. After making sure it was really me, he bolted outside to watch the flakes fall...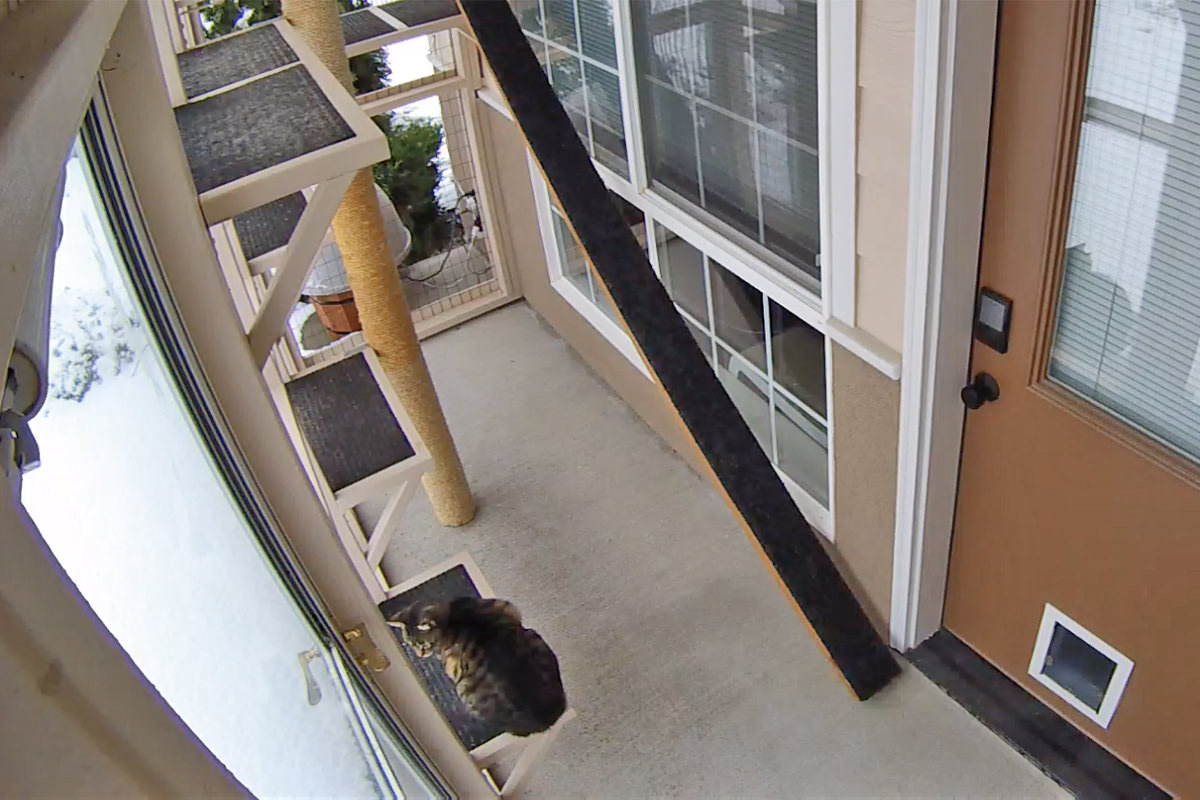 And that's that. My last trip of the year.

*Want to know what is tough to drive in? Slush. Especially deep slush, which can easily suck you in and pull you off the road in a heartbeat. I'd drive in just about anything before I'd drive in slush, and 90% of my driving horror-stories have slush involved.
Posted on December 24th, 2018

Apparently squatting down to apply and remove chains to my car for the drive over the mountains yesterday worked some muscles I haven't used in a while... because my gluteus maximus is all kinds of sore today. Guess I need to look into assercize or something like that. Or, I dunno, just exercise at all maybe?
And speaking of chains...
Yesterday after I made my way through Tourist Town, there's a sign before you head into the mountains advising you as to road conditions and closures and such. If the roads are impassable, there's also an arm-block that drops down to keep people from going any further.
This was the sign which warned me that chains were required over the pass... 21 miles ahead.
Some people decided that they didn't want to wait 21 miles and were pulling over to apply chains for driving on bare roads. Since the roads were bare, everybody with chains was driving way too fast. And so... chains were flying off tires and being busted to shit left and right. Which meant that some people wouldn't have chains for the pass and would be ticketed if caught.
Welcome to the hazards of winter driving.
But it was worth it to spend the holidays with friends...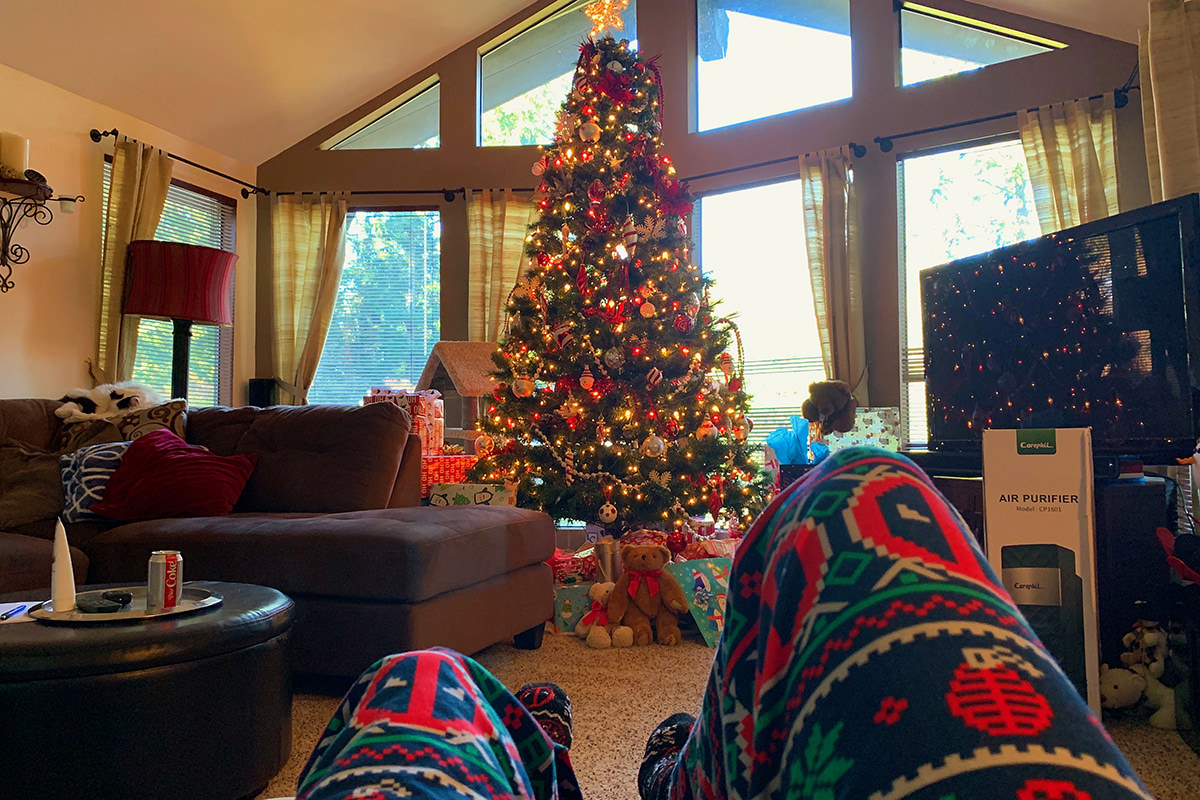 Bring on the jolly fat man!
Posted on December 23rd, 2018

Let the yuletide merriment begin... because an all new Bullet Sunday starts now...

• Chain Me Up! My drive over the mountains this morning took 3 hours and 40 minutes instead of the 2 hours and 15 minutes it usually does. Partly because traffic was insane, but mostly because chains were required and the max speed was 30 mph. You'd think that my frequent drives over the passes would mean that I've had to chain up a lot. But that's not the case. The last time I chained up was over a decade ago because my studless winter tires have been sufficient. Other than slowing things down, the chains themselves are no big deal. I bought these easy-wrap "chains" a few years ago that are crazy simple to apply...
This was the first time I used them and it was a total piece of cake. So much easier than the old-style chains that are a nightmare to apply and ride so rough.

• Google Trips! When I last looked at Google's answer to TripIt, I was not impressed. Now? Pretty darn impressed...
This is an ideal arena for Google to play in, and I'm absolutely going to give it a shot in 2019.

• Ad Man! I do love me a good ad. Especially when it's so wonderfully inclusive as this one...
Way to step it up, Macy's!

• Roxette! After Pretty Woman was on for the hundredth time, I had Alexa play Roxette's Must Have Been Love from the soundtrack. It's a beautiful song and was responsible for my buying the Pretty Woman CD. Much to my surprise, the Must Have Been Love that played was different than the one I was used to, having the lyrics "And it's a hard winter's day" instead of "And it's a hard winter's day"...
At first I thought that they must have changed the line to make it a Christmas song, but it turns out it's the other way around. It was originally a Christmas song and was altered for the Pretty Woman soundtrack. The more you know...

• Super Intelligent! There are some articles that make their way around the internet in cycles. They'll find you. You read them. And then every time they come around you read them again. One of my favorite articles like this is The AI Revolution: The Road to Superintelligence by Wait But Why. It's all at once very exciting and terrifyingly scary.

• Dyson! One of my favorite science fiction concepts has been beautifully imagined by Kurzgesagt...
This is quickly becoming my favorite YouTube channel on the internet.

Happy Christmas Eve Eve, if you celebrate that kind of thing!
Posted on July 17th, 2018

I have long wanted a dash-cam to record all the crazy shit I see while driving. It's all so wacky that even I don't believe it sometimes, so it's good to have photographic evidence.
Since I didn't want to invest a ton of money in tech that was going to be obsolete in five minutes, I decided to buy the cheapest camera I could find until the newest generation of cameras with all the cool bells and whistles dropped in price. I ended up paying $28 on Amazon for a dash-cam that was usually $70 (I think it was on closeout?) and that would be good enough. Sure, the picture is crap and it doesn't have many features... but it would be better than the nothing I had at the time.
Three problems...
I keep forgetting to press the "save" button when something interesting happens, so the video gets overwritten.
So much of the crazy happens just outside of the range of the lens, despite it having a fairly wide angle.
Removing the tiny micro SD card to get the video off of it is a huge pain in the ass.
Last night while I was waiting for an email response, I ran out to the car and grabbed the card. Turns out I had four videos saved. Two of them were of my garage door when I installed the thing and kept accidentally pressing buttons. But the other two were from my last drive back over the mountains...
The first was of a guy peeing on the side of the road. Didn't bother to go in the bushes or nothin'... just whipped it out and was peeing. At least his back was turned, but still. Problem is... all the camera captured was his car. And since the video quality is crap, you can barely see that...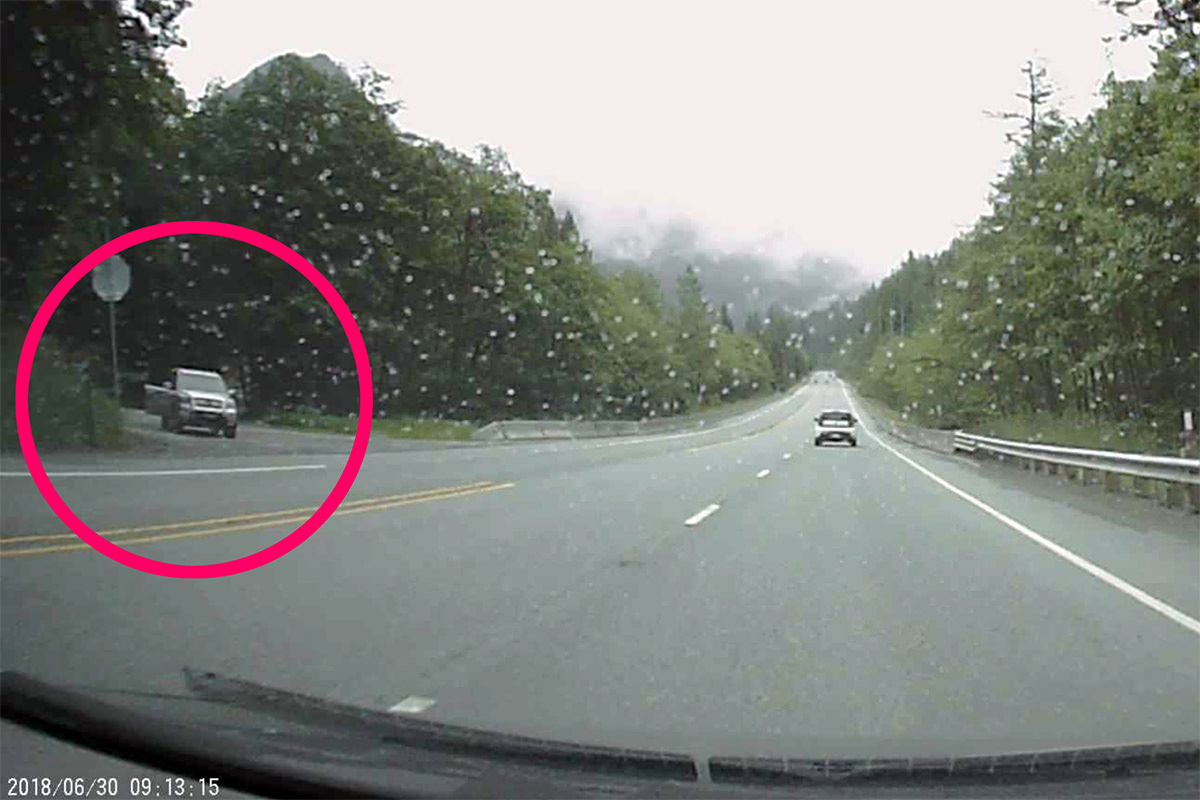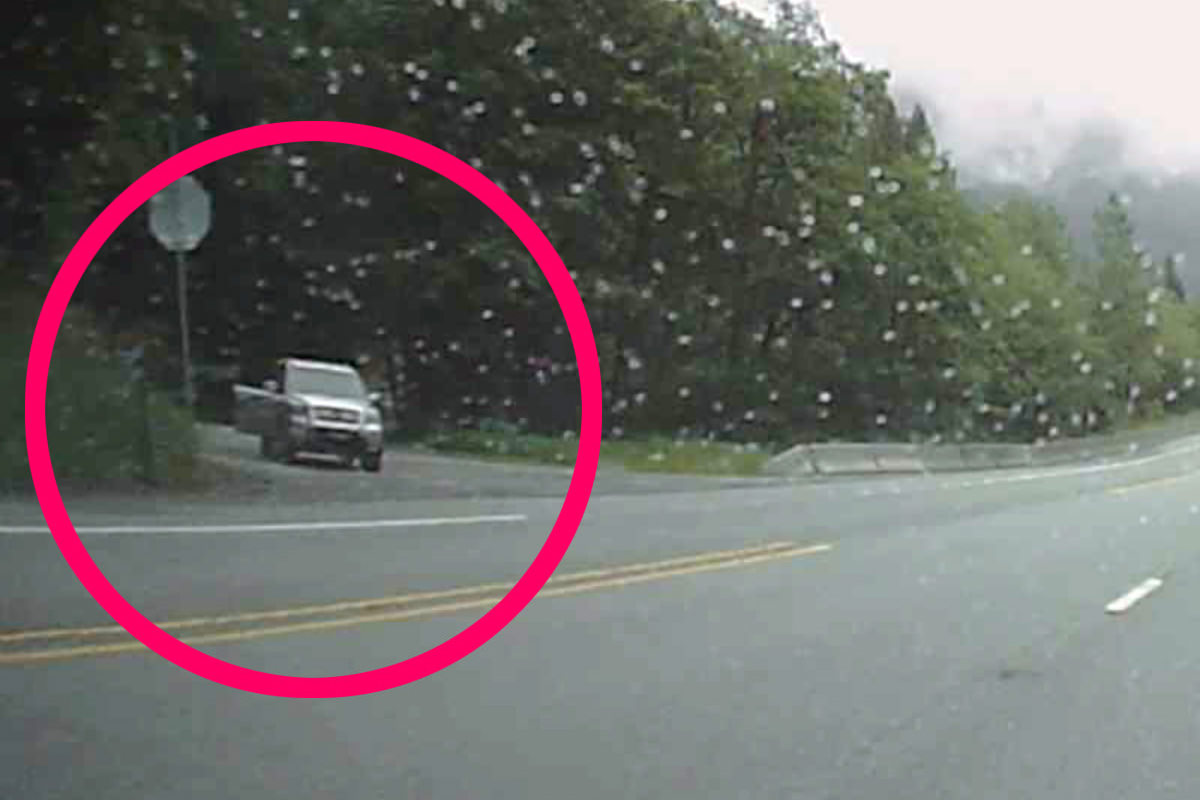 The next video I saved was a deer...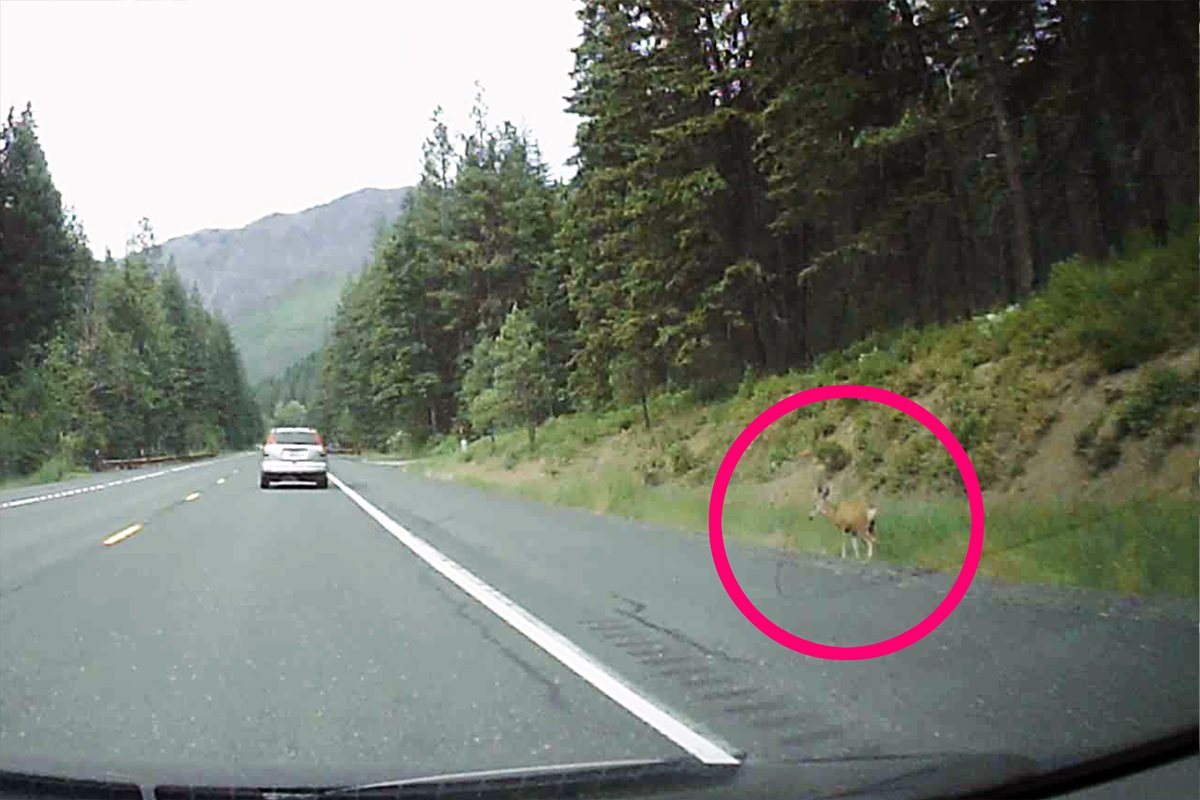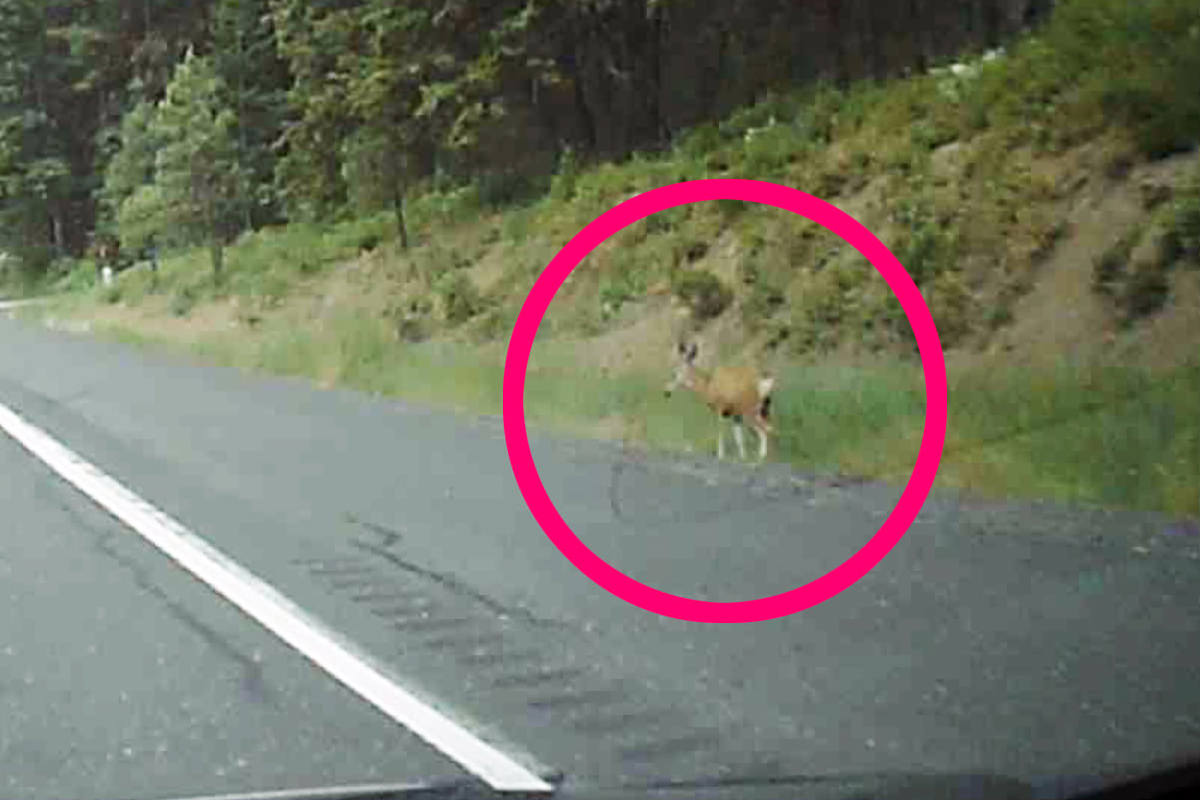 I was hoping that Amazon's Prime Day would have a massive discount on a camera with a GPS, voice-activated save, and wireless download... but it was not to be.
And speaking of Amazon Prime Day, it was a total bust. The only thing I really care about is gift cards at a discount but I can never snag one. I set my alarm... wait for the card I want to be offered... then click to purchase the second it shows up as available... but it's always, always, always sold out. I couldn't get Petco. I couldn't get Panera. I couldn't get American Eagle. The only card I managed to get was iTunes, which is great... but it's insane that Amazon doesn't offer enough cards to last more than 2 seconds.
The only real bargain I managed to find was a white SONOS One speaker for my bathroom. I had a $100 gift card that was gifted to me when I watched a friend's dog plus I had $65 in Amazon Credit Card points... so I only had to come up with $35 to buy it (except I didn't have it, so hello credit card). The Prime Day Special was the speaker bundled with a $50 gift card, which I could not pass up because SONOS rarely goes on sale, and this is as close as it gets.
Now all I need to complete my SONOS home experience is a SONOS BEAM for my bedroom and two SONOS One speakers (one for the guest room and another for the main-floor bathroom). Then there will be no corner of my home that can't be blanketed in sound... or that's not Alexa accessible. Gotta tell you... this SONOS stuff is addicting. It's just too amazing to have your television or music playing everywhere you want so you can move around the house for chores (or whatever) and not miss anything. If only they made some kind of a SONOS-style video device for my kitchen so I could keep up with television video as well as audio.
That way I won't have to miss a minute of Love It or List It when I am unloading the dishwasher or making dinner.
Posted on May 31st, 2018

I had to work across the mountains today which meant getting up at 4:30am so I could be on the road by 5am. Given how horrendously bad Seattle morning traffic is these days, there's really no other option. Gone are the days of leaving at 6am and arriving in plenty of time.
In another 5 years, I'll probably be leaving at 4:30am. It's getting
that
bad.
I wonder how quickly it will end up being faster for me to fly than drive, even when going through security and driving to the airport are factored in?
Whatever happened to the Star Trek future where we get to just beam ourselves to where we need to go?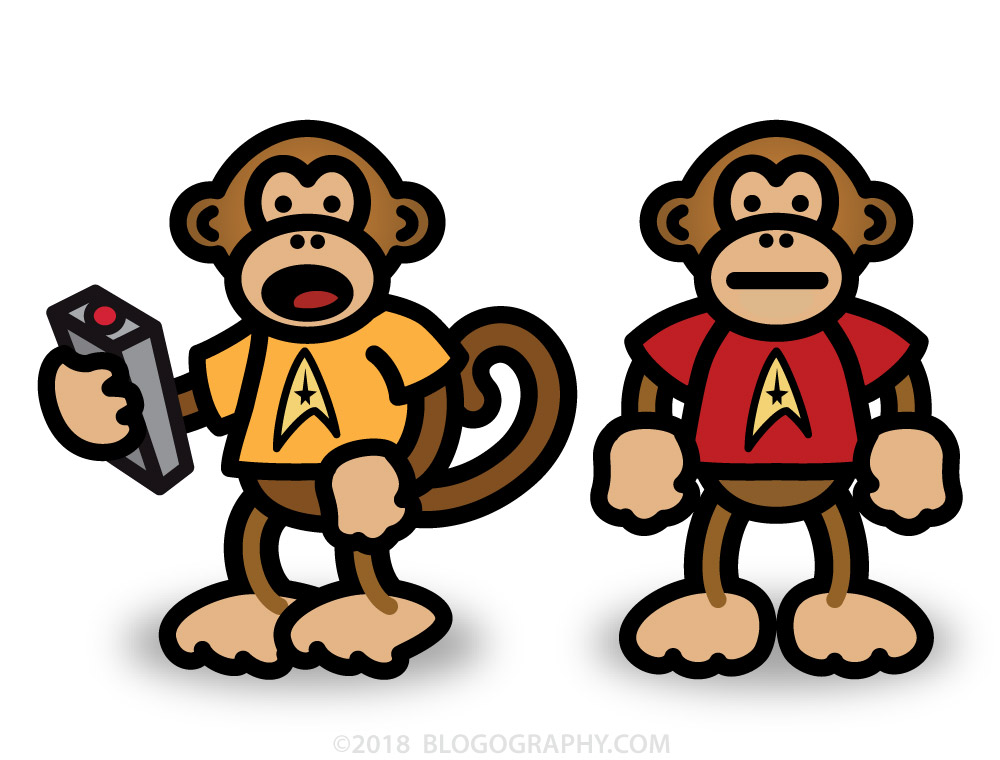 Probably languishing in some vault somewhere along with the cure for the common cold. Shelved because oil companies and airline companies would become irrelevant.
And don't get me started about flying cars...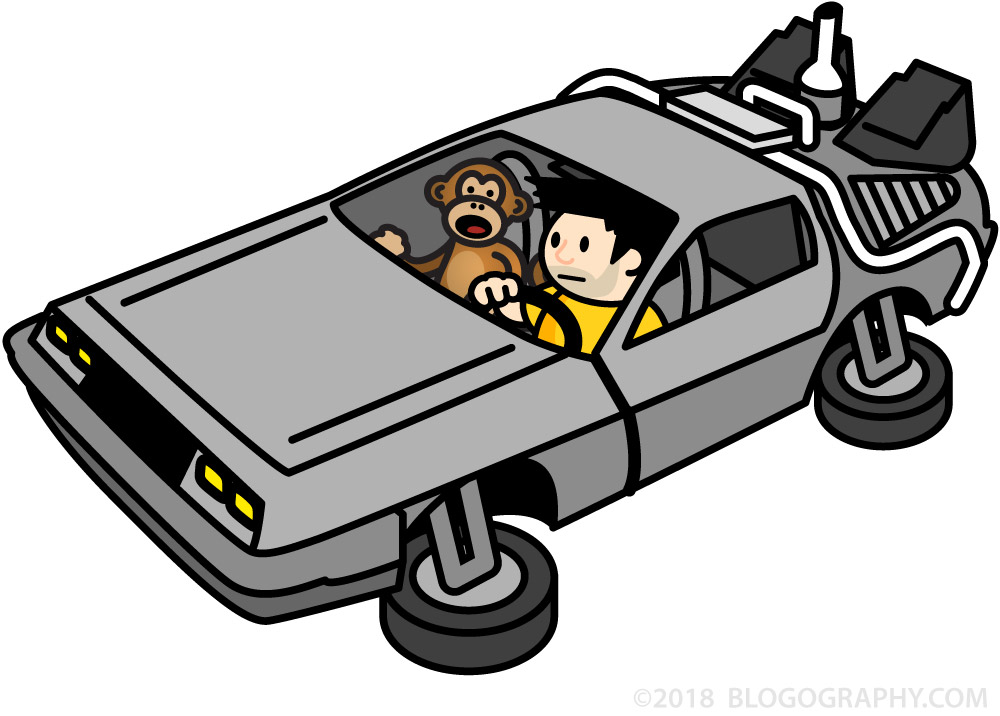 Posted on May 11th, 2018

Today I finally made the time to have my winter tires changed over to summer tires.
My plan was to arrive just when the tire store opened because you can usually get right in. Except there was an accident on the bridge into town so I was delayed 20 minutes. By the time I finally got there, the wait was up to an hour-and-a-half, and it would have been faster for me to change my own tires at home with my emergency car jack and a lug wrench.
It was a bummer, but it wasn't the wait that bothered me.
It was the reason for the wait.
As somebody at the tire store noted, there was no skidmarks on the bridge. Which means that the car (van?) which crashed into a car (which then crashed into another car) never made any attempt to stop. Which means they weren't paying attention. Which means they were probably texting or changing their baby's diaper or cooking a steak, or whatever the fuck it is that people do when not looking at the road like they're supposed to be.
Apparently the distracted driving "no-texting" law that Washington State passed has done nothing to solve a serious problem that's only going to get worse. Which begs the question... how many people have to die before this starts being taken seriously?
And speaking of dying...
As I've said many times before, I love McDonalds... despite constantly taking shit for liking McDonalds.
My favorite breakfast is a McDonald's Bacon, Egg, and Cheese Biscuit, no bacon, substitute round egg instead of spongey yellow powder egg. I could eat them every single day because it's just such a perfect breakfast food. The reason I don't eat them every day is that A) McDonald's is a 20 minute drive from my house, and B) they are expensive as hell. But right now McDonalds is running a special where you can get two of them for only four dollars! So, naturally, after getting my tires changed I did not pass GO, I did not collect $200, I went straight to McDonalds for a late breakfast.
It was, as expected, delicious.
Except I made the mistake of looking up the Nutrition Facts for my breakfast while I was eating it.
We'll set aside the 80 carbs in two Breakfast Biscuits and skip right to the 2100mg of sodium... 88% of the sodium that you're supposed to have in a day. And saturated fat? 11g which is 106% of the recommended daily ammount!
Holy shit!
I've never been so grateful that McDonalds is 20 minutes away and their McBiscuits are usually so damn expensive, because I'd be dead if they were next door and, you know, affordable and all.
Except they are on sale... and I am driving over the mountains tomorrow... so it looks like I may be courting death once again. Curse you McDonald's and your delicious breakfast!
Posted on May 10th, 2018

Before heading to the airport to turn in our rental car in St. Louis, we stopped for gas so we wouldn't have to pay the insane refueling fee that the rental car places charge.
As I was standing there waiting for the tank to fill, I saw this...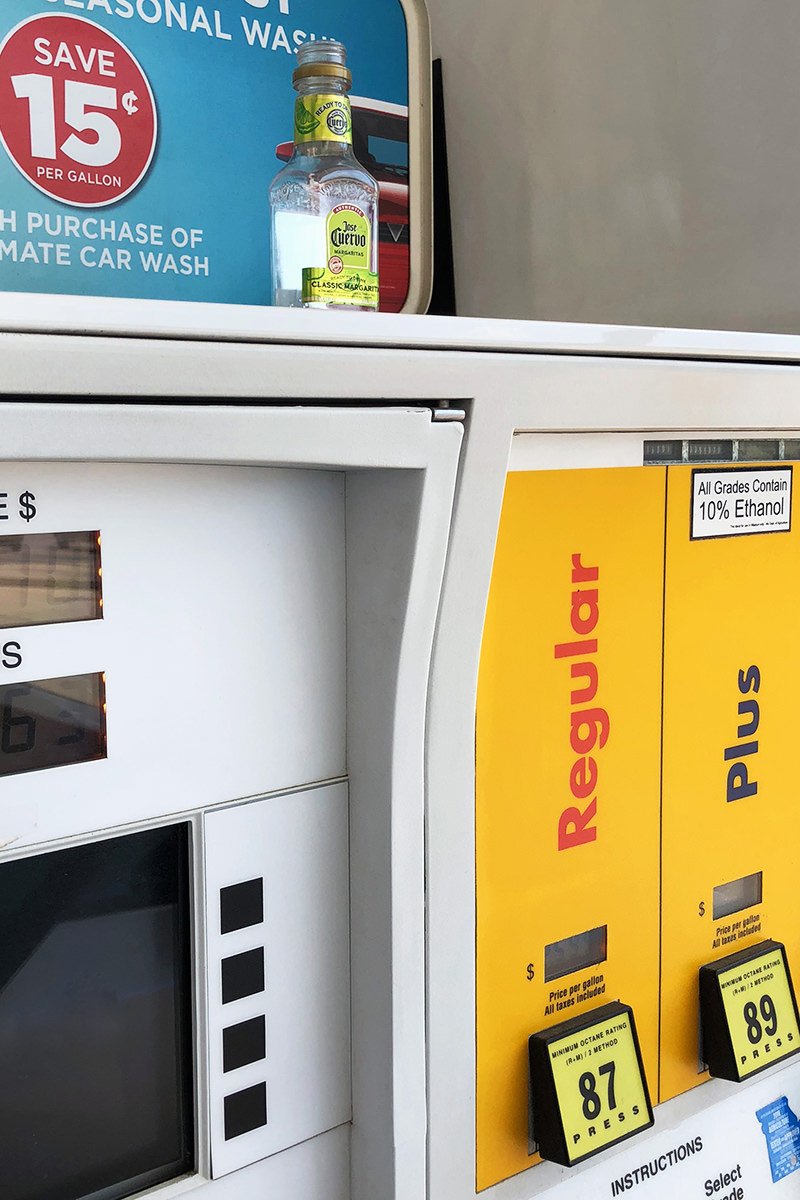 Here's hoping it wasn't the driver, but I'm guessing it was.
Given the non-stop trainwreck of horrors that has been drinking-and-driving, you'd think that people would learn something. How many more lives have to be destroyed before people learn something?