Posted on March 21st, 2015

GAH! IT'S 3:00 IN THE MORNING! Boy I wish I could get a good night's sleep.
Anyway...
Tonight I was happy to attend University Sunrise Rotary's Debuts and Discoveries charity function with wines, brews, spirits, and food trucks...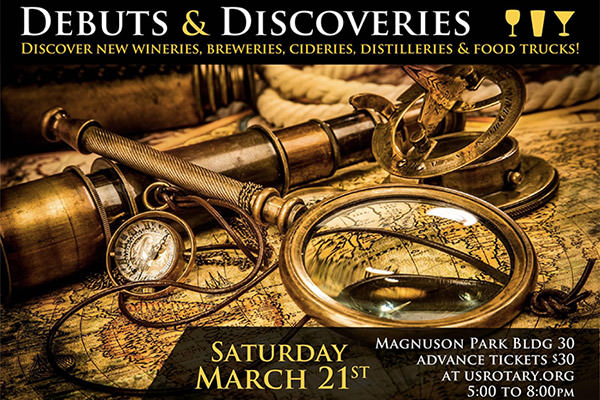 The event was held at an old hangar in Magnusson Park at Sand Point, which used to be a Navy air station...
True to their word, there was an abundance of new alcohols to sample and buy...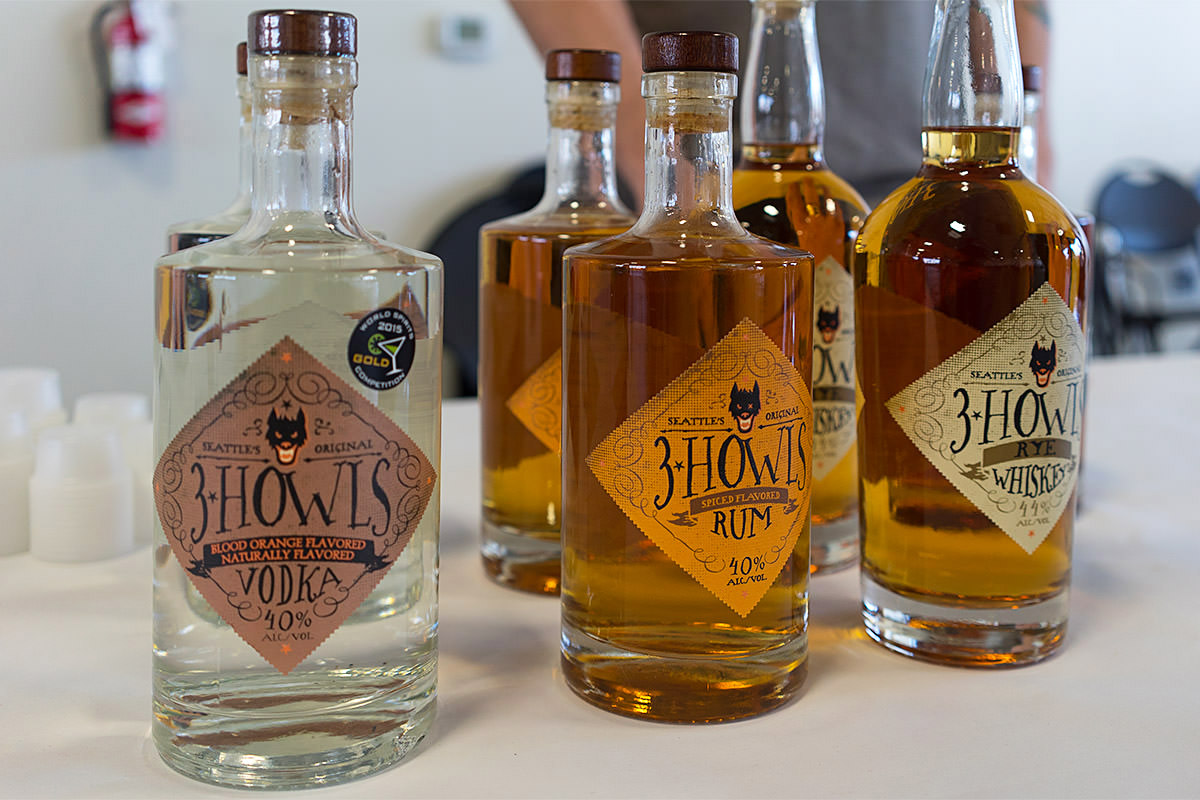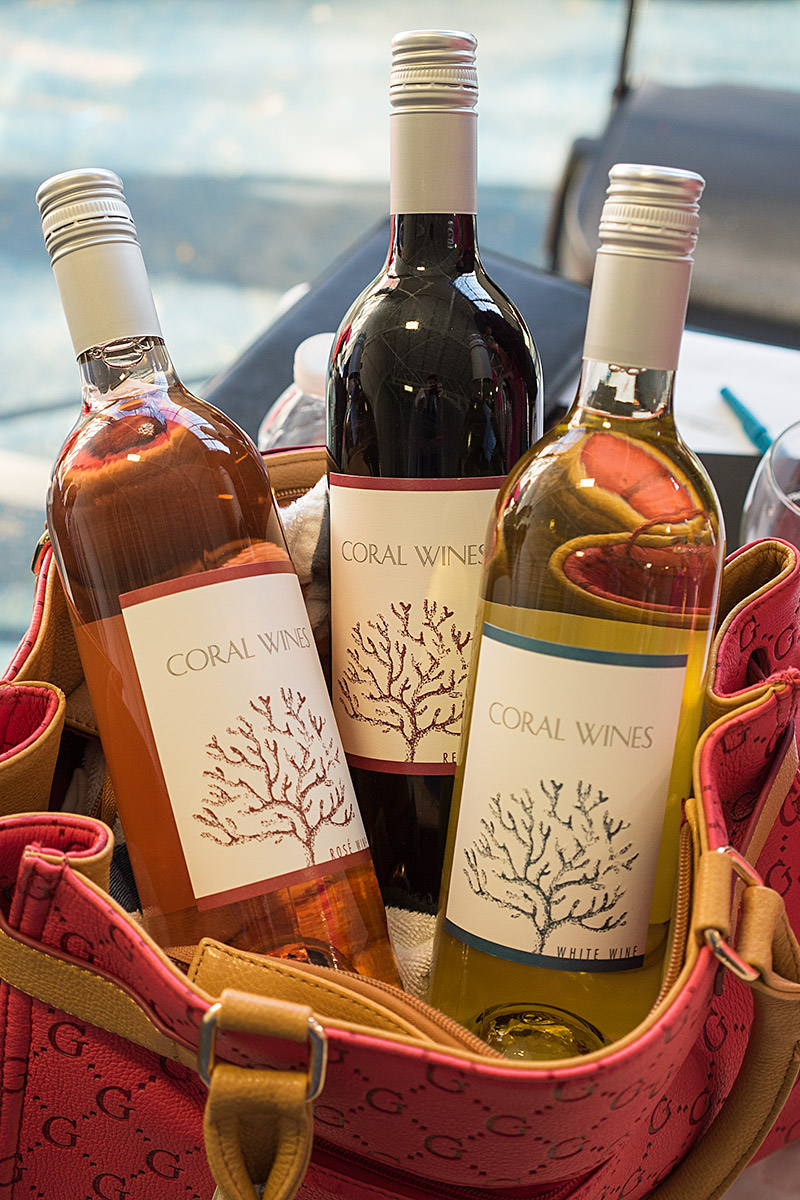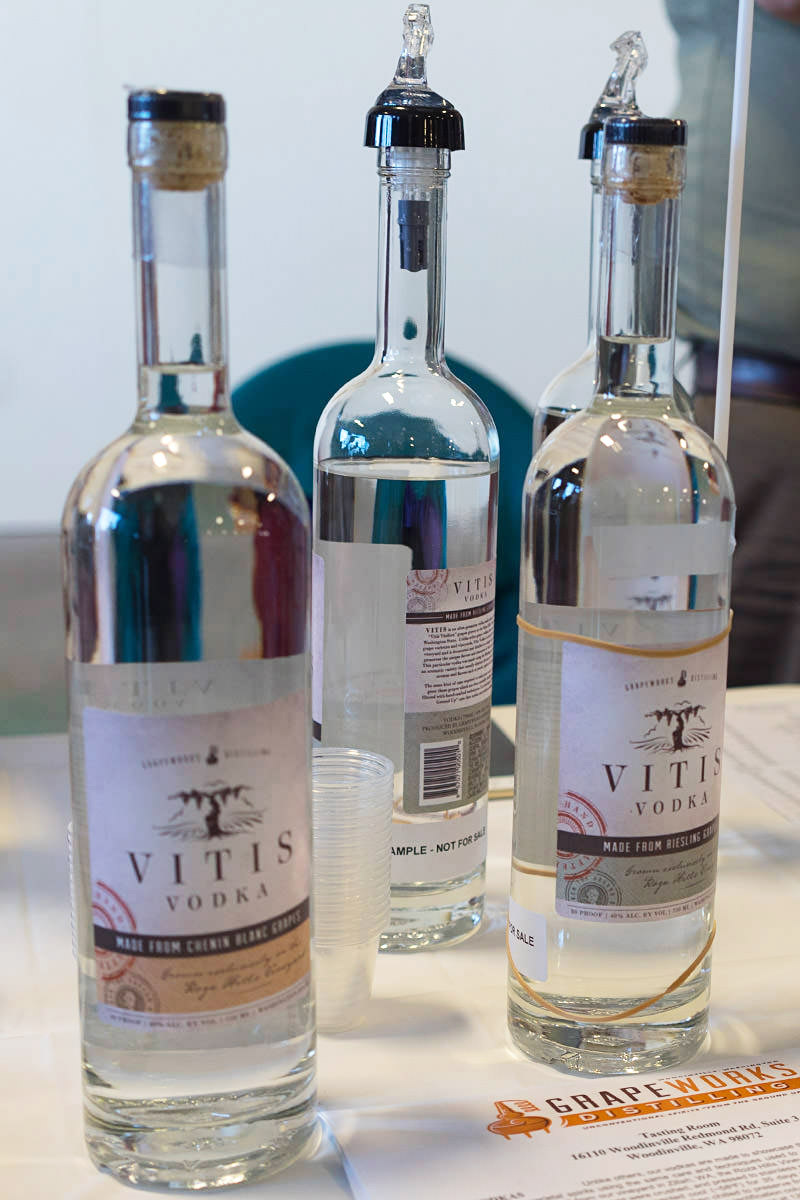 Best of Show for me was Skunk Brothers, which had a very nice moonshine whiskey and a sublime Sweet Apple Pie spirit...
Interestingly enough, there was also cigar rollers in attendance...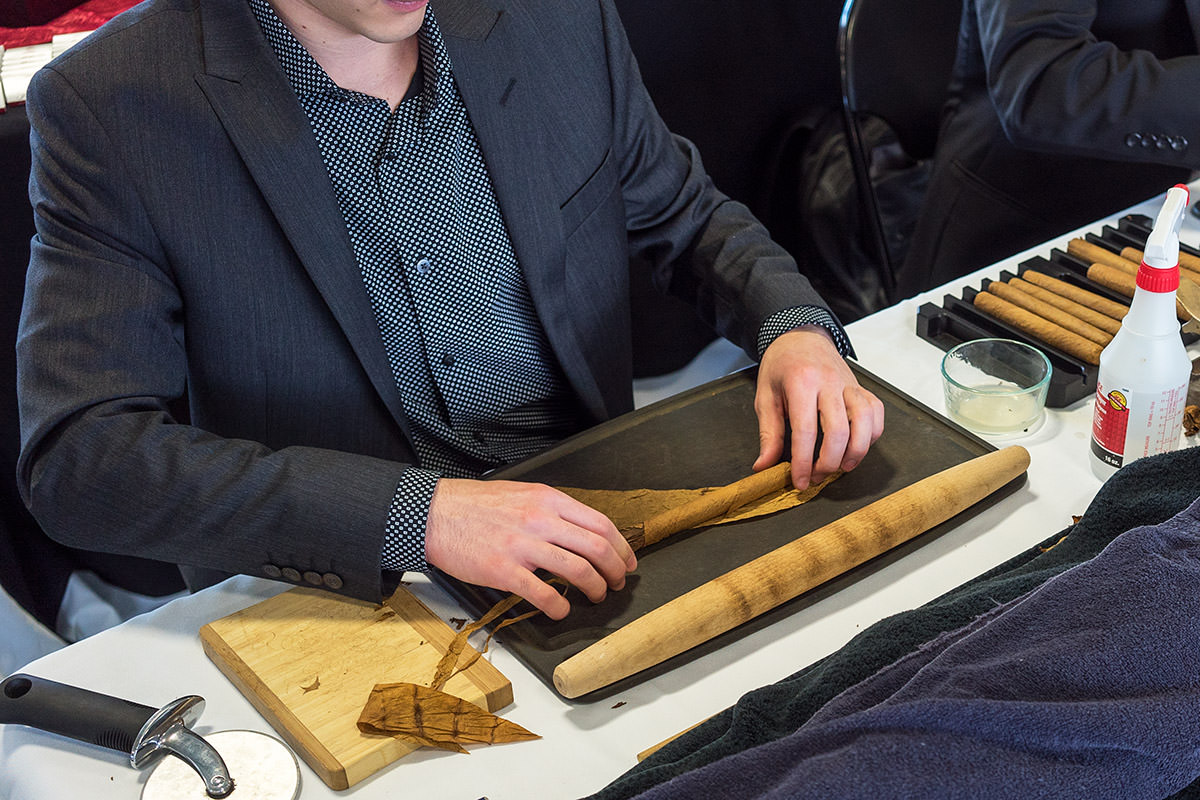 The hangar itself is a terrific space for events like this...
I already had several shots of Jäegermeister before the event, which meant I was getting pretty trashed as we neared the end of the evening (I "sampled" all but two tables, and they had multiple products at most tables!). Not wanting to pass out on my friends, I decided to stop drinking and start shooting photos. I brought my miraculous Sony A7s camera, and Hangar 30 had plenty of opportunities to get sone nifty shots.
So there I was taking photos of cool stuff when I hear some asshole start mocking me with "LOOK AT THAT GUY TAKING A PICTURE OF A WALL!"
I am beyond sick and tired of people taking a shit on my happiness, but decided to let it go.
Or I would have if I hadn't been soaked in alcohol. Instead I said "WHAT THE FUCK DO YOU CARE?" a bit too loudly.
Oh well. I may have been taking a PICTURE OF A WALL but, in my defense, it was a pretty interesting wall...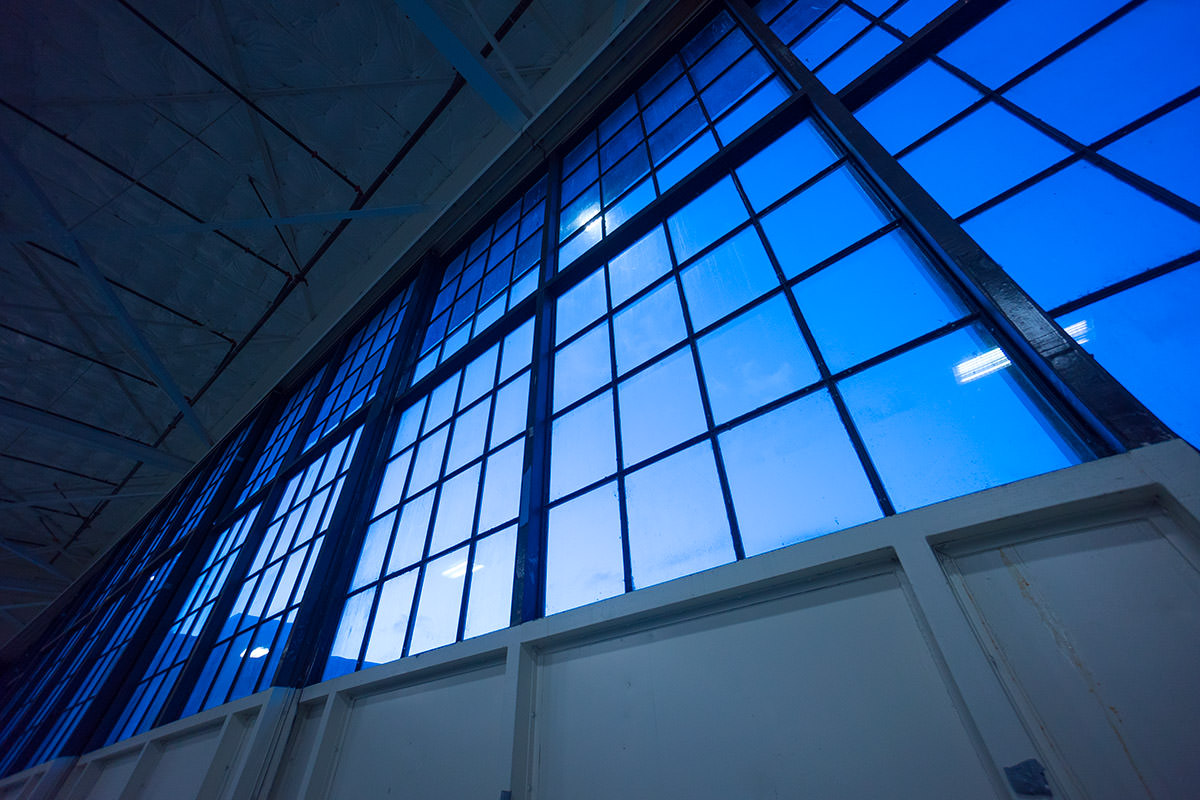 There were four food trucks and you got four sampling coupons to try each of them. Except the chicken truck didn't have a vegetarian option (boo Chick'n Fix!), so I skipped that one.
The first truck I ate at was Spicy Papaya, which had a delicious Pad Thai to try...
Next up was Wicked Pies, which must be run by some Twin Peaks fans...
But Best in Show for me was the El Cabrito truck, which was serving up an amazing "Beet & Pumpkin Seed Quesadilla" that rocked my world...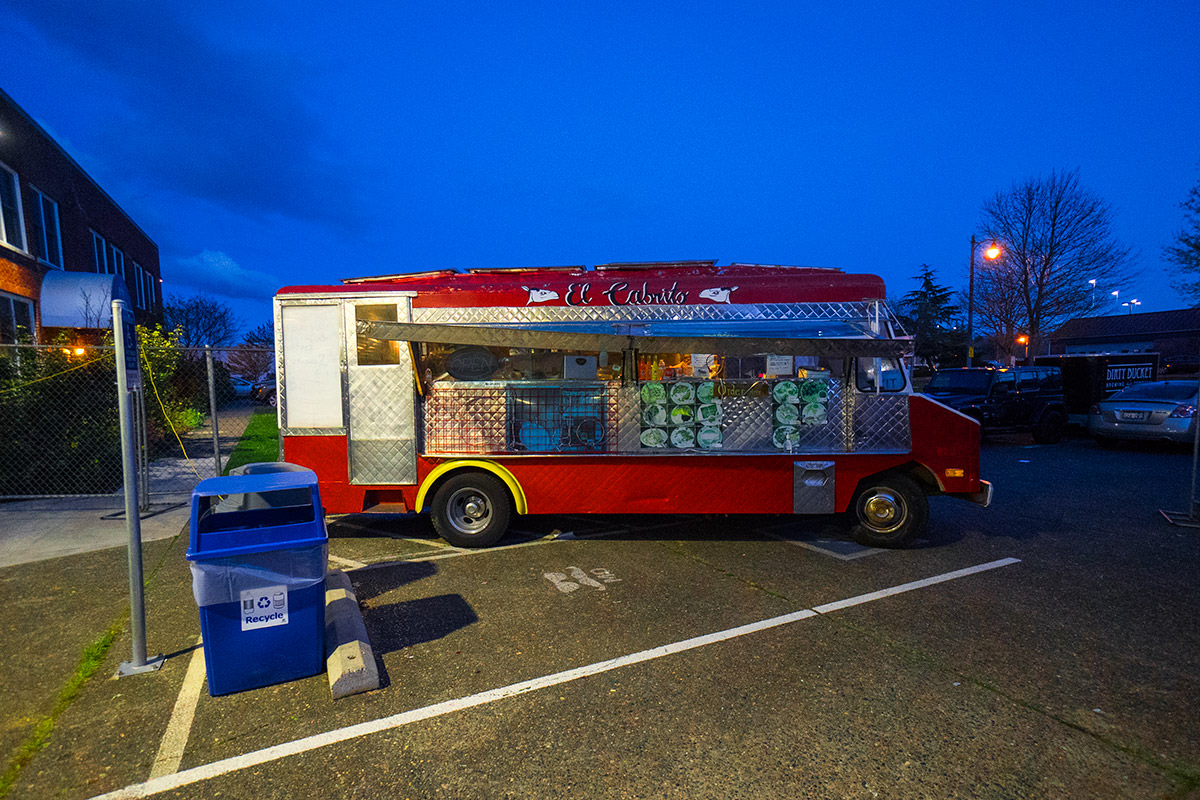 It was so good that I used my last ticket to pay a return visit...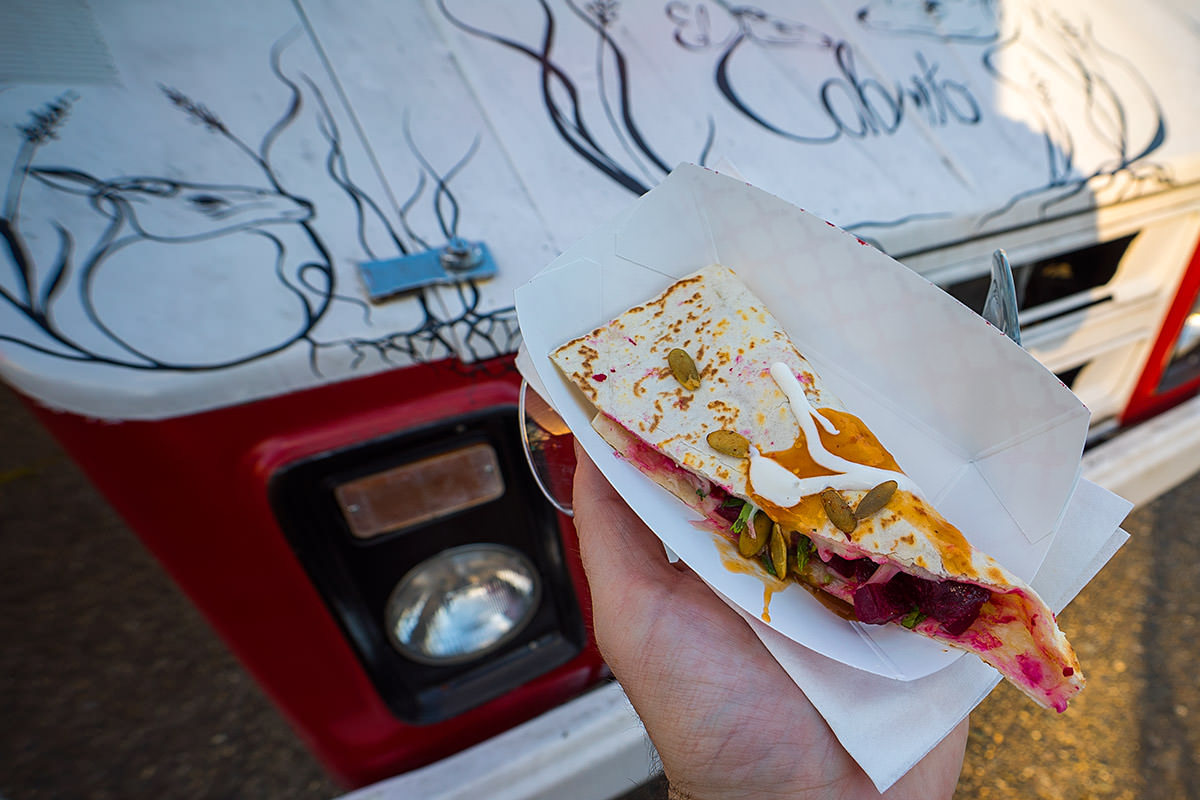 El Cabrito can park their truck in my driveway any time! That quesadilla is absolutely worth a stop if you're ever in Seattle's International District.
And thus ends my last day in Seattle. Not too shabby!
Even if I did drop an F-bomb on an airplane hangar.
Posted on March 20th, 2015

As I may have mentioned a few dozen times, I'm not a fan of Cirque du Soleil. The acrobatics are amazing, don't get me wrong... I love that stuff, but it's Cirque's packaging that drives me nuts.
LOOK AT US! WE'RE DRESSED IN WEIRD CLOTHES DOING WEIRD THINGS WITH WEIRD PROPS IN FRONT OF WEIRD SETS THAT MAKE NO SENSE WHATSOEVER! WE'RE WEEEEEIRRRD!!!
Yeah. We get it. Weird. Uh huh.
And tonight was more of the same as I went to Kurios: Cabinet des Curiosities with my sister...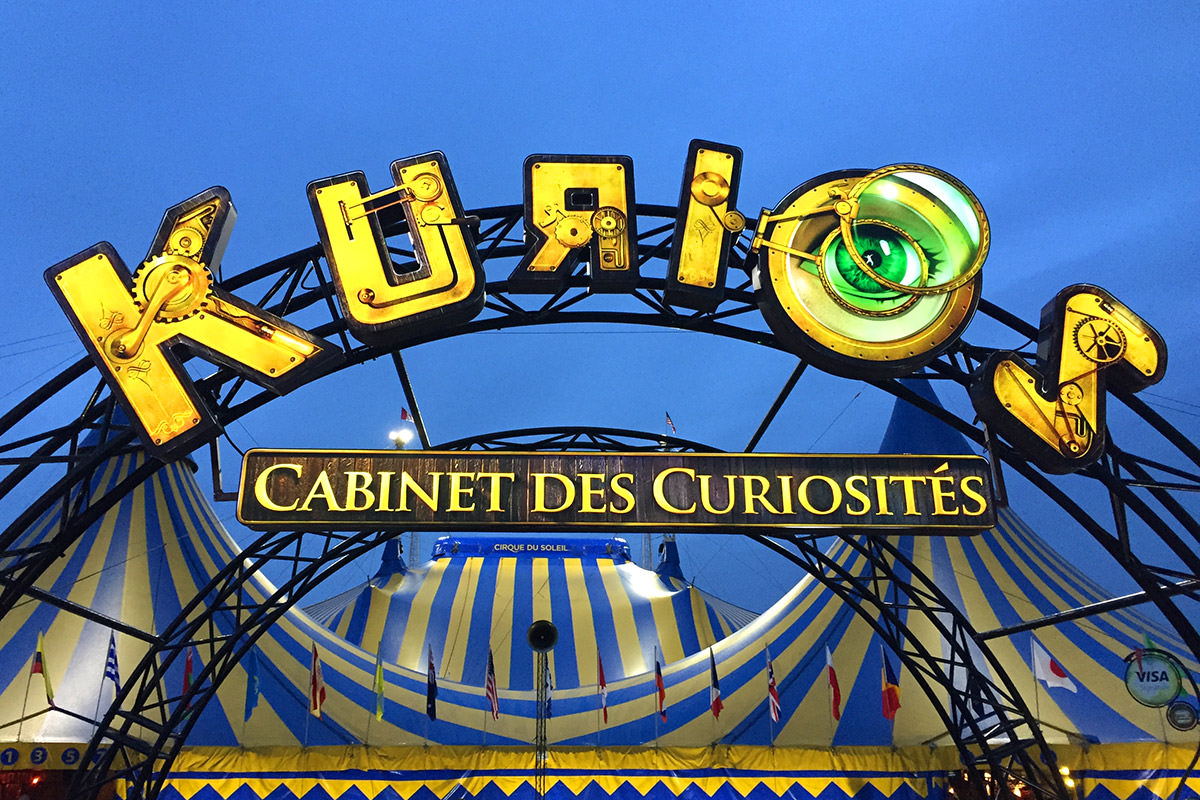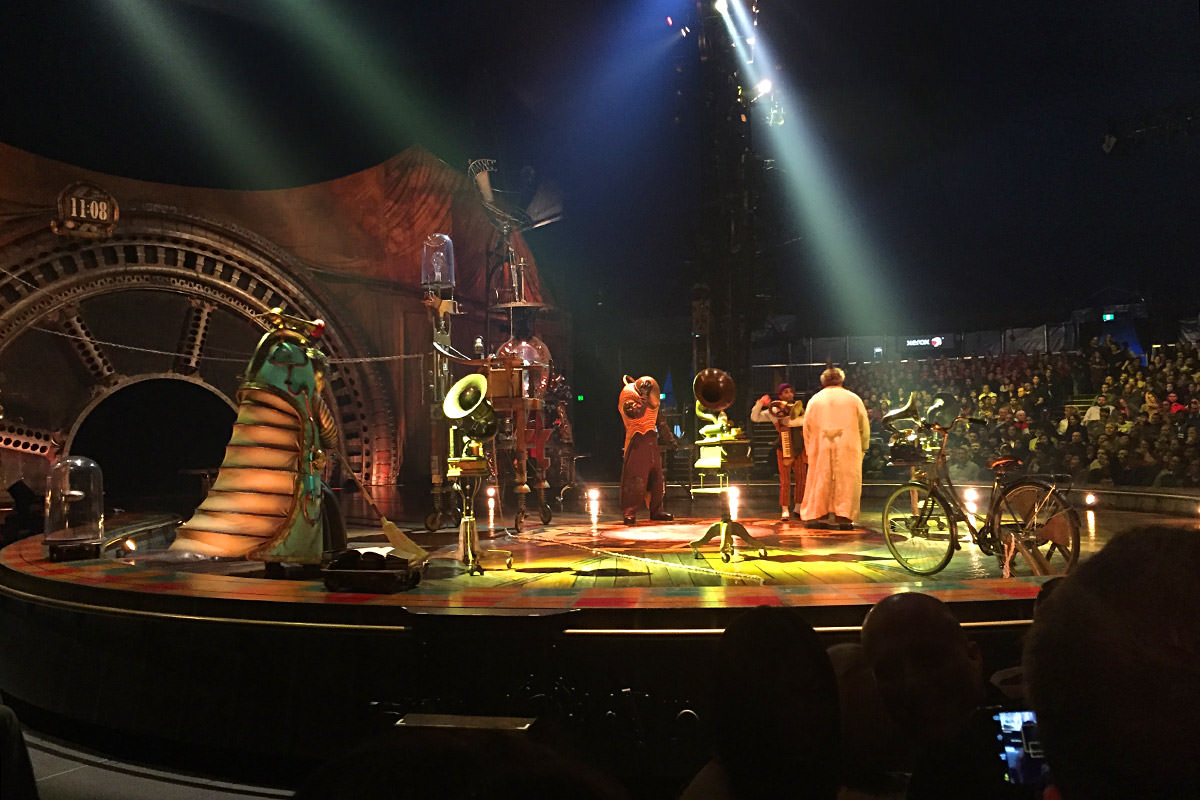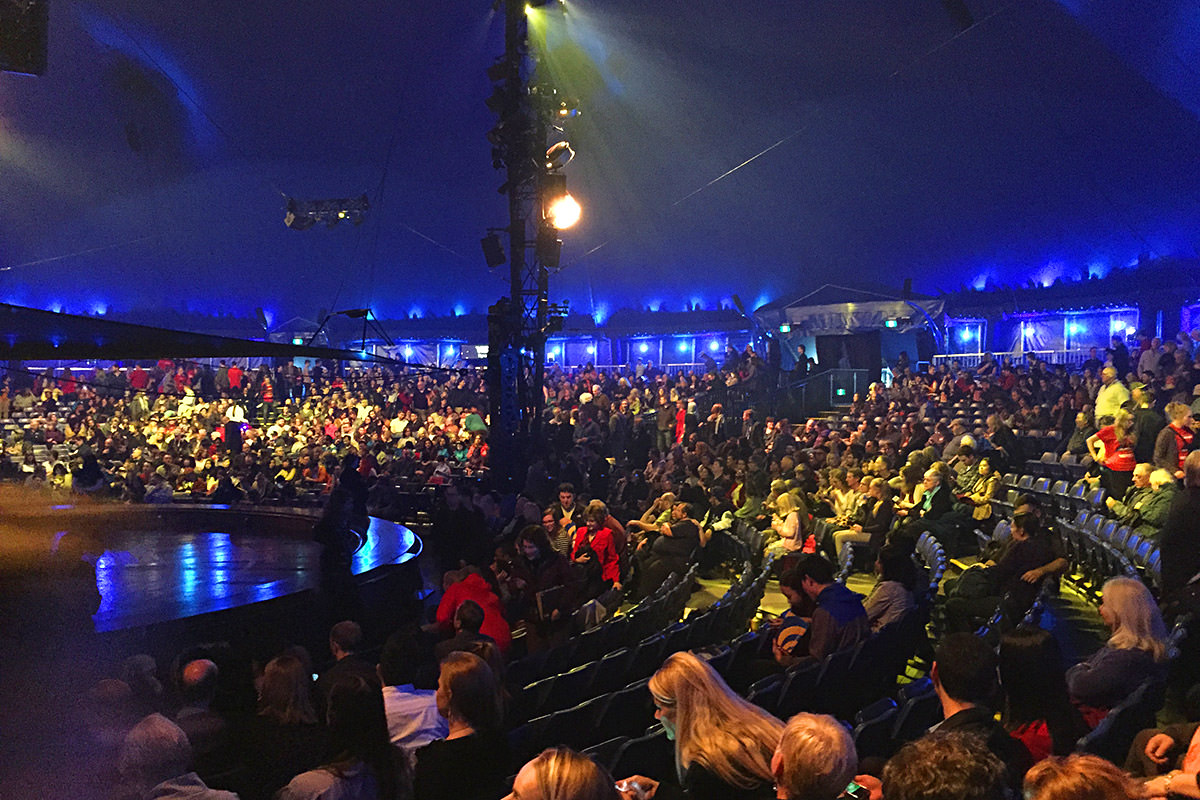 Ultimately, I liked it better than The Beatles: Love (even though the music wasn't as good!) because there was more of a focus on the amazing talents of the performers rather than just doing weird shit for the sake of doing weird shit...
Though, no worries, Kurios had plenty of weird shit... including traveling scientists having a bad hair day, Moebius-inspired robots, fish people, finger puppets, and a guy acting like a cat. So if weird shit is your thing, you won't be disappointed.
As if that wasn't enough, they also had a Duncan Yo-Yo Master for some reason, just because, well... yo-yos, I guess.
This is a traveling show that wraps up here in Seattle this weekend... but they're continuing onward to Calgary, Denver, Chicago, Costa Mesa, and Los Angeles... just in case you like watching mind-bogglingly talented performers doing mind-boggling stuff... while drenched in senseless weird shit.
And who wouldn't?
Posted on November 17th, 2014

David Sedaris is my favorite living author.
Not just because his wry humor, observational wit, and charming self-deprecation is about the funniest stuff I've ever read... it's because David Sedaris is an exceptional writer. His prose is so flawlessly constructed... so beautifully realized... so wonderfully clever... you don't just read it, you let it wash over your senses like a warm bath from which you never want to leave.
And, as good as an adventure as reading his work may be... it's not even the best way to experience it. Having David Sedaris read his writings to you adds an entirely new load of genius to an already brilliant work. Which is why I always buy the book and the audiobook of everything he releases...
I also try to attend his readings, so I can listen to him live and in person, which is about the best entertainment ever. Sadly, it's never easy with my crazy schedule, and I've only heard him speak once before. But there was no way I was going to miss this event given that it was a mere two-hour drive away.
Especially since I finally got to meet him up-close-and-personal to get his autograph... complete with a bloody tomahawk...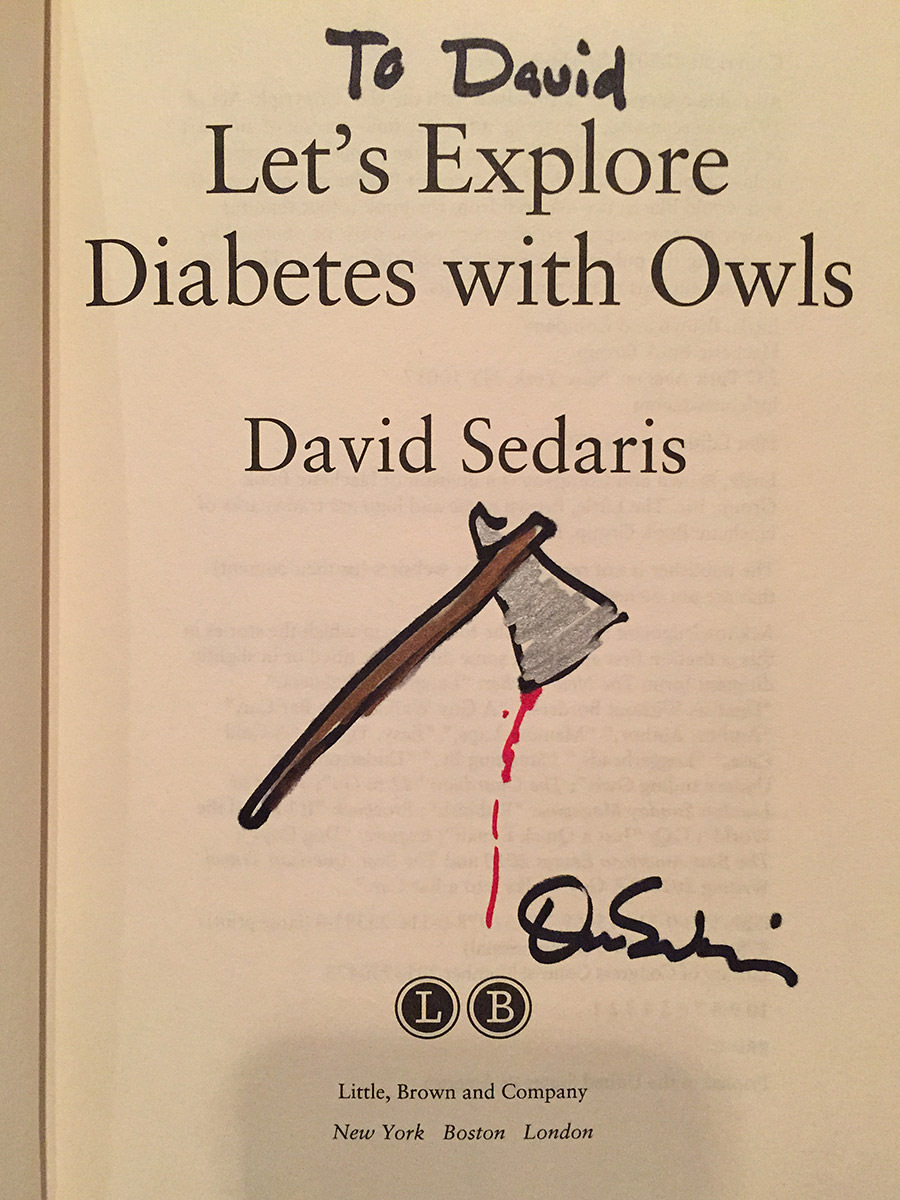 Benaroya Hall, which is truly a lovely space with fantastic acoustics, was completely sold out for the event...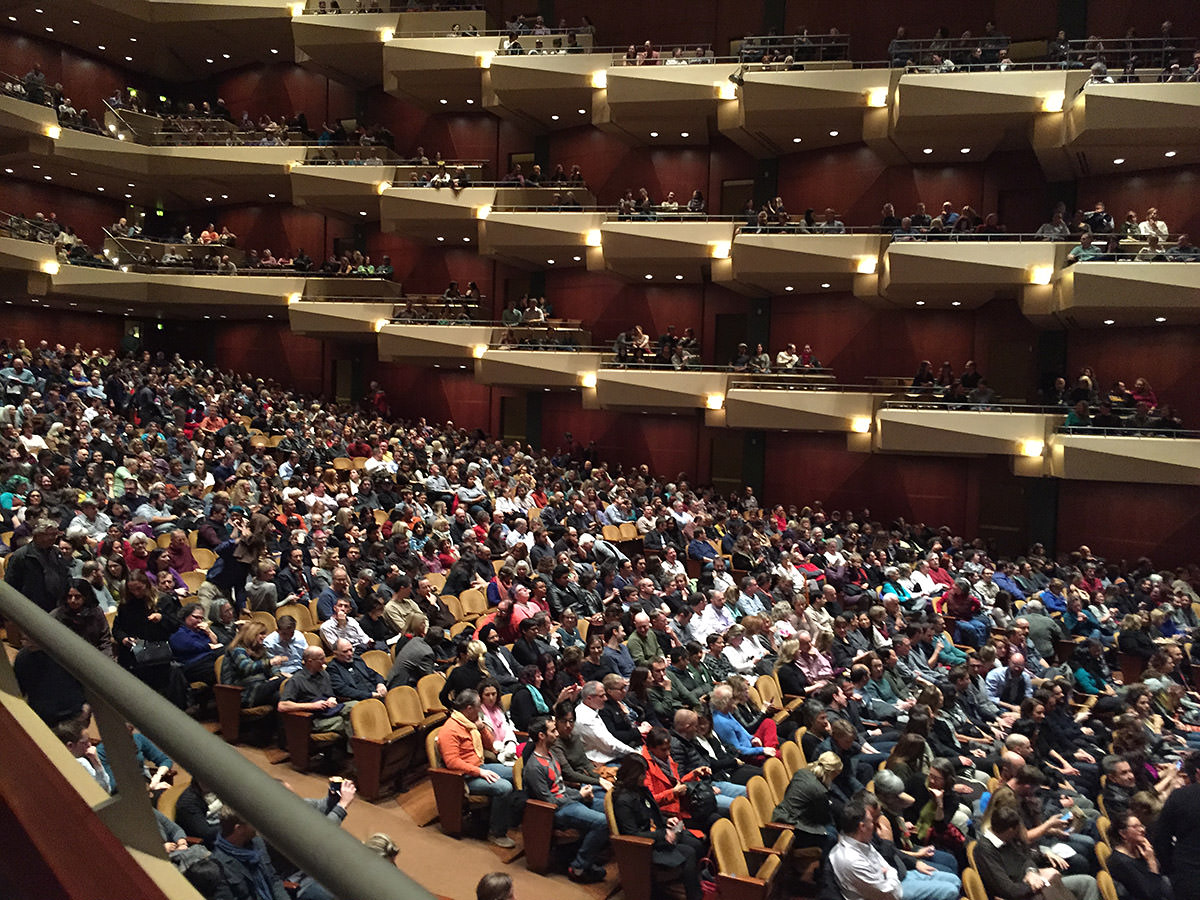 I couldn't have had a better seat. Right on the first level in the second balcony...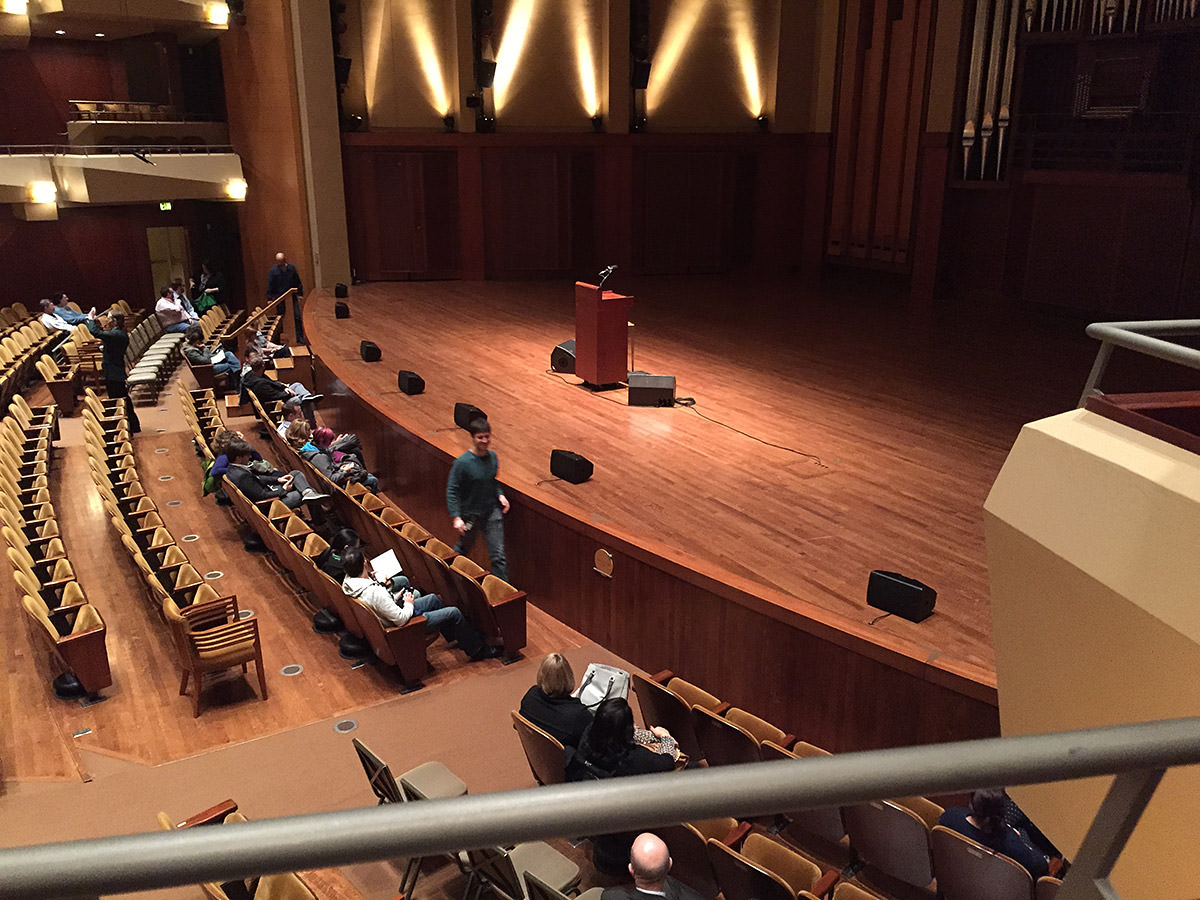 Mr. Sedaris was, as expected, completely worth the trip.
Smart, witty, charming... and utterly brilliant in every way... it was an evening I'll not soon forget.
Oh yeah... earlier in the day I also went to go see Big Hero 6 again. Such a great film. And this time I saw it in a pretty great theater. Not for screen size or anything... but for comfort...
The iPic Theater in Redmond is more comfortable than my bed. It doesn't help that people are waiting on you hand and foot. Want a beer and some Junior Mints? Your wish is their command...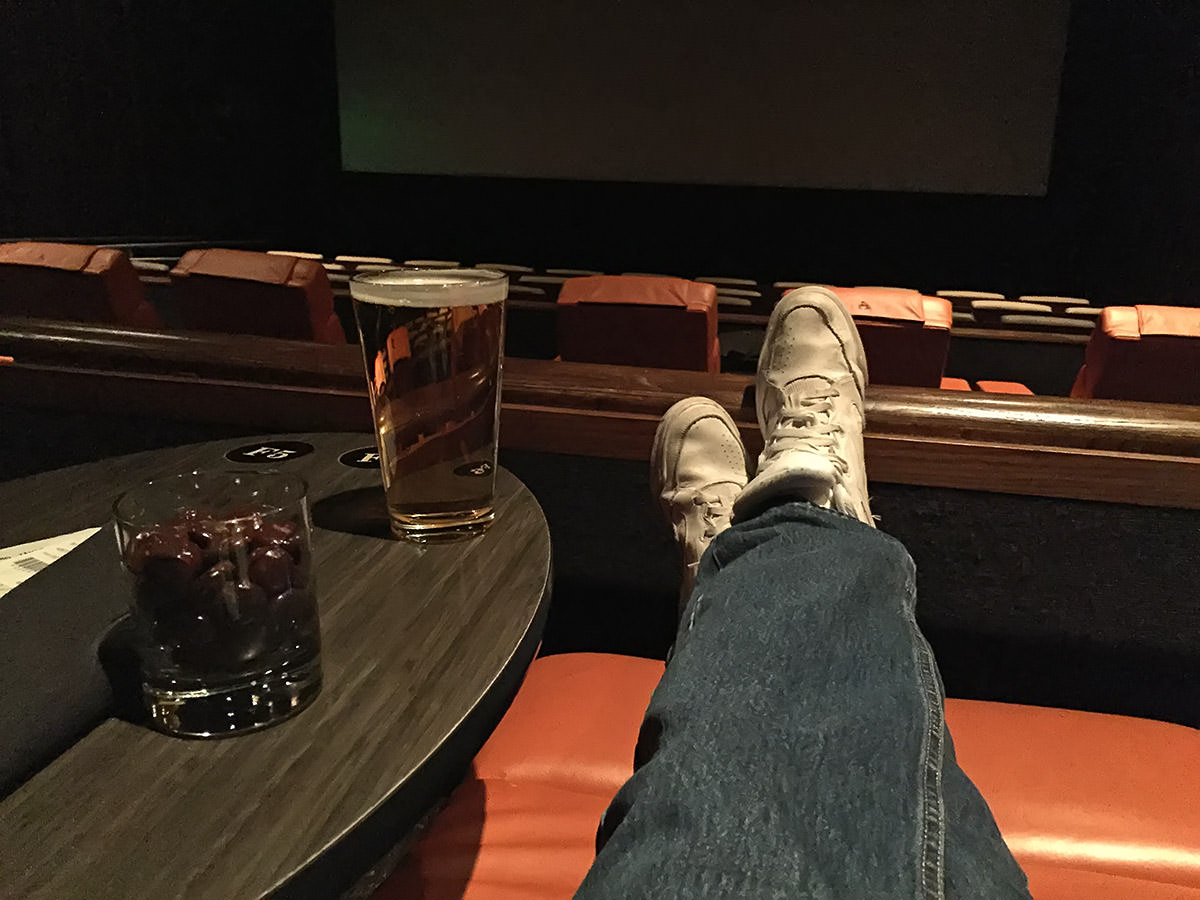 Sure it's expensive... but "expensive" means that people won't waste the money to bring their bratty kids along so you won't have to listen to their bullshit. My first time seeing Big Hero 6 was pretty much ruined by kids who would rather be playing video games than stuck in a theater for 105 minutes being quiet. Not this time, baby.
Oh... and I stuck around for the post-credit sequence of the film, which was kinda nice.
Almost as nice as my Big Hero 6 Funko POP! Baymax figure that finally arrived...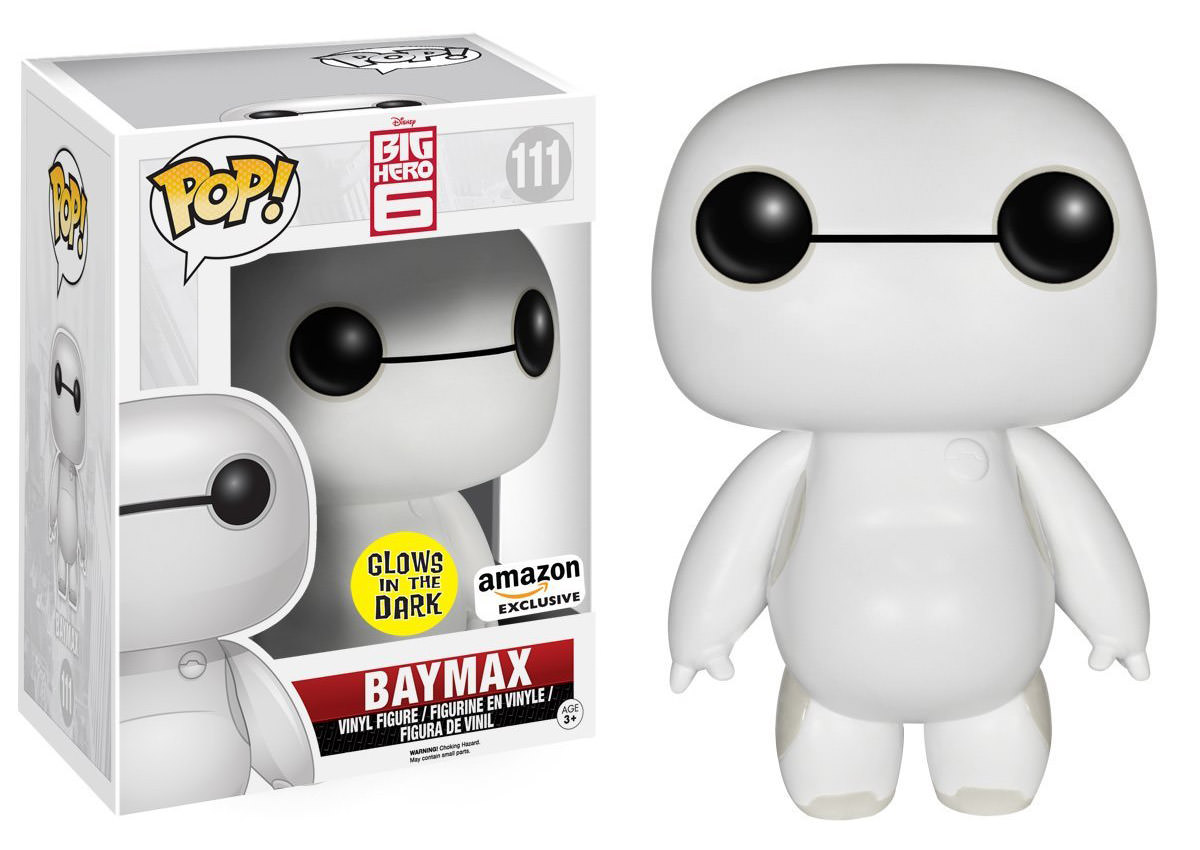 I got the "Amazon Exclusive" so he glows in the dark.
Just like a playtime pal should.
Posted on October 28th, 2014

It never ceases to amaze me how a city known for its rain consists of a population who has no idea how to drive in the stuff.
Today my commute to work which is usually 30-40 minutes took a mind-boggling 1-hour 45-minutes... assumably because motorists lose their damn minds any time it rains more than a sprinkle.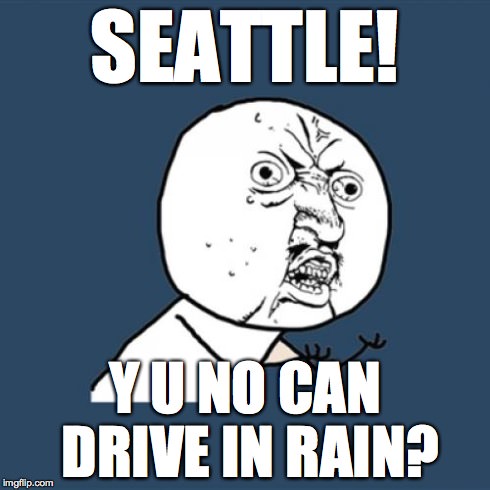 Google's traffic map was lit up like a Christmas tree with accident reports this morning, leaving me no clear route to take. So I bit the bullet, headed to the heinous mess that is the 405, and sat in traffic for over an hour. Absurd.
Though I did get free entertainment when somebody drove clean off the road for no reason other than they were probably texting or brushing their teeth or slicing strawberries for their oatmeal, or whatever the fuck it is people do that causes them to drive off the road.
Hey! Here's an idea... maybe if people would pay attention to the damn road when weather conditions are less than optimal and allowed a little more room between cars and slowed down a bit and sliced their strawberry garnish at home... everybody could get to work only ten minutes later than usual instead of an hour plus.
Just a thought.
Posted on October 25th, 2014

Not the best of drives over the mountains, but it could be worse. Could be snowing.
Which is probably waiting for me when I have to go home.
Such is the month of October in the Pacific Northwest.
Posted on June 14th, 2014

I haven't been to a Mariners game in six years.
w00t!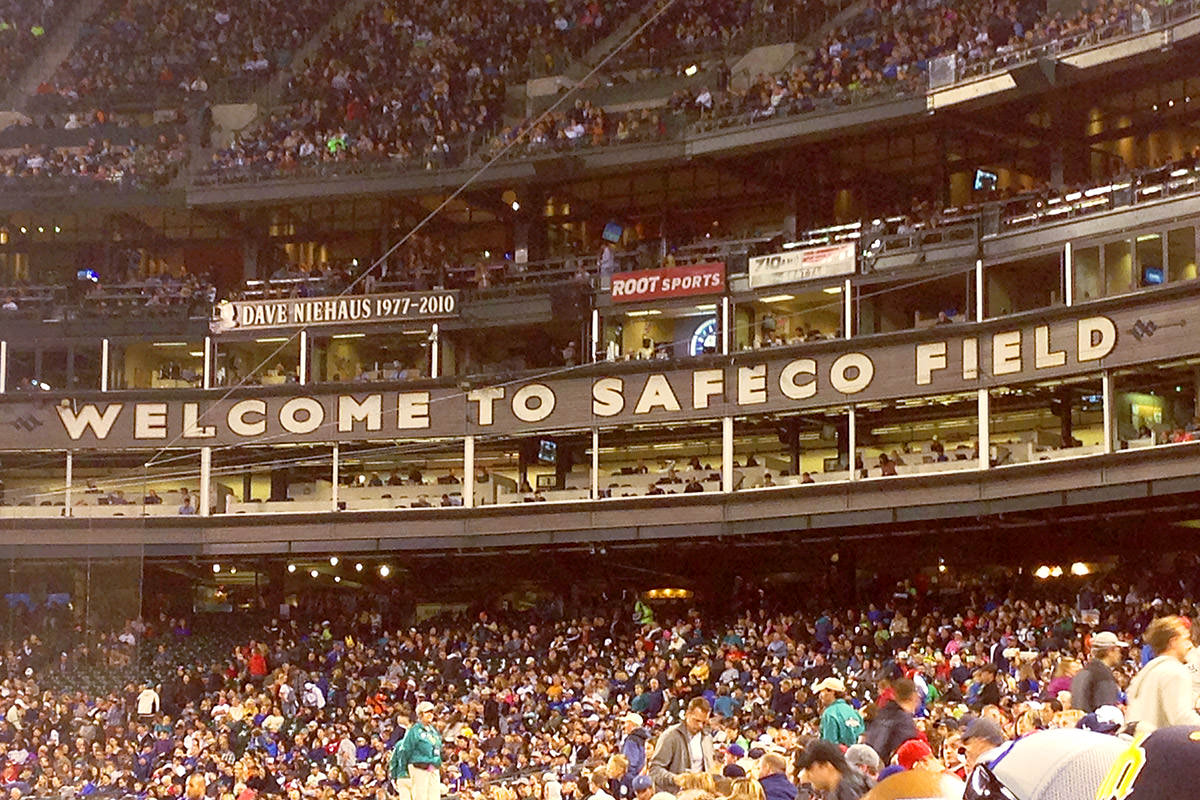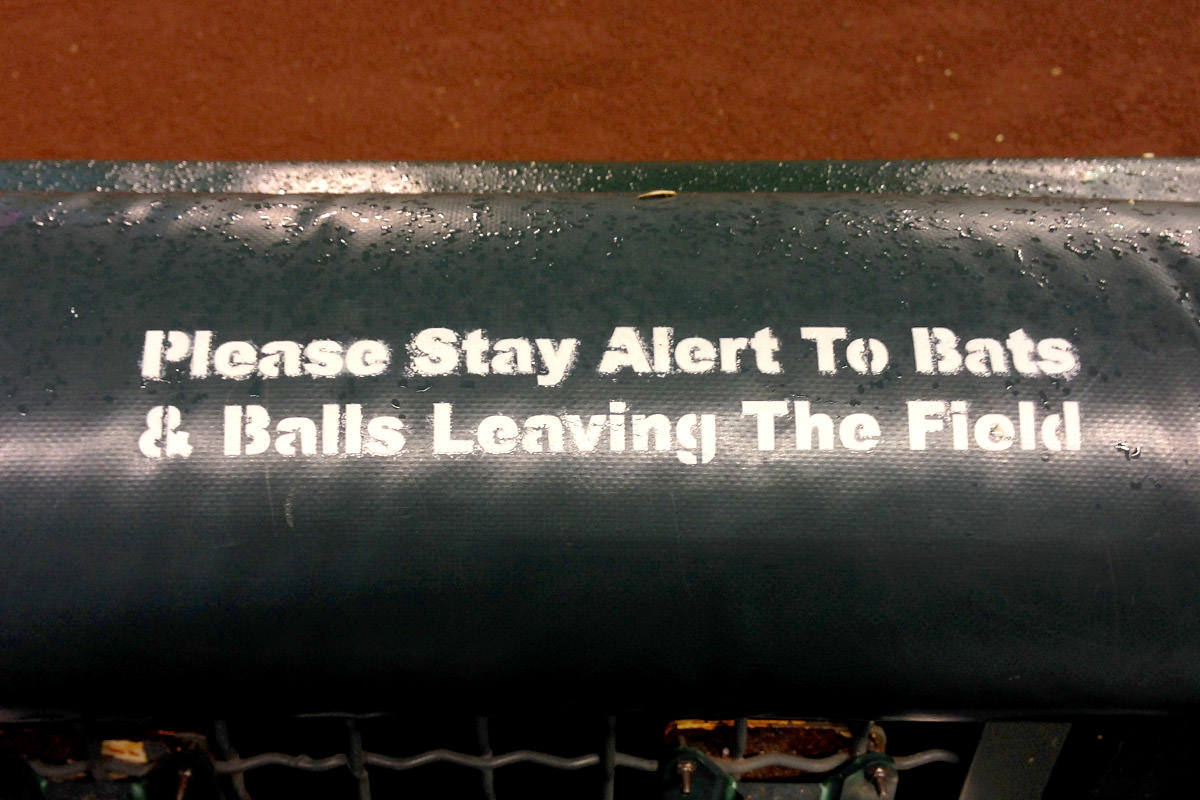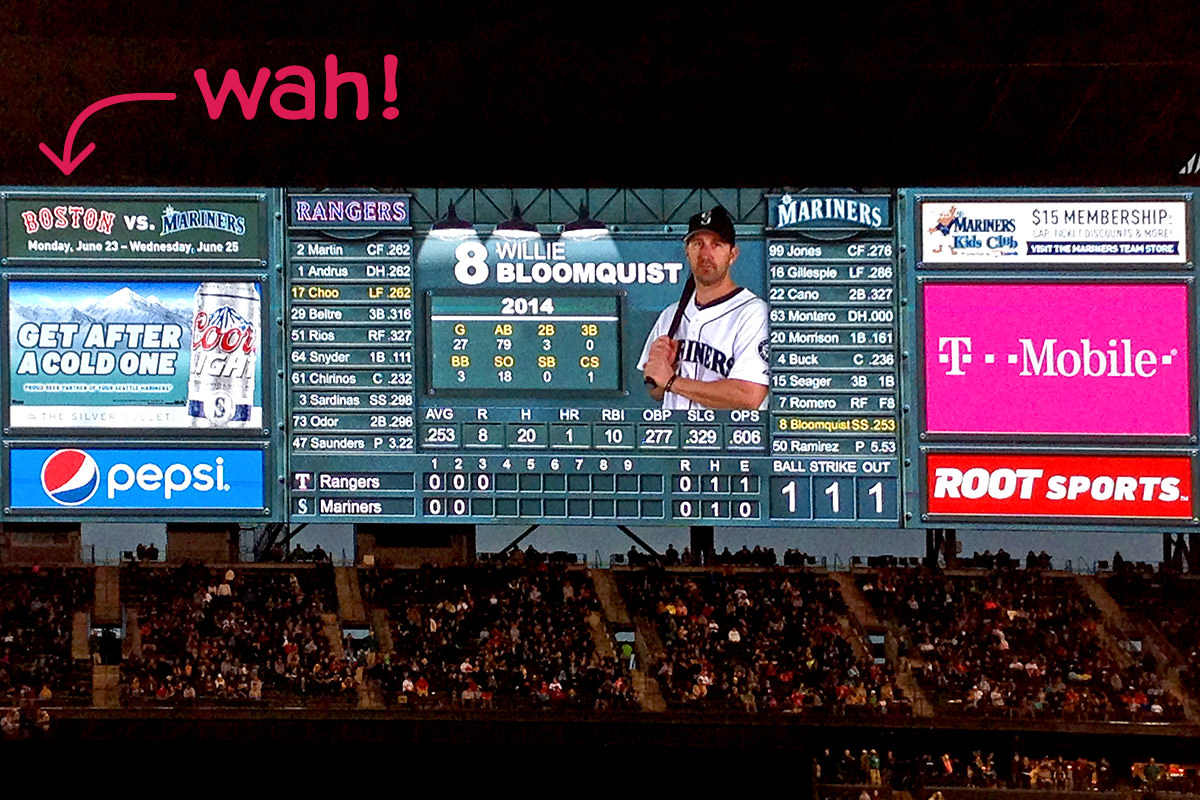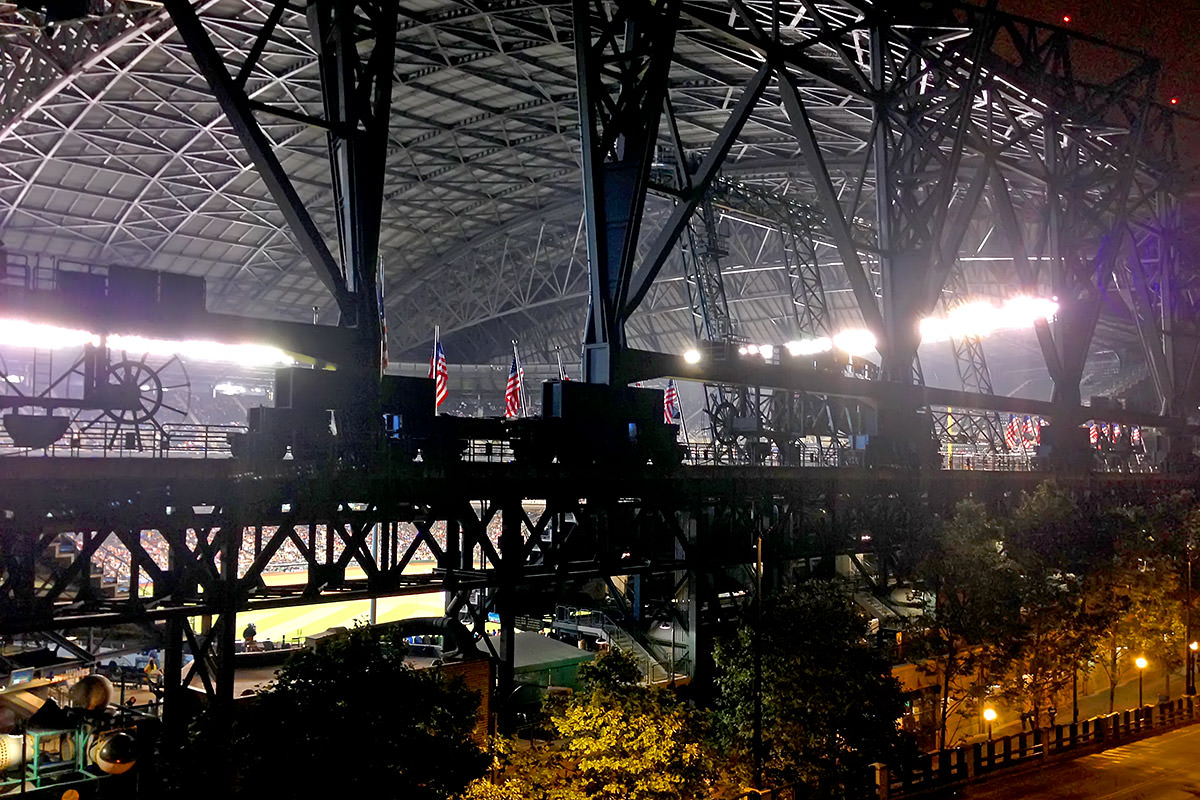 Would have been great if the Mariners had won. :-(
Posted on June 5th, 2014

I have been a lot of places and seen a lot of horrible traffic. Every major US city has some traffic problems due to the sheer volume of cars and trucks and things that go on the roads. But there are definitely cities worse off than others. Los Angeles is pretty much the gold standard for horrible traffic. San Francisco isn't much better. Boston has ensnared me more times than I can count. Some of the worst traffic I've ever seen was spotted as I was trying to drive into Atlanta one day. New York is an obvious target but, to me, never seems to be as bad as people think.
But, in my humble opinion, none of these cities compare to Seattle.
Seattle traffic is hellaciously bad and in a league of its own.
Most of the reason is simple geography. The bulk of Seattle is surrounded on three sides by water... Lake Washington to the East, Lake Union to the North, and Puget Sound on the West. You can't add "ring roads" around Seattle to alleviate congestion because there's no place to put them. The rest of the problem is just the sheer volume of vehicles on the road. Auto density in Seattle is absurdly high, and no matter how the city tries fix the problem, people love their cars too much to give them up.
And the problem isn't limited to Seattle, as the traffic there bleeds out into surrounding areas as people do whatever they can to avoid driving in the city.
Which makes driving to SeaTac airport a real crapshoot.
Technically, the drive takes 2-1/2 hours for me if the traffic isn't horrible. But since the traffic almost always is horrible and you never know how many times you'll have to stop for road construction, I leave anywhere from 30 to 60 minutes early. Most of the time I'm glad I did. But today the traffic was merely "bad" and not horrible at all...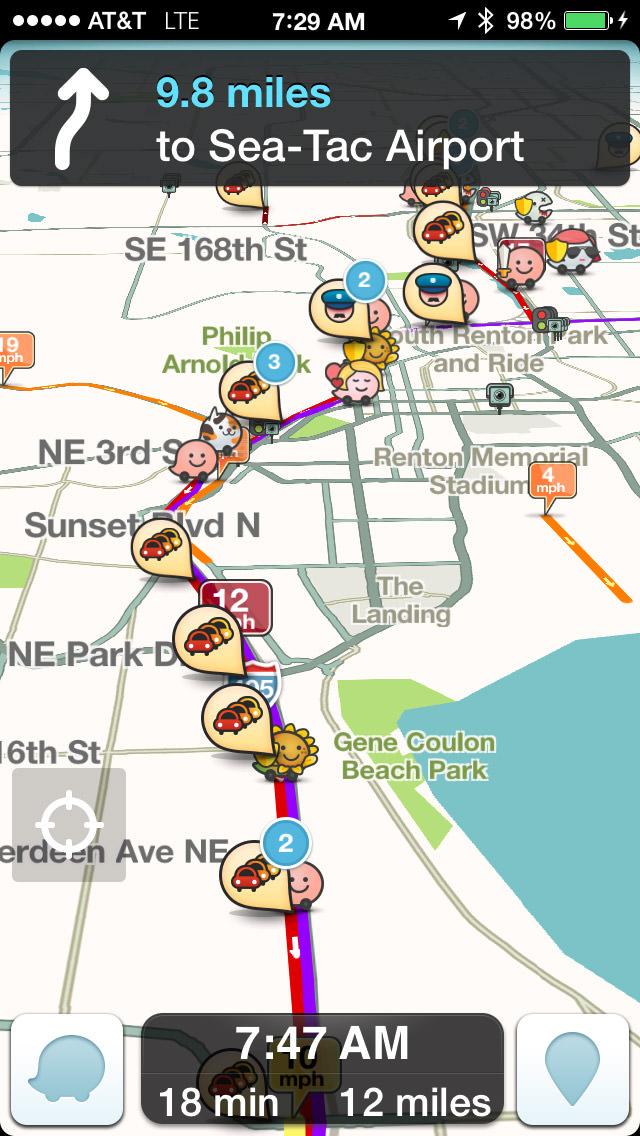 18 minutes to drive 12 miles is practically lightspeed so far as Seattle traffic is concerned.
And so here I am, sitting at the airport with two hours and 45 minutes to kill before my flight. If only I had known, I would have stayed in bed an extra hour.
But you just know the day I sleep in is the day that a truckload of fish overturns on the 405 and backs up traffic for an hour.
Stupid fish.
The good news is that I have plenty of time to eat at Qdoba for breakfast. Sure the line is always long but, unlike Seattle traffic, it moves fairly quickly.