Posted on June 27th, 2023

Home ownership... am I right?
Today I got the worst news possible... the upstairs shower, which has started leaking again (and it's worse than ever)... will have to be entirely torn out so they can replace everything the original plumber did. The pipes. The pan. Everything. Which means I will, of course end up having to re-tile and re-paint. Lord only knows how much that's going to cost.
Let's see what this brings us to in seven years of owning a home, shall we? And this is after the complete renovation I had already paid for when I bought the place...
Repair hardwood floors because the hugely expensive hardwood I bought was flawed.
Tear out wall strips that were buckling.
Rewire electrical once half my kitchen stopped working.
Fix the kitchen plumbing, which was so poorly done that the plumber thought it was a joke.
Tear out all the smart light switches because the company went under.
Rip out the guest bath due to leak from above shower (ONGOING!).
Rip out the guest bedroom changing area due to leak from above shower (ONGOING!).
Add electrical outlet to laundry room because it didn't have one(?!?).
Replace hot water heater.
Replace HVAC compressor and blower with heat pump and blower.
Rip out living room wall to access noisy HVAC return lines that were badly clamped to the studs so I could completely reinstall everything and add soundproofing (ONGOING!).
Rip out automated sprinkler lines to reposition since they added a service box that blocks them (STILL WAITING ON A CONTRACTOR).
I am positively terrified as to how much this all cost me. A big thank you to my original contractor, who is responsible for half this mess.
Good thing I'm not going on vacations any more. I couldn't afford it.
The good news is that the massive hole in my living room wall is very close to being fixed...
Later today they skim-coat to level everything out.. Then tomorrow morning they prime it. Then tomorrow afternoon they paint.
And how happy will I be that one of four ongoing projects (soon to be five) will be checked off my list?
Very.
Posted on October 17th, 2021

My heat is still on, so things are toasty here at Blogography... because an all new Bullet Sunday starts... now...

• AWWWWW! You guys... YOU GUYS...
Derpy puppies are the best puppies.

• Darwinism! Fuck your 12 years of med school... Dr. Google is my god now!
I just feel bad that the kids are at the mercy of this stupid shit. But... I suppose if they are just going to continue propagating it to newer generations, it might be for the best? It sickens me that anti-science has become so prevalent and dangerous that these kind of thoughts go through my head, but here we are. What the fuck has become of us?

• Fury! I didn't just dislike the Shazam! movie... I loathed the fucking thing. It was categorically awful from start to finish. Now, thanks to DC Comics' "FanDome" event there was a look at the sequel...
Honestly? I had zero intent on watching the thing... even when it came out on video. But then they cast Helen Mirren and Lucy Liu as the villains? NOW I AM FORCED TO WATCH, DANGIT! Hopefully i doesn't suck as hard as the first one.

• Cuntry! Not only do I know all of these countries, I've been to all of them except Chile. But I did get close when I visited Argentina on the way to Antarctica, you condescending fuck...
The entire channel is filled with "If you don't get these, you're American" TikToks... and it's like... look... I get it. Americans are largely ignorant of the world outside our borders. But constantly harping on this ceases to make it funny... it just makes you a fucking dick.

• The BATman! BWAH HA HA HAAAAA!! ZOMFG! They went over the top… and not in a good way. Maybe it's the way the trailer is cut together, but this looks fucking embarrassing...
Apparently the Nolan Dark Night Trilogy is still safe as the defining cinematic Batman. Oh well. I guess I'll know for sure once I've seen it.

• DOG SENSE! Jesus. It's just... why. If you disagree with policy, DON'T FLY. It's not fucking rocket science. Though apparently it is for assholes like this...
Please just get the COVID you're dying to get, then pick up your Darwin Award already. I'm so sick of this shit.

• Ending on a Happy Note! Boy... Yes Theory is back and I somehow missed it! This is pretty great...
=sigh= I miss travel. The world is full of such wonders.

And now I'm off again...
Tags:
Batman
,
Bullet Sunday
,
Dumbassery
,
Dumbasses
,
Fuck My Life
,
Fuck This Shit
,
Movies
,
TikTok
,
Travel
Categories:
Bullet Sunday 2021
,
Movies 2021
,
Travel 2021
—
Click To It:
Permalink
—
0 Comments: Click To Add Yours!
Posted on March 12th, 2018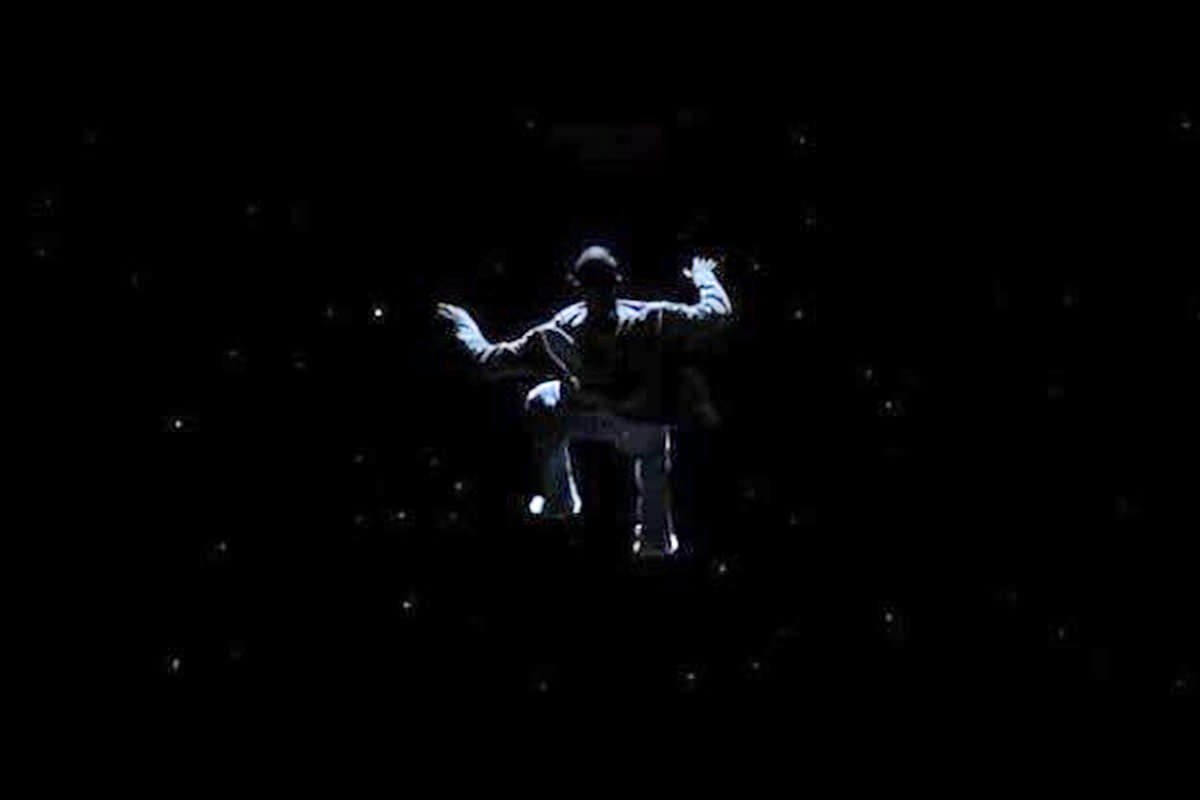 Posted on December 2nd, 2015

Much like Janice in Accounting*, United Airlines don't give a fuck.
It all started when I missed a conference call on Monday morning because I had to buy clothes for work. The only time I could reschedule the call was for Thursday, but I would need to be back home because the later date would require access to some design sheets I didn't have with me. No problem, right? I just call United and explain the situation.
Except it ended up being a huge problem, because United wouldn't agree to put me on an earlier flight home. THEY lose my luggage, necessitating all these changes, but it's going to cost ME a $200 change fee plus $450 for the ticket cost difference. I politely explain that it's not my fault the luggage was lost and I shouldn't have to pay anything... but they disagree. Talking to a supervisor gets me a "one time offer" to waive the $200 change fee, but not the $450.
Needless to say, I'm livid.
It costs United nothing to make the situation right and get me home over a situation they cause... there's empty seats... but they don't give a fuck about my situation.
So I regretfully start yelling at the supervisor over United's shitty policy and eventually she finds a flight to get me home in time in an effort to get me to shut the hell up. Which is so damn stupid. Why the fuck can't they do the right thing to begin with? Why does it take somebody screaming at them before they'll reluctantly solve a problem THEY created?
But that was yesterday, surely things will go better today. Right?
Nope. It just gets worse.
As I mentioned, my luggage was lost. I made it to Portland, but my bag did not. So I reported the problem, only to be told that they have no idea if/when my bag would show up. Discouraging, but that's the way it goes. Ironically, I stopped flying United a couple decades ago because they lost my luggage (permanently) twice in six months. Now, the first time flying the airline in years, and they lose my luggage again. Except this time I actually ended up getting it back...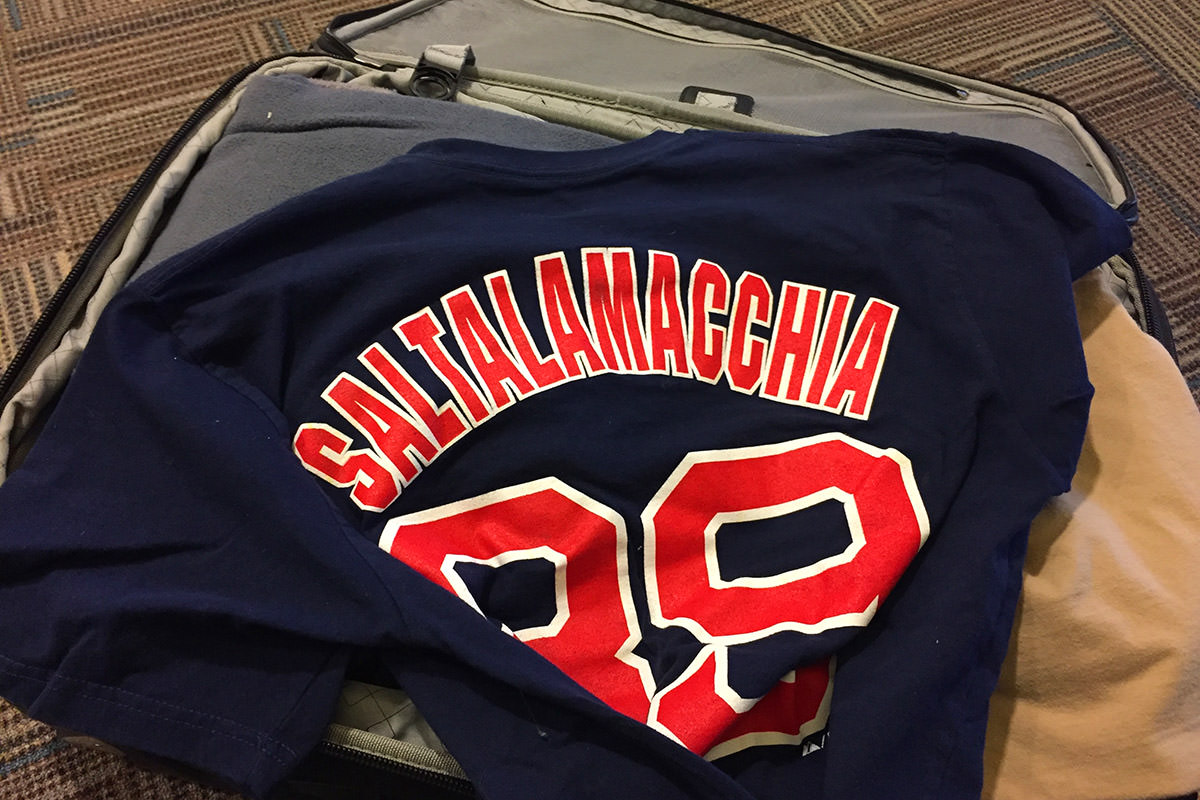 You will never leave my side again, Saltalamacchia!
Anyway...
When I check in for my flight, I naturally tell them I'd like the baggage fee waived since I never got to see my bag the entire time I was here.
They refuse.
Essentially, they blame this on me because I didn't know where I'd be in order for them to have delivered my suitcase yesterday. I explain that this is hardly my fault... that's the way my job works, and not knowing where I'll be is not something I can control... but United don't give a fuck.
Instead they offer me a $25 certificate good for my next flight.
Which I refuse, because I'll never be flying with this piece of shit airline ever again. I mean, first I had to pay $240 for last-minute clothes, now they expect me to pay $25 MORE for clothes I never got to use? Fuck that.
And so I vow to make this the most expensive $25 baggage fee they've ever collected. I will pass up no opportunity to badmouth United Airlines from this day forward. Everybody I run across will come to understand what fucking assholes are running the show at United, and how much I fucking hate the entire United Airlines organization.
Those feelings were doubled when I realized that my bag was not checked all the way home, but terminated in Seattle (despite the guy helping me having said it would be transferred to Alaska Airlines). Which means I paid $25 to get my bag home, and it's not even going to get home. I tied to get that resolved, but the United representative at the gate don't give a fuck either. Essentially, United booked me on a connecting flight home that doesn't exist (the 11:10 doesn't fly on Wednesdays). So I had to politely beg Alaska Airlines to put me on a flight that does exist. But in United's computer, THAT'S the flight that doesn't exist. Never mind that I show them my boarding pass for a flight that obviously exists since I've checked in for it... there's nothing they can do. So I ask if there's somebody I can speak to who CAN do something... only to get an epic eye-roll. She then calls a supervisor and says "I have a customer here demanding that I check his bags onto a flight that doesn't exist..."
"Demanding?" Fuck you. All I did was ask a damn question and show you proof that the flight does exist! I tell her to forget it, that I'll just collect my bag in Seattle and re-check it.
I'd like to say that things get better from there, but they didn't.**
All in all, United provided me one of the worst experiences I have ever had in 25 years of near constant travel. I hate... HATE... the company and everything they stand for. If no other airline can get me where I need to go, I would rather drive through a fucking blizzard than to ever fly United again.
And everybody is going to know it.
*Janice is from This Week Tonight with John Oliver... a show that you should be watching if you haven't been.
**A crappy hotel, another canceled flight, weather delays, winter storm advisory, and a complete douche nearly ramming into my car in the airport parking lot awaited me.
Posted on March 9th, 2015

JUST SPLIT THE DAMN DIFFERENCE BETWEEN STANDARD TIME AND DAYLIGHT SAVING TIME AND GET RID OF THIS STUPID SHIT!
The Monday after dicking around with the clocks is the worst.

I know I complain about this dumbassery every time we mess with the clocks, but come on. HOW IS THIS STILL A THING?
Posted on October 28th, 2009

As I sit here at Detroit Metro International Airport for the third time in four days, all I can think of is escape. From this airport I could go just about anywhere on earth because it's a major hub for Northwest/Delta. And as I walk by gate after gate displaying exotic (and not-so-exotic) destinations, it occurs to me just how easily I could walk up to an agent, have my ticket changed, and be on my way to parts unknown. Preferably someplace without mobile phones and internet. I've been a lot of places around this world, but there are still hundreds of destinations awaiting me, and right now all I want to do is pick one.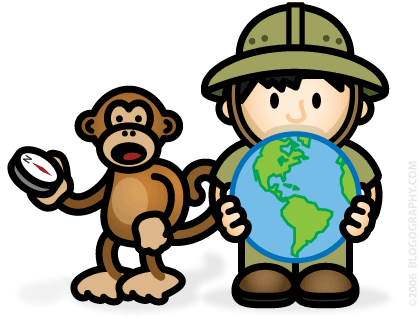 Alas, irresponsibility doesn't seem to be in my genetic make-up.
Or is it?
If you don't hear from me ever again, now you'll know why.