Posted on August 18th, 2023

Wes Anderson's Asteroid City started streaming on Peacock, and it went beyond my lofty expectations.
Right now it's my favorite film of his after The Life Aquatic with Steve Zissou. In time, once the newness wears off, The Grand Budapest Hotel and The Royal Tenenbaums might eclipse it because they're just such incredible films, but for now... I'm thrilled with this gorgeous spectacle...
And so here's my ranking of all eleven Wes Anderson films...
The Life Aquatic with Steve Zissou. It's weird to me how this movie doesn't top everybody's list as their favorite Anderson film. It's wildly imaginative, beautiful, poignant, and has some of the best performances ever coaxed out of his usual stable of exceptionally talented actors.
Astroid City You'd think that his visual style and quirky dialogue would have diminishing returns, but Anderson's latest flick proves that's not even remotely true. Not only is it a gorgeous visual feast, it's unique and interesting in all the best ways. Plus what might be the greatest role of Jeff Goldblum's career (despite it lasting mere seconds).
The Grand Budapest Hotel. This is, in so many ways, Peak Wes Anderson. It's when he was able to fully realize his characterization not just for individual characters, but how they work within the framework of the full cast.
The Royal Tenenbaums. Rarely does an Anderson film fall upon a single actor to achieve greatness. Indeed, the actors he works with are all vastly talented and his films can lean on absolutely any of them at any time. But Gene Hackman is the character around which every other character revolves, and his brilliance is critical to why this film works so very well.
Moonrise Kingdom. Stories of first love are a dime a dozen. But rarely are you treated to a story in this genre which is as visually appealing as this. As a bonus, this is probably the last great movie with Bruce Willis (an argument could be made for Looper which came out the same year). Quite a statement considering he made 50-some-odd movies after this one.
Fantastic Mr. Fox. A Roald Dahl book seems like a natural for Anderson. But nothing could prepare you for just how genius his take on the material would be. The animation style is both rough-hewn-hand-crafted and meticulously-realized-crafted at the same time... with the movement of the fur adding as much to the characters as the flawless voice talent.
Rushmore. You'd be forgiven to think that this is Anderson's fifth or sixth film after Bottle Rocket because it has a much more mature sensibility, But nope! It's his sophomore effort, which just goes to show that his brilliance as a filmmaker came very, very quickly. Jason Schwartman would end up being the gift that just keeps giving, and this was where he got his start. Not just with Anderson, but with acting as a whole.
The French Dispatch. I'm just going to say it... I don't think this film really works. It's three separate stories woven together in a way that's not as smart or clever as I would have expected coming from Anderson. That being said, as a love-letter to journalism realized by actors at the top of their game, and that's not nothing.
Isle of Dogs. This should have been a home-run. It's animated wonderfully. It's a great story idea. The visuals are incredible. But the fact that Wes Anderson decided to use the White Savior Trope in the most unforgivable and unnecessary way possible is just awful. It's a glaring problem in an otherwise good movie.
The Darjeeling Limited. If this were an early film in Anderson's oeuvre, I'd likely rank it higher. But this follows The Royal Tenenbaums AND The Life Aquatic with Steve Zissou, which makes the whole ordeal inexplicable. It's stylized well enough, but it's painfully obvious in execution, has some racial stereotypes that are not cool at all, and it's painful to watch because the characters veer into tedium and new levels of annoying. This is not to say that I don't like the film... I do... it's just that it makes no sense why it's not so much better than this.
Bottle Rocket. Right out of the gate Wes Anderson showed a unique style and sense of humor. But it all needed some work. The film had a meandering to it that would undoubtedly be tightened up if he were making it today.
Posted on May 28th, 2023

Another week another Sunday ... because an all new Bullet Sunday starts... now...


• Cool! Michael Rosenbaum (who has one of my favorite podcasts) posted THIS to Facebook...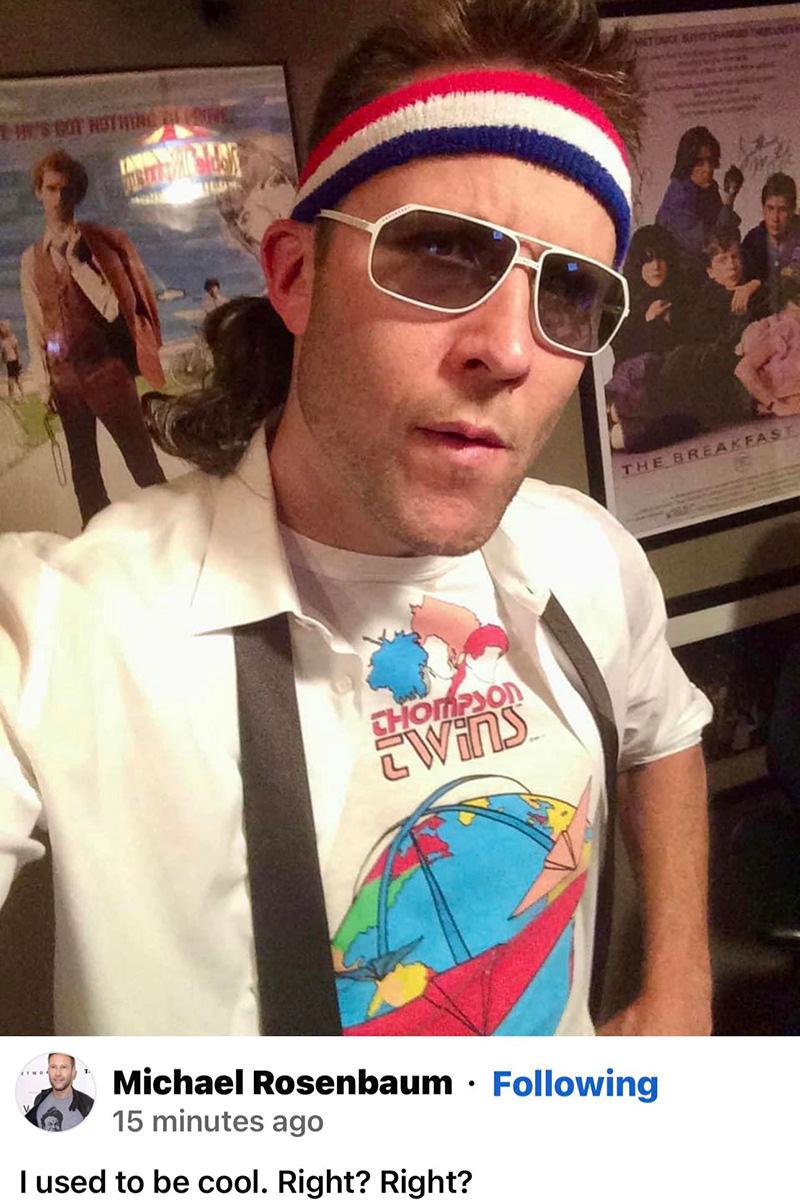 So of course I had respond...
Because The Thompson Twins are totally cool!

• Modern Meta! I've read a lot about film. I love movies and am fascinated by how people deconstruct and analyze them to add depth to our understanding and appreciation of this artform. Thomas Flight is my hands-down favorite...
He's so amazing at this kind of thing. If you love film, you need to check out his Youtube Channel.

• Natively! I've read a lot of documentation about how people have been systematically excommunicated from society by having their cultures, practices, and languages outlawed. The USA has many such travesties. Like native Hawaiians having their hula outlawed... only to have it later coopted and turned into a tourist attraction. Fortunately there are Hawaiians who are attempting to respect and honor the hula so that it returns to its original purpose, but still what a legacy of destruction we have. Needless to say, Native Americans have been horribly treated by the country... despite giving and contributing so much. And American Sign Language? Oh yeah... another contribution. This is fascinating...
It's important we know where we came from. And who came before us.

• Life's a Drag! Remember when I wore this Halloween costume I made… in Florida?? Probably be arrested for it now....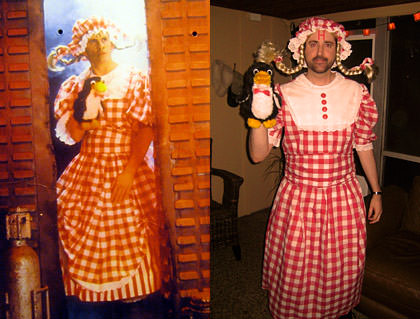 Florida is quickly becoming a fascist hellscape... and the rest of the country seems to be in danger of the same drama.

• Avenger! These Wes Anderson parodies are getting out of hand...
Just kidding. They're so good.

• Barbie! The marketing for this movie is genius. "If you love Barbie, this movie is for you." — "If you hate Barbie, this movie is for you."
Apparently the movie is for everybody!

• MOM?!? The other day I fell down a Jimmy Fowlie rabbit hole, which lead me back to the first video I ever saw of his...
LOL. Just as funny now as it always was.

Well, good luck with all that.
Posted on December 5th, 2021

It's snowing! But don't worry about losing me in a winter wonderland... because an all new Bullet Sunday starts... now...

• X-Anderson! As one of my favorite filmmakers, it's oftentimes a fun mental exercise to imagine what it might be like for him to interpret different characters and ideas (for the longest time I was seriously hoping for a Wes Anderson take on Madman. Now somebody has gone and actually brought the idea of Wes Anderson X-Men to life. The result is glorious...
.
Not joking when I say that I would 100% pay good money to actually see that movie.

• Big Yam's Hair! Sometimes you just need something so wonderfully wholesome that it makes your entire week. This is what made mine (here's a link in case TikTok is being a dick)...
Awww... tell me you didn't smile at that!

• Minus Two Percent! With Petco you used to earn $5 for every $100 spent (5%). In January you will earn $5 for every $167 spent (3%). And the points expire so you have to spend more money faster in order to get that measly $5 reward. So... I guess the only reason I have to shop at Petco now is for their bulk kitty litter. Everything else will be bought online from other places that offer more for my loyalty. There's simply no reason to continue wasting time and gas money to drive to Petco if I'm going to struggle to get enough points before they expire to get a pitiful 3%. return. — If they wanted to drop from 5% to 3%, fine. But they don't really want to even pay you that much, or else they would have given you more time to spend the extra $67 before the points expire. Well, good luck with that. I have two small cats, not six Great Danes. And apparently that's the customer they're going for now.

• Шитье в России! While I work I have Russian Tube videos playing so I'm immersed in the language. Occasionally I catch words and phrases I know, which is fun. But now I'm completely addicted to this woman's channel. She does beautiful work and has really good ideas...
The subtitles can be turned to "auto-translate" into English, which is pretty cool..

• Boner Alert! Every time this pops up, I laugh as hard as the first time...
What's even more astounding than them getting Jon Hamm to appear is how amazing Rihanna is in this. I mean, it's a parody, but she completely made it a real song. They tried to recreate the magic six years later, but it didn't quite land as hard.

• Pray! This guy likes to torment his gay brother on TikTok. The results are always hilarious (Here's a link in case TikTok is being a dick)...
I swear, TikTok never gets old because there's always clever content creators releasing great new stuff.

• Boner Alert 2! Anti-vaccine Christian broadcaster Marcus Lamb dies at 64 after contracting COVID. Your prayers were answered. God gave you doctors, scientists, vaccines, and a drive for knowledge to understand His creation. If you choose to take a pass on all of it... then encourage people to do the same in His name... then it's not surprising that your God decided you shouldn't be here any more. And here comes Omicron to weed out more of those who deny the blessings they've been given. We're going to get to heard immunity one way or another... it's either by getting vaccinated and following the advise of doctors and scientists who are tirelessly studying COVID... or it's when the virus eventually mutates into a variant that wipes out the ignorant masses who choose to follow false prophets like this. Choose wisely..

And there's the end of my Sunday right there.
Posted on November 10th, 2021

Wes Anderson has such a unique and wonderful voice when it comes to his films that he's long been one of my favorite writer/directors. He got my attention with his first film Bottle Rocket. I greatly enjoyed his follow-up film, Rushmore. His take on The Royal Tenenbaums showed that his first two films were no fluke and he was honing his craft. But it wasn't until his fourth film, The Life Aquatic with Steve Zissou that I fell in love with Anderson's craft. It was so unique, so bizarre, so wonderful that I didn't have any choice but to love the movie...
It doesn't hurt that the casting was impeccable. The Life Aquatic stars Bill Murray as Steve Zissou, an oceanographer documentary filmmaker who was once celebrated, but has seen his star fallen. The movie kicks into gear as Steve debuts his latest film about the "Leopard Shark" who ate his longtime friend and collaborator while on an expedition. At the premiere of his film, Steve says that his next work will be a "Part Two" where he hunts down the shark and kills it for revenge.
You also get Anjelica Houston as his wife, Owen Wilson as the son he never met, Cate Blanchet as a reporter along to document the documentary, Willem Dafoe as his German shipmate, Jeff Goldblum as his arch-rival documentarian, and Michael Gambon as his agent.
Plus you get Seu Jorge as Pelé, the ship's trubador who sings David Bowie songs in Portugeuse throughout the story, which is as amazing as you'd think it would be.
The thing that makes this quirky film so utterly charming is the wild (and impossible) ocean creatures you get to see. They're colorful, wonderful creations from Wes Anderson's imagination that couldn't exist in Real Life, but seem perfectly at home in The Life Aquatic. But my favorite thing would have to be the massive set of Steve's ship, The Belafonte. Whenever you are inside the ship, you are actually on a set for the entire ship that's been split in half. This means the camera can follow the characters as they walk around the ship. And it's glorious...
It's kinda telling that The Life Aquatic with Steve Zissou was a bit of a flop at the box office. Critics weren't very kind (it currently holds a 56% "Rotten" crticis rating on Rotten Tomatoes... the lowest of all his films), though the moviegoers who saw it loved the thing (82% audience score). I think it just goes to show that jaded critics lack the wonder and imagination needed to truly appreciate it.
I watched the movie a couple months ago in anticipation of Wes Anderson's next film... The French Dispatch. But then this afternoon I saw an Adidas ad, it reminded me of the Team Zissou Limited Edition sneakers that Adidas actually made for the film, and sold as a promo to go along with it, so I was compelled to watch it again...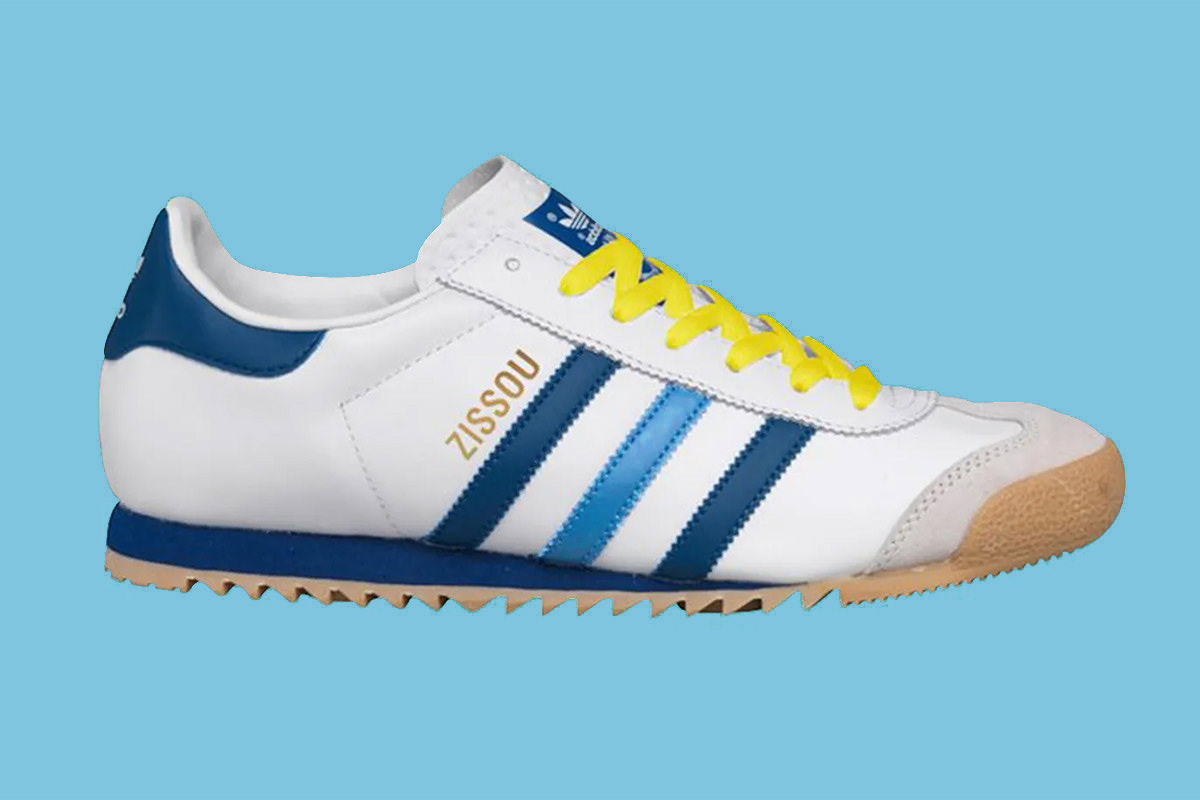 Always time well-spent. If you haven't seen this cinematic gem, it's worth a look. I think Hulu currently has it available for streaming.