Posted on Sunday, January 8th, 2023

Don't worry about me being buried under snow, again, I'll manage just fine... because an all new Bullet Sunday starts... now...

• I Can See Clearly Now! I didn't want to spend $720 to replace my two damaged windows... but it turns out it was money well-spent. If for no other reason than I can actually see out of them now. Having to try and look through condensation and sediment that was inside my old busted windows was impossible in cold weather. And since the kitchen window is the ONLY window on either floor where I can see out the front of my house... and my bedroom window is one of only two useable windows on the ENTIRE 2ND FLOOR... they're probably the most important windows I have! Ironic how that works! But typical, huh?

• Sing! This is Dave Grohl's daughter, Violet...
Gorgeous. Musical talent very much runs in this family.

• As It Should Be. Tennessee Becomes First State to Charge Child Support to Drunk Drivers Who Kill Parents. Absolutely shameful that this is not the norm in all 50 states. Actions should have consequences... especially for something as dire as this. I'd ask my Senators Patty Murray and Maria Cantwell where they're at on this, but it's probably the same place that digital driver's licenses are for Washingtonians... nowhere. They're too busy cashing their Big Pharma checks... or whatever it is that's more important to them.

• Big Ships! Now this is both fascinating and cool...
When things get bigly huge is when they get very interesting. Where do they get the materials to build something so massive?

• Order-Free! Netflix occasionally likes to experiment with their content. I like to encourage this, even though it rarely results in big wins. Their latest is Kaleidoscope, a heist series with episode colors instead of episode numbers, that you can watch in any order (and which Netflix shuffles for every viewer)...
My order was Black, Yellow, Green, Blue, Orange, Violet, Red, Pink, and White. Black is always first. White is always last. I don't know that my order is better than any other, but I like that Yellow was first because one of the very few twists in the series would be ruined otherwise. Ultimately this isn't a bad show... it's just not a great one. Probably because the episodes can be watched in any order, they have to be self-contained. They can't really build upon each other to create a narrative. And they can't really do anything monumental because then they could spoil something if watched in the wrong spot. They're all just meh after a while. Which is to say that though I enjoyed the series at first... by the time I was half-way through I was disappointed. The ending was kinda fun though. I'm not sure exactly how this concept could be improved in the future, but I wish Netflix luck in trying.

• Themes. Angelo Badalamenti died last month. He was a phenomenally gifted magician who had a long and interesting career, mostly scoring film and television. But what he's probably best known for is his collaborations with David Lynch. The guy made Twin Peaks what it was...
It's not exactly like his life was cut short... he was 85... but as I always do when somebody with such talent passes, I can't help but think he left us too soon.

• Old Amsterdam! Few shows made such an immediate impact on me as New Amsterdam (the second one, not the first one about an immortal in New York City, which was also very good). It's a hospital drama in a sea of hospital dramas, but one that feels quite different to me. And it's ending this month. It got an abbreviated final fifth season...
Over the years it's had some amazing stories told, and I'm a bit sad that it's not going to be around any more (even though the drama outside the hospital had gotten a bit stale). All I know is that this cast... starting with Ryan Eggold... better end up on great new shows as soon as possible.

Until next week, buckaroos.
Posted on Tuesday, January 10th, 2023

The SNL video below is making the rounds again. It's hilarious because it's based on reality. This was the talk in design circles for months, where we were all laughing our asses off that a movie with a massive budget that's grossing such huge bank had a logo making from fucking Papyrus. An overused bargain basement font that's installed on computers by default. And of course they didn't pull this same bullshit again with The Way of Water. Once was humiliating enough...
It surprises me greatly that this sketch ever made it to air. Only a small number of people who see it are going to "get it" fully... and I'm guessing roughly half of the people won't understand it at all.
Probably why it's one of the funniest things that SNL has ever done.
Posted on Sunday, January 15th, 2023

Don't sweat the small stuff... because an all new Bullet Sunday starts... now...

• WILL! THEY MADE WILL TRENT INTO A TV SERIES?!??? AND IT'S ON HULU?!?? GAAAAAHHHH!
But here's the real kicker... it's really good. I'd put it up there with The Lincoln Lawyer as new series which are better than I believed they would be.

• Fuckers! NEWSFLASH: Snowpiercer's Final Season Won't Air on TNT, Because Of Course Not — My seething hatred for Warner Bros. Discovery is reaching peak rage. I don't know if I even give a fuck about supporting any of their shit I like. House of the Dragon, Bargain Block, Home Town, SHARK WEEK... they can all just fuck off. Just like with other shows and films they've decided to "write off," this is so fucking disrespectful to everybody involved who poured their heart and soul into the project. And that includes the fans. How fucked up is it that it's saving them money to not air a show THAT IS COMPLETE? This "Hollywood math" bullshit is just another sign that the entire system is a cancer that we'd be better off without.

• The Office! Okay, this was completely unexpected (keep watching it... here's a link in cast TikTok is being a dick)...
Sigh. I miss that show.

• Leslie Love! BWAH HA HA HA HAAAAAA (here's a link in case TikTok is being a dick)...
GIVE HIM A CHANCE, LESLIE!

• House of Siriano! And speaking of Leslie Jones... I happened across this TikTok while scrolling through my FYP waiting for clothes to get out of the dryer (here's a link in case TikTok is being a dick)...
And good for him. I wish him every possible continued success.

• 1968! I, of course, knew about the man. I did not know about the statue. Remarkable.

• I Love Brown! It's worth having to block all those shitty ASMR vids on TikTok because eventually you find gold like this on your FYP (here's a link in case TikTok is being a dick)...
Spread the love, white child!

Onward and upward.
Posted on Tuesday, January 17th, 2023

Today my new HelloFresh box arrived and I was excited to have a good dinner when I got home. Then I actually got home and decided I didn't want to cook. Fortunately in the box there was a 10-minute meal of Pesto Caprese Sandwiches with an Almond-Studded Green Salad that didn't require cooking... just some light chopping, so that was dinner. It was okay. Not as delicious as the other options, but the idea of not spending over a half-hour in the kitchen was worth more than the flavor.
While chowing down, I took a look at HBO's adaptation of The Last of Us, an epic video game that I loved playing...
Interesting to note that at first I was going to take a pass because I just got out of The Walking Dead which they ran into the ground with similar zombi-apocalypse story. But I changed my mind for two reasons...
The cast. Pedro Pascal is one of my favorite actors. And playing Ellie is Bella Ramsey, who played Lyanna Mormont (ruler of Bear Island) in Game of Throm=nes. She played the role so well that she outshined other actors in major roles despite having very little screen-time.
The first season of 9 episodes tells the ENTIRE STORY of the first video game. No drawing shit out so long that it makes you wish you never started watching. Nope. Nine episodes and done. Assumably the second season will tell the entire story of the second game, and the third season will tell the entire story of the third game (that isn't due for three years or so). GOOD ON THEM FOR NOT STRETCHING SHIT OUT AD NAUSEAM!
The show was actually very, very good.
Absolutely everything about it was well done.
Color me absolutely shocked.
Posted on Friday, January 20th, 2023

I've been crapping on Apple a lot lately.
But not without reason.
Apple used to be the GOLD STANDARD in interface design. Everything was incredibly well-thought-out and intuitive. But now-a-days? Most everything they do is shit. And I simply don't understand why. Yes, Steve Jobs is gone, but surely there are people in Apple who give a crap about making sure that you can use their apps without wanting to beat the shit out of somebody?
But apparently not.
Because I was reminded about this when I was having to use the GUI abomination that is the AppleTV app (whether it's on a Mac, AppleTV, iPad, or iPhone). This app has been shit for ages. It was made even worse when Apple decided to prioritize AppleTV+ over absolutely everything... ramming their service down your throat like a fucking jackhammer. Even over content you purchased. Like when you search for the movie Ted...
But that's just the beginning with their idiotic search. Want to search your library? You can't just click on LIBRARY and search. If you do that, you'll end up searching within AppleTV+ and their media store content. Oh no. To search your library, you have to type into the SECOND smaller search box. And do you know how many times I forget to use the tiny box? ALL THE FUCKING TIME! And do you know why? The second smaller search box DOESN'T FUCKING EXIST UNTIL YOU CLICK ON A TINY FUCKING MAGNIFYING ICON THAT'S UNDER THE SEARCH BOX!!!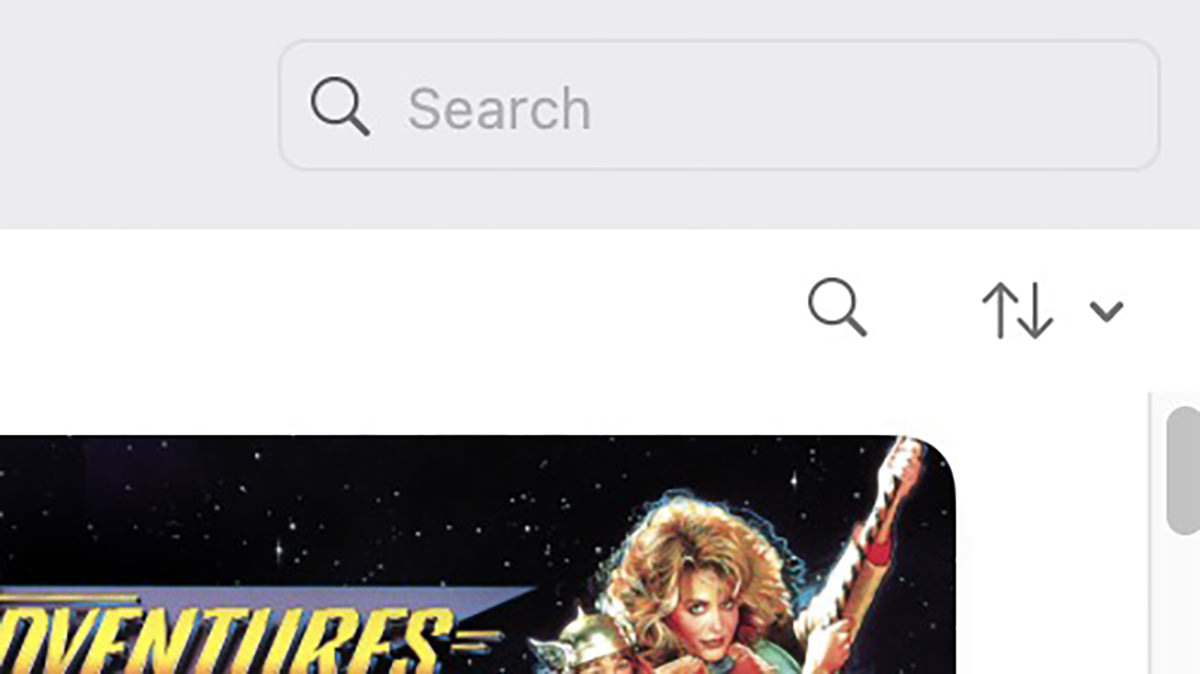 Only then does the search box even bother to appear...
Absolute fucking lunacy.
But wait! It gets worse! Let's say that you use the universal search box anyway to get to your movie because you forgot about the smaller search box. What happens then? As you see from the first screenshot above, you have no fucking clue where the movie is at. Is it on AppleTV+? Is it in the store? Do you have to buy it? Do you own it? Who the fuck knows?
You have to click through to see where in the hell it comes from. In this case, I own it... although it doesn't tell me I own it... I just have to infer that I own it because there's a "Play" button instead of a price tag...
But let's say you're on your AppleTV and don't want to type out the title to get to it since it's a huge pain in the ass? Well, then you get to scroll through your entire fucking catalog of titles! And since I own hundreds of them, that will take a while. Let's say that I want to watch the movie 4th Man Out. With Apple, it's scrolling and scrolling and scrolling and scrolling because Apple puts numbers after letters...
Here it is! Right after Zoolander...
Let's compare that to how Plex allows you to navigate. I use Plex to catalog all my ripped DVDs (which is a legal backup of my massive DVD library). Since I paid for 4th Man Out both digitally and on DVD, it's in both places. Although since Plex puts numbers in front of letters, I don't have to actually scroll anywhere. It's right there at the start...
Not really a fair contest. So let's try another. Zoolander. Another movie I bought on both DVD and digitally. With iTunes, I have to scroll through hundreds of titles to get to it. But look on the right hand side of the Plex interface. See those letters there? No scrolling needed. I just click on "Z" and there it is!
This is especially fantastic on the Plex app for AppleTV... which is far, far superior to what AppleTV itself actually offers.
How embarrassing.
HOW FUCKING EMBARRASSING FOR APPLE!
For the love of God, spend the tiniest fucking portion of your billions of dollars and DO SOMETHING!
Don't get me wrong... there's still a lot of companies who are even worse at this than Apple. But given where Apple started, this is nothing short of tragic.
And I have no idea what it's going to take to get Apple off their stupid asses to actually fix this crap.
Posted on Sunday, January 22nd, 2023

I'm hungry, but not hungry enough to stop on bullets... because an all new Bullet Sunday starts... now...

• It's a Hoot! I love this video. I've watched it way too many times (here's a link in case TikTok is being a dick)...

• Kids! Legit dead (here's a link in case TikTok is being a dick)...
Things like this are why I can never give up TikTok.

• Shave and a Haircut! Or Instagram...
Cats make the world better.

• NOTHING! I can so relate (here's a link in case TikTok is being a dick)...

• Hair! How can you not love this? Samuel L. Jackson is having the time of his life... plus it's got Muppets in it!
Appearing on Sesame Street has got to be one of the biggest honors in existence.

• Hello Tomorrow! Wow. OH WOW!
This has incredible promise. Exactly the kind of retro-futurism that works for me... assuming it works as a show.

• Empty! California has "packaging waste" laws which are designed to keep manufacturers from putting a tiny amount of product in a massive box. Wonder what they think of this travesty from Hot Pockets? I am trying their new Deliwich frozen cheese sandwiches. There's 4 in a box. A massively huge box which could easily hold TWELVE OF THEM!
WTF?!? But the worst part was not the feeling that I was deceived and ripped off... it's the fact that these Deliwich things are awful. Pasty, doughy, gross. I was expecting something flakey and light. It's like a bad salty biscuit with a little cheese jammed inside. How did this ever make it to market? Did they taste-test it?

Time for dinner!
Posted on Sunday, January 29th, 2023

Don't be sad about that asteroid missing earth so you have to go to work tomorrow ... because an all new Bullet Sunday starts... now...

• My my my my my Poker Face! I was sorely tempted to have every bullet today be the same thing... begging you to take a look at the new series from Peacock called Poker Face...
If you're old like me and used to love watching Columbo mysteries, this is like that... but with a cool twist. If you've never heard of Columbo, it was a series where you are shown who the murderer is right at the start, and the fun is watching the detective piece it together. I would watch Natasha Lyonne in absolutely anything, and she is flawless in this series. The first episode is a good setup, but the series really kicks into gear with the second episode. Then they just keep getting better. This is guaranteed to be on my "Best Of..." list for 2023. No doubt.

• Revolutionary! First of all... I played this pinball machine a lot back in the day. Between Xenon and Pinbot, a lot of quarters were lost! Which is why I think this video about the voice/music designer for Xenon, Suzanne Ciani, is just beyond cool...
Now, my favorite pinball machine of all time was The Addams Family back in the early 90's... but Xenon would certainly be on my list of all-time greats.

• Addams! And speaking of Addams Family Pinball... I just searched YouTube and found this...
If I could afford to track down one of these and buy it, I would 1000% do that. And clear a spot in my living room to put it. Just fantastic entertainment all the way around. I never got tired of it.

• MORTY! NEWSLASH: Justin Roiland: Rick and Morty creator dropped by Hulu as well as Adult Swim. Holy crap. I mean... It had to happen, but wow. I have no idea how this is going to affect Rick and Morty, which has been so good this past season.

• Expensive Air! California has "packaging waste" laws which are designed to keep manufacturers from putting a tiny amount of product in a massive box. Wonder what they think of this travesty from Hot Pockets?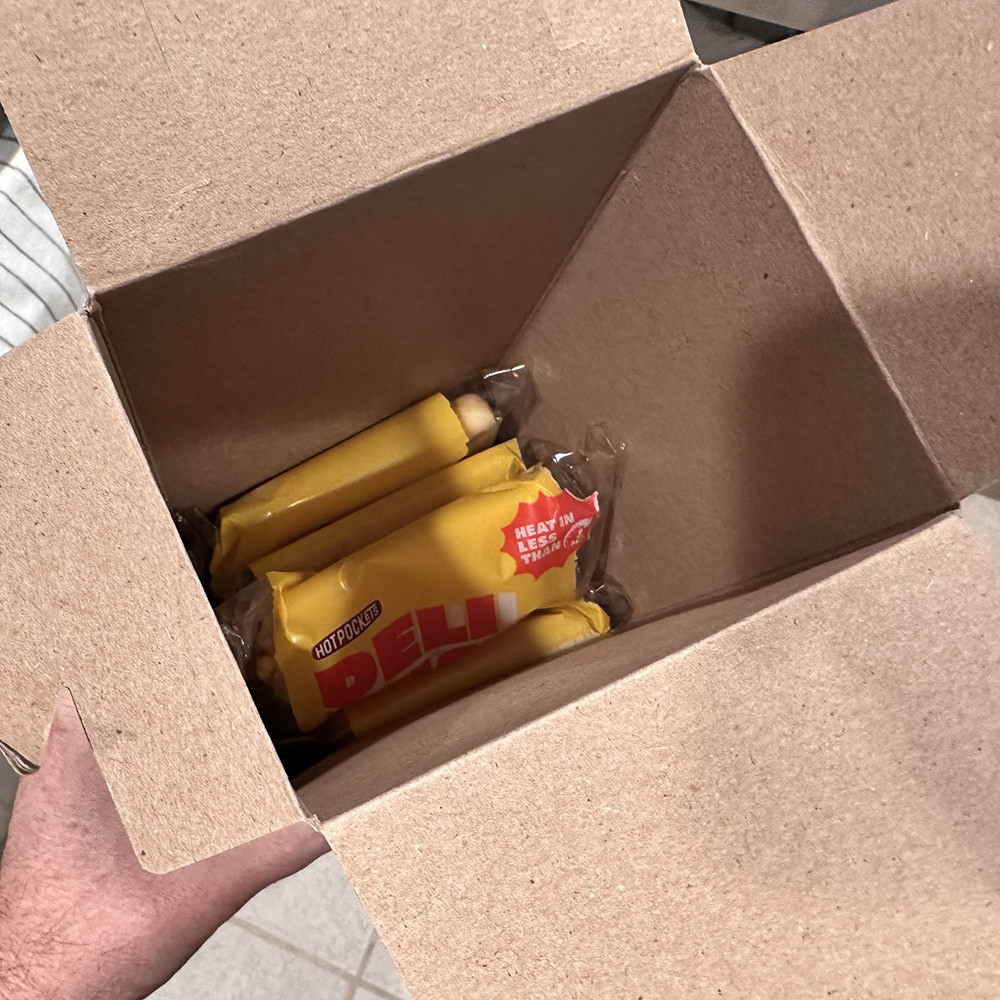 I am trying their new Deliwich frozen cheese sandwiches. There's 4 in a box. A massively huge box which could easily hold TWELVE OF THEM! WTF?!? I thought that they'd be a hell of a lot bigger than this. But the worst part was not the feeling that I was deceived and ripped off... it's the fact that these Deliwich things are awful. Pasty, doughy, gross. I was expecting something flakey and light. It's like a bad salty biscuit with a little cheese jammed inside. How did this ever make it to market? Did they taste-test it?

• Shoresy! I am going to wrap up this most excellent Bullet Sunday with some very good news... Shoresy has been renewed for a second season over at Hulu! And the best news? It's coming this year...
Easily one of my favorite shows of 2022 (it ranked #5 on my Best Of... list), I wasn't sure that we'd get a second season, but here we are.

Fingers crossed that more giant asteroids are incoming, but until then... see you next Sunday!
Posted on Tuesday, January 31st, 2023

Hulu has two of the later seasons of British soap Hollyoaks. I've heard about it but only started watching it recently because it has my favorite contestant from I'm a Celebrity... Get Me Out of Here of all time: Owen Warner (on Hollyoaks he plays a character named... brace yourself... ROMEO NIGHTINGALE).
The soap is mental. Even more insane than what we have here in the States. But kinda fun in a weird way.
Owen is such a genuine, sweet, kind, funny person, and it's tough not to love the guy. He has one of the best food challenges in the history of the show (sorry if you're squeamish, but he's hilarious here)...
And now I'm wondering for the millionth time why we can't watch the show here in the USA. Owen's season, which just aired last November, is one of my all-time favorites (Boy George is also a contestant), and I think Americans would find it highly entertaining even if they don't know who anybody is. I always read up on all the contestants of the latest season before I watch episodes that a friend in the UK records for me, and it's fine.
But oh well.
Globalization is ultimately a lie just like everything else, I guess.
Posted on Wednesday, February 1st, 2023

Gizmodo has a story on the ten projects that James Gunn is overseeing for the new DC Comics Universe of movies and shows.
Gizmodo has Creature Commandos listed as "Creative Commandos" which is hilarious. — All I can say that is if these projects were from anybody but James Gunn, I would be laughing my ass off. What's odd is that the new Superman and Batman films aren't coming out until 2025... which is later than I'd thought it would be, but still pretty ambitious. An entirely new universe debuts in just two years? Again... if it were anybody but James Gunn, I'd be laughing my ass off. My comments below...
Creative (s/b CREATURE!) Commandos (An animated HBO Max show) — It's like... what a bizarre choice. An entire series devoted to monster soldiers? Sounds like a Halloween special, but okay. Something tells me that this was in process before James Gunn took the big chair (with Peter Safran).
Waller (A live-action HBO Max show) — I really hope that Viola Davis is in this, because she's SUCH an amazing actor. UPDATE: Confirmed that it will indeed be Davis.
Superman: Legacy (Theatrical film) — I am confident that James Gunn will find a way to make Superman relevant while also interesting... something that Zack Snyder wasn't able to do AT ALL. I am a bit concerned that the whole "Gods & Monsters" arc for the New DCU will fall into the same trap that Snyder fell into, but it's James Gunn... so... yeah. Maybe.
Lanterns (A live-action HBO Max show) — The Green Lantern movie was a pile of shit so bad that I couldn't believe some of my favorite actors were involved. Terrible, terrible movie. A show might be a way to showcase the many interesting Green Lanterns from the comics, so it could be a very cool show to watch. UPDATE: Apparently this will be terrestrial-based, meaning that it's mostly Hal Jordan and John Stewart stories, so we'll see.
The Authority (Theatrical film) — Now this could be interesting! The comics started out SO good, and if they did a straight adaptation it could be fantastic... so long as it's an R-rated movie, because otherwise why bother?
Paradise Lost (A live-action HBO Max show) — Amazons, I guess. Could be something that pre-dates Wonder Woman to give her eventual debut good context. I hope that they don't fuck up the Greek gods like the (otherwise excellent) Wonder Woman movie did. They're saying it's their "Game of Thrones" so who knows?
The Brave and the Bold (Theatrical film) — Batman & Robin? In my early comic book days, The Brave and the Bold was alway Batman PLUS some other DC Hero (or villain!) teaming up. But still... I will be very interested to see what Gunn has in mind for Batman. Hopefully something more like the Nolan trilogy instead of the emo-goth bullshit we got from the last Batman movie! UPDATE: It's going to be the Damion Wayne version of Robin which is the best news possible. I hope that they make him a little nuts without taking him full-on psycho, because the majority of kids just don't have the acting chops to pull that off very well.
Booster Gold (A live-action HBO Max show) — A LONG time coming. Like... this should have been done a decade ago. I love the character, and hope that eventually the show transitions into the "Blue & Gold" show I've been dreaming of (Booster Gold and Blue Beetle as made amazing by Keith Giffen). Hopefully they get a writer with decent comedy chops to do this right.
Supergirl: Woman of Tomorrow (Theatrical film) — Poor Supergirl. The character herself is so interesting... as shown in the Animated DC shows... but her lone live-action movie was trash (despite having Faye Dunaway and Peter O'Toole!). I really, really hope that they hire a truly great FEMALE writer AND director to do this movie right. She deserves it. And there's plenty of great comics to be inspired from.
Swamp Thing (Theatrical film) — Lord. There are a lot of other DC characters I would have put in a film before Swampy. His good TV show was not so long ago (2019), and the idea of a complete film has already been done. Soooo many other movies would have been a better idea than this. I hope "Swamp Thing: The Movie" ends up worth stepping all over others that deserved it more.
I want a Legion of Super-Heroes live-action HBO Max show. I want a Black Canary & Green Arrow show. I want a REAL Justice League movie. I want a Deadman series. I really want a Zantana movie. Where's an Amethyst animated series at? And holy crap... how cool would an Adam Strange series be? Is Guy Gardner going to appear in Lanterns? Because a show for HIM would be great. So many possibilities!
I'm more confident in the DCU now than I was as we suffered through all the Zack Snyder crap, which makes me happy. Nobody wants successful DC movies than me (with the exception of the upcoming Shazam: Fury of the Gods and The Flash: Flashpoint, both of which star highly problematic actors that I really wish would just go away and take their bullshit with them.
Posted on Thursday, February 2nd, 2023

When it comes to video games, The Last of Us parts 1 & 2 are about as good as it gets. I played Part 1 at a friend's house, then ended up buying a PlayStation 4 just so I could play it at home. I bought Part 2 the day it was released.
So when it came to the HBO adaptation, I was dubious. Video games that get adapted into movies and TV shows can fare badly, and the story of the game was too good to see ruined.
But... surprise... the show is actually quite decent, even though they've deviated a bit from the game. And nowhere was that more apparent than the third episode, which expands on the game in a surprisingly good way...
All I can say is that I hope Nick Offerman, Murray Bartlett, and the writers are remembered come award season.
If you're not watching, it might be worth a look.