Sad though my life may be right now, the bullets must go on. And so an all-new Bullet Sunday starts now...

• Thank you and remembrance. First of all, thanks to the many, many people who sent their condolences. It never ceases to amaze me what a great group of friends I have online. Second of all, for people asking where they can send a remembrance donation in my mother's name, please consider the Cure Alzheimer's Fund. It is estimated that somebody develops dementia every 65 seconds in the United States alone. We have to find a cure. This charity gets a perfect rating from Charity Navigator, and 100% of the money donated goes directly to dementia research. My mother's name is Pat Simmer and if you have a couple bucks to spare, you can donate in her name to the Cure Alzheimer's Fund here.

And now...
As I had explained yesterday, dementia is a horrific idea that forces you to reexamine everything. Relearn everything. And while I didn't find the books I read to be very helpful... and I feel as though I learned practically nothing... I thought I'd run out some bullets with my experience.

• Don't wait to have a power of attorney assigned. A lot of life decisions and financial decisions will need to be made that won't be able to be made by a person suffering with dementia. I wasted no time getting my brother and I assigned power of attorney so that we could make those decisions when the time came... because it always comes earlier than you'd think. The scary thing about POA is the potential for abuse, so it's essential to get somebody whose heart is in the right place and will always have their best interest in mind when making decisions. It's okay if that's not you. Recognize if that's not you.

• Be sure you are an owner on all financial accounts. Even the most beloved small-town bank seems out to screw you over, so make damn sure your finances are in order very early in the game. When my grandmother died, we found out that a Power of Attorney becomes invalid after death and, even though my mom was a signee on my grandmother's account, she had no access to the account upon my grandmother's passing. So... when I became Power of Attorney on my mom's account and had that added to her checks, I had learned my lesson. I went into the bank and asked to use my Power of Attorney to add myself onto the account NOT as a mere signee, but as an owner. I was told "we've already done that." And when I logged into my mom's account online, it appeared that was true, because my name was right there. Well, guess what? Turns out I was only a signee on the account after all, so now I have to go through all the bullshit I had to go through for my grandmother. This is outrageously stupid. If the situation is such that a person IS NO LONGER ABLE TO CONTROL THEIR OWN FINANCES AND THEY ARE SURRENDERING POWER OF ATTORNEY, IT SHOULD BE AUTOMATIC THAT THEY ARE ADDED TO THE ACCOUNT AS AN OWNER. And if banks don't want to MAKE that automatic, then they at least owe it to their customers to point out that they need to do this so that the POA can control the finances to pay off final bills and expenses after death. I HATE banks. HATE HATE HATE them. Mostly because I have never understood their motivation in screwing over their customers. For the love of God, ditch your bank and find a Credit Union that is interested in serving you, not some board of directors. I'm not saying that they will be any better about making sure your loved one's accounts are accessible after death, that's up to you, but at least they won't be actively working against you for whatever reason banks choose to act against you.

• Hope for a miracle... be wary of miracle cures. From the minute the doctor dropped the dementia diagnosis, I was all about tracking down that miracle cure. I scoured the internet for anything the even remotely showed promise. I spent hundreds of dollars on everything from CBD oil to miracle juices to coconut oil to herb mixes... all in the hopes of halting or reversing her condition. Needless to say, it all ended up being a load of crap, and books like Awakening From Alzheimer's: How America's Most Innovative Doctors are Reversing Alzheimer's, Dementia and Memory Loss were essentially snake oil (which I would have probably tried if I read snake oil was the new miracle cure). Desperation to save somebody you love makes you want to believe anything, and there's no shame in trying alternative medicines if they make sense to you. But be careful you don't get sucked into losing more money than you can afford to lose. Because there's a lot of money to be lost out there.

• Question medications and mood changes. My mom has always been a kind and gentle soul. But near the end of her time living with me, she would lapse into fits of belligerence and anger. This can happen with dementia, and I had just written it off as her condition progressing. But it turned out that was not the case. At least not for her. She was prescribed loads of drugs to keep her calm and out of depression. When she ended up in the hospital, they cut all the mind drugs... all of them... and she was back to her normal kind and gentle self within a week. And she stayed that way until she passed. I'm not saying that you should ignore all doctor advice when it comes to medications... I'm just saying that if you see serious personality changes popping up, consult with your doctor to see if they have ideas about reducing or changing the drugs they're on. My life would have been so much easier if my mom was "clean" those last few weeks of living with me, but I didn't know to question what was happening.

• Don't intentionally create confusion, even if you're doing it for the "right reasons." Needless to say, coming to terms with dementia was not an easy thing. I didn't want it to be true. I needed for it not to be true. And every once in a while some little thing would happen that had me convinced she might be getting better, even though deep down I knew it couldn't be. So I'd come up with little tests to see if it were possible she had improved. Things like asking her if she wanted a Coke, then pulling up to a mini-mart and asking her to run in and buy a couple bottles. Then waiting. And waiting. And waiting. All in the hopes that she would come out with those damn bottles. But she wouldn't. Of course she wouldn't, because she couldn't remember why she had gone into the store the minute she walked inside of it. Which means I'd have to go in and get her. Turns out all I'd done is needlessly confuse her in an attempt to make myself feel better. Helping somebody with dementia means doing everything you can to keep confusion to a minimum. At this point, it's about all you can do and the biggest kindness you can offer them.

• Take breaks. Find a way to laugh every day, even when you don't feel like it. If there's one thing I'm certain of, it's that being a dementia caretaker is a lot harder than actually having dementia. You will be pushed to your limits... a lot. Caring for somebody with dementia is like a black hole from which you can't escape. But you simply have to. You risk losing yourself if you don't. I didn't have anybody I could have come give me a break, so I worked with the local council on aging to apply for a nursing service. I was able to get a few hours a month paid for, but if I ever needed a break or had to travel, I paid for it myself. And if I didn't have the money? I put it on my credit card. Something I hate doing, but couldn't not do. There were days I felt as though I would never laugh again and, as things progressed, I was honestly wondering if I could feel happy again. It became such a serious concern that I promised myself to find something I could laugh about every day. More than anything else I did, this helped me feel human again. The day that my mother no longer recognized me was the most painful day of my life. I went home and watched Eddie Murphy standup until I could laugh again because it's so vitally important to keep your ability to do so.

• Don't discount the rest of their life (or yours) after diagnosis. Once the doctor dropped the dementia bomb, it would have been incredibly easy to consider my mom's life to be over. But let me repeat what I said yesterday... her life was not done yet! Look at the last photo I posted on my travels with mom post...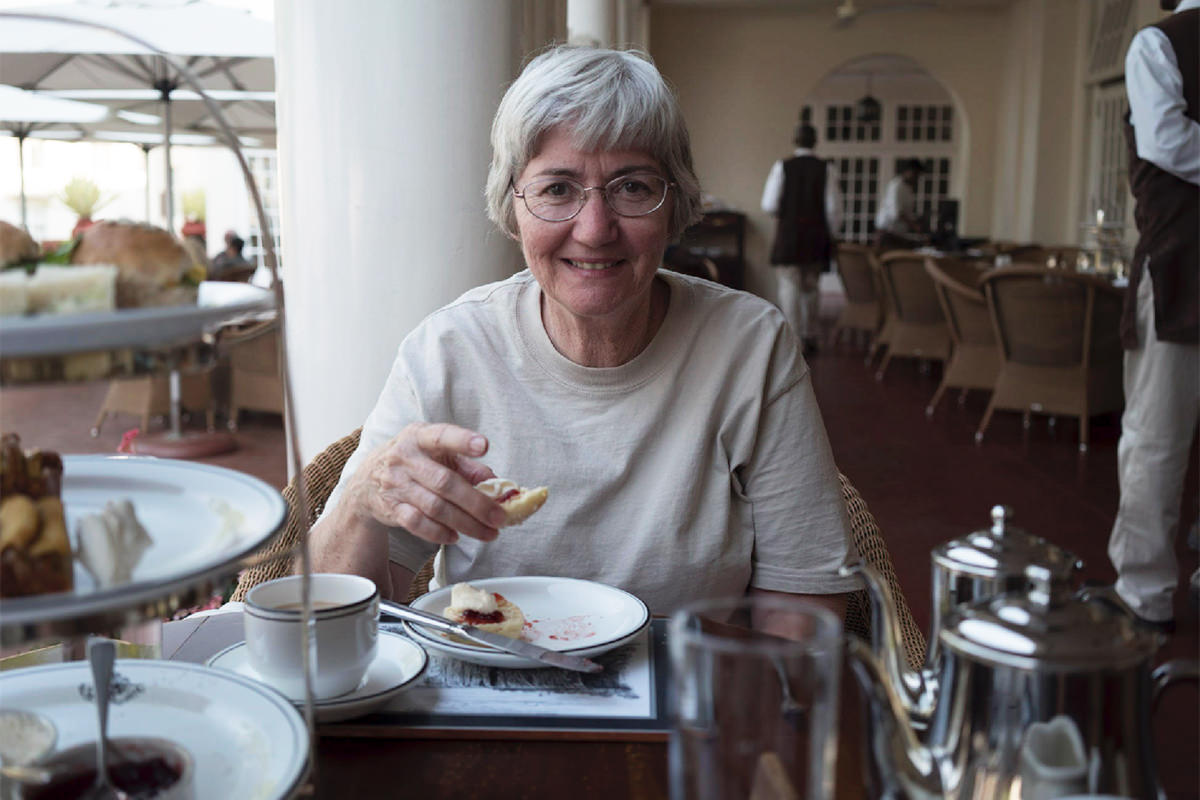 At this point, my mom could not remember anything new. The brain mechanism for recording memories had been destroyed. All she had right here is most of her old memories... and that moment. She was happy and having a nice lunch even though she had no idea she was having high tea at the Jungle Junction Restaurant at the five-star Victoria Falls Hotel. She didn't even know she was in Africa. And the minute we left the restaurant, she would have absolutely no memory that this had ever happened. And yet... I would remember. I would remember her being happy even though she didn't realize she had no reason to be happy. Her life wasn't over. There were still good times to be had.

• Recognize when you can't be a caregiver anymore. I didn't. The fall off the dementia cliff happened over years, so I didn't recognize how bad it had gotten until one of my mom's doctors pointed it out to me. As it turns out, I probably should have found a facility for my mom months... maybe even a year... before I did. And yet, I have no regrets. My thinking was that the longer I could keep her with me, the better her quality of life. And maybe that was true. She was still recognizing me as her son, so having a friendly face has to be a benefit, right? In any event, when it's time... it's time. I am very, very lucky that my local hospital made the process be as painless as it could possibly be. First of all, they made it known that I needed to find a place as soon as possible... but they never threatened to force my mom out of the hospital. Second of all, they had an amazing, amazing staff helping me search the state for the best facility "fit" for my mom, taking in consideration her retirement savings, my budget, her Navy pension options, her Social Security monies, and what aid she was qualified for. And I took my time. I considered eleven facilities... and visited seven of them across the state... before making my decision. Because of that, I never felt bad about where she ended up because I knew I had put in the effort to find the best place possible.

• The best option may not be next door. When it came to finding a home for my grandmother, I picked a place that was literally two minutes from my home at the time. My thinking was that it would make it so easy to visit whenever I wanted. The problem with that is that I felt obligated to visit more often than I wanted. Not that I didn't love her... I loved my grandmother more than just about anything on earth... it's just that you can't let the sunset of their life become too much of your life. Had I been smart, I would have put her somewhere further away where visiting was more of an event than a constant chore. Your mileage may vary, of course. Perhaps you need to have your loved one close by, and that's fine. But for me? Having my mom being further away was much, much better for my health and mindset. No matter how bad things got, I looked forward to my visits because they were happening every two weeks instead of every two days.

• Make their home a home they're recognize when they can't recognize it as home. When my mom was living with me and really started to slide, the home she was looking for was the home she lived in when she was six years old with her mom and dad. Obviously there was no way I could make that happen. And so I tried other ways. Having her personal effects out in the open where she can see them helped. But the best thing I found? Photos. Not necessarily of family (though I did that too) but of herself. I had big photos printed on canvas of all our travels and hung them everywhere around my home. The brighter and more attention-getting the better, because she always seemed to recognize herself. So when she would see herself everywhere, she'd be able to figure out that this was where she was supposed to be. This ended up being so helpful that I actually hung photos of her over the windows. Because what's outside the windows could be confusing. Pictures of herself? Not confusing. When she moved into a memory care facility, I took the pictures off her my walls and covered her walls with them. For several months, she had something to talk about with her caregivers because she could still kinda remember them. Even once she didn't remember, they were still cool to have there for her visitors and the staff caring for her.

• Abolish glass everywhere you can. This may seem obvious, but it wasn't to me. When I moved into my new house, I bought all new dishes. For whatever reason, my mom kept breaking them all. Eventually I replaced all plates, bowls, glasses, and cups with shatter-proof melamine dinnerware from Pier 1. I got rid of picture frames and went with canvas prints because she was breaking those too. Anything breakable... especially if it could harm them after breaking... has to go. For things I couldn't put away... like the glass in my IKEA hutches... I covered with clear contact paper front and back so if it were to break it would be held in place instead of flying everywhere. You can do that with actual windows too, though most windows are tougher than you'd think.

• Keep an eye on their feet. Loose carpeting and area rugs are accidents waiting to happen because people with dementia have a confusion which is always distracting them. The first thing I did when I moved into my new home was have all the carpeting ripped out. It made things so much easier. But it's not a bulletproof solution because they can still trip easily. Do whatever you can to minimize this wherever you can. I kept my home as sparse as possible with little to no clutter.

• Surveillance cameras are as handy as you'd think they would be. In the earlier years where my mom was a bit confused yet still had some memory and was able to function on her own, I was still able to go to work because I set up security cameras everywhere so I could check in. These cloud cameras are getting cheaper every day and can be bought for as little as $30. I went with Nest Cams, which are considerably more expensive than that (and the cloud storage is even more expensive)... but they were easy to set up, allowed me to create motion zones so I could be alerted when my mom when places she shouldn't, and were an overall godsend for my peace of mind.

• Make as many moments as you can. Four years seems like a long time. But I assure you that the four years from June 2014 to June 2018 went very quickly as my mom's dementia progressed. Milestones happen and you don't even know it until they've passed. The last time we saw a movie in a theater. The last time we ate out in a restaurant. The last time we'd go for a walk. The last time she'd ride with me in my car. The last time she recognized me. The last time her eyes were open. In every case, I never knew it was the last time. So if there is something that you enjoy doing together... do it often, because there will come a day that they can't do it any more. I regret that my mom's last drive was to the dentist. She loved going for drives, and it would have been awesome if we could have went somewhere nice for her last time. But I waited too long after I saw she was starting to have serious difficulty getting in and out of the car, so it never happened. Not that she would remember any of it... but she might have had a nice moment at the time... and I would remember.

• If you're Catholic, plan ahead. My mom hadn't had anything to do with the church for decades, but she was raised Catholic and if you were to ask her what religious affiliation she was, that's what she would tell you. I don't know whether or not receiving "last rights" (or "anointing the sick" as it seems to be called now) would be important to my mom, but I wanted to cover that base just in case. This was a problem though, because my mom's old church was 2-1/2 hours away. The religious director for the hospice company we were using attempted multiple times over three days to get a priest from different local Catholic churches to come. No priest ever did. I was told somebody from the church would call. Nobody ever did. Needless to say, I was absolutely livid. Not because I give a shit... I'd just as soon not have a priest anywhere near my mother. I was livid because it might have mattered to her. And so... unless your loved one is in the vicinity of a Catholic church that knows them so there's a priest who gives a shit, plan ahead. Find a parish and build a relationship with a priest long before you'll need them to come for last rights. Otherwise? Apparently saving immortal souls is only something priests care about if you were a member of their church long enough to have made it worth their while on the donation plate. Because of this I went from loving the Catholic church, to being an apologist for the Catholic church, to being indifferent about the Catholic church... to now actively loathing the Catholic church.

• Just plan ahead, period. Because my mom and I had spent so much time together and were so close, I knew what her wishes were and what she would want for herself once she couldn't make decisions for herself. This is not a luxury everybody has, so you have to do the work. Go over every possible decision. Get an advanced directives document drawn up today. Start looking at facilities before you actually need one. You can't anticipate everything... Lord knows I didn't... but the more you can take care of ahead of time, the better off you'll both be.

• If a pet will help you, make sure you have a pet. If you need help, make sure you get help. Jake and Jenny kept my mom company and me sane while she was living with me. They gave me a reason to get up in the morning after she left. I seriously question if I could have survived all this if it weren't for my two cats. There were times I thought I should be in therapy to help deal with everything that was happening. I never pursued it. I should have. No matter how strong you are, dementia will test you like nothing else will. Be sure you're strong enough to face it because you're no good to anybody if you're not. Whether that means cats... or a dog... or therapy... or whatever... don't forget to be a caregiver to the most important person in all this. That would be you.

This is just the stuff off the top of my head, and my experience won't be the same as everybody else's experience. But maybe it will be of help to people, I dunno. It's a mere drop in the dementia bucket, but collect enough drops and you can fill that bucket.
Take care of each other, everybody.