Posted on November 24th, 2019

I see you've tuned in to the same Bat-Channel at the same Bat-Time, because an all new Bullet Sunday starts... now...

• Printing Errors. I've designed nearly a dozen books and I've made my share of mistakes along the way. But one thing I've never done is run text into the gutter. And yet Marvel's "The Art of the Movie" books excel at it. Including Marvel's Avengers: Endgame, The Art of the Movie which was released last week...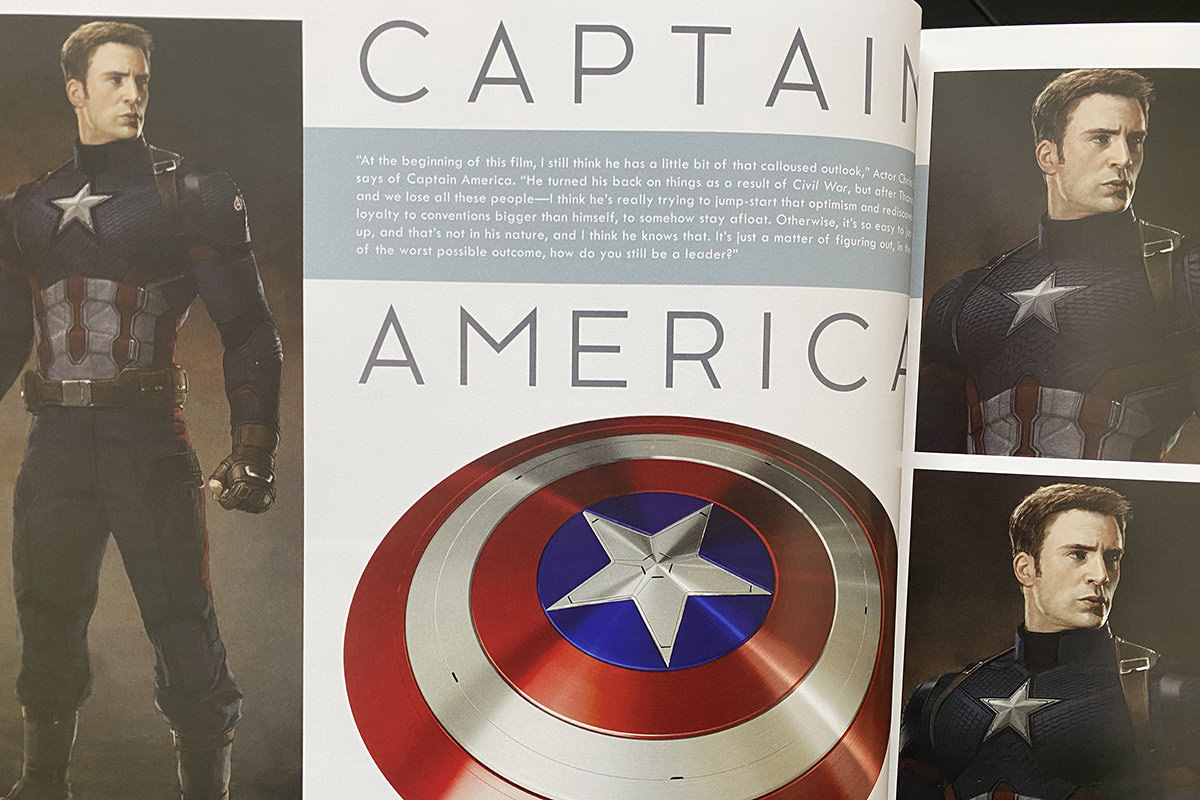 It shocks me every damn time. How are you supposed to read this shit? Even if you tip up the opposite side at a 90° angle, it's tough...
I guess you're supposed to break the binding and pound it flat? This is infuriating. These are not cheap books.

• Thanksgiving Art. Artist Hannah Rothstein created Thanksgiving dinner plates as imagined by various artists in 2014 (and a second helping in 2015). The results are pretty great...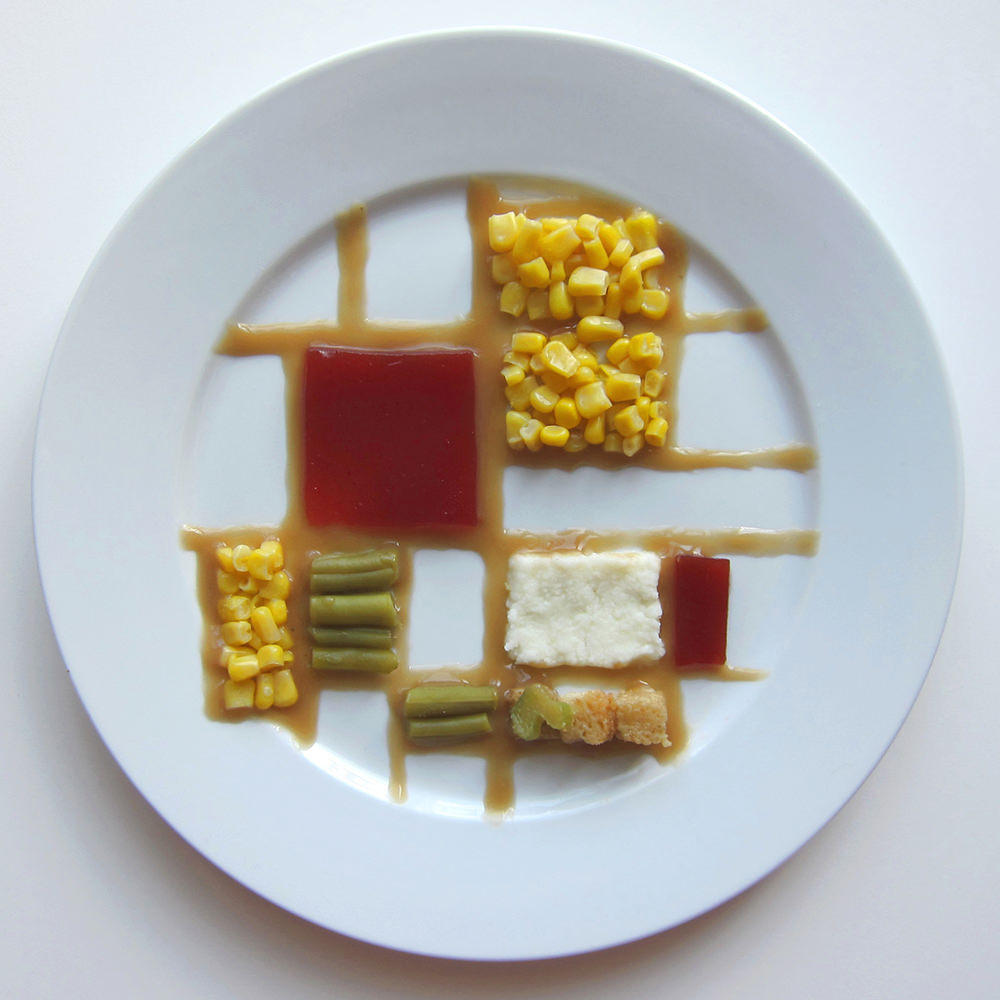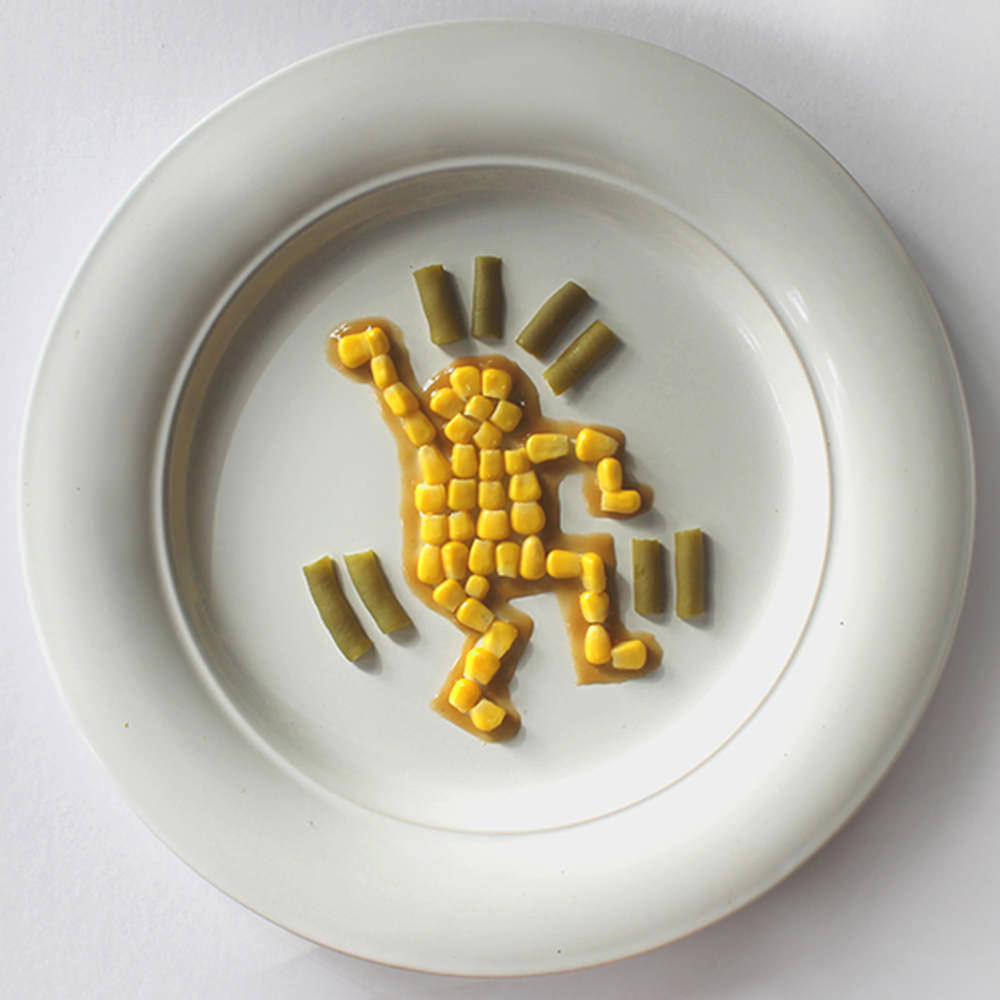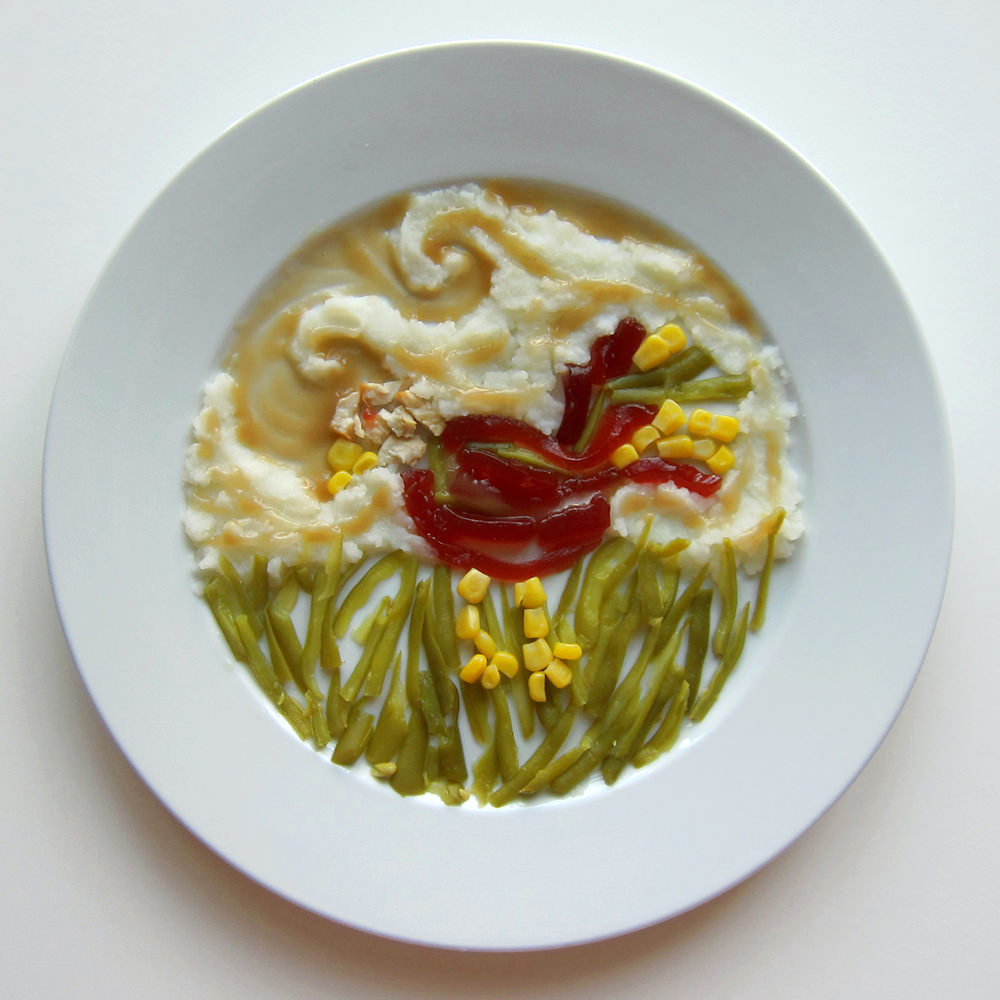 To see all of her photos, be sure to check out her website.

• Nippon Bunka. When I saw that the latest season of Queer Eye was in Japan, I was curious to see how it was going to work... but didn't tune in right away. And when I finally decided to take a look, I was surprised at how some of the language came rushing back to me. Then mortified because there were a lot of cringeworthy moments. They obviously didn't take the time to learn anything about Japanese culture, and I finally had to stop watching half-way through the third episode. I just couldn't take it any more. The show was highly disrespectful of how Japanese culture works, and how people there have a mindset to fit into society for the benefit of the greater harmony. It is essentially Americans invading these people's homes, trouncing over everything they believe, and telling them how much better there lives would be if they were more American. Then likely not realizing that politeness would preclude the Fab-Five being told if the Japanese person in question was uncomfortable or didn't want to go along with what was being dumped on them. It was just too awful. Then I read this article and see it went even deeper than I realized. Quite a step backwards from the shows that came before.

• Not Cats. There is absolutely NO condition under which I want to see this movie. If I am in a coma... and you visit me... and this is playing on the television... CHANGE THE CHANNEL! Good Lord what a heinous CGI abomination. I mean, yeah, I wasn't interested in the Broadway musical either... but at least THAT I understood. This CGI weirdness is absurd, and I would have rather they had this amazing cast just dress up like they did at the theater performances. THAT I would have probably watched. When it came to HBO or Netflix or whatever. But this?!?
No thanks.

• Whoa. Well these natural works of art by Andy Goldsworthy are amazing...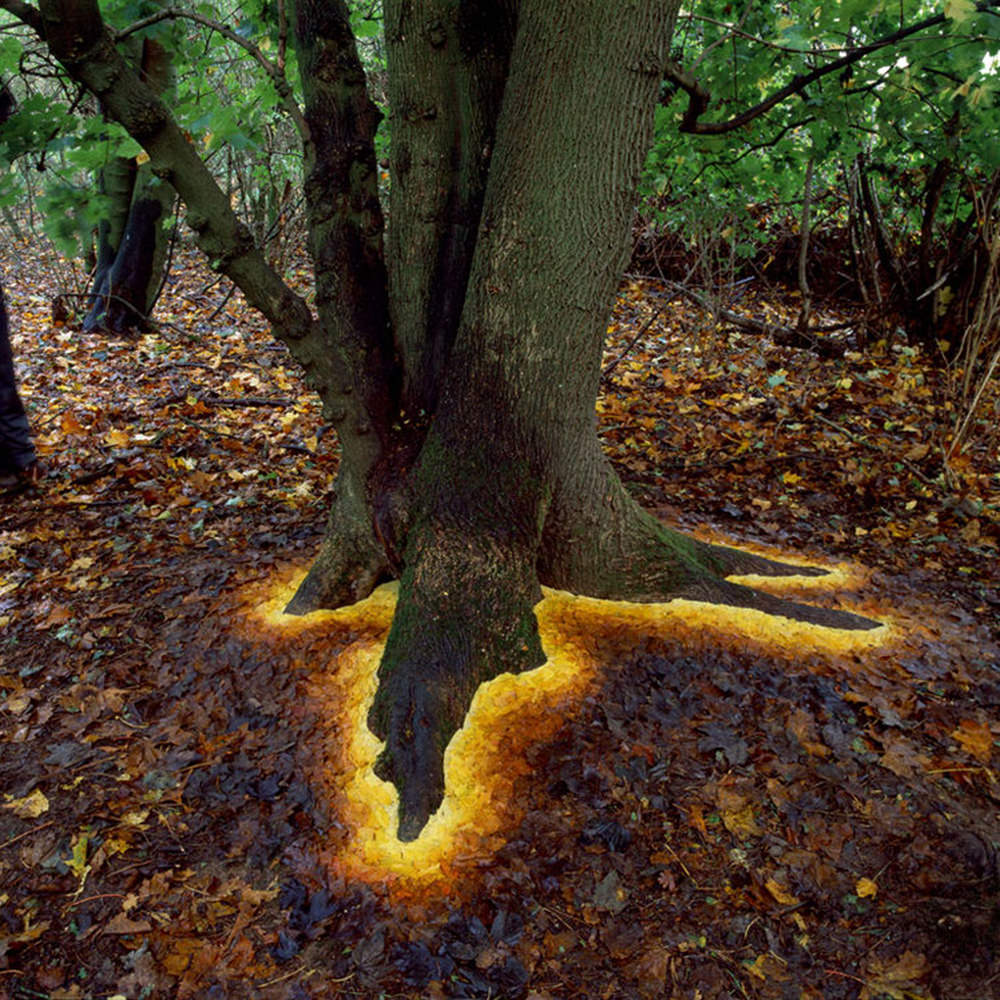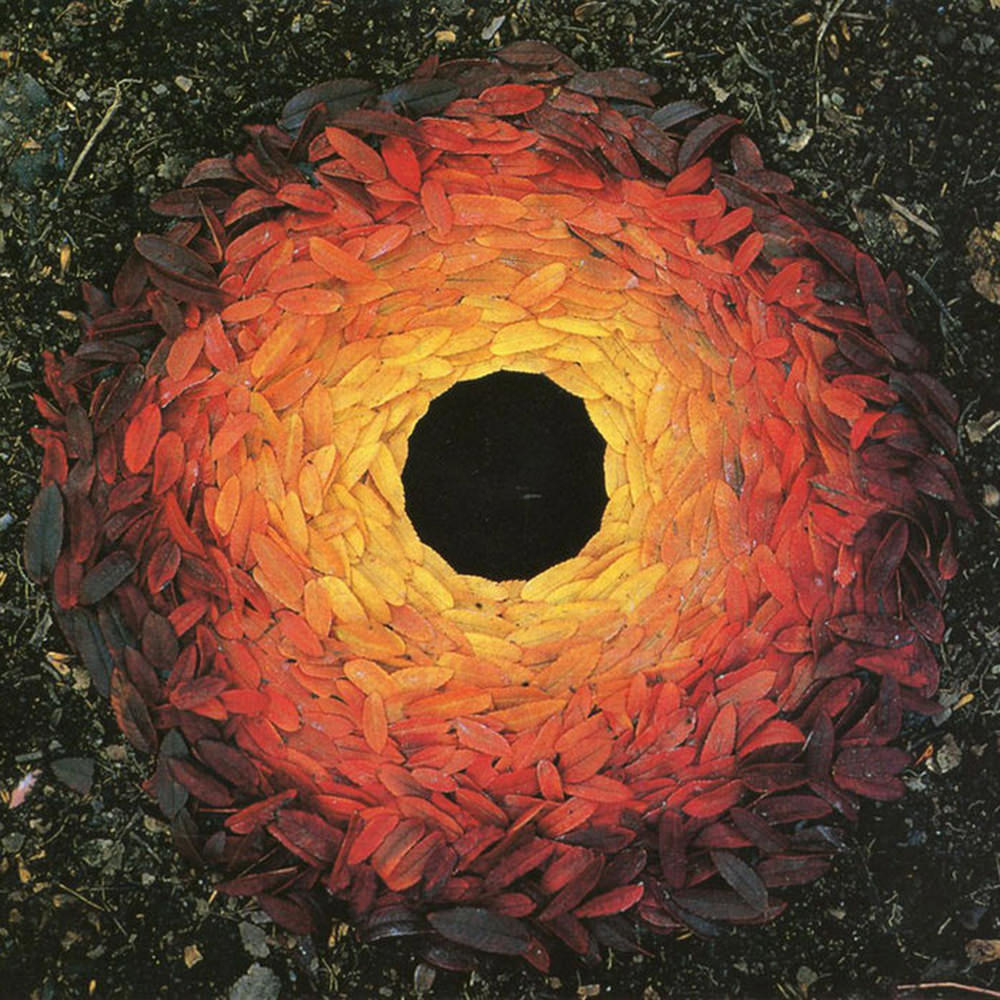 I found out about them over here.

• Awww. Melts.
The entire channel is gold, and you can visit it here.

Until next time, Bat-Fans.
Posted on July 19th, 2014

Because travel is so heinously expensive now-a-days, I am costing out every single job to make sure that I don't end up losing money. So, for example, if an offer comes up in Tokyo that I can squeeze into my schedule, I don't immediately say "yes" as I used to. I say "maybe" then start researching expenses. Especially with a city like Tokyo which tends to be massively pricey anyway.
First stop is my email confirmations from past trips for hotels, transportation, and such to get a general idea of what I've paid before. Which, in this case, ended up being a waste of time. Turns out the last time I was in Tokyo was in 2003, and I didn't start archiving confirmation emails until 2004. This was more than a little shocking, because I could have sworn I was in Tokyo sooner than that... five years, tops.
Naturally, I can barely remember details from a trip that happened over a decade ago, so questions begin to pop up. "What was the name of that hotel I always stay at?" Hell if I know. I think my co-workers called it "Pajama Hotel" because it had pink and white stripes like pajamas. But Googling that doesn't seem to produce a name.
But it does get me a photo from Flickr...

Photo © Jean-Michel Volat, from his Flickr stream.
Yep. That's the place. Time to play detective.
The photo is tagged with a location of Kojimachi 1 Chome. But the minute I call up that neighborhood in Google Maps, I know it's wrong...
The hotel was nowhere near the Tokyo Inner Loop, and I know the train stop wasn't Hanzomon. On top of that, I knew there were a pair of small streets across from the hotel where I'd go to eat, and they weren't there.
Thinking the GPS was off, I zoom out a bit and... BINGO! The name "Akasaka Hotel Tokyu" sounds really familiar...
Jumping to Google Street View so I can wander around and... there it is...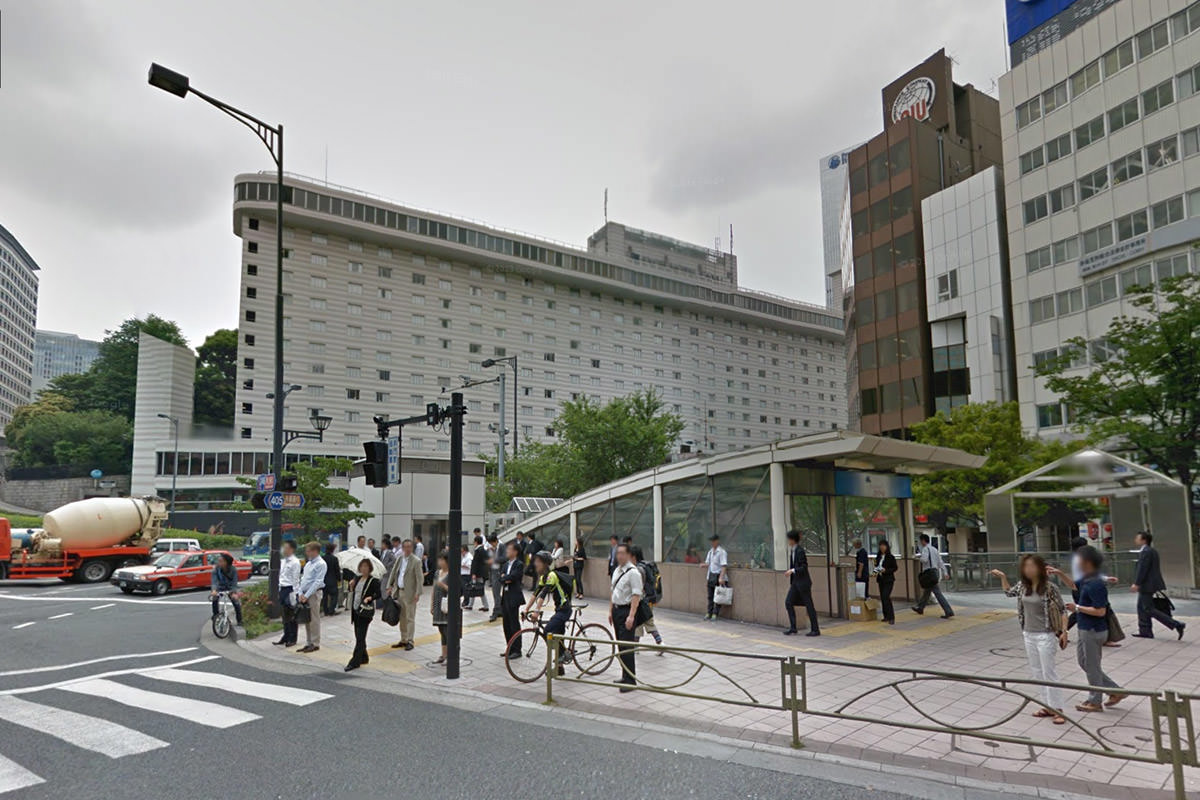 Five minutes to find the answer to a rather strange question. Thank you, internet.
Much to my surprise, the hotel I like is reasonably priced. Unfortunately, the airfare is absurd. Crazy absurd. So I have no idea if I'll be going to Tokyo or not.
Oh well. I've got a pile of clothes I should probably wash instad of jetting across the Pacific Ocean anyway.
Posted on April 28th, 2012

Years ago I was wandering around a residential neighborhood in Osaka, Japan looking for a restaurant that was recommended to me. Far away from places that tourists might frequent, the natives were shocked and dismayed at this tall foreigner in their midst. I had been to Japan often enough that the double-takes, stares, and whispers didn't bother me anymore, but the feeling of "not belonging" was always there.
As I tried my best to navigate Japan's bizarre address system and find the building I was looking for, I ran across a young boy standing outside a small group of people. Not wanting to alarm anybody, I smiled at him and picked up my pace a bit so I could pass by. But escape wasn't so easy. Mouth agape, the boy asked if I was a "gai-jin" ("foreign person") as I approached.
All conversation by the group of people stopped immediately as they turned and looked at us. A couple of them had faces frozen in horror, as if I were going to eat the kid or something.
"Yes," I replied. "But I'm a friendly monster, so it's okay."
Hearing a foreigner speaking Japanese is usually cause for confusion. But once that wore off, a few smiles and guffaws escaped the crowd. Then a 20-something man piped up in his wonderful Japanese directness and asked "Why are you here?"
"I am looking for a restaurant," I said, as I held out a slip of paper with the address written on it.
After a quick look, the man replied "It's there!" and pointed across the street, one block down.
I thanked him for his help, retrieved the address with a slight bow, then started to walk down the street... only to have the man walk alongside. Apparently he decided to accompany me to my destination and make sure I arrived safely. But that wasn't all. When I glanced behind me, I noticed that the entire group was following us. Albeit slowly... and at a distance.
It was a surprisingly uncomfortable situation but, fortunately, it didn't last long. A few minutes later we arrived, so I thanked the man again and said goodbye. Across the street, the group of people were waving at me, so I waved back with a quick bow and escaped into the restaurant.
After dinner I poked my head out to see if they had waited for me, but they were gone.
I guess even friendly monsters end up alone eventually.